JULY 1 to OCTOBER 31, 2014
Ford to unveil new Explorer
at L.A. Auto Show
Michael Martinez
The Detroit News
October 31, 2014
Ford Motor Co. said it will unveil a new 2016 Explorer — the sixth generation of the midsize SUV — at the 2014 Los Angeles Auto Show next month.
The new Explorer will reach showrooms next year with a new look, added capability and additional driver-assist technology. It will celebrate the 25th anniversary of the vehicle.
"The new Explorer is still the SUV America fell in love with — a vehicle built for the perfect family adventure," Jim Farley, Ford's executive vice president of global marketing, sales and service, said in a statement.
Ford has sold more than 158,000 Explorers through the first nine months of 2014, up 8.7 percent compared with the same period a year ago, according to Autodata.
As part of the launch, Ford will debut an "#ExploreMore" digital teaser campaign on social media.
The new vehicle announcement comes as Ford's utility segment continues to grow. Ford said its utility vehicles — from its compact EcoSport to its full-size Expedition — accounted for 23 percent of global brand sales in 2013, and could reach 29 percent of global sales by 2020.
Ford said utility sales are expanding rapidly in places like Europe, where earlier this year it introduced the EcoSport, and will introduce the Edge in late 2015. In the United States, Ford said utility sales are the largest segment, and a record number of Escapes were sold in 2013.
"The success of the One Ford plan is continuing to pay off," Farley said. "As utility vehicle demand rises around the world, our global lineup of vehicles, like EcoSport, Escape/Kuga and Edge, is helping us grow our share. The global desire for new utility vehicles is driving expansion in developing markets like China and helping the Ford brand reach more customers."
Ford has said it will have two global reveals at the L.A. show, which begins Nov. 19


Ford recalls 200,000 cars
for possible fuel leaks
Fortune
Ben Geier
October 30, 2014
This recall comes just a month after one for 850,000.
Ford Motor Company issued a recall for nearly 205,000 cars today, around a month after the automaker recalled another 850,000 vehicles in a separate action.
Today's recall covers 2007-2008 Ford Edge and Lincoln MKX vehicles. The cars could have corrosion on the reinforcement brackets where the gas tank connects to the car that could result in a fuel leak and fire.
As of yet, there's only been one fire reported from this problem, and there have been no accidents or injuries. The recall only covers cars registered or sold in certain states and Canadian provinces; for a list, check Ford's press release here.
Last month's recall covered Ford Escape SUVs with potential problems in the air bags and seat belts
Ford teams up on feature
to track cops' driving habits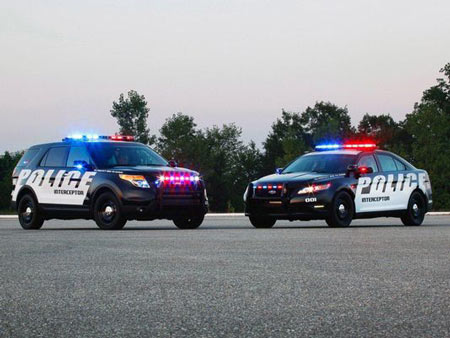 Michael Martinez,
Detroit News
October 29, 2014
Ford Motor Co. is helping develop technology that can track in real time how fast police officers are driving, when they turn on their lights, if they're wearing their seat belt and other information about their driving patterns.
The Dearborn automaker, in partnership with California-based technology company Telogis, debuted its telematics feature on its Ford Police Interceptor vehicles this week in a move to improve safety and increase police transparency. The hope is police agencies use the feature to monitor their cops and have detailed records of their driving patterns in case of a crash.
"Vehicle accidents are the leading cause of officer fatalities, and even the slightest improvements in driver training and behavior within law enforcement organizations can potentially save lives," Bill Frykman, Ford's manager of business and product development, said in a statement. "Whether in emergency operation or not, vehicle data from this technology, in context with different driving situations will help illustrate to police organizations where changes can be made that will have a profound effect on officer safety."
The technology is meant to serve as a safety tool, but could also crack down on minor infractions, such as cops speeding or turning on their flashers to run through a red light when they're not on a chase.
The Los Angeles Police Department is rolling out the technology on its vehicles, and the feature will be made available to other police agencies in early 2015, a Telogis spokeswoman said Tuesday.
"We have a responsibility to the communities we serve and to our fellow officers to make safety behind the wheel one of our top priorities," said Vartan Yegiyan, director of police transportation and commanding officer, Los Angeles Police Department. "The collaborative process that exists with the LAPD, Ford and Telogis has allowed us to customize this solution to meet the unique demands of our organization and other Ford police fleets."
The telematics feature uses a device mounted underneath the dashboard to track vehicle lateral acceleration, spins, yaw rates, pursuit mode, accelerator pedal position, brake pedal position, engine torque, anti-lock braking system actuation, and stability control and traction control. Police agencies that use the technology could get individual score cards for each officer's performance.
The data is secured between the vehicle and the individual police agencies that use it. Ford has no way to access the data, a spokesman said.
Ford has offered the telematics feature on commercial fleet vehicles since 2009, but about a year ago they began working with Telogis to apply the technology to the police field.
"It's proven, it's out in the marketplace today," Frykman said in an interview. "We've developed a unique application for officers."
According to data from the National Law Enforcement Officers Memorial Fund, from 2004 to 2013, an average of 64 officers a year died in traffic-related incidents, compared to 55 a year who were killed in firearms-related incidents.
"Traffic-related incidents have been the leading cause of law enforcement fatalities in 14 of the last 16 years," Craig W. Floyd, chairman and CEO of the National Law Enforcement Officers Memorial Fund. "Leveraging technology to improve law enforcement vehicle safety is integral to reducing the number of officers killed in traffic-related incidents each year."


Ford rejects pitch for proposed
$1.5B-plus investment in Windsor
plants, union boss says
Grace Macaluso, Postmedia News
October 27, 2014
Ford Motor Co. has decided against awarding a new engine program to its Windsor plants, which could have created up to 1,000 additional jobs, Chris Taylor, president of Unifor Local 200, said Friday.
"At this point we are not being sourced any new product; the product is not going to be awarded to Windsor," said a disheartened Taylor. "It's very, very devastating news for our members and our community."
It's very, very devastating news for our members and our community
Although neither Ford nor the union had confirmed the size of the investment, sources told the Windsor Star in August that it would have exceeded $1.5 billion. Windsor had been competing with Mexico for global assembly of 1.5 and 1.6 litre engines for such vehicles as the next generation Fiesta subcompact. Ford had been in talks with Ontario and Ottawa for government incentives to help fund the investment, but Taylor said negotiations with the province hit a snag.
"I believe the Ontario government had problems with meeting terms and conditions set by Ford to land this product in Windsor," he said. "I know Ontario had some issues and I'm not sure where the feds were at this point."
Taylor said he had heard rumblings earlier this week that talks had gone awry, but received confirmation from his national union and Ford officials Thursday.
"As a local, we're not going to bury our heads in the sand," said Taylor. "We have to have some discussion with the government to find out where this went sideways and decide how we progress going forward."
Car companies have long been pressing Ontario and Ottawa to up their game in the global competition for automotive investment or continue watching vehicle assembly plants and jobs move to Mexico and the U.S. south. Some jurisdictions typically fund at least 60% of a carmaker's investment, while Ontario and Ottawa have covered a total of about 20% through a combination of grants and low-cost loans.
The disappointing news prompted the Windsor-Essex Regional Chamber to Commerce to urge all sides to return to the table.
"We're urging all parties to give this one more chance and make it happen in Ontario," said Matt Marchand, president and CEO of the Windsor-Essex Regional Chamber of Commerce.
"We have called for an automotive strategy for this very reason," Marchand added. "Other jurisdictions have one, they have top talent executing them. And we need to adapt to the hyper-aggressive marketplace. The status quo is not working. Investment is flowing out of Ontario, and we need to reverse that."
That concern was echoed by Ford of Canada president Dianne Craig Thursday at the Ontario Economic Summit in Niagara-on-the-Lake. According to Marchand, who was attending the summit, Craig said she was worried about Canada's shrinking manufacturing sector. In the U.S., there has been a strategic decision to have auto investment, she said. "The supply base goes with the manufacturing base."
Windsor currently is home to the Ford Windsor and Essex Engine plants, which employ about 1,300 hourly workers. Although those operations are "stable," the Ford investment would have moved more than 400 workers off of layoff and secured the long-term future of the local plants, said Taylor.
"As of right now, it's not coming to Windsor," he said. "The value to us was a future with a good product, jobs for the people on layoff and a bright light for a community that sorely needs good news."

Ford scraps potential $2-billion investment in Windsor, Ont.
Adrian Morrow AND Greg Keenan
The Globe and Mail
Oct 26, 2014
A Ford Motor Co. investment of about $2-billion that was being proposed for engine plants in Windsor, Ont., will go elsewhere, industry and government sources said Friday.

Ford had been proposing to assemble a new family of small engines at its Windsor operations that sources said would have provided as many as 1,000 new jobs and led to the recall of several hundred more employees who have been on layoff.
The federal and Ontario governments had been in negotiations with the auto maker, which has also been looking at Mexico as a location to assemble engines that would go in its Fiesta subcompact cars and other vehicles.
One source familiar with the discussions called it a "game changer" for the auto industry in Ontario that would have made Ford's Windsor operations a key player in smaller, more fuel-efficient engines as regulators in North America put in place more stringent fuel economy and emissions standards.
One source described the plant as "a complete shift in the direction of the industry in Ontario," which has for generations been focused on larger vehicles such as minivans, full-sized cars and more recently crossovers.

Japan-based auto makers make compact cars at plants in Alliston, Ont., and Cambridge, Ont., but traditionally the Detroit Three assembled pickup trucks and large cars.

If a plant making small engines such as the 1.5-litre power plant – which also had a hybrid version – could be made profitably in Ontario, assembly of small vehicles might follow, the source reasoned.

One source said in recent weeks that Mexico has increased the amount of financial assistance it was planning to offer.
Jerry Dias, president of Unifor, which represents workers at Ford's Windsor engine plants as well as an assembly plant in Oakville, Ont., said the decision is disappointing.
The union got involved late in the process, by which time Ford had already started talking to suppliers in Mexico, but had the union and the governments had more time, they might have been able to wrest the investment away from Mexico, Mr. Dias said.
The sticking points in the deal have been getting specific commitments from Ford on productivity numbers, research and development investment and using Ontario suppliers, a provincial source said. The governments wanted firm guarantees that Ford would not only create a specific number of jobs but that the company would also keep production at a certain level and spend money on Ontario companies and in research and development.
The governments wanted hard numbers on all these things, the source said.
The province was captivated by the Ford proposal because it believes small cars are the way of the future. It saw the Ford investment as a way to get in on the type of product that will dominate the market in coming years.
While Ford wanted a deal in short order, the provincial source said the governments were determined to take the time to get what they want out of it. The numbers involved in the deal – what the province and federal government have considered ponying up – have fluctuated throughout negotiations based on what Ford is willing to invest, the sources said.
Both the federal and Ontario governments have learned that they need to participate in financial assistance to auto makers if they want to attract investment, Mr. Dias noted.

"The auto industries that are flourishing around the world are ones where there is a deep commitment from government and an understanding of the importance and wisdom of investment – which always pays dividends," he said in a statement.
Seniors, disabled join union's
legal challenge over Canada
Post's end of home delivery
The Canadian Press
Oct. 25 2014

Seniors' groups and organizations for people with disabilities are joining the Canadian Union of Postal Workers in a planned legal challenge to preserve home mail delivery.
Canada Post wants to phase out home delivery in an effort to cope with a revenue squeeze from falling mail volumes.
The postal workers union said the Federal Court challenge, which has not yet been filed, will argue that doing away with home delivery is a decision for Parliament, not Canada Post.
Union president Denis Lemelin said the agency is too focused on the bottom line and is ignoring the needs of Canadians.
"The reaction was immediate from every part of this country," Lemelin said. "People — seniors, people with disabilities, the general public — were against it and demand that the door-to-door delivery be maintained."
The Conservatives are trying to distance themselves from the home delivery issue, the union said, adding the government should be held accountable for allowing the decision to be made without proper consultation or debate.
Canada Post said it is confident the plan to do away with home delivery "will withstand any and all legal scrutiny."
Digital alternatives — such as electronic bills and email — are quickly replacing traditional mail delivery, spokesman Jon Hamilton said.
"The decision to move away from door-to-door mail delivery for a third of Canadian households was difficult," he said in an interview.
"We understand that two-thirds of Canadian households today don't have delivery to the door. But we also understood that we needed to ensure as we make these changes, we were taking the approach and ensure that no one was left behind."

Health issues derailing retirement
for Canadians: Sun Life
By Brenda Bouw
Oct 24, 2014
Health issues are driving many Canadians into retirement sooner than expected, which is problem in particular for people not financially prepared, a new report suggests.
According to the 2014 Sun Life Canadian Health Index, conducted by Ipsos Reid, 69 per cent of respondents said they were not able to retire as planned or expected. Of those, 29 per cent retired for personal health or medical reasons. Two per cent retired to take care of someone else with a health issue.
"Your retirement date may arrive sooner than you expected," said Sun Life president Kevin Dougherty in a release. "Canadians who are not financially prepared to retire typically say they will work longer to compensate, but unfortunately, they may not have that choice."
The survey of course comes from a company that sells insurance products to cover people if they become sick or disabled. Still, there are many examples of Canadians who've been unable to work due to health issues, and have had trouble making ends meet.
Almost half of the survey's respondents – which included 3,005 working Canadians ages 30 to 65 – said they suffered at least one serious health event or accident in their lifetime. Of those, nearly two thirds said it caused some financial impact, including increased credit card debt or being forced to dip into savings such as Registered Retirement Savings Plans (RRSPs).
"The truth is that poor health can cost us money in multiple ways: lost wages, medicine and other forms of therapy," the report states.
Many of the costs are unexpected, such as travel to and from medical appointments, which is not covered by Canada's universal health care system.
Last year, Canadians reported paying $1,511 out of pocket for health care expenses, the report shows.
It also says 44-per-cent of respondents don't expect to pay for prescription drugs, while more than 80 per cent don't think they'll have to fork over money for in-home care or hearing aids.
"This profound disconnect suggests either Canadians have an unrealistic level of confidence in their own health or they simply misunderstand how health care is funded," says the report.
And while it says Canadians are worried about their health as they age, the report says only 22 per cent have saved money or planned healthcare expenses in retirement.
"Canadians as a whole are getting better at saving for retirement … but we still have a long way to go to protect ourselves if we get sick, disabled or injured either pre or post retirement," Brian Burlacoff, a financial advisor with Sun Life Financial, said in an interview.
Many Canadians like to talk about putting away money into RRSPs and paying down the mortgage, but not less so about buying insurance, he says, likening it to a hockey game.
"Canadians love to talk about the offence, but we don't like to talk about the defence. That's the boring part, the insurance part," said Burlacoff.
A new, separate report from TD Insurance also looks at the financial impact of an unexpected loss of income for Canadians in their working years.
It cites statistics showing that one in two men and one in three women in Canada will suffer a critical illness before age 65.
The report says Canadians would need an average of $45,609 in savings if they couldn't work for a year, due to illness or other events. People with children would need an average of $53,438. What's more, 39 per cent of respondents weren't sure how they would pay for their expenses if they had no income for six months.
"Personal circumstances, particularly loss of income due to critical illness, are often completely unpredictable," TD Insurance vice president Anna Kavanagh states. "The last thing you want to be worried about if you have a health emergency is your finances."
Ford to debut collision
avoidance tech
Michael Martinez
The Detroit News
October 23, 2014
Ford Motor Co. will later this year unveil a new driver-assist feature that could help prevent pedestrian collisions.
Called Pre-Collision Assist with Pedestrian Detection, the feature uses a radar on the bumper and a camera on the windshield to scan the roadway up to 200 meters ahead and warn the driver if a collision is imminent. The technology can automatically brake the car if the driver isn't paying attention, a first for Ford.
It will debut on the 2015 Ford Mondeo in Europe on sale later this year, and will make its North American debut next year, although Ford won't say what vehicle it will be on.
"It's a global technology, and ultimately we'll see it across a significant portion of our portfolio," Scott Lindstrom, Ford manager, driver assist technologies, said in an interview.
Today, Ford has forward collision warning that's used to detect potential vehicle collisions, although the current technology can't automatically brake for you.
"This technology adds to the already impressive list of driver-assist technologies Ford customers benefit from today," Raj Nair, Ford group vice president, global product development, said in a statement.
Lindstrom said Ford has been developing the technology for years, since the launch of its forward collision detection on the 2010 Taurus. He said Ford tested the new feature on roads across the globe.
"This real-world testing was an important part of the development, because pedestrians in an urban setting can present a wide range of potential situations," he said in a statement. "We covered more than 300,000 miles on three continents that included a wide range of settings and situations."
Other automakers last month showed similar technology on Belle Isle at a conference about connected cars. Honda Motor Co. used cameras and sensors on an Acura to detect animals, pedestrians and bicyclists, and General Motors Co. used technology on a Chevrolet Cruze to avoid a simulated skateboarder.
Toyota-Honda crisis
deepens over deadly
air bags
Craig Trudell, Ma Jie And Yuki Hagiwara
Bloomberg News
Oct. 22 2014
A deepening crisis involving deadly air bags is shaking confidence in the ability of automakers including Toyota Motor Corp. and Honda Motor Co. to ensure the safety of millions of U.S. drivers.
Toyota is advising U.S. owners to keep passengers out of front seats until defective Takata Corp. air bag parts are replaced, four months after following the same procedure in Japan. Takata faces investigations into whether exploding shrapnel from its flawed parts are to blame for at least four deaths involving vehicles made by Honda, including a Florida crash that was initially investigated as a homicide because of deep gashes to the victim's neck.

The growing number of air-bag recalls also raise doubts about whether carmakers have learned to address defects quickly and comprehensively after General Motors Co.'s bungled ignition switch recalls and Toyota's failures in 2009 and 2010 involving unintended acceleration. Honda is under separate probes over whether it underreported fatalities and injuries in the U.S.
"This undermines the credibility or confidence in driving, generally, and in cars," Ashvin Chotai, managing director of researcher Intelligence Automotive Asia, said by phone. "There's very little consumers can do about it. Of course they feel less confident about sitting in a car and they'll be extra cautious, but beyond that, what can you do?"
The latest developments of the air-bag crisis led to the biggest blow yet to the shares of Takata, which plunged by 23 per cent today in Tokyo trading, the steepest decline since the company's 2006 listing. The Tokyo-based company, which started in the 1930s as a textile manufacturer, has seen its market value drop by about 100 billion yen ($1-billion) this year. Toyota fell 1.6 per cent and Honda slipped 1.5 per cent today.
Air Bags
The recalls of at least 4.7 million vehicles in the U.S. during the last two years tied to Takata air bags also involves Nissan Motor Co., Mazda Motor Corp., Bayerische Motoren Werke AG and GM. Nissan dropped 2.2 per cent and Mazda fell 1.6 per cent as the benchmark Topix Index erased earlier gains to finish the day down 1.6 per cent.
"Investors are concerned about how this safety problem will develop and now are refraining from buying stocks of those carmakers," Hideyuki Suzuki, general manager of investment market research at SBI Securities Co., said by phone. "The Japan car industry leads the Japanese market, and if it goes the wrong way, that could impact the whole Japanese market."
Honda, Nissan and Mazda have yet to follow Toyota in issuing warnings against sitting in front-passenger seats, a step that the Japanese carmakers took in their domestic market in June.
Improper Performance
Toyota extended this approach to the U.S. after Takata shared data that showed the inflators sent back to the supplier as part of its customers' recalls were performing improperly. The world's largest automaker this week called back 247,000 vehicles, including some models of the Toyota Corolla, Matrix, Sequoia and Tundra, made from 2001 to 2004.
Most of the vehicles were subject to recalls by Toyota in June this year or May 2013, said John Hanson, a U.S. spokesman for the company.
"We're prepared to do whatever the owner asks us to do," he said. "If the owner is afraid to drive the car, we'll come and get it."

Toyota began issuing the public warning against sitting in front-passenger seats of unfixed cars as the National Highway Traffic Safety Administration stepped up efforts to reach affected vehicle owners.
'Act Immediately'
NHTSA issued a statement yesterday telling owners to "act immediately on recall notices to replace defective Takata airbags," adding there should be particular urgency in areas of high humidity such as Florida, Hawaii, Puerto Rico and the Virgin Islands.
Honda is still examining air-bag inflators that have been replaced as part of its recalls of 2.8 million vehicles in the U.S. tied to Takata air bags the past two years, spokesman Chris Martin said.
"We will act appropriately based on the results of this investigation," Martin said by phone. Honda is Takata's biggest customer and has called back 6 million vehicles for problems with air bags in nine recalls since 2008. The carmaker owns 1.2 per cent of Tokyo-based Takata.

Nissan doesn't plan to disable passenger-side air bags in the U.S. and hasn't received instructions from NHTSA to do so, said spokesman Chris Keeffe. Mazda also doesn't plan to change its U.S. recall strategy, spokeswoman Keiko Yano said by phone.
Motorists wondering whether their cars are subject to a recall can type their vehicle identification numbers into the government's website, www.safercar.gov.
Automaker Response
While Takata is at the center of the U.S. government's air– bag investigation, NHTSA also is probing how the car companies responded to defects with the components.
The Center for Auto Safety, a watchdog group in the U.S., accused Honda last week of failing to report all air-bag-related injuries and a deaths to a government database as required. The center's Oct. 15 letter to David Friedman, NHTSA's deputy administrator, also called for the U.S. Justice Department to conduct a criminal investigation into Honda's reporting.
Honda asked a third party to begin an audit last month of potential inaccuracies in the quarterly Early Warning Reports it's required to file to NHTSA. The automaker said in an Oct. 16 statement that it will share results of the audit with the regulator soon.
The Florida Highway Patrol said last week it's investigating a fatality involving a Honda Accord driver stemming from neck wounds allegedly caused by an inflating air bag.
There are at least two similar incidents involving Honda vehicles. Honda said Oct. 16 it's also examining whether a faulty air bag was to blame for the death of a man who crashed his Acura sedan in a California parking lot.
Ford seeks to monitor
drivers for heart
attacks behind wheel
October 21, 2014
Ford is banking on an innovative plan to woo aging motorists to purchase their vehicles by developing a monitor in the driver's seat that will detect a potential heart attack, bring the car safely to a stop and notify the authorities.
Ford is developing a driver's seat that will monitor a driver's heart activity and that it hopes could one day reduce the number of accidents and fatalities that occur as a result of motorists having heart attacks behind the wheel, the company said in a statement.
"We observe mega trends, and we observe what customers want and what they will spend their money on," Pim van der Jagt, managing director of the Ford Research Centre, told FT. "100-year-olds driving cars will be not abnormal in the future."
The baby boomer generation is living longer and is more active than their parents were once they reached retirement age, and that's making companies around the world take notice. It's not just pharmaceutical companies who are paying attention to the world's rapidly aging population these days. By 2050, the number of people aged 65 and older will outnumber children aged five and under for the first time, the Financial Times reported. And that's creating challenges and opportunities for companies targeting the $15 trillion "silver" economy.
Jody Holtzman, the senior vice president of AARP's Thought Leadership group, told FT, "We asked our members 'What is the one thing you don't want to give up?' They said 'It's the car keys.' The fact is that the auto industry knows this."
But as drivers age, the risks increase and their skills decrease. They can lose peripheral vision, creating more blind spots in the car. Their hearing can disappear, so they can't hear horns and sirens. And they are more likely to have heart problems, leading to accidents behind the wheel.
Engineers from Ford's European Research Centre in Aachen, Germany, began working closely with Rheinisch-Westfälische Technische Hochschule, Aachen University on the prototype in 2011.
The seat "employs ECG (electrocardiograph) technology that monitors the heart's electrical impulses and detects signs of irregularity that can provide an early warning that a driver should seek medical advice, because he might be impacted by a heart attack or other cardiovascular issues," Ford Motor Company said. The prototype has six sensors built into the seat, and will work through the driver's clothing, unlike sensors in a doctor's office that require direct skin contact.
"The system will be able to detect if someone is having a cardiovascular issue, for example a heart attack, and could also be used to detect the symptoms of other conditions such as high blood pressure or electrolyte imbalances," said Dr. Achim Lindner, Ford Research Centre medical officer. "This not only benefits the driver; but also could make the roads safer for all users."
The sensors will work with a camera that would pick up on the driver has slumped at an unusual angle, the Independent reported. Once the seat identifies a heart attack, automated steering and braking systems will be activated. The seat can also be programmed to send an emergency call from the driver's mobile phone.
Van der Jagt explained the appeal of the prototype to baby boomers and their children.
"About 30 per cent of people above 65 have some kind of heart irregularity," he told FT. "If they are still driving, then they will have a real interest in this, that they will have it monitored in the car."
RWTH Aachen University Professor Steffen Leonhardt, who originally proposed the partnership between the research school and Ford, believes heart monitoring in the car is an ideal direction for automotive innovation.
"With increasing life expectancy meaning higher numbers of people and therefore drivers at risk of heart diseases, the ability to monitor hearts at the wheel could offer massive benefits in terms of health and road safety, both for the user and the wider public," he said in the Ford statement. "The car is an obvious choice; it's a place where occupants spend long periods sitting in a rather calm position and a place that's increasingly less physically demanding, making it the ideal environment to measure heart activity."
But the technology doesn't come without its drawbacks in an age of increased privacy concerns. And Ford Motor Company has had its own issues with coming off as "Big Brother" when it comes to customer data. At the January CES electronic trade show in Las Vegas, the global vice president for Ford's marketing and sales division got into hot water after discussing exactly how much data is being collected by his company's latest line of smart cars.
"We know everyone who breaks the law, we know when you're doing it. We have GPS in your car, so we know what you're doing," Ford's Jim Farley told the Vegas crowd.
"By the way, we don't supply that data to anyone," Farley assured attendees.
Farley later backtracked and apologized for the remarks. He told Business Insider that he didn't accurately portray the company's operations with regards to recording and logging user data.
Ford is yet to announce when the car seat will be made available but Mr van der Jagt said that it could take less than five years to put it into full production.
Growing wealth gap
could trigger next
recession: report
By Brenda Bouw
October 19, 2014
Some new statistics to make investors feel even worse while watching the stock markets sink: A new study shows the richest 1 per cent of the world's population are getting richer and own almost half of global wealth.
According to the annual Credit Suisse Global Wealth Report, global personal wealth grew by 8.3 per cent US$263-trillion last year, creating a greater divided between the rich and poor that could trigger a recession.
"The overall global economy may remain sluggish, but this has not prevented personal wealth from surging ahead during the past year," the report states.
It says the world's wealthiest hold 87 per cent of the global wealth, and the top percentile alone account for 48.2 per cent of assets. Meantime, the bottom half of the global population own less than 1 per cent of total wealth.
It says that 3.3 billion people, more than 70 per cent of adults worldwide, have wealth below $10,000.
The report says global median wealth - which is the minimum net worth of the top half of global adults – has fallen every year since 2010, "a surprising result given the robust rise in mean wealth."
"We should always be worried about inequality," Credit Suisse's Markus Stierli told the Wall Street Journal.
The report says the U.S. saw the biggest increase in wealth, with $31.5 trillion added to household worth in that country since 2008. It also notes the ratio of wealth income is at levels not seen since the Great Depression.
"This is a worrying signal given that abnormally high wealth income ratios have always signaled recession in the past," the report states.
Oxfam International says the report shows the world's poorest are paying the price of the recent financial crisis, while the rich have bounced back.
"These figures give more evidence that inequality is extreme and growing, and that economic recovery following the financial crisis has been skewed in favour of the wealthiest," Oxfam's head of inequality Emma Seery said in a statement.
How Canada fares
The report says household wealth grew at an annual rate of 7.1 per cent in Canada between 2000 and 2004, in U.S. dollar terms. It says the wealth per Canadian adult is $274,500, which is 21-per-cent lower than the U.S. at $347,800.
"Canada is similar to the U.S. in that more than half of its household wealth is held in financial assets," the report states. "But wealth is more equally distributed. "
It says Canada has a much higher median wealth of $98,800, versus $53,400 in the U.S.
Canada has both a smaller percentage of people with less than $10,000 and a larger percentage with wealth above $100,000.
Canada has 1,138,000 millionaires who account for 3 per cent of the top 1 per cent of global wealth holders, the report says. That's even though it has just 0.5 per cent of the world's population.


U.S., Canadian
auto sales expected
to stay strong
Greg Keenan
The Globe and Mail
Oct. 17, 2014
Sizzling auto sales in Canada and the United States should continue to stay hot through next year, according to Royal Bank of Canada.

The key factor propelling both markets is solid job growth, because households are more likely to make a major purchase such as a vehicle if they believe their jobs are secure, economist Nathan Janzen said in a report released Tuesday.
Mr. Janzen said U.S. vehicle sales have a little more room to grow than Canadian sales and should hit 16.3 million units this year and 16.8 million units in 2015.
Canadian sales are on pace to top 1.8 million units this year for the first time ever and although they may fall slightly next year, they should stay above the 1.8 million level, he said.
"Interest rates are expected to remain historically low and are expected to rise only gradually going forward," he wrote, "while, in part because of slow price growth, automobile purchases as a share of household incomes are still below prerecession levels," he said in assessing the Canadian outlook.

There is some pent-up demand in Canada, he noted, although Canadian sales are underpinned by job growth and vehicle affordability.

"A trend toward longer amortization periods on vehicles loans, which are now offered over periods up to eight years, have reduced the level of monthly payments associated with a given purchase price or interest rate," he said.
Vehicle sales rose 5.5 per cent through the end of September, putting them ahead of the pace needed to break the record of 1.74 million hit last year.
In fact, if sales through the final months of the year simply match the levels hit last year, the record will be broken.
The U.S. market is still short of record territory, but is now hitting levels not seen since before the 2008-09 recession.
Easing credit conditions, pent-up demand arising from the low level of sales during the recession and improving household net worth are some of the factors driving U.S. sales higher, Mr. Janzen said.
"Gains in equity markets and a return to growth in house prices have supported recent gains in household net worth, while household deleveraging, which likely restrained growth in overall consumer spending, appears to be winding down," he observed.
U.S. sales topped the 16 million mark regularly in the 2000s, hitting a peak of about 17.4 million in 2000.
Meanwhile, revenue for auto makers in the U.S. market is expected to hit a record high of $407-billion (U.S.) this year, industry consulting firm J.D. Power and Associates said.
That's based on the high volume of sales and average transaction prices that have soared above $29,600, compared with $25,700 during the trough of the recession in 2009.
Ford to add 850 jobs
in Dearborn to make 2015 F-150
Alisa Priddle
Detroit Free Press
Oct 16, 2014
Ford announced today it will add 850 new jobs in Dearborn to build the all-new 2015 F-150 pickup that is the automaker's most advanced pickup in 66 years.
The new hires will be sprinkled among the various facilities that make up the Ford Rouge Center in Dearborn. About 500 of the jobs will be at the Dearborn Truck Plant that assembles the pickup with three crews rotating over two shifts each day. Nearly 300 workers are for Dearborn Stamping and more than 50 will work at Dearborn Diversified, which also does stamping.
Total employment at the Rouge complex will be more than 5,500 with the latest hires and almost 5,000 will be hourly workers.
Ford is not taking new applications. The automaker has identified the new hires from its large pile of applications, and some have already begun training. All will be clocking in over the next couple months.
"This is one of the proudest moments I have had in my life," said Jimmy Settles, head of the Ford department of the UAW, and a third-generation Rouge complex worker.
The $2 billion spent to revitalize the Rouge complex that consists of five plants makes it possible to do things never before done in the auto industry, said Bruce Hettle, vice president of North America manufacturing, at an event this morning announcing the additional employees.
The Dearborn Truck Plant just finished gutting and rebuilding its body shop to make the 2015 model with an aluminum body instead of the steel bodies used since 1948. Pre-production models are running through the body shop now and are scheduled to run down the full line starting Oct. 20, but that date might be moved up to this week.
The carefully orchestrated launch is on track, said Joe Hinrichs, Ford president of the Americas. Production vehicles will start "in a matter of weeks," but Hinrichs would not say when Job One will be. Trucks will start arriving in showrooms by the end of the year.
The plant runs with three crews but more workers are needed because this next-generation pickup has more features and technology. And building a body from aluminum instead of steel requires all new processes — such as adhesives instead of welding — as well as new manufacturing equipment.
Additionally, some of the stamping work has been brought to the complex, work that had been done by suppliers or other Ford facilities, said Bernie Ricke, president of UAW Local 600, who is pleased with the additional jobs.
Ford has pledged to quickly get production up to full speed because of the sheer volume and importance of the truck. Ford sold 763,400 F-Series last year and analyst Adam Jonas of Morgan Stanley estimates Ford's trucks generate more than 90% of the automaker's global auto profits.
Ford built up its inventory of outgoing 2014 models to bridge the gap until there are enough 2015 models to satisfy dealers. That will take a while because just as Dearborn Truck hits its production stride, the Kansas City plant in Claycomo, Mo., will go down for six weeks in the first quarter of 2015 to rebuild its body shop to switch to the new truck.
Jonas has written a number of reports expressing concern about the impact of the changeover on Ford's profitability, but Hinrichs said today the launch is going according to plan, processes are being validated and people are being trained. In the end, Wall Street will be won over by the vehicle itself, he said of the truck that sheds 700 pounds, which will improve its fuel economy.
As part of the national contract negotiated with the UAW in 2011, Ford pledged to create 12,000 hourly jobs in the U.S. by 2015. The automaker has already exceeded that commitment: Last month's announcement of a second shift of 1,200 workers at the Kansas City plant to make the Transit commercial van brought the total to more than 14,000. More than 3,000 have been added in 2014. Factoring in salaried workers as well, Ford has hired more than 23,000 employees since 2011.
The signs of health are not going unnoticed by the UAW, which has a new contract to negotiate next year.
"It's always nicer negotiating with a company making lots of money than a company in distress," Ricke said. Priorities for a new contract in 2015 include economic gains, looking after retirees and continued investment in jobs, he said.
"Ford's announcement is more positive news for the citizens of Michigan and a further sign of the comeback of Michigan, manufacturing and the auto industry," said Michigan Gov. Rick Snyder in a release.
Contact Alisa Priddle: 313-222-5394 or apriddle@freepress.com. Follow her on Twitter @AlisaPriddle
Ford will have added almost 5,000 jobs in southeastern Michigan since 2011 including:
■
850 at Ford Rouge Center including the Dearborn Truck Plant
■
1,800 at Michigan Assembly Plant
■
1,700 at Flat Rock Assembly Plant
■
250 at Rawsonville Plant
■
240 at Van Dyke Transmission Plant
■
150 at Livonia Transmission Plant

There's no Escape from this
Ford SUV's escalating price tag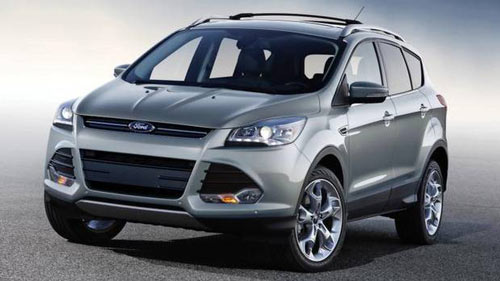 Jeremy Cato
The Globe and Mail
October 14, 2014
First, my double take on a number: $43,014. Boy, did my head do a Linda Blair (The Exorcist) spin when I saw the all-in price of the Ford Escape all-wheel-drive compact sport-utility vehicle.
This is not a Lamborghini or a BMW, but a mainstream crossover wagon that is the most popular of its kind in Canada. Talk about sticker shock.
Don't get me wrong. The Escape is one of the two best-handling, best riding, most technologically sophisticated small SUVs, right up there with Mazda's CX-5. And my tester was the ritzy Titanium model ($35,699) with extras such as tri-coat black leather seats ($400), blind spot detection, automated parking system and other gizmos ($1,750), MyFord Touch/SIRIUS radio/navigation ($800) and so on. The options added $5,700 to the base sticker. Très chic.
But how did this Ford Escape get to this price when the most affordable version is a reasonable $24,499? Well, the base price Escape has a pedestrian 2.5-litre four-banger (168 horsepower), while my tester had a 231-horsepower turbocharged (EcoBoost) four. The forced induction spins up effortlessly and without any nasty blast of power – no turbo lag, in other words. Good engine. And the six-speed autobox is slick and smooth.
The cheaper Escape is bare bones compared to the luxurious Titanium model. My tester came with really fine seats, for instance. Visibility all around is terrific thanks to the high seating position and generous greenhouse.
This crossover's all-wheel drive system, says Ford, is intelligent, too. It takes all sorts of signal data (wheel speed, accelerator pedal position and so on) and then sends power to the wheels that need it to keep you from getting stuck.
The MyFord Touch infotainment interface is first-rate. I know the folks at Consumer Reports hate it. But I like how the designers have divided the touch screen into four quadrants (sound system, climate, etc.) that allow you to finger-punch what you want with ease.
You could say the Escape is an expensive mainstream SUV or you could say it's a nicely priced luxury ride. I think it's pricey. And I worry about all those Escape recalls.
You'll like this car if ... you can afford an up-market small SUV from a mainstream brand.
TECH SPECS
•Base price: $24,499; as tested: $43,014 (including $1,615 destination and delivery)
•Engine: 2.0-litre EcoBoost (turbocharged) four-cylinder
•Drive: All-wheel drive
•Fuel economy (litres/100 km): 9.8 city/7.1 highway
•Alternatives: Honda CR-V, Mazda CX-5, Hyundai Santa Fe Sport and Tucson, Nissan Rogue, Chevrolet Equinox, Dodge Journey, Kia Sportage, Mitsubishi Outlander and maybe RVR, Subaru Forster and perhaps SV Crosstrek, Toyota RAV4, Volkswagen Tiguan
RATINGS
•Looks: When designers talk about balanced proportions, this is what they're talking about. The Escape sits nicely on its wheels.
•Interior: The seats in the pricey Titanium model are wonderfully well-bolstered and adjustable.
•Technology: Ford is positioning all its models at tech leaders and this rig is no exception. The all-wheel-drive system does some thinking, the turbo engine is high-tech and you can talk to the Sync controls.
•Performance: Lots of power here. The turbo four spins up when you need extra giddy-up, and if you're careful, the fuel economy is more than decent.
•Cargo: So-so. The space in back is good enough for most chores, but if you haul larger stuff, you'll be frustrated.
The Verdict
7.5
I want to give this one a higher mark because the package here is sophisticated, but wow, can you ever drive up the price of an Escape – and then there are all those recalls.


Ex-LiUNA construction
workers shocked to lose
half at pension cash-out
Members of Laborers' International Union of North America
thought they were building a future, but pulling out of
pension plan early means losing half.
Robert Cribb Foreign
Toronto Star
October 13, 2014
Tony Cordeiro earned a pension worth more than $221,000 during a 25-year career digging tunnels and sewers beneath Toronto as a member of the country's largest construction union .
But Cordeiro and his family won't get even half of that.
When concerns among his colleagues started spreading in recent months about the pension fund run by the Laborers' International Union of North America (LiUNA), the 47-year-old construction worker inquired in May about cashing out before reaching retirement age.
To his shock, Cordeiro found out he was eligible to receive only 47 per cent of his earned pension — $104,000 — if he pulled the money out early.
"I need an explanation of where the rest of that money has gone," he said. "You work all your life. You can't get those years back. It's picking the pocket of the poor worker. What am I going to do?"
Cordeiro, who moved to another union last year but remained in the LiUNA pension plan until recently, is not alone.
A Star investigation has found many current and former LiUNA workers counting on the fund for their retirements have valid concerns about the country's largest construction industry pension plan.
Nearly a dozen current and former LiUNA members interviewed by the Star say they are eligible to claim less than half the pension dollars they have earned if they cash out.
"The plan can pay out only 47 per cent of the commuted value of a benefit payable on termination or death … unless the company makes an additional contribution equal to 53 per cent of the commuted value to cover the shortfall," says the plan's 2012 actuarial valuation report detailing the plan's "transfer ratio."
When members cash out of these plans before retirement, the pension earnings they collect depend on the funding level of plan. While a penalty for cashing out voluntarily is legal, the rate "shouldn't be anywhere near half" the value, said veteran actuary Mel Norton, who has provided consulting services for a wide range of corporate clients and multi-employer plans during his career.
A Star survey of several multi-employer construction industry pension plans ranging from plumbers to boilermakers showed transfer ratios ranging from 70 per cent to 94 per cent.
Of the province's 50 large private-sector unionized pension plans similar to the LiUNA plan, only six are funded below 50 per cent, according to figures provided to the Star by the Financial Securities Commission of Ontario (FSCO), the industry regulator.
Joe Mancinelli, a LiUNA international vice president and regional manager for the Central and Eastern Canada area of the union, declined to be interviewed. But in written statements to the Star, he said the LiUNA Central and Eastern Canada Pension Fund — what he calls the biggest plan of its kind in the country, with $4.2 billion in assets — has returns on investments that are "amongst the best of any plan in Canada," is expertly managed and is "well funded."
The 47 per cent voluntary pension cash-out figure ensures the "equitable treatment between those members who stay in the plan and those who choose to leave," he said.
The Star's investigation found the Laborers' pension fund — one of the biggest of its kind in Ontario — is significantly underfunded, meaning it has more liabilities than assets and therefore insufficient money to cover current and future retirements.
Many pension funds in Ontario are weighed down by financial shortfalls from unsteady investment returns, a market collapse six years ago and a decline in long-term interest rates. But the extent of the underfunding in the Laborers' plan — and the implications for more than 100,000 workers relying on it — is striking.
Three pension experts, after reviewing 1,200 pages of LiUNA records compiled by FSCO and obtained by the Star, raised questions about the management of the Laborers' plan. One said the plan is run with "overly optimistic" assumptions about its future prospects. Another said it is subject to "significant exposure" in the markets that could further undermine its ability to meet its financial obligations to pensioners.
Established in 1972, the Laborers' pension fund is a "multi-employer" plan in which numerous employers pay workers at a negotiated rate per hour. The union and its members determine how much money is set aside for wages, benefits, training, pensions and other funds.
A carpenter making $36 an hour, for example, could receive an additional $6.20 per hour in pension contributions as part of an overall compensation package of almost $50.
Those members voluntarily cashing out of the plan after years of work are now only receiving cents on those contributed dollars.
Gino Marandola, senior manager of pension operations for FSCO, declined to speak specifically about the Laborers' plan. But he said a fund's transfer ratio "is important for telling you how well funded a pension plan is."
There is no specific underfunding threshold that triggers FSCO action against a pension fund's administrators, Marandola said. While FSCO does monitor funds for financial weaknesses, it seeks voluntary compliance through warning letters, he said.
"If voluntary compliance is not achieved, we can revoke a plan's amendment. We can replace a plan administrator with a third-party administrator, direct an administrator to take an action or we can wind up a pension plan."
Mancinelli said the Laborers' fund will be "fully funded by 2019, contrary to many other pension funds in Ontario and in Canada." And he predicts the union's transfer ratio should increase to 60 per cent thanks to "excellent investment performance in 2013 and an increase in interest rates during 2013."
The three pension experts interviewed by the Star said any prediction that the plan will be fully funded by 2019 is speculative and unreliable.
The LiUNA fund fell short of assumptions in expected returns by more than $143 million for the two years ending December 2012, said veteran pension consultant Greg Hurst.
"If the fund continues to fall short of the trustees' expected rate of return, further contribution increases would likely occur or benefits could instead be reduced," added Hurst, who is managing director of his own pension consulting firm in British Columbia.
In a promotional video, LiUNA's message about the pension fund is one of firm stability and growth.
"You have the security of knowing that you are drawing your pension today with a fund that is expertly run and with a long track record of success," the narration reassures members and prospective members.
That is "certainly overselling their accomplishments in the plan," said Norton.
"At a very minimum, they should be communicating the risk to members more clearly. The message is everything is wonderful and we're well invested when in fact they are walking around with a significant exposure like other plans."
The fund's returns have not been impressive "compared to a reasonable universe of diversified funds," said Hurst.
A video posted online featuring former LiUNA officials taking public aim at the union pension fund, warns members — and prospective members — about "unfunded liabilities" that have put the plan in "big trouble."
"The Laborers' pension is built on a poor foundation," says the narration of the video dubbed "Make the Big Move to Carpenters (Union) Local 1030." "It's crumbling, more every year. And it may not be there to support you when you retire."
The video was part of a recruiting drive urging LiUNA members to move to the United Brotherhood of Carpenters union.
It is now the subject of civil litigation as LiUNA alleges in a statement of claim filed in court that the video contains "numerous statements that are false and defamatory."
In a statement of defence, the Carpenters' defendants deny making defamatory statements "that are false."
"The Carpenters defendants state that they are fair comment based on the true facts … that the (Laborers' pension fund) has a significant unfunded liability."
The Star's research shows contributions by a top LiUNA tradesperson (such as a cement mason) have shot up more than 120 per cent to $8.60 an hour over the last decade. That works out to an average of about $16,000 a year currently — or about 17 per cent of total compensation — for someone working 40 hours a week.
That's far too much, said the experts, concluding the union only needs about $3.30 an hour to fund benefits for its members.
The additional $5 in contributions — for every worker, every hour, every day — is set aside to reduce and eliminate the fund's financial liabilities, they said.
"A significant proportion of the contributions made from hours worked by active members don't go to provide working members with pension benefits," said one of the experts.
Instead, it goes to addressing the plan's funding shortfall.
"It's coming right out of their paycheques. My guess is the members probably don't see themselves paying directly for this," he said. "Nobody is telling them, 'By the way, you guys could've had a much bigger salary if we didn't have this pension burden.'"
Mancinelli's statement says the average overall pension contribution rate is about $6 an hour. Virtually all of that goes to paying for benefits and administration costs, he said.
FSCO raised concerns about the management of the LiUNA pension plan in 2011 when it said, in a Jan. 21 letter, "we continue to have concerns" and asked several detailed questions about the management of the plan.
The letter notes the plan had $8.1 million in losses in 2009 "and has had such losses in each of the previous four valuations," saying "it appears that the withdrawal and mortality assumptions are inadequate."
In the letter, FSCO also questions the "appropriateness" of the fund administrator's calculations based on the "uncertainty of financial market returns and the anticipated expenses for carrying out the plan's investment strategy."
In his statement, Mancinelli said those concerns were addressed with FSCO and that calculations were "changed/strengthened" where required. There were no concerns raised by FSCO in its most recent review as of December 2012, he said.
In Cordeiro's case, he decided to take the 47 per cent based on the advice of his financial planner.
"He said, 'Tony, it's at 47 cents now. It could go down to 40. I advise you to take it out and invest somewhere else so you can see your money grow. He's telling me it might not be there when I'm 65."
Terrence, another former LiUNA labourer, earned a $117,000 pension that was reduced to $55,000 when he cashed out a couple of months ago — a 53 per cent devaluation.
The 54-year-old, who asked that his full name not be published for fear of legal retribution, earned it working underground as a mechanic.
With two children, including one attending university, he says he needs it.
So after moving to another job that removed him from LiUNA's membership, he inquired about cashing out four months ago.
"I was pleased to find how much was (earned in) my pension plan. I was putting in 3,000 hours a year down there."
When Terrence learned the amount he could get was less than half of the earned amount, he says he couldn't believe it.
"I thought, something's not right here. But these others guys were cashing out and telling me what they were getting. I talked it over with my wife and we decided we have to pull it out before we lose even more.
"I worked hard all my life, put my kids through school and now I have to deal with this. All this time I worked for nothing. I'd rather take my chances."
Terrence says there's widespread concern among LiUNA members — concerns he hears from dozens of men he worked with — about the plan's health and its steeply discounted payouts.
"None of us can believe what we're being handed. We're older men. We've done the worst work. This is the rudest slap I've ever seen in my life. I know I'm a peasant, but this is really making me feel like it."

Why Norway is No. 1 for seniors
Experimental 'welfare technology' is helping
aging people remain independent longer.
By: Paul Watson Star Columnist,
Published on Sun Oct 12 2014
OSLO, NORWAY—Building 21 is nestled among tall, lush trees on the grounds of Aker Hospital, which has been caring for Norway's sick since 1895.
From the outside, this small wing, built of red brick with yellow trim and Georgian windows, looks like a medical relic. Walk through the front doors, though, and you step into the future of dementia care.
This is Alma's House, an apartment where people with dementia disorders can try experimental tools designed to help people remain independent longer.
It looks more like a showroom for minimalist Nordic design than a hospital wing. Which is the way it was designed to be: homey and high-tech, so the elderly might see a more comforting future.
"This is a home-like place, not a shop," explains occupational therapist Sigrid Aketun. "The first, main thing is to address your ability and your disability. There are lots of examples where the simplest solution is the best, when you talk about cognitive impairment."
What looks like a giant smartphone stands next to comfortable armchairs and shelves lined with family photos and knick-knacks. It is actually a touch-screen portal allowing remote support for an elderly person with memory loss. The oversized icons and bright colours are designed for aging eyes and fingers.
Built by the Nordic company Abilia, it connects to the Internet, giving loved ones or professional caregivers full-time wireless access.
Open the fridge, and a huge graphic pops up on the screen. It tells the resident to close the door if it stays open too long.
It can also tell her to take medicine, turn off the stove and can automatically bring up a favourite newspaper site or radio station. Remote users can also share the latest family pictures or chat over Skype.
Two years ago, when roughly a quarter of the country's budget went to health care, Norway launched a radical experiment to get the many parts of a strained system working together better. As part of the strategic shift, the City of Oslo's Resource Centre for Geriatric Care opened Alma's House.
Norway's 430 municipal governments were already responsible for primary health services, including family doctors, rehabilitation and nursing both inside and outside institutions.
The 2012 reforms shifted even more responsibility on to local officials. The national government provided bigger grants to municipalities and demanded more efficiency. One change calls for municipalities to pay a penalty of $700 a day if a patient stays in hospital after he is ready for discharge, says Terje Hagen, an economist at the University of Oslo's faculty of medicine.
"So the problem of 'bed-blockers' in the hospital has disappeared. It's cheaper for the municipalities to take home the patient from the hospital and invest in either home nursing or institutions."
The reforms are prodding the country toward the main goal: cut demand for beds in hospitals and nursing homes.
"The policy in Norway is to stay at home as long as possible," Aketun says.
--------------------------------------------------------------------------------
There is no better place on Earth to be old than Norway.
In newly released Global AgeWatch rankings, Norway moved up from second to top spot. Last year's leader, Sweden, was second, followed by Switzerland and Canada.
More than four decades of pumping oil and natural gas from beneath its northern seas has transformed Norway from a high-latitude land of fishermen and lumberjacks to one of the world's wealthiest and most socially progressive nations.
The Global AgeWatch rankings — compiled by HelpAge International, a London-based global coalition of organizations committed to improving living standards for the world's rapidly expanding over-60 population — put Norway at No. 1 for income security for seniors. That's largely because pensions cover everyone over 65.
A big reason that getting old is more financially comfortable for Norwegians than Canadians is Norway's mammoth national nest egg. It grows by the day with revenue from heavy taxes on oil companies that are invested for every Norwegian's benefit. Their sovereign wealth fund, officially called the Government Pension Fund Global, has more than $885 billion in global property and share holdings.
But, like all Western nations, Norway can hear trouble coming: It's the ticking of the demographic time bomb.
By 2060 — when Norway's government projects its oil reserves will run out — one of out every five Norwegians is expected to be 70 years or older.
The ranks of retirees needing social services will rise quickly while Norway's oil production steadily drops. That will force some hard decisions in a country that earns 21.5 per cent of its gross domestic product from oil and natural gas.
Norwegians know the cost of foundering now could be high: the erosion or collapse of the welfare state that is the very soul of their modern society.
--------------------------------------------------------------------------------
An estimated 70,000 Norwegians, or just over 1 per cent of the population, have dementia, according to a study published in 2012. Half are living in their own homes, Aketun says.
In Canada, an estimated 747,000 people, or roughly 2 per cent of the population, live with cognitive impairment, including illnesses such as Alzheimer's disease. The Alzheimer Society of Canada expects that number to double to 1.4 million by 2031.
The financial costs of dementia are staggering: an estimated $33 billion a year in medical expenses and lost earnings. The bill will balloon to $293 billion annually by 2040, the Alzheimer Society of Canada predicts.
Federal Health Minister Rona Ambrose said in May that she had recently consulted with the provinces and territories on creating a national dementia strategy, but concluded "there is no consensus to move forward."
Norway laid out its seven-year national dementia plan in 2007.
It targets three areas: giving sufferers something stimulating to do each day, giving them proper housing and educating society about the illness.
Norway's government concluded years ago that large, multi-storey buildings with tunnel-like corridors are disorienting, depressing or even frightening for dementia patients. So it offered grants and low-interest loans to renovate houses and to build new facilities. The government gave out $6.6 billion in grants from 1997 to 2005, or almost $10,000 for each person 65 and over. Billions more were spent in the past decade, including $1.4 billion in grants and $4.4 billion in low-interest loans last year.
Norway's government also provides financial support for buying electronic devices, or assistive technology, that make it easier for the elderly and infirm to live at home.
For instance, electronic mattress sensors can tell if a person gets up and then automatically turn on the lights. If she's out of bed at night longer than normal, the smart home can send a text alert or make a phone call to a loved one, nurse or an alarm company.
A smart home can disconnect stoves, kettles or other possible fire sources at a set hour and reconnect them in the morning. Wired doors and windows can raise a silent alarm in case a person with dementia wanders.
The housing bank also supports the construction of "sheltered housing" for people with dementia. The concept, borrowed from Sweden, allows people who can't take care of themselves to live in small groups, with trained staff ready if needed. Municipalities run the facilities, which are limited to 12 beds. They're normally in separate rooms, so the atmosphere is like that of a small condo building.
"It's subsidized by the state, so it's quite cheap, but you buy your own flat," says economist Hagen. "Then you will have your own kitchen, your own rest rooms, and so on."
Hagen's mother-in-law lives in one and pays about $1,400 a month, plus food costs, roughly 20 per cent less than the average cost of a one-bedroom apartment in the centre of Oslo, one of the world's most expensive cities.
There's a means test, so the poor can move in for free.
People with more advanced dementia who need full-time attention are moved to special care units or ordinary nursing homes. The special care units are also small, with each personal care worker handling an average of three residents, the 2012 study found.
Still, seven years into its national strategy, Norway is making slow progress: the 11,451 beds in group-living facilities were only enough for 16.4 per cent of people with dementia. Finding people to work in the new system has proven harder than paying for it.
"Home-based care has grown fast and you have many things to do for people," Aketun says. "You go shopping for them. You do their laundry. You do their cooking. You do everything for them. If you continue that, every third young person at age 18, when he finishes school, he has to choose to be a health-care worker. We can't have that."
That's why Alma's House is so important.
"Because we don't have all the hands we need," Aketun says, "we have to use technology to solve some of these demands for services."
--------------------------------------------------------------------------------
An elderly woman and her daughter came to Alma's House months ago with a typical problem.
The woman, who has Alzheimer's disease, waited each day for a health-care worker to help her take the medicine. The appointed time was 9 a.m.
But visiting staff couldn't keep up with demand. So the woman often had to wait for hours.
"Eventually, she picked up her phone, called home care and asked, 'Who has Alzheimer's, you or me?'" says senior executive Ellen Wasserfall.
An occupational therapist recommended Alma's House, which offered an elegantly simple solution: an automatic medicine dispenser, the size of a plate, with a digital clock.
The "Pilly" holds 28 daily doses and bleeps loudly at 9 a.m. each day, signalling the woman to take the pills. Then it locks until the next morning's alarm.
"I was there, with her daughter and the occupational therapist, and she said, 'Oh, this is freedom! This is freedom! I can go travelling. I can see my family. I've got my everyday life back,'" Wasserfall recalls.
But the Pilly is expensive: $350 for the basic model, $440 for the one that automatically sends text alerts if the user misses her medicine.
So far, the government won't pay for it, Aketun says, although it is being tested in small trials in several Norwegian municipalities.
"If the national agency could provide assistive technology so that the person can stay safe at home, why not do it, instead of putting this person into an institution?"
--------------------------------------------------------------------------------
Like Canada, Norway is trying to figure out how to deal with the expensive, and dangerous, problem of confused dementia sufferers wandering.
Several cities are testing using a small GPS device that hangs from a lanyard or is worn on the wrist. One version comes with a wireless connection so someone can talk to the wearer.
"Your wife or husband at home can either follow you (remotely)," Aketun says. "Or there can be a 'geo-fence' and there can be an alarm if you're not in an area that you're allowed to be."
Letting companies track your grandmother scares some people. But Norwegians are seeing the advantages, Hagen says.
"When I started working in dementia care, people said, 'Oh, this welfare technology is so inhuman," and thought about robots in every home, Wasserfall says,
"And using GPS, they think we're following people and surveilling them," she adds. "But there's been a change. People see that it can be a help and not a threat. We're going slowly, but there's a huge difference now."
By the numbers
33% - Population that is over 60 in Japan
42.7% - Japan's projected senior population in 2050
100% - Norwegian seniors who qualify for government pensions
97% - Canadian seniors who qualify for pensions
96 - Afghanistan's rank, making it the worst country in the world to be old
50 - Life expectancy in Afghanistan
Source: Global AgeWatch Index, L.A. Times
Unifor Local 584 Retirees
Thanksgiving Food Drive
Collects 1/2 ton of food for the
Knights Table in Brampton.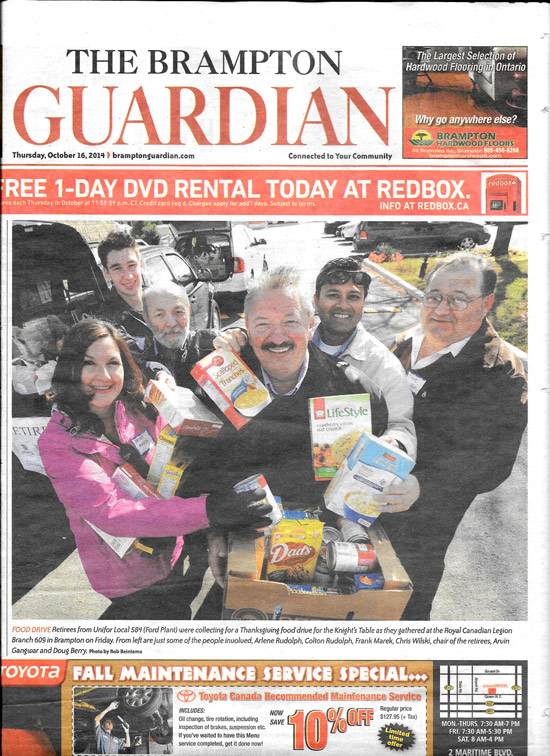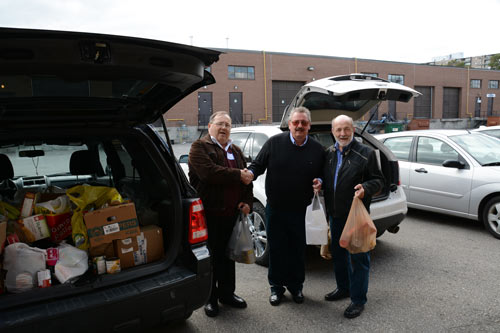 Our Retirees gave generously as they tipped the food scales at 1,070 lbs of food collected in a two hour time span on Friday October 10th at the Canadian Legion in Brampton.
Our totals did not include what was collected in the plant, we had challenged them to see who can raise the most food. No one from their group has come forward with the results but rumour has it that we more than doubled their figures. Way to Go! Retirees
Thanks to all those that helped and also donated by helping our community by feeding the needy. Job well done.

More Retirees Thanksgiving Luncheon Photos Oct 2014 Click Here
Conservatives can't resist one last kick at the union scapegoat
Jim Stanford
The Globe and Mail
Oct. 10 2014
Enmity for organized labour has been a key feature of the Conservative brand ever since the Harper government came to power. Laws imposing contracts, banning strikes, cutting pensions, and limiting union freedoms have figured prominently in the legislative agenda. And throwaway swipes at union bosses, inflexibility, and fat contracts regularly pepper party communications, from ministerial speeches to fund-raising letters.
Perhaps union-bashing was once a potent button for Conservatives. Whatever ailed the economy, they could blame "big labour" – and many recession-fatigued Canadians would agree. More recently, however, the calculus of anti-unionism has changed. Union-bashing may be doing more harm than good to Conservatives (both federally and provincially). How will this influence the Harper strategy leading to next year's election?
A key moment in this sea change was June, 2013, when the government suffered an extraordinary defeat at the hands of Conservative Senators. Bill C-377 (nominally a private members' bill about union financial reporting, but in practice a broad attack on unions overseen directly by the Prime Minister's Office) was amended in the Senate – so dramatically as to defeat its purpose. The amendments were backed by 16 Conservatives, led eloquently by Hugh Segal, who pilloried the bill as "flawed, unconstitutional, and technically incompetent."
The bill was also denounced by privacy experts, constitutional lawyers, and investment and insurance executives (aghast at the requirement that any union payment over $5,000 must be disclosed). The amended bill went back to the Commons – but then the Prime Minister prorogued parliament, and the whole process started over. The Conservatives re-introduced C-377, unamended, last October, but signalled it would likely die on the Senate order paper.
Fast forward a year, however, and it seems the government wants to take another kick at the "big labour" scapegoat. They want to change Senate procedural rules to limit debate on private members' bills. They've resuscitated C-377 from the dead for second reading, and are also accelerating another anti-union private members' bill: C-525, which makes it harder to form a union, and easier to get rid of one. The new procedures would allow the government to push both bills through with less fuss. Senator Segal, meanwhile, has retired – although that alone won't flip the outcome since the initial vote to amend it wasn't even close (49-33, with 7 abstentions).
C-377 would probably never take effect anyway, even if passed, since it almost certainly violates provincial constitutional authority and federal privacy standards. But that's beside the point for the Conservatives. With a year (at most) to the next election, it is an opportunity to distract voters from a disappointing economy and Mike Duffy, buff their business-friendly credentials, and – above all – motivate their core supporters. A reinvigorated crusade against union bosses will certainly sell well with the hard-core base (the ones who write cheques and hand out leaflets). But will it help with the broader electorate? Not anymore.
In addition to the C-377 debacle, several other labour issues unfolded badly for the Conservatives (and their provincial counterparts) in the last year. Ottawa backtracked dramatically on its Temporary Foreign Worker program in the face of public outrage – opposition led by unions. In Ontario, PC leader Tim Hudak self-immolated in fiery anti-union rhetoric. In B.C., Premier Christy Clark's attempt to paint the teacher's union as public enemy number one backfired; she finally withdrew (after a needless three-month strike) her plan to unilaterally seize control over classroom sizes. Even in Alberta, the least unionized province, new Premier Jim Prentice quickly abandoned two confrontational (and likely unconstitutional) anti-union pension bills, told by MPPs they were hurting badly in their constituencies.
Where unions were once portrayed as greedy and unruly, they now survive (and even win) by successfully positioning themselves as defenders of public interest and universal rights. This reframing of the union message has been essential in their recuperated influence. Unions cannot be seen as "special interest" groups, enriching their own members at the expense of consumers or taxpayers. They must be seen as an institutional bulwark on the side of all those who work for a living, defending vulnerable people within a social order that is increasingly lopsided. As unions succeed in that effort, the political value of union-bashing will continue to erode.
But this lesson will likely be lost on the federal Conservatives. They are desperate to change the political channel, and eager to throw one more bone to their strident base. In that case, it is safe to expect more anti-union rhetoric in the year ahead.
Aluminum F-150 is battle tough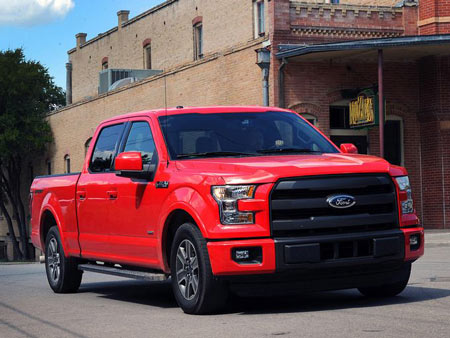 The F-150's huge three-bar grille growls. Its "c-clamp" headlights intimidate. This truck is a fit, aluminum heavyweight fighter.

The console compartment could hide a Mini Cooper.
Henry Payne,
The Detroit News
October 9, 2014
These Fords don't do things half way. Consider the 1942 B-24 bomber and 2015 F-150 pickup.
These two aluminum-skinned, alphanumeric-badged industrial behemoths signal that Ford Motor Co.'s ambition hasn't shrunk in 70 years. Both use lightweight construction to increase range. Both push the limits of mass manufacturing. Both elevated Detroit's industrial genius. The B-24 defined the chairmanship of Henry Ford's only son, Edsel Ford. The F-150 will define the legacy of his grandson, William Clay Ford Jr.
In 1941 Edsel met the federal government's challenge and committed Ford's Willow Run factory to making the B-24 Liberator as a weapon to win America's war with Germany. In 2014 Bill Ford has risen to the challenge of federal mpg standards to convert Ford's Dearborn and Kansas City F-150 assembly plants to aluminum construction to win the war against ... um, global warming. OK, so Washington's wars these days are a might quixotic. Ford's brilliant engineers have translated the challenge to win the conflict that really matters: Defeating RAM, GM and Toyota in the truck wars.
Only compared to the B-24 does the F-150's task seem small. The Liberator program, after all, sought to make a one million-part bomber an hour from scratch in 18 months. It is one of the supreme industrial achievements of mankind. But the F-150's ambition shares B-24's challenges in key respects. It carries huge risks. It requires enormous industrial retooling to produce 70 trucks an hour — 600,000 a year. It must prove itself in a highly competitive theater.
In 1942 Charles Lindbergh test-flew the first B-24s over Willow Run. The plane was uncomfortable and handled like a pig, causing his arms to ache from exertion. It was "more complicated than the keyboard of a pipe organ," he wrote in his diary.
The F-150, you'll be pleased to know, drives like a limousine.
But for its Brobdingnagian dimensions, the sophisticated F-150 cockpit could be confused with a similarly-priced, $40K luxury sedan. The seats are plush, the ride hushed, the instruments sculpted.
My favorite F-150 is a $46,600 XLT. Its huge three-bar grille growls. Its "c-clamp" headlights intimidate. This is an aluminum truck all right. Military-grade aluminum. Opt for the steering column shifter, and the full center console is a bin of storage trays for phones, drinks, briefcases, small farm animals. The storage compartment at my elbow could hide a Mini Cooper.
Sitting atop a completely re-engineered chassis, suspension, and body, the big truck glides down the road despite its leaf-sprung, solid-rear axle chassis. Credit staggered rear shocks, eight chassis-stiffening cross-members, and twin frame-rails firmed with 78 percent high-strength steel (up from 28 percent in the outgoing model). That light-weighting theme runs throughout the truck, making it more nimble, more capable, and more fuel efficient.
This light-alloyed heavyweight weighs in a fit 700 pounds less than its predecessor — even as its cabin is stuffed with more technology than an Apple store.
The pickup market is the most demanding segment in autodom as customers need a daily driver and a workplace tool. These vehicles are rolling Swiss Army knives — they'll take the kid to school while carrying a load of mulch while recharging your band saw.
Consider the Ford's side mirror.
Approach it in darkness and an LED drops a pool of light for ground visibility. Another bulb turns the mirror into a rotating spotlight, illuminating the landscape. Embedded sensors alert you to traffic in your blind spot. And mirror cameras help form a 360-degree view around the truck's perimeter. Give this tool a first place blue ribbon at the science fair.
The Big Four truck warriors are representative of their corporate brands. Toyota's Tundra is perennially atop J.D. Powers' quality ratings. Chrysler's RAM has carved a loyal following with its innovative eight-speed gearboxes and coil-sprung suspension.
Ford and GM are the titans. The volume sellers. The F-150, for example, comes in everything from a $26,616 two-wheel drive base cab to a $52,155, leather-skinned, luxury, 4x4 Super Crew Cab that can scale the Empire State Building while giving you a back massage.
Pickup loyalties are legend. You thought wartime Europe was Balkanized? Truck wars have long bloodlines. Traditionally, the best truck — Ford, RAM, GM, Toyota — is the latest model.
But with the aluminum F-150, you sense a watershed moment.
With GM struggling through bankruptcy, Ford launched its moonshot. Investing billions, the F-150 translated its history with aluminum-skinned Jaguars to benefit trucks: Better power-to-weight ratio, handling, and fuel economy.
Aluminum is just half the story as Ford has also developed a formidable artillery of new turbocharged engines. Where four huge engines carried the B-24 aloft, four engine options power the F-150.
In keeping with its light infantry theme, the pickup's mix has changed from the previous generation's two V-6, two V-8 lineup. Only one V-8 remains (the 5.0-liter with more horses and torque — 385 and 387 — than before). With the success of the base six-banger and Ecoboost V-6, Ford has ditched the 6.2-liter V-8 to add a third V-6 to its lineup. The rookie is Ecoboost Junior — a precocious 2.7-liter twin turbo that packs a 325 horsepower, 375-pound feet wallop.
While the V-8 gives the F-150 best payload-in-class and the 3.5-liter turbo boasts best tow capacity, Ford expects Junior to take the truck to the summit of a different metric: Fuel economy. When EPA numbers come in next month, the 2.7 is expected to challenge RAM's 3.0-liter diesel for top fuel sipper. My media mates were recording 21-22 mpg on our San Antonio-area test drives — in the ballpark of RAM's 23 mpg benchmark.
Not me. I was gulping gas over a, muddy, gulch-filled off-road course. Short of pulling Gs in a sports car on (name of race track here), there's nothing more fun.
South Texas ranch country and I punished the new sled through gulch, grade and goop. This is no tin-skinned B-24, but a rock-solid, 6000-series-military-alloy aluminum brute. With four wheels churning and twin turbos spooling, the 4,806-pound rhino never protested. Hopping out of the truck after the test, I slammed the doors and tailgate with abandon. Not a tinkle.
The B-24 answered the critics over time. The F-150 will have to do the same. Will the 1,500-repair shop infrastructure be able to mend aluminum as efficiently as steel? Will insurance rates increase? Will turbos prove as durable as diesels?
These are formidable challenges. But thanks to Ford's risk-taking culture, we are watching history in the making.
Henry Payne is auto critic for The Detroit News. Find him at hpayne@detroitnews.com or Twitter @HenryEPayne.
2015 Ford F-150
Vehicle type: Front-engine, rear and four-wheel-drive, six-passenger pickup truck
Price: $26,615 base ($46,615 2.7-liter Ecoboost, 4x4, Super Crew as tested)
Power plant: 3.5-liter V-6; 2.7-liter turbo "Ecoboost" V-6; 5.0-liter V-8; 3.5-liter turbo "Ecoboost" V-6
Power: 283 horsepower, 255 pound-feet of torque (3.5L V-6); 325 horsepower, 375 pound-feet of torque (2.7L Ecoboost V-6); 385 horsepower, 387 pound-feet of torque (V-8); 365 horsepower, 420 pound-feet of torque (3.5L Ecoboost)
Transmission: Six-speed automatic
Performance: Towing capacity (4x4): 7,500 pounds (3.5L V-6; 8,400 (2.7L Ecoboost); 11,100 (V-8); 12,000 (3.5L Ecoboost)
Weight: 4,806 pounds (test vehicle)
Fuel economy: NA
Report card
Highs: Bold styling; all-around athlete
Lows: Uncertain costs of insurance, repairs
Overall: ????
Grading scale
Excellent ????
Good ???
Fair ??
Poor ?
Why raise the minimum
wage? Just ask Costco
CAROL SANFORD
The Globe and Mail
October 8, 2014
Businesses use social systems, especially economic systems, to influence how society works – usually, though not always, for their own self-interest. Sometimes this influence can be extremely destructive. For example, one socially codified means for determining fair wages is the minimum wage. As a rule, businesses react powerfully and as a group whenever there is any mention of raising the mandatory minimum wage. They claim that this will undermine their ability to do business and produce severe economic consequences due to layoffs and reduced hours. The social effect has been the establishment of a permanent underclass of workers who can never generate enough income to adequately provide for their families.
Ironically, research has consistently shown that businesses that provide wages considered fair by workers experience not only solid returns but active worker participation. Reconnection entrepreneurs are willing to shift a key system driver governing income distribution by challenging the mythical dangers associated with raising the minimum wage and advocating for the systemic economic growth that arises from paying workers fairly. What they know is that their businesses will prosper in that kind of income distribution environment.
Jim Sinegal has actively campaigned for decent wages for workers. He founded Costco, one of America's largest big box retailers, with the vision of building a company that would actually be good for the nation's communities and economy. His business model depended on a stable, well-paid, and committed work force, and he worked hard to ensure that he was growing careers for his employees, not just temporary jobs. Costco has done an extraordinary job of providing workers without college degrees a way to enter the middle class, filling a role once held by manufacturing. Through this commitment, the company has actively contributed to more stable communities, healthier families, and a basis for engaged citizenship. Further, his commitment has led Sinegal to advocate at local and national levels for a higher minimum wage for all workers, and to argue that this is necessary for a viable economy and democracy.
Costco's business model is based on the idea that hanging onto its employees gives the company the leverage it needs to manage overhead. Many high-volume retailers and fast-food franchisers expect high turnover and irresponsibility in their work force. This arises from the assumption that workers are interchangeable – commodities, if you will. This leads these companies to drive wages as low as possible, and to create comprehensive procedures as a way of ensuring an adequate level of performance. Of course, these assumptions come at a significant cost. High turnover is expensive in terms of recruitment, training, and lost productivity. Treating people as though they can't manage themselves incurs higher management costs and can easily undermine motivation. Costco, by contrast, is able to attract and retain lifelong employees who are highly motivated and require minimal management. Treating its employees as loyal and independently intelligent beings is great for productivity and innovation.
The role of the reconnection entrepreneur goes beyond products and services that are intended to address current social issues. A reconnection entrepreneur is less interested in symptoms than in underlying causes. So, for example, he doesn't just seek to help disadvantaged kids get an education; he seeks to change the social system so that it no longer produces the disadvantage in the first place. He doesn't just make a smoke-free stove for people living in Sub-Saharan Africa; he works on changing the system that fosters inequity among nations and robs people of the ability to determine their own future. A reconnection entrepreneur gets outside of the issue and asks himself how far upstream he needs to go to make change at the systemic level.
The reconnection entrepreneur is descended from a time-honoured legacy – the court jester. Like the court jester, he questions the orthodoxies codified in the many diverse arenas of social relationship. He upends the known and validated rules of social engagement and rank, and he must develop enough wit and flexibility to avoid being killed by the monarch he serves. His task is to make ugly truth both palatable and playful.
Deep caring is a primary characteristic of the reconnection entrepreneur. Such caring goes beyond compassion toward individuals currently trapped in systems that limit them. A reconnection entrepreneur understands that if the system isn't changed, future generations will continue to be trapped in the same ways. He connects the present with the future to make the future accessible and intelligible to us. This drives him to challenge and innovate with regard to those systems that prevent the development of people's full potential.


UAW readies for Big
Three contract showdowns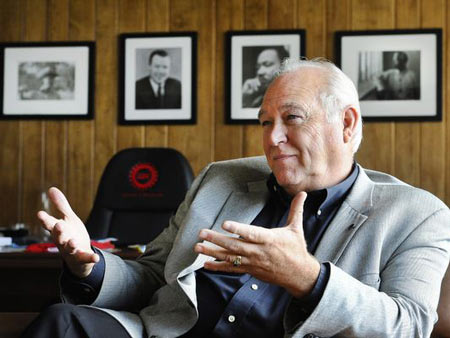 David Shepardson,
The Detroit News
October 7, 2014
The new president of the United Auto Workers is moving to restructure the union as it gears up for one of its toughest challenges in years: next fall's critical labor talks with U.S. automakers as it seeks pay raises for veteran workers and more equitable wages for newer workers.
"We're shaking it up a little bit. We're actually restructuring internally," Dennis Williams told The Detroit News in his first wide-ranging interview since taking office in June. "We know we have a lot to do — but we don't want to put so much on our plate that we can't achieve nothing."
The Detroit union wants to convince U.S. automakers — who made $14.4 billion in profits last year — to agree to significant improvements in compensation, including for older workers who haven't had a raise since 2007. Williams is under heavy pressure to bridge the gap with newer employees known as "Tier 2" workers who earn significantly less than veteran employees — and get less in the way of benefits, including no defined-benefit pensions.
"We have to be focused on bridging that gap," the 61-year-old Williams said last week in his office overlooking the Detroit River at Solidarity House, the UAW's headquarters. "The companies need to recognize the fact that the (veteran employees) haven't had a raise."
The UAW faces significant pressure to deliver, in part because thousands of UAW members in Michigan will have the right to opt out of membership for the first time after Michigan approved controversial "right to work" legislation.
At the same time, Williams says, the union has to be "mindful that we are in a global economy with real competition."
Next year's contract talks are the first since 2007 in which workers at General Motors Co. and Chrysler Group LLC have the right to strike; the UAW gave up that right for the 2011 talks as one of the conditions of the government bailouts for the automakers. Workers in June approved the first dues increase since 1967 — a 25 percent hike — to replenish the strike fund that had fallen to about $600 million. Union leaders said they needed a healthy strike fund so companies would take seriously the threat of a work stoppage.
Williams said a strike is not inevitable next year in contract negotiations, despite suggestions by some observers.
"We don't want to have a confrontation unnecessarily. I just think there's too much at stake for any of us to pick a fight with one another," he said. "We have big issues — there's no doubt about it — but I think, realistically, companies have to know... our members have sacrificed. I think that new people coming in want a higher standard of living and I don't think that's unreasonable. We'll find out when we get to the table."
Williams, who previously was secretary-treasurer of the union, said he is rethinking all of its operations. He says the UAW is making progress in its bid to win representation for workers at Volkswagen's Chattanooga plant. He confirmed the union expects to launch a similar local for workers at Daimler's plant in Vance, Ala., asking to workers to volunteer to join.
He plans to again push the automakers to add more jobs in the United States. The 2011 labor agreements resulted in Detroit's Big Three automakers adding or retaining 28,000 jobs, and resulted in record-setting profit-sharing checks for UAW workers and pay raises for newer workers. By next year, those newer workers will make at least $19.28 an hour, up from about $15.50 in 2011.
'Right to work' impact?
Kristin Dziczek, director of the Industry & Labor Group at the Center for Automotive Research in Ann Arbor, said next year's talks with Detroit automakers will include a "whole list of things that are going to be really hard."
With younger, lesser-paid workers representing a bigger chunk of UAW membership than in 2011, the union will need to have their support to ratify contracts. That's why the UAW will need to win benefits for both new and older workers.
And because of "right-to-work" laws, Michigan workers will be able to opt out of the union if they don't like it. "We haven't been in this situation," Dziczek said. "We don't know how it will play out."
It's going to be a balancing act, Dziczek said. "I don't think they can get rid of second tier, but I think they can get darn closer." She said the UAW might be able to win a phase-out of the two-tier contract in the next negotiations in 2019.
Williams said the fact that UAW members in Michigan will have the right to quit the union after the next contracts take effect is not going unnoticed: "This is new to our members, this is new to the state of Michigan — so we'll deal with it, but it's not going to be a total focus of mine."
He said that in other right-to-work states, the union has been successful in retaining the vast majority of its members. "I've always believed that if you do your job representing people, that people will be there to support you."
Beyond wages, other issues will be contentious. Dziczek said automakers likely will seek to reduce pension costs as they did with salaried retirees. GM and Ford Motor Co. both offered lump-sum buyouts to salaried pension recipients if they agreed to forgo future benefits. GM off-loaded its pension plans to Prudential, while last year Chrysler froze its salaried pension plans for 8,000 people.
Harley Shaiken, a University of California Berkeley professor and labor expert, said the labor talks will pose a challenge. A deal "is going to be tough. It's going to require some swallowing hard on both sides." Much may depend on the economic conditions a year from now and if U.S. automakers are still posting billions in profits.
Williams dismisses suggestions that the UAW will focus solely on the Detroit's Big Three automakers: "We're not going to give up on organizing. In fact, actually we have more organizing going on right now than we've had for a long time — but we're going to approach it in a different way."
Beyond negotiations with Detroit automakers, the UAW will have to negotiate major contracts with John Deere, Mitsubishi and UAW Local 6000, which represents 17,000 state of Michigan employees. "This is not going to be an easy task," Williams said. "It's a full plate."
Growth opportunities seen
Williams, who moved to Detroit four years ago, has kept a low profile since winning election in June at the union's constitutional convention in Detroit. He's been meeting members, visiting plants and local union halls.
Since taking office, Williams has met with GM CEO Mary Barra and Fiat Chrysler CEO Sergio Marchionne. He plans to meet with Ford CEO Mark Fields soon. The meetings haven't been a "deep dialogue," he says. Rather, he characterized them as sessions to get to know each other.
The 2015 contract talks will be the first with Fields and Barra at the helm. In an interview last week, Barra said GM has a strong relationship with the UAW and a good relationship with union leaders. "We're having productive conversations about our approach," she says. "We're going to work together. There's a lot of creativity."
In 2013, the UAW's membership rose about 2 percent, or nearly 9,000 members to 391,415 — the most since 2008. It was the fourth straight year of membership gains for the union. Membership is still down about one-third since 2005 and down dramatically from when its 1.53 million members in 1979.
Williams says the union sees foreign automakers, parts companies, the gaming industry and higher education as potential areas for new members. "The UAW has a great opportunity to grow," he said.
Williams' election marked the first time in the union's history that the president is someone who has not worked in an automobile factory. Williams, who served in the U.S. Marine Corps as a younger man, got a job as a salvage welder at tractor company J.I. Case and joined the UAW in 1977. His past isn't lost on him: Williams sits behind the president's desk in a makeshift tractor chair with his name and UAW logo embossed on it. It was built by an Iowa UAW local.
His wife recently retired from working for the U.S. Navy Department and the couple is putting their Illinois home up for sale. He puts in long hours and been quietly visiting plants and union locals to take the pulse of union members — especially at plants and locals that his predecessors haven't bothered to visit.
In a sign of his low profile, he's still so unknown that some members at union locals haven't recognized him when he visited.
"I love it when they don't know who I am."
Call growing louder for
national prescription drug plan
The Canadian Press
By Lee-Anne Goodman
October 6, 2014
OTTAWA - It's a buzzword in the medical community, although one that hasn't quite caught fire yet with Canadians at large: pharmacare, a national program that would see prescription drugs covered through a publicly funded system rather than out of pocket.
Many doctors are clamouring for it. Canadians dream of it when faced with sky-high drug costs as they fight cancer, diabetes, heart disease and other illnesses. Even private insurers aren't entirely opposed.
And now politicians are starting to take up the cause. The federal NDP is calling for national pharmacare, while Ontario's new health minister has emerged one of its most enthusiastic cheerleaders as he urges a federal strategy.
"I can't tell you how many times I'd have to go into the sample drawer, because I knew if I gave a prescription to someone, they weren't going to fill it because they couldn't afford it," Eric Hoskins, who's also a physician, said in a recent interview.
A successful public health-care system isn't just about access to a family doctor or an MRI, Hoskins says.
"It's also about being able to access the drugs, and if there's a barrier to that, we're not meeting that standard of a truly public health-care system .... Pharmacare speaks to Canadian values of fairness and equity and access."
Canada, with its aging population, is the only industrialized nation with universal health insurance but no public coverage of prescription drug costs.
An estimated one in 10 Canadians can't fill prescriptions because of the expense. The Organization for Economic Co-operation and Development has also found that Canada has the second highest per capita spending on prescription drugs in the OECD.
That's largely because there's no national standard for drug coverage or drug purchasing in Canada. The patchwork of provincial and territorial health-care systems means Canadians with life-threatening illnesses are confronted with costs that can vary wildly from province to province.
Even if ailing Canadians have private drug coverage, their insurers may refuse to reimburse them if the medications aren't considered to be offering value for money. Many medications, especially so-called orphan drugs that are prescribed for rare illnesses, are exceedingly expensive in Canada.
"On pricing of medications, we pay way too much in Canada, especially for generic drugs — both public plans and private plans are paying prices that are far too high because of the way we have established how we pay for the drugs," says Danielle Martin, a physician and vice-president of Women's College Hospital in Toronto.
Canada pays generic companies about 18 per cent of the price of the brand-name drugs, whereas in other countries, generic companies are asked to bid on contracts, she says.
"And it's amazing how the discounts start coming in. Other countries and health systems get staggeringly lower prices than we do."
Canada also fails to buy drugs in bulk, the way the other OECD countries do — although the provinces and territories have started to work together on bulk purchasing, Martin says.
"Everybody knows if you buy your toilet paper in those packages of 40 rolls, you pay less per roll than if you go to the corner store and buy two rolls at a time — it works the same with medications," she said.
But in Canada, there are dozens of different purchasers for the same drugs — private employer plans, public plans and hospitals among them.
"If we could pool our purchasing power, and buy drugs in bulk for everyone, again we could negotiate much lower prices — so much lower that there are very solid economic estimates that suggest we could buy .... a number of drugs used for chronic diseases for every Canadian who needs them for no more money than we're currently spending."
A recently released study commissioned by the Canadian Federation of Nurses Unions determined there are potential savings of up to $11.4 billion a year for Canadian taxpayers via pharmacare due to decreased drugs costs and reduced administration fees.
Pharmacare would also improve access to an array of prescription drugs for aging Canadians, the study found.
Federal Health Minister Rona Ambrose didn't commit to a national strategy last week when pharmacare was raised as she met with her provincial and territorial counterparts in Banff.
"It did come up, and we discussed it quite a bit in the scope of looking at how we can work together to purchase drugs across the country," she said as the conference wrapped up.
"The provinces and territories have come together on bulk purchasing and have saved Canadian taxpayers literally hundreds of millions of dollars .... So that's the beginning of the conversation."
Stephen Frank, vice-president of policy development and health for the Canadian Life and Health Insurance Association, says private insurers are stung by high drug prices too. About 60 per cent of Canadians have private drug coverage, most through their employers.
"We do need a strategy around improving access to prescription drugs and also lowering costs for prescription drugs; we're very supportive of a national strategy on bulk purchasing, as well," he said.
"The issue for us, though, is that what the provinces have done to date is positive for the public plans across Canada, but they have not included employers in those savings. Private insurers are ready to engage in these dialogues and to do our part to improve things; we just need to be included in the discussion."
Frank adds his organization put in place a drug-purchasing pool for private plans last year, allowing insurers to reimburse some massive claims.
"We paid over 4,000 claims last that exceeded $25,000 a year; the highest was for over $1.2 million; there were dozens over hundreds of thousands," he said.
"So it's a completely new world and everyone is struggling with how to deal with it ... the more you work together, the more you can spread those costs and manage it. A national strategy serves us all."
Martin says she's more optimistic than ever that a pharmacare system is afoot.
"All of the signs are really positive. It's one of those situations where the case has been so strong for so long, but somehow there's been a political shift that is changing the conversation."


Wynne says her government on
side with unions on good jobs
The Canadian Press
Oct 5, 2014
Ontario Premier Kathleen Wynne says her government shares the labour movement's goal of creating good jobs, while cautioning the two sides may have some differences of opinion about how to get there.
Wynne told the crowd at a Toronto jobs summit organized by mega-union Unifor that organized labour has improved workers' lives for the better.
She says her Liberal government is on side with unions in wanting to create better-paying jobs that won't get outsourced but added that "we will sometimes disagree about where to take a turn to the right, where to take a turn to the left."
Wynne says the "adversarial model" of labour relations no longer works and that all sides must see each other as partners.
She pointed to an announcement this week of 1,000 jobs being added at a Ford assembly plant in Oakville, Ont., as an example of the "strategic advantage" that can be had when government, business and labour work together.
Wynne touted her government's actions on tackling so-called precarious work and moving to crack down on unpaid internships.
And she made mention several times of how her government and the labour movement share similar values when it comes to jobs and employment.
"We agree on the broad destination, and my hope is that we will be able to travel together. My promise to you is that I will work to make that a reality," Wynne said Saturday.
Ontario and union fight U.S.
Steel's Canadian funding plan
Greg Keenan And Adrian Morrow
Globe & Mail
Oct 4, 2015
The United States Steel Corp. plan to provide financing for its Canadian unit in creditor protection is running into strong opposition from the Ontario government, the United Steelworkers union and other participants in the restructuring talks.
The battle lines have been drawn over U.S. Steel's plan to provide $185-million in debtor-in-possession (DIP) financing for U.S. Steel Canada Inc., which was granted protection under the Companies' Creditors Arrangement Act (CCAA) last month.
U.S. Steel controls the Canadian company and is its sole shareholder, guarantees $100-million in U.S. Steel Canada obligations and is its major debt holder. It is also the "purported secured creditor, purported unsecured creditor, integrated business partner and potential bidder for U.S. Steel Canada's assets," the Ontario government said in a court filing.
The filing noted that the parent company told U.S. Steel Canada that the Canadian unit would not be permitted to borrow money from any other lender that would rank ahead of U.S. Steel in any debt repayment.
But U.S. Steel Canada "should be able to consider and advance all restructuring alternatives for the benefit of its stakeholders without its controlling parent and sole shareholder restricting those alternatives at the outset of the CCAA proceedings," the provincial filing said.
The Pittsburgh-based company is scheduled to ask the Ontario Superior Court on Monday to approve the DIP loan, which will cover the Canadian unit's financial needs through Dec. 31, 2015. Ernst & Young, the court-appointed monitor in the restructuring, supports the U.S. Steel financing.
But other stakeholder groups weighed in against the plan in the first test of wills between the steel company and key stakeholders. The province is involved because it backed a $150-million loan that U.S. Steel Canada will have to repay by the end of next year and its Pension Benefit Guarantee Fund could be on the hook for as much as $400-million if U.S. Steel Canada's pension plans are wound up.
The United Steelworkers criticized the DIP financing proposal as "a thinly veiled loan-to-own strategy" that sets up U.S. Steel as a preferential bidder for the steel maker's Lake Erie Works in Nanticoke, Ont. The Lake Erie and Hamilton assets are part of U.S. Steel Canada, so if U.S. Steel wants to own them after the restructuring it has to buy them from its Canadian unit.
The Lake Erie works, which began turning out steel in 1980, are regarded as more desirable assets than the 104-year-old Hamilton operations. The Hamilton Works, which no longer makes steel, but includes two finishing mills and coke ovens, carries the lion's share of an overall pension solvency deficiency of $838.7-million.
The union also disputed contentions U.S. Steel Canada president Michael McQuade made in court documents last month that the union refused to sign a confidentiality agreement on a restructuring plan before the company sought protection under the Companies' Creditors Arrangement Act.
A written description of a restructuring plan and access to financial information were among the requests the union made in return for agreeing to confidentiality, the union said in court documents filed Thursday.
"United States Steel never responded meaningfully to these overtures," the union said.
"The DIP lender is the parent of the debtor, controls the debtor's order book and is a potential bidder in any sales process," the union noted.
The union urged the Ontario Superior Court to order mediation talks between the union, the company, the chief restructuring officer and other stakeholders to work out terms of a debtor-in-possession financing.
U.S. Steel Canada spokesman Trevor Harris said the company would not comment on the objections filed by stakeholder groups.

Ontario files objection to US Steel's Canadian funding plan
Adrian Morrow
The Globe and Mail
October 3, 2014
The Ontario government is intervening in US Steel Canada's bankruptcy protection proceedings, warning that the company must pay up on a $150-million loan from the province, meet its obligation to its pensioners and take responsibility for environmental cleanup at its Ontario plants.
The company last month proposed to receive debtor-in-possession financing using a loan from its American parent company.
In a statement, Finance Minister Charles Sousa said he objects to the way the deal is structured, because he believes it would put that internal company loan ahead of US Steel's obligations to its pensioners and the Ontario government.
"The province is a creditor of US Steel Canada pursuant to the $150-million Province of Ontario Loan Agreement. We also have an existing agreement with US Steel that requires the parent company to guarantee certain payments on their pension obligations," Mr. Sousa wrote.
"The province is working to ensure that the company lives up to these obligations, does not put the repayment of inter-company loans ahead of its pension obligations, and continues to have responsibility for any environmental liabilities associated with its Canadian operations."
Mr. Sousa said he supports a debtor-in-possession arrangement in general, but wants it structured so that US Steel meets its pension, environmental and loan obligations.
"Ontario supports a restructuring that is based on consensus and that gives the best value to employees, retirees, creditors, and communities," he wrote.
When US Steel took over the former Stelco works in Hamilton in 2007, the company agreed to conditions that included meeting obligations to the former company's pensioners, who now number more than 12,000.
It also took the loan from the province. 75 per cent of the sum was forgiveable if US Steel made the pension plan solvent, which it has not.
The company filed for bankruptcy protection, and has subsequently said it hopes to restructure and sell the Hamilton Works and, later, another facility in Nanticoke.
If it defaults on its pension obligations, the province would be left with a $400-million tab.
Ford hiring 1,000 people for
Oakville assembly plant
Ford Motor Company of Canada is hiring 1,000 more
people at its Oakville assembly plant to build the new Edge.
Toronto Star
Dana Flavelle
Oct 1, 2014
Ford Motor Company of Canada says it's adding more than 1,000 hourly jobs at its Oakville assembly plant in preparation for the launch of its 2015 Ford Edge crossover utility vehicle.
The mass hiring is the first bit of good news in a long time for Ontario's beleaguered manufacturing sector, which has seen the exit of such major employers as Caterpillar and Heinz.
"It's a very exciting day for the Ford of Canada team," Ford of Canada president and chief executive officer Dianne Craig said in an exclusive telephone interview late Tuesday. "It was just over a year ago we had the big announcement in Oakville that we're investing $700 million into this advanced global manufacturing plant to serve 100 markets around the globe."
The new jobs will bring total employment at the plant by year-end to more than 4,000, its highest level since 2004 when Ford closed its Oakville truck plant.
"It's great news for us. Absolutely. It's more than we were expecting," said Bob Scott, plant chair for Unifor Local 707 which represents 3,300 people at the plant.
Auto manufacturing was hit particularly hard during the financial crisis and Great Recession of 2008/2009, as U.S. consumers stopped buying big ticket items such as cars.
Oakville investment
Canadian motor vehicle manufacturers lost 11,900 jobs and had regained just 3,300 by May 2014, according to a report by economists at the Royal Bank of Canada.
Unifor represents 21,000 Canadian auto industry workers, including 4,500 at Ford, which also operates an engine plant in Windsor.
Ford announced the Oakville investment in September, 2013, saying it had won a hard fought internal company competition to be designated the "global platform" for the next generation Ford Edge.
The plant will be the sole manufacturer of the vehicle, which will be exported to nearly 100 countries.
"When I arrived here three years ago, there were a lot of questions about whether Canada could compete. I think we proved that we could," Craig said.
Craig credited both the new labour agreement and the contributions of the federal and Ontario governments, which provided $142 million of the total $700 million investment.
"It's definitely big news for Ford. It's big news for Ontario. It's big news for our industry. It's great for manufacturing in Ontario. Everybody came together to make this happen. Both Ontario and the federal government were a big part of making this happen. And our labour force as well," she said.


Ford Sharply Cuts
Full-Year Forecast
Auto Maker Says U.S. Recalls, European
Economy to Weigh on 2014 Profits
Mike Ramsey and
John D. Stoll
Wall Street Journal
September 30, 2014
Just three months into the top job at Ford Motor Co. F -2.21% , Mark Fields slashed the auto maker's full-year profit outlook on rising troubles in emerging auto markets and costs from quality troubles and U.S. recalls.
Mr. Fields told investors on Monday the nation's No. 2 auto maker by sales expects to report pretax profit this year of between $6 billion and $7 billion, approximately $1.5 billion less than it had forecast in July.
The largest factors: a roughly $1 billion larger tab for warranty and recall costs, a $300 million hit from declines in Russia, and a loss in South America that is $900 million larger than forecast. Better than expected unit volumes and pricing helped offset some of the shortfalls, it said.
Ford shares closed down 7.5% at $15.11 in 4 p.m. trading, the lowest close since March, and continued falling after-hours.
"The big shock today was the margin forecast given for North America," said Brian Johnson, Barclays BARC.LN +0.53% auto analyst. Despite high expectations for the 2015 F-150 pickup truck, Ford's outlook for the rest of the year implies North American operating margins of between 8% and 9%, down from 11% last quarter.
The company now expects Europe to lose $1.2 billion on a pretax basis in 2014 and projects the red ink there would flow into 2015, although at a lower rate. Ford no longer expects European auto demand to return to prerecession sales levels even by 2020.
Ford also is suffering quality problems and has recalled 3.9 million U.S. vehicles so far this year, according to National Highway Traffic Safety Administration data.
Mr. Fields took over from former CEO Alan Mulally in July, and on Monday led a team of executives in laying out a road map for the business through 2020. While the company pointed out bright spots in Asia, North America and its Lincoln luxury brand,
Mr. Fields said the weak short-term outlook isn't casting a shadow over his early days as CEO. He said the company is "looking at reality and dealing with it in a proactive way."
The outlook wasn't entirely gloomy. Ford set targets Monday for the end of the decade across all of its businesses, including nearly a 50% growth in global deliveries, and double-digit margins for its Lincoln luxury brand. By 2020, Ford said it would deliver 9.4 million vehicles, up from 6.2 million in 2013.
Ford promised double-digit margins from the Lincoln brand in 2020 and volumes over 300,000, up from negligible margins and 100,000 units today.
Chief Financial Officer Bob Shanks said the Lincoln brand is going to be a "longer play," not producing strong profits until late in the decade.
Ford promised to invest $2.5 billion in the brand and add two new vehicles by the end of the decade. Lincoln's volume expansion is pegged primarily to Asia, where Ford said it may need to add additional plants.
Ford begins selling Lincolns in China in October and a new small crossover, the MKC, is selling well in the U.S., giving the brand a boost. Ford already has invested $5 billion in factories in China over the past few years.
In North America, Ford is expecting sales to grow by 500,000 vehicles to 3.4 million through the end of 2020.
Ford also told investors that due to higher costs to meet fuel economy standards globally, its profit margins would be lower than it had previously hoped in 2020. Ford hinted that the costs to add hybrid systems or lower the weight of vehicles couldn't be fully covered by higher pricing, primarily because fuel prices remain low.
"The market demand for fuel economy is not matching the regulatory demand for fuel economy," said Raj Nair, Ford's product development chief. Ford also announced it would build its next-generation Super Duty pickup from aluminum, matching the light-duty F-150 pickup that goes on sale late this year.


Ford's pony car finally drives like the sports car it's supposed to be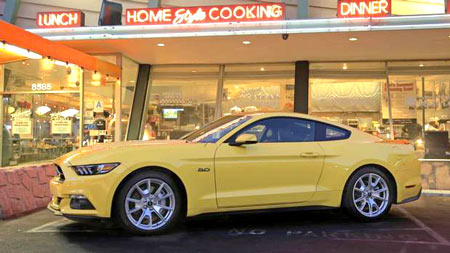 Jeremy Cato
LOS ANGELES
Special to The
Globe and Mail
September 29, 2014
The Angeles Crest Highway, a two-lane driving adventure north of the Los Angeles Basin, is not a road for the old point-and-shoot Ford Mustang.
When you get there in the new 2015 Mustang, says chief engineer Dave Pericak, "I want you to notice how tight the car feels. How well-behaved the car remains in the canyons and hitting the hairpins. You can go into the corners deeper, and you can go in a lot faster, and you're going to rocket out of them."
Pericak speaks with the urgency of a double-espresso-ed Marine Corps drill instructor. I am worried he'll go all Full Metal Jacket, so I agree to thrash his car to its limits.
Half the route I do in a GT with the 5.0-litre V-8 (435 horsepower), the other sees me in a 'Stang with an all-new 310-HP, 2.3-litre EcoBoost four-cylinder engine with the optional Performance Pack. The former has all-season tires and a guttural-sounding V-8 with a broad torque band. The latter car has racy summer tires and an engine I'd describe as "frisky." The third engine Ford will be selling is a 300-hp V-6, though it's not here for the launch of Ford's 50th-anniversary pony car.
The essence of the ride-and-handling story: This is the closest thing to a sports car the rear-drive Mustang has ever been. The steering is tight, the car is poised and the fully independent four-wheel suspension helps the car hold its line in a corner, drama free. Of the two engines, the V-8 is the smoother, easier-to-drive choice.
This Mustang, though, must be more than just another Ford. It will be sold in both right- and left-hand drive versions around the world. And this particular one must appeal to younger buyers.
The design is all "Americana" Mustang, from its long hood to the fastback that tapers into the short rear deck framed by healthy hips. The cockpit is roomy and the pieces fit well. Frills? Just real aluminum trim, round readouts for ground and engine speed, and Ford's MyFord touch screen in the centre console. Toggle switches allow you to punch up different drive modes. Transmissions: six-speed automatic and manual, with the manual entertaining and the autobox tuned to be smooth and fast.
Ford has managed a notable feat: an affordable Mustang for the 21st-century world.
TECH SPECS
2015 Ford Mustang
Price range: $24,999-$47,999 ($52,899 for the Limited Edition GT)
Engines: 2.3-litre EcoBoost (turbocharged) four-cylinder; 3.7-litre V-6; 5.0-litre V-8
Drive: Rear-wheel drive
Fuel economy (litres/100 km with manual gearbox): 2.3-litre EcoBoost 10.6 city/7.5 highway; 3.7-litre V-6 13.5 city/8.3 highway; V-8 15.2 city/9.3 highway, regular fuel
Alternatives: Chevrolet Camaro, Dodge Challenger, Hyundai Veloster, Mini Cooper, Scion FR-S, Subaru BRZ, Hyundai Genesis Coupe, Mazda MX-5, Volkswagen Eos
You'll Like This Car If: You want an American sporty car that won't drain your bank account.
RATINGS
Looks
Ford's designers couldn't stray far from the basic Mustang look, yet had to find a modern interpretation of a design familiar to the world for 50 years. They've done it.
Interior
The cabin is roomy enough for big, grown adults. It's not fancy, but it's functional and pleasant.
Technology
Remember, the pricing. This car starts at $25,000. So while this is not a high-tech masterpiece, the modern pieces, from Bluetooth to Shaker sound are there.
Performance
The new chassis and all-independent suspension turn this Mustang into something approaching a sports car. If you like carving corners, you can do them in this car.
Cargo
Who buys a Mustang as a moving van? The back seat is painfully inhabitable and not a place I'd want to be. Ever. The trunk is smallish, too.
The Verdict
9.0: Ford has stuck to its Mustang knitting, reinventing the car for a global audience while keeping the price within reach of middle-class buyers.


Ford recalls 850,000 vehicles for glitch affecting airbags, seat belts
Hot-selling redesigned Escape called back for 12th time
Bradford Wernle
Automotive News
Sept 27, 2014
DETROIT -- Ford Motor Co. is recalling 850,050 2013 and 2014 vehicles for an electrical flaw that could cause airbags and seat belt pretensioners to malfunction in the event of a crash.
The affected vehicles include the 2013-14 Ford C-Max, Fusion, Escape and Lincoln MKZ. Ford said in a statement today the restraints-control module in the vehicles could short circuit, causing the airbag warning indicator to illuminate.
This is the 12th recall of the 2013 Escape, although a spokeswoman said last month that no single Escape has been involved in all the recalls.
Flaws that other recalls on the Escape have addressed include fluid leaks that could cause an engine fire, doors that can open while the vehicle is moving and rollover airbags that may not deploy quickly enough.
"Depending on the location of the short circuit, the deployable restraint systems (e.g. airbags, pretensioners, side curtains) may not function as intended in the event of a crash, increasing the risk of injury," Ford said in a release. "The short circuit may also affect the function of other systems that use data from the restraints control module, including stability control," also lighting the corresponding warning indicators.
Ford said it was not aware of any accidents or injuries resulting related to a malfunction of the module. Dealers will replace the restraint control modules free of charge, the company said.
A Ford spokeswoman said a letter will go out to affected customers Nov. 10. She said the repair takes less than half a day. If circumstances dictate the repairs will take longer, Ford will put customers in loaner vehicles, she said.
Ford has sufficient replacement restraints-control modules for all affected vehicles except the Fusion, for which there is a backlog, she said.
Vehicles involved
Affected vehicles include 2013-14 C-Maxes manufactured at the Michigan Assembly Plant in suburban Detroit between Jan. 19, 2012, and Nov. 21, 2013; certain 2013-14 Fusions built at the Hermosillo (Mexico) Assembly plant between Feb. 3, 2012, and Aug. 24, 2013; certain Escapes built at the Louisville Assembly Plant between Oct. 5, 2011, and Nov. 1, 2013; and certain Lincoln MKZs built in Hermosillo between April 25, 2012 and Sept. 30, 2013.
Ford said 746,842 of the affected vehicles were sold in the U.S. and federalized territories and 82,962 in Canada.
The Escape has been among the most recalled vehicles in the country since it was redesigned in 2013, though the recalls have had little, if any, noticeable effect on U.S. sales. It is the second most-popular crossover, only slightly behind the Honda CR-V, and posted a 9 percent gain in August.
The vehicle was Ford's third-best selling vehicle in the U.S. during the first eight months of the year, with sales of 208,444 units, up 1 percent from the same period last year.

Anti-Tory ad blitz planned
by union a compelling reason
for Harper to call snap election
September 27, 2014
John Ivison
National Post
OTTAWA — Stephen Harper is wed to his timetable for a fall election next year, despite being urged to drop the writ early.
Some Conservatives have suggested going early because of the Mike Duffy trial, which is set to start dripping bad news (from Mr. Harper's point of view) from next April. The Prime Minister is said to be undaunted.
But there may be an equally compelling reason to go early – to disrupt the massive anti-Conservative advertising blitz planned by Canada's largest private sector union.
There's a new breed of highly politicized union in town – and they're intent on doing to Mr. Harper what they recently did to Tim Hudak in Ontario.
Unifor was created last year from the merger of the Canadian Auto Workers and the Communications, Energy and Paperworkers unions, to lead the fight-back against the Harper government, according to Jerry Dias, the national president.
"The creation of Unifor was a response to the federal government and the unprecedented attack being faced by working class people," he said.
Federal politics has not yet experienced the power of a union formed with the express purpose of defeating one political party.
But in Ontario, the Progressive Conservative party attributes its successive defeats, at least in part, to the negative advertising paid for by the unions.
In the Senate Thursday, Senator Bob Runciman said unions spent $10-million in the recent Ontario election – all on a campaign to "Stop Hudak."
Mr. Runciman was speaking during debate on a private members' bill that would force unions to publicly disclose details of their political spending. The bill — C377 — was gutted by senators last year but is now back in the upper chamber and is a major irritant for unions.
The Ontario campaign may be a harbinger of what Conservative parties across the country can expect to face in the future.
In the Ontario election, the Workers' Rights Campaign operated more like a shadow political party than a union, with its own war-room, field organizers and campaign strategy. In previous campaigns, certain unions backed the Liberals; others supported the NDP. In 2014, there were strenuous efforts made to avoid splitting the anti-Conservative vote.
'There's no question that pre-writ we can do all kinds of things. But to suggest we will spend $40-million is quite ridiculous'
Sid Ryan, president of the Ontario Labour Federation, said the labour movement came together in a way he had not seen in 20 years.
The key difference between Ontario and federal elections is that third parties cannot advertise federally once the writ is dropped. But, thanks to fixed election date legislation, the unions know exactly when the next election is going to be — and can do pretty much what they please until the writ officially drops a month before voting day.
Mr. Dias dismissed speculation that Mr. Harper might call a snap election. "Nah, nah. He will drop a feel-good budget and then spend months on a travelling roadshow paid for by the taxpayer."
Conservative MPs have suggested Unifor may have up to $40-million to spend trying to bring down Mr. Harper. (When Unifor was created last year, it said it had $50-million to spend on organizing over five years — $10-million a year to "organize" new members and attract citizens to social causes.)
Sources say Stephen Harper is concerned that breaking his own fixed election date legislation would appear opportunistic. Sean Kilpatrick/CP
"That's utterly ridiculous," Mr. Dias said of the idea of a $40-million, anti-Tory war chest. "There's no question that pre-writ we can do all kinds of things. But to suggest we will spend $40-million is quite ridiculous. We certainly have resources and we are a very politically engaged organization in the defence of working people's interests. But those decisions will be made by the national executive board," he said.
Mr. Dias said the Ontario campaign provided a confidence boost for a labour movement that has been in decline for 30 years – only 16% of workers in the private sector are union members.
"Ontario showed we can mobilize and win," he said. "We will certainly be involved where we can make a difference."
Mr. Dias said that organized labour took a battering during the recession. "But here we are in 2014 and things have turned around significantly."
Voices inside the Conservative caucus have urged Mr. Harper to call an early election to disrupt Unifor's pre-writ advertising buys.
Sources say the Prime Minister is concerned that breaking his own fixed election date legislation in a majority-government context would appear opportunistic — particularly in advance of Mr. Duffy's trial.
But in sticking with that timing, he is gifting his union opponents the chance to influence a federal election in a way we have not seen in a very long time.
The upside to Canada's
aging population
The Globe and Mail
Sept 26, 2014
Canada's aging population will bankrupt pension plans, overburden healthcare systems and force an ever-shrinking pool of workers to pay the bills, doomdayers have said.
They're right about Canada becoming a blue-rinse nation. By 2050, 31 per cent — nearly a third of all Canadians — will be 60 or older, the Globe AgeWatch Index reported in 2013.
But there's an upside to population aging, according to a study published Wednesday in the journal PLOS ONE.
An international team of researchers looked at Germany as a case study. Germany's fertility rate of 1.4 and median age of 44.3 years make it the greyest nation after Japan. Nevertheless, the land of sausage and sauerkraut may not do too badly in its golden years, the researchers found. They identified five areas in which countries such as Germany could age like fine wine:
• Better health: As people live longer, they stay healthier longer. Projections suggest the average German man in 2050 will spend 80 per cent of his lifetime in good health, compared to 63 per cent today.
• Increased productivity: Aging populations tend to have higher education levels, which could help offset the decline in labour force.
• Sharing the wealth: As life expectancy increases, people will inherit at older ages and be better equipped fund their own retirement, or help adult children financially. And as families have fewer children, inheritance will be split into larger chunks.
• Good for the environment: Changes in age structure and a shrinking population size are associated with reduced consumption of energy-intensive goods and lower carbon dioxide emissions.
• Quality of life: The ratio of leisure, work and housework is expected to change in the future, with leisure time increasing on average.
The picture may sound rosy, but the new study isn't the first to giving aging populations an A-plus. Back in 2003, the Government of Canada released a document entitled Population Aging: From Problem to Opportunity. The report outlined how policies supporting greater life-course flexibility might address the labour shortages associated with retiring baby boomers, and at the same time, provide people with more choices as to how they approach activities such as work, learning, caregiving and leisure over their lifetimes. As well, it cited Health Canada research showing that longevity is not a key driver of health-care costs.
In the meantime, Canada is dealing with its aging population surprisingly well, according to a 2013 report from the Globe AgeWatch Index. In an international ranking of quality of life of elderly people, Canada placed fifth on the list, behind Sweden, Norway, Germany and the Netherlands. Canada's best performance was on health status (in income security, however, it placed 26th due an old-age poverty rate of 4.4 per cent).
Although time will tell, aging populations may not have to mean economic disaster. As the Globe AgeWatch Index's 2013 report said, "Ageing gives us cause for celebration: longer lives throughout the world are a triumph of development."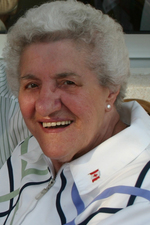 AUDREY LYON JOHNSTON (nee WILLIAMS), R.N. Peacefully and surrounded by her family in her 90th year, Audrey left us on September 21, 2014 at the Waterford Long Term Care Residence to be with Allan, her true love of 53 years who predeceased her in 2000. Loving and inspirational mother to Carol Henderson (Jack), David (Carol), John (Lori) and Cathy Bender (Cam). Adored and will be missed by her sister Edith Barwell, 13 grandchildren, 7 great-grandchildren and her large extended family. Audrey led a full and rewarding life.
She grew up in Toronto's East York area and was both a competitive swimmer and TDIAA Badminton Champion. She was a proud registered nurse and the only remaining graduate of the Oshawa General Hospital class of 1947. Management and employees revered her as a strong, caring and respected contributor during her 25-year employment at Ford Motor Company (Bramalea) as both a nurse and HR professional.
She was a woman that led by example and meant everything to her family. Volunteer, mentor, role model and friend, she willingly accepted all of these roles with both grace and enthusiasm. Audrey struggled with illness in her final years, but was a fighter right to the very end. We will truly miss her love and caring for us.
Our family would like to thank Dr. McPhaden and Dr. Pandeya and the Nurse Practitioners at Oakville- Trafalgar Memorial Hospital for their excellent work. We would also like to extend our thanks to the Personal Service Workers, staff and residents of the Waterford for their compassionate care and for allowing us to actively participate in her care and well-being.
Family and friends will be received at Ward Funeral Home, 109 Reynolds St., Oakville, on Thursday from 2:00-4:00 and 7:00-9:00 p.m. Funeral service to celebrate her life will be held Friday, September 26th at 11:00 a.m. at St. Matthew's Anglican Church, 3962 Bloor Street West, Etobicoke, with reception to follow. In lieu of flowers, Audrey wanted donations made to the Juvenile Diabetes Research Foundation to support finding a cure for her great-granddaughter Elianna.


Seniors on stretchers:
a health care disgrace
Andre Picard
Globe & Mail
Sept 24, 2014
Can we truly claim to have a modern, humane health system when we leave frail, frightened, elderly people for hours, even days, on gurneys in hospital emergency departments?
It's an uncivilized, disrespectful and disgraceful practice. Yet, it's been going on, to varying degrees, since the 1970s and, as the population ages, it's getting worse, not better.
The most recent evidence we have comes from Quebec, where Robert Salois, the provincial health and welfare commissioner, has just released a new report in which he traces the "evolution" of emergency care in the province over the past 10 years.
It makes for chilling reading, especially if you have a loved one like a frail elderly parent or grandparent who routinely needs medical care.
There are two types of patients in hospital emergency departments : 1) The ambulatory who are able to move about and sit to wait for care, and; 2) the non-ambulatory, meaning they need a bed or stretcher, and usually come in by ambulance.
In Quebec last year there were 3.4 million ER visits, including 2.3 million ambulatory and 1.1 million non-ambulatory patients. (Canada-wide, it's 14 million visits, with roughly the same two-thirds, one-third split.)
According to Quebec's health and welfare commissioner, the ambulatory spend, on average, 4.6 hours in the ER. Almost all are discharged home, none the worse for wear (and waiting).
The non-ambulatory are a different story.
The true emergencies, the trauma cases that are a mainstay of prime-time TV, have an average wait time of fewer than 10 minutes from the time they hit the ambulance bay. Perhaps we should take some comfort in that, but these "code blue" cases make up fewer than one per cent of patients.
Most people who come to a hospital emergency department by ambulance will be triaged and treated relatively quickly, but then they will wait.
These non-ambulatory patients, most of them frail seniors with chronic conditions like COPD or heart disease, wait, on average, 18.4 hours in the ER.
Remember, that's an average; waits of 24 to 48 hours are not uncommon. We stick them in hallways, behind curtains or in transformed broom closets. These patients, in their 70s, 80s and 90s, are essentially living on a gurney for days with little or no access to meals, toilets or privacy, and they are often alone.
In fact, the seniors-on-stretchers meme is so commonplace that we take it for granted. The media coverage only tends to start once someone's grandmother has been in the ER for 72 hours or more.
Mr. Salois calls the situation "preoccupying" – an understatement if there ever was one – and says policy-makers should be compelled to act, for humanitarian as much as economic reasons.
The commissioner makes the point that waits in the ER are not the fault of the ER. The endless bottlenecks are due to problems upstream and downstream. In other words, it's an engineering issue, not a medical one.
The commissioner estimates that 60 per cent of patients who go to the emergency room should not be there at all.
They should be treated in primary care, by physicians or nurse practitioners. But lots of people don't have a regular doctor and very few of those who do can get same-day appointments for urgent (but not emergency) problems.
Healthy people wasting a few hours in the ER waiting room is not, in the grand scheme of things, a big deal, though it does not make for good continuity of care.
The real worrisome situation is that of the non-ambulatory patients stuck in ER purgatory.
Some of the gurney-bound are waiting for a hospital bed, but only about one-third are admitted to hospital. Beds are in short supply because there are many frail seniors already stuck living in hospital with nowhere to go for lack of home care or long-term care beds.
The majority of elderly ER patients have the same dilemma: They're not sick enough to be hospitalized, but too sick to go home alone, or back to a nursing home where there is no medical care.
It's a perverse scenario that plays out daily and with increasing frequency.
But we know the solution.
We don't need bigger ERs. We need to shift resources from hospitals into primary care for the ambulatory and home care and community care for the non-ambulatory.
Until we do, our parents and grandparents will continue to fill emergency departments and fester in hospital hallways, gasping for care.
Understanding the challenges
of early-onset Alzheimer's
can help patients cope
Dr. Carmela Tartaglia
The Globe and Mail
Sept 24, 2014
"Cindy, you used to be so well organized, everything OK?
"Paul, why are you late again for this meeting? If it happens again you'll be fired."
"Mom, I already told you that, aren't you listening?"
These comments may not seem odd if directed towards people in their 70s or 80s. But what if they are in their 40s, 50s, or early 60s? Would that seem strange?
Five per cent of all people with Alzheimer's disease develop symptoms before age 65. We call this early-onset Alzheimer's disease (also known as young-onset AD). It usually develops when someone is in their 50s or early 60s but in very rare cases in their 30s and 40s. These rare, very early onset cases are usually associated with a gene mutation. Often times there will be a very strong family history, meaning many people across many generations have the disease.
Some believe that early onset Alzheimer's disease progresses faster. A recent review of the literature seems to support this, but the results are conflicting and more research is needed.
A proper diagnosis is fundamental in helping the person plan for their future and it is essential so family and friends can respond with understanding and compassion. Until the diagnosis is made, there can be resentment towards and conflicts with the patient because of their change in personality.
Early-onset AD is diagnosed the same way as late-onset, based on clinical history and imaging primarily, but in some cases we analyze the cerebrospinal fluid for the biological markers of Alzheimer's disease. Unfortunately the pathway to a diagnosis of Alzheimer's disease or other dementia for a young person is often long, torturous and can be riddled with misdiagnosis.
It starts with someone – and it may be the patient – recognizing that something is wrong. The person may notice they are slipping at work, less organized than they used to be, repeating themselves or forgetting appointments. Cognitive impairment is more obvious when highly demanding tasks are involved and someone usually notes a change in performance.
A diagnosis of Alzheimer's disease or other dementia can be devastating to a person and their family at any age, but there are some additional matters that need confronting when it happens to a young person. These are employment, intimacy and young children.
One must remember that many of these people may still be working. In some cases, people lose their jobs before a diagnosis is made. In others, even if there is a diagnosis, employment is terminated, which leads to financial hardship.
The loss of intimacy can be especially poignant. Often in the beginning, the partner is unaware and may misinterpret the changes in personality as disinterest in the couple or a midlife crisis. There can be a drastic change in the roles of the two people in the couple at a time when it is unexpected. It is not uncommon for the couple to separate or divorce before a diagnosis is even made.
Young children can pose multiple complications. It can be difficult for them to understand the change in personality of their parent. The caregiver may be sandwiched between their children and partner, both requiring care. In some cases, there are also elderly parents requiring attention.
As in late-onset Alzheimer's disease, we have no cure for patients with early-onset AD. We use the same medications to treat symptoms for both types - acetylcholinesterase inhibitors to help memory and anti-depressants to help mood. We encourage healthy lifestyles, which include exercise and cognitive activity to help brain reserve.
Getting educated about this illness in imperative. Reaching out to the local Alzheimer's society is the first step. These organizations provide vital information, services and support groups.
While some cognitive functions are impaired there are many activities that the person can still do and should do. Take a course, learn to paint, join a group. It is important to use the brain. Use it or lose it is especially relevant when it comes to the brain and preserving function.
Although I have focused on early-onset Alzheimer's disease, there are other causes of dementia that typically affect the young, the most common being frontotemporal dementia. This is another cause of dementia where changes in personality and behaviour are key features of the disease.
We still have much to learn about early-onset Alzheimer's disease but we know it is out there and that the needs of this population are different. We need targeted research and services to better serve them and their families.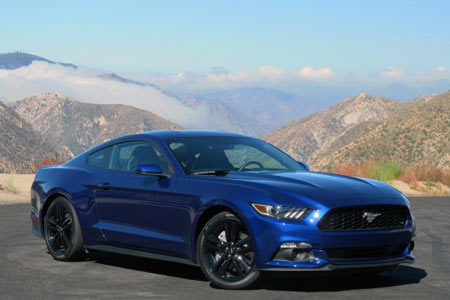 By Jim Robinson
September 23, 2014
Wheels-Toronto Star
LOS ANGELES, CA- The launch of the 2015 Mustang is arguably the most awaited automotive event of this year.
Since bowing at the New York Auto show in April, the amount of publicity it has drawn has been unlike any other on the 2014 auto show circuit.
The Mustang is not just a "halo" car for Ford, it is THE halo car for the whole company and that includes the F-150 pickup.
In production for 50 years, Ford decided to make a statement with the new Mustang and they definitely did.
That statement begins with the shape.
While the 2015 Mustang looks similar to the car it replaces, it is actually a clean-sheet design in a convertible and a return to the iconic "fastback" styling of the original 1967 version.
The new car is lower but wider. The fastback visually benefits thanks to the steeper rake of the windshield and rear glass.
Under the skin is an all-new suspension system starting with a double ball joint MacStrut system that allows larger brakes, in fact the most powerful discs yet fitted to a Mustang.
The rear gets an all-new integral-link independent rear suspension. The geometry, springs, dampers and bushings all were specifically modified for the higher power of the 2015 engine lineup. New aluminum rear knuckles help reduce unsprung mass for improved ride and handling.
Buyers will have a choice of three engines starting with the legendary 5.0-litre V8 on the topline Mustang GT. It produces 435 hp and 400 lb/ft of torque, making it the most powerful production Mustang ever. Next up is a 3.7-litre V6 with 300 hp and 270 lb/ft of torque. New for 2015 is the Mustang EcoBoost with 2.3-litre direct injection turbo inline four-cylinder with a very healthy 310 hp and 320 lb/ft of torque.
Ford claims it is the first manufacturer to offer four-, six- and eight-cylinder engines on one vehicle, all of which offer 300 hp or more and run on regular fuel.
Each of the three engines has a unique grille that only allows in as much air as each specific engine needs. On the 2.3-litre engine, active grille shutters close at higher speeds to reduce drag.
Drivetrain layout is front-engine, rear-drive with a limited slip differential. A six-speed manual transmission is standard with a six-speed automatic with paddle shifters optional.
Adding to the fun is the Performance Package on the EcoBoost and GT models with bigger brakes and beefed up suspension settings. It is recognizable by its blacked out "Ebony" wheels.
There were no 3.7-litre models at the press launch in Los Angeles, but lots of 2.3- and 5.0-litre fastbacks with a mix of transmissions and trim.
Frankly, the 2.3-litre EcoBoost with Performance Package and manual stood out especially in dark blue coupled with the black wheels that gave it a sinister, stealthy look.
Interior of the 2015 Mustang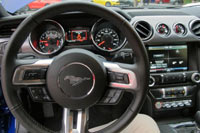 The Recaro seats were a very snug fit. The interior has the signature twin brow instrument panel. The IP face is genuine aluminum not faux and gauges and dials that are legible and simple to work, with a backup camera standard on all models.
On certain versions, there is a Mode toggle switch on the lower centre stack that allows the driver to set launch speed at a choice of rpms or lock up the front wheels and do burnouts at will.
My co-driver did nothing silly like that but we drove the car hard up from LA into the Cleveland National Forest along Highway 2. Forget the Pacific Coast Highway. If you want to enjoy a drive in California take CA2 and you will be rewarded.
The 2.3-litre is so easy to drive at any speed. On the freeway, it cruised along in sixth being remarkably quiet, thanks in no small part to the muffling effect of the turbo.
Heading up into the mountains we pushed it. No matter what gear, there was more than enough torque on tap.
With the big Brembo brakes, slowing was progressive and solid.
At first, I found trouble hitting the clutch pedal squarely with my left foot brushing the brake. But after a few miles, I was in sync.
One neat thing is the placement of the centre console cupholders slightly more aft than usual. This was done to give the driver greater hand/arm movement freedom with the shifter.
But the best part was the mileage. We averaged (US) 29.1 mpg. In the 5.0-litre GT manual we also drove, the previous drivers had really pounded the car with the average fuel consumption registering (US) 12.7 mpg.
Now to be fair to them, this was a press launch where the object of the vehicle is to test it to the limit. In real life, the 2015 Canadian five-cycle fuel numbers listed as fairly accurate.
The one thing the GT did have was that deep rumble and high-speed howl you can only get on a big V8.
On the other hand, the great fuel economy and power of the 2.3-litre can only make me wonder what the Mustang would be like the 3.5-litre EcoBoost V6 and you just know Ford has some lurking behind the engineering walls in Dearborn.
For the base Mustang EcoBoost, fuel numbers are 10/6/7.5L/100 km city/highway for the manual and 11.0.7.4L/100 km for the automatic. For the base Mustang they are 13.5/8.3L/100 km for the manual and 12.6/8.9L/100 for the auto. On the GT, consumption is 14.9/9.5L/100 km and 15.2/9.7L/100 km respectively.
With three engines, two body styles, three brake sizes and two transmissions, a buyer has a lot to choose from when it's time to "pony" up to the cash register.
The base car runs from $24,999-$29,999 for the fastback or convertible respectively. Price range of the EcoBoost is $27,999-$38,999. And the GT runs from $36,999-$47,999. There is also the limited run 50th Limited Edition at $52,899. This does not include the $1,600 shipping fee.
The last thing of note is anyone can drive one of these cars, no matter which engine, meaning your grandma can drive one to bingo and then humble the kids at the light.
With yesterday's iconic styling and tomorrow's technology, this is the best Mustang ever.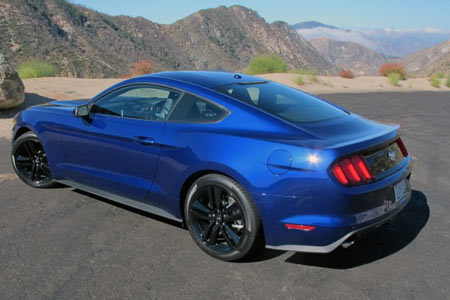 BODY STYLE: Performance fastback of convertible.
DRIVE METHOD: front-engine, rear-wheel-drive, six-speed manual or automatic transmission
ENGINE: 2.3-litre EcoBoost DOHC turbocharged inline four-cylinder (310 hp, 320 lb/ft); 3.7-litre DOHC V6 (300 hp, 270 lb/ft); 5.0-litre DOHC V8 (435 hp, 435 lb/ft)
CARGO: Fastback, 13.5 cut ft; Convertible, 11.4 cu ft
FUEL ECONOMY: (Regular) 2.3-litre, manual/automatic, 10.6/7.5L/100 km/11.0/7.4L/100 km; 3.7-litre, 13.5/8.3L/100 km/12.6/8.9L/100 km; 5.0-litre, 14.9/9.5L/100 km/15.2/9.7L/100 km
PRICE: Mustang, $24,999-$29,999; EcoBoost, $27,999-$38,999; GT, $36,999-$52,899. Does not include $1,600 destination and delivery.

As Tim Hudak learned, the era of union bashing has run out of steam
Jim Stanford
The Globe and Mail
September 22, 2014
Eighteen months ago, Ontario's Progressive Conservatives planted a very provocative flag in the ground of Canada's labour relations landscape, with a proposal to implement U.S.-style restrictions on unions (including a prohibition on dues check-off, known euphemistically in America as "right to work"). But suddenly and surprisingly, just as debate over the idea was really heating up, Ontario PC leader Tim Hudak abandoned the plan. Speaking to business leaders in Toronto last week, he pledged to preserve current rules (codified in the famous Rand Formula) if he wins the next election.
Conservative strategists hoped their labour policy would be an effective wedge issue in the next campaign. It allowed the Conservatives to capitalize on public enmity about union fat-cats, pensions, and strikes. And it could cleave the electorate neatly between union-haters (owned by the Tories) and union-lovers (split between Liberals and the NDP).
So why did the Conservatives surrender before the election even started? There are several answers to this question, with important implications for parallel strategies by Conservatives in other jurisdictions to push the anti-union button.
Mr. Hudak's party did not help its own cause, with explanations of the issue that were badly formulated, confusing, and contradictory. They provided few specifics, preferring broad rhetoric about ending "forced unionism" and ushering in "worker choice." But in reality there is no forced unionism: workers must give majority approval before a bargaining unit is formed (whether by secret ballot or signing membership cards), and they can decertify their union the same way if they aren't happy with the service. The Rand Formula doesn't make unions compulsory; it merely prevents free-riding, whereby workers could get the benefits of a union contract without paying for it. The Conservatives' now-deposed labour critic Randy Hillier muddied the waters further, with wild proposals for combining individual and collective contracts.
Mr. Hudak's declaration of war also sparked a surge of political activism by unions and their members. For example, hundreds of union volunteers helped NDP candidate (and Unifor leader) Wayne Gates prevail over the Conservatives in the recent Niagara by-election – one week before Mr. Hudak threw in the right-to-work towel. This union activism could clearly swing the outcome of many key ridings in the GTA, southwestern Ontario, and the north.
Not even employers rallied behind Mr. Hudak's plan to ban the Rand Formula. Indeed, the Toronto business leaders in his audience applauded when he announced his reversal. Corporate Canada has been quietly telling Conservatives at all levels they don't want the disruption and uncertainty that would result from the wholesale dismantling of existing collective bargaining rules.
But the biggest problem for Mr. Hudak's crusade was a deeper sentiment in Canadian public opinion regarding unions and the role they play in society. No matter their warts, unions ultimately reflect their members: typical Canadians just trying to earn a decent income, support their families, and (hopefully) retire with some security, in an economy which rewards the rich and powerful more than ever before. Unions (like wage-earners in general) have been on the defensive for years. Wage gains have been small, strikes are historically rare, and even much-maligned public sector contracts have been rolled back substantially. In such a lopsided context, it's simply impossible to convince most voters that unions are really Public Enemy Number One. And many Canadians innately understand that if the only institutional voice speaking for working class priorities is silenced, then the whole social contract will become even more tattered in the years ahead. Unions, to their credit, effectively emphasized their broader social impacts in their responses to Mr. Hudak.
And therein lies the danger for other Conservatives (including federally) who have been sowing similar political ground. Attempts to delegitimize unions (as with the failed federal Bill C-377, which treated unions almost on par with organized crime), tilt the bargaining field further in employers' favour, and snatch away negotiated benefits (like the health benefits Ottawa is now clawing back from retirees) all appear increasingly mean-spirited. They offend moderate Conservatives (who understand the important institutional role of collective bargaining), anger unions and their members, and reinforce the impression that Conservatives do not speak for average working people.
In short, the effort to blame trade unions as the scapegoat for all economic and fiscal ailments is running out of steam. Mr. Hudak's platform will continue to emphasize other anti-union initiatives, but they will resonate awkwardly in the wake of his Rand Formula flip-flop. And other Conservatives should beware the political rock – a deep, innate sympathy for institutions which help to share the wealth – that their Ontario counterparts just drove into.

In the saddle of the
transformed, new Mustang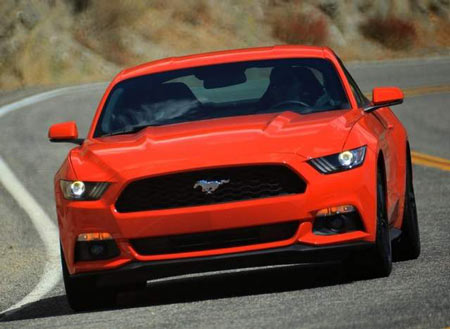 Henry Payne
The Detroit News
Sept 21, 2014
Los Angeles — The new Mustang's beauty isn't just skin deep.
Since the much-ballyhooed international announcement of a re-made, stunning 2015 pony car last winter, Ford has promised that the car's transformed, sports car-like exterior was also a harbinger for a sportier chassis. An automotive icon, the Mustang is also an anachronism. The solid rear suspension of the previous generation had long ago gone the way of the dinosaurs, and Ford badly needed to upgrade the car to keep up with its better-selling Camaro competition — not to mention other sports sedans.
With a fully-independent rear suspension, modified McPherson double-jointed front suspension, and a widened chassis, the new 'Stang is a revelation. Mustangs were once cars you drove patiently through corners so that you could have fun on the straights. Now you'll want to nail the throttle to get to the twisties sooner. This beast corners like a champ.
I drove a Mustang V-8 (its base price virtually unchanged from the outgoing, 2014 model at $32,925) hard Wednesday over California's challenging Route 2 and the Mustang was a joy. Hooking up with a quick Porsche 911, I shadowed his every move, diving into corners, rotating through apexes, jumping on the throttle early. Don't let me mislead you — the Mustang is no Porsche or BMW 3-series — but it is much more planted than its predecessor and better than a Dodge Challenger or Camaro.
The European handling is echoed by the car's styling. While the Mustang retains its menacing, upright grille and large haunches, the sleek front end has taken on a European feel. The headlight cowl is gone and Mercedes-like gills have popped up on the corners.
As Ford expands its sights overseas, the more international look should appeal to Chinese and Europeans alike. Inside, the Mustang sports soft materials and superb, heavily bolstered seats (so you don't fall out under those newfound cornering Gs). The dash has been completely redone with an "airplane feel," but retains its muscular look.
Interior space is uncompromised thanks to the wider chassis. The best part? A more athletic stance in the rear end as the greenhouse narrows over the muscly fenders. Get used to the sight, muscle boys — you'll be seeing a lot of Mustangs pulling away from you.
2015 Ford Mustang
Vehicle type: Fastback and convertible
Price: $32,925
Transmission: Six-speed automatic
Fuel economy: 19 city/28 highway/22 mpg combined
Final assembly: Flat Rock
Unifor puts defeat of Harper
above loyalty to NDP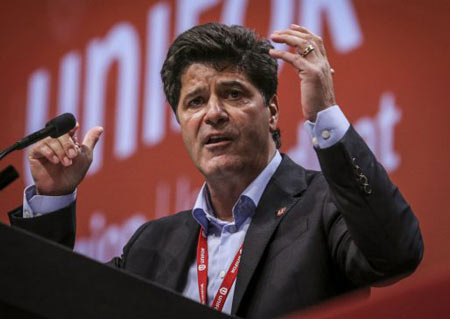 Largest private sector union says it will urge its members to vote strategically to prevent Tories from cruising to victory.
Joan Bryden
The Canadian Press
Sep 19 2014
OTTAWA—The NDP's traditionally strong ties to the labour movement won't be enough to secure a blanket endorsement from Canada's largest private sector union in next year's federal election.
Unifor will urge its 300,000-plus members to vote strategically and will pour its resources behind local candidates — be they NDP or Liberal — that are best positioned to defeat Stephen Harper's Conservatives.
The union infuriated many New Democrats when it took a similar stance in last spring's Ontario election in a bid to stop Tim Hudak's Progressive Conservatives.
In that case, Conservative support collapsed, allowing Kathleen Wynne's Liberals to cruise to a majority victory.
Unifor national president Jerry Dias says the union has a strong relationship with the federal NDP and will support re-election of all incumbent New Democrat MPs.
But he says the need to defeat the Harper government must trump Unifor's loyalty to the NDP.
"For us, we know that another four years of Harper will be disastrous for working-class people in Canada, period. So that in itself trumps going out there and putting support in a riding where we know that the New Democrats have no chance," Dias said in an interview.
"If the New Democrats have a legitimate, good shot at winning, absolutely that's where we're going, no question about it. But if there's not a hope in hell, why would I waste resources? It doesn't make a stitch of sense."
For example, in a riding like Manitoba's Brandon-Souris, where the Liberals came within a whisker of defeating the Conservatives in a byelection late last year, Dias said Unifor would throw its support and resources behind the Liberal candidate next year.
"The New Democrat got wiped right out (in the byelection). So for us to even consider supporting the New Democrats in Brandon-Souris, in my opinion, may very well just hand the seat back to the Conservatives."
The decision to pursue strategic voting in the next federal election was taken unanimously at a weekend meeting of Unifor's national council. Ironically, the gathering featured a keynote speech by NDP Leader Tom Mulcair, who announced his plan to reinstate a minimum wage for workers in federally regulated sectors, rising to $15 per hour over four years.
Dias acknowledged the labour movement has no stronger political ally than the NDP. But while Justin Trudeau's Liberals are less supportive of unions than the NDP, he doubted they're intent on destroying the movement, as he believes Harper's Conservatives are determined to do.
"So if my choice is Stephen Harper or Justin Trudeau, then that's a no-brainer."
Dias said anti-union measures are "red meat" that Harper throws out to pacify "right-wing extremists" in the Conservative party.
He pointed to government and Conservative private members' bills which labour advocates complain would impose unfair financial transparency rules on unions, gut public service collective bargaining and make it harder for federally regulated workers to join a union while making it easier to decertify a union.
Unifor's decision not to unequivocally back the New Democrats in the Ontario election prompted more than 600 federal NDP parliamentary staffers, who are members of Unifor, to look for another union to represent them.
Dias said the divorce is almost complete.


Ontario facing $400-million bailout over pensions at U.S. Steel Canada

Greg Keenan
Globe and Mail
Sep. 18, 2014

The Ontario government faces a potential bill of $400-million to bailout U.S. Steel Canada Inc. pensioners if the steel maker's pension plans are not restructured, the company's chief executive officer Michael McQuade warned in a court filing.

An affidavit submitted by Mr. McQuade as part of U.S. Steel Canada's filing for protection under the Companies' Creditors Arrangement Act outlines what is likely to be one of the critical issues in restructuring talks between the company, the Ontario government, the United Steelworkers union and other groups such as salaried employees and salaried retirees.

The solvency deficiency in the company's pension plans totalled $838.7-million as of the most recent valuation.

But a pension agreement United States Steel Corp. inherited when it bought Stelco Inc. in 2007 also played a role in the company's decision to seek protection from creditors.

The province provided a $150-million loan with a 1 per cent interest rate to the company, $112.5-million of which would be forgiven if the solvency deficiencies in the plans were eliminated by the end of 2015.

"Given the financial condition of the applicant and current funding status of the main pension plans, there is no reasonable prospect that it will be entitled to this discount on the maturity of the loan," Mr. McQuade said in his affidavit.

Not only that, but U.S. Steel Canada has to repay the Ontario loan by the end of 2015 and then faces additional pension contributions of $117-million in 2016, $105-million in 2017 and $80-million in 2018.

About 12,600 unionized and salaried pensioners, as well as current employees at the Hamilton Works, belong to the pension plans. Another 1,837 at the Lake Erie Works in Nanticoke, Ont., are covered.

The other potential liability facing Ontario would be an environmental clean-up of U.S. Steel Canada's site in Hamilton, Ont., where steel making ceased in 2010.

"While USSC has been a good environmental steward during its relatively brief period of ownership and has made a number of significant investments and improvements, it is understood that there have been a number of spills at Hamilton Works over the past century as well as discharges to the environment during that time," Mr. McQuade said.

Industry analysts and sources familiar with the 26-month Stelco restructuring under the CCAA said they believe U.S. Steel would like to hang on to the Lake Erie operations, but shed the Hamilton assets. The key Hamilton assets that are still running are two galvanizing lines that process steel shipped from the Lake Erie mill.

But if it's unable to find a buyer and shuts down the operations, the questions are who would pay and how much would it cost.

"What is 1,000 acres of brutally contaminated land in Hamilton worth?" one source asked yesterday.

Mr. McQuade said U.S. Steel has pumped $3.9-billion in debt and equity into the Canadian unit since 2007 and forgiven another $430-million in interest payments.

U.S. Steel bought Stelco after a bidding war with OAO Severstal of Russia, which was trying to add the Canadian company to a steel mill it bought in Dearborn, Mich., in an attempt to become a major force in the North American market. Severstal abandoned the North American market on Tuesday by selling the Dearborn mill and another in Mississippi in deals that closed the same day that U.S. Steel Canada filed for creditor protection.

Shares of Pittsburgh-based U.S. Steel jumped 10 percent on the New York Stock Exchange on Wednesday, in part because analysts applauded the move, with Citibank analyst Richard Yu noting the plan is to "bankrupt the bad and keep the good stuff."


Ford's sales in Europe up
14.4 percent in August
Michael Martinez
The Detroit News
September 17, 2014
Ford Motor Co.'s Europe sales increased 14.4 percent in August, thanks in part to record sales of its Kuga sport-utility vehicle.
The Dearborn automaker said Monday it sold 61,700 vehicles last month in Europe, up from 53,900 sold there during August of 2013. Ford's Europe sales are up 7.1 percent through the first eight months of 2014, according to a press release.
"Our fresh, expanded vehicle lineup is helping us grow our sales, including in key sales channels such as retail sales to private customers and commercial vehicles," Roelant de Waard, vice president, marketing, sales and service, Ford of Europe, said in a statement. "With the new Focus coming out soon and the new Mondeo coming later this year, our product portfolio is only gaining strength.
Ford sold 5,100 Kuga SUVs last month and has sold 54,300 so far this year — both the highest numbers since its 2008 launch. Focus and Fiesta sales were the highest since 2011.
The automaker's total vehicle market share in Europe rose 0.8 percentage points last month to 7.8 percent. Through the first eight months of the year, Ford's market share is 7.9 percent.
In July, Ford reported a $14 million second-quarter profit in Europe, the first since the second quarter of 2011. Ford lost $1.6 billion in Europe in 2013.
The automaker is in the midst of a European transformation plan that includes reducing volume, closing plants and introducing new products. It plans to introduce an all-new Mondeo family-size wagon and Focus compact car, followed by the Mustang and Edge SUV.
In July, Stephen Odell, president of Ford in Europe, Middle East and Africa said the automaker plans to turn a profit in Europe next year.


U.S. investigates 205,000 Ford
Fiesta cars for faulty doors
David Shepardson
The Detroit News
September 16, 2014
Washington — The National Highway Traffic Safety Administration said Monday it has opened an investigation into 205,000 Ford Fiesta cars because of complaints the doors failed to latch.
NHTSA said in opening its preliminary evaluation after receiving 61 reports concerning the door latches on 2011-13 Ford Fiesta cars. Some complaints say the door failed to latch with several reports indicating that the "door ajar" warning light on the dash appeared. One injury was reported that was caused by a consumer being struck by a door that rebounded after attempting to close it.
NHTSA said 12 reports say the door or doors opened after it was shut and the driver started driving. Some owners say they have been forced to secure the doors with ropes — and say Ford dealers can't fix the problem because of a back order of parts. For cars out of warranty, it can cost at least $500 to replace both rear latches. One complaint in July filed in NHTSA said both rear door latches failed and a dealer said "it could take up three weeks to get replacement latches because Ford can't keep up with replacement parts."
Ford spokeswoman Kelli Felker said the Dearborn automaker is cooperating "on this investigation as we always do."
In a complaint filed in March, the owner of a 2011 Fiesta said the power door locks failed to lock intermittently. The dealer replaced the latches twice. The owner said "he had to tie a rope around the door over the roof to the other side."
In another complaint in April, a driver opened the passenger side rear door to put a child in a car seat. The owner put the child in the car, shut the door and started the car.
"When I started to reverse, the door alert came on," the owner said, saying it has repeatedly happened but the car no longer has a bumper to bumper warranty. "I have the door tied to the inside of the car and the door open notification constantly comes on as well as well as the inside lights. Luckily, I noticed this before pulling off or the situation could have been life threatening for the kids."
NHTSA typically takes three to six months to decide whether to upgrade a preliminary evaluation to an engineering analysis — a step required before NHTSA can demand an automaker conduct a recall.
Ex-Ford CEO Mulally
undecided on next step, says
he won't run for president
David Shepardson
Detroit News
Washington Bureau
September 15, 2014
Washington — Former Ford president and CEO Alan Mulally said Sunday he will not run for president after leaving the door open last week in an appearance at a conference in Indianapolis.
But he said he remains undecided on his next step, despite receiving significant interest among possible future employers.
Asked at a forum in Indianapolis by an ABC News reporter if he would consider running for president, Mulally, 68, who is also a former longtime Boeing Co. executive, didn't directly answer.
"I really think it's important that we all pull together. We really need to pull together around a compelling vision for our country and a comprehensive strategy to do it and work together. We really need to do it," Mulally said to applause at a radio industry conference, according to a video of the event posted late Friday on ABC's website.
Mulally said in an email to The Detroit News late Sunday that he's not running for president.
He said he was "honored at the suggestion, but that is not a role I am considering."
Indianapolis was one of Mulally's highest profile events since stepping down at Ford after joining the company in 2006. .
Mulally has often been cagey about his future plans.
Over the last few years, he repeatedly wouldn't comment about speculation on when he would step down at Ford, if he was in the running to become CEO of Microsoft and about his prospects for joining the Obama administration as Veterans Administration chief.
Since leaving Ford July 1, Mulally has joined Google's board of directors, but hasn't announced any other commitments. He and his wife have recently moved back to the Seattle area from Dearborn.
Mulally's received numerous other invitations to join other corporate boards, colleagues say. "I'm amazed at the number of people and organizations that are looking for help," Mulally said Thursday "I'm not in a real hurry." He said he doesn't have a "definitive answer" about his next step.
Mulally had strong relationships with members of Congress and the Obama administration. He got a congratulatory phone call from President Barack Obama after announcing he would step down at Ford earlier this year. Mulally rebuffed entreaties from the White House to see if he was interested in being considered for administration jobs, including to head the Veterans Administration. In June, Mulally declined to say if he had been approached for the VA job. Obama tapped another business leader in late June, former Proctor & Gamble executive Robert McDonald, to run the cabinet agency.
Mulally has never disclosed his party affiliation. He's donated to members of both parties, including Sen. Mitch McConnell, R-Ky.; Sen Debbie Stabenow, D-Lansing; Rep. John Dingell, D-Dearborn; Rep. Fred Upton, R-St. Joseph; Sen. Carl Levin, D-Detroit, and Rep. Sander Levin, D-Royal Oak.
He made a $2,000 donation to President George W. Bush's campaign in 2003 while at Boeing, along with a $1,000 donation to the Republican Party, according to the Center for Responsive Politics.

U.S. charges former Ford
salesman with odometer fraud

David Shepardson
Detroit News Washington Bureau
Sept 14, 2014

Washington —The Justice Department said Friday a former salesman at a Los Angeles-area Ford dealership and another man were charged with odometer tampering.
Jeffrey Levy, 62, and Shamai Salpeter, 65, both of Woodland Hills, Calif., were charged in separate criminal informations with conspiracy to commit odometer tampering.
Levy was a salesman at Galpin Ford in North Hills, Calif. Levy referred customers and friends to his co-conspirator, Salpeter, who rolled back odometers in the driveway of his Woodland Hills residence.
"Victims of odometer fraud lose thousands of dollars on what can turn out to be unreliable and potentially dangerous vehicles," said Assistant Attorney General Stuart F. Delery for the Justice Department's Civil Division. "To help ensure that Americans can have confidence in the cars they buy, we will continue to prosecute car salesmen and others who violate federal law by tampering with a vehicle's odometer."
The government said Levy is alleged to have known that some of these people had exceeded the maximum allowed mileage under the terms of their leases and wished to avoid fees and penalties. According to the charges, Levy also knew that other customers wanted to lower the mileage on their odometers to make their vehicles more valuable when they traded in the vehicles.
"After Salpeter altered the odometers, Levy's customers returned or traded in their vehicles with falsified lower mileage readings. Levy then accepted the vehicles without alerting Galpin Ford that the odometer readings were false, thus defrauding future owners of the vehicles. Galpin Ford cooperated with the government's investigation," the Justice Department said.
Ford didn't immediately comment.
Salpeter altered odometers for friends, acquaintances and strangers, including customers referred by Levy. Salpeter charged between $100 and $400 per odometer and used electronic tools to set the odometer to the mileage requested by his customer, the Justice Department said.
The case was investigated by the National Highway Traffic Safety Administration Office of Odometer Fraud Investigation and California's Department of Motor Vehicles.
Odometer fraud in the era of electronic rather than mechanical mileage counters is still a problem. It's now done by hacking into a car's computer. A federal grand jury in 2013 charged a North Miami Beach, Fla., pair with making false odometer statements, securities fraud and conspiracy to commit these offenses. The pair from 2004 through at least 2010 devised a scheme to defraud buyers of used motor vehicles by misrepresenting the mileage of approximately 247 vehicles they sold.
In 2002, NHTSA said odometer fraud allows more than 450,000 vehicles to be sold each year with false odometer readings, "milking American car buyers out of more than $1 billion annually."
Ford recalls hybrid SUVs
to fix stalling problem
David Shepardson
Detroit News Washington Bureau
September 13, 2014
Washington — Ford Motor Co. said Friday it is issuing three new recall campaigns covering more than 76,000 vehicles.
The Dearborn automaker said it is recalling 2005-08 Ford Escape Hybrid and 2006-08 Mercury Mariner Hybrid vehicles for a motor electronic coolant pump issue.
The issue can cause the part to fail, resulting in a sudden stall-like condition while driving. Ford said it "would be accompanied by audible and visual indicators in the instrument cluster and the vehicle's braking and steering systems will continue to operate normally. An engine stall without warning while driving, however, may increase the risk of a crash."
Ford is not aware of any accidents or injuries attributed to any of the three recalls.
Dealers will replace the fuel delivery module. The recall includes about 74,000 SUVs in the United States.
Ford is also recalling 400 2014 Focus, 2015 Lincoln MKC vehicles and one 2014 Escape for a fuel delivery module issue. In the affected vehicles, a crack may develop between the fuel pump filter body and the filter cap, which may result in low fuel pressure. Low fuel pressure may cause malfunction indicator light illumination, extended crank, no start, loss of power, or engine stall. An engine stall without warning may increase the risk of crash.
Dealers will replace the fuel delivery module. The recall includes 300 in the United States.
Ford also announced a recall for 1,700 2014 F650 and F750 vehicles with Cummins ISB diesel engines for a fuel filter issue. According to Cummins, the bond that attaches the filter shell to the filter nut plate may fail on affected filters. If this occurs, the shell may separate from the fuel filter nut plate.
The resulting fuel leak can cause the engine to stall without warning without the ability to restart the engine until the fuel filter has been replaced, increasing the risk of a crash. Ford has initiated a program to support the facilitation of Cummins' program.
Cummins dealers will replace the suspect engine fuel filters at no cost to the customer.


Striking Bombardier rail
workers reach tentative deal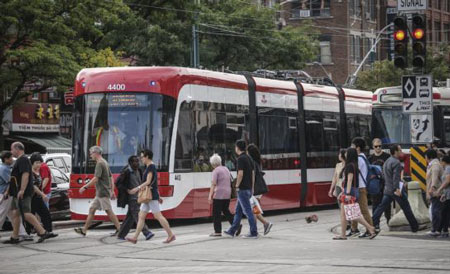 Thunder Bay plant builds subways, trains and streetcars
for TTC and GO. Ratification vote is Friday morning.
Toronto Star
Dana Flavelle
Sept 12, 2014
A tentative agreement has been reached in an eight-week strike at a Bombardier rail plant that builds subways, trains and streetcars for the Toronto Transit Commission, GO and others.
The agreement covering the Thunder Bay plant will be presented for ratification on Friday, Sept. 12 at 8:30 a.m., the union said in a statement Thursday.
"These workers have stood up for good jobs in their community. Our fight against the employer's concessions has shown the resolve of the membership to fight for fairness," local president Dominic Pasqualino said.
Bombardier Transportation said in a release that it "hopes to see our valued employees return to work as quickly as possible," adding, "We believe this new agreement continues to provide for well paid jobs in Thunder Bay and meets the needs of the company moving forward."
Details of the new collective agreement will be presented at the ratification vote.
The main issues in the dispute have been the company's demand for cuts in benefits to new hires.
The workers at Bombardier build the new subway and streetcars for the Toronto Transit Commission, as well as cars for the GO train commuter train service. The plant got the TTC contract under a Buy Ontario policy that the union says it helped secure.
The labour disruption came at a critical time for the TTC as it prepares to launch its new fleet of streetcars, two of which went into service on the Spadina line on Aug. 31.
The Bombardier facility also builds GO Transit's green and white bi-level cars and has orders for light rapid transit vehicles for Metrolinx and Kitchener-Waterloo and the Toronto Rocket, Toronto's next generation of subway cars.
Bombardier company spokesperson Marc-Andre Lefebvre has said in previous interviews the company was committed to meeting all of its obligations to customers.
The launch of the TTC's new low-floor accessible, air-conditioned streetcars on Spadina Ave. went ahead as planned at the end of August.
The 900 members of Unifor Local 1075 have been on strike since July 14.
Last month, the workers rejected a "last offer" from the company by 80 per cent in a vote ordered by the Ontario Ministry of Labour after an application from Bombardier.
Unifor is Canada's largest union in the private sector, representing more than 305,000 workers.

Don't be nervous: How to cross
the border without incident
JASON TCHIR
The Globe and Mail
Sept 10, 2014
If you tell a border official that you've smoked a joint or had a bite of that pot brownie – or that you plan to partake in legal weed in Washington or Colorado – your ability to freely enter the United States will go up in smoke.
"If you admit you've smoked marijuana or plan to, you can be banned permanently – there's no due process, no right to a trial and it's not appealable," says Mark Belanger, a Vancouver lawyer who works on border issues. "Anything drug-related is typically a crime involving moral turpitude. Those are magic words and you'll be banned from entering the United States."
So, you don't need to have a drug conviction to be turned away for drug crimes under Section 212 of the U.S. Immigration and Nationality Act. A couple of puffs could be enough.
All it takes is an admission that you've knowingly used an illegal drug, either because you've answered an officer's question or you've been chatty and volunteered the information. You won't go to jail, but you will get told to turn your car around and head back to Canada .
"An admission to the essential elements of possession of a controlled substance is a permanent bar to entry into the United States," Belanger says. "Once one has been deemed inadmissible, they require a non-immigrant visa waiver for the rest of their life in order to obtain entry into the U.S."
A visa waiver will cost you
If you're a Canadians who's been banned, you can eventually apply for a visa waiver that will let you cross into the U.S. You'll have to apply at the border. It takes 6 months to process and costs $585 (U.S.), Belanger says.
"The first waiver would be valid for one year, the second for three and the third and every one thereafter for five years," Belanger says.
Just admitting you're planning to do drugs will get you sent back and banned too, even if you'll be in Washington state or Colorado, where pot is legal. U.S. immigration laws are federal and the federal government doesn't recognize state drug laws, Belanger says.
"Even though you're going to Washington to smoke a roach there, if you tell them 'I'm going down to smoke legal weed,' they'll turn you down because it's still against federal law," Belanger says.
Get caught in a lie and you'll get banned for fraud
If you have been convicted of a drug crime and have had it pardoned, you could still be banned from the U.S..
"They can do a check and that conviction will still appear, if they ask if you've ever been convicted and you say no because you got that pardon, then you're guilty of lying about it and you'll be banned," Belanger says.
Another way to get banned is to get caught lying to border officials. It's fraud. Again, you won't face criminal charges, but you will get banned on the spot.
"The Golden Rule is 'always be truthful,'" he says. "Present the facts, just answer the questions they ask, and don't volunteer information."
So, if you're doing any business on a trip to the States, even if it's a one-hour lunch with a client, don't say that you're just going shopping or visiting friends.
"If they get suspicious and search you and find something related to business, then you've committed fraud because you lied and said it was entirely personal, and that's a five-year or a permanent ban" he says. "If it's a mix of business and personal, tell them. The worst thing that can happen is that they say you can't cross without certain paperwork, you turn around, go and get the paperwork and try the next day."
And if you're acting nervous, the border officer will probably get suspicious, Belanger says.
"They're intimidating – they're judge, jury and executioner and that's why they have that air about them," he says. "But they really can't turn you away for no reason. You're allowed to go as a visitor to shop, to visit friends, for leisure activities and for work purposes like trade shows so you've got no reason to be nervous in those circumstances."
So, what if the border officer asks if you've ever smoked a joint? Say you've never been convicted. The officer has no way – assuming your Facebook profile photo isn't you inhaling from a Bart Simpson bong – to tell whether or not you've actually tried pot or any other drug.


Car without driver, automatic valet
Michael Martinez and
Melissa Burden
Sept 9, 2014
Imagine a car that can sense you're about to pass out, safely pull itself over — and then alerts other drivers who can guide your car by radio waves to a hospital.
The same car might be able to beam a live picture of that ladder in the middle of the expressway that's causing the traffic backup. Or, it might deliver itself to you from the parking lot after dinner.
While that technology is still years away, it's hardly the stuff of science fiction. A number of automakers and suppliers are testing those exact scenarios around Detroit this week.
About 30 demonstrations are happening on Belle Isle and local freeways as part of the World Congress on Intelligent Transport Systems, a five-day international conference about connecting cars with each other, and with highways and pedestrians in order to avoid accidents, speed traffic flow and free drivers from the tedium of piloting their cars.
Honda Motor Co. and General Motors Co. demonstrated these technologies Monday:
■An Acura RLX circled an eight-mile loop of M-10, Interstate 75 and Interstate 375 — all without the driver touching the steering wheel, accelerator or brakes.
A driver had full control of the car as it motored along Jefferson Avenue, but as soon as it merged onto the Lodge and the driver pressed a button, the automated system took over: A giant navigation screen in the center console showed cars in front, behind and to the side. The Acura picked up speed, changed lanes, slowed and merged onto other freeways automatically. Spinning cameras provided a 360-degree view of everything around it and allowed the car to maintain a safe distance from others. The driver could take over at any time by hitting the brake pedal or grabbing the steering wheel.
Honda said the technology is being developed for all of its vehicles, and that some form of autonomous driving could be available by 2020.
■An Opel Insignia with six sensors, long-range radar, GPS, cameras and other vehicle-to-vehicle communication technology allowed Priyantha Mudalige, a staff researcher for GM, to take his hands off the steering wheel in simulated city traffic. As the Insignia caught up with a slower-moving Cadillac, the Insignia steered itself into the left lane.
GM also showcased the Insignia's "traffic jam assist" capability, which allows the car to maintain a safe distance from the vehicle ahead, even if it's continually stopping and starting.
■Honda tested a virtual towing program it says could help save lives: During a closed-course demonstration on Belle Isle, a driver pretended to have a heart attack and pressed an SOS button near the rearview mirror. The Acura took over the driving, automatically put on its flashers and pulled to the side of the road. It sent a distress signal to emergency vehicles and to other nearby cars. Another car pulled up, wirelessly synced with the distressed car and guided it down the road. In real life, it could have been guided to a hospital.
■A vehicle-to-vehicle feature from Honda alerted the driver to a hazard more than 300 yards ahead. As the Acura began to automatically slow, a picture appeared on the center console of a gaggle of geese decoys in the road. The picture was streamed from the camera of a car directly in front of the geese. As the Acura neared the geese, it switched lanes to avoid the backed-up cars.
■Honda is developing technology that connects cars to pedestrians, bicyclists and motorcycles, too. Engineers are working on a smartphone application that can alert drivers to pedestrians who could be about to walk into traffic, or to a bicyclist who may be coming around a corner. In those scenarios, the car would start to beep and automatically slow. An icon showing a bicycle, pedestrian or other object would flash on the middle console. If the cyclist or pedestrian didn't stop, the car would brake to avoid a crash.
■In a similar demonstration by GM, a Chevrolet Cruze was able to avoid hitting a mannequin on a skateboard that darted in front of the car. At first, a "pedestrian ahead" warning popped up in the screen; when the skateboarder got closer, a warning chime beeped. The Cruze was able to communicate wirelessly with a small transmitter carried by the skateboard.
While broad use is likely years away, driver Don Grimm, a GM staff researcher, said some cellphone makers such as Qualcomm Inc. are considering including the technology in cellphones.
■GM showed an automated valet parking and retrieval demonstration through a smartphone app on its Chevy EN-V 2.0 electric city car.
Bill Ford: All vehicles
will need to be connected
in the future
Michael Martinez
The Detroit News
September 8, 2014
Detroit — Ford Motor Co. executive chairman Bill Ford said Monday all vehicles will eventually need to be connected, and automakers will need to collaborate to help redefine what that connected infrastructure looks like.
Speaking to Robert Safian, editor of Fast Company magazine, on the second day of the Intelligent Transportation System's annual World Congress at Cobo Center, Ford said collaboration is key.
"At a certain level, we have to cooperate on a lot of these big issues," Ford said. "It doesn't do any good if Fords can only talk to Fords."
Ford said the advances in technology make this "by far the best time" in his career, but it requires the Dearborn automaker to become a "very different company."
While car and truck sales are going well, Ford said automakers need to change their strategy because cities are becoming overpopulated with vehicles, and there will be a limit to how many vehicles they can sell.
"We can't shove two cars in every garage in Mumbai," he said. "Cities are struggling with transportation today, and they're going to struggle even more in the future. I think any business only exists to make people's lives better, and at a certain point, shoving more vehicles into an urban environment isn't doing that."
Ford stressed the importance of reducing emissions and said "electric is probably the way to go," but there needs to be a national discussion on how automakers can build out a power grid to serve those types of vehicles.
The future of mobility will eventually include fully autonomous vehicles, Ford said, but until then Ford and other automakers will likely keep the driver in control because of safety concerns.
"Right now, we have to have eyes on the road and hands on the wheel," he said. "Ultimately, pure autonomous driving won't seem like such a big deal, because people will already be familiar with so many of the features."
Focus drives Ford auto
sales increase in China
Michael Martinez
The Detroit News
Sept 5, 2014
Ford Motor Co.'s China sales increased 9 percent in August, thanks in part to the continued popularity of the Ford Focus compact car.
The Dearborn automaker said late Thursday it sold 77,506 wholesale vehicles in China last month, including 28,305 Focus cars. The China Association of Automobile Manufacturers said the Focus was the best-selling car in China through the first seven months of 2014.
Ford's China sales through the first eight months of 2014 are up 30 percent compared to the same time period a year ago.
"We have experienced an unprecedented period of growth over the last few years," John Lawler, chairman and CEO for Ford China, said in a statement. "While that high-level of year-over-year growth is not sustainable with our present manufacturing footprint, we are confident that with our new assembly plants coming online in Chongqing and Hangzhou — as well as great new nameplates like the Ford Escort and Ford Mustang — we will continue to attract new customers to the Ford brand."
Ford sold 8,526 Mondeo hatchbacks last month, more than double the 4,120 it sold in August 2013.
Kuga SUV sales increased 39 percent, and EcoSport subcompact SUV sales rose 29 percent.
Ford plans to introduce 15 new vehicles to China by 2015, including the Escort compact in late 2014 and the Mustang in early 2015
Truck sales help lift Ford Canada to top sales spot for August
The Canadian Press
September 4, 2014
TORONTO -- Canadian auto sales continued to accelerate in August, climbing 7.9 per cent to 171,560 with almost a dozen brands at or close to all-time sales record for the month, according to data compiled by DesRosiers Automotive Consultants Inc.
The sales, up from 159,004 in August 2013, included light truck sales totalling 100,621, up 14.1 per cent from 88,168 a year ago, while car sales amounted to 70,939, up from 70,836 in August 2013.
"These records are rooted in the Ontario consumer coming back into the market in full force and the West holding close to last year's sales records," DesRosiers said in a report.
Year-to-date sales totalled 1,256,649, up 4.6 per cent from 1,201,664 at the same time last year.
"We expected a point or two increase this year so an increase of almost five per cent is, frankly speaking, quite spectacular," DesRosiers said.
TD Bank economist Andrew Labelle said 2014 auto sales have surprised so far even when compared with lofty forecasts made early in the year.
Labelle noted that an uptick in job gains and consumer confidence have helped underpin the rise in sales as well as an easing in auto credit standards and terms and conditions.
"According to the last senior loan officer survey, on balance, conditions continue to ease, however the period of credit condition easing appears to now be nearing an end," Labelle wrote in a note.
"This suggests that future auto sales growth will likely be both more modest and more sustainable."
Ford Motor Co. of Canada, with a big boost from strong truck sales, claimed the honour of the industry's top seller last month, edging about Chrysler with 27,988 cars and light trucks sold, up from 27,268 a year ago.
Ford truck sales climbed 10.4 per cent to 22,539, up from 20,412 in the same month last year, while the automaker's car sales were down 20.5 per cent at 5,449 compared with 6,856 a year ago.
Meanwhile, Chrysler said it sold 26,825 vehicles last month, up from 21,932 in the same month last year. Chrysler said the total was a record for the month and helped push year-to-date sales through August to a new high.
The increase for the month was driven by truck sales, which jumped to 24,302 from 18,233 a year ago as sales of its Jeep brand more than doubled. Chrysler car sales slipped to 2,523 from 3,699 as Dodge car sales fell to less than half of those a year ago.
So far this year, Chrysler has sold 201,424 vehicles, up from 187,375 in the first eight months of last year.
General Motors of Canada sold 22,111 vehicles in August, up 4.8 per cent from 21,091 a year ago.
GM truck sales were up 7.3 per cent at 16,089 from 15,001, while car sales totalled 6,022 compared with 6,090 a year ago.
The automaker said it will complete the launch of a complete portfolio of new trucks this fall.
"With the launch of the new Cadillac ATS Coupe and our all-new mid-size trucks, the Chevrolet Colorado and GMC Canyon later this year, we anticipate this growth will continue as we align our products to best suit the needs of our customers," John Roth, GM's vice-president for sales, service and marketing.
Truck sales also helped Toyota Canada sales for the month, which climbed to 16,546, up 6.8 per cent from 15,499 a year ago. Toyota truck sales were up 10.4 per cent at 8,257 compared with 7,481 in August 2013, while Toyota car sales totalled 8,289, up from 8,018.
Sales of Toyota's luxury nameplate, Lexus, totalled 1,534, down from 1,570 a year ago, while Scion sales amounted to 407, down from 578.
Honda sales slipped 3.4 per cent to 14,063 from 14,552 a year ago, while its Acura luxury brand saw sales fall 11.8 per cent to 1,461 from 1,656.
"Our exceptional sales in June and July meant dealer inventories of key 2014 models were poor, making it impossible to match last year's strong August results," said Dave Gardner, Honda Canada's vice-president of sales and marketing.

Evolving work
force presents new
challenges to unions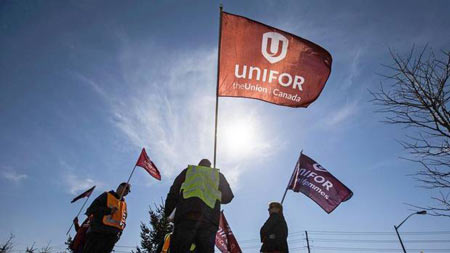 ALEXANDRA BOSANAC
The Canadian Press
Sept 1, 2014
Labour Day celebrations across Canada this year come at a time when organized labour is redefining its role in the work force amid a decline in the manufacturing industry, and the rise of contract and part-time workers has challenged its traditional focus.
Nelson Wiseman, director of Canadian studies at the University of Toronto, said that the significance of the holiday fails to resonate with many people outside the labour movement.
Once upon a time, people were marching in the streets because they wanted to cut down the [workday] and a lot of people were involved in industry that was there, like manufacturing, but now it's not the case," says Prof. Wiseman.
"People don't perceive that [unionized] workers are underpaid or unduly exploited, even though many of them may not be making huge amounts," he adds. "People have more sympathy for you if you're flipping burgers at McDonald's."
The principal aims of the first-wave labour movement – universal health care, welfare, the public education system – are now well-established in Canadian society. Outside of their collective bargaining obligations, Prof. Wiseman says, unions have been relegated to serving the role of watchdog.
The types of jobs new to the economy fall out of the traditional purview of unions: temporary service industry and knowledge sector jobs and, in particular, the high-tech sector – which has a highly mobile work force that has largely evaded unionization.
Economic headwinds have forced unions to re-evaluate their brand and their purpose in an economy where steady employment is precarious.
"We recognize that there are some challenges and we have to grow the labour movement because the economy itself is not the economy of the fifties, the sixties and the seventies," says Hassan Yussuff, president of the Canadian Labour Congress.
"In that regard we have to orient ourselves to the new work force," adds Mr. Yussuff, who says that the union's effectiveness in negotiating pensions and better wages has been tested in recent years by governments and private-sector employers.
"Nevertheless, I think we have a lot to celebrate. All of those good salaries and wages that our members make are spent in their communities and contribute to a successful and growing economy."
In its first year of existence, Unifor – formed on Labour Day weekend 2013 by the merger of the Canadian Auto Workers and the Communications, Energy and Paperworkers union – introduced new ways to bring workers from traditionally non-unionized jobs into the fold.
Notable among them was the Canadian Freelance Union, which represents self-employed media professionals.
The new union has also moved to solidify its community chapters program for unemployed former Unifor members, providing access to similar health insurance plans.
"We've had to do things differently as it relates to outreach," said Unifor president Jerry Dias. "Our union very much plays a huge role in the community."

'15 Mustang sales to determine
if 3rd shift needed at Flat Rock
Melissa Burden
The Detroit News
August 30, 2014
Flat Rock — Ford Motor Co. could decide whether it will add a third shift at its Flat Rock Assembly Plant by late next year, a Ford executive said Thursday following a celebration at the plant at which the first 2015 Ford Mustang for retail customers rolled off the production line.
Joe Hinrichs, Ford president of the Americas, said the company would evaluate sales of the Mustang, including in export markets, late next year before determining if a third shift is needed at the the facility. Hinrichs said Ford expects 60 percent of Mustang sales will be in North America, but the pony car also will be available in more than 110 countries.Mustangs with the steering wheel on the right side will be produced for global markets.
Hinrichs said for now there are no plans to add a third shift or crew at Flat Rock, but he noted the plant offers flexibility with some capacity available.
"We'll see where the demand goes," he said. "The customer decides."
The plant employs 3,200 workers, including 3,000 hourly workers represented by UAW Local 3000.
UAW Vice President Jimmy Settles, who heads the Ford department, is pushing for a third shift and more vehicles to be added to Flat Rock. He said it could be a point of contract negotiations with the automaker next year. A second shift of 1,400 employees was added to the plant about a year ago when Fusion assembly began here. The Dearborn automaker recently invested $555 million into the facility.
"We're trying to get as many vehicles as we can," he told reporters. "This is probably the only assembly plant that Ford has that we still have opportunity for capacity."
U.S. dealers have began taking orders for the sixth-generation muscle car and in some global markets allocations were snapped up in an hour. Ford Vehicle Line Director Marcy Fisher said customers "are dying to get their hands" on them. Workers gathered for the roll out wearing "Job One" Mustang T-shirts.
Hinrichs drove Settles off the line in the first Mustang — a red manual-transmission GT. Both mentioned plans to buy one of the new cars.
Sam Pack, a Texas Ford dealer, paid $300,000 at a January auction to get car No. 1. Proceeds benefit JDRF, a diabetes research organization.
The 2015 Mustang will hit U.S. showrooms this fall; convertibles will be available a few months later. Mustang exports to Europe and Asia are expected to begin early next year.
Fuel economy figures on the new Mustang have not been released. Three engine choices are available. Pricing starts at $24,425.


Canadian Medical Association leader slams Ottawa's
inaction on medicare

André Picard
The Globe and Mail
Aug. 29 2014

The new leader of the Canadian Medical Association is calling out the government of Stephen Harper for its inaction on health care, saying the medicare system is floundering and Canadians are "tired of excuses as to why the federal government can't take action."

Dr. Chris Simpson said some "brave leadership" is required to fundamentally reshape the health system to reflect the changing needs of an aging population, and it should come from Ottawa.

"There is a failure of our system to recognize how our country has changed," he told delegates in his inaugural address to the CMA general council meeting in Ottawa on Tuesday. "Our system doesn't deliver the quality of care it should. It doesn't deliver the timeliness that it should. And it doesn't deliver the value for money that it should. Canadian patients deserve better. We all deserve better."

Simpson said given the challenges posed by the aging baby-boomer demographic, the starting point for health-care reform needs to be creating a comprehensive seniors' strategy.

He said that, while he recognizes the constitutional niceties – namely that health-care delivery is principally a provincial responsibility – the "constitutional construct we have had for too long served as an excuse for the federal government to be absent from the table."

Ottawa should not usurp provincial responsibilities, he said, but it still has a role as a co-ordinator and unifier and "federal leadership has never been needed more than it is today." The CMA president said that while the group is non-partisan, Canada's 80,000 doctors will assist any and all political parties that commit to implementing a comprehensive seniors' strategy.

Citing a poll commissioned by the CMA, he said voters have grave concerns and 95 per cent of them want a seniors' strategy.

The Ipsos survey of Canadians age 45-plus showed that 78 per cent of those polled are worried they will not be able to access necessary health services, and 81 per cent also expressed worries about the quality of the care they will be get.
Simpson said those fears are justified given the state of Canadian health care. He cited a recent report from the Commonwealth Fund that shows Canada's health system ranks next to last (after the United States) on virtually every measure of quality and access. The top-ranked countries were Britain, Switzerland and Sweden.

"What do these successful countries have that we don't?" Simpson asked.

The answer, he said, is that they have three key traits in common: "They have a clear commitment to quality improvement, with goals and targets; they have buy-in and leadership from doctors; and they have strong leadership from a committed federal or national government."

What Canada has, by comparison, is a system that was fashioned to meet the acute-care needs of a young population in the 1950s that is now trying to meet the chronic-care needs of an aging population, and has no clear plan to change.

Simpson said Canada's seniors – especially those with multiple chronic conditions – lack proper primary care and end up in overcrowded emergency rooms and hospitals by default, and at great expense.

"We put people in beds instead of putting them in a care environment that lifts them up and restores them and helps them live a dignified life," he said.

This warehousing of seniors means health-care delivery costs at least $2.3-billion a year more than if care were provided in a more humane fashion, in a community setting, Simpson said. He noted too that only 16 per cent of Canadians have access to quality palliative care at end-of-life.

"It seems crazy, doesn't it?" he said. "No one would ever design a health system like we have now."

Fixing the way care is delivered to seniors is the crucial first step toward fixing the health system more generally, Simpson said.

In an address to the CMA general council on Tuesday morning, Thomas Mulcair, Leader of the Official Opposition, also slammed Mr. Harper's government for its indifference to health care.

"We face a government here in Ottawa that is more interested in defunding public health care than protecting it," he said.

Mulcair said a New Democratic Party government would restore the cuts to health-transfer payments that have been implemented.

"Money may not be the solution for every problem facing our health-care system," he said, "but it is definitely a necessary precondition."

Editor's note: A poll cited by Canadian Medical Association president Chris Simpson in this story was conducted by Ipsos. An earlier version of this story identified it as a Nanos poll.


First Ford 2015 Mustang
rolls off line in Flat Rock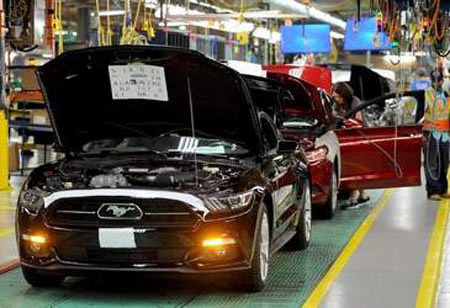 Michael Martinez
The Detroit News
August 28, 2014
The first of Ford Motor Co.'s 2015 Mustangs roll off the line Thursday at its Flat Rock Assembly Plant.
The Dearborn automaker will mark the milestone with a press event. For the first time in its 50 years in production, Mustangs will be sold globally to more than 120 countries.
"The Mustang is and will continue to be an automotive icon," Joe Hinrichs, Ford's president of the Americas, said in a statement. "Expanding its availability globally affords our customers around the world the opportunity to have a true, first-hand Mustang experience — one unlike any other."
Ford will produce right-hand-drive Mustangs that will be exported to more than 25 countries, including the United Kingdom, Australia and South Africa.
More than 9 million Mustangs have been sold in the pony car's 50-year history, and Mustang-themed merchandise accounts for 40 percent of Ford's $2 billion licensed merchandise retail sales.
The popular pony car has about 8 million likes on Facebook, making it the most popular vehicle on the social media site.
The new Mustang comes standard with a 3.7-liter V-6 that produces 300 horses and 270 pound-feet of torque. A 5-liter V-8, which puts out 420 horsepower and 390 pound-feet of torque, is an option. An optional four-cylinder 2.3-liter EcoBoost is expected to produce 305 horsepower and 300 pound-feet of torque; the current model's 3.7-liter V-6 makes 305 horsepower and 280 pound-feet of torque.
Over the past year, Ford's Flat Rock Assembly Plant underwent a $555 million investment to add a new, flexible body shop that will allow multiple models to be produced on the same assembly line. The plant also produces the Ford Fusion.
About 3,000 employees working two shifts will make the car. The Mustang will go on sale in the U.S. this fall, and in other countries next year.
"What an honor for the hardworking and dedicated UAW Local 3000 workers of Flat Rock to build the next generation of the Mustang," UAW Vice President Jimmy Settles said in a statement. "I don't think there is any place in the world where this vehicle is not known. To build it right here in Michigan is something to be proud of."

U.S. investigates '13 Ford Explorer Police Interceptor for braking issue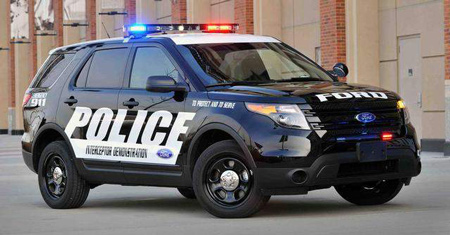 David Shepardson
Detroit News Washington Bureau
August 27, 2014
Washington — The National Highway Traffic Safety Administration has opened a preliminary investigation into 20,000 2013 Ford Explorer Police Interceptor SUVs that may have a faulty part that could lead to braking problems.
In a notice posted Tuesday, NHTSA said it received a report from a metropolitan police fleet that reported 13 brake hose failures in 11 vehicles out of a fleet of 46 Ford 2013 Explorer Police Interceptor vehicles. The hoses are also known as "jounce hoses." The problems took place between December and July, said the police department — which was not named by NHTSA.
NHTSA said inspection of the failed hoses showed small splits in the hoses near the body side of the hose assembly. NHTSA doesn't have any reports of crashes or injuries linked to the issue. The problem could result in longer braking distances.
Ford spokeswoman Kelli Felker said it is "cooperating with NHTSA on this investigation, as we always do."
Ford to invest $129M, add 300
jobs to Louisville plant to
build Lincoln crossover
Michael Martinez
The Detroit News
August 26, 2014
Ford Motor Co. said Monday it will invest $129 million and add 300 jobs to its Louisville Assembly Plant in Kentucky as it ramps up production of the 2015 Lincoln MKC crossover.
The money will go toward facility upgrades that include tooling and a system for more detailed inspections during the building process. The additional 300 workers will bring the plant's employee total to around 5,000.
The MKC — one of four new Lincoln vehicles expected by 2016 — went into production in May. Through July, 2,895 have been sold.
"Lincoln MKC is an important part of Lincoln, as it attracts a new luxury customer," Daryl Sykes, Louisville Assembly's plant manager said in a statement. "To have the opportunity to build an all-new vehicle — the first small utility ever from Lincoln — is very exciting for the hardworking men and women at Louisville Assembly Plant."
Ford expects sales of small sport-utilities will grow 300 percent between now and 2018.
The MKC comes with a 2-liter EcoBoost engine that gets 240 horsepower. It has a 6-speed automatic transmission. Pricing starts at $33,100.
Lousiville Assembly was opened in 1955 and also makes the Ford Escape. In 2010, Ford invested $600 million there to allow for production of multiple vehicle models at the same time without requiring downtime for tooling changeover.
Jimmy Settles, UAW vice president, National Ford Department, said in a statement, "The 300 new jobs add to the plant's 4,600 UAW team members — a fantastic feat enabled through the collective bargaining between the UAW and Ford to support U.S. manufacturing."


Canadian Medical Association leader slams Ottawa's
inaction on medicare

André Picard
The Globe and Mail
Aug. 29 2014

The new leader of the Canadian Medical Association is calling out the government of Stephen Harper for its inaction on health care, saying the medicare system is floundering and Canadians are "tired of excuses as to why the federal government can't take action."

Dr. Chris Simpson said some "brave leadership" is required to fundamentally reshape the health system to reflect the changing needs of an aging population, and it should come from Ottawa.

"There is a failure of our system to recognize how our country has changed," he told delegates in his inaugural address to the CMA general council meeting in Ottawa on Tuesday. "Our system doesn't deliver the quality of care it should. It doesn't deliver the timeliness that it should. And it doesn't deliver the value for money that it should. Canadian patients deserve better. We all deserve better."

Simpson said given the challenges posed by the aging baby-boomer demographic, the starting point for health-care reform needs to be creating a comprehensive seniors' strategy.

He said that, while he recognizes the constitutional niceties – namely that health-care delivery is principally a provincial responsibility – the "constitutional construct we have had for too long served as an excuse for the federal government to be absent from the table."

Ottawa should not usurp provincial responsibilities, he said, but it still has a role as a co-ordinator and unifier and "federal leadership has never been needed more than it is today." The CMA president said that while the group is non-partisan, Canada's 80,000 doctors will assist any and all political parties that commit to implementing a comprehensive seniors' strategy.

Citing a poll commissioned by the CMA, he said voters have grave concerns and 95 per cent of them want a seniors' strategy.

The Ipsos survey of Canadians age 45-plus showed that 78 per cent of those polled are worried they will not be able to access necessary health services, and 81 per cent also expressed worries about the quality of the care they will be get.
Simpson said those fears are justified given the state of Canadian health care. He cited a recent report from the Commonwealth Fund that shows Canada's health system ranks next to last (after the United States) on virtually every measure of quality and access. The top-ranked countries were Britain, Switzerland and Sweden.

"What do these successful countries have that we don't?" Simpson asked.

The answer, he said, is that they have three key traits in common: "They have a clear commitment to quality improvement, with goals and targets; they have buy-in and leadership from doctors; and they have strong leadership from a committed federal or national government."

What Canada has, by comparison, is a system that was fashioned to meet the acute-care needs of a young population in the 1950s that is now trying to meet the chronic-care needs of an aging population, and has no clear plan to change.

Simpson said Canada's seniors – especially those with multiple chronic conditions – lack proper primary care and end up in overcrowded emergency rooms and hospitals by default, and at great expense.

"We put people in beds instead of putting them in a care environment that lifts them up and restores them and helps them live a dignified life," he said.

This warehousing of seniors means health-care delivery costs at least $2.3-billion a year more than if care were provided in a more humane fashion, in a community setting, Simpson said. He noted too that only 16 per cent of Canadians have access to quality palliative care at end-of-life.

"It seems crazy, doesn't it?" he said. "No one would ever design a health system like we have now."

Fixing the way care is delivered to seniors is the crucial first step toward fixing the health system more generally, Simpson said.

In an address to the CMA general council on Tuesday morning, Thomas Mulcair, Leader of the Official Opposition, also slammed Mr. Harper's government for its indifference to health care.

"We face a government here in Ottawa that is more interested in defunding public health care than protecting it," he said.

Mulcair said a New Democratic Party government would restore the cuts to health-transfer payments that have been implemented.

"Money may not be the solution for every problem facing our health-care system," he said, "but it is definitely a necessary precondition."

Editor's note: A poll cited by Canadian Medical Association president Chris Simpson in this story was conducted by Ipsos. An earlier version of this story identified it as a Nanos poll.


First Ford 2015 Mustang
rolls off line in Flat Rock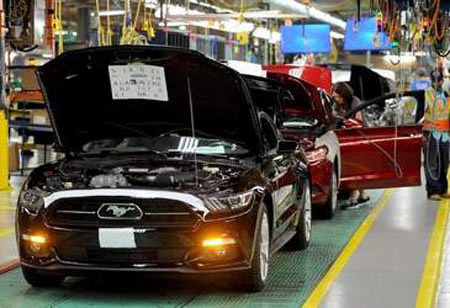 Michael Martinez
The Detroit News
August 28, 2014
The first of Ford Motor Co.'s 2015 Mustangs roll off the line Thursday at its Flat Rock Assembly Plant.
The Dearborn automaker will mark the milestone with a press event. For the first time in its 50 years in production, Mustangs will be sold globally to more than 120 countries.
"The Mustang is and will continue to be an automotive icon," Joe Hinrichs, Ford's president of the Americas, said in a statement. "Expanding its availability globally affords our customers around the world the opportunity to have a true, first-hand Mustang experience — one unlike any other."
Ford will produce right-hand-drive Mustangs that will be exported to more than 25 countries, including the United Kingdom, Australia and South Africa.
More than 9 million Mustangs have been sold in the pony car's 50-year history, and Mustang-themed merchandise accounts for 40 percent of Ford's $2 billion licensed merchandise retail sales.
The popular pony car has about 8 million likes on Facebook, making it the most popular vehicle on the social media site.
The new Mustang comes standard with a 3.7-liter V-6 that produces 300 horses and 270 pound-feet of torque. A 5-liter V-8, which puts out 420 horsepower and 390 pound-feet of torque, is an option. An optional four-cylinder 2.3-liter EcoBoost is expected to produce 305 horsepower and 300 pound-feet of torque; the current model's 3.7-liter V-6 makes 305 horsepower and 280 pound-feet of torque.
Over the past year, Ford's Flat Rock Assembly Plant underwent a $555 million investment to add a new, flexible body shop that will allow multiple models to be produced on the same assembly line. The plant also produces the Ford Fusion.
About 3,000 employees working two shifts will make the car. The Mustang will go on sale in the U.S. this fall, and in other countries next year.
"What an honor for the hardworking and dedicated UAW Local 3000 workers of Flat Rock to build the next generation of the Mustang," UAW Vice President Jimmy Settles said in a statement. "I don't think there is any place in the world where this vehicle is not known. To build it right here in Michigan is something to be proud of."

U.S. investigates '13 Ford Explorer Police Interceptor for braking issue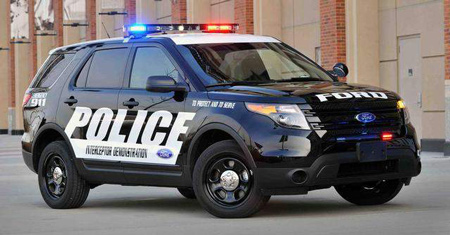 David Shepardson
Detroit News Washington Bureau
August 27, 2014
Washington — The National Highway Traffic Safety Administration has opened a preliminary investigation into 20,000 2013 Ford Explorer Police Interceptor SUVs that may have a faulty part that could lead to braking problems.
In a notice posted Tuesday, NHTSA said it received a report from a metropolitan police fleet that reported 13 brake hose failures in 11 vehicles out of a fleet of 46 Ford 2013 Explorer Police Interceptor vehicles. The hoses are also known as "jounce hoses." The problems took place between December and July, said the police department — which was not named by NHTSA.
NHTSA said inspection of the failed hoses showed small splits in the hoses near the body side of the hose assembly. NHTSA doesn't have any reports of crashes or injuries linked to the issue. The problem could result in longer braking distances.
Ford spokeswoman Kelli Felker said it is "cooperating with NHTSA on this investigation, as we always do."
Ford to invest $129M, add 300
jobs to Louisville plant to
build Lincoln crossover
Michael Martinez
The Detroit News
August 26, 2014
Ford Motor Co. said Monday it will invest $129 million and add 300 jobs to its Louisville Assembly Plant in Kentucky as it ramps up production of the 2015 Lincoln MKC crossover.
The money will go toward facility upgrades that include tooling and a system for more detailed inspections during the building process. The additional 300 workers will bring the plant's employee total to around 5,000.
The MKC — one of four new Lincoln vehicles expected by 2016 — went into production in May. Through July, 2,895 have been sold.
"Lincoln MKC is an important part of Lincoln, as it attracts a new luxury customer," Daryl Sykes, Louisville Assembly's plant manager said in a statement. "To have the opportunity to build an all-new vehicle — the first small utility ever from Lincoln — is very exciting for the hardworking men and women at Louisville Assembly Plant."
Ford expects sales of small sport-utilities will grow 300 percent between now and 2018.
The MKC comes with a 2-liter EcoBoost engine that gets 240 horsepower. It has a 6-speed automatic transmission. Pricing starts at $33,100.
Lousiville Assembly was opened in 1955 and also makes the Ford Escape. In 2010, Ford invested $600 million there to allow for production of multiple vehicle models at the same time without requiring downtime for tooling changeover.
Jimmy Settles, UAW vice president, National Ford Department, said in a statement, "The 300 new jobs add to the plant's 4,600 UAW team members — a fantastic feat enabled through the collective bargaining between the UAW and Ford to support U.S. manufacturing."


Ford to unleash Mustang T-shirts
Collection honours 50th anniversary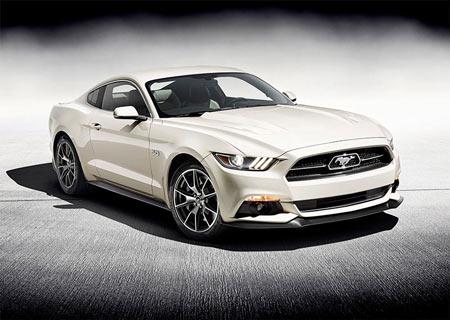 Detroit News
Michael Martinez
August 25, 2014
Dearborn— Ford Motor Co. on Monday will veiled a series of high-end designer T-shirts inspired by its new 2015 Mustang.
The limited-edition shirts were designed by five artists from around the world — including Detroit's Anna Sui — and are part of the automaker's Mustang Unleashed collection in honor of the Mustang's 50th anniversary. Ford made 5,000 of the shirts, which will go on sale Tuesday on designer fashion site gilt.com and will retail for $39.
"It's a celebration of the best of design, that authentic feeling that the Mustang evokes," said Michelle Silvestri, global design director for Team Detroit, Ford's marketing arm.
The shirts are the latest example of the Dearborn automaker's lucrative licensing division, which brings in $2 billion in retail sales annually by hawking the Blue Oval and its various brands on everything from T-shirts and toys to lawn chairs and coffee mugs. Ford has about 400 licensees globally and sold more than 45 million Ford-branded items in 2011, the most recent data available.
Mustang accounts for 40 percent of Ford's total merchandise business. The brand has 300 licensees worldwide that produce thousands of items. Customers can show their pony car pride on everything from pinball machines and golf carts to Shinola watches and Puma shoes.
"It's an opportunity to really engage with the partners that are more lifestyle-oriented," said Kimberly Cape, Ford's group marketing manager. "We know there's a broader consumer base than what we have today."
Last month, Ford partnered with OPI to produce a line of Mustang nail polish, complete with colors like "Race Red" and a white shade called "Angel with a Leadfoot." Since its July introduction, Ford has sold 4 million bottles of the polish.
Each year, more than 1 million toy Hot Wheels Mustangs are sold.
"If you think of Mustang, it's more than a car," she said. "It truly has been a pop culture icon."
By comparison, it's been reported Major League Baseball brings in $3 billion to $4 billion annually in licensed merchandise for all 30 teams.
In May, License magazine said General Motors Co. brings in about $3.5 billion annually, and about 70 percent of its licensing revenue comes from its Chevrolet brand. Chevy has about 350 active licensees.
The magazine said Chrysler Group LLC's licensing division brings in $1.1 billion a year.
The licensing business is rebounding in North America, where sales in North America rose for the third straight year in 2013, to $115.75 billion, according to the International Licensing Industry Merchandisers' Association's survey released in June.
Ford recalls 2014 Focus, C-MAX Hybrid cars for potential
steering gear issue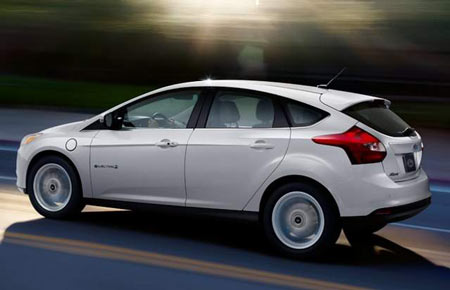 Michael Martinez
The Detroit News
August 24, 2014
Ford Motor Co. on Thursday issued a safety recall for more than 600 2014 Focus and C-MAX Hybrid cars in North America for a potential issue with the steering gear that could result in loss of control.
The Dearborn automaker said 32 of the 616 affected vehicles were delivered to dealers, but none were sold to customers. Ford contacted the dealers on Thursday; dealers will replace the steering gear.
Some of the affected steering gears were built without the required number of ball bearings, which can deform and wear out remaining bearings.
The cars were built at the Michigan Assembly Plant between Aug. 8 and Aug. 15, Ford said.
Of the 616 cars, 502 are going to U.S. destinations, six are going to federalized territories and 108 are going to Canada.
Earlier this month, Ford recalled nearly 160,000 2013-14 Focus STs and Escapes for stalling problems due to faulty wiring harnesses. No crashes or injuries have been attributed to the condition.
In addition, Ford in August recalled 1,300 2015 Transits for potential brake fluid leaks; 600 2015 Transit cargo vans for a potential issue with windowless sliding doors; and 1,300 2015 Lincoln MKC crossovers for windshield-related problems. No injuries were reported with any of those recalls.
Oscar-winning actor McConaughey to pitch Ford's Lincoln brand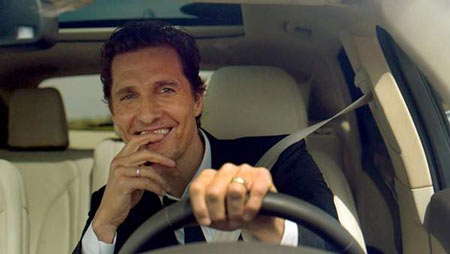 Michael Martinez
The Detroit News
Aug 23, 2014
Lincoln Motor Co. is tapping Oscar-winning actor Matthew McConaughey to help transform the company and reach a broader audience.
Ford Motor Co.'s luxury brand, which has struggled with sales and delayed introductions in recent years, said Thursday it's partnering with McConaughey on a two-year deal that will feature the actor in a number of television and digital ads.
Lincoln did not release financial figures of the deal, and said it was too early to discuss the number of spots McConaughey would appear in. The first ads — which begin airing in September — will be centered on the all-new 2015 MKC compact crossover, which will soon hit dealer lots.
"Matthew is a natural fit with Lincoln and where we are going as a brand," Matt VanDyke, director, global Lincoln, said in a statement. "The transformation of Lincoln is well under way. With the MKC coming to market in a hot, competitive segment, now is the perfect opportunity to share to a wider audience what our brand offers. Matthew is the ideal personality to help us tell this story, and it is only the beginning of what we trust will be a fantastic relationship."
Lincoln said McConaughey will "act as a storyteller" in the spots.
"He's not just here to be showcased in a TV spot, we want to have a strong and authentic partnership with him," said Stephane Cesareo, Lincoln's communications manager. "It cannot be anyone else."
McConaughey won his Oscar for last year's "Dallas Buyers Club." He has appeared in popular films like "Magic Mike" and "The Wolf of Wall Street," as well as HBO's "True Detective."
"Authenticity is a word that kept coming up in our initial meetings," McConaughey said in a statement. "It was clear from the start they appreciated me as an individual first and foremost, and I would be able to be myself in this collaboration. Lincoln is an iconic, American brand and I like where they are heading with their transformation. I had the chance to drive the new MKC around Texas and I think they're doing a good job."
The high-profile collaboration is the latest in Ford's efforts to revive the struggling brand.
In his first major move since becoming CEO, Mark Fields in July appointed Kumar Galhotra to lead Lincoln. The job had previously belonged to Jim Farley, Ford's executive vice president of marketing, sales and service.
Fields said the move showed that Ford was "serious about Lincoln as a world-class luxury brand."
Earlier this year, Ford launched the all-new Lincoln MKZ sedan, and it has sold more than 21,000 since the start of the year. In addition to the MKZ and MKC, Lincoln plans to introduce two more new vehicles by 2016.
Health care may tarnish golden years, baby boomers fear

André Picard
The Globe and Mail
Aug. 22 2014

Eighty-one per cent of those polled also expressed worries about the quality of the care they will able to access.

In addition, the majority of older Canadians – 61 per cent – lack confidence that hospitals and long-term care facilities can handle the needs of Canada's elderly population, or that there are enough services to help Canadian seniors live at home longer (60 per cent).
|
And, of course, money is an issue, with fully half of baby boomers worrying that they won't be able to afford the health care they need in their golden years. This despite the fact that 68 per cent of those over the age of 65 have supplemental health insurance to help cover services that do not fall under the rubric of medicare.

Dr. Louis Francescutti, president of the Canadian Medical Association, said the survey results underscore the desperate need for a pan-Canadian seniors' strategy to ensure medicare can meet the needs of the country's aging population.

"Canada desperately needs a seniors' strategy and politicians should pay attention during the next federal election," he said. "This should be an issue one would ignore at their own political peril."

He said the challenge an aging population poses cannot be understated. In 1971, seniors represented 8 per cent of the population; today they represent 15 per cent; and by the time all baby boomers have reached the age of 65, it will be 25 per cent of the population.

In the poll the CMA commissioned last year – part of what it calls its annual health care report card – 85 per cent of Canadians said they supported a seniors' strategy. This year, the question was asked to those over the age of 45, and 95 per cent of them were in favour of having a plan.

In the background paper that accompanies the poll, the CMA says the purpose of a seniors' strategy is to remodel the health system to better meet the needs of the baby boomer demographic. In particular, infrastructure planning would ensure the better use of healthcare dollars so medicare can remain affordable.

The CMA notes that hospital care costs about $1,000 a day, compared to $130 in a long-term care facility, and $55 for homecare. Yet far too many seniors end up in hospital by default because of shortages in other areas.

The physicians' group estimates that getting elderly patients into the appropriate facility would save the system at least $2.3-billion annually.

The poll also shows that caregivers are increasingly feeling the burden of providing care to aging relatives and friends.

More than one in four Canadians currently provide health care to a loved one. In the survey, 71 per cent of them said this poses serious conflicts with personal and work responsibilities, and 64 per cent said the caregiving functions cause a high level of stress.

The Ipsos Reid poll was conducted by phone between July 17 and July 24 with 1,000 Canadians aged 45 years and older. The results are considered accurate within 3.1 percentage points, 19 times out of 20.

Baby boomers are getting increasingly antsy about the availability and quality of health care as they age.

That is the message that emerges from a new poll, commissioned by the Canadian Medical Association. The survey of Canadians aged 45-plus shows that 78 per cent of them are worried that they will not be able to access necessary health services like homecare and long-term care in a timely fashion when they need them.
Ford unveils its facelifted
Falcon finale with new XR8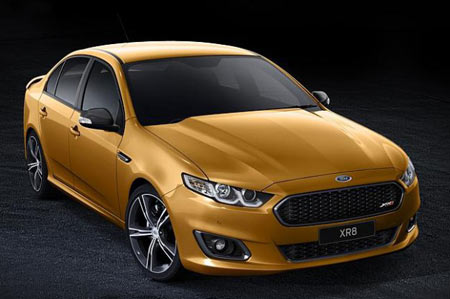 By Brandon Turkus
August 20, 2014
While its days may be numbered, Ford isn't just going to let its Falcon sedan limp out for the Australian market. No, the Blue Oval is releasing a refreshed Falcon for its final years, and it's lead by this, the new XR8. That's right, this dead-car-driving is going to go out on a high note.
Ford's global design DNA dominates the looks of the new Falcon, with a grille reminiscent of the North American market Fusion and the European-market Mondeo. The headlights aren't a straight port, and boast their own unique LED running light pattern (at least on the XR8), but the overall look is strikingly similar. Out back, LED taillights highlight the rear of the Faclon. Despite the substantial new fascia, this is still a mid-cycle refresh. That means most of the rest of the Falcon's body panels are carryovers from the current model.
The XR8 model, shown above, arrives with a supercharged V8, allegedly displacing 5.0 litres. Unfortunately, details on the Falcon's mechanicals are in remarkably short supply. Ford has committed to a range of turbocharged four, as well as turbocharged and naturally aspirated six-cylinders, in addition to the V8, although specifics on those mills aren't available.
It isn't just information that's in short supply ­– official images of the new Falcon are limited to the pic you see above. Of course, we're working on getting more of both, and as soon as that happens, we'll be sure to update this post. Scroll down for the brief, styling-focused press release from Ford.

Global unrest worries
Detroit's Big 3 carmakers
Michael Martinez
The Detroit News
August 19, 2014
Cars and trucks are selling at a brisk pace in the United States at a pace not seen since before the recession. But political turmoil and economic uncertainty in South America, Russia, Thailand and the Middle East have automakers worried about selling cars, losing money, protecting workers and recruiting new suppliers.
Sales in those troubled regions are expected to decline through the rest of the year — down 8 percent in South America, 10 percent in Russia and 27 percent in Thailand, said Troy-based forecasting firm LMC Automotive.
Of those areas, LMC expects good news only in the Middle East, where it counts only Iran and Egypt in its forecasts: Sales are expected to be up 18 percent, largely because of eased sanctions in Iran.
Ford Motor Co., General Motors Co. and Fiat Chrysler Automobiles LLC all sell — and in some cases build — cars in those regions.
"For those OEMs (original equipment manufacturers) that have operations there, it's an issue," Jeff Schuster, senior vice president of forecasting for LMC Automotive, said in an interview. "It creates nervousness around these spots and some reluctancy to commit long-term until there's stability."
Most automakers say they're in it for the long haul. But analysts say they at least will have to scale back or revise plans.
Each of the troubled regions has its problems.
In Russia, political issues with Ukraine continue, and recent sanctions on financial, energy and defense sectors threaten to further hurt the economy.
In Thailand, a political coup in May capped months of social unrest that pushed the economy to the brink of recession.
The Middle East continues to be a trouble spot. Iran, which had placed strict sanctions on auto sales, recently lifted them, giving automakers hope of setting up operations there soon.
In South American countries — especially Brazil, Venezuela and Argentina — unfavorable exchange rates and other currency-related issues have led to weak economies.
Those problems are affecting sales numbers and the bottom line: Ford, GM and Fiat all reported second-quarter losses in South America.
Ford lost $259 million in South America in the second quarter this year, compared to the $151 million it lost in the same period a year ago. The automaker cited slower sales of cars and trucks, an unfavorable exchange rate and higher costs. It expects a larger loss for the year there than it previously estimated.
The Dearborn automaker posted a small second-quarter profit in Europe, which includes Russia. It expects to be profitable there next year, but Chief Financial Officer Bob Shanks said Russia presents a challenge: "The current environment is clearly difficult, but it remains a large and important market."
GM reported a pre-tax loss of $81 million in South America during the second quarter, down from a pretax profit of $54 million in the same 2013 quarter.
GM Chief Financial Officer Chuck Stevens recently told industry analysts that the auto industry continues to weaken in Brazil and Argentina. Stevens said there was "fundamentally no production" in Venezuela during the first half of the year, though he thinks that will change during the second part of 2014. Stevens said GM slowed production in Brazil before the soccer World Cup, "because fundamentally, the country shut down."
Stevens expects "slightly improved performance" in South America in the second half of 2014.
On Fiat's second-quarter earnings call, CEO Sergio Marchionne said the company was faring better than its competitors in South America, and he hoped for continued success.
Russia represents one of the top five markets for Chevrolet. The Chevy Cruze, Tahoe, Captiva, Aveo and Niva are sold there. GM also sells Opel- and Cadillac-branded vehicles.
Tim Mahoney, Chevy's chief marketing officer, said the brand is doing well, but he's keeping an eye on Russia.
"It's an important place to be, but any time you operate outside the 50 states, there's political issues you have to be mindful of," he said.
Schuster said foreign political and economic tensions could affect more than car companies. Their suppliers, he said, may be hesitant to follow automakers who set up manufacturing operations overseas.
Hau Thai-Tang, Ford's group vice president of global purchasing, said many suppliers have already followed Ford into some of the world's troubled areas. But he said some who are not yet in Russia, South America or the Middle East are hesitant to expand there.
He said Ford can help sway unsure suppliers by being clear and transparent about its projections for those markets.
"The nature of emerging markets is that they tend to be more volatile," he said. "We tend to look at it as a long-term outlook and we're still very bullish on those regions. It's of great benefit to all of us to invest there and be there."
Leaving a country because of political unrest is not out of the question.
GM and Ford ceased operations in South Africa in 1986 and 1988, respectively, because of apartheid. Both began selling again there in the mid-'90s.
"When situations occur in other countries, automakers either have to adjust their business models ... or there are times where they pull out of the market altogether," said Michelle Krebs, a senior analyst with AutoTrader.com. "It's almost like a chess board where you're moving the pieces."
Still, Detroit's automakers appear committed to the regions they're in.
"It's not healthy for the brand when they stick their toes in, pull back, and then stick them back in again," GM's Mahoney said. "It's important to make decisions with a cool head and to be smart about it."
Schuster said car companies can overcome sales and revenue declines by broadening their reach and ramping up sales and production in more stable parts of the world.
"For those that have truly global operations, some of that loss is being offset by the success in the mature markets," Schuster said. "If you can increase your competitiveness in the markets that are doing well, while the other markets are down, that's one way you can manage it."

Ford tones down tech
in aluminum F-150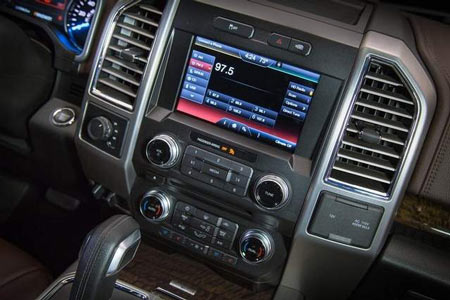 Michael Martinez
The Detroit News
Aug 18, 2014
Dearborn— The interior of Ford Motor Co's new aluminum-bodied F-150 will include a more user-friendly instrument cluster and center console that uses more hard buttons and knobs than many other new vehicles.
The pickup, which will hit dealer lots later this year, is bucking the trend of elaborate touchscreens for a very specific reason: Truck customers don't want that technology. Most F-150 owners will use the truck for work, and often can't swipe up or down on a screen with dirty hands or while wearing gloves.
"It's not that they're rejecting technology," said Cary Diehl, Ford's human factors engineer, who helped design the interior of the truck. "It's about getting to something quickly. The truck really is a tool for multiple uses. For our truck customers, it's all about efficiency."
Ford used much market research and many focus groups to determine what to include on the cluster and console and where to put each button. Diehl said he conducted a number of focus groups in Houston. And he would randomly drive around to Ford dealerships in Dearborn and talk with truck customers as they waited for repairs.
"Truck customers are different," he said. "They're more traditional. Car customers are more accepting to things that mimic their iPads and iPhones."
Information about fuel economy, towing capacity, trip logs and tire pressure were important, so all of that can be viewed on the instrument cluster. The "My View" feature allows truck owners to simply customize what information is displayed and where it is on the screen, all with a few clicks of a hard button on the left side of the steering wheel.
The center console includes an 8-inch touchscreen that can be used to access the radio, climate control and navigation system. But hard buttons underneath it allow drivers to access all of that information the old-fashioned way, too. Radio dials and hard preset station buttons sit immediately underneath, followed by dials and buttons for climate control and the heated and cooled seat feature. Past F-150 models didn't have this many buttons, and didn't group them all together, Diehl said.
"The customer kept telling us this is what they want," he said.
Ford has struggled in Consumer Reports auto reliability studies, with the influential magazine citing problems with the automaker's voice-activated and infotainment systems. J.D. Power & Associates' annual Initial Quality Study has also hammered Ford for its software issues, but in its most recent study, Ford jumped above the industry average, thanks to improvements in its technology.
The automaker last month released pricing for the 2015 F-150, which will increase from $395 to $3,615 over the current 2014 pickup, depending on the model.
The aluminum body helps reduce weight in the truck by as much as 732 pounds compared to the 2014 F-150.
Ford has not yet released the new truck's fuel economy numbers.
Improvements in 2015

Here are more improvements to the 2015 Ford F-150:

■Finger grooves on the tailgate release
■A box side step on the side of the truck made specifically for wide work boots
■A keyless entry pad with hard buttons instead of a touch pad
■A two-piece sliding rear window with an open/close button near the rearview mirror
Ford recalls 2013 Escape for 11th time, this time for wiring problem
Callback includes Focus ST hatchback
with turbocharged 2.0-liter engine

Nick Bunkley
Automotive News
August 17, 2014
DETROIT -- Ford Motor Co. has issued its 11th recall on the 2013 Escape crossover, this time because a wiring problem could cause the engine to hesitate or stall.

The recall covers 159,395 Escapes and Focus ST hatchbacks from the 2013 and 2014 model years with turbocharged 2.0-liter engines in North America.

Ford said the engine wiring harnesses may have "splices that were insufficiently compressed during the supplier manufacturing process," which can affect engine performance by sending incorrect signals to the powertrain control module.
The defect could result in problems including stalling, reduced engine power, hesitation or illumination of the engine-malfunction indicator light, Ford said. No injuries or crashes are linked to the problem. Dealers are being instructed to replace the wiring splices.
Flaws that other recalls on the Escape have addressed include fluid leaks that could cause an engine fire, doors that can open while the vehicle is moving and rollover airbags that may not deploy quickly enough.
Strong U.S. sales
The Escape has been among the most recalled vehicles in the country since it was redesigned in 2013, though the recalls have had little, if any, noticeable effect on U.S. sales. It is the second most-popular crossover, only slightly behind the Honda CR-V, and posted a 19 percent gain in July.
The vehicle was Ford's third-best selling vehicle in the U.S. during the first seven months with sales of 179,448 units, up less than a percentage point from the same period last year.
A Ford spokeswoman said no single Escape is affected by all 11 recalls. Today's recall covers 17,354 Focus STs built from February 2012 through October 2013 and 142,041 Escapes built from October 2011 through April 2013. About 133,000 of them are in the United States, 25,000 are in Canada and fewer than 800 are in Mexico.
Other recalls
Ford also announced three smaller recalls of vehicles from the 2015 model year, none of which are attributed to any crashes or injuries:
• 1,319 Transit cargo vans to fix a potential brake-fluid leak. The problem could increase the vehicle's stopping distance.

• 610 Transits for windowless sliding doors that may have been assembled without an epoxy reinforcement. That could increase the chances of the doors coming unlatched during a side-impact crash, increasing the risk of injury to occupants.

• 1,274 Lincoln MKC crossovers with windshields that may not conform to federal safety standards. Ford said the supplier's manufacturing process may have allowed air to be trapped between the layers of glass, which could lead to bubbles that affect driver visibility.

Canada Pension Plan
assets reach $227 billion
Madhavi Acharya-Tom Yew
August 16, 2014
Toronro Star
The Canada Pension Plan fund gained $7.7 billion in its latest quarter, with net assets reaching nearly $227 billion.
The gain consisted of $3.4 billion in returns from investments and $4.3 billion in new contributions, the Canada Pension Plan Investment Board said on Thursday.
The fund earned 1.6 per cent on its investments for the three months ending June 30, 2014, pushing its net assets up to $226.8 billion at the end of the fiscal first quarter.
The investment return "is right in line with what our expectations would be for a quarter like this. It's typical, a bit of a ho-hum quarter," Mark Wiseman, president and chief executive officer of CCPIB, Canada's largest pension fund manager.
"We always take a much longer term view than any 90-day period," Wiseman added. "It's a bit like watching your children grow. When you see them everyday, you don't notice that they're getting taller."
In the year-earlier period, the board reported an investment return of 1.1 per cent. Assets have risen 20 per cent from $188.9 billion since that period.
The five-year rate of return for the fund is 8.5 per cent, excluding the effects of inflation. The 10-year real return is 5.4 per cent.
Just under half of the fund's assets are invested in public and private equities. About one-third of the assets are in fixed income, with approximately 11 per cent in real estate and about 5.5 per cent in infrastructure.
In the quarter, the fund announced its first investment in India's infrastructure through a deal with a subsidiary of Larsen & Toubro Ltd., the country's largest engineering and construction company. The deal is worth $332 million (U.S.).
"We see tremendous potential in India. It's a very strategic market for us," Wiseman said.
"We know there will be ups and downs along the way but long-term, India will be one of the largest economies in the world. As a long term investor, it's incumbent on us to get ahead of that economic growth, to be an early mover in the market, to build expertise and capability in the market and find the right partners."
In June, CPPIB announced that it bought a six per cent stake in Markit Ltd., a U.K-based financial information firm, for $250 million (U.S.)
CPPIB also announced Thursday that it would invest an additional $500 million (U.S.) in the Goodman North American Partnership, a joint venture formed in 2012 between CPPIB and the Goodman Group.
The joint venture invests in modern logistics and warehouse facilities in major U.S. markets.


Ford F-Series Super
Duty prototype reduced
to smouldering mess of
aluminum and steel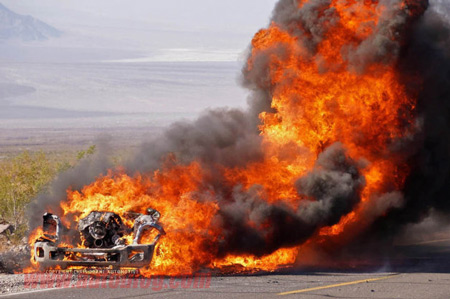 Auto Blog
Jeremy Korzeniewski
August 15, 2014

The most important bit of information you need to know after looking through our high-res gallery of images depicting a prototype 2016 Ford F-Series Super Duty pickup truck burning to the ground is that nobody was hurt. There were two engineers inside the vehicle when it caught fire, and both exited to safety. (Click for more photos)
That's the good news. The bad news is that the truck, which appears to have been testing in Death Valley, appears to be a total loss, minus, of course, whatever information Ford can glean from the conflagration – particularly tracing it back to its root cause. Besides that, we're also expecting the body of the next Super Duty to be hewn from aluminum, as is the case with its smaller brother, the brand-new F-150. Note the little aluminum droppings littering the roadway as apparent proof of that.
Our spy photographers report that it took just 21 minutes for the F-Series Super Duty to burn completely to the ground. The fire appears to have started in the driver-side front wheel well, spreading to engulf the entire front end in three minutes. We can't confirm the source of the blaze, but we're curious if the car's black vinyl cladding, meant to obscure the secrets within, contributed to the fire.
UPDATE: Ford has issued the following statement: "While testing an experimental vehicle in Death Valley, there was a fire. We are investigating." That much is clear, and we'll keep you informed of any new information we get.


Large solar array planned
at Ford headquarters
Associated Press
August 14, 2014
Dearborn — Ford Motor Co. and DTE Energy Co. plan to build a large solar array at the automaker's world headquarters in suburban Detroit.
The companies announced Thursday that the project, funded by Detroit-based DTE Energy, will provide Ford employees in Dearborn with 360 covered parking spaces and 30 charging stations for plug-in electric vehicles.
Ford executive chairman Bill Ford says in a statement that the project reflects the automaker's "long history of innovation and a deep commitment to sustainability."
The solar canopy will have capacity to generate 1.038 megawatts of electricity, enough to power 158 average-sized homes. DTE Energy will build, operate and maintain the carport for 20 years. Construction is set to begin in September and be completed in early 2015.


What happens to new
cars that don't sell?
JASON TCHIR
The Globe and Mail
Aug 13, 2014
"New vehicles stay until they're sold," says Automobile Protection Association (APA) president George Iny. "Occasionally, they can be put into service at the dealership as an employee vehicle or service loaner, especially if this qualifies them for a clearance rebate from the auto maker."
A quick refresher in how dealerships work: Dealerships are franchises. They buy cars from the manufacturer and then, ideally, sell them at a profit.
"The day the cars leave the factory, the factory gets paid," says Canadian Automobile Dealers Association (CADA) spokesman Huw Williams. "If the dealer buys 500 vehicles from the factory, they'll be responsible for those 500 vehicles."
Dealers take out loans to pay for all the vehicles they buy from the factory. Even though unsold cars are the dealer's problem, auto makers don't entirely wash their hands of dealerships. They help dealers by advertising and offering customers incentives and special financing.
"It's in the manufacturers' best interest for the dealership to sell their vehicles quickly, so they give incentives, say $3000 cash back or zero per cent financing," says Radek Garbowski, COO of Unhaggle. "And the financing is usually through the manufacturer, for example, Toyota Financial Services, so the manufacturer makes money that way."
Once cars have sat too long, the manufacturer may give the dealer a clearance rebate, Garbowski says.
"It's basically a payout directly to the dealer, it's not advertised openly to the public," says Garbowski. "They'll give the dealer $3000, for example, but then that car is ineligible for special rebates and financing."
Dealer's Choice?
Back to your question. If cars don't get sold, the manufacturer won't take them back.
"The exception is lease returns. The ones the dealer doesn't want return to the auto maker and are resold at auction," says the APA's Iny.
Dealers might trade slow-selling cars to a dealer in another market where that vehicle's in demand, says Iny.
"For example, a city Toyota dealer with a Toyota pickup may trade it with a small town Toyota dealer who needs it," Iny says.
Unhaggle's Garbowski says dealers aren't likely to sell cars at auction as that would mean forking over part of the sales price to an auction house.
"And they'd lose money if they sold a car for parts," he says.
To get rid of cars, dealers have to price cars to sell. Iny says unsold cars are a big problem for dealers.
"Especially when the dealer was forced to take a bunch of unpopular vehicles or the wrong colour and wrong options by the auto maker," Iny says. "It's one way auto makers punish dealers who complain."
A good deal for consumers?
Generally, car makers want to get rid of inventory so older models aren't competing with new stock (the exceptions tend to be specialty vehicles, like some hybrids, that sell slowly).
"August and September is an excellent time to be looking for cash rebates," Iny says. "For example, Hyundai is offering a very attractive cash rebate on the 2014 Accent to compete with the new 2015 (Nissan) Micra."
If you do wait until the end of a model year, you might not get the colour or options you want. But Iny says a car that's been sitting outside for a year is "rarely a bargain."
"The brakes have rusted and the battery's dead and should be replaced before sale," he says. "It may be better to buy a clean one-year-old used car."
Bill Ford knew he wasn't
cut out for the CEO job
Jeremy Cato
The Globe and Mail
August 12, 2014
The last time I had dinner with Ford Motor executive chairman Bill Ford, he talked about the future of value-added industries in America's heartland which, of course, includes the devastated and bankrupt city of Detroit, Ford's hometown.
He touched on manufacturing first, noting that it is crucial for developed countries to retain a strong manufacturing base, even if developing and Third World countries do the same work cheaper. A strong manufacturing base creates good jobs and stabilizes the economy, he said. It's also a source of pride.
Then Ford turned to engineering. He said it's become tough for the auto industry to attract the best engineering talent. Too many bright minds are being pulled to Wall Street to do financial engineering, while others find it impossible to avoid rolling the dice of enrichment at a Silicon Valley startup.
Notoriously uncomfortable in larger groups, over dinner Ford was open, accessible and forward-thinking. He had already decided to step down as Ford Motor CEO and personally wooed former Boeing executive Alan Mulally to the job. Ford had become executive chairman, a role that kept him involved in Ford Motor's day-to-day operations, but freed him of daily decision-making.
Ford had enough humility and self-awareness to recognize that he was ill-equipped for the CEO job. Ford has long appeared as an old-fashioned, mid-western lad interested in the environment and advocating for quality automotive jobs in his hometown. Still, no one should confuse that with a reluctance to send manufacturing jobs elsewhere if it makes business sense.
Last month, Ford penned an op-ed in The Wall Street Journal in which he discussed "the automobile as part of a larger ecosystem." He said that cars must become "part of our broader transportation network" and that unending growth in car sales is unsustainable – not with two billion vehicles expected to be on the road by 2050, stuffing already over-populated cities.
Massive congestion will have "serious consequences for our environment, health, economic progress and quality of life," he wrote, adding, "No matter how clean and efficient vehicles are, we simply cannot depend on selling more of them as they function today. Cars will need to be smarter and more integrated into the overall transportation system." Car companies must morph into "personal-mobility companies."
Future cars must emphasize connectivity and car-sharing will grow. Lighter, more efficient vehicles made of carbon fibre and aluminum will use less fuel and pump out fewer emissions. Self-driving cars are coming and among many things, this offers benefits for the physically challenged. Even flying cars are possible.
This is Ford's vision and I wouldn't bet against any of this coming to pass.
In the meantime, however, Ford Motor and Bill Ford are moving into the most challenging period in company history – tougher than the turnaround of the past eight years. In desperate times, Ford Motor could take desperate measures under the refreshing leadership of Mulally, the bubbly outsider. But now Ford Motor lifer Mark Fields is CEO. Is the new Ford sustainable, or a blip?
We'll find out soon enough. Ford Motor is embarking on its most ambitious vehicle launch program. Twenty-three models will be launched globally this year, 16 of them in North America. One will be the aluminum-bodied 2015 F-150 pickup. The F-Series is at the heart of Ford's profitability. If the 2015 F-Series stumbles, Ford will be in a world of hurt.
Bill Ford will be the constant in this. He shows no signs of moving on, instead serving as a voice of reason and experience at one of the most important manufacturers in the world. He is very much an underappreciated industrial leader. Those who doubted him over the years, who questioned his depth, capabilities and commitment, have been proven wrong.


That strong recovery?
It was just a myth
Jim Stanford
The Globe and Mail
August 11, 2014
Ever since the global meltdown of 2008, it's been an article of faith in Canadian economics that we somehow handled the whole mess better than the rest of the world. No banks collapsed. Our recession, while painful, was not nearly as bad as America's. Our deficits were smaller, and will disappear sooner. Not surprisingly, there's a strong political aspect to that smug mindset: Federal Conservatives never tire of claiming credit for this supposedly superior performance.

The argument that Canada outperformed the rest of the world was overstated at the best of times. Even in the early years of recovery, several other countries (including Germany, South Korea, Australia) did much better at protecting employment and rebuilding incomes. But with the rest of the world now gaining serious economic momentum, Canada's boastful claims are increasingly far-fetched. Far from leading, we now lag other countries, and our relative underperformance is getting worse.
Friday's dismal jobs report is just the latest evidence confirming Canada's fall from economic grace. In July, 60,000 full-time jobs disappeared (replaced by part-time work). The official unemployment rate fell by a notch (to 7 per cent), but only because the labour force shrank substantially. Labour force participation is falling quickly, and is now lower than any time since 2001. Measured as a share of the working-age population, employment in Canada is no better than in the summer of 2009 – the worst point of the recession.
In short, the Canadian labour market is mired in a recession-like funk, five full years after the recovery officially began. Growth and job-creation can't even keep up with population, let alone repair lingering damage from the downturn. The partial progress made during the initial, stimulus-fired years of recovery ground to a halt in 2011. That's when government – led by Ottawa – took its foot off the gas, and put it firmly on the fiscal brake.
There's no more potent symbol of our flagging relative standing than the night-and-day contrast between Canada and the U.S. Our neighbours to the south are finally regaining some economic mojo. The U.S. economy created 2.3 million full-time jobs in the last year, while in Canada full-time employment actually shrank. U.S. GDP grew at a brisk 4 per cent in the second quarter, twice Canada's likely pace (and the U.S. number is likely to be revised upward thanks to strong trade numbers). Since the beginning of 2013, the U.S. unemployment rate has fallen by 1.7 percentage points. Canada's hasn't fallen at all.
There are many causal factors behind this tale of two recoveries. One of them, clearly, is a stark difference in policy stance. U.S. policy-makers have put job-creation at the top of their agenda – and they've used unconventional tools to achieve it. They are tolerating much larger budget deficits, for much longer, and with near-zero interest rates that's not a problem. Quantitative easing pumps additional purchasing power directly into the economy. A deliberately weak U.S. dollar and other America-first measures have successfully boosted net exports. To be sure, political gridlock in Washington and other dysfunctional aspects of U.S. policy continue to cast shadows over future progress. But the U.S. economy is clearly bouncing back, and at an accelerating pace.
In Canada, in contrast, pious orthodoxy still trumps the need for job-creation. Fiscal policy at the federal level, and most provinces, is obsessed with eliminating deficits as quickly as possible. The Bank of Canada has also stuck to the standard playbook: eschewing quantitative easing, tolerating the painful impact of an overvalued currency, and mostly telling Canadians to "be patient." Ottawa continues to proclaim a boom in natural resource exports as the saviour for all that ails our economy, despite accumulating evidence about the economic and environmental limits to that strategy.
Don't expect Conservative leaders to dial down their self-congratulatory rhetoric. In particular, they will praise to the heavens the imminent balancing of the federal books (likely to be achieved next year, ahead of schedule). But that will be a hollow victory, indeed, if Canadian labour market indicators continue to languish – while Americans head back to work in droves. And the cognitive dissonance between claims of Canadian economic superiority, and the gritty reality of stagnation and underemployment, will be increasingly apparent to voters as next year's federal election approaches.

Ford Fiesta becomes UK
all-time best seller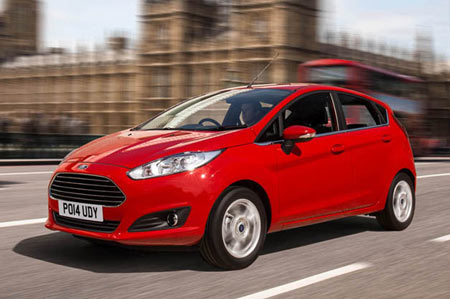 Auto Blog Canada
Ronnie Fung
Aug 10, 2014
We may regard Ford as a North American automaker, but ask a Brit and they may tell you otherwise. The Blue Oval has, after all, been selling cars in the UK since 1903, and started manufacturing there as far back as 1911 when it began local production of the Model T in Manchester. Last year Ford ended 100 years of vehicle manufacturing in the UK when the last Transit van rolled off the assembly line in Southampton, but it's still the biggest-selling automotive marque in Britain.
Ford has led the British market for 34 out of the past 45 years, selling more Fiestas than any other company sells any other car in the UK since 2009... when it overtook the Focus. In fact the Fiesta has now become the best-selling car in British history, topping 4,115,000 units since its introduction in 1976. The previous record was held by – you guessed it – another Ford: the Escort sold 4,105,961 units over the course of its 32 years on the British market.
Although the Fiesta is no longer manufactured in the UK (previous versions having been built at Dagenham until 2002), engines are: the EcoBoost line was developed at the company's R&D center in Essex and are built at the factory in Dunton, while its diesel engines were developed at Dagenham in East London. Even the 1.6-liter EcoBoost engine in the Fiesta ST is built in South Wales.


2015 Ford Fusion Hybrid:
an expensive, fine vehicle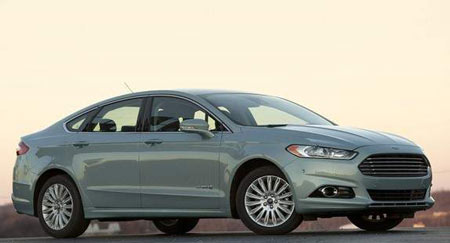 Zane Binder
McClatchy-Tribune News Service
August 9, 2014
One can hardly take even a short drive these days without spotting a gas/electric hybrid.
Most are unobtrusive, there's little to distinguish them from the millions of other vehicles that clog the nation's overcrowded freeways and secondary roads.
No longer are they subject to snickers and laughter; some even qualify as handsome.
One way they do distinguish themselves is in price and fuel economy, as most cost nearly double that of a standard car.
They do, however, more or less deliver the fuel economy the government credits them with. A perfect example is Ford's Fusion hybrid, a mid-size front-driver that produces 188 HP. It delivers more than enough power, runs more or less quietly and sets an economical example for nearly every vehicle that prowls America's roads.
As mentioned earlier the Fusion's difficult to distinguish; its list price is a sky-high $40,000. Before going further be sure to check the window sticker.
It's the label that, by some bureaucrat's calculations, rates this regular fuel-using 3,615 pound vehicle at a fantasy-land 100 miles per gallon. You're likely to average 32 city and 41 miles per gallon highway in the real world, excellent figures but little better than a mid-size non-hybrid Chevrolet, a Camry or even a Honda Accord.
As one will never save enough gas – even over 100,000 miles – that will offset the difference between the hybrid and standard gas versions, you'll need luck and lots of driving skill (called hypermiling) to even approach the $23,000 standard Fusion's base price. You need to be powerfully motivated, enthused well beyond economical considerations, to do anything other than simply walking away.
That, however, would be a mistake as the Fusion is one of the better equipped, nicest mid-size vehicles to be found.
Inside, the Fusion provides plenty of room with even the back seat having enough room for two adults for moderate trips.
There's a large, ornate center console between the twin front buckets, the console being equipped with adjustable cup holders. In the dash's center you'll find a large electronic touch screen, a device that works slowly but would function better if tabs, buttons and all manner of manual controls were substituted.
Though electronics are much cheaper to use in this well engineered vehicle one can't but wonder why Ford's designers didn't drive the Fusion a few thousand extra miles to ensure everything worked as advertised.
The engine is mated to a CVT automatic transmission, a unit which worked perfectly.
Those seeking a fine, stable ride will also find this parameter well represented. Potholes are easily negotiated and negotiating corners takes little effort. The car stays flat no matter how one tosses it, though be warned this isn't a sports car.
It's simply a good, solid road car!
Handling can't be faulted either. The Fusion does exactly what's asked, and does it well. It's a pleasure to drive ... or just to ride along as a passenger. The body is stiff, very stiff, and it's worth driving before putting your money down on another vehicle. Beware, though, as this vehicle's designed to be "tough."
When looking over the Fusion, be sure to check its many "option packages." Together they can amount to thousands of dollars. Remember that what works in the dealership or during a short test drive doesn't necessarily work well in heavy cross-traffic!
Overall, the Fusion will deliver most anything one wants, but again it isn't a sports car. It's a solid vehicle for the family, one with a decent warranty that matches those of its rivals. Check its peers and the outstanding AM/FM/CD/ Bluetooth/USB and the sound system in general. You'll be convinced Ford has produced a winner!
The Fusion's a fine vehicle, an expensive one, with very few rough edges. Be sure to drive one before laying down your money.
FBI seizes work email account of fired Ford engineer
Robert Snell
The Detroit News
August 8, 2014

Detroit — The FBI seized the contents of a fired Ford Motor Co. engineer's work email account, the latest step in an investigation of a worker who hid listening devices in the automaker's conference rooms.
The seizure was revealed in a search warrant obtained Thursday by The Detroit News. Ford mailed the FBI a digital video disk and an unidentified document Tuesday, according to the search warrant inventory.
The FBI wanted copies of all emails sent and received from fired Ford engineer Sharon Leach's account, including drafts, address books, contact and buddy lists, calendar data, pictures and files, according to the warrant.
"We continue to work with the FBI on this investigation that we initiated and requested assistance on from the FBI," Ford spokeswoman Susan Krusel said Thursday.
Previously, the FBI has seized one of Leach's personal email accounts, searched her Wyandotte home and seized eight secret listening devices.
The 43-year-old Wyandotte woman has not been charged with a crime. Her lawyer Marshall Tauber said the mechanical engineer hid listening devices so she could take better meeting notes.
The devices were installed before meetings but could not be easily removed, her lawyer said. The audio devices were left in the conference rooms and unintentionally recorded other meetings, Tauber said.
Leach was fired in June after she admitted using the devices, her lawyer said.
In all, Leach gave Ford security eight Sansa recording devices, her lawyer said. Those are the same devices listed on the FBI's search warrant on July 11, Tauber said.
Krusel says Ford offices were not searched and no devices were found inside the automaker's world headquarters in Dearborn; the FBI declined to comment about the search warrants or the investigation.
"Recording devices were found in an isolated area of a Ford-owned building," Krusel said. "Because this is an ongoing investigation, we are not able to provide additional details."
Court records that would explain the focus of the investigation are sealed in federal court.
The government's lawyer on the case, Assistant U.S. Attorney Jonathan Tukel, heads the National Security Unit in Detroit, successfully prosecuted underwear bomber Umar Farouk Abdulmutallab and specializes in cases involving espionage, counter-terrorism and terrorism financing, among others.

Melissa Burden
The Detroit News
August 7, 2014
Chrysler Group LLC said Wednesday its second-quarter earnings rose 22 percent to $619 million. Following that announcement, CEO Sergio Marchionne said if dissenting Fiat SpA shareholders who want to cash out their shares hit a cap, Fiat will try again for a merger with its Chrysler unit at a later time.
Marchionne said he believes the press has "overplayed" withdrawal rights for shareholders. Last week, Fiat SpA shareholders approved a plan to merge Fiat with Auburn Hills-based Chrysler, which it already owns completely. Shareholders voted to merge the Italian-based Fiat into Fiat Investments, a subsidiary legally based in the Netherlands and with offices in London. Once that occurs, the company will be renamed Fiat Chrysler Automobiles NV. Fiat is hoping to have a stock listing on the New York Stock Exchange beginning in October.
"If we trigger the 500 million cap on the withdraw..., there is no merger," Marchionne told analysts and reporters on a call Wednesday, adding Fiat would wait for better conditions to try again.
He said dissenting Fiat shareholders have until Aug. 20 to exercise their rights to cash out their shares and he expects to know whether the cap was met four or five days later.
Regardless of what happens, Marchionne reaffirmed that Chrysler and Fiat already are combined as one economic entity, and operationally nothing would change. He said it would not change the company's five-year plan laid out in May that looks to ambitiously grow global sales and profits.
"Even if the merger were not to happen, the plan is in place and life will go on," he said.
Fiat shares on Wednesday were temporarily suspended after an excessive drop due to investor concerns that a planned merger with Chrysler may be blocked. The company's shares fell 5.6 percent to 6.47 euros ($8.64) in Milan trading Wednesday. Marchionne said a drop in gross domestic product in Italy also may have hurt the share price.
Morningstar Inc. analyst Richard Hilgert, in a research note Tuesday, said Fiat's stock was being driven down by temporary factors such as a rumor on shareholder exit rights and Jeep cutting prices in China following a government pricing investigation.
A Chinese regulator on Wednesday said Chrysler will be punished for violating anti-monopoly rules. On Tuesday, Chrysler announced a 20 percent price cut in China for its Jeep Grand Cherokee SRT8 and Grand Cherokee 5.7L. Chrysler wants to boost sales of Jeeps in China and is bringing more vehicles to the region. Last year, Jeep sold about 60,000 vehicles in China.
Marchionne said Chrysler hopes to have a "quick resolution" to the China issue and hopes in the next few weeks to know what the potential exposure could be. "We have been working constructively with the regulators to get this issue behind us," he said.
Some investors are concerned that the payout tied to cashing out of stocks, which has been set at 7.727 euros per share to reflect Fiat's recent average stock price, might exceed Fiat's 500 million-euro cap. If it does, it would derail the merger at least temporarily.
Fiat on Tuesday issued a statement saying it was aware of market rumors suggesting it had received a volume of notices to exercise the cash exit rights that exist with the approved merger. "These rumors are groundless," Fiat said.
Marchionne wants a merger for the company so that it can compete with global players such as General Motors Co. He said a merger would give the company access to capital markets in the U.S., and that the U.S. environment offers financing alternatives that would benefit the company.
Under the merged company, Chief Financial Officer Richard Palmer, other finance professionals and some other corporate functions would relocate to London, and the board and executive council would meet there, Marchionne said. He said that Auburn Hills would continue to be the North American headquarters for the combined company, while Turin, Italy, would serve as the European headquarters.
"Day-to-day operations will sit where they sit today," he said.
Chrysler said its revenue jumped 14 percent to $20.5 billion in the second quarter with higher sales of the Ram pickup and sales of the Jeep Cherokee. Chrysler earned $507 million in the second quarter a year ago.
Revenue for the first half of 2014 totaled $39.4 billion, up from $33.4 billion in the first half of 2013. Palmer said increased pricing, more shipments and a stronger mix of vehicles was more than enough to offset higher incentive spending on older vehicles and higher advertising costs. Chrysler launched an all-new 200 sedan during the second quarter.
The automaker also reaffirmed its guidance for 2014; Palmer said the company expects some incentive reduction. It expects to ship about 2.9 million vehicles, up from 2.8 million previously announced, and said revenue should exceed $80 billion, modified operating profit will range from $3.7 billion to $4 billion, and adjusted net income will total between $2.3 billion and $2.5 billion.
Hilgert, in a Wednesday research note, said Chrysler reported better than expected second-quarter earnings and he expects Chrysler will "continue to bolster the combined Fiat Chrysler's profitability and returns."
"They're very well positioned to continue to make great numbers going forward," Kelley Blue Book's Karl Brauer, senior director of insights, said in a telephone interview.
The company's vehicle sales in the second quarter totaled 723,000, up 12 percent, driven by a 16 percent increase in the company's U.S. sales to consumers and sales of Jeeps.
Chrysler's U.S. market share hit 12.1 percent in the second quarter, up from 11.4 percent a year ago.
Fiat in late July said its second quarter earnings before interest and taxes dropped 10 percent to 961 million euros ($1.29 billion). Fiat missed analyst estimates due to a sales drop in Brazil and increased spending in the U.S. and Canada. Chrysler in the first quarter reported a loss of $690 million after it bought out shares of a union retiree trust and took a charge related to a worker training program.
Victim claims on GM compensation fund near 100
Compensation fund gets scores of filings in opening 2 days
David Shepardson
Detroit News Washington Bureau
August 6, 2014

Washington— General Motors Co.'s compensation fund for those killed or injured as a result of defective ignition switches had received 93 applications for awards through Monday.
The fund began accepting applications for funding on Friday and received about 50 applications the first day, said Camille S. Biros, deputy administrator of the fund. Biros said most don't have the supporting documents, but lawyers plan to submit them.
Once the fund determines applications are "substantially complete," it plans to make compensation decisions within 90 days for simpler claims and 180 days for more complicated ones.
Most have been mass filings sent electronically by lawyers representing many victims linked to GM's recall of 2.6 million Chevrolet Cobalts, Saturn Ion and other cars linked to 13 deaths and 54 crashes. Some have said they plan to file hundreds of claims related to a defect with the switches that allows the key to inadvertently turn off the car, disabling power steering and air bags.
Biros said the toll-free information number and website are operating smoothly. GM says it has repaired 683,196 of the cars and will have built enough switches to repair all 2.6 million vehicles — including 2.2 million in the United States — by October.
GM has set aside $400 million to pay claims but said the total could hit $600 million. GM and the fund's administrator, Ken Feinberg, both have repeatedly stressed that there is no cap on total claims.
The fund launch comes as GM lawyers are fighting in U.S. Bankruptcy Court to toss out some lawsuits filed against GM for other vehicles built before GM's 2009 bankruptcy reorganization. U.S. Bankruptcy Judge Robert Gerber has set an Aug. 18 hearing.
GM has been hit by a wave of lawsuits related to its ignition switch as well as other recalls. The automaker's North American unit has recalled a record 29 million vehicles this year in 60 separate campaigns. GM said it knows of 95 class-action suits claiming owners have been economically harmed by the recalls. The suits seek compensation for the diminished value of the vehicles along with punitive damages. GM is fighting those claims. The victims fund only offers compensation to people injured in crashes as a result of the ignition switch defect.
GM also said more than 100 cases (including personal injury cases) have been transferred and consolidated to a federal court in New York.
The automaker faces investigations by the U.S. Attorney's Office in New York, aided by the FBI and a grand jury, the Securities and Exchange Commission, 45 state attorneys general and Congress. The Orange County, Calif. district attorney has sued GM under California consumer protection statutes for economic damages as well as civil penalties and punitive damages. GM also faces shareholder lawsuits and suits connected to other ignition issues in other recalled vehicles.
Among the issues federal prosecutors are investigating is whether GM committed bankruptcy fraud by failing to disclose ignition issues at the time of its restructuring.

Ford investigates fire
in prototype truck
David Shepardson
The Detroit News
August 5, 2014
Washington — Ford Motor Co. says it is investigating why a prototype pickup caught fire during testing in California.
Several auto news outlets published photographs Monday from freelance photographer Chris Doane that showed a camouflaged truck engulfed in flames.
"While testing an experimental vehicle in Death Valley, there was a fire," Ford spokeswoman Kelli Felker said Monday. "We are investigating."
Autoweek said the vehicle is an aluminum-bodied 2016 Ford Super Duty pickup, citing Doane, who told the magazine it took about 21 minutes for the fire to consume the truck. Two test engineers exited safely, Doane told Autoweek. Ford hasn't disclosed if its next-generation Super Duty will have an aluminum body. The smaller 2015 F-150 will have a mostly aluminum body — a first for Ford.
Vehicle fires are fairly common, including in some prototype vehicles. Last month, an Acura prototype for its forthcoming NSX caught fire and was destroyed during testing at the Nurburgring race track in Germany near Cologne. Neither vehicle engineer was injured.
U.S. fire departments responded to an estimated average of 152,300 automobile fires per year in 2006-2010. These fires caused an average of 209 deaths, 764 injuries and $536 million in direct property damage, according to the National Fire Protection Association. Automobile fires were involved in 10 percent of reported U.S. fires, 6 percent percent of U.S. fire deaths.
Mechanical or electrical failures or malfunctions were factors in roughly two-thirds of the automobile fires.
General Motors retirees
settle benefits claim
General Motors of Canada settles lawsuit with retirees over cuts to health and life insurance benefits
Toronto Star
August 4, 2014
Dana Flavelle

General Motors of Canada Ltd. has agreed to pay $9 million to nearly 3,300 salaried and executive retirees and restore most of their post-retirement health and life insurance benefits to pre-financial crisis levels.
The proposed agreement would settle a lawsuit launched on behalf of the retirees, who saw their benefits cut or eliminated by GM during the automaker's major restructuring in 2008 and 2009.
"The total value, based on actuarial estimates, is $145 million," said Louis Sokolov, of the law firm Sotos LLP, one of two firms that represented the plaintiffs. "It's very significant to class members as whole. The cuts they suffered were significant and seriously affected their retirement security. The settlement goes a long way to restoring those benefits."
A spokesperson for General Motors said the company couldn't comment at this time.
The settlement, which must still be approved by a judge, does not cover GM's hourly retirees, who reached a separate deal with the company through their union in 2011.
The deal comes a year after a Superior Court of Justice ruled in favour of the salaried and executive retirees, finding GM did not have the contractual authority to reduce their health care and life insurance benefits after they retired.
In some cases, former GM workers saw their post-retirement life insurance benefits cut to $20,000 from more than $100,000.
The company also cut drug benefits, out-of-province medical coverage, dental benefits, semi-private hospital coverage and long-term care costs.
GM had argued that a clause allowing it to make the changes was included in a benefits package booklet that was handed out to employees.
The company said at the time that it planned to appeal the lower court ruling.
The two sides finalized the negotiated settlement on Wednesday, July 30. The proposed settlement goes before a judge on Aug.7 for approval.
"The settlement represents a compromise of the disputed issues in the litigation," the agreement says. For example, retirees will regain some but not all of their benefits. As well, retirees must continue to make monthly contributions to their health benefits plan.
The $9 million GM has agreed to pay will go into a fund to be used to compensate retirees for losses incurred between the time the benefits were cut and the settlement was reached.
A copy of the agreement can be viewed at www.genmo.ca and also on the websites of the law firms that represented the plaintiffs, Sack Goldblatt Mitchell LLP and Sotos LLP.
The deal applies to employees who retired between 1995 and 2011.
The agreement would not apply to former employees of CAMI (Canadian Automotive Manufacturing Inc., who joined GM as a result of a merger in 2011, nor retirees of divested units, such as Electro-Motive Canada Co.
The union representing hourly workers agreed to allow a trust — funded with $2.5 billion from GM —to take over responsibility for paying supplementary health benefits for 32,000 retired former unionized employees of the automaker.
The Auto Sector Retiree Health Care Trust pays for costs that had previously been borne by the company, including supplementary health benefits such as prescription drugs, dental care and vision care.
Chrysler's sales rise 19.7%; Ford climbs 9.6%; GM up 9.4%
Melissa Burden and Michael Martinez
Deroit News
August 3, 2014
Chrysler Group LLC, Ford Motor Co. and General Motors Co. all posted July sales gains Friday, led by Chrysler's nearly 20 percent sales rise over July 2013.
GM said it sold 256,160 vehicles last month, up 9.4 percent year-over-year. The company's Buick, Chevrolet and GMC brands all posted gains, while Cadillac brand sales fell 2.6 percent.
The Detroit automaker said sales were paced by 100,122 crossover and SUV sales during the month, marking the best month for utility vehicle sales since August 2007. Crossover sales rose 26 percent, SUV sales jumped 32 percent and sales of vans shot up 65 percent, GM said.
"Sales of utility vehicles soared in July because American families feel better about the economy than they have in a long time, and they are finding an incredible variety of redesigned and all-new models in our showrooms," Kurt McNeil, GM's U.S. vice president of sales operations, said in a statement. "Small, compact, medium, large – sales were strong across the board."
Ford reported a 9.6 percent rise in U.S. sales to 212,236, its best July in eight years.
"July proved to be a very good month for Ford and Lincoln with positive gains across the board in all the major segments," John Felice, Ford vice president, U.S. marketing, sales and service, said in a statement. "Escape and Fusion were big contributors to our sales increases, with both setting July sales records. F-Series again topped the 60,000-vehicle sales mark and we're seeing great initial demand for our launch vehicles, such as the Transit Connect, Transit Connect Wagon and the Lincoln MKC as availability builds."
Ford sold a record 23,942 Fusion cars last month, up 17 percent over the same time a year ago. The Escape also had its best-selling month ever, increasing sales 18.9 percent.
In addition to the Escape, other vehicles in Ford's utility segment performed well. Explorer sales rose 31.8 percent, while sales of the Expedition, Ford's full-size SUV, rose 59.3 percent. Edge and Flex sales fell 18.8 percent and 29.5 percent, respectively.
"It's a trend we've seen this year," Felice said of the surging SUV sales. "Utilities bring a lot of versatility to our customers. You're seeing some customers who may have considered a car coming into the segment as new products are launched to take advantage of increased fuel economy."
Lincoln sales increased 14 percent thanks to the recent launch of the MKC SUV.
F-Series sales increased 5 percent and the Dearborn automaker continues to build stock as it prepares for plant changeovers for the 2015 model, which will hit dealer lots later this year.
Chrysler said its U.S. sales for July rose 19.7 percent to 167,667, with each of its brands growing sales as it marked its best July since 2005.
"Sales of the all-new Chrysler 200 mid-size sedan continued to increase while our Jeep and Ram Truck brands each turned in double-digit sales gains, helping to lead Chrysler Group to its 52nd-consecutive month of year-over-year sales growth," Reid Bigland, Chrysler Group's head of U.S. sales, said in a statement.
Jeep brand sales shot up nearly 41 percent as Jeep had its best-ever sales in July.
Nissan Motor Co. on Friday reported an 11.4 percent increase in sales compared to the same month a year ago. Hyundai Motor America, in a tweet, said Hyundai had record July sales of 67,011 cars, up 1.52 from July 2013, and Kia Motors America said its sales rose 6.7 percent. Toyota sales jumped11.6 percent, while Volkswagen sales fell 14.6 percent, and American Honda Motor Co. Inc. sales dropped 3.9 percent, though sales of its CR-V SUV had a record July . Acura brand sales were off 17.6 percent, with the luxury maker blaming a lack of sedans on the decline as it sold out of TSX and TL.
"The July 4th holiday got sales off to a great start, and the pace remained solid all month," Fred Diaz, senior vice president of Nissan's U.S. sales and marketing and operations, said in a statement. "Strong performances by Versa, Sentra and Rogue — and the best July for LEAF — drove Nissan's sales to our best July on record."
Otherautomakers will report U.S. car sales for July later Friday. Industry analysts predict cars sales will climb between 9 percent to more than 11 percent from the same month in 2013.
Forecasters believed sales would rise more than 20 percent for Chrysler, and were looking for smaller increases for Ford and GM.
Car-shopping website Edmunds.com expects about 1.46 million new cars and trucks were sold in July; that would make the best July since 2006 when shoppers bought 1.49 million new cars and trucks. The July sales prediction is up 11.1 percent from July 2013, which had one fewer selling day.
"July's performance is the clearest indication yet that retail buyers are driving market demand," Edmunds.com senior analyst Jessica Caldwell said in a statement. "Shoppers are looking past news of recalls and rising gas prices and they're finding affordable interest rates and other incentives that make it easier to buy a new car."
Kelley Blue Book, a car valuation company, expects July auto sales will rise 11.6 percent and for Chrysler to benefit from Jeep and Ram sales and from its recently redesigned Chrysler 200 sedan arriving in showrooms. The firm had expectedChrysler to post a sales gain of 22.8 percent, and waslooking for GM sales to grow by 10.7 percent and Ford by 8.8 percent.
TrueCar Inc., a car shopping website, pegs July's auto sales increase at 9.9 percent. The company says it predicts average sales incentives will total $2,731 per vehicle in July, up 7.1 percent from July 2013.
"July sales are red hot and better than expected...," John Krafcik, president of TrueCar, said in a statement. "While some of the growth is powered by incentive spending up $200 per vehicle, we are seeing continued strong demand for trucks and utility vehicles."
Through June this year, industry sales are up more than 4 percent. Analysts say auto sales growth this year is driven by buyers' higher demand for luxury vehicles and popularity of small and midsize SUVs.
US Senate bill: Auto execs who
delay deadly recalls could
face life in prison
David Shepardson
Detroit News Washington Bureau
August 2, 2014

Washington — A U.S. senator who led hearings into General Motors Co.'s delayed recall linked to at least 13 deaths introduced legislation Friday that would allow for up to life in prison for auto executives who delay callbacks for defects that result in fatalities.
It's the toughest measure yet proposed in the wake of GM's recall crisis.
Sen. Claire McCaskill, D-Mo., who heads a Senate Commerce panel, introduced the Motor Vehicle and Highway Safety Enhancement Act, a six-year highway reauthorization that would make significant auto safety changes. The bill "gives federal prosecutors greater discretion to bring criminal prosecutions for auto safety violations and increases the possible penalties, including up to life in prison for violations that result in death," her office said.
The bill would do away with the current $35 million maximum fine on automakers for delaying recalls, and would hike the maximum per-vehicle fine from $5,000 to $25,000. Congress doubled the fines to $35 million in 2012.
It also would double funding for the National Highway Traffic Safety Administration over six years. Sen. Jay Rockefeller, D-W.Va., also has proposed hiking funding for NHTSA, while a bill introduced by Sen. Richard Blumental, D-Conn., would subject auto executives to up to five years in prison for failing to report recalls.
The U.S. Attorney's Office in New York, aided by a federal grand jury, is conducting a criminal investigation into GM's delay in recalling 2.6 million Chevrolet Cobalts, Saturn Ions and other cars linked to at least 13 deaths and 54 crashes; the cars have defective ignition switches that can inadvertently turn off the engine and prevent air bags from inflating in a crash. The Securities and Exchange Commission and 45 state attorneys general also are investigating GM's conduct.
McCaskill's bill would allow for up to 15 years imprisonment in the event of serious injuries, and would allow for forfeiture of auto company assets in the event of a conviction.
"With millions of Americans behind the wheel every day, and more than 33,000 killed on our roads each year, we've got to do more to keep our cars and the roads we drive them on safe," McCaskill said. "Painful recent examples at Toyota and GM have shown us we also must make it easier to hold accountable those who jeopardize consumers' safety. For too long, auto safety resources have remained virtually stagnant while cars and the safety challenges they present have become more complex."
Toyota Motor Corp. in March paid a $1.2 billion fine for its delayed recalls linked to at least four deaths and pleaded guilty to wire fraud in New York but no executives were charged criminally.
The proposed new fines would mean that GM — which paid a record $35 million fine in May for delaying its recall of the cars with defective ignition switches — could have faced up to $55 billion in fines for delaying its recall of the 2.2 million vehicles that were sold in the U.S. But a fine like that would likely bankrupt a company like GM, and NHTSA would have wide discretion.
The Obama administration has proposed hiking fines to up to $300 million for automakers delaying recalls, while an auto safety overhaul bill from U.S. Rep Henry Waxman, D-Calif., would hike fines to $200 million. Transportation Secretary Anthony Foxx said the current fines aren't a deterrent and merely a "rounding error" for automakers.
McCaskill's bill isn't likely to be considered this year but may come up when Congress must again pass highway funding legislation when the latest stopgap measure expires in May.
Rep. Fred Upton, R-St. Joseph, has been considering introducing auto safety legislation. "We're still waiting for some answers from NHTSA," Upton said in an interview. "We've got no preconceived notion. Our objective is what can we do that would have prevented (the GM delayed recall)?"
Upton said he hasn't made any decisions on when he plans to hold a hearing on NHTSA and is waiting for some written answers from GM, but doesn't plan to call GM CEO Mary Barra before Congress again.
GM spokeswoman Heather Rosenker said, "Our work is well under way to place our customers' safety at the center of all that we do. We will carefully review Senator McCaskill's bill."
The Alliance of Automobile Manufacturers didn't immediately comment on the legislation.
McCaskill would create new highway safety grant programs to address emerging traffic safety issues related to older drivers, improve emergency medical services response to crash sites, and decrease deaths and injuries to pedestrians and bicyclists. The bill would make it easier for states to get grants for ignition interlocks to crack down on drunken driving.
NHTSA has about an $800 million annual budget; most of the funds go to states in highway grants. The bill would boost highway safety grants by 5 percent annually over six years.
NHTSA's Office of Defects Investigation has about 50 employees and a $10 million budget.
In an interview this week, McCaskill said she was planning a hearing about NHTSA in September. The hearing will examine ways to modernize and better equip regulators "to ensure the tragedies and failures associated with the GM recall are not repeated," her office said.
The bill would also include a measure that would make law a deal reached between rental companies and auto safety advocates to ensure that recalled rental cars are fixed.
McCaskill has held two hearings examining GM's response to the defective ignition switches that have been linked to at least 13 deaths after air bags failed to deploy.
Ford Jr.: CEO transition 'perfect'
David Shepardson
Detroit News Washington Bureau
August 1, 2014
Ford executive chairman Bill Ford Jr. said the transition to a new chief executive in recent weeks has been smooth.
Mark Fields took over as president and CEO on July 1 after Alan Mulally stepped down. Ford Jr. said the transition had been "perfect. ... The transition's been great. I'm thrilled. So far, so good," Ford Jr. said in a brief interview after a roundtable discussion with Gov. Rick Snyder on Michigan's efforts to sell itself.
In a separate interview on Wednesday, Fields called the transition smooth.
He said July auto sales were looking positive. "I think it's going to be a good month," he said.
Ford said he talked to Mulally before he joined the board of Google less than two weeks after retiring from Ford. "I think it's good for Alan. It's good for us," Ford said. "I think it makes all the sense in the world. ... He's also interested in all that stuff. Alan's a very forward thinking person. I actually think he'll have a lot of fun. He'll have a lot to add to them to as well."
Ford said the auto industry is going to continue to change rapidly and that it is much better prepared for an inevitable economic downturn. "It's going to change dramatically as we go forward — in terms of the types of jobs — even what mobility means will be completely refined in the next 20 years," Ford said.
He said the automaker will be extremely careful before building another auto plant in the United States. "We are adding jobs and one of the things we're not doing a lot of is new bricks and mortar, but we're adding more people. ... We are a growing company. We're growing in people. We're growing in revenues. We're growing in profitability," Ford said. "It's not to say we won't ever do it either but we're very cognizant of the fact that we need to fill up our existing facilities before we add new bricks and mortar."
But the company is "conservative too. We want to make sure that this is sustainable."


Ford CEO on Capitol Hill
urging tough line on currency
David Shepardson
Detroit News Washington Bureau
July 31, 2014
Washington— Ford president and CEO Mark Fields on Wednesday urged Congress to take a tough line on currency manipulation and said the naming of a new chief of its luxury Lincoln brand shows the Dearborn automaker is committed to the brand.
Fields made his first trip to Capitol Hill since taking over from Alan Mulally on July 1. He had a full day of meetings with top congressional Republican and Democratic leaders in both the House and Senate. The meetings included Reps. Fred Upton, R-St. Joseph, Dave Camp, R-Midland, John Dingell, D-Dearborn, and Gary Peters, D-Bloomfield Township..
Last week, Fields named the company's engineering chief, Kumar Galhotra, president of Lincoln. Galhotra is succeeding Jim Farley, who is still serving as the head of global marketing for Ford. In a Detroit News interview after a meeting with lawmakers on Capitol Hill, Fields said the personnel change showed that Ford is committed to the brand that has faced significant challenges.
"It's really the next phase of what we're doing with Lincoln," he said. "I think it underscores our commitment to Lincoln, and it shows that we have a very senior executive dedicated full time and really taking Lincoln to the next level."
Lincoln's U.S. sales are up 16.3 percent in the first half of the year after falling in 2013 to a more than 30-year-low — down 0.6 percent — while Ford brand sales in the United States were up 11.3 percent. General Motors Co.'s Cadillac brand outsells Lincoln by nearly two to one. Ford is introducing several new Lincoln models in the next few years and expanding the brand to China.
Asked if he was planning any other personnel moves, Fields didn't directly answer. "We're going to just continue implementing our plan," said Fields.
He urged lawmakers to take a tough line with Japan in ongoing trade talks as part of the proposed Trans-Pacific Partnership, made a call for tax reform and said the automaker needs "regulatory certainty to plan our business" in future fuel economy standards.
Under a deal nearly doubling fuel-efficiency standards by 2025 to a fleetwide average 54.5 mpg, federal regulators will conduct a "mid-term review" to see if the final years are feasible.
"We are free traders — that runs to our core," said Fields, saying Ford supports a 12-nation free trade deal "but only if it has strong enforceable currency disciplines because currency manipulation is another form of trade barrier." Fields said the automaker wants a "level playing field" on trade.
In January, GM CEO Mary Barra met with lawmakers and also raised similar concerns about the trade pact, saying she wanted currency provisions. U.S. Treasury Secretary Jack Lew and U.S. Trade Ambassador Michael Froman have repeatedly said currency should be taken up in other international forums. Last year, then-Federal Reserve chairman Ben Bernanke said Japan is not manipulating its currency.
Rep. Sander Levin, D-Royal Oak, said Fields "emphasized the importance of the Trans-Pacific Partnership "to be done right for the auto industry."
U.S. automakers worry that a trade deal that didn't address currency could see countries manipulate theirs to make exports to the U.S. cheaper, and thus threaten production here.
Ford announced in late 2012 that Mulally was handing over control of day-to-day operations to Fields, who had been named chief operating officer.
"It's continuity of the plan, accelerating our pace of progress and it's going very well and we're all just staying focused on the business," Fields said. "Both (Ford executive chairman) Bill (Ford) and Alan we're really dedicated to a (smooth transition), and it's been a great gift to the organization."
Mulally had strong relationships with members of Congress and the Obama administration. He even got a congratulatory phone call from President Barack Obama after announcing he would step down at Ford. Fields has spent time meeting lawmakers and accompanied Mulally to Capitol Hill last year.
Ford's
'Queen of Innovation'
helps shape F-150
Michael Martinez
The Detroit News
July 30. 2014
Dearborn— If you can catch Alana Strager sitting down, consider yourself lucky.
When the energetic 44-year-old single mother isn't working for Ford Motor Co. — she helped design the aluminum bodied F-150 — she spends her time riding Harleys, running triathlons and negotiating Tough Mudder obstacle courses. And she fixes problems.
If something's frustrating someone — especially if it involves operating a pickup — Strager will work to find a solution.
It's no wonder, then, that when chief engineer Pete Reyes began assembling his team of engineers and product developers for the F-150, Strager's name was first on his list.
"Alana translates a customer want into a vision," Reyes said in an interview. "She was the first person we wanted to go get. She was a must-get."
Strager's officially known as an F-150 program manager, but many refer to her as the "Queen of Innovation." She's responsible for getting all sides of the F-150 team — the customer-savvy marketers, intellectual engineers and the skilled manufacturers — to work together and talk through the new features that are coming on the truck, which will hit showrooms later this year.
Her ability to translate thoughts and ideas between the sometimes socially awkward engineers and practical marketing team stems from a psychology degree she earned from Michigan State University.
"It's not about how much you know," Strager said in an interview. "When you put the person into it — how will this affect the customer — you gain a new perspective."
She's led teams that have developed new features like the F-150's remote-control tailgate-closers and lights on the interior sides of the pickup bed. The most recent innovation is BoxLink, a system of metal brackets and custom cleats that allows truck owners to tie cargo directly to the truck bed.
"Innovation's about making things," Strager said. "We have to look beyond what exists. We can't just keep doing what we're doing; we have to do more."
To understand Strager is to understand her father, Melvin.
A program manager and, later, vice president of engineering at Masco Corp., Melvin Strager passed his passion for the auto industry to his daughter when she was still in school.
In 1990, when her father was program manager of Masco Corp.'s HN80 Aeromax aluminum-bodied heavy trucks, he gave his daughter a job answering phones as the company's receptionist.
But when the chief engineer — her father's boss— stopped by her desk to see how she was doing, Strager admitted she was bored and asked for something more to do. She soon found herself heading Masco's timing and control department.
Getting direct feedback
She worked on the revolutionary HN80 truck, which included a 5,271-part overhaul that changed "everything but the handle." The $120,000-or-so trucks also used a heavy dose of aluminum, something that came in handy when Reyes tabbed her for the 2015 F-150 team.
To help design the truck, she'd leave the office and visit the nearest truck stop along I-75 to pick the brains of real truckers — until her father found out and requested she stop.
After her stint at Masco, Strager worked from 2002-08 on the team that made Ford's Harley-Davidson pickup . She then moved to Chicago and helped Ford with the launch of the Focus, but jumped at the chance to return to trucks — and Detroit — to help design the F-150.
"As soon as Pete asked me, I knew, 'I need to work on this truck,' " she said.
Thinking inside the box
Strager is especially proud of the BoxLink system, which she helped develop with friend and co-worker Adrian Aguirre.
They started by realizing the basic shape of the cargo bed hasn't changed for thousands of years. Since the time of chariots, people hauled things in boxes.
Since they couldn't change the shape, they decided to make hauling things easier by changing what was inside that box.
BoxLink is made up of four slots on the inside of the bed that help customers tie down whatever they need to the bed of the truck. There are permanent mounting slots inside the bed, but the metal cleats can be popped in and out, making the feature favorable for aftermarket companies who need to customize the truck to fit specific needs.
"We're people building trucks for people so they can help other people," she said. "It's important to remember that social aspect."
Strager's father died in 2001, but her career has come full-circle and is helping keep his memory alive, she said.
"He'd think this is awesome," Strager said. "He'd be happy that I'm happy. This is my dream job. I can't think of anything I'd rather do."

Why Ford and Intel paired up to make cameras that point at drivers
TED KRITSONIS
Globe and Mail
July 29, 2014
The trend has been to outfit vehicles with cameras facing outside for the purposes of safety and convenience, but now Ford and Intel are pointing cameras inwards toward the driver for the same reasons.
Dubbed Project Mobii, the collaboration was announced during a recent presentation at a Ford conference. Still in a conceptual phase, its stated purpose is to bridge connected cars with the Internet of Things, allowing them to interface more seamlessly with mobile devices for safer usage.
The idea of an interior-facing camera is meant to identify who is driving via face recognition, and tailor the in-car experience based on his or her preferences. These could include seat adjustment, radio presets, contacts, navigation maps and more. The car's internal data connection would also enable car owners to peer into the vehicle remotely using a smartphone or tablet.
In recognizing a driver and front-seat passenger, the camera could sense who is reaching for the head unit's screen and open the system up for unfettered use to the passenger, while locking out the driver. In turn, the passenger would be locked out of any personal information the driver has in the system.
"Why shouldn't a passenger be able to enter a navigation destination while the driver keeps their eyes on the road and hands on the wheel? With Mobii, we wanted to explore whether or not we could accurately use cameras in the interior of the vehicle to solve that problem," says Jeff Greenberg, senior technical leader at Ford, in an interview. "There are luxury vehicles that associate personalized settings with a particular key fob, and yet, we know through data that many drivers don't bother, so we want to make this seamless enough that your car just knows you."
Under this scenario, unrecognized drivers wouldn't be able to start the car unless the vehicle owner approves them through a mobile app. Temporary access can then be given with parameters that can limit top speed, apply a geo-fence perimeter, ban extra passengers and restrict access to the infotainment system. Refusal to abide by the rules would allow the owner to monitor the driver in real time.
It's a level of control parents might welcome once their teenage children set off on the road for the first time. Greenberg admits that the way families manage vehicles and younger drivers was an intriguing focus in pursuing the Mobii project, though the implementation still has to be better understood.
"There are a lot of issues of concern for parents around that, and a technology like Mobii gives an opportunity to manage that relationship if implemented properly," he says. "That was the kind of stuff we were interested in and why we wanted to work with a partner like Intel, which puts as much effort into understanding the anthropology and ethnography of this as they do the technology itself."
Ken Obuszewski, director of marketing at Intel's automotive division, says a lot of collaborative research went into the user experience to better understand where the market is going and "intercept technologies consumers want to see." But it's unlikely Intel would make the decision on which technologies ultimately make the cut.
"Technologies are here and more are coming to open up the possibilities in the automotive space, but the question is what's really going to be implemented and when.
"And how far do you go before privacy concerns come into play?" says Obuszewski in an interview. "Some folks are going to be very nervous about any of their data being shared, while others might be more open to the idea, especially if they get a personal benefit to it."
A discounted insurance premium might be one of those benefits, if insurance companies offer them based on monitoring behavioural driving analytics. Tighter personalization and anti-theft security could be another, particularly since interior cameras would be tightly integrated with the driver's seat.
"This is why it's very helpful for us to do these advanced principle concepts with auto makers like Ford, because it also helps us learn which technologies we should invest in, and how we see our customers eventually looking at where they want to invest in their purchase," he says.
Obuszewski says that there's still a lot of research to be done, as the technology presented thus far may not be what's enabled going forward. There has been talk of integrating wearable devices such as smartwatches and heart-rate monitors to better understand a driver's condition, as well as exploring ways to mitigate driver distraction and fatigue.
"It's about bringing some of the best of the consumer world and the automotive world together, and then working with customers and the ecosystem to enable the right technologies people want," Obuszewski says.
Ford's second quarter net profit
up 6 per cent to $1.3 billion as
Europe makes money again
Jul 28, 2014
Dee-Ann Durbin,
The Associated Press
DEARBORN, Mich. – Ford Motor Co. beat Wall Street's expectations in the second quarter as it chalked up a record profit in North America and made money in Europe for the first time in three years.
But things will get leaner in the second half as Ford closes one of its U.S. pickup truck plants to prepare for the launch of its new aluminum-sided F-150. Marketing expenses for new products, like the truck and the Ford Edge in the U.S. and the Mondeo and Focus sedans in Europe, will also take a bite out of earnings.
Ford, which earned $3.9 billion before taxes in the first half of this year, confirmed it expects full-year earnings of $7 billion to $8 billion. That's down from $8.6 billion in 2013.
"It's really a set-up year for a step up in the business in 2015 and beyond,"Chief Financial Officer Bob Shanks told media Thursday morning at Ford's Dearborn headquarters.
For the April-June period, Ford's net income rose 6 per cent to $1.3 billion. The profit, of 32 cents per share, was up from 30 cents per share in the same period a year ago.
Excluding separation costs in Europe and a $329 million impairment charge for its money-losing joint venture in Russia, Ford earned 40 cents per share. That beat analysts' forecast of 36 cents, according to FactSet.
Ford's revenue fell 1 per cent to $37.4 billion, but topped analysts' expectation of $36.2 billion.
Ford shares crossed $18 for the first time since early 2011 in morning trading, and were up 20 cents to $17.98 at midday.
Mark Fields, a company veteran who became Ford's CEO on July 1, told analysts and media on a conference call that he intends to continue the strategy he helped develop with former CEO Alan Mulally. That means focusing on profitable growth, working closely between regions and speeding up vehicle development time.
"My message to our team internally, and now externally, is one of continuity but also acceleration of the plan," Fields said.
The results were less rosy at Ford's crosstown rival, General Motors Co., which posted a net profit of $190 million after absorbing $1.5 billion in recall-related costs. GM's shares fell nearly 4 per cent to $35.96 in midday trading.
Ford's worldwide sales fell 1 per cent to nearly 1.7 million. Sales were down in every region except Asia Pacific, where they jumped 21 per cent thanks to strong demand for new vehicles like the Kuga SUV in China. Ford made up for that by limiting production and commanding higher prices.
Ford reported its highest-ever pretax profit of $2.4 billion in North America. The company's U.S. sales fell, but Shanks said that was offset by lower costs for materials such as steel and increases in sales of parts and accessories.
Ford plans to close its Dearborn truck plant for eight weeks beginning in August. The new F-150, with aluminum sides that shave 700 pounds off the truck's weight, is scheduled to go on sale in the fourth quarter.
In Europe, Ford made $14 million, its first quarterly profit since 2011. Ford expects Europe to be profitable for the full year in 2015.
In Asia, Ford's profit jumped 22 per cent to $159 million. Ford said its market share in the Asia Pacific region hit a record 3.7 per cent.
Ford lost $295 million in South America, where its sales were down 23 per cent.


Listening devices found
at Ford HQ; recently
fired engineer investigated
Robert Snell and David Shepardson
Detroit News
July 27, 2014
Detroit— The FBI searched Ford Motor Co.'s world headquarters while investigating one of the automaker's engineers and seized listening devices, computers and financial records, according to search warrants.
A lawyer for the mechanical engineer said Ford's security team feared she was stealing trade secrets by hiding secret recording devices in conference rooms at the Dearborn automaker's headquarters, nicknamed the Glass House.
Court records that would explain why the FBI had probable cause to search Ford and the engineer's home are sealed in federal court. The government's lawyer on the case, Assistant U.S. Attorney Jonathan Tukel, heads the National Security Unit in Detroit, successfully prosecuted underwear bomber Umar Farouk Abdulmutallab and specializes in cases involving espionage, counter-terrorism and terrorism financing, among others.
Searching a Fortune 500 company's world headquarters instead of issuing a subpoena is a rare step and could indicate investigators were worried about someone destroying evidence, said Peter Henning, a law professor at Wayne State University and a former federal prosecutor.
"If it's an economic espionage case or trade secrets case, that rarely involves one individual," Henning said. "So the concern is if you send a subpoena and ask for recording devices, those things can be erased."
The U.S. Attorney's Office and FBI declined comment Thursday.
A Ford spokeswoman, Susan Krusel, declined to discuss the investigation in detail, but said Ford is not a target.
"Ford and the FBI are working together on a joint investigation involving a former employee," she said. "As this is an ongoing investigation, we are not able to provide additional details."
The search warrants show the FBI searched Ford's headquarters July 11 and agents had permission to search the entire facility. Agents were authorized to seize digital and electronic recording devices given to Ford representatives by Wyandotte resident and former Ford engineer Sharon Leach, emails and other records, according to a copy of one search warrant.
The search at Ford's headquarters came three weeks after FBI agents raided Leach's home on St. John Street and seized more than two dozen items, according to a search warrant inventory obtained by The News.
Leach, who has not been charged with a crime, declined comment Thursday after opening the front door of her yellow, two-story colonial.
"I'm not gonna talk," said Leach, 43. "I'm a private person."
Until recently, Leach was a mechanical engineer with a doctorate at Ford, where she had been employed for about 17 years. In April, she was included on a panel of experts talking about hybrid vehicle performance at the 2014 SAE World Congress at Cobo Center.
She was fired recently after Ford's security team discovered recording devices planted in the automaker's meeting rooms, her lawyer Marshall Tauber said.
"She has done nothing wrong nor been accused of doing anything wrong," Tauber said.
Leach admitted hiding the devices under tables to help her transcribe meetings, her lawyer said.
"It didn't involve anything of a spying nature," Tauber said. "She wanted to record conversations of meetings she attended but didn't know how to do it. She was insecure about her note-taking."
The devices were installed before meetings but could not be easily removed, her lawyer said. The audio devices were left in the conference rooms and unintentionally recorded other meetings.
"It was very difficult to remove them when other people were in the same room," Tauber said. "That leads to Ford Motor security finding this activity suspicious."
The devices were never installed in the Board of Directors conference room, he said.
"She was a low-level engineer," Tauber said. "Her salary wasn't even $120,000."
Leach was fired in June after she admitted using the devices, her lawyer said.
"She had one in her purse and said 'here it is,' " Tauber said.
In all, Leach gave Ford security eight Sansa recording devices, her lawyer said. Those are the same devices listed on the FBI's search warrant on July 11, Tauber said.
"Ford had the devices since prior to the day she was dismissed in June," Tauber said. "Now, Ford may not have released them to the FBI or said 'give us a search warrant.' "
Leach did not intend to share the recordings with anyone and erased the files after listening to the audio and revising her notes, Tauber said.
"I think you're dealing with a person who was seeing how sharp the new kids are and maybe feeling a need to keep up with them," Tauber said. "And maybe she realized that she's not as attentive as she once was and needs a little assistance. Maybe her memory was failing her on the technology end but she didn't want to admit it."
The FBI raided her home June 20.
"They don't believe her," Tauber said.
During the search at Leach's home, agents seized more than two dozen items, including several desktop and laptop computers, a credit card, thumb drives and financial records, according to the search warrant receipt.
"They want to know if she is suddenly coming into more money than her salary shows," Tauber said. "My client tells me they are not going to find anything unusual whatsoever."
Agents also seized a buy.com shipping bag and invoice. The website is an online shopping mall owned by Rakuten, a leading Japanese e-commerce site.
Other seized items included work documents and tax records.
Leach's neighbor Bethany Tate was watching June 20 as about a dozen FBI agents searched the house two doors away.
An FBI mobile unit was parked in the neighborhood and agents spent about five hours inside Leach's home, Tate said Thursday.
"It was puzzling," said Tate, 36, standing on the front porch of her home and holding her infant daughter. "You don't expect to see the FBI with guns in your neighborhood. I wondered 'is she dead?' "
Agents wouldn't discuss the search, she added.
Leach refused to sign the FBI's receipt listing items seized during the raid, according to court records.
So agents left copies on her dining room table.


Canada should look to Europe
on health care, not the U.S.

COLLEEN FLOOD

The Globe and Mail
Jul. 24 2014

Dr. Colleen M. Flood is an expert advisor with EvidenceNetwork.ca and a professor in the Faculty of Law, the School of Public Policy & Governance, and the Institute of Health Policy Management & Evaluation University of Toronto.

The latest Commonwealth Study ranked Canada's health care system a dismal second to last in a list of eleven major industrialized countries. We had the dubious distinction of beating out only the Americans. This latest poor result is already being used by those bent on further privatizing health care. They argue – as they always do – that if only Canada allowed more private finance, wait times would melt, emergency rooms would unclog and doctors, nurses, patients and the public would all be, if not quite utopia, then at least better off than now.

It is true that Canada's health system is fragmented and unco-ordinated. Too often people fall through the cracks and we are miserable at managing patients with multiple illnesses. And too often our system feels unresponsive to the concerns of patients and their families. The average Canadian could be forgiven for thinking that there may be something to all of these calls for private finance. But they would be wrong.

For starters, what most commentators weighing in on the health debate don't understand is that we already have a mix of public and private care. What distinguishes Canada's health system from others is not how little private finance we have but how much private finance we already endure. Canadians have their health needs covered by the public system only 70 per cent of the time, much less than the U.K. (84 per cent) or Norway (85 per cent) or even France (77 per cent).

Indeed, Canadians actually hold more private health insurance than Americans do. How is this possible?

Our health system fails to offer universal (public) coverage for prescription drugs, unlike the coverage provided in nearly every other developed country in the world. Canada also has inadequate coverage for home care and long term care, which are more comprehensively covered in many other health systems, such as Japan, Germany, Belgium and Sweden.

Unfortunately, our health system is more like the U.S. system than most of us know. Just like the U.S., our approach to prescription drugs, home and long-term care is to have some people covered through private health insurance via their employer, some people covered by governments because they are on welfare or elderly, and a big chunk of the population going without.

Our system is also similar to the U.S. – and dissimilar to many other countries that out-perform us on health indicators – by paying physicians on a fee-for-service basis, meaning doctors are free to work as many or as few hours as they wish, whenever they wish and wherever they wish regardless of the needs of patients.

Instead of moving to adopt the policies of better performing systems, Canada may be taking a step backwards. A constitutional challenge is going to trial in British Columbia in September and the private health clinic bringing that challenge is set on introducing even more private finance to Canada's health system. If it wins, doctors will be able to bill patients whatever they wish on top of what payment doctors already receive from the government for specific health services (extra-billing). Those patients who can afford it will be able to buy private health insurance to defray the costs of such extra-billing.

So what's the problem? This would move the Canadian health system one step closer to the worst performing health system among developed countries: the United States.

The jewel of Canada's health care system is the commitment to restrict private finance for medically necessary hospital and physician care. We don't let our doctors double dip, and we keep essential health services available to all, regardless of means. Yet it is this commitment that is being threatened with the legal challenge in B.C., and blamed for the problems that have beset Canada's health system – with some pretty clear vested interests ready to profit from the outcome.

Instead of having Canada's health system compete with the United States for last place, we need to start addressing the real issues that plague our system. We could start by looking at the expansive policies of European systems that perform better than our own, starting with a universal health system that includes drug coverage, home care and long-term care.

This may seem counter-intuitive when the problem is always portrayed as a lack of money for the public system – but we know in business that sometimes you have to spend money now to save money later. And we must look at providing incentives throughout our public and private sectors in the health care system to ensure that the right care is delivered to the right people in a timely way.

If the constitutional challenge is successful in British Columbia, there is no doubt that the problems we see in the Canadian health system – fragmentation, lack of co-ordination, lack of access to important kinds of care and wait times for those without private means – will worsen. Why would we want to race to the bottom of the pack?


Ford reveals details about engines
in aluminum-body F-150s
Michael Martinez
The Detroit News
July 23, 2014
Dearborn — Ford Motor Co. on Tuesday revealed details about the engines that will power the aluminum-body 2015 F-150, and showed the pickup is lighter than originally estimated.
The new truck will be offered with a base 3.5-liter Ti-VCT V-6 engine, or a 2.7-liter EcoBoost V-6. And in a direct comparison with a steel-body 2014 F-150, Ford showed a 732-pound weight difference — more than the 700-pound estimate given when the 2015 pickup was revealed at the 2014 North American International Auto Show.
"The 2015 F-150 is the most capable F-150 yet, while shedding up to 700 pounds," said Bob Fascetti, vice president, powertrain engineering. "These two new V-6 engines — the 2.7-liter turbocharged EcoBoost and normally aspirated 3.5-liter Ti-VCT — set a new standard for Ford for capability and efficiency."
In addition to the two new engines, the 2015 F-150 will offer a 3.5-liter EcoBoost and a 5.0-liter Ti-VCT V-8. Details on those engines were not released Tuesday.
Pricing for truck with the base 3.5-liter V-6 and optional engines was not released.
The base engine will produce 283 horsepower, 255 pound-feet of torque, a payload of 1,910 pounds and a towing capacity of 7,600 pounds. It represents a 5 percent increase in power-to-weight ratio over the 3.7-liter V-6 engine in the 2014 model.
"This is the standard engine for the customer that really values price, value and low operating cost," said Doug Scott, Ford's truck group marketing manager. "They may not have as much tow need, but operating cost rules the day."
Ford expects the standard 3.5-liter will account for about 15 percent of its sales. The other three engines will each capture about 28 percent of sales, Scott said.
The 2.7-liter EcoBoost will have 325 horsepower, 375 pound-feet of torque, a payload of 2,160 pounds and a towing capacity of up to 8,400 pounds.
"This is an engine that is designed for our core customer," Scott said. "This is a customer that doesn't need max towing ... a good amount of payload, but maximum fuel economy. This customer will drive more miles on an annual basis than any other customer in our lineup."
The truck will be available in five trim levels, ranging from XL to Platinum.
"We're able to marry that cab and the series configurations with the four engines to deliver the right engine for every customer," Scott said.
Ford tested its 2015 F-150 with the 2.7-liter EcoBoost engine against a Ram 1500 3-liter V-6 EcoDiesel and a Chevrolet Silverado 1500 5.3-liter V-8 in Arizona. All three trucks towed a 7,000-pound enclosed trailer for three miles.
In three races, Ford found that the F-150 beat the Ram 1500 each race, and beat the Silverado in two of the three races.
Ford weighed both trucks for members of the media Tuesday at its Dearborn Development Center. Scott said the weight savings will fluctuate, but will at least be 625 pounds and could go even higher than the 732 number.
Ford will release mileage numbers at a later date.
The 2015 F-150 will be built at Ford's Dearborn Truck Plant and at the Kansas City Assembly Plant in Claycomo, Mo. It will be released in the fourth quarter of this year.
Experienced Drive writer fails his driving test - and you would too
Peter Cheney
The Globe and Mail
July 22, 2014
The last time I took a driver's test was back in the days of Richard Nixon and the Watergate scandal. As a teenager then, I took my dad's Opel down to the motor-vehicle office, executed a parallel park, passed an eye test, and that was that. I was licensed for the rest of my days.
Now, some 40 years later, I was about to get tested again. How hard could it be?
I've been on the road for decades, and have logged more than one million kilometres without a crash. I spent some time driving formula cars, and I haven't had a ticket for years. That had to count for something – or did it?
As the day of the test approached, I wondered whether to bone up on the rules of the road but decided against it – I wanted to see whether my experience would see me through. Could I be in for a major come-uppance?
My examiner would be Angelo DiCicco, of Young Drivers of Canada (YDC). He would subject me to what's known as the G2 exit test – the gateway to a full Ontario's driver's licence.
DiCicco explained his driving philosophy, which is based on applying the rules of the road in consistent, disciplined fashion, so that every driver knows what to expect.
"The Highway Traffic Act is a set of social conventions that happen to be the law," he explained. "It's like getting dressed for church. You wear a suit. Someone else goes with khakis. Then there's the guy who shows up in shorts. This isn't what you want."
As DiCicco sees it, experience is a mixed blessing. Years on the road can help you predict risks better than a new driver, but you can also develop bad habits. "Experienced drivers tend to adapt the rules to their preferences," he said. "It can be a problem."
And a lot of experienced drivers break the law almost every day – they push speed limits, roll through stop signs, text-and-drive … the list goes on. Even police officers break the law sometimes. But in a driving test, a legal infraction is a fail. "You can't get a licence when you're breaking the law," DiCicco said. "Unless you're Rob Ford."
As we headed out in DiCicco's new Toyota Corolla, it suddenly dawned on me that passing the G2 might be tougher than expected. From out of nowhere, DiCicco had produced a clipboard with an evaluation form that was packed with hundreds of check boxes.
For the next 45 minutes, we navigated a series of driving environments. First up was Highway 407, a four-lane toll road that runs through the northern reaches of Toronto. I focused on smoothness, lane position and maintaining a safe cushion around the car.
Next we headed into suburban side streets, where I made sure to drive slowly – you never know when a child on a bike might come zooming out of a driveway. Then it was on to a mall parking lot, where I had to put the Toyota into a narrow space. I backed in, explaining that this was the safest strategy. DiCicco nodded in approval.
I was acing the test. Or so I thought.
Back at DiCicco's office, I got the bad news – I'd failed the test. My sins included speeding – I'd done 110 km/h on the 407, where the limit is 100. The fact that every other car was going faster than mine meant nothing because, in a driving test, you have to meet the letter of the law. And when I pulled out of the mall parking lot, I crossed a white line that marked the sidewalk; it didn't matter that the sidewalk was empty, or that the line was set back. I was wrong.
That wasn't all. While making a left turn, I moved from the left into the right to widen the turn and prepare for an upcoming highway ramp. I'd signalled the turn, but it still violated the test standards. And I'd taken my right hand off the wheel several times, which meant I was guilty of one-handed driving.
On the upside, DiCicco noted that my situational awareness and car-control skills were high. But if I was an 18-year-old trying to earn a licence, none of this would have mattered – I'd failed the Ontario G2 exit test.
How many drivers would pass? And how much do the test criteria truly tell us about our ability to drive? I know some exceptional drivers, but I don't think very many of them would manage to get through the G2 curriculum without a few slip-ups. Not long ago, I got to ride around a racetrack with Sebastian Vettel, the four-time world champion of Formula One. He was the Baryshnikov of car control, with skills that few mortals possess.
I asked DiCicco how many experienced drivers, including Vettel, would pass the G2 exit test without knowing the criteria. "Not many," he replied.

Retiree, 60, wonders how
long her money will last
DIANNE MALEY
Special to The Globe and Mail
July 21, 2014
Vi retired three years ago at 57 and she's "loving every minute," she writes in an e-mail. "The only fly in the ointment is the big question: Do I have enough to live at my current income level for the rest of my life?"
Vi owns her Toronto home outright, has no dependants and is widowed. Her husband worked for the provincial government so Vi gets a survivor's pension or $12,765 a year, indexed to inflation. In addition, she gets $11,944 in Canada Pension Plan benefits.
Despite her substantial savings and investments, which she manages herself, Vi appears to lead a spartan lifestyle, with her biggest expenditures being charitable giving and club memberships.
"For the most part, I've been a self-directed investor/financial manager, but at this point I'm feeling confused," Vi writes. "There are so many opinions and formulas about how much to withdraw and how long it will last, but there doesn't seem to be any consensus," she adds. "Most of the industry focus is on accumulation."
She also wonders if there might be a better way to structure her investments for the long term. "Taking my pensions into account, will my savings allow me to withdraw enough to have an income of $50,000 a year before taxes for the rest of my life?"
We asked Kurt Rosentreter, a senior financial adviser at Manulife Securities in Toronto, to look at Vi's situation.
What the expert says
Vi's goal is to maintain her current standard of living, the cost of which will rise over time with inflation, Mr. Rosentreter says. Fortunately, her pension, CPP and (at age 65) Old Age Security are all indexed for inflation, so "there is no essential need to buy inflation-indexed portfolio investments."
Setting aside the OAS benefits for the moment, he looks at how much Vi's $837,450 in savings will have to generate each year to make up the $25,291 shortfall between her pension and benefit income and her living expenses. The magic number is 3 per cent a year.
"At 3 per cent, she will generate enough cash flow to avoid having to spend her capital ever," Mr. Rosentreter says. She can achieve this with a low risk portfolio consisting, perhaps, of 75 per cent guaranteed investment certificates (this appears to be what she is comfortable with) and 25 per cent in dividend paying stocks or exchange-traded funds that hold them.
Even if she invested only in GICs, she would still be able to generate $50,000 a year for life, "but while interest rates are below 3 per cent, she would be forced to spend some of her savings to make up the gap," the adviser says.
"She has reasonable needs from her portfolio, and at age 60, as a widow and conservative investor, she doesn't want to see 20 per cent drops [in the stock market] from time to time."
When Vi turns 65 and begins collecting OAS, "there will be even less pressure for the portfolio to generate high returns," Mr. Rosentreter says.
As for withdrawals from savings, a 4-per-cent annual withdrawal rate would be prudent, he says. Her home in downtown Toronto "has solid long-term value" and can serve as a "strong foundation of money for elder-care costs that are no doubt on her mind."
A tax-planning point: Vi is likely in the lowest tax bracket that she will be in. "Careful thought should be given to how much she withdraws from registered versus non-registered savings each year to minimize her annual tax bill," Mr. Rosentreter says. She should consider withdrawing more from her RRSP now rather than waiting until she must begin drawing the minimum from her RRSP/RRIF (registered retirement income fund) at age 72.
Finally, Mr. Rosentreter looks at Vi's portfolio and finds it to be well-diversified and "very low cost." Fixed-income assets total 52 per cent of her total portfolio. "This is a risk-managed, balanced approach to investing that is suitable for her stage of life and cash-flow needs," he says.
Vi might want to review some of her bond holdings. Of her $440,255 in fixed-income, $330,000 is in bond funds or bond ETFs," Mr. Rosentreter notes, leaving her exposed to negative returns if interest rates rise.
"If the safe-money part of her portfolio design means never to lose capital, she may want to switch these managed bond products into individual bonds; she already owns some strip bonds. Individual bonds are insulated against market volatility if held to maturity, he says.
***
Client Situation
The person: Vi, 60.
The problem: Can she maintain her current standard of living without running out of money?
The plan: Vi is doing fine, but she may want to switch her bond funds for actual bonds of a similar, relatively short term to eliminate market risk.
The payoff: Peace of mind.
Monthly net income: $4,060
Assets: Home $700,000; RRSP $652,000; TFSA $32,450; non-registered investments $136,500; GICs $16,500; present value of DB pension plan $200,000. Total: $1.7-million
Monthly disbursements: Property tax $335; utilities, insurance $280; maintenance, garden $285; transportation $220; groceries, clothing $520; gifts $170; charity $420; vacation, travel $290; other $290; club memberships $355, dining out, entertainment $210; grooming $90; other personal discretionary $165; dentists $25; telephone, Internet $65. Total: $3,720
Liabilities: None
2015 Ford Mustang vs.
Camaro and Challenger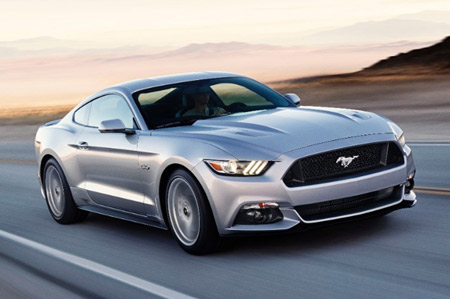 AutoBlog
July 20, 2014
The horsepower wars are tightening among the Detroit Three, as the Ford Mustang, Chevrolet Camaro and Dodge Challenger are getting bigger, more powerful, and yes, more fuel efficient.
That came into sharper focus this week as more information was revealed about the most insane Challenger ever – the 707-horsepower Hellcat – followed quickly by Ford's in-depth showcase of the 2015 Mustang in Dearborn.
It's shaping up to be a golden age for enthusiasts, and what's under the hood is becoming more important than ever.
The V8s
Right now, the 5.0-litre Mustang GT has the lead among Detroit's V8 muscle cars in the power department, though there's a caveat. The 435-hp output of the 5.0-litre 'Stang is ahead of the 6.2-litre LS3 V8 Camaro SS, which is rated at 426 ponies. It's also better than the 5.7-litre V8 Challenger R/T's 375 hp.
But, it trails the 6.4-litre V8 used in the 392 Challenger, which makes 485 hp. Blue Oval enthusiasts could argue the 392 is a sort of "Hellcat Lite," and not the GT's true competitor.
The tables are turned in the torque department, as the V8 Stang summons 400 lb-ft, which is behind the Camaro SS (420 lb-ft), the Challenger R/T (410 lb-ft) and the 392 (475 lb-ft).
Of course, we're just talking about the 2015 Mustang's competition, and since we don't know what's in store for the SVT-tuned example yet, we're leaving out any comparisons to the Camaro Z/28 and ZL1, as well as the previously mentioned, 707-hp Challenger Hellcat.
The V6s
Among V6s, the Camaro is the decided leader in power, boosting 323 hp, well ahead of the Challenger's 305 hp and the now-detuned Mustang, which dropped to an even 300 hp this year.
The Blue Oval does pack the most torque among six-cylinders with 280 lb-ft, just ahead of the Camaro's 278 lb-ft and the Challenger's 268 lb-ft.
The Wildcard
Of course, we're referring to Ford's EcoBoost inline four-cylinder, which pushes out 310 hp and an impressive 320 lb-ft from a turbocharged 2.3-litre mill. Neither Dodge nor Chevy have anything similar in their current muscle car lines, and if there are any undecided potential buyers in this died-in-the-wool segment, it could prove to be a game-changer.
Tipping The Scales
The turbo four is also the lightest Mustang and the lightest car among these offerings from Detroit, weighing 3,524 pounds (1,598 kilograms). The V6 'Stang is just two pounds heavier though, which puts it well ahead of the V6 Camaro (3,702 pounds / 1,679 kg) and Challenger (3,834 pounds / 1,739 kg).
This trend continues among the V8s, as the Mustang GT is 3,705 pounds (1,680 kg) – just three pounds (1.3 kg) heavier than the lightest Camaro V6. The eight-cylinder Chevy comes in at 3,908 pounds (1,805 kg), which is still lighter than the Challenger's weight of 4,082 pounds (1,851 kg).
So those are the cold, hard numbers. Objectively there are definite winners and losers, depending on what you value in a sporting automobile. But in the end, this segment has always been about more than the numbers. If anything, spec sheets trivialize it. Muscle cars are about the visceral experience from behind the wheel. Pick your favorite, plunk down your cash and hit road. Who are we to tell you that you're wrong?
Ford to introduce 25 new vehicles
to Middle East, Africa by 2016
Michael Martinez
The Detroit News
July 19, 2014
Ford Motor Co. plans to introduce 25 new vehicles to the Middle East and Africa by 2016 in an aggressive roll out plan for two emerging markets.
The Dearborn automaker said Thursday it will introduce the new vehicles, as well as new technologies like EcoBoost engines, SYNC in-car connectivity, inflatable rear seat belts and other driver assist technology.
Among the new products coming to the two regions are a new Focus compact car, which will go on sale in 2015; a new Fusion mid-size car that will go on sale in the Middle East this year and in Africa next year; and the new Mustang, coming in 2015.
Ford said 17 of the 25 new vehicles will be launched in South Africa and Sub-Saharan Africa. They include the Focus, Fusion, Mustang, Ranger XL-Plus truck and Transit cargo van.
"Today, we are accelerating the introduction of our new products in Middle East & Africa, leveraging our One Ford plan — with a full family of vehicles offering the very best quality, fuel efficiency, safety, smart design and value," Jim Benintende, president, Ford Middle East & Africa, said in a statement. "Middle East & Africa spans Saudi Arabia to South Africa, and from Nigeria to Kenya, so customer tastes are as diverse as our markets. Thanks to our One Ford plan, we can offer vehicles and technology that customers want and value, tailored to the needs of our markets."
Ford made the announcement at an event in Africa that was attended by 1,000 employees, dealers, suppliers, government officials and media.
In addition to the Focus, Fusion and Mustang, Ford showed an image of a Figo Concept, previewing Ford's upcoming global small car which will be introduced in Africa.

Ford's new aluminum F-150
piques truck drivers' interest
Michael Martinez
The Detroit News
July 18, 2014
A new study says most pickup owners don't care whether their truck is made of aluminum or steel, but there is great interest in Ford Motor Co.'s new aluminum F-150.
An independent study by global research firm UBS found that 36 percent of those surveyed don't care what material their truck is made out of if performance is comparable. About 19 percent preferred steel, 17 percent preferred a mix of steel and aluminum, 3 percent preferred aluminum and 25 percent needed more information.
But once potential customers learn about the new F-150's features, 43 percent say the use of aluminum makes it more likely they'll buy the truck; 52 percent of pickup owners who intend to buy a new truck in the next 12 months said they're extremely likely to consider the new aluminum-body F-150.
"There were steel loyalists, but once you gave them details, the preference for aluminum switches," said Colin Langan, an UBS analyst. "Educated consumers tend to see this as an asset."
He said he thinks the new truck can be more profitable for Ford than the past iterations of the popular pickup.
"There clearly seems a situation where Ford will be capacity constrained on the truck given the demand," he said. "Clearly, there's a lot of excitement."
UBS conducted the survey by sampling 800 truck owners between May 30 and June 10.
The survey also found customers who plan on buying a truck in the next year are willing to pay an average premium of $3,138. UBS estimates the use of aluminum will add about $600 per truck, so it believes Ford has "ample room to boost profitability" and should ease worries about the cost of using aluminum.
Ford, which did not commission the study, was pleased with the results.
"We know that customers want productivity," said Brandt Coultas, Ford's F-150 marketing manager. "We ended up making major portions out of aluminum because it allows us to deliver those customer needs. The new F-150 will allow them to haul more and tow more and they'll be able to do it more efficiently."
Coultas said the aluminum-bodied truck will weight about 700 pounds less than the current F-150.
"It's a huge launch for our company and everybody's excited to start building that truck," he said.
Gas substitute is like
spare tire for your tank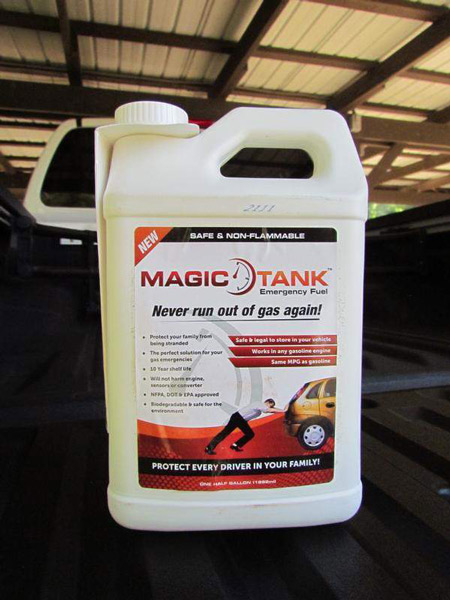 Larry Edsall
The Detroit News
July 17, 2014
Even the chief executive of Magic Tank admits it's perplexing that his company produces and sells an item it hopes customers never need.
But Steve Bistritzky says that Magic Tank can provide excellent insurance for the stranded motorist.
That's because Magic Tank produces and sells, its sale brochure says, a "safe, nonvolatile, nonflammable emergency gasoline substitute" you can store in your vehicle to use should you — or someone you come across — become stranded because of an empty tank.
"It has the same properties as gasoline," reads the Magic Tank brochure, "but unlike gasoline, it contains no volatile butanes, pentanes, hexanes or heptanes."
In other words, it is safe to carry in your vehicle — UPS, FedEx and the U.S. Postal Service deliver it by their ground transport systems — has a shelf life of 10 years or more, and a half-gallon container likely will provide you with 10-20 miles of driving, for most people enough to reach the next gas station.
It also can be used in ATVs or motorcycles, vehicles that often venture far from pavement and fuel stations. Bistritzky says it can be used in boats, snowmobiles, lawnmowers and in generators people use to power their homes when storms take down the electric lines.
Magic Tank Emergency Fuel is produced in Akron, Ohio, and distributed from a warehouse in Pennsylvania (Bistritzky said a Canadian distribution center is in the works). Magic Tank's product is made from gasoline, but with additional refining to remove the highly flammable components. It is rated at 91 octane, about the same as premium unleaded gasoline.
The emergency fuel was developed in the late 1990s by a veteran of the oil industry. An initial attempt to take the product to market ended up in litigation over patents. The team won those cases — Magic Tank is protected by five worldwide patents — but by the time the legal cases were finished, the inventor and investors were aging or no longer involved, Bistritzky explained.
Another effort was made to go to market, but without enough marketing experience to be successful. That's when Bistritzky became involved; he's based in New York and has marketing experience, especially with chain stores.
He met with the patent holder and team, won exclusive rights to marketing and distribution, and launched Magic Tank late last year.
"It's work to get into the chains, but a lot of people are buying on our website," he said, adding that people often call to share their stories about how Magic Tank got them back on the road quickly and safely.
A half-gallon container of Magic Tank is $19.95 through the website, or $39 for a twin pack. Bistritzky said many people opt for the twin-pack because they want the 20-40 miles of range it provides.
Bistritzky said he soon will offer quart container for people with motorcycles and ATVs, then will add 1- and 2 1/2-gallon containers, the latter aimed at boaters.
The website also shows video reports by television stations that have tried Magic Tank.
While Magic Tank works, because it lacks the most flammable components of gasoline, it works best when used in an engine that has just run dry and is still warm.
For information, visit the www.mymagictank.com website.

Ex-Ford CEO Mulally
joins Google's board
of directors
Michael Martinez
The Detroit News
July 16, 2014
Less than two weeks into his retirement as Ford Motor Co. CEO, Alan Mulally has joined Google Inc.'s board of directors, the company said late Tuesday.
The 68-year-old will serve on the tech giant's audit committee. The appointment was effective July 9, Google said in a statement.
"Alan brings a wealth of proven business and technology leadership experience," Larry Page, CEO of Google, said in a statement. "I am so pleased that Alan is now joining Google's board!"
Mulally said, "I look forward to working together with the Google board and management team to continue to deliver their compelling vision."
In a filing to the Securities and Exchange Commission last year, Google said directors got $75,000 in cash and stock awards worth $351,000.
Mulally's 2013 compensation at Ford — which included stock and option awards, plus personal expenses — included $2 million in salary, a $5.88 million cash bonus and more than $11 million in stock awards, according to the automaker's March proxy filing.
Mulally was CEO at Ford from September 2006 through July 1 of this year. He was previously executive vice president of Boeing Co.
He is credited with saving America's most iconic auto company by transforming Ford's historically divisive corporate culture into a model of teamwork, mortgaging everything to pay for a sweeping transformation of its vehicle lineup and avoiding a government bailout even as bankruptcy seemed inevitable.
Under Mulally's stewardship, Ford earned $42.3 billion in the last five years after losing $30.1 billion from 2006 to 2008. Surging sales of Escape sport-utility vehicles, F-Series pickups and Fusion sedans drove up Ford's U.S. sales 11 percent last year. In China, the world's largest car market, Ford now outsells Toyota Motor Corp.
Mulally had been mum on his post-Ford plans, saying only that he would continue to advise his successor, Mark Fields. In recent months, there was speculation Mulally would take a position with Sears Holding or the U.S. Department of Veterans Affairs. Before that, he was said to be in the running for the top job at Microsoft Corp.
Ontario Financial Services Tribunal
rules on long-standing pension dispute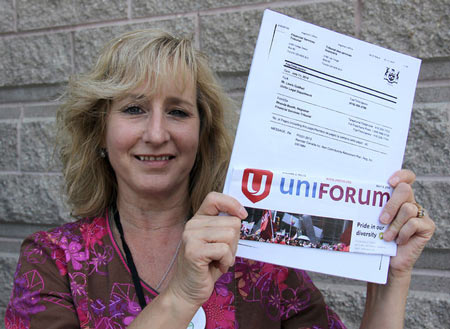 By Ellwood Shreve
London Free Press
July 15, 2014
An estimated $28 million will be coming to retirees of the former Chatham Navistar truck assembly plant according to a ruling from Ontario Financial Services Tribunal on a long-standing pension dispute.
A media release from Unifor, a new national union that includes the former Canadian Auto Workers, said the tribunal's decision not only upholds a previous decision on the workers' pensions rights, but expands them.
"This decision shows that companies cannot just arbitrarily take away people's hard-earned pensions," Unifor National President Jerry Dias said in a written release.
"We not only won the appeal, but expanded the original superintendent of pension's ruling," he added. "This is a solid victory for the workers at Navistar, who have been through a long and hard fight to defend their rights."
Diaz commended the hard work of the bargaining committee and Unifor staff for making this victory possible.
Cathy Wiebenga, plant chairwoman for the former CAW Local 127, told The Chatham Daily News: "I'm elated, because there was a lot of hard work between the national union . . . and ourselves.
"Everybody spent many, many hours in the hope that we would do the best we could for our members and it came out that way," she added. "We're very happy about it."
She admits there were moments when they wondered if this would ever be over.
Wiebenga added they realized "we just have to stick to it for ourselves and our members, because we truly believed in what we were doing."
Ken Lewenza, former CAW national president, who was actively involved in the process, told The Daily News is he "ecstatic" with the ruling.
"I'm feeling relieved on behalf of the retires and those who are pension eligible, and those that have had to live with the anxieties of the unknown for the last five years," he said.
"It's refreshing when a worker wins justice," he added.
However, Lewenza said the company still has 30 days to file an appeal of the ruling to the Ontario Superior Court.
"We have to hope – maybe with too much enthusiasm – that Navistar will take a look at this report, see how detailed it is, and recognize that the workers need closure," he said.
Lewenza said the recommendations and the theory around the rationale for the decision is so clear that if Navistar appeals, "it would be to delay justice and not to think that they could win."
The Daily News contacted Navistar's corporate head office near Chicago, Ill. on Monday, to ask if the company planned to appeal the ruling.
Navistar provided this statement: "We are aware of the ruling by the Ontario Financial Services Tribunal. Navistar is currently evaluating the ruling and we will determine in the days ahead whether to appeal or abide by the order."
Wiebenga said she spent much of Monday going through e-mails from former fellow co-workers.
"They're very pleased with the outcome," she said, adding they hope the company doesn't appeal.
"A lot of people worked a lot of years for that company and this was something that was negotiated for them initially, and now it's coming to fruition, perhaps . . . that's a good thing.
In a ruling released on Friday, the Ontario Financial Services Tribunal upheld an earlier ruling by the deputy superintendent of pensions that workers who left a Navistar truck plant between 2009 and the plant's closure in 2011 were eligible for a special early retirement on an actuarially unreduced basis.
Navistar had appealed that decision, saying the superintendent did not have jurisdiction, and that the law didn't provide for these special benefits. On Oct. 10, the Financial Services Tribunal confirmed that the superintendent had the authority to make his original ruling.
Friday's ruling went further, expanding the number of workers eligible for an unreduced early retirement, and those eligible for a supplementary .9 of a year's service to count toward their pensions.
Dias complimented the hard work of the bargaining committee and Unifor staff in making this victory possible.
Chatham-Kent Essex MPP Rick Nicholls, who worked with company and union officials behind the scenes on this issue, said the ruling is "long overdue."
The MPP told The Daily News he had also sent a few sternly worded letters to the Ministry of Finance to try to put pressure to have this issue resolved because people's lives were in limbo.
"I am very excited for the employees and their families," he said.
Nicholls recalled former Navistar employees coming into his office seeking help, adding several would be in tears.
"They had spent their life savings . . . they were losing their homes," he said. Nicholls hopes Navistar doesn't decide to appeal the ruling, noting the company moved on from Chatham, "it's time that we move on as well. Give the people what is rightfully theirs and let them get on with their lives."
The plant once employed about 1,000 workers and office staff in Unifor locals 127 and 35. Production at the plant stopped in June 2009, with the company announcing the plant's permanent disclosure in July 2011, leading to a partial windup of the pension plan.

The 2014 Lincoln MKZ
Hybrid is priced just right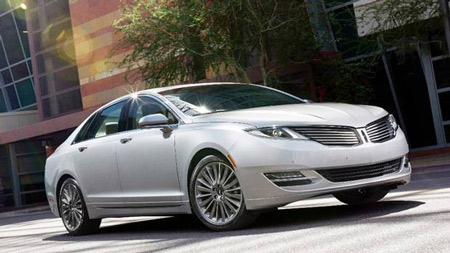 RUSSELL PURCELL
by TractionLife.com
July 14, 2014
When I was a young lad, if you drove a Lincoln, you were viewed as someone who had made it. You might be a captain of industry or a sports hero, or if the car rolled by in stretched limo form, you were obviously a rock star.
Unfortunately, the luxurious Lincolns of the past are long gone, as the brand lost much of its lustre with the arrival of more dynamic competitors from both Europe and Japan. Even GM's Cadillac division was leaving Lincoln in its wake.

With the downturn in the world economy North American auto makers were struggling to survive. Drastic measures were needed to ensure fiscal stability, so the Ford Motor Company decided to sell off Jaguar, Aston Martin, and Volvo in an effort to right the corporate ship and focus on its domestic offerings. This left Lincoln as the company's lone premium brand, but the storied marque had become stagnant over the last decade, as the Navigator, an over-sized SUV, and the seriously outdated Town Car were the company's only offerings.
A concentrated effort was made to return Lincoln to its former glory, and the resulting product lineup now includes a number of new models that have been designed to attract a new wave of customers to the once proud nameplate.
One look at the Lincoln MKZ and it is obvious that the design team has worked hard to differentiate these new models from their sister offerings at Ford. While shared platform designs represent the bricks that give the modern car company a solid foundation to upon which to build, it is equally important that the different brands establish their own identity.
Available in three flavours, the MKZ is a mid-sized, front-wheel-drive sedan that Ford officials hope will help re-establish the Lincoln brand. It has been penned to be elegant, luxurious, and chock full of technology. An aging customer base is a killer, so the MKZ is aimed at bringing a much younger consumer into the Lincoln family.
There are two gasoline engine choices available. Entry level cars are fitted with Ford's 2.0-litre EcoBoost four-cylinder engine which produces 240-horsepower and 270 lb.-ft of torque. For those consumers that appreciate the smooth running of a V6, Lincoln offers the MKZ fitted with a 3.7-litre unit good for 300 horsepower and 277 lb-ft. Both of these models feature a six-speed automatic transmission, and all-wheel-drive is available as an option.
The MKZ Hybrid is fitted with a 2.0-litre, Atkinson-Cycle inline four-cylinder hybrid engine and an Electronic Continuously Variable Transmission (e-CVT). This ultra-efficient power plant generates 188 combined horsepower and 129 lb-ft of torque, and is only available in front-wheel-drive form.
The vehicle comes with Lincoln Drive Control, an automatic system which intuitively integrates a variety of systems – engine, transmission, steering and chassis- to reduce noise, refine the ride, and improve driving dynamics. It seems to work, as the car is a precise handler, and overall ride quality was smooth and serene throughout my test period.
I found acceleration to be very linear, as the car surges forward quickly and quietly with surprisingly little noise from the e-CVT. In fact, the MKZ Hybrid is one of the quietest cars I have ever driven.
The spacious passenger compartment features excellent seating and good visibility. All controls are within easy reach and the dash and console look very modern. Gear selection is made via a vertical strip of soft touch buttons, while touch sensor controls are used to operate the climate control system.
The MKZ offers a variety of trim levels that allow you to make it quite opulent. Features such as perforated leather seats, real wood and alloy trim, full LCD instrumentation, a THX certified sound system, and heated and chilled front seats create a very pleasant environment. Optional safety equipment packages include a suite of advanced driving aids such as Lane Keeping Aid, Lane Keeping Alert and Driver Assist, as well as Adaptive Cruise Control and Collision Warning.
The MKZ model lineup is distinctive and offers a nice mix of technology and style. All three variants should sell well, but the hybrid version may prove to be the star, as it represents an attractive package at a very competitive price. Welcome back Lincoln.
2014 Lincoln MKZ Hybrid Technical Specifications:
Base price (MSRP): $38,350
Price as tested: $48,300 (Includes: Hybrid Preferred Equipment Package – ($5,700); Retractable Panoramic Roof ($3,450); White Platinum paint ($600); Freight and PDI ($1,600); Federal A/C Excise Tax ($100).
Type of vehicle: Front-wheel-drive, front-engine, mid-size sedan.
Engine: 2.0-litre, inline four-cylinder with electric motor assist.
Horsepower: 141-hp @ 6,000 rpm (188-hp combined engine and motor)
Torque: 129 lb.-ft. @ 4,000 rpm
Transmission: Electronic Continuously Variable Transmission (e-CVT)
Brakes: Four-wheel disc with ABS
Fuel economy (L/100km): City 4.0 L (67 mpg); Hwy 4.0 L (66 mpg)
UAW forming local to represent
VW workers in Tennessee
David Shepardson
Detroit News Washington Bureau
July 13, 2014
Washington— The United Auto Workers union announced Thursday it is establishing a local chapter in Chattanooga, Tenn., to represent Volkswagen AG workers — even though workers narrowly voted against creating a German-style works council in February.
TheUAW hopes that if it can convince a significant number of workers to join the local the German automaker will recognize it as Local 42. The union could face an expensive and difficult fight seeking representation. It could be embarrassing if it lost in an election overseen by the National Labor Relations Board.
"Upon Local 42 signing up a meaningful portion of Volkswagen's Chattanooga workforce, we're confident the company will recognize Local 42 by dealing with it as a members' union that represents those employees who join the local," said Gary Casteel, the UAW's secretary-treasurer, who previously served as director of UAW Region 8 covering the South.
UAW officials said at a news conference they will not seek a new membership vote by all workers, saying they didn't want to go through the election that would include outside influences trying to prod workers not to join. The UAW narrowly lost a vote of all workers in February after outside forces poured in extensive resources to defeat the UAW and state Republicans strongly opposed it.
"There's no sense in going through that process again," Casteel said
About 20 members are joining to start, the UAW said, but won't pay dues unless a collective bargaining agreement is reached. The local will be housed at a IBEW union hall near the VW plant.
Volkswagen is open to German-style works council that represents both salaried and blue-collar workers. However, companies in the U.S. can't establish a worker council unless the workers are members of a union.
Unlike a traditional union, the UAW would only represent members — though it's not clear what would happen if it was recognized as the official bargaining agent at the plant.
The UAW said "Local 42 offers workers the opportunity for a voice in the workplace through the German automaker's 'works council' approach to employee engagement. Volkswagen's business model is premised on employee representation, and Local 42 will represent any interested employees who join the local as members. No employees will be required to join."
The announcement comes as VW is getting closer to making a decision on where to locate productionof a new mid-size SUV. The automaker has said it is considering both Chattanooga — which currently builds the Passat — and a plant in Mexico.
"Just like anywhere else in the world, the establishment of a local organization is a matter for the trade union concerned. There is no contract or other formal agreement with UAW on this matter," said VW spokeswoman Jeannine Ginivan. Casteel said the UAW had "arrived at a consensus with the company."
In a Detroit News interview Thursday, Sen. Bob Corker, R-Tenn., called the UAW move "taking some steps to try to save face. There is no agreement between the company and the UAW."
Corker said VW and Tennessee officials have had some "very productive meetings" on getting the German automaker to locate the new SUV at the Chattanooga plant. "Ultimately, I believe we're going to have a very good outcome," Corker said.
In April, the union decided to drop its appeal of the union election with the National Labor Relations Board after it had sought the testimony of Corker, Tennessee Gov. Phil Bill Haslam and other state Republicans.
The UAW has sought to emphasize that it dropped its appeals of its election loss in February to try to ensure that the plant get the new SUV.
UAW President Dennis Williams said the union won't give up. "Earlier this year, the UAW was gratified to earn the confidence and support of many Volkswagen team members," said Williams . "At that time, we said we would not give up on these committed and hard-working employees. We're keeping our promise."
The UAW said Local 42 members declared workforce development to be a top priority, saying in a statement they would seek new job-training opportunities so that employees can continually expand their skills as new technologies emerge and manufacturing processes change.
"Having access to the UAW's expertise and support will keep the plant competitive and will keep our workforce on the cutting edge of productivity and quality," said Jonathan Walden, who works in the Volkswagen plant's paint department. "The members of Local 42 are ready to roll up our sleeves and focus on the future."
VW has 105 union facilities with more than 600,000 around the world. The only major non-union facility is in Tennessee.
Ford C-Max Energi plugs into hybrid trend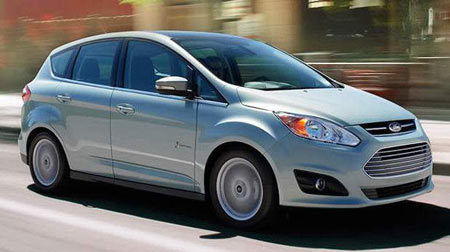 Emma Jayne Williams
Fort Worth Star-Telegram
July 12, 2014

Ford introduced the C-Max Energi plug-in hybrid in 2013 in addition to the C-Max Hybrid and Fusion Hybrid.
Similar to the Toyota Prius plug-in hybrid, the C-Max Energi is capable of operating in full electric mode at lower speeds such as around town or in the neighborhood or hybrid mode for higher sustained speeds such as the open highway.
When the plug-in power is depleted, at approximately 21 miles, the Energi automatically switches to hybrid mode. A battery gauge on the instrument panel keeps track of the amount of charge remaining.
The Energi model comes in one model, with a base price of $32,920 ($7,750 more than the C-Max hybrid model). Options available include a navigation/audio group; hands-free technology group; vehicle cover; and charge-port door graphics.
It comes with a 120-volt charge cord, and the state-of-the-art 7.6-kilowatt lithium-ion battery can be fully charged overnight on a standard power connection.
The cable is conveniently stored under the rear floor on the driver's side. With an available 240-volt home charging station, charging can be done in as little as 2.5 hours. The 240-volt charging station is available from the manufacturer and can be purchased in portable or hard-wired models.
Gas mileage for the Energi varies depending on how much the operator utilizes the full-electric mode and how efficiently the hybrid mode operates. EPA ratings for the Energi are 44 mpg in the city and 41 on the highway.
During my weeklong test, I averaged 36.8 mpg using hybrid mode and cruise control on a road trip of over 1,000 miles, mostly open highway. The plug-in power was already depleted when the car was delivered to me, and I didn't have time to charge it, so, unfortunately, I didn't get to check that out.
Ford includes its patented SmartGauge with EcoGuide to provide the operator with necessary data to change driving habits in order to maximize fuel efficiency. Reading the owner's manual and studying the SmartGauge can help boost fuel economy or exceed the stated mpg numbers. The 14-gallon tank enabled me to drive to my destination 400 miles away with plenty of gas remaining. Estimated range is 600-plus miles.
Energi has three EV modes: Auto EV, EV Now, and EV Later. Auto EV is for when plug-in power is depleted, EV Now is for electric mode, and EV Later saves battery power for lower speeds. EV modes also require some reading and studying to produce maximum results.
My Ruby Red Metallic C-Max Energi was powered by a 2.0-liter, 141-horsepower Atkinson-cycle four-cylinder engine and an AC synchronous electric motor producing 47 horses, for 188 total. An electronically controlled continuously variable transmission and front wheel drive are standard, and the vehicle has front-wheel drive.
I found the Energi to be rather energetic, with only a slight hesitation on takeoff. Braking was a little uncertain, though, as the brakes tended to respond sharply, causing some lurching slow-downs and stops.
Steering also seemed a little uncertain at times, causing a "sloppy" feel. The ride was smooth and comfortable, except on the horrible, bumpy, winter-worn roads at my destination.
My passengers had plenty of legroom in the rear, and the headroom was exceptional, front and rear. But we didn't have enough cubbies for odds and ends on our long trip. The fold-flat rear seat was a blessing, as we had luggage and other items for an extended stay.
Standard equipment on the C-Max Energi includes 17-inch multi-spoke machined-aluminum wheels; dual power mirrors with heat, security approach lamps, turn-signal indicators and integrated blind-spot mirrors; a tire mobility kit (contains an air compressor with pressure gauge and tire sealant, stored under the front passenger seat); ambient lighting; dual-zone automatic electronic climate control; leather wrapped shift knob and steering wheel; leather-trimmed/heated power driver's seat and heated/manual front passenger seat; 60/40 fold-flat second-row seat; small under-floor storage on the right rear passenger side; remote gate/garage door operation; intelligent access with push-button start and remote keyless entry; MyFord Mobile; MyKey; Sync with MyFord Touch; two 12-volt and one 110-volt outlets; multiple air bags, including safety-canopy outboard passenger head and chest protection; perimeter alarm; reverse sensing system; and anti-theft engine immobilizer.
The MyFord Mobile system gives owners/operators access to MyFordMobile.com to allow management of vehicle functions from an Android smartphone. This allows consumers to view current charge and fuel levels, commence charging, set "Go Times" to pre-heat or pre-cool the cabin, find charging stations and lock/unlock/remote start the vehicle. Ford provides the service for the first five years, with a subscription required after that.
MyKey is a marvelous safety feature for parents of young drivers, designed to help limit speed and audio volume, encourage seat belt usage and provide early low-fuel warnings.
Ford's infotainment system MyFord Touch, includes two small LCD screens, one on each side of the speedometer, which show information from fuel economy and trip data to climate control and audio settings. Some functions are controlled using buttons on the steering wheel, some using the touch screen (navigation, audio, phone, and climate) and some have actual buttons and dials (audio and climate).
The buttons and dials for the audio and climate settings, some on the steering wheel and some on the center stack, allow the driver to bypass MyFord Touch for quicker manipulation of certain functions. I often find the touch screen too far away and distracting, as you have to watch where your finger is going.
Controls on the touch screen (audio and navigation, in particular) were somewhat confusing and frustrating to program, with no clear "next step." The controls on the steering wheel were not clearly marked, thus the convenience was somewhat compromised. A little time spent with the owner's manual, followed by sitting in the driver's seat practicing, could have made using those controls less difficult.
The power liftgate can be operated by passing a foot quickly under the center of the rear bumper, a plus if your hands are full. The cargo floor is high and the cargo area (listed at 19.2 cubic feet with the seatbacks up, 52.6 cubic feet with the seatbacks down) is restricted by the large battery housing going from side to side.
My Energi -- with a $38,455 sticker, compared to the base price of $32,920 -- came with the panoramic fixed-glass roof with a retractable opaque fabric shade. I liked the subtle extra light without the glaring hot sun.
The Equipment Group included premium audio and navigation; hands-free technology; keyless power liftgate; rearview camera; keyless entry/start; parking technology; and active park assist.
NHTSA investigates 500,000 Ford cars for steering problem
David Shepardson
Detroit News Washington Bureau
July 11, 2014
Washington — The National Highway Traffic Safety Administration said Friday it is opening a preliminary investigation into 500,000 older Ford cars for steering problems.
The investigation covers the 2004-2007 Crown Victoria, Grand Marquis and Marauder — vehicles often used as police cars — after NHTSA said "the drivers side exhaust manifold heat shield can rust and become dislodged, potentially jamming the steering shaft." NHTSA said it has reports of five complaints and one crash involving one injury.
NHTSA said the complaints say the steering shaft was hindered by a dislodged heat shield. In one instance, the steering allegedly locked up on a highway entrance ramp, causing a rollover crash and injury. NHTSA said the complaint said the heat shield was discovered to be dislodged after the crash, with witness marks from the alleged obstruction between the steering shaft and engine block.
The driver of a Crown Victoria was in downtown Detroit driving on the M-10 from I-94 to the I-75 entrance ramp, according to the complaint filed in April 2012. "I entered the ramp at 25-30 mph when the steering locked up, I could not turn the wheel. Before I knew it I hit the curb and rolled over approximately three times down an embankment and finally hitting a concrete barrier which stopped the car," said the complaint, which was updated in May 2014.
The driver suggested that "because of cost cutting in materials in the manufacturing of this heat shield of this inferior metal" — sheet metal rather than stainless steel — led to the crash. The driver said he has a lower back injury and still has trouble walking. He had graduated just days earlier with a bachelor's degree in marketing "but now because of my injuries I am unable to work." He also said he lost his home, can't pay student loans or his bills. "You would think Ford's being located in Dearborn, Michigan, would use common sense in their design of this part, knowing salt is heavily used in snow removal in Michigan. They saved a few dollars but in doing so they ruined my life."
NHTSA withholds the names of drivers in complaints posted on its website. No new complaint has been filed since January 2013.
Ford spokeswoman Kelli Felker said the automaker will cooperate.
NHTSA typically spends about six months deciding whether to upgrade a preliminary investigation or close it. It must find enough evidence to upgrade a probe before it can seek to require an automaker to recall vehicles it thinks pose an unreasonable risk to driver safety.


Ford expects transformation plan
to generate profit in Europe in '15
Michael Martinez
The Detroit News
July 10, 2014

Dearborn— Ford Motor Co. expects to turn a profit in its long-troubled European market next year.
In a Wednesday roundtable discussion with reporters, Stephen Odell, president of Ford in Europe, Middle East and Africa, said the automaker's European transformation plan — which includes cutting jobs, closing plants and revamping its vehicle lineup — is on track or better than expected.
"We are very, very pleased with where we are in the European transformation plan," Odell said. "We are very much on track."
Ford said its sales in Europe rose 6.6 percent during the first six months of 2014, compared to an overall industry increase of 6.3 percent. Its market share remained even at 7.9 percent.
The automaker had first-half sales of 605,400 vehicles, its highest total since 2011.
Ford lost $194 million in Europe during the first quarter of 2014, down from a loss of $425 million during the same period last year. Ford will release its second quarter earnings at the end of this month.
The automaker lost $1.6 billion in Europe in 2013.
In 2012, Ford launched an aggressive transformation plan that included introducing new products, strengthening the brand and improving cost efficiency.
Since then, the Dearborn automaker has launched 15 new or refreshed vehicles, and plans to introduce more this year, including a new Focus and all-new Mondeo.
The Kuga compact SUV, launched last year, is increasingly popular, and Odell said Ford has had to ramp up production to meet demand. The automaker is also introducing its new Mustang, and Odell said it sold out of the first 500 pony cars in 30 seconds.
Odell said Ford's European commercial vehicle lineup — including the Transit cargo van — has the highest commercial vehicle share since 1998.
The new or refreshed vehicles account for 52 percent of Ford sales in the first six months of 2014. Dealer profitability is up about 50 percent in the first half.
"They are substantive launches," Odell said. "They are not minor launches or refreshes."
As part of the transformation plan, Ford will close three plants — a Belgium assembly plant, and two plants in the U.K. — by the end of this year that represents 5,700 jobs. Ford last year was plagued by supply constraints of its Mondeo, S-MAX and Galaxy vehicles built at its Genk, Belgium, plant because of protests over the plant's pending closure.
Odell said he expects the closings to reduce Ford's vehicle capacity by 18 percent or 355,000 vehicles.
"We have taken the actions we think are necessary to get our capacity utilization levels to where we can have sustainable profitability," Odell said.
Despite the improved outlook, Odell still said Europe was a fragile situation for all automakers.
"You know there's another economic shock out there," he said. "Clearly, Europe has not recovered as an economy... as fast as other parts of the world."
The biggest challenge remains the availability of jobs, he said.
"The issue I think still inhibiting a faster European recovery is unemployment," Odell said. "Unemployment rates are still in some markets well above 20 percent."
Ford, GM sales in China
soar in first half of '14
Michael Martinez
and Melissa Burden
July 9, 2014
Two of Detroit's automakers reported record sales gains in China through the first half of 2014.
Ford Motor Co. sold nearly 550,000 vehicles in China through the first six months of the year, a 35 percent increase over the same period a year ago in the world's largest auto market. The Dearborn automaker's June sales increased 17 percent from the same month a year ago, thanks to demand for vehicles like the Ford Focus, Mondeo, EcoSport and Kuga.
General Motors Co. and its joint ventures reported that sales in China rose a record 9.1 percent in June compared to the same month a year ago; sales are up a record 10.5 percent year-to-date over the same time in 2013.
The news comes as local Chinese brands lose market share to foreign automakers who are pushing into the country's smaller cities with cheaper models.
"Ford's strong sales in the first half demonstrate the success of our accelerated China growth plan," John Lawler, chairman and CEO of Ford China, said in a statement. "We continue to grow our sales network, increase capacity and hire great employees — all to deliver the high quality, safety, fuel efficiency and smart technologies that Chinese customers demand."
Ford has sold more than 200,000 Focus compact cars in China through the first six months of 2014, a 9 percent increase from the same period a year ago. U.S. Focus sales have fallen this year, down 10.3 percent to 120,956, according to Ford's monthly sales report released last week.
First-half sales of Ford's Mondeo passenger car increased 124 percent; its Kuga SUV sales were up 78 percent and its EcoSport SUV sales rose 103 percent.
During the first half of 2014, Ford China experienced a 70 percent increase in sales for passenger vehicles imported into the country: the Ford Focus ST, Fiesta ST, Edge and Explorer.
GM said sales in China for the first six months of the year have totaled 1.73 million. Sales in June hit 257,798 cars.
"GM has experienced growth in demand for our products across China this year, especially at the higher end of our lineup and in the SUV/MPV segment," Matt Tsien, GM executive vice president and president of GM China said in a statement. "We anticipate sales remaining strong through the end of 2014, as more people — particularly outside China's major cities — become first-time vehicle buyers."
China is GM's largest sales market. Last year, the company sold nearly 3.2 million vehicles in China.
Foreign automakers are targeting China's smaller cities as the country's major population centers increasingly restrict the number of passenger vehicles to curb pollution and congestion. That's led to the introduction of cheaper models to compete with local carmakers who have struggled to stem a loss in market share in the world's largest auto market.
"Automakers are focusing their product launches on the lower- and mid-end of the market," said Harry Chen, a Shenzhen-based analyst at Guotai Junan Securities Co. Ltd. "When new products come into the market, it stimulates sales."
GM introduced the Aveo subcompact sedan last month, while Volkswagen AG started sales of the new Polo compact sedan at the end of May, according to the companies.
The competition is eating into the market share for Chinese brands.
China's local marques accounted for 21.5 percent of industry car sales in May, a decline of 5.1 percentage points from a year earlier, according to data from the state-backed China Association of Automobile Manufacturers.


Ford issues 6 new recalls
covering 101,000 vehicles
David Shepardson
The Detroit News
July 8, 2014
Washington —Ford Motor Co. said late Monday it is recalling 101,000 vehicles in six new recall campaigns, bringing the total recalls so far this year by the Dearborn automaker to nearly 3 million vehicles in the United States.
The biggest recall covers 92,000 vehicles in North America, including 2013-2014 models of the Ford Taurus, Ford Flex, Ford Police Interceptor, Lincoln MKS and Lincoln MKT; 2012-2014 Ford Edge; and 2014 Lincoln MKX. All have potential issues with the right-side halfshaft.
Because of faulty assembly, the vehicles may experience "loss of drive function," Ford said. The Ford said the vehicles could roll away if the gearshift is placed in "park" without the emergency brake being activated.
Ford said dealers will inspect the halfshaft and repair or replace as needed.
Ford is also recalling 2,100 2014 Ford Escape SUVs for a potential problem with the panorama roof glass that may have an improperly cured bond between the glass and the attaching bracket that could result in noise, water leak or separation of the panel from the vehicle. Dealers will replace the panel if they were built between Oct. 15 and Oct. 22, 2013, at the Louisville Assembly Plant.
Ford said no crashes or injuries have been reported in any of the new recall campaigns.
The recalls are the latest sign that automakers are boosting recalls because of stricter scrutiny from the National Highway Traffic Safety Administration.
Ford recalled 1.19 million vehicles in 16 recall campaigns in the United States in all of 2013. So far this year, Ford says it has issued 19 recalls covering 2.94 million vehicles.
Automakers have recalled nearly 40 million vehicles in the United States this year, an all-time record that shatters the 30.8 million recalled in 2004. General Motors Co. leads the pack with 25.2 million callbacks, also an all-time record.
Other recalls announced Monday by Ford:
■197 2014 Ford Fiestas are being called back in North America for a potential issue with the fuel tank. Some fuel tanks may be missing an adhesive layer. Without that adhesive, it may leak fuel and catch fire.
Two of the recalls involve Ford commercial vehicles:
■Ford is recalling 5,264 2011-2014 Ford F59 Commercial Stripped Chassis vehicles in North America because electrical junction blocks could short-circuit if driven in areas where salt is spread on roads. Drivers may experience smoke coming from the right front wheel well, a loss of electrical power — or potentially a fire, with or without the engine running. Dealers will replace the block.
■Ford is recalling 635 2014 Ford F53 Motorhome Stripped Chassis and F59 Commercial Stripped Chassis vehicles in North America for a possible issue with the brake calipers. Some may have been incorrectly machined and could result in a leak between the piston and piston bore, which could result in longer brake pedal travel and increased stopping distances.
Some of the recalls are very minor, but automakers are taking no chances running afoul of NHTSA:.
■368 2014 Ford Transit Connect vans are being called back because of a labeling issue with the brake fluid reservoir cap in Puerto Rico. The brake reservoir cap on the affected vehicles does not conform to brake system labeling requirement. The vehicles shipped to Puerto Rico had a European brake reservoir pictogram label, which does not contain the text required by U.S. law.
The recalls are the most recent by the Dearborn automaker. In May, it announced it was recalling nearly 1.4 million vehicles in four separate recall campaigns, including 1.1 million Ford Escapes, Mercury Mariners and Ford Explorers in North America for power steering problems.
Three of the four recalls came under pressure from U.S. and Canadian auto safety regulators — another sign that government agencies are taking a harder line with automakers in the aftermath of the General Motors Co. recall crisis. Ford opted to recall the vehicles rather than fight regulators.


2015 Saleen Mustang 302 preview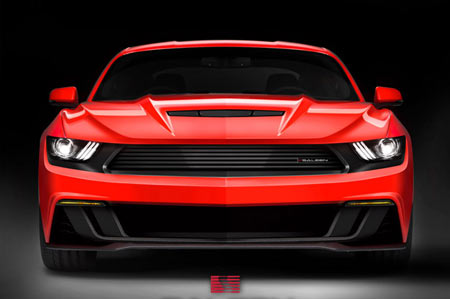 By Noah Joseph
July 7, 2014
The introduction of a new generation of a model like the Ford Mustang may be exciting enough in its own right for enthusiasts, but that's just the tip of the proverbial iceberg, because you know that Ford itself as well as numerous aftermarket tuners will soon follow up with even more desirable versions. And few Mustang tuners carry quite the same clout of Saleen.
Recently reunited after its previous split, Saleen is back on the map and hard at work on new aftermarket modifications for a wide array of muscle cars. We knew it would only be a matter of time before it would release a new 302 Mustang, and now it's sent out the first image to show us what to expect.
Details are scarce, but House that Steve Built says the 2015 Saleen 302 Mustang "is perfectly positioned as the next American exotic." And it should know, considering that it's the same outfit that produced the Saleen S7 that really was a true American exotic. From the teaser image above we can see that Saleen has given its Mustang a new front air dam, a very wide air scoop on the hood and of course Saleen's trademark slat grille.
We'll have to wait to find out more, but given that the outgoing 302 packed as much as 625 supercharged horsepower, we should be in for one seriously wild stallion indeed.


What did the F-150 learn
from the F-Type?
Henry Payne
Detroit News
July 6, 2014
This weekend we Yankees celebrate our divorce from Mother England. But the families are closer than ever. England's our trustiest ally, we worship Kate Middleton, and we fancy aluminum in our signature vehicles.
Driven by draconian federal mpg regulations, the best-selling Ford F-150 is Detroit's first mass production vehicle with aluminum skin. The lightweight pickup can trace its heritage back to Ford's ownership of England's lightweight Jaguar sports cars, which helped pioneer aluminum design over a decade ago. The two companies are no longer married, but they share bonds, explains Kevan Richardson, Jaguar's program manager for sports cars.
"When Ford came in we got a lot of help with quality, processes, and financial discipline," says Richardson, a wiry, straight-shooting Brit. "And they have transferred (our aluminum skills) back to their homeland."
As the 2015 F-150 shows off its radical aluminum panels, Richardson is touring the U.S. with an aluminum F of his own. A taut, aluminum chassis is the backbone for Coventry's sleekest, fastest cat yet — the snarling, 550 horsepower, 2015 Jaguar F-Type (read my review here). Will we someday see an aluminum-chassis Ford? I sat down with Richardson to talk materials, the nanny state, and the F-Type/F-150 odd couple.
Q: Is the F-Type the first, all-aluminum Jag?
Richardson: No. We started with aluminum in 2001 when we delivered the XJ. Then XK . . . was delivered in 2006, so that was effectively generation two. With F-Type we are on to the next generation.
Q: Was Jaguar the first production brand to use aluminum?
Richardson: No. Audi has had aluminum for a while. But without being disrespectful to them, their techniques are maybe a little backward compares to ours. We are fortunate (because) Coventry has always had a very good heritage in motor manufacturing — in building high speed cars and airplanes that were aluminum.
Q: Was your conversion to all-aluminum cars driven by performance or regulations?
Richardson: It's kind of chicken and egg. In the 1990s Ford started to buy a lot of Bauxite mines. They were quite visionary about their material choice for the future. We were their premium brand. They decided that we were going to be the proving ground. We learned an awful lot about aluminum's structural properties: Fuel economy is better, handling is better, the car is more balanced
Q: Was cost a factor?
Richardson: Aluminum is more expensive than steel. Fact. Carbon fiber — much lighter again — is not practical for high volume production. If you want a one-off performance race car, then carbon fiber is your game. But if you want to make high volume then aluminum is probably the best material. We reckon that if the F-Type were steel, that would be (220 more pounds) which is .3 seconds in zero-60. That's a big deal when everyone wants to be at four seconds.
Q: How does aluminum challenge you?
Richardson: Aluminum is very difficult to work — especially in a shapely car like the F-Type. A truck (is) a good vehicle to make with aluminum, because it's got big flat surfaces. Working with the F-Type, we've had to create a lot of new techniques to create the shape that we need, But with a truck there isn't a lot of form.
Q: Regulations increasingly pinch what you can do — you can no longer have a leaping Jaguar hood ornament, for example. Could you make an E-Type today with a long nose?
Richardson: No. If you are in the driver's seat, there's something called a "vision angle" that says you have to see a certain distance in front of the car from the driver's seat. In Europe, if you are unfortunate enough to have a collision with a pedestrian, then they have to meet a certain level of head injury criteria. So . . . in our car the bonnet deploys with a couple of actuators which fire the bonnet which creates survival space between the bonnet and the engine so that if (someone's) head hits the bonnet you have space. The bonnet rolls them away.
Q: You now have aluminum in Jaguars, Corvettes, F-150s. What's next?
Richardson: The industry is moving to aluminum. In 20 years, I think aluminum will be the choice for every car. It'll have to be.


Escape and Equinox bring
serious pistols to the fight
Detroit News
Henry Payne
July 5, 2014
This is the Year of the Compact Crossover. With Ford Escape, Chevy Equinox, Honda CR-V and Toyota RAV4 racking up unit sales rivaling the compact sedan market, even the lux makers want a piece of the action. Everybody's downsizing from the Lexus NX to the Lincoln MKC to the Porsche Macan. Heck, even, Peterbilt is probably working on one.
Given homo sapiens preference for riding up high — Americans conquered the West on horseback and Conestoga wagon after all — I'm wagering it won't be long before crossover utility vehicles take over the sedan segment entirely. For sure, before the Lions win a Super Bowl. Heck, even Europeans have adopted this most American of trends, with CUV sales doubling over the last six years. Just this year, Jeep announced it will make its Renegade crossover in Italy and Ford will export the Edge. What's next? Soccer-crazed Brits turning to baseball?
Baseball, hot dogs, apple pie, and CUVs. And no one understands the Yankee mind better than Honda.
While Detroit led the switch from big cars to big utes, Honda translated its small car success to small crossovers. Debuting an early example of the species back in 1997, the bulletproof, CR-V has led the way — and won class rodeo again in 2013 with more than 300,000 sold. Saddle up, Detroit. Motown is hot on the CR-V's trail with its own superb crossovers, the Escape and Equinox. Which is better positioned to conquer the West?
Duel at high noon. We put these two pistols back-to-back. Twenty paces, gents.
Thinking outside the box
The CUV separated itself from truck-based SUVs by building on car-inspired, unibody chassis. Now their exterior skins are mimicking sedans as well.
Think outside the box.
Compacts like the Escape, Mazda CX-5, and Kia Sportage lead this wave with raked styling, attractive grilles and curvy hips. Where the Honda CR-V brought Civic-like dependability to the class, the Escape has leap-frogged the Honda in styling. A generation ago, the Escape looked like it was carved from a block of cheese. Now it looks like a Ford Focus on steroids.
From its angular front and rear lights to its full fascia grille (sure to be Aston Martin-ized soon like the rest of Ford's lineup) to its swept greenhouse, the Escape shows a lot of leg to the passing sedan crowd. Dads who bought the Escape for their soccer moms will find themselves sneaking out to the garage at first light to take it to work instead of their aging (big, boxy ute name here).
The squared-off Equinox is a tidy, attractive interpretation of Chevy's split-grille, two-box architecture. But next to the Escape it looks a generation behind. Only the muscular wheel wells stir any passion. In the salon chair next to the Equinox is the larger Traverse which has received the full Camaro-inspired, Impala-like extreme makeover. What the Equinox wouldn't do to get the same stylist.
Surprisingly, the Escape's sloped greenhouse does not compromise interior room and visibility. Indeed, the Ford's angular glass carves out room in the D-pillar to improve driver's rear-corner visibility. The Equinox's more traditional D-pillar combines with the second-row headrest to make rear visibility difficult. All SUVs, however, suffer from D-pillar blindness. The solution? Blind spot assist on the mirrors. Don't leave home without it.
Inside, only Sequoias like your 6-foot-5-inch author will notice the slight reduction in rear headroom from the Escape roof while still beating the Equinox in interior room.
Devil in interior details
My neighbor Betsy Walbridge is a stickler for detail. She's a master chef with a shrewd taste for the right ingredients. She can spot an overcooked entree at 500 paces. And she loves her Escape interior.
Buyers lured by the Escape's exterior detail will be won over by the high-IQ interior. Ford's interior design engineers must have hammock-sized circles under their eyes because they sweated every detail. As in the exterior comparison, the Equinox is well-groomed, but just hasn't spent as much time in front of the mirror as its Dearborn competitor.
May I call your attention to the Escape's upright center console which is more accessible than the Equinox's sloped approach. Both screens are high on the dash, necessitating sun shielding. The Escape's canopy is wonderfully integrated into the interior's swept design whereas the Chevy visor looks like an aftermarket job.
Ford's infamous, glitchy SYNC system has been the single best advertisement for the CR-V. The new Escape shows off a much-improved system which, like Chevy's ubiquitous MyLink system, gives you the world at your fingertips. Nav, radio, blue-tooth phone ...
What's that, Mrs. Walbridge? Oh, yes, the devil is in the details.
To answer the phone, Ford provides a fingertip-accessed tab aft of the wheel. The Equinox sports a standard thumb button by the steering wheel hub. But if you have my neighbor's small thumbs it's a stretch.
More details. Foot-activated rear lift gate, three USB jacks, innovative two-shelf glove box, directional fog lights, fold-flat rear seats. ... Sure the Equinox comes with sliding rear seats, but when the other dude shows up at the front door with flowers — and a box of candy, and tickets to the Tigers game, and a babysitter for your kid sister, which one are you gonna go with?
Performance options
Both CUVs option with all-wheel-drive, which is not only useful for winter's wrath but for getting out of the post-thaw potholes. For all the Escape's interior and exterior eye-candy, however, the real difference-maker is hidden under the hood.
Class-leader Honda offers one engine — a 2.4 liter four banger. The Escape offers three: A standard 2.5 liter, a 1.6 liter turbo, and the terrific, 240-horsepower 2.0-liter turbo in the Titanium model that I drove. The Equinox is pro-choice as well — offering a base 2.4 and a 3.6-liter V6. Like Jeep's racy Cherokee, Chevy is betting the V6 still has premium cachet.
But the Escape turbo is cutting edge: Quiet, no turbo lag, lots of low end grunt. It's like a V6 but without the appetite. 24 mpg vs. 19 mpg.
They say the smart phone industry is about convergence. Users want a phone with the screen size of a tablet. The automobile has been around for a century, but it seems to be on the same course: Ute-size with car styling. The Ford Escape is that future.
2014 Ford Escape
Vehicle type: Front-engine, all-wheel-drive, five-passenger small sport utility vehicle
Price: $23,505 base ($35,741 as tested)
Power plant: 2.0-liter, dual overhead cam, turbocharged 4-cylinder
Power: 240 horsepower, 270 pound-feet of torque
Transmission: Six-speed automatic
Performance: 0-60 mph, 7.0 seconds (Car & Driver); 118 mph top speed
Weight: 3,769 pounds
Fuel economy: EPA 21 mpg city/28 mpg highway/24 mpg combined
Report card
Highs: Car-like good looks; high-IQ interior
Lows: Rear visibility; Aston Martin grille, please?
Overall:★★★★
Grading scale
Excellent ★★★★
Good ★★★
Fair ★★
Poor ★
2014 Chevy Equinox
Vehicle type: Front-engine, all-wheel-drive, five-passenger small sport utility vehicle
Price: $25,315 base ($33,740 as tested)
Power plant: 2.4-liter, dual overhead cam 4-cylinder
Power: 182 horsepower, 172 pound-feet of torque
Transmission: Six-speed automatic
Performance: 0-60 mph, 8.7 seconds (TopSpeed.com); 131 mph top speed
Weight: 3,777 pounds
Fuel economy: EPA 20 mpg city/29 mpg highway/23 mpg combined
Report card
Highs: Muscular fenders; sliding rear seats
Lows: Poor rear visibility; more USBs, please
Overall:★★★
Grading scale
Excellent ★★★★
Good ★★★
Fair ★★
Poor ★
As Mark Fields takes over at
Ford, what does the future
hold for Canada?
Kristine Owram
July 4, 2014

As Alan Mulally steps down as CEO of Ford Motor Co. after eight years on the job, he leaves behind him a company that survived the financial crisis, made billions in profits — and shrunk its Canadian assembly operations by half.
Mr. Mulally can leave with a sense of satisfaction that he successfully navigated Ford through the recession and managed to steer clear of bankruptcy protection, unlike the other two members of the Detroit Three.
But there's still work to be done as Mark Fields a 25-year veteran of the company, moves into the corner office on This week.
"I believe he's got the pedigree to be a top CEO in the automotive space," former Chrysler CEO Tom LaSorda said in an interview.

"He's an industry veteran and has been a seasoned, successful executive for a long time."
For the approximately 4,800 remaining Canadian employees of Ford, the question is what the automaker's future in Canada will look like.
"I'd like to sit down and have a serious discussion about more investment," said Jerry Dias, president of the Unifor union that represents Ford, GM and Chrysler workers in Canada.
Ford invested $700-million in its plant in Oakville, Ont., last fall. Part of that money went towards retooling for the new Edge crossover, which will become the first Canadian-built vehicle to be sold worldwide. The Oakville plant also manufactures the Ford Flex, the Lincoln MKX and the Lincoln MKT and makes up the bulk of Ford's Canadian operations.
"They know the Canadian operations are profitable, they know they're efficient, but we really do need to have a conversation about future investment," said Mr. Dias.
Ford's future in Canada has looked increasingly uncertain since the company closed its plant in St. Thomas, Ont., in 2011, shrinking its Canadian assembly operations from two factories to one.
The company also operates two engine plants in the Windsor region and Mr. Dias said there's a lot of excess capacity in those operations that he'd like to see put to work.
Canada won't be top of mind for Mr. Fields as he takes over a global company with operations in nearly two dozen countries.
Bill Osborne, who was CEO of Ford Canada from 2005-07 and reported directly to Mr. Fields, said he was always supportive of Ford's Canadian operations.
"He certainly supported the things we wanted to do that were unique to Canada and where maybe under different leadership we might have been told, 'Save the money and just use what we have in the U.S.,'" said Mr. Osborne, who is now senior vice-president of global manufacturing and quality at truck maker Navistar International Corp.
For example, Mr. Osborne pushed for a separate Canadian marketing campaign when they could have used what was available in the U.S.
"I spoke with Mark and said, 'Canada is not the 51st state. We need something unique that speaks directly to Canadians,' and he supported that," Mr. Osborne said.
The result was the "Built for life in Canada" campaign, which won an internal marketing excellence award.
Mr. Fields, who was president of Ford's Americas division at the time, also oversaw the introduction of the Flex and the Edge to the Oakville plant. Both have generated strong sales for Ford.
Mr. Osborne described Ford's new CEO as "very calm, thoughtful and deliberate" and as someone with "a high degree of integrity."
Outside of Canada, Mr. Fields' primary challenge will be maximizing Ford's global reach, according to Bruce Belzowski at the University of Michigan's Transportation Research Institute.
It was Mr. Mulally who introduced the concept of "One Ford," which was meant to emphasize that you were working for the same company whether you were in the U.S., Europe or China, but "there's still work to do," Mr. Belzowski said.
"Their challenges are the same that all companies have — how do they maximize their global reach?"
Ford was "really late to the party" in China and is playing catch-up in the world's biggest auto market, Mr. Belzowski added. And Europe, where Ford lost more than half a billion dollars in 2013, remains a challenge that Mr. Fields will have to tackle.
Whatever awaits Mr. Fields, Ford's culture is unlikely to change under its new leader.
"I don't believe there will be a shift in culture at all," said Mr. LaSorda.
"When you've worked with someone for as long [as Mr. Fields has worked with Mr. Mulally], you learn so much from each other and it becomes part of the fabric of how you operate."



Retiree
Bill Pooley
Passes away
July 2, 2014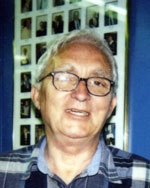 Bill Pooley of Lindsay, Ontario
Retired
July 1, 1998
30 Years Service

Our Condolences go out to his Family
Passed away peacefully at home on July 2nd in his 78th year
In Keeping with Williams wishes there will be no visitation or service
Memorial donations can be made to the Ontario Lung Association

New Ford CEO Fields gets
$5.25M pay package, plus options
Michael Martinez
The Detroit News
July 3, 2014
Ford CEO Mark Fields, who succeeded the retiring Alan Mulally on Tuesday, will get a significant pay bump as part of his new job, and a number of perks including increased stock options and use of a private jet.
Fields will get a salary and bonus package worth $5.25 million this year. That includes a $1.75 million base salary — up from his $1.54 million base salary in 2013 as Ford's chief operating officer — plus $3.5 million in incentive compensation. And the company is offering him options to buy more than 710,000 shares of stock at an exercise price of $17.21 per share, which compensation analyst GMI Ratings values at more than $3 million.
Last year, Mulally received $2 million in salary and $5.88 million in bonus.
Ford revealed Fields' compensation Wednesday in a regulatory filing.
"This is not jaw dropping for the executive compensation world," Gary Hewitt, managing director and head of research at New York-based GMI, said in an interview with Bloomberg News. "This reflects a decision by the board to raise his 2014 compensation to CEO levels, but they haven't pushed it to stratospheric levels."
Fields may receive other stock grants as part of his promotion that may not be revealed until Ford files its proxy statement next year, Hewitt said.
The Dearborn-based company, citing security reasons, will require Fields and his family to use a corporate jet to travel back and forth from his home near Miami — a privilege Fields enjoyed before the recession and auto crisis.
Fields was criticized in the past for using Ford's corporate aircraft to visit his family in Florida and began flying commercial in 2007.
Use of the Ford corporate jet for personal travel was part of Fields' compensation agreement when he became head of Ford's Americas group.
Mulally will retain access to Ford's corporate aircraft and company-paid housing through Aug. 31, the filing said.
Those benefits totaled $406,065 in 2013, according to a Ford regulatory filing.
He also will retain $13.8 million in stock awards received in March for his performance.
Even with the options, Fields has a long way to go to match Mulally's total package of $23.2 million last year.
Mulally's 2013 compensation — which included stock and option awards, plus personal expenses — included $2 million in salary, a $5.88 million cash bonus and more than $11 million in stock awards, according to the automaker's March proxy filing.
In 2013, Fields, then COO of the Dearborn automaker, earned a total about $10.2 million, including a base salary of $1.54 million and a bonus of $996,000, according to Ford's March filing.
Fiat SpA said CEO Sergio Marchionne, also head of Chrysler Group LLC, earned $5 million in cash compensation in 2013, about $1.2 million less than he made in 2012. General Motors Co. CEO Mary Barra, who took over as the automaker's top executive in January, could earn more than $14.4 million this year.
Chrysler sales jump 9%; GM up 1%; Ford down 6% in June
Michael Martinez
The Detroit News
July 2, 2014
Detroit's Big Three automakers recorded mixed sales results for a June that's shaping up to be better than most analysts predicted, despite two fewer selling days than the same month a year ago.
General Motors Co. and Chrysler Group LLC both posted the best June since 2007 with increases of 1 percent and 9 percent, respectively, while Ford Motor Co. saw a 6 percent decline in sales.
Analysts said GM's continued recall woes didn't appear to have much effect on sales.
"General Motors once again proves its amazing resiliency," Michelle Krebs, senior analyst for AutoTrader.com, said in a statement. "Better-than-expected sales in June were reported against a backdrop of ugly news, from the unveiling of the victims compensation plan to another massive recall."
The automaker recalled another 8.4 million vehicles Monday and has called back more than 25.7 million vehicles in the United States and 29 million worldwide this year in 54 separate campaigns.
GM sold 267,461 vehicles in the U.S. last month, its best June since before the Great Recession. Its Buick and GMC brands each posted the best June results since 2006.
"June was the third very strong month in a row for GM, with every brand up on a selling-day adjusted basis," said Kurt McNeil, U.S. vice president of sales operations. "In fact, the first half of the year was our best retail sales performance since 2008, driven by an outstanding second quarter."
Ford Motor Co. reported a 6 percent sales decline, despite record months for its Fusion and Transit Connect models.
"Both the Fusion and Transit Connect set records in June, continuing their sales momentum," said John Felice, Ford's vice president of U.S. marketing, sales and service, in a statement.
The Dearborn automaker sold 222,064 vehicles last June. Ford brand vehicles declined 5.9 percent while the Lincoln brand sales were down 3 percent.
Sales of the Ford Edge were down 28.6 percent, and sales of the popular Mustang fell 17.4 percent, but Felice said that's because the automaker is preparing for new models later this year. Ford unveiled the 2015 Edge last week.
"We're actively managing volume in the marketplace, given the changeover and preparation for the new model," he said.
Sales of the Lincoln MKZ, a bright spot for the struggling brand, were down 6 percent in June compared to the same month last year. Felice said retail sales were flat, but fleet sales were down 75 percent.
"MKZ has been one of the success stories," he said. "No surprises other than a pretty dramatic decrease of our fleet sales."
Chrysler's sales of 171,086 vehicles last month marked its best June since 2007. Its Jeep, Dodge, Ram Truck and Fiat brands all posted gains, led by Jeep's 28 percent sales increase — its best June ever. The company's Chrysler brand saw a 12 percent sales decrease.
"In spite of two fewer selling days in June versus a year ago, we were able to increase our sales 9 percent and post our strongest June sales in seven years," said Reid Bigland, head of U.S. sales, in a statement. "Month-over-month sales of our all-new Chrysler 200 increased from a few hundred units in May to more than 5,000 in June as inventory of the mid-size sedan continues to build.
"In addition, sales of the Jeep brand increased 28 percent and our Ram Truck brand 14 percent helping to lead Chrysler Group to its 51st-consecutive month of year-over-year sales growth."
Jeep sold 57,006 vehicles, led by the Wrangler compact SUV, which posted its best-ever sales month. Jeep's numbers were aided by sales of 13,337 Cherokees, a new model that wasn't sold at this time last year.
The Jeep Patriot, Compass, Fiat 500L, Dodge Journey crossover and Dodge Dart compact car also logged June records.
Inventory of the all-new 2015 Chrysler 200 grew in the mid-size sedan's second month on sale.Sales topped 5,000 vehicles in June, and dealers take an average of 12 days to sell the vehicle. Nearly 600 Chrysler 200s were sold in May, its first month on sale.
Chrysler finished June with 72 days supply of inventory, and estimates a seasonally adjusted annual selling rate of 17 million vehicles this year.
Chrysler beat most analyst projections, which pegged the automaker for sales increases between 2.1 percent and 8.9 percent.
Nissan Motor Co. reported Tuesday a 5.3 percent increase in sales. The automaker sold 109,643 vehicles in June, highlighted by a 33 percent jump in Versa sales, a June record.
"Nissan's sales growth shows that we've found the right equation for success: the right vehicles plus a great group of dealers who are absolutely committed to our customers," Fred Diaz, Nissan's senior vice president of sales and marketing & parts and service, said in a statement. "Retail sales gains in June drove Nissan to its 15th monthly record in the last 16 months."
Volkswagen June sales fell 22 percent, while Toyota Motor Co. increased 3.3 percent, Audi increased 23.1 percent and Infiniti sales fell 5.9 percent.
Estimates from Kelley Blue Book and Edmunds.com predicted June sales decreases between 2.7 and 3.1 percent, while TrueCar expects a 1 percent increase compared to June 2013. An estimated 1.36 million to 1.42 million cars and trucks sales were sold last month.
Sales for the first half of 2014 are expected to be up 3.5 percent compared to the first six months of 2013, Kelley Blue Book said. J. D. Power & Associates predicts a 6 percent sales increase for the first half of the year.
"The industry will see lots of year-over-year and month-over-month declines, but that doesn't mean that June was a bad month for sales," Edmunds.com senior analyst Jessica Caldwell said in a statement.
New anti-spam law won't put a stop to all unwanted emails: legal expert
Terry Pedwell,
The Canadian Press
July 1, 2014
A new anti-spam law that one business group calls "heavy handed" won't stop the flow of all unwanted emails to your inbox, says a legal expert.
The Canadian Anti-Spam Legislation, known as CASL and coming into force July 1, will require businesses to obtain consent for sending "commercial electronic messages" to clients or prospective customers.
That's why Canadians have seen their email accounts inundated recently with requests from companies and organizations that want to retain their contacts.
"We're updating our contact list in accordance with Canada's new anti-spam legislation coming into effect July 1, 2014," Faulhaber Communications has been telling subscribers to its service in recent email messages.
"To continue receiving e-mails about our press launches, industry news and event invitations, we kindly request your consent below."
The messages contain the mailing address and name of the business, as well as a clear unsubscribe feature, as is required by the new law.
Many people — weary of emails seeking permission to keep sending emails — are saying enough already.
"Getting spammed by Canada's new anti-spam law emails," computer programmer and artist T.J. Holowaychuk wrote Friday on Twitter.
"The amount of spam I'm getting because of the spammers reacting to the new anti-spam law to reduce spam is worse than any spam I got before," added University of Waterloo political science professor Emmett Macfarlane.
Countless messages have gone out recently to people on an array of contact lists from organizations, companies and individuals who are on top of the change.
Many firms are not prepared, says lawyer Andrew Aguilar with McMillan LLP of Vancouver, who co-wrote a guidebook called "Internet Law Essentials: Canada's Anti-Spam Law."
But those who fail to meet the deadline won't face immediate punishment, Aguilar said.
The fines can be enormous — up to $1,000,000 for individuals and up to ten times that amount for companies found in violation of the law.
Company directors can also be held personally liable for damages.
And despite the legislation's name, it's about more than just spam.
The law doesn't define spam or mass messaging, but only refers to any message for a commercial purpose.
"It really appies to a broad range of communications," Aguilar said.
Still, the law will be administered by the country's telecom regulator, the Canadian Radio-television and Telecommunications Commission. And it has limited resources.
While anyone will be able to complain to the CRTC about spam via a website — http://fightspam.gc.ca — the regulator is expected to show flexibility as it sifts complaints, looking for the most egregious ones.
"They may potentially do warnings or education first and then move their way up to what's an administrative monetary penalty," said Aguilar.
And it helps, says the CRTC, if companies perform due dilligence by putting policies in place that are in line with the law.
Things may change in three years, however. That's when what's known as a "private right of action" kicks in, which would allow anyone to sue companies for transmitting excessive or unwanted electronic messages.
"That's the big fear (for businesses) at that point," said Aguilar. "Right now it's just the CRTC and I think they're going to take a much more reasonable approach."
The Canadian Federation of Independent Business warned earlier this month that most small businesses are not ready for the law.
The CFIB is telling its members to get consent from customers in an initial email message — even if they are existing clients — and then in subsequent messages as well, just to be on the safe side.
"I think this is going to be a pretty heavy-handed legislation," CFIB vice-president Corinne Pohlmann said in a recent interview.
"It's going to take a lot of time before many small businesses are even aware that they have some obligations under this legislation and the regulations that go along with it."
The law prohibits any commercial electronic messages sent without the recipient's permission, anything that results in an Internet user being sent to a different destination without their consent, and any installation of a software program without the consent of the owner of the computer.
It also outlaws the use of any false or misleading representations to promote products or services and the collection of email addresses obtained through the use of computer programs without consent, known as address harvesting.


GM to roll out compensation plan for victims in ignition switch recall
Melissa Burden and
David Shepardson
The Detroit News
June 30, 2014
General Motors Co.'s ignition switch compensation fund will be open to anyone harmed in a crash in which the air bags didn't deploy — including backseat passengers, pedestrians and those in other vehicles who may have been hit by the now-recalled GM cars — according to a Texas attorney briefed on the plan.
The plan will be made public this morning. Hundreds or thousands of claims could be filed as a result of crashes linked to ignition switch defects in nearly 2.6 million Chevrolet Cobalts, Saturn Ions and other cars sold worldwide, lawyers briefed on the program say.
GM CEO Mary Barra told Congress earlier this month that there would be no monetary cap placed on overall awards. The automaker delayed recalling the cars for more than a decade after some in the company became aware there was a problem; the key can accidentally turn off the engine when bumped or when the car in an accident, disabling power steering, power brakes and front air bags.
The main question to be answered by compensation guidelines is how people will prove they have valid claims — especially for crashes that happened nearly a decade ago, in which records are spotty and the car may have been scrapped.
Bob Hilliard is a Texas attorney who represents families of 80 people who died in crashes allegedly caused by the ignition switch defect — and about 300 others with catastrophic injuries. He said in an interview he expects there will be 100 to 200 deaths eligible for the plan in addition to hundreds, if not more, injuries. GM has said 13 deaths are linked to the ignition switch defect.
Hilliard estimates the cost to GM will be in the billions. Some Wall Street analysts have suggested the cost to GM may be at least $2 billion.
Compensation expert Kenneth Feinberg, who oversaw compensation funds for victims of the Sept. 11 terrorist attacks, the Boston Marathon bombing and the BP oil spill in the Gulf of Mexico, was hired by GM in late March to set up its compensation fund. He will unveil his plan at 10 a.m. in Washington. He will disclose rules for filing claims and other details, he said in a statement last week. Feinberg declined to comment before the program is announced.
Barra has said Feinberg will have the final say on the total amount of individual awards. She said GM plans to begin processing claims on Aug. 1. It's not clear how long victims will have to file claims. But Feinberg told The Detroit News earlier this month that when he establishes a claims program, "it must have a modest life for the submission of claims."
Feinberg also has said the program will compensate only death or injury claims — not those whose cars have diminished resale value.
Clarence Ditlow, director of the Center for Auto Safety in Washington, said the fund's "ultimate success or failure is dependent upon whom the burden of proof is placed. In cases where the air bag didn't deploy and the consumer had prior stalling events, that's a presumptive valid claim and the burden has to be placed on GM to disprove. If the burden is on the consumer in such a case, the program is doomed to failure."
In some cases, Hilliard said proving a valid claim will be hard because nobody bothered to download information from the car's "black box," which can indicate the position of the ignition key at the time of the crash.
"I'm pushing hard for a fair interpretation of who is eligible," he said in a telephone interview Friday.
Hilliard said after talking with Feinberg twice in person and several times on the phone that he believes death cases will be more straightforward than injury claims. In death cases, families who file claims may see a value placed on the life, plus a dollar figure for lost wages, Hilliard said.
'Punitive conduct'Lawyers said Feinberg is likely to conduct hearings on individual claims similar to hearings conducted related to the Sept. 11 victims fund. Feinberg and his law firm conducted more than 900 hearings to determine awards for deaths and injuries resulting from the 2001 terrorist attacks. In total, Feinberg distributed more than $7 billion to 5,562 victims and families in funds approved by Congress.
Georgia attorney Lance Cooper, who is investigating more than 100 claims related to the defect, said GM has set a benchmark for death cases. The automaker paid $5 million to settle one death claim case mentioned in GM's internal investigation by Anton Valukas.
"This is a unique situation," Cooper said in a telephone interview. "It's not … a 9/11 situation or a Boston bombing. Those are cases where nobody was at fault really, and the governmental entities just decided it was appropriate to compensate.
"Here you not only have fault, you have punitive conduct that the company should be responsible for."
Cooper said the plan should include payouts for all loss-of-control accidents in which drivers crashed after the ignition turned off and disabled power steering and power brakes. GM's official toll of 13 deaths includes only front-end crashes in which air bags failed to inflate, and not for side-impact crashes in which the air bags wouldn't have been expected to inflate.
Cooper said he also hopes Feinberg and GM will allow people who already have agreed to settlements to be to collect the difference between their settlement and what the plan will pay.
Hilliard said with some injury cases, he expects to negotiate with Feinberg. He said cost estimates for lifetime medical benefits for one client, 6-year-old Trenton Buzard, are $31 million.
Trenton was 1 year old in April 2009 when the 2005 Cobalt his great-grandmother Esther Matthews was driving collided with another vehicle head-on; the car's ignition was found to be in the "accessory" position. Matthews, the boy's 13-year-old aunt Grace Elliott and the other vehicle's driver died.
Trenton survived but he had a cervical spinal cord injury, brain hemorrhages and is paralyzed from the waist down. "He deserves the gold standard because this is GM's fault that he's in a wheelchair," Hilliard said.
Hilliard said he believes some cases will go to jury trials — the offers in the compensation plan are not mandatory, and those harmed can pursue cases separately. But he will warn clients that a jury could reduce an award for contributory negligence such as not wearing a seat belt or if the driver was drinking.
Death of 18-year-oldKen Rimer, whose stepdaughter Natasha Weigel died following an October 2006 crash, said in an email Friday that he and his wife, Jayne, Weigel's mother, are suing GM "unless something changes drastically next week."
Weigel, 18, was riding in the back seat of a 2005 Cobalt when it crashed in St. Croix County, Wisconsin.
She died days later and is not counted among the 13 deaths GM has said are linked to the ignition switch defect.


Ford developing face-recognition technology, ways to monitor
car from afar
Michael Martinez
The Detroit News
June 29, 2014
Dearborn— Ford Motor Co. has found a way to let you see what's going on inside your car — maybe the teenage driver — at any time. The same system will recognize your face, and won't confuse it with the guy who's trying to steal your car.
Called Project Mobii, the technology — still early in the experimental stage — lets owners view the entire interior of their vehicles through a cellphone app. It uses five interior cameras, including one facing the driver and front-seat passenger.
The automaker is partnering with tech company Intel to develop the system. Executives aren't saying when or even if the feature would be offered to buyers.
While there are practical uses — think you left your wallet in the back seat? — it raises a number of technology and privacy issues that are becoming more common as automakers make cars more connected.
"We absolutely value our customers' privacy," said Don Butler, Ford's executive director, connected vehicles and service. "The way we look at data ... when it's personally identifiable, it's the customers' data. We are stewards of that data on behalf of the customers. We believe customers will give us permission to use that data commensurate with the value we provide to them."
At an automotive conference Wednesday about the use of "big data," Butler said information collected by automakers — location, driving behavior, physical dimensions and dining, gas and traveling preferences — helps them make products better. He was quick to point out Ford closely guards the information.
"We don't track vehicles," Butler said. "The only time information is transmitted from a vehicle is to service a customer request."
Ford emphasized Project Mobii is meant to enhance the in-vehicle experience and provide a more secure, personalized ride.
Roger Lanctot, associate director of Strategy Analytics, a consultancy firm and research company that tracks in-car privacy issues, said the technology is intriguing but could raise fears among customers that Big Brother is watching.
"I think it's trying to take the conversation away from the creepiness and focus on the value-added," he said in an interview. "Ford's a family car company; it makes perfect sense that it would focus on security."
The technology is utilized when a driver enters the car. If it recognizes the face, the car will display that driver's personal information — including calendar, music and contacts — on its infotainment system. If it doesn't recognize the driver, it would make those features inaccessible, and send an alert to the car owner's phone, showing them a picture of the person in the car and asking if it's OK to let him or her drive.
"It's totally wicked cool," Lanctot said. "It's absolutely where things are headed."
Ford already uses exterior cameras for features such warning motorists that they're drifting out of a lane. The 2015 Edge crossover, will have exterior cameras to help with parking.
Volvo also introduced intruder-detection technology, but scrapped the feature when it was found to be too expensive and unpopular, Lanctot said.
But interior-facing cameras would be a first.
"Our goal with the Mobii research is to explore how drivers interact with technology in the car and how we can then make that interaction more intuitive and predictive," said Paul Mascarenas, chief technical officer and vice president, Ford research and innovation.
"The use of interior imaging is purely research at this point; however, the insights we've gained will help us shape the customer experience in the long-term."
In addition to the face-recognition software, Ford's Mobii technology includes sensors to let drivers open a sunroof or make a call just with the wave of a hand and a simple voice command.
Lanctot said it won't be long until automakers start implementing technology like Project Mobii. "We're moving very quickly in this direction," he said. "This technology has so many applications."
Ford reveals '15 Focus
ST at UK festival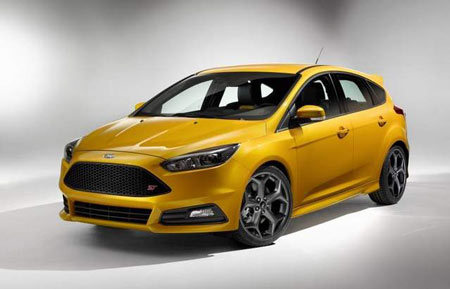 Michael Martinez
The Detroit News
June 28, 2014
Ford Motor Co. on Thursday unveiled it's new 2015 Focus ST at the Goodwood Festival of Speed in the United Kingdom.
It's the global coming-out party for the newest performance version of Ford's most popular car.
"Since its debut, Focus ST has been bringing our fun-to-drive DNA to the hot hatch segment with a uniquely Ford blend of driving dynamics, performance and style," Raj Nair, Ford group vice president, global product development, said in a statement. "Now, with improved dynamics, an updated suspension, new styling and a more sophisticated cabin, we expect the 2015 Focus ST will remain the hottest hatch worldwide."
Ford first introduced the Focus ST in 2002 and has sold more than 140,000 in 40 countries, it said in a release.
The 2015 version will feature a new center console, LED lighting and redesigned front seats and interior instrument panel, among other features. The 252-horsepower car is powered by a 2-liter EcoBoost engine and comes with a six-speed manual transmission.
"The design of the new Focus is stronger and sportier, and that allowed us to make the new ST even more aggressive and dramatic," Moray Callum, Ford group vice president, global design, said in a statement. "The front bumper is deeper, the honeycomb upper grille is higher and more upright, and the lower grille is larger. The deeper rear bumper really emphasizes the width of the car."
Ford Motor Co.'s Edge
crossover is going global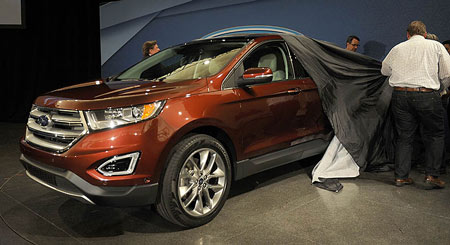 Michael Martinez
The Detroit News
June 26, 2014
The Dearborn automaker on Tuesday unveiled a more athletic, sleeker 2015 Edge that it hopes will continue to sell well in the U.S. when it goes on sale in early 2015. But Ford is changing course by deciding to launch the mid-size crossover in Europe, hoping to tap into a rapidly expanding overseas sport utility market both there and in China — more than 100 markets, altogether.
"Edge will enter the European market as our flagship utility," said Jim Farley, Ford's executive vice president of global marketing, sales and service and Lincoln. "This is a big deal for us. This is One Ford going the other way, where we are globalizing the utility that used to be in North America for everywhere."
The usual process of the One Ford philosophy — one car for the same segment worldwide — is that cars are designed with a European focus for sale in the United States. This time, a distinctly American vehicle will be introduced to Europe.
The 2015 version of the crossover — larger than Ford's Escape SUV, but smaller than its three-row Explorer — includes a number of updates, including adaptive steering (which reduces how much the driver has to turn the steering wheel at slow speeds, making parking and other tight maneuvers easier), a 180-degree front camera, enhanced park-assist and side park sensors.
It will be the first to come standard with Ford's new twin-scroll turbo 2-liter Ecoboost. Built on the same mechanical foundation as Ford's hot-selling Fusion, the Edge will also will be available with a 2.7-liter Ecoboost or 3.5-liter V6 engine.
"The all-new Edge is a showcase of Ford's smartest technology," said Joe Hinrichs, Ford's president of the Americas. "It's the best of everything we've brought to the market to date."
Since launching in 2006, the Edge has steadily sold about 120,000 vehicles per year in the United States, although sales are lagging this year. Through May, Ford had sold 51,368 Edges compared to 55,392 the year before.
Still, Ford says its Edge sales top those of Nissan Muranos, Honda Crosstours and Toyota Venzas combined, and that Edge shines most on the West Coast, where it's the best-selling five-passenger utility in southern California.
Executives see even more opportunities overseas.
Farley said sport utilities like the Edge are the fastest-growing segment globally. In Europe, the segment is up 72 percent since 2008, and in China, Ford sells "every Edge we can ship," Farley said.
"In Europe, utilities are the bright spot of the industry," he said.
Dave Sullivan, manager of product analysis at AutoPacific Inc., an automotive forecasting and research firm, said taking the Edge global is a unique move.
"It's pretty interesting we're going to be making a car here and selling it in Europe," he said. "It hasn't been done. We really haven't seen anything that's been good enough here to sell in Europe."
Executives said customers who were polled showed strong brand loyalty and emotional attachment to the car. Ford hopes the Edge can attract younger, affluent and tech-savvy buyers.
The Edge will continue to be produced at Ford's Oakville Assembly Plant in Ontario, where Ford recently made a $700 million investment that included the installation of more than 250 advanced robotics systems.
AutoPacific's Sullivan said the redesigned Edge doesn't "rock the boat" and is more of an evolutionary change, but he believes the vehicle has carved a place for itself among Ford's other crossovers, the Escape and the Explorer.
"I think the Edge has moved up into a nice place and is going into an almost semi-premium space," he said. "It doesn't have the look of a family vehicle; this is more of a couple's car."
In Europe, Farley said the Edge will compete among luxury brands like Audi, BMW and Mercedes.
Still, Sullivan is tempering expectations.
"I think it will be kind of a niche," he said of the five-seater. "Three-row vehicles are really popular (in Europe). It's going to have more of a limited appeal."
The price tag of the 2015 Edge has not been set, but the current version starts at $28,100, according to Ford's website.
Ford expands F-150 recall to
5,700 trucks for steering issue
David Shepardson
The Detroit News
June 25, 2014
Washington— Ford Motor Co. said Tuesday it is expanding a recall of 2014 F-150 trucks for an electronic power-assist steering gear issue to nearly 5,700 trucks — up from fewer than 400 — after a supplier revised how many parts may be faulty. The automaker urged owners not to drive the trucks until they are repaired.
The Dearborn automaker said the recall covers 5,675 2014 Ford F-150 trucks worldwide, including 4,629 in the United States. The steering gears may have a motor-position sensor magnet that was incorrectly installed by a supplier. The vehicles with the potentially faulty parts were built from May 26 through June 19 at the Dearborn Assembly Plant and Kansas City Assembly Plant; that's a longer time window than previously believed.
Ford said the defect "may lead to impaired steering, including the loss of steering control, which could increase the risk of a crash." Ford told dealers earlier this month that dealers will provide rental transportation to owners of affected trucks and coordinate towing of their vehicle to the dealership.
Ford said that just 260 of the trucks are in customer hands; the rest are in transit or in dealer showrooms.
"Ford is advising affected owners not to drive their vehicles and to contact their dealers immediately for the needed repair," the automaker said. "Dealers have been instructed to stop delivering any affected vehicles or conducting demonstration drives in these vehicles, and to replace the steering gear on potentially affected units."
Ford said no accidents or injuries have been attributed to the problem.


7 automakers fixing vehicles
for air bag problems as
industry breaks record
David Shepardson
Detroit News
Washington Bureau
June 24, 2014
Washington— Seven major automakers — including Ford Motor Co., Chrysler Group LLC and Toyota Motor Corp. — said Monday they will repair vehicles linked to faulty air bags that could explode and cause serious injuries.
The repairs — which also include Nissan Motor Co., BMW AG, Honda Motor Co. and Mazda Motor Co. — come after the National Highway Traffic Safety Administration convened a June 13 conference call with automakers in which it pressed them to recall vehicles connected to air bag inflaters built by Takata Corp.
It appears that with the new repairs — more than 2.1 million in total linked to the air bag glitch being classified as recalls by NHTSA — automakers have broken the all-time record for most vehicles recalled in a single year in the United States. The previous record of 30.8 million was set in 2004. Including smaller vehicle manufacturers of motorcycles and other vehicles, the auto industry's total vehicles recalled in 2014 now tops 31 million — including at least 30.7 million from major automakers.
GM leads the industry in recalls this year, with a record-setting 17.7 million callbacks. NHTSA discloses final numbers every year, but doesn't track monthly recall totals.
All of the automakers said they didn't think a recall was necessary and many had no reports of problems with their vehicles, but would take part anyway. All seven are referring to the repairs as campaigns short of a formal recall, even though NHTSA called the repairs "limited regional recalls."
Automakers will send the notices of the repair plans in formal letters marked as "recalls" and they will be classified as recalls.
The automakers will repair vehicles in some high-humidity states including Florida and Hawaii, as well as Puerto Rico and the U.S. Virgin Islands. Honda's repair program covers other high-humidity states. But if NHTSA's investigation turns up evidence that the problem extends to other states, the repair problems could be much bigger.
Honda said it will fix more than 2 million vehicles in the United States in three separate recalls.It said it is aware of one claimed injury involving a driver's front air bag.
Ford said it will recall about 58,000 vehicles including 2005-07 Mustangs, 2005-06 GTs and 2004 Ford Rangers sold or registered in Florida, Hawaii, Puerto Rico or the U.S. Virgin Islands. Chrysler and Nissan both said they will make repairs, but are still figuring out how many vehicles and what models it will call back.
Mazda said it will repair about 35,000 vehicles including the 2003-07 Mazda6s, 2004-08 MY RX-8s and 2006-07 Mazdaspeed6s.
Toyota said it will repair some 2003-05 Corolla, Matrix, Sequoia, Tundra, Lexus SC and Pontiac Vibe vehicles not covered by a prior recall, but didn't disclose how many. BMW said it will replace parts from the 2001-06 3-Series per NHTSA's request as part of its investigation, but didn't say how many vehicles will be repaired.
The conference call came two days after NHTSA said it was investigating 1.1 million vehicles from five automakers for problems with air bags, the same day Toyota announced it was expanding its 2013 recall for similar air bag issues.
NHTSA said earlier this month its investigation was prompted by six incidents involving 2002-06 vehicles with air bag modules built by Takata in which the air bag ruptured during deployment. Exploding air bags can cause burns or other serious injuries.


Judge orders Treasury to produce Delphi documents in pension suit
David Shepardson
The Detroit News
June 23, 2014
Thousands of Delphi pension recipients won a legal battle in their nearly five-year battle over the Pension Benefit Guaranty Corp.'s decision to assume the bankrupt auto supplier's pensions.
U.S. District Judge Emmet Sullivan in Washington on Thursday ordered the Treasury Department to turn over documents shedding any light on the role of President Barack Obama's auto task force in 2009 in the decision of auto supplier Delphi to terminate pension plans of its salaried workers. Sullivan also said Treasury must explore whether it can compel two former members of the auto task force, Matthew Feldman and Harry Wilson, to answer questions about their role in Delphi's financial issues.
Delphi pension retirees from the Troy-based parts unit that was spun off by General Motors Co. in 1999 have been battling for more than 4½ years over lost pension benefits and spent millions in legal fees just trying to get access to the documents.
The Delphi Salaried Retirees Association called the decision "a significant ruling" in their favor.
But despite hearings in Congress and calls by members of Congress to negotiate a settlement, Delphi retirees have had no success in convincing GM or Delphi to reconsider the pension cuts.
Lawyers for Delphi recipients have been fighting to get additional documents from the government's pension insurer known as the Pension Benefit Guaranty Corporation.
One of the key issues is how much were liabilities of the salaried pension plan before they were terminated. Delphi retirees cite a 2009 independent actuary that said the liabilities were $3.5 billion, while the PBGC said it was $5.2 billion. The retirees want the documents to try to understand how the PBGC arrived at the higher calculation.
Some 20,000 salaried retirees and future retirees at Delphi lost pensions and health and life insurance benefits.
Delphi, while in bankruptcy in 2009, terminated the pension plans of 70,000 people and left a $7.2 billion shortfall. The PBGC assumed the plans and must pay $6 billion of the losses.
PBGC recovered about $650 million from Delphi, meaning its net losses from taking over the pension plans is about $5.3 billion
The supplier's pension termination is the second-largest loss to PBGC in its history, behind only United Airlines' pension shortfall of $7.4 billion in 2005.
In a move that has brought harsh criticism from some in Congress, GM "topped up" the pensions of most union Delphi hourly workers and retirees, primarily those from the United Auto Workers union, but didn't do the same for salaried retirees. It took the action even though it wasn't legally obligated to do so.
GM told a government audit released in December 2011 it made the decisions "because of its dependence" on the UAW.
GM did not do the same for Delphi's salaried retirees. The automaker also didn't agree to top up the pensions of smaller unions.
Some retirees will lose up to 65 percent of benefits. Salaried retirees are expected to lose an estimated $400 million, PBGC has said. The federal government allowed GM to use nearly $3 billion of taxpayer funds to help Delphi exit from bankruptcy and let GM reacquire part of its former parts unit, which it has since resold.
U.S. District Judge Arthur Tarnow in September 2011 dismissed claims brought by Delphi retirees against the Treasury Department, Secretary Timothy Geithner, the auto task force and former auto advisers Steven Rattner and Ron Bloom.


Ford to include Sirius traffic,
travel services in '15 models
with navigation systems
Michael Martinez
The Detroit News
June 22, 2014
Ford Motor Co. customers who buy 2015 model-year vehicles with navigation systems will get free five-year subscriptions to SiriusXM Traffic and SiriusXM Travel Link. The services offer detailed traffic, accident, fuel and weather information.
"Giving our customers SiriusXM's unparalleled diversity of information and entertainment services enhances the experience of driving a new Ford vehicle equipped with navigation," Chantel Lenard, Ford's U.S. marketing director, said in a statement.
In addition, customers who buy any Ford equipped with satellite radio receive a six-month subscription to SiriusXM's All Access Package, which includes National Football League games, NASCAR races, Major League Baseball Radio, Oprah Radio and Howard Stern.


Feds reviewing complaints
of exhaust fumes in
Ford Explorer cabins
David Shepardson
and Michael Martinez
Detroit News
June 21, 2014
The National Highway Traffic Safety Administration said Friday it is reviewing complaints that exhaust fumes could build up in the cabins of newer Ford Explorer SUVs and cause dangerous levels of carbon monoxide.
The auto safety agency hasn't opened a formal investigation.
"NHTSA is aware of the complaints involving 2011-2014 Ford Explorers whose owners are experiencing exhaust fumes or strange odors in the cabin," NHTSA said in a statement.
"The agency is reviewing all available data and will take appropriate action as warranted," the statement said.
There are more than a dozen complaints posted on the NHTSA website about the smell of exhaust in Ford Explorer cabins.
In early June, a Florida woman filed a lawsuit against the Dearborn automaker, alleging she found deadly levels of carbon monoxide in her Ford Explorer.
The lawsuit alleges Angela Sanchez Knutson purchased a 2013 Explorer in March 2012 from a Gainesville, Fla., dealership and almost immediately began smelling exhaust in the passenger compartment and experiencing headaches.
Ford issued a technical service bulletin about the issue in December 2012, acknowledging "some 2011-13 Explorer vehicles may exhibit an exhaust odor in the vehicle with the auxiliary climate-control systems on."
Knutson's lawsuit claims the remedy in service bulletin — a 12-step process to seal the exhaust system — "does not correct the condition, and it fails to acknowledge that carbon monoxide may enter the passenger compartment of affected vehicles."
Ford spokeswoman Kristina Adamski said the automaker is "currently reviewing the case and in the event that any action is required, we will address it promptly."
2016 Ford Mustang SVT hides
big power under its domed hood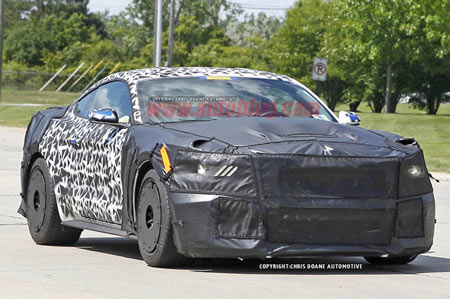 June 20, 2014
Chris Bruce
AutoBlog Canada
With a number of 2015 Ford Mustang versions finally available to configure, the fun of speculating about next year's high-performance 'Stang can now begin. It looks like Ford has something seriously fun planned too. One of our spy photographers just snapped some fresh pics of the 2016 Mustang SVT, which is believed to be hiding the final body shape under all of that heavy camouflage.
Ford clearly doesn't want prying eyes looking at its new pride and joy. It would be hard to put much more obfuscation on a car than this one wears – it even has mesh baffles around the exhausts to conceal how many there are and panels over the wheels to hide their design. However, the Blue Oval can't keep everything a secret. The biggest clue that something special is hidden underneath is the massive hood bulge and vent in front of it. Clearly, whatever is under there is hungry for cool air. The shape of the camo indicates that there may be fender vents on each side, and there are also obscured outlets behind the front wheels likely to pull cool air through the brakes. At the rear, the concealment does its job, making it hard to observe any big changes. The fact that Ford wants it kept such a secret might indicate something, though.
A few photos of the interior show far less cover than the outside. You can easily make out the model's 6,500 rpm redline with a possible 7,000 rpm over-rev function. The big Recaro sport seats also look quite supportive.
The name of the new high-performance Mustang is still somewhat of a mystery. While SVT is developing the model, it's reportedly called simply the GT350. Until Ford decides that the camo is less necessary, at least these spy shots can help build more anticipation for its top pony car.
Tackling inequality must
be a political priority
The Telegram
Jun 18 2014
Lana Payne
Capitalism is on trial. Even the true believers are starting to doubt.
Just ask one of the world's most powerful bankers.
Mark Carney, former Governor of the Bank of Canada and now England's top banker, is known for his frankness. A recent speech was no exception.

Capitalism is in a sorry state. Many economists have been saying this for quite some time, including prior to the housing crash and financial crisis of 2008 that plunged the world into the great recession.
To be clear, Carney wasn't exactly proposing a new economic system, he was merely trying to save capitalism from itself.
Capitalism, he noted, is at risk of destroying itself unless bankers realize they have an obligation to create a fairer society. The basic social contract, he added, at the centre of a capitalist economy is on the verge of being completely broken amid rising inequality.
This is no surprise to a growing group of economists who have been challenging the status quo and indeed their own profession, but it is an important shift when a banker gets on board. And not just any banker. One with a big voice.
"We simply cannot take the capitalist system, which produces such plenty and so many solutions, for granted. Prosperity requires not just investment in economic capital, but investment in social capital. Just as any revolution eats its children, unchecked market fundamentalism can devour the social capital essential for the long-term dynamism of capitalism itself. To counteract this tendency, individuals and their firms must have a sense of their responsibilities for the broader system," said Carney.

He saved his sharpest criticism for the worshippers; the ideologues.
"All ideologies are prone to extremes. Capitalism loses its sense of moderation when the belief in the power of the market enters the realm of faith. In the decades prior to the crisis such radicalism came to dominate economic ideas and became a pattern of social behaviour."
Market fundamentalism, he noted, contributed directly to one of the worst financial crises in modern times and the associated erosion of social capital.

Bowing at the altar of unchecked capitalism is not limited to bankers or economists who fear having their beliefs proven wrong. Politicians have entered into the fray, preaching their version of economic greed, slashing corporate tax because employer lobbyists demand it, and doing their part to shred the social contract that Carney referenced.
A few brave souls have been critical of an economic system that delivers huge gains to the top at the expense of everyone else. They have dared to challenge their colleagues and also dared to criticize the state of their profession.
But they were swimming against the tide of a profession where so many are married to their models and conventional beliefs that financial markets could be trusted. That somehow greed could be tempered.
Jamie Galbraith, son of John Kenneth Galbraith and a renowned economist in his own right, has been especially critical of his profession.
At the beginning of the 21st century, he wrote, leading economists now had a "gentlemen's club" and "as one would expect of such a club this placed them on the wrong side of every important policy issue. They predict disaster when none occurs. They oppose the most basic, decent and sensible reforms, while offering placebos instead. They are always surprised when something untoward (like a recession) actually occurs. They do not consider the possibility of a flaw in logic or theory. No one loses face in this club for having been wrong."
Galbraith argued that there is a "considerable, rich, promising body of economics, theory and evidence entirely suited to the study of the real economy and its enormous problems." The problem is this work is often dismissed by those protecting their theories no matter how many times those theories are questioned.
But a little-known French economist may have just provided the tipping point. His bestselling book "Capital in the Twenty-First Century" not only documents rising inequality, but forecasts just how much worse it will get if action is not taken.

Thomas Piketty is not the first economist to make these points, but for some reason he is seen as dangerous by the worshippers and must therefore be attacked.
His work coincides with what Nobel Prize-winning and mainstream economists Joseph Stiglitz and Paul Krugman have been arguing as well.

Indeed Stiglitz has noted that "in the past, when our country reached these extremes of inequality, at the end of the 19th century, in the gilded age or in the Roaring '20s, it pulled back from the brink. It enacted policies and programs that provided hope that the American dream could return to being a reality." Now is that time.
And Canada can't rest on its laurels, thinking we have it all under control.

Lars Osberg, who was just awarded the Galbraith Prize in Economics from the Progressive Economics Forum, has been writing about and analyzing inequality long before it was cool. The McCulloch professor of economics at Dalhousie University notes in his Galbraith Lecture that the new normal of the United States, Canada and Australia is unbalanced income growth.
Specifically, over the last 30 years, the incomes of the top one per cent have grown significantly and more rapidly than those of everyone else. This leads to economic and social instability, he argues.
Government action can make a difference. Fair taxation can make a difference. Investing those taxes in building a more equitable society can make a difference.
The big question? Where is the political will to make that difference?


Engineer keeps Ford's DNA healthy in each part, across every model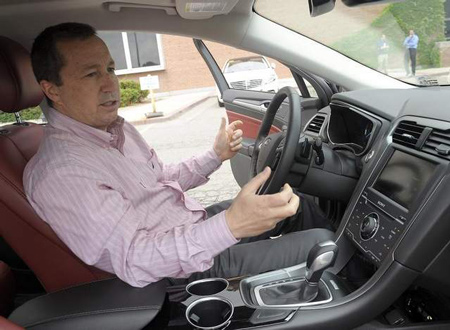 Karl Henkel
The Detroit News
June 16, 2014
Dearborn —Larry Kummer likely has the most awesome auto job you've never heard of.
Heck, Kummer has the most awesome auto job he's ever heard of.
It's his job — as the eyes and ears of Ford Motor Co.'s self-described DNA — to drive Ford cars here, there and everywhere to ensure they look, feel and sound the same, whether a customer is in Russia, China or Dearborn.
Kummer's official title is manager of vehicle integration, and to him it is "the coolest job in product development." But he's a sort of doctor of Ford's DNA. He and his global team test vehicles on a variety of points, including driving dynamics, performance feel, seat comfort, powertrain sound and steering wheel feel and operation.
"Ford has been more vocal in the last few years about continuity between models both globally and locally," said Karl Brauer, an analyst at Kelley Blue Book. "It's smart. Mercedes has had something similar for years, and I think Ford has realized that if you can have positive traits across your lineup, they can execute a long-term sales plan."
Most drivers compare their rides to vehicles they've driven in the past. In most instances, the new car clearly trumps the used car a driver just traded in, so it might be difficult for the average person to imagine the complexities behind creating a look, feel and sound for an entire vehicle brand.
But sit down in any Ford vehicle and it's the similarities — and not just the model-to-model differences — that will pop out.
The backs of all seats are curved, and not boxy, so they conform better to occupants' bodies. The backs are also open closer to the head rest, so that broader-shouldered motorists don't feel scrunched. Seats are the most difficult to get right, Kummer said, but once they are, they garner some of the highest satisfaction ratings for the brand.
For those with vehicles that have push-button starts, a press of the button without a foot on the brake — a safety requirement to start the car — will prompt an audio chime. That chime, Kummer joked, was the winner among "50 million sound iterations" tested on research customers "a million times."
Other Ford standards: The exterior lighting control knob is always to the left of the steering wheel on the dashboard. Rotary volume dials turn with the same cadence, and the door lock and unlock buttons are thoroughly tested to ensure they will work with minimal — but not too minimal — pressure. And steering wheels are padded with foam. (In an industry trend, Ford will soon pad them even more to fatten the wheels across the lineup.)
"A normal driver doesn't think about any of these things; it's not their job," Kummer said. "It's our job to make sure when they feel the door handle, the steering wheel, the switches and hear the chime, it all comes together."
Getting the 'Ford flavor'
In the past decade, Ford has transformed its structure of building vehicles for each region of the world and now builds cars and crossovers that are nearly identical all across the globe.
"One of the first things we had to figure out was, 'what is the Ford flavor? What are Ford products going to be known for in terms of their functional performance?' " the 52-year-old engineer said.
That has meant a rapidly expanding role for Kummer, who has to account for subtle regional and demographic driving preferences while keeping a Focus in the U.S. and a Focus in China mostly indistinguishable.
European drivers want a firmer driving feel, Indian drivers need higher ground clearance in case of flooding.
There are some vehicles — the F-150 and Mustang — which are legacy models that can deviate from the current Ford look, feel and sound. For instance, Mustang drivers love the throaty sound of a V-8 engine, but Fiesta drivers prefer as little engine noise in the cabin as possible.
Never-ending tweaks
But aside from those two iconic nameplates, Ford has a strict policy on making changes to the company's vehicle DNA.
"The Ford DNA is essential for us to make vehicles people are thrilled to drive and own," said Raj Nair, Ford's product development chief. "Larry's team has to get these product nuances right on every product launch worldwide. It's hugely important."
And only Nair can sign off on changes to the Ford DNA, Kummer said.
Kummer has had his title for six years, so he's had a front-row seat to Ford's massive vehicle lineup overhaul. But his work is never finished.
He says his team is constantly trying to improve the look, feel and sound of its cars, and each year surveys each of the Ford DNA features — using media criticisms, customer satisfaction surveys and internal data — to see where adjustments can be made.
Before it decided to bulk up the steering wheel, for example, Ford created eight iterations to determine which felt most comfortable in the hands of target customers while still fitting in with the rest of the Ford vehicle package.
"They won't ever say they buy a car because of the steering wheel," he said. "It's because of the whole thing."


CPPIB's active investment plan scores big with 16.5% rate of return
Janet McFarland
The Globe and Mail
June 15, 2014
The Canada Pension Plan fund saw its assets swell by $36-billion over the past fiscal year after recording its highest annual rate of return on investments in the past decade, but warns that good investment deals are harder to come by as more large investors flood into acquisition markets.
The Canada Pension Plan Investment Board (CPPIB), which manages Canada's largest pool of pension assets, said total assets hit $219-billion as of March 31, up from $183-billion a year earlier, which is the highest annual gain in dollar terms that the fund has ever earned.
"At the end of the day, the reason we're most pleased about that is that it's really what pays pensions," chief executive officer Mark Wiseman told reporters Friday. "Those returns will help pay pensions for the next 75 years and beyond. ... It continues to enhance the overall sustainability of the Canada Pension Plan."
CPPIB says its long-term rate of return is on track to cover all anticipated CPP payments for at least the next 75 years, which is the time frame measured by Canada's chief actuary. The fund needs to earn a 4-per-cent annualized rate of return above the rate of inflation to be sustainable for the long term, and currently has a 10-year rate of return of 5.1 per cent, which is ahead of the required level but a decline from 5.5 per cent at the end of 2013.
The 16.5-per-cent rate of return on investments in fiscal 2014, ended March 31, is the second-highest annual return earned by CPPIB in its 15-year history, outpacing all annual performance results except 2004, when the fund earned a 17.6-per-cent rate of return.
A major part of the return last year came from a $9.7-billion gain from converting foreign holdings into Canadian dollars for reporting purposes.
CPPIB said its 2014 return almost exactly matched the rate of return that would have been earned by a passive "reference portfolio" that simply invested in public stock indexes and government bonds. CPPIB earned $62-million less than a passive investment strategy would have produced after including operating costs.
The performance measure is closely watched because CPPIB decided eight years ago to begin actively investing its assets instead of passively investing in investments that matched indexes.
Mr. Wiseman said public stock markets earned "exceptional gains" during CPPIB's fiscal year, ended March 31, so it was a difficult year to outperform public market benchmarks in the reference portfolio.
He said returns are typically expected to lag the passive benchmark over the short term when public markets perform strongly because there is a a valuation lag for private market holdings – including private equity and real estate – that are difficult to revalue on an annual basis. CPPIB has about 40 per cent of its portfolio in private investments.
Mr. Wiseman said he remains committed to a strategy of increasing investments in private markets, which reduces risk by adding diversity to the portfolio. He said private investments have a lot of "embedded" value that is not easily measured until they are sold.
"We believe it's an extraordinary result to keep up with the reference portfolio in a period of time where there is extremely bullish equity markets," he said. "We would have expected generally in market conditions like these that we would have underperformed the reference portfolio, and we were quite pleased we were able to keep up with it."
In the eight years since CPPIB created its reference portfolio, the fund said it has earned $3-billion of additional returns above the passive benchmark after excluding operating costs.
Mr. Wiseman said Friday that the fund is seeing increasing competition for investment deals as more investment funds look to invest in alternative assets such as private equity and real estate, especially while interest rates remain low and credit is plentiful.
As a result, he said the fund is in a period of "patient" investing, selling some assets that are highly valued and being careful about new investments.
"In my career as an investor, this is probably the toughest market today to operate in as a value investor," Mr. Wiseman said.
He said most assets are "fairly priced," and better deals are often more complex or involve emerging markets like China and India that require time and expertise to handle well.
The fund said its $35.8-billion increase in assets last year included $5.7-billion from worker and employer contributions, and $30.1-billion from investment returns earned on the portfolio.
CPPIB also published its executive compensation report Friday, showing Mr. Wiseman earned a total of $3.6-million last year, up from $2.8-million in fiscal 2013. Most of the increase came from incentive programs based on CPPIB's four-year investment return. André Bourbonnais, senior vice-president of private investments, earned $3.5-million, an increase from $2.6-million last year.


Ontario's proposed pension
plan excludes half of workers
Janet McFarland
The Globe and Mail
June 14, 2014
The proposed made-in-Ontario pension plan will expand retirement incomes for three million workers in the province, but exclude millions of others who already have workplace plans or are in federally regulated industries such as banking.
Ontario's Liberal government unveiled its Ontario Retirement Pension Plan (ORPP) in the last provincial budget, saying it will act as a top-up to the Canada Pension Plan to improve retirement incomes for most workers. The initiative will be introduced in conjunction with a new voluntary savings program known as the Pooled Registered Pension Plan as a further boost to Ontario residents' options to save for retirement.
Unlike the CPP, not all workers will be eligible for the ORPP, the government said.
It will cover about half of Ontario's six-million-person work force, excluding the self-employed, all workers whose companies have workplace pension plans, and those in federally regulated sectors like banking, transportation and telecommunications.
Ontario Finance Minister Charles Sousa said the ORPP will help the people who face the greatest income reduction in retirement.
"This will target those most at risk of under-saving, particularly middle-income workers," Mr. Sousa told reporters.
Conservative Leader Tim Hudak said the ORPP will be expensive for employers because it will create a new payroll tax to cover their share of contributions, and will do nothing to help Ontarians get better jobs in the first place.
"It's pretty darn hard to save up for retirement when you can't pay your hydro [bill]," he said.
The province decided to act alone in creating the new top-up program for the CPP after the federal government said last year that such a plan would be too detrimental to the economy.
Ontario has invited other provinces to participate, and Prince Edward Island and Manitoba have joined the advisory body designing the program. Alberta, British Columbia, Newfoundland, Nunavut and Northwest Territories are in talks with Ontario about the proposal.
The government plans to launch the ORPP in 2017 and phase it in over two years, the government said.
Workers would contribute 1.9 per cent of their incomes, which will be matched by employers, up to a $90,000 income maximum. It aims to pay out about 15 per cent of income before retirement.
Jim Keohane, who heads the $52-billion Healthcare of Ontario Pension Plan, said the ORPP is a "step in the right direction" for pension reform in Canada because it is not just a voluntary savings plan but will provide a guaranteed benefit.
The government also said it plans to create a new pension plan manager for contributions made to the ORPP, which are expected to top $3.5-billion annually. The new pension manager could also handle funds for other public sector entities and pension plans.
The Workplace Safety and Insurance Board and the Ontario Pension Board, which together manage $40-billion in assets, have agreed to participate.
The new pooled registered savings plan that will supplement the ORPP will be voluntary for companies, and employees, although automatically enrolled, may opt out. Participants' payroll deductions would be managed by private-sector investment firms.
Lawyer Mitch Frazer, who advises companies on their pension plans, said the new programs will clearly improve retirement savings, but he has not sensed a large demand from employers for a PRPP program.
"I think maybe some will pick it up over time if it is seen as a low-cost benefit they can offer to employees," he said.
Ford will pay 200,000 owners
for inflated mpg claims
David Shepardson and Karl Henkel
The Detroit News
June 13, 2014
Ford Motor Co. is lowering the fuel economy ratings on six new cars, including the combined city/highway rating on the Lincoln MKZ hybrid by 7 miles per gallon.
It will make payments of $125 to $1,050 to more than 200,000 owners as compensation for the extra money drivers will spend on gas because of lower-than-promised fuel efficiency. Payments will vary depending on the vehicle, and if it was leased or purchased. If claims average $500, Ford would spend $107.5 million reimbursing owners. The automaker wouldn't disclose its estimated costs.
The Environmental Protection Agency said Ford reported the mistakes after an internal audit. Ford will lower fuel-efficiency estimates on four versions of the 2014 Fiesta subcompact; the hybrid and Energi plug-in hybrid versions of the 2013 and 2014 Fusion midsize sedan; the C-Max Hybrid and Energi plug-in hybrid version; and the Lincoln MKZ Hybrid. Ford must correct the window labels within 15 days.
The move is a significant embarrassment to Ford, which has emphasized the fuel efficiency of vehicles in its lineup. And it's the second time in a year that Ford has had to correct its mileage numbers.
"Ford is absolutely committed to delivering top fuel economy and accurate information," said Alan Mulally, Ford president and CEO. "We apologize to our customers and will provide goodwill payments to affected owners. We also are taking steps to improve our processes and prevent issues like this from happening again."
Ford had heavily touted the fact that eight of its 2013 models got 40 mpg or better. The revisions mean three of the eight don't make that number: The Lincoln MKZ fell from a combined 45 mpg to 38 mpg; the C Max Energi plug-in hybrid and Fusion Energi plug-in hybrid fell to 38 mpg from 43 mpg, and the all-electric range of those models dropped to 19 miles from 21 miles.
Lincoln last year began a series of ads pitting the attributes of its MKZ Hybrid against competing luxury hybrid models. In one commercial, Lincoln positioned the MKZ as the "most fuel-efficient luxury hybrid in America," comparing it to Lexus' ES 300h. The 300h has a combined fuel economy estimate of 40 miles per gallon, which now tops the MKZ Hybrid's 38 mpg average.
Raj Nair, Ford group vice president of global product development, said no one was disciplined and there was no intent to mislead consumers. He said engineers were not pressured to meet higher gas-mileage numbers.
Ford learned of a discrepancy in October but was unsure why. After confirming it had a problem in March, it notified EPA on March 28 and then conducted more than 100 tests.
Nair said the problem started in 2012 when Ford revised how it calculates fuel economy. He said the company erred in calculating aerodynamics in the wind tunnel.
The EPA's investigation into how Ford made the mistakes is continuing, Chris Grundler, director of EPA's Office of Transportation and Air Quality, said in an interview.
"We're going to be continuing our investigation into the underlying causes for this error, and it is too soon for me to draw any broader conclusions about Ford process," he said, saying this shows the need for continued vigorous enforcement by EPA. "The integrity of these new vehicle labels are paramount."
Nair said Ford plans to confirm all EPA numbers before cars go on sale.
Lower mpg ratings
Ford Motor Co. is cutting its fuel economy ratings on six new cars. It will compensate 200,000 owners to make up the difference
This is the second time in less than a year that Ford has restated fuel efficiency of its vehicles. In August, it dropped the fuel economy rating on the 2013 C-Max Hybrid from a combined 47 mpg to 43 mpg — a nearly 10 percent reduction — and said it would compensate owners for the worse-than-promised fuel economy. That restatement affected 32,000 customers. Those who purchased vehicles will receive $550; those who leased will get $325.
Ford has agreed to implement "enhanced testing procedures" under EPA oversight, Grundler said. "That will help ensure consumers that similar issues won't happen in the future," Grundler said. EPA staff will be involved in selecting Ford vehicles that will be audited and approving testing procedures.
"Automakers are moving quickly to address issues because they don't want added embarrassment in the press and punishment from federal agencies," said Michelle Krebs, senior analyst at AutoTrader.com. "This will certainly give some people pause to do a serious comparison" with other hybrids, she said, "but some people, if they want a hybrid, they're going to buy a hybrid."
EPA's National Vehicle and Fuel Emissions Laboratory in Ann Arbor conducts fuel economy testing on some vehicles annually to ensure their performance matches the mileage and emissions data automakers submit. The EPA recently sent the list of vehicles it intends to spot-check this year to major automakers. Grunder said it is testing more vehicles this year, but declined to say how many.
These spot-checks are part of the oversight program from EPA to ensure vehicles meet tailpipe emission standards.
Ford isn't the only automaker whose fuel mileage claims have been too high. In November 2012, Hyundai and Kia Motors — two Korean automakers controlled by the same conglomerate — admitted overstating mileage on nearly 1.1 million vehicles in North America sold since 2010, including about 900,000 in the United States.
The automakers set aside about $400 million to compensate drivers for the mileage difference and to resolve lawsuits filed by buyers. The EPA's investigation into the Hyundai and Kia fuel-efficiency overstatement is continuing; Grundler declined to comment.
Ford's stock fell on Thursday's news, closing down 2.2 percent, or 37 cents a share, to $16.53.
Tomato, Tom-Auto: Ford, Heinz hope to use tomato skins in car parts
Karl Henkel
The Detroit News
June 11, 2014
Ford Motor Co. and ketchup-maker H.J. Heinz Co. are collaborating on research that could make dried tomato skins a part of your next car.
The iconic American companies say dried tomato skins could be turned into a composite material for wiring brackets or the storage bin that holds coins and other small objects in future Ford vehicles.
"We are exploring whether this food-processing byproduct makes sense for an automotive application," Ellen Lee, Ford's plastics research technical specialist, said in a statement.
According to a joint news release, scientists at both companies believe they can use tomato fibers to manufacture composite materials instead of petroleum-based plastics.
Ford started working with Heinz, Coca-Cola Co., Nike Inc. and Procter & Gamble two years ago to develop 100-percent plant-based plastic that could be used to make fabric and packaging to lower environmental impact when compared to the current petroleum-based packaging materials.
Heinz processes 2 million tons of tomatoes every year and was looking for a way to reuse — and not waste — the skins from those tomatoes.
Ford already uses coconut-based composite materials, recycled cotton material in its carpet and seat fabrics, and soy foam seat cushions and head rests, to name a few.


Unifor head wants to end pay
cuts, boost unionization
at foreign automakers
Karl Henkel and David Shepardson
The Detroit News
June 10, 2014
Detroit — The president of the union that represents Canadian autoworkers called for the end of pay cuts for union workers and pushed for more widespread unionization efforts at plants owned by foreign automakers.
Jerry Dias, in a fiery speech at the United Auto Workers constitutional convention Wednesday, called for greater collaboration between the UAW and Unifor. Unifor is a combination of the old Canadian Auto Workers and Communications, Energy and Paperworkers unions, and represents more than 300,000 workers in 20 industry sectors.
"The UAW and Unifor need each other more than ever," said Dias, who believes the two unions can collaborate better when negotiating with Detroit automakers and parts suppliers.
Dias, who was elected Unifor president last year, is believed to be the first head of the Canadian union to speak at a UAW convention, said UAW president Bob King. Both unions have struggled with similar issues, including unionizing workers at foreign-owned auto plants.
Unifor is currently trying to organize a Toyota Motor Corp. plant, but has no set timeline for a unionization vote. Dias said Wednesday that Unifor has the necessary backing to call for a vote, but there is still a discrepancy between how many union, or bargaining workers, are employed at the plant.
Toyota says there are 7,500 bargaining workers; Dias believes there is probably around 6,000 bargaining workers, including 1,000 temporary employees. Unifor recently received a list of employees at the plant and is reviewing that list before deciding when to apply for a vote with the Ontario Labor Relations Board. Dias said based on Toyota's numbers, the plant decreased production volume by 8 percent while increasing employment by 17 percents, numbers that to him don't make sense.
He added a vote will happen "sooner than later."
Unifor is taking a methodical approach to a possible vote, especially after the UAW's failure to organize workers at a Volkswagen AG plant in Chattanooga, Tenn. The UAW hoped it had enough votes to implement a German-style works council at the plant, but workers narrowly voted down the measure.
"I am not rushing to a bad decision," Dias said from the sideline of the convention. "When we go for the vote, we will be incredibly confident."
Dias called for an end to pay and benefit cuts for union members, citing rising automaker and supplier profits.
"There's no reason anymore for them to ask for concessions," he said. "We've given enough."
Though Unifor's contracts with Detroit automakers don't end until 2016 — a year after the UAW's contracts conclude — Dias also called for the end of two-tier wages, which he says automakers have tried to implement in Canada "in every negotiation."
Newer Unifor workers technically start at a lower hourly wage — $20 — but that rises each year until wages equal $35 an hour after 10 years. Newer UAW workers start at about $14 an hour, which is half the hourly wage of veteran workers, and receive wage increases, but will never make it to the top rate.
Dias expressed concern over a June 12 election. One candidate — Progressive Conservative Tim Hudak — has said he will not support investments for the local auto industry.
The possibility of a Hudak victory could affect the future of Chrysler Group LLC plants in Windsor and Brampton, Ontario. Dias said Chrysler CEO Sergio Marchionne has offered short-term commitments to the Windsor plant, but not yet the Brampton plant, which could total about $1 billion.
Marchionne in March withdrew a request for subsidies relating to upgrades at both of the Chrysler plants.
GM retirees pressing for return
of cost of living adjustments
Greg Keenan
The Globe and Mail
June 9, 2014
A group of General Motors of Canada Ltd. retirees is urging the federal and Ontario governments to force the company to restore cost of living adjustments that were frozen as part of the $10.8-billion contribution taxpayers made to the bailout of the auto maker's parent company in 2009.
"Since it was governments that mandated the elimination of our pension cost of living adjustment, it is our belief that the governments must mandate GM to reinstate our pension cost of living adjustment," the retirees say in letters sent to Prime Minister Stephen Harper, Ontario Premier Kathleen Wynne and the finance ministers of both governments.
The retirees are also seeking direct representation in any talks that involve pensions, putting them in a battle with Unifor, the union that represents active workers at GM's operations in Canada and negotiates changes to pension plans for both active workers and retirees.
The issue underscores the challenges facing Unifor – the union created by the merger last year of the Canadian Auto Workers union and the Communications, Energy and Paperworkers Union – during negotiations with GM and its Detroit-based rivals in 2016 as they see better returns on their investments outside Canada.
GM Canada has about 35,000 unionized retirees and about 5,000 unionized active employees at factories in Oshawa and St. Catharines.
"When I retired in 2007 I was promised all my health care benefits and cost of living adjustments until the day I die," said retiree Steve Drinkwalter. Mr. Drinkwalter noted that active workers received a signing bonus in contract talks in 2012 to make up for cost of living adjustments they will lose until payments are restored in 2016, the final year of the contract.
"COLA was an integral part of our pension," Mr. Drinkwalter said. "It didn't keep pace [with inflation] but it helped."
Depending on the amounts of their pensions, retirees are short about $4,000 each since the payments were frozen, said Karl Zimmerman, who retired in 1994.
About $4-billion of the $10.8-billion Ottawa and Ontario contributed to the bailouts went to help shore up GM Canada's pension funds, which had a solvency deficiency of $4.5-billion in the fall of 2008, when GM Canada's parent General Motors Co. was approaching the depths of the crisis that eventually pushed it into chapter 11 bankruptcy protection.
That deficit had grown to $4.7-billion according to a valuation made on Sept. 1, 2012. Since that date, the financial position of most Canadian pension funds has improved thanks to higher interest rates and buoyant equity markets that have boosted the values of pension plan assets.
Jerry Dias, Unifor's president, said he's sympathetic to the retirees' position, but the critical factor for the union in bargaining in 2012 was making sure GM's plants in Canada stay open so that pensions for both active workers and retirees are protected.
"We tried to get a lump sum for all the retirees and that was just about the last issue that fell off the [bargaining] table," Mr. Dias said.
Active workers gave up some benefits and agreed to reductions in time during bargaining in 2008 to help secure the government bailout, he said.
"Our whole bargaining was about saving GM and making sure their pensions weren't reduced from 100 per cent to 39 per cent," he said.
During the 2012 set of negotiations, the union was unable to restore all the benefits active members gave up in 2008.
Mr. Dias added that retiree issues will be presented by the union during negotiations in 2016, but retiree representatives will not sit on the union's bargaining committee.
PCOLA resolution was submitted by Local 584 Ford Retirees last year and again this past month. For a copy click here.
BEAMSVILLE, ON, June 9, 2014 /CNW/ - More than 400 retirees, students and young workers held a tea party in protest against PC leader Tim Hudak's platform, which rally participants are saying would amount to deep cuts in health care, public services and jobs. A table with two place settings was set up in front of Tim Hudak's Beamsville constituency office – one for Tim Hudak and the other for those whose concerns are being most ignored – youth and seniors.
The rally was organized by the National Pensioners Federation.
"Holding this intergenerational rally was really important to us because we know that the deep cuts being proposed by PC leader Tim Hudak will affect young and aging Ontarians the most," said Herb John, President of the National Pensioners Federation.
"People know that reducing jobs in health care will not lead to improvements. The results would be a deterioration of health care. The plan also contains nothing about addressing poverty in aging Ontarians or children."
Melisa Larue, one of the rally speakers, said that as a young person she has worked more than 1,000 unpaid hours and is deeply troubled by what Tim Hudak and the PC party's platform would mean for jobs in the province.
"Cuts to grant programs, public sector jobs and public services would have a disastrous impact on young workers and students who are looking for work," said Larue. "It's clear from reading Tim Hudak's platform that he is totally out of touch with the concerns of students and young workers in the province. Students are graduating with huge amounts of debt and having to take on low-wage, low skilled jobs just to pay down their debts, caused by out of control tuition fees."
Rally attendees left hundreds of thank you cards to Tim Hudak, where they wrote their concerns.
Ford Fiesta: The little
engine that can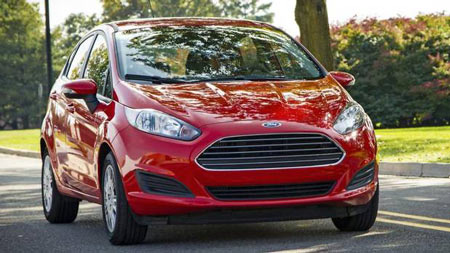 Jeremy Cato
The Globe and Mail
June 7, 2014
Ford's little engine that could – and does – is the company's 1.0-litre, three-cylinder EcoBoost with its astonishing ability to deliver something huge in a package tidy enough to stuff into your roll-aboard carry-on luggage.
Ford's three-banger has been captivating gearheads worldwide for two years, and it's finally coming to Canada in the Fiesta SE subcompact.
The lesson: small is the new big in ultra-efficient engines. Pint-sized as it is, this two-time engine of the year (2012, 2013) has the muscle of Popeye on a spinach binge with none of the Bluto bulk.
The 1.0-litre EcoBoost is among the world's most modern and innovative engines: direct fuel injection; turbocharging; variable valve timing; creative engineering to keep a three-cylinder engine from wobbling; output rated at 123 horsepower and 145 lb-ft of overboost torque; and teaspoon-sipping fuel economy.
Joe Bakaj, Ford's global power train boss, argues that the 1.0-litre EcoBoost is a "breakthrough" and an economical gasoline alternative to the expensive diesels in the Volkswagen Jetta and Chevrolet Cruze.
"Many customers would like the fuel efficiency of a modern diesel or a hybrid, but can't stretch their budgets to cover the cost premium," Bakaj said. "That's where the EcoBoost Fiesta fits in."
Still, there is a premium for internal combustion genius – an extra $1,295 for the EcoBoost package on a 2014 Fiesta SE which starts at $16,675, plus $1,565 freight.
Ford has a $500 delivery credit in play and you should get a few hundred more in dealer discounts. But when the 2015 version rolls into showrooms shortly, pricing drops $676 for both the sedan and hatchback – and the EcoBoost option slips to $800 and $500, sedan and hatch respectively.
So bargain hard for 2014 discounts, or wait for 2015. Either way, your only transmission choice is an obviously dated five-speed manual gearbox.
Ford of Canada is using the 1.0-litre as the centrepiece of a little re-launch of an updated Fiesta. Nothing dramatic, just styling tweaks and a tidy-up to the cabin. But the Fiesta already was the most entertaining, contemporary subcompact in Canada.
Planet-loving, early-adopting gearheads now have a stylish grocery getter with the horsepower-per-litre output of a Lamborghini Avantador. Pony up for the EcoBoost; it's worth it.Tech Specs
2014 Ford Fiesta
Type: subcompact sedan/hatchback
Base price: $16,675
Engine: 1.0-litre three-cylinder
Transmission/drive: Five-speed manual/ front-wheel drive
Fuel economy (litres/100 km): 6.2 city/4.2 highway; regular fuel
Alternatives: Kia Rio, Hyundai Accent, Chevrolet Spark, Honda Fit, Mazda2, Toyota Yaris, Nissan Versa Note and Micra, Scion xD
Ratings
Looks: Ford nailed the styling for 2012 with the introduction of this design language, and for 2015 a few tweaks to the bonnet and such have dressed things up nicely. Sharp.
Interior: The seats are as well-padded as any in this class and better than most. The control layout is Porsche Panamera-ish and the gauges are clear. Not much room in the back, though.
Ride: You cannot buy a sportier subcompact in Canada, yet the highway ride will not punish you on a longish commute. A well-done chassis all around.
Safety: A Top Safety Pick of the Insurance Institute for Highway Safety, though the Fiesta had only a middle performance in the tough small overlap test.
Cargo space: Well, we're talking about a little car. Get the hatchback for no extra charge and you have a much more functional car.
Infotainment: The Fiesta is class leading in infotainment. Ford has had issues with its infotainment systems, but the glitches are being addressed and, when everything works, Ford is top of the class.
The Verdict: Pricing is the problem. Ford is making the EcoBoost mill available only on the SE model and that puts the real-world price at least past $18,000 – a lot for grocery getter. Otherwise, this is a terrific car.
UAW's Williams:
'No more concessions'
Karl Henkel
The Detroit News
June 6, 2014
Detroit — Newly elected United Auto Workers president Dennis Williams urged members Thursday to join the fight to "take back" the country that has been "handcuffed by extremists."
Williams, 61, elected Wednesday to replace outgoing president Bob King, also said its time for the union to stand up and accept no more concessions in negotiations with corporations.
But during his 30-minute speech in front of more than 1,000 elected union delegates, Williams did not specifically mention eliminating the controversial two-tier wage system — one of the top reasons many delegates said they voted for the former Marine.
The new UAW president addressed the subject during a press conference later in the afternoon, reiterating a previous statement that he wants to "bridge the gap" of the two-tier wage structure.
He also announced the assignments for his three vice presidents: Jimmy Settles will oversee Ford Motor Co. and aerospace; Norwood Jewell will negotiate with Chrysler Group LLC, General Dynamics and agriculture and heavy truck companies; and Cindy Estrada will head the team that bargains with General Motors Co., parts suppliers and independent companies. Estrada, who is the first Latina UAW vice president, downplayed the fact she will negotiate with GM, which is headed by the auto industry's first female CEO, Mary Barra.
Gary Casteel, the newly-elected secretary-treasurer, will handle the union's finances, transnational organizing, and Mitsubishi Motors. Casteel said Thursday he will continue to live in Tennessee to continue his focus on organizing auto plants in the south, including Volkswagen AG's Chattanooga, Tenn., facility, which earlier this year the UAW narrowly lost out on organizing.
Williams, during his speech, sent a strong message to companies — including the Detroit automakers — that he will expect them to share more of their recent profit gains with union members.
"It's time for each and every one of us to tell our corporations no more concessions," he said. "We're tired of this.
"I don't want anybody to misread what I'm saying; I want to work closely with the companies as long as it doesn't hurt our members. I also want to tell them, I do not like confrontation, but I am not afraid of confrontation."
Detroit automakers in 2007 pushed for the two-tier wage system as a way to cut costs.
Veteran workers make about $28 an hour, but newer workers, doing the same job have a starting wage about half that amount and their top hourly pay is capped at $19.
Chrysler and Fiat SpA CEO Sergio Marchionne has said he wants to end the two-tier wage structure, and recently said he wants to begin negotiating a new contract with the UAW this month — more than a year before the current contract with the union ends. But Williams said Thursday the union isn't quite ready to sit down at the bargaining table.
Williams expressed the need for better communication within the union, something officials tried to improve on when discussing the recent union dues hike, which passed Tuesday. Union members in August will begin paying dues equal to two-and-a-half hours of monthly pay, up from two hours.
Union officials for more than six months floated the idea of the dues increase and visited local union shops to gather the opinions of members.
"How can we be good stewards of our union if we're not communicating and educating?" Williams asked, adding that "if we can't talk to our members about what we're doing, perhaps we shouldn't be doing it."
Williams urged members to vote in upcoming elections — including Senate and House races and the presidential race in 2016.
"This country better be careful," he said. "If we want to keep our freedoms, you have to fight for them.
"The great equalizer in this country is our vote."
New UAW chief urged
to tackle 2-tier wages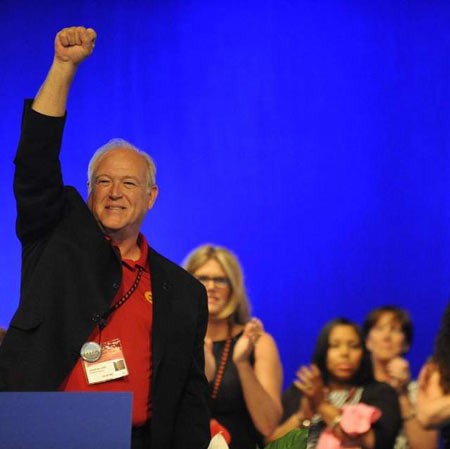 Karl Henkel
and David Shepardson
June 5, 2014
United Auto Workers delegates elected Dennis Williams on Wednesday as the union's 11th president. But some of those delegates had an immediate message for Williams: It's time to end the controversial and divisive two-tier wage system.
Williams, the UAW secretary-treasurer, received 98 percent of the vote in Wednesday's roll-call presidential election. He plans to make the subject of two-tier wages a prominent part of his first presidential address this afternoon.
Interviews with more than a dozen UAW delegates interviewed following Williams' victory Wednesday indicated that the two-tier wage debate overwhelmingly is the top objective they want Williams to attack. Detroit automakers in 2007 pushed for the two-tier wage system as a way to cut costs.
Veteran workers make about $28 an hour, but newer workers — even if they are doing the same job as a veteran worker — have a starting wage about half that amount, and their top hourly pay is capped at $19.
Williams has said that he wants to "bridge the gap," but offered no comment on the subject when asked Wednesday.
Robert Ramirez, a delegate from Local 600 in Dearborn, said Williams must improve on the current "division of the union, from leadership to the plant floor."
"We need to get back the stuff that we gave back" during the few contract negotiations, Ramirez said, noting that veteran auto workers have not received raises in a decade. They have, however, received bonuses.
Raymond Herrick, a delegate from Local 163 — Detroit Diesel — said the reasons to eliminate the two-tier wage system are two-fold: To ensure equal pay for equal work, and to mend a factory floor division, between those making the higher wage and those getting half as much.
"It's caused a major riff among union members," he said. "We need to eliminate two-tier."
At least one labor expert believes Williams' top priority should be increasing membership, and not entirely focusing on sufficing current members.
"As a unionist, his priority should be to grow the union and organize successfully," said Gary Chaison, professor of labor relations at Clark University in Worcester, Mass. "The workers point of view is very narrow-minded. Williams' point of view should be looking at what the union will look like in five to 10 years."
Stevetta Johnson, a delegate from Local 6000, which represents state employees, said two-tier wages divided the union and made for uncomfortable encounters in the workplace.
"(Williams) definitely needs to negotiate better contracts and take the two-tier system away," she said.
Also important to the rank-and-file is growing the union and ensuring workers in right-to-work states such as Michigan remain dues-paying members at the end of the contracts with Detroit automakers.
"We got what we wanted," said Denise Taylor, a delegate from Local 400, which is based in Utica, of Williams' election. "Now we need to build the UAW and educate people about its benefits."
'A new day in the UAW'
Williams handily defeated Gary Walkowicz, a longtime union worker from Ford's Dearborn Truck Plant who has been outspoken about many of the UAW's policies and a perennial presidential challenger to the retiring Bob King. Walkowicz was Williams' lone challenger.
"It's humbling," Williams said during a 45-second impromptu press conference following his victory. "I'm excited for our union."
Williams collected 3,215 of the 3,270 votes.
"It's a new day in the UAW," declared Local 155 delegate Latrello Sephers.
Walkowicz, who was among the vocal minority on Tuesday who voted against a 25-percent dues hike, garnered 49 votes.
"I ran with a purpose of bringing a message from the membership to the convention," Walkowicz said after the defeat. "And I did.
"We need a different policy and a different direction," he added. "I hope (Williams) brings that."
2 more elected; 2 re-elected
Also elected Wednesday: Gary Casteel as the union's new secretary-treasurer, and Norwood Jewell, as an international union vice president. Cindy Estrada and Jimmy Settles were re-elected as vice presidents.
Casteel, 56, a second-generation UAW member, was elected director of UAW's Region 8 — which covers the southeast — in 2002 and is a member of Local 3036 in Memphis, Tenn.
Jewell, 56, was elected director of UAW's Region 1C — which is headquartered in Flint and covers an 11-county area — in 2010 and has been a member of Local 659 since 1976. He was previously assistant director of the region and was bargaining committee chairman at Flint Metal Center during the 1998 strike between GM and the union.
Estrada, 45, was elected a UAW vice president in 2010 and is the first Latina elected to serve as a UAW international officer. She is currently responsible for directing UAW independents, parts and suppliers, public sector and heath care servicing, and women's department. Estrada began her UAW career in 1995 when then-Region 1A director King assigned her to organize workers at Mexican Industries in Detroit.
Settles, 64, was first elected a UAW vice president in 2006 and was re-elected four years ago. He was a former UAW regional director.
Dennis Williams
Age: 61
Bio: Williams, the newly elected UAW president, has been secretary-treasurer since 2010. Williams, a former Marine, joined the UAW in 1977. By 1988, he was an international representative assigned to the UAW's national organizing department, where one of his first assignments was negotiating the contract at Mitsubishi Motors' plant in Normal, Ill. It was one of the only foreign-owned plants ever organized by the UAW. Williams would be the first UAW president who has not worked in an auto factory.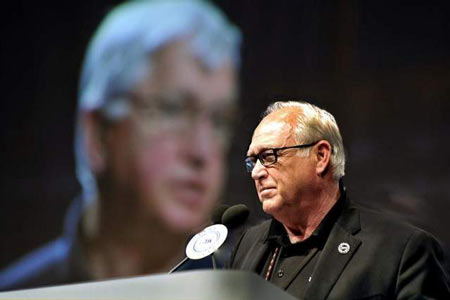 Dennis Williams, credited with fixing the finances of the United Auto Workers as it emerged from its darkest days, now faces more daunting tasks as the union prepares for historic negotiations with Detroit automakers next year and redoubles efforts to organize foreign automakers.
Williams, 61, is expected to be elected today as the union's 11th president by 1,100 union delegates in town for the UAW's constitutional convention. The former Marine and salvage welder is the current secretary-treasurer of the UAW. He has close ties to President Barack Obama dating to Williams' time as a UAW leader in Illinois.
Gary Walkowicz, a longtime union worker from Ford's Dearborn Truck Plant who has been outspoken about many of the UAW's policies, is the lone challenger to Williams, the union-backed candidate. Every union-backed presidential candidate has been elected president since the 1940s.
Williams' biggest task, if elected, will be negotiating new contracts with Detroit automakers next year and deciding how to proceed with efforts to organize auto workers at the U.S. factories of foreign automakers.
The union lost a close vote in February to create a German-style works council at a Volkswagen AG factory in Chattanooga, Tenn.
Williams has vowed to tackle the two-tier wage system, which pays new auto workers less than veteran workers.
"It's time to bridge the gap," Williams has said of two-tier wage system.
He also faces angry veteran workers who have forgone pay raises for years and want the profitable Detroit automakers to do more than offer more generous profit-sharing.
In the previous round of contract talks with Detroit automakers, the UAW couldn't strike and agreed to no base-wage increase for veteran workers. Many members want to receive higher base wages, even though they have received significant profit-sharing checks.
He would be a different breed of UAW president. A member of the board of directors at Navistar International Corp., he would be the first to ascend from secretary-treasurer to president. He'd also be the first without any experience building a car in an auto factory.
Williams, who says if elected he will serve one term as president because of his age and union rules, will take a more aggressive approach in negotiating with adversaries to strengthen the union, which after years of falling membership has gained back members for four straight years — up 11 percent since 2009, but still far below its record high of 1.53 million members in 1979.
He will likely face significant challenges including a right-to-work law in Michigan that will allow workers here to opt out of membership when the next contract takes effect.
Lower membership numbers could impact the union's strike fund and negatively affect the union in future contract negotiations. Williams, though, is believed to have the acumen to balance the union's finances.
"Dennis Williams has done more to put this union on strong financial footing," UAW President Bob King said this week. "He's much better than I've been in that regard."
Earlier this year, Williams said the union needs to challenge politicians who are cutting unemployment and food stamp benefits from the poor and out-of-work. He wants the minimum wage hiked to $15 an hour — far above the $10.10 an hour that Obama has proposed.
But he has also signaled a difference in views from King.
"I am a liberal, but hell, I'm not a pacifist," said Williams, who also decried many conservatives and said the union should take on their challenges head-on.
UAW passes
controversial
dues hike
David Shepardson and Karl Henkel
The Detroit News
June 4, 2014
Detroit — Delegates at the United Auto Workers constitutional convention voted Tuesday for the first union dues rate increase since 1967 after a heated two-and-a-half-hour debate.
The increase, from two hours of monthly pay to two-and-a-half hours, takes effect in August, and is aimed at helping the UAW boost its strike fund to help it bargain against employers, including Detroit automakers, in 2015. Delegates rejected repeated calls to refer the issue to a referendum of the union's entire nearly 400,000 members
The dues increase is expected to generate an additional $45 million annually, all of which will be directed into the union's strike fund, which sits at about $600 million, down from about $1 billion in 2006.
The heated dues debate — at the union's 36th Constitutional Convention at Cobo Center — included 40 speakers evenly divided and lasted more than two hours. A similar debate will take place four years from now at the next convention, when delegates will have to vote to extend the increase.
Several members urged the union to put the issue to the vote of the union's nearly 400,000 members, rather than leaving it in the hands of the 1,100 delegates at the convention.
Some dissenters wanted to call for a roll-call vote in which each delegate's vote would be tallied. After a delegate called to end debate, opponents couldn't get the 307 delegates needed for a roll-call vote.
When a voice vote on the dues increase was too close to call, outgoing UAW President Bob King asked for members to raise their hands. Hands raised in support were far enough ahead of opponents that King didn't need to count precisely. But there were a significant number of no votes.
In arguing for the dues hike, King noted that a long strike at Caterpillar cost the union $300 million. He denied suggestions that the union had been "irresponsible" in handling its finances. He the union has made "dramatic changes" to improve financially. "We have a common goal," King said to an opposing member. "We have an honest disagreement."
For a veteran autoworker making $28 an hour, the dues increase will amount to $14 a month, or $168 a year. Newer union members in the lower $14-an-hour wage tier would pay half that amount.
Rich Boyer, a Local 140 delegate and millwright at Chrysler's Warren Truck Plant, said the union will "be in trouble" if the union does negotiate to eliminate two-tier wages with Detroit automakers in 2015.
"This membership is divided," he said. "I don't think it's the time (to raise dues)."
Marcella Brundidge, a Local 889 delegate and financial secretary at Chrysler's Jefferson North Assembly Plant, supported the dues increase.
"We have not had a raise in our union dues since 1967," Brundidge said from the sidelines of the convention on Tuesday. "And we need to be more economically, financially stable."
Bill Lucas, a delegate from Local 2269 near Columbus, said the dues hike should not deter workers at foreign manufacturing plants — like Volkswagen's Chattanooga, Tenn., plant, which voted down union representation in February — from eventually joining UAW forces.
"Workplace gains made through collective bargaining, they trickle down to those who are not in a union," he said.
Proponents said the hike is critical to ensuring a healthy strike fund and sending a message to companies that the union can strike if necessary. Rejecting it would have "put a target on our backs," one member said, who had criticized members for not wanting to give a half-hour a month to the union to "help save your job."
Several members who were on strike for months in the 1990s urged support. "How are we going to fight again if we don't have the ammunition?" one asked.
Some chastised international union representatives for not backing local efforts. "When we needed you, you weren't there for us," said Charles Tipton, a delegate from Local 912 in Lexington, Ky.
Rebecca Watson, a delegate from Local 1268 in Belvidere, Ill., said she had initially opposed the dues hike, but decided it was in the best interest of the UAW. "It's tough to ask them to raise their dues. Our belts are already fairly tight," she said, saying many members hadn't had a pay raise in years. Veteran auto workers haven't had a raise in a decade.
But other delegates criticized UAW spending on trips to Washington, Las Vegas and "fancy parties." They argued the union should tighten its belt before seeking a dues increase.
Ontario's minimum wage jumps
to $11 Sunday June 1, 2014
Ontario's minimum wage jumps to $11
Sunday, but not all workers happy.
Laurie Monsebraaten
Toronto Star
June 3, 2014
Angel Reyes is getting his first raise in four years Sunday June 1st when Ontario's minimum wage goes up by 75 cents to $11.
But he's not feeling any richer.
"The cost of everything has gone up so much. My rent has increased, transportation has increased, food has increased. Even the cost of stamps at the post office," said the 60-year-old temp agency worker who sorts trash for a Toronto recycling company.
"I'm going to cry. But nobody listens to us," he added.
At $11, the minimum wage still leaves a full-time worker like Reyes living 16 per cent below the poverty line, said Deena Ladd of the Workers' Action Centre, a non-profit workers' collective.
The centre, along with community and labour groups, has been part of a year-long campaign to raise Ontario's previous $10.25 minimum wage to $14.
At that rate, someone working full time would earn about 10 per cent above Ontario's poverty line of about $23,000 before taxes for a single person.
Advocates take credit for the Liberal government's decision in January to boost the minimum wage to $11 on June 1. New legislation introduced in February, which died when the election was called, would have tied future increases to inflation.
On the hustings, Premier Kathleen Wynne has said the legislation would be reintroduced if she is re-elected
Progressive Conservative Leader Tim Hudak has said he would keep the Liberals' $11 minimum wage and peg it to inflation.
NDP Leader Andrea Horwath has said she would increase it to $12 over two years and cut the corporate tax rate for small businesses from 4.5 per cent to 3 per cent to help them adjust. An NDP government would also tie future minimum wage increases to inflation.
Even though the minimum wage is going up, some workers say their employers are cutting benefits to compensate.
A Toronto-area Tim Hortons worker, who didn't want her name or outlet location identified for fear of reprisals, said her employer posted a memo notifying staff he was ending breaks with pay to recoup costs.
"Given this new increase, as well as continued economic and competitive pressures, increasing commodity costs and minimal increases in menu pricing, effective June 1, we will be shifting all hourly team members in the restaurant to unpaid breaks," the memo reads.
"We are not pleased we have to make this adjustment to the break policy and have held off making this change for several years," it said.
A spokeswoman for Tim Hortons said these decisions are made at the franchise level by each individual Tim Hortons restaurant owner, consistent with provincial labour regulations.
Under Ontario's Employment Standards Act, employers are required to give workers a 30-minute unpaid meal break after five consecutive hours of work.
A spokeswoman for Restaurants Canada, which represents about 30,000 fast-food and full-service restaurants across the country, was surprised to hear a Tim Hortons owner was cutting benefits in response to the minimum wage hike.
"The biggest impact we've heard is there will be a reduction in hours for part-time staff and hiring of older, experienced workers over first-time job applicants when vacancies arise," said Joyce Reynolds. "We've also heard there will be less hiring of students this summer."

Since Ontario is already trailing other Canadian provinces in food service sales, there is "considerable anxiety" among restaurant owners over a minimum-wage increase, Reynolds said.
"If sales are flat and labour costs go up considerably — and labour is such a huge part of the operating costs of a restaurant — they have to find a way to manage those costs," she said.
Other wages increasing Sunday include the student minimum wage, which is rising by 70 cents to $10.30.
Minimum wages for liquor servers will go up by just 65 cents to $9.55.
Farm workers are excluded from all minimum wage provisions under the Employment Standards Act.


Boards shift away from
traditional pensions
Janet McFarland
The Globe and Mail
June 2, 2014
New CEOs at some of Canada's largest companies are losing their executive pension plans as the trend of declining pension coverage spreads from ordinary workers into the executive suite.
Several recently appointed chief executives, including Guy Laurence at Rogers Communications Inc. and Hal Kvisle at Talisman Energy Inc., did not get traditional defined-benefit pension plans when they took over the top job at their companies even though their predecessors had them. Other companies, including Shaw Communications Inc., have recently said their executive pension plans have been closed to future hires.
The trend is still modest, with 50 per cent of CEOs at Canada's 100 largest companies still receiving traditional defined benefit (DB) pensions – which pay a guaranteed benefit in retirement – at the end of 2013, a number virtually unchanged from 49 per cent five years ago. The composition of the top 100 companies in the survey changes each year depending on market capitalization, so small shifts are not always evident.
But executive compensation adviser John Hammond, who heads the compensation practice at Towers Watson, said he is seeing CEO pensions becoming less prevalent as companies assess the high costs and funding volatility of DB pension plans.
The trend is advancing slowly, however, because if pensions are eliminated, it only happens when new CEOs are external hires who don't already belong to a company plan, Mr. Hammond said. The pensions are often replaced by defined contribution plans, which work like investment savings plans that do not pay a guaranteed level of compensation in retirement.
"The prevalence of DB programs in terms of new entrants to plans is on the wane," Mr. Hammond said. "From a cost management standpoint, it's more predictable and less of a liability. You'll see programs for existing incumbents that will run their course, and then new entrants coming into a defined contribution scheme."
Concordia University professor Michel Magnan, who specializes in executive compensation issues, said he believes some companies are eliminating CEO pensions for reasons of "optics" to appease shareholders, but are spending much of the savings by boosting grants of share units or options to compensate executives for not having a pension.
"I think what we're seeing … is a shift of money into things that look better in terms of optics, but at the same time are increasing the magnitude of the performance-based [pay] package," he said.
The Canadian Coalition for Good Governance, which represents most of Canada's largest institutional shareholders, has been slowly pressing companies to justify having expensive DB pension plans for CEOs who can easily save on their own for retirement, said executive director Stephen Erlichman.
"Often we see very generous pension entitlements for retiring CEOs, and the comment we make is, 'Look, you're paying your CEO very well during employment, so why do you believe it is necessary to pay the CEO these very generous retirement amounts,'" Mr. Erlichman said.
He said many companies have told the CCGG they will review the pension the next time they change CEOs.
Shareholder pressure helped play a role in one of the earlier examples of a high-profile CEO not receiving a DB pension plan. George Cope, who took over at BCE Inc. in 2008 following the departure of Michael Sabia, did not receive a DB pension as investors pressed for changes to compensation traditions at the telecom company.
Mr. Sabia had become CEO of BCE in 2002 and received a pension that included hugely accelerated pension credit for each year worked. He departed after just six years on the job with almost 30 years of credited service, an annual pension of $968,750 and a pension with an estimated funding obligation of $14.9-million for BCE.
In 2005, while Mr. Sabia was still CEO, BCE announced all future executives – including Mr. Cope – would be covered under a DC pension plan. BCE recently reported the balance in Mr. Cope's DC account was $4.6-million as of Dec. 31.


Next task for UAW:
Elect a new president
David Shepardson
Detroit News Washington Bureau
June 1, 2014
The United Auto Workers, which just went through four years of labor concessions, organizing campaigns and battles over "right-to-work" legislation, elects a new president next week who will face challenges of his own.
Outgoing president Bob King, who helped shepherd the union through some of its toughest years since his 2010 election, boosted membership of the Detroit-based union. He had some key wins. And he had some significant defeats.
In an interview this week, King defended his decisions on some high-profile fights the union lost — notably, a 2012 Michigan ballot measure that failed to convince voters to enshrine union protections in the state's constitution.
"We didn't have a choice," King said of the effort. "I'd rather have fought and not won, than not have fought at all — and then say to my (fellow union members), 'I'm really sorry. I thought they were going to do it but I didn't want to take a chance.'"
In the weeks after the loss, the Michigan Legislature pushed through right-to-work legislation that was quickly signed into law by Gov. Rick Snyder. The move was especially painful for labor unions in the state that was the birthplace of the UAW and organized labor in the United States.
"There's no question they were going forward" even if unions hadn't mounted the campaign, King said, citing Snyder's signing of other anti-union legislation on teacher dues collection. "If I had it to do over again, would I do a ballot initiative? Yeah, I would do it smarter and better."
In February, workers at Volkswagen's Chattanooga, Tenn., assembly plant narrowly rejected a bid to create a German-style works council and have the UAW represent them. The effort failed despite the support of VW.
King doesn't regret calling the vote. "Waiting would have probably made it worse, not better," he said. "That's the closest we've ever come in the South. ... 44 votes flipping, and we would have won."
Dennis Williams, the union's secretary-treasurer, is expected to be elected to replace King next week when 1,100 delegates meet in Detroit at the union's constitutional convention.
Williams will face difficult challenges of his own over the next four years: Negotiating a new labor deal with Detroit automakers next year. Redoubling efforts to organize workers at foreign plants in the U.S. Continuing to grow membership outside the automotive sector.
The union also faces a test in the fall when many pro-union members of Congress face tough re-election fights.
Membership stabilized
Sean McAlinden, an economist at the Center for Automotive Research, said King was able to halt the union's lengthy membership slide.
McAlinden said King made organizing "more important than it's been to the UAW since the 1930s and '40s. ... He's a real thinker, but he was up against so many obstacles including the overall economy."
King crisscrossed the globe, reaching out to unions to pressure foreign automakers to agree to fair bargaining. King points to big organizing gains among auto parts firms, casinos and higher education. At the end of last year, the union had 391,415 members — up 11 percent from when he took office. Still, the union's membership is down substantially from the 1.5 million it had at its peak in 1979.
The union president put winning new jobs and investments ahead of pay raises for senior U.S. auto workers during the 2011 contract talks.
"We really are rebuilding the UAW for the future," King said. "If we had focused on wages or benefits or other things, and not on jobs and investment, we would have not built our strength for the future."
He said the three Detroit automakers have added 28,000 jobs in U.S. plants over the last four years as part of $20 billion in investments in plants.
Union leaders are gearing up for another round of attacks by business interests. Delegates next week will vote whether to increase union dues for the first time since 1967 to replenish the UAW strike fund. An additional half-hour of pay in addition to the current two hours of pay per month would raise $49 million a year.
The union calls the strike fund "a crucial deterrent to employers seeking to undermine collective bargaining rights." It is now valued at less than $630 million, down more than 30 percent from $930 million at its peak in 2006.
The UAW has grappled with other budget issues. The union plans to consolidate two of its regions and eliminate a vice-president position. It closed many smaller offices and in 2011 had to lay off about 50 workers from its own clerical staff.
Push to broaden appeal
With unions under attack, King argues they need to join forces with other progressive-minded groups to form a "social justice activist movement" around the world, joining with groups supporting the rights of minorities, women and gays, along with immigration advocates and environmental groups. He argues that by working on other issues, it shows the UAW "is not a narrow special-interest group, but an organization that fights for the broader community."
Harley Shaiken, a labor expert at the University of California, Berkeley, praised King's tenure. "I think he's been a visionary leader through very difficult times," he said. "Bob has probably had the strongest international vision for the UAW since Walter Reuther. He built some very important critical relationships with unions in Germany, in Brazil, in Mexico."
King, who was hired at Ford Detroit Parts Depot in 1972 and has been a union leader and organizer since the early 1980s, is unsure of his next step. He vows to remain active in the labor movement.
36th UAW Constitutional Convention
The United Auto Workers Constitutional Convention takes place next week at Detroit's Cobo Center. More than 1,000 delegates will vote for nominees for UAW president, secretary-president and three vice presidents. Delegates are expected to vote on raising union dues for the first time in more than 40 years and consolidating regional offices.

President
Dennis Williams
Age: 61
Current position: Secretary-treasurer
Bio: Williams, the official nominee, has been secretary-treasurer since 2010. Williams, a former Marine, joined the UAW in 1977. By 1988, he was an international representative assigned to the UAW's national organizing department, where one of his first assignments was negotiating the contract at Mitsubishi Motors' plant in Normal, Ill. It was one of the only foreign-owned plants ever organized by the UAW. Williams would be the first UAW president who has not worked in an auto factory.

Gary Walkowicz
Age: 65
Current position: Bargaining committeeman at UAW Local 600 (Dearborn Truck)
Bio: Walkowicz, who is challenging Williams, unsuccessfully ran against Bob King at the 2010 convention. Walkowicz has held various union positions since first elected in 1996. Most recently he has circulated a flier stating his intention to run against Williams. Walkowicz has been an outspoken critic of the union and its policies, and has stated he wants to "speak for all the UAW members whose voices are usually not heard."

Secretary-treasurer
Gary Casteel
Age: 56
Current position: Director, UAW Region 8
Bio: Casteel was elected director of UAW's Region 8 — which covers the southeast — in 2002 and is a member of Local 3036 in Memphis, Tenn. He was a servicing representative for union members at a number of independent parts firms. Casteel, a second-generation UAW member, lives in Ashland City, Tenn.

Vice presidents (three openings)
Norwood Jewell
Age: 56
Current position: Director, UAW Region 1C
Bio: Jewell was elected director of UAW's Region 1C — which is headquartered in Flint and covers an 11-county area — in 2010 and has been a member of Local 659 since 1976. He was previously assistant director of the region and was bargaining committee chairman at Flint Metal Center during the 1998 strike between GM and the union.

Cindy Estrada
Age: 45
Current position: Vice president, parts suppliers and public employees
Bio: Estrada was elected a UAW vice president in 2010 and is the first Latina elected to serve as a UAW international officer. She is currently responsible for directing UAW independents, parts and suppliers, public sector and heath care servicing, and women's department. Estrada began her UAW career in 1995 when then-Region 1A director and current UAW president Bob King assigned her to organize workers at Mexican Industries in Detroit.

Jimmy Settles Jr.
Age: 64
Current position: UAW vice president, Ford Motor Co.
Bio: Settles was first elected a UAW vice president in 2006 and was re-elected four years ago. He was a former UAW regional director. Settles began his career as a trade union activist in 1968 while working at Ford's Dearborn Iron Foundry and Michigan Casting Center.
Source: United Auto Workers
Convention highlights
Monday: Outgoing UAW president Bob King gives final State of the Union address.
Wednesday: Delegates elect officers.
Thursday: New UAW president speaks to delegation.