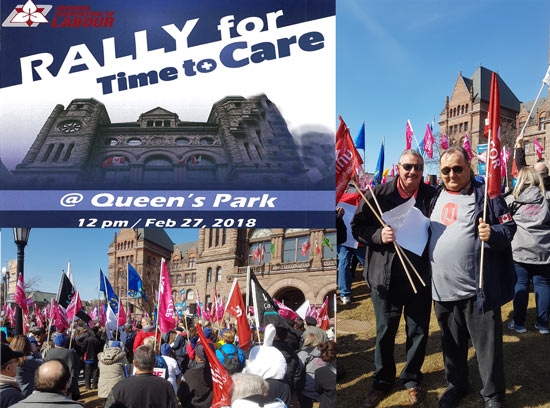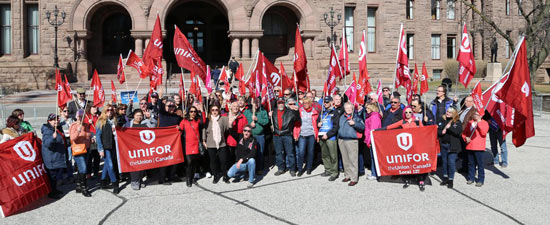 Click on group Picture to enlarge
Seventy Unifor activists joined hundreds of workers who showed their support for the Time to Care Act, at a rally outside Queen's Park in Toronto today.
The Act proposes to extend the minimum number of hours of care received in long term care to four hours, which is what Unifor's #6minutechallenge campaign has been advocating for months.
"Right now long term care workers are rushed to provide adequate care for vulnerable residents and that creates a stressful environment for workers who are already overworked at understaffed centres," said Naureen Rizvi, Ontario Regional Director.
Long-term care workers - 9,000 of them in Ontario being Unifor members – are given an average of just six minutes to prepare residents at the start of the day.
Unifor has been asking Ontarians to try it for themselves with a social media campaign that called on people to try to get ready in the morning in under 6 minutes and post pictures or videos of them when the time's up.
Thousands participated, and while sometimes humorous – the campaign made a powerful point.
The Time to Care Act, which was a private member's bill proposed by the NDP Health Critic, unanimously passed second reading in November and is now stalled at the committee level.
Today's rally was organized by the Ontario Federation of Labour and the Ontario Health Coalition.
Jason Deneault, a Unifor 1106 member told the crowd that each personal support worker at the centre where he works in Kitchener must get eight residents dressed, administer medication and get them ready for the day.
"This bill is absolutely necessary. We'll all be there one day and adequate and non-rushed care is something we need to ensure now," said Deneault