Ford trademarks 'Mach E'
name as hype builds
for new electric vehicle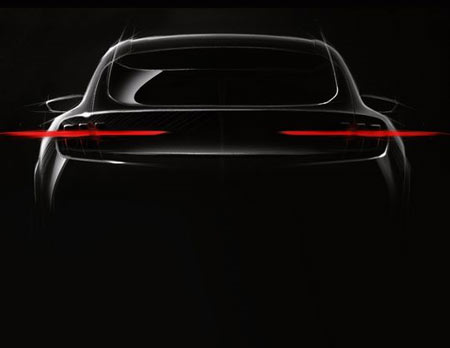 Ian Thibodeau,
The Detroit News
April 18, 2019
Ford Motor Co. has trademarked the Mach E name ahead of launching its new electric vehicle next year.
Ford trademarked "Mach E," "Mach-E," and "Mustang Mach-E" for use on motor vehicles, electric vehicles and passenger vehicles within days of each other in late March and early April. The automaker also recently trademarked "Thunder" and "Evos" for similar uses. The automaker also owns "Model E," a trademark Tesla Inc. CEO Elon Musk wanted for one of his vehicles.
"Trademark applications are intended to protect new phrases, designs or symbols but aren't necessarily an indication of new business or product plans," Emma Bergg, Ford's electric vehicle spokeswoman, said in a statement.
The automaker is planning to launch the all new electric crossover in 2020 as a 2021 model year vehicle. Company executives have frequently said it's a "Mustang-inspired" SUV. The vehicle takes design cues from the Mustang, but it's expected to be a four-door crossover design favored by consumers. Company officials also have said they're targeting a 300-mile range, and that the vehicle will be fast.
The automaker is expected to show the vehicle for the first time ahead of its 2020 launch. It will be built in Mexico.
In a video at the 2018 Detroit auto show, Ford teased the "performance" electric vehicle with the Mach 1 name made famous on the 1969 Mustang, though President of Global Markets Jim Farley said in August 2018 that the company hasn't made a decision on the name. The automaker still hasn't announced what it will be called.
The utility vehicle will be the first new Ford vehicle to be completely molded by CEO Jim Hackett and his vision of the company. Promoted to the head job in May 2017, he is wrestling with plans for new products that were too far along in the process to ditch or change drastically as he pushes the Blue Oval to make vehicles consumers want, or that move Ford ahead.
Meantime, Ford is also planning a hybrid variant for the next Mustang. The Mustang Mach-E could apply there.
Ford has been generating buzz around the unnamed SUV for months. At the 2019 Detroit auto show, Farley said the new vehicle should change peoples' minds about electric vehicles.
"In a way we had the advantage of watching what happened the first time around," he said then. "What customers have told us is 'Just give us the good stuff.' We're going to change a lot of people's minds."
In mid-March, the automaker prodded Tesla with a tweet to "Hold your horses" bearing an electric blue Mustang logo. Ford sent the tweet as Tesla announced a new Model Y compact SUV.
Hackett has pushed Ford's designers and the teams working on pieces of the vehicle to work to understand the customer who would buy the vehicle. They automaker has not announced pricing, but Ford has shifted away from commodity, lower-priced electric vehicle models to make the faster, sleeker 2021 model.
Ford product development and design teams scrapped original plans for the vehicle in 2017 when Hackett was appointed CEO. The plan then was to go for a vehicle to help comply with the government's fuel economy standards. Hackett steered teams away from that to create a good-looking, more capable vehicle, he told The Detroit News.
Lincoln debuts all-new
Corsair SUV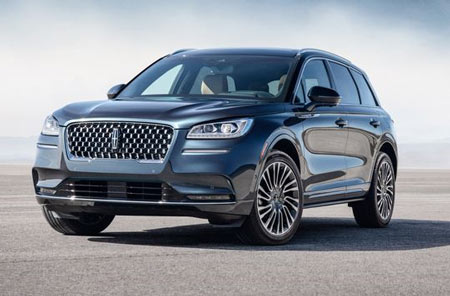 Ian Thibodeau,
The Detroit News
April 17, 2019
New York — Lincoln Motor Co. will introduce here Wednesday an all-new compact SUV geared toward bringing new customers into the brand that's been launching larger, more expensive vehicles in recent years.
The vehicle gets a new name. Formerly the Lincoln MKC, the new vehicle is called the Corsair. It's based on the same vehicle architecture Ford Motor Co. is using for the new Escape SUV, and updates Lincoln's entry-level nameplate with a sleek exterior and an interior that takes cues from the larger Navigator and Aviator SUVs.
"This is our most dramatic interpretation of quiet flight," said Joy Falotico, president of Lincoln. "This is a truly global vehicle."
The two-row SUV takes some direction from the Escape, which Ford unveiled in early April. The Corsair has sliding second-row seats new to the model. David Woodhouse, Lincoln design director, and his team redesigned the interior to introduce the "floating" center stack, flatten the dashboard to bring in Lincoln's signature horizontal theme, and give Lincoln's smallest vehicle a more spacious feel than its predecessor.
On the outside, the SUV is tipped back and tapered more than the previous model — another design cue that pulls from other Lincoln SUVs. But the Corsair was designed for a smooth ride and a quiet interior. John Jraiche, Corsair chief engineer, said the customers he's trying to sell to aren't interested in power and engine noise.
"That's not us," he said. "We're not looking to out-German the German brands."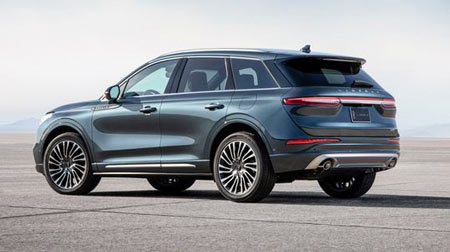 Ford executives have stressed the importance of silence in new Lincoln vehicles. Lincoln designers and engineers don't want drivers to hear the engine. They don't want road noise. The automaker replaced the beeps and dings to signal an open door with chimes developed and recorded by the Detroit Symphony Orchestra.
A dual-wall dashboard further separates the cabin from the engine, and multi-link suspension should keep the ride smooth. The highest trim Corsair gets Lincoln's massaging, 24-way adjustable seats, to make the ride more opulent. The vehicle comes standard with an 8-inch touch screen display and Sync 3. And the automaker is debuting new interior colors with the Corsair, including a vibrant "Beyond Blue" leather that adds a shock of color to the seats and trim.
The vehicle has two four-cylinder engine options: a standard 2.0-liter engine with targeted 250 horsepower and 275 pound-feet of torque. There's also an available 2.3-liter engine targeting 280 horsepower and 310 pound-feet of torque. Both are mated to an 8-speed automatic transmission.
The SUV has an intelligent all-wheel-drive system and five drive modes. The all-wheel-drive system can fire power to the front wheels or to all the wheels depending on road conditions.
Lincoln is debuting new Phone as a Key technology on the Corsair that would allow users to lock, unlock and open the trunk without using a key, or having the key anywhere near the vehicle. Using an app on a smart phone, the vehicle is able to detect a phone in a pocket or bag, and let the driver and passengers into the vehicle.
If the phone goes dead, owners can use a backup code to get into the vehicle and fire it up. The vehicle has wireless charging pads and USB ports inside. The vehicle comes standard with Ford's Co-Pilot360 suite of driver assist features like pre-collision assist and blind-spot monitoring. Customers have an optional upgrade that gives the vehicle more driver-assist features.
The Corsair is scheduled to launch this fall in the United States. The models for sale in North America will be built at Ford's Louisville Assembly Plant in Kentucky. Models for sale in China will be built in China with Ford joint-ventures.
Ford saddles up entry-level,
330-hp performance Mustang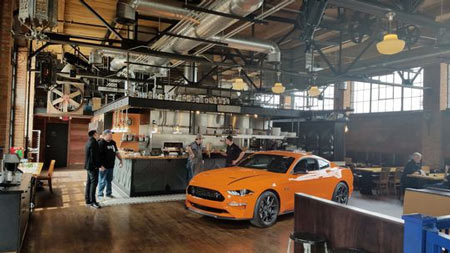 Henry Payne,
The Detroit News
April 16, 2019
The passionate heart of the Ford Focus RS is still beating. It's under the hood of a Mustang.
Ford Motor Co. unveiled its first, turbo-4 cylinder-powered performance Mustang Monday to complement its lineup of V8-powered beasts like the GT Performance Pack, GT350 and GT500. Called the Ford Mustang EcoBoost High Performance, the entry-level pony resurrects the ferocious, 2.3-liter mill from the discontinued RS — a victim of Ford's exit from sedan segments.
Armored with aerodynamic tools like a front splitter and rear aerofoil, gummy tires from Pirelli, and bigger brakes, the EcoBoost High Performance will be priced well below the retired, $41,000 Focus RS (not to mention the GT Performance Pack which can easily run north of $45,000) when it hits dealers this fall.
"At the heart of this Mustang is the engine," smiles Mustang Vehicle Product Manager Tom Barnes. "This is really a fun car to drive. It's for the guys who like to so the same thing that RS customers do."
Mustang sales left its crosstown, Chevy Camaro rival in the dust last year, 75,842 units to 50,963. Mustang sees a chance to pick off even more buyers with its new performance mod
The new pony is aimed squarely at the Chevy Camaro 1LE, a similarly-styled muscle car powered by a 275-horse, turbo-4. Since their recent upgrades to more athletic chassis, Mustang and Camaro have been in an expensive arms race to produce the fastest track weapon with Mustang's 700-plus horse, $70,000 GT500 due later this year to battle the $70,000, 650-horse ZL1.
The Camaro 1LE and EcoBoost High Performance take the war to a more affordable battlefield.
Ford engineers say the new model came together quickly in the last year in order to make Mustang's 55th birthday this week (the car debuted on April 17, 1964 at the World's Fair). Reminiscent of the gen-one Mustang's development six decades ago, the car began as a five-person skunkworks project in the Ford Performance garage.
You'll know it by its unique grille, black "hood whisker" stripes, 2.3-liter side badge, and wicked black wheels.
Mated to either a 10-speed automatic or a 6-speed manual transmission, the RS engine is not only more powerful than the Camaro, but offers entry-level Mustang buyers a second engine choice above the standard, 310-horse 4-banger. Built in Valencia, Spain, it has been spun around from the front-wheel-drive, Focus application to fit the Mustang's longitudinal, rear-wheel-drive demands.
Where the AWD RS put down 350 horsepower/350 pound-feet of torque the Mustang version will pump out 330 horses and the same torque through the rears. Expect the new model to be 300 pounds lighter than a V-8-powered 'Stang — but about 100 pounds more than an RS.
"The lighter weight up front really makes this car turn in quickly," says Mustang and Ford Performance Chief Engineer Carl Widmann, who says the EcoBoost High Performance straps on an engine brace for added stiffening.
Sticky, 19-inch Pirelli rubber will aid that turn-in. Mustang contracts with the Italian tiremaker for its turbo-4 cars and Michelin for its V-8s. A sprint to 60 mph will blow by in about 4.5 seconds — arriving a half-second quicker than the standard 'Stang. Top speed? 155 — 34 mph quicker than the base car.
For those who want more, options abound. The EcoBoost High Performance will come in coupe and convertible trims. Coupe buyers can also opt for an EcoBoost Handling Package which adds wider tires, MagneRide shocks, limited-slip rear differential and stiffer sway bars.
Interior options include a digital tachometer, leather seats, and bigger infotainment screen that will run the latest version of SYNC 3 as well as Apple CarPlay and Android Auto. Four new colors are available including Grabber Lime, Iconic Silver, Red Hot Metallic, and Twister Orange.
Mustang sales have been split 50-50 between V-8 and turbo-4 engines, but the quieter 4 hasn't gained the sex appeal of the V-8 with its baritone exhaust and storied racing history. The EcoBoost High Performance may change that with its more aggressive engine note and gurgling backwash.
Look for the new pony in Ford's New York autos show corral this week. It will be dressed in Velocity Blue.
Ford Escape's new, high-tech
turbo three: A game changer?
Richard Truett
Automotive News
April 15, 2019
Ford's plan to introduce the 1.5-liter three-cylinder engine in the U.S. in the 2020 Escape arriving this fall is a smart move.
Although car buyers aren't placing fuel economy atop their priority lists while gasoline is relatively cheap, that could change quickly if fuel prices keep rising. A hike in gasoline and diesel taxes also is a possibility.
Since 1993, the federal government has taxed gasoline at 18.4 cents per gallon and diesel fuel at 24.4 cents per gallon. One of the few issues the major political parties agree on in principle is the need to fix the nation's crumbling roads, bridges, railroad crossings and highways.
The Trump administration is said to favor a 25 cents per gallon tax hike on gasoline and diesel with the funds earmarked for infrastructure improvements. Michigan is also considering raising fuel taxes. In fact, the governor was elected in part on her promise to "fix the damn roads."
Also, since the beginning of the year, oil prices have risen sharply -– about $12 per barrel -- which you are now seeing at the pump. AAA says the average price for a gallon of regular unleaded gasoline is $2.75, up from $2.66 a year ago.
And that brings us back to the Escape. With passenger-car diesel engines operating under a black cloud these days (thanks, Volkswagen), gasoline-electric hybrids and thrifty downsized gasoline engines look like the ticket to fuel economy gains.
But most hybrids perform better in city driving, where the electric motor does much of the heavy lifting. On the highway, most hybrids are less efficient because the vehicle is hauling around a heavy battery pack and electric motor that are not contributing much propulsion.
If I needed a compact utility vehicle that looks to be extremely fuel efficient and didn't want the hassle of worrying about a degrading battery pack and all the complexity of having two drivetrains in one vehicle, the 1.5-liter Escape would have me seriously kicking its tires. We won't know the vehicle's EPA ratings until they are certified this summer, but clues abound.
Ford launched the 1.5-liter engine across Europe last year. In the Focus, the engine is rated at 182 hp -- about the same state of tune as the engine slated for the Escape –- with a fuel-economy rating of 51 mpg on the European drive cycle. Some caveats here. The British or imperial gallon is 20 percent larger than the U.S. gallon, and European fuel economy tests differ from the EPA's tests.
Still, the 1.5-liter engine, a turbo, has a novel feature -- cylinder deactivation that cuts out one cylinder -– that is thrifty and able to deliver decent performance. Ford will also offer two models of the 2020 Escape with a hybrid powertrain.
But I think the 1.5-liter engine could be the superstar in the Escape's four-powertrain lineup that delivers the best combination of value, fuel economy and performance. Ford's previous three-cylinder engine, a 1.0-liter that was optional here in the Fiesta and Focus, didn't make much noise in the marketplace. In fact, Ford did little to promote it.
Hopefully, the 1.5-liter will not suffer the same fate. Here's a video that shows how the 1.5-liter engine works. Note the valvetrain on the first cylinder and the sliding pin that deactivates the valves. Pretty neat stuff.
Ford recalls 327K pickups
again to fix heater cables
The Associated Press
April 14, 2019
Dearborn – Ford is recalling 327,000 F-Series pickup trucks in North America for a second time to fix problems with engine block heater cables that can cause fires.
In December the company recalled 874,000 trucks because water and contaminants can get into the cables and cause corrosion. That can cause electrical shorts and fires.
About 327,000 owners took trucks to dealers for the fix, but an inspection may have inadvertently damaged the cables. Now dealers will disable the cables for all recalled trucks by cutting the prongs that go into electrical outlets. All owners will get new cables when parts are available. Ford is working with parts suppliers to get the cables as soon as possible, spokeswoman Monique Brentley said, but the date for the new cables to become available is unknown.
"We are advising people not to use their engine block heater cable," Brentley said Wednesday.
The recall covers F-150s from 2015 through 2019, as well as Super Duty trucks from 2017 through 2019. The fire risk only exists when the cables are plugged in.
Ford says it knows of one fire in the U.S. and two in Canada in trucks that could be related to the problem. Those trucks had the recall inspections done, the company said.
Engine block heater cables are plugged into electrical outlets or extension cords to keep oil and anti-freeze warm in extremely cold temperatures. They are used largely in the northern U.S. and Canada.
Ford's F-Series trucks are the top-selling vehicles in the U.S.
Ford CEO Jim Hackett:
'We're turning the corner'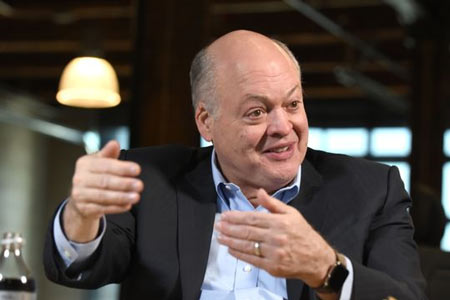 Ian Thibodeau,
The Detroit News
April 11, 2019
Ford Motor Co. CEO Jim Hackett reaffirmed Tuesday that he's pushing the 115-year-old automaker to "turn the corner" in 2019.
Hackett is approaching two years as CEO at Ford. He's said repeatedly since January that 2019 will be a "year of execution" at the automaker after disappointing financial results in 2018. Speaking to the Detroit Economic Club Tuesday, Hackett said he's getting used to constant chiding from investors and the media, for all his talk of the future.
But he said he's made clear to those in the company that he won't accept another year of poor earnings results. It's personal, Hackett said.
If they thought that we rationalize a year like that as OK, you need to know that I'm telling myself I can't have another year like that," Hackett said. "Not that I'm worried about getting fired. Who wants to spend their time just being average?
"We're turning the corner," he said. "Trust me on this."
Hackett and his executive team are executing moves across the company they hope will make Ford a long-term competitor in a rapidly changing and increasingly volatile industry. Executives describe a new cohesiveness at the top.
Hackett was appointed CEO to bring change to the automaker and jump-start a stock price that was stuck in neutral. The stock price is still down about $2 from the $11.11 per share it was when he was appointed.
But Hackett told The Detroit News recently that investors would come around once he got the business in order. And in fact, Ford shares have outperformed General Motors Co., Fiat Chrysler Automobiles and Tesla Inc. since the first of the year.
Author John Bacon asked Hackett a range of questions Tuesday, covering his time as Steelcase Inc. CEO and interim athletic director at the University of Michigan. The two also talked about Hackett's time playing football for Bo Schembechler. Hackett said his time as the third-string center — lining up across from the first-string nose guard — for years has helped him understand every part of Ford. He wasn't a starter, but Schembechler made sure Hackett knew he was valuable to the team.
"I'm the same guy that sat the bench that's running Ford Motor Company," Hackett said. "And maybe in a folded way, it's helped me understand everybody's job at Ford, because I understand what it's like to be in that level of the organization."
The CEO said one of his goals for Ford is to make sure the business is ready for the next recession. He and his top executives have moved to trim production times and spending as part of an effort to make the automaker more competitive.
Meantime, Hackett said he tries to spend at least 20% of his time every week working on some of those futuristic problems Ford faces, such as autonomous vehicles. Hackett said autonomous vehicles have been over-hyped. Companies over-estimated the arrival of autonomous vehicles, Hackett said. Ford plans to launch its autonomous vehicle program in 2021 in a "narrow" application.
"We'll be ready," Hackett said. "Ford's attitude in this is don't watch my lips, watch my feet. The work we're doing with our feet is really extraordinary."
Ford packs 2020 Escape
with 3-cylinder engine,
hybrid powertrains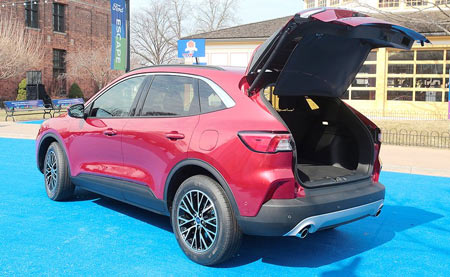 Richard Truett
Automotive News
April 10, 2019
DETROIT — The fourth generation of Ford's popular Escape crossover arrives this fall sporting a comprehensive redesign that returns the gasoline-electric hybrid powertrain to the lineup, reduces weight by as much as 90 kilograms (200 pounds) over the outgoing model and adds a long menu of safety features.
But unlike the previous generations of the Escape, Ford's second-best selling nameplate last year, the retooled 2020 Escape enters a landscape that is now glutted with compact utilities and a new-vehicle market that is cooling after nearly a decade of strong sales.
U.S. sales of the Escape topped just over 300,000 four straight years before dropping to 272,228 in 2018, placing it No. 5 among compact crossovers. Canadian sales of the Escape topped 40,000 units for the ninth straight year in 2018, with deliveries totalling 43,857, a third-place ranking among compact crossovers..
The latest Escape's success will be even more important to Ford as the company phases out cars such as the Taurus, Focus, Fiesta and Fusion and shifts marketing efforts to crossovers, SUVs and pickups.
Ford's plan to combat the glut of competitors and weakening retail demand is to put some white space between the Escape and its rivals. That starts under the hood.
Four engines will be available in the 2020 Escape. The smallest looks to be the most interesting. It's the North American debut of Ford's 1.5-litre, three-cylinder engine that launched in 2018 across Europe. It sports the industry's only cylinder deactivation system on a three-cylinder engine.
At certain speeds and loads the engine turns off one cylinder and cruises on just two. The 1.5-litre engine is rated at 180 hp on 93 octane fuel. Lower grades of gasoline will reduce the engine's output, but Ford did not say by how much.
The Escape's second available engine is an updated version of Ford's workhorse 2.0-litre turbocharged four-cylinder, this time cranking out 250 hp, also on 93 octane premium fuel. That's up five hp from the outgoing 2.0-litre engine. Using less expensive, lower octane gasoline will cause power from the 2.0-litre engine to drop, but again Ford didn't offer any details.
Both the 1.5-litre and the 2.0-litre engines are mated to an eight-speed automatic transmission. The 1.5-litre engine can be ordered with either front-wheel drive or optional disconnecting all-wheel drive; the 2.0-litre Escape comes only with the optional disconnecting all-wheel drive.
For the first time since 2012, a hybrid powertrain is back in the Escape lineup. Ford spokesman Dan Jones said the Escape Hybrid's powertrains are based on the architecture used in the Ford Fusion Energi plug-in hybrid sedan.
Two versions of the Escape Hybrid will be available: A full hybrid gasoline-electric model available in two-wheel drive or with optional disconnecting all-wheel drive. Also, Ford will offer the Escape with a plug-in gasoline-electric powertrain. The range on battery power for the Escape PHEV, Ford says, will be at least 48 kilometres (30 miles).
Equipped with electronic continuously variable transmissions, both hybrid models allow the driver to choose between four modes:
Auto EV lets the vehicle decide whether to run on gasoline or electric power.
EV Now enables the vehicle to run in electric-only mode.
EV Later gives drivers the option of choosing to switch to gasoline power and save electric-only driving range for later. Chevrolet's Volt has a similar option.
EV Charge directs the powertrain to charge the battery pack while the vehicle is being driven so that electric only range can be used later.
The front-wheel-drive Escape Hybrid has a top speed of 85 mph on battery power, according to Ford. No word yet on EPA fuel economy ratings.
Ford says it is aiming for a range of at least 644 km (400 miles) per tank on all models and trim levels of the Escape, topping out at at least 885 km (550 miles) of driving range on a tank full of gasoline for the Escape Hybrid. That would be tops among compact hybrid crosssovers, but behind the Chevrolet Equinox diesel, which can go 935 km (581 miles) per tank between fillups.
"Customers will spend less time at the gas station and more time on the road," said Kumar Golhotra, Ford's North American president.
From 2005 to 2012, Ford sold more than 114,000 Escape Hybrids. It was the second-best selling hybrid behind the Toyota Prius. Ford lost momentum with the Escape Hybrid's successor, the Ford C-Max, which has since been canceled.
All Escapes let the driver change the driving mode to suit terrain, weather and driving preference. The menu includes normal, eco, sport, slippery, snow and sand modes. Another standard safety feature is Ford Co-Pilot 360, which includes lane centring and adaptive cruise control that will bring the Escape to a complete stop.
The options list includes head-up display, the first time that has been offered in a Ford-brand vehicle in North America. Driving data is projected onto the windshield on a six-inch screen, so the driver doesn't have to look away from the road.
Other optional safety features foreshadow some of the technologies that will eventually roll out in self-driving cars. The second generation of Ford's Active Park Assist automatically parallel parks the Escape, while Evasive Steering Assist detects a slower moving or parked vehicle and, to avoid a collision, helps the driver steer around it.
The second row of seats in non-hybrid models slide, a feature that increases legroom. Pushed fully forward, the second-row seats clear a space that lets the Escape's rear cargo area hold 37.5 cubic feet of cargo, or about four sets of golf clubs. The 2020 Escape has slightly more head, shoulder and hip room, Ford says.
Wireless charging is available, as is an eight-inch touch screen on SE and higher trim levels. Also on the options list is a 12.3-inch digital instrument cluster, showing vehicle speed, fuel and other information.
The latest Escape borrows some of its styling cues from other vehicles in the Ford stable. The trapezoidal grille will be familiar looking to Mustang fans, while the lower portion of the front fascia has details cribbed from the GT supercar.
The vehicle is lower, wider and longer. The height shrinks from 168.4 centimetres (66.3 inches) to 167.9 cm (66.1 inches), width grows from 188.2 cm (74.1 inches) to 190.5 cm (75.0 inches), wheelbase increases from 278.1 cm (105.9 inches) to 271 cm (106.7 inches), while length grows from 452.4 cm (178.1 inches) to 458.5 cm (180.5 inches). Engineers were able to reduce the curb weight — even while increasing content — by as much as 90.7 kg (200 pounds) by using ultra-high strength steel.
Fuel economy and pricing information will be released this summer.
Ford workers in Russia
protest planned closure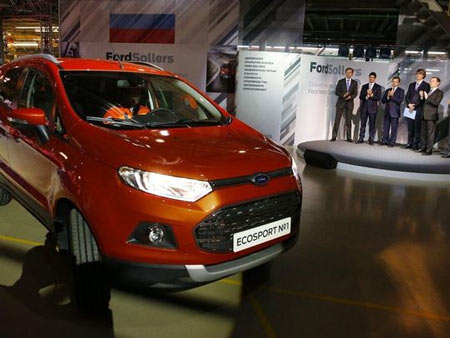 The Associated Press
April 9, 2019
St. Petersburg, Russia – Ford workers in Russia have started industrial action over plans to close a plant including stopping work if there are any equipment problems.
Mikhail Sergeyev, head of a trade union which represents around a third of the St. Petersburg plant's 900-strong workforce, told The Associated Press on Monday the so-called work-to-rule will continue until Ford begins negotiates over redundancy terms.
Under work-to-rule, workers abide strictly to the terms of their contracts.
Sergeyev said his union is pushing for more generous layoff packages equivalent to twice a worker's annual salary, and plans to appeal to Ford's U.S. management to get involved in the dispute.
He added that the union also opposed what he said were measures aimed "to scare the workers and make them drop their demands," such as reduced layoff packages for workers who are frequently sick or considered unproductive.
Ford said last month that it's leaving the Russian car market and closing two assembly plants and an engine plant, after years of lackluster sales through its Ford Sollers joint venture. Ford will keep making vans at another site through the joint venture, which as part of the restructuring program, is now majority owned by the Russian partner, Sollers.
Organized industrial action is uncommon in Russia, where many unions have close ties to management. The auto industry is a rare exception, though.


Unifor expects to hear from GM
about Oshawa plan next week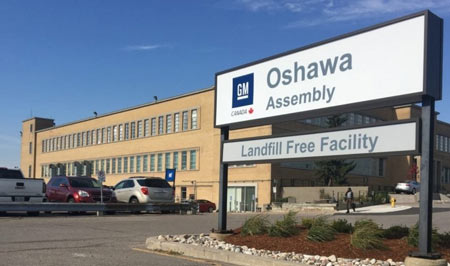 John Irwin
Auto News
Canada
April 8, 2019
TORONTO — Unifor expects to hear back from General Motors by the end of next week regarding its proposal to save some workers' jobs at Oshawa Assembly, a local union official said.
Unifor Local 222 President Colin James said the union has not met with GM to discuss the proposal since March 19, when National President Jerry Dias met with GM Canada President Travis Hester and Gerald Johnson, GM's executive vice- president of global manufacturing. Unifor subsequently suspended its campaign to pressure GM to reverse course on its plans to stop production at the plant by year's end.
James, whose local represents about 2,600 workers at the Oshawa plant, said GM was doing "some sort of assessment" on the union's proposal and would respond to the union once that is completed.
"That has not happened yet, but I'm sure that'll happen by the end of next week, just thinking of the timeframe," he told Automotive News Canada.
David Paterson, GM Canada vice-president of corporate and environmental affairs, declined to comment.
Details of Unifor's proposal were unclear. Asked if it involves work at Oshawa's stamping operations, James said there is "some work that would make sense just because we have the guys there and the stamping facility."
Oshawa does stamping for GM's Hamtramck, Mich., assembly plant, which has a production mandate lasting through January 2020.
"But we're also trying to look outside of that, if there's anything available," he said. "Hopefully it comes together and we do have some good news within the next little while."
Prior to the current round of negotiations, Unifor waged an aggressive campaign against GM. Between November and February, Unifor undertook short wildcat strikes at Oshawa suppliers that were later ruled to be illegal, briefly blockaded the entrance to GM Canada's headquarters, took out ads during the Super Bowl and other high-profile broadcasts.
James concedes that the union's proposal would not save the jobs of every worker at the plant. Unifor said previously that GM has made it clear it has no plans to extend production at the plant beyond 2019. The factory currently builds the Cadillac XTS and Chevrolet Impala sedans, as well as final assembly on previous-generation Chevrolet Silverado and GMC Sierra pickup bodies shipped from Indiana.
"What we're doing is trying to look outside the box and look at any jobs that we can save in the facility or add to," he said. "So, of course, that doesn't save all of our members, but any job saved is one less person hitting the streets."
Ford stock has outperformed
GM, FCA and Tesla this year
Ian Thibodeau,
The Detroit News
April 7, 2019
Ford Motor Co. shares have outperformed General Motors Co., Fiat Chrysler Automobiles and Tesla Inc. since the first of the year. Some experts say that's a sign that the Dearborn automaker is showing Wall Street the details they want to see.
Ford shares closed up 17% year-to-date Friday. GM was trading up 16%, and Fiat Chrysler closed up 8% in that same time frame.
Ford also paid out roughly $600 million to shareholders on March 1 as part of the regular 15 cents per share dividend. The stock performance comes as CEO Jim Hackett announced continued restructuring moves in Europe and China, and the automaker posted stronger U.S. sales than its competitors
"Ford this quarter is outperforming the competition," said David Kudla, CEO of Grand Blanc-based Mainstay Capital Management LLC. "They certainly did very well compared to their other big competitors on that market segment."
It's a turn of events for the automaker that saw its stock hit a six-year low in October. Ford in the first quarter continued to announce plans for a global restructuring, outlined a global partnership with Volkswagen AG and said it would pump money into its Flat Rock Assembly plant to build electric vehicles. That's resonating on Wall Street, according to Kudla.
"The legacy business has been good for Ford," Kudla said. "We've seen some clear vision. (Last year) there was action and strategy out of GM that we weren't seeing from Ford. "Well, we're seeing that now."
Hackett will mark two years as Ford CEO at the end of May. He was appointed to bring change to the automaker and jump-start a stock price that was stuck in neutral. The stock price is still down from the $11.11 per share it was when he was appointed. But Hackett told The Detroit News that investors would come around once he got the business in order.
"You prosper if you get it right," Hackett said in a March interview. He stressed that he didn't want to communicate his plans to Wall Street before he had effectively communicated everything in-house. "You don't want to worry about the wrong things. The stock is a consequence of method and strategy... We couldn't tell Wall Street because we couldn't get ahead of the constituents."
Meantime, one automotive stock that had out-performed the Detroit Three for years is hitting a wall. Tesla stock traded down 11% year-to-date Friday.
The Detroit automakers are making money on big trucks and SUVs as U.S. consumers continue their swift departure from the sedan market, Kudla said. They also have fresh offerings coming. Tesla has aging product, it's selling fewer vehicles and the vision for the future is almost non-existent, Kudla said.
"This is as good as it gets for Tesla," said Kudla. "They have no new product in the pipeline to speak of. They have a veritable wave of competition coming. Their product is waning now, and the competition hasn't even gotten here yet."
Other investment analysts have suggested the established automakers might be better investments, too. Morgan Stanley analyst in a Friday note to investors wrote that while automakers might not report great results for the first quarter of the year, policy changes, a resurgent Chinese market and calming trade tensions could be a boon for the automakers that have fallen out of favor with investors.
Jonas wrote to remain "cautious on the sector" but the stocks could rally this year. In an April 1 note, Jonas, who's repeatedly criticized Ford and Hackett for a lack of clarity in recent years, wrote that he has an "ever so slight budding interest in Ford" given its first-quarter stock performance.
But Hackett will have to continue rolling out his plan and the automaker will have to continue selling profitable trucks and SUVs if Ford wants the first-quarter momentum to continue, Kudla said.
"If we continue to see these types of developments, they're going to have a much better 2019," Kudla said. "We're seeing more of what Wall Street and investors wanted to see."
There are several moves expected in the first half of 2019 that could continue the momentum. Ford and VW have yet to announced specifics of a pending partnership on autonomous vehicles. The automaker is expected to finalize its salaried headcount reduction by the end of the second quarter.
Ford is at the peak of a product cycle that will refresh 75 percent of its lineup and introduce new vehicles by the end of 2020. The automaker will announced first-quarter earnings results at the end of April. Hackett has called 2019 a year of "execution." And he told The News he expects his direction for the company will become clear to critics this year.
"We're breaking through that crust," Hackett said. "Wall Street's on that list somewhere."
Ford outlines plan for China,
warns of hard-Brexit impact

Ian Thibodeau,
The Detroit News
April 4, 2019
Ford Motor Co. has a plan to accelerate a turnaround in China, and could reconsider its presence in the United Kingdom.
The automaker on Wednesday outlined "Ford China 2.0," a five-pronged plan aimed at accelerating a turnaround in the world's largest auto market. The plans were announced hours after Ford of Europe Chairman Steven Armstrong told reporters Tuesday in Amsterdam that it would evaluate its footprint in the UK in the event of a no-deal Brexit.
The moves come as Ford CEO Jim Hackett rolls out a string of global decisions to realign Ford and drive profits from some of its long-struggling business units.
"China is leading the world with smart vehicles, and is a key part of Ford's global vision for the future. We are excited about seeing more products developed in China, for China and from China," Hackett said in a statement. "Ford is deeply committed to China, and with our new China leadership team and vision, we're investing in the future – a future that starts today."
The Brexit issue comes as Ford already is restructuring its European business unit. The automaker plans to shutter factories there and in Russia, and lay off employees. Armstrong said the automaker would have to take a hard look at its engine and transmission plant in the United Kingdom if there's a hard Brexit. A hard Brexit would happen if the United Kingdom leaves the European Union as well as the market and customs union.
The automaker has said it is closely monitoring the situation. A decision is expected within weeks.
In China, Ford is making up for lost time. The automaker plans to speed up development and introduce new vehicles there. Planned are 30 new Ford and Lincoln vehicles over the next three years. More than 10 of those will be electrified. The automaker on Tuesday debuted a new global redesign of the Ford Escape, which will launch in China later this year.
The automaker also plans to lean on partnerships with Changan Automobile and Jiangling Motors Corporation Group to develop new products and sell more directly to Chinese consumers. Ford plans to debut Sync+ in China in partnership with Chinese internet company Baidu. In 2021, the automaker plans to equip new vehicles with technology that would allow vehicles there to communicate with infrastructure or other vehicles.
The automaker has announced a similar target for other markets, but is aiming for 2022.
Ford also plans to invest more heavily in its China product-development team to cater more to Chinese consumers. Ford has had trouble breaking into the market there — its vehicles emphasized things Chinese consumers didn't prioritize, executives have said.
The automaker also plans to push the Lincoln brand in China.
Ford plans to continue to restructure the Chinese business team, the automaker said. It plans to recruit "local leaders" there who know the Chinese automotive sector.
All-new, sporty 2020
Ford Escape debuts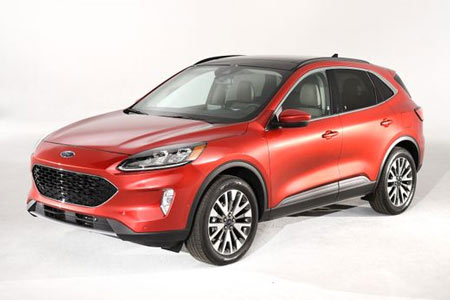 Henry Payne,
The Detroit News
April 3, 2019
Ford took the wraps off an all-new 2020 Escape compact crossover today as the brand ditches sedans and looks to a lineup anchored by SUVs and trucks.
The sporty, lean Escape — the second-best selling Ford after the Ford F-150 — has a lot riding on its sleek back.
It will do battle in the auto industry's biggest segment against the best-selling Japanese trio of the Toyota RAV4, Nissan Rogue and Honda CR-V – while also trying to attract customers orphaned by the retirement of Ford's Fusion, Focus and Taurus sedans.
To accomplish these tasks, Ford brings the most versatile Escape yet. The 2020 model features a long list of technology and engine options — including a hybrid and plug-in option -— that has been the Escape's calling card over four generations. But this Escape also expands its envelope with fetching good looks and interior volume.
The new model has a lower belt-line than the outgoing ute with a sloping, shark-like nose that evokes the premium Porsche Macan SUV. The headlights are level with the hood-line (water-line in Ford parlance), and the Mustang-inspired trapezoidal grille is slung low. Longer, wider, lower, and 200-pounds lighter, the new Escape has a noticeably more athletic presence.
"Like a cat ready to pounce," designer George Bucca says of an SUV that will boast best-in-class drag coefficient.
The Escape's more athletic look will share the compact SUV space with a boxier, more off road-capable Ford SUV due in the 2021 model year. The as-yet unnamed model will be built on the same front-wheel drive platform as Escape but be more geared for true off-road capability.
With a lower center of gravity than the outgoing Escape, the new ute should have more sedan-like handling.
"This new vehicle performs like no other Escape before," says Escape chief engineer Jim Hughes. "It's quick and a lot of fun to drive."
Yet, despite its lower-by-a-half-inch-stance, the Ford has more room inside. The new architecture allowed engineers to scallop out more headroom, and rear seats can slide like the front buckets – opening up a whopping 6 more inches of legroom nearly on par with a full-size Expedition SUV. The back seat will be roomiest in class.
Cargo room expands to 37.5 cubic feet. Four passengers can stuff four golf bags in the back for a day at the links. Up front, the Ford's rotary shifter and SYNC 3 infotainment system will be familiar to Ford customers – but the console space is more generous than before, offering cubby space for phones and French fries alike.
Since it debuted over two decades ago as a 1995 model, the Escape has watched its competitive set grow from six to 22 vehicles, with Japanese and Korean offerings coming loaded with standard features. Ford rises to the task with standard CoPilot 360 (which debuted on the Ford Edge last fall) that includes blind-spot assist, automatic braking and automatic high-beams. Wi-Fi connectivity for up to 10 devices is also standard (which is five more than the number of people that can fit in the Escape).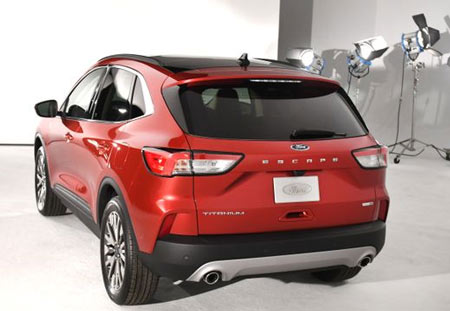 An available park-assist feature is a reminder of the Escape's pioneering history that included the first kick-open tailgate and first small SUV hybrid option. Active Park Assist 2.0 allows drivers to automatically parallel or perpendicular park with the simple touch of a button — without having to engage the steering wheel or brake.
For 2020, the hybrid returns (after disappearing since 2012) along with a buffet of turbocharged (Ecoboost) and electric options. The battery-gas engine setup will include a 2.5-liter mill with up to 40 mpg, 550 miles of range and 3,500 pounds of towing capability.
Engine firsts include a standard three-cylinder engine, a 1.5-liter turbo-4 with 180 horsepower, and a plug-in hybrid that can travel more than 30 miles on battery alone – over 50 percent better than the retiring Fusion Energi plug-in sedan.
A fourth powertrain option, available in top-trim models, will be a peppy 250-horse, 2.0-liter turbo-4 capable of accelerating from zero-60 mph in just 6.5 seconds. A carryover from the last generation, it gains 5 horsepower and is tow-rated for 3,500 pounds. All engines are mated to an 8-speed tranny and are available in front-or-all wheel drive.
The new front-wheel drive and all-wheel drive platform is one of five platforms that will gird Ford going forward. The other four are rear-wheel drive (Mustang), van, body-on-frame (trucks) and battery-electric. The platforms, according to Ford, will share 70 percent of their parts for cost efficiency.
The 2020 Escape (and its future off-road segment mate) slots between the entry-level EcoSport and midsize three-row Explorer in Ford's SUV lineup. It will make its auto show debut in New York City later this month and will be available for media reviews shortly thereafter.
The Escape is assembled in Louisville and arrives at dealerships this fall.
GM seeks dismissal of
union lawsuit on closures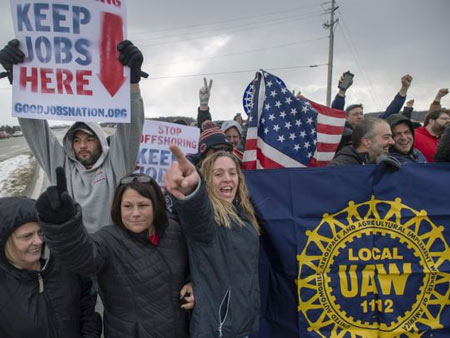 Associated Press
April 2, 2019
Lordstown, Ohio – Attorneys for General Motors have asked a federal judge to dismiss a lawsuit claiming the automaker sidestepped an agreement with union workers through its plans to idle three plants, including one in Ohio.
The Warren Tribune Chronicle reports GM's motion argues the United Auto Workers didn't exhaust grievance arbitration procedures contained in the contract. The motion says the contract bars the union from going to court over a contractual dispute while grievances remain open.
The GM motion says two grievances over plant idling are pending.
The UAW sued GM in February over a breach of contract claim, trying to stop GM from closing its assembly plant in Lordstown, Ohio, and transmission plants in White Marsh, Maryland, and Warren, Michigan. A message seeking comment was left at the union's Detroit offices.


GM brushed off
UAW concessions to
idle Lordstown plant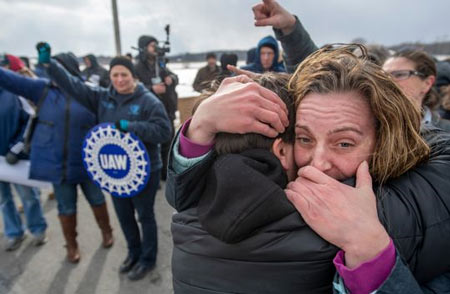 David Welch,
Bloomberg News
April 2, 2019
The union hall in Lordstown, Ohio, is a hive of confusion, anxiety and anger. Mostly anger.
Three weeks after employees at the town's General Motors Co. compact car plant assembled their last Chevrolet Cruze, employees are filing into the United Auto Workers Local 1112 hall to sign up for unemployment benefits and try to figure out if they should take a transfer to another GM plant, or wait it out in the one factory most have ever worked and see if it survives.
Union workers are livid that they agreed to make $118 million a year in annual concessions to save the plant in mid 2017, only to have GM effectively threaten to close it down a year and a half later. Unless GM reverses its course, Lordstown will fall victim to the harsh reality that fewer consumers are buying small cars and that Chief Executive Officer Mary Barra is hyper focused on doing business only where GM can earn big returns.
"Everything they asked us to do, we did," said Dan Morgan, the shop chairman of Local 1112 and chief negotiator of the agreement, the details of which haven't previously been reported. "And still, we don't have a product to build."
GM idled the plant in March saying demand for the Cruze was too weak to continue. In an email, GM spokesman Dan Flores said the union agreed to many concessions, but that they didn't address the realities the company faces.
The problem isn't high wages, it's falling sales – and GM's post-bankruptcy cash flow discipline. "We didn't discontinue the Cruze because of something the local union did or didn't do," Flores wrote. "It was a market-driven decision to discontinue the Cruze, and there were no products to allocate to Lordstown."
The union disagrees the Cruze was a loser and thinks their concessions merit adding another product to the plant, perhaps one being built in Mexico. Of the 38 models GM sold in the U.S., only five did more volume than the roughly 143,000 Cruzes delivered last year. But sedans no longer command much of a premium as car buyers shun them in favor of crossovers, SUVs and trucks. And even at the peak of the Cruze's popularity, profit margins were thin.
"It's the reality of the marketplace," said Ron Harbour, a global automotive manufacturing consultant at Oliver Wyman. "With small cars, margins are razor thin so if you go down to one shift, no one can make money."
The plant's future will be decided in talks later this year, when GM and the UAW hammer out a new four-year labor deal. President Donald Trump has weighed in, giving GM heat with a demand to reopen the factory or sell it to someone who will. At a rally Thursday in Grand Rapids, Michigan, Trump gave the company kudos for investing in an electric-car plant in the state, but the praise didn't last long.
"General Motors did just announce a $300 million dollar investment at its Orion assembly plant here in Michigan," Trump said. "But I'm also fighting with General Motors and the UAW to take swift action on the GM plants at Hamtramck and Warren, Michigan, and Lordstown, Ohio. Get the damn plants open."
At stake in Lordstown are the livelihoods of more than 1,400 plant workers and thousands more indirect jobs in the surrounding area of northeast Ohio, a key swing state in presidential elections. Married couple Mark and Sherry Pratt are worried about what's in store for them, as both have been laid off after more than a decade each working at the plant.
Mark may consider an offer to move to another GM factory to save his pension and retiree health care. But it's unclear if his wife would be able to work at the same plant, and they're reluctant to relocate away from their eight grandchildren in the Lordstown area. "We want them to know us," Sherry says. "We don't want to be a state away."
It's a bitter pill for workers who feel they've already given up a lot to keep GM happy.
Before GM's announcement that it had no future product planned for Lordstown, Morgan said the UAW agreed to what GM called a "Super Competitive Operating Agreement," which allowed GM to bring in contractors, temps and other lower-wage staff to work in the plant. It was set up to save even more money than the "Competitive Operating Agreement" that GM used to lower costs at its electric-car factory north of Detroit in Orion Township, Michigan.
Morgan started getting nervous in January 2017. GM earned record profit the year before, but sales of the Cruze, the sole vehicle made in the massive Ohio plant, fell 17 percent. GM cut the third shift at the factory along with about 1,200 jobs, leaving more than 3,000 people making almost 190,000 cars a year. As consumers fled to sport utility vehicles, Cruze sales kept falling and GM eliminated the second shift in June 2018, dismissing another 1,500 workers.
At the UAW-GM Center for Human Resources on the Detroit River, Morgan and other union officers met with Scott Sandefur, a GM vice president of labor relations, and Cathy Clegg, GM's vice president of North American manufacturing, among other executives for a series of meetings from May through July to try to improve profits.
"We knew we were making small cars," Morgan said. "We wanted to know what we had to do to stay in the game."
GM declined to make Sandefur or Clegg available. The UAW representatives said GM told them the Cruze wasn't profitable. Executives also said if the local adopted a more competitive labor agreement to get the car back in the black, it would give them "a way better opportunity to get new products," Morgan said.
To cut costs, the UAW merged Locals 1112 and 1714, which saved the company $3 million a year in administrative costs. Then the union agreed to outsource non-assembly jobs like handling of parts and materials to lower-wage workers employed by a subsidiary called GM Subsystems LLC, according to a document reviewed by Bloomberg.
Next, they allowed GM to cut the number of skilled tradesmen including electricians, pipe fitters, mechanics and die makers in half to 130 by letting the company contract out for overtime skilled-trade work and by changing job classifications, said Scott Brubaker, who was chairman of Local 1714.
The union allowed outside firms to send in contractors to repair supplier parts and assembled vehicles at the plant. It also agreed to drop the number of extra workers employed to cover absentee workers to 60, from 150.
Morgan and other union negotiators signed the deal to make all of the concessions GM wanted in late July 2017 and agreed to implement it in January 2018. "All of these things were very unpopular," Morgan said.
GM also agreed to take action to help the Cruze's bottom line, Morgan said. Management wanted to bring suppliers on site to get parts ready for the assembly line to improve efficiency. Chevrolet's sales and marketing group was supposed to advertise the car more aggressively and offer deals on vehicle options that might help sales. None of that was done, Morgan said.
By October 2018, GM told Morgan that the Cruze was making money again. To his surprise, the company announced a restructuring plan the next month that included Lordstown on the list of plants that may close. The automaker elected to idle Lordstown even earlier than planned after Cruze sales sank 22 percent last year. The UAW has sued, arguing GM can't close the plant under its existing contract.
At an event in Orion Township last week, when Barra announced the $300 million investment in GM's Chevy Bolt plant, UAW Vice President Terry Dittes, who oversees the union's GM department, said his team will negotiate hard this summer to keep the plant open.
For workers in Lordstown, it's like purgatory, said David Green, president of the local. Workers don't know if they should join the roughly 520 people who've taken an offer to transfer to a plant out of state, or see if Lordstown survives. "If you wait, there may not be anything to come back to," Green said.
Sonja Smith, who has 24 years at the plant, said she will consider a move if it is offered, but she isn't happy about the prospect. "We did everything they want," she said. "This is their payback."
Mustang EcoBoost convertible
is one prize pony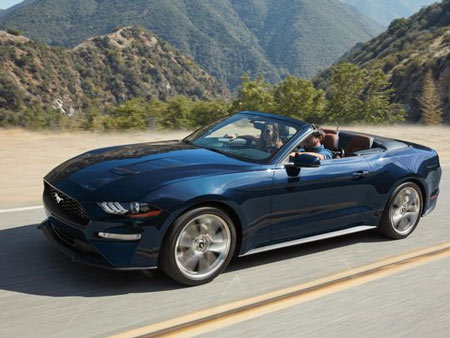 Larry Printz,
April 1, 2019
Tribune News Service
I recently drove a 2019 Chevrolet Camaro, followed shortly thereafter by the 2019 Ford Mustang.
Which did I prefer? From a technical standpoint, both cars have never been better, riding atop state-of-the-art platforms and wearing styling that blends elements of their original designs with the latest styling cues. Both perform well and are modestly price for the performance they deliver.
So why do I find it so hard to like the Camaro? Perhaps it's the model's design evolution.
Having carefully developed from 1970 through 2002 on one design path, it could have continued when it returned for 2010 by reinterpreting the beautiful 1970 model, one influenced by Italian coachwork. Instead, the Camaro's return self-consciously plagiarized its first generation, which was cribbed from the Ford Mustang.
While the new Camaro steps away from that, it still seems more like a buffoonish caricature than a natural evolution. The Mustang has more or less retained its classic styling cues across its lifetime, with the 2019 edition blending its iconic American design with European elan, buffed to a modern sheen.
In this light, GM seems like a follower, not a leader. The Ford Mustang has been continuously built for 55 years. In contrast, the Camaro has come and gone, afflicted by periodic bouts of corporate neglect.
Besides, Steve McQueen drove one. And as if that's not enough, remember that the Mustang invented the class the Camaro competes in, namely the pony car class.
And it remains the leader for 2019.
Returning in EcoBoost (310 horsepower), GT (460 horsepower), Bullitt (526 horsepower) and Shelby GT350 (ditto) trim, all but the EcoBoost Mustang receive double-overhead-cam V-8s.
In contrast, the EcoBoost makes do with a double-overhead-cam 2.3-liter turbocharged four-cylinder engine with four valves per cylinder and twin independent variable camshaft timing. If the idea of a four-cylinder Mustang makes your blood run cold, or makes you feel like Steve McQueen's unloved relative, keep in mind it develops 310 horsepower to the rear wheels, more than the Mustang's V-8 developed 10 years ago. A six-speed manual is standard, a 10-speed automatic is optional. And it starts at less than $26,395 for the EcoBoost coupe, or $31,895 for the EcoBoost convertible.
It's easy to admire the engineering that went into the Mustang EcoBoost convertible once you put the top down. Twist and unhook the center-mounted handle and hold a button. Then, put this prized steed in gear, stomp on the accelerator and let the spring sun's warmth clear out the winter cobwebs.
Despite the puny number of cylinders under the hood, the EcoBoost is close enough to greased lightning to be a whole mess of fun. The steering has just enough heft without feeling too light, and turn-in remains sharp, even on the base model. The car remains flat in corners, but that's to be expected.
And while I admit that the Camaro I drove had a more precise feel, the tradeoff in punishing ride quality was hardly worth it given the crumbling nature of American roads; I prefer all of my vertebrae to remain intact. That's what makes the Mustang such a pleasure; it doesn't punish you for your fun, providing the optimal amount of grip while delivering impressive bump absorption and admirable ride quality.
Wind management is excellent, providing just enough wind rustle to remind you that you're outside. And when the top is raised, the interior is remarkably hushed while rear visibility still bests the Camaro coupe, whose crevice-like windows and huge blind spots make driving a leap of faith. Not so with the Mustang.
And this stallion's cabin is as modern as its engine, with standard dual automatic climate control, remote starting, leather-wrapped shifter and parking brake, reverse sensing system with rearview camera, SYNC infotainment system with an 8-inch LCD capacitive touchscreen, two USB ports, and Apple CarPlay and Android Auto. There's also a lengthy options list, offering everything from adaptive safety features to added performance equipment.
With its classically updated looks, sporting yet refined manners and admirable performance, the 2019 Mustang EcoBoost is a classic American stallion, the perfect way to welcome the new season. And even if driving this will never transform you into Steve McQueen, except in your wildest dreams, it could fatten your wallet. After all, Mustangs eventually become collectible — you just have to wait awhile.
Fiat Chrysler to lay off
1,500 at Windsor Assembly
Breana Noble,
The Detroit News
March 30, 2019
Fiat Chrysler Automobiles NV said Thursday it will lay off 1,500 workers at its Windsor Assembly Plant in Ontario.
The automaker is cutting its third shift at the facility that produces Chrysler Pacifica minivans to "better align production with global demand," Jodi Tinson, FCA spokeswoman, said in a statement. The action would take effect Sept. 30.
Labor union Unifor Local 444 President Dave Cassidy said the automaker informed the union of the layoffs hours earlier at 2 p.m. Thursday. He demanded a meeting immediately with FCA CEO Mike Manley.
"People's lives — 1,500 direct families depend on us," an emotional Cassidy said during a news conference in Windsor. "We're going to do everything possible to make sure we maintain three shifts. Everyone knows our product in Windsor is No. 1 and if you want to build it right, you want to build it in Windsor."
FCA said it will offer retirement packages to eligible employees and make efforts to place indefinitely laid-off hourly employees in open full-time positions as they become available based on seniority.
The automaker is required by its contact with the union to give a six-month notice of permanent reductions. The plant went from two shifts to three shifts in 1993, Cassidy said.
Cassidy said the decision is based on softening demand of the Pacifica. U.S. sales of the minivan dropped 32 percent year-over-year in February.
The cutbacks in Windsor come as the automaker confirmed in February that it would revive a previously idled engine plant on Detroit's east side as part of a $4.5 billion investment in five Michigan plants. The actions would create about 6,500 new jobs in Metro Detroit,
Thursday's news follows reports on Wednesday that FCA would idle its plants in Windsor and Brampton, Ontario, for the first two weeks of April to align production with demand. It would be the third time in 2019 that the automaker stopped production in Windsor.
Cassidy said the shift cut is not akin to General Motor Co.'s decision to idle its assembly plant in Oshawa, Ontario, when it ends production of the Chevrolet Impala and Cadillac XTS later this year.
Unifor last month suspended its media campaign against GM after talks between the two parties appeared to be progressing toward a future for the Oshawa plant.
Cassidy also criticized Windsor Mayor Drew Dilkens, who in December emphasized the importance of diversifying the city's economy should FCA decide to leave.
"(Explicit) Drew, seriously," Cassidy said. "I have reached out to Drew Dilkens so many times. I have tried to bridge the gap there. ... This is devastating for the city of Windsor, and I hope Drew Dilkens might reach out to me."
The mayor's office did not immediately return request for comment.
Ford closes 3 factories in
Russia in broad overhaul

The Associated Press
March 28, 2019
Moscow – Ford said Wednesday it will close three factories in Russia, causing heavy job losses, as it pulls out of passenger vehicle manufacturing in the country.
The U.S. carmaker said it will stop making passenger cars in Russia by the end of June, closing vehicle assembly plants in St. Petersburg and Naberezhnye Chelny, as well as an engine plant in Yelabuga.
Ford said "significant employee separations are required." The Ford Sollers joint venture employs around 3,700 people in total in Russia, Ford said, adding that the total number of people leaving the company has yet to be determined.
The company blames a slow recovery in the Russian car market after an economic slowdown in recent years, and moves toward cheaper cars.
Ford will now focus solely on commercial Transit vans in Russia through its Ford Sollers joint venture. Russian partner Sollers will take 51 percent majority ownership of the joint venture, which was previously equally owned by both parties.
Ford didn't comment on whether any of the plants could be sold.
Ford Sollers has repeatedly paused or scaled back production at the St. Petersburg plant in recent years, citing low customer demand.
An independent trade union operating at the St. Petersburg plant has criticized the restructuring plans and said it would try to persuade the regional government to pressure Ford to reconsider.
Russian Deputy Prime Minister Dmitry Kozak told the Vedomosti business daily on Wednesday that the government was in talks with Sollers about ways to support production of Transit vans at the vehicle assembly plant in Yelabuga.
According to the Association of European Businesses, a trade body for foreign companies in Russia, Ford sales of cars and light commercial vehicles such as vans grew by 6 percent in 2018 to 53,234 units. That ranked Ford the 10th highest-selling brand while Lada and the Korean sister brands Hyundai and Kia led the way.
However, AEB statistics show a 45 percent fall year-on-year in Ford sales in the first two months of 2019, down from 7,566 to 4,168.


Three pickups earn 'good'
passenger-side crash-test ratings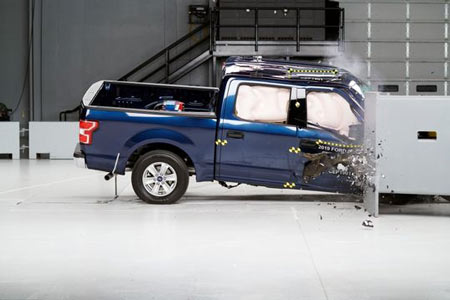 Keith Laing,
The Detroit News
March 27, 2019
Washington — Three large crew-cab pickups — the 2019 Ford F-150, Ram 1500 and Nissan Titan — earned "good" overall ratings in passenger side crash-testing by the Insurance Institute for Highway Safety.
However, poorly rated headlights prevented all but one of the 11 small and large 2019 pickups that were tested from qualifying for the institute's Top Safety Pick award. The lone exception was the Honda Ridgeline, which earned "acceptable" passenger-side crash test ratings but has "good" headlight ratings and "superior"-rated front crash prevention.
IIHS, which represents the insurance industry, said the Toyota Tundra was the only pickup to earn a "poor" rating in its passenger-side crash tests. Five of the trucks — the Chevrolet Colorado, GMC Canyon, Nissan Frontier, Chevrolet Silverado 1500 and GMC Sierra 1500 — rated "marginal."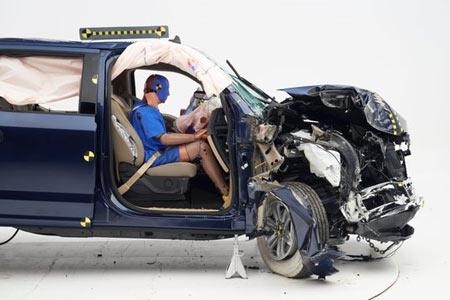 "We commend Ford, Nissan and Ram for providing state-of-the-art crash protection for both drivers and front passengers of their large pickup models," David Zuby, IIHS chief research officer, said in a statement. "As a group, however, the pickup class still has a lot of work to do."
IIHS said its "small overlap" passenger-side crash testing replicates what occurs when just the front corner of a vehicle strikes another vehicle or an object such as a tree or utility pole. IIHS began rating vehicles for protection in a passenger-side small overlap front crash in 2017 after adopting a similar test for driver sides in 2012.
The group said the Ford F-150 was the best performer in its passenger-side test. IIHS said the F-150's structure held up well with maximum intrusion of 5 inches into passenger space. The group said the vehicle's seat belts and air bags worked well together to control the movement of the passenger and driver dummies, and neither dummy recorded any potential injuries.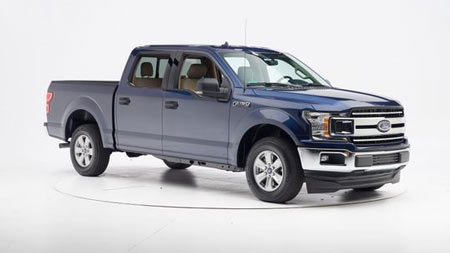 IIHS said the Tundra, which received the "poor" rating in the passenger side crash test, was seriously compromised by intruding structure. Maximum intrusion on the Tundra in the test measured 15 inches.
Pickup crash-testing
The following 2019 pickup models received "good" ratings on their passenger-side crash-test performance:
Ford F-150
Ram 1500
Nissan Titan
The following 2019 pickup models received "acceptable" ratings on their passenger side crash-test performance:
Toyota Tacoma
Honda Ridgeline
The following 2019 pickup models received "marginal" ratings on their passenger-side crash-test performance:
Chevrolet Colorado
GMC Canyon
Nissan Frontier
Chevrolet Silverado 1500
GMC Sierra 1500
The following 2019 pickup model received "poor: ratings on their passenger side crash test performance:
GM to invest $300M in Orion,
add 400 jobs for new EV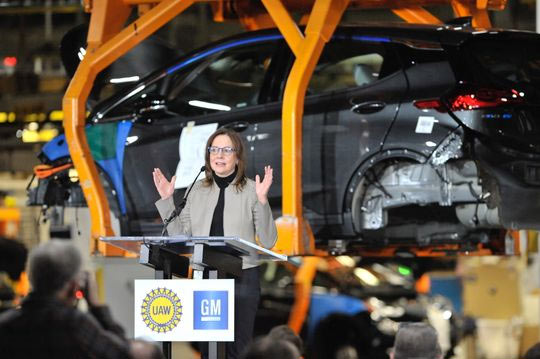 Nora Naughton,
The Detroit News
March 25, 2019
Orion Township — After nearly a week of presidential criticism of General Motors Co.'s plan to close its Lordstown Assembly Plant in Ohio, CEO Mary Barra visited another plant north of Detroit to confirm the automaker would invest $300 million to build a new electric vehicle.
Barra announced Friday that GM is investing in the Orion Assembly Plant to build a new electric Chevrolet as part of a larger $1.8 billion U.S. manufacturing investment to be made in the coming years — an implied rebuttal to President Donald Trump's escalating attacks on the Detroit automaker's restructuring.
The new electric vehicle, originally expected to be built overseas, instead is scheduled to be built at the United Auto Workers-represented plant that GM designated for small-car production as the automaker emerged from federally induced bankruptcy a decade ago. The move adds 400 new jobs at the plant.
"These announcements continue something I want to be very, very clear about," Barra said. "GM is absolutely committed to investing in and growing good-paying manufacturing jobs in the United States — jobs that strengthen us today and will improve our position for the future."
The automaker said it opted to repatriate production of the new EV to a U.S. plant to support "the rules of origin provisions in the proposed United States, Mexico and Canada Agreement," the Trump administration's replacement for the 25-year-old North American Free-Trade Agreement.
Orion Assembly, which currently runs on one shift, will continue to assemble the Chevrolet Bolt EV, Chevrolet Sonic and Cruise AV test autonomous vehicles alongside the new product, a GM spokesman said. The addition of another Chevrolet electric vehicle is the latest in GM's march to 20 new zero-emission vehicles by 2023.
The investment in Orion is part of GM's larger $1.8 billion investment in its U.S. manufacturing operations across six states, a move the company says is adding a total of 700 jobs. Also included in that $1.8 billion are recent commitments to invest in plants in Romulus, Lansing Delta Township and Spring Hill, Tennessee. GM says additional investments "will be announced later."
GM's decision to build the new EV in the United States comes as the company has become the target of presidential ire. Trump has taken to Twitter in recent days to criticize GM and the UAW over the idling of the automaker's Lordstown Assembly Plant in northeast Ohio.
Trump blasted the automaker and the UAW that represents its factory employees during a Wednesday visit to a UAW-represented army tank plant in Lima, Ohio. It's not clear when GM reversed its decision to build the new Chevrolet EV overseas, but a company spokesman insisted the Orion announcement is not in response to pressure from the president and that the Friday event been planned for "weeks."
"We believe in a strong U.S. manufacturing base we want to create jobs — good paying jobs," Barra said. "I think that's where there's a common message" between GM and Trump.
GM is idling four U.S. plants by January 2020, with Lordstown the first to stop production on March 6. The future of Lordstown, Detroit-Hamtramck Assembly, Warren Transmission and Baltimore Operations will be decided by GM and the UAW, which begin negotiating a new national contract this summer.
Terry Dittes, UAW vice president and director of the GM department, said the union expects more investments like the one at Orion. He also said that members face "hardship" at four GM plants scheduled to be "unallocated."
"The UAW doesn't allocate product," Dittes said after Friday's announcement. "Those four locations will not be forgotten by the UAW. We'll take that up with General Motors as we move forward."
Barra told reporters Friday, "We obviously want to have good discussions and we have issues we need to address to get on the same page. When you are able to demonstrate that the company is strong and able to make investments — $300 million to create 400 new jobs — I think that's where we have a lot in common."
The new Chevy EV will be based on the current electric-vehicle architecture that underpins the Bolt. GM's next-generation electric vehicle platform will debut on a yet-to-be-named Cadillac, when GM's luxury brand will take the lead on electrification.
Threatened with closure, Orion Assembly survived in 2009 by becoming a hub for small-car production thanks to hefty incentives from the State of Michigan and concessions made by the UAW as GM worked through federally induced bankruptcy. Most other manufacturers outsource small-car manufacturing to lower-cost countries like Mexico, Japan and South Korea because the high cost of U.S. labor is difficult to justify on lower-margin vehicles.
The new product was welcome news to workers at the plant here, because that generally signals job security. They cheered CEO Mary Barra's announcement on the plant floor.
"It's been looking pretty gloom around here," said Suzy Lane of Oxford, a UAW-represented worker whose been at Orion Assembly since 2006. Without a new product to look forward to in recent years, Lane said she and her colleagues "have been kind of dragging our feet. As long as we have a product coming everyone has a future to look forward to. We know we're secure."
The investment at Orion is the latest among a series of U.S. plant investments and comes in the same week GM said it plans to spend $2.65 billion at two Brazilian plants, where it builds vehicles for the South America market. Since GM made its restructuring announcement in November, the UAW has escalated its criticism of the automaker's investment in overseas production — particularly production of the Chevrolet Blazer in Mexico.
U.S. Feds investigate UAW 'flower
funds' in corruption probe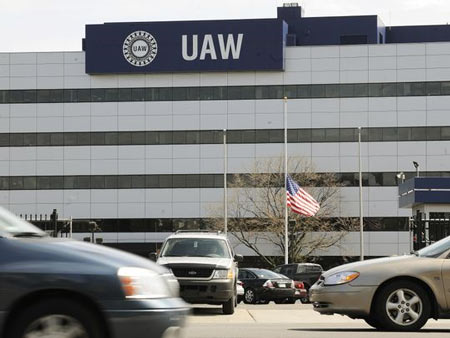 Robert Snell and Daniel Howes
The Detroit News
March 22, 2019
Detroit — Federal agents are investigating whether senior United Auto Workers staff were forced to contribute money to funds originally established to buy flowers for auto workers' funerals, and whether union executives pocketed the cash, The Detroit News has learned.
Investigators are questioning whether UAW leaders threatened to send high-level staffers back to the assembly line if they failed to contribute to so-called flower funds controlled by union presidents, vice presidents and regional directors, three sources familiar with the investigation said.
"This could be explosive and really damaging within the UAW," said Erik Gordon, a University of Michigan business professor. "This positions the union not as the workers' friend but as a big powerful thing that would extort money from its own members."
Flower fund contributions were voluntary, UAW spokesman Brian Rothenberg said late Thursday.
"No UAW employee was or is forced or compelled to contribute to any 'flower fund,'" Rothenberg wrote in a statement. "Participation has always been voluntary and at the discretion of the individual."
The investigation, one of several avenues being pursued in an ongoing probe of corruption within the U.S. auto industry, is the latest inquiry by the government into secretive, loosely regulated pots of money controlled by union leaders.
Simultaneously, federal agents are questioning UAW officials' use of almost $1 million of membership dues on condominiums, liquor, food and golf in California, where former Region 5 Director Gary Jones held annual conferences until becoming UAW president last year.
Prosecutors have secured the convictions of seven people, including three former UAW officials who are cooperating with an ongoing investigation that has various threads, including:
• Whether union officials conspired with auto executives to corrupt labor negotiations.
• If UAW leaders at General Motors Co. and Ford Motor Co. received money or benefits through their tax-exempt nonprofits.
• Whether former UAW President Dennis Williams directed subordinates to use funds from Detroit's automakers, funneled through training centers, to pay for union travel, meals and entertainment, as former UAW official Nancy Adams Johnson told prosecutors. Williams has not been charged with wrongdoing during the ongoing investigation.
Flower funds were created initially to pool voluntary contributions from union members for funeral flowers and to finance union election campaigns. Use of the funds has drawn scrutiny from federal and congressional investigators since at least the 1950s.
In the ongoing UAW investigation, agents are questioning whether flower fund contributions became a mandatory job requirement and whether UAW executives spent the money on personal expenses and kept the rest upon retirement, sources told The News.
When UAW Vice President General Holiefield retired in 2014 as head of the union's Fiat Chrysler Department, sources told The News he kept the more than $30,000 remaining in his flower fund. Holiefield died in 2015.
Williams also had a flower fund. A source said he did not keep money remaining in it when he retired as UAW president last summer.
Former UAW Vice President Jimmy Settles, who headed the union's Ford Motor Co. department, retired last year after a 50-year union career and joined Detroit Mayor Mike Duggan's administration.
Through a city spokesman Thursday, Settles said that when he retired all of the money in the flower fund was left for his successor and that all contributions were voluntary.
Similar funds have been viewed by prosecutors in other federal criminal cases as slush funds that bankrolled personal luxuries for union leaders.
Allegations involving the funds have factored into investigations of the UAW and other unions in recent decades and involved workers who feared losing jobs unless they contributed part of their salaries. The prosecutions, however, have yielded mixed results. A spokeswoman for the U.S. Attorney's Office declined comment.
Union leaders historically have controlled their own flower funds and had broad discretion in spending the money, sources familiar with the investigation said. It is unclear exactly how much UAW employees contributed to the funds, but dozens of staff members contributing to a single flower fund would generate thousands of dollars in unreported revenue each month, sources said.
One flower fund that drew the attention of investigators is the "Diamond Fund," which sources say was controlled by retired UAW Vice President Norwood Jewell.
Jewell, 61, was charged by federal prosecutors Monday and accused of participating in a labor conspiracy involving Fiat Chrysler Automobiles NV executives. He is scheduled to plead guilty to the conspiracy charge April 2 in federal court.
The criminal filing against Jewell does not mention flower funds.
"Mr. Jewell retired 15 months ago from the UAW. He left the fund to be used by his successor," Jewell's defense lawyer Michael P. Manley wrote in a statement late Thursday. "He has not withdrawn any funds from the account in question since his retirement."
It is unclear if Jewell is cooperating with the ongoing investigation in hopes of receiving a lighter prison sentence.
"If Jewell is cooperating, he could provide a roadmap to the financial dealings in the UAW," said Peter Henning, a Wayne State University law professor and former federal prosecutor.
Prosecutors and the team of agents have key witnesses who could provide insight. Three former UAW officials have been convicted so far, along with Holiefield's widow, Monica Morgan-Holiefield.
The former union officials are cooperating with the investigation. Federal agents also have been interested in Joe Ashton, a retired UAW vice president who headed the union's General Motors Co. department, and Cindy Estrada, who replaced Jewell as vice president in charge of the union's Fiat Chrysler department.
Ashton resigned from GM's board in December 2017 amid the federal probe and a related internal investigation conducted by the Jones Day law firm for the Detroit automaker.
It is unclear if flower funds are covered by a new gift ban imposed by the UAW since prosecutors started indicting former UAW and Fiat Chrysler officials in summer 2017. The ban bars union leaders and negotiators from accepting gifts, gratuities, meals, entertainment or anything of value.
Jones, the UAW president, reiterated the new gift ban policy on March 13, referring to a document titled "The UAW's Clean Slate." But the announcement came four years after the Justice Department started investigating union finances.
The government's renewed interest in flower funds is unfolding 33 years after former UAW official Robert "Buddy" Battle III was acquitted of charges in federal court that he used flower fund money to buy a car, exercise equipment and health club memberships.
In 1989, the Labor Department launched a widespread investigation into whether UAW officials nationwide were misusing the funds. That year, investigators issued 24 subpoenas for documents and financial records related to the funds. The investigation did not yield criminal charges.
Last year, former Operating Engineers Local 324 head John Hamilton was sentenced to two years in federal prison following an investigation involving a similar fund. Hamilton had been accused of coercing and intimidating dozens of union officials into each giving him $5,200 annually for a fund that was supposed to bankroll union re-election efforts.
"In practice, however, the slate fund was a slush fund, where Hamilton used portions of the money for his own personal expenses," Assistant U.S. Attorneys David Gardey and Dawn Ison wrote in a sentencing memo. Union officials "knew that if they refused to pay into the fund, Hamilton would immediately terminate them, and they and their families would be left without a job or income."
When he lost re-election, Hamilton emptied $145,000 from the fund. Gardey, who prosecuted Hamilton, oversees the auto industry prosecution that started with the UAW and Fiat Chrysler before expanding to all of Detroit's automakers.
Fear of the factory floor has factored into criminal cases of other UAW officials. High-ranking union leaders sentenced last year for their roles in the ongoing corruption scandal said they feared losing six-figure jobs, travel perks and expense accounts and being sent back to the factory if they disregarded orders.
"The consequences of a failure to do as you have been told would have quickly led you back into a factory and to be ostracized by UAW leadership," lawyer Robert Sheehan wrote in a court filing for his client, former union official Keith Mickens.
Convicted UAW official Virdell King feared being sent back to the plant if she betrayed superiors.
"Persons like Ms. King are beholden to their superior, and if such a person outlasts her or his welcome that person is demoted or, worse, terminated from the International (UAW) and, if the person wants to keep the union job, sent back to the plants," her lawyer John Shea wrote in a court filing.
If federal agents find wrongdoing involving flower funds, the investigation could damage the UAW's unionization efforts involving foreign automakers, Gordon said.
"It's one thing to extort money from Fiat Chrysler or GM, they're the enemy in the class warfare," Gordon said. "But to use union muscle to extort money out of your own members, you can be sure in every organization drive, in Tennessee or Alabama or wherever, the other side is going to use this."
Extortion allegations recall a darker period in the labor movement, Gordon said: "It sends you back to the image of baseball bat thuggery. But instead of hitting you with a baseball bat, they're sending you back to the factory floor."
GM, Ford use promise of jobs
to battle for Trump favour
Detroit News
Daniel Howes
March 21, 2019
President Donald Trump isn't the only one battling with General Motors Co. over its investment in American auto workers.
Rival Ford Motor Co. is, too. On the same day that GM endured another verbal assault during the commander-in-chief's visit to an Ohio tank plant, the Dearborn automaker repackaged and delivered a long-planned $900 million investment in its Flat Rock Assembly plant to build battery-electric vehicles, creating 900 jobs.
Who says the auto industry doesn't do politics? To be fair, Ford did revise the details of what Flat Rock would produce, but the net effect on the site is the same: the Blue Oval gets to reap the presidential PR benefit as GM keeps getting whacked for its plan to close Lordstown Assembly Plant in northeast Ohio.
"What's going on with General Motors," Trump asked during an appearance Wednesday at the United Auto Workers-represented Joint Systems Manufacturing Center, an Army tank plant in Lima. "Get that plant open."
It's not that simple. But the political gamesmanship between Detroit's two largest automakers is. Cutting shifts, idling plants and moving to close them is always heated and emotional, but a president pinning his re-election on promises to restore manufacturing jobs in the industrial Midwest that delivered him to the White House is raising the stakes exponentially.
Trump is watching, and he's not particularly interested in the complex explanations justifying GM's plan to close four U.S. plants. Or in the contract language obligating both sides to wait until formal UAW-GM negotiations to determine the fate of the plants and the hourly workers who can vote.
Securing political advantage is critical for the companies, so long as Trump wields a bully pulpit. Think it was coincidence that Ford chose the day of Trump's swing through Ohio — home to the Lordstown plant whose plight fueled his Twitter rant over the weekend — to re-tout its EV investments in Flat Rock?
Of course not. Trump again took to Twitter to prove the politics ensnaring GM and Ford: "Great news from @Ford! They're investing nearly $1 BILLION in Flat Rock, Michigan for auto production on top of a $1 BILLION investment last month in a facility outside of Chicago. Companies are pouring back into the United States — they want to be where the action is!"
There are no coincidences in politics. There is intention, calculation and point-scoring, all in the service of a generalized effort to diminish the adversary, curry favor with would-be supporters or both. In the forming battle for the hearts and minds of the work-a-day Midwest, Detroit's automakers are proxies personally selected by POTUS.
And the battlefield is Ohio and Michigan, whose plants last year built 17 percent of all the vehicles assembled in the United States. Trump theoretically could get re-elected president without carrying Michigan, which last November delivered the state's Big Three statewide offices to Democrats.
He likely wouldn't see a second term if he lost Ohio, too. Trump is president because he turned Michigan, Wisconsin and Pennsylvania red and because he won Ohio handily. But a recent Morning Consult poll showed Trump's net approval rating down 23 points in Michigan, down 20 points in Wisconsin, down 17 points in Pennsylvania and down 19 points in Ohio.
That's a big reason Trump keeps unloading on GM. Early Wednesday, GM pushed an email detailing a "jobs update" on its restructuring that it unambiguously tied to Ford making investment news that morning. Less than three hours later, Ford pushed its own press release saying Flat Rock would be the first U.S. site to build battery-electric vehicles.
Less than four hours later, GM reprised a now-familiar (and true) pitch: automakers invested nearly $82 billion in the United States between 2010 and 2018; of that, the Detroit Three automakers account for roughly $51.4 billion, with GM's share totaling $21 billion.
Necessary, that, if only because GM's government relations and comms shops rightfully suspected the president is predisposed to renewing his attacks on their plan to close Lordstown. That GM is growing jobs in other facilities in other states is irrelevant because the president's job promises focused on Michigan and Ohio, especially — not Indiana, Missouri and Texas, each more reliably Trump red.
If GM has a plant win to deliver, now would be a good time to deliver it — to repatriate a product that otherwise would have been built outside the United States and imported to GM's home market, to legitimize the talk of Auto 2.0 EVs with cold, hard investment, to show that lost jobs in Michigan and Ohio can be answered with fresh product for union members to build in the heartland.
But doing so will create a fresh new hell all its own, albeit one that will arrive and dissipate with the speed of social media laced with the customary tones of skepticism and contempt:
Namely, that GM is moving because Trump pushed them to act. Or that GM had other Make-it-in-America options, but preferred to build in cheaper foreign countries and export back to the United States. Or that GM's obligations for receiving a federal bailout a decade ago include an obligation to keep building in America vehicles customers no longer want.
This is just beginning. The presidential race is percolating. The president's trade policies are delivering unintended consequences to some of the businesses he purports to want to help, with steel and aluminum tariffs costing GM and Ford $1 billion each per year. And it's still not clear whether Trump will make good on his threat to impose costly tariffs on imported cars and trucks.
If he does, his gateway back to the industrial Midwest and another term in the White House will get a lot narrower, fast. That's how this manufacturing thing works.
Unifor 'quite optimistic' GM
Oshawa jobs will be saved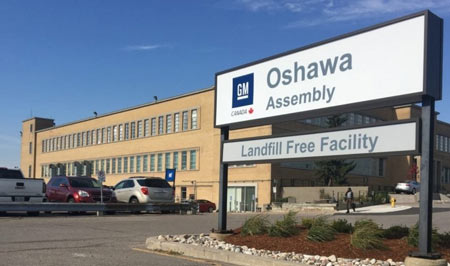 Automotive News Canada
Rob Bostelaar
March 20, 2019
Workers at the General Motors plant in Oshawa, Ont., might not be out of a job after all, according to the union representing 2,600 hourly employees there.
Unifor President Jerry Dias met Tuesday with GM officials to find ways to preserve the jobs that would be lost when the plant closes at the end of 2019 because it would no longer have product to assemble there.
Unifor said it still remains "clear to the union that GM has no intention of extending vehicle manufacturing beyond December of 2019, we are examining the potential to transform operations so as to maintain a base level of hourly employment.
"I am quite optimistic that we're going to be maintaining some sort of a footprint in Oshawa," Dias told Automotive News Canada after meeting with top GM executives, including GM Canada President Travis Hester and Global Manufacturing Vice-president Gerald Johnson.
Unifor said it has suspended its public campaign to persuade the automaker to reverse its November decision to close the plant. Unifor said in a a statement that it began more constructive negotiations with GM on Feb. 25, 2019.
Dias said he hopes an agreement can be reached in two to three weeks.
No new model is slated for Oshawa, which currently assembles the Chevrolet Impala, Cadillac XTS and previous-generation Chevrolet Silverado/GMC Sierra.
"Is a car falling out of the sky to be a part of the solution today? The answer is no," Dias said. "But first of all we need a short-term solution and then we need a longer-term solution. Those are the type of discussions we're having."
General Motors of Canada would not confirm that the plant could stay open.
"We continue to have discussions with Unifor with regard to supporting our people in Oshawa. We won't have a lot more to say publicly while those talks continue," said David Paterson, GM Canada's vice-president of corporate affairs.
HEARING POSTPONED
A hearing scheduled for Tuesday before the House of Common industry committee, which was to question top-rank GM officials over the Oshawa plan, was abruptly cancelled a day earlier due to what Paterson called "multiple conflicts."
Prime Minister Justin Trudeau, however, may already have answers. On Monday evening, Trudeau tweeted that he had just spoken by phone to General Motors CEO Mary Barra and Unifor National President Jerry Dias.
"Auto workers are important to the Canadian economy, and we're going to do everything we can to support them. I had good calls tonight with @JerryPDias and @mtbarra about standing up for GM workers in Oshawa," the prime minister's message said.
Further details may come as early as Tuesday afternoon's delivery of the Liberal government's pre-election budget. Finance Minister Bill Morneau is expected to reveal economic stimulus measures that could include increased support for Canada's diminishing auto sector
Paterson, Hester and Johnson were scheduled to testify before the all-party committee to "explain GM's future and continued commitment to the Canadian automotive and manufacturing industry in Canada."
Trump turns up heat on
GM Lordstown plant
ahead of Ohio stop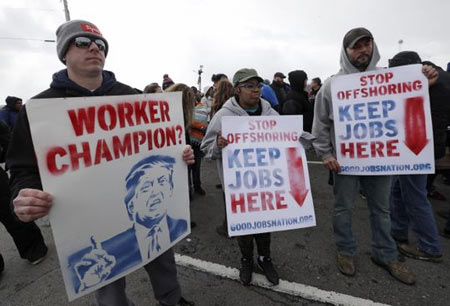 Nora Naughton,
The Detroit News
March 19, 2019
President Donald Trump is increasing pressure on General Motors Co. and the United Auto Workers to re-open Lordstown Assembly in Northeast Ohio days before the president is expected to make a campaign stop in the Midwestern swing state.
The president took to Twitter over the weekend and early Monday morning to repeatedly chastise the union and GM over the closure of Lordstown Assembly, which stopped production of the Chevrolet Cruze earlier this month. Lordstown is one of four U.S. plants whose futures will be decided later this year during a re-negotiation of the UAW-GM National Contract.
"General Motors and the UAW are going to start 'talks' in September/October. Why wait, start them now!," Trump tweeted Monday morning. "I want jobs to stay in the U.S.A. and want Lordstown (Ohio), in one of the best economies in our history, opened or sold to a company who will open it up fast!"
The president is scheduled Wednesday to make a re-election campaign stop at the Lima Army Tank Plant in northwestern Ohio.
The UAW's contracts with GM, Ford Motor Co. and Fiat Chrysler Automobiles NV expire on Sept. 14, and bargaining usually ramps up by Labor Day with a formal start to "talks" usually taking place in June or July. The union kicked off the bargaining season last week at the Special Convention, where delegates and international leaders gathered to set the agenda for 2019 negotiations.
"You can't really bully the union or (GM) into doing things that they wouldn't already do," said Kristin Dziczek, vice president of Ann Arbor-based Center for Automotive Research. "The relationship between the UAW and GM is what it is. Everything else is outside noise, and it doesn't really matter what Trump says, what a governor says — GM and the UAW are the only two groups in the bargaining room."
Trump has used Twitter to chastise Ford and GM before. After GM's November announcement that it planned to indefinitely idle Lordstown, Detroit-Hamtramck Assembly, Warren Transmission and Baltimore Operations, Trump threatened to cut GM's federal subsidies.
But in a series of Tweets on Sunday, the president turned some of his criticism to the UAW and Local 1112 President David Green, who appeared over the weekend on a Fox News segment on Lordstown and Trump. Trump hurled a similar Twitter attack at former United Steelworkers Local 1999 president Chuck Jones in 2016 after the union leader criticized Trump's then-deal with Carrier Corp.
Green responded to the president's Sunday tweet shortly after the UAW sent a Tweet thanking Trump for "fighting alongside the UAW against GM."
"As Mary Barra has said, GM plans to discuss our fate with the UAW in the fall and we are focused on getting a new product in Lordstown," Green said in a statement distributed by the Drive It Home campaign, which Local 1112 has used to pressure and prod GM since its Nov. 26 restructuring announcement. "Folks here in the Mahoning Valley are True Blue, hard working, loyal, dedicated and ready to help General Motors and this country build the cars and trucks of the future."
After a Sunday phone call with GM CEO Mary Barra, Trump tweeted again to indicate that the GM chief executive "blamed the UAW union" for the indefinite idling of Lordstown Assembly.
GM, which did not comment specifically on the conversation between Barra and Trump, appeared to refute the claim that Barra blamed the UAW.
"To be clear, under the terms of the UAW-GM National Agreement, the ultimate future of the unallocated plants will be resolved between GM and the UAW," GM said in a Sunday statement. "We remain open to talking with all affected stakeholders, but our main focus remains on our employees and offering them jobs in our plants where we have growth opportunities."
GM's planned plant actions this year are part of a larger restructuring effort designed to save cash and divert capital to expensive electrification, autonomy and mobility endeavors. For Lordstown, that means stopping production of slow-selling sedans like the Cruze — the only product that's been built at the Ohio plant since 2010.
With Lordstown leading off the months-long process of GM's U.S. production stops, the reality in Ohio's former manufacturing stronghold doesn't reflect what Trump promised on the campaign trail and early in his presidency. At a 2017 rally in nearby Youngstown, Ohio, Trump told locals to keep their houses because the factory jobs were "all coming back."
But GM workers are already leaving as the automaker offers transfer opportunities to impacted workers in Ohio, Michigan and Maryland. Some 370 Lordstown workers had taken transfers prior to the plant's idling, with most landing at GM's plant in Spring Hill, Tenn. A handful have also taken forced transfers to Wentzville, Missouri.
GM, which is required by its agreement with the UAW to offer the plant transfer opportunities, said Sunday it has placed some 1,000 workers from the two assembly plants and two transmission plants at other GM factory locations.
Ford to cut more than
5,000 jobs in Germany

Oliver Sachgau,
Bloomberg
March 18, 2019
Ford Motor Co. is reducing its German staff by more than 5,000, while cutting an unspecified number of jobs in the U.K. as part of a large-scale European revamp announced in January.
The U.S. carmaker, which is overhauling its loss-making European business, offered voluntary measures to employees on Friday, it said in an emailed statement. The plans were reported earlier by Agence France-Presse.
Ford, based in Dearborn, Michigan, said early this year it would close factories, stop making slower-selling models and eliminate thousands of jobs in Europe in a cost-cutting drive. The region, where Ford employs about 54,000 workers, has dragged on earnings, with Brexit uncertainty in the U.K. especially hurting.
Declining markets and an expensive technology shift are forcing automakers to tighten belts and increase collaboration across the board. BMW AG said on Friday it was abandoning its 3-Series Gran Turismo and might discontinue other low-performing cars, while Audi, which is part of VW, will present a restructuring plan in May that will include trimming back management ranks.
VW may eliminate up to 7,000 jobs at its Wolfsburg headquarters in Germany as part of a 5.9 billion-euro ($6.7 billion) cost-cutting plan. The world's largest carmaker is also in talks with Ford about collaborating on electric and autonomous cars. The two have announced a cooperation on midsize trucks and delivery vans.
Ford shares were little changed at $8.40 as of 12:13 p.m. in New York.
Ford CEO Hackett paid
$17.75 million in 2018
Nora Naughton
Detroit News
March 17, 2019
Dearborn — Ford Motor Co. paid CEO Jim Hackett $17.75 million in 2018, the automaker reported in a Friday filing with the Securities and Exchange Commission.
Hackett's income last year, his first full year as CEO, tops the $16.73 million the chief executive was paid in 2017. Hackett's base salary was $1.8 million; he received stock awards totaling $12.74 million in addition to a $2.59 million incentive bonus.
The annual report filed Friday with the SEC details the pay for Ford's top executives.
Executive pay other than Hackett's includes:
Bill Ford Jr., executive chairman: Bill Ford made $13.83 million in 2018. That's less than the $15.26 total compensation he received in 2017. Ford's base salary in 2018 was $1.7 million, up from $1.65 million in 2017.


Joe Hinrichs, executive vice president and president of global operations: Joe Hinrichs received $5.81 million in total compensation in 2018. He was the only top Ford executive to receive a discretionary bonus, totaling $97,920. That's less than the $12.12 million he made in 2017 when he received a $1 million incentive bonus. Hinrichs' base salary last year was $1.1 million, up slightly from $1.08 million in 2017.


Jim Farley, executive vice president and president of global markets: Jim Farley made a total of $5.86 million in 2018, down from $13.47 million in 2017. Farley did not receive a discretionary bonus last year after getting $246,050 in 2016 and $200,000 in 2017. Farley's base salary in 2018 was $1.07 million, up from $973,417 in 2017.


Bob Shanks, executive vice president and chief financial officer: Bob Shanks was paid $8.42 in total compensation in 2018, up from $6.74 million in 2017. His base salary was $971,250 last year, up from $879,750 in 2017.


All five of Ford's top executives had to meet performance goals in quality, automotive-segment operating cash flow and operating margin, Ford Credit pre-tax profit and automotive revenue to receive the bonuses included in their total pay. These incentive bonuses ranged from $2.59 million for Hackett to $720,000 for Shanks and Bill Ford.


Farley's incentive bonus totaled $792,000 and Hinrichs received $802,080.


The company paid $245,658 for Bill Ford's use of the company aircraft and $909,891 for the use of personal security. Ford paid $104,342 for Hackett's use of the aircraft.


Hackett's compensation for 2018 tops that of new Fiat Chrysler Automobiles NV CEO Michael Manley, who made $708,498 (600,442 euros) in his six months as chief executive of the Auburn Hills-based automaker. FCA paid its late CEO Sergio Marchionne $7.8 million (6.6 million euros).


Ford and General Motors Co. report their executive salaries differently than Fiat Chrysler Automobiles NV, which does not include some stock and potential performance-based equity awards. GM has not yet reported 2018 salaries.


GM typically releases its annual report in April. GM CEO Mary Barra was the highest-paid executive in the Detroit Three in 2018, earning $21.96 million.


We'll resist, not desist Jerry
Dias says union still considering
Oshawa actions despite labour
board's ruling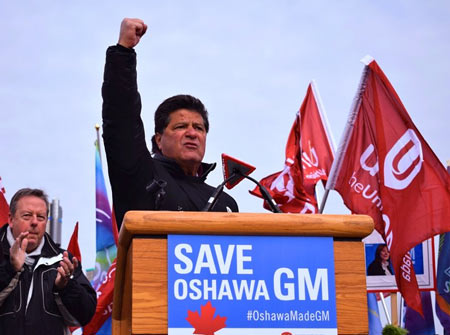 Canada Auto News
John Irwin
March 14, 2019
Unifor President Jerry Dias struck a defiant tone in the wake of the Ontario labour board's ruling that the union had engaged in unlawful strikes at General Motors' Oshawa Assembly Plant and its suppliers, saying further strikes are "absolutely" still on the table.
The Ontario Labour Relations Board ruled in February that demonstrations at the Oshawa plant on Nov. 26 and Jan. 8 and 9 were illegal, as were strikes at an Inteva Products plant Jan. 15 and a Lear Corp. plant Feb. 8. Labour board Chairman Bernard Fishbein ruled that the actions were illegal under the Labour Relations Act and barred the union from conducting similar actions.
Unifor must "cease and desist from engaging in, authorizing or counselling unlawful strikes or engaging in any act that is likely to cause employees at the Inteva, Lear or GM plant (or any other supplier of the GM plant) or any employees having notice of this decision to engage in any unlawful strike," Fishbein ruled.
Dias brushed off the ruling, saying the union still sees similar actions as viable options in its fight to get GM to reverse course on its plans for Oshawa. As of early March, however, the union had not conducted any Oshawa-related strike actions since Feb. 8.
"This is an issue that will be settled at the bargaining table, not in the courtroom," Dias said. "So if anybody thinks I'm intimidated by it, I'm not. If I think about the number of injunctions I've had since last year, I could wallpaper an entire room with it."
AGGRESSIVE APPROACH
The Unifor strikes were in response to GM's decision to end production at the Oshawa plant by the end of this year. Unifor has taken an aggressive approach that also has included organizing protests at the 2019 Detroit and Toronto auto shows and buying ad time for anti-GM commercials on high-profile broadcasts of the Super Bowl, Academy Awards and other programs.
Unifor's actions have raised the ire of General Motors Canada, which has said the automaker's decision is final and has urged the union to work with it to find soon-to-be displaced workers new jobs. GM Canada has taken to social media to respond to the union's claims and has said many of Unifor's talking points are misleading or false, including the notion that Oshawa jobs are moving to Mexico.
GM intends to end production at Oshawa as part of a larger restructuring plan. The factory, which employs about 2,600 unionized workers, builds the Cadillac XTS and Chevrolet Impala sedans. It also does final assembly on previous-generation Chevrolet Silverado and GMC Sierra pickup bodies shipped from the United States.
We Are One! Special UAW
Bargaining Convention Closes as
Delegates Set Bargaining Priorities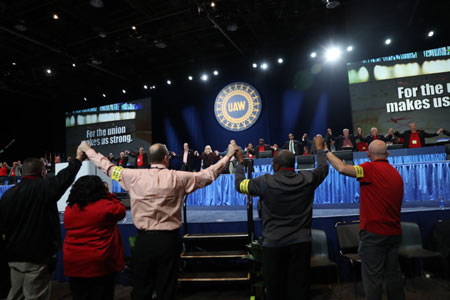 March 13, 2019
The 2019 UAW Special Bargaining Convention closed with chants of "We are One!" as UAW members set their union's bargaining priorities for the next four years by overwhelmingly adopting a comprehensive resolution.
UAW locals will use the resolution as a guide when they enter negotiations with management. While negotiations with the Big Three automakers loom large, the resolution is designed to give workers from all segments guidance on a wide variety of workplace issues. The convention itself was a reminder to members that it was solidarity that won the working conditions and benefits that UAW members enjoy today, and that same solidarity is critical to protecting those gains and winning others.
As for the Big Three, UAW President Gary Jones announced an immediate increase in strike pay and another to take effect in January as preparations for the coming negotiations.
"We are preparing for a conflict and we are choosing to rely upon ourselves rather than rely on the goodwill of others," Jones told the 900-plus delegates in attendance. "The battle may not come if others see how serious we are and how ready we are."
Jones also spoke of the announcement late last year that General Motors will close plants.
"Four plants, brothers and sisters." he said.
After announcing that four plants will be idled, GM later extended Detroit-Hamtramck Assembly's final days until January 2020. Jones asked delegates why GM did that.
"Do you think GM searched their soul and left Hamtramck Assembly alone out of the goodness of their hearts?"
Members responded with a resounding "No!"
Jones said GM gave Hamtramck a temporary reprieve only because UAW members fought for it. That same fighting spirit will be needed as the union goes through the negotiations process this summer.
"And now they know there will be no more quiet closings of plants," he stressed. "No more shipping jobs abroad without a sound. They are on notice."
Jones added that the other three plants – Warren Powertrain in Michigan, Lordstown Assembly in Ohio, and Baltimore Powertrain in Maryland, remain a priority.
"We aren't done. Lordstown, Warren, Baltimore. We have your backs!" he said to thunderous applause and cheers.
UAW Vice President Rory Gamble, who directs the union's National Ford Department, introduced the bargaining team for the upcoming negotiations. Gamble also gave his sector report, saying that Ford Motor Company has experienced years of good times and members expect to share in the profits they helped make.
"Negotiations are going to be tough," Gamble said. "Our members are going to be prepared for the fight ahead."
He added that the newly re-introduced Ford Ranger pickup truck is doing well and "is proving that there is a market for small trucks."
His report also addressed that status of temporary workers. Since 2015, 3,451 temporary workers have transitioned to full-time status. The apprenticeship program is running at capacity and in the last 3 ½ years, 1,182 workers have become apprentices.

UAW Research Director Jennifer Kelly gave a presentation on how technology such as cloud computing, more powerful computers, autonomous vehicles, electric vehicles, 3-D printing and more will impact the jobs of UAW members.
"Some people say we don't need to worry about this," said Kelly. "But we need to know how what we do is impacted."
Kelly added that the auto industry is moving away from manufacturing products to providing services. But it doesn't have to mean job losses as union members can bargain on these issues.
"We have tools at our disposal to get through this technology as we have done in the past with technology," Kelly said.
The resolution adopted by delegates addressed advancing technology, as well as scores of other issues, including wages and benefits, health and safety, quality, job security, and health insurance and pensions. The UAW has made advances in all of these areas, Jones told delegates, but to make more, UAW members need to only look at the union's history.
"Eighty-three years ago, our union brothers and sisters shut down a plant in Flint, Michigan. They locked themselves in and closed the door," he said. "They sat down.
"One man shouted, 'She's ours.' They stayed for 44 days. They wanted good wages. A grievance system, safe workplaces."
Jones reminded delegates, telling the delegates that their union will remain true to its history and legacy in protecting their interests and advancing their concerns.
Ford CEO Hackett to employees:
2019 will be turning point

Ian Thibodeau,
The Detroit News
March 13, 2019
Ford Motor Co. CEO Jim Hackett told employees 2019 will be the year the 115-year-old automaker turns "the corner toward a really bright future," in an internal memo obtained by The Detroit News.
Hackett is in the middle of orchestrating a global restructuring that would have Ford spend $11 billion to right-size struggling business units in Europe, South America and China, cut the global salaried workforce and slash $25.5 billion from the operating budget over the next few years. Those changes are fundamental, Hackett has argued. But they're perceived by investors and industry analysts as slow-moving, and many Ford employees are not clear on Hackett's plan.
That's not a problem exclusive to Ford, Hackett wrote in the memo dated March 8 that detailed for employees what he's doing to position the company to compete with companies new to the automotive space, and why he's doing it.
"It's natural for people on the inside and outside to raise doubts and ask tough questions as they seek clarity and certainty about our future," Hackett wrote. "This is not a Ford phenomenon by the way. Many pundits dismissed Fiat Chrysler as a lost cause coming out of Chapter 11 and predicted Tesla would go bankrupt years ago."
Investment analysts and industry experts have criticized Hackett for most of his nearly two-years at the helm of Ford for lacking clarity and taking decisive actions to fix perceived problems at Ford. Hackett has insisted on calls with investors, in public talks and interviews and through internal memos that he and his team are taking actions to turn Ford around.
Adam Jonas, equity analyst with Morgan Stanley, had been critical of Hackett and Ford. He said wrote in a recent note to investors that Ford leadership seemed more "bullish" on the year-end earnings call this week, but he's still cautious because the turn-around will take time.
Hackett's note comes less than two months after Hackett in another internal note asked his employees to "bury" 2018 "in a deep grave" and focus on driving company profit-margins to double those reported last year. Friday's was the 26th in a series Hackett calls "The Huddle."
Ford weathered the Great Recession, Hackett wrote, but it didn't continue to change after former CEO Alan Mulally implemented his One Ford strategy. Mulally got Ford's North American business in shape, but from 2011 to 2018, the automaker's costs increased 19 percent when revenue only increased 16 percent.
After making cuts during the Great Recession, Ford added roughly 35,000 employees globally to meet targets that weren't achieved, Hackett wrote. Meanwhile, Ford had stale product and it fell behind on electrification and vehicle connectivity.
Now Hackett and Ford have to atone for all those misses, he wrote. By mid-year 2019, the company should know the size of the global salaried headcount reduction. The automaker in February announced plans to idle a Brazilian plant and exit the South American commercial truck business as part of an effort to correct the business there.
That came a month after the automaker announced plans to cut hourly and salaried positions in Europe, possibly exit a Russian joint venture, and potentially shutter plants in Europe. Meantime, Ford is continuing to negotiate separate partnerships abroad with Volkswagen AG and Mahindra.
Ford is also about to hit the peak of its product cycle. By the end of 2020, 75 percent of Ford's U.S. product lineup will be replaced. The automaker also plans to debut the all-new Bronco, as well as a small, unnamed off-road utility vehicle and its new unnamed electric performance utility vehicle in that time frame.
Meantime, Hackett is pushing Ford to develop technologically advanced vehicles, which are connected to the internet, that can drive value for shareholders, he wrote. The automaker plans to launch a fully autonomous vehicle in 2021, and has multiple mobility ventures in the works, including an e-scooter company.
Hackett closed the note by urging employees to "lean into cultural change" at Ford: "Transformation starts with the realization that, despite our history and strengths, we don't have a right to the future. We have to earn it."
Canadian Ford dealers look to new
CEO Dean Stoneley for continuity
John Irwin
March 12, 2019
Canadian Auto nEWS
Ford dealers hope newly appointed Canada CEO Dean Stoneley — who is a Canadian — will remain at the helm longer than his predecessor, especially as the company undergoes a US $11-billion global restructuring and revamps its product lineup.
The Burlington, Ont., native on Feb. 1 replaced Mark Buzzell, who became Ford's North American head of fleet, lease and remarketing after only two years in Canada.
Stoneley, a 27-year Ford veteran, most recently served as the marketing director for Changan, the automaker's national dealer sales distribution joint venture in China.
Dan DeBoer, the past co-chair on the Ford dealer council and dealer principal at Parkway Ford in Waterloo, Ont., said he hoped having a Canadian at the helm of Ford Canada was an indication that the company intends to keep Stoneley in that role for a longer period.
"He (Stoneley) indicated [on a phone call] that this was a job he wanted," DeBoer said. "I can see him as a Canadian in this role for more than the standard three years, which will be good for continuity."
DeBoer said communications between Ford Canada and the dealer network suffered as the company sorted out how staffing cuts mandated by U.S. headquarters would affect Canada. In recent months, he said Buzzell, who hails from the United States, had begun to rebuild the lines of communication, which "weren't what they had been in the past."
"Mark Buzzell, he was only here for two years, and right in the middle of that, he was faced with a 10-per-cent headcount reduction," DeBoer said. "I think it was really hard for him to get settled."
In May 2017, shortly after Buzzell took over at Ford Canada, the company said it would cut about 10 per cent of its salaried workforce in North America and Asia, or about 1,400 employees. Ford Canada would neither confirm nor deny whether its salaried workers also took a 10-per-cent hit, saying only that the automaker "completed a voluntary reduction program for the North America and Asia Pacific regions in 2017." Ford employs about 8,000 people in Canada, including 7,200 unionized workers.
Last October, Ford Motor Co. CEO Jim Hackett announced his $11-billion restructuring plan, which would also include cuts to its global salaried workforce.
Hackett said the cuts were part of a plan to improve profitability in North America while turning around its performance in other regions. Ford also is eliminating all sedans from its North American product lineup.
Michael Wyant, COO of the 29-store Wyant Group, said having an experienced Canadian in the role will make it easier to strengthen dealer relationships.
"Every region throughout Canada is so different," said Wyant, who runs dealerships in Saskatchewan, Alberta and British Columbia.
"He's got experience throughout the country in different roles, which is going to give him a very good opportunity to understand the decisions he's making immediately as opposed to having to learn the landscape."
BUZZELL'S NEW BENEFIT?
DeBoer said Buzzell's new role managing Ford's fleet operations will benefit Canadian dealers.
"I think that's good news that someone who has Canadian experience is going to lead that."
Under Buzzell's tenure,Ford was Canada's top-selling automaker last year and in 2017. New-vehicle sales in Canada rose 1.3 per cent in 2017 over 2016, before dipping 3.4 per cent to 297,902 units in 2018.
A Ford spokeswoman told Automotive News Canada in January that Buzzell's new appointment was designed to help "address our global business needs and drive growth."
Stoneley has spent much of his recent career with the company in China. Before his role with Changan, he was the vice-president of marketing and sales for the Asia-Pacific region out of Shanghai. He began his career with Ford in Canada in 1992.
Both Stoneley and Buzzell declined to be interviewed.
UAW convention in Detroit
will set stage for bargaining
Nora Naughton
The Detroit News
March 11, 2019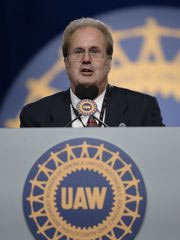 Detroit — The United Auto Workers on Monday will start preparing for collective bargaining later this year with Detroit's three automakers at a Special Convention here attended by international leaders and local delegates.
Elected delegates will deliberate and vote on bargaining resolutions, setting the union's agenda before contract talks with General Motors Co., Ford Motor Co. and Fiat Chrysler Automobiles NV begin this summer. The union will also elect bargaining committees for each of the three automakers.
This year's Special Convention comes against the backdrop of job cuts and plant idlings for GM at the same time Fiat Chrysler is planning to invest $4.5 billion to build a new assembly plant and add production at five Michigan facilities, creating 6,500 jobs. And Ford is in the midst of a restructuring effort expected to trim operating costs and salaried jobs, change the company's product development process and shake up the global footprint.
Also looming over the talks and the union's leadership: an ongoing criminal federal investigation into a wide-ranging labor conspiracy that has resulted in seven convictions. It threatens to distract from the union's fight for base wage increases, better health care and product allocations at endangered plants.
"These are a critical set of talks coming up in the auto industry," said Harley Shaiken, a professor specializing in labor issues at the University of California at Berkeley. "The companies are very profitable but there are major challenges ahead in terms of where the industry is going. Job security will be a central issue."
GM, Ford and FCA have all posted hefty profits in the four years since the last UAW contract was signed, and the union's members will likely want a bigger piece of that success. But as the industry's extended period of growth finally begins to slow and automakers pivot toward expensive electrification, mobility and autonomy efforts, the companies and the union may need to reconcile with preemptive belt-tightening.
High on the UAW's list of priorities is also likely to be negotiating a future for GM's four U.S. assembly plants slated for "unallocation," a word GM is using to indicate it will stop building at Detroit Hamtramck Assembly, Warren Transmission, Baltimore Operations and Lordstown Assembly in Northeast Ohio with nothing to immediately replace the products made there.
"These are still really good times and these are still profitable companies, so by bringing job security up on the list wage expectations might temper," said Kristin Dziczek, vice president of Ann Arbor-based Center for Automotive Research. Both the union and the companies will have to be "thinking about what to do when this all starts to slow down."
The union already has sued GM over its actions, accusing the automaker of deliberately avoiding the words "idle" or "close," which are explicitly outlined in the 2015 UAW-GM national agreement. It's possible the UAW will fight to include "unallocate" in the next contract.
GM's actions are starkly different than that of Fiat Chrysler, which is finalizing plans to build a new assembly plant in Detroit. FCA's major investment there and in five other Michigan facilities could prove an advantage to UAW bargainers: they're evidence that growing high-wage manufacturing in the U.S. is still possible in the current environment.
Also hanging over the bargaining talks this year is an unresolved renegotiation of the North American Free Trade Agreement. UAW President Gary Jones was wary of the "new" NAFTA, known as the United States-Mexico-Canada Agreement (USMCA), after Trade Ambassador Robert Lighthizer visited Detroit last week.
"While some progress has been made, it is clear from current auto company investments abroad, that more work needs to be done to make this agreement enforceable and meaningful to our members and their job security," Jones said in a statement. "We urge the Administration and Congress to finally create a trade agreement that provides working Americans the job security future they deserve."


So long, Chevy Cruze,
you burned so very brightly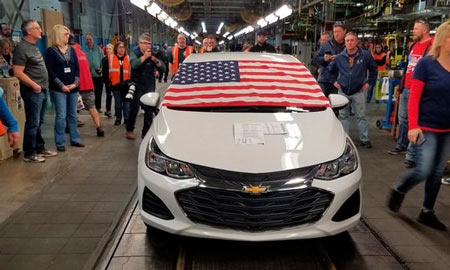 The Detroit News
Henry Payne
March 9, 2019
The last Cruze came off the Lordstown assembly line in Ohio on Wednesday as General Motors Co. shut down the plant and abandoned the compact sedan segment. The move comes as GM has signaled a shift away from sedans and into SUVs and electric vehicles as it idles five plants in the U.S. and Canada that make the Cruze, Chevrolet Impala, Chevrolet Volt, Buick Lacrosse, Cadillac XTS and Cadillac CT6.
The Cruze leaves behind 142,617 customers who bought the car in 2018 – a mid-level talent in a robust, if shrinking, 2.5-million small-car sales segment in the U.S.
The Cruze enjoyed a short but thrilling roller-coaster ride over its eight-year career.
Slotted between the subcompact Sonic and mid-size Malibu, the Cruze was Chevrolet's third compact entry in three decades, following the Cavalier and Cobalt. It debuted in 2011 at an opportune time, riding America's shift to small sedans as the Great Recession squeezed incomes, and memories of $4 a gallon gas were fresh.
Its debut was emotional for GM, coming as the most significant model launch since the company's reorganization under a federally led bankruptcy.
"This is everything for us," then-GM President of North American operations Mark Reuss said at the car's Ohio launch in 2010. "The rebirth of the American economy starts right here at Lordstown with a world-class, high-volume car built in the heartland of America."
Getting up to 48 miles per gallon on the highway, the Cruze cruised to a peak of 273,060 sales in 2014 before crashing to earth as the U.S/ economy rebounded, gas prices stabilized at around $2 a gallon and America fell back in love with sport utility vehicles.
The new badge proved a nice diversion for the brand, too, as the discontinued Cobalt became a lightning rod for bad news after a faulty ignition switch caused multiple fatalities. And with consistent volumes over 200,000 sales, GM invested in multiple variations including diesel-powered and hatchback models.
"The Cruze stands out by providing a comfortable ride, a surprisingly large trunk and several high-tech, luxury-adjacent features," Car and Driver magazine enthused at the time. The Cruze was an early adopter of technology features like like 4G WiFi and smartphone app connectivity that were popular with young buyers. Despite its strengths, the Cruze never broke the magazine's Top 10 picks like segment icons Honda Civic and Volkswagen Golf.
The $18,870 Cruze's disappearance leaves a hole in Detroit's entry-level compact car lineup, as Ford's compact Focus also ends production this year and Dodge's Dart long ago left the playing field.
"We've already seen those Cruze customers migrating to the Trax. And we're seeing an uplift in sales to the Equinox also," said a Chevy spokesman. The Trax is a subcompact SUV that starts at $22,195, and the compact Equinox starts at $24,995
Analysts say that the price-jump to equivalent SUVs – and reliable sedan entries from Asian automakers – poses a risk for the brand.
"Chevy hopes most of those customers will go to utility vehicles," says IHS Markit senior auto analyst Stephanie Brinley. "But there are people who still prefer sedans, so there is the risk they will buy a Honda Civic or Toyota Corolla instead."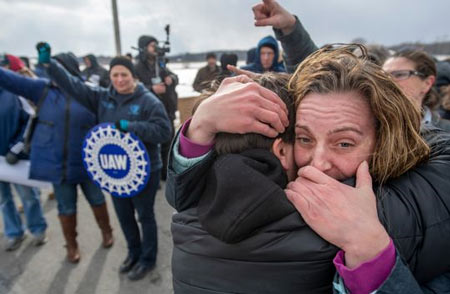 The Civic and Corolla have been the perennial best-sellers in the segment at over 300,000 units sold annually in the U.S. Both are manufactured in America's heartland by non-union labor – the Civic in Indiana and the Corolla in Mississippi – even as Cruze's Ohio home lays off its UAW workforce.
The Japanese badges proved formidable for upstarts like the Cruze, which spanned two generations over eight model years. The Corolla (11 generations of new cars) and the Civic (10 generations) have been in the U.S. market for about 50 years.
"That could be part of the Japanese success," says IHS's Brinley. "Chevy had to retrain the automotive buyer whenever they came out with a new model name."
That branding will continue to be a challenge moving forward, experts say. The Cruze's demise is part of a larger shift for GM away from gas-powered vehicles towards a future of electric and autonomous vehicles. CEO Mary Barra envisions an all-electric future she refers to as "zero accidents, zero emissions and zero congestion."
The company's autonomous-vehicle development unit GM Cruise LLC is is working on an autonomous vehicle called the Cruise AV that will compete against established ride-sharing brands like Uber and Lyft. And GM is putting enormous capital into 20 new, all-electric, zero-emission vehicles by 2023.
For now, GM electric vehicles like the $37,000 Chevy Bolt EV are well out of the reach of Cruze buyers.
"The conversion to electric is not going to be a straight transition," says Brinley. "You can't move compact Cruze buyers into Bolt EVs. It's going to be the next generation of buyer that's going to switch to EVs. A lot is expected to happen between now and then."
For now, then, Cruze buyers who want to stick with Chevy sedans will have to move down to a smaller $16,295 subcompact Spark or up to a $22,685 midsize Malibu – the Malibu starting at about the same price as a subcompact Trax SUV.
The good news for GM, say Brinley and GM representatives, is sedan buyers increasingly are comfortable with switching to SUVs. A GM spokesman said there is no wall anymore between sedan customers willing to shop for SUVs.
Versions of the Cruze will continue to be sold in foreign markets with production in Argentina, China, Mexico and South Korea.


Freshened 2020 Ford Transit
gets new engines, awd option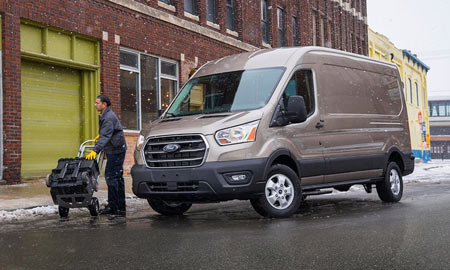 Michael Martinez
Canada Automotive
March 7, 2019
DETROIT — Ford Motor Co. is freshening its Transit vans with new driver assistance technology and two new engines in the hopes of increasing its share — and profits — in the lucrative commercial vehicle space.
On sale this fall, the 2020 Transit also gains an optional all-wheel-drive system and a two-row, five-seat "crew van" configuration.
The full-size van is among Ford's most profitable vehicles and a staple at work sites across the country.
The Transit has gained importance under CEO Jim Hackett as he overhauls the automaker's lineup to focus on profitable nameplates. Ford is in the midst of updating all of its commercial vehicles, starting with the Transit Connect midsize van last year and extending to the Super Duty pickups and Transit van this year.
The freshened Transit will come standard with a new 3.5-litre V-6 gasoline engine. The automaker said it's more efficient than the outgoing 3.7-litre engine it replaces but did not reveal its specs. A new 2.0-litre EcoBlue biturbo four-cylinder diesel engine is optional. It will offer more power and torque than the 3.2-litre diesel it replaces, Ford says.
The automaker is also carrying over an optional 3.5-litre EcoBoost gasoline engine. All will be paired with Ford's 10-speed transmission, which has rolled out on other vehicles including the F-150 and upcoming Explorer.
Officials declined to discuss any power figures or mileage estimates.
An optional awd system on the gasoline powertrains can send up to 100 per cent of available torque to the front wheels to help the van maneuver on loose surfaces. It also has selectable drive modes for mud, ruts and slippery surfaces.
CONNECTED TECHNOLOGY
Ford is adding modems with 4G LTE Wi-Fi in all Transits, part of an effort to make all the vehicles it sells connected by the end of this year.
There are extra benefits for Transit owners. In addition to the in-vehicle modem, Ford will offer optional telematics and data services to help commercial fleet owners maximize productivity.
That means businesses can monitor their vans' real-time locations with live GPS tracking and watch fuel economy and vehicle health. The services allow managers to receive alerts if there's a problem with the vehicle that requires a service appointment.
The vans also come with the Sync 3 infotainment system that includes Apple CarPlay and Android Auto.
Ford is making a host of driver assist features standard on every Transit cargo van, crew van, passenger van, cutaway and chassis cab configuration. Those technologies include precollision assist with automatic emergency braking and pedestrian detection, forward collision warning, post-collision braking, lane keeping, and automatic high-beam headlamps.
The Transit passenger van XLT trim includes a blind-spot information system and cross-traffic alert in addition to the standard tech.
Other optional technologies include enhanced active park assist, adaptive cruise control, an adjustable speed limiting device, and a front and rear view split camera.
Ford brings back F-600 as it
overhauls work truck, van lineup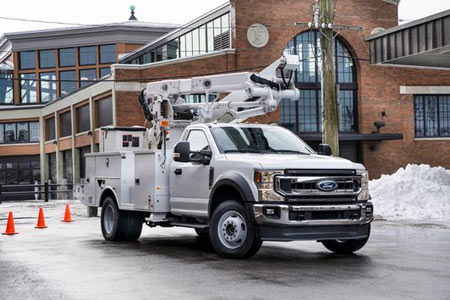 Ian Thibodeau,
The Detroit News
March 6, 2019
Ford Motor Co. plans to bring back the F-600 Super Duty Chassis Cab to add another workhorse to its stable of F-Series work trucks.
That's part of an effort to leverage an already strong commercial fleet business here in the U.S. to reach more buyers who might have been looking for something just slightly smaller than the F-650 Ford currently sells.
"This is going to supplement those sales," said Mike Pruitt, Ford Super Duty chief engineer.
The last time Ford sold the F-600 was in the late 1990s. The new model slots between the smaller Super Duty trucks, which Ford is refreshing later this year, and the larger Medium Duty trucks and chassis Ford sells. Ford said the F-600 will have the "capability of a Class 6 truck" with a Super Duty package.
The new truck will be available mid-2020, the automaker said. Ford is refreshing and updating its entire commercial lineup, including the Transit van, all the Medium Duty trucks, the E-Series and its stripped chassis. The commercial lineup now has standard modems with 4G LTE Wi-Fi. That enables available telematics and data services, according to the automaker.
Parts of Ford's driver-assist feature package are being introduced to the lineup as well. The Medium Duty trucks get optional adaptive cruise-control, lane-departure warning and driver-alert systems, among other things. The all-new 7.3-liter V-8 gasoline engine that will debut on the new Super Duty will also be available on Ford's larger vehicles.
The new F-600 will be the same size as the F-550, but with an upgraded driveline, chassis, tires and wheels to give it a higher gross vehicle weight rating, which essentially means it can carry more.
Meantime, the automaker is updating the Transit van for the 2020 model year to make it easier to drive. The van gets two new engines and a 10-speed transmission aimed at boosting fuel economy, and available all-wheel drive. The exterior gets a new grille and some other tweaks. Inside, there's a new instrument panel and an available touch screen.
The automaker is updating its E-Series and stripped chassis vehicles, too.
The F-650 and F-750 Medium Duty trucks get the new 7.3-liter gas engine or a 6.7-liter Power Stroke V-8 diesel mated to a 6-speed TorqShift heavy-duty automatic transmission. Ford is also updating the instrument panel and including standard AM/FM stereo radios with Bluetooth capability. The big trucks lacked the creature comforts of Ford's mainline trucks until now, officials said. Those trucks will be model year 2021 vehicles, with production starting in January 2020.
FCA's US$4.5-billion Michigan
investment 'doesn't bode
well' for Brampton
Ian Bickis
The Canadian Press
March 5, 2019
Canada's auto industry was left on the sidelines in a major spending commitment by Fiat Chrysler Automobiles this week, just as analysts were raising concerns about the future of the company's Brampton, Ont. assembly plant.
The US$4.5-billion commitment by FCA in Michigan, set to create 6,500 jobs, will build a new assembly plant and upgrade existing ones comes after intense political pressure in the U.S. to increase domestic manufacturing.
The investment, which will pave the way for a new three-row Jeep and other models as part of the company's increasing focus on trucks and SUVs, highlighted the risks for the Brampton plant that produces passenger cars.
"That doesn't bode well," said John Holmes, professor emeritus at Queen's University, who co-wrote a report out this week on Canada's auto industry.
"The big challenge for Brampton has been that, yeah they got the new paint shop after the last round of bargaining with Unifor, but they're building mainly sedans, and the market is really, really soft for cars."
NEED FOR INVESTMENT
The company and union have downplayed threats to the plant, but the report by Holmes and University of Guelph provost Charlotte Yates notes the plant needs new vehicles in growing segments to survive, even as capital commitments to Canada's auto sector decline.
Investment in Canada's vehicle assembly sector averaged just $1.2 billion a year between 2010 and 2017, down from $2.3 billion a year in the previous decade, the report said, while since 2004, greenfield investment in Canada has totalled $1 billion compared with $15 billion in Mexico.
There's little sign the trend will reverse as the auto sector prepares for flatter growth in North America and a dip in demand in China. The big Detroit auto companies are increasingly shifting to higher-margin large vehicles to prepare, such as General Motors' decision to shut its Oshawa, Ont. assembly plant that produces sedans by the end of the year.
FCA has also shifted away from cars, discontinuing the Chrysler 200 and Dodge Dart in 2016, as it focuses on expanding its SUVs and trucks under the Jeep and Ram names as well as its higher-end Italian brands.
The company is predicted to phase out the Chrysler 300 produced at Brampton by 2021, said Joseph McCabe, president and CEO of AutoForecast Solutions LLC, though the plant should still get the next generation Dodge Charger and Challenger muscle cars.
"We see that the Charger and Challenger remain the halo products in their car strategy, but they are literally the only thing left in Chrysler's car strategy in North America."
There is a chance, though, that the company could cut the Chrysler car line-up, built on its LX rear-wheel drive platform, entirely, said McCabe.
"It's going to be literally an on and off approach. Either they stay in the car business and they need a place to put the LX and they'll keep it there. Or, they get out of the car business and then all of the sudden, unfortunately, Brampton gets ramped up to the highest risk facility that Chrysler has in North America."
FCA spokeswoman LouAnn Gosselin said the company doesn't discuss future plans and products, including the future of Brampton, but did say the company is committed to what it's producing there.
"The products built there have a very loyal and engaged customer base and remain an important part of our product portfolio in the United States and North America, and will continue to be," she said by email.
UNIFOR SAYS FCA 'COMMITTED' TO CANADA
Unifor president Jerry Dias was also quick to assure that the company is committed to Canada, and the Brampton plant that employs some 3,348 unionized workers.
"They are absolutely committed to their facilities here in Canada," he said. "That plant has been on two shifts for years. It's steady, they have a loyal customer base, and they're not going anywhere."
He said he wouldn't be surprised if the company announces another vehicle to complement the Charger and Challenger, noting that FCA has held off on spending part of the $325 million it committed to the plant's paint shop until it figures out the next step for the plant.
The company's investment this week in the U.S., however, shows how important government support is for the industry, said Dias.
"There's no question when you have governments that are vocal and active and challenging the companies, you're much more able to get results."
He said Canadian governments still need to step up.
"The sound of their silence is deafening."
Holmes and Yates also called for more concerted government assistance for the sector in their report, especially targeted support for companies that commit to build green vehicles. FCA said its new investments in Michigan would allow for electrification of future Jeep vehicles.
And while Canada didn't get new investments in the latest news, any investment in the Great Lakes region is a win for a sector that is heavily integrated across the border, said Holmes.
"Investments in new assembly capacity in Michigan, or Ohio, and Indiana probably holds out some potential for increased parts sales for Ontario firms," said Holmes.
The region as a whole has been eager for new investment as production has trended further south. Holmes noted in the report that of the 17 new North American assembly plants announced since 2006, 10 have gone to Mexico, seven to the southern United States and none to the Great Lakes region. FCA said in its announcement that the new assembly plant with be the first built in the city of Detroit in almost three decades.
Romance scams take top spot
of 2018's top 10 scams, Better Business Bureau says
March 4, 2019
Global News
Eric Stober
The Better Business Bureau (BBB) has released the top 10 scams of 2018, with romance scams taking the top spot.
The BBB said in a release that Canadians lost $121 million to scams in 2018, up from $95 million in 2017 and more than double the amount from 2015.
Less than 10 per cent of scam victims report the crime, according to the BBB, suggesting that actual losses from scams in 2018 may actually have been as high as $3 billion.
Approximately $22.5 million was lost to romance scams that the BBB says can involve catfishing, in which someone appears to be someone else online.
The BBB says the scam has evolved and extended its impact to make it to the No.1 spot, and it has become very lucrative for scammers.
To avoid romance scams, the BBB recommends to never wire or transfer money to someone you haven't met, look out for sob stories and to be wary of people who say they cannot meet you in person.
The total list is as follows:
Romance Scams
Income Tax Extortion Scams
Online Purchase Scams
Employment Scams
Phishing
Subscription Scams
Advance Fee Loans
Tech Support Scams
Home Improvement Scams
Bank Investigator Scams
"Scams are evolving — they are more aggressive, devastating, convincing and there is now a scam for everyone," said Danielle Primrose, the BBB's president and CEO. "Scammers are bolder than ever, which is why we need to keep informed and take proactive steps to protect our information and finances. I cannot stress enough how important it is to report every instance of scams and frauds."
The BBB has compiled a yearly list of top 10 scams for over 25 years.
This year's list was compiled from its Scam Tracker, information from its community partners and sponsors, and input from BBBs in the country and the Canadian Anti-Fraud Centre.
The BBB encourages victims of scams to report it on their Scam Tracker website, and reminds everyone to change their passwords every three months.
Police find meth smuggled
into Canada through new
Ford cars built in Mexico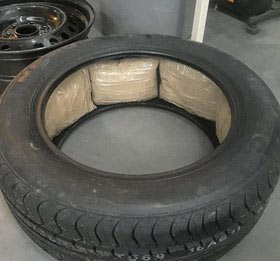 The Canadian Press
March 3, 2019
A notorious Mexican cartel stashed bricks of methamphetamine in the spare tires of new cars before sending the vehicles to Canada by rail in a sprawling drug smuggling operation, authorities alleged Wednesday.
Ontario Provincial Police said they found 180 kilograms of meth during their investigation, which began when employees at four different Ford dealerships reported suspicious bags inside tires that were in the trunks of new Fusion cars.
Police said the cars were built at Ford's assembly plant in Hermosillo, Mexico, before being put on northbound trains.
"The powerful Sinaloa cartel is well entrenched in that area of Mexico," said OPP Supt. Bryan MacKillop. "We are very certain that they are ultimately responsible for these drugs."
He said authorities first became aware of the drugs in December when Ford dealership employees in four Ontario communities — Chelmsford, Collingwood, Bolton and Newmarket — called police about the beige-taped packages that lined the tires.
The investigation, dubbed Project Sebright, ballooned to involve the Canada Border Services Agency, Greater Sudbury Police, police in New Brunswick, Quebec provincial police and Ford.
Police said nine of 14 vehicles from the same shipment, found at 13 different Ontario dealerships, contained meth.
Other cars that were part of the same shipment made their way to Quebec and New Brunswick, MacKillop said.
"We were able to proactively stop a similar subsequent shipment of cars as it crossed the border into Canada," he said. In that case, police found meth hidden in a similar fashion in 12 of 14 vehicles they searched.
Authorities have continued to search vehicles coming into the country from Mexico, but have yet to find more drugs, MacKillop said.
"That tells us that this method of smuggling has been successfully disrupted," he said.
Police said they haven't laid charges and are still investigating. MacKillop said investigators believe the "logistics" of the alleged smuggling operation failed, which led to the drugs continuing on to dealerships.
"I don't think that's what they wanted," MacKillop said.
He also said police don't know when or where the cars were "exploited," other than saying those responsible were the Sinaloa cartel, which was once led by drug lord Joaquin "El Chapo" Guzman, who was found guilty recently of drug trafficking and murder conspiracy charges in New York.
Police noted the "creative means" to smuggle drugs into the country.
"As we know from past drug smuggling investigations it is not uncommon for a criminal organization to resort to creative means to hide illicit drugs within legal cargo," MacKillop said.
OPP deputy commissioner Rick Barnum said meth has become a problem in Canada.
"The use of methamphetamine is on the rise," Barnum said. "The number of meth seizures has continued to grow since 2010."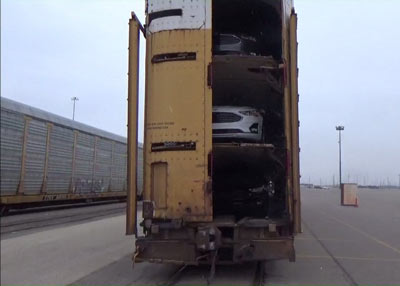 Ontario Provincial Police say employees at four Ford dealerships
discovered the drugs stashed within spare tires that didn't match the cars.


Louise Mackay Passes Away
February 24, 2019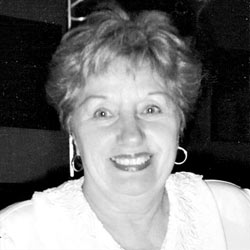 Our Sincerest Condolences go out
to the Mackay Family
MacKAY, Nora "Louise" It is with great sadness that our family announces the passing of Nora "Louise" MacKay, 78, who died unexpectedly at her home in Brampton on February 24, 2019.

Louise is predeceased by her sisters Gertrude, Ivy, Mary, and Jean, her brothers Jim, Bill, and Carl, her son "little" Ernie, and her infant daughter Margaret Ann (stillborn). She is survived by her sister Jessie, her children Steven and Linda, and her grandchildren Micheal (Elena) and Tara (Paul). Louise was born February 16, 1941 in Cape Breton, Nova Scotia to George Drover and Annie Holloway.

She was a dedicated technician at Nortel for many years, a "pioneer", as she liked to say, of circuit boards. More recently, she was proud to be a greeter at her local Wal-Mart. In her personal life, she was a loving mother, a devoted grandmother, and a loyal friend. She loved Elvis, anything Country and Western, and CNN, and she never met a Santa figurine that she couldn't find a home for.

She will be deeply missed by her many friends, family (including all her nieces and nephews), and all who knew her.

Family and friends will be received at the Ward Funeral Home "Brampton Chapel", 52 Main Street South (Hwy 10), Brampton from 12:30 p.m. to 3:00 p.m. on Saturday, March 2, 2019, followed by a service to begin at 3:00 p.m.

In lieu of flowers, memorial donations may be made to CAMH (Centre for Addiction and Mental Health). Please visit the Book Of Memories at www.wardfuneralhome.com
Louise was once married to Ernie Mackay
U.S. trade chief courts UAW to
back North American trade pact
BEN KLAYMAN and DAVID SHEPARDSON
Reuters
March 2, 2019
DETROIT/WASHINGTON -- U.S. Trade Representative Robert Lighthizer and his staff will head to Michigan next week to meet with UAW leaders in an effort to win labor backing for a new North American free trade deal, the union said on Friday.
Lighthizer is set to meet on Tuesday with union officials near Detroit to answer questions about the United States-Mexico-Canada Agreement, UAW officials said.
A USTR spokesman did not immediately respond on Friday to Reuters' queries about the planned meeting.
Lighthizer said at a congressional hearing on Wednesday that the USMCA is "clearly better than" the North American Free Trade Agreement that preceded it.
Business leaders and Democrats say gaining labor approval will be critical to winning its final approval in Washington.
If Congress does not pass USMCA, then the United States has "no credibility at all" with China or "on any deals with your other trading partners," Lighthizer said at the hearing.
The USMCA deal would boost requirements for North American content for vehicles and requires that 40 percent of vehicle value be made in high-wage areas paying $16 an hour, requiring significant automotive production in the United States and Canada.
Needs improvement
Many Democrats argue the agreement needs improvements to ensure that higher labor and environmental standards can be fully enforced before they can support it. The pact has been billed as requiring Mexico to change its labor laws to allow unions with true collective bargaining power a fairer chance to form, a provision aimed at pushing up Mexican wages.
And many Republicans, as well as companies and farm groups, say the administration must agree to drop tariffs on aluminum and steel imports from Canada and Mexico before the agreement can move to a vote.
The American Automotive Policy Council, which represents General Motors, Ford Motor Co. and Fiat Chrysler Automobiles, said on Friday it is supportive of USMCA and urges "Congress to pass the implementing legislation."
In August, U.S. President Donald Trump met with labor leaders, including UAW President Gary Jones, to discuss the trade deal.
In November, Jones said the trade agreement was "not strong enough," citing GM's announcement to end production at five North American plants and cut about 15,000 jobs.
"The 'new' NAFTA needs more input and more work," he said in a Nov. 30 statement. "Our elected leaders owe it to working families in the United States to go back to the table and make this stronger, tighter and enforceable."
"We need the 'new' NAFTA to make GM and other auto companies rethink mass layoffs while they invest in exploited labor in other countries like Mexico," Jones added.
Fiat Chrysler said in January 2018 it would shift production of Ram heavy-duty pickup trucks from Mexico to Michigan in 2020. But this week, the company reversed course saying it would add production of other vehicles in Michigan and build a new assembly plant in Detroit.
UAW sues GM over plans
to 'unallocate' 3 plants
before contract expires

Nora Naughton,
The Detroit News
Feb 28, 2019
The United Auto Workers is suing General Motors Co. over the automaker's plans to stop production at three U.S. plants before the current labor contract expires later this year.
The lawsuit filed by the UAW Tuesday in Ohio accuses GM of violating the terms of the 2015 UAW-GM national contract, specifically the Plant Closing and Sale Moratorium outlined in the agreement.
The union is seeking to keep Lordstown Assembly, Warren Transmission and Baltimore Operations running at least until the existing agreement between the UAW and GM expires in September. All three plants are slated to stop production in the coming months, with Lordstown the first to close its doors on March 8.
The automaker's Detroit-Hamtramck Assembly is not included in the lawsuit because production of the Cadillac CT6 and Chevrolet Impala was recently extended through January 2020, reaching beyond the expiration of the 2015 GM-UAW agreement.
In a larger restructuring announcement on Nov. 26, GM was careful in its language addressing production stops at Detroit-Hamtramck Assembly, Warren Transmission, Baltimore Operations and Lordstown Assembly in Ohio. GM said these plants would be "unallocated," indicating that the products currently built at these plants would stop production without anything to immediately replace them.
The UAW alleges that use of the word "unallocated" deliberately avoids the words "idle or "close," which are explicitly addressed in the 2015 agreement, set to expire in mid-September.
"Notwithstanding its obligations under that letter agreement," the UAW wrote in its lawsuit, GM "has decided that the following plants will be 'unallocated' — which is a synonym for 'closed' or 'idled.'"
GM refuted this claim in a statement Tuesday, but declined to comment further.
"The announcements made by General Motors on November 26 do not violate the provisions of the UAW-GM National Agreement," the company said. "We continue to work with the UAW on solutions to our business challenges."
The filing of the lawsuit follows the UAW's first formal challenge of the decision outlined in a December letter to GM. It opens another avenue of resistance to GM's restructuring plans, which also target the closure of an assembly plant in Oshawa, Ont.
"For UAW members in GM Warren Transmission Operations, GM Lordstown Assembly and in the GM GPS Baltimore plant in Maryland, the UAW is determined to leave no stone unturned to make sure that their contractual rights are honored," UAW Vice President Terry Dittes, director of the union's GM department, said in a statement. "The UAW believes that General Motors is in breach of the 2015 Collective Bargaining terms."
The long-term fate of Lordstown, Warren Transmission, Baltimore Operations and Detroit-Hamtramck will likely be decided during contract negotiations this summer between GM and the UAW. Talks between the union and the Detroit automaker are likely to be dominated by efforts to ensure new products are allocated to some or all of the affected plants.
Ford investigating if mpg
ratings could be skewed

Ian Thibodeau,
The Detroit News
Feb 26, 2019
Ford Motor Co. is investigating whether incorrect computer modeling might have caused it to misstate fuel economy and emissions for government testing.
The automakerhas hired an outside firm to investigate the vehicle "road load" specifications used in the company's testing and applications for emissions and fuel economy standards, Kim Pittel, Ford's president of sustainability, environment and safety engineering, said in a statement Thursday.
The investigation has so far determined that the company did not use any so-called "defeat devices" on its vehicles to dupe emissions tests, Ford spokesman Said Deep said. Ford and the investigative team have not yet determined whether the issue affected the automaker's fuel economy labels or emissions certifications.
Deep characterized the investigation as in its "early days."
Ford officials were alerted to the possible issue by "a handful of employees" through its internal Speak Up channel, according to the company statement.
Road load is essentially the force put on a vehicle while driving at a constant speed over a level surface. A lighter load in the mathematical equation could result in a better fuel economy than stated.
The automaker has notified the Environmental Protection Agency, and is starting to evaluate its vehicles. The first will be the 2019 Ranger, which currently boasts a best-in-class EPA-estimated 23-miles-per-gallon combined fuel economy.
"We believe that trust in our brand is earned by acting with integrity and transparency," Pittel said in a statement. "As part of this, we have a process for looking at how we perform and behave in our broad and complex company."
Industry analyst Michelle Krebs said it's hard to tell at this point how significant the investigation or its findings might be. Ford did not say Thursday how many vehicles might have been affected.
"There have been numerous automakers in trouble for inaccurately stating fuel economy," said Krebs, an analyst with Cox Automotive. "Ford is being very cautious. This is against the backdrop of a lot of stuff that has happened with a lot of automakers regarding emissions and fuel economy."
She said this initially seems less severe than recent scandals at other automakers regarding fuel economy testing, because this arose internally at Ford and the company is investigating itself.
Emissions-tests cheating has been an issue for large automakers in recent years, most notably Volkswagen AG.
Last May, former Volkswagen AG CEO Martin Winterkorn was indicted on federal conspiracy charges to defraud the United States, to commit wire fraud and to violate the Clean Air Act for his alleged role in "Dieselgate," in which Volkswagen cheated U.S. diesel emissions tests by using defeat devices. Those devices caused pollution-control systems to work properly when being tested on dynamometers, but turned off those systems on the open road.
In January, Fiat Chrysler Automobiles NV was required to pay about $800 million to settle allegations from federal regulators that the company used software on about 104,000 diesel-powered pickups and SUVs that's similar to "defeat devices" used by VW to cheat U.S. emissions-testing.
The government said then the stiff penalties were intended as a warning to other "bad actors" that might be tempted to violate laws protecting the environment and health. Fiat Chrysler was not required to admit wrongdoing as part of the settlement.
The Environmental Protection Agency confirmed Thursday that Ford had alerted the agency of its investigation on Wednesday, and said it was too early to comment.
"We take the potential issues seriously," EPA spokeswoman Molly Block said, "and are following up with the company to fully understand the circumstances behind this disclosure."
Fiat Chrysler's
Marchionne
paid $7.8M, Manley
paid $708K in 2018

Nora Naughton,
The Detroit News
Feb 25, 2019
Fiat Chrysler Automobiles NV paid its late CEO Sergio Marchionne 6.6 million euros ($7.8 million) in 2018 and new CEO Michael Manley got 600,442 euros ($708,498) as head of the company in his first months on the job.
Manley, who took over as CEO on July 21 just before Marchionne succumbed to illness at age 66, was also granted 180,364 shares of FCA stock valued at about $3 million. Those shares could vest in 2019 if certain targets for the company are achieved, according to an annual statement issued Friday by FCA and filed with the Securities and Exchange Commission.
He will also receive a $367,000 bonus for FCA's 2018 financial performance. That bonus will be paid in 2019.
Manley received other compensation of 89,817 euros ($105,984) in 2018, including use of company vehicles and corporate aircraft.
The new CEO's compensation plan for 2019 was outlined last year, with a target compensation of $14 million. Manley will get a base salary of $1.6 million this year, with the opportunity for a $2.4 million performance-based bonus and a stock grant valued at $10 million.
Marchionne — who was paid nearly $12 million in 2017 in addition to 2.79 million shares of FCA stock valued at 28.98 million euros ($35.77 million) — received a base salary of nearly 2 million euros ($2.3 million) in 2018. Marchionne was also granted a bonus of about 4.6 million euros ($5.4 million) based on FCA's 2017 performance.
The late CEO's estate was also granted nearly 3 million FCA shares valued at $41.6 million based on FCA's performance from 2014 to 2017. It was the second of three tranches of FCA stock to be delivered based on the Italian-American automaker's performance at the end of a five-year plan set in 2014.
Marchionne's estate will not get a 2018 performance bonus because his original employment did not provide for a bonus payment in the event of death.
FCA Chairman John Elkann was paid in 2018 a base salary of 1.6 million euros (nearly $2 million).
Fiat Chrysler's stock price closed at $14.79 ahead of the annual report.
General Motors Co. and Ford Motor Co. have not yet released annual proxy statements and executive compensation for 2018.
GM CEO Mary Barra was the highest-paid Detroit Three executive in 2017. GM paid Barra $21.96 million in total compensation in 2017. The Detroit automaker usually releases its annual proxy in April.
Ford paid CEO Jim Hackett $16.73 million in 2017, his first full year as the Blue Oval's chief executive. Ford typically releases its annual proxy in mid-March
GM's Detroit-Hamtramck
production extended
to January 2020
Nora Naughton,
The Detroit News
Feb 24, 2019
General Motors Co. is extending production of the Cadillac CT6 and Chevrolet Impala at its Detroit-Hamtramck Assembly Plant until January 2020, extending the plant's production timeline by seven months.
Detroit-Hamtramck, which is one of five North American plants scheduled to indefinitely idle as part of GM's larger restructuring plan, was originally scheduled to stop all production on June 1.
Production of the Buick LaCrosse and Chevrolet Volt ended on Feb. 15, GM spokesman Dan Flores said, to better align "production schedules with customer demand."
"We are balancing production timing while continuing the availability of Cadillac advanced technology features currently included in the CT6-V, the Blackwing Twin-Turbo V-8 and Super Cruise," GM said in a statement.
GM President Mark Reuss said at an investor day earlier this year that Cadillac still needed a flagship like the CT6, which is the only vehicle equipped with the luxury brand's hands-free Super Cruise technology. He called reports that the vehicle would go away when production ends at Detroit-Hamtramck "speculatory."
Both Reuss and GM CEO Mary Barra have said they wanted to keep the CT6 in the U.S. market. Importing from China, where the vehicle is built for the Asian market, was not the first choice.
In its restructuring announcement on the Monday after Thanksgiving, GM was careful to characterize the affected plants — including Warren Transmission, Baltimore Operations and Lordstown Assembly in Ohio — using the term "unallocated."
The use of the word "unallocated" deliberately avoids the words "idle or "close," which are explicitly addressed in the 2015 agreement between GM and the UAW. The UAW is challenging the decision.
Lordstown will be the first plant to indefinitely idle. The Northeastern Ohio plant is scheduled to stop production March 8, extended by a week past the original idling date, Flores said.
GM said in its statement Friday that the status of Detroit-Hamtramck will still be "unallocated" when CT6 and Impala production stops in January 2020, though by that time the UAW and GM will have likely negotiated a new national contract. It's likely with the plant idlings this summer that product allocation will be a top priority of UAW-GM leaders.
UAW President Gary Jones and Vice President and director of the GM department Terry Dittes said in a joint statement that they are happy with GM's decision to extend production at Detroit-Hamtramck.
Said Jones and Dittes: "For those UAW brothers and sisters at GM Warren Transmission Operations GM Lordstown Assembly and in the GM GPS Baltimore plant in Maryland, let me reiterate that the UAW will leave no stone unturned in seeking to keep your plants open and we hope today's news brings a measure of hope as we continue that important work."
Canada seeks Pelosi's support
in push to lift U.S. metal tariffs
Josh Wingrove
Feb 21, 2019
Automotive News
Canada is asking U.S. House Speaker Nancy Pelosi to help press the Trump administration to lift tariffs on its steel and aluminum exports.
Canadian Foreign Minister Chrystia Freeland said she met Pelosi and other Democrats on the sidelines of a global security conference in Munich on Saturday. They discussed President Donald Trump's tariffs on Canadian steel and aluminum imports, Canada's retaliatory tariffs and the ratification path for the countries' new trade deal.
"I explained why Canada is so strongly opposed to them and why Canada believes they must be lifted," Freeland told reporters. Canada has said it'll lift its retaliatory tariffs, affecting about C$16 billion in U.S. goods ranging from steel to ketchup, when the U.S. cancels its measures.
Freeland delivered a similar appeal last week to Senator Chuck Grassley, the Iowa Republican who chairs the chamber's Finance Committee. She said she told him "that now that we have concluded our trade negotiation with the United States, that is all the more reason why those tariffs must be lifted."
Grassley said after meeting Freeland that he believes Canada won't advance legislation to ratify the successor to the North American Free Trade Agreement if the steel and aluminum tariffs remain in place.
NEW TRADE PACT
Freeland declined to comment, while saying Canada is moving forward and that she's in touch with cabinet colleagues and lawmakers about ratification.
"We are very seized of the issue and we are working on it. In due course, we will present our plan for ratification of the new NAFTA," she said. "Canada is definitely focused on our domestic ratification process and we feel we have it well in hand."
Canada has an election in October, meaning the current crop of lawmakers will likely adjourn in June.
Ford to cut big commercial
trucks, Fiesta in South America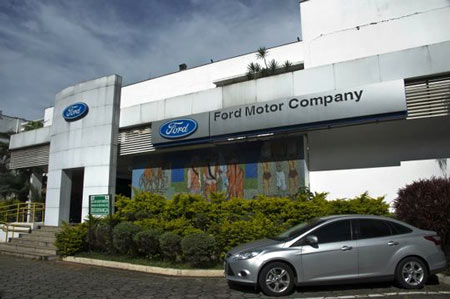 Ian Thibodeau,
The Detroit News
Feb 20, 2019
Ford Motor Co. plans this year to idle a plant in Brazil and exit the commercial heavy-truck business in South America as part of a global cost-cutting effort.
Ford CEO Jim Hackett and the executive team decided the commercial heavy-truck business would have cost too much money to maintain there with "no viable path to profitability," the automaker said Tuesday. The decision comes just more than a month after Ford announced plans to cut hourly and salaried positions in Europe, and possibly shutter plants there.
The automaker builds F-Series pickups, Cargo heavy trucks and the Ford Fiesta compact car at the Sao Bernardo Assembly Plant. The automaker is cutting sales of the Cargo lineup, which includes Transit vans; F-4000s; F-350s; and Fiesta cars in South America this year. It was unclear Tuesday if the Sao Bernardo plant would get new products in the future.
"Ford is committed to the South American region by building a sustainable and profitable business with strengthened product offerings, outstanding customer experience, and a leaner more agile business model," said Lyle Watters, president, Ford of South America. "We know this action will have a major impact on our employees in Sao Bernardo and we will be working closely with all our stakeholders on the next steps."
Ford plans to build its SUV and pickup portfolio in South America to boost profitability. The automaker is phasing out Focus production in Argentina as well. The automaker is taking similar steps in North America as it phases out sedans in favor of more SUVs and pickups.
The decision to exit the South American heavy commercial-truck business is expected to cost Ford $460 million, most of which goes to separation and termination payments for Ford employees, dealers and suppliers there. The charge is part of the $11 billion total Ford expects to incur as a result of its global restructuring.
Ford announced in January it would cut less-profitable vehicles from its European lineup, cut the workforce and possible close plants to right-side the money-losing business there. Ford has lost hundreds of millions in Europe and South America in recent years despite strong profits in North America.
Under Hackett's direction, Ford is cutting $25.5 billion in global operating costs, slashing the global salaried workforce, and taking an $11 billion charge in doing so.
Jim Farley, Ford president of global markets, said in January that restructuring plans for Europe and South America will differ from whatever Ford decides to do in North America.
"The situation of South American or Europe is quite different," he said. "Those businesses, we see a really healthy business within them. So restructuring will be a piece of that. Over the next months and weeks, you're going to hear more."
The commercial vehicle business saved Europe, according to Steven Armstrong, group vice president and president for Europe, Middle East and Africa. South America's fate is different.
Though Ford's heavy commercial vehicles will flee the South American market, the automaker could still have a commercial presence there. Ford announced in January an agreement to partner with Volkswagen AG on commercial vans and pickups outside of North America. A Ford-VW co-developed pickup could launch in South America, though it's not expected before 2022.
The automaker has also cut "salaried and administrative costs region-wide" by 20 percent in South America, according to a news release.
Carmakers on edge as Trump
keeps import-tariff report secret

Keith Laing,
The Detroit News
Feb 19, 2019
Washington — The auto industry is on edge as it awaits the verdict of the probe ordered by President Donald Trump into whether imported vehicles pose a national security threat, which could lead the U.S. to impose tariffs as high as 25 percent.
Commerce Secretary Wilbur Ross has submitted his recommendations to the president, the department said in a statement Sunday. It offered no insights into the findings. Trump has 90 days to decide whether to act.
Trump has floated the possibility of placing 25 percent tariffs on imported vehicles, most recently in retaliation for a decision by General Motors Co. to idle four U.S. plants as it continues production in Mexico. The premise of the investigation is being mocked in foreign capitals, and European Union leaders signaled Monday such a move would prompt immediate retaliation.
John Bozzella, CEO of the Association of Global Automakers that represents foreign-based manufacturers, said uncertainty is "freezing investment" as automakers anxiously wait to see if they will be hit with more tariffs. He noted that automakers already have been hurt by tariffs on foreign steel and aluminum put in place by Trump last year after imports of those commodities were deemed threats to the nation's security.
"American auto workers and consumers both who serve to be harmed by tariffs deserve to know what it's in the report," he said. "The bottom line is tariffs would increase the cost of every car sold in America. And we're certain to see retaliation."
European Union spokesman Margaritis Schinas said Monday that if the U.S. goes ahead with "actions detrimental to European exports, the European Commission would react in a swift and adequate manner."
German Chancellor Angela Merkel dismissed the idea that German-made automobiles present a national security threat to the United States. In a speech at the Munich Security Conference on Saturday she pointed out that BMW's largest plant is in South Carolina, not Bavaria.
"So when these cars, because they're built in South Carolina, are now becoming less threatening rather than the ones built in Bavaria that are supposed to be a threat to the national security of America, it's a bit of a shock."
Bozzella said he fully expects other U.S. trading partners to consider retaliatory tariffs if Trump moves ahead with the levies on imported cars. "We've already seen that with steel and aluminum," he said.
Matt Blunt, president of the American Automotive Policy Council, which lobbies in Washington for Ford Motor Co., General Motors Co. and Fiat Chrysler Automobiles NV, said Detroit manufacturers are also opposed to additional tariffs on imported cars. They fear their vehicles exported to other nations will be hit with higher duties.
"We believe the imposition of higher import tariffs on automotive products under Section 232 and the likely retaliatory tariffs against U.S. auto exports would undermine – not help – the economic and employment contributions that FCA US, Ford and General Motors make to the U.S. economy," Blunt said in a statement.
The review process is referred to as a Section 232 investigation in reference to a 1962 trade law that allows the president to impose tariffs if he determines a security threat exists. It was used by the Trump administration to impose tariffs on imported aluminum and steel.
The Center for Automotive Research said in a report released Friday that a 25 percent tariff on imported cars and parts would increase the average cost of all new cars sold in the U.S. by as much as $2,750 if Canada, Mexico and South Korea are exempted due to trade agreements. The price of vehicles imported from places other than Canada, Mexico and South Korea would go up an average of $3,700.
The average price of a new car was $37,149 in January 2019, according to Kelley Blue Book. Assuming a $3,000 down payment and a 4.7 percent interest rate on a five-year loan, the average monthly payment for a new car sold in Michigan would increase by $73 if $3,700 in tariffs were added to that price.
The Center for Automotive Research estimates the proposed duties would reduce car sales by 1.3 million per year in the U.S.
Bozzella chided the Trump administration for keeping the Commerce Department's report on the national security impact of imported cars secret, noting that a similar report about steel and aluminum was made public immediately last year.
"Uncertainty in this case is not a neutral or a positive here," he said. "The report hanging over the head of the industry is bad for the investment climate, and that in and of itself is a problem."
Cody Lusk, president of the American International Automobile Dealers Association, which lobbies for internationally branded dealers in Washington, also chided the Trump administration for keeping the Commerce Department's finding secret. He called the entire investigation "bogus."
"Dealers, their employees and the communities they serve are being treated like pawns by their government," he said in a statement.
Kristin Dziczek, vice president of the Center for Automotive Research, said the uncertainty is hurting the entire industry.
"It doesn't matter what the rules are, just tell us," she said. "If I had to guess, the report probably says there's national security harm. The president will want to load some tariffs up and hold them over people's heads. That raises the question of 'is this the new normal?'"
Ford CFO could retire
this year, report says
Ian Thibodeau,
The Detroit News
Feb 18, 2019
Ford Motor Co.'s chief financial officer is planning his retirement, according to a report from CNBC.
CNBC reported Thursday that Bob Shanks, Ford's CFO since 2012, would retire this year, citing anonymous sources. The company declined to comment Thursday on a timeline for Shanks' retirement. The 66-year-old has been with the company since 1997 and has been the CFO since 2012.
"As all boards of responsible companies do, our board of directors regularly reviews executive succession plans to ensure we have access to the best talent available and are prepared for orderly transitions to take place should the need arise," a Ford spokesman said in a statement.
If Shanks retires in 2019, he'd do so as the Dearborn automaker is in the middle of plans to cut $25.5 billion in costs largely through changes to product development, purchasing and manufacturing. Ford also plans to spend $11 billion to restructure its global business, part of which will involve white-collar layoffs.
Ford announced in January plans to revive its European business through cuts to the workforce and a redesigned vehicle portfolio. The automaker is expected to outline plans for the salaried workforce in North America and other regions by the end of the second quarter of 2019.
Ford recalls 1.5M pickups for
downshift without warning
Keith Laing,
The Detroit News
Feb 15, 2019
Washington — Ford Motor Co. is recalling nearly 1.5 million F-150 pickups with transmissions that are at risk of suddenly downshifting into first gear.
The Dearborn automaker said Wednesday it is recalling 1.48 million 2011-2013 F-150s with six-speed automatic transmissions that were made in North America. That includes approximately 1.26 million in the United States and approximately 221,000 in Canada.
Ford said a problem with the transmission speed-sensor is the cause.
Ford said it is aware of five reports of accidents that are potentially related to the condition that prompted the recall, including one report of whiplash.
Ford said the affected vehicles were built at its Dearborn Assembly Plant between April 28, 2010 and Oct. 28, 2013 and its Kansas City Assembly Plant between May 18, 2010 and Nov. 18, 2013.
The company said its dealers will update the powertrain control module software in the affected cars for free.
Ford also recalled 27,000 Lincoln Continentals from the 2017-19 model years that have doors at risk of opening while the cars are in motion due to door latches that may not fully engage because of a buildup of silicon contamination. The company said it is not aware of any reports of accidents or injuries resulting from the Continental problems.
Ford said its dealers will remove and replace the door latch assemblies on all four doors.
Ford also recalled 4,200 Ford Mustang, Lincoln Nautilus and Lincoln Navigator vehicles manufactured for the 2019 model year that are at risk of having blank instrument panels after startup. The company said it is not aware of any reports of accidents or injuries resulting from the condition.
Ford said its dealers will update the instrument panel cluster software.
Volkswagen officials expected
in Dearborn for Ford talks

Ian Thibodeau,
The Detroit News
Feb 14, 2019
Detroit — Volkswagen AG officials are expected to meet their Ford Motor Co. counterparts in Dearborn this week to continue negotiations on a partnership for electric and self-driving vehicles, sources with knowledge of the situation told The Detroit News.
The automakers are continuing to discuss terms of a deal to work together on futuristic ventures after announcing in January they had agreed to terms for a commercial-vehicle partnership outside of the United States.
Ford and VW had been discussing a linked partnership on both electric and autonomous vehicles, but have since separated the electric vehicle discussions from the discussions. The companies have different plans for electric vehicles, according to a CNBC report Wednesday. The automakers had initially discussed a Ford investment in the German automaker's electric vehicle platform; in return, VW would have invested in Ford's autonomous vehicle unit, a source with knowledge of the negotiations told The Detroit News.
VW officials could not be immediately reached for comment on the status of the negotiations Wednesday.
"Our talks with Volkswagen continue," Ford said in a statement. "Discussions have been productive across a number of areas. We'll share updates as details become more firm."
As the automakers continue to shape terms of a potentially expansive global partnership, Ford's crosstown rival General Motors Co. and Amazon.com LLC are in talks to take minority stakes in the Plymouth-based electric vehicle company Rivian Automotive LLC. Global automakers are turning to partnerships to help fund expensive investments in the electrified and autonomous vehicles they expect to be the future of the industry.
Ford and VW announced in January that the companies had reached an agreement to partner on commercial trucks and vans outside of the U.S. starting in 2022. The automakers said then they would continue to discuss other partnerships.
"You can't do this alone," Ford CEO Jim Hackett said then. "In these changing times must also come the evolution of this ecosystem."
It's unclear now how much VW would invest in Ford's autonomous spinoff, or in Argo AI, the Pittsburgh-based technology company in which Ford owns a majority stake. Negotiations there are ongoing, sources said. Ford and Argo in December had presented terms for VW to invest in Argo as part of the partnership talks, which VW felt was too expensive, another source told The News.
Another sticking point: VW has offered up Audi AG's Autonomous Intelligent Driving unit, called AID, as part of the negotiations, two sources told The News. Audi is a premium brand in the VW Group, and AID is a wholly owned subsidiary of Audi. AID and Audi are targeting a 2021 launch date for self-driving vehicles. So is Ford.
The Detroit News reported in November that Volkswagen and Ford were negotiating a potential $1 billion investment in Argo. Also on the table is an investment in Ford Autonomous Vehicles LLC, which the automaker set up in July to field outside backing. The potential investment from VW could be lower now, a source said. Reuters reported Wednesday Ford is looking for $500 million.
VW is trying to leverage AID as a bargaining tool in the negotiations surrounding an autonomous vehicle partnership, though Ford and Argo are unsure if the 150-employee unit operating about 12 autonomous test vehicles on public roads is worth as much as VW says, according to two sources.
Argo doesn't have a history of absorbing or using the autonomous technology its automotive partners offer. When it partnered with Ford more than two years ago, Argo did not use any of the technology Ford had been developing on autonomous vehicles. It developed its virtual-driver system in-house. Argo did utilize engineers offered by Ford. The companies are negotiating the value of AID, among other things, as the negotiations continue, sources said.
Meantime, the automakers might not partner on electric vehicles. Jim Farley, Ford president of global markets, said during a taping of the TV show "Autoline Detroit" that the two automakers have different ideas of how the electric vehicle business will operate.
Ford wants to build higher-priced electric vehicles, like the "Mustang-inspired" utility the automaker plans to introduce in 2020. VW is going for lower-post passenger-cars. Farley said that the automakers are on "different timing" when it comes to electric vehicles, according to a report from CNBC.
"Autoline" would not release a transcript of Farley's recorded comments Wednesday. The show was taped Monday and is expected to air Feb. 21. Both automakers have earmarked billions to fund electric vehicles. Ford plans to spend $11 billion by 2022 on electrified vehicles, and VW plans to spend $50 billion on electrified vehicles by 2023.
Ford told Britain's
May it is preparing
alternative factory sites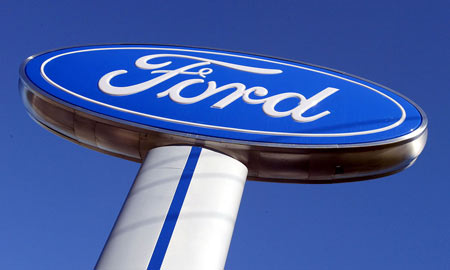 February 13, 2019
Reuters
Ford Motor Co told British Prime Minister Theresa May that it is stepping up preparations to move production out of Britain, The Times reported on Tuesday.
The automaker told the prime minister during a private call with business leaders that it is preparing alternative sites abroad, The Times said.
Ford was not immediately available for comment.
Ford, which operates two engine plants in Britain, last month said that it faces a bill of up to $1 billion if Britain leaves the Europe Union without a deal.
Automakers and other manufacturers have warned about the toll a no-deal Brexit could impose, including higher tariffs, disruption to supply chains and threats to jobs. Britain is scheduled to leave the European Union on March 29.
Another participant on the private call with May said that other companies delivered the same warning as Ford, The Times reported.
"This isn't about contingencies any more - we are taking steps because of the uncertainty. It's real," the participant said during the call.
Last week Nissan Motor Co. said it scrapped plans to build the new X-Trail SUV in Britain and will produce it solely in Japan, saying that uncertainty over Britain's departure from the EU was making it hard for it to plan for the future. Ford is the top-selling automotive brand in Britain, which is its third-largest market and the destination for roughly one in three cars made at its plant in Cologne, Germany. It employs about 13,000 people in Britain.
Ford set to invest $1B in Chicago
to build new Explorer, Aviator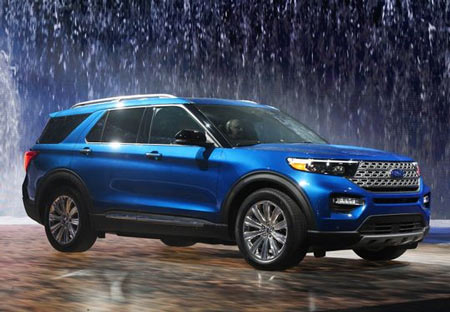 Ian Thibodeau,
The Detroit News
Feb 12, 2019
Ford Motor Co. plans to spend $1 billion at its Chicago plants to get production of the all-new Explorer and Lincoln Aviator underway.
"We believe in American manufacturing and good-paying (jobs)," Joe Hinrichs, Ford's president of global operations, said at the Chicago Auto Show.
The investment was planned as part of the 2015 contract negotiations with the United Auto Workers. Ford committed then to investing $9 billion over the four years the contract covered. The four-year deal expires later this year, and negotiations for a new contract will begin this summer.
As part of the 2015 contract, Ford said it would invest $900 million at Chicago Assembly. Hinrichs said the plant will get a new body and paint shop.
The automaker plans to add 500 jobs at its Chicago Assembly plant and Chicago Stamping plant to build the all-new Ford Explorer, the all-new Police Interceptor Utility and the all-new Lincoln Aviator. The Explorer and Aviator will have hybrid variants, and the Explorer will be offered in an ST performance trim.
"Ford's announcement of 500 additional jobs and over $1 billion in plant investments is a testament to the quality and hard work of UAW Ford members," Rory Gamble, vice president of the UAW-Ford Department, said in a statement.
"Every day UAW Ford members head to work, proud of the products they build and the craftsmanship required in vehicles like the Explorer, Aviator and Police Interceptor. Ford's investment announcement demonstrates a commitment to the dedication of UAW members in Chicago."
Ford's Chicago Assembly plant began making vehicles in 1924, when Ford built the Model T there.
After nine-year run, UAW profit-
sharing routine takes a turn

Nora Naughton,
The Detroit News
Feb 11, 2019
The now nine-year routine of hefty profit-sharing payouts to United Auto Workers members is poised to take a different turn.
Driving the upheaval in Detroit's hometown industry is a fundamental shift requiring automakers to redirect precious capital toward expensive electrification, mobility and autonomy efforts — just as they prepare for their quadrennial collective bargaining with the UAW over work in traditional car and truck plants.
The profit-sharing checks risk becoming a footnote as employees — white-collar and blue-collar alike — brace for the year ahead. But industry analysts, economists and even leaders at GM have made it clear that painful moves should be made while the economy is good and employees who lose their jobs can land new ones more easily.
"This time around, the uncertainty in the auto industry — and the fact that all three of these automakers have already announced some reductions — will trim that spending considerably," said economist Patrick Anderson, CEO of the East Lansing-based Anderson Economic Group. "Nonetheless, it is a very good sign that the Detroit-based automakers are making changes while they are still profitable, and that those profits are being shared with workers."
UAW members in the coming weeks will be paid bonuses ranging from $6,000 at Fiat Chrysler Automobiles NV to $10,750 at General Motors Co. now that all three Detroit automakers have reported profits for 2018. But amid the good times, GM and Ford Motor Co. are making the kind of cuts typically seen amid brutal downturns.
That is likely to change the dynamics at the bargaining table. GM is in the throes of a rigorous restructuring plan that included the start this week of more than 4,000 white-collar layoffs. The automaker also reported $11.8 billion in pre-tax profit last year, touted a strong outlook for this year, and used a filing with the Securities and Exchange Commission to outline an equity compensation plan for its GM Cruise LLC employees in Silicon Valley.
"As we begin the next phase of our transformation, I want you to know that we are committed to continuing to strengthen the core business as well as continue to accelerate our work to lead in the future of personal mobility," GM CEO Mary Barra told investors this week. "We are really repositioning this company from one that was trying to be all things to all people in all markets to a very strategic, agile and profitable company."
Ford, which made $3.7 billion last year, is expected to follow GM later this year with a restructuring of its own that will require pruning the global salaried workforce. The cuts already have begun, but are expected to intensify in the second quarter.
Fiat Chrysler, which made $4.1 billion last year, isn't expected to mirror the restructuring efforts of GM and Ford. But the transnational automaker is focusing more efforts on electrification and is expected to grow its manufacturing footprint in the U.S. this year — including reviving a plant in Detroit, CEO Mike Manley confirmed at the Detroit auto show.
But GM in particular has made it clear it won't invest in efforts that don't push the company toward a future it sees as driverless and emission-free. And it won't continue building products that U.S. consumers increasingly don't want.
As the company begins idling five North American plants and laying off white-collar workers, GM is upping its game to attract talent to its autonomous vehicle development operation by offering equity compensation to GM Cruise employees. The new incentive plan was approved last year by the board of GM Cruise, headed by Barra, according to the SEC filing.
GM Cruise CEO Dan Ammann, who moved on Jan. 1 to the driverless car unit from his job as GM president, also has an equity-based compensation plan that encourages him to meet certain targets for the company — including the grant of stock options, which would become valuable in the event of a GM Cruise spin-off.
"Mr. Ammann's compensation plan is consistent with CEO benchmarks from tech companies with similar market cap to Cruise and is heavily weighted toward the attainment of specific technology and commercial targets," GM spokesman Tom Henderson said.
UAW workers are likely to ask for their own slice of GM's profitability in the form of wage increases, experts say, not the stock options favored in Silicon Valley. More difficult decisions lie ahead for the industry as automakers weigh whether to invest in traditional product lines or expensive electrification and autonomy efforts. All while the companies deal with an increasingly volatile economic and trade environment.
"The UAW is going to want base wage increases, and the companies are not going to want to give it to them," said Kristin Dziczek, vice president of Ann Arbor-based Center for Automotive Research. The reason: base wage increases permanently increase fixed labor costs, while one-time bonuses represent one-time charges to the corporations. "Therein lies the rub."
In addition to GM's future-focused restructuring efforts, Ford is looking to trim operating costs by $25.5 billion over the next few years and plans to spend $11 billion reorganizing its European and South American operations. The automaker has not said what percentage of the global salaried workforce will be dismissed once the restructuring is finished. Ford expects to share details by the second quarter of 2019.
At the same time, CEO Jim Hackett rallied employees to push toward profitability as the company transforms, telling employees to "bury" 2018 "in a deep grave."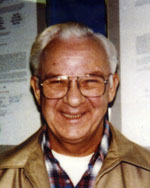 April 4, 1933 to February 7, 2019
Retired November 1, 1988
25.2 Years Service
It is with great sadness that we inform you of the
passing of retiree Vaughn Geldart
on February 7, 2019
Our condolences go out to his family.
Obituary for Vaughn Edward Geldart
Vaughn Edward Geldart
April 04, 1933- February 7, 2019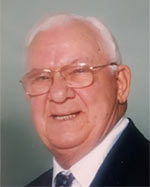 Born in Cholchester County ,Nova Scotia

Surrounded by family

Survived by his three daughters Elaine Moore (Randy), Julie Charles (Jim), Marianne Turner (Terry).
Grandchildren Leigh-Anne Marquis (Andrew), Allison Bisram (Faith), Jamie Charles, Christopher Charles (Mike), Kevin Charles (Nicole), Jennifer Turner-Wiggins (Tom), Brian Turner (Tara)
Great-grandchildren Moechia, Zachary, Nathan, Bella, Isaac, Lily, Kaylee.
Also survived by his sister Joan.

Predeceased by his wife Dolly Geldart (1991); father Walter, mother Francis; siblings Delbert, Roland, Eric, and Delena

There will be no more morning daily trips on the scooter to the coffee shop to enjoy conversation with the geezers; to solve all the worlds problems with nothing going according to plan.

Downtown Brampton's ice cream and pretzel shops will see a drop in sales, but will have to worry less about the risk of broken windows from Vaughn banging on the window to let them know he's outside waiting. To the owner of his favourite downtown breakfast place, it is okay to be late.

Much appreciation to Veterans Affairs and the Palliative Care Team for their compassion.

It was Vaughn's request to be cremated immediately following his passing; with no funeral service.

Please join us in a celebration of Vaughn's life on Sunday February 17th, between the hours of 4:00 pm and 7:00 pm at Alderlea, 40 Elizabeth Street South, Brampton.
Donations or condolences can be done online here
Unifor, UAW to meet as
unions ramp up PR
campaign against GM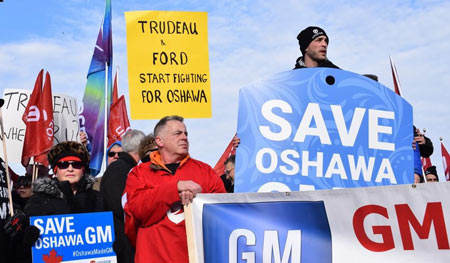 John Irwin
Automotive News
Feb 8, 2019
Unifor President Jerry Dias will meet with UAW leadership in Detroit on Thursday as both unions ramp up their campaigns to save five General Motors plants in Canada and the United States.
Dias, speaking with Automotive News Canada on Wednesday, said the meeting is scheduled for Thursday morning. A UAW spokesman confirmed a meeting was scheduled but said he did not know who from the American union would meet with Dias.
GM's plans to potentially close up to four U.S. plants and shutter Oshawa Assembly in Ontario by the end of the year will be the focus of the meeting, Dias said.
GM's plans are part of a larger corporate restructuring and have drawn the ire of both unions, who accuse the automaker of abandoning Canadian and American workers for lower wages in Mexico.
"The key issue will be GM," Dias said. "GM has the profitability. This isn't a company that's in bankruptcy or a company that's in trouble. This isn't a market that's in trouble, so it begs the question: Just who the hell do they think they are to close five plants?"
The meeting comes after both unions have ratcheted up their campaigns against GM. Unifor on Sunday aired a commercial during the Canadian broadcast of the Super Bowl accusing GM of leaving Canadians "out in the cold."
The union aired the ad even after it received a letter from GM Canada's lawyers demanding it not broadcast the commercial, which it called "knowingly false and misleading." The company threatened legal action if it aired. Unifor also plans on airing commercials during high-profile Canadian broadcasts of the Academy Awards, Grammy Awards and NHL games.
Unifor in recent weeks also called for a boycott of all GM vehicles assembled in Mexico and staged various protests, including a two-day blockade of GM Canada's headquarters in Oshawa. GM Canada said the Mexico boycott would hurt Canadian and American suppliers to those plants and said the blockade had no effect on its operations.
The UAW stepped up its efforts by releasing videos on social media in January that call GM's plans greedy and unnecessary. The union also urged members to not buy the new Chevrolet Blazer midsize crossover, which is built in Mexico.
The UAW and GM are set to negotiate a new contract for American workers later this year. The fates of Lordstown Assembly in Ohio and Hamtramck Assembly in Michigan, as well as powertrain plants in Warren, Mich., and Baltimore, are likely to be the focus of the talks. None of the four plants has product allocated for it beyond 2019.
Unifor will negotiate with GM in 2020, months after the automaker plans on ending production at Oshawa Assembly. Dias is demanding GM honour the current contract and keep production going at Oshawa until the agreement expires in September 2020.
2019 Lincoln MKC Black
Label has new look, fancy perks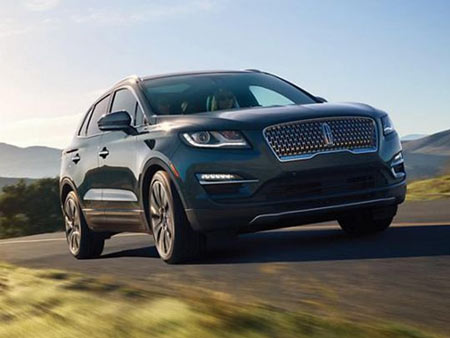 Barry Spyker,
Tribune News Service
Feb 7, 2019
The Lincoln MKC is back for 2019 with a face-lift, new safety features and some exclusive perks for those who spring for the top-line Black Label edition.
Beyond the premium leather, unique styling cues and cool color combinations (more on that later), Black Label buyers get four years or 50,000 miles of free maintenance. Lincoln will even pick up and deliver the car for routine service. Buyers also get free car washes whenever and one detailing per year.
There's also concierge services — book a restaurant from the car — and one free year of CLEAR, the travel service that gets you through security more swiftly at airports and stadiums.
MKC's old split-wing grille has been replaced this year with a broad rectangle of chrome mesh centered by the Lincoln star. With redesigned LED headlights, the new MKC more aligned with the future look of all Lincolns.
Ironically, Lincoln's future plans may not include the MKC, which debuted in 2015. Reports are that a replacement may be coming in 2020, something called the Corsair.
Meanwhile, the MKC ($57,480, including $2,495 technology package) forges ahead admirably as a luxury crossover, with a steady and comfortable highway ride. On the twisty roads, it won't be confused with European foes like Audi's Q5 and Jaguar's I-Pace, but it is agile and well controlled on corners. An adaptive damping suspension finds and tames the road's imperfections in the Comfort mode.
Switch to Sport and the suspension stiffens considerably, making the ride more harsh. Best to keep it in the Normal mode, especially since you must wade through the instrument menu options to get to the three drive modes.
Returning is the 2.3-liter turbocharged inline 4-cylinder engine that makes 285 horsepower and 305 pound-feet of torque. The run to 60 mph is moderately impressive at 6.9 seconds which, by the way, is equivalent to the base 2.0-liter turbo found on lower trims. A 6-speed transmission sends power to all four wheels as needed — AWD is standard on the Black Label.
Few will be towing with the MKC but it's capable of pulling 3,000 pounds. Fuel economy is in the middle of the class at 18 mpg city, 25 highway for a combined figure of 20.
At night, occupants are greeted with "welcome mat" lights, a classy touch and helpful to avoid puddles or other surprises. Inside, the MKC Black Label is filled with high-end materials and high-tech features. Black Labels are treated to one of three designer schemes: white leather and Argento wood, brown leather and Ziricote wood, or black leather with Alcantara seat inserts. The headliner is done in Alcantara.
Seats are supportive and ventilated and offer 12-way power adjustments with lumbar. But head room and leg room are tight in the rear and not a good place for adults on a trip.
Cargo space lags among foes but is adequate for most weekend needs: 25 cubic feet with rear seats up, 53 cubes with them folded down. That's good for a couple of suitcases or a week's worth of groceries. A hands-free liftgate makes loading easier.
Technology is headlined by Lincoln's easy-to-use Sync3 infotainment system. The system is intuitive and responds quickly to inputs. MKC also has Apple CarPlay and Android Auto, Bluetooth, navigation, a Wi-Fi hotspot and an available 14-speaker THX premium audio system.
A vertical stack of buttons for gear selection sits alongside the center stack. While that's not ordinarily a problem, this one is rather close to the windshield wiper stalk.
GM to pay hourly workers
$10,750 in profit-sharing

Nora Naughton,
The Detroit News
Feb 6, 2019
General Motors Co. will pay about 46,500 United Auto Workers hourly employees profit-sharing checks of up to $10,750 this year, the company said Wednesday.
The Detroit automaker, which made $11.8 billion last year, announced profit-sharing as part of its full-year 2018 earnings report. Its pre-tax profits in North America — the figure profit-sharing is based on — totaled $10.8 billion.
Workers should see the payments in their Feb. 22 paycheck, GM said in a Wednesday statement.
Last year, GM paid about $11,750 to some 50,000 UAW workers on a $11.9 billion North American profit.
Ford Motor Co. announced last month it will pay eligible hourly full-time UAW employees $7,600 in profit-sharing checks set to go out March 14. Fiat Chrysler Automobiles NV will announce its profit-sharing amounts when it reports full-year earnings Thursday.


Fiat Chrysler, Ford sales
bright spots in mixed Jan.

Ian Thibodeau,
The Detroit News
Feb 5, 2019
January vehicle sales at Fiat Chrysler Automobiles and Ford Motor Co. sales were two bright spots in an otherwise mixed sales month for carmakers in the U.S.
Fiat Chrysler said its sales were up 2 percent compared to the same time a year ago. Sales in January rose about 7 percent for Ford Motor Co. and slipped about 7 percent for General Motors Co. according to Bloomberg News, which cited people who asked not to be identified because those two companies no longer make their reports public on a monthly basis.
The annualized industry sales rate slowed to 16.7 million last month, according to researcher Autodata Corp., trailing analysts' projection for 16.9 million. The pace of car and light truck deliveries was 17.1 million in January 2018.
Industry analysts had expected automakers would see a slight overall increase in sales compared to last year despite the partial government shutdown, bad weather and declining consumer confidence. But Charlie Chesbrough, senior economist with Cox Automotive, said cold January weather and the government shutdown seem to have hurt sales more than he and others anticipated.
"Sales appear to be coming in below expectations for a number of large manufacturers," Chesbrough said. "Car share continues to decline sharply, although the drop has slowed for some OEMs, so we may be approaching the bottom."
Toyota Motor North America reported its U.S. sales fell 6.6 percent in January, with sedans, SUVs and pickups all down. Infiniti USA reported its sales fell 3 percent in January. American Honda sales went up 1.5 percent compared to a year ago due to strong Acura sales.
Hyundai Motor America reported its sales increased 3 percent on strong SUV sales. Hyundai SUVs made up 51 percent of total U.S. sales volume for Hyundai, an all-time record. Nissan Group sales were off 19 percent last month, another larger-than-expected decline.
Fiat Chrysler's Dodge, Chrysler, Fiat and Alfa Romeo brands all slid in January.
But the company's Ram brand continued propelling Fiat Chrysler's sales increases. Ram saw a 24 percent increase last month. Pickup sales within the Ram brand were up 19 percent, with 34,889 vehicles sold.
Fiat Chrysler said the strength of the U.S. economy could keep sales afloat in 2019.
"We expect a good cadence of new product throughout the year led by our Ram heavy-duty pickup trucks and Jeep Gladiator mid-side truck in the first half of this year," said Reid Bigland, Fiat Chrysler's head of U.S. sales.
The automaker did see Jeep sales slip for the first time in many months. Sales of Jeep were down 2 percent to 58,401 vehicles, though the Wrangler set a new record of 13,204 vehicles, up 11 percent compared to last year.
Part of the reason most companies saw flat or lower sales in January could be rising vehicle prices, according to analysis from Edmunds, a California-based industry analysis company.
"Car shoppers who are returning to the market for the first time in a few years could be in for a big shock," said Jessica Caldwell, Edmunds' executive director of industry analysis. "Vehicle prices and interest rates are so high right now that consumers are facing the very real possibility of spending thousands of dollars more on a new vehicle than they did last time they purchased a new car."
Ford folks play catch-up in bid
for respect, higher share price

Daniel Howes,
The Detroit News
Jan 31, 2019
Forgive the folks running Ford Motor Co. if they feel a little like Rodney Dangerfield.
He's the ol' comic who constantly complained that he "got no respect," a familiar lament in Dearborn as the Blue Oval's long-in-coming restructuring continues to cloud investor sentiment and raise as many questions as it answers. There's a reason for that: Ford is following its cross-town rivals.
Fiat Chrysler Automobiles NV's legendary CEO, the late Sergio Marchionne, exited the U.S. car business three years ago, long before the market's trend toward trucks and SUVs was undeniable. He was ahead of his time, which is why Detroit's No. 3 automaker is planning to add manufacturing capacity and jobs this year, not cut both.
And General Motors Co.'s Mary Barra is reckoning with her excess North American plant capacity the only way she can right now. She's moving to drop most sedans from GM's U.S. lineup and close four plants in the United States and one in Canada, whatever the predictably furious pushback from politicians, communities and the United Auto Workers.
The net effect of all this ferment for Ford? Despite its own plans to winnow its salaried workforce and whittle its U.S. car offerings to the iconic Mustang and its souped-up variants, Ford suffers by comparison. That's an uncomfortable fact its leadership doesn't much like but can't easily deny.
"The shiny new thing — and everybody loves the shiny new thing — is not a 115-year-old company," Executive Chairman Bill Ford said last week at "The Final Word" event closing press days in advance of the North American International Auto Show's opening to the public.
"But the fact is we're actually making ourselves into the shiny new thing, and some people are starting to pay attention. As we get through this year, people will start to really understand what this is all about."
They're not there yet, as Wall Street signaled again this week in yet another tranche of opinions on where Ford is going, how it will get there and whether it's meeting expectations for transparency and speed. The answer: not so much.
"Much more clarity needed on restructuring plan," Deutsche Bank headlined its Thursday note on Ford, issued less than 24 hours after the automaker posted its financials for last year. "While investor frustration with the perceived slow progress of Ford's restructuring actions remains understandably high, it seems their benefit could accelerate this year."
Adds Morgan Stanley: "We continue to see Ford as an emerging turnaround story, but still believe investors are waiting for a more significant 'capitulation' in results ..., a potential downgrade in the credit rating, a potential cut in the dividend or further transparency on strategy before increasing exposure. In short, while the ingredients are there ... we think it's too early to turn positive on Ford."
And David Kudla, CEO of Grand Blanc-based Mainstay Capital Management LLC, said: "Wall Street remains unimpressed and disappointed and the stock price is showing it. Ford's stock price is suffering because it discounts the future and investors are unclear as to what the future is at Ford."
External forces neither Ford nor its competitors can control don't help. Steel and aluminum tariffs are driving materials costs higher, eating profits. U.S. trade tensions with Canada and Mexico, China and the European Union drive uncertainty and complicate decision-making. A shutdown of the federal government that runs to the end of March could push growth in GDP close to zero, says the Trump administration's own economist.
In that context, the Blue Oval is playing catch-up. The less than three-year tenure of former CEO Mark Fields wasted valuable time that his successor, Jim Hackett, is being forced to make up in what he calls a "redesign" of the core automotive business — a necessary precondition to optimizing the financial gearing needed to pay for the Auto 2.0 spaces of mobility, autonomy and electrification.
Right idea, but his method is what's proving exasperating to investors and analysts paid to second-guess management. Where Marchionne was a proud iconoclast and Barra is a decide-and-go kind of CEO, Hackett is a methodical Big Thinker whose style does not neatly mirror Wall Street's assumptions of what an auto CEO should be.
But, then, neither is Ford. It stands alone among American automakers, a century-old industrial cornerstone whose founding family still exerts control over the Blue Oval's direction, culture and top leadership. Barra's GM, by contrast, is a more pure investor play, reconstituted in a federal bankruptcy that deeply influenced the senior leaders who survived and focused their attention on investors.
That's why Morgan Stanley last week described Barra as "one of the most effective CEOs in the business — a reputation earned from a track record of success, capital return, product execution and decisive actions under extreme pressure." Namely, from Wall Street, traditional rivals and emerging competition from Silicon Valley.
Among the major global automakers, GM and its capital structure also stand alone. Outside the United States, FCA is controlled by Exor SpA, the founding Agnelli family's holding company. BMW AG is controlled by the Quandt family. The Porsche and Piëch families, along with the German state of Lower Saxony, control more than 70 percent of voting rights in Volkswagen AG. The French government owns 15 percent of Renault SA, the controlling partner in the Renault-Nissan alliance.
But it's on Wall Street, epicenter of impatient American capital, where Ford and GM compete for credibility, leadership and respect — a decades-long contest GM appears to be leading, at least for the moment.
GM Canada output down 33%
while company becomes
top producer in Mexico
Nick Bunkley
Automotive News
Jan 30, 2019
Mexico in 2018 accounted for more than a quarter of General Motors' estimated North American production for the first time, a proportion that will rise further if the company follows through with plans to end production at five plants in the United States and Canada this year.
GM is now Mexico's largest auto producer, topping Nissan Motor Co. in a year when it reduced output by an estimated five per cent in the United States and an estimated 33 per cent in Canada, according to the Automotive News Data Center. GM built 834,414 vehicles in Mexico last year, an increase of 3.6 per cent, vs. a 10 per cent decrease to an estimated 763,257 for Nissan, which had been No. 1.
GM's higher Mexican output at a time when it's eliminating jobs in the U.S. has angered President Donald Trump and other politicians as well as union officials set to negotiate a new contract with the automaker this fall.
"We want those cars here," Rep. Debbie Dingell, a Michigan Democrat and former GM lobbyist, said in a statement to Automotive News. "That's why we have to support a public policy environment that encourages production in the U.S."
Overall production in Mexico fell by one per cent in 2018. That's the first time Mexico production has declined since automakers began opening a flurry of plants south of the U.S. border to take advantage of lower costs from nonunion labor and favourable trade agreements with overseas markets.
But production in Mexico is expected to remain stable in the coming years, particularly now that the U.S., Canada and Mexico have signed a renegotiated free-trade agreement, said Eric Anderson, a senior analyst with IHS Markit.
GM imports 36000 vehicles from Mexico to Canada annually. The automaker also says the company only imports three vehicle models from Mexico out of 47 it sells in Canada.
Unifor President Jerry Dias accused General Motors of "using Mexican workers for corporate profits" by "paying them $2 an hour."
Total North American production declined for a second consecutive year. Production was down an estimated 2.6 per cent overall, including an estimated two per cent in the United States and an estimated 8.8 per cent in Canada.
Just three automakers built more vehicles in the U.S. in 2018: Tesla, up 151 per cent; Volkswagen Group, up an estimated 22 per cent; and Honda Motor Co., up 2.7 per cent. Ford remained the largest U.S. producer, building nearly 2.4 million vehicles domestically vs. about 2.1 million for GM.
In Mexico, Toyota Motor Corp. built 49 per cent more Tacoma pickups in Tijuana, and Hyundai-Kia made 33 per cent more small cars in Nuevo Leon. Besides those two and GM, the only other automaker to raise output in Mexico was Fiat Chrysler Automobiles — by 369 vehicles. Honda and Ford joined Nissan with double-digit cutbacks.
A GM spokesman said the company hasn't added any capacity in Mexico for a decade and has no plans to do so. Its 2018 gain there stemmed from falling demand for GM's U.S.-made cars and surging popularity of crossovers such as the Mexico-made GMC Terrain and the Chevrolet Equinox, which is built in both Mexico and Canada. Production of the Equinox and Terrain in Mexico nearly doubled from 2017, but GM built 11 per cent fewer pickups and 74 per cent fewer cars in Mexico last year.Mexico represented an estimated 30.8 per cent of GM's 2018 light-truck production and an estimated 25.7 per cent of its total output in North America. Ford got 9.7 per cent of its North American supply from Mexico but doesn't build any pickups, SUVs or crossovers there.
GM is poised for another Mexico production increase in 2019 with the addition of the Chevy Blazer, which started coming off the Equinox line at its Ramos Arizpe plant in November.
The decision to make the Blazer in Mexico — reached, company officials say, when sedan sales were higher and GM had less U.S. capacity to spare — has been a particularly sore spot for Unifor and the UAW, which learned of it on the day GM reduced its Chevy Cruze plant in Lordstown, Ohio, to one daily shift. GM says it will end production in Lordstown after March 1, followed later in the year by assembly plants in Detroit and Oshawa, Ont., and propulsion plants in Michigan and Maryland.
Unifor proposed the Blazer be assembled in Oshawa as a way to save the plant there.
Unifor last week blocked access to the headquarters of GM Canada in protest of the potential plant closure.
2018 production

Change from 2017

Ford

2,378,440

–3.9%

GM*

2,127,749

–5%

FCA*

1,263,511

–0.5%

Toyota

1,241,615

–1.7%

Honda

1,240,487

2.70%

Nissan

835,321

–10%

Hyundai-Kia**

574,159

–7.7%

Subaru

359,399

–1.1%

BMW

356,749

–3.9%

Mercedes-Benz*

304,852

–7.6%

Tesla

254,530

151%

VW*

137,348

22%

Total

11,074,160

–2%

*Estimate

**Kia figures are estimated.

Source: Automotive News Data Center
Ford hourly US workers to
get $7,600 in profit-sharing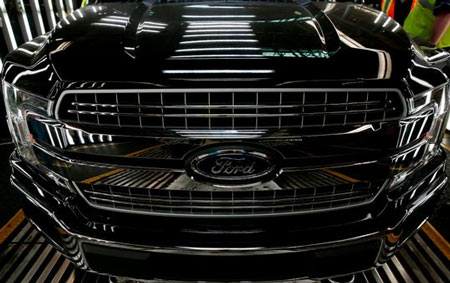 Ian Thibodeau,
The Detroit News
Jan 29, 2019
Dearborn — Ford will give eligible hourly full-time United Auto Workers employees $7,600 profit-sharing checks this year.
The company said Wednesday that profit-sharing checks would go out March 14. The amount is based on North American earnings, which was $7.6 billion before interest and taxes in 2018.
Last year, 54,000 UAW workers got $7,500.
Pickups, vans drive Ford's plans

Alexandra Semenova
and Keith Naughton,
Bloomberg News
Jan 28, 2019
Ford Motor Co.'s haul from selling just pickups and commercial vehicles rivals household-name companies including IBM and Boeing.
Revenue from the automaker's truck and van business totaled $72 billion in 2017, Ford disclosed in two presentations to investors in as many weeks. That's more than the trailing 12-month sales of U.S. companies including Intel Corp., Walt Disney Co. and PepsiCo Inc., according to data compiled by Bloomberg.
As Chief Executive Officer Jim Hackett engineers an $11 billion restructuring of Ford, its massive pickup and van business will play a foundational role. The rise of online shopping is dramatically increasing demand for vehicles best suited to deliver packages to doorsteps. In one indication ofjust how desirable the once-dreary commercial-vehicle segment has become, the world's largest automaker, Volkswagen AG, just teamed up with Ford to develop models including Transit vans.
"Ford has always been strong in that segment," Michelle Krebs, an analyst at Autotrader, said of commercial vehicles. "It's not particularly sexy and no one pays much attention to it, but it makes a lot of money."
Ford has never broken out information on how lucrative this business is, according to a spokesman. The company opened up about it first at a Deutsche Bank auto conference this month, and again in its earnings call Wednesday.
The automaker reported that its 2.4 million truck and van sales worldwide in 2017 generated earnings before interest and taxes of $10 billion. The operating-profit margin for the business was 14 percent — miles ahead of the 4.4 percent margin for Ford's entire auto operations in 2018.
"We have the most extensive global commercial-vehicle lineup and portfolio of any company, and we are about to make it much stronger," Jim Farley, Ford's president of global markets, said at the Deutsche Bank conference. He called the company's 44.5 percent share of the North American commercial truck and vans segment "completely dominant," saying Ford outsells its four closest competitors combined.
The crown jewel of Ford's truck business is its F-Series pickup line, which hauls in the bulk of the company's profits. U.S. deliveries rose in 2018 to 909,330, making it the top-selling vehicle of any kind in America for the 37th consecutive year.
The F-Series outsold the nearest competitor by the biggest margin ever last year, Hackett said at the Deutsche Bank conference. He called Ford's commercial vehicle business a "global juggernaut."
To maintain its dominance, Ford is working to "future-proof" these models, Farley said. "We're going to be electrifying the F-Series, both battery-electric and hybrid, and we're doing the same for Transit."
Ford CEO to employees:
Bury 2018 'in a deep grave'

Ian Thibodeau,
The Detroit News
Jan 27, 2019
Ford Motor Co. CEO Jim Hackett wants his employees to "bury" 2018 "in a deep grave" and focus on driving company profit margins to double those reported last year, according to an internal company-wide email obtained by The Detroit News.
"I made a comment saying 'I'm not happy with 2018.' I'm not," Hackett wrote in a Thursday email to employees. "That doesn't mean I'm unhappy with you or your colleagues, but we can't become who we need to be if we accept mediocre results. And 2018 was mediocre by any standard."
Ford reported its full-year profits fell more than 50 percent last year compared to 2017. Using the company's adjusted financial results, Ford's global business pulled in a $7 billion profit, operating at a 4.4 percent margin. Hackett in his email to employees said the automaker should be targeting double that, or a $14 billion profit, if the company is to hit the 8 percent margin target.
A Ford spokesman said Friday that Hackett used the $14 billion figure to illustrate to employees how profitable Ford could be if it was operating at the 8 percent global margin target the automaker has set as a post-restructuring goal. Details about the letter were first reported by Reuters.
Ford officials, including Hackett, told investors this week that 2019 should bring better financial results than last year as pieces of the company's ongoing global reorganization begin to take hold. The automaker plans to cut $25.5 billion in costs by 2023 and spend $11 billion to reorganize the global business model. In North America, Ford is currently going through its white-collar ranks to potentially eliminate positions there.
Hackett told employees in the email that he becomes mad "for a short time" when he realizes the company is not operating to its potential.
"I know that our competition hasn't been better than us by magic," he wrote. "I hate shallow or mediocre outcomes. I don't want to be there again."
Ford last year lost millions in every market around the globe, except North America. The automaker has announced moves in Europe and India to boost profits there, and has appointed new leadership in China to restructure the business there, which was responsible for the $1.1 billion loss the company took in its Asia Pacific market last year.
Only Ford's North American business posted a profit last year. Ford made $7.6 billion in North America, operating at a 7.9 percent margin in the region. Leadership in North America is targeting a 10 percent margin.
Meantime, Ford officials point to plans to launch several new vehicles in 2019, including a redesigned Explorer and Escape, two of the company's strongest sellers, as one of the reasons 2019 should bring better financial results from the Dearborn automaker. It is introducing the Lincoln Aviator, the Ford Ranger launched in January, and Ford plans to update its Super Duty pickup this year.
Ford also recently announced plans to cut costs and re-examine markets in Europe. Jim Farley, president of global markets, said this week that Ford could exit countries in Europe where it wasn't selling many vehicles and focus on countries there where it has better market share.
Adam Jonas, equity analyst with Morgan Stanley, said in a Friday note that though Ford leadership seemed more "bullish" on the year-end earnings call this week, he's cautious. Ford's bottom line will take hits from the global restructuring before financials improve, he said.
Ford stock closed trading Friday up 3 percent to $8.86 per share. The stock is down more than 20 percent since Hackett was appointed CEO in May 2017.
Hackett told employees in his Thursday email, issue no. 24 of a series called "The Huddle," that Ford this year would plan the "implementation" of the moves Hackett and his team have decided need to be made.
"I'm seeing those plans to get the products in shape, the markets restructured and the alliances up and running," he wrote. "I have more to do in my own reflection of what should change to ensure that we win."
Letter to employees from CEO James Hackett (pdf)
Canada auto workers seek boycott
of GM vehicles from Mexico
The Canadian Press
Jan 26, 2019
DETROIT — The Canadian auto workers union is asking people in Canada and the U.S. to boycott General Motors vehicles made in Mexico.
The Unifor union is asking people not to buy trucks or SUVs with vehicle identification numbers that start with the number three, which signify that they are made in Mexico.
Unifor says it will publicize the boycott with television, newspaper and billboard advertising in both countries.
In November GM announced plans to close its car factory in Oshawa, Ontario, near Toronto, costing the jobs of about 2,600 blue-collar workers. It also has plans to close four U.S. factories but will negotiate those with the union. The closures are part of a broader restructuring that will cut 14,000 factory and salaried positions as GM tries to slim down to focus capital spending on autonomous and electric vehicles.
GM says it has too many plants that make cars as the market in both countries has shifted toward trucks and SUVs. It says the boycott could cause damage to the wider Ontario economy.
Unifor National President Jerry Dias (DYE-Azz) says that in 2016 contract talks, GM agreed to keep the Oshawa plant open until the contract ends in September of 2020. He wants the company to return to the bargaining table to talk about keeping Oshawa open permanently.
Dias accused GM of closing Oshawa and the U.S. factories while at the same time ramping up production in Mexico, where he says workers are paid $2 per hour. He says the company now makes over 600,000 vehicles per year in Mexico. "We are asking you to stand up to 'Greedy Motors,'" he said at a news conference Friday in Toronto.© The Associated Press FILE - In this April 23, 2018, file photo, the logo for General Motors appears above a trading post on the floor of the New York Stock Exchange. The Canadian auto workers union is calling on people in Canada and the U.S. to stop buying General Motors vehicles made in Mexico. The Unifor union wants people to boycott vehicles with identification numbers that start with three. Unifor says it will publicize the boycott with television, newspaper and billboard ads. So far the United Auto Workers union in the U.S. is not joining the effort. (AP Photo/Richard Drew, File) Dias said the company ultimately plans to pull all of its manufacturing out of Canada, where it has two other factories in Ontario. Asked if the union would strike GM's Canadian facilities, Dias said: "We are not ruling out anything and we are not going to talk today about future plans."
GM said there are more than 60 Ontario-based auto parts companies that send components to Mexico, including a transmission plant in St. Catherines, Ontario, and stamping operations in Ingersoll, Ontario.
"The threat of collateral damage for Ontario-based auto suppliers, auto dealers and workers is concerning, especially for an Ontario economy that is now open for business, with every opportunity to now benefit from increased trade with Mexico," GM Canada Vice President David Paterson said in a prepared statement.
So far the United Auto Workers union in the U.S. is not joining the boycott effort, but Dias said the unions plan to talk in early February.
Since the announcement, GM has faced withering criticism from President Donald Trump, U.S. legislators from affected states, and the UAW. Trump has focused on a plant in Lordstown, Ohio, that's slated to stop making compact cars on March 1. He has promised to return factory jobs to the U.S. and Ohio, a key state in his 2020 re-election campaign.
GM is cutting six car models as buyers have dramatically shifted their preferences to SUVs and trucks, which will account for about 70 percent of new-vehicle sales this year.
The automaker also wants to close an assembly plant in Detroit and transmission plants in Warren, Michigan, and near Baltimore. About 3,300 union jobs would be lost, but GM says many can transfer to 2,700 openings at other factories.
GM now makes the Chevrolet Equinox and GMC Terrain small SUVs in Mexico, as well as full-size GMC and Chevrolet pickup trucks. It also makes the Blazer SUV there, as well as the hatchback version of the Chevrolet Cruze compact car. The Equinox also is made in Ingersoll, Ontario, and the Cruze sedan is made in Lordstown, Ohio.
GM also builds full-size pickups at several U.S. factories.
The company says production at the Ingersoll plant alone is about equal to the company's retail sales in Canada.
Protests will continue until
GM decides to keep Oshawa
plant open, union head vows
Unifor says company violating collective agreement signed in 2016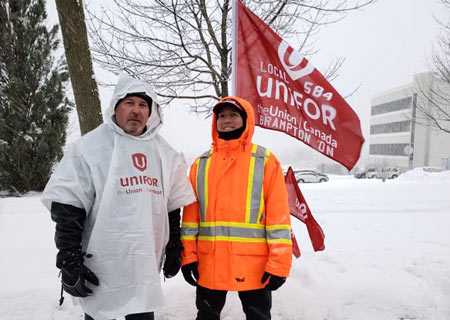 Local 584 Plant Chair Gary Rumboldt and Trustee Ed Valdez
occupy GM Headquarters on January 23, 2019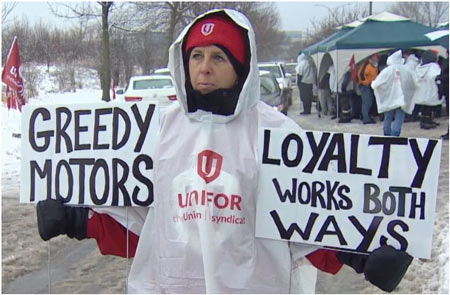 Muriel Draaisma
Jan 24, 2019
CBC News
Protests by workers against General Motors will continue in Ontario until the company reverses its decision to close a plant in Oshawa later this year, Unifor national president Jerry Dias says.
Speaking to dozens of employees outside GM headquarters in Oshawa, Dias said he is not calling for an "outright boycott" of GM vehicles, but said Unifor members are angry at the impending closure of the Oshawa Assembly Plant slated for the end of 2019.
"We are not going to stop until you reverse this outrageous decision. You can't do to this our members, our community, our country," he told the crowd in the rain on Wednesday.
Dias said workers are also upset that GM is refusing to honour a collective agreement, signed in 2016, that was to cover a period until September 2020. According to the union, the agreement stipulated that there would be no closure of the plant while the agreement was in effect.
Dias addressed workers outside entrances to GM headquarters at a protest that began early Wednesday. Workers blocked road access into the facility and placed signs and placards in the snow. The protest is expected to continue into the evening.
He acknowledged that GM had claimed the protest was illegal, but he said what the company has done is illegal because it accepted $11 billion in financial aid from the federal and Ontario governments, then decided to close the plant.
"Based on General Motors' commitment in 2016, our young members went out and bought homes, bought new cars, started families. People made decisions based on General Motors' commitment. And General Motors does not have the right to go against the written word," he said.
"If we want to talk about what's illegal, we should also talk about what's immoral."
Dias said GM, which he accused of lying, will be known as "Greedy Motors" until it decides to keep the the plant open.
GM has steadfastly refused to reconsider its decision to close the plant.
Earlier, Colin James, president of Unifor Local 222, which represents workers at the plant, said the union staged the protest in an attempt to get the company's attention.
"We plan on staying here as long as it takes. We are trying to send a clear message to GM that the decision that they have made they cannot justify. It's an award-winning plant," he said.
"I believe today we will get some attention. We're increasing awareness that here's a company that's making record profits. And now they're turning their back on Canadians."
James said workers have been preventing vehicles from entering its headquarters, but the protest has been legal.
Canadians have sent messages of support
The union has set up fire barrels and canopies to keep workers at the protest warm. Many protesters are also wearing rain coats.
James said the union has received letters, phone calls and email messages of support from hundreds of Canadians.
"Canadians are sending a message that: 'If you want to sell here, you need to build here.'"
Jenn Cowie, a line worker at GM in Oshawa for 16 years, said she attended the protest because she feels betrayed by the company.
"We are getting out the message that we are not going away. People understand that this is all due to corporate greed," she said.
"I don't know what my next steps are, but as far as right now, we are sticking together. These are good paying jobs that are in our community. We've earned our jobs here."
As for the plant, located a distance away, it was running on Wednesday and the union said it asked its members to continue to work.
GM Canada says protest not affecting work
For its part, GM Canada said in a tweet that it considers the protest illegal and it does not condone blocking of road access, which it said affects third parties. It added that the protest is not affecting work because the company has alternate plans.
GM has rejected all union proposals to keep the plant open past 2019. The plant, about 60 kilometres east of Toronto, employs more than 2,500 hourly workers.
The company announced in November that work at the plant would end by December 2019, a decision that Unifor has challenged.
Lincoln Aviator wins top Readers'
Choice award at auto show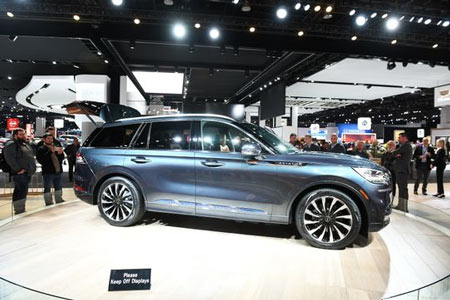 Breana Noble,
The Detroit News
Jan 23, 2019
The 2020 Lincoln Aviator was voted best-in-show in The Detroit News' annual Readers' Choice Awards at the Detroit auto show.
One-hundred judges selected from the public chose for the top honor the luxurious Aviator, which debuted last fall at the Los Angeles Auto Show. The 2019 Lincoln Navigator, which earned the top Readers' Choice Award last year, won this year for top road-trip ride.
Parent company Ford Motor Co. also took the prize for best dream machine with its Ford Mustang GT 500, the most powerful pony car ever. It premiered at the Detroit auto show last week.
Meanwhile, General Motors Co. took two top places. The most amazing mobility vehicle award went, ironically, to a vehicle without much of a future: the Cadillac CT6. Once the brand's signature sedan, the CT6 is expected to cease production when the Detroit-Hamtramck Assembly plant idles indefinitely this summer.
The all-electric Chevrolet Bolt was voted most eco-friendly.
From Fiat Chrysler Automobiles, the Dodge Ram 1500 scored for coolest technology with more than 100 standard and available safety and security features. The long-awaited Jeep midsize pickup, the Gladiator, was voted baddest off-road vehicle.
Other winners include:
Best family-fun finder: Kia Telluride
Best future concept: Infiniti QX Inspiration
Most for your money: Hyundai Sonata
The announcements were made Tuesday at a Detroit Economic Club luncheon at the auto show.
Canada's vast pension fund is
sticking with China even
as political tensions mount
Natasha Turak
Reuters
Jan 22, 2019
Investment strategies involving China are coming under scrutiny amid political and security-related conflicts between Beijing and major Western economies, as well as a predicted growth slowdown for the world's second-largest economy.
But Canada's massive pension fund, among the world's top 10 in terms of size, is sticking to plans to expand its holdings there.
Mark Machin, president and chief executive of Canada's Pension Plan Investment Board (CPPIB), sees the country's potential to diversify his portfolio as outweighing any shorter-term economic setbacks.
"China is today the second-largest economy in the world, the second-largest equity market in the world, the third-largest bond market in world, and we have the ability to diversify into it," he told CNBC at the World Economic Forum in Davos.
"So it's more of a diversification call than a market call for the next few weeks or months ... It's much longer-term and it's about diversification."
China's growth outlook has been dampened by weakened domestic demand and the trade war with Washington that's hit exports. A recent Reuters poll found that the country's growth is expected to slow to 6.3 percent this year from an expected 6.6 percent in 2018, which would be the lowest in 29 years. That figure was 6.9 percent in 2017.
The CPPIB, with $280 billion in assets under management as of last summer, plans to more than double its assets allocated to China by 2025 from a current 7.6 percent of its portfolio to up to 20 percent, it announced last August.
Huawei controversies
Machin admitted to the rising difficulties brought about by tensions between the U.S. and China that have spilled over to Canada. In December, Canadian authorities arrested Huawei Technologies Co. Chief Financial Officer Meng Wanzhou at the request of the U.S., as Washington pursues the executive's extradition on charges of fraud and sanctions evasion. Since then, 13 Canadian nationals have been detained in China, authorities in Ottawa said at the start of January.
Canada is also weighing banning Huawei equipment from use in the rollout of Canada's 5G next-generation wireless network on the basis of national security concerns, which Huawei denies. For Machin, these disputes — but in particular the U.S.-China trade spat — are not helpful.
"One of the things we're seeing is not just the first-order impact of that tension but the second, third, fourth order and it's rippling through the world and everything is slowing down now," Machin lamented.
On Monday, the International Monetary Fund downgraded its global growth forecast to the slowest pace in three years, citing slowdowns in Europe but highlighting the trade war and uncertainty over Brexit. The IMF's World Economic Outlook lowered growth estimates for 2019 by 0.2 percent to 3.5 percent, the second downward revision in three months.
"It's not helpful to have these tensions going on and I hope they are quickly resolved and we go on with normal trade relations, normal investment relations," Machin said.
Ford sued for sexual,
racial harassment at
Dearborn Truck Plant

Ian Thibodeau,
The Detroit News
Jan 21, 2019
An employee at Ford's Dearborn Truck Plant is suing the company on claims her male supervisor groped her, sexually harassed her and showed her photos of himself having sex with other women who work at the plant.
DeAnna Johnson, 54, alleges the Dearborn Truck Plant supervisor on a daily basis would ask her to show him her breasts while he was teaching Johnson her job as production supervisor and assessing her performance.
A Ford Motor Co. spokeswoman said Thursday the supervisor accused of harassment was fired in December after an internal review.
The supervisor also called Johnson, who is African-American, "'chocolate jolly rancher,'" according to a lawsuit filed Thursday in U.S. District Court in Detroit. "When she asked him what that meant, he responded that she was a chocolate treat" that he wanted to have sex with.
"Ford does not tolerate sexual harassment or discrimination," Ford spokeswoman Kelli Felker said in a statement. "We take those claims very seriously and investigate them thoroughly. While we have not received this lawsuit, we are aware of the allegations. The plaintiff filed a Human Resources complaint in November 2018. We launched an investigation, immediately suspended the employee that was the subject of the complaint, then fired him in December. Ford also interviewed every supervisor who the plaintiff claims had knowledge of her allegations prior to her Human Resources complaint and found that the only supervisor to whom she complained immediately referred her complaint to Human Resources."
Both the plaintiff and the supervisor who was fired were salaried employees, according to Ford.
The lawsuit was filed just more than a year after CEO Jim Hackett traveled to the automaker's plants in Chicago to address allegations of sexual harassment made there. The New York Times reported in late 2017 that women at the Chicago plants said their complaints about sexual harassment were met with hostility, and that management's efforts to correct the problem proved ineffective.
Following that report, Hackett wrote an open letter to Ford employees, and the automaker played a three-minute video on a loop in U.S. plants denouncing sexual harassment.
Hackett and Ford publicly and repeatedly denounced the actions at the Chicago plants. The automaker said a year ago it would pay $10 million to settle the charges there.
Johnson's claims about her experience at the Dearborn Truck Plant are similar in nature to those reported at the Chicago facilities.
The supervisor, according to the lawsuit, often stuck his cellphone in Johnson's face, to show her a picture of him having sex. Johnson "recognized some of the women in the pictures as (his) subordinates — women who worked the line and reported to him. Each time, (the supervisor) would comment 'oops, wrong picture' or something similar," the lawsuit alleges.
The supervisor allegedly told Johnson he wanted to have sex with her because he did not yet have a black woman in his "collection," according to the lawsuit. Johnson's attorney, Carol Laughbaum, told The Detroit News the supervisor is white.
The suit also says the supervisor sent Johnson "numerous sexually suggestive inappropriate texts," and sent her a photo of "himself in his underwear, and pictures of his genitals."
Johnson in October reported the supervisor's actions to managers. The suit alleges that the manager she first reported the incidents to told Johnson that she should "just" have sex with the supervisor "and get it over with."
When higher-level managers did report the incidents, the lawsuit says Johnson was told by Ford human resources department to turn over her cellphone so the company could collect data from it.
When Johnson asked why Ford was not going through the supervisor's phone, the suit alleges the company said he refused to give it up. Johnson has since been on medical leave, according to the lawsuit. It says she has been diagnosed with post-traumatic stress disorder.
Johnson is suing Ford for one count of allowing a sexually hostile work environment in violation of Michigan's Elliott-Larsen Civil Rights Act; one count of racial harassment; and one count of sexual assault and battery. Johnson is demanding she be compensated for lost wages while on leave in addition to other damages.
The United Auto Workers union released a statement Friday in response to the suit.
"No UAW member should ever feel the sting of racism in the workplace," it said. "The UAW has long believed as part of our core values that discrimination has no place in the workplace. We have created a series of avenues that allow our members to address discrimination, including through our civil rights committees, UAW Constitutional procedures, the grievance process and other workplace mechanisms.
"But the fact is, even in 2018, there are still members who are touched by unacceptable behavior. We take this seriously and our goal is to make all members feel safe and welcome in their workplace, always."
Ford rethinks Level 3 autonomy
Michael Martinez
Automotive News
Jan 20, 2019
DETROIT — Ford Motor Co. is shifting its approach to autonomous-vehicle technology.
In 2016, Ford said it would largely pass over Level 3 autonomy and instead focus on Level 4 — vehicles that don't require human control — while continuing to develop Level 2 driver-assist features such as blind-spot monitoring and lane-keeping systems. (Automation technology is categorized on the SAE International spectrum ranging from Level 0 to Level 5.)
At the time, Ford executives said they did not know how to responsibly manage the transfer of control from machine to driver that happens with Level 3 systems.
"We abandoned the stepping-stone approach of driver-assist technologies and decided we'd take the full leap to deliver a fully autonomous Level 4-capable vehicle," Raj Nair, then Ford's president of North America, said at an August 2016 event detailing Ford's autonomous business plan.
At the time, executives said the approach was unique in the industry and would set Ford apart from rivals including General Motors.
Since then, Google's Waymo unit also has said it aims to skip Level 3 because of safety risks, and Audi last year said it wouldn't enable Level 3 features on its A8 sedan for the U.S.
Now, Ford is embracing the stepping-stone approach, with the aid of cameras and other systems that can ensure drivers are paying attention at the wheel.
"Taking steps to get there as opposed to a big bang is more practical," Marcy Klevorn, Ford's president of mobility, told Automotive News on the sidelines of the Detroit auto show last week. "I think it allows us to provide autonomy in step functions to get people used to it. Acceptance is going to be a big deal; this is totally a different way to move."
Ford still plans to deploy Level 4 commercial vehicles at scale in 2021. In the meantime, it's offering more advanced semi-autonomous systems that can take control of the wheel and pedals for very short periods of time.
Much like Cadillac's Super Cruise system uses retinal detection to make sure drivers are paying attention, Ford uses technology that can ensure drivers take control at a moment's notice.
That's an important feature to offer as wary consumers first experience the technology, Klevorn said.
"It's more just getting people used to the idea there's increased levels of autonomy, gaining that acceptance and providing functionality now," she said.
"If you go right to full autonomy, the acceptance curve will be very steep, and you won't have as much to learn about how humans interact with autonomy. If you just take that leap, you miss out on all those learnings."
Ford over the past few years has tested autonomous pizza- and grocery-delivery services and conducted studies on how autonomous vehicles might communicate with pedestrians through blinking lights and noises.
Some industry analysts believe Ford is behind rivals such as GM, Waymo and others, but Ford executives argue they're taking a more thoughtful approach.
"There's been a lot of hype and talk," Klevorn said. "But I think 2019 is the year of getting real, delivering and executing for a lot of us."
UAW workers rally downtown to
urge auto execs to 'invest in us'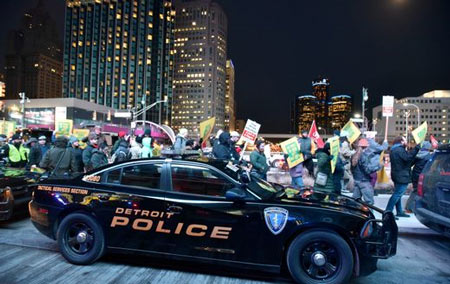 Mark Hicks,
The Detroit News
Jan 19, 2019
Detroit — Hundreds of United Auto Workers members impacted by impending idling of General Motors plants gathered outside a black tie event at Cobo Center Friday to demand automotive executives "invest in us."
Chanting and carrying signs as they led a candlelight procession from Hart Plaza to the site of the North American International Auto Show Charity Preview, demonstrators aimed to highlight the automaker's decision to idle several Michigan, Maryland and Ohio plants.
"They need to invest in us and … come out of their ivory towers and have a conversation with us about our jobs," Mike Plater, plant chairperson with UAW Local 22, Detroit-Hamtramck Assembly, told the crowd. "That's what we want. That's what we deserve."
His plant is among the four in the United States that GM has targeted for idling this year, along with Warren Transmission, Baltimore Operations and Lordstown Assembly in northeast Ohio.
The company is planning to halt production indefinitely as slow-selling products built there are discontinued.

It's part of a larger restructuring plan designed to save the automaker some $6 billion by 2020.
However, union officials in the U.S. and Canada have criticized the company pushing to invest in its Mexican manufacturing facilities while shutting down union-represented facilities.
At the vigil Friday, members repeatedly blasted the moves as harming employees while losing many supplier jobs and hurting nearby businesses.
"Why aren't they standing up and being good corporate citizens and supporting the communities that supported them?" said Dave Green, UAW Local 1112 President, Lordstown Assembly.
Others noted workers made many concessions when GM faced a financial crisis nearly a decade ago but expected returns when conditions improved.
"GM makes profits, the shareholders make profits, and it's happening at the expense of our members and our workers," said Chuck Browning, UAW Region 1A Director.
Reached for comment Friday, GM spokeswoman Kim Carpenter said the company respects "everyone's right to demonstrate and express their points of view."
"Our focus remains on the employees and the impacted communities," she told The Detroit News. "We have job opportunities for virtually every hourly employee at the impacted plants — anyone who wants a job will have a job."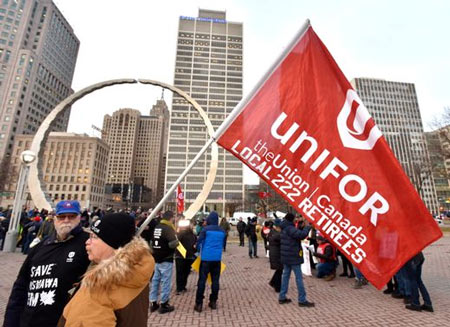 Before the gathering downtown, Gov. Gretchen Whitmer supported the workers at the union's Solidarity House in east Detroit.
"We are ready to compete with the world, but we need to make sure investments stay here in our state," she told them. "…You work hard every single day to produce the best product around. You just need to make sure that the company has the same commitment to you that you've shown to them."
Her lieutenant governor, Garlin Gilchrist II, also spoke out on the impact at Hart Plaza.
"For every person who's not going to work on the line, that's another person not going to the gas station," he said. "That's another person not going to get a cup of coffee. That's another person not going to grab a lunch. That's another person not going to buy milk or orange juice and bread for their babies."
The chance to speak out on the issue drew supporters such as Ernestine Howse of Detroit, whose father was a UAW worker.
"It's very important," she said. "There would be no middle class without the union."
She joined the marchers who hoisted signs and marched to Cobo, where they converged with other demonstrators supporting a "Green New Deal" that would create more jobs in Detroit.
The protesters swarmed near the entrance as charity preview attendees arrived.
Also in the crowd was U.S. Rep. Rashida Tlaib, D-Detroit, who criticized GM.
"You're not going to take everything we gave you and go to Mexico," she said in a video posted to her Facebook page. "We're here to demand justice. We're here to say that workers matter, that human beings matter. We need a Green New Deal. We need accountability. … Enough of all this unbelievable corporate greed that puts people last."
GM has said it had 2,700 transfer opportunities for the 2,800 UAW employees affected. Last week, officials said 1,500 workers have volunteered to transfer. About 700 are already headed to new jobs in Michigan and Tennessee.
UAW Region 1 Director Frank Stuglin argued GM is only concerned with its bottom line.
"They're just looking at numbers. I'm looking at families," he said at Hart Plaza. "… Families are going to be split up."
The 2020 Ford Mustang
Shelby GT500 is the
most-powerful Ford ever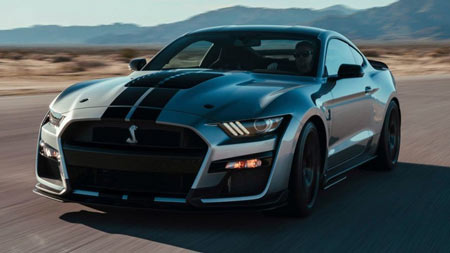 Ford expects better
financial results in 2019

Ian Thibodeau,
Jan 16, 2019
The Detroit News
Ford Motor Co. CEO Jim Hackett said Wednesday that the behind-the-scenes work he and his executive team have been doing in the 19 months since he was appointed to lead the company should start to pay off this year.
Ford expects financial results in 2019 should be an improvement over the year prior. The automaker reported it made 92 cents per share in 2018 — down from $1.90 per share in 2017.
The automaker presented the 2019 outlook during the Detroit auto show. Ford's top executives explained the expectations to investors at the 2019 Deutsche Bank Global Auto Industry Conference on Wednesday in Detroit.
Hackett, chief financial officer Bob Shanks and president of global markets Jim Farley said their plan took effect in 2018, and will begin to boost the bottom line in 2019 as cost-cutting and restructuring continues.
Ford is in the middle of a sweeping global restructuring as it readies for a new chapter in the automotive industry. Under Hackett, Ford's senior leadership is pushing to trim $25.5 billion in operating costs over the next five years and spend $11 billion to shake up failing businesses in Europe, China and South America, and better position the automaker's North American business for continued profitability through the next decade.
"We're really confident in our plan to redesign our business," Hackett said. "We are moving. We are moving right now. We have clear direction, focus, a sense of urgency."
The automaker's preliminary 2018 results are line with the full-year guidance the company adjusted mid-year last year due to a worse-than-expected performance in China. Ford expects to have finished 2018 with an adjusted-earnings per share of $1.30, as well as $23.1 billion in cash and liquidity of $34.2 billion. The automaker declared a first-quarter regular dividend of 15 cents per share.
Ford stock has fallen from around $13 at the beginning of 2018 to around $9 now. Shares slid around 2 percent in pre-market trading Wednesday.
But Ford officials stressed a positive outlook for 2019 despite expected significant trade and tax headwinds.Farley told investors about Ford's product gambit planned over the next 24 months in North America, during which it will refresh 75 percent of its product portfolio as it shifts spending to devote 96 percent of its product capital to trucks and SUVs.
He outlined the company's plan to capitalize globally on its strong commercial vehicle business. Ford's global commercial business generates $72 billion in revenue and roughly $10 billion in earnings before interest and taxes. It operates at a 14 percent margin; by comparison, Ford is pushing to get its entire North American business back to a 10 percent operating margin. In Europe, Ford is targeting 6 percent.
Farley said Ford is moving to extend its lead in the pickup truck market in the U.S. The automaker has a hybrid F-150 coming to market. Later this month, Ford will debut an all-new Super Duty pickup, he said.
Officials announced last week announced plans to revive its unprofitable European business by cutting salaried and hourly workers, ending production at plants in France and Germany, eliminating less-profitable vehicles like the C-Max from the lineup there, and possibly exiting a Russian joint venture. Farley will outline the automaker's plan to focus on commercial vehicles there while it corrects the rest of the business.
Ford on Tuesday said it had entered an agreement with Germany's Volkswagen AG to partner on commercial vans and midsize pickups to be sold outside of North America. The partnership is aimed in part at boosting Ford's European business.
In China, the automaker plans to debut 10 new Ford and Lincoln vehicles this year, contributing to a total of 30 new products by 2021. Meantime, the automaker plans to reduce administrative headcount by 20 percent in South America this year, according to a news release.
Meantime, Shanks said in a statement that despite rising commodity costs, unfavorable exchange rates and on-going trade disputes, Ford will have positive operating results. The 15 cents per share dividend will be payable March 1 to shareholders of record at the close of business Jan. 31.
Shanks said 2018 was an important year for the company. "We made many important strategic choices, and we began to take actions that will fundamentally redesign our business. 2019 is about action. Implementation. A year where our thinking about the future of Ford, the fundamental design of the business, our capital allocation choices, our fitness, who we choose to partner with and why become increasingly clear."
The finance chief expects revenue, earnings and operating cash flow to improve on a year-over-year basis in 2019. At this time last year, Shanks and Hackett provided a grim outlook for 2018.
Ford will report fourth-quarter 2018 and full-year earnings results Jan. 23.
Ford, VW link-up looms
over Detroit auto show
Ian Thibodeau,
The Detroit News
Jan 15, 2019
Detroit — Ford Motor Co. and Volkswagen AG leadership Tuesday morning will offer some details about the companies' ongoing partnership discussions.
The automakers are expected to at least announce official plans to partner on joint production of commercial pickup trucks, The Detroit News reported Friday. Ford officials in the last week have said partnering in Europe could be a boon to Ford's commercial vehicle business there.
VW officials have said Ford's U.S. production facilities could be a valuable asset for the German automaker that's trying to grow U.S. market share.
"The talks are going really well," Ford Executive Chairman Bill Ford said Monday at the Detroit auto show.
Ford CEO Jim Hackett kept things close to the vest Monday at the auto show, saying "there's nothing to report today."
Hackett, Herbert Diess, VW CEO, Jim Farley, Ford president of global markets and Thomas Sedran, VW CEO of commercial vehicles, will detail the plans Tuesday morning on a conference call.
The automakers have been in talks since at least June regarding a partnership on commercial vehicles. Those discussions expanded. The companies are still negotiating a partnership along with Argo AI, the autonomous driving technology company in which Ford has an ownership stake, to partner on autonomous vehicles.
The automakers have also talked about partnering on electric vehicles. VW announced plans to invest more than $800 million into a second plant in Chattanooga, Tennessee, to build electric vehicles. The facility is a part of VW's e-mobility future in the United States and will create 1,000 new jobs. The first electric vehicles are expected to roll out in 2022 from VW.
Ford, meantime, is expanding its own electric vehicle offerings. The automaker is planning to offer 24 hybrid variants of every new vehicle it introduces moving forward. The automaker will also debut 16 all-new full-battery electric vehicles in coming years, the first of which is a "Mustang-inspired" electric vehicle that's Hackett's brainchild.
The automakers have not publicly commented on what an EV partnership would look like. It's also unclear if a commercial vehicle partnership would bring the Ford-VW pickup to the U.S. commercial market as well.
Joe Hinrichs, Ford president of global operations, told The Detroit News on Monday that Ford is in a transition period with powertrains. The industry is moving from combustion engines to a greater mix of electric and hybrid vehicles.
"It's been slower than people predicted 10 years ago or five years ago, but it's coming," Hinrichs said. "We know it's coming. We think that it's important for the customer use cases that we offer them choices."
Ford and VW are expected to continue negotiating pieces of the partnership after the companies offer some clarification on the status of things Tuesday.
The automakers are not merging, both Ford and VW officials have said. That has never been part of the talks.
The automakers signed a memorandum of understanding last summer to look into partnering on commercial vehicles, Ford's best-seller in Europe. Pickups are a weak spot for VW, which vies annually to be the global leader in vehicle sales.
Diess said after a White House meeting in December that he might use Ford plant capacity in the U.S. to build cars. Ford said then the discussions were progressing well.
Ford sold 1.1 million F-Series pickups last year

Ian Thibodeau,
The Detroit News
Jan 14, 2019
Ford Motor Co. sold nearly 1.1 million F-Series vehicles globally last year — lined end-to-end, the vehicles would stretch from Dearborn to County Cork, Ireland, the Ford family's ancestral home.
The Dearborn-based automaker sold most of those vehicles in the U.S. last year. Ford reported in early January it had moved 909,330 F-Series in 2018, which was a 1.4 percent increase over the year prior.
Ford primarily sells its pickups outside of the U.S. in Canada, the Middle East and in China, spokesman Mike Levine said Friday. The automaker sells the behemoth Raptor off-roader in China.
The more-than 1 million pickups sold last year would have generated $50 billion, using the $46,700 U.S. average transaction price for those vehicles. Lined bumper-to-bumper, the trucks would stretch more than 4,000 miles, enough to get from Dearborn to Las Vegas and back.
Analysts and investors have pointed out in 2018 that Ford's F-Series brand is the most valuable piece of the company. Sales from those vehicles generated more estimated revenue last year than Best Buy.
Ford's success in the pickup market has sparked the first leg of a partnership with Germany's Volkswagen AG. The automakers plan to next week announce details of a commercial truck partnership.
F-Series trucks are built at Ford's Kentucky Truck Plant, Kansas City Assembly Plant, Ohio Assembly Plant and Dearborn Truck Plant.
Ford to cut thousands of
jobs in turnaround plan
BBC News
Jan 13, 2019
It is expected to lead to thousands of job losses across Europe, including the UK, although cuts at its UK factories are not thought to be imminent.
But Ford Europe boss Steven Armstrong said should the UK leave the EU without a negotiated deal, a further review of UK operations would take place.
Ford is now going to talk to unions about measures to reduce costs.
This includes focusing on more profitable models and exiting less profitable markets, to concentrate more in future on electric and hybrid technology.
The firm will also expand its commercial vehicle business, which will be one of three new divisions being created, along with passenger vehicles and imported vehicles.
Ford hopes the changes will enable it to achieve a 6% operating margin in Europe.
The UK's biggest union Unite said it was working closely with Ford to safeguard jobs in the UK and look after the interests of employees.
The union also said it expected the impact of cuts on jobs in the UK to be limited.
'Wrong direction'
Speaking to reporters after the announcement, Mr Armstrong said the firm "needed to address the parts of the business that are unprofitable".
But he said the move had not been forced upon the firm by the UK vote to leave the European Union on 29 March.
"This is not a consequence of the Brexit situation," he said. "This is not a one or two-year issue."
He added: "If Brexit goes in the wrong direction and we have a hard Brexit, we would need to look again about what we could do to mitigate the impact of that [in the UK]."
He said potential closure of plants would "not be off the table".
Engine uncertainty
Ford says there will be a "reduction of surplus labour" across all its business functions.
It has not released any figures, as discussions with unions are continuing, but that it could be in "thousands".
Ford operates two engine factories in the UK, at Dagenham, east of London, and Bridgend in Wales, as well as a joint venture with the gearbox manufacturer Getrag on Merseyside.
The announcement is likely to renew concerns about the long-term future of the Bridgend plant in particular. It is already due to lose a major contract to build engines for Jaguar Land Rover in 2020.
Profits at Ford of Europe fell 82% last year, in part due to the fall in the value of the pound as a result of uncertainty over Brexit.
It is understood that while this is a preoccupation for the company, it is one of many factors affecting the business, which has been underperforming for years.
The BBC understands that Ford's Dunton Technical Centre in Essex could potentially benefit from new investment in the commercial vehicles business.
Ford of Europe has 54,000 employees, with 13,000 in the UK. As well as the UK engine plants, it has other operations in Germany, France, Turkey, Spain, Russia, Romania, and Belgium.
As part of the shake-up the firm says it will stop manufacturing automatic transmissions in Bordeaux, France, in August, and will review its operations in Russia,
Mr Armstrong also said the company was in negotiations with staff representatives about potential job cuts at its Saarlouis plant in Germany, where 6,190 staff assemble cars, as the firm considers discontinuing production of its Ford C-Max model.
Diesel slump
The news comes as rival Jaguar Land Rover (JLR) is set to announce it is cutting up to 5,000 jobs from its 40,000-strong UK workforce.
Management, marketing and administrative roles are expected to be hardest hit, but some production staff may also be affected.
The layoffs are part of a £2.5bn cost-cutting plan amid what industry insiders have called a "perfect storm".
They mean a downturn in Chinese sales, a slump in diesel sales and concerns about UK competitiveness post-Brexit.
FCA to pay nearly $800M
in emissions cheating case
Keith Laing,
The Detroit News
Jan 11, 2019
Washington — Fiat Chrysler Automobiles NV will pay nearly $800 million to settle allegations from federal regulators that the company used software on about 104,000 diesel-powered pickups and SUVs that is similar to "defeat devices" that were used by Volkswagen AG to cheat U.S. emissions-testing, a person familiar with the terms of the settlement told The Detroit News on Wednesday.
The settlement requires the Italian-American carmaker to pay $280 million to compensate drivers of Jeep Grand Cherokees and Dodge Ram 1500 pickups from the 2014-16 model years with 3-liter V-6 diesel engines.
The company also will pay $305 million in civil penalties to the U.S. Department of Justice, Environmental Protection Agency and California Air Resources Board and at least $72 million to states whose attorneys general had sued over the alleged cheating.
The automaker is likely to face additional payouts to other federal agencies and states that filed separate lawsuits, bringing total payments to as much as almost $800 million, according to the source.
Drivers of the affected models could receive as much as $2,800 each under the settlement.
FCA will not be required to admit any wrongdoing as part of the settlement and the company is not going to required to buy back any of the affected vehicles.
The EPA and DOJ did not immediately respond to requests for comment Wednesday night from The Detroit News.
Federal regulators have alleged that FCA did not disclose at least eight auxiliary emission control devices on the Jeeps and pickups covered under the settlement. Automakers can legally deactivate a vehicle's emission control system under certain conditions, but regulators require the disclosures when companies apply for certificates that are required to sell cars in the U.S.
FCA has contended that its vehicles were fully in compliance with regulations, even as it worked toward a settlement.
FCA took pains to note the differences between its case and that of Volkswagen AG.
Six of the German automaker's present and former executives were indicted, and VW itself was charged with three criminal felony counts for what regulators called a 10-year conspiracy to rig hundreds of thousands of diesel cars to evade U.S. emission standards.
Volkswagen was forced to pay $2.8 billion in criminal fines and $1.5 billion in civil penalties related to the fraud.
That's in addition to a $14.7 billion settlement the company reached last year with the EPA that calls for Volkswagen to spend $10 billion to either buy back or repair about 475,000 2-liter diesel cars sold between 2009 and 2015; the company also was required to contribute $4.7 billion to federal efforts to reduce pollution.
FCA has noted that its affected vehicles require only a software fix, unlike Volkswagen, which had to provide new hardware to satisfy federal regulators.
FCA warned investors in the third quarter of 2018 of a possible $810 million (700-million euros) charge related to the diesel investigation. The company initially feared it could face fines of up to $4.6 billion
Ford cancels Mexico
plant, expands U.S.
factory and adds
700 jobs

Nathan Bomey
USA TODAY
January 7, 2019
Ford Motor announced Tuesday that it would cancel plans for a $1.6 billion Mexico plant and launch a Michigan expansion in a move that may be viewed as a capitulation to Donald Trump.
Ford CEO Mark Fields said the company would spend $700 million and add 700 jobs to "transform and expand" its Flat Rock, Mich. manufacturing plant to make autonomous and electric vehicles.
"Make no mistake about it — Ford is a global automaker but our home is right here in the United States," Fields said at a press conference.
The move marks a sharp reversal for Ford, which has defended its production in Mexico even as Trump has assailed the company for expanding there.
"This is a vote of confidence for President-elect Trump and some of the policies he may be pursuing," Fields said.
To be sure, Ford acknowledged that it would still move production of the next-generation Focus sedan to Mexico, as previously announced. But it will be built at an existing plant in Hermosillo, Mexico, not at a new facility.
President-elect Donald Trump is going after General Motors giving them an ultimatum when it comes to manufacturing across the border. Veuer's Nick Cardona tells us what the President-elect had to say. Buzz60
The United Auto Workers hailed the decision.
"We've seen our jobs go overseas," UAW Vice President Jimmy Settles said. "It's evident today that Ford is rewarding us for our hard work."
Others will view the move as a bid to satisfy Trump, who has cited Ford's Mexico expansion as a key example of how the North American Free Trade Agreement has weakened American manufacturing.
Ford Executive Chairman Bill Ford called Trump this morning to inform the president-elect of the decision, and Fields called incoming Vice President Mike Pence.
"Automakers are facing a situation where they have to consider the political consequences" of all their decisions, AutoTrader.com analyst Michelle Krebs said.
Ford's expansion will convert 700 temporary jobs at the Michigan plant into permanent positions, adding to an existing hourly staff of about 3,600. Fields said the automaker will add about 200 jobs at its plant in Hermosillo, Mexico, to make the Focus but did not say how much it would invest.
The Michigan expansion plans are part of a broader $4.5 billion investment in electric vehicles and hybrids, including 13 new models over the next five years.
Those vehicles include a small, electric sport-utility vehicle with 300 miles of battery range, which will be exported overseas, and a "high-volume autonomous vehicle designed for commercial ride-hailing or ride-sharing," Ford said in a statement.
The company will also manufacture a hybrid version of the F-150 pickup truck by 2020 at the Dearborn, Mich., plant, where the F-series lineup is currently manufactured.
Ford adds 149,652
vehicles in Canada to
Takata airbag recall
Automotive News
Jan 6, 2019
DETROIT -- Ford Motor Co. is expanding its Takata airbag inflator recall for the fourth time, adding about 953,000 vehicles to the list.
The callback announced on Friday involves passenger-side inflators on 782,384 vehicles in the United States and 149,652 in Canada. Affected vehicles are the 2010 Ford Edge and Lincoln MKX; the 2010-11 Ford Ranger; 2010-12 Ford Fusion, Lincoln MKZ and Mercury Milan; and 2010-14 Ford Mustang.
Faulty Takata airbag inflators may explode and shoot shrapnel toward vehicle occupants, potentially resulting in injury or death. An estimated 23 deaths — including two in Ford vehicles — and more than 290 injuries worldwide have been linked to the defective inflators. Ford agreed to a US$299 million legal settlement last year for its portion of the airbag defect liability.
Six other automakers previously agreed to similar settlements worth over US$1.2 billion combined: Honda Motor Co.; Toyota Motor Corp.; Nissan Motor Co.; Mazda Motor Corp.; Subaru Corp. and BMW AG.
Ford said it is unaware of any injuries associated with the passenger-side frontal inflators covered in the latest expanded safety recall.
The ongoing safety issue has be named the largest auto industry safety recall in history, involving about 100 million inflators among 19 major automakers.
Front seat recall
Ford also issued a separate recall Friday for certain 2019 Ford EcoSport vehicles in North America, about 63 in the U.S. and 13 in Canada.
Insufficient welding between the side member and A-bracket on the front seat back may reduce its strength and can potentially increase the risk of injury in a crash. Dealerships will replace front seats on affected vehicles with new seats.
Ford is unaware of any accidents or injuries resulting from this front seat recall.
Auto sales beat
expectations for
2018, but 2019
doesn't look as good

Ian Thibodeau and Nora Naughton,
The Detroit News
Jan 4, 2019
Automakers beat U.S. sales expectations in 2018 thanks to tax breaks, eager buyers and strong fleet sales, but experts and analysts expect 2019 won't bring such favorable results.
Rising interest rates and vehicle prices could create more headwinds for Detroit's Big Three, specifically, as the automakers move to reinvent their business models as well as their product lineups to better situate themselves for the next generation of the auto industry.
Fiat Chrysler Automobiles NV reported Thursday the best sales increase of all the Detroit carmakers. It reported Thursday that it moved more than 2.2 million vehicles last year, a 9 percent increase over the prior year, though that was still fewer total vehicles than Ford Motor Co. or General Motors Co.
Ford and GM both saw single-digit sales declines. GM sold 2,954,037 vehicles in 2018, down 1.6 percent from 2017. Ford sales slid 3.5 percent in 2018, with 2.5 million vehicles sold.
Overall U.S. vehicle sales totaled 17.3 million in 2018, a 0.4 percent increase from the 17.1 million sold in 2017. The year 2017 was the first since 2009 that new vehicle sales declined.
"The picture doesn't look quite as rosy for 2019," said Jessica Caldwell, analyst with California-based Edmunds. "While the economy is still relatively strong, rising interest rates and vehicle prices could force many buyers into the used market, or even price them out of buying a vehicle completely. If the economy weakens or tariffs push prices even higher, things could go south for the auto industry very quickly."
That's leading some on Wall Street to ring alarm bells. Adam Jonas, equity analyst with Morgan Stanley, on Thursday said in a note that 2019 will mark the first global auto sales decline since 2009. He reiterated a cautious view on U.S. auto stocks.
"In addition to lack of volume growth, we believe earnings are at risk from higher input costs, rising rates, rising (research and development) expense, and tariff-related frictional costs," Jonas wrote.
Meantime, GM, Ford and Fiat Chrysler will have to contend with U.S. buyers' continued exodus from the sedan market, according to Karl Brauer, analyst with Cox Automotive.
"Everything from tariffs to material costs to the ongoing shift from cars to trucks will drive transaction prices higher," Brauer said. "Low gas prices continue to drive people away from cars and into trucks and SUVs."
The automakers are preparing for sedan sales to shrink further — and at least temporarily skew sales numbers. Ford sales chief Mark LaNeve said Thursday the automaker anticipates the all-new Ranger midsize pickup will offset some of the sedan sales slip. But the automaker also announced Thursday it would report its sales figures quarterly rather than monthly, as it expects some volatility as it moves to prune its sedan models from the vehicle lineup.
Fiat Chrysler sales rose on the back of Jeep and Ram sales, which were up 17 percent and 7 percent for the year, respectively. The Chrysler brand slid 12 percent, while the Fiat brand was down 41 percent in the U.S. last year. Fiat Chrysler's new Alfa Romeo Stelvio SUV drove Alfa sales up 98 percent last year.
GM, which began in 2018 reporting quarterly sales, sold its 200,000th electrified vehicle in the fourth quarter, reaching the cap for a $7,500 federal tax incentive intended to encourage electric-vehicle sales.
All four of GM's brands slipped in 2018, with Buick down 5.6 percent and Cadillac down 1.1 percent for the year. Chevrolet was down 1.4 percent as sedan sales for the brand continue to steadily decrease. Truck brand GMC fared the best, down only 0.8 percent for the year, as sales of the Terrain SUV, Sierra full-size pickup and Canyon midsize pickup all posted gains.
Meanwhile, Ford's sedan sales dove 18.4 percent last year. The automaker announced early in 2018 that it planned to cut all car models out of its lineup over the next few years. Ford plans to replace those sedans with consumer-favorite crossovers, a segment in which Ford is weak.
The automaker reported F-Series pickup sales increased 1.4 percent last year. Transit van sales were up 8.2 percent. Only the Fiesta, GT, Expedition, Police Interceptor Utility and Navigator had sales increases in 2018. The automaker sold 54,348 EcoSport compact SUVs, which hit the U.S. market for the first time early last year. Ford's Lincoln brand sales were down 6.8 percent in 2018.
Toyota Motor North America reported sales in 2018 were down 0.3 percent due largely to an 11.9 percent slide in passenger car sales from both the Toyota and Lexus divisions. Toyota's truck and SUV sales were up double-digits for the year.
"Retail demand has actually been stronger in the second half of the year, though down from last year," Jonathan Smoke, Cox Automotive's chief economist said. "We think that's a result of low unemployment and tax reform leaving consumers confident and flush with cash."
He said that extra cash — combined with lower gas prices, stabilization of interest rates and credit availability for subprime borrowers — made for more ideal buying environment than initially expected.