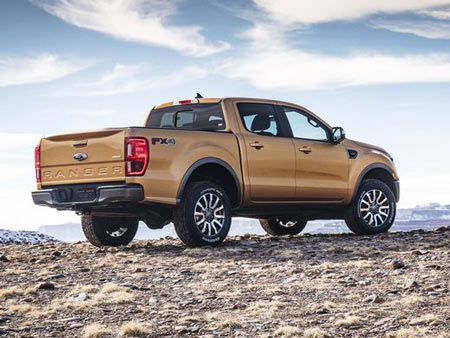 Ian Thibodeau,
The Detroit News
January 15, 2018
Ford Motor Co. pulled the curtain off the new 2019 Ranger, bringing the midsize pickup back to North America for the first time since 2011.
The Ranger, which will be shown Sunday afternoon at the Detroit auto show, won't be available for another year. It will play catch-up to Chevy and GMC which have capitalized on a revived small-pickup market with their successful Colorado and Canyon models.
The all-new Ranger looks similar to the models the company has sold around the world for the last several years. Ford pulled the Ranger from the U.S. market seven years ago so the company could focus on its full-size F-Series pickup. Ford sold nearly 900,000 F-Series trucks last year.
The company is leaning on its reputation for trucks for the North American relaunch of a truck it once sold hundreds of thousands of. Ford designed the new model on the platform used in global production. Todd Eckert, Ford truck group marketing manager, said the exterior, chassis and powertrain were redesigned for the U.S. market.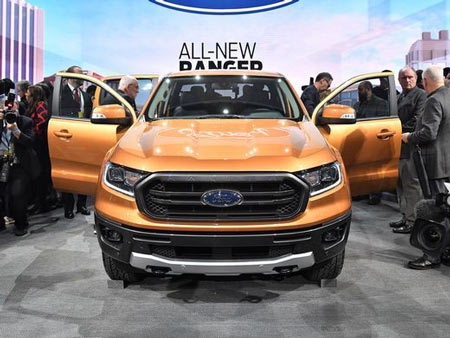 "Ranger has always held a special place in the hearts of truck fans," said Hau Thai-Tang, Ford executive vice president of product development and purchasing. "The all-new Ranger is designed for today's midsize truck buyer, delivering even more utility, capability and technology for those who blend city living with more off-the-grid adventures on weekends."
The company said at last year's North American International Auto Show that there's immense consumer demand for the truck. The Ford says the midsize-pickup market has grown by 83 percent since 2014.
Analysts have said Ford might cut into F-150 sales by releasing the Ranger in the U.S., but Ford executives have said F-150 shoppers are typically completely different from those who'd look to buy a Ranger.
Those marketing the vehicle said they're hoping the Ranger hits a sweet spot between F-150 buyers, and people who were looking for a smaller Ford vehicle.
The truck will be available in XL, XLT and Lariat trim levels with chrome or sport appearance options. The trucks will have SuperCab or SuperCrew cab configurations — which means the new Ranger will have an available four-door configuration. The truck will also have an FX4 Off-Road Package. There's one engine option: a 2.3-liter EcoBoost engine paired with a 10-speed automatic transmission, with which Ford engineers say they're targeting best-in-class torque.
Ford did not release fuel economy projections for the new vehicle. There will be both two-wheel- and four-wheel-drive options.
Unlike the F-Series, the Ranger is built using a mix of aluminum and steel. The truck has a steel frame and steel bumpers. The vehicle has an aluminum hood and tailgate. The truck was designed with an athletic look in mind, which truck buyers favor.
The Ranger nameplate is stamped across the tailgate. Ford also prioritized ground clearance for off-roading. The FX4 trim features off-road tuned shocks, all-terrain tires, a frame-mounted heavy-gauge steel front bash plate, frame-mounted skid plates and FX4 badging. That trim also comes with a terrain management system similar to that found in the F-150 Raptor.
The 2019 Ranger will come standard with autonomous emergency braking, and the XLT and Lariat trims will have standard adaptive cruise-control, automatic high-beams, blind-spot monitoring, land-keep assist, parking aid and lane-departure warning. There are numerous optional driver-assist features, too.
Sync3 is available on the vehicle, as well as available FordPass with a WiFi hotspot. The center stack includes an 8-inch touch-screen system.
Ford sold more than 6.6 million Rangers in the U.S. over its 29-year history. Sales peaked in 1999 at around 350,000 but dropped steadily until its final year in 2011, when Ford sold 70,832.
The truck will be built at Ford's Michigan Assembly Plant. This year, it will replace the Focus and the C-Max there. Focus production will move to China. The C-Max will be discontinued once Michigan Assembly is retooled to make the Ranger and the 2020 Bronco.
The Ranger is scheduled to go on sale in the first quarter of 2019.
New Ford Ranger pickup
expected at auto show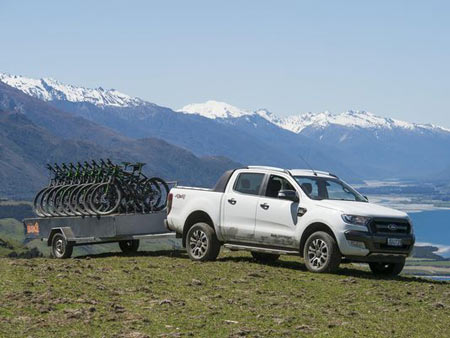 Ian Thibodeau,
The Detroit News
Jan 14, 2018
Ford Motor Co. is expected to roll out an all-new Ranger pickup Sunday at the Detroit auto show. The vehicle scheduled for the 2019 model year builds on the pickup sales frenzy in the U.S.
The Blue Oval pulled the midsize truck from the U.S. market in 2011, deciding then to focus on its full-size F-150. The company hasn't exactly suffered without a small truck in its lineup — selling 897,764 F-Series trucks last year — but the Ranger could still give Ford's U.S. sales a boost.
Newer versions of the truck are sold in roughly 180 markets around the world. The new U.S. models are expected to look similar to those currently sold elsewhere, though Ford officials have said the U.S. model planned to go on sale in 2019 won't be a copy-and-paste version of the truck sold around the world.
The company said at last year's North American International Auto Show that there's immense consumer demand for the truck. The Ranger will play catch-up to Chevy and GMC which have capitalized on a revived small pickup market with their successful Colorado and Canyon models.
"We've heard our customers loud and clear. They want a new generation of vehicles that are incredibly capable, yet fun to drive," said Joe Hinrichs, then Ford's president of The Americas, at the 2017 show. "Ranger is for truck buyers who want an affordable, functional, rugged and maneuverable pickup that's Built Ford Tough."
The truck will be built at Ford's Michigan Assembly Plant. This year, it will replace the Focus and the C-Max there. Focus production will move to China. The C-Max will be discontinued once Michigan Assembly is retooled to make the Ranger and the 2020 Bronco.
Ford sold more than 6.6 million Rangers in the U.S. over its 29-year history. Sales peaked in 1999 at around 350,000 but dropped steadily until its final year in 2011, when Ford sold 70,832.
Analysts have said Ford might cut into F-150 sales by releasing the Ranger in the U.S., but Ford executives have said F-150 shoppers are typically completely different from those who'd look to buy a Ranger.
Ford debuts new Edge ST
ahead of Detroit auto show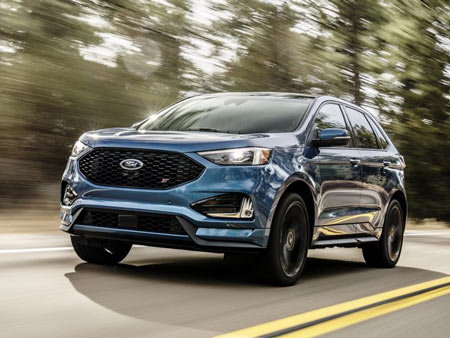 Ian Thibodeau,
The Detroit News
Jan. 11, 2018

It's the company's first SUV tuned by the Ford Performance team responsible for the GT supercar, zippy Focus RS and powerful F-150 Raptor. It will bring Ford's SUV lineup up-to-speed with crosstown rivals General Motors Co. and Fiat Chrysler Automobiles NV, which last year unveiled performance trims for full-size SUV models.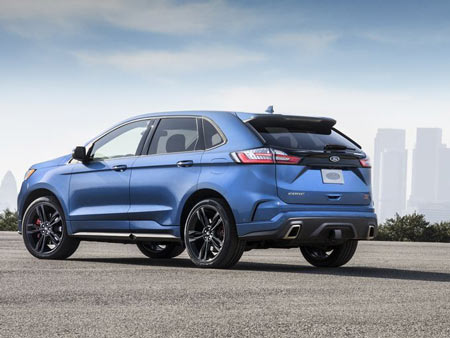 The new ST accompanies a refresh for the entire Edge lineup, which Ford calls its "medium-utility" vehicle. The Dearborn-based automaker sold 142,603 Edges last year, making it the third-best selling SUV for the company.
Designers tweaked interior and exterior components on the Edge, giving the vehicle a wider grille and new fascia, but the refresh focuses most on technology.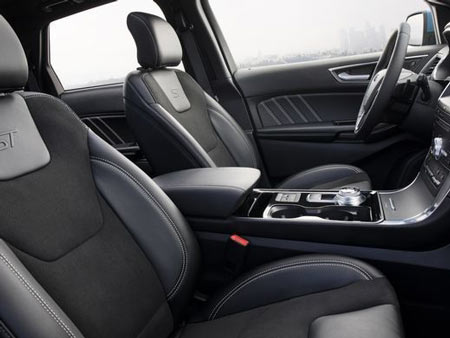 Following CEO Jim Hackett's mantra — smart vehicles for a smart world — the 2019 Edge is outfitted with a full suite of driver-assist features. Ford claims it has more features than any vehicle in its class.
The 2019 model comes standard with forward-collision warning, dynamic-brake support, pre-collision assist, pedestrian detection, blind-spot detection, cross-traffic alert, lane-keeping alert and assist, automatic high beams and hill-start assist. The Edge also has available post-collision braking, which Ford said automatically applies moderate brake pressure in the event of a collision to avoid further injury, damage to the vehicle or a second collision.
The vehicle also has available evasive-steering assist to help drivers steer around stopped or slowing vehicles. There's also available adaptive cruise-control and lane-centering features.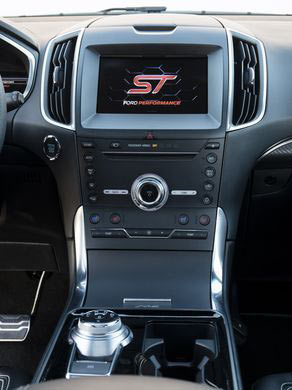 Ford's also outfitted the updated SUV with a wireless charging pad and an available 12-speaker B&O Play premium audio system. Edge models will come standard with FordPass Connect, a WiFi hotspot that can connect up to 10 devices. Engineers said the service is free for a trial period, after which owners will have to pay for the connection through a provider. Sync comes standard on the vehicles.
But Aquino and others noted that all the technology wouldn't be worth much if the Edge wasn't a fun ride.
The ST isn't meant to be a track vehicle. It's an every-day driver that adds some pep to a smaller SUV. The goal for Ford was to make an SUV that is "fun to drive," Aquino said.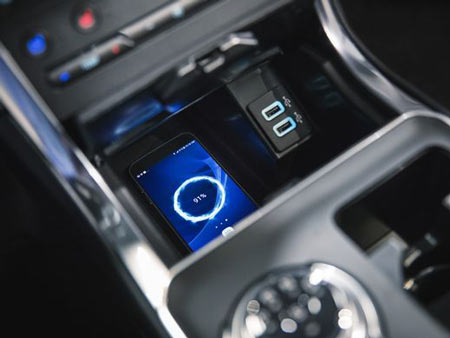 The all-new performance SUV has a 2.7-liter twin-turbocharged EcoBoost V-6 engine that churns out 335-horsepower and 380 pound-feet of torque. That engine is mated to an 8-speed automatic transmission, standard all-wheel drive with selectable traction control. The ST has an available performance brake package and tuned suspension. Paddle shifters allow drivers to switch into manual mode.
The redesigned Edge comes in SE, SEL and Titanium trims. The standard vehicle comes with a 2.0-liter EcoBoost engine paired with an 8-speed transmission. All models have a redesigned center console housing the rotary gearshift dial Ford's rolled out on some of its vehicles.
The redesigned Edge and Edge ST go on sale this summer. The vehicles are made at the Oakville Assembly Plant in Oakville, Ontario.


Denying benefits to minimum
wage workers outrageous: Unifor
January 10, 2018
TORONTO – The choice by Tim Hortons and other businesses to roll back benefits and paid breaks and then blame the cuts on Ontario's minimum wage increase is a bully tactic by greedy business owners says Unifor.
"The minimum wage increase in effect since January 1 is long overdue and very much deserved. To see wealthy business owners now use that as an excuse for their own greedy desires is simply an outrage," Dias said.
A Tim Hortons outlet in Cobourg, Ontario, owned by heirs to founders of the donut chain, made headlines for its decision to cut benefits and paid breaks for its non-union workers, and claimed the cuts result from an increase in the minimum wage to $14 that came into effect this week.
Since then, instances of additional Tim Hortons outlets and other chain restaurants cutting benefits, and even confiscating worker's tips, have come to light. This follows complaints from Loblaw Chief Executive Officer Galan Weston last summer about the cost of the wage increase.
"We can't continue to have an economy based on poverty-level wages for workers," Dias said.
"At a time when CEOs are making record multi-million-dollar salaries, it is not too much to ask that workers be able to afford a decent standard of living – and that begins with raising the minimum hourly wage."
Dias pointed out that there was no shortage of discussion about the minimum wage increase in the months leading up to it, giving businesses plenty of opportunity to prepare without hurting vulnerable staff. As well, small businesses were given a tax break to lessen the impact.
"There is no excuse for these wealthy business people for making these cuts. Workers deserve better and their rights should be respected," added Naureen Rizvi, the union's Ontario Regional Director. Rizvi also pointed out that workers in unionized shops are not seeing such arbitrary measures being taken because the employer can't take away rights enshrined in a collective agreement.
"This week has really shown why workers need a stronger voice in the workplace," Dias said.
Unifor is Canada's largest union in the private sector, representing 315,000 workers in every major area of the economy. The union advocates for all working people and their rights, fights for equality and social justice in Canada and abroad, and strives to create progressive change for a better future.
Will you sign the petition calling on Tim Hortons owners to stop attacking their workers? If enough of us come together to sign, we can have a real impact — but we have to make it huge!
Protests planned at Tim Hortons over cuts to paid breaks, benefits

Jan 10, 2018
Protests are planned outside some Tim Hortons locations in Toronto on Wednesday, following a decision by some franchise owners to get rid of paid breaks and scale back on employee benefits — in the wake of Ontario's minimum wage increase.
The protests, which have been organized by the Ontario Federation of Labour, will take place at over a dozen locations across southern Ontario, including eight in Toronto (list below):
3488 Lawrence Ave. E. (near Markham Road) – 8 a.m.
2708 Keele St. (near Wilson Avenue) – 8 a.m.
455 Spadina Ave. (near College Street) – 8 a.m.
1094 Bloor St. W. (near Dufferin Street) – 8 a.m.
1733 Eglinton Ave. E. (Bermondsey Road) – 9 a.m.
264 Bloor St. W. (at University of Toronto near St. George Street) – 2 p.m.
4700 Keele St. (at York University near Steeles Avenue) – 3 p.m.
444 Yonge Street (near College Street) – 4:30 p.m.
Ontario NDP Leader Andrea Horwath will be at one protest in Cobourg — that franchise is owned by the children of Tim Hortons founders.
The minimum wage went from $11.60 per hour to $14 at the start of the year.
The coffee chain has released a statement condemning the choice of the franchise owners, saying employees shouldn't be treated as an expense or to "further an agenda."
Retiree
Duncan
McCallum
Passes Away
Jan 6, 2018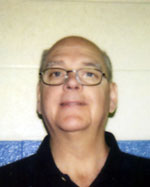 1/7/1946 - 1/6/2018

Retired
July 1, 2003
31.2 Years
It is with great sorrow that we inform you of the sudden passing
of Retiree Duncan McCallum who passed away at the
Brampton Civic hospital on January 6, 2018.
He will be remembered fondly by his co-workers for his pleasant,
bubbly personality and interesting story telling. Every Christmas during his working life he strolled down every aisle in the Ford Warehouse playing his bagpipes.
He will be sadly missed by all.
Our deepest Condolences go out to the entire McCallum Family
Visitation
Scott Funeral Home - Brampton Chapel
289 Main Street North
Brampton ON L6X 1N5
Event Times:
1/12/2018
02:00 PM - 04:00 PM

1/12/2018
07:00 PM - 09:00 PM


Funeral Service
St. Paul's United Church
30 Main Street South
Brampton ON L6W2C4
Event Times:
1/13/2018
11:00 AM - 11:45 AM
Obituary Overview
In Loving Memory
McCallum, Duncan
We are heartbroken to announce the passing of Duncan on Saturday January 6th, 2018 at Brampton Civic Hospital,
one day shy of his 72nd birthday. Duncan was the beloved husband of Donna for 45 years. Loving father to Kirsty and Robert, and proud grandpa to Abbey. Duncan was born in Renton Scotland to Sadie and Peter McCallum (deceased). Brother to Eleanor (Andy), and predeceased by his sister Betty (Alan). Duncan retired after 31 years from Ford Motor Company of Canada. Duncan was a retired sergeant and piper with the Lorne Scots Pipes & Drums (Peel, Dufferin & Halton Regiment) and received the Canadian Forces of Decoration (CD) for 18 years of service to Canada, 1976-1984.
Duncan was a member of the Royal Legion Branch 15, and the Flower City Lodge. We will miss Duncan's sense of humour, his corny jokes, his smile that could light up a room, and his beautiful Scottish tenor singing voice. He had a huge heart, loved to laugh and lived life to the fullest.
The family would like to thank the wonderful and compassionate ICU nurses who took care of Duncan, along with the physicians at Brampton Civic Hospital.
In lieu of flowers, donations can be made to the Heart & Stroke foundation, St. Paul's United Church or a charity of your choice.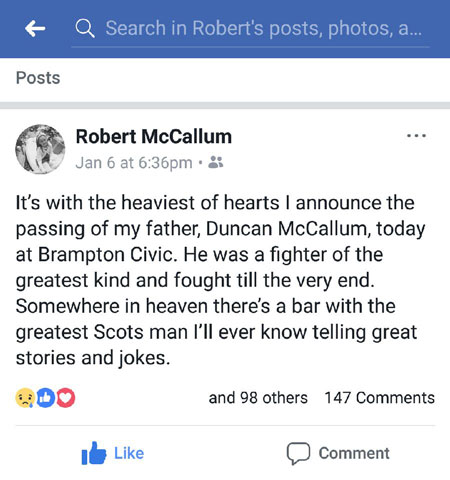 Facebook message from his son.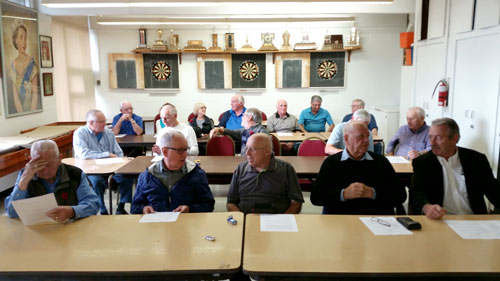 Duncan attended many Retiree Meetings over the years


When more details are available they will be posted here on our website.


Ford offers its first
diesel for the F-150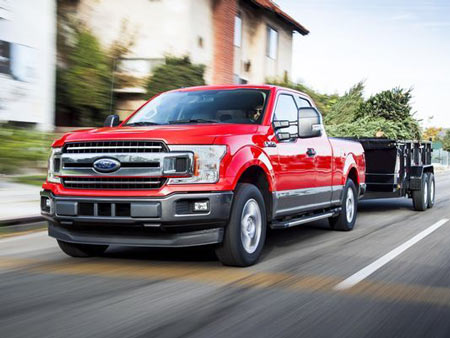 Ian Thibodeau,
The Detroit News
January 9, 2018
Ford Motor Co. will offer a diesel F-150 for the first time ever this spring.
The automaker announced the option for a new 3.0-liter Power Stroke diesel engine Monday ahead of the North American International Auto Show. In a Detroit show that's expected to be packed with new pickup news, a move by Ford to bolster offerings in its pickup lineup could help the company clinch more of an increasingly competitive market.
Ford finished 2017 having sold 896,764 F-Series pickups, marking the 41st consecutive year the Dearborn-based automaker could claim the title of best-selling vehicle in the United States.
The 250-horsepower V-6 engine diesel that offers 440 pound-feet of torque will be the sixth engine choice for the F-150. Ford management in October said it would work to cut back the number of options on the Blue Oval's vehicles. But U.S. customers apparently can't have too many options for trucks.
"We really have the landscape cornered," said Todd Eckert, Ford truck marketing manager. "It's really about choice for customers."
The new engine shares technology with the larger Super Duty's existing 6.7-liter Power Stroke diesel. It targets a small piece of the pickup market, but any gains in market share are valuable in pickups.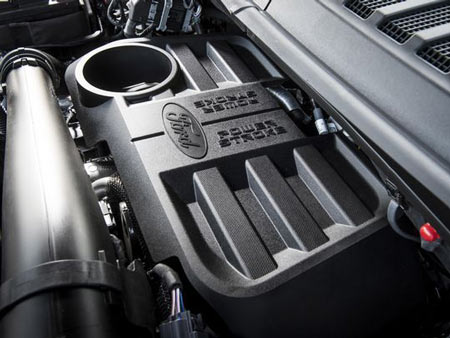 Eckert said Ford is targeting truck customers who need more power for towing. Delivering an estimated 30 miles per gallon, the F-150 with the Power Stroke diesel can tow 11,400 pounds with a 2,020-pound payload capacity.
The engine will be available to retail customers in both the 4x2 and 4x4 variations of the 2018 Lariat, King Ranch and Platinum edition SuperCrew F-150s. Fleet customers can order the engine on all trim levels with SuperCrew 51/2-foot or 61/2-foot beds, or the SuperCab with a 61/2-foot bed. The engine will cost between $3,000 to $4,000 more than standard engines on those vehicles.
Ford will begin taking orders for the new engine configuration in mid-January.
Prices will range from around $28,600 to nearly $64,000 for the upper-trim levels. The current model starts at $28,025 for a base XL and tops out at over $64,000 in Platinum trim with all the goodies.
The F-150 is built in Dearborn, Louisville and Kansas City, Missouri.


Death of the
great American
car draws nearer
Daniel Howes,
The Detroit News
January 7, 2018
Mark your calendars: ol' Sergio Marchionne is being proven right again.
He's the heretical CEO who shocked the industry when Fiat Chrysler Automobiles NV said it would stop producing cars in its U.S. plants. It would convert them to building higher-margin SUVs because that's what Americans want in more shapes and sizes.
The latest evidence of his vindication comes from year-end sales, out Wednesday, and rival Ford Motor Co. Bowing to reality, the Blue Oval appears to be steadily transferring production of its most recognizable cars to China from plants in Mexico and leaving their long-term U.S. future in doubt.
First the Focus compact, and now the next-generation Fusion, will be assembled in the world's largest market for sale there and in other foreign markets — if not, as Ford has confirmed to several news outlets, for export to the United States itself. And Ford recently launched a new Taurus sedan in China, leaving its future (and that of the subcompact Fiesta) back home murky.
The Dearborn automaker is deep in the process of re-evaluating its entire North American car line-up, a necessity punctuated yet again by booming sales of pickups and SUVs as traditional car segments continue an inexorable slide that cannot be ignored.
Plans to produce a redesigned Fusion sedan in Mexico for North America have been killed, as The Detroit News reported this week, even as the automaker still weighs options for the nameplate. They include extending production of the North American Fusion beyond 2020, according to a source familiar with the situation, or redeploying the model name on a reimagined product intended to capitalize on consumers' infatuation with SUVs and crossovers.
The trends are unmistakable. American hunger for profit-rich trucks and SUVs is forcing automakers to place bets where the money is. That's not in the traditional mass-market car segments where Detroit brands long have trailed Asian rivals in sales and profitability, if not in quality.
The second trend: Ford CEO Jim Hackett is doing what his predecessor apparently wouldn't, making radical calls that previous Ford CEOs would never consider, much less do. The automotive world is changing, and Detroit's Three are pushing to keep up or be left behind.
Add the emerging capital demands for mobility, autonomy and electrification, and it's undeniable that companies as large as Ford and General Motors Co., Toyota Motor Corp. and Volkswagen AG, are making hard choices on where to invest scarce capital promising the most lucrative returns.
Traditional car segments, particularly for mass-market volume brands, don't rank high. And year-end sales numbers won't help. Ford-brand cars closed last year down 14.9 percent, reports Autodata Corp. GM's Buick car sales slumped 51 percent on the year; Chevrolet car dropped 16.1 percent; Toyota's namesake car brand dropped nearly 10 percent, and its posh Lexus car lineup surrendered 23.3 percent last year.
Yet in December, Ford sold nearly twice as many F-Series pickups (89,385) as it did cars across its entire U.S. lineup (44,871) — evidence that Ford is coming late to a game its previous management team, under ousted CEO Mark Fields, mostly chose not to play.
For the year, light trucks accounted for 63.2 percent of the U.S. market, up 4.3 percent from a year earlier. Passenger cars slumped nearly 11 percent to 36.8 percent of total U.S. sales last year.
Somewhere (possibly 40,000 feet over the Atlantic) Marchionne is smiling. The reckoning implicit in his cars-to-trucks prediction is unspooling, and his group is mostly ahead of the curve as others scramble to catch up.
The good news for many automakers is that every truck or SUV sale that replaces a lost car sale generally delivers fatter per-unit profits to the bottom line. The bad news is that an entire industry could be caught out should an unforeseen catastrophic global event tank consumer confidence or cause oil prices to spike far higher than their expected trend line.
A growing number of automakers are betting more heavily on the former and less on the latter. That's because they need a properly geared core business to generate the cash they need to navigate an electrified, self-driving future that is coming.
How and when it will arrives remains to be seen, but it will. And those unprepared to play will be left behind.
Tim Hortons heirs cut paid
breaks and worker benefits after
minimum wage hike, employees say
'I wasn't marching down the street asking
for this pay raise. Now I'm worse off'
By Aaron Saltzman
CBC News
Jan 5, 2017
Employees at an Ontario Tim Hortons owned by the children of the chain's founders say they have been told to sign a document acknowledging they are losing paid breaks, paid benefits, and other incentives as a result of the province's minimum wage hike.
"I feel that we are getting the raw end of the stick," said one front line employee who asked to remain anonymous out of fear of losing their job.
The franchise is located in Cobourg, Ont., about 115 kilometres east of Toronto. The owners are Ron Joyce Jr. and Jeri-Lynn Horton-Joyce, the son and daughter of the chain's co-founders, Ron Joyce and the late Tim Horton, respectively. Employees say they are married.
In the document, copies of which were obtained by CBC News, Ron Joyce Jr. Enterprises wrote: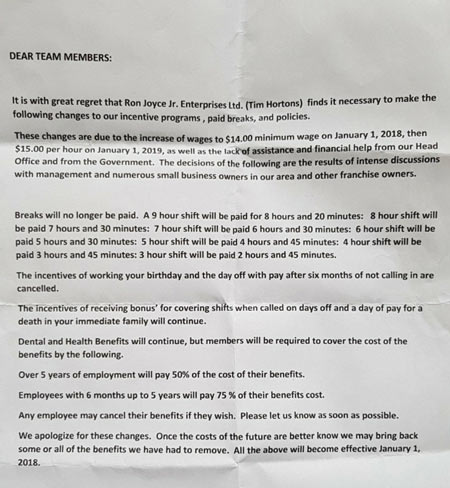 "Breaks will no longer be paid. A 9 hour shift will be paid for 8 hours and 20 minutes."
"These changes are due to the increase of wages to $14.00 minimum wage on January 1, 2018, then $15.00 per hour on January 1, 2019, as well as the lack of assistance and financial help from our Head Office and from the Government."
The letter is signed "Sincerely, Jeri, Ron and Lisa."
The act doesn't require employers to give employees coffee breaks or any other kind of break other than eating periods.
Meal breaks are unpaid unless the employee's employment contract requires payment.
"Organizations are finding ways to transition to a higher minimum wage. We are encouraging them to work together to share best practices and innovations," said a spokesperson for Ontario's Ministry of Labour in an email to CBC News.
"The Ministry of Labour is dedicated to ensuring Ontario workers are protected and know their rights under the Employment Standards Act."
Besides losing paid breaks, the document states workers with more than five years of service will have to pay 50 per cent of the cost of benefits, and employees with between six months and five years service will have to pay 75 per cent.
An employee with more than five years service told CBC News that prior to this, their benefits were covered 100 per cent by the company.
"That was a big benefit for the people who work at Tim Hortons, because it's not a great paying job," said the employee, who said they were making $13 an hour prior to the minimum wage hike.
"The benefits are what kept me there. Now you are going to make me pay that.
"I don't understand why you can take it away. Sounds like you are penalizing your staff because the government is trying to help your staff," they said.
Employees are also losing incentives for working on their birthday and for working six months without taking a sick day.
"We did receive this letter. I have not signed it and I still have it," said another front line employee who also asked to remain anonymous.
"My shift has 15-year-olds, and I feel they should be taking the letter home to their parents to read before they sign anything," they said.
Wage hike but worse off?
Another employee said that with unpaid breaks and having to pay 50 per cent of the cost of benefits, their biweekly paycheque will actually be $51 dollars lower than it was before the minimum wage hike.
"I've worked for the company for a very long time, and I was very upset. I wasn't marching down the street asking for this pay raise. Now I'm worse off," they said.
James Pickersgill, a Cobourg resident whose friend's spouse works at one of the Cobourg locations, posted a picture of the document on his Facebook page. It was shared more than 600 times in less than 24 hours.
"Cobourg's a small place. Word of mouth goes mental. People are talking about it wildly," said Pickersgill.
He said some people are pointing to this situation as a reason why the minimum wage should not have gone up, because it forces small businesses into difficult decisions. But a far greater number of people are outraged, he said.
No comment
"People are talking about boycotting their stores, and saying 'I'll go to another [Tim Hortons], but I won't go to that one,'" said Pickersgill.
Employees say the owners of the franchises are at their winter home in Florida.
A woman answering the phone at the Tim Hortons location on Division Street in Cobourg, who said she was the manager, told CBC News she had no comment.
In an email to CBC News, Tim Hortons corporate media relations said:
"Almost all of our restaurants in Canada are independently owned and operated by small business Owners who are responsible for handling all employment matters, including all policies for benefits and wages, for their restaurants."
"Restaurant Owners are expected to comply with all applicable laws and regulations within their jurisdiction."
****************************************
Ontario premier calls Tim Hortons
heir 'a bully' over wage actions
Kathleen Wynne reacts to CBC story uncovering compensation
changes at franchise after minimum wage hike
By Aaron Saltzman
CBC News
Jan 6, 2018
The children of the Tim Hortons coffee chain founders cutting paid breaks and staff benefits for employees after a minimum wage hike "really flies in the face of fairness," Ontario Premier Kathleen Wynne told CBC News on Thursday.
"When … I read about how this man is treating his employees and responding to the rise in minimum wage, I was pretty upset about it," the premier said.
The premier was speaking to CBC News after a report Wednesday that the owners of a Tim Hortons franchise in Cobourg, Ont., were asking all staff members to sign a letter indicating that they agreed to a series of compensation changes, including eliminating paid breaks and asking them to pay the majority of costs associated with benefits.
The franchise owners are the scions of two families who founded the chain more than 50 years ago, Ron Joyce Jr. and his wife Jeri-Lynn Horton-Joyce. The former is the son of Ron Joyce, who co-founded the chain in 1964. The latter is the daughter of Tim Horton himself.
They are married to each other.
The story has become a flashpoint in the ongoing debate about minimum wage hikes. On Jan. 1, Wynne's Liberal government implemented new rules mandating a minimum wage of $14 an hour. That's a $2.40 raise from last year's level.
Critics have suggested that actions such as those of the franchise owners are to be expected in the face of suddenly increased costs. But Wynne defended the laws, and singled out Joyce Jr. for trying to take unfair advantage.
"I think that asking working people to sign a pledge agreeing to unpaid breaks or agreeing to less pay than the actual hours that they're working," Wynne said. "I mean, that's not fair, but it's also not decent."
"To be blunt," Wynne said, "I think it's the act of a bully. And if Mr. Joyce Jr. wants to pick a fight, pick that fight with me and not the people who are working at the service window of the stores."
The owners of the chain, TSX-listed Restaurant Brands International, told CBC News in a statement that franchisee owners, not the company, are responsible for all staffing matters, including wages and benefits.
CBC News has made repeated requests for comment from Joyce and Horton-Joyce in recent days, but none have been returned.
Chain disappoints franchisees
The two are members of a group called the Great White North Franchisee Association, which represents Canadian franchise owners who have been squabbling with their corporate parents over recent changes, including cost increases and other issues.
In a statement Thursday, the group said it has been disappointed with the corporate parent's lack of support for franchisees in the wake of added costs, which include not just higher wages but also CPP and EI premiums, along with higher statutory holiday pay, sick leave pay and vacation pay.
The group had hoped that Restaurant Brands "would lend support to the franchisees in the chain by lowering food and paper costs, reducing couponing and raising menu board prices to help offset these significant increased costs at store level."
"While other competitors have received concessions from their franchisors, unfortunately our chain has not. Many of our store owners are left no alternative but to implement cost-saving measures in order to survive," the group said.
Directed to avoid media
They also say that franchisees are being told not to talk to the media about issues surrounding wage increases.
"Restaurant Brands International," a spokesperson with the group told CBC News, "have made it very clear in telephone calls to all of the franchises across the country that no one is to speak to the media, and there will be repercussions if they do."
The couple "have made it clear to me that because of RBI's statements in the past that they do not want to put themselves in jeopardy by speaking with the media."
For Wynne's part, the premier says the story hasn't changed her views on the minimum wage debate, and she says she will continue to fight "for a province where everyone can get ahead."
"Tim Hortons is a really important part of daily life of millions of Canadian families," Wynne said. "But so is having a decent living wage."
Canada's top CEOs earn 193
times average worker's salary
Salary of highest-paid CEOs jumps 7% in 2015
By Jacqueline Hansen,
CBC News
Jan 05, 2017
The compensation of Canada's highest-paid CEOs jumped seven per cent between 2014 and 2015, to a record high average of $9.5 million, according to a new study.
In a report published Tuesday, the Canadian Centre for Policy Alternatives, a left-leaning think-tank focused on economic and social policy, analyzed salary information from 249 TSX-listed companies and identified the top 100 earners.
The 100 richest CEOs in Canada took in an average of $9.5 million in 2015, a figure that includes salaries, bonuses, share grants and stock options, the report said.
That's well ahead of the $49,510 the group says the typical full-year, full-time worker earned in 2015.
Based on 2015 earnings, Canada's 100 top CEOs will earn by 11:47 a.m. today what the average Canadian will make in a whole year.
"Nobody's worth that much money. I mean, this is absurd," said Hugh Mackenzie, a research associate at the think-tank and author of the report.
"Thirty years ago they managed to scrape by on 40 times what the average person is paid, and now, it's 193 times."
Between 2008 and 2015, the country's 100 top-paid CEOs saw their compensation climb about 30 per cent, while the average wage for Canadians increased by just 17.5 per cent.
The highest-paid CEOs, according to the study, in order were:
Valeant Pharmaceutical's Michael Pearson: $182.9 million in total compensation.
Donald Walker of Magna International: $26.5 million.
Hunter Harrison of Canadian Pacific Railway: $19.9 million.
Other notable names include BlackBerry's John Chen. He was the highest-earning CEO in 2014, but dropped to 91st in 2015, earning $3.8 million.
Eric La Flèche of Metro Inc. was the lowest-paid CEO on the list of 100, earning $3.6 million in 2015.
Only two women made the list — Linda Hasenfratz, of Linamar Corp., who was compensated a total of $14.2 million, and Dawn Farrell, of TransAlta Corp., who earned $4.5 million.
What's in a name?
Of the top 100 highest-paying CEOs on the list, five people are named Marc or Mark, five named Michael, four named Al, John, Paul and Steve, and three named Brian, Charles and Donald.
Car sales end 7-year
expansion, but remain strong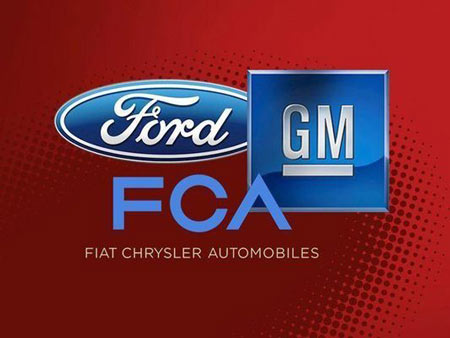 Ian Thibodeau,
The Detroit News
Jan 4, 2018
Annual auto sales for 2017 are expected be down for the first time in the U.S. since 2009, ending an unprecedented seven-year expansion that began the year after General Motors and Chrysler declared bankruptcy. But even with sales forecast to be down 2 percent for the year at 17.1 million vehicles, that would still make it the fourth-best year in history.
The Detroit Three all saw year-end U.S. sales numbers drop in 2017 from the previous year. As carmakers report sales numbers throughout the day Wednesday, most are expected to be down from 2016.
Ford Motor Co. reported Wednesday that sales fell 1.1 percent for the year. General Motors Co. sales slipped 1.3 percent. And Fiat Chrysler Automobiles NV reported an 8 percent drop compared to a year prior.
GM sold 3 million vehicles in 2017. That included 2.1 million Chevrolets. The company reported it sold more than 1.3 million trucks and 965,090 crossover vehicles last year. GM's December sales slipped 3.3 percent compared to the same month a year ago.
Meanwhile, Ford moved 2.59 million vehicles in 2017, which included a 4.3 percent increase in sales for trucks and a 4.3 sales increase compared to 2016 for SUVs as well.
Ford car sales fell 15.2 percent for the year. That includes ending the year with a 21 percent decline in Fusion sales — though it was still the automaker's top-selling car — as Ford reconsiders the future the midsize sedan. Total sales jumped 0.9 percent in December compared to the same month a year ago.
Fiat Chrysler sold 2.1 million vehicles in 2017. Its Ram brand had the only sales increase for the year at 2 percent. The Alfa Romeo brand saw a big leap in sales due to new vehicle launches in the U.S.
The initial monthly numbers are roughly equal to what industry analysts expected for the month.
Toyota Motor North America reported that sales fell 0.6 percent in 2017, selling 2.4 million vehicles last year. The Japanese automaker saw an 8.3 percent decrease in December deliveries. The Toyota division fell 7.2 percent last month, but ended the year up 0.5 percent overall. Lexus sales fell nearly 14 percent in December, ending the year down nearly 8 percent overall.
Industry-wide, the group expected sales to slip 7 percent in December compared to the same month a year ago, and a 2 percent drop for the year.
"December should be the biggest sales month of the year," Tim Fleming, analyst for Kelley Blue Book, said in a statement released before automakers reported the sales figures. "It's also important to remember that December 2016 was the strongest month in nearly 15 years, fueled by heavy incentives and year-end sales objectives.
"We're still expecting a year-end sales push from many manufacturers, which will translate into incentives and discounting, but since the sales objectives should be reduced from last year's peak, we are projecting slower sales than last December."
Industry analysis companies J.D. Power and LMC Automotive anticipated a 2.6 percent decline for the month of December, but expected retail sales to come in below 14 million units for the entire year. Total sales, which would include fleet vehicles, are expected to fall 1.9 percent compared to 2016, when automakers sold the most vehicles in U.S. history.
LMC Automotive expects total vehicle sales to sit just under the 17 million mark in 2018.
Meanwhile, GM's Chief Economist Mustafa Mohatarem expects 2018 sales to be over 17 million for the fourth consecutive year.
"This year, many consumers will see their take-home pay rise because of tax reform," he said in a statement. "That will keep the broad economy growing, and help keep sales at very healthy levels even as the Fed increases interest rates."
Cancelled redesign muddies
future for Ford Fusion
Ian Thibodeau,
The Detroit News
Jan 3, 2018
Ford Motor Co. is cancelling the redesign program for its Fusion and is revaluating the future of the midsize sedan in a move signalling the change new CEO Jim Hackett is bringing to the Blue Oval.
In a November letter sent to suppliers for the new Fusion program obtained by The Detroit News, Ford officials said the company is cancelling the previously planned North American redesign program — named CD542N — for the 2020 Fusion. The decision does not mean Ford is axing the Fusion nameplate, but it at least temporarily kills a scheduled redesign of Ford's best-selling U.S. sedan.
Whatever Ford decides could illustrate an ongoing shift in the global auto industry, as well as the financial choices the Dearborn-based automaker must make amid growing demand for finite resources within the company.
A source with knowledge of Ford's plans said the Fusion and Mondeo, its sister vehicle sold outside the U.S., will be a part of Ford's portfolio for at least three to four years. Cancelling the redesign program suggests Ford's top brass could be rethinking what a future Fusion might look like rather than eliminating the nameplate altogether.
It's not unusual for automakers to cancel or change vehicle redesign plans. Such moves typically mean automakers decided they didn't have the right product or product design to meet demand, according to a second source familiar with Ford's plans. The sources wished to remain anonymous because they were not authorized to speak publicly about the future of the Fusion.
Ford spokesman Mike Levine declined to comment on the supplier letter, marked strictly confidential, or to discuss specific plans for the Fusion. He said in a statement that "Fusion remains an important part of the Ford line-up for years to come with even more new fresh features on the way. We will have more news to share in the future."
Hackett said in December that customers prefer a "bigger silhouette," but bigger vehicles had been stymied by poor fuel efficiency in the past.
"The industry at large has had this shift," he said. "We're starting to crack that code. If you can get rid of the difference there because of fuel, you start to relieve the pressure of what kind of portfolio you have to have."
Hackett's comments indicate the Fusion could be bigger, or at least look a lot different, if the company decides to redesign it. That brings into question the future of the larger Ford Taurus sedan, which The News reported last summer might be discontinued by the end of 2018. Ford spokespeople have repeatedly declined to comment on the future of the Taurus.
A decision by Ford to cut midsize sedans would follow moves announced in 2016 by Fiat Chrysler Automobiles NV. The Auburn Hills automaker confirmed plans to eliminate the Dodge Dart and Chrysler 200, effectively eliminating its car production in the U.S.
Ultimately, Hackett and his team need to figure out a way to make more money on the Fusion nameplate if they want to keep it around for more than a few years, experts said.
Sedans and small cars are traditionally low-margin vehicles for most automakers compared to SUVs and pickups. A larger Fusion would net a bigger sticker price. It would also give Ford a chance to add more utility to the Fusion nameplate.
Meanwhile, pulling plans for a sedan redesign isn't a surprise to industry insiders.
"It does make sense," Karl Brauer, industry analyst and executive publisher of Autotrader and Kelley Blue Book, said. "A lot of vehicles on the market right now that are not SUVs are kind of caught in this death spiral. They are on an aging platform and they're in a segment that's not showing any growth.
"Anyone at any high-level point of decision-making is going to ask why they're spending this money."
For now, the Fusion's future is in limbo.
Sales have slowed for the midsize sedan over the last few years. Ford saw Fusion sales drop 22 percent through November following an 11 percent decline for the year in 2016. But the vehicle was still Ford's best-selling car in the U.S. last year, and some say it won't make sense for Ford to exit the sedan market completely.
"Maybe they'll bring a product that is still competitive," said Rebecca Lindland, automotive analyst for Kelley Blue Book. Canceling program plans, she said, "doesn't mean that they're never going to be in that market again."
The company plans to move forward in China with plans for the Fusion it has canceled for North America, according to the supplier letter obtained by the News. The stop-order for the North American program only applies to those vehicles that would have been made at Ford's Hermosillo Stamping and Assembly plant in Mexico and at Ford Valencia Body and Assembly in Spain.
Company officials have said Ford does not plan to export the next-generation Fusion or Mondeo from China to North America or Europe. The company in 2017 announced it plans to make the next-generation Focus in China, and export those vehicles from China to the U.S.
Pickup truck market
to heat up in 2018
Relax News
Jan 2, 2018
In 2018 the competition between pickup manufacturers is going to become fiercer than ever as Ford, General Motors and Fiat-Chrysler go head-to-head with new strategies for their truck ranges.
Pickups outsell all other vehicles in North America, but despite this, until quite recently they didn't get upgraded and redesigned anywhere near as frequently as passenger cars and SUVs. That's starting to change now, as it appears no potential competitive advantage is seen as too costly, and no gain by a rival is going uncontested.
General Motors was first to break cover in Texas, recently unveiling a redesigned version of its big-selling Chevrolet Silverado, which is promised to be leaner and meaner than ever when it gets its full debut late in 2018. The Silverado family is second only to the all-conquering Ford F-Series in the US in terms of overall sales, so Chevy will be hoping the redesigned model will close the gap on the top spot.
Ford has only recently refreshed the aluminum-bodied F-150 light-duty pickup, but next year it will add a diesel engine option for the F-150, and also reintroduce a new version of the mid-size Ranger, which is the Ford pickup sold outside North America. Trucks smaller than full-size models traditionally didn't have many fans in the US, but the likes of the Chevy Colorado, Toyota Tacoma, GMC Canyon and Honda Ridgeline are starting to change perceptions.
Ram is currently third in the pickup sales charts at the moment, and next year will see the first full redesign of the Ram 1500 since 2009.
Manufacturers are trying to achieve the long-sought-after goal of achieving an EPA highway fuel economy rating of 30mpg (almost 13 kpl) with their pickups. With a combination of more efficient engines and the use of new materials for construction, such as aluminium and carbon fiber, we might see that ambition realized in 2018.
NHTSA investigating Ford
recall involving F-150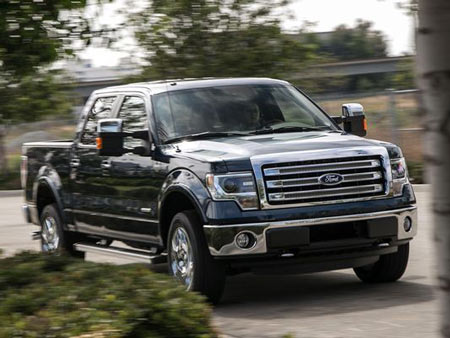 The Associated Press
January 1, 2018
Detroit – Federal safety officials are investigating whether a Ford Motor Co. transmission recall should be widened to fix more than a million additional vehicles.
Ford recalled 153,000 vehicles in 2016 because their automatic transmissions could unexpectedly shift into first gear, causing drivers to lose control. The recall involved certain F-150 pickups, Ford Expedition and Lincoln Navigator SUVs and Ford Mustang sports cars from the 2011 and 2012 model years.
The National Highway Traffic Safety Administration says it's now investigating whether Ford should have included up to 1.4 million F-150s, Navigators and Expeditions from the 2011 and 2012 model years as well as 2013 models.
The government says it's continuing to get complaints from owners, including some who say Ford's recall repair didn't work.
Ford says it's cooperating with the investigation.