Ford's Hinrichs: 'Very
important' for
Canada to be in
reworked NAFTA
September 25, 2018
Michael Martinez
Automotive News
DETROIT — A reworked North American Free Trade Agreement wouldn't make sense if it excluded Canada, Joe Hinrichs, Ford Motor Co.'s president of global operations, said Monday.
Hinrichs, who is also the former CEO of Ford Canada, was speaking at a luncheon for the Original Equipment Suppliers Association. He said he's optimistic that all three countries in NAFTA can reach an agreement, despite news late last week that talks had stalled between Canada and the United States.
The United States and Mexico last month had come to a bilateral agreement, and President Donald Trump has threatened to pull the plug on talks and continue on without Canada.
"It's very important that Canada be a part of it," Hinrichs said. "I can't envision a future of the North American automotive industry where Canada is separated out. We're too integrated on too many issues."
The sides remain at odds on a handful of issues. Canada is seeking some kind of guarantee that, if a deal is reached, it won't be hit with the auto tariffs Trump is threatening.
The latest talks also have hinged on dispute panels meant to handle anti-dumping and countervailing duty cases. The United States wants to kill the panels, enshrined in Chapter 19 of the current NAFTA, while Canada wants to keep them in some form.
The countries also are discussing one of Canada's key bargaining chips, dairy concessions, which has angered farmers in the country.
"It's fair to say the challenges with the [U.S. and Canada] right now aren't necessarily around the auto business," Hinrichs said. "We don't want the auto business to be the unfortunate casualty of other issues."
Ford builds a number of vehicles in Canada, including the Ford Edge, Flex and GT, and the Lincoln Nautilus and MKT.
Hinrichs declined to say how the company's business would be affected if there is no deal, saying he is optimistic that one will get done.
"It's the rational, logical thing to do for the auto industry," he said.
Talks this week could be critical. The sides want to sign an accord before Mexico's president-elect, Andres Manuel Lopez Obrador, takes office Dec. 1. To do so, they would have to publish a deal by Sept. 30 and thus would need to reach an agreement imminently to have time to put it into legal text.
The countries also could extend the talks past Sept. 30.
"I worry a little bit that we'll run out of time and other consequences will happen," Hinrichs said. "But we're continuing to tell everybody involved that it's certainly our expectation that there's a modernization of NAFTA with all three countries involved."
Ford told to pay Thai
customers for
transmission woes

Tassanee Vejpongsa,
Associated Press
Sept 22, 2018
Bangkok – A Thai court has ordered Ford Motor Co. to pay 291 customers a total of about $720,000 in compensation for selling cars equipped with faulty transmissions.
The Bangkok South Civil Court's decision was welcomed Friday as a victory in a country where consumers rarely win redress.
Most of the plaintiffs in the class action suit will get payments of $800 to $8,000 each depending on the number of times and length of time their cars took to be repaired. But 12 plaintiffs were denied compensation because their cars were modified before they were repaired.
None of those taking part in the joint lawsuit decided Friday were reporting injuries.
Ford said in a statement, that it respected the court's verdict.
"We apologize for the inconvenience caused by the Powershift transmission problems and we reiterate that we will work earnestly to take responsibility for fixing them according to our customer service procedures," the company said in statement issued in Thai.
It's another development in a long string of problems with the Ford transmissions, which have resulted in a lawsuit settlement in the U.S. and a fine in Australia. Last year, Dearborn-based Ford settled a class-action lawsuit and agreed to pay owners of 2012 to 2016 Focus and 2011 to 2016 Fiesta cars up to $2,325. Those who paid for repairs could also be reimbursed in the complex settlement, which is being appealed.
This year, Ford's Australian subsidiary was fined 10 million Australian dollars ($7.6 million) for mishandling complaints about faulty transmissions in thousands of cars.
The group in the Thai lawsuit asked Ford to buy back the cars and sought 600 million Thai baht ($18.5 million) in damages. They can appeal the ruling within 30 days.
One of the plaintiffs, Varoporn Chamsanit, said the five-year warranty on her car's transmission was about to run out and she was unhappy the court's ruling did not mention Ford's future responsibility for repairs.
"On one hand, I feel proud that we consumers got together and made this demand by ourselves and fought a long fight for several years now," she said. "Today the court made it clear that Ford is at fault and awarded compensation for us. I am proud of the result that we received from the court and feel we've gotten a certain degree of justice."
The case was viewed as a milestone for Thailand, where the civil law was amended several years ago to allow class action litigation for the first time, enabling consumers to seek damages for various complaints.
"If we consider this case, beyond the amount of money awarded, this shows that when consumers work together against any big company, we can achieve a victory. When we file a class-action lawsuit, we can prove the damage is widespread and real, not just hearsay," said lawyer Jinna Yamoaum.
PM says
'movement'
needed in
NAFTA talks
James McCarten
Sept 21, 2018
WASHINGTON - Thirteen months is an "absolutely normal" time frame for a task as complex as modernizing North American trade, Foreign Affairs Minister Chrystia Freeland said Wednesday as she notched another day on the road towards a new NAFTA deal with the United States and Mexico.
On a day where signs of progress were in the air, Freeland shrugged off talk of congressional deadlines and growing impatience in political circles as she justified the amount of time it has taken for all three sides to get to their current positions.
Rome, in other words, wasn't built in a day.
"For an agreement of this scale, 13 months for a very deep modernization of the kind we're working on is absolutely normal," said Freeland, who will be back for more talks Thursday. "Trade agreements do take some time, both to negotiate and to update, because the economy is complicated and trade agreements are complicated."
And when asked whether she could hear the clock ticking, she said: "Canada's sole objective — the only target that we are aiming for — is getting a good deal for Canada, so that's what we're focused on."
Among the evidence that the finish line isn't far away: word from sources familiar with the negotiations that the U.S. backed off in recent weeks on its demands for lucrative procurement projects.
Then there was the mood of Freeland herself, who arrived in the U.S. capital the night before wearing a T-shirt from her kids emblazoned with the slogan, "Keep Calm and Negotiate NAFTA," and thanked journalists for keeping vigil and ordinary Canadians for their expressions of support.
"People come up to me on the street or in airports, which is where I am often found, just saying how strongly they support Canada in these complex negotiations," she said before a midday meeting with Ontario Premier Doug Ford, in town to wave the Team Canada flag.
"I just want to say to everyone who has done that, thank you very much. It means a lot to me. I always share your messages with the negotiating team, and that gives us real strength and reminds us of how important the work we're doing is for Canadians."
She credited Mexico with making significant concessions in its deal with the U.S. on automobiles and for permitting large wage increases for Mexican auto workers — something Canada and the U.S. both wanted to stop the growing flow of automobile production into Mexico because of its cheap labour.
"Over the summer, Mexico made some very deep, very difficult concessions on rules of origin," she said, referring to an early U.S. demand that would have dramatically increased the amount of American content required in cars built outside the country.
"The fact that Mexico made those concessions is good for higher-wage workers; good for the high-wage workers of Canada, good for the high-wage workers of the U.S., and that is what allowed the rest of the negotiations to move forward."
And there was the all-nighter pulled by one of Canada's negotiating teams, which Freeland said didn't wrap up its marathon session until 7 a.m. Wednesday morning. "There is some very intensive work happening," she acknowledged as she thanked negotiators, too, for their tireless efforts.
Sources say Mexico believes it has also done much of the "heavy lifting" on getting the Americans to back down on its demand to limit the ability of Canadian and Mexican firms to bid on U.S. infrastructure projects, while seeking greater access for American firms to Mexican and Canadian government projects.
Mexico and Canada are both quietly taking credit for standing firm against the controversial U.S. position that would have effectively limited their respective countries' ability to bid on valuable American government infrastructure projects.
Earlier in the day in Ottawa, Prime Minister Justin Trudeau said Canada isn't backing down from its own demands — a position that has some U.S. legislators bristling at what they consider a stalling tactic.
"We've been very clear that we're interested in what could be a good deal for Canada, but we're going to need to see a certain amount of movement in order to get there," Trudeau said.
Pressure is mounting on the federal government to get a deal done. On Wednesday, Texas Republican Kevin Brady, head of the influential House Ways and Means committee, told CNBC the two sides are "close enough" and the time has come for Canada to "step it up" and get on board.
Trade observers say that while many in Congress want Canada to be part of a three-way deal, they may not be willing to sacrifice an agreement in principle between Mexico and the U.S. negotiated earlier this year.
That deal is widely seen to require congressional approval before Dec. 1 in order to survive the arrival of an incoming Mexican government whose supporters have mixed feelings about the agreement.
Advertisement
Jerry Dias, head of Unifor, Canada's largest private-sector union, said Canadian negotiators remain unmoved by the recent rumblings on Capitol Hill and focused on getting a deal that's in the country's best economic interests.
While Canada has been pushing for wording in NAFTA aimed at strengthening labour protections and gender equality, the overall negotiations are said to have stalled over Canada's insistence that an agreement contain an independent dispute-settlement mechanism.
"There's not going to be an agreement where disputes are handled in the American courts. Why would we do that?" Dias said.
"Having Colonel Sanders take care of the chickens — in other words, having all disputes handled in the U.S. courts — just doesn't make any sense for Canadians."
Toronto Unifor Locals
on Actions of
the TYRLC
Posted Sept 20, 2018
Members,
When Unifor disaffiliated from the Canadian Labour Congress in January of 2018, we immediately shared our principled stance with our locals and the broader labour movement that workers in Canada have the right to belong to a union of their choosing. The Canadian Labour Congress is failing to provide unionized workers with that choice, and now we see that the Toronto and York Region Labour Council has chosen the same path.
When your union took that stance to oppose the failed enforcement of Article 4, we encouraged you to continue your relationship with your labour councils. Much of the work of our unions happens in our communities, and labour councils can be an important space for advocacy and organizing.
It has become clear however, that Unifor is unable to continue that connection with President John Cartwright and the Toronto and York Region Labour Council. Since Unifor's disaffiliation, Unifor labour council delegates have engaged in a sustained effort to participate in the Council, but lately the TYRLC executive has disparaged and insulted our union instead of fulfilling their mandate of forging solidarity across unions and communities.
On Tuesday September 11, workers at the Fairmont Royal York voted on joining Unifor, the largest union representing hotel workers in Canada. Just days before this vote, Cartwright, as President of the Labour Council, wrote to these workers attempting to push them to vote against joining our union. This letter contained multiple inaccuracies and is an inexcusable overreach, a blatant attempt to interfere in the democratic process and to influence a choice between one TYRLC affiliate and another.
In the immediate aftermath of Unifor's disaffiliation, Cartwright penned his Open Letter to the Labour Movement, which again completely disregarded the importance of Unifor's stance, and took cheap shots at our union. Unifor members are blocked from participation on committees and the executive board, and we have seen no decision made on their status at the Council.
Despite these actions, we continued to collaborate and attempted to work together for a celebratory labour day in Toronto. But, in a move that can only be described as petty, the TYRLC Executive chose to repeat last year's parade line-up to prevent our union from marching in front for our 5-year anniversary when it was our turn, and deliberately placed us last.
The accumulation of these actions paints a clear picture about the position of Cartwright and the TYRLC Executive. They chose to take a side in what should be a free vote for members choosing to join Unifor, and they have outwardly disparaged our union.
We cannot continue to encourage your participation in this Council. The time has come for Unifor local unions to cease participation and funding of the Toronto and York Region Labour Council. Hopefully this relationships can be repaired, but that day will not come until respect can be shown on both sides.
If you have any questions about this process, or are looking for ways to continue your activism in the city, please contact Josephine Petcher, Unifor Toronto Area Director at Josephine.Petcher@unifor.org or email politicalaction@unifor.org. Our union remains focused on the challenges that lay ahead and will continue to be active in Toronto and in all Unifor communities. All members are encouraged to join in the exciting work that Local Union Task Force organizers are coordinating through ongoing campaigns and Unifor Area Councils.
In solidarity,
Jerry Dias
National President
Naureen Rizvi
Unifor Ontario Regional Director
Unifor video that names,
shames replacement
workers sparks debate
The Canadian Press
September 18, 2018
ST. JOHN'S, N.L. -- A union video that identifies replacement workers who crossed the picket line during an ongoing lockout in Gander, N.L., has prompted a debate over the ethics of naming and shaming such workers.
The minute-long video titled "meet the scabs" was posted to Unifor Canada's Twitter and Facebook channels on Sept. 6, showing images and names of workers hired as replacements for the 30 D-J Composites workers who have been locked out of their jobs since December 2016.
As of Monday, the Twitter video had more than 700 responses, many of them critical of Unifor's tactics shaming the workers rather than the employer, with some saying the video amounts to bullying.
The comments even came from people apparently sympathetic to the locked-out workers' cause.
User (at)DomatoRecord wrote, "As a member of Unifor I am disgusted by this shameful video. We should be lobbying for laws that forbid employers to hire replacement workers. Not going after the workers, who are probably desperate. How could you, Unifor?"
Unifor's Atlantic regional director, Lana Payne, said the video is one of many ways the union is "stepping up our efforts on all fronts" after almost two years of social media campaigning, letters to the provincial government and negotiations with the American-based employer.
Payne said the ad is a response to the employer's "escalating tactics" to block the union, including hiring enough replacement workers to match the number of those locked out.
"My responsibility and our responsibility as a union is to defend our members, and that's what we're doing," Payne said.
Payne also questioned why the public has not felt the same outrage for the locked out workers, noting that the provincial Labour Relations Board has found the employer twice violated the provincial Labour Relations Act for failing to bargain in good faith.
"They have spent their savings in order to be able to continue to fight, this is how much they believe in this principle," said Payne. "They should be able to have a union in their workplace, a pretty basic right in Canada, and yet they have had to fight for that right now for 630 days on a picket line."
Some of the online debate has focused on Newfoundland and Labrador's high unemployment rate, expressing sympathy for the replacement workers trying to make a living.
But Payne said there are many jobs available in Gander, and the replacements made a choice to publicly take the locked out workers' jobs.
"These are communities where everybody knows that these folks are crossing the picket line, and I would argue there are jobs in this town. They don't need to cross the picket line for employment," said Payne.
Payne said the members on the picket line did not participate in making the video, and that the union has not heard from D-J Composites since the latest ads.
British Columbia and Quebec are the only provinces in Canada with legislation preventing the use of replacement workers during a strike or lockout. The issue also caught the public's attention a few weeks ago when workers start striking outside the Canadian National Exhibition in Toronto.
David Doorey, a labour law professor at York University, said studies are inconclusive as to how such legislation affects the duration of a lockout, but said the use of replacement workers in Gander seems to have prolonged the dispute.
"It's very unlikely that this particular lockout would have lasted this long if the employer was banned from hiring replacement workers," Doorey said in an email.
Unifor's video, while unsettling to many, also has legal precedent. In 2013, the Supreme Court of Canada ruled that unions have the right to photograph and publish photos of replacement workers.
Tom Cooper, a professor of business ethics at Memorial University, said Unifor's ads should be considered alongside the ethical considerations of minimizing harm.
Cooper said naming people involved in labour disputes is not a new tactic, but the permanent and public nature of online videos can do more harm than good in a case like Gander's for the locked out workers' cause and the replacement workers' privacy.
"I don't see this online naming and shaming to be any benefit to the workers in Gander, from kind of a strategic and business ethics standpoint," Cooper said. "If your strategy is, 'How do we get this lockout resolved?', I'm not sure it actually meets that obligation."
Cooper said while Unifor's actions are intended to protect their members' interests and their right to a union, in this case the union seems to be falling short of a higher standard to protect the general population's rights to privacy and a dignified life.
"I'm not sure in this case they're meeting the higher standards," said Cooper.
"They're about social justice, they're about human rights, they're about protecting the rights of individuals, and in this case they're not doing that. They're only protecting the rights of one group, which is their members."
Who has the real leverage
at the NAFTA table?
September 16, 2018
Andrew Mayeda
Bloomberg
WASHINGTON -- From day one, President Donald Trump has imposed his will on talks to overhaul the North American Free Trade Agreement. But as his administration tries to seal the deal, it's not clear he holds all the cards.
Trump's repeated threats to pull out of the pact have kept Mexico and Canada on their heels. The president may still brandish the threat of withdrawal to push a deal through Congress.
Yet Canada does have some leverage as it decides whether to join a tentative U.S. deal with Mexico. Meanwhile, any deal Trump signs then requires congressional approval, and the Democrats are favored to seize control of the House in November, making approval far from a foregone conclusion.
Here are three ways to think about the power dynamics in the NAFTA renegotiation:
TRUMP HAS ALL THE LEVERAGE
Trump is the reason the negotiations are happening in the first place. He demanded a rewrite, and he set the tone with a series of proposals designed to reduce the U.S. trade deficit, especially the large shortfall with Mexico.
When talks stalled earlier this year, the Trump administration employed a classic divide-and-conquer strategy, focusing on talks with Mexico and leaving Canada on the sidelines. The result was a preliminary deal with Mexico.
The U.S. is trying to convince Canada to join the party, keeping the three-way structure of NAFTA intact. But Trump has made clear he'll sign a deal only with Mexico if necessary, and he has threatened tariffs on Canadian-made cars if it can't strike a deal.
The clock is ticking: Trump has given notice to Congress that he'll sign a new trade deal with Mexico -- and Canada "if it's willing" -- by the end of November, and his officials have to present text of the agreement to U.S. lawmakers by the end of this month.
NO, CANADA DOES
Canada may be the David to the U.S. Goliath, but it has proven to be a tenacious negotiator in the past, and it's standing its ground on NAFTA.
The U.S. said it wanted a deal by Aug. 31, so that outgoing Mexican President Enrique Pena Nieto could sign the agreement before his successor, Andres Manuel Lopez Obrador, takes office Dec. 1, thus insulating the new president from the political risks of a new trade accord. But Trudeau called Trump's bluff, and negotiations with Canada continue.
One key advantage for Trudeau: the math on new auto rules may depend on Canada's inclusion. The U.S.-Mexico proposal requires at least 40 per cent of cars in the trade zone be made by workers making US$16 per hour. Adding Canada's relatively well-paid autoworkers would make it much easier to meet that threshold. Trump's plan may be to lure auto plants to the U.S. from Canada. But for now, automakers and unions are pushing for Canada to be brought into the fold.
Lawmakers on Capitol Hill, including members of Trump's own Republican Party, share that view, which puts pressure on Trump to strike a deal with Canada, said Edward Alden, a senior fellow at the Council on Foreign Relations in Washington.
"The U.S. and Mexico have said they will go it alone, but Congress has made it utterly clear that a U.S.-Mexico only deal is D.O.A. on the Hill," said Alden.
CONGRESS HAS THE FINAL VOTE
U.S. Trade Representative Robert Lighthizer has expressed optimism that the deal he's negotiating could win broad support in Congress. Certainly, there are some aspects of the new accord that Democrats can hail as a victory, including the first minimum-wage provision in a U.S. trade deal. Republicans can argue they saved Nafta from the trash can of history.
But because of the legal hoops the administration has to jump through, it's unlikely NAFTA 2.0 will be put to a vote until next year, when the political climate may be very different. Polls indicate the Democrats will take the House in the midterm elections in November. They will be looking to wound, not support, a president that their base abhors.
"The administration is flying a strange route, because it's claiming to have Democrat support without doing the coalition building needed to get the votes," said Scott Miller, a senior adviser at the Center for Strategic and International Studies. "It's not the Democrats' agreement. It's not their president. They may just gleefully walk away."
WHAT ABOUT MEXICO?
Even though Mexico agreed to a new deal with the U.S., it's still only a "preliminary agreement in principle," and Mexico could easily walk away.
Lopez Obrador has signaled that his administration will govern pragmatically, but he is still a maverick who campaigned against the establishment and espoused left-leaning policies. If a new NAFTA turns into a political liability, he may be inclined to scuttle a deal.
Ontario Superior Court that
the Sears pension proposal
should be dismissed
The Canadian Press
Sept 13, 2018
A court-appointed monitor for the Sears Canada bankruptcy process says it opposes a proposal that would effectively allocate all the failed retailer's remaining assets to the company's underfunded pensions.
FTI Consulting argues in a Sept. 7 filing to Ontario Superior Court that the pension proposal should be dismissed due to legislation and case law.
A petition filed with the court in July by the pensioners claimed about 18,000 Sears retirees should have first claim on assets to reduce a roughly $260 million shortfall in their pension plans.
However, Sears Canada had only about $158.3 million on hand plus a few properties that remain to be sold — meaning none of the company's other unsecured creditors would receive anything if the pensioners get first priority.
If the pension motion fails, the remaining assets will be divided up proportionately among all classes of unsecured creditors.
FTI says it's opposing the pension motion through its role as monitor — a sort of umpire assigned to help a judge sort out conflicting claims — in part because it doesn't appear any of the other unsecured creditors is in a position to challenge it.
It says the other creditors are primarily small businesses and individuals including former employees, retirees, contractors, vendors and customers with warranty claims.
The department store chain's last remaining stores closed their doors for the final time on Jan. 14 this year.
How Ford is tackling
its restructuring

Daniel Howes
and Ian Thibodeau
The Detroit News
Sept 12, 2018
Dearborn — Ford Motor Co.'s $25 billion global restructuring is targeting its vast manufacturing and product development system, as well as its troubled operations in Europe and South America — the regions most likely to be hit with job cuts.
The efforts, still taking shape, could shield the Blue Oval's profitable North American operations from significant layoffs, two ranking sources familiar with the situation told The Detroit News, particularly if the national economy remains buoyant as Ford launches a new midsize Ranger pickup, new compact and midsize SUVs, and a revived Bronco.
"It's not about slashing costs and laying off people to get to prosperity," Hau Thai-Tang, Ford's executive vice president of product development and purchasing, said in an interview this week. "It's about becoming fitter so that we can reinvest that into delivering products that customers want and value — and doing it faster. It's not that we have too many people or they're not working hard or they're not smart."
But the expectation that Ford could execute a global restructuring over the next three to five years without impacting significantly its 86,000-person workforce in the United States is being greeted with skepticism outside the company. That's because it defies the industry's long record of restructuring, typically synonymous with voluntary buyouts, involuntary layoffs, plant closings or some combination of all three.
"Ford is behind where they need to be on a number of fronts," said David Cole, chairman emeritus of the Ann Arbor-based Center for Automotive Research. "What that says to me is there will be rationalization of their labor force. It's just the nature of the beast."
In a note last month, Morgan Stanley wrote: "At this stage, we have assumed global headcount reduction of approximately 12 percent" — roughly 24,000 of Ford's 202,000 global workforce. "Such a magnitude of reduction is not without precedent in the auto industry."
It's not yet certain, either. Rival General Motors Co. books slightly less annual revenue and sells more vehicles worldwide than Ford with roughly 20,000 fewer employees. Last year, GM sold 52.7 vehicles worldwide per employee compared to 32.8 vehicles per employee at Ford.
Two sources with knowledge of ongoing $11 billion restructuring talks focusing on Ford's international businesses told The News the automaker expects to announce its plans for fixing Europe and South America as early as the end of this year. Ford employs 14,000 in South America and 54,000 in Europe, and its restructuring plans in those regions could include job cuts, but no final decisions have been made.
"You have a morality about that," CEO Jim Hackett said in a recent interview, sidestepping a question about potential job cuts as part of a global restructuring. "You really think about them. And so if they have to go, you take care of them.
"What I've said to the teams is that the mistakes we have — it's never going to come out of my mouth that factory labor is the issue. It's not. We've got to get right and fit. We've been managing the headcount. The company shrank in (the 2008-09) crisis and almost added all the cost back."
Avoiding the high-profile bankruptcies that ensnared General Motors Corp. and Chrysler Group LLC nearly a decade ago allowed Ford to retain its dual-class shareholder structure enabling Ford family members to control the company. But it also ensured Detroit's No. 2 automaker would not be forced to make the kind of deep cuts now enabling GM to generate a similar amount of revenue with about 20,000 fewer employees worldwide.
Cost-cutting in the global auto industry almost always includes some form of job cuts, be they consensual buyouts, involuntary layoffs or a combination of the two to reduce overall payroll. Ford is signaling that it has a better way to achieve its desired result of a "fitter" company without dreaded job cuts.
Broadly speaking, Ford officials say, the automaker's $25.5 billion workout can be separated into several buckets: first, the rationalization of product development, purchasing and manufacturing that is expected to wring an estimated $20 billion in costs from the operation. That includes transitioning from nine vehicle platforms to five global vehicle "architectures" with modular components, as practiced already by Toyota Motor Corp. and Volkswagen AG.
One example: reducing the number of what Thai-Tang calls "excessive options" on vehicles. Ford uses nine different "hub bearings" on its vehicles, the part that enables a wheel to turn freely on its axle. But where's the valued added to the customer?
"There's no customer that's coming into a dealer and saying, 'You know, I want a different hub bearing,'" he said in an interview. "That's not even something that's visible to them. That's just us not minding the shop. What is it about the business model that's allowed that to happen?"
Another example: designers and engineers working in an "energy room" — new spaces devoted to singular Ford products where designers, engineers and marketers solely meet to go over product plans — gave Thai-Tang three options mocked up with cardboard for a door hinge on the 2020 Bronco.
The employees told him which of the three worked best, and the team decided to move forward with a design in minutes. That process would have taken weeks, and used more expensive materials to "design" the hinge options, in the past.
The second bucket is a separate, $11 billion restructuring of money-losing operations in Europe and South America. It's likely to be a more traditional workout, reducing excess plant capacity and cutting jobs in a bid to turn chronic money losers into contributors to Ford's bottom line.
In recent weeks, the sources said, Ford officials have met with outside consulting groups recruited to help the company navigate its restructuring. As early as the fourth quarter, the automaker could detail the future of its partnerships with Mahindra Group in India and Volkswagen in Europe and South America, though actions contemplated for those regions are expected to run into next year.
Ford does not expect to target its North American operations or its workforce in any meaningful way, according to a ranking source close to the situation, because its plants are running at or near capacity and because the operations generate the bulk of the automaker's profits.
Additionally, Ford is expected to grow its footprint in China, its No. 2 market. After larger-than-expected losses in China this year, Ford is launching several new vehicles there, is intensifying localization of some 90,000 Ford- and Lincoln-brand vehicles imported there from the United States, and is pushing to localize Ford's leadership in China — including likely naming a Chinese national its next CEO in the region.
Ford's North American business is the only region in the company delivering solid, if slightly sub-par, margins this year. And belt-tightening has been a part of the plan Hackett inherited when he arrived in the c-suite in May 2017. The automaker cut 1,400 salaried workers in the U.S. last year through early retirement and buyout options.
Ford is cutting sedans completely out of its U.S. lineup to make room for larger, more profitable and theoretically more desirable crossovers. Over the next five years, the automaker plans to trim $12 billion from what it expected to spend on materials for products; $7 billion from its product development and engineering processes; $5 billion from marketing and incentive spending; and $1.3 billion on manufacturing costs. All of that serves to give the automaker more for its money as it launches a slew of new products through 2023.
Morgan Stanley, for its part, projects a 12 percent global workforce reduction would yield annual cost savings of $2 billion a year within 18 months. It envisions annual savings of another $1 billion from rationalizing engine architectures, as well as other asset write-downs. But exiting unprofitable global markets like South America or Europe altogether would be more difficult for Ford than rival GM, which sold its two money-losing European brands in 2017.
A major reason: unlike GM,Ford has concluded it cannot sell its 115-year-old Blue Oval to a rival automaker in an under-performing region — one reason it publicly denied a Bloomberg report last month saying Ford was shopping its South American unit. The brand holds too much value, the thinking goes, to entrust it in a single region to outside management unconnected to the company or its legacy.
"Like so much of the Ford investment thesis," Morgan Stanley wrote in a follow-on report about the potential benefits of a partnership with VW, this is "a show-me restructuring and capital realignment story. Investors are still wanting more action in the form of decisive restructuring, business unit transparency, capital allocation and external validation" of its Auto 2.0 mobility strategy.
Through the first half of this year, Ford lost nearly $800 million total in South America, the Middle East, Europe and Asia Pacific. Only North America, home to the franchise F-Series line of pickups and a full stable of SUVs, delivered enviable profits to Ford's bottom line.
In 2017, Ford lost $784 million in South America; lost $263 million in the Middle East and Africa; and made $234 million in Europe, a trend there that appears to be reversing this year. North American profits helped the automaker post a $7.6 billion profit for the year, underscoring the need for global restructuring.
Britain's Sunday Times reported last weekend that Ford plans to cut thousands of jobs and ax car models in Europe as part of an effort to rejuvenate the business there, but Ford officials disputed the report. The Times said the company, the market leader in the United Kingdom, would cut the European sibling of the Fusion — which Ford plans to drop from its U.S. lineup after 2020.
"Everything is on the table," Bob Shanks, Ford's CFO, has said. "We have looked at every single part of the business. It's a very complex endeavor. We are determined to turn this business around right throughout the whole company. There's more work that's underway."
Despite Trump tweet,
Ford says it won't make
Focus hatchback in US

Paul Wiseman,
Associated Press
Sept 11, 2018
Washington – Ford won't be moving production of a hatchback wagon to the United States from China – despite President Donald Trump's claim Sunday that his taxes on Chinese imports mean the Focus Active can be built in America.
Citing Trump's new tariffs, Ford on Aug. 31 said it was dropping plans to ship the Focus Active from China to America.
Trump took to Twitter Sunday to declare victory and write: "This is just the beginning. This car can now be BUILT IN THE U.S.A. and Ford will pay no tariffs!"
But in a statement Sunday, Ford said "it would not be profitable to build the Focus Active in the U.S." given forecast yearly sales below 50,000
For now, that means Ford simply won't sell the vehicle in the United States. Kristin Dziczek of the Center for Automotive Research said that Ford can make Focuses "in many other plants around the world, so if they decided to continue to sell a Focus variant in the U.S. market, there are several options other than building it in the United States."
In April, Ford announced plans to stop making cars in the United States – except for the iconic Mustang – and to focus on more profitable SUVs. It stopped making Focus sedans at a Wayne, Michigan, plant in May. The plan, said industry analyst Ed Kim of AutoPacific, was to pare down the Focus lineup to Active wagons and import them from China.
"Without the tariffs, the business case was pretty solid for that model in the U.S. market," Kim said.
Demand for small cars in the U.S. has been waning for years with relatively low gasoline prices and a shift from cars to SUVs and trucks.
If Ford sold fewer than 50,000 Focus Active wagons per year, it would run a U.S. factory on only one shift per day, which isn't cost-effective, Dziczek said. Automakers like to run plants on at least two shifts, and preferably three per day to cover the cost of building and equipping the factory, and to turn a profit.
Ford also wouldn't want to spend millions on equipment to build the Focus Active here because at low sales volumes it wouldn't get a good return on its investment, Dziczek said.
If sales were high enough to justify production at a U.S. plant, the price of a compact vehicle isn't high enough to cover the difference in wages here, she said.
"The margins are very slim," Dziczek said. "Even if you had demand and volume, it's still very difficult to build a small car in the U.S. profitably, which is why you find very few of them here."
In China, labor costs are about $8 per hour including benefits, but it's more than $52 per hour in the U.S., according to Dziczek.
Ford, BMW, Mercedes and others export about 250,000 vehicles to China from the U.S. each year, Dziczek said. Most of them are luxury cars and SUVs with higher profit margins that can cover higher U.S. wages, she said.
For the Focus Active, the tariffs on Chinese vehicles changed everything. The United States on July 6 began imposing a 25 percent tax on $34 billion in Chinese imports, including motor vehicles. Last month, it added tariffs to another $16 billion in Chinese goods and is readying taxes on another $200 billion worth. China is retaliating with its own tariffs on U.S. products.
The world's two biggest economies are clashing over U.S. allegations that China deploys predatory tactics – including outright cybertheft – to acquire technology from U.S. companies and challenge American technological dominance.
Trump warns
Canada of
'devastating'
auto tariffs
as NAFTA
talks resume
September 9, 2018
The Canadian Press
WASHINGTON — President Donald Trump says he does not want to hurt Canada's economy but also warns that if he imposes taxes on cars it would be "devastating" for the neighbouring country.
Speaking to reporters Friday on Air Force Once, he said: "I don't want to do anything bad to Canada. I can — all I have to do is tax cars — it would be devastating."
He also said he wants to make a "fair deal" with Canada.
Trump spoke while Canadian Foreign Minister Chrystia Freeland was meeting in Washington with U.S. Trade Representative Robert Lighthizer.
The bilateral meetings picked up after Freeland's late night, 20-minute meeting Lighthizer on Thursday.
Freeland called that meeting constructive along with an earlier two-hour session with Lighthizer at his office near the White House.
Freeland offered few details, sticking to her mantra of not wanting to negotiate in public _ an agreement struck with Lighthizer as an act of good faith.
The two sides still have to resolve differences on three key issues: dairy, culture and the Chapter 19 dispute resolution mechanism.
Canada and the U.S. are trying to agree on a text that could be submitted to the U.S. Congress by month's end in order to join the deal the Trump administration signed with Mexico last week.
"It was important to discuss a couple of issues face-to-face," Freeland said Thursday night without elaborating.
The hope is for a trilateral agreement in principle that Congress can approve before Mexico's new president takes office on Dec. 1.
Trump is threatening to move ahead on a deal that excludes Canada, but he also needs a win on trade ahead of midterm elections in November that will test his ability to keep control of Congress.
"We do love Canada," Trump told supporters at a rally in Billings, Montana on Thursday night.
"They've treated us pretty badly in trade for the last 40 years, but that's OK, it wasn't my fault. We're going to make a fair deal with Canada, just like we did with Mexico."
Trump reiterated his desire to rename the 24-year-old continental trade deal after his "historic announcement" with Mexico.
"We're replacing NAFTA with a beautiful new brand, because it's a much different deal. It will be called the U.S.-Mexico trade deal," he said to partisan applause.
Trump said he thinks Canada will join the deal. But if it doesn't, the U.S. can live with that.
Last week, the U.S. and Mexico reached a preliminary agreement to replace the 24-year-old North American Free Trade Agreement. But those talks excluded Canada, the third NAFTA country.
Ford recalls 340K trucks
in Canada over seat belts
that can cause fires
By Tom Krisher
The Associated Press
Sept 8, 2018
DETROIT – Under pressure from U.S. safety regulators, Ford is recalling about 2 million F-150 pickup trucks in North America because the seat belts can spark and cause fires. Approximately 340,000 of the trucks are in Canada.
The recall, which covers trucks from the 2015 through 2018 model years, comes about one month after the National Highway Traffic Safety Administration began investigating fires in the pickups, which are the top-selling vehicles in the United States.
Ford said Thursday that it has 23 reports of smoke or fire in U.S. and Canadian trucks, but it's not aware of any injuries. NHTSA began investigating in early August after getting five fire reports, including three reports that trucks were destroyed.
According to Ford, seat belt pretensioners can generate excessive sparks when they tighten before a crash. That can ignite gases inside a support pillar between the front and rear seats, causing insulation and carpet to catch fire. The Regular Cab and SuperCrew Cab trucks were built between March 12, 2014 and Aug. 23, 2018, according to documents posted Thursday by NHTSA.
The seat belt pretensioners were made by ZF-TRW and now-defunct air bag and seat belt maker Takata, which was purchased by Joyson, another auto parts supplier.
Dealers will remove insulation and install heat-resistant tape to repair the trucks. They also will remove remnants of wiring tape and modify interior panels in Regular Cab trucks. Owners will be notified starting Sept. 24.
In one of the complaints filed with the U.S. government, an owner in Grand Rapids, Michigan, told NHTSA that on July 7, a deer ran into the driver's side of a pickup, causing minor damage. The side air bags inflated, and after five to 10 minutes, a passenger noticed a fire on the bottom of the post between the front and rear doors where the seat belts are located. "The truck went up in complete flames in a matter of minutes and is a complete loss," the owner wrote.
People who file complaints are not identified in the NHTSA database.
Ford said in a filing Thursday with U.S. securities regulators that the recall will cost about $140 million and will be counted in third-quarter results.
The company maintained its full-year adjusted earnings-per-share guidance of $1.30 to $1.50.
New Ford watch
costs $461,500
...sort of
By Gary Gastelu
Fox News
September 6, 2018
There's a new Ford watch that costs $461,500. But it comes with a car. Well, it's really the other way around.
It's a special edition chronograph made by Autodromo that's only available to owners of the $450,000 Ford GT supercar and lists at $11,500.
The watch is assembled in the USA using Swiss movement, and features a knob and buttons styled after the switchgear in the mid-engine coupe. Buyers can pick the colors of the face, stripes and bezel to match those on their vehicle. It's delivered in a carbon fiber box and comes with an aluminum case engraved with the car's chassis number.
Ford plans to make only about 1,000 GTs through 2020, and Ford Performance Marketing Manager Jim Owens doesn't expect that every owner will buy a watch to go with it, so matching pairs may become hot tickets on the auction circuit, where GTs have already been sold for as much as $1.8 million.
Too rich for your blood? There's also a fan version for $695, but anyone can buy one of those.
Well, anyone with a spare $695 who thinks watches are still a thing.
Sales of SUVs,
trucks continued
domination in August

Ian Thibodeau,
The Detroit News
Sept 5, 2018
U.S. consumers continued to buy everything but sedans in August — and analysts said that could mean automakers get more competitive with the pricing of their SUVs and trucks.
The industry saw sales rise compared to the same month a year ago driven in large part by a SUV, truck and crossover frenzy, and the fact that Hurricane Harvey took a bite out of last year's August sales figures.
Subaru of America posted its best-ever sales month in company history. The automaker has posted 81 consecutive months of month-over-month sales gains.
The shift away from cars also drove monthly sales increases of 4.2 percent at Ford Motor Co., 10 percent at Fiat Chrysler Automobiles and 1.3 percent at American Honda.
But General Motors Co.'s total sales were down 13 percent for the month, according to sales figures obtained by The Detroit News.
GM earlier this year stopped publicly reporting monthly sales figures, opting to report sales each quarter to provide what the company said was a better look at its performance. A spokesman for the automaker declined to comment Tuesday.
Toyota Motor North America posted a 2 percent sales decrease when compared to August a year ago, when Hurricane Harvey took a bite out of selling days in the southern U.S.
"Initial results imply a continued shift from passenger cars — mid-size sedans in particular — toward light trucks," Stephanie Brinley, analyst with IHS Markit, said in a note. "The shift in market preferences has already occurred, and declines now are often a function of inventory and slowing incentives. Automakers have and continue to adjust production of sedans to meet lower demand, and incentives on them have been slowing. Under these circumstances, the declines in passenger car sales are also less disruptive for automakers with flexible manufacturing capability and popular light-truck products."
Analysts also expect incentive spending to increase as automakers try to attract consumers to SUVs as the market continues to plateau, and average transaction prices climb. As the market floods with SUV models — and the Detroit Three enter the throes of the pickup wars — analysts expect the industry will be able to discount vehicles to move more product.
"Average transaction prices are up for the industry, as most manufacturers reported gains from the sales mix continuing to shift from cars to SUVs," Tim Fleming, analyst for Kelley Blue Book, said in a statement. "Moving forward, the industry could see further discounts and incentives in these utility segments, as automakers continue to focus their attention on placing their products at the top of consumers' consideration lists."
Ford brand sales were up 4.2 percent in August due in part to strong fleet sales. Lincoln brand sales were up 2.7 percent. Total Ford sales were down 1.2 percent through the first eight months of the year.
The automaker saw car sales plummet 21.3 percent in August compared to the same month a year ago. SUVs were up 20.1 percent, and trucks were up 5.7 percent.
FCA sales rose 10 percent in August compared to a year ago on the backs of the Jeep and Ram brands.
"Our August results highlight how the all-new Ram light-duty is coming into its own," said Reid Bigland, head of U.S. sales, in a statement. "Ram light-duty total sales rose 55 percent to 36,798 vehicles for the month."
The automaker sold 87,502 Jeep vehicles in August, with Wrangler setting a new record. Ram brand sales rose 27 percent as the automaker introduces its all-new Ram 1500 to the market. Chrysler and Dodge brands slid 3 percent and 18 percent, respectively.
Toyota reported its August sales were down 2 percent compared to the same month a year ago in the U.S. Its Toyota and Lexus brands posted combined sales of 223,055 units.
Toyota's Corolla sales were down 5.4 percent in August and 7.8 percent for the year. Its total car division slid 9 percent through the first eight months of the year. Toyota SUVs were up 11.7 percent through August; trucks were up 16.7 percent, with the Tacoma midsize trucks seeing 25 percent growth through August.
Honda car sales slid 15.3 percent, while its truck sales grew 18.9 percent. The Accord, Honda's bread-and-butter vehicle, is down 14.1 percent through the first eight months of the year.
Automakers are facing a sales plateau after consecutive years of record sales figures. The companies are also contending with dwindling U.S. interest in sedans and compact cars and a glut of used vehicles coming back to dealers, who most analysis companies say will sell the vehicles at a bargain.
U.S. consumers are also becoming less keen on buying a new vehicle, according to Ford's analysis of the marketplace.
Ford sales chief Mark LaNeve said Tuesday that Ford will push to launch competitive product in the new year. The Dearborn automaker is currently working with the oldest average vehicle age among the Detroit Three.
"There's really good competition," he said Tuesday. "You've got to have great product...We've got to continue to run our (product) plan."
Ford plans to cut sedans completely out of its product line up within the next few years and replace those models with new crossovers. The Focus Active was expected to arrive in the U.S. by late 2019, but the automaker cancelled plans to launch that vehicle in the U.S.
The automaker plans to have nearly 90 percent of its sales volume in the U.S. to be trucks, SUVs or commercial vehicles by 2020.
J.D. Power and LMC Automotive expected incentive spending to fall overall on top of the sales increase as automakers reduce spending on sedans and small cars. As consumers continue a transition into trucks and SUVs, average transaction prices are also expected to rise to $31,836, up nearly $600 compared to a year ago.
"The auto industry still faces a prolonged and elevated level of trade risk, but overall sales are holding steady," said Jeff Schuster, Americas operations an global vehicles forecasts at LMC. "We no longer expect fleet sales to be ratcheted back in the second half, but we do see stronger competitive pressure on the volume brands fighting for share. The result is a total light-vehicle market that we expect to eek out a very slight increase — 0.1 percent — 2017."
'Game-changer':
Labour groups claim
clout in NAFTA talks
Union leaders say they have had
unprecedented involvement in
trade renegotiation process
Kathleen Harris
CBC News
Sept 3, 2018
This Labour Day, union groups are marking what they see as a milestone in their movement — new clout in the NAFTA talks that have unfolded over the last year.
While much has been said about the declining power of unions, labour groups say they're playing a crucial, unprecedented role in the negotiations.
The Liberal government has brought in union leaders, as well as various industry sector stakeholders, to hear broad perspectives on how best to improve the 25-year-old trade pact.
"I can't think of any trade agreement, ever, where labour has played any sort of an active role," said Jerry Dias, national president of Unifor, Canada's largest private sector union which represents the autoworkers. "NAFTA has been a game-changer for the labour movement and how working class people are treated as it relates to trade."
After talks broke off in Washington Friday, Prime Minister Justin Trudeau worked the phones Saturday. Along with calls to former prime minister Brian Mulroney, Trudeau reached out to two of Canada's most powerful union leaders -- Dias and Hassan Yussuff, president of the Canadian Labour Congress.
Trudeau thanked them for their input and offered a status report on talks.
"They're not going to fold. They're not going to carve a bad deal just to appease the Trump administration," Dias said of the conversation.
Dias said the key sticking points — cultural identity, a dispute mechanism and supply management — are significant and he doesn't expect a quick resolution.
Political clout
After unions played a role in ousting the Harper government in 2015, Dias said the Liberal government appears to understand the influence of the labour movement in politics.
"I think they understand that labour is not just a nuisance; that we actually have a voice, we represent millions of people and we're going to play a big role in the politics of the country," he said. "They have a choice. They can exclude us and then we will exclude them, or they can include us."
Adam Austen, spokesperson for Foreign Affairs Minister Chrystia Freeland, said the government values the input of labour groups "immensely" and has consulted them throughout the negotiations.
"Labour unions have played a critical role throughout this negotiation and were crucial in helping shape the Canadian negotiating position, in particular on rules of origin for the auto sector and the deal's labour provisions, both of which have been strengthened, in part due to Canadian ideas," Austen wrote in an email.
Role in shaping Canada's positions
While not directly at the table, union leaders have routinely met with the NAFTA negotiators, have been briefed on developments, and have made trips to Washington during the sessions.
Yussuff, who is on the minister's NAFTA Council, said time will tell how influential their input has been on the final NAFTA deal. But he said for the first time, unions have had a real role in shaping Canada's bargaining positions.
"It's been unique in the sense that we've been able to have some access to learn what's been going on at a relatively early period and more importantly, to remind the government to take care and protect the key sectors that are all driving this economy ... that are going to protect our members' jobs in the long-term."
Trade lawyer Mark Warner said, while the government kept the union leaders abreast of developments through briefings, he's not convinced they had tangible impact on the talks.
"In a concrete sense, has that affected the negotiating positions of the government? I'm not that sure I've seen evidence of that to be honest," he said.
'Progressive' trade agenda
To create distance from the previous Conservatives, the Trudeau government has promised a "progressive" trade agenda to try to incorporate gender equality, environmental protection, Indigenous rights and labour standards into trade agreements.
It's not known what progressive issues will be in, or out of, an updated NAFTA, but new Trade Diversification Minister Jim Carr's mandate letter does not mention advancing a progressive trade agenda.
NAFTA talks will resume in Washington Wednesday, after Donald Trump again threatened over Twitter to shut Canada out of the deal and warned Congress to butt out of negotiations with Canada.
Trump tweeted that "there is no political necessity to keep Canada in the new NAFTA deal."
Andrew Leslie, the parliamentary secretary to the foreign affairs minister, shrugged that off as rhetoric as talks go down to the wire.
"These negotiations have been taking place over the past year," he said in an interview with CBC News Network. "Literally multiple hundreds of issues have been resolved. It's the last three to four and we always expected things to have a certain amount of drama and excitement the closer we got to the finish line."
Is there even such a
thing as a 'Made in
America' vehicle
anymore?
The bestselling non-truck in America is made in Canada and has Mexican parts
Peter Armstrong
CBC News
August 31, 2018
One of the most popular vehicles in the United States is a perfect example of why it would be so hard and so destructive to impose tariffs on Canadian-made cars in the name of protecting American ones.
The Toyota RAV4 — the bestselling non-truck in America — is made in Woodstock, Ont. In fact, 247,633 of them were made there last year. The process to build each one is an intricate dance of manufacturers and suppliers in multiple countries, with hundreds of trucks a day crossing borders back and forth between Canada, the United States and Mexico to deliver parts.
The engines are shipped from West Virginia and Alabama.
The transmissions are made by a supplier in North Carolina.
The seats are built in Elmira in southwestern Ontario. But that supplier brings in wire harnesses from Mexico and metal brackets from Kentucky.
The sunroof and door frames are made in Stratford, Ont., with parts coming from all over North America.
There are more than 300 trucks a day pouring into the Woodstock plant, criss-crossing borders and making sure the operation has the parts it needs.
"From Woodstock, there's a truck going to Michigan every single hour of every day to pick up parts," says Ray Tanguay, former CEO and president of Toyota Motor Manufacturing Canada. And there are other trucks going to various suppliers across the continent.
The Woodstock plant operates under a "just in time" delivery process. That means there's no warehouse to store parts. All those trucks bring all those parts by the hour. They're unloaded and funnelled into the manufacturing process immediately.
"Just in time means we are very dependent on suppliers' reliability and quality," says Tanguay, who most recently served as an adviser on the auto industry to the federal and Ontario governments.
But it also means the entire process is dependent on trade agreements, border crossings and duty agreements.
It's also dependent on the absence of paperwork.
"When the auto pact was signed in 1965 they set it up as a paperless system," says Dennis DesRosiers, president of DesRosiers Automotive Consultants Inc.
So all those shipments move without someone in every factory needing to fill out one more form. There's one less person at the border checking that paperwork and one less employee at each manufacturing plant making sure the papers are in order.
"The typical automobile has between 5,000 and 8,000 individual components," DesRosiers says. "As we put them together these components cross the border multiple times," he says.
Tariffs would add to the cost of any vehicle. But they aren't the only added cost — DesRosiers says the additional paperwork involved in any new system of tariffs or duties would add an additional $1,000 to $2,000 per vehicle.
He says the automotive industry has spent years making the system ever more efficient. Just in time delivery, which began with plants like the one where RAV4s are made in Woodstock, has meant savings spread across the entire system.
"It essentially took tens of billions of dollars of costs out of the system in making vehicles and almost all of that [saving] has been passed onto the consumer," DesRosiers says.
The fear is now that a broader "Made in America" sentiment is trying to change that system. Some Americans (not only their president) want to see more cars made in the U.S. with more American-made parts in them.
"Real globalization of the industry has created tremendous efficiency. And they're asking us to undo some of that efficiency in order to meet higher standards of content in North America," says Kristin Dziczek, vice-president at the U.S.-based Centre for Automotive Research.
The problem with that, she says, is that it's become increasingly difficult to determine what Made in America even means.
She points to the American Automobile Labeling Act. Even it, the only public source of content data in the U.S., counts both American and Canadian manufacturing as "domestic."
"There is no way to tell what an American car is" she says. "Or how American your car is on any public data source available to consumers."
So, consumers can't tell where their vehicles are really made. The auto industry has spent decades making these intricate and complex supply chains more efficient. That's saved billions of dollars — savings that have been passed onto the consumer. (DesRosiers says the average cost of a car, adjusted for inflation, is about the same as it was 15 years ago.)
Undoing or even complicating that process will rattle an entire industry and add thousands of dollars to the cost of a vehicle.
Which is why DesRosiers can't understand why the Trump administration would even consider going down that path.
"You'd need an absolute idiot in Washington to do that," he says.
"Even a Grade 12 economics student could figure out this is the absolute worst thing to do for both countries."
Retiree Norm Colville
Passes Away
August 26, 2018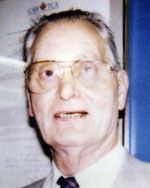 Norm Colville
Retired Oct 1, 1993
21 Years Service
Visitation - Thursday August 30, 2018 - 4-8 pm

Celebration of Life – Friday August 31, 2018 at 1 pm
Brampton Memorial Gardens
10061 Chinguacousy Road
Brampton, ON L7A 0H6
(905) 840-3400
COLVILLE, Norman Passed peacefully with his family by his side on Sunday, August 26, 2018 in his 90th year. He was predeceased by his cherished wife of 57 years, Elizabeth (nee Armstrong). He will be sadly missed by his loving family. Father to son Jim and daughter Lynne (Gordon) White and proud Grandpa to Kathleen and Matthew. Lovingly remembered by his sister Maureen (John) McKinnon and many nieces and nephews in Northern Ireland and Canada. Norman was a kind and generous man, who was "always thinking." Relatives and friends will be received for a Visitation at the Brampton Funeral Home and Cemetery, 10061 Chinguacousy Rd., Brampton, on Thursday, August 30, 2018 from 4-8 p.m. A Celebration of Norman's life will take place at the Brampton Funeral Home on Friday, August 31, 2018 at 1 p.m. Reception to follow. Friends are invited to sign an online book of condolences at www.bramptonmemorial.com
Moody's hands Ford lowest
investment rating

Ian Thibodeau,
The Detroit News
August 30, 2018
Moody's Investors Service downgraded Ford Motor Co. to its lowest investment grade rating Wednesday, calling the company's outlook "negative."
The ratings agency said the downgrade comes amid "the erosion in the company's global business position and the challenges it will face implementing its Fitness Redesign program." The new Baa3 rating, considered a risky investment, is one grade above Moody's rating for junk bonds.
Ford CEO Jim Hackett and his executive team expect to lead a $25 billion global restructuring plan over the next few years. Moody's said in a statement that the restructuring, coupled with "softening" North American margins, languishing earnings in China, and losses in South America and Europe have "contributed to the erosion in Ford's key credit metrics between 2016 and the twelve months ending June 2018."
The ratings agency said the restructuring should take aggressive actions — like the company's decision to ax all its sedan models — and happen while Ford posts strong North American profits and has strong liquidity. But it will take several years for benefits of a restructuring to materialize, Moody's said.
The company will also be spending money to restructure while it invests in autonomy, electrification and mobility ventures, next-generation technology that often referred to as Auto 2.0.
"Ford's negative outlook recognizes the significant challenges of effectively executing the full scope of the Fitness program, and the extended time period over which material benefits might be achieved," Moody's wrote in a note. "In addition, the considerable financial and managerial resources devoted to the Fitness program will reduce Ford's ability to contend with any unexpected cyclical downturn."
Ford spokesman Brad Carroll said in a statement that the company has delivered strong financial results for nearly a decade, and has a strong balance sheet that provides financial flexibility.
"We know we can capitalize on our strengths, bolster under-performing products and regions and disposition where we cannot make an appropriate return," Carroll said. "We're confident that as we do, the market will recognize our progress."
Moody's said Ford's rating could be further downgraded if the company does not show progress in "pursuing the Fitness initiatives" by early to mid-2019, or if the company fails to address losses in its major regions around the world.
The chances for an upgrade of Ford's ratings through 2020 are "very modest," Moody's wrote. That could be possible if the company successfully executes Hackett's vision, which would require hitting a 10 percent earnings margin in North America, and becoming competitive again in China.
Canada, U.S. see common
ground on autos as three-way
NAFTA talks resume
Tuesday, August 29, 2018
The Canadian Press
WASHINGTON — Canada and the U.S. agreed Tuesday that one of NAFTA's most significant hurdles — defining the content rules of North American autos — may have been resolved by Monday's side deal between the Trump administration and Mexico.
The White House is calling on Canada to endorse what President Donald Trump has described as the North America Free Trade Agreement's replacement, by the end of the week. Trump has already rebranded it the "United States-Mexico trade agreement."
Top members of Canada's negotiating team made an abrupt return Tuesday to NAFTA talks in Washington, where they face stiff pressure from Trump to join the deal his administration struck earlier in the week with Mexico.
Foreign Affairs Minister Chrystia Freeland, who cut short a week-long diplomatic trip to Europe to travel to Washington, met Tuesday with U.S. Trade Representative Robert Lighthizer. It was her first in-person NAFTA meeting with Lighthizer since the spring.
'POSITIONS HAVE MOVED'
After their one-hour meeting, Freeland told reporters that over the coming days, the negotiating teams would search for new areas of compromise — but she declined to answer direct questions on what could be on the table for Canada.
"Some positions have moved since the last time we met face to face and we'll be looking closely at what those changes are and what they mean for Canada," said Freeland, who credited Mexico for making "tough decisions" to compromise on labour as part of its auto rules of origin talks with the United States.
The United States and Mexico agreed workers earning at least US$16 an hour should make 40 per cent to 45 per cent of autos. They also agreed that 75 per cent of automobile content would come from within North America, an increase from the current 62.5 per cent.
"The fact that that agreement, on those difficult issues for Mexico, was able to be reached definitely clears the way to have significant, substantive and, I hope, productive conversations with the U.S. this week," said Freeland, who called it the autos deal a positive for high-wage countries like Canada and the United States.
All sides, she added, agreed to delve deeply into specific issues Wednesday.
Earlier in the day, both Larry Kudlow, the director of Trump's National Economic Council, and U.S. Commerce Secretary Wilbur Ross turned up the heat on Canada's negotiators during televised interviews.
Serious differences remain on other issues, including the dairy sector, how to settle disputes and a U.S. proposal for a sunset clause.
But Ross also told the Fox Business Network program "Mornings With Maria" that the American and Mexican progress on autos would be palatable to Canada.
'POSITIVE PROGRESS'
Prime Minister Justin Trudeau signalled agreement.
"There's been some very positive progress particularly on autos and we're glad to be engaging as we have been," he told reporters Tuesday in Longueuil, Que.
Trump himself has threatened automotive tariffs that would cause considerable damage to both economies if Canada declines to join the U.S.-Mexico deal.
He also warned he would terminate the 24-year-old NAFTA, a treaty between Canada, the U.S. and Mexico that has been economically significant for the continent.
For the last five weeks, Ottawa has watched from afar as Canada's two continental partners moved forward with one-on-one trade talks of their own.
"We have been encouraged by the progress made by our NAFTA partners over the past weeks," Trudeau said.
"This was an important step to moving forward on renegotiating and improving NAFTA."
The United States and Mexico also agreed on issues such as intellectual property, digital trade, labour, financial services and Mexico's de minimis threshold for duty-free online sales that cross borders.
In addition, the new deal would expire after 16 years with reviews every six years, a senior U.S. administration official said Monday during a briefing. Canada had rejected an earlier U.S. proposal that NAFTA 2.0 be renegotiated — or sunsetted, in trade lingo — every five years.
Trudeau sidestepped a question about the new version of the sunset clause in the U.S.-Mexico deal.
NAFTA A 'RIP OFF,' SAYS TRUMP
Trump, who has called NAFTA a "rip off" for the U.S., called Monday's announcement a big win.
He then delivered his ultimatum to Canada.
"One way or the other, we have a deal with Canada," Trump said from the Oval Office, where he was joined on a speaker phone by Mexican President Enrique Pena Nieto.
"It will either be a tariff on cars, or it will be a negotiated deal; and frankly a tariff on cars is a much easier way to go, but perhaps the other would be much better for Canada."
For Trump, striking a new trade deal with Mexico — and possibly Canada — would be welcomed as a political win for Republicans ahead of the crucial U.S. midterm elections this fall.
Mexico would like to seal a new trade agreement before the incoming government of president-elect Andres Manuel Lopez Obrador takes office Dec. 1.


New Ford management teams
to focus on customer needs

Ian Thibodeau,
The Detroit News
August 28, 2018
Ford Motor Co. will now have a series of product management teams focused on planning, developing, marketing and selling vehicles that better meet consumers' needs, the company said Monday.
The new Enterprise Product Line Management segment of the company will house 10 teams responsible for specific categories of Ford vehicles, like "urban utilities," rather than entire segments, like all of Ford SUVs. It's part of an effort to boost profitability and build more franchise-worthy vehicles.
The new teams are the latest structural shift under CEO Jim Hackett. A former director of Ford, he took over as CEO in May 2017 and is under increasing pressure to demonstrate for shareholders his plan to improve the automaker's operational "fitness" around the world.
Jim Farley, Ford president of global markets, and other Blue Oval executives have since the 2018 Detroit auto show said that Ford's strengths lie in its F-150 and Mustang brands. Those vehicles elicit passion from buyers, and claim the most consumer loyalty. Farley said at an early August event celebrating the 10-millionth Mustang that the pony car represents Ford at its best.
"Our most successful products are the ones that go just beyond a functional requirement," Farley said then. "The Mustang swagger is something we're going to bring to all our crossovers and utilities."
The shift comes less than two weeks after Hau Thai-Tang, Ford's executive vice president of product development and purchasing, said the company would increase the number of vehicles in its lineup to 23 by 2023, despite plans to cut sedans from the North American product portfolio completely.
Both Farley and Thai-Tang have said that as Ford ditches sedans, the company hopes to garner the same sort of brand loyalty seen in Mustang customers in other product lines.
Dedicating teams directly responsible for specific product categories is a move to generate new growth in the company.
"Our most successful franchises — from F-150 to Mustang to Transit — are anchored in an obsession for the customer, deep product expertise and an unyielding commitment to strong returns," Farley said in a statement. "By taking this approach, we can raise the bar across our product lines. Each team will have clear accountability for winning in the marketplace and delivering profitable growth."
The new product line management segment reports to Farley. It's led by Ford veteran Jim Baumbick, who also becomes a company officer. Baumbick, 47, was previously executive director of global product planning and strategy, where he led development of the company's new flexible vehicle architectures.
Baumbick will oversee 10 teams. Their areas of focus are: F-Series, urban utilities, rugged utilities, family utilities, performance vehicles, commercial vehicles, electric vehicles, compact trucks, luxury vehicles, and emerging market vehicles.
The teams will manage those product lines as end-to-end businesses, working with designers, product development teams, marketing teams and global business units to build up Ford's portfolio, and bring vehicles to market faster and more efficiently, according to a company statement.
The new management teams will focus on meeting emerging demand, and drive revenue, sales and profits.
What may be the world's
most expensive Ford
Pinto sold for $33,000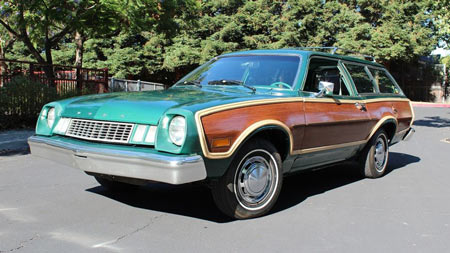 By Gary Gastelu
Fox News
August 27, 2018
An immaculate 1978 Ford Pinto Squire Wagon was auctioned Thursday night for an eye-popping $33,000.
The green, wood-sided wagon was sent across the block at the Mecum Monterey auction by collector Peter Escovedo, who has a penchant for unusual mundane American cars and purchased it himself about eight years ago.
The three-speed automatic model is an unrestored survivor with just over 15,000 miles on its odometer and its original plaid interior. Even among the multimillion dollar cars it was rubbing shoulders with at the auction, it was a standout.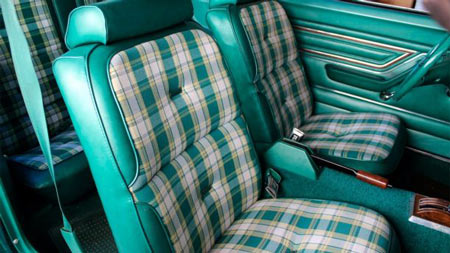 "I had a lot of car friends who knew the car well making wagers on what it would go for," Escovedo told Fox News after the sale.
"I knew it was a fantastic car and that someone would appreciate it enough to pay some coin for it," he said.
Escovedo said he was a little worried, because he was offering it with no reserve, but then it got a ton of attention at the event. The book value for a typical Pinto like it is just around $2,500, but there aren't many, if any, left that can compare.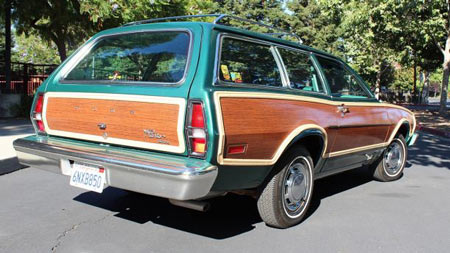 "It was exciting to pass on what is probably the world's most expensive Pinto," Escovedo said.
"No matter the price, I think the new owner got a great car and that's probably what he thought too."


The benefits to raising Ontario's
minimum wage are tangible
By David Olive
Toronto Star
Business Columnist
Aug. 26, 2018
Kevin Pierson has three Tim Hortons stores in west-end Toronto. Like many businesspeople in the food service and hospitality industry – one of the country's biggest concentrations of low-income workers – Pierson worried that the 21 per cent hike in Ontario's minimum wage to take effect Jan. 1 of this year would cut deeply into his profits, forcing him to lay off employees and reduce hours for those who remained.
But it hasn't turned out that way.
Pierson prefers that his real name be withheld, since Tim Hortons was the centre of a consumer backlash early this year when a few of its franchisees openly mused about cutting employee benefits, punishing them for a government policy they had no role in shaping.
For that matter, the 1.7 million Ontarians living in poverty appear powerless in influencing the policies of the new Ontario government led by Doug Ford.
In what could be described as a pro-poverty agenda, Ford is slashing in half the previous government's planned increase in welfare payments, shutting down Ontario's universal basic income project that held promise of becoming a world model and scrapping the planned further $1 an hour increase in the minimum wage, to $15, effective Jan. 1, 2019.
Increasing the minimum wage is one of the most effective means we have of assisting the economically disadvantaged. It puts a new, higher floor under all wages, including those earned by millions of Ontarians living just above the poverty line.
The benefits are tangible: higher household incomes; increased consumer spending; lower workplace turnover and absenteeism.
The few studies claiming to show job loss from minimum wage increases have been debunked.
A recent example is a discredited 2017 study "proving" job loss from Seattle's drive toward a $15 minimum wage. Actually, job creation has been strong in the Seattle region since 2011. "If this is what the nasty effects of aggressive minimum wage rises look like," Financial Times economics columnist Martin Sandbu wrote, "they are rather an encouragement to do more and more widely."
Pierson reports that 2018 is shaping up as one of his best years ever. A bit proudly, Pierson says: "There have been no layoffs. And every employee who has asked for more hours has got them, on merit."
Business is also booming at Recipe Unlimited Corp. (RUC). The former Cara Operations Ltd. is Canada's biggest casual-dining operator, with 1,272 restaurants including Swiss Chalet, Harvey's and The Keg Steakhouse chains.
RUC has reported stronger sales in Ontario than most other provinces since the $14 minimum wage went into effect.
Which only makes sense.
More than 10 per cent of Ontarians got a double-digit pay hike on Jan. 1 and promptly shovelled that money back into the economy. As we know from Economics 101, while the top 1 per cent of income earners don't even notice a tax-cut windfall, low-income Canadians spend additional funds immediately on deferred needs.
This is déjà vu. In 2016, the Trudeau government's child-benefit program was a significant injection of funds into low-income households.
The following year, Canada's economic growth outpaced that of all other G-7 economies, contrary to the forecasts of world economists.
What the economists missed is that the 4.7 million Canadians living in poverty, including 1.2 million children, are not tied down by the mortgage and car payments of an over-indebted middle class. They cannot afford to buy a house or vehicle. But they are significant spenders, on deferred essentials, especially for their children.
There is no convincing explanation for Canada's booming GDP in 2017 except that Ottawa injected a lot of cash directly into the households of economically disadvantaged Canadians. And they spent it, at Dollarama and also at Canadian Tire, Loblaws and Canada's Wonderland.
In one of the more embarrassing incidents in recent Canadian economic history, the 2017 consensus of economic forecasters was that Ontario would suffer major job loss from the $14 Ontario minimum wage that went into effect Jan. 1, 2018.
To cite only a handful of the alarmists, the Bank of Canada, TD Bank, National Bank Financial and the Financial Accountability Office (FAO), the Ontario government watchdog, all predicted that Ontario would lose between 50,000 and 140,000 jobs because of the new $14 minimum wage.
As it happens, though, Ontario has gained so many jobs since Jan. 1 that by August, the Ontario jobless rate had dropped to an 18-year low, of 5.4 per cent, second-lowest in the country after B.C.
Ontario's food service and hospitality sector, one of the industries most affected by the minimum-wage increase, has not shed jobs, as predicted. It has created 7,100 new jobs since January.
Meanwhile, labour shortages are becoming more acute. The "vacancy rate" of unfilled jobs at Ontario hospitals, for instance, has jumped from 1.9 per cent in 2015 to 2.8 per cent last year. That helps explain the scourge of wait times.
A higher minimum wage eases the challenge for recruiters in health care, another field with a preponderance of low-income workers. Better working conditions, including decent pay, expand the workforce by making jobs worthwhile and stabilize the workforce in an era of rampant job-hopping.
The Ford government claims that by eliminating income taxes on minimum-wage workers, as a sop for scrapping the $15 minimum wage, workers will benefit by about $800. But the great many low-income workers who earn too little to pay income taxes will receive nothing from that benefit.
Simply staying with the previous government's further $1 an hour increase in the minimum wage, to $15 an hour by Jan. 1, would yield an additional $1,100 or so a year for a minimum-wage worker, according to the Canadian Centre for Policy Alternatives (CCPA), a progressive think tank.
CBC News also ran the numbers during the Ontario election campaign. By its calculation, sticking with the $15 minimum – which Alberta will have in place in October – would increase a low-income worker's after-tax pay by $1,553. The Ford scheme would amount to just $859.
A $15 minimum wage does not get Canada to the healthiest workforce possible. The CCPA calculates that the "living wage" in Saint John, N.B. is $18.18 and hour and in Greater Vancouver is $20.91 an hour. That's why Alberta describes its $15 an hour minimum wage effective Oct. 1 as "a move toward a living wage for every Albertan."
Doug Ford is, of course, a small business person. There might be eight small businesspeople in the country who don't have a visceral dislike of minimum wages. And so, we have a Ford policy driven by ideology and not empirical facts.
"Ford Nation" is largely populated by low-income folks. On the minimum wage issue, the premier is set to betray that constituency with the gesture politics he is playing with their lives.
Ford recalls electric car
power cables due to fire risk
August 25, 2018
The Associated Press
Ford is recalling the charging cords for more than 50,000 plug-in hybrid and electric cars in North America — 1,327 of them in Canada — because they could cause fires in electrical outlets.
The company says the 120-volt cords came with certain 2012 through 2015 Focus electrics and some 2013 through 2015 Fusion Energi and C-Max Energi plug-in hybrids.
Ford says plugging the cords into outlets that aren't on a dedicated circuit or are on damaged, worn or corroded circuits could cause wall outlets to overheat.
The company says it has reports of four fires involving C-Max cords, but no injuries. In three of the fires, owners used extension cords, which Ford says it tells owners not to do. In the fourth fire, Ford says the cause was inconclusive but it does not believe the blaze was related to the cord.
Dealers will replace the cords with ones that can sense high temperatures and shut off charging if necessary. Owners will be notified by letters starting next week.
Ford says owners can keep using the original cords but should follow owners-manual instructions that spell out requirements for wall outlets.
Ford unbridles 50th-anniversary
Mustang Cobra Jet dragster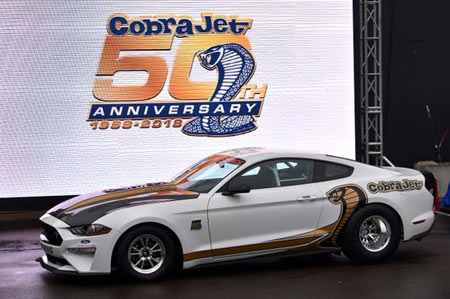 Henry Payne,
The Detroit News
August 22, 2018
Royal Oak – Woodward Dream Cruisers like to flex American muscle, and Ford on Thursday showed off its latest hard-body — the $130,000 limited-production Cobra Jet, the most powerful NHRA Mustang drag racer ever.
Celebrating the 50th anniversary of the first Cobra Jet at the 1968 National Hot Rod Association Winternationals, Ford says its latest earth-pawing steed will break the tape in the quarter-mile in the mid-eight-second range at about 150 mph.
While the 565-horsepower Cobra Jet shares a chassis with the current sixth-generation Mustang, it comes equipped with significant modifications including a solid rear axle, three-speed racing transmission, huge hood bulge housing a supercharged V-8, skinny front tires and 9-inch rear slicks to put down the power.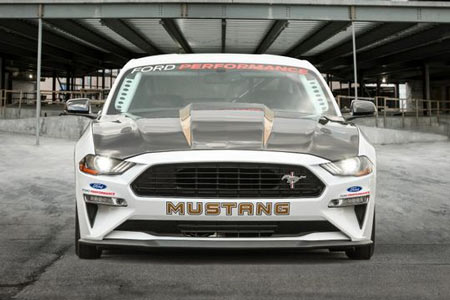 A stripped-down interior helps shed pounds. Out back, a wheelie bar and drag chute immediately identify the Mustang as a dragster.
Missing are the Mustang's signature quad-tailpipes. The Jet's exhaust simply stops at the headers underneath the cockpit, creating a deafening roar.
The Cobra Jet will do battle against the similarly equipped Chevy Camaro COPO and Dodge Challenger Drag Pack at quarter-mile Midwest drag strips like Norwalk in Ohio as well as the legendary Pomona, California strip. The Detroit Three brands dominate NHRA drag racing.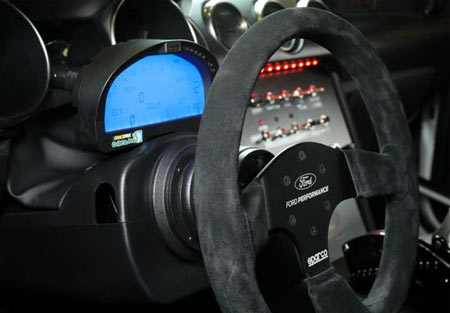 Unlike the street-legal dragsters that burned up Woodward Avenue in Pontiac last Saturday to open Cruise week, Stock class dragsters like the Cobra Jet do not come with VIN numbers and are not street legal.
Like the Camaro COPO, which limits production to 69 dragsters every year in honor of its 1969 debut, Ford will only build 68 Cobra Jets.
With the resurgence of Detroit muscle cars in the early 21st century, the Detroit Three have resuscitated dragster variants that were staples of the late '60s and early '70s.
"This is the fastest Cobra Jet ever. There's a lot that's new on this car," said Cobra Jet engineering manager Dave Born at Ford's Royal Oak Dream Cruise stand on Woodward next to the Oxford White beast with a Cobra graphic snaking up around the rear wheels.
Rules require that NHRA dragsters use a production-based motor. So Ford stuffs a 5.2-liter variation of its Coyote V-8 that is significantly downsized from the original, 1968 car's 7-liter ground-pounder. A 3.0-liter Whipple Supercharger helps the new car pump out 565 ponies compared to the '68's 335.
Buyers will take Ford's turn-key dragster and race it in NHRA's Stock class.
Pro teams like Watson Racing will heavily modify the Jet for NHRA's wild Factory Stock Showdown class and generate upwards of 1,000 horsepower. This May, Chuck Watson, Sr. crossed the tape in just 8.07 seconds at over 174 mph.
Mustang Cobra Jets and Camaro COPOs have dominated NHRA racing, but Dodge have come on strong recently with Illinois racer Geoff Turk becoming the first Factory Stocker to break the mythical 8-second barrier this spring with a 7.99-second shot in his Drag Pak.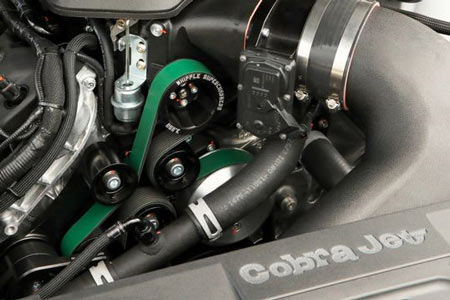 While no Stock dragsters ran down the Woodward Avenue drag strip last weekend, one of the sport's biggest names — Leah Pritchett, who races a Drag Pak in Factory Stock — was there driving her other NHRA dragster, a 11,000-horse Top Fuel slingshot.
The new Mustang Cobra Jet can be ordered from Ford dealerships in either Race Red or Oxford White. Teams can outfit the new car with exclusive 50th-anniversary graphics and badging. Customers can order now at an MSRP of $130,000.
"From the very first Mustang Cobra Jets dominating the 1968 NHRA Winternationals to our modern-day racers, the Ford Performance Parts team continues to build on Cobra Jet's success at the track over five decades," said Ford Performance Parts chief Eric Cin. "This has inspired generations of Mustang fans to create their own performance machines for the street."

After its debut at Mustang Alley here, the 50th-anniversary Mustang Cobra Jet will travel to Norwalk for a sort of Ford drag-racers' Dream Cruise – the 50th Anniversary Ford Performance Cobra Jet Reunion at Summit Motorsports Park. A record 150-plus vehicles dating back to '68 are expected to attend.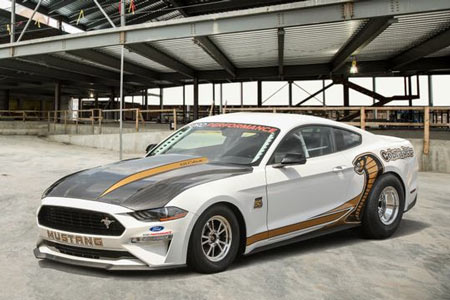 Canadian travellers should
welcome unionization at WestJet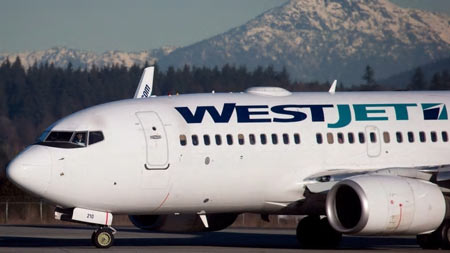 We need airline workers to feel that they can speak out about safety issues without fear of losing their jobs
Joan Sangster,
Julia Smith
CBC News
August 21, 2018
Unionization at WestJet is coming. Flight dispatchers have signed union cards, quick on the heels of the positive union vote by the airline's 3,000 cabin crew employees last month, as well as pilots last year.
After decades with a non-union workforce, the shift at WestJet is a major milestone. It also suggests that the organizing environment in Canada may be less hostile than in the United States, where recent Supreme Court and administrative decisions signal a national shift away from trade union protections.
It also fits with our history: Canadian airline employee unions date back to the 1930s, and from the beginning they fought not only for improved wages and working conditions, but also for better safety standards in the sky. Unionization is thus a win-win for Canadian consumers and workers.
Speaking out about safety concerns
We don't like to think about air travel as dangerous, but it obviously can be, especially when something goes wrong. Airline employees play a crucial role in ensuring that air travel remains safe for everyone: from ensuring that planes are fit to fly and are properly staffed, to piloting them safely to their destination and evacuating passengers in the event of an emergency. We need airline workers to feel that they can speak out about safety issues without fear of losing their jobs. Unions help ensure that they can.
In the 1930s, pilots in Canada and the U.S. formed the Air Line Pilots Association (ALPA) to help them fight back against "pilot pushing," which was basically airlines pressuring pilots to fly regardless of the conditions. Flight attendants in both countries bargained for mandatory rest periods between shifts and scheduling that did not push women and men beyond their limits.
By the 1960s, the Canadian Air Line Flight Attendants Association was routinely lobbying the federal government to enact better safety training standards. The airlines offered female cabin crew members make-up lessons, but workers knew they really needed safety lessons.
In the years since, airline employee unions in Canada have continued to lobby for improved air travel safety. Flight attendant unions have repeatedly pushed back against company and government attempts to reduce the number of crew members required on flights. In 2017, ALPA spoke out against planned changes to the maximum hours that pilots can fly without a break, drawing attention to the dangers of pilot fatigue. The chair of the Air Transportation Association of Canada, however, spoke against decreasing the number of hours pilots can fly without a break, arguing that the change would increase costs for airlines.
Then there are issues of dismissal. In the 1980s, Air Canada fired a flight attendant for several minor infractions, including eating in view of passengers and wearing muddy shoes. The attendant's union questioned whether the dismissal was warranted, pointing out that he had saved a passenger's life when she choked on a sandwich mid-flight. But the airline and the arbitrator overseeing the case were unmoved. As passengers we wonder: would we rather have a flight attendant who could save us from a sandwich lodged in our throats, or one careless enough to eat in front of us?
Low-cost competitors
It is not surprising that WestJet workers have chosen to unionize now, as the company continues its expansion. After operating for 20 years as the hip and fun low-cost alternative to the stodgy-seeming (and highly unionized) Air Canada, WestJet's once-novel operation has faced increased competition over the last several years from new, ultra-low cost airlines. In an effort to conquer new markets and increase profits, WestJet has added new international routes and launched its own budget airline.
It's also possible that the airline's lack of a seniority system (something that is commonplace at unionized airlines) may have lost its appeal for long-time employees, many of whom still have to bid for shifts against new employees. Pilots and flight attendants both cited seniority as a key issue in their union campaigns, so it will likely be one of the first things they try to address in negotiations with their employer.
Whatever the reasons, WestJet is on its way to becoming a fully unionized airline, something that all Canadian consumers should celebrate. A unionized workforce is an empowered workforce, and an empowered workforce is more likely to speak up about safety issues. Though some people will decry airline unionization over concerns that it will increase ticket prices, any potential increase is a small price to pay for the safety and security of passengers and workers.
Joan Sangster is a Vanier Professor at Trent University. Julia Smith is SSHRC Postdoctoral Fellow at Rutgers University.
Toolmakers caught
in tariff crossfire
Automotive News
August 20, 2018
A profit pinch point is developing for automakers and suppliers working on new vehicle platforms: the cost of the tools to build them.
Toolmakers are adding tariff costs to their prices, says Laurie Harbour, a consultant who works closely with the North American supplier and tool-and-die industries.
Harbour warns that a wave of higher-than-expected bills from tool shops will soon hit the auto industry. Toolmakers are dealing with higher prices for steel as a result of a new 25 per cent U.S. import tariff on the metal, as well as tariffs on specific Chinese-made automotive tooling.
Imported automotive injection molds have been hit with a tariff, and that is spinning uncertainty through the tooling industry, said Harbour, CEO of Harbour Results Inc. in suburban Detroit.
A major shift in automotive tool manufacturing has occurred over the past two decades with China emerging as a key source for North American manufacturers.
Further complicating the outlook is how the United States and Canada will resolve the North American Free Trade Agreement. Some 80 per cent of the auto industry's injection molds are traditionally produced in Canada — largely in Windsor. In some cases, Canadian tooling companies also now rely on Tier 2 content from China.
"Every tool out of Windsor will face an added tax," Harbour said. "It will change the equation on every part and every vehicle that relies on that tool.
"Adding 25 per cent to the price of an item can have a huge impact on its profit margin," Harbour said. "It's not clear who's going to absorb the added cost. If I'm a toolmaker, it might be all of the margin I had on the job."
Vehicle projects require large numbers of new tools. A single front fascia package might require the creation of 50 tools. A vehicle redesign could involve $200 million worth of tool orders.
Harbour said tool shops and suppliers are scrambling to understand how they will be affected by tariffs on molds, steel and aluminum. She said some of her clients have been asked by customers not to source the tools they now need for future vehicle programs from China. Some suppliers have even been asked to claw back tool orders they made with Chinese vendors, she said.
The new border scrutiny is requiring Canadian tool suppliers to provide certificates of origin to account for the content of their products. Harbour is advising clients to assign dedicated managers to track trade issues.
"On the positive side, this could be great news for U.S. tool producers," Harbour said. "We're already seeing some tool work leave China and come back to North America. I think you could see many customers deciding that it's just too risky to rely on imported tools, and just opt to make what they need here.
"But the trouble right now is the uncertainty," she said. "These programs move on a tight schedule. There's not much time for unknown factors."
Despite car cuts, Ford brand's
portfolio to grow by 3
nameplates by 2023
Automotive News
August 19, 2018
DETROIT — The Ford brand's U.S. lineup will grow to 23 nameplates — three more than today — in the next five years, despite plans to stop selling sedans in the region, a top company executive said Thursday.
The automaker's Canadian lineup mirrors that of the one in the United States, with slight differences among Transit wagons.
Ford Motor Co. product chief Hau Thai Tang said the brand would add nine nameplates — seven of which will be pickups and utilities — through 2023. They will fill holes left by eliminating the Fiesta, Taurus, Fusion, C-Max, Flex and all but a wagon version of the Focus, and expand the brand into several new segments, resulting in a net gain of three nameplates for the brand.
The product overhaul comes as Ford works to decrease its average showroom age from 5.7 years today to 3.3 by 2020. It hopes to have the freshest showroom in the industry by that time.
"It's like selling fish and vegetables," Thai-Tang said at a media event tied to this weekend's 2018 Woodward Dream Cruise in suburban Detroit. "The fresher it is, the better they do."
Ford executives have vowed to replace the sedans they're phasing out of North America with vehicles employing different body styles. The brand also is adding two off-road utilities in the coming years: the Bronco and a smaller off-road crossover that has yet to be named.
Other new nameplates include the Ranger midsize pickup, a long-range battery-electric crossover inspired by the Mustang, and a commercial autonomous vehicle. Ford also is reportedly considering bringing a compact pickup to market by 2022.
As it redesigns many of its vehicles, Ford will place them on one of five modular platforms: rear-wheel-drive/all-wheel-drive body-on-frame; front-wheel-drive/awd unibody; commercial van unibody; rwd/awd unibody; and a unibody platform for battery-electric vehicles. All five will be able to accommodate hybrid vehicles.
"This is a profound shift in terms of how Ford is thinking about the business, and how we're working," Thai-Tang said Thursday.
Reiterating a presentation to the 2018 J.P. Morgan Auto Conference in New York last week, Thai-Tang said the flexible architectures will help Ford cut costs and boost the efficiency of its supply base. He said Ford can unlock 70 percent of the value content of a vehicle by moving to the modular approach.
Thai-Tang and other Ford executives are attempting to offer more clarity on the company's plans amid increasing pressure from Wall Street to better detail CEO Jim Hackett's turnaround efforts, which will include an US$11 billion restructuring.
"We believe," Thai-Tang said. "I think we have to do a good job telling the story and the rationale, and giving [analysts and investors] tangible proof points. That's the challenge for all of us."
Ottawa preparing response in
case Trump follows through
on auto tariff threat
August 17, 2018
The Canadian Press
OTTAWA — With threats of devastating U.S. tariffs hanging over the auto sector, Canada's economic development minister says Ottawa is considering every possible way it could respond if the Trump administration follows through on its warning.
Navdeep Bains said Plan A is to continue encouraging the U.S. to back away from the tariff threat, which industry has warned would inflict significant damage on both countries' economies.
But just in case they are applied, Bains said Ottawa is considering "every conceivable option."
"We're taking nothing off the table at this stage," Bains said in an interview. "We're looking at every tool in our toolbox."
Bains declined to share specifics when asked about potential industry support in Canada or retaliatory actions against the U.S., however, he noted how Ottawa took several steps to respond to American steel and aluminum duties.
Earlier this summer, Ottawa applied retaliatory tariffs on $16.6-billion worth of U.S. imports of steel, aluminum and other products. It also announced a financial aid package for industries caught in the crossfire, including up to $2 billion in new funding and support for workers in steel, aluminum and manufacturing sectors.
Levies, however, on the critical auto industry would have far bigger impacts on Canada's economy — and would likely call for a far greater response.
"I don't want to get into the speculation game, all I can assure you is that we will continue to support the workers and we will continue to support the industry as we've done so in the past," said Bains, who added that the government first needs to genuinely understand what the tariffs would look like and how they're applied.
"We take nothing for granted, we're doing our due diligence, we're doing our homework."
'WILL TAX CARS'
U.S. President Donald Trump has made repeated threats — including one late last week — that he would slap Canada with auto tariffs. In a tweet that appeared to reference NAFTA's ongoing renegotiation, Trump wrote that the "deal with Mexico is coming along nicely" and that "Canada must wait."
Trump then sent a warning to Ottawa: "Their Tariffs and Trade Barriers are far too high. Will tax cars if we can't make a deal!"
Ottawa has been on the NAFTA sidelines for a fourth straight week while it awaits the completion of one-on-one talks on the deal between the U.S. and Mexico.
Bains said Canada has been presenting its case to the U.S. administration, state governors and other American lawmakers about the negative consequences of the tariffs on the highly integrated auto industry for both countries.
Last month, Canada's deputy ambassador to Washington, Kirsten Hillman, delivered a message during testimony at U.S. Commerce Department hearings that Ottawa would retaliate with auto tariffs of its own.
The Commerce Department is investigating whether the duties should be applied based on the premise that auto imports from Canada pose a national security risk to the U.S., an idea Ottawa has rejected.
To help figure out Canada's potential responses, Bains said he's spent much of his summer listening to the auto industry. The process included a conference call Wednesday with the Canadian Automotive Partnership Council, which has a membership that includes CEOs of the country's five auto assemblers and of its leading parts suppliers as well as representatives from labour unions, academia, dealer associations and industry ministers from Ontario and Quebec.
'PEOPLE ARE NERVOUS'
Council member Jerry Dias, president the country's largest private-sector union, said the federal government has been signalling it would do something "meaningful immediately to shore up the companies" in response to U.S. auto tariffs.
Dias expects a federal package to include many parts, such as incentives, work-sharing programs and guaranteed loans.
"People are nervous," he said, adding it would be "incredibly problematic" if Trump moved ahead with the tariffs. Dias, however, isn't convinced Trump will follow through because of how much damage the levies would cause to the powerful U.S. auto sector.
Political opponents say Ottawa needs to do a better job of helping people and businesses affected by U.S. tariffs already in place.
Tracey Ramsey, an NDP MP from Windsor, Ont., says she's heard from many people who have had a tough time navigating government agencies as they search for key information, such as applying for tariff exemptions and for assistance under the $2 billion worth of support promised by Ottawa.
Earlier this week, the opposition New Democrats called on the Liberals to create a national task force on tariffs that would streamline the process by creating a single government portal.
Marchionne exposed in FBI
corruption probe, sources say

Robert Snell,
The Detroit News
August 16, 2018
Detroit — Fiat Chrysler's longtime CEO Sergio Marchionne gave an expensive Italian watch to United Auto Workers Vice President General Holiefield and failed to disclose the gift while being questioned by federal investigators, two sources told The Detroit News.
The sources describe a dramatic "gotcha" moment during a secretive July 2016 meeting between Marchionne, head of Fiat Chrysler Automobiles NV, and investigators. It ended with the auto executive exposed to the possibility of federal charges.
Marchionne, 66, was never charged before he died July 25 in a Zurich hospital.
The auto executive's gift of a watch to a ranking union leader could bolster any criminal case against FCA, which has been named co-conspirator in the case along with the UAW. Both organizations could face criminal charges, fines and governmental oversight.
Flanked by his white-collar criminal defense lawyer, William Jeffress, at the U.S. Attorney's Office in Detroit, Marchionne was asked by investigators whether he had given UAW leaders valuable items.
Marchionne said no, according to the two sources, who spoke under the condition of anonymity because they were not authorized to discuss the case.
Investigators then confronted Marchionne with evidence he had given Holiefield a custom-made Terra Cielo Mare watch in February 2010. The Italian watchmaker has produced custom-made, limited-edition timepieces with the Fiat logo emblazoned on the dial since at least 2006.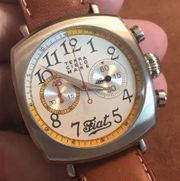 A 2014 model featuring the Fiat logo and a mustard-yellow dial retailed for $2,245.
The watch given to Holiefield came with a hand-written note from what documents identify only as an unnamed FCA executive: "Dear General, I declared the goods at less than fifty bucks. That should remove any potential conflict. Best regards, and see you soon," according to federal court records obtained by The News.
It is unclear whether investigators showed Marchionne the watch and note or just photographs of them, and it is unknown whether federal agents have the watch.
"There is a lot of intrigue here," said Peter Henning, a Wayne State University law professor and former federal prosecutor. "Prosecutors had him and had leverage over him. This was an arrow in the government's quiver."
Holiefield died in March 2015. The next year, Holiefield's home in Harrison Township was raided by federal agents investigating his widow, Monica Morgan-Holiefield, who was convicted and sentenced to 18 months in federal prison last month for her role in the scandal.
The raid was one stop in a broader series of searches that included the homes of Alphons Iacobelli, the automaker's top labor negotiator, and former UAW Vice President Norwood Jewell.
An inventory of items seized during the raid at Morgan-Holiefield's home is sealed in federal court.
Also unclear is how Marchionne explained the watch after being confronted by investigators. It is unknown whether Marchionne reached an agreement before talking to the government that would have granted him limited immunity as long as the auto executive told the truth.
"If you don't tell the truth, all bets are off," Henning said. "If you lie, the government can use what was said against you. The FBI doesn't give you a free pass on lying."
It is unclear why Marchionne was never charged. The potential charges include making a false statement and violating a federal labor law barring employers from giving union officials money and valuable items.
"Prosecutors are playing the long game," Henning said. "We don't know what would have happened in six months if his health had been all right."
It is possible FBI agents and prosecutors continued to build a criminal case against Marchionne, Henning said.
"He could have said he forgot about the watch, so the government has got to be a little careful," he said. "When he said 'no,' it looks like they've got him, but the government has to ask if maybe it's not worth charging him but get his cooperation."
The custom-made timepiece by Terra Cielo Mare is described in court records as an example of a stream of illegal benefits flowing from Fiat Chrysler to labor leaders during a years-long conspiracy designed to wring concessions from the UAW.
Federal prosecutors have left clues to Marchionne's involvement in hundreds of pages of federal court filings that referenced, but never publicly identified, the auto executive. Instead, the government identified Marchionne only as "FCA-1" as the investigation continued and prosecutors secured convictions against three Fiat Chrysler officials.
Fiat Chrysler released a statement to The News on Wednesday: "FCA US continues to cooperate fully with this investigation. The company also confirms that Sergio Marchionne met with the government in July 2016, in the spirit of full cooperation, where he answered questions to the best of his recollection. As the U.S. attorney's investigation is ongoing, the company cannot comment further."
The U.S. Attorney's Office would not discuss the meeting with Marchionne or say whether he was a target of an investigation that has led to seven convictions. Those include Iacobelli, who is scheduled to be sentenced Aug. 27.
Iacobelli was accused of using more than $1 million in Fiat Chrysler funds on a Ferrari 458 Spider convertible, which he outfitted with an "IACOBLI" vanity plate, a pool at his Rochester Hills mansion and two solid-gold, bejeweled Montblanc fountain pens that cost $35,700 each.
The first reference to Marchionne in federal court records is on page 19 of a 42-page indictment last year charging Iacobelli and Holiefield's widow with conspiring to violate federal labor laws.
The indictment outlines a scheme by Fiat Chrysler executives to keep UAW officials "fat, dumb and happy." Executives funneled money and gifts to labor leaders through the jointly operated UAW-Chrysler National Training Center, according to the indictment.
UAW leaders who served on the training center's board were given credit cards paid for by the automaker. UAW officials were given free rein to buy personal items, including $1,000 pairs of Christian Louboutin shoes, jewelry, purses, and a $2,180 shotgun for Jewell, according to court records and interviews. Jewell has not been charged with a crime.
UAW President Bob King was investigating how Holiefield and other union officials were using training center credit cards, according to the indictment.
That month, King's senior assistant asked an unnamed Fiat Chrysler official for the credit card records, according to the Iacobelli indictment.
The unnamed Fiat Chrysler official emailed Iacobelli.
"We can't provide the requested type of information to such people," the email read. "If we tell (King and his assistant) that we aren't giving them (expletive), what are they going to do, tell (FCA-1) we are being uncooperative? If so, so what?"
"We are providing nothing," Iacobelli responded, according to the indictment. "We're gonna have fun with these evil people."
The conspiracy is damaging and sows distrust among UAW members, Henning said.
"More than anything, it shows union leadership appears to have been bought with trinkets," he said. "The mistrust this fosters among union members is incredible."
Flying cars could be on the horizon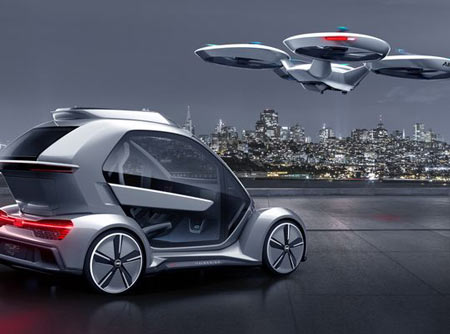 Keith Laing,
The Detroit News
August 15, 2018
Washington — With the push of a button and wings that fold down, cars capable of driving at highway speeds might one day be able to turn into flying machines and leave all that ground-traffic behind.
In fact, one Massachusetts-based company says as soon as next year it will offer a hybrid vehicle that does just that. It says the vehicle — known as the Transition — will be capable of converting "from drive mode to flight mode in under a minute." The company behind it, Terrafugia Inc., was purchased last year by Volvo parent Zhejiang Geely Holding Group.
Other big-name companies also are getting in on the act.
Uber has selected Dallas and Los Angeles to test a vertical-takeoff and landing service known as uberAIR. It plans to run demonstrator flights in 2020 and begin commercial operations in 2023.
Additionally, aerospace company Airbus teamed with Italdesign to premiere a concept vehicle called the Pop.Up at the 2017 Geneva International Motor Show. A passenger capsule can disconnect from the four-wheel road unit and be lifted into the sky like a helicopter with eight counter-rotating rotors. Audi signed on to the project this year.
Anna Mracek Dietrich, co-founder and regulatory affairs representative of Terrafugia, said her company was founded in 2006 by five pilots "who all wanted to something in general aviation that's innovative that would make it easier to fly."
After testifying at a recent congressional hearing on "urban air mobility," Dietrich told The Detroit News she was pleasantly surprised by the reception she received from lawmakers. "It speaks to a lot of excitement and latent demand for vehicles that make aviation for personal mobility more attainable," she said.
Her testimony was delivered to the U.S. House Science, Space and Technology Committee, which met last month to examine the regulation — and possibilities — of flying cars.
"For decades, flying cars have been the object of our imagination," said committee chairman U.S. Rep. Lamar Smith, R-Texas. "They represent aspiration, innovation and the freedom of exploration."
He said advances in batteries and computers are providing companies "with the tools they need to turn science-fiction into science-fact."
Auto industry observers are more skeptical.
"We have flying cars already. They're called helicopters," said Rebecca Lindland, senior analyst at Kelley Blue Book. "The problem is that they're way too expensive and the infrastructure isn't there for widespread use. But I can tell you that wealthy people in the New York area use helicopters for commuting."
Lindland acknowledged that major companies are exploring development of flying cars, but she said it will take a lot of work to make them affordable for mass-production.
"I'm not saying it's not going to come," she said. "We have the technology. We can build these things. The question is, can anybody afford it?"
Another complicating factor is air-traffic control. Access to airspace over the United States is strictly regulated by the Federal Aviation Administration, which is still wrestling with the process of developing rules for unmanned drones.
Terrafugia's Dietrich said the company is working with FAA to determine what regulations would be needed. The rules would have to be "flexible enough, but focused on the safety intent," she said.
Eric Allison, head of aviation programs for Uber, said his company's plans call for multi-modal transportation in which passengers are transported on the ground to sky ports, where they can be pooled into vehicles capable of flying them to their destinations.
"We think it's an opportunity to improve the way people move around cities even more than we've already done where you can push a button to get where you want to go through the air," he said.
"Just like we pool right now with Uber Express, we'll pool people into these vehicles," Allison continued.
Allison said Uber's aerial vehicles will be operated by licensed pilots, at least initially. But he said "in the future, many people think autonomy can play a role."
He believes advancement in electric propulsion will make it possible to build aerial vehicles that are much cheaper than helicopters. And catching a ride on one wouldn't be much different than hailing an Uber with a cellphone app.
"You'll see an option pop up just like Uber X or Uber Black in certain markets," Allison said. "You'll have UberAir."
FCA-UAW conspiracy ran
deeper, longer, lawyer says

Robert Snell and
Nora Naughton,
The Detroit News
August 14, 2018
Detroit — A vast conspiracy designed to corrupt contract negotiations between Fiat Chrysler Automobiles NV and the United Auto Workers started long before the automaker's former labor negotiator, Alphons Iacobelli, got involved, his lawyer said Monday.
A sentencing memo filed in federal court Monday indicates more Fiat Chrysler executives were involved in the $4.5 million conspiracy but does not publicly identify who, if anyone, orchestrated the conspiracy or ordered illegal payments. The filing suggests Iacobelli is fulfilling his obligation to cooperate with an ongoing FBI investigation.
Iacobelli, 59, of Rochester Hills faces up to eight years in federal prison when sentenced Aug. 27 for his role in the scandal. Iacobelli pleaded guilty in January to one count of conspiracy to violate the Labor Management Relations Act and one count of subscribing a false tax return.
An eight-year prison sentence would be unwarranted and unjust because Iacobelli is not responsible for all of the misconduct involving Fiat Chrysler executives and UAW officials, defense lawyer David DuMouchel wrote Monday.
"The corruption that is the focus of this case did not begin with Al Iacobelli. The practices that form the backbone of this case did not begin with Al Iacobelli. The system of corruption that has been exposed here did not begin with Al Iacobelli," DuMouchel wrote. "Mr. Iacobelli's hope is that such practices — which did not originate with him — nor for that matter the others who have been convicted here — will end with him."
The investigation, which has expanded to include General Motors Co. and Ford Motor Co., is focused on whether automakers funneled illegal payments and benefits to UAW leaders through jointly operated training centers.
Fiat Chrysler released a statement late Monday in response to an inquiry from The Detroit News.
"The company has investigated the allegations and has found no evidence that any FCA US employees senior to Alphons Iacobelli were aware of or participated in any illegal activities related to the (National Training Center)," the FCA statement said.
DuMouchel urged U.S. District Judge Paul Borman to sentence Iacobelli to less than four years in prison. Iacobelli also has agreed to pay $835,523 in restitution to the Internal Revenue Service.
"But, it is punishment — and severe punishment, not only for what he did, but for what others did, who apparently believe it is a good idea to lay the blame for all this misconduct at the feet of Al Iacobelli," the lawyer wrote. "Much of it belongs there; much of it does not."
The sentencing memo reiterated that payments and valuable items given to UAW officials were designed to corrupt the collective bargaining process between the automaker and the UAW.
"Both FCA and UAW officials contend that 'it had no effect.' Mr. Iacobelli, however, has stated that the payments were made in an effort to obtain benefits, concessions, and advantages for FCA in the negotiation, implementation, and administration of the collective bargaining agreements between FCA and the UAW," the lawyer wrote. "That is exactly why they were made."
Iacobelli is the highest-ranking Fiat Chrysler official indicted in a scandal that has led to criminal charges against seven people and reshaped the top ranks of the auto industry as FBI agents investigate all three Detroit automakers.
Prosecutors say Iacobelli used training funds to buy a $365,000 Ferrari, a pool and bejeweled fountain pens worth $71,000.
In Fiat Chrysler's case, prosecutors say the automaker's executives created a policy to keep UAW leaders "fat, dumb and happy" and wring concessions favoring the automaker.
Iacobelli will be the second person sentenced in the scandal. Last month, Monica Morgan-Holiefield, the widow of UAW Vice President General Holiefield, was sentenced to 18 months in federal prison for a tax crime.
Iacobelli worked as Fiat Chrysler's vice president of employee relations from 2007 to 2015 and was the lead negotiator in the 2009 Chrysler/UAW labor agreement.
The conspiracy started in approximately January 2009, according to the government.
"However the reality is that the conspiracy at issue here had started long before that," DuMouchel wrote. "Mr. Iacobelli joined an already ongoing conspiracy. The practices and corruption that are the focus of this case started long before Mr. Iacobelli."
There are at least three co-conspirators who have not been charged, according to the government and court records.
The three are: Fiat Chrysler, the UAW and, as revealed in the filing Monday, the jointly operated UAW-Chrysler National Training Center.
The filing by Iacobelli's lawyer Monday does not identify other new potential targets or Fiat Chrysler executives involved in the conspiracy. Several passages are redacted in the 25-page document.
The only other Fiat Chrysler officials charged so far:
• Former Fiat Chrysler analyst Jerome Durden, who struck a plea deal last year and is awaiting a possible 37-month prison sentence. He was accused of helping transfer millions of dollars in training center funds to Holiefield, Morgan-Holiefield and Iacobelli, who used the funds on personal luxuries.
• Former Fiat Chrysler executive Michael Brown, who helped run the UAW-Chrysler National Training Center, also pleaded guilty and could be sentenced to 18 months in prison. He admitted providing misleading and incomplete information to a federal grand jury.
Iacobelli outranked the men during a career spanning multiple owners of Detroit's smallest automaker.
In March 2007, Iacobelli became Chrysler's vice president of employee relations. Two months later, DaimlerChrysler AG dissolved when Daimler sold its controlling interest in Chrysler to Cerberus Capital Management LP for $7.4 billion. Daimler briefly retained a 19.9 percent stake.
About two years later in April 2009, Chrysler filed for Chapter 11 bankruptcy during the financial crisis, and Cerberus exited the company a month later. In June 2009, Chrysler reorganized as Chrysler Group LLC, which Fiat SpA subsequently acquired.
Iacobelli ascended to the lead negotiating position with Chrysler in 2008 amid a realignment of the human resources staff, essentially replacing retired senior vice president of employee relations John Franciosi. After Franciosi's retirement, Iacobelli was realigned to report to the executive vice president for human resources and communications, Nancy Rae.
Iacobelli abruptly retired in June 2015, a month before negotiations with the UAW were to begin and amid an FBI investigation. Fiat Chrysler, though, said it fired Iacobelli after officials learned of the federal investigation and launched an inquiry.
Iacobelli's supervisor was Michael Keegan. He headed human resources for FCA North America until being named head of the automaker's global communications in August 2017.
Fiat Chrysler has provided lawyers for Keegan and other executives questioned during the investigation. A Fiat Chrysler spokeswoman said the practice is customary.
Fiat Chrysler CEO Sergio Marchionne was questioned by investigators and was being represented by a criminal defense lawyer amid the ongoing investigation. Marchionne died last month.
Federal prosecutors have secured convictions of three former UAW officials so far.
One former official, Nancy Adams Johnson, told federal prosecutors UAW President Dennis Williams directed subordinates to use funds from Detroit's automakers, funneled through training centers, to pay for union travel, meals and entertainment.
Williams has not been charged with a crime.
The scandal, meanwhile, has left Iacobelli with a ruined reputation and shattered life, his lawyer argued Monday.
"Admittedly, he was part of the problem," DuMouchel wrote. "He was not the problem."
US probes F-150 fires possibly
caused by seat belts
Associated Press
August 13, 2018
Detroit – U.S. safety investigators are looking into complaints of fires that may have been caused by the seat belts in Ford F-150 pickup trucks.
The investigation covers trucks from the 2015 through 2018. Ford sold about 2 million F-150s during those years.
The National Highway Traffic Safety Administration is investigating five complaints that fires began in the trucks after seat belt pretensioners made by ZF-TRW or Takata were activated. Pretensioners prepare seat belts to gradually restrain passengers. Three fires destroyed the trucks, while two went out by themselves.
The agency says the fires began in a support pillar that houses the belts. Investigators will figure out the exact cause and whether a recall is necessary. None of those who complained reported any injuries.
Ford says it's cooperating with the probe.
In one of the complaints, an owner in Grand Rapids, Michigan, told NHTSA that on July 7, a deer ran into the driver's side of a pickup, causing minor damage. The side air bags inflated, and after five to 10 minutes, a passenger noticed a fire on the bottom of the post between the front and rear doors where the seat belts are located. "The truck went up in complete flames in a matter of minutes and is a complete loss," the owner wrote.
People who file complaints are not identified in the NHTSA database.
Messages were left Tuesday seeking comment from ZF-TRW and Takata.
Rejuvenated Lincoln
seeks a place of its own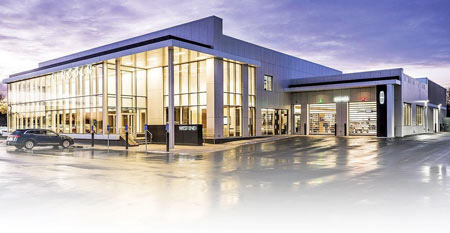 Dealers in major markets urged to build stand-alone showrooms
Automotive News
August 12, 2018
Michael Martinez
DETROIT — Lincoln is asking its dealers in the 30 top U.S. luxury markets to build stand-alone stores, reversing an effort to consolidate with the Ford brand, after a product revival has given Lincoln confidence that it can challenge top-tier makes.
Lincoln executives say stand-alone stores regularly outsell dualed dealerships and are responsible for most of Lincoln's sales gains in recent years. They cite internal and external surveys concluding that luxury customers prefer buying in a dedicated space.
Lincoln has roughly 150 dealers in the 30 markets that it says account for 70 percent of the industry's luxury sales. Nearly half of those dealers have built or started construction on exclusive stores independently. That, executives say, is evidence of the strength of Lincoln's revival.
The company wants its 78 remaining dualed dealerships in those markets to commit by next July to building stand-alone stores that will be completed by July 2021. Service departments and parts of the business that don't interact with customers can continue to share buildings with the Ford brand.
"Customers expect the environment to be equal to the product," Robert Parker, Lincoln's director of marketing, sales and service, told Automotive News. "They want to buy a luxury product in a luxury environment."
Lincoln will help dealers find land and will give them more money for each vehicle they sell after their new stores open. In addition, starting in the second quarter next year, Lincoln will allow only stand-alone dealerships to sell its more profitable, high-end Black Label vehicles if they don't stock them already.
Executives revealed the plan to dealers last week via webcast and intend to discuss it with them next month at Lincoln's annual fall dealer meeting.
Dealers can forgo the investment and larger bonuses, but brand officials said they expect most will make the switch. They declined to give details on the expected cost or amount of incentives to be offered, saying each case will be different.
The move comes as Lincoln tries to build on the sales momentum that started in 2012 with several upcoming products. It's launching a freshened version of the MKX crossover that will be renamed the Nautilus this fall and plans to introduce a three-row crossover called the Aviator next year.
"The next phase of the transformation is critical," Parker said. "This is probably the biggest two years in Lincoln's history."
Lincoln is asking its dealers to invest in brick and mortar about a decade after a push by management to combine Lincoln-Mercury dealerships with Ford stores. Going back to more stand-alone outlets underscores how far the brand has come, said Greg Wood, Lincoln's sales and service manager.
"That was a critical time; it was about survival," Wood said. "Now, we're in this next chapter. This is the time for us to leverage this opportunity with the world-class products and continue to evolve and step up our client experience."
'Not hiding anything'
Lincoln refers to its new showroom design as Vitrine, a French word for a glass display case. The exterior of each store is defined by floor-to-ceiling glass windows that illuminate the vehicles inside at night.
"It just lights up like a jewel box," Wood said. "We want an open environment; we're not hiding anything."
The modern design borrows heavily from the showrooms Lincoln has opened in China since entering that market in 2014, as well as its boutiquelike Lincoln Experience Centers in California and Texas.
The footprint is between 6,000 and 8,000 square feet, smaller than most dealerships. Dealers have the option for a one- or two-story building with space in the showroom for two, four or six vehicles.
The vehicles sit on what's known as a runway, a design borrowed from the China stores, with lights on the ground to better highlight the product. Customers can speak to sales representatives in "pavilions," intimate rooms with couches and TVs that replace desks and chairs.
"We're not looking to build grandiose 40,000-square-foot facilities," Wood said. "It's about being small and nimble. It's more about the experience than the transaction."
Higher sales
Lincoln says the sales at its 72 stand-alone large-market stores speak for themselves.
Retail sales at those dealerships rose 48 percent from 2014 through 2017, compared with 18 percent for the brand overall.
Three stores already have adopted the new design. West End Lincoln near Minneapolis transitioned to an exclusive store from a dualed outlet in January, and its retail sales jumped 60 percent this year through July. Retail sales doubled in July at Lincoln South Coast in California, which opened a new store in June.
"Transaction prices are going up. Their margins are going up," Parker said. "They're not being forced to discount like maybe they have been. They're getting their money back."
While some of Lincoln's 845 stores may elect to drop the brand, Wood said he doesn't expect the size of the network to drastically change, as more dealers potentially come aboard.
"This is not about reducing our network," he said. "It's all about listening to luxury clients. It's an opportunity to raise the water level for everyone."
Building the brand
In Alpharetta, Ga., a wealthy suburb north of Atlanta, Angela Krause Lincoln opened a stand-alone store and has had a noticeable sales boost. The 8,000-square-foot store was built on land next to the formerly dualed operation. The dealership is working to completely separate its Lincoln business from the Ford brand, even ordering new business cards, nametags and signage.
Dealer principal Vernon Krause said the switch was necessary to compete with rivals. The store sits on a luxury row of sorts, across the street from a Volvo showroom and a short distance from Porsche, Lexus and Jaguar-Land Rover dealerships.
"When you're Ford-Lincoln, it's sort of like you're an afterthought," he said of Lincoln, which in the U.S. sells about one vehicle for every 24 sold by the Ford brand. "When you have your own facility, it shows everybody's committed to building the brand."
Zack Krause, the sales manager, said the dualed store was selling about 12 Lincolns a month. Since the Lincoln-only operation opened, sales have more than doubled.
"Customers have pulled up and said, 'This is how it should be,' " he said. "I think people like to be here, which is saying a lot for a dealership."
Mustang swagger pushes
pony cars past 10 million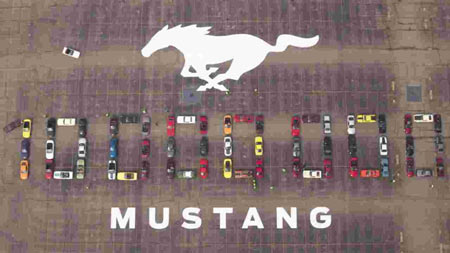 Ian Thibodeau,
The Detroit News
August 9, 2018
Flat Rock — Ford Motor Co. on rolled its 10-millionth Mustang off the line Wednesday at Flat Rock Assembly Plant. The landmark achievement was driven by consumers' passion for the muscle car, officials said.
Jim Farley, Ford's president of global markets, called it the Mustang swagger.
"Our most successful products are the ones that go just beyond a functional requirement," Jim Farley, president of global markets, said in an interview. "The Mustang swagger is something we're going to bring to all our crossovers and utilities."
That attitude was present at an event Wednesday that brought out line workers and dozens of Mustangs to celebrate that 10-millionth vehicle. Mustangs from 1964 onward were arranged in the parking lot to spell out number "10,000,000." The very first Mustang and the most recent Mustang were the commas.
The crowd ogled the pony cars as the owners revved their engines. Farley told the crowd about his own black 1966 Mustang that he bought for $500 and drove — at 14 years old — across the country.
But it was Darryl Goodwin, assistant to United Auto Workers Vice President Rory Gamble, who got the line workers to puff out their chests a bit.
"Those other guys talk about their sports cars," he said. "But we love our Mustangs."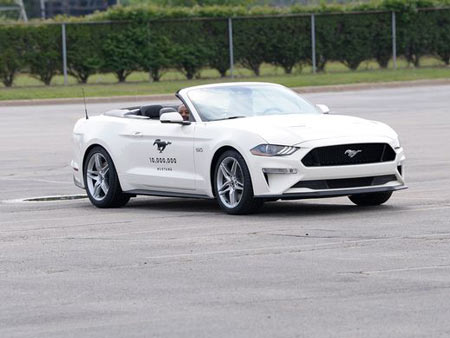 Farley and other leaders at the Blue Oval are trying to garner similar enthusiasm for other Ford products as the automaker readies several new vehicles to bring to market in 2019
"Mustang represents Ford at its best," Farley said in an interview. "Mustang has given me and everyone at Ford the confidence to emotionalize our products (and) lean into the space away from cars as commodities, to drive pride and connection to a vehicle."
But it takes time to build brand equity like the Mustang's. Ford's been cranking out GTs, fastbacks, convertibles, special editions and other versions of the pony car for more than 50 years. What came off the line Wednesday was a 460-horsepower V-8 GT convertible in Wimbledon White with a six-speed manual. That's a big difference from the 164-horsepower three-speed that was the first Mustang built in 1964.
Ford has that brand recognition in pieces, Farley said. F-Series is the country's best-selling pickup. Ranger is gaining recognition around the world, and has a highly anticipated return to the U.S. slated for early in 2019. Ford's Focus RS has a cult following in Europe.
But other nameplates have struggled to elicit an emotional response like Mustang, according to Farley.
Farley, CEO Jim Hackett and President of Global Operations Joe Hinrichs have said at multiple events this year that Ford is going to continue its push into performance-oriented models by beefing up the number of nameplates carrying the ST badge, and also offering more off-road models.
Those models would serve to boost the cachet of the new and refreshed Ford nameplates. Redesigned Lincolns and a refreshed Edge will hit showrooms through the second half of the year.
Said Farley: We need to "execute products in an emotional way."
Canada to review auto emissions
rules as U.S. moves to roll back
requirements
Automakers don't want Ottawa to make any final
decisions until it's clear what will happen in U.S.
The Canadian Press
Aug 08, 2018
Canada will review the joint vehicle emissions standards it has with the United States before it decides what to do about the U.S.'s plan to weaken those standards in the coming years.
Environment Minister Catherine McKenna will unveil a discussion paper as early as Tuesday to kickstart that review, just days after the White House announced it is going to cancel the required annual increases in emissions standards after 2021.
Canada and the U.S. have been aligned on vehicle emissions for more than two decades. Unless Canada scraps the existing regulations and writes its own, which could take at least two years, this country will automatically follow the American plan.
That plan, agreed to in 2012 by then-prime minister Stephen Harper and then-president Barack Obama, was to compel automakers to make vehicles more fuel efficient each model year between 2017 and 2025. U.S. President Donald Trump, however, is now going to freeze the standards as of 2021.
A spokesperson for McKenna said the review was planned when the regulations were adopted, not as a result of the Trump move last week. Caroline Theriault said Canada will look at both environmental and economic impacts in that review and complete it before any decisions are made on how to proceed.
"We are paying close attention to the U.S. midterm review of vehicle fuel efficiency standards and to the actions of California and other like-minded U.S. states," she said.
A 'dramatically different' market
Canadian automakers don't want Ottawa to make any final decisions on regulations here until it's clear what will happen in the United States. At least 19 state attorneys plan to sue the U.S. government over the rollbacks, including the White House's goal to eliminate a federal legal waiver that allows states to set standards stricter than the national ones.
"The reality is because we have always followed what the U.S. has done it makes sense to see what comes out of the other end of the U.S. regulatory review process," said David Adams, president of Global Automakers of Canada.
His group represents 15 automakers which sell cars in Canada and will be part of the review process. Among the variables the government needs to explore, Adams said, are whether consumers have behaved the way government and industry expected when the regulations were set, and whether fuel-efficiency technology has been adopted as expected.
"Right now, we're finding the market is dramatically different than we maybe anticipated when the standards were first set," said Adams.
The biggest change has been the uptick in demand for pickup trucks and SUVs compared to cars. Trucks and SUVs now account for more than two-thirds of auto sales in Canada.
Light-duty gasoline vehicles accounted for about 11 per cent of Canada's entire greenhouse gas footprint in 2016, the most recent year for which emissions data is available, an increase of about four per cent over the previous decade.
Canada's aim to cut emissions to be at least 30 per cent less than they were in 2005 by 2030 requires road transportation to play its part.
A lengthy legal battle
If Canada remains aligned with the U.S. on vehicle emissions and the U.S. does halt further improvements after 2021, the International Council on Clean Transportation last week projected it will add 10 million tonnes to the annual emissions of cars and trucks by 2030, compared to where they would be with the existing standards.
Dan Woynillowicz, policy director at Clean Energy Canada, said the U.S. move has introduced a lot of uncertainty for automakers and for Canada, with a multi-year legal battle over the Trump plan expected.
"The odds of it being overturned in the courts are pretty high but we're not going to have those decisions for years," he said.
Woynillowicz said automakers plan six or seven years ahead and are already preparing for the existing standards so it may be the best business policy for them to proceed as planned no matter what the U.S. does.
Electric vehicles also add a variable to the mix, with consumer demand for hybrid and zero-emission vehicles increasing each year.
Canada plans to unveil a zero-emission vehicles strategy sometime this year and Woynillowicz said the American emissions standards situation may end up affecting that plan.
Adams said the industry is committed to making cleaner cars and knows electric zero-emission vehicles will eventually be the whole picture.
"It's reasonably clear now the future of the industry is decarbonization," said Adams. "It's just a question of how quickly we go down that path."
Blame FCA's 33%
plunge for July's drop
in Canadian vehicle sales
Excluding FCA, Canadian new-vehicle purchases rose by 0.8% in July

Automotive News Canada
Greg Layson
August 7, 2018
If you're looking for someone or something to blame for falling new-vehicle sales in July, look no further than one of the world's biggest automakers.
Fiat Chrysler Automobiles is the reason sales dropped 3.2 per cent last month.
"The July drop is nearly all attributable to a 33-per-cent year-over-year plunge in Fiat-Chrysler (FCA) sales which, at 15,715 units sold, recorded their worst month since early 2014," Juan Manuel Herrera of Scotiabank Economics wrote in the financial institution's auto newsflash.
Excluding FCA, Canadian new-vehicle purchases rose by 0.8 per cent in July.
Nearly every FCA brand, including the venerable Jeep and Ram nameplates, suffered declines of more than 22 per cent.
Only the small-volume Alfa Romeo, with 92 vehicles sold in July, and Chrysler, with 492 sold last month, increased sales.
Sales numbers for the remaining brands were as follows:
Fiat — 49 vehicles sold (-52.9%)
Dodge — 3,031 vehicles sold (-45.6%)
Jeep — 6,190 vehicles sold (-37.1%)
Ram — 5,789 vehicles sold (-22.8%)
FCA has posted 14 consecutive months of year-over-year sales declines for both cars and trucks, Herrera said.
The drop in car sales is parallel to that experienced across most automakers and is in line with shifting consumer preferences, he said.
Trucks comprised 69.8 per cent of the market in July compared with 68 per cent last year, according to the Global Automakers of Canada.
"The fall in FCA truck sales, however, is seemingly endemic," Herrera said.
Light truck volumes for FCA have fallen by 12 per cent through July when compared with the first seven months of last year. Meanwhile the remaining automakers have managed a 6.9 per cent increase in light truck sales during the same time period.
Ram was the second highest-selling vehicle in Canada in 2017, but so far in 2018, FCA has sold 17 per cent fewer Ram trucks relative to the same period last year, according to Scotiabank data. FCA has also been hit by fading demand for the aging Dodge Caravan minivan.
Scotiabank now forecasts automakers to sell two million vehicles in 2018, down about two per cent from the record 2.04 million sold in 2017.
Ford loads midsize Ranger
with big tech features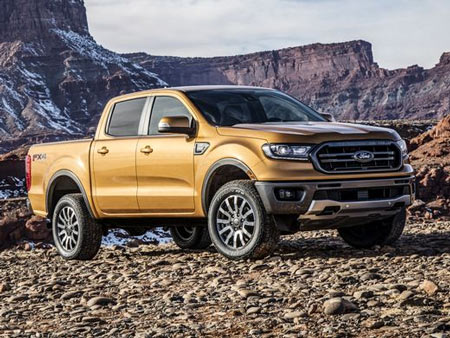 Ford Motor Co.'s 2019 Ranger will be technologically far superior to the bare-bones pickups that bore the name for nearly three decades. The automaker hopes that sets the new midsize truck apart from the competition.
Expectations are high for the reintroduction of the Ranger, which debuted in January at the Detroit auto show and will hit the road early next year — the first new Ranger sold in North America since 2011. Ford officials and analysts say those expectations are fueled in part by buyers' desired for driver-assist and other advanced safety features that aren't offered on many midsize trucks.
That could give the Ranger an edge over the five existing midsize trucks: the Chevrolet Colorado, GMC Canyon, Toyota Tacoma, Honda Ridgeline and Nissan Frontier. An unnamed midsize Ram pickup will be introduced within a few years.
"Customers have a wide range of needs, and they're really looking for a truck that can deliver all of it," Ranger marketing manager Chad Callander said in an interview. "People want a daily-use vehicle that gives them everything to make it easier to drive. Midsize buyers are saying they want all that, too."
At least 20 new features will come standard or as optional upgrades for an added cost.
The Ranger will be one of the first new vehicles Ford will sell with standard automatic emergency-braking on all trim levels — the XL, XLT and top-level Lariat. Blind-spot monitoring, automatic high-beams, lane-departure warning, lane-keep assist and parking aids are standard starting with the mid-level XLT. Customers can get systems to help handling in snow, rain, uneven terrain or sand on all three trim levels for added cost.
Callander told the Detroit News the Ranger's class-exclusive blind-spot monitoring can extend to cover whatever a driver might be towing. It will be standard on XLT and Lariat trims.
Midsize trucks haven't exactly been known for their advanced features.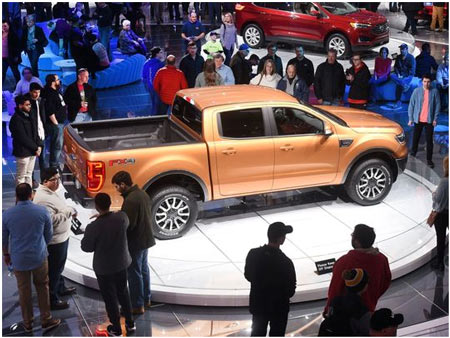 "The segment is almost prehistoric," said Dave Sullivan, manager of product analysis with AutoPacific Inc. "There's a lot of opportunity within the segment to be able to stand out, whether we're talking safety or infotainment. There's definitely some unexpected white-space."
To get driver-assist features on nearly any vehicle, consumers have to put extra money on the hood. Despite that, automakers and analysts have said that consumers want the potentially life-saving technology.
Among the mid-size trucks currently on the market, only the Tacoma or Ridgeline offer automatic emergency-braking, blind-spot monitoring, automatic high-beams, adaptive cruise-control or other safety features. The Tacoma is the only model to have autonomous braking, adaptive cruise-control, lane-departure warning and automatic high-beams standard across all trim levels — which beats what Ford will offer standard across its Ranger lineup.
But the Ranger is expected to have blind-spot monitoring with trailer coverage, hill-descent control and power outlets in the truck bed either standard or optional for a charge across the Ranger trims, which the Tacoma doesn't currently offer.
Offering advanced technology features can signal to customers that a vehicle had more time and research invested in it, said Stephanie Brinley, analyst with IHS Markit.
Sullivan and Brinley said the Ranger could raise the bar for mid-size trucks.
"This mid-size truck is different," said Brinley. The old Ranger "was inexpensive, and it was incredibly efficient. It played a different role than the pickup trucks today. I don't know how much success they'd have if they went that way again. The expectation for feature availability is completely different."
Ranger customers, according to Ford and analysts, are looking for something less expensive than the $27,000 at which most full-size F-150s start, but without sacrificing capability. Midsize-truck buyers also want maximum utility and maneuverability out of their pint-sized hauler. But they also want a deal, the analysts said.
Callander says Ford knows there's a pricing sweet-spot for the Ranger.
"There's price sensitivities all over," he said. "We know that for this vehicle there is a desire for it to be a more affordable proposition than some other trucks. We're implementing some really capable technologies, and we'll be competitively priced with the rest of the market."
Pricing for the Ranger has not yet been announced. The Colorado, starts at $20,000. The Tacoma starts at $25,000.
Ford will also have to deliver a good-looking truck. Midsize-pickup buyers aren't going for brutish trucks they plan to beat up, according to Brinley and Sullivan.
"It's your interior and exterior designs and how well they connect," Brinley said. "Particularly in the interior. And it matters
'It's going to be hard':
Sears pension payments
cut by 30% this week
Retirees head to court in the fall to fight for more money
Sophia Harris
CBC News
August 5, 2018
Many Sears Canada retirees found it hard to take this week when they got their first reduced pension payment — chopped by 30 per cent.
They had been bracing for a 20 per cent cut, but only learned in June it would shrink by a further 10 per cent.
"It's terrible," said Ron Husk of Mount Pearl, N.L., who worked for Sears for 35 years. On Wednesday, his monthly pension payout dropped by almost $450.
"I stayed awake at night thinking about it and I don't know what to do," said the 72-year-old former appliance salesman.
When Sears shut its doors in January, it left behind an underfunded pension plan that serves about 18,000 retirees. They will be going to court to fight for more money, but for now they must contend with a significant decrease in their monthly cheque.
The pension fund is actually short about $260 million, which works out to a 20 per cent deficit. But due to a delay in reducing pensioners' payments by 20 per cent, they now face a 30 per cent cut for the next 20 months.
"People had their minds wrapped around the 20 per cent, now it's more than that," said Ken Eady, vice-president of the Sears Canada Retiree Group (SCRG), a volunteer organization representing retirees.
"It's another loss for Sears pensioners."
Retiree Attilio Malatesta spent the majority of his 44-year career with Sears working in sales in Kelowna, B.C. (Attilio Malatesta)
Attilio Malatesta of Calgary worked for Sears for 44 years. He says his pension was cut by $800 a month starting this week.
"It's going to be hard," he said.
Malatesta is even considering returning to work in sales to make up for the lost income — something he's not looking forward to.
"Who the hell's going to hire a 73-year-old guy?" he said. "I can only stay on my feet for so many hours. I have arthritis."
Husk is already working, as a greeter at Home Depot. He took the job last year in anticipation of a reduced pension.
"I'd rather stay home," he said. "Anybody at 72 prefers not to work."
'You do what you can'
Their prospects could change somewhat, depending on what happens in court.
In the fall, lawyers for the retirees will argue in Ontario Superior Court that they should move to the front of the line, ahead of other creditors still waiting to be paid the debt Sears owes them.
"This is not the same type of debt as merchandise or landlords," SCRG's Ken​ Eady said of Sears's underfunded pension plan. "The company's obligation was to have it fully funded, and they failed."
According to court documents, retirees are asking for nearly $730 million. Most of the money would go to top up the pension fund ($260 million) and provide health benefits ($421 million). Retirees lost their benefits three months after Sears filed for bankruptcy protection in June 2017.
But even if they were to move to the front of the line, the pensioners would likely only see a small portion of their claim. According to the court-appointed monitor for Sears's insolvency proceedings, the defunct retailer has about $126 million left in its coffers and faces more than 2,000 claims for its cash, totalling at least $36 billion.
Eady hopes retirees can lay claim to that $126 million, which he says would still be a drop in the bucket compared to what they're actually owed.
"You do what you can," he said. "It certainly doesn't rectify the injustice of us being shorted on our pension and benefits."
What about the government?
Some retirees believe the federal government should step in to help.
"I don't know what you have to do to get the government to listen," said Gail McClelland of Calgary, who worked for Sears for 33 years. "There has to be something done to protect pensioners."
Advocates have called for federal legislation that would provide safeguards for workers when corporations collapse and can't pay out pensions.
Sears retirees in Ontario are already faring better because of a provincial law that guarantees the first $1,500 of monthly pensions for retirees in defined benefit plans.
"Why should they be covered and we're not?" Malatesta said. "We're in Canada. We work for the same company."
In November, NDP MP Scott Duvall introduced a private member's bill that would give pensioners top priority when companies go under and the leftover money is doled out to creditors.
However, private member's bills rarely become law.
Meanwhile, the federal government plans to hold consultations on the matter. Its goal is "to find a balanced approach to the important issue of Canadians' retirement security," Derek Mellon, spokesperson for Innovation, Science and Economic Development Canada, said in an email.
But that's little comfort for pensioners like Malatesta, who are waiting to hear what more — if anything — they'll get back from Sears, while grappling with a different kind of retirement than they had planned.
"You give your life to a company and then in the end you get shafted."
Lincoln Navigator tops J.D.
Power satisfaction survey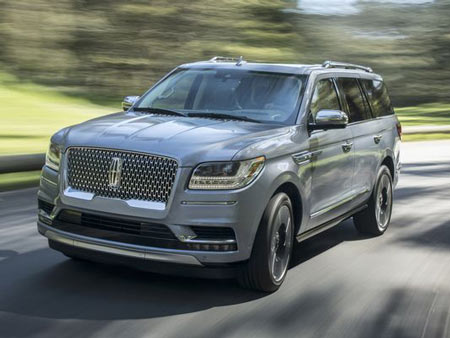 Breana Noble,
The Detroit News
August 4, 2018
New-car owners found Lincoln Motor Co.'s Navigator to be the most gratifying model on the market, J.D. Power said Wednesday.
The Navigator had the highest overall score in the J.D. Power 2018 U.S. Automotive Performance, Execution and Layout Study, which measures the satisfaction of new car owners. Its APEAL score was 915 out of 1,000, the highest level recorded since 2013.
"To be top of the industry, you have to do everything well," said Dave Sargent, J.D. Power's vice president, global automotive. "They hit it out of the park."
Specifically, owners liked the exterior look of the Navigator, especially its front, Sargent said. They also liked its entertainment system and the power.
J.D. Power surveyed nearly 68,000 people who bought or leased 2018 model-year vehicles after their first 90 days of ownership. Respondents evaluated their vehicles across 77 attributes, from acceleration to comfort. The industry average increased 10 points to 820 in overall satisfaction from 2017.
Mass-market brands saw a 10 point increase from the 2017 survey, while luxury brands improved by six points. The gap between the luxury and mass-market segments have shrunk to an all-time low of 37 points. Sargent said technology, especially driver-assistance features such as blind-spot detection, have helped close that gap.
"A few years ago, you had to buy a premium vehicle to have that," Sargent said. "Now it's more common placed on mass-market vehicles."
Increases by more than 15 points for Dodge, Jeep, GMC and Chevrolet also helped to shrink the spread. Sargent said launches of Chevrolet's Equinox and Traverse, which led their model-type segments, and GMC's Terrain boosted their APEAL scores.
GMC and Chevrolet also topped the list of mass-market brands with a score of 826. Genesis, with 884 points, was the top brand. The Ford brand received 824 points, tying fourth overall with Dodge and placing just behind Ram.
Ford Motor Co. took home four model-level awards, the most of any other parent company.
One such vehicle was the Ford F-150, the top large light-duty pickup truck for two years in a row. The Audi A3, BMW X1, Chrysler Pacifica, Lincoln Continental, Honda Ridgeline and Porsche Cayenne also held top positions for a second year.
"It's always useful to know how other consumers feel," Sargent said. "If other people like it, chances are you may like it, too."
APEAL winners
Highest overall brand: Genesis (884)
Highest in the mass-market: Chevrolet and GMC (884)
Lowest overall brand: Mitsubishi (783)
Lowest luxury brand: Acura (821)
Most-improved brand: Mitsubishi (+33 from 2017)
Most-awarded parent company: Ford Motor Co. (four model-level awards)
Top small car: Kia Rio
Top small premium car: Audi A3
Top compact car: Volkswagen Jetta
Top compact premium car: Kia Stinger
Top midsize car: Honda Accord
Top midsize sporty car: Ford Mustang
Top midsize premium car: Lincoln Continental
Top large car: Nissan Maxima
Top small SUV: Mini Countryman
Top small premium SUV: BMW X1
Top compact SUV: Chevrolet Equinox
Top compact premium SUV: BMW X3
Top midsize SUV: Chevrolet Traverse
Top midsize premium SUV: Porsche Cayenne
Top midsize pickup: Honda Ridgeline
Top minivan: Chrysler Pacifica
Top large SUV: Ford Expedition
Top large light-duty pickup: Ford F-150
Top large heavy-duty pickup: GMC Sierra HD
Ex-UAW boss Dennis
Williams OK'd using training
center funds, aide says
Robert Snell,
The Detroit News
August 3, 2018
Detroit — A former labor official told federal prosecutors that United Auto Workers President Dennis Williams directed subordinates to use funds from Detroit's automakers, funneled through training centers, to pay for union travel, meals and entertainment.
As part of a plea agreement filed Monday, Nancy Adams Johnson told investigators Williams made the directive to relieve pressure on the union's budget. Williams, the union's president from 2014 until mid-June, and the UAW had no comment on the allegations made by Adams Johnson, the second-highest ranking official in the union's Fiat Chrysler department.
Money filtered through the training centers for the benefit of UAW officials is at the center of a widening scandal that has led to seven convictions, a shakeup at the highest levels of the auto industry and raised questions about the sanctity of labor negotiations between the union and Detroit's automakers.
"Maybe this is what the senior levels of the UAW were used to, but at its core, this is a significant betrayal of trust," said Peter Henning, a Wayne State University law professor and former federal prosecutor. "This is how a small fraud becomes a much bigger one."
Adams Johnson's plea agreement does not identify the "high-level UAW official" who made the directive. Sources familiar with the investigation told The Detroit News that she identified that official as Williams. They spoke on the condition of anonymity because they were not authorized to speak about the investigation.
Williams has not been charged with any wrongdoing. He is the highest-ranking labor official linked to an investigation that has implicated union leaders and auto executives.
The federal court filing indicates a new path for FBI investigators in a criminal investigation that has spread beyond Fiat Chrysler to General Motors Co. and Ford Motor Co. It suggests company officials gave, and union officials received, gifts in violation of federal laws designed to protect the purity of labor negotiations.
Adams Johnson's guilty plea could have implications for her one-time boss, former UAW Vice President Norwood Jewell. Jewell has previously been linked to a conspiracy involving Fiat Chrysler executives funneling illegal payments and benefits to UAW officials to wring concessions favoring the automaker.
The plea agreement was dated July 18 and signed by Adams Johnson, her lawyer Harold Gurewitz, and two federal prosecutors, including Assistant U.S. Attorney David Gardey, chief of the public corruption unit.
Adams Johnson's lawyer declined comment.
Last month, in his last formal address to members at the UAW's Constitutional Convention in Detroit, Williams tried to distance the union from the scandal.
"To be clear: those who misallocated or misused training center funds betrayed our trust," Williams told thousands of union members gathered in Cobo Center. "The UAW has zero tolerance for corruption, wrongdoing, at any level of this organization."
Williams, who retired last month after a single term as president, could not be reached for comment. He did not respond to messages left with his wife, the UAW, the union's general counsel, Williams' lawyers in Chicago and at the UAW Black Lake Conference Center, a wooded retreat where he has use of a cabin.
UAW spokesman Brian Rothenberg did not directly address the allegation involving Williams, saying: "I cannot comment on speculation from unsubstantiated allegations."
The conspiracy to use training center funds for improper purposes began by at least January 2009, five years before Williams was elected UAW president, according to federal court records.
The directive described by Adams Johnson stands in contrast to the reported actions of Williams' predecessor as UAW president, Bob King, years earlier.
In 2011, King confronted UAW Vice President General Holiefield and Fiat Chrysler Automobiles NV executive Alphons Iacobelli about the selection of Holiefield's wife, Monica Morgan-Holiefield, as a vendor for the UAW-Chrysler National Training Center and a nonprofit controlled by Holiefield, according to court records.
"During a face-to-face meeting in Auburn Hills, Michigan, the UAW president warned Holiefield and Iacobelli that paying Monica Morgan was a bad idea and that they could 'go to jail' and instructed them not to direct any additional business to Monica Morgan," according to the indictment charging Iacobelli and Morgan with violating federal labor laws.
Both Iacobelli and Morgan-Holiefield have pleaded guilty for crimes related to the scandal. She was sentenced to 18 months in federal prison on July 13; Iacobelli is awaiting a possible eight-year prison sentence.
In order to circumvent conflict-of-interest rules, Holiefield and his wife asked a friend to create a new company in early 2012 to supply shirts, cups and other trinkets to the training center, the indictment alleges. Holiefield died in March 2015.
Federal prosecutors earlier this year labeled the UAW and Fiat Chrysler as co-conspirators in the scandal, an allegation at odds with claims the labor union and automaker were victimized by rogue employees.
The conspiracy coincided with challenging times for the UAW, according to the government.
The UAW was facing significant financial pressure in 2014 when members approved the first hike in membership dues since 1967, and in 2015, according to Adams Johnson's plea deal. UAW Secretary-Treasurer Gary Casteel reported to members that the union's income for the year ending Dec. 31, 2015, was $207 million, or $42 million less than expenses.
"Sometime in 2014 or 2015, a high-level UAW official directed senior UAW officials to use money supplied by automobile manufacturing companies through joint UAW training centers to pay for travel, including travel solely for purported union business, as well as lavish meal and other entertainment costs of senior UAW officials and their friends, family and allies," according to Adams Johnson's plea agreement. "This directive was issued in order to reduce costs to the UAW budget from such expenditures because the UAW's budget was under pressure."
If senior UAW officials agreed to accept illegal benefits, that amounts to a conspiracy, Henning said: "It's the starting point for fairly serious criminal conduct," he added. "This is how the U.S. Attorney's Office sends a message and says who they're looking at. If you're going to cooperate, it's better to come in now rather than later."
The ongoing investigation has centered on whether automakers sent illegal payments and things of value to UAW officials through joint-operated training centers that are supposed to benefit blue-collar workers, potentially influencing collective bargaining. The centers are funded by Detroit's automakers.
From 2014 to 2016, the UAW-Chrysler National Training Center's credit cards bankrolled expensive meals, golfing, hotel suites, limousines and condominium expenses for high-level UAW officials in Palm Springs, California, according to the government.
Simultaneously, Fiat Chrysler officials filtered money through the training center to pay the salaries of "a large number of" UAW officials and employees who supposedly were assigned to work at the training center, the government alleges.
"(Fiat Chrysler) paid these salaries for the UAW even though senior UAW officials and (Fiat Chrysler) executives both knew that these UAW officials and employees 'assigned' to the (training center) spent most of their work time performing tasks for the UAW . . ." the government alleged.
Jewell, the former head of the union's Fiat Chrysler department, is one UAW vice president who benefited from a cozy relationship between the automaker and the union, according to the government.
Iacobelli, Fiat Chrysler's top labor negotiator, approved spending more than $30,000 in worker training funds on a party for Jewell in August 2014, a bash that included "ultra-premium" liquor and strolling models who lit labor leaders' cigars, according to court records.
The training funds covered the $7,000 cigar purchase and a $3,000 tab for wine in bottles with custom labels that featured Jewell's name, sources told The News.
Prosecutors raided his home in November during the investigation, which has previously revealed that Jewell received a $2,180 shotgun purchased with training center funds. The UAW said that Jewell didn't know the shotgun was purchased with training center money and later reimbursed the money spent on the firearm.
Jewell has not been charged with a crime. Prosecutors applied new pressure Monday when Adams Johnson, Jewell's top administrative assistant, agreed to cooperate with the ongoing investigation.
Late last year, The News revealed federal agents were interested in Joe Ashton, a retired UAW vice president appointed to GM's board in 2014, and Cindy Estrada, his successor in charge of the union's GM department, according to sources familiar with the investigation.
Since that disclosure, Ashton resigned from GM's board and Estrada last month was transferred to replace Jewell as head of the UAW's Fiat Chrysler department. Neither Ashton nor Estrada have been charged with a crime.
Slumping sedan sales
bring down July results

Nora Naughton,
The Detroit News
August 2, 2018
Passenger car sales took a nosedive in July, driving down overall results for several automakers last month.
Ford Motor Co. passenger car sales plummeted nearly 28 percent, and even stalwarts of the segment like the Toyota Camry and Honda Accord posted double-digit declines.
"The massive drops in July car sales demonstrates we haven't hit rock-bottom yet," Cox Automotive analyst Michelle Krebs said in a statement. "One driver of the continued decline is likely the plethora of used cars and, more importantly, nearly new utility vehicles coming off lease and back into the market. As affordability becomes more of an issue, used vehicles provide a value alternative to new sedans."
New-vehicle prices increased by nearly $1,000 last month, compared to July 2017, averaging $35,359, according to Kelley Blue Book data. Much of that gain is in the luxury SUV and full-size pickup markets.
"The primary forces at work in the current new-car market, including supply, demand and pricing, are pushing transaction costs to a level some buyers aren't willing to pay," Cox Automotive analyst Karl Brauer said in a statement. "We saw high fleet sales from a number of automakers in July, but even that wasn't enough to hit positive overall numbers in July."
3,000 WestJet cabin
crew employees
officially unionized,
CUPE says
'Now we begin the work of building our local and
preparing to bargain our first collective agreement'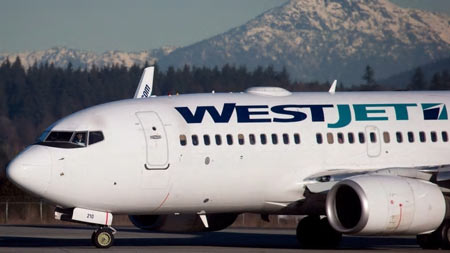 David Bell ·
CBC News
August 1, 2018
About 3,000 of WestJet's cabin crew members are now officially unionized after the Canada Industrial Relations Board issued an interim order naming the Canadian Union of Public Employees (CUPE) as the certified bargaining unit for employees.
According to a statement from WestJet, the order came in mid-afternoon Tuesday.
A mass email sent by CUPE to flight attendants read: 'Congratulations, we did it!!!'
The message went on to say, "This is an amazing step forward for WestJetters.
"We knew that we could do it together. Now we begin the work of building our local and preparing to bargain our first collective agreement."
A statement provided to CBC News by WestJet said that the interim order will let the company make submissions by Aug. 10 about what positions they want excluded from the scope of the newly formed bargaining unit.
"We are disappointed by this outcome but respect the rights of our employees to choose their representation," Ed Sims, WestJet president and CEO, said in a prepared statement Tuesday. "We now shift our focus to working effectively with CUPE in the interest of success for WestJet as a whole."
CUPE says the interim order is based on forthcoming negotiations needed with the company to determine who is included and excluded as union members.
The interim order is specific to WestJet employees only and does not include cabin crew working for Encore or Swoop.
"We know that Swoop flight attendants want and deserve a union and we will work with them to bring them into the family, along with Encore, in the near future," CUPE said.
Earlier on Tuesday, WestJet posted rare losses of $20.8 million in the second quarter, attributed to a labour dispute with pilots, higher fuel prices and increased competition.
Tariffs already being
felt by US carmakers

Keith Laing and Ian Thibodeau,
The Detroit News
August 1, 2018
Tariffs implemented by President Donald Trump — and in some cases, falling sales in China as a result — are hitting Detroit automakers in the wallet.
General Motors Co., Ford Motor Co. and Fiat Chrysler Automobiles NV each adjusted full-year outlooks for 2018 on Wednesday as they revealed lower-than-expected second-quarter earnings — all of which were impacted by rising costs of steel and aluminum. The automakers all expect to incur higher commodities costs through the end of the year following a tariff tit-for-tat set off when the Trump administration placed duties on foreign steel and aluminum.
Ford reported tariffs cost the company roughly $145 million in the second quarter, and estimated it would incur about $500 million to $600 million in costs in 2018 due to the ongoing trade war. GM's second-quarter profits dropped 2.8 percent compared to the same period a year ago due primarily to rising domestic steel and aluminum prices as a result of tariffs, the automaker reported Wednesday.
While GM buys more than 90 percent of its steel and aluminum from the U.S., domestic producers have seized the opportunity to raise their prices as foreign metals grow more expensive. The rising cost of materials was more than GM had anticipated.
The Detroit automaker posted a $2.4-billion second-quarter profit, but lowered its full-year earnings outlook on expectations that costs of commodities like steel and aluminum will continue to rise. It said its full-year diluted adjusted earnings per share would come in at around $6, with an adjusted free cash flow of roughly $4 billion. GM had previously forecast diluted adjusted earnings per share would be in the $6.30-$6.60 range.
"The new issue is the commodity escalation," said Chuck Stevens, GM chief financial officer. "The unexpected or accelerating pressure is really on the steel side of the business."
CEO Mary Barra said repeatedly that GM was in position to brave challenges presented — even indirectly — by the ongoing trade war: "Even with the recent macro-economic challenges, I continue to be confident."
GM made $592 million in China in the second quarter. But earnings in China were offset by unfavorable currency devaluations in South America which cut GM's international profit to $143 million.
On the day Fiat Chrysler CEO Sergio Marchionne died, the transatlantic automaker reported that second-quarter earnings climbed 39 percent and achieved net industrial cash — a longtime Marchionne goal — for the first time.
The company said Wednesday its net profit grew to $882 million (754 million euros). It posted an 8-percent adjusted pre-tax margin in North America, a 0.4 percent decrease compared to a year ago. North America continues to deliver the bulk of the automaker's rising profits.
But even Fiat Chrysler adjusted its full-year outlook for 2018, lowering its projected revenue for the year from $146 billion (125 billion euros) to a range between $134 billion (115 billion euros) to $137 billion (118 billion euros).
China proved to be a trouble spot for Fiat Chrysler, with a $114 million (98 million euros) loss in the Asia-Pacific region that includes China.
Fiat Chrysler's new CEO, Mike Manley, told investors in his first public remarks on Wednesday that China is an ongoing challenge the company is facing as he transitions to the top leadership position.
"Clearly when you step back and look at our results for the quarter, the biggest challenges we face, and frankly we're going to face to some extent for the balance of the year, are all focused in China," he said. "With duty changes that were announced, these particularly impacted Maserati, which resulted in a slowdown of sales and shipments to dealers."
Ford blamed a May supplier fire that disrupted F-150 production for days, as well as poor performance in China, for second-quarter for profits that were down nearly $1 billion compared to a year ago.
The Dearborn automaker made $1.1 billion in the second quarter of 2018, a nearly 50 percent decrease compared to last year. The Dearborn automaker also lowered its full-year earnings guidance, blaming a "challenging quarter" in its Asia-Pacific and European markets.
Ford now forecasts an adjusted earnings per share of $1.30 to $1.50. That's down from the $1.45 to $1.70 per share forecast at the start of the year, according to CFO Bob Shanks, a roughly 11-percent decline.
The results come during a tough transitional period for Ford. Not only is the company undergoing internal shifts to the organizational structure, but its sales are slipping compared to a year ago due to an aging product lineup. The automaker is not performing in China compared to a year ago, and Ford is still nearly a year away from a product launch gambit expected in 2019.
The automaker said it was taking "urgent action to address underperformance" in China, including resetting its product lineup in the country and adding more localized products like the Explorer that will be built in China.
"Candidly, we're extremely dissatisfied with our performance in Europe and China and we did not plan for these results," Jim Hackett, Ford president and chief executive officer, said during a call with investors.
Ford's disappointing performance in China reflects "a policy environment that is uncertain" due to tariffs, Shanks said. "We had a very difficult quarter with year over year decline in almost every metric all driven by China. We are very disappointed in our performance in China. We lost $483 million in the quarter."
Shanks said Ford's poor performance in China was driven by "unfavorable market factors for Ford and Lincoln." The Dearborn automaker also blamed "tariffs and industry-related net-pricing impacts."
At a press conference in the White House Rose Garden on Wednesday with European Commission President Jean-Claude Juncker, Trump talked about an agreement to "work towards" zero tariffs on non-auto related industrial goods. He made no mention of relief for automakers or a tariff standoff with China.
"We're starting the negotiation right now, but we know where it's going," Trump said of his talks.
Michelle Krebs, senior analyst for Autotrader, said the numbers from Detroit's automakers show they are healthy despite the uncertainty they face domestically and internationally.
"The next couple of years will be challenging because the U.S. market, from which the Detroit Three derive most of their sales and profits, are in a post-peak era," she said. "We expect sales to remain strong, but off record levels due to rising interest rates. Added costs from tariffs that are passed along to consumers will also cause sales to fall."
Krebs said Detroit's automakers learned lessons from the last recession that led to two of the city's three manufacturers accepting bailouts from the federal government.
"I would expect continued discipline," she said, "not only in terms of inventories, but in terms of keeping costs in check."
Ford, VW issue separate recalls
for different gear shift problems
July 31, 2018
Staff report
Ford and Volkswagen have each issued recalls because a number of vehicles are at risk of rolling away, but for different reasons.
The recalls affect a total of 61,010 vehicles.
Ford is recalling 36,887 vehicles because the bushing that attaches the shift cable to the transmission may degrade over time and could detach, according to a recall notice on Transport Canada's website. If that happens, it could allow the transmission to be in a different gear than the one selected by the driver. The problem could also allow the driver to move the shifter to park and remove the ignition key while the transmission gear may not be in park. If the parking brake is not applied, it could result in unintended vehicle movement.
The problem affects Ford Escape and Fusion vehicles from the model years 2013-2016.
Meanwhile, Volkswagen is recalling 24,123 vehicles because the park position switch might malfunction due to a problem with the electrical contacts, Transport Canada says. That could allow drivers to remove the ignition key without the shift lever being in the park position. If the parking brake is not applied, the result could be unintended vehicle movement.
The defect affects Golf and Golf Wagon vehicles from the model years 2015-2018.


Ford profits down nearly half
due to supplier fire, China

Ian Thibodeau,
The Detroit News
July 30, 2018
Ford Motor Co. blamed a May supplier fire that disrupted F-150 production for days, as well as poor performance in China for second-quarter profits that were down nearly $1 billion compared to a year ago. The company said it could spend $11 billion over the next three to five years to spur profits around the globe.
The Blue Oval on Wednesday teased plans that hinted at the big moves analysts and Wall Street had been begging for. Ford plans to at least significantly shrink spending in unprofitable markets like South America or the Middle East and Africa in favor of markets where the automaker sees returns. Chief Financial Officer Bob Shanks and CEO Jim Hackett offered no specifics on which markets would account for the $11 billion in anticipated charges.
"I'd like nothing better than to give you visibility," Hackett said. "We only can share information publicly once decisions are made... It's not as simple as just pulling the plug and exiting markets."
Ford made $1.1 billion in the second quarter of 2018, a nearly 50 percent decrease compared to last year. The Dearborn automaker also lowered its full-year earnings guidance, blaming a "challenging quarter" in its Asia Pacific and European markets.
The automaker now forecasts an adjusted earnings per share of $1.30 to $1.50. That's down from the $1.45 to $1.70 per share forecast at the start of the year, a roughly 11 percent decline.
Shanks said the company has a road map of "where to play" in the future, which will require restructuring that could potentially cost the company $11 billion on its earnings before interest in taxes over the next three to five years.
He said for the company to have identified a dollar amount and a time frame, it has a view on where it will need to invest and where it will not invest in the future.
"For us to have identified a specific number and a specific time frame, we have a point of view about where we're going to make investments and where we're going to allocate our capital in the future, we have a point of view where we're not," Shanks said. "And the consequence of not making those investments would be a business that needs to be dispositioned. And in part, that would be done through a restructuring."
The automaker reported the fire at the Meridian Magnesium Products plant in Eaton Rapids cost the company $591 million. Shanks also said rising steel and aluminum costs due to tariffs cost the company roughly $145 million, and estimated it would incur about $500 million to $600 million in costs in 2018 due to the ongoing trade war.
But the bigger issue was the $483 million it lost in China during the second quarter.
The automaker reported earnings before interest and taxes of $1.8 billion in North America and $49 million in the Middle East and Africa. The automaker lost $178 million in South America, $73 million in Europe and $394 million in its Asia Pacific market.
There is "a lot of work ahead of us in China," Ford Chief Financial Officer Bob Shanks said. "We're very disappointed in that result."
President of Global Markets Jim Farley said second-quarter results in both Europe and the Asia Pacific markets — responsible for driving down full-year projections — were unacceptable, and the company was in the middle of a multi-faceted plan to drive profits in those markets.
Both markets are suffering from product lineups in those regions ill-suited for the respective customers, Farley said. Ford desperately needs new SUVs in China, for example.
"We have to redesign Europe," Farley said. "We understand the importance of getting our China business back on track."
Ford's second-quarter revenue totaled $38.9 billion, and 27 cents adjusted earnings per share.
The results come during a tough transitional period for Ford, according to industry analysts. Not only is the company undergoing internal shifts to the organizational structure, but its sales are slipping compared to a year ago due to an aging product lineup, the brand is not performing in China compared to a year ago, and the company is still nearly a year away from a product-launch gambit expected in 2019.
And the entire industry is facing headwinds as sales plateau.
The second-quarter results were announced a day after Ford detailed plans to create a separate unit within the company for its autonomous vehicle business.
Ford Autonomous Vehicles will house all parts of Ford's self-driving vehicle business. It's a signal from the Dearborn-based automaker that its autonomous vehicle research is gaining traction, and the various facets of the company's autonomous vehicle business is reaching a point where it needs to break out from under the Ford Smart Mobility umbrella.
The second quarter results come roughly 14 months into Hackett's tenure as CEO, and amid continued cost-cutting and evaluations within the Dearborn-based automaker.
The company plans to trim $25.5 billion in operating costs by 2022 and cut its North American passenger car lineup by more than 80 percent, eliminating the Taurus, Fiesta, Fusion, C-Max and Focus sedans within a few years, and replacing at least the Focus and Fusion sedans with crossover wagons.
Ford plans to add five all-new SUVs over the next two years, along with the 2019 Ranger midsize pickup that debuted at the Detroit auto show in January. The company plans for nearly 90 percent of its vehicles sold in 2020 to be a truck, SUV or commercial vehicle.
Sergio Marchionne, who saved
Fiat and Chrysler, has died
The Canadian Press
By COLLEEN BARRY
July 26, 2018
MILAN — Sergio Marchionne, a charismatic and demanding leader who engineered two long-shot corporate turnarounds to save both Fiat and Chrysler from near-certain failure, died Wednesday. He was 66.
The Exor holding company of the Fiat founding family Agnelli announced Marchionne's death in Zurich in a statement.
"Unfortunately what we feared has come to pass," Fiat heir John Elkann said. "Sergio Marchionne, man and friend, is gone."
Marchionne built the dysfunctional companies into the world's seventh-largest automaker almost by personal force of will, living on a corporate jet crossing the Atlantic to push employees to accomplish what most people thought was impossible amid a devastating global recession.
Marchionne, who was Italian and Canadian, had revived Fiat by 2009 when he was picked by the U.S. government to save U.S.-based Chrysler from its trip through bankruptcy protection after being owned by a private equity company.
"It's highly unlikely that Chrysler would exist today had he not taken that gamble," said Autotrader.com analyst Michelle Krebs. "The company was in such bad shape, being stripped of any kind of resources by the previous owners."
Marchionne met most of his goals, even though at times he was doubted by nearly everyone in the automobile business. But he didn't live long enough to complete his last two: personally hand over the reins of Fiat Chrysler Automobiles to a hand-picked protege and lay out plans for transforming supercar maker Ferrari.
Marchionne had shoulder surgery in summer 2018, and the company said last weekend that complications meant he would not be able to return.
The manager, known for his folksy, colorful turns of phrase and for his dark cashmere sweaters no matter the occasion, was the darling of the automotive analyst community. Even when expressing doubts at his audacious targets, they expressed admiration for his adept deal-making. That included getting GM to pay $2 billion to sever ties with Fiat, key to relaunching the long-struggling Italian carmaker, and the deal with the U.S. government to take Chrysler without a penny down in exchange for Fiat's small-car technology.
Marchionne joined Fiat after being tapped by the Agnelli family to save the company. Fiat had for generations been a family-run enterprise, and having someone at the helm from outside Italy's clubby management circles — even a dynamo like Marchionne — was an enormous change.
Other key corporate moves included the spinoff of the heavy industrial vehicle and truck maker CNH and of the Ferrari supercar maker. Both deals unlocked considerable shareholder value for Agnelli family heirs led by John Elkann. Elkann came into his own under Marchionne's stewardship, taking over as chairman in 2010 having been tapped more than a decade earlier by his grandfather, the late Gianni Agnelli, to run the family business.
As Marchionne's health failed following surgery, a clearly emotional Elkann delivered what amounted to an impromptu eulogy and message of gratitude to a man he called his mentor.
"He taught us to think differently and to have the courage to change, often in unconventional ways, always acting with a sense of responsibility for the companies and their people," Elkann said over the weekend. "He taught us that the only question that's worth asking oneself at the end of every day is whether we have been able to change something for the better, whether we have been able to make a difference."
It was Marchionne's success in turning around a pair of Swiss businesses that drew the attention of the Agnelli family. He joined Fiat's board in May 2003, four months after the death of Gianni Agnelli. He became CEO in June 2004, following the death of Gianni Agnelli's brother, Umberto, Fiat's chairman, leaving a family void in the company.
As an outsider, Marchionne was unfettered by local loyalties and he set about cutting jobs and expenses, slimming management ranks and increasing shareholder value along the way. He brought in other outsiders to key positions and relaunched the iconic 500, which became one of the new Fiat's calling cards as it expanded abroad.
While he started small with limited industrial alliances, his ambitions soon grew. The bankruptcy of Chrysler gave him the opportunity to create a global car company with brands including Jeep, Ram, Alfa Romeo, Ferrari and Maserati that he envisioned would grow to 6 million cars a year. A global economic crisis that bottomed out car sales in key U.S. and European markets prevented him from reaching that goal, but his industrial vision never faltered as he spun off CNH and Ferrari into stand-alone entities.
His most quoted presentation to analysts, titled "Confessions of a Capital Junkie," argued that consolidation was inevitable in the investment-heavy car industry. But though he tried for another merger with General Motors, talks never led to a deal. Still, newspaper photographs of a chain-smoking Marchionne awaiting talks with German Chancellor Angela Merkel outside the Chancellery in Berlin on the role of GM's then-subsidiary, Opel, made clear just how personally he took the negotiations.
Marchionne had planned to step down as CEO of FCA after the close of 2018, with the presentation of the year-end results in April. He always insisted that his successor would come from inside — so it was no surprise when British manager Mike Manley, who helped boost Jeep to global success and get Fiat a foothold in Asia, was named as his successor as Marchionne's health failed.
He had never indicated plans for Ferrari or CNH, leaving many to speculate that the tireless manager known for his short sleep cycles and globe-trotting style would use those positions to keep a foothold in the automotive world.
In June, he laid out FCA's five-year plan — raising the eyebrows of analysts who pointed out he would not be the one to execute the plans. He responded by expressing confidence in his hand-picked teamwhich helped draft the targets.
The plans included launching electrified powertrains across Fiat brands — a tacit acknowledgement that the company had lagged in introducing hybrid, hybrid-electric and full-electric engines. They also were to put Ferrari engines in Maserati cars as Marchionne sought to take on electric-car pioneer Tesla — but unlike at Tesla, which has so far failed to turn a profit, earnings were a fundamental at FCA.
Marchionne's penchant for numbers was always clear in his attentive quarterly presentations. He let his real satisfaction show during the June 2018 presentation when he announced the company had reached zero debt, by donning a necktie for the first time in a decade — albeit briefly.
His next major move was to be the presentation of a new business plan in September for Ferrari, which he aimed to turn into a luxury company beyond just cars to further boost earnings at the company that he was determined would remain an exclusive player with a limited annual production.
At his last public appearance in his role as FCA CEO, Marchionne in late June attended a ceremony in Rome where a Jeep was presented to Carabinieri police. Marchionne began his brief remarks noting that he grew up in a household where his father was a Carabinieri officer.
Speaking of the paramilitary police corps, he said he recognized in the Carabinieri "the same values at the basis of my own education: seriousness, honesty, sense of duty, discipline and spirit of service."
Marchionne was divorced. He is survived by his companion, Manuela Battezzato, and two adult sons.
Inflation rate rises to highest
level in 6 years at 2.5%
Annie Rueter
CBC News
July 25, 2018
The cost of living in Canada is going up at its fastest pace since 2012, new numbers from Statistics Canada show, as gas prices have risen by almost 25 per cent since last summer.
The consumer price index rose to 2.5 per cent in June, from 2.2 per cent in May.
It's the highest inflation rate on record since February 2012, the data agency said.
Higher gas prices were one of the major factors in the increase, as pump prices have risen by 24.6 per cent from last summer's level. But it wasn't just gasoline — overall energy costs were a significant driver, up 12.4 per cent from last year.
Prince Edward Island has the highest inflation rate in the country, with prices rising by 2.9 per cent over the past year. The lowest is in Quebec, where the rate of increase has been two per cent.
In a separate release, Statistics Canada reported retail sales increased two per cent in May to $50.8 billion, following a 0.9 per cent decline in April.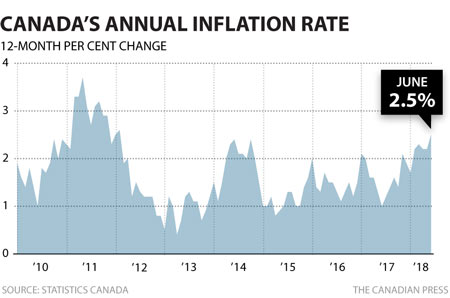 Douglas Porter, chief economist at BMO, said poor weather in April — especially in Ontario and Quebec — hurt retailers.
Auto sales jumped up 3.7 per cent during the month, but even if stripped out, retail sales were up a "strong" 1.4 per cent.
General merchandise stores, building materials and clothing accessories stores contributed to the gain, while food and beverage stores saw a decline in sales for the fourth time in five months.
Taken together, both reports point toward higher interest rates at the Bank of Canada, said James Marple, senior economist at TD.
"Downside risks to trade remain ... but the economic data are increasingly making the case for further Bank of Canada rate hikes," said Marple.
The strong showings in retail sales and the inflation figure suggest "the odds of one more hike this year have risen."
The Bank of Canada will release its next interest rate decision on Sept. 5.
Canada warns of retaliatory
tariffs as U.S. mulls 25%
levy on imported cars
Hearing probes whether duties should be applied
based on national security concerns
Andy Blatchford
The Canadian Press
July 24, 2018
The federal government has sent a blunt warning to the Trump administration — if it slaps Canada with auto tariffs, Canada will hit back.
Canada's deputy ambassador to the U.S. delivered the message Thursday in Washington during testimony at U.S. Commerce Department hearings. The department is investigating whether duties should be applied based on the premise auto imports pose a national security risk to the U.S.
Putting levies on the highly integrated, economically critical North American auto industry and its supply chains would lead to large-scale layoffs on both sides of the border, numerous experts have warned.
The talk of auto tariffs comes at a time when the next-door neighbours are already engaged in an unprecedented trade dispute.
In June, the Trump administration imposed tariffs on steel and aluminum imports. The move prompted Canada to retaliate with reciprocal duties of its own on imports of the metals from the U.S., as well as dozens of other consumer products.
Kirsten Hillman, Ottawa's envoy to Washington, insisted Canada will strike back again, if necessary.
"Should this investigation ultimately result in the application of tariffs on autos, Canada will once again be forced to respond in a proportional manner," Hillman testified.
Where Americans get their cars from
Americans bought 17.2 million cars last year. Less than 1/3 of them were made in America by the Big 3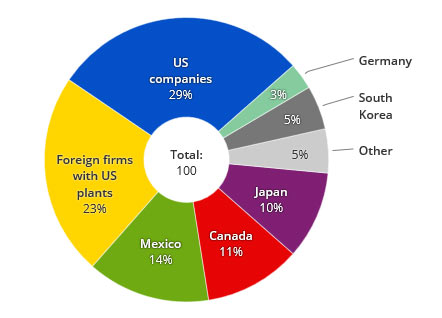 "Maintaining open trade in autos and auto parts between our countries is crucial to the economic well-being of our companies, our communities and our workers, which, in turn, supports our collective security. We urge you to reflect on these matters as you prepare your recommendations."
Canada's warning came the same day the European Union announced it was prepared to launch retaliatory measures against the U.S. if President Donald Trump introduced auto tariffs.
Trump has proposed tariffs of 25 per cent in a decision he insists would help American workers. His administration has expressed concerns that, for decades, foreign imports have eaten away at the U.S. auto industry.
Hillman rejected the idea that Canada could represent a risk for U.S. national security. She argued that American contingency planners have long considered Canadian industrial centres as key sources of reserve capacity in the event of an attack on the U.S.
"In this investigation, you are being asked to examine a specific industrial sector: automobiles and auto parts. Not tanks. Not battleships. Civilian passenger vehicles and parts," she said.
"So where's the nexus between civilian vehicles and national security? There is none and there's no basis for finding one."
Jim Wilson, Ontario's minister for economic development and trade, also voiced concerns at Thursday's hearings. The province, which relies heavily on the auto sector, would suffer a big blow from U.S. levies.
"If auto tariffs are imposed, everybody loses," Wilson said.
At the start of the hearings, U.S. Commerce Secretary Wilbur Ross said, "It's clearly too early to say" if the investigation will ultimately result in a recommendation that tariffs be introduced based on national security grounds.
"But President Trump does understand how indispensable the U.S. automobile industry is," Ross said.
For several hours, U.S. industry leaders — one after another — testified that auto tariffs would inflict significant economic damage. They pleaded with the administration to back away from its threats.
Ann Wilson of the Motor & Equipment Manufacturers Association said the tariffs would lead to significant job cuts within six months of their application and delay or eliminate research and development. Wilson warned that if tariffs were to make auto components too costly, then suppliers and vehicle manufacturers would be forced to move production outside the U.S.
Out of all the witnesses Thursday morning, only one voiced support for an auto tariff investigation.
Jennifer Kelly, director of research for the United Automobile Workers, said decades of weaker investment as well as the movement of auto jobs to low-wage places like China and Mexico by U.S. corporations has sapped the country's security.
"We believe a comprehensive investigation into the impact of the loss of auto manufacturing and its consequences for our national security and economic well-being is long overdue," said Thomas, who also called for a careful study before the administration takes any steps that will affect the complex global industry.
"We caution that any rash actions could have unforeseen consequences, including mass layoffs of American workers. But that doesn't mean we should do nothing."
The debate over auto tariffs is in the spotlight at a deeply uncertain time in the Canada-U.S. business relationship.
Trump's steel and aluminum tariffs are based on the premise that they represent a national security threat — the same assertion under investigation for the proposed auto duties. This week, the U.S. announced another national security probe into possible duties on U.S. uranium imports.
The stalled renegotiation of the North American Free Trade Agreement, which also includes Mexico, has created additional unknowns for Canadian businesses.
They warned the duties would hurt competitiveness, drive up prices on cars and trucks and trigger major job losses.
"We appreciate the desire to strengthen our trade agreements to better achieve a level playing field, but tariffs are the wrong approach," said Jennifer Thomas, vice-president of federal government affairs for the Alliance of Automobile Manufacturers.
"The opposition is widespread and deep because the consequences are alarming. Higher tariffs will harm American workers, families and the economy. Simply put, tariffs are a massive tax on consumers."


US probes complaints that
some Ford Escapes overheat

Tom Krisher,
Associated Press
July 23, 2014
Detroit – Federal safety investigators are looking into complaints that engines on some Ford Escape vehicles can overheat and suddenly stall while being driven.
The U.S. National Highway Traffic Safety Administration says in documents posted on its website Friday that it has 40 complaints from consumers about stalling, including two alleging that the engines caught fire.
The investigation covers about 127,000 Escape small SUVs in the U.S. from the 2013 model year that have 1.6-liter turbocharged four-cylinder engines.
Investigators will determine the cause of the engine stalling, how often the problem happens, which vehicles are affected and whether a recall is warranted.
Ford said in a statement Friday that it is cooperating with the investigation as it always does.
In one of the complaints involving a fire, an Escape owner in Dozier, Alabama, reported that on June 6, the engine stalled while being driven, and the SUV coasted to a gas station, where it caught fire. There were no injuries.
Last year, Ford recalled more than 200,000 vehicles with the same-size engines because they can overheat and catch fire. But the 2013 Escape was not included.
Covered by the recall in North America are Escapes from the 2014 model year, plus the 2014 and 2015 compact Fiesta ST, the 2013 and 2014 Fusion midsize car and the 2013 through 2015 Transit Connect small van. Ford also conducted similar recalls in Europe and China.
Late last year, Ford said in documents that it will repair any coolant leaks that might be found in the 200,000 recalled vehicles.
The repairs were detailed in company documents posted by NHTSA in December and came 10 months after the company said it would only install a coolant level sensor "with supporting hardware and software."
In March of 2017, the automaker announced that it would recall the cars, SUVs and vans because their 1.6-liter turbocharged engines can overheat if coolant gets low, causing the cylinder head to crack and spew oil. At the time, Ford had reports of 29 engine fires with no injuries.
Ford Motor Co.'s March press release and initial recall documents filed with NHTSA did not mention fixing any leaks but the company later said that was its plan all along.
Experts say a healthy engine should not leak or consume coolant, which is often called anti-freeze and is circulated through the engine to regulate the temperature.
The NHTSA investigation comes two days after an audit by the Transportation Department's Inspector General found that the agency failed to act quickly on a consumer complaint, and that could have delayed recalls of dangerous Takata air bag inflators in various models.
The Inspector General also found that the agency's process for monitoring car and truck recalls isn't adequate. And the report released Wednesday said NHTSA isn't verifying recall completion rates reported by automakers or making sure manufacturers file proper documents.
"Overall, inadequate controls and processes for verifying and collecting manufacturer-reported information have hindered NHTSA's ability to oversee safety recall implementation," the inspector general wrote.
Ford recalls 550K vehicles
for roll-away issue

Associated Press
July 20, 2018
Detroit – Ford is recalling about 550,000 cars and SUVs in North America to fix a gearshift problem that could cause the vehicles to roll away unexpectedly.
The recall covers certain 2013 through 2016 Fusion sedans and some 2013 and 2014 Escape small SUVs.
Ford says a bushing that attaches the shifter cable to the transmission can fall off. If this happens, the driver could shift into park but the vehicle could be in another gear. That could let the vehicle roll, increasing the risk of injury or crash.
The company says it doesn't know of any crashes or injuries. Ford is advising owners to use the parking brake.
Dealers will replace the shifter bushing at no cost. Owners will be notified by July 30. Parts should be available late this quarter.


Carmakers to Trump:
Pump brakes on tariffs

Keith Laing,
The Detroit News
July 19, 2018
Washington — The auto industry is unified in its opposition to the Trump administration's proposal to impose tariffs as high as 25 percent on imported cars, but leaders fear the message is likely not to be heeded.
Groups that lobby for both Detroit manufacturers and their foreign counterparts will testify at a public comment hearing organized by the U.S. Commerce Department on Thursday, which is considering the duties under the guise of national security. The agency received 2,356 written comments — mostly negative — that included submissions from General Motors Co. and Toyota Motor Co.
On Tuesday, a group of seven lobbying groups representing various segments of the auto industry released a letter to President Donald Trump that urged him to reverse course. The letter is a rare show of industry-wide unity.
"We have come together as a united U.S. auto industry — domestic and international automobile manufacturers, suppliers, dealers and auto care businesses — to urge your Administration to achieve fair trade through policies that won't jeopardize American jobs, our economy or U.S. technological leadership," the letter said.
"Raising tariffs on autos and auto parts would be a massive tax on consumers who buy or service their vehicles — whether imported or domestically produced," the groups continued. "These higher costs will inevitably lead to declining sales and the loss of American jobs, as well as increasing vehicle service and repair costs that may result in consumers delaying critical vehicle maintenance."
The letter was signed by the Alliance of Automotive Manufacturers, which represents foreign and domestic car manufacturers; American Automotive Policy Council, which lobbies for Detroit manufacturers; the Auto Care Association, which represents independent manufacturers, distributors, repair shops, marketers and retailers; American International Automobile Dealers Association, which represents dealerships for foreign cars; the Association of Global Automakers, which represents international manufacturers; the Motor and Equipment Manufacturers Association, which represents part manufacturers; and the National Automobile Dealers Association.
The groups are scheduled to testify Thursday. They will be joined by representatives from Volkswagen, Hyundai, the United Auto Workers union and ambassadors from the European Union, Mexico, Canada, Turkey, Japan, South Korea, Malaysia and South Africa.
In the hopes of spurring Congress to take action to block the implementation of import tariffs, the Association of Global Automakers is planning a "drive-in" Thursday in which domestic workers at foreign-owned plants will drive cars they build to Capitol Hill to draw attention to the potential negative impact of tariffs. The auto workers will be joined by U.S. Sen. Doug Jones, D-Ala., and U.S. Reps. Drew Ferguson, R-Ga., and Jackie Walorski, R-Ind.
Brian Krinock, senior vice president of vehicle plants for Toyota Motor North America, said Tuesday that a 25 percent tariff on finished vehicles or components would add as much as $3,000 to the price of some its best-selling U.S. models.
"If we were to look at the Camry, about 30 percent of the parts inside the Camry are from somewhere else other than the U.S.," he said. "The cost would be $1,800 that would be impacted. If we look at Toyota Sienna, America's family van, about $3,000. That's made in Princeton, Indiana. If we also look our Tundra pickup truck, made in San Antonio, Texas, the cost would be $2,800."
Krinock said the impact of tariffs would not be limited to Toyota, or even foreign-owned manufacturers.
"I can say this that there's no automaker that has 100 percent exclusive in the U.S. source parts," he said. "It is a global business and global operations."
Detroit manufacturers have warned the Trump administration that tariffs could expose them to retaliation from the home countries of foreign-owned competitors and put jobs of U.S. autoworkers at risk.
In comments submitted to the Commerce Department in late June, GM warned: "If import tariffs on automobiles are not tailored to specifically advance the objectives of the economic and national security goals of the United States, increased import tariffs could lead to a smaller GM, a reduced presence at home and abroad for this iconic American company, and risk less — not more — U.S. jobs."
Most foreign-owned automakers have been reticent to release information about the potential impact of tariffs on their price of cars in the U.S. showrooms, but have argued that domestic jobs in plants typically located in states that carried Trump to the presidency could be put in risk.
Hyundai, which builds the Elantra, Sonata and Santa Fe in Alabama, noted in a statement provided to The Detroit News on Tuesday that it "has a significant manufacturing presence in Alabama, and its U.S. operations and associated suppliers have created more than 25,000 American jobs and invested more than $8.3 billion in the United States." The South Korean company noted its domestic dealerships have also created 47,000 U.S. jobs.
"Free and fair trade makes the United States a competitive market place," Hyundai said. "Broad restrictions, such as tariffs, on auto and auto part imports will raise costs for American consumers and families."
Mazda, which has announced plans to build a $1.6 billion joint assembly manufacturing plant with Toyota in the U.S. that could open in 2021, said in comments submitted to the Commerce Department that tariffs would force it to reassess U.S. manufacturing plans and its ability to maintain a robust domestic dealer network.
Volkswagen said in a Tuesday statement it "has made significant long-term investments in the United States that would be impaired by restrictive changes to trade including the proposed tariff on automotive imports from the European Union.
"We believe that tariffs of this kind are a tax on the U.S. consumer and will result in higher prices and also threaten job growth," the German automaker said. "In addition, the potential for escalating trade retaliation presents a serious risk to economic growth in all countries."
John Bozzella, the global automaker group's president, said Tuesday he has never seen the auto industry this united.
"You cannot find a company that has asked for this protection," he said. "You cannot find a group of employees that has been loud and strident and forceful in a request for protection. I don't see it anywhere."
Chad P. Bown, senior fellow at the Peterson Institute for International Economics, a nonpartisan think tank, said the industry's united front may fall on deaf ears. He cited the the Trump administration's decision to impose tariffs on foreign steel and aluminum.
"This may make no impact on the administration whatsoever," Bown said. "As we saw in the aluminum case, the aluminum industry came out against it."
Ontario trade minister heads to
Washington to defend auto industry
July 18, 2018
The Canadian Press
Washington this week to defend the province's auto industry at a U.S. Department of Commerce hearing.
Jim Wilson said he will be speaking Thursday at the public hearing to investigate national security issues around imports of automobiles and automotive parts.
Wilson said he planned to stress the economic benefits of working with Ontario's auto sector.
"It is clear that Ontario is not a national security risk to the United States," he said. "The U.S. and Ontario share many of the same goals — together, we can advance our shared priorities of creating jobs on both sides of the border by developing strong, competitive business environments that spur innovation and growth."
U.S. President Donald Trump has slapped duties on U.S. steel and aluminum imports from Canada and other allies and threatened similar duties on Canadian-made cars and parts.
Wilson called for balanced and fair trade between the two countries, adding that Canada and the U.S. have an integrated supply chain that benefits both.
"One in five jobs in Ontario, or 1.3 million jobs in Ontario, depend on good relations with the United States and our trade relations," Wilson said.
"In the United States, we want to go down there this week and make it clear that nine million jobs (in the U.S.) depend on good NAFTA negotiations with the United States, and that's what I'll be doing at the end of the week."
Wilson's trip to the U.S. comes as Ontario Premier Doug Ford has pledged to work closely with the federal government on trade.
Ford has said he and his ministers would discuss the importance of reaching a new NAFTA deal and added that Ontario will not sit on the sidelines.
Shortly after winning the spring election Ford met with Foreign Affairs Minister Chrystia Freeland and Canada's ambassador to the United States, pledging his help in trade matters.
"It's going to be a full court press," Ford said after the meeting in June. "I'm going to be travelling to every single state because nothing is better than meeting someone eye-to-eye."
Ford to pay $299M to
drivers with faulty air bags
Keith Laing,
The Detroit News
July 17, 2018
Washington — Ford Motor Co. has agreed to pay $299 million to drivers of cars with faulty Takata air bags, according to court documents.
The payouts, included in a settlement filed in federal court in Miami on Monday, intendes to reimburse drivers for expenses incurred while they are waiting for theirs cars to be repaired and provide loaners for drivers whose cars are inoperable until the fix is completed. Takata air bag inflators under recall are prone to explode with sometimes deadly force, especially in humid climates.
Ford joins other automakers including Toyota Motor Corp., Subaru Corp., Mazda Motor Corp. and Nissan Motor Co. in reaching settlements with owners of its vehicles that have been impacted by the Takata recall.
Toyota agreed in 2017 to pay $278.5 million; while BMW agreed to pay $131 million. Mazda Motor paid $76 million and Subaru paid $68 million. Nissan Motor Co. agreed to pay $98 million in a separate agreement that was also reached in 2017.
Peter Prieto, a court-appointed attorney for plaintiffs in a class-action lawsuit filed over the air bags, said the agreement with Ford will help compensate drivers who were exposed to the possibility of exploding air bags.
Ford has 3.8 million recalled air bags, of which it has fixed 938,000, according to the National Highway Traffic Safety Administration.
The company urged customers to contact their dealers immediately for free repairs.
"Safety is our priority," Ford said in a statement. "We remain focused on working with our customers to get their vehicles repaired."
Recalls of Takata air bags have spread to nearly 13 percent of vehicles in the United States. The devices have been linked to at least 13 deaths and more than 180 injuries in the United States. Worldwide, 22 have died.
Ford Fusion to be name
of future rival of
Subaru Outback,
report says
July 16, 2018
Keith Naughton
Bloomberg
While Ford Motor's Co.'s slow-selling Fusion sedan will fade into history, the name is expected to live on in a sport wagon being developed to challenge Subaru's popular Outback, according to people familiar with the automaker's plans.
The Fusion name probably will live on when the sedan exits early next decade, according to a spokesman. It will be replaced in the showroom by a high-roofed hatchback built on the same mechanical underpinnings, said two people who asked not to be identified revealing future product plans.
Automotive News reported last month that, following dealer pressure, Ford management appeared receptive to the idea of keeping the Fusion name as a post-2021 crossover, similar to what it's doing with the upcoming Focus Active.
Ford shocked the auto industry -- and many of its dealers -- when it announced plans in April to abandon the shrinking sedan market and go all in on higher-profit SUVs, crossovers and pickups. By early next decade, only the Mustang pony car will remain in Ford's U.S. — and most likely also Canada's — lineup. Worried that customers will defect to rivals, dealers have pushed to retain the Fusion name, which just four years ago was such a strong seller that Ford had to add a second factory of production.
"They spent hundreds of millions of dollars for brand equity in that Fusion name -- not US$10 million or US$20 million -- but hundreds of millions," said Rhett Ricart, one of Ford's top dealers, whose showroom is near Columbus, Ohio. "The smart thing is to play on that brand equity."
Ford spokesman Mike Levine declined to speculate on the new Fusion's design while confirming "we'll likely continue to use the name because of its awareness, positive imagery and value with consumers."
FOCUS LIVES
The planned reinvention for the made-in-Mexico Fusion is akin to how Ford is transforming the Focus compact car into a crossover that the automaker will begin making next year in China.
Ford needs to find a way to keep its sedan buyers returning to its showrooms. A trade-in analysis by researcher Kelley Blue Book found that fewer than half of Ford Fusion owners are loyal to the brand. The most popular crossover models that Fusion owners consider are the Honda CR-V and Toyota RAV4, KBB found.
"Ford has a hard time moving people from their cars to SUVs," said Michelle Krebs, a senior analyst with KBB affiliate Autotrader.
CHANGED COURSE
The automaker has been vague on the Fusion's future, even as it revealed it was ending production of the Taurus sedan in March 2019 and the subcompact Fiesta in May 2019. The Fusion sedan seems to be retiring some time in 2021, but the automaker appears to have reversed course on whether to keep the name in the lineup.
"They were canceling it originally, but then they were like, 'No, we're not canceling it,'" said John Murphy, an analyst for Bank of America Merrill Lynch, who publishes the closely watched "Car Wars" report that predicts future product plans for all major automakers.
A sport wagon similar to the Subaru Outback would thrust Ford into a fast-growing and competitive segment of the market. With U.S. sales up 5.5 per cent this year, the Outback, is Subaru's top-selling model and wins kudos for its practicality, dependability and fuel economy. Sales are down 1.2 per cent in Canada, where it trails the Forester and Crosstrek in sales by volume.
Jim Farley, Ford's president of global markets, hinted that such a vehicle was coming in April when he explained that the company was exiting sedans to offer a "growing variety" of "utility body styles." He said those new models would "give customers the utility benefits without the penalty of fuel economy."
Ford dealers are just happy they won't suffer the penalty of losing the Fusion name.
"There's no doubt that we've built up equity in that name," said Jack Kain, an 89-year-old Ford dealer near Lexington, Ky. "We can't let that go."
Ontario's been fighting to get
its automotive groove back
July 15, 2018
Stephanie Hernandez McGavin
Long viewed as a close partner of the U.S. auto industry, delivering tooling services, components and finished vehicles in step with factories in the United States, Ontario has struggled over the past decade. Now it is battling back - determined to rekindle local manufacturing.
Canadian economic leaders viewed the situation as dire, since Ontario is the center of the country's automotive sector. Since 2006, 16 new vehicle assembly plants have opened in North America - not one of them in Canada.
Officials now believe they can regain Canada's competitive edge and win new auto investment by partnering with companies on their investments.
"During the global recession, our government made the investments necessary to keep our auto sector strong during that turbulent time," Steven Del Duca, former Minister of Economic Development and Growth, said in an interview prior to a June 7 election, during which he lost his seat. "Ten years later, thanks to these actions, Ontario has a thriving auto sector - but there remain important opportunities that call for continued government support and investment."
The focus now shifts to the Progressive Conservative's majority government led by Doug Ford, who doesn't always believe in using tax money to help spur investment by big corporations.
In May, the Canadian and Ontario governments said they will invest a combined $220 million to support Toyota Motor Corp., which has announced projects there valued at $1.4 billion. Toyota said it will upgrade its two Ontario assembly plants to build the next-generation RAV4, as well as incorporate R&D operations.
Last year, Ford Motor Co. said it will invest $1.2 billion to establish a connected vehicle engineering research centre in Ottawa and upgrade factories across the province. The Canadian and Ontario governments committed a combined $204 million to the projects.
At the beginning of this year, Linamar Corp. also said it will invest $500 million in Ontario. The Canadian government committed $49 million to the project and Ontario said it will provide a conditional grant of up to $50 million. Linamar will use the money to advance next-generation technology for electric and connected vehicles, creating an innovation center dedicated to machine learning and robotics with 1,500 jobs.
While the U.S. auto industry made a furious comeback in the years following the industry crisis of 2008-2009, some remnants of it lingered on in Canada. Canada, and Ontario in particular, lost out on critical automotive investment in 2010 as North American vehicle sales and production began to rebound, industry veteran Ray Tanguay, now an automotive advisor to the government of Canada and Ontario, reported in his 2018 "Drive to Win" report about the outlook for Canada's auto industry.
"In order for Canada to win investments we cannot just be competitive," Tanguay wrote in his report. "We need to be better than other jurisdictions south of the border."
The Linamar investment is a significant one because it represents a solution for an emerging opportunity- the industry's need for more engineering firepower. Linamar operates 20 plants around Guelph, Ontario. Del Duca said the supplier is considered a "true, homegrown success story and a vital pillar of the local economy in the Guelph region."
Linamar CEO Linda Hasenfratz said the decision to make a major investment in Ontario was an important move for the supplier.
"We have very deep capabilities and deep bench strength here in terms of manufacturing and technology," Hasenfratz said. "We absolutely want to take advantage of the fantastic workforce and people we have here to launch business. We're dedicated, and always have been, to manufacturing in Ontario."
Goodbye Fusion sedan,
hello Fusion sport wagon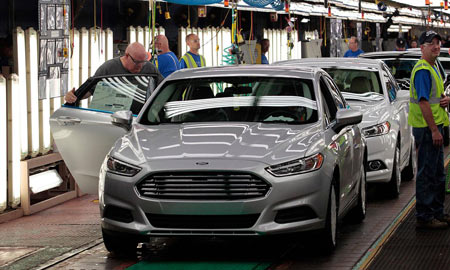 Keith Naughton,
Bloomberg News
July 12, 2018
Ford Motor Co. is killing its slow-selling Fusion sedan while keeping the name to affix to a sport wagon it is developing to take on Subaru's popular Outback, according to people familiar with the automaker's plans.
The Fusion name probably will live on when the sedan exits early next decade, according to a spokesman. It will be replaced in the showroom by a high-roofed hatchback built on the same mechanical underpinnings, said two people who asked not to be identified revealing future product plans.
Ford shocked the auto industry – and many of its dealers – when it announced plans in April to abandon the shrinking sedan market and go all in on higher-profit sport utility vehicles and pickups. By early next decade, only the Mustang pony car will remain in Ford's U.S. lineup. Worried that customers will defect to rivals, dealers have pushed to retain the Fusion name, which just four years ago was such a strong seller that Ford had to add a second factory of production.
"They spent hundreds of millions of dollars for brand equity in that Fusion name – not $10 million or $20 million – but hundreds of millions," said Rhett Ricart, one of Ford's top dealers, whose showroom is near Columbus, Ohio. "The smart thing is to play on that brand equity."
Ford spokesman Mike Levine declined to speculate on the new Fusion's design while confirming "we'll likely continue to use the name because of its awareness, positive imagery and value with consumers."
The planned reinvention for the made-in-Mexico Fusion is akin to how Ford is transforming the Focus compact car into a crossover utility vehicle that the automaker will begin making next year in China.
Ford needs to find a way to keep its sedan buyers returning to its showrooms. A trade-in analysis by researcher Kelley Blue Book found that less than half of Ford Fusion owners are loyal to the brand. The most popular SUV models that Fusion owners consider are the Honda CR-V and Toyota RAV4, KBB found.
"Ford has a hard time moving people from their cars to SUVs," said Michelle Krebs, a senior analyst with KBB affiliate Autotrader.
The automaker has been vague on the Fusion's future, even as it revealed it was ending production of the Taurus sedan in March 2019 and the subcompact Fiesta in May 2019. The Fusion sedan seems to be retiring some time in 2021, but the automaker appears to have reversed course on whether to keep the name in the lineup.
"They were canceling it originally, but then they were like, No, we're not canceling it,'" said John Murphy, an analyst for Bank of America Merrill Lynch, who publishes the closely watched "Car Wars" report that predicts future product plans for all major automakers.
A sport wagon similar to the Subaru Outback will thrust Ford into a fast-growing and competitive segment of the market. With sales up 5.5 percent this year, the Outback is Subaru's top-selling model and wins kudos for its practicality, dependability and fuel economy.
Jim Farley, Ford's president of global markets, hinted that such a vehicle was coming in April when he explained that the company was exiting sedans to offer a "growing variety" of "utility body styles." He said those new models would "give customers the utility benefits without the penalty of fuel economy."
Ford dealers are just happy they won't suffer the penalty of losing the Fusion name.
"There's no doubt that we've built up equity in that name," said Jack Kain, a Ford dealer near Lexington, Kentucky. "We can't let that go."
Appeals court approves $10B
Volkswagen emissions deal
The Associated Press
July 11, 2018
San Francisco –A U.S. appeals court on Monday approved a $10 billion settlement between Volkswagen and car owners caught up in the company's emissions cheating scandal.
The deal delivered "tangible, substantial benefits" and the federal judge who approved it did more than enough to ensure it was fair, a three-judge panel of the 9th U.S. Circuit Court of Appeals ruled unanimously.
The German automaker agreed to spend up to $10 billion compensating owners of roughly 475,000 Volkswagens and Audi vehicles with 2-liter diesel engines – the bulk of the vehicles caught up in the scandal.
Volkswagen acknowledged that the cars were programmed to cheat on emissions tests. Under the terms of the deal, the automaker agreed to either buy back the cars or fix them and to pay each owner thousands of dollars in additional compensation.
U.S. District Judge Charles Breyer in San Francisco approved that deal in 2016 as part of a $15 billion settlement that also included $2.7 billion for unspecified environmental mitigation and an additional $2 billion to promote zero-emissions vehicles.
Volkswagen has acknowledged that more than 550,000 vehicles in the U.S. were programmed to turn on emissions controls during government lab tests and turn them off while on the road. Investigators found that the cars emitted more than 40 times the legal limit of nitrogen oxide, which can cause respiratory problems.
Transit van a quiet
giant in Ford lineup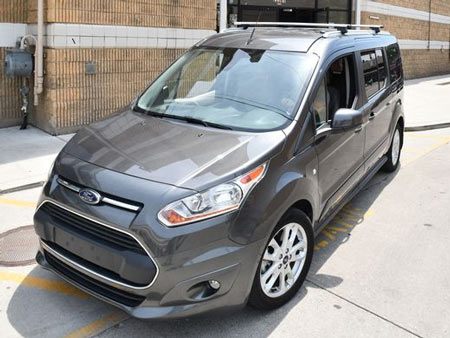 Ian Thibodeau,
July 10, 2018
The Detroit News
It's not sleek, it's not fast and it's not flashy, but Ford's full-size Transit van has been a quiet sales giant, dominating the commercial van market across the world.
And it's that very workhorse character that could make it and the smaller Transit Connect the potential platforms for the automaker's business plan to move people and things with fully self-driving vehicles, experts say.
Ford has declined to comment on what model might carry the brand's autonomous business come 2021, when it says it will bring a robotic vehicle to market. But experts point to the vans' affordable and adaptable nature as logical bases to enter the market.
For now, the Transit and passenger-oriented Transit Connect are generating sales during an off-year when the automaker has few new offerings to compete with flashy new SUVs and crossovers offered by competitors.
The full-size van is popular among commercial buyers for its versatility and easily customized cargo space. Ford hopes the low price point and interior space can help its popularity among other buyers outside the commercial realm — though owning the commercial market has proven lucrative.
"The Transit is really getting the lion's share of that commercial market," said Karl Brauer, executive publisher of Autotrader.com, a marketplace for car shoppers.
The Transit commercial vehicle generates most of the sales for the segment. Ford says sales were up 7.5 percent through the first six months of the year, driven largely by fleet sales. Sales of the smaller Transit Connect were down 3.8 percent.
"It's similar to how the F-150 is the best-selling vehicle in the full-size truck market," said Brauer. "You've got Ford owning these two highly profitable segments."
Brauer, who in 2016 used a full-size commercial Transit to haul car parts from California to Michigan, said Ford has a unique vehicle in that model. It looks and drives like a modern vehicle, he said, not a clunky full-size van.
Daimler AG, Fiat Chrysler Automobiles NV and General Motors Co. all produce full-size commercial vans. But Ford's global Transit platform dominates when it comes to global volume. The nameplate recognition and market penetration gives Ford an undercurrent of profit that helps carry the automaker as it prepares refreshed Transit and Transit Connect models this year during a slow time for new products.
"It's basically the F-Series, part two," Brauer said. "If you're able to provide for commercial and fleet use when the economy is generally booming, that's a whole new level of profit."
Mark LaNeve, Ford sales chief, said he expects retail sales for both vehicles to grow through the end of the year as the automaker gears up to launch a refreshed van and eliminate sedans from its lineup.
"It's a hell of a great value in the marketplace," LaNeve said. "We're going to do a surprising amount of retail business."
The success Ford has seen with the Transit in the commercial vehicle market is having a trickle-down effect, according to Stephanie Brinley, analyst with IHS Markit, a London-based analysis company. The success of the commercial vehicle is helping turn consumers' eyes to the Transit Connect, which would in turn build brand recognition and trust as Ford gears up to launch its autonomous vehicles in 2021.
"The Transit Connect is finding a niche home," she said. "Others which have offered similar products have not seen the same success (and) part of Ford's success with Transit Connect is related to its strong commercial business.
"They have even more potential to support Ford's future autonomous vehicle plans, as the vehicles can be customized for multi-purpose use."
Although Ford officials have declined to comment on what its first-generation autonomous vehicle will look like, or what platform it will use, the company has said it will be able to transition between moving people and moving goods. They have said it will be a hybrid and will be a new nameplate.
That might not mean it's a new architecture, though. GM removed the steering wheel, brake pedal and accelerator from its Bolt electric vehicle, stuffed it with autonomous hardware and software, and renamed it the Cruise AV.
Ford currently tests its autonomous software on hybrid Fusion sedans, though it uses Transit vehicles for the Chariot shuttle service it's invested in.
For now, Ford hopes the Transit Connect will be piloted increasingly by human drivers. The company is marketing the van toward people like Chris and Tiffany Best. The owners of the Rust Belt Market in Ferndale said their Transit Connect has become a surprising asset as they balance work and family life.
"It's a better value than some of the SUV models for our lifestyle," Tiffany Best said. She and Chris use the vehicle to haul anything from plywood to planters to the market. They also use it as a family-hauler.
It's easier to get in and out of than an SUV, they said, and the high ceiling allows for more cargo space than most mid-size or small SUVs.
Another perk: It doesn't look like a soccer-mom van.
"It looks cool," Chris Best said of their gun-metal gray Transit Connect. "It's not like a typical van."
That's something Ford hopes to build on as it eliminates sedans from its lineup, though analysts don't think the Transit Connect will be able to fill in the gap sedans will leave. With the Fusion, Fiesta Taurus and Focus sedans to be axed — along with the C-Max compact — the Connect would become Ford's second-cheapest vehicle, currently retailing at $23,215.
Ford has said the Focus will be redesigned into a crossover dubbed the Focus Active. Other crossovers are expected to enter Ford's lineup in the next few years.
Brinley expects the Transit and Transit Connect to remain silent profit pillars for the Dearborn automaker moving forward.
"I don't think it's going to come close to filling a sedan gap," Brinley said. "It's not sexy, it's practical. There are more utilities coming from Ford which will do better.
Auto tariffs would be
'catastrophic' to Canada
and cost 100,000 jobs,
dealers warn
If Canadian government responds in kind, it could
add $9,000 to sticker price of new car
CBC News
July 9, 2018
The U.S. government threat to put a tariff on all Canadian-made vehicles would be "catastrophic" to Canada's economy, costing 100,000 jobs and adding as much as $9,000 to the sticker price of a new car if Canada responds in kind, dealers say.
Following recently announced levies on steel and aluminum, U.S. President Donald Trump has repeatedly threatened in recent months to impose a similar tariff on Canadian-made vehicles, something the Canadian Automotive Dealers Association warned Friday may be enough to tip the entire economy into recession.
The metal tariffs saw steel face a surcharge of 25 per cent, while aluminum was hit with a 10 per cent hike. The president has suggested a similar plan for cars, one that would see 25 per cent on cars themselves, and 10 per cent on parts.
"This — or anything close to it — would be catastrophic for not only the Canadian automotive industry but for the economy as a whole," CADA's chief economist Michael Hatch said at a news conference Friday in Ottawa.
The group, which represents 3,200 Canadian car and truck dealers, says that more than 100,000 manufacturing jobs would be at immediate risk if tariffs are imposed. "Longer term, indirect job losses at dealerships and elsewhere would drive this number much higher," CADA said.
Other recent reports from banks have had similar conclusions, with Toronto-Dominion Bank recently calculating that the job toll from auto tariffs could be in excess of 160,000.
Hatch's analysis suggests that Ontario would feel the impact more than anyone, as the province is home to the lion's share of all auto and parts manufacturing in Canada.
On the consumer side, CADA estimates that if Canada responds with similar tariffs of their own on U.S. cars — just as they did in retaliation to the metals tariffs — he expects the average price of a car to increase by between $5,000 and $9,000, depending on the make and model. The average new car in Canada currently costs about $40,000, CADA says.
"Impacts on industry on both sides of the border will be significant but in the end it is the American consumer that will pay by far the biggest price if tariffs are imposed," Hatch said. "These figures aren't alarmist, they are the reality that we face."
Car dealerships employ 156,000 Canadians, CADA says, and as many as 30,000 of those jobs could immediately be at risk if any car tariffs come to pass.
"In a trade war, we point the guns at ourselves," Hatch said.
The group urges lawmakers to do anything they can to avoid that scenario, by working to secure a new NAFTA deal. But if the worst should happen, CADA is recommending three steps it wants the federal government to take in order to minimize the damage:
Cut sales taxes for new vehicle sales to offset the tariffs.
Implement a "cash for clunkers" style program that would encourage owners to trade in their older vehicles.
Produce an immediate suite of personal and corporate tax reforms aimed at enhancing Canada's competitiveness.
Aging lineup ails Ford in China
Ian Thibodeau,
The Detroit News
July 8, 2018
Ford Motor Co. sales in China slid by 25 percent in the first six months of the year, just as a trade war breaks out between the U.S. and that country.
China said Friday it would retaliate against U.S. tariffs with 25 percent duties of its own on certain products — including automobiles from the United States. In response to that declaration, Ford said Friday it will not raise the prices of its vehicles exported to China for now, according to a Bloomberg report.
The Dearborn automaker said exports to China totaled 7,848 for the first half of the year.
An aging vehicle lineup was the primary culprit that hurt Ford's China sales for the first half of 2018, even as some of its competition flourished.
While Lincoln brand sales have increased 4 percent for Ford in China this year, the automaker has struggled to sell aging the products that it imports there, as well as those it sells with its joint ventures. Peter Fleet, president of Ford's Asia Pacific wing and CEO of Ford China, said the company knew 2018 would be a tough sales year due to its product cycle.
"China is a new product-driven sales market," spokeswoman Lori Arpin said in an email. "As part of our In China, For China strategy, Ford will introduce a wave of exciting new products later this year including the all-new Focus and new Escort. As our volume vehicles, the all-new Focus and new Escort will hit the showroom in a few months."
Arpin said Ford is focused on a long-term strategy, and plans to expand its product portfolio there as part of plan that takes the company through 2025. She said Ford is focused on its plan as the trade war between the U.S. and China erupts.
Ford reported it sold 62,057 vehicles in China in June, a 38 percent decline compared to the same month a year ago. It's sold 400,443 vehicles there this year.
Meantime, Ford's crosstown rival General Motors Co. reported China sales grew 4.4 percent in the first half of the year, having sold 1.8 million vehicles. The Detroit automaker plans to add 10 new models there in the second half of the year.
GM sold nearly double the number of vehicles in the second quarter in China than Ford has sold there all year.
Buick moved 230,454 units in China in the second quarter; Lincoln has sold 24,314 vehicles there in the first half of the year.
Ford plans to launch four redesigned vehicles in China later this year.
"Looking forward to the second half of the year, we will continue to bring our strategy to life by further strengthening our relationships with our partners and dealers, providing our customers with more choices and nurturing our local team for a bigger, better and brighter future for Ford in China," said Fleet in a statement.
U.S. auto tariffs could cut
Canada's output by nearly
1 million cars, CIBC says
Canada produces just over 2 million new
vehicles a year, according to StatsCan
Rajeshni Naidu-Ghelani
CBC New
July 7, 2018
The number of cars made in Canada could fall by almost 900,000 units a year if the U.S. hits this country with a 25 per cent auto tariff, according to a recent report by CIBC.
Royce Mendes, senior economist at CIBC Capital Markets, is the latest analyst to sound the alarm over the impact that Canada's economy could see from the recent tariff threat from U.S. President Donald Trump.
"It wasn't that long ago when it was commonplace to question whether President Trump could make good on his promises. But, so far, he's generally found ways to stay true to his word, and that's exactly what's so concerning about auto tariffs," Mendes said in a note on Wednesday.
Trump and his administration have repeatedly threatened Canada with the possibility of imposing a 25 per cent tariff on cars imported from Canada, along with 10 per cent tariff on auto parts after deciding against exempting Canada from hefty tariffs on steel and aluminum since June.
The Canadian government has responded with tit-for-tat tariffs on those metals from the U.S., along with tariffs on a long list of other goods starting this month, which has intensified the trade war between the two neighbours.
Mendes estimates that if the U.S. imposed a 25 per cent tariff on cars imported from Canada, then that would result in the country's auto production falling by 900,000 units a year. But, if a U.S. auto tariff was imposed on all imported cars, and not just those from Canada, then production in the country could fall by more than 400,000 cars a year.
Canada produces more than two million new vehicles a year, according to Statistics Canada. That suggests that car production in the country would fall by roughly half if only Canada was targeted with a U.S. auto tariff, according to CIBC.
"After also accounting for a 10 per cent U.S. tariff on [auto] parts, and the fact that reduced Canadian production would require fewer foreign inputs, we estimate the direct drag on GDP [gross domestic product] to be one per cent and 0.5 per cent respectively for each scenario," Mendes said.
"That doesn't take into account a resultant weaker Canadian dollar, which would work to soften the blow, but a hit to confidence could potentially seriously worsen the situation."
Job losses north of border
In terms of how many jobs would be affected by the fall in Canadian auto production, Mendes didn't specify the resulting number of job losses.
He did, however, add that there could be a ripple effect over time as people who lost jobs spend less and cause employment to decline in other industries.
Just last month, however, TD Bank warned that Trump's auto tariffs could cost Canada 160,000 jobs, especially if Canada retaliates.
Mendes said that while it's tempting to suggest that Canada could raise its own tariffs and force Canadians to buy cars made in the country, that is not a "feasible solution."
"Canada only produces a handful of models relative to the hundreds of choices to which consumers have become accustomed to," he said. "Unless you believe someone looking to buy a flashy drop-top convertible sports car would be satisfied leaving their local car dealership with the keys to a minivan, it isn't a feasible solution to the potential problem at hand."
He added that U.S. consumers were somewhat better prepared to deal with an import tariffs on cars, because U.S.-made cars accounted for almost 80 per cent of total cars sold in the country last year. In comparison, only about 10 per cent of cars made in Canada last year were bought by Canadians.
Meanwhile, Douglas Porter, chief economist at BMO Financial Group, said that there's no way one can put that fine a point on what will happen to auto production in Canada on the back of U.S. auto tariffs.
"Companies will ultimately decide whether to keep plants open or not, so production is going to move in big discrete chunks," he said.
Porter did, however, agree with Mendes that the tariffs could send Ontario, the heart of Canada's auto production, into or near a recession.
"Given the range of U.S. import volume changes resulting from the tariff, Canadian auto production could be cut by somewhere in the 600,000 to [the] one million unit range," Porter said.
"Assuming a similar impact through the parts supply chain, this would directly carve roughly 0.3 to 0.6 percentage points from Canadian GDP, and could put at least 40,000 factory jobs at risk."
Advocacy group seeks Ford
Explorer recall due to fumes

Tom Krisher,
Associated Press
July 5, 2018
Detroit – A nonprofit auto safety advocacy group is asking Ford to recall 1.35 million Explorer SUVs due to continued complaints of exhaust fumes in the passenger compartments.
The Center for Auto Safety says it found 44 complaints in a government database about fumes and potential carbon monoxide after owners had taken Explorers in for free repairs in a Ford customer service campaign that started last October.
The center made its request in a letter to Ford CEO Jim Hackett this week.
The National Highway Traffic Safety Administration has been investigating the problem for two years in police and civilian Explorers from the 2011 through 2017 model years, but it has not reached a conclusion.
Ford says Explorers are safe, owner complaints have decreased and the free service has addressed the exhaust odors. The company says anyone who isn't satisfied with the repairs should contact their dealership "for further inspection."
In the service, Ford said mechanics would check for leaks in the rear lift gate gaskets and drain valves. If any leaks are found, they'll be sealed or gaskets will be replaced to prevent fumes from entering. They'll also reprogram the air conditioning to let in more fresh air.
"The continued complaints and corresponding reports of incidents and injuries demonstrate the problem of carbon monoxide exposure inside Ford Explorers has not been resolved," Jason Levine, the center's executive director, said in a statement. Based on complaints, Levine said the problem seems to have continued into model year 2018 Explorers "suggesting that the issue apparently has not been designed out of the vehicle."
Levine said he thinks NHTSA would look into the effectiveness of a recall if 44 owners complained that the remedy did not work.
The center also said Ford and NHTSA should do a recall "before tragedy strikes" from a driver or passenger being overcome by fumes.
Prior to October of last year, Ford had focused on fixing only law enforcement versions of the Explorer. But while maintaining the civilian versions were safe, the company said it decided to do a service campaign for them in response to customer concerns about odors and carbon monoxide.
NHTSA began its investigation of Explorers in July of 2016.
The agency said previously that tiny cracks in the exhaust manifold – a cast iron or stainless steel tube that carries combustion gasses to the exhaust – could explain why fumes are entering the cabin. But Ford has said there is no pathway for exhaust to escape from the manifold into the car.
NHTSA said in a statement Tuesday that it is testing multiple civilian and law enforcement vehicles and doing field inspections of vehicles involved in complaints. The agency also says it's testing and monitoring the effectiveness of Ford's customer service repair campaigns.
FCA's Canadian plants safe if
Chrysler, Dodge die, Unifor says
John Irwin
Automotive News
July 4, 2018
Unifor President Jerry Dias says he is confident Fiat Chrysler's Canadian assembly plants will survive even though the Chrysler and Dodge brands were left out of the company's five-year business plan, which spans from 2018 through 2022.
FCA unveiled its five-year plan in Italy in June. The automaker focused most of its attention on Jeep, Ram, Alfa Romeo and Maserati. The absence of Chrysler, Dodge and Fiat led to speculation that those brands could be on the chopping block, though the company maintains that the brands will not be eliminated.
Their omission raised questions about the future of FCA's Ontario operations. FCA's Brampton plant builds the Dodge Charger, Dodge Challenger and Chrysler 300, while the Windsor plant assembles the Chrysler Pacifica and Dodge Grand Caravan minivans. The company employs about 9,600 hourly workers at the two facilities, combined.
Dias said FCA has assured him the plants will survive into the future with product commitments, though he did not say whether the company has pledged new products such as a Jeep vehicle to either factory.
He said he has confidence in FCA CEO Sergio Marchionne, a Canadian citizen, wanting to keep those plants open.
"I take him at his word," Dias said. "I doubt very much that he would want to see the fall of those plants on his watch."
Both plants have received investments from FCA in recent years. As part of 2016 labour negotiations, the Brampton plant was slated for a $325 million retooling of its paint shop, while the company spent more than $1 billion to retool the Windsor plant for assembly of the next-gener- ation minivan.
Of course, there is still NAFTA renegotiations and U.S. President Donald Trump's threat of tariffs on vehicles imported from Canada.
FCA is developing contingency plans to adjust its manufacturing footprint should Trump's hardball trade tactics result in higher auto tariffs or the collapse of existing trade agreements.
However, it's not clear how Canada fits into those plans.
FCA's five-year plan includes a new three-row Jeep Grand Cherokee, a midsize Ram pickup, several new or updated Alfa Romeos, a battery-electric Maserati sport coupe and other new products. Marchionne said FCA would spend US$9 billion (C$13.7 billion) on a plan to electrify its lineup.
Trump tariffs could add
$10K to vehicle price, Global
Automakers of Canada says
July 3, 2018
The Canadian Press
TORONTO — The Trump administration's tariff threats have the potential to drive companies currently operating in Canada out of the country, the president of a Canadian automotive association said Tuesday.
The United States has already imposed tariffs on the steel and aluminum industries and has threatened to impose a 25 per cent levy on Canadian-made autos.
The tariffs could make Canadian-made products uncompetitive and add $6,000, $10,000 or more to the cost of a vehicle, said David Adams, president of Global Automakers of Canada, at an event sponsored by the Economics Club of Canada.
He said a non-automotive company he knows has decided it can't expand in the United States from Ottawa, because of the uncertainty, so it's opening a U.S. office and the same could happen to automotive companies.
"The uncertainty effectively does the job of…driving more investment into the United States as the safe harbour," Adams said.
The Trump administration hasn't necessarily realized that the its tariffs will also hurt the United States, said MaryScott (Scotty) Greenwood, chief executive of the Canadian American Business Council — pointing to a recent announcement by Harley-Davidson.
A tariff war between the U.S. and many of its trade partners has already prompted the iconic American motorcycle company to move production of motorcycles bound for Europe overseas, blaming European Union tariffs it said would add an estimated $2,200 cost to the average bike. That prompted President Donald Trump — whose own tariffs prompted the EU moves — to accuse Harley of using tariffs as an excuse for moves already planned.
"It's a very dangerous game we're playing here, economically," Greenwood said.
Prime Minister Justin Trudeau has announced Canada will impose $16.6 billion in retaliatory tariffs on U.S. products coming into Canada, which went into effect on Sunday.
But CIBC chief economist Avery Shenfeld said Tuesday the United States is far better equipped than Canada to withstand the use of tariffs as a "sledge hammer" in trade negotiations.
Some Americans will face higher costs on imported goods from Canada but U.S. producers will be at a smaller risk because their home market is so much bigger than ours, Shenfeld said during a panel discussion about NAFTA in Toronto.
"If you are doubting whether or not you can produce that widget for (a car) in Canada and avoid a 25 per cent tariff when you sell that part to the American plant, you're . . . going to want and see what happens," he said.
"Canada and Mexico can't afford to have this cloud of uncertainty, to a much greater extent than the U.S. can."
Province Announces Changes
to Prescription Drug
Coverage in Ontario
Kelly Roche
July 2, 2018
Prescription drug coverage is changing -under the new OHIP+ program- less than 24 hours after Ontario Premier Doug Ford unveiled his "all-star" cabinet at Queen's Park.

Minister of Health and Long-Term Care Christine Elliott says it's "more efficient, saving the taxpayers money and dedicating resources to the people who need it most."

The OHIP+ program -which provided free meds for Ontario residents 24 and under- is now covering only those who don't have existing prescription drug benefits.

Kathleen Wynne's Liberal government rolled out pharmacare on Jan. 1, 2018 — with a $465 million price tag.
But now it's being revised and "children and youth who are not covered by private benefits would continue to receive their eligible prescriptions for free," said Elliott.

This means those who are covered by private plans would bill those plans first, with the government covering all remaining eligible costs of prescriptions.

"Since insurance plans can cover thousands more drugs than the 4,400 currently available through OHIP+, children and youth would have access to more medications than under the current program," said Elliott.
Private insurers have previously given the government a grace period for some medications, which is set to expire on July 1.
"We are asking those insurance groups to extend this grace period as we make these changes," Elliott said.

"We look forward to working with insurance groups to ensure a smooth transition to this updated system."

The Liberals also extended pharmacare coverage to seniors, making prescription drugs free for Ontario residents ages 65 and over starting August 1, 2019.

Commonly prescribed drugs for cholesterol, hypertension, thyroid conditions, diabetes, and asthma were to be covered.

It's unclear where it stands.

Ontario is the first province to provide prescription medication coverage at no cost for children and youth age 24 and under.
Automakers push back against
Trump auto tariff plans
Half of imported vehicles come
free-trade partners Canada, Mexico
Automotive News
July 1, 2018
Eric Kulisch
WASHINGTON -- The trade association representing international automakers operating in the United States said Wednesday that imposing tariffs on imports of vehicles and parts for national security reasons would harm the auto industry by raising prices, lowering demand and inviting retaliation from trading partners.
The group predicted significant job losses in the United States.
President Donald Trump has long complained about the U.S. trade deficit in automobiles, especially criticizing Germany and the European Union, and instructed his administration to investigate whether any action is needed to correct the imbalance. He has floated the possibility of a 25 per cent import tax.
"America does not go to war in a Ford Fiesta," Association of Global Automakers President John Bozzella said in a conference call with reporters. "There is no national security justification for taxing imports of vehicles and parts or discriminating between global companies headquartered here or in allied countries. Every U.S. production facility in the industry could be made available in a national emergency, and the 130,000 Americans who work directly for international automakers are no less patriotic or willing to serve their country in a time of crisis than any other American."
"If this investigation leads to tariffs, retaliation against U.S. exports is inevitable," Bozzella added. Substantial tariffs against major US auto exports have in fact already been announced, placing American auto workers on the front lines of this trade conflict."
The Trump administration is investigating whether auto imports are a national security threat under authority in the Trade Expansion Act of 1962 that has only been invoked on two occasions -- only one of which resulted in any trade action before the Trump administration.
Most trade experts and economists say using national security as a pretext for protectionism opens the door for other countries to circumvent World Trade Organization rules and claim sovereign rights to impose tariffs based on defence needs.
Bozzella noted that the U.S. auto industry is thriving, with near record levels of production, sales and exports, and isn't seeking government help against imports.
The Association of Global Automakers noted in the filing that all 14 automakers producing vehicles in America -- including homegrown Ford Motor Co., General Motors and Fiat Chrysler Automobiles -- import vehicles, accounting for 44 per cent of U.S. sales. Of these, half are imported from free-trade partners Canada and Mexico, and those vehicles incorporate significant U.S. content.
The Alliance of Automobile Manufacturers, whose members include many that belong to the Association of Global Automakers as well as the Detroit Three, also filed comments warning that 25 per cent tariffs would add about US$5,800 to the price of a vehicle and collectively cost consumers US$45 billion per year.
The alliance usually focuses on safety and environmental issues related to autos, leaving trade issues to the Automotive Policy Council, representing companies with domestic headquarters, or the Association of Global Automakers. Its involvement suggests that the domestic and international automakers are on the same page, given that the tariffs would also apply to equally to Buick's imports from China and BMW's from Germany, and because all manufacturers import parts for vehicles assembled in the United States.
Congratulations to
our Newest Retirees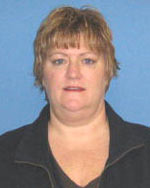 Sherry Genova
July 1, 2018
29.3 years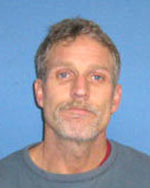 Ian Kinnear
July 1, 2018
31.8 years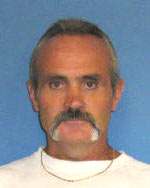 Dave Shouldice
July 1, 2018
18.5 years