Why Ford's high-level hiring
spree is no accident
Jordyn Grzelewski,
The Detroit News
July 27, 2021
Dearborn — Ford Motor Co. is on something of a high-level hiring spree, and it's no coincidence.
The Dearborn automaker is bolstering its senior leadership ranks, chiefly where politics and the auto business intersect. It's beefing up its policy and technology know-how amid a push to execute its new growth plan, lead the electric-vehicle transition and influence policy decisions that will shape how that future is realized.
As the industry pivots hard toward electrification and self-driving vehicles, Ford executives see major policy issues looming in capitals around the world. Because politics influence the policy-making that weighs on the global auto industry, the Blue Oval is moving to field a team to navigate such complicated issues as infrastructure, incentives and the politics of a hyper-partisan Washington.
Since CEO Jim Farley assumed the top job last October, Ford completed the internal reshuffling that often comes with a new boss by moving people internally and recruiting external hires for such key roles as marketing, new businesses and mergers-and-acquisitions.
But in a signal that Ford is looking to sharpen its policy chops, it tapped director Jon Huntsman Jr., the former Utah governor, businessman, diplomat and onetime presidential candidate, as vice chair for policy. And Huntsman recruited Steven Croley, a former federal lawyer who worked in the Obama administration, to become Ford's chief policy officer and general counsel.
"The CEO and the board ... looked forward and said, 'What we need in the C-suite is more policy expertise, more political savvy.' And that's what they got with these two guys," said Erik Gordon, a professor at University of Michigan's Ross School of Business. "They fit into the pile of building blocks that Farley is assembling to execute the plan."
All are tasked with helping to deliver on Farley's growth plan for the company. Dubbed Ford+, it is focused on electrification, providing revenue-generating services enabled by digital connectivity, and growing Ford's commercial vehicle business. Those are the pillars of Ford's plan to move from infrequent transactions with customers to a business model built on new, recurring revenue streams.
These prominent hires come as Ford and its rivals in the auto industry embark on the costly shift to electric and autonomous vehicles, an effort closely intertwined with government regulations and policies now being negotiated from Washington and Sacramento to Brussels and Beijing. And they come amid tightening environmental regulations as the Biden administration pushes infrastructure legislation with major implications for EV sales and manufacturing in the U.S.
"Most companies are taking a different look than what they did historically," said David Cole, chair emeritus of the Ann Arbor-based Center for Automotive Research. "If you go back a number of years, (automakers) designed cars, built cars, sold them to the dealer, the dealer sold them to the customer. The role of policy ... was pretty straightforward. Now, it's not."
Policy chops
In developing the Ford+ plan, Farley and his team identified areas where they felt the company needed to improve. Those include policy, customer experience and software. There also is a focus on modernizing within the existing workforce, developing in-house software capabilities and preparing employees for the transition to vehicles powered by electric motors instead of internal combustion engines.
Experts say federal policy will play an even more important role than it has during previous eras of transition in the global auto industry. Take, for example, the need to build infrastructure that supports EVs.
"People are not going to buy vehicles they can't operate because there's no electricity for them," Gordon said. "So, that makes policy important. As they move also toward driver assistance and then autonomous vehicles, that's going to be constrained by and driven by policy considerations — policies made by politicians."
New technologies, supply chain snarls and trade issues also are at the forefront. The industry currently is navigating through one of its most complex supply-chain challenges ever, for example: the months-long shortage of computer chips that promises to grow more pressing as vehicles become more technologically advanced.
"Whether you're talking about globalization, interface with ... China or Europe, policy issues, or tech issues, those historically were a lot simpler years ago than they are today," Cole said. "And I think particularly when you're looking at the senior level in terms of policy, you better make sure you're well-connected to every factor that's going to have some impact on the business."
Enter Huntsman, a Republican, and Croley, a Democrat. Their roles are broad-ranging and global, focused on policy areas including sustainability, government affairs, international politics, energy and trade.
Huntsman was eyed for his international affairs chops, particularly in China. As the world's largest auto market and one where EVs are being adopted more rapidly than in North America, China is a focus for Ford and other global automakers as they look to achieve the global scale needed to make the investment in EVs pay off.
Ford historically has been a smaller player in the region. But it has seen some progress with a new product portfolio geared toward the preferences of Chinese customers, as well as the promise of new EVs prepared to challenge rival Tesla Inc. there.
Huntsman is said to have a deep understanding of the China market, consumers there, and the who's who in politics after serving as the U.S. ambassador to China under former President Barack Obama. He speaks fluent Mandarin and has extensive experience in the region.
He rejoined Ford's board of directors last year and in April was tapped as vice chair of policy, an expanded role that has him advising Farley and Executive Chair Bill Ford. He's tasked with working with teams across the company, and representing Ford "with certain government officials and influencers in the United States and other countries around the world," the company said in announcing his new position.
"Global policy is hugely important to transforming Ford and unlocking great value for customers and all stakeholders," Farley said at the time. "Jon's background, insights and achievements are unrivaled — as an ambassador and trade representative, a state governor and a public-company executive."
Huntsman, a former executive at his family's multinational chemicals company, Huntsman Corp., served as governor of Utah from 2005 to 2009. He served as the U.S. ambassador to Russia under President Donald Trump, ambassador to China under Obama, and ambassador to Singapore under Presidents Bill Clinton and George H.W. Bush. He also had trade assignments under President George W. Bush.
And though he ran for president as a Republican, Huntsman is not a partisan firebrand. He served in administrations under both parties and has relationships on both sides of the political aisle — precisely the kind of bipartisan pedigree Ford wants to help it navigate D.C. politics today.
In an era of extreme political polarization, experts say businesses must consider partisan affiliations when building policy and lobbying teams. In Ford's case, Croley brings Democratic bonafides, balancing out the GOP ties of Huntsman and Mitch Bainwol, Ford's chief government relations officer.
"You better be able to play with both sides, with somebody that has significant interface with each side," Cole said. "That's just the reality of today, with this political polarization. And it's not going to go away soon."
Croley, meanwhile, brings a different type of policy expertise, namely energy issues — a critical competence as the industry pivots toward electrification. In announcing the hire, Farley touted Croley's "deep leadership experience at the intersection of law and policy."
Croley reports to Farley and is slated to work closely with Huntsman. Bainwol and Bob Holycross, vice president of sustainability, environment and safety engineering, both report to him.
Croley most recently served as a partner in the D.C. office of Latham & Watkins, where he focused on legal policy and regulatory compliance around energy and environmental issues. He previously served as general counsel for the U.S. Department of Energy, and prior to that worked in the White House as a special assistant to Obama for regulatory policy and later as deputy counsel overseeing legal policy.
Croley, who is married to Michigan Supreme Court Chief Justice Bridget McCormack, was a special assistant U.S. attorney in the Eastern District of Michigan's Civil Division and later worked at the University of Michigan Law School.
In bringing him on board as general counsel and chief policy officer, Farley "brought in — not somebody who has been general counsel of a public company, not somebody who's a dealmaker — but somebody who is an energy policy wonk," said Gordon.
Huntsman and Croley are just two of several recent additions to the senior leadership team. Late last year, Suzy Deering joined Ford as head of global marketing after serving as chief marketing officer at eBay, bringing with her a background in technology, data and analytics as Ford looks to reorient its relationship with customers.
And Ford recently tapped Franck Louis-Victor, formerly an executive at French automaker Renault SA, to head up the automaker's new businesses platform. In that role, he's responsible for devising a strategic plan that encompasses both existing and new capabilities in such areas as autonomous vehicles and mobility service. He also oversees new ideas developed via the company's incubator, Ford X.
Open for business
Meanwhile, Ford last month welcomed Doug Power into a newly created position — vice president of corporate development. He came from multinational foods giant General Mills Inc., where he led the company's $8 billion acquisition of the pet food brand Blue Buffalo.
The University of Michigan graduate has spent 25 years in the mergers-and-acquisitions space, including stints at Merrill Lynch and two technology firms.
Now that he's made the move to Ford, Power is focused on beefing up the company's M&A team, developing a cohesive strategy that serves the company's growth plan and proactively identifying deals that fit in with what Ford is trying to accomplish.
"I've been doing M&A now for 25 years and I've been at four different companies," he said in an interview. "This is the clearest strategy a company I've joined has had, and it's also incredibly clear where we can add value from an M&A perspective."
Those areas align with Ford's plan. His team, for example, could play a role in connected services by acquiring the necessary software capabilities. Another area of focus, he said, will be Ford Pro, the dedicated commercial vehicle business Ford announced earlier this year. And on electrification, Power sees potential around EV charging and vertical integration of the supply chain.
Ford already has made moves in those areas, for example with its recent acquisition of EV fleet charging provider Electriphi, and with its EV battery-manufacturing joint venture with SK Innovation. There are other parts of the supply chain where Power's team will look for M&A potential.
"We're in the strategy phase of vertical integration right now, with the whole stack under review," he said. "I imagine that over time, in the near term, we will identify at least one or two areas where we're going to decide, 'If we can find the right company, with the right capabilities, the right people, it would be better to own this capability.'"
He emphasized it's not just about closing deals, however, but making proactive, strategic moves. Ford's top leadership, he said, already is behind that approach.
Meanwhile, said CAR chair emeritus Cole, "You never work on a detail outside of the context of the bigger picture. What these announcements from Ford basically say is that, 'We've got to be appropriately plugged into the bigger political picture.'"
GM, Cruise sue Ford over
use of BlueCruise name
Kalea Hall
Jordyn Grzelewski
The Detroit News
July 26, 2021
Detroit — General Motors Co. and Cruise, its majority-owned autonomous vehicle company, are suing Ford Motor Co. over its use of the name BlueCruise.
GM and Cruise, in a late Friday filing in the U.S. District Court of Northern California, claim Ford did "not have the permission or consent of Cruise or GM to use "BlueCruise,"
and Ford has no corporate relationship, affiliation, or sponsorship with Cruise or GM."
GM contends that the use of "BlueCruise," which is the name of Ford's hands-free driver assistance technology "is likely to cause confusion, mistake, or to deceive, as to the affiliation, connection, or association between Ford and both GM and Cruise."
The automaker is seeking damages for "Ford's unlawful conduct," and asking the court to issue a judgement that the Dearborn automaker "infringed Cruise's and GM's federal and common law trademark rights."
Ford introduced the BlueCruise technology in April this year. GM said in its filing that it "quickly took action after Ford's announcement to try to persuade Ford to rebrand its unreleased enhancement, but to no avail."
Ford spokesman Mike Levine called the Cruise and GM claim "meritless and frivolous," in a statement.
"Drivers for decades have understood what cruise control is, every automaker offers it, and "cruise" is common shorthand for the capability," Levine said. "That's why BlueCruise was chosen as the name for the Blue Oval's next evolution of Ford's Intelligent Adaptive Cruise Control, which incorporates hands-free Blue Zones and other advanced cruise-control features."
Outside of Cruise, GM also uses the name Super Cruise for its self-driving technology and said Ford's use of BlueCruise "is likely to cause irreparable harm to Cruise, GM, and their related CRUISE and Super Cruise brands."
GM's Super Cruise technology was announced in 2012 and has been used commercially since 2017, the automaker noted in a statement. Cruise has been in business since 2013.
"While GM had hoped to resolve the trademark infringement matter with Ford amicably, we were left with no choice but to vigorously defend our brands and protect the equity our products and technology have earned over several years in the market," GM spokesman Darryll Harrison said in a statement. "As this is a matter of pending litigation, we have no further comments at this time."
Ford, Argo AI team with Lyft
to launch self-driving robotaxi
service in Miami, Austin
Jordyn Grzelewski
The Detroit News
July 23, 2021
Ford Motor Co. and Argo AI will launch a limited robotaxi service on ride-sharing company Lyft's platform beginning later this year, the companies announced Wednesday.
The initial deployment of the service in two cities — Miami later this year, and Austin next year — marks a significant step on Ford's path to launching a commercial autonomous-vehicle business.
The project brings together Ford, Argo AI — a Pittsburgh-based autonomous-vehicle technology company in which Ford owns a stake — and the No. 2 ride-sharing service in the country, Lyft.
"Argo and Ford are currently piloting, mapping and preparing for commercial operations of autonomous vehicles in more cities than any other AV collaboration, and this new agreement is a crucial step toward full commercial operations — the addition of Lyft's world-class transportation network," Scott Griffith, CEO of Ford Autonomous Vehicles & Mobility Businesses, said in a statement.
"This is the beginning," he added, "of an important relationship between three dynamic companies ultimately aiming to deliver a trusted, high-quality experience for riders in a multi-city large scale operation over time."
Here's how it will work: As the vehicles are released, Lyft users in defined service areas within the participating markets will be able to hail a self-driving Ford model. The vehicles will have safety drivers.
The companies are planning a larger-scale deployment of the service following the launches in Miami and Austin. They are finalizing agreements under which they would deploy "at least" 1,000 autonomous vehicles on the Lyft network across "multiple" markets over the next five years, according to a news release.
"This collaboration marks the first time all the pieces of the autonomous vehicle puzzle have come together this way," Lyft CEO Logan Green said in a statement. "Each company brings the scale, knowledge and capability in their area of expertise that is necessary to make autonomous ride-hailing a business reality."
Argo AI CEO Bryan Salesky said in a statement that the three companies are "executing on a shared vision for improving the safety, access to and affordability of transportation in our cities."
As part of the agreement, Argo AI will use anonymized service and fleet data from Lyft that will inform decisions on scaling the business and how to safely use self-driving technology.
Meanwhile, Lyft will receive 2.5% of Argo AI's common equity as part of the licensing and data access agreements they've reached to collaborate, the companies said.
Bloomberg reported earlier this month that Argo is preparing to go public, with an expected valuation of more than $7 billion.
Both Ford and German automaker Volkswagen have investment stakes in Argo. Argo's role is to develop the autonomous-driving system for use in its automaker partners' products.
That alliance is up against numerous competitors, including General Motors Co.'s subsidiary Cruise LLC, who are racing to develop autonomous vehicles and launch them at scale.
So far, only Google subsidiary Waymo has launched an actual self-driving robotaxi service in the U.S., Bloomberg recently reported.
Argo has been test-driving autonomous vehicles in six cities around the country, including Detroit.
Ford CEO Jim Farley has spoken highly of Lyft in the past.
At a Deutsche Bank event last month, he said Ford "love(s) what Lyft and Uber are doing."
"I stay really close to both companies," he said. "They're very important for Ford and for Argo, both companies, and we think that once we get past this COVID environment, their demands are really going to surge."
And for Ford, which has committed to investing $7 billion in AV development through 2025, Farley sees opportunities beyond robotaxi services. He said last month that the automaker is "increasingly interested in the moving goods middle mile area," referring to commercial vehicles that transport goods, for example, from a plant to a warehouse.
Ford's Europe sales up 43.7%
in the second quarter
Jordyn Grzelewski
The Detroit News
July 22, 2021
Ford Motor Co. netted 242,618 sales in Europe in the second quarter, for a 43.7% increase over the same period last year.
Meanwhile, Ford's European sales of more than 500,000 vehicles through the first half of the year represent a 22.6% improvement over last year, when the onset of the coronavirus pandemic led to widespread lockdowns.
Ford captured 6.2% of the Europe market in the second quarter. That's down 0.9 percentage points from the second quarter of 2020. Its share of the retail market stood at 5.8% in Q2.
In terms of sales volumes in the second quarter, Ford's top European markets were Britain, Germany, Italy, France and Spain.
Bright spots for the automaker included sales of the Ford Puma crossover, the Kuga SUV, and its commercial Transit vans. The Transit Custom van was the best-selling vehicle overall in the United Kingdom, Ford reported.
And the Ford Ranger pickup truck had a record quarter with nearly 16,000 sales.
Ford operates a strong commercial vehicle business in Europe. The company noted that it once again was the leading commercial vehicle brand in the market for the first half of the year and in the second quarter.
And amid tightening environmental regulations in Europe and a more aggressive electric vehicle push by Ford, the automaker reported that 46% of its passenger vehicle sales in the second quarter were electrified.
The automaker reported that the plug-in hybrid version of the Kuga so far is Europe's best-selling PHEV of the year and that half of Kuga sales are for the PHEV version.
Ford's presence in Europe spans Austria, Belgium, Britain, the Czech Republic, Denmark, Finland, France, Germany, Greece, Hungary, Ireland, Italy, the Netherlands, Norway, Poland, Portugal, Spain, Romania, Sweden, Switzerland and Turkey.
Meanwhile, Ford earlier this month reported that its U.S. sales were up 9.5% in the second quarter, while its sales in China were down 3.6% over the same period.
Ford may ship unfinished vehicles
to dealers due to chip shortage
Technicians would be responsible for installing the missing parts
Matthew Guy
July 21, 2021
File this one squarely in the 'unspeakably bad ideas' folder. It seems that Ford Motor Company is in the throes of debating whether or not to ship unfinished vehicles – specifically, ones affected by the ongoing chip shortage – directly to dealers and training local technicians in the skills required to sort everything out when parts finally become available.
The potential problems with this plan are so vast that your author can scarcely believe it's actually being considered. First, one needs to recognize that technicians at most dealers are presently overworked, thanks to a backlog of tasks asked of them tied to pandemic-related closures and hiccups.
Adding this labour to their plate is not going to help matters, tying up techs who would otherwise be performing customer-requested jobs — who'll probably get upset they need to wait longer than normal for routine service.
This is to say nothing of the ire it'll surely inflame in some customers who will want the truck they're buying 'right now' since it's sitting out there on the dealer's front row. Sure, lots look better when filled with product but your author – after toiling in auto sales many moons ago – knows there will be a certain percentage of dealers who'll simply let the unfinished vehicles run through their system in order to record a sale.
Even if the dealer refuses to let the end customer drive off the lot due to safety reasons, the clock would have begun ticking on its warranty coverage, since the In Service date usually begins when the sale is recorded and the vehicle is put in the customer's name.
That's likely a big part of why the Blue Oval wants to pursue this avenue in the first place. In case you're unaware, the real customer of Ford Motor Company isn't customers like you and I — it's the dealer body. In the vast majority of cases, a dealership's new car inventory is owned by the store, financed through a system called floorplanning. Generally speaking, this is one reason why dealers like quick turning of inventory — in addition to having a fresh stream of new cars, it reduces the amount of monthly interest they pay on their floorplan arrangement.
With this knowledge, one can understand why it could ultimately cost a dealer more money if they are forced by Ford to accept vehicles they can't immediately sell. By the way, all those sales numbers which are trotted out at the end of every quarter by manufacturers usually refer to vehicles that have shipped and sold to dealers, not Joe Consumer.
Ford must be feeling the pressure, especially after images surfaced last month from the Kentucky Speedway showing thousands of unfinished pickup trucks lining parking areas of that facility. With many dealer lots much emptier than usual thanks to the double whammy of COVID-19-related shutdowns and chip shortages, the temptation must surely be great to simply ship unfinished units and be done with them.
Manufacturing beating pre-
pandemic output, with Ont.
to strengthen on EVs: report
Manufacturing is leading the Canadian economy out of recession, but deepening trade tensions with the U.S. could stifle ongoing strong growth
The Canadian Press
REUTERS
July 20, 2021
Although Windsor is a priority in talks, Unifor is also looking for clarity on Brampton.
TORONTO — Manufacturing is leading the Canadian economy out of recession, but deepening trade tensions with the U.S. could stifle ongoing strong growth, a new report on Canada's economic performance amid the easing of lockdown restrictions has found.
The manufacturing sector is outperforming pre-pandemic levels, with manufacturing sales and railway car loadings — the amount of cargo transported by rail — surpassing pre-COVID-19 amounts, according to the report by RSM Canada, an audit, tax and consulting services firm.
Ontario stands to gain exponentially from automaker commitments to electric vehicles, which have been bolstered by provincial and federal government support for the electrification of vehicles, the report released Monday said.
"Canada's manufacturing sector has almost single-handedly pulled the country out of recession in recent months, and this strong performance, coupled with promising signs from other areas such as real estate and energy, suggests that better days are ahead for the economy," Alex Kotsopoulos, RSM Canada projects and economics partner, said in a statement.
Yet Canadian manufactured products face market challenges amid increasing Buy American provisions in the United States, the research suggested.
"There's still plenty of work to be done on the trade front," Kotsopoulos said.
"Canada's over-reliance on the U.S. leaves it vulnerable to any trade frictions that happen between the two nations, and we're seeing that effect now as the Biden administration continues to focus first and foremost on rebuilding the U.S. economy."
Despite the turmoil in the country's energy sector, energy products accounted for nearly 22 per cent of Canada's total exports to the United States in the first quarter of 2021, the report said.
Meanwhile, Canada's housing market accounted for two-thirds of economic growth in the first quarter, as increasing demand for single-family homes and tight supply drove up prices, according to the research.
Demand for housing is expected to remain strong as millennials become the backbone of consumer demand and the workplace, the report said.
In addition, increases in household savings suggests housing market investments may strengthen as the pandemic subsides, the research found.
Still, despite strong manufacturing and housing numbers, business investment has hit a wall.
The report found that business spending on machinery, equipment and non-residential structures has stalled at about 14 per cent below pre-COVID levels, signalling trouble for long-term economic development.
"While there are promising signs, business investment is still too low," Joe Brusuelas, the chief economist for RSM U.S. said in a statement.
"This is something that's slowing down the potential for economic growth."
Strengthening the labour force and its ability to produce diversified items of value will be key to attracting capital long-term, the report found.
It also recommends spending on programs that increase workforce productivity.
The government should invest in productivity through measures like the universal expansion of broadband coverage, childcare, housing and nutritional security, Brusuelas said.
"These commitments, coupled with the ability of the younger generations to work remotely, will allow for sustained growth," he said.
Ford recalls 774,696 Explorer
SUVs for possible steering
control issue
Jordyn Grzelewski
July 19, 2021
The Detroit News
Ford Motor Co. on Friday announced three safety recalls in North America, including nearly 775,000 Explorer SUVs for an issue that may result in loss of steering control and thus increase the risk of a crash.
The Explorer recall includes approximately 774,696 2013-2017 vehicles that may experience a seized cross-axis ball joint that can cause a fractured rear suspension toe link. Ford said affected vehicles may experience a clunk noise, unusual handling or a misaligned rear wheel. Fracture of a rear toe link "significantly diminishes steering control, increasing the risk of a crash," the company said.
The recall affects about 676,152 vehicles in North America, 59,935 in China, 25,257 in Ford's International Markets Group, 13,162 in Europe and 190 in South America.
"In the U.S., the affected vehicles are located in high-corrosion states as defined by the National Highway Traffic Safety Administration or in regions with a combination of cold winter weather with relative high humidity and substantial road salt use," the automaker said in news release.
Owner notifications will begin the week of Aug. 23. Dealers will inspect the cross-axis ball joint, replace it if necessary and replace the toe links with a revised design part. The Ford reference number for the recall is 21S32.
Ford said it is aware of six claims of injury in North America related to the issue.
Meanwhile, the automaker also issued a safety recall for approximately 40,995 2020-2021 Lincoln Aviator vehicles equipped with a 3.0-liter engine. Ford said the battery cable wire harness in the vehicles may not be properly secured, allowing contact with the A/C compressor pulley. Over time, that pulley may rub through the wire harness insulation, coming into contact with a circuit and creating risk of a short circuit or fire.
The recall includes 36,258 vehicles in North America, 2,601 in Ford's International Markets Group and 2,136 in China.
Ford said it is not aware of any accidents, injuries or fires related to the issue.
Owner notifications will begin the week of July 30. The Ford reference number for the recall is 21S34.
The automaker also is recalling approximately 34,939 2020-2021 Ford F-350 Super Duty vehicles with a 6.7-liter engine and single rear-wheel axle. The recall stems from what the automaker described as a "rear axle housing spring seat interface weld issue."
Affected vehicles may experience rear driveline disconnection, according to Ford. Drivers may experience vibration and/or shaking while driving at highway speeds, and/or shuddering when they accelerate. If the driveshaft becomes disconnected, drivers may experience loss of motive power while driving or loss of transmission park function if the parking brake is not engaged, increasing the risk of a crash.
The recall affects 34,855 vehicles in North America, with the rest in Ford's International Markets Group.
Ford said it is not aware of any accidents or injuries related to the issue.
The automaker will begin notifying vehicle owners the week of Aug. 16. Dealers will inspect the rear axle; if it's deformed, the axle housing will be replaced. If not, the dealer will conduct a weld repair on the spring seats. The Ford reference number for the recall is 21S31.
Why the Stellantis plant in
Brampton, Ontario will be
out of product in 2024
July 16, 2021
The Stellantis assembly plant in Brampton, Ontario, may have nothing to build after 2023, as automakers plan to move production of Dodge Charger and Challenger muscle cars to the United States next year. ..
"Analyzing the Stellantis portfolio … throughout North America, chargers and challengers could go to the United States, leaving a gap in Brampton from 2024," said Joe McCabe, CEO of AutoForecast Solutions. Automotive News Canada When asked about an automobile manufacturer's electrification plan.
McCabe's comment came after Stellantis' EV Day earlier this month when automakers announced that they would introduce battery-electric muscle cars into their lineup in 2024. Stellantis does not say where the car will be made.
The Brampton Assembly currently manufactures gas-powered charger and challenger vehicles, as well as the Chrysler 300 sedan, which will be phased out by 2023. Chargers and Challengers are considered to be very profitable cars for Stellantis, but remain unknown. What is the company's long-term plan for the Brampton Assembly, especially as automakers accept electrification and software development at $ 35 billion by 2025.
Requests for comments from Stellantis Canada representatives were not immediately returned.
Unifor Local 1285 president Danny Price said there are "no signs" that automakers will stop manufacturing chargers and challengers in Brampton. The local 1285 represents approximately 3,000 workers per hour in the factory.
"Our products are currently paying for Stellantis," Price said. "Our current order days are higher than when we launched these vehicles a few years ago … Closing a factory that has products that are paying for the rest of the company There is none."
Price said Brampton would line up with the production of electric muscle cars.
"As long as we sell those cars, we make them," he said. "It's our agreement since we launched these vehicles. We're the only provider. If they want to start electrifying them, we'll build them."
AFS predictions do not necessarily mean that the Brampton assembly will be closed. Forecasting company said in 2020 that Ford Motor Company's Oakville Assembly in Ontario would no longer build a Ford Edge-Lincoln Nautilus crossover beyond its current life cycle, eliminating product obligations in the long run. Stated.
That AFS forecast, first reported Automotive News Canada, Brought new urgency to the negotiations of the year between Unifor and Ford. They later agreed to invest C $ 1.8 billion (US $ 1.4 billion) in the factory. This will eventually bring EV production to Oakville, replacing the outgoing Edge and Nautilus.
Unifor and Stellantis will negotiate a new contract in 2023. The request for comment from Unifor President Jerry Diaz was not immediately returned.
During 2020 negotiations between Stellantis' predecessor Unifour and Fiat Chrysler, automakers planted $ 50 million at the Brampton Plant to introduce new derivatives of chargers and Challengers during the contract period. Agreed to invest (US $ 40 million).
However, in contrast to the up to $ 1.5 billion ($ 1.2 billion) investment plan agreed upon by the Windsor Assembly to manufacture Stellantis minivans, the long term for what the plant will build after 2023. The question remained unanswered. Automakers plan to build at least one new electric model there by 2025.
Stellantis plans to deploy four EV platforms in the 300-500 mile range over the next few years. According to the company, 98% of European and North American models will be electrified by 2025, with the goal of making more than 40% of US sales EV by 2030.
Long known for its powerful internal combustion engines, Dodge is alongside electrified vehicles.
"If the charger can make the charger faster, we're in," Dodge CEO Tim Kniskis said earlier. Automotive News.
Ford amends bylaws to adopt
gender-neutral language
Reuters
July 15, 2021
Ford Motor Co. on Friday said it amended its bylaws to adopt gender-neutral language in an effort to build a more inclusive workplace.
The automaker said it would use the title "chair" in place of "chairman."
This comes amid fierce debates over what it means to be a man or a woman, and how language and institutions need to be more inclusive.
Earlier this year, White House added gender-neutral pronouns that people could select when contacting the U.S. government, while professional networking site LinkedIn announced plans to let users add their preferred gender pronouns to accounts in certain countries.


Many Caesars Windsor employees
heading back to work
By Maureen Revait
July 14, 2021
Around 600 Caesars Windsor employees are expected to be called back to work when the casino reopens.
The provincial government announced on Friday that casinos would be allowed to open at 50 per cent capacity when the province enters Step 3 of the provincial Reopening Roadmap on July 16, 2021.
"This is a little disappointing that we can't, based on our numbers in Windsor-Essex County, reopen at capacity," said Unifor Local 444 President Dave Cassidy. "But this is a step forward that we can at least get patrons in there and get our workers back to work."
Over 2,200 people have been laid off from Caesars Windsor since it closed last March due to the global pandemic. The casino opened briefly with very limited capacity in the fall.
"It was a tough time for them, we have couples there that both the husband and wife both work there so it was tough. It was a tough hull," said Cassidy.
Around 300 employees have already been called back to undergo retraining, the remaining are expected to be called back in the coming days.
Cassidy said he is confident Caesars Windsor had a back-to-work plan to keep patrons and employees safe.
"That is a very safe place to be, the guards that are up, the plexiglass that is up, the cleaning that is going to take place," said Cassidy. "One hundred per cent the casino is safe to go in. They are going to do screening when people come in, both patrons and employees."
A representative from Caesars Windsor said they would announce their reopening plans on Tuesday.
Striking UAW workers at
Volvo truck plant reject
third tentative deal
Associated Press
July 13, 2021
A tentative agreement between Volvo Trucks North America and a union representing nearly 3,000 workers who have gone on strike twice this year at a southwest Virginia truck plant has been voted down, United Auto Workers officials announced Friday.
It was the third tentative labor accord rejected by union workers this year.
A UAW statement said workers at the company's tractor-trailer assembly plant in Dublin would continue their current walkout after rejecting the July 1 tentative pact.
"We appreciate the solidarity and support of the community as we continue to walk the picket line and work to negotiate a fair contract" for members of UAW Local 2069, said the UAW statement issued in Detroit.
Volvo says the 1.6 million square foot Dublin plant is the largest manufacturer of Volvo tractor-trailer trucks in the world. It is one of the largest private sector employers in the region, with approximately 3,300 employees, some 2,900 of whom are represented by the UAW.
The previous contract, reached in 2016, was to have expired in mid-March and negotiations began in February. Unionized workers went on strike from April 17 to 30 and returned to work as negotiations resumed. UAW members rejected a proposed contract in May. The company announced another tentative agreement later that month, but it was rejected June 6.
Volvo Trucks North America noted it was the third tentative agreement approved by UAW leadership but rejected by UAW members involved in Volvo's New River Valley truck assembly operations in Dublin.
"Given the significant wage gains and first-class benefits this agreement delivered, and the strong support it garnered from UAW leadership at every level, this outcome is unexpected and very disappointing," said NRV Vice President and General Manager Franky Marchand.
He said in the statement that the company was considering its next steps.
"The ongoing strike — which we continue to believe is unnecessary — is hurting our customers, and has already set back our project to expand and upgrade the facility," he said. "No one is gaining from the current situation, and we will consider all options related to the bargaining process."
The Volvo Group is the only heavy-duty truck manufacturing group that assembles all of its trucks and engines for the North American market in the U.S., according to Volvo. It said the plant is undergoing a $400 million investment for technology upgrades, site expansion and preparation for future products, including the Volvo VNR Electric truck.
It added the plant has added 1,100 jobs since the current union agreement was implemented in 2016 and is on track to have a net increase of approximately 600 positions in 2021.
Ford China sales up 24% year-
over-year for the first half of 2021
Jordyn Grzelewski
The Detroit News
July 12, 2021
Ford Motor Co.'s sales in greater China — the world's largest auto market and a leader in adoption of electric vehicles — were up 24% year-over-year in the first half of 2021, the automaker reported this week.
Ford recorded more than 306,700 vehicle sales in the region through the first six months of the year, up from the first half of 2020 when recovery from the impacts of the coronavirus pandemic was just beginning.
The automaker highlighted the performance of its luxury Lincoln brand, which notched more than 42,200 sales in the first half, up 111.4% year-over-year. That marked the brand's best-ever first-half sales performance in the region.
Sales of Ford-branded SUVs exceeded 57,900 units, up 35.7% year-over-year. And Transit commercial vehicle sales topped 26,800, for a 22.5% year-over-year improvement.
Meanwhile, second-quarter sales of 152,900 vehicles represented a 3.6% year-over-year decline, which Ford attributed to an ongoing global semiconductor shortage. The shortage, which is being felt in varying degrees by the entire auto industry, has stretched on for months and disrupted production around the world.
"Ford is focused on offering the right mix of world-class vehicles and services to our customers in China and on continuing the momentum and growth of our business," Anning Chen, CEO of Ford China, said in a statement. "In the second quarter, we revealed six new vehicles and outlined a strong and innovative electrification strategy. These actions — combined with our commitment to deliver always-on customer experiences — position us for success in the competitive Chinese auto market."
The six new vehicles include the Ford Evos, the Escape plug-in-hybrid vehicle, the Escort, the 2021 Mustang, the Lincoln Zephyr Reflection preview car and the Lincoln Corsair plug-in hybrid, according to a news release.
As part of its push toward electrification in China, Ford has revealed a locally-built version of the all-new Mustang Mach-E. And earlier this year, the company announced plans to sell vehicles directly to customers in China under the umbrella of a new, dedicated battery-electric vehicle organization.
The automaker this week said it established 10 direct-to-consumer EV storefronts in the second quarter. Additional storefronts are planned.
Meanwhile, Ford reported that locally built SUVs, including the Lincoln Corsair, Nautilus and Aviator, made up 86% of Lincoln sales in the first half.
Corsair in particular was a bright spot for the automaker, with sales of approximately 23,700 units representing a more than 200% year-over-year increase. It's been the best-selling Lincoln model in the region for 15 consecutive months, according to Ford.
Lincoln Aviator sales were up 281.7% in the first half, to more than 6,500 units.
Ford-branded passenger vehicle sales of about 116,000 were up 6%.
The locally-built version of the Ford Explorer SUV, which launched in June 2020, sold more than 32,500 units in its first year.
Meanwhile, sales of the Ford Escape and Edge were up 10% and 27.3%, respectively, in the first half.
The Ford Mondeo and Taurus sedans were up 14.1% and 41.2% year-over-year, respectively.
Ford's sales in Taiwan, made via a joint venture with a Taiwanese manufacturer, were up 36.4% to 13,800 units, which Ford attributed to the strength of Ford Kuga and Focus sales.
Ford and its Chinese automaker partner JMC posted approximately 148,000 commercial vehicle sales in the first half, for a 26.3% year-over-year improvement.
Ford last week reported that its U.S. sales were up about 9.5% in the second quarter and 4.9% for the first half of the year.
General Motors Co. and its joint venture partners earlier this week reported that its sales in China were up 5.2% in the second quarter with more than 750,000 vehicles sold.
EU fines 4 German car makers
$1B over emission collusion
David McHugh and Raf Casert
Associated Press
July 9, 2021
Brussels — The European Union handed down $1 billion in fines to four major German car manufacturers Thursday, saying they colluded to limit the development and rollout of car emission-control systems.
Daimler, BMW, VW, Audi and Porsche avoided competing on technology to restrict pollution from gasoline and diesel passenger cars, the EU's executive commission said. Daimler wasn't fined after it revealed the cartel to the European Commission.
It was the first time the European Commission imposed collusion fines on holding back the use of technical developments, not a more traditional practice like price fixing.
EU antitrust chief Margrethe Vestager said that even though the companies had the technology to cut harmful emissions beyond legal limits, they resisted competition and denied consumers the chance to buy less polluting cars.
"Manufacturers deliberately avoided to compete on cleaning better than what was required by EU emission standards. And they did so despite the relevant technology being available," Vestager said. That made their practice illegal, she said.
According to Vestager, the companies agreed on the size of onboard tanks containing a urea solution known as AdBlue that is injected into the exhaust stream to limit pollution from diesel engines, and also on the ranges that drivers could be expected to drive before the tank needed refilling. A bigger tank would enable more pollution reduction.
Vestager said cooperation between companies is permissible under EU rules when it leads to efficiency gains, such as the faster introduction of new technologies.
"But the dividing line is clear: Companies must not coordinate their behavior to limit the full potential of any type of technology," she said.
BMW said that discussions on the AdBlue tanks had "no influence whatsoever on the company's product decisions." The company said it was significant that that the fine notice found there was no collusion involving earlier allegations of using software to restrict AdBlue dosing.
BMW said it set aside 1.4 billion euros ($1.7 billion) based on the commission's initial accusations but reduced the set-aside in May due to more serious allegations in the case not being substantiated.
The case wasn't directly linked to the "dieselgate" scandal of the past decade, when Volkswagen admitted that about 11 million diesel vehicles worldwide were fitted with the deceptive software, which reduced nitrogen oxide emissions when the cars were placed on a test machine but allowed higher emissions and improved engine performance during normal driving.
The scandal cost Wolfsburg, Germany-based Volkswagen 30 billion euros ($35 billion) in fines and civil settlements and led to the recall of millions of vehicles. The Volkswagen vehicles in the scandal did not use the urea tanks but relied on another pollution reduction technology.
Date announced for $500
one-time payment, and
Old Age Security to be
automatically increased
by almost $100 over
the coming year
Employment and Social Development Canada
July 8, 2021

The Old Age Security (OAS) pension provides retirement income security for seniors because it maintains its value over time, even as prices increase.

Today, Canada's Minister of Seniors, Deb Schulte, announced the highest quarterly adjustment to existing OAS payments since July 2014. She also confirmed that the Government of Canada will deliver the $500 one-time payment to older seniors, announced in Budget 2021, during the week of August 16, 2021.

This summer's one-time payment of $500 will support older seniors' higher expenses, and will apply to 3.3 million seniors who are eligible for the OAS pension in June 2021 and were born on or before June 30, 1947. No action is required by seniors, who will automatically receive the payment if they are eligible.

In July 2021, OAS benefits will automatically increase 1.3%, bringing the maximum monthly OAS pension amount to $626.49, up from $618.45. Over the coming year, the increase is worth up to $96.48.The Guaranteed Income Supplement (GIS) and the Allowances will also be adjusted for inflation.

Budget 2021 also included a permanent increase of 10% to the OAS pension, to be implemented in July 2022 for seniors aged 75 and over. This will provide an additional $766 to full pensioners over the first year, and will be the first permanent increase to the OAS pension since 1973, other than adjustments due to inflation. It builds on measures to support all seniors, which include restoring the age of eligibility for the OAS pension and the GIS to 65 from 67, strengthening the Canada Pension Plan for future retirees, increasing the GIS for single seniors, raising the GIS earnings exemption and reducing income taxes for all Canadians.
Quotes
"The Government is continuing to improve the financial security of Canadians in retirement after a lifetime of hard work. Increasing Old Age Security for older seniors helps all Canadians with their extra needs later in life. While no single solution can meet every need, step by step our progressive measures are making a real difference in the lives of seniors. Canadian seniors can always count on us to listen, understand their needs and work hard to deliver for them."
– Minister of Seniors, Deb Schulte
"Canada's pension system is designed to provide benefits that reflect changes in the cost of living, with payments only ever increasing or staying the same. They will never go down. This helps seniors enjoy the financially secure and dignified retirement they deserve."
– Stéphane Lauzon, Parliamentary Secretary to the Minister of Seniors
Quick facts
Seniors are the fastest-growing demographic age group in Canada. By 2030, the number of seniors is expected to reach 9.4 million, representing close to one quarter of Canada's population.
In 2020 and 2021, the Government is providing $5.5 billion in additional direct financial support to seniors, through a $1.3 billion one-time GST credit in April 2020, $2.5 billion for a one-time OAS/GIS payment in July 2020 and $1.7 billion for the one-time payment to older seniors in August 2021.
Older seniors face higher costs. As seniors age, their health and home care costs rise, all while they are more likely to have disabilities, be widowed or be unable to work.
Most seniors have low and modest incomes. About 84% of OAS pensioners have individual incomes below $50,000.
The objective of the Old Age Security program is to ensure a minimum income for seniors and help reduce the incidence of low income among Canada's seniors. The OAS benefits include: the OAS pension; which is paid to all individuals aged 65 and older who meet the residence requirements; the GIS for low-income seniors; and the Allowances for low-income Canadians aged 60 to 64 who are the spouses or common-law partners of GIS recipients, or who are widowed or widowers.
The maximum OAS pension is payable to seniors aged 65 and over who lived in Canada for at least 40 years after age 18. Partial pensions are payable if they lived in Canada for at least 10 years or qualified under International Social Security Agreements.
All OAS benefits (the OAS pension, the GIS and the Allowances) are indexed on a quarterly basis in January, April, July and October so benefits don't lose value over time. Increases to OAS benefits are calculated using the Consumer Price Index, which measures changes in prices paid by Canadian consumers for goods and services, and is the most widely used indicator of price changes in Canada. If the cost of goods and services goes down, OAS benefits do not decrease. OAS payment amounts will only increase or stay the same. Historical values are available on the Open Data portal.
As a result of automatic indexation, the annual value of the monthly OAS pension has increased to $7,516 per year from $6,404 per year over the past decade
Ex-UAW official Vance Pearson
sentenced to 1 year in federal prison

July 7, 2021
DETROIT — Former UAW Regional Director Vance Pearson was sentenced Tuesday to a year in federal prison for conspiring to embezzle union funds and additional racketeering exercise with different high-ranking union officers.
The court docket acknowledged that Pearson performed "a minor role but at the same time, it was active," stated U.S. District Judge Paul Borman. The court docket didn't order Pearson to pay a effective.
Pearson's authentic sentencing guideline was 24-30 months. But appearing U.S. Attorney Saima Mohsin final month requested a lowered 14-month sentence due to Pearson's cooperation and help in the investigation and prosecutions of ex-UAW presidents Gary Jones and Dennis Williams. Jones was sentenced to 28 months in June, and Williams was (*1*) in May.
In December 2019, two months after he was arrested, Pearson started cooperating with investigators via in-person and cellphone interviews. He agreed to testify towards his co-conspirators and forfeited money from two financial institution accounts, his "Flower Fund" and "Members in Solidarity," that prosecutors had been unaware of on the time. His "Flower Fund" was to be used for the acquisition of flowers for the funerals of UAW members and their households. The fund, made up of union contributions, has been exploited by UAW officers for his or her personal use.
The "Members in Solidarity" account was to be used for marketing campaign bills for UAW elections.
Pearson's cooperation additionally helped the federal government put together its civil lawsuit and negotiation to safe oversight of the UAW with an independent monitor in May.
Ford confirms further downtime
at North America plants
due to chip shortage
Jordyn Grzelewski
The Detroit News
July 6, 2021
Ford Motor Co. confirmed new production impacts tied to the global semiconductor shortage, a months-long supply chain snarl that has disrupted auto production worldwide.
"While we continue to manufacture new vehicles, we're prioritizing completing our customers' vehicles that were assembled without certain parts due to the industry-wide semiconductor shortage," spokesperson Kelli Felker said in a statement. "This is in line with our commitment to get our customers their vehicles as soon as possible and consistent with our forecasted supply."
The Dearborn automaker is adjusting production plants at the following plants in North America to prioritize those builds, it said:
Chicago Assembly Plant will be down the weeks of July 5, 12, 19 and 26 and will run two shifts the week of August 2. The plant builds the Ford Explorer, Police Interceptor Utility and Lincoln Aviator and according to Ford's website employs more than 5,800 people.
Dearborn Truck Plant will run two crews the weeks of July 12, 19 and 26. The plant builds the Ford F-150 and F-150 Raptor and employs 4,400 people, according to Ford's website.
Flat Rock Assembly Plant, which employs more than 2,400, will be down the weeks of July 12 and 19. Workers there build Mustangs.
Hermosillo Assembly Plant in Mexico, which employs more than 2,800 and builds the Bronco Sport, will run one of two shifts the weeks of July 12 and 19.
The F-150 line at Kansas City Assembly Plant in Missouri will be down the weeks of July 12 and 19. The plant's Transit line will be down the week of July 19. That plant employs more than 7,200 people, according to Ford's website.
Kentucky Truck Plant will be down the week of July 12 and will run two shifts the weeks of July 19, 26 and August 2. That plant, which builds Ford F-250–F-550 Super Duty Trucks, Ford Expedition, Lincoln Navigator, employs nearly 9,000 people.
Louisville Assembly Plant, which builds the Ford Escape and Lincoln Corsair and employs more than 4,000, will run on a reduced schedule the week of July 19.
Oakville Assembly Complex in Canada will produce only the Nautilus the weeks of July 19, 26 and August 2. The plant also builds the Ford Edge.
Michigan Assembly Plant — which just launched production of the highly-anticipated Ford Bronco, and also builds the Ford Ranger — will be down the weeks of July 5 and July 26 due to "an unrelated part shortage," Ford said.
Meanwhile, the only General Motors Co. North American plant currently down because of the chip shortage is Fairfax Assembly in Kansas, which has been closed since Feb. 8. Employees there were recently informed the plant would remain down through the week of Aug. 16. The plant makes the Cadillac XT4 and Chevrolet Malibu.
GM's Lansing Grand River plant is currently only running Chevrolet Camaros and halted production of the Cadillac CT4 and CT5 through Aug. 9 because of the chip shortage.
The shortage of semiconductor chips — essential components that power many of the automated and electronic features in modern vehicles — is due to a range of supply chain disruptions. They include market forces tied to the demand for consumer electronics amid the pandemic, a strong rebound of demand for new vehicles, and events such as a fire at a chip manufacturing facility in Japan.
Global consulting firm AlixPartners has pegged the impact of the shortage as $110 billion in lost revenue globally and some 3.9 million vehicles of lost production this year. The firm's analysts expect to see some recovery and fewer plant shutdowns starting in the third quarter and continuing into the fourth.
"The wave should get past us," said Dan Hearsch, a managing director in AlixPartners' automotive and industrial practice. "There will continue to be intermittent blips ... but you shouldn't have plants shut down for weeks or months at a time."
Meanwhile, IHS Markit released a new analysis of the shortage Wednesday saying that while the situation remains fluid, some of the supply-side shocks that have exacerbated the crisis are beginning to ease.
"In the third quarter we expect continued disruption but not to the scale seen in the first or second quarter," the analysis states. "We expect an improvement over the first or second quarter because the situation is becoming better understood and great efforts are being made to enhance visibility within a very complex supply chain."
"However," it cautions, "there are still mixed signals and it is too early to sound the 'all-clear.'"
Ford sales fall 27% in June
amid lingering chip shortage,
tightening inventories
Jordyn Grzelewski
The Detroit News
July 5, 2021
Amid a lingering semiconductor chip shortage that has resulted in widespread production shutdowns and dwindling new-vehicle inventories, hard-hit Ford Motor Co. fell behind in the competitive truck segment and U.S. sales overall in the second quarter.
The Dearborn automaker on Friday reported that its June new-vehicle sales in the U.S., which totaled 115,789, were down 26.9% from a year ago, when sales were just beginning to come back amid the coronavirus pandemic.
For the second quarter, Ford's sales of 475,327 vehicles were up about 9.5% from a year ago when the pandemic closed many businesses, including dealerships, but down nearly 27% from 2019. Through the first half of the year, the Blue Oval's sales were up 4.9%.
The automaker has said that it expected to bear the brunt of the chip shortage fallout in the second quarter, and experts have said they expect the crisis to ease throughout the second half of the year.
But as it's battled through, Ford has lost market share to its crosstown competition and foreign automakers alike.
Ford even ceded the truck wars — long dominated by the best-selling F-Series franchise — to General Motors Co. and Stellantis NV in the second quarter, with F-Series sales of 158,235 coming in below Ram's 164,232 and Chevy Silverado's 164,731.
"It was a very tough quarter for Ford," said Michelle Krebs, executive analyst for Autotrader. "They are really struggling with the chip shortage and low inventories, and that showed up in the sales."
Meanwhile, GM on Thursday reported second-quarter sales of 688,236, for a 40% increase over last year. Stellantis, maker of Ram trucks and Jeep SUVs, came in ahead of Ford with 485,312 sales, a 32% increase over the same period last year.
Ford's sales were down across all of its segments in June, with truck sales of 63,129 marking a 27% year-over-year drop and SUV sales falling 11.5% to 49,792.
In a statement, Andrew Frick, vice president of Ford sales for the U.S. and Canada, highlighted the automaker's retail sales being up 10.7% through the first half of the year and Ford's push into electrification.
"With constrained inventories and record turn rates in the second quarter, we have been working closely with our dealers gathering retail orders, which are up 16-fold over last year," he said. "Reservations for F-150 Lightning have now surpassed 100,000 since the truck was first shown in May, while Ford's sales of electrified vehicles produced a new all-time first half sales record with 56,570 vehicles sold — up 117% over year ago."
In another electric milestone, Ford's new, all-electric Mustang Mach-E outsold the gasoline-powered Mustang for the first time. Mach-E recorded 2,465 sales in June, inching above Mustang's 2,240 sales. Mach-E sales were up 26.7% from May.
The new Bronco Sport SUV had 8,355 sales in June and more than 60,500 through June. June was the first month in which sales of the all-new full-size Bronco SUV were reported; Bronco recorded 801 sales.
Among those early sales was Ross Musick, 36, of the Columbus, Ohio area. Musick earlier this week traded in his 2013 Ford Flex with 188,000 miles on it in favor of the four-door, cactus gray Bronco he'd long been awaiting.
Just a few days in, Musick said the new ride has proven popular with his four children and with other motorists who stop to check out the SUV and talk to him about it.
"I wanted it to be something fun to drive the family around," said Musick. "Sometimes the only family time we get is a couple of us together driving to a baseball tournament or softball game or something. So if we're going to have a two-hour drive, we might as well make it fun — and so far that's working out beautifully."
Meanwhile, sales of F-Series, Ford's best-selling truck franchise and its profit engine, were off nearly 30% year-over-year in June, with 45,673 sales. Through the first half of the year, F-Series sales of 362,032 marked a 1.5% dip from 2020.
F-Series sales faltering, said Krebs, is "very significant, because the F-150 is the bread and butter in terms of revenue and profits for Ford. They need that to be strong, and it's had a weak run here."
Sales of the Transit commercial van were down 45.6% in June. Sales of the Ranger pickup truck fell 3.7%.
In Ford's SUV segment, Escape was down 39.9%, Explorer was down 38%, and Expedition was up 42.8%.
Lincoln sales, totaling 4,903, were down more than 43%. Through the first half of the year, they're up 4.4%. Ford reported that Lincoln SUVs posted a new first-half record.
Sales of the Lincoln Navigator SUV were up 15.5% while sales of the Aviator were down 37.3.%
Ford's average transaction prices were up $6,400 over a year ago, to $47,800 per vehicle, an increase the automaker attributed to record turn rates and the new vehicles it's introduced in recent months.
Chip challenges
Detroit automakers, including Ford, have been among the hardest hit by the chip shortage — and it's beginning to show up in their market shares.
Toyota for the first time ever beat out GM as the No. 1 sales leader in the U.S. in the second quarter. It was the first time since 1998 that another automaker surpassed GM, according to Edmunds.com Inc.
Ahead of the release of second-quarter sales, Edmunds forecast that Ford's market share dropped to 10.7% from 14.7% last year. The actual market share shakeout from the second quarter has not yet been determined.
But with second quarter U.S. sales of 486,419, Honda Motor Co. beat out Ford.
The production losses Ford has seen this year are reflected in its inventory levels. The automaker said Friday that it has gross stock of 162,000 vehicles, down from 187,000 last month and 475,000 last year.
Forecasting firm AutoForecast Solutions estimates that Ford has lost 477,559 units of planned vehicle production so far this year in North America. The automaker has said it could lose as much as 1.1 million units of planned production globally this year due to the shortage.
And earlier this week, it announced extended downtime throughout July at eight of its North American plants.
Overall, industry analysts say that the strong sales pace the industry has seen this year began to falter in June due to the lack of inventory, a trend that is likely to continue through the summer.
IHS Markit estimated that the seasonally adjusted annual rate of new vehicle sales in the U.S. hit between 15.3 million and 15.8 million last month, down from 17 million in May.
"Inventory pressures are being felt industry-wide, but the incoming June figures point to a few automakers that may have realized stronger sales pinches than others," Chris Hopson, IHS Markit's manager of North American light vehicle forecast, said in a statement Thursday.
"While we expect improvement from an inventory side of the equation as the industry progresses through the second half of the year," he added, "there's not much relief likely to be realized in July or August."
Prosecutors recommend 14-month
sentence for former UAW official
Vance Pearson
Jordyn Grzelewski
The Detroit News
June 30, 2021
Federal prosecutors are asking a judge to sentence former United Auto Workers official Vance Pearson to 14 months in prison — lower than sentencing guidelines based on his cooperation with investigators — for his role in an embezzlement scheme that brought down the union's top leadership.
Acting U.S. Attorney Saima Mohsin's office on Tuesday filed a sentencing memorandum and motion to reduce Pearson's sentence below the guideline range of 24 to 30 months. Prosecutors cited Pearson's "substantial assistance" in the case that has led to 15 convictions and six years of independent oversight of the union.
They also are asking the court to order that Pearson make restitution of $250,000 to the UAW and forfeit $119,000. U.S. District Judge Paul Borman will weigh the recommendations at a sentencing hearing scheduled for July 6.
Pearson was a close aide to former UAW President Gary Jones. He succeeded Jones as director of the UAW's now-dissolved Region 5 based in Missouri.
Pearson pleaded guilty in early 2020 for his role in the racketeering enterprise that involved UAW officials embezzling money from members to pay for lavish personal expenses. He agreed to cooperate with an investigation targeting former presidents Jones and Dennis Williams, both of whom have since been convicted and sentenced.
Pearson's role in the scheme was to help other UAW officials embezzle funds from the union. The plea deal portrayed Pearson as carrying out orders from Jones and Williams to rent private villas and buy large amounts of cigars and alcohol, and covering up expenses by filing phony reports with the union.
"While Pearson was not the mastermind of this scheme, he did have an important role in it," prosecutors wrote in the sentencing memo.
Under the plea agreement, Pearson and the prosecution agreed to cap his sentence at no more than 30 months. He also agreed to forfeit $81,000 from a so-called "flower fund" and $38,000 from a "Members in Solidarity" fund.
Prosecutors wrote that Pearson — the final UAW official awaiting a prison term — "enjoyed substantially less than Williams and many of the other top UAW officials" and that the guideline range "was reduced based on his minor participation."
Still, they wrote, his "actions and inactions substantially harmed UAW members, retirees and the union itself." They describe someone who "ascended the ranks of the UAW" but who "lost himself in the culture of corruption."
Pearson, they wrote, "made decisions and took actions that have cast a stain on the UAW and even the labor movement in general. His criminal activity has undermined the trust that the UAW had built up with its members, with union workers, and even with the general public."
In a motion for downward departure filed Tuesday, prosecutors detailed Pearson's role in assisting the investigation into other top UAW officials who were implicated in the scheme.
In a series of in-person and phone interviews, they said, "Pearson was candid both about his own criminal activity, and about others' actions." He reportedly informed investigators of the existence of the "flower fund" and "Members in Solidarity" account, and agreed to testify against other UAW officials if necessary.
The flower fund originally was established to pay for flowers for autoworkers' funerals, but prosecutors have said that senior staff were forced to contribute to the fund, The Detroit News previously reported. And money in the Members in Solidarity account was supposed to pay for UAW election expenses.
Prosecutors credited Pearson's cooperation with the decisions by Jones and Williams to plead guilty, and with the implementation of independent oversight of the union.
Jones in June was sentenced to 28 months in prison for failing to pay taxes and helping to steal as much as $1.5 million from members. Williams was sentenced in May to 21 months in federal prison for his role in the scheme.
Stolen funds were used on personal luxuries including private villas, steak dinners, alcohol and golf gear.
Under the consent decree between the Justice Department and the UAW, the union will be under the oversight of an independent monitor for six years and a referendum by members will determine whether top UAW officials will be directly elected by rank-and-file members going forward.
UAW President Rory Gamble
announces he will retire June 30
Breana Noble, Daniel Howes, Robert Snell
The Detroit News
June 28, 2021
Rory Gamble, the first African American president of the United Auto Workers, will retire on June 30 — a year earlier than planned, opening the way for the union's fourth leader in three years.
"I said on Day One I would hand over the keys to this treasured institution as a clean union," Gamble, 65, said in a statement less issued less the two hours after he officially notified the UAW's governing International Executive Board. "My original intent as a UAW Vice President was to retire at the end of June 2021, and after looking at the progress we have made and the best interests of UAW members for a stable transfer of power, this is the right time for me to turn over the reins."
Gamble's early retirement was expected. The Detroit News first reported in April the intentions of Gamble to retire a year before the end of his four-year term. It would position Secretary-Treasurer Ray Curry, 55, as the second Black president of a union marred by 11 former officials being convicted of federal crimes in recent years. Additionally, Curry represents the possibility for a long-term leader amid a historic transformation in the automotive industry toward electrification.
Confirmation of Gamble's early retirement comes a day before a scheduled $150-per-plate gala dinner "honoring and saluting The Man, The Legend, Mr. Rory Gamble" to be held Saturday at The Westin Hotel in Southfield, Gamble himself, in a recent interview with CNBC, acknowledged that he was "looking at my options right now."
During his short tenure, Gamble has helped negotiate a deal to resolve a criminal investigation of the UAW that gives the federal government prolonged oversight and broad control over the union. The oversight is expected to cost millions of dollars.
Gamble also announced reorganizations that included disbanding a 17-state region based in Missouri that employed leaders involved in financial wrongdoing. And he announced financial reforms that include appointing an independent ethics officer, strengthening internal financial controls and ordering the sale of a $1.3 million lakefront retirement home for former President Dennis Williams.
Gamble's resignation comes after a third-party monitor has been appointed to oversee the union for the next six years as the organization emerges from its most legally fraught period in its 86-year history. The union reached a consent decree with the Justice Department in December after a federal corruption investigation convicted two presidents, two vice presidents, and others.
The consent decree also requires a historic referendum to decide whether to amend the UAW constitution to enable the direct election of the union's top officials. Such a move would represent a radical departure from the decades-long practice of allowing a small group of labor leaders elected by their locals to choose those members of the union's International Executive Board.
Elevating Curry, a member of the union's board, would provide an incumbent option with ties to the UAW's existing leadership for the organization's top job instead of leaving it vacant for what could be the union's first one-person, one-vote election in its history.
UAW leaders have a tradition of stepping down or not pursuing reelection when they turn 65. Gerald Kariem, 65, UAW vice president and head of the Ford Department, recently said he will retire at the end of June.
Curry's appointment could help to realize Gamble's goal of ending a string of one-term presidents leading the UAW since 2010. Gamble and his predecessor, Gary Jones, who was convicted of helping steal more than $1 million from rank-and-file workers as part of a racketeering scheme, had some of the shortest presidencies in the union's history since its earliest leaders after the organization's founding in 1935. Jones was president for 17 months. Gamble has been president for almost 19 months.
With the ability to run for a full term in 2022 and reelection in 2026, Curry's theoretical presidency could last about nine years. Such a tenure could span the fraught transition toward electric vehicles that require fewer workers to assemble and fewer parts than their gas- and diesel-powered predecessors.
If the membership of the UAW chooses the "one member, one vote" principle through the referendum, according to the consent decree between the union and the government, the UAW constitution will be amended to incorporate the new election model ahead of the next UAW constitutional convention in June 2022 when the next election for the executive board would take place.
The secretary-treasurer position is the second-highest-ranking job in a union with more than $1.1 billion in assets and approximately 1 million active and retired workers. The candidates vying to become the next secretary-treasurer are said to be UAW Vice President Cindy Estrada, 52, who oversees the union's organizing efforts and its Stellantis NV department, and Chuck Browning, 56, who leads a union region that includes Detroit and most of Wayne County, two sources with knowledge of the succession plans previously told The News.
On Friday, two sources familiar with the fluid situation inside the union's leadership ranks said that Estrada had withdrawn from consideration to become secretary-treasurer and that Browning is interested in heading the union's Ford Department, replacing the retiring Kariem.
The succession plan reflects the personnel challenges in moving beyond the most damaging period in the union's long history. The News reported in late 2017 that federal agents were interested in Estrada while investigating whether worker training funds were misappropriated and if labor leaders received money or benefits through their tax-exempt nonprofits. She has not been charged with wrongdoing.
Browning, meanwhile, served as executive administrative assistant to President Dennis Williams, who was sentenced to 21 months in federal prison for conspiring to embezzle union funds. Respected inside the union and among auto executives, Browning has not been linked to the UAW scandal.
The future of the UAW will be shaped by government oversight. U.S. District Judge David Lawson appointed New York attorney Neil Barofsky as the monitor overseeing UAW reforms. Within the next six months, the UAW must hold a referendum vote on amending the union constitution to allow for the direct election of the UAW's executive board.
The consent decree also includes appointing an adjudications officer empowered to discipline and expel UAW officers for committing crimes, violating ethics rules or the union's constitution. Federal investigators have amassed evidence of UAW officials engaged in conduct that did not lead to criminal charges and that evidence could be used to expel current union leaders once the monitor and adjudications officer are appointed, according to sources familiar with the investigation.
In all, the ongoing crackdown on auto industry corruption has led to the convictions of 15 people, including former UAW presidents Jones and Williams. The investigation has revealed labor leaders and auto executives broke federal labor laws, stole union funds and received bribes and illegal benefits from union contractors and Fiat Chrysler Automobiles NV executives.
"We have to be very precise and have zero tolerance going forward in how we manage our union," Gamble told The News in an interview in November 2019. "Which means we've got to be honest with ourselves and recognize that there was a problem, that there's a need for great change, and we have to show that we can self-govern.
"We don't have time to procrastinate on big things, on what needs to be corrected in our union. We've got to move fast."
Electric vehicles will top global
sales by 2033, study says
Brett Haensel and
Keith Naughton
Bloomberg
June 25, 2021
Global electric vehicle supremacy will arrive by 2033 — five years earlier than previously expected — as tougher regulations and rising interest drive demand for zero-emission transportation, according to a new study.
Consultant Ernst & Young LLP now sees EV sales outpacing fossil fuel-burners in 12 years in Europe, China and the U.S. — the world's largest auto markets. And by 2045, non-EV sales are seen plummeting to less than 1% of the global car market, EY forecast using an AI-powered prediction tool.
Strict government mandates to combat climate change are driving demand in Europe and China, where automakers and consumers face rising financial penalties for selling and buying traditional gasoline and diesel-fueled cars. EY sees Europe leading the charge to electric, with zero-emission models outselling all other propulsion systems by 2028. That tipping point will arrive in China in 2033 and in the U.S. in 2036, EY predicts.
The U.S. lags the world's other leading markets because fuel-economy regulations were eased during former President Donald Trump's administration. Since taking office in January, President Joe Biden has rejoined the Paris Climate Accord and proposed spending $174 billion to accelerate the shift to EVs, including installing a half-million charging stations across the country.
"The regulatory environment from the Biden administration we view as a big contributor, because he has ambitious targets," Randy Miller, EY's global advanced manufacturing and mobility leader, said in an interview. "That impact in the Americas will have a supercharging effect."
There also is a growing consumer appetite for EVs, from Tesla Inc.'s hot-selling Model 3 to new electric models coming from legacy automakers, such as General Motors Co.'s battery-powered Hummer truck and Ford Motor Co.'s F-150 Lightning pickup. Investments in battery powered models now top $230 billion from the world's automakers, according to consultant AlixPartners.
"Many more models that are much more appealing are coming out," Miller said. "You factor that with the incentives, and those are the raw ingredients that are driving this more optimistic view."
The EY study also sees the millennial generation, now in their late 20s and 30s, as helping to propel EV adoption. Those consumers, driven by a coronavirus-influenced rejection of ride-sharing and public transportation, are embracing car ownership. And 30% of them want to drive an EV, Miller said.
"The view from the millennials that we're seeing is clearly more inclination to want to buy EVs," Miller said.
Additionally, the combination of government purchase incentives for EVs and proposed bans on internal combustion engines in cities and states are accelerating the adoption of battery-powered vehicles.
Europe is forecast to lead in EV sales volumes until 2031, when China will become the world's top market for electric vehicles.
Vehicles powered by gasoline and diesel are still predicted to make up around two-thirds of all light vehicle registrations in 2025, but that will mark a 12 percentage-point decrease from five years earlier. By 2030, EY predicts that non-EV cars will account for less than half of overall light vehicle registrations.
Boost to seniors benefit this
summer and beyond could
cost $10.7 billion, PBO says
The Canadian Press
June 24, 2021
OTTAWA — The parliamentary budget officer is estimating the Liberals' plan to send one-time payments this summer to seniors over 75 and then boost their old-age benefits thereafter will cost slightly less than the government estimates.
April's budget estimated that the overall cost of the measures would amount to just over $12 billion over five years before accounting for tax revenues that will offset a small part of the overall spend.
The budget office in a report Wednesday estimates the gross cost will be closer to $10.7 billion.
The spending starts this summer with the government's planned one-time payment of $500 in August to every senior who will be 75 and over by the summer of 2022.
And come next summer, the Liberals are also proposing a 10-per-cent boost in old age security for those over 75, which the budget estimated would provide an extra $766 in benefits to 3.3 million retirees.
The budget estimated the net cost of the measure, once accounting for extra tax revenues, at almost $10.7 billion, while the budget officer's report puts it closer to $9.9 billion.
The Liberals promised in the 2019 election to bump up old age security payments, which already rise in line with inflation, arguing that older seniors needed additional help covering costs later in life.
During an appearance at the House of Commons committee last month, Seniors Minister Deb Schulte noted that about 34 per cent of seniors under 75 have jobs to supplement their income, but the figure drops to 15.4 per cent above that age — one of several figures she cited to explain the financial disparity between the two cohorts.
Oshkosh to build new U.S. Postal
delivery vehicles in S.C.; Ford
to supply components
June 23, 2021
WASHINGTON -- Oshkosh Defense said Tuesday it will build next-generation U.S. Postal Service delivery vehicles in Spartanburg, S.C., and expects to hire over 1,000 employees to do so.
USPS awarded a multibillion-dollar, 10-year contract to Oshkosh Defense, a subsidiary of Oshkosh Corp., in February. The contract could be worth more than $6 billion in total.
It allows for the delivery over 10 years of between 50,000 and 165,000 vehicles, with a mix of internal combustion-powered and battery-electric models.
Last week, EV company Workhorse Group filed a legal challenge to the decision after USPS rejected its bid.
Workhorse had proposed building an all-electric vehicle fleet for USPS, and has the support of many U.S. lawmakers.
Ford's role
Ford Motor Co., meanwhile, said it will provide engines, transmissions and other parts for the vehicles.
The USPS plans to buy a mix of electric and gasoline-powered Postal Service vehicles. Ford will provide parts for both the electric battery and internal combustion engine versions, including engines and transmissions made in Michigan, along with suspensions and other components, Ford said, declining to release financial terms.
Oshkosh Defense plans to repurpose a warehouse to fulfill the contract, and production is expected to begin in mid-2023.
USPS said last week "preproduction design, tooling and facility preparation are proceeding on schedule, with the first (next generation delivery vehicles) estimated to appear on carrier routes in 2023."
EV fleet
Postmaster General Louis DeJoy has committed to at least 10 percent of the fleet being electric, but he said in a letter in March to lawmakers that with government assistance the USPS could commit to making a majority of the fleet electric within 10 years.
He added that the USPS needs about $8 billion to electrify the new fleet to the "maximum extent" feasible.
President Joe Biden and some lawmakers in Congress have called for government funding to speed USPS's transition to more EVs.
New USPS vehicles will include air conditioning and heating, improved ergonomics, and advanced vehicle safety technology including airbags and 360-degree cameras.
Most current delivery vehicles are at least 25 years old and do not have air conditioning or modern safety features.
A 2020 report said USPS spent $706.2 million in maintenance costs for 141,057 delivery vehicles.
Ford built an F-Series
'Lightning' pickup
in 1953

June 21, 2021
It wasn't an electric pickup

The 2022 Ford F-150 Lightning pickup has been revealed with a starting price under $40G. The all-electric truck is the most powerful F-150 ever and offers a range up to 300 miles per charge.

June 16 marks the anniversary of Ford's incorporation in 1903 and it's a very different company than it was 118 years ago.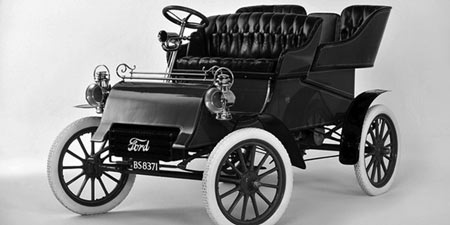 The 1903 Ford Model A was the brand's first car. (Ford)

Back then it's only vehicle was the Model A, which was an open-top car with an eight horsepower two-cylinder engine that sold for $850, which is equivalent to about $26,000 today. It was nearly a month before the first order came in on July 15 to keep the startup afloat.

Now things are all about-trucks and SUVs and the future is the F-150 Lightning electric pickup, but it's not the first Ford to wear a bolt on its logo.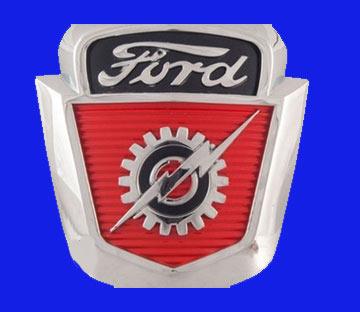 Along with the two previous editions of the Lightning, which were V8-powered performance trucks, the second generation 1953 F-Series debuted one on its hood badge.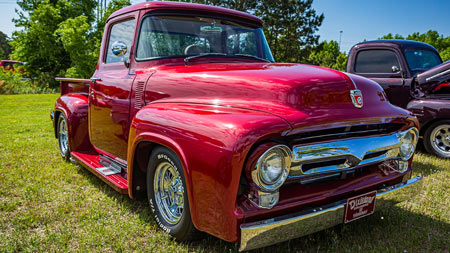 The lightning bolt logo was launched with the second-generation F-Series. (Brian Welker/iStock)

It wasn't an electric truck by any means, but the new logo was special and meant to celebrate the brand's 50th anniversary.

According to a press release from March 11, 1953:
"Over a field of ribbed plastic, a gear has been mounted symbolizing power. Running diagonally across the gear from right to left is a bolt of lightning symbolizing speed."

Ford issued a press release in 1953 announcing the 50th anniversary badge. (Ford)

The badge would be used on various F-Series models until the fifth-generation was introduced in 1967 with F O R D lettering across the front of the hood.

"Power" and "speed" need to be considered in context, of course. The 1953 F-Series was available with either a 101 hp straight-six or a 100 hp V8 and two-wheel-drive, while the 2022 F-150 Lightning has a standard 426 hp dual-electric motor all-wheel-drive system that will make it quicker than some Mustangs … which are also available as electric cars, these days.


Ford says second quarter earnings
will 'surpass its expectations,'
but profits to dip
Jordyn Grzelewski
The Detroit News
June 20, 2021
Ford Motor Co. on Thursday said it now expects its adjusted earnings for the second quarter to "surpass its expectations" and be "significantly better" than a year ago, though net income is likely to be "substantially lower" compared to the second quarter of 2020.
The Dearborn automaker provided the update on its financial outlook for the second quarter, which ends in two weeks, to coincide with CEO Jim Farley's participation in a Deutsche Bank auto conference Thursday.
After rising some 75% since the start of the year — powered by the Blue Oval's strategy for electrification, the looming arrival of its electric F-150 Lightning pickup and the success of its Mustang Mach-E — Ford's stock closed down about 1.7% Thursday to $14.77 per share.
Ford said it has seen improvements to its automotive business since it provided full-year financial guidance at the end of April, despite continuing to feel the impact of a lingering semiconductor shortage that's dragged down auto production worldwide since late last year. Those improvements are being driven by lower-than-expected costs, favorable market factors and higher vehicle auction values, the company said.
In the second quarter of 2020, when the automotive industry was still in the thick of the fallout from the coronavirus pandemic, Ford took a $1.9 billion hit to its adjusted earnings, but eked out $1.1 billion in profit thanks to a one-time, $3.5 billion gain on its investment in self-driving vehicle technology company Argo AI.
At the end of April, Ford executives forecast adjusted earnings before interest and taxes of between $5.5 billion and $6.5 billion for the year, reflecting an estimated $2.5 billion hit from the chip shortage. At that time, executives projected Ford would lose about 50% of its planned second-quarter production due to the shortage.
Farley said Thursday that cost reductions from the restructuring of some of the company's overseas operations played a large part in the improvements to the automotive business. He also credited a rise in prices for Ford vehicles, a byproduct of the company's shift to higher-margin trucks and SUVs and of high consumer demand amid the chip shortage.
As for where the crisis currently stands, Farley said the situation remains "fluid," but expects conditions to improve in the second half of the year before normalizing sometime in 2022. Even then, he said, it won't be back to business as usual for the automaker, which has in some ways benefited from having lower inventory levels on dealer lots.
Ford's second quarter, Farley noted, was significantly impacted by a fire at a chip plant in Japan that is still working to get back up to full production capacity.
"The second thing is," he said, "we are not going to redesign our product to take features out. We're taking a very different approach to managing through the crisis. We don't want our brand to change during the crisis, even in the name of short-term profits."
That's a reference to crosstown rival General Motors Co.'s approach to navigating the crisis. In some cases the Detroit automaker has opted to build and deliver vehicles without non-essential features that are powered by electronic modules requiring chips, such as an automatic stop/start function on some full-size 2021 trucks and SUVs.
Meanwhile, GM on Wednesday increased its previous guidance for the first half of the year, from $5.5 billion to between $8.5 billion and $9.5 billion in pre-tax profits.
Farley also provided an update on the company's new growth plan, dubbed Ford+ and unveiled to investors last month. The crux of the plan is a transition away from a business model in which customers primarily interact with the automaker on vehicle purchases to an "always-on" relationship.
"The real transformation of Ford is not just our base profitability, getting to 8% [margins]. It's not just the modernization of the company to e-mobility," said Farley. "The biggest change at Ford is going from an episodic relationship with the customer to every day surprising them with physical and digital connected services."
Ford has told investors it expects to electrify 40% of its global lineup by 2030. But based on the early interest consumers have shown in forthcoming electric vehicles such as F-150 Lightning, Farley said, EV adoption might move faster than the company had expected.
Farley also pointed to government incentives as being key to the EV transition, pointing to more rapid adoption in Europe as an example.
"Our view is pretty simple, which is we really encourage the [Biden] administration to put [in place] incentives to help customers move to this new technology," he said. "But we don't want to leave labor behind. It's very important in our view that the vehicles built in the U.S. or built [in] North America, but especially in the U.S., are considered differently than those that aren't."
The company also provided the latest number of orders and reservations it's gotten for a spate of new vehicles it's in the midst of launching.
Reservations for the full-size Bronco SUV, which began deliveries earlier this week, now stand at 190,000, with 125,000 of those converted to orders. The battery-electric F-150 Lightning, which Ford unveiled last month, now has 100,000 reservations. The just-announced Maverick compact pickup truck has gotten 36,000 reservations. And the forthcoming all-electric E-Transit commercial van has gotten 20,000.
Ford is scheduled to release second-quarter financial results, including guidance for the second half of the year, July 28.
Lincoln to introduce four
new battery-electric vehicles
starting next year
Breana Noble
The Detroit News
June 16, 2021
Lincoln is following the buzz of Ford Motor Co.'s Capital Markets Day last month with plans to introduce four new battery-electric vehicles around its anchor products by the end of the decade — with the first coming next year.
The luxury brand provided a focused perspective on what Ford's plans to invest $30 billion in electrification by 2025 and grow its connected vehicle services mean for it. Although Ford is first introducing full EVs as a Mustang SUV and an F-150 pickup truck, EVs represent a larger percentage of the luxury market than the mass-vehicle market. With a full lineup of electrified vehicles by 2030, Lincoln expects a majority of its sales globally will be fully electric by 2026.
Lincoln's portfolio will be fully electrified by 2030.
"You typically see luxury clients more as tech adopters and certainly with the propulsion paired with that connectivity and that intelligence you get in the vehicle and those digital experiences, it makes sense we're seeing that," Lincoln President Joy Falotico said during a virtual news conference this week. "It's going to be a transition period, and we want to make sure we have what clients want."
Unlike General Motors Co.'s Cadillac, which has said it will sell only EVs by 2030, there still will be internal combustion engine and plug-in hybrid vehicles for certain Lincoln models by then, spokeswoman Anika Salceda-Wycoco said. But Lincoln will be adopting the new technology ahead of some other Ford vehicles. The Dearborn automaker has said 40% of its lineup will be electrified by the end of the decade.
Four new battery-electric vehicles will debut globally on a new rear-wheel drive, all-wheel drive flexible bed architecture by 2030 based around its anchor products. The company currently makes the Corsair, Nautilus, Aviator and Navigator SUVs. The Aviator is available as a plug-in hybrid and the plug-in hybrid Corsair will be later this year.
The first fully electric vehicle, which brand leaders declined to specify, will come next year when Lincoln celebrates its 100th anniversary. Production of Cadillac's first EV, the Lyriq SUV that starts at $59,990, will begin in the first quarter of 2022. Lincoln's new architecture also will support derivatives.
"When you're working around traditional engines, transmissions, fuel systems, the space left for people can be compromised," said John Jraiche, global director for luxury vehicles' enterprise product line management. "But the company's new rear-wheel drive, all-wheel drive flexible bed architecture allows us to reimagine the interior space and deliver the power of sanctuary in a new way for our clients."
A sketch of the interior space inspired by Lincoln's evolving "Quiet Flight" design as the brand moves toward electrification.
EVs represent roughly 2% of U.S. sales, but 19% of the luxury segment, Falotico said. Now that Ford has showed it has the technology with the electric Mustang Mach-E, F-150 Lightning and e-Transit commercial van, it has the scale that will help to bring EVs to Lincoln, said Sam Abuelsamid, e-mobility analyst for market research firm Guidehouse Inc.
"They've showed what they can do with electrification in their mainstream brand, and they're really starting to accelerate it with Lincoln," Abuelsamid said. "If they had launched it with Lincoln, they would not have as much volume. With the scale, they can manage the cost of bringing Lincoln over to it."
Nearly silent EVs will add a new meaning to Lincoln's "Quiet Flight" design that seeks to create a place where people can live, relax and work. Lincoln is exploring a "Rejuvenation" mode for car owners to create their own sensory environment through various screen display, lighting, climate, seat, massage, audio — and even scent settings.
A sketch of panormaic roofing inspired by Lincoln's evolving "Quiet Flight" design as the brand moves toward electrification.
Augmenting the physical structure is connected services. Lincoln Intelligence System, a cloud-based system for electrical, power distribution and computing systems, will allow for continued updates over the life of the vehicle.
That will start this summer on the 2021 Nautilus. Over-the-air software updates through the Lincoln Enhance platform for Sync 4-enabled vehicles will provide SecuriAlert, which will alert owners' phones when their vehicle is unlocked or accessed, and update navigation, Apple CarPlay and the digital owner's manual. The hands-free Alexa digital assistant will come in an update this fall.
The 2021 Lincoln Nautilus SUV will receive an over-the-air update for the hands-free Alexa digital assistant in the fall.
Lincoln Intelligence System also will support Lincoln ActiveGlide hands-free highway driving technology. It uses cameras, radar and driving monitoring technology to allow a driver to operate hands-free on prequalified "Blue Zone" sections of the highway.
The brand emphasized digital updates on the retail and servicing side, too. Later this year, it will roll out a fully integrated digital sales platform now that one-third of Lincoln's U.S. sales are completed online. Buyers will be able to seek help from participating dealers through any moment of the process.
Lincoln is expanding its brand-exclusive dealerships in the 130 largest luxury markets. It also is adding smaller boutique locations through retail partners. Its first boutique was in Scottsdale, Arizona.
The brand remains committed to its dealer partners, said Michael Sprague, Lincoln's director in North America. It is expanding its brand-exclusive "Vitrine" dealerships and introducing smaller boutique locations that cater to retail environments with existing dealers. There are currently 28 Vitrine locations in the country with another 50 being added. They showcase Lincoln vehicles, provide digital resources for customers to purchase a vehicle, and offer another location where customers can drop off their vehicle for service.
"This is what luxury clients expect," Sprague said. "Brand-exclusive facilities drive our growth. In the top 30 luxury markets, more than 75% of our volume comes from brand-exclusive locations."
Lincoln is expanding its brand-exclusive dealerships in the 130 largest luxury markets. It also is adding smaller boutique locations through retail partners. Its first boutique was in Scottsdale, Arizona.
The brand's Lincoln Way app also will provide a unique charging experience to Lincoln EV customers through the Electrify America charging network with more detail to come later.
The brand additionally is testing a mobile fuel and vehicle spa subscription-based service in Houston. It allows the customer to request their vehicle get fueled up, a car wash or vehicle detailing, and Lincoln contracts with third parties to come to their office or home to provide that service, said Larry Farrar, service operations director for the Lincoln West Point dealership in Houston.
The dealership becomes involved if there are additional maintenance concerns or questions, Farrar said. Several hundred invitations were sent to the dealership's customers, and 25 to 30 responded positively, he said.
"We are in the very early stages," Farrar said. "What we've heard is that it has been a pretty good experience."
Such subscription services Ford has trumpeted as being a revenue source even after a vehicle is sold.
"It's the Wild est in terms of understanding what customers are willing to pay for," said Stephanie Brinley, principal automotive analyst for the Americas at IHS Markit Ltd. "Even if half of the vehicles are spending $20 a month, that's a significant amount of revenue opportunity."
G7 eyes ambitious shift to electric
cars and away from oil
ALBERTO NARDELLI and
JOSH WINGROVE
June 14, 2021
Group of Seven leaders are discussing ambitious plans to shift the balance of car buying away from gasoline to greener vehicles by the end of the decade, as part of a package of measures to combat climate change.
Under one proposal contained in a document seen by Bloomberg, G7 governments would "strive" to ensure that the majority of all new passenger car sales are not petrol or diesel-powered "by 2030 or sooner." Countries are divided on how specific the measures should be.
All seven national leaders gathering for their summit in Cornwall, southwestern England, are also set to promise more funding to help the developing world cut carbon emissions, though details of how much are not clear.
The commitments have not yet been agreed to by G7 officials who are drafting the conclusions of this weekend's summit. But setting the goal for moving away from gasoline could represent a turning point in efforts to reduce global oil consumption and reduce greenhouse gas emissions.
EV TAKEOVER
With a day to go before the summit begins, the plans are still in draft form and it's not clear yet that leaders – crucially including U.S. President Joe Biden -- will endorse the proposed wording on moving away from polluting cars.
A U.S. official declined to say whether the White House supports the drafting under discussion, including whether to set a goal that more than half of vehicles sold in 2030 are non-emitting.
The official said Biden believes in strong investment in electric vehicle markets and the supply chain as a way to tackle climate change and create jobs. But the U.S.'s domestic plan doesn't go as far as to call for a ban on combustion engine cars.
The biggest U.S. automakers have recently set targets for greener vehicle production. General Motors announced in January that it aspired to eliminate tailpipe emissions from new light-duty vehicles by 2035. Ford Motor Co. pledged last month that four of every 10 vehicles Ford sells would be battery powered by 2030.
Sales of new electric cars will reach 34 per cent of the global total by 2030 and 68 per cent by 2040, assuming no further policy incentives from governments, according to BNEF forecasts.
JOBS RISK
Japan also issued a green strategy plan in December to make all new cars hybrid or electric by the mid-2030s, despite Toyota Motor Corp. President Akio Toyoda warning days before that governments announcing combustion-car bans were overlooking risks to jobs.
In the U.K., Prime Minister Boris Johnson, who is hosting the G7 leaders' gathering, will ban the sale of new cars running entirely on petrol or diesel from 2030, though the other nations are not likely to back such a dramatic step. At the moment, only a fraction of new vehicles sold in the U.K. are fully electric, with costs putting most consumers off.
According to proposed wording in the draft summit communique, leaders would commit to decarbonize their transport sectors throughout the 2020s by accelerating the spread of electric vehicles, and the development of zero carbon trains, buses, shipping and aviation.
Disgraced ex-UAW president
Jones sentenced to 28
months for corruption scandal
Robert Snell
Kalea Hall
The Detroit News
June 11, 2021
Detroit — Former United Auto Workers President Gary Jones was sentenced to 28 months Thursday for helping steal as much as $1.5 million from members, splurging on personal luxuries — including private villas, steak dinners, booze and golf gear — and failing to pay taxes.
The sentencing by U.S. District Judge Paul Borman caps the downfall of Jones, 64, whose short tenure atop one of the nation's most influential unions started with cheers during a ceremony at Cobo Center three years ago. Within months, the reclusive leader was linked to lavish spending at union junkets in Palm Springs, federal agents raided his home, he was identified by The Detroit News as a target of a corruption investigation, and UAW members hurled insults and catcalls as he marched in the Labor Day parade in Detroit before resigning in November 2019.
Prosecutors wanted Jones to serve 28 months and portrayed him as a greedy crook driven by "naked ambition" who stole union dues withheld from members' paychecks and robbed them of trust and confidence in the union. Jones deserved a break, prosecutors also said, because he helped secure the conviction of his predecessor, retired UAW President Dennis Williams, and is willing to cooperate against others who are under investigation.
Prosecutors said Jones will pay $550,000 restitution to the UAW, $42,000 to the IRS, and forfeit $151,377.
Jones, speaking rapidly, apologized to his family and the union, which is being overseen by a court-appointed independent watchdog empowered to root out corruption.
"I failed them. I failed the UAW," Jones told the judge in a quivering voice. "I let my union down. I pray every day that no harm comes to the UAW."
Then, Jones fist-bumped his attorney Bruce Maffeo and prosecutors then hugged and kissed his wife — though both were wearing masks.
A 28-month sentence is the second longest for a UAW official convicted in the corruption scandal. Former Vice President Joe Ashton was sentenced to 30 months for taking $250,000 in kickbacks from a union vendor, and former UAW official Mike Grimes was sentenced to 28 months after admitting he received $1.5 million in bribes and kickbacks from a union contractor.
The judge blamed Jones for "sliding ... into significantly corrupt activity" after a distinguished rise within the union ranks that started at a Ford Motor Co. assembly plant almost a half-century ago.
Assistant U.S. Attorney David Gardey faulted the UAW's upper echelon, a group he said was notable for its lack of democracy that demands "unquestioning obedience to bosses."
"(Gary Jones) was a good man who found himself in and worked in a culture of corruption, which was the leadership of the United Auto Workers union," Gardey told the judge.
Prosecutors could return later to ask for Jones to be released from prison early if he continues to provide substantial assistance in the ongoing investigation. He also is helping the independent watchdog.
Maffeo described Jones as a remorseful man who atoned for his crimes, accepted responsibility and provided open-ended cooperation to federal agents.
"He's done everything he can do to try and pay back the debt he owes to the union, his family and society," Maffeo told the judge.
Maffeo said there was a "common theme" among union leadership of "a sense of entitlement."
"He knew enough to say no and he didn't," Maffeo said. "That is to his eternal regret and shame, and that is a burden he and his family will be carrying with them for the rest of their lives — even after this proceeding and its consequences are soldiered through."
The sentencing came seven months after prosecutors and the UAW reached agreement to have an independent watchdog oversee the union for six years, a deal expected to cost millions and add to the cost of the corruption scandal.
Jones and Williams are the highest-ranking UAW officials convicted in a four-year-old prosecution that has led tothe convictions of 15 peopleand revealed UAW leaders and auto executives broke labor laws, stole union funds and received bribes and kickbacks. Fiat Chrysler U.S., now known as Stellantis, also was convicted and agreed to pay a $30 million fine because executives paid more than $3.5 million in bribes to union leaders.
The final UAW official awaiting a prison term, former regional Director Vance Pearson, will be sentenced July 8.
"The fact that two former international UAW Presidents will be going to prison after being convicted of embezzling UAW dues money demonstrates that no one is above the law," acting U.S. Attorney Saima Mohsin said in a statement. "The working men and women of the UAW can feel that justice was done, and that their union is on the road to reform."
UAW leaders have required Jones to repay legal fees paid and money "he wrongly took or misspent," according to a union statement Thursday.
"As we have committed to our membership, when the UAW finds there has been wrongdoing, we will take all available actions to hold that person accountable regardless of status within the organization," union President Rory Gamble said in the statement.
Prosecutors described tens of thousands of dollars embezzled for personal use and a litany of lavish purchases Jones made with union funds, including custom-made golf clubs, months-long vacations in Palm Springs villas, and more than $60,000 in cigars, entertainment, golf and liquor.
"The exorbitance was jaw-dropping," prosecutors wrote.
The direct benefit to Jones, his lawyer said, was approximately $90,000. Investigators from the FBI, Labor Department and Internal Revenue Service spent years building a case against him with undercover recordings, bank records and a team of former confidantes and senior UAW officers who cooperated with the government.
A year ago, Jones admitted embezzling the money in support of racketeering activity, evading taxes and causing the UAW to file false tax returns. The crimes spanned from 2010-19, a period that matched Jones' rise from heading a union regional office near St. Louis, Mo., to his tenure atop the UAW.
He admitted scheming with at least six senior UAW officers in a multi-year conspiracy to steal money spent on luxury items for labor leaders. Jones helped conceal the crime by hiding the expenses in the cost of holding UAW conferences in Palm Springs, Calif., Missouri and elsewhere.
The conspiracy involved submitting phony expense forms to conceal that labor leaders were spending member dues withheld from worker paychecks on entertainment and personal expenses. Those expenses included more than $750,000 spent on private villas, cigars, golf equipment and apparel, meals and liquor — including $400 bottles of Louis Roederer Cristal Champagne and Canadian vodka served in a crystal skull.
Jones also admitted helping to embezzle more than $60,000 in cash from co-conspirator Nick Robinson, who cashed more than $500,000 in checks from a UAW community action program.
Ford posts 4.1% sales gain in
May amid tightening inventory
Jordyn Grzelewski
The Detroit News
June 10, 2021
Ford Motor Co. sold 161,725 vehicles last month, up 4.1% from May 2020, when the automotive industry was just beginning to mount a recovery from coronavirus pandemic-related sales slumps and production shutdowns.
Ford's truck sales were down 11.6% year-over-year in May, while SUVs posted a 48.6% improvement.
"Ford sales were up 4.1 percent on tight inventories, while year-to-date sales increased 11.3 percent," Andrew Frick, vice president of Ford sales for the U.S. and Canada, said in a statement. "Ford and its dealers are working harder than ever to match the right mix of inventory to best meet the needs of our customers at the local level."
The automaker noted that it posted record electrified vehicle sales, which totaled 10,364.
That record comes on the heels of the introduction of Ford's first fully battery-electric vehicle, the Mustang Mach-E, late last year. Mach-E had 1,945 sales in May, bringing its year-to-date sales to more than 10,500.
The automaker also sold 2,852 units of the hybrid version of its bestselling F-150 pickup truck. Meanwhile, sales of the hybrid versions of the Ford Escape and Explorer were up 125% and 132%, respectively, over the same period last year.
The automaker has received more than 70,000 reservations for its forthcoming battery-electric version of the F-150, dubbed F-150 Lightning.
Sales of F-Series — Ford's flagship truck franchise and the best-selling vehicle in America — are up 4.7% through May on sales of 316,359 trucks, but for the month sales were down 29.2%. The automaker said that F-Series "continues to turn at record rates" amid tightening inventories. Retail orders for the trucks are three times higher than last year, according to Ford.
The Ranger pickup truck had its best May sales performance since 2004.
Meanwhile, Ford brand retail SUVs had their best May sales since 2003 while Ford brand SUVs overall were up 51.8% year-over-year.
The Blue Oval sold nearly 15,000 units of the brand-new Bronco Sport small SUV last month, helping to drive Ford's retail share in the segment up almost four percentage points. Bronco Sport's May sales performance was its best since launch, and was up 6.9% over April. Ford said that the majority of Bronco Sport customers are coming from other vehicle brands, with the No. 1 source of new customers being Stellantis NV's Jeep brand.
Sales of the Ford EcoSport, a subcompact SUV, were down 15.2%, while sales of the Edge SUV were down 32.1%. The Ford Escape, a compact SUV, saw a 51.4% sales gain. Sales of the Explorer and Expedition SUVs were up 2.1% and 110.4%, respectively.
Sales of Lincoln brand SUVs were up across the lineup in May, for a 24.3% gain. Sales of the Corsair, the best-selling vehicle in the Lincoln lineup, were up 16.2%, while Aviator sales rose 32.5% and Navigator sales expanded 65.6%. Overall, Lincoln sales were up 5% year-over-year in May.
Though automakers have been hit hard by a months-long semiconductor shortage, their bottom lines have been boosted by rising vehicle prices.
Ford reported Thursday that its average transaction price for new vehicles in the U.S. was up $3,400 from a year ago, to $42,800 per vehicle, driven in part by sales of new vehicles such as Mach-E and the Bronco Sport.
Industrywide, sales were strong in May, outpacing last May's results but falling behind March and April of this year. U.S. sales were up across the board for automakers that report sales on a monthly basis, including Honda, Toyota and Subaru. But dwindling inventory levels due to the microchip shortage could soon start to hit sales.
Ford's inventory level stood at 30 days' supply at the end of May, down from 35 in April. Prior to the chip shortage, it was not uncommon for automakers to maintain more than 100 days' supply.
IHS Markit on Wednesday projected that the seasonally adjusted annual rate of sales for new vehicles in the U.S. would be between 16.6 million and 17 million units for May, down from 18 million in March and 18.5 million in April.
"The dynamics of the announced production slowdowns is beginning to creep into some OEM results, but the still strong sales pace for the month reflects that consumers are finding new vehicles to purchase," Chris Hopson, manager of North American light vehicle forecasting at IHS Markit, said in a statement. "We expect the sales paces in June and July to continue to recede, but not dramatically."
The "strong pricing environment," added principal automotive analyst Stephanie Brinley, "will also help automakers and dealers through the difficult time with higher profitability helping to offset the generally higher costs resulting from the fragile supply chain and low inventory."
Ford's Mach-E output exceeds gas-
powered Mustang so far in 2021
Keith Naughton
Bloomberg
June 9, 2021
Ford Motor Co. surpassed a significant milestone in its conversion to electric vehicles, producing more battery-powered Mustangs so far this year than gasoline-fueled versions of its iconic pony car.
Ford has built 27,816 electric Mustang Mach-E models at a plant in Mexico this year compared with 26,089 copies of the traditional internal combustion engine Mustang at a factory in Michigan, according to production data the automaker released Thursday.
Chief Executive Officer Jim Farley said last week that he expects 4-in-10 models Ford sells to be electric by 2030, as he revealed plans to boost spending on battery-powered models by 36% to $30 billion. The Mach-E went on sale late last year and was the top-selling vehicle in Norway last month. In the U.S., where EV adoption is slower, the gas Mustang still outsells the electric version by nearly 3-to-1.
"Mach-E has been much stronger than we expected, so we've totally run out of stock," Farley told reporters at the introduction of the electric F-150 Lightning pickup May 19. "Mach-E is going global as we speak, but in the U.S.," the wait for a Mach-E "is months."
The global computer-chip shortage hobbling the auto industry played a role in the Mach-E surpassing the traditional Mustang. Farley said the company is prioritizing its newest models, such as the Mach-E and the Bronco SUV, as its distributes its scarce supply of semiconductor modules. Ford's Flat Rock factory built no gas Mustangs last month, according to the production data.
"We have purposely protected our launches — Bronco, Bronco Sport , Mach-E, F-150," Farley said. "If we can switch a module over to one of those launch vehicles, we have. We're very protective of the launches because they are so important for our business."
Ford said its supply of gasoline-fueled Mustangs is down to 24 days, about one-third of what is considered a healthy inventory.
"We are really excited about the success that we are having with our launch of the all-new Mustang Mach-E, not just here in America, but globally too," Erich Merkle, Ford's sales analyst, said in an emailed statement. "To be fair, please keep in mind that Mustang and Flat Rock have been impacted by outside factors, which has been the semiconductor chip shortage."


Ford unleashes compact
Maverick pickup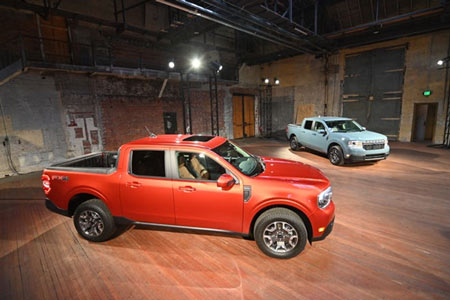 Henry Payne
Jordyn Grzelewski
The Detroit News
June 8, 2021
Putting an exclamation point on its aggressive transition to all-SUV/truck brand, Ford Motor Co. debuted its Maverick compact pickup Tuesday — based on the unibody chassis shared with the Escape and Bronco Sport SUVs.
Slotted below the midsize, ladder-frame, $26,015 Ranger pickup, the entry-level Maverick starts at just over $21,000 including destination fee, $19,995 without. Its compact size and bed-full of tech features are aimed at urban buyers who want a "ute with a bed."
Along with the Hyundai Santa Cruz pickup introduced earlier this year, the segment-busting Maverick further expands sub-$25,000 SUV offerings.
"Since 2009, the car market share in the U.S. has decreased 56% while at the same time, truck/SUV has increased 73%," said Ford Global Chief Marketing Officer Suzy Deering. "Three years ago, Ford made the decision to stop producing sedans. It opened up an incredible whitespace opportunity for us (that) combined the best attributes of cars and utilities."
Ironically, Ford first used the Maverick nameplate on a Japanese compact-fighting car in the early 1970s, but the badge now fits the brand's off-road adventure vibe. It's "the truck you didn't see coming," crows Ford's YouTube ad.
While taking its conservative, bold design cues from Ford's flagship F-series pickup, Maverick's nimble unibody chassis, youthful interior, and clever tech will be more familiar to buyers of the Ford Escape and red-hot Bronco Sport, The Detroit News' 2020 Vehicle of the Year.
"The unibody design gives the truck better ride and handling from an overall maneuverability perspective," Maverick/Ranger marketing manager Trevor Scott said in a vehicle walkaround. "And it gives the truck more of the characteristics this customer is looking for. Five passengers. Tons of cargo space."
Contrary to traditional, rear-wheel-drive trucks, the unibody Maverick will be front-wheel-drive-based with an all-wheel-drive option. It will be made alongside the Bronco Sport at Ford's plant in Hermosillo, Mexico. Maverick power-train options are shared with the Escape. A gas-electric hybrid, 2.5-liter four-cylinder comes standard. A more powerful 2.0-liter turbo-4 is optional.
Indeed, Maverick will be the first pickup on the market with a standard hybrid powertrain.
Ford has aggressively priced the Escape Hybrid for volume sales to meet fuel economy regulations, and the Maverick appears determined to make hybrids mainstream with pickup buyers as well.
They will be rewarded with a significant mpg boost as the hybrid Maverick boasts 40 mpg city and 500 miles of range compared to the Ranger's 21 mpg/414 miles.
"It's actually stronger fuel economy than a Honda Civic," said Scott.
Though priced on top of Ford's cheapest SUV — the India-made Ecosport (and well below the $28,710 Bronco Sport) — Maverick is much more robust. It eschews Ecosport's somnolent, 123-horse, three-cylinder and 166-horse 4-cylinder egg beaters for four-cylinder mills making 191 and 255 horsepower. Maverick engines can also tow a healthy 2,000 pounds (think two jet skis) and 4,000 pounds (think camper), respectively.
"It's definitely intended to serve the entry-level price point for the Ford showroom — but also for the Built Ford Tough lineup," said Scott. "We're going to be looking at a lot of first-time truck contenders."
Similar to Ranger, Maverick will start with Ford's core XL, XLT, and Lariat trims with the loaded models topping out at $35k. Ford's rugged FX4 package will be available on top trims. "We anticipate that a lot of the volume will be in the XLT series, which is closer to that $23,000-$24,000 price point," said Scott.
The interior is a departure from the critically-panned, cheap plastic designs of Ecosport and Ranger. Adopting a youthful, blocky look — think IKEA meets LEGO — Maverick bristles with storage cubbies and clever details.
"Cut-out" front armrests allow more vertical space for tall Thermoses. In the rear, speakers have been moved to the c-pillars, opening room for, say, a computer tablet.
To keep costs down, the base XL model will offer basic tech amenities like auto high beams and emergency braking. Popular safety features like blind-spot assist and adaptive cruise control are available. Apple CarPlay and Android Auto come standard, however, as does Smart Pass app connectivity so owners can start the pickup remotely in frigid Michigan winters and check details like tire pressure.
Like Bronco Sport, the interior is decorated with bright orange trim while the console mimics a desk organizer with ample storage bins. More storage is under the rear bench seat — courtesy of moving the gas tank aft of the cabin.
Also aft of the cabin is the heart of the Maverick, a 4.5' long x 4' wide bed. "Flexbed," Ford calls it.
Like Bronco Sport's creative hatchback, the bed can swallow two bicycles with front tires removed. Maverick embraces the Do It Yourself trend with a bed-based 12-volt outlet, 10 tie-downs, and optional rails with cleats and 110-volt outlet. A QR code is even stamped on the bed wall to offers suggestions on how owners might configure the bed for more utility (DIY slots can be found inside for customer add-ons, too). Useful 8" x 8" side bed cubbies can store, say, two-liter soda bottles or bike pumps.
"You can go to your local lumber store, purchase a couple of two by fours, and create bed dividers," noted Scott. "We'll give (customers) instructions on how they can create their own bike rack."
Maverick is not as radically designed as Santa Cruz (which channels Tesla's Cybertruck with a sliding bed cover), but the Ford pickup's flanks are notably clean like the Hyundai's, thanks to a single-option bed. Ladder frame trucks like Ranger and F-series, by contrast, have a clean break between cab and bed in order to offer different bed sizes.
The wee Ford pickup's front fascia bear signature F-series elements like a power-dome hood and C-clamp headlights. Out back, C-clamp taillights and Maverick-stamped tailgate are familiar as well. Maverick distinguishes itself with an off-center license plate holder — in order to make way for the tow hook.
Expect Maverick to ride into dealerships this fall.
Ford confirms it will launch
all-new compact pickup
truck called Maverick
Jordyn Grzelewski
The Detroit News
June 7, 2021
It's long been rumored, reported and predicted, and now it's finally confirmed: Ford Motor Co. on Thursday announced the addition of the Maverick, a brand-new compact pickup truck, to its lineup.
Maverick will be available beginning model year 2022. No further details were released Thursday, but the truck will officially debut June 8. The Dearborn automaker is teaming up with actor Gabrielle Union for the reveal; Union will highlight the truck on her Instagram and TikTok channels, on Ford's social media channels and on streaming service Hulu.
Ford said this marks the first time it will debut a vehicle on its new U.S. TikTok channel. Details about the vehicle also will be available on Ford's website beginning Tuesday.
Thursday's announcement amounts to confirmation of something industry observers have long predicted: that Ford would introduce an affordably-priced compact pickup. Ford acknowledged the buzz in a news release Thursday, saying, "Months of rumors, spy shots and speculation have all led to this moment. It's true — Ford is adding an all-new compact pickup to the lineup, and it's called Maverick."
The new offering appeared to play well with investors, who have been bidding Blue Oval shares higher in recent months. Ford's stock closed up 7.2%, to $15.99 per share — the highest closing price in more than six years.
Numerous media outlets, including The Detroit News, cited production data from Ford to report earlier this year that a new pickup truck had quietly begun rolling off assembly lines at Ford's Hermosillo plant in Mexico, where the Bronco Sport is built.
And upon taking over as CEO in October, Jim Farley identified affordable vehicles as a key growth strategy for the company. Adding more affordable vehicles to Ford's lineup, both in North America and globally, is part of his plan to turn around and grow the Blue Oval.
The introduction of the Maverick comes amid one of the most significant portfolio refreshes in Ford's history. The automaker launched its first fully battery-electric vehicle, the Mustang Mach-E, late last year. It recently debuted a redesigned version of the F-150, and revealed a battery-electric version of the best-selling pickup truck. It also launched the new Bronco Sport and is preparing to launch the highly-anticipated full-size Bronco this summer.
Ex-UAW leader Gary Jones
deserves more than two
years in prison, feds say
Robert Snell
Riley Beggin
Detroit News
June 4, 2021
Detroit — Prosecutors want former United Auto Workers President Gary Jones to spend more than two years in federal prison for helping steal as much as $1.5 million from union members.
In revealing the desired 28-month prison term Thursday, prosecutors also requested that Jones pay $550,000 in restitution to the UAW, $42,000 to the IRS and a forfeiture of $151,377 for his role in a conspiracy that undermined members' faith in union leadership and led to prolonged government oversight.
In a separate filing, Jones's lawyer asked U.S. District Judge Paul Borman for "a significant downward departure" from the sentencing guidelines and asked that he serve any prison sentence in a Texas prison near his wife, though he did not specify how many months imprisonment he feels is appropriate.
Also Thursday, prosecutors moved to dismiss charges against another UAW official, Jeff Pietrzyk, who pleaded guilty two years ago to receiving bribes and kickbacks from union contractors. Pietrzyk was awaiting a likely prison sentence but died of undisclosed causes in April. U.S. District Judge Bernard Friedman dismissed the criminal case against him.
Jones will be sentenced June 10 and faces a maximum of nearly five years under a plea agreement for conspiring with other labor leaders to embezzle money from 2010-19 and to commit a tax crime. The 28-month requested sentence is less than Jones' sentencing guideline range of 46 to 57 months, but is appropriate because he cooperated with federal investigators and "has not sought to minimize his crimes or to point fingers at others for his own misconduct," prosecutors wrote.
A 28-month sentence would be tied for the second longest for a UAW official convicted in the corruption scandal. Former Vice President Joe Ashton was sentenced to 30 months for taking $250,000 in kickbacks from a union vendor, and former UAW official Mike Grimes was sentenced to 28 months after admitting he received $1.5 million in bribes and kickbacks from a union contractor.
"There is no question that Jones' crimes were substantial and serious," prosecutors wrote in the request.
They describe tens of thousands of dollars embezzled for personal use and a litany of lavish purchases Jones made with union funds, including custom-made golf clubs, months-long vacations in Palm Springs villas, and more than $60,000 in cigars, entertainment, golf and liquor. "The exorbitance was jaw-dropping," prosecutors wrote.
Jones' lawyer reiterated his client's remorse while arguing that he did not create the embezzlement scheme and only partially benefited personally from it. He also noted Jones' cooperation with federal investigators as reasoning for a more lenient sentence.
Jones, his wife, his daughters, several UAW members and other supporters wrote letters to the judge attesting to his character and dedication to the union. In his letter, Jones detailed his faith, his path to union leadership, his participation in the embezzlement scheme and his regret for his crimes.
"I have asked the UAW membership for their forgiveness and will ask again and again whenever the opportunity presents itself," he wrote. "I know that the burdens I have caused my family, and my UAW family will be with me for the rest of my life."
Jones is being sentenced four weeks after his predecessor, President Dennis Williams, was sentenced to 21 months in prison for stealing from union members.
They are the highest-ranking UAW officials caught in a four-year-old prosecution that has secured 15 convictions and that revealed UAW leaders and auto executives broke labor laws, stole union funds and received bribes and kickbacks.
Jones is expected to be sentenced to a longer term in prison because he conspired to steal more money than Williams.
In a separate filing Thursday, prosecutors outlined how Jones had helped federal investigators convict Williams and helped to secure federal oversight of the union.
Jones' lawyers approached prosecutors in December 2019, before he was charged, offering to help provide information for the corruption investigation. Beginning the next month, he had several "open, truthful, and candid" conversations with prosecutors and federal agents about his crimes.
The feds haven't finished investigating everyone suspected in the corruption case, prosecutors wrote in the filing. Jones has informed on those suspects and has said he's willing to testify against them. Jones also said he would help the independent monitor's work overseeing union leadership.
"It is possible that the government will seek to recognize these parts of Jones' cooperation, which are not yet complete, in the future," prosecutors wrote.
Jones pleaded guilty one year ago but the sentencing was delayed amid the COVID-19 pandemic and because the courthouse was closed to the public. Jones insisted on being sentenced in person instead of via Zoom.
Jones admitted embezzling the money in support of racketeering activity, evading taxes and causing the UAW to file false tax returns. The crimes spanned from 2010-19, a period that matched Jones' rise from heading a union regional office near St. Louis to his tenure atop the UAW.
The sentencing is scheduled 17 months after Jones resigned in disgrace following raids by federal agents at his suburban Detroit home and former office in Missouri. During the raid, investigators found piles of cash in his garage. The discovered $32,377 was proceeds of criminal wrongdoing and is being forfeited to the government.
The August 2019 raids led to Jones's 16-month career atop the UAW disintegrating amid allegations he helped embezzle money and betrayed the union's roughly 400,000 active members.
Jones admitted wrongdoing after federal prosecutors and a team of investigators from the FBI, Internal Revenue Service and Labor Department portrayed him as a thief who tried to convince an underling to take the blame while obstructing the investigation. Investigators spent years building a case against him with undercover recordings, bank records and a team of former confidantes and senior UAW officers who cooperated with the government.
Trudeau's EV ambitions need
strategic shift, says CEO of
nickel company
PM has touted Canada as having potential to be a global leader in making batteries for electric vehicles, electrification, and clean technology
Bloomberg
June 3, 2021
Justin Trudeau arrives at an Ottawa news conference in October, where he announced funding to help Ford build electric vehicles in Ontario.
Canada needs a better strategy to build up an electric-vehicle supply chain and become a North American battery hub that takes advantage of a global push toward cleaner energy.
That's the parting advice Sherritt International Corp.'s outgoing Chief Executive Officer David Pathe has for the Canadian government and an industry set to disrupt everything from mining to automaking. Sherritt owns interests in the nickel and cobalt business. Both are key components in EV battery production.
"Canada as a whole, with some leadership from the federal government, needs to be more strategic about how we develop that industry from a national industrial policy perspective," Pathe, 50, told Bloomberg last week. "It takes more coordinated policy from the government to bring all the pieces together because it needs more than just raw materials."
Canadian Prime Minister Justin Trudeau has touted Canada as having potential to be a global leader in making batteries for electric vehicles, electrification, and clean technology. The federal government has made investments in projects including a Quebec battery pack assembly plant and Ford Motor Co.'s upgrade of an Ontario facility to make electric vehicles. Resource-rich Canada also boasts deposits of key battery metals including lithium, nickel, cobalt and copper, and plenty of cheap renewable energy.
"Historically Canada has been a supplier of raw materials to the world — I think Canada can aspire to be more than that," said Pathe, who hands over the top job at the Toronto-based nickel producer to Leon Binedell on June 1. "There's a role to be played between the government and bringing all the participants in the industry" from project developers and miners, to technology and research firms and processors to identify "bottlenecks" and help foster an EV battery industry.
While three automakers recently announced big electric-vehicle investments in Ontario, Canada's most populous province, the global auto industry and equipment manufacturers have relied heavily on Chinese companies to supply batteries and raw materials such as nickel and cobalt. The coronavirus pandemic highlighted the importance of securing supplies on a regional level and further strengthen western countries' desire to end reliance on China.
U.S. President Joe Biden signed an executive order to review U.S. supply chains to ensure reliability for crucial goods in late February. The review covers chips along with large-capacity batteries, pharmaceuticals and critical minerals and strategic materials like rare earths.
Green-car pledges from automakers means there'll be surging demand for nickel used in the batteries needed to wean the world off fossil fuels, and the metal has to be produced in an environmentally friendly way. Demand for battery-grade nickel is expected to be 16 times higher by 2030, according to BloombergNEF analysts.
"Higher prices is the only thing that's going to spur the kind of supply reaction the world needs to come anywhere closer" to meeting demand from EV adoptions in the next decade, Pathe said.
Even in the face of surging grocery
prices, retail beef and pork
prices cause sticker shock
Laura Reiley
June 2, 2021
As food prices continue to rise, beef and pork have surged out front.
Overall food prices rose 0.4 percent from March, and are up 1 percent from a year ago, according to data released by the Bureau of Economic Analysis on Friday. The price of pork soared 2.6 percent in the month of April and 4.8 percent from a year ago, adjusting for seasonality. And while beef and veal prices stayed fairly flat for the month, they are up 3.3 percent from a year ago.
In a season that routinely sees increased demand for beef and pork, this goes far beyond people excited to get back outside to barbecue.
Michael Nepveux, an economist for the American Farm Bureau Federation, ticks off the factors contributing to skyrocketing prices: Labor shortages in the meatpacking industry on the heels of months of slowdowns and shutdowns due to covid-19; a surge in restocking food service as restaurants reopen; high grain and transportation costs; and strong exports and domestic demand.
As covid-19 spreads through Nebraska meat plants, workers feel helpless and afraid
Workers at a Tyson Foods meat-processing plant in Lexington, Neb., are getting sick with covid-19 and say the company hasn't done enough to protect them. (Robert Ray/The Washington Post)
"Consumers may have become more comfortable cooking some of this stuff at home during the pandemic," Nepveux said. "And while recessions tend to not treat beef consumption well, the government stimulus offset that somewhat."
Meat processing plant shutdowns last April caused the largest drop in feedlot populations since records began in 1996, according to Gro Intelligence, an agriculture data platform. And with declines in pork production last year and diminished stockpiles in cold storage (some of this due to the federal Farmers to Families Food Box program, which distributed excess commodity foods to food banks), Nepveux said things might get worse before they get better.
The Bureau of Economic Analysis reported Friday that overall prices were up in April by 3.6 percent compared to a year earlier, even as disposable personal income fell 14.6 percent, as a stimulus-check-fueled spending spike subsided.
And that grocery price inflation trend is also happening worldwide, according to the United Nations food agency. Globally, the U.N.'s Food and Agriculture Organization has recorded seven consecutive months of rising meat prices, putting April 5.1 percent higher than a year ago, a month that at the time saw the sharpest increases in meats, poultry, fish and egg prices in the United States in nearly 50 years.
In April 2020, meat hoarding and panic-buying hit its peak, leaving many grocery shelves bare and prompting Tyson Foods, the country's second-largest processor of chicken, beef and pork, to warn that the U.S. "food supply chain is breaking."
Bottlenecks due to coronavirus outbreaks at meat-processing plants caused dramatic supply-chain gaps last spring. This is responsible for some of the current high prices, but only a little. The reasons now are more complicated, a function of supply and demand, weather, transportation costs, labor shortages, export markets and, in some cases, opportunism.
Demand for meat went up last year by 2 percent and is up another 5.7 percent so far this year, says Steve Meyer, an economist with Partners for Production Agriculture.
"A part of it is government stimulus payments," he said. "There's been cash in people's pockets, even though some of them weren't working. And so that has been a positive for meat demand in general."
He says employed people stuck at home and away from restaurants during the pandemic had substantially more disposable income. Even unemployed people saw a sizable boost in benefits — more, and more expensive, proteins are something people throw money at when they get a little jingle in their pocket. Money goes further in retail than at restaurants, and meat is bought by the package, not the single portion.
Restaurant reopenings are another contributor to price spikes, says Grady Ferguson, senior analyst at Gro Intelligence. As restaurants reopen, a lot of meat has already been sold to grocers or is packaged in cuts specifically for grocers. This causes newly reopened restaurants to initiate a bidding war for the remaining meat. Hundreds of thousands of restaurants are charged with filling their walk-in refrigerators, adding to price hikes.
Domestic retail prices are also affected by surges in meat exports, says Don Close, senior animal protein analyst for Rabobank. Because China's own pig herd was decimated by African swine fever starting in 2018, it has supplemented with massive purchases of American pork; American pork exports to Vietnam are up 400 percent in the last year for the same reason. In March 2020, restrictions on selling American beef in China were lifted. Earlier this month, Argentina, the world's fourth-largest beef exporter, announced a 30-day ban on beef exports as part of an attempt to control inflation — some experts say this provides another opportunity for American exports to balloon.
Although Close and Meyer say higher grain and animal feed prices resulting from protracted drought in the American Grainbelt are not yet affecting retail prices, they soon will. And while this month's hike in gas prices due to the Colonial Pipeline cyberattack hasn't impacted costs at the farm level, it has had a dramatic effect on transporting meat, says Mike Salguero, chief executive of ButcherBox.com, an online subscription meat company. According to the personal consumption expenditures price index, energy prices increased 24.8 percent in April from one year ago.
"The price to run a truck from the West Coast to the East Coast used to be $6,000 or $7,000 and now it's $12,000, if you're lucky," he said.
Salguero said his business more than doubled during the pandemic as consumers began looking beyond grocery store shelves for meat, but that capacity was constrained by lack of processing facilities. He says more and expanded slaughterhouse processing facilities are planned around the country, which will minimize bottlenecks as happened last spring. It's not that there aren't enough pigs or cows, he said, just not enough places to turn them into consumer products, which contributes to high prices.
Meanwhile, he says, "the best antidote for high prices is high prices. As they go up really high, demand will slacken and prices will go down."
Meyer says the industry is on target to have the second-best year ever for hog prices, but the relationship between the value of beef and the price of cattle is not as tightly linked.
According to Bill Bullard, chief executive of R-CALF USA, an association for independent cattle producers, retail prices have been trending upward since 2017, but the prices of cattle paid to U.S. farmers and ranchers has been trending downward.
"Consumers are paying record prices for beef and yet cattle producers are receiving prices comparable to a decade ago and many of them are at the verge of going broke," he said. With high prices and record exports, the market is generating unprecedented profits for the four main meatpackers — JBS, Tyson, Cargill and National Beef Packing Company/Marfrig — which together control 85 percent of the fed-cattle market. But Bullard says the ranchers aren't benefiting. Cargill, the largest private U.S. company, is having its most profitable year ever, with $4.3 billion in net income in the first nine months of its fiscal year on the strength of surging meat, corn and soybean prices, the company disclosed to bond investors this past week.
The four big meatpackers have faced accusations of price fixing, and earlier this spring Sens. Deb Fischer (R-Neb.) and Ron Wyden (D-Ore.) introduced the Cattle Market Transparency Act to increase cash sales and bring more transparency to the cattle market and potential beef market manipulation.
Electric Ford 'Bronco' and
'Ranger' in the works
By Gary Gastelu | Fox News
June 1, 2021
The 2022 Ford F-150 Lightning pickup has been revealed with a starting price under $40G. The all-electric truck is the most powerful F-150 ever and offers a range up to 300 miles per charge.
Ford's electric platform can be used for various types of vehicles
The Ford F-150 is going electric and it looks like the rest of Ford's truck lineup will soon be following it.
The automaker has announced two new purpose-built electric vehicle platforms this week that will underpin full-size trucks and smaller vehicles, with several on the way by the end of the decade.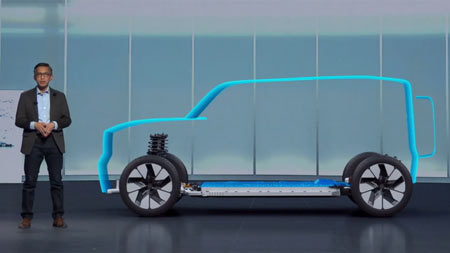 Ford's chief product platform and operations officer Hua Thai-Tang said the smaller architecture would be used on an upcoming electric Ford Explorer and Lincoln Aviator, but also on two
potentially more entertaining models.
One is a "rugged SUV" that was depicted with a line drawing that had a similar shape to the upcoming Ford Bronco and the other a "midsize" pickup the size of a Ranger.
An all-new Ford Bronco is launching this year with four- and six-cylinder turbocharged gasoline engines, but is already facing electrified off-road competition from the plug-in hybrid Jeep Wrangler 4xe, which will be followed by the all-electric Rivian R1T and GMC
Hummer EV later this year.
At a preview event for the electric F-150 Lighting, which uses a modified version of the current F-150's body-on-frame platform, Fox News Autos asked Ford's general manager of battery electric vehicles, Darren Palmer, if electric vehicles like the Bronco and Ranger were on the way.
The F-150 Lightning is scheduled to go on sale in Spring 2022 and will be preceded by an electric Ford Transit van this fall, but the exact timing for additional electric models has not been announced.
Ford follows GM, VW with
two new dedicated EV platforms
by 2025, report says
PAUL LIENERT and
BEN KLAYMAN
May 31, 2021
Reuters
DETROIT -- Ford Motor Co. plans to announce on Wednesday that it is developing two dedicated all-electric vehicle platforms, one for full-size trucks and SUVs, the other for cars and crossovers, as part of a strategy to catch General Motors, Volkswagen Group and Tesla Inc. in the global electrification race, sources familiar with Ford's plans told Reuters.
The all-EV platforms are part of an ambitious multi-year, multibillion-dollar plan the No. 2 U.S. automaker will outline to investors at its Capital Markets Day in an online event.
The dedicated platforms will give Ford common architectures — including shared chassis components, electric motors and battery packs — on which to base many of its future EVs. That will enable it to simplify and reduce the expense of everything from logistics to manufacturing as it transitions from a global lineup of mostly fossil-fueled products.
Ford said it does not comment on future product speculation.
At Wednesday's investor event, the company also will provide more details on its long-range battery strategy, including a recently announced battery joint venture with Korea's SK Innovation, as well as broader goals for electric, commercial and self-driving vehicles, said the sources, who asked not to be named.
Ford previously said it will spend $22 billion (all figures in USD) through 2025 on electrifying many of its vehicles in the Americas, Europe and China. The sources said Ford is planning to launch at least nine all-electric cars and crossovers and at least three electric trucks, vans and larger SUVs, including second-generation editions of the Ford F-150 Lightning and Mustang Mach-E at mid-decade.
What Ford CEO Jim Farley cannot predict, however, is whether — and how many — customers will embrace the newer battery-powered vehicles, even if they are able to match or beat current combustion-engine counterparts in price, performance and operating costs. That concern is shared by nearly all automakers except Tesla, whose lineup is 100 per cent electric.
Ford's traditional rivals have sprinted ahead, with both VW and GM committing tens of billions of dollars to electrify their fleets in the same markets as Ford, but on more aggressive timetables. VW and GM each will have at least two dedicated EV platforms, on which many of their future vehicles will be based.
VW launched the first of its all-new EVs, the ID3, last year in Europe, while GM will begin building its new Hummer EV pickup later this year in the United States. Both companies also are rolling out additional EV models that will share key components with those vehicles.
Ford earlier this year introduced the Mustang Mach-E, an electric crossover built on a new dedicated platform with the internal designation GE, the sources said.
A newer version of that platform, designated GE2, will debut in mid-2023, underpinning new Ford and Lincoln EVs, according to Sam Fiorani, head of global forecasting at AutoForecast Solutions.
The same GE2 platform eventually will be used as the base for replacements for the Mustang coupe and Mach-E, the sources said.
Ford will use a second passenger car platform — a version of Volkswagen's MEB architecture — in Europe for at least two new models beginning in 2023, the sources said.
In February, Ford said its European lineup will be all-electric by 2030.
The redesigned F-150 Lightning, due in late 2025, is expected to be the first to employ the new TE1 truck architecture, Fiorani said. The first-generation Lightning, which debuts next spring, uses a platform that is heavily derived from the standard F-150.
Ford could also use the new TE1 platform for electric versions of the Lincoln Navigator and Ford Expedition utility vehicles, the sources said.
In addition, Ford is expected to get a new EV, possibly a midsize pickup, that would be based on a platform from EV startup Rivian, in which Ford is an investor.
Ford recalls Transit Connect
vans for shifter issue
Associated Press
May 28, 2021
Detroit — Ford is recalling nearly 205,000 Transit Connect small vans in the U.S. and Canada to fix a problem that can stop the shift lever from moving the transmission to the correct gear.
The recall covers vans from the 2013 through 2021 model years with 2.5-liter engines and Ford's 6F35 transmissions.
The company said Thursday that a bushing that attaches the shifter cable to the transmission can degrade or fall off. That can stop the shift lever from changing transmission gears, so a driver could shift into park but the van could be in a different gear.
Ford said it's not aware of any crashes or injuries caused by the problem.
Dealers will replace the bushing and add a protective cap. Owners will be notified starting the week of June 28.
GM now says it will support
union at new battery factories
Kalea Hall
The Detroit News
May 27, 2021
Detroit — General Motors Co. and LG Energy Solution on Tuesday expressed support for unions and recognized the workers' rights to unionize the companies' joint venture Ultium Cells LLC battery plants.
In the past, GM and LG, through Ultium Cells, remained neutral on the topic, saying it would be up to the workforce at the plants they're building in Ohio and Tennessee to decide if they want union representation.
In an updated statement, they said: "Both GM and Ultium Cells LLC respect workers' right to unionize and the efforts of the UAW to organize battery cell manufacturing workers in Ohio and Tennessee at our joint venture sites. When fully operational, these American battery facilities will employ more than 2,300 workers. We believe the UAW, given their historic and constructive relationship in the automotive industry, would be well positioned to represent the workforce."
The United Auto Workers, which represents about 50,000 GM employees, has pressured GM and Ultium to ensure those plants have a union workforce. Meanwhile, President Joe Biden has been pushing for union jobs to come out of the electric vehicle transition.
"We in the UAW look forward to starting discussions with General Motors regarding their joint venture to produce batteries in Ohio and Tennessee so workers will have a voice at the table in order to create good-paying union jobs and benefits," UAW Vice President Terry Dittes said in a statement Tuesday.
GM has aggressive EV transition plans, including a goal of selling 1 million EVs by mid-decade and having 30 models introduced globally by the same time. The Tuesday statement further added: "As we deliver on our plans to create an all-electric future, GM will build on a long history of supporting unions to promote safety, quality, training, and well-paying jobs for American workers."
To make its EV goals a reality, GM will need battery cells and lots of them. That's why the automaker and LG are investing billions to build the two battery cell manufacturing plants.
The $15-to-$17-an-hour wage expected at the joint venture plants would be lower than what GM pays its auto assembly workers. By the end of the four-year UAW/GM 2019 contract, hourly GM workers will make $32.32 an hour.
Marick Masters, a professor of business and the former director of labor studies at Wayne State University, said Tuesday the statement from the companies "reflects a commitment to support, at least philosophically, the representation of the new Ultium Cells workforce by the UAW."
But it's still unclear "whether Ultium might agree to take other steps to facilitate organizing, such as recognizing the union if a majority of members of the prospective bargaining unit sign cards authorizing UAW representation," he said.
"It will be important for the UAW to establish majority status, especially if it wants to avoid the prospect of a dissident group of workers that might wish to remain union-free," Masters said. "The landscape here is ripe for intense efforts both to support union organizing and to oppose it. A variety of outside groups may chose to get involved to push their point of view."
Ford introduces F-150
Lightning Pro for
commercial customers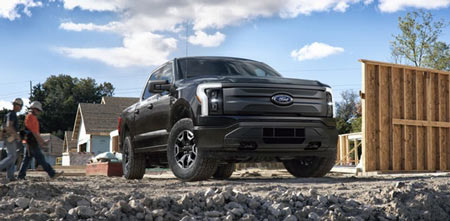 Jordyn Grzelewski
The Detroit News
May 26, 2021
Ford Motor Co., building on its reveal last week of the all-electric F-150 Lightning pickup truck, on Monday introduced a version of the vehicle that's designed for commercial customers.
The Blue Oval debuted and opened reservations for what it's calling the F-150 Lightning Pro. The vehicle, which launches next year, will join the E-Transit, a forthcoming battery-electric version of the Transit cargo van, in Ford's lineup of electric commercial vehicles.
F-150 Lightning Pro comes available in two options. The standard version, available for both retail and commercial customers, comes with an EPA-estimated range of 230 miles, targets 426 horsepower and starts at $39,974. An extended-range version for commercial customers, meanwhile, features an EPA-estimated range of 300 miles, targets 563 horsepower and starts at $49,974.
F-150 Lightning, powered by a lithium-ion battery, targets 775 lb.-ft. of torque. It is capable of carrying a maximum payload of 2,000 pounds. The standard option can tow up to 7,500 pounds with an optional tow package, while the extended-range version can tow up to 10,000 pounds with the package.
The extended-range option on Lightning Pro includes Ford's 80-amp charging station.The standard option comes with a 32-amp mobile charger.
Those prices do not take into account available tax incentives for EV buyers, which could drive the cost down.
"F-150 Lightning Pro represents so much more than an electric workhorse — it's made for commercial customers inside and out, it gets better over time, and it's totally plugged into always-on services that can help business productivity," Ford CEO Jim Farley said in a statement.
Ford executives have laid out what they see as a strong business case for offering electric options to commercial customers, who they say are interested in the cost savings and reduced maintenance time EVs could bring.
"These customers are extremely pragmatic, and they aren't going to over-index on product features and benefits when it isn't necessary to get the job done," said Ted Cannis, general manager of Ford's North America commercial business. "They are hyper-focused on improving efficiency, uptime, and their bottom line. Unlike retail, commercial customers focus on the cost and capability to complete the job — no more, no less."
Ford is offering a new digital fleet planning tool to its commercial customers that it says will allow them to calculate potential purchase and operating cost savings.
F-150 Lightning features an aluminum alloy body on a steel frame, an independent rear suspension and dual electric in-board motors in the front and rear.
It also features what Ford is billing as the industry's largest "frunk," or front trunk, located under the hood where the engine would be in an internal combustion engine vehicle. The frunk comes standard with four 120-volt electrical outlets and two USB ports. It can store up to 400 pounds.
Meanwhile, another highlight of F-150 Lightning is its capability to act as a power generator. Ford's Pro Power Onboard is a built-in AC power source that comes standard with 2.4 kilowatts of energy. An upgraded version offers 9.6 kilowatts.
F-150 Lightning Pro will come in a full-size four-door, five-passenger SuperCrew configuration.
It comes standard with Ford's SYNC 4 infotainment system, a 12-inch color LCD screen, 12-inch productivity screen and Ford Co-Pilot 360, which is Ford's driver-assist system.
Among other digital features and tools, an "intelligent range" system calculates battery range needed to complete a trip, taking into account factors such as weather and cargo load. The system maps out the nearest available charging station when the range gets low.
A 32-amp, 120/240-volt mobile charger is included with Lightning Pro. Ford also offers a higher-capacity 48-amp charge station that runs on 240 volts, as well as a 240-volt, 80-amp charge station for faster charging.
Ford also highlighted the EV Telematics dashboard function, which shares vehicle data over the cloud to help fleet managers with tasks such as paying for public charging and monitoring the vehicle's status and range.
And when activated, a standard 4G LTE modem opens up numerous connectivity services to customers to help manage their fleets. F-150 Lightning will have the capability to receive over-the-air software updates, a function Ford aims to roll out across much of its vehicle lineup in the coming years.
F-150 Lightning, including the Pro, will be built at the Rouge Electric Vehicle Center in Dearborn starting next spring.
As of Friday morning, Ford said it had already gotten nearly 45,000 reservations for F-150 Lighting. Customers can reserve one on Ford's website with a $100 deposit.
Ford CEO: F-150
Lightning has nearly
45,000 reservations
Jordyn Grzelewski
The Detroit News
May 25, 2021
Less than two days since Ford Motor Co.'s unveiling of an electric version of its best-selling pickup truck, the automaker said it already had received nearly 45,000 reservations for F-150 Lightning.
Ford CEO Jim Farley said Friday on Twitter that the company had received more than 44,500 reservations. Ford opened up reservations Wednesday night upon the reveal, allowing customers to put down a $100 deposit to reserve a truck. They will later be asked to place an actual order.
The update came after Farley told CNBC Thursday that the Dearborn automaker had netted about 20,000 reservations from Wednesday night to Thursday morning.
The Blue Oval revealed F-150 Lightning Wednesday night, to much fanfare, via a livestreamed event from Ford World Headquarters. The unveiling followed President Joe Biden's visit Tuesday to the Rouge Electric Vehicle Center, where union workers will build the electric truck beginning next spring.
Among the details revealed this week about the electric version of America's best-selling truck: the price starts at $39,974, it targets an estimated EPA range of up to 300 miles with an extended battery range option, and features what Ford is billing as the industry's largest "frunk," or front trunk.
Ford reveals the F-150 Lightning electric pickup projected on the side of Ford World Headquarters in Dearborn, Mich. on May 19, 2021.
Jessica Caldwell, executive director of insights for Edmunds.com, said there are a few reasons prospective customers might be pre-ordering F-150 Lightning in such high numbers.
"One, it's a high-volume vehicle, and two, truck inventory has been pretty low recently," she said. A global shortage of semiconductor chips has hit auto production worldwide, crimping inventories and vehicle options on dealer lots.
"So if you're thinking about buying a truck or you're interested, $100 is a low barrier to entry to get on a list for something that you may really want next year," said Caldwell.
And, she noted, electric trucks are a brand-new segment. Consumers may be interested in getting behind the wheel of a cutting-edge vehicle, and some may be reserving electric trucks from multiple manufacturers that are slated to roll them out in the coming months, so they can leave their options open for now.
20 signs a phone call is
really a dangerous scam
Alison Larabie Chase
May 24, 2021
Is this phone call a scam?
When you answer a phone call, you may be slightly wary these days, and with good reason: there are a lot of scammers out there trying to get your money or your personal information over the phone, so it pays to be skeptical. Here are 20 signs the call is probably a scam.
You've been "selected" to receive money
The caller says you've been selected to receive a grant for something from the government, but you need to pay a processing fee. This is never true: governments never charge fees to apply for a grant, and you must apply—you will not be "selected." Hang up and report the scam to the FTC or CRTC.
You've won a prize!
The caller may say you've won a free vacation or some other prize, but there's a shipping or handling fee, so they need your credit card information to send it to you. By law, legitimate contests are not permitted to charge fees (though in Canada they can ask you a skill testing question), so if they do, it's definitely a scam.
Buy a ticket for this foreign lottery!
If you get a call from someone selling tickets to a big-prize lottery from another country, don't be fooled: not only will you never receive the ticket you "bought," but it's actually illegal for Americans to play foreign lotteries. Canadians technically can, but it could be impossible to collect your prize, even if you do win.
You'll get a bonus or gift if you buy
Often, a caller trying to get you to buy something over the phone will offer a bonus or free gift if you purchase what they're selling right away. But since they called you, there's no way of knowing if they're trustworthy, even if they say they work for a company you know. Just say "no thanks" and end the call.
They say you owe money on your taxes
This scam is common in both the United States and Canada. The caller aggressively claims you owe money on your taxes, and demands you pay immediately or face prosecution or other consequences. But even if you do owe taxes, the government will never call you to demand that you pay—they'll send a letter to inform you of your balance.
The phone rings once and then hangs up
Many of us have call display now, but if you miss a call from an unfamiliar number and it only rang once, don't call back out of curiosity. It could be a common scam that redirects you to a pay-per-minute number that plays a fake recorded message and keeps transferring you to keep you on the line and rack up charges.
They say you've been a victim of fraud
Some scammers will say that your credit card or bank is being investigated for fraud, and you need to wire your money somewhere else for safekeeping. When you hang up and call 911 or your bank, the scammer stays on the line and redirects your call to a fake number. This only works on landlines, but it's always a scam.
They offer to fix your computer
The caller says they're from Microsoft or another software company and that your computer's been infected with a dangerous virus or malware, or it's not running properly, but they can fix it for you if you share your screen with them. This is never legitimate: no software company makes unsolicited calls to computer owners. Just hang up on them.
They're selling an extended warranty on your car
A caller may tell you that the warranty on your car is about to expire, but they can sell you an extended warranty. They may demand a down payment immediately, use high-pressure sales tactics, or ask for personal information. Don't be fooled: these companies are rarely legitimate. If you're concerned about your warranty, call the manufacturer or your car dealership.
They won't answer your questions
No matter what the caller says, if they deflect or refuse to answer your questions, it's probably a scam call. Legitimate businesses and governments will answer any questions you have or direct you to a website where the information is available. Scammers will simply try to coerce or convince you to do what they're asking.
They're collecting for a charity you've never heard of
Charities do call to solicit donations, but they'll never insist on taking payment information over the phone. Rather, you can ask them to send you a letter or email or direct you to their secure website. Fake charities will insist on your credit card number. If you want to donate but have concerns, hang up and call the organization's listed phone number.
They threaten to have you arrested
It can be shocking when someone calls and says you'll be arrested or charged if you don't pay what they demand. Scammers count on fear and stress doing their work for them. But real organizations and governments simply don't use these intimidation tactics (and collection agencies aren't allowed to). End the call and always report these threats to the police.
They want your personal information
Real social security or social insurance numbers can be just as valuable as cash to scammers because they enable identity theft. That's why you should never give them out over the phone, no matter who says they're asking or if they just want you to "confirm" your number or other personal information, like your address, phone number, or birthdate.
They're collecting a debt you don't remember incurring
Phone scammers sometimes pose as debt collectors to intimidate you into paying, and often falsely use the names of actual businesses. Americans have the right to receive a notice by mail that confirms the amount and type of debt owing, so ask. If they refuse, they're fake. Also, real debt collectors may not threaten anyone with jail time or physical harm.
They claim to have kidnapped someone you know
Some scammers now use social media to find the names and whereabouts of your friends and family members, and use that information to impersonate kidnappers and demand ransom money. It may sound terrifying, but it's most often fake. Definitely don't pay them anything. Instead, contact your friend or relative immediately, and report the call to the FTC/CRTC or the police.
They want you to invest in something
Just like buying something over the phone, it's never advisable to invest in anything an unknown caller is promoting. They might tell you it's low-risk, and the returns are much higher than other investments, so that's why it's only available to you and others who answer the call. This sort of statement is a huge red flag for fraud.
They want your credit or debit card number
Never give out credit or chequing account information to a caller you don't know—even if they say they just want to "confirm" the information is correct. This is the fastest way to be defrauded of your money and possibly your identity. Neither banks nor the government will ever ask you for this information on an unsolicited phone call.
They want you to make an immediate decision
No matter what the caller is asking you to do, purchase, or provide, one of the red flags of a scam is pressure to make a decision right away. Even if it's something you want to do, like donate to a charity or buy something, hang up and do your own research to make sure the situation is real.
The call looks like it's from your own phone number
Technology now exists to let scammers make it look like a call is coming from your own number. The caller counts on your being confused and picking up, then says they are from the phone company, your phone's been hacked, and they need you to verify your phone account number and social security number, which of course you should never do.
They're too friendly
Scam artists will often act in an overly friendly manner to try to break down your defences and lull you into trusting them. They might take a personal interest in your life or try to have a pleasant conversation—until they get what they want, whether it's money or information. Be wary of unknown callers who seem really, really friendly.


Province reveals 3-step
plan to gradually reopen
this summer;
Golf and tennis to
resume this weekend
BY LUCAS CASALETTO
Posted May 21, 2021
The province has released a three-step economic plan for reopening Ontario based on decreased daily COVID-19 case counts, lower hospitalization rates, and the percentage of vaccinated residents that will see restrictions gradually lift through the summer, into September.
The Ford government revealed what it calls the "Roadmap to Reopen," highlighting what will be allowed provincewide beginning with outdoor activities resuming Saturday, May 22.
Ontario anticipates entering the first step of this roadmap by June 14 and each step will be in place for at least 21 days.
Once 60 percent of adults have one dose of a vaccine, larger outdoor gatherings of up to 10 people will be allowed, as well as outdoor dining for up to four people per table.
Essential retail will be capped at 25 percent with non-essential retail maxed at 15 percent.
Day camps, campsites and campgrounds – including Ontario Parks and outdoor sports of up to 10 people – will be allowed under this step.
Ontario Health Minister Christine Elliott said Thursday that 58 percent of adults have been vaccinated with one dose, meaning the province is on track to kick off the first step based on its current progress.
Then, once the province reaches the 70 percent vaccination threshold (with 20 percent fully vaccinated), indoor gatherings will be able to resume as outdoor activities expand.
This will see a max of 25 people allowed to get together outdoors with a cap of 5 people inside. Outdoor dining will expand to allow for up to 6 people per table, essential retail will have a max capacity of 50 percent and non-essential will be capped at 25 percent.
Under this specific threshold, personal care services – such as barbershops and hair salons – will be able to reopen as long as face coverings are worn at all times.
Notably, outdoor cinemas, performance arts, and live performances will also get the green light.
And finally, once the province gets to vaccinate roughly 70-80 percent of the population with one shot and 25 percent fully vaccinated against the virus, restrictions will lift further, allowing for large outdoor and indoor gatherings, indoor dining, and essential and non-essential retail opening at limited capacity.
This will see larger indoor religious services, indoor sports and recreational facilities, indoor seated events, and the reopening of casinos, among other businesses.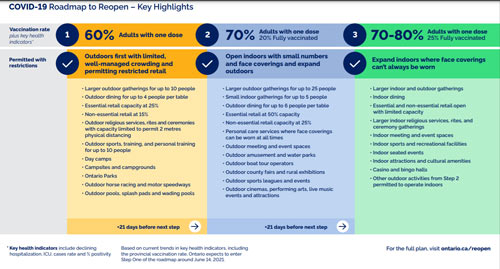 (click on Roadmap to Increase Size)
Furthermore, under Ontario's Reopening Act, the province will allow for the resumption of multiple outdoor recreational activities, including golf courses, tennis courts, basketball courts, baseball diamonds, and playgrounds this Saturday.
Physical distancing must be in place at outdoor facilities.
"Brighter days are ahead," said Health Minister Christine Elliott. "We're almost there."
The expectation is that the plan will be slowly phased in after the stay-at-home order lifts on June 2.
There is no indication when schools will resume in-person learning, though Premier Ford did admit that Chief Medical Officer of Health Dr. David Williams is in favour of reopening them.
Ford revealed that health experts aren't ready to do that, in contrast with Williams' opinion.
Ontario's Science Advisory Table released updated COVID-19 modelling on Thursday that projects while case counts could increase with a return to in-person learning, it would be manageable for students to get back to class.
The modelling pointed to a "good summer" if public health measures stay in place and daily vaccinations continue above the 100,000 daily thresholds.
"We need to do this slowly and carefully," Health Minister Elliott said.
"There needs to be a plan, which is being developed, which is based on the scientific advice and medical advice that we received from the chief medical officer of health, the public health table, as well as other medical experts."
The government confirmed that it was looking at "outdoor activities first and indoor activity later."
Toronto's Chief Medical Officer of Health said Wednesday that she's hopeful the process will allow for improvements across the GTHA.
"It has to be practical, it has to be readily communicated and understandable to the large swath of the province's that lives, works and plays in the GTHA," says Dr. Eileen de Villa.
Solicitor General Sylvia Jones said Wednesday the province was making headway on a detailed reopening plan, saying that sectors would open up provincewide in an effort to limit people from "region hopping" and travelling to an area with less stringent restrictions.
It was confirmed that the colour-coded framework would be scrapped.
In past versions of Ontario's colour-coded framework, the province witnessed firsthand what could happen if public health units are marked with different health restrictions. Residents from one area would travel to a neighbouring public health unit with fewer restrictions.
The framework, which split up public health units in different colours based on restrictions, was previously in place across Ontario during the second and third waves of COVID-19.
Ontario's Science Advisory Table has repeatedly called for allowing residents to gather outdoors, safely, saying activities like golf, tennis and beach volleyball are low risk.
Dr. Peter Juni said recently that in some cases if physical distancing cannot be maintained during the activity, people should wear masks.
"It's absolutely doable," he said of reopening outdoor recreational facilities. "It allows you to play beach volleyball or baseball, for example, all relatively easily. You just need to adhere to these rules."
When asked if outdoor amenities would reopen in time for the May long weekend, Jones said it might be in the province's best interest to wait for it to pass before taking that long-awaited step.
"We have seen, and we now have the data to show that generally when we have a long weekend there is a spike of an increase of cases, we don't want to see that," Jones admitted.
The latest round of provincial modelling doubled down on that, encouraging residents to safely take part in outdoor activities saying that if at least two metres of physical can't be maintained, a mask is necessary.
Ontario's hospitals have asked Ford for a staged and cautious reopening of the province to avoid a fourth wave of the virus.
In a letter to the premier, the Ontario Hospital Association said several factors should be considered in plans to ease restrictions.
The association said vaccination coverage and supply, disease incidence, and an understanding of infection sources are such factors.
The letter said the reopening plan should be evidence-based and focused on limiting the spread of COVID-19.
Ford Motor, SK Innovation
to announce EV battery
joint venture
By Ben Klayman and
Heekyong Yang
Reuters
May 20, 2021
DETROIT/SEOUL (Reuters) - Ford Motor Co and South Korean battery maker SK Innovation are set to launch a battery joint venture in the United States to support the ramp-up of the No. 2 U.S. automaker's electric vehicle rollout, two people familiar with the matter said.
A memorandum of understanding about the joint venture will be announced on Thursday, the sources, who asked not to be identified, told Reuters. The deal may eventually include a jointly owned plant to make battery cells for use in rechargeable EV batteries, the sources said.
Ford declined to comment other than to say SK is a valued supplier. SK Innovation said in a statement it does not comment on specific projects for reasons of client confidentiality.
Talks around the joint venture picked up speed last month after SK Innovation agreed to pay $1.8 billion to LG Energy Solution, a wholly owned subsidiary of LG Chem Ltd, to settle LG's accusations of trade theft by its rival, one of the sources said.
The dispute, which the administration of U.S. President Joe Biden had been on the verge of settling with a ruling, had put SK Innovation's battery cell plant in Georgia at risk. That plant, which is under construction, will serve Ford and Germany's Volkswagen AG.
Biden on Tuesday called for government grants for new battery production facilities as part of a $174 billion EV proposal during a visit to a Ford EV plant in Michigan. He also referenced his administration's role in brokering the settlement between SK and LG Chem.
SK Innovation is expected to complete the Georgia plant's construction later this year, and is building a second facility next door that is expected to start battery production in 2023. The company has invested $2.6 billion in Georgia.
SK Innovation, with battery production sites in the United States, Hungary, China and South Korea, has an annual capacity of about 40 gigawatt-hours (GWh) of batteries. It aims to ramp up to an annual capacity of about 125 GWh of batteries in 2025, which can power about 1.8 million electric vehicles.
A deal with SK may have Ford taking a similar path as rival General Motors Co, which has a battery joint venture with LG Energy that is building plants in Ohio and Tennessee.
Ford is pushing to electrify key models in its lineup, including the Transit van late this year and F-150 pickup mid-2022, and already sells the all-electric Mustang Mach-E SUV. It has said it will invest $22 billion in electrification through 2025.
The Dearborn, Michigan-based company has repeatedly stepped up efforts around batteries, with Chief Executive Jim Farley stating several times the automaker was looking at making its own batteries. Last month, after Ford reported quarterly results, he said things have changed as the automaker has boosted its EV volumes.
"We've totally entered a different zone ... so we've already made the decision to vertically integrate the company," he said on a conference call with analysts.
"We're now building motors, e-axles now, we've been writing our own battery management software for quite some time, and now it's time for us to lock in on the latest technology and to have a secure cell production relationship."
While saying Ford had no news to announce, Farley added, "To be competitive in this industry, a major brand like Ford will have to vertically integrate all the way through the system."
Ford expands in-vehicle
Alexa capability as it begins
over-the-air updates
Alexa capabilities will expand to millions of additional Ford vehicles over the coming years.
MICHAEL MARTINEZ
Automotive Canada
May 19, 2021
DETROIT — Ford Motor Co. said Thursday that it is bringing in-vehicle Amazon Alexa voice capability to roughly 700,000 Ford vehicles in the United States and Canada this year through over-the-air updates as part of a new six-year deal with the tech giant.
The automaker, which announced a separate six-year deal with Google earlier this year, billed the partnership as the industry's "broadest rollout of the embedded Alexa hands-free experience to date." The update will allow customers to use in-vehicle voice commands to place a phone call or find parking, as well control things such as lighting or temperature in their home from within their car.
Ford said the Alexa capabilities will expand to millions of additional vehicles over the coming years. In addition, Ford and Amazon will develop Alexa skills for commercial vehicles and use artificial intelligence to help business owners better organize fleets.
"We believe in the power of teaming up with other innovators," Alex Purdy, Ford's director, business operations, enterprise connectivity, said in a statement. "Bringing Ford's vehicle know-how together with Amazon's technology expertise will deliver in-vehicle capabilities that help our retail customers travel more enjoyably and with ease, while helping our commercial customers operate more profitably."
The partnership comes as Ford has begun to offer over-the-air updates to certain vehicles such as the Mustang Mach-E and F-150. The company has already beamed software enhancements to 100,000 owners.
The practice was popularized by electric vehicle maker Tesla Inc.
Ford said Thursday that Mach-E customers would soon get a new sketch feature that allows them to draw on the vehicle's touch screen and save their work. Future updates will include the activation of Ford's BlueCruise hands-free driver-assist system.
Ford plans to have 33 million vehicles globally capable of receiving over-the-air updates by 2028.
"Software updates are common across billions of connected devices but not yet for vehicles. Ford Power-Up software updates will change that by quickly bringing it to millions of people," Purdy said. "We've invested in more seamless technology so updates can happen while you're sleeping — making your next ride a better experience."
2021 Ford Bronco Revealed
Chip shortage to cost auto
industry $110 billion
Kalea Hall
The Detroit News
May 14, 2021
Detroit — The semiconductor shortage is now expected to cost global automakers $110 billion in revenue this year, according to global consulting firm AlixPartners, up from the $61 billion the firm predicted in January.
Interruptions to chip supply, including a fire at a Japan semiconductor facility, severe weather in Texas and a drought in Taiwan, pushed the firm to increase its original estimates, which also included the production loss of 2.2 million vehicles. The firm now expects a production loss of 3.9 million vehicles globally, representing a little more than 4.5% of the vehicles automakers planned to build this year.
"These (chip) plants are running full out," said Dan Hearsch, a managing director in AlixPartners' automotive and industrial practice. "There's nothing to absorb the shocks, there's no additional capacity, there's no additional inventory ... all of the cushion has been taken out and you're running on knees with no cartilage."
Automakers here and abroad have been battling the semiconductor shortage since the start of the year. They've halted production at various plants, even shutting down some of the ones that make high-demand trucks.
Ford Motor Co. expects to lose some 1.1 million vehicles of planned production this year, the Dearborn automaker said on its earnings call. The Dearborn automaker is projecting a $2.5 billion hit to its adjusted earnings for the year due to the chip shortage.
General Motors Co. hasn't provided specifics on volume impact. The Detroit automaker has said the shortage could lead to a $1.5 billion to $2 billion earnings hit.
Stellantis NV lost 11% of planned production, or about 190,000 vehicles, in the first quarter because of the microchip shortage, but didn't specify further volume impact. The transatlantic automaker hasn't released financial impact estimates of the shortage.
Japanese automaker Nissan said it's planning to produce half a million fewer vehicles in 2021, CNBC reported Thursday.
AlixPartners sees the situation normalizing with fewer shutdowns by the third quarter.
"You're probably going to see little bumps, a plant slow own or shutdown here and there related to this, but it's not going to be 15 plants like what we currently have," Hearsch said. "It's not going to be widespread and global."
By the fourth quarter, the firm anticipates overtime shifts being scheduled to make up for the losses.
Hearsch said the supply constraints the industry has battled this year, from semiconductors to foam shortages, have "served as a wake up call that automakers need to have a lot less trust and a lot more verify."
Ford launches 'Power-Up' wireless
software updates, offers
upgraded Amazon Alexa
Jordyn Grzelewski
The Detroit News
May 13, 2021
Ford Motor Co. on Thursday announced a forthcoming wave of over-the-air software updates that will become standard for millions of its vehicles in the coming years.
The Dearborn automaker recently launched "Power-Up," its name for its wireless software update technology, on the new Mustang Mach-E electric SUV and the redesigned 2021 F-150 pickup truck. Next, the company says, it will launch similar capabilities on the Bronco SUV that is slated for release this summer, and eventually across its vehicle lineup.
"Today, we're building nearly all new vehicles globally with embedded modems that allow for a new level of exchange between our customers, our company and the world," said Alex Purdy, Ford's director of business operations for enterprise connectivity.
Among the features that Ford will deliver via OTA updates: an embedded, hands-free version of Amazon.com Inc.'s Alexa cloud-based voice service, and BlueCruise, Ford's active-drive-assist system.
Ford executives have spoken frequently about the opportunities posed by connected vehicle technology. The company is looking to shift from a business model under which customers primarily come to the automaker for a one-time transaction, to a relationship in which customers are continually interacting with the company via technological features that deliver new, data-driven revenue streams for the company.
"We believe that data is the new oil, since it's essential to our electric future and enables us to have an always-on relationship with our customer," said Purdy.
Ford also sees the technology as a way to reduce warranty costs as technology allows previously-costly fixes to be quickly diagnosed and resolved via OTA updates.
"Maybe the greatest leap forward, enabled by connectivity, is our ability to code and send over-the-air updates to connected vehicles and change embedded software," Purdy said. "That means a steady stream of improvements and new features and services can be delivered completely wirelessly. We can double down on the features that people love, get rid of the ones that they don't, fix the things that are broken, and improve the things that aren't, all while learning along the way."
Over the last several months, Ford has accelerated its push toward electric and technologically-advanced vehicles, boosting its planned investment in EV development, announcing a strategic partnership with Google, and ramping up production of its first all-electric vehicle, the Mach-E, among other moves.
Ford officials say Power-Up is capable of remotely reaching virtually any computer module in its vehicles.
Its goal is to produce 33 million OTA-capable vehicles globally by 2028. So far, the company says, it has unleashed an initial round of updates to about 100,000 customers over the last two months, with a new round coming soon.
The moves announced Thursday amount to a new step in Ford's relationship with Amazon. Ford first announced in 2017that it was teaming up with the technology giant to make Alexa compatible with Ford vehicles that have the automaker's SYNC infotainment system.
Now, Alexa will be embedded in Ford vehicles. Alexa initially will be delivered via Power-Up beginning this fall for some 700,000 Bronco, Edge, F-150, Mustang Mach-E and Super Duty customers with SYNC 4 technology in the U.S. and Canada, with other regions to follow.
The feature will be complimentary for three years. And officials from the two companies said there is more to come from their collaboration: under a new "strategic engagement," they will work together on new features and commercial services over the next six years.
Alexa will be capable of helping drivers do everything from making phone calls to finding parking to controlling smart home devices, all hands-free. Even outside their vehicle, customers will be able to control vehicle functions using Alexa.
"Today what we're doing is fully-embedded implementation," explained Ned Curic, vice president of Alexa Automotive. "We believe the opportunity for creating in-vehicle voice experiences in cars should be on par to what we do today in the smart home."
A major difference, officials said, will be users' ability to engage with Alexa using voice commands, with no need to push a button.
Meanwhile, Power-Up later this year will add BlueCruise to properly equipped F-150 and Mach-E vehicles. The system, now available for purchase, enables hands-free driving on some 100,000 miles of divided highways across North America.
And another feature that soon will be rolling out for Mach-E owners in North America is Sketch, a function for touchscreen drawing.
For customers, Ford officials said, the capabilities mean less time spent at dealership service departments, an ever-evolving bevy of features, and a vehicle that has the potential to actually get better over time.
"We'll be working our way through all of the different nameplates over time, as we update vehicles with the latest electrical and connectivity architecture," said Purdy. "This capability is expected to go across the entire fleet, but it will take many years. We started with the largest volume parts of our business."


Ex-UAW President Williams
sentenced to 21 months in
union corruption probe
Robert Snell
Breana Noble
The Detroit News
May 12, 2021
Detroit — Former United Auto Workers President Dennis Williams was sentenced to 21 months in federal prison Tuesday for stealing from union members during a conspiracy that stripped one of the nation's most influential unions of its clean reputation and led to prolonged government oversight.
Williams, 67, of Corona, Calif., is the highest-ranking UAW official sentenced during a four-year-old prosecution that has secured 15 convictions and revealed UAW leaders and auto executives broke labor laws, stole union funds and received bribes and kickbacks.
The sentencing by U.S. District Judge Paul Borman comes nearly three years after Williams retired to cheers during a convention at Cobo Center in downtown Detroit, and planned to move into a $1.3 million lakefront home in Northern Michigan paid for by the UAW, but built by mostly nonunion labor. His retirement marked the ascension of his ambitious underling, Gary Jones, and Williams celebrated the event by minting gold coins for supporters that read: "Life isn't complete unless you have made the lives of others better."
Behind the scenes, Williams and other labor leaders were stealing from members by using union funds to pay for personal luxuries, including months-long stays in private Palm Springs villas, $150,000 spent on golf and pro shop spending sprees, $60,000 on cigar-store purchases and a $6,000 dinners at steakhouses from Detroit to California.
On Tuesday, Williams spoke during the virtual court hearing, apologizing for his corrupt acts: "Most of all I want to apologize to the men and women of the UAW," he said. "I cannot express my sorrow about this ending. I feel foolish and embarrassed taking Gary Jones at his word when he said everything at the conference was above board. In my gut, I knew better."
Federal prosecutors faulted Williams for continuing to point fingers at others and said he "created an entitlement culture and crimes that left the UAW reeling," Assistant U.S. Attorney Steven Cares said. "Abuses of power created a stain on the union that will take years to wash away.
Williams reinforced a distorted culture within the top echelon of the UAW, Cares said: "An upside-down version of solidarity: once I get to the top, I'll get mine by taking yours."
The sentence could provide insight into what type of penalty former UAW presidents receive after almost a dozen UAW officials, including two vice presidents, have been convicted and sentenced to prison. Jones, whose short career as president ended in scandal in fall 2019, will be sentenced June 8.
The Williams sentence is the fourth-longest issued during the UAW corruption scandal. Former Fiat Chrysler Automobiles NV Vice President Alphons Iacobelli was sentenced to 5 1/2 years, UAW Vice President Joe Ashton was sentenced to 30 months and ex-union aide Mike Grimes got a 28-month sentence.
The sentence for Williams was too light, said Mike Booth, a 56-year-old electrician at Stellantis NV's Sterling Heights Assembly Plant.
"These guys knew what they were doing. You know going into something like that that it is wrong," he said. "This is not a mistake. This was willful. It's white-collar crime against blue-collar work."
Federal prosecutors in December announced the end of a criminal investigation targeting the UAW that resulted in plans to install a government watchdog tasked with eradicating corruption within the union.
The oversight is expected to last six years, cost millions and could result in current UAW leaders being removed and replaced. A criminal investigation of individuals is ongoing, according to a spokeswoman for the U.S. Attorney's Office in Detroit.
Williams pleaded guilty in September and portrayed himself as willfully ignorant about how Jones paid for regional conferences and luxuries for labor leaders in Palm Springs and other cities during a conspiracy that lasted from 2010-19. The embezzlement conspiracy charge is punishable by up to five years in federal prison.
Since pleading guilty, Williams has paid $132,517 restitution to the UAW and $15,459 in taxes to the Internal Revenue Service.
Prosecutors wanted Williams to spend two years in federal prison for conspiring with at least six other labor leaders to embezzle hundreds of thousands of dollars spent on luxuries at UAW junkets in Palm Springs, Coronado, Calif., and Missouri.
Three people accused of being involved in the racketeering conspiracy have not been charged with wrongdoing amid the ongoing investigation. They are: the late UAW regional director Jim Wells; former Williams aide Amy Loasching, whose Wisconsin home was raided in August 2019; and former Jones aide Danny Trull.
The Detroit News also reported last year that federal agents also were probing financial ties between retired Vice President Jimmy Settles and one of the union's highest-paid vendors. No charges have been filed.
Prosecutors portrayed Williams as an imperious, hypocritical thief who publicly bemoaned corruption while secretly helping steal from members. Defense lawyers urged the judge to sentence Williams to one year in prison, calling him an American success story and charitable leader suffering from health problems.
Court filings last week revealed the scope of cooperation from Jones and former UAW regional director Vance Pearson, who is awaiting a likely prison sentence for his role in the scandal. They blamed Williams for the scheme and said they felt pressured to spend union money on personal luxuries for Williams, including $1,760 worth of champagne requested by his wife, Donna.
Williams, however, blamed Jones and Pearson.
UAW member Scott Houldieson, chairman of the new Unite All Workers for Democracy caucus, was troubled that Williams continued to try to deflect blame: "It shows that he is not truly taking responsibility."
Houldieson lamented the long-lasting repercussions of Williams' and others' crimes that have resulted in government oversight. As a part of that, the union must hold a referendum vote on whether to institute the direct election of international leaders within six months of the approved appointment of a government watchdog.
"UAW members are going to continue to pay for these illegal activities for years to come, maybe decades," Houldieson said. "It has damaged our ability to organize. It's going to continue to cost us our treasury."
Williams was rightfully sentenced for putting his self-interests above members and the union, UAW spokesman Brian Rothenberg said in a statement Tuesday: "These serious crimes violated the oath of UAW officers and they violated the trust of UAW officers to handle our members' sacred dues money."
Ford to reveal F-150 Lightning
EV on May 19
Lightning name previously used on two generations of V-8-powered F-150 performance variants
MICHAEL MARTINEZ
Automotive News
May 11, 2021
DETROIT — Ford Motor Co. on Monday confirmed its upcoming battery-electric pickup will be called the F-150 Lightning, and it will be unveiled at its world headquarters in Dearborn, Mich., on May 19.
The automaker said the reveal will be broadcast live across Ford's social media channels and will be shown in New York's Times Square and on the Las Vegas Boulevard. In all, the company says there will be more than 30 ways to watch either physically or digitally.
"Every so often, a new vehicle comes along that disrupts the status quo and changes the game ... Model T, Mustang, Prius, Model 3. Now comes the F-150 Lightning," Ford CEO Jim Farley said in a statement. "America's favorite vehicle for nearly half a century is going digital and fully electric. F-150 Lightning can power your home during an outage; it's even quicker than the original F-150 Lightning performance truck; and it will constantly improve through over-the-air updates."
Ford previously used the Lightning name on two generations of V-8-powered F-150 performance variants. The first was sold from 1993 until 1995, while the second was sold from 1999 until 2004.
The performance-oriented name squares up with the electric pickup's stated purpose. Executives have positioned it as a workhorse with new capabilities that can be used on job sites.
Car and Driver first reported last month that Ford would use the badge on its EV pickup. Ford last registered for the Lightning name with the U.S. Patent and Trademark Office in 2018.
Ford recalls 661,000 Explorer
SUVs in Canada, U.S. and
Mexico over roof rail concerns
Automaker told U.S. authorities last April that recall wasn't necessary
CBC News
May 10, 2021
Ford Motor Co. is recalling 661,000 Explorer sport utility vehicles in North America at the request of U.S. regulators because retention pins could loosen and allow roof rail covers to detach from the vehicle.
The recall covers 2016 through 2019 model year vehicles and includes 620,483 vehicles in the United States, 36,419 in Canada and 4,260 in Mexico. Dealers will install push-pins and replace any damaged rail clips and roof rail covers.
The second-largest U.S. automaker said in documents posted Sunday that the U.S. National Highway Traffic Safety Administration first inquired about the issue in early 2020 following 11 reports of roof-rail cover detachment.
In April of last year, it asked Ford to issue a recall, but the automaker initially said that wasn't necessary because of the low likelihood a roof rail would detach and its small weight, as well as the fact that drivers would likely detect a loose roof rail cover, according to the documents.
Ford in November said it would extend its warranty to cover the issue for 10 years or 150,000 miles (just over 240,000 kilometres) before agreeing to the recall on April 30.
A Ford spokesperson said Sunday the automaker is not aware of any accidents or injuries related to this condition.
The vehicles covered by the recall have roof rail covers that are painted silver, black or absolute black. Customer notifications will begin the week of June 28.
Ford, BMW lead US$130
million investing round in
solid-state battery startup
Solid-state battery technology improves on lithium-ion batteries
BEN KLAYMAN
REUTERS
May 7, 2021
DETROIT -- Ford Motor Co. and BMW AG are leading a $130 million (all figures in USD) funding round in a solid-state battery startup, Solid Power, as carmakers push to lower the cost of electric vehicles by investing in the development of affordable but powerful rechargeable batteries, the companies said.
The Series B investment round, which includes venture capital firm Volta Energy Technologies, allows Solid Power to expand in-house manufacturing capabilities and positions the battery maker to eventually supply future EVs, possibly by the end of the decade according to BMW battery cell technology chief Peter Lamp. Solid Power declined to say at what level the funding round values the company.
"The partnerships and the capital that comes along with it are really going to put us on a good footing to execute on our road map, which simply speaking is qualifying this technology for vehicle use and getting them into vehicles in the not-too-distant future," Solid Power CEO Doug Campbell said in an interview.
Carmakers are racing to develop EVs amid tightening CO2 emission standards in Europe and China.
Solid-state battery technology involves a high-capacity energy storage device that improves on lithium-ion batteries, replacing the liquid or gel-form electrolyte with a solid, conductive material. Among other benefits, the new technology offers more energy density and better safety due to a lack of flammable components. Solid Power has said its technology can deliver 50 per cent more energy density than current lithium-ion batteries.
However, solid-state battery technology is more expensive than lithium-ion cell technology. It also must prove it can operate and remain durable in the real world, and must increase its scale to meet industry demand.
Monday's announcement marks the second investment in Solid Power for Ford and Volta Energy. Both participated in the $26 million Series A round in 2018 that included Hyundai Motor Co. and Samsung Electronics.
"We've been working with more than a dozen different startups in this space and we've been most impressed with the progress that Solid Power has made," Hau Thai-Tang, Ford's chief product platform and operations officer, said.
Solid Power, based near Denver, raised $5 million in convertible debt from BMW iVentures earlier this year. Its partnership with the German automaker began in 2016.
Following the latest investments, Ford and BMW will own equal, unidentified stakes in Solid Power, which was established in 2012 as a spinout from the University of Colorado Boulder, Campbell said.
Ford is pushing to electrify key models in its lineup, including the Transit van late this year and F-150 pickup mid-2022, and already sells the all-electric Mustang Mach-E crossover. It previously said it will invest $22 billion in electrification through 2025.
By the end of 2021, BMW aims to have five fully electric models available across the BMW and MINI brands, and it said by 2023 it will have fully electric models available for almost all of its market segments.
Toyota Motor Corp., which has called the technology a "game changer," plans to introduce solid-state batteries on an electrified platform by 2025.
Another solid-state battery startup is Volkswagen-backed QuantumScape, which aims to introduce its battery in 2024. It went public last year through a reverse merger with a special-purpose acquisition company.
Campbell declined to say whether Solid Power is exploring going public with a SPAC.
Ford expands off-road
offerings with new 2021
Explorer Timberline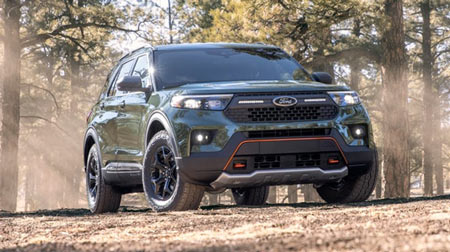 Jordyn Grzelewski
The Detroit News
May 6, 2021
In a move aimed at capturing a bigger slice of the growing market for off-road-capable vehicles, Ford Motor Co. on Wednesday introduced the 2021 Explorer Timberline — what it's billing as a rugged version of its popular midsize SUV.
The Dearborn automaker is marketing the new addition as a vehicle with off-road capabilities that go beyond what Explorer currently offers, but with an eye toward customers who might be more modest in their outdoor adventures than those to whom the forthcoming Bronco SUV is geared.
"Today is the right time to expand our Explorer family to better appeal to customers who need three rows of versatility, but not quite the footprint of a full-size SUV," said Lee Newcombe, Explorer marketing manager.
Timberline — pricing for which starts at $45,765 before destination and delivery fees — adds to an Explorer lineup with trim levels emphasizing performance and luxury, including a new, premium King Ranch edition. Orders for Explorer Timberline are now open, with the vehicle scheduled to arrive this summer.
Explorer, built at Ford's Chicago Assembly Plant, is one of the automaker's best-selling vehicles. Last year, sales were up nearly 21%, to 226,217 units.
Ford officials noted that the Timberline introduction marks the seventh "rugged" truck or SUV addition to the Blue Oval's lineup since 2019. The automaker this summer is bringing back the Bronco, a favorite among off-road enthusiasts that aims to take on Stellantis NV's Jeep brand. A smaller version, Bronco Sport, launched earlier this year; Ford executives have said the "baby Bronco" has exceeded expectations, with more than 37,000 units sold through the end of April.
The automaker also previously introduced the off-road-geared F-150 Raptor, as well as the Tremor family of off-road trucks — and officials hinted that the Timberline name could be expanded to other models in the future.
The automaker pointed to two trends behind the decision to add an off-road version of Explorer: the enduring popularity of SUVs among U.S. car buyers, and an increased interest in spending time outdoors — a phenomenon that has accelerated during the coronavirus pandemic.
"Over the last 10 years, SUVs have jumped from 36% to 55% of the U.S.," said Newcombe. "And when you dig a little deeper, you also see that industrywide since 2018, the large utility segment has seen the most growth in customers who go off-roading."
For Explorer, for example, Ford has tracked a 56% increase over the past three years in owners who report taking their vehicle off-road.
"Consumer data has shown us that now more than ever, customers want to get outside and explore nature with friends and family," Kumar Galhotra, Ford's president of Americas and International Markets Group, said in a statement. "Timberline hits a new sweet spot with these customers who want an ideal combination of passenger space, moderate off-road capability and great manners around town."
Specs
The new Timberline Explorer comes standard with intelligent four-wheel drive, a system that automatically adjusts torque between the wheels based on driving conditions and inputs from the driver. The system is aimed at improving traction.
New on Explorer Timberline is a limited-slip rear differential, which automatically sends torque to the wheel with the best traction.
The vehicle also features a terrain management system with seven drive modes, including one for trails and one for driving in deep snow or sand. A hill descent control feature allows the SUV to maintain a constant speed of between two and 12 miles per hour.
Other features include standard steel skid plates to help protect the vehicle's underbody, and a front rebound spring to prevent jarring in the cab.
Explorer Timberline — which comes with all-terrain tires — also features a ride height that's increased by about three-quarters of an inch.
It's equipped with a 10-speed automatic transmission and Ford's four-cylinder, 2.3-liter EcoBoost engine, which delivers 300 horsepower and 310 pound-feet of torque, according to Ford.
And, in a nod to customers wanting to haul RVs or boats, the vehicle comes with a Class III trailer tow package with 5,300 pounds of towing capability.
As for the design, Explorer Timberline will launch with a "forged green metallic" paint color. All models will have blackout treatment around headlamps and tail lamps. It also comes with LED fog lamps to light up trails at night.
Inside the SUV, the interior trim comes in a "deep cypress" hue with tangerine-colored stitching on the seats, steering wheel and door trim. Included are rubber floor liners, heated front seats and a heated steering wheel.
Explorer Timberline also features Ford's driver assistance system, Co-Pilot360. Some of the features available via that system are adaptive cruise control, lane centering and voice-activated touch screen navigation. The vehicle has a 360-degree camera, and a front camera view that officials said is particularly helpful for off-roading.
Additionally, Ford will offer three packages with all-weather floor mats, crossbars and rooftop accessories.
Explorer Timberline has combined city and highway fuel economy of 21 miles per gallon, according to Ford.
The automaker plans more to come from the Timberline series: "This will be something we will be looking to expand further into the SUV lineup," said Newcombe.
Ford posts big April sales gain
amid rebound from pandemic
Jordyn Grzelewski
The Detroit News
May 5, 2021
Amid a hot vehicle market and a rebound from the early days of the coronavirus pandemic, Ford Motor Co. posted a nearly 65% sales gain in April compared to a year ago.
The Dearborn automaker reported selling 197,813 vehicles last month, for a 64.8% gain over April 2020 when COVID-19 case numbers were growing and restrictions aimed at stopping the spread of the virus hit factories and showrooms. Retail sales were up 57.1%.
Industrywide, Morgan Stanley put April's seasonally adjusted annual rate (SAAR) of light-vehicle sales at a record-high 18.5 million units. Sales were up across the industry for the automakers that report sales on a monthly basis, with American Honda, Hyundai, Subaru of America and Toyota North America among the manufacturers posting year-over-year gains.
"The strength of SAAR continued from earlier stimulus actions," Morgan Stanley analysts wrote in a note this week. But, "amid a semi chip shortage, the question now turns to whether we potentially run out of cars?"
The Blue Oval attributed strong numbers across multiple nameplates to favorable customer reactions to a new, SUV- and truck-heavy portfolio with new electrified options.
Overall, truck sales were up 47.5% year-over-year, while SUV sales were up 119.8%. Ford trucks and SUVs posted their best April retail sales since 2006, according to the automaker, and Ford brand SUVs hit record-high retail sales, up from both April 2020 and April 2019.
Ford also highlighted its progress in selling electrified vehicles, a transition that's still in the early days. Electrified vehicle sales were up 262%, with the battery-electric Mustang Mach-E that launched late last year posting 1,951 sales in April, a hybrid version of the best-selling F-150 pickup truck selling 3,365 units and 3,695 electrified Ford Escapes selling, for a total of 11,172 electrified vehicle sales.
The automaker noted, too, that its transition to an SUV- and truck-dominant lineup in North America is paying off in terms of prices — a factor that executives highlighted while detailing Ford's first-quarter financial results last week. After reporting better-than-expected Q1 earnings, executives pointed to higher prices from lean inventories and more expensive trucks and SUVs as a profit driver.
"Ford's retail sales not only increased 57% over (a) year ago, but also exceeded April 2019 by 24%," Andrew Frick, Ford's vice president of sales for the U.S. and Canada, said in a statement. "Strong customer reaction to our newest products, despite tight inventory, confirms our strategy of investing in electrified vehicles, along with trucks and SUVs."
Bronco Sport, the smaller version of the forthcoming full-size Bronco and the automaker's newest addition to its SUV lineup, saw sales increase 41.7% over March. Ford reported that 60% of Bronco Sport buyers are coming from competing brands, with the largest percentage coming from off-road heavyweight Jeep. Year-to-date, the SUV has netted 37,212 sales.
"Bronco Sport just continues to be an incremental add to our portfolio and our SUV sales," Frick told The Detroit News. "It's actually exceeded our expectations."
In April, 94% of sales came from trucks and SUVs, helping to drive Ford's average transaction price for the month to $43,600 per vehicle.
"Ford's investment in trucks and SUVs is not only producing greater volume, but replaces sedans like Fusion, which produced an average transaction price of $22,600 in April 2021," the company said in a news release.
On the commercial vehicle side, Ford reported that sales overall were up 127%.
F-Series, the automaker's profit engine, has sold 270,099 vehicles through April, for a 14% year-to-date gain. The truck franchise was up 31.8% in April. It was up 9% over April 2019, according to Frick.
Lincoln brand sales of about 10,500 vehicles represented a 114.9% year-over-year gain.
Both a lifeline and a potential challenge going forward for Ford and its competitors is the dwindling of new-vehicle inventories on dealer lots, owning to a deepening semiconductor shortage that has hit auto production worldwide. Ford warned last week that it could lose as much as half of its planned vehicle production in the second quarter due to the shortage.
But in the meantime, inventories have driven prices up, helping to boost automakers' bottom lines — and executives have said that leaner inventories may become the norm. Ford reported Tuesday that its gross stock sat at about 265,000 vehicles heading into May, for 35 days' supply.
The industry, meanwhile, averaged 33 days' supply, down from 39 last month and 120 days last year, according to Morgan Stanley. General Motors Co. is down to 27 days and Stellantis NV is down to 43 days. Ford's 35 days' supply is down from 123 days last year.
Noting that Ford had higher supply than the industry overall, Frick said the automaker is "in a pretty competitive position to compete as we go into May."
He said Ford will be watching inventory levels closely throughout May and June, and continues to work with dealers to get them the right product mix to meet customer demand.
"We expect it to get down to a pretty low days' supply, probably somewhere in the 20s, over the next couple months — but it's very vehicle-dependent," said Frick. "The absolute stock has dropped, the days' supply has dropped, but our turn rates have increased to a point that it offsets a lot of that and allows us to still deliver a sales month like we saw in April."
Ford posts $3.3 billion
quarterly profit, but warns
worst of chip shortage
still to come
Jordyn Grzelewski
The Detroit News
May 3, 2021
Ford Motor Co. booked a $3.3 billion profit in the first quarter, but warned that it could lose as much as half of its planned vehicle production for the second quarter amid a worsening global semiconductor shortage — a prospect one analyst called "jaw dropping."
The Dearborn automaker generated $36.2 billion in revenue and delivered a profit margin of 9%. Executives attributed the results to efforts to mitigate the impact of the chip shortage, a refreshed vehicle portfolio in the midst of being rolled out, and longer-term changes aimed at improving the fundamentals of the business.
"What you're seeing come through the numbers is good execution by the team," said chief financial officer John Lawler. "They really leaned into optimizing the mix of our products, with an emphasis on moving vehicles that are in high demand from our customers and have higher margins for us."
But executives also pointed to changes such as the shift in North America to an SUV- and truck-focused lineup, and a global restructuring plan under which Ford has closed facilities overseas and slashed $1 billion in costs in Europe to become a leaner company.
"We're executing on our plan, and I'm excited to say Ford is becoming a stronger, more resilient company that can deliver under pressure, manage risk and seize opportunities, all while generating consistent returns for our stakeholders," CEO Jim Farley said.
Among the financial highlights: Revenue was up nearly 6% over the first quarter of 2020, adjusted pre-tax earnings of $4.8 billion marked a record for the company, and warranty costs — a nagging issue for the automaker — were down $400 million from a year ago.
Executives also highlighted improvements to financial results in regions around the world. Outside North America, the company saw pre-tax earnings tied to the automotive business of $454 million — a significant improvement over the $526 million loss it posted in the same period last year.
In North America, Ford posted a 12.8% pretax earnings margin — higher than the 10% goal the company has been targeting and the highest rate in five years. Executives attributed 5% revenue growth in the region to strong demand for new vehicles such as the Mustang Mach-E, Bronco Sport SUV and redesigned F-150.
The company posted a $73 million pretax earnings loss in South America; generated $341 million in pretax earnings in Europe; saw a $15 million loss in China; and booked a $201 million pretax earnings gain in its other international markets — all of which were profitable except for India, Lawler said.
Adjusted free cash flow for the quarter, however, was negative $396 million. Ford shares closed down by less than one percent, to $12.43 per share, before the financials release.
Despite the strong first quarter results, executives warned of future fallout from the chip shortage, saying the situation will get worse before it gets better. The company now expects the shortage to peak in the second quarter, then to begin to ease throughout the remainder of the year before full relief arrives in 2022.
To that end, the automaker said it expects to lose about 50% of the production it had planned for the second quarter (or about 700,000 units), worse than the 17% loss in the first quarter. Executives said they expect to lose about 10% of production that had been planned for the second half of the year, for a total loss of some 1.1 million vehicles this year. That's up significantly from the 200,000- to 400,000-vehicle impact the automaker had initially expected.
Nick Shields, senior analyst at investment research firm Third Bridge, said in a note Wednesday that while "the quarter itself was solid" for Ford, its projected production loss for the second quarter "is nothing short of jaw dropping."
Lawler had previously projected that Ford could take a $1 billion to $2.5 billion hit to its annual earnings due to the shortage. The company on Wednesday updated its guidance to account for factors that exacerbated the shortage, including a fire at a chip factory in Japan.
The company is forecasting adjusted pretax earnings of between $5.5 billion and $6.5 billion for the year, reflecting an estimated $2.5 billion hit from the semiconductor shortage. The company had previously estimated pretax earnings of $8 billion to $9 billion for the year.
Meanwhile, the automaker has been building and setting aside F-150s and other vehicles, opting to hold the vehicles until missing electronic modules containing semiconductor chips can be added. Executives said Wednesday that as of the end of the quarter, some 22,000 vehicles — primarily in North America — were sitting waiting for parts.
The shortage of chips — essential components that help power everything in a vehicle from infotainment systems to power steering — could cost the global auto industry up to 3.1 million vehicles and more than $61 billion this year, according to a forecast from industry consulting firm Alix Partners.
Experts say that the continued popularity of Ford's flagship F-150 pickup truck and rising vehicle prices have helped the automaker weather the chip issue and other disruptions brought on by the coronavirus pandemic.
Though Ford's U.S. sales were up only 1% in the first quarter, the average transaction price for its vehicles jumped 8.3% to $47,858, according to data from auto information website Edmunds.com.
"F-150 remains one of the most coveted trucks in the industry, and although Ford's first quarter sales were flat, the company has sustained increases in average transaction prices which should help drive profitability," Jessica Caldwell, executive director of insights for Edmunds said in a statement ahead of Ford's release. "Ford is hanging on tight for now, but might find itself in a less secure position as this chipset shortage continues with no immediate end in sight."
And though the current imbalance between supply and demand will begin to normalize in the coming months, executives said some changes could be here to stay.
"We're learning as we operate in this extraordinary low-stock, high-demand environment in the U.S. and around the world, that we will see a leaner, more efficient company in the future," Farley told Wall Street analysts. "This is a better way to run our business."
Ford's crosstown rival General Motors Co. is scheduled to release its first quarter financial results May 5. Transatlantic automaker Stellantis NV will share first quarter revenue and shipments the same day.
Ford slumps 10% after being
hit by chip shortage, drags
down rival GM, suppliers
April 30, 2021
(Reuters) - Shares of U.S. automaker Ford Motor Co fell more than 10% on Thursday, after it warned the global semiconductor chip shortage could cut its second-quarter vehicle production in half, a dour outlook for rivals and key suppliers.
Analysts said the chip shortage is getting worse as Ford also reduced its full-year earnings before interest and taxes outlook even after handily beating Wall Street's profit estimate for the first quarter, helped by pricing gains.
"Ford joins a growing chorus saying the semiconductor issue won't be resolved until 2022," RBC Capital Markets analyst Joseph Spak wrote in a note.
The chip shortage has forced U.S. automakers to cut production of less profitable vehicles, while allowing them to raise prices on their most profitable ones as demand surges, offsetting the production loss.
Analysts say that trend won't last long and prices will come down later in the year, as the supply of chips becomes normal.
Shares of Ford's larger rival General Motors Co also fell over 4% on Thursday.
Ford's lower second-quarter production is likely to weigh on suppliers such as Visteon, BorgWarner, Tenneco, Lear Corp, Adient Plc, RBC's Spak said.
Shares of the suppliers fell between 1% and 5% in morning trading.
"While we believe Ford has every opportunity to execute a path that could achieve our $18 bull case valuation, we remain 'underweight' at this time given our elevated concerns around auto industry expectations broadly," Morgan Stanley analyst Adam Jonas wrote in a note.
Shares of Ford fell as much as 10.4% to $11.14, posting their biggest one-day loss in more than ten months. Ford's stock is still up about 30% this year.
Ford, GM stock rallies
hang in the balance as
earnings kick off
ESHA DEY
Bloomberg
April 29, 2021
The stock rally for America's traditional automakers may face a reality check with companies starting to report results amid an industrywide semiconductor shortage and an uncertain outlook heading out of the pandemic.
Ford Motor Co. and General Motors have drawn renewed interest from investors as they join the race to capture more of the electric-vehicle market dominated by Tesla Inc., the world's most valuable car company.
But quarterly earnings -- beginning with Ford on Wednesday and followed by General Motors next week -- will leave investors and analysts balancing the companies' gas-car-fueled performance at the start of the year against their outlook for the future, all against the backdrop of a global shortfall of computer chips.
Pandemic-related supply-chain disruptions and a sudden jump in the demand for products that use those chips -- from laptops and phones, to home appliances and cars -- has led carmakers including Ford, Volkswagen AG and Toyota Motor Corp. to halt production and idle plants.
"Global auto production in first quarter saw a large negative impact from semi shortages, although likely not as much as feared a month ago," Deutsche Bank AG analyst Emmanuel Rosner wrote in a note on April 22. "Conversely, production schedules for the second quarter seem to be coming under deeper pressure than anticipated from prolonged shortages, and the potential to make up large lost volume in the second half seems to be diminishing."
The industry's first quarter will likely be stronger than initially projected by analysts after a report showed auto sales for the period largely surpassed expectations and rose from a year ago.
But the outlook is likely to face more scrutiny.
"More important than first-quarter results will be the status of 2021 financial outlooks, which in most cases had been provided earlier prior to an exacerbation of the global semiconductor shortage," Bank of America Corp. analyst John Murphy wrote in a note. Murphy said a number of companies may reaffirm their 2021 guidance -- although that will likely rely on a stronger second half of the year to make up for any first-half weakness.
That may cause some investors to reassess the recent stock price gains. GM and Ford have both risen over 40 percent this year, dwarfing the nearly 12 percent advance in the broader S&P 500 Index.
Analysts will also be watching for any update on the two companies' plans for reinstating their dividends, which were suspended last year. GM CEO Mary Barra in February said the company will comment on it "later in the year."
"In our recent conversations with investors, we sensed a certain degree of apathy towards the sector, and lack of great stock convictions," Deutsche Bank's Rosner said. While he sees room for further gains for both GM and Ford shares, he said that would require the companies to prove their mettle in electric and self-driving cars.
What Bloomberg Intelligence Says:
"Ford's first-quarter results should be buoyed by robust pricing and volume gains in high-margin segments, with SUV volume growing 14 percent and pickup trucks 5 percent against a 1Q 2020 curtailed by pandemic-related shutdowns -- while car sales cratered 57 percent. A global chip shortage adds a dose of uncertainty on 2021 guidance of $8 billion-$9 billion in adjusted Ebit, vs. $2.8 billion in 2020 and $6.4 billion in 2019."
"General Motors is navigating supply shortages by leaning on high-margin pickups and SUVs. Production in first quarter was down 10 percent -- adjusted for discontinued car models -- but total unit sales rose 4 percent and average transaction prices were 3 percent higher."
Auto companies among those
stepping up in absence of
mandated paid sick days
Magna, GM both have provisions in place to allow workers to take time off if they're sick or suspect they have COVID-19
The Canadian Press
April 23, 2021
As it becomes increasingly clear that workplaces are a key transmission location in the third wave of the COVID-19 pandemic, some Canadian employers, including some automakers and suppliers, are offering paid sick leave to their employees in the absence of government action.
Paid sick leave benefits, which allow workers to call in sick without fear of losing a day's pay, are becoming a political issue across the country, especially in Ontario. The benefit is one of the measures recommended by a group of experts who advise the Ontario government on COVID-19 measures, but has so far been turned down.
To date, there have been a total of 825 workplace outbreaks in the province's two biggest COVID-19 hot spots — 423 in Toronto and 402 in neighbouring Peel Region.
Last year, roughly 2,000 people with COVID-19 reported going into work following the onset of their symptoms and at least 80 worked for one or more days after a positive test result, according to Peel's public health unit.
Without paid sick leave, workers bear the cost of lost income if they don't come to work, labour experts say.
"We're in the middle of a pandemic. Without paid sick leave, there's pressure on especially lower-income workers to come into work even if they're not feeling well," said Raji Jayaraman, an economics professor at the University of Toronto.
The Canadian Press contacted 36 employers across the country where workers must be physically present, seeking information about their paid sick leave policies.
Fourteen of those companies said they offer such benefits, including CIBC, Dollarama Inc., WestJet Airlines Ltd., Kraft Heinz Co. and Labatt Brewing Co.
Grocer Loblaw Cos. Ltd. introduced programs for all full- and part-time employees "to ensure no one would lose pay for COVID-related absences," said spokeswoman Catherine Thomas.
She added that "thousands of employees" have used its "pay protection program," which she said amounts to paid sick days during the pandemic.
Rival grocer Metro Inc. also offers paid sick days "to a number of unionized employees depending on their collective agreement as well as to a number of employees who are not unionized," said vice-president of communications Marie-Claude Bacon in an email.
Meanwhile, Air Canada employees who suspect they have COVID-19 are paid while they determine whether they have the virus, if supported by appropriate documentation, said spokesman Peter Fitzpatrick in an email.
Enbridge Inc. employees "get as much paid time as they need to get well," said spokeswoman Tracie Kenyon in an email. She added that the company has paid sick leave for employees for 14 calendar days, as well as short-term disability benefits if more time is needed.
General Motors Co. said it has provisions in place to support employees who cannot work because they are sick or have been asked by GM to self-isolate or quarantine.
Provisions include flexible work arrangements, temporary leave, and paid sickness and accident benefits, said Jennifer Wright, director of communications for GM Canada.
"Under our collective agreements with Unifor and our salary work policies, we have provisions in place to support employees who cannot work because they are sick or who have been asked by GM to self isolate or quarantine," she said in an email.
Toy and game maker Spin Master Corp. said it provides employees with five personal paid days per year, which they can use for personal illness or to care for others in their family who may be ill. They do not require a doctor's note.
"For those employees who may have contracted COVID or who have had to care from someone with the virus, we have been making every accommodation, including extended paid sick or caregiver leave," said spokeswoman Lauren Colt in an email.
Auto parts maker Magna International Inc. provides paid leave that can be used for vacation, personal use or if someone is sick, said Tracy Fuerst, vice-president of corporate communications, in an email.
Tim Hortons did not directly answer questions about whether it offers workers paid sick days. However, a spokesperson said a program funded equally by the company and franchisees "ensures that Tim Hortons team members who have contracted COVID-19 or who are self-isolating at the specific request of the government, medical authority or restaurant owner will be compensated for scheduled hours for up to 14 days."
Tim Hortons did not respond to followup questions regarding whether the program covers employees who stay home if they suspect they may be sick.
Maple Leaf Foods also did not directly answer questions about its paid sick leave policy. The company "is providing nourishing food people need during this pandemic and we are committed to finding the best ways to fill our essential role and keep our people safe at the same time," said Janet Riley, vice-president of communications.
Scotiabank said employees are eligible to receive full salary for 10 days of combined sick and personal time with no doctor's note required. Employees sick for more than a week can apply for short-term disability, a fully bank-paid benefit that provides full compensation for the first eight weeks. Documentation may be required.
A spokeswoman for BMO Financial Group said the safety of its colleagues, customers, and communities is a priority.
"BMO provides excused paid days to all regular employees, in all jurisdictions, to support quarantine requirements due to exposure to or a diagnosis of COVID-19," Natasha Boeck said in an email.
"In situations where an employee falls ill as a result of COVID-19, they can utilize their sick days and if the situation persists, employees may also apply for short-term disability."
TD Bank and RBC did not immediately respond to a request for comment.
Bulk Barn, Canada Goose, Canadian Tire, Couche-Tard, DavidsTea, Dollar Tree, Dorel, Sobeys parent Empire Co. Ltd., Freshii, Honda Canada, Kinder Morgan, Martinrea, McCain Foods, Second Cup, Stellantis Canada (formerly FCA Canada) and Suncor did not respond to a request for comment.
A representative of Linamar said its CEO and spokesperson, Linda Hasenfratz, was unavailable for comment.
Paid sick days should be legislated through governments' employment standards to make sure all workers have access to it, said Carolina Jimenez, a co-ordinator with advocacy group Decent Work and Health Network.
Only 42 per cent of working Canadians say they have access to paid sick leave, while only around 10 per cent of low-wage workers do, data from the Public Health Agency of Canada shows.
"Workplaces are key drivers of infection. We've seen these numbers time and time again," said Jimenez, who is also a registered nurse in Toronto.
"It's no coincidence that these are the very same places that employ workers at minimum wage, with very little protection, no paid sick days."
Ford launches on-site vaccinations
for employees in southeast
Michigan, Ohio, Missouri
Jordyn Grzelewski
The Detroit News
April 22, 2021
As Michigan battles a worst-in-the-nation surge in COVID-19 cases, Ford Motor Co. on Monday launched on-site vaccinations for employees at some of its manufacturing facilities in the U.S., including locations in southeast Michigan.
The Dearborn automaker announced that, in partnership with the United Auto Workers and providers that are distributing the vaccine, it would begin offering on-site vaccinations at facilities in three states. The opportunities are open to employees in southeast Michigan and in Lima, Ohio, and Kansas City, Missouri.
"This is just one of the ways that we are protecting the health and safety of our employees," Dr. Francesca Litow, Ford's corporate medical director, told The Detroit News. "Our place-dependent employees have been working for almost a year now, successfully, and how we've been able to keep them healthy and safe is through our robust health and safety processes for our employees. Vaccination adds one more layer to that."
In southeast Michigan, Ford and the UAW have partnered with Rite Aid to administer the Moderna vaccine. Clinics are being organized at Ford's Flat Rock Assembly Plant, the Ernest Lofton Fitness Center at the Rouge complex in Dearborn, Van Dyke Transmission Plant in Sterling Heights, and the Rawsonville Components Plant in Ypsilanti.
Meanwhile, the automaker and the union have teamed up with local hospitals to administer the Pfizer-BioNTech vaccine to employees at Ford's Lima Engine Plant and Kansas City Assembly Plant.
Ford's crosstown competitors Stellantis NV and General Motors Co. previously launched on-site vaccinations at some of their facilities.
Stellantis NV employees in Belvidere, Illinois, were among the first autoworkers to receive the COVID-19 vaccines. The automaker is distributing the shots to its employees and their families through its health and wellness centers operated by regional health systems in Belvidere, Detroit and Kokomo, Indiana, based on state orders. The Ascension Michigan-operated center in Detroit is administering vaccines to patients 16 years old and older.
GM spokesman David Caldwell said Monday that the Detroit automaker is "making a lot of progress working with public health officials to administer vaccines — both inside our workplaces and elsewhere."
The automaker, for example, worked with the city of Detroit to vaccinate hundreds of employees at its Factory Zero Detroit-Hamtramck Assembly Center in March. Numerous other GM facilities have offered on-site vaccination clinics, including in Lansing, Saginaw, and Spring Hill, Tennessee. And the automaker continues to help employees secure vaccine appointments at external sites.
Caldwell said GM would add on-site vaccinations at other locations in the coming days and weeks.
Ford's program began at the Flat Rock plant Monday and will continue at "various locations" through June, according to the automaker. Ford and the UAW plan to make similar arrangements at other facilities in the coming weeks and months. Litow said that plans are being made to offer Chicago-area workers on-site vaccinations sometime in May, for example.
"The timing depends upon the vaccine providers," she said. "Ford is not receiving vaccine to our medical facilities; we are partnering with vendors such as pharmacies ... as well as healthcare providers or hospital systems or occupational health clinics that have vaccine allotments now or in the future."
The automakers' efforts to vaccinate their workforces come as Michigan leads the nation in new COVID-19 infections and hospitalizations, a trend that state leaders have attributed in part to the spread of more-contagious variants and lack of compliance with health protocols.
The state added 8,574 new COVID-19 cases and 61 deaths Monday, and marked a record-high number of hospitalizations since the start of the pandemic. In all, the state has had 793,881 cases of COVID-19 and 16,901 deaths since the virus first was detected in March 2020, according to data from the state Department of Health and Human Services.
About 30% of Michigan's residents are fully vaccinated. The state has set a goal of vaccinating at least 70% of the adult population by the end of this year.
Litow said that as cases in the state have gone up, Ford has seen "waxing and waning of our rates, but certainly not to the extent that we've seen out of the community."
"The good news is that we have not seen anyone who we've identified as potentially exposed to someone with COVID in the workplace become infected when they followed our policies and our processes," she said.
Litow said the demand for vaccine among Ford's workforce mirrors that among the public; some were eager to get vaccinated as soon as they were able to do so, while others have been hesitant. For those who are hesitant, she said, "providing quality information to them is one thing that we can do to help start those conversations and allow them to make an informed decision about accepting vaccination."
The automaker set up a digital scheduling system that employees can use to make an appointment. Employees are automatically scheduled for their second dose when they receive their first dose.
The Detroit Three automakers have not required their employees to get vaccinated, but along with the UAW have provided information to employees about the vaccines and issued guidance on other ways workers can keep safe both inside and outside of work. The automakers worked with the UAW to develop health and safety protocols for manufacturing facilities before plants reopened last spring after a two-month shutdown.
Ford to end production
of the Lincoln Continental

Jordyn Grzelewski
Kalea Hall
The Detroit News
April 21, 2021
Ford Motor Co. confirmed Wednesday it will permanently end production of the Lincoln Continental built at the Blue Oval's Flat Rock Assembly Plant.
The move is just the latest in the Dearborn automaker's long-term strategy of ditching sedans and compact cars in favor of a wider array of profit-rich trucks and SUVs that U.S. customers have come to prefer.
It also brings Ford a step closer to fulfilling the strategy it announced in 2018 of no longer producing traditional cars, except for such select models as the Mustang and its multiple variants. By axing the Continental, Lincoln's lineup will be all-SUV since the brand previously announced the discontinuation of the other remaining car, the MKZ.
In confirming the discontinuation of the Continental, Lincoln emphasized its SUV lineup, which includes models such as the Aviator and Navigator: "Lincoln is investing in growth segments and the brand will feature a full portfolio of SUVs, including a fully-electric vehicle in the future," spokeswoman Angie Kozleski said in a statement.
"Lincoln will continue to keep its newest SUVs fresh and we will have more news to share later this year; however, as the full-size premium sedan segment continues to decline in the U.S., we plan to end production of the Lincoln Continental at the end of this year."
A 2021 model year Continental will be offered in Ford's China market, before the model is discontinued there, as well: "The Continental has had a really rich past, but we'll return the name to the vault after that," Kozleski said.
The Flat Rock plant also produces the Mustang. Kozleski said Ford does not anticipate any layoffs as a result of discontinuing the Continental.
The Continental makes up just a small portion of Lincoln brand sales. In 2019, Ford sold just more than 6,400 Continentals, down nearly 25% from the previous year. The brand as a whole delivered more than 112,000 vehicles, most of them SUVs.
It makes economic sense for Ford to drop the Continental because the luxury sedan shares the same chassis as the Ford Fusion, and Fusion production is slated to end this year, said Karl Brauer, executive publisher for Cox Automotive. A Ford spokeswoman confirmed production of the Fusion will end this summer.
That plant, that assembly line, that chassis, the R&D budget to keep evolving it, all of those things are more important for the volume model than the luxury model," said Brauer. "If the volume model can't exist, the luxury model is gone."
But he said the new Continental was not just a "gussied up Ford Fusion: "Yes, somewhere in the heart of its chassis was a Ford Fusion, but they did such a good job on its exterior design and proportions … it looked like its own vehicle."
The history of the Continental dates back to the World War II era. The Lincoln Zephyr Continental was introduced in 1939 and was "an immediate design icon," according to a history of the model on Ford's website. The Continental was commissioned by founder Henry Ford's son, Edsel Ford. He headed up the Lincoln division at the time and wanted to make a vehicle reminiscent of the automobiles he encountered in Europe.
The original version of the Lincoln was discontinued for several years, before being revived in the 1950s as the Lincoln Continental Mark II.
The Continental and Fusion are just two victims on a long list of discontinued cars as sales have plummeted in recent years. General Motors Co. nixed its Cadillac XTS, a full-size luxury sedan, the Chevrolet Impala and Cruze. Fiat Chrysler Automobiles NV was the first to start exiting the car market with the Dodge Dart and Chrysler 200.
Now, with consumers favoring trucks and SUVs, automakers are resurrecting old, larger vehicle nameplates, including the Ford Bronco, GM's Hummer and the Jeep Wagoneer.
Ford sales up 7.7% in Europe
in first quarter of 2021
Jordyn Grzelewski
The Detroit News
April 20, 2021
Ford Motor Co. sold 259,809 vehicles in Europe in the first quarter of 2021, a 7.7% increase over the same period last year0, when the onset of the coronavirus pandemic shuttered factories and dampened consumer demand.
The results, released Monday, include sales in 20 European markets: Austria, Belgium, Great Britain, the Czech Republic, Denmark, Finland, France, Germany, Greece, Hungary, Ireland, Italy, the Netherlands, Norway, Poland, Portugal, Spain, Romania, Sweden and Switzerland.
According to a news release from the automaker, its Q1 results beat the industrywide sales improvement of 4.4%.
And in a reflection of the crisis that took hold last March and the recovery that's taken place since then, Ford Europe's March sales were up more than 70% year-over-year.
The Blue Oval's market share in the region was 7.2% for the quarter.
Sales for the quarter were up from the same period last year in most of the automaker's top European markets, including Great Britain, Italy and France. Sales in its No. 2 market, Germany, however, were down more than 20%.
Among Ford's passenger vehicle offerings in the regions, one of the highlights for the quarter was the Ford Puma, a compact crossover vehicle the automaker unveiled in late 2019. Puma sales were up more than 50%. Ford reported that the vehicle was the segment leader in the United Kingdom and Italy.
The Kuga compact crossover was another bright spot, with sales up from just over 30,000 units in the first quarter of 2020 to nearly 55,000 units in Q1 of 2021.
Meanwhile, Ford reported a just over 1% sales improvement in North America — its largest and most profitable market — in the first quarter. It reported 73.3% sales growth in China for the same period.
Ford to see widespread production
impact on U.S. plants this
month due to chip shortage
Jordyn Grzelewski
April 15, 2021
The Detroit News
The ongoing global shortage of semiconductors continues to hit the production schedules and bottom lines of automakers, with Ford Motor Co. on Wednesday announcing the extension of down time and new impacts at several of its plants.
The Dearborn automaker confirmed to The Detroit News that it will extend down time at plants in Chicago, Michigan and Missouri, reduce production at an Ohio plant, and schedule down time and cancel overtime shifts at a plant in Kentucky in the coming weeks.
Automakers around the world have been faced with a global shortage of microchips — essential components that power the automated and electronic features in modern vehicles — for several months.
AlixPartners, a global consulting firm, has estimated that the shortage already has cost the industry 1.4 million units of production globally. The firm predicts up to 2.5 million vehicles could be lost this year and the industry as a whole could lose $61 billion if the shortage persists.
The situation has drawn the attention of the Biden administration, which has framed the issue as an example of the nation's over-reliance on foreign suppliers and as underscoring the need to expand domestic production of key automotive parts.
Executives from the Detroit automakers were among a group of leaders who met with White House officials earlier this week to ask the administration to help bolster chip production. The auto industry has pressed the administration to set aside a portion of any chip production that comes from negotiations in Congress as automakers compete with tech companies for the parts.
Meanwhile, Ford has previously said the supply-chain issue could cost it between $1 billion and $2.5 billion in earnings for the year. Executives could provide updates on the financial impact when the automaker releases its first-quarter earnings report later this month.
On Wednesday, the automaker confirmed the following chip-related production impacts:
Ford's Chicago, Flat Rock and Kansas City assembly plants will be down the weeks of April 19 and 26. Those plants collectively build the Ford Explorer, Police Interceptor Utility, Lincoln Aviator, Mustang, F-150 and the Transit.
Ohio Assembly Plant will produce only Super Duty Chassis cabs and medium-duty trucks the weeks of April 19 and 26. The plant in Avon Lake also builds vans.
Kentucky Truck Plant, which builds Super Duty trucks, the Ford Expedition and the Lincoln Navigator, will be down the weeks of April 26 and May 3. Overtime shifts will be canceled from May 8-31.
Ford Otosan, Ford's joint venture in Turkey, will temporarily stop production of the Transit Custom and Transit 2-Ton vans from April 19 to June 3. The company opted to pull ahead two weeks of planned shutdown from the summer to that period.
"The global semiconductor shortage continues presenting challenges to a number of industries — including automakers worldwide. A fire at a chip supplier facility in Japan and severe winter storms in Texas are driving additional production changes at Ford," company spokeswoman Kelli Felker said in a statement.
She said the company continues to prioritize "key" vehicles for its allocation of semiconductors, a strategy that automakers around the world have employed as they seek to insulate high-margin SUVs and trucks from the effects of the chip shortage. Still, Ford has had to reduce production of its profit engine, the F-150, several times this year.
Meanwhile, Ford's crosstown rival General Motors Co. said Tuesday it would restart production at its Spring Hill, Tennessee, plant a week early and will not have to cancel Chevrolet Blazer production at a Mexico plant, as previously planned due to the chip shortage.
GM spokesman David Barnas said in a statement that "GM's supply chain organization has made strides working with our supply base to mitigate the near-term impacts of the semiconductor situation on both Spring Hill Assembly and Ramos Assembly."
Feds pick UAW monitor to
oversee corruption reforms
Robert Snell, Kalea Hall &
Breana Noble
The Detroit News
April 14, 2021
Detroit — Federal prosecutors asked a judge Monday to appoint a veteran lawyer and former prosecutor to oversee reforms at the troubled United Auto Workers union following a corruption scandal.
Prosecutors have selected New York attorney Neil Barofsky, who served as special inspector general for the $700 billion Troubled Asset Relief Program, a series of moves created during the Great Recession to stabilize and strengthen the financial sector.
The request to U.S. District Judge David Lawson comes more than two months after the judge approved a consent decree that will put the beleaguered union under a federal monitor for six years. The plan also includes allowing members to vote on whether to amend their constitution to directly elect leaders. That referendum could happen by the end of the year.
The appointment of a monitor is part of a settlement between the government and the UAW aimed at eliminating fraud and wrongdoing within one of the nation's most influential unions following a years-long crackdown on corrupt labor leaders.
If approved, Barofsky would head a team tasked with implementing reforms that target union election, compliance, and investigations.
Barofsky was selected after UAW officials proposed multiple candidates, who have not been publicly identified. Federal officials — who had veto power — interviewed candidates and conducted background checks.
"It's obnoxious the UAW had the ability to choose the monitor given the severity and extent of the crimes committed by our former leadership," Matt Horner, a General Motors Co. employee at the Fort Wayne, Indiana, truck plant and member of the UAW Local 2209, wrote in a text message to The Detroit News.
Asked for a response to Barofsky's appointment, UAW spokesman Brian Rothenberg replied: "Both the UAW and the government followed the procedures set up in the settlement agreement on the appointment of the monitor."
In all, the ongoing crackdown on auto industry corruption has led to the convictions of 15 people, including former UAW presidents Gary Jones and Dennis Williams. The investigation has revealed labor leaders and auto executives broke federal labor laws, stole union funds and received bribes and illegal benefits from union contractors and Fiat Chrysler Automobiles NV executives.
The UAW also will be subject to an adjudications officer. The monitor and adjudications officer will be able to employ the personnel necessary to perform their functions. The UAW will be responsible for compensating those positions and their activities.
Barofsky, a partner at the law firm Jenner & Block, leads the firm's monitorship practice. He monitored Credit Suisse Securities LLC and Credit Suisse AG After billion-dollar settlements and was appointed by the Justice Department and New York State Department of Financial Services. He previously served as an assistant U.S. Attorney in the Southern District of New York.
The court oversight is going to be lengthy, expensive and paid for by the UAW: "Accordingly, Mr. Barofsky has agreed to discount his and his team's normal rates for services related to the monitorship," Assistant U.S. Attorneys David Gardey and Steven Cares wrote in a court filing Monday.
As special inspector general for the Troubled Asset Relief Program, Barofsky monitored the $700 billion Wall Street and auto bailout fund and built an investigatory agency from scratch to probe corruption and waste stemming from the program.
In a 2012 book, he wrote that the Obama administration pressured the old General Motors Corp. and Chrysler Group to close more than 2,000 auto dealerships without considering the impact on lost jobs.
The filing identifies others who would work alongside Barofsky. They are:
• Jenner & Block partner Kali Bracey, who would work on overseeing a referendum vote and other election issues. She participated in the Citigroup monitorship and is a former deputy assistant Attorney General.
• Glen McGorty, partner at the Crowell & Moring law firm in New York. He has served as independent monitor of the New York City District Council of Carpenters and is a former assistant U.S. Attorney in the Southern District of New York.
• Jenner & Block partner Reid Schar, who would focus on investigating corruption within the UAW. He is the former lead prosecutor in the corruption case against former Illinois Gov. Rod Blagojevich.
• Jenner & Block partner Erin Schrantz, who will focus on compliance. She has worked alongside Barofsky on the Credit Suisse monitorships.
Why Amazon workers in
Alabama voted against union
Sebastian Herrera
The Wall Street Journal
April 12, 2021
Amazon.com Inc. employees in Alabama who sided against unionization said they had broad concerns about job security and grew convinced that their pay and benefits might not markedly increase with the help of a union.
The resounding victory for Amazon, the nation's second-largest private employer, came after it organized what proved to be a successful local campaign, highlighting the company's strengths and questioning the union's benefits. Nationally, Amazon grew vocal in pushing back against criticism about its workplace conditions, including when a top executive engaged in disputes with members of Congress on Twitter.
Analysts say the defeat of unionization will strengthen Amazon after what has already been a year of tremendous growth and success fueled by the pandemic. The tech giant's revenue last year soared 38% to $386 billion, and its profit nearly doubled, as it added 500,000 people to its global workforce.
Some workers said Amazon helped steer their vote against unionization. Other employees said they didn't need convincing by Amazon and were against unionizing from the start.
Amazon pointed to its minimum wage of $15 an hour, double the state's minimum wage of $7.25 an hour, which is also the federal minimum. The company also highlighted its healthcare and retirement benefits.
Workers said they were wary of the cost of union dues and not persuaded that the union would be able to add significantly to their pay or improve benefits. In the end, less than 16% of the facility's total workforce voted to join the Retail, Wholesale and Department Store Union.
"I work hard for my money, and I don't want any of it going to a union that maybe can get us more pay, or maybe can get us longer breaks," said Melissa Charlton Myers, a 41-year-old employee at the Bessemer, Ala., facility that voted on unionization. "It's not worth the risk."
In company meetings, which some employees described as mandatory, Amazon gave them details about other contracts the RWDSU had negotiated on behalf of employees in other industries. The bargaining agreements that Amazon showed employees didn't seem to indicate that there would be a substantial difference, said Cori Jennings, 40, another worker who voted against unionization.
The union has cited U.S. Bureau of Labor Statistics data that show union members on average earning more than nonunion members.
Less than 16% of the facility's total workforce voted to join the Retail, Wholesale and Department Store Union. (AP Photo/Bill Barrow)
In a news conference Amazon organized Friday, some workers who sided against unionizing said they still sought changes at the facility, such as added training for managers. However, the workers said, they believed they could resolve issues with the company without a third party.
Also playing a role were fears about possible repercussions of forming a union, including the possibility that Amazon would shut down the facility if they decided to unionize, some employees said. Others worried the company would nix plans for two other facilities it had announced last year that it plans to open in a nearby area.
Amazon declined to comment.
Pro-union workers said they wanted more say over break times, how they are monitored by the company and the rate at which they are expected to sort and move packages. The union is expected to appeal the vote.
Iwan Barankay, a labor economist at the University of Pennsylvania, said while unionizing efforts can be popular among employees at the start of drives, the messages from companies over time can wear on employees -- especially if it threatens their livelihood.
"The location of this plant plays a role," Mr. Barankay said. Alabama has many low-income residents, "and other opportunities are not so readily available. These people might really feel the difficulty of living through a pandemic."
The union vote removes one major challenge for Amazon, though others loom.
Late last year, a congressional panel asserted that Amazon has amassed "monopoly power" over sellers on its site, bullied retail partners and improperly used seller data to compete with rivals. Amazon said at the time that "large companies are not dominant by definition, and the presumption that success can only be the result of anti-competitive behavior is simply wrong."
Congress is now considering the most significant changes to antitrust law in decades, including proposals that would make it easier for the government to challenge anticompetitive behavior or force tech giants to separate lines of business.
This week, meanwhile, merchant groups announced a national coalition to campaign for stricter antitrust laws. The effort adds to state and federal investigations and lawsuits Amazon has faced over its power and workplace conditions. Amazon has said its business model has benefited both consumers and the millions of independent sellers that sell on its site.
Amazon isn't finished confronting labor battles. As ballot-processing took place in the Bessemer election, a small number of employees held a protest at a Chicago facility over working conditions. Workers in Europe recently went on strike over similar issues, and the National Labor Relations Board during the past year has found the company at fault on multiple occasions of retaliating against workers who have spoken out on different issues. Amazon has said disciplinary measures with workers are due to violations of workplace policies. The company has said the Chicago protest didn't disrupt its operations.
Still, Amazon's victory in the election gives the company flexibility in running its warehouse, said Sucharita Kodali, an e-commerce analyst at Forrester Research Inc. "They want to be able to make changes quickly and as they see fit" without disruption, she said.
As voting wrapped up in Bessemer, Amazon and its executives became more vocal. Dave Clark, chief executive of Worldwide Consumer, published tweets taking aim at Independent Sen. Bernie Sanders of Vermont, a frequent Amazon critic who supported unionization in Bessemer and called CEO Jeff Bezos greedy.
"I often say we are the Bernie Sanders of employers, but that's not quite right because we actually deliver a progressive workplace," Mr. Clark tweeted on March 24, referring to Amazon's $15 minimum wage being higher than Vermont's $11.75 per-hour wage. President Biden and celebrities such as the actor Danny Glover had joined Mr. Sanders in supporting the Alabama workers.
"All I want to know is why the richest man in the world, Jeff Bezos, is spending millions trying to prevent workers from organizing," Mr. Sanders responded on Twitter the same day.
Amazon's news account similarly tweeted defenses of the company. Some of them backfired. The company apologized after publishing a tweet on March 24 by its news account that it said incorrectly challenged accounts of workers having to at times urinate in bottles because of Amazon's demanding schedule to deliver packages.
Ford reports 73.3%
growth in China sales in
first quarter of 2021
Jordyn Grzelewski
The Detroit News
April 10, 2021
Ford Motor Co. sold 153,822 new vehicles in China in the first quarter, for a 73.3% year-over-year increase and the automaker's fourth consecutive quarter of growth in the market.
Ford, which historically has struggled to gain traction in the world's largest auto market, attributed the positive results to rising consumer demand as well as its product mix, which it recently has sought to refresh with locally-built SUVs and luxury vehicles preferred by customers in the region.
The strategy could be paying off, as the company reported SUV sales from its luxury Lincoln brand were up 323.5% for the quarter, while SUVs under the Blue Oval brand were up more than 100%.
"Ford continues to deliver on its commitment to offer consumers in China the right mix of locally produced, world-class Ford and Lincoln vehicles," Anning Chen, president and CEO of Ford China, said in a statement. "We intend to fully build on these four consecutive quarters of sales growth to meet rising Chinese consumer demand with our Best of Ford, Best of China strategy."
Ford announced earlier this year that Mustang Mach-E, its first SUV built on an all-electric platform, will be manufactured in China by Changan Ford for local customers.
The growth over last year also is in part a reflection of the fact that the country was largely shut down in early 2020 due to the emergence of the coronavirus pandemic. The period saw dampened auto sales industrywide, but restrictions on manufacturing have since been lifted and demand for new vehicles has come roaring back.
For Ford-branded vehicles, sales of more than 76,600 in the first quarter marked a nearly 45% increase from the first quarter of 2020. Ford SUV sales totaled more than 34,000, a year-over-year increase of 103.4%. The company reported that SUV sales were led by the Ford Explorer, Escape and Edge.
Lincoln vehicle sales in the region rose 217% to more than 19,300 units. SUV sales of more than 17,300 made up the majority of sales. Ford reported that the locally-built Lincoln Corsair and Aviator accounted for three-quarters of overall Lincoln sales for the quarter. And the Lincoln Nautilus, which just launched in the first quarter, sold about 1,700 units and generated more than 4,000 orders.
Commercial vehicle sales, too, were up. And the automaker noted that its battery-electric Mustang Mach-E, which is already sold in North America, will launch in China later this year. The vehicle will be assembled in China for customers in the region.
Meanwhile, Ford's crosstown rival General Motors Co. earlier this week reported that, with its joint venture partners in the region, it sold more than 780,000 vehicles in China in the first quarter, a 69% increase over the same quarter last year. GM — which sells more vehicles in China than anywhere else — attributed the rebound to the popularity of luxury and premium vehicles, midsize and large SUVs and multi-purpose vehicles.
The auto industry last week reported U.S. sales numbers. Despite the ongoing pandemic and related supply-chain issues, the three Detroit automakers and their foreign rivals — buoyed by demand for trucks and full-size SUVs — posted sales gains.
GM sold 642,250 new vehicles in the U.S. in the first quarter, for a 4% year-over-year improvement. Ford saw a 1% increase for the quarter, with 521,334 new-vehicle sales.
Manufacturing workers in
Ontario COVID-19 hot
spots to get vaccinated
'We've built safe workplaces, we test on the spot. Vaccinations on site is the final critical step,' auto supply association says
The Canadian Press
April 9, 2021
TORONTO — Calls are growing for provincial governments to prioritize vaccination rollout for essential workers amid a third wave of the COVID-19 virus across Canada.
The Canadian Manufacturers and Exporters on Wednesday called on the Ontario government to put essential workers at the front of the line for vaccinations to protect the safety of manufacturing employees, just hours before Premier Doug Ford instituted a provincewide stay-at-home order.
Ford said Wednesday afternoon that vaccinations would be available for anyone over 18 in hot spots such as Toronto and neighbouring Peel Region next week.
Manufacturing workers have been told that the earliest potential inoculation is June, the CME said, while their U.S. counterparts have largely completed vaccinating their employees.
The organization wants the province to prioritize essential production workers right after front-line workers and seniors. It's offering help to speed the vaccination rollout, including using industrial sites and resources to deliver vaccines.
Time is of the essence, they say, because hospital beds are becoming overrun with patients under 60 years old — a dramatic shift from elderly patients and long-term care home residents who had the most severe reactions to the virus in the pandemic's early days.
"The new long-term care is the essential workplace and it will continue to be the new long-term care despite lockdown," said Dr. Zain Chagla, an infectious diseases specialist in Hamilton and an associate professor of medicine at McMaster University.
At the very least, manufacturing workers in hot spots in Ontario will be receiving ] vaccinations as soon as possible.
Over the next few weeks, Ford said the province will start vaccinating people aged 18 and older living in COVID-19 hot spots, including teachers and essential workers. Mobile teams will deliver vaccines in congregate settings, residential buildings, faith-based centres and large employers in areas hit hard by the virus, he added.
Regions will be selected based on patterns of transmission, severe illness and mortality from COVID-19.
Flavio Volpe, head of the Automotive Parts Manufacturing Association, called the plan great news.
"Auto suppliers have made PPE and life-saving medical products to help keep Canada safe," Volpe said. "We've built safe workplaces, we test on the spot. Vaccinations on site is the final critical step."
Vaccines will be administered in about 120 postal codes currently being hit hardest by COVID-19.
Between March 15 and 21, people under the age of 59 made up 46 per cent of the province's intensive care patients, the Ontario government said. Between Dec. 14 and 16, the same age group represented just 30 per cent of cases, suggesting a higher proportion are becoming infected.
Minister of Labour Monte McNaughton's office said it does not have data on how many Ontarians who can't work remotely have contracted the virus, but said less than 20,000 of the province's 338,000 cases were contracted in workplaces as of March 26.
The Canadian Manufacturers & Exporters said vaccinating essential workers would help keep workplaces in the province safe and open.
CEO Dennis Darby said Ontario is set to vaccinate those workers in May or June, while American workers in the same setting have largely been vaccinated.
"As a sector that employs over 750,000 essential workers in the manufacturing sector that continue to go to work every day — we must ensure that Ontario uses every resource available to them to increase vaccination rollout," he said.
VACCINE HUBS IN QUEBEC
In Quebec, companies including CAE Inc. have signed on to operate vaccine hubs or otherwise participate in corporate vaccination programs to accelerate immunization, beginning May 1.
Health Minister Christian Dube said Wednesday the province will unveil full details on Thursday, adding that "hundreds of businesses have contacted us" about participation in the program. He previously said Quebec will ensure training is in place to ensure vaccination at businesses is the same quality as in the public sector.
Even with progress in immunization rates, doctors and labour groups say it will take more than faster vaccinations to protect Canadians without the luxury to work from home.
They say the recent spike in cases shows it's also important to roll out paid sick leave, keep workplace inspections frequent and make it easier for employees to speak out about health risks.
This reality is frightening for Narada Kiondo, a food delivery courier in Toronto, who believes workers like him need faster access to the vaccine and paid sick leave.
He had a COVID scare last year after a colleague of someone he encountered tested positive for the virus. Kiondo took unpaid days off work to isolate and await test results and spent much of it worrying about his finances and what would happen when he was back on his bike.
"It's scary ? There are times I feel unsafe," he said. "It's really hard to not touch anything when going into many condos and you have to press elevator buttons all the time."
Gagandeep Kaur, an organizer with the Warehouse Workers Centre advocacy group, is constantly hearing these worries from Brampton, Ont., labourers.
"It's really hard for them to keep safe and physical distancing, especially if we are talking about the manufacturing sector or the factories, warehouses, industries where either people are working on a belt or people are in close proximity to each other," she said.
"These workers definitely need support. They don't want to be left out in the dark."
While quicker vaccinations done at workplaces and on company time top her wish list, Kaur wants the province to keep up its increased inspections and be even more thorough. In Alberta, a union representing employees at some of the largest meat-packing plants in the country has said there needs to be a discussion about making the COVID-19 vaccine more readily available to essential workers.
Thomas Hesse, president of United Food and Commercial Workers Local 401, said earlier this year that workers at large operations such as the Cargill meat-packing plant in High River, Alta., and the JBS Canada plant in Brooks, Alta., shouldn't have to wait too long.
The two plants, which together normally process about 70 per cent of Canada's beef supply, were hot spots for COVID-19 outbreaks in 2020.
The plants brought in safety measures that included temperature testing, physical distancing, and cleaning and sanitizing before they returned to normal operations.
Yet packing-plant employees are still at risk, Hesse told The Canadian Press in January.
"In a Cargill or a JBS or other manufacturing facility in Alberta, there'll be a couple of thousand workers in a big box still working in relative proximity," he said.
Cargill said at the time it was working with health authorities and medical experts to make sure its employees have access to vaccines when they become available, as long as the first priority was for health-care workers.
Some companies are implementing additional incentives: JBS USA said it will offer all its employees a $100 bonus, including those in Brooks, if they get vaccinated in the future.
Why does COVID-19
cause brain fog?
Omar Danoun, M.D.
Henry Ford Health System
April 7, 2021
Many people who have recovered from COVID-19 have reported feeling not like themselves: experiencing short-term memory loss, confusion, an inability to concentrate, and just feeling differently than they did before contracting the infection.
As we've learned from more than a year of dealing with COVID-19, the symptoms and side effects vary from person to person. Because COVID-19 is a respiratory virus, some symptoms, like chest pains and coughing, are to be expected. But others, like brain fog, are more puzzling. Many people who have recovered from COVID-19 have reported feeling not like themselves: experiencing short-term memory loss, confusion, an inability to concentrate, and just feeling differently than they did before contracting the infection.
Here is what we know—and don't yet know—when it comes to brain fog and COVID-19.
Q: Who is most likely to experience brain fog from COVID-19?
A: We aren't sure. We expect some neurological issues in those who are severely sick, who have had a major stroke or a traumatic injury, or who have undergone anesthesia for long periods of time, but people who have mild cases of COVID-19—who don't require hospital visits—are also experiencing neurological side effects from the virus, which is unexpected.
Q: How many people who contract COVID-19 will experience brain fog?
A: At this point, it seems like a third of patients will have some type of neurological illness associated with COVID-19. But this includes a spectrum of issues: memory issues, brain fog, seizures, strokes, and neuropathy (or numbness in the extremities, usually hands and feet). We don't have solid evidence yet that this is the exact percentage of COVID-19 patients who will experience brain fog.
Most of the information we have now deals with patients who have been to the doctor. We don't have a lot of information about people who experience COVID-19 brain fog who haven't seen a doctor. And to understand this better, all types of cases have to be studied—we still have to do large-scale, community-based studies.
Dr. Omar Danoun, M.D., is a neurologist with Henry Ford Health System. He sees patients at Henry Ford Hospital in Detroit and Henry Ford Medical Center in Taylor.
Q: Why does COVID-19 cause neurological symptoms?
A: Preliminary data shows that COVID-19 is neuro-invasive, meaning the virus itself can invade the brain and nearby nerves. Something as simple as loss of smell, which is a symptom of COVID-19, indicates a neuro invasion because the nerves that are responsible for smell are in direct connection with brain.
And we've seen cases of encephalitis, or inflammation of the brain, caused by COVID-19. The virus can induce a large-scale immune response and that immune response can cause a cytokine storm, which is an excessive mobilization of the immune system. It destroys cells and causes damage to other organs like the brain, liver, kidneys and heart.
Q: Could there also be psychological reasons as to why COVID-19 causes neurological issues?
A: Yes. A COVID-19 infection has expectations of being a severe disease, so it's a major traumatic event, especially if a patient needs to stay in the hospital and doesn't have loved ones nearby to comfort them. This is especially so if the patient is intubated or has a near-death experience.
This experience can cause post-traumatic stress disorder (PTSD). The symptoms we see in these COVID-19 patients are similar to those we see in PTSD survivors—they have confusion, memory loss, anxiety or depression.
Q: How long do neurological symptoms from COVID-19 last?
A: Brain fog in COVID-19 is still being studied, but with other critical conditions that affect the brain, we know that a third of people will have complete recovery with no issues. Roughly another third will have lingering effects that improve after therapy and time, and then another third may have permanent effects, especially in cases where the patient has been intubated, has had multiple organ failure or has been under anesthesia for a while.
If someone is going to improve, they should improve within 3 to 6 months after recovering from the infection. If they don't recover within 6 to 12 months, it's likely that they'll be dealing with this life long.
Q: Is it possible to predict how severe someone's case of brain fog from COVID-19 will be?
A: It depends upon someone's brain reserve and the severity of illness. Young people who are in good health have higher brain reserves. A healthy 20- or 30-year-old brain has lots of healthy brain cells that can take over the slack and allow the brain to recover. But a 60- or 70-year-old-brain that has had a previous brain injury (such as a stroke or brain tumor) has lower brain reserves and is more likely to feel long-term neurological effects.
Severity of illness is also important. If you have a mild case, you might have a bit of brain fog and recover, but if you have a severe illness, the chances are higher that you'll have a more permanent outcome.
Q: If someone is experiencing neurological symptoms from COVID-19, what should they do?
A: Recognize and record your symptoms: Write down how severe they are and how they are impacting your life. Bring this list to a doctor who can help diagnose your problem and help you recover with cognitive therapy.
It's also important to treat any underlying psychological illness. Untreated anxiety, depression or PTSD can affect memory function, so if you put COVID-19 into mix, neurological problems can become inflated.
It's also always essential to control blood pressure, diabetes—any other underlying health issues you may have. Avoid smoking and alcohol, eat a healthy diet, get enough rest. All of these things will create a nourishing environment for the brain to recover.
Ford CEO Jim Farley
received $11.8 million in
compensation in 2020
Riley Beggin
The Detroit News
April 3, 2021
Ford Motor Co. CEO Jim Farley received $11.8 million in total compensation in 2020, the automaker reported in a Securities and Exchange Commission filing Thursday.
That's pro-rated to include the time he spent as president of new business, technology and strategy through the end of February, COO through the end of September, and as CEO beginning in October, when he took over for former CEO Jim Hackett. It's up 41% from 2019, when he received $8.4 million in total compensation.
In 2020, Farley received a base salary of $1.4 million and received stock and option awards worth $9.2 million. Farley's total compensation was 191 times what the median employee earned, which Ford reports was $61,778.
Hackett received $16.7 million in total compensation, including $13.6 million in stock and option awards. That's down 4% from the year before, when he received $17.36 million in total compensation.
Farley's compensation pales in comparison with crosstown rival Mary Barra, CEO of General Motors Co. GM hasn't released its 2020 earnings yet, but Barra received $21.6 million in 2019. Former Fiat Chrysler Automobiles NV CEO Mike Manley (now leader of Americas operations for newly-formed Stellantis NV), received $12.46 million in 2019.
Like many other automakers, Ford was forced to shut down production early last year due to the coronavirus pandemic and shifted production temporarily to produce medical equipment and personal protective gear.
Due to the pandemic and changeover to the new model of the F-150 pickup, sales were down 15.6% for the year. However, the company ended 2020 with $30.8 billion in cash and $46.9 billion in liquidity, "both significantly higher than year-end 2019," according to the report.
The report filed Thursday details the pay for Ford's executives in a year of turnover at the top. Chief Financial Officer John Lawler received $6 million in total compensation. Former CFO Tim Stone, who left the company after 18 months to join an artificial intelligence software firm, received $6.2 million in total compensation.
Executive Chairman William Clay Ford Jr. received $16 million in total compensation, down 4% from 2019.
Hau Thai-Tang, chief product platform and operations officer, received $11.8 million in total compensation and Kumar Galhotra, president of the Americas and International Markets Group, made $8.5 million. Thai-Tang received a bonus of $83,500 and Galhotra received a bonus of $69,250.
Ford adds short-term emissions
targets en route to 2050 carbon
neutrality goal
MICHAEL MARTINEZ
Automotive News
Canada
April 1, 2021
DETROIT — Ford Motor Co. on Wednesday announced new, shorter-term sustainability goals as it works to become carbon neutral by 2050.
The automaker said it hopes to cut greenhouse gas emissions from its global operations 76 per cent by 2035, using 2017 figures as a starting point. Ford also hopes to cut the amount of greenhouse gas emissions from its vehicles 50 per cent by 2035, using 2019 numbers as a starter.
Ford also reiterated plans to use 100 per cent locally sourced, renewable electricity at all of its plants by 2035 and eliminate all waste to landfill from it facilities.
The automaker detailed the goals in its annual sustainability report.
"Ford has always been about building a better world, where people have the freedom to move and pursue their dreams," John Lawler, the company's CFO, said in a statement. "Success in sustainability requires a financially healthy business, and financial health depends on effectiveness in sustainability areas. Combining those topics in a single report reflects that, more than ever, investors and other stakeholders want to know not only what you plan to do, but what you're accomplishing and how you're managing risks along the way."
The company has placed an emphasis on reducing emissions for some time. It was among the first automakers in 2019 to break with the Trump administration and back California's more stringent emissions standards, and executives have said consistently it would remain committed to the goals of the Paris climate agreement after the Trump administration withdrew from it.
Last year, according to its report, Ford's average fuel economy in the U.S. ticked up to 29.9 mpg, from 29 mpg in 2019. Ford trucks improved to 28.4 mpg compared with 26.8 mpg last year.
The company expects a slew of new electric vehicles and hybrids will help it reach its goals.
Ford announced earlier this year it would roughly double planned outlays on electrified vehicles to $22 billion (all figures USD) through 2025. Lawler said then that a "majority" of the $22 billion dedicated to EVs would be spent on battery-electric models, although he declined to say how many Ford plans to add to its lineup. The automaker plans to add an E-Transit van late this year in the U.S., and an electric F-150 pickup next year.
In Europe, Ford said earlier this year it will sell only full-electric passenger cars there by 2030 and will invest $1 billion in a new electric vehicle manufacturing center at its factory in Cologne, Germany, as part of the electric-only transformation.
Ford also said last year its facilities around the world sent approximately 17,469 metric tons of waste to landfill, 36 per cent less than in 2019. It wants to reduce absolute freshwater use by 15 per cent by 2035 and says that it's saved more than 12.5 billion gallons of water since 2000.
The sustainability report also detailed the automaker's push to manufacture personal protective equipment amid the coronavirus pandemic, known as Project Apollo.
Ford said that to date, it's made nearly 160 million face masks, more than 20 million face shields, 1.6 million washable isolation gowns, 50,000 patient ventilators partnered with GE Healthcare and more than 32,000 powered air-purifying respirators partnered with 3M. Its philanthropic arm has donated more than $1.13 million to virus-related relief programs.
Ford sets new shorter-term goals
to reduce emissions by 2035
Jordyn Grzelewski
Riley Beggin
The Detroit News
March 31, 2021
As the automotive industry awaits guidance from the Biden administration on key environmental regulations, Ford Motor Co. is detailing some of the targets it aims to meet in its quest to become carbon neutral by 2050.
The Dearborn automaker said it will work to reduce greenhouse gas emissions tied to its operations by 76% by 2035, from a 2017 baseline. It also hopes to reduce emissions tied to its products by 50% per vehicle by 2035, using 2019 levels as a baseline.
The targets — defined and approved by the Science Based Targets initiative, an organization that defines and helps companies achieve climate-related goals — were outlined in Ford's latest sustainability report, released Wednesday.
These targets are in line with a framework deal the automaker reached with California, said Bob Holycross, Ford's vice president of sustainability, environment and safety engineering.
Ford was among a small group of automakers who in 2019 signed on to an agreement with the state to voluntarily increase the average fuel economy of their fleets to about 50 miles per gallon by the end of the 2026 model year.
The issue proved divisive during the Trump presidency, as another camp of automakers — including rival General Motors Co. — sided with the administration on attempts to roll back fuel economy standards and limit California's ability to set its own standards.
Ford's new targets, said Holycross, are "consistent with more reductions than where the current standards have been" and align with the company's pledge in February that it would electrify almost its entire European vehicle lineup by 2030.
"It's consistent with what we've been talking about more broadly with our electrification strategy and the migration of our most iconic nameplates and highest-volume vehicles to electrification over time," said Holycross.
The report comes as the Biden administration is reconsidering greenhouse gas emissions and miles-per-gallon standards. Both were rolled back under former President Donald Trump and are expected to be increased under the new president, who has made fighting climate change a top priority.
How stringent those standards will become remains to be seen. Leading automaker advocacy groups are pushing for a standard between former President Barack Obama's and Trump's — approximately in line with the California levels.
Ford is in a good position given its alignment with California, Holycross said, but the sooner a new guideline is announced, the easier it will be for the industry to adjust.
"I think the challenge is going to be, how do we take care of the short-term issue for the '21 model year through the '26 model year timeframe?" Holycross said. "And then really start to tackle beyond 2026. That means that we need to get this shored up quickly."
However, according to the report, consumer preference continues to shift away from cars and toward trucks. The fuel economy for Ford trucks rose to 28.4 miles per gallon in 2020 from 26.8 mpg in 2019, according to the company. Combined, its car and truck fleet improved from 29 mpg in 2019 to 29.9 mpg. Ford has largely phased sedans out of its North American lineup.
The company reported that, worldwide, carbon dioxide emissions at its facilities were down to 2.96 million metric tons in 2020, from 3.74 million metric tons in 2019. The amount of water it used per vehicle produced increased slightly last year.
The automaker previously announced a goal to power all of its global facilities with renewable energy by 2035. Holycross said several plants in southeast Michigan, including those at the Rouge complex in Dearborn and Michigan Assembly Plant in Wayne, now operate entirely on renewable electricity from wind power.
And earlier this year, the company announced investments aimed at shifting operations in South Africa and Europe to renewable energy sources.
He said the automaker continues to evaluate how it can bring about cleaner environmental practices further down the automotive supply chain, as well, by coordinating with its suppliers.
Ford announced earlier this year that it was increasing its investments in EV development to $22 billion through 2025. It rolled out its first battery-electric vehicle, the Mustang Mach-E, at the end of 2020 and has battery-electric versions of the F-150 pickup truck and Transit van coming next year.
But there are other ways the Blue Oval is looking to cut back on vehicle emissions, Holycross said, including making gas-powered and hybrid vehicles more fuel-efficient.
The company has launched hybrid versions of the F-150 and its Explorer SUV. Finding ways to reduce the weight of vehicles, such as by shifting several years ago to an aluminum-bodied F-150, is another method.
"What we're able to do with these hybrid products, as we continue to make the transformation to fully electric, is demonstrate to customers that we're going to be able to deliver these carbon emission improvements, while at the same time not compromising on the functionality and other attributes that customers continue to demand," said Holycross.
The company also detailed changes to its staffing and diversity practices, including making its staffing diversity data available for the first time.
A quarter of all employees are female and 34% are members of "minority groups," including 23% Black employees, 5% Asian employees, and 4% Hispanic or Latino employees. Six of the company's 37 corporate officers are women and seven identify as members of minority groups.
The sustainability report for the first time was combined with the automaker's annual financial report, a move Holycross said reflects a push from investors for companies to show that these efforts span their entire business. Customers, too, increasingly want to know that companies are in line with them on social and environmental issues, he said.
"External stakeholders, especially within the investment community, are really looking to understand what companies are doing beyond just having aspirational goals ... to reduce emissions and address the urgency of climate change," he said.
"We're committed to continuing to not only talk about aspirations and goals, but really tie this to actions and advocacy, and we think that's something that will resonate with our customers as well."
Despite corruption scandal
and pandemic, UAW
membership steady
Breana Noble
The Detroit News
March 30, 2021
The United Auto Workers' membership decreased less than 2,000 people year-over-year by the end of 2020, according to the union, despite a racketeering scandal that has led to government oversight of the union and the COVID-19 pandemic that took many workers off payrolls deep into the year.
Average membership fell less than 1% to 397,073 in 2020, according to the UAW, which says it will file its annual paperwork with the U.S. Labor Department later this week after an audit. The numbers are reflective of members who by Dec. 31 paid dues, which typically are deducted from their paychecks. Certain members like those working for Detroit's casinos that reopened with limited capacity just before the new year may not have had a pay cycle in time, UAW spokesman Brian Rothenberg said.
Despite the decline in membership, net income increased more than 10% to $12.7 million thanks to investment earnings, and the union replenished its strike fund with a 7% increase to $790 million after a 40-day national strike at General Motors Co. during contract talks in 2019.
"The UAW managed a very difficult pandemic year reporting steady membership numbers and weathering pandemic shutdowns," UAW President Rory Gamble said in a statement. "We believe actual membership is higher when you account for members who were still sidelined during the pandemic in December and the timing of payroll and dues remitted by our local unions around the holiday shutdown."
The Detroit Free Press first reported the results. The UAW had 398,829 members in 2019.
Some businesses also have hired. Fiat Chrysler Automobiles NV, now Stellantis NV, is in the process of hiring thousands of UAW-represented workers after investing into some of its plants in Metro Detroit, including the new $1.6 billion Mack Assembly Plant on Detroit's east side.
"They're a middleman in between you and your supervisor," said Bernard Callaway, who was hired last year as a temporary worker at the Sterling Heights Assembly Plant making Ram trucks and is now a part of the team readying for the launch of the Jeep Grand Cherokee L at Mack. His previous manufacturing job, he said, didn't have an advocate the UAW now offers.
"They're meant to tell you about your contract and answer all your contract questions. They fight really hard for you, because we do pay their dues."
FCA agreed to hire first from Detroiters for the plant, and Callaway is one of the beneficiaries of the agreement.
In late January, a federal court approved a consent decree announced in December that puts the beleaguered union under a federal monitor for six years and will allow members to vote on whether to amend their constitution to directly elect leaders.
It aims to eliminate fraud and wrongdoing within one of the nation's most influential unions following a years-long crackdown on corrupt labor leaders. The investigation resulted in 15 convictions of UAW and FCA officials, including former UAW presidents Gary Jones and Dennis Williams.
The investigation revealed labor leaders and auto executives broke federal labor laws, stole union funds and received bribes and illegal benefits from union contractors and FCA executives. The money was found to have been used for personal luxuries on trips for training and conferences in places like Palm Springs, California. FCA separately pleaded guilty in March for violating the Labor Management Relations Act, agreeing to pay $30 million and be subject to three years of federal oversight in its labor relations.
"There still is a significant level of confidence in the UAW as an organization, and there's been very few de-certification votes," said Art Wheaton, an automotive industry specialist at Cornell University's Industrial and Labor Relations School. "There has been no mass exodus of union locals or members. I don't think the scandal hurt them in terms of membership numbers. It hurt them in their public reputation."
The union has implemented a number of measures in response to the discoveries, including monetary controls and audits.
The COVID-19 pandemic also curbed spending costs, including for travel, Rothenberg said. They were $3 million less in 2020 than in 2019, and meeting expenses were $1.5 million less. Total figures were not available.
The UAW did send about 500 members in February 2020 to Washington, D.C., to meet with policymakers for its annual political outreach conference. The union implemented a travel ban in early March as the COVID-19 situation worsened, and all travel done after that was considered essential, Rothenberg said.
Secretary-Treasurer Ray Curry in a statement said investments in technology helped to make up for the challenges by the inability to travel.
"The bottom line is that the UAW ended the year balanced with modest growth and the strike fund continued to grow at a healthy pace," he said. "In addition, with our new stringent internal and external auditing, members can be assured that these numbers reflect the solid way in which the union has handled such a challenging year."
Peel residents aged 70+ booking
COVID-19 vaccine through limited
appointments at hospital clinics
Sabrina Gamrot
Caledon Enterprise
March 28, 2021
As Peel Region continues to vaccinate priority populations against the COVID-19 virus, a new group of residents is now eligible to receive shots.
As of March 25, residents aged 70 and older can now book appointments through Osler Health Systems and Trillium Health Partners.
There are a number of limited vaccine appointments and the shots will be administered at either hospital clinic.
Appointments at William Osler can be booked online through their portal or by phone at 905-494-6685, from 8 a.m. to 6 p.m., seven days a week.
To book online, residents will need to register for a MyOsler account before selecting an appointment time.
Trillium Health appointments can also be made online at trilliumhealthpartners.ca.
Trillium offers two hospital clinic sites at the University of Toronto Mississauga campus and at the Mississauga Hospital.
Peel Region cannot determine in advance which type of vaccine will be administered through these limited appointments; however, residents will be updated once their appointment arrives.
Proof of age and residency are required with every vaccination appointment and can include your OHIP card, driver's licence or passport among others.
All other eligible groups, including residents aged 75-plus, Indigenous adults and health-care workers, can continue to book at all clinic locations.
Residents are asked to wait in their vehicle until 10 minutes before their appointment, to help limit overcrowding.
Residents without internet access can be assisted through the region's COVID-19 vaccination line at 905-791-5202.


Ford receives 125K Bronco orders,
but some customers may be
waiting longer than expected
Jordyn Grzelewski
The Detroit News
March 26, 2021
Some 125,000 customers have placed orders for Ford Motor Co.'s highly-anticipated Bronco SUV, the automaker reported Thursday — but some will be waiting longer than expected for their vehicle to arrive.
Ford reached out to customers and dealers Thursday to report that an issue sourcing certain roofs that are options on the Bronco will last longer than initially anticipated, meaning customers who ordered those roofs will have to wait until 2022 for their Bronco.
The more than 125,000 orders Ford has received for the Bronco represents about two-thirds of the approximately 190,000 reservations prospective customers in the U.S. and Canada made since reservations opened in July 2020.
Comparison lineup of the three different tops available on Ford Motor Co.'s forthcoming full-size Bronco SUV. The Modular Painted Hardtop will be available in the 2022 model year.
"The demand ... has just been overwhelming," said Mark Grueber, Ford's consumer marketing manager. "We're very excited and pleased with the conversion rate and very humbled in terms of the demand that's out there. So, now we're just focused on trying to get these customers their Broncos as soon as possible."
Production of the full-size Bronco, which comes in two- and four-door variants, is slated to ramp up at Michigan Assembly Plant in Wayne in the coming weeks. Ford officials say the vehicle is on track to start arriving on dealer lots in June.
Now that Ford has completed the initial conversion of reservations, it has the specifications from each customer who placed an order. The automaker continues to take reservations, and encourages customers to visit its website to make one, since a reservation generates a time stamp that guides the order in which vehicles are made and delivered.
Ford reports that, from orders received so far, customers seem to prefer some of the higher-end options available on Bronco. About 70% of orders were for higher-price trim levels, said Grueber.
To support production of the orders it's received to date, Ford said it is increasing its investments with suppliers and coordinating closely with them to ensure the necessary parts are available.
As for the roof supply, Ford had previously said that orders for vehicles with either the painted modular roof or a dual-top roof would be delayed until late 2021 due to a supplier experiencing pandemic-related issues. Now Ford says those vehicles will not arrive until sometime in 2022.
To compensate customers for the longer wait, Ford is offering several perks depending on a customer's specific order. Customers facing the roof-related delay, for example, will be offered 200,000 Ford Pass reward points (which according to Ford equates to about $1,000 in value) that they can redeem on service work or to buy accessories for their vehicle. The company also announced a price protection program that guarantees customers their price will not increase if they have to wait until 2022.
"It's really just to thank them, because we know they all want to get that Bronco now and take it outdoors, but the wait is a little bit longer than we would like and we just want to thank them again for their loyalty and patience on this," said Grueber.
Because Bronco's launch was pushed from the spring to the summer, the automaker had previously said the 2021 model year would be abbreviated, with some Broncos arriving in 2022.
"The reason the wait is potentially until 2022 is because this first model year is a real short model year," said Grueber. "It's only seven months, and with 125,000 units, we're going to build all the orders, but some of them unfortunately are going to have to wait until 2022."
Ford does not yet know how many deliveries will be delayed until 2022. Michigan Assembly Plant will fulfill as many existing orders this year as possible, officials said. Customers will be notified no later than May on what their expected delivery window is.
Meanwhile, demand for the Bronco — an iconic vehicle that was in production for 30 years before being discontinued in 1996 — has been so strong that Ford is already looking at potentially expanding production, Grueber said: "We're actively evaluating just how to increase the total production for Bronco in Michigan Assembly Plant."
Ford previously said that customers who have to wait until 2022 can expect new roof options, exterior paint colors and other new features on the vehicle.
The automaker launched Bronco's smaller sibling, the Mexico-built Bronco Sport, at the end of last year.
The reintroduction of the Bronco is a key piece of an ongoing, significant refresh of Ford's vehicle lineup. The Blue Oval recently launched a redesigned version of its flagship F-150 pickup truck as well as its first battery-electric vehicle, the Mustang Mach-E. Meanwhile, electric versions of the F-150 and Transit commercial van are slated to roll out next year.
Ford to build some F-150 trucks
without certain parts due
to global chip shortage
March 25, 2021
Ford said Thursday that some Ford F-150 pickup trucks and Edge crossovers will be built without certain electronic modules due to a twofold punch of a global semiconductor shortage and a lack of parts caused by a winter storm.
Ford said it will build and hold the vehicles for a number of weeks, then ship the vehicles to dealers once the modules are available and comprehensive quality checks are complete. The automaker also said it is canceling shifts tonight and Friday at its Louisville Assembly Plant because of the semiconductor-related part shortage. Ford said production of the Escape and Lincoln Corsair is expected to resume Monday on short shifts, with full production scheduled to resume Tuesday.
Ford isn't alone in its decision to build vehicles without certain parts as the global chip shortage drags on. GM said earlier this week that certain pickup trucks would be produced without a fuel management module, a device that will prevent these vehicles from achieving top fuel economy performance.
Both Ford and GM have previously issued guidance that the chip shortage will impact its financial results in 2021. Ford has said that if the semiconductor shortage scenario is extended through the first half of 2021, the shortage could lower its earnings between $1 billion and $2.5 billion, net of cost recoveries and some production make-up in the second half of the year. GM said in February that the global shortage of semiconductors will have a short-term impact on its production, earnings and cash flow in 2021.


Ford touts commitment to U.S.
production and workers
Jordyn Grzelewski
The Detroit News
March 24, 2021
Ford Motor Co., citing data released Friday showing it made nearly 200,000 more vehicles in the U.S. than any other automaker in 2020, is touting its commitment to domestic vehicle production and to U.S. workers.
The Dearborn automaker cited data from IHS Markit, a research and analytics firm that tracks the automotive industry, affirming Ford's status as the top employer of U.S. autoworkers and leading manufacturer of U.S.-built vehicles.
The release follows criticism from the United Auto Workers questioning Ford's commitment to an assembly plant in northeast Ohio. As for the timing on the heels of the UAW dust-up, Ford officials noted the data is put out annually around this time and said the company remains "committed" to Ohio.
More than 82% of Ford vehicle sold in the U.S. in 2020 were assembled in the U.S., according to IHS Markit data. That's up from 75% in 2019. It's also a higher percentage than any other automaker, according to IHS.
The Dearborn automaker assembled 1.7 million vehicles in the U.S. last year, 188,000 units more than any of its competitors. IHS Markit confirmed the accuracy of the data shared by Ford, but declined to share similar data on competing automakers.
Meanwhile, Ford reported based on the data that it exported more than 280,000 U.S.-made vehicles to foreign markets and said that one in every six vehicles it assembles in the U.S. is exported.
Ford also frequently touts its status as the largest employer of UAW members, with more than 50,000 hourly autoworkers on its payroll.
The company also highighted its commitment to invest $6 billion in its U.S. plants and create or retain 8,500 hourly jobs in the country as part of its current four-year contract with the UAW, which was ratified in 2019. To date, Ford has announced $2 billion worth of investments in the U.S. that would add about 3,000 hourly jobs and retain hundreds more.
About 2,100 of those positions are in place at Ford's Michigan Assembly Plant in Wayne, which builds the Ranger pickup and is slated to launch production of the new Bronco SUV this summer. Ford has invested about $750 million there.
Meanwhile, the automaker last year announced a $700 million investment at its historic Rouge complex in Dearborn to support production of the 2021 F-150 and the forthcoming battery-electric version of the best-selling truck. The automaker is building an electric vehicle manufacturing facility at the site, which will create about 500 jobs.
And a $150 million investment is planned for Ford's Van Dyke Transmission Plant in Sterling Heights to add production of e-motors and e-transaxles for future electric vehicles, including the electric F-150. That investment will help retain about 225 jobs, according to the automaker.
Kansas City Assembly Plant in Missouri received more than $400 million and added 150 jobs tied to the 2021 F-150 and the forthcoming electric version of the automaker's Transit cargo van.
"Clearly the data show how committed we are to American manufacturing," said Kumar Galhotra, president of the Americas and International Markets Group for Ford. Noting the $6 billion commitment in the Ford-UAW contract, he said the automaker is "on track to deliver on all of that."
As for Ohio, Galhotra said: "We remain committed to Ohio, and we remain committed to our commitment to the UAW, the $6 billion and creating or retaining 8,500 jobs."
"Overall," he added, "I feel we have an excellent relationship with the UAW and continue to work with them."
The criticism surrounds plans for Ford's Ohio Assembly Plant in Avon Lake, a northeast Ohio city outside of Cleveland. In a March 12 letter, Gerald Kariem, a UAW vice president and head of the union's Ford department, blasted Ford for reneging on a commitment to invest $900 million in the plant and for moving production of a new, still-unnamed electric vehicle to Mexico.
"Unfortunately, Ford Motor Company has decided it will not honor its promise to add a new product to OHAP and, instead, it intends to build the next-generation vehicle in Mexico," Kariem wrote in the letter to UAW Local 2000. "We 100% reject the company's decision to put corporate greed and more potential profits over American jobs and the future of our members. We expect the company to honor its contractual commitments to this membership and when it fails to do so we will take action."
The tension in part reflects anxiety about union-represented manufacturing jobs in northeast Ohio, which two years ago suffered the blow of General Motors Co. shuttering its Lordstown Assembly plant near Youngstown. The issue has caught the attention of elected officials, including U.S. Sen. Sherrod Brown, a Cleveland Democrat.
Meanwhile, Ford responded to the UAW criticism by noting that it has invested more than $185 million and created or retained more than 100 jobs at Ohio Assembly Plant since 2019 to support expanded production of the Super Duty F-Series trucks that are made there.
"The Super Duty demand has been incredibly high," Galhotra said Friday. "So, we needed to increase capacity on Super Duty, and the most obvious way to do it is by increasing capacity in Ohio. ... Our manufacturing footprint decisions are driven by consumer needs in the marketplace — so that was what we needed to do in Ohio."
Ford looks to its electric
future, sees even more
Mach-E-like crossovers
Matthew Guy
March 23, 2021
It's no surprise every major car company has a thick folio of upcoming all-electric vehicles. According to the crew at Ford Authority , at least two forthcoming EVs out of Dearborn will be mid-size crossovers.
If all goes as planned, the vehicles are expected to enter production late next year or early 2023, hitting dealer lots for the 2023 model year. Sizing will be roughly equivalent to that of the current Edge. You can bet one of these new twins will wear a Ford badge; the other, a Lincoln.
For those keeping track, that'll potentially make for five all-electric vehicles in Blue Oval showrooms as the model year flips into 2023. We've already the love-the-name-or-hate-it Mustang Mach-E and the E-Transit, plus it is all but confirmed the forthcoming electric F-150 will be on the market by that time as well.
graphical user interface, text, application: Ford's all-electric F-150 due out in 2022, will be its most powerful truck to date© Provided by Driving.ca Ford's all-electric F-150 due out in 2022, will be its most powerful truck to date
Ford's all-electric F-150 due out in 2022, will be its most powerful truck to date
In the first full month of Mustang Mach-E sales south of the border, a total of 3,739 vehicles found new homes after sitting on dealer lots for an average of just four days. Tellingly, nearly 70 per cent of Mach-E buyers are from competitive brands and just over one-fifth were sold in sunny California.
At a corporate governance event in February, spox from Ford reiterated their company's intent to offer "compelling, uniquely Ford fully electric vehicles at scale" in areas of strength including "Transit, F-Series, Mustang, SUVs, and Lincoln". The seemingly throwaway phrase at scale is anything but; it signifies the Blue Oval is intent on making a serious push with their EVs in these markets, not just producing a token number for compliance reasons.
Ford says they plan on investing about $22 billion in electrification through 2025, including the roughly $7 billion already plowed into such projects up to the end of last year.
Major automakers experiencing sharp share-price gains after embracing new technology
By William Boston
The Wall Street Journal
March 19, 2021
BERLIN — Investors are piling into a long-neglected sector: old-school car makers that are reinventing themselves as electric-vehicle producers
After years lamenting that their shares were undervalued, Ford Motor Co., General Motors Co., Volkswagen AG and other blue-chip car manufacturers are experiencing sharp share-price gains this year as they embrace the new technology.
Ford is up 42% so far this year, while GM's shares have also surged 42%. VW's stock is up 46% and even briefly rose 29% in intraday trading one day this week when the company held a "Power Day" event, saying it would build six EV battery factories in Europe alone over the next 10 years. VW has this week also pushed ahead of SAP SE to become the most valuable stock on the German DAX index.
By comparison, the S&P 500 index is up just 4.2% so far this year.
The new infatuation with established auto makers, many of which have been in business for more than a century, follows an earlier rush into electric-vehicle stocks that has driven shares of Tesla Inc. and other electric-vehicle and battery manufacturers into territory that some analysts say is reminiscent of the dot-com bubble of the 1990s.
Conventional auto makers have long stewed in the shadow of Tesla, whose market capitalization remains twice that of VW, GM and Ford combined. But as the incumbents deepen their commitment to electric cars, they are beginning to persuade investors that they are serious about turning away from fossil fuels and embracing green technology.
As a result of greater investor confidence in the EV plans of conventional auto makers, industry analysts say those companies' shares are undergoing a fundamental repricing. Meanwhile, Tesla's shares have fallen about 7% this year and some analysts are wondering whether the resurrection of Big Auto rings in a new era: Peak Tesla.
As traditional car makers make deeper inroads into their electric niches, Tesla and other relative newcomers will find it harder to justify their high valuations, said Michael Muders, a senior fund manager with Union Investment. "What we're seeing…is a re-evaluation of the traditional manufacturers by the financial markets."
Tesla didn't immediately respond to requests for comment.
Investors began reconsidering their conventional wisdom—that legacy car makers would be out of business in 10 years—after VW, Ford, GM and others made clear that they weren't just building new models but transforming their businesses.
GM recently won praise from investors when it said it would stop selling gasoline-powered cars by 2035 and accelerated plans to produce EVs and batteries. VW has converted several factories into dedicated EV plants and its six newly announced battery factories in Europe would be enough to power nearly four million new EVs a year, analysts said.
Also driving enthusiasm are figures over the past few months suggesting cars and trucks powered by internal-combustion engines remain profitable enough despite the ravages of the pandemic to fund large investments in electric vehicles and still pay dividends.
"I really would like to emphasize that the [combustion-engine] cars are cash machines," Daimler AG finance chief Harald Wilhelm told reporters last month reporting last year's earnings. "Cash machines will build the bridge into an [electric] future."
Mr. Wilhelm rejected a long-held assumption among industry analysts that electric vehicles would always generate lower margins than conventional vehicles. He said Daimler was working hard to bring down their costs and boost their profitability.
Daimler shares are up 29% this year.
Not all traditional car makers have benefited, however. A survey of investors by Bernstein Research, a brokerage firm, showed that 75% of respondents said a clear message and cogent EV strategy was very important or critical in making their investment decisions.
"The substantial positive market reaction to GM's presentation on its EV and software plans serves as a good example how much perception matters to institutional and retail investors nowadays," Arndt Ellinghorst, a Bernstein analyst, wrote in a note to clients.
That explains the surge in VW shares after it laid out in more detail than before how it plans to catch up with Tesla and become a dominant competitor in the global EV market. Other beneficiaries of the trend include Mitsubishi Motors Corp. , whose shares have risen about 45% this year, and Hyundai Motor Co., up 22%.
Just as quickly as traditional auto makers have won the love of global investors they could easily lose it again if they fail to deliver on the lofty promises of building and selling millions of EVs at a profit comparable to their current business with gas-guzzlers, analysts warn.
Proving the point, those auto makers with a looser commitment to EVs have lagged behind those that are pushing aggressively into EVs. Toyota Motor Co. , the world's biggest auto maker by sales, has relied on its hybrid vehicle technology to meet emissions regulations around the world. Its shares have risen nearly 9% so far this year.
BMW AG was one of the first conventional auto makers to develop an electric vehicle and bring it to market, launching the i3 city car in 2013. But after lackluster success, it pulled back on EVs for several years.
While VW has created a standard technology platform for its range of EVs, BMW has relied largely on converting traditional models to EVs and building plug-in hybrids. Oliver Zipse, the company's chief executive, said Wednesday that BMW would accelerate its EV plans, but wouldn't commit itself entirely to battery electric vehicles.
"We can assume that in every market a certain technology will become dominant," Mr. Zipse said. "It becomes expensive when you bet too early on one solution."
BMW shares are up about 19% so far this year, outpacing the broader market on the back of strong earnings during the pandemic, but lagging behind German rivals VW and Daimler.
Ford asks Congress for tax
incentives to support
electric vehicle development
Riley Beggin
The Detroit News
March 18, 2021
Washington — Leaders at Ford Motor Co. urged Congress Tuesday to increase tax incentives and other federal funding for electric vehicle technology.
Additional federal help will be critical as the U.S. auto industry faces ongoing competition with Europe and China for the future EV market, said Jonathan Jennings, vice president for Global Commodity Purchasing and Supplier Technical Assistance at Ford.
His comments came as part of a Senate Finance Committee hearing on how the U.S. tax code can be improved to aid American manufacturing. The other witnesses — including National Association of Manufacturers CEO Jay Timmons, MIT professor Michelle Hanlon, United Steelworkers District Director Donnie Blatt and Intel Corp. CFO George Davis — also urged low corporate taxes and incentives to discourage outsourcing.
The global shortage of semiconductor chips has sidelined production at auto plants around the country and illustrated the frailty of the supply chain, Jennings said. And competitors like China maintain dominance over crucial EV components such as lithium-ion batteries.
"In short, we must collectively do more to protect the future of manufacturing in America," he told the Senate Finance Committee. "Together, public and private support of electrification will ensure America not only competes as a leader globally, but wins. This is particularly important as Europe and China are already moving forward with robust electric vehicle adoption strategies and policies."
The testimony also comes as a United Auto Workers vice president is accusing the Dearborn automaker of shirking its commitment to add a new product to its Ohio Assembly Plant in Avon Lake, instead moving the electric vehicle to its Cuautitlan site in Mexico.
Asked by Sen. Sherrod Brown, D-Ohio, why the company decided "to turn its back on a community," Jennings said the company is looking to "increase the capacity that that facility provides from a super duty truck perspective" and invest more in the plant, but "as we continue to look at other activities for other programs, we will be looking outside of Ohio."
President Joe Biden has proposed increasing tax credits for companies creating manufacturing jobs in the U.S. and increasing federal incentives for research and development, both of which would be boons to American automakers, Jennings said.
But Biden also has proposed raising income taxes on people who make more than $400,000 per year and increasing capital gains, payroll and corporate income taxes. The Tax Foundation, a nonprofit tax research group, found his plan would raise around $3.3 trillion over the next decade but reduce U.S. GDP by around 1.62% in the long term.
Republicans on the committee repeatedly raised concerns about these tax increases, and Hanlon of MIT called the corporate income tax "the most harmful taxation for economic growth because it discourages job creation and investment."
However, both Republican and Democratic members expressed interest in supporting research and development and incentives to bring highly-needed resources into the U.S.
"The U.S. is a global clean energy country that is in a race right now. We know $100 billion has been put in that race by China for electrification," Michigan Sen. Debbie Stabenow, D-Lansing, said. But she added there are layoffs in Michigan right now because of the shortage of semiconductor chips, and a potential crunch on battery availability may be imminent.
"There's no reason we can't have those things made in America."
Sales of electric vehicles have taken off in China and Europe while they remain less than 2% of sales in the U.S. And China is home to 73% of the world's lithium ion battery manufacturing capacity and the U.S., in second place, has around 12% capacity, according to a 2019 analysis by Bloomberg.
"This is simply unacceptable," Jennings said.
Last month, the U.S. International Trade Commission prohibited the majority of U.S. imports of batteries from Korean company SK Innovation for the next ten years for stealing trade secrets from rival LG Chem. The order will go into effect in mid-April unless Biden intervenes and reverses the decision.
Jennings told the committee that Ford will have to "look to foreign suppliers" to fulfill requirements by the United States-Mexico-Canada Agreement due to the decision because there isn't adequate battery supply available in the U.S.
"That's why we really feel it's critical for us to have a more competitive position within the U.S. footprint," he said. "What we've consistently stated is we encourage the Korean government to work with these two companies to resolve this before the 60-day USTR timeline. They need to come to an amicable agreement."
Union seeks vote of 87 workers
at Nissan Tennessee plant
Jonathan Mattise
Associated Press
March 16, 2021
Nashville, Tenn. – A union wants to hold a vote for representation of fewer than 100 workers out of thousands at the Nissan vehicle assembly plant in Tennessee, a move the company opposes because the effort doesn't stretch more broadly across the facility's workforce.
The International Association of Machinists and Aerospace Workers says an overwhelming majority of the 87 tool and die maintenance technicians at Nissan's plant in Smyrna, about 25 miles (40 kilometers) southeast of Nashville, have signaled their support for unionization. The effort marks the latest foray in the uphill fight for unions to gain traction at foreign-owned auto assembly plants in the traditionally anti-union South.
Whether or not a vote can be held hinges on ongoing arguments in front of the National Labor Relations Board.
An attorney for Nissan argued that the employees are not sufficiently distinct from other plant workers during a virtual hearing Friday, reasoning that any unionization vote would need to extend to about 4,300 production and maintenance employees. An attorney for the union contended that the 87 employees have extremely specialized skills for a job that others at the plant cannot do, making them eligible for their own standalone union representation.
Nissan does work with organized labor in the rest of the world, but votes to unionize broadly at the U.S. two plants have not been close. Workers in Smyrna rejected a plantwide union under the United Auto Workers in 2001 and 1989. The Japan-based automaker's other U.S. assembly plant in Canton, Mississippi, rejected facilitywide representation by the UAW during a 2017 vote.
"Our history reflects that Nissan respects the right of employees to determine who should represent their interests in the workplace," Nissan Smyrna spokesperson Lloryn Love-Carter said. "Nissan employees have a very long history of self-representation and voting no to unions."
The margin was much closer in 2019 and 2014 votes at the Volkswagen plant in Chattanooga, Tennessee, where workers twice rejected a factorywide union under the UAW.
The year after the 2014 vote failed, a group of 160 Chattanooga maintenance workers won a vote to form a smaller union, but Volkswagen refused to bargain. The German automaker had argued the bargaining unit needed to include production workers as well. The dust-up led to the 2019 factorywide vote.
Unions also have run into opposition from Republican politicians when they attempt to organize at foreign automakers in the South. Before the 2019 Volkswagen vote, Republican Gov. Bill Lee told employees there in a closed-door meeting that he believes "when I have a direct relationship with you, the worker, and you're working for me, that is when the environment works the best."
During the 2014 Volkswagen election, then-U.S. Sen. Bob Corker waited until voting had actually started when he all but guaranteed that the company would announce within two weeks of a union rejection that it would build a new midsized sport utility vehicle at its only U.S. factory, instead of sending the work to Mexico.
At the Nissan plant this time around, the machinists union says workers have cited numerous workplace concerns, from forced overtime to increased health care costs. Laura Ewan, an attorney representing the union, said the workers were excluded from a buyout offer to plant employees in general because of issues hiring people for the specialized jobs.
"A union contract will ensure fair wages, benefits, working conditions and the ability to retire with dignity," said lead campaign organizer Tim Wright, machinists union Grand Lodge representative.
Tennessee does have a big union presence at an American automaker. The General Motors plant in Spring Hill has about 3,000 production and skilled trades workers represented by UAW.
The machinists union represents about 47,000 tool and die makers and 3,000 automotive manufacturing workers at companies that includes Ford, Penske Truck, Hyundai and Chevrolet.
Ford recalling 275,000 vehicles
in Canada over airbag
deficiencies and tires
The Canadian Press
March 14, 2021
DEARBORN, Mich. — Ford Motor Co. has issued two safety recalls involving more than 2.6 million vehicles in North America, including nearly 275,000 in Canada, mainly over airbag problems.
One recall involves Takata driver-side front airbags for 2006-12 Ford Fusion, 2007-10 Ford Edge, 2007-11 Ford Ranger, 2006-11 Mercury Milan, 2006-12 Lincoln Zephyr/MKZ and 2007-10 Lincoln MKX vehicles.
The airbags contain a calcium sulphate absorbing propellant that may degrade after long exposure to high humidity and temperatures and could cause a rupture during deployment.
While the condition could result in injury or death, Ford says it is not aware of any ruptures.
Ford says these airbags contain moisture-absorbing desiccant and perform differently than previously recalled Takata parts.
The automaker says it doesn't believe the recall is warranted but the U.S. National Highway Traffic Administration in January denied Ford's 2017 petition.
The second recall involves 19 tires from Continental Tire of America that may be cured beyond specification. Affected tires can experience sudden air loss or tread loss from a break in the side wall.
The recall affects 15,769 vehicles in the U.S., 3,082 in Canada and 138 in Mexico, including select 2018-20 Ford F-250 and F-350, 2018 F-150 and 2019 Ford Escape vehicles.
Traffic deaths spike even as
pandemic cuts miles traveled
Tom Krisher
Associated Press
March 11, 2021
Detroit – Pandemic lockdowns and stay-at-home orders kept many drivers off U.S. roads and highways last year. But those who did venture out found open lanes that only invited reckless driving, leading to a sharp increase in traffic-crash deaths across the country.
The nonprofit National Safety Council estimates in a report issued Thursday that 42,060 people died in vehicle crashes in 2020, an 8% increase over 2019 and the first jump in four years.
Plus, the fatality rate per 100 million miles driven spiked 24%, the largest annual percentage increase since the council began collecting data in 1923.
And even though traffic is now getting close to pre-coronavirus levels, the bad behavior on the roads is continuing, authorities say.
"It's kind of terrifying what were seeing on our roads," said Michael Hanson, director of the Minnesota Public Safety Department's Office of Traffic Safety. "We're seeing a huge increase in the amount of risk-taking behavior."
Last year's deaths were the most since 2007 when 43,945 people were killed in vehicle crashes. In addition, the safety council estimates that 4.8 million people were injured in crashes last year.
Federal data shows that Americans drove 13% fewer miles last year, or roughly 2.8 trillion miles, said Ken Kolosh, the safety council's manager of statistics. Yet the number of deaths rose at an alarming rate, he said.
"The pandemic appears to be taking our eyes off the ball when it comes to traffic safety," Kolosh said.
Of the reckless behaviors, early data from the National Highway Traffic Safety Administration show speed to be the top factor, Kolosh said. Also, tests of trauma center patients involved in traffic crashes show increased use of alcohol, marijuana and opiods, he said.
In Minnesota, traffic volumes fell 60% when stay-home orders were issued early in the pandemic last spring. Hanson said state officials expected a corresponding drop in crashes and deaths, but while crashes declined, deaths increased.
"Almost immediately the fatality rate started to go up, and go up significantly," Hanson said, adding that his counterparts in other states saw similar increases. "It created less congestion and a lot more lane space for divers to use, and quite honestly, to abuse out there."
In late March and early April, the number of speed-related fatalities more than doubled over the same period in 2019 in the state, Hanson said. Last year, Minnesota recorded 395 traffic deaths, up nearly 9% from 364 in 2019.
Drivers also used the empty roads to drive extreme speeds. In 2019, the Minnesota State Patrol's 600 troopers handed out tickets to just over 500 drivers for going over 100 mph (160 kph). That number rose to 1,068 in 2020, Hanson said.
Traveling over 100 mph makes crashes far more severe, the safety council said.
The high number of speeding drivers is continuing even as traffic is starting to return to pre-pandemic levels, according to Hanson.
The safety council is calling for equitable enforcement of traffic laws, infrastructure improvements, mandatory ignition switch locks for convicted drunken drivers, reducing speed limits to match roadway designs, and laws banning cellphone use while driving, among other recommendations to stem the deaths.
The council collects fatal crash data from states on public and private roads. The numbers released on Thursday are preliminary, but every year are only slightly different from the final numbers, Kolosh said.
Ford delays 4,500 Mustang
Mach-E deliveries
Jordyn Grzelewski
The Detroit News
March 10, 2021
Motor Co. confirmed Wednesday that buyers of some 4,500 Mustang Mach-Es —the Blue Oval's highly touted new electric vehicle — will face delivery delays.
That's a higher number than the hundreds of impacted vehicles the automaker had previously said would be delivered late. Meanwhile, Ford said Wednesday that it will compensate some buyers of the all-new, battery-electric SUV due to the delays.
In a statement, Ford spokeswoman Emma Berg said the company will provide $1,000 toward the purchase of a Mach-E for approximately 150 customers "who have experienced more than one delay due to quality checks." The company initially said the offer applied to 250 customers, but revised its statement after this story was published.
The automaker also said it would provide an additional 250 kilowatt hours of free charging via its FordPass Charging Network in response to the delay. That's double the amount of free charging owners typically would receive. That offer applies to the 4,500 customers who have experienced delays, including about 1,500 who have already received their Mach-E, Ford said.
The automaker has not specified what issue is causing the delivery delays, except to say that additional quality checks are being performed.
In an email posted in an online forum for Mach-E owners, Andrew Frick, Ford's vice president of sales for the U.S. and Canada, noted that the automaker has had "challenges ... in meeting demand and delivery timing for the Mustang Mach-E."
"We continue to build and ship vehicles every day, but we're doing so with a meticulous attention to detail and dedication to quality. Your vehicle timing was impacted by more than one of these quality checks," he wrote.
The news comes as the automaker on Wednesday reported its sales numbers for the month of February — the first full month reflecting sales of the Mach-E, which launched at the end of last year. The automaker sold 3,739 Mach-Es last month, according to the report.
The Mach-E has garnered positive attention from owners, critics and Wall Street analysts alike, earning Ford comparisons to EV heavyweight Tesla Inc. In January, the Mach-E took home the title of Utility of the Year from the the North American Car, Truck and Utility Vehicle of the Year awards.
News of the extended delays also comes amid other recent challenges for the Blue Oval, including an ongoing shortage of microchips that are essential components in vehicles, a winter storm that hampered production in February, and some quality issues with the redesigned 2021 F-150 and new Bronco Sport SUV that have required recalls.
Republicans invoke UAW scandal
in opposing pro-union legislation
Riley Beggin
The Detroit News
March 9, 2021
Washington — Legislation that would dramatically change U.S. labor laws is on a fast track for a vote in the House later this week.
During a Monday hearing on the Protecting the Right to Organize Act, Democrats argued the bill is a long-overdue update that would even the scales in collective bargaining, which they say is currently tilted in favor of employers.
Congressional Republicans argued it would enable corruption and diminish worker freedom, frequently citing the embezzlement, bribery, money laundering and other charges against former United Auto Workers leaders as a caution against giving unions more power.
"Since the Democrats last introduced this bill, a federal probe uncovered almost a decade of rampant corruption among the senior ranks of the United Auto Workers Union," said Rep. Virginia Foxx, R-North Carolina. "The bill before us makes union bosses more powerful but less accountable to workers, increasing the risk of union corruption and wrongdoing."
The bill — which is co-sponsored by all of Michigan's Democratic representatives and has been opposed in the past by all of the state's Republican members — would eliminate state right-to-work laws, set a "joint employer" standard that would allow franchisee workers to organize with their parent company, give the National Labor Relations Board the ability to levy fines up to $50,000 against businesses who break labor laws and more.
Rep. Jamie Raskin, D-Maryland, argued the problems that have plagued the UAW's top brass can be compared with corporate corruption as an exception to the rule.
"The (UAW leaders) who have gotten in trouble have been corrupted by the company" and stopped representing the interests of workers, Raskin argued. "That doesn't translate into a condemnation of all unions."
The UAW is moving towards a settlement in the ongoing federal investigation that has led to more than a dozen convictions and uncovered a wide range of illegal conduct by auto industry leaders, including union leaders taking bribes from automakers, stealing union funds and spending the money on luxuries such as golf trips, vacation homes and expensive cigars.
Brian Rothenberg, spokesman for the UAW, told The Detroit News via email Monday that "there have been members of Congress indicted for wrongdoing and members of Corporations indicted for wrongdoing — and rightfully so."
Those institutions, like the UAW, have made changes in order to move forward, he said. "The fact is the PRO Act actually gives power to workers to have a voice with management on their wages, benefits and health and safety in the workplace. It actually increases the power and voice of individual workers which is the right and ethically sound thing to do."
The legislation would also bar employers from holding mandatory meetings designed to convince employees not to join the union; allow unions to organize using a "card check" system that shows a majority of employees support unionization if the employer is found to have broken labor laws by interfering in the election; and would require employers to give unions access to employees' personal information such as phone numbers and email addresses in the case of an election.
Republicans said these measures prioritize union leaders over the interests of small businesses and workers who would prefer not to be a part of a union. Democrats argued they protect the freedom to choose whether to join a union without intimidation.
The Biden administration expressed their support for the bill in an official statement released Monday from the Office of Management and Budget.
"America was not built by Wall Street. It was built by the middle class, and unions built the middle class. Unions put power in the hands of workers," the statement read. "The PRO Act will strengthen our democracy and advance dignity in the workplace."
Ford Begins Building Mysterious New Pickup, It's Likely
The Maverick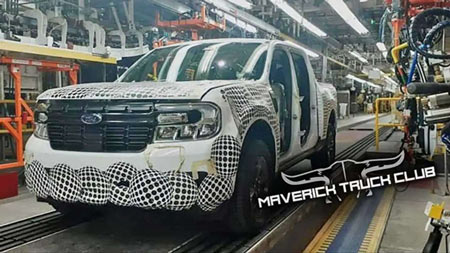 Anthony Alaniz
March 8, 2021
Ford built 21 examples of its "C-Pick Up."
It appears production for Ford's bite-sized pickup truck has already started. The company's February 2021 sales report shares the company's production numbers broken down by factory, make, and model, revealing that "C-Pick Up" production has started at the company's Hermosillo factory in Mexico. This likely represents the first bit of production for the new Maverick, which will slot below the Ranger in Ford's lineup.
Ford built just 21 examples of its C-pickup, likely representing a slate of pre-production models intended to be tested against the company's grueling standards. Photos emerged in early January showing what appears to be a Maverick pickup sitting alone on the assembly line in the Hermosillo factory. It lacked doors, though it did wear camouflage along the fenders, hood, and bumper. Reports have indicated that the Maverick will share its underpinnings with the new Bronco Sport, which is also being built at the Mexican factory.
CNBC initially reported the interesting nugget of information, even asking Ford for comment, though the automaker declined to add anything beyond what's in the sales report. That's not a surprise considering how tight-lipped automakers are about future products. We expect it'll share its powertrain with those of the Escape and Bronco Sport, which means a turbocharged 1.5-liter three-cylinder will serve as the base offering while a larger turbocharged 2.0-liter four-cylinder will be an available option.
There's a good chance that the Maverick will arrive with a sub-$20,000 price tag, which will help separate it from the Ranger that starts at nearly $25,000. Ford's newly minted CEO Jim Farley has been vocal about offering more affordable options to consumers, though that didn't necessarily mean lower striker prices. We won't know more until Ford reveals the Maverick, though judging by the latest production report, we won't have long to wait. We expect the Maverick to go on sale before the end of the year as a 2022 model.
Ford begins early
production of
not-yet-announced
small pickup truck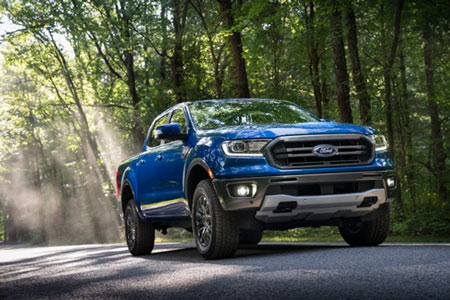 Jordyn Grzelewski
The Detroit News
March 5, 2021
A new pickup truck from Ford Motor Co. quietly began rolling off assembly lines at the Dearborn automaker's Hermosillo plant in Mexico last month, according to production data reported to shareholders this week.
The news was first reported by CNBC. The new product — dubbed "C-Pick Up" and expected to be called "Maverick" — appeared in a plant-by-plant production report accompanying the automaker's monthly U.S. sales figures. The truck is being produced at the same plant where Ford's new Bronco Sport is built.
According to the production data, just 21 C-Pick Up units were built last month. Ford spokesman Mike Levine declined to comment beyond what's in the production report. It's long been anticipated by industry observers that Ford would introduce a compact, affordably-priced pickup truck sometime this year.
AutoForecast Solutions, a global automotive forecasting firm, expects the Hermosillo-built truck to use the same platform and some of the same powertrain components as the Bronco Sport but feature different styling, according to Sam Fiorani, vice president of global vehicle forecasting.
The firm expects the truck to be smaller than the mid-size Ford Ranger pickup. It's likely to feature a unibody frame, four-cylinder engine, front- and all-wheel drive options, and eventually to have a hybrid version.
The truck is expected to go into full production in July. That units are being built now indicates the automaker is testing the product on the assembly line, Fiorani said, and would likely ramp up production this summer.
He expects the truck to be sold in North and South America, including in the U.S., and to eventually reach more than 100,000 units of production per year.
"We're expecting it to be priced below the Ranger, it (having) smaller engines and (being) lighter duty," he said. "It's more of a lifestyle vehicle. We're not expecting it to show up on construction sites."
Industry analysts say there is plenty of room in the market for a more affordable offering, as the average price for a new vehicle in the U.S. hovers around $40,000.
"There's a market for a low-priced, smaller, but highly flexible and functional pickup truck," said Karl Brauer, executive analyst for iSeeCars.com. "And I don't think anyone is making a vehicle for that — so whoever does it first will own that market."
The Ranger's starting price is about $25,000, while the lowest trim level of the latest model year of the F-150 is just under $29,000. But with various add-ons and more luxury-oriented trim levels, those prices can quickly climb.
If the new truck is indeed priced below the Ranger, that would put its starting price closer to $20,000 — a rarity in an SUV- and truck-heavy market in which average transaction prices have soared, shutting out some would-be entry-level buyers and driving them to the used-vehicle market or to competitors.
Ford CEO Jim Farley, upon stepping into the job in October, identified affordable vehicles as a key growth strategy. Farley at that time laid out a plan for turning around the Blue Oval's automotive operations and profitably growing the business; adding more affordable vehicles to the global lineup, including in North America, is part of that plan.
Ford has hinted that a new vehicle is in the works. In November, the automaker said it would be adding a "not-yet-named vehicle that will fill a whitespace in the market."
Brauer said, too, that the market conditions are just right for this type of addition, given the potentially appealing price point, limited offerings of smaller trucks, and strong consumer appetite for utility-type vehicles: "If you are making a new truck or a new SUV that's never been built before, it's as close as you're going to get in the auto industry to a no-lose proposition right now, in terms of consumer and market demand and interest."
The new product, he said, also speaks to the success of Bronco Sport, which launched at the end of last year: "The level of success they've found with that platform already bodes well for the ability to produce a compact, small pickup truck and have it still be well-received."
Most Canadians could get 1st
dose of COVID-19 vaccine
by end of June
BY MICHAEL RANGER
March 4, 2021
The target date for herd immunity could be shifting forward thanks to a change in vaccine guidelines and a potential fourth vaccine on the way.
Prime Minister Justin Trudeau has remained steadfast that all Canadians who want a COVID-19 vaccine will be able to get one by the fall.
But with extended intervals between the first and second doses, the National Advisory Committee on Immunization (NACI) projects 80 per cent of Canadians over the age of 16 could receive a first dose of the Pfizer or Moderna shot by the end of June.
On Wednesday, Trudeau acknowledged changes in public health guidance regarding the timing of second doses would likely speed up the vaccine rollout and move up the target.
Additionally, Trudeau says the timeline set by the federal government didn't factor in the newly-approved AstraZeneca shot, or the Johnson & Johnson shot that could be approved in the coming weeks.
NACI said Wednesday that provinces can now wait up to four months before giving the second doses of COVID-19 vaccines. That is up from the three week maximum first suggested when vaccines from Pfizer and Moderna were first approved.
The federal body is recommending that "in the context of limited COVID-19 vaccine supply" the number of individuals benefiting from the first dose should be maximized.
What this means for Ontario's vaccine rollout remains unclear, but sources suggest the Ford government could provide a list of who will get vaccinated sooner by the end of the week.
"This will allow Ontario to rapidly accelerate its vaccine rollout and get as many vaccines into arms as quickly as possible and, in doing so, provide more protection to more people," said a spokesperson from Ontario's minister of health.
"I suspect that the government simply hasn't made up its mind," said epidemiologist Colin Furness to CityNews. "That's too bad because we could have been thinking about this sooner."
Timeline could move up even more if the single-dose Johnson & Johnson vaccine gets approved.
Health Canada officials say the decision on the Johnson & Johnson shot could come in the next few weeks after the U.S. and the Food and Drug Administration (FDA) recently approved the shot.
All three currently approved vaccines are 100 per cent effective against death and hospitalization as a result of COVID-19, but clinical trials suggested mRNA vaccines (Pfizer and Moderna) were more effective at preventing COVID-19 infections. NACI is not recommending the AstraZeneca shot for residents over 65.
Solicitor General Sylvia Jones was asked who in Ontario will receive the new AstraZeneca vaccine that has a shelf life of less than a month. Jones said she's not ready to release the details yet, but said it will go to those aged 60 to 64, and suggested it would be pharmacists doling it out.
Ontario won't administer
AstraZeneca COVID-19
vaccine to seniors, final
plan still in the works
Colin D'Mello
Queen's Park Bureau Chief
CTV News Toronto
March 3, 2021
TORONTO -- Ontario will limit the AstraZeneca vaccine to people under the age of 65 on the recommendations of the National Advisory Committee for Immunization (NACI), Ontario's Health Minister confirmed, but the province is still finalizing the plan for who will be prioritized for that shot.
Christine Elliott also said the province is looking for guidance from the NACI on delaying the second dose of the COVID-19 vaccine by up to 16 weeks in an effort to dramatically expand the number of people receiving their initial inoculation, and suggested those recommendations will be the final key Ontario needs to unlock its plan.
"This could make a significant difference for Ontario in reducing hospitalizations and deaths," Elliott told reporters at Queen's Park. "As soon as we receive that [recommendation] we will be able to finalize the plan and get in front of you."
The province is facing increasing pressure to reveal how it plans to vaccinate a broad segment of the population as it prepares to receive more than a hundred thousand doses of the AstraZeneca vaccine in the coming days.
The federal government announced 300,000 doses have been shipped from the Serum Institute of India -- putting Ontario's per capita share at roughly 114,000 doses – all of which expire on Apr. 2.
"Right now, we're doing the calculation based on the AstraZeneca vaccine coming into the mix," Elliott said. "This is something that we did after we got started with Pfizer and then we introduced Moderna. In the same way, we're building AstraZeneca into the plan as well."
The quick expiration date raises questions about whether Ontario will be ready to administer the doses within the timeframe provided, given that the province's portal to register patients for the vaccine will only be launched on Mar. 15.
Elliott told MPPs in the Ontario Legislature that the "big system" was soft-launched in select public health units on Monday because the government doesn't want the portal to experience the type of crashes seen in Alberta and Quebec.
"We want it to be solid and to stand up to the pressure that we know is going to be coming because people are anxious to know when they're going to be receiving the vaccine," she said.
The NDP said the province is "unprepared" for the increased shipments of vaccines and said it was "obvious that they haven't done their work."
"We're literally days away from AstraZeneca arriving, why isn't the government being upfront, being clear, being transparent about what the plan is," said NDP leader Andrea Horwath, who added that in the absence of a detailed plan, the government should have outlined the potential options that public health units could exercise.
While some of the government's critics say the province should be cut some slack given the federal government's ever-evolving vaccine rollout, they say it doesn't excuse the province's lack of clear direction.
"There's no question that this is not an easy endeavor, vaccinating 14 million people. That's why you need to plan, because then you can adapt quickly," said Liberal MPP John Fraser.
FCA guilty in labor corruption
scandal as auto industry
marks new low
Robert Snell
Breana Noble
The Detroit News
March 2, 2021
Detroit — A Fiat Chrysler U.S. executive admitted Monday the automaker conspired to break federal labor laws by paying more than $3.5 million in bribes to union leaders, marking a new stain for an auto industry beset with scandals in recent years involving vehicle emissions and faulty equipment implicated in hundreds of deaths.
In pleading guilty to one count of conspiracy to violate the Labor Management Relations Act, the transatlantic automaker also agreed to pay a $30 million fine to settle a criminal investigation into auto executives breaking federal labor laws. The fine is part of a broader settlement with federal authorities that includes the appointment of an independent monitor for three years to oversee company compliance with labor laws and oversee dissolution of a joint training center the United Auto Workers operated with Fiat Chrysler, now part of Stellantis NV.
The legal development ends prolonged negotiations stemming from a years-long corruption scandal involving the UAW. The federal investigation produced more than a dozen convictions and revealed union leaders and auto executives broke federal labor laws, stole union funds and received bribes and illegal benefits from union contractors and Fiat Chrysler Automobiles executives.
The pattern of illegal payments included paying off former UAW Vice President General Holiefield's $262,000 mortgage, bankrolling a $25,000 booze-fueled bash for another labor leader and financing a $30,000 junket for UAW officials in Palm Springs and southern California. The payments were designed to secure concessions, and advantages for Fiat Chrysler during contract negotiations, according to the government.
The hearing Monday in front of U.S. District Judge Paul Borman was sterile, unconventional and anticlimactic after approximately two years of negotiations between federal prosecutors and FCA lawyers. The automaker's top lawyer, Chris Pardi, stood in as the company's representative during the virtual hearing Monday, watching with a blank, unblinking look on his face as prosecutors described crimes committed by other FCA executives during a prolonged conspiracy.
"The public thinks the companies and the UAW fight each other but just as often the companies and UAW leaders corruptly collude at the expense of the unionized workers," Erik Gordon, a professor at the University of Michigan's Ross Business School, wrote in an email to The Detroit News on Monday.
Fiat Chrysler has 60 days to nominate three candidates to serve as monitor who will serve for three years. Federal prosecutors have the right to reject the nominees until both sides agree on a monitor.
"You're putting the fox in charge of the hen house," John Barbosa, 50, a team leader at Stellantis' Dundee Engine Plant, said of the monitorship included in the plea agreement. "It's like putting police in charge of investigating the police. It don't work. It puts on a show for people who don't know any better."
The guilty plea Monday obligates Fiat Chrysler officials to cooperate with ongoing investigations of corruption within the auto industry.
"If they violate the law during the term of probation, if they provide deliberately false, incomplete or misleading information or fail to retain an independent compliance monitor…, the United States could reinstate criminal charges and bring any other charges based on underlying conduct…," Assistant U.S. Attorney Erin Shaw said.
The News has previously revealed investigators were probing financial ties between retired UAW Vice President Jimmy Settles and one of the union's highest-paid vendors.
After the courts have dismissed class-action lawsuits brought against the automaker by other employees, Barbosa said the situation is infuriating: "We've been robbed of potentially thousands of dollars in income because of that; the contract talks were tainted. Nothing is going to be done opening and renegotiating those contracts."
The $30 million fine is dramatically less than the $900 million rival General Motors Co. paid to settle claims for faulty ignition switches implicated in 400 injuries and deaths. It also is a fraction of the $800 million FCA paid two years ago to settle diesel claims, or the billions Volkswagen AG paid to atone for its global diesel scandal.
"Instead of negotiating in good faith, FCA corrupted the collective bargaining process and the UAW members' rights to fair representation," Labor Department official Irene Lindow said in a statement.
Just as FCA has been found to spend millions of dollars on bribing UAW officials, "when it comes to costly environmental regulation, the companies are just as willing to put their technical expertise to work on cheating as on compliance," Gordon added.
The proposed deal was announced six weeks after prosecutors secured a separate deal with the UAW that includes prolonged oversight of the troubled union.
The conspiracy involving Fiat Chrysler executives lasted from at least January 2009 through approximately 2016 and executives paid more than $3.5 million in illegal payments to UAW officials, according to the criminal case.
That includes former Fiat Chrysler Vice President Alphons Iacobelli approving the payment of $262,000 to pay off the mortgage on Holiefield's home in Harrison Township. Holiefield died in 2015 before he could be charged with a crime.
Iacobelli, who is serving a four-year federal prison sentence, also authorized spending $25,000 for a party for UAW Vice President Norwood Jewell and members of the union's governing board. The party included "ultra-premium" liquor, more than $7,000 worth of cigars and more than $3,000 worth of wine with custom labels honoring Jewell, who also was convicted in the corruption scandal.
Iacobelli also approved spending more than $30,000 on meals for UAW officials at restaurants in Palm Springs and southern California, prosecutors said. Money to pay for the illegal benefits came from accounts funded by the automaker that were supposed to used to pay for worker training.
The conspiracy described by prosecutors Monday included former FCA financial analyst Jerome Durden, who helped control the finances at the UAW-Chrysler National Training Center.
He was portrayed as a pivotal figure in the auto industry corruption scandal, helping funnel illegal payments to UAW officials involved in a labor conspiracy. He helped control the finances of a training center and was the first person charged in an ongoing prosecution that has led to 13 convictions.
Ford of Canada names
Bev Goodman as new
president and CEO
By Wheels.ca
Feb 26, 2021
Ford of Canada has named Bev Goodman as its new president and CEO.
That announcement, said that Goodman will helm the automaker immediately, replacing Dean Stoneley who has been appointed as general manager, North America truck, Ford Motor Company, a newly created position.
In a release to the media about Goodman's appointment, Kumar Galhotra, Ford president, Americas and International Markets Group said: "During a year of extraordinary challenges, Dean led the Ford of Canada team to its twelfth consecutive year of sales leadership and now brings his agile leadership approach and strong customer focus to the critical role of maintaining Ford's dominance in the North American truck market. At this time of rapid change in the auto industry, Bev demonstrates a deep understanding of what matters most to our customers now, and in the future. She also has a proven track record of working collaboratively with our dealer partners and a commitment to innovation as Ford accelerates its efforts to deliver high-quality, high-value vehicles and services."
"I look forward to embracing new ways to serve our customers across the country as we introduce iconic vehicles such as the Mustang Mach-E, Bronco and F-150 hybrid," said Goodman in a press release. "We'll focus on delivering the benefits of electrification and connectivity to consumers, including plans for the $1.8-billion transformation of our Oakville Assembly Complex to a battery electric vehicle manufacturing facility and continuing to grow our advanced connectivity and innovation centres,"
Ford of Canada's operations include a national headquarters, three regional offices, three vehicle assembly and engine manufacturing plants, two parts distribution centres, two research and development sites, and three connectivity and innovation centres.
Ford, GM face big earnings
drop from chip shortfall
Bloomberg
Feb 25, 2021
The global semiconductor shortage will slash earnings at General Motors Co. and Ford Motor Co. by about one-third this year as supply constraints hamper production and profits, Moody's Investor Service estimates.
The chip shortage will materially erode margins and could lower expected earnings before interest and taxes by as much as $2 billion for GM and $2.5 billion for Ford, the ratings agency said in a note published Tuesday. GM's EBITA margin could fall to 3.4%, while Ford's could dip as low as 1.8%, according to Moody's.
Rising demand for the chips needed to build technologically advanced and connected vehicles has introduced a new set of challenges for the North American auto industry, with shortages triggering production cuts and temporary plant closures, Moody's said. Demand from consumer-electronic companies exacerbated the supply shortages amid the coronavirus pandemic.
Next week, Ford will idle an assembly plant in Ontario, Canada, where it builds Edge and Lincoln Nautilus sport utility vehicles. The company said that plant will shut for a week due to the chip shortage, the latest in a series of temporary shutdowns and line slowdowns caused by the lack of semiconductors.
The situation could deteriorate further after weather-related challenges in large parts of the country added to the component shortage, Bill Rinna, director of vehicle forecasts at LMC Automotive, wrote in a report on Tuesday. North American production is likely to be hit hardest in the first quarter, with pockets of disruption emerging to a lesser extent in the second quarter, he said.
LMC reduced its production forecast by more than 250,000 units, with the possibility of another 100,000 units lost, for the first quarter, Rinna said. The production loss across North America as of mid-February is estimated to exceed 190,000 units, he said.
"We do not see inventory returning to normal levels until the fourth quarter of this year, or the early part of next year," Rinna wrote.
Earlier this month, both automakers said they could experience earnings reductions in line with what Moody's predicted Tuesday.
The short supply of semiconductors could result in a 10% to 20% production loss in the first quarter for Ford. If current estimates were projected across the first half of the year, the shortage could result in an adjusted pre-tax earnings loss of between $1 billion and $2.5 billion this year, Chief Financial Officer John Lawler said during Ford's earnings release call.
GM said during its earnings call the microchip shortage could deliver a $1.5 billion to $2 billion hit to earnings this year.
Ford announces recall
of thousands of 2021
F-150s over defect
Jordyn Grzelewski
The Detroit News
Feb 24, 2021
Ford Motor Co. on Monday announced it is recalling thousands of its profit-rich F-Series trucks due to windshield defects.
The Dearborn automaker said the front windshields on certain 2021 F-150 and 2020 and 2021 Super Duty trucks "are inadequately bonded to the vehicle body structure," meaning the windshield may not stay in place during a crash. The recall affects 79,017 vehicles in the U.S. and federal territories, 6,986 in Canada and 1,347 in Mexico.
The recall includes 2021 F-150s built at the Dearborn Truck Plant between Oct. 27 and Feb. 3, as well as Super Duty trucks built at the Kentucky Truck Plant between Oct. 13 and Jan. 23. Ford said it is unaware of any crashes or injuries related to the issue.
The company declined to comment on the cost of the recall.
The recall comes just months into the launch of the redesigned 2021 F-150. The pickup truck, which is alsobuilt at the Kansas City Assembly Plant in Missouri, is Ford's profit engine and the best-selling truck in the country with hundreds of thousands of units sold every year in the U.S.
F-150 production has had disruptions in recent weeks due to a global shortage of the microchips that power the automated and electronic features of vehicles, and because of the winter storm that hit large parts of the country last week.
It's not unusual to see recalls shortly after the launch of a new vehicle, experts say.
"You want to try to get everything right before the vehicle ever launches, but it's not uncommon for automakers to still have to do some level of follow-up after the vehicle is released because there are just so many components that go into a modern car," said Karl Brauer, executive analyst at iSeeCars.com. "When you get into full production, that's when things will commonly pop up with an all-new vehicle."
Though the F-150 is a hugely important product for Ford, Brauer said a recall of this kind typically is a short-term issue for automakers.
New vehicles, he said, are some of the "more complex mass products that are out there. It can be challenging to launch an all-new vehicle without having some level of recall."
Owners of the vehicles included in the recall will begin to receive notifications from auto dealers the week of April 6, Ford said. Dealers will remove and replace the windshields.
Ford on Monday also announced a recall for select 2020 Super Duty vehicles with 6.7-liter engines, due to the trucks having labels with incorrect payload information. The recall affects 9,979 Super Duty vehicles in the U.S. and federal territories and 1,750 in Canada and includes units built at the Kentucky Truck Plant from May 13, 2019, to Sept. 19, 2020.
Ford said it was unaware of any crashes or injuries related to the issue.
The recall announcement follows a separate one from last week for select Ford vehicles that may have had "obsolete" Takata parts installed in collision and theft repairs after the Takata airbag recall was completed. Ford, along with other automakers, was required to recall vehicles that contained potentially-deadly airbag inflators made by Takata, as part of a massive global recall of the defective parts.
"Ford identified that certain Takata airbag modules were not purged from service stock after the parts for the permanent service fix became available," the company said in a statement. "Following extensive investigation and tracing, Ford could not account for some of the obsolete service parts, indicating they may have been installed on vehicles as part of collision or theft repairs."
Ford also said last week that it was recalling 1,666 Bronco Sport vehicles due to those units being "produced with rear suspension modules that may not be fully secured to the subframe." The Blue Oval launched the all-new vehicle late last year.
Ford loses track of dangerous
air bags, forcing 2 recalls
Associated Press
Feb 23, 2021
Dearborn – Ford has lost track of some older Takata air bags that can explode and hurl shrapnel, so it's recalling more than 154,000 vehicles in North America to check for them.
The company issued two recalls, with the largest coming because Ford can't find 45 obsolete air bags that may have been installed on some old Ranger pickup trucks. The company says the air bags were not purged from the stock of service parts and could have been used in crash or theft repairs.
This recall covers just over 153,000 Rangers from the 2004 through 2006 model years.
In a smaller recall, Ford found just over 1,100 vehicles that may have gotten obsolete Takata air bags in collision repairs.
Included are certain 2004 through 2011 Rangers, some 2005 to 2014 Mustangs, certain 2006 Ford GTs, some 2008 through 2012 Fusions and certain 2007 through 2010 Ford Edge SUVs. Also covered are certain 2009 to 2011 Mercury Milans, some 2010 through 2012 Lincoln MKZs, and certain 2007 through 2010 Lincoln MKX SUVs.
Ford said it's not aware of any crashes or injuries caused by the problem. The company said it's checking the vehicles at the request of the U.S. National Highway Traffic Safety Administration.
Dealers will inspect the driver or passenger air bag units and replace them if necessary. Owners will be notified starting the week of March 8.
Takata used the volatile chemical ammonium nitrate to create a small explosion to inflate the air bags in a crash. But the chemical can deteriorate when exposed to high heat and humidity and burn too fast, blowing apart a metal canister. The air bags have caused at least 27 deaths worldwide, including 18 in the U.S. About 400 have been injured.
The problem caused the largest series of auto recalls in U.S. history, with at least 67 million inflators recalled by 19 automakers. A court-appointed monitor reports that as of early January, 50 million had been repaired or were otherwise accounted for in the U.S. About 100 million inflators have been recalled worldwide.
Flying back to Canada? Here's
what you can expect at the new
COVID-19 quarantine hotels
Emerald Bensadoun
Global News
Feb 22, 2021
The federal government has a message for Canadians: Now is not the time to travel.
On Monday, Canada's mandatory COVID-19 quarantine hotel stays will go into effect. The new rule is part of an effort to reduce non-essential travel and get ahead of the new virus variants — three of which have already been confirmed inside the country.
Anyone flying into Canada will be forced to stay in an approved hotel either in Alberta, British Columbia, Ontario or Quebec while they await negative test results.
Prime Minister Justin Trudeau had initially touted a hefty $2,000 stay per room, but the cost is expected to be much lower and will be set by the hotels.
A spokesperson from the Hotel Association of Canada told Global News the cost of each stay will "vary between hotels, with additional fees for meals, augmented security, supervised movement to outdoor areas, designated transportation, and additional infection control measures."
However, the association added it "will continue to implement the advice of public health experts including the best practices provided by the Public Health Agency of Canada (PHAC) for those specific hotels."
What can you expect?
Each privately owned hotel has agreed to meet operational guidelines and selection criteria set by the federal government.
Health Canada said it will allow people who own cars that have been parked at one of these airports to drive themselves there. Those without their own vehicles will be allowed to take either a designated shuttle bus, taxi or limousine.
Travellers will not be allowed to leave their rooms unless escorted by an official for monitored outdoor time, but all guests will be provided free Wi-Fi, as well as contactless meal deliveries to their door. Alcohol and cannabis are not considered essential, and won't be delivered.
Try not to make a mess: toiletries will be delivered, but there will be no room cleaning service for the duration of a guest's stay to help prevent any possible spread of infection between guests and staff members.
Masks will be mandatory for anyone staying at the hotel and will be required when speaking face-to-face with hotel staff, when opening the door to retrieve breakfast, lunch and dinner, and whenever a guest is being escorted to or from their room.
Private security firms hired by the federal government are expected to help enforce the 14-day mandatory quarantine and conduct in-person compliance visits, PHAC has said.
The agency said $2-million contracts were awarded to G4S Secure Solutions (Canada) Ltd., GardaWorld and Paladin Risk Solutions. PHAC added that the Canadian Corps of Commissionaires, an organization that hires Canadian Armed Forces veterans and retired RCMP officers, was also selected to help make in-person visits.
Anyone who tests positive will be required to stay a full 14 days, either in a "federally designated quarantine facility or other suitable location."
The penalty for breaking the rules is high. The federal government said fines can go up to $3,000 for "a day of non-compliance," and breaking any quarantine or isolation rules when entering Canada could land travellers a fine of up to $750,000 or up to six months in jail.
Breaking from those requirements and causing death or serious bodily harm is punishable by a fine of up to $1,000,000 or up to three years in prison.
The federal government also outlines these guidelines on its website, here.
Where are these approved hotels?
The 14 hotels listed by the federal government are:
Alberta: Calgary International Airport (YYC)
Calgary Airport Marriott In-Terminal Hotel
Acclaim Hotel
British Columbia: Vancouver International Airport (YVR)
Fairmont Vancouver Airport
Radisson Vancouver Airport
The Westin Wall Centre, Vancouver Airport
Ontario: Toronto Pearson Airport (YYZ)
Alt Hotel Pearson Airport
Fairfield Inn & Suites Toronto Airport
Four Points by Sheraton
Holiday Inn Toronto International Airport
Sheraton Gateway Hotel in Toronto International Airport
Quebec: Montréal-Pierre Elliott Trudeau International Airport (YUL)
Aloft Montreal Airport
Crowne Plaza Montreal Airport
Holiday Inn Express and Suites Montreal Airport
Montreal Airport Marriott In-Terminal
Will it work?
Experts say it is too soon to give a definitive "yes" or "no."
Currently, non-essential travel accounts for between 1 and 2 per cent of COVID-19 variant cases detected in Canada.
That number may seem small, but Kerry Bowman, a bioethicist with the University of Toronto, told Global News "we wouldn't have (those) variants if it wasn't for international people coming in."
He said the question of whether quarantine hotels were justified, but raised concerns that travellers would try to "game the system" and undermine the government's initiative.
"This is not the type of thing that a Canadian society would normally do, but I think the threat of the variance really changes that," he said.
"If you look at some countries that have been crazy successful like Australia and New Zealand, compared to us, quarantine has been central to their strategy."
Conservative health critic Michelle Rempel Garner questioned PHAC representatives on Friday whether there was data that would suggest the quarantine hotels would be more effective in reducing the spread of COVID-19 than quarantining at someone's home.
Why proper home care should
be a cornerstone of how our
health system looks after seniors
Elizabeth Niedra
CBC News
Feb 19, 2021
The pandemic is shining an interrogative floodlight on the face of Canada's elder care system. Specifically, it has brought close scrutiny to the highly publicized circumstances in which long-term care residents have accounted for a gut-punching 55 per cent of COVID-19 related deaths in Ontario alone — 3,730 as of Feb. 18.
This data we already know; it has been the constant horror music playing behind society's collective pandemic trauma this year. The older person in long-term care has become the divisive and central figure of our pandemic response and its shortcomings. In them, we see the heart-wrenching sadness and exhaustion of this crisis writ large upon frail human form.
However, now we also understand how much attention and thoughtfully allotted resources it really takes to give our seniors the comfort and dignity they deserve. A lofty goal, when this year has felt like a panicked scramble to keep them, at bare but difficult minimum, out of emergency rooms and safe from COVID-19.
Outside of long-term care homes, much of the community response to the pandemic has focused on virtual care. This buzz-wordy concept shifts patient assessments from in-person care to telephone-, video- and app-based interactions.
These might be promising solutions for a subset of healthy, technologically literate patients, but for thousands of seniors with multiple health conditions and sensory impairments, virtual care often serves only to exacerbate their unique vulnerabilities. To say nothing of the immense work involved with elder care; the work of actually knowing an older person, understanding their needs and accompanying them on their aging journey.
For our aging older adults in crisis, virtual care is not a silver bullet.
In the space between long-term care and virtual care, however, there is home-based care. Though underfunded and understaffed, it already exists in the publicly funded health system — and it works.
Geriatrics specialist Dr. Samir Sinha says boosting the level of home care and sending fewer people to long-term care facilities is both cost-effective and the right thing to do. 0:33
The model of multidisciplinary home-based care — involving teams with a mix of specialists, such as doctors, social workers and physiotherapists — is specifically designed to help older adults age in place. These are seniors who are comparable to the long-term care population, on the metrics of age and medical disease, yet proper home-based care allows them to stay safely and comfortably in their own residence rather than moving into an institution.
A good home-care team coordinates nearly all of an older person's chronic and complex health needs, and delivers them within the safety of their chosen home. It can respond to urgent patient needs the same day, and also provide 24/7 at-home palliative care support to those who are at the end of life.
Historically, this model has helped two-thirds of its referred patients age at home, and has been shown to help reduce their re-admission to hospital by up to 29 per cent.
Home care also matters for the happiness and well-being of patients. According to a recent report from the National Institute on Aging, nearly all older people surveyed in Ontario would prefer to age in their own home rather than in a care facility.
High-quality home care also makes financial sense. At-home care for a frail older person costs the health system an average of $103 per day, according to the report, compared to $201 for someone in long-term care, and a whopping $703 daily for older adults admitted to hospital to await a permanent place.
After ten years of negotiations, Jonathan Marchand has won his fight for the home care services he needs to live outside of an institution. Guest host Alison Brunette speaks to the disabled rights activist about why he says this is a huge win for his community. 7:22
And yet, home care remains in the shadows of our provincial elder care strategy. It's often viewed culturally as an old-fashioned and folksy form of medicine, or else a fantasy approach outside the reaches of possibility for standard clinic-anchored care teams.
Housebound older people who don't have access to proper home care, for their part, are too often forgotten as a large group of vulnerable, high-needs patients. And they are unfairly viewed as burdensome crises once they do appear at the doors of the emergency room when, due to lack of proper ongoing care, their needs become acute.
In short, the care of the elderly in Canada has not failed this year because there is no solution. Excellent home-based care is a ready answer to our elder-care crisis.
However, we must radically expand upon these established models if we are to help older Canadians age in safety and dignity. Indeed, we must rewrite our health-care culture to sustainably invest in older people and address the tragedies of the threadbare elder care system that have been splashed across the headlines in recent months.
Bluntly, we must ask ourselves and our leaders whether we will elevate home care to be a cornerstone of elder care. Even more critically, will we keep the needs of the frail older person front-of-mind when they are no longer dying in heartbreaking numbers from COVID-19?
These may not be the most commonly asked questions of the current elder crisis, but they should be.
Dr. Elizabeth Niedra is a care of the elderly physician, writer, and lecturer in family medicine at the University of Toronto. She does home visits for frail older adults with SPRINT House Calls.
Ford bets $1 billion on electric
future, new EV manufacturing
facility in Germany
Jordyn Grzelewski
The Detroit News
Feb 18, 2021
Amid tightening environmental regulations driving an industry-wide shift to electric vehicles, Ford Motor Co. on Wednesday detailed a major step forward in its path to an all-electric future.
The Blue Oval pledged that almost its entire European vehicle lineup would be electric in the coming years — a commitment it plans to fulfill in part by converting its Cologne, Germany, plant currently producing internal combustion engine cars into an EV manufacturing center. The automaker plans to invest $1 billion to convert the site, and the plant's first all-electric model is slated to begin rolling off assembly lines in 2023.
Ford of Europe President Stuart Rowley in a statement dubbed the announcement "one of the most significant Ford has made in over a generation. It underlines our commitment to Europe and a modern future with electric vehicles at the heart of our strategy for growth."
Ford said its entire European passenger-vehicle lineup will be "zero-emissions capable, all-electric or plug-in hybrid" by mid-2026 and all-electric by 2030. On the commercial vehicle side — the driving force behind Ford's profitability in Europe — the automaker said its lineup will be "100% zero-emissions capable, all-electric or plug-in hybrid" by 2024. It expects two-thirds of commercial vehicle sales to be all-electric or plug-in hybrid by 2030.
Ford shares were down 0.26%, to $11.51, at market's close Wednesday. The dual announcements signal Ford's intention to push forward with a turnaround in Europe, including on the passenger vehicle side of the business that has proved more challenging for the automaker to crack.
In announcing its fourth-quarter and full-year 2020 financial results earlier this month, Ford reported that it made its highest quarterly profit in Europe in more than four years. The results come amid an ongoing restructuring that has netted a more than $1 billion reduction in annual structural costs. Those cost savings have been achieved in part by Ford reducing its employee and plant footprint in the region.
The company also announced a near-doubling of its global investment in electrification, to $22 billion by 2025; the $1 billion investment in Cologne is part of that planned allocation. That news came on the heels of crosstown rival General Motors Co.'s pledge to exit gas- and diesel-powered engines by 2035 and be carbon neutral by 2040. GM plans to spend $27 billion on EVs and autonomous vehicles through 2025.
"We successfully restructured Ford of Europe and returned to profitability in the fourth quarter of 2020," Rowley said in a statement Wednesday. "Now we are charging into an all-electric future in Europe with expressive new vehicles and a world-class connected customer experience."
Ford of Europe remains "on track" to deliver a 6% profit margin before interest and taxes, he said. Wednesday's announcement comes amid a company-wide assessment of where to most effectively allocate capital, as part of a plan detailed by CEO Jim Farley to turn around the Blue Oval's automotive operations and hit profit goals.
Ford has announced major shakeups and investments in other regions in recent months, including a restructuring of its South America operations that includes ending manufacturing in Brazil and a $1.05 billion investment in its South Africa manufacturing operations.
The investment in Cologne — home to one of Ford's largest manufacturing centers in the region as well as its European headquarters — will be used to "modernize" the site and convert it into what will be dubbed the Ford Cologne Electrification Center. Ford said it would be the company's first such facility in the region. Currently, the Cologne plant employs more than 4,000 people and builds the Ford Fiesta.
The automaker said its first European-built, all-electric passenger vehicle, which will be sold to customers in Europe, will begin production at the facility in 2023, "with the potential for a second all-electric vehicle built there under consideration."
In a statement, Martin Hennig, who heads up Ford of Europe's workers' council, called the move "an important signal to the entire workforce. It offers a long-term perspective for our employees and at the same time encourages them to help shape this electric future."
Ford confirmed that the first all-electric passenger vehicle it's planning for 2023 is part of its strategic alliance with Volkswagen AG, under which the two automakers have agreed to collaborate on commercial vehicles, EVs, and autonomous driving. The new vehicle will be built on VW's MEB platform.
"However, while alliance vehicles will share certain technologies under the skin, Ford's first volume all-electric passenger vehicle built using the MEB technologies will look, feel and drive every inch like a Ford," Ford spokesman John Gardiner said.
Ferdinand Dudenhöffer, a professor of automotive economics at the Center for Automotive Research at the University of Duisburg-Essen in Germany, said the use of VW's technology could bring competitive advantages to Ford over its European rivals: "They are now in a position, together with VW, to be a very strong competitor to Opel, Peugeot, Citroën and Fiat."
The move on Ford's part to drastically reduce its lineup's carbon emissions comes as environmental regulations continue to tighten. Dudenhöffer noted that stronger regulations from the European Commission are slated in the coming years, making it impossible for automakers to avoid regulatory scrutiny and fees with hybrid and combustion engine vehicles alone.
Also key to its plans for the region, the Blue Oval signaled, is the incorporation of digitally-connected offerings into its commercial vehicle lineup, which leads the segment in Europe.
Ford executives have said that they see potential for lucrative new revenue streams generated by data-driven services — a direction underscored by a new strategic partnership the Blue Oval recently inked with Google. Among other areas, the two companies plan to work together on developing new tech- and data-driven offerings for customers.
Ford said it would have additional details on the Cologne site and its electrification plans to share in "the coming months."
Winter storm halts production at
Ford, GM plants across country
Jordyn Grzelewski
The Detroit News
Feb 17, 2021
A major winter storm that was slated to hit large swaths of the country with snow, ice and freezing temperatures this week prompted Detroit automakers to pull back on production — the latest in a recent string of manufacturing disruptions that have threatened the auto industry's recovery from the coronavirus crisis.
Ford Motor Co. confirmed Monday that it had cancelled operations at its Kansas City Assembly Plant in Missouri beginning this past Saturday and continuing until Feb. 22. And General Motors Co. said it would have weather-related production impacts at four plants in Texas, Missouri, Kentucky and Tennessee.
The weather-related production cuts effectively are delivering a double whammy to some of the U.S industry's most profitable vehicles, as the automakers continue to navigate the deepening effects of a global microchip shortage.
"Due to unseasonably cold temperatures in the midsection of the United States, Ford was warned that the availability of natural gas could be restricted in the Kansas City area in the coming days," company spokeswoman Kelli Felker said in a statement. The decision to cancel production this week, she said, was made "to ensure we minimize our use of natural gas that is critical to heat people's homes."
Kansas City Assembly builds the F-150 pickup, Ford's cash cow. The Dearborn automaker is in the midst of launching the new 2021 model year of the truck. Kansas City also builds the Transit cargo van.
GM said Monday that it had canceled three shifts Sunday and Monday at its Arlington Assembly Plant in Texas, which builds the GMC Yukon, Chevrolet Suburban and Tahoe, and the Cadillac Escalade.
Monday's second shift was cancelled at GM's Bowling Green Assembly Plant in Kentucky, which builds Corvettes, as well as at the automaker's Wentzville Assembly Plant in Missouri, which makes the Chevrolet Colorado, GMC Canyon, Chevy Express and GMC Savana.
And three shifts were cancelled between Sunday and Monday at GM's Spring Hill Assembly Plant in Tennessee, which builds the Cadillac XT5 and XT6, GMC Acadia, and Holden Acadia, as well as engines.
A company spokesman said Monday afternoon that the automaker still was determining how production at those facilities would be impacted going forward. During downtime, eligible union-represented auto workers receive approximately 75% of their gross pay.
Meanwhile, the auto industry continues to battle a global shortage of semiconductors, crucial components that power the automated and electronic features in vehicles. The shortage has caused a slew of production disruptions for automakers around the world, and industry experts say the crisis likely won't be resolved until the second half of the year.
In the latest hit to its manufacturing schedule, Ford cancelled an overtime shift at its Kentucky Truck Plant in Louisville — which builds Ford F-250 through F-550 Super Duty Trucks, the Ford Expedition and Lincoln Navigator — that had been scheduled for Feb. 13.
Last week, both plants where the F-150 is built — Kansas City and Dearborn Truck Plant — operated on reduced shifts due to the shortage. The Blue Oval also has seen previous disruptions to production at facilities in Chicago, Louisville, and Ontario, as well as at plants in other global markets.
GM shut down plants in Kansas, Mexico and Canada last week because of the shortage. And Stellantis NV's Windsor Assembly Plant in Ontario currently is shut down for the same reason.
Ford sells stake in lidar
maker Velodyne
KEITH NAUGHTON
BLOOMBERG
Feb 16, 2021
Ford Motor Co. has sold off its stake in Velodyne Lidar Inc., a leading maker of sensors being used in the development of self-driving cars.
Ford, which invested $75 million in Velodyne in 2016, no longer held any shares as of the end of last year, according to a regulatory filing. The automaker held almost 13.1 million shares three months earlier, a holding worth $244.2 million at the end of the third quarter.
"This is consistent with our efforts to make the best, highest use of capital," said T.R. Reid, a Ford spokesman. "We are using Velodyne technology in our autonomous vehicles."
Velodyne last year merged with Graf Industrial Corp., a special-purpose acquisition company, and trades on the Nasdaq exchange under the ticker VLDR. The valuation of the San Jose, Calif.-based company has been volatile since its trading debut, peaking at $4.62 billion in late December. Stock markets were closed Monday for Presidents' Day.
Ford took a stake in Velodyne six months before it invested $1 billion in self-driving startup Argo AI, led by Bryan Salesky and Peter Rander, previous leaders at autonomous teams at Alphabet Inc.'s Google and Uber Technologies Inc. Since then, Argo has developed an entire self-driving system that Ford intends to deploy commercially next year. Lidar, which bounces light off objects to assess shape and location in real time, has become key proprietary technology in the race to develop driverless vehicles.
"Our in-house lidar development effort, formed upon the acquisition of Princeton Lightwave in 2017, is going very well," Alan Hall, an Argo spokesman, said in an email. "We will share more information about the progress at the appropriate time."
Argo also is developing autonomous autos for Volkswagen Group, which invested $2.6 billion in the startup last year, giving it a valuation of $7 billion.
How Canada can capitalize on
U.S. auto sector's abrupt pivot
to electric vehicles
Canadian Press
Feb 15, 2021
WASHINGTON — The storied North American automotive industry, the ultimate showcase of Canada's high-tensile trade ties with the United States, is about to navigate a dramatic hairpin turn.
But as the Big Three veer into the all-electric, autonomous era, some Canadians want to seize the moment and take the wheel.
"There's a long shadow between the promise and the execution, but all the pieces are there," says Flavio Volpe, president of the Automotive Parts Manufacturers' Association.
"We went from a marriage on the rocks to one that both partners are committed to. It could be the best second chapter ever."
Volpe is referring specifically to GM, which announced late last month an ambitious plan to convert its entire portfolio of vehicles to an all-electric platform by 2035.
But that decision is just part of a cascading transformation across the industry, with existential ramifications for one of the most tightly integrated cross-border manufacturing and supply-chain relationships in the world.
China is already working hard to become the "source of a new way" to power vehicles, President Joe Biden warned last week.
"We just have to step up."
Canada has both the resources and expertise to do the same, says Volpe, whose ambitious Project Arrow concept — a homegrown zero-emissions vehicle named for the 1950s-era Avro interceptor jet — is designed to showcase exactly that.
"We're going to prove to the market, we're going to prove to the (manufacturers) around the planet, that everything that goes into your zero-emission vehicle can be made or sourced here in Canada," he says.
"If somebody wants to bring what we did over the line and make 100,000 of them a year, I'll hand it to them."
GM earned the ire of Canadian auto workers in 2018 by announcing the closure of its assembly plant in Oshawa, Ont. It later resurrected the facility with a $170-million investment to retool it for autonomous vehicles.
"It was, 'You closed Oshawa, how dare you?' And I was one of the 'How dare you' people," Volpe says.
"Well, now that they've reopened Oshawa, you sit there and you open your eyes to the commitment that General Motors made."
Ford, too, has entered the fray, promising $1.8 billion to retool its sprawling landmark facility in Oakville, Ont., to build EVs.
It's a leap of faith of sorts, considering what market experts say is ongoing consumer doubt about EVs.
"Range anxiety" — the persistent fear of a depleted battery at the side of the road — remains a major concern, even though it's less of a problem than most people think.
Consulting firm Deloitte Canada, which has been tracking automotive consumer trends for more than a decade, found three-quarters of future EV buyers it surveyed planned to charge their vehicles at home overnight.
"The difference between what is a perceived issue in a consumer's mind and what is an actual issue is actually quite negligible," Ryan Robinson, Deloitte's automotive research leader, says in an interview.
"It's still an issue, full stop, and that's something that the industry is going to have to contend with."
So, too, is price, especially with the end of the COVID-19 pandemic still a long way off. Deloitte's latest survey, released last month, found 45 per cent of future buyers in Canada hope to spend less than $35,000 — a tall order when most base electric-vehicle models hover between $40,000 and $45,000.
"You put all of that together and there's still some major challenges that a lot of stakeholders that touch the automotive industry face," Robinson says.
"It's not just government, it's not just automakers, but there are a variety of stakeholders that have a role to play in making sure that Canadians are ready to make the transition over to electric mobility."
With protectionism no longer a dirty word in the United States and Biden promising to prioritize American workers and suppliers, the Canadian government's job remains the same as it ever was: making sure the U.S. understands Canada's mission-critical role in its own economic priorities.
"We're both going to be better off on both sides of the border, as we have been in the past, if we orient ourselves toward this global competition as one force," says Gerald Butts, vice-chairman of the political-risk consultancy Eurasia Group and a former principal secretary to Prime Minister Justin Trudeau.
"It served us extraordinarily well in the past ... and I have no reason to believe it won't serve us well in the future."
Last month, GM announced a billion-dollar plan to build its new all-electric BrightDrop EV600 van in Ingersoll, Ont., at Canada's first large-scale EV manufacturing plant for delivery vehicles.
That investment, Volpe says, assumes Canada will take the steps necessary to help build a homegrown battery industry out of the country's rare-earth resources like lithium and cobalt that are waiting to be extracted in northern Ontario, Quebec and elsewhere.
Given that the EV industry is still in his infancy, the free market alone won't be enough to ensure those resources can be extracted and developed, he says.
"General Motors made a billion-dollar bet on Canada because it's going to assume that the Canadian government — this one or the next one — is going to commit" to building that business.
Such an investment would pay dividends well beyond the auto sector, considering the federal Liberal government's commitment to lowering greenhouse gas-emissions and meeting targets set out in the Paris climate accord.
"If you make investments in renewable energy and utility storage using battery technology, you can build an industry at scale that the auto industry can borrow," Volpe says.
Major manufacturing, retail and office facilities would be able to use that technology to help "shave the peak" off Canada's GHG emissions and achieve those targets, all the while paving the way for a self-sufficient electric-vehicle industry.
"You'd be investing in the exact same technology you'd use in a car."
There's one problem, says Robinson: the lithium-ion batteries on roads right now might not be where the industry ultimately lands.
"We're not done with with battery technology," Robinson says. "What you don't want to do is invest in a technology that is that is rapidly evolving, and could potentially become obsolete going forward."
Fuel cells — energy-efficient, hydrogen-powered units that work like batteries, but without the need for constant recharging — continue to be part of the conversation, he adds.
"The amount of investment is huge, and you want to be sure that you're making the right decision, so you don't find yourself behind the curve just as all that capacity is coming online."
Autoworkers face dimmer future
in a new era of electric cars
Tom Krisher and
John Seewer
Associated Press
Feb 12, 2021
Toledo, Ohio – When General Motors boldly announced its goal last month to make only battery-powered vehicles by 2035, it didn't just mark a break with more than a century of making internal combustion engines. It also clouded the future for 50,000 GM workers whose skills – and jobs – could become obsolete far sooner than they knew.
The message was clear: As a greener U.S. economy edges closer into view, GM wants a factory workforce that eventually will build only zero-emissions vehicles.
It won't happen overnight. But the likelihood is growing that legions of autoworkers who trained and worked for decades to build machines that run on petroleum will need to do rather different work in the next decade – or they might not have jobs.
If the history-making shift from internal combustion to electric power goes as GM, Ford and others increasingly envision, jobs that now involve making pistons, fuel injectors and mufflers will be supplanted by the assembly of lithium-ion battery packs, electric motors and heavy-duty wiring harnesses.
Many of those components are now built overseas. But President Joe Biden has made the development of a U.S. electric vehicle supply chain a key part of his ambitious plan to create 1 million more auto industry jobs with electric vehicles.
Yet for workers at GM and other automakers, that future could be perilous. The more environmentally focused plants of the future will need fewer workers, mainly because electric vehicles contain 30% to 40% fewer moving parts than petroleum-run vehicles. In addition, many of the good union jobs that have brought a solid middle-class lifestyle could shift to lower pay as automakers buy EV parts from supply companies or form separate ventures to build components.
Most vulnerable in the transition will be the roughly 100,000 people in the United States who work at plants that make transmissions and engines for gas and diesel vehicles.
They are people like Stuart Hill, one of 1,500 or so workers at GM's Toledo Transmission Plant in Ohio. At 38 years old and a GM employee for five years, Hill is still decades from retirement. The future of the plant and his role in it worries him.
"It's something that's in the back of my mind," Hill said. "Are they going to shut it down?"
He and others hope that Toledo will be among the sites where GM will build more EV parts. If not, he'd be open to moving to some other plant to continue to earn a solid wage; top-scale workers represented by the United Auto Workers are paid around $31 an hour.
Yet there is hardly assurance that automakers will need as many workers in the new EV era. A United Auto Workers paper from two years ago quotes Ford and Volkswagen executives as saying that EVs will reduce labor hours per vehicle by 30%.
"There are just less parts, so of course it stands to reason that there is going to be less labor," said Jeff Dokho, research director for the UAW.
"We're sort of at the beginning of that transition," said Teddy DeWitt, an assistant professor of management at University of Massachusetts Boston who studies how jobs evolve over time. "It's not going to be just in the vehicle space."
The number of industry jobs that will be lost in the transition will likely reach into the thousands, though no one knows with any precision. And those losses will made up, at least in part, by jobs created by a greener economy, from work involved in building electric vehicle parts and charging stations to jobs created by wind and solar electricity generation.
Indeed, the most far-reaching change in manufacturing since the commercial production of internal combustion-driven vehicles began in 1886 will ripple out to farm equipment, heavy trucks and even lawnmowers, snow blowers and weed-whackers. The oil and gas industries could suffer, too, as the fading of the internal combustion engine shrinks demand for petroleum.
At the century-old transmission plant in Toledo, GM workers make sophisticated six-, eight-, nine- or 10-speed gearboxes. Eventually, those parts will be replaced by far simpler single-speed drivetrains for electric vehicles. Especially for workers low on the seniority list, GM's plans for an "all-electric future" mean that eventually, their services will likely no longer be needed.
"This is that moment to define where we go in the future," said Tony Totty, president of the UAW local at the Toledo plant. "This is a time we need to ask ourselves in this country: What are we going to do for manufacturing? Is manufacturing dead in our country?"
Those worries already were in the air when Biden made an October campaign stop at the Toledo union hall. Totty delivered a letter imploring the candidate "not to forget about the people getting the job done today."
Even though fully electric vehicles now constitute less than 2% of U.S. new vehicle sales, automakers face intense pressure to abandon internal combustion engines as part of a global drive to fight climate change. California will ban sales of new gas-powered vehicles by 2035. European countries are imposing bans or strict pollution limits. Biden, as part of a push for green vehicles, pledged to build a half-million charging stations and convert the 650,000-vehicle federal fleet to battery power.
At the moment, though, American motorists have other ideas. They continue to spend record amounts on larger gasoline vehicles. With average pump prices close to a $2 a gallon, trucks and SUVs have replaced more efficient cars as the nation's primary mode of transportation. In January, roughly three-fourths of new-vehicle sales were trucks and SUVs. A decade ago, it was only half.
All that demand will still keep Toledo in business for years. Yet there's little doubt that the move to electricity is inexorable. About 2.5 million electric vehicles were sold worldwide last year. IHS Markit expects that figure to increase 70% this year alone. In December, there were 22 fully electric models on sale in the United States; Edmunds.com expects that figure to reach 30 this year. GM alone has pledged to invest $27 billion on 30 EV models worldwide by 2025.
The acceleration of the trend has heightened anxiety even at plants that are now running flat-out to meet demand for GM trucks.
"It definitely scares me," said Tommy Wolikow, a worker at GM's heavy-duty pickup assembly plant in Flint, Michigan, who has worked eight years for GM. "I think that eventually there's a good chance that I might not be able to retire from this plant."
Depending on how fast consumers embrace electric vehicles, Wolikow fears he could be bumped out of his job by employees with more seniority. Workers already are starting to vie for jobs at three plants that GM has designated as electric vehicle assembly sites, two in the Detroit area and one in Tennessee.
In the meantime, GM says it needs its full factory workforce as it rebuilds inventory depleted by a coronavirus-related factory shutdown last spring.
"We have to run our current core business smart and strong, because that will ultimately allow us to invest in this all-electric future," spokesman Dan Flores said. "There's no way we can speculate on the future of any individual facility."
Not all internal combustion-related jobs will vanish in the transition. GM excluded heavier trucks in its EV goal. And some manufacturers will keep making gas-electric hybrids, said Kristin Dziczek, a vice president at the Center for Auto Research, an industry think tank.
It's unclear what will happen to workers at GM or other automakers who might be squeezed out in the transition. In the past, GM has protected some workers in periods of downsizing. When it closed an assembly plant in Lordstown, Ohio, in 2019, for example, laid-off workers were given a chance to transfer to other plants. And when GM shuttered factories heading into a 2009 bankruptcy, laid-off employees received buyout and early retirement packages.
The UAW says it views the transformation to electricity as potentially less a threat than an opportunity for growth. Dokho suggested, for example, that the Biden administration could offer incentives to build more EV parts here.
"We're optimistic about making sure that there are jobs in the future, and that the jobs there now are protected," he said.
Every major industrial transformation, DeWitt said, has tended to result in both lost jobs and new work. He noted, for example, that when Americans migrated from farms to cities after the Civil War, agricultural jobs dwindled. But cities were wired for electricity, and jobs such as electricians were created.
If the automakers are willing, DeWitt said, most of their workers could be retrained to move from gas vehicles to electric parts and vehicle assembly.
"It feels unlikely to me that all of that knowledge we have built up in that workforce for the past 50 years is all of the sudden completely useless," he said.
The protection of jobs seems sure to be a top issue in the next round of UAW contract talks in 2023, and workers will especially want to preserve higher-wage positions. GM and other automakers now view battery manufacturing as a parts-supply function with lower pay.
The automaker is building a battery factory in Lordstown in a venture with South Korea's LG Chem. CEO Mary Barra has said that workers there will be paid less than those at vehicle assembly plants, to keep costs closer to what competing automakers will pay.
The 2023 contract bargaining could be even more contentious than it was two years ago, when a 40-day UAW strike cost GM $3.6 billion.
Indeed, the reckoning between GM and the union may come sooner than anticipated, said Karl Brauer, executive publisher at the CarExpert.com website. Automakers, he said, generally work on vehicles five to seven years ahead of when they go on sale.
"You could make the argument that by 2028, they're not going to be doing any more development on internal combustion engine vehicles," he said. "Which starts to sound much closer than 2035."
2021 Ford F-150 Raptor
pickup revealed with
new suspension and tech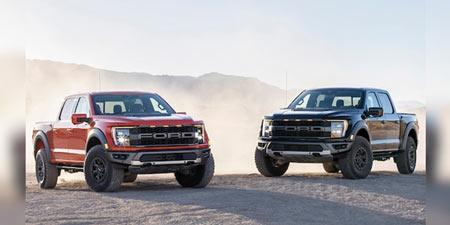 Third-generation F-150 Raptor is the most capable ever
By Gary Gastelu
Fox News
Feb 11, 2021
Ford President Kumar Galhotra talks to Fox News Autos Editor Gary Gastelu about the new F-150 Raptor and Ford's upcoming electrification plans.
After taking a brief hiatus as Ford rolls out its redesigned F-150 lineup, the high-performance Raptor will soon return for 2021.
The off-road pickup revealed on Wednesday has received significant changes that include the first five-link, coil-spring rear suspension ever featured on an F-150.
Ford said it is based on the ones used by trophy trucks that compete in races like the Baja 1000 and provides 15 inches of rear-wheel travel for high speed off-road driving and jumps to go with the 14 inches available up front.
The Raptor, which is only available in a four-door SuperCrew configuration this time around, also gets all of the new technology that was launched with the 2021 F-150, including the ability to receive over-the-air updates, Ford's hands-free Active Drive Assist highway driving aid and an optional Pro Power Onboard 2.0-kilowatt built-in generator.
An optional 360-degree camera system provides a front view with guidelines to help place your front tires while maneuvering on rough trails, where you can use a new one-pedal drive system that automatically engages the brakes as you lift off the accelerator to make it easier to modulate speed in challenging situations.
One thing that's not very different is the engine that pedal is connected to, which remains a 3.5-liter turbocharged V6 delivering 450 hp and 510 lb-ft of torque, according to Ford President Kumar Galhotra, that breathes through a new exhaust system equipped with active bypass valves that can turn up the volume. A 10-speed automatic is standard and the only transmission available.
But wait, there's more!
After being king of the hill over its first decade of existence, the Raptor finally has direct competition in the form of the Ram 1500 TRX, which offers similar off-road chops along with a 702 hp supercharged V8 that makes it the most powerful pickup ever made. Galhotra told Fox News Autos that power isn't primarily what Raptor customers are looking for, but if any of them want more they'll soon be able to get it.
Later this year Ford will reveal the Raptor R, which will have a V8 under the hood. Galhotra won't reveal any details about it just yet, but there have been rumors that it will be based on the Mustang Shelby GT500's 760 hp supercharged 5.2-liter V8, which could make the Raptor a TRX-beating beast.
Pricing for the Raptor will be announced closer to when it hits showrooms this summer, but the previous 2020 SuperCrew model started at $57,785.
GM hourly workers expected to
get $9,000 profit-sharing checks
for pandemic-marred 2020
Kalea Hall
The Detroit News
Feb 10, 2021
Detroit — General Motors Co. hourly United Auto Workers-represented employees could receive up to $9,000 in profit sharing checks this year.
GM said 44,000 eligible hourly employees would be eligible for the profit-sharing, which will be paid the week of Feb. 26. Last year, GM hourly employees received an $8,000 payout.
The Detroit automaker, which made $6.4 billion last year, announced profit-sharing as part of its full-year 2020 earnings report released Wednesday. Profit-sharing is based on GM's profits in North America, which totaled $9 billion last year. For every a billion made in North America, employees get $1,000, according to GM's contract with the United Auto Workers.
"Despite a year of a pandemic and loss of production in 2020, General Motors reported a solid profit for North America," UAW Vice President and Director Terry Dittes of the General Motors Department said in statement. "This is a testament to our UAW-GM Membership, who produce some of the finest and most sought-after vehicles in the world, right here in the U.S.A."
Ford Motor Co.'s 2020 profit-sharing payouts will be up to $3,625, down roughly 45% from the year before. The payments will be made in March. In 2020, Ford paid up to $6,600 to 53,000 eligible employees.


UAW Ford workers can expect
profit-sharing payouts down 45%
Jordyn Grzelewski
Breana Noble
The Detroit News
Feb 9, 2021
Ford Motor Co.'s 2020 profit-sharing payouts of up to $3,625 for eligible hourly United Auto Workers members will be down roughly 45% from the year before, the automaker said Thursday.
The lower payments, to be made in March, are a direct consequence of the eight-week manufacturing shutdown last spring amid the COVID-19 pandemic that walloped the top and bottom lines of Ford and its rivals.
In 2020, Ford paid up to $6,600 to 53,000 eligible employees, the smallest payout of the Detroit Three automakers.
"I didn't think we were going to get one," Brad Crozier, 56, who works at Ford's Sterling Axle Plant, said of the smaller checks this year, "just because we've been off work for so long. Anything is better than nothing."
The Dearborn automaker, in the midst of launching the newest edition of its iconic F-150 pickup and increasing investment in development of next-generation electric vehicles, announced the payouts as part of its report on full-year and fourth-quarter 2020 financial results.
The profit-sharing checks are part of the automaker's collective bargaining agreement with the UAW. The amount is based on the company's $3.625 billion North America pre-tax profits.
"Like all sectors, the 2020 pandemic caused many challenges in our industry," UAW spokesman Brian Rothenberg said in a statement. "And while profit sharing for UAW members may not be what we are used to, our members-negotiated benefit has preserved profit sharing checks even during a dark year when many other employers may be reluctant to share in profits."
A Ford spokesperson could not immediately say Thursday how many UAW workers would be eligible for the 2020 payouts. Rivals General Motors Co. and Stellantis NV will announce their profit-sharing amounts when they report full-year earnings on Wednesday and on March 3, respectively.
GM paid 44,000 UAW members up to $8,000 in profit sharing last year. Stellantis' predecessor, Fiat Chrysler Automobiles NV, which calculates its profit-sharing differently, awarded bonuses of up to $7,280 to roughly 44,000 workers.
"A call to arms"
Canada Stuggles
to get Vaccines
Inside Canada's impossibly high-stakes rush to lock down tens of millions of doses of the most sought-after product on Earth
Nick Taylor-Vaisey
Macleans
February 6, 2021
When Agnes Mills was a young teenager, she battled tuberculosis for three years in a hospital in Aklavik, a remote hamlet nestled in the Mackenzie River delta north of the Arctic Circle. She contracted the disease when an epidemic hit the residential school where she lived. She led a solitary existence at the Anglican-run school known as All Saints, separated from her mother, who lived nearby. She was a long way from Old Crow, the tiny Vuntut Gwich'in community in Yukon where she grew up and her grandfather was chief.
Mills, now nearly 85 years old, calmly explains those devastating formative years in Aklavik. She was sexually abused by older girls at the school. An extended hospital stay offered a break from All Saints, but Mills says she received little education.
Eventually, Mills moved south. She lived in Edmonton and Kenora, Ont., before settling in Ottawa where she was the executive director of the Native Women's Association of Canada. She worked in government for a decade before returning north, where she was an Elder adviser of the Truth and Reconciliation Commission. Last year, Mills received the Order of Yukon.
Now she lives at Whistle Bend Continuing Care Facility in Whitehorse. Dementia is creeping into her life, and most of a year without seeing her grandchildren has been excruciating. "It's a very lonely time. You're all by yourself in this little room," she says.
On Jan. 4, Yukon started immunizing high-risk residents with Moderna's COVID-19 vaccine. Mills, a survivor of so much hardship, was at the front of the line.
About 50 residents and staff at the Whistle Bend home got their first shots that day. The 150-bed facility has managed to avoid an outbreak since last March—a feat matched by every other home in Yukon, where only 70 cases have been reported across the entire territory.
Dozens of long-term care facilities across Canada haven't been nearly as fortunate. Of the roughly 20,000 Canadians who succumbed to COVID-19 in the pandemic's first 11 months, nearly 9,000 were residents of long-term care homes in Ontario and Quebec—a grim number that climbs daily.
As new, more easily transmissible variants of the disease threaten to spread quickly among vulnerable communities in Canada, the need for widespread vaccinations has never been more urgent.
Mills' single inoculation was an early milestone in Canada's desperate, stubborn quest for normalcy—a remarkable but still infinitesimally small step in a massive immunization campaign, the largest in Canadian history, meant to beat COVID-19.
That campaign needs doses, and a federal bureaucracy upended by the pandemic has been duking it out with the richest countries in the world for what is now the hottest commodity on the planet. Without the ability to produce COVID-19 vaccines at home, Ottawa is bargaining with a powerful pharmaceutical industry that holds all of the cards. And the feds are racing against the clock. Every day without vaccines means more sickness, tragedy and preventable death.
Bergstedt moved to Moderna after nearly 20 years at Merck (Photograph by Kayana Szymczak)
June 1 was Patrick Bergstedt's first day on the job as Moderna's senior vice-president of commercial vaccines. Bergstedt is an affable South African, who was based in the small town of New Hope, Penn., at the time. Like so many of us, his office was in his home, and he was making deals over Webex.
"I was commercial person number one," he tells Maclean's, describing the emerging biotech player as a "tiny little company that had never sold anything in its life." He wasn't exaggerating. Moderna was developing a wide variety of products, but had yet to make a sale.
Bergstedt came from Merck, a pharmaceutical giant where he spent nearly 20 years and gained familiarity with Canada's health system, which he viewed as "very progressive" on vaccinations. "You can have vaccines sitting in a warehouse, but it's about vaccines in arms," he says. "That's what's important."
For all his years in the business, Bergstedt had no idea who to call north of the border about COVID vaccines. On June 11, as global interest in Moderna's mRNA vaccine was starting to pick up, a serendipitous email landed in Bergstedt's inbox from a couple of Canadians.
Bergstedt might have expected to hear from a scientist or procurement officer, but it was friendly neighbourhood diplomats who came calling. Valérie La Traverse and Carolin McCaffrey, a senior trade commissioner and an investment officer at Canada's consulate in Boston, reached out to learn about the fledgling company's vaccine and gauge interest in potential expansion to Canada.
"There is a God," thought Bergstedt.
In Ottawa, it was all hands on deck—even Global Affairs Canada had been pressed into duty to work contacts that might kick-start vaccine talks or dredge up some leads.
Within a week, Bergstedt was on a call with then-consul general David Alward. On June 26, he was back on a video conference with representatives of Health Canada; the Public Health Agency; Innovation, Science and Economic Development; and Public Services and Procurement. They peppered him with questions about clinical data and potential supply. "I've been on many calls with many different countries," he says. "But I have never had a call that big, representing so many branches of government." Bergstedt recalls that Moderna's reps all had their webcams turned on. The federal officials, he notes, kept theirs off.
In these early conversations, Moderna's vaccine was promising, but unproven. The company had created the vaccine in 42 days and dosed the first test subject three weeks later.
"At that time, we had no clinical data," says Bergstedt. "We had this early, experimental phase 1 data that says this vaccine produces an immune response. We had no data on efficacy or safety."
Even to Bergstedt, the eager salesman, getting the vaccines into arms before the end of the year seemed an impossible task.
Within days of Moderna connecting with Ottawa, Mark Lievonen was sitting in his condo in Stouffville, Ont., when he pulled out his iPad and logged onto Zoom. For many years, Lievonen had been the president of the Canadian vaccine division of Sanofi, a pharmaceutical giant. Now he joined Joanne Langley, a Dalhousie University professor and head of infectious diseases at Halifax's IWK Health Centre, as co-chair of the federal COVID-19 Vaccine Task Force (VTF).
As the pandemic's first wave was slowly subsiding in hard-hit Ontario and Quebec at the end of May, Lievonen and Langley were invited to head up the group. They were asked, says Langley, to serve their country. "When you get a letter like that, you just say yes."
The federal government assembled an initial group of 12 core task force members, including epidemiologists, physicians, manufacturing specialists and industry insiders, with orders to recommend safe and effective vaccines the feds should buy in large quantities—a daunting assignment, since none of the leading candidates were anywhere near a sure thing. "As we were about to begin, I thought, this is a mind-boggling, important task," says Lievonen. "What if we fail? That was in the back of my mind."
A few weeks before the task force got to work, Lievonen had made a presentation—by Zoom, of course—to a public COVID-19 webinar at the University of Toronto's Dalla Lana School of Public Health. He cautioned his audience that a novel coronavirus vaccine could take well over a decade to produce. Some observers had pegged 12 to 18 months as the fastest possible time frame, which Lievonen recalls was "still far beyond anything I would have thought at that point."
Starting in June, the task force quietly invited manufacturers of most of the leading candidates to make presentations. (The panel's existence would not be made public until August—and even now the government is reluctant to talk about it.)
"Most members were logging full-time hours, particularly through July and August," says Lievonen. They liked what they heard from Moderna, Pfizer-BioNTech, AstraZeneca, Johnson & Johnson, Novavax, Medicago, Sanofi and GlaxoSmithKline—and eventually recommended that Public Services and Procurement Canada, headed up by rookie cabinet minister Anita Anand, pursue supply agreements with all of them.
While those experts toiled in obscurity, the government's critics were already beginning to raise the alarm about a weak link in the federal procurement strategy. Other countries, like the U.K. and the U.S., had plans to manufacture vaccines by the millions on their own soil, but Canada did not; nor could it rely on American supply chains, which Washington had reserved for domestic supply.
Canadians, it turned out, would be entirely at the mercy of European-made drugs.
By early August, Brad Sorenson had been waiting to hear back from Ottawa for several months. Before the World Health Organization declared a global pandemic in March, the president of Calgary-based Providence Therapeutics had started talks with the feds on a homegrown COVID-19 vaccine. But he was starting to feel impatient.
As far back as February, Sorenson conferred with his scientific advisory board about the novel coronavirus. It was clear to them life was about to be disrupted in a big way. The company had been working on cancer vaccines but decided to pivot to COVID-19.
Sorenson spent part of March in Hawaii for his father's 80th birthday. He returned to Alberta just before lockdown, and convened an emergency meeting on the development of a COVID-19 vaccine that used mRNA—the same technology as Pfizer and Moderna's product. Within weeks, Providence took a preliminary plan to Health Canada. The bureaucrats were "responsive" and eager to learn more. At that point, Sorenson estimates his company trailed Moderna's progress by only a couple of months.
By April, Providence had submitted a formal proposal to the federal Strategic Investment Fund that sought $35 million for clinical trials. Then the waiting began. Days turned into weeks, and weeks turned into months. On Aug. 17, the day before the Liberals prorogued Parliament, Sorenson heard back. The feds had turned down the proposal, saying Providence wasn't far enough along to meet the requirement for funding. Eventually, the company scored a few million dollars for clinical trials from the National Research Council (NRC). Sorenson admits he was angry at the time. "This was no warp speed," he says. "This is turtle speed."
As Sorenson waited, his proposal started to look like a missed opportunity for a federal government desperate for domestic vaccine production.
China's CanSino was Canada's big early bet on making a vaccine domestically. Attached to the plan was $44 million for upgrades to the NRC's Human Health Therapeutics facility in Montreal. That plant was meant to eventually produce CanSino's vaccine candidate, Ad5-nCoV.
The plan fell through when Chinese customs officials prevented the shipment of test vaccines from leaving the country. Documents tabled in Parliament in January revealed the feds were aware of the blocked shipment just days after the CanSino deal was announced in May. Exactly why the shipment was blocked remains a mystery, though the Chinese didn't kibosh similar exports to other countries. Canada's bet on CanSino angered the government's critics, including the opposition Conservatives, who cast the Liberals as naive for partnering with a Chinese firm in the middle of a deep freeze in bilateral relations.
But if not CanSino, could the NRC lab be used to produce another company's more promising candidate? Other countries had plans to manufacture AstraZeneca's vaccine on their own soil. Why, critics wondered, hadn't Canada negotiated a similar licensing agreement?
The Liberals insisted that was impossible at the time. A spokesman for Public Services and Procurement Canada says when the feds were doing deals, the country "had no flexible large-scale bio-manufacturing capacity suitable for a COVID-19 vaccine." Canada hasn't had a publicly funded lab that mass-produces vaccines since the '80s, and no big private labs have the technology in place to make mRNA vaccines. Both of the largest pharma facilities in Canada—GlaxoSmithKline's plant in Quebec City and Sanofi's operation in Toronto—would have had to build entirely new facilities in order to produce a vaccine like AstraZeneca's, says Andrew Casey, the president of pharmaceutical lobby group BIOTECanada.
In August, Ottawa committed $126 million over two years for a new NRC bio-manufacturing facility in Montreal. It said at the time the new facility would, as early as this coming July, be equipped to produce up to two million doses a month of several kinds of COVID-19 vaccines—including the viral vector technology used by AstraZeneca and the protein subunit technology used by Novavax. (That projected date would prove to be wildly optimistic.)
The feds could also have given Providence a shot. Sorenson laments what could have been with that $35-million injection last year. Providence, which is currently running phase 1 clinical trials, might have been much further down the line.
CanSino, meanwhile, found a new locale to test its vaccine: Russia.
Canada's hope for nailing down contracts for vaccines now rested with a tiny group of bureaucrats, just 10 to 20 people working from home in and around Ottawa—and Oakville, Ont., where Procurement Minister Anita Anand spent the summer.
"You have to keep it small because we put our best negotiators on the table," explains Arianne Reza, the associate deputy minister for procurement at Public Services and Procurement Canada.
They were a seasoned team already battle-tested by months of pandemic scrambling, says Reza. The department was just emerging from the springtime rush for personal protective equipment and testing supplies. They were buying billions of products seemingly on the fly. "You normally do business with pre-qualified, trusted suppliers. All of a sudden, we were in the thick of it, buying masks and gloves," says Reza. "So much complexity. So much risk."
At one point, when Reza turned to procuring all the supplies for immunization—syringes, vials, stoppers and swabs—she picked up the phone and called a vendor out of the blue. "That person was very suspicious of getting cold-called by the Government of Canada to offer them a contract," she says. "I had to go through many layers, many verifications, to convince them I was the real deal."
The feds bought up to two billion pieces of PPE, 40 million rapid tests, 145 million syringes and 126 cold and ultra-cold storage freezers. Even so, the negotiations for vaccines was a whole new game.
Anand, a lawyer and professor who specialized in corporate governance before entering politics, explained the intricacies of vaccine deal-making. "It's not simply a matter of distributing standard-form contracts and having vaccine suppliers agree to our preferred terms," the procurement minister tells Maclean's. "Each supplier has its own set of concerns. As a result, each agreement is bespoke and contains terms related to doses and price and manufacturing and finishing parameters of each vaccine." The manufacturers, keen to see doses actually administered, were lured in part by Canada's strong public health network and widespread embrace of vaccination.
Reza said Canada enjoyed certain advantages. "The reputation of having a first-rank regulator made it easy to attract them to the table," she says. A senior government source familiar with vaccine procurement planning says Canada faced a "middle power issue"—wielding more influence than most countries, but offering smaller orders than the U.S. or European Union. Reza took the opposite view, arguing that Canada's comparatively modest needs "wouldn't add a huge burden" to manufacturers' supply chains.
In the case of Moderna, Bergstedt says negotiations involved "tough conversations" that stretched late into the night and into weekends as the two sides haggled over the timing of supply and the volume of doses. The Canadians were "efficient," he says; it had been more of a challenge to pin down negotiations with EU customers. Moderna knew the whole planet, including Canadians, were watching closely. "Building a relationship of transparency and trust is critical for us in a world in which people are very cynical about pharma in general," says Bergstedt.
On July 24, Canada inked an advance supply agreement with Moderna. The feds announced other deals: Pfizer on Aug. 5, Johnson & Johnson and Novavax on Aug. 31, GlaxoSmithKline on Sept. 22, AstraZeneca on Sept. 25 and Medicago on Oct. 23.
By early fall, Canada seemed to be sitting pretty, having secured up to 398 million potential vaccine doses between seven companies, the world's most diverse portfolio and more doses per capita than any other nation on Earth.
Some questioned Ottawa's refusal to discuss the fine print of those deals—what was Canada paying and what did the contracts say about Canada's place in the global pecking order? Canada was one of the first countries to lock down deals with Moderna and Pfizer, but was much later than some of its rivals to sign with other companies. Could that affect deliveries?
"Staking out the back of the queue means that we might beg for a little vaccine in a hurry for our health-care workers or most vulnerable," Amir Attaran, a biomedical scientist and lawyer at the University of Ottawa, wrote in Maclean's last summer. But ordinary Canadians should "expect to wait."
Procurement Canada's official line was the feds "cannot disclose details of specific agreements in order to protect Canada's negotiating position and commercially sensitive pricing information, as well as to respect confidentiality clauses in the vaccine agreements made to date."
Nevertheless, early doses would soon begin arriving, and months ahead of anyone's wildest expectations.
Four days after Moderna's vaccine was approved on Dec. 23, a FedEx delivery arrived in Whitehorse. Similar deliveries would happen over Christmas in all three territories.
Benton Foster, Yukon's director of community health programs, said his team "first started hearing rumblings" about the distribution of the Pfizer and Moderna vaccines in early November, before either was approved. The feds were hinting at first-quarter deliveries in 2021, which Yukon officials initially interpreted as aligning with their fiscal year—meaning they'd see delivery in April. They soon realized Ottawa was talking about the calendar year. "Everyone was kind of in disbelief that it would happen," says Foster.
The rollout required a big country like Canada, with so many rural and remote communities, to reckon with monumental logistical questions. Former military leaders, known for their mastery of rules and promptness, emerged as obvious choices to lead the effort. The feds enlisted Maj.-Gen. Dany Fortin to coordinate federal-provincial co-operation. Ontario turned to Rick Hillier, Canada's chief of the defence staff during the height of the war in Afghanistan. UPS and FedEx unveiled advanced tracking technology that monitored every shipment from Europe.
But a less hopeful Christmas story was unfolding in Ontario, where the real challenge with the vaccine rollout was proving to have little to do with logistics.
On Boxing Day, health-care workers in Ontario took to social media in protest after the province stopped vaccinations for a short period over the holidays. Observers also noted a significant drop in injections on weekends. At a time when more than 100 people in Ontario were dying every day in an out-of-control second wave, a pause in vaccinations looked as absurd as firefighters leaving a five-alarm blaze for a lunch break.
A source close to Ontario's rollout team stood by the province's strategy, arguing that health-care workers desperately needed a holiday break, and the province was ratcheting down weekend appointments largely to prevent no-shows that would result in thawed doses going to waste.
But a bigger problem still was emerging across the country. Most provinces' hastily prepared immunization programs started to outpace shipments from Pfizer and Moderna by January. Several provinces worried they'd run out of doses before they could administer second shots within the roughly three-week time frames recommended by Pfizer and Moderna.
The Liberals were nevertheless sticking to their guns. Negotiators had secured four million doses of the Pfizer vaccine and two million doses of Moderna's product, guaranteed before the end of March. And Canada would still get those doses, they promised.
The truth was that the numbers were now out of the government's control.
In mid-January, Pfizer announced a temporary slowdown in production as the company retooled its facility in Puurs, Belgium. Christina Antoniou, a company spokeswoman, acknowledged at the time that "fluctuations in orders and shipping schedules" would impact deliveries "in the immediate future."
A few days later, the Liberals dropped a bomb. Pfizer would send no shipments to Canada in the last week of January. Federal officials claimed every country would receive fewer doses, and that they expected "equity" from Pfizer. But exports to EU members never hit zero.
Israeli Prime Minister Benjamin Netanyahu, whose country emerged as a global vaccination leader, boasted of a dozen phone calls with Pfizer CEO Albert Bourla. Suddenly, everybody was calling Pfizer Canada's president, Cole Pinnow. Doug Ford called him up. Erin O'Toole picked up the phone and then demanded Trudeau call Bourla—which he did.
Anand maintains "very close contact" with Pinnow. "I text with him regularly," she says, adding that she spoke to him every day the week Pfizer announced reductions. Moderna gets the same treatment. Patricia Gauthier, the company's country manager for Canada, says phone calls certainly don't hurt. "Everybody's looking at how can we accelerate? What can we do? I understand people are anxious."
On Jan. 29, Moderna also announced a temporary reduction in shipments to Canada.
Amid the uncertainty, NDP MP Don Davies, the party's health critic, joined the Tories in pressuring the Liberals to release at least some of the terms and conditions of their contracts, as the U.S. had already done. "I'm very suspicious of a government that's gone through such Herculean efforts to resist that. What are they hiding?" he asks. "Deliveries are probably contingent on a lot of factors that are out of the government's control."
Moderna's Bergstedt offers that the company will face penalties if it misses its first-quarter obligations. "The government has held the industry responsible for keeping its commitments," he said. "We've not been given a blank cheque."
In the middle of the zero-delivery week, Canada's place in the queue took yet another potentially disastrous hit when the EU, angry with U.K.-based AstraZeneca for reducing its planned supply, threatened export controls. Trudeau told reporters that European Commission president Ursula von der Leyen had assured him EU protectionism wouldn't affect Canadian imports. But Canada was absent from a list of exempt countries.
The limited supply of approved vaccines meant that one country's gain was necessarily another's loss. That contagious vaccine nationalism threatened to launch a supply chain cold war.
At the end of the month, Canada's sputtering vaccine effort ranked 20th in the world, behind countries like Spain, Hungary and Estonia.
In early February, Canada announced a new plan to manufacture Novavax doses in Montreal, beginning in 2022—months after the initial vaccination campaign is supposed to wrap up at the end of September. In the likely event new variants require new or modified vaccines, Canada will be ready.
But Canadians will surely be looking enviously at countries that will ramp up much sooner. Australia will be pumping out AstraZeneca doses by the millions domestically as soon as that shot is approved. Japan plans to manufacture up to 90 million doses of the same vaccine.
Domestic production and licensing agreements increasingly seem to be the path to speedy vaccinations. The U.S. is ramping up quickly, having administered 32 million vaccines by February, three times Canada's per capita rate. At the same time, the U.K. was at five times Canada's rate.
Israel bet on closer ties with Pfizer, agreeing to hand over anonymized biometric data in exchange for early doses—a deal that raises serious privacy concerns but has also seen five million shots administered in a month. It's already seeing sickness declining among those over 60.
Canada's solution in the absence of an ability to manufacture vaccines was an impressive shopping spree—we out-purchased everyone in the world. In February, along with AstraZeneca's imminent approval, both Novavax and Johnson & Johnson published clinical data that showed promise. Canada had secured up to 134 million doses of those three vaccines. The single-dose Johnson & Johnson vaccine could on its own be a game-changer.
Still, at this writing at the beginning of February, the hole in Canada's plan has been deepening by the day, as the rollout falls further and further behind other developed countries. Can Canada catch up? Maybe. If supply disruptions don't sink the government's planned ramp-up in April, Canada would need to administer more than 300,000 shots per day before the end of September to inoculate most Canadians. That's orders of magnitude more than the current peak this year of 48,195 on Jan. 15. But, again, if the deliveries that Canada's devoted team of bureaucrats lined up last spring start landing as planned, the pieces are in place to get doses into arms in community halls, arenas and pharmacies across the nation.
The priority for now remains long-term care homes, where new, more transmissible COVID variants have started to creep in. More than 50 people died at a long-term care home in Barrie, Ont., in January. The province planned to immunize every resident and worker in high-risk long-term care homes by Feb. 15.
Ontario hopes to extend its rollout to other high-risk populations—those over 80 years old, front-line workers and Ontarians with high-risk conditions—in March. In August, it will open up to anyone who wants a shot. British Columbia is hoping to broaden beyond high-risk populations by July. In a "high-supply scenario," Manitoba plans to wrap up its program entirely by September. Alberta, on the other hand, only anticipates a rollout to the general public in the fall. A general rule of thumb: the youngest will wait the longest.
But there's no real winning in this race. Canada has lost 20,000 souls and counting. There isn't a vaccine on the planet that can fix that.
Ford beats Q4 earnings estimates,
announces $29 billion electric
and autonomous car plan
By Gary Gastelu
FOX Business
Feb 5, 2021
Ford beat Wall Street estimates with adjusted fourth-quarter earnings of 34 cents per share on $33.2 billion in revenue versus an expected loss of 7 cents on $32.89 billion, but reported a full-year net loss of $1.3 billion, its first since 2008.
The automaker also announced a near doubling of its investments in electric vehicles to $22 billion through 2025, with an additional $7 billion earmarked for autonomous car development.
"We are accelerating all our plans – breaking constraints, increasing battery capacity, improving costs and getting more electric vehicles into our product cycle plan," CEO Jim Farley said in a press release on the results. "People are responding to what Ford is doing today, not someday."
During Ford's earnings call, Farley said that the amount doesn't include potential in-house battery production, which would require additional investment.
Ford's combined $29 billion plan for EVs and AVs compares to General Motors' latest commitment to invest $27 billion in the technologies through 2025.
Ford projected an $8-$9 billion profit for 2021 that includes a $900 million gain on its stake in electric vehicle startup Rivian, in which it made a $500 million in 2019. Rivan, which is scheduled to begin deliveries to customers late this year, was reportedly valued at $27.6 billion following a recent funding round in January.
Ford cautioned that the ongoing semiconductor chip shortage that has affected production could negatively affect its 2021 performance.
Farley used the chip issue as an example of why it will need to be aggressive, but smart developing the battery supply chain for its electric vehicles, and that more details on the electric car plan would be revealed in the spring.
Ford to sell Mustang
Mach-E in China
Jordyn Grzelewski
The Detroit News
Feb 4, 2021
Ford Motor Co. will offer its new, all-electric Mustang Mach-E SUV to customers in China, the Dearborn automaker said Thursday.
In a news release, the automaker said that the vehicle will be manufactured in China by its joint venture with a Chinese automaker, Changan Ford, for local customers.
The announcement comes amid an effort by the automaker to turn around its automotive operations in part by allocating resources and capital to its strongest businesses and vehicle franchises, and by electrifying its most iconic and popular nameplates, including Mustang.
The Blue Oval noted the introduction of a China-built version of Mach-E is part of its "Best of Ford, Best of China" strategy aimed at offering customers in the region "industry-leading smart vehicles and advanced technologies."
The automaker historically has struggled to gain traction in the China market, but has seen its results trend in a more positive direction amid a refresh of its Chinese lineup to make its offerings more in line with Chinese customers' demand for SUVs and luxury vehicles.
Touting Mach-E as "a breakthrough vehicle in Ford's electrification strategy," the Blue Oval claims the vehicle "will set new standards in style and performance in the Chinese high-end EV market when it becomes available in China later this year."
Ford has committed to investing $11.5 billion in electrification by 2022. An all-electric version of the automaker's flagship F-150 pickup truck is due out next year, as is an electric version of its popular Transit cargo van.
The China-built Mach-E will feature a "smart cockpit" equipped with Ford's driver-assist technologies (called Ford Co-Pilot360) and an infotainment system that will receive upgrades via over-the-air software updates. The vehicle will have the capability of hands-free driving on prequalified sections of divided highways.
The automaker claims it will be the first in China to offer "cellular vehicle-to-everything," or C-V2X, technology in mass production vehicles. C-V2X is essentially the vehicle's communication system, and Ford says it will help drivers "anticipate potential driving hazards and improve traffic safety and efficiency."
The Mach-E sold in China will have an estimated driving range of more than 600 kilometers, or about 373 miles.
Meanwhile, Ford also announced it also will localize production of Mach-E's GT performance edition. "The GT high performance edition will adopt a front and rear dual-motor layout, joining the 3-second club with its impressive 0-100km/h acceleration capabilities," the automaker said.
Retiree Konrad Wilski Celebrates
his 97th Birthday Feb 1, 2020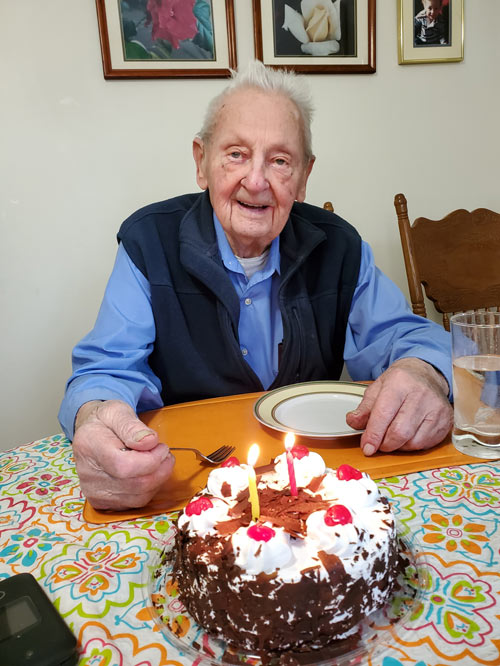 Congratulations Konrad on Your Birthday! Konrad Retired from Ford Bramalea on March 1, 1989, he has been retired for 32 Years.


Canada's new travel restrictions
'a death blow' to airlines,
UNIFOR president says
Emerald Bensadoun
Global News
Feb 1, 2021
The new coronavirus travel restrictions imposed by Canadian Prime Minister Justin Trudeau on Friday are "a death blow" to the aviation sector, the national president of the country's largest private union said.
"Everybody understands that governments need to do everything they can to keep Canadians safe, but we also have to make sure that we have industries to come back to when the pandemic is over," Jerry Dias, Unifor national president, said on Sunday's episode of The West Block with Global News' Mercedes Stephenson.
"We can't talk about 'build back better' and not have a strong aviation sector and that's what's at peril right now."
In an effort to crack down on non-essential travel, Trudeau announced that Air Canada, WestJet, Sunwing and Air Transat would be suspending services to all Caribbean destinations and Mexico, effective Sunday.
He said international passengers looking to fly back to Canada will only have the option of four airports in Vancouver, Toronto, Calgary and Montreal, adding that they'll be forced to quarantine for up to three days at a designated hotel that could cost "more than $2,000" while they await results from new mandatory COVID-19 tests.
"With the challenges we currently face with COVID-19, both here at home and abroad, we all agree that now is just not the time to be flying," Trudeau said.
"By putting in place these tough measures now, we can look forward to a better time, when we can all plan those vacations."
Ad 00:03 - up next "Coronavirus: Transport minister says feds asking all Canadians to cancel vacations, not just to sun destinations"
Dias, who represents roughly 15,000 workers within the aviation sector, said airports have been blowing through cash reserves and criticized the Canadian government for doing "nothing" to help the aviation industry since the pandemic began in March.
"Workers are concerned, workers are disillusioned and they're wondering when the government is actually going to step in," he said.
The COVID-19 pandemic has taken a heavy toll on the aviation industry, with demand for flights down between 85 and 90 per cent since spring.
In order to help, Dias said the Canadian government could waive fuel taxes for a year, advised waiving the Canadian carriers' landing and gate fees and suggested a $7-billion loan at a rate of 1 per cent over 10 years.
"That will go a long way to stabilize things, and will send the message too to the tens of thousands of workers in this industry that the government understands the strategic importance of the work that they do," he said.
Dias urged the federal to act quickly.
"Rome is burning and there's a lot of diddling going on," he said.
"We need some solutions. We need some answers. We need some commitments. And it's the only way we're going to move forward."
Is it time to end 'for-profit' long-
term care in Ontario?
By Bill Kelly
January 31, 2021
Frustrated yet undeterred by what they see as government inaction on the long-term care crisis in Ontario, a group of doctors with expertise in the field has formed "Doctors For Justice In Long-Term Care" to advocate as one voice for immediate action to deal with the life-and-death situation.
I've interviewed two of the co-founders of Doctors For Justice on my show in recent weeks: Dr. Amit Arya and Dr. Vivian Stamatopoulos. Their passion is obvious, their frustration is palpable.
They've presented a number of recommendations to address the shortcomings in long-term care, many of which they say have been talked about but not acted upon.
It should be noted that Doctors For Justice readily admits that the problems in long-term care pre-date the Ford government and certainly the pandemic, but the reality is, as the sitting government, the ball is in the Ford government's court to do something.
One of the most contentious recommendations calls for an end to "for-profit" long-term care facilities in Ontario.
It's not the first time the issue has been brought forward, but in the past, it was often dismissed as simply a ploy by unions to flex their muscle with the government.
As Dr. Stamatopoulos told me, while many of the issues existed before the pandemic, the coronavirus crisis has exasperated the problems immensely.
Dr. Arya was more blunt, saying there are more COVID-19 cases, more COVID-19-related deaths and more staffing problems in for-profit facilities, all of which contribute to the abhorrent conditions in too many of those privately run operations.
8:38Coronavirus outbreak: As long as profit is being made in senior care, that care will be restricted: Unifor president
Coronavirus outbreak: As long as profit is being made in senior care, that care will be restricted: Unifor president – May 24, 2020
For its part, the government points to a recent report in the Canadian Medical Association Journal that suggests that the frightening rise in COVID-19 cases in long-term care is due to community spread, rather than shortcomings in the operation of the facilities.
But that report admits that researchers spent very little time analyzing staffing at the facilities because there are too many variations for staffing levels, training or pay across the province.
It also suggests that the higher number of cases in for-profit facilities may be due to the fact that they tend to be old buildings that aren't properly equipped or structured to handle the crisis.
Dr. Stamatopoulos was quick to respond.
She says the inconsistent standard of care across the province is part of the problem and asks, why isn't there a standard level of staffing and staff compensation across the province?
For-profit facilities tend to have fewer staff, less training and lower wages and that, according to Doctors For Justice, is the trifecta for poor patient care and possible tragic outcomes in this pandemic.
All of this begs an answer to an uncomfortable question — what is the priority of "for-profit" operations? Is it maintaining a healthy bottom line for their business or is it offering the best possible care for frail and elderly residents?
But, let's not forget that government is culpable as well.
Public/private partnerships to deliver services can work but there must be strict guidelines and constant oversight of the operation to ensure that those guidelines are being followed.
That's not happening in Ontario right now. Of the more than 600 long-term care facilities, only a handful have been inspected in the past two years of the Ford administration and that is shameful.
Residents are dying in cataclysmic proportions, staff are getting sick and staff are quitting.
This group of doctors has seen and experienced enough.
So who stands with these doctors to demand the best for our seniors?
Certainly not many of the for-profit owners, but, more tragically, not our government, which should always be putting people ahead of profit.
Canada announces mandatory
hotel quarantine for international
passengers, suspends travel
to Caribbean
BY LUCAS CASALETTO
Jan 30, 2021
Prime Minister Justin Trudeau announced further stringent restrictions on travellers entering the country including making it mandatory for passengers to quarantine in a hotel at their own expense when they arrive in Canada.
The federal government said passengers will have to quarantine at these selected hotels until the test results come back. Trudeau says it is expected to take around three days, and cost travellers around $2,000.
Those with negative test results will be able to then quarantine for the remainder of the mandatory two weeks at home, while those with positive tests will be required to quarantine in designated government facilities.
"Now is just not the time to be flying," Trudeau said Friday. "As part of this effort, the government of Canada will work with future airlines on testing and flying requirements."
The Prime Minister said all incoming international flights will be forced to land in Vancouver, Calgary, Toronto, and Montreal.
Canada is also suspending all flights to the Caribbean and Mexico until April 30. In the coming weeks, non-essential travelers will also have to show a negative test before entry at the land border with the United States.
"I'd like to acknowledge the leadership of Air Canada, West Jet, Sun Wing, and Air Transat to making this commitment to suspend flights and be such strong partners in the fight to curve the spread of COVID-19 and its variants," Trudeau said.
Trudeau has said such measures could be imposed suddenly and bluntly warned against nonessential trips abroad.
A second official said the reason for new measures is concern over new variants of the virus and said they are designed to discourage travel, especially to sunny destinations during March break.
"With the challenges we currently face with COVID-19, both here at home and abroad, we all agree that now is just not the time to be flying," Trudeau repeated.
"By putting in place these tough measures now, we can look forward to a better time when we can all plan those vacations."
Canada already requires those entering the country to self-isolate for 14 days and to present a negative COVID-19 test taken within three days before arrival. The suggested measure would require isolating at a hotel rather than at home.
Quebec Premier Francois Legault has been urging Ottawa to require anyone returning from abroad to quarantine for two weeks in a hotel, at their own expense.
Non-essential travel into Canada by most foreign nationals has been banned since the pandemic first began sweeping across the country last March. Anyone entering the country has been required to self-quarantine for two weeks.
The federal government began beefing up those measures earlier this month.
As of Jan. 7, the government has required proof of a negative COVID-19 test, taken within 72 hours of departure time, before anyone is allowed to board a flight to Canada.
Legault and Ontario Premier Doug Ford have urged Ottawa to impose mandatory testing upon arrival in Canada as well. And they've proposed a ban on flights from countries where the new, more contagious variants of the virus are circulating.
For his part, Ford is expected to comment on the latest round of restrictions around 3 p.m. on Friday.
Canada did temporarily ban flights from the United Kingdom after that country reported in December a new variant of COVID-19 that was spreading like wildfire. But the ban was lifted once the pre-departure test requirement came into effect.
On the vaccine front, Trudeau says that Canada will be getting fewer doses than expected from its next shipment of Moderna's COVID-19 treatment.
He confirmed that Canada will receive 180,000 doses next week, which is 78 percent of what was expected.
Trudeau said Canada is still on track to receive two million doses of the Moderna vaccine before the end of March.
He also revealed that he had another call with Pfizer CEO Albert Bourla, who said that Canada will still receive its promised four million doses of the Pfizer-BioNTech vaccine by the end of March.
Biden's 'Buy American' order likely to have little impact on Canadian firms, but U.S. stimulus may lift
their fortunes
Gabriel Friedman
Jan 29, 2021
Some Canadian politicians are spooked after U.S. President Joe Biden on Monday signed an executive order that tightened the rules to ensure that U.S. taxpayer dollars aren't handed out to foreign companies.
But economists said Biden's 'Buy American' policy is likely to have little impact on Canadian companies.
That's because the U.S. government has restricted foreign companies' ability to bid on its contracts for nearly a century, and also historically, the amount of Canada's economy tied to U.S. government spending has been small to negligible.
The two countries' economies are already so integrated that the size of any U.S. stimulus or economic relief package, and the extent to which it kickstarts a recovery, will have far more impact on Canada than any new restrictions on foreign companies bidding on U.S. government contracts.
"It's not as if this is brand spanking new for Canadian business," said Doug Porter, chief economist for BMO Capital Markets, who added that he has not changed his growth forecast for the Canadian economy by "one iota" as a result of Biden's Buy American policy.
The Buy American Act dates back to 1933, and put measures in place to ensure that U.S. taxpayer dollars support the U.S. economy — although exactly how to do so has been a challenge as the economy has become more and more global in nature.
Today, the U.S. federal government awards an estimated US$600 billion in goods and services contracts every year.
During his campaign for president, Biden had promised to protect U.S. manufacturing jobs and in a press release on Monday, he said his order means "that when the federal government spends taxpayer dollars they are spent on American-made goods by American workers and with American-made component parts."
The order also creates a new agency to review all waivers of the Buy American requirement, and which will publicly report the details of any waivers.
Waivers should only be "used in very limited circumstances — for example, when there's an overwhelming national security, humanitarian or emergency need," Biden said.
While that appears to draw a clear line in the sand, which would restrict Canada from any fiscal stimulus measures, there's always a chance it may not.
The Conservative party's international trade critic, British Columbia's MP Tracy Gray, has pointed out that a decade ago, Stephen Harper's government won waivers for Canada from the Buy American Act, and she urged Prime Minister Justin Trudeau's Liberal government to push for a similar exemption.
"Canada and U.S. trade are closely tied — but this Buy American plan puts our mutual economic recovery at risk," she said in a statement.
The PM said Tuesday that the federal government was able to negotiate the U.S.-Mexico-Canada Agreement, former U.S. President Donald Trump's steel and aluminum tariffs and can manage the latest protectionist move by the U.S.
"Over the past four years, we faced an American administration that was both unpredictable and extremely protectionist, and we were able every step of the way to stand up for Canadian interests," Trudeau told reporters Tuesday.
But how much money is at stake for Canada?
Mark Agnew, senior director of international policy at the Canadian Chamber of Commerce, acknowledged it was likely a small amount.
The most recent data he could find was a 2019 U.S. government report that showed in 2015 Canadian businesses won about US$674 million in federal procurement contracts.
That amounted to 0.04 per cent of Canada's gross domestic product in 2015, which clocked in at US$1.56 trillion, according to the World Bank.
"It wasn't gobs of money that was going outside the U.S.," Agnew said, "because the rules were already so strict."
Still, he tied the issue into a broader question about the North American regional economy. Some of Canada's most important industries are already integrated with the U.S. economy, and if Canada is lumped in with every other foreign country, that could erode some of the ties.
So far, there is still hope that the Biden Administration will be open to strengthening ties with Canada.
Having endured two rounds of the Trump Administration's aluminum tariffs, Jean Simard, president and chief executive of the Aluminum Association of Canada, said he doesn't foresee any impact from the new Buy American policy on his industry.
More than 85 per cent of the aluminum produced in Canada flows into the U.S. The military purchases some aluminum, but in small volumes, and usually with proprietary shapes and alloys, which would make it exempt, he said.
"This is not new," he said, adding that he remains hopeful that the two economies will continue to integrate.
Porter, the BMO economist, agreed that 'Buy American' is concerning in part because it ties into trade protectionist tendencies that have historically dominated the U.S. Democratic Party.
But he said Canada's economy is already so integrated with the U.S. that regardless of any effects of the Buy American policy, it is poised to benefit, directly or indirectly, if the Biden Administration pushes an aggressive fiscal stimulus package.
"To me the most important thing for the Canadian economy is the extent to which the U.S. economy recovers over the next year," said Porter.
On the bright side, he said the Biden Administration appears more open to cooperation than the Trump Administration, which he said was characterized by unpredictability and squabbling with Canada.
"We're always going to face some protectionist pressures form the U.S.," he said. "I would take a bit of protectionism over the incredible trade uncertainty we've had for the past four years."
FCA reaches $30M deal to settle
federal corruption probe
Robert Snell
The Detroit News
Jan 28, 2021
Detroit — Fiat Chrysler Automobiles, now part of Stellantis NV, has agreed to pay a $30 million fine to settle a criminal investigation into auto executives breaking federal labor laws, according to federal prosecutors.
The proposed deal for the automaker to plead guilty to one count of conspiracy to violate the Labor Management Relations Act ends prolonged negotiations stemming from a years-long corruption scandal involving the United Auto Workers. The investigation has led to more than a dozen convictions and revealed union leaders and auto executives broke federal labor laws, stole union funds and received bribes and illegal benefits from union contractors and Fiat Chrysler Automobiles executives.
The automaker, which merged officially with Groupe PSA of France 11 days ago, also has agreed to the appointment of an independent monitor for three years. The monitor will oversee dissolution of a joint training center FCA operated with the UAW.
The proposed deal was announced six weeks after prosecutors secured a separate deal with the United Auto Workers that includes prolonged oversight of the troubled union.
As part of the deal, prosecutors filed a federal criminal case Wednesday that accuses Fiat Chrysler executives of knowingly and voluntarily conspiring with others to break labor laws.
The conspiracy lasted from January 2009 through approximately 2016 and executives paid more than $3.5 million in illegal payments to UAW officials, according to the criminal case.
That includes former Fiat Chrysler Vice President Alphons Iacobelli approving the payment of $262,000 to pay off the mortgage on UAW Vice President General Holiefield's home in Harrison Township. Holiefield died in 2015 before he could be charged with a crime.
The home of the late UAW Vice President General Holiefield and wife Monica Morgan-Holiefield. She was convicted and sentenced to 18 months in federal prison.
Iacobelli, who is serving a four-year federal prison sentence, also authorized spending $25,000 for a party for UAW Vice President Norwood Jewell and members of the union's governing board. Jewell also was convicted in the corruption scandal.
FCA chief failed to disclose gift to UAW, sources say
Iacobelli also approved spending more than $30,000 on meals for UAW officials at restaurants in Palm Springs and southern California, prosecutors said. Money to pay for the illegal benefits came from accounts funded by the automaker that were supposed to used to pay for worker training.
Biden signs order strengthening
'Buy American' rules
Riley Beggin
The Detroit News
Jan 27, 2021
Washington — President Joe Biden signed an executive order Monday aimed at bolstering federal government purchases from American manufacturers.
The federal government spends around $600 billion annually on contracts, according to the White House, and Biden's order intends to leverage those funds to support U.S. workers and manufacturers.
Democratic presidential candidate former Vice President Joe Biden arrives to speak during a campaign event on manufacturing and buying American-made products at UAW Region 1 headquarters in Warren, Mich., Wednesday, Sept. 9, 2020.
"I don't buy for one second that the vitality of American manufacturing is a thing of the past," the president said shortly before signing the order. "American manufacturing was the arsenal of democracy in World War II, and it must be part of the engine of prosperity now."
The order directs the agency in charge of federal procurement to raise the minimum threshold of parts that must be made in America to qualify under the existing "Buy American" law. It also increases the price preference for domestic products, which is a percentage added to foreign contractors' offers when determining the lowest price.
Democratic presidential candidate former Vice President Joe Biden speaks at a campaign event on manufacturing and buying American-made products at UAW Region 1 headquarters in Warren, Mich., Wednesday, Sept. 9, 2020.
Under the decades-old Buy American Act, at least 50% of the components of a product must come from within the U.S. to qualify as a domestic good. Former President Donald Trump also issued executive orders that affected the act, including one that pushed to raise that threshold to 95% for iron and steel products and 55% for other products.
Biden's order doesn't specify the number the new threshold should be, but directs his administration to consider allowing the public to comment on a proposed rule. The order also calls for a new component "test" that adds more weight to American-made parts that add more value to a product.
Depending on the threshold, the order may prove complicated for many U.S. automakers. Vehicles made by U.S.-based automakers usually contain more parts made in the U.S. than automakers based in foreign countries, according to the National Highway Traffic Safety Administration.
But not always — Japan-based Honda Motor Co., for example, is high on the list of automakers using U.S.-made parts. Still, many American automakers use a significant percentage of parts sourced from other countries.
Jay Timmons, president of the National Association of Manufacturers, lauded the order in a statement. But he said the administration should work to protect "access to critical global supply chains and the resources that our lifesaving and life-changing products require."
In a statement, Ford Motor Co. said that it has yet to review the details of the order but believes investing in U.S. goods and services "must be a national mission. President Biden's early focus on investing in American manufacturing is critical to the continued success of the U.S. auto industry."
General Motors Co. issued a statement saying it "is encouraged by President Biden's commitment to supporting American manufacturing" and also looks forward to reviewing the order. A spokesperson for Stellantis NV, the maker of Jeep SUVs and Ram pickups, declined to comment until the order has been made public.
Under the order, it also will be harder for non-American contractors to qualify for waivers to sell products to federal agencies. And it requires the administration to build a website showing existing contracts with foreign companies.
Agencies will be directed to use the Manufacturing Extension Partnership to connect with small and mid-sized manufacturers to bring new domestic suppliers into the government contracting system, review how they're implementing existing laws, and recommend ways to achieve Biden's "Made in America" goals.
The U.S. Office of Management and Budget will add a "Director of Made-in-America," who will be responsible for implementing the order.
The existing "Buy American" law is intended to ensure taxpayer money supports American workers and businesses, Biden said. He argued the Trump administration didn't "take it seriously enough" and too frequently waived the requirement "without much pushback at all."
Tens of billions of federal dollars have gone to foreign companies, Biden said, including $3 billion in defense funding on foreign construction contracts in 2018 and $300 million on foreign engines and vehicles.
Biden reiterated his commitment to replace federal fleets with American-made electric vehicles and to make "historic investments" in the research and development of battery technology, artificial intelligence and clean energy — all which have a direct impact on the auto industry.
"Together, this will be the largest mobilization of public investment in procurement, infrastructure and R&D since World War II," he said.
Rory Gamble, president of the United Auto Workers, said in a statement that the order "sent a strong message to American workers that our government will do all it can to support buying American products, made here by American workers. Today's action is a powerful statement of solidarity with our hard-working brothers and sisters."
U.S. Rep. Debbie Dingell, D-Dearborn, also praised the decision in a statement Monday, saying Biden and Vice President Kamala Harris are "strengthening labor unions, leveraging federal contracts to support domestic manufacturing, and investing in American workers."
The White House said in a press release that the order fulfills Biden's campaign promise to "make Buy American real and close loopholes that allow companies to offshore production and jobs."
Biden has promised to create a million new jobs in auto manufacturing, auto supply chains and auto infrastructure through an administration-wide effort to advance sustainable energy and transportation systems.
On the campaign trail, Biden touted his record of supporting American manufacturing, including his involvement in the 2009 auto bailout.
Auto industry manufacturing jobs have significantly declined in Michigan since the early 2000s, though current employment levels before the COVID-19 pandemic had reached similar levels to those right before the Great Recession, according to the Bureau of Labor Statistics. As of October 2020, the latest official data available, there were 37,700 jobs in auto manufacturing in Michigan.
US probes complaints that Ford tailgate recall didn't work
Associated Press
Jan 24, 2020
Detroit — U.S. safety regulators are investigating complaints that a Ford pickup truck tailgate recall didn't fix the problem.
The National Highway Traffic Safety Administration says it has 11 complaints that a recall of power tailgates on 300,000 Super Duty pickups failed to rectify the issue. The agency says it also has received reports from Ford about unintended tailgate openings after the recall repairs were made.
Ford recalled the F-250, F-350 and F-450 trucks in 2019 because the power tailgates could open while being driven. The defect allowed for the potential of unrestrained cargo tumbling from vehicles. The trucks are from the 2017 through 2020 model years.
The agency says it will investigate how often the problem happens and what the safety consequences are. The probe could lead to another recall.


Air bag recall to cost $610 million,
Ford Motor Co. says
Riley Beggin
Jordyn Grzelewski
The Detroit News
Jan 22, 2021
A federal recall of Takata air bags will cost Ford Motor Co. $610 million, the company reported in a federal filing Thursday.
The National Highway Traffic Safety Administration on Tuesday rejected a request from Ford and Mazda Motor Corp. to allow them not to recall around 3 million vehicles that had the potentially deadly air bag inflators inside them.
The Ford vehicles that must be recalled are the Ford Ranger from 2007 to 2011, the Ford Fusion from 2006 to 2012, Ford Edge from 2006 to 2021, the Lincoln Zephyr and MKZ from 2006 through 2012, the Lincoln MKX from 2007 to 2010, and the Mercury Milan from 2006 to 2011.
Ford filed a form with the U.S. Securities and Exchange Commission Thursday that addressed the recall and estimated the cost to the company would total $610 million. The cost will be reflected as a special item in the company's fourth-quarter 2020 financial results, which the Blue Oval is set to release Feb. 4.
The costly recall comes as the automaker continues to face financial fallout from the coronavirus pandemic, as well as costs associated with product launches — namely the redesigned 2021 F-150.
The Takata air bags used ammonium nitrate to create a small explosion that would inflate air bags in the case of a crash. However, regulators found the chemical can deteriorate and cause larger explosions that injure drivers.
The air bags have killed 27 people globally, including 18 in the U.S. In May of last year, NHTSA said it would not make automakers recall Takata air bag inflators in newer model year vehicles.
But the agency did recall millions of the air bags that had been supplied to 14 automakers for use in U.S. vehicles, including Honda Motor Co., Fiat Chrysler Automobiles NV and BMW AG.
In November, NHTSA ordered General Motors Co. to recall and repair nearly 6 million pickups and SUVs equipped with the inflators. In total, around 100 million Takata air bag inflators have been recalled globally.
Corrupt UAW boss wore wire while
playing golf with union brothers
Robert Snell
Jan 21, 2021
The Detroit News
Detroit — Prosecutors on Wednesday said a United Auto Workers official caught in a years-long corruption scandal deserves probation because he helped prosecutors convict two former presidents and secure federal oversight of the belabored union.
Edward "Nick" Robinson's help in exposing corruption within the UAW's top ranks included risking his safety by wearing secret recording devices during union junkets and while golfing with corrupt colleagues, according to a sentencing memo filed in federal court.
Robinson is portrayed in court filings as a pivotal figure in an investigation that has led to the convictions of 15 people. The probe by agents from the FBI, Internal Revenue Service and Labor Department has revealed labor leaders and auto executives broke federal labor laws, stole union funds and received bribes and illegal benefits from union contractors and Fiat Chrysler Automobiles executives.
Robinson, 73, of Kirkwood, Missouri, an aide to former UAW President Gary Jones, wore secret recording devices on at least 10 days from March-August 2019, prosecutors revealed. That includes Aug. 28, 2019, when federal agents raided multiple locations across the country, including Jones' Michigan home and a UAW regional office in Missouri.
"This was done so that agents could secure the immediate reactions of UAW officials to steps taken in the investigation," Assistant U.S. Attorney David Gardey wrote.
"Robinson took risks in cooperating against close associates who held significant positions of power in one of the most important labor unions in the country," Gardey added. "Robinson's cooperation was early, truthful, self-motivated, proactive, and highly significant to the government's investigation."
In March, Robinson pleaded guilty to embezzling union funds and splitting the money with Jones. He faces up to five years in federal prison after admitting he conspired with at least six other UAW officials to embezzle more than $1 million since 2010 and spent the money on personal luxuries such as Palm Spring, California, villas, golf trips, and more than $60,000 in cigars.
His sentencing is scheduled for Jan. 27 in front of U.S. District Judge Paul Borman.
Robinson's cooperation, and revelation that he wore a recording device, quickly led to the convictions of Jones, former President Dennis Williams and Vance Pearson, who headed the UAW regional office in Missouri. His help also enabled federal investigators to obtain court approval to search multiple locations, including a $1.3 million lakefront home the UAW built for Williams with mostly nonunion labor.
"Robinson's cooperation also aided the government in its effort to secure federal oversight of the UAW," Gardey wrote. "Robinson's cooperation in revealing the existence of a multidimensional embezzlement conspiracy and obstruction of justice within the UAW contributed to the government's ability to secure this settlement."
The proposed deal includes government oversight of the UAW for six years and would let rank-and-file workers decide whether to alter the union's constitution to allow for direct election of future leaders.
Such a constitutional change would be groundbreaking and give members the right to hold elections and directly vote for new UAW leaders for the first time in more than 70 years.
Lincoln Corsair EV coming
in 2026, report says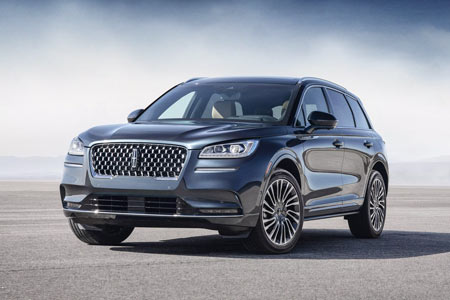 The electric Lincoln SUV would be one of five new EVs Ford will build in Canada later this decade.
Steven Ewing
Jan. 20, 2021
An all-electric version of the Lincoln Corsair crossover will launch later this decade, according to a report published Tuesday. Quoting vehicle forecasting company AutoForecast Solutions, Automotive News says the electric Corsair will go into production at Ford's Oakville, Ontario plant in 2026.
This news follows a report from last September, where a representative from Canadian auto union Unifor said Ford would build five new electric cars at the Oakville facility. At the time, no specifics regarding the future vehicles were given, only that the first of the five cars should enter production in 2025.
A Lincoln representative told Roadshow the automaker does not comment on future product plans.
The Oakville facility is where the Ford Edge and Lincoln Nautilus crossovers are currently produced. The plant is expected to be overhauled as part of a C$1.95 billion investment into Ford's Oakville and Windsor, Ontario facilities.
All five of the EVs set to be produced in Oakville will reportedly share the same platform, which will underpin both Ford and Lincoln products, according to Automotive News. The Corsair, which is currently Lincoln's best-selling product in the US, is expected to be fully redesigned in 2024.
Canadian GM workers ratify
contract for commercial
electric van production
Breana Noble
The Detroit News
Jan 19, 2021
General Motors Co. employees at its CAMI Assembly Plant ratified a new three-year contract that will bring production of electric commercial delivery vans to the facility in Ingersoll, Ontario, the Canadian auto workers' union, Unifor, said Monday.
Members of Local 88 on Sunday supported the proposal by 91%. CAMI will be GM's fourth electric vehicle plant in North America. The Detroit automaker plans to invest $800 million to build the EV600 van, which GM's new business entity BrightDrop showcased last week at the virtual Consumer Electronics Show.
BrightDrop, a new GM startup that aims to help logistics and delivery customers, and the EV600 are part of GM's aggressive push to rebrand as an EV maker. It plans to have 30 electric entries globally by 2025. BrightDrop also developed the EP1, an electric pallet that GM says can move product over short distances.
CAMI currently builds the Chevrolet Equinox, which also is assembled in Mexico. It employs 1,900 Unifor members. Work on the two-year transformation is set to begin immediately. Equinox production will end there in 2023.
Last fall, GM negotiated a new contract with Unifor that included a $1.03 billion investment at the Oshawa Assembly plant to build full-size trucks starting next year. CAMI falls under a different contract that wasn't set to expire until September 2021, but GM and the union moved up contract talks to the start of the year.
The first 500 EV600s are scheduled to be delivered to FedEx Express by late 2021. The van will be available to more customers in 2022. GM's new Ultium battery technology will debut in the commercial market on the EV600. The van has an estimated range of up to 250 miles on a full charge.
Altogether, the three Detroit automakers negotiating with Unifor say they will invest $4.7 billion into Canadian plants, according to the union. That includes support from federal and Ontario governments.
"To achieve this level of commitment for auto manufacturing," Jerry Dias, Unifor national president, said in a statement, "shows what can happen when we have a collective vision to secure this sector and create good jobs for Canadians."
Ford, despite pandemic disruptions,
boosted China sales in 2020
Jordyn Grzelewski
The Detroit News
Jan 18, 2021
Despite production disruptions and deflated consumer demand caused by the novel coronavirus pandemic, Ford Motor Co. managed to grow its sales in the world's largest auto market in 2020.
Ford this week reported that its sales in Greater China grew 6.1% year-over-year, to 602,627 vehicles. In the fourth quarter, the automaker's sales were up 30.3% over the same quarter in 2019, marking the third consecutive quarter of sales growth. Ford, with its Chinese joint venture partners, sold 190,916 vehicles in the final quarter of the year.
The Blue Oval historically has struggled to gain traction in China, but attributes recent signs of improvement to a refreshed lineup that is more in line with customer preferences. The automaker's Ford, Lincoln and JMC brands all reached double-digit year-over-year growth in the fourth quarter — 24.7%, 74.9% and 28.2%, respectively.
"The positive results reflect the company's favorable product mix that more strongly aligns with Chinese consumers' preferences for SUVs and luxury vehicles," Ford said in a statement announcing the results. "The company's refreshed portfolio of offerings includes several new vehicles such as Ford Explorer and Escape, as well as Lincoln Corsair and Aviator."
The company "fully (intends) to strengthen that momentum with a winning strategy that optimizes our product mix and localizes production of world-class Ford and Lincoln vehicles to meet rising Chinese customer demand," Anning Chen, president and CEO of Ford China, said in a statement.
Ford's luxury Lincoln brand set new quarterly and full-year sales records. Full-year sales of 61,700 units marked a nearly one-third increase over last year. SUV sales for the brand climbed 158.7% over the same quarter in 2019. For the year, they were up 96.3%.
Ford brand vehicle sales were up 24.7% for the fourth quarter but full-year sales of 324,000 units were down 1.2% from 2019. Again, SUVs were popular, with sales for the segment up 86.5% for the quarter and nearly one-third for the year.
The automaker reported that the new Explorer and Escape, respectively, sold about 10,000 units and 12,000 units in Q4.
Commercial vehicle sales, buoyed by strong demand for Ford's globally-popular Transit van as well as growth of JMC brand commercial vehicle sales and pickup, were up 31.4% in the fourth quarter, and up 15.4% in 2020. Light-truck sales were up, too.
General Motors Co., too, has sought to realign its Chinese lineup to offer the luxury vehicles and SUVs customers want to buy. The Detroit automaker sold 2.9 million vehicles in China in 2020, a 6.2% decline from 2019. The dip marked GM's third consecutive year of declining sales in China.
Detroit's automakers have struggled in the region.
In recent years, Ford's sales there have been pulled down by lack of demand for an aging lineup. In response, the automaker launched its Ford China 2.0 strategy to speed up the changeover of its lineup and create more locally-made vehicles that resonate with customers in the region.
The refreshed portfolio includes the Ford Edge Plus that launched in December, the Lincoln Nautilus, and the third Lincoln vehicle to be localized in China in 2020.
Windsor Assembly barricade
dispute reignites
Dave Waddell,
Windsor Star
Jan 17, 2021
FCA Canada asked 30 Auto Warehouse Company workers to leave the Windsor Assembly Plant Friday morning as the labour dispute that saw a six-day blockade last week reignite.
FCA notified AWC on Thursday it no longer required their employees as of midnight.
That prompted Unifor Local 444, which represents the nearly 60 workers impacted, to resurrect the blockade. The workers are responsible for driving finished minivans out of the plant and preparing the vehicles for shipping.
"We're blocking the workers from Motipark coming in to do our work," Local 444 president Dave Cassidy said. "It's not happening.
"This is not coming down until we get a court order to tell us it's coming down."
Cassidy said he learned of FCA's change of tack from AWC workers.
"I was shocked," Cassidy said.
"We lived up to our end and Chrysler, for their whatever reason, didn't live up to their end and I'm not sure why."
Cassidy said the blockade would be manned around the clock.
In an emailed statement from FCA Canada, the company disputes Unifor's version of events.
"FCA was notified by AWC management that Thursday, Jan. 14 was its last day at Windsor Assembly Plant," said FCA Canada's head of communications Lou Ann Gosselin. "AWC confirmed that they did not instruct their employees to report to work this morning."Holding yards around FCA's Windsor Assembly Plant are being filled with new Chrysler Pacificas as a blockade at the plant resumed on Friday.
Gosselin didn't expand on the reasoning for AWC's decision, but noted all parties understood it was an interim agreement.
She added FCA feels it's unfairly caught in a dispute between Unifor and Motipark, which was awarded the contract that AWC had been doing.
"Unifor has been disrupting our FCA Windsor Assembly Plant operations since the releasing activity for finished vehicles was awarded to a new unionized vendor, effective January 1," Gosselin said.
"This labour dispute should be resolved off FCA premises. As this is currently not the case, FCA will pursue all options to protect our production at Windsor."
Superior Court of Ontario officials confirmed Friday that FCA is seeking a date in front of Justice Paul Howard.
Howard is unavailable Monday and no court date had been set.
The blockade originally was put in place Jan. 5 as part of a labour dispute between Local 444 and Motipark, which won the FCA contract to take over from AWC.
Unifor is claiming employment successor rights while Motipark has shown no interest in hiring the 60 Local 444 workers who had been doing the work under the former AWC contract.
Cassidy said Motipark workers would start at $17.77 per hour under the new agreement compared to the average of $22 per hour under the Unifor deal with AWC.
FCA and Unifor reached a temporary agreement last Sunday night ending the first blockade.
Unifor filed papers this week requesting a date before the Ontario Labour Relations Board on the successor rights issue.
Cassidy said Friday no date had been set yet.
The drama on Friday started around 1 a.m. when FCA management and Windsor Police Service officers showed up with the intention of having Motipark employees enter the plant.
However, the Unifor blockade prevented that.
Unifor said the 30 AWC workers reported for their shift at 7 a.m. only to be told they had to leave as they were trespassing.
"We told (FCA) they aren't going to have scabs come in here," Cassidy said.
"The police asked if we'd go in and escort them out, so we went in and escorted them out."
Cassidy said the auto haulers for Cassen and ATS, which is a division of FCA, will be allowed to transport all minivans that had been processed and lined up for shipping by the AWC workers.
Unifor Local 444 president Dave Cassidy, centre, and others keep distanced — due to COVID-19 precautions — while monitoring traffic at Windsor Assembly Plant's vehicle delivery exit on Walker Road Friday.
Friday's production was being stored around WAP's yard and the lots across from the plant on the east side. WAP has enough space to hold one day's production (830 vehicles).
No production is scheduled for this weekend.
Cassidy said Unifor has suggested FCA make the AWC workers part of its ATS division, which is also represented by Local 444.
"ATS have a separate collective agreement (than WAP workers)," he said.
"We'll negotiate a different contract (than AWC), no problem. It's win-win for everyone."
Wearing wires put convicted UAW
official 'at risk,' lawyer says
Breana Noble
The Detroit News
Jan 15, 2021
Wearing wires in meetings with United Auto Workers leaders put a convicted former union official "at risk," according to a federal court filing from Edward "Nick" Robinson's lawyer Wednesday requesting that he serve probation instead of time in jail.
Robinson, an aide to former UAW President Gary Jones, cooperated with federal investigators to record meetings and phone conversations, according to the memorandum confirming a November 2019 Detroit News report.
The contents of those recordings were used as evidence in a years-long probe that has resulted in 15 convictions, including two former UAW presidents, and prompted a settlement between the union and the federal government that includes six years of oversight and the opportunity for members to institute direct elections of leaders.
Robinson, 73, of Kirkwood, Missouri, in March pleaded guilty to embezzling union funds and splitting the money with Jones. He faces up to five years in federal prison after admitting he conspired with at least six other UAW officials to embezzle more than $1 million since 2010 and spent the money on personal luxuries such as Palm Spring, California, villas, golf trips, and more than $60,000 in cigars. His sentencing is scheduled for Jan. 27 after several delays.
"Nick, a clear nonexpert, went into meetings and conversations with the highest-ranking officials of the UAW wearing wires to capture everything that was said," Robinson's attorney, James Martin, wrote. "Moreover, not only did he do this once, but on four different occasions Nick continued to take an active role, putting himself at risk in order to assist the Government.
"Though he did not obtain direct evidence on each of them, he is indisputably the domino that brought a large group of crooked individuals down, including two UAW Presidents."
Robinson approached the federal government before agents came to him, Martin wrote, calling it a sign of remorse. The personal risk of Robinson's actions in doing what agents requested was "indisputable," his lawyer noted, adding one of the targets asked if he was wearing a wire and made him pull up his shirt. He also recorded approximately 20 phone calls, he wrote.
Former Missouri Gov. Bob Holden, a Democrat, offered a brief letter in support of Robinson: "I applaud Nick's commitment to cooperate with the investigation in this case. In all of my interactions with Nick, I always found him to be a strong advocate for the interests of the UAW men and women members."
Robinson's military service, his and his wife's health issues and the financial repercussions of the case were cited in the request for leniency. Robinson has chronic heart disease, bypass heart surgery, high blood pressure, high cholesterol, low blood platelets, kidney stones and back pain requiring routine cortisone shots, according to the filing that noted incarceration puts Robinson at risk amid the COVID-19 pandemic.
Robinson agreed to pay $42,000 in restitution to the Internal Revenue Service and an unspecified amount of additional restitution. His sentencing date has been delayed several times due to the pandemic.
"Mr. Robinson will stand before the Court a humbled man," Martin wrote, "with great regret and remorse for his actions which bring him before the Court."
Province confirms who can receive
COVID-19 vaccine as part of
Phase 2, mass delivery
expected by April
BY LUCAS CASALETTO
Jan 14, 2021
SUMMARY
More than 144,000 doses have been administered to date, with over 8,000 Ontarians fully immunized with both shots.
The interval between Moderna doses is 28 days; for the Pfizer vaccine, it's 21 days.
Ontario will enter Phase 3 when vaccines are available for every provincial resident that wishes to be treated.
Ontario plans to administer the COVID-19 vaccine in all nursing homes and high-risk retirement homes by Feb. 15 and will begin mass delivery to select groups of people in April.
On Wednesday, the Ford government said health officials are preparing to immunize up to 8.5 million people before the end of Phase 2.
The province is currently focusing on vaccinating health-care workers and those in long-term care facilities but says people over the age of 80 will be the first priority group to receive the shot when Ontario enters the second phase of its vaccine rollout in April.
Those eligible to be vaccinated as part of Phase 2 include:
Older adults, beginning with those 80 years of age and older and decreasing in five-year increments over the course of the vaccine rollout;
Individuals living and working in high-risk congregate settings;
Frontline essential workers (e.g., first responders, teachers, food processing industry); and
Individuals with high-risk chronic conditions and their caregivers.
"With Phase 1 of our plan well underway, we're getting ready to expand our vaccine rollout and get more needles into arms as soon as the supply is available," said Premier Ford.
"We now have a well-oiled machine, led by Gen. Hillier, and we are making tremendous progress. We know this second phase will be an even larger logistical undertaking than the first."
"That's why we're ramping up our capacity on the ground to ensure these vaccines are administered quickly, beginning with the people who need them most," Ford added.
In the spring and from April to June, officials project to secure and distribute roughly 15 million doses of Pfizer and Moderna's treatment. Of that tally, around 4.5 million will be administered to essential workers and the aforementioned age demographic above 80.
Roughly 500,000 people consisted of high-risk, followed by 4 million people aged anywhere from 16 to 60 years old, will be inoculated, if they so choose, according to this plan.
Ontario has administered more than 144,000 doses of the COVID-19 vaccine as of Wednesday. This includes over 45,000 healthcare workers in LTC and retirement homes, over 77,000 healthcare workers, and over 13,000 LTC and retirement home residents.
An additional 20,000 long-term care, retirement home staff, residents, and essential caregivers have
received Moderna vaccinations, the province confirmed.
It also says about 8,000 people have now received the two doses of the vaccine required for full immunization.
Phase 1 of the vaccine program is expected to see approximately 1.5 million eligible people vaccinated, Ford said.
The plan builds on an earlier pledge to give the COVID-19 vaccine to long-term care facilities in hot spots by Jan. 21.
Ontario will enter Phase 3, planned for August, when vaccines are available for every provincial resident that wishes to be treated.
The government says it's now able to move the Pfizer-BioNTech vaccine safely to long-term care facilities, which has allowed it to speed up immunizations in nursing homes.
The province is also expanding testing sites province-wide, including the launch of the first municipally run vaccination site at the Metro Toronto Convention Centre.
Toronto's top doctor confirmed that as of Monday, the site will administer vaccines to Phase 1 priority populations, including select frontline health care workers.
The Pfizer-BioNTech and Moderna vaccines require a second dose either 21 days or 28 days after the first shot is given.
Long-term care homes have been hit hard during the pandemic, with 3,063 residents dying of COVID-19 since March.
Ontario is reporting 2,961 new cases of COVID-19 on Wednesday, and 74 deaths.
Compared to the day before, this is a two percent increase in new infections and an 80.5 percent increase in the number of lives lost because of the virus.


Ford ending manufacturing in
Brazil, but will continue South
America operations
Jordyn Grzelewski
The Detroit News
Jan 13, 2021
Ford Motor Co. on Monday said it will cease manufacturing operations in Brazil amid an ongoing restructuring of its global operations and challenging economic conditions in South America.
Vehicle production at the automaker's plants in Camaçari and Taubaté will cease immediately, with parts production continuing for a few months. Ford's Troller plant in Horizonte will continue operating until the fourth quarter. In all, the closures will affect some 5,000 employees.
Still, the Blue Oval said its departure from Brazil does not mean an exit from the South American market. The automaker will continue to sell vehicles in the region, sourced from manufacturing facilities in Argentina, Uruguay and other parts of the world. And the company will maintain numerous non-manufacturing facilities in Brazil.
The shuttering of Brazil production, which will cost the automaker some $4.1 billion in charges, marks another step forward in the global restructuring the company has been undergoing since 2018. It's also consistent with CEO Jim Farley's newly-detailed plan to fix and grow the Blue Oval's automotive business.
"With more than a century in South America and Brazil, we know these are very difficult, but necessary, actions to create a healthy and sustainable business," Farley said in a statement. "We are moving to a lean-asset-light business model by ceasing production in Brazil and serving customers with some of the best and most exciting vehicles in our global portfolio. We will also accelerate bringing our customers the benefits of connectivity, electrification and autonomous technologies to efficiently address the need for cleaner and safer vehicles well into the future."
About $2.5 billion of the charges will be recorded in the fourth quarter of 2020, and about $1.6 billion in 2021. About $2.5 billion of the total will be paid in cash.
The move comes a little more than three months into Farley's tenure as CEO. Upon stepping into the role, he laid out a plan for profitable growth that called for improving quality, reducing costs and accelerating the restructuring of underperforming businesses. Under that plan, the Blue Oval is focusing on its most successful businesses and franchises, and leaning into a future it and other automakers are betting will be defined by technologically-advanced, electric-powered vehicles.
Ford is in the midst of launching a significant portfolio refresh, with the Mustang Mach-E, redesigned F-150 and Bronco Sport now for sale, the Bronco coming this year, and electric versions of the F-150 and Transit due next year.
"Going forward, we will focus our product portfolio on our global strengths in mid-size pickups and commercial vehicles, with Ranger and Transit, and serve our customers in the region with key global products such as the Mustang, Bronco, Territory and more," Lyle Watters, president of Ford South America, wrote in a note to employees Monday.
The Brazil decision is tied to Ford's goals of boosting global profit margins to 8% and generating "consistently strong adjusted free cash flow."
The company has worked in recent years to shore up its South American business by phasing out products that weren't generating a profit, introducing new ones, slashing costs and getting out of the heavy-truck segment there. But company officials said the steps simply weren't enough, in part because of the coronavirus pandemic's toll.
Through the first three quarters of 2020, the automaker lost $386 million in South America — an improvement from 2019, when the same period brought $527 million in losses.
Such steep losses undermine the automaker's push toward electric and autonomous vehicles, a costly transition that promises little payoff in the near term. The company in the last few years has sought to reduce costs by restructuring underperforming businesses. In all, the global restructuring is slated to cost the automaker $11 billion.
"The kinds of changes we're announcing today in South America are intended to help us accomplish there what's already happening in Europe and China, where we're giving customers great vehicles, great service, great value at the same time that we're improving the operating performance and profitability of those businesses," said corporate spokesman T.R. Reid.
The automaker, as well as its competitors, have been hampered by persistent, unfavorable economic conditions in the region.
"Brazil has been difficult, and South America has been difficult, and the COVID situation made it that much more so," said Stephanie Brinley, principal analyst at IHS Markit. "And Ford, like other automakers, is investing a lot into moving their EVs and other mobility services forward."
IHS's most recent data, from 2019, indicates that 4.5% of Ford's light-vehicle production was based in Brazil.
"There's pressure to get to that 8% return sooner than later," said Brinley. "And Brazil wasn't giving them that kind of return, and hadn't been for awhile."
In Brazil last year, industrywide vehicle sales plummeted 26% and production contracted by nearly one-third from 2019, Ford officials said. Sales were down to half their 2013 levels. And industrywide, capacity utilization in the country hovered at just 40%.
"The recent devaluation of currencies in the region has increased industrial costs beyond recoverable levels, and the global pandemic has further amplified issues, leading to even higher idle capacity and lower vehicle demand in South America, particularly in Brazil," Watters wrote.
"This decision," he added, "was taken only after we diligently pursued partnerships and selected asset sales. There were no viable options."
Ford's crosstown rivals, General Motors Co. and Fiat Chrysler Automobiles NV, still operate in the region — though GM in recent years has retreated from other international markets, including Europe, as it has pursued an aggressive EV agenda.
Ford said Monday that it will continue to sell vehicles from its global portfolio in South America, including the new Ranger pickup built in Argentina, the Transit van, the Bronco, and Mustang Mach 1. The automaker also hinted at new product offerings for the region, saying that it plans to "accelerate the introduction of several new connected and electrified models" including a new plug-in vehicle.
The automaker will maintain its product development center in Bahia, its proving ground in Tatuí, São Paulo, and its regional headquarters in São Paulo. It will end sales of EcoSport, Ka and T4 once existing inventories are sold.
The announcement follows Ford's decision at the end of December to scrap an automotive joint venture with Indian automaker Mahindra & Mahindra, under which the two companies would have jointly developed vehicles for India and other emerging global markets.
Going forward, the Blue Oval insists it's committed to South America and, as in its other markets, will emphasize connected and electric vehicles, and the SUVs, pickups and commercial vehicles where it makes its money.
"We intend to be a leader in the electrification revolution. That includes in South America," said Reid. "Our expectation is that what we're doing will help us create a sustainably profitable business in that part of the world."
Ford dominates Car of Year Awards
with F-150 and Mustang Mach-E
Henry Payne
The Detroit News
Jan 12, 2021
Ford Motor Co. dominated the first big award of the 2021 automotive season — the North American Car, Truck and Utility Vehicle of the Year — claiming two wins. The Ford F-150 took home Truck of the Year while the Blue Oval's first all-electric vehicle, the Mustang Mach-E, won Utility of the Year. Hyundai Elantra's won for Car of the Year.
The 28th annual NACTOY awards are one of the auto industry's most prestigious. Selected by an independent group of 50 journalists from across North America (including the author of this article), the prize honors new vehicles that have raised the standards and become new benchmarks for their classes.
"It is always a complex process to bring a vehicle of this magnitude to market," said Kumar Galhotra, Ford president of the Americas and International Markets Group, on receiving the award for the 14th generation of the best-selling F-150. "It was a process made even more complex by COVID."
Ford has been the best-selling truck in America for 44 straight years, with a model line that offers models ranging from $30,000 work trucks to luxurious Limited models with sticker prices north of $70k.
The F-150 offers countless configurations across six different powertrains with a hybrid option offered for the first time in 2021. Detroit automakers dominate the pickup segment and the F-150 beat out two other formidable truck models, the off road-oriented Jeep Gladiator Mojave and the first 700-horse pickup, the Ram 1500 TRX.
The SUV category was the year's most contested as automakers have flooded the market with models to satisfy consumers' unquenchable thirst for all things ute. Of the 43 new vehicles introduced this year, half were SUVs.
The ambitious, battery-powered Mustang Mach-E is Ford's answer to Tesla Inc.'s successful Model 3 and Model Y model line. The first non-sports car from Ford's Mustang sub-brand, the Mach-E beat out Genesis's first SUV, the GV80, and the iconic Land Rover Defender.
"This is really special in so many ways," said Galhotra. "The Mach-E is the first new member of the Mustang family in a long time. It represents the future of our company."
Though sedans make up a diminishing share of the U.S. auto market, Asian manufacturers like Hyundai continue to devote resources to compact cars as a way to attract entry-level buyers and appeal to consumers who prefer to think outside the SUV box. With its 2021 Elantra, Hyundai offers a comprehensive compact lineup to battle segment leader Honda Civic.
"With bold styling and an impressive list of standard high-tech features, along with multiple configurations that include hybrid and high-performance models, the Elantra confirms Hyundai's serious commitment to the compact car segment," said NACTOY juror and board member Gary Brauer, executive publisher of CarExpert.com.
The nine finalists for the 2021 model year were weaned from a competitive group of 27 semifinalists judged on criteria including: innovation, design, safety, performance, technology, driver satisfaction, and value.
The selection process takes place over 12 months of jury testing and three separate votes. This year was the first time the winners were announced via a virtual event due to the ongoing challenges of the coronavirus. The event was initially scheduled to be held at Detroit's TCF Center.
North American auto industry feels
effects of global microchip shortage
Jordyn Grzelewski
The Detroit News
Jan 11, 2021
Automakers in North America are beginning to feel the effects of a global shortage of semiconductors that has caused a crunch for manufacturers worldwide, adding a wrinkle to the industry's attempted comeback from the coronavirus crisis.
Ford Motor Co. confirmed Friday that it will idle its Louisville Assembly Plant next week "due to a supplier part shortage connected to the semiconductor shortage," company spokeswoman Kelli Felker said.
Ford builds its Escape and the Lincoln Corsair SUVs in Louisville. The automaker said it has moved up a previously planned week of downtime to next week due to the parts shortage. The production stoppage will affect 3,900 workers who will make approximately 75% of their gross pay during that time.
"We are working closely with suppliers to address potential production constraints tied to the global semiconductor shortage," Felker said in a statement.
Meanwhile, Fiat Chrysler Automobiles NV said Friday that it would delay the restart of its Toluca, Mexico, plant, which builds the Jeep Compass, and would schedule down time at its plant in Brampton, Ontario, which builds the Chrysler 300, Dodge Charger and Dodge Challenger.
"This will minimize the impact of the current semiconductor shortage while ensuring we maintain production at our other North American plants," company spokeswoman Kaileen Connelly said in a statement.
A spokesperson for Toyota Motor Corp.'s North America division told The Detroit News Friday that the automaker has scaled back production of its Texas-built Tundra pickup truck by 40% this month in response to the shortage. Toyota is still evaluating how the shortage might affect other products as the manufacturer attempts to put in place "counter-measures" to minimize the impact.
General Motors Co. has not announced any impact on its production schedules, but spokesman David Barnas said in a statement that the Detroit automaker is "aware of the increased demand for semiconductor microchips as the auto industry continues its global recovery."
"Our supply chain organization is working closely with our supply base to find solutions for our suppliers' semiconductor requirements and to mitigate impacts on GM production," he said.
The shortage is sending a ripple of disruptions across the automotive industry, according to automakers and media reports from around the world. There are a number of factors that explain the parts issue, but a major one has to do with the pandemic.
When large swaths of manufacturing operations ground to a halt in early 2020, suppliers found themselves with plenty of capacity of fill new orders. But as consumer demand bounced back quicker than expected, much of that capacity went to consumer goods such as gaming devices and cell phones.
When the automotive manufacturers resumed production and encountered more robust demand than they had expected, they were essentially at the back of the line.
"If you consider this to be one of those onion analogies, as you pull it apart, it's all going to go down to the pandemic," said Phil Amsrud, senior principal analyst for IHS Markit's automotive semiconductor research area.
Semiconductors are crucial components used in everything from instrument clusters to the infotainment systems that are ubiquitous in modern-day vehicles. And, automakers are increasingly competing with other sectors for the components as they need more of them for technologically-advanced, electric-powered vehicles.
"It's not uncommon in any year for there to be tightness in the supply chain, but a lot of what we're seeing now is a result of, everybody hit the brakes early last year and then has been trying to read the tea leaves to figure out, when do I start ramping production back up?" said Amsrud. "By the time the automotive (manufacturers came) back, all that capacity is consumed elsewhere."
Japanese automaker Nissan Motor Co. is adjusting production of its Note hatchback at its Oppama plant in Japan. A spokeswoman for the automaker's North America operations said: "For the U.S. specifically, we are working closely with our supplier partners to monitor the situation and assess any potential impact on our operations."
The Nikkei, a Japanese newspaper, reports that Honda Motor Co. will cut back vehicle production due to the shortage, as well. The Japanese automaker will cut production by about 4,000 units this month, the newspaper said.
A spokesman for American Honda Motor Co., Inc. said Friday that, due to the shortage, "Honda's purchasing and production teams are currently evaluating this issue in the effort to limit the impact of this situation on our production in North America and maintain our ability to meet the needs of our customers."
German automakers Volkswagen AG and Daimler AG, too, have said the shortage will require them to scale back production. Also sounding the alarm: automotive parts manufacturers.
"The disruptions caused by the coronavirus crisis have caused extreme volatility in the automotive industry," Continental AG, a German parts maker, said in a statement, explaining that the semiconductor industry has lead times of six to nine months and has not been able to keep up with auto industry demand. "The bottlenecks from the semiconductor industry are expected to continue well into 2021, causing major disruptions in Continental's production."
"Internal taskforces are working 'round-the-clock,'" Continental said. "Despite all efforts unfortunately, we have not been able to avoid requesting our customers to adapt their production or adjust their product mix in specific cases."
Going forward, the company said, it will be "critical" to invest in and expand the capacity of the silicon foundries where these parts originate.
Similarly, multinational Germany-based engineering and technology company Robert Bosch LLC said in a statement that it "cannot divorce itself" from a shortage of semiconductor components.
"To make matters worse, one semiconductor manufacturer's investments in expansions and production increases have been delayed due to the coronavirus pandemic, resulting in significantly fewer chips being supplied to Bosch," the company said. "Despite the difficult market situation, Bosch is doing all it can to keep its customers supplied and to keep any further impact to a minimum."
And the China Association of Automobile Manufacturers has warned of a "relatively big impact" to some production in the world's largest auto market in the first quarter due to the shortage, according to a December IHS Markit research note on the issue.
The supply-chain constraint comes as the global auto industry undertakes a recovery from the early days of the pandemic, which shuttered production in North America for eight weeks in the spring of 2020. Auto plants have largely avoided any major disruptions related to the virus spreading among workers, but other pandemic-related supply issues have at times slowed down production.
IHS Markit's analysts don't see this as a long-term problem for the industry, but one that could cause production snarls through the first half of the year.
"It's a mix problem; too much of it is going to consumer applications, compared to automotive. That will self-correct over time," Amsrud said. "We'll get through this, even though it's going to be an uncomfortable period of time until we get there."
Ford Maverick compact pickup
truck leaks in new photo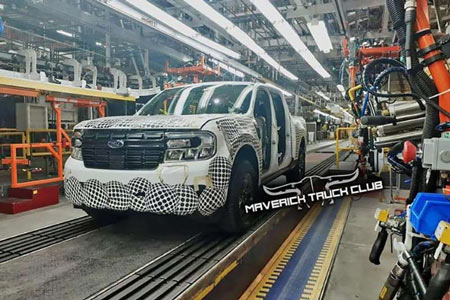 Sean Szymkowski
MSN News
January 10, 2021
Ford's done selling passenger cars -- it's all-in on trucks and SUVs . But the Blue Oval knows it needs to keep things somewhat affordable, and you could well be looking at one of two vehicles that will become entry-level models at Ford dealerships: the Maverick pickup truck.
The photo published on the Maverick Truck Club forum with zero sourcing, but doing a little bit of digging, it's highly likely this is the Maverick. Rumor says the compact truck will enter production at Ford's plant in Hermosillo, Mexico, and the the interior of the plant looks nearly identical to photos of the Ford Bronco Sport, which is currently built at the factory, rolling down the production line. We at first thought it could be the next-generation Ranger due to its seriously upright stance and proportions, but we do indeed believe this is the compact truck instead.
Ford did not immediately return Roadshow's request for comment on the photo, though we expect crickets when it comes to a leak like this.
The Maverick, the frontrunner nameplate for this new truck, will be one of two new Fords we've heard of that are meant to serve as entry-level vehicles at Ford dealerships. Dealer sources previously said Ford showed the Maverick and a currently unnamed crossover at a dealership meeting, and both will be very affordable, around $20,000 to start, apparently. The second vehicle will replace the mediocre Ecosport in Ford's lineup.
How can Ford build a pickup and sell it so cheaply? This will not be a body-on-frame vehicle. Instead, it should ride on Ford's C2 architecture that underpins the latest-generation Focus sold abroad, the Escape and the 2021 Bronco Sport. As mentioned, the Bronco Sport is already in production at this Mexican factory. The little SUV also highlights how good Ford is at taking a unibody platform and making it look like a rough and tough thing. The Maverick looks to take the same lessons away with a blocky front end. We also saw a leaked photo of the truck's tailgate last year, too.
We don't have solid information on when the Maverick will make a formal debut, but if Ford's busy building prototypes, we'll likely hear more soon.
GM, Ford convert hundreds of
temps to permanent employees
Kalea Hall
The Detroit News
Jan 7, 2021
Detroit — More than 650 General Motors Co. temporary employees and nearly 400 Ford Motor Co. employees will become permanent full-time employees this month, the automakers said Monday.
GM and Ford Motor Co. both have agreements with the United Auto Workers to convert temporary employees to permanent positions so they can reach top wages and benefits like others have on the line. Fiat Chrysler Automobiles' contract with the union doesn't set conversion dates like the agreements at Ford and GM.
The union fought during the 2019 negotiations with the Detroit Three to secure a pathway for temporary workers to become permanent employees, increasing their pay and providing them benefits not accessible to temps. The fight included a 40-day strike against GM.
"This life-changing event is a testament to our members' hard work as permanent temporary employees and the power of collective bargaining that created this defined path for them to seniority status," UAW Vice President Terry Dittes said in a statement.
Among the plants with converted temp positions are GM's major truck plants in Flint and Fort Wayne, Indiana, and its large SUV plant in Arlington, Texas. These plants have been running overtime to keep up with high demand for the product while inventories have been tight because of an eight-week COVID-19 shutdown last spring.
Ford made temp employees permanent at Kansas City Assembly where F-150s and Transit vans are made, and at Kentucky Truck where employees build the Super Duty trucks, Ford Expedition and Lincoln Navigator.
Last January, GM converted more than 900 temporary employee positions across 30 facilities and Ford converted 592.
FCA is filling 3,850 jobs at its $1.6 billion Mack plant and another 1,100 jobs at the Jefferson North Assembly Plant once that plant gets a $900 million update, which hasn't started.
In filling those full-time positions, the company is granting current supplemental workers the first opportunity at those jobs to meet contractual obligations with the UAW.
In latest management shakeup,
Ford announces new U.S.,
Canada sales lead
Jordyn Grzelewski
The Detroit News
Jan 6, 2021
Ford Motor Co. on Monday announced a new sales leader for the United States and Canada, the latest in a string of management shakeups under new CEO Jim Farley.
Andrew Frick, a 25-year company veteran who most recently served as director of U.S. sales, became vice president of sales for the U.S. and Canada effective Monday. He replaces Mark LaNeve, who the company said had "elected to depart Ford ... in order to pursue the next chapter of his professional life."
The company previously announced the replacement of the chief financial officer, as well as the retirements of its chief information officer, president of its international markets group, and chief manufacturing and labor affairs officer.
Additionally, the Dearborn automaker said it would separate the jobs of chief marketing officer and leading the Lincoln brand, roles that previously were combined.
The Blue Oval has also made a number of staffing changes that reflect its ongoing transition to electric and autonomous vehicles, as well as the opportunities it sees in digitally-connected vehicles offering data-driven services, particularly for commercial customers.
Upon stepping up as CEO, Farley laid out a plan that calls for the automaker to overhaul its automotive operations by improving quality, reducing costs and speeding up the restructuring of underperforming businesses. The plan includes allocating more resources to the automaker's strongest businesses and vehicles, expanding its commercial vehicle business and adding more affordable vehicles to its lineup, among other steps.
Frick, 47, has experience at both Ford and Lincoln, having served in numerous regional roles in the U.S., Asia Pacific, the Caribbean and Central America. He has a bachelor's degree in marketing from Villanova University and a master of business administration degree from the University of Michigan.
In his new role, he'll be responsible for sales, customer care and dealer relations for the Ford brand in the U.S. and Canada. He'll report to Kumar Galhotra, president of the Americas and international markets group.
"Andrew brings deep product knowledge, a passion for customers, excellent dealer relations and a proven track record of results to the critical role of leading the sales organization in our largest market," Galhotra said in a statement.
"His leadership will be critical as Ford continues to turn around its automotive operations, especially with exciting new products and ever-improving quality, modernizing all aspects of the company and disrupting our conventional automotive businesses to better serve customers."
LaNeve, 61, joined Ford in 2015 after a three-year stint leading Global Team Blue, the company's marketing and advertising agency. He previously served as CEO of Volvo Cars of North America, general manager of General Motors Co.'s Cadillac brand, vice president of sales, service and marketing at GM, then as chief marketing officer and head of agency relationships at the Allstate Corp.
Galhotra credited LaNeve with improving the retail experience, increasing market share, helping make dealerships safe amid the coronavirus pandemic, and helping achieve record sales of the F-150.
Frick steps into the role as the automaker targets a 10% operating margin in North America, its most important and profitable market globally.
The move comes amid one of the most significant portfolio refreshes the automaker has undertaken, with the new electric Mustang Mach-E and redesigned F-150 now arriving at dealerships and the resurrected Bronco SUV launching this year. Electric F-150s and Transit commercial vans come next year, all part of the automaker's strategy of leveraging its most popular and iconic brands as it approaches a future dominated by electric vehicles.
Canada's top paid CEOs
will earn the average yearly
income by noon on Jan. 4
By David Lao
Global News
January 5, 2021
By the time most Canadians settle back into their work-from-home offices on the first working day of the year, Canada's top CEOs would have already made the average worker's salary — $53,482 — according to new research from the Canadian Centre for Policy Alternatives (CCPA).
The report said that the average top-paid CEO would have made that average income by 11:17 a.m.ET Monday, about an hour later than the previous year. It also found that in 2019, the average top Canadian CEO made 202 times more than the average worker in the same year, which was down from a record 227 times the previous year.
"There's a real golden cushion for a lot of these CEOs, who have seen years of outrageous pay, this will cushion them and their wealth in a sense, but for many of them they will actually see an increase in their pay because their stock has done fairly well during the pandemic," said David Macdonald, the report's author and senior economist for the CCPA.
According to Macdonald, most CEO pay is not in salary, but is handed out to them in bonuses and that because of this, it wouldn't be possible yet to calculate how much they made in the most recent year. About 82 per cent of this year's average top CEO income of $10.8 million is made up of bonuses, he added.
While the research found the wage gap had narrowed slightly compared to the previous year, McDonald said that changes to executive pay structure would certainly have to be made, especially given the financial hardships caused by the spread of the novel coronavirus pandemic.
Over a third of the top 100 CEOs of 2019 were found to have ran companies that applied for and received payroll support in 2020 through the federal government's Canada Emergency Wage Subsidy (CEWS), while about half of that 100 was expected to either retain their compensation or see a raise during the pandemic due to the stock market boom.
"I still don't think there's any way we can avoid it, it's not built into the rules as it is in other countries like the Netherlands or Spain where you can't pay out shareholders and executive bonuses at the same time as you're receiving their version of the wage subsidy," Macdonald said.
"But we can put those rules into place, we haven't so far, so I think it's basically guaranteed we're going to see massive executive bonuses going at the same time as the federal government paying the wages of the companies."
Macdonald's research also found that there was roughly 15 per cent people working less among those who were making $17 an hour or less, while the workers with the "highest wages" fully recovered by July.
According to a 2020 report from the Fraser Institute, CEO pay has increased in recent years due to an increasing demand in skills and competition in the industry.
"The best business leaders in the world, just like top professional athletes and entertainers, are in limited supply while also being in high demand globally, so the compensation they receive reflects that," wrote Vincent Geloso, the report's author, in a press release.
According to Geloso's report, the gap between CEO and worker pay in Canada is "overestimated" due to many other comparisons factoring in CEO bonuses. Geloso also argued that the high pay was justified due to the high amount of executive turnover, citing a Globe and Mail survey that found only 15 of the top 100 CEOs remained in the list between 2007 and 2017.
Macdonald, on the other hand, argues that given the economic turmoil of the pandemic, several tweaks have to be made to Canadian tax and wage policy — starting with the federal government restricting the CEWS only to companies that are not paying out executive bonuses, as well as excluding it from companies that substantially increase executive salaries.
1:50New report says women CEOs are paid less than men
New report says women CEOs are paid less than men – Jan 2, 2019
"The argument so far is that the federal government is that companies are using the wage subsidy to pay employees, which they are, but the issue is that we can't be having companies reward the executives while we're paying the payroll, and that's exactly what's going to happen unless that stipulation is made," he said.
Aside from that, Macdonald recommended eliminating executive tax benefits, introducing new marginal tax rates on extreme incomes and increasing the tax rate on those who made more during the pandemic to close the gap.
"One of the places they should be looking at for revenue is to people who have done particularly well from the pandemic, it has not been bad for everyone — a lot of these CEOs would come out of this much better off as a result of the pandemic, and those are the types of people who should be asked to pay a little bit more. They made substantially more, so they should chip in a little bit more."
Canadian cases
CONFIRMED
600,667
(Today: +3,270)
DEATHS
15,894
(Today: +29)
RECOVERED
507,046
(Today: +2,074)
18,771,048tests administered (Today: +39,121)
Daimler fines for slow recalls
could reach $30 million
Associated Press
Jan 4, 2021
Washington – Failing to recall vehicles quickly enough could cost Daimler Trucks up to $30 million in fines and other costs.
In penalties announced Thursday, the National Highway Traffic Safety Administration said Daimler also failed to comply with other reporting requirements. They include an upfront fine of $10 million, another $5 million the automaker must spend on safety enhancements, and a deferred $15 million penalty, which may or may not have to be paid.
The order stems from several recalls between 2017 and 2018. Daimler said there have been no known accidents or injuries related to what it called "voluntary recalls."
The consent order, which lasts from two to three years, requires Daimler to improve its ability to detect and investigate potential safety defects in its vehicles. The company must also improve its collection of safety information from its businesses and report the information accurately to regulators at NHTSA. It also requires Daimler to develop written procedures and training for employees who work on recalls and reporting requirements.
"We appreciate the opportunity to summarily resolve this matter and continue building safe, efficient and reliable commercial vehicles," Daimler Trucks said in a prepared statement Thursday.
Americans to #FinishStrong
during critical pandemic period
Jordyn Grzelewski
The Detroit News
Jan 2, 2021
The voice of actor Bryan Cranston intones over shots of frontline health-care workers, a COVID-19 survivor and essential workers wearing face masks: "We are so close. Soon we will be what were — touching, loving, living. Let's finish strong."
That's the message behind a forthcoming advertising campaign Ford Motor Co. is debuting Friday during several college football bowl games that are sure to draw millions of viewers. The 30-second video, which will run across various television spots through at least Jan. 3, aims to persuade Americans that it's their patriotic duty to participate in COVID-19 mitigation efforts as newly released vaccines bring hope for an end to a pandemic that to date has killed more than 335,000 people in the U.S.
"While many are weary from the challenges 2020 has thrown at us, now is the time for us to pull together, protect each other and finish strong until COVID-19 vaccines arrive more broadly," Kumar Galhotra, president of Ford's Americas and International Markets Group, said in a statement. "Lives are on the line."
The Finish Strong campaign is just the latest prong in the Dearborn automaker's response to the coronavirus pandemic. Shortly after the first cases of the deadly virus were confirmed in the U.S. in March, Ford quickly shifted gears and began producing much-needed medical and protective equipment for COVID-19 patients, frontline workers, underserved communities and others across the country.
To date, the Blue Oval has manufactured 55 million face masks and expects to have made enough to donate 100 million masks by mid-2021. Details of the mask donation program are available at FordFund.org.
The company — with the help of United Auto Workers members and in some cases manufacturing partners — has also made 20 million face shields, 50,000 ventilators for the federal stockpile, more than 32,000 powered air-purifying respirators and 1.4 million washable isolation gowns.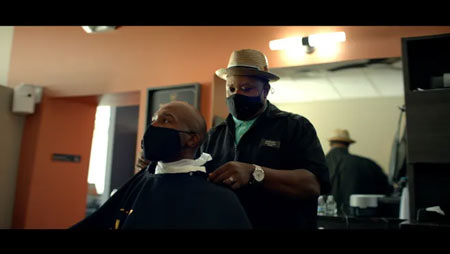 A shot from Ford new's #FinishStrong ad, directed by Peter Berg and debuting Jan. 1.
The idea for #FinishStrong developed as the company learned from health care workers and experts about the critical period the U.S. is in, as cases and deaths continue to strain hospitals, even as initial rounds of vaccinations have begun.
"The goal was, how could we help rally around this idea that we're almost there?" said Mark Truby, Ford's chief communications officer. "Vaccines are around the corner, but we know from health care experts that as many as 50,000 more American lives could be saved between now and when we have mass adoption of vaccines ... if we were to follow proper COVID protocols as a society."
Rather than preaching to people about mask-wearing, which has become a hyper-partisan issue, Ford and its advertising partners wanted to come up with a unifying message that appeals to viewers' sense of patriotism and morality. They selected filmmaker Peter Berg, whose credits include the popular "Friday Night Lights" television show, to direct the commercial.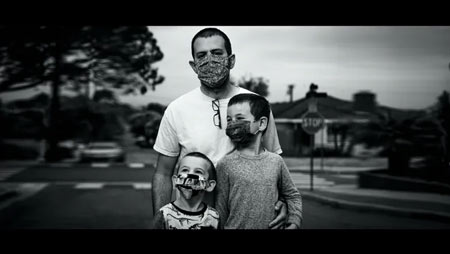 A shot from the new #FinishStrong ad that Ford will debut during college football bowl games on New Year's Day.
The automaker had already bought up ad spots for highly watched football games over the first three days of the new year, and opted to divert to the Finish Strong campaign about half the time it would have devoted to a new ad for the 2021 F-150 pickup truck that it's in the midst of introducin.
The commercial will debut Jan. 1 during the Citrus Bowl on ABC and the Peach, Rose and Sugar bowls on ESPN. It will also run during bowl games on Jan. 2 and during Fox NFL games Jan. 3, for a total of about 20 time slots dedicated to the commercial. Ford has also enlisted its various partners to participate in a social media campaign around the #FinishStrong mantra, and is sharing the message across its workforce as well.
"The goal is to try to help, as we enter into the new year, shift the sentiment," said Truby. "Rather than looking at things as a political issue or a partisan issue, how do we come together to try to help save lives and finish these next few months that are going to be so critical, in a spirit of protecting each other?"