PCOLA



The 2020 Ford Mustang
Shelby GT500 is the
most-powerful Ford ever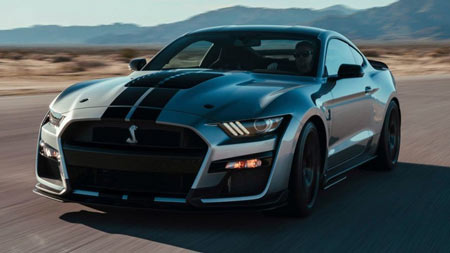 Ford expects better
financial results in 2019

Ian Thibodeau,
Jan 16, 2019
The Detroit News
Ford Motor Co. CEO Jim Hackett said Wednesday that the behind-the-scenes work he and his executive team have been doing in the 19 months since he was appointed to lead the company should start to pay off this year.
Ford expects financial results in 2019 should be an improvement over the year prior. The automaker reported it made 92 cents per share in 2018 — down from $1.90 per share in 2017.
The automaker presented the 2019 outlook during the Detroit auto show. Ford's top executives explained the expectations to investors at the 2019 Deutsche Bank Global Auto Industry Conference on Wednesday in Detroit.
Hackett, chief financial officer Bob Shanks and president of global markets Jim Farley said their plan took effect in 2018, and will begin to boost the bottom line in 2019 as cost-cutting and restructuring continues.
Ford is in the middle of a sweeping global restructuring as it readies for a new chapter in the automotive industry. Under Hackett, Ford's senior leadership is pushing to trim $25.5 billion in operating costs over the next five years and spend $11 billion to shake up failing businesses in Europe, China and South America, and better position the automaker's North American business for continued profitability through the next decade.
"We're really confident in our plan to redesign our business," Hackett said. "We are moving. We are moving right now. We have clear direction, focus, a sense of urgency."
The automaker's preliminary 2018 results are line with the full-year guidance the company adjusted mid-year last year due to a worse-than-expected performance in China. Ford expects to have finished 2018 with an adjusted-earnings per share of $1.30, as well as $23.1 billion in cash and liquidity of $34.2 billion. The automaker declared a first-quarter regular dividend of 15 cents per share.
Ford stock has fallen from around $13 at the beginning of 2018 to around $9 now. Shares slid around 2 percent in pre-market trading Wednesday.
But Ford officials stressed a positive outlook for 2019 despite expected significant trade and tax headwinds.Farley told investors about Ford's product gambit planned over the next 24 months in North America, during which it will refresh 75 percent of its product portfolio as it shifts spending to devote 96 percent of its product capital to trucks and SUVs.
He outlined the company's plan to capitalize globally on its strong commercial vehicle business. Ford's global commercial business generates $72 billion in revenue and roughly $10 billion in earnings before interest and taxes. It operates at a 14 percent margin; by comparison, Ford is pushing to get its entire North American business back to a 10 percent operating margin. In Europe, Ford is targeting 6 percent.
Farley said Ford is moving to extend its lead in the pickup truck market in the U.S. The automaker has a hybrid F-150 coming to market. Later this month, Ford will debut an all-new Super Duty pickup, he said.
Officials announced last week announced plans to revive its unprofitable European business by cutting salaried and hourly workers, ending production at plants in France and Germany, eliminating less-profitable vehicles like the C-Max from the lineup there, and possibly exiting a Russian joint venture. Farley will outline the automaker's plan to focus on commercial vehicles there while it corrects the rest of the business.
Ford on Tuesday said it had entered an agreement with Germany's Volkswagen AG to partner on commercial vans and midsize pickups to be sold outside of North America. The partnership is aimed in part at boosting Ford's European business.
In China, the automaker plans to debut 10 new Ford and Lincoln vehicles this year, contributing to a total of 30 new products by 2021. Meantime, the automaker plans to reduce administrative headcount by 20 percent in South America this year, according to a news release.
Meantime, Shanks said in a statement that despite rising commodity costs, unfavorable exchange rates and on-going trade disputes, Ford will have positive operating results. The 15 cents per share dividend will be payable March 1 to shareholders of record at the close of business Jan. 31.
Shanks said 2018 was an important year for the company. "We made many important strategic choices, and we began to take actions that will fundamentally redesign our business. 2019 is about action. Implementation. A year where our thinking about the future of Ford, the fundamental design of the business, our capital allocation choices, our fitness, who we choose to partner with and why become increasingly clear."
The finance chief expects revenue, earnings and operating cash flow to improve on a year-over-year basis in 2019. At this time last year, Shanks and Hackett provided a grim outlook for 2018.
Ford will report fourth-quarter 2018 and full-year earnings results Jan. 23.
Ford, VW link-up looms
over Detroit auto show
Ian Thibodeau,
The Detroit News
Jan 15, 2019
Detroit — Ford Motor Co. and Volkswagen AG leadership Tuesday morning will offer some details about the companies' ongoing partnership discussions.
The automakers are expected to at least announce official plans to partner on joint production of commercial pickup trucks, The Detroit News reported Friday. Ford officials in the last week have said partnering in Europe could be a boon to Ford's commercial vehicle business there.
VW officials have said Ford's U.S. production facilities could be a valuable asset for the German automaker that's trying to grow U.S. market share.
"The talks are going really well," Ford Executive Chairman Bill Ford said Monday at the Detroit auto show.
Ford CEO Jim Hackett kept things close to the vest Monday at the auto show, saying "there's nothing to report today."
Hackett, Herbert Diess, VW CEO, Jim Farley, Ford president of global markets and Thomas Sedran, VW CEO of commercial vehicles, will detail the plans Tuesday morning on a conference call.
The automakers have been in talks since at least June regarding a partnership on commercial vehicles. Those discussions expanded. The companies are still negotiating a partnership along with Argo AI, the autonomous driving technology company in which Ford has an ownership stake, to partner on autonomous vehicles.
The automakers have also talked about partnering on electric vehicles. VW announced plans to invest more than $800 million into a second plant in Chattanooga, Tennessee, to build electric vehicles. The facility is a part of VW's e-mobility future in the United States and will create 1,000 new jobs. The first electric vehicles are expected to roll out in 2022 from VW.
Ford, meantime, is expanding its own electric vehicle offerings. The automaker is planning to offer 24 hybrid variants of every new vehicle it introduces moving forward. The automaker will also debut 16 all-new full-battery electric vehicles in coming years, the first of which is a "Mustang-inspired" electric vehicle that's Hackett's brainchild.
The automakers have not publicly commented on what an EV partnership would look like. It's also unclear if a commercial vehicle partnership would bring the Ford-VW pickup to the U.S. commercial market as well.
Joe Hinrichs, Ford president of global operations, told The Detroit News on Monday that Ford is in a transition period with powertrains. The industry is moving from combustion engines to a greater mix of electric and hybrid vehicles.
"It's been slower than people predicted 10 years ago or five years ago, but it's coming," Hinrichs said. "We know it's coming. We think that it's important for the customer use cases that we offer them choices."
Ford and VW are expected to continue negotiating pieces of the partnership after the companies offer some clarification on the status of things Tuesday.
The automakers are not merging, both Ford and VW officials have said. That has never been part of the talks.
The automakers signed a memorandum of understanding last summer to look into partnering on commercial vehicles, Ford's best-seller in Europe. Pickups are a weak spot for VW, which vies annually to be the global leader in vehicle sales.
Diess said after a White House meeting in December that he might use Ford plant capacity in the U.S. to build cars. Ford said then the discussions were progressing well.
Ford sold 1.1 million F-Series pickups last year

Ian Thibodeau,
The Detroit News
Jan 14, 2019
Ford Motor Co. sold nearly 1.1 million F-Series vehicles globally last year — lined end-to-end, the vehicles would stretch from Dearborn to County Cork, Ireland, the Ford family's ancestral home.
The Dearborn-based automaker sold most of those vehicles in the U.S. last year. Ford reported in early January it had moved 909,330 F-Series in 2018, which was a 1.4 percent increase over the year prior.
Ford primarily sells its pickups outside of the U.S. in Canada, the Middle East and in China, spokesman Mike Levine said Friday. The automaker sells the behemoth Raptor off-roader in China.
The more-than 1 million pickups sold last year would have generated $50 billion, using the $46,700 U.S. average transaction price for those vehicles. Lined bumper-to-bumper, the trucks would stretch more than 4,000 miles, enough to get from Dearborn to Las Vegas and back.
Analysts and investors have pointed out in 2018 that Ford's F-Series brand is the most valuable piece of the company. Sales from those vehicles generated more estimated revenue last year than Best Buy.
Ford's success in the pickup market has sparked the first leg of a partnership with Germany's Volkswagen AG. The automakers plan to next week announce details of a commercial truck partnership.
F-Series trucks are built at Ford's Kentucky Truck Plant, Kansas City Assembly Plant, Ohio Assembly Plant and Dearborn Truck Plant.
Ford to cut thousands of
jobs in turnaround plan
BBC News
Jan 13, 2019
It is expected to lead to thousands of job losses across Europe, including the UK, although cuts at its UK factories are not thought to be imminent.
But Ford Europe boss Steven Armstrong said should the UK leave the EU without a negotiated deal, a further review of UK operations would take place.
Ford is now going to talk to unions about measures to reduce costs.
This includes focusing on more profitable models and exiting less profitable markets, to concentrate more in future on electric and hybrid technology.
The firm will also expand its commercial vehicle business, which will be one of three new divisions being created, along with passenger vehicles and imported vehicles.
Ford hopes the changes will enable it to achieve a 6% operating margin in Europe.
The UK's biggest union Unite said it was working closely with Ford to safeguard jobs in the UK and look after the interests of employees.
The union also said it expected the impact of cuts on jobs in the UK to be limited.
'Wrong direction'
Speaking to reporters after the announcement, Mr Armstrong said the firm "needed to address the parts of the business that are unprofitable".
But he said the move had not been forced upon the firm by the UK vote to leave the European Union on 29 March.
"This is not a consequence of the Brexit situation," he said. "This is not a one or two-year issue."
He added: "If Brexit goes in the wrong direction and we have a hard Brexit, we would need to look again about what we could do to mitigate the impact of that [in the UK]."
He said potential closure of plants would "not be off the table".
Engine uncertainty
Ford says there will be a "reduction of surplus labour" across all its business functions.
It has not released any figures, as discussions with unions are continuing, but that it could be in "thousands".
Ford operates two engine factories in the UK, at Dagenham, east of London, and Bridgend in Wales, as well as a joint venture with the gearbox manufacturer Getrag on Merseyside.
The announcement is likely to renew concerns about the long-term future of the Bridgend plant in particular. It is already due to lose a major contract to build engines for Jaguar Land Rover in 2020.
Profits at Ford of Europe fell 82% last year, in part due to the fall in the value of the pound as a result of uncertainty over Brexit.
It is understood that while this is a preoccupation for the company, it is one of many factors affecting the business, which has been underperforming for years.
The BBC understands that Ford's Dunton Technical Centre in Essex could potentially benefit from new investment in the commercial vehicles business.
Ford of Europe has 54,000 employees, with 13,000 in the UK. As well as the UK engine plants, it has other operations in Germany, France, Turkey, Spain, Russia, Romania, and Belgium.
As part of the shake-up the firm says it will stop manufacturing automatic transmissions in Bordeaux, France, in August, and will review its operations in Russia,
Mr Armstrong also said the company was in negotiations with staff representatives about potential job cuts at its Saarlouis plant in Germany, where 6,190 staff assemble cars, as the firm considers discontinuing production of its Ford C-Max model.
Diesel slump
The news comes as rival Jaguar Land Rover (JLR) is set to announce it is cutting up to 5,000 jobs from its 40,000-strong UK workforce.
Management, marketing and administrative roles are expected to be hardest hit, but some production staff may also be affected.
The layoffs are part of a £2.5bn cost-cutting plan amid what industry insiders have called a "perfect storm".
They mean a downturn in Chinese sales, a slump in diesel sales and concerns about UK competitiveness post-Brexit.
FCA to pay nearly $800M
in emissions cheating case
Keith Laing,
The Detroit News
Jan 11, 2019
Washington — Fiat Chrysler Automobiles NV will pay nearly $800 million to settle allegations from federal regulators that the company used software on about 104,000 diesel-powered pickups and SUVs that is similar to "defeat devices" that were used by Volkswagen AG to cheat U.S. emissions-testing, a person familiar with the terms of the settlement told The Detroit News on Wednesday.
The settlement requires the Italian-American carmaker to pay $280 million to compensate drivers of Jeep Grand Cherokees and Dodge Ram 1500 pickups from the 2014-16 model years with 3-liter V-6 diesel engines.
The company also will pay $305 million in civil penalties to the U.S. Department of Justice, Environmental Protection Agency and California Air Resources Board and at least $72 million to states whose attorneys general had sued over the alleged cheating.
The automaker is likely to face additional payouts to other federal agencies and states that filed separate lawsuits, bringing total payments to as much as almost $800 million, according to the source.
Drivers of the affected models could receive as much as $2,800 each under the settlement.
FCA will not be required to admit any wrongdoing as part of the settlement and the company is not going to required to buy back any of the affected vehicles.
The EPA and DOJ did not immediately respond to requests for comment Wednesday night from The Detroit News.
Federal regulators have alleged that FCA did not disclose at least eight auxiliary emission control devices on the Jeeps and pickups covered under the settlement. Automakers can legally deactivate a vehicle's emission control system under certain conditions, but regulators require the disclosures when companies apply for certificates that are required to sell cars in the U.S.
FCA has contended that its vehicles were fully in compliance with regulations, even as it worked toward a settlement.
FCA took pains to note the differences between its case and that of Volkswagen AG.
Six of the German automaker's present and former executives were indicted, and VW itself was charged with three criminal felony counts for what regulators called a 10-year conspiracy to rig hundreds of thousands of diesel cars to evade U.S. emission standards.
Volkswagen was forced to pay $2.8 billion in criminal fines and $1.5 billion in civil penalties related to the fraud.
That's in addition to a $14.7 billion settlement the company reached last year with the EPA that calls for Volkswagen to spend $10 billion to either buy back or repair about 475,000 2-liter diesel cars sold between 2009 and 2015; the company also was required to contribute $4.7 billion to federal efforts to reduce pollution.
FCA has noted that its affected vehicles require only a software fix, unlike Volkswagen, which had to provide new hardware to satisfy federal regulators.
FCA warned investors in the third quarter of 2018 of a possible $810 million (700-million euros) charge related to the diesel investigation. The company initially feared it could face fines of up to $4.6 billion
Ford cancels Mexico
plant, expands U.S.
factory and adds
700 jobs

Nathan Bomey
USA TODAY
January 7, 2019
Ford Motor announced Tuesday that it would cancel plans for a $1.6 billion Mexico plant and launch a Michigan expansion in a move that may be viewed as a capitulation to Donald Trump.
Ford CEO Mark Fields said the company would spend $700 million and add 700 jobs to "transform and expand" its Flat Rock, Mich. manufacturing plant to make autonomous and electric vehicles.
"Make no mistake about it — Ford is a global automaker but our home is right here in the United States," Fields said at a press conference.
The move marks a sharp reversal for Ford, which has defended its production in Mexico even as Trump has assailed the company for expanding there.
"This is a vote of confidence for President-elect Trump and some of the policies he may be pursuing," Fields said.
To be sure, Ford acknowledged that it would still move production of the next-generation Focus sedan to Mexico, as previously announced. But it will be built at an existing plant in Hermosillo, Mexico, not at a new facility.
President-elect Donald Trump is going after General Motors giving them an ultimatum when it comes to manufacturing across the border. Veuer's Nick Cardona tells us what the President-elect had to say. Buzz60
The United Auto Workers hailed the decision.
"We've seen our jobs go overseas," UAW Vice President Jimmy Settles said. "It's evident today that Ford is rewarding us for our hard work."
Others will view the move as a bid to satisfy Trump, who has cited Ford's Mexico expansion as a key example of how the North American Free Trade Agreement has weakened American manufacturing.
Ford Executive Chairman Bill Ford called Trump this morning to inform the president-elect of the decision, and Fields called incoming Vice President Mike Pence.
"Automakers are facing a situation where they have to consider the political consequences" of all their decisions, AutoTrader.com analyst Michelle Krebs said.
Ford's expansion will convert 700 temporary jobs at the Michigan plant into permanent positions, adding to an existing hourly staff of about 3,600. Fields said the automaker will add about 200 jobs at its plant in Hermosillo, Mexico, to make the Focus but did not say how much it would invest.
The Michigan expansion plans are part of a broader $4.5 billion investment in electric vehicles and hybrids, including 13 new models over the next five years.
Those vehicles include a small, electric sport-utility vehicle with 300 miles of battery range, which will be exported overseas, and a "high-volume autonomous vehicle designed for commercial ride-hailing or ride-sharing," Ford said in a statement.
The company will also manufacture a hybrid version of the F-150 pickup truck by 2020 at the Dearborn, Mich., plant, where the F-series lineup is currently manufactured.
Ford adds 149,652
vehicles in Canada to
Takata airbag recall
Automotive News
Jan 6, 2019
DETROIT -- Ford Motor Co. is expanding its Takata airbag inflator recall for the fourth time, adding about 953,000 vehicles to the list.
The callback announced on Friday involves passenger-side inflators on 782,384 vehicles in the United States and 149,652 in Canada. Affected vehicles are the 2010 Ford Edge and Lincoln MKX; the 2010-11 Ford Ranger; 2010-12 Ford Fusion, Lincoln MKZ and Mercury Milan; and 2010-14 Ford Mustang.
Faulty Takata airbag inflators may explode and shoot shrapnel toward vehicle occupants, potentially resulting in injury or death. An estimated 23 deaths — including two in Ford vehicles — and more than 290 injuries worldwide have been linked to the defective inflators. Ford agreed to a US$299 million legal settlement last year for its portion of the airbag defect liability.
Six other automakers previously agreed to similar settlements worth over US$1.2 billion combined: Honda Motor Co.; Toyota Motor Corp.; Nissan Motor Co.; Mazda Motor Corp.; Subaru Corp. and BMW AG.
Ford said it is unaware of any injuries associated with the passenger-side frontal inflators covered in the latest expanded safety recall.
The ongoing safety issue has be named the largest auto industry safety recall in history, involving about 100 million inflators among 19 major automakers.
Front seat recall
Ford also issued a separate recall Friday for certain 2019 Ford EcoSport vehicles in North America, about 63 in the U.S. and 13 in Canada.
Insufficient welding between the side member and A-bracket on the front seat back may reduce its strength and can potentially increase the risk of injury in a crash. Dealerships will replace front seats on affected vehicles with new seats.
Ford is unaware of any accidents or injuries resulting from this front seat recall.
Auto sales beat
expectations for
2018, but 2019
doesn't look as good

Ian Thibodeau and Nora Naughton,
The Detroit News
Jan 4, 2019
Automakers beat U.S. sales expectations in 2018 thanks to tax breaks, eager buyers and strong fleet sales, but experts and analysts expect 2019 won't bring such favorable results.
Rising interest rates and vehicle prices could create more headwinds for Detroit's Big Three, specifically, as the automakers move to reinvent their business models as well as their product lineups to better situate themselves for the next generation of the auto industry.
Fiat Chrysler Automobiles NV reported Thursday the best sales increase of all the Detroit carmakers. It reported Thursday that it moved more than 2.2 million vehicles last year, a 9 percent increase over the prior year, though that was still fewer total vehicles than Ford Motor Co. or General Motors Co.
Ford and GM both saw single-digit sales declines. GM sold 2,954,037 vehicles in 2018, down 1.6 percent from 2017. Ford sales slid 3.5 percent in 2018, with 2.5 million vehicles sold.
Overall U.S. vehicle sales totaled 17.3 million in 2018, a 0.4 percent increase from the 17.1 million sold in 2017. The year 2017 was the first since 2009 that new vehicle sales declined.
"The picture doesn't look quite as rosy for 2019," said Jessica Caldwell, analyst with California-based Edmunds. "While the economy is still relatively strong, rising interest rates and vehicle prices could force many buyers into the used market, or even price them out of buying a vehicle completely. If the economy weakens or tariffs push prices even higher, things could go south for the auto industry very quickly."
That's leading some on Wall Street to ring alarm bells. Adam Jonas, equity analyst with Morgan Stanley, on Thursday said in a note that 2019 will mark the first global auto sales decline since 2009. He reiterated a cautious view on U.S. auto stocks.
"In addition to lack of volume growth, we believe earnings are at risk from higher input costs, rising rates, rising (research and development) expense, and tariff-related frictional costs," Jonas wrote.
Meantime, GM, Ford and Fiat Chrysler will have to contend with U.S. buyers' continued exodus from the sedan market, according to Karl Brauer, analyst with Cox Automotive.
"Everything from tariffs to material costs to the ongoing shift from cars to trucks will drive transaction prices higher," Brauer said. "Low gas prices continue to drive people away from cars and into trucks and SUVs."
The automakers are preparing for sedan sales to shrink further — and at least temporarily skew sales numbers. Ford sales chief Mark LaNeve said Thursday the automaker anticipates the all-new Ranger midsize pickup will offset some of the sedan sales slip. But the automaker also announced Thursday it would report its sales figures quarterly rather than monthly, as it expects some volatility as it moves to prune its sedan models from the vehicle lineup.
Fiat Chrysler sales rose on the back of Jeep and Ram sales, which were up 17 percent and 7 percent for the year, respectively. The Chrysler brand slid 12 percent, while the Fiat brand was down 41 percent in the U.S. last year. Fiat Chrysler's new Alfa Romeo Stelvio SUV drove Alfa sales up 98 percent last year.
GM, which began in 2018 reporting quarterly sales, sold its 200,000th electrified vehicle in the fourth quarter, reaching the cap for a $7,500 federal tax incentive intended to encourage electric-vehicle sales.
All four of GM's brands slipped in 2018, with Buick down 5.6 percent and Cadillac down 1.1 percent for the year. Chevrolet was down 1.4 percent as sedan sales for the brand continue to steadily decrease. Truck brand GMC fared the best, down only 0.8 percent for the year, as sales of the Terrain SUV, Sierra full-size pickup and Canyon midsize pickup all posted gains.
Meanwhile, Ford's sedan sales dove 18.4 percent last year. The automaker announced early in 2018 that it planned to cut all car models out of its lineup over the next few years. Ford plans to replace those sedans with consumer-favorite crossovers, a segment in which Ford is weak.
The automaker reported F-Series pickup sales increased 1.4 percent last year. Transit van sales were up 8.2 percent. Only the Fiesta, GT, Expedition, Police Interceptor Utility and Navigator had sales increases in 2018. The automaker sold 54,348 EcoSport compact SUVs, which hit the U.S. market for the first time early last year. Ford's Lincoln brand sales were down 6.8 percent in 2018.
Toyota Motor North America reported sales in 2018 were down 0.3 percent due largely to an 11.9 percent slide in passenger car sales from both the Toyota and Lexus divisions. Toyota's truck and SUV sales were up double-digits for the year.
"Retail demand has actually been stronger in the second half of the year, though down from last year," Jonathan Smoke, Cox Automotive's chief economist said. "We think that's a result of low unemployment and tax reform leaving consumers confident and flush with cash."
He said that extra cash — combined with lower gas prices, stabilization of interest rates and credit availability for subprime borrowers — made for more ideal buying environment than initially expected.