GM Strike Analysis
If We Can't Win It
Now, When Will We?
October 19, 2019
Chris Brooks,
Jane Slaughteren

"They always say it will take multiple agreements to reach equality—we can't win it all in one go," said Sean Crawford, a second-tier worker at Flint Truck Assembly in Michigan.
For Crawford, the GM strike, the longest at a Big 3 company in 50 years, was the best chance the union had to put an end to the many tiers that have fractured the workforce.
"This is the third contract since the 2009 bankruptcy—that is a third of a career," Crawford said. "If we don't get this now, when GM is more profitable than they have ever been, when will we ever get it? So no, I don't support the contract."
GM's profits were $35 billion over the last three years.
After nearly six weeks on the picket lines, auto workers will make a sobering choice: accept the agreement proposed or vote no and stay out in the hopes of getting something better. In 2015 Chrysler workers rejected their tentative agreement 2-1 and sent bargainers back for more. GM workers, voting later, approved their pact by just 58 percent for production workers; skilled trades voted it down.
UAW leaders decided that workers will remain on strike during the ratification vote. Voting will end Friday, October 25 by 4:00 p.m.
TIERS MAINTAINED
The contract makes some gains. Workers will receive 3 percent raises in the first and third years of the contract and lump-sums equal to 4 percent of annual wages in the second and fourth years. Second-tier workers, who until now were on an eight-year track to get within a few dollars of first-tier workers' pay, will now top out at equal pay—$32.32—at the end of the contract, a shorter four-year track. The cap on profit sharing has been lifted and a pathway has been created for thousands of temporary workers to become permanent once they've been temps for three years.
"In January, they will convert 850 temporary workers and will continue converting each month after that as people get their time, so they will convert up to 2,000 in 2020," said Tim Stannard, president of UAW Local 1853 in Spring Hill, Tennessee.
John, a 35-year worker at Detroit-Hamtramck Assembly, said on the picket line today, "What we're getting is what we're going to get. It's not a bad-looking contract." Was the strike worth it? "Yes. The temps got moved up. There's decent raises. Health care stayed the same."
Even with these gains, though, GM has maintained all the tiers that it had before. Second-tier workers—those permanent employees hired after 2007—will still receive a 401(k) for retirement rather than a defined pension. They are not eligible for retiree health care, and their Supplemental Unemployment Benefits when laid off will last half as long as first-tier workers'.
GM workers at warehouses and at four "components" plants will continue to make far less than assembly workers, with an eight-year grow-in.
And temporary workers will continue at pay barely more than half that of Tier 1 workers. GM can continue to use them as probationary employees--with a very long probation.
"I know the language says that temps will be in progression to be hired in as employees after so many years, but they are still using temps," said Beth Baryo, a materials handler at a parts warehouse near Flint.
Under the new agreement, temps hired after January 1, 2021 who maintain two years of continuous employment must be hired on as permanent. Temps can be laid off for up to 30 days and still maintain continuous service.
"As sure as god wears sandals, you know that GM will lay people off for 31 days," said Baryo. "I don't trust anything they will say."
WHAT THEY DIDN'T WIN
The biggest sting of all was the shuttering of Lordstown (Ohio) Assembly, Warren (Michigan) Powertrain, and Baltimore Powertrain, which GM announced last Thanksgiving. Every contract cycle, GM closes more plants and every contract cycle the UAW claims to have stronger language to protect jobs.
The steady procession of concessions was also sold as a job-saving measure and yet the number of union auto workers employed by GM has dropped from 470,000 in 1979, when concessions began to the Big 3, to less than 50,000 today.
Many of the concessions made in 2007 and 2009 are still in effect, showcasing just how challenging it is for the union to get out of the hole it is in. Those include a cost of living allowance and overtime pay after eight hours (many plants now work regular 10-hour days without overtime pay). Tier 2 workers got nothing for retirement. Future Tier 1 retirees got one $1,000 lump sum.
HOW WILL THEY VOTE?
As often happens in a strike, many people unhappy with the agreement predicted that other people would vote yes. "People are going to say yes because of the money," said Adriana Jaime, a 21-year worker at Detroit-Hamtramck Assembly, at the picket line today. "But for the weeks we've been walking here, it's not enough."
One man said the offer was basically the same as what GM offered before the strike, except for the signing bonus (which increased from $8,000 to $11,000). "I'm not impressed," he said. "But a lot of people want to get back to work."
Jack Jackson, with 50 years, will vote no. "I'm mad as hell," he said. "This contract was probably decided before we even went out and this was a show and tell, a little pony show.
"I hope it's good for the young folks. It should be 90 days and you're at full pay. This contract is really not for me. Give the retirees some money—our pension benefit has been the same for 12 or 15 years. You dedicate half your life to GM and they treat the retirees like an old horse they take out in the field and shoot him. We didn't get the retiree issues—and the people coming behind me are going to retire someday too."
Carla Duckett, with 37 years, says she's "on the fence. I'm going to retire—I want to see what this leaves for those who have to stay."
"The leadership is going to try and make the case that this is the best they can get," Crawford said, "but if you look at the 2015 agreement, after Chrysler people voted that down, they came back with something significantly better."
ARAMARK JANITORS ALSO HAVE AN AGREEMENT
The 850 Aramark janitors and skilled trades workers at five Ohio and Michigan GM plants who struck alongside GM workers were told yesterday that they also have a tentative agreement. They do work formerly done by GM workers, but at far less pay.
"Everyone makes $15. If you've been there 10 years you still make $15." said Karen Cool, from GM's Tech Center near Detroit. GM hired replacement janitors during the strike who, with police support, crossed picket lines there daily.
THE SOUTHERN PROBLEM
Economic constraints placed on the Big Three by the influx of foreign-owned, non-union automakers in the U.S. South are one of the forces outside the control of striking GM workers.
Even though GM has gone from bankrupt to profitable, the company is still losing market share to these non-union competitors like Toyota, Nissan, BMW, Honda, and Volkswagen. All use high proportions of temporaries and contract workers at will. The UAW has engaged in three high-profile organizing drives at Nissan and Volkswagen over the past five years, losing all of them.
Until the whole auto industry is organized, non-union employers will pay their workers less, give fewer benefits, hire more temps, and outsource more work, to gain a competitive advantage over their union rivals.
What to know about the UAW's agreement with General Motors
October 17, 2019
Breana Noble
and Daniel Howes
The Detroit News
The United Auto Workers reached a proposed tentative agreement with General Motors Co. Wednesday morning, after a 31-day national strike at the Detroit automaker.
The more than 48,000 GM-UAW employees, including 17,000 in Michigan, have been off the job for 31 days — the longest national strike against GM since 1970.
Here is what we know so far:
What does the proposed tentative agreement include?
The union says it won't reveal the details of the four-year agreement until after about 200 local union leaders representing GM employees convene Thursday morning in Detroit. But two sources familiar with the situation said the agreement follows the broad contours of the proposals GM publicly detailed twice over the last month.
What does the proposed tentative agreement say about pay?
The deal is expected to include 3% base-wage increases in two of the years, and 4% lump-sum bonuses in the other two years. Those wage increases would raise top-paid production employees' pay to about $32.32, up from $30.46. It was unclear what changes in wages there would be for in-progression and temporary employees.
The agreement also includes ratification bonuses of $11,000, up from $8,000 in 2015, for permanent employees. Temporary employees would receive a bonus of $4,500 upon ratification. GM in a statement last week said an offer to the union also included enhanced profit-sharing by eliminating a $12,000 cap.
What does the proposed tentative agreement say about job security and plant closures?
The deal is expected to include at least $9 billion in new investments and the creation of 9,000 jobs. That is up from the $7 billion and more than 5,400 jobs GM offered a couple of hours ahead of the now-expired contract's deadline. It also is up from the $8.3 billion commitment GM made in its 2015 contract with the UAW.
Under the agreement, temporary employees who have worked three or more years would be hired permanently — a priority demand from the UAW and many members.
The agreement is expected to confirm the wind-down of three plants identified last November for closure. Those plants include Lordstown Assembly in northeast Ohio, Baltimore Operations in Maryland and Warren Transmission in southeast Michigan — all of which stopped operating earlier this year. Detroit-Hamtramck Assembly, which was slated to stop production in January, would continue to operate, building a new electric truck.
As a part of its investment, the automaker plans to build a battery-cell manufacturing facility in northeast Ohio's Mahoning Valley as a part of a joint venture.
What does the proposed tentative agreement say about health care?
The deal is expected to include preserved health insurance benefits without increases to out-of-pocket costs. That means zero premiums and zero deductibles and a co-pay cap expected to average $700 per year for permanent employees. GM also said its offer last month included new coverage for autism therapy, chiropractic care and allergy testing. Hourly UAW-GM employees pay about 3% of their total health care costs.
When will the strike end?
That is unclear. If the local union leaders making up the UAW-GM national council on Thursday voted to make the deal a tentative agreement and send it to the membership, they also will decide whether to end the strike immediately or upon ratification, which could take another two weeks for the members to review the changes and vote. If the council is not confident a majority of members will vote to ratify the contract, they could vote to continue the strike, experts said.
What happens if the tentative agreement does not receive approval from the GM council or the membership?
If the tentative agreement does not receive approval from the GM council or a majority of voting members' support, then it is back to the drawing board for GM negotiators and the UAW's GM bargaining committee to hammer out a deal on the objections members raised.
The union also potentially could switch to Ford Motor Co. or Fiat Chrysler Automobiles NV to reach a deal if it feels it could make better progress there. Talks within subcommittees between the union and those companies have made progress, according to the union, and most had gotten to a point where they are waiting for GM to set the pattern. If the work stoppage at GM continues, however, such a decision could be devastating to the Detroit automaker and its employees on strike, experts said.
What is the likelihood members will ratify a contract?
After more than a month on the picket lines, many UAW members say their pocketbooks are hurting, they are tired and they are ready to get back to work, but they also are determined to get what they consider is a fair share of the billions in profits GM has posted over the past several years. The union and its members have said health care, wages, job security and securing a pathway for temporary workers to reach permanent seniority are some of their top priorities.
When will GM employees on strike get their next paycheck?
UAW members on strike will get their next paycheck the Friday after they return to their jobs and work a week. Members who show up for picket duty, however, do receive strike pay of up to $275 per week; the next checks will be distributed starting Monday. GM is continuing to pay for health care benefits.
What does a proposed tentative agreement mean for GM?
Because of the strike, analysts and economists estimate GM has lost $1.5 billion to more than $2 billion in lost profits. They also forecast the work stoppage may be affecting the availability of vehicle trims and colors on dealer lots — and therefore affecting sales. The automaker will want the strike to come to an end as soon as possible. It will develop a contract implementation plan during the ratification process.
What about other affected workers?
The work stoppage at GM has reverberated up the supply chain, affecting thousands of employees. East Lansing's Anderson Economic Group estimates some 175,000 employees have been directly affected and have lost $624 million in wages from the month-long strike. GM itself has had to furlough more than 10,000 non-UAW employees in Canada, Mexico and Ohio.
For now, the work stoppage is ongoing, though if the UAW-GM national council sends a tentative agreement to the membership and votes to end the strike, employees at GM suppliers could be returning to work soon. A ratified contract, however, is not guaranteed.
GM shares rise as
sources say automaker,
union nearing deal
to end strike
CEO's involvement raises hopes of
more pressure to end weekslong strike
Thomson Reuters ·
Oct 16, 2019
General Motors Co. and the United Auto Workers union were near a deal on Tuesday to end a 30-day strike that has cost the automaker about $2 billion US after chief executive Mary Barra and president Mark Reuss took part in contract talks, according to two people briefed on the matter.
While a final agreement has not been announced, the No. 1 U.S. automaker and the union have agreed to terms on most issues but were finalizing the wording on some matters, said the people, who asked not to be identified as the talks were continuing.
A deal was expected to be announced on Wednesday.
GM declined to comment on the involvement of its top two executives in the negotiations. A UAW spokesperson declined to comment.
The union has summoned its national council of factory-level leaders to Detroit for a meeting Thursday, billed as an update on contract talks. The group could be assembling to vote on a tentative agreement. It also will decide if workers should return to their jobs before or after they vote on the deal.
"I don't think Mary Barra would have returned unless they were making progress," said Art Wheaton, an auto industry expert at the Worker Institute at Cornell University in Ithaca, N.Y. "And I don't think they'd have told everybody to return to Detroit on Thursday."
Shares of GM rose on news of a potential settlement, closing Tuesday up 2.1 per cent at $36.26 US.
The UAW strike began on Sept. 16, with the union's members at GM seeking higher pay, greater job security, a bigger share of profit and protection of health-care benefits. Other issues include the fate of plants GM has indicated could close and the use of temporary workers.
It is the longest strike against an automaker since a 54-day strike in 1998 in Flint, Mich., which cost GM $2 billion US. The union also went on a brief two-day strike against General Motors in 2007.
After GM angered the UAW negotiators last week by appealing directly to workers and revealing details of the Detroit automaker's latest offer, the sides have continued talking. The UAW made a counter offer to GM on Friday.
Details of GM's revised offer emerged over the weekend and included an increase of its proposed ratification bonus by $1,000 to $9,000. GM also proposed three per cent pay raises in the second and fourth year of the four-year-contract and three per cent and four per cent lump sum payments in the first and fourth year respectively.
It agreed to make temporary workers with three years of service permanent and give those workers a $3,000 ratification bonus.
The Center for Automotive Research in Michigan has estimated the strike's weekly costs to GM and the UAW strike fund at $450 million US and $12 million, respectively.
The strike has led to hundreds of temporary job cuts at GM's Ontario locations, though production restarted last week at the company's assembly plant in Ingersoll, Ont.
In addition, suppliers are feeling the effects of the work stoppage.
Guelph, Ont.-based parts producer Linamar Corp. has said the strike was costing it about $1 million Cdn a day, while Canadian-based auto parts giants Magna International Inc. and Martinrea International Inc. are also being impacted in terms of lost revenue.
The strike has also seen production at two plants in Mexico halted.
Smaller UAW ranks dampen
GM strike's impact
Ian Thibodeau,
The Detroit News
Oct. 15, 2019
The United Auto Workers has seen its membership — and influence — dwindle over the last several decades. And that's cushioning the impact of the national strike against General Motors Co., which would have been greater two decades ago.
Look no further than the last time the labor union went on strike against GM for more than two days. Some 3,400 UAW members walked off the job for 54 days at the Flint Metal Center in 1998. That resulted in 193,000 layoffs due to the ripple effect of production stoppages at GM plants around the country.
By the second week, then-President Bill Clinton had publicly called for a resolution. GM lost around $4.5 billion over the course of the walkout, which would be more than $7 billion today.
That was the result of a strike at a single plant.
In 1970, some 340,000 GM-UAW members walked off the job in a national strike. The UAW had the same number of members in its GM segment then as it has in nearly the entire UAW now. The union reported it had 395,703 members last year. That's roughly one-quarter of its 1979 peak of about 1.5 million members.
As the ongoing national strike against GM by the UAW stretches into a fifth week, the economic impact of the strike has been minimal outside of Michigan and in individual cities with GM plants and automotive suppliers that have laid off workers as a result of the walkout.
"The UAW is in a much weaker position," said Patrick Anderson, CEO of the East Lansing-based Anderson Economic Group. "There's no question that if we had a strike of this duration two decades ago, I wouldn't be one of the only people pointing out that there was a recession risk. You would have seen pain much sooner."
The UAW declined to comment.
This strike has cost the automaker around $1.13 billion. The 46,000 UAW members walking picket lines outside 55 GM facilities are getting by on $250 weekly strike pay. About 100 suppliers have laid off 12,000 workers since the strike started.
A report issued last week by the U.S. Bureau of Labor Statistics shows the manufacturing sector lost 2,000 jobs during the month of September, though economists didn't attribute that to the strike that began halfway through the month. Grant Thornton LLP Chief Economist Diane Swonk attributed that contraction to "weakness related to tariffs and trade."
The full national impact of the walkout will not start to become clear until the October employment report comes out Nov. 1, she said. Depending on when the strike ends, she expects it will have "a very small impact" on the third quarter, but she expects those losses to be recouped over the remainder of the year.
"It does have spillover effects," Swonk said. "It is affecting suppliers, and it is affecting production in both the U.S. and in Canada, but GM isn't as big as it once was, and the effects are smaller than they once were."
East Lansing's Anderson Economic Group estimated employees have lost $624 million in wages nationwide; there has been $250 million lost in federal tax revenue. Closer to home, Michigan has lost $13.8 million in tax revenue.
A greater number of automotive suppliers are feeling the pinch during the ongoing strike than they might have just a decade ago because carmakers outsource more parts now.
"The economic impact is still pretty big," said Kristin Dziczek, vice president of industry, labor and economics at Ann Arbor's Center for Automotive Research. "It's just that they don't all work for GM anymore."
Anderson and Dziczek said UAW membership has fallen — especially at GM — due to reasons largely outside the union's control.
In 1985, auto workers in Canada split into their own Canadian Auto Workers union, which has since combined with Unifor. And in the 1990s, GM sold off its parts businesses such as Detroit-based American Axle & Manufacturing Inc. and what is now Aptiv PLC.
A restructuring of GM following the 2008 bankruptcy shuttered some plants. The automaker has moved some production outside the U.S.; its San Luis Potosi Assembly plant in Mexico opened in 2008.
More recently under CEO Mary Barra, GM has pushed to control fixed costs and is a much more disciplined company. It has turned to more suppliers to build components for GM products, and moved some work in the plants, such as janitorial work, outside of the company.
As Anderson sees it, "General Motors is an entirely different company. It's a company that sells a majority of its products in China, not the U.S."
The automaker's U.S. market share in 2000 was near 30%; by 2018, that share had fallen to about 17%. Stalling U.S. sales don't hit as hard as they once did because the automaker sells so many of its products outside the U.S.
"When I started there was 300,000 of us," said Robert Gidley, 65, a 41-year toolmaker at GM's Romulus engine plant. "We're at about 48,000 now. It's a different time."
Federal election 2019:
What's in it for seniors?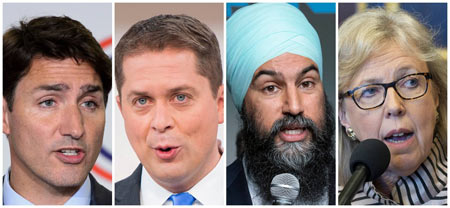 By Erica Alini
Global News
Oct 13, 2019
Baby boomers have been replaced by millennials as the largest generation in Canada but remain a powerful voting bloc that all major parties are eager to court.
And while Canadians in their 20s and 30s are struggling with student debt, sky-high housing prices and unaffordable child care, seniors face some serious affordability challenges of their own.
Many, for example, have little in the way of retirement savings. A 2018 poll by CIBC found that 32 per cent had nothing at all set aside for old age. But even those who have been saving up are often worried about outliving their money.
The average 65-year old today is expected to leave to live to age 86, according to Statistics Canada. And some of those years promise to be very expensive for many seniors, who will likely see steep medical costs later in retirement. More than two-thirds of Canadians who reach the age of 85 have a disability, according to a report by the C.D. Howe Institute.
So how are the major parties pledging to tackle these issues? Here is a rundown of some of the major promises. (We're focusing on retirement, pension and financial support for seniors. For a discussion of pharmacare, please see here.)
Liberals
Liberal Leader Justin Trudeau has promised a 10 per cent increase to Old Age Security (OAS) benefits starting at age 75. The measure would put up to $729 more a year in the pockets of most older Canadians and help lift 20,000 seniors out of poverty, according to the party.
The party is also pledging to boost Canada Pension Plan (CPP) benefits for widows and widowers by 25 per cent. The change, which would have to be negotiated with the provinces and territories, would be worth up to $2,080 a year in additional benefits.
Conservatives
Conservative Party Leader Andrew Scheer is pledging to raise the age credit, a non-refundable tax credit for seniors, by $1,000. The move would work out to tax savings of up to $150 a year for single seniors and up to $300 for couples. Seniors earning up to around $37,000 would get the full credit, which then gradually shrink as income rises, until it's phased out at around $87,000.
The party also said its so-called Universal Tax Cut, which lowers the tax rate for income up to roughly $47,000, would include pension earnings.
NDP
New Democratic Party leader Jagmeet Singh has a number of promises aimed at ensuring that Canadians get the employer pensions they were promised. The party, for example, wants to move pensioners and pension at the top of the hierarchy among creditors when a company goes bankrupt. It has also pledged to stop companies from paying out dividends and bonuses when corporate pension funds are under-funded. Finally, it wants to create an industry-financed insurance pool to deal with pension plan funding shortfalls.
The party is also proposing to introduce a one-year grace period for low-income seniors who receive the Guaranteed Income Supplement (GIS) and fail to file taxes on time. Currently, "tens of thousands" of seniors have their benefits paused for up to four months when their income taxes come in late, NDP spokesperson Melanie Richer told Global News. The NDP wants to give seniors a year to get their tax act together without losing their GIS money.
The party also wants to make automatic enrollment in OAS and GIS retroactive.
New Democrats would also like to make the caregiver tax credit refundable. The tax break helps those who are caring for an impaired family member. Currently the tax credit is non-refundable, meaning it simply lowers or eliminates any tax amount owning. If a refundable credit exceeds a taxpayer's tax balance, the difference is paid out as a tax refund.
Greens
Green Party Leader Elizabeth May wants to gradually increase the CPP income replacement rate from 25 per cent to 50 per cent of average work earnings.
And, like the NDP, the Greens also want to introduce stronger protections for pensioners and pension benefits when companies go bankrupt.
Bloc Quebecois
Bloc Quebecois Leader Yves-François Blanchet is also focused on making pension funds priority creditors during bankruptcy proceedings.
The Bloc also wants to make the caregiver tax credit refundable.
Will any of it help?
If the goal is to help seniors who are most in need, "you might want to target those without a pension and those who are single," said Richard Shillington, an Ottawa-based statistician and public policy analyst.
Poverty rates among Canadians aged 65 and over are highest for widows over the age of 75, according to the Conference Board of Canada. In a 2016 report for the Broadbent Institute, Shillington found that almost half of those then aged 55 to 64 had no employer pension benefits. Among that group, "the vast majority" had "totally inadequate retirement savings," according to the paper.
The Liberals' proposals to beef up the CPP survivor's benefit as well as OAS for older seniors would help in that regard, Shillington said.
Providing a larger OAS benefit at age 75 "does make sense," said William Robson, president and CEO of the C.D. Howe Institute.
"The real fear that people have is not necessarily what their circumstances are going to be when they're aged 59, it's when you're looking further ahead to when you're older and you're worried about running out of money," he said.
But the problem with Trudeau's promise, he added, is that if provides no "offset" for the increase in spending.
As for the the Liberals' promised tweak to CPP, it "sounds good in theory," but the devil is in the detail, Shillington added.
Currently, couples who receive the maximum CPP pension aren't eligible to receive the survivor's benefit, he noted. It's not clear how the Liberals would reconcile that with its proposed 25 per cent boost.
On the Conservatives' promise to raise the age tax credit, Shillington said it would put a few extra dollars in the pockets of seniors who pay income taxes but would be unlikely to make a big difference. The measure will not help a large number of low-income seniors who do not pay any income tax, he added.
The age tax credit is a tax break for seniors based on the assumption that older Canadians face higher expenses than younger taxpayers, Robson said. However, he added, "I don't think that there's a lot of evidence for that."
Living expenses often fall in the early stages of retirement, as people, for example, no longer have to commute to the office and buy clothing for work, Robson added.
"I would prefer to see much more generous treatment of medical expenses," he said.
Speaking about the NDP's idea of moving pensioners and pension benefits to the top of the line among creditors during corporate insolvency proceedings, Robson warned about making such rules retroactive. Forcing companies to make good on their pension-related obligations before paying off other debts would "rewrite the contract" for other creditors who would slip back in the hierarchy, Robson said.
There's a risk that creditors would start calling their loans to companies with underfunded pension plans, creating a dangerous cash crunch for those businesses, Robson said. Another potential danger is that employers would simply decide to wind up those underfunded plans, he added.
And even giving pension benefits the top priority in a corporate bankruptcy may not make pensioners whole, Shillington said.
"If there's only so much money there, being at the front line may not get you much," he said.
The NDP's idea of creating a pension insurance fund, on the other hand, sounds similar to Ontario's Pension Benefits Guarantee Fund (PBGF), which covers certain defined benefit pension plans if they are wound up because the employer becomes insolvent and cannot cover all its obligations.
Ontario's pension insurance plan has received mixed reviews from experts. CARP, a national retiree organization, has called the plan a worthy initiative and advocated for coverage to be raised beyond the current $1,500 monthly guarantee.
Robson, however, is among the skeptics. Pension emergency funds like Ontario's, which also exist in the U.S. and the U.K., pose a moral hazard risk.
"Every time another bad set of pension plans goes into these things, they raise the premiums on the remaining participants," he said.
Ultimately, this makes it less attractive to offer a pension plan at all, he added.
A better way to address the issue — both in the private and public sector — would be to draft rules forcing employers to better fund their pension plans, Robson said.
Raising the retirement age remains taboo
While the parties toss election promises at seniors, the issue of raising the retirement age seems to have dropped off the agenda in Ottawa.
While the Harper government pushed OAS benefits to age 67, the Liberals reversed that move, bringing the benchmark back to 65.
With Canadians living longer and longer, that level is too low, Robson said.
"The next generation is going to have a tough time paying for all the promises that today's older Canadians have made to themselves," Robson said.
Retirees Thanksgiving
Luncheon Oct 11, 2019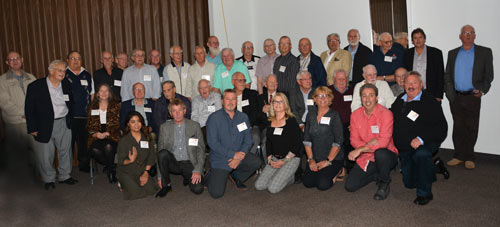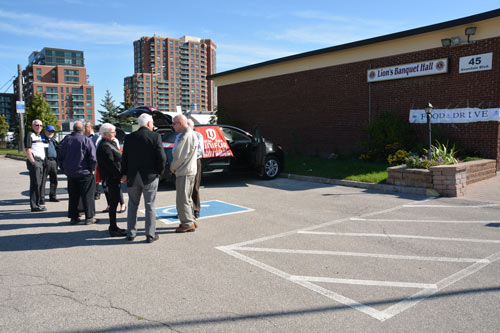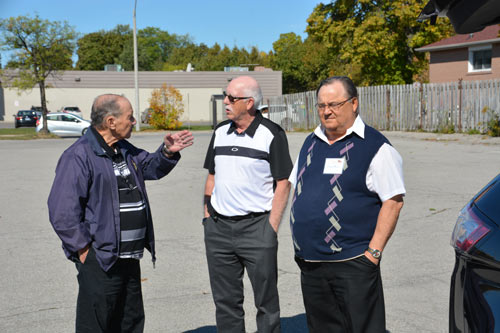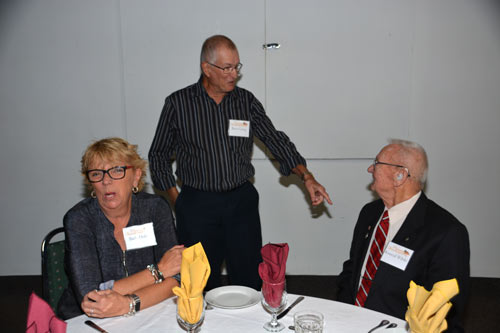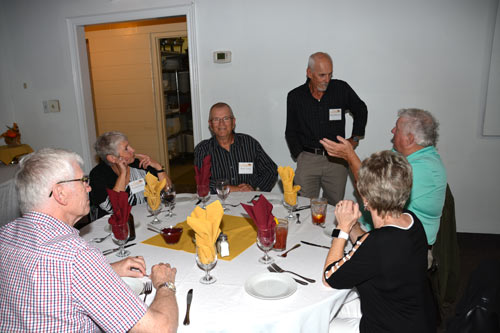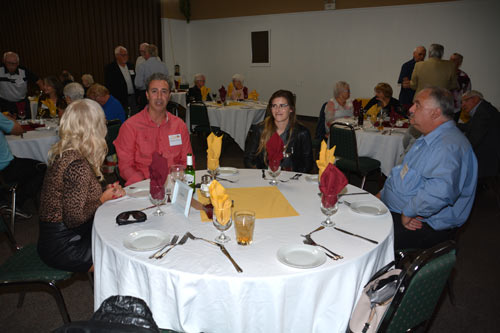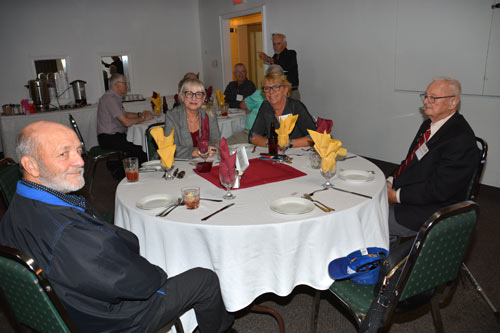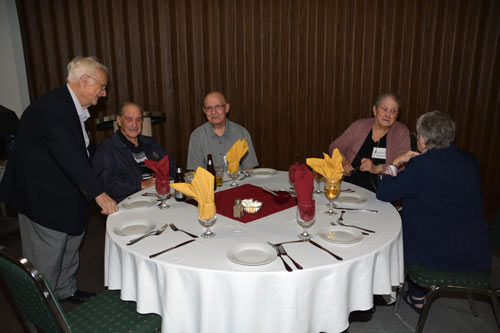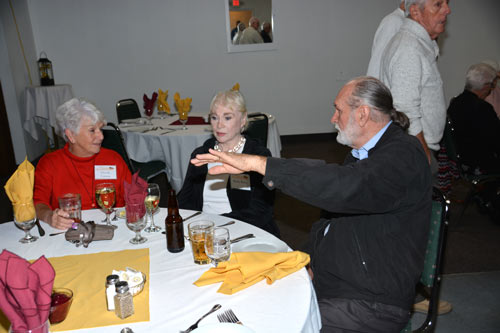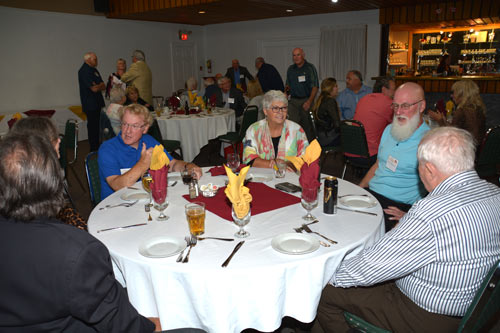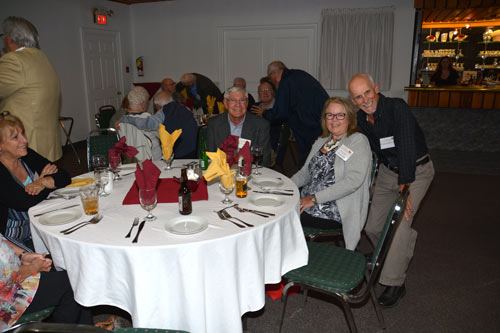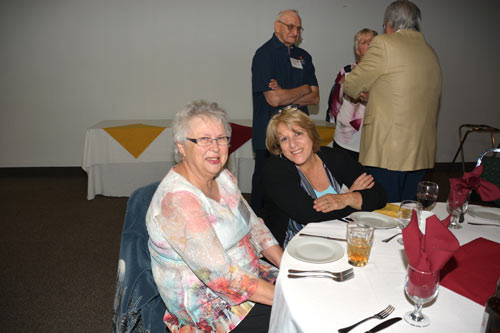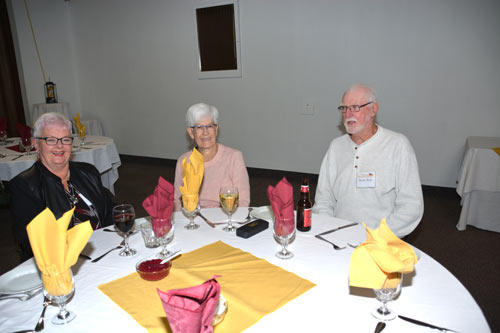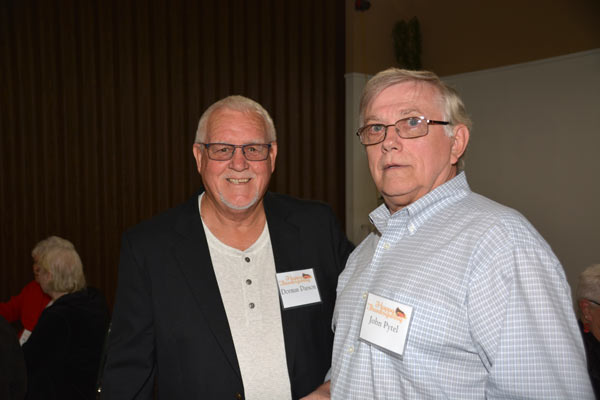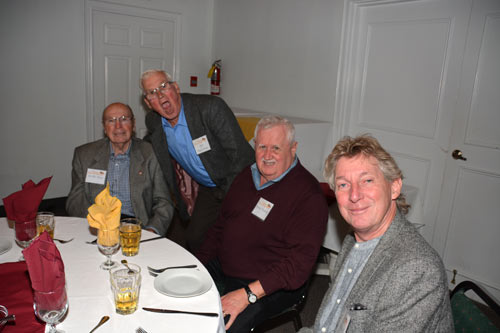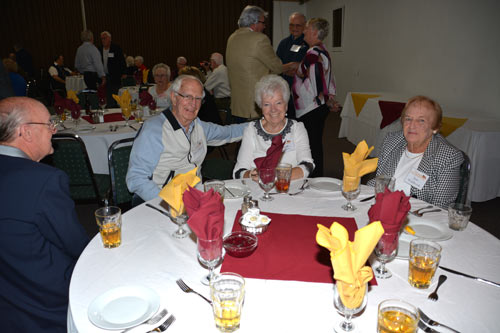 USMCA approval hinges on
Mexico's labour law, U.S. union,
Democrats say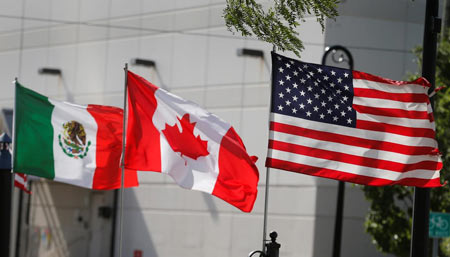 Reuters, Bloomberg
October 12, 2019
WASHINGTON -- The head of the American Federation of Labor and Congress of Industrial Organizations labour union on Wednesday warned against speedy passage of the Trump administration's new trade pact with Mexico and Canada, saying he was especially concerned about labor protection measures in Mexico and adding that any vote on the plan before the end of November would lead to its defeat.
"If there was a vote on the new #NAFTA before thanksgiving, the agreement would be defeated. Fast action would be a colossal mistake. #1u," AFL-CIO President Richard Trumka said in a tweet.
His concerns include reservations that Mexico might not make necessary changes to ensure labor reforms, or adequately fund enforcement mechanisms, he separately said in an interview with the Washington Post, which first reported his comments.
"If they can't enforce their own laws, we have a real problem," Trumka told the Post. "No agreement will be able to work."
"If we can get these things fixed, we can get to yes," he added. "If we can't get them fixed, we can't get to yes."
His comments echoed concerns from House Democrats, which must pass the deal secured by Republican President Donald Trump. A top Democratic lawmaker, who led a delegation to Mexico, this week said Mexico must do more to implement labor reforms.
Trump, his administration, congressional Republicans and several key business groups have been pressuring House Speaker Nancy Pelosi to take up the measure before the Thanksgiving holiday in late November.
Pelosi, in a letter to House Democrats on Tuesday, said they would "continue our discussion of the USMCA."
A group of House Democrats who visited Mexico City on Tuesday said U.S. approval of the stalled U.S.-Mexico-Canada trade agreement hinges on Mexico's full implementation of a new labour law.
The five Democratic lawmakers met with Mexican President Andrés Manuel López Obrador amid intensifying talks with President Donald Trump's administration on getting congressional approval in the coming weeks for the accord known as USMCA.
"Our meeting with President López Obrador shed further light on the Mexican government's desire and intentions to carry out its labour justice reform, but the United States needs to see those assurances put into action," Richard Neal, the Massachusetts representative leading USMCA discussions, said in a statement after talks with
Democrats want to see that proposed cuts to the Mexican labour department's budget won't affect factory inspections. They also have raised concerns about court challenges to the law, a process that could take years.
Neal said he is "eager to see Mexico demonstrate its commitment to implementing the changes necessary to realize its own vision for reform and meet the demanding labour and enforcement standards that will be required by the renegotiated NAFTA," the North American Free Trade Agreement.
Democrats and the White House are moving closer to a deal on USMCA despite the impeachment inquiry into Trump. The two sides are working to improve enforcement of the treaty by using arbitration to resolve disputes, though they haven't resolved penalties to address violations of new labour requirements.
'PATH TO YES'
House Speaker Nancy Pelosi has said Democrats want to be on a "path to yes" on USMCA and that the party is able to conduct legislative business regardless of the impeachment investigation. Trump has expressed doubt that Democrats can approve the trade pact during the impeachment focus, but his Trade Representative Robert Lighthizer has said he hopes it can be done.
Mexico's Foreign Minister Marcelo Ebrard told reporters his country is "reasonably optimistic" Tuesday's gathering will help move the U.S. Congress toward approval of USMCA, according to a recording of the conversation sent by his office.
"They were hoping to approve the accord, but didn't understand well how the labour reform would be implemented in Mexico," said Ebrard. "Then they had concerns about court injunctions" in Mexico against improvements, he added. He said the Mexican officials gave assurances that they realize the importance of raising wages and improving labour conditions in their country.
Lopez Obrador sent a letter to Pelosi saying he hoped USMCA wouldn't be postponed for too long, because it's important for investment in both countries. Last week, Mexican Undersecretary of Foreign Relations Jesus Seade told reporters in Washington that Mexico wants to see a vote by early November so the deal isn't further delayed by the U.S. election next year.
UAW-GM talks to end strike
sow confusion, frustration
Daniel Howes,
The Detroit News
Oct 10, 2019
On the day United Auto Workers leaders decided to strike General Motors Co., union Vice President Terry Dittes expressed disappointment they'd received the automaker's "first serious offer" just two hours before their 11:59 p.m. deadline.
"Had we received this proposal earlier in the process," the head of the union's GM department wrote, "it may have been possible to reach a tentative agreement and avoid a strike."
In an unprecedented step, GM publicly confirmed it had offered at least 2% wage or lump-sum increases in all four years of a new contract; agreed to improve the profit-sharing formula and retain industry-leading health care; offered an $8,000 ratification bonus; promised $7 billion in new investments in four states; pledged to keep open Detroit-Hamtramck Assembly with a new electric truck, to build a battery-cell plant in northeast Ohio's Mahoning Valley and to create 5,400 jobs.
Twenty-five days later, what's changed? Outwardly, not much. The UAW is communicating far more regularly with its 46,000 striking members than GM is, but the union is saying a lot less when it does. No numbers, no percentages, no touting potential wins to reassure those on the picket lines that the wait is worth the strike pay.
Instead of using GM's publicly detailed offer as a basis for a new four-year deal, the growing trove of Dittes letters suggests union bargainers are careening from one hot-button issue to another. The net effect is prolonging the UAW's longest national strike against GM since 1970 amid a continuing federal investigation into union corruption implicating UAW President Gary Jones, among others.
The confusion risks sowing frustration among striking members wanting to know where things really stand, why they're out so long and how they'll get back. Some are taking to Twitter to complain that they're not seeing the letters: "I've gotten more official updates from you," Almighty_Hebers wrote in a tweet to The Detroit News, "than I have almost anywhere else, including my local."
The target keeps moving. On Sept. 15, just hours before the strike began, the union said "important topics to discuss" included "wage increases, the wage progression for new hires, health care and prescription drug benefits, skilled trades issues, jobs security, profit-sharing and the treatment of temporary employees."
On Sept. 19, Dittes wrote that the strike is "for all the right reasons" — "to achieve true job security, our fair share of the profits, affordable health care and a path to permanent seniority for temporary members."
On Sept. 25, he reported that "all unsettled proposals are now at the Main Table" and that "this back and forth will continue until Negotiations are complete." Six days later, he wrote that "many areas" in GM's latest proposal "came up short like health care, wages, temporary employees, skilled trades and job security, to name a few.
He added: "Regardless of what is publicized in print or social media, etc., there are still many important issues that remain unresolved." Three days later, on Oct. 4, Dittes said, "we have made good progress regarding the issues of health care and a path for temporary employees becoming seniority members."
By Sunday morning, Oct. 6, "The negotiations have taken a turn for the worse," he wrote, as GM "reverted back to their last rejected proposal and made little change. The company's response ... did nothing to provide job security during the term of this agreement."
There's a signal there: the nearly singular focus on "job security" — a UAW euphemism for guaranteeing product allocations to existing plants to ensure jobs — is emerging as an overriding, if unsurprising, issue. GM's last proposal, passed to union bargainers 9:30 a.m. Monday and unanswered as of Wednesday evening, was deemed insufficient because job-security assurances apparently do not include pledges to build in U.S. plants all vehicles sold in the United States.
"We have made it clear there is no job security for us when GM products are made in other countries for the purpose of selling them here in the U.S.A.," Dittes wrote Tuesday. "We don't understand GM's opposition to this proposition. We are willing to discuss other ways to ensure real job security ..., but building more world-class vehicles at our UAW-GM facilities is the best solution ...."
With the exception of non-union Tesla Inc. in Fremont, Calif., not a single automaker operating in the United States — foreign or domestic — builds all the vehicles they sell here in the United States. That may be one reason explaining "GM's opposition to this proposition": exiting plants in Mexico and Canada is unlikely to reduce its hourly labor costs, the highest in the industry.
The UAW lament amounts to a union-engraved invitation to President Donald Trump. Dittes and the union's strategic communications adviser, SKDKnickerbocker, are practically begging the president to take to Twitter and bash GM for refusing to repatriate production to such underutilized plants as Lordstown Assembly, the vast complex in northeast Ohio that symbolizes GM's move to reduce capacity amid good times.
Trump has bigger problems at the moment, starting with the House impeachment inquiry. And it's not clear what he could actually do to get people back to work building cars, trucks and SUVs. That responsibility lies with GM and, especially, the UAW leaders who sent their folks out.
Now they have to find a way to get them back, and that's not always easy.
The feds raided a UAW retreat
while investigating if Ford, GM
and Fiat Chrysler officials helped
buy the home for ex-president
Robert Snell,
The Detroit News
October 9, 2019
Detroit — Federal agents are investigating whether Detroit automakers indirectly paid to build a lakefront home for retired United Auto Workers President Dennis Williams at the union's northern Michigan resort, three sources told The Detroit News.
Investigators have issued grand jury subpoenas, including at least one to a contractor who worked at the UAW Black Lake Conference Center, to determine whether as much as $1 million from Detroit automakers was spent on personal luxuries for union leaders, according to sources familiar with the investigation who are not authorized to speak publicly. Those luxuries include a three-bedroom, three-and-a-half bath, 1,885-square-foot home for Williams, boats and a dock exclusively used by UAW officers, the sources said.
The government is trying to determine whether money from General Motors Co., Ford Motor Co. and Fiat Chrysler Automobiles NV was funneled through jointly operated training centers to pay for perks for UAW leaders at the 1,000-acre Black Lake retreat in Onaway either with or without the consent of auto executives. The inquiry is among the reasons why a team of investigators from the FBI, Internal Revenue Service and Labor Department raided the retreat on Aug. 28 as part of a series of nationwide searches targeting UAW leaders, the sources said.
The UAW used its own money to pay for the Williams home and renovate an adjacent cottage used by the retired president, union spokesman Brian Rothenberg told The News. The expenses were part of a $10 million Black Lake renovation project approved by the UAW's governing board approximately four years ago, he said.
"Black Lake is a 50-year old facility that welcomes tens of thousands of UAW members and the public each year," Rothenberg wrote in an email to The News. "There were renovations to those facilities during President Williams' term of office done by UAW Black Lake employees who belong to the United Steelworkers union."
There have been no criminal charges filed relating to the Black Lake investigation, which is unfolding amid a broader four-year investigation of corruption within the U.S. auto industry that has led to charges against 11 people.
The automakers finance three training centers in Metro Detroit that are overseen by auto executives and UAW leaders, including vice presidents. One source describes UAW officials jockeying to succeed Williams as president by trying to secure the largest amount of training center money from automakers to pay for Black Lake perks.
The UAW could legally justify spending training funds on improvements at Black Lake that benefit workers, such as renovating conference rooms or an auditorium, legal experts said. But knowingly spending money on perks for senior UAW officials could violate federal labor laws barring auto executives from giving money or things of value to labor leaders, the experts said.
"That's where the impropriety comes in," said Peter Henning, a Wayne State University law professor and former federal prosecutor. "They're not allowed to give any benefit, otherwise it looks like they're being bought off."
The training centers host seminars and conferences at Black Lake, which could justify paying for maintenance at the 49-year-old retreat. But investigators are probing whether the need to maintain Black Lake was a ruse for steering money to pay for Williams' new lakefront home and other benefits, The News has learned.
"If the union misled Ford, GM and Fiat Chrysler, it could be mail or wire fraud," Henning said. "Because if you tell someone you are going to use the money for this and then end up diverting it to a personal use, that can be a scheme to defraud."
The Black Lake retreat has drawn increased scrutiny from the government in the year since The News revealed details about the lakefront home and boats purchased by Williams and a UAW subsidiary.
As part of the investigation, an IRS agent sent a grand jury subpoena in early 2018 to Southfield-based audio/visual firm Bluewater Technologies Group, CEO John Tracy told The News.
Tracy said the company was hired to install audio/visual equipment at Black Lake and the UAW-Ford training center in 2015 and 2016. The work totaled approximately $435,000.
Bluewater fully cooperated with the subpoena, Tracy said.
"Bluewater did not, and has not, engaged in any wrongdoing of any kind," Tracy wrote in an email to The News.
After being contacted by The News on Sept. 11, Bluewater's lawyer obtained a letter from the U.S. Attorney's Office in Detroit stating Bluewater Technologies "is not presently the target of an investigation."
"This investigation involves, in general terms, corruption within the United Auto Workers union and related employers," Assistant U.S. Attorney David Gardey, chief of the public corruption unit, wrote to Bluewater's lawyer. "I am providing this information to you in anticipation of your client's continued, complete, and truthful cooperation in this investigation."
Federal agents have spent four years investigating corruption within the top ranks of the UAW and have implicated Williams and President Gary Jones in a conspiracy to spend member dues on personal luxuries, according to sources and a federal court affidavit written by Labor Department Special Agent Andrew Donohue. Those luxuries include more than $1 million spent in Palm Springs on private villas, food, liquor, cigars and clothes.
The Black Lake inquiry sheds light on steps taken by investigators since the government expanded the investigation two years ago to determine whether UAW officials benefited from money funneled through all three training centers.
Government officials declined to discuss the Black Lake raid or simultaneous searches in California, Missouri, Wisconsin and Michigan, including the homes of Williams and Jones.
But in a sealed search warrant affidavit, investigators would have had to persuade a federal magistrate judge that they had probable cause to believe a crime had occurred and that evidence would be found at the locations, including Black Lake.
Besides looking into whether money was misspent, agents are investigating whether executives from Ford, Fiat Chrysler or GM, which is the target of a four-week-old UAW strike, knew about how money was being spent at Black Lake, the sources said.
Officials with Detroit's three automakers declined comment about the government's focus on Black Lake.
"As always, we cooperate with any inquiries," Ford spokeswoman Kelli Felker wrote in an email to The News.
GM spokesman Pat Morrissey said the company is "fully cooperating with the government's investigation."
The wide-ranging investigation of auto industry corruption has revealed attempts by Fiat Chrysler executives to influence labor negotiations by bribing UAW officials with training center money.
Before former Fiat Chrysler Vice President Alphons Iacobelli was sentenced to 5½ years in federal prison last year for his role in the scandal, he admitted paying more than $1.5 million in training funds to UAW officers to sway labor negotiations.
The investigation brought federal agents to the Black Lake retreat Aug. 28. The retreat, a half-hour south of Cheboygan, is hallowed UAW ground.
The ashes of former UAW President Walter Reuther and wife May were scattered on the center's grounds after the couple were killed in an airplane crash nearby in 1970. Opened the same year, the retreat features a campground, gym, Olympic-size pool and an adjacent golf course.
The retreat is financed with interest from the union's $721 million strike fund. The strike fund is financed by worker dues.
The UAW considered selling the Black Lake retreat in early 2010 during the Great Recession, citing declining membership. At the time, the retreat had lost an estimated $23 million during the previous five years and the UAW was forced to borrow to keep it afloat, according to Labor Department filings.
Last fall, the UAW was finishing construction on the Williams home. The home's design plan includes granite counters, stainless-steel appliances, a wood-burning fireplace, a wine cooler, a patio and a storage room hidden behind a hinged bookshelf door, according to blueprints obtained by The News.
The UAW used nonunion labor to build the home for Williams after the union solicited bids that showed the project would cost more than $1.3 million.
Williams retired in June 2018 and spent several weeks this summer at the Black Lake home, sources told The News. The Black Lake retreat is listed as his address on state records for two boats purchased last year that would have retailed for approximately $92,000, according to state watercraft registrations.
One, a 24-foot Berkshire pontoon boat, is promoted as a "bar boat" for entertaining people. The 2019 model retails for approximately $55,000.
Williams and his wife last year also registered a Lund 1875 Crossover XS fishing and skiing boat. The boat features a 150-hp motor that cost $13,000, bringing the overall price to approximately $37,000.
There is no indication loans were obtained to buy the boats, according to Secretary of State records.
Feds aimed guns, handcuffed ex-UAW boss Dennis Williams during raids
It is unclear what was seized during the search at the UAW retreat, but sources said investigators searched the Williams home overlooking Black Lake.
The UAW has provided homes at Black Lake for generations of retired presidents, but the Williams home was the first constructed during a federal investigation into union spending.
"Importantly, the new cabin is, and always will be, the property of the UAW, and is not owned by Dennis Williams," Rothenberg, the UAW spokesman, wrote in an email to The News. "It is a permanent asset of the UAW's Black Lake Education Center."
In court filings, prosecutors and federal investigators have portrayed some UAW vice presidents and regional directors as greedy, ambitious schemers. The UAW officials tried to ingratiate themselves with bosses, including Williams, by spending member dues and training money on cigars, golf, meals and private villas in the Palm Springs area.
UAW Vice President Norwood Jewell was one such official. Until retiring under a cloud of suspicion in January 2018, Jewell helped oversee the UAW-Chrysler National Training Center.
Jewell was sentenced to 15 months in federal prison in August for accepting bribes and receiving illegal payments from Fiat Chrysler that were spent on parties for members of the union's governing board. The board includes regional directors, vice presidents and the UAW president.
From 2014-15, when Williams was president, Jewell hosted two parties paid for by Fiat Chrysler that cost more than $50,000. One party featured a "Miami Vice" theme with "ultra premium" liquor, hand-rolled cigars and "kandy girls," provocatively dressed women who lit cigars for senior UAW leaders, according to government filings.
"It is apparent that the blow-out party at the (UAW-Chrysler National Training Center) by Jewell was an opportunity for Jewell to showcase his position and to curry favor with the UAW's leadership, with an eye towards future union leadership positions for Jewell," Gardey, the federal prosecutor, wrote in a court filing.
Jones, the UAW president, is portrayed as spending member dues to boost his career when he headed a union regional office in Missouri.
His deputy Danny Trull told investigators about Jones' ambitious behavior, according to an affidavit filed in federal court that refers to Jones as "UAW Official A."
Trull believed "UAW Official A" spent money on villas, cigars and other Palm Springs luxuries "to curry favor" with Williams, according to the affidavit.
Investigators also are interested in the UAW's fleet of watercraft at Black Lake, The News has learned.
On June 9, 2015, the UAW subsidiary Union Building Education Inc. registered two Lund fishing boats and two Aqua Patio pontoon boats, according to the Michigan Secretary of State. The boats were worth $65,000 based on average retail price data compiled by J.D. Power.
The News reported about the government's focus on Black Lake last year and revealed the boat purchases. The UAW spokesman said the union has since returned the boats to the dealership but would not elaborate.
Michigan Secretary of State records show the UAW subsidiary still owns the pontoon boats. Gordon Day, president of a fire suppression company, bought one of the fishing boats July 3.
The Alden resident said he bought the boat on consignment from Maple Bay Marine near the Black Lake retreat.
"Of all the frickin' boats I got to buy," Day, 58, said in an interview, "I get wrapped up in the UAW."
The boat was listed for $8,000, he said. Day offered $7,000.
"They ended up biting on that," said Day. "It was a hell of a deal, to be honest with ya'.
Where Canada's political parties
stand on the country's auto industry
John Irwin
Automotive News
Oct 8, 2019
A tight race between the Liberals and Conservatives in the Oct. 21 general election leaves auto-related policy in limbo, just as the industry grapples with production cuts and falling new-vehicle sales.
While industry executives say they're confident party leaders understand the sector's importance to Canada's economy, the union representing autoworkers warns time is running out to stem the loss of production and jobs to lower-cost jurisdictions such as Mexico.
"It won't end," said John D'Agnolo, president of Unifor Local 200, which represents 270 members at a Windsor, Ont., Nemak parts plant, set to close in mid-2020. "The red carpet going south will continue.
"Our governments need to step up to the plate, but they've been silent. They have to put provisions in place to stop this [job loss] from happening."
Industry groups, however, expressed confidence that Canadian politicians will back the industry's interests regardless of who wins the election.
"I think the two main parties get it when it comes to the automotive sector," said Flavio Volpe, president of the Automotive Parts Manufacturers' Association. "I'm not terribly worried with one party over the other."
Mark Nantais, head of the Canadian Vehicle Manufacturers' Association, said carmakers have forged constructive working relationships with government, regardless of political stripe.
"Whoever wins the election ... we look forward to working with the government," he said. "In Canada, the current government and the government prior to that, everyone is interested in making Canada the best investment environment that we can."
The industry's priorities will remain the same, regardless of which party is in government, he added.
"We'll continue to work with governments on things like investment supports, reducing regulatory burden and ensuring we have regulatory cooperation between Canada, the United States and Mexico."
Canada's three major parties will each offer a distinct vision of where to take the country, and their plans for the auto industry will likely be no different.
If Prime Minister Justin Trudeau's Liberals win, expect to see more of what the federal government has pursued in recent years, including incentives for electric vehicles and using grants to attract investment.
Conservative Leader Andrew Scheer has pledged to scrap the carbon tax, appears non-committal to EV incentives, and has touted tax cuts and deregulation as a way to attract investment. Jagmeet Singh's New Democratic Party wants to expand EV incentives and has called on the government to boost spending for auto investment.
A New Democrat government would convene an auto summit with provincial, municipal, and industry and labour leaders to develop a consensus on a National Automotive Strategy.
The party would also create a $300-million automotive innovation strategy and increase the incentive to buy zero-emission cars to $15,000, up from the current $5,000.
Current polls as indicate the race between the Liberals and Conservatives is nearly too close to call. As of Oct. 5, a CBC News average of polls showed the Liberals and Conservatives virtually tied with the Liberals at 34 per cent and the Conservatives at 33.6 per cent support, with the NDP at 14.2 per cent.
PRODUCTION CUTS RUN DEEP
Auto manufacturing could play a role in October's election, as news of closures, shift cuts and investment news has generated headlines in recent months. General Motors, for instance, plans on ending vehicle assembly at its Oshawa, Ont., plant at the end of the year, putting more than 2,000 workers out of a job, though the company will retain at least 300 employees for a stamping operation there. Fiat Chrysler also plans to cut a shift at its Windsor, Ont., assembly plant.
Toyota, however, was the recipient of $110 million in funding from the federal government in 2018 for a $1.4 billion overhaul of its Woodstock, Ont., and Cambridge, Ont., factories. Honda, which announced in 2017 a $492-million upgrade to its Alliston, Ont., plants, received $41.8 million in federal funding.
OPPOSITION MOSTLY COMPLAINS
It appears likely that the Liberal government would continue to offer grants and other incentives as a way to attract investment into the country, along with pursuing trade deals that give manufacturers access to new markets. A spokeswoman for Navdeep Bains, the federal minister of innovation, science and economic development, referred to his previous comments.
"We think we have a diverse economy that has the ability to ... design [vehicles], build them, commercialize them. That's what our strategy is all about," Bains told Automotive News Canada earlier this year.
If the Conservatives prevail, they appear likely to pursue tax cuts and deregulation in a bid to win new business for Canada.
"It is so important for our country to have a competitive business environment so that the industry can employ people, so that it can innovate and so it can attract investment for the long term," said Dan Albas, Tory critic for innovation, science and economic development.
The New Democrats have long called for a national auto strategy, arguing that it is needed to reverse the loss of auto jobs and investment.
Brian Masse, MP for Windsor, Ont., and NDP critic on autos and economic development, said that while Canada has attracted about $6 billion in investment since the Liberals took power in 2015, Michigan has drawn about $13 billion from the Detroit Three, alone.
"The age of innovation in auto is here and [the Liberals are] nowhere in the game. We need an auto strategy now," Masse said during a recent debate in the House of Commons.
Unifor's D'Agnolo said any government incentives granted to the industry should come with job guarantees.
"There's been incentives by governments and there are no conditions on those incentives. There has to be provisions on the percentages of parts being built here and on the number of vehicles being built here."
Ford F-series Super Duty trucks
recalled because axle may fracture
Automotive News
October 7, 2019
Ford Canada is recalling 4,316 F-series Super Duty pickups because their axle might fracture, leading the vehicles to roll away while in park.
"On affected vehicles, the electronically locking rear-axle assembly may have a passenger-side axle shaft manufactured with steel that does not meet Ford's specifications," the automaker said in a statement on its website. "A passenger-side rear axle shaft manufactured with material not to Ford's specifications may fracture."
Ford warns that a fracture could lead to the truck losing power while in gear or the inability to hold the park function.
Owners should apply the parking brake whenever the truck is parked.
Affected vehicles were built at the Ford Kentucky Truck Plant and Ford Ohio Assembly Plant on May 21 through July 26, 2019.
Dealers will inspect the passenger-side rear axle shaft, and shafts with a suspect batch code will be replaced.
Ex-UAW communications
directors call for union's entire
executive board to resign
Breana Noble,
The Detroit News
Oct 6, 2019
Two former communications directors for the United Auto Workers are calling for "radical remediation" of the international union amid a widening federal corruption probe that reaches the highest levels of the organization's leadership.
The Rev. Peter Laarman, who ran the union's public relations department from 1985 to 1990, and Frank Joyce, who ran it from 1990 to 2002, in an op-ed for the Detroit Free Press on Friday night, broke what they called an "institutional code of silence" to give a scathing rebuke of the UAW leadership for abandoning the practices of the formerly "squeaky-clean organization built by the union's earlier generations." They called for the resignations of the UAW's entire international executive board and the assistance of the Canadian auto workers union to help reconstitute the leadership.
"Based on the number of indictments, guilty pleas and raids so far, it's obviously not just one or two rotten apples," Laarman and Joyce wrote. "It's a whole bushel."
The op-ed comes as the UAW is negotiating a new labor contract with General Motors Co. and is poised to enter day 20 of its national strike against the Detroit automaker. Meanwhile, the federal investigation into union corruption has led to nine convictions, charges against two more people, and has implicated UAW President Gary Jones and his predecessor, Dennis Williams.
Neither Jones nor Williams have been charged, but The Detroit News last month identified them as unnamed officials accused of orchestrating a years-long conspiracy that involved embezzling $1 million in member dues and spending the money on personal luxuries in an affidavit written by Labor Department Special Agent Andrew Donohue in a criminal complaint. The complaint charged UAW Region 5 Director Vance Pearson, Jones' successor and former aide, with embezzling union funds, mail and wire fraud, and money laundering.
"Bad as it is, massive corruption is not the darkest cloud shadowing this necessary and long-revered organization," Laarman and Joyce wrote. "What stands revealed is that today's UAW has completely lost its way in respect to mission and purpose."
The UAW did not immediately respond to request for comment Friday evening.
The authors condemned the union's elected officers and board members for proving "incapable of even acknowledging the extent of corruption, let along fixing it." They noted Pearson remains an officer in good standing following the charges.
"Not one International UAW officer or staff member has publicly called for him to step down," they wrote. "The UAW seems to have outsourced its ethics to officials of the Trump administration. To put it another way, UAW leaders have abandoned all pretense of performing the self-policing functions that were hallmarks of the squeaky-clean organization built by the union's earlier generations."
Laarman and Joyce said the "head-in-the-sand posture" is unacceptable and that silence is "not serving the union now."
"We cannot, in good conscience, continue to mutter privately while biting our tongues publicly, as many of our former and current UAW colleagues are doing," they wrote.
Joyce and Laarman said statements about cooperating with federal investigators and adopting new joint program accounting controls are insufficient measures. They called for the resignation of the entire international's executive board, which is made up of the union's president, secretary-treasurer, three vice presidents assigned to each of the Detroit Three, and nine regional directors.
"The members of the union's International Executive Board should resign," Joyce and Laarman wrote. "All of them. Senior staff assisting current officers and board members are themselves 'see no evil, hear no evil,' enablers. They too should resign."
The authors suggested an interim team operate the union and develop a process of transparency to "democratically reconstitute" the union's leadership. They suggested Canadian auto union Unifor could assist in the process.
The op-ed authors also took aim at the training centers that the UAW operates with and are funded by the Detroit Three automakers. Joyce and Laarman said the programs should be suspended after they were used as pipelines to embezzle funds for bribes and kickbacks.
"There are times when only a fresh start can save a valued institution," they concluded. "For the UAW, this is that time."
Changes to OHIP take effect:
What you need to know
Travis Dhanraj
Queen's Park Bureau Chief
Global News
Oct 2, 2019
Changes to the Ontario Health Insurance Plan (OHIP) are now in effect, leaving several services unfunded for coverage.
Those changes come after recommendations from a physician-led group reviewed coverage for OHIP insured services.
In August, the group delivered 11 recommendations regarding tests and procedures to Health Minister Christine Elliott.
Elliott and the Ontario Medical Association accepted the changes.
The Ontario government insisted the updates to OHIP will improve the quality of patient care.
However several previously covered services have now been de-listed.
Some of the changes include:
De-listing imaging for most sinus problems
Loop recorders used for the monitoring of heart disorders will no longer be covered as the physician-led group claims the devices are an outdated form of technology
OHIP will continue to fund more effective testing to diagnose infertility, but post-coital testing of cervical mucous will no longer be covered
Patients who ask their doctor to remove ear wax when it's not medically necessary may be required to pay
Ontario residents will no longer be eligible for up to $400 per day for out-of-country hospital care
Dipstick urine pregnancy tests performed in a physician's office will only be covered by OHIP when its imperative to determine pregnancy to prevent patient harm
House calls will be only be covered for frail elderly individuals, those housebound, and palliative patients
The Ontario Ministry of Health claimed the changes will save taxpayers an estimated $83 million.
The government has posted a full list of changes on its website.
Auto workers fear EVs
will be job killers
CHESTER DAWSON, KEITH NAUGHTON
and GABRIELLE COPPOLA
Bloomberg
Oct 1, 2019
The milkman went missing thanks to the rise of refrigerators. Switchboard operators were done in by the dawn of direct dialing. And in the car industry, auto workers are deathly afraid the engine assembler will give way to battery builders.
Dread over the prospect that plug-in cars -- which have fewer parts and require less labor to build -- will doom auto jobs helped spark the first UAW strike against General Motors in over a decade. Ford Motor Co. and Fiat Chrysler Automobiles, which are rolling their own battery-powered models to market in the coming years, could face a similar fate if they're unable to quell the UAW's concerns that widespread adoption of EVs endangers the employment of 35,000 union members.
"There's a potential for our jobs to be gone -- they don't need us anymore," said Tim Walbolt, president of the UAW local representing workers at a Fiat Chrysler transmission components plant near Toledo, Ohio. "It scares us."
For all the buzz generated by Tesla Inc., the EV era is still in its infancy, with zero-emission autos having reached just 2 percent of global production. GM has extended the UAW an offer to get in on the ground floor, pitching a new battery plant staffed by dues-paying union members in an Ohio town jarred by job loss. But the overture came with a catch: GM wants to pay the workers less, and the facility is unlikely to need as many staff as an engine or transmission factory would.
A recent study of electric-vehicle production in Europe by consultant AlixPartners found that it took 40 percent fewer hours to assemble an electric motor and battery than a traditional internal-combustion engine and transmission.
"It's a bad news story from a labor perspective," said Mark Wakefield, the head of AlixPartners's automotive practice. "You would just fundamentally need less people."
Perversely, GM also arguably has uncertainty on its side at the bargaining table. It's going to want concessions to cushion itself against the risk that consumer adoption of electric autos remains slow. The automaker isn't fully utilizing the factory that builds the Chevrolet Bolt EV north of Detroit, and tepid demand for the plug-in hybrid Chevy Volt put the future of the factory that assembles it in nearby Hamtramck in doubt.
COLLISION COURSE
The collision with automakers over electrification is one the UAW saw coming.
"Electric, to me, is where the real risk is to our membership," Jennifer Kelly, the union's research director, said during a collective-bargaining conference in Detroit earlier this year.
It's almost certain to carry over from the UAW's talks with GM to negotiations with Detroit's other automakers. Ford has estimated electric cars will require 30 percent fewer hours of labor per vehicle and 50 percent less factory floor space.
"Rationalization of the powertrain portfolio is certainly a huge opportunity for all of us as we start this transition," Joe Hinrichs, Ford's automotive president, told investors on an earnings call in April.
Even FCA -- a laggard with regard to electrification -- has stoked fear at union halls linked to internal-combustion components plants, where rumors are flying that the company plans to outsource work to lower-paying suppliers.
"We cannot help but feel like the left behind stepchildren of the UAW," Mike Booth, the president of the union's local in Marysville, Mich., wrote in a letter to the labor group's Chrysler council last month. He and other UAW leaders fear that German mega-supplier ZF Friedrichshafen, which took over operation of a Chrysler axle plant in 2008, will take work away from the automaker's machining facility near Toledo and a transmission and castings complex in Kokomo, Ind.
A Fiat Chrysler spokeswoman said the operations the union are concerned about are critical to the business. ZF will continue to work with the UAW in Marysville, and an arrangement in which Fiat Chrysler licenses technology from the supplier in Kokomo may be creating some confusion, a spokesman said. He declined to comment on Toledo.
'SHRINKING BUBBLE'
In August, GM idled a transmission plant outside Detroit, affecting more than 260 workers as part of a larger restructuring. That may foreshadow other closures as EV production ramps up. The supply chain is where the job risk is greatest, especially for workers employed making engines, transmissions and sub-components that aren't needed in EVs.
In Oshawa, Ont., GM will all but cease operations at its assembly plant there. About 300 people will remain employed, building parts for the automaker. Unifor National President Jerry Dias has more than once called on the company to build electric vehicles there, but to no avail.
A strike "may very well" sprout at Canadian plants in 2020, he told the Canadian Press earlier this month. A collective agreement between Unifor and the auto giant is set to expire in September 2020.
Consultant IHS Markit predicts the introduction of new gas-powered engine families will drop to zero in 2022, from nearly 70 in 2011, as automakers shift spending to electric propulsion. The market for a whole range of parts used in internal combustion vehicles -- such as axles, mufflers, fuel tanks and transmissions -- will shrink in a range from 6 percent to 20 percent by 2025, according to a study by Deloitte Consulting.
"The value chain is shifting and companies and their unions are going to have to figure out how to change themselves or risk becoming part of a shrinking bubble," said Neal Ganguli, head of the auto supply base group at Deloitte's U.S. automotive practice.
That's a problem because engines and transmissions currently account for just under half of automaker manufacturing capacity, Credit Suisse auto analyst Dan Levy estimated in a Sept. 23 note to investors. As a result, automakers may face labor, social and political challenges as they transition to EVs, he wrote.
'Rough Time'
GM's EV factory in Lake Orion, Mich., offers a window into what the UAW is worried about.
While the plant is unionized, the automaker staffs it in part with lower-wage employees under a special contract. What's more, 64 percent of the fully electric Bolt model's content is made in Korea, including the battery.
One of the biggest suppliers is Seoul-based LG Chem Ltd., which makes cells in South Korea and assembles packs for GM and Fiat Chrysler at a non-union plant in western Michigan with a starting wage for technicians of $16 an hour.
That's close to what Ford pays its entry-level temporary workers, but far below the $28 to $30 an hour for legacy UAW employees. Temp workers at Ford's engine and transmission plants also can move up into legacy wage brackets, which isn't the case at LG's facility.
"The move to electric could weaken the union further," Joshua Murray, a labor expert and assistant professor of sociology at Vanderbilt University. "Certainly, the UAW is going to have to try to organize the battery plants, but I think they'll have a rough time."
IMPORT BATTERIES
No major automaker entirely outsources engines, in no small part thanks to displacement and horsepower being the source of marketing buzz and bragging rights for decades. EVs are a different story -- even Tesla relies heavily on Japan's Panasonic Corp. in the making of its battery packs.
Batteries -- the single most expensive part of an electric vehicle -- are almost exclusively manufactured overseas and mostly by companies relatively new to the automotive powertrain, such as China's Contemporary Amperex Technology Co. and South Korea's SK Innovation Co.
SK Innovation broke ground earlier this year on a new battery factory outside of Atlanta, which will employ some 2,000 non-union workers. And CEO Jun Kim thinks automakers will have a tough time replicating what his company does.
"There is a difference between the DNA of automakers and battery makers such as us," Kim said in a March interview. "There are only a handful of battery suppliers that are capable of delivering high-quality products while guaranteeing cost competitiveness."
The United Auto Workers Strike audio with Sam Gindin
Ford to begin autonomous
vehicle testing in Austin
Ian Thibodeau,
The Detroit News
Sept 27, 2019
Ford Motor Co. will begin testing self-driving cars in Austin, Texas.
The automaker said Wednesday it will begin testing there in November, when hybrid Ford Fusions equipped with hardware and software developed by self-driving partner Argo AI will hit Austin roads. Austin is the third city Ford and Argo will use to build out a business plan for the autonomous vehicles the companies plan to introduce in 2021.
"One of the key strategies for Ford is to work with the cities years in advance," said Sherif Marakby, CEO of Ford Autonomous Vehicles LLC. "We're doing it the hard way."
Ford currently tests its autonomous vehicles in several cities around the country, but focuses on developing a business model for those vehicles in Miami and Washington, D.C. Austin will join that set of cities where the automaker establishes a "depot" where the vehicles are based, and teams of engineers and safety drivers to run tests throughout the city.
That approach, Marakby said, allows the automaker to develop a robust, tailor-made digital driver that is adapted to the driving patterns and driving conditions in a specific city. In Miami, for example, Ford and Argo vehicles have learned to navigate intricate turns, and how to drive with sand on roadways.
"The future entry of automated vehicles services into Austin marks a very meaningful opportunity to address issues like safety, equity and accessibility for all," Austin Mayor Steve Adler said in a blog post. "We're looking forward to seeing how test vehicles can be put to use — and to build out public services based on the foundation that Ford is building in Austin."
The automaker is building business models in those cities with the goal of launching its autonomous vehicle business there in 2021, but will adjust plans based on what they learn during the testing period.
Ford believes its approach to build out business models in multiple cities will allow the company the ability to quickly increase the volume of its autonomous vehicle business when the automaker is ready to launch.
The automaker doesn't run its vehicles in small, controlled areas for its testing in cities. After mapping runs and some preparation work in cities, Ford runs its test vehicles — in full-autonomous mode with two safety drivers in the front seats — on "live" city streets. Nothing about the test runs are planned other than the route. The cars may encounter anything from pedestrians and accidents to emergency vehicles and construction.
The automaker has said that gives the "brain" of the vehicle much more robust data with which to work, and better prepares the vehicles to be fully operational.
The Austin announcement comes not long after General Motors Co. officially pushed back its 2019 launch date for its autonomous vehicle taxi service. Marakby said Ford plans to use its as-yet unreleased, purpose-built autonomous vehicle to deliver both people and goods. And the 2021 launch date is looking better and more accurate as time progresses, and other companies miss targets.
"We've never announced a super-aggressive date," he said. "We feel it's realistic."
GM, UAW battle over worker
pay from temps to CEO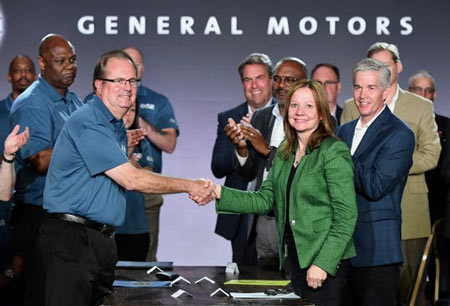 Breana Noble
and Kalea Hall,
The Detroit News
Sept 26, 2019
When handshakes opened labor talks in July, United Auto Workers President Gary Jones promised to halt what he called a "race to the bottom" and to fight against "wage loss."
At the same time, nonunion foreign automakers operating in the United States are setting a new standard for what competitive costs look like — creating a fierce battle over compensation ranging from entry-level temporary workers to General Motors Co. CEO Mary Barra.
Pay is a top issue for the 46,000 hourly UAW members on strike against the Detroit automaker, a national walkout that marked its 10th day on Wednesday. UAW leaders say they are at the bargaining table to fight for fair wages and workers' share of profits after GM posted $27.5 billion in net income over the last four years.
"When we are in full production, imagine doing the same thing 340, 350 times over eight- to nine-hour periods," said Meoshee Edwards, a team leader at the Detroit-Hamtramck Assembly plant who has worked for GM for 23 years. "A lot of people don't understand we feel we have earned what we are fighting for."
But GM is unlikely to fulfill the union's expectations, experts say, with uncertainty around declining car sales, a trade war with China, the time when automakers will recoup investments into autonomous and electric vehicles, and rising fixed costs. Nonunionized foreign rivals' hourly labor costs, including benefits, are $13 less per employee than GM, according to the Center for Automotive Research in Ann Arbor.
The message on the picket lines is radically different. A common complaint is that GM has the money to give its employees more considering Barra's total compensation package in 2018: $21.87 million — roughly 240 times the $90,000 average pay of hourly employees. That includes wages, bonuses and profit sharing but not benefits, according to the company. Skilled trades employees are paid an average of $122,000 a year.
The base salary of GM's chief executive, however, is flat from 2010 when adjusted for inflation. Meanwhile, base wages for top-earning production employees at GM have fallen roughly 10% since 2010, one year after the automaker emerged from bankruptcy.
Barra "gets that money off the sweat of my back," said Matt Moorhead, a GM employee at the Lansing Grand River assembly and stamping plant. "If I don't sweat, she doesn't make money."
Twenty-six hours before beginning its national strike against GM, the union rejected an offer that would have raised base wages by 2% twice over four years. Employees also would have received 2% in bonus money in the other two years in addition to an $8,000 signing bonus to be paid upon ratification of the contract.
"We're proud that GM has been a part of the backbone of middle-class America," GM spokesman David Barnas said in a statement. "We want to continue providing jobs that support families and communities — but can only do so if we remain competitive."
Worker Wages
President Jones in July condemned the automaker for making "cuts" to benefits, jobs and wages, putting retirement security "in jeopardy," adding more temporary workers and outsourcing jobs to Mexico and China.
"In the bankruptcy, that was when the union was bending over backward and giving things away and backing up from what we got," said Neal Kesterson, an electrician at GM's customer care and aftersales center in Ypsilanti.
Those decisions, Kesterson said, have affected temporary workers and new hires who are not paid the top wages. Employees like him who have worked for GM since before 2007 "lost a few things, some nice perks" like cost-of-living adjustments and personal paid holidays, the 47-year GM veteran said. "I'm thankful for what I've had. I want to see that for others, and I'm not seeing that."
Hourly GM employees hired before a contract agreement in October 2007 received their first wage increase in a decade in 2015 of 3%. They received another 3% increase in 2017, bringing top pay for production workers to $30.46 per hour. In 2010, their hourly wage was $28.69, according to company reports and the Center for Automotive Research.
More: Lengthening UAW-GM strikes weighs on suppliers, sparking layoffs
The $28.69 wage was the same pay employees had earned when UAW members ratified the 2007 contact.
During the Great Recession, "nobody took a pay cut, pension cut or health care cut," said Art Schwartz, president of Labor and Economics Associates in Ann Arbor and the former general director of labor relations at GM. "You can't say that about the salaried workforce. The union protected their workers."
The $20.6 billion GM owed to the "UAW Retiree Medical Trust" created in 2007 was not reduced during the automaker's bankruptcy, either. The trust emerged from the GM bankruptcy owning more than 17% of the company, second only to the stake held by the U.S. Treasury Department. The trust still owns 7% of GM's outstanding shares.
The Detroit Three and the union in 2007 agreed to a second-tier wage system for new hires. Under the 2015 contract, second-tier workers became "in-progression" employees who receive wage increases each year for eight years until they reach the top of the pay scale. Their wages start at $17 per hour.
Reducing the timeline for in-progression employees to earn traditional wages and create a clearly defined path for temporary employees to become permanent are top priorities for the union during this year's labor talks.
GM has used temporary employees for decades, at first for summer vacation replacements and then during volume spikes and vehicle launches, Schwartz said. Now they make up 7% of GM's hourly U.S. workforce, though they represent 20% of foreign automakers' hourly employees, according to the Center for Automotive Research. The starting wage for non-permanent employees at GM is $15.78 per hour, slightly more than half of what so-called "legacy" workers hired before 2007 earn.
"If I am doing the same work they're doing," said Breeuna Primm, a 24-year-old temporary employee who has been at GM's Lake Orion assembly plant for seven months, "I should have the same benefits."
GM's base wages do not include the often hefty bonuses and profit-sharing checks permanent employees receive. In 2010, the year after GM emerged from bankruptcy, hourly union members did not receive any profit share or bonus.
Since then, however, eligible GM hourly employees collectively have made more than $3.5 billion in profit sharing. In 2018, they received profit-sharing payments up to $10,750. Legacy hourly employees also received a 4% lump-sum bonus. With the additional compensation, many employees' total pay would have outpaced inflation.
Profit sharing is automakers' preferred method of compensating employees, Schwartz said.
"Workers are getting way more from profit sharing" than from a wage increase for the year, he said. "But it's not guaranteed, and it doesn't compound. Once a pay increase is in there, it's in there forever."
UAW members at GM also pay 3% out-of-pocket for health care compared to the 28% paid by an average American family, according to the Kaiser Family Foundation. Health care costs per person increased by 28% between 2010 and 2017, according to the Centers for Medicare and Medicaid Services.
CEO compensation
But UAW members such as Jared Grace, a GM employee at Pontiac Metal Center, see the potential for a 5% raise.
"The money is definitely there to cover that wage increase," said Grace, who has worked for GM since 2007 and is now married with two children ages 1 and 3 adding to his list of expenses. "Prices of goods get higher and higher throughout the years."
Barra's base salary in 2018 was $2.1 million. That's about the same amount GM paid in 2010 when adjusted for inflation: Edward Whitacre Jr. stepped down in August of that year; Daniel Akerson replaced him that September.
Barra's compensation "reflects GM's success today," Barnas said. At-risk stock awards granted for meeting business goals represent 90% of her pay. Barra's total compensation is a roughly 152% increase from that of Akerson and Whitacre's combined compensation of $7.53 million in 2010 when adjusted for inflation.
Of companies earning at least $1 billion in revenue, Barra was the 60th highest-paid chief executive. CEO compensation has risen 940% from 1978 to 2018, while worker pay was up 12%, according to data from the Economic Policy Institute, a Washington D.C.-based think tank.
The belief is that CEOs must be paid more "in order to attract the best of the best," said Julia Wolfe, a state economic analyst for the think tank, adding CEO compensation has become about "the unique position of power" they wield. "These people at the very top are getting these wages, and we are not seeing broad-based wage growth for everybody else in the economy."
Average wages overall in the manufacturing industry are nearly flat since September 2010 when adjusted for inflation, according to the U.S. Bureau of Labor Statistics. The average union-represented wages in the manufacturing industry, however, were up 5% between 2010 and 2018.
The 10% decrease in value of GM's base wage for legacy production employees is less than the greater U.S. motor vehicle manufacturing industry, however. Average inflation-adjusted wages are down 15% since September 2010, the most recent peak prior to 2018, according to the Bureau of Labor Statistics. Vehicles produced in the U.S. by non-UAW represented employees represented more than 70% of market share, according to the Center for Automotive Research.
"When workers' purchasing power erodes during good times, that means you're not simply earning less, you're diminishing purchasing power. That can slow economic growth if it is widespread enough," said Harley Shaiken, a professor at the University of California-Berkeley who studies labor issues. "Profitable times in the past have resulted in workers wondering, 'How much would we gain?' Even with these profitable gains, they're wondering, 'How much are we going to lose?'"
UAW members such as John Hatline, who works at Detroit-Hamtramck, see Barra's pay and calculate it to be around $11,000 per hour. They feel they deserve a piece of that.
"The whole plant has done the math," said Hatline, a 45-year GM employee. "I don't think anybody is worth that kind of money."
But the CEO position is probably one of the hardest jobs in the world, said Edwin Locke, professor emeritus for the University of Maryland Robert H. Smith School of Business. It often requires smart and swift decision making, while keeping in mind the many headwinds and operations around the globe.
"To me," Locke said, "a great CEO is worth their weight in gold."
Also noteworthy: UAW delegates last year voted to increase their leaders' pay, upping the international president's salary 31% to $200,657.07, at its constitutional convention when they also elected Jones. He has since been implicated in a years-long conspiracy that involved spending more than $1 million of member dues on personal luxuries.
UAW presidents take their posts in the middle of the year, making it a challenge to calculate the wage difference from 2010, also an election year, to 2018. But the president's new annual base salary is a 10% increase from former UAW President Bob King's 2011 base salary of $159,293 when adjusted for inflation, according to a filing with the Office of Labor-Management and Standards.
"I think that their salaries are just disgusting," said Omar Guevara, an in-progression employee at Detroit-Hamtramck. "They have become the 1% they claim to fight, while workers are trying to hang on at $28 per hour."
Ford brings back hybrid option
for new Escape, and it's a winner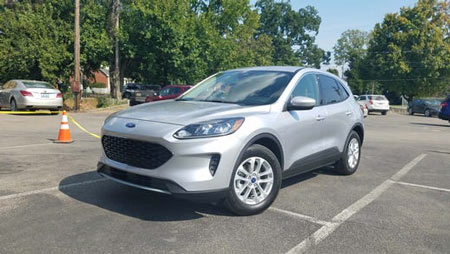 Henry Payne,
The Detroit News
Sept 25, 2019
Ford's two best-selling vehicles, the F-150 pickup and Escape SUV, may target different customers but they have traditionally relied on the same recipe: high-tech with high-design.
The F-150 is a tech-tastic smorgasbord of industry bests like trailer park-assist and stump-pulling towing. So, too, Escape, which introduced self-park-assist and kick-open tailgate gizmos that took many luxury brands years to emulate.
In 2015 the F-150 introduced its greatest tech confection yet — an eco-friendly aluminum-skin souffle — and customers loved it. Right on cue, here comes the Escape with its own daring entree: a hybrid powertrain targeted not at granola chewers, but at the meat of its customer base.
In fact, the hybrid model isn't pitched as a green exotic. It simply stuffs the battery-electric, 198-horse drivetrain into its signature Sport model and dares you to like it.
I do.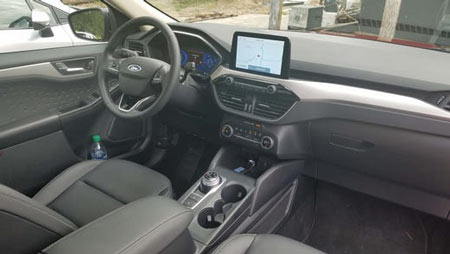 I'll leave it to the bean counters as to whether a $29,000 hybrid makes financial sense (Ford has to sell a lot of hybrids to meet federal fuel-economy regulations), but as a vehicle the hybrid — er, Sport Hybrid — is the Escape's best option.
This is one good-looking geek. It might rival my handsome class-favorite Mazda CX-5 if only it handled like a Mazda. I'll have to wait on the Escape ST for that, I guess.
The Escape has been a mainstay of small sport-utilities since the turn of the century. But it's been a distant fourth in sales to the Japanese Big Three of Toyota (RAV4), Nissan (Rogue) and Honda (CR-V).
This despite Escape's consistently brainiac entries.
That included a hybrid back in 2005, beating that darling of hybrid first-adopters, Toyota, to the menu by 11 years. Alas, Ford squandered the opportunity (an all-too familiar Detroit tale) and abandoned the Escape hybrid in 2012 due to poor sales. No wonder. The '12 Escape hybrid (which I recently flogged as a New York City taxi with 400,000 miles on the odometer), was $10,000 more expensive than the standard Escape, with less cargo room due to the battery.
For 2020, the Escape has gone back to the drawing board. The result: an Escape designed from the get-go to take hybrid technology (just as Ford designs Mustangs with the asphalt-pawing GT350 in mind). This greenie is a no-compromise hybrid with the battery stored in the floor so as not to elbow in on cargo or cabin space.
Which is important because the new Escape is every golf foursome's dream.
I can't tell you how many women have approached me over the years asking for compact utes that fit four golf bags. Behold, the new Escape (Ford expects a 60%-plus female buyer mix) which will stack four easily and still provide the best rear legroom in class. I'm not making this up.
Thanks to rail-mounted rear seats that slide backward like the fronts, my 6-foot-5 frame could easily sit behind myself. Ford even scallops out the front seatbacks for more knee room.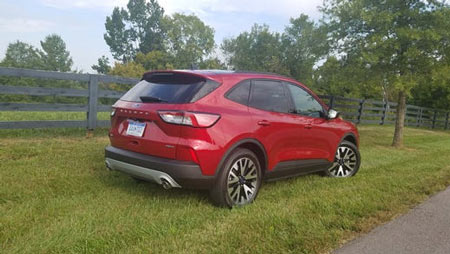 Better yet, the Sport Hybrid's electric motor helps make 200 horsepower (16 more than the base 1.5-liter three-cylinder engine) while smoothing out the ubiquitous stop-start stall that is the most hated feature in automotive today. Speaking of smooth, the hybrid mates a sippy CVT transmission to the gas engine, which contributes to seamless (if slower) acceleration compared to the standard, eight-speed tranny.
Ford then wraps this smart package in an exterior shell reminiscent of the Porsche Macan.
The Fusion looked like an Aston, the Explorer like a Land Rover and now Escape does Porsche. It looks sharp. It's the cure for the common five-door.
I could gaze into Escape's big, beautiful peepers for hours. Like the Mazda CX-5, this is a car that, unlike the homelier RAV4 and CR-V, won't make you pine for luxury. It spells out E-S-C-A-P-E across its tookus, an upscale touch. And even the standard 1.5-liter car comes with dual tailpipes. Classy.
Hybrid Sport goes a step further with the best-looking wardrobe of the line. It's better-looking than the $33,000 Titanium package. Starting at $29,000, the Escape SE Sport Hybrid gets a blacked-out grille, wheels (upgradable to 19-inch dishes) and window trim.
Comparably equipped, my $34,000 Escape tester was cheaper than a RAV4 hybrid while adding upscale touches like leatherette seats and big wheels. Though that's still a grand above the bargain leather-throned Soul Red Mazda CX-5 hottie (in part because Mazda eschews hybrid for a slick-shifting four-banger).
This being an SUV, Escape is lathered with black fender cladding (ugh). But paint it Velocity Blue or Rapid Red and you'll be the envy of the block.
Inside, the hybrid comes standard with the Escape's modern 12-inch digital display stolen right out of a Lincoln Aviator, with cool Drive Mode graphics and readouts tracking hybrid kilowatts/horsepower while you head up a hill. Dude, that's dope.
Dude, I wish it was as dope to drive.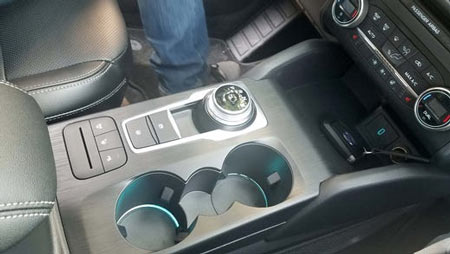 Where the tight Mazda CX-5 begs to be flogged, the Escape will make you wish you were back in a Fusion sedan. Despite a 200-pound diet over the previous generation and isolated rear subframe, Escape is mid-pack in the handling department.
Most drivers will appreciate the sub-frame's contributions to cabin quietness and smooth ride — speed-crazed motorheads will buy performance sedans to get their handling jollies.
As the interior quiet and roominess suggests Escape is obsessive about ergonomics. Importing the electronic, rotary shifter from Fusion (similar to Jeeps) opens acres of space for deep console bin storage as well as a deep dish for keys, change or a Big Mac. Lack of console space was a drawback in previous Escapes. No more.
Steering-wheel buttons are intuitive, and the interior design is clean and spare like the exterior — save for the curious, dimpled door inserts.
Sport Hybrid aside, customers can choose the terrific, entry-level turbo-3 cylinder with 180 horsepower — on par with similar class four-bangers (the Mazda CX-5 does 187 ponies) — and a color palette that includes a yummy Dark Persian Green.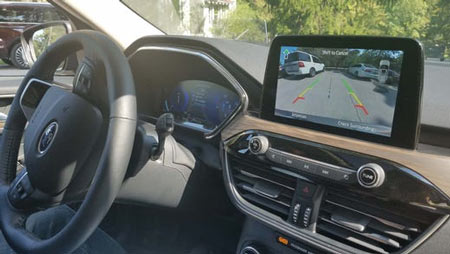 For the tech-thirsty, a top-trim, 250-horse turbo-4 Titanium boasts neat Ford tricks like kick-open tailgate and self-park assist.
The Titanium can get pricey, but if you frequent crowded cities with parallel parking, consider it for its self-park ability alone. Escape will meticulously park itself with the touch of a button — no fender rubs, no curb-scarred wheels.
For Ford customers who lament the passing of the prom-queen Fusion sedan, the Escape is worth a look.
2020 Ford Escape
Vehicle type: Front-engine, front- and all-wheel drive, five-passenger compact SUV
Price: Base price $26,080 including $900 destination charge ($34,240 SE Sport Hybrid, $36,025 SEL 2.0L, $40,070 Titanium 2.0L as tested)
Powerplant: 1.5-liter turbocharged 3-cylinder, hybrid with electric motor and 2.5-liter Atkinson 4-cylinder, or 2.0-liter turbo 4-cylinder
Power: 181 horsepower, 190 pound-feet of torque (1.5-liter); 200 horsepower, NA pound-feet of torque (hybrid); 250 horsepower, 280 pound-feet of torque (2.0-liter)
Transmission: 8-speed automatic, continuously variable transmission (CVT)
Performance: 0-60 mph, NA; towing 3,500 pounds (2.0L), 1,500 pounds (hybrid)
Weight: 3,299 pounds base (3,706 AWD Sport Hybrid as tested)
Fuel economy: EPA, 26 mpg city/31 highway/28 combined (1.5 liter AWD); 23 mpg city/31 highway/26 combined (2.0-liter AWD); EPA for hybrid NA — 35.1 mpg observed by Detroit News in spirited highway/back road driving (Sport Hybrid)
Report card
Highs: Sporty looks, hybrid value
Lows: Slow infotainment screen; CVT tranny slows hybrid off the line
Overall: 4 stars
UAW strike in U.S. leads to another
700 layoffs at G.M. Canada
Automotive News
Greg Layson
Sept 24, 2010
Hundreds more General Motors Canada employees have been temporarily laid off due to the ongoing United Auto Workers' strike against GM in the United States.
About 700 workers of the 1,100 at the St. Catharines, Ont., Propulsion Plant have been told to stay home this week. The V8 and V6 engines they build and export to the United States aren't needed because 49,000 UAW members struck the automaker's U.S. operations.
"We're focused on transmissions in St. Catharines right now…primarily for CAMI," GM Canada spokesman David Paterson said.
GM Canada assembles the Chevrolet Equinox at its CAMI plant in Ingersoll, Ont. The Equinox is the automaker's fourth most-popular vehicle in Canada, behind the Chevy Silverado, GMC Sierra and Chevy Blazer. It's also one of GM's most popular vehicles in the United States, trailing only the Sierra in total sales through the first half of 2019.
While a few hundred workers in St. Catharines continue to make transmissions for the Equinox, another 100 or so at GM Canada's Oshawa, Ont., plant continue stamping panels for the vehicle, Paterson said.
"St. Catharines and Oshawa are open, supporting CAMI, which is helpful," Paterson said. "We're doing everything we can to keep our people on the job."
About 5,000 workers, including those at supply plants, in Canada have been put on leave due to the strike, according to Unifor, the union that represents employees at GM Canada's plants.
All vehicle production at Oshawa stopped Friday. Workers there complete final assembly of previous-model Chevy Silverado and GMC Sierra pickup trucks. They also assemble the Chevrolet Impala on a separate line.
"We have seen disruption of our vehicle assembly work at the Oshawa Assembly Plant due to the UAW strike. We plan to resume these operations as quickly as possible upon resolution of the UAW strike," GM Canada spokeswoman Jennifer Wright said in a statement Friday.
The company stopped truck production on Sept. 17, sending about 1,200 hourly workers home due to a lack of parts. Workers in Oshawa complete final assembly of the previous-model Chevy Silverado and GMC Sierra, which are shipped to Oshawa from a plant in Indiana.
Jerry Dias, national president for Canadian union Unifor, said thousands of workers at parts suppliers have also been laid off in Canada.
Unifor Local 222 President Colin James, who represents workers at GM Oshawa, said once production at Oshawa stops, another 1,700 members of his local who work at nearby supply plants will be temporarily laid off, too.
"Anybody who supplies one of those 30 assembly plants shut down in the U.S. or GM lines shut down here, the production capacity that supplies them is sitting and waiting," said Flavio Volpe, president of the Automotive Parts Manufacturers' Association. "I think everybody is a little bit surprised that we're still talking about this in the second week."
Canadian supplier Magna International said in a statement Monday that about half its divisions in Canada and the United States have been affected by the strike, "some more than others based on the amount of GM specific business at each location."
"Magna is a supplier to GM on a number of programs globally and, as such, we have started to experience sporadic temporary layoffs at various locations in both Canada and the U.S.," the company said. "In lieu of layoffs, some of our divisions have been able to offer training and/or conduct maintenance and inventory to help mitigate the downtime in the short term.
'Where necessary, other plants have implemented short-term temporary layoffs on GM specific programs and lines."
Magna said it will continue to monitor the dispute between GM and the UAW and that it's encouraged to see both sides continuing to work towards an agreement.
The strike also led to an immediate halt in production of the Buick, GMC, Cadillac and Chevrolet models assembled in the U.S. for Canadian sale. They include the Chevrolet Silverado and GMC Sierra pickups— the automaker's top-selling vehicles in Canada — both of which are built in Flint, Mich. GM Canada's Oshawa assembly plant only builds the outgoing models of those two trucks. Other U.S. vehicle production affected by the strike includes the Buick Enclave and Chevy Traverse, assembled in Lansing, Mich.
Paterson on Monday said the Canadian dealer network remains fully stocked and hasn't yet been affected by the strike.
Meanwhile, Automotive News in Detroit reported Monday that some General Motors customers in the United States with broken, recalled and accident-damaged cars may already be feeling the effects of the UAW strike as replacement parts take longer to reach dealers and the independent repair shops they supply.
A red banner on the top of the GM Parts Direct homepage reads: "Due to the UAW GM Strike, there is a delay receiving parts for all GM dealers across the United States. Your order may experience a longer processing time."
Paterson said GM Canada has its own parts distribution network and warehouses, none of which has been affected by the strike.
"They're still pretty resilient and doing pretty well," Paterson said. "We're not experiencing any significant delays or problems for Canadian dealers at this point."
GM strike, day 7: Warren says
UAW holding GM 'accountable'
Breana Noble, Kalea Hall and
James David Dickson,
The Detroit News
Sept. 23, 2019
More than 100 United Auto Workers pickets on Sunday crowded the main gates at Detroit-Hamtramck Assembly Plant when Democratic presidential candidate Elizabeth Warren visited to condemn General Motors Co. for its lack of "loyalty" as the national strike against the Detroit automaker extended into its seventh day.
"These workers from the UAW are here to hold GM accountable," said Warren, a senator from Massachusetts. "GM made billions of dollars in profits last year and then closed five plants ... GM is demonstrating that it has no loyalty to the workers of America or the people of America. Their only loyalty is to their bottom line.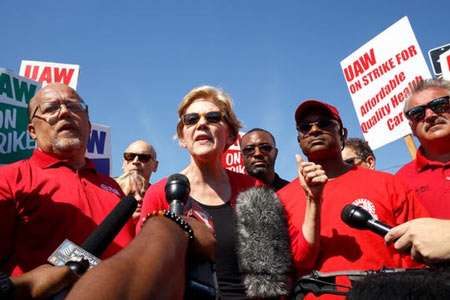 Negotiations between the UAW and the Detroit automaker resumed Sunday morning and were expected to continue Monday. The parties are seeking to find common ground on issues such as health care, wages and permanent job security for temporary workers.
UAW President Gary Jones on Friday asked the public to join pickets for what he called "Solidarity Sunday." Local union chaplains also were on the picket lines Sunday for words of support.
As the strike of 46,000 hourly UAW members has continued for a week now, it has attracted more attention from leading Democratic presidential candidates. In addition to Warren's visit Sunday, former Vice President Joe Biden was expected at Fairfax Assembly in Kansas City, Kansas, on Sunday afternoon.
Vermont Sen. Bernie Sanders, another contender, is expected to stop at Detroit-Hamtramck on Wednesday should the strike persist. Minnesota Sen. Amy Klobuchar visited pickets at the plant Thursday.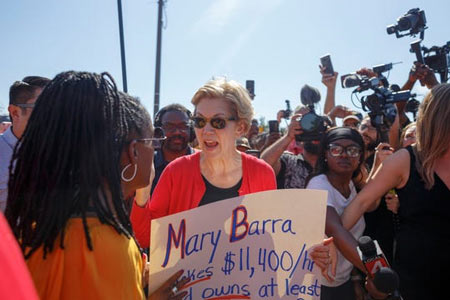 Warren joined the gathering outside the plant that straddles the border of Detroit and Hamtramck at about 12:30 p.m. She immediately exited the SUV and grabbed a sign to march with the crowd dressed in red and T-shirts saying "I am a Warren Democrat" and "Warren has a plan for that."
Warren during her visit condemned GM for building product in countries such as Mexico with cheaper labor. She credited unions for creating the middle class and said they would rebuild it, too.
"The workers of the UAW are here to say no more," she said. "They want contracts here that keeps these jobs in America. They want a fair wage. They want benefits. They want what it takes to be a part of America's middle class. And they want the same for themselves and for temporary workers. Everybody deserves a living wage in this country. When unions win, all American workers win."
GM declined to comment. The U.S. has 30 allocated manufacturing sites compared to Mexico's four and has 30,000 more employees. Mexico builds six nameplates that are sold in the United States.
It was the sign of Sterling Heights' Nikki Smith that Warren asked to hold as she marched. "(GM CEO) Mary Barra makes $11,400/hour and owns at least 1,060,594 units of GM stock," the sign said. "Share the wealth."
Smith said it was a wake-up message.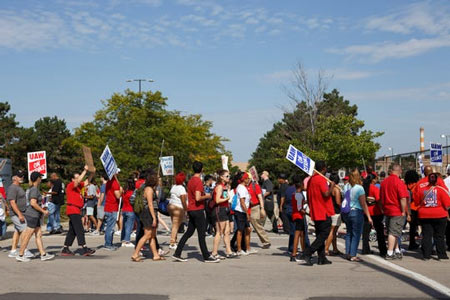 "Wake up to the disparity in the distribution of wealth in our country," said Smith, an office worker at the UAW Solidarity House headquarters in Detroit. "Mary Barra cut off insurance benefits when the premiums were paid off through the end of the month — that's spiteful."
When UAW members went on strike, GM stopped paying for their health care. The union is paying for medical and prescription coverage while the employees are not working.
Warren's visit coincided with Karen Beals' return to Detroit-Hamtrack. Beals, 53, of Howell worked at the plant for more than two decades but accepted a transfer to Flint Assembly after GM announced Detroit-Hamtramck would be "unallocated" in June; it got an extension to January.
GM, however, on Sept. 15 revealed details of the plan it had offerd to UAW leaders that included producing an electric truck at Detroit-Hamtramck.
"I didn't want to (transfer)," said Beals, who moved from Macomb County's Metro Beach to Livingston County to be closer to work. "But I didn't want to get shipped out. We were under the impression they were closing ... After 22 years, I wanted to retire here."
Labor talks had gone into the evening on Saturday and were expected to continue all day Sunday. Neither side has issued any updates on progress since Thursday.
In the next week, strikers could start to feel the financial burden of the strike. Hourly employees received their paychecks from GM for the previous week's work on Friday, UAW members said. Strike pay is $250 per week, but it won't be distributed until the 15th day of picketing. The starting wage for temporary production workers at GM is $15.78 per hour, or about $630 per week.
Experts have had differing amounts for how much the strike is costing GM. Lansing-based Anderson Economic Group consulting firm estimated it to be about $2 million per day and growing to about $16 million by Friday. Wall Street analysts forecast it will cost $50 million or more per day. Effects to the supply chain are expected to cost the economy millions more.
Feds charge another UAW
leader, say he received kickbacks
Robert Snell,
The Detroit News
Sept 22, 2019
Detroit — Federal prosecutors Friday charged the former top aide to United Auto Workers Vice President Joe Ashton with receiving $123,000 during a bribery and kickback conspiracy that defrauded union workers.
Jeff Pietrzyk, 74, of Grand Island, New York, is accused of conspiring with Ashton and former UAW official Mike Grimes to receive millions in kickbacks and bribes from UAW vendors who received rigged contracts to produce union-branded watches, jackets and backpacks, according to the court filing.
The contracts were awarded by a UAW training center jointly operated and financed by General Motors Co., which Friday was engaged in negotiations to end a five-day-old labor strike that has sent 46,000 hourly workers to the picket line.
Pietrzyk, who prosecutors say received approximately $123,000 during the alleged conspiracy, is the 11th person charged in a corruption scandal that has implicated the top echelon of the UAW, including President Gary Jones and former President Dennis Williams.
The criminal filing Friday appears designed to pressure Ashton into cooperating with federal investigators, who already have secured Grimes' conviction, said Peter Henning, a Wayne State University law professor and former federal prosecutor.
"This is their game plan," Henning said. "You start low and make your way up the chain of command."
Most of the details included in the criminal case Friday were first revealed last month when prosecutors charged Grimes with wire fraud conspiracy and money laundering.
Pietrzyk was charged with wire fraud and money laundering conspiracies in a criminal information, which means a guilty plea is expected. Wire fraud conspiracy is punishable by up to 20 years in prison while money laundering conspiracy is a 10-year felony.
Pietrzyk's attorney, Robert C. Singer, said in a statement that he has been "working with the government to resolve Jeff's involvement in this matter."
"According to the government's allegations in the information, Jeff's involvement in this scheme is much more limited in time and scope than his named and unnamed co-defendants," Singer said.
"The charges against Jeff Pietrzyk are serious, and the conduct outlined in his charges is not just illegal, it is an affront to every member of the UAW," the union said in a statement. "The UAW has already made changes to its purchasing procedures that require three bids and pushed the Joint Program Centers to significantly tighten their accounting controls to prevent this type of criminal activity from happening again.
"This conduct — which was suspiciously announced in the middle of our current bargaining — must not and will not distract us from negotiating the strongest possible contract for our members."
The charge comes one month after The Detroit News revealed investigators had accused Pietrzyk of taking kickbacks and securing hundreds of thousands of dollars for Ashton.
Grimes, who admitted receiving $1.5 million in bribes from union vendors, pleaded guilty to wire fraud conspiracy and money laundering Sept. 4 and could be sentenced to more than 4 1/2 years in federal prison.
The criminal filing accuses Pietrzyk of teaming with Grimes and a former UAW senior leader identified by prosecutors as "Union Official 1." That official, who is accused of demanding $550,000 in kickbacks and bribes from union vendors, is Ashton, four sources familiar with the investigation told The News last month.
The alleged conspiracy started in 2006 and lasted until July 2018, prosecutors alleged.
Pietrzyk, who within UAW circles was known by the nickname "Paycheck" due to his difficult-to-pronounce last name, was paid $110,055 as Ashton's top administrative assistant until retiring in 2014. He and Ashton also served on the board of the UAW-GM Center for Human Resources training center.
"GM is disappointed by the conduct of the UAW officials charged in the government's expanding investigation," the automaker said in a statement Friday. "GM continues to cooperate with the government on its investigation."
The criminal case involves vendors being awarded contracts from the training center to produce more than $15.8 million worth of UAW-branded merchandise in exchange for paying bribes and kickbacks.
For example, in 2011, Ashton proposed buying 50,000 UAW-GM jackets using training center funds, according to sources familiar with the investigation and court records.
Grimes recommended a family-owned company identified in court records as "Vendor A," which was awarded a $6 million contract, prosecutors said.
Then, prosecutors say Pietrzyk told Grimes to demand a $300,000 kickback for "Union Official 1," who sources said is Ashton.
Pietrzyk served as the middleman, delivering the kickbacks to Ashton, according to the government.
Ashton, 71, of Ocean View, New Jersey, continued receiving kickbacks for two years after he was promoted to GM's board of directors in 2014, according to the court records.
He resigned in December 2017, one month after The News linked him to the criminal investigation. He has not been charged with wrongdoing.
Ashton, Williams and Jones, the UAW president, are the highest-ranking UAW officials linked to a criminal investigation into whether money and illegal benefits corrupted UAW leaders and the collective bargaining process.
Pietrzyk, meanwhile, played a central role in a $4 million watch contract awarded to Ashton's chiropractor, prosecutors said.
In 2013, the UAW-GM training center awarded a $3.97 million contract to New Jersey chiropractor Marc Cohen, according to sources and the criminal case.
Ashton, who helped negotiate the contract, demanded a $250,000 kickback, prosecutors allege.
Cohen hand-delivered the kickbacks to the UAW vice president's house, prosecutors said. Ashton also told his chiropractor to pay kickbacks to Pietrzyk, according to the criminal case against Grimes and sources familiar with the investigation.
Pietrzyk received $95,000 from the chiropractor and gave $25,000 to Grimes, according to the government.
Ford Canada recalls 23,380
Explorers from 2017 for
sharp seat frame edges
Michael Martinez
Automotive News
August 20, 2019
DETROIT -- Ford Motor Co. on Friday issued a recall for more than 300,000 Explorer large crossovers in North America from the 2017 model year that may have seat frames with sharp edges.
The automaker said the affected vehicles could injure owners when they reach between the power front seat and center console.
Ford said it's aware of 31 reports of hand injuries.
The vehicles were built between Feb. 13, 2016, and Oct. 25, 2017, at the Chicago Assembly Plant. Ford said 311,907 are in the U.S. and federal territories, 23,380 are in Canada and 3,045 are in Mexico


1,200 GM workers temporarily
laid off in Ontario due to
UAW strike in U.S.
Ian Bickis
The Canadian Press
Sept 19, 2019
OSHAWA, Ont. — About 1,200 General Motors employees at the company's assembly plant in Oshawa, Ont., have been temporarily laid off because of a strike in the U.S., with more job cuts expected soon.
The employees, who work on the Oshawa truck line, will still receive full wages while the strike by some 48,000 GM workers in the U.S. continues.
Unifor president Jerry Dias, whose union represents the workers there, says he expects the second line at the Oshawa plant to also be disrupted because of a lack of parts from the U.S. as early as Thursday to leave all 2,600 workers at the plant off the job.
He says he expects about two-thirds of GM's Cami plant in Ingersoll, Ont., to shut down by early next week because of the strike, while its St. Catharines, Ont., operation could be hit by the middle of next week. Workers at those plants will still be compensated in a shut down but not as fully as the Oshawa workers.
Dias says some other operations are also issuing temporary layoffs, including a trucking company in Windsor, but that the key hit will be the GM plants.
"There will be an impact in some industries, but the key hit will be the GM plants here in Canada," he said.
Employees in Oshawa perform final assembly on outgoing models of the GMC Sierra and Chevrolet Silverado, which are shipped to the plant from Indiana.
GM workers in the U.S. walked off the job for the first time in over a decade on Monday over issues including wages, health care, and job security.
Dias said was impossible to say how long the U.S. strike might go on, but that the UAW president told him Tuesday that no meaningful discussions had happened since the strike began. He said a Unifor strike in 2017 lasted longer than expected.
"It's tough to say. Our Cami strike I thought would be a quick one, and it turned out to last the better part of a month."
The strike also lead to an immediate halt in production of the Buick, GMC, Cadillac and Chevrolet models assembled in the U.S. for Canadian sale. They include the Chevrolet Silverado and GMC Sierra — the automaker's top-selling vehicles in Canada — both of which are built in Flint, Mich. GM Canada's Oshawa assembly plant only builds the outgoing models of those two trucks. Other U.S. vehicle production affected by the strike includes the Buick Enclave and Chevy Traverse, assembled in Lansing, Mich.
One of the most popular GM vehicles in Canada, the Chevrolet Equinox, is assembled in Ingersoll, Ont.
GM Canada spokeswoman Jennifer Wright told Automotive News Canada that the automaker's Canadian dealer network has not yet been affected by the strike.
SUPPLIERS SEE 'IMMEDIATE IMPACT'
Parts manufacturers including Magna International, Linamar Corp, and Martinrea International did not say if their operations had been affected yet.
Canadian auto suppliers, which export about $18 billion in parts a year to the U.S., are also expected to be feeling the effects of close to 48,000 unionized workers in the U.S. walking off the job, said industry analyst Dennis DesRosiers.
"There's an immediate impact on the suppliers in Canada, the Magnas of the world supply GM plants in the United States, and I suspect that as early as yesterday they were getting instructions to stop production and wait until the strike is settled."
Magna International spokesman Scott Worden said Tuesday in a statement that the company was in a "wait-and-see" mode and continues to monitor the situation, but declined to outline impacts so far.
"Although Magna supplies GM on a number of programs globally, it would be premature to comment on the potential impact to our operations right now," he said by email.
Flavio Volpe, president of the Automotive Parts Manufacturers' Association, said member companies he's spoken to seem to have avoided major changes so far but that it's not far off.
"At this point, they're still managing, they've really got another day or so before the next phase."
He said companies are looking to adjust production schedules to adapt to the disruption, but that they might have to cut shifts if the strike drags on.
A spokesman for the United Auto Workers said that talks with the automaker, focused on issues like wages, health care and job security, are ongoing, but did not say how far apart the two sides were as of Tuesday morning.
GM workers in the U.S. last walked off the job for two days in 2007, while a strike in 1998 lasted 54 days.
'SNOWBALL EFFECT'
Jonathon Azzopardi, chair of the Canadian Association of Mold Makers, said secondary suppliers won't feel the immediate impacts as much as direct parts suppliers, but they are concerned about the potential long-term effects. He said that if the strike has a significant impact on profitability, it could mean less money to invest in new programs and vehicle platforms that boost manufacturers like mould makers.
"What we are concerned about is potentially a situation that create a snowball effect," said Azzopardi.
This strike could drag on because workers have much more leverage thanks to recent company profitability, compared with the difficulties the industry faced in 2007, said Azzopardi.
"That's why this strike could get ugly, because the last time we had this type of situation, the leverage was heavily on the side of the 1/8auto manufacturers 3/8, this time not so much."
He said the strike comes at a delicate time for the industry as auto sales are expected to slow from recent peaks, and that the strike will only make things worse.
"When you start to put disruptors in like this, it makes it that much more fragile."
DesRosiers said he doesn't expect this strike action to drag on too long.
"I think calmer heads ultimately prevail, and that this will be a relatively short situation."
He said, however, that if forecasters are correct and auto sales continue to slide then it will make next year's negotiations between Unifor and GM even tougher than the current U.S. negotiations.
Unifor president Jerry Dias said Monday that Canadian GM workers could strike next year as workers feel "betrayed" by the company.
GM is scheduled to end production at its Oshawa assembly plant by the end of the year at a loss of 2,600 union jobs, though the company plans to convert part of it into a parts assembly operation to save about 300 positions. DesRosiers said, however, that the strike could lead to the company accelerating that shutdown.
GM hiring scabs to replace
strikers at Missouri and
Texas assembly plants
By Tom Hall
18 September 2019
Social media posts by autoworkers throughout the day have exposed that General Motors is hiring scab labor to operate its key assembly plants in Arlington, Texas and Wentzville, Missouri.
A flyer distributed by temp agency Stride Staffing advertised a job fair held in a Dallas suburb late Tuesday morning for "temp to hire" assembly technicians on three shifts. Any strikebreakers who are hired will earn the poverty wage of $12 to $12.35 per hour, less than some fast food workers in the Dallas area. The UAW local president at Arlington Assembly reportedly confirmed that the company was hiring scabs in an emergency meeting held this morning.
A WSWS Autoworker Newsletter reader in Missouri also reported that the UAW local president at Wentzville Assembly has informed striking GM workers that the company is hiring strikebreakers at their plant as well.
GM met with UAW negotiators for the second day in a row Tuesday in order to hash out a way to shut down the strike on the company's terms. The UAW side is being advised by none other than Region 5 Director Vance Pearson, who was arrested last week for embezzling union funds, according to press reports Monday.
Politico also reported on Tuesday that the Trump administration is also involved, as yet behind the scenes, to end the strike. Trump has threatened to bring in a federal mediator and to broker a deal to re-open the shuttered Lordstown, Ohio assembly plant in exchange for what would be huge concessions handed over by the UAW.
However, the hiring of scabs suggests that GM is not assuming that either the UAW or the Trump administration will be able to shut down the strike and push through such a deal any time soon. It is a sign that the giant company and the Wall Street investors that stand behind it are digging in for a drawn-out fight with autoworkers.
The exposure of the strikebreaking operation comes the day after the company cut off medical benefits for striking workers, jeopardizing access to healthcare for tens of thousands of workers. The company was originally set to provide benefits until the end of the month. Workers are forced to obtain healthcare from the starvation ration they are being paid by the UAW strike fund, which provides medical and prescription drug coverage but not dental, vision, hearing or other benefits. Workers will not begin accruing strike pay until next Monday, when they will make a paltry $250 a week.
General Motors can ill afford lengthy stoppages at the Arlington and Wentzville plants because they are the only facilities producing some of GM's most profitable pickup trucks, SUVs and vans. Arlington produces the GMC Yukon, Cadillac Escalade and Chevy Tahoe and Suburban SUVs. Wentzville produces the Chevy Colorado, Express and the GMC Canyon pickup trucks and the GMC Savana full-size vans.
GM has also sought to increase production of its highly profitable Silverado and Sierra pickup trucks at its plant in Silao, Mexico, but workers are refusing to take on extra workloads during the US strike and have defied threats and victimizations by management and the company-controlled union.


Protest against Nemak ends,
Unifor members return to work
After 13 days, the strike and blockade at the Nemak plant in Windsor has ended. Unifor Local 200 announced Sunday night that a "negotiated agreement" was reached with the company.
Windsor Star
Trevor Wilhelm
Sept 17, 2019
Workers at Windsor's embattled Nemak plant will likely know by November if they'll still have jobs next year.
A new agreement, which helped end a two-week wildcat strike sparked by news the plant will close two years earlier than expected, includes fast-tracked arbitration with a final decision by Nov. 18.
Unifor Local 200 president John D'Agnolo said Monday giving up control of the plant does not mean the union has given up on keeping it open.
"Our position has not changed," he said. "You made an agreement with us and you're going to follow that agreement. Unfortunately, the company is saying different and we've got to fight that."
Company officials would not comment Monday.
"At the time, Nemak is not interested in commenting on the situation," spokesperson Lucy Wildman said in an email.
Union members took control of the plant Sept. 2, forcing a shutdown, after Nemak announced it is closing the facility next year and moving what is left of production to Mexico.
According to Unifor, the company is violating the collective agreement from 2016 when it vowed to keep the plant operational until 2022 in exchange for a wage freeze. Nemak maintains there is nothing preventing it from shutting the plant before 2022.
Two days after Unifor seized control of the plant, the Ontario Labour Relations Board ordered the union to remove the barricades. When Unifor leaders ignored the labour board, a Superior Court judge ordered them to obey that ruling. The union also ignored that order. It was found in contempt of court on Friday and fined $75,000, with the threat of more fines if the illegal strike continued.
Union leaders said Saturday they still would not stop the strike. But by Sunday night, the barricades were coming down.
Unifor said Monday it gave back control of the factory after Nemak agreed to several conditions.
Those conditions include creating a timeline for negotiations regarding the announced closure of the plant, an expedited arbitration process if a resolution cannot be reached through negotiation, and a commitment by both sides to abide by the arbitration decision.
Nemak also agreed to take no disciplinary measures against union members following the strike, Unifor said.
The union and company will have three meetings within the next 14 days in the hope of working things out before arbitration. If the negotiations fail, the fast-tracked arbitration will begin.
D'Agnolo said Unifor wanted a commitment from Nemak before arbitration began that it would honour the outcome. Those concerns fuelled the move Saturday night to throw down the gauntlet.
"They never talked about the outcome and if they would follow that outcome," said D'Agnolo. "So we put pressure on them. We put it on paper to make sure that if we do win that ruling the work stays here until 2022. Right now we have language that states so, and we know we have good language, so we were happy with the fact they signed that agreement."
One section of the disputed contract states Nemak would make the Windsor Aluminum Plant the only source for the GM parts produced there.
"Nemak commits to placing the awarded General Motors blocks and bedplate in Windsor if the extension Agreement is ratified," states the memorandum of settlement.
"Based on the current volume projections the Company will designate WAP Cast Line D as the sole sources for the General Motors blocks and bedplate (awarded). This assumes that WAP Cast Line D will be able to meet customer volume demand, delivery and quantity requirements."
D'Agnolo said the reference to volume demand meant that if there was too much work for Windsor to handle, the excess could be moved elsewhere.
Far from having too much work, Nemak said it's shuttering the factory because of production numbers that have dwindled to 10 per cent of capacity.
D'Agnolo said company officials knew years ago the plant was projected to drop to 10 per cent by 2019, but they didn't secure new customers.
"When they said production is suddenly going to drop and that's why we're leaving, that was a lie," he said.
A Nemak report from 2016 appears to confirm the company knew volumes would drastically decrease.
"Based on product development and retooling time, we need to secure new products now or Nemak Canada is at risk of idling the facility or worse case plant closure," the Feb. 19, 2016 report stated.
D'Agnolo said Nemak recently had a chance to secure new business with Fiat Chrysler. FCA officials toured the Windsor facility in January. The company liked what it saw, said D'Agnolo, and awarded Nemak a contract. Nemak, he said, sent that work to Mexico.
Nemak disputes that.
"We can't get into specifics about customers, but I can tell you that the purpose of the January 2019 customer visit to Windsor Aluminum Plant was not related to the new business that was awarded to Nemak Mexico," Wildman recently told the Star.
46,000 UAW workers strike
at GM plants nationwide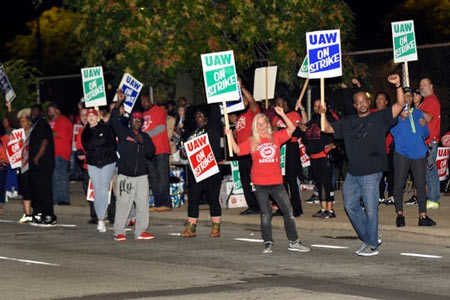 Kalea Hall, Daniel Howes,
Sarah Rahal and Candice Williams,
The Detroit News
Sept 16, 2019
Members of the United Auto Workers went on strike at General Motors Co. plants nationwide at midnight Sunday night, sending 46,000 workers to picket lines in the union's first walkout since the automaker emerged from taxpayer-funded bankruptcy.
The UAW on Sunday night said "dialogue is continuing" with the Detroit automaker, but a GM spokesman said talks were halted amid an increasingly acrimonious atmosphere and an unorthodox response by GM that breaks with decades of bargaining protocol. The UAW said a bargaining session is scheduled at 10 a.m. Monday.
As the clock struck just before midnight, workers streamed out of the GM Flint Assembly Plant and moved toward their vehicles on the lots. In single lines and orderly fashion, their shift done, they drove onto Van Slyke Road, just across from UAW Local 598's headquarters, to the sounds of car horns piercing the night.
Pickets had massed outside the plant and were chanting: "One union" and "Mighty, might union" as more and more workers joined the picket line as rain competed with the union shouts and honking horns.
Ray Atherton from Flushing stood across Van Slyke smiling, watching vehicles exit early Monday, saying it reminded him of the strike in 1998.
"This is my third one," said Atherton, a GM truck driver for 25 years. "In '98, we were out for 56 days. I hope it doesn't go that long."
About 100 others gathered Monday morning at the Detroit-Hamtramck plant, where UAW members, some representing workers from Detroit's Big 3, carried signs and sported red UAW shirts. What happens at GM, they said, sets the tone for the rest of them.
"UAW — we're all a big family," said Louie Pahl, president of Local 1700 at Fiat Chrysler's Sterling Heights Assembly Plant. "It doesn't matter if you're Ford, GM or Chrysler, Aramark … anything that's UAW, we're all brothers and sisters. We're all from the same family when it comes down to it."
Temp worker Chrishonda Starks, 41, of Flint said she wanted to hear how GM's temporary employees would be addressed in a new contract. Like Atherton, she wants the two-tier wage scale abolished.
"It's hard," she said. "I have to tell people ... who have serve less time to hang in there and that it'll be worth it when they receive a permanent position."
President Donald earlier had weighed in: "Here we go again with General Motors and the United Auto Workers," Trump wrote on Twitter. "Get together and make a deal!"
In a surprisingly detailed response to Sunday's strike announcement and before the walkout, GM outlined its offer to the union that promises more than $7 billion in investments over the life of a new contract. It said it would create more than 5,400 jobs, boost base wages, pay lump-sum bonuses, improve benefits — and, The Detroit News has learned, rescue its Detroit-Hamtramck Assembly plant from closure and build a new battery plant near the idled Lordstown plant in Ohio.
"We presented a strong offer that improves wages, benefits and grows U.S. jobs in substantive ways and it is disappointing that the UAW leadership has chosen to strike at midnight tonight," the automaker said in a statement Sunday. "We have negotiated in good faith and with a sense of urgency. Our goal remains to build a strong future for our employees and our business."
UAW Vice President Terry Dittes sent a letter to Scott Sandefur, vice president of Labor Relations at GM, on Sunday stating: "Over the last two months, we have met with GM representatives countless times in an effort to resolve many important issues raised by our members."
Dittes wrote that the union was disappointed that GM waited two hours before the contract expired on Saturday night to make what the union considered "its first serious offer."
If the union received that offer earlier, it may have been possible for the two to reach a tentative agreement and the strike may have been avoided, Dittes wrote.
Patty Thomas, 63, a GM worker at the Detroit-Hamtramck plant, wore a red UAW shirt and held her picket sign high early Monday outside. She said she wants GM to retool her plant, which is scheduled to end production in January. Proposed contract details floated earlier that GM may use the plant to build an electric vehicle there didn't excite her.
"They may give us that and then take away our wages, take away our health care," Thomas said. "... "They give you one thing to get rid of another. I'd have to see the whole package."
Specifically, GM said it offered investments in eight facilities in four states. It proposed introduction of an all-new electric truck, as well as opening the first union-represented battery cell manufacturing site in the U.S.
The electric truck would be built in GM's Detroit-Hamtramck Assembly plant, according to two sources familiar with the situation, effectively rescuing the plant from the "unallocated" list and securing its future. GM proposed building the battery plant in northeast Ohio's Mahoning Valley, cushioning the impact of the closure of the automaker's sprawling Lordstown complex and its impending sale to Lordstown Motors Corp.
GM also proposed additional new vehicle and propulsion programs; base wage or lump sum increases in all four years; improved profit-sharing formula; ratification bonuses of $8,000; and retention of health care benefits, with new coverage for autism therapy, chiropractic care and allergy testing.
It's not typical for automakers to release details of contracts, but Art Wheaton, an automotive industry specialist at Cornell University's Industrial and Labor Relations School, said GM likely decided to release the highlights "to sway public opinion." He called the UAW's decision to strike a "risky strategy ... because now you are going to have to be able to get people to go back in."
On Sunday, the Teamsters said 1,000 of its members would stand in solidarity with the UAW and not haul any GM product. Teamsters Spokesman Bret Caldwell said its members haul "a very large percentage" of GM product to dealers across the country.
The UAW-GM confrontation comes as the federal investigation into UAW corruption is reaching the highest levels of the union, including the indictment of Region 5 Director Vance Pearson that also implicates "UAW Official A" and "UAW Official B." Citing sources, The Detroit News identified UAW President Gary Jones as "Official A" and his predecessor, Dennis Williams, as "Official B" in a years-long scheme that federal investigators say misused union money.
The union and GM likely will struggle to reach an agreement as long as the "big cloud" of the federal investigation into UAW corruption hangs over the union, said Marick Masters, business professor and former director of labor studies at Wayne State University.
"I think it will be difficult for them to get an agreement they can sell to the membership," he said. "They aren't going to get an agreement with at least some concessions. Whatever tradeoffs they make the membership will view somewhat skeptically because of what hangs over their head."
Before GM released details of its proposal, Dittes said the union is trying to secure fair wages, affordable health care, job security and a path for temporary workers to get permanent seniority.
"What we are asking of General Motors is simple and fair," said Dittes, director of the UAW GM Department. "We are standing up for fair wages, we are standing up for affordable quality health care, we are standing up for our share of the profits. We are standing up for job security for our members and their families."
Brian Cannon, 57, an operations technician, was heading home at 2:30 p.m. Sunday at the end of his shift at the GM Lansing Delta Assembly Plant. Told about elements of GM's offer, such as the company's promise to keep the Detroit-Hamtramck plan open and build a battery plant in Ohio, the 33-year GM veteran said there must be other things the union is bargaining for that are important for the future.
"It's all about money, I guess," Cannon said. "That's what I'm working for, money so I can take care of my family and such. But some things you got to stand for or you'll fall for anything."
In the bailout that rescued GM from an uncontrolled collapse into bankruptcy, the U.S. Treasury Department pumped $49.5 billion into the bailout of GM in 2008 and 2009 and lost about $11 billion of it on the sale of GM stock after the new GM emerged from bankruptcy.
The last time a national strike was called was in 2007 when the UAW struck GM. That strike lasted less than two days, idling 80 facilities and affecting 73,000 workers. In 1998, 9,200 workers walked off the job at two parts plants in Flint, shutting down production for 54 days.
"This is our last resort," Dittes said of the strike, adding that UAW members stood up and made "hard choices and sacrifices" to save the company following its 2009 bankruptcy. "It represents great sacrifice and great courage on the part of our members and all of us."
Prior to the news conference, UAW leaders from local units around the country met with Jones to hear details of GM's offer. The assembled leaders, numbering roughly 200, unanimously approved strike action.
Jones, the embattled president, did not attend the news conference. When asked the whereabouts of Jones, UAW spokesman Brian Rothenberg said: "I'm not his scheduler. Mr. Jones has a union to run. I don't see you asking GM where (CEO) Mary Barra is at every press conference."
Masters of Wayne State said "you would expect under normal circumstances that, unless someone were ill, they would be there today. That's a conspicuous absence."
Asked if Region 5's Pearson remained on the UAW's International Executive Board, Rothenberg said: "I am here to talk about our workers today. I am here to talk about the workers who are going on strike."
"This union exists to support our local unions," he said. "This strike is about our local union members and we will not be deviated ... because that is what's in their interest, that is they want and that is what we will do."
Dittes said in a statement Saturday night that while there had been "some progress in this set of negotiations" with GM, issues remained on health care benefits, wages, temporary employees, job security and profit-sharing.
In addition to the GM workers, 850 Aramark Corp. janitorial workers represented by the UAW at five GM facilities in Michigan and Ohio went on strike late Saturday. The union told GM workers early Sunday morning to cross the janitorial picket lines for their shifts.
Aramark workers do cleaning and other tasks at Flint Metal Center, Flint Engine Operations, Flint Assembly, Warren Tech Center and the metal center in Parma, Ohio. Flint Assembly builds the profit-rich Chevrolet Silverado and GMC Sierra heavy-duty trucks.
The UAW selected GM as the target company because of how profitable the automaker has been, experts have said, and because the automaker was moving to close four U.S. plants. GM generated $27.5 billion in profits over the past four years of the latest contract.
But the company announced in November that it needed to cut North American plant capacity. Four plants were "unallocated" of products, the first step towards closure. The plants include Warren Transmission, the Lordstown, Ohio, complex, Baltimore Operations in Maryland and Detroit-Hamtramck Assembly — which GM now proposes to save.
The union has said it will fight to get products reallocated to the affected plants. Wages are a top concern on both sides of the bargaining table: the union wants wage increases, and the automakers want to cut labor costs to align with what the foreign automakers spend in their U.S. plants.
Automakers — which want to cut costs to prepare for the costly investments they will have to make for Auto 2.0 and to deal with the impact from trade wars — are likely to push the profit-sharing model of paying workers more when they make more, but union workers want base wage increases in place no matter what.
UAW benefits are another sticking point. Benefits for UAW cost roughly 150% more than the U.S. average, according to the Center for Automotive Research.
"Bargaining isn't getting what you want," Wheaton said. "Bargaining is getting what both sides can live with. It's a hard lesson for people to learn. If you make any promises and you can't keep up with them, then it's extremely tough to get it ratified."
Auto Workers Go on Strike After
Years of Tirelessly Helping General
Motors Reach Record-Level Profits
UAW SAYS GM REFUSES TO GIVE EVEN AN INCH TO HELP HARD-WORKING MIDDLE-CLASS FAMILIES
Sept 15, 2019
Among GM Failures, Affordable Healthcare for Thousands Remains Unsettled For No Good Reason
UAW To GM: We Stood Up For You, Now We Stand Up For Us
Local Union leaders from across the nation met Sunday morning after the 2015 General Motors collective bargaining agreement expired Saturday night and opted to strike at midnight on Sunday.
The autoworkers are calling on the Big 3 automaker to recognize the contributions and sacrifices that the company's UAW members have made to create a healthy, profitable, industry.
"We stood up for General Motors when they needed us most. Now we are standing together in unity and solidarity for our Members, their families and the communities where we work and live," said UAW Vice President Terry Dittes.
Following a formal meeting of the GM Council consisting of local union leaders, the UAW announced the membership is going on strike at midnight Sunday to secure:
Fair Wages
Affordable Healthcare
Our Share of Profits
Job Security
A Defined Path to Permanent Seniority for Temps
The decision to strike comes a day after UAW Vice President Terry Dittes notified General Motors leadership that the Union would not agree to extend the Collective Bargaining Agreements.
"We told UAW GM members that we would stand up for them and their future," said Gary Jones, President of the UAW.
National Bargaining Committee Chair Ted Krumm of UAW Local 652 said "We have been clear at the table about what GM members have indicated we will accept. We are standing up for what is right. We as local unions will sacrifice to stand up for what we deserve."
"Our members have spoken; we have taken action; and this is a decision we did not make lightly. We are committed to a strong contract at GM that recognizes our UAW members, who make some of the greatest products in the world and make GM so profitable."
Unifor defies court order,
continues Nemak strike
at a cost of $14K per day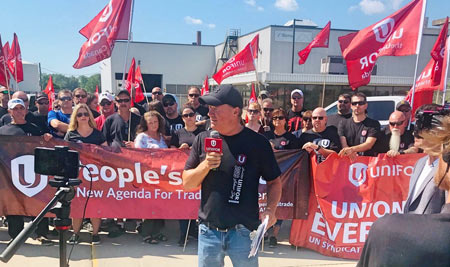 Automotive News
Greg Layson
September 15, 2019
WINDSOR, Ont. -- Unifor will defy a court ruling and continue its blockade at a General Motors supplier plant in Windsor, Ont., the union said late Saturday night.
Unifor says the wildcat strike at Nemak, a subsidiary of Mexico-based Alfa, will continue until further notice. The decision flies in the face of Ontario Superior Court Justice Terrance Patterson, who on Friday fined the union $75,000. He ordered the union to deconstruct barriers and end the wildcat strike.
The decision to stand its ground means Unifor will have to pay a $10,000 fine every day the blockade remains in place. It also means four union officials will each have to pay $1,000 a day.
Barricades at all three entrances to Nemak were supposed to be removed by 12 a.m. Sunday to allow work to resume at 11 p.m. that day, Patterson ruled.
Patterson also found Dias, Unifor Local 200 President John D'Agnolo, Vice-president Tim Little and plant chair Mike Jobin guilty of contempt for their part in prolonging the blockade at Nemak, which builds engine blocks. The four were not personally fined in the matter. The union, representing the 270 workers, refused to adhere to Patterson's Sept. 5 ruling that Unifor obey an Ontario Labour Relations Board decision, ordering and end to the strike.
Chris Taylor, a national representative for Unifor, and former president of Local 200, which represents workers at Nemak, said the union executive has "full support" of its members nationwide.
Unifor is Canada's largest private-sector union, representing more than 315,000 people.
Unifor on Saturday did make the following proposal to resolve the dispute:
Nemak corporate officials will meet with Unifor over three dates within a 14-day period beginning Monday, Sept. 16 in an effort to reach a negotiated resolution to the closure announcement dispute;
Unifor and Nemak will establish an expedited arbitration process to provide a decision by no later than Oct. 31, 2019;
Nemak and Unifor will abide by the decision, including if the arbitrator rules that the programs remain operational in the Windsor plant until at least Jan. 14, 2022, and;
Nemak will not discipline any Unifor member for any issues related to the labour dispute.
Unifor Local 200 members walked off the job Labour Day and have been on the picket line ever since to protest the company's plan to close the plant in mid-2020. The employees build engine blocks for a Cadillac vehicle assembled in China, the I-6 engine blocks for the Chevrolet Silverado assembled in Flint, Mich., and the Corvette engine block and bedplate.
A GM spokesman on Friday told Automotive News the strike in Windsor had "no impact" on Silverado or Corvette production.
When Nemak announced the pending closure in July, it said the decision came on the back of "the expected withdrawal from an export program by a client in China," which would lead the plant to use less than 10 per cent of its installed capacity by 2020. Nemak said the Windsor plant is now too small and too inefficient to remain open as the company expands elsewhere in the world. The company said it recently purchased larger businesses outside of Canada that came with existing plants and capacity.
The union claimed Nemak and Unifor "agreed that the Windsor plant would be the sole source for General Motors I-6 engine blocks and bedplates for the Corvette." Unifor alleged Nemak has violated the terms of the collective bargaining agreement, which is set to expire in 2022.
Unifor says the closure is part of a plan to shift production to Mexico, where wages are a fraction of those in Canada.
Taylor said on Saturday night that the blockade is also keeping Nemak from moving key tooling and technology to Mexico from the Windsor plant.
"That's part of it," Taylor told Automotive News Canada.
But, he also said the job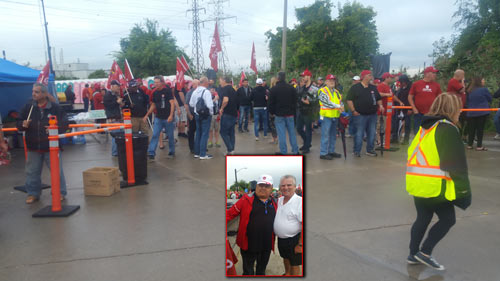 Doug Berry Attends Nemak Rally in Windsor Thursday September 12, 2019

Inside Source Claims UAW
President Gary Jones Will Step
Down, Turn Himself Into
FBI Tomorrow
Sep 14, 2019
An unnamed source inside the UAW is claiming that UAW president Gary Jones has told members at the Solidarity House he will resign tomorrow, and turn himself into the FBI.
"Just got word from inside solidarity, Jones is stepping down tomorrow then turning himself into the FBI"
Yesterday, the Detroit News reported that UAW President Gary Jones is an unnamed union official accused in a federal criminal case Thursday of helping orchestrate a years-long conspiracy that involved embezzling member dues and spending the money on personal luxuries, three sources told The Detroit News.
Multiple sources told The News that "UAW Official A" is Jones and "UAW Official B" is former President Dennis Williams. The sources spoke only on the condition that they were not publicly identified because they are not authorized to speak about the investigation.
In outlining its case, federal officials provided the most detailed accounting to date of how Jones' former aide, UAW Region 5 Director Vance Pearson, and the unnamed union officials defrauded the union by using fraudulent expense reports for items during prolonged stays in luxury Palm Springs villas. Those visits lasted days, weeks and even months beyond the union's official business purpose for being in the desert oasis.
The criminal case outlined a pattern of corruption stretching from California to Detroit and illegal spending by union leaders who spent more than $1 million of member dues on Palm Springs villas, steakhouse dinners, 107 rounds of golf, golf gear, cigars and $400 bottles of Louis Roederer Cristal Champagne.
The criminal charges were unsealed two days before a union contract deadline with General Motors Co., its target company, and Detroit's other two automakers that is set to expire Saturday night, which could send 46,000 hourly workers to the picket line. The widening criminal investigation, marked by Aug. 28 raids at the homes of Jones and Williams, arguably complicate the most consequential negotiations since the bankruptcies a decade ago of two Detroit automakers.
"It increases the likelihood that the government will come after the union with a RICO charge," said Erik Gordon, a professor at the University of Michigan's Ross Business School. "The union cannot defend itself on the basis that there were some renegade bad apples. You've got a former president. You've got a sitting president. You've got the union as a whole that has aggressively defended the sitting president."
The UAW Has Extended Their Contract With Ford, Fiat Chrysler
The Detroit Bureau reports – Despite much of its leadership being involved in a salacious probe by federal investigators, the UAW reached an agreement to temporarily extend its contracts with Ford Motor Co. and Fiat Chrysler Automobiles N.V. for the purposes of continuing negotiations with the two automakers.
No word as of late Friday if a similar deal will be stuck with strike target General Motors Co. The contract with GM is set to expire Saturday, Sept. 14, at midnight.
One of the union's regional directors, Vance Pearson, was charged with money laundering, conspiracy and falsifying reports required by the U.S. Department of Labor while embezzling as much as $1 million. Pearson is the 11th union member charged by this ever-growing query. However, the difference with Pearson's charges is the roles of unnamed senior UAW leaders in the inappropriate handling of union dues and other funds are spelled out in the charges.
Citing sources briefed on the matter, Reuters reported that the information contained in the charges, may crimp the desire of GM to continue the talks with the UAW this weekend. Two people briefed on the matter told Reuters GM may ask for a temporary extension of the contract and could pursue other options including seeking assistance from a third party.
At this point, it is not certain if the talks with GM will continue with the current UAW president under investigation.


Nemak stands its ground, balks
at Unifor's proposal to
keep Ontario plant open
Automotive News
Greg Layson
Sept 12 2019
In an effort to end its ongoing illegal strike at a General Motors supplier in Windsor, Ont., Unifor said Wednesday it submitted to Nemak representatives an offer to resolve its dispute over the company's plan to close the plant.
Union members walked off the job Labour Day in protest of the Mexican supplier's decision to shutter the engine-block plant in mid-2020. They have been on the picket line since Sept. 2.
About 270 employees erected blockades at all three entrances to the plant and have defied orders from the Ontario Labour Relations Board and the Superior Court to deconstruct the barriers and return to work.
"Union representatives spoke with Nemak this morning and now the ball is in their court," Unifor National President Jerry Dias said in a statement. "The company was provided with an offer and Unifor awaits their response."
A Unifor spokesman declined to outline details of the offer to Automotive News Canada.
"I can say it's an offer to resolve the issue. I can't say anything else," David Molenhuis said in a phone interview. "We're just trying to put pressure on Nemak to respond as soon as possible."
Nemak confirmed its executives talked to Unifor officials by phone Wednesday.
"Unfortunately, the Union has made it very clear that they are not interested in negotiating anything less than Nemak rescinding the plant closure announcement and keeping the plant open at least until January 2022. This is unfortunate as the company is prepared to discuss some form of closure agreement and fair severance terms," Nemak said in a statement. "Nemak has held several meetings with Union representatives since the plant closure announcement made in July, and explained them that the company is not able to continue operation of the Windsor facility until January 2022 given the current volumes."
Justice Terrance Patterson of the Superior Court of Ontario urged the union and the company Tuesday to make every effort to resolve the dispute before the parties return to court for a scheduled hearing Friday, Sept. 13.
Dias and three members of Unifor Local 200 face contempt charges for disobeying a court order to end the illegal strike. That contempt of court hearing was postponed Tuesday by Patterson, according to a report in the Windsor Star.
"Sit down, talk, get a mediator, get an arbitrator, do what you have to do," Patterson told lawyers for both sides, according to the newspaper. "Then come back before me and I'll resolve it then if it hasn't been resolved."
Nemak employees build engine blocks for a Cadillac vehicle assembled in China, the I-6 engine blocks for the Chevrolet Silverado assembled in Flint, Mich., and the Corvette engine block and bedplate.
When Nemak announced the pending closure in July, it said the decision came on the back of "the expected withdrawal from an export program by a client in China," which would lead the plant to use less than 10 per cent of its installed capacity by 2020. Nemak says the Windsor plant is now too small and too inefficient to remain open as the company expands elsewhere in the world. The company says it recently purchased larger businesses outside of Canada that came with existing plants and capacity.
The union claims Nemak and Unifor "agreed that the Windsor plant would be the sole source for General Motors I-6 engine blocks and engine blocks and bedplates for the Corvette."
Nemak is "in direct contravention of this agreement; the company announced it will move production of the I-6 diesel engine block, the Corvette engine block and bedplate to — as well as begin building Fiat Chrysler Automobiles (FAC) engine blocks — at its facilities in Monterey, Mexico."
Unifor says the current collective agreement with Nemak expires in 2022 and the union is demanding the company continue production until that time.
"This morning's discussion between Unifor representatives and Nemak is a continuation of the union's efforts to reach a resolution to this dispute," said John D'Agnolo, Unifor Local 200 president. "Workers are asking only for the company to live up to the collective agreement."
Unifor members have denied Nemak management entry to the plant, except to finalize a week's worth of overdue payroll.
GM told Automotive News Canada earlier this week that its production hasn't been affected by the situation in Windsor.
Unifor says it will hold a rally Thursday on a vacant piece of land adjacent to the Nemak plant.
"We're planning for a couple thousand people to attend," Molenhuis said.
What Medicare for all could
mean for U.S. auto workers
Breana Noble,
The Detroit News
Sept 11, 2019
As negotiators for the Detroit Three and United Auto Workers grapple over the swelling costs of health care, several leading Democratic presidential candidates are campaigning on proposals to dismantle the private health insurance system in the United States as it is known today.
"Medicare for all" is the pitch from Vermont Sen. Bernie Sanders, Massachusetts Sen. Elizabeth Warren and others, who must win Michigan and other auto-producing states to be assured a path to the White House in 2020. But low-cost private health insurance remains for many rank-and-file UAW members their most valued piece of compensation, despite the international union's decades-long support for single-payer national health insurance.
Matt Moorhead, a General Motors Co. employee who recently transferred to the Lansing Grand River Assembly Plant from the idling Lordstown plant in Ohio, said the health care under the current UAW contract "allows a freedom that a lot of people in society don't have."
"It scares me that (some Democratic candidates) don't know working-class people," said the 47-year-old self-described liberal who voted for Hillary Clinton in 2016. "It scares me that Democrats turn people away by some of the things they say... My fear is they will lose votes from working-class families who are union.
"Government-run health care isn't the way to do it," Moorhead continued. "There are systems that run better. There needs to be government involvement, but there also needs be a free market, as well."
Because it affects workers' families and comes into play at times of crisis, health insurance is a "go-to-war" point of contention between auto workers and their employers, said Kristin Dziczek, vice president of industry, labor and economics at Ann Arbor's Center for Automotive Research.
But several Democrats vying for the presidency at the end of July stood on the stage of Detroit's Fox Theatre calling for the end of employer-provided insurance in favor of a government-run health plan funded by taxpayer dollars. They argue it will benefit union workers.
"Bernie Sanders' Medicare for All is supported by labor because it means union workers have more leverage for higher wages and more comprehensive coverage without any co-pays, premiums or deductibles," Bill Neidhardt, a Sanders campaign spokesperson, said in an email. "Together, with the support of organized labor, we're going to take on the greed of the drug companies and insurance companies to save the working class money."
Thirteen of the 19 remaining Democratic candidates have voiced support for Medicare for all. The front-runner, former Vice President Joe Biden, advocates for an expansion of the Affordable Care Act.
During the economic downturn, auto workers took concessions on wages and other perks, but leadership managed to minimize the impact on health-care coverage. Following years of record profits, workers now want to regain what they lost and maintain their low health-care costs. Medicare for all plays into that context, but it won't have an impact at the bargaining table, said Harley Shaiken, a professor at the University of California, Berkeley, who studies labor issues.
"Medicare for all is for congressional debate down the road; the contract will be signed and delivered," he said. "These are tough, demanding jobs physically. Health care is one of the most important issues in their lives. There's going to be strong pushback (to potential cuts)."
The average hourly cost of employer-provided health care for union workers across all industries over the past decade has risen on average from more than $4 to more than $6, according to the Bureau of Labor Statistics. The Detroit Three's benefits cost roughly 150% more than the U.S. average, according to the Center for Automotive Research.
Ford Motor Co.'s UAW employees pay zero dollars in deductibles and monthly premiums, according to the Dearborn automaker's negotiations fact guide. Their total contribution is 3% of all health-care costs compared to 33% in the greater auto and transportation sector. Workers' contributions at Fiat Chrysler Automobiles NV and GM are similar.
Ford, which employs the most hourly UAW members of the Detroit Three, estimates if health-care coverage remains the same, its annual expenses for active UAW hourly employees is expected to top $1 billion in 2020. The automaker forecasts an additional $3 per hour per employee will be added in health-care costs over the next contract period if the status quo is maintained.
As vehicle sales slow, trade wars threaten stability, and pressure to invest into the development of autonomous and electric vehicles revs up, automakers could look to pass more of the growing costs of health care onto their employees, Dziczek said.
"The companies would like to continue to control or manage those costs to an extent, and it's hard to do," she said. "The company's standing point is 'We can't keep paying a billion dollars a year for active-worker health care and have no breaks on this.'"
Calls from the UAW for government-sponsored coverage began with President Walter Reuther in the 1940s and '50s. Unsuccessful in recruiting the automakers' clout for support, he pushed aggressively for better health insurance at the negotiations table.
A UAW spokesman declined comment because of the ongoing labor talks. A resolution passed at the UAW special convention in March says the union will "resist cost-shifting," support voluntary disease management programs and protect employer-provided coverage for spouses. It also reiterates it will "continue to work towards and support the establishment of a national health care system." It notes there were 27.4 million uninsured Americans in 2017.
"This is why our ultimate goal remains a comprehensive, universal health care plan that will provide quality coverage for every person in the United States," the resolution says. "Health care should be a right, not a privilege."
That is why Jerome Dobson, a worker at FCA's Sterling Height Assembly Plant, is in favor of Medicare for all, even if it means he has to pay more in taxes or even lose some coverage from his employer.
"We're blessed right now that I have insurance," said the 65-year-old Detroit Democrat, who says he could support any of the top five leading Democratic candidates, even if they do not support a single-payer system. "I would like to see everybody covered."
GM said it does not have a public stance on a single-payer system. The Detroit automaker spends about $900 million for its 48,000 hourly employees and their 69,000 dependents covered under the employer-provided health-care program, spokeswoman Jeannine Ginivan said in a statement. FCA and Ford declined to comment.
In the past, the companies have supported the expansion of Canada's national health insurance system. Also, in the 1980s after the former Chrysler Corp. received a bailout from U.S. taxpayers, the late Lee Iacocca, who was the company's CEO, voiced his support for a national health plan under which the government could place strict limits on medical costs.
For the automakers, it is about whether Medicare for all will decrease their costs, Dziczek said.
"It really depends on how Medicare for all is implemented," she said. "Look across the border at Canada, where there is national health care, but there also is supplemental insurance that the car companies pay for Unifor members. That has a cost-per-hour, too. It's not so big and ballooning because the government is picking up the cost, but car companies are paying higher taxes to cover that benefit for the country as a whole."
Dziczek said automakers could decrease their costs by requiring that employees have a primary physician to reduce visits to emergency rooms and urgent care centers where treatment is more expensive.
"You want to make that routine, preventative condition management as low-cost and accessible as possible so that it doesn't turn into big, expensive stuff," Dziczek said. "Making people pay more out of their pocket doesn't result in that necessarily."
A proposal in the rejected temporary agreement with FCA in 2015 outlined a potential template for larger reforms, Dziczek said. Representing up to 900,000 unionized and salaried active workers and retirees from all three automakers, an independent co-op would have created economies of scale to gain leverage with insurance companies, hospitals and other health-care providers to get better care at more affordable rates. The co-op idea, however, did not make it into the final contract.
"Really tackling the growing cost of health care will be requiring big changes to how the companies and union structure that benefit or involve major public policy change," Dziczek said. "The companies and union can't change the transparency of pricing, that's beyond their control to manage.
"It is very difficult to say making people pay personally is going to make them better consumers. What is going to make people better consumers is greater transparency in health-care costs, to be able to shop."
Nemak aims to end Unifor strike
in Canada through dialogue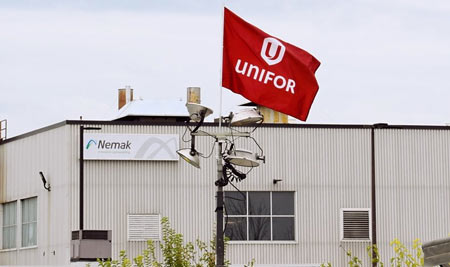 'A referral to arbitration would be the next appropriate and lawful next step,' supplier says
Automotive News
Greg Layson
Sept 10, 2019
In a bid to end an illegal strike at its Canadian parts plant, Nemak says it is willing to hold discussions with Unifor, although the company insists it is following the terms of the full plant closure notice language in its collective bargaining agreement with the union.
About 270 unionized employees who build I-6 engine blocks for the Chevrolet Silverado assembled in Flint, Mich., walked off the job Sept. 2 in protest of Nemak's decision to shutter the plant in mid-2020.
When Nemak announced the pending closure in July, it said the decision came on the back of "the expected withdrawal from an export program by a client in China," which would lead the plant to use less than 10 percent of its installed capacity by 2020. Nemak says the Windsor plant is now too small and too inefficient to remain open as the company expands elsewhere in the world. The company says it recently purchased larger businesses outside of Canada that came with existing plants and capacity.
So far, Unifor members in Windsor have halted production, erected barricades at each of the three entrances and refused entry by management, except to finalize a week's worth of overdue payroll.
"The union is well informed as to the sharp decline in customer demand and the fact that declining customer volumes dictated the closure," Nemak said in a statement Monday morning. "The union filed a grievance on August 29th, as is permitted by the agreement, and the Company replied to the grievance on September 3, also in accordance with the collective agreement.
"Unfortunately, the union elected to promote and engage in an ongoing unlawful strike commencing on September 2, rather than avail itself of the additional discussion and meeting steps permitted under the grievance process."
Unifor officials met with Nemak CEO Armando Tamez Martinez during the last week of August in Monterey, but talks were unproductive, Unifor President Jerry Dias said.
Unifor Local 200 President John D'Agnolo, who represents the 270 workers in Windsor, said last week no talks have been held since then.
Nemak now says it is willing to meet with union executives.
"Notwithstanding this unlawful course of conduct, the Company remains ready to discuss the union's grievance in accordance with the collective agreement," Nemak said. "In this regard, the Company is prepared to extend the [grievance] time limits already expired, until further notice."
A Superior Court judge on Sept 5 ordered the protesting members to deconstruct the barricades, end their standoff and immediately head back to work, but the union refuses to comply. D'Agnolo is set to appear in Superior Court on Tuesday in Windsor, where he's to face charges of contempt for not adhering to the court injunction.
D'Agnolo called Nemak's offer "good news because in the grievance it says we want to keep the plant open."
"I'm willing to talk any time," he said.
Nemak said if nothing can be resolved through talks that "a referral to arbitration would be the next appropriate and lawful next step."
A Unifor spokesman say the union is trying to stage a 3,000-person rally Thursday on a vacant lot adjacent to the plant.
A General Motors spokesman in the United States said Monday that there has been no impact on Silverado production.
Amid auto talks, Ford lays claim to
being 'America's auto company'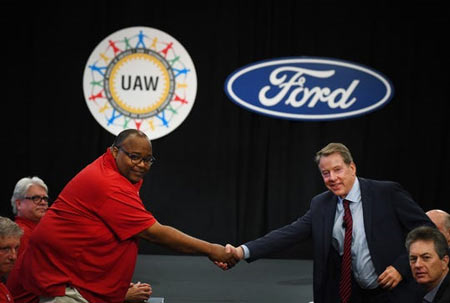 The Detroit News
Daniel Howes
September 9, 2019
As General Motors Co. parries inconvenient truths that it sells more cars in China than the United States and builds more vehicles in Mexico than any other major automaker, rival Ford Motor Co. has a message:
The Blue Oval is America's auto company.
Executive Chairman Bill Ford, great-grandson of ol' Henry, said as much in a Labor Day message to "The Ford Team" last Friday, just days before the United Auto Workers named GM its lead company in national contract talks bearing down on a Sept. 14 deadline.
"No other automaker builds more vehicles or employs more hourly employees in the U.S. than Ford," the chairman wrote. "Ford is America's auto company. And that is something we can be proud of.
"Labor Day has always had a special meaning to Ford. We honor and celebrate the people who work hard and build things every day. In 1914, my great-grandfather changed the world by offering $5 a day for factory workers, doubling the prevailing wage, and helped expand the American middle class."
True, and saying so is no coincidence. As GM and the news media beat back erroneous presidential tweets about the automaker's business outside the United States and its plans to idle four plants inside the country, Ford is strategically reaffirming its Made-in-America legitimacy — an asset in its talks with the UAW and a defense against periodic meddling from the Tweeter-in-Chief.
Using data from IHS and Ward's, Ford compiled a PowerPoint deck it calls "Looking at the Numbers." It compares "production, sales, exports, imports and more" and finds few surprises to folks familiar with the numbers. But in the hothouse that is national contract talks under the looming shadows of President Donald Trump's Twitter account and a federal corruption investigation reaching to the upper levels of UAW leadership, they bear repeating.
Ford is the leading producer of vehicles in the United States, last year outpacing GM by roughly 380,000 units. Some 80% of the cars, trucks and SUVs the Blue Oval sells in the United States are made in the United States, compared to 62% for GM and roughly 55% for Fiat Chrysler Automobiles NV. Only California-based Tesla Inc. builds 100% of its output in the United States.
Ford is the leading exporter of U.S.-built vehicles, the numbers show, outpacing GM, FCA, BMW AG and Honda Motor Co. And last year, GM and FCA imported roughly twice as many vehicles from production sites outside Canada and Mexico than the 74,185 Ford imported last year. GM, FCA and Ford ranked ninth, tenth and 15th, respectively, in non-NAFTA imports last year.
The upshot: Ford's global footprint, especially in the United States, could be politically potent in negotiations that focus on product allocation for union-represented plants. And the reality of Ford's U.S. production can deflect potential presidential criticism — a fact of life in the Trump era.
The numbers can change. FCA's plans to kill the Fiat 500 in North America, boost production of its hot-selling Ram pickups and expand its line of next-generation Jeep Grand Cherokee SUVs in Detroit are likely to fatten the Italian-American automaker's U.S.-made percentage.
And GM's move to close four plants in the United States — two in Michigan and one in northeast Ohio — is likely to reduce GM's made-in-the-USA share. That's likely to exacerbate political headaches for CEO Mary Barra and her leadership team in the run-up to a presidential election and beyond.
The other subtext here are the federally funded bankruptcies of GM and FCA's predecessor company, now marking their 10-year anniversary. Barra and her team have moved on, focused on ensuring the new GM doesn't repeat the mistakes of its past. The same applies to FCA, now led by CEO Mike Manley.
But most of the rest of America hasn't yet moved on, witness the furious backlash to GM's plans to move to close four U.S. plants. Trump railed, reminded that he'd urged manufacturing workers in places like Ohio's Mahoning Valley to hold on to their homes because factory jobs are coming back. Politicians of the right and the left demanded answers. The UAW protested and sued.
Ford may have its problems, but those aren't among them — exactly why the guy whose name's on the building is touting the Blue Oval as "America's auto company."
As contract deadline nears, GM
reaches out to UAW workers

The Detroit News
Kalea Hall and Ian Thibodeau
Sept 7, 2019
General Motors Co. sent a letter to its plants Friday, telling workers the company was moving the contract bargaining process along with the United Auto Workers as quickly as it can, while stressing it needed to "close the competitive gap" to stay successful.
The UAW is negotiating first with GM, which was chosen as the target company in negotiations after several years of strong profits and a move to close four U.S. plants. Labor contracts expire at 11:59 p.m. Sept. 14.
"...Our goal is to reach an agreement that builds a stronger future for our employees and the company. We are working hard to understand and respond to UAW proposals and we have offered to meet as often as needed," read the letter signed by Phil Kienle, GM's vice president for U.S. manufacturing.
"What does stronger future mean?" the letter continued. "As our profit-sharing history shows, we want to share our success with our employees. At the same time, we need to close the competitive gap for our success, now and in the future. Creative problem solving will lead to the right balance."
The communication from GM followed letters from two UAW vice presidents on Thursday telling union local leaders for GM and Ford Motor Co. that negotiations are progressing — while stressing the union is prepared to strike if necessary
Talks between GM and the union "are progressing slowly," UAW Vice President Terry Dittes, director of the UAW's GM department, said in his letter.
"We remain committed to reaching an agreement that will provide our membership with a fair share of the enormous profits earned by the company," Dittes wrote. He specifically mentioned improved wages, benefits, pensions, profit sharing and cost-of-living adjustments.
UAW Vice President Rory Gamble, head of the union's Ford department, wrote that subcommittees have reached tentative agreements, but "larger economic issues remain."
Both said strikes are on the table after the current contract expires.
"A strike is difficult and always the last resort when negotiations break down," Gamble wrote. "We are not at that point, but we are prepared if a strike is required." He also said it's not uncommon for the company and the UAW to extend existing contracts.
The letters were sent to GM and Ford local union presidents, shop chairpersons, vice presidents, financial secretaries and recording secretaries.
A UAW-GM National Council Meeting is scheduled Sept. 15 in Detroit, the day after contracts expire.
"We will not know the agenda until hours before the meeting," Dittes wrote. "It may be to vote on a tentative agreement, or the company's current offer on the table, or other necessary actions."
Gamble said the UAW-Ford bargaining committee stands ready as UAW and GM bargainers negotiate the "lead" contract that typically shapes the "pattern" agreements with the remaining automakers. He urged members to be cautious of rumors.
"Many entities against us are attempting to skew perception," Gamble wrote. "It is imperative that we are not misguided about these negotiations by rumors, misinformation or outside influences. We cannot run at the first sign of trouble, nor jump to conclusions at every speculation."
U.S. carmakers see a compensation gap between them and foreign producers like Toyota and Honda with plants in the United States. With benefits and bonuses included, GM hourly employees make $63 an hour, Ford workers make $61 and Fiat Chrysler Automobile workers make $55, according to data from the Center for Automotive Research. Foreign producers spend about $50 an hour for workers in U.S. plants.
From 2014 to 2018, GM's labor costs per vehicle increased 14%, Ford's was up 8% and Fiat Chrysler's was up 42%, according to CAR.
Judge orders Unifor members
back to work at Windsor
Nemak plant; union refuses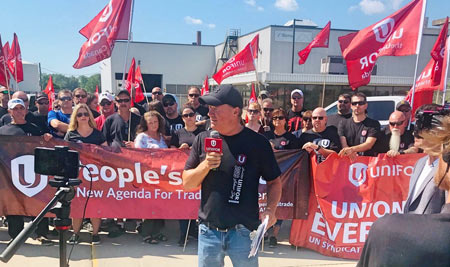 'We can't compete with Mexico,' says Unifor Local 200 president
Automotive News
Canada
Greg Layson
September 6, 2019
A Superior Court judge has ordered protesting Unifor members outside a Nemak parts plant in Windsor, Ont., to deconstruct barricades, end their standoff and immediately head back to work, but the union refuses to comply.
"I can tell you with some degree of certainty we'll still be here in the morning," said Unifor spokesman Dave Molenhuis. "There's been no change. We're holding fast."
Justice Terry Patterson ruled in favour of Nemak, which had asked for an injunction to put an end to the union's ongoing demonstration, now in its fourth day.
Earlier this week, Unifor members erected barricades and turned management away at the gate, effectively stopping production. The protest is in response to Nemak's decision to close the plant in Windsor in mid-2020.
Nemak said in July that the closure is necessary due to the early end of an export program for a customer in China, which will lead the plant to use less than 10 per cent of its production capacity next year.
Workers currently build aluminum engine blocks for General Motors, including Cadillac production in China. Workers also build the I-6 engine block for the Chevrolet Colorado midsize pickup assembled in Flint, Mich and bedplates for the Chevrolet Corvette.
The Ontario Labour Relations Board ruled on Wednesday that the strike was illegal and Nemak called on its employees to begin working at 11 p.m. That didn't happen as hundreds gathered in an act of defiance, blocking all three gates to the factory.
Molenhuis said the union isn't budging and expects "the next step is getting an actual court order."
At that time, police can intervene. Until then, protesters refuse to budge.
Several union locals in Windsor have rallied around Unifor Local 200, which represents the roughly 270 Nemak employees. Local 444, which represents workers at FCA's Windsor Assembly Plant and Casino Windsor, has been the most vocal.
"We are going to hold that line until hell freezes over…then we are going to hold it with ice skates on!" Local 444 President David Cassidy said on a Facebook post Thursday.
While Alfa, the Mexico-based parent company of Nemak, has said it was closing the facility because it was too small and inefficient, Unifor National President Jerry Dias said the closure was part of a plan to shift production to Mexico, where wages are a fraction of those in Canada.
The average salary of a Mexican who works in a manufacturing plant with a maximum of 700 employees is barely US$3.73 per hour, according to data from the Industría Nacional de Autopartes of Mexico, which translates to the National Auto Parts Industry.
"We can't compete with Mexico," Unifor Local 200 President John D'Agnolo said.
So, Unifor is now essentially trying to stop Nemak from moving tooling and machinery to Mexico so workers there can't do the same job, D'Agolo said Wednesday night on the picket line.
Federal corruption
probe looms over
UAW-GM talks

The Detroit News
Daniel Howes
Sept. 5, 2019
Detroit's national contract talks traditionally featured two sides at the negotiating table — the United Auto Workers and the "target" company, which this year is General Motors Co.
Not anymore. Not with the Justice Department, the FBI, the Internal Revenue Service and the Labor Department widening their years-long probe into corruption at Solidarity House and in joint training centers funded by the automakers. Not after law-enforcement raids approved by federal magistrate judges in four states last week searched the homes of UAW President Gary Jones and his predecessor, Dennis Williams.
Looming over bargaining are the federal machinations and the prospect that a sitting UAW president and other top officers could be among the next indictments. They create an ominous sense of uncertainty, officials on both sides say privately, as UAW and GM bargainers work toward the Sept. 14 expiration of their current four-year deal.
With each passing week, the nine convictions in the scandal so far look like the prelude to a bigger federal rollup of a culture of corruption within the UAW. And as national contract talks intensify, the feds appear to be accelerating the pace and widening the focus of their investigation to include high-ranking union officials — moves that, presumably by design, are keeping both the union and the automakers off-balance and mystified.
The unpredictability is unprecedented for a process designed to deliver security and certainty to both sides, except in the most dire macro-economic circumstances. This is not one of those times for the UAW or GM, Ford Motor Co. and Fiat Chrysler Automobiles NV, completing their longest run of year-over-year profit and sales expansion since the 1960s.
And that's just the beginning. The coming 2020 election cycle, the UAW leadership's interest in deflecting attention from its apparent legal jeopardy and President Donald Trump's penchant for wading into auto industry controversies via Twitter mean the prospects for yet more chaos are likely to rise exponentially over the coming weeks and months.
This is uncharted territory. Two of three Detroit automakers are a decade removed from federally induced bankruptcy; profitable companies are looking to lower labor costs even as hourly workers demand base-pay raises and continuation of world-class private health care; federal filings and reporting by The Detroit News show recent and sitting union leadership used training funds and member dues money to finance lavish perks like long vacations and building a posh lakefront home for a retired union president.
It's in this confused context that UAW and GM bargainers are charged with delivering a tentative agreement that a majority of the automaker's 46,000 hourly workers would ratify. Good luck with that: the stench of corruption, suspicion and mistrust will hang over whatever the two sides produce, and no one should be surprised if union members use ratification to register their disgust and vote no.
How can they believe the leadership is working to safeguard the financial interests of members, not their own? How can they be assured the union president touting a so-called "TA" with GM won't soon be the target of a federal indictment that lists alleged crimes because that's how the system works? How can they know the "Clean Slate" agenda of reforms isn't really an after-the-fact effort at a cover-up?
The questions answer themselves, highlighting just how difficult this year's bargaining process will be for both sides to navigate. Yes, the pressure is on the union to deliver a deal that could win majority support. But pressure also is on GM to remove the excess plant capacity weighing on its bottom line, to deliver on promises already made to shareholders, to get a contract ratified.
That's why a strike this fall is more likely than not, especially against GM. Its move to close four U.S. plants and one in Canada amid strong profitability and impressive margins in North America understandably rankles the rank-and-file. It also offends Washington politicians from both parties who seem to think the price for a taxpayer rescue 10 years ago should be to operate money-losing plants in perpetuity.
The core of the UAW's bargaining every four years with Detroit's three automakers are the economics of wages and health care, profit-sharing and pensions — and the requisite theater to telegraph to members that the leadership fought the good fight with management.
This year, it's a lot more than that. The legal quagmire ensnaring current and past leadership, and the political context enveloping a process turbocharged by social media, pose enormous challenges for the UAW and all three automakers trying to sell a prospective (and clean) deal to their hourly workforces.
It was never going to be easy. And each new move by the feds will only make it harder — for all sides.


UAW will negotiate
first contract with GM

Ian Thibodeau,
The Detroit News
September 4, 2019
The United Auto Workers will negotiate a new contract first with General Motors Co. over the next week and a half after membership at all three Detroit automakers overwhelmingly approved strikes, if necessary.
The automakers have been negotiating with the UAW for a month and a half. The announcement Tuesday that GM will be the "lead company" means that the contract ratified by the GM employees will lay a framework for contracts negotiated with Fiat Chrysler Automobiles NV and Ford Motor Co.
Employees at each of the automakers independently voted to authorize the strike, with the following totals in support:
The UAW and GM have had a strained relationship since roughly a year ago when CEO Mary Barra announced the company would "unallocate" four U.S. plants, which would pull products out of the plants and effectively idle them. The products most of those plants produced will be discontinued, though the fate of some models like the Cadillac CT6 sedan remains unclear. The UAW has objected to that move, and has sued the company.
Negotiations are intensifying as some members of the union are angered by new and expanding revelations from a years-long federal investigation into UAW alleged corruption during the 2015 contract negotiations. Most recently, the sitting UAW president's house was raided by federal agents.
The current UAW contracts with the Detroit Three expire at 11:59 p.m Sept. 14. The union could strike any of the three companies as soon as those contracts expire, though the UAW also has the option of extending its contracts with the automakers until new contracts are ratified by membership.
"Mary Barra said from the outset of these talks that we will stand up as we tackle a changing industry. We are ready to stand strong for our future," UAW President Gary Jones said in a statement Tuesday. "We are focused. We are prepared and we are all ready to stand up for our members, our communities and our manufacturing future."
GM said in a statement, "We look forward to having constructive discussions with the UAW on reaching an agreement that builds a strong future for our employees and our business."
The UAW's decision to lead with GM wasn't surprising, according to Kristin Dziczek, vice president of industry, labor and economics at the nonprofit Center for Automotive Research.
"GM is arguably more difficult because of the unallocated plants as well as the underutilized facilities throughout the GM system," she said. "They've got all the issues they have at the other companies, and on top of that they have underutilized facilities..."
Experts have said GM's plans announced in November make GM a strike target and make for a particularly prickly negotiating period as the union tries to prevent the automaker from permanently closing any plant. In May, the automaker announced plans to sell its Lordstown Assembly plant in Ohio to electric-vehicle start-up Workhorse.
The UAW also is suing GM for its plans to "unallocate" Lordstown, Warren Transmission and Baltimore Operations before the current contract expires. The Detroit-Hamtramck plant is not included in the lawsuit because its production was extended through January 2020, after the current contract expires. Union leaders, who balked at the announcement by GM and Workhorse, are expected to demand a new vehicle for Lordstown during contract negotiations this fall.
Still, it could be advantageous for GM to go first in negotiations. While the move by the UAW essentially makes GM a strike target, companies prefer to negotiate first, Dziczek said. The first contract are historically more tailored to a company than those that negotiate second or third.
"They are pattern agreements, but they are not cookie cutter agreements," Dziczek said. "The first one sort of sets the broad economic terms of what the agreement would be."
Meantime, GM workers and workers at the other Detroit automakers have approved a strike, if needed. The strike vote does not mean there will be a strike, and UAW workers have traditionally overwhelmingly voted in favor of a strike in years past.
"No one goes into collective bargaining taking a strike lightly. But it is a key tool in the toolbelt as our bargaining team sits across from the company," said Jones. "Ultimately, the company holds that destiny in their hands as they bargain. Clearly the UAW stood up for them in a very dark time, now that they are profitable it is time for them to stand up for all of us."
Ford recalls 550K
vehicles for seat
strength problem
The Associated Press
Sept 2, 2019
Detroit – Ford is recalling more than 550,000 trucks and SUVs in North America because seat backs may not properly restrain people in a crash.
The recall covers certain 2018 through 2020 F-150 pickups, 2019 and 2020 Super Duty trucks, 2018 and 2019 Explorer SUVs, and 2019 and 2020 Expedition SUVs. All have manual driver or front passenger seat-back recliner mechanisms.
Also included are some 2020 Explorer and Lincoln Aviator SUVs with rear seats with manual seat-back mechanisms.
Ford says the trucks may not have a third pawl needed for seat strength, increasing the risk of injury in a crash. Ford says it doesn't know of any crashes or injuries.
Dealers will inspect seat structures and replace them if needed. Most are expected to pass. Owners will be notified starting Oct. 7.
Federal agents raid home of
United Auto Workers union
President Gary Jones
Aug 29 2019
Michael Wayland
CNBC
Key Points
IRS and FBI agents raid UAW President Gary Jones' home.
They also raid the California home of former President Dennis Williams as well as the union's training center, called Black Lake, according to the Detroit News.
The more than two-year probe has already led to the convictions of five people affiliated with the UAW and three Fiat Chrysler executives.
DETROIT – Federal agents raided the home of United Auto Workers President Gary Jones on Wednesday as the Justice Department expands its probe of corruption in the union's top ranks while Detroit automakers renegotiate labor contracts for 158,000 employees.
Kevin Telepo, a neighbor, said he noticed FBI and IRS agents searching the property at about 8:30 a.m. The agents removed "a bunch of boxes" from the house and "were going through a bunch of cash in the garage," he said in an interview.
The federal agents were still searching Jones' home in suburban Detroit and removing items in the early afternoon.
Jones' home was one of several targets hit by federal agents Wednesday, according to FBI spokeswoman Mara Schneider. Other locations in the multistate raid included the California home of former UAW President Dennis Williams as well as the union's training center, golf resort and a conference center called Black Lake.
Additional locations, Schneider confirmed, included a local UAW office in Missouri, where Jones previously served as regional director, and the Wisconsin home of Williams' former administrative assistant, Amy Loasching.
The raids, which were first reported by The Detroit News, occurred at six locations in four states. They mark a major shift in the investigation from many former or retired union officials being targeted to active leaders.
The Department of Labor's Office of Inspector General also was involved in the raids, Schneider confirmed.
UAW: Search warrants unnecessary
The UAW, in an emailed statement, said there was "absolutely no need for search warrants to be used by the government today," citing the union and its leadership "have always fully cooperated with the government investigators in this matter."
The UAW said it has produced "hundreds of thousands of documents and other materials to the government" and leaders have taken "strong action" to address any wrongdoing.
At Jones' home, Telepo said there were about a dozen cars on the street, including a large black van that remained in front of the house by the early afternoon. There also was a black Chevrolet Suburban with an employee tag next to the driveway for the GM-UAW Center for Human Resources training center, which is a target of the federal investigation.
Telepo, who was unaware Jones was the president of the UAW, described the suburban Detroit subdivision in Canton Township as "quiet, kid- and family-friendly." He said Jones primarily kept to himself.
"It is shocking to see this happening close to home," he said.
Widening probe
The multiyear probe has already led to the convictions of five people affiliated with the UAW and three Fiat Chrysler executives, including former head of labor relations, Alphons Iacobelli, who was sentenced last year to 5½ years in prison — the longest sentence in the case.
Federal charges into the misuse of millions of dollars in training center funds by Fiat Chrysler executives and UAW leaders expanded to General Motors in recent weeks.
Michael Grimes, a retired senior official with the union's GM division, was charged earlier this month with wire fraud and money laundering for allegedly receiving $2 million in kickbacks from UAW vendors. He was charged in a criminal information, which indicates a guilty plea is expected at his next hearing sent for Sept. 4 in Ann Arbor.
Grimes' expected guilty plea would be a major milestone in the Department of Justice investigation into one of America's largest unions. He is the first person not affiliated with Fiat Chrysler to be charged as part of the multiyear probe.
Prosecutors haven't identified any GM executives as being involved in the corruption, like they did with Fiat Chrysler.
The expansion of the investigation is expected to make ratifying the contracts between the UAW and automakers more difficult. The contracts expire Sept. 14.
The UAW, in the emailed statement Wednesday, said the "sole focus" of Jones and other leaders is "winning at the bargaining table for our members."
Raids raise possibility of federal racketeering case against UAW
Ian Thibodeau, Robert Snell
and Keith Laing,
The Detroit News
Aug. 29, 2019
Raids at the homes of some of the United Auto Workers' top leadership Wednesday amplify the possibility the federal government could assume oversight of the union under anti-racketeering statutes.
The case for federal oversight of a union typically involves criminal implications of current leadership, experts say. And a move to file a civil racketeering lawsuit would reflect the government's belief that the UAW is corrupt and the situation has not improved despite a four-year investigation that has led to eight convictions, including former union officials and executives from Fiat Chrysler Automobiles.
"This is the nuclear option," said Peter Henning, a Wayne State University law professor and former federal prosecutor.
The FBI raided the home of UAW President Gary Jones and five other homes or offices of former UAW officials around the country Wednesday, signaling the federal government could now be targeting Jones in a years-long investigation into bribes, kickbacks and attempts by auto executives to influence labor negotiations with the UAW. Jones has not been charged with a crime. The home of former UAW president Dennis Williams was included in the Wednesday raids.
Kristin Dziczek, vice president of industry, labor and economics at Ann Arbor's Center for Automotive Research, noted a racketeering case would have to involve current sitting officers of an organization. Dziczek and other experts noted that government oversight requires proof of much deeper corruption of an organization than has been shown at the UAW to date.
The U.S. Department of Justice did not respond to Detroit News' request for comment Wednesday. UAW spokesman Brian Rothenberg told The News that "the UAW will continue to cooperate with the government in its investigation, as we have been doing throughout."
Federal oversight of any part of the UAW would drastically alter the way the organization operates, experts say.
"Federal oversight completely and profoundly changes the direction of the union," said Harley Shaiken, a professor at the University of California-Berkeley who specializes in labor and the global economy. "The fact that it is even being discussed is disturbing news. One would need to see evidence of sustained institutional malfunction."
Such a move is not unprecedented. Thirty years ago, the U.S. Attorney's Office and the International Brotherhood of Teamsters settled a civil racketeering lawsuit to keep mob influence out of the 1.4 million-member union.
The suit alleged the Teamsters had made a "devil's pact" with organized crime and was dominated by the Mafia. The federal government gained control of the Teamsters by way of a consent decree settling racketeering and corruption charges that federal officials brought against Teamsters officials.
The government essentially oversaw every penny the Teamsters spent for 25 years. A 2015 agreement moved to phase out government oversight over a five-year period. Experts note that 25 years of government oversight, while attempting to sever Teamster ties to the Mafia, drastically altered the union by establishing new election practices, among other things.
The case against the Teamsters was brought despite pressure from Congress in 1988. It resulted in the removal of more than 200 Teamsters officers in the first three years of the consent decree, including 50 local union presidents, according to the 2012 book "Breaking the Devil's Pact: The Battle to Free the Teamsters From the Mob" by James Jacobs and Kerry Cooperman.
During the ensuing 20 years, disciplinary charges were brought against more than 600 Teamsters in 21 states; half of those Teamsters were in New York City.
A civil racketeering lawsuit involving the UAW could entail asking a federal judge to appoint a monitor to oversee the union, Henning said.
"If they go to that step, the government is looking to take control of the union," Henning said. "That is an extreme step and might mean getting rid of the current leadership of the union."
Filing a civil racketeering case would need to be approved at the highest levels of the Justice Department. In filing a lawsuit, prosecutors would need to describe a pattern of racketeering activity including bribery, graft, violations of federal labor laws and conflicts of interest, Henning said. The lawsuit could seek a restraining order preventing additional crimes.
A racketeering lawsuit could assist the ongoing criminal investigation that is targeting several entities and individuals, including Jones and his predecessor.
"Maybe the U.S. Attorney's Office feels it has reached a dead-end and they're not getting cooperation, that they're getting stonewalled," Henning said. "A trustee or monitor could come in and open up the books and make them available to the U.S. Attorney's Office."
Arthur Wheaton, an automotive industry specialist at Cornell University's Industrial and Labor Relations School, doesn't think a takeover by the federal government is likely yet, but that could change.
"If they're raiding homes, they may have some anticipation of finding things," he said. "We have a very anti-union federal government that's very much out to get them as much as they can. I wouldn't be surprised if they really tried to take it to them."
But a Racketeer Influenced and Corrupt Organizations Act lawsuit isn't easy to litigate, note Dziczek and Shaiken. RICO suits take years to litigate, and in the UAW's case, federal officials would need to prove dozens of people would have been party to a conspiracy to influence collective bargaining or financial impropriety, which has not been proven.
The federal government has so far brought charges against nine people and prison sentences for eight people linked to the UAW and Fiat Chrysler Automobiles. On Wednesday, Mike Grimes, a former United Auto Workers senior leader, entered not-guilty pleas on federal charges of wire fraud conspiracy and money laundering in U.S. District Court. Grimes, 65, of Fort Myers, Florida, was charged earlier this month. The charges could send Grimes to federal prison for up to 20 years.
He is expected to plead guilty Tuesday.
Meantime, former Vice President Joe Ashton is accused in a federal criminal complaint of demanding $550,000 in kickbacks and bribes from vendors and helping orchestrate an alleged conspiracy, The News has reported.
"The feds have tried to make a case that bargaining was corrupted," Dziczek said. "I don't think they've made that case yet. The only thing that changes here is that we now have a current sitting officer that has had his home raided. That doesn't mean he's going to get indicted, but if he is, that's part of the move the government uses."
Rough trade winds
complicate UAW talks
Keith Laing,
The Detroit News
August 29, 2019
Washington — Automakers are negotiating with the United Auto Workers union on a labor contract that will cover the next four years at a time when they can't be certain what the trade environment will look like in four months.
And that's sure to shape negotiations between Detroit carmakers and the UAW as they work toward a deadline of Sept. 15 when contracts expire.
President Donald Trump has sent confusing and contradictory signals in his escalating trade war with China: On Friday, he said he would reinstate tariffs on cars from China; by Sunday he admitted to second thoughts, after which an aide said he meant he should have raised them higher.
Also on Friday, the president ordered U.S. companies to leave China before an adviser said that order would not "be exercised presently."
Then on Monday, Trump said he was not "at this moment" considering fresh tariffs on Japanese cars but hastened to say he could "at a later date if I wanted to."
"The overall interaction of trade, fuel economy and the economy overall, plus the demand for vehicles over the next four years, makes for a very difficult environment to negotiate an agreement," said Kristin Dziczek, vice president of the Center for Automotive Research.
She expects the negotiations to be contentious, complicated by plant closings and an imminent shift to electric and self-driving cars that could radically shift production as the union knows it.
Dziczek said the UAW's rank-and-file is likely to want as many things guaranteed as possible in the next labor contract, while carmakers are likely to push for flexibility in light of the fluid trade environment.
"If things turn south, (the companies) don't want to be locked into guaranteed wages," she said. "Based on the same set of facts, the negotiators can have different motivations."
The UAW declined to comment Tuesday, citing the blackout period that prohibits negotiators from commenting publicly on ongoing labor talks.
But the labor union has taken a nuanced position on trade issues. While it supported the Trump administration's investigation into whether 25% tariffs on imported cars are warranted as national security threats, UAW Legislative Director Josh Nassar told a Senate panel last fall that tariffs alone were not the answer.
"The UAW believes that tariffs are a tool, not a comprehensive plan for ensuring industries of the future are created and built in the U.S.," Nassar said. He urged the administration to "take a measured and targeted approach to bolster domestic manufacturing."
In comments submitted to the U.S. Trade Representative, Nassar argued that some tariffs are necessary to protect U.S. autoworkers.
"Imposing additional duties to products from China ... is a commonsense mechanism for trade enforcement," he said. He said the auto-parts trade deficit with China was $10.7 billion, calling that trend "untenable."
Charlie Chesbrough, a senior economist at Cox Automotive, said the Trump administration's tariff-heavy trade strategy could put the UAW in an awkward position.
"The UAW likely supports President Trump's efforts to force more domestic automotive manufacturing. However, higher tariffs will lead to higher vehicle prices, and ultimately lower vehicle sales," he continued. "Will the UAW still support the president's policies if the vehicle market falls significantly and leads to layoffs across the industry?"
Chesbrough said the uncertain trade environment makes it difficult for carmakers to negotiate long-term labor agreements without a firm understanding of future sourcing costs.
"Without firm trade policies, OEMs will have a difficult time agreeing to longer-term output levels. Will the U.S. be able to profitably export to China? Will a 25% tariff also be placed on European parts and vehicles later this year? Will Europe retaliate in kind, making automotive exports unlikely?"
Arthur Wheaton, an automotive industry specialist at Cornell University's Industrial and Labor Relations School, said the industry would face an upheaval if Trump decided to follow through on his demand that U.S. companies leave China. While it is unlikely that such an order would succeed, he noted that Chinese companies have bought U.S.-based part suppliers in recent years.
"A lot of wiring harnesses and some of the electronics, they are starting to import more of that," he said of automakers that are dependent on good trade relationships between the U.S. and China.
Wheaton said Trump thrives on unpredictability in trade negotiations, but the resulting instability makes it difficult for businesses that are trying to plan for the future.
"One of the things Wall Street hates and auto executives hates is instability," he said. "They want to know with some certainty as we're investing $1 billion in a new plant ... they want some stability, and that's exactly what President Trump hates."
Windsor man turns 100,
hits the road with
brand new SUV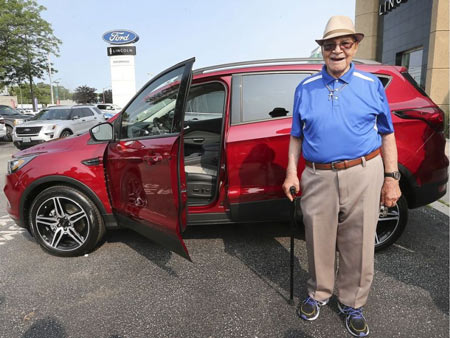 Taylor Campbell
Windsor Star
Aug 27, 2019
After reaching 100 years of age, Earl Wilson decided it was time for a fresh set of wheels.
To celebrate a century of living, the Windsor man on Monday visited the same local dealership where he's been buying and leasing vehicles for more than three decades and got the keys to a brand new red 2019 Ford Escape.
"They're amazed at me still going," Wilson said about people who question his ability to drive because of his age. He got in and out of his new SUV at Performance Ford without assistance, barely using the black cane he held casually with one hand. "I don't plan on slowing down any time soon."
Born in Amherstburg, Wilson has spent most of his life in Windsor and continues to live independently. His driving is tested every two years as part of Ontario's senior driver's licence renewal program for people 80 years of age and older, and he passes every time.
His wife of 52 years, Pauline, died in 1993, but with seven daughters and more than 100 grandchildren, great- and great-great-grandkids, Wilson has lots of people to visit in his new ride.
He relishes his independence
"He's a good driver and he's alert," said Wilson's eldest daughter, Vernetta Riley. The 76-year-old woman and several of her sisters joined their father at the dealership to help him with purchasing paperwork. "He doesn't get tickets or have accidents, and we're very pleased with him."
Wilson retired from his job as a crane operator for Ford Motor Company in Windsor in 1976 after 35 years, Riley said. He purchased his first new Ford car in 1953, and has been driving the company's vehicles ever since. He bought his last ride about three years ago.
"The older he gets, we do have a little concern, but as long as he's able to take care of himself, we don't go to the extent where we tell him not to drive," Riley said. "That would hurt him more than anything. He relishes his independence."
"We know it's amazing and a blessing of God that he is here with us still, and healthy and in his right mind."
Terry Rafih, chairman and CEO of the Rafih Automotive Group and owner of Performance Ford, said Wilson is the dealership's oldest customer on record. When Wilson bought his first Ford 66 years ago, Rafih was "just a sparkle in his dad's eye — not even born yet," he said.
He promised Wilson a free car on his 110th birthday.
"This is unbelievable. We're very happy for Mr. Wilson. He's very sharp," Rafih said before shaking hands with Wilson and passing him a new set of keys. "I hope that we all live that long and can continue to drive also."
After a quick lesson on the vehicle's latest features, Wilson got behind the wheel and took it for a spin around the dealership parking lot without hesitation.
Carmakers alarmed by latest
round of Chinese tariffs
Keith Laing,
The Detroit News
Aug 25, 2019
Washington — Alarm bells are ringing at carmakers after the latest round of retaliatory tariffs that will hit cars exported to China from the United States.
China said Friday it will impose tariffs on $75 billion worth of U.S. goods, including cars, in response to President Donald Trump's plans to levy tariffs on $300 billion worth of Chinese goods before the end of the year. In addition to the new levies that take effect Sept. 1 and Dec. 15, China said it will resume a 25% tariff that was previously put on U.S. cars, and a 5% levy that will again be levied on auto parts and components.
Taking into account existing tariffs on autos, total duties charged on U.S.-built cars would be as high as 50%.
Ford Motor Co. and Tesla Inc. likely would feel the biggest impact of all the U.S.-based carmakers.
"Ford is the leading exporter of vehicles assembled in the U.S. and we are uniquely a net exporter to China," Ford spokeswoman Rachel McCleery said in a statement. "We encourage the U.S. and China to find a near-term resolution on remaining issues through continued negotiations."
She said it is essential for the two countries to work together to advance balanced and fair trade, but that became even less likely late Friday afternoon when the president said he would boost existing tariffs on Chinese goods.
General Motors Co. and Fiat Chrysler Automobiles NV declined to comment on the latest duties imposed by China, deferring to a statement by the Alliance for Automobile Manufacturers, which lobbies in Washington for the Detroit Three and other carmakers.
"This move is unfortunate for consumers and the entire auto sector," the auto alliance said in the statement. "Customers win when trade barriers are lowered, and the auto industry can thrive when there's a robust and competitive trading environment between two of the world's largest economies."
U.S. carmakers exported 163,618 vehicles to China in 2018, according to the U.S. Department of Commerce's International Trade Administration.
Ford Motor Co. sold more than 752,000 vehicles in China in 2018; 16,131 were exported there from the U.S., according to Ford.
GM and its partners in China sold 3.64 million vehicles there in 2018, topping the 3.5 million sold by the company in the U.S. Although China is GM's largest market, most of the vehicles GM sells there are built in China. Recent numbers for the total U.S.-to-China exports for GM were not immediately available, but the company exported 6,273 cars to China in 2015, according to the Commerce Department.
Tesla is expected to double its exports from the U.S. to China to nearly 35,000 this year, according to LMC. BMW and Daimler ship large numbers of SUVs from plants in the U.S. to China.
The BMW X5 is the No. 1 vehicle exported there from the U.S., according to LMC. The biggest domestic export to China is the Lincoln MKC/Corsair, which is No. 4. The Tesla Model X is No. 6, the Ford Explorer is No. 7 and the Lincoln Continental is No. 8.
On a day when the major stock indexes took a hit, stocks of U.S. carmakers fell further: Tesla stock lost 4.8% in trading Friday, GM was off 3.2%, Ford was off 3% and Fiat Chrysler was off 2.7%.
John Bozzella, CEO of the Association of Global Automakers, which lobbies for foreign-owned carmakers, said "the tit-for-tat tariffs, absent any meaningful negotiations, are damaging to the American auto industry.
"When these tariffs were initially imposed by China in 2017, American exports of finished vehicles dropped by 50%," Bozzella said. "We can't let that happen to American workers again. If those tariffs go back into effect and remain in effect, American jobs are at risk. There's no question about that."
Automakers have chafed under tariffs that Trump has imposed on everything from foreign steel and aluminum, to Chinese components and assemblies.
The latest pushback shows the Chinese government is not backing down and automakers are likely to suffer, said Charlie Chesbrough, senior economist and senior director of industry insights for Cox Automotive. "As the industry moves into the next decade of electrification and mobility," he said, "the China-U.S. trade war's high tariffs could have huge implications on where the next generation of vehicles and parts are made."
China's retaliation was expected, said Kristin Dziczek, vice president of the Center for Automotive Research, but she said U.S.-based automakers need to sell cars in the Chinese market to maintain their positions in the global industry.
"Could we make vehicles in the U.S. without Chinese imports? Yes," she said. "Can U.S.-based automakers survive without having access to the largest market in the world? No. We can't wall ourselves off from any interaction with the Chinese auto market."
Jerry Dias acclaimed as Unifor
president for third and final term
The Canadian Press
August 23, 2019
QUEBEC — Unifor says Jerry Dias has been acclaimed as national president of the union for a third and final three-year term.
It says he was appointed at the union's national convention in Quebec City, where Lana Payne was chosen as secretary-treasurer.
Unifor represents 23,500 members, working at various facilities owned by General Motors, Fiat Chrysler Automobiles, and Ford. Most of the members work in one of five major auto assembly plants in Windsor, Oshawa, Oakville, Ingersoll and Brampton, Ont. Auto assembly is set to end in Oshawa at the end of 2019 and FCA will cut a shift at its Windsor minivan plant at year-end.
Unifor is preparing to start contract talks with the Detroit Three in 2020. Most of the contracts at those assembly plants end in Sept. 2020.
Unifor is also Canada's lead union for auto parts workers, representing more than 16,000 members at various independent parts facilities.
Dias, who has been a vocal critic of Opposition leader Andrew Scheer and the Conservative party, starts his new term as Canada prepares for a federal election this fall.
He says in a statement that he is energized to continue to lead the union as it continues the fight for social justice.
Dias previously worked in aerospace manufacturing before taking on the role of assistant to the Canadian Auto Workers union president. He became the first president of Unifor in 2013 when the CAW and other labour groups merged.
Unifor is Canada's largest private union, representing 315,000 workers in a wide range of sectors.
Wage battle looms over
contentious UAW auto talks
Kalea Hall, Ian Thibodeau
and Breana Noble,
The Detroit News
August 22, 2019
Four years of strong profits for U.S. automakers all but ensure the United Auto Workers will seek significant hourly wage increases for the union's rank-and-file as contract talks continue. And that's expected to be a sticking point as General Motors Co., Ford Motor Co. and Fiat Chrysler Automobiles prepare for a changing industry, slowing sales and an economic downturn.
The UAW is eager to lock in wage gains and other benefits for the next four years. That comes as hourly labor costs for the Detroit Three continue to rise, widening the gap separating them from non-union, foreign-owned competition in the United States.
How and where bargainers strike a balance both can live with — and sell to both investors and union members — holds major implications for the automakers' ability to compete amid shifting priorities and greater calls for cash as they invest in autonomy and electrification.
Experts say automakers have several options other than wage increases to find that balance: bigger signing bonuses; uncapped profit sharing or more generous profit-sharing formulas; improved benefits; and promises of product allocation for certain plants.
"I don't know how they get there, because there is so much pressure from the union side for wage increases," said Kristin Dziczek, vice president of industry, labor and economics at the Center for Automotive Research.
The current contract expires Sept. 14.
UAW President Gary Jones set the tone for negotiations at the opening-handshake ceremony marking the official beginning of labor talks.
"Since the 2015 negotiations, (the Detroit Three) has seen enormous gains in profits — profits made possible by the UAW workforce," Jones said. "My brothers and sisters who build these cars and trucks and SUVs, and who stood by this company and made sacrifices to ensure its survival, expect to share in those profits."
Union officials have argued the automakers have money to spare after years of reporting fat profits since union workers last ratified a contract in 2015. Those profits led to profit-sharing checks that workers have come to rely on — but also led to fluctuating personal income, Dziczek said.
"It is very difficult to plead poverty from the company's standpoint because they have been doing very well, but they have also been sharing that through the profit-sharing fund," she said.
Detroit carmakersare expected to point to the pay gap between them and foreign producers like Toyota and Honda with plants in the United States. With benefits and bonuses included, GM hourly employees make $63 an hour, Ford workers make $61 and Fiat Chrysler workers make $55. Foreign producers spend about $50 an hour for workers in U.S. plants, according to data from the Center for Automotive Research.
From 2014 to 2018, GM's labor costs per vehicle increased 14%, Ford's was up 8% and Fiat Chrysler's was up 42%, according to CAR.
Profit sharing
For every $1 billion made in North America, GM and Ford UAW employees under the current contract get $1,000 in profit sharing. Fiat Chrysler pays $800 for every 1% in profit margin generated in North America.
In real terms, the average GM worker represented by the UAW has collected $40,500 in total over the last four years of the contract, which breaks down to an effective $5.47-per-hour pay increase. Ford workers got a total of $33,400 in profit-sharing checks from 2015 to 2019. Fiat Chrysler workers received an average of $20,500 over four years.
Profit sharing makes sense to the companies because "you pay money when you make money and you don't when you don't," said Art Schwartz, president of Labor and Economics Associates in Ann Arbor and the former general director of labor relations at GM. But from the union's perspective, profit sharing isn't a certainty that can be relied on, which is why the Canadian labor union Unifor has staunchly stood against it over wage increases.
"If I was bargaining, I would argue you are way ahead on profit sharing," Schwartz said. "The union is going to come back and say, 'It's not guaranteed and it doesn't stay... a 3% pay increase is in there forever so I will take the 3%, which will net me about $2,000 a year but it will be there every year.'"
Bargaining chips
While GM, Ford and Fiat Chrysler have made moves recently to reduce costs and pump more profitable SUVs and trucks into their lineups, the automakers would still move to brace against sales declines, which would potentially cut into profits.
Ford and GM, for example, spent most of 2018 and early 2019 cutting their salaried workforces across the globe. The companies would move to lower costs in plants, too, experts said.
Automakers could rein in costs by negotiating for more temporary workers, who don't make as much or get the same benefits as their full-time counterparts. That would, in effect, net potential wage increases for those UAW workers who are already full-time employees.
The automakers argue that their foreign competition in the U.S. uses a higher percentage of temporary employees than the Detroit Three have been allowed. For example, about 7% of GM's workforce is temporary compared with foreign automakers' 20%. About 6% of Ford's workforce is made up of temporary workers. Fiat Chrysler's percentage of temporary workers is in line with GM and Ford, the company has said.
One bargaining chip the automakers in negotiations is allocating — or taking away — vehicles or other products from plants.
They could sweeten a deal by making more plant investments in hopes of avoiding a wage increase.
But if automakers feel like they won't be able to get a deal ratified without some wage increases, then they could pull those products because they "go into bargaining with a dollar amount in mind for how much labor they are going to buy from UAW workers," Dziczek said. And if the union is going to make each hour cost more, the companies will purchase fewer hours, she said.
The battle over labor costs is only part what makes these negotiations contentious and leads some experts to believe that there is a high likelihood of a strike.
In the background of this year's negotiations is the shadow of the UAW corruption scandal led by federal authorities that has so far led to eight convictions.
"These negotiations were going to be difficult absent any outside federal investigation," Dziczek said. "They were going to be hard anyway and that just makes them harder."
UAW scandal embroils VP
Ashton's right-hand man
Robert Snell and Breana Noble,
The Detroit News
August 21, 2019
Detroit — An alleged criminal conspiracy involving former United Auto Workers Vice President Joe Ashton has embroiled his right-hand man, who is accused of taking kickbacks and securing hundreds of thousands of dollars for his boss, The Detroit News has learned.
Three sources familiar with the ongoing FBI investigation identified Ashton's top lieutenant, Jeff Pietrzyk, as one of two unnamed UAW leaders accused in a federal criminal case last week of scheming to defraud union members and a training center for blue-collar workers. His identification represents continued fallout from a years-long investigation that has led to eight convictions and raised questions about the sanctity of labor negotiations.
Pietrzyk, 74, of Grand Island, New York, was referenced in a criminal case filed last week against another top former UAW official, Mike Grimes. Grimes is accused of receiving $1.99 million in kickbacks and conspiring with two unnamed UAW leaders to demand money in exchange for awarding lucrative contracts to UAW vendors.
Three sources familiar with the investigation identified Pietrzyk as one of the unnamed UAW leaders. The identification came one day after four sources identified Ashton as the other unnamed UAW leader who prosecutors have accused of demanding $550,000 in bribes and kickbacks from union contractors.
The ongoing investigation brings a sharp focus on key members of the UAW team that negotiated new contracts with General Motors Co. in 2011 and 2015.
"This raises questions about how vigorously they represented UAW members," said Peter Henning, a Wayne State University law professor and former federal prosecutor. "If they were willing to take kickbacks, they may have been more about protecting their own position than trying to get the best deal possible out of General Motors.
"They all have a bullseye on their back."
Pietrzyk, who within UAW circles was known by the nickname "Paycheck" due to his difficult-to-pronounce last name, could not be reached for comment and did not respond to messages Monday. He has not been charged with wrongdoing.
In 2011, Ashton, Pietrzyk and Grimes sat on the UAW team that negotiated a new contract with GM, serving alongside former UAW President Dennis Williams. Williams, who retired last year, was linked to the corruption scandal and accused of directing subordinates to use funds from Detroit's automakers to pay for union travel, meals and entertainment.
Grimes and Williams also served on the 2015 negotiating team alongside UAW Vice President Cindy Estrada. Grimes was Estrada's top assistant and served on the board of her personal charity.
The News reported in late 2017 that federal investigators were interested in Estrada and Ashton. At the time, investigators had issued subpoenas for information about training centers financed by GM and Ford Motor Co. that are operated jointly with the union.
In April, The News revealed federal agents were investigating whether UAW leaders received kickbacks after giving business executives contracts to produce union-branded clothes and trinkets. Approximately 10 promotions company executives had been subpoenaed to produce documents sought by a federal grand jury and the subpoenas helped explain the government's interest in Ashton and Estrada, sources told The News.
Unlike the corruption crackdown that roiled the union's Fiat Chrysler Automobiles NV department and led to the convictions of eight people, prosecutors have not to date accused union or GM officials of trying to corrupt the bargaining process.
Instead, prosecutors describe a classic corruption scheme involving alleged secret payoffs, rigged bids and contracts to produce more than $15.8 million worth of union-branded trinkets, including backpacks, jackets and commemorative watches.
The kickback case focused on Grimes and the two senior UAW officials is potentially more serious than the UAW scandal involving Fiat Chrysler, legal experts said.
Grimes was charged with wire fraud conspiracy and money laundering, charges punishable by up to 20 years in federal prison. Labor law violations that comprised the bulk of the UAW-Fiat Chrysler scandal are five-year felonies.
"These are serious charges," Henning said. "That's not small-time."
Pietrzyk, who is identified by prosecutors in court filings as "Union Official 2," served as Ashton's top administrative assistant until retiring in 2014 and was paid $110,055, according to UAW regulatory filings. He and Ashton also served on the board of the UAW-GM Center for Human Resources, a jointly operated training facility for blue-collar workers financed by GM.
The UAW's constitution bans the acceptance of kickbacks, and the union has introduced policies to reduce corruption. At its annual convention in June 2018, UAW leaders unveiled a "clean slate" agenda, a series of reforms. They include requirements for a three-bid process for awarding contracts, stricter oversight of staff expenditures, requirements for disclosing conflicts of interests and a gift ban.
The kickback scandal, however, continued despite the "clean slate," according to prosecutors.
The criminal case against Grimes involves vendors being awarded contracts from the training center to produce UAW-branded merchandise in exchange for paying bribes and kickbacks.
For example, in 2011, Ashton proposed buying 50,000 UAW-GM jackets using training center funds, according to sources familiar with the investigation and court records.
Grimes recommended a family-owned company identified in court records as "Vendor A," which was awarded a $6 million contract, prosecutors said.
Then, prosecutors say "Union Official 2" told Grimes to demand a $300,000 kickback for "Union Official 1," who sources said is Ashton.
Pietrzyk served as the middleman, delivering the kickbacks to Ashton and was given $30,000, according to the government.
Ashton, 71, of Ocean View, New Jersey, continued receiving kickbacks for two years after he was promoted to GM's board of directors in 2014, according to the court records.
He resigned in December 2017, one month after The News linked him to the criminal investigation.
Ashton is the highest-ranking official linked to a criminal investigation into whether money and illegal benefits corrupted UAW leaders and the collective bargaining process.
Pietrzyk, meanwhile, played a central role in a $4 million watch contract awarded to Ashton's chiropractor, prosecutors said.
In 2013, the UAW-GM training center awarded a $3.97 million contract to New Jersey chiropractor Marc Cohen, according to sources and the criminal case.
Ashton, who helped negotiate the contract, demanded a $250,000 kickback, prosecutors allege.
Cohen hand-delivered the kickbacks to the UAW vice president's house, prosecutors said. Ashton also told his chiropractor to pay kickbacks to Pietrzyk, according to the criminal case against Grimes and sources familiar with the investigation.
Pietrzyk received $95,000 from the chiropractor and gave $25,000 to Grimes, according to the government.
Grimes is expected to plead guilty Aug. 27 in federal court in Ann Arbor.
"I can neither confirm nor deny whether Mr. Grimes has or will cooperate in the ongoing investigation by the U.S. Attorney's Office," said Michael Manley, a lawyer for Grimes.
Ashton's connection shows the broadening scope of the probe and begs questions about whether prosecutors will file new criminal charges against other high-level UAW officials, said Erik Gordon, a professor at the University of Michigan's Ross Business School.
"Union members traditionally will tolerate a certain amount of corruption as long as leadership gets them the goods," he said. "You have to wonder whether (UAW leaders were) taking this seriously enough or whether they think 'if we get a good contract, all will be forgotten.'"
Given what federal investigators have found so far, Gordon said he would expect them to keep digging.
"(The allegations) involve people who are negotiating for you but made money on the side. Union members could wonder if union leaders pulled any punches. They don't need the kind of evidence a federal prosecutor needs. All they need is to be worried about whether negotiators pulled any punches for them to demand change. I think a reform slate of candidates for UAW leadership has as good a chance of winning now as ever."
UAW members elected international leaders during a constitutional convention in 2018. The next one is slated for June 2022.
Ford recalls more than 4,000 midsize
cars in Canada over seat belt defect
Danielle Szatkowski
Automotive News
August 20, 2019
Ford Motor Co. is recalling 108,399 Ford Fusion and Lincoln MKZ midsize cars worldwide from the 2015 model year for a defect in the front seat belt assemblies.
Ford announced Wednesday that a temperature increase in the driver or front-passenger seat belt anchor could degrade the strength of the cable and prevent the belt from adequately restraining a person in an accident.
The majority of the affected vehicles are in the U.S., with 4,002 in Canada and 1,023 in Mexico.
The recall concerns 2015 Fusions built at the Flat Rock Assembly Plant in Michigan from Aug. 1, 2014, to Jan. 30, 2015, and at the Hermosillo Assembly Plant in Mexico from Aug. 1, 2014, to Nov. 24, 2014. It also concerns 2015 MKZ vehicles built at the Hermosillo plant from Aug. 1, 2014, to Nov. 21, 2014.
Ford says it is aware of one injury related to the defect. A Ford spokeswoman said the injury report did not drive the recall.
"We take the safety of our customers very seriously, and we continuously evaluate our processes for potential improvements and are confident in our current methods for quickly identifying and addressing potential vehicle issues," a Ford spokeswoman told Automotive News.
Dealers will apply a coating to protect the cable during a pretensioner deployment to correct the issue. Customer notifications will begin Sept. 9.
Windsor workers respond to Nemak auto parts plant closure announcement

Unifor Media Release
Aug 18, 2019
WINDSOR–Unifor members at Nemak of Canada Corporation in Windsor gathered for a special membership meeting to respond to the company's plans to close the plant in 2020.
"Nemak cannot shut down its Windsor plant after taking millions in government handouts and posting revenues of over $4 billion world-wide," said Jerry Dias, Unifor National President. "This is a betrayal of both the workers who generated their profits and the public they siphoned millions from."
Since 2015, Nemak received generous handouts from several government sources including a $1.5 million grant from the government of Ontario, $1.3 million in tax breaks from the city of Windsor, and $3 million in federal government funds.
"Nemak is breaking an agreement with the workers to keep this plant open until at least 2022," said John D'Agnolo, Unifor Local 200 President. "Canadians funded this company, Nemak workers built its production process, and Unifor will fight this closure."
The closure announcement comes after Nemak reached a four-year extension to the Unifor Local 200 collective agreement through to 2022 that included a four-year wage freeze.
The employer and Unifor agreed that the Windsor plant would be the sole source for General Motors I-6 engine blocks and engine blocks and bedplates for the 'Thelma and Louise' Corvette.
In direct contravention of this agreement, the company announced it will move production of the I-6 diesel engine block, the Corvette engine block and bedplate to as well as begin building Fiat Chrysler Automobiles (FAC) engine blocks at its facilities in Monterey, Mexico.
Both product lines will use the production process and technology developed at the Nemak Windsor production facility.
Unifor has requested a meeting with Nemak CEO Armando Tamez Martinez. To date, no response has been received.
Ford adds to transmission
warranty on 2014-16 cars
Michael Martinez
Automotive News
Canada
August 16, 2019
Ford Motor Co. on Wednesday said it's extending the warranty on certain 2014-16 model year Focus and Fiesta sedans with dual-clutch transmissions by two years and 40,000 miles — about 60,000 kilometres — and offering a software update for customers who continue to have issues with the problematic gearboxes.
The automaker said it was extending the clutch warranty to seven years or 100,000 miles in the U.S. and seven years or 160,000 kilometres in Canada for those 2014-16 model year Focus sedans and 2014-2015 Fiestas, matching previous warranty extensions for some older cars. Warranty coverage for the transmission control module remains 10 years or 150,000 miles in the United States and 10 years or 240,000 kilometres in Canada.
About 50,000 vehicles in Canada are affected by the clutch warranty update will another 20,000 vehicles are affected by the software warranty.
"While these vehicles always were and remain safe to drive, we regret the inconvenience our customers have experienced," Dave Filipe, Ford's vice president of powertrain engineering, said in a statement.
Filipe said the warranty extension will cover about 560,000 customers. The automaker did not disclose any cost estimates, but said it will be reflected in third quarter earnings.
The automaker says tests show Focus and Fiesta sedans built since the second half of 2015, along with earlier models that have received software updates, perform well.
Ford has been haunted by the transmissions, codenamed DPS6, since they were introduced in 2010. Ford never conquered the long-term reliability problems on the gearboxes that thousands of customers complained would shudder, jerk and hesitate.
Litigation is ongoing.
The automaker in 2014 extended the transmissions' warranty by two years and 40,000 miles (60,000 kilometres) for 2011-2013 model year vehicles. Since its inception, Ford has issued more than 20 technical service bulletins related to the gearboxes.
The automaker last month told its U.S. dealers to give free repairs to any Focus and Fiesta owners who complain about problems with the cars' PowerShift dual-clutch transmission, according to a memo obtained by Automotive News.
The memo, first reported by the Detroit Free Press, followed a July 11 report by the newspaper that said Ford knew about the transmission defects yet sold them anyway. The automaker responded to the report last month, saying it made "conclusions that are not based in fact."
Feds charge ex-UAW leader in
growing corruption scandal
Robert Snell, Kalea Hall
and Breana Noble
The Detroit News
August 15, 2019
Detroit — A former senior United Auto Workers official has been charged with wire fraud conspiracy and money laundering, marking an expansion of a federal corruption investigation that has spread beyond Fiat Chrysler Automobiles NV.
Michael Grimes — who until last year served as administrative assistant to UAW Vice President Cindy Estrada — received $1.99 million in kickbacks from union vendors, according to the government.
He and other unnamed union officials assigned to General Motors Co. were paid hundreds of thousands of dollars in bribes and kickbacks from vendors who received contracts to produce promotional merchandise for the UAW, according to a criminal case unsealed Wednesday.
The criminal charges, which could send Grimes to federal prison for up to 20 years, help federal investigators pierce the inner circle of Estrada, a sitting UAW vice president and head of the union's FCA department who has been under scrutiny for almost two years. The case also expands the scope of a criminal investigation that, until now, focused on Fiat Chrysler executives trying to influence contract negotiations by giving UAW officials money, lavish trips and more.
The criminal filing Wednesday described old-school corruption and greed that deprived UAW members of honest leadership and involved officials in charge of the UAW-GM Center for Human Resources, a training center for blue-collar workers. The alleged scheme also defrauded the training center, prosecutors said.
"This is the first shoe to drop involving General Motors and the UAW," said Peter Henning, a Wayne State University law professor and former federal prosecutor. "It raises the question of what kind of monitoring the UAW was doing, or was there any?"
The criminal case was filed four months after The Detroit News exclusively reported that federal investigators were reviewing whether UAW leaders received kickbacks after giving business executives contracts to produce union-branded clothes and trinkets.
Grimes is the ninth person charged in an ongoing investigation, and the criminal case embroils a training center for blue-collar workers jointly operated by the UAW and GM.
"Mike Grimes benefited only himself, not the UAW membership, and should be fully prosecuted to the extent of the law," union spokesman Brian Rothenberg wrote in an email to The News.
The allegations involve a key UAW official who served alongside Estrada, who was assigned to the union's GM department until last year, when she was transferred to head the scandal-plagued Fiat Chrysler department. The News reported in November 2017 that federal investigators were interested in Joe Ashton, a retired UAW vice president appointed to GM's board in 2014, and Estrada, his successor.
Ashton resigned from GM's board one month after The News report.
"GM has been fully cooperating with the government on its investigation of the UAW Center for Human Resources, and will continue to do so," a GM spokesman said Wednesday. "As a matter of practice, we do not comment on the specifics of an ongoing investigation."
Investigators have expanded the inquiry to all three Detroit automakers and also are focused on whether senior UAW staff were forced to contribute to accounts originally established to buy flowers for autoworkers' funerals, and whether union leaders kept the cash.
Grimes, 65, of Fort Myers, Florida, was charged in a criminal information, which indicates a guilty plea is expected. That could give federal prosecutors another key cooperator in the ongoing investigation.
"I am aware of the charges brought against Mr. Grimes," Grimes' lawyer Michael Manley wrote in a text to The News. "There will be no comment on the charges or any potential resolution at this time."
Grimes has not returned calls or message left by The News since April.
The criminal case focuses on self-dealing and kickbacks allegedly paid to union leaders for awarding deals for UAW-branded trinkets, including more than $3.9 million spent on commemorative watches that were never distributed to union members.
The alleged conspiracy started in 2006 and lasted until July 2018, according to the government. During that time, Grimes worked alongside Estrada and served on the UAW-GM training center board alongside Ashton and others. He was paid $150,574 a year.
The scheme described by prosecutors involved Grimes and two unnamed union officials allegedly enriching themselves by deceptively soliciting, influencing and obtaining contracts for two vendors. One contractor, identified by the government as "Vendor A," owned a family-operated business that sold American-made custom logo products, including clothes and accessories.
The second contractor, identified as "Vendor B," was a chiropractor based in Philadelphia and southern New Jersey. The chiropractor treated one of the unnamed union officials for years.
Ashton, 71, lives in Ocean View, New Jersey.
In August 2012, the chiropractor opened a new business that purportedly sold American-made custom watches. The company's only income came from the UAW and the training center operated with GM.
During the alleged conspiracy, Grimes and the two unnamed UAW officials demanded and accepted hundreds of thousands of dollars from the two vendors, prosecutors said.
In 2006, Grimes recommended "Vendor A" provide 23,000 watches to the UAW-GM training center, according to court records. After awarding the contract, Grimes demanded a loan to buy property in Rose Township in northern Oakland County, prosecutors said. The vendor refused and Grimes threatened to cancel the watch contract, according to court records.
"Fearing economic harm to his company, Vendor A agreed to provide a mortgage for $60,000 so that Michael Grimes could buy the property," prosecutors wrote. The vendor also agreed to pay Grimes $1,800 per month for consulting work. The monthly payments rose to $3,800 per month and continued until Grimes retired in July 2018, according to the government.
Grimes also demanded bribes in exchange for not interfering with the vendor's business, according to prosecutors. To hide the bribes, the vendor wrote checks payable to "KKG Consulting," which prosecutors called a sham company. State business records show the company was created by Grimes' wife Karen in 2001.
From 2010 through 2017, the vendor paid Grimes almost $900,000, prosecutors said, adding that Grimes was involved in another tainted contract in 2011.
This time, an unnamed UAW official identified as "Union Official 1" proposed buying 50,000 "Team UAW-GM" jackets using training center funds. Grimes recommended steering the contract to "Vendor A," prosecutors said.
The vendor later received a $6 million contract. A second unnamed union official directed Grimes to demand an approximately $300,000 kickback for "Union Official 1" prosecutors said. The official received the money in 2012.
Grimes also demanded a $525,000 kickback and threatened to cancel the jacket contract, prosecutors said. Grimes later increased his demand and received $530,000 from the vendor, which he spent paying off property in Fenton, according to the government.
In 2016, Grimes received a $500,000 kickback from the same vendor in exchange for awarding a $5.8 million contract to provide backpacks for UAW members, prosecutors said. The money was funneled through Karen Grimes' sham company, according to the government.
Grimes also received money from another watch contract involving the Pennsylvania chiropractor, prosecutors said.
In 2012, "Union Official 1" told the chiropractor to create a new company so the UAW could buy more than 50,000 watches.
The next year, the UAW-GM training center awarded a $3.97 million contract to the vendor for 58,000 watches. In May 2013, "Union Official 1" demanded a $250,000 kickback, money that was hand-delivered to the union official's home, prosecutors said. A second UAW official also received kickbacks from the watch vendor, according to the government.
To conceal the scheme, the watch vendor wrote "antique furniture" or "furniture" in the memo line of the checks. The second UAW official split some of the money with Grimes, prosecutors said.
The watch contract kickbacks continued until fall 2016, when news broke about the federal corruption investigation involving the UAW and Fiat Chrysler.
"Union Official 1" met with the watch vendor and said "the payments had to stop because of the UAW/Fiat Chrysler investigation," prosecutors said.
The UAW-GM training center received the watches anyway. The 58,000 watches are not on UAW member wrists, however — they are being stored in a warehouse at the training center.
Auto assembly continues to
fall in Canada, BMO finds
DANA FLAVELLE
Automotive News
August 14, 2019
Canadian automotive assembly plants are bearing the brunt of a North American-wide slump in vehicle sales, according to a report by BMO Capital Markets.
Production in Canada was down 7.8 per cent by the end of June compared to the same period in 2018. That's double the rate of decline in the U.S., where production fell 3.9 per cent. Meanwhile, output in Mexico rose 0.8 per cent, the report showed.
"It's not a surprise that we're seeing a decline in production given the slowdown in North American sales," BMO senior economist Alex Koustas told Automotive News Canada.
Automotive sales in Canada were down 4.8 per cent to the end of July, while sales in the U.S., where 80 per cent of Canadian production is headed, were down 1.6 per cent for the first half of the year, according to the Automotive News Data Center in Detroit.
"But, certainly, Canada is bearing the brunt of that decline," Koustas said.
Canadian vehicle production had slipped to 985,501 units in the first six months of this year, its lowest level since the Great Recession of 2008-09, Koustas noted in a research note to clients called "Trailing Big Time at Half Time."
U.S. production also fell to 5,395,931 units during the same period, with declines in North American automakers' output partially offset by an increase in European automakers' production at southern U.S. plants, Koustas said.
In Mexico, production rose modestly to 1,977,903 units to the end of June as North American automakers continued to invest south of the border.
"At this juncture, the big wins promised by the USMCA are certainly not acting as a deterrent to investment in Mexico," Koustas said in the research note, referring to the new Canada-U.S.-Mexico free trade agreement that was supposed to help stem that tide.
Koustas said the decline in Canada is due in part to the number of aging vehicle models produced here along with the falling popularity of some model types, such as the Chrysler and Dodge minivans assembled at the FCA Canada plant in Windsor, Ont.
As well, Canada has lost out in the competition to attract new assembly plants as automakers see the southern U.S and Mexico as lower cost places to operate, he said.
"The fact that we haven't seen any new greenfield development is a concern," Koustas said. "The probability of that changing in the near future isn't high."
With General Motors set to end vehicle production at its Oshawa assembly plant this fall, Canada's position will worsen in the near term, he added.
Canadian vehicle production is down by a third from its peak in the late 1990s and now accounts for just 12 per cent of all North American production, the report showed.
Ford tests dealer-satellite
storefronts in shopping malls
Ian Thibodeau,
The Detroit News
August 13, 2019
Auto companies and dealers are trying to find new ways to reach customers as sales slow and buyers change the way they shop.
Fewer buyers ever set foot in a dealership before deciding what to buy. Slowing sales and a changing marketplace are disrupting the way dealers have always done business.
"This is a tremendous period of change for the dealers," said Isabelle Helms, vice president of research and market intelligence at Cox Automotive, an Atlanta-based industry analysis company. "This started several years back. Every year, the number of dealerships visited by car buyers declines."
The National Automobile Dealers Association reported earlier this year the total number of new-car dealerships in the U.S. fell in 2018 to 16,802, down around 50 dealerships from a year prior.
To counter that trend, Ford Motor Co. is borrowing from the playbook of Tesla, which has opened storefronts in malls in lieu of free-standing dealerships.
Under the direction of Elena Ford, chief customer experience officer, the Dearborn automaker is testing "Smart Labs" in four locations outside the United States. While local dealers typically have displayed a car or two in the halls of shopping malls, this takes it a step further.
Ford's Smart Labs — spun off an idea from a dealer in Turin, Italy — are essentially satellite storefronts for local dealerships. They function much like the showrooms made popular by Tesla, which opened a small storefront in Troy's Somerset Collection. The idea is to put the brand and the vehicles in front of people who might not have left the house that day thinking about buying a car.
Ford plans to try the concept at an as-yet-unannounced mall in the United States, according to Rob De Filippo, Ford's director of global in-store retail experience. He said the test locations — one in Quebec City, the others in cities in Italy, Belgium and Germany — are generating hundreds of new sales leads that might have otherwise been missed.
The storefronts or stands house a few Ford vehicles. Employees can answer questions and pass leads to salespeople. Passersby are able to test-drive vehicles parked outside in some locations. Although shopping malls have been struggling, De Filippo said satellite locations could pop up in other locations.
De Filippo said lease or purchase contracts in some cases at the European Smart Labs are signed on-location. Ford is testing processes to close deals at the satellite storefronts, but they're not meant to replace dealerships.
"We're trying to ensure the long-term dealer sustainability," he said. "This is all about learning and testing new concepts. The large-dealer format is going to come under a lot of pressure. So we're looking at how do we transform retail for the future."
Benjamin Abeloos, sales and marketing manager of the AB-Automotive dealership franchise in Brussels, Belgium, said the Smart Lab that his dealership opened with Ford in a local shopping mall three months ago is promising.
The 1,800-square-foot "store" displaying three Ford vehicles netted 200 leads in the first month, he said. Two months later, in July, it generated more than 400 leads.
While those July leads translated to around 25 actual sales, Abeloos told The Detroit News that's 25 sales the dealership wouldn't have otherwise made.
Abeloos said his team aims to turn more of those tire-kickers into actual buyers, but it's a work in progress.
"You have to find new ways to get to the customer," he said. "Being where the customers are when they have free time is one of the biggest things. No one likes to come to the dealership on the weekend."
Detroit automakers face 'time of reckoning' in China
Ian Thibodeau,
The Detroit News
Aug. 12, 2019
Detroit's automakers are struggling to sell vehicles and make money in China, the world's largest auto market. But industry leaders say they're making moves to change that.
General Motors Co., Ford Motor Co. and Fiat Chrysler Automobiles NV all have reported overseas losses this year because of new headwinds overseas: Chinese manufacturers are making better vehicles catering to what Chinese consumers want, and the Chinese economy is slowing thanks to deepening trade tensions between the U.S. and Chinese governments.
"It's a time of reckoning for many companies operating in China," said Michael Dunne, CEO ZoZo Go LLC, a Hong Kong-based automotive consultancy. "Until very recently, Detroit automakers and their suppliers had a sensational run in China. Now they've seen 12 months of declining sales. This puts us into a totally new uncharted territory. This is a jolt for everybody, and everyone's working hard to reset expectations."
The shifting economic situation, influenced almost daily by presidential tweets and proclamations from official Chinese outlets, adds uncertainty in a market that since 2007 drove most of the global auto sales growth. The upshot, experts say, is that some companies may soon be forced to decide whether to double-down on their bets in China — or leave entirely.
Problems navigating the changing Chinese market are not universally shared. Such automakers as Volkswagen AG, BMW AG, and Honda Motor Co. have found ways to grow share as the market shrunk this year. That's evidence there's still a way to succeed in China, even if the U.S. automakers haven't yet figured it out.
After reporting losses in China in the second quarter, leadership at GM, Ford and FCA said they have the pieces in place to be successful in the rapidly changing market even as analysts like Morgan Stanley's Adam Jonas begin to question whether it's worth spending more to find a way to profitability in an increasingly challenging market.
"We believe many foreign auto firms, and in particular some U.S. firms, may be operating in China on borrowed time," Jonas wrote in a May note, even as Ford, FCA and GM plan to launch new models focused on the luxury they say caters to Chinese consumers — and would drive profits.
There's still time, according to Dunne and Alan Deardorff, professor of public policy and economics at the University of Michigan. Dunne said U.S. automakers will have to drive brand recognition and distance themselves from China's domestic automakers in order to succeed. The Detroit Three will have to push top-end luxury brands and products to drive sales as Chinese manufacturers enter the market with bargain cars.
"You have to move up or move out," Dunne said. "They need to position themselves as high as possible."
That's the plan. Ford lost less money in the second quarter than it had a year ago, but officials said the automaker is taking hits as it readies its Chinese lineup for new SUVs and electric vehicles. The automaker also has leaned on Lincoln in China for years. Its sales in China fell 27% through the first six months of 2019 after Ford spent most of 2018 restructuring its leadership in China and adapting its plan for the future.
"The new headwinds, obviously they're not convenient, but that does not change our plan," Anning Chen, president and CEO of Ford China, told The Detroit News. "As long as we speak to the fundamentals of our business, we'll stick to our plan."
At its core, Ford's China 2.0 plan would speed up development times, roll out 30 new Ford and Lincoln vehicles over the next three years and lean into its joint-venture partnerships to tap directly into what Chinese consumers want in their vehicles. The economic slowdown that comes as a direct result of the Chinese government's trade war with President Donald Trump is an unanticipated challenge, but Ford feels ready to brave it.
"This is still a very large market," Chen said. "We're very clear about the challenges ahead of us."
GM's partner company in China, meantime, has said it's anticipating its first-ever annual sales drop. GM leadership expected a volatile second quarter. The automaker's General Motors International, GMI, segment lost $48 million in the quarter, caused by a $400 million decline in China from a record second quarter in 2018. GM said the decline was partially offset by better performance outside of China. GM said it cut its China inventory levels by 10% in the second quarter and will continue to watch the volatility and remain disciplined on inventory.
"When you look at it over the longer term, we have a very strong franchise in China," CEO Mary Barra said in early August. "We have three strong global brands with Cadillac, Buick and Chevrolet. We think over the long term there are significant opportunities for growth."
GM plans to continue to push into the Chinese market with its premium and luxury brands. The vehicle launches, Barra told investors, will put GM China in a good position because the company is seeing customer preferences shift to SUVs and crossovers. And because the market is competitive, she added, "having an all-new model will be significant in the marketplace."
Meantime, FCA cut its sales guidance for the year given the slowing Chinese market. CEO Mike Manley predicted pricing pressures in China will continue into the third quarter as the industry works to comply with stricter vehicle emissions standards expected to go into effect next year, though he believes the changes the company has made in China will improve results from last year.
"In China, we streamlined the structure of our joint venture operations and put new leadership in charge to improve the competitiveness of our business there," Manley said on the second-quarter earnings call. "And our efforts to bring down cost and improve quality are making progress, and have seen signs of improvement and obviously, we still have some way to go. But I think you can see from the year-over-year performance that they are having an effect."
The sheer size of the Chinese market is enough to keep the automakers fighting for market share amid all the headwinds, Deardorff said. Sales in China are off about 15% year-to-date, according to Dunne. Automakers moved 28 million vehicles there in 2018. If the sales decline continues at that rate, Chinese auto factories could have a capacity overhang of possibly tens of millions of vehicles — a costly problem to have.
And while Chinese consumers will continue to spend less in the near-term amid the trade war, Dunne said there's no clear sign yet that say any of the Detroit Three still can't find success in the increasingly competitive country.
"Everyone has a shot to succeed in China," he said. "There's nothing holding them back. There's no reason why Ford, GM or FCA can't adjust or thrive in the Chinese market."
Ford recalls 14K 2020 Explorers
and Lincoln Aviators at risk
of unintentional movement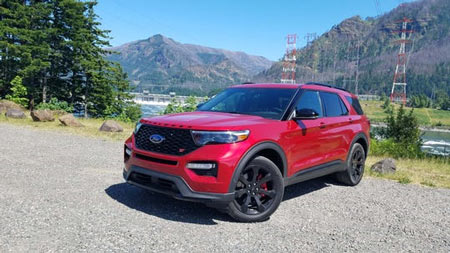 Keith Laing,
The Detroit News
August 8, 2019
Ford Motor Co. is recalling more than 14,000 of its 2020 Ford Explorer and Lincoln Aviator vehicles in the U.S. and Canada that are at risk of moving unintentionally due to potentially missing a federally required manual park-release cover.
The company said federal standards require the manual park release cover be firmly in place and only removable with a tool.
"If the cover is not installed, the manual park release lever may be inadvertently activated, which could result in unintended vehicle movement if the electronic park brake is not applied, increasing the risk of crash," Ford said.
Ford said the affected vehicles may also have instrument clusters that are in factory mode, which disables warning alerts and chimes, and does not display gear positions to let drivers know which gear is selected.
"Factory mode is used to reduce battery drain during the production process," the company said. "Federal Motor Vehicle Safety Standards require the gear positions and selected gear to be displayed whenever the shifter is not in park."
Ford said it is aware of one report of an accident occurring during the transportation of a vehicle that was still within the production process. The company said the incident resulted in only vehicle damage.
Ford said its dealers will inspect for the manual park release cover for free and install one, if necessary. The company said its dealers will also verify the instrument cluster is out of factory mode and clear any diagnostic codes.


Japanese company's 'flying car'
hovers steadily for minute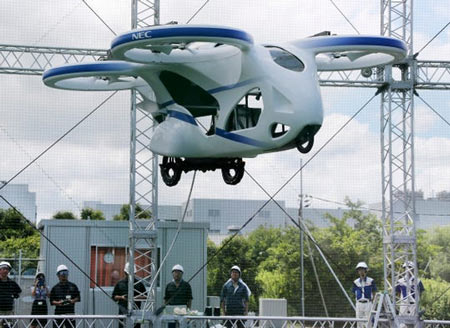 Yuri Kageyama
Associated Press
August 7, 2019
Abiko, Japan – Japanese electronics maker NEC Corp. on Monday showed a "flying car," a large drone-like machine with four propellers that hovered steadily for about a minute.
The test flight reaching 3 meters (10 feet) high was held in a gigantic cage, as a safety precaution, at an NEC facility in a Tokyo suburb. The preparations such as the repeated checks on the machine and warnings to reporters to wear helmets took up more time than the two brief demonstrations.
The Japanese government is behind flying cars, with the goal of having people zipping around in them by the 2030s.
Among the government-backed endeavors is a huge test course for flying cars that's built in an area devastated by the 2011 tsunami, quake and nuclear disasters in Fukushima in northeastern Japan. Mie, a prefecture in central Japan that's frequently used as a resort area by Hollywood celebrities, also hopes to use flying cars to connect its various islands.
Similar projects are popping up around world, such as Uber Air of the U.S.
A flying car by Japanese startup Cartivator crashed quickly in a 2017 demonstration. Cartivator Chief Executive Tomohiro Fukuzawa, who was at Monday's demonstration, said their machines were also flying longer lately.
NEC is among the more than 80 sponsor companies for Cartivator's flying car, which also include Toyota Motor Corp. group companies and video game company Bandai Namco Holdings.
The goal is to deliver a seamless transition from driving to flight like the world of "Back to the Future," although huge hurdles remain such as battery life, the need for regulations and safety concerns.
NEC officials said their flying car was designed for unmanned flights for deliveries but utilized the company's technology in its other operations such as space travel and cybersecurity.
Often called EVtol, for "electric vertical takeoff and landing" aircraft, a flying car is defined as an aircraft that's electric, or hybrid electric, with driverless capabilities, that can land and takeoff vertically.
All of the flying car concepts, which are like drones big enough to hold humans, promise to be better than helicopters. Helicopters are expensive to maintain, noisy to fly and require trained pilots. Flying cars also are being touted as useful for disaster relief.
U.S. ride-sharing and transportation network Uber is planning demonstrator flights in 2020 and commercial operations in 2023, and has chosen Dallas, Los Angeles and Melbourne as the first cities to offer what it calls Uber Air flights.
Dubai has also been aggressive about pursuing flying cars. Japanese officials say Japan has a good chance of emerging as a world leader because the government and the private sector will work closely together.
Ford shows most powerful street-
legal Mustang with 760 hp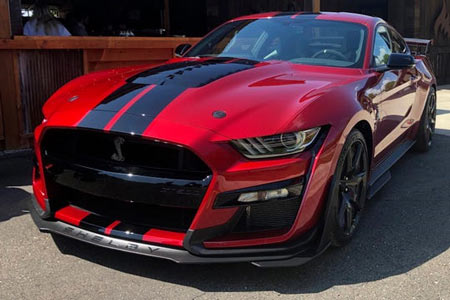 Associated Press
August 6, 2019
Detroit – The most powerful street-legal Ford Mustang ever built will go on sale this fall.
A 5.2-liter supercharged V8 will crank out 760 horsepower in the 2020 Shelby GT500.
The new version has a beefed-up suspension and brakes. It also has a seven-speed automatic transmission that Ford promises will shift smoothly on commutes and quickly on the track. The engine is hand-built at a Michigan factory and comes with unique pistons and other parts. It can crank out 625 foot-pounds of torque, a measure of rotational force.
The Shelby GT500 can go from zero to 60 miles per hour in around 3.5 seconds, although Ford didn't release a precise number. That's slightly slower than the mid-engine 2020 Chevrolet Corvette, which General Motors says will do it in under three seconds.
Performance powertrain engineering manager Patrick Morgan says the new version is aimed at Mustang enthusiasts who also want track performance.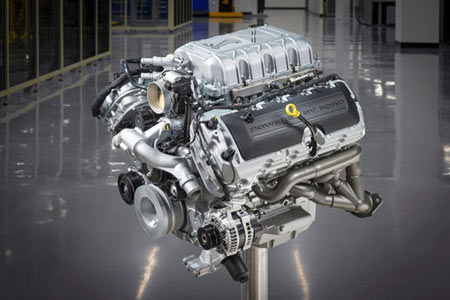 This undated image provided by Ford Motor Company shows a 5.2-liter supercharged V8 engine that will be part of the most powerful street-legal Ford Mustang ever built. The Mustang will go on sale this fall. (Ford Motor Company via AP) (Photo: AP)
He said the car can go from zero to 100 mph and back to zero again in 10.6 seconds.
The car comes with pumps that can send gas to the fuel injectors all the way until the tank is empty. It also takes 11 quarts of oil with an oil pan that can keep the engine lubricated during extreme cornering moves on the track.
The car starts at $73,995 including shipping and a $2,600 gas-guzzler tax. Ford says it hasn't finished fuel economy tests.


Dealers warned to be vigilant
after bust of multimillion-
dollar auto theft ring
Greg Layson
Automotive News
August 5, 2019
Canadian luxury auto dealers are being warned about a rise in stolen and fraudulently purchased vehicles after law enforcement busted up a multimillion-dollar car-theft ring in the Greater Toronto Area last week.
Project Baijin — a joint effort between a trio of police departments and the Canada Border Services Agency — seized 28 high-end vehicles worth about $2.5 million and destined for China and Europe.
The project began back in April.
Peel Regional Police wouldn't discuss with Automotive News Canada what it was that initially led to the investigation, but at a news conference last week the department said it started with a phone call from a concerned citizen.
Police eventually seized six high-priced vehicles from a "chop shop" in Mississauga, Ont., on April 10. Police say they found a 2015 Jeep Wrangler, a 2016 Mercedes GLE350, a 2018 Mercedes C300, a 2018 Audi A7, a 2018 Dodge Ram and a 2019 Range Rover at the shop.
Police allege the vehicle identification numbers were being removed and replaced with fraudulent numbers.
Police arrested two men from Markham, Ont., and continued their investigation, finding links throughout the Greater Toronto Area and several provinces, spanning from Quebec to British Columbia, where vehicles were being obtained and brought to auto shops in Ontario.
Subsequent to the arrests, and with the assistance of Halton Regional Police and York Regional Police, investigators executed eight search warrants across Peel, Halton and York regions and seized an additional 22 vehicles worth $2.2 million. They also arrested another five men from the Toronto region.
"Ninety per cent of the vehicles recovered were newer-model vehicles that were fraudulently financed and then re-vinned," Peel Regional Police spokesman Const. Akhil Mooken told Automotive News Canada in an email.
Police said some of the vehicles they seized were also wrapped in vinyl in what officers said was an attempt to temporarily change their colours and avoid detection.
"Our investigators have encountered this on numerous occasions," Mooken said. "It is a cheaper alternative and is less labour intensive than re-painting a vehicle."
Mooken said thefts from dealerships "are becoming more common" and that they are preventable if dealers do a little extra legwork before finalizing a sale.
Buyers were using fake identification and false employment records to get financing approved, police said.
"We encourage all employees at dealerships to be vigilant and ensure they complete a thorough background check to ensure that the information provided, such as employment, banking information and addresses are correct," Mooken said. "Investigators were able to use open source tools such as internet search engines and determine that the employment and addresses provided were false."
GM's Mexico-made Blazer becomes political pariah of Detroit
David Welch ,
Bloomberg News
August 4, 2019
When General Motors Co. brought back the Chevrolet Blazer last year, the revival conjured up images of the rugged 4x4 SUV from decades past. But GM workers were nostalgic for a different reason: The old full-size model was last built in a now-shuttered plant in Janesville, Wisconsin.
Much to the chagrin of the United Auto Workers union, GM decided to build the revitalized Blazer in Ramos Arizpe, Mexico, a move announced five months before the company put four U.S. factories on notice they're at risk of being closed. Ever since then, the union has treated the vehicle as a pariah and symbol of long-festering grudges against the automaker's off-shoring strategy.
To the union, "the Blazer is emblematic of everything that is wrong with the world," said Kristin Dziczek, vice president of industry, labor and economics at the Center for Automotive Research in Ann Arbor.
Although the Blazer has avoided the wrath of President Donald Trump and his Democratic challengers for the White House, the same can't be said of GM's layoffs of American workers. The dismissals have become a lightning rod for politicians of all stripes and earned the company an unfortunate call-out during the first night of debates in the company's hometown.
When asked about GM's job cuts during the debate Tuesday, South Bend Mayor Pete Buttigieg said that government needs to take a role in retraining workers who lose their jobs. "It's why we actually need to put the interests of workers first," he said.
The decision to build the Blazer in Mexico and the preparation work to assemble it started several years ago, when GM's Lordstown factory was cranking out Chevy Cruze compact cars on three shifts, said Jim Cain, a GM spokesman. Sales then slumped, and the company ceased production earlier this year.
GM had manufacturing space for the Blazer in Ramos Arizpe because the company moved a Cadillac SUV from that plant to another in Tennessee, said Cain, who notes the Chevy SUV uses $500 million a year in U.S. parts.
The Blazer and the fate of unionized workers also are contentious issues in negotiations this summer between GM and the UAW for a new four-year labor agreement. The talks were preceded by a kerfuffle over the Blazer this spring.
In March, GM hoisted a Blazer atop General Motors Fountain beyond the center-field wall at Comerica Park, home of the Detroit Tigers. When union workers found out, they attacked it as a snub to the city, raging about what they considered to be a brazen indignity on Detroit talk-radio stations and social media.
The automaker took down the Blazer before opening day and replaced it with a Chevy Traverse, which is built in Lansing. "Did GM not know this would be a stick in the eye to workers who go to the games?" Dziczek asked rhetorically.
The new SUV has become a focus of anger for workers who risk losing their job if they refuse relocation to another GM plant. Regina Duley is one of about 100 workers remaining at a GM transmission plant in Warren, who face their last week at work before their factory is idled.
"I would not buy that product," Duley, a 21-year plant veteran, said of the Blazer at a press conference at the Local 909 hall across the street from the Warren plant. "How could I buy that when they build it in Mexico and we have people without jobs here?"
Ford acquires two tech companies
to accelerate development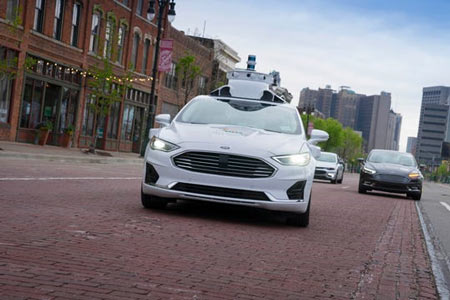 Ian Thibodeau,
The Detroit News
August 1, 2019
Ford Motor Co. is acquiring two technology companies to boost the automaker's bets on autonomy and new transportation.
The acquisitions announced Tuesday include Journey Holding Corp., a company that makes tracking software and other app-based technology for the public transportation industry, and Saline-based robotics and simulation company Quantum Signal AI.
Ford acquired the companies for undisclosed amounts of money as it moves to speed up development of some of the systems that will support its autonomous vehicles, said Brett Wheatley, Ford vice president of mobility marketing and growth.
Tuesday's announcement comes two weeks after Ford and self-driving software partner Argo AI detailed a sweeping partnership with Volkswagen AG on electric and autonomous vehicles.
"We have the opportunity in some cases that are just going to accelerate our effort," Wheatley told The Detroit News. "We don't feel like we have to own all the different assets, but we want to be someone who can orchestrate the various transportation modes."
The Journey Holding acquisition nets Ford the two companies that make up Journey, Ride Systems and DoubleMap Inc. The companies under the Journey umbrella develop apps for nearly 1,200 clients including universities, municipalities or private companies to help the companies coordinate mass transit like shuttle services. Journey provides clients with a way to manage their fleets, and provides users with a smartphone app by which they can schedule, track and plan rides.
Journey Holding Corp. would combine its 200 employees with the roughly 200 TransLoc employees that currently work for Ford Smart Mobility. TransLoc has been working on the same thing Journey Holding does; the Journey acquisition gives Ford access to the 1,200 Journey clients. Journey Holding currently services Dan Gilbert's Bedrock Detroit, which uses shuttles to ferry employees from parking lots around the city of Detroit to their offices downtown.
Ford and Journey Holding CEO Justin Rees hope to develop an application that will give people access to Ford's various modes of transportation. Ford owns a electric scooter company, has a bike-share program, and hopes to deploy fleets of autonomous vehicles in cities by 2021. The automaker would develop its smartphone app with Journey to launch before those self-driving vehicles are on roads.
"We want to make the option that people consider first," Rees said. "If they can leave the car at home and they have a variety of solutions we can provide them, they will love that aspect of having so many options."
Rees and Wheatley envision customers reserving an electric scooter to get them from a drop-off location to the office while they sit on the shuttle that's taking them from their home or parking garage across the city, for example.
Meantime, the Quantum acquisition would support Ford's self-driving vehicle development and prototyping, according to a Tuesday blog post. The company would develop "more comprehensive simulation environments" in which Ford can test its vehicles.
Both acquisitions mark a further shift in collaborating or acquiring technology instead of developing every aspect of the future of transportation in-house. Ford CEO Jim Hackett has said no one company "can do this alone." The uncertain future of the auto industry will require plenty of partnerships and a changing automotive ecosystem. And some of those might not work out.
Ford has recently had to atone for misplaced bets on the future. The automaker last week wrote off almost the entirety of its $182 million bet on cloud computing company Pivotal Software after that company's stock tanked. It's also pulled the plug on a shuttle service, Chariot, it had acquired for $65 million in 2016.
Wheatley said Tuesday the new partnerships aim to amplify the steady work Ford teams are doing as the automaker readies to launch fleets of autonomous vehicles in 2021 that could be amplified by a wide Ford-backed network of transportation services in select cities.
"There's been some great learnings," Wheatley said. "The mobility space is moving so quickly. The Ford team is really very invigorated right now."
Disgraced UAW boss' life of luxury
revealed ahead of sentencing
Robert Snell,
The Detroit News
July 31, 2019
Former United Auto Workers Vice President Norwood Jewell betrayed blue-collar workers by pocketing tens of thousands of dollars in illegal payments from Fiat Chrysler executives so he could live like a "big shot" and "fat cat," federal prosecutors said Tuesday.
As proof, prosecutors revealed photos of the glamorous vacation spots and valuable gifts Jewell received from Fiat Chrysler executives trying to tilt labor negotiations in the automaker's favor.
The list of illegal benefits purchased with money that was supposed to be spent training workers included a $2,182 shotgun, $8,927 for a three-bedroom villa with a private pool and hot tub in Palm Springs, Calif., and a $25,065 "decadent" party with strolling models lighting labor leaders' cigars and wine bottles featuring Jewell's name on the label. He also spent UAW member dues on another three-bedroom villa and a pool in the desert oasis.
Prosecutors used the photos and tough words Tuesday to try to convince a federal judge to send Jewell to prison for 15 months. U.S. District Judge Paul Borman will sentence Jewell on Aug. 5.
"Through his actions, Jewell undermined and betrayed the confidence and trust the UAW's members had placed in him to serve as their sworn representative in negotiations with Fiat Chrysler," Assistant U.S. Attorney David Gardey wrote in a sentencing memo Tuesday. "If that alone were not bad enough, Jewell's actions also eroded public confidence in our country's collective bargaining system and sullied the reputations of all honest trade unionists in the UAW."
The ongoing corruption scandal entangling union training centers funded by all three Detroit automakers has demonstrated that Fiat Chrysler executives wooed union leaders with cash, gifts and other benefits. It also embroiled the late CEO Sergio Marchionne and led to a shakeup of the top ranks of the Detroit-based auto industry.
Jewell was one beneficiary of a broader plan by Fiat Chrysler executives to keep UAW leaders "fat, dumb and happy" and wring concessions favoring the automaker, according to the government.
For example, Jewell was in Palm Springs for two UAW/Fiat Chrysler conferences in early 2016. The conferences lasted a total of seven days but Jewell used the villa for two months. Fiat Chrysler spent almost $9,000 for the villa.
The next year, the automaker spent more than $2,000 for the villa while Jewell used member dues to cover the balance.
Fiat Chrysler also paid more than $5,100 so Jewell could fly first class to Palm Springs, where the automaker paid for 29 rounds of golf, golf club rentals, golf balls, meals, beer, and liquor for himself and other high-level UAW officials.
"Rather than the concerns of his membership, it is apparent that Jewell was most concerned with fancy meals, rounds of golf, and other perquisites of being at the highest level of the UAW's leadership team," the prosecutor wrote.
Jewell benefited in other ways.
Underlings Virdell King and Nancy Adams Johnson used their training center credit cards to buy the UAW leader the $2,182 shotgun as a birthday present in 2015, prosecutors said. Again, Fiat Chrysler paid the bill.
A UAW spokesman previously said Jewell was unaware that the shotgun was purchased with a training center credit card and that he later reimbursed the money.
Jewell is awaiting a possible prison sentence as Fiat Chrysler executives negotiate a settlement that would resolve a federal criminal investigation into whether executives conspired to pay bribes and break labor laws during a years-long conspiracy with the UAW.
The negotiations are focused on Fiat Chrysler submitting to government oversight for up to five years, paying less than $50 million in penalties and agreeing to make broad institutional changes to emerge from a bribery scandal that has led to eight convictions.
Separately, Jewell's lawyer compared the UAW leader to the captain of the Titanic while urging the judge to spare Jewell a prison sentence.
"Norwood Jewell as 'captain of the ship' has accepted full responsibility for his actions and for not doing enough to monitor his subordinate's behaviors and misdeeds," defense lawyer Michael Manley wrote in a sentencing memo Monday. "Many things have been said and written about Jewell's role in this vast culture and the way business was conducted between the UAW and the various auto companies. Some of it true, some of it not.
"Whatever the court's decision, Jewell, as an honorable leader, is prepared to go down with the ship that the government has effectively sunk."
Manley portrayed the former UAW leader as a victim of a corrupt culture within the union.
"The lavish expenditures, the fine cigars, the rounds of golf, the steakhouse dinners — those things were commonplace long before Jewell got to FCA," Manley wrote.
Jewell later forced Fiat Chrysler to audit the expenditures and helped implement new policies that conformed with federal labor laws, his lawyer added.
"Norwood Jewell is not a man of opulence," Manley wrote. "Quite the opposite: he's a man of rather simple tastes. He's a Miller Lite kind of guy."
Jewell received as much as $95,000 in illegal benefits, prosecutors wrote Tuesday, and deserves a prison sentence.
In April, Jewell pleaded guilty to breaking federal labor laws, becoming the highest-ranking labor leader convicted in an ongoing investigation of corruption within the U.S. auto industry.
"Instead of seizing the opportunity to zealously and honorably represent the interests of the union's members and their families, Jewell chose to serve his own interests and to live the life of a big shot and fat cat," Gardey wrote.
Arson ruled out in UAW fire;
unclear when union leaders,
employees can return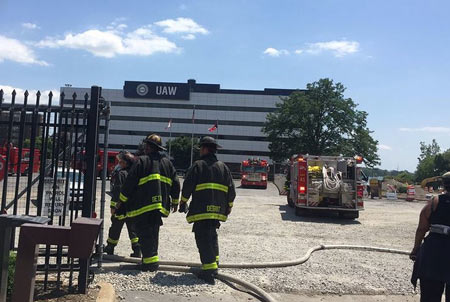 Automotive News
Sarah Kominek
July 30, 2019
DETROIT -- Detroit Fire Department investigators have ruled out arson as the cause of a July 13 fire that resulted in the shutdown of the UAW's international headquarters.
Firefighters responded to the blaze on the third floor of the union's Solidarity House that afternoon. City fire investigators returned to the building last Thursday.
It's "too early to determine" when employees will return to work at the building, UAW spokesman Brian Rothenberg wrote in an email Monday. The union has just begun formal negotiations with the Detroit 3 on new labor contracts, with the current pacts expiring Sept. 14.
Staff had "been reassigned to temporary locations," Rothenberg said July 16. "Staff will be working out of regional and other UAW facilities."
Although arson has been ruled out, the fire's cause is undetermined, Ted Copley, lieutenant and investigator for the Detroit Fire Department, told Automotive News.
Investigators are awaiting results from lab testing on computers, batteries and wiring from the scene to determine the cause, said Patrick McNulty, chief of fire investigation for the Detroit Fire Department.
The rest of the investigation will be left up to private investigators for insurance purposes, Copley said.
Two firefighters were injured at the scene of the fire, one with a broken wrist and the other suffering from smoke inhalation. Both were treated in the hospital and released, Deputy Fire Commissioner Dave Fornell told Automotive News.
He said the fire caused "a considerable amount of damage" to a storage area on the third floor.
Rothenberg said the union headquarters was "largely empty at the time" of the fire, which took place just days before the UAW held its ceremonial "handshake" events with Detroit 3 executives to launch the formal contract talks.
The fire was in the union's information technology department and damaged adjacent public relations office space, he confirmed.
Ford says electric F-150 prototype
towed 1.25 million pounds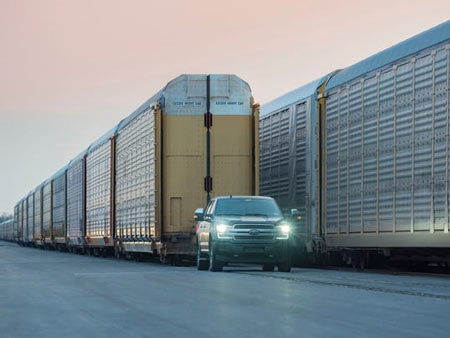 Ian Thibodeau,
The Detroit News
July 29, 2019
Toyota towed a 300,000-pound space shuttle with a Tundra, and Elon Musk said his Tesla pickup will be able to tow 300,000 pounds. Ford Motor Co. says it's upped the ante by towing 1.25-million pounds with a prototype of its fully electric F-150.
The pickup won't be on sale for at least a few years, and the production models won't likely tow a million pounds, according to F-150 chief engineer Linda Zhang. But Ford wanted to show off what it could be capable of as it readies to electrify one of its most storied nameplates.
Linda Zhang, chief engineer of the Ford F-150, shows the capability of a prototype all-electric F-150 by towing 10 double-decker rail cars full of F-150s The Detroit News
"We're really just trying to test how extreme we could get it," Zhang said. "This is really the tough truck testing."
Ford has been testing prototype electric F-150s around southeast Michigan for months. The automaker is expected to debut the first hybrid F-150 next year. Later this year it is expected to show its first-ever battery-electric crossover, which Executive Chairman Bill Ford has said will "go like hell."
But the electrified F-150s have been hard sells. Diehard truck fans are hesitant to believe an electrified powertrain could deliver anywhere near the performance or power of the gas- or diesel-engine trucks that built the Ford dynasty.
So Zhang headed for a train yard at an undisclosed location in North America to show how much torque an electric powertrain can generate. The prototype pickup towed 10 double-decker rail cars with 42 2019 F-150s inside. That totaled roughly 1.25-million pounds.
"Truck owners have been very skeptical of the fact that we were able to do this," Zhang said. "We expect to deliver that level of built Ford tough. We've got them in mind."
Zhang wouldn't specify any real-world targets for the battery-electric truck other than to say it will be held to the same standards as the gas-powered F-150s. Ford jostles with General Motors Co. and Fiat Chrysler Automobiles to claims "bests" anywhere it can in the pickup category.
Truck buyers in recent years have diversified as automakers offer increasingly more plush and expensive models of what was once a work vehicle. But as Ford introduces new models and iterations of the F-Series, officials always say truck buyers want to at least know their truck can tow, haul and pull almost anything they might need to tow, haul or pull.
Zhang said the train yard demonstration was meant to show that Ford isn't going to sacrifice power in its battery-powered models, she said.
"We're the leaders in trucks, and we're going to continue leading," she said. "This is one of the ways we're going to do that. We're serious about electrification."
Ford profits slide 86% on restructuring charges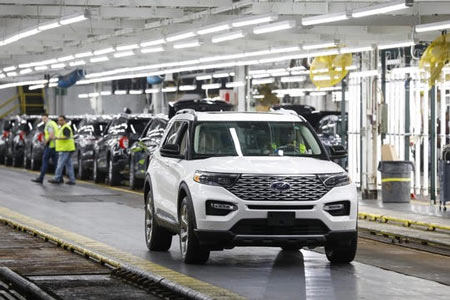 Ian Thibodeau,
The Detroit News
July 28, 2019
Dearborn — Ford Motor Co. said Wednesday its annual profits would be lower than analysts expected as the company's second-quarter profits slid 86% due to the automaker's ongoing global restructuring.
The automaker's income will likely continue to take hits through the remainder of 2019, officials said Wednesday, as the automaker moves to cut costs and reform unprofitable pieces of its global business. The situation could make contract negotiations with the United Auto Workers contentious, as the UAW will be looking for pay increases while Ford's profits shrink under the current restructuring.
Ford is making strong progress right-sizing its problem European and South American business, said CEO Jim Hackett and Ford's new chief financial officer Tim Stone. The short-term hits to earnings will pay out later when the company reports stronger earnings over the long-term following its global restructuring, the executives said.
"There's a lot of good news in this year of execution," Hackett said. "We are improving fitness."
Ford officials previously said the company would spend $11 billion to restructure the global business over the next few years. It would spend roughly $3.5 billion of that in 2019 as the global moves get underway; $1.2 billion in expenses was incurred in the second quarter, which means the second half of the year will see more dents to earnings. Ford made $148 million in the second quarter. Profits were down 54% for the first half of the year.
The global redesign took a bite out of profits in the second quarter, but the automaker's pile of cash grew 30% compared to a year ago to boost operating cash-flow through the first half of the year to $10 billion. Stone said that is early proof that the automaker's restructuring moves can boost profitability.
"You're starting to see it in the results," Stone said. "It's the very early days. That's very encouraging, because we're already starting to see some early benefits, some early signs, and we have a lot of opportunity to continue to execute against the redesign."
Ford also took a hit to the bottom line on the Ford Explorer and Lincoln Aviator introductions, which slowed North American wholesales by 72,000 units. The company announced earlier this week it was adding capacity in Chicago to increase production of some of those new models.
The company's earnings before interest and taxes were flat at $1.7 billion. Ford took a $181 million charge there because shares of a software company, Pivotal, slid more than 35% in the first half of the year after the company lowered its full-year fiscal outlook earlier this summer. Ford had invested $181.2 million in Pivotal in 2016 for the company to develop cloud software.
Ford also reported revenue was flat as it transitions out of small cars and sedans in favor of larger, more profitable vehicles.
"The transition out of some of those products has been more than offset by the benefits of launching Ranger," Stone said. "Our portfolio is transitioning significantly in the U.S....and so it's a much better customer experience, (and) a fresh lineup of cars that customers want to buy."
Ford reported its automotive segment's earnings before interest and taxes were up 19% to $1.4 billion due to better mix in North America, though the company's North American business unit earnings dropped 3% to $1.7 billion. The automaker's profit margin was 7.1%; Ford is targeting a 10% margin in North America, and an 8% margin overall.
The automaker lost money in South America ($205 million), the Middle East and Africa ($45 million) and Greater China ($155 million), though the loss in China was a $328 million improvement compared to a year ago. Ford made $52 million in Europe and $30 million from the rest of its Asian business.
Stone said Wednesday that earnings per share for 2019 would be $1.20 to $1.35, lower than analysts' estimates. He expects 2019 earnings before interest and taxes to be between $7 billion and $7.5 billion, up from $7 billion last year. Ford hadn't previously given specific targets for 2019.
Meantime, Stone emphasized the amount of cash Ford had as the automaker braves slowing sales at a greater rate than some of its competitors due to the vehicles it's eliminating from its lineup. The automaker's cash pile grew $1.5 billion in the second quarter. The company has $10 billion in cash flow from operating activities through the first half of the year.
Ford through the first half of 2019 was quickly paring back sedan sales as the company transitions to a more SUV- and truck-heavy lineup. Before the company's all-new Explorer, Aviator, Escape and other larger vehicles finish their production ramp-ups, Ford's Ranger and EcoSport were tasked with filling the void left by slow-selling sedans like the Fusion, and compact cars like the Focus and Fiesta.
"Ford is still working through some growing pains as it transitions away from passenger vehicles," said Jeremy Acevedo, senior manager of insights at Edmunds. "The company is facing a pretty big loss in sales from phasing out the Focus, and although the new Ranger is helping recuperate some of this, it's not enough at this point. You can't kill cars and expect sales to stay the same if you haven't given shoppers other options. It's critical that the Escape and Explorer hit the market soon if Ford wants to execute against its master plan for the future."
But Ford's pile of cash could also make the automaker a target. Ford is in the beginning stages of national contract talks with the United Auto Workers. The UAW is angling to get better wages and retain already strong health benefits after years of record profits from the Detroit Three.
Ford, General Motors Co., and Fiat Chrysler Automobiles all say the companies need to undergo some belt-tightening amid slowing sales and an uncertain future. Ford is currently undergoing a restructuring that would trim or redeploy some $25.5 billion in addition to the $11 billion it's spending to restructure the global workforce.
Ford spending $50M in
Chicago to support
Explorer, Aviator
production

Ian Thibodeau,
The Detroit News
July 24, 2019
Ford Motor Co. is planning to invest another $50 million in its Chicago operations to fund the new models of its profit-rich Explorer SUVs.
The automaker plans to spend the additional money and convert 450 temporary employees from its Chicago Assembly and Chicago Stamping plants to full-time employees at a new supplemental facility less than a mile away from those plants, Joe Hinrichs, Ford president of automotive, told The Detroit News Monday.
The move comes as the Dearborn automaker is in the beginning stages of national contract talks with the United Auto Workers. Among the union's goals: reaching an understanding with Ford that would result in converting more temporary workers to full-time, dues-paying members.
Ford's plan would transform a 200,000-square-foot Ford "modification center" into a "mini line" that would handle final assembly of the hybrid variants of the Ford Explorer and Lincoln Aviator, as well as the hybrid police interceptor SUV. It would allow the main lines in Chicago to crank out more internal combustion engine models of those products, add capacity for the niche models, and help the automaker meet demand for the highly-profitable vehicles.
"We're seeing strong demand for the product and we want to get them to consumers faster," Hinrichs said. "We have demand for more volume for the product."
The redesigned models, sporting a new sleek, tapered design, move to a new rear-wheel-drive platform expected to give the SUVs better performance. While the Aviator is returning to the Lincoln lineup for the first time in years, the Explorer has consistently been a best-selling vehicle and iconic nameplate for Ford.
Getting the more new models to dealer lots would allow the automaker to grab higher-margin sales quickly as sales slow after record years in the U.S. Added Hinrichs: "These are really very important products for us."
Ford expects to finish the mini line conversion in the fourth quarter of this year. The automaker plans to hire temporary workers at the other Chicago facilities to replace those hired for full-time work at the new line.
The investment announced Monday supplements the $1 billion announced for Chicago earlier this year. That investment was planned as part of the 2015 contract negotiations with the UAW. As part of the 2015 contract, Ford said it would invest $900 million at Chicago Assembly.
The automaker plans to add 500 jobs at its Chicago Assembly plant and Chicago Stamping plant to build the all-new Ford Explorer, the all-new Police Interceptor Utility and the all-new Lincoln Aviator. The Explorer and Aviator will have hybrid variants, and the Explorer will be offered in an ST performance trim.
Ford's Chicago Assembly plant began making vehicles in 1924, when Ford built the Model T there.
F-150 added to
class-action lawsuit
over Ford mpg ratings

Keith Laing,
The Detroit News
July 23, 2019
The top-selling Ford F-150 pickup has been added to a class-action lawsuit that alleges Ford Motor Co. misrepresented the fuel economy of its pickup trucks and deceptively advertised the trucks' fuel efficiency.
The lawsuit seeks $1.2 billion in damages for the alleged fuel economy fraud. Originally focused on the 2019 Ford Ranger, the suit was initially filed less than two weeks after Ford disclosed in a regulatory filing with the Securities and Exchange Commission that the Department of Justice had opened a criminal investigation into Ford's emissions certifications processes.
The suit has now been expanded to include the 2018-2019 F-150 series trucks. Litigants say it could later be expanded to "likely also include other Ford vehicles."
A Ford representative said the automaker had not yet seen the complaint.
"... We typically don't comment on pending litigation," said T.R. Reid, director of corporate and public policy communications at Ford. "However, based on reports, this appears to be similar to two other recent filings by the same law firm in the same court. In any case, it's important to not confuse claims with merit."
In February, Ford said it had opened an internal investigation to check whether faulty computer modeling had caused the automaker to misstate fuel economy estimates for some vehicles.
Ford's fuel economy promises are all smoke and mirrors," Steve Berman, managing partner of Hagens Berman, one of the firms that filed the lawsuit, said in a statement."Ford's lies about the F-150 are masking the truth: consumers are paying far more for these trucks than meets the eye. Over the lifetime of the vehicle, we believe F-150 owners are paying more than $2,000 more for fuel because of Ford's sham."
Ford notified the Environmental Protection Agency in February that it had hired an outside firm to investigate the vehicle "road load" specifications used in the company's testing and applications for emissions and fuel economy standards. The automaker said then that the investigation had determined the company did not use any "defeat devices" on its vehicles to fool emissions tests.
Road load is essentially the force put on a vehicle while driving at a constant speed over a level surface. A lighter load in the mathematical equation could result in better fuel economy than stated.
The automaker said in February that the investigation is first looking at the 2019 Ranger, which currently boasts a best-in-class EPA-estimated 23-miles-per-gallon combined fuel economy.
Ford has had problems with emission testing before. The Dearborn company was forced to lower the fuel economy ratings of six models and pay compensation to drivers in 2014.
Hagens Berman was the first firm in the U.S. to file suit against Volkswagen AG for its diesel emissions-cheating scandal.
The attorneys allege violations of trade practices throughout the U.S., a breach of express warranty, fraud, negligent misrepresentation and unjust enrichment as a result of the allegations. They're requesting financial relief for the class, and a jury trial if applicable.
Emissions-tests cheating has been an issue for large automakers in recent years, most notably Volkswagen AG. Last May, former Volkswagen AG CEO Martin Winterkorn was indicted on federal conspiracy charges to defraud the United States, to commit wire fraud and to violate the Clean Air Act for his alleged role in "Dieselgate."
Volkswagen admitted to cheating U.S. diesel emissions tests by using defeat devices. Those devices caused pollution-control systems to work properly when being tested on dynamometers, but turned off those systems on the open road.
In January, Fiat Chrysler Automobiles was required to pay about $800 million to settle allegations from federal regulators that the company used software on about 104,000 diesel-powered pickups and SUVs that's similar to "defeat devices" used by VW to cheat U.S. emissions-testing.
The federal government said then the stiff penalties were intended as a warning to other "bad actors" that might be tempted to violate laws protecting the environment and health. Fiat Chrysler was not required to admit wrongdoing as part of the settlement.
Ford response to Detroit
Free Press articles on
DPS6 transmission
At Ford, we have no higher priority than earning and keeping the trust of our customers and assuring they are safe
Automotive World
July 21, 2019
At Ford, we have no higher priority than earning and keeping the trust of our customers and assuring they are safe. That is why we are deeply concerned consumers may be confused or fearful as a result of recent reporting in the Detroit Free Press about the development and introduction of Ford's DPS6 transmission nearly a decade ago.
That reporting includes conclusions that are not based in fact, which risks misleading customers about the safety and dependability of their vehicles.
This is too important for such misunderstanding to take hold. Consumers deserve to be told that vehicles with the DPS6 have proven to be safe, after billions of miles on the road since Ford introduced them in good faith. Indeed, automobiles with current versions of the transmission rank highly in performance and reliability, based on warranty statistics.
Here is what Ford believes consumers need to know:
The DPS6 was an all-new transmission made by a company named Getrag and introduced in 2011 and 2012 on Fiesta and Focus models. It was designed to improve the fuel economy of those vehicles.
In the development process, the DPS6 successfully completed extensive pre-launch study, testing and refinement. This process is universally applied at Ford. Vehicles are not launched until they reach key development milestones.
As we acknowledged years ago and have determinedly addressed, two distinct quality issues related to this transmission emerged after it was launched:
A degree of vibration, or shudder, when the all-new automatic transmission operated at low speed. Similar to what is experienced with a manual transmission, the vibration was effectively a tradeoff for the higher level of fuel efficiency. Durability and safety were not compromised. We underestimated its effect on customer satisfaction, as well as the complexity and time required to remedy the issue and optimize performance.
On a much smaller scale, a potential for the transmission to default to neutral – while still maintaining full power steering and braking – developed only after several years of real-world use of these vehicles. In 2014, the source was traced to a faulty control module. Contrary to an assertion by the Free Press, conversations inside Ford in 2008 had nothing to do with a matter that did not exist until years later.
The Free Press included allegations about accidents and injuries purportedly caused by the DPS6 transmission, including instances of "sudden…acceleration." We have not seen that occur with the DPS6 and are not aware of evidence that would validate cause-and-effect in these cases.
Ford has been persistent in addressing these quality problems. We have gone to great lengths investigating the issues, alerting dealers and consumers, recommending and making repairs, and extending warranties. Resolving the problems took longer than we expected. We regret the frustration and inconvenience this has caused.
Unfortunately, reporting by the Free Press has needlessly added to consumer frustration and generated unwarranted concern. The newspaper has relied on documents that have been publicly available for a year, many of them shopped to reporters by attorneys attempting to call new attention to an old topic. Ford could have helped avoid numerous factual errors like the ones above. However, the Free Press declined an invitation to meet with our engineering experts – and go over facts in detail – prior to publishing these stories.
Ford continues to stand behind the affected vehicles today, including providing owners involved in a class action an option to resolve their claims sooner through voluntary arbitration, following the guidelines of the pending class settlement. Across our global business, we remain diligent and accountable in developing products and services that best meet the needs and interests of consumers.
200 jobs on the chopping
block at Ford's Oakville
plant, starting in September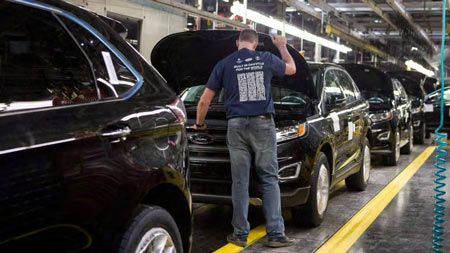 Province says it's 'disappointed' with decision; union says further layoffs possible in January 2020
CBC News
July 21, 2019
Ford Motor Company's Oakville plant is set to shed about 200 jobs beginning in September, the company says.
In a statement, the company says the changes are the result of a "long-standing practice of matching production with consumer demand."
"We are changing from tag relief to mass relief in final assembly, which means the line will now stop during breaks. We are also eliminating one shift in paint, bringing that area of the plant to two shifts, affecting approximately 200 jobs. The layoffs will begin in September," the statement reads.
In a message to members, Unifor Local 707 president Dave Thomas says he was called to the plant manager's office on July 17 to discuss changes to upcoming scheduling and various restructuring measures. Thomas says employees could see further layoffs in January 2020.
"We have been arguing as a Local for the past several weeks trying to persuade the company from somehow avoiding this scenario but to no avail. As always, it's based on a business decision and it all comes down to dollars and cents," Thomas's letter said.
Province 'disappointed' with decision
A statement from the spokesperson for Minister of Economic Development, Job Creation and Trade Vic Fedeli says the province was "disappointed to learn of Ford's decision."
"We want the employees in Oakville to know that our government stands with them and their families. We will work with our partners to continue to fight for good jobs in Oakville and support the affected families," Robert Gibson said.
The statement goes on to say the Ministry of Training, Colleges and Universities has also been in contact with the Ford company, offering support to the affected workers."Ford informed the Ministry they have made arrangements to provide support and do not require any additional help from Employment Ontario," it said.
Opposition leader Andrea Horwath also issued a statement calling out government "inaction" in the face of the layoffs.
"Our thoughts are with the ... workers, and their families, at the Ford Oakville Assembly Plant who will be hurt by layoffs. Unfortunately, they've been let down by Doug Ford, just as he let down workers at GM Oshawa and Bombardier in Thunder Bay," Horwath said.
"Once again Mr. Ford is sitting on his hands instead of fighting to protect good auto sector and manufacturing jobs," the statement continued.
The move is just the latest blow to the automotive production sector in Ontario, coming just months after the sudden announcement that General Motors will stop making cars in Oshawa, Ont., which sent shock waves through the industry last November.
Ontario government writes off $445M loan to Chrysler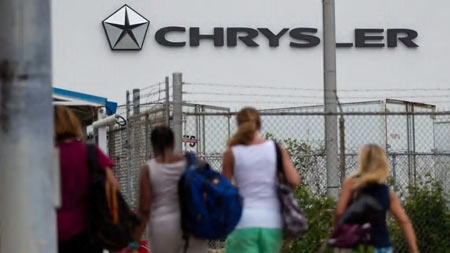 CBC News
July 18, 2019
The Ontario government has written off a $445-million loan to automotive manufacturer Chrysler, saying it has "no legal recourse" to collect it.
The $445-million figure was part of a loan issued by the governments of Canada and Ontario in 2009 to bail out the then-struggling corporation, which had filed for Chapter 11 bankruptcy in the U.S. in the wake of the world economic crisis.
The company was eventually bought out by Italian automotive manufacturer Fiat, leading to the creation of the Fiat Chrysler Automobiles (FCA) holding company in 2014. FCA says it has repaid all its original loans.
Emily Hogeveen, a spokesperson for Ontario Finance Minister Rod Phillips, explained the federal government wrote off their portion of the loan in March 2018.
"Given the structure of the loan, once the federal government made the decision to write off their portion, there was no legal recourse for Ontario to further recover funds," she wrote in an email.
Hogeveen added the Ontario government wrote off their portion of the loan "consistent with the auditor general's best practices."
"This decision has no impact on our fiscal plan, as this debt was accounted for in the years following non-payment," said Hogeveen.
Lou Ann Gosselin, head of communication for FCA Canada, said the current iteration of the company doesn't have any remaining outstanding debts as a result of the original loans.
"In 2009, federal and provincial government bridge loans were offered to help the Company restructure," wrote Gosselin in an email. "In 2011, FCA Canada repaid all outstanding government loans that were due in full, with interest, six years ahead of schedule."
The Chrysler loan write-off brings the province's total write-offs for the fiscal year ending March 31, 2019 up to $607 million.
"It's usually around $150 to $200 million and that's for things like uncollectible student loans and corporate bankruptcies — things that the province just can't pursue," she said.
"Typically the number is way lower than the $607 million. It's obviously way up because of the Chrysler piece, but the $607 million refers to the overall amount of funding that the province wrote off in total last year."
FCA, GM warn their futures
are at stake ahead of UAW talks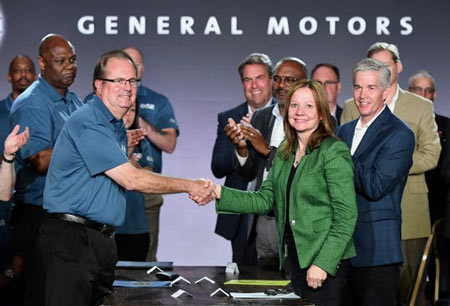 Breana Noble,
The Detroit News
July 17, 2019
There was no hug this year, as leaders of Fiat Chrysler Automobiles and the United Auto Workers leaders kept their distance Tuesday beyond a handshake to start contract talks.
Mark Stewart, chief operating officer for FCA in North America, followed General Motors Co. CEO Mary Barra on Tuesday in laying out the realities of the auto industry's future as the union calls for a greater piece of the record profits that the Detroit Three have made since workers ratified the current contract in 2015. The executives emphasized the pressures the carmakers are under as they lay the foundation for developing autonomous and electric vehicles.
"I want to make this crystal, crystal clear," Stewart said Tuesday at the Italian-American automaker's North American headquarters in Auburn Hills. "Our operational flexibility, the flexibility of our competitive cost structure we created together are needed to continue to fund these investments with electrification and the future of all of our company."
The FCA and GM handshakes followed Monday's contract negotiation kickoff for the Detroit Three Monday at Ford Motor Co.
When the current contracts expire after 11:59 p.m. Sept. 14, automakers will want agreements to contain spending over the next few years in anticipation of a decline in the industry. The UAW, meanwhile, will be looking to secure its members' jobs and to see the automakers' recent profits reflected in workers' paychecks after laborers took benefits cuts and taxpayers bailed Chrysler and GM from Chapter 11 bankruptcy in 2009.
"We invested in you, now it's your turn to invest in us," UAW President Gary Jones said Tuesday in Detroit to a standing ovation from dozens of union members. "In other words, the United States of America taxpayers invested in you, now it's your turn to invest in them."
Rallying cries of "UAW! UAW!" echoed in the Renaissance Center ahead of the official start of contract talks with GM. But Barra took to the stage to warn that "our collective future is at stake."
"While this industry has always been competitive, we must admit, it's only getting more so," Barra said before offering the ceremonial opening handshake. "More than ever, we must be agile, decisive and disciplined. We must be proactive on all fronts because we are not here merely to survive. We are here to lead it and to win. To build a stronger future, we need to win, we must deliver vehicles customers want today to earn a chance to compete tomorrow, invest in the talent and technologies of tomorrow to win as our industry changes, and create financial flexibility to protect ourselves from the threats today and capitalize on tomorrow's opportunities."
Four years after the last round of bargaining, expensive investments into electric and autonomous vehicles, and uncertainty around environmental and trade regulations make for a complex negotiating background.
The automakers recently have announced major investments into future technology. FCA is building a new assembly plant in Detroit for plug-in hybrid Jeeps. GM in March said it would spend $300 million for a new electric vehicle in its Orion facility.
"What's at stake and the opportunity for whoever gets it right is absolutely huge," Barra said. "It represents growth, and that means jobs."
Autoworkers say they are concerned with job stability and what future technology means for their jobs. Experts say the UAW will be disinclined to buckle on issues like health-care costs, wage increases, temporary employees and future product allocation. And that could lead to strikes — a possibility for which the union has prepared by increasing strike pay.
Taking center stage in Detroit on Tuesday was GM's move to correct its own capacity issues by pulling products from four U.S. plants, including Detroit-Hamtramck Assembly and Warren Transmission. Experts say those plans announced in November make GM a strike target and make for a particularly prickly negotiating period as the union tries to prevent the automaker from permanently closing any plant. In May, the automaker announced plans to sell its Lordstown Assembly plant in Ohio to electric-vehicle start-up Workhorse.
The UAW also is suing GM for its plans to "unallocate" Lordstown, Warren Transmission and Baltimore Operations before the current contract expires. The Detroit-Hamtramck plant is not included in the lawsuit because its production was extended through January 2020, after the current contract expires. Union leaders, who balked at the announcement by GM and Workhorse, are expected to demand a new vehicle for Lordstown during contract negotiations this fall.
"General Motors has the fastest-shrinking footprint in America," Jones said. "We will leave no stone unturned. You put us on the block, our location on the block, we will fight to keep these plants open and allocate products here on American soil."
Meanwhile, an ongoing federal investigation into whether the FCA-UAW negotiations in 2015 were corrupted during a years-long conspiracy looms over the bargaining table. The scandal has led to eight convictions, including former FCA Vice President Alphons Iacobelli. The investigation may lead the union to put up a tough front, especially since FCA and the union reached a deal first in the last round of negotiations in 2015 even after union workers rejected a first agreement. An impromptu hug between the late former FCA CEO Sergio Marchionne and former UAW President Dennis Williams during the handshake ceremony in 2015 drew criticism from the rank and file at the time.
"I think it's been overplayed, quite frankly, and I think our membership knows that those contracts passed last time," UAW spokesman Brian Rothenberg said Monday. "I think the president of the UAW represents members that are going to vote on a contract, and I think that tone is set by the membership."
The UAW's Jones on Tuesday echoed statements from Monday that the UAW would work to fight against companies paying lower wages in the United States, Mexico, China and elsewhere, protect temporary employees and shorten the eight-year timeline negotiated in 2015 to bring workers hired on or after Oct. 29, 2007, to the top of the pay scale. He added that representatives would look to ensure its 156,000 members have the training, tools and safe environment to keep up with the industry's advancements.
The UAW is expected to angle for wage increases in place of profit-sharing or lump sums dependent on profits that automakers prefer because those costs do not compound on themselves. Carmakers also are expected to focus on reducing health care costs, adding more temporary workers to the lines and prepping plants for EVs and self-driving cars.
Average hourly labor costs for foreign carmakers building vehicles in the U.S. are estimated to be $50 per hour compared to GM's $63, FCA's $55 and Ford's $61, according to the Center for Automotive Research.
"As we look to the future, we must remember as well how far we've come since the bankruptcy in 2009," FCA's Stewart said. "We cannot, we will not repeat those actions that put us in those dangerous financial positions. We cannot return to our old ways of doing business or we're risking the same results. We need to learn from the past."
Unifor praises UAW's 'nice
and aggressive' start to
contract talks with Detroit 3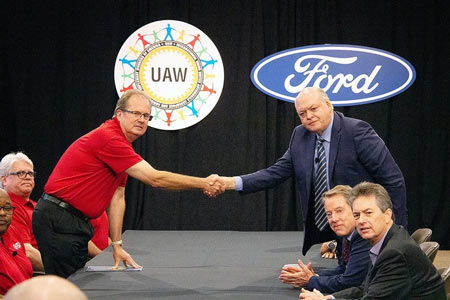 Tom Krisher
The Canadian Press
July 16, 2019
DEARBORN, Mich. — Contract talks between the United Auto Workers in the United Sates and Detroit's three automakers kicked off with the union president departing from the traditionally friendly tone by telling Ford executives that workers want a bigger share of the companies' record profits. And Unifor President Jerry Dias, who represents thousands of autoworkers in Canada, approves of the tactic.
While Ford executives talked often about working together at a ceremony Monday, UAW President Gary Jones emphasized that he wants to end concessions and the companies outsourcing jobs to countries with lower-cost labour.
"We will protect our work, our jobs and our way of life," Jones said. "We expect an agreement that recognizes our contributions."
Bargaining over new four-year contracts between the Detroit automakers and the union representing 142,000 workers nationwide started Monday with a ceremonial handshake at Ford's Dearborn, Mich., headquarters.
The two sides have been at relative peace during recent good times, but that could change as auto sales and profits begin to slow, health care costs rise and a labour cost gap widens with workers at foreign-owned assembly plants in the South.
Bill Dirksen, Ford's chief negotiator, tried to return to a more co-operative tone Monday, noting that there will be differences between the company and union.
"It's up to us to figure out those solutions, and I think we can do it."
Talks with General Motors and Fiat Chrysler will begin on Tuesday. The union's four-year contract with all three expires at 11:59 p.m. Sept. 14.
Meanwhile, contract talks between the same three automakers and Unifor are more than a year away in Canada, but Dias said he'll be keeping close watch over talks south of the border.
"Our ambitions are the exact same [as the UAW's]. I'm glad to see they're coming out nice and aggressive, as they should," Dias told Automotive News Canada. "The Detroit 3 is printing money, and we absolutely deserve a bigger piece of the pie.
"Ultimately, I find the Detroit Three close our plants and it's all about profits. There's not loyalty from the companies. We're not rewarded with job security. So it's best for us to extract the most for our members at this time."
General Motors will cease auto assembly at its Oshawa, Ont., plant at the end of the year and FCA says it will cut an entire shift at its Windsor, Ont., minivan plant in October.
Here are some key things to know heading into the negotiations between the UAW and the Detroit Three:
COULD THE UNION GO ON STRIKE?
Yes. At a bargaining convention in March, Jones told delegates that the union is raising strike pay and said it would walk out if necessary. The UAW also has been opposed to GM's plans to close the factories, including large assembly plants in the Detroit area and in Lordstown, Ohio, near Cleveland. On Monday Jones said members will do "whatever is necessary" to get a contract they deserve. A strike is unlikely before the contracts expire at 11:59 p.m. Sept. 14.
WHAT HAPPENS IF THERE IS A STRIKE?
It depends on how long it lasts and how widespread it is, but a targeted company would quickly run out of parts and couldn't build vehicles. Consumers would see fewer cars and trucks on dealer lots, and they wouldn't be able to special order vehicles. Companies and workers would lose money. The last time UAW workers walked out of auto plants was in 2007 in a short strike against GM.
WHAT ARE THE ISSUES?
Companies are looking to trim hourly labour costs, which have grown when compared with Southern U.S. factories run by Toyota, Nissan, Hyundai-Kia, Volkswagen and others. Fiat Chrysler pays about $55 per hour in wages and benefits to UAW workers, while it's $61 at Ford and $63 at GM. That compares with an average of $50 per hour at plants owned by foreign-based automakers, according to the Center for Automotive Research, an industry think-tank . Automakers want costs to be closer to their competitors so they don't have to charge higher prices or reduce profits like they did before the Great Recession. "We have to stay competitive because consumers ultimately are going to be the ones who decide who wins and loses," said Ford President Joe Hinrichs. Higher labour costs were among the reasons GM and Fiat Chrysler needed government bailouts and bankruptcy protection in 2009. UAW-represented workers make about $30 per hour in wages alone. Also health care costs are growing, and UAW workers pay only about 5% of the cost. Salaried workers pay about 30%. Automakers would like UAW workers to help reduce costs.
Still, the Detroit Three keep making big money. Together they posted over $15 billion in net profits last year. Workers also would like to shift more of their pay from profit sharing, which can fall in a downturn, to hourly raises. This year GM workers got $10,750 profit-sharing checks for 2018, while Ford workers got $7,600 and FCA union members got $6,000. Then there are the GM plant closures in Michigan, Ohio and Maryland. The union wants new products for the factories, which employed thousands of workers. Most will get jobs at other GM plants, but will have to move to do so. "I'm still holding out hope that GM will put a product in there," said Dave Green, president of a UAW local at the now-closed Lordstown plant, which made the Chevrolet Cruze compact car. Lordstown has become an issue in the 2020 election because President Donald Trump pledged to bring manufacturing jobs back to northern Ohio. GM has a tentative deal to sell the plant, but workers are skeptical.
BOTH SIDES SEEM FAR APART. IS IT POSSIBLE TO SETTLE WITHOUT A STRIKE?
Yes. Companies could make guarantees of new vehicles and jobs in exchange for concessions. Automakers also are likely to seek more use of temporary workers to reduce costs to fund pay raises. Health insurance may be a thornier issue. "Health care is kind of the third rail of bargaining," said Kristin Dziczek, vice-president of industry and labour at the Center for Automotive Research. "People like what they have and they like not having to pay very much for it," she said. Automakers and the union have jointly studied reducing costs with wellness programs or by bulk-buying common surgical procedures at top-notch medical centres, Dziczek said. Workers would have to travel, but they'd get world-class care, she said.
Ford in green groups' cross-hairs
as mpg debate heats up
Keith Laing,
The Detroit News
July 15, 2019
Washington — When critics of President Donald Trump's effort to roll back stringent Obama-era gas-mileage rules are looking for an automaker to single out, they frequently target Ford Motor Co.
As the Trump administration has pushed to freeze mpg rules at 2020 levels until 2026, Ford has repeatedly been called out in Washington by environmental groups like the Sierra Club, Safe Climate Campaign, Public Citizen and Interfaith Power & Light. They say Ford has paid lip service to believing in the importance of improving the fuel economy of its cars, but has lobbied behind the scenes to relax the rules.
In particular, they cite comments made by former Ford CEO Mark Fields in a 2017 meeting with the newly elected president in which Fields said the Obama-era fuel rules would cost the nation 1 million jobs. Fields has since been replaced by Jim Hackett, but the vitriol between Ford and environmentalists has continued unabated, while General Motors Co. and Fiat Chrysler Automobiles have largely been given a pass.
Andrew Linhardt, deputy advocacy director of the Sierra Club's Clean Transportation for All Campaign, said Ford "took the lead" in pressuring the Trump administration in its early days to re-examine mileage standards for model years 2022-25.
"I don't know what they thought would happen, but we all could have told them what would happen," Linhardt said. "They haven't backed away from (former CEO) Mark Fields saying it would cost 1 million jobs. They've moderated their tone some, but they keep talking about flexibilities."
Ford has said it plans to invest $11.5 billion over the next several years, with 16 fully electric vehicles in its global lineup by 2022. Paired with new hybrids expected in the same time frame, the carmaker is targeting 40 hybrid or battery-powered vehicles by 2022.
And on Friday, Ford and autonomous-driving software company Argo AI announced a tie-up with Volkswagen AG that would in part give Ford the right to use VW's electric-vehicle platform to build a high-volume EV for Europe. Ford said it plans to build more than 600,000 of those vehicles over six years starting in 2023.
Ford says it has urged the Trump administration to compromise with California in a fight over the gas-mileage rules that appears to be headed to the courts. The Dearborn automaker also says it supports annual increases in fuel economy that are achievable based on consumer demand, and it wants one set of mpg rules for the whole country.
John Cangany, Ford's corporate social responsibility communications manager, said the argument from environmental groups that the automaker is leading the charge against increased fuel economy is a "mischaracterization."
"We continue to support U.S. clean-car standards that increase each year, and we have been urging the administration to work with California to preserve and extend one national program," he said. "We believe that global climate change is real, and we are committed to reducing emissions from our vehicles and our factories."
Cangany said Ford has "a long-term vision for reducing CO2 by following our 2-degree CO2 stabilization glide path and delivering on CO2 reductions consistent with the Paris Climate Accord.
"We already have charted a course for our future that includes investing more than $11 billion to put hybrid and fully electric vehicle models on the road by 2022," he said.
That is not enough to mollify critics who question whether the Dearborn automaker is fully committed to sustainability.
This month, a group of faith-based organizations delivered to Ford's Dearborn headquarters a petition signed by more than 4,000 people in an effort to "denounce the automaker's lobbying of the Trump administration's proposed rollback of fuel economy and greenhouse gas emissions standards."
Leah Wiste, executive director of Michigan Interfaith Power & Light, said volunteers who delivered the petition were met by security guards.
"Not only did we not get to meet with someone, but we were turned away, and this was a group of clergy and a mom with young children who were coming to express their concern for the environment."
Bill Bradlee, national organizing director for the group, noted that Ford was among 17 automakers who signed a letter calling for the Trump administration to reach a deal with California on mpg rules, but he said the statement is "confusing" to the public because Ford and other automakers have pushed for more flexibility in emissions.
"It gave the impression they don't support a rollback, but they support a weakening of the standard," he said.
Michelle Krebs, senior analyst for Autotrader, said the mpg debate has not resonated with car buyers, noting that gas is cheaper than initially projected when the Obama-era regulations were finalized in 2012.
"Our data based on consumer surveys shows fuel economy, with today's relatively low gas prices, does not rank at the top of consumers' list of priorities," she said. "It varies by segment, but I don't think it is in the top 3. Reliability or quality is always first. Affordability and safety are up there."
Krebs said fuel economy ranked sixth among non-luxury brand car buyers in Kelley Blue Book's 2019 first quarter Brand Watch, behind durability and reliability, safety, affordability, driving comfort and driving performance. Fuel economy was important to 48% of buyers in purchase decisions, compared to 84% for durability and reliability, and 71% for safety.
The Sierra Club's Lindhardt said he is taking a wait-and-see approach to Ford's latest announcement of the partnership on electric and self-driving cars with Volkswagen. "These can all be good things, we need to see what actually gets developed and brought to market," he said.
He admits part of the reason Ford has been singled out is because it represents a big target.
"We certainly got a lot of attention from them being our target," he said. "We want them to succeed, I want to make that clear. But the path forward is sustainability."
Incentives continue to
shrink as automakers
scramble to maintain profit
Automotive News
Dana Flavelle
July 14, 2019

Automakers are pulling back on vehicle incentive programs as sales slow, choosing instead to concentrate on maintaining profitability rather than chasing market share, industry research indicates.
In Canada, the average manufacturers' incentive per vehicle was $5,000 in June, down from $6,400 in June 2018, according to J.D. Power data.
"That is a big drop, for one month, but it is consistent with the overall trend we see in incentive spending: its declining," said Robert Karwel, senior manager J.D. Power's automotive practice in Canada.
The average incentive in May was $5,200, down from $6,400 in May 2018.
"It's a shift in strategy from going for market share," Karwel said. "The automakers are saying, 'We know we're going to sell less this year so let's ensure we maintain good profitability.'"
While that might see counterintuitive — in many falling markets, consumers expect to see more discounts, not fewer — automakers are choosing to cut production to match low demand, Karwel said.
Incentive spending climbed between 2012 and 2017 and peaked in 2018 at about $10 billion, he said. Automakers cutback due to slowing sales, higher interest rates, and a falling Canadian dollar, Karwel added. This year, total incentive spending is expected to be closer to $8 billion, he said.
Few automakers were willing to comment on their incentive spending, citing competitive concerns.
Not all brands have cut incentive spending equally, said dealer adviser Michael Lewicki of Lewicki Automotive Consulting Ltd. He said that incentive spending by the Japanbased automakers remains firm, while some European luxury brands and Fiat Chrysler Automobiles have reduced their discounts.
Cyril Dimitris, vice-president of sales and marketing at Toyota Canada Inc. said, "We develop our sales plan considering the demand in the marketplace and where we are in our product life cycle, and then put incentives as necessary to achieve that plan.
"We happen to currently be in a refreshed state of our core product — RAV4 and Corolla — that is naturally driving demand."
Hyundai Canada, Ford, General Motors, Volkswagen Canada, Nissan Canada and Honda Canada declined to comment. FCA Canada referred to CEO Mike Manley's comments in January, saying the company has focused on improving financial performance by bolstering pricing through the introduction of new vehicles.
When auto sales were reaching their peak at 2.04 million units in 2017, automakers ramped up incentive spending in a bid to grab greater market share, Karwel said.
"The retail environment was healthy," he said. "In an expanding market, you can try to achieve those lofty sales goals."
Most incentives, Karwel said, fall into three categories: Cash rebates; discounted interest rates; or favourable leasing terms.
But with sales expected to fall to 1.9 million units this year, according to Scotiabank's Global Auto Report, automakers have been switching gears to protect their profit margins.
The fastest way to do that is to pull back incentives, said Brian Murphy, vice-president of research at Canadian Black Book.
"Incentives are a big part of the manufacturers' budgets. The nice thing about them is they can turn them off and on at will."
For dealers, any slowdown in sales is cause for concern, Karwel said. But profitability remains strong as consumers continue to opt for bigger, more luxurious vehicles.
"Every time you talk to dealers about less volume, they're going to be concerned," Karwel said. "But the sky isn't on fire here. People love their SUVs, and the Bank of Canada just said interest rates are not going to change for the rest of the year. That means Canadians are not going to change their purchasing habits."
The fastest-growing segment of the market is vehicles that sell for $40,000 or more, Karwel said, driven by low interest rates and longer-term loans that make monthly payments more affordable.
"I would be more concerned with consumers walking in paying cash, because that is a growing trend this year, and it inhibits dealer profit potential from arranging the financing," Karwel said.
Dealers can offset some of the impact of lower manufacturers' incentives by cutting gross margins, taking less profit on each sale in the hope they will make it up in higher volume, Karwel said.
In addition, they can try to boost their overall volume of business by offering more used cars for sale.
"Yes, we're in a falling market, but new-vehicle deliveries are still phenomenally high," said dealer adviser Lewicki. "Many dealers are still making a good buck in this market."
Ford, VW prepare powerhouse
alliance on autonomous,
electric vehicles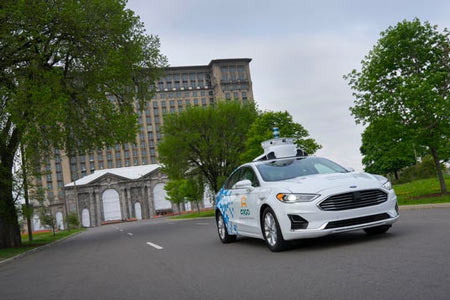 Ian Thibodeau,
The Detroit News
July 11, 2019
Ford Motor Co. and autonomous-driving software company Argo AI are nearing agreements with Volkswagen AG to partner on electric and self-driving vehicles that would bind two of the world's largest automakers in a transatlantic alliance on two of the most expensive pieces of a rapidly changing global auto industry.
The proposed alliance would also tie VW to Argo as the Pittsburgh-based start-up company's second investor and the second company to use its software to deploy self-driving vehicles. Argo would be able to test and launch in Europe through VW.
If approved by Ford's board this week and Volkswagen's board Thursday, the companies are expected to officially announce the new partnership details Friday. The deal could create one of the largest and most robust alliances on electric and autonomous vehicles seen yet from major automakers; Ford and Volkswagen sold roughly a combined 17 million vehicles globally last year, roughly 21% of the market.
"Both companies get scale, both get savings," said Sam Abuelsamid, an automotive technology analyst for Navigant Research, adding that the partnership indicated VW saw progress in Argo that it likely didn't see in other companies. "If you can start to combine some of that cost and share some of that technology, you can get more volume out of fewer platforms. You have the potential to save an enormous amount of money in development costs."
Two sources with knowledge of the deal said the companies have negotiated for VW to share its MEB electric-vehicle platform with Ford.Meanwhile, VW would get access to Argo's self-driving software and the data and learning Ford and Argo have gathered to-date, along with a minority stake in the start-up, and a seat on Argo's board. Ford currently has a majority stake in Argo and two seats on the board.
Argo would absorb VW's Munich-based Autonomous Intelligent Driving team, called AID, which has acted as an urban autonomous-driving technology supplier for the Volkswagen Group, sources said. Collaboration there would effectively create a new autonomous vehicle powerhouse as Ford, Argo and VW share data, expertise and geographic reach as the auto companies ready to deploy their first autonomous vehicles.
VW had been partnered with self-driving startup company Aurora until June. If VW's board approves the new partnership, the automaker would use Argo's technology to deploy its own self-driving vehicles, the first of which are likely to launch in Europe, two sources said.
The move would be a boon for Argo, a company hardly anyone had heard of when it got its first major investment from Ford in early 2017. The deal with Ford and VW would give those automakers minority stakes in the company, with VW getting a seat on Argo's board.
Not only would the partnership spread costs for Ford and VW, it also proves that Argo and Ford, companies relatively quiet in the ongoing autonomous vehicle race, are building something other companies want to be a part of, according to Abuelsamid.
"VW probably decided that Argo was further along toward a production-ready system than Aurora is," he said. "I'm sure VW has taken a close look at all of them, and they've probably decided that Argo has something that is really strong and is moving in the right direction."
VW spokesman Peik von Bestenbostel told The Detroit News that VW doesn't make the agenda of its board meetings public but "generally the cooperation with Ford is on the cooperate agenda in these days."
Ford spokeswoman Jennifer Flake said, "Our talks with Volkswagen continue. Discussions have been productive across a number of areas. We'll share updates as details become more firm."
Argo officials declined to comment on the pending deal.
The automakers began broad partnership discussions in early 2018 that evolved into sharing more future-oriented technology like electric and autonomous vehicles. The companies announced in January plans to partner outside of North American on commercial trucks and vans.
Ford CEO Jim Hackett said then in a note to employees that the alliance would not involve cross-ownership, and that VW and Ford would continue to function as two separate companies. Ford officials have stressed for more than a year that the automakers would not merge.
The automakers plan to share investments on the commercial truck and van platforms. They would be marketed under either the Ford or VW badge depending on the region in which they are sold, Jim Farley, Ford president of global markets, said in January.
Argo and Ford have yet to deploy anything more than test vehicles in several U.S. cities where Argo tests Ford Fusion Hybrid vehicles. The companies are targeting a 2021 launch for the first iteration of their autonomous vehicles. The vehicles VW would develop with Argo would likely launch after Ford's, one source said.
The two automakers would have separate autonomous-vehicle businesses under the deal if approved Thursday, three sources said. Those businesses would have unique go-to-market strategies, but both would use Argo's software. Although they would share Argo's technology and likely VW's EV architecture, Ford and VW don't plan to share revenue generated by the separate businesses.
Ford would likely use Volkswagen's EV platform in its European business, where it plans to lean on the Transit commercial vehicle to boost profits there. Ted Cannis, Ford's head of electrification, told The Detroit News recently that electrifying the Transit line in Europe is a big goal for the Dearborn automaker.
The move would help Ford comply with European government mandates that push electrified vehicles and strict emissions standards. Ford would likely used VW's EV platform to supplement its other electrification efforts, including a forthcoming electric F-150, and an all-new speedy crossover debuting later this year.
Hackett and other automotive industry executives have said recently that big companies will need to partner and share costs in order to be successful in a changing industry faced with plateauing or declining sales, bigger expenses and hefty bets on technology like electrification that consumers around the world aren't willing to buy just yet.
The pending partnership could show how automakers can partner to share commodities like autonomous-vehicle software, or the battery technology that underpins an electric vehicle, yet still offer products that look different or offer different capabilities.
"It may be that Ford is kind of spreading its bets across a couple of options to give them more flexibility," Abuelsamid said. "My guess is that combining some aspects of the vehicle that might not be product differentiators may be a better solution. I expect more people to go that way."
Woodbridge Foam to spend
$76M on upgrades, new
r&d center in Canada
Automotive News
Greg Layson
July 10, 2019
Woodbridge, a key supplier of automotive foam, will spend C$100 million ($76 million USD) on a modernization project and centralize its global research and development at a facility in Ontario, the company and Canadian government said in a joint announcement Tuesday.
Woodbridge Foam Corp. of Mississauga, Ont., will receive up to C$20 million ($15 million USD) from the federal government's Strategic Innovation Fund to help pay for the upgrades at facilities in the Ontario towns of Woodbridge and Blenheim. The r&d center will be located in Woodbridge, as well.
Minister of Innovation, Science and Economic Development Navdeep Bains announced the funding Tuesday morning.
The company and government said in a joint news release that the supplier "will modernize two of its plants with state-of-the-art manufacturing facilities and create a Centre of Excellence, where it will centralize its global research and development activities in advanced materials and product design of molded foam products, such as car seats and armrests."
Woodbridge says the investments will help the company better meet market demand for products and secure new business.
The upgrades and r&d center will create 110 jobs and maintain 727.
Woodbridge Foam Corp. started with a single Canadian plant in 1978. It now operates 67 facilities around the world. The company specializes in the manufacturing of foam polymers and molding for the auto industry. While its corporate headquarters is based in Mississauga, Ontario, its automotive headquarters is in Troy, Mich.
Good times promise
tough bargaining for
UAW, automakers
Daniel Howes,
The Detroit News
July 8, 2019
Not since the dark days of bankruptcy a decade ago are contract talks between the United Auto Workers and Detroit's automakers likely to be as contentious as the bargaining round beginning next week.
It's not because times are bad, but because times are good — the longest run of strong North American sales and profitability since the 1960s. Yet change is coming faster than four-year contract terms arguably can manage, an ominous sign for both automakers and union members whose overarching goals every four years are to enshrine stability and certainty.
The union is set to open talks at 10 a.m. Monday with Ford Motor Co. in Dearborn. The quadrennial "handshake" is scheduled to be followed 10 a.m. Tuesday with General Motors Co. at the Renaissance Center and at 1 p.m. Tuesday with Fiat Chrysler Automobiles NV in Auburn Hills, a process that will intensify after Labor Day as a Sept. 14 deadline looms.
"The next four years are not likely to be like the past four years," Kristen Dziczek, vice president of industry, labor and economics at the Ann Arbor-based Center for Automotive Research, said Monday. "A large portion of the workforce has not been through a downturn before. We all know bad is on the horizon."
Among the burning questions: Which plants are likely secure a vehicle to sustain jobs and profit-sharing payouts through the life of the next contract? Will future product allocation decisions favor UAW-represented plants in the States and not cheaper, if politically fraught, operations in Mexico? How will union bargainers reckon with the production implications of battery-electric vehicles or the continuing rotation toward trucks and SUVs from traditional cars?
Ask the folks who manned the assembly line at GM' s Lordstown Assembly Plant. In less than the life of their current contract, their sprawling plant in northeast Ohio went from running three shifts building the Chevrolet Cruze compact to none, effectively idled now and awaiting closure.
Ask the folks at Ford's Michigan Assembly in Wayne whose Focus-building days are over, replaced by a new Ranger pickup and, soon, a revived Bronco SUV. Ask the folks who'll be building hybrid variants of the new Jeep Grand Cherokee SUVs in Detroit, a bid by parent FCA to join the electrification push transforming the global auto industry and injecting more uncertainty into labor's future.
Oh, the cyclical economic swings that buffet and reward UAW members are still here, if muted by the current long run of prosperity, accelerating economic growth and generally rising equity markets. What's new is the increasingly real prospect of radical change driven by regulators in China and the European Union, California and a dozen or so U.S. states determined to deep-six gas and diesel engines as we know them.
Detroit and its foreign rivals should buckle up: Electric vehicles have fewer parts. They need fewer workers to assemble. And they last longer than the internal-combustion engine models that have defined the industry's first 100 years — all of which could have profound implications for union members and the communities where they live and work.
EV powertrains are mechanically simple compared to ICE powertrains," the UAW's research department wrote in a white paper last year touting what it called Strategies for a Fair EV Future. "This simplicity could erode employment in ICE engines, transmissions, exhaust systems and fuel systems, but could create employment in batteries, electric motors, electronics, thermal systems, braking systems and semiconductors."
The paper continued: Even if automakers "choose to produce EV powertrains in-house, which remains an open question, there could still be a reduction in employment at automakers. Ford has acknowledged this, telling its investors that the product simplification that comes from EVs can lead to a 50% reduction in capital investment and a 30% reduction in labor hours per unit compared to ICE production."
Who knows where we'll be less than four years out? The answer is not very many people, including those who make the big decisions. Ford CEO JIm Hackett probably put it most honestly when he recently paraphrased Einstein: people tend to overestimate how soon a seismic technological change will arrive and underestimate just how transformative that change will be.
That's proving true for both battery-electric trucks and SUVs as well as self-driving vehicles. But it doesn't mean they won't arrive, altering the way we move, what products are built where by whom and who the auto industry's competitors will be. Here's a safe bet: they won't just be the usual suspects from Germany, Japan and South Korea.
South Korea.
Into this milieu steps an 80-year UAW bargaining tradition built around incremental change and the occasional crisis-induced concession, expectation that members will get their fair share of the tens of billions in pre-tax profits GM, Ford and FCA have reaped since their climb back from the Great Recession.
The hard reality is union members will get their fair share, because if there's one thing the Detroit Three cannot claim this time around, it's poverty. Which is what promises to make this year's bargaining so dicey: it needs to address the recent past with dollars and cents even as it accounts for a future whose arrival is difficult to predict.
Equally challenging are persistent trade tensions driven by President Donald Trump and no assurance they will recede before they deliver more cost increases and undermine further sales for Detroit brands in China, the world's largest market. Yes, that's a long way from the UAW's Solidarity House, but deteriorating business conditions over there — the No. 1 market for GM and the No.2 market for Ford — don't help.
With each passing contract, the biggest constant facing labor and management is change. And none more than this year, where the challenge isn't so much ensuring survival; it's building a mechanism to survive transformation, negotiate lean years ahead and deliver a prosperous future. It won't be easy.
Mexico, U.S. try new trade fix to win over Democrats against USMCA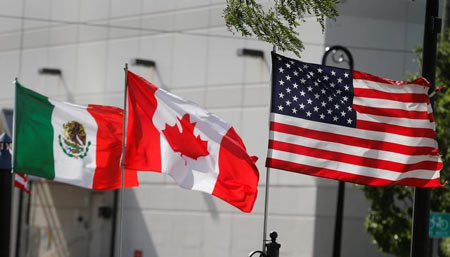 Reuters
July 8, 2019
MEXICO CITY — Mexico is working closely with U.S. Trade Representative Robert Lighthizer to close a loophole in the new North American trade deal, aimed at satisfying demands of U.S. Democratic lawmakers for tougher labour and environmental provisions, a senior Mexican official said.
The United States, Mexico and Canada signed the United States-Mexico-Canada Agreement (USMCA) last November, to replace the North American Free Trade Agreement that governs more than US$1.2 trillion of mutual trade, but implementation is subject to ratification by lawmakers in all three countries.
Mexico's deputy foreign minister for North America, Jesus Seade, said the proposal he was working on with Lighthizer was focused on closing a loophole in the trade deal's dispute resolution mechanism.
Democrats in the U.S. Congress, largely in the Democratic-controlled House of Representatives, have threatened to stall on ratification until their concerns are met. The new trade deal to replace NAFTA had come at the behest of Republican U.S. President Donald Trump.
Henry Connelly, a spokesman for House Speaker Nancy Pelosi, did not comment on the substance of negotiations. He said labour and enforcement provisions of the USMCA are a key concern of House Democrats. "The speaker continues to work with her caucus and the USTR to strengthen these critical areas of the proposed agreement," Connelly said.
Seade said as the deal now stands, the United States could start a formal trade dispute if Mexico was exporting a product made under labour conditions it considered unfair and contrary to the rules in the pact. However, he said, a loophole meant Mexico could theoretically block a dispute panel from being created.
"There is a gap in the dispute resolution system," he told Reuters in an interview on Wednesday. "We are trying to find a way to plug that gap."
Earlier this year Mexico passed a law that strengthens the rights of trade unions, partly to comply with requirements in the USMCA. Mexico's weak labour laws meant that for decades the country has had few independent unions, leading to low wages that both Trump and Democrats blame for excessive offshoring and a loss of U.S. jobs under NAFTA.
Seade said Mexico did not want to, and was not going to, re-open USMCA. Instead, he said, the gap could be closed through supplementary measures, "to make sure that if the United States government wants to initiate a panel against Mexico on labour standards," it can do so.
Canada also opposes reopening the deal.
Last week, senior U.S. Democratic lawmaker Earl Blumenauer said Canada and Mexico may be open to a limited renegotiation of aspects of the agreement to satisfy U.S. lawmakers' concerns.
Blumenauer, who chairs the trade subcommittee of the House of Representatives Ways and Means Committee, said the trade agreement could be modified to address specific concerns, but he was skeptical about using side agreements, saying they had proven problematic in the current NAFTA pact among the three nations.
Lighthizer's office did not immediately respond to a request for comment about the talks with Mexico. In June, Lighthizer told a Senate panel that he was willing to work with members "to make (USMCA) even better."
TICKING CLOCK
Time is short for ratifying the pact before the U.S. Congress enters its summer recess on July 27. When Congress returns in September, some Mexican officials worry that politics around the U.S. 2020 presidential race will make it harder for Congress to agree.
Canada's parliament is seen as less of an obstacle. Mexico has already ratified the deal.
Asked about Mexico's plan, a Canadian government source noted that Prime Minister Justin Trudeau and others "have engaged with Democrats ... to talk about the new NAFTA and why it's good for working people, which is what they care about."
Asked whether Canada would work with Democrats to include new guarantees, the source, who requested anonymity given the sensitivity of the situation, replied: "No, we are not looking to do that."
Trudeau's office did not immediately respond to a request for comment about the dispute mechanism plan.
The ongoing talks between Mexico, Lighthizer and Pelosi had progressed enough that even if ratification did not come until after Congress' summer recess, positions were close enough for that not to be a major problem, Seade said.
Blumenauer last week said there was "no way" a vote would be possible before the August recess, but that Congress would continue to work on it in the autumn.
Ford GT Mk II unleashed: The
ultimate $1.2-million track weapon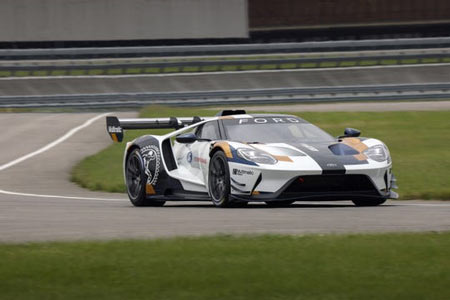 Henry Payne,
The Detroit News
July 7, 2019
The Ford GT started as a race car, so it's only reasonable that it would include a track-exclusive production version.
Beginning at a cool $1.2 million, the Ford GT Mk II makes its public debut Thursday at the Goodwood Festival of Speed in England. Only 45 will be built.
Essentially a Ford GTPro Le Mans race car with a passenger seat, the Mk II joins a rare breed of track-only hypercars like the McLaren P1 GTR and Ferrari FXX. The Mk II enables customers to explore the envelope of performance technology at their local raceway — a track day at Mid-Ohio race track, perhaps — without having to pay hundreds of thousands more to hire a team and enter a race series.
Named after the historic GT40 Mk II that beat Ferrari at Le Mans in 1966, the GT Mk II was developed free of the infamous, so-called "balance of performance" (BOP) racing regulations that cage the full capability of animals like the Ford GTPro race car to encourage even competition across a diverse field of cars.
For example, the GT Mk II will unleash the full 700-horsepower capability of the GT's 3.5-liter, twin-turbo V-6; the GTPro LeMans car is limited to 495 horsepower.
"What could you do without BOP? This is the answer," Multimatic chief technical officer Larry Holt said at the car's unveiling to media at Ford's Dearborn Performance Center last month. Multimatic is the Toronto race shop that birthed the sensational carbon-fiber, keel-chassis Ford GT back in 2016.
Designed to conquer Le Mans on the 50th anniversary of the original Mk II, the GT debuted as a race car. The first production version would not make an appearance for another year.
Priced at an eye-watering $500,000 (but in truth only available for about $700,000 after checking all the boxes), the production GT's value was cemented by the race car's historic, GTPro-class win at the 2016 Le Mans race.
Jaws dropped when the race car was introduced in 2016 with a sophisticated high-downforce keel chassis almost unheard of outside of the upper echelons of Formula One and LeMans prototype racing. Combined with its gorgeous "flying buttress" rear air ducts and signature GT nose (an homage to the 1966 original), the mid-engine supercar was an instant classic. After its LeMans success, 1,350 copies of the street-legal production GT followed.
Jaws will drop again when owners show up at the track with the GT Mk II.
Developed by mad-genius Holt (who, with his wild mane of white hair, looks like Doc Brown from "Back to the Future") and his Multimatic team, the GT II is a hair away from full-blown LeMans racer.
"It is shockingly similar to the race car. There's only about a 2-second a lap difference," said Multimatic test driver Scott Maxwell who has helped develop each evolution of the modern GT.
Maxwell gave a brief demonstration of the GT Mk II at FPC for the news media. Dressed in Multimatic livery, it looked and sounded every bit like the GTPro race car that had just lapped the 24 Hours of Le Mans on June 16.
Whereas the street-legal production versions of the Ford GT sit 120 mm off the ground to properly negotiate public roads (a 70-mm track-mode height is available), the GT Mk II sits 59 mm off the ground for maximum downforce (the race car is just 56 mm).
Unbound from public laws like noise and safety restraints, the GT Mk II's comes stripped of mufflers and air bags. Also gone is the tiny rear trunk, in lieu of a rear hatch scoop for better cooling of the 7-speed gearbox.
The goal here is max power, max downforce, max performance.
Toward that end, the GT Mk II comes equipped with a bigger front splitter and two-tier rear wing than the race car, as well as carbon-ceramic brakes for supreme stopping power. The race car is regulation-limited to steel rotors. Even the Mk II's springs are a teeth-jarring 1,150 pounds, similar to the GT race car.
While not as spartan as the interior of the GTPro LeMans car (passenger comfort is encouraged when pulling upward of 2 G-loads), the cockpit is race-ready with a full roll-cage and detachable steering wheel like the race car.
A six-point, race-licensed belt harness makes the absent air bag redundant.
Stripped of unnecessary weight, the GT Mk II weights in at 3,084 pounds. That's more than the 2,844 pounds of the GTPro race car, but 300 pounds lighter than the production model. Options above the $1.2 million starting price include paint colors and air jacks for quick tire changes at the track.
Ford says Multimatic's Markham, Ontario, shop has capacity to produce about 15 of the Mk II supermodels a year.
"The Mk II embodies everything that we have learned at the track," said Ford product chief Hau Thai-Tang at FPC. But he wouldn't say if the track weapon is the GT's last hurrah despite the car having run its Le Mans race this year.
"Never say never," he smiled.
Supplier jobs to be lost when
FCA cuts 3rd shift at
minivan plant, union warns
Automotive News
Greg Layson
July 6, 2019
Up to 154 employees — perhaps more — at parts suppliers will lose their jobs when FCA cuts the third shift at its Windsor, Ont., minivan plant, warns the union representing workers at several factories.
In the union's July 2019 newsletter to members, Unifor Local 444 2nd Vice-president Mike D'Agnolo says FCA's decision to eliminate the third shift in October will affect at least five suppliers in southern Ontario. And the union already has estimates of job losses at three of them.
D'Agnolo warns up to 37 employees at HBPO and 15 at Avancez could lose their jobs. He also says 102 layoff notices have already been issued at ZF, although he says "we believe that number is inflated."
About 300 workers at ZF assemble shocks, struts, springs and rear suspensions at two facilities for FCA, which builds the Chrysler Pacifica and Dodge Grand Caravan in Windsor. HBPO makes front-end modules for FCA's Chrysler Pacifica models, while Avancez focuses on tires and wheels.
Dakkota and Integram Windsor Seating could also be affected. "As of this writing, we have no real numbers that would be impacted if the third shift at FCA is eliminated," D'Agnolo wrote of the Dakkota situation.
"The possibility of good jobs being lost … has been on everyone's mind," he added about Integram, a Magna International factory.
Magna officials didn't immediately respond to a request for comment.
FCA's minivan plant currently employs more than 6,000 hourly workers on three shifts. But 1,700 of those jobs will be lost when the company cuts the midnight shift later this year in response to declining minivan sales.
The automaker plans to eliminate the third shift at the plant on Oct. 21, three weeks later than originally planned, "to accommodate a large order," spokeswoman LouAnn Gosselin previously said in a statement. "After that date, the plant will return to a traditional two-shift operation."
"We believe this is a short sighted and knee-jerk reaction by FCA," Unifor Local 444 Treasurer Jamie Stewart said in the newsletter. "Even now, we get the feeling that they are willing to work with us to see if our governments of the day can help find solutions."
According to Unifor, FCA plans to invest $350 million into the Windsor plant "for future product," but the automaker has not confirmed what that product would be.
FCA is resurrecting the Voyager nameplate for a lower-priced version of the 2020 Chrysler Pacifica that targets entry-level buyers to replace the outgoing Caravan.
2020 Mustang Shelby GT500
to start at $96,425 in Canada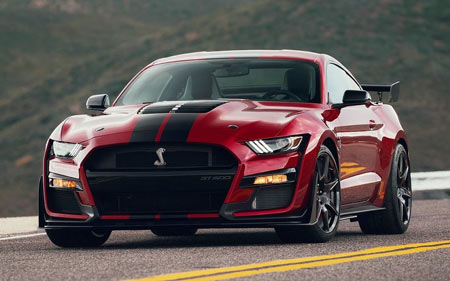 Michael Martinez
Canada
Automotive News
Ford Motor Co.'s most powerful street-legal vehicle will come with a hefty price tag.
Ford Canada confirmed this week that the 2020 Mustang Shelby GT500 will start at C$96,425. That includes a C$1,150 shipping fee.
The automaker last week confirmed U.S. pricing for the vehicle. It will start at US$73,995 in the United States. That includes a US$1,095 shipping fee and a US$2,600 gas guzzler tax.
But the car can easily stretch past US$90,000 with add-ons in that country
The carbon fibre track package will cost an additional US$18,500, Ford said. A handling package costs US$1,500, and a technology package will set buyers back US$3,000. Various paint options, such as a black roof or over-the-top stripes, cost US$695 each. An optional carbon fibre instrument panel is US$1,000.
Ford Canada has not yet said if any or all of those options are available in Canada.
The vehicle will go on sale this fall. The supercharged 5.2-litre V-8 engine boasts 760 hp and 625 pound-feet of torque, and Ford says it will achieve a 0-to-60-mph time in the mid-3-second range.
Congratulations to our
Newest Retirees
Dwayne Decoste &
Yvonne Rodney
July 1, 2019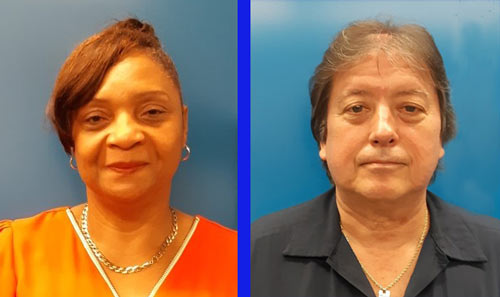 Yvonne Rodney - 31.0 Yrs Dwayne Decoste - 30.9 Yrs
Dwayne Decoste at Jakes
Retired July 1, 2019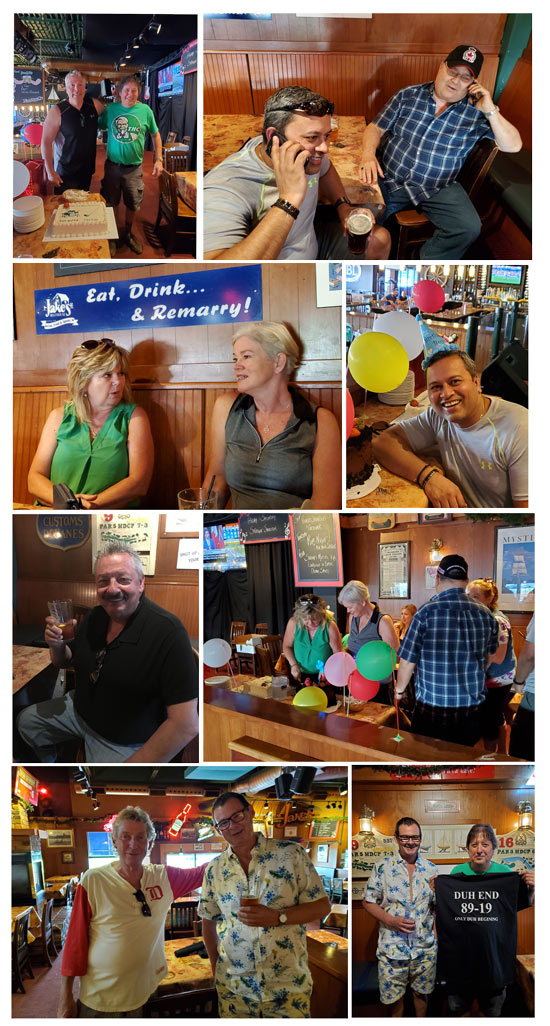 Lee Iacocca, star CEO who led
Ford, saved Chrysler, has died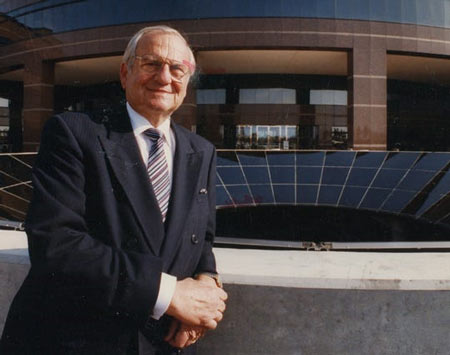 Detroit News
Daniel Howes
July 3, 2019
Lee Iacocca, the U.S. auto executive and television pitchman whose feel for consumers' changing tastes helped produce the Ford Mustang and the Chrysler minivan and made him one of the first celebrity CEOs, died Wednesday. He was 94.
Fiat Chrysler Automobiles confirmed his death Wednesday night. "The company is saddened by the news of Lee Iacocca's passing. He played a historic role in steering Chrysler through crisis and making it a true competitive force," the company said.
Before names like Mulally and Marchionne, Iacocca loomed as a singular figure in Detroit and over the American auto scene. Brash, confident and accomplished, he walked the talk, touted American reinvention in the rescue of Chrysler and even flirted with a run for president after the Reagan era.
He predated the global auto era that birthed the Renault-Nissan alliance, DaimlerChrysler AG and the Fiat Chrysler Automobiles NV now occupying the Auburn Hills space he envisioned more than 25 years ago. The long shadow he cast in the 1980s and early '90s served as a sort of bridge spanning two eras: that of the all-knowing, charismatic American auto barons like him and the Henry Ford II who fired him, and that of the modern, globe-spanning CEOs like his successors at Chrysler who built teams from disparate countries and backgrounds.
A trained engineer, he had a knack for marketing and feeling the pulse of what the market would want before consumers knew themselves. He led development of the Ford Mustang, an icon that 55 years after its debut is just about the only car to survive the Blue Oval's all-in-on-trucks-and-SUVs move. At Chrysler, he oversaw development of the segment-building minivan, a product that still lives today in the Pacifica, one of the few Chrysler-badged vehicles still offered by the Chrysler brand.
Studied in business schools, emulated by a generation of executives, Iacocca was a star salesman for cars and for himself. His autobiography was by far the top-selling hardcover nonfiction book of 1984 and 1985. For more than three decades, since his appointment by President Ronald Reagan, he led the effort that has raised more than $700 million to restore the Statue of Liberty and Ellis Island.
Ford's executive chairman called Iacocca "one of a kind."
"Lee Iacocca was truly bigger than life and he left an indelible mark on Ford, the auto industry and our country," said Bill Ford. "Lee played a central role in the creation of the Mustang. On a personal note, I will always appreciate how encouraging he was to me at the beginning of my career. He was one of a kind and will be dearly missed."
Iacocca "will probably go down in history as the first modern example of a charismatic business leader," Harvard Business School professor Rakesh Khurana wrote in 2002. Iacocca's turnaround of Detroit-based Chrysler Corp. "made him a celebrity and even a national hero," one who relied on an "inspirational leadership" style that presaged that of Apple Inc.'s Steve Jobs, among others, he said.
Iacocca was no miracle worker, however, and the American auto industry's struggles didn't end with his tenure. Japanese carmakers saw their U.S. market share grow 10-fold, to about 30%, during his 23 years leading two of America's Big Three automakers. Chrysler, which averted collapse in 1980 in what may have been Iacocca's crowning achievement, was buffeted by the financial crisis and recession of 2008, filing for Chapter 11 bankruptcy in April 2009.
"It pains me to see my old company, which has meant so much to America, on the ropes," Iacocca told Newsweek at the time. The company emerged as Chrysler Group LLC, majority-owned by Italy's Fiat SpA. It is now named Fiat Chrysler Automobiles NV.
Iacocca first came to prominence when, at 36, he was named general manager of Ford Motor Co.'s flagship Ford division in 1960. With a group of like-minded young executives, he formed what became known as the Fairlane Committee named for the inn where they met for brainstorming dinners to discuss how to design a low-cost, sporty car that would entice younger, more affluent families to become two-car households.
"It had to be a sports car but more than a sports car," Iacocca wrote in his memoir. "We wanted to develop a car that you could drive to the country club on Friday night, to the drag strip on Saturday and to church on Sunday."
The Mustang, introduced at the 1964 World's Fair in New York, was an unqualified hit. Iacocca and the car appeared on the covers of Time and Newsweek, with Time calling him "the hottest young man in Detroit." As for the car itself, Time swooned: "Priced as low as $2,368 and able to accommodate a small family in its four seats, the Mustang seems destined to be a sort of Model A of sports cars, for the masses as well as the buffs."
Ford sold more than 400,000 Mustangs during the first model year. The car's styling captured young buyers, and Mustang clubs sprang up around the country.
Not everybody believed Iacocca deserved the share of credit he got.
"The model was totally completed by the time Lee saw it," Eugene Bordinat Jr., Ford's design director at the time, told Time in 1985. "We conceived the car, and he pimped it after it was born."
Iacocca became president of Dearborn, Michigan-based Ford in 1970. At 46, he was second in command only to Chairman Henry Ford II, grandson of the company's founder and seven years his senior. During Iacocca's eight-year tenure, the two men sparred over topics big and small, from car design to perceived personal slights.
Executive-suite reorganizations in 1977 and 1978 resulted in de facto demotions of Iacocca and led to a showdown meeting on July 13, 1978, at which Ford ordered him to resign. His last day on the payroll was Oct. 15, his 54th birthday. He had been at Ford for 32 years.
Years later, Iacocca devoted 40 pages in his autobiography to settling the score.
He called Henry Ford II "evil," a "spoiled brat" who was "always on the lookout for palace revolts" and cared only for "wine, women and song." Iacocca said that when he pressed Ford for a reason for his dismissal, Ford replied, "Well, sometimes you just don't like somebody."
Ford, who chose not to respond publicly to Iacocca's book, "never warmed to Iacocca" and "disliked his arrogance, brashness and vanity," David Lewis, a University of Michigan professor, wrote in "100 Years of Ford" (2003).
In a 1982 interview with Lewis, Ford faulted Iacocca's vision.
"He got thoroughly confused in his later years by what the hell to do," Ford said. "He had a new program every two or three months. The organization was totally discombobulated." The transcripts of Ford's interviews with Lewis were sealed, at Ford's insistence, until 1992, five years after Ford's death.
Two weeks after his ouster from Ford, Iacocca took over as president and chief operating officer at Chrysler, brought on by Chairman John Riccardo just as the company reported a quarterly loss of $160 million, its largest at the time.
"I really didn't want to retire at 54," Iacocca said at a press conference. "I really didn't want to be banished from the auto scene."
His 14 years at Chrysler gave Iacocca the chance to pursue initiatives that had met resistance at Ford. These included the fuel-efficient K-series Dodge Aries and Plymouth Reliant models as well as the first U.S.-produced minivan, introduced in 1983 as the Plymouth Voyager and Dodge Caravan. He steered Chrysler's 1987 acquisition of American Motors Corp., with its Jeep franchise.
First, though, Iacocca had to save Chrysler from looming bankruptcy.
After becoming chairman and CEO in September 1979, he led a cost-cutting program that closed plants and slashed tens of thousands of jobs. He also sealed Chrysler's deal with Congress and President Jimmy Carter's administration for $1.5 billion in federal loan guarantees, a rare government intervention in the marketplace that folk singer Tom Paxton enshrined in tune:
"I am changing my name to Chrysler, I am going down to Washington, D.C., I will tell some power broker, 'What they did for Iacocca will be perfectly acceptable to me.'"
In 1983, seven years earlier than required, Chrysler finished repaying the $1.2 billion in government-backed loans it had used.
As much as for any of his corporate decisions, Iacocca became known as the straight-talking, patriotic pitchman in Chrysler's television commercials, produced by New York-based firm Kenyon & Eckhardt Inc., in which he vouched for Chrysler's cars as superior to those from Japan and Germany.
"If you don't agree they're the best Chryslers ever made, the very best America has to offer at a sensible price, then I'm in the wrong business," he said in one ad.
His trademark line went down in advertising history: "If you can find a better car, buy it."
Lido Anthony Iacocca was born Oct. 15, 1924, in Allentown, Pennsylvania, the second child of Nicola Iacocca and the former Antoinette Perrotto.
His father had immigrated to the U.S. from San Marco, Italy, in 1902, and worked for almost two decades in Pennsylvania. He returned to Italy to get his mother, and while there, he met and married the 17-year-old daughter of a shoemaker. Back in Allentown with his wife and mother, he started a hot-dog restaurant, Orpheum Wiener House, which became regionally famous as Yocco's. A daughter, Delma, was born, followed by their son.
Iacocca's seven-month bout with rheumatic fever as he entered high school rendered him, four years later, ineligible to be drafted into World War II. He earned a degree in industrial engineering in 1945 from Lehigh University in Bethlehem, Pennsylvania, a master's degree in mechanical engineering through a fellowship at Princeton University, then began work in 1946 at Ford.
After one year in engineering, Iacocca was granted a move to sales. In 1956, with his eastern Pennsylvania sales district lagging, he introduced the "56 for '56" program, offering car buyers a new 1956 Ford for $56 a month for three years, with 20% down.
His district went from last place to first, selling an additional 75,000 cars, and Iacocca the car salesman was on his way to more senior positions at Ford. At 33, he became head of national car marketing.
Also in 1956, Iacocca married his longtime girlfriend, the former Mary McCleary, who had been a receptionist at Ford's office in Philadelphia. They made their home in Bloomfield Hills, Michigan, and had two daughters, Kathryn Lisa Hentz and Lia Antoinette Nagy.
Putting his stamp on the Ford division after taking charge in 1960, Iacocca canceled U.S. release of the Cardinal, an inexpensive subcompact under development by Ford of Germany.
"It was a fine car for the European market," he wrote in his memoir, but for Americans, "it was too small and had no trunk."
Following the success of the Mustang, he was given responsibility for planning and marketing all cars and trucks in the Ford and Lincoln-Mercury divisions.
The subcompact Pinto, introduced in 1971, was a blot on Ford's record in the Iacocca era. A raft of lawsuits alleged that a flawed design made the car susceptible to fuel-tank fires if struck in a rear-end collision. Ford recalled 1.5 million of the cars in 1978.
At Chrysler, Iacocca stopped production of some large models to advance the fuel-efficient subcompact Dodge Omni and Plymouth Horizon. He assembled an inner circle filled with former Ford colleagues, including Harold Sperlich, head of new-car development, who had jumped to Chrysler a year before Iacocca did.
After helping to develop Chrysler's K-car, Sperlich used its chassis and front-wheel-drive mechanics as the foundation for the minivan – "Detroit's most successful vehicle of the 80s," Paul Ingrassia and Joseph B. White wrote in "Comeback: The Fall and Rise of the American Automobile Industry" (1994).
By 1984, Iacocca was riding high. Chrysler's profit that year was $2.4 billion, and Iacocca's autobiography, co-written by William Novak, soared to No. 1 on the New York Times best-seller list weeks after its Oct. 15 release, with Bantam Books printing the millionth copy by mid-December. It spent 88 weeks on the New York Times nonfiction best-seller list.
By 1987, Chrysler's footing was sturdy enough for Iacocca to consider taking over General Motors. He revealed in his second book, "Talking Straight" (1988), that he and Allied-Signal Inc. Chairman Edward Hennessy Jr. discussed a joint $40 billion hostile takeover of GM before abandoning the plan because of potential financing and legal complications.
"In the end," he wrote, "I concluded that it might be easier to buy Greece."
Iacocca stepped down on Jan. 1, 1993. His successor, Robert Eaton, would lead Chrysler into its $36 billion sale to Germany's Daimler-Benz AG in 1998 – a "merger of equals," the companies called it – to create DaimlerChrysler AG. Iacocca opposed the merger and said supporting Eaton was "one of the biggest mistakes I made in my life."
When DaimlerChrysler sold Chrysler in 2007 to New York-based Cerberus Capital Management LP, Iacocca claimed validation for his point of view. "Daimler screwed Chrysler royally," he wrote in Businessweek.
Iacocca's involvement in billionaire Kirk Kerkorian's unsuccessful hostile takeover bid for Chrysler in 2005 prompted the company to scrap plans to put his name on its new headquarters in Auburn Hills, Michigan. The rift was swiftly repaired when Iacocca returned to doing commercials for Chrysler, sharing the screen with actor Jason Alexander, rapper Snoop Dogg and an actress portraying his granddaughter.
Iacocca donated his fee for those commercials to the charitable foundation he founded to combat diabetes, the disease that claimed the life of his first wife in 1983.
His second marriage generated unflattering headlines. His bride, the former Peggy Johnson, was a onetime flight attendant, 26 years his junior, who had worked with him at the Statue of Liberty-Ellis Island Foundation. Married at St. Patrick's Cathedral in New York City in April 1986, they divorced in November 1987. Five years later, Iacocca won an annulment of their marriage, prompting Johnson to appear on television to describe her surprise and hurt. She died of a heart attack in 2000, at 49.
Iacocca's third marriage, to the former Darrien Earle in 1991, also ended in divorce, in 1994.
Politically, Iacocca described himself as a Republican who had voted for presidential candidates of both parties. He endorsed Republican George W. Bush for president in 2000 and his Democratic challenger, Senator John Kerry, in 2004.
In his 2007 book with Catherine Whitney, "Where Have All the Leaders Gone?," Iacocca urged voters looking ahead to the 2008 elections to "throw the bums out." He said he had thought seriously about running for president in 1988 before deciding he wasn't cut out for that particular chief executive post.
"You can be a success in business and not have the temperament to be president," he wrote. "For myself, I concluded long ago that to run for president you've got to be overambitious or just plain crazy."
FCA extends Windsor minivan
plant's third shift by 3
weeks for fleet order
Canada Auto News
John Irwin
July 2, 2019
WINDSOR, Ont. -- Fiat Chrysler plans to eliminate the third shift at its Windsor, Ont., minivan plant on Oct. 21, three weeks later than originally planned, due to a fleet order.
FCA pushed the elimination date back from Sept. 30 "to accommodate a large order," spokeswoman LouAnn Gosselin said in a statement. "After that date, the plant will return to a traditional two-shift operation."
FCA informed Unifor on Tuesday that it would extend the shift's life, Local 444 President Dave Cassidy told Automotive News Canada. He welcomed FCA's decision, saying it buys union leadership more time to find a way to save the workers' jobs.
"We're looking at every single avenue to make sure that we can secure those 1,500 jobs on the third shift," Cassidy said.
FCA in March said it would end the third shift at the Windsor plant amid sluggish North American sales for the Chrysler Pacifica and Dodge Grand Caravan minivans it builds. The third shift's end would put about 1,500 workers out of a job.
This year through May, Canadian sales of the Pacifica plummeted 55 per cent to 1,617 units compared with the same period a year ago, according to the Automotive News Data Center in Detroit. Grand Caravan year-over-year sales were down 28 per cent to 13,199 units.
Cassidy said he meets with FCA officials more than once per week to discuss the third shift issue. He said the union is pushing for a work-sharing program to save those jobs and is urging federal and provincial government officials to step up with assistance.
Unifor brass has been pursuing a work-sharing program since at least April, when top officials from both parties met to discuss the future of the plant. At that meeting, FCA said it is committed to spending about $350 million on the plant for "future product," according to the union.
Cassidy said the union is refusing FCA's request to canvass senior plant members plant for buyouts. He said the Windsor plant has been "the crown jewel" for the company for decades, and its workers deserve to keep their jobs.
"We're telling them we're not interested in buyout incentives; we're interested in saving the third shift," he said.
Ford's Chicago plant
gets a $1 billion upgrade
Robert Channick,
Chicago Tribune
July 1, 2019
Ford unveiled its retooled Chicago Assembly Plant last week, a $1 billion transformation that features a host of new amenities for workers, and an army of new robots to help them build vehicles.
The massive project, which shut down the Torrence Avenue plant on Chicago's Southeast Side for 30 days in March, is complete. Ford's oldest plant in continuous operation is now churning out the new 2020 Ford Explorer, Lincoln Aviator and Police Interceptor SUVs.
The investment also brought upgrades to Ford's nearby stamping plant.
The Chicago plant, which made the Model T when it opened in 1924, phased out production of the Taurus sedan last year to focus exclusively on building all-new SUVs.
Here's a look at the retooled Ford plant by the numbers:
4,800 employees: There are 4,800 hourly employees at the assembly plant, including 500 new hires. Another 1,100 hourly employees work at Ford's nearby stamping plant in Chicago Heights. At full capacity, three crews operate the assembly plant seven days a week.


850 robots: 850 robots work side-by-side with employees at the plant, about 300 more than last year, plant manager Jim DeMartino said during a tour Monday. That includes 600 new robots to perform new tasks or replace old robots on the floor. A new command center was installed to monitor the robots' well-being and productivity 24/7.


Two 3-D Printers: The plant added two new 3-D printers to produce machine parts and tools to keep the plant running on site. The two printers cost a total of about $150,000.


41 break rooms: Ford added 41 new team rooms across the factory floor, with water dispensers, microwaves, refrigerators, picnic tables and personal lockers, giving workers a place to take a 30-minute break without hiking to a distant plant location.


160 giant ceiling fans: A surprisingly cool breeze blows continuously throughout the factory, thanks to 160 new 20-foot ceiling fans installed as part of the plant upgrade.


1 workout room: A small gym was added to the factory room floor for workers to pump iron when they're not assembling it.


382,454 vehicles produced: The plant made 382,454, vehicles last year, including more than 335,000 Ford Explorer SUVs. Downtime for retooling and the ramp-up to full capacity will likely reduce the output by about 50,000 vehicles this year, DeMartino said.


17 to 24 hours for assembly process: It takes 17 to 24 hours for a vehicle to wend its way through the assembly line before emerging for final inspection. When the plant is operating at full capacity, a new vehicle rolls off the line every 52 seconds, DeMartino said.


$1 billion plant retooling: Ford brought in thousands of skilled tradesmen to "gut the place and put it all back together" in 30 days during March, DeMartino said, calling it "a massive undertaking" and the fastest retooling the automaker has ever done for an all-new vehicle build.