US probes complaints that Ford tailgate recall didn't work
Associated Press
Jan 24, 2020
Detroit — U.S. safety regulators are investigating complaints that a Ford pickup truck tailgate recall didn't fix the problem.
The National Highway Traffic Safety Administration says it has 11 complaints that a recall of power tailgates on 300,000 Super Duty pickups failed to rectify the issue. The agency says it also has received reports from Ford about unintended tailgate openings after the recall repairs were made.
Ford recalled the F-250, F-350 and F-450 trucks in 2019 because the power tailgates could open while being driven. The defect allowed for the potential of unrestrained cargo tumbling from vehicles. The trucks are from the 2017 through 2020 model years.
The agency says it will investigate how often the problem happens and what the safety consequences are. The probe could lead to another recall.


Air bag recall to cost $610 million,
Ford Motor Co. says
Riley Beggin
Jordyn Grzelewski
The Detroit News
Jan 22, 2021
A federal recall of Takata air bags will cost Ford Motor Co. $610 million, the company reported in a federal filing Thursday.
The National Highway Traffic Safety Administration on Tuesday rejected a request from Ford and Mazda Motor Corp. to allow them not to recall around 3 million vehicles that had the potentially deadly air bag inflators inside them.
The Ford vehicles that must be recalled are the Ford Ranger from 2007 to 2011, the Ford Fusion from 2006 to 2012, Ford Edge from 2006 to 2021, the Lincoln Zephyr and MKZ from 2006 through 2012, the Lincoln MKX from 2007 to 2010, and the Mercury Milan from 2006 to 2011.
Ford filed a form with the U.S. Securities and Exchange Commission Thursday that addressed the recall and estimated the cost to the company would total $610 million. The cost will be reflected as a special item in the company's fourth-quarter 2020 financial results, which the Blue Oval is set to release Feb. 4.
The costly recall comes as the automaker continues to face financial fallout from the coronavirus pandemic, as well as costs associated with product launches — namely the redesigned 2021 F-150.
The Takata air bags used ammonium nitrate to create a small explosion that would inflate air bags in the case of a crash. However, regulators found the chemical can deteriorate and cause larger explosions that injure drivers.
The air bags have killed 27 people globally, including 18 in the U.S. In May of last year, NHTSA said it would not make automakers recall Takata air bag inflators in newer model year vehicles.
But the agency did recall millions of the air bags that had been supplied to 14 automakers for use in U.S. vehicles, including Honda Motor Co., Fiat Chrysler Automobiles NV and BMW AG.
In November, NHTSA ordered General Motors Co. to recall and repair nearly 6 million pickups and SUVs equipped with the inflators. In total, around 100 million Takata air bag inflators have been recalled globally.
Corrupt UAW boss wore wire while
playing golf with union brothers
Robert Snell
Jan 21, 2021
The Detroit News
Detroit — Prosecutors on Wednesday said a United Auto Workers official caught in a years-long corruption scandal deserves probation because he helped prosecutors convict two former presidents and secure federal oversight of the belabored union.
Edward "Nick" Robinson's help in exposing corruption within the UAW's top ranks included risking his safety by wearing secret recording devices during union junkets and while golfing with corrupt colleagues, according to a sentencing memo filed in federal court.
Robinson is portrayed in court filings as a pivotal figure in an investigation that has led to the convictions of 15 people. The probe by agents from the FBI, Internal Revenue Service and Labor Department has revealed labor leaders and auto executives broke federal labor laws, stole union funds and received bribes and illegal benefits from union contractors and Fiat Chrysler Automobiles executives.
Robinson, 73, of Kirkwood, Missouri, an aide to former UAW President Gary Jones, wore secret recording devices on at least 10 days from March-August 2019, prosecutors revealed. That includes Aug. 28, 2019, when federal agents raided multiple locations across the country, including Jones' Michigan home and a UAW regional office in Missouri.
"This was done so that agents could secure the immediate reactions of UAW officials to steps taken in the investigation," Assistant U.S. Attorney David Gardey wrote.
"Robinson took risks in cooperating against close associates who held significant positions of power in one of the most important labor unions in the country," Gardey added. "Robinson's cooperation was early, truthful, self-motivated, proactive, and highly significant to the government's investigation."
In March, Robinson pleaded guilty to embezzling union funds and splitting the money with Jones. He faces up to five years in federal prison after admitting he conspired with at least six other UAW officials to embezzle more than $1 million since 2010 and spent the money on personal luxuries such as Palm Spring, California, villas, golf trips, and more than $60,000 in cigars.
His sentencing is scheduled for Jan. 27 in front of U.S. District Judge Paul Borman.
Robinson's cooperation, and revelation that he wore a recording device, quickly led to the convictions of Jones, former President Dennis Williams and Vance Pearson, who headed the UAW regional office in Missouri. His help also enabled federal investigators to obtain court approval to search multiple locations, including a $1.3 million lakefront home the UAW built for Williams with mostly nonunion labor.
"Robinson's cooperation also aided the government in its effort to secure federal oversight of the UAW," Gardey wrote. "Robinson's cooperation in revealing the existence of a multidimensional embezzlement conspiracy and obstruction of justice within the UAW contributed to the government's ability to secure this settlement."
The proposed deal includes government oversight of the UAW for six years and would let rank-and-file workers decide whether to alter the union's constitution to allow for direct election of future leaders.
Such a constitutional change would be groundbreaking and give members the right to hold elections and directly vote for new UAW leaders for the first time in more than 70 years.
Lincoln Corsair EV coming
in 2026, report says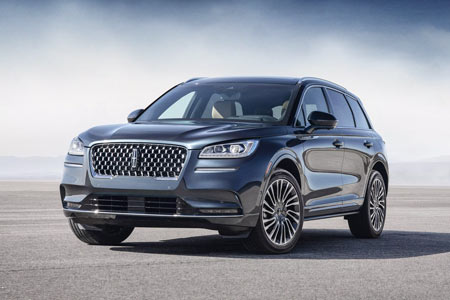 The electric Lincoln SUV would be one of five new EVs Ford will build in Canada later this decade.
Steven Ewing
Jan. 20, 2021
An all-electric version of the Lincoln Corsair crossover will launch later this decade, according to a report published Tuesday. Quoting vehicle forecasting company AutoForecast Solutions, Automotive News says the electric Corsair will go into production at Ford's Oakville, Ontario plant in 2026.
This news follows a report from last September, where a representative from Canadian auto union Unifor said Ford would build five new electric cars at the Oakville facility. At the time, no specifics regarding the future vehicles were given, only that the first of the five cars should enter production in 2025.
A Lincoln representative told Roadshow the automaker does not comment on future product plans.
The Oakville facility is where the Ford Edge and Lincoln Nautilus crossovers are currently produced. The plant is expected to be overhauled as part of a C$1.95 billion investment into Ford's Oakville and Windsor, Ontario facilities.
All five of the EVs set to be produced in Oakville will reportedly share the same platform, which will underpin both Ford and Lincoln products, according to Automotive News. The Corsair, which is currently Lincoln's best-selling product in the US, is expected to be fully redesigned in 2024.
Canadian GM workers ratify
contract for commercial
electric van production
Breana Noble
The Detroit News
Jan 19, 2021
General Motors Co. employees at its CAMI Assembly Plant ratified a new three-year contract that will bring production of electric commercial delivery vans to the facility in Ingersoll, Ontario, the Canadian auto workers' union, Unifor, said Monday.
Members of Local 88 on Sunday supported the proposal by 91%. CAMI will be GM's fourth electric vehicle plant in North America. The Detroit automaker plans to invest $800 million to build the EV600 van, which GM's new business entity BrightDrop showcased last week at the virtual Consumer Electronics Show.
BrightDrop, a new GM startup that aims to help logistics and delivery customers, and the EV600 are part of GM's aggressive push to rebrand as an EV maker. It plans to have 30 electric entries globally by 2025. BrightDrop also developed the EP1, an electric pallet that GM says can move product over short distances.
CAMI currently builds the Chevrolet Equinox, which also is assembled in Mexico. It employs 1,900 Unifor members. Work on the two-year transformation is set to begin immediately. Equinox production will end there in 2023.
Last fall, GM negotiated a new contract with Unifor that included a $1.03 billion investment at the Oshawa Assembly plant to build full-size trucks starting next year. CAMI falls under a different contract that wasn't set to expire until September 2021, but GM and the union moved up contract talks to the start of the year.
The first 500 EV600s are scheduled to be delivered to FedEx Express by late 2021. The van will be available to more customers in 2022. GM's new Ultium battery technology will debut in the commercial market on the EV600. The van has an estimated range of up to 250 miles on a full charge.
Altogether, the three Detroit automakers negotiating with Unifor say they will invest $4.7 billion into Canadian plants, according to the union. That includes support from federal and Ontario governments.
"To achieve this level of commitment for auto manufacturing," Jerry Dias, Unifor national president, said in a statement, "shows what can happen when we have a collective vision to secure this sector and create good jobs for Canadians."
Ford, despite pandemic disruptions,
boosted China sales in 2020
Jordyn Grzelewski
The Detroit News
Jan 18, 2021
Despite production disruptions and deflated consumer demand caused by the novel coronavirus pandemic, Ford Motor Co. managed to grow its sales in the world's largest auto market in 2020.
Ford this week reported that its sales in Greater China grew 6.1% year-over-year, to 602,627 vehicles. In the fourth quarter, the automaker's sales were up 30.3% over the same quarter in 2019, marking the third consecutive quarter of sales growth. Ford, with its Chinese joint venture partners, sold 190,916 vehicles in the final quarter of the year.
The Blue Oval historically has struggled to gain traction in China, but attributes recent signs of improvement to a refreshed lineup that is more in line with customer preferences. The automaker's Ford, Lincoln and JMC brands all reached double-digit year-over-year growth in the fourth quarter — 24.7%, 74.9% and 28.2%, respectively.
"The positive results reflect the company's favorable product mix that more strongly aligns with Chinese consumers' preferences for SUVs and luxury vehicles," Ford said in a statement announcing the results. "The company's refreshed portfolio of offerings includes several new vehicles such as Ford Explorer and Escape, as well as Lincoln Corsair and Aviator."
The company "fully (intends) to strengthen that momentum with a winning strategy that optimizes our product mix and localizes production of world-class Ford and Lincoln vehicles to meet rising Chinese customer demand," Anning Chen, president and CEO of Ford China, said in a statement.
Ford's luxury Lincoln brand set new quarterly and full-year sales records. Full-year sales of 61,700 units marked a nearly one-third increase over last year. SUV sales for the brand climbed 158.7% over the same quarter in 2019. For the year, they were up 96.3%.
Ford brand vehicle sales were up 24.7% for the fourth quarter but full-year sales of 324,000 units were down 1.2% from 2019. Again, SUVs were popular, with sales for the segment up 86.5% for the quarter and nearly one-third for the year.
The automaker reported that the new Explorer and Escape, respectively, sold about 10,000 units and 12,000 units in Q4.
Commercial vehicle sales, buoyed by strong demand for Ford's globally-popular Transit van as well as growth of JMC brand commercial vehicle sales and pickup, were up 31.4% in the fourth quarter, and up 15.4% in 2020. Light-truck sales were up, too.
General Motors Co., too, has sought to realign its Chinese lineup to offer the luxury vehicles and SUVs customers want to buy. The Detroit automaker sold 2.9 million vehicles in China in 2020, a 6.2% decline from 2019. The dip marked GM's third consecutive year of declining sales in China.
Detroit's automakers have struggled in the region.
In recent years, Ford's sales there have been pulled down by lack of demand for an aging lineup. In response, the automaker launched its Ford China 2.0 strategy to speed up the changeover of its lineup and create more locally-made vehicles that resonate with customers in the region.
The refreshed portfolio includes the Ford Edge Plus that launched in December, the Lincoln Nautilus, and the third Lincoln vehicle to be localized in China in 2020.
Windsor Assembly barricade
dispute reignites
Dave Waddell,
Windsor Star
Jan 17, 2021
FCA Canada asked 30 Auto Warehouse Company workers to leave the Windsor Assembly Plant Friday morning as the labour dispute that saw a six-day blockade last week reignite.
FCA notified AWC on Thursday it no longer required their employees as of midnight.
That prompted Unifor Local 444, which represents the nearly 60 workers impacted, to resurrect the blockade. The workers are responsible for driving finished minivans out of the plant and preparing the vehicles for shipping.
"We're blocking the workers from Motipark coming in to do our work," Local 444 president Dave Cassidy said. "It's not happening.
"This is not coming down until we get a court order to tell us it's coming down."
Cassidy said he learned of FCA's change of tack from AWC workers.
"I was shocked," Cassidy said.
"We lived up to our end and Chrysler, for their whatever reason, didn't live up to their end and I'm not sure why."
Cassidy said the blockade would be manned around the clock.
In an emailed statement from FCA Canada, the company disputes Unifor's version of events.
"FCA was notified by AWC management that Thursday, Jan. 14 was its last day at Windsor Assembly Plant," said FCA Canada's head of communications Lou Ann Gosselin. "AWC confirmed that they did not instruct their employees to report to work this morning."Holding yards around FCA's Windsor Assembly Plant are being filled with new Chrysler Pacificas as a blockade at the plant resumed on Friday.
Gosselin didn't expand on the reasoning for AWC's decision, but noted all parties understood it was an interim agreement.
She added FCA feels it's unfairly caught in a dispute between Unifor and Motipark, which was awarded the contract that AWC had been doing.
"Unifor has been disrupting our FCA Windsor Assembly Plant operations since the releasing activity for finished vehicles was awarded to a new unionized vendor, effective January 1," Gosselin said.
"This labour dispute should be resolved off FCA premises. As this is currently not the case, FCA will pursue all options to protect our production at Windsor."
Superior Court of Ontario officials confirmed Friday that FCA is seeking a date in front of Justice Paul Howard.
Howard is unavailable Monday and no court date had been set.
The blockade originally was put in place Jan. 5 as part of a labour dispute between Local 444 and Motipark, which won the FCA contract to take over from AWC.
Unifor is claiming employment successor rights while Motipark has shown no interest in hiring the 60 Local 444 workers who had been doing the work under the former AWC contract.
Cassidy said Motipark workers would start at $17.77 per hour under the new agreement compared to the average of $22 per hour under the Unifor deal with AWC.
FCA and Unifor reached a temporary agreement last Sunday night ending the first blockade.
Unifor filed papers this week requesting a date before the Ontario Labour Relations Board on the successor rights issue.
Cassidy said Friday no date had been set yet.
The drama on Friday started around 1 a.m. when FCA management and Windsor Police Service officers showed up with the intention of having Motipark employees enter the plant.
However, the Unifor blockade prevented that.
Unifor said the 30 AWC workers reported for their shift at 7 a.m. only to be told they had to leave as they were trespassing.
"We told (FCA) they aren't going to have scabs come in here," Cassidy said.
"The police asked if we'd go in and escort them out, so we went in and escorted them out."
Cassidy said the auto haulers for Cassen and ATS, which is a division of FCA, will be allowed to transport all minivans that had been processed and lined up for shipping by the AWC workers.
Unifor Local 444 president Dave Cassidy, centre, and others keep distanced — due to COVID-19 precautions — while monitoring traffic at Windsor Assembly Plant's vehicle delivery exit on Walker Road Friday.
Friday's production was being stored around WAP's yard and the lots across from the plant on the east side. WAP has enough space to hold one day's production (830 vehicles).
No production is scheduled for this weekend.
Cassidy said Unifor has suggested FCA make the AWC workers part of its ATS division, which is also represented by Local 444.
"ATS have a separate collective agreement (than WAP workers)," he said.
"We'll negotiate a different contract (than AWC), no problem. It's win-win for everyone."
Wearing wires put convicted UAW
official 'at risk,' lawyer says
Breana Noble
The Detroit News
Jan 15, 2021
Wearing wires in meetings with United Auto Workers leaders put a convicted former union official "at risk," according to a federal court filing from Edward "Nick" Robinson's lawyer Wednesday requesting that he serve probation instead of time in jail.
Robinson, an aide to former UAW President Gary Jones, cooperated with federal investigators to record meetings and phone conversations, according to the memorandum confirming a November 2019 Detroit News report.
The contents of those recordings were used as evidence in a years-long probe that has resulted in 15 convictions, including two former UAW presidents, and prompted a settlement between the union and the federal government that includes six years of oversight and the opportunity for members to institute direct elections of leaders.
Robinson, 73, of Kirkwood, Missouri, in March pleaded guilty to embezzling union funds and splitting the money with Jones. He faces up to five years in federal prison after admitting he conspired with at least six other UAW officials to embezzle more than $1 million since 2010 and spent the money on personal luxuries such as Palm Spring, California, villas, golf trips, and more than $60,000 in cigars. His sentencing is scheduled for Jan. 27 after several delays.
"Nick, a clear nonexpert, went into meetings and conversations with the highest-ranking officials of the UAW wearing wires to capture everything that was said," Robinson's attorney, James Martin, wrote. "Moreover, not only did he do this once, but on four different occasions Nick continued to take an active role, putting himself at risk in order to assist the Government.
"Though he did not obtain direct evidence on each of them, he is indisputably the domino that brought a large group of crooked individuals down, including two UAW Presidents."
Robinson approached the federal government before agents came to him, Martin wrote, calling it a sign of remorse. The personal risk of Robinson's actions in doing what agents requested was "indisputable," his lawyer noted, adding one of the targets asked if he was wearing a wire and made him pull up his shirt. He also recorded approximately 20 phone calls, he wrote.
Former Missouri Gov. Bob Holden, a Democrat, offered a brief letter in support of Robinson: "I applaud Nick's commitment to cooperate with the investigation in this case. In all of my interactions with Nick, I always found him to be a strong advocate for the interests of the UAW men and women members."
Robinson's military service, his and his wife's health issues and the financial repercussions of the case were cited in the request for leniency. Robinson has chronic heart disease, bypass heart surgery, high blood pressure, high cholesterol, low blood platelets, kidney stones and back pain requiring routine cortisone shots, according to the filing that noted incarceration puts Robinson at risk amid the COVID-19 pandemic.
Robinson agreed to pay $42,000 in restitution to the Internal Revenue Service and an unspecified amount of additional restitution. His sentencing date has been delayed several times due to the pandemic.
"Mr. Robinson will stand before the Court a humbled man," Martin wrote, "with great regret and remorse for his actions which bring him before the Court."
Province confirms who can receive
COVID-19 vaccine as part of
Phase 2, mass delivery
expected by April
BY LUCAS CASALETTO
Jan 14, 2021
SUMMARY
More than 144,000 doses have been administered to date, with over 8,000 Ontarians fully immunized with both shots.
The interval between Moderna doses is 28 days; for the Pfizer vaccine, it's 21 days.
Ontario will enter Phase 3 when vaccines are available for every provincial resident that wishes to be treated.
Ontario plans to administer the COVID-19 vaccine in all nursing homes and high-risk retirement homes by Feb. 15 and will begin mass delivery to select groups of people in April.
On Wednesday, the Ford government said health officials are preparing to immunize up to 8.5 million people before the end of Phase 2.
The province is currently focusing on vaccinating health-care workers and those in long-term care facilities but says people over the age of 80 will be the first priority group to receive the shot when Ontario enters the second phase of its vaccine rollout in April.
Those eligible to be vaccinated as part of Phase 2 include:
Older adults, beginning with those 80 years of age and older and decreasing in five-year increments over the course of the vaccine rollout;
Individuals living and working in high-risk congregate settings;
Frontline essential workers (e.g., first responders, teachers, food processing industry); and
Individuals with high-risk chronic conditions and their caregivers.
"With Phase 1 of our plan well underway, we're getting ready to expand our vaccine rollout and get more needles into arms as soon as the supply is available," said Premier Ford.
"We now have a well-oiled machine, led by Gen. Hillier, and we are making tremendous progress. We know this second phase will be an even larger logistical undertaking than the first."
"That's why we're ramping up our capacity on the ground to ensure these vaccines are administered quickly, beginning with the people who need them most," Ford added.
In the spring and from April to June, officials project to secure and distribute roughly 15 million doses of Pfizer and Moderna's treatment. Of that tally, around 4.5 million will be administered to essential workers and the aforementioned age demographic above 80.
Roughly 500,000 people consisted of high-risk, followed by 4 million people aged anywhere from 16 to 60 years old, will be inoculated, if they so choose, according to this plan.
Ontario has administered more than 144,000 doses of the COVID-19 vaccine as of Wednesday. This includes over 45,000 healthcare workers in LTC and retirement homes, over 77,000 healthcare workers, and over 13,000 LTC and retirement home residents.
An additional 20,000 long-term care, retirement home staff, residents, and essential caregivers have
received Moderna vaccinations, the province confirmed.
It also says about 8,000 people have now received the two doses of the vaccine required for full immunization.
Phase 1 of the vaccine program is expected to see approximately 1.5 million eligible people vaccinated, Ford said.
The plan builds on an earlier pledge to give the COVID-19 vaccine to long-term care facilities in hot spots by Jan. 21.
Ontario will enter Phase 3, planned for August, when vaccines are available for every provincial resident that wishes to be treated.
The government says it's now able to move the Pfizer-BioNTech vaccine safely to long-term care facilities, which has allowed it to speed up immunizations in nursing homes.
The province is also expanding testing sites province-wide, including the launch of the first municipally run vaccination site at the Metro Toronto Convention Centre.
Toronto's top doctor confirmed that as of Monday, the site will administer vaccines to Phase 1 priority populations, including select frontline health care workers.
The Pfizer-BioNTech and Moderna vaccines require a second dose either 21 days or 28 days after the first shot is given.
Long-term care homes have been hit hard during the pandemic, with 3,063 residents dying of COVID-19 since March.
Ontario is reporting 2,961 new cases of COVID-19 on Wednesday, and 74 deaths.
Compared to the day before, this is a two percent increase in new infections and an 80.5 percent increase in the number of lives lost because of the virus.


Ford ending manufacturing in
Brazil, but will continue South
America operations
Jordyn Grzelewski
The Detroit News
Jan 13, 2021
Ford Motor Co. on Monday said it will cease manufacturing operations in Brazil amid an ongoing restructuring of its global operations and challenging economic conditions in South America.
Vehicle production at the automaker's plants in Camaçari and Taubaté will cease immediately, with parts production continuing for a few months. Ford's Troller plant in Horizonte will continue operating until the fourth quarter. In all, the closures will affect some 5,000 employees.
Still, the Blue Oval said its departure from Brazil does not mean an exit from the South American market. The automaker will continue to sell vehicles in the region, sourced from manufacturing facilities in Argentina, Uruguay and other parts of the world. And the company will maintain numerous non-manufacturing facilities in Brazil.
The shuttering of Brazil production, which will cost the automaker some $4.1 billion in charges, marks another step forward in the global restructuring the company has been undergoing since 2018. It's also consistent with CEO Jim Farley's newly-detailed plan to fix and grow the Blue Oval's automotive business.
"With more than a century in South America and Brazil, we know these are very difficult, but necessary, actions to create a healthy and sustainable business," Farley said in a statement. "We are moving to a lean-asset-light business model by ceasing production in Brazil and serving customers with some of the best and most exciting vehicles in our global portfolio. We will also accelerate bringing our customers the benefits of connectivity, electrification and autonomous technologies to efficiently address the need for cleaner and safer vehicles well into the future."
About $2.5 billion of the charges will be recorded in the fourth quarter of 2020, and about $1.6 billion in 2021. About $2.5 billion of the total will be paid in cash.
The move comes a little more than three months into Farley's tenure as CEO. Upon stepping into the role, he laid out a plan for profitable growth that called for improving quality, reducing costs and accelerating the restructuring of underperforming businesses. Under that plan, the Blue Oval is focusing on its most successful businesses and franchises, and leaning into a future it and other automakers are betting will be defined by technologically-advanced, electric-powered vehicles.
Ford is in the midst of launching a significant portfolio refresh, with the Mustang Mach-E, redesigned F-150 and Bronco Sport now for sale, the Bronco coming this year, and electric versions of the F-150 and Transit due next year.
"Going forward, we will focus our product portfolio on our global strengths in mid-size pickups and commercial vehicles, with Ranger and Transit, and serve our customers in the region with key global products such as the Mustang, Bronco, Territory and more," Lyle Watters, president of Ford South America, wrote in a note to employees Monday.
The Brazil decision is tied to Ford's goals of boosting global profit margins to 8% and generating "consistently strong adjusted free cash flow."
The company has worked in recent years to shore up its South American business by phasing out products that weren't generating a profit, introducing new ones, slashing costs and getting out of the heavy-truck segment there. But company officials said the steps simply weren't enough, in part because of the coronavirus pandemic's toll.
Through the first three quarters of 2020, the automaker lost $386 million in South America — an improvement from 2019, when the same period brought $527 million in losses.
Such steep losses undermine the automaker's push toward electric and autonomous vehicles, a costly transition that promises little payoff in the near term. The company in the last few years has sought to reduce costs by restructuring underperforming businesses. In all, the global restructuring is slated to cost the automaker $11 billion.
"The kinds of changes we're announcing today in South America are intended to help us accomplish there what's already happening in Europe and China, where we're giving customers great vehicles, great service, great value at the same time that we're improving the operating performance and profitability of those businesses," said corporate spokesman T.R. Reid.
The automaker, as well as its competitors, have been hampered by persistent, unfavorable economic conditions in the region.
"Brazil has been difficult, and South America has been difficult, and the COVID situation made it that much more so," said Stephanie Brinley, principal analyst at IHS Markit. "And Ford, like other automakers, is investing a lot into moving their EVs and other mobility services forward."
IHS's most recent data, from 2019, indicates that 4.5% of Ford's light-vehicle production was based in Brazil.
"There's pressure to get to that 8% return sooner than later," said Brinley. "And Brazil wasn't giving them that kind of return, and hadn't been for awhile."
In Brazil last year, industrywide vehicle sales plummeted 26% and production contracted by nearly one-third from 2019, Ford officials said. Sales were down to half their 2013 levels. And industrywide, capacity utilization in the country hovered at just 40%.
"The recent devaluation of currencies in the region has increased industrial costs beyond recoverable levels, and the global pandemic has further amplified issues, leading to even higher idle capacity and lower vehicle demand in South America, particularly in Brazil," Watters wrote.
"This decision," he added, "was taken only after we diligently pursued partnerships and selected asset sales. There were no viable options."
Ford's crosstown rivals, General Motors Co. and Fiat Chrysler Automobiles NV, still operate in the region — though GM in recent years has retreated from other international markets, including Europe, as it has pursued an aggressive EV agenda.
Ford said Monday that it will continue to sell vehicles from its global portfolio in South America, including the new Ranger pickup built in Argentina, the Transit van, the Bronco, and Mustang Mach 1. The automaker also hinted at new product offerings for the region, saying that it plans to "accelerate the introduction of several new connected and electrified models" including a new plug-in vehicle.
The automaker will maintain its product development center in Bahia, its proving ground in Tatuí, São Paulo, and its regional headquarters in São Paulo. It will end sales of EcoSport, Ka and T4 once existing inventories are sold.
The announcement follows Ford's decision at the end of December to scrap an automotive joint venture with Indian automaker Mahindra & Mahindra, under which the two companies would have jointly developed vehicles for India and other emerging global markets.
Going forward, the Blue Oval insists it's committed to South America and, as in its other markets, will emphasize connected and electric vehicles, and the SUVs, pickups and commercial vehicles where it makes its money.
"We intend to be a leader in the electrification revolution. That includes in South America," said Reid. "Our expectation is that what we're doing will help us create a sustainably profitable business in that part of the world."
Ford dominates Car of Year Awards
with F-150 and Mustang Mach-E
Henry Payne
The Detroit News
Jan 12, 2021
Ford Motor Co. dominated the first big award of the 2021 automotive season — the North American Car, Truck and Utility Vehicle of the Year — claiming two wins. The Ford F-150 took home Truck of the Year while the Blue Oval's first all-electric vehicle, the Mustang Mach-E, won Utility of the Year. Hyundai Elantra's won for Car of the Year.
The 28th annual NACTOY awards are one of the auto industry's most prestigious. Selected by an independent group of 50 journalists from across North America (including the author of this article), the prize honors new vehicles that have raised the standards and become new benchmarks for their classes.
"It is always a complex process to bring a vehicle of this magnitude to market," said Kumar Galhotra, Ford president of the Americas and International Markets Group, on receiving the award for the 14th generation of the best-selling F-150. "It was a process made even more complex by COVID."
Ford has been the best-selling truck in America for 44 straight years, with a model line that offers models ranging from $30,000 work trucks to luxurious Limited models with sticker prices north of $70k.
The F-150 offers countless configurations across six different powertrains with a hybrid option offered for the first time in 2021. Detroit automakers dominate the pickup segment and the F-150 beat out two other formidable truck models, the off road-oriented Jeep Gladiator Mojave and the first 700-horse pickup, the Ram 1500 TRX.
The SUV category was the year's most contested as automakers have flooded the market with models to satisfy consumers' unquenchable thirst for all things ute. Of the 43 new vehicles introduced this year, half were SUVs.
The ambitious, battery-powered Mustang Mach-E is Ford's answer to Tesla Inc.'s successful Model 3 and Model Y model line. The first non-sports car from Ford's Mustang sub-brand, the Mach-E beat out Genesis's first SUV, the GV80, and the iconic Land Rover Defender.
"This is really special in so many ways," said Galhotra. "The Mach-E is the first new member of the Mustang family in a long time. It represents the future of our company."
Though sedans make up a diminishing share of the U.S. auto market, Asian manufacturers like Hyundai continue to devote resources to compact cars as a way to attract entry-level buyers and appeal to consumers who prefer to think outside the SUV box. With its 2021 Elantra, Hyundai offers a comprehensive compact lineup to battle segment leader Honda Civic.
"With bold styling and an impressive list of standard high-tech features, along with multiple configurations that include hybrid and high-performance models, the Elantra confirms Hyundai's serious commitment to the compact car segment," said NACTOY juror and board member Gary Brauer, executive publisher of CarExpert.com.
The nine finalists for the 2021 model year were weaned from a competitive group of 27 semifinalists judged on criteria including: innovation, design, safety, performance, technology, driver satisfaction, and value.
The selection process takes place over 12 months of jury testing and three separate votes. This year was the first time the winners were announced via a virtual event due to the ongoing challenges of the coronavirus. The event was initially scheduled to be held at Detroit's TCF Center.
North American auto industry feels
effects of global microchip shortage
Jordyn Grzelewski
The Detroit News
Jan 11, 2021
Automakers in North America are beginning to feel the effects of a global shortage of semiconductors that has caused a crunch for manufacturers worldwide, adding a wrinkle to the industry's attempted comeback from the coronavirus crisis.
Ford Motor Co. confirmed Friday that it will idle its Louisville Assembly Plant next week "due to a supplier part shortage connected to the semiconductor shortage," company spokeswoman Kelli Felker said.
Ford builds its Escape and the Lincoln Corsair SUVs in Louisville. The automaker said it has moved up a previously planned week of downtime to next week due to the parts shortage. The production stoppage will affect 3,900 workers who will make approximately 75% of their gross pay during that time.
"We are working closely with suppliers to address potential production constraints tied to the global semiconductor shortage," Felker said in a statement.
Meanwhile, Fiat Chrysler Automobiles NV said Friday that it would delay the restart of its Toluca, Mexico, plant, which builds the Jeep Compass, and would schedule down time at its plant in Brampton, Ontario, which builds the Chrysler 300, Dodge Charger and Dodge Challenger.
"This will minimize the impact of the current semiconductor shortage while ensuring we maintain production at our other North American plants," company spokeswoman Kaileen Connelly said in a statement.
A spokesperson for Toyota Motor Corp.'s North America division told The Detroit News Friday that the automaker has scaled back production of its Texas-built Tundra pickup truck by 40% this month in response to the shortage. Toyota is still evaluating how the shortage might affect other products as the manufacturer attempts to put in place "counter-measures" to minimize the impact.
General Motors Co. has not announced any impact on its production schedules, but spokesman David Barnas said in a statement that the Detroit automaker is "aware of the increased demand for semiconductor microchips as the auto industry continues its global recovery."
"Our supply chain organization is working closely with our supply base to find solutions for our suppliers' semiconductor requirements and to mitigate impacts on GM production," he said.
The shortage is sending a ripple of disruptions across the automotive industry, according to automakers and media reports from around the world. There are a number of factors that explain the parts issue, but a major one has to do with the pandemic.
When large swaths of manufacturing operations ground to a halt in early 2020, suppliers found themselves with plenty of capacity of fill new orders. But as consumer demand bounced back quicker than expected, much of that capacity went to consumer goods such as gaming devices and cell phones.
When the automotive manufacturers resumed production and encountered more robust demand than they had expected, they were essentially at the back of the line.
"If you consider this to be one of those onion analogies, as you pull it apart, it's all going to go down to the pandemic," said Phil Amsrud, senior principal analyst for IHS Markit's automotive semiconductor research area.
Semiconductors are crucial components used in everything from instrument clusters to the infotainment systems that are ubiquitous in modern-day vehicles. And, automakers are increasingly competing with other sectors for the components as they need more of them for technologically-advanced, electric-powered vehicles.
"It's not uncommon in any year for there to be tightness in the supply chain, but a lot of what we're seeing now is a result of, everybody hit the brakes early last year and then has been trying to read the tea leaves to figure out, when do I start ramping production back up?" said Amsrud. "By the time the automotive (manufacturers came) back, all that capacity is consumed elsewhere."
Japanese automaker Nissan Motor Co. is adjusting production of its Note hatchback at its Oppama plant in Japan. A spokeswoman for the automaker's North America operations said: "For the U.S. specifically, we are working closely with our supplier partners to monitor the situation and assess any potential impact on our operations."
The Nikkei, a Japanese newspaper, reports that Honda Motor Co. will cut back vehicle production due to the shortage, as well. The Japanese automaker will cut production by about 4,000 units this month, the newspaper said.
A spokesman for American Honda Motor Co., Inc. said Friday that, due to the shortage, "Honda's purchasing and production teams are currently evaluating this issue in the effort to limit the impact of this situation on our production in North America and maintain our ability to meet the needs of our customers."
German automakers Volkswagen AG and Daimler AG, too, have said the shortage will require them to scale back production. Also sounding the alarm: automotive parts manufacturers.
"The disruptions caused by the coronavirus crisis have caused extreme volatility in the automotive industry," Continental AG, a German parts maker, said in a statement, explaining that the semiconductor industry has lead times of six to nine months and has not been able to keep up with auto industry demand. "The bottlenecks from the semiconductor industry are expected to continue well into 2021, causing major disruptions in Continental's production."
"Internal taskforces are working 'round-the-clock,'" Continental said. "Despite all efforts unfortunately, we have not been able to avoid requesting our customers to adapt their production or adjust their product mix in specific cases."
Going forward, the company said, it will be "critical" to invest in and expand the capacity of the silicon foundries where these parts originate.
Similarly, multinational Germany-based engineering and technology company Robert Bosch LLC said in a statement that it "cannot divorce itself" from a shortage of semiconductor components.
"To make matters worse, one semiconductor manufacturer's investments in expansions and production increases have been delayed due to the coronavirus pandemic, resulting in significantly fewer chips being supplied to Bosch," the company said. "Despite the difficult market situation, Bosch is doing all it can to keep its customers supplied and to keep any further impact to a minimum."
And the China Association of Automobile Manufacturers has warned of a "relatively big impact" to some production in the world's largest auto market in the first quarter due to the shortage, according to a December IHS Markit research note on the issue.
The supply-chain constraint comes as the global auto industry undertakes a recovery from the early days of the pandemic, which shuttered production in North America for eight weeks in the spring of 2020. Auto plants have largely avoided any major disruptions related to the virus spreading among workers, but other pandemic-related supply issues have at times slowed down production.
IHS Markit's analysts don't see this as a long-term problem for the industry, but one that could cause production snarls through the first half of the year.
"It's a mix problem; too much of it is going to consumer applications, compared to automotive. That will self-correct over time," Amsrud said. "We'll get through this, even though it's going to be an uncomfortable period of time until we get there."
Ford Maverick compact pickup
truck leaks in new photo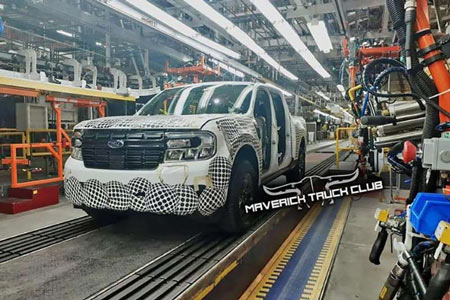 Sean Szymkowski
MSN News
January 10, 2021
Ford's done selling passenger cars -- it's all-in on trucks and SUVs . But the Blue Oval knows it needs to keep things somewhat affordable, and you could well be looking at one of two vehicles that will become entry-level models at Ford dealerships: the Maverick pickup truck.
The photo published on the Maverick Truck Club forum with zero sourcing, but doing a little bit of digging, it's highly likely this is the Maverick. Rumor says the compact truck will enter production at Ford's plant in Hermosillo, Mexico, and the the interior of the plant looks nearly identical to photos of the Ford Bronco Sport, which is currently built at the factory, rolling down the production line. We at first thought it could be the next-generation Ranger due to its seriously upright stance and proportions, but we do indeed believe this is the compact truck instead.
Ford did not immediately return Roadshow's request for comment on the photo, though we expect crickets when it comes to a leak like this.
The Maverick, the frontrunner nameplate for this new truck, will be one of two new Fords we've heard of that are meant to serve as entry-level vehicles at Ford dealerships. Dealer sources previously said Ford showed the Maverick and a currently unnamed crossover at a dealership meeting, and both will be very affordable, around $20,000 to start, apparently. The second vehicle will replace the mediocre Ecosport in Ford's lineup.
How can Ford build a pickup and sell it so cheaply? This will not be a body-on-frame vehicle. Instead, it should ride on Ford's C2 architecture that underpins the latest-generation Focus sold abroad, the Escape and the 2021 Bronco Sport. As mentioned, the Bronco Sport is already in production at this Mexican factory. The little SUV also highlights how good Ford is at taking a unibody platform and making it look like a rough and tough thing. The Maverick looks to take the same lessons away with a blocky front end. We also saw a leaked photo of the truck's tailgate last year, too.
We don't have solid information on when the Maverick will make a formal debut, but if Ford's busy building prototypes, we'll likely hear more soon.
GM, Ford convert hundreds of
temps to permanent employees
Kalea Hall
The Detroit News
Jan 7, 2021
Detroit — More than 650 General Motors Co. temporary employees and nearly 400 Ford Motor Co. employees will become permanent full-time employees this month, the automakers said Monday.
GM and Ford Motor Co. both have agreements with the United Auto Workers to convert temporary employees to permanent positions so they can reach top wages and benefits like others have on the line. Fiat Chrysler Automobiles' contract with the union doesn't set conversion dates like the agreements at Ford and GM.
The union fought during the 2019 negotiations with the Detroit Three to secure a pathway for temporary workers to become permanent employees, increasing their pay and providing them benefits not accessible to temps. The fight included a 40-day strike against GM.
"This life-changing event is a testament to our members' hard work as permanent temporary employees and the power of collective bargaining that created this defined path for them to seniority status," UAW Vice President Terry Dittes said in a statement.
Among the plants with converted temp positions are GM's major truck plants in Flint and Fort Wayne, Indiana, and its large SUV plant in Arlington, Texas. These plants have been running overtime to keep up with high demand for the product while inventories have been tight because of an eight-week COVID-19 shutdown last spring.
Ford made temp employees permanent at Kansas City Assembly where F-150s and Transit vans are made, and at Kentucky Truck where employees build the Super Duty trucks, Ford Expedition and Lincoln Navigator.
Last January, GM converted more than 900 temporary employee positions across 30 facilities and Ford converted 592.
FCA is filling 3,850 jobs at its $1.6 billion Mack plant and another 1,100 jobs at the Jefferson North Assembly Plant once that plant gets a $900 million update, which hasn't started.
In filling those full-time positions, the company is granting current supplemental workers the first opportunity at those jobs to meet contractual obligations with the UAW.
In latest management shakeup,
Ford announces new U.S.,
Canada sales lead
Jordyn Grzelewski
The Detroit News
Jan 6, 2021
Ford Motor Co. on Monday announced a new sales leader for the United States and Canada, the latest in a string of management shakeups under new CEO Jim Farley.
Andrew Frick, a 25-year company veteran who most recently served as director of U.S. sales, became vice president of sales for the U.S. and Canada effective Monday. He replaces Mark LaNeve, who the company said had "elected to depart Ford ... in order to pursue the next chapter of his professional life."
The company previously announced the replacement of the chief financial officer, as well as the retirements of its chief information officer, president of its international markets group, and chief manufacturing and labor affairs officer.
Additionally, the Dearborn automaker said it would separate the jobs of chief marketing officer and leading the Lincoln brand, roles that previously were combined.
The Blue Oval has also made a number of staffing changes that reflect its ongoing transition to electric and autonomous vehicles, as well as the opportunities it sees in digitally-connected vehicles offering data-driven services, particularly for commercial customers.
Upon stepping up as CEO, Farley laid out a plan that calls for the automaker to overhaul its automotive operations by improving quality, reducing costs and speeding up the restructuring of underperforming businesses. The plan includes allocating more resources to the automaker's strongest businesses and vehicles, expanding its commercial vehicle business and adding more affordable vehicles to its lineup, among other steps.
Frick, 47, has experience at both Ford and Lincoln, having served in numerous regional roles in the U.S., Asia Pacific, the Caribbean and Central America. He has a bachelor's degree in marketing from Villanova University and a master of business administration degree from the University of Michigan.
In his new role, he'll be responsible for sales, customer care and dealer relations for the Ford brand in the U.S. and Canada. He'll report to Kumar Galhotra, president of the Americas and international markets group.
"Andrew brings deep product knowledge, a passion for customers, excellent dealer relations and a proven track record of results to the critical role of leading the sales organization in our largest market," Galhotra said in a statement.
"His leadership will be critical as Ford continues to turn around its automotive operations, especially with exciting new products and ever-improving quality, modernizing all aspects of the company and disrupting our conventional automotive businesses to better serve customers."
LaNeve, 61, joined Ford in 2015 after a three-year stint leading Global Team Blue, the company's marketing and advertising agency. He previously served as CEO of Volvo Cars of North America, general manager of General Motors Co.'s Cadillac brand, vice president of sales, service and marketing at GM, then as chief marketing officer and head of agency relationships at the Allstate Corp.
Galhotra credited LaNeve with improving the retail experience, increasing market share, helping make dealerships safe amid the coronavirus pandemic, and helping achieve record sales of the F-150.
Frick steps into the role as the automaker targets a 10% operating margin in North America, its most important and profitable market globally.
The move comes amid one of the most significant portfolio refreshes the automaker has undertaken, with the new electric Mustang Mach-E and redesigned F-150 now arriving at dealerships and the resurrected Bronco SUV launching this year. Electric F-150s and Transit commercial vans come next year, all part of the automaker's strategy of leveraging its most popular and iconic brands as it approaches a future dominated by electric vehicles.
Canada's top paid CEOs
will earn the average yearly
income by noon on Jan. 4
By David Lao
Global News
January 5, 2021
By the time most Canadians settle back into their work-from-home offices on the first working day of the year, Canada's top CEOs would have already made the average worker's salary — $53,482 — according to new research from the Canadian Centre for Policy Alternatives (CCPA).
The report said that the average top-paid CEO would have made that average income by 11:17 a.m.ET Monday, about an hour later than the previous year. It also found that in 2019, the average top Canadian CEO made 202 times more than the average worker in the same year, which was down from a record 227 times the previous year.
"There's a real golden cushion for a lot of these CEOs, who have seen years of outrageous pay, this will cushion them and their wealth in a sense, but for many of them they will actually see an increase in their pay because their stock has done fairly well during the pandemic," said David Macdonald, the report's author and senior economist for the CCPA.
According to Macdonald, most CEO pay is not in salary, but is handed out to them in bonuses and that because of this, it wouldn't be possible yet to calculate how much they made in the most recent year. About 82 per cent of this year's average top CEO income of $10.8 million is made up of bonuses, he added.
While the research found the wage gap had narrowed slightly compared to the previous year, McDonald said that changes to executive pay structure would certainly have to be made, especially given the financial hardships caused by the spread of the novel coronavirus pandemic.
Over a third of the top 100 CEOs of 2019 were found to have ran companies that applied for and received payroll support in 2020 through the federal government's Canada Emergency Wage Subsidy (CEWS), while about half of that 100 was expected to either retain their compensation or see a raise during the pandemic due to the stock market boom.
"I still don't think there's any way we can avoid it, it's not built into the rules as it is in other countries like the Netherlands or Spain where you can't pay out shareholders and executive bonuses at the same time as you're receiving their version of the wage subsidy," Macdonald said.
"But we can put those rules into place, we haven't so far, so I think it's basically guaranteed we're going to see massive executive bonuses going at the same time as the federal government paying the wages of the companies."
Macdonald's research also found that there was roughly 15 per cent people working less among those who were making $17 an hour or less, while the workers with the "highest wages" fully recovered by July.
According to a 2020 report from the Fraser Institute, CEO pay has increased in recent years due to an increasing demand in skills and competition in the industry.
"The best business leaders in the world, just like top professional athletes and entertainers, are in limited supply while also being in high demand globally, so the compensation they receive reflects that," wrote Vincent Geloso, the report's author, in a press release.
According to Geloso's report, the gap between CEO and worker pay in Canada is "overestimated" due to many other comparisons factoring in CEO bonuses. Geloso also argued that the high pay was justified due to the high amount of executive turnover, citing a Globe and Mail survey that found only 15 of the top 100 CEOs remained in the list between 2007 and 2017.
Macdonald, on the other hand, argues that given the economic turmoil of the pandemic, several tweaks have to be made to Canadian tax and wage policy — starting with the federal government restricting the CEWS only to companies that are not paying out executive bonuses, as well as excluding it from companies that substantially increase executive salaries.
1:50New report says women CEOs are paid less than men
New report says women CEOs are paid less than men – Jan 2, 2019
"The argument so far is that the federal government is that companies are using the wage subsidy to pay employees, which they are, but the issue is that we can't be having companies reward the executives while we're paying the payroll, and that's exactly what's going to happen unless that stipulation is made," he said.
Aside from that, Macdonald recommended eliminating executive tax benefits, introducing new marginal tax rates on extreme incomes and increasing the tax rate on those who made more during the pandemic to close the gap.
"One of the places they should be looking at for revenue is to people who have done particularly well from the pandemic, it has not been bad for everyone — a lot of these CEOs would come out of this much better off as a result of the pandemic, and those are the types of people who should be asked to pay a little bit more. They made substantially more, so they should chip in a little bit more."
Canadian cases
CONFIRMED
600,667
(Today: +3,270)
DEATHS
15,894
(Today: +29)
RECOVERED
507,046
(Today: +2,074)
18,771,048tests administered (Today: +39,121)
Daimler fines for slow recalls
could reach $30 million
Associated Press
Jan 4, 2021
Washington – Failing to recall vehicles quickly enough could cost Daimler Trucks up to $30 million in fines and other costs.
In penalties announced Thursday, the National Highway Traffic Safety Administration said Daimler also failed to comply with other reporting requirements. They include an upfront fine of $10 million, another $5 million the automaker must spend on safety enhancements, and a deferred $15 million penalty, which may or may not have to be paid.
The order stems from several recalls between 2017 and 2018. Daimler said there have been no known accidents or injuries related to what it called "voluntary recalls."
The consent order, which lasts from two to three years, requires Daimler to improve its ability to detect and investigate potential safety defects in its vehicles. The company must also improve its collection of safety information from its businesses and report the information accurately to regulators at NHTSA. It also requires Daimler to develop written procedures and training for employees who work on recalls and reporting requirements.
"We appreciate the opportunity to summarily resolve this matter and continue building safe, efficient and reliable commercial vehicles," Daimler Trucks said in a prepared statement Thursday.
Americans to #FinishStrong
during critical pandemic period
Jordyn Grzelewski
The Detroit News
Jan 2, 2021
The voice of actor Bryan Cranston intones over shots of frontline health-care workers, a COVID-19 survivor and essential workers wearing face masks: "We are so close. Soon we will be what were — touching, loving, living. Let's finish strong."
That's the message behind a forthcoming advertising campaign Ford Motor Co. is debuting Friday during several college football bowl games that are sure to draw millions of viewers. The 30-second video, which will run across various television spots through at least Jan. 3, aims to persuade Americans that it's their patriotic duty to participate in COVID-19 mitigation efforts as newly released vaccines bring hope for an end to a pandemic that to date has killed more than 335,000 people in the U.S.
"While many are weary from the challenges 2020 has thrown at us, now is the time for us to pull together, protect each other and finish strong until COVID-19 vaccines arrive more broadly," Kumar Galhotra, president of Ford's Americas and International Markets Group, said in a statement. "Lives are on the line."
The Finish Strong campaign is just the latest prong in the Dearborn automaker's response to the coronavirus pandemic. Shortly after the first cases of the deadly virus were confirmed in the U.S. in March, Ford quickly shifted gears and began producing much-needed medical and protective equipment for COVID-19 patients, frontline workers, underserved communities and others across the country.
To date, the Blue Oval has manufactured 55 million face masks and expects to have made enough to donate 100 million masks by mid-2021. Details of the mask donation program are available at FordFund.org.
The company — with the help of United Auto Workers members and in some cases manufacturing partners — has also made 20 million face shields, 50,000 ventilators for the federal stockpile, more than 32,000 powered air-purifying respirators and 1.4 million washable isolation gowns.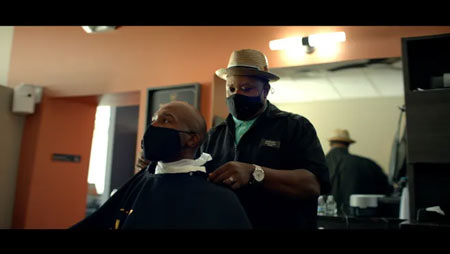 A shot from Ford new's #FinishStrong ad, directed by Peter Berg and debuting Jan. 1.
The idea for #FinishStrong developed as the company learned from health care workers and experts about the critical period the U.S. is in, as cases and deaths continue to strain hospitals, even as initial rounds of vaccinations have begun.
"The goal was, how could we help rally around this idea that we're almost there?" said Mark Truby, Ford's chief communications officer. "Vaccines are around the corner, but we know from health care experts that as many as 50,000 more American lives could be saved between now and when we have mass adoption of vaccines ... if we were to follow proper COVID protocols as a society."
Rather than preaching to people about mask-wearing, which has become a hyper-partisan issue, Ford and its advertising partners wanted to come up with a unifying message that appeals to viewers' sense of patriotism and morality. They selected filmmaker Peter Berg, whose credits include the popular "Friday Night Lights" television show, to direct the commercial.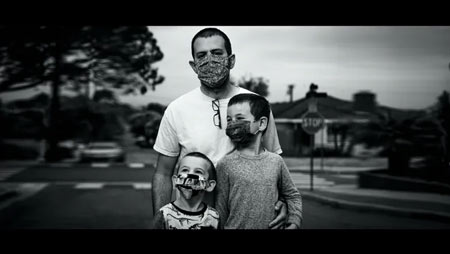 A shot from the new #FinishStrong ad that Ford will debut during college football bowl games on New Year's Day.
The automaker had already bought up ad spots for highly watched football games over the first three days of the new year, and opted to divert to the Finish Strong campaign about half the time it would have devoted to a new ad for the 2021 F-150 pickup truck that it's in the midst of introducin.
The commercial will debut Jan. 1 during the Citrus Bowl on ABC and the Peach, Rose and Sugar bowls on ESPN. It will also run during bowl games on Jan. 2 and during Fox NFL games Jan. 3, for a total of about 20 time slots dedicated to the commercial. Ford has also enlisted its various partners to participate in a social media campaign around the #FinishStrong mantra, and is sharing the message across its workforce as well.
"The goal is to try to help, as we enter into the new year, shift the sentiment," said Truby. "Rather than looking at things as a political issue or a partisan issue, how do we come together to try to help save lives and finish these next few months that are going to be so critical, in a spirit of protecting each other?"