Ford to pay $10.1M to settle
sex, race harassment case
Keith Laing
Detroit News
Washington Bureau
August 18, 2017
Washington — Ford Motor Co. has agreed to pay $10.1 million to settle sexual and racial harassment charges at two Chicago facilities that were under investigation by the U.S. Equal Employment Opportunity Commission.
The agency said it found reasonable cause to believe that personnel at two Ford facilities — the Chicago Assembly Plant and Chicago Stamping Plant — had harassed female and African-American employees.
The EEOC said it also found that the automaker retaliated against employees who complained about the harassment or discrimination.
The agency said the Dearborn company has agreed to compensate employees through a claims process that will be established. Ford did not have to provide an admission of liability as part of the agreement.
The EEOC's Chicago District director, Julianne Bowman, said in a statement: "Ford Motor Co. has worked with the EEOC to address complaints of harassment and discrimination at these two facilities and to implement policies and procedures that will effectively prevent future harassment or provide prompt action when harassment complaints arise."
Ford said in a statement it "chose to voluntarily resolve this issue without any admission of liability with the EEOC to avoid an extended dispute."
The company added: "Ford does not tolerate harassment or discrimination of any kind; we are fully committed to a zero-tolerance, harassment-free work environment at all facilities and to ensuring that Ford's work environment is consistent with our policies in that regard. Ford conducted a thorough investigation and took appropriate action, including disciplinary action up to and including dismissal for individuals who violated the company's anti-harassment policy."
Ford was accused in a lawsuit initially filed by four women that claimed men at Ford's Chicago Assembly Plant touched and groped them, exposed themselves and subjected them to unwanted comments, stares and pornographic images.
The women alleged in the suit — which was later expanded to include more than 30 female Ford employees — that male co-workers, managers and supervisors would target them if they complained about propositions and inappropriate conduct.
A plant manager and other officials at the plant were replaced two years ago as the investigation proceeded.
Under the agreement, Ford will be required to conduct regular training at the facilities for the next five years. It must disseminate anti-harassment and anti-discrimination policies and procedures to employees and new hires, and report to the EEOC any complaints of harassment or related discrimination.
Unifor to hold strike mandate
vote for Cami workers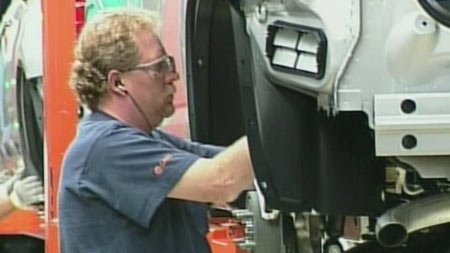 CTV London
August 17, 2017
A strike mandate meeting is set for thousands of workers at Cami Automotive in Ingersoll.
A vote will be held on August 27 at Centennial Hall in London at 10 a.m. for members of Unifor Local 88.
The union is currently bargaining with General Motors and has said this round of negotiations could be the most important in generations.
A strike or lockout is possible any time after September 17 if a deal is not reached.
GM suspends exec charged
in FCA-UAW scandal
Robert Snell and
Melissa Burden
Detroit News
August 17, 2017
General Motors Co. has suspended a top labor executive charged in a $4.5 million-plus corruption scandal tied to his tenure at rival Fiat Chrysler Automobiles NV, sources told The Detroit News on Tuesday.
Alphons Iacobelli was suspended within a day of being indicted by a federal grand jury July 26 and accused of spending more than $1 million in UAW-Chrysler National Training Center funds on luxury items while working as an FCA labor negotiator, according to two sources familiar with his employment. The luxury items included $375,000 in home improvements for a pool, outdoor kitchen and spa at his home and landscaping; a $350,000-plus Ferrari 458 Spider; and two limited-edition, solid-gold Mont Blanc fountain pens that cost $37,500 each.
Iacobelli was a labor negotiator at FCA but abruptly retired in June 2015 a month before negotiations with the UAW were to begin and amid an FBI investigation. Fiat Chrysler last month said they fired Iacobelli after they learned of the issues in June 2015 and investigated.
Seven months later, Iacobelli was hired by GM as executive director of labor relations and was highly involved in negotiations for GM last summer with the Canadian auto workers union, Unifor.
Iacobelli's job status has remained a mystery since prosecutors unsealed the grand jury indictment. GM has refused to comment about Iacobelli's employment status and on Tuesday again declined to comment.
It remained unclear Tuesday whether Iacobelli had been suspended with pay.
Iacobelli, 57, of Rochester Hills, was indicted alongside Monica Morgan-Holiefield, widow of former-United Auto Workers Vice President General Holiefield, and accused of conspiring in a scheme that siphoned millions of dollars in UAW-Chrysler National Training Center funds earmarked for blue-collar workers.
Iacobelli and Morgan-Holiefield are charged with criminal violations of the Labor Management Relations Act, which prohibits employers or those working for them from paying, lending or delivering money or other valuables to officers or employees of labor organizations — and from labor leaders from accepting such items.
Prosecutors also say Morgan-Holiefield, 54, and her late husband received more than $1.2 million in illegal payments. They spent the money on jewelry, on furniture and paying off the $262,219 mortgage on their Harrison Township home, prosecutors allege.
If convicted of crimes that could send them to federal prison for up to five years, Iacobelli and Morgan-Holiefield risk losing their homes to the government. A trial date for the two has been scheduled for Sept. 25.
Iacobelli's lawyer David DuMouchel wrote in an email to The News that he was unaware of his client's job status.
International pressure
mounts over Ford transmissions
Canadian lawyer seeks certification for class action,
Australia alleges 'unconscionable' conduct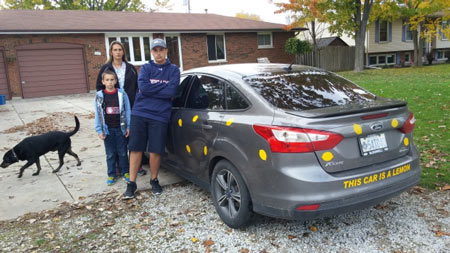 CBC News
By Yvonne Colbert
Aug 16, 2017
Ford is facing increasing international pressure over transmission problems in some of its Focus and Fiesta models.
A Canadian lawyer is seeking certification for a class action suit, Transport Canada is continuing its defect investigation and the Australian government is starting action against the automaker for alleged "unconscionable and misleading" conduct. At the same time, Ford has agreed to a proposed class action settlement in the United States.
"We've accumulated almost 3,000 registrations from people who've experienced terrible problems with their vehicles," said lawyer Ted Charney, who is leading the $825-million Canadian class action.
Dual clutch transmission to blame
At issue is the PowerShift transmission in 2011-16 Fiesta and 2012-16 Focus models. The vehicles are sold as automatics and have what Ford calls PowerShift dual clutch transmission — essentially two manual transmissions working in parallel, each with its own independent clutch.
The problems experienced by these vehicle owners are all similar, including shuddering, delayed acceleration, sudden acceleration and sudden loss of power.
Trish Glabb of Stoney Point, Ont., no longer owns the 2014 Focus that she plastered with lemon stickers. The final straw came when she was left fearing for her life, her mother's life and that of her 13-year-old as her mother was about to drive onto Highway 401.
"We were coming up the on ramp and my car just got stuck in its gear — which it is notorious for doing — and it wouldn't go any faster," Glabb said. "It was revving out to 7,500. We were between two semis and then the car decided to lunge forward."
She said her mother was able to merge into the next lane and avoid an accident, but the experience sent a livid Glabb to McDonnell Motors in Strathroy, Ont., where she'd purchased the vehicle. The dealership had previously replaced two clutches on the car and performed several updates to its computer.
"They finally agreed to buy out what was left owing on the Focus and gave me enough money for a down payment so I could afford a 2017 Ford Fusion," Glabb said.
145,000 such vehicles in Canada
It's not known how many times Ford has quietly settled with owners. It's estimated 145,000 of the cars have been sold in Canada.
Transport Canada says it has received 1,235 complaints concerning the transmissions but "most complaints received … are not safety related and pertain to driveability and performance concerns."
The department says it is not aware of any injuries related to this issue.
Charney is hoping the Canadian class action will be certified by the courts in November.
In the meantime, Transport Canada is continuing with its defect investigation into the cars, saying it is at the "preliminary evaluation" stage.
It says it will be meeting with Ford Canada in the fall as part of the probe.
Australia calls Ford 'unconscionable'
In Australia, the government is taking a hard line against Ford Motor Company of Australia Limited, alleging it engaged "unconscionable and misleading or deceptive conduct, and made false and misleading representations in response to customer complaints."
A government news release alleges Ford misled customers who complained about the vehicles, telling them "the issues … were caused by the way the driver handled the vehicle, even though Ford was aware of systemic issues … from at least 2013."
It also alleges Ford refused to provide a refund or replacement vehicle unless customers paid on average $7,000 for a replacement vehicle. It says in many cases, "customers who could not afford to make these payments felt they had no option but to continue to use their vehicle."
The Australian allegations have not been tested in court.
U.S. settlement pending court approval
In the U.S., Ford Motor Company has reached a proposed settlement in a class action lawsuit involving the vehicles. It will go before the court for final approval in October. If it is given the green light, it will see a binding arbitration process for buybacks or repairs, as well as cash payments and/or discounts on future Ford purchases.
Charney said Ford likely decided to settle the American class action because the U.S. has much stronger legislation and repercussions.
"If somebody actually gets into an accident where there's serious injuries down there then there's Senate hearings and they have to go to regulatory bodies and explain why they sat on this for years," he said.
Lawyer says Ford feels 'immune'
Regardless, Charney said with the facts of this case it doesn't matter how strong the legislation is.
"Something's going to have to be done about them one way or another. There's just too many people complaining about them now," he said.
He thinks Ford is "oblivious" to the concerns and considers itself "immune" because of its size and political strength.
"They consider this to be a little blip, or until somebody dies in an accident that has something to do with their bad transmission, I don't think they're going to pay attention to it," Charney said. "They're too big to be bothered with these things."
Ford responds
Ford of Canada responded to CBC's inquiry acknowledging the U.S. settlement, saying it only affects U.S. residents who meet certain criteria.
"Ford of Canada is not a party to the U.S. litigation or the settlement," company spokesperson Michelle Lee-Gracey said in an email. "Canada is a different jurisdiction from the U.S., with different laws and rules of civil procedure. Ford of Canada continues to defend its litigation."
Halifax resident Jordan Bonaparte, who first flagged this story for CBC because of problems with his 2013 Focus, said Ford should be embarrassed and ashamed of the way it has treated its vehicle owners.
He is also encouraging others to fight for a remedy if they believe they have been treated unfairly.
"People who feel they've been wronged by a large corporation, they need to stand up for themselves by getting organized, by getting educated on the background and just being persistent," he said.

FCA mum on reported
interest from Chinese firm
The Detroit News
Jim Lynch
Aug. 15, 2017
A spokesperson for Fiat Chrysler Automobiles NV declined to comment on a media report suggesting the automaker had been targeted for purchase by a Chinese company.
Automotive News reported Monday morning: "Representatives of a well-known Chinese automaker made at least one offer this month to buy Fiat Chrysler Automobiles at a small premium over its market value... The offer was rejected for not being enough, a source said."
Sergio Marchionne, FCA's chief executive officer, has repeatedly floated the idea of mergers in the past with other automakers, including General Motors.
But on Monday, FCA's U.S. spokeswoman Shawn Morgan offered little on the report.
"We are declining to comment," she said in an emailed response to questions.


GM accuses bankruptcy trust
of secret $1B stock plot
Erik Larson,
Bloomberg News
August 14, 2017
General Motors Co. accused the trust set up to handle its bankruptcy claims of secretly plotting with plaintiffs' attorneys to make it pay $1 billion in stock as part of a $15 million class-action settlement.
The accord, revealed at a hearing Friday in federal court in New York, will pit GM against the "Old GM" General Unsecured Creditors Trust for the first time since the 2009 bankruptcy sale created the split to save the company.
The settlement between the plaintiffs and the trust for old GM is due to be signed Aug. 15, attorney Steve Berman said in a phone call. The deal will resolve hundreds of personal-injury cases stemming from GM's faulty ignition switches, as well as a class-action suit over millions of vehicles that allegedly lost value due to a series of recalls in 2014, he said.
Under the accord, which requires a judge's approval, the trust will pay plaintiffs $15 million and accept $10 billion in previously disputed claims, thus pushing total approved claims in the case beyond a critical threshold of $35 billion, Berman said. That would then trigger a provision of the 2009 sale that would force GM to contribute $1 billion in stock to help pay the claims, he said.
GM, based in Detroit, is balking. The trust is only accepting the $10 billion in claims in order to trigger the provision requiring GM to pay stock, it said. GM has long said the remaining demands are bogus.
"This contrived scheme won't work," the company said in a statement. "We will aggressively protect our rights and our shareholders, and will work to hold the GUC Trust and plaintiffs accountable for their bad faith and improper actions."
Berman said his team has plenty of evidence that the claims are genuine and said GM knew what it was doing when it agreed to the $35 billion claims threshold.
"This is what GM bargained for" as part of the 2009 bankruptcy sale, when it "got away from all these liabilities," Berman said. "It's working exactly the way it's supposed to work."
The dispute comes weeks after GM won another federal trial over the ignition switches. The devices in the initial recall were linked to more than 100 deaths, with GM paying at least $870 million to settle claims and an additional $900 million to the Department of Justice to resolve a criminal probe.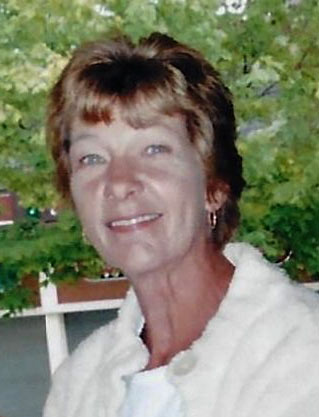 March 24, 1948 - August 9, 2017
Wife of deceased past Local 584 President
Steve Godsoe passed away on
August 9, 2017.
Our Deepest Condolences go out to Carrie
and family and to the entire Godsoe family
Visitation:
J. SCOTT EARLY FUNERAL HOME
21 James St., Milton
Sunday August 13, 2017
2 - 4 and 7 - 9 p.m.
Funeral service:
KNOX PRESBYTERIAN CHURCH
Monday August 14, 2017 at 11:00 a.m.
170 Main Street, Milton
Interment to follow at Evergreen Cemetery.
Obituary of Sharon Godsoe
GODSOE, Sharon

Suddenly at home, on Wednesday August 9, 2017 at the age of 69. Predeceased by her husband Steven and by her son David. She will be deeply missed by her daughter Carrie, son-in-law Tom, daughter-in-law Tamara and by her beloved granddaughters, Jessica, Holly, Haylie and Kylie. She is survived by her brother Ken (wife Sheila), sisters Cathy (husband Don), and Debbie (husband Rick) and their families and will be lovingly remembered by her many friends.

The family will receive visitors at J. SCOTT EARLY FUNERAL HOME, 21 James St., Milton (905) 878-2669 on Sunday from 2 - 4 and 7 - 9 p.m. A funeral service will take place on Monday August 14, 2017 at 11:00 a.m. from KNOX PRESBYTERIAN CHURCH, 170 Main Street, Milton. Interment to follow at Evergreen Cemetery.

If desired, memorial donations to the Heart and Stroke Foundation would be appreciated. Messages of condolence may be left online at www.earlyfuneralhome.com
Retiree Jim McCurdy
Passes Away August 4, 2017
James McCurdy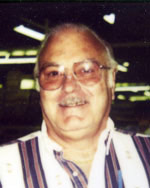 1941 - 2017
Retired
Oct 1, 1997
32.6 years
The Retirees Chapter were not notified of Jim's passing but I believe there were some extenuating circumstances that could be attributed to this. Unfortunately we were not able to notify anyone of the funeral on time as we just found out. Our Deepest condolences go out to his family and friends.
Obituary
McCurdy, Jim - Survived by his children Jill (Steve) Thompson and Crystal McCurdy, Karen McCurdy and Vicki Sandford. Dear brother of Anne Johnston (Stan). Will be missed by many grandchildren and great-grandchildren. Friends will be received at the J.S. Jones & Son Funeral Home 11582 Trafalgar Rd., north of Maple Ave., Georgetown, 905-877-3631 on Friday August 11, 2017 from 2-4 p.m. Cremation. In memory contributions to the Heart & Stroke Foundation would be appreciated. To send expressions of sympathy visit www.jsjonesandsonfuneralhome.com
http://jsjonesandsonfuneralhome.com/tribute/details/2225/James-McCurdy/obituary.html#tribute-start
Unifor occupies Milton's
Northstar facility to
demand pension
deficit funding
Aug 11, 2017
Melanie Hennessey
Milton Guardian
Unifor has taken control of the Northstar Aerospace facility in Milton to demand that the company fund a pension deficit for its outgoing employees and retirees.
The occupation began at 4 a.m. on Thursday (August 10) and is currently underway at 180 Market Dr. Hundreds of Unifor members and supporters have taken turns holding a picket line outside the facility so far and say they plan to continue demonstrating around the clock. Current Northstar employees were sent home when the occupation commenced.
"This action sends a clear message to Northstar that the company cannot shortchange workers and the pension of retirees that have made it profitable for so many years," said Unifor national president Jerry Dias. "There is no financial reason for refusing to fund the plan. The only excuse is corporate greed."
It's around noon and the Northstar property front lawn, lined with yellow caution tape, is covered with dozens of supporters from as far away as Ottawa and Windsor wearing Unifor red and waving red flags. As transport trucks drive by and honk in solidarity, the crowd cheers.
Halton regional police labour dispute officers are also on scene to liaise between management and the union.
After announcing the relocation of its Milton facility's equipment to Chicago and Windsor, Unifor says that Northstar Aerospace has refused to meet a $6-million shortfall that equates to a 24 per cent pension reduction for workers facing job loss and retirees.
"Negotiations have been slow and we finally said enough is enough, we're taking the plant over," Unifor Local 112 president Scott McIlmoyle told the Champion. "It's in the corporation's hands now."
Among those impacted by the pension shortfall is Kulwant Bhogal, who worked at Northstar for 17 years before retiring two years ago.
"This will affect me right from day one. I'll have to cut all of my budgets," he told the Champion from the picket line. "I don't know if I'll be able to make it or not."
The sentiment was echoed by Mohan Mistry, a 37-year employee who also retired two years ago.
"This affects the whole family," he said. "Some of us worked hard to keep this place going for a long time. We worked seven days a week to develop all of this stuff, and suddenly you take it all away?"
According to Unifor national representative Barry Lines, a 24 per cent pension reduction will be an extra hard hit for those who've already retired and established their budget based on pension income.
"It's absolutely critical that we address this situation," he said. "This place has been built by the workforce and retirees. To turn a blind eye on them is absolutely disgusting and ridiculous."
Currently, the average pension equates to $881 a month, says literature distributed by Unifor, with the pension cut reducing that amount by about $211.
The closure will affect almost 200 highly-skilled workers at the plant, 50 of whom were to retire this year. Several of the employees are residents of Milton and many have been working at the facility for many years.
It opened in its present location in the spring of 1993 and is scheduled to cease operations by Sept. 30.
Since January, Unifor and its Local 112 have attempted to negotiate a closure agreement to protect current pension provisions and benefits.
According to Unifor, the shortfall will affect future and current retirees, some of whom are already on a fixed income after having worked at the facility for more than 40 years.
"We have stopped production at this facility until Northstar holds up its end of a commitment — a commitment to the workers who have made this company flourish," said McIlmoyle. "After months, the company has refused to discuss the matter. Time is running out — Northstar needs to do the right thing."
The plant specializes in manufacturing high-precision metal products used by aircraft and helicopters, including specialized gears for transmissions used on Boeing's Apache helicopter.
According to the company, it lost the contract for the gears, forcing it into closure.
The facility, which was purchased by Wynnchurch Capital in 2012, when Northstar went into bankruptcy, employs skilled tradesmen, technicians, machinists, general labourers, and shipper/receivers. The plant operates around the clock with both eight- and 10-hour rotating shifts.
Unifor is Canada's largest union in the private sector, representing more than 310,000 workers in every major area of the economy. The union advocates for all working people and their rights, fights for equality and social justice in Canada and abroad, and strives to create progressive change for a better future.
Ford engineer teams find
problems in police SUVs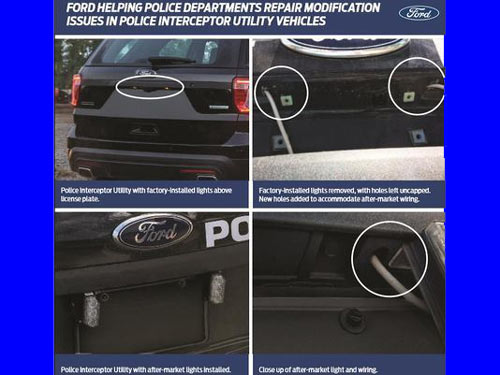 Ian Thibodeau
The Detroit News
August 10, 2017
Ford Motor Co. says it has repaired more than 50 police Explorer SUVs for multiple municipalities where officers had been sickened by carbon monoxide while driving those vehicles.
The company said it has engineering teams working with multiple law enforcement agencies around the country to address a growing number of reports of suspected carbon monoxide leaks in the cabins of Ford Police Interceptor Utility vehicles.
Some departments pulled the vehicles from the road over related safety concerns. The SUV is made on the same platform as the consumer Explorer and recently became the most popular police vehicle in the country.
In Austin, Texas, an officer briefly fainted while driving one of the vehicles. Roughly a week ago in Massachusetts, an officer lost consciousness at the wheel Wednesday and struck a civilian's vehicle.
The problems come amid what both Ford and the National Highway Traffic Safety Administration say is an unrelated investigation into 1.33 million regular and police Explorers due to an exhaust issue that has not yet led to a recall.
The Dearborn-based automaker said in a statement Tuesday night that company engineers have consistently found "similar types of holes and unsealed spaces in the back of some Police Interceptor Utilities" that had equipment put on them after leaving Ford's factory.
Those holes are improperly sealed and allow exhaust to leak into the vehicle, the company said.
Ford's investigation into the issue, which has been reported by multiple police departments and led the Austin, Texas Police Department to pull 400 of the vehicles from service less than two weeks ago, is ongoing, the company said.
The company reiterated in the statement that it will continue to pay for repairs related to the carbon monoxide leak. Ford is checking and sealing the rear of the vehicle, providing new air conditioning calibrations to bring more fresh air into the cabin during heavy acceleration, and checking the engine codes for indication of a damaged exhaust manifold.
David Green, Austin city spokesman, said officers first complained of carbon monoxide poisoning symptoms in February. In March, the city launched an investigation. Twenty officers tested positive for elevated amounts of carbon monoxide in their blood, three of whom have not been cleared to return to work.
The Interceptors accounted for 61 percent of Austin's police vehicles. Green said the department had to change patrols to put two officers to a car rather than the usual one.
"We are not willing to return these vehicles to the street until we're confident that there's no risk to employees," Green told The Detroit News.
NHTSA has an unrelated open investigation covering an estimated 1.33 million Ford Explorers — both police models and regular models — from 2011-17 model years for reports of exhaust odors in the main cabin.
The investigation comes after 2,719 reports fielded by NHTSA and Ford. Eleven of those involve the police interceptor versions.
NHTSA opened the preliminary investigation more than a year ago after it received more than 150 complaints from civilians about exhaust fumes. The investigation was expanded at the end of July.
Ford said the exhaust odors reported in regular Explorers are unrelated to the carbon monoxide reports. "If a vehicle has such an odor, customers should bring it to a Ford dealer to address that issue," the company said.
NAFTA needs an overhaul
to improve workers' rights
By Linda McQuaig
Toronto Star
Aug. 9, 2017
NAFTA has been key to the transformation of Canada over the last two decades, enabling corporations to become ever more dominant economically and politically, while rendering our labour force increasingly vulnerable and insecure
With the chaos of the Trump administration as a backdrop, Canadian diplomats will arrive in Washington later this month for NAFTA talks that they hope will be no more than a skinny renegotiation.
According to Canadian lore, the North American Free Trade Agreement has been a great boon to Canada, so our fingers should be crossed that Donald Trump, busy composing tweets or colluding with Russia, will forget he demanded Canada and Mexico renegotiate the trade deal, leaving our beloved NAFTA intact.
This narrative is fundamentally wrong. Yes, trade is vital to Canada, but we would have gone on trading, with or without NAFTA.
This is not to say NAFTA's impact hasn't been enormous and game-changing. It has — although not in the way we've been told.
In reality, NAFTA has been key to the transformation of Canada over the last two decades, enabling corporations to become ever more dominant economically and politically, while rendering our labour force increasingly vulnerable and insecure.
Indeed, the much-lamented rise in income inequality and feelings of powerlessness among working Canadians aren't mysterious consequences of participating in the global economy. Rather, they're the predictable consequences of our country signing a trade deal that greatly empowers corporations and their investors at the expense of everyone else.
Gus Van Harten, an Osgoode Hall law professor and expert in international investment law, says NAFTA provides "Exhibit A for how rules of the global economy have been rewritten to favour large corporations and the superrich at the expense of the general public."
Van Harten is referring to NAFTA's Investor-State-Dispute-Settlement (ISDS) mechanism which, amazingly, allows foreign corporations to sue governments over laws that interfere with corporate profitability — even if those laws are aimed at protecting the public from, say, environmental or health risks.
These corporate lawsuits are adjudicated by special tribunals — notoriously sympathetic to corporate interests — that can force governments to pay the corporations compensation (out of our taxpayer dollars!) There's no cap on the size of the awards.
Canada has already been sued this way 39 times, and paid out more than $190 million, with the money mostly going to major corporations and extremely wealthy investors, notes Van Harten. In addition, we don't know how many times governments have backed off from introducing laws, to avoid provoking a NAFTA lawsuit.
ISDS, which has now been adopted in other international trade deals, has created an extraordinary set of legal rights for corporate investors. "If anyone doesn't need to be protected it's these guys," notes Toronto trade lawyer Steven Shrybman.
Yet "these guys" enjoy legal protections much stronger than the protections available, for instance, under international human rights laws — for victims of torture and wrongful imprisonment.
Furthermore, NAFTA gives corporations rights — but no responsibilities, Van Harten says. Governments can't bring a claim against a corporation for breaching NAFTA, and affected individuals and groups have no right to standing at the tribunals.
Indeed, NAFTA provides few rights for citizens or workers to counter all this corporate power, only "side deals" on labour and the environment that are weak and largely unenforceable.
NAFTA's lopsided empowerment of corporations is a departure from earlier, more balanced trade deals, like the 1965 Canada-U.S. Auto Pact, which provided U.S. auto manufacturers access to the Canadian market — on the condition that they locate some production here.
Effectively, under the Auto Pact, for every car sold in Canada, one had to be produced here — a requirement that guaranteed Canada hundreds of thousands of well-paying jobs and became the backbone of Ontario's economy.
Such requirements are banned under NAFTA, although the Auto Pact was grandfathered and remained in place until 2000.
Since then, auto (and other manufacturing) investment has flowed to low-wage Mexico, leaving Canadian workers forced to compete with downtrodden Mexican workers who are largely banned from unionizing.
The NAFTA renegotiation should be an opportunity to revise the trade deal to include rights for workers and citizens, not just corporate investors.
But proposals that ISDS be eliminated are unlikely to win support from, for instance, Rex Tillerson, U.S. Secretary of State and former CEO of ExxonMobil, which won $14 million from Canada in a NAFTA lawsuit.
And Trump, a billionaire whose companies (along with daughter Ivanka's fashion business) routinely outsource work to low-wage jurisdictions, clearly has no interest in tampering with the wildly pro-corporate rules of NAFTA.
Nor apparently does Justin Trudeau, who styles himself a champion of struggling middle-class workers but seems content to do nothing about NAFTA's headlock on working Canadians.
Ford extends police Explorer
investigation after crash
Ian Thibodeau
The Detroit News
August 8, 2017
Auburn police are still using 15 Interceptors that were deemed safe after testing. "I don't know honestly if there is a suitable alternative (to that vehicle)," Mills said.
Ford has not recalled any of the vehicles under scrutiny.
"Safety is our top priority, and we are concerned for those involved," Ford spokesman Brad Carroll said in an email Thursday. "We are working with the Auburn Police Department and have a team on the ground inspecting the vehicles."
Mark LaNeve, Ford's vice president of U.S. marketing, sales and service, said Tuesday during a call with investors that "we haven't seen any impact on sales. ...We haven't seen any carbon monoxide issues with regular Explorers."
He reiterated the company is paying to repair affected vehicles regardless of modifications made after they left Ford plants.
NHTSA said it has identified three crashes involving exhaust odors and reports of 41 injuries.
Police departments reported crashes — including a rollover with injuries — as well as physiological injuries from carbon monoxide exposure. The alleged injuries "range from unspecified to loss of consciousness, with the majority indicating nausea, headaches, or lightheadedness."
But NHTSA has found "no substantive data or actual evidence (such as a carboxyhemoglobin measurement) ... supporting a claim that any of the alleged injury or crash allegations were the result of carbon monoxide poisoning, the alleged hazard" after testing vehicles at its Ohio research center.
It did find carbon monoxide levels could be elevated in certain scenarios.
The Interceptor version of the Explorer is experiencing manifold cracks that "appear to present a low level of detectability and may explain the exhaust odor," NHTSA reported.
"Putting together an appropriate fix is not simple," Cole said. "You just don't know. Tracking these kind of things down is a real challenge
Auburn has since pulled 14 of its SUVs with aftermarket alterations from service after they produced some level of carbon monoxide during tests, Mills said. Six of its officers who had been driving the SUVs tested positive for exposure to dangerous levels of carbon monoxide.
Ford has a team of engineers there investigating the police department's fleet of Interceptors. Mills said Auburn police officials also spoke on the phone with Ford engineers in Dearborn on Thursday about the problem.
Other municipalities around the country have encountered similar problems, according to the NHTSA and media reports.
Departments in Michigan also use the vehicles. The Michigan State Police have them in their fleet and said Thursday they have not experienced any carbon monoxide problems.
The Dearborn Police Department also uses the vehicles and Chief Ronald Haddad said Thursday all the vehicles had been tested a few weeks ago and none had issues.
NHTSA has an unrelated open investigation covering an estimated 1.33 million Ford Explorers — both police models and regular models — from 2011-17 model years for reports of exhaust odors in the main cabin.
The investigation comes after 2,719 reports fielded by NHTSA and Ford. Eleven of those involve the police interceptor versions.
NHTSA opened the preliminary investigation more than a year ago after it received more than 150 complaints from civilians about exhaust fumes. The investigation was expanded at the end of July.
The agency does not comment on open investigations, a representative said Thursday.
In addition to the NHTSA complaints, Ford gave the agency 2,400 reports it had fielded through warranties, dealers and legal claims related to the exhaust odor issue.
Ford said the exhaust odors reported in regular Explorers are unrelated to the carbon monoxide reports. "If a vehicle has such an odor, customers should bring it to a Ford dealer to address that issue," the company said.
Auburn police are still using 15 Interceptors that were deemed safe after testing. "I don't know honestly if there is a suitable alternative (to that vehicle)," Mills said.
Ford has not recalled any of the vehicles under scrutiny.
"Safety is our top priority, and we are concerned for those involved," Ford spokesman Brad Carroll said in an email Thursday. "We are working with the Auburn Police Department and have a team on the ground inspecting the vehicles."
Mark LaNeve, Ford's vice president of U.S. marketing, sales and service, said Tuesday during a call with investors that "we haven't seen any impact on sales. ...We haven't seen any carbon monoxide issues with regular Explorers."
He reiterated the company is paying to repair affected vehicles regardless of modifications made after they left Ford plants.
NHTSA said it has identified three crashes involving exhaust odors and reports of 41 injuries.
Police departments reported crashes — including a rollover with injuries — as well as physiological injuries from carbon monoxide exposure. The alleged injuries "range from unspecified to loss of consciousness, with the majority indicating nausea, headaches, or lightheadedness."
But NHTSA has found "no substantive data or actual evidence (such as a carboxyhemoglobin measurement) ... supporting a claim that any of the alleged injury or crash allegations were the result of carbon monoxide poisoning, the alleged hazard" after testing vehicles at its Ohio research center.
It did find carbon monoxide levels could be elevated in certain scenarios.
The Interceptor version of the Explorer is experiencing manifold cracks that "appear to present a low level of detectability and may explain the exhaust odor," NHTSA reported.
"Putting together an appropriate fix is not simple," Cole said. "You just don't know. Tracking these kind of things down is a real challenge
Fraud claims cast shadow
on UAW's General Holiefield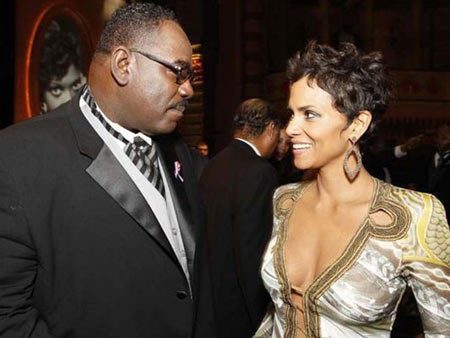 Neal Rubin,
The Detroit News
Aug. 7, 2017
He started as a factory grunt, building Chryslers at the Jefferson Avenue Plant, and now here he was at a shimmery Hollywood event with Halle Berry rushing by.
A commercial break was ending at the NAACP Image Awards in 2011, and Berry was being whisked back to her seat. Suddenly, as thousands watched, she stopped to talk to General Holiefield.
General was his name, not his title, but he was as smooth and confident as Captain Morgan. He was the vice president who ran the UAW's Chrysler department and UAW Chrysler was sponsoring the program, so he was consorting with the swells, trading phone numbers with Cicely Tyson and accepting compliments on his dance moves from producer Randy Jackson.
Holiefield would leave the union hurriedly in June 2014 and die of pancreatic cancer nine months later. His memory would be resurrected last week when his widow and his ever-so-friendly adversary at Fiat Chrysler were indicted over a scheme in which the three of them and others allegedly helped themselves to more than $2 million of the company's money, allocated to the UAW-Chrysler National Training Center.
But that night in Los Angeles, he was just the subject of curiosity, not an investigation: Who's that big guy, and what did he say to stop a glamorous actress in her tracks?
Chuck Bennett, The Detroit News' society columnist, provided the answer. "I just told her that I was captivated by her beauty and acting talent," Holiefield told him, "but her community involvement as well."
Holiefield was a charmer that way, according to those who knew him — a gentle soul, 6-foot-3 and a few meals either side of 300 pounds, whose bulk was somehow comforting rather than imposing.
"A really great guy," says Bennett.
"Engaging and warm," says Macomb County Executive Mark Hackel.
"Affable and charismatic," says Greg Mathis, a retired 36th District Court judge and the star of television's long-running "Judge Mathis."
A thief, says the U.S. government.
The 42-page grand jury indictment unsealed last week says that Holiefield, his wife Monica Morgan-Holiefield and his supposed opponent across the bargaining table, former FCA vice president Alphons Iacobelli, conspired to defraud the federal government and contravene the National Labor Relations Act. The FBI and IRS investigation also names Jerome Durden of Rochester, the controller of the training center from 2008-15, who allegedly parceled out the stolen money to his co-conspirators.
The details are the stuff sneers are made of. For the Holiefields, first-class plane tickets and a $262,219 check to scrub out the mortgage on their large house in Harrison Township. For Iacobelli, a Ferrari and a pair of $37,500 gold Mont Blanc pens.
Morgan-Holiefield is a photographer, and even before the couple's lavish Italian wedding and globetrotting honeymoon in 2012, she would take pictures at the Image Awards ceremonies. Iacobelli, 57, representing Chrysler, would dance at his seat: "Lenny Kravitz," he exulted one year, "is the real, real deal!"
Holiefield would make friends.
He didn't always. Though prosecutors declined to file charges, he was arrested in 2011 in what was called a "domestic violence matter" at the Macomb Township home he shared with his first wife, Marlene. There were rumblings within the UAW that he was excessively cozy with Fiat Chrysler, and that he had agreed too readily to a change in work shifts that allowed four 10-hour days.
In Hollywood, he chatted effortlessly with actors Samuel L. Jackson and Sidney Poitier, and Sandra Oh asked to have her picture taken with him.
"I rarely approach the superstars," says Mathis, laughing. "If I do, they blow me off. In fact, Halle Berry has blown me off before."
She made time, though, for a kid from Inkster who grew up not knowing his first name.
Holiefield went by Robert until he turned 18 and needed his birth certificate so he could apply for a driver's license. Authoritative names were more or less a family tradition — a grandfather was named Caesar — but as Holiefield told Hour Detroit in 2010, his father wanted to protect him from teasing.
In perhaps a bit of foreshadowing, Holiefield's family continued to call him "Rob." Holiefield, however, named one of his three children General Jr.
The UAW confirms that General Jr. works for the union and is assigned to the joint program training center his father purportedly stole from, which is nearly as awkward as the timing of the indictments. Workers at a Nissan plant in Canton, Mississippi, finish voting Friday on whether to join the union.
The older General Holiefield became active after he was fired from a job driving hi-los at Chrysler's Detroit Axle Plant and the UAW helped reclaim his job. By 1993, he was president of Local 961, where a successor remembered him preaching the gospel of diligence.
"One of his favorite echoes was telling people they had to come to work because there was work that needed to be done," Edward May told The News in 2006. That was the year Holiefield was first elected a national vice president; re-election followed four years later.
As Mathis points out, any money stolen did not come from union dues, even if it was intended for the training of members.
"That's a big difference," he says. He goes back at least a decade with Holiefield and and 35 years with Morgan-Holiefield, and "I don't believe based on his and Monica's character that they stole anything."
If they're guilty, Mathis says, "I believe their motivation would have been a sincere desire to help others, because that's the kind of people they are."
UAW veterans weighing in online see Holiefield more as a hood than as Robin Hood.
"Holiefield was a disgrace," wrote Paul Wohlfarth, a Chrysler retiree from Ottawa Lake. "When the General was alive he reportedly spent a million dollars on his wedding, and where was the wedding? Italy, home of FCA."
Morgan-Holiefield, who sometimes freelanced photos for The News, sent along a wedding picture in October 2012 featuring herself in a beaded silk organza wedding gown and her new husband in black tails, riding in a gondola on a Venetian canal. They went on to Naples, Rome, Athens, Istanbul and Barcelona.
Holiefield's salary at the time is undetermined, though the three current UAW vice presidents earn $137,718 apiece.
Hackel says he never heard anything cautionary about Holiefield until after his death at age 61 on March 9, 2015. Holiefield had entered hospice care four days earlier at Harper Hospital, and Morgan-Holiefield said at the time that he had asked her to buy sweets and baked goods for hospital staffers and fellow patients.
"He was always caring about people," she said. "He never thought about himself."
Nearly a year later, in an essay in BLAC Detroit, she credited Holiefield with saving Chrysler during the 2009 bankruptcy negotiations with the federal government. When no one thanked him, she wrote, "he'd say, 'I don't expect any thanks. I get my blessings from God.'"
"He appeared to be a guy who was really there for the organization, for the worker," Hackel says. While their relationship was professional, not social — Hackel was surprised to be asked to join U.S. Rep. John Conyers, U.S. Judge Damon Keith, Mathis and a long list of other notables speaking at the funeral — he says Holiefield always greeted him with a hug.
Hackel says Holiefield was generous with his time. Bennett says Holiefield was also generous with his money, though not ostentatiously; when he picked up a tab or donated to a cause, he did it quietly.
He was stylish, Bennett says, but not flamboyant. He liked to ride motorcycles and strum the bass guitar he taught himself to play. He was a target shooter, and that led to a near-tragedy: in December 2013, months after he'd been marginalized by the UAW for assigning photo contracts to his wife, he and some friends went to an indoor gun range in Roseville.
Cleaning his Desert Eagle semi-automatic pistol in his kitchen afterward, he accidentally shot Morgan-Holiefield in the abdomen. There were cleaning materials on the table and witnesses in the room, and he ultimately pleaded guilty to reckless use of a firearm, a misdemeanor.
She forgave him, and they went on with their lives.
Now come the FBI and the IRS, and they are less forgiving entities. It's a case that could be the stuff of screenplays, and there might even be a role for Halle Berry — but as much as Holiefield loved Hollywood, the ending might not be one he'd care to see.
UAW defeated in bid to organize
Nissan workers in South
Keith Laing,
Detroit News
Washington Bureau
August 6, 2017
The United Auto Workers suffered a major defeat when Nissan workers in Canton, Mississippi, voted overwhelmingly against joining the labor union after a contentious campaign that emerged as the latest test of the labor union's ability to organize employees of foreign automakers in the South.
Nissan said employees at its Canton Vehicle Assembly Plant voted "no" by a nearly 2-to-1 margin, striking another high-profile defeat for the UAW in a region where it has struggled to convince autoworkers of the merits of labor unions. The Japanese manufacturer said 2,244 of its Canton workers voted no, while 1,307 cast ballots in favor of joining the UAW.
The defeat marks the third time in nearly 20 years that Nissan workers in the South have voted against joining the UAW. Workers at Nissan's Smyrna, Tennessee, plant voted against joining the UAW by 2-to-1 margins in 1989 and 2001.
Nissan said the victory over the UAW was a sign of the strength of non-unionized factories in the South.
"With this vote, the voice of Nissan employees has been heard. They have rejected the UAW and chosen to self-represent, continuing the direct relationship they enjoy with the company," the company said in a statement released late Friday night. "Our expectation is that the UAW will respect and abide by their decision and cease their efforts to divide our Nissan family. Now that the election is complete, Nissan will focus on bringing all employees back together as one team, building great vehicles and writing our next chapter in Mississippi."
The UAW said late Friday: "The result of the election was a setback for these workers, the UAW and working Americans everywhere, but in no way should it be considered a defeat."
Shortly before voting closed at 8 p.m. Eastern time Friday, the UAW filed seven new claims that Nissan broke federal labor law. The National Labor Relations Board will consider the charges and could add them to a series of allegations in a complaint the federal labor regulator has issued against Nissan.
"Perhaps recognizing they couldn't keep their workers from joining our union based on the facts, Nissan and its anti-worker allies ran a vicious campaign against its own workforce that was comprised of intense scare tactics, misinformation and intimidation," the UAW said.
Among the charges, the UAW alleges widespread surveillance of worker union activity, threats that benefits would be taken away if the Nissan Canton workforce voted for UAW representation, threatening a worker that she could be terminated if the UAW was to become the representative of Nissan worker and that Nissan provided a faulty list of worker contact information. Nissan spokeswoman Parul Bajaj says the company provided all required information. She didn't immediately respond to the other charges.
If the labor board rules in favor of the charges, the board could order the election to be repeated. Such a decision could be months or years away.
The last days of the campaign were conducted as news spread of the indictments of two former Fiat Chrysler executives and the widow of a former union leader on charges that they allegedly participated in funneling for their personal enrichment more than $2 million in UAW-Chrysler National Training Center funds intended for worker training.
Nissan posted news stories about the indictments on its local employee website and Facebook page, and talked about the union's legal troubles in presentations to workers.
The company argued that the UAW has a track record of layoffs, strikes and plant closures at plants where it represents auto workers that would alter dynamics at the company's 14-year-old Mississippi plant.
The UAW and its supporters accused Nissan of seeking to block efforts to unionize by its workers in Mississippi, in violation of federal labor protections. They cited allegations from employees about receiving pressure from supervisors to vote "no" on unionization since the petition for the election was filed July 11.
The allegations of financial misdeeds couldn't have come at a worse time for the labor union. Indictments handed down last week charge Monica Morgan-Holiefield, 54, of Harrison Township; Alphons Iacobelli, 57, of Rochester Hills; and Jerome Durden, 61, of Rochester Hills with siphoning training center funds to pay for personal expenses and travel in violation of the Labor Management Relations Act.
The union election in Mississippi was closely watched as a sign of the UAW's vitality outside of the midwestern hub of the Detroit Three automakers.
Despite its two previous failures at Nissan, the UAW has experienced recent successes in smaller elections in the South. Skilled-trades workers who maintain machinery and robots at Volkswagen's factory in Chattanooga voted for UAW representation by a margin of 108-44 in a 2015 election. That vote took place 20 months after the union was narrowly defeated in an election involving all hourly employees.
Nissan says 6,400 are employed at the Canton plant, which builds Altimas, Frontiers, Muranos, Titans and NV commercial vans. The UAW says senior Nissan workers there earn $26 per hour, while former temporary workers who are brought into the company through Nissan's "Pathways" program earn $20 after five years. Temporary workers who have not been classified as full-time start at around $13 per hour, the union said.
Wages for UAW members at General Motors Co., Ford Motor Co. and Fiat Chrysler NV plants start at $17 per hour for new "second-tier" hires, but can go as high as $29 after eight years on the job.
Kristin Dziczek, director of the Industry, Labor and Economics Group at the Center for Automotive Research, said union elections do not usually turn on hourly wages.
"People don't vote for a union because they are going to get a couple bucks," she said. "They really do it because they feel like they are being treated unfairly at work."
NAFTA talks could hinge
on Mexico's disproportionate
share of auto investment, jobs
Forty-five per cent of North American autoworkers are employed
in Mexico, which buys 8 per cent of North American-made vehicles.
Toronto Star
By Joan Bryden
The Canadian Press
Aug 5, 2017
OTTAWA—The auto sector rates nary a mention in the published list of U.S. objectives for the renegotiation of NAFTA.
But senior Canadian officials privately believe the automotive industry is actually at the root of American demands for changes to the North American Free Trade Agreement and will be the key to the success — or failure — of negotiations to revamp the trilateral deal.
Donald Trump, they note, rode a wave of anti-trade sentiment to victory in last fall's U.S. presidential election, propelled by an unabashedly protectionist, America-first agenda, including a threat to rip up NAFTA, which he called "the worst trade deal in the history" of the United States.
It was a populist message that tapped into long-simmering resentment over the exodus of American manufacturing operations — including the Big Three automakers and auto-parts plants — to Mexico. And it resonated particularly loudly with voters in the 14 auto-producing states, 12 of which ultimately delivered their electoral college votes to Trump.
It was a populist message that tapped into long-simmering resentment over the exodus of American manufacturing operations — including the Big Three automakers and auto-parts plants — to Mexico. And it resonated particularly loudly with voters in the 14 auto-producing states, 12 of which ultimately delivered their electoral college votes to Trump.
It's an issue on which Canadian and American interests are largely aligned. Some stark statistics compiled by Unifor, the union representing autoworkers in Canada, explain why:
Mexico buys just 8 per cent of North American-made vehicles but employs 45 per cent of the continent's autoworkers.
Since NAFTA came into effect in 1994, four assembly plants in Canada and 10 in the United States have closed; eight new plants have opened in Mexico.
U.S. and Canadian vehicle and auto-parts trade deficits with Mexico have grown exponentially — a fourfold increase for Canada, from $1.6 billion pre-NAFTA to $8.7 billion now.
And all those disturbing numbers are explained by another stark statistic: Mexican autoworkers earn an average of about $4 per hour, compared to $30-$35 per hour in the U.S. and Canada.
Rebalancing the auto industry so that all three countries get a fair share of investment and jobs "will be the biggest piece of the puzzle, I would suggest, in NAFTA," says Unifor president Jerry Dias.
On that score, there's some urgency for Canada and the U.S., both of which hope to regain a bigger share of the pie as the auto industry embarks on historic investments in the next generation of vehicles: electric and self-driving cars.
While the U.S. list of objectives for NAFTA negotiations doesn't mention the auto sector specifically, it does call for stiffer rules of origin and more stringent, enforceable environmental and labour standards — which would have a direct bearing on the automotive industry.
Unifor supports those American objectives. The union wants to see the rules of origin beefed up so that vehicles must have at least 70 per cent North American-made content — up from the current 62.5 per cent — to be eligible to move duty-free between Canada, the U.S. and Mexico.
That's aimed primarily at forcing Asian and European automakers and Chinese producers of auto electronics to build more plants in North America.
Automakers, however, are vehemently opposed to raising the minimum content requirement, which they argue is already the highest of any trade agreement in the world.
"Any changes to the duty-free access and content rules will disrupt the highly integrated supply chains and reduce the massive benefits, undermining the global competitiveness of that integrated automotive industry we talk about," Mark Nantais, president of the Canadian Vehicle Manufacturers' Association, told the House of Commons trade committee last May.
David Paterson, vice-president of General Motors Canada Ltd., reminded the committee that a vehicle built in North America can cross borders seven times during the manufacturing process. Tracing the content of every part already requires "a lot of bureaucracy."
"Under the category 'do no harm,' we must set out to reduce, not add, red tape," he said. "We would prefer to see tracing eliminated."
On this issue, the government appears to be siding with the automakers.
Rather than focus on rules of origin, senior Canadian officials — speaking anonymously because they were not authorized to speak publicly on the matter — said strengthening labour and environmental standards would be a more effective way to reduce Mexico's disproportionate share of auto investment and jobs.
The objective, one official stressed, is not to stop auto production in Mexico, but to close the wage gap so Mexican workers benefit while making the other two NAFTA partners more competitive.
Mexico would not be averse to measures that would raise the standard of living for its workers, Canada's ambassador to the U.S., David MacNaughton, suggested in an interview.
"The question really is over what period of time and how you achieve that," MacNaughton said.
"Also, we need to make sure that living standards and good paying middle-class jobs in Canada and the United States continue to be created, too. So the question is: can you find a way to create that win-win-win?"
Currently, NAFTA includes side deals on labour and the environment — essentially just aspirational goals to improve working conditions and committing each country to enforce its own labour and environmental standards.
That has allowed Mexico to take advantage of its low wage rate, lack of free collective bargaining and non-existent health, safety and environmental standards to lure auto companies looking for the cheapest place to set up shop, Dias says.
That advantage would diminish if companies operating in Mexico were compelled to abide by standards similar to those applied in the U.S. and Canada. Dias advocates strict timelines for raising wages and penalizing companies that don't meet them.
"There's going to have to be a wholesale change in the system," Dias says.
"Corporations are going to have to be more responsible, they're going to have to start to treat people better, they're going to have to start to pay them respectfully."
Toyota, Mazda plan $1.6 billion
US plant, to partner in EVs
Tom Krisher and
Yuri Kageyama
Associated Press
August 4, 2017
TOKYO (AP) -- Japanese automakers Toyota Motor Corp. and Mazda Motor Corp. plan to spend $1.6 billion to build a joint-venture auto manufacturing plant in the U.S. — a move that will create up to 4,000 jobs, both sides said Friday.
The plant will have an annual production capacity of about 300,000 vehicles, and will produce Toyota Corollas for the North American market. Mazda will make cross-over models there that it plans to introduce to that market, the companies said.
Toyota and Mazda are forming a capital alliance and splitting the cost for the plant equally. It is due to begin operations by 2021.
After reassessing the market, Toyota has changed its plan to make Corollas at a plant in Guanajuato, Mexico, now under construction, and instead will produce Tacoma pickups there, Toyota President Akio Toyoda said.
President Donald Trump had criticized Toyota for taking auto production and jobs to Mexico. With the investment, both automakers can hope to prove their good American corporate citizenship and appease the Trump administration's concerns about jobs moving overseas.
Toyoda denied that Trump's views influenced his decision.
"We have been reviewing the best production strategy for our business," he told reporters at a Tokyo hotel, after shaking hands with Mazda's president.
Trump welcomed the announcement in a Tweet: "Toyota & Mazda to build a new $1.6B plant here in the U.S.A. and create 4K new American jobs. A great investment in American manufacturing!"
The companies also plan to work together on various advanced auto technology, such as electric vehicles, safety features and connected cars, as well as products that they could supply each other, they said.
Toyota plans to acquire 31,928,500 shares of common stock newly issued by Mazda through a third-party allotment, which will amount to a 5.05 percent stake in Mazda, valued at 50 billion yen ($455 million).
Mazda, which makes the Miata roadster, will acquire 50 billion yen worth of Toyota shares, the equivalent of a 0.25 percent stake. The investment deal is expected to be final by October, the companies said.
Toyoda noted the growing competition from newcomers in the auto industry like Google, Apple and Amazon, stressing he was worried about autos turning into commodities. He praised Mazda as a great partner in that effort.
"It has also sparked Toyota's competitive spirit, increasing our sense of not wanting to be bested by Mazda. This is a partnership in which those who are passionate about cars will work together to make ever-better cars," he said.
The companies said their collaboration will respect their mutual independence and equality. Toyota, which makes the Prius hybrid, Camry sedan and Lexus luxury models, already provides hybrid technology to Mazda, which makes compact cars for Toyota at its Mexico plant.
The sheer cost of the plant also makes a partnership logical, as it boosts cost-efficiency and economies of scale. Working together on green and other auto technology also makes sense as the segment becomes increasingly competitive due to concerns about global warming, the environment and safety.
"Given the massive level of competition in the industry, partnerships are no longer a surprise," said Akshay Anand, an executive analyst at Kelley Blue Book.
Politics are another incentive.
"The new presidential administration has made it clear investments in the U.S. are a top priority, and this plant may be another nod to that mindset," Anand said.
Mazda President Masamichi Kogai said he hoped that the partnership will help energize the industry.
Toyota is vying for the spot of No. 1 automaker in global vehicle sales against Nissan-Renault and Volkswagen AG of Germany, as the industry gradually consolidates.
Japanese rival Nissan Motor Co. is allied with Renault SA of France and Mitsubishi Motors Corp., and is the global leader in electric vehicles. Their alliance led world vehicles sales for the first time in the first half of this year.
The limited tie-up with Mazda marks the latest addition to Toyota's sprawling empire, which includes Japanese truck maker Hino Motors and minicar maker Daihatsu Motor Co. Toyota also is the top shareholder in Fuji Heavy Industries, the maker of Subaru cars.
In the past, Toyota was not overly bullish on electric vehicles, which have a limited cruise range. But recent breakthroughs in batteries allow for longer travel per charge.
Mazda, based in Hiroshima, Japan, used to have a powerful partner in Dearborn-based Ford Motor Co., which bought 25 percent of Mazda in 1979, and raised it to 33.4 percent in 1996. But Ford began cutting ties in 2008, and has shed its stake in Mazda.
Also Friday, Toyota reported its April-June profit was 613.0 billion yen ($5.6 billion), up 11 percent from 552.4 billion yen a year earlier. Quarterly sales rose 7 percent to 7.05 trillion yen ($64 billion), as vehicle sales improved around the world, including in the U.S., Europe and Japan.
Toyota stuck to its earlier projection for global vehicle sales for the fiscal year, ending in March 2018, at 10.25 million vehicles. It raised its fiscal full year profit forecast to 1.75 trillion yen ($16 billion) from the earlier forecast of 1.5 trillion yen ($14 billion). It earned 1.8 trillion yen in the previous fiscal year.
UAW scandal roils
Nissan union election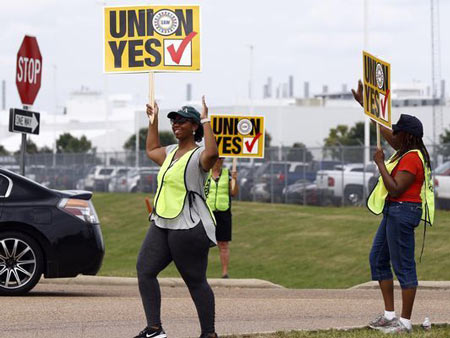 Keith Laing
Detroit News
Washington Bureau
August 3, 2017
The brewing scandal involving an alleged multi-million-dollar conspiracy to divert worker training funds within the top ranks of Fiat Chrysler Automobiles NV and the United Auto Workers has the potential to hurt the union's chances of representing workers at a Nissan plant in Canton, Mississippi.
Workers at the Nissan Canton Vehicle Assembly Plant will vote Thursday and Friday on whether to be represented by the labor union. The election follows two previous failures by the UAW to represent workers at Nissan's plant in Smyrna, Tennessee. After other rejections in the union's quest to represent workers employed by foreign automakers with factories in the South, it has been seen as the best chance for the UAW to gain a foothold there.
The last days of the campaign were being conducted against a backdrop of last week's indictment of Monica Morgan-Holiefield, 54, of Harrison Township, and Fiat Chrysler Vice President for Employee Relations Alphons Iacobelli, 57, of Rochester Hills, for siphoning money that was meant for employee training to pay for personal expenses and travel in violation of the Labor Management Relations Act.
Morgan-Holiefield, who was married to the late UAW Vice President General Holiefield, is charged with participating in a multi-year enrichment scheme that allegedly included paying off her $262,000 mortgage and $30,000 in airline tickets, using money that was supposed to benefit blue-collar FCA workers. Iacobelli, a former top labor negotiator at Fiat Chrysler, is accused of pocketing employee training funds to pay for a $350,000 Ferrari 458 Spider, two solid-gold Mont Blanc pens costing $37,500 each, a swimming pool and more.
On Nissan's local employee website and Facebook page, the Japanese automaker has posted news stories about the indictments and talked about the union's legal troubles in presentations to workers.
"Voters have the right to know the company's perspective on what we believe is in the best interest of our team and our plant, as well as important information about the UAW and about union representation," Nissan said when asked about the latest twist in its "vote no" campaign. "The UAW has only ever wanted employees to hear one side of the story — the union's side. The company has the right, and we believe the obligation, to provide employees with full information as they prepare to make this important decision, and we will continue to do so.
Gary Casteel, the UAW's secretary-treasurer and director of the union's transnational department, dismissed the idea that the allegations against its former leaders would harm the union's chances of winning the Mississippi election.
"This was an isolated incident involving a rogue individual in our organization and a rogue individual in the corporation," he said in a statement. "No union funds or dues were involved. Regardless, we dealt with it swiftly and decisively, and we have fully cooperated with authorities."
Casteel added: "Nissan is trying desperately to make hay over this as part of their scorched-earth anti-union campaign, but we don't believe it's getting traction among employees. We remain focused on helping the workers in Mississippi to realize their goal of meaningful employee representation — and pushing back against Nissan, which seems determined to deny workers' rights and civil rights."
Art Wheaton, a labor expert at Cornell University, said the allegations of financial mismanagement come at a "less than perfect time. "
"It gives a relatively poor impression of the joint labor-management program they had at FCA," he said, added that the UAW was already facing an uphill battle in trying to organize workers in a region that is typically hostile to unions. "They're trying to organize in a right-to-work state, which is extremely difficult," Wheaton said.
Mississippi law prohibits agreements between employees and labor unions that mandate all employees pay union dues. Michigan passed such a measure in late 2012 that went into effect in March 2013.
Workers in Canton say the revelations about the alleged improprieties between the UAW and FCA have reverberated in the plant as both sides make their final pitches in the contentious organizing election.
Washad Catchings, a Nissan employee who has worked at the company's Canton plant since it opened in 2003, said he heard about the indictments from co-workers.
Catchings said the news has not changed his thoughts about the necessity for Nissan workers to join the union. "You have scandals in church, but you don't stop going to praise the Lord or whatever you do," he said.
Mickey Fugitt, a tool-and-die technician who said he was a member of the Teamsters union at a previous job, offered a different take on the allegations.
"I'm not surprised. The union I was involved with, the president was under investigation for the same thing," he added, referring to the 2014 indictment of former Teamsters Local 783 President Jerry Thomas Vincent Jr. in Louisville, who pleaded guilty in 2015 to multiple charges of embezzling labor union funds.
Fugitt said the latest news has not changed his feelings about joining the UAW: "I don't think we need it. I'm fighting hard to get the word out."
The UAW has sought to distance itself from the accusations in the run-up to the Mississippi election.
"This is certainly one of the toughest moments our union has faced in years," UAW President Dennis Williams said in a letter to members that was released Tuesday.
"We are heartbroken and horrified to learn a man we knew, trusted and loved was involved in these alleged misdeeds," Williams continued, noting, "UAW leadership knew nothing of General Holiefield's illegal activities until the U.S. Attorney's Office contacted us in January of last year."
The UAW and its supporters have accused Nissan of seeking to block efforts to unionize by its workers in Mississippi, in violation of federal labor protections. They cite allegations from employees about receiving pressure from supervisors to vote "no" on unionization since the petition for the election was filed July 11.
Nissan, which builds Altimas, Frontiers, Muranos, Titans and NV commercial vans in Canton, has denied allegations of intimidating its workers there, and said the factory has a safety record "significantly better" than the national average. The company has argued there is not sufficient interest among its workforce in joining the UAW, pointing out that efforts to unionize at its Smyrna plant failed in 1989 and 2001.
The automaker says 6,400 are employed at the Canton plant. The UAW says Nissan workers there earn $26 per hour, while former temporary workers who are brought into the company through Nissan's "Pathways" program earn $20 after five years. Temporary workers who have not been classified as full-time start at around $13 per hour, the union said.
Wages for UAW members at General Motors Co., Ford Motor Co. and Fiat Chrysler NV plants start at $17 per hour for new "second-tier" hires, but can go as high as $29 after eight years on the job.
Detroit carmaker sales take
bigger hit than expected
Ian Thibodeau
The Detroit News
August 2, 2017
U.S. sales of vehicles by Detroit automakers fell more than expected in July, starting the second half of the year at a crawl after sales through the first six months of 2017 were down.
When compared to the same month a year ago, General Motors Co.'s July sales fell 15.4 percent — the largest decline of the Detroit Three. Sales at Fiat Chrysler Automobiles fell 10 percent, and Ford Motor Co.'s sales slid 7.5 percent in that same time, the companies reported Tuesday. All were larger declines that analysts expected.
The companies blamed the drops on lower fleet sales. But GM's retail sales fell 14.4 percent from July 2016. Meanwhile, Ford and Fiat Chrysler retail sales had single-digit declines, and the fleet sales fell by 26 percent and 35 percent, respectively.
But industry analysts and executives maintained, as they have all year, that falling car-segment sales and overall sales – that are plateauing at best after record years – are not indicative of the overall health of the auto industry.
"The fundamentals in the industry are still very, very strong," said Kelley Blue Book analyst Alec Gutierrez. Big-picture indicators like fuel prices, employment levels within the industry and customer satisfaction are all at healthy leavels.
At a gathering of auto officials in Traverse City on Tuesday, several analysts delivered a similar message on the state of the industry: "The sky is not falling."
Jeff Schuster, senior vice president of global forecasting for LMC Automotive, said despite sales numbers out of North America, there are reasons for optimism overall.
"Transaction prices are up, that's a very positive thing…," he said. "We're looking at over $31,000 on average – up over a percent."
In addition, much of the decline shown in the data pertaining to plant downtime, he said, is due to product changeover.
But Schuster's review of the industry touched on several areas for concern, including a rise in incentives, inventories that have cars sitting on lots four days longer than a year ago and the change that the strong fourth-quarter sales enjoyed by the industry in 2016 won't likely come again.
The global picture, however, appears brighter, he said.
Michael Robinet, managing director of automotive advisory services for IHS Markit, said overall production in North America has remained relatively constant. But there are issues that need attention trickling down throughout the system.
Those best-positioned are those that have moved quickly to address sales trends.
"I know suppliers that are feeling nothing right now," said Michael Robinet, managing director of automotive advisory services for IHS Markit. "I know others that are crying."
In North America, all of GM's brands saw significant year-over-year declines including Buick dropping 30.5 percent; Cadillac declining 21.7 percent; Chevrolet falling 15.3 percent and GMC dropping 7.3 percent from July 2016.
The automaker's bloated inventory also hardly budged from a month ago, dropping from 105 days supply at the end of June to 104 days supply at the end of July. GM has said it plans to cut days supply of vehicles to about 70 days by the end of the year.
Despite strong performance from the Jeep Compass, Chrysler Pacifica minivan and Ram ProMaster City utility van, the Fiat Chrysler sold 161,477 vehicles in July. Retail sales were down 6 percent compared to the same month last year, Fiat Chrysler reported.
Ford's SUV sales increased by 2.2 percent last month, though truck sales, which had been up through the first half of the year, dropped 7.1 percent due to a recall and selling stop on Transit vans, which are now being sold again. The average transaction price for those trucks increased by $4,600, as customers opted for Super Duty pickups.
Car sales for the automaker dropped 19.4 percent. The company sold 44,893 Ford brand cars in July; it sold 69,467 F-Series trucks in that same time period. Sales slipped 2.5 percent for its Lincoln brand.
Mark LaNeve, Ford vice president of U.S. marketing, sales and service, said in a call with investors Tuesday that the industry has peaked, and Ford will pay close attention to inventory levels moving forward.
While sales numbers have for most months this year come in softer than expected, LaNeve said he does not think declines are accelerating.
"We're still operating at a very high level," he said. "I don't think it's as bad as it looks. I think we're in relatively the same position we've been all year."
Meanwhile, Toyota Motor North America Inc. reported its July sales were up 3.6 percent, having sold 222,057 vehicles. American Honda Motor Co. reported total sales of 150,980, a 1.2 percent decrease. The company sold 36,683 Civic cars, an 11.3 increase while almost the entire industry is having trouble selling sedans.
Analysts before official numbers were released Tuesday said the industry would take its largest sales slip this year in July, calling for a year-over-year decrease of around 6 percent. The July results are a continuation of what automakers saw through the first half of 2017, in which sales were down 2.1 percent compared to the first half of 2016.
Analysts call it the post-peak phase. Sales are plateauing after record years, and July — typically a good sales month for auto companies — wasn't immune.
"July is historically a strong month, but with disappointing sales and inventories still building, something needs to give," said Jessica Caldwell, Edmunds executive director of industry analysis, in a statement. "A lot is riding on late-summer sales events to help move vehicles before 2018 models start arriving at dealer lots. Production slowdowns will help address some of the inventory issues, but consumers may be waiting for automakers to loosen the purse strings on incentives to get them to pull the trigger on making a purchase."
Slower-than-expected start to the year has some analysts calling for a softening market in 2017, with year-end expectations now lowered at the mid-year point.
FCA-UAW scandal nears
new potential target
Robert Snell and Melissa Burden
The Detroit News
August 1, 2010
Detroit – A former United Auto Workers official is under investigation and a potential target of the FBI probe into a multimillion-dollar conspiracy within the top ranks of Fiat Chrysler Automobiles NV and the union, The Detroit News has learned.
Retired UAW Associate Director Virdell King has hired a criminal defense lawyer amid questions about personal purchases made through a UAW-Chrysler National Training Center credit-card account, according to two sources familiar with the investigation. The training center funds are supposed to benefit blue-collar workers.
The focus on King provides a partial roadmap of additional people who could be charged in a high-profile criminal case that alleges FCA and union leaders spent more than $1.2 million on luxury items instead of using the money to benefit training of Fiat Chrysler hourly workers. The indictment references, but does not identify, a handful of other union and automaker officials accused of participating in a scheme to pay off UAW officials.
King, 65, was part of the UAW-Chrysler bargaining teams in both 2011 and 2015. She spent years on the training center's board along with Alphons Iacobelli, 57, of Rochester Hills, a former top labor negotiator at Fiat Chrysler who was indicted last week and accused of pocketing employee training funds to pay for a $350,000 Ferrari 458 Spider, two solid-gold Mont Blanc pens that cost $37,500 each, a swimming pool and more.
King's lawyer, John Shea, declined comment.
The UAW would not comment Monday, citing the ongoing investigation.
Three people have been charged so far in an indictment, including Monica Morgan-Holiefield, 54, wife of the late General Holiefield, a UAW vice president who died in March 2015. She was released on $10,000 unsecured bond Monday after being arraigned on charges that could send her to federal prison for five years.
Morgan-Holiefield's arraignment came less than a week after she was indicted and accused of participating in a multi-year enrichment scheme that allegedly included paying off her $262,000 mortgage and $30,000 in airline tickets to cities across the U.S. using money that was supposed to benefit blue-collar FCA workers.
The Harrison Township resident was joined by two friends Monday who defended her character.
"She is not the gold-digger they are making her out to be," friend Alecia Goodlow-Young said outside court. "She is an ambitious woman but that doesn't mean a negative ambitious woman.
"It's not right to put this all on her," Goodlow-Young told reporters. "They're attacking her character."
Jerome Durden, 61, of Rochester was charged separately last week with conspiracy to defraud the U.S. He was a financial analyst with Fiat Chrysler's corporate accounting department and from 2008 through 2015 was controller of the UAW-Chrysler National Training Center. Durden is to be in court Friday.
Iacobelli will appear in court Tuesday.
King began her UAW career at Chrysler's Detroit Axle Plant in 1974, and 13 years later was elected recording secretary for UAW Local 961, according to an article published by UAW-Chrysler. She was elected president of that local union, becoming then the first black female to be elected as president of a local union in the then UAW-DaimlerChrysler organization. In 1999, she was appointed to the UAW's international staff, according to the article.
In August 2013, King, then a UAW assistant director, rode in the passenger seat of a 2014 Jeep Grand Cherokee as part of a celebration of the 5 millionth vehicle to be produced at Chrysler's Jefferson North Assembly Plant. She touted the milestone and thanked CEO Sergio Marchionne "for believing in us."
King's compensation in 2015, the year before she retired, was $128,930.
In spring 2015, King was associate co-director of the UAW-Chrysler National Training Center and was part of the center's joint activities board. By December that year, she was no longer on the center's joint activities board, according to UAW-Chrysler documents.
The training center's joint activities board is governed by eight members from the union and Fiat Chrysler. The UAW and Fiat Chrysler said last week that they worked together with the training center to implement new internal controls. They include things such as hiring a full-time controller; banning any charitable donation from the center to any charity run or controlled by a UAW official; new vendor and credit-card processes and policies; having budgets approved by the training center board or directors; and creating a hotline to report suspected wrongdoing.
The nonprofit UAW Chrysler National Training Center, otherwise known as the UAW Chrysler Skill Development and Training Program, was created in 1985. Its mission is to provide training and boost worker skills and to create a "world-class workforce."
The center is funded through Fiat Chrysler money. The last Internal Revenue Service 990 filing for the center dated in May 2015 shows contributions and grants for the 2014 fiscal year totaled $46.7 million; expenses totaled $28.9 million. It had a fund balance of nearly $58 million then.
The UAW says officials have instituted a new credit-card policy requiring two officers and the controller to review credit-card statements and payments, and have created a written credit-card policy that includes "what is/is not permissible."
Michelle Krebs, senior analyst with Autotrader, said the alleged bribery scandal could hurt the reputations of Fiat Chrysler and the UAW.
"The UAW has the greatest risk in this in terms of tarnishing its reputation," she said, adding some people in the U.S. have negative attitudes already about unions and the UAW. "It comes at a time when the union is trying to expand its membership and organize some plants owned by foreign automakers. This kind of activity does not help its cause at all."
Fumes force Austin police to
pull Explorers off patrol
Jim Vertuno
Associated Press
July 31, 2017
The Austin Police Department on Friday pulled nearly 400 Ford Explorer SUVs from its patrol fleet over worries about exhaust fumes inside the vehicles.
Ford Motor Co. responded by promising to repair the vehicles, even as it continues to investigate the cause of the problem.
The move comes as U.S. auto safety regulators investigate complaints of exhaust fume problems in more than 1.3 million Explorers from the 2011 through 2017 model years. In Austin, more than 60 officers have reported health problems since February and more than 20 were found to have measurable carbon monoxide in their systems, city officials said Friday.
"We need to remove these vehicles immediately," interim City Manager Elaine Hart said "We need to keep (officers) safe as well as our community."
The National Highway Traffic Safety Administration has found more than 2,700 complaints of exhaust odors in the passenger compartment and fears of carbon monoxide in an investigation started a year ago. Among the complaints were three crashes and 41 injuries, mostly loss of consciousness, nausea and headaches.
Many of the complaints came from police departments, which use the Police Interceptor version of the Explorer in patrol fleets. Police complaints included two crashes with injuries and one injury allegation due to carbon monoxide exposure.
While several large police departments have been aware of the issue and installed carbon monoxide detectors in their vehicles, Austin appears to be first major city to pull large numbers of police Explorers off the road.
In a statement released late Friday, Ford said it has discovered holes and unsealed spaces in the back of some Police Interceptors that had equipment installed after leaving Ford's factory. Ford said police and fire departments routinely drill holes in the backs of vehicles to add customized lighting, radios and other equipment.
Ford said it will cover the cost of repairs to any Police Interceptor that may have this concern, regardless of age, mileage or modifications.
The company said it will check for holes and seal them, recalibrate the air conditioning to bring in more fresh air during heavy acceleration and check engine codes to see if the vehicles have a damaged exhaust manifold.
"There is nothing we take more seriously than providing you with the safest and most reliable vehicles," said Hau Thai-Tang, Ford's executive vice president of product development.
Non-police customers should take their Explorers to a Ford dealer to address the issue, the company said.
The decision by Austin police left the city scrambling to find replacement cars for more than half of its patrol fleet.
The Police Department said it will move equipment from the Explorers to about 200 Ford Taurus and Crown Victoria models, many of which will be unmarked, and have them ready for patrol ready by Monday. Interim Police Chief Brian Manley said Austin will have just as many officers on patrol, but that they will ride in pairs. The city will closely track response time to emergency calls.
"There will be a concern there will be a spike in crime," Manley said. "But for those criminals who think they can take advantage of the circumstances, remember we now have a whole fleet of unmarked vehicles on patrol."
The city installed carbon monoxide alarms after officers began reporting getting sick while in the vehicles, and parked 60 of them when the alarms activated. Of the 20 officers found to have elevated levels of carbon monoxide, three have not been able to return to work.
The NHTSA has said nearly 800 people have complained to the government about fumes, while Ford has received more than 2,000 complaints and warranty claims. The agency tested multiple vehicles at its Ohio research center, and made field inspections of police vehicles involved in crashes. As of Thursday, the agency had found no evidence or data to support claims that injuries or crash allegations were caused by carbon monoxide poisoning. The agency said it had early tests that suggest carbon monoxide levels may be higher in certain driving conditions, but the significance and effect of those levels remain under investigation.
The NHTSA says its investigation suggests the Police Interceptor is experiencing exhaust manifold cracks that are hard to detect and may explain exhaust odors. Investigators are evaluating the cause, frequency and safety consequences of the cracks, and whether Explorers used by civilians are experiencing cracked manifolds, the agency said.
"There have been a number of police departments that have looked at this problem. Most have not had (Austin's) experience and those that have had issues have been able to resolve them," said Darrel Stephens, executive director of the Major Cities Chiefs Association. "I have not heard of any other department having the number of problems that Austin is experiencing."
Sean Kane, president of Safety Research and Strategies Inc., a Massachusetts firm that does auto testing for plaintiffs' lawyers and other clients, said he expects other law enforcement agencies will now check their patrol fleets and may face the same dilemma as Austin about how to maintain patrols.
Ford workers find 277 pounds
of pot in Mexico shipment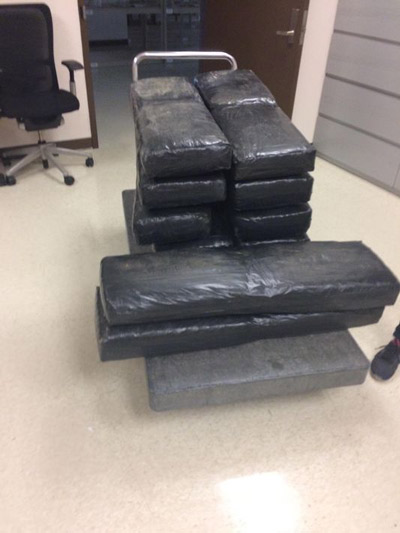 Ian Thibodeau
The Detroit News
July 30, 2017
Woodhaven — U.S. Federal authorities have recovered a stash of drugs found in a shipment of Ford vehicles from Mexico for the second time this month.
Ford employees turned over 277 pounds of marijuana found in a shipment of vehicles to federal authorities Wednesday, according to U.S. Immigration and Customs Enforcement.
The drugs were concealed inside rail cars holding new Ford Motor Co. and Lincoln vehicles, which had recently come from Mexico.
Employees initially discovered the drugs inside the rail cars that had been offloaded at the Ford Rail Distribution Facility in Woodhaven. Ford contacted Woodhaven Police, which contacted ICE's Homeland Security Investigations unit.
The drugs tested positive for marijuana. No arrests have been made, though authorities are following "multiple" leads in an ongoing probe. In early July, 15 Ford Fusions that were made in Mexico arrived in northeast Ohio with drugs stored in the spare tire wells.
Around 400 pounds of marijuana worth $1 million were recovered from those vehicles. A similar smuggling scheme was uncovered in Minnesota in March. Dilworth police discovered seven Ford Fusions with marijuana stashed where the spare tire was supposed to be. Those cars also were made in Mexico.
"We are taking this very seriously," Ford spokeswoman Kelli Felker said in an email Thursday. "We are working closely with a number of law enforcement agencies on this investigation, including the FBI, Customs, Department of Homeland Security and local police. We cannot comment further as this is an active investigation."
Of the drugs found Wednesday in Woodhaven, federal officials said Ford is cooperating fully with the investigation.
"This seizure ensures that these illegal drugs will never be distributed in our communities and offers actionable intelligence that HSI and our partners can now develop into a larger probe," said Steve Francis, HSI special agent in charge, in a statement.
Marchionne: Conspiracy
didn't affect UAW bargaining
Ian Thibodeau,
The Detroit News
July 28, 2017
The multilayer conspiracy allegedly involving a former Fiat Chrysler Automobiles NV top labor negotiator had "nothing whatsoever to do with the collective bargaining process" during UAW contract negotiations, CEO Sergio Marchionne wrote Thursday.
In a letter to FCA employees obtained by The Detroit News, Marchionne expressed his "disgust" over alleged actions that led to the Wednesday indictment of Alphons Iacobelli, 57, and Monica Morgan, 54, the wife of the former United Auto Workers Vice President General Holiefield.
Marchionne said the alleged conspiracy was acted out by an isolated few and went against FCA's values. He said when the company learned of "possible malfeasance" in 2015, those involved were "separated" from FCA — in Iacobelli's case, a month ahead of the start of 2015 contract negotiations,
"I join Dennis Williams, the UAW President, in expressing my disgust at the conduct alleged in the indictment which constitutes the most egregious breach of trust by the individuals involved," Marchionne wrote. "This conduct had nothing whatsoever to do with the collective bargaining process, but rather involved two bad actors who apparently saw an opportunity to misappropriate funds entrusted to their control and who, unfortunately, co-opted other individuals to carry out or conceal their activities over a period of several years."
Iacobelli has been charged with criminal violations of the Labor Management Relations Act. The act prohibits employers or those working for them from paying, lending or delivering money or other valuables to officers or employees of labor organizations. The law applies the same standard to labor organization representatives.
Morgan was charged with conspiracy with violations of the act. Her late husband, Holiefield, was the top negotiator for the UAW with Chrysler from 2008 through June 2014. A year before he died of pancreatic cancer, Holiefield took a leave of absence from the union after he accidentally shot Morgan in the stomach at their Harrison Township home. She underwent emergency surgery and recovered.
Iacobelli was vice president for employee relations at FCA. General Motors Co. hired Iacobelli in January 2016 as executive director of labor relations. It was unclear if he still works for GM.
The indictment charges Iacobelli and others associated with FCA of making more than $1.2 million in prohibited payments from 2009 to 2014 to Morgan, Holiefield and others. The indictment claims designer clothing, jewelry and furniture were among the payments, as well as paying off a $262,219 mortgage on Holiefield and Morgan's residence in June 2014.
Authorities say the payments came from a bank account and credit cards from the UAW-Chrysler National Training Center in Detroit, which is funded by FCA to provide training for its UAW-represented employees. The alleged charges would have come when Iacobelli was in charge of bargaining for FCA and when Holiefield was in charge of FCA negotiations for UAW.
Iacobelli also is charged with tax violations related to diverting more than $1 million of funds from the UAW-Chrysler center for his own benefit and using them to pay for a 2013 Ferrari 458 Spider, lease of a private jet and two limited-edition, solid gold Mont Blanc fountain pens costing $37,500 apiece. Nearly $100,000 was allegedly spent on landscaping, a swimming pool, outdoor kitchen and outdoor spa at his Rochester Hills home, as well as hundreds of thousands of dollars in personal credit card expenses and to pay off a relative's student loan.
A third, Jerome Durden, was charged separately in the case with conspiracy to defraud the U.S. He was a financial analyst with FCA's corporate accounting department and from 2008 through 2015 was controller of the UAW-Chrysler National Training Center.
FCA and UAW have both issued statements expressing disdain for the alleged actions of those indicted.
"I encourage you not to be discouraged by the actions of a few people that betrayed our core principles and our standards of morality, integrity and quality," Marchionne wrote. "We dealt swiftly with these individuals as we will anyone who does not abide by our code of conduct and who disregard the ethical principles that lie at the foundation of FCA."


Mexico built 16% more cars in
first half of 2017, bucking
slowdown in U.S. and Canada
By Pete Evans
CBC News
July 27, 2017
After six consecutive months of record output, Mexico now makes more than one out of every five cars built in North America, new numbers from automotive organization Ward's shows.
Mexico built 1,926,930 cars in the first half of 2017, almost 16 per cent more than the country cranked out in the first six months of last year. That compares with 1,208,911 Canadian-built vehicles over the same period, a figure which dipped by 2.4 per cent from last year's level.
The boom means Mexico now makes more cars than the U.S. does, as America built 1,697,551 cars in the first half of 2017. Compared to last year, that figure is down by 17 per cent — about what Mexico's output has expanded by.
Mexico may now be making more cars than America does, but when larger vehicles such as trucks, vans and SUVs are included, America still leads the region in vehicle production, with 5,812,310 through June — although that figure is down almost five per cent in the past year.
Profit margins on those vehicles tend to be higher, which is why North American automakers build them closer to home, while outsourcing smaller vehicles that aren't selling as well as they used to.
Last month, Ford announced plans to produce all of its Focuses at a new plant in China, the first time the company will build cars in that country that are destined for sale in North America. Previously, the plan was to build the Focus in Mexico, before changing that plan after pressure from the White House.
And General Motors in January announced it would be cutting 625 jobs at one of its Ontario facilities and moving production to Mexico instead.
U.S. President Donald Trump has vowed to energize American manufacturing in his presidency, and the subject of auto jobs is likely to come up in NAFTA discussions between the three nations slated to start later this summer.
While Trump has rallied support for the Made In America movement, the reality of the North American automotive supply chain makes that basically impossible to achieve, since companies build and assemble hundreds of different components in various countries along the way toward building a single vehicle.
Roughly 40 per cent of the components in a vehicle considered to be made in Mexico in fact come from the U.S., the non-partisan think tank the Center for Automotive Research (CAR) said in a report earlier this year. In Canada, the ratio is about 25 per cent.
A hard-line approach requiring that all cars sold in America be fully made and assembled in America would cost the U.S. about 30,000 jobs, and add thousands of dollars to the price of a vehicle, CAR said.
Ford makes $2B in second
quarter, up 3.7%
Ian Thibodeau
The Detroit News
July 26, 2017
Dearborn — Ford Motor Co. on Wednesday reported a second-quarter profit of $2 billion, up 3.7 percent from the same period a year ago.
The company attributed the profit increases to revenue boosts that came from the automotive segment in North America, Europe and the Asia Pacific region, a favorable adjustment in the tax rate, and the best pre-tax profit since 2011 from the company's financial arm, Ford Credit.
"This quarter shows the underlying health of our company with strong products like F-Series and commercial vehicles around the world," said President and CEO Jim Hackett in a statement, "but we have opportunity to deliver even more."
Wednesday's earnings report was the first under Hackett's tenure, who replaced Mark Fields in late May.
The company made $2.5 billion before taxes, down $500 million from last year, according to financial results reported Wednesday.
But Ford posted earnings per share of 51 cents, beating Wall Street forecasts for 43 cents per share, and total company revenue was $39.9 billion, up .5 percent from a year ago.
Ford's automotive segment grew by $100 million, with revenue of $37.1 billion. Ford's market share decreased for the second quarter.
The North American automotive segment's revenue was up 3 percent year over year to $24.5 billion, though the pre-tax profits slipped $500 million to $2.2 billion. Ford also saw a decrease in market share due to lower fleet sales.
Meanwhile, the company saw its ninth consecutive profit in Europe, though revenue and profits slipped compared to a year ago due to Brexit. Ford also saw wholesale volume grow 7 percent in its Asia Pacific operations. Revenue grew 21 percent there to $3.4 billion, and profits increased $151 million from a year ago to $142 million.
David Kudla, CEO and chief investment strategist with Mainstay Capital Management, said in a note ahead of Ford's earnings that strong SUV, truck and crossover sales are helping Ford boost its average transaction prices, but an expected overall sales slowdown will hamper the company's share price.
It's up to Hackett to show investors that he has a plan.
"Investors will be eager to hear Ford's new vision after the recent shake-up at the top," Kudla wrote.
The company's cerebral new CEO is nearing the end of a 100-day plan he's using to assess the company's revenue, fitness, capital expenditure and innovation as the U.S. auto industry speeds toward plateauing — possibly falling — sales.
Bob Shanks, Ford chief financial officer, said Wednesday in a briefing with reporters that Hackett's "very intensive" 100-day assessment is "well-underway."
"It's progressing extremely well," said Shanks, who provided no details of what the executives have found so far. "I think we're all energized and excited about what we're finding and where the company's going to head."
He said the company should have more to report from the 100-day plan later this year.
Hackett's assessment could spur new ventures to boost underperforming segments of the company, decisions to trim oversized departments within corporate, moves to drop or replace vehicles, according to multiple notes from analysts who met with Hackett and Shanks in June.
But Hackett bringing about further change at Ford would fit with comments Executive Chairman Bill Ford Jr. made when Hackett was appointed.
Bill Ford said then he wants Hackett, the tech-talking "change agent," to "re-energize" the company by moving faster than his predecessor, Fields, in realigning the business to maximize growth amid expansion into new markets such as self-driving vehicles, electrification and mobility — sectors in which profits eluded Fields.
Ford is offering buyouts to 1,400 white-collar employees, and plans to move production of the next-generation Focus to China by 2019
The automaker is also investing billions of dollars in autonomous technology, electric cars and other new vehicles planned through the remainder of the decade and into the early 2020s. Investments include a five-year, $1 billion investment in artificial intelligence company Argo AI to develop the brains for Ford's self-driving cars. Ford continues to invest in its autonomous vehicle development, which aims to have a fully driverless vehicle on the road by 2021.
Shanks also said Wednesday that the company is adjusting its full-year guidance at the midyear point. Ford projects it will post adjusted earnings per share of between $1.65 and $1.85, and an automotive segment revenue of $141.5 billion, which is roughly equal to 2016.
Halfway through the year, Ford has made $3.63 billion, down from $4.42 at the midway point a year ago. The company has grown halfway through the year, though, posting a revenue of $73.6 billion, up from $72.2 last year.
On Tuesday, General Motors Co. reported net income of $1.66 billion in the second quarter, down 42 percent from a year ago, primarily driven discontinued European operations. Fiat Chrysler Automobiles NV is expected to report its second-quarter results on Thursday.
***********************************************************
Ford Delivers Second Quarter Net Income of $2.0B; $2.5B Adjusted Pre-Tax Profit

Good morning,

Today, we are releasing our second-quarter financial results and I wanted to take this opportunity to share some early impressions after my first two months as Ford's president and CEO.

First, Ford is a fantastic company with not only an incredible history, but also a very bright future. We didn't survive and thrive for 114 years through luck or because we've stuck with the status quo. Rather, we have remained resilient and reinvented ourselves many times in the face of disruption.

And so, in this fast-changing, competitive new era, I truly believe we can become an even better company. We can be extraordinary in the way we relate to and deliver value to our customers. In this way, we can deliver much more value to all of our stakeholders.

Turning to the second quarter, we delivered a solid performance and we remain in a strong financial position that will serve us well going forward.

Some specific highlights from the second quarter include:
Revenue of $39.9 billion, up $400 million from a year ago
Net income of $2 billion, up $100 million
Adjusted pre-tax profit of $2.5 billion, down $500 million
EPS was $0.51, up $0.02, with adjusted EPS at $0.56, up $0.04
Profitability in North America, Europe and Asia Pacific, and pre-tax profit of $619 million at Ford Credit, up 55 percent year-over-year
You can view our news release for full details on our second-quarter performance.
Thank you.
Jim
Shrewd businesses support $15
minimum wage and decent work
Kaylie Tiessen
Toronto Star
July 24, 2017
There is a growing body of research informing us that a business strategy focused on stably employed, better paid workers is good for business and the economy.
Ontario's Fair Workplaces, Better Jobs Act (Bill 148) is largely being touted as a story of workers against employers. The tale playing out in the media and around many dinner tables across the province suggests that if workers win, businesses lose.
But a growing group of employers is advocating the opposite. This is a story the Ontario public needs to hear more about.
Indeed the provisions in Bill 148 will benefit workers. If the bill passes, part-time and temporary workers will receive equal pay for equal work. Many workers will see personal emergency leave provisions expanded. Longer tenured workers will have more vacation time, and many workers will see more predicable scheduling provisions.
In addition, full-time, minimum wage workers will earn an income that sits slightly above the poverty line. By the way, that was also the case in the mid-1970s.
Minimum wage will sit at roughly 53 per cent of the average hourly wage. It's not quite as high as the 60 per cent of the average wage that myself and colleagues have advocated, but it is in the range of what is considered an appropriate goal among many economists and policy-makers.
A boost to $15 an hour also gets low-wage workers closer to realizing the benefits of the productivity gains that have been made over the last 40 years. Between 1965 and 1975, the minimum wage roughly tracked productivity gains as both increased over time. However, since 1976, the two have become decoupled and minimum wage earners have not been seeing gains in their pay cheque anywhere near what the economy has seen in terms of productivity growth.
In addition to closing the gap between minimum wage and productivity gains, increasing the minimum wage is likely to lead to productivity gains both at the firm level and in the aggregate measurements.
And this is where the business case is being made by employers.
A recent report from the United Way of Toronto and York Region in partnership with KPMG outlines some important secure work strategies being employed by local businesses to improve employment quality while simultaneously increase productivity and positively affect their bottom line.
The Ontario Living Wage Network is a network of more than 150 Ontario employers who have made a commitment to lifting the pay floor in their workplaces far beyond the provincial minimum (current and proposed). On average, these employers pay their lowest paid workers $16.30 per hour — well above the proposed $15 an hour minimum wage.
The Better Way Alliance is a group of private sector employers that is speaking out in favour of decent work as a strategy to grow the economy and improve worker well-being. The employment model these businesses rely on goes well beyond pay to include strategies for predictable scheduling, permanent work, training, professional development and employee voice.
These decent work strategies include paying a living wage, providing predictability in hours and scheduling, offering professional development opportunities, providing health and disability benefits, and ensuring paid sick leave to name a few.
The thing is, employers still pay when their business strategy is focused on low-wage and insecure work — they just pay in areas that are not as obvious on the balance sheet as wages, such as higher turnover, increased recruitment costs, employee disengagement, lower productivity, consumer frustration and customer dissatisfaction.
There is a growing body of research informing us that a business strategy focused on stably employed, better paid workers is good for business and the economy. This is a message that flies directly in the face of much of what I learned as a business management student and much of the fear employers are voicing as the legislation moves toward the implementation stage.
The story being touted around the Fair Workplaces, Better Jobs Act is one of workers against employers. Reading the headlines might lead you to believe there can only be one winner, when in fact the implementation of these decent work strategies will benefit everyone.
Kaylie Tiessen is an economist. She works in the research department at Unifor. Follow her on twitter @KaylieTiessen.
Ford to fight latest Takata recall
Associated Press
July 23, 2017
Detroit — Ford is fighting the latest expansion of the Takata air bag inflator recall.
Earlier this month Takata filed documents with the U.S. government adding 2.7 million vehicles to the recall from Ford, Nissan and Mazda. All have inflators with a drying agent that previously were thought to be safe.
But the National Highway Traffic Safety Administration has said that Takata tests showed the inflator propellant can degrade and will pose a safety risk if the inflators aren't replaced.
Nissan agreed to recall about 515,000 Versa cars, but Ford and Mazda filed petitions to avoid a recall.
Takata inflators can explode with too much force and spew shrapnel into drivers and passengers. At least 17 people have died and more than 180 injured due to the problem. The inflators have caused the largest automotive recall in U.S. history with 42 million vehicles and up to 69 million inflators being called back for repairs.
Takata uses the chemical ammonium nitrate to inflate air bags. But it can deteriorate when exposed to high airborne humidity and high temperatures. Previously the company believed that a drying agent called a desiccant stopped the chemical from degrading.
Ford, which has more than 2 million vehicles involved in the latest recall, says the propellant has not deteriorated in any of its inflators taken from vehicles in the field. The company says it will file a petition with NHTSA to further study its inflators. "At this point there is no data to suggest a recall is needed," the company said in a statement.
A message was left Friday for a Mazda spokeswoman.
The inflators in question were produced by Takata from 2005 to 2012. NHTSA says there have been no ruptures in the real world or in testing, and that other Takata inflators with the drying agent have not been recalled.
The agency said Friday that Ford and Mazda filed recall notices with the agency but also said they will turn in petitions seeking to avoid additional recalls. Such paperwork has to be filed within 30 days, and NHTSA will make the final decision.
Ford vehicles in question include the 2006 through 2012 Ford Fusion, Mercury Milan and Lincoln MKZ sedans, the 2007 to 2011 Ford Ranger pickup and the 2007 through 2010 Ford Edge and Lincoln MKX SUVs. The recall of about 6,000 B-Series trucks from Mazda also are is in question.
Nissan's recall covers just over 515,000 Versa subcompact hatchback and sedans from the 2007 through 2012 model years.
Ford debuts first pursuit-rated
F-150 police pickup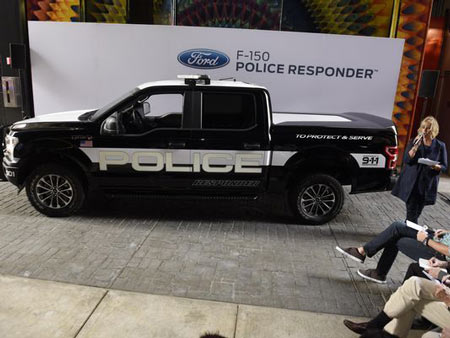 Ian Thibodeau
The Detroit News
July 22, 2017
Ford Motor Co. is rolling out the industry's first pursuit-rated pickup for police.
The 2018 F-150 Police Responder, expected on the road by next 2018, adds off-road capability and more utility to Ford's lineup of police vehicles.
There's demand across the country for a bigger, more capable police vehicle, according to Stephen Tyler, Ford's police brand marketing manager. Agencies like the U.S. Border Patrol, U.S. Fish and Wildlife Service, sheriff's departments and tribal police told Ford they needed off-road ready vehicles.
The F-150 didn't need a lot of work to make it ready for law enforcement, Tyler said, but the vehicle underwent some changes inside and out.
It's based on the F-150 FX4 off-road model, and comes standard with that model's 3.5-liter EcoBoost V-6 and a 10-speed transmission. The engine cranks out 375-horsepower and 470 pound feet of torque, which Ford says is more than any pursuit-rated police vehicle.
The Police Responder gets stronger brakes, an upgraded front-stabilizer bar for better handling, 18-inch wheels with all-terrain tires, and underbody skid plates.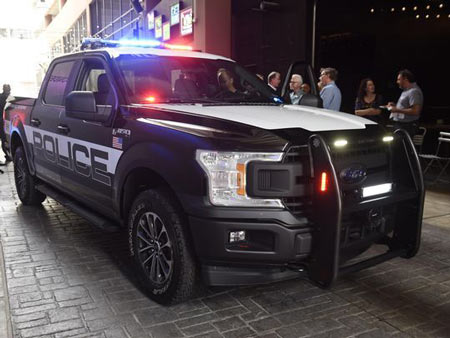 The pickup is made on the four-door F-150 SuperCrew body. With the largest passenger volume among police vehicles, there's plenty of room in the back seat. Ford moved the shifter out of the center console to the steering column to free up space for after-market additions between the front seats, which are tweaked to give officers better shoulder and hip room.
The truck also has a high-output alternator to support the electrical components police need on-board.
All of this extra stuff added weight to the truck, but Ford says that doesn't slow it down too much: The Police Responder can reach speeds of 100 mph, 5-mph slower than the base 2018 F-150's top speed. Clearly, the truck is aimed at off-road work.
With the addition of the truck, Ford has eight law enforcement vehicles. Including the F-150, four of those vehicles are pursuit-rated.
Ford will begin filling orders for the new vehicle later this year, and expects to have the F-150s on the road by next spring.
The company's Police Interceptor Utility, built on the Explorer frame, is the best-selling police vehicle in the country, making up over 50 percent of Ford's sales to law enforcement. The new pickup aims to meet market demand for an off-road capable vehicle.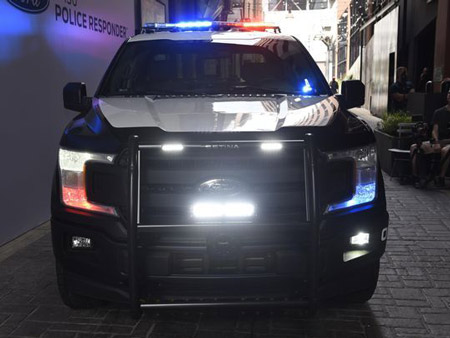 With the addition of the truck, Ford has eight law enforcement vehicles. Including the F-150, four of those vehicles are pursuit-rated.
Ford will begin filling orders for the new vehicle later this year, and expects to have the F-150s on the road by next spring.
The company's Police Interceptor Utility, built on the Explorer frame, is the best-selling police vehicle in the country, making up over 50 percent of Ford's sales to law enforcement. The new pickup aims to meet market demand for an off-road capable vehicle.
What you should know about
online used-car sales scams
JASON TCHIR
The Globe and Mail
July 20, 2017
In most scams involving a mysterious overseas buyer and their shipping agent, you'll likely be left waiting for the shipper to come in – after you hand over your own cash.
"Nobody's ever coming to look at it or test drive it – nobody shows up," said Allan Boomhour, spokesman for the Canadian Antifraud Centre (CAFC). "We see these every day. The whole idea is to trick you into sending your own real money."
Here's how it usually works. First, the crook sends you a payment for more than you're asking.
"They say, "we're including the shipping fee' – so if you're asking $5,000, they'll send $6,000," Boomhour said. "Then they ask you to send that difference to the shipper. It varies, it could be Western Union or MoneyGram."
That payment? Whether it's a PayPal notice or a cheque, it's probably fake, Boomhour said.
"You'll get an email that says it's been transferred, but people don't check into their actual PayPal account to see if the money is there, they're just going by that email," Boomhour said. "And with cheques, most banks will clear cheques right off the bat, and then they could be rejected weeks or months later."
If you send money via Western Union or MoneyGram – or even prepaid gift cards – there's no way to get it back, even if you report it to police, Boomhour said.
"Once, it's paid out at the other end, it's cash-in-hand; there's no tracing it," Boomhour said. "Even with prepaid gift cards, once bad guys have those card numbers, they take out the money within a minute."
Could the scammer actually deposit the money into your PayPal account and then get PayPal to reverse the charges? Yes, but that's not as common, Boomhour said.
"Usually there's no money at all but, yes, those scenarios can happen," he said. "[They] can go through the credit card company and try to get the charge back."
Canadians do fall for these scams, Boomhour said. In 2016, 39 people lost, in total, nearly $69,000. So far this year, 9 people have lost over $11,000.
And those are just the cases that have been reported to police. Because the scammers are usually in another country, it can be tough to catch them.
"As soon as it leaves the country, jurisdiction becomes an issue," Boomhour said. "They do occasionally get people. But, like drug dealers, if you arrest one at the corner, the next day there's another one."
When we asked PayPal about the scam, it said in an email, "If something sounds too good to be true – it probably is a scam.
"As with any financial services transactions, we always encourage people to be vigilant and protect themselves against criminals trying to fraudulently transact with them."
So how do you know it's a scam? Well, in "99 per cent" of cases, nobody will pay the full price for a car without seeing it first, Boomhour said.
"You want to deal with people face-to-face," he said. "If you've met in person, a wire transfer into your account is fairly safe, or if it's a certified cheque, you go with them to the bank and make sure it's good. But you have to meet them."
Also, beware of texts asking for your email address. Sites like Kijiji and AutoTrader have systems that send anonymous messages between buyers and potential sellers. They also detect automated scams, Kijiji said.
"Fraudsters will send a fake SMS message requesting to be contacted via email in an effort to stay off the radar, which they can't do if they reply through the secure Kijiji reply system," Kijiji said in an email statement. "[Your] best course of action is to ignore the ploy and block the scammer's phone number and email address, and refrain from clicking any links sent to him via email or text."
To avoid them, don't put your number in the ad, Kijiji said.
So how common are these scams? In a 2013 survey by the Automobile Consumer Coalition, 13 per cent of consumers said they'd been contacted by a buyer who offered to overpay and asked the seller to refund the difference.
We asked Kijiji for the exact number of complaints.
"The incidence of fraud or scams on Kijiji is extremely low," it said. "To put it into perspective, there are millions of new ads and emails exchanged between users on Kijiji in the average week and complaints about suspected fraud among all that communication traffic make up a tiny fraction of a percentage point."
If you've lost money in a scam, contact your local police, Boomhour said.
"If no money is lost, some police services will tell people to contact [us] and won't take a report," Boomhour said.
And there's likely no reason to worry that they have your email address and phone number. To commit ID theft, they'd need information like your social insurance number, driver's licence number and date of birth, Boomhour said.
"You may get more unwanted phone calls or junk emails – but there's nothing you can do about that," Boomhour said.
Auto insurance rates in Ontario rose
again in the second quarter of 2017
The Canadian Press
July 19, 2017
Approved rates posted by the Financial Services Commission of Ontario show an average increase of 0.76 per cent.
Last quarter, rates went up by an average of 1.24 per cent.
In 2013, the Liberals promised to reduce car insurance premiums by an average of 15 per cent by August 2015, but after the self-imposed deadline passed, Premier Kathleen Wynne admitted that was what she called a "stretch goal."
In April, a report by Ontario's auto insurance adviser found that the province has the most expensive auto insurance premiums in Canada despite also having one of the lowest levels of accidents and fatalities.
David Marshall found that the average auto insurance premium in Ontario is $1,458, which is almost 55 per cent higher than the average of all other Canadian jurisdictions.
The insurance system favours cash settlements in lieu of care, Marshall found. Sprains and strains — the majority of claims — often take more than a year to settle and about one-third of overall benefit costs goes toward competing expert opinions, lawyers' fees and insurer costs to defend claims instead of going to treatment, he wrote.
Marshall's recommendations included adopting a "care not cash" approach, exploring better ways to care for people who are catastrophically injured and making lawyers' contingency fees more transparent.
Finance Minister Charles Sousa said the government will be hosting consultations on the recommendations made in Marshall's report in the coming month
Lucid Motors said to have
takeover talks with Ford

July 18, 2017
Giles Turner, Keith Naughton
and Alex Barinka, Bloomberg News
Electric-car maker Lucid Motors Inc. is raising a new round of financing and is also considering an outright sale after holding early-stage takeover talks with Ford Motor Co., according to people familiar with the situation.
The Menlo Park, California-based firm has hired Morgan Stanley to help raise more money to pay for further development of its vehicle and a new manufacturing plant in Arizona, the people said. They asked not to be identified talking about private company matters.
Lucid approached the senior management of Ford about a possible sale, the people added. Ford is not looking for a deal at this time, one of the people said, as new CEO Jim Hackett is in the midst of a 100-day review of the company's plans and priorities.
Founded in 2007, Lucid aims to start production of its all-electric luxury sedan in 2018. Staffed by many engineers from rival Tesla Inc., Lucid released a video in July showing its Air production model hitting speeds of 235 miles per hour. The vehicle will start at $60,000.
Lucid, which originally focused on making battery packs for electric buses in China, has raised more than $100 million from Asian investors, including Tsing Capital and Mitsui & Co. Silicon Valley venture capital firm Venrock is also a backer. Lucid is working on its fourth funding round, known as a Series D.
"We don't have the money in place. That's why we need to secure Series D," Chief Technology Officer Peter Rawlinson said at the New York International Auto Show in April.
"It would be irresponsible to start moving earth or start anything until we have a financial runway to execute that professionally and with absolute integrity," Rawlinson said.
The Arizona plant is expected to cost $700 million.
In an interview with Bloomberg News, Rawlinson said Lucid is "thrilled with the response from investors." He declined to comment on the scale of the fundraising, or the talks with Ford.
"We don't comment on speculation," Karen Hampton, a Ford spokeswoman, said in an email. A representative for Morgan Stanley didn't immediately respond to a request for comment.
In May, Ford's board of directors ousted Mark Fields and installed Hackett, the former CEO of office furniture maker Steelcase Inc., who has ties to Silicon Valley and had most recently been running Ford's foray into self-driving cars. The board was unhappy with the pace of change under Fields and the nearly 40 percent decline in the company's share price on his watch.
Ford is not ruling out a deal down the road, according to one of the people. The automaker has big plans to bring out plug-in cars and hybrids. It is spending $4.5 billion to electrify 40 percent of its lineup by 2020. Rival General Motors already has a long-range electric vehicle on the market.
Ford also has promised to put autonomous cars on the road by 2021.
Trump steel tariffs
could hurt U.S. autos
Ian Thibodeau and Jim Lynch
The Detroit News
July 17, 2017
Tariffs might help U.S. steel companies, but a crackdown on imports by President Donald Trump could hurt U.S. automakers and other industries – and raise prices for buyers of their goods.
The Trump administration is considering tariffs on steel imports in an effort to squeeze China and other countries that Trump says are destroying the U.S. steel industry. No action has been taken, but auto industry analysts and trade experts say the threats already have created uncertainty in the market.
Even though U.S. automakers build vehicles primarily from U.S.-sourced steel, economists say a protective tax on imported steel would give makers of domestic steel the incentive to raise their prices – just because they could. That would be a boon for the domestic steel industry, but it would make U.S.-made cars more expensive and push consumers to buy cheaper cars from foreign companies unaffected by the tariff, economists say.
"Prices will go up and people will buy less," said Alan Deardorff, professor of public policy and economics at the University of Michigan. "It's ironic that in discouraging imports of steel, he may encourage the imports of cars."
The latest discussions over trade – and steel in particular – arose after transcripts of a Wednesday media session held by Trump on Air Force One were published. In a question-and-answer session, the president described the influx of cheap foreign steel as "a big problem."
"They're dumping steel and destroying our steel industry; they've been doing it for decades, and I'm stopping it," Trump told reporters. "It'll stop...
"There are two ways – quotas and tariffs. Maybe I'll do both."
Robert E. Scott, a senior economist and director of trade and manufacturing policy research for the Economic Policy Institute, in a blog post Tuesday underscored the dilemma in economic sanctions.
One segment of the economy – manufacturers that use cheaper foreign steel – could be hamstrung with rising materials costs, he said.
At the same time, tariffs and quotas would save jobs in the U.S. steel and aluminum industries from near-term threats and help domestic producers recover from unfair trade.
"In the best of cases," Scott said, "tariffs can be used to encourage other importers to develop common policy to address overcapacity and overproduction by China and other major exporters."
While it is unclear what steps might be most effective, there is mounting pressure for Trump to act.
"Chinese steel overproduction is one of the most significant contributors to American manufacturing job loss," U.S. Rep. Debbie Dingell of Michigan said in an emailed response to questions. "We need stronger trade enforcement to protect against countries who cheat. President Trump should follow through on his promise to hold foreign governments accountable for illegal trade practices that continue to put American workers at a disadvantage."
In June, Trump asked the U.S. Department of Commerce to conduct what's known as a Section 232 investigation into steel and aluminum imports to determine whether they are hurting U.S. national security. If the government finds a threat there, the rarely used investigation would allow the administration to levy "protective" tariffs against a country or group of countries. Experts expect Trump to argue that the military needs domestic steel for military operations, and that the "dumping" of foreign steel is harming U.S. steel mills.
However, the voices urging Trump to exercise caution are growing louder. Perhaps most prominent is a bipartisan group of 15 former White House economic officials who drafted a letter to the president this week. They specifically took issue with the idea of tariffs imposed on supposed national security threats.
"The diplomatic costs might be worth it if the tariffs generated economic benefits. But they would not," the panel wrote. "Additional steel tariffs would actually damage the U.S. economy. Tariffs would actually raise costs for manufacturers, reduce employment in manufacturing and increase prices for consumers."
Compounding the problem, they wrote, is the fact that other countries where U.S. automakers do business could also be hurt by tariffs. Among the 110 countries the U.S. imports steel from are allies such as Canada and Mexico.
"Additional tariffs would likely do harm to our relations with these friendly nations," the group wrote.
Ford Motor Co. said it buys 95 percent of steel and 98 percent of aluminum used in its American-built vehicles from U.S. manufacturers. The company deferred further comment to the American Automotive Policy Council, a trade group representing Ford, Fiat Chrysler Automobiles and General Motors Co.
In May, that group submitted two documents to the U.S. government commenting on the Section 232 investigation.
U.S. automakers buy 15 percent of all the steel consumed in the U.S., a vast majority of which is domestically sourced, according to one document.
"(If) the president were to increase tariffs on foreign steel or impose other import restrictions, the auto industry and the U.S. workers that the industry employs would be adversely affected, and (this) unintended negative impact would exceed the benefit provided to the steel industry from this executive action," read the document. "Inevitably, the imposition of across the board higher tariffs or other restrictions on imports of steel into the United States would only widen the existing price gap by increasing the price of U.S. steel and thus the cost of U.S.-built vehicles.
"This would lead to lower sales of domestically built cars and trucks in the highly competitive U.S. auto market, a decrease in U.S. auto exports, and a loss of the jobs that those economic activities support."
Representatives from the Fiat Chrysler and GM declined to comment directly on the potential tariffs.
Representatives from the United Auto Workers union and the Alliance of Automobile Manufacturers – a trade group that represents a dozen carmakers that operate in the U.S., including the Detroit Three – said they could not comment on the president's trade dealings with China, because the Trump administration has not given a clear outline of its plans.
However, in a June 12 letter to U.S. Trade Representative Robert Lighthizer that addressed renegotiation of the North American Free Trade Agreement, auto alliance President and CEO Mitch Bainwol wrote: "Today's highly complex automobile is a product comprised of thousands of parts sourced from a global network of thousands of suppliers. ... Disrupting this integrated supply chain would increase prices, lower sales, threaten exports and endanger American workers' jobs."
Trump could target China through a number of different trade avenues, but even with a possible steel tariff looming, uncertainty likely has put the plateauing U.S. auto industry in a holding pattern, believe Deardorff and Kristin Dziczek, director of the industry, labor and economics group at the Center for Automotive Research.
"The auto industry hates risk," said Dziczek. "They hate uncertainty. Uncertainty creates risk in the industry, and risk costs money."
If the tariff is levied on all steel imports, U.S. steel companies would raise prices as well. Many of the vehicles produced in the U.S. are made with U.S. steel. So, auto companies and suppliers would absorb those cost increases for a short time, but eventually the cost of a vehicle made with U.S. steel would increase.
Though plenty of foreign automakers build cars in the U.S., models made outside the country would dodge the steel tariff, keeping prices low on vehicles imported here. That makes U.S. auto companies less competitive, says Deardorff, and would potentially lead to job losses despite short-term gains in the steel industry.
In the meantime, Trump is creating more uncertainty than anything, according to Dziczek and Deardorff.
"Uncertainty is almost like a tax," said Deardorff. "It discourages any kind of activity."
What you need to know before
buying a home in Florida
8 important facts for snowbirds looking to the Sunshine State
Toronto Star
July 16, 2017
Wintering in Florida is a Canadian tradition. Yet buying property in the Sunshine State can be a very different experience than buying a home in Toronto. Here are eight important details you should consider if you're planning to buy your Florida dream home:
1. Construction times are much quicker.
When you buy a new-build home in Toronto, you're looking at 12 to 18 months before completion. In Florida, it's more like four to six months. There are lots of reasons for this, explains Laura Di Paolo, senior vice president of corporate marketing for Mattamy Homes. Just a few: no basements, different municipal approvals and unique processing times.
2. Master-planned communities are developed on a much larger and often a grander scale.
The big differences are the large, well-appointed activity centres, which often make it feel like you're living in a vacation resort. "In Canada, we have public community and recreation centres, so there's an issue of market desirability — and willingness to pay for — these types of amenities," says Di Paolo. "Typically, our taxes pay for these shared public facilities, whereas in the U.S., residents in master-planned communities pay fees toward the creation and upkeep of shared amenities."
3. There is strong community governance.
Often it's homeowners associations (HOA) that govern the standards for lawn upkeep, paint colours, landscaping and the maintenance of activity centres. "An HOA in the U.S. keeps your neighbour from painting their garage door a colour that may not meet standards for the community, for example," explains DiPaolo. "Typically in Canada, there's little or no governance once buyers take possession."
4. Rental opportunities abound.
People are always looking to rent property in Florida, and rental income can offset much of the operating expense of a property, which is a nice benefit (though note that you will be taxed by the U.S. government — it's income, after all). "The Orlando area, with its theme parks, represents a unique opportunity for rental income," says Di Paolo. "For the first time, Mattamy has homes for sale in a community specially zoned for short-term rentals."
5. Property management responsibilities vary.
Since Canadians are allowed to stay in the U.S. for only six months a year, says Di Paolo, "you may be required to look after things like pest control, lawn maintenance, home watch and pool maintenance for the many months you aren't there."
6. Travel insurance is a huge consideration.
"Specifically, health insurance is an issue for retirees looking to become snowbirds." Experts recommend you look very carefully at your policy to make sure you're appropriately covered should you have to seek any medical attention while you're out of Canada.
7. Home insurance rates differ.
"In Florida, rates are determined by such factors as wind, flood and hurricane ratings, as well as the type of structure," says Di Paolo.
8. Taxes can be complicated.
"You pay more tax as a non-resident," Di Paolo cautions. "Consult a tax specialist to look at things like cross-border trusts and naming your children on the deed to save on capital gains."
Keith Weston, Vehicle Integration Supervisor, Ford Motor Company Mustang Program demonstrates how a line lock works in the 2018 Mustang, it allows you to lock the front wheels and spin the back wheels to warm up tires for better traction. Clarence Tabb, Jr. / The Detroit News
Ford found inspiration from an
F-22 for their F-150 Raptor
at the EAA AirVenture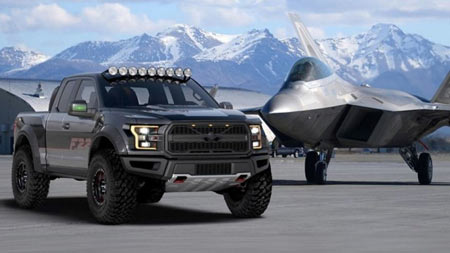 Motor Authority
Sean Szymkowski
July 13, 2017
Each year, Ford pulls a crew together to build an aircraft-inspired vehicle for the Experimental Aircraft Association AirVenture aircraft show in Oshkosh, Wisconsin.
The vehicles are auctioned off at the show's Gathering of Eagles event to help raise funds for training of the next generation of pilots. Typically, the vehicles auctioned off are Mustangs but this year an F-150 Raptor has been selected.
And the inspiration for the build? None other than the F-22 Raptor fighter jet.
Ford Design manager Melvin Betancourt took the lead on designing the special F-150 Raptor. Fighter jet colors, roof-mounted lights, special wheels, and unique graphics throughout the exterior proudly proclaim its aviation motif.
It's not all about the looks, though. Ford Performance has installed a Whipple intercooler and included a few other go-fast bits to inject 95 additional horsepower. It means this F-150 Raptor is currently making 545 hp from the familiar 3.5-liter twin-turbocharged V-6 under the hood. Upgraded suspension and brakes are also present.
Last year, the EAA was able to raise $295,000 with the auction of a special Mustang Shelby GT350. It will be interesting to see what the special F-150 Raptor brings when it goes under the hammer.
The 2017 Gathering of Eagles is scheduled for July 27.


How long must drivers wait
for pedestrians at crosswalks?
The Globe and Mail
JASON TCHIR
July 12, 2017
Special to I grew up in Alberta, and when I learned how to drive, we were taught that all cars have to stay stopped in both directions until someone has finished crossing. Now, I start crossing with my kids in a crosswalk and I'm lucky to have anyone stop at all, even after we've walked out into the crosswalk with our arms out. Once we're in it, cars breeze through the second we cross, sometimes right behind us. Have the rules changed? – Matt, Toronto
In Alberta, cars have to stay stopped at a crosswalk until pedestrians make it to the other side, police said.
"By the letter of the law, traffic has to stop in both directions," said Insp. Ken Thrower, traffic commander with the Calgary Police Service. Section 41 of Alberta's Use of Highway and Rules of the Road Regulations doesn't specifically mention both directions.
It does say "a person driving a vehicle shall yield the right-of-way to a pedestrian crossing the roadway within a crosswalk."
Since 2016 in Ontario, drivers and cyclists have to stop and wait until pedestrians have completely crossed at pedestrian crossovers and at normal crosswalks, if there's a school crossing guard there.
So what's a crossover?
"The crosswalk is at an intersection and the crossover is usually mid-block with the yellow lights overhead and the cross symbols on the roadway," said Ian Law, president and chief instructor of ILR Car Control School. "[Before] traffic had to stop until the pedestrians were halfway across; the new rule now says all vehicles must stop and stay stopped until the pedestrians have left the roadway."
It's confusing, and when the law was first announced, there was worry that it would apply at every intersection, and drivers wouldn't be allowed to turn right at any intersection until the crosswalk was clear.
So, you have to wait at a crossover – which doesn't always have flashing lights – but not at a normal stop sign or red light with painted lines (again, unless there's a school crossing guard there.)
"If there's a crossing guard with their sign out, you can't turn right, even if there's no pedestrians in your way," said Const. Clint Stibbe, with Toronto Police traffic services.
Fines range from $150-$500, and drivers could also face three demerit points. Fines are doubled in community safety zones.
And everywhere else?
In British Columbia, Manitoba and Prince Edward Island, drivers must only yield half the road to pedestrians, said the Canadian Automobile Association.
While Nova Scotia, New Brunswick, Quebec, and Saskatchewan have specific laws about school crossing guards, there's no specific wording about when drivers can proceed after stopping.
Right of way can be wrong
Just because the law says cars have to stop, it doesn't mean they will.
"You've got the right of way as a pedestrian, but if you walk out without looking, you could end up getting hit," Thrower said. "It's very wise to look both ways and make sure you engage the driver; somebody might be looking down at their laps at their phones or be creeping ahead without realizing it. We've had people get run over at one mile an hour."
Sticking out your hand or pushing that button doesn't magically make drivers stop, Law said. "Never, ever assume any vehicle will stop. Red lights and stop signs do not stop cars and trucks – people do, and they are notoriously unreliable."
A 2015 French study found that when pedestrians at a crosswalk didn't make eye contact with drivers – instead, just looking at the car – only 45 per cent of drivers stopped.
When pedestrians stared directly at the driver's eyes, 68 per cent of drivers stopped.
But pedestrians need to pay attention, too. As of May 31, Toronto had 10 pedestrian fatalities. "In seven of them, the pedestrian had made an error," Stibbe said.
UAW files for vote at
Mississippi Nissan plant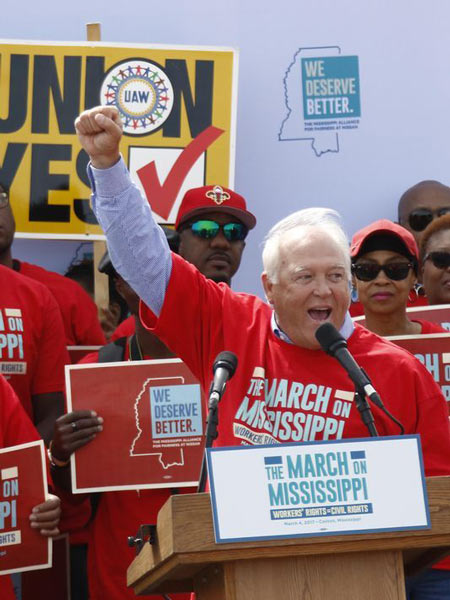 Jeff Amy,
Associated Press
July 11, 2017
Jackson, Miss. — The United Auto Workers filed petitions Monday to force a unionization election at a Nissan Motor Co. plant in Mississippi after a yearslong pressure campaign to build support.
Sandra Hightower of the National Labor Relations Board confirmed that the board received the UAW's election petition in its New Orleans office.
The UAW declined comment but has scheduled an event Tuesday at its office near the plant in Canton, just north of Jackson. That union has long struggled to unionize foreign-owned auto plants across the South, and Monday's move sets the stage for a key showdown.
The union has worked for years to build support for a vote among the 6,500 workers at the complex. They and community allies also have pushed Nissan to stay neutral in a vote, claiming the company has intimidated workers. The labor board has backed some of those claims in litigation that remains pending.
Nissan spokeswoman Parul Bajaj reiterated the company's stance that workers get to choose whether they have a union but management opposes representation.
"While it is ultimately up to our employees who will represent them, we do not believe that UAW representation is in the best interest of Nissan Canton and its workers," Bajaj said.
The pro-union campaign has sought to link support for the union with civil rights for African-Americans. Workers at Nissan's plant in Smyrna, Tennessee, rejected the UAW in 1989 and 2001 votes, but no election has been held at the Mississippi plant in Canton. The Mississippi campaign has featured support from NAACP and actor Danny Glover, as well as a rally this March headlined by U.S. Sen. Bernie Sanders, a Vermont independent and former Democratic presidential candidate.
Bishop Thomas Jenkins of New Dimensions Church in Jackson recorded a video and spoke at a Sunday workers meeting at the UAW office. He said he has long advocated for better wages and working conditions in Mississippi.
"We've been talking about this for a long time," Jenkins told the AP in a phone interview Monday. "It's time to go forth."
The union lost a vote among all workers at Volkswagen AG's plant in Chattanooga, Tennessee, but then won a vote among 160 maintenance workers. That was the first-ever win for the UAW at a foreign-owned auto plant in the American South. German-based Volkswagen had refused to bargain with those workers, saying representation decisions should be made by the entire hourly workforce.
Hightower said the UAW had asked to represent all production and maintenance workers at the plant, a group that could also include contract workers employed by two other companies. She said the labor board would seek to schedule an election "as soon as possible." However, she noted that pending unfair labor practice complaints filed by the UAW could block the vote. The UAW filed a new round of charges June 26.
Thirty percent of workers must sign petitions seeking an election. Hightower could not immediately say how many workers have signed.
Driverless car battle
lines get blurry
Jim Lynch
The Detroit News
July 10, 2017
San Jose — In the earliest years of the push to bring driverless and electric cars to the American masses, the narrative came easily: It was Silicon Valley and its high-tech wizardry squaring off against the old-school manufacturing power of Detroit.
The question of who will lead the development and manufacturing of autonomous and electric cars remains, carrying the weight of who will benefit from the jobs and revenues they create. An April 3 posting on Wired told readers "Detroit is Stomping Silicon Valley." Two days later, Robotics Trends declared "No, Detroit Isn't Beating Silicon Valley."
The answer may lie somewhere in between. Investments by General Motors Co. and Ford Motor Co. in Silicon Valley operations — and partnerships between Detroit automakers and California artificial intelligence and technology companies — have blurred the lines.
Interviews with players in Silicon Valley show shifting attitudes toward the Motor City.
Christopher Heiser's company, Renovo Auto, gained notoriety two years ago for helping to create an autonomous DeLorean capable of doing donuts in a parking lot. Now the company is a leader in developing operating systems for driverless cars. It recently drew investment from heavy-hitter Verizon Wireless.
Count Heiser among those who doesn't buy the idea that one area must dominate the future automotive arena.
"The Detroit versus Silicon Valley narrative has never held water," Heiser said in an email to The Detroit News. "This isn't an either-or proposition. The only way automated vehicles make it to scale is for automotive companies to work with technology partners they trust. The tech companies that get it — The complexity, the safety-critical nature of cars — those are the ones helping to make driving safer and more efficient. Bringing all the pieces together is the challenge, and collaboration is the solution."
Since 2015, Ford has had a small presence in Palo Alto on the Stanford University campus. By the end of this year, the company plans to open a massive new facility for its work on autonomous issues. That will eventually lead to a doubling of Ford's 150-employee workforce. The expansion comes on the heels of Ford's February announcement that it was investing $1 billion in artificial-intelligence company Argo AI.
A year ago, GM acquired San Francisco-based software startup Cruise Automation to serve as the centerpiece of its own driverless car research. An infusion of $14 million will be used to create a new development facility for the company in the same area and create 1,100 new jobs in the area.
While Fiat Chrysler Automobiles lacks a physical presence in Silicon Valley, it has expanded its partnership with Google offshoot Waymo by providing an additional 500 Chrysler Pacifica minivans for research.
'Old Detroit ... evolving'
It's a trend that has not been lost on industry leaders in California.
"I think it shows that Old Detroit is really evolving to start ... I would say lead innovation," said Nakul Duggal, vice president of product management for chipmaker Qualcomm. The traditional auto companies, he added, are making the moves toward becoming service providers that can use technology to adapt their existing products to autonomous uses.
"I think all of these moves are what you might expect for technology leaders and market leaders to be able be prepared for what's coming in the future," Duggal said.
Physical presence in California aside, the strategic partnerships forged by automakers have been just as eye-catching.
"Ford is investing in Argo, GM has Cruise," said Sean Wix, a member of the technical marketing team for Nvidia, whose processors take data from vehicle sensors and identify what the car is "seeing." "Everyone is buying into this whole (artificial intelligence) thing and is spending a lot of money on it."
J. Christian Gerdes, director of Stanford's Dynamic Design Lab in Palo Alto, works with several automakers on driverless technologies. He has gained an appreciation for what Detroit does well, and what it does not.
"It is still, in my mind, almost like magic what the auto industry can produce and sell for something in the $15,000 to $20,000 range," he said. "It blows my mind that that's possible. ... There is a lot of expertise in the auto industry around volume manufacturing, around safety-critical systems, around a lot of these design aspects that are, honestly, hard to duplicate.
"But it's also hard, in a company that is set up and organized around pricing that magic, to also necessarily stay on top of all the new possibilities and all of the new technologies," he continued. And, he said, that gives smaller companies the opportunity to be innovative and really push the boundaries."
New players in new places
Developments in recent years seemingly support the notion that the future of driverless and electric vehicles may not be centered in any one region. One example is Lucid Motors, the Menlo Park, California-based maker of the luxury electric car Lucid Air, which debuted at the New York Auto Show in April. After looking at 60 locations across 13 different states, the company settled on the community of Casa Grande, Arizona, just south of Phoenix, to be the home of its new manufacturing plant.
"The site itself was basically ready with everything we needed — good access to railways and good access to highways," said David Salguero, Lucid's marketing manager. He declined to discuss what other states had been under consideration.
Phoenix has also attracted attention as a robotic-car testing ground for GM, Ford, Intel Corp., Uber Technologies and Waymo. Pittsburgh has been a focal point for Uber's testing in recent years.
And new players continue to pop up in new places. This week, Blacksburg, Virginia-based Torc Robotics announced its own self-driving car project.
Back in Silicon Valley, not everyone is as attentive to what is happening with electric and autonomous vehicles — even those with links to the automotive industry. Many feel no real sense of competition over the production of tomorrow's cars.
In San Jose, Dave Hennon has worked as a mechanic for decades in this region, yet the high-tech nature of what's on the horizon, as well as the battle over it, seems remote to him.
"I'm not going to be too involved in it at my age," he joked. "I'm going to be 60 later this year."
Ford has record June
sales in China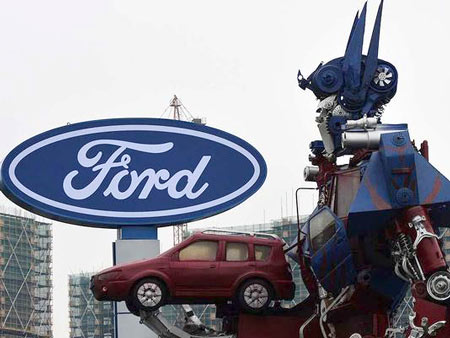 Ian Thibodeau
The Detroit News
July 9, 2017
Sales in the U.S. slumped last month for Ford Motor Co. and most other automakers, but the Dearborn-based automaker's Chinese sales grew 15 percent in June.
Ford and its Chinese joint ventures sold 100,561 vehicles there in June, the best-ever sales for that month. The company sold 537,522 vehicles there in the first half of the year, down 7 percent compared to the same period a year ago.
Those results come as Ford grows its footprint in China through sales and production. The automaker has found a new market for several of its U.S.-made vehicles, as well as those it produces with the Changan Ford Automobile and Jiangling Motor Corporation joint ventures.
Ford plans to build an all-new Lincoln SUV exclusive to the Chinese market in China by the end of 2019. And Ford leadership plans to move all U.S. production of the struggling Focus sedan to China in the second half of 2019, marking the first time a Chinese-made Ford vehicle is imported to the U.S. from those operations.
Meanwhile, in the U.S., Ford June sales slipped 5 percent compared to a year ago, due largely to poor small car sales and a reduction in fleet sales.
But Chinese sales in June were driven by strong Ford Mondeo sales, a four-door sedan. Ford sold 17 percent more of those vehicles last month compared to the previous year, which runs counter to the plummeting passenger car sales Ford and other automakers are encountering in the U.S.
China is not insulated from the current SUV craze, though.
Among the joint ventures, the Ford Escort sales grew 30 percent year over year in June, though overall sales through the first six months are down 9 percent. The Lincoln MKC and the Navigator both saw sales increases.
Ford also sold 121 imported F-150 Raptors in June, and 488 in the first half of the year. The company also sold 2,070 Mustangs in those first two quarters.
The company in 2016 sold a record 1.27 million vehicles in China, though the company's imported vehicle volume for 2016 was down overall from 2015.
Detroit's bid for respect
is earned, not given
Daniel Howes
The Detroit News
July 6, 2017
Detroit's "we-don't-get-no-respect" lament is about to get a test.
For six straight months, auto sales are down from last year, led by plummeting demand for traditional cars. Plants are eliminating shifts and putting a growing number of line workers on layoff — even as the likes of General Motors Co. and Ford Motor Co. rake in profits on pickups and SUVs amid low gas prices.
Money is growing more expensive because rock-bottom interest rates are inching higher and some lenders are reassessing the attractiveness of auto lending. High-tech content is proliferating across model ranges, boosting transaction prices and swelling monthly payments.
And Elon Musk's Tesla Inc., more highly valued by investors than GM or Ford, is poised to launch its first high-volume electric car this month. The $35,000 Model 3 will help answer just how formidable Tesla really could be within the mass market, and how much consumers from the United States to China really will go electric without the impetus of soaring oil prices.
For skeptical investors eager to see whether Detroit can manage adversity, now could be their chance to get an early look. Will the new leadership at GM and Ford, and the veteran Sergio Marchionne at Fiat Chrysler Automobiles NV, show the discipline they claim to have — or revert to the bad old habits that erode profits and tarnish brand images?
Will the urge to juice sales with incentives overcome the hard-won understanding that the price for so-called spiffs is suppressed demand and squandered brand equity? Brands like GM's Cadillac have spent the better part of the past decade rebuilding a brand that would be damaged by such moves.
Answers will be found in what the companies do, not what they say, and how quickly they do it. Detroit comes by its seismic reputation honestly. For too long, it managed cockily on the upswing, panicky on the downturn and made excuses along the way.
Only its performance over the coming months will demonstrate whether that old narrative can adjust to new realities. Or whether the reinvention of the past seven or eight years reverts to the historical mean that so many investors trading Detroit shares flat seem to expect.
Detroit is more likely to embrace the new normal because it must. In the battle between Silicon Valley and Detroit, the city and its hometown automakers that helped put the world on wheels are at a disadvantage largely of their own making.
Investors clearly have longer memories than customers and dealers, employees and hometown boosters. The country's most valuable companies aren't old-line industrial names producing real, tangible goods; they're tech companies largely powered by software developed in a business culture radically different from Detroit's.
Judging by market valuations alone, investors are far more inclined to believe in Silicon Valley's ability to innovate and build value because they've done just that for the past decade. And Detroit has not, notwithstanding billions in North American profits earned during the market boom now showing distinct signs of slowing.
That may not be fair, but it's reality. The first mass-market electric car capable of going more than 200 miles on a single charge — and already in U.S. showrooms — isn't a Tesla. It's GM's Chevrolet Bolt.
Detroit has something to prove: that it learned from its many mistakes of the past; that it can harness its technical capability and redeploy it for an electrified, autonomous and mobility services world; that it can change, can be attractive employers for millennials and can still remain corporate bulwarks in communities where it operates.
The past seven years of expanding U.S. profits is necessary, but it's not sufficient. Neither is GM selling its Opel and Vauxhall brands in Europe to the French, or bolting the Indian and Russian markets. Neither is Ford finally deciding to assemble in China Focus compacts for sale in the United States, or even ousting CEO Mark Fields after less than three years on the job.
The undeniable truth is that the companies that endured the ignominy of bankruptcy (or, in Ford's case, barely avoided it) are held to a higher standard now because they achieved a lower standard for way too long in the past.
Reaching that standard and attaining it starts with managing adversity well. It also means showing that icons of the Old Economy can play smartly with New Economy rivals competing for a share of next-generation transportation, valued in the trillions.
Automakers unlikely to
set a record with '17 sales
Ian Thibodeau and
Jim Lynch
The Detroit News
July 5, 2017
Near-record SUV and truck sales can't overcome poor passenger-car sales and keep the industry on the record pace set a year ago in the United States. Yet analysts and automotive executives are quick to say business is good, even if the full-year results come up short of 2015 and 2016 records.
That's partially because automakers are riding a cash wave as buyers abandon cars for bigger and more profitable vehicles.
Overall sales were down 3 percent for June compared to a year ago. For the first half of the year, the industry is off 2.1 percent compared to the same period a year ago with 8.45 million vehicles sold, according to Autodata Corp. Car sales industry-wide were down 11.4 percent year-to-date.
"June's sales number reaffirms that the U.S. vehicle sales cycle is in a post-peak phase," Charlie Chesbrough, senior economist and director of industry insights for Cox Automotive, said in a note Monday. "The U.S. economy remains strong — confidence is high, unemployment is low — and this will continue to support vehicle demand over the near-term. (We expect) 2017 light-vehicle sales to finish near 17.1 million — down from last year's record, but still a robust market."
The Detroit Three each saw sales slip in June compared to a year ago. Fiat Chrysler Automobiles was down 7.4 percent from a year ago; Ford Motor Co. was down 5 percent; and General Motors Co. was down 4.8 percent.
For the first six months of the year, Fiat Chrysler sales dropped 6.7 percent compared to mid-year 2016, with 1,067,362 vehicles sold. Ford dropped 3.8 percent year-to-date, having sold 1,294,397 vehicles in six months. GM was down 1.8 percent with 1,413,285 vehicles sold.
All three automakers saw steep drops in car sales in the first half of the year. GM's were off 18.6 percent, Ford's fell 20.2 percent and Fiat Chrysler's fell 24 percent in that time.
Automakers sold a record 17.55 million vehicles in 2016, and it's almost certain the companies will fall short of that this year. Several forecasters have recently trimmed 2017 estimates for sales of new cars and trucks.
The numbers on sedan sales are troubling enough that some analysts believe the time has arrived for automakers to consider whether some models should be discontinued. Rebecca Lindland, an executive analyst at Kelley Blue Book, said the downturn is reminiscent of what happened to minivans at one time.
Yet the minivan, with its sliding door, had a hook to keep buyers interested, and eventually, sales stabilized. Sedans, she said, have no such hook.
"It's worthy of examination," Lindland said. "Nobody makes the harder decisions better than (GM CEO) Mary Barra. And maybe (new Ford CEO) Jim Hackett is the kind that comes in and says 'We need to a look at this.' I think we're in a time when some hard decisions have to be made."
Ford said the June decline was driven largely by a 13.9 percent dive in fleet vehicle sales for the month coupled with continued falling passenger-car sales. Its retail sales on the month were flat, though.
Ford sold 227,166 vehicles in June. GM sold 242,873, and Fiat Chrysler 187,348.
"Obviously it looks like we hit a peak last year," Mark LaNeve, Ford vice president of U.S. marketing, sales and service, said during a conference call with analysts and reporters. "That's not to say it couldn't play out differently for the balance of this year or even into '18 ... but (expected annual sales near 17.5 million) is a very good industry. I'd take it all day long."
GM's drop came amid a strong showing in the crossover market. The Chevrolet Equinox in particular performed well, seeing an increase of 36 percent.
"U.S. total sales are moderating due to an industry-wide pull-back in daily rental sales, but key U.S. economic fundamentals clearly remain positive," said Mustafa Mohatarem, GM chief economist.
Several Fiat Chrysler vehicles posted strong showings, including the Ram series and the popular Jeep Grand Cherokee; its sales rose 21 percent over 2016.
Ford remained optimistic about its truck and SUV sales. The Dearborn-based automaker moved 97,536 trucks and 77,712 SUVs in June, up 1.2 percent and 3.2 percent year-over-year, respectively. Ford managed to sell 77,895 F-Series trucks in June. For comparison, the company has sold 82,721 Focuses since the start of the year.
LaNeve said Ford's F-Series had its best sales performance for the first half of the year since a record year in 2004, and Ford SUVs had the best-ever first-half performance, marking the first time the company has sold more than 400,000 SUVs.
He said that's encouraging, given the three new SUV models Ford will roll out in 2018.
Some foreign automakers had a better month than the Detroit Three. Volkswagen of America Inc. sold 47,113 vehicles in June, a 10.8 percent increase. Meanwhile, Subaru's 52,057 vehicles sold represented an 11.7 percent increase from 2016. Toyota Motor North American Inc. saw a more modest bump, with sales of 202,376 vehicles adding up to a 2.1 percent increase over 2016.
Analysts with Edmunds expect a "softening" market for 2017, with sales predicted to slip 2 percent compared to 2016's record high. That would make 2017 the fourth-best sales year in U.S. history.
Cox Automotive analysts estimate that 17.1 million cars and trucks will be sold in the U.S. in 2017, followed by a drop to 16.7 million in 2018.
Phoenix emerging as Mich.
rival for self-driving tests
Melissa Burden
The Detroit News
July 3, 2017
Chandler, Arizona — Limited regulations, mild winters and predictable street grids are turning the Phoenix area into the latest hotspot for testing self-driving cars.
On a Tuesday in early June, Intel Corp. was testing Ford Fusion Hybrids on the roads of suburban Chandler. General Motors Co. and its Cruise Automation subsidiary were putting a self-driving Chevrolet Bolt EV through its paces in downtown Scottsdale. A self-driving Volvo XC90 owned by Uber was seen in Scottsdale the same day, and an Uber spokeswoman said it was mapping communities to expand its real-world laboratory.
The Phoenix area has attracted the autonomous-driving programs of Intel, GM, Uber, Ford Motor Co. and Waymo. Over the past year, Phoenix has joined Metro Detroit, San Francisco and Pittsburgh to become a major center for testing robotic automotive technologies.
The Phoenix climate lets companies make sure their self-driving software and hardware systems work in extreme heat and glaring sun. There's even the occasional dust storm. Ford tests its Fusion Hybrids there in winter, when ice and snow covers Michigan roads. The hope of the companies is to rack up miles in order to sharpen navigation and crash-avoidance systems, and one day put driverless cars on the road.
Waymo, the self-driving spinoff of Google, hopes to have hundreds of real people in the Phoenix area ride along in self-driving Lexus RX450h crossovers and Chrysler Pacifica Hybrid minivans this year. The early-rider program allows selected residents to grab free rides daily to work and school. A test driver will remain behind the wheel in case anything goes wrong.
"We've found local residents and officials have been enthusiastic about this technology," a Waymo spokeswoman said. "Phoenix is a fast-growing region that relies heavily on vehicles, so this gives us the opportunity to learn from people who would be willing to use self-driving cars for everyday travel in a variety of transportation situations."
Waymo, which also tests in other states, said earlier this year it would grow its fleet of self-driving Pacificas from 100 to 600. Last week it said car rental company Avis Budget Group would maintain and service the Phoenix fleet.
Chip-maker Intel Corp. has 15 self-driving vehicles and an autonomous vehicles lab in suburban Chandler, where the company employs thousands. The company has eight self-driving Ford Fusion Hybrids on Chandler's streets. Data from sensors, cameras, lidar and radar helps Intel fine-tune the computing brains of the robocars. It's also researching human interaction and riders' experiences with the cars.
"The more data they get, the more they can hone in the algorithms to train the vehicles to be more confident on what they're recognizing and how to react," Marcie Miller of Intel's Automated Driving Marketing group said.
Absence of regulation
Arizona Gov. Doug Ducey in August 2015 signed an executive order on self-driving vehicle testing and pilot programs to help encourage development of the technology in the state, which it believes will help save lives.
Automakers and companies don't need special permits or licenses to test in the state. Autonomous vehicles have the same registration requirements as other cars and trucks. Unlike California, Arizona doesn't require companies to report each time that a car's autonomous mode is overridden by a test driver.
"It is the lack of regulations that really makes Arizona attractive," Mike Ramsey, research director for technology advisory firm Gartner Inc. said in an email. "In the U.S., if it isn't illegal, it's legal. Arizona hasn't passed laws on the subject – that actually makes it easier to operate there."
Eighteen states, including Michigan, have passed laws to address autonomous vehicles; governors in four other states have issued executive orders, according to the National Conference of State Legislatures. Michigan's broad law, signed in December by Gov. Rick Snyder, will allow the public to buy and use fully self-driving cars when they are available and will allow ride-sharing services without drivers to be operated by auto manufacturers or by ride-hailing services such as Lyft or Uber.
Doug Parks, GM's vice president for autonomous technology and vehicle execution, told reporters in June that Arizona is welcoming to the testing and it offers GM another location for testing that differs from the complex urban streets of San Francisco and the winter testing offered in southeast Michigan.
"(The) Phoenix area is a different kind of environment," he said. "The roads are bigger, more residential, wider streets. It's just a different layout."
Intel Corp. has a fleet of self-driving Ford Fusion Hybrids it tests in the greater Phoenix, Arizona area. The state of Arizona has become a hotbed for self-driving vehicle testing. Photo taken June 6, 2017. (Photo: Melissa Burden / The Detroit News)
Popular driving sites
GM is running more than 50 autonomous Bolts in Scottsdale, San Francisco and southeast Michigan. It recently built 130 next-generation autonomous Bolt EVs that will be added to the test fleet.
The automaker has not said how many Bolts are on the road in each location, but recent employment ads for Cruise Automation recruited autonomous vehicle trainers for different work-shifts in the Scottsdale market. The work pays $20 an hour, plus benefits.
Ford, which has a proving grounds outside Phoenix, has tested self-driving Ford Fusion Hybrids on tracks and public roads in Michigan, California and Arizona.
"Specifically to Phoenix, we've used the area during the winter months in Michigan, as we can continue testing due to the more temperate weather conditions," Ford spokesman Alan Hall wrote in an email.
Ford is working with Argo AI, the artificial intelligence company in which Ford is investing $1 billion to develop a virtual-driver system. Hall said the companies will work together to determine future testing, including locations.
Uber is testing more than 150 self-driving Ubers in Pittsburgh, San Francisco and the Phoenix suburb of Tempe. The company would not disclose how many are being tested where. Uber has worked with the University of Arizona to develop mapping technology.
The ride-hailing company has been picking up passengers in Tempe for the past four months, an Uber spokeswoman said. Tempe riders who requested an uberX — the least expensive Uber option that seats up to four — are matched with a self-driving Volvo if one is available.
"We are picking up riders in the Phoenix area daily," an Uber spokeswoman said in an email. "The state of Arizona has had a relationship with Uber for some time and has led the way when it comes to embracing ride-sharing and innovation. Governor Ducey has made the sharing economy one of his top priorities during his time in office and with that foundation in mind, Arizona is an ideal place for Uber to introduce self-driving cars."
Ford creates robotics, artificial
intelligence team
Ian Thibodeau
The Detroit News
July 2, 2017
Ford Motor Co. plans to create a Robotics and Artificial Intelligence Research team aimed at boosting technology development for the automaker as autonomy and mobility become more important parts of the company.
Ken Washington, Ford vice president of research and advanced engineering and chief technology officer, wrote in a Thursday blog post that "the impact of robotics and artificial intelligence on the way we get around  —  even in just the next five to 10 years  —  is potentially enormous," and the new team will help Ford focus on developing elements to help the company meet its goal to change how people move.
The team brings parts of Ford's research wing onto one team to evaluate vehicle sensor technology, machine learning methods and the development of personal mobility devices, drones and "other aerial robotics to enhance first-and-last mile travel," according to Washington's blog.
The team will be based in Dearborn, with an outpost next to the University of Michigan's MCity research center for autonomous and connected vehicles, Ford said Thursday. The company wouldn't say how many people will be part of the Robotics and Artificial Intelligence Research group.
The move will push forward projects already underway in autonomous vehicle development, among other things.
Ford plans to bring its first-generation fully autonomous vehicle to market by 2021. That car won't have a steering wheel or pedals, and will most likely be deployed in a fleet contained to certain "geo-fenced" areas of a city or campus.
The new team will have an emphasis on advancing autonomous technology while an artificial intelligence company, Argo AI, develops the brains of the Ford self-driving vehicles. Washington said earlier in June that Argo already has all of the information and data it needs from Ford to make the first-generation car work.
The new robotics team will collaborate with Argo "so they can someday put this promising emerging technology to work in future generations of self-driving vehicles," Washington wrote.
That will lead to Ford having two separate fleets of self-driving vehicles testing on the road, according to the blog. One will be led by the new Ford team, and the other will be run by Argo as it develops that virtual driver system.
Outside of autonomous development, the robotics and AI team will look at ways to implement robotics in "ergonomically difficult tasks," continue relationship-building with startup companies, and lead projects with University of Michigan, Stanford University, M.I.T., Virginia Tech, Purdue University, Texas A&M, Georgia Institute of Technology and other universities.
"This is the next step in Ford's automation story," Washington wrote. "This decision is driving energy with everyone on our team, as it clearly indicates the direction of Ford Motor Company. Because we understand the science of robotics and artificial intelligence, we can establish a team tasked with not just watching the future, but helping to create it."
Trump hits South Korea
on auto sales barriers
Keith Laing ,
Detroit News
Washington Bureau
July 1, 2017
Washington — President Donald Trump criticized South Korean auto companies for selling cars in the U.S. while American carmakers are struggling to gain a foothold in South Korea.
Speaking at a Friday joint news conference at the White House with newly elected South Korean President Moon Jae-in, Trump said, "South Korean companies sell cars in America. American companies should have that same exact privilege on a reciprocal basis, and I'm sure we will be able to work that out."
The comments came as Trump and Moon were discussing a trade deal between the two countries that was enacted during former President Barack Obama's administration. Trump has derided that agreement as a bad deal for U.S. workers.
"From when the U.S.-Korea trade deal was signed in 2011 to 2016, you know who signed it, you know who wanted it, our trade deficit has increased by more than $11 billion," Trump said. "Not exactly a good deal."
Moon said through a translator that he had a "candid and lengthy" discussion with Trump during his visit to Washington. He did not mention Trump's comments about his country's automakers, Kia and Hyundai.
Under the 2012 U.S.-Korea Free Trade Agreement known as KORUS, South Korea reduced its tariffs on U.S. autos from 8 percent to 4 percent and the country was to eliminate them entirely in 2016. Obama administration officials said the trade agreement resulted in a 24 percent increase in sales of exports from the Detroit automakers in Korea by 2014.
U.S. Commerce Secretary Wilbur Ross painted a starkly different picture of trade relations between the two companies on Friday.
"The trade balance of South Korea has doubled since the KORUS treaty was put into effect. And the largest single component of that is automotive trade," he said. "There are a lot of non-tariff trade barriers to U.S. exports.
"Only 25,000 cars per Big Three manufacturer are allowed in based on U.S. standards. Anything above that needs to be on Korean standards," Ross continued. "So that kind of rule-making affects quite a few industries and really restricts the access that U.S. companies have to the Korean market."
U.S. automakers have pointed out the imbalance and they have accused the Korean government of manipulating its currency to ensure higher values for its companies.
American Automotive Policy Council President Matt Blunt said Friday, "Clearly, KORUS has had mixed results for America's automakers and it has failed to live up to expectations. There is no question the Korean marketplace is one of the most difficult for any automaker to export into in the world. We appreciate the administration's attention to the very real challenges we have seen in implementing this agreement."
The AAPC lobbies for Ford Motor Co., General Motors Co. and Fiat Chrysler Automobiles in Washington.
South Korean companies Hyundai and Kia have manufacturing plants and other facilities in the U.S.
Hyundai's website says that over half of the cars it sells in the U.S. are manufactured at its plant in Montgomery, Alabama. Kia similarly says that 40 percent of its vehicles are made at its plant in West Point, Georgia.
Neither company responded immediately to a request for comment.
General Motors Korea, formerly known as Daewoo, sold 180,275 cars in South Korea in 2016, according to data compiled by IHS Automotive. GM Korea is currently the third-largest automaker in South Korea. Imports overall accounted for only 10 percent of the 1.8 million cars that were sold in South Korea last year, according to the group.
Hyundai reported sales of 775,005 vehicles in the U.S. in 2016, which the company said was a 1.75 percent increase over 2015. Kia reported sales 647,598 vehicles in the U.S. in 2016, which the company said was up 3.5 percent over 2015.
Karl Brauer, senior analyst for Kelley Blue Book, said Trump may have a point about barriers to entry for U.S. automakers that are trying to enter the South Korean market. However, he said leveling the playing field would not guarantee parity between Detroit and Korean automakers.
"If we still can't sell cars in Japan and Korea even when the barriers go away," he said, "then the market has spoken."


Congratulations to Pat Riley & Mohammed Zakaria both
Retiring July 1, 2017
Patricia Riley

28.2 Years

Mohammed Zakaria

28.8 years