How often do I need
to change my oil?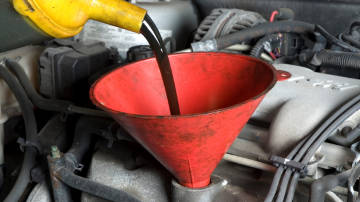 Published on Thursday, May. 06, 2010 Globe & Mail
Rob
I'm confused about my oil change interval. In the good old days, I used to change my oil every 3,000 miles – whatever that is in kilometres. I just bought a 2009 Ford Fusion and I have been told that I should have the oil changed every 7,500 kilometres, but if my math is even close, that's almost 4,700 miles.
I went to one of those quickie oil change places and they told me to change every 6000 kilometres and a friend of a friend told me he goes 10,000 kilometres between changes.
What's with all the different mileage numbers? Isn't oil, oil?
Ken
You know Ken; it's amazing how big an issue this is. There are blogs and forums all over the Internet posting this question, and according to Barb Samardzich, vice president, powertrain engineering for Ford, this issue is poised to take on a life of its own.
At the American Petroleum Institute (API) Automotive/Petroleum Industry Forum last month, she noted that Ford will be initiating a 10,000-mile oil change interval – that's more than 16,000 kilometres between motor oil changes.
Just to illustrate that there isn't much new under the sun, I'll throw in a little trivia here. I was cleaning out some of my dad's old magazines and came across this article from a February 1961 edition of Argosy Magazine (Vol. 352, No. 2).
It began with (and I'm not making this stuff up):
"Don't get an inferiority complex if you are befuddled by the contrary instructions on oil changing for you new car. If you read the 1961 owner manuals, Plymouth will tell you to change oil every 2,000 miles, and so would any of the other cars made by Chrysler divisions. On the other hand, Ford tells you to change every 4,000 miles for all except the Lincoln, which has an interval of 6,000 miles. In the General Motors group, it is 4,000 for the Chevrolet, the Corvair and the Pontiac and 3,000 for the Oldsmobile models. Buick says 2,000 to 3,000; Cadillac, 4000 in summer and 5,000 in winter; Rambler, 2,000 to 3,000 ..."
Never mind being a car owner then, imagine trying to run a service centre.
So how do the car manufacturers get away with such high-mileage numbers between changes? Ken, engines are made to much higher tolerances since those days. New engines are sealed, that is, they no longer use external venting of crankcases. This not only prevents crankcase fumes from dirtying our air, it also prevents most air-borne particles from entering the inside of the engine. This is a key factor if the engine manufacturers want to keep the inside of an engine clean – along with the oil. The cleaner they can keep the oil for a longer period of time, the more they can extend the oil change intervals.
You see, not only do oils lubricate but they also clean internal engine parts that get splashed, sprayed, and soaked. Oils seal vital internal engine gaps such as piston rings to cylinder walls and seals that surround rotating things such as crankshafts and camshafts. Finally, oils cool. As this liquid travels throughout the engine (and the same thing goes for transmissions and final drives), it comes in contact with all the moving operational pieces, including the pistons. Heat from the combustion process is transmitted to the cooling system, but for this discussion, the combustion heat is also absorbed by the motor oil. This heat is then removed and brought to the oil pan where the moving air across the outside of the pan removes some of that heat.
While all this process goes on, oil life deteriorates. In older engines, the sealing wasn't as effective, the crankcase venting was exposed to atmosphere, the cooling was as effective (this is illustrated by the extensive use of aluminum and cooling fins on modern oil pans), and filtration was not as thorough as it is today.
Combine this with a vehicle's worst enemy: short trips with extended idling, and the recipe for lubrication breakdown is complete.
Not to mention, that each time engine oil is changed, there is the opportunity for spillage and the old oil has to be disposed. It's a safe bet that Environment Canada and the Environmental Protection Agency have also had an effect on the responsibility of the petroleum and auto industries to clean up their act.
The best advice I can give you is to follow the recommendations as outlined in the owner's manual. It sounds odd, but you will probably find yourself following the "Severe Conditions" section in the Maintenance Guide of your manual.
There you go Ken. Everything old is new again. Or everything old is still the same. Or – I'm so confused ...