GM, Chrysler union retirees to
get dental, vision benefits restored
David Shepardson
Detroit News Washington Bureau
May 31, 2014
More than a half-million General Motors and Chrysler retirees will again get dental and vision insurance coverage in January, thanks to a dramatic improvement in the finances of the UAW Retiree Medical Trust.
In a letter posted on its website, the trust said it was restoring benefits that members had before the 2009 bankruptcy filings of General Motors and Chrysler. The benefits of retirees from Ford Motor Co., which did not declare bankruptcy, were not interrupted.
The trust provides health care to retired autoworkers and relatives at GM, Chrysler and Ford.
"We recognize the importance of quality dental and vision coverage in maintaining your overall health," said the letter from outgoing UAW President Bob King and Robert H. Naftaly, who chairs the committee that oversees the trust.
"That's why the governing board of the trust has authorized the trust staff to provide dental and vision coverage for 2015. This coverage, pending negotiations with insurance carriers, will be comparable to the dental and vision coverage for UAW retired workers prior to the 2009 bankruptcy process."
As part of the bankruptcy restructuring at Chrysler and GM in 2009, the health care trust eliminated hourly retiree dental and vision coverage and some prescription drugs for hourly retirees. Low-income retirees who previously had no co-pay were required to make an $11 monthly co-payment. Today, Chrysler and GM workers with the lowest pensions pay $16 a month; Ford employees with the lowest pensions have no co-pays.
In an interview, King said the trust — which was once 60 to 70 percent funded — is now fully funded.
"It shows that we made sacrifices when necessary," King said. The trust, he added, was an example of "creative problem solving" with employers to help but ensure workers are protected.
The cost savings, he said, come from greatly improved administration of the retirees' health care, including tough bargaining with insurance carriers and a boost in the value of the stock held by the trust.
The trust has focused on cutting administrative costs, managing carriers and improving quality of care.
It also worked to ensure better coverage for basic and preventive services, and offering services to retirees with chronic conditions, such as diabetes, to better manage their health.
The trust previously restored to GM and Chrysler retirees a limited preventive dental insurance benefit and allowed retirees to get a routine vision exam every two years with a $25 co-pay.
Ford retirees have dental insurance with benefits of up to $1,700 a year.
It was not immediately clear what the additional Chrysler and GM retiree benefits will be worth.
In the letter, King and Naftaly praised the retirees for "switching to generic drugs, using preventive services and maintaining healthy behaviors."
"Many of you have also used trust programs, such as diabetes education, Medicare Advantage options and routine office visit coverage to help even more. All of these programs help avoid the cost of unnecessary care and provide you with better health outcomes."
Said Naftaly: "This agreement is in the best interests of the trust's UAW Chrysler retiree members and their families who rely on the trust to provide vital health care benefits."
The trust was created in 2007 to allow the automakers to off-load long-term health care obligations in exchange for cash up front.
As part of contract talks in 2007, GM agreed to fund $47 billion in retiree health care costs with $35 billion in cash to create a Voluntary Employee Beneficiary Association, or VEBA, that assumed responsibility for hourly retiree health care almost five years ago. The UAW trust received stock in GM in exchange for some of the cash it was owed. Ford and Chrysler created similar trusts.
Under regulatory pressure, Ford recalling 1.4 million vehicles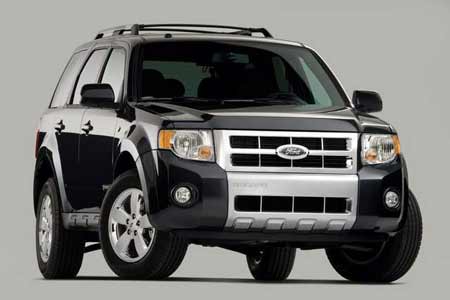 David Shepardson
The Detroit News
May 30, 2014
Washington —Ford Motor Co. is recalling nearly 1.4 million vehicles in four separate recall campaigns, including 1.1 million Ford Escapes, Mercury Mariners and Ford Explorers in North America for power steering problems.
Three of the four recalls came under pressure from U.S. and Canadian auto safety regulators seeking repairs of the vehicles — a sign that government agencies are taking a harder line with automakers in the aftermath of the General Motors Co. recall crisis. Ford opted to recall the vehicles rather than fight regulators.
The Dearborn automaker said it is calling back 915,000 2008-11 Escapes and Mariners in North America under pressure from Canadian auto safety regulators, who have been investigating the issue since late 2011. Ford told the National Highway Traffic Safety Administration it has reports of five U.S. crashes and six injuries connected to the issue. Ford said because of poor signal-to-noise issues in the torque sensor, the vehicles' power steering system may shut off and default to manual steering, which could make it harder to steer and lead to a crash.
In a separate campaign, Ford is recalling 195,500 2011-13 Explorers in North America for a potential electrical issue in the steering gear that may result in the loss of electric power steering assist while driving. If this happens, the steering system defaults to manual steering mode, making the vehicle more difficult to steer. Ford said if assist is lost, drivers will hear a chime and see a message in the instrument cluster. The recall covers 177,500 Explorers in the United States.
Both Transport Canada and NHTSA had been investigating the Explorers for several years. NHTSA opened an investigation in 2012. In April, Ford met with NHTSA officials at the Transportation Research Center in East Liberty, Ohio. NHTSA officials drove an Explorer that could be manually triggered to simulate loss of power steering assist. After further talks "Ford understood that at that time NHTSA was recommending that a safety field action be undertaken for this issue," the automaker said.
Under government pressure, Ford also is recalling 82,500 driver's side all-weather Ford floor mats that may be in 2006-11 Ford Fusion, Mercury Milan, Lincoln Zephyr and MKZ cars. If improperly installed, the mats may come in contact with the accelerator pedal. Owners will be asked to return the mats for a new set.
NHTSA has been investigating the floor mat issue for four years. NHTSA said it had 52 reports of problems with floor mats in its investigation of 480,000 2008-10 Fusion, Milan and MKZ cars. After NHTSA told Ford it was recommending a recall, Ford opted to recall the vehicles.
Ford also is recalling 196,000 2010-14 Tauruses for rust in the license plate lamp which could cause a fire. Ford said it has reports of 18 fires and one injury when a driver attempted to put out the fire with his hand. Ford got the first report of a fire in 2011; the automaker introduced a revised lamp in February.
The recall covers vehicles sold or registered in 20 states — including Michigan — and Washington, D.C., where high amounts of road salt are used. Ford will also notify owners in states where the vehicles will not be recalled and if owners ask, dealers will replace the license plate lamp assembly.
For the Escape and Mariner recalls, Ford spokeswoman Kelli Felker said dealers "will either update software for the power steering control module and the instrument cluster module; replace the torque sensor; or replace the steering column, which includes upgraded power steering control module software." Ford will notify owners by July 25.
Ford told NHTSA that it and its supplier Delphi — now known as Nexteer — first got reports of problems in the Escapes and Mariners in September 2009, primarily in taxi fleets. In September 2010, Ford improved the torque sensor, but didn't view the issue as a safety problem in the older vehicles.
Transport Canada, the auto safety agency, asked Ford in November 2011 to respond to seven reports of power steering problems in 2005-2011 Escapes. In January 2013, Transport Canada again upgraded its investigation and after narrowing the scope to the 2008-2011 Escapes, upgraded the investigation in October.
In January 2014, Ford released a sensor repair kit to address customer concerns related to the high costs of repairs. Ford and Canada have been in talks for months; in April, Ford offered to let Transport Canada officials drive an Escape that could be manually triggered to turn off the power steering. Ford said on May 19 it reviewed Canada's position "and approved a safety field action to address their concerns."
For the Explorer recall, dealers will either update software for the power steering control module or replace the steering gear. Dealers are largely expected to update the software, Felker said.
In agreeing to the new recalls, Ford opted not to fight as hard as it did in 2011, when it reluctantly agreed to call back 1.3 million F-150 pickups after air bags suddenly deployed in more than 260 cases.
Automakers have recalled more than 20 million vehicles in the United States this year and are on pace to break the all-time record of 30.8 million vehicles recalled in 2004. GM has recalled about 13.8 million vehicles in the United States this year.
Ford names new
designer for Europe
Niamh Ring
Bloomberg News
May 29, 2014
Ford Motor Co. named Joel Piaskowski to head the automaker's design team for Europe as the company says it's on track to return to a profit in the region in 2015.
Piaskowski, 45, who has 24 years of international automotive experience, will succeed Martin Smith, 64, on July 1, the company said in a statement. Piaskowski, currently head of Ford's Strategic Concepts Group in the U.S., led the team that created automaker's new Mustang and F-150 pickup.
He will lead the design of all concept and production vehicles in Europe and support Ford's global design initiatives. He previously worked at Mercedes's advanced design center in California from 2009 to 2010.
Auto sales in Europe are growing this year after falling to a two-decade low in 2013. Ford's Chief Executive Officer Alan Mulally last week said he is "very bullish" on the European car market. The company has said it expects a smaller loss there this year and a return to profitability next year. The second- biggest U.S. automaker's pretax operating losses in Europe narrowed to $194 million during the first quarter from a loss of $425 million last year.
Smith, who led the European design team for the past 10 years, has elected to work on a global project studying the future direction of Ford design. He will work closely with Moray Callum, vice president of Design at Ford until his retirement at year end, the company said.
Ford shares rose 0.9 percent to $16.31 at the close in New York. The Dearborn, Michigan-based company's stock has added 5.7 percent this year.


Compact car production
could leave U.S. to cut costs
Karl Henkel
The Detroit News
May 28, 2014
Some automakers may look to shuffle where they build small cars to narrow the difference in manufacturing cost between subcompacts and compacts.
Most compact cars for the U.S. market are built on American soil. Most of the smaller, subcompact cars are built in countries like Mexico where costs are cheaper.
That means automakers can offer significantly better deals on the smaller cars. And it hurts the competitiveness of the largely U.S.-built compact segment, which is more than three times larger and is slightly more profitable than the subcompact segment.
One solution may be for automakers to move production of compact cars from the U.S. to regions where it costs less to build them. U.S. manufacturing lines could then be used to build high-volume mid-size cars and compact crossovers, which better fit Americans' appetites.
"There's definitely credence in the notion of the smaller vehicles being built in low-cost locations," said Jeff Schuster, senior vice president of forecasting at Troy-based market researcher LMC Automotive. "But the story here is about localization and how automakers will re-balance where they build cars to find efficiencies."
Dave Zuchowski, CEO of Hyundai Motor America, said this month that subcompact cars produced by competitors could hurt sales of the automaker's compact Elantra, which is built in Alabama. He said if the problem persists, Hyundai could open a plant to build the Elantra in Mexico. Hyundai builds its subcompact Accent in South Korea.
Hyundai is not alone in facing competitive pressures from the subcompact segment.
Ford Motor Co., for instance, plans to move production of its subcompact Fiesta from Mexico to Thailand in 2016. Manufacturing costs in Thailand are comparable to Mexico. By shifting production, Ford can open up the Mexico plant to produce other models.
Fiat in 2015 is slated to move 500 production from Mexico to Poland to open up Mexico manufacturing space for higher-volume models.
Neither company has said it will move production of compact cars to those soon-to-be-vacated Mexico plants.
Eric Ibara, an analyst at Kelley Blue Book, has a prediction about U.S.-built compacts: "I think there will be increasing price pressures which may cause manufacturers to move production elsewhere. It's a problem that the subcompacts can undercut price of the compacts, so the manufacturers need to be careful with the pricing."
The growing number of subcompact offerings in the U.S. has limited growth in the compact car segment. In 2009, nine subcompact models were sold in the U.S. Today there are 15.
Subcompacts like the Ford Fiesta, Fiat 500 and Honda Fit are not the "econo-boxes" that consumers remember from decades ago. In fact, a greater percentage of consumers are now going for subcompacts, some of which come with all the options.
The difference in size between a subcompact and a compact is less significant than the difference between and a compact and a mid-size. So is the price difference, which is then magnified because of the higher incentives automakers can offer on the subcompacts.
The compact segment's stagnation has come even as fuel prices remain constant; consumers are either opting for the cheaper subcompacts or increasingly efficient compact SUVs.
The top five-selling compact cars — the Ford Focus, Hyundai Elantra, Chevrolet Cruze, Honda Civic and Toyota Corolla — all are built in the U.S. Those five models account for about 60 percent of segment sales, which through April have totaled 743,413.
Many of the popular subcompact cars — including the Honda Fit, Ford Fiesta, Kia Rio, Hyundai Accent and Fiat 500 — are assembled outside the country. Chevrolet's Sonic is built on U.S. soil.
In Mexico, hourly manufacturing costs total about $6.50, according to the U.S. Bureau of Labor Statistics. In the U.S, the rate is more than five times higher, at about $35.50.
Automakers who build their subcompacts in lower-priced labor markets can offer better discounts on those cars than they can on compacts built in the U.S. The average transaction price — or average price paid for a new car — is slowly rising on compacts, while remaining steady and in some instances falling on subcompact cars, according to data compiled by Kelley Blue Book.
"Compacts will continue to move up in price out of necessity," Ibara said. "The migration upwards is just never-ending, but the manufacturers have to be careful with pricing and contenting to avoid cannibalization."
Auto parts price-fixing
probe rattles industry
Eric Tucker
Associated Press
May 27, 2014
Washington — An investigation into price-fixing and bid-rigging in the auto parts industry has mushroomed into the Justice Department's largest criminal antitrust probe ever, and it's not over yet.
The investigation, made public four years ago with FBI raids in the Detroit area, has led to criminal charges against dozens of people and companies, stretched across continents and reverberated through an industry responsible for supplying critical car components.
The collusion has also saddled U.S. drivers with millions of dollars in extra costs.
"It's a very, very safe assumption that U.S. consumers paid more, and sometimes significantly more, for their automobiles as a result of this conspiracy," Brent Snyder, a deputy assistant attorney general in the antitrust division, said in an interview.
So far, 34 individuals have been charged and 27 companies have pleaded guilty or agreed to do so, the Justice Department says. Collectively, they have agreed to pay more than $2.3 billion in fines. New cases have arisen with regularity, with Attorney General Eric Holder promising last September that investigators "would check under every hood and kick every tire."
The most recent development came Thursday, when an executive from a Japanese company was charged with conspiring to fix the prices of heater control panels sold to Toyota and with persuading workers to destroy evidence.
Officials say the investigation stands out not just for its scope but also for the cooperation the authorities have received from Japan, Australia and other countries. Despite the challenges of prosecuting foreign nationals, the Justice Department has won guilty pleas from a series of Japanese executives who opted to get their punishment over with rather than remain under indictment in their home countries and subject to career-crippling travel restrictions.
Though the techniques and strategies sometimes differed, the executives generally carried out the collusion by trading coded emails, meeting at remote locations and destroying documents to avoid paper trails.
With an eye toward eliminating competition and maximizing profits, they exploited an industry that experts say is in some ways vulnerable to collusion: There are a finite number of purchasers and suppliers, there's steady pressure among companies to cut prices — and car parts, unlike certain products that have a great deal of variability — are generally standardized and homogeneous.
"The firms will just make more money if they're able to reach and stick to an agreement to collectively charge higher prices so that customers can't get them to bid against each other," said Spencer Weber Waller, director of the Institute for Antitrust Consumer Studies at the Loyola University Chicago law school. "The problem is, of course, it's a felony in the United States."
The Justice Department first publicly surfaced aspects of the investigation when FBI agents in Detroit raided the offices of Denso Corp, Yazaki North America and Tokai Rika. All three companies have pleaded guilty to their roles in price-fixing and bid-rigging schemes.
Since the raids, the probe has broadened to encompass about $5 billion worth of auto parts, including seat belts, ignition coils, steering wheels, air bags, windshield wipers and rubber parts that dampen vibration.
Similar cartels have formed in industries ranging from oil and gas to cement and vitamins, though there's debate among economists about how long they can last, given the constant incentive for one member to cheat the others and the tendency to collapse under their own weight as they keep growing, said Daniel Crane, a University of Michigan law professor.
But the collusion in these cases, which in some instances lasted more than a decade, was "deftly done," said Joe Wiesenfelder, executive editor of Cars.com, who has followed the auto parts investigation.
"If they get too greedy and they make their prices too high, then someone smells a rat," he said. "When they set their prices and fixed their prices, they had to do it in a way that wasn't obvious and that took into account the entire market, including suppliers that weren't involved."
Wiesenfelder said that while the collusion affected car consumers, it's hard to tell how much the investigation has been noticed by the average driver.
"It's kind of abstract to consumers," he said. "It's not that prices were fixed on cars. That would really hit home."
But there are indications the industry is chastened.
For instance, Bridgestone Corp., a tire and rubber company that pleaded guilty this year, announced that it would strengthen its compliance, discipline employees and withhold a portion of compensation from certain board members and executives.
Meanwhile, the Justice Department says it's looking into additional misconduct in an investigation that bears all the hallmarks of classic antitrust law-breaking.
"This one," Snyder said, "has it all."
How Andrea Horwath defied
home-care plea from union
The NDP's rejection of the Liberal budget has imperilled a major wage hike for home care workers, which the Tories would cancel. The union wonders why.
Toronto Star
Martin Regg Cohn
May 24, 2014
LONDON, ONT.—As Andrea Horwath alighted from her bright orange campaign bus, a rain-soaked aide offered his umbrella and guided her to three local NDP candidates huddling in the downpour outside a local hospital.
Cue the photo-op: Horwath vowed her New Democrats would fight for seniors in need of home care. As premier, she'd proclaim a "five-day home care guarantee" to eliminate waiting lists by allocating more money to the system.
It's a practiced pitch. But it sounds off-key to the union whose members actually provide home care across Ontario.
The SEIU (Service Employees International Union) has long campaigned to improve the wages and working conditions of Personal Support Workers (PSWs) earning a meagre $12.50 an hour. After years of hard slogging, the SEIU celebrated victory when the May 2 Liberal budget allocated funding for a $4 hourly increase over the next two years.
The union thought it had won the day. The next day, it lost everything.
Ignoring personal pleas from SEIU president Sharleen Stewart, Horwath plunged the province into an election whose outcome still cannot be predicted. The only certainty is that the union's long-sought wage increase is no longer certain for its 13,000 PSWs.
The SEIU contacted me the other day to ask if it was true that Tim Hudak would cancel the budgeted wage increase if his Tories triumphed in the election. Most media coverage has focused on the PC platform promise to eliminate 100,000 jobs in the public sector, but the bad news for the SEIU is tucked away in a footnote to a financial table in a background annex, which reads:
"Not proceeding with new Liberal health-sector budget promises . . . . Not proceeding with special wage increases for PSWs."
The SEIU president told me she was less surprised by Hudak's decision than by Horwath's refusal to pass the budget, which would have entrenched the increases. By opening the door to a possible Hudak victory, the NDP placed the SEIU's hard-won gains at risk.
"I shared my disappointment with her," Stewart said in an interview, barely concealing her anger. "I encouraged her to accept that budget. She knows that I was disappointed. I told her firsthand that this was . . . the best social justice budget that we've seen in decades."
Another puzzle: One of Horwath's newest advisers, Eoin Callan, came to the NDP after working for the SEIU's team, where his job was to advocate for those PSW wage increases.
Just prior to becoming Horwath's director of policy and communications this year, Callan held a similar title as head of policy for the SEIU. In his union job, he pushed the Liberal government to increase wages for the SEIU's poorly paid members.
But the bargaining didn't always go smoothly. When negotiations bogged down, senior Liberal officials complained to the SEIU's top leadership that Callan was getting in the way of a settlement by clinging doggedly to demands for greater control over PSWs across the province. Stewart later stepped in, and the two sides reached the final deal that had long eluded them.
Shortly after he was sidelined, Callan joined the NDP — and Horwath subsequently dashed the hopes of the union he'd once served. Callan declined to be quoted for this column. Horwath's staff said she was unavailable for an interview.
With 57,000 members in Ontario, the SEIU aspires to be more politically influential, echoing the activism of its North American parent union that helped Barack Obama's campaigns. Now, still seething at the NDP, the SEIU is throwing more resources behind the Liberal campaign to keep Hudak out at all costs.
"There's unprecedented strategic planning going on right now with labour," Stewart told me.
She's not alone in her frustrations — or fears that the NDP may have paved the way for a Tory victory that would undo other budget gains: Labour leaders have cited promised increases for child-care workers, annual minimum wage hikes, and a new Ontario Retirement Pension Plan.
Why did Horwath ignore pleas from the SEIU and so many other unions? Were the potential gains for the NDP worth the risks?
Only her trusted advisers know for sure.
Either way, the province's low-paid PSWs have learned a hard lesson: There are no guarantees in politics — unless you believe Horwath's magical promise of a five-day home-care guarantee for seniors.

Lincoln hikes price
of refreshed Navigator
Karl Henkel
The Detroit News
May 23, 2014
Ford Motor Co.'s Lincoln brand is upping the price on its Navigator full-size SUV by about nine percent, the automaker said Wednesday.
The new Navigator, which debuts this fall, will have a starting price of $62,475, including destination and delivery charges. The current model year Navigator has a starting price of $57,160.
The biggest change for the new Navigator is under the hood, where the standard engine will be Ford's 3.5-liter EcoBoost V-6, replacing a 5.4-liter V-8. That engine should produce at least 370 horsepower and 430 pound-feet of torque, Lincoln officials say.
Lincoln says fuel efficiency will top the 14 miles per gallon city, 20 mpg highway of the current V-8, and top all other segment competitors, including the revamped Cadillac Escalade — which comes out this spring — and the Infiniti QX80 (formerly the QX56).
The refreshed Navigator features a variation of the trademark split-wing Lincoln grille. The front end is less boxy than the current version. The rear end now features LED tail lamps that extend the width of the SUV, similar to the new MKZ and MKC.
Inside, there's the new Lincoln steering wheel — a bit bulkier than the current version, and wrapped in leather.
The SUV will help Lincoln continue its new-vehicle momentum, which started slowly last year with the delayed introduction of the MKZ sedan. Lincoln sales are up 21 percent through April.
This year, Lincoln's new MKC compact crossover will hit dealer lots in the summer. The new Navigator will join the MKC and MKZ, which are two of the four new vehicles Lincoln plans to introduce by 2016. The MKX, a mid-size crossover is due in 2015; another as-yet named vehicle will follow in 2016.
The refreshed Navigator is unlikely to move the needle for Lincoln, which will trail Cadillac and Infiniti in the segment, which totals about 50,000 sales annually here in the U.S. But it will help Lincoln appease its loyal Navigator fan base — about 7 in 10 Navigator buyers come to back to buy another — until the SUV's next major overhaul in 2016, according to IHS Automotive research.


Mustang chronicle traces enduring
icon's roots to the 1920s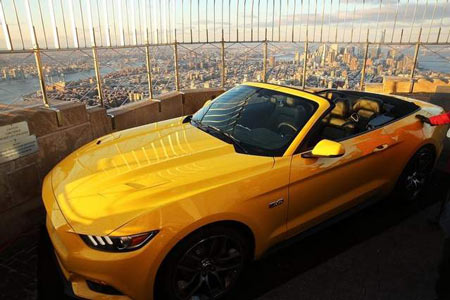 Patrick Dunn
Detroit News
May 22, 2014
Michael W.R. Davis said his knowledge of the Ford Mustang's origins is "unique among the living."
Davis was working in Ford's corporate news department in 1962 when the Ford Division PR chief stopped by to tell him that Lee Iacocca was canceling the planned U.S. introduction of the Cardinal, a German Ford that had been intended to compete with sporty, low-priced models like Chevy's then-new Corvair.
The Cardinal was succeeded in 1964 by an icon that has lingered long enough on the public consciousness to celebrate its 50th anniversary this year: the Mustang. In his book, "Mustang and the Pony Car Revolution," Davis charts the lead-up to that process and the ensuing evolution of the sporty, compact and affordable vehicles known as pony cars.
The book is Davis' eighth for Arcadia Publishing, which markets an expansive line of black-and-white, photo-based guides to a variety of historical subjects. Having served as executive director of the Detroit Historical Society after 25 years at Ford, Davis said his historian's curiosity and insider's expertise made the Mustang a natural topic.
"I'd been itching to tell the story for many years," Davis said.
You might think Davis would begin the story in the early '60s, but his book actually digs another four decades back to chart the market factors that brought about the Mustang and its pony car brethren.
"I thought about the concept of a car that isn't functional," Davis said. "It's just fun and it's relatively inexpensive, and I thought, well, where did that start and how?"
He settled on 1924, the year that Ford produced its 10 millionth car and offered the Ford Runabout for $260 — the lowest price ever for a production vehicle. Davis describes the Runabout as the Mustang's "root ancestor" for its affordable stylishness, noting that the vehicle would sell for just $3,552 in today's dollars.
From there, he traces the road to Mustang through the post-World War II availability of imported European sports cars like Jaguar's XK120 and the MG TC. American automakers caught on, with Chevrolet introducing the Corvette in 1953 and Ford debuting its own Thunderbird in 1955. But when Iacocca debuted the Mustang in 1964, Davis said the moment couldn't have been more ideal for a new kind of sports car.
"It was the so-called baby boomers, the children of the World War II marriages, who had just about reached driving age at that time," Davis said. "That was a big factor. Also, the general prosperity of the nation, which gave us the luxury of some of the good and bad things that happened in the '60s."
Davis devoted about half of his book to the rise of the pony car and the Mustang's rollout in the mid-'60s, when he was working for the Lincoln-Mercury division. He recalls a strong sense of interdepartmental envy over the attention the Mustang received in 1964 and 1965.
But he found some surprises as he researched the book's second half, particularly in some developments that occurred after he retired from Ford in 1985.
Davis said he was most shocked to learn that the Mazda-engineered Ford Probe, introduced in 1988, had been intended to replace the Mustang. Although Mustang sales had declined significantly at the time, the vehicle still found enough favor to hang on, while the Probe was discontinued in 1997.
"It was in reaction to public demand," Davis said. "They put the Probe out there, and as the saying in the industry goes, the dogs didn't eat the dog food."
Davis' approach to the Mustang story is unusual enough to raise a fellow historian's eyebrow. John Clor is an enthusiast communications manager at Ford Racing and the author of "The Mustang Dynasty," as well as "Ford Mustang 2015: The New Generation," due out this fall.
Clor said the Runabout and similar cars do not have "Mustang lineage" simply because they were sporty and inexpensive.
He also noted that Iacocca was already working on Ford's "Total Performance" campaign, phasing out stodgier vehicles in favor of racetrack-inspired designs, when the Cardinal was killed. Clor argued the Cardinal was a symptom of Ford's new direction, rather than the direct catalyst for the Mustang's introduction.
Despite his history with the company, Davis encountered another surprise when he reached out to Ford to request historical images for the book. Ford declined to assist with Davis' research, and he ended up drawing his images from the collections of the Detroit Public Library, fellow Ford retirees and automotive historians, and his own private collection.
"I got no help at all from Ford Motor Co.," Davis said.
Davis theorized that Ford's decision was due to a pre-existing commitment to a different coffee table book, "Mustang: 50 Years," from Motorbooks. Nonetheless, "Mustang and the Pony Car Revolution" has been well-received since it arrived in April. Arcadia publishing editor Jacel Egan said the book was reprinted twice in the three weeks following its release.
"I think the release date couldn't have been better to coincide with the 50th anniversary," Egan said.
The book's success — and the big 50th birthday itself — are a testament to the enduring mystique of the Mustang. Davis said the car continues to fascinate him, and the public in general, because it introduced an unforgettable design and then stuck to the formula.
"The fact is you don't have many cars that have lasted a long time without much change," he said. "The Mustang is the exception to that. It stands out."

Ford taking orders
for 2015 Mustang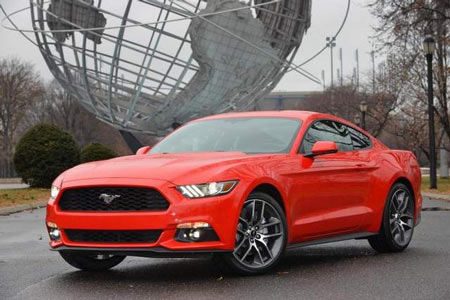 Karl Henkel
The Detroit News
May 21, 2014
Ford Motor Co. is now taking orders for its 2015 Mustang pony car, which hits dealer lots in the U.S. this fall.
The Dearborn automaker said Tuesday the base Mustang — a fastback with a 3.7-liter V-6 — will have a starting base price of $24,425. That's about $1,000 more than the base model of the 2014 edition.
Ford is not officially announcing pricing on higher-end Mustang trims, though the enthusiast website Mustang6G.com reported Tuesday that the new Mustang, equipped with a 2.3-liter EcoBoost engine that will top 300 horsepower and 300 pound-feet of torque, will start at about $26,000 with a manual transmission.
Other engine options include an upgraded 5-liter V-8, with more than 420 horsepower and 390 pound-feet of torque and an upgraded 3.7-liter V-6, with more than 300 horsepower and 270 pound-feet of torque.
Fuel economy estimates will be released at a later date.
Standard equipment on the 2015 Mustang includes: fully independent front and rear suspension; a rear-view camera system; intelligent access, which allows the driver to enter the car without touching the key fob; push-button start; and Ford's SYNC voice-activated system. Optional upgrades include Ford's Blind Spot Information System and electronic line lock for the racing enthusiasts.
The new Mustang is built at Ford's Flat Rock Assembly Plant.
Obama to meet with Ford
exec, other business leaders
David Shepardson
The Detroit News
May 20, 2014
President Barack Obama will meet with business leaders, including from Ford Motor Co., at the White House on Tuesday to tout firms that are making new investments and adding jobs in the United States.
The White House said Obama, Commerce Secretary Penny Pritzker, senior adviser Valerie Jarrett, and National Economic Council Director Jeff Zients will host a roundtable with 10 companies that are investing billions of dollars in the United States. Most of the executives attending are CEOs or regional chiefs of the firms.
The White House said a second summit in early 2015 is planned with companies from around the world investing in the United States as part of the Commerce Department's "SelectUSA" effort aimed at convincing more foreign companies to invest in the United States and add jobs.
Ford Americas Joe Hinrichs will participate in the Roosevelt Room event. The "SelectUSA" effort has directly assisted in winning more than $18 billion in job-creating business investments in 17 states, including Michigan, and territories. Since October it has assisted nearly 500 businesses, encouraging them to invest in the United States and helping them to navigate governmental regulations, the White House said.
The White House noted that Dearborn-based Ford is launching 23 new vehicles. After making 14,000 hires over the past two years, Ford will add thousands more jobs this year.
"Our U.S. investment is driving job growth, including the addition of 5,000 new jobs in 2014 alone," Ford spokeswoman Christin Baker said.
The White House also noted that Ford invested $200 million in its Cleveland plant to manufacture its 2.0-liter EcoBoost engines. Previously, a Ford plant in Europe supported U.S. demand for the engines. Ford made the move to assemble the engines in Ohio to help meet rising consumer demand in the United States.
"More and more companies are choosing to bring jobs to the United States," Zients said. "These investments strengthen our economy."
Other companies taking part are Swedish telecom firm Ericsson, with its North American headquarters in Plano, Texas; computer chip manufacturer Global Foundries; and South Korean-based Hankook Tire, a supplier for both Ford and Hyundai. The White House said Hankook is planning to invest $800 million in a new plant in Clarksville, Tenn., that is set to open by 2016 and support 1,800 jobs. Others include Pennsylvania-based construction toy firm K'Nex; German airline Lufthansa Group; Danish research firm Novozymes; apparel firm Richelieu; Belgian materials firm Umicore; and Zurich North America, the subsidiary of the Swiss insurance group.
The United States has 12.1 million manufacturing jobs, up 12,000 jobs in April and up nearly 100,000 jobs over the last year. But after the last decade when thousands of factories around the country closed, the industry remains one of the hardest hit. The White House touted that the manufacturing sector has added 600,000 jobs over the last four years.
Manufacturing has shed about one-third of total jobs since 2000, and it has fallen from 17.2 million. When Obama took office, U.S. factories employed 12.6 million people.
Still, the Labor Department said 790,000 factory workers remained unemployed in April, or more than 1 in 12 of all unemployed people in the country. Thousands more factory workers have long given up looking for work in the manufacturing sector.
In December, the Bureau of Labor Statistics said in its forecast of employment trends over the next decade that U.S. factories will see employment fall by 0.5 percent annually, or another 550,000 jobs, after the sector saw jobs fall by 2.4 percent annually over the prior decade.
The Obama administration predicts manufacturing will account for just 7.1 percent of U.S. employment in 2022 — down from 10.7 percent in 2002. By contrast, manufacturing accounted for nearly 30 percent of all U.S. jobs in 1979.
From the late 1960s through the late 1990s, factory jobs held steady at around 17 million to 18 million.

Ford's Rouge truck plant
tour also being retooled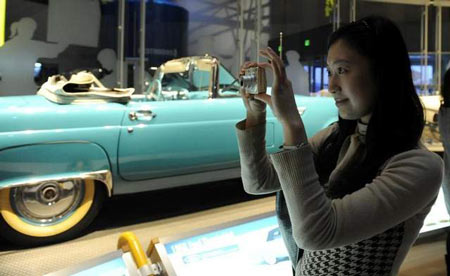 Karl Henkel
The Detroit News
May 19, 2014
Ford Motor Co.'s new aluminum-bodied F-150 isn't the only addition coming to the Dearborn Truck Plant.
The Rouge factory tour — taken by more than 1 million since it opened a decade ago and viewed as a bucket-list item for Metro Detroiters — will later this year get a revamp alongside the retooled plant floor.
Among the updates: a new multimedia display of the next-generation F-150; renovation of the bridge and walk-around area that overlooks the assembly plant; and updates to the Legacy and Art of Manufacturing theaters to include new special effects.
"The Rouge factory tour is a true gem, in that it showcases the history and the legacy of Henry Ford's industrial vision, while highlighting the innovation taking place at Ford today," said Cynthia Jones, general manager of the Ford Rouge factory tour, in a statement.
"As we evolve the tour, we plan to create something memorable that people young and old can enjoy for years to come."
Ford is spending hundreds of millions of dollars on a massive revamp of the 10-year-old Dearborn Truck Plant, which has produced 2.6 million of Ford's F-150 pickups. The next-generation of the truck, which is scheduled to hit dealer lots by the end of the year, will have a body made of aluminum, and not steel.
As a result, the body shop will be renovated this summer, and there will be updates to the paint shop and final assembly system, said Bruce Hettle, Ford's vice president of North American manufacturing, in an interview.
"The new truck has a lot of new technology and stronger, lighter materials," Hettle said.
Those changes will be on display.
The tour is ranked No. 4 on Time magazine's "Detroit: 10 Things to Do" list and has been visited by dignitaries like U.S. Senate Majority Leader Harry Reid former President of Mexico Vicente Fox.
As part of the changes, the tour will close for four weeks from Aug. 25 through Sept. 21 to coincide with the plant shutdown, so patrons won't miss out on any of the action.
The entire project will be completed by the end of the year.
Ford is funding the renovations, but did not disclose how much the upgrades will cost.
Ottawa silent as GM hit
with $35-million fine in U.S.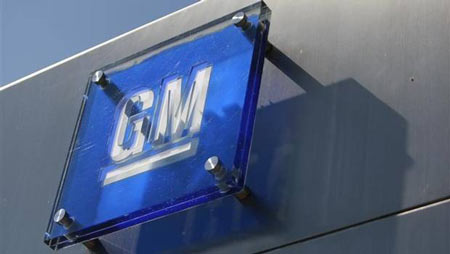 May 18, 2014
Greg Keenan
The Globe and Mail

General Motors Co. acknowledged that it broke U.S. law by failing to notify the government of a safety-related defect in its vehicles that led to the deaths of 12 Americans and one Canadian driver.
While U.S. Transportation Secretary Anthony Foxx castigated GM on Friday and slapped the auto maker with the maximum fine of $35-million (U.S.), Canada's Transport Minister Lisa Raitt was silent.
Jana Regimbal, Ms. Raitt's press secretary, refused to make the minister available for an interview on the topic of whether Transport Canada will take similar actions and did not respond when asked why the minister would not be interviewed.
The U.S. government's action is the latest in a series of responses to a recall GM issued in February for defective ignition switches in a problem that goes back to the middle of the 2000s and possibly longer. U.S. officials have demanded documents, summoned chief executive officer Mary Barra to testify in Washington and are penalizing GM $7,000 a day until it provides an internal report to the government.
"What we cannot tolerate, what we will never accept, is a person or a company that knows danger exists and says nothing," Mr. Foxx declared at a news conference.
"Since at least November of 2009, GM has had information linking ignition switch problems with airbags failing to deploy. They had that information and they told no one," Mr. Foxx said.
In Canada, The Globe and Mail reported last month that a motion to summon Ms. Raitt and GM officials to appear before the House of Commons Transport Committee to address the recalls failed when a majority of Conservative MPs voted to send the issue to an in-camera hearing.
In response to several questions Friday, including whether Transport Canada will take similar action to the U.S. government or any other measures, Ms. Regimbal said: "Car companies are required by law to inform Transport Canada of defects. Transport Canada became aware of the broader defect when they were informed by General Motors in February."
The Motor Vehicle Safety Act requires auto makers to report defects. It says the maximum fine for breaking the law is $1-million (Canadian).
GM posted revenue of $155.4-billion (U.S.) last year or $425-million a day.
"The penalties should put all auto makers on notice that there is no excuse and zero tolerance for failing to notify the federal government when a defect puts safety at risk," Mr. Foxx said.
The company acknowledged in a consent order that it violated the U.S. Safety Act. It also agreed to several changes in its relationship with the National Highway Traffic Safety Administration, including monthly reports that provide a written list of every safety-related issue GM is investigating.
Ms. Barra said in a statement that the company will focus on becoming an industry leader in safety.
This is all the result of faulty ignition switches in such vehicles as Chevrolet Cobalt compact cars. Accidents occurred when the switches caused engines to stall, which meant drivers couldn't steer and airbags did not deploy.
Investigations are being undertaken by other U.S. federal and state government agencies and class-action suits have been launched in both the United States and Canada, including one by the family of Nick Baker, a Cornwall, Ont., man who died when his Saturn Ion compact veered across a county road in a crash for which a cause has not been found.
GM has recalled 2.6 million vehicles for the ignition recall, including 368,000 in Canada.
Toyota Motor Corp. agreed to a $1.2-billion penalty earlier this year after a four-year U.S. Department of Justice criminal probe into sudden acceleration complaints in 2010.
GM employees were instructed to avoid certain words and phrases in their correspondence about recalls and test drivers, according to internal company documents contained in a consent agreement, released Friday, between the U.S. government and General Motors Co. involving the recall of 2.6 million vehicles because of an ignition switch failure.
The documents include a list of words or phrases "that are to be avoided" and urges GM drivers who are testing vehicles to stick to the facts.
Such words as "widow-maker" "Kevorkianesque" "cataclysmic" should not be used in reports and presentation, the memo says. Company drivers should not describe problems as "scary for the customer" or "this is a lawsuit waiting to happen" and instead should simply say that windshield wipers did not work or doors had to be slammed several times to make sure they closed properly.
New run-flat tires let you
drive 80 km after a blowout

MICHAEL BETTENCOURT
AUSTIN, TEXAS
The Globe and Mail
May 17, 2014
There's a compelling safety argument to be made for run-flat tires: Blow a tire on a highway on a cold, rainy night and, instead of digging out the spare tire and jacking up the car to replace the flat – or waiting for roadside service with cars and big rigs steaming by – run flats allow you to keep driving.
But there have also been justified driver complaints about run-flat tires: they're expensive, rough-riding, have a shorter life span and are not as "fun to drive" as regular tires. Bridgestone addressed these criticisms at the launch of its DriveGuard line of tires, the first run-flat tires without an original equipment (OE) fitment, and which use Bridgestone's RFT technology. To do so, it put its tires up against common and premium all-season tires at the Circuit of the Americas Formula One track near Austin, to showcase the capabilities of its new DriveGuard line.
Many companies make run-flat tires, including Michelin, Continental, Goodyear, Kumho and Pirelli. Bridgestone says it was the first to use them on a production sports car – the 1989 Porsche 959 – though such tires didn't appear in North America until General Motors introduced run-flat Goodyears as an option on the 1994 Corvette.
DriveGuards are Bridgestone's fourth generation of run flats, designed with extra-strong sidewalls to support the weight of the car even if a blowout leaves zero air pressure in the tire – allowing the car to continue driving at 80 km/h for up to 80 kilometres. Yes, faster speeds and slightly longer distances may be possible, said Robert Saul, Bridgestone's performance and run-flat tire manager, but the chances of repair will decrease.
Just like regular tires, once run flats are punctured or driven too long on excessively low pressure, they must be replaced. Bridgestone says that minor damage to the DriveGuard can be patched, an advantage over run flats from Yokohama or various European tire makers, which don't endorse any type of repair, according to tirerack.com, an online tire dealer. DriveGuards use a unique cooling square pattern on the sidewall, which Saul said aerodynamically channels air to the deflated tire, which also allows for thinner, lighter and more ride-friendly sidewall construction.
"Heat buildup is the enemy – as the tire heats up (when driven flat), it degrades," he said. Bridgestone arranged various low-speed, real-world-condition tests of the DriveGuard. The first was a drive on a flat DriveGuard tire at speeds up to 60 km/h in a Camry, where the tire pressure monitoring system's (TPMS) yellow light was the most tell-tale sign that something was amiss. You could feel a grumbly mushiness whenever one turned left and threw the weight balance toward the flat right front tire, but it was largely unnoticeable otherwise.
The biggest eye-opener was the dry pavement ride-and-handling test at speeds up to 80 km/h. A DriveGuard-equipped Nissan Altima on a slow-speed course was pitted against one riding on its conventional stock Michelin Primacy MXV4s, and a third with Bridgestone's Turanza Serenity Plus premium all-season touring tire. The test included a ride over bumpy corner rumble strips to see how the tires absorbed the rough ride. End result: The DriveGuard was not as cushy as the touring tire, but the stiffer sidewall helped it turn quicker, with noticeably sharper steering response than the stock tires, and equal in comfort to the Michelins.
While the on-road performance aspect of run flats is impressive, longevity is a question mark. A J.D. Power tire study of OE run-flat tires released last year found that run-flat tire owners were nearly twice as likely to have replaced the tire in the first two years, and that run flats wore out on average about 10,000 km sooner than conventional tires. Bridgestone counters that DriveGuard tires are rated for 80,000 or 100,000 km, depending on speed rating, among the highest in their segment.
Consumer Reports, in its annual tire-guide ratings last year, concluded that despite some reader complaints about the stiffer ride, quicker wear, and higher prices of run flats, their potential safety advantages can outweigh their disadvantages, especially as prices come down.
Pricing for the DriveGuard has not been announced, but Bridgestone said it will be in line with the Turanza Serenity Plus, which lists between $149 and $483 on 1010tires.com. A common P215/55HR16 Serenity Plus fitment costs about $154, as per the same Canadian site. That's not bargain basement, but d in the same ballpark as its premium all-season rivals.


Rising income disparity and
the struggle for higher wages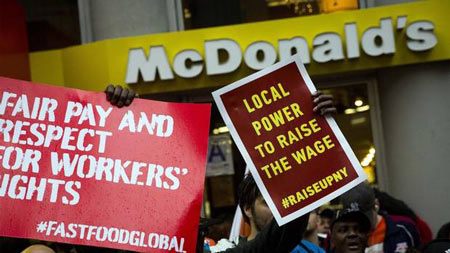 Jacqueline Nelson
The Globe and Mail
May 16, 2014
Steven Wilkerson spends long hours working alone at three restaurants in a Hess gas station in Tampa – a Dunkin' Donuts, a Quiznos and a Godfathers Pizza – all for just $8.50 (U.S.) per hour. Three years ago he made just $7.50.
The 28-year-old former U.S. Marine tried to find a role in communications, and later security, after his tour of duty in Iraq. He went to more than 30 interviews, but was told repeatedly that he didn't have enough experience for jobs he wanted.

"You know, everybody tells you when you're in the military you'll get any job you want when you get back to the civilian world. That wasn't the case with me," said Mr. Wilkerson, speaking over the chanting, whistle and sirens of the 50 people gathered around him. "I went through hell just to get the one raise that I got."
On Thursday, he protested in front of a local McDonald's with a group called Florida Fight for 15 – employees that have joined together to campaign for a $15-per-hour minimum wage and the ability to unionize. Thousands of fast-food employees from restaurants such as McDonald's Corp., Wendy's Co. and Burger King Worldwide Inc. in more than 150 cities in the U.S., and almost 100 others across the world, in places as far as Japan, Africa and the Caribbean, also participated.
The discontent of these workers reflects the rising income inequality that has swept through the U.S. labour market in the past 30 years, and the risks this gap could pose around the globe. A global risk report from the World Economic Forum this year found income disparity the "most likely risk to cause an impact on a global scale in the next decade."
The issue is highly visible in the United States. "People at the low end of the income scale, their incomes are outright falling," said Francis Fong, senior economist at TD Economics. A the same time, middle-income workers wage growth is relatively flat, and in the upper bracket, income growth has been strong, he said. "The higher up you are on the income scale, the better your income growth is."
Canadian fast-food employees weren't part of the international event, but workers also struggle with low-paying jobs. For the past four years, more than 1 million people have worked for minimum wage or less, according to Statistics Canada data. In 2013, employees in that bracket made up 6.7 per cent of the work force, and there were almost twice as many workers in these jobs as there were in 2000. Accommodation and food services is the lowest-paid industry group in Canada.
Minimum wage is as low as $9.95 (Canadian) per hour in Alberta, and as high at $11-per-hour in Nunavut, with Ontario preparing to raise its minimum wage to $11 per hour in June.
U.S. President Barack Obama has also been focused on raising the minimum wage in the U.S., signing a directive to raise the rate for federal contract workers to $10.10 (U.S.) per hour next year from $7.25.
Fast-food companies say they are facing their own pressures, including higher labour and commodity costs. There's an intense battle for market share occurring in the "informal eating out" category, which McDonald's says is a $1.2-trillion market.
Some chains haven't be able to handle the pressure. Quiznos and Sbarro Inc. both filed for bankruptcy earlier this year, and Chipotle is raising food prices as drought drives up costs.
McDonald's was one of the largest targets of protests in the U.S. and abroad, and the company issued a statement on the rallies, saying it respects employees' right to protest lawfully and peacefully. "If employees participate in these activities, they are welcomed back and scheduled to work their regular shifts," spokeswoman Heidi Barker Sa Shekhem said in a statement.
The company also said it would respect workers' choice to unionize, but did not address the issue of pay.
Mario Crowley, 21, was one of the about 200 employees who walked off his job as shift manager at a McDonald's in Milwaukee, Wis. He's been working in the restaurant for about seven years. He makes $8.50 per hour, but thinks at least $12 would be fair, and he wants to unionize.
"Once you go to work, there's nobody who has your back," Mr. Crowley said. He's taken on other part-time jobs, including working for a local politician. "But I still need more [money] to help my parents, and to help myself," he said.
In the past year, he said, workers in his area have gone on strike five times.
It would be difficult for workers in Canada to strike because non-union employees have no protection and could be fired, said Tim Gleason, partner at Dewart Gleason LLP law firm in Toronto, which specializes in commercial litigation and the protection of collective agreement and bargaining rights, among other things.
In the U.S. there is some protection for "economic strikers" which includes employees who want higher wages or better working conditions, and many of the protest groups in the U.S. were briefed by lawyers on their rights ahead of the day, according to protesters.
Mr. Wilkerson said today's walk-outs are only a first step towards the pay raise they feel they deserve. "There's going to be lot more work ahead," he said.


Car turn signals may go in a wink
Automakers promise that modern cars are evolving to help us.
Phil Berg
May 15, 2014

Some examples of this are voice-controlled phone functions, and alarms that warn of slowing traffic ahead, parking lot dangers from other cars crossing our paths, and pedestrians on the road. But as our cars evolve to help us, we must also evolve to help ourselves. One driving behavior I'm finding I need to change is the habit of using my turn signal, which I fear is becoming as antiquated as a clutch pedal.
I'll explain: Honda's new Accord has video cameras in its side view mirrors, and they are aimed to view behind the car, pointed at what's traditionally known as the blind spot. The video will display on a center dash screen when the system activates. The idea is to help drivers preserve neck muscles, I suppose, by not needing to turn their heads and look rearward.
The trouble with this feature is the video system activates whenever the driver uses the turn signal. And whatever was being displayed on the screen before the turn signal was activated — navigation maps, entertainment info — instantly disappears.
In my case, I was driving the latest Honda Accord coupe on unfamiliar, closely spaced city streets and was using the navigation system map to find a street where I could make a right turn. Each time I reflexively flicked on the right turn signal, the map vanished, replaced by an image of the car's blind spot behind me. To keep the map on the screen, I had to avoid using the turn signal.
This is just one reason I suspect turn signal use to die.
Another reason: Many new cars are being developed with steering wheel sensors necessary for stability systems to function. Electronic stability control uses accelerometers to measure lateral movements of a car as it is cornering, which then signals the car to automatically perform an intervening braking action to balance the attitude of the car, if necessary. The Department of Transportation in February announced that it will help enable systems that can communicate between vehicles, in essence letting your car know if cars around it are turning, and broadcasting to other cars that you are turning. I'm pretty sure this will also contribute to rendering the driver-operated turn signal redundant.
Another nail in the turn signal's coffin, one I suspect to be the most prevalent, is that using a signal in freeway traffic tips off surrounding drivers your intention to squeeze into a crowded lane. Motorists, I've observed, rarely signal their intent to cut in front of another car.
A buddy calls this "Jerseying," named after the Garden State's drivers' legendary skill at squeezing their cars into impossibly congested lanes of traffic, and blocking other cars trying to squeeze in front of them. I see this all the time in Michigan, where not using a turn signal when changing lanes continues to be illegal.Finally, the most ironic reason turn signal use is dying could be overzealous speed enforcement.
A friend related the story of being stopped for speeding on a divided four-lane boulevard. He had been overtaking traffic and changing lanes from right to left and back, each time signaling. The cop explained that he deduced my friend was speeding because he seemed to be changing lanes too many times, and my pal's turn signal caught the cop's attention. My friend explained that often the surrounding traffic was merely driving below the limit — the boulevard had curves and elevation changes. My friend did not get a speeding ticket, but guess how often he uses his signal these days?

Dee-Ann Durbin
Associated Press
May 14, 2014
Here's an unsettling fact about cars equipped with air bags: they don't always deploy when drivers — or regulators — expect them to.
Thirteen people have died in crashes involving older GM cars with defective ignition switches. In each of those crashes, and in others in which occupants were injured, the air bags failed to deploy even after striking trees, guard rails or other objects.
Puzzled by these failures, federal safety regulators told Congress last month they believed the cars' air bags should have worked for up to 60 seconds after the engine stalled. But GM has since told the Associated Press that regulators were mistaken: the cars only had enough reserve power to sense a crash and deploy the air bags for 150 milliseconds after the switch malfunctioned and cut off the car's power.
General Motors is recalling 2.6 million small cars to fix the ignition switches. The National Highway Traffic Safety Agency is now scrambling to find out from other automakers and air bag suppliers how their air bags would function in similar situations.
Regulators, lawmakers and ordinary drivers are learning what auto engineers already know: These billowing white bags are actually very complex. After a crash, a car's computer determines, in 15 to 20 milliseconds, where it was hit, what position the occupants are in and whether the 150-mile-per-hour speed of the air bag would do more harm than good. Then it deploys — or doesn't. Every automaker programs them differently.
"It's very complicated, the logic behind it. It makes it very, very difficult for an automaker or supplier to explain why it did or didn't go off in a certain situation," said Joe Nolan, senior vice president for vehicle research at the Insurance Institute for Highway Safety, a group funded by the insurance industry that performs crash tests and other research.
If an occupant is unbelted or very small, or the car is traveling very slowly, the air bag may not deploy because it could cause even more severe injuries. Depending on the angle, the side air bags may deploy but not the front ones. If a car is parked and turned off when it's hit, the air bags won't work.
GM's switches created an unusual problem. Because of insufficient resistance, they moved from the "run" position into the "accessory" or "off" position while the car was moving, possibly due to a bump from the driver's knee or the weight of a key chain. With the switch in that position, the engine stalled and the power steering and power brakes stopped working, making the car harder to control.
In a 2006 crash in Wisconsin, a Chevrolet Cobalt traveling at 71 mph suddenly stalled. Two seconds later — outside GM's 150-millisecond window — it hit a clump of trees. The ignition was found in the "accessory" position and the air bags didn't deploy. Two passengers died and the driver was severely injured.
GM says the air bags in newer cars would work for a slightly longer period of time if the ignition is off, but still less than a second.
If the engine had stalled while the ignition was still in the "run" position, the crash might have had a different outcome. In that situation, the air bags, steering, brakes and most other equipment would have had power for up to several hours depending on the amount of charge in the car's battery, GM said.
A report on the crash, completed by a team from Indiana University that was hired by the government, said the air bags may not have deployed because the ignition moved out of position. But the report also noted two other reasons: The trees bent when the car hit them, so the impact may not have triggered the air bags. And none of the occupants was wearing a seat belt. Air bags are meant to supplement seat belts, not to replace them.
In a statement, he National Highway Traffic Safety Agency said it is talking to car companies and air bag suppliers about how air bag performance relates to the position of the ignition. The agency says it will take "appropriate action" based on findings. It didn't specify what form that action could take, but the agency could make new rules governing how long air bags must work if power to the vehicle is cut.
Right now, federal regulations don't govern when air bags must deploy or how much power they need.

Big 3 still trail Japanese
in supplier relationships
Melissa Burden
The Detroit News
May 13, 2014
Detroit automakers continue to trail their Japanese competitors in supplier relationships — and with whom suppliers most want to do business, according to a new survey released today.
While Ford Motor Co., Chrysler Group LLC and General Motors Co. have made strides in improving interactions with suppliers, their progress falls behind advancements made by Toyota Motor Corp., Honda Motor Co. Ltd. and Nissan Motor Co. Ltd., according to the 2014 North American Automotive-Tier 1 Supplier Working Relations Index study.
After several years with not much movement, the domestics' supplier relationship scores have slipped, while Japanese companies' scores have improved, said John W. Henke Jr., president and CEO of Planning Perspectives Inc. in Birmingham, whose firm conducts the annual survey.
Historically, the Japanese companies have fared the best in the rankings, though their scores tumbled during the recession and following the 2011 earthquake and tsunami.
"The three Japanese have indeed changed, Toyota the most of the lot, and for the first time since 2008 they had a meaningful upward movement," Henke said in an interview. "Nissan for the first time since 2009 has had the first upward movement and they have the second-greatest movement, and they were followed by Honda."
Results of the study — which looks at things such as communication, help given to suppliers and supplier profit potential from hundreds of Tier 1 supplier surveys — are used by automakers to make improvements in working with suppliers that they hope can boost profitability and competitiveness. Suppliers may choose to share their latest technology and best pricing with companies that are more favorable to work with, analysts say.
"When it comes to the principal drivers of supplier relations, the Japanese are far more effective in managing those activities than are the domestics," Henke said.
In August, GM, Ford and Chrysler said they were working to bolster relationships with suppliers by involving suppliers earlier in vehicle development and through better communication and transparency such as through town hall and supplier council meetings.
The study, in its 14th straight year, tracks the six largest automakers because they sell the majority of vehicles in the U.S.
While Japanese carmakers are improving, none of the six companies have "very good" relations with suppliers, Henke said. "They're either very poor on an average basis or adequate," Henke said.
Of the six automakers, the survey gives GM — now in the middle of a huge recall crisis and which last year changed terms and conditions with suppliers before loosening some requirements — the worst overall rating. Its score dropped for the first time in six years, primarily due to a drop in supplier trust, communication and the help GM gives to cut supplier costs and boost quality, according to the survey.
Chrysler's overall ranking has fallen for the first time in six years, and Ford was displaced from third to fourth by Nissan. The study indicates Chrysler's buyers are the lowest ranked for trusting relationships and transparency. Ford fell due to a drop in supplier communication and in help it provides suppliers to cut costs, the study said.
The U.S. companies all are under relatively new purchasing leadership, which Henke says has helped improve relationships with suppliers. Henke said Chrysler and GM's weakest links are buyers. The companies have hundreds of them.
"The domestic OEMs (original equipment manufacturers) have got to do more, particularly Chrysler and GM, have got to motivate their buyers to behave in a more trusting manner in the future if they hope to improve their relations," he said.
If the German automakers were included in the study, BMW would place second overall, while Mercedes would fall well below GM, and Volkswagen would finish last.
Hassan Yussuff is
new CLC President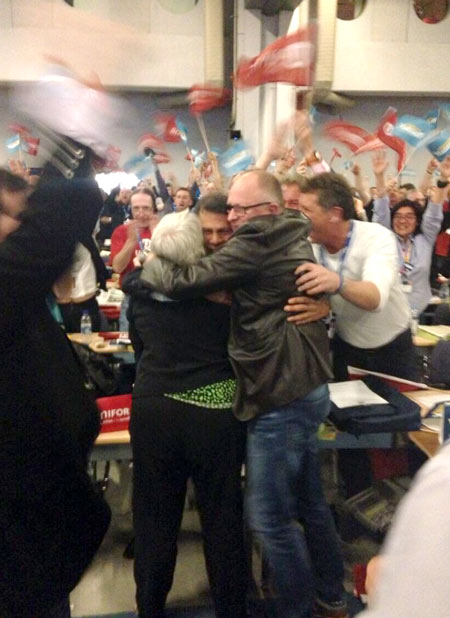 By H.G. Watson
May 12, 2014
Hassan Yussuff has made history Last week as the first person to defeat a sitting president of the Canadian Labour Congress (CLC). Yussuff is also the first person of colour to hold the office of leader of the CLC.
Yussuff defeated outgoing President Ken Georgetti by just 40 votes. Georgetti had been president for 15 years. Yussuff joined the CLC in 2002 as the Secretary-Treasurer.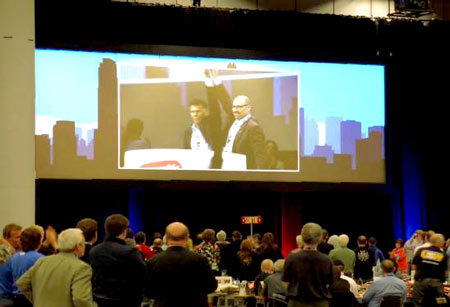 Shortly after the results were made public, Georgetti passed a motion to have the vote counted as a unanimous one in favour of Yussuff, greeting the president-elect and raising their hands in solidarity at the podium.
The new President ran on a campaign of change, promising to bring grassroots action back to the CLC. A third presidential nominee, Hassan Husseini, dropped out of the race earlier in the week in order to back Yussuff's bid for presidency.
Chants of solidarity were heard throughout the convention hall in Montreal as Yussuff's supporters rushed to embrace the new president.
In his first speech after the election, Yussuff re-affirmed his commitment to working towards a more inclusive and mobilized labour movement. He also sent a clear message to Prime Minister Stephen Harper – that the CLC will not bridge any more attacks on labour law in Canada.
NDP leader Thomas Mulcair spoke at the convention before the winner was announced. He said that the CLC and NDP would continue to work closely to advance a progressive agenda in Canada.
"We have, for the first time, a government that is actively attacking organized labour," he said after his speech, referencing recent federal bills like Bill C-377. "They've been trying to put all sorts of sticks in the spokes of the union movement. It's a direct attack on rights that are guaranteed under the Charter."
Liberal leader Justin Trudeau also offered his congratulations' to Yussuff over Twitter after the election.
Minister of Employment, Jason Kenney, also tweeted his congratulations to the new President, and thanks to Ken Georgetti for his service.
In other CLC election news, Barbara Byers defeated Nathalie Stringer to be named the secretary-treasurer of the CLC. There were just over 2,000 votes cast for both candidates, indicating that over half of the delegates who attended the morning presidential vote had left.
Byers reaffirmed her support for Yussuff and promised to fight for every single member of the CLC. Similar to Georgetti, Stringer successfully motioned to have the vote recorded as unanimous in Byers favour.
Marie Clarke Walker was re-elected to her position of executive vice-president. Donald Lafleur is the new face on the national executive board. He had the most votes of any of the executive vice-president candidates, with 1,265 votes in his favour.
Ford issues two more
recalls for Escape
C-Max hybrids also included
Nick Bunkley
Automotive News
May 10, 2014
DETROIT -- Ford Motor Co. said today that it is issuing two more recalls of the Ford Escape crossover, putting the number of recalls covering the Escape since its 2013 redesign into double digits.
The recalls relate to a software glitch that could delay airbag deployment in a crash and exterior door handles that might not latch properly.
Each one covers about 700,000 vehicles globally from the 2013-14 model years, including roughly 600,000 in the United States. The airbag software recall also includes about 65,000 C-Max hybrids
Escapes built from Feb. 15 through April 10 are covered by the door handle recall but not airbag software recall, while those built before Feb. 15 are covered by both recalls. Ford said it does not know of any crashes or injuries related to either recall.
Ford said the airbag software defect could delay deployment of the side-curtain airbags in some rollover accidents, increasing the risk of injuries. Dealers will be instructed to reprogram the restraint control module.
The door handle problem could make doors difficult to close or cause them to open while driving, potentially injuring an occupant, Ford said. Dealers will inspect the handles and reposition them if necessary.
Customers will be notified by the end of May, and repairs for both recalls can be performed simultaneously.
Previous recalls
Ford sent a service bulletin to dealers in December 2012 for exterior door handles that it said could bind or stick, particularly in cold weather, according to information posted by the National Highway Traffic Safety Administration. Ford spokeswoman Kelli Felker said she did not think that bulletin was related to the same issue that the recall addresses.
NHTSA's Web site lists two complaints related to troublesome door handles, one of which said a door swung open while the vehicle was moving. No complaints about the airbag problem are posted.

One of the Escape recalls in 2012 told owners to stop driving the vehicle immediately.
In April, Ford recalled Escapes built during a two-month period last summer for substandard seat welds that could cause the seat back to become loose or lean. That recall also covered the C-Max, Ford Fusion and Lincoln MKZ, with a total of 43,135 vehicles affected.
Ford recalled the current generation of Escapes three times in 2013 and four times in 2012. Four of the recalls related to problems that could result in a fire. In one case in 2012, Ford cited a fuel line problem in the new Escape that could cause an engine fire. In that case, Ford took the unusual action of telling owners to stop driving the vehicle immediately.
The Escape is Ford's third-best seller in the United States, behind the Fusion and F-series, and the industry's second-best selling crossover, behind the Honda CR-V. U.S. sales of the Escape rose 13 percent last year to 295,993, but they are down 3 percent this year through April, in contrast to a 14 percent increase in sales of compact crossovers across the industry.
Ford's 3-cylinder EcoBoost
engine off to fast start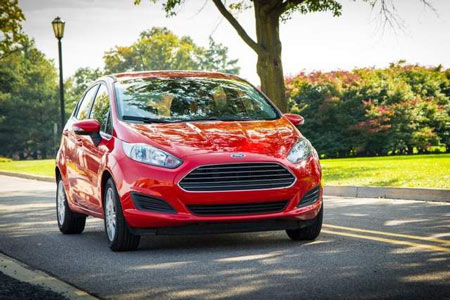 Karl Henkel
The Detroit News
May 9, 2014
In just a few short months, Ford Motor Co.'s 1-liter, three-cylinder EcoBoost engine is beating the automaker's initial U.S. expectations despite limited offering.
The tiny turbo engine — the first of many three-cylinders that automakers will offer in the U.S. market — is seen by many as a litmus test for future small gasoline engines.
The percentage of Fiesta car buyers who choose the optional 1-liter is 4-8 percent, depending on the month. The 1-liter EcoBoost has only been available since late December, and is an option only with the Fiesta's SE trim. The engine is currently paired with a manual transmission; stick shifts make up only a small percentage of new car sales here in the U.S.
"It's always odd with the consumer reception and three-cylinders. But today's three-cylinder is not your dad's three-cylinder," said Jesse Toprak, chief analyst at Cars.com, singling out the dog of an engine in the Geo Metro in the 1990s. "These have new technologies and you can actually get decent performance. There are massive improvements."
Troy-based market researcher LMC Automotive estimates global three-cylinder engine production will nearly double from the current pace to 9.8 million.
The performance of the latest generation of three-bangers trumps typical four-cylinders of the past. In the U.S., automakers are working to meet Corporate Average Fuel Economy requirements, and three-cylinders are part of that plan.
A little more than 1,000 customers have purchased a 1-liter, one-third of them in California.
Wade Jackson, Fiesta marketing manager, says the limited offering of the 1-liter and the frigid winter that has hurt the U.S. subcompact segment means there's more opportunity to grow sales of three-cylinders as summer approaches and gas prices (presumably) rise.
"We feel it's very similar to the Fiesta ST (in terms of sales)," said Jackson of the performance Fiesta, which also garners about 4-8 percent of Fiesta sales. "The 1-liter is positioned toward those who are more fuel-centric.
"We can definitely go higher than we are right now."
One problem facing Ford, which for now is promoting the car-engine combo through only grassroots efforts: 1-liter engines are in short supply. Most Fiestas equipped with the the little powerplant are ordered specifically by customers, instead of having them sit on dealer lots until someone scoops them up. And all of the engines come from a plant in Germany, where Ford last year doubled production to meet global demand, most notably for the European market.
Soon the U.S. allotment of 1-liters will be split with the refreshed compact Focus, which this fall will have the three-cylinder as an option.
A Fiesta equipped with the 1-liter EcoBoost — a marriage of direct-injection, turbocharging, variable camshaft timing and proprietary Ford software — achieves a fuel efficiency rating of 32 mpg city/45 mpg highway, according to Environmental Protection Agency estimates.
General Motors Co. will offer three-cylinder engines as part of its new EcoTec family, but hasn't made any official announcements about U.S. offerings. "We'll continue to evaluate when and where EcoTec three-cylinder engine fit this balance," GM spokesman Tom Read said in an email.
Some German automakers have plans for similarly small engines. BMW's Mini brand has a 1.5-liter three-cylinder in its Cooper car. A BMW spokeswoman did not respond to a request seeking sales figures on the engine.
Mitsubishi offers a three-cylinder in its subcompact Mirage and Smart's ForTwo also comes with a three-cylinder.
Ford plans $1.8B stock repurchase
Karl Henkel
The Detroit News
May 8, 2014
Ford Motor Co. on Wednesday announced plans to buy back $1.8 billion worth of stock to offset share dilution.
The Dearborn automaker will repurchase about 116 million shares of common stock. The repurchased shares will reduce the number of shares by about 3 percent.
Ford will repurchase the shares "periodically" and the program is expected to conclude by the end of the year, the company said in a statement.
Its board of directors approved the repurchase program ahead of the company's annual meeting Thursday in Delaware.
Ford stock closed Wednesday at $15.46.
"These actions are consistent with our overall capital strategy to take anti-dilutive actions and position ourselves to further reduce automotive debt," said Bob Shanks, Ford's chief financial officer, in a statement. "The strength of our cash generation gives us confidence to take these actions to enhance shareholder returns."
Up to 103 million shares will be repurchased to offset the impact of possible conversion of Ford's senior convertible notes — a debt security with an option that a note can be converted into a share — that is due in late 2016.
Later this year, Ford can terminate holders' conversion rights, in which case the debt holders would have 30 days to convert to shares. The repurchase plan announced Wednesday is to offset any converted shares.
Ford said it will repurchase up to 12.6 million shares to offset diluting caused by share-based incentive compensation for 2014. The automaker previously offset dilution in 2012 and 2013 through open market stock buys.
As of April 30, there were 3.88 billion shares of Ford common stock and 70.8 million shares of Ford's Class B stock, the latter which are all owned by members of the Ford family.


Dodge Caravan demise another
blow to vaunted minivan

Henry Payne
May 7, 2014
And then there were six.
From a peak of 16 models in 1995, the minivan market will shrink to a half-dozen models after Tuesday's announcement by Fiat Chrysler Automobiles that Dodge will end production of its Caravan in 2016. Only Chrysler — the father of the modern-day American minivan in 1983 — will continue to produce the family hauler when the Town & Country gets a refresh two years from now.
The Caravan's demise is the latest blow to a segment that reached its peak market penetration of 8.5 percent in 1995 but has declined to 3.4 percent of the market in 2013 as consumers drifted to more-rugged sport utility vehicles.
Chrysler is the only Detroit maker left in the segment — GM and Ford fled long ago — along with the Toyota Sienna, Honda Odyssey, Nissan Quest, Kia Sedona and Mazda 5.
But don't write the minivan's epitaph yet. Indeed, Chrysler and Dodge made up nearly half of the minivan market and Chrysler hopes to capture the 124,000 in Dodge sales as it goes down-market with its minivan prices to make room for pricier, midsize SUVs.
"With the repositioning of its brand, Chrysler's access to mainstream buyers in minivans and other segments should increase compared with the dual-brand model of the past," says IHS Automotive auto analyst Stephanie Brinley.
"Without that repositioning, it would be much more difficult for Chrysler to capture those who would be Dodge Caravan intenders."
AutoPacific product analyst Dave Sullivan also says there are signs that the minivan market has reached rock bottom as "Gen Y millennials will come back to the segment as they have families." Sullivan says manufacturers can speed that pendulum swing by innovating the front wheel-drive box that hasn't fundamentally changed in decades.
And what better brand to innovate than Chrysler, which has continued to introduce new gizmos like stow-and-go seats?
Ford optimistic about rollout
of Transit commercial van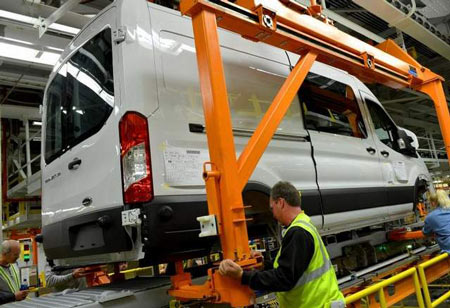 Karl Henkel
May 4, 2014
The Detroit News
Ford Motor Co. is betting big on its new Transit van to maintain its lead in the U.S. commercial vehicle segment.
The first Transits are rolling off the assembly line at Kansas City Assembly Plant, the beneficiary of more than $1 billion in recent investments attributed to the Transit and the next-generation aluminum-bodied F-150, which the plant will begin producing early next year.
At stake is Ford's stranglehold on the commercial vehicle market. Joe Hinrichs, Ford's president of the Americas, said the automaker holds a 40 percent share of the segment, which last year grew 6.4 percent and topped 300,000 sales, according to data compiled from the website goodcarbadcar.net.
Smaller vans last year — like the Nissan NV200 — began to experience a faster rate of growth, though Hinrichs insists demand will be high for vans on both sides of the size spectrum, including the full-size Transit.
"We're equally hoping to see growth on both sides of the business," Hinrichs said.
Commercial van sales this year are up about 7 percent through March, compared to a 1.4 percent for the entire U.S. industry, according to Autodata Corp.
An improving economy — which includes stable oil prices, employment and growing housing and construction sectors — have heightened demand for commercial vans, though despite gross domestic product growth that's "not going gangbusters," Hinrichs said.
"We're growing, but slowly," said George Zeller, a Cleveland-based economist, citing the nation's 0.1 percent GDP growth in the first quarter, reported Wednesday by the Commerce Department.
Ford's E-Series vans, produced for more than a half-century, have for 34 years been the best-selling commercial vans in the U.S., with rampant use throughout the business and medical communities. The Transit will eventually replace E-Series.
The Transit has multiple configurations, including three body lengths, two wheelbases, three roof heights and van, wagon, chassis cab and cutaway variations. The Transit in some iterations can have up to 75 percent more cargo room than the largest E-Series.
Hinrichs said the new Transit, which with so many configurations is complicated to build, will not interfere with production of the new aluminum-bodied F-150, which starts in early 2015. The two vehicles are built in separate areas of the plant, though it was Ford's intention to sequence the two important launches so that they did not overlap.
Challenge for Ford's Fields: Maintaining Mulally's momentum
Daniel Howes
The Detroit News
May 3, 2014
Dearborn — The Mulally era at Ford Motor Co. will end July 1, underscoring a truth its hometown industry and the people who depend on it need to hear: Detroit can compete and win.
Alan Mulally, CEO since September 2006, showed the way. His leadership stressed focus and simplification. He practiced honesty and transparency, even if the messages were sometimes tough to hear for hourly and salaried alike. He built a team largely from the Ford ranks, led it positively and delivered results.
And he guided Ford through the global financial meltdown, avoiding the bankruptcies that claimed two crosstown rivals and likely would have caused the Ford family to lose control of the 111-year-old company. In spurning taxpayer bailouts, the funder of last resort, Ford skirted the opprobrium heaped on its hometown competition and reaped the rewards.
Mulally's success — seen in Ford's financial success over 19 straight profitable quarters, a reinvigorated product line, market cred in showrooms and on Wall Street — also stands as vindication for Executive Chairman Bill Ford Jr., the automaker's board of directors and a founding family that could have bolted, but didn't.
They backed the plan to mortgage the company, including the trademark Blue Oval, to raise $23.5 billion for what Mulally calls the "largest home improvement loan in history." They, the family in particular, agreed (if sometimes grudgingly) to sacrifice short-term pain and uncertainty for gains now being realized.
The question for Ford, the people and the communities depending on it is whether Mulallyism will endure under this protege, Mark Fields, the 53-year-old chief operating officer set to assume his mentor's job and board seat in two months.
Fields "is also a product of the change in this culture," Bill Ford said Thursday in an interview with The Detroit News. "He's embedded this more than anyone. I firmly believe this culture in embedded in our company. Nobody wants to let that go. I will look for derailing behavior."
For his part, Fields says to expect more of the same in a transformational journey just beginning. Fine, why meddle with a demonstrated record of success? Except for the fact that Ford's success in the Mulally era is inextricably tied to the outsider who came in, surveyed the talent and concluded Ford could win again with the home team.
Mulally didn't import a posse from Boeing Co., where he built a career and rose to head the commercial aviation division. He didn't recruit sharpies from telecom (insert General Motors here, please) who would show the Detroit dolts how to play the global auto game in the 21st century.
No, part of the magic of Mulally is the sophistication of his simple management system. Second, it is understanding that leading capable people well created the stability and credibility necessary for transforming an automaker long riven with backbiting, politicking and regional rivalry.
Building on that foundation, as Fields vowed Thursday he would, will be an early marker of Fields' direction. Smart leaders understand that followers and key constituencies — directors and the Ford family, investors and the news media — pay more attention to what they do than what they say.
Meaning Fields has to prove to people who don't work with him every day that he really is channeling Mulally; that he won't, like Mulally's successor at Boeing, jettison vestiges of the old guy to show who's in charge; that he can manage the egos of his senior leadership team — Shanks and Hinrichs, Farley and Odell — as well as his own.
In comments clearly intended to stress continuity, not change, Fields expressed a "burning desire for working together and positive leadership. I don't plan on making any changes because it is the strongest team … I have ever worked with."
He's right about that. A marker of Mulally is the team he's assembled over the years, this in a company where the word "team" was more likely to be an artificial construct than a mutually supportive group of complementary talents working in the same direction.
In eight years, you can count on one hand the number of senior executives who left the company, a dramatic change from the revolving door whirring near the C-suite. Those same eight years also constitute a lifetime of change inside Ford — how it is managed, how it develops cars, trucks and SUVs, how Mulally systematically cut Ford's posh European brands, reduced its stake in Mazda and euthanized Mercury.
Within two months of his arrival in Dearborn, the Lexus-driving Mulally pitched Wall Street on the automaker's plans for what became his $23.5 billion "home improvement loan." He also won board approval of his "One Ford" plan, the template used first to restructure North America that is now used worldwide.
The next year, in a private meeting at the Dearborn Inn, he struck a grand bargain with UAW President Ron Gettelfinger that traded new product commitments from Ford for competitive labor contracts from the UAW. It was a high-stakes play that, in retrospect, illustrates the power of Mulally's willingness to let the facts make their case with competing constituencies.
In 2008, he sat alongside Gettelfinger and fellow CEOs from General Motors Corp. and Chrysler LLC and endured a public thrashing from members of Congress more interested in scoring cheap political points than understanding a crisis that became all too real — even for Ford.
As GM and Chrysler slumped toward bankruptcy, he and his team met regularly to monitor Ford's cash; tracked the health of its suppliers; secretly crafted a strategy with Japanese competitors Toyota Motor Corp. and Honda Motor Co. to support suppliers in the event of a uncontrolled collapse of GM, Chrysler or both, according to Bryce G. Hoffman's "American Icon."
The list goes on. Mulally could well be the most consequential automotive CEO in the post-war era, an outsider who showed that vision and management discipline married with an engineering mindset can overcome enormous challenges and cultural sloth to help his team win.
Now it's Fields' turn, this gift of success, stability and promise rarely seen among industrial giants — and easily squandered.
Mulally at Ford
September 2006: Alan Mulally takes over as Ford CEO from Bill Ford Jr.
November 2006: Mulally makes a pitch for what becomes a $23.6 billion loan he calls the "largest home improvement loan in history."
November 2006: Ford's board of directors approves "One Ford," Mulally's four-point plan for restructuring the automaker.
January 2010: Ford announces a profit in 2009, in the black for a full year for the first time since 2005.
January 2012: Ford posts a near-record profit of $20 billion in 2011.
December 2012: Mulally hands over the task of running the company's weekly business plan review meeting to Mark Fields, newly appointed COO.
October 2013: Ford says its global operations earned a combined profit for the first time in more than two years.
May 1, 2014: Mulally says he'll retire July 1, with No. 2 executive Mark Fields taking over the helm.

Fields' rise, Mulally's retirement
a smooth transition at Ford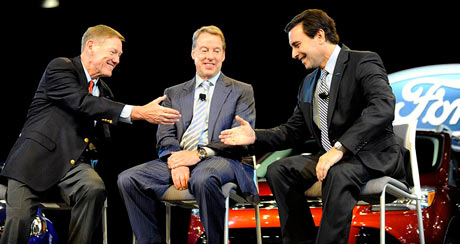 Karl Henkel
and David Shepardson
The Detroit News
May 2, 2014
Dearborn — Alan Mulally's retirement as chief executive of Ford Motor Co. and Mark Fields' ascension to the automaker's top position represents the latest in a line of milestones for the Blue Oval — a seamless executive transition.
That hasn't happened often in the 111-year history of the Dearborn automaker, and nobody knows that better than executive chairman Bill Ford Jr.
"We've had very few — maybe never — had a planned and smooth transition, all the way back to my great-grandfather," Ford Jr. said from the Glass House in Dearborn on Thursday morning.
Mulally, 68, came to Ford from Boeing Co. in September 2006 to engineer one of the greatest business turnarounds in American history. When he retires July 1, and Fields, 53, assumes the CEO position for which he was passed over eight years ago, it will truly be the final act of Mulally's historic reign in Dearborn.
Mulally is not staying on as adviser and won't sit on the company's board of directors. Though Mulally doesn't know where he'll land next — "retirement sounds pretty good, too," he said — he's completed just about every task imaginable at Ford.
He transformed the automaker's historically divisive corporate culture into a model of teamwork, mortgaged everything to pay for a sweeping transformation of its lineup and avoided taking a government bailout even as bankruptcy seemed inevitable.
After returning the company to profitability — the company has now posted profits every quarter for nearly five years — paying off billions in loans early and returning it to investment-grade status, Ford regained full title to the Blue Oval and other trademarks and property it had put up as collateral.
"The last eight years is like a highlight film for all of us," Mulally said.
The Mulally-Fields transition is about six months earlier than previously anticipated, "following Mulally's recommendation to accelerate the timetable based on the readiness of Ford's leadership team," the automaker said in a statement.
"This transition was abundantly clear when Fields was named COO of Ford in November 2012, at which point he began leading the weekly Thursday morning operational review meetings, which were previously led by Mulally," said Barclays analyst Brian A. Johnson in a research note following Thursday's announcement. "Fields' experience in the COO role allowed him to assume the cross-functional role played by Mulally, and to ensure that the functions and geographies continued to operate seamlessly."
Mulally, in an interview with The Detroit News, said no personal factors — including the health of himself or his family — played a role in leaving the automaker ahead of schedule.
"I have nothing left to teach or tell Mark about," Mulally said. "He knows everything."
Fields' promotion the pinnacle to career
Fields' promotion is the pinnacle to his 25 years at Ford. But those 25 years have had their fair share of ups and downs.
He nearly punched another executive during a board meeting, almost left the company after being passed over in favor of Mulally and was chided by some for taking weekly trips via corporate jets between his homes in Dearborn and Florida during a time when the automaker was losing billions of dollars annually. In a 2012 New York Times interview, Fields admitted there was a "dead pool" in which other Ford executives bet on when he would be shown the door.
But there was simply too much to like about Fields for Ford to part ways.
Born in Brooklyn and raised in New Jersey, he amassed a wealth of global experience during his time at Ford — he's lived in Japan and Argentina — and led financial turnarounds in Europe, Asia and North and South America. His "Way Forward" plan, introduced in early 2006, provided a blueprint for Ford's North American turnaround plan that involved shuttering more than a dozen plants, selling off brands and laying off tens of thousands.
Fields was the first Ford exec to embrace Mulally's color-coded weekly grading system — changing the status of the launch of the Edge crossover from "green" or on track, to "red" or problematic — which helped the automaker identify and rectify deficiencies.
Fields started at Ford in 1989 on the Thunderbird marketing team and has risen through the ranks, maturing along the way.
Fields is also Jewish, which is significant because of Ford founder Henry Ford's well known anti-Semitism. Ford waged a media campaign against what he saw as a world Jewish conspiracy in the 1920s. (He later apologized.)
"I have never encountered one iota of discrimination as a Jew during my career at Ford," Fields said n 2006.
Fields hailed for 'Herculean' effort
On Thursday, Mulally, Fields and Ford sat flanked by a Ford Focus, Escape and F-150 — arguably the three most important vehicles for the automaker — as they addressed a few hundred employees.
Ford hailed Mulally for successfully turning the company around and applauded Fields for his "Herculean" effort to turn around the automaker's North American operations during the recent recession.
Fields says as CEO, he does not plan to make changes to the executive team and will continue to focus on executing the One Ford plan originally outlined by Mulally. "Our priority going forward is how we accelerate the pace of progress," he said. "It's a story of continuity because we all co-created this."
Fields said he will not fill the soon-to-be-vacant COO spot. He was named to that position in December 2012 after the position was vacant six years.
The change marks the second time in a year that an American automaker will lose a leader brought in from outside the company, and promote from within: Mary Barra, a career employee of General Motors Co., became CEO in January, succeeding Dan Akerson, who came to GM from a private equity firm.
Living in Retirement: Without my
defined benefit pension plan, I'd be working
Joyce Wayne
Globe and Mail
April 29, 2014

I worry about the youth of today. Instead of facing my generation's concerns of whether we'll outlive our money, I wonder if young people will be able to save enough money to even have a retirement.
When I graduated from university in 1976, the average tuition in Canada was $538, the average price for a house was $193,000 and the average student loan was $4,338.

(Use the Globe's interactive Who-Had-It-Tougher tool to find out what these stats were in the year you graduated.)
When I mentioned these numbers to my journalism class at Sheridan College, they were not amused. The students graduating more recently have had it much worse than I did. In 2010, for example, graduates could, on average, expect to pay $4,713 for tuition, $339,000 to buy a house (fat chance) and finish school carrying $5,226 in student debt.
When it comes to saving for retirement, my own story is vastly different from the one young people are reciting today. After finishing school, I worked as ajournalist and in book publishing for 12 years. During that time, I did not have a pension and did not put away a single penny for retirement.
But after my writing and editing years, I decamped to the ivory tower and started teaching at Sheridan College. Six years into that teaching job, I bumped into the union president who asked me how I felt about the state of our pension.
Truthfully, retirement could not have been further from my mind. As someone in her mid-30s who was paying a mortgage, I was more concerned about the significant deductions on my paycheques for a pension that seemed a long way off. Taking off roughly 10 per cent of my net pay seemed like a large financial hit at the time.

Although I wasn't interested in retirement then, the union president assured me that someday I would be.
That day did indeed come, faster than I could have imagined. In my mid-50s, I became obsessively curious about the pension I had been paying into for years.
The Colleges of Applied Arts & Technology (CAAT) plan is a jointly sponsored defined benefit pension plan operating at arm's length from the Board of Governors of the Ontario Colleges and the Ontario Public Service Employees Union. Similar to other defined benefit pension plans, it pays out a pre-set amount of monthly income based on years of service, yearly salary, particularly the last five years of income, and a complicated formula that most college employees have never figured out. But it works like a charm.
Unlike a defined contribution plan, where payouts depend on the returns achieved by the member, it is the employer's obligation to make up any shortfalls caused by weak investment returns or other factors such as a low ratio between retired and active members.
The CAAT pension plan is 105 per cent funded and this year increased its reserve to $525-million. After the great recession of 2008 the figures are not as rosy, but those of us who are retired can depend on a fixed monthly payout.
Defined benefit pension plans force employees to set aside money for retirement from when they start working till when they stop, whether they like it or not.
If my generation couldn't save on our own - personal savings rates have been declining for the last 30 years - it's difficult to imagine how the students in my class will ever be able to adequately prepare for retirement.
When I was trying to decide when to retire, I compulsively entered my yearly pension statement numbers into the CAAT's web site to see what the monthly figure would be if I stopped working at 61, 62, or 65; how much tax I would pay on my pension, how much Canada Pension Plan and Old Age Security I could expect and what I'd need from my private resources or part-time work to maintain 70 per cent of my pre-retirement after-tax income.
Based on those numbers, I chose to retire at 62, with the knowledge that about 50 per cent of my pre-retirement earnings would come from my pension plan and CPP.
During my 25-year career at the college, my contributions along with those of my employer, made it possible for me to retire without worrying if I'll outlive my savings. After working full-time for 37 years and raising a child as a single mother, I could follow my dream of writing my first novel, The Cook's Temptation.

It was published in February and today it's in its second printing.
Without my pension plan, I would still be teaching and working full time. Looking back, getting a job with a decent pension was the smartest financial move I ever made. I wonder how many of my students will be that fortunate.
Ford, GM tie staff
bonuses to quality
Karl Henkel
The Detroit News
April 28, 2014
Two automakers with recent quality problems have the upped the ante for salaried employees: Improve quality or expect smaller bonus checks.
Ford Motor Co. and General Motors Co. have revised the formulas they use to determine bonus checks for tens of thousands of white-collar workers, putting a greater emphasis on quality.
"Many of the companies are trying to do whatever it takes to increase their quality level," said David Cole, chairman emeritus at the Center for Automotive Research in Ann Arbor. "Companies have generally focused on profitability, but right now quality is a center-stage item. If you have better quality, you'll likely have better financial performance."
About 26,000 salaried Ford employees worldwide, from administrative assistants to engineersto CEO Alan Mulally, could earn smaller bonuses this year if the company fails to meet its own quality standards.
Twenty percent of bonuses for 2014 — paid in early 2015 — will hinge on the company meeting quality standards, which include the number of what the industry calls "Things Gone Wrong" — a standard metric that measures problems in vehicles —as well as the costs of warranty claims and customer satisfaction. In 2013, 10 percent of the bonus structure hinged on quality.
"It shows how serious we are about improving quality at the company," Ford spokesman Todd Nissen said.
GM this year has increased the quality component of its bonus structure to 25 percent from 10 percent. All of GM's salaried employees worldwide — including 37,000 engineers, marketing planners, sales and service members and other salaried U.S. employees — and all executives fall under the plan, said Tom Henderson, a company spokesman.
GM said it uses a combination of internal and external data to measure quality but does not publicly disclose the data.
Chrysler Group LLC representatives weren't immediately aware of any changes to bonus calculations; Chrysler's annual report, filed earlier this year, showed salaried bonuses were based on the automaker's profits, cash flow and individual employee performance.
GM has recently scored higher than Ford in many quality and customer service surveys, though it has suffered a black eye because of recent recalls of 2.6 million cars for potential ignition switch failures.
"Clearly, they both have issues but they've definitely improved their quality over the years," said Michelle Krebs, an independent auto analyst. "It's a good example of them trying to make the top people accountable for quality and not passing the buck on down the line."
Hourly United Auto Workers employees can earn up to $250 (up to $500 for Chrysler workers) in performance quality bonuses each year, according to the 2011 contracts signed with Detroit automakers.
Quality problems at FordFord has had its fair share of recent quality problems.
Rust has corroded the underbodies of hundreds of thousands of older Ford models, new hybrid vehicles haven't lived up to fuel-efficiency expectations, the introductions of vehicles under both its Ford and Lincoln luxury brand have been delayed, and third-party reviewers such as Consumer Reportshave slammed the automaker for faulty technology and groggy dual-clutch transmissions.
The glitches have surfaced during the last three years, and Ford has managed to work through them, as sales in the U.S. have climbed nearly 30 percent during the same period.
But Ford knows long-term sales could be affected if it can't improve its quality.
The compensation committee said it "increased the importance of the Quality metric because of its criticality to [Ford's] business, and included a customer satisfaction component to emphasize the Quality metric's relation to [Ford's] reputational value."
Many quality surveys lag — meaning recent reported problems may already be fixed — and Ford says its own internal tracking shows significant improvement in some weaker areas.
"We're really pleased with the quality levels we're seeing, literally all-time record highs in some parts of the world," Ford Chief Operating Officer Mark Fields said during a first-quarter earnings call last week. "And even here in the U.S., we're starting to see some encouraging quality data."
'Things Gone Wrong'In 2013, Ford achieved 88 percent of its quality goals (up from 68 percent in 2012) worldwide,but met zero percent of its goals when it came to "Things Gone Wrong" in both the Americas and Asia-Pacific-Africa. It met zero percent of its warranty expense goal in Europe.
For names like Mulally and Fields, the company's failure to live up to quality standards could cost them hundreds of thousands of dollars.
Last year, bonuses for Mulally, Ford, Fields, Chief Financial Officer Bob Shanks and President of the Americas Joe Hinrichs totaled nearly $9.5 million, 10 percent of that attributed to quality.


Ford profit falls; costs
up in North America
Attributes decline to $400M set
aside for recall expenses
Karl Henkel
The Detroit News
April 27, 2014
Higher costs associated with vehicle recalls aren't exclusive to General Motors Co.
Ford Motor Co. said Friday its first-quarter profit dropped nearly 39 percent, mostly attributed to more than $400 million the company set aside for warranty reserves, an account used to cover future expenses of recalls, safety claims and customer service-related improvements.
Ford posted a profit of $989 million during the first three months of 2014, down from $1.6 billion during the same period last year. Revenue rose slightly to $35.9 billion, from $35.6 billion.
Earnings per share was 25 cents, down from 41 cents a year ago and below the 31-cent analyst consensus estimate. Ford's stock price dipped about 3.3 percent on Friday and closed at $15.78 per share; the stock had risen about 5 percent this year.
Citi Research analyst Itay Michaeli said Ford's profit miss was "entirely explained by the warranty accrual."
GM on Thursday said it incurred a $1.3 billion charge relating to the recent recall of 2.6 million older model small cars for a potential ignition switch failure. The Detroit automaker posted a $125 million profit.
Most of Ford's more than $400 million set-aside isn't for any specific recalls, nor for current vehicles; most of the money is used to top off the warranty reserves for vehicles sold in 2008 to 2013, Ford CFO Bob Shanks said. About $30 million is for an issue relating to the lighting control module in old Crown Victoria and Grand Marquis cars and another $30 million for a subframe problem in 2001-04 Escape SUVs.
The $400 million-plus is $400 million more than Ford spent to top off warranty reserves during the first quarter last year and represents an "unusually high" increase in the reserves, Shanks said.
Ford calculates how much it needs for its warranty reserve pool twice each year. With an industry uptick in recalls plus the ability for automakers to quickly mine data and discover problems with vehicles, the company needed to top off its reserve pool. Ford does not use the reserve money for recalls that cost more than $250 million; those costs flow directly to the company's bottom line.
Launch costs
Ford is launching 23 new vehicles globally this year, the most in the 111-year history of the company. Ford has called 2014 a "building-block" year — one that will include expensive plant retoolings — but has told investors it will reap the benefits in 2015.
"The unknown with Ford revolves around the impact this capital spending and product launch expense will have on profit margins through 2014," said David Kudla, CEO and chief investment strategist at Mainstay Capital Management. "We think margins are going to be under pressure for the balance of this year."
The Dearborn automaker warned last year that pretax profits in 2014 will likely fall between $7 billion and $8 billion. Pretax profits in 2013 totaled $8.6 billion.
The most critical of its vehicle launches is the next-generation F-150, an aluminum-bodied truck set to debut in late 2014. Tooling and materials will be more expensive for the next iteration of the best-selling vehicle in the U.S.
Ford's F-Series lineup is the company's biggest profit driver and because of the launch later this year, will keep North American profits down.
Europe, Asia improve
The Dearborn automaker posted a North American pretax profit of $1.5 billion in the first quarter, down from nearly $2.4 billion last year. Profit fell because of the $400 million warranty reserve and $100 million attributed to the frigid weather in January and February.
Ford's profits in Europe improved. Ford lost $1.6 billion there last year and $1.75 billion the year before, but sales have started to rebound; sales of Blue Oval-branded cars were up 11 percent in the first quarter. The result was a first-quarter loss of $194 million, down from a $425 million loss during the first quarter of 2013.
There's a similar story in the company's Asia-Pacific region, specifically in China, where sales in January through March escalated 45 percent. Ford expects to sell 1 million vehicles in China this year and could surpass Hyundai Motor Co. and Nissan Motor Co. to become the third-highest-selling automaker in the world's largest auto market.
Ford set a record for any quarter in the region — $291 million — and had a market share in China of 4.5 percent, also a record.
Ford bumped up its full-year profit forecast in Asia-Pacific. It now says profits will be higher than 2013's total — $415 million in the black — despite production constraints, a more competitive pricing environment and costs associated with six new regional plants that are still under construction.
In South America, Ford took a $350 million hit because of a change in how it calculates the exchange rate between the U.S. dollar and Venezuelan bolivar and because of other South American currency fluctuations. Ford had planned for a "major devaluation" of the bolivar.
The automaker said it will now lose more money in South America this year than the $34 million it lost last year.
Shanks said Friday that South America doesn't pose as big of a threat to the company as Europe. He said Europe's decline was a result of structural issues, while South America is an example of macroeconomic whirlwinds associated with emerging markets.
Ford lost $510 million there, more than the $218 million it lost during the same quarter last year. The Middle East and Africa region made $54 million.
Mulally to end ride at
Ford;
Fields to take
the wheel
Karl Henkel and David Shepardson
The Detroit News
April 23, 2014
Ford Motor Co. CEO Alan Mulally, the man credited with saving America's most iconic auto company, plans to hand over the keys to the Blue Oval this year.
Mark Fields, (pictured right) 53, a 25-year Ford employee and its chief operating officer, will replace the 68-year-old Mulally, according to a source familiar with the plans.
The change will mark the second time in a year that an American automaker will lose a leader brought in from outside the company, and promote from within: Life-long General Motors employee Mary Barra became GM CEO in January, succeeding Dan Akerson, who came to GM from a private equity firm.
Mulally, a former Boeing Co. executive who joined Ford in the fall of 2006, transformed the automaker's historically divisive corporate culture into a model of teamwork, mortgaged everything to pay for a sweeping transformation of its vehicle lineup and avoided taking a government bailout even as bankruptcy seemed inevitable.
After returning the company to profitability, paying off billions in loans early and returning it to investment grade status, Ford regained full title to the Blue Oval and other trademarks and property it had put up as collateral for its rebirth.
The exact date of the handoff from Mulally to Fields is uncertain, but it likely will be smooth — unlike the changing of the guard at Ford after past firings of former CEOs Jacques Nasser and Lee Iacocca. Ford has announced several executive changes that are viewed as preparatory moves in advance of Fields' promotion.
Bloomberg News said Ford "may announce the moves as soon as May 1," citing two people familiar with the pending announcement.
Ford hosts its annual meeting in Delaware May 8 and regularly has a board of directors meeting the day prior.
In an email Monday, Fields called the reports speculative.
"We have a great team, and the most important point right now is for us all to stay focused on delivering our plan, including the unprecedented number of new products coming this year," he said.
Fields was all but assured of becoming Ford's next CEO in late 2012, when the automaker promoted him from his role of president of the Americas to chief operating officer — the No. 2 executive position at the automaker and a position that had been vacant for six years.
Mulally previously said that he planned to remain CEO through at least 2014, a statement crafted after rumors surfaced last year that he would jettison Ford for Microsoft Corp.
Ford spokeswoman Susan Krusel declined to confirm or deny the reports Monday, saying the company doesn't comment on what she called "speculation."
Mulally didn't immediately respond to messages Monday seeking comment.
Fields will inherit balance sheets mostly in the black, $36 billion in cash on hand and also a handful of challenges.
Ford of Europe, while on the upswing, remains unprofitable. The automaker is taking one of its biggest vehicle risks with the introduction of an aluminum-bodied F-150 truck later this year; the F-150 is the company's most profitable vehicle and one of the best-selling in the world. Ford's quality continues to be questioned, with vehicle launch delays, recalls and problematic technology systems.
Fields' promotion is the pinnacle to his automotive career, all 25 years of which has been at Ford, and some of which could be described as a rocky ride.
He nearly punched another executive during a board meeting, almost left the company after he was passed over for CEO in favor of Mulally and was chided by some for taking weekly trips via corporate jets between his homes in Dearborn and Florida during a time when the automaker was losing billions of dollars annually. And in a 2012 New York Times interview, Fields admitted there was a "dead pool" about himself, in which others had predicted when the Ford brass would show him the door.
But there was simply too much to like about Fields, a graduate of Harvard Business School — and for a few years, IBM employee — for Ford to part ways.
Born in Brooklyn and raised in New Jersey, Fields amassed a wealth of global experience during his time at Ford — he's lived in Japan and Argentina — and led financial turnarounds in Europe, Asia and North and South America. His "Way Forward" plan, introduced in early 2006, provided a blueprint for Ford's North American turnaround plan that involved shuttering more than a dozen plants, selling off brands and laying off tens of thousands of workers.
Fields was the first Ford exec to embrace Mulally's color-coded weekly grading system — changing the status of the launch of the Edge crossover from "green" or on track, to "red" or problematic — which helped the automaker identify and rectify deficiencies. It was a symbolic gesture that other executives followed en route to the company's historic turnaround.
And maybe most importantly, Fields — who started at Ford in 1989 on the Thunderbird marketing team — has matured in his quarter-century at the automaker. Since his appointment to COO, Fields — albeit in limited public appearances — has appeared calmer and more executive-like, though still cracking the occasional joke.
Fields still lives in Florida, but admits his commutes from Dearborn to Delray Beach are more infrequent than in past years because his COO job requires a more rigorous global travel schedule.
Fields' promotion to the head of Ford is also significant because he is Jewish, and it has been well documented that Ford founder Henry Ford was anti-Semitic, having waged a media campaign against what he saw as a world Jewish conspiracy in the 1920s. (He later apologized.)
Fields in 2006 said his religion was never a detriment during his automotive career. "I have never encountered one iota of discrimination as a Jew during my career at Ford," he said.
Fields' love of cars started way before he got to Ford.
The first car he ever purchased came after he graduated from Harvard: a 1983 Datsun 280ZX. Buying the car wasn't an easy decision; Fields admitted he had to swallow his pride and move back home for a year to afford the purchase.
Of course today, money is not nearly the same issue. Fields made $10.1 million in 2013. Hollywood Mark now owns a handful of Mustangs, though in December 2013 he said his daily commuter was a Lincoln MKZ sedan.
Mark Fields
Age: 53
Hometown: Paramus, N.J.
Current title: Chief operating officer
Years at Ford: 25
2013 salary: $10.1 million
First car: 1983 Datsun 280ZX
Mulally at Ford
September 2006: Mulally takes over as Ford's CEO from Bill Ford Jr., who remains executive chairman.
November 2006: Mulally makes pitch to banks for what would ultimately become a $23.6 billion loan that the Ford CEO calls the "largest home improvement loan in history."
November 2006: Ford's board of directors approves Mulally's four-point plan for restructuring the automaker, known as the "One Ford" plan.
January 2010: Ford announces that the company posted a profit in 2009, in the black for a full year for the first time since 2005.
January 2012: Ford in 2011 posts a near-record full-year profit of $20 billion, thanks to a $14 billion benefit from eliminating a valuation allowance against deferred tax benefits.
December 2012: Mulally hands over the task of running the company's weekly business plan review meeting to Mark Fields, newly appointed COO. Mulally says he'll focus more on the big picture, while Fields begins running day-to-day operations.
October 2013: Ford says that its global operations earned a combined profit for the first time in more than two years. Mulally has stressed the need for Ford to focus on growing markets such as Asia.
January 2014: Mulally tells the Associated Press he is definitely not leaving Ford for Microsoft, ending months of speculation.
Ford setting Lincoln's
China plan in motion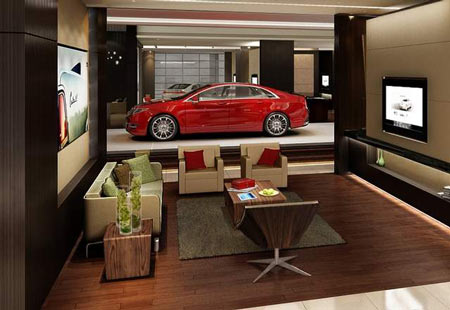 Karl Henkel
The Detroit News
April 20, 2014
Lincoln Motor Co., the luxury vehicle brand in a decades long sales funk, is putting the finishing touches on its plans to enter the Chinese market this year.
Eight dealers in seven Chinese cities will be the first to introduce Ford Motor Co.'s longtime sub-brand to the world's largest car market this fall. They will sell only the newest Lincoln models — including the MKZ sedan, MKC compact crossover and soon-to-be-refreshed Navigator full-size SUV, Lincoln officials said.
China, home to 20 million vehicle sales last year, is the world's second biggest luxury market, and for Lincoln, it represents the best chance for the brand's long-term survival.
In fact, it won't be long before Lincoln sells more cars and crossovers in China than it does in the U.S.
"It's going to take a lot of time to build up brand cachet and expand the dealer network," said David Whiston, an auto analyst at Morningstar Inc. "And you've got to have great products to take down the Germans," which make up 80 percent of the premium and luxury market in China.
Whiston said he believes Lincoln in China won't significantly boost Ford's profits in the short term but is a good strategic move for the brand to build global name recognition and boost sales.
But Lincoln is armed with a handful of new products that it tested with Chinese consumers during the past three years. It has a new dealership model designed specifically for the market and is backed by its ad agency Hudson Rouge — which recently set up a regional office in Shanghai.
At minimum, Lincoln has done its homework and will begin its long-term China strategy by putting its best foot forward.
All Lincoln models for China, which will eventually include a midsize luxury SUV and an all-new full-size luxury sedan, will be built and exported from the U.S.
That will add extra expense to Lincoln's growth plans; there is a 25-percent tariff on all cars and crossovers imported to China from the U.S.
New dealer model
Lincoln has the benefit of considerable name recognition in China, mostly because of the 19th century U.S. president, but also because many vintage Lincolns have made their way to China over the years.
But as the brand has stated since its latest reinvention last year, it is not targeting big sales volumes — "Lincoln's idea was never to be all things to all people, but to be everything to those who expect more from a luxury car maker," a new promotional ad says — which allows for a more customer-centric approach.
"We're taking a clean sheet approach for Lincoln in China starting in some key cities," Ford chief operating officer Mark Fields told reporters at the New York International Auto Show.
By starting with just eight dealers — which, according to Matt VanDyke, director of global Lincoln, will be able to accommodate sales volumes of about 100 or more per month — Fields believes that Lincoln can use its relatively smaller size to its advantage.
"Because of our size we can provide a lot of personal service to customers," he said. "That's going to be another main element, the client experience."
Lincoln is debuting a new-look dealer model; the building looks more like a upscale home than a place to buy cars. The dealerships will feature tea rooms, a wall waterfall, big screen televisions that allow prospective buyers to customize their own vehicle, and even license plate recognition technology that allows the dealership team to instantly identify a customer as they walk into the showroom.
Lincoln says it tested its dealership model by building a fully-functional prototype in Shanghai and VanDyke said the brand could implement some of its features at U.S. Lincoln dealers in the future. The brand plans to have 60 dealers in 50 Chinese cities by 2016.
Lincoln in the U.S.
After a disastrous 2013 in which Lincoln botched the launch of the MKZ midsize sedan — the first of the brand's four new vehicles in four years — and had sales dip to 81,694, down 64 percent from its annual peak more than three decades ago, sales have begun to rebound.
In 2014, they are up nearly 36 percent through March, backed by the new MKZ, which has tripled sales compared to the same period last year.
Lincoln's momentum comes at the perfect time. The brand is ready to launch its all-new MKC compact crossover — part of one of the fastest growing segments in the market — this summer. And a refreshed Navigator full-size SUV, which is Lincoln's highest-priced product, is set to debut this fall.
"We really expect to see things pick up when we launch the MKC," VanDyke said. "The second half of the year is going to be huge for us."


Special Mustang marks
50th anniversary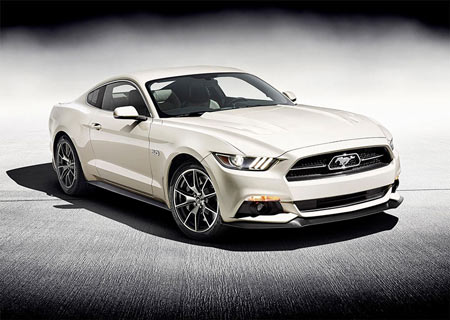 April 19. 2014
Ford Motor Co. unveiled their limited-edition 50th-anniversary Mustang pony car this week.

The Mustang 50 Year Limited Edition, modeled on the Mustang GT fastback, will be limited to 1,964 — in honor of the year the car was introduced — and will come with nearly every available option.

"We wanted to provide our most dedicated fans with the emotion of the original Mustang in a 21st-century car," said Ford executive chairman Bill Ford Jr. in a statement ahead of the reveal at the New York International Auto Show. "With this 50 Year Limited Edition, I believe we have accomplished our goal."

The car will be available this fall. Ford has not announced pricing.

Ford says the only two available colors will be Wimbledon White, like Mustang serial No. 0001 that was first sold to Capt. Stanley Tucker in April 1964, or Kona Blue. Color, and whether the car comes with a six-speed manual or automatic transmission, are the only two choices customers can make.

There is cashmere stitching on the instrument panel, shifter boot, center armrest, door inserts, seats and on the leather-wrapped steering wheel. The seats will have two-tone cashmere and black leather upholstery, and on the back will feature the Mustang 50 Year logo. Chrome bezels will surround the base of each of the Mustang's three signature tail lamp blades.

The limited-run Mustang has an upgraded 5-liter V-8 engine that will produces more than 420 horsepower and 390 pound-feet of torque. All will come with the Mustang GT performance package — even the one with automatic transmissions — that includes six-piston front brakes and 19-inch alloy wheels with high performance summer tires.

The car also features a faux gas cap on the rear of the trunk with a 50th anniversary badge.
Ford celebrates Mustang's
50th anniversary on top
of Empire State Building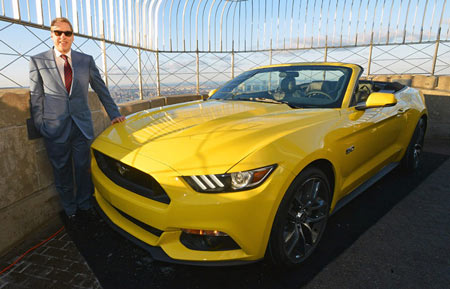 Karl Henkel and David Shepardson
The Detroit News
Aptil 18, 2014
Ford Motor Co. is gearing up to celebrate the 50th birthday of one its most iconic cars.
The Mustang debuted at the New York World's Fair on April 17, 1964, and the Dearborn automaker hasn't stopped producing the pony car since.
In New York on Wednesday, Ford unveiled a special edition Mustang to celebrate the 50th anniversary. Ford Executive Chairman Bill Ford Jr. called the Mustang "the heart and soul" of Ford.
"Frankly if you don't like this car, you don't like cars," he said.
Dealers, media and other guests will celebrate the 50th anniversary of the Mustang this evening atop the Empire State Building. The car had to be broken into five pieces for the ride up the building's elevators and reassembled late at night, when the deck is closed to visitors. Ford Jr. was at the top Wednesday morning after it was completed.
"It was cold, but for us Detroiters, it felt fine," he said.
It will be on display there until Friday.
But the party doesn't end there.
Ford Chief Operating Officer Mark Fields said he leaves Thursday for two Mustang Club of America events honoring the famed sports car — one in Charlotte and one in Las Vegas.
"They're literally going to have probably up to 5,000 cars in each location and probably 10,000 to 15,000 people celebrating the Mustang," he said. "We'll go down to Charlotte, and then I'll go on to Las Vegas."
Employees will also celebrate the Mustang's 50th birthday at Ford's World Headquarters in Dearborn on Thursday.
Ford urges crackdown
on currency manipulation
David Shepardson and Melissa Burden
The Detroit News
April 17, 2014

New York — Ford Motor Co. is still pushing the Obama administration to crack down on currency manipulation in a proposed Pacific zone free-trade agreement with Japan and other major Asian economies.
"We're being very clear on our currency demands, and we're working very closely with the administration on that because I think an agreement without strong currency language isn't going to work," Ford executive chairman Bill Ford Jr. told reporters on the sidelines of the New York International Auto Show. "It won't be a true trade agreement if currency certainty isn't in there."
Earlier this month, the administration held intensive talks with Japan aimed at reaching agreement on opening the world's third-largest market to more U.S. auto exports, but so far haven't resulted in a breakthrough. More talks are happening this week in Washington ahead of a visit to Japan by President Barack Obama next week.
"I don't know whether it is dead or alive for this year or not," Ford Jr. said.
The United States and 11 nations are working to negotiate a proposed Pacific free-trade pact. Access to the Japanese market by U.S. vehicles and agriculture products remains the key stumbling block.
The proposed Trans-Pacific Partnership trade pact is facing strong opposition from U.S. automakers and the United Auto Workers union. And in recent weeks the top two Democrats in Congress both said they oppose fast-track legislation that would allow for a quick up or down vote on an agreement without changes.
"We are in the endgame. We have a reasonable number of outstanding issues on rules, and we have some critical outstanding issues on market access," U.S. Trade Ambassador Michael Froman told Congress earlier this month.
The U.S., Japan, Mexico, Canada and eight other nations have been negotiating the Trans-Pacific Partnership that would create a free trade zone accounting for 40 percent of the world's economy. Australia, Brunei, Chile, New Zealand, Malaysia, Peru, Singapore and Vietnam are also part of the talks.
In New York, Ford was unveiling a special edition Mustang to celebrate the 50th anniversary. Ford called the Mustang "the heart and soul" of Ford. "Frankly if you don't like this car, you don't like cars."
Dealers, media and other guests will celebrate the 50th anniversary of the Mustang this evening atop the Empire State Building. It had to disassemble it in pieces and Ford Jr. was at the top Wednesday morning after it was completed. "It was cold, but for us Detroiters, it felt fine," Ford said.
But the party doesn't end there.
Ford Chief Operating Officer Mark Fields said he leaves Thursday for two Mustang Club of America events honoring the famed sports car — one in Charlotte and one in Las Vegas, which he will attend.
"They're literally going to have probably up to 5,000 cars in each location and probably 10,000 to 15,000 people celebrating the Mustang," he said. "We'll go down to Charlotte, and then I'll go on to Las Vegas."


Ford could replace troublesome MyFord Touch
David Shepardson
The Detroit News
April 16, 2014
New York — Ford Motor Co.'s Americas chief Joe Hinrichs said Tuesday that the automaker is working to improve its MyFord Touch infotainment system — the focus of many consumer complaints — and suggested Ford could unveil a system to eventually replace it.
"There are software limitations with the the current system that we want to break through so that in the future we can offer more capability," Hinrichs told reporters at a forum here ahead of the New York International Auto Show. "Like anything with technology, there's a lot of evolution in capability, speed, memory."
At the forum, Hinrichs suggested the company may take a dramatic step.
"We said we're going to lead in this space," Hinrichs said. "We're not standing still. We'll eventually have something to say on this."
In February, The Detroit News reported Ford plans to ditch Microsoft Corp. for BlackBerry Ltd. for future upgrades to its SYNC voice-activated system. SYNC, which allows customers to make phone calls, change radio stations and find nearby destinations without taking their hands off the wheel, has faced similar consumer complaints to MyFord Touch. The SYNC update is likely another year away.
QNX, acquired by BlackBerry in 2010, has quickly begun replacing the Windows operating system as a popular choice for in-car automobile software. Hinrichs said the company hasn't confirmed a decision to move to BlackBerry and said it would continue to study the issue.
But Ford has already stripped the "Powered by Microsoft" branding from its SYNC voice-activated system in some upcoming cars as it prepares a switch to BlackBerry software.
Hinrichs also declined to answer whether Ford is looking at an all-new MyFord Touch system.
"When we're ready, we'll have more to say," he said. "Consumers want the system to work seamlessly and in a simply intuitive way."
Drivers want touch screens that are easy to use. Ford has gotten critical reviews from Consumer Reports and some other surveys in recent years about the difficulty some users have experienced with MyFord Touch.
He said data from 2014 model buyers shows for the first time that MyFord Touch ranks above the industry average in usability.
"We've made a lot of progress," Hinrichs said. "It's better than the industry average but that's not good enough."
Separately, Hinrichs said Tuesday that Ford's decision in August to drop the fuel economy rating on the 2013 C-Max hybrid crossover from a combined 47 mpg to 43 mpg — a nearly 10 percent reduction — has hurt sales.
"We're definitely seeing consideration on C-Max decline over time," Hinrichs said. "We need to reinvest in the product because it's a great car."
Last August, Ford also said last year it would compensate owners for the worse-than-promised fuel economy. Ford said in March C-Max sales fell by 39 percent to 5,556 and are down 43 percent for the year.
Ford said in August it would pay 32,000 customers for the gas-mileage discrepancy. Those who purchased vehicles will receive $550; those who leased will get $325. It means Ford will pay between $10 million and $17 million, depending on how many were leased.
Under the Environmental Protection Agency's rules, in place since 1977, Ford was able to assign the same mileage rating to the C-Max as the Fusion hybrid sedan, which also has a 47 mpg rating, because they are in the same family of vehicles. While the protocol has worked for conventional vehicles, it has not been as effective for hybrids, officials said.
EPA said in the wake of the Ford announcement it would revise its rules. Ford has faced multiple lawsuits from owners over its fuel efficiency claims.
In other news, Hinrichs said the launch of the aluminum F-150 is on track to start production by the end of 2014.

Ford to put '15 Mustang on
top of Empire State Building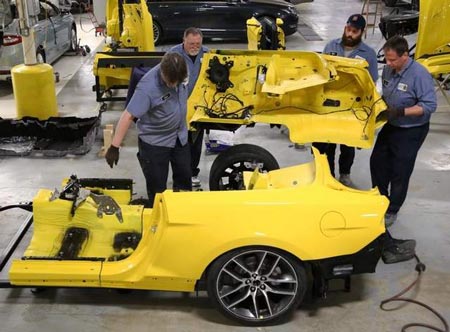 David Shepardson
The Detroit News
April 15, 2014
Ford Motor Co. will put a new 2015 Mustang GT convertible on the top of Empire State Building this week, commemorating a stunt it used to tout the new vehicle nearly 50 years ago.
The Dearborn automaker on Monday released a video that shows how the company will disassemble the Mustang and get it to the observation deck on the 86th floor. Ford will hold a media event to show off the car Wednesday night in Manhattan as part of the New York International Auto Show this week.
The new car is longer and wider than the original Mustang; Ford put a '66 Mustang on the top of the Empire State Building in fall 1965.
A company working for Ford will disassemble the Mustang into six pieces so it can fit into the Empire State Building elevator that's only 36 inches wide. It built a mockup of the elevator to ensure that it can get into the elevator. The team has just five hours to get the car up to the top after the observation deck closes at 2 a.m. and before it reopens at 7 a.m.
"If we have an iconic vehicle, it's Mustang," Ford executive chairman Bill Ford Jr. said in the Web video. Mustang sales were up 21 percent in March to 9,305 and are up 13 percent this year.
How the Heartbleed bug
works, and what passwords
you need to change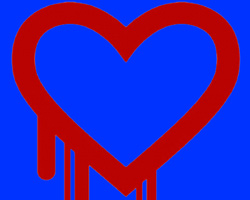 Shane Dingman
The Globe and Mail
April 14, 2014
Internet security experts are scrambling to patch an alarming encryption vulnerability that has exposed millions of passwords and personal information, including credit-card numbers, email accounts and a wide range of online commerce.
How big of a deal is this?
Some reports suggest as many as two-thirds of the sites on the Internet are using OpenSSL, the encryption code that we now know is flawed and vulnerable to so-called Heartbleed attacks.
It's been a few days, anything new to worry about?
Initially, security experts focused on web sites using OpenSSL. We now know many digital products – including some with difficult to patch firmware – are also vulnerable, including:
Antivirus software
Email servers
Security firewalls
Routers and network switches
Some PCs
Android Version 4.11 (Jelly Bean)
Even the security-conscious Tor network
In those cases the hardware and software firms need to introduce patches.
What websites should I be worried about?
The Canada Revenue Agency website was shut down, and opened again yesterday. The CRA says this move was precautionary, because there is no evidence of a security breach.
Canadian banks, airlines and online retailers such as Amazon.ca, Wal-Mart and Indigo Books all said they weren't affected by the bug.
The online news site Mashable has an extensive list of other affected sites. They suggest you should immediately change your password if you use:
Facebook
Gmail (or other Google services)
Tumblr
Yahoo mail
GoDaddy
Intuit (TuboTax)
Dropbox
LastPass
OkCupid
Soundcloud
Wondering about a site a site not on this list? There is no central "is my Internet broken" government agency that can verify if your site is vulnerable.
There are also a few services, such as filippo.io/Heartbleed, that let you test a website yourself. We recommend doing this for any lesser-known site you use regularly.
When should I change my passwords?
It may sound like a good idea to just update every one you have, but it won't do you any good to change a password on a site that hasn't updated its OpenSSL yet: The new password will be vulnerable too.
As Toronto-based password-managing site 1Password says "The time to change passwords is after sites patch vulnerability *and* update certificates."
How can I make my passwords safer?
The smartest thing to do at this point is diversify your passwords, so that if someone hacks your OKCupid account they can't get into Google with the same password. My rule of thumb is that no site that connects to my credit card shares a password with any other site I use. We just started a series on how to live a more secure digital life and here's some totally crucial password advice from Technology reporter Omar El Akkad:
Most people use terrible passwords. There are a number of reasons for this. One is the sheer variety of password-enabled devices we have to deal with every day (how many people still have the default "1234" as the password on their vehicle's Bluetooth connection?). Another is the fault of certain products and web sites that either don't care what sort of password you choose, or force you to jump through a bunch of hoops that result in the creation of a convoluted password you end up forgetting a week later. As Randall Munroe notes, the most important determinant of password strength is entropy. Basically, the more stuff there is to guess, the better the password. So choose a long password. And if you don't think you can remember multiple passwords and don't want to use a password manager, at least memorize a strong password and use it exclusively for your most important digital transaction. The last thing you want is your banking login compromised because someone hacked into a gaming forum you frequent and stole your password.
Is this a virus?
No. A virus is a piece of malicious code that seeks to infect your computer systems. Heartbleed appears to be a mistake, a flaw in the encryption code that many websites use to protect passwords they ask you to use to log in, as well as other information.
How long has this been going on?
According to the researchers who found the problem – and let's be clear, this is a gaping hole that words like "flaw, bug and vulnerability" barely describe – the bad code was introduced two years ago. To quote Codenomicon (who found and named Heartbleed): The affected code is called OpenSSL and "is the most popular open source cryptographic library and TLS (transport layer security) implementation used to encrypt traffic on the Internet."
Can you geek out for a moment, how does this work?
The term "Heartbleed" was coined by Finnish security researchers working in California. The vulnerability affects encryption technology called OpenSSL and could allow hackers to decipher encrypted data without website owners or users knowing any information theft had occurred.
Let me quote the Globe and Mail's ops boss Steve Mickeler (Team Lead, Web Operations): "The flaw allows the attacker to access 64kb chunks of memory at a time and can often be used to retrieve the private keys, allowing the attacker to decrypt the SSL session and discover usernames and passwords. It can also be used to perform a man-in-the-middle attack by spoofing the site the user is going to since they now have access to the SSL keys and the client would not deem anything to be suspicious."
As security expert Raymond Vankrimpen explains in our story about the CRA shutdown: "The Heartbleed vulnerability occurs when OpenSSL is used in combination with a communication protocol called the RFC6520 heartbeat. Such "heartbeats" help a remote user remain in touch after connecting with a website server ...
"A small chunk of the server's memory content, about 64 kilobytes of memory, can leak out with each heartbeat.
"While 64 kilobytes doesn't represent a large amount of memory content, it is large enough to hold a password or an encryption key, allowing an unscrupulous user to return to exploit the server further."
For an excellent illustration of how this works, check this cartoon from xkcd.
It's also important to note that 64kb is not the limit of leaked information, a potential attacker could collect many "heartbeats" of data.
Again, for even more information, including info on how to fix your site, check Codenomicon's specialty site: Heartbleed.com.
One piece of good news? The password you use on The Globe and Mail's website is not vulnerable to the Heartbleed bug (we use a different security protocol, and in places that use OpenSSL we used the older, not broken, version).
Whose fault is this?
Well, it's hard not to blame this on the OpenSSL Software Foundation and the developers who maintain this code. According to the Wall Street Journal, there are only four staffers to maintain the open-source libraries, and only one is full time.
"There's no question more effectively applied manpower would be a good thing," said Steve Marquess, 59 years old, who is the president of the foundation. "Formal code audits would be a good thing." Indeed.
What does the guy who made the mistake have to say?
Robin Seggelmann, the German software developer who wrote the bad line of code spoke to the Sydney Morning Herald:
"I was working on improving OpenSSL and submitted numerous bug fixes and added new features…In one of the new features, unfortunately, I missed validating a variable containing a length."
After he submitted the code, a reviewer "apparently also didn't notice the missing validation," Seggelmann said, "so the error made its way from the development branch into the released version."
Dr Seggelmann said the error he introduced was "quite trivial," but acknowledged that its impact was "severe."
Thought Secure, Pooled
Pensions Teeter and Fall
By MARY WILLIAMS WALSH
APRIL 13, 2014
The pensions of millions of Americans are being threatened because of trouble in a part of the retirement world long considered so safe that no one gave it a second thought.
The pensions belong to people in multiemployer plans — big pooled investment funds with many sponsoring companies and a union. Multiemployer pensions are not only backed by federal insurance, but they also were thought to be even more secure than single-company pensions because when one company in a multiemployer pool failed, the others were required to pick up its "orphaned" retirees.
Today, however, the aging of the work force, the decline of unions, deregulation and two big stock crashes have taken a grievous toll on multiemployer pensions, which cover 10 million Americans. Dozens of multiemployer plans have already failed, and some giant ones are teetering — including, notably, the Teamsters' Central States pension plan, with more than 400,000 members.
In February, the Congressional Budget Office projected that the federal multiemployer insurer would run out of money in seven years, which would leave retirees in failed plans with nothing.
"Unless Congress acts — and acts very soon — many plans will fail, more than one million people will lose their pensions, and thousands of small businesses will be handed bills they can't pay," said Joshua Gotbaum, executive director of the Pension Benefit Guaranty Corporation, the federal insurer that pays benefits to people whose company pension plans fail.
"If Congress allows the P.B.G.C. to get the money and the authority it needs to do its job, then these plans can be preserved," he added. "If not, the P.B.G.C. will run out of money, too, and multiemployer pensioners will get virtually nothing. This is not something that can wait a few years. If people kick the can down the road, they'll find it went off a cliff."
So far, efforts to keep multiemployer plans from toppling, and taking the federal insurance program down with them, are giving rise to something that was supposed to have been outlawed 40 years ago: cuts in benefits that workers have already earned.
For example, after Carol Cascio's husband died of a heart attack at 52, the pension office of his union, the United Food and Commercial Workers, told her his 33 years as a supermarket meat manager had earned her a widow's pension of $402.31 a month for life. It would start in three years, on what would have been his 55th birthday.
She waited, but just before her first payment should have come, she received a letter instead saying that the pension plan had been "terminated by mass withdrawal" and that she would receive nothing.
"Now I'm in a real pickle," said Ms. Cascio, 62, a stay-at-home mother in Brooklyn who had already borrowed against the promised pension to pay for her daughter's education. "I have no one. I have a mortgage on my house. I have my daughter. How do you do this to someone?"
"Only a few years ago, it would have been inconceivable that anyone would have their benefits reduced," said Karen W. Ferguson, director of the Pension Rights Center, a watchdog group in Washington. "The law hasn't caught up with what's happening here."
The law she was referring to is the Employee Retirement Income Security Act, or Erisa, the landmark federal employee-benefits law enacted in 1974. It contains a well-established provision known as the anticutback rule, which holds that companies can freeze their pension plans at will, stopping their workers from building up any additional benefits, but they cannot renege on benefits their workers have earned through work already performed.
In the multiemployer world, the anticutback rule was amended in 2006, permitting the weakest plans to stop paying certain benefits to people who had not yet retired, including disability stipends, lump-sum distributions, recent pension increases, death benefits and early retirement benefits. The goal was to help those plans conserve their money while they try to rehabilitate themselves. Experts say the measures have helped, but some multiemployer plans may still fail if they cannot cut payments to retirees as well.
Ms. Cascio's pension turned out to be in a category subject to cutting: pensions for widows whose husbands died before retirement. They must be cut if their plans have fallen to "critical status," defined as having less than 65 cents for every dollar of benefits they owe. That is supposed to save money so the plan can keep on paying other retirees their "nonforfeitable benefits" while it negotiates bigger contributions from participating companies, or tries to attract new companies into the pool.
That could not happen in Ms. Cascio's case. A few months before her husband died, all the supermarkets in his plan decided to disband the pool. He told her not to worry. Each company was making a final contribution to what is known as a "wasting trust," which would have enough money to pay everyone's pensions for the rest of their lives. Then the stock market crashed in 2008. Much of the money in the pool melted away, and there was no one left to turn to for more.
"I manage on a widow's Social Security," said Ms. Cascio, who receives a little less than $900 a month after her Medicare premiums are deducted. "It's been hard."
Her house, in Gerritsen Beach, was flooded by Hurricane Sandy, and she scraped along for eight weeks that winter without heat, electricity or hot water. Some days, she sat for hours on a city bus, just to keep warm.
Congress made the multiemployer insurance much less comprehensive than the single-employer version because multiemployer plans were supposedly so safe they did not need much insurance.
The P.B.G.C. is supposed to be self-supporting, financing its operations with premiums paid by companies rather than tax dollars. Its single-employer program has the power to take over company pension funds before they run out of money so the assets can be used to help defray the costs. But the multiemployer program must wait until a failing plan's investments are exhausted, so it gets nothing but bills. It now has premiums of about $110 million a year to work with. All it would take is the failure of one big plan to wipe out the whole program.
The Central States plan, for example, pays $2.8 billion a year to retirees but takes in only about $700 million from employers. It must rely on investment returns to keep from exhausting its assets, but Thomas C. Nyhan, director of the pension plan, said it would take returns of at least 12 percent a year, every year, to come out even, and that is not realistic. Its modeling suggests it will run out of money in 10 to 15 years — most likely around 2026, if nothing is done.
Labor officials, business groups, members of Congress and others have been quietly discussing a proposal to extend multiemployer plans' life spans by letting them roll back even retirees' pensions. Such plans are often found in mature sectors, in which retirees outnumber active workers and cuts affecting only the existing workers do not produce enough of a saving as a result. And once a multiemployer plan gets to that stage, officials have discovered, new companies will not join the pool, because they do not want to be stuck paying for extinct companies' orphaned retirees.
"Arithmetic is going to trump everything here," said Mr. Nyhan of the Central States plan, which has about five retirees for every current driver.
The Central States plan achieved lasting notoriety in the 1960s and 1970s, when it was run as a virtual bank for organized crime; even today, it still operates under federal court supervision. But today its problems are radically different. First, it lost so much money in the dot-com rout that its supervising judge gave permission to start reducing some benefits as early as 2003. Then, in 2007, it lost its biggest company, United Parcel Service, which paid $6.1 billion to leave the pool. The payment was supposed to cover U.P.S.'s share of the plan's total shortfall forever, but the shortfall grew by billions of dollars in 2008, when the market crashed and U.P.S. was no longer around to help.
That left a much bigger shortfall to be divided among a smaller pool of employers. George Kerver found that out the hard way. He is president of Fastdecks, a company near Detroit that makes big concrete beams and pillars for construction sites. For years, Fastdecks had one part-time Teamster on the payroll, earning a small pension from Central States. But business slowed to a creep, and in 2011 the lone Teamster resigned, saying he needed a job with more hours.
By law, that meant Fastdecks had to pay a withdrawal liability, just as U.P.S. did. But by 2011 the math was worse. Fastdecks received a bill for $465,774, its pro rata share of the fund's enlarged $22 billion shortfall.
"We didn't think we should have to pay it, because we weren't planning on leaving the union," Mr. Kerver said, noting that he started as a laborer at Fastdecks 37 years ago and still employs union carpenters and laborers. His lawyers told him if he did not pay, the bill would snowball by accruing penalties and interest.
"What are we supposed to do?" he said. "That was our retirement. Now we owe everything to the Teamster fund." Bankruptcy was not an option, so he arranged a 20-year payment plan with Central States.
"They lost a union company," he said, "because we're never going to have another Teamster again."
U.S. closes investigation
into 360,000 F-150 trucks
David Shepardson
Detroit News Washington Bureau
April 12, 2014
Washington — The National Highway Traffic Safety Administration said Friday it is closing an investigation into nearly 360,000 Ford F-150 pickup trucks after reviewing complaints of reduced engine power during hard acceleration without seeking a recall.
The Dearborn automaker issued a series of bulletins to dealers to address the problem and NHTSA said it was satisfied.
NHTSA opened an investigation in May in 2011-13 trucks with 3.5L EcoBoost engines after receiving 95 complaints and reviewing three technical service bulletins issued by Ford for a condition related to moisture accumulation in the charge air cooler (CAC) for the turbochargers.
A preliminary evaluation was opened to gather information to assess whether the subject vehicles contain a safety-related defect.
The trucks that were investigated use twin turbochargers to obtain a balance of fuel economy and engine power based on the driver's demand.
"When the driver requests more power from the engine, as in accelerating to pass, merge, ascend hills or haul a load the two turbochargers will spin up, compressing the air which is then used to increase the power created by the combustion in the engine. The compressed air, which gains heat by the compression process, is passed through a charge air cooler, which is designed to lower the temperature of the air in order to make the combustion process even more efficient," NHTSA said.
Ford told NHTSA that a misfire condition could occur after steady speeds under significantly humid and rainy conditions.
"Ford's analysis found that under those conditions, condensation could form and accumulate on the inside of the CAC tubes, which could then be ingested into the engine during particularly hard acceleration near wide-open throttle. An engine misfire of up to three cylinders could occur if the amount of condensed water released from the CAC exceeded the engine's operating threshold for water ingestion," the automaker said.
NHTSA received a total of 525 complaints and there were 4,120 unique vehicle complaints to Ford alleging "reduced power or driveability symptoms and not all are necessarily related to the condition created by water ingestion."
The agency said reduced power conditions can occur for many reasons "including faults with ignition coils, spark plugs, a catalytic converter, the throttle body, turbocharger, fuel pump/filter, powertrain control module (hardware or software) or transmission shifting problems. Ford also noted that in a large number of warranty claims on the subject vehicles, the CAC was replaced or a TSB procedure was performed when the symptoms exhibited were inconsistent with a CAC water ingestion related issue."
Ford cited regulations set by the EPA that require the powertrain software to disable up to two of the misfiring cylinders for no more than 30 seconds to protect the catalytic converter from damage.
Ford's testing of this condition showed a vehicle experiencing such a condition would continue to maintain its speed as well as accelerate, "albeit at a lower rate than expected by the driver. Similar results were obtained in testing done by NHTSA's Vehicle Research and Testing Center in East Liberty, Ohio."
Ford's technical service bulletins instruct dealers to install a deflector shield onto the CAC. In January, Ford said its data shows that the TSBs have solved the problem listed in complaints —100 percent effective for 2013 models and 95 percent effective for 2011-12 trucks.


OFL president Sid Ryan attacks Hudak's stance on organized labour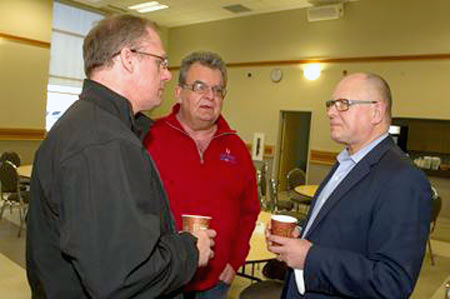 Jason Spencer
Brampton Guardian
April 11, 2014
BRAMPTON — Sid Ryan, president of the Ontario Federation of Labour, is on a crusade to inform union members across the province about Ontario Progressive Conservative leader Tim Hudak's vision for organized labour.
Last Tuesday night, Ryan stopped by Unifor Local 1285 on Regan Rd. to hold a meeting with some 200 Peel members.
With the possibility of a spring election looming, the thrust of Ryan's visit was to convince workers to vote nay to the Conservatives in the next provincial election.
"The idea here is to leave this room and go back into our workplaces and speak to that 25 per cent of our membership who we believe vote Conservative because in the past they offered tax breaks," Ryan said prior to the closed-door meeting.
"So, what we're saying this time around is, if you vote for the tax break, you're going to be voting against your own self-interest because your wages, your benefits and your pension plans will be in jeopardy if you vote for Hudak and he gets elected."
According to Ryan, the Tory leader's proposed labour reforms laid out in his "white papers" would "undermine the labour movement" by cutting down wages, benefits and pensions.
"(Hudak) believes that wages are too high (and) they should be lowered, in order to be able to compete with the right-to-work down in the United States," he said. "He wants to put in wage freezes for public workers."
"He abhors the pension plans that are in place in the public sector. He thinks they're too rich. They're not, but he says they are. …he says benefits are too rich. So there's an array of issues that we want to engage in that would seriously damage the labour movement."
Though Hudak has said he'll back off proposed changes like doing away with the Rand Formula, a Canadian labour law which requires every employee of a workplace with a collective agreement to pay union dues, the former NDP candidate isn't buying it.
"The Rand Formula is only the tip of the iceberg," he said, arguing that there are still ways around the agreement.
"Like by negotiating individual, separate agreements with the employer…which is separate from the collective agreement that's in place in the workplace. Therefore, you don't have to pay your union dues and you can opt out."
Hudak has also said that his potential reforms would only affect the heads of unions, not the workers, but Ryan says the math doesn't work out.
"What kind of impact you would have on the economy if you went after a thousand union leaders? Is that going to impact the economy? Of course not. He's going after the 1.2 million workers that belong to the labour movement — that's where he thinks he sees the savings."
Motilall Sarjoo, president of the Peel Regional Labour Council, said Tuesday's meeting included union labourers from across Peel, hailing from workplaces such as the Chrysler's Brampton Assembly Plant, Nestle Canada and the City of Brampton.
"We want them to speak to their family, friends, neighbours about where (Hudak) wants to take union legislation to break unions in this province," said Sarjoo. "People need to understand that their rights are being eroded in the work place."
Ryan's tour has already hit London, Kitchener, Toronto Peterborough and Ottawa, to name a few. Hamilton is next on his schedule.


Ford engineers educating
consumers on aluminum F-150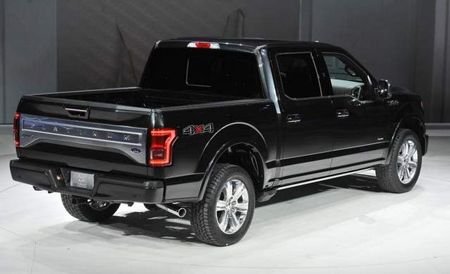 Karl Henkel
The Detroit News
April 11, 2014
Dearborn — Pete Reyes, the chief engineer of Ford Motor Co.'s next-generation F-150, worked five years on the aluminum-body pickup, starting with secret lightweight mules of the current truck model in 2009 and ending earlier this year with the 2015 F-150's debut at the Detroit auto show.
But Reyes' job is far from over. He and his team are out to share their experience designing and testing the new truck — not just for promotional reasons, but to sell the idea of an aluminum pickup to a sizable chunk of the truck market that is skeptical of the idea.
Reyes, in an interview Wednesday at the automaker's Research and Innovation Center in Dearborn, said the rollout of the new truck — which culminates in the fourth quarter of this year when it begins to hit dealer lots — continues to evolve as feedback from customers, enthusiasts and the media pours in.
"After we debuted the truck at [the North American International Auto Show], when we looked back at all the feedback and questions, a lot of the questions came back to, 'How can you be sure that this truck will be just as tough?' " Reyes said.
The 2015 F-150 will be the first mass-market vehicle with a body made mostly of aluminum. The lightweight material cuts 700 pounds from the F-150 — mostly from the body — to help in Ford's quest to meet strict federal fuel efficiency requirements.
Truck buyers as a whole are some of the most loyal customers in the industry, but they are also some of the most informed and aware of new technologies. The shift to aluminum, however, is stretching the limits, and is making Ford's sell job to some longtime customers extra work.
Reyes said that Ford's research shows that 80 percent of truck customers "get that aluminum on a steel frame is legitimate," but that 20 percent still need to be convinced. And of that 20 percent, half will have an opinion difficult to sway.
"The new aluminum body structure ... has some people wondering how capable the 2015 truck will be," said Karl Brauer, an auto analyst at Kelley Blue Book, who was briefed on Ford's plans Wednesday. "Ford wants potential customers to be comfortable with these changes, so they are proving more background information than usual on the durability testing they've put the new F-150 through."
Ford made it a point during testing to beat up its new truck more than any previous iteration. It up-gauged, or increased the thickness of some of its aluminum sheets, by 30 percent compared to steel sheets in the current truck, said Mark Keller, Ford manager for structures and body, and upped the thickness in the bed by nearly 50 percent.
Aluminum is one-third the density of steel, which means Ford could made the aluminum thicker and still drop more than 600 pounds from the truck's body.
Testing will soon hit the 10 million-mile mark, two million more miles than the testing done during the last truck upgrade and more than double that of the F-150 from two decades ago. Ford used a torture rack that shakes and twists a truck repeatedly in seven different ways for five days, the equivalent of 225,000 miles of rough roads.
Aluminum doesn't rust, so Ford made its corrosion tests even more punishing by upping the use of salt baths and acid sprays.
The detail in durability applies to areas of the truck the average customer will never see, like where the steel frame connects to the aluminum bed. The automaker came up with its own adhesive bonded patch to ensure the steel doesn't corrode the aluminum.
How successful Ford is in educating on-the-fence consumers won't be known until the truck goes on sale in the coming fall and winter. The results will also be influenced by price (Ford has not yet announced pricing, but aluminum costs more than steel), fuel efficiency and word-of-mouth from early customers.
Ford's education won't be limited to potential buyers. Dealers and repair shops, many of which at best have worked with aluminum in small doses, also face cost and workforce challenges ahead of the F-150's launch.
Dan Risley, president of the Automotive Service Association, told The Detroit News last month that fewer than 20 percent of repair shops are fully and properly equipped to fix aluminum body structures.
Some repair shop representatives say there could be early mishaps with service representatives not familiar with fixing aluminum body structures.
Raj Nair, Ford's product development chief, said Wednesday he believes any issues will be ironed out as the automaker begins certifying body shops to fix the F-150. The certification is not mandatory.
"As they get a little bit more knowledgeable and they come through our programs, they'll understand the work that we've done in the areas to make this vehicle more serviceable and more repairable," he said.
Canadian auto investment stalls
Greg Keenan
Globe and Mail
April 10, 2014
Auto makers spent $17.6-billion (U.S.) around the world in 2013 to increase vehicle-making capacity, but not a dime of that money was invested in Canada.
It's the third year in the past four that Canada has been shut out of investment in new plants or expansions that lead to increased production, according to an annual study done by the Office of Automotive and Vehicle Research at the University of Windsor.
In the past four years, investment to increase capacity in Canada has amounted to $180- million for a single project in 2012, compared with $46.9-billion pumped into China and $6.3-billion spent in Mexico.
The tide of investment that is flowing into other auto-making countries is helping to erode Canada's position as a global auto-making powerhouse. Vehicle output fell 4 per cent in Canada in 2013 despite record sales in the Canadian market and a buoyant recovery in the U.S. market, which is the destination for more than 80 per cent of cars, minivans and crossovers assembled Canada.
"Canada was once the fourth-largest automotive assembly country in the world – it is now 10th," the study says.
The failure of the federal and Ontario governments to entice auto makers to increase capacity in Canada – and the high-paying jobs created by those investments – underlines the importance of retaining existing factories if the country is to remain an important auto-making nation.
The failure of the federal and Ontario governments to entice auto makers to increase capacity in Canada – and the high-paying jobs created by those investments – underlines the importance of retaining existing factories if the country is to remain an important auto-making nation.
"We can't afford to lose what we've got," said Pete Mateja, co-director of the Office of Automotive and Vehicle Research. "The Chrysler Windsor plant, we definitely need to hold on to it or it's going to be devastating for Windsor. Same thing with General Motors in Oshawa." The long-term future of the Chrysler minivan plant in Windsor is in doubt after Chrysler Group LLC walked away from negotiations with the federal and Ontario governments on a $3.6-billion investment in Canada that included a proposal to spend $2.3-billion at the minivan operation.
The report also points out how money is flowing to emerging markets such as China, Mexico and Brazil, while stagnant markets with high labour costs are shut out. Auto makers made no investments to increase capacity in Germany in the past four years and just $128-million in Japan.
Mr. Mateja noted that the recent decline in the value of the Canadian dollar should make Canada more attractive, but it's not enough to compete with the billions of dollars being offered to auto makers by Mexico and southern U.S. states.
The release of the report coincides with actions some U.S. auto-producing states are taking to try to lure more auto investment.
The biggest, of course, is Michigan, which unveiled a new strategy Tuesday that is designed to maintain its position as the largest auto-making state or province.
Michigan needs to adjust to a global shift to smaller and lighter vehicles that will occur during the next 30 years, Nigel Francis, senior vice-president in Michigan Economic Development's Automotive Industry Office, told the annual convention of the Society of Automotive Engineers in Detroit on Tuesday.
"Michigan's vehicle development and output must reflect these global marketplace changes or risk becoming less globally relevant," Mr. Francis said.
Meanwhile, Kentucky Governor Steve Beshear said Tuesday that he plans to establish a 12-member Kentucky Automotive Industry Association to attract more auto jobs to a state that now boasts Ford Motor Co., General Motors Corp. and Toyota Motor Corp. factories.
The Kentucky group is similar to the Canadian Automotive Partnership Council, an organization composed of auto industry, union and government representatives that has been advising the federal, Ontario and Quebec governments for more than a decade. Several key initiatives proposed by the group, such as the construction of a new bridge between Windsor, Ont., and Detroit, are still on the drawing board.


Ford calls 2015 Focus sedan 'significant update'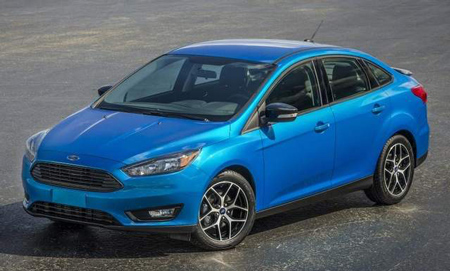 Karl Henkel
The Detroit News
April 9, 2014
Ford Motor Co. has unveiled its 2015 Focus sedan, which debuts later this year with a fresh face, an upgraded suspension, an optional 1-liter EcoBoost engine and a standard rearview camera.
Raj Nair, Ford's product development chief, calls the retooled Focus a "significant update" over the current car, which last year topped all other nameplates worldwide with 1.1 million sold. It's the second straight year Focus has accomplished the feat.
The new Focus was redesigned with a trapezoidal grille to follow the lead of other Ford cars like the subcompact Fiesta and midsize Fusion. The car also has a restyled hood and meaner-looking headlights.
The Dearborn automaker has beefed up the interior with new seats, more buttons in the center console — though things get cramped with so much near the gear shift — and an optional heated steering wheel.
"It's a huge improvement, particularly the interior," said Michelle Krebs, an independent auto analyst. "But there's still a lot we don't know about the car," citing fuel efficiency figures and price, which have not yet been announced.
The Focus sedan will be shown at the New York Auto Show next week. Ford also will show the redesigned Focus Electric car in New York. Ford introduced the five-door hatchback Focus at the Geneva Motor Show last month.
The Focus will be offered with an optional 1-liter, three-cylinder EcoBoost engine be paired with a manual six-speed transmission for the U.S. market — at least for now — that will help the Focus improve its fuel efficiency.
Relatively few customers may choose the optional 1-liter EcoBoost, which will likely cost about $1,000 more than the standard 2-liter and will sacrifice horsepower in exchange for a few more miles per gallon. Seema Bardwaj, Focus marketing manager, said she expects the percentage of Focus buyers who choose to have a manual transmission — that group will now include the 1-liter — to remain between 10-14 percent, including the sporty Focus ST.
On the 2013 Focus, equipped with a 2-liter, four-cylinder gas direct-injection engine, the Environmental Protection Agency fuel estimates range between 36 and 40 miles per gallon highway and 30 and 33 miles per gallon combined. Fuel economy on the 2-liter is expected to improve for the 2015 model year.
Official EPA fuel efficiency estimates will be released closer to the car's launch. Pricing will be announced later. The current Focus has a starting price of about $17,000 in the U.S. market.
A rearview camera will be standard, even if customers don't choose to equip their Focus with MyFord Touch (in which case the camera will be displayed on a 4.2-inch screen instead of the 8-inch MyFord Touch screen). Ford's Blind Spot Information System, which detects when people or objects are in a vehicle's blind spot, and a lane-keeping system, are available options.
Ford recalls 385K more vehicles
for rust, steering issues
Karl Henkel and David Shepardson
The Detroit News
April 8, 2014
Ford Motor Co. is calling back about 385,750 model-year 2001-2004 Escape compact SUVs because rust could cause a separation of the lower control arm from the vehicle's subframe and affect the ability to steer. About 349,000 of those Escapes were sold in the U.S.
In a second, unrelated recall announced Monday, Ford is calling back about 48,950 model-year2013-2014 Ford Fusion, Lincoln MKZ, Ford Escape and C-MAX vehicles to replace seatback frames that do not comply with a NHTSA standard. There are 42,972 vehicles that fall under the recall in the U.S and 4,744 in Canada.
The Escapes affected by the subframe problem were sold or are registered in Michigan and other states in the Midwest and Northeast, and in eastern Canada. All are in the "salt belt" where salt is used to melt ice on roads. Dealers will install a reinforcement crossbrace.
Ford says it is aware of one Escape crash that may be related to subframe rusting, but no injuries.
The automaker has recalled more than 2 million vehicles since 2010 for various rust problems in older vehicles.
The National Highway Traffic Safety Administration last November closed an investigation that looked into the same issue in more than 800,000 2005-2011 Crown Victorias, Mercury Grand Marquis and Lincoln Town Cars. In those cars, a rust-related defect related to the lower intermediate steering shaft that could cause loss of steering.
Last August, Ford said it was recalling 355,000 2005-2011 of those same cars for rust-related defects that were sold in "salt-belt" states.
Also last year, Ford said it would recall 230,000 2004-2007 Ford Freestar and Mercury Monterey minivans to repair third-row seat latches that can rust in the wheel wells and cause the seats to come loose.
In 2012, Ford recalled 1.2 million 1997-2003 Ford F-150 trucks and other vehicles in 21 states and Canada because their fuel tanks could fall to the pavement. Ford said years of rust could break the straps that support the gas tank, allowing it to drag to the pavement and possibly leak, which could lead to fire.
In the seatback recall announced Monday, Ford spokeswoman Kelli Felker wrote in an email, "Certain front driver and passenger seatback assemblies may have been produced with sub-standard welds joining the seatback recliner mechanism to the seatback frame" and could"potentially [increase] the risk of injury in certain collisions."
Dealers will replace the seatback frames on affected vehicles.
The automaker says there have been no reported accidents or injuries because of the potentially faulty frames.


Cars allegedly raced
through Oakville won't
go to dealerships, Ford says
April 5, 2014
Toronto Star
Nine new Ford Canada vehicles that were allegedly raced down Trafalgar Road Wednesday morning will not be shipped to Ford dealerships, says a Ford Canada official.
The auto giant weighed in on the early morning incident that saw the nine vehicles allegedly exceed the posted speed limit by nearly 70 km/hr as they were moved from a storage lot in Milton by a third party company- destined for the Ford plant in Oakville.
Halton police said they received a number of calls about a group of vehicles speeding and appearing to be racing along Trafalgar Road.
Officers set up radar in the area of Trafalgar Road and McCraney Street and, a short time later, nine vehicles travelling southbound approached in a tight pack at speeds allegedly ranging from 120 to 127 km/hr in a posted 60 km/hr zone.
Police stopped all nine vehicles on Trafalgar Road and have charged the drivers with racing under the Highway Traffic Act.
They will appear in a Burlington Court on May 13.
"Certainly we are very concerned about the incident and we want to sincerely thank the Halton police service for their quick response," said Lauren More, vice-president of public affairs at Ford Canada.
"As you can imagine, the safety of our community is our top priority."
More said Ford wants to reassure its customers that the vehicles involved won't be shipped to dealerships and will be replaced.
She also said Ford will no longer be working with the third party company, identified by Ford as FAC Transport, which employed the drivers of the vehicles.
FAC Transport had been sub-contracted by another company, Hansen's, which does transport work for Ford.
"We have confirmation from Hansen's that obviously the relationship with FAC has ended and these drivers have been let go," said More.
The nine vehicles involved were Crossover SUVs, mostly Edges and a few MKXs.
A 26-year-old man from Brampton, a 24-year-old man from Brampton, a 36-year-old Whitby man, a 28-year-old Oshawa man, a 42-year-old man from Ajax, a 27-year-old woman from Bobcaygeon, a 52-year-old man from Whitby, a 25-year-old man from Scarborough and a 26-year-old man from Toronto have all been charged in connection with this incident.
Police would not provide the names of the accused stating they have not been charged criminally, but rather under the Highway Traffic Act.


Retiree John Stone Passes
Away April 2, 2014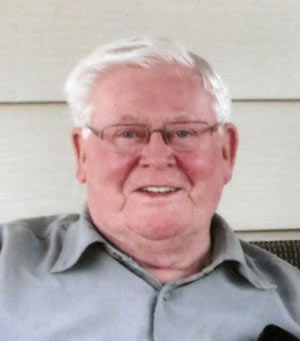 John Stone
Retired October 1, 1994
28.3 Years Service
Our Deepest Condolences go out to his Family and Friends
It is with heavy hearts that we announce the sudden peaceful passing of John Daniel Stone at home on Tuesday, April 2, 2014.

Born in Belle Isle, N.L., on Sept. 5, 1931, he was the son of the late William and Georgina (Styles) Stone.

He is survived by his wife, Martha (McCarthy); two stepdaughters, Valerie (Jay) Hollohan; Joanne (Ian) Cann, both of Sydney and three grandchildren, Taylor, Stephanie and Ryan. He is also survived by his brothers, Harry (Joyce), Billy (Stella), Angus (Mary), Eric (Betty), all of Ontario, Jim (Helen), Labrador; sisters, Margaret (Ed), Ontario and Theresa (Tom), Newfoundland. John has many nieces, nephews, in-laws, grandnieces and grandnephews who will miss him dearly, and he will be missed by all who knew him, especially the staff at Casino Nova Scotia.

He was predeceased by a sister Mary in childhood.

He lived most of his life in Georgetown, Ont., where he retired from Ford Canada and recently settled in Cape Breton. John was a quiet soul; a very easygoing man who liked simplicity. He was a long-standing member of the KOC (Newfoundland Ontario, Sydney). John was an avid reader and a stellar crossword person.

Visitation for Mr. Stone will be on Sunday, April 6 from 2-4 and 7-9 p.m. at T.W. Curry Parkview Chapel. Funeral mass will be celebrated at 11 a.m., Monday in Holy Redeemer Church with Rev. Paul Murphy officiating.

Donations in his memory may be made to Holy Redeemer Building Fund.

Online condolences may be sent by visiting www.twcurry.com.


Provinces get uneven health-care funding from Ottawa
The Globe and Mail
André Picard
Friday, Apr. 04 2014,
When is a 6-per-cent increase not a 6-per-cent increase?
That may sound like one of those philosophical "if a tree falls in the forest"-type riddles, but it's actually a very pertinent question in Canadian health policy circles, and one that provincial finance and health ministers should be asking themselves.

Earlier this week, the Health Accord, a deal that increased federal transfers to the provinces by 6 per cent per annum over a decade, expired.

The accord expired with a whimper, not a bang, in large part because the government of Stephen Harper announced a while back that it would continue the 6-per-cent annual increases until 2017, with none of the conditions (albeit vague and unenforceable) placed on the transfers by the Liberal government of Paul Martin. After 2017, the increases in transfers will be tied to GDP growth plus 3 per cent.

In other words, on the surface, nothing will really change for the provinces. They will continue to get money from Ottawa under the Canada Health Transfer – $32-billion this year – and that will increase slowly but surely for another decade.

The grumbling has by and large been about the slow, steady withdrawal of Ottawa from health care. When medicare began, Ottawa contributed 50 per cent of all hospital and physician costs. That cost-sharing formula ended in the late 1970s and the federal government has regularly re-jigged payment formulas to contribute less.

Today, Ottawa covers about 20 per cent of health costs and, if the current formula remains in place, that will fall to 12 per cent over the next 25 years.

However, beyond the total amount, we don't pay enough attention to how the federal monies are apportioned among the provinces and territories.

The federal government has long embraced the principle of equalization – essentially giving proportionally more money to poorer provinces for various programs, including health care. This evening-out is done with a complex formula that awards provinces tax points.

But when Mr. Harper's government presented the provinces with a take-it-or-leave it deal, there was an asterisk beside the promised 6-per-cent increase. Going forward, health dollars will be distributed strictly on a per capita basis; no more equalization.

Practically, what this means is that the increase for individual provinces will range from zero to 30 per cent, and that only three of the 13 provinces and territories will get an increase of 6 per cent or more.

Here are the percentage increases, courtesy of Roberta Hawkes, a master's in health administration student at Dalhousie University:

NL: 0.00
PEI: 2.29
N.S.: 2.01
N.B.: 2.20
QUE: 3.27
ONT.: 3.32
MAN.: 4.12
ALTA.: 27.41
B.C.: 0.38
YUKON: 6.06
NWT: 30.77
NUNAVUT: 0.00
There is an argument to be made for tying transfers to population increases; after all, provinces with more people have some additional expenses.

But the jurisdictions where numbers are growing also tend to have younger, healthier and wealthier populations so the cost of delivering care is lower.

With this new federal formula, the provinces with aging and poor populations – those whose health costs are rising most dramatically – take it on the neck.

The ultimate result will be growing disparities between provinces and territories; for example, provinces like Nova Scotia will no longer be able to offer services that are comparable to Alberta.

In short, the rich get richer and the poor get poorer.

This new formula is not a 6-per-cent solution to health funding woes; rather, it will result in the undermining of the key principles of medicare, that care should be accessible, affordable and equitable for all Canadians.

It should also lead us to wonder aloud what the role of the federal government really is in health care. Is it simply to transfer money to the provinces and territories – about $1,000 per capita for every Canadian – and wash its hands of how the health care system takes shape (or doesn't) nationally? Is the federal motto: Disparities be damned?

Or should Ottawa be a unifying force, one that smooths out the imbalances and tries to make medicare seem like a semblance of a national program?

It is surprising that the health ministers – and the finance ministers – of the provinces and territories are not asking these questions publicly, especially considering that their silence is costing most of them millions.

Hopefully there will not be the same silent indifference during the federal election campaign next year.

André Picard is The Globe's public health columnist.


Ontario enacts protection
for wireless customers
Legislation allows consumers to cancel a contract after two years without charges other than for remaining payments on a handset purchase.
By: Michael Lewis
Toronto Star
Wed Apr 3, 2014
Ontario has enacted the Wireless Services Agreements Act to add to the patchwork of provincial and federal rules designed to protect cellphone users.
In effect from April 1, the law applies to new cellphone service contracts as well as existing agreements that are amended, renewed or extended as of that date.
Under the changes, service contracts for mobile devices such as smartphones and tablet PCs will have to be written in plain and unambiguous language.
The cost of cancelling a fixed-term agreement is now capped at $50, and phone companies will need customer consent before amending, renewing or extending service terms.
Carriers who do not comply must give consumers who cancel their contracts a full refund for up to a year of service.
Providers must also show the minimum monthly service charge in their ads — if they are advertising any costs — and the most prominent price must be the all-inclusive cost.
The legislation allows consumers to cancel a contract after two years without charges other than those for remaining payments on a handset purchase.
Similar laws have already been passed in Quebec, Manitoba, Newfoundland and Labrador and Nova Scotia following a spate of consumer complaints about unclear cellular service contracts, arbitrary charges and excessive contract durations.
Minister of Consumer Services Tracy MacCharles said the "made-in-Ontario" solution would complement the federal CRTC's wireless code that laid out national rules on contract terms, usage fees, data limits and unlocking phones.
She said the difference is stronger enforcement mechanisms than those provided by the CRTC code, with fines of up to $50,000 for individuals and $250,000 for companies.
"Ontario has enshrined the rights of cellphone, smartphone and tablet users in legislation — not a code," she added Wednesday during an event at a Wind Mobile store in Toronto proclaiming the new law.
The Canadian Wireless Telecommunications Association during hearings on the CRTC code last year urged the watchdog to take national responsibility for regulating consumer cellphone contracts.
Canadians "would be best served by a single set of regulations, not today's patchwork of provincial laws, regulations, guidelines and interpretation bulletins," said CWTA president and CEO Bernard Lord.
He urged the commission to adopt a code that "supersedes any current or future provincial legislation in this area."
"Every layer of regulation you add, adds cost. And eventually that cost is paid by someone and that someone usually ends being the consumer," he said.
"So we feel having one set of rules across the board best serves consumers because it provides clarity and certainty and also reduces cost."
Bruce Cran, president of the Consumers' Association of Canada, said in cases of dispute federal rules would trump provincial legislation.
He added that the Ontario law will sow confusion among consumers, who will be unsure about where to direct their complaints and which level of government has jurisdiction.
"Instead of harmonizing (the provinces) are trying to outdo Ottawa and each other," he said.
Ford and Chrysler March sales
rise; industry likely up 2%
Karl Henkel
The Detroit News
April 2, 2014
U.S. auto sales in March likely made up for most of the lost sales during the first two months of the year, when frigid temperatures and record snowfalls kept consumers from car dealerships.
Sales of mid-size cars, sport-utility vehicles and trucks continued to drive auto sales last month, which analysts expected to rise about 2 percent compared to last March, but could increase as much as 7 percent based on early sales results.
"When we did our initial forecast for the month, we didn't see the trajectory we saw in the last week," said Larry Dominique, president at automotive insight firm ALG.
Sales in March started slow — on par with the rates in January and February — but escalated as the month went on. Some automakers reported extremely strong sales in the month's final weekend, coinciding with warmer weather.
"We've seen a nice recovery from where we were in January and February," said John Felice, Ford Motor Co.'s vice president of U.S. marketing, sales and service, in a Tuesday conference call. "Is there more out there? I guess we'll see in April."
Chrysler Group LLC led the way in March with a 13 percent sales jump on the backs of the new Jeep Cherokee and the rising Ram truck lineup. And Ford's sales increased 3 percent, driven a record sales month for the midsize Fusion and 70,000-plus sales of its F-Series pickups.
Chrysler sold 193,915 vehicles last month and four of the company's five brands improved sales totals compared to last March. The Auburn Hills automaker has now improved sales on a year-over-year basis for 48 consecutive months.
Ford sold 244,167, including 8,969 Lincoln brand cars, a 31 percent improvement compared to last March. It also sold more than 32,000 Fusion midsize sedans — a monthly sales record for the car, which debuted in 2005.
Toyota Motor Corp. sales were up 4.9 percent to 215,348; Toyota will release more details of its results Tuesday afternoon.
Volkswagen of America said March sales totaled 36,717, down 2.6 percent as only the Jetta, Passat and Routan fared better than they did last March.
Nissan Motor Co. set a monthly sales record with 149,136 sales, an 8.3 percent increase. Nissan's Juke and Rogue crossovers set monthly sales records, and the automaker's midsize Altima topped the 35,000 sales mark.
Hyundai Motor America sales totaled 67,005, down 1.9 percent.
Other automakers will report March sales later Tuesday. General Motors Co., in the wake of testimony in front of a House subcommittee, has delayed its sales results until later in the day because of a computer problem.
Sales are expected to increase about 2 percent compared to last March to nearly 1.48 million, according to estimates from Kelley Blue Book, TrueCar and J.D. Power & Associates.
Ford, Chrysler, Honda Motor Co. and Hyundai Motor America all boosted incentives on their vehicles by more than $300 compared to last March, according to J.D. Power pin data from the first half of March. Both GM and Nissan Motor Co. dropped incentives.
Total industry incentives were up about $63 compared to last March, at least through the first two weeks.
Joe Hinrichs, Ford's President of the Americas, said last week that he expects the Dearborn automaker had "a good sales month," and that frigid winter weather in early March likely kept some consumers at home.

Letter shows Tennessee
governor linked VW incentives
to rejecting UAW
Karl Henkel
The Detroit News
April 2, 2014
Tennessee Gov. Bill Haslam told Volkswagen AG the state would offer the automaker $300 million in economic incentives — but only if voters at Volkswagen's Chattanooga, Tenn., factory voted against joining the United Auto Workers in February.
Documents from Haslam labeled "confidential" show a breakdown of cash and tax credits offered to the German automaker, that were contingent upon "works council discussions between the State of Tennessee and VW being concluded to the satisfaction" of the state. The documents were obtained by Phil Williams, chief investigative reporter at Nashville television station WTVF.
Haslam had said state incentives weren't dependent on the plant's 3,200 workers voting against organizing with the United Auto Workers. But he had warned that if workers decided to join the UAW, it could make it harder for the state to attract auto suppliers and less likely that VW would be able to expand its presence.
Haslam's office did not immediately respond to a request seeking comment.
In a Feb. 4 letter Haslam sent to Frank Fischer, Volkswagen's chief executive of Chattanooga operations, the Republican governor voiced his displeasure about Volkswagen allowing the UAW to use company facilities to "advise and attempt to influence" workers to vote in favor of union representation.
"This distinction favoring the UAW at the expense of employees opposed to union representation is of concern to us," Haslam wrote. It is not known how VW responded to Haslam's letter.
Nearly two weeks later, workers narrowly rejected a proposal to form a German-style works council and join the UAW. A works council is established by plant employees but paid for by the employer to negotiate factory-specific conditions, such as bonuses, daily work hours and codes of conduct. Bargaining for wages and benefits is done by an industry-level union.
The union later filed an appeal with the National Labor Relations Board, claiming politicians and special interest groups interfered with its efforts to organize in Chattanooga.
The union pointed to a handful of remarks, including a statement by U.S. Sen. Bob Corker, R-Tenn., who said the Chattanooga plant would get more work if employees rejected UAW representation. VW had rejected Corker's claim.
The NLRB did not immediately respond to a request seeking comment. Neither did a UAW spokeswoman.
GM recalling another 1.51
million cars for steering problem
David Shepardson and Melissa Burden
The Detroit News
April 1, 2014
Washington— General Motors Co. said Monday it is recalling another nearly 1.51 million vehicles worldwide for power-steering problems and will now take a $750 million charge in the first quarter to pay for the growing number of vehicles it is calling back.
GM has now recalled more than 6.3 million vehicles this year — compared with about 800,000 in the United States last year — as it seeks to more aggressively respond to safety issues. The recall includes 2.59 million vehicles linked to ignition-switch defects since February.
The Detroit automaker says if power steering assist is lost, control can be maintained because the vehicle will revert to manual steering, but greater driver effort would be required at low speeds, which could increase the risk of a crash. GM also said a message displays on the Driver Information Center and a chime sounds to inform the driver.
GM spokesman Alan Adler said the automaker has reports of some crashes and injuries related to the problem, but no deaths.
The new recall includes:
■Chevrolet Malibu: All model-year 2004 and 2005, and some model-year 2006 and model year 2008 and 2009 vehicles
■Chevrolet Malibu Maxx: All model year 2004 and 2005, and some 2006 model year
■Chevrolet HHR (Non-Turbo): Some model year 2009 and 2010 vehicles
■Chevrolet Cobalt: Some model year 2010 vehicles
■Saturn Aura: Some model year 2008 and 2009 vehicles
■Saturn Ion: All model year 2004 to 2007 vehicles
■Pontiac G6: All model year 2005, and some model year 2006 and model year 2008 and 2009 vehicles
The automaker will also extend warranties on more than 400,000 vehicles to address possible power steering problems.
Depending on the vehicle, GM will replace either the power steering motor, the steering column, the power steering motor control unit or a combination of the steering column and the power steering motor control unit. Customers who previously paid for repairs of these parts would be eligible for reimbursement.
GM is offering lifetime coverage for 309,160 non-turbocharged Chevrolet HHRs from the 2006-2008 model years and some 2009 models and 96,324 Saturn Ions from the 2003 model year that are not subject to these recalls for replacement of the electronic power steering motor.
"With these safety recalls and lifetime warranties, we are going after every car that might have this problem, and we are going to make it right," said Jeff Boyer, vice president, GM Global Vehicle Safety. "We have recalled some of these vehicles before for the same issue and offered extended warranties on others, but we did not do enough."
The 2004-2007 Saturn Ion, the 2009-2010 Chevrolet HHR and the 2010 Chevrolet Cobalt are included in previously announced recalls for ignition switches that may not meet GM specification for torque performance. Repairs for the ignition switch and power steering assist may require separate dealership visits depending on parts availability.
The latest recall came after the government has been investigating the issue for more than three years.
Last week, the National Legal and Policy Center said Wednesday that GM should recall the 2004-2007 Saturn Ion for steering problems, expanding an earlier recall. The group argues that the same steering system was used in recalled Chevrolet Cobalts that were called back in 2010.
NHTSA has had an engineering analysis into the Ion since 2011 after receiving 846 complaints of power steering problems.
Both the Cobalt and Ion have been recalled for the unrelated ignition switch issue that causes the key to inadvertently turn off the engine and disable air bags.
Boyer, who is GM's new recall chief, is moving aggressively, officials say.
In after-hours trading, GM's stock was down a few cents, with traders already forecasting GM's costs would be higher than $300 million they had previously announced.
Mitsubishi Motors buys Ford Philippine auto plant
March 31, 2014
Detroit News
Tokyo — Japanese automaker Mitsubishi Motors Corp. said Monday it is buying Ford's shuttered plant in the Philippines to grow in market where car ownership is on the rise.
Mitsubishi Motors said it was acquiring the plant in Laguna, south of Manila, from Ford Motor Co. to boost production and sales. Ford closed that plant in 2012. The Tokyo-based automaker did not give a price.
Mitsubishi controls more than a fifth of the Philippine market, where Japanese rival Toyota Motor Corp. has top market share. Various automakers have their eyes on the nation because car ownership is expected to grow.
The Philippine economy grew 7.2 percent last year, the second fastest in Asia after China.
Mitsubishi produces the Adventure minivan, L300 truck and Lancer sedan in the Philippines at a smaller plant it runs near Manila. The models it will produce at the new plant weren't disclosed.


Ford to invest $500M
at Ohio engine plant
Karl Henkel
The Detroit News
March 30, 2014
Ford Motor Co. announced plans to invest $500 million at its Lima, Ohio, engine plant to support production of a new, small six-cylinder EcoBoost engine for its new F-150.
Ford will add 300 jobs at the plant to manufacture a 2.7-liter EcoBoost engine that will be one of four available powertrains on its next-generation, aluminum-bodied F-150, which is scheduled to debut later this year.
"Our truck customers have spoken, and we continue to meet their evolving needs by providing another V-6 option in the all-new 2015 F-150," said Joe Hinrichs, Ford's President of The Americas, in a statement ahead of the announcement.
Ford offers two V-6 options in its current F-150: a 3.5-liter EcoBoost. EcoBoost is a marriage of direct-injection, turbocharging, variable camshaft timing and proprietary Ford software, and a 3.7-liter Duratec.
About 40 percent of all F-150 sales are equipped with the 3.5-liter EcoBoost, which has surpassed Ford's internal expectations and gives credence to the need for an even smaller displacement six-cylinder offering.
Data from R.L. Polk & Co. show that since 2010, retail sales of light-duty pickups with V-6 engines have grown more than 600 percent and Ford's F-150 contributes to nearly all of that growth.
Ford will also offer a naturally-aspirated 3.5-liter V-6 and a 5-liter V-8 engine in the 2015 truck.
The $500 million investment will go toward renovating 700,000-square feet at the plant and for the installation of a flexible engine assembly system. The plant, which employs 900, already manufactures Ford's 3.5- and 3.7-liter Duratec engines.
The Lima investment is Ford's second Ohio manufacturing announcement this month. The automaker earlier confirmed it will shift production of its F-650 and F-750 medium-duty trucks from Mexico to Ohio Assembly Plant in Avon Lake, near Cleveland, early next year.
Ford CEO Mulally's 2013 compensation rises to $23.2 million
Karl Henkel
The Detroit News
March 29, 2014
Dearborn — Ford Motor Co. paid its chief executive Alan Mulally $23.2 million in 2013, a 10.7 percent raise compared to his 2012 compensation.
Mulally's total compensation — which includes stock and option awards, plus personal expenses — included $2 million in salary and a $5.88 million cash bonus, according to the automaker's proxy filing Friday.
Mulally earned $20.9 million in 2012, which included a $2 million salary and a $3.95 million cash bonus. Mulally earned $29.5 million in 2011 and has now earned about $183 million since joining the Blue Oval in 2006. Mulally is hailed for helping Ford avoid bankruptcy and restructuring the company and focusing more on global products.
Ford last year earned $8.6 billion in pre-tax profit — one of the highest operating profits in company history — and doubled its dividend to 10 cents per share. It has since increased the dividend to 12.5 cents per share for the first quarter of 2014.
Ford exceeded its targets in the areas of profit before tax and automotive cash flow, but fell short of its goals in the areas of cost performance, market share and quality.
Beginning in 2014, Ford will change its performance targets for bonuses. Twenty percent of the company's overall target will be focused on quality. The focus was 10 percent of the 2013 target. Ford in recent years has fallen behind in many third-party quality rankings.
The Dearborn automaker will not specifically measure market share, corporate profits before taxes and cost performance when calculating bonuses. Instead, Ford will set targets in the areas of automotive revenue and operating margin, which it says paint a more representative picture of the company's success.
Mulally will likely be 2013's highest-paid U.S. auto executive.
Fiat SpA said CEO Sergio Marchionne earned $5 million in cash compensation in 2013, about $1.2 million less than he made in 2012.
General Motors Co. CEO Mary Barra, who took over as the automaker's top executive in January, could earn more than $14.4 million this year.
The United Auto Workers, which in past years have been vocal about Mulally's compensation, did not immediately respond to a request Friday seeking comment.
Compensation for others on the proxy include:
■Bill Ford Jr., executive chairman, earned $11.95 million, down from $14.8 million in 2012. That included $2 million in salary and a $1.68 million bonus.
■Mark Fields, chief operating officer, earned nearly $10.2 million, up from about $8.8 million in 2012. That included a salary of $1.54 million and a $3.6 million bonus.
■Joe Hinrichs, President of the Americas, made $4.4 million last year, up from $4 million in 2012.
■Bob Shanks, chief financial officer, earned $4 million, down from nearly $5 million in 2012.


Canadian companies
increase cash hoards
BARRIE McKENNA
OTTAWA — The Globe and Mail
Mar. 28 2014
It remains one of the enduring mysteries at the root of Canada's spotty economic performance since the Great Recession.
Why, if Canadian companies are cash-rich, are they so reluctant to spend?
The problem deeply troubled former Bank of Canada governor Mark Carney. He called these cash hoards "dead money," often badgering corporate Canada to spend it or return it to shareholders.
A recent report from the International Monetary Fund helps solve at least part of the cash hoarding enigma.
Left alone, companies will soon start spending all the money they've been stashing away for the past decade. It might even be a prelude to a capital expenditure boom, according to the IMF report – Is Dead Money Alive?
Canadian companies aren't unique in hoarding cash. But companies here have been doing more of it than businesses in other leading developed countries. Since the mid-2000s, the cash holdings of non-financial corporations have increased faster in Canada than anywhere else in the Group of Seven.
"While the increase in cash holdings by non-financial corporations took place in several advanced economies, the increase in Canada has been much stronger," the report concluded. "This may reflect cross-country differences in the industry mix, as some industries tend to hold greater cash positions given their characteristics."
Canadian companies have gone from being net borrowers to net lenders.

By the end of 2013, non-financial companies had $626-billion of cash on hand, up from $591-billion in the third quarter of 2012, according to Statistics Canada.
But who is hoarding, and why? The IMF report, based on a detailed look at the behaviour of public companies in Canada, shows that energy and mining companies account for the lion's share of hoarding – roughly 60 per cent in 2012. Since 2005, energy and mining companies have doubled their cash holdings.
The same is not true of manufacturers, who showed a decline in cash holdings over the same period.
The cash in the hands of Canadian companies represents 30 per cent of gross domestic product. That compares with a G7 average of 25 per cent.

Energy and mining companies need more cash because their businesses depend on large infrastructure investments, such as those in Alberta's oil sands. And Canada has more of these kinds of companies than other G7 countries.
The other piece of the puzzle is why companies choose to hold cash, rather than, say, raise their dividends, hire people, invest in new plants, make acquisitions or do more research and development.
The IMF concluded that the answer lies in a "precautionary demand for cash in an increasingly uncertain economic environment."
There is a "positive and significant relationship" between cash holdings and companies exposed to boom-bust cycles, the report found.
So energy and mining companies, which are at the mercy of large and unpredictable commodity price swings, tend to load up on cash when the value of oil or gold soars. And that was the case through the 2000s.

Rising profits and lower tax rates also contributed to the cash build up, the IMF said.
Throw in the shock of the Great Recession, which caused resource companies to become hyper-cautious, and you have the main answer to the cash hoarding mystery. "Greater macroeconomic uncertainty may have induced firms to raise the cash buffer at their disposal," according to the IMF.
Going forward, companies are poised to spend more aggressively if the economic models are correct. But the splurge is likely to bypass manufacturers, who have not amassed the same stores of cash.
Ford's SUV winning sales
battle for police vehicles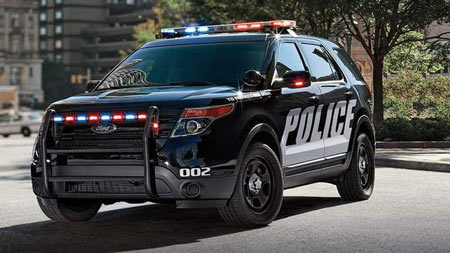 Karl Henkel
The Detroit News
March 27, 2014
That police cruiser you see in the rearview mirror is increasingly likely to be an SUV.
That's because last year an SUV — not a sedan — was the best-selling police vehicle in the United States. It's the first time that's happened.
The sales crown went to Ford Motor Co.'s Police Interceptor Utility, which is essentially a specially decked-out version of the Explorer.
Introduced in 2012, the Police Interceptor Utility — and Police Interceptor Sedan — replaced the old Crown Victoria. Initially seen as a huge risk — the new police SUVs have a V-6 under the hood instead of the V-8 in the Crown Vic — the move so far has paid big dividends.
"Many officers told us, 'We need more space, but we also need performance,'" said Jonathan Honeycutt, Ford's police marketing manager. "We knew with the amount of equipment officers now have to transport that our utility vehicle would be a hit. Within two years of reinventing the category with an all-new sedan and utility vehicle, we're approaching roughly 50 percent market share."
There is currently only one other SUV police cruiser: General Motors Co.'s Chevrolet Tahoe.
Last year Ford sold 13,556 Police Interceptor utilities in the U.S., according to data from R.L. Polk & Co. The No. 2 best-selling police vehicle was Chrysler Group LLC's Dodge Charger, followed by Ford's Police Interceptor Sedan.
About 60 percent of all Ford police sales last year were utilities. In some months, that number approached nearly 70 percent.
Ford's SUV cruisers come with a 3.7-liter V-6 (304 horsepower and 279 pound-feet of torque) or a 3.5-liter EcoBoost V-6 (365 horsepower and 350 pound-feet of torque). At last year's Los Angeles County Sheriff's Department testing — one of the benchmarks for police vehicles — the EcoBoost-equipped sedan and crossover were fastest in the zero to 100 mile per hour acceleration runs and in lap times.
Why our health care system
works for Canada

Robert McMurtry
The Globe and Mail
Mar. 26 2014
In the past 18 months I have required two major, but unrelated surgeries, experiencing first hand Ontario's version of Medicare. The two interventions required down time and an enforced idleness for reflection on life and what it means to be Canadian. I feel blessed.
It is not just the absence of any indebtedness related to care, though that certainly helps, but the core elements of what Medicare represents: efficiency, equity and effectiveness or doing it well, availing the care to all and delivering improved health – social justice in a time when it is an endangered species.
This is no small feat and should never be taken for granted.
What is the history of single-payer health insurance and why is Medicare Canada's most treasured social program? The first mandatory health insurance was introduced in Germany (1883). Thereafter many western European countries followed suit. In Canada, Saskatchewan's rural municipality of Sarnia created an early form of Medicare (1915) followed a year later by a municipal hospital act. In 1947, The Hospital Insurance Act (1947) came into being, again in Saskatchewan, which all provinces followed by 1961. In 1962, Saskatchewan introduced universal Medicare. In short, an idea spawned in Europe and taken up by Tommy Douglas set the stage for the passage of the Medical Care Act by the Canadian parliament in 1966.
My own life intertwined with this history from the 1950s to the present in many ways. The first exposure was to life without Medicare when my father suffered a stroke leaving him at age 54 with a permanent severe neurological deficit. Occurring at the peak of his career, he was never able to return to more than a small fraction of his original activity, eventually succumbing to complications of the stroke. I well remember my mother struggling with our much-reduced economic status to find the money to pay the health care bills. Had he taken ill a few years later she would have been relieved of that burden.
I remember, too, being a medical student of the wards of the old Toronto General Hospital and the many differences between "private" and "public" status. To emphasize that reality there was a Private Patients Pavilion – a whole wing of beds for the exclusive use of those who were "paying customers."
The impact of Medicare was dramatic.
In my subsequent practice as an orthopedic surgeon spanning more than 40 years, there has never been an instance in which a patient's course of treatment or surgery was ever thwarted by cost considerations. Sometimes criticized for failure to change, Canada's health care system has seen advances in cancer, cardiac and trauma care, among others. Many advances seen in recent decades were facilitated by the single payer model of insurance that Medicare represents.
Similarly, the complex "state of the art" medical and surgical treatment I received in 2012 and 2014 was unconstrained by cost considerations. There is so much for which to be grateful in the legacy of Tommy Douglas.
This gratitude is clearly shared by Canadians, as I learned while being a medical advisor to Roy Romanow during the Royal Commission of 2001-2. The five conditions of insurance under the Canada Health Act (1986) have become iconic: universality, portability, public administration, comprehensiveness and accessibility.

Public support however is not unconditional. Medicare needs to respond to evolving needs, should have much greater uptake on best practices, needs to focus on a host of proven upstream practices thereby promoting health and preventing disease. Indeed the future of Medicare depends on an ability to change.

To preserve Medicare is the responsibility of all. This includes ensuring our own health literacy and physical fitness. We must be clear about the implications of those who seek to commodify health care; it is a matter of social justice that care should always be based on need and not ability to pay.

I am a very grateful Canadian and can only hope that collectively we have the wisdom to ensure the future of a program which above all supports Canadian values.

Robert McMurtry is an expert advisor with EvidenceNetwork.ca and an orthopedic surgeon, a former dean of medicine, founding assistant deputy minister of health federally and a medical advisor to the Romanow Commission. He is also a Member of the Order of Canada


Harper rebukes Ford Canada's stand on free-trade deal
NATHAN VANDERKLIPPE
The Globe and Mail
March 25, 2014
Prime Minister Stephen Harper has issued a sharp rebuke to the Ford Motor Co. of Canada Ltd., accusing the company of duplicity in its attacks on the new Canadian free-trade agreement with South Korea.
Speaking in the grandeur of the Blue House, the South Korean president's home and office on a promontory overlooking Seoul, Mr. Harper heralded the conclusion of the deal "a historic milestone for Canada." It is Canada's first with an Asian nation and will, he said, hand companies access to Korea as a gateway for trade in the fast-growing region. But the deal's unveiling, after more than nine years of closed-door negotiations, immediately gave rise to worries on both sides of the Pacific that knocking down duties will also knock down critical jobs for Korean farmers and Canadian auto workers.
In Canada, Ford's local president Dianne Craig has been among the most vocal critics of the deal, which she said gives the industry insufficient protection from Korean car makers. Concluded in Seoul on Tuesday, the Canada-Korea free-trade agreement promises to sweep away 98 per cent of the duties on goods that flow between the two countries, including cars.
But far more South Korean cars come to Canada than the other way around, and Ms. Craig, in a statement Monday, said the deal did not do enough to undo South Korean "non-tariff" barriers that include the use of currency markets to subsidize exports.
"We believe that South Korea will remain one of the most closed automotive markets in the world under the deal negotiated by the Canadian government," she said in a statement. According to the Yonhap news agency, South Korea last year delivered more than 130,000 cars to Canada, worth $2.23-billion (U.S.), far outweighing the roughly $92-million in imports of Canadian cars and parts.
On Tuesday, the Unifor labour union and Eric Hoskins, Ontario's minister of economic development, trade and employment, both criticized Ottawa for landing a deal that doesn't achieve some of the auto protections the U.S. achieved in its Korean free-trade deal.
Unifor national president Jerry Dias said the deal undermines the "jobs and industry on which so many Canadians depend."
Mr. Hoskins said he was "disappointed" and called for a task force to look for anti-Canadian discrimination by South Korea, and monitor Korean car sales into Canada.
In Seoul, Mr. Harper sought to turn the tables on his critics, specifically calling out Ford, which did support the Korean-U.S. free-trade agreement enacted almost exactly two years ago. In backing that deal, Ford "secured access through the United States to the South Korean market. What we are doing here is allowing other Canadian companies and other Canadian sectors to have the same access that Ford already has," Mr. Harper said.
"So it is I don't think realistic for a company to think it will have one set of rules for it, and another set of rules for the entire rest of the Canadian economy."
Canada currently imposes a 6.1 per cent duty on imported Korean cars. That duty will gradually be eliminated after two years under the free-trade agreement, far faster than companies like Ford had hoped for.
A senior government official acknowledged that some pain is likely to Canadian car makers, with Ottawa estimating an "impact on production" of fewer than 4,500 cars, or about 0.2 per cent of current output. (Nearly half the Korean cars purchased in Canada today are actually built in the U.S.) Ottawa believes, however, that the terms it negotiated – including a permanent 177-day dispute mechanism – are, in sum, equivalent to the U.S. deal. Canada also stands to benefit from one element missing in its deal, the ability by the U.S. to force a snap resumption of tariffs if South Korea is found to violate the terms of the agreement. Since the North American auto industry is so deeply-interlinked, such a move would likely work to Canada's advantage as well, the official said.

In Seoul, meanwhile, President Park Geun-hye found herself defending the potential pain the deal will inflict on her country's agricultural producers, a question of great sensitivity in Korea, where farming remains a key source of rural work and income.
"There can rightly be" worries about "the potential injury caused to agricultural and livestock industries," Ms. Park said. The Korean government will launch economic impact assessments if needed to study the potential damage, and may even hand out money to those hurt if needed. Ms. Park said one option is "providing direct income support to redress injuries."
But she expressed confidence in the deal's "measures to cushion the blow." The agreement offers no duty cuts on rice imports – hardly a major concern for Canada – but does impose lengthy timelines of up to 15 years to slowly pare back duties on products like beef. Duties on pork, meanwhile, will slowly fall over 13 years. Duties on grains like oats (which currently faces a 554.8 per cent duty), wheat and rye will be immediately cancelled when the deal enters into force. The Korean government boasted to domestic media that it secured better terms with Canada than the U.S. or the European Union, with a deal that exempted, or delayed duty cuts to, 18.8 per cent of Canadian farm products – more than 12.3 per cent with the U.S. and 14.7 per cent with the EU.
South Korea's biggest hopes for the deal, meanwhile, suggest that Ford may not be wrong to worry. Ms. Park said it will "unleash the full potential of our relationship." That means selling a lot more Korean cars in Canada. "We can expect to see a surge of expanded export opportunities, primarily for our key export items," Ms. Park said, saying later the two primary industries are automotive and textiles.
- With a file from Adrian Morrow


Aluminum vehicles to
reshape repair business
Karl Henkel
The Detroit News
March 24, 2014
Expensive body shop tools and training, and labor rates that could nearly double, will rock the auto body repair industry following Ford Motor Co.'s foray into aluminum-body vehicles.
The automaker's new F-150 pickup, which debuts later this year, will be the first mass-market vehicle with a body made mostly of aluminum. As others follow Ford's lead to create lightweight cars and trucks to meet stringent fuel economy requirements, it will prompt a shift in how body shops align their businesses.
Some of the 35,000 U.S. repair facilities will each invest hundreds of thousands of dollars in new equipment and training necessary to fix the smallest dents and the biggest structural collapses and will pass those costs along to consumers through higher labor rates. Others will focus solely on the steel-body cars and trucks that remain the dominant share of vehicles on the road.
"Not every shop in America will be equipped to repair the new F-150," said Dan Risley, president of the Automotive Service Association, who estimated that fewer than 20 percent of repair shops are fully and properly equipped to fix aluminum body structures. "It's cost prohibitive because there aren't a lot of vehicles on the road with aluminum, so the return on investment could take a few years. When you throw aluminum into the mix, everything changes."
Some shops, like Autometric Collision Inc., a group of nine shops in Metro Detroit, have been certified to fix aluminum-body cars for years. Jaguar, Porsche and Audi have long incorporated the lighter metal into higher-end cars.
Those shops have the training and knowledge to quickly adopt new, aluminum vehicles that will soon fill U.S. roadways as automakers race to meet fuel-efficiency standards. Swapping steel for aluminum is the easiest way for automakers to trim hundreds of pounds.
Some smaller repair centers that can't afford costly training programs and expensive tools may have to settle for fixing slightly damaged aluminum bodies — an easier and cheaper task than straightening aluminum structures — or simply stick to steel.
Repair industry fears
And some in the repair industry are nervous that a few shops may elect to do things on the cheap. "My fear is that some shops are going to train one person and keep the costs as low as possible," said Gary Wano Jr., executive vice president at GW & Son AutoBody Inc., in Oklahoma City, which has been certified to repair some European aluminum cars since 2005. "Anybody in the shop is going to be able to fix them, whether they are trained or not."
Wano estimates he has spent more than $600,000 on training and tools to repair aluminum vehicles from a handful of brands, including Mercedes-Benz, Jaguar and Tesla. He said most of the cost is justified and that, overall, he has not yet recouped his investments.
Aluminum shards, coupled with static electricity, can cause explosions in a shop. To prevent that, a special vacuum cleaner is needed to suck up those shards. The one certified by Porsche costs $8,000. That vacuum can be used for fixes on vehicles from other brands, but some tools cannot be shared.
An auto body hammer — which can cost $100 — cannot be used on both steel and aluminum panels. Some automakers mandate that hammers can't be used on another brand of car, even if that car is also made of aluminum.
That means a shop like Autometric will have a half-dozen hammers. That kind of redundancy, among dozens of tools, costs thousands of extra dollars.
"If automakers could somehow get together and standardize the tooling, it would make repairs a lot cheaper and easier," said Larry Smith, president of Autometric.
Some automakers with aluminum-body vehicles require weeks-long training programs that cost thousands to attend. Tesla Motors Inc., for instance, has a 20-page pamphlet listing all the required tools. Several weeks of training are required. Tools and training quickly top six figures. .
Because the F-150 is such a high-volume seller — F-Series sales have topped the U.S. sales standings for 32 years — Ford will offer voluntary certification for dealerships with service centers. Ford said earlier this year it will subsidize dealers up to $10,000 for the costs of tools, plus pay for training for one individual per shop.
Labor rates may go up
A part made of aluminum costs more than the same part made of steel. But that doesn't mean service shops will have higher profit margins. They say they have to make up the expenses of the tools and training by raising labor rates. Many in the industry estimate labor rates could nearly double.
But Ford says overall labor costs may not change on the new F-150. Ford's truck will have a modular design, which "will really help save a lot of labor costs in the repairability of the vehicle," Jim Farley, Ford's marketing chief, said at a dealers' meeting in New Orleans earlier this year.
More simply put: The costs of aluminum parts and labor may be higher on the 2015 F-150, but repairs will take less time and be easier. That, however, won't always equate to being done correctly.
Wano recalled a story of a dented aluminum hood on an F-150 (the hoods have been aluminum since 2004). A repair shop thought the hood was steel, and tried repairing it three times, each time contaminating the aluminum with steel, before the drivers' insurance company alerted them to the mistake.
"That's going to be a horrible thing, but realistically, I think that's what Ford is going to experience with the repair industry as a whole," he said.
Old like me. Why elderly
care needs more risk
Saskia Sivananthan
Globe & Mail
March 23, 2014
Risk. It's a dirty word in the nursing home industry, and in the face of recent and high-profile incidents – like deadly fires, assaults on residents by other residents and allegations of abuse – governments and nursing homes are turning to extreme measures to try to reduce risk and calm public concerns.
"You'll have to wait for a staff member to take you down dear, hold on a minute." This was the reminder I was given as I was about to take the elevator in the nursing home I was living in. I'd arrived a few days earlier, living as a full-time 'resident' as part of a research project to get first-hand experience of what life in a nursing home feels like, and the staff were treating me accordingly.
So I waited. I watched the staff speed-walk between rooms providing medications and answering the incessant beeping of call bells. I also watched the residents, many asleep in their wheelchairs by the communal television, some with seatbelts and others with alarms attached that go off if the resident attempts to stand, or worse, risks a fall.
I had missed the scheduled communal breakfast that morning, so 'breakfast in bed' was suggested. However, my room was not equipped with a seat and tray, so in keeping with regulation, I ate breakfast at a table in the lounge. A staff member hovered around me the entire time. While I do love company, I am admittedly not a morning person, especially without caffeine (as my body was shocked to discover, I was told caffeinated drinks and alcohol are discouraged in my nursing home). So why did a staff member need to watch me eat? To reduce the risk of choking.
It's a poignant reminder of the daily challenges staff and residents at every nursing home face. They are also part of a theme that played into almost every aspect of my stay: How do you balance safety with autonomy for residents?
Safety is clearly important; often people move to nursing homes precisely because they can no longer manage living without 24-hour care. At the same time, this tightrope balance invokes the fear paramount in most people's mind when they think about institutional living – losing their autonomy, not choking on breakfast.
The regulations for long-term care in most provinces prioritize medical needs and safety over autonomy. Public reporting of quality indicators at long-term care homes include safety as one of five attributes of a high-performing system – but autonomy is not considered.
The fundamental principle laid out at the beginning of The Long-Term Care Act, 2007, in Ontario is that a long-term care facility "is primarily the home of its residents and is to be operated so that it is a place where its residents may live with dignity and in security, safety and comfort." Then follows a dizzying list of regulations that would imply anything but. For example, nutritional care specifies congregate dining settings monitored during the entire meal, specific positioning, appropriate height of seating and meal times. There are 480 safety standards that homes must monitor daily.
At my home, I've spent more meals than I care to remember seated on my bed, alone, with my laptop in front of me. While that may not be 'safe,' it is my decision.
After all, we take these calculated risks every day: slicing bread, crossing the street, staying up late. Suddenly being regarded as unable to make decisions you've made all your life contributes to a feeling of disempowerment. In our attempt to remove all risk in nursing homes we have ended up with regulations that are so extreme that residents may no longer have autonomy or feel at home.
There is, after all, a big difference in risk between a person with dementia wandering from a nursing home and the same person drinking caffeine.
Safety concerns mean that Liza (not her real name), an avid knitter, could not keep her knitting needles or scissors in the room she shares with another resident. "I guess they're worried that if I get angry I'll hit someone with it. I would never do that, they know that. But then, if I have my scissors, other people would want it too" she explains.
For residents of nursing homes to experience a home-like environment and more autonomy may require an increased tolerance for calculated risk. Similar to living wills in which a person can specify the kind of medical action they would like taken for a future situation when they are unable to express their wish (for example, do not resuscitate), perhaps we need to consider parallel 'living environments'.
Many of the new models of long-term care homes coming out of Europe have embraced this concept of calculated risk. The much lauded dementia village Hogeweyk in the Netherlands includes a theatre, restaurants and supermarket. Residents live in a secure village, but can wander at will, not necessarily following a set routine, making purchases, attending social engagements and shelling peas if they so wish. Safety is maintained as Hogeweyk is a secure, gated community and staff are available throughout the village to provide assistance. But patient autonomy is also protected, as residents can continue living as they had before their illness.
Denmark also focuses on autonomy. Nursing homes there are truly run as 'homes' rather than institutions, with the result that residents become family. One facility of 23 residents, 70 per cent of whom have dementia, takes Caribbean vacations together. Imagine the risk.
We must rethink our approach to managing risk in nursing homes, especially when doing so means limiting residents' freedom to choose their own way.
One writer described a nursing home in Denmark as a place where "…old people could drink, laugh and love themselves into death." When I have to go back to a nursing home, that's where I want to go.
Saskia Sivananthan is a researcher in senior health care policy at the UBC Centre for Health Services and Policy Research.


Ford exec: Crimea annexation shouldn't hurt business
Karl Henkel
The Detroit News
March 22, 2014
Ford Motor Co.'s No. 2 executive said Friday that Russia's annexation of Crimea from Ukraine and the ensuing political battles should not have lasting impacts on the automaker's business in the region.
"At this point, we don't believe it's going to hurt our business," Mark Fields, Ford's chief operating officer, said at Ford's world headquarters on Friday. Fields said the bigger impact on Ford, which has a joint-venture and three plants with Ford Sollers in Russia, will be the country's devaluing currency and weakening economy.
Fields said Ford is still trying to understand the ramifications of President Barack Obama's second round of sanctions against Russia; those include sanctions against 20 individuals, including Russian President Vladimir Putin's chief of staff, and a Russian bank.
Fields still expects Russia to pass Germany as Europe's largest auto market, though he acknowledged that may happen later than originally anticipated.
Because of the Russian economic crisis, Ford Sollers may idle for as long as two months an assembly plant near St. Petersburg which manufactures the Focus compact and Mondeo midsize cars. Fields said Friday that Ford would continue to evaluate the business environment and will "take appropriate actions" to keep the business on track.
Auto sales in Russia hit 2.78 million last year, down from 2.93 million in 2012 and are unlikely to top Germany in 2014, the Association of European Businesses in Russia said. Long-term forecasts suggest annual sales could reach 4 million. Ford sold 106,700 vehicles in Russia last year, down about 18 percent.
But new car and SUV sales in Russia went on a nine-month slide last year. That slide was snapped in December only because of the imminent end of a government credit incentive program that aids consumers in buying new cars.
Russian auto industry players and analysts expect another round of government subsidies this year. Consumers tend to pull ahead or push back their car-buying decisions based on the timing of those programs.


$1.2B Toyota penalty sends
warning to auto industry
David Shepardson
Detroit News
Washington Bureau
March 20, 2014
The $1.2 billion criminal penalty Toyota Motor Corp. will pay to settle a four-year government probe into sudden acceleration problems may be a game-changer for General Motors Co. and other automakers facing growing scrutiny of their handling of safety recalls.
It marks the largest fine levied against an auto company in a U.S. criminal probe. And that is sure to get the attention of automakers including GM, which is in the early stages of a massive recall for an ignition switch flaw that has been linked to 12 deaths.
The lessons GM can learn from the case, industry experts say, are to move quickly, help customers — with free rental cars and discounts off new cars, for example — and when in doubt, recall anything that may become a problem.
Toyota's record-breaking fine also serves up the biggest lesson of all: Don't mislead regulators, Congress or the public. And that's a lesson GM can put to work immediately, as it prepares to be called by Congress this spring to explain its actions.
"GM now has a good idea of what it is going to face," said Peter Henning, a Wayne State University law professor and former SEC attorney. He believes GM is certain to face a criminal probe and many tough questions in the months or years to come, and says the government could ultimately seek to impose a fine of more than $1 billion on GM.
Henning said the Justice Department is sending a message to automakers that it will use the "wire fraud" section of the law to seek big penalties against automakers that mislead the public or regulators. "They are going to have make sure that there is nothing more" and ensure that GM has handled all of its recalls appropriately.
With criminal and civil fines and settlements, the final cost to Toyota of the unintended acceleration problem is more than $3 billion.
Toyota agreed to three years of federal monitoring as part of an agreement to resolve a criminal wire fraud charge that will be dismissed in 2017, if the Japanese automaker adheres to the pact.
While safety recalls have been the purview of the National Highway Transportation Safety Administration in the past, the U.S. Justice Department got into the act in the Toyota case.
At a press conference called Wednesday to announce the settlement between the government and Toyota, Attorney General Eric Holder said Toyota engaged in a cover-up to keep selling cars, even though it knew it had problems.
The Justice Department released a summary of the facts that said one Toyota employee wrote in a 2010 email: "Idiots! Someone will go to jail if lies are repeatedly told. I can't support this."
Holder called the automaker's behavior "shameful."
"It showed a blatant disregard for systems and laws designed to look after the safety of consumers," he said. "By the company's own admission, it protected its brand ahead of its own customers."
Holder issued a warning to the auto industry: "Other car companies should not repeat Toyota's mistake: A recall may damage a company's reputation, but deceiving your customers makes that damage far more lasting."
He wouldn't confirm or deny the ongoing probe into GM.
U.S. Attorney Preet Bharara, who shared the press conference podium with Holder, accidentally said "General Motors" instead of Toyota in describing the settlement — a slip of the tongue that didn't go unnoticed. "The entire auto industry should take notice," Bharara said.
Aided by the FBI, Bharara's office in Manhattan investigated Toyota for four years. It ultimately used a wire fraud statute to fine Toyota $1.2 billion — what it deemed were the proceeds from misleading regulators. The deputy chief of the office's criminal division, Bonnie Jonas, who led the Toyota investigation, is now leading the GM probe, according to lawyers who have spoken with her.
"The Justice Department settlement with Toyota is a complete game-changer," said Clarence Ditlow, director of the Center for Auto Safety. "Until today, automakers faced insignificant fines and no criminal penalties. Today's fine of $1.2 billion against Toyota makes the $35 million maximum fine that NHTSA can impose seem like chump change."
GM is undergoing the same kind of scrutiny that Toyota did in 2010. The Detroit-based automaker disclosed last month that it knew of 12 deaths and 31 crashes linked to its recall of 1.62 million older cars for faulty ignition switches that inadvertently turned off the engine and disabled front air bags. GM this month disclosed it first learned of an ignition problem in a pre-production Saturn Ion in 2001, but opted not to recall the vehicles for a decade, despite dozens of complaints of stalling and reports of deadly crashes.
Like Toyota, GM is facing congressional hearings and has been asked to produce tens of thousands of pages of records to committees and NHTSA, which is also investigating. GM CEO Mary Barra is likely to face hostile questions before Congress — as a contrite Akio Toyoda, head of Toyota, did in early 2010.
Senate Commerce Committee head Jay Rockefeller, D-W.Va., held hearings on Toyota and plans hearings on the GM case as well.
"The Justice Department's settlement with Toyota should put all automakers on notice: There is absolutely no excuse for misleading the public or concealing information from the National Highway Traffic Safety Administration," he said. "Lives are at risk when this happens. Safety must always be the first priority for manufacturers, regardless of how it affects profit margins,"
Toyota admits wrongdoing
In the wake of Toyota's sudden acceleration problems, the Japanese automaker hired a new head of its Washington, D.C., office and made many changes in how it handled auto safety matters. The company has dramatically altered how it handles recalls today and has a much better relationship with regulators.
Toyota issued a statement Wednesday saying it had taken responsibility for its mistakes — the first time it had admitted wrongdoing.
"In the more than four years since these recalls, we have gone back to basics at Toyota to put our customers first. ... Entering this agreement, while difficult, is a major step toward putting this unfortunate chapter behind us," said Christopher Reynolds, Toyota North America's chief legal officer.
The $1.2 billion payment represents the largest criminal penalty imposed on a car company in U.S. history. Toyota — which is on pace for record profits of nearly $19 billion for its fiscal year that ends this month — must make the payment by Tuesday.
GM has shown contrition and repeatedly apologized. But no one has yet been fired or disciplined.
GM's lawyers — including two outside firms — are racing to get to the bottom of what might have delayed the recall process. They need to show that they are leaving no stone unturned, said Henning.
"Building a defective product is not a crime. ... But misleading regulators or the public can be," Henning said.
Differences, similarities
GM's woes are in many ways different than Toyota's. The GM recall is only for cars it long ago stopped selling, while records show that Toyota opted not to disclose problems with vehicles that were still in dealer showrooms. Ultimately, Toyota was forced to briefly stop selling about half the vehicles at dealerships in early 2010 until it came up with a fix.
But there are other similarities: GM CEO Mary Barra named a new vice president for global safety this week. Toyota named a series of new officials to handle safety matters in the U.S., and gave them the authority to recall vehicles without approval from Japan.
Since the recall crisis, Toyota has redoubled its efforts to improve relations with Congress and regulators. In December 2012, Toyoda made an unannounced trip to Capitol Hill to meet with a key member of Congress; he went back to the committee room where he had testified to take another look.
Toyota sales fell in the aftermath of the recall crisis but have since largely rebounded. Many analysts don't believe GM will see the same loss in sales.
But the Toyota saga could show the massive costs GM could face if the Justice Department finds criminal wrongdoing. In addition to the $1.2 billion criminal penalty, Toyota paid $66 million in civil penalties for delaying three separate recalls, the maximum that NHTSA could impose. (If the safety agency finds GM delayed the recall, it could impose no more than a $35 million fine.) With class-action and private lawsuits, the final cost to Toyota is more than $3 billion.
The other fallout could be new safety legislation. Many reforms proposed in the wake of the Toyota acceleration crisis in 2010 were never approved and could be resurrected — including hiking maximum NHTSA fines to as much as $250 million.
Ford's Russian joint-venture
may cut production amid weak economy, Crimea situation
Karl Henkel
The Detroit News
March 19, 2014
Ford Motor Co.'s Russian joint-venture may halt vehicle production at one assembly plant for as long as two months because of fragile economic conditions and the ongoing geopolitical battle over in Ukraine.
Ford Sollers may idle an assembly plant near St. Petersburg, which manufactures the Focus compact and Mondeo midsize cars, according to a report in multiple Russian media outlets. Sales of cars have fallen and one-in-three new-vehicle purchases in Russia is an SUV. Ford and Ford Sollers have plans to triple capacity in Russia to about 350,000 in coming years.
"The ongoing weakening of the ruble puts additional pressure on the Ford Sollers business," Ford Sollers said in a statement. "As always, we are constantly monitoring the overall economic situation and will act according to the changing environment."
The Ukraine crisis has created turmoil in global markets, especially in Russia, and worsened the economy and car-buying environment. The Moscow Exchange Index has plunged more than 17 percent since the unrest began. The value of Russia's currency, the ruble, has fallen by about the 10 percent this year, which has caused the country's central bank to hike interest rates. GDP growth is expected to be minimal this year.
Ford, General Motors Co., BMW AG, Hyundai Motor Co., Mazda Motor Corp., Mitsubishi Group, PSA Peugeot Citroen, Renault-Nissan Alliance, Toyota Motor Corp. and Volkswagen Group have all invested in Russia. Combined, the automakers will spend about $10 billion in new and upgraded infrastructure by 2020.
Auto sales in Russia hit 2.78 million last year, down from 2.93 million in 2012 and are unlikely to top Germany in 2014 as Europe's top auto market, the Association of European Businesses in Russia said. A long-term forecast from PricewaterhouseCoopers published in 2013 suggested Russian auto sales could grow to 3.5 million, and other estimates pegged the eventual number closer to 4 million.
But new car and SUV sales in Russia — about one-in-three new vehicle sales are SUVs or crossovers — went on a nine-month slide last year. That slide was snapped in December only because of the imminent end of a government credit incentive program that aids consumers in buying new cars.
Russian auto industry players and analysts expect another round of government subsidies this year. Consumers tend to pull ahead or push back their car-buying decisions based on the timing of those programs.


GM faces firestorm of
public opinion

Daniel Howes
Detroit News
March 18, 2014
By now it should be unambiguously clear that General Motors Co. is racing to get out whatever bad recall news is lurking inside its vast technical bureaucracy.
The Detroit automaker that already has recalled 1.6 million vehicles for faulty ignition switches said Monday it is recalling another 1.7 million vehicles — many of which are nearly brand-new — for repairs and taking a $300 million charge against first-quarter earnings to pay the bill.
What the tab doesn't include is the hit GM and its metal are likely to take in the court of public opinion writ large. That includes everyone from dealers, employees and customers to shareholders, regulators and members of Congress who can cushion blows in coming hearings or can stand back and let critics pound away at a company that looks like it's been hiding something for way too long.
The confluence of factors, plus some peculiar timing, are unique to an automaker that just a few months ago counted the U.S. Treasury among its shareholders. That, alone, is enough to fuel anti-bailout conspiracy theorists as well as prompt questions from perfectly rational folks who recognize something a little fishy when they see it.
No, consider: GM's bankruptcy is nearly five years passed. The feds are out. A whole cadre of senior executives is gone, and mid-level engineering types are scattered. Former CEO Dan Akerson is back home in Washington, and his successor, Mary Barra, gets the big mess dumped on her desk just weeks into the job.
Why? She may be the first automotive engineer to head GM since Bob Stempel; she may be considered the best "change agent" to get internal factions from engineering and legal, communications and government relations, marketing and sales, pulling in the same direction; she may have the mettle to make the hard calls and fire a few people.
She may have been unaware of the ticking liability buried deep in the company, as the company insists, despite heading global product development and purchasing before moving into the C-suite. She may even be demonstrating a very un-GM like bias for contrition and action, witness confirmation Monday that the company is moving to revamp its process for safety recalls
But none of that is likely to be sufficient to prevent a predictable corporate morality tale from playing in its totality. The scenes include withering press coverage with heart-rending — and real — tales of loss and outrage; plaintiffs' lawyers promising new lawsuits; regulators vowing to be tough; members of Congress demanding explanations they say they aren't yet getting.
A measure of whether the new GM is, in fact, new will come not in what Barra says or the $500 coupons GM offers, but in what the automaker does. Will it brief its allies in Congress — starting with Rep. Fred Upton, the Michigan Republican heading the House Energy and Commerce Committee and his ranking Democrat, Rep. John Dingell — in a bid to bolster its defenses for looming hearings on Capitol Hill?
Does it anticipate the likes of Rep. Darrell Issa, chairman of the House Oversight and Government Reform Committee, calling a member of the Obama auto task force to answer whether the government knew of the ignition switch liability and the deaths associated with it while engineering a historic bankruptcy? If not, why not?
Does GM appreciate that a legal strategy designed to mitigate its financial exposure to a flood of lawsuits risks a PR debacle that the media, politicians and the competition will use to metaphorically bludgeon the company, tarnishing its improving product line? Legalisms and public opinion generally do not mix well.
Do senior management and the board of directors understand that all the talk of "a new GM" is contradicted by the facts of "Switchgate" as we know them, chiefly a history of inaction? Or that a safety recall policy designed to insulate technical reviews from potentially meddlesome upper management effectively buries problems exacerbated by the disruption of bankruptcy, bailout and executive churn?
Or that GM policies and practice send potentially contradictory signals: namely, the death of an employee in a GM plant triggers a mandatory report to the automaker's directors, a policy the company confirms. But word of at least 12 deaths associated with an ignition switch problem known as far back as 2001 does not rise to senior management until late January?
The question answers itself. GM's latest recall suggests a step in the right direction for a culture historically resistant to it, but only a step in a tale likely to get worse before it gets better.
Ford Europe, launching connected Focus, wary of Russia-Ukraine spat
By Neil Winton
March 16, 2014
GENEVA, Switzerland – Ford of Europe, which has factories in Russia, hopes business there won't be jeopardized by the spat between Russia and Ukraine.
In an interview at the Geneva car show, Ford of Europe's chief operating officer Barb Samardzich said its factory in St Petersburg makes small Focus and medium-sized Mondeo (Fusion in the U.S.) sedans with its 50-50 joint partner Sollers, for sale in Russia. The venture also makes other vehicles from imported parts.
Samardzich, in Geneva for the launch of the revamped Ford Focus, said Europe's car market is improving slightly, but doesn't expect a return to pre-recession levels for some time yet.
The new Focus is centred on added connectivity and the watchword is "intuitive".
Ford is watching Russia/Ukraine developments, which seems less of a threat today.
"Obviously we are hoping for a peaceful resolution. Our business – we have a great partner in Russia with Sollers. Our plant in St Petersburg is doing Focus and Mondeo. We are watching what is happening on the political front and look for a positive solution," she said.
"We don't export from Russia; we import knock down kits where you build up parts to build a vehicle, and fully integrated manufacturing. We've been in this joint venture for four years.
Turning to the European car market, which has seen a six-year slide in sales, she said sales are slowly recovering.
"I think we are building gradually towards recovery, but recovery none the less. The latest figures look hopeful. As for getting back to pre-recession sales, you could debate whether you are actually ever going to get back there. Things have changed. A lot of young people have lost interest in buying a car, they don't feel aspirational about cars any more. Also you have a lot more regulations for fuel consumption and rules restricting moving into cities, and car sharing opportunities that weren't around before the recession. There's a difference in societal behaviour and it is going be hard to get back to (pre-recession levels) in Europe," Samardzich said.
"Connectivity is absolutely the centre of the improvements to the Focus. We want a car that is just as connected with people's devices as in the home," she said.
Ford Europe unveiled a face-lifted version of its Focus at the show today. The new Focus has the latest corporate grille, smarter headlights and fenders, and the smart-phone connected Sync2 system with an 8-inch screen. It has new engines too, with a 1.5 liter, 150 hp gasoline engine and a new diesel of the same size and 120 hp. There's also a 1.0 liter gas engine which will achieve around a claimed 66.1 mpg. Technology goodies include computerized parking, and automatic braking to cut down on slow-speed shunts.
The Focus is a key model for Ford Europe, accounting for more than 20 per cent of sales.
Ford sold 856,900 vehicles in Western Europe last year, down 3.5 per cent on the previous year in a market that declined 1.9 per cent, according to Automotive Industry Data.
"We want this new connected Focus to proved intuitive technology to car buyers. If you have to open the user manual, we've failed," Samardzich said.
2 workers injured in chemical accident at Ford parts facility
By Alisa Priddle
March 13, 2014
Detroit Free Press
Emergency services and a hazardous materials team were called to a Ford parts facility in Brownstown Township this morning after an accident involving chemicals injured two workers.
The call came in around 11 a.m. from the facility that was originally a parts re-distribution center for Ford's Customer Service Department. It has been renamed the Brownstown Complex because it has expanded its capabilities to include e-coat processing of parts which prevents rust.
The accident occurred when chemicals were added to the waste water treatment of the e-coat process and was contained to a small area. The accident involved chemical use by an employee and a second colleague was burned in an attempt to help.
Details of the injuries and the status of the workers was not available.
"Ford Motor Company can confirm that a workplace incident involving chemicals occurred at our Brownstown Complex on Tuesday morning, which resulted in two Ford team member injuries," Ford spokeswoman Kristina Adamski said in a statement.
"The incident was contained in a small area. The facility is currently operating as scheduled and an investigation is underway," said Adamski who was not authorized to disclose further details.
The Brownstown Complex has about 430 employees.


UAW: NLRB ruling in favor of anti-union VW workers 'an outrage'
Bryce G. Hoffman
The Detroit News
March 13, 2014

The United Auto Workers lashed out at the National Labor Relations Board Wednesday, calling the agency's ruling in favor of anti-union Volkswagen AG workers "an outrage."
On Tuesday, the NLRB granted a motion by five VW workers seeking the right to challenge the UAW's challenge of last month's vote at their factory in Chattanooga. Workers there rejected the UAW, despite the German automaker's tacit support for union representation.
The UAW later filed a motion with the NLRB to set aside the results of that poll, arguing that workers at the VW plant were unduly influenced by "extraordinary interference" from conservative politicians and other "outside" forces. Now, the union says the workers who brought the challenge are fronting for larger conservative interests.
"It is an outrage that the Atlanta Region of the National Labor Relations Board, deviating from the board's own practice, is allowing groups 'that are masquerading as legitimate worker representatives to participate in the process to determine whether the UAW election at Volkswagen was tainted by state and federal politicians' threats of retaliation against workers if they exercised their right to choose UAW representation," the union said in a statement released Wednesday.
"Politicians subjected Volkswagen workers to a two-week barrage of anti-UAW propaganda, outright lies, distortions, and threats about the viability of their plant. It is an outrage that their allies, who refused to reveal their funding sources and who openly republished the illicit threats in the media and among the Volkswagen workforce, will now be allowed to participate in the NLRB hearing," the UAW continued. "They have mocked the NLRB process and have denigrated workers who are demanding that the federal government enforce their right to have an election free from outside interference."
The union accused conservative groups such as Southern Momentum of orchestrating the campaign against the UAW in Tennessee.
"(It) claims to be an organic group of Volkswagen workers who came together of their own accord to participate in the election campaign," the UAW said, alleging that the group is actually funded by conservative business groups. "With this secret business funding, this 'grassroots' organization also hired one of the nation's largest anti-union firms, Projections, to create propaganda for their anti-union campaign. Southern Momentum neglected to publicly disclose these facts during the election campaign."
But the National Right-to-Work Legal Defense Foundation, which represents the five Volkswagen workers, says the UAW should respect the will of the workers in Chattanooga.
"It's shameful that that UAW bosses are so committed to keeping workers out of the process to determine if they are unionized that they are now attacking workers for standing up for their rights with free legal assistance from the National Right to Work Legal Defense Foundation," said the group's vice president, Patrick Semmens, in an email to The Detroit News. "Apparently the UAW definition of 'fairness' is silencing any opposing views before the vote, and then denying workers who succeeded in opposing the UAW participation in the legal process after. This type of arrogance might be why a majority of workers voted to make sure the UAW stayed out of their workplace."
The UAW said it plans to appeal the NLRB Region 10 ruling to the full NLRB.
Kathleen Wynne warns
Korea trade deal may
hurt Ontario auto industry
Premier Kathleen Wynne is warning the trade deal Prime Minister Stephen Harper is about to sign with Korea
could be a double-edged sword for Ontario.
Les Whittington
Toronto Star
March 12, 2014
Premier Kathleen Wynne is warning the trade deal Prime Minister Stephen Harper is about to sign with South Korea could be a double-edged sword for Ontario.
With Harper in Seoul to sign the historic accord Tuesday, Wynne was asked about the concerns of Canada's most populous province.
"We are very supportive of opening up opportunities for Ontario and Canadian business. In terms of the agri-food sector, we are very optimistic about the opportunities that a Canada-Korea deal might provide," the premier told reporters Monday at a cheese factory in St. Albert, near Ottawa.
But mindful of 93,000 auto manufacturing jobs in the province — and hundreds of thousands of ancillary positions — Wynne expressed unease at aspects of the deal.
"We do have reservations about the auto sector and our Minister of Economic Development, Trade and Employment Eric Hoskins has been very clear with the federal government and has been working on making sure that the appropriate protections are in place," she said.
"So we are of two minds, we are optimistic and at the same time we are cautious on the auto sector. We will be looking for the appropriate protections and framework around the auto sector."
Sources familiar with the accord told the Star that Ottawa's deal with Seoul does not boast all the protections for the auto sector that the industry and the Ontario government demanded.
Queen's Park and General Motors Canada, Ford of Canada, and Chrysler Canada wanted an arrangement virtually identical to the 2012 U.S.-Korea trade deal.
They sought a lengthy five to seven-year phase-in to allow for the Ontario-based industry to adapt to the new marketplace realities and a "snap-back" condition so that tariffs could be slapped on South Korean vehicles if Seoul imposes any "non-tariff" barriers on Canadian products.
But Ottawa failed to get such provisos in the deal — as Washington did in its agreement with South Korea two years ago.

Even so, Detroit-based manufacturers are complaining of non-tariff barriers — related to vehicle standards and regulations — that hinder them in South Korea.
Insiders confided that Harper's government was able to get assurances that South Korean automakers, such as Hyundai and Kia, which already sell extensively here, would not be able to flood the market.
Unlike the recent Comprehensive Economic and Trade Agreement (CETA) between Canada and the European Union, Ontario did not have a seat at the table in the nine-year Korean negotiations.
The latest deal will be Canada's first trade liberalization agreement with an Asia-Pacific country and is expected to provide an opening to the region for Canadian exporters hoping to take advantage of the fast-growing economies there.
It also adds momentum to the Harper government's economic strategy, which is linked to expanding trade beyond the United States, long the main market for Canadian exports. Ottawa is also working toward free-trade agreements with Japan and through the Trans-Pacific Partnership negotiations with 11 other Pacific Rim countries.
International Trade Minister Ed Fast has been stressing the importance of the Korean pact for Canadian companies.
"We need to make sure that Canadian businesses have a level playing field upon which they do business, and as you probably know, our exports to Korea have declined quite precipitously since the Americans and the Europeans got their trade agreements with Korea," Fast told CTV on Sunday.
"So we're looking to level the playing field, make sure that our businesses can compete fairly with some of our biggest competitors."
Canadians exports to South Korea have dropped by $1.5 billion — or about one-third — since the Korea-U.S. free-trade agreement was signed several years ago, according to the federal government. A deal with Korea should help Canada's agricultural sectors, particularly pork and beef producers as well as makers of ice wine.
Officials say will take a year for the two governments to finalize the trade pact and put it into effect.
With that in mind, Wynne's government is expected to ask for a task force of federal, provincial, and auto industry officials to improve the deal, much as the Americans were able to do before their accord was finalized.


South Korea deal can't appease 'narrow interests' of auto sector
CTVNews.ca
Andrea Janus
March 11, 2014
International Trade Minister Ed Fast says his job "isn't simply to promote the narrow interests of the auto sector," in response to concerns from automakers that a pending free trade deal with South Korea will squeeze their already troubled industry.
Fast played coy about the deal on CTV's Question Period, saying only that although he and Prime Minister Stephen Harper are headed to South Korea and reports suggest a signing ceremony is expected on Tuesday, "negotiations haven't quite concluded."
"I'm not going to pre-judge the outcome of his visit, but we're going there with optimism that we'll be able to conclude negotiations," Fast said in an interview that aired Sunday.
He said a deal with South Korea is critically important to ensure Canadian companies can do business there. Canadian exports have fallen off dramatically since South Korea's free trade deals with the United States and the European Union came into force.
"This is very important for Canada. We need to make sure that Canadian businesses have a level playing field upon which they do business," Fast sad.
The deal with South Korea concludes 10 years of negotiations, and comes on the heels of an historic free trade deal that the federal government reached with the European Union last fall.
While Japanese automakers have come out in favour of the Canada-South Korea deal, Ford of Canada chief executive Dianne Craig recently slammed the U.S. deal signed in 2012, calling it a "disaster" for the auto sector.
Automakers fear that if the six per cent tariff on car imports is lifted, Korean cars will flood the Canadian market and consumers will turn their backs on Canadian-made brands.
"We want a free-trade agreement that's good for all sectors, but on autos particularly it's disadvantageous," Ontario's economic development minister, Eric Hoskins, said recently. "I haven't been given information to suggest that the improvements that we've asked for have been addressed."
Fast insists, however, that he has consulted with the auto sector and "we believe the outcome that we are hoping to achieve will be a balanced one, it will reflect many of the concerns raised by the auto industry.
"But understand that my role isn't simply to promote the narrow interests of the auto sector itself. My role is to promote the national interest. Virtually every other sector of our economy has told us this trade agreement is absolutely critical. Many of them have been losing market share in Korea."
A trade agreement with South Korea is considered vital for the agricultural sector, for example, which is often hampered by high tariffs in the Korean market, as well as other issues such as sanitary standards that are often applied on an arbitrary basis, Fast said.
Exports of agricultural products have also declined dramatically, he said, in the wake of the U.S. and EU deals. Exports dropped by $1.5 billion in the first year after those deals came into effect, he said.
Once the deal is signed, Fast said, it will have to be reviewed by lawyers, translated into three languages and go through each country's approval process. He hopes the agreement would come into effect "early next year."
"We're hoping to get it done on an expedited basis."
South Korea is Canada's seventh-largest merchandise trading partner. However, current trade relations heavily favour South Korea, with exports to Canada totalling $6.3 billion in 2012, compared to $3.7 billion going the other way
Ford confirms Avon Lake
workers will build new trucks
By Alisa Priddle
March 10, 2014
Detroit Free Press
Ford executives will be at the Avon Lake, Ohio, plant today to confirm that workers there will build the next-generation of medium-duty trucks in a production shift from a plant in Mexico.
Joe Hinrichs, Ford president of the Americas, will tell the plant's 1,600 workers that they will build the all-new 2016 F-650 and F-750 starting early next year, for sale in the spring of 2015. Workers will also get their first look at the new trucks.
Ford is investing $168 million to retool the Cleveland-area plant to add truck production. The medium-duty trucks had been built in Mexico as part of a joint venture between Ford and Navistar International. Ford promised to in-source the work as part of 2011 negotiations with the UAW.
"Shifting production of the 2016 Ford F-650 and F-750 medium-duty trucks to Ohio Assembly Plant helps secure a solid future for the dedicated workers at this facility," Hinrichs said in a statement. "Building these trucks in-house will utilize our expertise from our other tough truck and commercial vehicle lines to give our customers a better product at a competitive price."
It is welcome news Avon Lake workers now make the E-Series commercial van on two shifts, but the van will be discontinued by the end of the year. Ford is replacing that vehicles with the new Transit van made in Kansas City starting this spring. Avon Lake workers will continue to make E-Series chassis cab and cutaways that are turned into other types of vehicles by upfitters.
When E-Series van production stops, the plant will go down to a single shift with the current workforce rotating: two weeks on, then two weeks off, to prevent laying off a full shift of workers. When off, workers still get about 74% of their salary in supplemental pay and they are allowed to work elsewhere during weeks they are not scheduled to be at the plant.
If demand warrants it, the plant will return to two shifts in the future.
"We are extremely pleased that the dedicated, highly skilled and highly motivated UAW members of Ohio Assembly Plant have been selected to build the next-generation Ford F-650 and F-750," said Jimmy Settles, UAW vice president and head of the union's Ford department.

The costly game of buying auto jobs
ADAM RADWANSKI
Globe & Mail
March 9, 2014
One day, ideally, we won't have to subject ourselves to embarrassing spectacles like the one that unfolded this week.
Won't have to beg the likes of Chrysler CEO Sergio Marchionne to take our money in order to make new investments here; won't be spurned for trying to attach strings; won't have to turn on each other to figure out who's to blame for that rejection.

That day, however, is a long way off. You might not know it from the flurry of commentary suggesting that maybe we should just make like the Australians, and stop cutting cheques to the auto industry. But if it's not obvious from comfy perches in Toronto that we can't yet afford to do that, it's painfully so a few hours down the 401.
Chrysler is not quite the only game in Windsor, Ont., but as the only company that still assembles cars there, it's not too far from that either. General Motors is long gone from the once-proud auto town. Ford has only a pair of engine plants, the larger of which is on shaky ground. Chrysler still assembles cars, employs about 5,000 people directly and is indirectly responsible for tens of thousands of other jobs in Windsor and its surrounding area, at feeder plants and supplying various services.
In a region that already has one of the lowest employment rates in Ontario, with roughly 200,000 of its 340,000 residents 15 or older holding jobs, losing Chrysler would deal an almost unimaginable blow. But that's almost certainly what would happen if our governments stopped offering subsidies, because plenty of other jurisdictions are perfectly happy to play that game.
It is perhaps not a game we can or should continue to play forever, because those other places play it much more aggressively. To lure Volkswagen's $1-billion (U.S.) investment in a Chattanooga plant, for instance, Tennessee coughed up a whopping $577-million – a ratio far beyond what we've invested on this side of the border. We can hope that other competitive advantages (a skilled work force, a competitive tax rate, proximity to an established supply chain) provide a counterbalance, but many bidding wars are going to end badly.
There are signs that we might eventually be able to turn away auto makers without causing undue suffering – mostly in the form of economic diversification, including toward more advanced manufacturing. But that will depend on developing a work force of the future, and for now we have to worry about the work force of the present.
To visit Windsor, or other corners of Ontario's rust belt, is to hear countless horror stories about workers of a certain age – roughly 40 and up – who are simply at a loss when their traditional manufacturing jobs dry up. As many as half would appear to drop out of the work force entirely, which helps explain the low employment rate. When they do find jobs, their wages might be half of what they made before.
Mike Moffatt, an economist who has established himself as a leading voice on Southwestern Ontario's challenges, suggests that the best approach to the auto sector might be a "controlled exit" that allows time for economic transition. Ideally, he said in an e-mail exchange on Friday, future subsidies to Chrysler would include a requirement that only workers above a certain age would be hired – a way to avoid younger generations becoming similarly reliant on unsustainable jobs.
Considering the difficulty governments have had in attaching any conditions at all, that's improbable. But the concept, at least, speaks to the underlying imperative. Just because we shouldn't allow future generations of workers to be held hostage by a company like Chrysler, doesn't mean we can afford to leave those that have already suffered that fate to fend for themselves.


Ford ratchets up plants' efficiency
Carmaker operating 3 shifts at 6 of 11
factories, sees growth ahead
Karl Henkel
The Detroit News
March 8, 2014
Ford Motor Co.'s 11 North American assembly plants are humming at 135 percent efficiency, which could grow as the automaker continues to fine-tune manufacturing processes.
Joe Hinrichs, Ford's president of North and South America operations, says the company continues to look for ways to eke out extra production of cars, crossovers and trucks.
"We're very comfortable with where we are in North America," Hinrichs said in a telephone interview Friday before an event at Ohio Assembly Plant in Avon Lake, where Ford is moving production of some medium-duty commercial trucks later this year. "We have some room to go up further, but at the same time we're already getting a lot of leverage out of our plants."
Ford's 135 percent capacity utilization rate is based on an industry-standard definition: 100 percent capacity is two eight-hour shifts working five days a week, excluding holidays. Six of Ford's 11 North American assembly plants — including eight in the U.S., two in Mexico and one in Canada — are running three-shift operations. Two others run three shifts in their paint and body shops.
By comparison, nine of General Motors Co.'s 17 North American assembly plants and four of Chrysler Group LLC's 11 plants are running three shifts. Both have capacity utilization rates just north of 100 percent.
Last year Ford added a second shift at its Flat Rock Assembly Plant. And upcoming production of F-650 and F-750 commercial trucks at Avon Lake will fill a production gap vacated by the wind-down of E-Series van production later this year. Ford is investing $168 million at the Cleveland-area plant to make the change.
"It's very clear that our customers prefer to deal with one-stop shop across their truck lineup," said Hinrichs of the decision to move commercial truck production from a joint-venture plant in Mexico to Ohio. "We made the decision to take the design and engineering and build the trucks in-house, inside Ford, consistent with our whole F-Series lineup."
Packing more production into smaller number of plants — U.S. automakers closed more than 20 assembly plants by the end of the recession, according to a Wharton School of the University of Pennsylvania report — increases profits and allows union workers more overtime pay, but also comes with risks.
Automakers are accelerating the number of vehicles a line can manufacture, and while that has led to increased production, it can result in a more manufacturing errors and recalls.
"Once you start getting into capacity utilization that high, your margin for error becomes a lot smaller," said Bill Rinna, senior manager of North American forecasts at LMC Automotive. "If you look what they're planning on doing for the next year, I think they're going to be using more weekly shutdowns that will lower their capacity utilization."
Ford plans to introduce 16 vehicles in North America this year, the most new products in any one year of the automaker's 111-year history.
Ford in the past year-and-a-half has had recalls on high-volume new vehicles like the Escape compact crossover and Fusion midsize sedan. The rollout of the Lincoln MKZ was delayed by months in early 2013, partly because the introductions of the MKZ and Fusion — built at the same three-shift plant in Mexico — were spaced too closely together.
Ohio Assembly and its 1,600 workers will continue to manufacture E-Series cutaway and stripped chassis, which are used for buses and ambulances. Cutaway and stripped chassis sales make up about 25 percent of current E-Series sales.


Ford awards Mulally $13.8M in stock for 2013 performance
Keith Naughton
Bloomberg News
March 7, 2014

Ford Motor Co. awarded Chief Executive Officer Alan Mulally $13.8 million in stock for the automaker's performance last year when its profits grew in North America and sales picked up speed in China.
Ford also gave its top executive 613,747 stock options as part of an incentive plan for 2013, according to a filing Thursday with the U.S. Securities and Exchange Commission. Mulally is restricted from selling the 882,352 shares of stock he received until March 4, 2016. The options, with a strike price of $15.37, vest in thirds annually over the next three years.
The second-largest U.S. automaker earned $7.16 billion in 2013 and its shares climbed 19 percent, trailing a 30 percent jump for the Standard & Poor's 500 Index and 42 percent for General Motors Co.
Mulally, 68, will receive other compensation for 2013, including salary and benefits, to be disclosed later this month. Though briefly wooed by Microsoft Corp. last year to be its CEO, Mulally has said he'll stay at Ford at least through December. Since arriving from Boeing Co. in 2006, he has led a turnaround that let Ford avoid the bailouts and bankruptcies that befell predecessors of General Motors Co. and Chrysler Group LLC.
"We are committed to align executive compensation with the company's business performance and to tying a significant portion of executive compensation to long-term shareholder value," Ford spokesman Todd Nissen, adding that Ford outperformed the S&P 500 over the past five years.
In addition to the new awards, Mulally now is free to sell 376,016 shares, worth $5.9 million at yesterday's closing price, which he received in 2012 for the company's performance in 2011.
Mulally is credited with cultivating a more collaborative culture at Ford, which had long been characterized by backbiting. He also slashed costs by closing factories, cutting workers and selling off Ford's European luxury lines, including Jaguar. He restored profits by broadening Ford's lineup with fuel-efficient models loaded with technology, such as voice- activated controls. Ford has earned $42.3 billion in the last five years after losing $30.1 billion from 2006 through 2008.
Ford's stock, which traded below $2 five years ago, rose 0.3 percent to close at $15.67 Thursday in New York.


Governments' query pushed Chrysler away

ADRIAN MORROW,
GREG KEENAN and
STEVEN CHASE
The Globe and Mail
March 6, 2014
Chrysler Group LLC walked away from talks with the federal and Ontario governments after they asked how much of its proposed $3.6-billion investment would be spent in Ontario – a request that was likely to draw out negotiations and delay the company's effort to bring a new minivan to market.
The federal government and the province sent Chrysler a joint letter and term sheets that offered to put up money as a percentage of the investment the company would be spending in Ontario, a source with knowledge of the talks said.
But those terms didn't appear to sit well with Chrysler chief executive officer Sergio Marchionne.
Lengthy and complex negotiations about how much money would be spent at the company's two Ontario plants would delay the revamp of the company's minivan assembly plant in Windsor, Ont., at a time when Mr. Marchionne is becoming impatient to get a new minivan on the road to replace one of the oldest, but most important vehicles in the Chrysler lineup.
Chrysler abruptly announced this week it was withdrawing its request for government financial assistance, and said it will retool the Windsor plant with its own money.
Calculating the specific amount of money allocated to Ontario would be difficult for Chrysler, in part because engineers would be crossing the Detroit-Windsor border daily between the minivan plant and Chrysler's head office and research and development centre in Auburn Hills, Mich., a source familiar with the situation said.
A senior federal government source said it considers Mr. Marchionne's walking away from the table to be his answer to Ontario and Ottawa's pointed queries. "What did we think of Chrysler not responding? I would take his pulling out as the response," the source said.
But the governments were only willing to spend taxpayers' money on the Ontario portion of Chrysler's investment, and had to know how much that would be before they could determine how much public money they would contribute.
In the end, Chrysler did not end up telling the governments how much it would spend in Ontario.
A federal government source said Ottawa found Chrysler dragging its feet on divulging how much of the $3.6-billion investment would be on Canadian soil. "It didn't sound like Chrysler was very forthcoming," the source said.
The talks had not yet progressed into other areas of negotiation, such as guarantees on how many jobs would be kept in the province for how long, the source said.
Ontario Premier Kathleen Wynne and Unifor union leader Jerry Dias expressed fears about the long-term future of Chrysler's two plants and more than 8,000 jobs in the province in the wake of the auto maker's announcement.
"There are question marks about the future," Ms. Wynne told reporters Wednesday. "I don't know that there's any clarity about what happens" after the next round of Chrysler's investments.
Chrysler said it halted negotiations in part because the proposal had become a "political football." That may have been a reference to comments by Ontario Progressive Conservative Leader Tim Hudak, who had accused the company of demanding a "ransom" from taxpayers.
Mr. Marchionne stepped up his criticism on Wednesday at the Geneva auto show.
"I'm not here to try to satisfy people's egos or political ambitions," he told reporters. He refused to comment on whether the company still plans to spend $3.6-billion on developing and building new vehicles for the two Ontario plants.
The news release announcing the withdrawal of the funding request said Chrysler will build the next generation of its minivan in Windsor and later this year refresh the large sedans it assembles in Brampton. But it did not outline the amount of the investment.
"How much money we commit is not up for public scrutiny and I don't want politicians screwing around with our capital expenditure," Mr. Marchionne said.
Mr. Dias said confirmation that the next minivan will be built in Windsor does not make him confident about the plant's long-term future.
"I'm not feeling good about either Chrysler plant," he said. He is seeking a meeting with Mr. Marchionne to get clarification.
Chrysler's news release warned that negotiations with Unifor in 2016 will be critical to ensuring the competitiveness of the company's operations in Canada.
Both governments have signalled since Chrysler's announcement that they are still prepared to offer financial assistance.
Observers expect Chrysler to return to the table, but in a much less public fashion than earlier talks, which became known when Mr. Marchionne revealed the discussions with governments in response to reporters' questions at an auto show in Detroit in January.
As Tim Hudak learned, the era of union bashing has run out of steam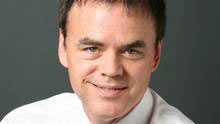 Jim Stanford
Special to The
Globe and Mail
March 5, 2014
Eighteen months ago, Ontario's Progressive Conservatives planted a very provocative flag in the ground of Canada's labour relations landscape, with a proposal to implement U.S.-style restrictions on unions (including a prohibition on dues check-off, known euphemistically in America as "right to work"). But suddenly and surprisingly, just as debate over the idea was really heating up, Ontario PC leader Tim Hudak abandoned the plan. Speaking to business leaders in Toronto last week, he pledged to preserve current rules (codified in the famous Rand Formula) if he wins the next election.
So why did the Conservatives surrender before the election even started? There are several answers to this question, with important implications for parallel strategies by Conservatives in other jurisdictions to push the anti-union button.
Mr. Hudak's party did not help its own cause, with explanations of the issue that were badly formulated, confusing, and contradictory. They provided few specifics, preferring broad rhetoric about ending "forced unionism" and ushering in "worker choice." But in reality there is no forced unionism: workers must give majority approval before a bargaining unit is formed (whether by secret ballot or signing membership cards), and they can decertify their union the same way if they aren't happy with the service. The Rand Formula doesn't make unions compulsory; it merely prevents free-riding, whereby workers could get the benefits of a union contract without paying for it. The Conservatives' now-deposed labour critic Randy Hillier muddied the waters further, with wild proposals for combining individual and collective contracts.
Mr. Hudak's declaration of war also sparked a surge of political activism by unions and their members. For example, hundreds of union volunteers helped NDP candidate (and Unifor leader) Wayne Gates prevail over the Conservatives in the recent Niagara by-election – one week before Mr. Hudak threw in the right-to-work towel. This union activism could clearly swing the outcome of many key ridings in the GTA, southwestern Ontario, and the north.
Not even employers rallied behind Mr. Hudak's plan to ban the Rand Formula. Indeed, the Toronto business leaders in his audience applauded when he announced his reversal. Corporate Canada has been quietly telling Conservatives at all levels they don't want the disruption and uncertainty that would result from the wholesale dismantling of existing collective bargaining rules.
But the biggest problem for Mr. Hudak's crusade was a deeper sentiment in Canadian public opinion regarding unions and the role they play in society. No matter their warts, unions ultimately reflect their members: typical Canadians just trying to earn a decent income, support their families, and (hopefully) retire with some security, in an economy which rewards the rich and powerful more than ever before. Unions (like wage-earners in general) have been on the defensive for years. Wage gains have been small, strikes are historically rare, and even much-maligned public sector contracts have been rolled back substantially. In such a lopsided context, it's simply impossible to convince most voters that unions are really Public Enemy Number One. And many Canadians innately understand that if the only institutional voice speaking for working class priorities is silenced, then the whole social contract will become even more tattered in the years ahead. Unions, to their credit, effectively emphasized their broader social impacts in their responses to Mr. Hudak.
And therein lies the danger for other Conservatives (including federally) who have been sowing similar political ground. Attempts to delegitimize unions (as with the failed federal Bill C-377, which treated unions almost on par with organized crime), tilt the bargaining field further in employers' favour, and snatch away negotiated benefits (like the health benefits Ottawa is now clawing back from retirees) all appear increasingly mean-spirited. They offend moderate Conservatives (who understand the important institutional role of collective bargaining), anger unions and their members, and reinforce the impression that Conservatives do not speak for average working people.
In short, the effort to blame trade unions as the scapegoat for all economic and fiscal ailments is running out of steam. Mr. Hudak's platform will continue to emphasize other anti-union initiatives, but they will resonate awkwardly in the wake of his Rand Formula flip-flop. And other Conservatives should beware the political rock – a deep, innate sympathy for institutions which help to share the wealth – that their Ontario counterparts just drove into.


Chrysler has best February
since 2007; Ford down 6.1%;
GM down 1%
Karl Henkel and Melissa Burden
The Detroit News
March 4, 2014
U.S. auto sales were mostly flat in February as frigid weather kept consumers at home for most of the month.
Automakers sold 1.19 million cars and trucks last month, 293 fewer than they sold last February. Manufacturers say customers began returning to dealerships later in the month and expect many more to come back as things begin to thaw in March.
Those consumers could score deals as automakers try to reduce ballooning inventories lingering on dealer lots. March, traditionally one of the busiest sales months of the year, marks the start of the spring selling season and is typically when automakers clear out last year's model-year vehicles. It also marks the end of the year for Japanese automakers, which tend to "sweeten the pot a bit … to try to make end-of-the-year numbers," said Alec Gutierrez, senior market analyst of automotive insights from Kelley Blue Book.
In February, compact crossovers comprised about 18 percent of all new vehicle sales — the highest segment market share of all time and about 3.5 percentage points higher than the same month a year ago — as record snowfall throughout the Midwest and East Coast drove consumers toward vehicles with higher ground clearance, and in some instances, all-wheel drive.
That benefited Subaru of America. Nearly all of the automaker's car and crossover offerings come with standard all-wheel drive, and sales last month spiked 24 percent to 34,909 to set a February sales record.

Compact crossovers, which include the Ford Escape, Jeep Cherokee, Honda CR-V, Toyota RAV-4 and Mazda CX-5, also have fuel-efficiency ratings that rival compact and midsize cars. And they command higher prices than cars built on the same platform. KBB expects the small-crossover segment to increase by 12 percent or more this year.
"As the efficiency numbers go up, it makes it easier for consumers to make the leap into those utility vehicles," said Eric Lyman, an analyst at market researcher ALG.
Chrysler Group LLC sales, including Fiat brand sales, jumped 11.4 percent to 154,866, thanks mostly to sales of the new Jeep Cherokee, which totaled 11,795, and Ram trucks, up 27.9 percent to 30,481. The automaker's market share climbed 1.4 percentage points. Reid Bigland, Chrysler's head of U.S. sales, said February's weather was "ideally suited" to prop up Jeep brand sales, which rose 47.4 percent from a year ago to 45,946.
Sales at General Motors Co. and Ford Motor Co. dropped for the second consecutive month.
Ford sales fell 6.1 percent to 183,349 as car sales — normally a strength for the Blue Oval — dropped nearly 17 percent compared to last February. F-Series truck sales increased 2.6 percent to 55,882, an eight-year February high. And Lincoln Motor Co. sales surged 36.4 percent to 6,661, entirely attributed to a strong showing from the MKZ sedan and the MKX crossover.
"Despite all the challenges in January and February, the market was pretty robust," said John Felice, Ford's vice president, U.S. marketing, sales and service.
Sales totals dropped at three of four GM brands — only Buick was a gainer — though car sales increased last month on the backs of heavy incentives. GM sales fell 1 percent to 222,104. Sales of GM's new Silverado and Sierra pickup trucks fell 8.9 percent.
GM has new incentives through the end of the month that include a special Chevrolet Truck Month promotion that features a 2014 Silverado crew cab four-wheel drive All-Star edition for $7,541 off suggested retail price. It also is holding "Open House" events during March at Chevrolet, Buick and GMC, where customers can receive a preferred price, less than list, on select vehicles.
Toyota Motor Corp. sales fell 4.3 percent as Prius sales dropped 27.8 percent.
American Honda Motor Co. also reported a sales decline of 7 percent to 100,450 and was jumped in sales by Nissan Motor Co., which had a 15.8 percent increase in sales to 115,360. Honda's car sales — including the Civic compact and Accord midsize — decreased 9.6 percent. Nissan's car sales — including the Sentra compact and Altima midsize — climbed 8.6 percent. The Altima was the nation's top-selling car and Nissan's market share improved 1.4 percentage points.
Volkswagen AG's sales dropped 10.2 percent to 38,213 vehicles. The German automaker called February an expected "modest month" and blamed a wind-down of outgoing models and a small number of selling days for the decline in sales.
Hyundai Motor America said sales totaled 49,009 vehicles, down 6.3 percent. The Accent subcompact car, Elantra compact car and Tucson compact crossover all set February sales records.
No sign of expansion at
plant where UAW dealt loss
Erik Schelzig
Associated Press
March 2, 2014
Nashville, Tenn. — Friday marks the end of the two-week period within which U.S. Sen. Bob Corker promised Volkswagen would announce another line at its factory in Tennessee if workers there rejected representation by the United Auto Workers union.
So far there's little sign of any pending announcement.
Workers at the Chattanooga plant ended up voting 712-626 against the UAW, in an election the union claims was tainted by threats and intimidation from Republicans like Corker, Gov. Bill Haslam and state lawmakers.
The UAW last week filed a challenge with the National Labor Relations Board, seeking to have results voided and a new election to be held.
The appeal cited warnings from GOP lawmakers that a pro-union vote would endanger key state incentives to secure the new line at the plant, and Corker's statements that a vote against the union would be followed in short order an expansion announcement.
"If the UAW is voted down they're going to come here immediately, within a two week period, and affirm they're going to build a line here," Corker told the Associated Press the day before the conclusion of the three-day vote.
The Senator also dismissed the repeated claim by Volkswagen that a decision about whether to build a new SUV either in Chattanooga or at a plant in Mexico was unrelated to the union vote.
"There is no way I'd put out statement like I put out unless I was 1,000 percent that it was accurate in every way," Corker said at the time.
In its appeal, the UAW criticized the statements from Corker and other GOP politicians during the election.
"This resonates as a classic 'fist inside the velvet glove' threat," the UAW appeal said. "If you vote against the union you will be rewarded, but if you go the other way you will be punished.
"Senator Corker knew exactly what he was doing," according to the filing.
Corker blamed the UAW appeal — and the resulting delay in certifying the results of the union election — for putting a hold on expansion talks at the plant.
"Unfortunately, I have to assume that today's action may slow down Volkswagen's final discussions on the new SUV line," he said at the time.
Volkswagen has remained silent on Corker's latest assertions as well as the UAW appeal.
The company did not immediately respond to messages seeking a comment Thursday.
The NLRB has given the UAW an extension until March 7 to present its evident to support the case.
Corker, a former Chattanooga mayor who played a large role in courting Volkswagen to build the plant in Chattanooga, calls the UAW complaint an effort to "try to muzzle or keep a United States Senator, a governor or a state legislator from being able to express their views."
Corker and fellow Republicans said they worried that a UAW foothold with its first foreign automaker in the South would have hurt the region's ability to attract suppliers and other manufacturing plants.
But the anti-union campaign left a sour taste among labor officials at Volkswagen, which is embarking on a $7 billion investment spree in North America over the next five years.
Volkswagen had declared its neutrality on the UAW vote, but has been a proponent of creating a German-style "works council" at the plant, which would represent both blue collar and salaried employees. The company has said U.S. law would require the establishment of an independent union in order to create a works council.
Bernd Osterloh, a Volkswagen board member and head of the company's global works council, raised concerns about the "massive anti-union atmosphere" fostered by conservatives surrounding the Chattanooga vote, and warned that the company could look toward building future plants outside the South if efforts to create works council are thwarted in Tennessee.
Worker representatives make up half of the supervisory board at the Wolfsburg, Germany-based automaker, giving them the power to block management initiatives.
Republican state Sen. Bo Watson, who took a lead on warning of negative consequences for Volkswagen investments if the union was approved, said Thursday that state lawmakers won't put their evaluation of a new package on hold while the UAW appeal is pending.
"That's a process that's out of my control," Watson said. "My perspective is that the workers made their decision. You work under the assumption that the decision has been made, and you move forward from that."


Ford narrows sales gap with Toyota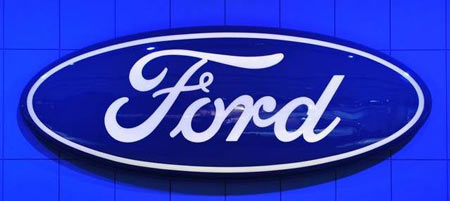 Auto leader loses ground to natural disasters,
recalls and rise of Fusion, Escape,

Keith Naughton
Bloomberg News
March 1, 2014
The Ford brand is closing in on Toyota as the favorite of retail auto buyers, a sign of rising popularity of the Fusion midsize car and Escape sport utility vehicle, and of growing dismay with the Japanese manufacturer.
Toyota Motor Corp.'s namesake brand, a default choice of a generation of car buyers who admired its high quality, lost ground during the past six years amid recalls, natural disasters and stiffer competition.
Its share of the U.S. retail market fell to 13.5 percent last year from 16.3 percent in 2008, according to data provided to Bloomberg News by IHS Automotive using Polk vehicle registration records. Toyota's 2.8 percentage point loss matched the gain of Ford Motor Co.'s main brand, to a 13.2 percent share, over the same period.
Retail registrations are the best measure of the tastes of individual car buyers because they exclude bulk fleet sales to corporate and government customers. Toyota dominated the retail market before the recession, with top sellers such as the Camry sedan and Corolla compact. Those models now face tougher competition as car shoppers favor Ford models including the Fusion, which draws frequent comparisons to an Aston Martin, and a restyled, fuel-efficient Escape. Hyundai Motor Co. and Subaru, the auto unit of Fuji Heavy Industries Ltd., are also gaining ground.
"Before 2010, Toyota's image was bulletproof, and while it is still strong, it's not rock solid and as perfect as it was before," Tom Libby, auto analyst for IHS Automotive, said in an interview. "It now appears their march forward has been slowed."
The leader in total U.S. sales is General Motor Co., which has four brands, including Chevrolet and Cadillac. Ford, including its fleet sales and Lincoln brand, is No. 2, followed by Toyota, which overtook Ford in sales by company from 2007 to 2009 before falling back to the third position.
Those rankings will hold again when February's U.S. sales results are announced Monday, according to analysts surveyed by Bloomberg. Toyota, GM and Ford may all report declines, while Chrysler Group LLC and Nissan Motor Co. post gains, according to analysts surveyed.
Light-vehicle sales in the U.S. may rise 0.4 percent in February to almost 1.2 million, the average of six analyst estimates. The annualized rate, adjusted for seasonal trends, will probably remain at 15.3 million, the average of 10 analyst estimates, the same as in February 2013.
Toyota's once-pristine image was tarnished, Libby said, when it recalled more than 10 million vehicles for problems related to unintended acceleration in 2009 and 2010, involving defective floor mats and accelerator pedals. The world's largest automaker lost sales in 2011 after an earthquake and tsunami rocked Japan and shut down factories.
Toyota's U.S. retail market share fell to 12.4 percent in 2011, recovered to 13.7 percent in 2012 and declined again last year, the IHS data show.
"A fair number of people — I was among them — thought that after the recall situation and after the tsunami that Toyota would just resume where they were," Libby said. "Lo and behold, they have not."
As total U.S. auto sales rose, Toyota has increased sales by more than a half-million vehicles in the last two years. That is more important than its retail market share, said Mike Michels, a Toyota spokesman.
"Share doesn't pay the bills, sales do — that was and is our focus," Michels said. "Toyota recovered an enormous amount of volume after the recession and tsunami/Thailand floods impacted periods."
Toyota will probably maintain its slight retail lead over Ford this year thanks to redesigns of its Corolla, RAV4 small SUV and Highlander SUV, said Jeff Schuster, an analyst with researcher LMC Automotive in Troy. The Camry, Toyota's top seller, will also receive minor design changes late this year, he said.
"Ford's going to give them a run for their money over the next couple years, but at this point we don't see them overtaking Toyota," Schuster said.
Lawsuit accuses Ford of
infringing turn signal patent
Sophia Pearson
Bloomberg News
Feb 28, 2014
Ford Motor Co., the second-largest U.S. automaker, was sued over claims it infringed a patent on technology for an automatic turn signal.
Ford's three-blink lane change technology infringes a 2008 patent held by Richard Ponziani, a former automotive design engineer for companies including General Motors Co. and Valeo SA, according to a complaint made public Thursday in federal court in Wilmington, Dela.
Ford pitched the turn signal as the solution to one of the top 10 driving pet peeves when it announced the technology in 2009. The turn indicator is designed to blink three times and automatically shut off. The technology is used in Ford's F Series truck, Taurus, Edge and Fusion models, according to the complaint, which seeks unspecified damages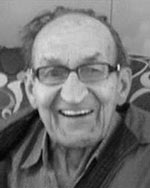 On February 28, 2014
Retired September 1, 1992
Aug 2 1927 - Feb 28 2014
Our Sincerest Condolences goes out
to the entire Evans Family
Commital Service
It is time to say farewell… Commital Service
Saturday
May 31 2014
12:15pm
St James Cemetery
Old Church Rd. & Innis Lake Rd. Caledon East
Reception to follow at St James Anglican Church
6025 Old Church Road Caledon East Ontario.
Donations would be appreciated by the
family to the Heart and Stroke Foundation


VW workers file to fight
UAW's election challenge

Feb 27, 2014

Five workers from Volkswagen AG's Chattanooga plant petitioned the U.S. National Labor Relations Board today for a chance to challenge the UAW's efforts to overturn the results of this month's union election there.
"Based on Volkswagen management's actions leading up to this point, these workers are concerned that VW will not actively defend their vote to remain free from union boss control," Mark Mix, president of the Washington-based foundation, said in a statement today. "That's why these workers have filed a motion to intervene."
The UAW's argument to the NLRB will hinge on comments by officials such as U.S. Sen. Bob Corker, who said on Feb. 12 that if workers at the VW assembly plant voted against the union, the plant would be expanded to build a new SUV that is in development. The plant currently builds the Passat mid-sized sedan.

Frank Fischer, the plant's CEO, quickly rebutted Corker's comments, saying that the union election was unrelated to either the expansion decision or production assignments for the plant.
But the UAW says the comments may still have been enough to tip the balance. Workers voted against the union 712 to 626, with 89 percent turnout -- a result that, if it stands, represents a sharp setback to the union's efforts to organize foreign-owned auto plants in the South.
"Our issue is really with outside third parties trying to threaten and intimidate both the company and workers," UAW President Bob King told Reuters in an interview after the complaint was filed. "It was certainly not the company."

Middle-class dreams a 'myth' in troubled economy: internal government report
Dean Beeby
OTTAWA
The Canadian Press
Feb 26, 2014
Canada's middle-class is mortgaging its future to stay afloat, making the Canadian dream "a myth more than a reality."
That's the blunt assessment of an internal Conservative government report, an unvarnished account of the plight of middle-income families that's in contrast to the rosier economic picture in this month's budget.

The document was prepared last October by experts in Employment and Social Development Canada, the department that runs the employment insurance fund and other income-support programs. The Canadian Press obtained the report under the Access to Information Act.
"The wages of middle income workers have stagnated," it says, referring to the period from 1993 to 2007.
"Middle-income families are increasingly vulnerable to financial shocks."
The document, drawing on three years of "internal research," was prepared for the department's deputy minister, Ian Shugart, shortly before the resumption of Parliament last fall.
"In Canada, political parties are making the middle class a central piece of their agendas," notes the presentation.
A department spokesman, Jordan Sinclair, said in an e-mail that the research "was not linked to the parliamentary schedule or topics raised within the House of Commons."
The authors say middle-income families have seen their earnings rise by an average of only 1.7 per cent a year over the 15 years ending 2007.
"The market does not reward middle-income families so well," says the report. "As a result, they get an increasingly smaller share of the earning's pie" compared with higher-income families.
Shugart was also told middle-class workers "get lesser government support for their work transitions," referring to a sharp fall-off in employment-insurance benefits compared with other economic groups.
The analysis stops short of the 2008 global recession, though other analysts have noted the economic crisis wiped out many well-paid manufacturing jobs in central Canada that have supported middle-class prosperity.
The report also refers to debt, saying "many in the middle spend more than they earn, mortgaging their future to sustain their current consumption."
"Over the medium term, middle-income Canadians are unlikely to move to higher income brackets, i.e., the 'Canadian dream' is a myth more than a reality."
Current Conservative messaging emphasizes a million new jobs created since the recession; Canada's relative economic stability compared with other industrialized countries; and various tax cuts provided to "average" families since 2006.
A spokeswoman for Employment Minister Jason Kenney said the report reflects "the period of time under the previous Liberal government," from 1993 forward. (The report also covers 2006-2007, the first two years under the Harper Conservatives; the department says an updated report is "not available at this time.")
"Our government has reduced taxes and made life affordable for Canadian families," Alexandra Fortier said in an email Sunday, adding a "typical" family of four enjoys tax cuts of $3,400 a year, thanks to Conservative policies.
That "typical" family includes working parents who together earn $120,000 a year, with two children.
This month's budget acknowledged the need to create jobs and provide workplace training, but the budget documents never refer explicitly to the "middle class." The term "middle income" occurs just three times in the main budget, and once in a news release.
Since becoming Liberal leader in April last year, Justin Trudeau has frequently cited the plight of the middle class, a theme repeated at the party's weekend convention in Montreal.
Research from the Library of Parliament shows that since Jan. 1, 2013, Trudeau has used the phrase "middle class" 52 times in the House of Commons, compared with twice for Prime Minister Stephen Harper and nine times for NDP Leader Tom Mulcair. None of them used "middle income."
Toronto Liberal MP Chrystia Freeland commended the public servants who produced the report, saying that for the Liberals "it was like getting a good grade on your homework."
"This is a very strong, non-partisan, data-driven report, focused on Canada, which confirms our assertion, which is at the centre of our policy, that the middle class in Canada is being squeezed and that we have to do something about it," she said in an interview from Montreal.
"The public discourse has been lagging – we've been in denial."
Freeland, who won a November by-election and now is the party's trade critic, is author of the 2012 book Plutocrats, which argues that wealth distribution has favoured the ultra-rich and left everybody else behind.
Best-selling Ford Focus
compact getting revamp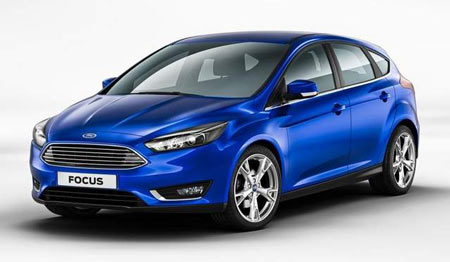 Karl Henkel
The Detroit News
Feb 25, 2014
The world's most popular car is getting a major makeover to help it better fit in with the rest of Ford Motor Co.'s vehicle lineup.
Ford's Focus compact, which according to R.L. Polk & Co. data was the global sales champion in 2012 and through at least the first nine months of 2013, gets a Ford-like trapezoidal grille, an optional 1-liter EcoBoost engine, buttons on the center stack and a standard rearview camera. The revamped car, whose first iteration was introduced in 1998, will hit U.S. dealer showrooms this fall.
"I think the new Focus will give people a little bit more of what they've been missing from that car," said Dave Sullivan, an analyst at AutoPacific Inc. "They're trying to improve the fuel economy and improve the MyFord Touch experience, and the exterior design is more in line with Fiesta and Fusion and doesn't look so out of place with the rest of the lineup."
Ford on Sunday introduced the five-door hatchback Focus at the Geneva Motor Show. The four-door version will debut at the New York Auto Show in April.
The Focus is built at eight plants around the globe on four continents: Europe, Asia, South America and North America, including at Michigan Assembly Plant in Wayne. The car is sold in more than 140 markets and in 2012 registered 1.02 million sales, according to Polk, which topped Toyota Motor Corp.'s Corolla, which totaled 872,774 sales. Ford likely kept its sales crown in 2013; through the first nine months of 2013, the Focus remained the best-selling vehicle in the world. Full-year Polk data will likely be released in April.
The new Focus will join the subcompact Fiesta, midsize Fusion and Mustang pony car as vehicles with Ford's Aston Martin-esque trapezoidal grille. The new-look front end better aligns Focus' appearance with the rest of Ford's car lineup, but the overall appearance retains some of its own identity, said Moray Callum, Ford's design chief.
"We talk about the face of Ford, but we still want our cars to have their own individual character," Callum said in an interview from Ford's product and development facility in Dearborn. "The grille shape itself might be a continuum, but the rest of the graphics are actually changing quite dramatically.
"We want people to recognize the Focus as a healthy family member and not a clone of another car."
The Focus also gets a restyled hood with more prominent creases and meaner looking headlights. There is also a more pronounced body arch above the back tires.
Inside the car, there are new seat trims and adjustable cupholders in the center console. And buttons return to the center stack to accompany the push-buttons featured on the optional MyFord Touch infotainment screen.
New engine offering, more technology
In the U.S., the Focus will join the subcompact Fiesta as two Fords with an optional 1-liter, three-cylinder EcoBoost engine. The 1-liter — offered on a handful of vehicles in Europe — will be paired with a manual six-speed transmission for the U.S. market and will help the Focus improve its fuel efficiency.
On the 2013 Focus, equipped with a 2-liter, four-cylinder gas direct-injection engine, the Environmental Protection Agency fuel estimates range between 36 and 40 miles per gallon highway and 30 and 33 miles per gallon combined. Those figures will assuredly improve with the 1-liter.
But few customers may choose the optional 1-liter EcoBoost, which will likely cost about $1,000 more than the 2-liter — minus additional costs for trim upgrades — and will sacrifice horsepower in exchange for a few more miles per gallon.
Official EPA fuel efficiency estimates will be released closer to the vehicle's launch. Pricing will be announced later. The current Focus has a starting price of just under $17,000 in the U.S. market.
A rearview camera will be standard, even if customers don't choose to equip their Focus with MyFord Touch (in which case the camera will be displayed on a 4.2-inch screen instead of the 8-inch MyFord Touch screen). Ford's Blind Spot Information System, which detects when people or objects are in a vehicle's blind spot, and a lane-keeping system, are available options.
Home woes
In China, where Ford sells two versions of its Focus — unofficially dubbed "new Focus" and "old Focus" — the Focus ranked as the best-selling passenger vehicle of 2013. Ford registered more than 400,000 sales of its compact car.
But in the U.S market, Focus sales dropped nearly 5 percent to 234,570 in 2013, losing ground to Honda Motor Co.'s Civic, General Motors Co.'s Chevrolet Cruze, Hyundai Motor America's Elantra and Toyota's Corolla, which all had sales gains last year and outsold the Focus.
Falling Focus sales have resulted in weeks of down time at Michigan Assembly Plant in Wayne in recent months, despite a flexible assembly line touted for its ability to manufacture four other small cars and seamlessly match production to meet demand.
One reason for tumbling sales may be continuing issues Ford has had with its dual clutch transmissions, as American drivers have complained that they act differently than torque converter automatic transmissions. Raj Nair, Ford's product development chief, said he believes Ford has conquered its dual-clutch difficulties.
Ford ready to dump Microsoft
for Blackberry in future cars
Karl Henkel
The Detroit News
Feb 24, 2014
Ford has built more than 10 million vehicles worldwide that are equipped with Sync, which allows customers to make phone calls, change radio stations and find nearby destinations without taking their hands off the wheel.
Ford has built more than 10 million vehicles worldwide that are equipped with Sync, which allows customers to make phone calls, change radio stations and find nearby destinations without taking their hands off the wheel. (Ford)
Ford Motor Co. plans to ditch Microsoft Corp. for Blackberry Ltd. for future upgrades to its Sync voice-activated system, according to a source with knowledge of the plans.
The Dearborn automaker for years has been plagued with software problems on Sync and its MyFord Touch infotainment system that have stained the company's vehicle quality ratings. Ford could make the switch from Microsoft to Blackberry and its QNX operating system this year or next. QNX, acquired by Blackberry in 2010, has quickly begun replacing the Windows operating system as a popular choice for in-car automobile software.
Ford has built more than 10 million vehicles worldwide that are equipped with Sync, which allows customers to make phone calls, change radio stations and find nearby destinations without taking their hands off the wheel. The automaker could easily update the software of those vehicles already equipped with Sync to the Blackberry software, said the person.
Ford, when asked about the future shift from Microsoft to Blackberry, did not deny the plans.
"Ford and Microsoft are longtime partners, and we continue working together for the future," Ford spokeswoman Susannah Wesley said in an emailed statement to The Detroit News. "Ford works with a variety of partners and suppliers to develop and continuously improve our in-car connectivity systems for customers. We do not discuss details of our work with others for competitive reasons. We are absolutely committed to leading and innovating the smart technologies and in-vehicle connectivity that our customers want and value."
A Blackberry representative referred an inquiry to a QNX representative, who did not immediately respond to a request seeking comment.
The QNX operating system is already available in BMW and Audi vehicles and QNX software is used in car radios. Other automakers are pairing up with other tech companies, like Google Inc. and Apple Inc.
Thilo Koslowski, a vice president at technology research firm Gartner Inc., said in an email that QNX has "proven itself in the marketplace." QNX is less risky for automakers because of its flexibility, particularly with HTML5, a browser-based standard that allows developers to create applications that can run on any modern web-enabled device.
Ford has struggled in recent Consumer Reports auto reliability studies, with the influential magazine citing problems with the automaker's voice-activated and infotainment systems. J.D. Power & Associates' annual Initial Quality Study has also hammered Ford for its technology software issues.
Ford is not alone in that regard, though its problems are magnified because it sells a higher percentage of vehicles equipped with Sync systems than its competitors. Twenty-two percent of problems in last year's J.D. Power study dealt with audio, entertainment and navigation systems.
Roz Monchamp's
Father
Dennis Camp
Passes Away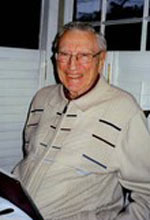 March 10, 1916 - February 23, 2014

Our Sincerest Condolences go out to Roz Monchamp and her family on the passing of her Father on Sunday February 23, 2014.
Deepest Condolences to Roz, Noel and the Monchamp family and friends.
Visitation:
Friday February 28, 2014
2:00 - 4:00 PM
6:00 - 8:00 PM
Skinner and Middlebrook Ltd
Funeral Home
128 Lakeshore Rd. E.
Mississauga, ON
Map

Funeral Service:
Saturday March 1, 2014
10:30AM
St. Christophers Catholic Church
1171 Clarkson Rd N
Mississauga/clarkson, ON
Map
Camp, Dennis Marcus

Peacefully at Trillium Hospital, Mississauga, on Sunday, February 23, 2014 in his 98th year. Beloved husband of the late Kathleen McMahon and the late Rita McMahon. Dearly loved father of Sister Mary Kathryn, Roz (Noel), Trish (Roland), Paul (Cathy) and the late Lorne. Dear Poppa of Lisa (Dave), Liane, Marcus (Meg), Shannon (Kim), Brandon (Sherry), Kristie (Brenden), Jessica (Cam), Sarah, Laurie(Karen). Great-Poppa of Christopher, Andrew, Matthew, Sean, Madison, Jackson, Olivia, Kendal & Benjamin.

Predeceased by sisters, Marjorie and Hazel.

Will be sadly missed by many nieces and nephews (Brian) and their families. Dennis is resting at Skinner & Middlebrook Funeral Home, 128 Lakeshore Rd East, Mississauga on Friday, February 28, 2014 from 2-4 & 6-8pm. Funeral Mass at St. Christopher's Catholic Church,1171 Clarkson Rd N, Mississauga, on Saturday March 1, 2014 at 10:30am. Interment at St. Mary's Cemetery. Memorial donations to a charity of your choice will be greatly appreciated.

Dennis, was loved by all who knew him.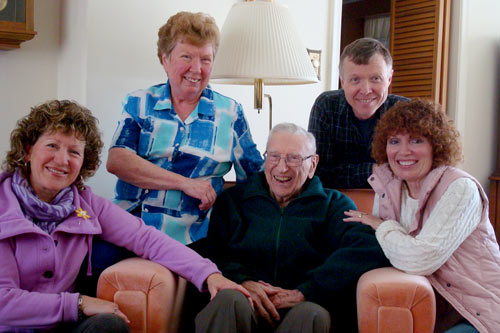 Jobs on the line: A new era
for autos dawns in Mexico

GREG KEENAN - Auto Industry Reporter
The Globe and Mail
Feb. 23 2014

In the space of six weeks, two new car factories have begun production in Mexico. An equal number of new assembly plants have opened in Canada in the past two decades.

Honda Motor Co. Ltd. began producing subcompact Fit cars Friday at a plant about four hours north of Mexico City. It follows closely on the heels of Japan-based rival Mazda Motor Co., which started building Mazda3 compact cars on Jan. 7 about half an hour drive away.

The new plants are the latest examples of the flood of automotive investment that is turning Mexico into one of the world's auto making powerhouses.

Considered the junior partner when the North American Free Trade Agreement took effect two decades ago, Mexico has already eclipsed Canada as the second-largest producer of vehicles on the continent. Other plants now under construction or set to begin cranking out cars soon will boost production even further. By the middle of the decade, Mexico will threaten to overtake Canada as the largest exporter of vehicles to the United States.

As auto makers consider where to build new plants, a key issue is whether governments should give them money.

A Honda North America spokesman said the company expects to receive government support to establish the infrastructure needed to service the Mexico plant and for hiring and training of employees. There are no details yet on that assistance, the spokesman said.

The first cars rolled off the line at the $800-million (U.S.) Honda plant while in Canada the federal and Ontario governments consider a request from Chrysler Group LLC for a contribution of at least $700-million (Canadian) to the company's planned $3.6-billion investment in its two Canadian plants and the vehicles it makes in them.

Global auto makers have invested a total of $12.5-billion (U.S.) in Mexico since 2010, compared with $3.2-billion in Canada and $29-billion in the United States, according to data compiled by the Center for Automotive Research (CAR), an industry think-tank based in Ann Arbor, Mich. About $8-billion flowed into the U.S. South – which for much of the 2000s was the hot spot.

"It's still growing," Francisco Gonzalez, chief executive officer of ProMexico, the government's trade and development arm, said in a telephone interview from Mexico City.

Mexico has become the location of choice based not only on wages of about $8 an hour, but also, Mr. Gonzalez said, on a host of free-trade agreements and the growth of a strong cadre of auto suppliers.

"They've learned how to make better cars," added Sean McAlinden, CAR's executive vice-president of research and chief economist.

Mr. McAlinden said CAR officials were briefed recently by officials of Audi AG, which will open its first North American assembly plant in 2016 in Puebla, Mexico, where its parent Volkswagen AG has been making cars for more than a generation.

"They point out that Mexico has 44 multilateral and bilateral trade agreements and in the case of Audi, they expect – like BMW and Mercedes in the U.S. South – to ship over 60 per cent of their output outside North America," he said.

BMW AG and Mercedes-Benz, part of Daimler AG, are expanding their plants in South Carolina and Alabama respectively, but BMW is reported to be negotiating with Mexico to build another plant.

The growth of Mexico worries officials in the southern states, Mr. McAlinden noted.

"A lot of plants they thought they were going to get from Germany or Japan they're seeing showing up in Mexico," he said.

The Fit models will be shipped to the United States and Canada from the plant, which is equipped with some of Honda's most recent innovations, including a more efficient paint shop that applies three coats and bakes the car bodies twice, instead of the traditional four-coat, three-bake process. The new process reduces energy consumption by 40 per cent.


South Carolina governor says
Ford, GM, Chrysler union jobs
not welcome in state
By Rudolph Bell
Greenville (S.C.) News
Feb 22, 2014
South Carolina is glad to have nonunion jobs from BMW, Michelin and Boeing, but don't expect any factories from Ford, General Motors, Chrysler or other companies with unionized workforces.
According to Gov. Nikki Haley, they're not welcome.
Haley said Wednesday that she discourages companies from building new facilities in South Carolina if they are planning to bring a union with them.
"It's not something we want to see happen," she told the Greenville News following an appearance at an automotive conference in downtown Greenville.
"We discourage any companies that have unions from wanting to come to South Carolina because we don't want to taint the water."
State Sen. Vincent Sheheen, Haley's Democratic opponent in this year's gubernatorial race, said he thinks South Carolina should remain a right-to-work state where workers are free to decide whether to join unions or not.
"But I also think that if Ford Motor Co. wanted to bring 10,000 jobs to South Carolina, we would welcome them with open arms," Sheheen said.
"We need good, high-paying jobs in South Carolina. Part of leadership is putting ideology and partisanship to the side when there's something that could be good for South Carolina."
Haley isn't the first South Carolina Republican to reflect the South's traditional antiunion bias, but she has been especially outspoken against unions inserting themselves as mediators between workers and their employers.
GOP animosity toward unions grew red-hot in South Carolina during Haley's first year as governor after the National Labor Relations Board went to court to block the Boeing Co. from making its Dreamliner jet at a new factory in North Charleston.
The NLRB argued that Boeing had built the plant in right-to-work South Carolina in retaliation for past union strikes at the company's Puget Sound operations but ultimately dropped the complaint.
Haley has continued to remind voters of what the agency tried to do, and she did it again Wednesday at the Hyatt Regency Greenville while appearing at the South Carolina Automotive Summit, an annual conference for the state's auto industry.
The governor urged more than 200 people at the conference, many of them auto industry executives, to keep up their guard against unions.
"They're coming into South Carolina. They're trying," Haley warned. "We're hearing it. The good news is it's not working."
Haley promised to keep fighting against union penetration.
"You've heard me say many times I wear heels. It's not for a fashion statement," she said. "It's because we're kicking them every day, and we'll continue to kick them."
Her comments came less than a week after the United Auto Workers failed in its latest attempt to organize an automotive plant in the South.
Employees at a Volkswagen plant in Chattanooga, Tenn., voted against UAW representation on Friday in a major blow to the union.
State Secretary of Commerce Bobby Hitt said he couldn't recall the last time a company with a unionized workforce approached his agency about establishing a new facility in South Carolina.
"Companies that are traditional union companies don't seem to come looking for an operation in South Carolina," said Hitt, a former BMW executive appointed by Haley. "I think our brand and our image precedes us in that regard."
Hitt said Commerce officials inquire about an economic development prospect's labor traditions, "but we've never told someone outright no. I think we've never gotten to that."
Lewis Gossett, president of the South Carolina Manufacturers Alliance, which has organized the automotive conference in Greenville the past three years, said he thinks Haley is "dead on" about unions.
"Organized labor has no place down here," Gossett said. "We don't need them. We don't need them to replicate what they've done in the Midwest and the Northeast. The governor gets that. And she's taken some very strong stands about it, and we love it."
Erin McKee, however, president of the South Carolina chapter of the AFL-CIO, said she doesn't think Haley is helping.
South Carolinians "have the right to have good jobs, and if those are union jobs, they're union jobs," McKee said. "And to keep jobs from coming here because they're union, I don't think she's representing the people."
Sheheen said his position on the NLRB case was that he wanted Boeing to stay in South Carolina and didn't want the company to be penalized.
Ford sued over use of company's hybrid vehicle inventions
Susan Decker
Bloomberg News
Feb 21, 2014
Ford Motor Co., the second-biggest U.S. automaker, is accused of developing its hybrid vehicles using technology from a Baltimore company that won a patent-infringement case against Toyota Motor Corp., maker of the Prius.
Paice LLC, in a lawsuit filed Wednesday, says hybrid and plug-in versions of Ford's C-Max, Fusion and Lincoln MKZ all infringe its patents covering ways to control electric motors and internal combustion engines so they have increased fuel efficiency and reduced emissions without any loss of performance.
Ford had licensed one of Paice's patents under a deal struck in 2010. The two companies agreed not to litigate over other patents until Jan. 1, 2014, to give them time to reach a broader settlement. The negotiations, according to Paice's complaint, were "short and one-sided."
"The truth is that Ford built its new hybrid system by relying heavily on the hybrid vehicle inventions it learned from Paice," the company said in the suit, filed in federal court in Baltimore. The Abell Foundation, a nonprofit group that invests in Baltimore-area companies including Paice, also joined the suit against Ford.
Alex Severinsky, a Soviet emigrant and engineer, created Paice to commercialize his work on a high-voltage method to power gas-electric hybrid motors. From 1999 to 2004, Severinsky and other Paice officials held more than 100 meetings and interactions with Ford to help the automaker develop a hybrid engine that would increase gasoline mileage without losing performance, according to the 50-page complaint.
At the same time, Dearborn-based Ford was working with Toyota to develop a hybrid vehicle using Toyota's Prius as a template. Paice says that Ford was sharing its technology with the Japanese automaker.
Paice won a patent-infringement trial against Toyota in 2005 and the two companies reached a global settlement in 2010 on the eve of another trial that might have resulted in an import ban on Toyota vehicles had Paice won.
Ford sought to pre-empt the latest lawsuit. It filed a complaint in December in Delaware Chancery Court seeking a court ruling that Paice couldn't file a complaint under the terms of their 2010 agreement.
The Paice lawsuit doesn't seek a specific dollar amount from Ford. According to the complaint, Paice offered to license the technology to Ford for $150 per vehicle in 1999.
Ford's U.S. hybrid and electrified vehicle sales in 2013 climbed to 85,919, more than double the 33,476 a year earlier. By May last year, the automaker had beaten its previous annual best for hybrid and electrified U.S. vehicle sales, achieved in 2010.
Ford and Toyota last year ended their collaboration on gasoline-electric systems for pickups and sport-utility vehicles.
Paice also has pending infringement complaints against Hyundai Motor Co. and Kia Motors Corp. over the same patents.
VW union chief won't give
up fight for U.S. plant
Associated Press
Feb 20, 2014
Berlin — Volkswagen's top workers' representative says he won't give up the fight for unionization at the German automaker's plant in Chattanooga, Tenn.
Employees there voted 712-626 last week against joining the United Auto Workers union after state Republicans warned that it could hurt the local economy.
Bernd Osterloh, who is also a member of VW's supervisory board, told the German daily Suddeutsche Zeitung in an interview published Wednesday that U.S. labor law experts will check whether undue pressure was put on employees to reject the UAW.
Osterloh says "all options will be examined" to introduce a "works council" at the only major VW plant worldwide without formal worker representation.
He told the paper that the failure to achieve this might prevent Volkswagen from building future plants in the U.S. South.
Ford (turbo)charges ahead
with refreshed Expedition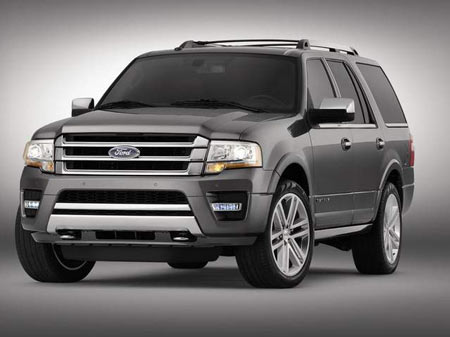 Karl Henkel
The Detroit News
February 19, 2014
By the end of the year, all gas-powered Ford Motor Co. brand cars, crossovers and sport-utility nameplates in the U.S. will have at least one EcoBoost powertrain option, solidifying Ford's bet on its patented engine software.
Ford in 2009 began producing its first EcoBoost engine — a marriage of direct-injection, turbocharging, variable camshaft timing and proprietary Ford software — and on Tuesday introduced its refreshed Expedition full-size SUV with a standard 3.5-liter EcoBoost V-6, due out in late 2014.
When it debuts, all Ford nameplates, aside from the hybrid-only C-Max and the soon-to-be-defunct E-Series vans, either come standard with EcoBoost or have at least one of the engine offerings.
"The number of vehicles that customers are buying off of our dealer's lots with EcoBoost engines is proof that our strategy is working," said Raj Nair, Ford's product development chief. "We're making progress toward our Blueprint for Sustainability to increase fuel efficiency and EcoBoost is a major part of that Blueprint."
The allure of EcoBoost is that drivers can attain better fuel efficiency and performance compared to conventional engines, although outlets such as Consumer Reports have criticized EcoBoost for not meeting fuel efficiency and performance expectations. EcoBoost engines cost more than conventional engines, but have a payback period — the time it takes an owner to recoup the added cost through fuel savings — that is four times faster than diesels.
Joe Bakaj, Ford of Europe's vice president of product development and former vice president of powertrain engineering, said last September he envisions a day when conventional gas engines could disappear as an option on Ford vehicles in favor engines like EcoBoost, which are turbocharged.
"At some point in the future, that will be an option," Bakaj said. He said that hybrid vehicles, which have conventional gas engines and electric motors, would be exceptions.
The reveal of the refreshed Expedition, which debuted Tuesday at the DFW Auto Show in Dallas — Dallas and Houston are the top two markets for Expedition sales — comes about a month after Ford debuted a refreshed Lincoln Navigator, which is built on the same platform as the Expedition.
Aside from the standard 3.5-liter EcoBoost V-6, which replaces the current 5.4-liter V-8, the Expedition will have three drive modes: comfort, normal and sport. Sensors will detect body, steering and braking inputs, and the suspension will adjust the damping system and change the Expedition's body movements. The Expedition remains the industry's only non-luxury full-size utility vehicle with an independent rear suspension, Ford says.
Ford is also adding new trim levels to the Expedition, including Platinum — which aims for a "fresh and sophisticated" look — and King Ranch, which are both available on Ford's F-Series trucks. Limited and XLT trims will also be options. Outside, the Expedition has a new, more aggressive-looking grille, a new back hatch and standard 22-inch wheels.
The Expedition will improve upon its current 310 horsepower and 365 pound-feet of torque, though Ford is not yet releasing specific figures. Ford will announce fuel efficiency figures and pricing at a later date.
Momentum Workers Vote
to Return to Work
Workers and supporters rallied together in Burlington on Sunday March 23, 2014 prior to The Momentum AGM meeting. A vote was held later that afternoon and the tentative agreement was voted on and passed. All the workers returned back to work on Tuesday March 25, 2014.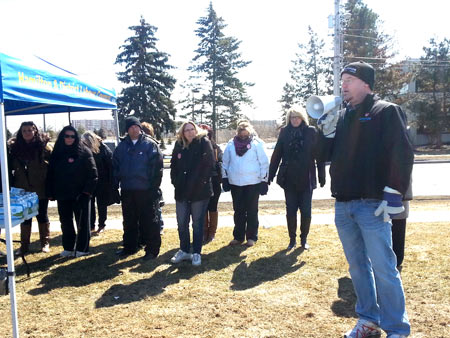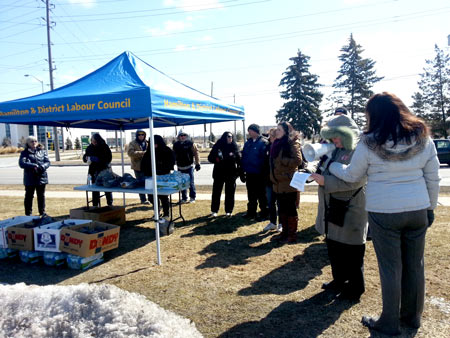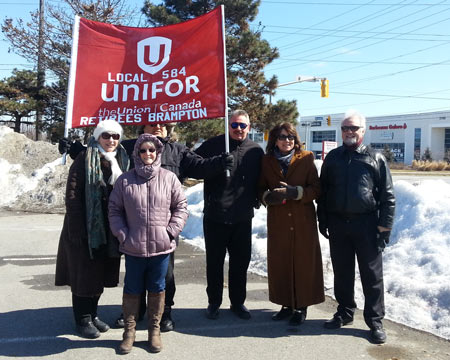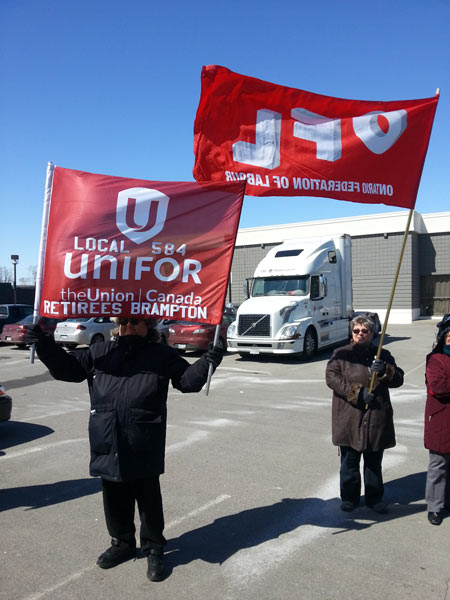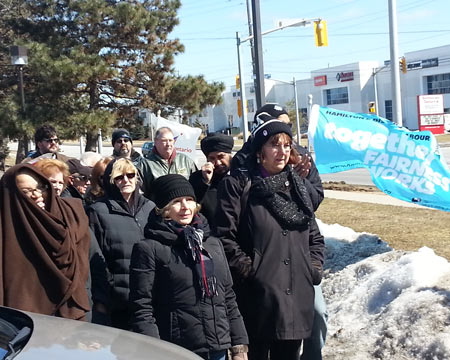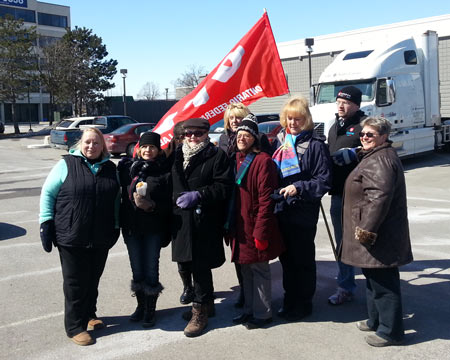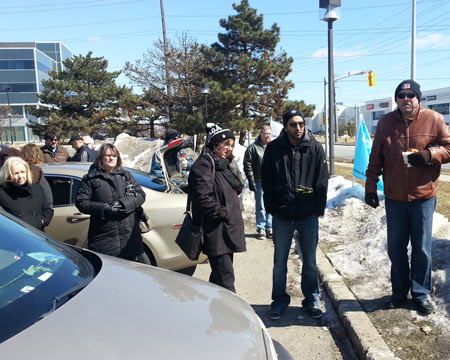 Autoworkers Credit Union on Strike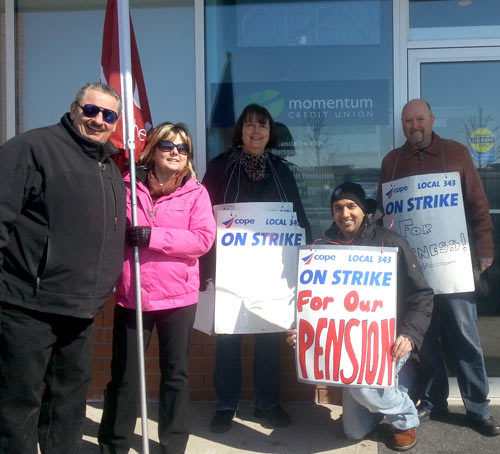 Barb Morrison and Chris Wilski Join the Momentum
Strikers at the Brampton Branch on March 7, 2014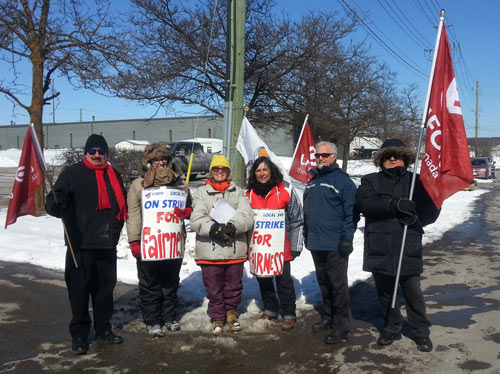 Showing our Support - Chris Wilski, Doug Berry and Dave Trembley Join
Striking Workers at the Oakville Lcation on Monday March 3, 2014.
(Photo by Arnie DeVaan)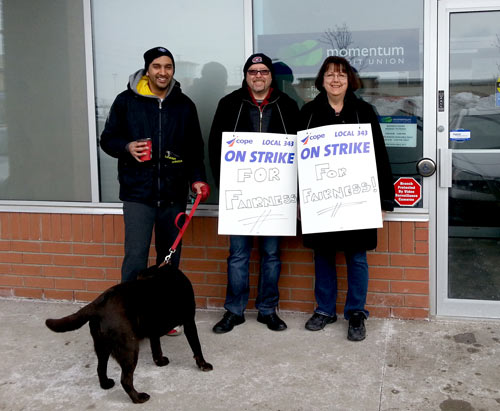 The Staff at the Brampton Momentum Credit union is on strike for fairness. The Credit Union went on Strike Wednesday February 13th as Management threatened to disolve their Defined pension plan which they were told prior to agreeing to the last merger that it would remain untouched. Please show your support to their just cause.
ON STRIKE FOR FAIRNESS


After months of negotiation, the employees of Momentum Credit Union in Brampton, Hamilton and Oakville had no alternative but to take strike action in their fight for a fair collective agreement.

Issues include the employer demanding the elimination of the defined benefit pension plan for the six employees grandfathered in this plan in the previous round of negotiations, the vast majority of whom will retire in the next 5-6 years.

The elimination of post-retirement benefits for these same six employees despite written agreement that these were to be guaranteed in any merger agreement; consistent paid holidays for all employees of Momentum Credit Union; pro-rated sick leave for part-time employees; fair, consistent, equitable and appropriate classification and wages for all employees.

Thank you for your support and respecting our picket lines.

For further information please contact Patty Clancy at
416-703-8515, ext, 229 or pclancy@copeontario.ca.
TORONTO, Feb. 18, 2014 /CNW/ - On the eve of the strike deadline, Momentum Credit Union gave their first full and final offer for a five year collective agreement after three months of negotiations. The employer refused to address many issues unless the union agreed to eliminate post-retirement benefits and end the defined benefit pension plan for the remaining employees covered by the plan. Their offer was overwhelmingly rejected by our members of the Canadian Office and Professional Employees Union, Local 343 (COPE). Our members determined that the concessions they were facing and their employer's failure to address their concerns left them with no alternative but to take strike action for a fair collective agreement.
The employer's final offer maintained their demands to eliminate post-retirement benefits and end the defined benefit pension plan for six employees; all but one of whom are approaching retirement. The employer's offer failed to address other important issues such as: consistent paid holidays for all employees; pro-rated sick leave for part-time employees; fair, consistent, equitable and appropriate classifications and wages for all employees.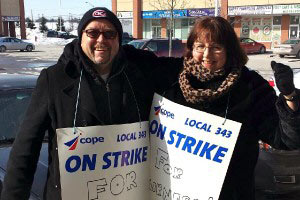 Also voice your opinion by calling the Momentum

CEO - MALCOLM STOFFMAN
at (905) 529-9445

Or sending a message through their website directly to him:
Mr. Stoffman,

I am Vice-chair of Unifor 584 Retirees, and former Plant Chair of CAW local 584 (with 27 years of negotiating experience). I along with a former CAW member, Brian McMath were responsible for establishing the Oakville Auto Employees Credit Union in Brampton.

WHY? Because I had been a Credit Union member since age 17 and understood that Credit Unions had a better understanding of working peoples needs. that applied to their STAFF also. Then along comes Malcolm Stoffman and his directors, some I understand, former CAW Leadership, who along with you Malcolm want to deny Momentum staff the very rights we have, and fought for years with the Big 3 to obtain.
Shame,shame, it seems the wrong people (directors) were elected. We fully understand the negotiating process. What we don't tolerate is an employer who reneges on a deal; what we don't tolerate is dishonesty and manipulation of workers rights. It seems we have to do a better job of mobilizing the members and exposing those that did not learn people and negotiating skills in their professional upbringing. p/s please remind your directors they were elected.
Frank Marek
Retirees Vice-Chair
Unifor Local 584
Mr. Stoffman:
I spoke to you recently regarding the unfair treatment of your employees and your unreasonable demands particularly the elimination of their sacred defined benefit pension plan. Basically you lied to your employees when they were told prior to the amalgamation from Twin Oaks to Momentum that their pension and benefits would remain the same and nothing would be lost in the move.
Shame on you and shame on the board of directors. We all belong to the Credit Union because you are supposed to be different than the banks and are supposed to be "community-oriented" and "serve people and not for profit. Shame on you for turning your back on not only your employees but on all your members.
After talking to you last week on the phone I felt the smugness and uncaring attitude that you tried to mask by saying you are working on a deal that would make both sides happy. Well Mr CEO President of Momentum you have woke up a sleeping giant and we will fight you till the end on this issue. How dare you try to take away a person's basic right to an affordable retirement.
Be prepared in the upcoming weeks and maybe months of disruptions and closing of accounts as this strike escalates. This is our fight.
Chris Wilski
Retirees Chair
Unifor Local 584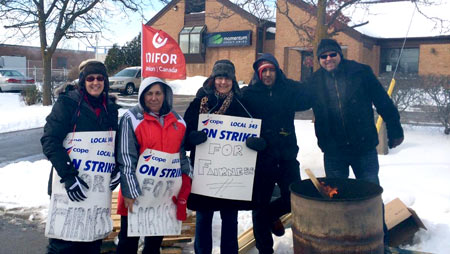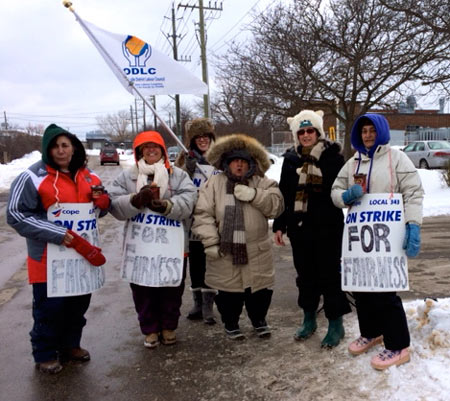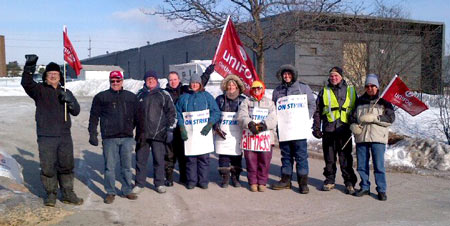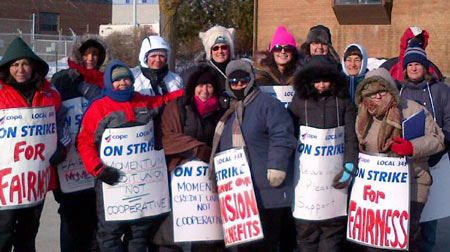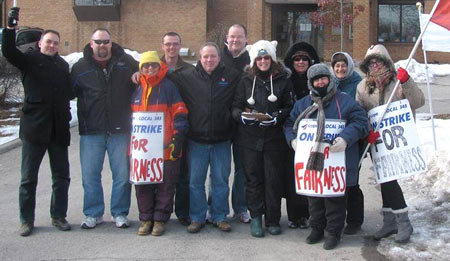 Hefty men pound Ford's
F-150 into shape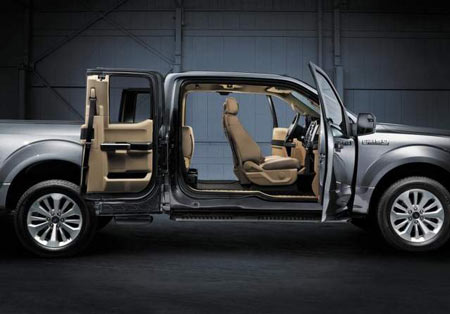 Karl Henkel
The Detroit News
Feb 18, 2014
Ford Motor Co.'s new F-150 pickup sheds 700 pounds from its body and chassis, but to get there, the Dearborn automaker needed help from about a dozen hefty men.
In an effort to improve the durability of its leather-wrapped truck seats, Ford hired a firm to enlist the help of men of a certain size: at least 265 pounds. Dressed in dirty jeans, their mission was to climb into the driver's seat, get down and climb up again, at least 10,000 times per truck.
The result of that punishment-testing is a pair of front seats made of higher-strength steel and tougher leather that weigh a combined 30 pounds less than the current seats, but withstand consistent beating from the beefiest and grimiest truck drivers.
"Even though our seats met our internal standards, we were getting a few customers, especially with our leather seats, where the leather was cracking and not living up to expectations," said Tim Dunn, Ford's North American seat complete engineer manager, in an interview. Ford eventually found a contributing factor in addition to weight: dirt. Most seat durability testing is done by robot, but engineers were wary of how dirt could mess with robots and never tried the combination.
Enter the seat testers. Wearing stiff new jeans, they worked as many as 10 hours daily, for about a week, in scorching heat last summer in Taylor. Oh, yeah: The participants had to wear the same jeans throughout the process to emulate long-term wear and tear. That got to be both sticky and uncomfortable as the combination of dirt — a standardized test material known as Arizona dust, which was patted onto truck seats every 500 sits — and sweat began to cake on the denim's bottoms and inseams.
The seats will debut in the 2015 F-150, which arrives at dealers late this year.
Though it wasn't known exactly how much the seat testers were paid, it apparently wasn't enough: The firm had to increase the pay rate to avoid losing participants and having to start over, Dunn said.
"A couple of them said it just wasn't worth it for what they were getting paid, making $60 to $70 a day," he said.
Should we shun Big Auto's
'pay to play' culture?
LESLIE SHIELL
The Globe and Mail
Feb 17, 2014
What is the best way to play poker? Imagine you have a budget of hundreds of millions of dollars but the prize is unusual – if you win, you get to keep what you already have; if not, you lose everything. Oh, and you don't get to walk away from the game.
This is essentially the situation that the Canadian and Ontario governments find themselves in as they negotiate with Chrysler over the future of its Windsor and Brampton auto assembly plants. According to reports this week, Chrysler is considering investing $3.6-billion to upgrade the two plants to the latest technology. But in return, it is demanding a contribution from government of $700-million or more. If it doesn't get the contribution, Chrysler is threatening to shut down the Canadian plants and direct the investment elsewhere, which would terminate approximately 8,000 direct jobs.
Negotiations are continuing and details remain sketchy. In the past, assistance to auto makers in Canada has sometimes taken the form of interest-free loans, referred to as "repayable contributions," and sometimes taken the form of outright grants. In the case of a repayable contribution, the cost to taxpayers is the foregone interest (provided the automaker does not default). Thus, in the case of a $700-million loan, the Canadian and Ontario governments could be on the hook for roughly $100-million in interest costs, assuming a 10-year project lifetime, an interest rate of 2.5 per cent, and equal annual payments.
Alternatively, we might see a mixed package – say half repayable contribution, half outright grant – which would yield a total cost to taxpayers around $450-million.
Is Chrysler bluffing? How much should we offer?
Over the years, many commentators have objected to spending taxpayers' money on what looks like buying jobs for well-paid automotive workers. In the case of the Chrysler proposal, if we assume a total government contribution of $450-million and 8,000 jobs, we arrive at a figure of approximately $56,000 of taxpayers' money per job saved.
But this type of calculation neglects the multiplier effect, as the firm buys inputs and the workers spend their incomes. In a study for the IRPP of the 2009 bailout of GM and Chrysler, my co-author Robin Somerville and I estimated the total impact on jobs was roughly five times greater than the headline number.
Applying this multiplier to the present case, we get potentially 40,000 jobs in play, which translates into $11,000 per job saved, assuming a contribution of $450-million. Now deduct EI benefits that would have to be paid to unemployed workers and lost tax revenues, and it starts to looks like a wash.
But wait – is there no downside to paying subsidies for corporate investments? In fact, it is incorrect to assume that a one-time payment to Chrysler would secure these jobs indefinitely. Auto making is a global "pay-to-play" industry in which companies demand local contributions for all major capital investments. Assuming an average project lifespan of 10 years, this means that we should expect to hear from Chrysler at regular decadal intervals for subsequent investments at the same facilities.
In contrast, losing the employment and paying the adjustment costs to help workers transition to another industry is a one-time cost that could potentially free taxpayers from regular shakedowns by the global auto makers. Would the long-term gain be worth the short-term pain? And would we truly be free of demands for corporate subsidies?
As with most things in life, it is a gamble.
(Leslie Shiell is an assistant professor in the department of economics, University of Ottawa)

UAW loss in Tennessee
will prompt strategy rethink
David Shepardson
Detroit News Washington Bureau
Feb 16, 2014
Chattanooga, Tenn. — The United Auto Workers stunning defeat Friday after workers at Volkswagen AG's assembly plant narrowly rejected a bid to create a German-style works council will prompt soul searching by the union and raises difficult questions about what the union needs to do to be successful.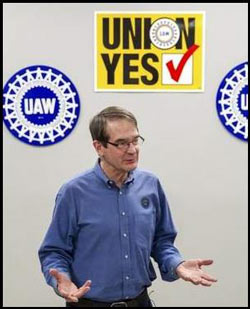 By a narrow 712-626 vote, workers rejected the union after three days of voting this week — a major setback for the UAW that has said its survival depends on organizing foreign auto workers.
Some opponents of the union said the near collapse of Detroit's Big Three automakers in 2008 played a key role in convincing many not to support the UAW.
Others pointed to the two-tier contracts at U.S. auto plants and noted that some VW workers make more than new workers at U.S. plants.
Ronnie Shaver, 56, stood outside the plant holding his five-year-old granddaughter who had a heart drawn on her cheek for Valentines Day.
Shaver, who opposed the UAW, singled out the UAW-VW neutrality agreement as the key argument that convinced workers voted against the union.
"That's like a wage freeze. Everybody thought they were to come up and be up with the legacy workers" at U.S. plants making around $28 an hour, Shaver said. "That's not going to happen. They haven't had a raise in 10 years."
The loss may put more pressure on the UAW to win richer contracts next year when it holds talks with Detroit's Big Three automakers.
"Those scales that those (U.S.) companies are at are less money than I'm making," said Mike Jarvis, 56, of Chattanooga, who has worked at VW for nearly three years and opposed the UAW.
UAW President Bob King's at a late night press conference Friday in a conference room of a electrician union training center that he was deeply disappointed in the loss, but said the union will not give up its organizing efforts.
"One great thing about the UAW, one great thing about workers: We don't quit," King said. "We're going to fight for what's right. We take setbacks. We get up and fight another day to make sure that workers have a real voice."
Wearing a denim shirt emblazoned with the UAW logo, King decried the "outrageous" conduct of Tennessee Republicans who threatened to withhold incentives for an expansion of the plant and called the loss a "temporary setback."
Many of the anti-UAW workers said they didn't think the comments of Republican politicians helped or hurt. "The difference in the vote... was people hunting down the information to make an intelligence decision, not just listening to your buddy,"
King said "of course if you don't win you review your strategy."
Those comments could form the basis of an appeal of the election results or the UAW could opt to seek another vote of workers in a year, under an agreement reached with VW.
"People in the political arena decided that they were going to threaten workers and they were going to threaten the company," King said.
King said the threats leveled earlier this week marked the turning point in the campaign. In September the UAW announced a majority of workers had signed union cards seeking to form a works council.
Some experts say the UAW faces a chicken and egg problem: it needs to show to foreign companies it can be competitive — but must also convince workers that it will be able to bargain for higher wages.
UAW vowed that it would help VW remain competitive, and opponents interpreted that as yielding on wages and benefits before workers had even approved the union. "Our philosophy is we want to work in partnership with companies for companies to succeed," King said.
King, who has about four months left in office, has made significant efforts to portray the union as a less-confrontational and willing to work collaboratively with automakers willing to give the UAW a fair shot at organizing workers.
The UAW agreed not to make visits to workers at their homes after VW agreed to give them access to workers. King praised VW management for its handling of the election. "If the company was doing wrong, we would expose it," King said.
The loss is certain to complicate the contract talks next year between Detroit's Big Three automakers and the VW.
Standing next to King was likely the next UAW President Dennis Williams, who is currently secretary treasurer and heads efforts to organize the foreign automakers. He noted it took the UAW seven years to organize workers at Ford Motor Co.
"I'll be around for the next five," Williams said. "We'll investigate it. We'll look at it. We'll restrategize and talk to folks, but we're not leaving Chattanooga."
Other companies will not be nearly as cooperative with the UAW's efforts to organize workers. They are likely to face stiff opposition at other plants from companies hiring anti-union consultants, giving employees anti-union presentations and using future products as a carrot or stick to discourage joining the UAW.
"We have a lot of opportunity in the south," Williams said. "We wouldn't be here otherwise."


UAW Falls 87 Votes Short
of Major Victory in South
By ERIK SCHELZIG and TOM KRISHER
Associated Press
Feb 15, 2014
Just 87 votes at the Volkswagen plant in Tennessee separated the United Auto Workers union from what would have been its first successful organization of workers at a foreign automaker in the South.
Instead of celebrating a potential watershed moment for labor politics in the region, UAW supporters were left crestfallen by the 712-626 vote against union representation in the election that ended Friday night.
The result stunned many labor experts who expected a UAW win because Volkswagen tacitly endorsed the union and even allowed organizers into the Chattanooga factory to make sales pitches.
The loss is a major setback for the UAW's effort to make inroads in the growing South, where foreign automakers have 14 assembly plants, eight built in the past decade, said Kristin Dziczek, director of the labor and industry group at the Center for Automotive Research, an industry think tank in Michigan.
"If this was going to work anywhere, this is where it was going to work," she said of the Volkswagen vote.
Organizing a Southern plant is so crucial to the union that UAW President Bob King told workers in a speech that the union has no long-term future without it. The loss means the union remains largely quarantined with the Detroit Three in the Midwest and Northeast.
Many viewed VW as the union's best chance to gain a crucial foothold in the South because other automakers have not been as welcoming as Volkswagen. Labor interests make up half of the supervisory board at VW in Germany, and they questioned why the Chattanooga plant is the company's only major factory worldwide without formal worker representation.
VW wanted a German-style "works council" in Chattanooga to give employees a say over working conditions. The company says U.S. law won't allow it without an independent union.
In Chattanooga, the union faced stern opposition from Republican politicians who warned that a UAW victory would chase away other automakers who might come to the region.
Sen. Bob Corker of Tennessee was the most vocal opponent, saying that he was told that VW would soon announce plans to build a new SUV in Chattanooga if workers rejected the union. That was later denied by a VW executive, who said the union vote had no bearing on expansion decisions. Other state politicians threatened to cut off state incentives for the plant to expand if the union was approved.
After 53 percent of the workers voted against his union, King said he was outraged at what he called "outside interference" in the election. He wouldn't rule out challenging the outcome with the National Labor Relations Board.
"It's never happened in this country before that the U.S. senator, the governor, the leader of the House, the legislature here, threatened the company with no incentives, threatened workers with a loss of product," King said. "We'll look at all our options in the next few days."
The union could contend that Corker and other local politicians were in collusion with VW and tried to frighten workers into thinking the SUV would be built in Mexico if they voted for the union, said Gary Chaison, a labor relations professor at Clark University in Worcester, Mass.
But Chaison said it will be difficult to tie the politicians to the company, which remained neutral throughout the voting process.
"It's the employer that has real power," he said.
The loss put a spotlight on the union's major difficulty in the South: signing up people who have no history with organized labor and are fearful of being the first in the area to join, Chaison said.
Dziczek said the union may have to change its tactics in future organizing efforts, because King's strategy of the union and company working together to help each other did not work.
Republican Gov. Bill Haslam said through a spokesman that he was pleased with the vote and "looks forward to working with the company on future growth in Tennessee."
Corker echoed that sentiment in a release issued after the vote.
"Needless to say, I am thrilled for the employees at Volkswagen and for our community and its future," he said.


Ford building new Edge
Concept at Oakville plant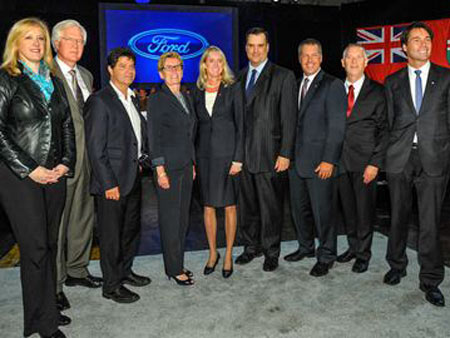 Oakville Beaver
Feb 14, 2014
Ford will build an all-new Edge utility vehicle, the Edge Concept, at its Oakville Assembly plant for export to 60 countries.
The new product in Oakville follows Ford's $700 million investment in the plant to make it one of the most competitive and advanced global manufacturing facilities in Canada, while preserving 2,800 jobs.
The Edge Concept is now on display at the Canadian International Auto Show. It exhibits the the technology, design and craftsmanship Ford believes will define its next generation of global utility vehicles.
The new utility vehicle will be built in Oakville and shipped to more than 60 countries as demand for utility vehicles grows worldwide.
The vehicle competes in the global utility segment, which grew 13 per cent year over year in 2013. Ford outperformed the segment with 35 per cent growth and more than 1.2 million vehicles sold worldwide, and Edge production surpassed its 1 million vehicle milestone last year. The utility segment in markets outside North America grew 112 per cent in 2013 and is forecast to increase 30 per cent in 2014, with utility sales expected to total approximately 600,000 vehicles this year.
"The decision to produce the all-new global Edge in Canada is proof that Canadian manufacturers can compete, and win, globally," said Dianne Craig, president and CEO, Ford Motor Company of Canada, Ltd. "We're ready to showcase Oakville Assembly's commitment to craftmanship and advanced manufacturing to deliver what our global customers want and value — a high-quality vehicle with class-leading design, fuel efficiency and performance."
Ford announced last September its $700 million investment at Oakville Assembly to expand the plant's manufacturing capability to meet global demand and preserve more than 2,800 jobs. The plant manufactures Ford Edge and Ford Flex, as well as Lincoln MKX and Lincoln MKT.
"Oakville is vital to Ford's global manufacturing system as we prepare to launch more vehicles this year than ever before," said Joe Hinrichs, Ford president of The Americas. "The Oakville facility will offer world-leading flexibility, enabling us to react quickly and efficiently to shifts in consumer demand here in North America and around the globe."
Ford's global utility portfolio spans small, medium and large vehicles — from the compact EcoSport to midsize Explorer and full-size Expedition – to fit the needs of consumers around the globe in various life stages.
Ford will provide customers with more choices in 2014 as it plans an unprecedented product year launching 23 vehicles globally – 16 in North America, including the new Edge.
Visitors to the Canadian International Auto Show will get a glimpse of the new vehicle at the Ford stand, including a preview of automated driving options Ford is developing.
These include: fully assisted parking aid: Automatic parking technology allows for control from inside or outside the vehicle; obstacle avoidance: automatically steers around an object when the driver does not; if the driver fails to react, the system will automatically steer and brake to avoid a collision; adaptive steering: the next step in steering technology leads to improvements in both low- and high-speed driving situations.
In addition, Ford Edge Concept features fuel-saving technologies such as Active Grille Shutters, Auto Start-Stop and an innovative air curtain, which manages airflow around the front wheels to enhance aerodynamic efficiency.
The Edge Concept is on display at the Ford booth Feb. 14-17.
Fiat: Decision 'not even close' on investment in Canada factory
Mark Clothier
Bloomberg News
February 14, 2014

Chrysler Group LLC, which is exploring where to build its new minivans, may decide whether to move forward by the end of March, CEO Sergio Marchionne said.
Chrysler, fully owned by Fiat SpA since last month, is negotiating with federal and provincial governments in Canada for loans to help it prepare factories in Windsor and Brampton, Ontario. Fiat is "not even close" to resolving those talks, Marchionne said Thursday.
The investment, which Marchionne says may total billions of dollars, would be the largest Fiat has made since Chrysler exited bankruptcy in 2009.
"We've got to decide whether you want this or not," Marchionne told reporters in Toronto. "And if you do, I'll be more than willing to stay. Global footprints are global footprints. I'm not using this as a threat, but there are some parts of the world that are desperately looking for capacity utilization, where infrastructure exists, is in place and is operational."
Marchionne said he has heard from other jurisdictions including the U.S. and Mexico about moving the production. They're likely to offer better incentives than Canada, he said.
The company's two minivans, the Chrysler Town & Country and the Dodge Caravan, were the second and third best-selling minivans in the U.S. last year, trailing the Honda Odyssey, according to Autodata Corp. They are built at a Windsor factory.
Marchionne wants to transform Fiat and Chrysler into a company with the scale to challenge larger global automakers such as General Motors Co. and Volkswagen AG. Acquiring Chrysler was a step toward that goal, Marchionne has said.
"The world is getting incredibly competitive and the walls are porous," said Marchionne, who also praised the skill of the workers in Windsor. "I think it's important that we preserve this manufacturing know-how in the country and that we defend it. How we defend it is something that needs to be determined with Fiat Chrysler and the government and we're in the process of doing that."
The incentives for the minivan plants are reported to be as much as C$700 million ($637 million), the Globe and Mail said this week.
Canada said Feb. 11 it is increasing funding for automakers by C$500 million to attract more investment from companies such as Chrysler as output declined amid global competition.
The government will bolster its Automotive Innovation Fund over two years, adding to the C$316 million invested in six projects since 2008, according to the budget released by Finance Minister Jim Flaherty.
The money "is not just for Chrysler, it's for some of the other automotive companies in Canada," Flaherty said, adding he considers the industry an employment hub. "The demands by Chrysler are substantial."
Marchionne said Thursday, "We're trying to remove all politics and noise around this issue. It's a very simple investment call. We're ready to go. We're at the table. The car is ready. We're ready to build minivans. Somewhere."



Ford tells Congress it protects, collects some driver data
David Shepardson
Detroit News Washington Bureau
February 14, 2014
Washington — Ford Motor Co. told Congress that it collects some vehicle location data, but only to help drivers and "troubleshoot and improve our products."
The Dearborn automaker said it collects limited data only after getting permission from owners — including keeping some vehicle travel data from SYNC services for up to 60 days. Ford said the data for turn by turn navigation and other services "is used only to fulfill the customer request, to troubleshoot and to improve products."
While navigation data is stored on vehicles for two to three weeks, Ford said that data is never transmitted, but said it could be turned over to law enforcement with a subpoena.
Ford answered a series of questions about driver privacy after a senior company executive, Jim Farley, suggested at a forum last month that the company knew lots of information about its millions of owners.
Sen. Al Franken, D-Minn., who had asked the questions, said Ford's response underscored the need for his "location privacy bill, which he plans to reintroduce in the next several weeks."
Franken, who chairs Judiciary subcommittee on Privacy, Technology, and the Law, asked Ford to provide greater transparency over its in-car data collection practices.
Franken released Ford's Feb. 3 letter on Wednesday.
Ford vice president for government relations Curt Magleby said in the company's letter that the automaker is "absolutely committed to protecting our customers privacy." Ford said that if owners want their location data deleted it will do so — something a government report said last month no automaker surveyed would do.
Ford said location data from in-vehicle navigation systems are kept in the vehicle for two to three weeks based on the number of miles driven and never transmitted to Ford or anyone else.
For plug-in hybrids and EVs, Ford collects limited data — including vehicle speed — only when the electric battery charge is low. Ford retains personally identifiable data for 90 days. Ford retains identifiable owner data from SYNC services for 60 days
The automaker said it will turn over data from vehicles if it receives a subpoena from a law enforcement agency, but said that data must be retrieved with "direct physical access to the vehicle."
"I believe Americans have a fundamental right to privacy, and that right includes the ability to control who is getting your personal information and who it's being shared with," Franken said. "I wrote Ford to clarify some of their data collection practices, and I'm glad that they responded. But consumers in Minnesota and across the country still deserve to get basic information about who's collecting their location and when it's being collected. This is sensitive information and notices to consumers about this sensitive data shouldn't get lost in fine print. And I'll be reintroducing my location privacy bill to require that consumers give clear consent before their information is collected or shared."
Last month, Farley apologized for suggesting Ford tracks customers through in-car navigation devices.
Farley, the headliner at the Consumer Electronics Show in Las Vegas, said Ford knows where and when customers drive their vehicles, but does not sell that information to third parties.
"We know everyone who breaks the law, we know when you're doing it," Farley said, according to a report in Business Insider. "We have GPS in your car, so we know what you're doing. By the way, we don't supply that data to anyone."
Ford later said that wasn't true.

Ford's new F-150 triggers
run on aluminum
Bryce G. Hoffman
The Detroit News
Feb 12, 2014
Ford Motor Co.'s new aluminum-bodied F-150 pickup has triggered a stampede among automakers, sending many of the company's competitors scrambling to ink deals with aluminum suppliers for the weight-saving metal.
"There's isn't an automotive manufacturer that makes vehicles in North America that we're not talking to," said Tom Boney, head of North American automotive business for Novelis Inc., the world's largest supplier of the aluminum sheet used by automobile manufacturers. "Our customers will be making announcements fairly regularly over the next six years that will transform the automobile industry."
Boney also is chairman of the Aluminum Transportation Group, part of the Aluminum Association, and he says "every boardroom" in the auto industry was forced to take a close look at Ford's plans and adjust their own product plans accordingly.
That is because there is no simpler way to boost fuel economy than by reducing vehicle weight, and boosting mileage is something all automakers need to do.
"There's a very simple reason for it: CAFE," said General Motors Co. spokesman Klaus-Peter Martin, referring to the U.S. government's tough new fuel economy standards. "Every gram you can take out of the vehicle, it helps with fuel efficiency."
The question now is this: Is there enough aluminum to go around?
In the near term, the answer is no.
Ford has locked up much of the supply of automotive-grade aluminum sheet for its new version of the F-150, slated to go on sale late this year. The F-150 has been the bestselling vehicle in America for decades.
But Novelis and other aluminum manufacturers are adding capacity. A lot of it. And they say they will be ready when Ford's competitors are.
"Ford is clearly the first mover, and that does give them some advantage," Boney said, noting that automakers also need to secure new tooling for their stamping facilities before they can begin producing aluminum body panels like those used to make Ford's pickup. They also need to redesign their vehicles.
"It probably takes 30 months to work through that," he said, adding that Novelis can build a new aluminum plant in about the same amount of time. "We're very well-positioned to be able to continue to invest in new capacity."
So is rival Alcoa Inc. It is building two new plants in the United States and another in Saudi Arabia.
"These are investments we are making to meet that demand," said Alcoa spokesman Kevin Lowery. "But most of that capacity is spoken for. The sooner you get to us, the better. I think (automakers) understand that."
Aluminum already is the No. 2 material used in automobiles, and Lowery said North American manufacturers plan to double their use of the metal by 2025, when the federal government's new fuel economy standards hit their peak of 54.5 miles per gallon.
Other automakers will be selling aluminum-bodied vehicles like Ford's new F-150 well before then, Boney predicted. Today, automobile manufacturers only use about 6 percent of the sheet aluminum produced in the world, but Novelis expects that figure to skyrocket to more than 25 percent by the end of this decade.
While Boney declined to discuss specific vehicle programs, he did say more aluminum trucks are in the works.
"Our most robust conversations are with vehicles that are facing high demand and high CAFE requirements," he said. Think pickups and full-size sport utility vehicles.
GM is among those considering an aluminum-bodied truck, according to a source familiar with the company's plans.
GM's Martin would not discuss his company's future product plans, but said the automaker already is using aluminum in a variety of vehicles and has been for some time.
The frame of the Corvette has long been made of aluminum. So are the hoods and other chassis components of current-generation GM pickups, and all four doors on the Cadillac CTS.
"It's part of our strategy to make vehicles lighter," Martin said. "But aluminum is not a silver bullet."
General Motors also is using more high-strength steel, which can be pressed thinner than conventional steel and still yield the same durability.
Chrysler Group LLC is using more aluminum in its vehicles, including for the hood and chassis components on the current Ram 1500 pickup. But like GM, the Auburn Hills automaker says aluminum is only part of the solution.
"We use a variety of materials for select applications to decrease weight, address durability tolerances and optimize packaging," said Chrysler spokesman Nick Cappa, though he did not deny that his company is talking to aluminum producers. "As a company, we speak with a number of potential suppliers to investigate the business case and then determine quality risks and benefits for each use."
Ford will not be the first automaker to bring an aluminum-bodied vehicle to market.
Its former British luxury brands, Jaguar and Land Rover, are already selling them. But Boney says the real winners in this race will be consumers.
"The automobile industry in Detroit is at its best when innovation is occurring at a rapid pace," he said. "That's the period Ford has thrust us into in a big way."
Tough labour talks ahead as
workers push for wage hikes
TAVIA GRANT
The Globe and Mail
Feb 11, 2014
Wages are set to take centre stage in a tough bargaining climate this year, as unionized workers push for better compensation after seeing pay increases ebb to a 16-year low.
Average pay hikes fell to 1.4 per cent for unionized workers last year, data compiled by Employment and Social Development Canada show. Public-sector wage settlements fell to their lowest point since 1996.
Several trends suggest difficult labour talks ahead. Austerity will continue in the public sector as governments seek to balance budgets and, in some cases, impose wage freezes . On the private-sector side, employers aim to contain costs and boost competitiveness. And workers, frustrated by years of tepid wage gains, are hoping for higher pay as the economic outlook improves.
"We expect 2014 to be a challenging environment for collective bargaining," said Karla Thorpe, director of human resources research at the Conference Board of Canada.
A recovery in the U.S. economy and the decline in the Canadian dollar are raising expectations among those who work for exporting companies that improved fortunes will trickle down. The urgency of fixing pensions has abated as pension plan returns rebounded last year. Workers are also aware of some big pay hikes for corporate executives, said Jerry Dias, president of Unifor, Canada's largest private-sector union.
"Workers were a part of the solution when times were tough. Now that things are reversed, they expect a return on their investment, in wage increases," said Mr. Dias.
Among workers, "there's this notion that okay, we did you a favour in 2008, 2009 – we didn't try to go after the huge increases, but it's time now. That's an issue for collective bargaining, and hopefully parties continue to be realistic," said Sundeep Gokhale, partner at Sherrard Kuzz LLP who represents public and private employers in Ontario.
Several factors tipped the balance of power to employers last year. The federal government intervened in several labour disputes, thwarting the bargaining clout of unions, while low inflation helped employers persuade workers to accept smaller wage increases.
High-profile wage freezes in the public sector have also had a dampening effect when it comes to private-sector bargaining, said Mr. Gokhale.
Last year, public-sector wage settlements eased to 1 per cent, while average private-sector wage increases picked up, to 2.2 per cent. This year, Ms. Thorpe expects average wage settlements of 1.9 per cent, with 1.5 per cent on the public-sector side and 2.2 per cent in the private sector.
Public-sector bargaining is expected to be "particularly difficult" this year, with wage restraints already announced in Ontario and British Columbia, she said.
Canadian Pacific Railway, Maple Leaf Foods and Bombardier Aerospace are among those employers heading into bargaining this year, along with hundreds of thousands of federal, provincial and municipal workers. About 31 per cent of Canada's work force is unionized, down from 34 per cent in the 1990s.
Even in Alberta, home to Canada's hottest economy, wage hikes aren't rocketing higher. For the public sector, "there's a theme of restraint" and the prospect of a legislated wage freeze. In the private sector, unions and employers are balancing fair and competitive wages with a still-uncertain economy, says Dwayne Chomyn, an Edmonton lawyer with Neuman Thompson who represents public and private-sector employers.
Mr. Gokhale expects to see more employers move away from defined benefit pension plans, and the growth of more two-tiered work forces, where new hires get paid on a lower wage scales (sometimes with reduced benefits).
The average duration of contracts has gotten shorter. At 36 months it's the lowest in nine years, reflecting an uncertain economic outlook. "On neither side do people want to get locked into an arrangement, which from management's perspective might be unsustainable if the economy starts to do more poorly, and from a union's perspective if the economy really picks up, might leave them falling behind in the economy," said Ms. Thorpe.
The outlook is cloudy enough that Mr. Gokhale is seeing more and more two-year deals "because of the uncertainty of what year three and four will bring."


U.S. auto sector employment
hits 5-year-high
David Shepardson
Detroit News
Washington Bureau
Feb 10, 2014
The U.S. auto sector added 3,400 jobs in January — and now employs more people than it did in September 2008 —as rising sales have boosted employment across the industry.
The Bureau of Labor Statistics said Friday employment at automakers and parts companies rose to 846,400 last month — up nearly 47,000 jobs over the last year.
Auto dealers added 42,000 jobs over the last year to 1.16 million.
Wages have remained relatively flat in the sector.
The average hourly wage in the auto sector for production and non-supervisory workers rose $0.29 an hour over the last year to $21.21. The average hourly warnings at automakers for the same group was $28.06, compared with $20.01 for parts employees.
Michigan added 700 net auto manufacturing jobs in 2013 to 43,300 — and the parts sector added 4,600 to 110,300 — the best gains of any states in the parts sector. Michigan has nearly twice as many auto parts manufacturing jobs than the second highest state — Indiana, with 56,600.
But the industry is still down sharply from the beginning of the great auto restructuring. The auto sector employed 1.1 million people as recently as 2006 — and it is still down about 250,000 jobs since then.
Since President Barack Obama took office, the auto sector has added about 90,000 net jobs — and about 220,000 jobs since the auto industry's low employment level of 624,000 jobs in June 2009, when GM and Chrysler were in bankruptcy.
UAW critics take differing approaches to VW vote
Erik Schelzig
Associated Press
Feb 9, 2014
Nashville, Tenn. — Two of the more vocal Republican critics of efforts to unionize the Volkswagen assembly plant in Tennessee are taking opposing approaches to a pending vote over United Auto Workers representation next week.
U.S. Sen. Bob Corker, who last year declared that the German automaker would become a "laughingstock" if it opened its doors to the UAW, has announced he won't weigh in until after the three-day vote beginning Wednesday.
"While the decision is in the hands of the employees, I do not think it is appropriate for me to make additional public comment," Corker said after the vote was announced.
But Tennessee Gov. Bill Haslam isn't dialing back his heavy criticism of the UAW possibly winning representation of workers at its first foreign automaker in the South.
The governor said after a speech to the Tennessee Press Association on Thursday that a union win would hurt the state's ability to attract suppliers and other future business.
"We're just saying the same things we've always said — that the state has a vested interest in this," he said. "From our viewpoint, from what we're hearing from other companies, it matters what happens in that vote."
Volkswagen, which has declared its neutrality over the outcome of the organization effort, has asked the National Labor Relations Board to conduct a vote next week.
German law gives labor representatives half the seats on the Volkswagen's supervisory board, where some members have raised concerns about the Chattanooga plant being alone among the company's large factories without formal labor representation.
The UAW vote would be the first step toward creating a German-style "works council" at the plant which represents both blue and white collar employees on issues such as working conditions and plant efficiency, but not wages or benefits.
Under Tennessee law, workers would not have to join the union to be represented.
Volkswagen announced earlier this year that a new SUV model will be built either in Chattanooga or in Mexico. Haslam said that decision could be influenced by the UAW vote.
"They have been hammering us, saying the cost differential to build that in Chattanooga is too great, and we've got to find a way to narrow that cost," Haslam said.
"Every economic study I've been shown says if the plant unionizes it will not lower the cost to produce a vehicle there," he said.
The governor said he turns back questions about why the state is getting involved in the internal labor politics of a business.
"I think it is our business in the state of Tennessee," he said. "The state of Tennessee put a whole lot of money in that plant."


Ford judge says company to
face new trial over dealer pacts
Jef Feeley
Bloomberg News
February 8, 2014
Ford Motor Co. must face a new trial on claims the carmaker violated commercial truck dealers' pricing contracts in the retrial of a case that previously generated a $2 billion award against the company, a lawyer said.
An Ohio judge concluded jurors were confused when they rejected Ford dealers' claims the automaker breached sales and service agreements by failing to publish prices for medium and heavy trucks, James Lowe, a lawyer for the truck sellers, said in an interview today. Judge Peter Corrigan ordered Ford to face another trial of the claims, Lowe said.
"We are gratified to once again have the chance to show Ford took advantage of the dealers by manipulating agreements to divert their profits to the company," Lowe said.
Corrigan hasn't set a new trial date for the dealers' case, which has already has had two verdicts thrown out. In the first trial in 2011, Corrigan awarded about $2 billion, including about $1.2 billion in interest, to a class of about 3,000 dealers. A state appeals court threw that award out, finding Corrigan improperly excluded evidence that could have helped Ford in the case. In the second trial, an Ohio jury rebuffed the truck sellers' claims in September.
Jay Cooney, a spokesman for Dearborn, Michigan-based Ford, said the company was disappointed with the judge's decision to grant a new trial and plans to appeal it.
"We are confident the appellate courts will reinstate the jury's verdict, including that Ford did not break the sales and service agreement," Cooney said in a phone interview.
The dealers sued Ford in 2002, claiming the company broke an agreement to sell trucks at published prices, forcing them to pay more from 1987 to 1998.
The dealers said the agreement required Ford to publish all price concessions that were approved for any dealer. Failing to publish discounts given to some meant the others paid more, according to lawyers for dealers, such as Youngstown, Ohio-based Westgate Ford Truck Sales Inc, which serves as lead plaintiff in the case.
Ford denied committing any breaches or overcharging dealers, contending a program that offered some discounts wasn't barred by the contract.
GM earned $3.8B in '13;
profit sharing up to $7,500
Melissa Burden
The Detroit News
Feb 7, 2014
General Motors Co., which Thursday said it earned $3.77 billion in 2013 — down 22.4 percent from 2012 — repeated its 2014 outlook for "moderately" better profits. But the automaker also warned that first-quarter results will be lower than typical because of continued restructuring costs, particularly in Europe.
The company said its operating performance improved during 2013, but higher tax expenses and restructuring costs that together totaled $2.4 billion drove down earnings.
GM marked its 16th straight quarterly profit with $913 million earnings pre-tax in the fourth quarter, up slightly from $892 million in the same period in 2012.
Its 2013 fourth-quarter earnings per share hit 57 cents, or 67 cents when factoring special items that cost about $200 million or 10 cents a share. That 67-cent figure was 20 cents a share short of analyst expectations. GM's new Chief Financial Officer Chuck Stevens said analysts missed restructuring costs related to closing its Bochum plant in Germany this year; GM also had a higher tax rate.
Analysts downplayed the fourth-quarter miss.
GM annual earnings

GM's 2013 earnings were down compared to 2012 because of higher taxes and restructuring costs. *GM emerged from bankruptcy a new company on July 10, 2010
"We don't view this as a story-changing quarter as weakness is isolated to regions where GM is aggressively restructuring throughout 2014," Itay Michaeli, an analyst with Citi Research, wrote in an investment note.
Brian A. Johnson, an analyst with Barclays Capital Inc., said in a research note: "Like a slightly used car with significant cosmetic damage but a working powertrain, GM posted a quarter that looks worse on the outside than on the inside."
GM in 2013 was carried by North America, where its yearly adjusted pretax earnings were best-ever at $7.46 billion, up 15.3 percent from $6.47 billion in 2012. Stevens said new vehicles such as the 2014 Chevrolet Silverado, which is commanding higher selling prices, helped North American results.
With the improvement, GM also announced profit-sharing checks of up to $7,500 for 48,500 eligible U.S. employees. Checks are scheduled to go out to employees in March. Last year, GM paid hourly workers up to $6,750.
Operating margins improved, the company reduced its underfunded pension status globally and in the U.S., and revenue jumped 2 percent in 2013 to $155.4 billion. GM's 2013 adjusted earnings before interest and taxes totaled $8.6 billion, up 9 percent from $7.9 billion in 2012. Fourth-quarter 2013 adjusted earnings before interest and taxes jumped 58 percent to $1.88 billion, from $1.14 billion a year earlier.
GM's new CEO Mary Barra, in a call with analysts Thursday, said she's not satisfied with the company's profit performance.
"We clearly have a lot of work ahead to make all of our regions solidly and consistently profitable," Barra said. "It's going to be a multi-year journey that will include brand building, significant reductions in material and logistics cost and overall lower fixed cost."
GM trimmed pretax losses in Europe in 2013 to $844 million, including a loss of $345 million in the fourth quarter. The total 2013 losses are down from $1.94 billion in 2012. Stevens said GM has seen improvement in the European sales market and GM's revenue rose in the second half of the year.
"With the cost actions that we've taken and an improving market, we feel very good about our mid-decade objective of breaking even (in Europe)," Stevens said.
But he warned of more restructuring costs to come for Europe this year. He told analysts that restructuring coupled with weakness in Russia likely will drive down European results in 2014 before improving.
The company's 2013 International Operations earnings, which include its biggest sales market in China, fell to $1.23 billion pretax, from $2.53 billion in 2012. Fourth-quarter International Operations earnings fell to $208 million pretax from $676 million in the 2012 quarter.
Stevens said the company is seeing a general weakness across international regions. In some markets the problem is foreign exchange; in others, it's pricing because of a weaker yen. Without its China results, GM would have lost $200 million in its International Operations region during the fourth quarter.
In December, GM announced it would stop selling most Chevrolet models in Europe by the end of 2015 and would stop making vehicles in Australia by 2017. "Those two actions will build a much stronger foundation going forward for improved earnings in (International Operations)," Stevens said.
He said GM continues to face challenges in Venezuela and that the risk in South America has "increased significantly over the last several weeks" with currency devaluation in Argentina and economic problems in Venezuela that has led GM to idle its plant there.
Stevens said GM's 2014 first-quarter profits will be lower than typical due to further restructuring costs which he pegged at about $300 million in the first quarter, most related to closing its Bochum plant. He also cited higher marketing expenses for product launches and advertising in the Super Bowl and Olympics. Sales reductions in the Middle East related to launching SUVs also will be a factor. The company has announced expected $1.1 billion in total restructuring costs for 2014.
GM's stock closed down a penny Thursday at $35.23 a share.
Canada left behind in auto race
as U.S., Mexico make gains
GREG KEENAN
The Globe and Mail
Feb. 06 2014

North American vehicle production hit its highest level in a decade last year, but Canada missed out on the recovery – another sign that the country's position as an auto-making powerhouse is being eroded.
Output at assembly plants in Canada fell 3 per cent, compared with increases of 7 per cent at U.S. plants and 2 per cent at factories in Mexico, pushing Canada's share of North American vehicle production to its lowest level since 1987.
There is no danger of the industry packing up and moving south overnight, but there are questions about the viability of several factories and potential threats to thousands of direct jobs and tens of thousands more at auto suppliers, all of which are among the best-paying Canadian manufacturing jobs.
The deterioration of Canada's position last year also underlines the importance of retaining existing plants if the country is to hang on to its status as a major vehicle producer and exporter. The drop in Canada's share last year was the third straight decline.
"The fact that we've lost 2.5 points in the last three years is pretty significant … we've got a distinctive downward trend," said industry analyst Dennis DesRosiers, president of DesRosiers Automotive Consultants Inc. "The other significant part – and it's really important – is that we were down and the U.S. and Mexico were up."
Assembly plants in Canada produced 2.37 million vehicles last year, compared with 2.45 million a year earlier, data from industry publication WardsAuto show.
Part of the reason for Canada's decline is that Mexico is booming with billions of dollars worth of new investment by Asia– and Europe-based auto makers coming on stream. A new Mazda Motor Corp. plant began producing vehicles last month, while the newest Honda Motor Co. Ltd. plant is scheduled to start up in the next few months. An Audi AG factory is under construction.
Mexico is threatening to displace Japan as the second-largest exporter of vehicles to the United States and could soon challenge Canada's leading position.
In addition, the rise in the value of the Canadian dollar before its recent tumble has hurt Canada's competitive position. At the same time, the Detroit-based auto makers have undertaken what the Center for Automotive Research in Ann Arbor, Mich., has called a retreat to the core, closing many factories that were in such states as Delaware, Georgia and Missouri that were relatively distant from their core operations in Michigan.
The addition by Chrysler Group LLC of a third shift at its Jefferson North Assembly Plant in Detroit contributed to an 8-per-cent jump in vehicle production in Michigan last year.
The proposed investment of more than $2-billion by Chrysler in its Windsor, Ont., minivan plant, and whether the federal and Ontario governments will come up with financial assistance of more than $400-million to secure it, will represent a key signal about the future of vehicle manufacturing in Canada.
The Windsor plant employs more than 5,000 people and has been a humming economic engine of southwestern Ontario since the first minivan rolled off the line in 1984. The plant has been producing minivans on three shifts for almost three decades and its output represented 14 per cent of all Canadian vehicle production last year.
The Chrysler request is one of many that will arrive during the next few years amid what is a fact of life in the auto industry: Governments throughout the world offer auto makers hundreds of millions of dollars to attract new factories and retain existing plants. Ottawa and Ontario provided $140-million to Ford Motor Co. last year to help retool its Oakville, Ont., assembly plant.
"This industry needs investment in the next three to five years pushing $10-billion to keep what we have," Mr. DesRosiers said.He said there are few levers governments can pull to compete with Mexico and other jurisdictions. Canada's tax structure is competitive, and the drop in the dollar should help relieve some of the wage pressure."It comes down to three words: Cut a cheque," he said.


U.S. safety agency closes
investigation of Ford Super
Duty pickups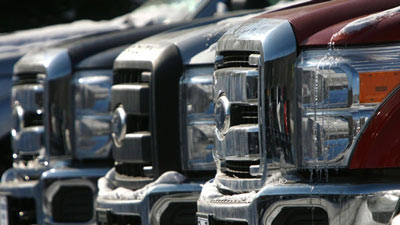 Associated Press
February 4, 2014

DETROIT -- U.S. regulators have closed an investigation into steering failures on some Ford Super Duty trucks, saying they didn't find a safety defect.
The National Highway Traffic Safety Administration opened the probe in May after getting complaints of steering gear box failures in F250 and F350 trucks. The investigation covered about 340,000 trucks from the 2008 model year.
The agency said Tuesday that lab tests of failed parts found no evidence of fatigue. Also, an analysis of complaint rates showed no pattern of manufacturing quality problems.
The agency says the complaint rate for the trucks is low. It says that in many complaints, the trucks had hit curbs and other objects, suggesting that crashes caused steering failures.
Ford and the agency received 149 complaints about the problem. No injuries were reported.


VW workers to vote on
UAW representation
Karl Henkel and David Shepardson
The Detroit News
February 4, 2014
Employees at the Volkswagen plant in Chattanooga, Tenn., will vote by secret ballot next week to determine whether the United Auto Workers will represent employees through a works council-style system.
Volkswagen said Monday that the National Labor Relations Board will hold the vote Feb. 12-14.
"Volkswagen Group of America and the UAW have agreed to this common path for the election," said Frank Fischer, chairman and CEO of Volkswagen Chattanooga, in a statement. "That means employees can decide on representation in a secret ballot election, independently conducted by the NLRB. Volkswagen is committed to neutrality and calls upon all third parties to honor the principle of neutrality."
The UAW said in September that a majority of employees signed cards to join the union. Last month, the NLRB general counsel's office dismissed a complaint made by two workers challenging the process.
The UAW has made organizing foreign automakers one of its key efforts after decades of defeats. UAW President Bob King in Washington said that without well-funded opposition by conservative groups there would be no need for a vote of employees.
VW has come under heavy pressure from Republicans who have pressed it to take a tougher line with the union — and said if the union is successful it could harm the state's reputation for attracting new business.
If approved, the VW Chattanooga pact would be the first works council created in the U.S.
"Volkswagen is known globally for its system of cooperation with unions and works councils," UAW President Bob King said in a statement. "The UAW seeks to partner with (Volkswagen) and a works council to set a new standard in the U.S. for innovative labor-management relations that benefits the company, the entire workforce, shareholders and the community. The historic success of the works council model is in line with the UAW's successful partnerships with the domestic automakers and its vision of the 21st-century union."
Volkswagen recently has faced pressure from its Global Works Council, which represents workers at major VW plants around the world, to implement a works council system at the automaker's lone U.S. assembly plant. A German-style works council is different than the current labor setup of the UAW: Councils consist of a group of white- and blue-collar workers who meet with company management to discuss plant issues.
If a works council is approved, the plant would have a spot on the VW Global Groups Works Council, according to the UAW.
Historically, labor has been integrated closely with Volkswagen: Half of the 20 seats on the automaker's supervisory board must be labor representatives under German law.
The union, however, must comply with U.S. labor laws. The works council must be part of a trade union; otherwise it could be perceived as a company-sponsored union, which is illegal.
King has tried unsuccessfully to organize workers at U.S. auto plants run by foreign carmakers. The union is less than one-third the size it was four decades ago.
Volkswagen has a bit of history with the UAW, which organized workers at the automaker's former assembly plant in Westmoreland County, Pa., in 1978. A Mitsubishi plant in Illinois that started as a joint venture with Chrysler Corp. currently has workers represented by the UAW.


MKZ pushes Lincoln
dealer profits up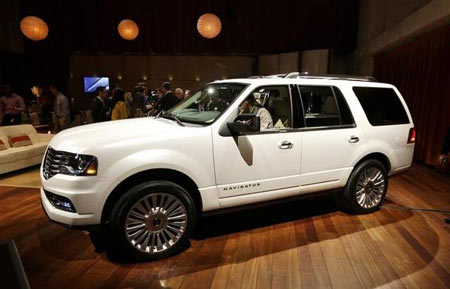 Brand's sales could rise 20% in 2014, analysts say;
retooling expected to help numbers
Karl Henkel
The Detroit News
Feb 3, 2014
A profitable new MKZ sedan boosted Lincoln dealer profits last year, despite the lowest number of cars and SUVs sold in recent history.
Sales of Lincoln vehicles overall fell 0.6 percent in 2013 to 81,694. But a 15 percent rise in sales of the luxury brand's most popular vehicle, which is selling for about $6,000 more than during the previous year, has Lincoln dealers hoping that the brand's reinvention — which could include sales gains of 20 percent this year — may be ahead of schedule.
"When you see the new cars that are coming, this is what's going to resurrect the Lincoln brand," said Jere Law, general manager at Varsity Lincoln in Novi.
Lincoln dealer profits were higher in 2013 than 2012, said Matt Van Dyke, marketing chief for the luxury brand, in a recent interview.
A Lincoln spokesman did not say when the last time dealers grew profits, and Ford Chief Financial Officer Bob Shanks did not say whether the brand's profitablity grew in tandem with its dealers in 2013.
The brand's sales have fallen in five of the past six years, according to data from Autodata Corp., including last year, even after the automaker had told dealers that an 18 percent rise in sales in 2013 would constitute a "good year."
A months-long production delay on the MKZ — which is the first of four new vehicles the brand will introduce by 2016 — stifled sales early in 2013.
But with a full stock of its sedan, a new segment entry this summer with the new MKC compact crossover, plus a mid-cycle makeover this fall for its Navigator full-size SUV, the brand's sales could climb about 20 percent and top 100,000 for the first time since 2008, said Alec Gutierrez, an analyst at Kelley Blue Book.
"This is somewhat of a critical year for Lincoln," Gutierrez said. "They've been somewhat product-starved over the past couple of years. There's no excuses this point if it doesn't deliver."
The MKC is Lincoln's first crack at the small crossover segment that has more than tripled in size since 2009. MKC sales could score the brand an extra 35,000 or 40,000 customers per year, analysts project.
Lincoln officials believe the MKC, with a base price of $33,995, can achieve similar pricing power to that of the MKZ. And the Navigator full-size SUV will get a mid-cycle makeover and debut in the fall.
The Navigator is Lincoln's most expensive offering.
But dealer profitability has not been confined to new vehicles.
Lincoln last year started a tiered incentive program that rewards dealers with bonuses for retaining used Lincolns, with even greater bonuses for cars that can be certified pre-owned, or given a rigorous inspection and then sold with a warranty.
The brand has tripled the percentage of used models that are resold at Lincoln dealerships in about a year. It is leasing a greater percentage of vehicles, which leads to more certified pre-owned vehicles available for resale.
That translates into higher dealer profits and rising residual values.
The next step, Shanks said, is to realize the benefits of scale; greater sales volumes will lessen the per-vehicle investment costs.
That will be greatly aided by Lincoln's introduction to the Chinese market, expected to kick off at the end of this year at five new dealerships.
"It's the second-largest premium market in the world," Shanks said. "And it will provide level of scale that we otherwise wouldn't have."
Lincoln sales by year
2013: 81,694
2012: 82,150
2011: 85,643
2010: 85,828
2009: 82,847
2008: 107,295
2007: 131,487
Massive Ontario pension
scheme at decision point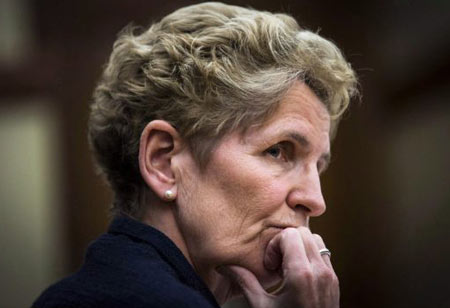 Toronto Star
Martin Cohn
February 2, 2014
The outcome of behind-the-scenes debate could breathe new life into retirement incomes. Or trigger political death and early retirement for Premier Kathleen Wynne.
The broad outlines of a new Ontario pension plan are taking shape. And it could be a very unconventional pension.
Behind the scenes, the Liberal government has launched a high-stakes internal debate on how to create a massive new retirement savings program.
The outcome could breathe new life into retirement incomes. Or trigger political death and early retirement for Kathleen Wynne.
The premier's final pension decision will trigger a major public debate in the provincial election coming as early as spring. And sources say the closed- door discussions now underway could take an unexpected turn:
Some options bear little resemblance to the enhanced Canada Pension Plan that Ontario has long touted as the best fit.
Ontario and other provinces were rebuffed by the federal Conservatives last month in their collective drive to boost the time-tested CPP. Now, Queen's Park is looking at alternatives that could mark a stark departure from its past stance.
Government sources describe options that could deviate widely from the venerable CPP model of a "defined benefit," with predictable payouts that are guaranteed. Instead, at least four proposals now under consideration would allow a worker to "opt out," making them mandatory in name only. Such plans would offer no guarantee of how much people could expect for their retirement income, leaving them exposed to changing market conditions and possibly higher management fees.
The debate pits pension certainty against political calculations. The plan must be actuarially sound but politically saleable.
Wynne is musing, publicly and privately, about an "opt-out clause so people actually will have a choice." But individual choice comes at an economic price: If pension plans are made voluntary, they risk attrition over time. Uncertainty over withdrawals inhibits pension fund managers from taking the long view to maximize investment returns.
Now, Wynne is trying to design a long-term pension plan within a remarkably short planning horizon to meet her own self-imposed political deadline. After sitting through four years of grindingly slow negotiations with Ottawa and the provinces over CPP reforms, Queen's Park suddenly wants to unveil its own plan from scratch within a matter of weeks — in time for a spring budget, ahead of any election season.
In recent days, Wynne has briskly assembled a high-powered panel of pension experts to make recommendations, and invited former prime minister Paul Martin to serve as her special adviser. Sources say they are working from a menu of options put together by the finance ministry and the premier's office, some of which suggest the government is far less committed to the CPP model than previously indicated in public.
Based on cabinet documents and option papers circulating in the government, the main choices are:
•A conventional pension mirroring the design of the CPP, with mandatory contributions from all employers and employees. But the government describes this as a "target" benefit plan that would give it wiggle room to reduce payouts if market performance falters, rather than raising premiums for younger workers to make up the difference.
•A so-called "defined contribution" plan that makes no promises or targets for future payouts. The government is modelling this on the NEST plan recently rolled out in Britain that requires employers to set up their own private workplace savings plan or automatically enrol employees in (administratively costly) NEST accounts, from which they could later opt out.
•Even weaker options would allow employers to determine their own contributions for plans run entirely by private companies, which would inevitably charge far higher fees. Both employers and workers could opt out.
•Other loose options would let companies offer their own plan or something based on a "federal mechanism" — a euphemism for controversial PRPPs favoured by Ottawa. These Pooled Registered Pension Plans were resisted by the Ontario Liberals until last year because they tend to have higher fees and erratic enrolment due to opt-outs.
•The government is also flirting with a pension exemption for small businesses, low-income workers and those with existing workplace pensions.
Wynne faces a political and pension trap of her own making if she strays too far from Ontario's past position. After campaigning for years in favour of an enhanced CPP, far better to mirror it with an Ontario Pension Plan that merely tweaks a tried-and-true model.
Any big deviation from reliable, defined (even targeted) benefits and mandatory enrolment would dilute the large investment pools that make other public sector funds so successful. By abandoning a CPP model, Wynne would also be foreclosing the future option of a pan-Canadian pension plan.
Ontario needs to take the long view, allowing for a new government in Ottawa to one day make common cause with the provinces. It would still take several years (and a couple of election cycles) for Ontario to phase in any CPP-style OPP — time enough for any new federal government to join in.
Ontario has invested years in achieving a pan-Canadian consensus on an enhanced CPP. Why suddenly abandon that achievement when Ontario could stick to its principles by building on our collective public pension track record of success?
Rather than offering opt-outs for a half-baked plan, far better to design an enduring Ontario model that Ottawa and other provinces can one day opt in to.

Ford decision gives Windsor
Engine Plant a reprieve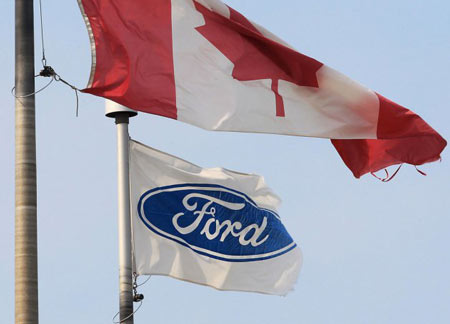 Dave Waddell
Windsor Star
January 31, 2014
Workers at the Windsor Engine Plant can thank retiring baby boomers and the strengthening U.S. economy for Ford Motor Company's decision to keep production running longer at the facility.
Ford has decided to continue assembly of its 5.4-litre V-8 engine at a reduced volume at the Windsor Engine Plant and Annex — a move that has saved 118 jobs.
Unifor Local 200 had been told in 2012 the company planned to eliminate the engine and the 200 jobs tied to it by this October.
Eighty two workers will be laid off as early as this fall instead.
"This is some of the best news we've had in some time," said Unifor Local 200 president Chris Taylor, who announced Ford's decision to a packed meeting at the union's Turner Road hall Wednesday.
"The job losses can't be downplayed, but considering the alternative, we're in much better shape today than we were prior to this announcement.
"The reality was we were looking at losing that program completely and 200 people losing their jobs. Keeping that engine adds stability for Windsor Engine."
Taylor said Ford intends to continue to produce the engine for several years into the future.
The company uses the 5.4-litre engine in current models of the Econoline cargo van, Ford Expedition and Lincoln Navigator SUV.
The plant also produces a 6.8-litre V-10 for Econoline cargo van fleet sales and recreation vehicles, which are posting rising sales.
Last year, the Windsor engine plant produced about 300,000 5.4-litre engines. Taylor said that number will decline substantially.
"It'll put us at a steady level of line balance," Taylor said.
"What this has allowed us to do with Ford Motor Company is smooth out the daily build. It'll allow us to keep a steady number of people working instead of being in and out."
As Ford workers poured out of the meeting there was clearly a sense of relief over the announcement.
The loss of 200 jobs would have wiped out nearly 37 per cent of the 560-member workforce at the site. Currently, the local has 483 workers on layoff.
"This is pretty good news," said Gayle Beaudoin, who has been at Windsor Engine for 25 years.
"Unfortunately, there'll still be some layoffs, but it's not as bad as it could've been.
"They said they're not going to close the plant. We're hoping to get another product too."
John Gaudette, who has been with Ford for 19 years, said losing 200 good paying jobs would have been a devastating blow to the community.
Keeping 118 of those was only part of the good news he heard.
"They're going to increase production of the V-10 which is awesome," Gaudette said. "They're going to go from 80,000 to 100,000.
"It's the logistics in play (that keeps them from going higher). They can't build enough of them."
A big reason is the resurgence in the RV sales. RV shipments will total about 335,000 units this year — a 6.1 per cent increase from 2013, according to the U.S. Recreational Vehicle Industry Association. That would mark five consecutive years of RV market growth
"The RV industry is alive again," said John Chisholm, dealer principal at Rose City Ford in Windsor. And, U.S. sales for the Ford E Series van have steadily risen, thanks to the recovering housing sector. Sales grew from 85,735 in 2009 to 125,356 in 2013.
Windsor Ford workers were also told they could reduce those 82 layoffs even further.
"Right now, we're trying to keep every job we can," said Kris Geier, who has 29 years in with Ford. "People need to take their vacations and refuse some overtime."
Last year, 43 per cent of Ford's hourly workers in Windsor didn't use up all their annual vacation time.
Previous to the 2012 contract it was mandatory to do so, but Ford won that concession in bargaining as it reduces the number of workers it needs to fill in. Members who don't use their weeks, which can't be carried over, get paid for their vacation as well as collecting their regular wages for working that week.
With the immediate future of the plant secured, Taylor said the lobbying for new product will continue.
Union officials plan to meet with Ford executives shortly to go over the company's next five-year plan. Landing one of company's EcoBoost engines would be the ultimate prize.
"We need Ford to keep increasing market share," Taylor said. "The company is doing well.
"Ford has a very aggressive launch next year of 23 vehicles. If they do well, there are possibilities for us."

Ford plans 15% boost in
production at F-Series Super
Duty Kentucky plant
Craig Trudell
Bloomberg News
January 31, 2014
Ford Motor Co., the maker of the top-selling pickups in the U.S. for the last 37 years, said it plans to increase production by 15 percent at one of its factories building F-Series Super Duty trucks.
Ford plans to boost annual capacity by about 55,000 vehicles at its Kentucky truck plant, pending approval Thursday of a state incentives package, Joe Hinrichs, president of the Americas, said in an interview with radio station WJR-AM in Detroit. The Dearborn-based company said it expects to invest $80 million and add 350 jobs.
"The economy is improving, truck demand's increasing, and that's why we can make this investment today," Hinrichs said Thursday in the interview with WJR.
Ford, the second-largest U.S. automaker, said in December that it plans to add 5,000 jobs in its home country this year to maintain momentum after an industry-leading market share gain in 2013. Chief Operating Officer Mark Fields said this week that the company has six actions related to production capacity in North American plants in 2014 to get the most out of its factories and meet rising demand.
Some see Chrysler-Fiat
merger as loss for Big 3
Karl Henkel
The Detroit News
January 30, 2014
Few know the changes and turmoil at Chrysler better than Cathy Smith, a millwright at the automaker's Trenton Engine Plant the past two decades: In 1998, Chrysler merged with Diamler-Benz AG, and when that unhappy marriage failed, the automaker was sold in 2007 to private equity firm Cerebrus Capital Management LP. After Chrysler entered bankruptcy in 2009, it emerged with Fiat SpA as a stakeholder.
"We've been through this before," said Smith, 49. "It seems like Fiat is the most interested in making it work. I think we're still kind of numb and we don't know what to think. They own us now, but we don't know what the effect will be yet."
A vocal minority of participants on social media websites has attempted to create momentum in recent weeks — since the Chrysler-Fiat merger plans were made public — to figuratively kick Chrysler out of the Big Three club. Comments to Wednesday's breaking news story on the new Fiat Chrysler Automobiles name prompted many mentions of "Big Two."
"Screw @FIATUSA @Chrysler ... I refuse to consider them a member of the big three. #notamericannymore #big2," read one of the more direct social media outbursts.
"That's a good question," Smith said in response to her thoughts on remaining a Big Three worker.
To be fair, the company will maintain corporate offices in Auburn Hills and Italy. And it's not as if other automakers, namely Ford Motor Co. and General Motors Co., don't have offices in other areas of the world.
But the public perception of an overseas headquarters for one of the Detroit Three is one of abandonment to some, and global importance to others. Add the fact Chrysler had to be bailed out by the government in 2009, and that leaves a sour taste for some.
"Should that tick off every American who saw his tax money used for a bailout of this company, and now they want to incorporate in the UK to save money on taxes?" WJR host and Detroit News contributing columnist Frank Beckmann asked on his radio show Wednesday.
Both Chrysler and Fiat are presently weak compared to other automakers. So leveraging the cars and knowledge Chrysler has in the United States with the vehicles and footprint Fiat has in Europe should help the combined automaker — now the seventh-largest in the world — become a bigger player in important, growing markets.
"Without this merger, there probably is no Chrysler," said Stephanie Brinley, analyst at IHS Automotive. "It'd be very difficult for them to survive on their own without having this global footprint."
U.S. Ford hourly workers
to get $8,800 bonus checks
Karl Henkel
The Detroit News
Jan 29, 2014

Dearborn — About 47,000 Ford Motor Co. U.S. hourly workers will receive bonus checks totaling more than $413 million in March based on the automaker's performance in the North American market last year.
The per-worker payout of $8,800 tops last year's record of $8,300.
Ford earned a pre-tax profit of $8.8 billion in North America in 2013, led by strong sales of its highly profitable F-Series pickups, its Fusion midsize sedan and its Escape compact crossover.
Detroit automakers are preparing to reward U.S. hourly workers with another big round of profit-sharing checks, as North American manufacturing operations approach peak efficiency.
General Motors Co. and Chrysler Group LLC will soon announce specific, per-worker profit-sharing totals along with their 2013 financial results. Based on automakers' anticipated earnings for the year, industry analysts believe more than $800 million in profit-sharing checks will go out to about 130,000 workers.
The combined per-worker total is on track to top the record of $17,875, set in 1999.
White-collar workers are not part of the UAW's profit-sharing agreement with automakers, but they are likely to receive bonus payments.
The latest profit-sharing formula, developed as part of contract negotiations between the Detroit automakers and the United Auto Workers in 2011, has acted as a pseudo-annual raise for longtime hourly workers, who haven't received a yearly pay raise in a decade. Younger, less-experienced workers, who begin at half the hourly rate of veteran employees, see small wage increases based on tenure at their respective automaker.
Bonus checks were nonexistent for years during the auto industry's downturn. GM and Chrysler went bankrupt and Ford nearly followed suit, but after closing dozens of plants and laying off tens of thousands of workers, all three are back in the black and their hourly workers are sharing in the profits.


Karl Henkel
The Detroit News
Jan 28, 2014
Dearborn —Ford Motor Co.'s profit rose about 26 percent in 2013 to $7.2 billion with its strongest performance in North America since at least 2000, plus improving operations in Asia.
Ford on Tuesday reported a pre-tax profit of $8.6 billion, or $1.62 per share, compared to $8 billion, or $1.41, a year earlier. Revenue rose nearly 10 percent to $146.9 billion as the automaker posted earnings per share of 31 cents, beating the 28-cent average forecast by Wall Street analysts.
"The company had an outstanding year, earning a profit that was higher than last year's strong performance and one of our best years ever," Ford CFO Bob Shanks said in a statement. "Our results were driven by record profits in North America and Asia Pacific Africa, improved results in Europe and another solid year from Ford Credit."
Net income last year included $1.6 billion in special items charges relating to Ford's European restructuring plan and the company's U.S. salaried retiree lump sum payouts. Net income also included favorable tax items totaling $2.2 billion, including an increase in deferred tax assets in Europe and valuation allowances against state and local deferred tax assets in the U.S.
It is Ford's fifth consecutive annual profit for a combined $42.2 billion, which follows a three-year stretch from 2006 through 2008 when the Dearborn automaker lost $30.1 billion.
In the fourth quarter, Ford earned $3 billion, up from $1.6 billion in 2012.
Fourth-quarter decline
In North America, Ford posted a pre-tax profit of $8.8 billion, despite a fourth quarter in which profits fell 9 percent to $1.7 billion. Ford cited higher costs and lower vehicle pricing as reasons for the fourth-quarter decline.
Ford set a handful of records in its Asia-Pacific-Africa region, including full-year profits of $415 million, a profit margin of 3.5 percent and revenue of $11.8 billion.
Ford, which is adding six new plants in the region, says pre-tax profits will be about the same in 2014 because of production constraints and stronger competition. The region also includes Australia, where Ford will wind down vehicle production by 2016.
In Europe, Ford lost $1.6 billion last year, down from the $1.75 billion loss in 2012. Revenue last year improved by $1.3 billion, about half of that coming in the fourth quarter alone.
Ford will lose money again in Europe this year, but expects to become profitable in 2015.
South America was problematic, with rampant inflation in Argentina and the inability for Ford to get currency to buy parts. Ford lost $34 million there last year after making $213 million in 2012. The company expects to break even in the region this year.
Ford issued warning
Ford in December warned that profits in 2014 will likely fall because of the effects of costly restructuring efforts in Europe and lower margins on outgoing models as Ford debuts a record number of new cars and trucks.
The automaker this year will offer 23 all-new or significantly refreshed vehicles worldwide, more than double the 11 global vehicle launches in 2013. Ford's pretax profit will likely fall to $7 billion or $8 billion this year.
One example of the negative impact on profits will be the reinvented F-150 pickup, which will debut near the end of the year. The truck's body is made of aluminum — a lighter but more expensive material than steel — and must clear many hurdles to retain its highly profitable status. Current steel-body trucks fetch five-figure profits for each one sold.
"With the new product comes a good amount of risk," said Barclays analyst Brian Johnson in an investor note ahead of Ford's earnings release. "There has already been a delay in the production schedule ... likely due to challenges in stamping, riveting, and welding of the aluminum. Moreover, Ford also faces risks with regard to potentially higher warranty expense and customer acceptance."
Ford said Tuesday there will be 13 down weeks throughout the year at its Dearborn and Kansas City assembly plants related to the new truck. Production this year could fall by as much as 10 percent, according to dealers and analysts briefed on production plans.
In Europe, where Ford has announced a 20 percent cut in production capacity and thousands of layoffs, it expects to realize restructuring costs of $400 to $500 million this year.
As a doctor, I know too well why the minimum wage needs to rise
Dr Gary Bloch
The Globe and Mail
Jan. 28 2014
At some point during almost every day in my office, I feel frustrated and powerless. At that moment, I find myself standing with my patient on the edge of a chasm: ill health lies in the crevice below, good health lies on the other side. And we cannot, between us, build the bridge to get across. We know what that bridge looks like, but we do not have the materials to build it.
I have stood at that edge with Fatima, a single mother with two kids in school, who works at Tim Horton's full time, for minimum wage, at $10.25 an hour. She suffers from low back pain and arthritis. She can barely pay her rent. She has no time to see a chiropractor, to exercise. She can't afford medications to treat her pain. She often has trouble feeding her family at the end of the month, and eats less herself to make sure her kids get enough.
What she needs to build her bridge is clear: a higher income. She could build it if the minimum wage was set to bring her over the poverty line. That she has to live in this way with a full-time job, in a wealthy country, is a tragedy. That we set our minimum wage to benefit companies' bottom lines, and not to ensure low-wage workers are able to stay healthy, and to afford the basics of food, shelter, clothing and other necessities, is both a tragedy and a public health travesty.
The health evidence is clear: Fatima and her children are at extremely high risk of developing health problems such as diabetes, heart disease, cancer and mental illness, all due to their inadequate income. I cannot prescribe drugs to alleviate that risk.
People such as Fatima who live at low income live shorter lives, with more disability. Their work is more precarious, and they tend to have worse working conditions, that place them at higher risk of illness and injury.
And this is where our elected officials can act like doctors, by bringing an evidence-based approach to improving health and wellbeing to the forefront of their decision-making. In societies with less poverty, and with less inequality, the evidence shows that everyone is healthier, even the well off. Our governments can continue to legislate poverty and ill health, or they can build legislative bridges to a healthier life for everyone.
These bridges are made of policies that ensure a liveable income for everyone in Canada, including a minimum wage that brings workers above the poverty line and social-assistance rates that enable people to pay the rent and eat a basic healthy diet. They are also made of policies that allow people to participate in society and protect their health, such as affordable childcare and universal pharmacare.
And this approach makes economic sense: a 2008 study by the Ontario Association of Food Banks estimated poverty adds over $7 billion to Canadian health-care costs every year. The overall cost of poverty in Canada, to the public and private spheres, is estimated at up to $85 billion per year. Analysts have demonstrated that programs to alleviate poverty can pay for themselves through, for example, increased tax revenues, reduced health costs, lower crime and increased productivity.
Policies that pay for themselves, increase economic output and improve health? These are the prescriptions I'd like to see written. And these are the bridges my patients need built.
Gary Bloch is a family physician with St. Michael's Hospital in Toronto, a founding member of Health Providers Against Poverty, and an expert advisor with EvidenceNetwork.ca.


Ford repair shops must be certified to fix aluminum-bodied F-150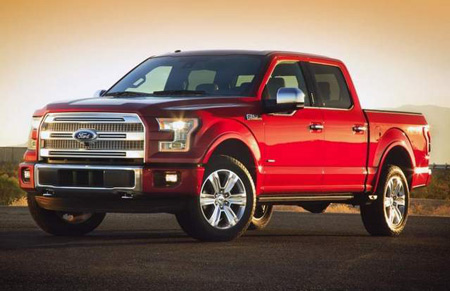 Karl Henkel
The Detroit News
Jan 27, 2014
New Orleans — Ford Motor Co. will require all repair shops to be certified if they want to fix the new aluminium-bodied F-150 that debuts later this year.
The Dearborn automaker said Sunday that it expects most of its dealers to seek certification, which includes tooling upgrades that will cost between $30,000 and $50,000.
Ford will chip in $10,000 to any interested dealer with a service shop.
The announcement, which came out of a dealer meeting at the National Automobile Dealers Association conference, deviates from a previous Ford statement that said the company would not require dealers to be certified. But the method of certifying service centers and repair shops is not new.
German automakers with aluminum-intensive cars won't ship parts to service and repair facilities unless they are certified.
The 40th-anniversary F-150 will be up to 700 pounds lighter than the current truck. About 70 pounds of weight savings are the result of a new, high-strength steel chassis; the rest come from an all-aluminum body and bed. In the trucks currently on dealer lots, the hood is the only body component made of aluminum.
Todd Citron, general manager at Hub City Ford in Lafayette, La., said Sunday he plans to get his service shop certified for the new pickup, which he expects will arrive at his dealer by September.
Citron said that by Ford requiring a certification, it will create some level of exclusivity around F-150 repairs, which he anticipates will funnel more business into his service shop.
Ford is trying to put a greater emphasis on service shops at its dealers. The automaker cited the fact that 80 percent of repair work in the U.S. is currently done by independent shops and not dealer service centers.
Honda pulls controversial TV ad that highlights Detroit's 'pain'
Joel Kurth
The Detroit News
January 26, 2014
Detroit — An ad for Honda Civic is causing a kerfuffle because it used imagery from the city's bankruptcy to sell the Japanese car.
The national television ad, "Today Is Pretty Great," opened with a blues singer and images of bankruptcy and protesters outside federal court in Detroit. It then moved onto more joyful stuff — including the redesigned Civic coupe and Si coupe.
The commercial began airing Jan. 8. It obscured faces of protesters and the name of the court, but it was unmistakably the Theodore Levin U.S. Courthouse, where a judge is hearing arguments about the largest municipal bankruptcy in U.S. history.
That upset many Detroiters and, late Friday, hours after detroitnews.com published a story about the controversy, Honda confirmed it is replacing the picketing images with more generic shots.
"The slight change we made to the commercial simply reflects our desire to remove anything that would get in the way our uplifting message," the company's Detroit-based spokesman, Steve Kinkade, wrote in an email.
"The original intent of the commercial obviously was not intended to represent Detroit or the challenges experienced by the city, its people or our industry."
The turnabout came hours after a leader of the bankruptcy protests, the Rev. Charles Williams II, said the ad kicked Detroit while it was down.
"They're using our pain for their pleasure to promote Japanese automobiles while we are suffering in part because of the decline of American automobiles from foreign automakers," said Williams, president of the National Action Network's Michigan chapter.
"It's absolutely a slap in the face to use that in a commercial to promote a (company) that basically has hurt Detroit."
Honda Motor Co. is multinational company that is based in Japan but makes cars in Ohio and other U.S. states. Late Friday, Williams said he appreciates Honda's change but the damage is done.
"It ran nationally for two weeks (with the protests)," Williams said. "Even if they don't want to admit it was about Detroit, it was another slight and they should definitely apologize."
Mike Bernacchi, a University of Detroit Mercy marketing professor, said the references to Detroit's bankruptcy are a "head scratcher." If the commercial intends to be uplifting, it fails, he said.
"At the end of the day, the key question is: Why?" Bernacchi asked. "What is the message? Is it for the vehicle or is it a message for Detroit?"
"It's a body punch to the lower region," he added. "Who would be happy seeing this message? My question is, 'Why it was made and what are the markets they hope to alienate?' "
Earlier Friday, Kinkade said the footage of Detroit was incidental.
"That could represent any courthouse in America," Kinkade wrote in an email.
"We have operations and personnel in Detroit, so we very much want to play a role in the continued revival of the area," he added.
He said the carmaker produced stock footage and rights fees for newsreel footage of the protest.
The 30-second commercial was produced by the ad agency RPA of California.
Calls to its spokespeople for comment weren't returned Friday.

Ontario workers buoyed by
U.S. minimum wage hikes
A $14 minimum wage in Ontario doesn't seem like much when some American workers are winning $15 minimum wages
Laurie Monsebraaten
Toronto Star
Jan 25, 2014
Think advocates for a $14 minimum wage in Ontario are dreaming?
Consider the Seattle suburb of SeaTac, home of the area's international airport.
About 1,500 hotel and rental car agency workers there saw their hourly wages jump by almost $6 this month after municipal voters endorsed a $15 minimum wage for all airport-area employees.
The current minimum wage in Washington state is $9.32.
In nearby Seattle, newly elected Mayor Ed Murray, whose platform included a $15 minimum wage, is boosting municipal worker wages and has appointed a panel to study the impact of extending the move citywide.
"When we started this fight for a living wage a year ago, folks said $15 is too big a reach," said SEIU union organizer Sterling Harders, a member of Working Washington, which supported the SeaTac campaign.
"But what we've seen in the last year is that public opinion about this really changed," she said in a telephone interview from Seattle earlier this week.
Harders will be among several American labour activists in Toronto on Friday evening for a forum to encourage Ontario workers to keep up their fight for a $14 minimum wage.
Ontario's minimum wage has been frozen at $10.25 for four years, allowing inflation to drive full-time earnings 25 per cent below the poverty line, said Deena Ladd, of the Worker's Action Centre, which is sponsoring the forum.
At $14, a single person working 35 hours a week would be able to earn about 10 per cent above the poverty line, she said. The poverty line is about $23,000 for a single person, before taxes, in Ontario.
"People deserve to be able to go to work, pay their bills and have a decent quality of life," Ladd said. "It is not something just for CEOs of corporations."
"We have a lot to learn about what's happening in the States and the kind of organizing that they are doing to challenge the path of bad jobs and poor wages," she added.
The Wynne government is expected to introduce an increase this year based on recommendations of an advisory panel it appointed last summer.
Rotating strikes by fast-food workers across the U.S. last year and two Seattle mayoral candidates who championed a $15 minimum wage drew public attention to stagnating wages and the impact on workers' lives, Harders said of the Washington state campaign.
"Folks are starting to understand raising minimum wages to $15 an hour is not incredible. It's reasonable. And it's what people need to be able to get by," she said. "They also understand that to put our economy back on track we need to put money in the hands of people who will spend it."
About 6,000 workers are covered by the SeaTac city ordinance, which also grants them paid sick leave, tip fairness and other job protection. But so far, only the hotel and rental company workers are benefiting because Alaska Airlines and other large airport employers are fighting the move in court, Harders noted.
Chicago fast-food worker Janah Bailey, who participated in four city-wide strikes of fast-food and retail workers last year as part of Chicago's Fight for 15 campaign, is also attending the Friday forum.
"Hopefully our experience and our story can continue to encourage (Ontario workers) to speak up and speak out," she said from Chicago. The minimum wage in Illinois is $8.25.
"When we talk about the fight for $15, we're talking about families that are behind and who depend on these workers," said Bailey, 21, who earns between $10,000 and $12,000 a year. She is the main breadwinner for her family: two younger sisters and a mother who is too ill to work.
"We want workers in Ontario to know they are not alone and that we are with them," she added.
Minimum wages in the U.S. are set by cities, states and the federal government. Washington state's is one of the highest and is indexed to inflation. On Thursday, a state lawmaker introduced a bill to increase it further to $12 within three years.
The Lincoln Navigator is
not going away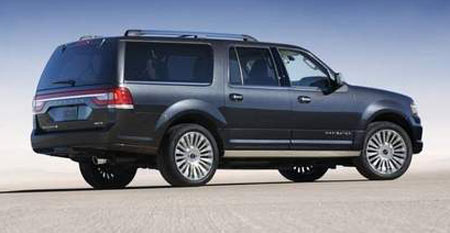 By Alisa Priddle
Detroit Free Press
January 24, 2013
Ford has updated the 2015 Lincoln Navigator as part of efforts to breathe new life into its Lincoln luxury brand and executives say longer-term plans are to introduce a next-generation Navigator that will be all new.
The 2015 Navigator has a new look, smaller fuel-efficient engine and nicer features. Keeping the same dimensions pleases loyal customers, said Navigator engineer Elaine Bannon. Using current underpinnings allows Ford to keep costs in check for an 8-passenger vehicle that sells in low volumes but generates nice profits.
Ford sold 8,613 Navigators in 2013, up 3%. That was on top of 38,350 Ford Expeditions. Together, the large SUVs represent less than 1% of market share.
But the Navigator, introduced in 1997, created the large luxury truck segment and has held a loyal following every since. Three-quarters of Navigator owners buy another one, said Andrew Frick, group marketing manager for Lincoln.
"It's a profitable vehicle," said Stephanie Brinley, senior analyst with IHS Automotive in Southfield, noting Ford did not go overboard on expensive technologies that might not pay off. "They updated the right things."
For 2015 there are 20 upgrades including a new front and rear. The Navigator now has the split-wing grille that is now the signature for the Lincoln lineup, as well as a new hood, headlamps and taillamps with greater use of LED lights as well as a power liftgate and optional power moonroof.
It comes in standard or long wheelbase. The upgraded interior has the new and thicker Lincoln steering wheel that is also in the MKC and nicer materials. The Sync system has a larger touchscreen but also brings back knobs for some of the volume controls.
There are big changes under the hood. Gone is the 5.4-liter V8 engine that generated 310 horsepower and 330 pound-feet of torque. It is replaced with the smaller 3.5-liter V6 EcoBoost but the twin-turbocharged, direct-injection engine produces 370 horsepower and 430 pound-feet of torque mated to a 6-speed automatic transmission.
Ford is not releasing fuel efficiency figures but the outgoing model gets about 13 m.p.g. in the city and 20 on the highway while the V6 should be in the 16/22 m.p.g. range. Fuel economy is not a main reason for buying a Navigator, Bannon said. Top reasons are looks, power and capability. The 3-row vehicle can tow 9,000 pounds.
Bannon says the availability of Lincoln's Continuously Controlled Damping adjusts the suspension for a smoother ride, as well as the electric power-assisted steering makes a huge difference in how the vehicle drives. The wheels are now 20-inch with optional 22-inch wheels with the new Reserve package.
Customers won't be in the dark when they approach their new Navigator. With a press of the key fob, a pool of light with the Lincoln logo appears as a welcome mat on the ground below each front door.
The Navigator is attracting some of Lincoln's youngest and wealthiest buyers, said Frick, ages 50-55 compared with the overall brand that trends to the late 50s. And while the overall segment is only about 50,000 SUVs a year, it has remained stable in recent years and is projected to increase to about 55,000 in the next few years.
"It's a segment where buyers are specific about the size they want," Brinley said. "They could go smaller and choose not to."
The new SUV will be on display Feb. 6 at the Chicago Auto Show.
Frick said he knows the Navigator must go up against an all-new Cadillac Escalade but he thinks Lincoln's flagship truck will hold its own.
Production will begin in late summer at the Kentucky Truck Plant in Louisville, Ky., and the SUV will go on sale this fall. Pricing has not been announced.
Ford has said it will introduce four all-new Lincolns by 2016. It started with the MKZ midsize sedan in 2013 followed by a new entry, the MKC compact crossover coming this summer. Still to come is the MKX midsize crossover and then the MKS full-size sedan and flagship, which will share underpinnings with the MKZ. The lineup also includes the MKT, which is a luxury version of the Ford Flex.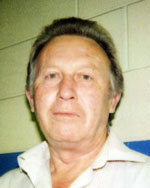 Passed away January 23, 2014
Retired August 1, 2006
39.3 Years of Service
It is with great sorrow that we inform you of the passing of Retiree John Frankland. Our Deepest condolences go out to his wife Jenny and Family.
FRANKLAND, Thomas Leslie (John) - (Longtime employee of Ford in Bramalea, and former volunteer with the Erin Fire Department) Peacefully at St. Mary's Hospital, in Kitchener, on Thursday, January 23, 2014, after a short illness. John Frankland of Erin, in his 68th year. Beloved husband of Jenny (Verdoold) Frankland. Loving father of T.J. Frankland and Cheryl of Marsville and Darran Frankland and Fiona of Milton. Cherished Papa of Trentan and Kolby. John will be sadly missed by his extended family and friends. A private family Funeral Service was held at the Butcher Family Funeral Home, 5399 Main Street South, Erin. Spring Interment, Erin Union Cemetery.

A Public Celebration of Life for John will be held at the Erin Legion on Thursday, January 30th from 4-7 p.m. In lieu of flowers, donations to the Erin Fire Association, Station 10, would be appreciated as expressions of sympathy.
www.butcherfamilyfuneralhome.ca
Lincoln Navigator boasts mileage,
towing gains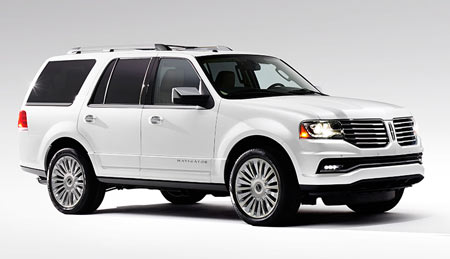 Karl Henkel
Jan 23, 2014
The Detroit NewsFor all the talk in the past week about aluminum and making vehicles lighter to boost fuel efficiency, Lincoln's modestly upgraded Navigator goes against everything we've heard and seen from Ford Motor Co. — at least for now.
The update sports changes to the interior, exterior and powertrain, but no major changes to the materials that form the body of the 17-year-old nameplate. The upgrade will allow Lincoln to keep pace in the full-size luxury SUV segment until the Navigator's next overhaul in 2016.
Despite the modest overhaul, Lincoln says the Navigator — the highest-priced offering in the luxury brand's growing lineup — will top its segment in fuel economy, towing and cargo space.
"It's kind of amazing," Andrew Frick, Lincoln's marketing manager, said of the efficiency and towing gains in an interview this week. "But we're always looking for different ways we can adjust to what the customer wants."
The updated 2015 Navigator will be unveiled to the public at the Chicago Auto Show on Feb. 6 and will go on sale this fall. Pricing and fuel economy figures are not yet available, though the SUV will likely have a similar starting price to the current model — about $57,000 — and Lincoln officials say the vehicle will have "unsurpassed" fuel economy among its competitors.
"It seems like they were strategic and appropriate in where they updated the vehicle, getting the front and rear to visually be in line with the rest of the range is good for now," said Stephanie Brinley, a senior analyst at IHS Automotive.
The biggest change for the new Navigator is under the hood, where the standard engine will be Ford's 3.5-liter EcoBoost V-6, replacing a 5.4-liter V-8. That engine should produce at least 370 horsepower and 430 pound-feet of torque, Lincoln officials say.
Lincoln says fuel efficiency will top the 14 miles per gallon city, 20 mpg highway of the current V-8, and top all other segment competitors, including the revamped Cadillac Escalade — which comes out this spring — and the Infiniti QX80 (formerly the QX56).
The refreshed Navigator features a variation of the trademark split-wing Lincoln grille. The front end is less boxy than the current version. The rear end now features LED tail lamps that extend the width of the SUV, similar to the new MKZ and MKC.
Inside, there's the new Lincoln steering wheel — a bit bulkier than the current version, and wrapped in leather.
The SUV will help Lincoln continue its new-vehicle momentum, which started slowly last year with the delayed introduction of the MKZ sedan.
This year, Lincoln's new MKC compact crossover will hit dealer lots in the summer. The new Navigator will join the MKC and MKZ, which are two of the four new vehicles Lincoln plans to introduce by 2016. The MKX, a mid-size crossover in due in 2015; another as-yet named vehicle will follow in 2016.
The refreshed Navigator is unlikely to move the needle for Lincoln, which will trail Cadillac and Infiniti in the segment, which totals about 50,000 sales annually here in the U.S. But it will help Lincoln appease its loyal Navigator fan base — about 7 in 10 Navigator buyers come to back to buy another — until the SUV's next major overhaul in 2016, according to IHS Automotive research.
That overhaul is primed to include extensive use of aluminum to lighten the approximately 6,000-pound SUV. Ford's goal is to strip 250 to 750 pounds from each vehicle to meet federal fuel efficiency standards.
"I'm not saying it won't happen," Frick said, when asked about a future aluminum-bodied Navigator. "Taking weight out of a vehicle is something we're constantly looking at."
|

Ford preparing to build 2015
Transit van in Russia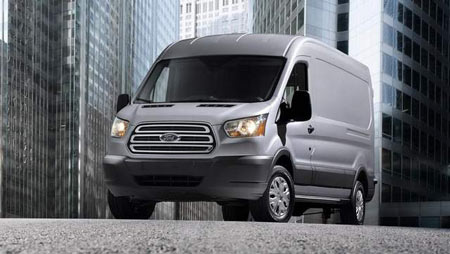 By Alisa Priddle
Detroit Free Press
January 22, 2014
Ford will build the next generation of its Transit commercial van in Russia starting later this year, the automaker announced today.
The full-size van will be assembled at the Ford Sollers plant in Elabuga in the second half of the year and the 2015 Transit will go on sale in Russia this summer.
Ford Sollers began building the current Transit in Russia in 2012 and the Elabuga plant will continue to make the outgoing model until the all-new Transit goes on sale.
The Transit is one of the most important vehicles in the Ford lineup because of the huge demand globally for commercial vehicles. More than 7 million have been sold worldwide since its introduction in Europe in 1965.
Meanwhile, Ford invested $1 billion to retool its Kansas City plant and added 1,000 workers to build the new Transit in the U.S., too. It will go on sale in North America in the summer.
The Transit comes with a choice of three lengths, two roof heights and a number of engines.
For the Russian market, Ford is offering three output levels of the 2.2-liter diesel engine: 125, 135 and 155 horsepower. All have a standard 6-speed manual transmission and a choice of front-, rear- and all-wheel drive. Body styles are van, chassis cab and bus.
This new generation of the Transit offers 11% more cargo room than the outgoing model and was designed to be more fuel efficient.
In 2013, Transit sales increased 18% in Russia.
King: UAW to pursue
25% dues hike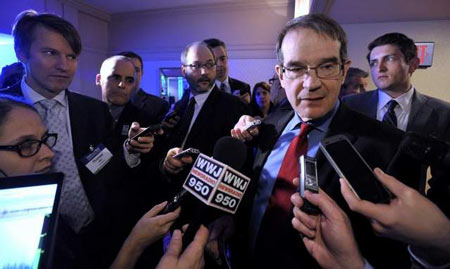 David Shepardson
Detroit News Washington Bureau
Jan 17, 2014
United Auto Workers President Bob King confirmed the union's international committee will propose to increase dues by 25 percent — an extra half hour from the current two hours of pay per month. It is the first dues hike since the late 1960s, and the money will be directed into the union strike fund.
At one point, the fund was $1 billion but today it stands at just over $600 million. King wants to see the fund returned to $1 billion, to send a message to companies to bargain in good faith.
"The strike fund really serves as a deterrent," King told the Automotive News World Congress in Detroit, held in conjunction with the Detroit auto show. "I think our members will overwhelming support this."
Furthermore, he said, organizing workers at foreign auto plants in the United States isn't cheap. "Those campaigns take a lot of money," he said.
The dues increase must be approved by UAW members in June, when they meet to elect a new president. King said 2013 membership figures, released in a couple months, will show incremental growth in the union. The UAW's membership plummeted over the last three decades.
Membership rose by less than 1 percent in 2012 to 382,513, up about 1,500 members over 2011, and the third straight year membership has risen. In its annual report filed with the U.S. Labor Department, the union said it has boosted membership by about 10 percent since 2009. But it is still down more than a third since 2005. The UAW had 1.53 million members in 1979.
King said he is committed to organizing the entire auto assembly sector in the United States, warning that auto jobs may become low-wage unless they are successful.
"The UAW is committed to organizing the entire auto assembly industry in the U.S. so that auto jobs remain middle class," King said. "Auto jobs should not consist of low-wage temporary labor working under unsafe conditions. But without unions, that is the direction they are going."
King has been working to establish a German-style "works council" at Volkswagen AG's Chattanooga, Tenn., plant. The UAW also is attempting to organize Nissan Motor Co. workers in Mississippi. Supporters handed out organizing information and literature to automotive journalists early this week, as they entered Cobo Center for the auto show press days.
"Nissan is moving in a direction where a majority of the production workers will not be regular employees at all, but temps" King said. "These temporary workers, or perma-temps since their positions last years, lack job security of any kind. ... The use of temp labor is a grave threat to the ability of working people to join the middle class."
King also denounced the growing inequality in the U.S. as a new "Gilded Age" and said unions will have a "major role in rebuilding our middle class."
The Detroit labor leader, whose four-year term will end in June, said "a culture of greed has enabled corporate executives to take outsized compensation, while workers' wages stagnate or decline."
Tens of thousands of auto jobs, he noted, have gone to Mexico where people are paid "poverty level wages" and he said it is in the long-term interest of U.S. workers to see higher wages by auto workers in Mexico.
King declined to say if the UAW will seek an increase in entry-level auto wages rise in 2015, and downplayed the suggestion that there is tension between older, higher-paid UAW workers and entry level workers who make less. He noted that both share equally in profit sharing, and said older workers gave up raises in the last contract so lower-paid workers could get a raise.
Ford recalling 46K Edge SUVs
over fuel leak concerns
David Shepardson
Detroit News Washington Bureau
Jan 16, 2014
Ford Motor Co. is recalling nearly 46,000 Ford Edge SUVs, worldwide — including some that were recalled in 2012 — because of fuel leaks that can lead to fires.
The Dearborn automaker said it is recalling the 2012-13 Edge built from September 2010 through April 2013 and equipped with 2.0L engines.
Approximately 27,800 are in the U.S., approximately 3,400 in Canada, five in Mexico, approximately 13,500 in the Asia Pacific region, one is in Europe and the remaining 913 are in export and growth markets.
"The fuel line pulse damper metal housing may crack as a result of an improper manufacturing process. A cracked fuel line pulse damper housing may result in a combination of fuel odor, seepage, or a continuous leak while the fuel system is pressurized," Ford told the National Highway Traffic Safety Administration.
Ford said it is aware of 24 warranty claims for fuel leaks in vehicles built after Ford recalled the Edge in 2012. Even though none of the new reports are in the vehicles recalled in 2012, Ford opted to include them in the new recall. The initial recall was to address a crack in the fuel line pump damper metal housing, due to damage during manufacturing.
The automaker said Ford dealers will replace the fuel line with a new fuel line that does not have a damper.
Ford began investigating the issue again in June after it saw nine reports of warranty claims for fuel odor or leaks. Ford said it saw similar cracks in the newer vehicles. Ford will notify owners by Feb. 28 and dealers will replace the fuel lines.
In September 2012, Ford recalled 5,800 2012 Ford Edge SUVs for fuel leaks. The recall includes 5,499 in the United States and 346 in Canada.
The fuel line damper is a small metal part inserted in the fuel line to help regulate and dampen pulsations of fuel movement through the line.
Separately, Ford is recalling 400 2011-2012 Ford Explorer SUVs that may have been serviced with a suspect steering gear after Sept. 1, 2013.
Due to a software error, if certain component faults were to occur, the steering gear would become locked. "A locked steering gear would not allow an operator to steer the vehicle, increasing the risk of a crash. We are not aware of any accidents or injuries as a result of this condition," Ford said.
Ford told its dealers "to check their records to identify any customers who bought suspect parts and to contact those customers about the recall if their information is not already in the Ford system. We are also requesting our authorized parts distributors check their records to identify customers who bought suspect parts and advise them to visit a local Ford or Lincoln Dealer to have the recall performed. In all cases, customers who received a suspect part will receive a replacement steering gear at no cost," the company said.
Dealers will install a new steering gear.


'15 Ford Mustang wins best production car award at
Detroit auto show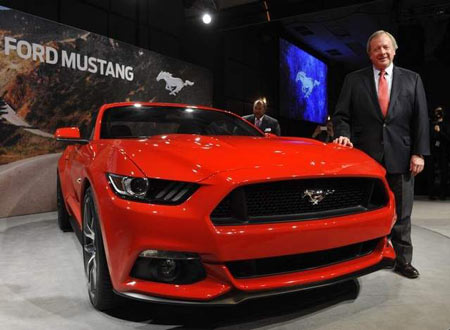 Phil Berg
Detroit News
Jan 15, 2014
Ford's 2015 Mustang won the best production car award from the automotive design community at the Detroit auto show Tuesday night, while the Volvo XC Coupe concept took home two awards, one for the best concept car and another for a new category this year for most innovative use of materials.
The Eyes on Design organization raises money for area charities as well as the Detroit Institute of Ophthalmology for research through the automotive design community's events awarding outstanding achievements each year for the past nine years.
Some 30 judges who are design leaders in the automotive industry sifted through all of the new cars and concepts on display at the 2014 Detroit auto show, and selected three semi-finalists for three categories.
Three chief judges summed up all of the judges' findings. The three finalist vehicles for the top production car award were the new Mercedes-Benz C-Class sedan, the 2015 Ford Mustang coupe, and the new Ford F-150 pickup truck.
"The judges commented how beautiful and how modern and how muscular (the Mustang) is in the flesh," said chief judge Ralph Gillies, senior vice president of product design for Chrylser Group. "It's just the right size to work in America and internationally."
"The Mustang design ties enough history to a modern shape," said chief judge Chuck Pelly, former president of Designworks/USA.
The top concept car award finalists were Toyota's FT-1 coupe, Volvo's XC Coupe, and Kia's GT4 Stinger coupe, which was won by the Volvo.
"To design a car especially for Detroit with no chrome is quite a feat," said chief judge Jack Telnak, retired vice president of design for Ford Motor Corporation, about the two-door Volvo.
"It shows restraint and great energy," said Gillies, who also commented on the radically styled Toyota FT-1, "It's going to get people to come to the auto show. Hats off to Toyota for having some fun."
Ford's new truck reflects shifting standards in auto industry
GREG KEENAN
The Globe and Mail
Jan 13, 2014
The vehicle that is vital to the financial health of Ford Motor Co. is getting an extreme makeover – with an all-aluminum body that sheds hundreds of kilograms of weight – as the auto maker and its rivals race to meet new fuel economy standards.
Ford will unveil the next generation of its F-150 pickup truck on Monday at the North American International Auto Show in Detroit, bidding to set a new standard that will keep its vehicle at the forefront of the competition for one of the most profitable segments of the vehicle market.
The new truck represents considerably more than just a typical vehicle redesign, both in the scope of what Ford designers and engineers are changing and how vital the F-Series is to the second-largest Detroit auto maker.
The F-Series is the best-selling vehicle in both the Canadian and U.S. markets and its sales generate about 20 per cent of Ford's worldwide annual revenue of about $150-billion (U.S.).
"This is a big deal," said Dick Schulz, who heads the automotive materials practice for consulting firm Ducker Worldwide LLC. "They think this solidifies the position of that truck for another 30 years."
It's the first time aluminum has been used to make most of the body of a full-sized pickup truck. That is a weight saving in itself because aluminum is lighter than steel. The new design also permits weight savings elsewhere on the vehicle because other components such as springs and the steel frame that supports the aluminum box can be lighter.
The redesigned truck will be about 318 kilograms lighter than the 2,125-kg weight of the current base model. A lighter vehicle takes less energy to move, so a new, fuel-efficient 2.7-litre engine will be offered.
Max Farley, truck marketing manager of Ford Motor Co. of Canada Ltd., said in an interview that the new F-Series will be the most fuel-efficient yet. Otherwise, though, consumers won't notice a difference between steel and aluminum, he added.
"At the end of the day, the customer is looking for a durable, capable and fuel-efficient vehicle. The material itself isn't as important as those factors."
Ford is also touting a new 360-degree camera system on the vehicle that will help drivers park and drive narrow trails and roads, as well as a remote tailgate that can be lowered and raised with the key fob.
The new F-Series is likely to be the most important new product to be unveiled at the show, which comes after a strong year of recovery for the U.S. auto market from the depths of the recession that sent Chrysler Group LLC and General Motors Co. into Chapter 11 bankruptcy protection.
U.S. auto sales rose 8 per cent last year to 15.58 million, and are forecast to jump to prerecession levels of about 16 million annually within the next two years.
But looming within sight are new regulations that require auto makers to double the fuel economy of their vehicles from 2011 levels by 2025.
That offers a big opportunity for lighter weight materials makers.
"This is a broad-based change happening in the industry," Klaus Kleinfeld, chief executive officer of Alcoa Inc., said during the aluminum maker's fourth-quarter financial results conference call last Thursday. "It's a real massive change over to lightweighting going on here in high-volume segments."
There were about 6.5 kg of aluminum in body panels in the average North American vehicle in 2012. Alcoa projects that to increased to 25 kg next year and 62 kg by 2025.
Novelis Inc., another aluminum maker, said last month it will spend $205-million at plants in Oswego, N.Y., and Europe to increase production of the material for the auto industry to 900,000 tons a year, three times what it was in 2012.
Novelis expects global demand for aluminum sheet to grow by more than 30 per cent annually through the end of the decade.
"It's going to put a dent in the steel guys, but this is not something that's going to proliferate all over the world," Mr. Schulz said. "We have a unique thing in America; we make 2.5 million pick-up trucks. Nobody else does.
BY THE NUMBERS: THE FORD F-SERIES
763,402 – Number of F-Series trucks sold in the U.S. market last year (29.5 per cent of all Ford's U.S. vehicle sales)
122,235 – Number sold in Canada last year (43 per cent of Ford's Canadian sales volume)
42 years – How long the F-Series has been the best-selling vehicle in Canada
32 years – How long it has been the best-selling vehicle in the U.S

Ford's next dividend hike could
see family reap $34 million
January 11, 2014

DETROIT (Bloomberg) -- Ford Motor Co., poised to boost its quarterly dividend for the second time in two years, may push it to 12 cents a share for an annual payout of at least $34 million to the automaker's family members.

Ford, which currently pays shareholders 10 cents, could boost that amount and its shares may begin trading with the new distribution starting Jan. 28, according to Bloomberg analysts' projections. The forecasts are based on criteria including company guidance and dividend history.

Ford last month said pretax profit rose to about $8.5 billion in 2013 as the second-largest U.S. automaker logged its best sales in its home country in six years and reported record deliveries in China. The rising fortunes of the company cleared the way for resuming a quarterly dividend in 2012 after a five-year hiatus.

"You're getting capital back to the shareholders, you're paying the family and you're showcasing your financial strength, so there's a lot of upside," Kevin Tynan, an auto analyst for Bloomberg Industries, said by telephone.

"Even as the volume growth dissipates a little bit and you still have expensive new product launches, 12 cents and even 15 cents can probably be maintained without too much harm."

Ford family members including Executive Chairman Bill Ford, great-grandson of founder Henry Ford, are the exclusive owners of 70.9 million Class B shares, a special class of stock that gives them 40 percent voting power.

Ford shares closed higher today at $15.55, up 1.1 percent.

Bill Ford

Bill Ford, 56, held 4.44 million Class B shares as of Feb. 1, according to the company's annual proxy filing last year. A 12-cent dividend would boost the annual payout for those holdings to $2.13 million. Including the 14.6 million common shares that he held as of almost a year ago, the chairman would stand to collect about $9.16 million per year with the dividend forecast by Bloomberg analysts.

Edsel Ford, 65, and also a great-grandson of the founder, held 3.16 million common shares and 5.24 million Class B shares as of Feb. 1. A 12-cent dividend would boost the total annual payout for those holdings to $4.03 million.

"Our strategy is to provide a regular, growing dividend that is sustainable," Bob Shanks, Ford's chief financial officer, told reporters last month in New York. He declined to say whether the company would boost its payout this year.

Jay Cooney, a Ford spokesman, today said the dividend is a board matter that the company doesn't discuss publicly.

General Motors Co. is in a better position to consider paying a dividend this year, CEO Dan Akerson said last month. The U.S. Treasury sold its final GM shares in December.

Mulally, Microsoft

Ford ended a dividend drought by declaring a 5-cent payout in December 2011, then doubled it in January 2013. Standard & Poor's became the last of the major ratings companies to rate Ford investment grade in September last year.

Ford avoided the bankruptcies that befell the predecessors of GM and Chrysler Group LLC because it borrowed $23.4 billion in late 2006, less than four months after CEO Alan Mulally arrived from Boeing Co. The automaker put up all major assets, including its blue oval logo, as collateral. It recovered control of those assets in May 2012 after Moody's Investors Service followed Fitch Ratings in upgrading Ford's debt out of speculative grade.

Mulally, who had been a candidate to succeed retiring Microsoft Corp. CEO Steve Ballmer, on Tuesday told The Associated Press that he has bowed out of that race.

"I would like to end the Microsoft speculation because I have no other plans to do anything other than serve Ford," Mulally, 68, told the AP in an interview Tuesday. Mulally said he will stay with Ford through this year.


Ford exec apologizes for saying company tracks customers with GPS

Karl Henkel and David Shepardson
The Detroit News
Jan 10, 2014

Ford Motor Co. marketing chief Jim Farley on Thursday apologized for a remark he made Wednesday saying the Dearborn automaker tracks customers through in-car navigation devices.
Farley, the headliner at this week's Consumer Electronics Show in Las Vegas, said Ford knows where and when customers drive their vehicles, but does not sell that information to third parties.
"We know everyone who breaks the law, we know when you're doing it," Farley said, according to a report in Business Insider. "We have GPS in your car, so we know what you're doing. By the way, we don't supply that data to anyone."
Ford on Thursday denounced those comments.
"Ford is absolutely committed to protecting our customers' privacy," company spokesman Wes Sherwood said. "We do not track our customers. No data is transmitted from the vehicle without the customer's express consent."
Customers give consent when they use a navigation or voice-activated system.
Farley on Thursday apologized in an interview with CNBC. "We don't monitor, aggregate data on how people drive. I've given people the wrong impression, I regret that," he said.
His comments coincide with a warning from AAA, which this week urged companies to protect consumer data used in GPS systems.
"The data that today can be routinely collected by cars includes some of the most sensitive data that can be collected about a person, including information about their precise location and driving habits," said Bob Darbelnet, president and CEO of AAA.
And a government report released Monday found that major automakers are keeping information about where drivers have been, via data collected from onboard navigation systems. The Government Accountability Office said the automakers have differing policies about how much data they collect and how long they keep it.
Automakers collect location data in order to provide drivers with real-time traffic information, help find the nearest gas station or restaurant, and provide emergency roadside assistance and stolen vehicle tracking. But, the report found, "If companies retained data, they did not allow consumers to request that their data be deleted, which is a recommended practice."
The report reviewed practices of Detroit's Big Three automakers, Toyota Motor Corp., Honda Motor Co. and Nissan Motor Co. It also looked at navigation system makers Garmin and TomTom and app developers Google Maps and Telenav. The report, which didn't identify policies of individual companies, found automakers had taken steps to protect privacy and were not selling personal data of owners.
The agency said privacy advocates worry location data could be used to market to individuals and to "track where consumers are, which can in turn be used to steal their identity, stalk them or monitor them without their knowledge."


Cheney: Desperate times in Detroit called for high-tech measures
Globe & Mail
Jan 9, 2014
For Ford CEO Alan Mulally, the 2009 North American International Auto Show called for a stiff upper lip.
Just three years after arriving at Ford, Mulally was dealing with the worst downturn in the car industry's modern history – demand had fallen by more than 30 per cent, and Ford had taken out almost $24-billion in loans to finance a make-or-break corporate overhaul.
The company was fighting for its life. And so were its competitors. GM and Chrysler had taken massive bailouts from the U.S. government and declared bankruptcy to get out from under a crippling load of costs that included everything from wages to health care for retired workers (this item alone added an estimated $2,000 to every car built in Detroit).
The 2009 car show reflected the industry's grim state. Workers had erected hoardings to hide empty sections of the Cobo Centre's vast halls – a record number of car companies had dropped out as sales plunged. Among the no-shows: Nissan, Infiniti, Mitsubishi, Suzuki, Rolls-Royce, Land Rover, Ferrari, and Porsche.
One writer compared the 2009 show to the sinking of the Titanic.
Mulally, a former Boeing engineer, was known for his grasp of complex manufacturing, and for his ability to stay cool in a difficult situation. The 2009 show called for both. Mulally stood in front of an acid-green Ford Fiesta compact (one of the global-platform cars he had bet billions on) and delivered an upbeat message:
"There's no doubt there will also be unprecedented opportunities to introduce more customers to the Ford brand," he told a band of reporters. "We're excited about what we have to offer."
Mulally was playing the ultimate poker game. As the market continued its brutal free fall, he had doubled down, investing a fortune in new-car development. The outcome was anything but assured.
"Everyone was in the septic tank," says David Cole, chairman emeritus of the Centre for Automotive Research. "The Big Three had to put on a brave face, but they were scared. No one was sure if they were going to be around next year."
The 2014 North American International Auto Show, which opens next week, reflects a dramatically different picture. Five years after the show that marked Detroit's nadir, the Big Three are all making money, and foreign manufacturers have returned to the show in force.
But the world of car manufacturing is not the same as it was in 2009. If you head north from the Cobo Centre on the grand boulevards that once helped Detroit earn its reputation as "the Paris of North America," you encounter the city's new reality: mile after mile of collapsing homes, deserted office buildings, and ruined industrial spaces. Deer roam through abandoned neighbourhoods. Last summer, the city declared bankruptcy.
Despite all this, Detroit is in the midst of an industrial comeback, transitioning into a new age of manufacturing that has upended the industrial paradigm, along with the city itself. Car companies are hiring, and the city's outer suburbs are booming. Work that once went overseas is returning to Michigan as rising labour costs and shipping rates erode the advantage of countries such as China.
Building in Detroit makes sense again, but the new world of domestic car making has created a dramatic shift. Inside Ford's Flat Rock assembly plant, I witnessed the way things work in the new paradigm. The plant was nearly three million square feet, yet it contained only a smattering of humans. Automation was the order of the day. Industrial robots with 10-metre arms picked up the side panels of new Mustangs and spun them in their steel fingers, dropping the sides into massive jigs that lined them up within thousandths of a millimetre.
Then the robots withdrew, making way for smaller arms tipped with welding heads – these new robot arms showered sparks as they fused the body parts together with perfect welds that no human being could hope to match for precision, consistency or speed.
According to industry analysts such as Cole, today's car plants operate with a third as many human workers as the factories of just 20 years ago. And today's assembly workers make a fraction of what their forebears did.
From the time of the Model T onward, Detroit was a magnet, drawing workers from small-town America with the promise of secure, good-paying jobs. By the 1960s, Detroit was known as Motown, an industrial and social powerhouse. Berry Gordy turned Motown records into an international phenomenon, and drivers cruised Woodward Avenue to show off their glittering new cars.
The days of that blue-collar dream are gone, replaced by a low-wage reality. Although Detroit manufacturers worried about rising labour costs for decades, it took the economic meltdown of 2008 to finally tip the balance in their favour.
After decades of hardball negotiations, the United Auto Workers union found itself with a weak hand – domestic car manufacturers were sliding toward bankruptcy, and automation was reducing the value of human assembly workers.
Worst of all, falling demand meant that manufacturers had far more plant capacity than they could use. In 2009, Ford sold just 1.6 million cars (nine years before, its sales had been 4.2 million). Over all, the industry's excess capacity was estimated as high as 40 per cent. As the recession deepened, millions of unsold cars piled up in lots across North America.
The UAW was forced to accept wage concessions, and saw its membership plummet as manufacturers closed unneeded plants and pushed for dramatic productivity increases in the ones that remained.
At the Flat Rock plant, I could see the impact of these changes. In the old days, most of the parts to build a car were stockpiled, but at Flat Rock, parts arrived by truck mere minutes before they were needed, in a vast and complex industrial choreography known as Just In Time (JIT) manufacturing.
The JIT protocol represents an upending of the vertically integrated manufacturing system Henry Ford pioneered at his Rouge River plant back in the early 1900s – at the Rouge, ships and trains brought raw materials like iron ore, timber and raw rubber, and the factory turned them into Model Ts, performing virtually every operation in-house, from smelting steel to moulding tires.
Today, many of these processes take place at subcontractor facilities, and parts are streamed to the plant from thousands of different sources. (Some parts are stored by courier companies like FedEx and UPS, and are automatically shipped when tracking software indicates they're needed.)
"Everything's different now," said Flat Rock plant manager Tim Young, who started at the plant in 1984 as a process engineer in the paint department.
Since the economic meltdown, the Big Three have closed more than a dozen car plants in the U.S., and sharply reduced the labour costs of each car they build. At the time of the 2009 car show, the Detroit makers had a cost disadvantage of approximately $2,000 per car compared with their foreign competitors. That situation has been reversed.
Despite the decline of the assembly worker, Detroit is on a hiring spree. Ford alone is planning to hire 5,000 people in 2014.
Near Ford's famous headquarters, I stood in a black-draped room that had nothing in it but a rectangular aluminum frame that looked like a stage-lighting support. On top of the frame was a series of tiny spheres that turned out to be 3-D projectors. An engineer handed me a headset equipped with a set of goggles. When I slipped them on, a car suddenly appeared in front of me – it was a three-dimensional image, rendered in the empty space before me by the spheres.
I could walk around the virtual car, or even get inside it, considering it from all angles to judge everything from the way the radio controls were placed to whether the angle of the hood allowed me to see the curb when I parked. I could change the car's colour, and observe it in different lights.
This virtual car was made up of millions of digital co-ordinates that engineers and designers had created in their computers. Software allowed them to build anything from a motor to door handles to a carbon-fibre roof panel, assemble them in virtual reality, then send the digital co-ordinates to mills, presses and moulding machines that would make the actual parts.
Next up was a meeting with a team of industry analysts, who seemed to be part accountant and part engineer, with a good dose of crystal ball gazer mixed in. The analysts watch TV, surf the web and meet with companies like Google and Facebook, attempting to divine the mysterious ways of the consumer.
On the other side of town, I met with GM designers and engineers, including Rob McMahon, who helped create the new GMC Canyon pickup truck. McMahon spent his days studying automotive forms and bringing a studied aesthetic to pickup trucks, imbuing them with features that will lure buyers.
Then I spent an illuminating half hour with Tadge Juechter, a brilliant engineer who led the design of the new Corvette C7-R. Juechter knew everything from the flow rate through the C7-R's radiator to the weight of the carbon-fibre tube that carried power from the engine to the rear-mounted transmission. "Every element in this car was analyzed," he said. "We thought about every last piece, and how they all work together."
As we studied the car, I realized that human minds had conceived and perfected the design, but every piece of the actual machine had been milled or hewn by robot tools. Everything looked perfect. And I could see that there was a healthy job market in Detroit. Just not on the assembly line.
App to allow Ford drivers to
order Domino's from car
Dale Buss
The Detroit News
Jan 8, 2014
By mid-year, Ford Motor Co. customers will be able to order Domino's Pizza hands-free from their vehicles.
The Detroit-area companies, "infotainment" leaders in their respective industries, have created an app that allows Ford Sync users to order pizza from their vehicles in a few simple voice-activated steps on their smartphones.
The Easy Order platform will be demonstrated today at the 2014 International Consumer Electronics Show in Las Vegas, the companies said Tuesday.
"This will be the first time anyone has been able to do this sort of e-commerce from a vehicle," J. Patrick Doyle, CEO of Ann Arbor-based Domino's, said in an interview. "The ability to tie all of this together with the Sync system and be able to order Domino's while driving safely is a pretty big step forward."
To order, Domino's customers save their favorite pizza and menu combinations, address and payment information on the Easy Order function on the company website or on their mobile app. Orders can then be placed through the mobile app using simple voice commands provided by Sync.
"We're thrilled to add Domino's to the ever-expanding lineup of mobile apps Ford drivers can use hands-free," Julius Marchwicki, global product manager for Ford SYNC AppLink, said in a statement Tuesday. "Americans love pizza and now they can have one ready for carryout or delivery when they are are on their way home or heading to a gathering with friends."
Ford executives are patrolling the electronics show week talking about advances in Sync that may help Ford retain its trailblazing position in vehicle telematics. The company will add Sync AppLink to 3.4 million more vehicles this year to ensure seamless usage of smartphone apps in the car via voice command.
Doyle said it makes sense for Domino's to share Ford's progress in this arena because the world's No. 2 pizza brand is No. 1 when it comes to the use of digital technology to help customers order pizza. This leadership position not only accounts for a big share of Domino's sales increases but also greatly boosts profitability and also helps separate Domino's from regional and independent pizza outfits that can't afford or haven't made the information-technology investments Domino's has.
"Customers want to order using technology, and on a number of different platforms," said the chief of the pizza brand that originated the 30-minute delivery guarantee decades ago.
Doyle said the Sync app "will make it easier for someone to order from Domino's for either delivery or pickup than it is for them to go through a drive-through window" at a quick-serve restaurant. "The convenience of solving dinner that night while driving home is a pretty interesting step forward for us as traditional leaders around convenience within the pizza industry."
Ford China deliveries surge
49% in 2013, overtaking Toyota
Alexandra Ho and Anna Mukai
Bloomberg News
Jan 7, 2014
Ford Motor Co.'s China sales surged 49 percent in 2013, overtaking Toyota Motor Corp. as the nation's fifth-largest foreign automaker.
Ford delivered a record 935,813 units in the country last year, while Toyota's sales gained 9.2 percent to 917,500 vehicles, the companies said Monday in statements. It's the first time Ford outsold Toyota on an annual basis in China, based on company statements stretching back to 2001.
While the Dearborn-based automaker got a later start in China than General Motors Co. and Volkswagen AG, Ford is catching up. The popularity of the Focus helped Ford's sales in the country expand faster than any major competitor and the company is spending $4.9 billion to double manufacturing capacity there.
"Ford was a latecomer, but they've really made an effort to diversify their portfolio," said Klaus Paur, Shanghai-based global head of automotive coverage at market researcher Ipsos. "In 2014, Ford will solidify their position because it seems they have a good strategy and good portfolio."
Aside from the Focus, Ford benefited from the popularity of new locally manufactured models such as the Kuga and EcoSport SUVs, as well as the Fusion — called Mondeo in China.
Japanese recoveryThrough the first 11 months of 2013, Volkswagen AG outsold all other foreign automakers in China, followed by General Motors Co., Nissan Motor Co. and Hyundai Motor Co., according to figures reported by the companies. Through 2012, GM had held the lead for eight straight years.
At Toyota, sales rebounded to a record in 2013, recovering from the previous year, when a backlash against Japanese brands caused its sales in the country to fall for the first time on record. The company brought new versions of the Vios, Yaris L and Reiz compact cars and the RAV4 crossover to China last year to win back consumers.
Tokyo-based Honda Motor Co. saw sales rise 26 percent to a record 756,882 vehicles last year, led by a 60 percent increase in December.
While political disputes between Asia's two largest economies resurfaced last year, Japanese automakers avoided the type of economic fallout they saw in 2012, when diplomatic tensions led to violent protests and a boycott of Japanese products.
In 2012, the Japanese government's purchase of a group of uninhabited islands claimed by both countries prompted some demonstrators to torch dealerships and vandalize cars associated with Japan. As consumers shunned Japanese cars, Toyota, which had previously predicted China sales to reach 1 million in 2012, scaled back its projections for the market.
Last year, tensions between the two countries flared again after China created an air-defense area covering the islands and Shinzo Abe last month became the first sitting Japanese prime minister since 2006 to visit the Yasukuni Shrine that memorializes the nation's war dead. The diplomatic disputes in 2013 didn't lead to mass protests as they did in 2012.


Big 3 autoworker
bonuses may grow
Karl Henkel
The Detroit News
Jan 6, 2014
Detroit automakers are preparing to reward U.S. hourly workers with another huge pot of profit-sharing checks, as North American manufacturing operations approach peak efficiency.
Ford Motor Co., General Motors Co. and Chrysler Group LLC will next month announce specific, per-worker profit-sharing totals along with their 2013 financial results. Based on automakers' anticipated earnings for the year, industry analysts believe more than $800 million in profit-sharing checks will go out to about 130,000 workers.
The combined per-worker total is on track to top the record of $17,875, set in 1999.
White-collar workers are not part of the United Auto Worker's profit-sharing agreement with automakers, but are likely to receive bonus payments.
In Michigan, which is home to nearly half of the Big Three's U.S. hourly workforce, the combined payout could reach $400 million, surpassing the combined economic benefits of Super Bowl XL in 2006, which generated $274 million; the 2005 Major League Baseball All-Star Game, which brought in $52.5 million; and the recent Winter Classic festivities, which brought in about $30 million.
"It's a sign of the success of the industry and where it's going," said Dave Murray, deputy press secretary for Michigan Gov. Rick Snyder, in a telephone interview. "The industry recognizes the quality of the workforce here in Michigan. The profit-sharing checks are a good indication of that."
Workers from Texas to Ohio should receive their share of the more than $800 million in bonus money — pre-tax, of course — by the end of March. Along with tax refunds, that could give a double late-winter economic boost to states with large auto workforces.
The latest profit-sharing formula, developed as part of contract negotiations between the Detroit automakers and the United Auto Workers in 2011, has acted as a pseudo-annual raise for longtime hourly workers, who haven't received a yearly pay raise in a decade. Younger, less-experienced workers, who begin at half the hourly rate of veteran employees, see small wage increases based on tenure at their respective automaker.
Bonus checks were nonexistent for years during the auto industry's downturn. GM and Chrysler went bankrupt and Ford nearly followed suit, but after closing dozens of plants and laying off tens of thousands of workers, all three are back in the black and their hourly workers are sharing in the profits.
"The $800 million in profit sharing is very welcome news," said Harley Shaiken, a University of California-Berkeley labor professor and adviser to UAW President Bob King. "Most of the veteran workers have been through the toughest times and seen the unthinkable in terms of the bankruptcy. My sense is they would like to gain lost ground, but they understand how volatile the industry remains. The profit-sharing formula is more transparent and generous than it's been in the past."
Profit-sharing checks emanating from 2013 financial results will mark the third straight year all three automakers have paid workers at least $1,500 on average; GM and Ford have paid at least that much for four consecutive years. Before that, automakers had paid little — or in a few instances, a hundred or so dollars — since the turn of the millennium.
"It's bolstering areas like Youngstown (Ohio) and Toledo and Detroit," said George Zeller, a Cleveland-based economist, citing three Midwest cities hit extraordinarily hard by the last recession.
Last year, more than 125,000 UAW members throughout the U.S. earned more than $780 million in profit-sharing checks. The combined per-worker total of $17,300 fell just short of the 1999 record after GM posted a lower-than-expected fourth-quarter profit.
Last year, GM paid 49,000 U.S. hourly workers up to $6,750 each, Ford paid 45,800 workers an average of $8,300 and Chrysler paid 31,000 workers an average of about $2,250.
Average profits this year for approximately 46,500 Ford hourly workers likely will top last year's record-breaking total, as the Dearborn automaker's profits ran about $600 million ahead of 2012's pace through the first three quarters of 2013. Those payouts could equal more than $400 million.
Ford had been on track to post a North American profit of about $9 billion this year, according to analyst reports from Barclays — which would put the average profit-sharing check at about $9,000. But after Ford's mid-December profit warning, it may be closer to $8.5 billion.
GM's North American profits have run about $300 million higher during the same period, and 51,500 U.S. hourly workers could see a bonus check similar to the $6,750 checks GM cut them for their 2012 work.
Approximately 32,000 Chrysler hourly workers are in line to make a few hundred extra dollars. Eric Selle, analyst at J.P. Morgan & Co., projects a Chrysler net profit of between $3.3 billion and $3.8 billion, translating to a per-worker profit ranging from $2,750 and $3,250.
Profit-sharing checks at GM and Ford are based on automaker profits in North America, not just from the U.S. Workers receive, on average, $1 for every $1 million in North American pre-tax profit. At Chrysler, hourly workers get $1 for every $1 million in profits, based on 85 percent of Chrysler's worldwide profit.
"Special items" and net interest expense are excluded from the profit-sharing calculation.
Profit-sharing checks cannot exceed $12,000 in any one year, and Detroit automakers don't have to disperse extra checks if profits don't exceed $1.25 billion.


Low interest rates spur record
yearly car sales in Canada

GREG KEENAN
Globe & Mail
Jan 5, 2014
Canadians bought a record 1.74 million new vehicles last year, sending a strong signal that they did not fear taking on additional debt.
The 2013 figure smashed the previous record of 1.703 million set in 2002 and was propelled by low interest rates, decent job growth in the overall economy, new models and incentives from auto makers plus a bit of pent-up demand still lingering from the 2008-2009 recession.
"One of the dominant and somewhat surprising aspects of Canada's economic performance in 2013 was the underlying strength in sales of big-ticket, interest-sensitive items such as cars and homes," said BMO Nesbitt Burns chief economist Doug Porter. "Overall consumer spending growth was not particularly strong – so households were somewhat careful. They just went for the large items and appear to have economized more on smaller goods and or services."
Consumers appeared to shrug off warnings from economists and federal Finance Minister Jim Flaherty that household debt is getting out of control, sending a signal that their confidence about the economic recovery is perhaps stronger than indicated by the tepid growth in gross domestic product in 2013.
A strong December sales gain of 4 per cent capped off nine straight months of sales increases.
"It's an encouraging signal that consumers have the confidence to make that large purchase," said Paul Ferley, assistant chief economist of Royal Bank of Canada. What's more, Mr. Ferley is forecasting another record in 2014 with sales of 1.8 million vehicles and another jump to 1.82 million sales in 2015.
In the U.S. market, sales were flat overall, but down for some of the biggest companies such as General Motors Co. and Toyota Motor Corp.
But that put just a slight blemish on the best year the industry has had in the United States since before the recession and the collapse in sales that sent GM and Chrysler Group LLC in Chapter 11 bankruptcy protection.
Sales jumped 8 per cent to 15.58 million last year from 14.49 million in 2012, according to data compiled by trade publication Automotive News.
The U.S. market has been driven by pent-up demand, and the fact that sales are still below pre-recession levels that surpassed 17 million annually leaves analysts and industry officials believing there is more pent-up demand to be satisfied.
"The biggest reason why people are feeling better about the economy and returning to showrooms is the progress that has been made on the jobs front," Kurt McNeil, GM's vice-president of U.S. sales operations, told investors and reporters on the company's monthly sales conference call Friday. "That's the key to releasing even more pent-up demand in 2014."
Senior executives from both GM and Ford Motor Co. pointed to positive trends in almost all the economic variables that underpin vehicle sales.
"When you look at the fundamentals, what are the drivers of vehicle sales? GDP growth, employment stability, net worth, availability of financing, all of those remained very, very strong," Mustafa Mohatarem, GM's chief economist, added on the GM call.
Ford Motor Co. of Canada Ltd. grabbed first place in the annual sales race in Canada for the fourth consecutive year. Its F-Series pickup truck was the best-selling vehicle in Canada for the fourth straight year. Ford sold 122,235 pickups, almost twice the sales of the leading passenger car, the Honda Civic at 64,063.
Chrysler Canada Inc. posted its best sales since 2000 to finish in second place in the sales rankings.
General Motors of Canada Ltd. was in third spot, but its December sales increase of 17 per cent enabled it to hold market share at 13.5 per cent.
Hyundai Auto Canada Corp. and Kia Canada Inc. lost market share, while Honda Canada Inc., Nissan Canada Inc. and Subaru Canada Inc., gained share.
Ford puts solar-charged
electric car to the test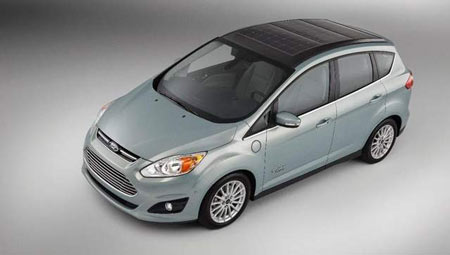 Potentially costly concept to be on display at Las Vegas show
Karl Henkel
The Detroit News
Jan 4, 2014
Ford Motor Co. is testing a solar-powered electric car that's easier to recharge than the typical plug-in, though the cost of solar panels would potentially add thousands of dollars to an already expensive vehicle.
Using "a day's worth of sunlight" captured by rooftop solar panels, the Dearborn automaker says the C-Max Solar Energi Concept will mirror the efficiency of the C-Max Energi plug-in vehicle currently available on dealer lots.
The Energi plug-in can go 620 miles on a tank of gas — 21 of those in electric-only mode. And like the Energi-plug in, the solar-powered concept also has a charge port and can be re-charged via cord and plug if needed.
Ford plans to show the C-Max Solar Energi Concept next week at the Consumer Electronics Show in Las Vegas. Ford is working with San Jose, Calif.-based SunPower Corp. and Atlanta-based Georgia Institute of Technology.
Following CES, Ford and Georgia Tech will test the vehicle in "numerous real-world scenarios" to determine whether the concept car could potentially become one that consumers can buy.
The current, production-model C-Max Energi plug-in costs $32,920 and qualifies for a $4,000 federal tax credit. But the cost of solar panels — especially ones that can capture sunlight equal to a four-hour battery charge, or 8 kilowatts — can vary from a few hundred to thousands of dollars depending on size and efficiency.
A Ford spokesman said it is "too soon to speculate on" added cost for a potential production vehicle.
The benefit, however, is that a driver won't have to rely on electric-vehicle stations to re-charge their vehicle.
There are 6,708 electric-vehicle charging stations throughout the U.S., according to the U.S. Department of Energy's Alternative Fuels Data Center. There are about 105,000 gas stations, according to the U.S. Census Bureau.
And although electricity costs are low, epecially compared to fuel prices, a lithium-ion battery charged via sunlight would effectively bring recharge costs to zero for a driver that commutes solely in electric-only mode.
Fords says internal data suggest the sun could power up to 75 percent of all trips made by an average driver in a solar hybrid vehicle.
Solar panels and cars aren't a new combination.
Automakers in the past have installed solar panels on numerous vehicles.
For example, Toyota Motor Corp.'s Prius hybrid car has an optional solar panel, but it doesn't help propel the car; the solar panels help power a fan that keeps the car cooler when parked.
Audi's gas-powered A8 can also come with solar panels to regulate cabin temperature.
Solar panels, at this point, cannot completely power a vehicle, because there's simply not enough surface area on most cars for the necessary number of solar panels to power a car. But a smaller number of solar panels can help recharge a car's batteries.
In the case of the C-Max Solar Energi Concept, the panels recharge the vehicle's lithium-ion battery, which provides the approximately 21 miles of electric-only driving range.
Ford's concept uses a Fresnel lens — similar to a lens used in a lighthouse — and reduces the size of the lens needed to capture sunlight.
Ford says that increases the impact of the sunlight by a factor of eight.
Ontario Ministry of Transportation Scrap This Idea Completely
Mike Wandzura
Oro Station, Canada
Jan 3, 2014
The Ontario Ministry of Transportation introduced discriminatory restrictions and special testing for older drivers in Ontario, under the false pretension that older drivers constitute a significantly higher risk in traffic.
In November of 2012, research was conducted by another independent party, obtaining every valid statistic in Canada and a major Australian Study, that used Canadian statistics. These studies, including statistics from the Ontario Ministry of Transportation, revealed that consistently, year after year, the older drivers have had fewer accidents than any other drive group, and as they age, have fewer still.
A charge was laid against the Ministry of Transportation , in November of 2012, under the Ontario Human Rights Act. After six months of intense correspondence, the Ontario Human Rights Tribunal dismissed the complaint, on the grounds that the Ministry, and all it's Agencies are exempt.
The independent party continued their pursuit, by going directly to the Minister of Transportation. After hounding him for a number of weeks, they received received an email, admitting that the Ministry did not have the statistical justification to enact the discriminatory legislation against the elderly drivers, but proceeded anyway. I presume on preconceived views about the elderly.

This does not only make this law illegal, but it violates the Canadian Charter of Rights and Freedoms, The Human Rights Act, The Criminal Code on Elder Abuse, and the persons right to be presumed innocent until proven guilty.

If you are still feeling comfortable, consider what is coming . The Toronto Star recently featured an article called "Driving With Dementia, The New Impaired Driver". In this article, it states that 28% of drivers over 65 years of age and older, have dementia, and suggests that these people should be given a test, presently being used in Alberta, called the Simard MD Protocol. This test has no credibility with the Academics and Professional Organizations, who have come out, stating that they are surprised that a Government would use a test which is not scientific, unreliable, and sets the seniors up for failure. 20% fail, 20% cannot be determined. This test is paid for by the elderly $250.00 each time tested, and paid to a private firm.
Rumour has it, that the Ontario Ministry of Transportation will be introducing the Simard test in April of 2014.


Fiat reaches $4.35 billion deal
to buy rest of Chrysler
Bryce G. Hoffman and David Shepardson
The Detroit News
January 2, 2014

Fiat SpA has reached an agreement with the United Auto Workers to purchase the rest of Chrysler Group LLC.
The $4.35 billion deal, which was announced Wednesday, marks the culmination of years of on-and-off negotiations between the Italian automaker and the union, which controls the retiree health care trust that owns a minority stake in the Auburn Hills automaker.
In a message to employees worldwide, Fiat Chairman John Elkann and CEO Sergio Marchionne called it "a historic day" for both Fiat and Chrysler.
"After a protracted negotiation ... we have reached an agreement that, through the acquisition by Fiat of a 100 percent equity interest in Chrysler, enables us to complete the union between the two groups in both financial and technical terms," they said in the email, a copy of which was obtained by The Detroit News.
In a separate statement to the media, Elkann expressed his appreciation for the work done by his employees on both sides of the Atlantic to achieve the unification of the two companies. "I have been looking forward to this day from the very moment that we were chosen to assist in the rebuilding of a vibrant Chrysler back in 2009," he said.
Robert Naftaly, chair of the committee that governs the UAW health care trust, said in a statement, "This agreement is in the best interests of the trust's UAW Chrysler retiree members and their families who rely on the trust to provide vital health care benefits." The trust provides medical benefits to more than 117,000 UAW-represented Chrysler retirees, surviving spouses and dependents.
Fiat acquired control of a bankrupt Chrysler as part of a 2009 bailout deal brokered by the Obama administration. The Italian automaker owns 58.5 percent of the company, but has long sought to acquire the remaining 41.5 percent from the UAW, which was given shares in Chrysler in exchange for concessions.
While the management of Fiat and Chrysler has merged, the companies' finances have remained separate. That has made it challenging for Marchionne, who also serves as chairman and CEO of Chrysler, to proceed with his plan to create a global contender from two also-rans.
Now, he believes he can.
"The unified ownership structure will now allow us to fully execute our vision of creating a global automaker that is truly unique in terms of mix of experience, perspective and know-how, a solid and open organization that will ensure all employees a challenging and rewarding environment," Marchionne said Wednesday.
Under the terms of the agreement, Fiat and Chrysler will fund the purchase of the UAW trust's shares in the company through a special distribution payable by Chrysler Group to its members, in an aggregate amount of approximately $1.9 billion up front and a second cash payment of $1.75 billion in cash when the deal closes Jan. 20.
In addition, Chrysler will pay the UAW trust $700 million in four equal annual installments, with the first payment due when the deal closes.
This means Chrysler itself will bear much of the cost of its acquisition by cash-strapped Fiat, which is struggling to ride out a major downturn in sales in its home market.
As part of the deal, the UAW agreed to continue to support Fiat's efforts to turn around the struggling automaker.
"In consideration for these contributions, the UAW will agree to certain commitments to continue to support the industrial operations at Chrysler Group and the further implementation of the Fiat-Chrysler alliance, including to use best efforts to cooperate in the continued roll-out of Fiat-Chrysler World Class Manufacturing programs, actively participate in benchmarking efforts associated with implementation of these programs... and actively assist in the achievement of the Group's long-term business plan," Chrysler said.
Fiat, which got an initial 20 percent stake in Chrysler in 2009, also received 15 percentage points for meeting three targets set by the Obama administration.
Former Obama administration auto czar Steve Rattner said Chrysler was worth nothing in 2009. "Today: $8.8 billion Big win for UAW members and for American people," he wrote on Twitter.
The U.S. Treasury Department booked a $1.3 billion loss on its $12.5 billion bailout of Chrysler.
Marchionne began negotiations to purchase the remaining shares in Chrysler after paying back the company's $7.6 billion in loans from the U.S. and Canadian governments in 2011. But the two sides couldn't agree on a price.
Fiat ultimately asked a judge in Delaware, where Chrysler is registered, to resolve the dispute. But the judge decided last year to send the issue to a jury, and a trial was not expected anytime soon.
"The important thing is we reached an agreement," Chrysler spokesman Gualberto Ranieri told The Detroit News. "In 2009, we started with two companies. Today, there is only one."
The agreement means the plan to take Chrysler public once again will not proceed — at least not in its current form.
The company had filed papers to begin the initial public offering process with the U.S. Securities and Exchange Commission at the request of the UAW trust one year ago. The union saw it as a way of getting a higher price for its shares. Now, that point is moot.
After the merger is complete, the larger company will likely be taken public in a deal similar to one recently concluded by Fiat Industrial SpA and Case New Holland, according to a source familiar with the situation. That deal led to creation of CNH Industrial, registered in the Netherlands but traded on Nasdaq.
Letter to employees from Fiat (Click here)
Key dates in Fiat-Chrysler alliance
Dec. 19, 2008: Bush administration approves $4 billion bailout for Chrysler.
Jan. 20, 2009: Fiat and Chrysler announce plans for alliance.
April 30, 2009: Chrysler files for Chapter 11 bankruptcy and signs deal giving Fiat 20 percent of a reorganized Chrysler. The UAW's VEBA health care trust gets 55 percent of Chrysler and the federal government gets 8 percent.
June 2, 2011: Fiat agrees to buy the government's final 6 percent stake in Chrysler for $560 million.
April 5, 2012: Fiat CEO Sergio Marchionne says the company is interested in buying all of Chrysler.
Sept. 26, 2012: Fiat asks a Delaware court to set the price for the Chrysler shares held by VEBA after talks with the UAW stall.
April 9, 2013: Marchionne says the company has enough money to buy the rest of Chrysler.
Jan. 1, 2014: Fiat reaches deal with UAW to buy the remaining 41.5 percent of Chrysler.