August 1, 2010 to October 31, 2010


Free-trade deal with EU could cost thousands of Canadian factory jobs
GREG KEENAN
— AUTO INDUSTRY REPORTER


Globe & Mail - October 31, 2010
A free-trade agreement between Canada and the European Union would deal another blow to Canada's already battered manufacturing sector, wiping out thousands of jobs in food processing, apparel making and the auto industry, according to an analysis of a potential agreement.

Canada, which has run an annual trade deficit of $19-billion with the EU, on average, for the past 10 years, would lose 28,000 jobs – most of them in manufacturing – if tariffs were eliminated, says a study done by Canadian Auto Workers economist Jim Stanford for the Canadian Centre for Policy Alternatives (CCPA).
Instead of increasing imports of European goods and services, Canada should look to that continent to provide examples of "what is really required to build successful, innovative export industries, instead of continuing to naively hope that more free-trade agreements will solve all that ails our trade performance," Mr. Stanford said.
While the federal government negotiates the terms of an agreement with the EU, Canada's manufacturing sector is still dealing with the lingering effects of the Great Recession, the slow recovery in the U.S. economy from that downturn and the renewed strength in the value of the Canadian dollar
.
A combined Canada-EU study says the boost to the Canadian economy would be worth $12-billion, although Mr. Stanford noted that even that study says Canadian imports from the EU will increase by twice as much as Canadian exports to the EU.
After the five previous free-trade agreements Canada signed with the United States, Mexico, Israel, Chile and Costa Rica, exports grew by an average of 4.77 per cent annually, while imports rose by 8.67 per cent, his analysis for the CCPA shows. The centre is a left-leaning think tank.
The loss of 28,000 jobs is the best-case scenario in Mr. Stanford's study. The worst-case scenario is the elimination of tariffs, plus the Canadian dollar maintaining the 18-per-cent appreciation in value against the euro it has averaged this year compared with where the currencies were trading when negotiations on a deal were announced in March, 2009.
Under those assumptions, a Canada-EU free trade agreement vaporizes more than 152,000 jobs.
Processed food makers, apparel manufacturers, the auto industry, chemical rubber and plastics producers and beverage and tobacco manufacturers are the five industries that would lose the most jobs if all tariffs were eliminated–the best-case scenario.
Most of the benefit will be felt in the agriculture and fishing sectors.
In the auto sector, eliminating the 6.1-per-cent tariff European auto makers now pay on vehicles they import into Canada and the 3.2-per-cent duty on parts imports would wipe out about 3,400 jobs. The EU places 10-per-cent duties on autos and auto parts.
Eliminating the 6.1-per-cent duty on Volkswagen Golf models imported from Europe would give the Germany-based auto maker a boost in the hotly contested compact segment of the auto market against Canadian-made Honda Civic and Toyota Corolla models.
Similarly, BMW AG and the Mercedes-Benz unit of Daimler AG, which already lead the luxury segments in Canada, would receive an instant 6.1-per-cent advantage.
"Enhancing Canadian exports and diversifying exports away from the U.S. are important economic policy goals for Canada," Mr. Stanford acknowledged. "It is clear, however, that merely signing another free-trade agreement – even with a partner as important as the EU – holds no prospect of achieving either goal."
Negotiators from Canada and the EU met two weeks ago in Ottawa in hopes of wrapping up a deal by the end of next year.
International Trade Minister Peter Van Loan said most of the easy issues have been settled.
With files from reporter Shawn McCarthy in Ottawa
CANADIAN EXPORTS TO EU
| | |
| --- | --- |
| Product Category | Value ($-Bln) |
| Gold | $5.4 |
| Helicopters, Airplanes And Spacecraft | $2.4 |
| Diamonds | $1.7 |
| Iron Ores And Concentrates | $1.4 |
| Turbo-Jets, Turbo-Propellers And Other Gas Turbines | $1.3 |
| | |
| Source: Industry Canada Strategis Trade Data Online by Product, Top HS4 Product Codes, 2009 | |
CANADIAN IMPORTS FROM EU
| | |
| --- | --- |
| Product Category | Value ($-Bln) |
| Medications | $5.6 |
| Motor Vehicles | $3.0 |
| Crude Petroleum | $2.8 |
| Petroleum Products | $2.0 |
| Turbo-Jets, Turbo-Propellers And Other Gas Turbines | $1.7 |
| | |
| Source: Industry Canada Strategis Trade Data Online by Product, Top HS4 Product Codes, 2009 | |
Driverless vans end
cross-continental test drive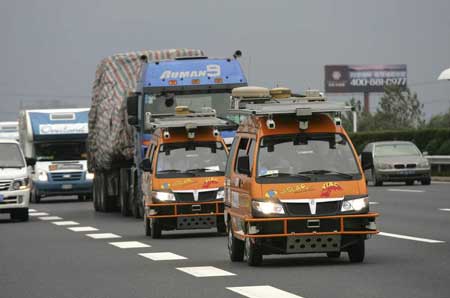 Elaine Kurtenbach / Associated Press
October 30, 2010
Shanghai — Across Eastern Europe, Russia, Kazakhstan and the Gobi Desert — it certainly was a long way to go without getting lost.
Four driverless electric vans successfully ended an 8,000-mile test drive from Italy to China — a modern-day version of Marco Polo's journey around the world — with their arrival at the Shanghai Expo on Thursday.
The vehicles, equipped with four solar-powered laser scanners and seven video cameras that work together to detect and avoid obstacles, are part of an experiment aimed at improving road safety and advancing automotive technology.
The sensors on the vehicles enabled them to navigate through wide extremes in road, traffic and weather conditions, while collecting data to be analyzed for further research, in a study sponsored by the European Research Council.
"We didn't know the route, I mean what the roads would have been and if we would have found nice roads, traffic, lots of traffic, medium traffic, crazy drivers or regular drivers, so we encountered the lot," said Isabella Fredriga, a research engineer for the project.
Though the vans were driverless and mapless, they did carry researchers as passengers just in case of emergencies. The experimenters did have to intervene a few times — when the vehicles got snarled in a Moscow traffic jam and to handle toll stations.
The project used no maps, often traveling through remote regions of Siberia and China. At one point, a van stopped to give a hitchhiker a lift.
A computerized artificial vision system dubbed GOLD, for Generic Obstacle and Lane Detector, analyzed the information from the sensors and automatically adjusted the vehicles' speed and direction.
"This steering wheel is controlled by the PC. So the PC sends a command and the steering wheel moves and turns and we can follow the road, follow the curves and avoid obstacles with this," said Alberto Broggi of Vislab at the University of Parma in Italy, the lead researcher for the project.
"The idea here was to travel on a long route, on two different continents, in different states, different weather, different traffic conditions, different infrastructure. Then we can have some huge number of situations to test the system on," he said.
The technology will be used to study ways to complement drivers' abilities. It also could have applications in farming, mining and construction, the researchers said.
The vehicles ran at maximum speeds of 38 miles per hour (60 kilometers per hour) and had to be recharged for eight hours after every two to three hours of driving. At times, it was monotonous and occasionally nerve-racking, inevitably due to human error, Fredriga said.
"There were a few scary moments. Like when the following vehicle bumped into the leading one and that was just because we forgot, we stopped and we forgot to turn the system off," Fredriga said.
CAW CONTACT
Volume 40, No. 37
October 29, 2010
Auto Parts Workers Rally Across Ontario
CAW members in more than 100 auto parts workplaces took part in a series of lunchtime demonstrations outside their plants during a province-wide day of action on October 27. The protest was the culmination of months of planning and involved 15,000 workers across Ontario.
Parts workers called for a stop to the downward pressure on working conditions, employer demands for severe contract give-backs and demanded greater respect for work ownership, including the right to follow work in the event it is relocated to other facilities – with the collective agreement in tact.
CAW President Ken Lewenza told a crowd of 150 demonstrators in the parking lot of Burlington Technologies that cutting the wages and benefits of workers will not solve the uncertainty facing the parts industry.
Lewenza highlighted that demands on parts workers for concessions are not limited to unionized shops, as non-unionized workers often face much more severe cutbacks. In Canada, approximately 20,000 parts workers are union members while about 40,000 to 45,000 are not.
Lewenza urged government to introduce fairer unionization legislation, which would see card check certification reinstated in the province. "What's so difficult about putting in a law to allow workers to join a union without reprisal?" Lewenza asked. He also lambasted the government for allowing employers to use replacement workers during labour disputes and touched on the need to introduce fair severance and bankruptcy legislation.
This large-scale effort organized under the campaign Auto Parts Workers United, also included a massive outreach effort to non-unionized parts workers, including those employed by Magna.
For more information on the campaign or the Day of Action, please visit: http://www.caw.ca/en/9499.htm
Union Wins B.C. Court Battle for Workers with Chronic Illness
CAW Local 111 has won a seven-year long court battle with Coast Mountain Bus Company that protects workers suffering from chronic illnesses by striking down a workplace policy that imposed an unfair penalty on workers for absences due to disability.
The ruling was issued by the British Columbia Court of Appeal on Friday, October 15, ending a dispute that originated in July 2003, after local union representatives filed a human rights complaint challenging the employer's Attendance Management Program as unfair and discriminatory.
CAW Local 111 President Don MacLeod said the court's decision is excellent news for the rights of all disabled workers.
"This case really says it is wrong for an employer to systemically discriminate against workers who are absent from their jobs because they have chronic or recurring disabilities," MacLeod said in a statement released on October 18.
"The court agreed that the employer has a responsibility to its workers to recognize that those suffering from chronic illnesses like Crohn's disease, arthritis, diabetes or injuries that affect their ability to work must not be treated unfairly," MacLeod said.
CAW Condemns Bullying of LGBT Youth
In light of a wave of suicides by lesbian, gay, transgendered and bisexual youth and those perceived to be LGBT, the CAW's National Executive Board has adopted a strongly worded statement, condemning violence against and bullying of LGBT youth.
In the statement, passed on October 15, the union expresses its grave concern about the bullying of LGBT teens and urges renewed vigilance against all forms of bullying, including jokes, slurs, harassment, threats and any form of violent behaviour.
"We are asking those in positions of authority or leadership roles in their community and schools to stand up and speak out against bullying while creating safe space and support services for those youth who are targeted for discrimination. We must keep up this fight until each and every one of us can enjoy equal liberty, mobility and respect, to live openly with our families and loved ones in dignity."
To read the full statement, visit our website at:
http://www.caw.ca/en/9526.htm
CAW Calls for End to Exploitation of Airport Drivers
CAW members employed by three airport limousine companies staged a demonstration on October 22 at Toronto's Pearson International Airport, demanding an end to the exploitative treatment of the limo drivers.
The union is in first contract negotiations with McIntosh, Air Cab and Aaroport, after being certified as the official bargaining agent in early February. All three companies are owned by the same individual. The 200 drivers are represented by CAW Local 252.
The union is attempting to end a number of unethical practices such as drivers being forced to purchase both their car and insurance from the company owner at a marked up price.
"It's unbelievable the extent to which drivers working for these three companies are exploited," said CAW National Representative Sukhvinder Johl. The total fees paid by the drivers amount to approximately $7,000 a month, most of which is paid directly to the company, regardless of how many fares the driver is able to pick up, said Johl. "The purpose of this demonstration was to bring attention to these very exploitative working conditions and pressure the companies to reach an equitable collective agreement with its workers."
Canada-EU Free Trade Deal Could Cost up to 150,000 Jobs
A Canada-EU free trade deal would create a huge trade deficit for Canada, resulting in the loss of up to 150,000 Canadian jobs, says a study released on October 27 by the Canadian Centre for Policy Alternatives (CCPA).
The study, by CAW economist and CCPA Research Associate Jim Stanford, models three scenarios to provide a range of estimates regarding the likely impacts of EU-Canada free trade. In every case, Canada's bilateral trade balance worsens significantly. The simulations suggest an incremental loss of between 28,000 and 150,000 Canadian jobs.
"A free trade agreement with the EU will exacerbate Canada's existing large bilateral deficit, at the expense of output and employment in many important sectors of the economy," says Stanford.
Canada already has a large bilateral trade deficit with the EU - $15 billion in goods and close to $4 billion in services, and loses some 70,000 jobs as a result. A free trade agreement would make that imbalance worse, Stanford argues.
The report comes on the heels of a fifth round of Canada-EU trade talks in Ottawa, which wrapped up on October 22, and the first major public demonstration against the trade deal.
Over 400 protestors, including bus loads of CAW members, gathered in the nation's capital to express their grave concern over the proposed deal which threatens to break down government regulations over such things as public purchasing, environmental standards, public services, domestic-content rules and others.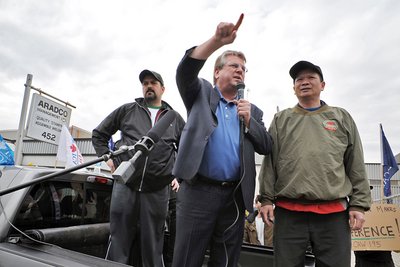 October 28, 2010
Brampton Guardian
Canadian Auto Workers gathered at Benteler Automotive, 9195 Torbram Rd., in Brampton today as part of a province-wide day of action calling "for an end to the downward pressure on working conditions and employer demands for severe contract give-backs."
The rallies are part of CAW's Enough is Enough campaign, which launched on Oct. 18 to counter job cuts and other changes union members say have occurred in the auto-parts sector over the past few years.
Demonstrations are being held at more than 100 workplaces in Ontario including Toronto, Windsor and Brampton.
The union says companies are demanding concessions despite the fact the industry is expected to turn a profit next year, according to a report by the Conference Board of Canada in August.
Union leaders say auto-parts workers are not prepared to give up more of their wages and benefits, or accept a proposed two-tier wage system for new hires.
"This is the first time such a large-scale effort has been orchestrated by Canada's auto parts workers," said the CAW in a release. "The Day of Action also includes a massive outreach effort to non-unionized auto parts workers, including those employed by Magna."
Foresight leads to Ford's comeback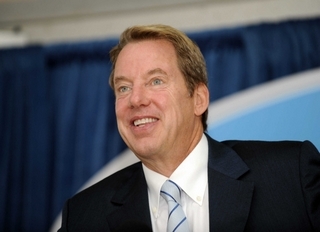 October 28, 2010
Daniel Howes - Detroit News
The rush to confer quasi-sainthood on Ford Motor Co. CEO Alan Mulally is understandable, given the pile of profits the automaker is amassing — standing at $6.4 billion so far this year, ahead of schedule.
But he had help, lots of it, to put Ford on the verge of becoming the world's most profitable automaker, starting with a board of directors led by an executive chairman whose name is stamped on every Blue Oval worldwide. That's huge, arguably even more than the backing of the Ford family itself.
What could the Ford family diaspora do in the dark days of 2006 or the even darker days of '08 and '09 — peddle their stakes to would-be buyers at the lowest valuations in their lifetimes and risk losing control of the company? Don't think so.
Corporate directors have choices, though: They can fret over their image and resign, as former Treasury Secretary Robert Rubin did a month before Mulally arrived in 2006 and HSBC's John Bond and Nokia's Jorma Ollila did in the fall of 2008. Or they can stand up, do their jobs and force a change in direction by hiring someone who will lead the change, and then back him up.
The directors, including Executive Chairman Bill Ford Jr. and his cousin, Edsel Ford II, realized as far back as 2006 (and probably sooner) that the Dearborn automaker's business was broken, that bankruptcy would destroy the company and the family's century-long hold on it, that collapse was probable.
They understood that the revolving executive doors atop the Glass House left them with few viable inside candidates to replace Bill Ford, that the company needed a CEO hardened by tough industrial restructuring, that the new guy would need billions of dollars to finance a turnaround certain to include cutting jobs, jettisoning brands and shaking the company to its core.
They faced what their rivals at then-General Motors Corp. mostly avoided until it was way past too late. Which is why Ford is on track to be one of the greatest industrial turnarounds this country has ever seen and GM is doing it the harder way.
GM gutted through bankruptcy and emerged as a ward of the federal government. It is preparing to launch an initial public offering, led by its fourth CEO in less than two years. Why? Because GM's former directors refused to make the tough choices, to find the right leaders, that Ford did.
Oversimplified? Not really. Way back in '07, when GM was agreeing to fund hefty increases in pension payments for the United Auto Workers, Mulally would stand at his window in the northeast corner of Ford headquarters, point in the direction of the Rouge complex and say something like: In 10 years, this could all be gone.
He'd tell Ford marketers and engineers that the company had been going out of business for 25 years. He'd argue unspeakable heresy — that Ford didn't need to be in the global luxury car business, that it didn't need to own a third of Mazda Motor Corp., that the Mercury brand had outlived its usefulness.
In each case, he'd be right. In each case, the Ford logic he probed didn't make business sense. In each case, the outsider gone inside voiced conclusions echoing those from critical employees, outside analysts and media hacks who were routinely dismissed by company officials.
And in each case, the directors backed the new guy because they knew he was right — Ford had to change or it would die. They approved his once-unthinkable moves, funded product plans and backed his management team assembled mostly from longtime Ford hands.
All of which put Ford more squarely on a road to a sustainable and profitable recovery, the kind of result that many inside and outside the Detroit automotive bubble could be excused for thinking they would never see.
But they are. Ford this week said its net income through the first nine months of this year totaled $6.37 billion, most of it coming from its crucial North American operations. U.S. market share is up for the second year in a row. And a pillar of the American auto industry can legitimately claim that reports of its death were premature.
Gives new meaning to the word comeback — and the difference enlightened leadership can make.
Consumer Reports: Ford,
GM climb in reliability
Survey ranks Fusion first for family sedans;
Honda, Toyota dominate
Scott Burgess / The Detroit News
October 27, 2010
The Ford Fusion is the most reliable family sedan sold in America, General Motors continues to move up in the reliability rankings and Chrysler Group LLC is showing signs of life.
Those are among the results of Consumer Reports' annual car reliability survey, released Tuesday at an Automotive Press Association luncheon in Detroit.
While Motor City carmakers showed continued improvement, Asian carmakers remain the reliability powerhouses.
Toyota Motor Corp., despite recalling millions of vehicles in the past year, and Honda Motor Co. dominated the top of this year's survey. Toyota and Honda each led in five categories.
Europeans lagged behind other carmakers in general with poor quality. Three European luxury brands, Audi, BMW and Mercedes-Benz, scored among the worst this year.
Dearborn-based Ford was the only U.S. automaker with top scores, in two categories: family sedan (Fusion) and large SUV (Flex with EcoBoost). GM improved the most among the domestic companies.
Helping propel GM upward was a slew of new products, such as the Chevrolet Camaro, Buick LaCrosse and Cadillac SRX, Consumer Reports officials said.
"Typically, the first year of a new vehicle is when it scores the worst on reliability so this is very good news for General Motors," said David Champion, senior director of Consumer Reports Auto Test Center. "It's easier to keep a vehicle reliable if it was engineered to be reliable from the start."
The results were well received by GM. The Detroit automaker has dedicated more time heeding the advice of organizations such as Consumer Reports in recent years, said Dan Nicholson, GM's vice president, global quality.
"We are much more streamlined and our decision-making is much faster," Nicholson said. "We have done a lot in recent years to improve the quality and the perceived quality, especially inside our interiors."
Last year, only half of the vehicles in Chevrolet"s lineup scored average or better in the survey. This year, 83 percent of the lineup scored at least average.
Cadillac improved seven places in the overall rankings, compared to last year.
The importance of the reliability survey cannot be understated, said Dave Sullivan, manager, product analysis for AutoPacific, Inc. "Consumer Reports is one of those indicators used by the general public to measure how each automaker stacks up against the other," he said. "For GM, this may be one of the only ways that some people know that GM has improved their quality, durability, and most importantly perception."
Ford leads U.S. carmakers

GM, however, still lags behind Ford, which has the most reliable vehicles by a domestic carmaker, according to the survey.
"Ford still dominates, year after year," Champion said. "Most people would never know that the most reliable family car in the midsize segment is the Ford Fusion, followed by the Honda Accord and then the Toyota Camry."
Ford ranked 10th in the overall rankings on predicted reliability.
Chrysler Group LLC remains behind many automakers, scoring poorly in the survey, with more than half of its vehicles falling below average reliability.
Champion said that Consumer Reports staff did get a chance to see some of the company's new vehicles, which will be unveiled next month and the quality improvements were significant.
"We"ll see how they do next year," he said.
Doug Betts, vice president, quality, at Chrysler said in a statement, "More than 75 percent of our product line-up is all-new or significantly improved for the 2011 model year. We anticipate customers, and third-party reviewers like Consumer Reports, will appreciate the new level of interior refinement, enhanced vehicle performance and overall quality improvements.
Asian cars most reliable

Despite marked improvements by GM and Ford, Asian carmakers, led by Toyota and Honda, consistently offer the most reliable lineups, the survey noted. All of Honda's vehicles, both in its mainstream brand and its luxury brand, Acura, scored at least average reliability.
Despite a difficult year, Toyota remains one of the most reliable brands in America, Champion said.
John Hanson, Toyota's national manager for environmental safety and quality communications, said the company is aware of its shortcomings and will continue to strive to improve.
"We've got some issues, and I think the recalls have hurt us in consumer's eyes, but we're still one of the most reliable brands," he said. "That's good." And Toyota won't take its place near the top for granted, Hanson said.
Hyundai Motor Co. continues to show improvements, with many of its new vehicles such as the Hyundai Sonata midsize sedan, Champion noted.
"This is very gratifying," said Hyundai spokesman Dan Bedore. "We value Consumer Reports and consider it one of the most important third-party evaluations to show how far we"ve come and the improvements we've made within the brand."
Consumer Reports sent out 5 million auto reliability surveys and 1.3 millions surveys were returned to the magazine. The survey goes back 10 years for vehicles and uses a number of ways to determine a vehicle"s reliability.
Earning an average or higher reliability ranking from Consumer Reports is essential for carmakers to make the magazine's recommended list, said Sullivan.
"Many people buying cars go to Consumer Reports recommended list and start shopping from there," he said. "If it's not there, they don't ever consider it."
Ford Posts Another
Profitable Quarter


October 26, 2010
Nick Bunkley - New York Times
DEARBORN, Mich. — The Ford Motor Company said on Tuesday that it earned $1.7 billion in the third quarter and that it expected to have zero net debt by the end of December, one year ahead of forecast.
It was the sixth consecutive profitable quarter and the best third quarter in more than 20 years for Ford, which has been gaining momentum because of popular new cars and crossover vehicles, even as the overall market and the economy remain relatively weak.
Ford, the only one of the three Detroit automakers to avoid bankruptcy and not accept government bailout assistance, has earned about $6.4 billion so far in 2010, just two years since a $14.8 billion annual loss that was the biggest in its history.
Its third-quarter profit was equal to 43 cents a share, compared to 29 cents a share a year earlier, when it earned $997 million.
On an operating basis, excluding taxes and special items, Ford earned $2.1 billion, or 48 cents a share, up from $1 billion, or 26 cents a share, in the third quarter of 2009. On that basis, analysts had expected earnings of 38 cents.
"This was another strong quarter and we continue to gain momentum with our One Ford plan," the chief executive, Alan R. Mulally, said in a statement. "Delivering world-class products and aggressively restructuring our business has enabled us to profitably grow even at low industry volumes in key regions."
Ford earned $1.6 billion in North America in the quarter, compared with $314 million in the period a year ago. Automotive operations lost $196 million in Europe but were profitable in other regions.
Revenue declined $1.3 billion to $29 billion, reflecting the sale earlier this year of the company's Swedish brand, Volvo. Excluding Volvo, now owned by the Chinese carmaker Geely, third-quarter revenue was up $1.7 billion.
Ford executives said all of the company's business units would be profitable in the fourth quarter and in 2011.
Ford said it paid off $2 billion in debt in September and that it planned to pay its remaining obligation to the United Automobile Workers union's retiree health care trust — $3.6 billion — on Friday, in cash. Ford had not been required to satisfy its debt to the union trust until 2022.
In all, the company expects to save about $800 million a year in interest as a result of the debt-reduction actions it has competed or announced this year, including a securities conversion offer that it is starting Tuesday. Company shares were 1.7 percent higher on Tuesday.
Ford had $26.4 billion in debt at the end of the quarter, down from $33.6 billion at the end of 2009. Its net debt stood at $2.6 billion, compared to $8.7 billion in December.
The chief financial officer, Lewis W. K. Booth, said debt reduction would continue to be a priority because a return to an investment-grade credit rating would allow Ford to reduce its borrowing costs.
"We're working really hard on improving the balance sheet," Mr. Booth said. Automotive operating-related cash flow was $900 million positive in the quarter. Ford has projected continued positive cash flow and solid profit for the rest of 2010 and in 2011.
Three months ago, Ford said it would eliminate its net debt by the end of 2011. Its high debt load has been a concern to many analysts. The last time Ford had more cash than debt was in mid-2008, before the recession began and auto sales collapsed.
Mr. Booth said Ford did not plan to eliminate all of its debt but that it had "some way to go yet" to reach its ideal debt level, though he would not reveal a specific target.
He said Ford has been able to accelerate its turnaround, without much help from the economy, by not only selling more vehicles but increasing the average price buyers pay.
"Every time we launch a new product, we can see that happening," he said.
Ford's sales in the United States are up 21 percent this year through September, double the average percentage gain for the industry. Its share of the market rose to 15.9 percent in the third quarter, from 14.6 percent a year earlier.
"Ford sales continue to surge due to a stronger product lineup and improved consumer image," said Jesse Toprak, vice president for industry trends at TrueCar.com. "Their retail sales are strong and transaction prices have been increasing this year, contributing to an improved bottom-line for the automaker."
On Monday, Ford said it would create as many as 1,200 engineering and manufacturing jobs by spending $850 million to upgrade at least four Michigan plants through 2013.
****************************
Ford posts quarterly
profit, pays down debt

* Q3 operating EPS 48 cents vs Street view 38 cents
* Ford cut debt by $2 bln in Q3, plans further cuts in Q4
* Debt reductions cut annual interest by nearly $800 mln
* Shares up 0.7 percent

DETROIT, Oct 26 (Reuters) - Ford Motor Co posted a $1.7 billion quarterly profit on Tuesday that exceeded Wall Street expectations and said it expected to eliminate a net debt position in its automotive business by year-end.

Ford, which expects to be solidly profitable in 2010, said it had repaid $2 billion of debt in the third quarter and on Friday will repay its remaining $3.6 billion of debt owed to a retiree healthcare trust for the United Auto Workers union.

Net profit rose to $1.7 billion, or 43 cents per share, in the third quarter from $997 million, or 29 cents per share, a year earlier. Excluding the Volvo unit it sold in August, revenue rose $1.7 billion to $29 billion.

Operating profit was 48 cents per share excluding one-time items. On that basis, analysts on averaged expected Ford to report earnings of 38 cents, according to Thomson Reuters I/B/E/S.

Shares of Ford were up 0.7 percent at $14.25 in trading before the market opened.


Alisa Priddle / The Detroit News
October 24, 2010

Ford Motor Co. is building on the marketing success of its Fiesta Movement as it seeks participants for a Global Test Drive of the 2012 Ford Focus prior to its sale date early next year.
Like it did with the Fiesta subcompact vehicle prior to launch, Ford wants to put young potential buyers behind the wheel of 100 Focus compact cars to generate buzz and provide Ford engineers with rapid feedback about the new car.
The 2012 Focus was unveiled last month at the Paris auto show and will be offered as a sedan, hatchback, wagon and a high-performance ST version. The sedan and hatch begin arriving in dealerships early next year, and the performance ST model comes in 2012. The wagon will not come to the United States.
Ford has embraced social networks as a key marketing tool. The Focus builds on lessons learned from the successful Fiesta campaign that raised awareness for the subcompact and has translated into strong sales and a surprising number of sales of higher-end features.
"Mining social media content and clickstream behavior yields tacit knowledge streams that are rich with insight about consumer behavior, including the thought processes and decision-making that consumers either can't or don't articulate," said Dave Howlett, senior director of consumer insights and strategy at J.D. Power and Associates.
"Understanding this information is crucial to targeting customers and driving sales," Howlett said.
Ford gained a lot of insight into social media during the Fiesta launch, much of it from the global test drive.
The Focus global drive is scheduled for early 2011 in southern Europe. Drivers will put the cars through their paces, including some high-speed exercises.
In return, Ford encourages the participants to document and share their experiences in the hope that social networking creates a buzz about the car before it hits showrooms.
Ford began taking video applications Thursday on the Focus Facebook page. Details are available on the "Global Drive" tab at http://facebook.com/fordfocus.
Applicants must explain why they should be considered and create a video promoting a cause and what they could do for their charity of choice with $10,000.
Participants will be chosen based on the creativity of their video, their social network skills and how many votes they receive.
If selected, Ford will donate $10,000 to the designated charity.
Ford has also tapped the team behind network television's "The Amazing Race" to create a five-week online reality show to promote the features of the new 2012 Ford Focus.
The web-only reality show "Focus Rally America" will follow six teams driving Focuses in a road rally with weekly challenges to be aired on the Hulu.com website. The race will begin about Feb. 1 and conclude as the new Focus arrives in showrooms in March.
The Focus is a global vehicle that will be sold in 122 markets. Production begins in Europe and at the Michigan Assembly plant in Wayne, Mich., at the end of the year.
The U.S. version will be powered by a 2-liter, direct-injection, four-cylinder engine.
The starting price will be $16,270, excluding a $725 destination charge, which is $370 less than the 2011 model.


New Ford trucks sport
powerful V-6 engines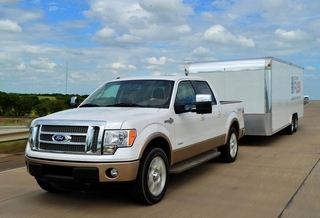 Scott Burgess
October 24, 2010

Last Friday was perfect in Romeo, Mich.
The bright blue sky was sprinkled with fluffy cumulus clouds, the crisp air mixed of summer and winter, and Ford F-150s were painlessly pulling 10,000-pound trailers.
Ford Motor Co. has no plans to stop with its revitalization program, and the F-150 has quietly undergone its biggest powertrain overhaul in 62 years. Gone are the venerable 4.6-liter and 5.4-liter V-8s — engines that have powered F-150s for years.
A new cast of blocks are under the hood of Ford's trucks, including a 3.7-liter V-6, a 5-liter and 6.2-liter V-8, and the crème 'd le crème 3.5-liter twin turbo direct injection V-6 known as EcoBoost.
I've always savored the irony that Ford has gotten away with creating a 365-horsepower, 420-pound-feet of torque V-6 and been able to market it as something environmentally friendly. That's awesome. That engine should qualify for tax rebates, too.
The idea, of course, is the engine earns its eco-friendly chops because it is a V-6 powerful enough to replace a V-8. In fact, Ford does just that with the 3.5-liter EcoBoost engine — providing more power than the 5-liter V-8. It's lighter and likely more efficient.
Efficiency is important for truck buyers, said Doug Scott, Ford's truck marketing manager.
"It's the No.1 unmet need in the segment," he said during a truck presentation last week.
Indeed, it is, but that doesn't necessarily mean truck customers are going to think a V-6 with a couple of turbo chargers bolted to it - should cost more than a V-8.
Truck buyers are a fiercely loyal bunch of consumers, just ask Toyota Motor Corp. - a company that thought it could sell pickups like they were Camrys and now has a billion dollar plant in Texas not pumping out hundreds of thousands of full-size trucks.
But truck buyers are also loyal to the number of cylinders under the hood and it's going to be a hard sell to convince truck buyers to downsize.
If they were ready, Ford might have a V-6 in its 2010 lineup, which it doesn't.
One way Ford may convince truck buyers to jump into these big trucks with an EcoBoost V-6 is the same way it is convincing me: Let them drive it.
The near-instantaneous torque on this truck approaches unreal.
Pulling a 10,000-pound trailer, the EcoBoost powered F-150 never hesitated up big hills at Ford's Michigan Proving Grounds in Romeo. (It's rated to handle up to 11,300 pounds.)Maybe the eco-part of the boost happens every time you find yourself pulling your foot off of the accelerator because you think you're going too fast.
I've driven the 3.5-liter EcoBoost engine a number of times in vehicles such as the Lincoln MKT, Lincoln MKS and the Ford Taurus SHO. It's always been a rocket ride and downright fun.
But in a pickup, the engine was all business.
In fact, it's not as if Ford pulled this engine out of a car and tossed it in the truck. It has improved it using some of the same technology that Ford used to create its mega powerful diesel engine in its SuperDuty pickups.
The low-end torque means you can keep your revs down and there's no such thing as turbo lag with the truck's performance. Ninety percent of the engine torque kicks in at 1,700 rpm and holds until 5,000 rpm. Most engines need much higher rpm to reach their full potential.
Leave the trailer behind and the F-150 flies. Ford also let me try some quick drag racing on the proving grounds, where you wait for the Christmas tree to show green, mash the gas pedal and then make a sound like Bo or Luke Duke.
Ford added more than just a few engines to its 2011 pickups.
These are the first big rigs to have electric power assisted steering, a gateway application to future fuel savings, as well as other fine tuning.
Every 2011 F-150 will also come with a six-speed automatic transmission, which adds fuel efficiency as well as makes the gear changes much smoother. This was quite noticeable on both up and downhill towing.
Every year, the F-150 just feels better and better with Ford's continual improvements to the vehicles.
So will truck consumers buy it? Will they see value in paying more for what they might see as a smaller engine? Ford is trying to teach a new lesson for pickup owners: Size isn't everything.
Even if it takes a few years to convince buyers, it's certainly not for a lack of testing. Ford claims to have replicated more than 1.6 million consumer miles on the EcoBoost engine - including more than 1.5 million analytical hours of testing, 13,000 hours of dynamometer testing and 100,000 hours of vehicle testing.
That's serious stuff for a serious truck.


Ford to buy back some
older model Windstars
David Shepardson / Detroit News Washington Bureau
October 23, 2010
Washington- Ford Motor Co. has agreed to buy back some of its recalled older model Windstars that have corroded axles.
In August, Ford said it would recall 462,750 1998-2003 Ford Windstar minivans over concerns that rear axles could corrode and fail.
This week, Ford told dealers it would buy back some vehicles — rather than repair them.
"At our discretion, the remedy we offer may involve repurchasing a customer's vehicle at a price we believe either matches or exceeds market value," Ford said in a fact sheet posted on the government's website.
Ford is notifying owners of the repurchase possibility in letters currently getting mailed.
Ford currently expects to have replacement axles in the first part of 2011. Until then, it is providing rental cars to customers to those with cracked or perforated axles noting it poses an increased risk of a crash. Customers will get to use the rental cars at no cost until the parts are available for the fix.
Ford won't buy back any vehicle purchased after Aug. 26 and will discontinue the repurchase offers as more replacement axles become available. Ford said it plans to repurchase primarily the oldest vehicles — and ones that have cracked or perforated axles.
Ford dealers have the parts to fix vehicles that don't have cracked or perforated axles.
The recall covers vans sold or registered in 21 "Salt Belt" states — including Michigan — and Washington, D.C.
Ford spokesman Wes Sherwood said Friday it wasn't clear how many vehicles Ford would buy back. He said the decisions would be made on a "case by case" basis.
The recall also covers about 113,000 Windstars in Canada.
Under the recall, Ford dealers will inspect and install rear axle reinforcement brackets in most cases.
In May, the National Highway Traffic Safety Administration opened an investigation into the 1999-2003 Windstar after receiving 234 complaints alleging rear axle failure in Windstars, including two alleging that the failures resulted in minor crashes.
Many of the vehicles have more than 100,000 miles and there are concerns that after years of running, "corrosion can weaken the rear axle" and possibly crack it, leading to crashes.
In a Detroit News interview this week, NHTSA Administrator David Strickland praised Ford's action.
"With Ford making the decision to buy back (some) Windstars from this axle issue, we asked them to take a look back in August," Strickland said. The decision — and others by other automakers — show they are putting the safety of customers first.
NHTSA said 96 percent of the complaints were from "Salt-Belt" states — where state road agencies treat roadways during the winter.
The states covered by the recall where the vehicles were originally sold or now registered are: Connecticut, Delaware, Illinois, Indiana, Iowa, Kentucky, Maine, Maryland, Massachusetts, Michigan, Minnesota, Missouri, New Hampshire, New Jersey, New York, Ohio Pennsylvania, Rhode Island, Vermont, West Virginia and Wisconsin, plus Washington, D.C.
NHTSA urges Ford owners to get recalled vehicles fixed
David Shepardson / Detroit News Washington Bureau
October 22, 2010
Washington —The National Highway Traffic Safety Administration urged owners of recalled Ford Motor Co. vehicles over fire risks to get them repaired.
NHTSA said just 40 percent of the 14 million or so vehicles that have been recalled have been fixed — lower than the industry average of 70 percent repaired after 18 months.
"It appears that there are still far too many people who have ignored the company's notification to bring their vehicles in for the free repair," NHTSA administrator David Strickland said. "We're urging owners of these previously recalled Ford vehicles to take them in to their Ford dealers for this vital repair if they haven't already done so."
The agency issued a similar warning to consumers in February 2008. The agency noted that "if not repaired, the vehicles can catch fire, even if they are turned off, parked and unattended."
Ford spokesman Wes Sherwood acknowledged that the repair rate for the vehicles is "lower than typical."
"We support NHTSA in this effort and have communicated extensively with customers in an effort to encourage higher repair rates," Sherwood said. "We have notified all owners multiple times and continue to notify affected customers of the recall."
NHTSA said it is "concerned that most used car buyers don't know whether the used vehicles they purchased were ever returned to dealers for the needed repairs."
According to NHTSA, approximately 17.5 million Ford vehicles have been involved in the recalls since 1999 because of a faulty cruise control disconnect switch that can overheat and burn — potentially causing a vehicle fire long after the engine has been turned off.
Ford and The Detroit News have previously said about 14 million vehicles were recalled — excluding vehicles that have been scrapped. It's not immediately clear what the discrepancy is in the tally.
NHTSA said Ford has been diligent in contacting owners of the affected vehicles, including sending re-notification letters to owners in many cases. Despite notification efforts, NHTSA estimates that there may be several million vehicles still on the road with the dangerous defect.
In October 2009, under pressure from NHTSA, Ford agreed to expand its largest-ever recall by about 4.5 million vehicles over the faulty switch linked to hundreds of vehicle fires.
In total, Ford conducted eight separate recalls over a 10-year period because of the problem.
The cruise-control deactivation switches, made by Texas Instruments and sold for about $21, were installed in 16 million Ford vehicles over a decade before the automaker stopped using them in 2002. The switches have been linked to at least 550 vehicle fires and 1,500 complaints.
The October 2009 recall includes nearly 1.7 million 1995-2003 Ford Windstar minivans that were the subject of a government investigation, along with 2.8 million other vehicles.
The switch is used to deactivate a vehicle's cruise control when a driver taps the brake pedal. Most of the suits allege fires began long after the vehicles were turned off.
Ford's fix is the installation of a fused wiring harness to eliminate the potential risk of fire.
Ford still faces dozens of lawsuits on the issue.
In May 2008, NHTSA opened an investigation into the switches on Ford Windstar vans. It upgraded the probe to an engineering analysis in September 2008 after 419 complaints of engine fires, with at least two saying fires damaged a home or garage.
The agency said owners should look for potential warning signs of an imminent fire. Possible warning symptoms include a cruise control system that can't be activated or stops working; brake lights that stop working; low brake fluid; ABS and brake warning lights that are illuminated on the dashboard; or the inability to get a vehicle out of park.
Ford argued in 2008 that the switches in the Windstar vans were in different configurations than those in the previously recalled vehicles, and therefore didn't need to be replaced.
In many cases, insurance companies initially paid for damage to homes in fires that the owners claim were sparked by Ford vehicles, and then the insurers sued Ford to try to recoup their losses.
CAW CONTACT
Volume 40, No. 36
October 22, 2010

CAW Ratifies Deal with University of Windsor
CAW members at the University of Windsor have overwhelmingly ratified a new collective agreement by 97 per cent, in a series of votes that took place on October 20.
The three-year agreement covers 400 members in the campus police and parking (CAW Local 195), the operating engineers (CAW Local 2458), and the full and part-time office and clerical workers (CAW Local 2458).
The voting breakdown is as follows: Operating Engineers - 93%; Part-time office - 96%; Full-time office - 98%; Campus police - 91%.
"This year's collective bargaining was done with a combined effort of CAW Locals 195 and 2458," said CAW Local 195 President Gerry Farnham. "United we were able to put together a good collective agreement, with no concessions, numerous language improvements and increases throughout."
The agreement includes lump sum payments in the first and second year of the agreement and a three per cent wage increase in the third year with improvements to benefits and language, particularly around issues of job security. For the first time, the pension plan also was negotiated into the collective agreement.
Tullio DiPonti, CAW Local 2458 financial secretary, credits the successful negotiations to the solidarity of the four CAW bargaining units at the university. "Our members who work there are the backbone of the university and negotiating a fair collective agreement enhances our education system."
Auto Parts Workers Rally Support
More than 200 auto parts local union leadership and activists came together on October 18 to strategize and prepare for a series of lunch hour events to be held in various locations during the October 27 Auto Parts Workers Day of Action.
The London, Ontario meeting was an opportunity to highlight some of the key fights in the sector over the past few years and solidify the union's position that auto parts workers will not tolerate the downward pressure and race to the bottom of working conditions.
Assistant to the CAW National President Jerry Dias said that the industry has undergone massive restructuring, and workers all too often have borne the brunt of it. "This day of action will be a clear message to our employers that we've had enough," said Dias. "The industry will see the collective strength of one – when we push, we push hard."
In auto parts plants across the province, workers will be going outside to participate in noon-hour rallies. Part of the effort also includes outreach to non-union workplaces, including Magna.
The big target for the day is Martinrea, a company whose net profits for the first six months of 2010 amounted to approximately $21 million. Martinrea recently closed operations in Windsor (Fabco CAW Local 195) and Kitchener (Kitchener Frame/ Budd CAW Local 1451) and is making its anti-union stance known at the bargaining table in a current set of negotiations with CAW Local 127.
CAW President Ken Lewenza said that workers are right to be outraged at the gross disparity between the earnings of auto parts companies and their declining wages and benefits.
"We're constantly troubled with how to get workers what they deserve and get some measure of equality for our members," said Lewenza.
President of the CAW Independent Parts Supplier Council and Local 27 President Tim Carrie said that the day of action could involve as many as 20,000 workers across Ontario as workers take to the streets in frustration. "Enough is enough. We have compromised benefits and time off the job, but we will not touch core wages and pensions. We will fight if they go after that," Carrie told the London Free Press.
"What is wrong with working for a company and buying a home, paying a mortgage, sending kids to university? This is good for our communities, for everyone," he said.
For more information, please visit: http://www.caw.ca/en/9499.htm
CAW Calls for Casino Expansion to Move Forward
The CAW is calling for a meeting of all concerned parties regarding the planned expansion of the Edgewater Casino in Vancouver, British Columbia. CAW Local 3000 represents 600 workers at the casino.
"Local charities are feeling stung by the broken promises of Gordon Campbell's Liberal government and action must be taken to remedy this situation as soon as possible," said CAW President Ken Lewenza.
"This does not mean though that the Edgewater expansion should be blocked or put on hold. This expansion is important for the local economy and will help create good jobs in Vancouver, both in the casino complex and in the construction industry as it is being built."
"The new complex is expected to be a world class facility and local charities will only stand to gain from a surge in gaming revenue," said Lewenza, adding that the members are also looking forward to greater job security with the expansion.
Lewenza said that the union looks forward to convening a meeting of various levels of government and the BC Association for Charitable Gaming so that ongoing problems around funding to member charities can be solved.
The CAW represents more than 7,000 gaming workers across the country.
Toronto to Lose Critical Medical Evacuation Helicopters
The CAW is expressing alarm at the decision by ORNGE to move the Toronto Island Medivac helicopters to the Hamilton International Airport, which will dramatically reduce service to Canada's largest city, the union says.
"The decision to cut the service from Toronto Island Airport means that an important access point to the large and highly specialized hospitals downtown Toronto has been significantly changed," said CAW President Ken Lewenza, calling the move "frightening."
"If someone is so ill that they must be sent by Medivac to the hospital, they can certainly not afford to be stuck in a traffic jam," said Lewenza.
"We're demanding that ORNGE take safety and the effort to secure life into consideration and immediately reverse this decision."
The union learned of the change in services during a meeting with the company, but so far ORNGE has not made the decision public.
"These helicopters carry people who require high levels of specialized medical care to hospitals in Toronto - hospitals like Sick Kids, St. Michael's and Sunnybrook," said CAW Local 2002 President Leslie Dias. "There is no doubt that people will suffer as a result of this decision."
Our members provide critical care service to very sick patents in Ontario, this is the highest level of paramedical care in Canada," said Dias.
The 30 ORNGE workers at the Toronto Island Airport are represented by CAW Local 2002. The decision will mean that for the first time in over 30 years there will not be Medivac helicopters in the country's largest city.
Building Union Strength in the Aerospace Sector
The recent International Metalworkers Federation Conference in Seattle brought together unions, including the CAW, that represent aerospace workers in 13 countries as they seek ways to counterbalance the power of the multi-national corporations that dominate the industry.
"I was inspired by the determination of aerospace workers around the world and their collective resolve to globally fight outsourcing and precarious work," said CAW Local 112 President Roland Kiehne, who attended the conference representing workers at Bombardier/de Havilland in Toronto.
Conference delegates discussed the increasing challenges facing organized workers in the aerospace sector as the number of nations competing for production and development of aerospace work and the technologies associated with that now include countries like China and India.
"This further highlights the need for our country to develop and establish a sectoral strategy that ensures we continue to maintain and provide for the future development of Aerospace technologies and its associated production on which thousands of our members depend," said CAW Aerospace Director Dawn Cartwright.
During the October 6 - 7 conference, participants agreed on a number of actions that unions must undertake when dealing with transnational corporations including the need to develop trade union networks in these companies and across their supply chains.
Toronto Launches New Thunder Bay-Made Subway Cars
The Toronto launch of the new Bombardier-made subway cars was met with cheers by TTC users and Thunder Bay workers alike. The new street car was unveiled on October 14 at Downsview Station in the north west end of Toronto.
The cars included in the $710 million purchase, shared by all three levels of government, were made at Bombardier's Thunder Bay plant represented by CAW Local 1075.
Toronto Mayor David Miller said he has no regrets about sole-sourcing the trains to Bombardier in 2006 as a way of keeping the company's plant open in northern Ontario.
The 234 subway cars to be delivered over the next two years will begin running by early next year on the Yonge line.
CAW Local 1075 President Paul Pugh said he is extremely pleased that the subway car line is now in production. "This will secure jobs for CAW members for the next twenty five years. This will be the first time the plant will be running at capacity for more than a decade." Pugh said that the successful train contract is a result of the combined effort of the National Union, CAW Locals 112 and 1075, Toronto and York Region Labour Council and supporters.
The trains also represent an important investment in Canadian jobs, particularly during the recession, Miller said. Miller was joined at the launch by Ontario Transportation Minister Kathleen Wynne and federal Minister of Labour Lisa Raitt.
Labour College – Now Accepting Applications
If YOU are committed to building a strengthened labour and social justice movement, this program may just be for you!
Labour College of Canada is offering a four week intensive program of post-secondary learning for union activists who want to enhance their leadership skills. The Labour College first opened its doors in 1963.
Application deadline: November 25, 2010
First session: April 9-22, 2011
Second session: August 21 - September 2, 2011
To request an application, please call 613-521-3400 ext. 555 or email: labourcollege@clc-ctc.ca. For more information, please visit: http://www.canadianlabour.ca/labour-education
Workshops for Equity Candidates in Ontario
Despite years of effort by groups promoting greater equality in politics and some political parties, the number of women, workers of colour, people with disabilities and LGBT community members elected to the Ontario Legislature is still abysmally low.
The Ontario Federation of Labour's Political Action and Human Rights Departments are organizing regional workshops for members of equity seeking groups who might be interested in becoming candidates in the provincial election scheduled for October 2011.
The workshops are scheduled as follows:
October 30 – London
November 6 – Sudbury
November 6 – Ottawa
November 13 – Oshawa
November 13 – St. Catharines
November 20 – Mississauga
*The registration fee is $20 and lunch will be provided. For more information, please contact Sylvia Stewart at the OFL 416-443-7677 or sstewart@ofl.ca
Ford's Focus to get new engine;
40 mpg predicted


Associated Press
October 21, 2010
Dearborn — When the new Ford Focus compact arrives in U.S. showrooms early next year, it will come with a new 160-horsepower, two-liter four-cylinder engine that will help the car get a projected 40 miles per gallon on the highway, Ford said today.
The engine will have high-pressure direct gasoline injection into the cylinders, which makes it more efficient than earlier engines. The Focus engine also will have variable valve timing to adjust the intake and exhaust valve openings for maximum efficiency, yet the car also will accelerate quickly, the company said.
"Drivers will notice improved low-end power and better fuel economy. And there are benefits they won't notice too, like reduced emissions overall, especially at part-throttle," Jamie Hanshaw, a Ford valve timing technical specialist, said in a statement.
The new Focus, which will compete with the top-selling Toyota Corolla and Honda Civic, also will be able to run on E85 ethanol, a blend of 15 percent ethanol and 85 percent gasoline. E85 generally is cheaper than gasoline, but also less efficient.
The new engine has 14 percent more horsepower than the current Focus with 140. Gas mileage with a six-speed automatic transmission is expected to rise six miles per gallon above the current automatic Focus, which gets 34 mpg on the highway.
Ford also said it gave the Focus electric power steering, eliminating the drag of an engine-driven belt to run a power steering pump. Other belts that drive the water pump, air conditioning compressor and alternator have new friction-reducing technology, the company said.
The new engine will be made at a factory in Dearborn, while the Focus will be assembled in Wayne.


Ford outlines gradual
electric vehicle timetable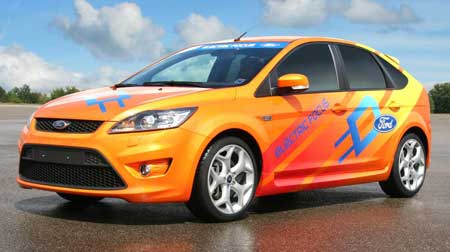 David Shepardson / Detroit News Washington Bureau
October 20, 2010

Washington — Ford Motor Co. said today it plans a gradual rollout of its all-electric Ford Focus — with most of the initial production occurring in 2012, not 2011.
"We had always said 2011, which we'll still do, but I think you'll see more of the concentrated volume in 2012," said Sue Cischke, Ford's group vice president for sustainability, environment and safety engineering. "Right now, we're getting ready to provide a little bit slower entry."
She declined to reveal how many would be on the roads in 2011, saying only "some" fully electric vehicles would be on the roads next year.
Cischke spoke to reporters on the sidelines of an electric vehicle event in Washington.
Cischke predicted the initial volume of the electric Ford Focus would be in the range of General Motors Co.'s Chevrolet Volt — which will be 10,000 to 15,000 in the first year — and Nissan all-electric Leaf, which plans 20,000 U.S. sales in the first year.
"I think it's going to be somewhere between the two when we first start out," said Cischke, adding that Ford can boost production if demand warrants. "Certainly, if it was very popular, we'd be able to get more batteries and do what we need to do."
The all-electric Focus will have a range of 100 miles on a single charge.
The 100 mile-range electric Focus range is necessary because battery life degrades over time and because that range is shorter under certain circumstances, especially in colder weather.
"You need to have some margin there," Cischke said.
She predicted initially more electric vehicle sales would take place in Southern and warm weather states like California — along with college towns across the country.
"The Northern states are going to be more of a challenge — just because of the cold weather," she said.
She also took note of the recent controversy in which some have labeled the Volt — a vehicle that can get up to 25 to 50 miles on battery power — a plug-in hybrid because at certain speeds the gasoline motor provides some forward momentum to the wheels.
Most times when in use, the gas engine recharges the battery to run the vehicle on electricity.
Cischke said the Volt "is basically a plug-in hybrid."
Ford will be closely watching Nissan and GM's experience with electric vehicles.
"We'll learn from what they are doing and how they are marketing it," Cischke said.
Ford has begun limited production of its electric Transit Connect van with an 80-mile range. The automaker also plans a plug-in hybrid in 2012 — along with two new hybrids in 2012.
Cischke said by the end of this year Ford will have "a few" electric Transit Connect vans on the roads. She said production of the van will ramp up in the first half of 2012.
"We have a portfolio of solutions, so we're not wedded to one technology. We have all those technologies, so we'll be able to understand what the public really needs and what do they want," Cischke said.


Ford earning more on
each vehicle sold
Alisa Priddle / The Detroit News
October 20, 2010
Detroit — Ford Motor Co. is making more money on each vehicle it sells, said Derrick Kuzak, group vice president in charge of global product development.
The average revenue on each vehicle sold grew by $3,300 to $26,100 in 2009, Kuzak said in a keynote speech today at the SAE Convergence 2010 conference at Cobo Center.
"The numbers are still improving," Kuzak told reporters following his speech. He would not put a figure on what the increase from 2009 to 2010 might be.
The increased revenue is driven by more feature content in Ford, Lincoln and Mercury vehicles, which raises the average sales price.
And customers are buying higher trim levels, which come with more features, Kuzak said.
A third factor is that consumers see Ford products as strong and appealing and are willing to pay for them, he said.
Kuzak told the audience of engineers that Ford will continue its efforts to differentiate itself by offering the technology consumers want today, including the ability to seamlessly connect phones and audio devices to their vehicles in a safe manner.
Ford wants innovative technology to become associated with the Ford name, he said. That is why even the smallest car offered, the 2011 Ford Fiesta, has an unprecedented amount of technology and the new 2012 Ford Focus coming next year will have the latest generation of Sync technology, known as the MyFord Touch system.
MyFord Touch will make its way into 80 percent of vehicles over the next five years, Kuzak said.


Auto sales, debt expectations key factors
By BRENT SNAVELY
Free Press Business Writer
October 19, 2010
Ford's stock has benefitted in recent weeks from an increase in industry sales and an expectation that the automaker will be able to continue paying off its debt next year.
The price of Ford's stock has increased 24.3% since Aug. 26, when it closed at $11.17 per share, and is now less than a dollar away from its 52-week high of $14.57 on April 26.
"It looks like the auto sales are starting to recover a bit, and the past two quarters have been pretty good for Ford," said Mirko Mikelic, senior portfolio manager at Fifth Third Asset Management in Grand Rapids.
For the first half of this year, Ford has earned $4.7 billion, and the automaker is expected to earn about $1.2 billion for the third quarter, according to estimates by 15 analysts tracked by Thomson One Analytics.
On Monday, Ford's shares closed at $13.88, or 8 cents higher than the close Friday, when reports emerged that the automaker might sell a portion of its stake in Mazda.
Ford reduced its stake in Mazda from 33% to 11% in 2008.
"Ford's ownership stake in Mazda remains unchanged," said Ford spokesman Mark Truby. "Ford continues to have a close strategic relationship with Mazda, and we cooperate in areas of mutual benefit."
On Monday, the chairman of Sumitomo Mitsui Financial Group said he expects the bank to overtake Ford as the largest shareholder in Mazda.
Under the direction of Ford President and CEO Alan Mulally, Ford has sold all of its luxury brands except Lincoln and emphasized vehicles that can be sold in most of the world.
Though Ford was the only domestic automaker that did not file for Chapter 11 bankruptcy in 2009, the company used a $23-billion loan to get through its own painful restructuring, leaving it with substantial debt.
But JPMorgan analyst Eric Selle said in a report Oct. 7 that Ford will be able to pay off enough debt by the end of 2011 to reach investment-grade status.
So far this year, Ford has cut its debt by $12 billion, to $27.3 billion.
Selle, who expects Ford to report third-quarter earnings of about $1.1 billion before taxes, said in his report that Ford should benefit next year from new products, such as the 2011 Ford
Explorer and the 2012 Ford Focus.
Bruce Clark, senior vice president of Moody's Investors Service, said his outlook on Ford has improved recently because of stronger industry sales in September and Ford's robust portfolio of future vehicles.
In September, U.S. auto sales jumped 28.5% from a year earlier, and Ford's sales surged 46.4%.

Clark raised his rating on Ford to Ba2 earlier this month, two levels below investment grade.


UAW workers facing
tough decision
Some laid-off workers at GM Orion
plant must transfer or wait, hope for opening
Christina Rogers and Louis Aguilar / The Detroit News
October 19, 2010
Hundreds of laid-off workers at General Motors Co.'s Orion plant have until today to decide whether to take a job in Lordstown, Ohio, and keep their current wage, or risk falling into a lower-wage category once hiring is complete at Orion.
In a meeting at the Local 5960 Monday, about 100 members were given details about transferring to the Lordstown plant, where GM builds the Chevrolet Cruze, two Orion workers said.
The offer will test how many employees will move to Ohio so they can continue making Tier 1 wages starting at $28 an hour.
The move comes as GM seeks to eventually turn Orion Assembly into an all Tier 2 pay level plant. Those workers make roughly half of the traditional $28-an-hour wage.
Many first-tier workers with less seniority received letters last week about the transfer, said Nick Waun, a 31-year-old Orion worker who was among them.
If workers decide not to transfer, they face losing their supplemental pay, but can stay on unemployment,
Waun said workers were told.
Staying in Michigan would mean remaining on the wait list for a Tier 1 position to open at Orion, Waun said.
The contract agreement means about 700 of the roughly 1,150 laid-off union workers at the Orion factory could return at full wages and benefits, but the Tier 1 positions will be filled by seniority.
"We don't feel we were given a choice here," said Waun, who was one of about 100 people who protested the Orion two-tier-wage agreement Saturday outside of the UAW's Solidarity House headquarters in Detroit.
It's unclear how many Orion workers were asked to transfer. Waun estimated about 400 members were asked to relocate, while another Orion worker, Louis Rocha, put the number at 275. UAW International and Local 5960 officials did not return calls for comment Monday.
"It's my understanding a lot of people may reject the (transfer) offer," said Rocha, 50, who has four years at GM and another six years working for Delphi.
These workers have said they would prefer to stay at Orion, said Rocha, who indicated he had not received an offer.
While employees who receive transfer offers would not be forced to take a lower-wage job, it's unclear when they could get a job at their former pay at the plant.
The Orion plant is the site of a landmark labor agreement that should allow the automaker for the first time to produce a subcompact car profitably in the United States.
The deal calls for 60 percent of all hourly workers at Orion to receive traditional production wages of $28 an hour with full benefits. The other 40 percent will receive Tier 2 wages equal to roughly half that of so-called legacy workers.
The contract agreement means about 700 of the roughly 1,150 laid-off union workers at the Orion factory could return at full wages and benefits.
The remaining laid-off workers could come back with Tier 2 wages and full benefits or seek a transfer to another GM plant, Local 5960 shop Chairman Mike Dunn said in an Oct. 3 webcast posted on the local's website.
Dunn told members earlier this month that GM's goal is to make Orion Assembly an all Tier 2 plant as long as it builds small cars.
"Now, that could take 20 years," Dunn said in the webcast.
As workers retire or transfer, the plant will have to hire new workers who under the UAW-GM contract would make the Tier 2 pay level. The agreement also prevents first-tier workers from transferring to Orion Assembly, Dunn said in the webcast.
"For the time being, this is the way the wording reads, and it's there and that's what it states," he said.
"But that does not mean that we're going to be an all-Tier 2 plant when we go back."
GM proposed several options for staffing Orion, including recalling a higher percentage of Tier 2 workers, but the UAW leadership settled on the current language to help keep the plant open and preserve union jobs, Dunn said.
The Detroit automaker plans to build a replacement for the Aveo at the plant, along with a new Buick compact car. The plant has room for building a third vehicle, but GM hasn't given any further details.
Ford says Mazda stake unchanged
October 18, 2010
Keith Naughton and Alan Ohnsman / Bloomberg News
Ford Motor Co. said there has been no change in its stake in Mazda Motor Corp. after Nikkei newspaper in Tokyo reported the U.S. automaker plans to cut its Mazda holding to less than 3 percent.
Nikkei reported today that Ford reached a tentative agreement to sell Mazda shares to Sumitomo Mitsui Banking Corp., Sumitomo Corp. and suppliers of the Japanese automaker. Ford plans to reduce its Mazda stake to 3 percent or less from its current level of 11 percent, Nikkei said, without citing anyone. Ford owns more than 195 million Mazda shares, valued at about $512 million, based on the closing price in Tokyo today.
"Ford's ownership stake in Mazda remains unchanged," Mark Truby, a Ford spokesman, said today in an e-mailed statement. "Ford continues to have a close strategic relationship with Mazda, and we cooperate in areas of mutual benefit. We have no further comment on the speculation."
Jay Amestoy, Mazda's vice president of U.S. public and government affairs, said he was unaware of the Nikkei report and any plan by Ford to reduce its stake in Hiroshima, Japan-based Mazda. Amestoy, who is traveling today with Jim O'Sullivan, Mazda's North American chief executive officer, said O'Sullivan also had no information on the report.
Ford cut its stake in Mazda from 33 percent in November 2008 as it raised cash to avoid bankruptcy.
Joint development
The second-largest U.S. automaker has signaled it intended to end developing cars and trucks jointly with Mazda. Ford's new Fiesta small car is based on the mechanical foundation of the Mazda2 subcompact. Ford's Fusion family sedan is based on the Mazda6 platform and its new Ranger pickup truck is built alongside its mechanical twin, the Mazda BT-50, at a factory in Thailand the automakers jointly own.
"For a lot of designing and engineering, were going to be focused on Ford," Mark Fields, Ford's president for the Americas and former Mazda chief executive, said last December. Our efforts will be focused on the Ford system, as opposed to relying on others such as Mazda." Since arriving from Boeing Co. in 2006, Ford Chief Executive Officer Alan Mulally has revived the automaker by focusing on the namesake brand and selling off Volvo, Jaguar, Land Rover and Aston Martin. The Dearborn-based carmaker earned $4.7 billion in the years first six months, its largest first-half profit since 1998.
GM workers at Orion
plant protest pay cut plans
Micki Steele / The Detroit News
October 17, 2010
Hourly workers at the General Motors Orion Assembly Plant and their supporters picketed outside the United Auto Workers international headquarters today to protest pay cuts.
Workers say a two-tier wage deal that would force 40 percent of their membership, those with less experience, to take a 50 percent pay cut from $28 an hour to $14 could eventually affect all workers, including veterans. Some workers feel betrayed by their union.
"The union has abdicated their fiduciary duties," said Clinton Township resident Jean-Pierre Nahirnyj, 61. "They're supposed to look out for us."
Nahirnyj's complaint reflects the division between union leaders, who want to save jobs, and workers, who believe they were stripped of their right to vote on the issue.
Dawn Maturen, 34, helped organize the demonstration in support of her husband, a GM worker, and their fathers, who are retirees. Maturen said the union circumvented the voting process.
"We still haven't seen the contract," she said. "They just told us about the 60/40 split, but they won't release the contract."
Protesters also said the Orion facility was recently placed on "closed plant status," which will require some of them to transfer to a GM plant in Lordstown, Ohio, or face unemployment.
Anna Garrod, a 29-year-old single mom who lives in Rochester Hills and works at the Orion plant, may have to drop out of nursing school to keep her job at GM, which will mean moving to Ohio. Though she'll avoid a reduction in pay by relocating, she's unhappy about leaving Michigan. "They're not representing us," Garrod said about the union.
Still, others are offended by the union's unresponsiveness.
The least they could do is come out," said Stacey Kemp, 52, of New Lothrop, a Delphi retiree who also worked for GM for 24 years, "and ask us why we're here."
MEET THE THREE FACES OF FORD EXPLORER: LUXURIOUS, ADVENTUROUS AND URBAN, ALL ON DISPLAY AT SEMA
The all-new Ford Explorer is bringing its reinvented style to this year's SEMA (Specialty Equipment Market Association) show, which will be held Nov. 2-5 in Las Vegas
The all-new, capable, fuel-efficient Ford Explorer provides a perfect base for customizers to create ultimate versions of the modern SUV, including an ultra-luxury Bond Explorer with iPad, an Explorer for outdoor adventurers, and the Funkmaster Flex urban SUV
Customized versions of Ford Taurus SHO, Edge and Fusion Sport also will be showcased, along with the all-new 2011 Lincoln MKX
Dearborn, Mich., Oct. 16, 2010 – The all-new Ford Explorer has been turning heads with its eye-catching, modern design, and things will be no different when it hits the floor of the SEMA (Specialty Equipment Market Association) show this year, which will be held Nov. 2-5 in Las Vegas.
"It's so new and reinvented, and the styling is standout from the inside out," said Craig Patterson, Ford Explorer marketing manager. "Explorer is the perfect choice for people to accessorize. Those who want to customize it are starting from a great base that is extremely well received, and that's where the attraction lies."

For the 2010 SEMA show, Explorer will take to the Ford stand along with customized versions of Ford Taurus SHO, Edge and Fusion Sport, as well as the all-new Lincoln MKX. The Explorers on the show floor will open up customers' minds as to the possibilities that can be created with the all-new SUV.

"We designed three different images for the Explorers at SEMA," said Melvin Betancourt, Ford specialty design manager. "The new Explorer resonates as a modern SUV, so the modifications play off all the great technology and features that the vehicle is equipped with."

An Explorer customized by Funkmaster Flex and Team Baurtwell shows off the urban appeal of the new SUV, and comes standard with street cred inside and out. The look is highlighted by three-piece forged billet wheels, which are complemented by 24-inch Cooper tires. Baer brakes provide the stopping power.

The design that sets this Explorer apart starts with the exterior, with custom touches from Team Baurtwell and Funkmaster Flex including custom logos. The interior offers Katzkin two-tone leather seats with custom interior accents and Funkmaster Flex logos. A Sony Xplod audio system ensures customers have the ultimate listening experience.


Another Explorer concept, designed by Galpin Auto Sports, takes a vehicle with luxury appointments and makes it into an ultra-luxurious ride that even James Bond would enjoy. Using the character as their inspiration, the Galpin team used 24-inch wheels, custom silver paint on the exterior and modified exterior light treatments to convey that image.

The custom interior shows off its luxury side with a leather-trimmed headliner that has suede running down the center, a look that's replicated on the seat inserts. An iPad pops up from the second-row console, and is viewable in either landscape or portrait mode.

"This is a luxury, high-end vehicle that serves multiple purposes," said Tedros Mengiste of Galpin Auto Sports. "The Galpin Auto Sports Explorer is at home going off-road or transporting you to exclusive events. It meets your discerning expectations, and does it with style and substance."


CGS Performance Products' take on Explorer shows off what a luxury vehicle for an active customer looks like. The look runs throughout the monochromatic silver Explorer, and is completed by two carbon fiber mountain bikes on the roof rack.
"This SUV is all about outdoor adventure and doing it in comfort," said Casey Scranton, president, CGS Performance Products. "This customer can use the vehicle every day and will have no problem taking it camping or kayaking on the weekends."

The luxury details are evident in the built-in video screens in the headrests, 22-inch silver wheels and the complete custom leather interior that's designed to resemble the links on a watch band. A CGS cat-back exhaust provides more power, a throatier sound, and even improved fuel economy.


Other project vehicles showcased at this year's SEMA show include:

2011 Lincoln MKX by ID Agency
Fashion meets function with this unique Lincoln MKX by ID Agency, where brands such as Falken Tire, HRE Wheels, Brembo and Alpine electronics come together. Designed with the modern man in mind, the Urban Assault Vehicle is built to fit his active lifestyle.


2011 Ford Taurus SHO by Rick Bottom Designs
The Taurus SHOx by Rick Bottom Designs gives striking looks a new meaning with a blue paint scheme with contrasting graphics, ground effects kit and custom hood, grille and spoiler. The interior offers a custom rear console with interchangeable inserts and a 10.4-inch flip-down monitor, along with an audio system with 16,000 watts of power.
2011 Ford Taurus SHO by H&R Springs
Tuned by H&R Springs, this Taurus SHO offers a Borla cat-back exhaust and K&N air filter to liven up engine performance. H&R Sport Springs have been installed, and three-piece 22-inch wheels painted in a white gold color complement the white platinum SHO. The exterior is set apart with color-matched lower body panels, custom European hood vents and subtle gray mist graphics.
2011 Ford Edge by K-Daddyz Kustomz
With a touch of urban luxury, this K-Daddyz Kustomz Edge boasts 22-inch wheels with radically lowered suspension. This Edge is ready to cruise the coast, with a custom paint scheme featuring airbrushing and pin striping, along with a custom surfboard rack and panoramic sunroof. The leather and suede interior comes with Dual Head restraint DVD by INVISION™, and puts the finishing details on the crossover.


2011 Ford Fusion Sport by Steeda Autosports
With increased power and more aggressive handling, this Fusion Sport by Steeda Autosports offers what performance enthusiasts are looking for. The car comes with specially tuned front and rear lowering sport springs, performance-tuned dampers and antiroll bars for increased roll stiffness. The look is rounded out with Steeda's clearcoat bar code graphics package with orange accents.
Ford bringing order
to the dashboard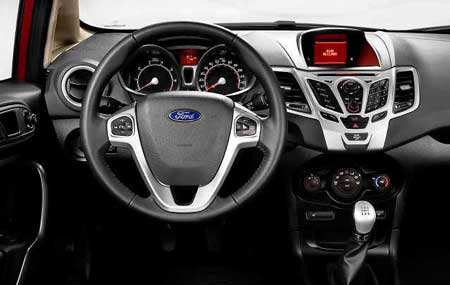 Phil Patton / New York Times
October 16, 2010
Look inside the 2011 Ford Fiesta and you will see dashboard controls that have been modeled after the keypad of a cell phone. In some ways, that makes perfect sense: Ford's market research suggested that young buyers were more attached to their mobile phones than to their means of mobility.
But by the time the new Fiesta arrived in American showrooms this summer, the phone that Ford had chosen as its model looked old-fashioned alongside the latest Apple iPhones and Motorola Droids — and so did the dashboard controls.
Those outdated buttons are a glaring reminder that mobile electronics evolve much faster than automobiles. In fact, Ford had already recognized the challenge of keeping its vehicles' controls and instruments up to date and in 2006 began to address the situation.
Ford's goal in establishing a set of design principles for automotive interfaces that would be consistently applied to all models was to improve what it called the cabin experience. The program was given the internal code name HAL.
The company sought advice from Ideo, the design consultancy known for developing the original Apple computer mouse and shaping interfaces for Palm and other high-tech companies. Ideo's co-founder, Bill Moggridge, now the director of the Cooper-Hewitt National Design Museum in New York City, was one of the early prophets of what he called interaction design.
The guidelines that resulted from the program, a sort of universal logic for all the cars' switches and systems, helped shape the dashboard controls in the redesigned Ford Edge and Explorer. The standards will apply to future Ford models around the world.
"We wanted to get outside the bubble," said Jennifer Brace, a user interface design engineer at Ford. "We wanted an instruction-by-instruction DNA for vehicle interiors."
Ideo said that its methods were built on research and making prototypes for fast feedback. Its work began with interviews of a broad cross section of people — not just seasoned drivers, but also airplane pilots and ATM users. This is called ethnographic research; similar work from Ideo helped in the development of the SmartGauge in the Ford Fusion Hybrid, a display of green leaves that coaches drivers to drive more efficiently.
"We found we learned the most not from the average driver, but from the extreme cases," said Iain Roberts, head of the interface group in Ideo's Chicago office, who led the team working with Ford. "We want to get to the ends of the bell curve."
Stepping beyond the focus groups and drivers that Ford had traditionally used for research, Ideo went to raw novices. Some teenagers, Brace said, had no idea what the tachometer was or why it was there. Getting rid of the tachometer had not been seriously considered by Ford.
Ideo also went to extreme experts, Roberts said. One was a member of an Internet forum of audio tinkerers pioneering the use of the MP3 format music in cars. These users had addressed many of the interface issues that concerned Ford, developing their own ways to combine audio, video and other entertainment streams.
"About six users represented 80 percent of the problems," Roberts said. "They were early adopters of technology who put 15-inch screens on the console and huge disk drives in the trunk."
New ideas were tested on drivers. Ideo teams quickly mocked up ideas, often using little more than sticky notes, cardboard and modeling clay.
For this project, a PlayStation 2 game console and a dashboard from an older Ford Edge were pressed into service, Brace said. For a driving simulator, the group used a projector showing the video game "Gran Turismo 3." The controls — pedals and steering wheel — were worked up from controllers intended for racing video games.
The rules for design drawn from the research were so fundamental as to border on cliche: Be attentive. Be approachable. Be clear. Be connected.
But from these arose useful specifics: Just because you can doesn't mean you should.
"When you have an 8-inch touch screen, you think of all the things you can do," Roberts said. "But then you remember that people have to drive while doing it."
Drawing cautionary lessons from the needlessly complex interfaces of competitors' vehicles, the development team created guiding statements: To disappoint is worse than never making the promise. And: Unmet expectations negatively impact people's perceptions.
Also important, according to Brace, was the idea that tried and true does exist. "Some conventions are worth respecting and don't need to be reinvented," she said.
For example, rather than develop a proprietary controller like the multifunction knob of BMW's iDrive, Ford chose familiar input devices similar to those of TV remote controls and iPods.
One is the five-point controller — four directional arrows with a central button — on the steering wheel. Used on many electronic gadgets, it had roots in the points of the compass. Five-point controllers on the steering wheel are easily operated with the thumb, which lets drivers keep their eyes on the road.
A central 8-inch screen is organized around four corners and four colors: yellow-orange for the phone, green for navigation, blue for climate control and red for entertainment. There are, mercifully, large knobs for volume and fan speed.
The design that grew from the team's work was simple. Information and controls for the car are on a screen to the left of the speedometer, while those for the driver (including the climate control, audio system and navigation unit) are on the right.
The system is intended to be flexible for the designers. The Mustang version could look sportier, while the Lincoln version, offered on the 2011 MKX, included sliders, a presumably more elegant and upmarket mode of touch control.
Part of the idea of the DNA is to make customers loyal to Ford. Given its partnerships with Sony and Microsoft, it is no surprise that Ford does not offer dedicated connections for Apple's iPhone or iPod.
While Ford has received more attention for the voice recognition features of Sync, the automotive software developed jointly with Microsoft, its comprehensive redesign of the tactile controls is likely to have at least as much importance for drivers. The touch screen and the steering wheel buttons are now plausible alternatives to the voice controls.

CAW CONTACT
Volume 40, No. 35
October 15, 2010
DHL Workers Stage Cross-Country Protest
Hundreds of CAW members who work at DHL staged a series of early morning protests at company locations across Canada on Thursday October 7, calling on the multi-national courier service giant to stop its systemic attack on workers' rights and demanding fair treatment for its global workforce.
Protests were held at DHL facilities in Brampton, Ontario; Winnipeg, Manitoba; Regina and Saskatoon, Saskatchewan; Calgary, Alberta; Burnaby, Richmond and Abbotsford, British Columbia.
DHL, owned by German-based Deutsche Post DHL, has gained international notoriety for alleged labour rights malpractices, including poor working conditions, discrimination and harassment among its global workforce of 400,000 employees. CAW National Secretary-Treasurer Peter Kennedy said that in Canada, DHL has shown a total disregard for respectful labour-management relations.
"The constant inflammatory and disrespectful actions of DHL management toward our members are fuelling hostility and conflict in the workplace," Kennedy said. "Unfortunately, the experiences of Canadian workers are shared with workers around the world."
The October 7 protests were held in coordination with a week-long series of DHL worker demonstrations taking place in other countries, including Mali, Germany, Denmark, Norway and Finland, organized by the International Transport Workers Federation (ITF) and Union Network International (UNI) from October 6-12. The ITF is also spearheading an international "Respect for DHL Workers" campaign.
On October 6, the ITF publicly released a compilation of personal DHL worker stories from around the world - including Canada, highlighting instances of abuse, gender discrimination, intimidation and the undercutting of collective bargaining rights, among other issues. The report can be downloaded at: www.itfglobal.org
CAW and University of Windsor Resume Negotiations
The CAW resumed negotiations with the University of Windsor October 12, after receiving an overwhelming vote of support from membership to go on strike if necessary - a vote of 96 per cent overall.
This set of negotiations is also the first time where all units are at the bargaining table together and face the same strike deadline, of October 21 at 12:01 a.m.
The CAW represents 400 members including campus police and parking (CAW Local 195), the operating engineers (CAW Local 2458), and the full and part-time office and clerical workers (CAW Local 2458).
Outstanding issues include pensions and job security as well as wages and benefits.
The union remains committed to reaching a fair and equitable agreement, but has voiced frustration at the interference of the Ontario government in the free collective bargaining process. The province requested a pause in all university negotiations across the province.
The union tabled its joint economic proposal on September 24, but since then there has been little movement from the university.
Leadership Visits Local 219, Nackawic Mill, Nackawic, NB

CAW National President Ken Lewenza and national union officials visit CAW Local 219 leadership including Local 219 President Brady Moore, right, in Nackawic, New Brunswick. Pictured back row left to right: Stephen Manuel, Ian Grant, Bob English, Les Holloway, Bob Chernecki, Stephen Fearneley, Noah Paget, Troy Thorton, Jack Birt, Robert Haywood, Steven Paget, Joe McCutcheon, Anthony Freeman; Front row left to right: Marcus Wallace, Rocco MacFarlane, Loretta Kent, Ken Lewenza, Brady Moore, Mark Cloutier and Marc Roussel. Absent: Dana Grant, Kevin Blaney and George Lawrence.

CAW President Voices Frustration at Federal Economic Update
CAW President Ken Lewenza called the October 12 fiscal update by federal Finance Minister Jim Flaherty a missed opportunity to make a meaningful extension to Employment Insurance measures. Lewenza also expressed concern at Flaherty's assertion that the country will emerge from the recession stronger than when it entered, calling the statement "untrue."
"Our government continues to be naively optimistic about the pace of recovery, which is clearly having a negative impact on important policy decisions," warned Lewenza.
Lewenza also said that trade deals negotiated by the federal government to date have only succeeded in putting the country in more of a vulnerable economic situation. "No better example exists of irresponsible trade negotiations than the ongoing talks with the EU, a deal which could severely curtail federal, provincial and municipal government's authority to make decisions on how and where to spend public funds," said Lewenza of the Canada-EU Comprehensive Economic and Trade Agreement (CETA).
Lewenza said that Canadians are still looking for strong economic leadership by the government and urged an extension to EI pilot projects right across the country.
"We are very disappointed that the minister did not use this opportunity to clear the air on the extension of EI pilot projects, promising only more consultations," said Lewenza.
News of an extension of two EI pilot projects came later that day in a press release from Human Resources and Skills Development Canada. See: 'Cities Get the Cold Shoulder' P.4.
Accepting Nominations for Bud Jimmerfield Award
The deadline for nominations for the CAW's Bud Jimmerfield Award for outstanding contributions in the areas of health, safety, environment or workers' compensation is fast approaching. Nominations must be submitted no later than Friday, November 12.
The award is given out each year at the CAW's December council meeting in honour of the late Bud Jimmerfield, president of CAW Local 89.
At the December 1997 CAW Council meeting, Bud, who at the time only had a few months to live, gave a moving address. He had contracted cancer of the esophagus from exposure to metalworking fluids during the 30 years of employment in an automotive parts plant in southern Ontario.
During his speech, Bud charged council delegates with an important responsibility - don't mourn my death, fight for the living and do your best to prevent future occupational diseases, deaths and injuries from occurring.
To be eligible, health, safety, environment or workers' compensation activists must be CAW members and must be nominated by their local union leadership or local workplace leadership. The activists must have shown leadership in helping their fellow workers and have participated in activities beyond their workplace.
Nomination forms are available from the CAW Health and Safety Department at: http://www.caw.ca/en/services-departments-health-safety-environment-health-safety-environment-general.htm
2010 Retired Workers Council and Conference Report
More than 200 delegates, spouses and guests took part in the 2010 Retired Workers Council and Conference at the CAW's Family Education Centre in Port Elgin, Ontario from September 5 to 10.
Delegates from BC, Manitoba, Ontario, Quebec and Atlantic Canada made up the Retired Workers Council representing more than 40,000 CAW retired workers across Canada.
The conference began with the annual Labour Day parade down the main street of Port Elgin. Buses of retired workers and leadership from around Ontario joined with the Grey Bruce Labour Council affiliates to bring the total number of marchers to more than 1500 people.
Former CAW President Bob White joined the Retired Workers Advisory Executive to lead the parade. He later delivered the Labour Day message during a BBQ lunch.
One of the key note speakers was pension expert Monica Townson who delivered a presentation titled "What can we do about pensions?"
Jenny Ahn, Director of the CAW Retired Workers Department, commended the retirees for their activism and support for the many rallies and fight- back campaigns that have been held across the country.
CAW President Ken Lewenza thanked retirees for their commitment to the union and their respective communities. He said the union is facing many challenges and now more than ever the retirees will be called upon to support worker fight-backs and protect the past gains workers have made.
An election was held for the Retired Workers Advisory Executive. Elected for a three-year term are:
Len Harrison – Chairperson
Len Hope – Vice Chairperson
Barb Abrams – Recording Secretary
Mary Straus – Sgt-at-Arms
Jack Morrison – Member-at-Large
Marg Arnone – Member-at-Large
Herb John – Member-at-Large
Rick Reaume – Member-at-Large
Dave Tremblay – Member-at-Large
The recipient of the 2010 Outstanding Retired Worker of the Year Award was CAW Local 199 member Percy McKay.
Bob White Charity Golf Classic Raises $65,000
Two London Ontario area women's shelters will benefit from funds raised at this year's Bob White Charity Golf Classic.
More than $65,000 will be donated to the two facilities - the London area Women's Community House will receive $43,000 and the Women's Emergency Centre - Oxford, located in nearby Woodstock, will receive $22,000.
Former CAW Secretary-Treasurer Bob Nickerson said this year's event was a tremendous success that will make a difference in the lives of women and children in the area.
"CAW locals, leadership and members from across southern Ontario took part in this event to ensure it continues to provide a positive impact in the community," Nickerson said.
The charity golf classic is named in honour of founding CAW President Bob White, who grew up in the Woodstock area. In the four years it has been run, the Bob White Charity Golf Classic has raised almost $400,000 for women's shelters.
Women's Community House is the largest high security shelter for abused women and their children in Canada and offers both short term emergency housing and longer term accommodations.
Women's Emergency Centre - Oxford offers child support services and a program for children that are exposed to violence in the home, in addition to a number of other services.
CAW Human Rights Conference:Register Now!
The CAW's biennial Human Rights Conference will take place from October 29-31 at the union's Family Education Centre in Port Elgin, Ontario. Local union members will have the opportunity to take part in interactive workshops, discussion forums and plenary sessions and listen to interesting guest speakers.
If you haven't already registered for this important conference, please do so as soon as possible by contacting: humanrights@caw.ca1-800-265-5763 ext. 3762. or
Cities Get the Cold Shoulder with EI Announcement
By Laurell Ritchie, CAW National Representative

The government's October 12 announcement that they will extend two EI pilot projects for eight more months ("Best 14 Weeks" and "40% Allowable Earnings") is welcome news for the many workers who find themselves in precarious employment. The government should move quickly to make them permanent features of the EI Act.
At the same time, too many workers are being left out in the cold.
People who live in Canada's most populous urban centres are being shut out from the five week EI extension also announced by the federal government on October 12. For those who are laid off, the cancellation of the five week extension could add up to a loss of $2,285.
This is no small matter. The vast majority of Canadians live in large urban centres.
This shutout is happening because the federal government chose to:
► End the five week extension that applied to claimants in all regions, as well as a provision that gave "long tenure" workers up to 20 extra weeks;
► Revert to an old formulation of the five week extension which applies to only 21 of 58 EI regions, the ones that met a 10% unemployment test back in 2005, mostly rural.
This makes no sense. A lot has happened since 2005. National unemployment rates were under 6% before the 2008 economic crisis and recession. Even bank economists now acknowledge it will likely be years before we see national unemployment rates of 6% again.
CAW has argued that extended EI benefits should apply to all regions and remain at least as long as the national unemployment rate is above 6%.
There was a time when 4% unemployment was considered high. During the 1980s the law required the federal government to help fund UI benefits when national unemployment exceeded 4% since a high national unemployment rate could not be explained by regional factors alone.
The first group of unemployed who now qualify for only 14 or 15 weeks will start running out of EI benefits right after Christmas in places like Halifax, Quebec City, Kingston, Regina and Winnipeg.
Cities excluded from the five week EI extension:
Halifax (Nova Scotia)
Fredericton, Moncton, Saint John (New Brunswick)
Quebec City, Montreal (Quebec)
Windsor, Oshawa, Toronto, London, Hamilton, Kitchener, Niagara, St. Catharines, Thunder Bay (Ontario)
Winnipeg (Manitoba)
Regina, Saskatoon (Saskatchewan)
Edmonton, Calgary (Alberta)
Vancouver, Victoria (B.C.)
The big manufacturing towns are still reeling from all the job losses that began in 2007. They will be excluded from the EI extension. That includes hard hit Windsor with unemployment in excess of 12% for most of 2010 as well as Oshawa still struggling with unemployment over 10%.
Metropolises like Toronto and Montreal with a large service sector have had unemployment in excess of 9% for most of 2010.
EI Regional unemployment rates are erratic and based on a "rolling" three month average. Southern Interior British Columbia was above 10%, fell below that during the summer but by October was back up over 10%. St. Catharines fell to 8.2% unemployment in July but climbed again to 9.7% in October.
The regional unemployment rate that determines EI entitlements at the start of your claim tells us nothing about unemployment levels in the months that follow, while you're looking for work. It can rise dramatically.
Since official unemployment rates exclude those who've given up looking for work because of a depressed job market, it's not unusual for unemployment rates to actually fall while layoffs and closures abound.
Regions Included in the 5 Week Extension which runs until September 15, 2012 (only 21of 58 regions):
1. Newfoundland/Labrador
2. St. John's
3. Prince Edward Island
4. Eastern Nova Scotia (excluding Halifax)
5. Western Nova Scotia
6. Madawaska-Charlotte
7. Restigouche-Albert
8. Gaspésie-Ỉles-de-la-Madeleine
9. Trois-Rivieres
10. Central Quebec
11. North Western Quebec
12. Lower Saint Lawrence and North Shore
13. Chicoutimi-Jonquières
14. Northern Ontario
15. Sudbury
16. Northern Manitoba
17. Northern Saskatchewan
18. Northern B.C.
19. Yukon
20 Northwest Territories
21. Nunavut



2011 Ford F-150 No. 1
in fuel economy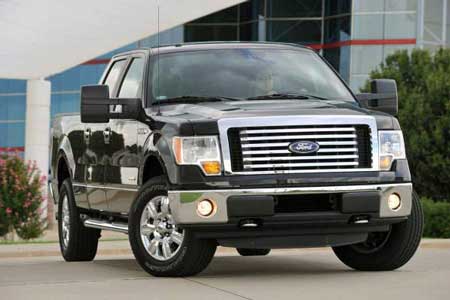 V-6 engine sets mark for full-size pickups, achieving
16/23 mpg in city/highway driving
Alisa Priddle / The Detroit News
October 14, 2010
Ford Motor Co. announced today that the 2011 Ford F-150, with a new V-6 engine, will get 16/23 miles per gallon in city/highway driving, setting a benchmark for full-size pickups.
The automaker wants consumers to think of fuel economy as a hallmark of a capable, full-size pickup. To that end, two of the four engine choices for the 2011 model year are smaller V-6s, and the truck shares the 5-liter V-8 that is in the Ford Mustang. The fourth engine is the 6.2-liter V-8.
"It's impressive for that powertrain," said Jim Hall of 2953 Analytics in Birmingham.
Fuel economy "is the number one unmet need in the segment," said Doug Scott, truck marketing manager. Ford research suggests a 20 percent improvement in fuel economy would prompt about 35 percent of F-150 customers to switch brands.
The new engine lineup is 20 percent more fuel efficient than the outgoing engines, Scott said.
All but the 3.5-liter turbocharged EcoBoost V-6 go into production next month and will be on sale by the end of the year.
Ford will start building the 3.5-liter EcoBoost engine in January for sale in February. Fuel economy figures are expected in a few weeks when testing is complete, Scott said.
All F-150s have a six-speed automatic transmission.
"Our new engine lineup allows greater flexibility for customers to select the powertrain choice that best suits their needs," said Barb Samardzich, head of powertrain engineering.
But Hall said Ford's new smaller engines still "have to earn their stripes, because it is a segment that doesn't like a V-6 unless gas prices are really high."
Scott isn't worried about trying to convince buyers to pay a premium for the direct-injection and turbocharged EcoBoost V-6.
"I have a full line of engines," Scott said. "For the guy I can't convince (that a V-6 is adequate), I have an answer: the V-8. For the rest, I can give them better horsepower and torque than most V-8s and better fuel economy."
Scott said some dealership employees already have driven the new truck. Some arrived saying their customers would never go for a V-6 in an F-150 but became converts after driving them, he said.
Alan Mulally, Ford's chief executive, said on Friday that customers want both value and capability — not only in their small cars but in their F-150 as well, and he thinks they will pay a premium for the EcoBoost engine.
"The pricing will reflect what consumers want in value," Mulally said.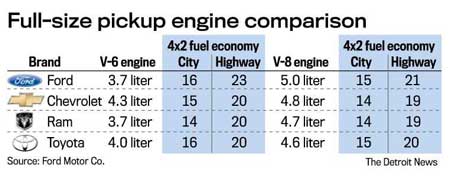 First Look: Ford Fiesta RS WRC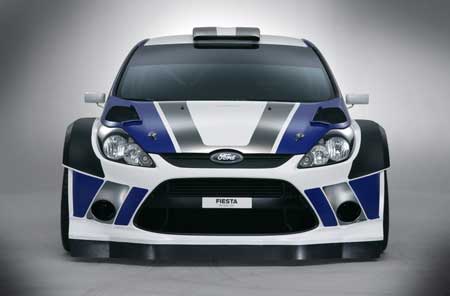 October 14, 2010
By Brandon Turkus
If this car doesn't make you just a little bit excited about rally racing, you should really check your pulse. The Ford Fiesta RS WRC is set to compete in the 2011 FIA World Rally Championship, and will make its first competition appearance at Rally Sweden, starting on February 10. It's already covered almost 1900 miles in testing, and will begin final gravel shakedowns this week in Spain.

Based on the winning S2000 Fiesta rally car, the Fiesta WRC is set to replace the current Focus RS WRC. Ford hasn't released the power output for the Fiesta's 1.6-litre four-cylinder, but after looking at it, we don't really care. This thing looks mean. With its blue-and-grey paint scheme, massively flared wheel arches, and a rear wing that wouldn't look out of place on a fighter jet, this new Fiesta is quite the stunner.
The interior is delightfully spartan, with nothing but a pair of Recaro seats, a steering wheel, some pedals, and a small vehicle information display for the co-driver. We are smitten. The Fiesta RS WRC will be piloted by the teams of Mikko Hirvonen and Jarmo Lehtinen, and Jari-Matti Latvala and Miikka Anttila for the BP Ford Abu Dhabi World Rally Team.
PARIS SHOW PREVIEW FOR ALL-NEW FORD FIESTA RS WORLD RALLY CAR
Ford's new challenger for the 2011 FIA World Rally Championship, the all-new Fiesta RS World Rally Car, made its first global public appearance at the Paris Motor Show today.
The Fiesta RS WRC will make its competition debut in Rally Sweden, the opening round of the 2011 FIA World Rally Championship, on 10 - 13 February.
For Paris, the preview model has been finished in a striking blue and grey livery, specially developed for the show by Ford of Europe's design team. The new World Rally Car, derived from the best-selling Fiesta road car, is being developed by Ford of Europe and its rally partner M-Sport.
Using as a base the Ford Fiesta S2000 rally car, which won the legendary Monte Carlo Rally on its debut last January and other international and national rallies in 2010, Ford of Europe's design team and M-Sport have worked together to fine-tune the styling of the bodywork and aerodynamic package of the new Fiesta to create an exciting replacement for the outgoing Focus RS WRC.
Although detailed changes may be made as the Fiesta RS WRC car continues its development programme through the balance of this year and in time for the commencement of the team's specialised pre-season testing, the final car will share the eye-catching appearance and acclaimed 'kinetic design' styling cues synonymous with Ford's latest road vehicles. The interior will also be instantly recognisable as a Fiesta RS WRC rally car as it contains a number of production parts.
A new era for the World Rally Championship
The Fiesta RS WRC competition car will form part of a new era for the world championship. The Fiesta rally car will boast four-wheel drive transmission and a 1.6-litre turbocharged engine, based on the all-new Ford EcoBoost engine family, to comply with new regulations.
The new Ford EcoBoost engine family features direct petrol injection and turbocharging to maximise performance and efficiency. "The introduction of Ford's latest engine technology to its rally programme reinforces further our commitment to motorsport. It also demonstrates our continued support for affordable competition by using an off-the-shelf production engine on which to base our WRC power plant," said Mike Norton, Ford of Europe's Motorsport Manager.
Specialist engineers from Ford and M-Sport have co-operated closely in the development of this 1.6-litre engine, with highly-respected French tuner Pipo Moteur bringing additional expertise to the power plant.
The Fiesta RS WRC appearance at the Paris Motor Show precedes the car's first major test programme with the full 2011 engine specification on gravel roads in Spain next week. The car has already completed almost 3000 kilometres of testing in Britain and France, powered initially by the current WRC engine and more recently by a prototype 1.6-litre Ford EcoBoost turbo unit.
The test will provide the first opportunity for BP Ford Abu Dhabi World Rally Team drivers Mikko Hirvonen and Jarmo Lehtinen and team-mates Jari-Matti Latvala and Miikka Anttila to drive the new Fiesta RS WRC.
Gerard Quinn, Ford of Europe's Motorsport chief, has overseen the Ford development programme throughout 2010 and says: "We're delighted to preview the Ford Fiesta RS WRC in such a prominent Motor Show as Paris. There are significant visual differences from the Fiesta S2000 base car as well as major changes under the skin. The biggest, of course, is the 1.6-litre Ford EcoBoost turbo engine - the original version of which was developed by Ford's Powertrain Engineering team."
M-Sport managing director and BP Ford Abu Dhabi World Rally Team director Malcolm Wilson is equally enthusiastic about the new car.
"This is a thrilling time for everyone involved in the car's development", Wilson affirms. "Countless hours have gone into the Fiesta RS WRC to reach this point, and for the car to be unveiled in public for the first time is a proud moment for us. We are right on track with our development and the team is delighted with testing to date. Another major step forward will be taken at the start of October when the car tests in full 2011 technical specification for the first time.
"We will have a test car running under the guidance of our technical director, Christian Loriaux. Mikko and Jari-Matti lead our challenge with the new car in the 2011 WRC, so their feedback from the testing is critical, and will provide valuable data for our engineering team to work with," added Wilson.
The Fiesta RS WRC will replace the record-breaking Focus RS WRC as Ford's championship challenger. The Focus RS WRC won back-to-back manufacturers' world titles in 2006 and 2007, and its victory in New Zealand in May was the Blue Oval's 75th at WRC level, making Ford the most successful manufacturer in world championship history.
Ford has sold more than one million of the hugely-successful, latest generation Fiesta road cars around the world since it went on sale in October 2008. Fiesta, Ford's truly global car, is the No 2 best-selling car across Europe.
Also, the latest Fiesta has already proved its abilities in motorsport. The Fiesta SportTrophy International for Fiesta R2 cars is a successful support series to the FIA World Rally Championship and the Fiesta S2000 rally car currently leads the S-WRC support series within the WRC.
American sports icon Ken Block has campaigned a Fiesta rally car in the Rally America championship this season, and the car won gold and silver medals in both the Rally Car and Super Rally events at the X Games event in Los Angeles in July.
"The Ford Fiesta has already established itself as a serious contender in a range of global motorsport activities, and we can't wait to debut our official car in the hugely demanding World Rally Championship next year," said Gerard Quinn.
"We've worked hard to ensure the car is undoubtedly related to the best-selling Fiesta road car which itself is a global success story. Ford's design and product development teams have worked closely and efficiently with our partners at M-Sport whose enormous expertise is key to delivering not just a highly competitive rally car, but also a car that is both stylish and recognisably a Ford Fiesta." he added.


Ford racing to the youth market

October 13, 2010
Ford Motor Company has quietly become the hot seller to the youth market with the new 2011 Fiesta and the soon-to-be-available Focus.
What has happened? Ford decided that small cars in the U.S. did not have to look cheap and perform badly. Rather than produce an after-thought, Ford decided that there was no reason their highly competitive small car designs in Europe could not be appealing in the U.S. as well.
But great design is only half of the equation:
Ford Racing Performance Parts is putting its own spin on a Fiesta at SEMA, outfitting a concept Fiesta in a way that is sure to get the hearts of high-performance enthusiasts pumping. The Fiesta will have a production-based 2.0-liter EcoBoost™ engine, enlarged to 2.3 liters to pump out 350 horsepower.
"The goal of our 350-horsepower Fiesta is really twofold " first to reinforce Fiesta's fun-to-drive nature with an extreme version that captures the attention of the influential enthusiast, and second, to introduce the Ford Racing/EcoBoost connection in a way that's unexpected and outrageous," said Mickey Matus, Ford Racing Performance group marketing manager.

"In both cases, we're targeting the discriminating performance enthusiast with our message. After all, they are the people others rely on for automotive expertise and recommendations."
Ford knows that only a small number of these high-powered versions will be sold, but compare that to, say, the current version of the Focus which is about as staid as a small car can get. The "rub off" effect ... marketers like to call it the "halo" ... of a high-performance Fiesta on the rest of the Fiesta line-up will be noticeable. That's not unlike the way the Mustang GT or Shelby versions adds to aura of the whole Mustang line.


GM employees, retirees
get shot at IPO shares
David Barkholz
October 12, 2010
General Motors Co. is giving about 600,000 employees and retirees in the United States and Canada the chance to buy stock in the company's upcoming initial public offering at the IPO price.
GM is offering the directed share program as part of an IPO scheduled for November.
In a letter dated Sept. 30 to employees and retirees, the automaker asked employees and retirees to pre-register their interest in the share purchase program online or via mail by October 15.
The letter says that the company has not determined a maximum or minimum number of shares that an employee or retiree can buy under the program.
The minimum investment is expected to be greater than $1,000, however, according to the letter obtained today by Automotive News.
GM has yet to determine the initial share price of its initial public offering.
Directed share programs are a common way for employees to buy stock in their employers.
GM spokesman Pete Ternes confirmed today that the letter had been sent. But he declined to give details because of regulations governing comments about the upcoming IPO.
Analysts believe the IPO could be one of the largest in recent history, allowing the U.S. government to recoup $8 billion - $10 billion of the more than $49.5 billion it spent to rescue the automaker.
The U.S. government owns about 61 percent of GM, and the Canadian and Ontario governments control 11.7 percent. An independent health care trust controlled by the UAW owns another 17.5 percent of the automaker.
Ternes said GM has received some feedback from employees and retirees that they had not received the letter as of today. He said the company would communicate to employees if an extension is allowed.
The program is being offered to salaried and hourly employees and retirees.
Morgan Stanley Smith Barney is administering the GM share program.
GM has about 54,000 UAW-represented hourly employees and nearly 400,000 UAW retirees.
Ford, UAW reach deal
on Focus plant
Second-tier wage rate not included
October 11, 2010
Ford and the UAW have reached a tentative local agreement that would allow the automaker to build the 2012 Ford Focus compact car profitably at Michigan Assembly Plant without a second-tier wage rate like the one announced earlier this week at a General Motors subcompact car plant.

The tentative deal for Michigan Assembly was confirmed by Bill Johnson, a UAW Local 900 plant chairman, but it depends on reaching a deal at a nearby stamping plant.

"Right now, we are not talking about wages," UAW Vice President Jimmy Settles told the Free Press on Friday during an event where Ford CEO Alan Mulally was given the Edward H. McNamara Goodfellow of the Year Award. "There are many ways to create efficiencies without looking at wages," Settles noted.

Domestic automakers have struggled for years to make a profit off of small cars built in the U.S., largely because their relatively low prices don't fully cover the cost to build them here. The smaller and lower priced the car, the more challenging that is.
Earlier this week, union workers at General Motors' Orion Township plant said the company and UAW had agreed to allow 40% of the workforce there to be paid a second-tier wage of about $14 an hour.

The move allowed the plant to stay open and helped to preserve 1,500 jobs. What's more, it could prove that it's possible for a subcompact car to be built profitably in the U.S. The Chevrolet subcompact cars to be built at the Orion plant will be the smallest cars built in the U.S.

GM has already started building the larger Chevrolet Cruze compact car at its plant in Lordstown, Ohio, without a deal like the one in Orion.

UAW officials describe the Orion agreement as a onetime deal forged during GM's bankruptcy to save a plant that was slated to close, as well as jobs, and to prove that subcompacts can be built profitably with American union labor.

But some workers were angered by the deal. A protest against the agreement is scheduled for next Saturday, said Ron Lare, a retired Ford autoworker.
Some consolidation
At Michigan Assembly, where Ford is determined to make money from the Focus compact car, the new agreement calls for a consolidation of some job classifications and changes to how maintenance work groups are structured, Johnson said.

Ford and the UAW needed to negotiate a new local contract with UAW Local 900 because Ford plans to transfer about 2,100 workers from its Wayne Assembly Plant, where it builds the current version of the Focus, to Michigan Assembly, which is next door.

Ford is spending $550 million to convert the plant, previously called Michigan Truck, from one that built the Ford Expedition and Lincoln Navigator into a car plant. The UAW plans to take the contract to its members for a vote once it reaches a tentative deals at Wayne Integral Stamping, Johnson said. He expects that will happen by early November.
Converting plants
On Friday, Mulally said Ford's national contracts with the UAW helped to pave the way for small cars to be made profitably in the U.S.

In 2007, the UAW and all domestic automakers agreed to a second-tier wage of about $14 per hour for newly hired workers, allowing existing workers to continue to earn about $28 per hour.
"We are converting truck plants to car plants and making cars in the U.S. profitably," Mulally said after getting his award. Settles, who introduced Mulally at the Old Newsboys' Goodfellows breakfast, said Mulally "wanted to make certain that jobs grow here in the U.S., and in particular, here in Michigan."


Ford's credit rating raised two levels by Moody's on earnings
Keith Naughton and Craig Trudell / Bloomberg News
October 10, 2010
Ford Motor Co.'s credit rating was raised two levels by Moody's Investors Service, after the automaker's operating performance significantly exceeded expectations.

The upgrade in Ford's corporate family rating to Ba2 from B1 is the fifth Moody's has given the second-largest U.S. automaker in the last 13 months. Ford, which has $27.3 billion in automotive debt, remains two levels below investment grade. Moody's said it has a stable outlook on Ford's debt and its finance subsidiary, Ford Motor Credit Co.
"We believe the company is well-positioned to continue generating strong earnings and cash flow through 2011, and to further strengthen its balance sheet," J. Bruce Clark, Moody's senior vice president, said in a statement today. At the same time that the industry's business practices have become more disciplined, Ford is coming to market with an exceptionally strong product portfolio.
Since arriving from Boeing Co. in 2006, Ford Chief Executive Officer Alan Mulally has revived the automaker by expanding the namesake brand and improving quality.
The automaker earned $4.7 billion in the year's first six months, its largest first-half profit since 1998. Sales of redesigned models, such the Taurus and Fusion sedans, helped propel Ford's U.S. sales up 21 percent this year through September, more than twice the industrywide gain of 10 percent.

GM Orion assembly workers to picket UAW over two-tier
wage structure
Louis Aguilar and Christina Rogers / The Detroit News
October 9, 2010
Some unhappy hourly workers at General Motors Co.'s Orion Assembly Plant plan to demonstrate outside the United Auto Workers international headquarters next weekend against a two-tier wage deal they contend could impose lower starting wages on some veteran workers.
A bulletin is being circulated by union dissidents among members of Local 5960, asking workers to join them at noon Oct. 16 in front of the Solidarity House in Detroit.
The bulletin, circulated by UAW activist Wendy Thompson via e-mail, was obtained by The Detroit News on Friday.
Local 5960 member Juan Gonzales confirmed plans for a demonstration seeking repeal of the two-tier wage agreement, under which about 60 percent of the workers will be paid $28 an hour, while others with less experience could earn $14. The bulletin asks participants to bring picket signs and petitions.
The rally reflects divisions in the labor movement. UAW leaders want to save as many jobs as they can and insist they are protecting workers' wages.
Some workers fear the UAW is creating a loophole that will eventually force lower pay on veteran workers and want to protect the higher-paying positions.
An Indianapolis UAW local earlier this month rejected a proposal for workers to take a pay cut in exchange for keeping open a GM stamping plant scheduled to close next year.
The UAW negotiated the Indianapolis deal with a proposed buyer who wanted to keep making parts for GM, but is now abandoning the idea.
Many workers rejected the Indy deal because they wanted to keep their right to transfer to another facility and keep their higher pay.
Earlier this week, UAW leaders and GM unveiled an Orion agreement that both hailed because it means a low-price subcompact car can be built in America with unionized labor and make a profit — a first for a Detroit Big Three plant. It will build a new compact Buick and a replacement for the Chevrolet Aveo.
Orion Assembly was scheduled to close in 2008, but it is expected to recall about 1,550 hourly and salaried workers when it reopens in summer 2011 after retooling for small cars.
"That success now means that working together, GM and the UAW are able to bring — for the first time — production of a small, energy-efficient car, the Aveo, from South Korea to the GM plant," UAW President Bob King said earlier this week.
The automakers and UAW could negotiate the new pact under a broadly worded change in the GM-UAW national agreement that was approved by workers as GM prepared to enter bankruptcy in 2009.
One of the Orion workers insists union leaders "twisted" the 2009 language and didn't explain its implications clearly to the membership.
"A lot of the membership thinks they've been lied to and hoodwinked," said Nick Waun, 31, who said his seniority will likely place him in the Tier 2 category, making about $14 an hour.
The bulletin obtained by The News, written by Wuan, says King and UAW Local 5960 shop chairman Mike Dunn "have forgotten who they work for, let's help them remember."
Dissident groups such as Soldiers of Solidarity and sites like Labor Notes and Factory Rat are helping spread the word about the Oct. 16 Solidarity House rally to other members.
"There is a better way to go about doing this than forcing people to go to Tier 2," Waun said. "This sets a new precedent; we're afraid this will be (repeated) at other plants around the country in the next contract."
A labor analyst agrees.
"Orion looks to be a big moment that can cause major problems for the company and the union further down the line," said Gary Chaison, professor of industrial relations at Clark University in Worcester, Mass.
"This looks like an effort of what was once considered the temporary position becoming the standard wage of auto workers. I am wondering if the company and the international will try to use this formula at other plants, or somehow include in the next contract." UAW officials wouldn't respond to news of the scheduled rally. But UAW leaders insist that no veteran workers at Orion will have to take the pay cut.
About 1,150 workers were making the $28 an hour wage before the plant closed, UAW officials said. About 500 of the former Orion employees are working in other GM plants, they said.
Another 300 are eligible for retirement and will be offered incentives to retire instead of returning to the plant. Any veteran worker who doesn't want to accept the wage cut can request a transfer or wait for a Tier 1 job to open up at Orion.


Ford trumpets lower
price of '12 Focus
Global platform lets car sell for
$370 less while driving profits
Alisa Priddle / The Detroit News
October 9, 2010
The all-new Ford Focus won't hit the market for about four months, but with strong competition in the compact car segment, Ford Motor Co. is getting the news out early that the 2012 Focus will cost less than its predecessor.
The new base Focus will start at $16,270, excluding a $725 destination charge, Ford said Friday on its website. That's $370 less than the 2011 model. Buyers will be able to start pre-ordering the 2012 Focus later this month. Those who agree to buy one by Feb. 28 will be eligible for a $500 technology rebate.
The Focus pricing sets up a head-to-head battle with the Chevrolet Cruze, which starts at $16,995.
The field also includes a new Volkswagen Jetta that starts at about $16,000, down from $21,650 for the outgoing model.
"Pricing is more realistic today," said analyst Michael Robinet of IHS Automotive in Northville. Prices are no longer artificially high when a vehicle is new, followed by large incentives months later when demand falls.
And while Ford CEO Alan Mulally recently said the company was unable to make money on the current Focus, he expects the new model to be profitable.
That is because the 2012 Focus is a global vehicle and it was less expensive to engineer a single vehicle for all markets. With 80 percent common parts and shared underpinnings with nine other vehicles, for total volume of 2 million vehicles by 2012, parts costs are also less.
The other big difference is the range of price points, from the base model sedan and five-door hatchback to a new, top-of-the-line Titanium Focus that can approach $25,000.
It is a pricing strategy that Jim Farley, head of global sales and marketing, introduced when he joined Ford. Vehicles such as the Mustang and F-150 pickup always had a significant price gap between the entry level and the top trim level and Ford has been trying to emulate that with all its models, said spokesman Mark Schirmer.
Based on Ford's experience with its smaller Fiesta subcompact, which is selling with about $4,000 in extra content, the expectation is the Focus also will have a high average transaction price.
Much like the price of the Fiesta overlaps with the Focus, the sticker on the Focus is expected to overlap with the midsize Fusion, which starts as low as $14,000, Schirmer said.
Adding the Fiesta as a new, entry-level car in the United States prompted a restructuring of the car lineup and price transitioning that will likely continue for a few years until a new Fusion hits the market, he said.
"We will see how much people value great cars and really want the very best cars and trucks based on quality, safety, fuel efficiency and MyFord Touch and Sync" communications and entertainment systems, Mulally said Friday at an event at which he was honored as the Goodfellow of the Year.
Ford plans to continue to emphasize the value of its Sync technology.
Derrick Kuzak, head of global product development, told the CTIA wireless technology conference in San Francisco Friday that Ford wants greater collaboration between the two industries to offer more phone apps safely and seamlessly in vehicles.
Kuzak said Ford is working to increase the number of Bluetooth phones that can communicate with Sync to provide more voice-activated functions in an effort to discourage drivers from texting or other activities that take their eyes off the road and hands off the wheel.
Ford is providing a software development kit to interested smart phone app developers so they can modify their existing apps to work with Sync. The automaker already has heard from more than 1,000 interested parties wanting to ensure their apps are compatible, Kuzak said.
"Our goal is not to have thousands of apps available for the car because there are strict limitations on what should be allowed while driving," he said.
TUG-OF-WAR WITHIN UAW

UAW members fear a pattern of concessions that slash pay
BY CHRISSIE THOMPSON, BRENT SNAVELY and GREG GARDNER
October 8, 2010
At General Motors' Orion Township plant, 1,184 people have more seniority than Juan Gonzales.
So when the UAW said that 40% of the plant's workers would get about half of the $28-an-hour wage that most of the other workers receive as part of a new job-saving contract, Gonzales was shocked -- and scared. Especially because members didn't get a chance to vote on the details.
"The membership was not properly and truly informed," said Gonzales, 52.
Upset union workers are citing the Orion plant, where GM announced Thursday that it will build the 2012 Buick Verano compact car, as another example of how top union leaders aren't representing their interests. Contract rejections by Ford workers last year and at a GM stamping plant in Indianapolis last week show workers aren't afraid to break with leadership.
The tug-of-war between UAW leaders and members over the issue of declining pay levels could become a flash point in next year's national contract talks with the Detroit Three.
UAW officials tout the number of jobs they're keeping in the U.S. through innovative deals. The Orion plant will have 1,550 hourly and salaried workers after GM's $145-million investment, GM said Thursday.
UAW President Bob King said he doesn't "see any more concessions in this round of bargaining." But many union members say they're worried about preserving pay.
Rank and file question leaders' priorities
Leon Chase felt the UAW betrayed him.
Chase, a worker at General Motors' Indianapolis stamping plant, supported his local union's decision not to negotiate with Illinois supplier J.D. Norman, a potential buyer of the soon-to-close plant.
So when the UAW's international leadership followed the 2007 national contract and negotiated without the workers -- settling on a contract that would cut unskilled workers' wages almost in half, to $15.50, unless they transferred -- Chase voted with the group that defeated the contract.
Indianapolis was a unique situation, but it gave autoworkers a chance to speak out against wages they say are too low to raise a family.
The plight of workers in Indianapolis, along with those at GM's Orion Township plant who face a possible pay cut or transfer, has UAW members worried about their leadership's negotiating priorities, especially before contract negotiations next year for the Detroit Three.
Though UAW President Bob King and Vice President Joe Ashton have said that securing jobs is top priority, with wages and benefits second, some feel those priorities are out of whack.
In Indianapolis, workers voted on those priorities, saying workers of all ages deserve good-paying jobs or none at all. Workers also sent another message, Chase said: Listen up.
"I've been in the UAW since 1974. I've never seen them override us," he said.
Good news comes with a catch

Still, the situations in Indianapolis and Orion Township aren't likely to translate perfectly to the rest of the union.
Indianapolis had been slated to close since 2007, when a potential buyer gave it a last-gasp chance at survival. Orion was saved from a similar end when the plant outbid factories in Janesville, Wis., and Spring Hill, Tenn., last year for the chance to build a subcompact GM had planned to import.
As announced Thursday, the plant will assemble the Chevrolet Aveo subcompact, which may undergo a name change before it launches in August, and the Buick Verano compact for the 2012 model year.
GM said the Verano will allow the plant to hire about 1,550 hourly and salaried workers.
But for some, that news was overshadowed by the union's announcement of details of a special labor agreement for the plant.
GM's plan to pay four of every 10 Orion workers at the second-tier hourly wage -- about half the first-tier starting wage of $28 -- is permitted under an agreement the union accepted last year as part of GM's restructuring. To get a second chance at life with the Aveo, the union agreed to "innovative staffing." So workers couldn't vote on the wage.
The higher-paid senior workers remain eligible to move to other GM locations at their current pay. But some of them are disappointed that they might have to drive long distances or move to make the same wage.
King told the Free Press on Wednesday that the union estimated that none of those workers would have to do that. The UAW estimates assume that all of Orion's 300 eligible workers will take an available incentive to retire. The plant has about 1,600 people on layoff waiting for Aveo production to begin, including about 500 already making the lower, second-tier wage.
Orion worker Juan Gonzales said he thinks that hope is unreasonable, considering the Michigan economy and the plant's nearly yearlong idle status.
"After being laid off, they're probably not going to want to retire," he said.
What leaders have to say
Pat Sweeney, president of Orion's Local 5960, said the union fought to get as many Orion workers at the top wage as possible. And Alicia Boler-Davis, Orion's plant manager, admitted that having 60% of the UAW workers at the top wage was the maximum the plant could have had to build the Chevrolet Aveo profitably. The solution is definitely better for UAW workers than one option GM considered, which was to use contract workers for a portion of the labor, leaving more UAW workers out of the plant.
Officials at GM and the union insist Orion's pay structure won't become a pattern -- that it's unique because of the challenge of building a subcompact car profitably in the U.S. And Mo Davison, who directs the UAW region that includes Indianapolis, said the wages J.D. Norman was offering are competitive for an independent supplier, especially since Norman has a history of increasing starting wages to the $23-an-hour range.
Still, some UAW members and local officials are a little concerned about the UAW's seeming inability to keep wages high.
They foresee problems if automakers use the Orion pay plan as a formula to save money for other factories.
"As a strong union supporter, I am very worried of what lies in the future for the rest of us, if this wage deduction goes through for them," Debbie Wilson-Dunlap, a GM worker at the company's Delta Township plant, said in an e-mail.
But Tom Thivierge, GM's executive director of labor relations, says saving money on production is more about creative manufacturing and engineering. "Just some race on wages is not the answer. It's about innovation," he said.


Ford offers lessons to
more than auto rivals
Det News Oct 8, 2010
Drive along Michigan Avenue in Dearborn and you can't miss the telltale signs of decline:One empty storefront after another sits alongside an undercapitalized new venture here and a wheezing business there. The vibrant restaurant scene of the early decade is gone, a victim of cutbacks at Ford Motor Co., the unraveling of the Detroit auto industry and an economic flat line likely to define nearly a generation of the city's existence.
It's mildly depressing, a testament to the indiscriminate toll taken by local political drift and a long, slow economic contraction mixed with a heaping portion of denial. Except for one critical, very important, thing:The Glass House, epicenter of Ford's offices, engineering buildings, design studios, a test track and the nearby Dearborn Truck Plant. Built in the 1950s, it now symbolizes the achievability of American industrial renaissance in an industry the smart people from New York and Washington to Stuttgart, Tokyo and Shanghai had ceded to the foreign powers of the global auto industry.
They were wrong.
Evidence of the Blue Oval revolution comes in the tight, V-8-powered Mustang that could almost snap your neck if you juiced it hard enough. There's the Fiesta, a subcompact the likes of which no Detroit automaker has sold in this country, well, forever. There are the redesigned Ford Edge and Lincoln MKX crossovers laden with new technology and, soon, a new line of Focus compacts built right here in Michigan.
You can see a hipper, leaning-forward Ford in the fact that the Wall Street Journal's tech guru, Walt Mossberg, saw fit this week to review (and mostly bless) the next-generation Sync infotainment system. Or that CEO Alan Mulally, for the third year running, will be the headline speaker at the Consumer Electronics Show in January. This for a car company from Detroit.
You can see it in the financials — $3.1 billion in pre-tax operating profits this year in North America. Yes, North America, home to the United Auto Workers and the worst sales recession this industry has seen in decades. Yes, profits, which are quickening cash flow, enabling Ford to retire debt and laying the foundation for salaried bonuses and hourly profit-sharing checks early next year.
You can read it in reports from Wall Street analysts. Eric Selle, J.P. Morgan's credit analyst, predicts the automaker's bonds and bank debt will outperform the high-yield market as Ford pushes to regain investment grade by the end of next year.
Rival Morgan Stanley offers Ford management the usual props for re-engineering the product line, divesting brands, restructuring health care and cutting debt. Then it adds: Ford's "revenue opportunity is significantly underestimated."
Translation: The folks led by Mulally are on track to sell more cars and trucks and deliver a lot fatter profits than the conventional wisdom expects. Which is why Morgan, for one, predicts Ford is on track to be a $20-a-share stock, 50 percent higher than its Thursday close of $13.32. Under more bullish circumstances, Ford shares could reach $26 each.
Which isn't to say things couldn't go wrong for St. Alan of Mulally, that the national economy couldn't go pear-shaped again, that Ford couldn't muff a product launch or its umpteenth makeover for its luxury Lincoln brand, the homely step-sister of Detroit luxury marques.
But dig a little deeper into the Blue Oval revolution and you'll see even more encouraging signs. Transaction prices on new cars and trucks are going steadily up, not down. New labor agreements and a right-sized manufacturing footprint, chiefly in the United States, enable the automaker to be more responsive to swings in customer demand.
Meaning? Meaning Ford is on the leading edge of Detroit automakers becoming more like other companies in other industries. That is, more flexible and less susceptible to the kind of economic cycling that roiled Dearborn and other company towns for decades and slammed Ford's hometown especially hard.
There's a lesson here, as much for local and state politicians as for business leaders facing difficult circumstances and a problematic future: Success depends on the courage of leaders to acknowledge failure, sometimes decades of it, and then chart a credible path away from it — wherever it leads.
Drive along Michigan Avenue in Dearborn and you can't miss the telltale signs of decline:One empty storefront after another sits alongside an undercapitalized new venture here and a wheezing business there. The vibrant restaurant scene of the early decade is gone, a victim of cutbacks at Ford Motor Co., the unraveling of the Detroit auto industry and an economic flat line likely to define nearly a generation of the city's existence.
It's mildly depressing, a testament to the indiscriminate toll taken by local political drift and a long, slow economic contraction mixed with a heaping portion of denial. Except for one critical, very important, thing:The Glass House, epicenter of Ford's offices, engineering buildings, design studios, a test track and the nearby Dearborn Truck Plant. Built in the 1950s, it now symbolizes the achievability of American industrial renaissance in an industry the smart people from New York and Washington to Stuttgart, Tokyo and Shanghai had ceded to the foreign powers of the global auto industry.
They were wrong.
Evidence of the Blue Oval revolution comes in the tight, V-8-powered Mustang that could almost snap your neck if you juiced it hard enough. There's the Fiesta, a subcompact the likes of which no Detroit automaker has sold in this country, well, forever. There are the redesigned Ford Edge and Lincoln MKX crossovers laden with new technology and, soon, a new line of Focus compacts built right here in Michigan.
You can see a hipper, leaning-forward Ford in the fact that the Wall Street Journal's tech guru, Walt Mossberg, saw fit this week to review (and mostly bless) the next-generation Sync infotainment system. Or that CEO Alan Mulally, for the third year running, will be the headline speaker at the Consumer Electronics Show in January. This for a car company from Detroit.
You can see it in the financials — $3.1 billion in pre-tax operating profits this year in North America. Yes, North America, home to the United Auto Workers and the worst sales recession this industry has seen in decades. Yes, profits, which are quickening cash flow, enabling Ford to retire debt and laying the foundation for salaried bonuses and hourly profit-sharing checks early next year.
You can read it in reports from Wall Street analysts. Eric Selle, J.P. Morgan's credit analyst, predicts the automaker's bonds and bank debt will outperform the high-yield market as Ford pushes to regain investment grade by the end of next year.
Rival Morgan Stanley offers Ford management the usual props for re-engineering the product line, divesting brands, restructuring health care and cutting debt. Then it adds: Ford's "revenue opportunity is significantly underestimated."
Translation: The folks led by Mulally are on track to sell more cars and trucks and deliver a lot fatter profits than the conventional wisdom expects. Which is why Morgan, for one, predicts Ford is on track to be a $20-a-share stock, 50 percent higher than its Thursday close of $13.32. Under more bullish circumstances, Ford shares could reach $26 each.
Which isn't to say things couldn't go wrong for St. Alan of Mulally, that the national economy couldn't go pear-shaped again, that Ford couldn't muff a product launch or its umpteenth makeover for its luxury Lincoln brand, the homely step-sister of Detroit luxury marques.
But dig a little deeper into the Blue Oval revolution and you'll see even more encouraging signs. Transaction prices on new cars and trucks are going steadily up, not down. New labor agreements and a right-sized manufacturing footprint, chiefly in the United States, enable the automaker to be more responsive to swings in customer demand.
Meaning? Meaning Ford is on the leading edge of Detroit automakers becoming more like other companies in other industries. That is, more flexible and less susceptible to the kind of economic cycling that roiled Dearborn and other company towns for decades and slammed Ford's hometown especially hard.
There's a lesson here, as much for local and state politicians as for business leaders facing difficult circumstances and a problematic future: Success depends on the courage of leaders to acknowledge failure, sometimes decades of it, and then chart a credible path away from it — wherever it leads.
CAW CONTACT
Volume 40, No. 34
October 8, 2010
Move by Feds Could Cripple Canadian Shipbuilding
After a written promise to proceed tactfully on policy to support Canada's all-important shipbuilding industry, the Harper government's rash decision to kill a customs tariff will reverse years of progress, deter domestic investment and wipe out jobs at Canadian shipyards, said CAW President Ken Lewenza.
"The Conservative government has just given international shipbuilders an overnight 25 per cent cost advantage when selling ships into our market," Lewenza said responding to Finance Minister Jim Flaherty's announcement on October 1 that Canada will eliminate a long-standing customs tariff on foreign-built ships. "This is after former trade minister David Emerson notified our union this would not happen."
Canadian shipyard workers have for years been faced with extraordinary competitive pressures from heavily-regulated foreign shipbuilders, in countries like Norway, South Korea, Germany and the United States (through the Jones Act), said CAW National Marine Workers Council President Karl Risser who represents workers at the Halifax shipyards.
"The Harper government fails to see the strategic importance of maintaining a domestic shipbuilding sector," Risser said.
The CAW launched a successful campaign in recent years that effectively pushed the federal government to enact a Buy-Canadian policy for publicly-funded vessels. According to Risser, this policy has brought new work and tremendous job growth to hard-hit shipbuilding communities like Halifax.
"We quickly saw our workforce double in size once new investment was introduced, creating hundreds of new highly-skilled apprenticeship opportunities for young workers in the region," Risser said.
"Killing the import tariff not only gives overseas suppliers an additional advantage but it threatens to reverse all of the gains we've made in recent years by encouraging shipbuilders to do this production and refit work elsewhere, right when the economy is showing signs of further decline."
The CAW represents nearly 3,000 workers in the Canadian shipbuilding industry.
World Day for Decent Work: October 7
The second annual World Day for Decent Work, held on October 7, comes at a time when workers are still feeling the impact of the global recession. The first World Day for Decent Work was organized last year by the International Trade Union Confederation (ITUC) as a global day of action.
Last year, trade unions representing workers in over 500 cities, towns and villages took part in rallies, demonstrations and educational events marking the World Day for Decent Work.
This year the CAW will be launching its 'precarious work' workshop, one of several recommendations in the union's discussion paper "Fight for Good Jobs." The discussion paper was released at the CAW-TCA Joint Council in Montreal in August at the union's 25th anniversary. It commits the union to hosting regional roundtables on winning back the right to organize, developing a 'good jobs in the green economy' workshop, sponsoring a summit on jobs in the post-crisis economy and organizing a special Union in Politics Committee (UPC) session on political mobilizing.
The day-long workshop will be launched on November 8 with CAW Local 414.

In the workshop, participants review the economic developments, corporate strategies and government policies that have led to the alarming growth of precarious work. Throughout the session, participants are actively engaged in discussions about the pressures we face and what openings we have. Before the day is over, the stage will be set for a good jobs fight back at the bargaining table, in our communities and in legislative initiatives.
Local unions can sign up for the workshop by contacting Sonia Douville at: sonia.douville@caw.ca1-800-268-5763. or
To read the Fight for Good Jobs discussion paper, please visit: http://www.caw.ca/assets/images/376-Fighting_for_Jobs_ENG.pdf
Visit to CAW Local 2001 in New Brunswick
CAW President Ken Lewenza recently visited CAW Local 2001 in Hartland, New Brunswick. The local represents workers at Old Dutch Snack Foods. Along with Lewenza were assistant to the president Bob Chernecki, left; and Atlantic area director Les Holloway, right. They were greeted by CAW Local 2001 President Tony Budrow, second from left; Unit Chair Richard Payne, middle; and Vice-President Greg Crouse, back.
With the potato chip plant operating at capacity, the company announced in August that it would move ahead with a $25 million expansion. The expansion is based on existing sales with the company planning to increase spending in the province by roughly $10 million per year on potatoes and other supplies. The provincial government is providing $15 million toward the expansion. A new packaging line, new equipment and additional warehouse space will add approximately 40 full-time jobs to the 128 already at the facility. In addition there are 35-50 seasonal positions.
CAW Commends Inclusion of Labour on WSIB Review Panel
Labour's participation in the newly formed Ontario WSIB funding review panel is a strong step forward for injured workers, says the CAW. The panel was announced late last week.
The panel will be headed up by Professor Harry Arthurs, former Dean of Osgoode Hall Law School and President Emeritus of York University and will include former CAW National President Buzz Hargrove, Maureen Farrow, John O'Grady and John Tory. The panel, according to the WSIB, will act as a third party making recommendations for dealing with the $12 billion unfunded liability.
"This is an important step in strengthening WSIB funding so we will never be in the situation where injured workers will see their benefits reduced," said CAW National President Ken Lewenza. "Injured workers should never have to worry about having their benefits cut because of an unfunded liability."
"It's significant that labour has been included in this important panel, so that we can collectively move forward and find solutions. I can think of no better representative than Buzz Hargrove."
Rise Up! For Your Rights
The Canadian Labour Congress is holding the Rise Up! For Your Rights Conference in Ottawa, Ontario from December 8 to 11.
This is a human rights conference for activist workers determined to change what federal Conservative policies mean for Aboriginal, multi-cultural and LGBT communities as well as for people living with disabilities, and for women.
The deadline for registration is Friday, November 12. To register on-line go to www.canadianlabour.ca/rise-your-rights-conference-2010-registration-form.ca
Support Your Local United Way Campaign
CAW members are being urged to support local United Way campaigns as fundraising drives move ahead this fall.
CAW President Ken Lewenza is urging all CAW members to help by providing financial support and to volunteer whenever possible.
"We know all too well, the negative impact the ongoing erosion of the manufacturing base is going to have on all our communities," Lewenza states in a letter to local union leadership. "In many cases it will mean that our members, who in the past have been such strong supporters of their local United Way Campaigns, will now be looking to United Way agencies for support."
Lewenza cautioned that no one is immune and even if not impacted directly by the downturn there is widespread social damage caused on a daily basis.
"Increasing poverty, particularly among the youngest and oldest in society, is but one manifestation of this need." Lewenza said.
Ford to trim Lincoln dealerships
Alisa Priddle / The Detroit News
October 6, 2010
Dearborn — Ford Motor Co. wants to shrink the number of Lincoln dealers in the top 130 metro markets by 35 percent — about 175 dealers — to compete more directly with foreign luxury brands.
About 730 Lincoln dealers and another 170 dealer representatives gathered in Dearborn for a two-day meeting that ended Tuesday. Dealers heard Ford's vision for the brand and the investment they will be required to make in their facilities and personnel — especially in big cities, where such luxury brands as Lexus, Audi and Mercedes-Benz are concentrated.
The foreign luxury brands have about 350 U.S. dealers each, compared with 1,200 for domestic luxury marques Lincoln and Cadillac.
"It was a very difficult meeting," said Bob Tasca Jr., a Rhode Island dealer and chairman of the Lincoln Mercury Dealer Council. Business lives are on the line, he said, but dealers realize they have to change to compete.
"We are not successful the way we are doing it," Tasca said. "There are too many dealers and a lot of them are not located properly. Some will make it and some will not."
With the demise of the Mercury brand at year's end and the selling off of the Jaguar, Land Rover, Aston Martin and Volvo brands in recent years, Ford is renewing its commitment to two brands: Ford for volume and Lincoln as the step-up luxury brand.
Armed with an overview of the luxury market and Ford's vision of where Lincoln fits, each dealer will meet twice with field representatives by the end of January to help determine whether to continue selling the brand, drop Lincoln and focus on Ford (if they have both franchises), or let Ford buy them out.
Lincoln will get seven new or upgraded products over the next four years but the automaker wants dealers to provide an upscale consumer experience within two years.
The necessary investment will vary by dealer, but "they need to invest differently than in the past," said Mark Fields, Ford's president of the Americas.
Less than 25 percent of Lincoln dealers are at the level Ford wants, said Ken Czubay, Ford vice president of U.S. sales, marketing and service.
The automaker expects some rural dealers to fold as a result of the new demands and Mercury's demise, but the real focus is on consolidation in the 130 largest markets where 88 percent of luxury buyers live.
There are 500 Lincoln dealers in these metro markets, which would mean about 175 are targeted to go.
Ford will not force out any dealers, and will accept whatever number of facilities there are after the shakeout, Fields said.
Randy Berlin, director with Urban Science, Detroit-based dealer consultants, said Ford is pursuing a good strategy to align itself with the other luxury brands in the largest markets, while keeping the incremental sales in smaller cities that foreign brands never entered. Rural dealers provide incremental business, he said.
"We were transparent about where the network needs to be and what we need to deliver in terms of service," said Jim Farley, group vice president of global sales, marketing and service.
The dealers who continue to sell Lincoln must create a luxury experience and ensure services such as car washes and daily loaner cars, Farley said.
Ford Credit can help with the dealers' investments as they improve the look and performance of their operations.
But rural dealers will have to decide if the investment is worth it with the loss of Mercury volume, Czubay said.
Vince Trasatti Jr.'s East West Line Lincoln Mercury dealership in New Carrollton, Md., is part of the Washington, D.C., metro area, which is targeted for consolidation.
"I don't know if I can identify all the specifics of the investment yet," he said, noting it involves changes in facilities, as well as having the right people to deliver the desired consumer experience.
Still, Trasatti said, "it's a great thing to have this laser focus on the Lincoln brand. It's no secret the company got distracted with other brands but those distractions are gone."
Tasca agreed. "We don't have competition within the company anymore."
Berlin said other luxury brands have fewer dealers, so there is less competition among them, and that results in a higher profit margin.
"I think Lincoln has a legitimate chance, but product, marketing and retail are all critically important to success," Berlin said.
GM's Lake Orion plant
set to use lower wage
Facility to make another vehicle
By Chrissie Thompson
FREE PRESS AUTO WRITER
October 5, 2010
General Motors' plant in Lake Orion will employ an outsized percentage of workers at about half the standard wage in a bid to make a profit on the subcompact Chevrolet Aveo, said Mike Dunn, chairman of UAW Local 5960.
Under contract details the UAW explained Sunday to members, 60% of Lake Orion's hourly workers will make $28 an hour with full benefits, Dunn said. The other 40% will work for the UAW's second-tier wage for newly hired workers, starting at about half the other workers' wages but with full benefits, Dunn said.
That's higher than the 25% allowed companywide, and it's the first UAW contract to apply the new wage to current members. If some of the 1,500 Lake Orion workers on layoff don't want to work for the lower wage, they can join the pool of workers seeking transfers within GM, Dunn said.
The Aveo launches next year as the smallest car built in the U.S. Last year, GM agreed to build the Aveo in Michigan instead of importing it from a lower-wage country in exchange for UAW concessions ahead of its bankruptcy. UAW President Bob King told the Free Press last month he doubted GM's and the UAW's chances of building it profitably because of labor costs.
Automotive News, a trade journal, first reported the new labor agreement at Lake Orion, which is currently closed for retooling. Joe Ashton, UAW vice president and chief negotiator for GM, said the report wasn't totally accurate, but declined to be more specific.
The new pay system doesn't have to be approved by members, since it fleshes out the part of the 2009 labor agreement that said the plant would use "innovative labor agreement provisions" to build the subcompact profitably.
"It worked out — we're keeping jobs in America," Dunn said. As for the members' reaction Sunday, "I can't say everyone was happy, but they seemed to understand it," Dunn said.
The pay structure is in effect until at least 2015, Dunn said, and he hopes all the plant's workers will return to the higher wage at that time.
Kim Carpenter, a GM spokeswoman, said: "GM has worked closely with the UAW to create new and innovative contractual language that will allow this facility to be flexible and lean — essential elements in this highly competitive, small car market segment." But she declined to confirm details of the Lake Orion agreement.
This week, the Lake Orion plant will officially get another vehicle. GM is to announce on Thursday the compact Buick Verano will be made at the plant, a person familiar with the situation said. The car, based on the Buick Excelle GT in China and the next-generation Opel Astra in Europe, shares a platform with the Chevrolet Cruze and will likely go into production next year for the 2012 model year.
Ford, Chrysler, U-M approved
for $5 billion fed retiree
health care fund
David Shepardson / Detroit News Washington Bureau
October 5, 2010
Washington — The Obama administration has approved the inclusion of more than 100 Michigan unions, governments, companies and insurers in a $5 billion program to defray medical costs for early retirees.Chrysler Group LLC, Chrysler Financial LLC, Ford Motor Co. and the University of Michigan are among those approved today.
The administration previously approved 2,000 government, private and corporate entities to take part in the Early Retiree Reinsurance Program. Today, the administration announced nearly another 1,000 participants.
The program — part of the massive health care overhaul approved in March — is open to large and small businesses, state and local governments, educational institutions, non-profit organizations, and unions — and it will provide reimbursements for their early retirees' medical claims this fall.
Tens of thousands of auto workers have retired early in recent years — and the program could help defray those costs.
"I am incredibly pleased to see so many employers embrace this important new program to maintain coverage for people who often have a difficult time finding affordable coverage," said Health and Human Services Secretary Kathleen Sebelius.
The $5 billion provides financial assistance to employers and unions to help them maintain coverage for early retirees ages 55 and older who are not yet eligible for Medicare.
Savings may be used to reduce employer or union health care costs, provide premium or out-of-pocket relief to workers, retirees and their families, or both. The program ends Jan. 1, 2014.
In Michigan, 142 organizations have been approved — including adding 45 new ones since August.
The new ones include: American Seating Company Inc., Consumers Energy, Chrysler Financial, Chrysler, Dow Corning Co., Ford, Steelcase Inc. and TRW Automotive LLC.
Also newly approved are the cities of Dearborn Heights, Farmington Hills, Fraser, Garden City, Livonia, Oak Park, Port Huron, Warren and Wyoming — along with Brownstown Township and Shelby Township.
The administration also approved today the counties of Eaton, Genesee, Macomb, Marquette, Monroe and Saginaw.
Previously, General Motors Co., DTE Energy Inc., the United Auto Workers health care trust funds, the cities of Detroit, Bloomfield Hills and Berkley, and state of Michigan were approved. Also previously approved were Oakland University and Michigan State University.
The administration did approve the State of Michigan Public School Employees Retirement System today.
The program is still open to applicants.

GE, Ford top Maplecroft
climate list
Alex Morales / Bloomberg News
October 4, 2010
General Electric Co. and Ford were numbers 1 and 2 in a ranking of U.S. companies based on their efforts to manage carbon emissions, fight global warming and profit on climate rules.
GE, the worlds biggest maker of power-generation equipment, edged out Ford Motor Co., the No. 2 U.S. automaker, and Intel Corp., the worlds largest chipmaker, to take the top spot for a second year on the Climate Innovation Index U.S. 100, according to Maplecroft, the U.K. risk assessment company that calculates the measure. Billionaire investor Warren Buffetts Berkshire Hathaway Inc. came in last.
Maplecroft rated the 100 largest public companies in the U.S. on 100 categories including their reduction of greenhouse gas emissions, use of new technologies, pursuit of climate- related opportunities and disclosure of environmental policies.
Climate change is not just about managing risks and preparing for future regulations on carbon, but is also an opportunity to cut costs, Dan Haglund, climate indices project manager at Maplecroft, said in a telephone interview. The companies doing the most in this regard will be the future financial winners.
Fairfield, Connecticut-based GE, with products ranging from water heaters that cut domestic energy use to fuel-efficient aircraft engines, was also cited for setting a price on carbon emissions in some of its contracts.
Berkshire was rated low for its lack of disclosure on climate-change policies, Maplecroft said. Buffett assistant Carrie Kizer didnt immediately respond to an e-mailed request for comment.
Buffetts rail purchase

Buffetts biggest acquisition, the $27 billion purchase of railroad Burlington Northern Santa Fe Corp., is a bet on the most efficient and environmentally friendly way of moving goods in the U.S., he told Charlie Rose in November. Berkshires MidAmerican Energy Holdings Co. owns hydroelectric plants in the U.S. Northwest and wind turbines in Iowa.
Maplecroft surveyed the 100 biggest U.S. companies by market capitalization as of Aug. 18 to craft the list. A wider ranking of more than 330 companies with market capitalizations of more than $1 billion also was headed by GE and Ford. Alcoa Inc., the largest U.S. aluminum producer, was ranked third on that list.
The risk assessor said it may start exchange-traded funds based on its Maplecroft Climate Innovation Index Benchmark. Constituents are weighted according to their ranking. GE now constitutes 2.45 percent of the U.S. 100 index, Ford accounts for 2.44 percent, and Intel is 2.22 percent.
No Evidence

The Climate Innovation Index U.S. 100 gained 1.7 percent for the nine months ending Sept. 30, compared with a 0.1 percent gain for the Standard & Poors 100 Index, a 3.5 percent rise in the Dow Jones Industrial Average and a decline of 16 percent in the WilderHill New Energy Global Innovation Index.
Maplecroft used publicly disclosed information such as company sustainability reports, and then contacted all companies with at least two follow-up emails, Haglund said. Berkshire didnt respond, Haglund said.
We found no evidence of any climate-related policies, management systems, or guidance on innovation promulgated by the Berkshire Hathaway holding company, Maplecroft said in an e- mail. The active investment strategy adopted by the company constitutes a great opportunity to influence companies in which Berkshire invests to respond, positively and proactively, to changing political and market sentiment around climate change.
Ford F-150 EcoBoost
engines tough, racy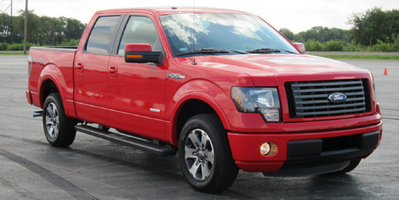 This 2011 Ford F-150 is outfitted with the new EcoBoost engine.
JIL McINTOSH
FOR THE TORONTO STAR
Oct 03, 2010
Jill McIntosh
Special to the Star
DALLAS, TEXAS — Here in the Lone Star state, the pickup truck is king. So it's only logical that Ford chose the State Fair of Texas to announce changes to the F-150: four new engines, six-speed automatics across the board, and electric power-assisted steering.
This follows a complete F-150 redesign for 2009, and so most 2011 models don't look any different from last year's. Save for some minor trim changes, all the news is under the hood.
For 2010, the F-150 offered three engines: a 5.4 L V8, and two- or three-valve versions of a 4.6 L V8. This time around, Ford brings back the six-cylinder — two new ones, actually, a 3.7 L V6 and twin-turbocharged 3.5 L EcoBoost V6 — along with two new eight-cylinders.
The 5.0 L V8 is a version of the Mustang's new engine, while the 6.2 L V8 also becomes the base engine in the Super Duty. Prices range from $19,999 for a base V6 XL, to $64,899 for the fully-decked Lariat Limited, a new trim line for 2011.
The luxo King Ranch, Harley-Davidson and Platinum models continue, while the awesome SVT Raptor off-road racer now uses the 6.2 L exclusively, and also comes in a four-door SuperCrew alongside the existing SuperCab configuration.
From a technology standpoint, EcoBoost is the fascination. It's already found on some Ford and Lincoln vehicles, but this is a first for rear-wheel-drive.
Thanks to the turbochargers and direct gasoline injection, the 3.5 V6 has more strength (365 horsepower, 420 lb-ft of torque) than the 5.0 V8 (360/380), and like all of the other engines, it runs on regular-grade gasoline.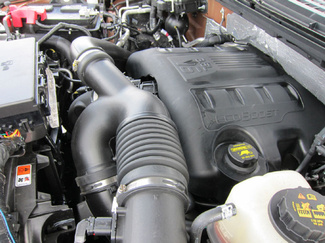 EcoBoost provides the low-end pulling power of a V8 with V6 fuel economy, although the official mileage numbers aren't available yet. The fat torque band reaches 90 per cent of its peak at a mere 1,750 r.p.m. and continues all the way through to 5,500 r.p.m.
Properly equipped, the EcoBoost has a maximum towing capacity of 5,125 kg (11,300 lbs), which is matched only by the 6.2 L. The 5.0 L tops out at 4,535 kg (10,000 lbs).
While it might seem sensible by the power numbers to simply offer the EcoBoost, there are several reasons for sending out the 5.0 L alongside it. Many traditional buyers will never be convinced that any V6 is better than a V8, but they don't want to move up to the thirstier 6.2 L, which will remain a low-volume unit in the F-150's top luxury trim lines.
Price is also an issue, as it will be an extra $1,000 to move up from the 5.0 to the EcoBoost when it goes on sale in January (it's a late entry, with all other engines coming into dealerships this fall). And while the boosted V6 is strong, especially when I towed a 3,039-kg (6,700-lb) trailer smoothly up a grade, it just doesn't sound as good as the 5.0's throaty exhaust burble, which is a thing of beauty.
Yes, it's important in this segment, believe it or not.
Ford is using several approaches to EcoBoost acceptance, including extensive testing documented on its website with narration from spokesman Mike Rowe of Dirty Jobs fame. And next November, a truck equipped with a stock EcoBoost will compete in the Tecate SCORE Baja 1000 desert endurance race.
A six-speed automatic is now included with all engines, retiring the four-speed autobox used with the base 2010 4.6 L V8, and giving all trucks standard tow/haul mode.
An available in-dash display, dubbed the "productivity screen" and first seen on the redesigned Super Duty, provides a wealth of information, including the ability to track accumulated mileage individually on several trailers. It's also possible to lock out progressive gears, keeping the transmission as low as first gear only if desired, for optimal towing control.
The other big news is the electric power-assisted steering, the first time such a system has been used on a full-size, non-hybrid pickup, the company says.
Without the parasitic draw of a hydraulic steering pump, fuel economy increases by 4 percent, and since there's no fluid, there's no maintenance involved.
On the road, all of that is secondary to the great feel at the steering wheel. The system is light at low speeds for easy parking, tightens up on the highway, and includes "drift control," which compensates for bad roads or high crowns, reducing the need for constant correction. It's standard equipment on all but the 6.2 L V8, where it won't fit.
In the all-important power struggle that marks the truck segment, Ford has thrown down the gauntlet: at 420 lb-ft, the EcoBoost makes more torque than any of its 2010 V8-powered rivals. Only Ford's own 6.2 L V8 makes more.
Sometimes the torque war can get ridiculous, as Ford proved when it peevishly changed a computer chip in the Super Duty's diesel, knocking it from 735 to 800 lb-ft of torque solely because Chevrolet announced 765. At that point, it's more about appendage length than truck power.
But the EcoBoost may prove to be of far more importance than simply big numbers. Just as diesels use turbocharging and direct injection to produce more power from smaller displacement, this may well be the next major step in gasoline engine technology.
Even in Texas, where bigger is better, the smallest V6 could turn out to be the king of the hill after all.
**************************************************
2011 Ford F-150
PRICE: $19,999 — $64,899
ENGINE: 3.7 V6; 3.5 V6; 5.0 V8; 6.2 V8
POWER: 302 hp, 278 torque (3.7); 365 hp, 420 torque (3.5); 360 hp, 380 torque (5.0); 411 hp, 434 torque (6.2)
FUEL CONSUMPTION: TBA
COMPETITION: Chevrolet Silverado, Dodge Ram, GMC Sierra, Nissan Titan, Toyota Tundra.
WHAT'S BEST: Awesome EcoBoost power, exceptional electric steering.
WHAT'S WORST: No fuel figures yet to tell the whole story.
WHAT'S INTERESTING: The most extensive powertrain overhaul in the F-Series' 62-year history.


Hot Fiesta sales may
show way for Focus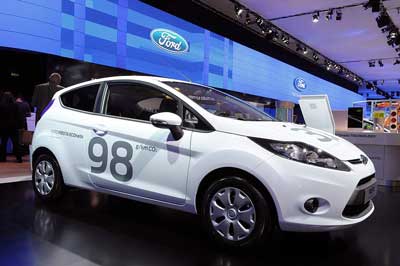 Scott Burgess and Alisa Priddle / The Detroit News
October 2, 2010
Paris -- Ford Motor Co. wants to emulate the successful global launch of the Ford Fiesta with the new Ford Focus lineup, executives said Thursday.
Since its launch in the United States four months ago, the Fiesta is netting prices higher than the current Focus, pulling in new and younger buyers and selling in colors and body styles Ford didn't anticipate.
"There are a lot of surprises from the Fiesta story," said Jim Farley, Ford's head of global marketing.
The subcompact's success in Europe, where bright colors are popular, prompted American executives to try bolder colors here such as the "lime squeeze" green that is now accounting for 25 percent of sales.
The ground broken by the Fiesta is changing the way Ford plans to launch the Focus early next year.
Expect bold colors, a top-of-the-line Titanium model and social media to play a prominent role in the global marketing campaign for the Focus, Farley said.
The Fiesta also reveals a new trend among American consumers.
"The Fiesta shows that American are interested in hatchbacks," said Aaron Bragman, IHS Automotive analyst in Northville. About 60 percent of buyers are choosing a hatchback.
The Fiesta is also bringing down the average age of buyers around the world. In the United States, the last region to receive the subcompact, a third of Fiesta buyers are under 35 years old. .
Even more important, Farley said, is that six of 10 Fiesta buyers are new to the Ford brand.
Many buyers are trading in larger cars but want creature comforts so they are ordering high trim level Fiestas loaded with features. About 20 percent want leather seats.
Farley said the Fiesta is selling for "dramatically higher than its Asian competitors."
"We have been surprised in a humbling way," Farley said of the vehicle's success.
Ford has evaluated the regional Fiesta launches and adjusted its marketing plan for the Focus using the lessons learned.
"In China, the launch was done entirely through social media," Farley said. "That's really where we got the idea for the Fiesta Movement."
The Fiesta Movement campaign, which had 100 young owners driving a European Fiesta in America a year before it arrived, helped create a buzz. The campaign also prompted vehicle changes.
"Our engineers started talking to the agents and there were some changes made before it arrived," Farley said.
Things like a Red Bull cup holder was provided so drivers could carry energy drinks and seats were changed to satisfy American drivers.
For the Focus, Ford is working directly with Facebook and "expects much greater success" with this campaign.
However, any new nameplate arriving in America will still be costly. Farley estimates that it costs $65 million in marketing money to build up recognition with a newly named vehicle.
U.S. Steel shutting Hamilton mill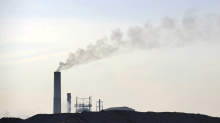 Greg Keenan, Shawn McCarthy
Globe & Mail
October 2, 2010
United States Steel Corp., locked in a legal battle with the federal government, facing potential labour strife, and battered by a continuing industry-wide slump, is temporarily ceasing operations at its Hamilton facility.
Trevor Harris, a U.S. Steel Canada spokesman, said the shutdown of the blast furnace – a Hamilton landmark for generations – will not result in layoffs; workers will be assigned to other tasks. There are about 900 workers left at the mill, compared with about 1,700 when the Pittsburgh-based giant took over Stelco Inc. in 2007. The company plans to cease operations indefinitely as of Monday.
The latest move comes as North American steel makers struggle to get their mills running at full capacity. While the industry has rebounded from the worst of the recession, capacity levels are still too low to generate profits.
"We review and analyze market conditions on an ongoing basis and the impact they have on customer orders and we're idling the blast furnace and steel-making operations at Hamilton Works to stay in line with customer demand," Mr. Harris said. "There's no timeline to restart the facility."
Another U.S. Steel mill in Nanticoke, Ont., is not affected by the shutdown.
The move is likely to spark fresh debate over the Investment Canada Act. Liberal industry critic Marc Garneau said the U.S. Steel case illustrates the need for the government to provide the public details about promises made by foreign companies acquiring Canadian firms.
"It speaks to the need for complete transparency and enforceability," Mr. Garneau said in an interview.
He noted there have been a number of cases in which Ottawa approved takeovers based on promises made by the companies, only to see them later slash employment and close operations. Under the Investment Canada Act, the government cannot reveal undertakings given by the acquiring company.
U.S. Steel is already embroiled in a legal battle with the federal government over the shutdown of all its Canadian operations last year, which were restarted earlier this year.
The latest move also comes amid a labour dispute with the United Steelworkers union in Hamilton, whose members have been working without a contract since July 31 and are resisting the company's demands that they agree to the elimination of pension indexing, give up two weeks of vacation and provide other concessions.
There have been no negotiations since May 20, Rolf Gerstenberger, president of local 1005 of the union, said Friday.
Mr. Gerstenberger said he believes the shutdown is related to negotiations on a new contract. The union will be in a strike position and the company will be able to lock workers out 17 days after a government-appointed conciliator issues a report. A conciliator has not been appointed yet.
"I think it's pretty obvious that we're just part of their empire," he said. "We're the afterthought. We're one of the colonies."
Mr. Harris would not comment on the labour negotiations or the court battle with Ottawa.
A spokesman for Industry Minister Tony Clement said the minister has instructed his staff to look into the matter and determine what, if any, impact the action will have on employment at the plant.
"We are disappointed to learn that U.S. Steel will idle their blast furnace in Hamilton, but we are encouraged by the company's statement that it will not lay off staff as a result," said Erik Waddell, Mr. Clement's director of communications.
He said the government could not comment on the status of the lawsuit that Ottawa brought against U.S. Steel under the Investment Canada Act, claiming the steel maker broke undertakings on employment and production that were agreed to when it acquired Stelco. The case has been proceeding through the Federal Court of Canada.
The steel maker has said in its own court filings that events beyond its control – namely the 2008 financial crisis and global recession – forced it to shut its Canadian operations and prevented it from keeping the commitments it made when it took over Stelco.
In the first nine months of 2010, capacity utilization at U.S. mills was 71 per cent. That's more than double the rate during the trough of the recession, but not the 85-per-cent needed to generate profits, said Mike Willemse, a steel industry analyst at CIBC World Markets Inc.


Ford Canada records best September in over 30 yrs

* Ford of Canada sales up 63.7 percent in September
* Sales up 22 percent year-to-date
* Honda Canada sales up 10 percent in September

OTTAWA, Oct 1 (Reuters) - Ford Motor Co's Canadian unit said on Friday it recorded its best September since 1978 this year with sales surging 63.7 percent from a year earlier.

The company sold 26,453 vehicles in the month, with car sales up 15.4 percent and truck sales up 81.2 percent.

"With sales up 22 percent year-to-date, Ford of Canada continues to lead the market for 2010," the company said in a release.

Honda Canada said it sold 13,662 vehicles in September, up 10 percent from a year earlier.

The company's Honda division's sales rose 8 percent, while its Acura division reported a 30 percent increase.

Other major automakers are expected to release their Canadian sales results for September throughout the day.
Ford charts turnaround for
Lincoln with 7 revamped models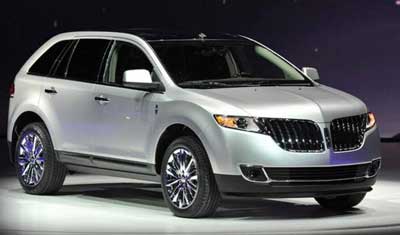 Alisa Priddle / The Detroit News
October 1, 2010

Ford Motor Co. must establish Lincoln as a solid luxury brand in the United States before taking it abroad, CEO Alan Mulally said Thursday.
That could take five years -- enough time for Lincoln to introduce seven new or refreshed models.
"Once we get Lincoln going in the U.S. and people appreciate it, I think there will be a lot of customer pull around the world for Lincoln," Mulally told reporters at the Paris Motor Show.
Lincoln has fallen from the top-selling luxury brand in the country, with peak sales of 231,660 in 1990, to No. 6 in 2009, with sales of 82,800, according to Autodata Corp.
Key to reviving Lincoln's appeal, and elevating its status, is reducing the number of U.S. dealers -- 1,187 today -- and demanding higher dealer standards to better compete with foreign brands.
Ford has said it won't terminate Lincoln dealers, but it is banking that many will voluntarily step aside after deciding they can't afford to make the investment that Ford will require.
"This is a pivotal time," said Bob Tasca Jr., president of Tasca Automotive Group in Cranston, R.I., and chairman of the Lincoln Mercury Dealer Council. "Opportunity comes once in a brand's lifetime."
Much of the campaign to reinvent Lincoln centers on dealers, who will meet in Dearborn next week to learn what Ford expects of them.
"Company leaders and select dealer representatives are working together to help create a new and improved luxury ownership experience for future customers," said Lincoln spokesman Christian Bokich.
Details are being kept under wraps. But since June, senior Ford managers have met four times with a Lincoln advisory committee. There is an ongoing debate about what would constitute the optimum number of Lincoln dealers, as Ford uses the year-end demise of its Mercury line as a springboard to rehabilitate the brand.
Analysis of the luxury market suggests Lincoln should be pared to about 350 outlets in major markets, to directly compete with the upscale foreign brands. But its domestic rival, General Motors Co.'s Cadillac, has 1,260 U.S. dealers.
"Over 1,000 places to buy Lincoln are too many and it isn't working," said Tasca, but 300 may not be enough to sustain the brand. "There will be a place in the middle that would work."
Tasca says Ford "won't put a gun to anyone's head. It will be up to the individual dealer to make a business decision."
There are 264 dealers who sell Lincoln and Mercury in their showrooms. Some will fold without the volume boost from Mercury, others likely will consolidate with Ford franchises.
But hundreds, especially in smaller markets, could decide the return is not worth the investment that will be asked of them.
Much of Ford's focus is on determining the optimal number of Lincoln dealers in the top 30 metropolitan markets. Half of the brand's sales are from rural dealers in cities without competition from luxury foreign brands.
Ford must align Lincoln dealers with where luxury buyers are concentrated, said analyst Rebecca Lindland of IHS Automotive in Lexington, Mass.
"They have to do significant regional studies before closing doors to avoid a backlash because people are used to a dealer around the corner," she said.
Dealers to get overview
In Dearborn Monday, dealers will get an overview of the luxury landscape, comparing Lincoln with benchmark brands such as Lexus, BMW, Mercedes-Benz and Audi. The next day, they'll hear details about the plan to make Lincoln competitive, covering everything from dealership facilities, signs and furniture to staff training.
"Lincoln must portray an upscale image to go head-to-head with the European luxury brands," said Randy Berlin, a director with dealer consultant Urban Science of Detroit.
A Lincoln franchise needs to be clearly delineated from the Ford brand, preferably with its own entrance and ambiance, Berlin said. "The worst scenario is someone who diminishes the brand for others," he said.
"You won't see a gorilla on the roof of a Lincoln dealer during a sale."
Ford has not set investment figures because there are many variables, Mark Fields, Ford president of the Americas, said recently.
Sheldon Sandler, CEO of dealer financial consultants Bel Air Partners LLC in Skillman, N.J., estimated the cost of refurbishing a dealership at $500 million to $2 million. A new standalone showroom could run as high as $5 million, depending on real estate prices, he said.
"It will be up to the individual dealer to decide if they can make it without Mercury and how much they need to invest in Lincoln for the future," Tasca said.
"Some will say they can't make it."
Lou Stanford, owner of Varsity Lincoln in Novi, knows it will be tough after losing Mercury.
"It will be a struggle until we get more products," he said. "I have no intention of closing or consolidating."
The overhaul will be long and expensive, Lindland said, noting that Cadillac's rehabilitation took a decade and cost billions.
And it will take time, Berlin said: "Consumers need experience with the product and ownership before they can say 'Lincoln' and 'BMW' in the same breath."
*****************************************
Luxury dealers

Here are the numbers of U.S. dealers selling luxury brands:


Lexus: 230


Audi: 271


Mercedes-Benz: 355


BMW: 360


Cadillac: 1,260


Lincoln: 1,187
Source: Urban Science
Lincoln's showroom
Ford has promised seven new or significantly upgraded vehicles over four years. The mainstays today are the MKS, MKT, MKX and MKZ. A compact Lincoln will be added.

Most future Lincolns will be part of the midsize vehicle family but distinctive from similarly sized Ford brand vehicles. Underpinnings may be shared, but the Lincolns are being engineered and designed to stand out from their brethren with unique proportions, features, technology and performance attributes, say people briefed on the lineup.
New ad campaign
A new advertising campaign for Lincoln bows Saturday with the tagline "Smarter Than Luxury." The first ads will air during the Ryder Cup golf tournament and feature actor John Slattery of the "Mad Men" TV series.
A print campaign will focus on the new MKX crossover and the MKZ hybrid, which has the same price tag as the conventional sedan.

The new Lincoln campaign is designed to convey to consumers that they get more for their money with a technology-laden Lincoln.
CAW CONTACT
Volume 40, No. 33
October 1, 2010
CAW Urges New Government to Support Improvements to CPP
The CAW is calling on the newly-elected New Brunswick provincial government to join with other provinces in supporting changes to Canada Pension Plan legislation.
CAW President Ken Lewenza said that provincial governments have an important leadership role to play in ensuring that Canadians can retire in dignity. The union, along with the Canadian Labour Congress, has been calling for the gradual doubling of the CPP benefit.
"When the provinces regroup on this issue, it's critical that New Brunswick Premier-elect David Alward and his government support the call for improvements to the CPP and promote meaningful changes to CPP legislation," said Lewenza.
Lewenza also reminded the New Brunswick Premier-elect that the best way to reduce the provincial deficit is to grow the economy. "Without the creation of good jobs, the deficit cannot be reduced in a sustainable fashion," Lewenza said.
"The new Progressive Conservative government must not make the mistake of trying to sell off crown corporations or cutting public services. The people of this province will clearly not tolerate it."
The CAW represents approximately 2,000 members in New Brunswick.
CAW/TCA/FFAW Urges Federal Leaders to Support Bill C-308
The Liberal Party failed to uniformly support a Private Members Bill proposing key changes to Employment Insurance in a vote in the House of Commons on September 29. Despite declaring his party's support for the Bill in the second reading, Liberal leader Michael Ignatieff reversed his position, allowing a free vote. The Bill was struck down 147-127 after a number of Liberals abstained from the vote and five voted against it.
Below is an excerpt from an open letter to leaders of the NDP, Bloc Quebecois and Liberal Party, sent on the eve of the vote from CAW President Ken Lewenza, TCA-Quebec Director Jean-Pierre Fortin and FFAW-CAW President Earle McCurdy.
We urge your party to stay the course on Wednesday and support Bill C-308, a comprehensive package of amendments to the EI Act.
The Bill, sponsored by Yves Lessard (BQ), represents a hard-won consensus among all the opposition parties on Parliament Hill and reflects some of the reforms long advocated by labour and community organizations. It also reflects the kind of critical changes recommended by parliamentary committees and proposed in other bills.
The Bill would also help address some of what has been lost with the government's decision to abandon economic stimulus measures, including extended EI benefits. We believe that Canada's economic recovery can only be sustained with decent supports for those who have been laid off and are now struggling to find employment in a labour market that is increasingly made up of temporary and part-time jobs.
To read the full letter, please visit: http://www.caw.ca/en/9466.htm
Progressive Groups Set New Vision for Toronto
A newly formed network of Toronto-based environmental, arts, student, labour and social justice groups officially launched the OneToronto campaign at a press event held at the Church of the Holy Trinity in the city's downtown core on September 22, followed by a town hall meeting on September 27.
OneToronto is a campaign that offers an alternative vision of the City to the one that is dominating the current municipal election debate, said Winnie Ng, coordinator of the Good Jobs for All coalition and emcee of the OneToronto press event.
"Our aim is to help voters realize what's at stake in this important election and get them engaged in the process. Together, we have to help elevate the debate beyond slash-and-burn politics and start articulating the type of quality public services we need and standard of living we deserve," Ng said.
Speaking on behalf of the OneToronto campaign were Kay Bisnath, national board member of the Association of Community Organizations for Reform Now (ACORN-Canada); Janice Price, CEO of Luminato (Toronto arts festival); Sandy Hudson, Chair of the Canadian Federation of Students-Ontario and Dr. Joseph Wong, past chair of the United Way of Greater Toronto, who argued that the current Toronto mayoral debate has fueled unwarranted antagonism among city residents.
"Our municipal candidates must turn their attention toward building a city that fosters generosity and assists those in need, not one that creates divisions," Wong said.
Speakers stressed that OneToronto is a non-partisan campaign and will not be endorsing any individual candidates for the upcoming city elections on October 25 – a move the mirrors another recent non-partisan community-based initiative in Windsor, Ontario by the Windsor and District Labour Council entitled Moving Forward.
To date, two dozen organizations – including the CAW – have signed on as supporters of the OneToronto campaign along with a growing list of prominent Toronto residents including award-winning Canadian writer Michele Landsberg.
For more information on the OneToronto campaign, and to read the vision statement, visit: www.onetoronto.ca
AfriGrand Caravan Hits the Road to Raise Awareness
African grandmothers and granddaughters have taken to the road and are stopping in 40 communities across Canada to talk about the ravage of AIDS, their successes and strategies for the future.
The Caravan, which is organized by the Stephen Lewis Foundation, was launched in early September in St. John's, Newfoundland and will travel across the country stopping in community after community until it reaches Victoria, British Columbia in early November.
At a recent stop in Toronto, where Caravan members spoke to a class of Grade 12 girls, the importance of responding to the AIDS/HIV crisis in Africa was highlighted by Nonkululeko Nowathe, 17, a granddaughter.
"I am glad the Canadian community and youth are willing to help the African continent, that inspires us and gives us hope," Nowathe said. "I have been to many schools and universities and it gives me courage that you support me all the way… What makes me happy is that you are here listening. It gives me courage that you are giving me the shoulder to lean on while I am crying out loud … and that is important to me."
Peggy Nash, assistant to the CAW president, spoke about Tateni Home Care Nursing in South Africa stressing the important step forward it represents.
"I believe as a feminist this represents a new kind of women's leadership, a grass roots leadership that is really transforming lives, not just in Africa, I believe it is transforming our lives as well," Nash said.
"We see this as an opportunity to join in a common cause to build social justice but also to offer our members an opportunity to engage at a grass roots level in a movement for real fundamental change."
Regina Mokgokong, a grandmother who runs Tateni, stressed the importance of getting the message out to youth regarding AIDS/HIV.
She also spoke about the kind of work she does. "One of the most important things I always emphasize – don't rush to see five patients per day. Rather, see two people that you have nursed properly. These people are alone, they need care, they need to feel that somebody is with them," Mokgokong said.
The granddaughters on the trip have been orphaned by AIDS and in many cases, grandmothers take on the role of the primary care giver to their grandchildren after the death of their parents.
The CAW helped make the voyage possible by negotiating the donation of the van from Chrysler and providing the two volunteer drivers, one who is retired and the other an active CAW member.
The Caravan will be making the following stops in the days to come:
Oct. 1 - Barrie
Oct. 3 - North Bay
Oct. 4 - Sudbury
Oct. 5 - Sault Ste. Marie
Oct. 7 - Thunder Bay
Oct. 12 – Kenora
To find out more about the Caravan and when it will stop in a community near you please visit: www.stephenlewisfoundation.org/caravan.htm
Rally Against Canada-EU Free Trade Deal: October 22
With Canada-European Union free trade negotiations moving at a rapid pace and no meaningful public consultation or debate planned, an important demonstration will take place in Ottawa later this month.
CAW local unions, activists and supporters are asked to attend a rally on Friday, October 22 starting at 12 p.m. in Ottawa to protest the secrecy and scope of ongoing Canada-EU free trade negotiations.
The event is being hosted by the Council of Canadians and supported by progressive organizations from across Canada, including the CAW.
CAW President Ken Lewenza cautions that this Comprehensive Economic and Trade Agreement (CETA) would touch on nearly every aspect of Canadian society.
"Canada's federal negotiators are also pushing for a NAFTA-style investor rights chapter in the CETA, which will grant European corporations the right to sue Canadian governments for establishing laws and regulations that interfere with profits," Lewenza said.
CAW locals, union leadership and activists looking to participate in the rally are asked to contact CAW skilled trades coordinator Terry Farrell at terry.farrell@caw.ca
For further information on the CETA please visit www.caw.ca/en/8883.htm
Conservatives Shrug off Senate Poverty Plan
Ten years after the government's self-imposed deadline to eliminate child poverty, the Harper government has turned a cold shoulder to a comprehensive senate program aimed at eradicating poverty and forging a national strategy to deal with housing and homelessness.
The 300-page report entitled In From the Margins: A Call to Action on Poverty, Housing and Homelessness initiated by a Senate sub-committee on cities and released in December 2009 offered 74 concrete recommendations to the federal government, including the establishment of a core poverty eradication goal, an increase to the National Child Benefit, a boost to the Working Income Tax Benefit and a federal minimum wage increase to $10 per hour that is also indexed to inflation.
In a formal response to the report issued on September 27, the Conservative government refused to adopt any of the recommendations and instead offered to "take the committee's recommendations under advisement."
"The Harper government's refusal to take seriously the goal of eliminating poverty, once and for all, and reluctance to meaningfully help those most vulnerable in Canada continues to be a black mark on our nation," said CAW President Ken Lewenza.
CLC Seeks Women's and Human Rights Representative
The Canadian Labour Congress is seeking an experienced national representative to work in its Women's and Human Rights Department. The job is based in Ottawa and applications for the position will be accepted until October 15, 2010.
Applicants are asked to refer to bulletin number 2010-09 in the subject line of their message and to send applications to hr@clc-ctc.ca


Automaker's quartet of fully redesigned compacts are built for global market
Scott Burgess / The Detroit News
September 30, 2010
Paris -- Ford Motor Co. unveiled its full Ford Focus lineup for the first time in Paris on Wednesday, marking the beginning of the Dearborn automaker's new global vehicles.
Unwrapped on the eve of the Paris Motor Show's media preview day, Ford's set of compact cars includes a sedan, hatchback, wagon and a high-performance ST version. All but the wagon will make their way to the United States.
The reborn Focus lineup will begin arriving at dealerships early next year, although the performance ST model won't come until 2012, Ford said.
"These vehicles are the first real example of the One Ford" global strategy set by CEO Alan Mulally, said Derrick Kuzak, Ford's group vice president for global product development.
The vehicles, built on a new platform, or underpinnings, will get up to 40 miles per gallon with an automatic transmission and allow Ford to capitalize on creating one vehicle that will be sold around the world.
"The investment in our new C-car platform has enabled us to provide global consumers with an affordable product which offers quality, fuel efficiency, safety and technology beyond their expectations," Kuzak said.
The Focus will share about 80 percent of its parts across the world. Ford estimates it will build 10 different vehicles off the compact car platform, with annual production reaching 2 million vehicles by 2012.
Aaron Bragman, automotive analyst for Southfield-based IHS Global Insight, said consumers have high expectations for the new Focus.
"This is definitely an important vehicle for Ford," he said, adding the automaker will be able to take advantage of economies of scale and keep costs lower for consumers.
European and American production will begin at the end of this year.
Mulally said in Paris on Wednesday that the C segment, in which the Focus falls, "has been profitable for a lot of people -- just not us." Ford hopes its new Focus will reverse that fortune.
"People will buy what really works for them," Mulally said. "Sixty percent of the world market will buy the B/C segment vehicles," in which Ford's Fiestas and Focuses are combatants, he said, and "25 percent will buy midsize."
Ford global marketing chief Jim Farley predicted the battle in the compact and subcompact segments, with all the new entries, is "going to be a thermonuclear war."
The initial Focus models sold in North America will include the four-door hatchback and sedan models with a 2-liter direct injection four-cylinder engine.
They will come loaded with driver-friendly features, including active park assist, traffic sign recognition, lane departure warning systems and adaptive cruise control.
The new Focus also will include a "low speed safety system" that helps minimize slow frontal collisions.
If the driver doesn't notice the object, the car automatically disengages the throttle and applies the brakes.
The cars also promise a sporty ride with electric power steering, an improved suspension and a new torque velocity control system.

**********************************
Assessing the Focus

Ford has done an exceptional job with these vehicles. Their look is modern and impressive. Ford has improved the safety of these vehicles, using more high-strength steel as well as other design changes. By going upscale with so many features and amenities, the Focus should appeal to a very broad audience. Look out, Toyota Corolla and Honda Civic. The Ford Focus is not just a global car, it's a world-beater.

Focus sedan : The American version will be better than the standard version offered in Europe. It will feature the 2-liter direct injection four-cylinder engine that will produce 155 horsepower and 140 pound-feet of torque.

Focus four-door hatchback : By far the most dramatic Focus ever, it's beautiful, and I hope it outsells the sedan 2 to 1. With so much technology available on the Focus, Ford is making a statement that compact cars are the new midsize cars. It should prove popular with young buyers looking for their first new car and older buyers wanting to size down in a vehicle that still offers luxury amenities.

Focus Wagon : It's not coming to America at all. Too bad. It was built for a small active family and, with so few wagons available, an inexpensive versatile wagon should have a market. Hopefully, Ford execs will change their mind.

Focus ST : With roughly 250 horsepower, the ST should be a hoot to drive as well as quick and nimble.

-- Scott Burgess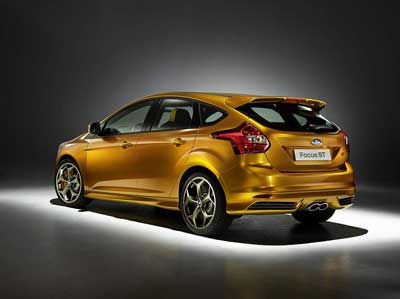 Ford: Fiesta sales to
pass 1 million mark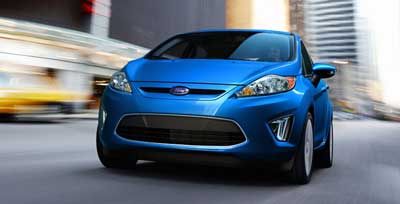 BY BRENT SNAVELY
FREE PRESS BUSINESS WRITER
September 30, 2010
Ford said today it expects it will be able to sell more than 1.6 million Fiesta subcompact cars and other vehicles from that platform annually by 2014.
The Fiesta, which was redesigned and launched in Europe in 2008, is among Ford's key global platforms. Ford said it expects sales of the Fiesta will pass the 1 million mark in October.
The automaker launched the Fiesta in the U.S. in June.
"The Fiesta's success shows the advantages of operating as One Ford and truly leveraging our scale and expertise," Ford President and CEO Alan Mulally said in a statement. "We worked together to design and build a great small car for the world – with leading quality, safety, fuel economy, smart design and value – and nearly a million customers have responded."


Defending the UAW pensions
September 29, 2010

The United Auto Workers strongly supports the Delphi salaried workers getting their pensions.

The UAW will always support any workers in their efforts to win justice when they are being unjustly treated, as the Delphi salaried workers are now. It is disappointing, however, that rather than simply supporting these workers' quest for winning justice, The editorial tried to use this as an opportunity to criticize the UAW for fighting for and protecting our members' pensions.

It is important to state the facts. The reason the hourly workers were treated better is that the UAW had the foresight to negotiate the pension guarantee when General Motors spun off Delphi; the salaried employees did not have anyone representing their interests and thus did not negotiate any protection.

If GM's hourly pension plan had been terminated, as the editorial suggested, not only would the Pension Benefit Guaranty Corp. have been saddled with an enormous liability but, under federal law, the federal government would also have been liable for picking up at least 65 percent of the health-care costs for retirees ages 55 to 65.

The bottom line is that it was far cheaper for the federal government to permit the GM pension plan to continue than to have taxpayers absorb the pension and health-care costs. It was this financial consideration -- and not any political calculus -- that drove the administration's decision. We hoped The Post would have praised the UAW for winning justice for our members and simply advocated, as we do, for equal justice for the Delphi salaried workers.

Bob King, Detroit


Union rejects concessions at
GM plant in Indianapolis
Louis Aguilar / The Detroit News
September 29, 2010
Indianapolis -- A months-long battle to save a General Motors Co. stamping plant here that pitted rank-and-file UAW members against top union officials over whether autoworkers should accept pay cuts to keep jobs ended bitterly today.
Addison, Ill.-based JD Norman Industries said it is dropping its effort to buy the factory after an announcement late Monday that United Auto Workers members had voted 457-96 against accepting the concessions. That means the 80-year-old plant will close next year, and the city and county will lose one of their biggest tax revenue generators. At least one state politician has charged that the vote also means more layoffs at other area auto suppliers.
"Clearly, we are disappointed in the final outcome," owner Justin Norman said in an e-mail statement. "While we are withdrawing from pursuing the plant any further, we continue to hold the employees at the facility in the highest regard and wish them the best in their respective futures."
The supplier wanted to buy and continue operating the Indianapolis Metal Center, which is to close in October 2011 as a result of GM's 2009 bankruptcy. But plant workers refused to accept an almost 50 percent pay cut to $15.50 an hour, from $29, in a deal negotiated by UAW regional and national leaders.
Everyone from Indiana Gov. Mitch Daniels to UAW officials in Detroit urged the approximately 650 workers at the plant to approve the agreement.
Indiana Secretary of Commerce Mitch Roob told the Indianapolis Business Journal today that GM Indy workers have "turned their backs on the next generation of employees."
"It's bad for Indiana, it's really bad for Indianapolis, and the ... workers there walk away with no harm," Roob added.
But many of the employees represented by UAW Local 23 -- who for months panned the deal and last Thursday sported "No" buttons as they entered the union hall to cast ballots in a special mail-in vote -- preferred to close the plant. That would allow them to keep their option to transfer to another GM factory when jobs are available and maintain their current pay level.
The drama in Indianapolis highlights how UAW pay rules and politics could complicate the efforts of Liquidation Motors Co. -- the "old" GM -- to sell 16 factories and other assets the "new" GM left behind in bankruptcy.
"No one wants the Indianapolis situation to set precedent, but it has that potential," said David Cole, chairman of the Center for Automotive Research, a think tank in Ann Arbor. "For the (UAW leaders), they understand the competitive wage in the industry is in the $14- to $15-an-hour range. Any potential buyer of a plant in bankruptcy knows that."
Dissidents rally against pact
Dissident workers disagreed.
"A lot of people are trying to intimidate us and now they are saying we are trying to intimidate them, but the only real issue is the UAW International is allowing our contract to be violated," said DeShawn Beyers, 35, who works at the stamping plant.
Beyers was one of 412 workers that Local 23 officials said filed through the union hall last Thursday to protest the special election. Local 23 leaders urged their members to vote in person to support their negotiated right to transfer and keep their higher pay.
Maurice Davison, director of UAW Region 3, which includes Indianapolis, has argued the pay cuts and other proposals would help the factory survive and possibly thrive, predicting the deal could help the number of jobs eventually triple to 2,000. Davison was not available for comment.
JD Norman's plan called for the plant to continue making hoods, fenders and other metal pieces for GM, as well as bring in new orders from other automakers.
Many Indiana elected officials supported JD Norman's bid, which would have kept alive a plant that opened in 1930 and employed several thousand workers at its peak. The 2.1-million-square-foot factory generates about $1.8 million annually in property tax revenue for Marion County.
"It does not just keep open that plant for the current workers, but keeps it open for future workers," Blair West, spokeswoman for Roob, said last week.
Owner Norman published an open letter to Local 23 members in area newspapers and hosted an informational meeting at Lucas Oil Stadium, home of the Indianapolis Colts.
In the letter, Norman explained that he wanted to keep the plant and its work force to maintain labor continuity.
In addition to the pay cut for production workers, the wage for skilled trades employees would be pared to $24 an hour, from about $33.
Norman is offering GM workers who want to transfer the ability to do so for up to two years. Those who stay would retain GM seniority plus a cash bonus as high as $35,000 for accepting the pay cut.
This deal, he argued, respects workers' transfer rights while avoiding a plant shutdown.
"While I understand the sentiment of those employees who would rather transfer to another GM plant, our proposal would guarantee their GM transfer rights without having to close a facility," Norman wrote in the Aug. 17 letter. "Why then would any employees want to see the plant close?"
Since the deal was rejected, the plant's massive machinery is scheduled to be removed after the factory closes. That will make it expensive to reopen as an auto factory because it would require the installation of new equipment.
Old GM plants
The Indianapolis stamping plant is one of many sites owned by the old GM that are scattered across 14 states and 127 different locations. Most require intense environmental clean-up after decades of production.
A few factories have been sold. One is a Pontiac site that's going to become a film studio. Fisker Automotive, an Irvine, Calif.-based maker of luxury hybrid vehicles, bought GM's former Wilmington, Del., plant and may create 2,000 jobs. Tesla Motors Inc., an upscale California electric car maker, bought the former New United Motor Manufacturing Inc. plant in Fremont, Calif., which was a joint venture of GM and Toyota Motor Corp., and may hire up to 1,000 workers.
Many other facilities remain unsold, however. Copper thieves have stolen more than $1 million worth of metal from GM's Buick City plant in Flint. A St. Louis firm is in negotiations to buy a former West Mifflin, Pa., plant and market the site as a renewable energy facility.
The Indianapolis situation could foreshadow the problem of trying to sell GM factories that employ a lot of veteran GM workers, said Gary Chaison, a labor expert at Clark University in Worcester, Mass.
Cutting pay is not popular, even if it saves job. It took two votes before 2,200 parts workers at UAW Local 699 near Saginaw approved pay cuts negotiated by senior UAW officials in late June.
A major issue for many delegates at the UAW's constitutional convention in mid-June, where UAW President Bob King was elected to replace the retiring Ron Gettelfinger, was how to restore reductions in pay and fringe benefits.
The situation at Local 23 underscores that the downsizing of the auto industry "remains traumatic for any community that has to deal with the issue," said Harley Shaiken, a professor at the University of California, Berkeley, who closely follows the UAW.
"The (UAW) International and the community want to preserve as many manufacturing jobs as possible, and the workers want to protect their current status," he said.
At least a dozen workers told The Detroit News last week they intended to reject the deal.
"I want this plant to stay open. I want to keep working here, but the International has to respect our contract," line worker Jim Collins, 53, said as he waited in line to hand in his mail-in ballot.
UAW member Stanley Ames, who works at another facility, was on hand last week at Local 23 to give moral support .
"What part of 'no' do they not understand?" Ames said.
Ford nameplates may be cut to 25
Alisa Priddle / The Detroit News
September 28, 2010
Ford Motor Co. wants to reduce the number of nameplates it sells in the future to between 20 and 25, Chief Executive Alan Mulally said Monday following a speech to the Confederation of British Industry in London.
The comments were the first time Mulally has given a specific number for continued efforts to reduce the number of vehicles offered under the Ford and Lincoln brands. There are 36 nameplates today.
The automaker would not give a timeframe to meet the targeted number. The auto industry tends to work in three- to five-year windows of vehicle development.
When Mulally took over as CEO in 2006, the automaker had 97 nameplates and a whole division of luxury brands including Jaguar, Land Rover, Aston Martin and Volvo, as well as the Mercury brand ,which is being phased out by the end of the year. Ford said it will devote all its resources and energies to two brands.
One of the first things Mulally did was sell all the luxury brands except Volvo, which was sold last month to Zhejiang Geely Holding Group Co. of China for $1.3 billion.
Unpopular models also have discontinued over the years. That is a normal practice as vehicles lose favor, such as full-size SUVs when gas prices increased.
By 2008, the number of nameplates was down to 59.
The current 36 nameplates will fall further with the discontinuation of four Mercury nameplates later this year.
Asked following his speech about the future lineup of models, Mulally said the total will be fewer than 30, on the way to 20-25.
Ford has pursued a course of fewer vehicles but with multiple body styles for each nameplate to meet the needs of customers around the world. For example, the new Ford Focus will be offered as a sedan, five-door hatchback, wagon and performance ST version, depending on the global market. The idea is to share as many common parts as possible.
"Ford is rightly saying we need to address the market with fewer vehicles and more flexibility and volume within each (nameplate)," said analyst Michael Robinet of IHS Automotive in Northville.
"Every time you add a nameplate, there is an increase in marketing costs."
There is cost efficiency, he said, in having a Focus to market in every part of the world.
Ontario Premier vows to review Nortel pension plan, days after saying no
Toronto—
The Canadian Press
Monday, Sep. 27, 2010
Premier Dalton McGuinty says he'll take a second look at the plight of Nortel pensioners – just days after his government slammed the door on a request to rethink the pension plan's fate.
The workers don't want their plan wound-up and the $2.5-billion in pension assets used to buy annuities that would provide them with a steady income, which is the normal practice when companies go bankrupt.
They say that would simply lock in the losses for the plan, currently estimated to be funded at only two-thirds of its liabilities.
The workers want to let a private financial services company manage their pension assets.
Mr. McGuinty met with some Nortel workers late last week and told the legislature today he had agreed to give their proposal a second look.
In rejecting the idea last week, the government said the plan from the Nortel retirees would expose them to greater risks because of a "high degree of exposure to the equity markets."

Ford to open new
engine plant in China
Associated Press
September 26, 2010
Chongqing, China -- Ford and Chinese partner, Changan Ford Mazda Automobile Ltd., plan to build a $500 million engine plant in China.
They signed a memorandum of understanding with the city of Chongqing today.
Construction is to begin next year with engine production starting in 2013. The plant can make 400,000 engines annually -- more than double the partnership's existing engine capacity in China.
The partnership operates two assembly plants in China, including one in Chongqing. It is building a third to produce the Ford Focus.
Ford is the 11th-ranked brand by sales in the Chinese market, but its sales have risen dramatically since it entered the country in 2003. Ford and its partners have sold 368,103 vehicles in China through August, an increase of 42 percent from a year ago.


Phil Patton / New York Times
September 25, 2010
The Ford Fiesta and the Mazda 2 are sibling subcompacts, so-called B-segment cars built on what Ford engineers call the B3 vehicle architecture. They sell for roughly the same base price, starting around $14,000, and have similar mechanical components.
But they do not look much alike: The cars are intended to project different personalities and attract different buyers. So they offer textbook illustrations of how design can differentiate vehicles.
Both have a wedge shape, but while the Fiesta emphasizes the "kinetic look" Ford is using in Europe -- and was developed in the company's European design studio under the direction of Martin Smith -- the Mazda 2 aims for a less aggressive mix of organic and angular shapes. The 2's chief designer, Ikuo Maeda, calls the design "a rhythmic interplay between soft surfaces and sharp contours."
Maeda, now the general manager of Mazda's design division, recently unveiled a new look for future Mazdas with the Shinari concept car. Maeda has been with Mazda for some 30 years; his father was also a designer there.
Both the Fiesta and the Mazda 2 were initially sold overseas and had to be adapted for the American market. The Mazda 2 was introduced in 2007 in Japan -- where it was called the Demio -- and went on sale in 2008 in Europe, Australia and parts of Asia. The Fiesta made its debut in Europe in 2008.
In Michigan, Kevin George directed the design of the North American version of the Fiesta. He reshaped the front to conform to federal impact standards while keeping the look substantially the same. "I spent about two years trying to make it look like I did nothing," he said.
Derek Jenkins, Mazda's chief of design in North America, said Maeda gave the Mazda 2 prominently arched front fenders to evoke the RX-8 sports car, which Maeda also designed.
The rear designs affect how long the cars are perceived to be. Because the Mazda 2 was first sold in Japan -- intended to appeal to women buyers in congested urban areas -- the design aimed to stress the car's small size. But Mazda did not want to alienate men, so the designers also tried to give the car a confident, sporty stance.
Ford, in contrast, has tried to emphasize the length of the Fiesta to Americans, who want a sense of getting more car for their money.
On the Mazda 2, the rearmost roof pillar (the "C" pillar) angles forward, giving the viewer a visual conclusion. On the Fiesta it angles upward, lending a kick to the lines so that they appear to continue on.
The face of the Fiesta is aggressive, with a version of the inverted-trapezoid grille found on other European Fords. Sedans sold in the United States get a different, more conventional grille with three horizontal bars, mimicking the larger Fusion and Edge.
Mazda, on the other hand, has given the American version of its 2 a grin: A smiling lower grille in place of the rectilinear shape on models sold earlier in Asia and Europe.
Delphi retirees to get
trial in pension suit
BY GREG GARDNER
September 25, 2010
About 22,000 former white-collar Delphi workers' quest to restore their full pension benefits received an important green light Friday.
The retirees, many of whom were laid off or forced to retire early, have seen their benefits cut by 30% or more after their pensions were pushed onto the U.S. Pension Benefit Guaranty Corp., the federal corporation charged with rescuing Americans' pensions from financially faltering companies, as Delphi moved to exit bankruptcy last year.
They sued, alleging the government insurer improperly terminated their plan and unfairly slashed benefits.
On Friday, with his Detroit courtroom packed with retirees, U.S. District Judge Arthur Tarnow dismissed the PBGC's arguments to end the lawsuit, which means the retirees will get a trial.
"We know this process takes a long time, but we are pleased we will finally get our day in court," said Jack Hollis, 56, of Clarkston.
The Delphi retiree case has garnered national attention and become a hot issue for conservatives who charge the Obama administration with bias in handling the automotive rescues. That's because, while the PBGC reduced benefits for salaried retirees, the Obama administration auto task force ordered $4.3 billion in taxpayer contributions to fully fund the pensions of UAW retirees at both Delphi and its former parent, General Motors.


CAW CONTACT
Volume 40, No. 32
September 24, 2010

CAW Opens Negotiations with CP Rail
The CAW officially opened collective bargaining negotiations with CP Rail on September 16 in Calgary, Alberta.
CAW President Ken Lewenza said that negotiating in tough economic times is always challenging, but believes CP Rail has weathered the storm well, including making improvements to productivity.
"Our members deserve a deal that is fair and equitable and makes progress in wages, benefits and job security," Lewenza said. "The significant concessionary demands tabled by the corporation signal this will be a difficult round of negotiations, but with the full support of our bargaining committee and the membership we will secure a solid collective agreement."
CAW Local 101 President Tom Murphy said members are focused on improving job security as well as making reasonable wage and benefit gains.
"It has been made clear to us that the company is looking for significant concessions from our members as well as rule changes in this agreement," Murphy said.
"We are determined to bargain an agreement that recognizes the full value of our members' work and one that credits them for keeping the company viable during severe economic times."
CAW represents 2,200 shopcraft workers at CP Rail across Canada.
CAW Commends Opposition for Saving Long Gun Registry
CAW President Ken Lewenza is congratulating both the Liberal and NDP leaders for ensuring their parties preserved the national long gun registry during a critical vote in the House of Commons on September 22.
"The Conservative party attempted to use this issue to divide the country and stir up emotions around gun registration," said Lewenza after the September 22 vote. "I commend Liberal Leader Michael Ignatieff, NDP Leader Jack Layton and Bloc Leader Gilles Duceppe for refusing to allow this division to break us apart."
Lewenza said that there is now momentum to work together to reform the registry, where necessary.
"From this vote, it's clear that although there may be some concerns with the current program, with the political will from the majority of MPs, these issues can be resolved. I am hopeful that Canadians will not be faced with losing such an important national program again," said Lewenza.
The union has participated in a major lobbying campaign since November 2009, urging both the Liberal Party and NDP to vote down the Bill. CAW leaders and activists, including Director of Women's Programs Julie White, were on Parliament Hill to lobby MPs and witness the vote.
"I want to commend the thousands of Canadians, women and men, who contacted their MPs and urged them to vote to keep the long gun registry," said White. "Without taking action, we could have easily lost the registry which would have been a travesty and sent the country back decades. We now need to be vigilant that the registry is maintained."
A number of CAW activists co-ordinated and participated in extensive lobbying of their MPs, including CAW Local 523 President Rick Alakas from Welland, Ontario and CAW Local 2002 Vice President Cheryl Robinson from Saint John, New Brunswick. Both were on the Hill for the vote.
"This was an historic moment and the first time in a long while that we've seen the opposition parties truly co-operate," said Alakas. "In the course of lobbying our MPs, we were able to remove the emotion from the debate and talk about the facts, which are very compelling. This is a women's issue and a family issue - it's crucial that the registry be maintained."
"This is an important victory for women and a demonstration that we do not need to allow the Conservative government to force their right-wing agenda upon the Canadian public," said Robinson. "This was a hard vote for some MPs, but their constituents spoke out and they had to listen. That's the way democracy works."
CAW Supports Striking USW Members at ECP
CAW members in Brantford, Ontario and the surrounding area lent their support to picket lines at Engineered Coated Products recently, as part of the 72 hour picket organized by the Brantford and District Labour Council, the Ontario Federation of Labour, the Canadian Labour Congress and the Brantford Strike Action Coalition.
The solidarity picket took place from September 15-17 with the CAW taking September 16 as its day.
CAW National Secretary-Treasurer Peter Kennedy spoke at the event and congratulated the workers for their perseverance. He pledged the support of the union, not just on the picket line, but economically as well, making a donation of $10,000 towards the striking workers.
The CAW is calling for an end to the use of scab labour which is only prolonging the strike and dragging down working conditions for everyone, said CAW Kitchener Area Director Bill Gibson.
"This situation has been going on for two years because our government fails to protect the collective bargaining process. Collective bargaining is corrupted by permitting the use of scab labour, giving the employer no compelling reason to return to the negotiating table," said Gibson. "That the use of scab labour is allowed in this province is offensive to the rights of working people and is entirely absurd."
WTO Complaint Threatens Green Jobs for Canadians, Lewenza Says
An innovative program to promote green power generation and create local jobs in Ontario will be put at risk if Japan is successful with a complaint to the World Trade Organization, says CAW President Ken Lewenza. Japan is taking steps to file a complaint with the WTO over the Ontario government's subsidy program to help local firms develop renewable generating capacity in the province, including wind and solar.
"If this WTO complaint goes ahead and is successful, it will set a dangerous precedent on innovative programs like this, which are badly needed to create local jobs through the development of a green economy," said Lewenza. "It's ridiculous that unelected officials at the WTO could shoot down important local job creation initiatives like this."
Under Ontario's Green Energy Act, the province buys electricity produced with solar and wind power equipment that uses mandated levels of locally produced components. Japan believes that is not allowed under WTO rules and amounts to unfair treatment of imported products.
"A WTO ruling against this renewable energy program would be an undemocratic assault on the right of all Canadians to build our own economy through the promotion of a green energy sector," Lewenza said. "Our manufacturing sector has been extremely hard hit with job losses and closures and this program would help create some new jobs and transition towards a greener manufacturing sector."
Lewenza also warned of the dangers in granting multilateral trade tribunals, like the WTO, the right to overturn national economic policies from democratically-elected governments.
In Newfoundland, for example, following Premier Danny Williams' decision to take control of bankrupt forestry company Abitibi-Bowater assets after they ceased operations in the province, the Harper government was forced to payout $130 million to curtail legal actions by the company under Chapter 11 of the NAFTA.
CAW Leadership Tour London Plants
On September 13, CAW President Ken Lewenza and Assistant to the President Bob Chernecki along with local leadership and CAW staff took a tour of the London, Ontario EMC Locomotive plant and the London General Dynamics plant.
Chinese Union Meets CAW
The Shandong Provincial Federation of Trade Unions sent a delegation to Toronto and Vancouver in September to learn more about the CAW.
This federation is from the Chinese province of Shandong, one of the biggest in China with a population of 94 million (almost three times the size of Canada).
In Toronto, presentations were made by the CAW Education Department, Women's Department and Legal Department. CAW President Ken Lewenza warmly greeted the delegates in Toronto including Shandong PFTU Vice-President Ms. Wang Lihua who was appreciative of the meeting. CAW national representative Keith Osborne, formerly the CAW's Oshawa GM Complex chair, made a presentation to the delegates, which included the Vice-President of the Yantai city union, which covers the GM plant in Yantai.
CAW Area Director Susan Spratt and others met with the delegation in Vancouver. Many thanks to Ping Cui of the Occupational Health Clinics for Ontario Workers, and Steve Cheung, Chair of CAW Vancouver Human Rights Committee for volunteering to provide interpretation. The Shandong PFTU extended an invitation for the CAW to visit Shandong next year to continue the exchange.
Centre for Labour Management Relations Opens Doors
The Centre for Labour Management Relations at Ryerson University opened its doors on September 16 in downtown Toronto. The joint labour-business institute will promote research on contemporary labour relations issues as well as equip students with real life experience in the field, through working with trade unions, business and government.
Former CAW President Buzz Hargrove will serve as the external director of the CLMR, while Dr. Maurice Mazerolle will serve as the interim director of the centre.
Hargrove said that the collective bargaining process works extremely well when both sides approach it with respect and the intention to find mutually acceptable solutions. "I absolutely believe we can make a difference here," said Hargrove.
Canadian Labour Congress President Ken Georgetti was on hand for the opening and reminded the audience of students, professors, university staff and media that 93 per cent of collective agreements are settled without any sort of labour dispute or stoppage. Georgetti congratulated the university on the new centre and said that he looked forward to a productive relationship.
Echoing some of Georgetti's comments, Aeroplan Executive Vice President and CEO Liz Graham said that positive labour-management relations are critical in the life of any organization. CAW Local 2002 represents 750 of Aeroplan's 1,200 workers in Canada.
For more information on the Centre for Labour Management Relations, please visit: http://www.clmr.ryerson.ca/
CAW Human Rights Conference
The CAW Human Rights Conference will be held at the CAW Family Education Centre in Port Elgin, Ontario from October 29-31.
The conference will feature a mix of workshops, discussion forums, plenary sessions and guest speakers.
The deadline for registration is October 8, 2010. Contact the CAW Human Rights Department for more information at humanrights@caw.ca


Fields says Ford won't
see big pension impact
By DEE-ANN DURBIN
AP Auto Writer
September 24, 2010

SOUTHFIELD, Mich. (AP) -- Ford Americas President Mark Fields said Thursday the company's pension payments aren't expected to have a significant impact on earnings or profits next year.
Fields was responding to a Credit Suisse report Wednesday that suggested Ford's pension expenses could shave 15 to 20 cents per share off the automaker's earnings in 2011.
In his report, analyst Chris Ceraso said that if tax discount rates expire and asset returns don't improve, Ford could be facing a $900 million increase in pension expenses in 2011. That could force the company to increase its pension contributions, he said. Ford is contributing around $1.5 billion to its pensions this year, company spokesman John Stoll said.
Fields said that while Ford expected a moderate increase in its pension expenses next year, it plans to contribute the same amount in 2011 as it's contributing in 2010. Ceraso had anticipated that Ford would contribute as much as $2.7 billion in 2011.
"We don't expect it to have a significant impact next year on our earnings," Fields said outside an industry conference near Detroit. "Our intent is to make sure we follow the regulations and our pensions are funded according to the law."
Ceraso said the Dearborn, Mich., automaker's global pension funds were $12 billion underfunded at the end of 2009, and that could worsen to $17.5 billion by year-end. But the pension figures are not set in stone, he wrote, and could be more favorable if discount rates and investment returns improve. For that reason, Ceraso didn't change his earnings estimates for Ford.
Ford earned $4.7 billion, or $1.10 per share, in the first half of the year. It has posted five straight profitable quarters, stealing market share from rivals and benefiting from being the only U.S.-based large automaker that didn't take government aid.
Ceraso has predicted full-year earnings of $1.71 per share this year, dropping to $1.40 next year. He predicts net income of $7.09 billion this year, falling to $5.73 billion in 2011.
Ford shares fell on the pension report Wednesday. They closed down 7 cents to $12.31 Thursday.
Ford asked to assemble Transit Connect van in Michigan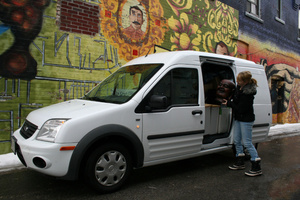 Brent Snavely
September 23, 2010

Gov. Jennifer Granholm said today that the state is trying to convince Ford to assemble its Transit Connect commercial van in Michigan as the automaker considers whether or not there is enough demand to produce it in the U.S.

The van, launched in the U.S. last year, is currently assembled in Turkey and also is sold in Europe.
"If the volume grows, we are going to have our manufacturing footprint match where that volume is," Nancy Gioia, Ford's director of global electrification, said today.
Gioia declined to say what level of annual sales would be necessary to support U.S. assembly.
"We intend for that to happen in Michigan. We are working on that," Granholm said. "Stay tuned."
Both Granholm and Gioia were in Oak Park today at the headquarters of Azure Dynamics to announce the successful collaboration between the state and several other companies to produce an all-electric version of the Transit Connect van.
How Bob King wants
to build a new UAW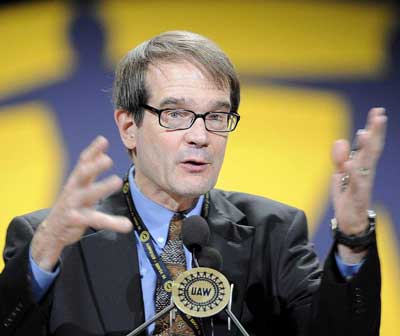 He sees growth -- and a fair share for workers
BY BRENT SNAVELY
September 23, 2010
UAW President Bob King said union workers have made "huge sacrifices" to help automakers become more competitive and that it's time for workers to share in the growing financial successes of GM, Ford and Chrysler.
"I want to see that when the upside is shared, that it is shared on some fair, proportional basis," King said in a wide-ranging interview with Free Press editors and reporters this week.
King outlined his vision for a union focused on broader economic justice -- no matter how difficult to attain the ideals might be -- and cooperative problem solving between labor and management.
Paul Kersey, director of labor policy for the Mackinac Center for Public Policy, said the union's push for a bigger share of the automakers' success shows that the UAW remains out of touch.
"Companies ought to be profitable," he said. "Bob King seems to want to treat this as a rainbow to prosperity now that the storm is over ... and I think it is very premature."
King also said it's time for America's CEOs to accept globally competitive wages.
"They are paid outlandishly more than anybody else in the rest of the world, so that has to be addressed," King said.
Whether that view will lead the UAW to push for changes at the Detroit Three remains to be seen. For now, King's strategy to lead the UAW includes ramping up global organizing and re-inspiring the labor movement. "We are about making a better America," King said. "We are about making the companies successful."
UAW President Bob King, 64, elected to lead the union in June, has brought a more open and aggressive style to the union as it tries to grow its membership and prepares to renegotiate its four-year contract with domestic automakers.
King discussed those and other challenges in a wide-ranging interview with Free Press editors and reporters. The following is an edited account of the discussion.
QUESTION: You would think, given the things going on, and the sacrifices that workers are asked to make over and over, that this would be labor's time. ... And yet it seems like maybe the opposite is true, that labor is struggling to sort of keep traction. What's your take on that?
A: Well, I think when you are 7% of the private sector, you don't have anywhere near the clout or the leverage to win workers the fairness that they deserve.
So, I think a huge responsibility of the UAW, and every union, is to have aggressive, comprehensive strategies to organize.
Q: Do you see opportunities to expand labor's footprint?
A: Definitely. ... This is a UAW that understands the importance of global competitiveness. It is a UAW that went through this horrendous period of contraction in the industry because both labor and management had it wrong. Now I think we have it right.
Q: Was it necessary to have the near-death experience for the Detroit auto industry to get to that sort of mutual agreement around these goals?
A: Well, I think people were moving there, but I think it certainly speeded it up. It's a pretty sad statement to have to lose as many members as we did and the companies had to close as many plants as they did. But ... I'm excited that we have this foundation now. We have the ability to grow market share and grow volume and put a lot of people back to work.
Q: You've said on a couple of occasions that workers who have sacrificed a lot through the collapse of the auto industry should gain as things recover. What does that mean?
A: It's gaining financially. How we do that is an open question. ... And I think there is a pretty broad understanding that we can't bargain agreements that make the companies long-term uncompetitive. We don't want to get back into the spiral that we just got out of. ...
We have to figure a path that really gives our membership ... their fair share of the upside. ... I think our members made these huge sacrifices. I want to see when the upside is shared, it is shared on some proportionate basis.
Q: Are we at the point yet where we are getting to the upside, or are there probably some more concessions that people will have to make?
A: I don't see any more concessions in this round of bargaining. My view of the world, American manufacturing talks about being globally competitive. We buy into that, and yet American CEOs are not globally competitive. They are paid outlandishly more than anybody else in the rest of the world. So that has to be addressed.
Q: Paint a picture of what bargaining does look like if pattern bargaining is reduced.
A: Between Ford and General Motors and Chrysler, you do have to keep fairness. ... Overall, we are not going to put one company at a disadvantage to the other companies. That wouldn't be right. That wouldn't be fair. What we don't have the ability to do right now is to make sure that that pattern stays throughout the whole industry.
Q: Across most of America, when you say 'UAW' you conjure a lot of negatives. I wonder if you could paint a picture of how you would like to see the union thought of.
A: I want to create and build all of the documentation in the world that (shows) ... if they are a UAW employee, you know that you are going to get the best quality possible ... that is, long-term, what will give us the greatest security and the greatest stability to get good contracts and good wages and benefits for our membership? ...
So the people attack the labor movement and say we are holding competitiveness back -- I don't think that is accurate. ...I would say to those folks, why are you recommending continuing hundred-thousand-dollar tax breaks to people making millions a year and not putting the money into the infrastructure? It's wrong.
Q: You are working a little bit in Mexico with the labor unions at the (Johnson Controls) plant there, so I was wondering if you would talk a little about that and how much resources the UAW has to dedicate to your big dream of global economic justice?
A: We will be doing more internationally. We are in some exciting planning now about, how do we do that? We will be rolling that out hopefully in the next 30 days.
We are setting up some meetings ...with people who have spent a lot of time in China ... I'm afraid the labor effort could get crushed if there is not outside support.
Q: A year after the government rescue and the bankruptcies, walk us through your verdict.
A: I'm very appreciative of President Obama and the Democratic leadership. It was not the politically popular thing to do. ... He invested in American companies and American workers. And that investment is paying off.
I don't know how you ever recoup the loss to the communities, the families, all of the jobs that we lost ... The way you learn from that is you make sure you don't get back into the same box or the same downward cycle ... The challenge is to make sure that as volumes increase, as new capacity is needed, it is built in the U.S. -- not other places.
Q: For UAW membership today, is job security the trump issue?
A: I think clearly that is the biggest thing. ...Job security, getting investment in our facilities, pushing forward on the newest technology -- all of those things are important.
Q: If you paid a visit tomorrow to the BMW plant in (South Carolina) and you got an opportunity to get two minutes with workers to tell them why they should join the UAW, what's the pitch?
A: I think the pitch is look at the success at Ford. Look at the success at General Motors. We are building the highest quality; we're building with the greatest productivity, and we are doing it because of membership involvement. We have a real voice. Members in Chicago felt secure to really fight against their immediate management, saying you're screwing this up on quality. Somebody in the BMW plant, I don't think, would have the security to do that.
I think that ... if it wasn't for the UAW, I don't think government would have intervened at Ford, General Motors and Chrysler.
The Department of Energy loans -- that was originally a UAW idea. Nissan benefited, a lot of other people benefited, but that was a UAW idea.
Q: It is pretty clear that the car companies have an ally in the White House. ... But I wonder if from your perspective, it looks quite the same. Do you have the partner you need in Washington?
A: We never have had somebody who is as sensitive or caring about ... working people as much as President Obama is. But he certainly does not agree to do everything labor wants.
Q: Are the people who tell me that the Democratic Party and the labor movement are going to shift most of their resources to the Supreme Court elections, if Virg Bernero doesn't close a lot of distance in the next couple of weeks, misinformed?
A: I'm not in that camp. I'm sure there are people who feel that way. ... I really believe that we can win.
There is nobody in Michigan or Ohio, in my mind, that shouldn't be voting for President Obama and the Democrats. Our two states would be dead if he hadn't saved the industry. And I believe that you don't give up because it's tough or because you're behind. You keep fighting and pushing, and we can come back.
Q: You have a lot of anger and frustration in your own rank-and-file and ... you had a little bit of that blowback when you tried at Ford to get the same deal that GM and Chrysler had agreed to. How tough is it going to be to sell to the rank-and-file who may want a return to what they had a little faster than what you feel you can give it to them?
A: When you get into 2011 bargaining, there will be a lot more at stake. I'm very confident in our local leaders and our members. Given the facts, they will make the right decisions.
I think the biggest (part at Ford) was the (no) strike clause, not understanding why was it necessary to do the no-strike clause. And No. 2 was Alan Mulally's bonuses. They killed us. ...
I meant to give this to Alan. In my car I have this block a member made in the plant. It's a big wooden block and it's got a million-dollar bill and Alan's picture on it. I'm fine where I'm at. You remember when he said that? And at the end it has this huge screw. UAW members getting screwed.
They felt the injustice of it. And it wasn't right. ...
To Alan's credit he took a $600,000 pay cut. He more than made up for it with stock options but that was a board decision too. It wasn't his decision. And I think there is a real problem in the United States, a philosophical and political viewpoint. Shareholders should have a voice in this. Shareholders don't have any voice in setting executive salaries. And I think that is wrong. So I guess that is a multipronged approach.
Q: How much more politically difficult is it to get your fair share of the upside when you will be negotiating with two companies that are still likely to be part-owned by taxpayers next year?
A: I think you will see a different approach from the UAW in terms of negotiations and how we handle negotiations. ... We are constantly working together to improve quality and improve productivity to make sure that they stay competitive. So that is how we will be doing the 2011 negotiations.

Q: So you don't style yourself as sort of an adversarial, confrontational unionist?
A: Not at all. What I want employers to understand is if you work with the UAW they will be the most proactive partner you can work with. ... If you violate workers' rights they are going to be the worst nightmare you could face.
What I hope you see is ... we are about making a better America. We are not about selfishness. ...We are about making the companies successful. We are about building the middle class again in America. We are about strong schools. We are about a green environment.
Q: You've been losing members for a number of years, but you have had some wins this year -- (a first casino contract with the Atlantic City, N.J.) Tropicana and (a contract for postdoctoral researchers at the University of California). So is there a chance that you will see your membership increase this year or next year?
A: I'm going to do everything in my power to see that that happens. I am optimistic. We are taking a more analytical approach to organizing. We will be doing bigger organizing drives when we do them.
Q: Would the UAW put a restriction into a contract that would tie a CEO's salary to a multiple of the average worker's wage?
A: Yes. I doubt the company would agree to it ... if there is one person way out of line with everybody else, I think it undermines the morale of the whole organization.
Ford Ranger pickup trucks won't be sold in N. America after '11

BY BRENT SNAVELY
FREE PRESS BUSINESS WRITER
September 22, 2010
Ford confirmed Monday that it will not sell the next generation of the compact Ford Ranger pickup truck in North America after 2011.
However, a larger version of the Ranger that will be sold in all markets outside North America will be unveiled Oct. 15 at an auto show in Sydney, Australia.
The new version of the Ranger to be sold outside North America is closer to the size of the F-150 already sold here, said Ford spokesman Mark Schirmer.
Ford, which has been trying to simplify its global lineup, decided several years ago to eliminate the U.S.-made Ranger in North America and expand the capability of its F-Series pickups.
Rangers became available in the U.S. in 1982, and sales here peaked in 1999, at slightly more than 348,000, according to Ward's AutoInfoBank. But only 55,600 sold last year. So far this year, 35,029 have sold.
The Ranger is made at Ford's plant in St. Paul, Minn., where production will end in 2011.
In August, Minnesota Gov. Tim Pawlenty met with Ford executives in Dearborn in an effort convince Ford to reverse its decision.
"Our decision remains to close the plant in Twin Cities," Mark Fields, Ford president of the Americas said after meeting with Pawlenty.
Ford originally planned to close the St. Paul plant where U.S. Rangers are made in 2008, but the company delayed the closure until fall 2011. The factory employs 750 workers.


Until gas prices soar, EVs will remain a niche product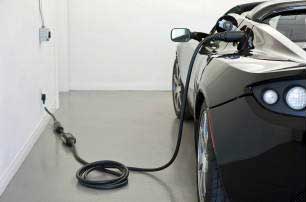 Kristine Owram
The Canadian Press
September 21, 2010
Cost is still the major factor dissuading consumers from buying electric vehicles, and until producers can find a cheaper battery — or until gasoline prices soar — zero-emission vehicles will remain a niche market, industry players say.
"When electric vehicles have similar range performance and costs to an internal combustion engine ... then there will be a tipping point where we can get to the mainstream consumer, and people will switch in high volume to hybrids and electric vehicles," Dave Pascoe, vice-president of Magna International's E-Car Systems division, said Monday.
But for the time being, Pascoe estimated that gas prices would need to top $5 a gallon (U.S.) — about C$1.36 per litre — for hybrid vehicles to appeal to the average driver.
At this price, it would take about three years for the consumer to offset the higher cost of the vehicle with savings on gasoline. At today's gas prices — about $1 per litre — it will take closer to six years, Pascoe said.
Speaking at a panel discussion on electric vehicles Monday in Toronto, Pascoe said many problems with the new technology have been eliminated in recent years, but batteries still remain prohibitively expensive.
"Life (of the battery) has gotten better, range has gotten better, but cost has not really gotten better," Pascoe said.
"At today's prices electric vehicles won't go big, but costs are coming down so there's hope for the future."
Electric vehicles are a growing part of Magna's business, especially since founder and chairman Frank Stronach took control of Magna E-Car Systems as part of a recent deal that will see him receive more than $1-billion to give up his voting control of the company.
Magna announced Monday that it is opening a new hybrid- and electric-vehicle system development centre, including a battery testing facility, in Auburn Hills, Mich.
The electric vehicle division of the Canadian auto parts giant is already working on several programs, including a joint venture to create an electric version of the Ford Focus.
Pascoe said Magna E-Car Systems has "at least one other award" in the works, but wouldn't give any details. Recent reports said the company is in talks with Japan's GS Yuasa Corp. to produce batteries for electric cars in Europe.
"We'll be working with strategic partners and we do have strategic partners, drawing from their technology and also doing some internal development of our own," Pascoe said in an interview following the panel discussion.
"Batteries are the key to making it work, so that's where our biggest focus is."
Specifically, Magna is looking at developing lower-cost and higher-performance batteries for hybrids and purely electric vehicles, he said.
Electric vehicles can be powered by hydrogen fuel cells, lithium-ion batteries and other technologies like nickel-cadmium batteries.
The company is also focusing on increasing volumes by providing common components to multiple customers.
"If bring the volume up, we'll be able to deal with the cost issue, because it is a very big issue for us and our customers," Pascoe said.
Sarwant Singh, vice-president of Frost and Sullivan's global automotive practice, said hybrid and purely electric vehicles are forecast to account for seven to 12 per cent of all cars produced globally by 2020. He expects 47 different auto makers to launch a total of 75 electric models by 2015, with 35 of those coming from Chinese manufacturers.
"China is a threat, and if you look at the technology and the model plans, it could be a threat for the future," Singh said.
To get to a practical price point, he estimated that battery production would have to reach about 100,000 units a year. Economies of scale would then allow manufacturers to lower costs by 50 to 70 per cent at this volume.
Another key problem facing expansion of the electric vehicle market is a lack of charging infrastructure, said Joe Cargnelli, chief technology officer of Hydrogenics Corp. (TSX:HYG), a hydrogen fuel cell producer based in Mississauga, Ont.
"You need to have a certain amount of infrastructure deployed or you end up with that chicken and egg scenario where the automobile manufacturers won't be introducing fuel-cell electric vehicles in any large number because the infrastructure's not there, and the infrastructure companies aren't going to introduce the infrastructure because the vehicles aren't there," Cargnelli said.
Co-operation between governments, auto makers and utilities is necessary to make this happen, he added.
In a recent Toronto speech, Ford Canada president David Mondragon said only a paltry one or two per cent of drivers will make the switch to pure battery-powered vehicles by the end of the next decade
Still, Ford has invested $1-billion in electric vehicles and plans to bring five electrified models, including hybrids, to market by 2012.
A host of other auto makers, including General Motors, Nissan, Toyota and Mitsubishi also plan to launch electric vehicles within two years, making the greener transport widely available to Canadians.
Currently, only small companies like Tesla Motors sell zero-emission cars here.
Carmakers bet big on mini-cars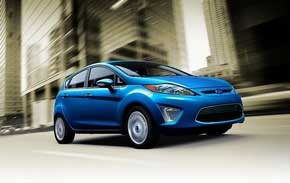 New products will challenge American ideas about vehicles
Alisa Priddle / The Detroit News
September 20, 2010
High-profile micro and subcompact cars are poised to change the American automotive landscape over the next few years -- if consumers accept the size and price of a raft of new offerings.
Ford Motor Co. dealers are selling Fiestas as fast as they can get them; Chrysler Group LLC is generating buzz about the tiny Fiat 500 coming in December; and General Motors Co. has a new Chevrolet Aveo on deck for next year, followed by the even-smaller Chevy Spark in 2012.
Automakers hope these newcomers will change the American attitude that bigger is better.
The downsizing is crucial: Carmakers need to sell a lot of fuel-efficient small cars to meet stringent new corporate average fuel economy standards in 2016.
Car companies are taking pains to spread the message that their little cars have many of the amenities of larger vehicles, meet all safety requirements and offer enough value to warrant pricing ranging from a penny-pinching $10,000 to $30,000.
"Consumers are being asked to buy a smaller car and potentially pay more for it," said Rebecca Lindland, director of industry research for IHS Automotive in Lexington, Mass.
Years ago, the smallest car for sale in the United States was a compact, or C-segment, car such as the Chevrolet Cobalt.
Then subcompacts, or B-segment cars, entered the scene, including the Aveo, Honda Fit and Mini Cooper. Today, there are at least nine competitors, including the new Fiesta, Mazda 2 and expanding Mini and Scion lineups.
The B-segment now accounts for about 300,000 sales annually in the U.S. but is forecast to grow to 500,000 next year and 850,000 by 2015 with the addition of a Dodge, the Alfa Romeo MiTo, Volkswagen Polo and Mitsubishi Colt, Lindland said.
Americans got their first taste of a micro car, or A-segment, with the tiny Smart from Mercedes-Benz in 2008. It will be joined by the Fiat 500 in December, the Scion iQ in March and the Spark in 2012, to name a few.
"This segment is a little bit scary and truly uncharted territory," said Lindland, noting A-segment sales went from nothing in 2007, peaked at 24,600 in 2008 and have fallen ever since.
The IHS forecast is for 140,000 vehicles next year.
"It is where the growth area is, but is still a small percent of the market," said analyst Stephanie Brinley of EMC Strategic Communications in Troy.
Combined, the micros and subcompacts account for only 3 percent of U.S. sales. But with so many new entries, volumes are expected to grow.
"The A and B segments will sell -- they have to," said John Sousanis, director of information content at WardsAuto.com in Southfield. "Manufacturers have too much invested in these cars, which obviously play a large role in their strategies for meeting new fuel economy standards."
"Everyone will feel compelled to compete in these segments sooner or later," Sousanis said.
Most automakers make small cars for other parts of the world and there is growing pressure to offer them in North America, too.
The business case allows them to make money because cost is spread across higher global volumes, Lindland said.
And today's smallest cars are fetching high prices.
The average transaction price of the Fiesta is higher than many of Ford's compact cars, said Ford sales analyst George Pipas. Early sales data shows almost two-thirds of buyers are opting for the more-expensive hatchback; 80 percent are adding Sync entertainment and communications system; and the bulk of buyers are either affluent young people or baby boomers who are downsizing but unwilling to give up creature comforts.
Lou Stanford, owner of Varsity Ford in Ann Arbor, is selling Fiestas as fast as they come in.
"I think I could sell 50 a month but I'm only getting 20 or 25. Every dealer only has a couple at any time on their lot," he said.
The Fiesta is spacious up front, but there is little room in the back seat and trunk, Stanford said. But neither the size nor price -- $14,000 to $20,000 -- has customers balking.
"Those who come in know how small a subcompact is. It's the size they want coming in," he said.
Continued viability of the cars will depend on gas prices and economic factors such as youth employment, said Michael Robinet of IHS in Northville.
In part, that's because demand did not originate from a public clamoring for smaller cars.
"Policy and regulations are dictating what automakers bring out, rather than consumer demand," Lindland said.
That, the analysts say, can be a bad recipe.
"If gas prices go to $4 a gallon or above, the segment will sell itself," Sousanis said.
Automakers will maintain their profit margins by competing on performance and amenities, not just fuel economy. But if gas prices stay at around $3 or below, companies will have to compete on price -- which likely means incentives, and they could start removing standard features to maintain profits.
And "the marketing folks will be busy trying to figure out ways to get people to pay more for smaller vehicles," Robinet said.
Size matters too, because some consumers will remain skeptical that small cars can be safe cars, Brinley said. "The deep-seated fear of small cars will be difficult to overcome, but it will happen in time."
And their popularity will be highest in larger cities and areas with greater congestion and environmental concerns.
"They will change the landscape over time," Brinley said.
Would sliding doors have
avoided sliding sales of Flex?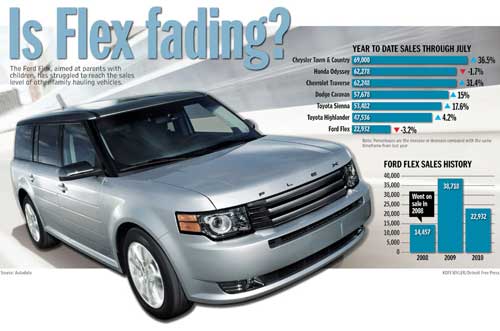 RICK KRANZ
Automotive News
Sept 20, 2010
Here's a question to ponder: Would sliding doors have made a difference in Ford Flex sales?

The Flex was introduced in 2008 as kind of the anti-minivan. It is positioned as a trend-setting vehicle, aimed at people who want a stylish ride with the utility of a minivan but without the minivan stigma.

Ford says it's a crossover. To this guy, it's a 21 century station wagon. No matter what you call it, it isn't selling.

Ford had a lofty goal when it hit the market in mid-2008: 100,000 annual sales. Last year, 38,717 were sold. This year through August, 25,218 were sold, a 9 percent drop compared with the same eight months of last year.

The Flex evolved from the Fairlane concept, introduced at the January 2005 Detroit auto show. The concept was the signal that Ford was abandoning the minivan segment after the Freestar's failure, and it was creating a vehicle with all of the functionality of a minivan but without the soccer mom image.

It was a minivan-looking concept, but it had suicide-style doors that swung back instead of minivan-trademarked sliding doors. The word "minivan" was taboo. One Ford executive called the Fairlane a "people mover." Another said it was a "family hauler" that didn't look like it smells of dirty diapers. The Fairlane would be at home in the clubby atmosphere of the Hamptons, he said.

However, even before final production, there were some doubts about the rear passenger doors. Should the production vehicle have conventional or sliders? The conventional doors were approved because they were less costly. The extra money was used to upgrade the interior, giving it the looks and feel of a luxury vehicle.

Most blame the Flex's body silhouette for the dismal sales. If so, sliding doors were probably the best doors for this shape.

After all, minivans are boxy vehicles.


More employment and production at auto assembly plants has always fuelled a bonanza of jobs in the parts sector in Canada. But not anymore.
The industry has traditionally counted on between two and three direct parts manufacturing jobs for every one an assembly plant created however that has changed dramatically in the economic recovery during the last year, according to statistics.
An analysis by DesRosiers Automotive Consultants of the latest employment data from Statistics Canada shows that while there has been some recovery in employment at assembly plants, the parts sector continues to lose jobs.
Assembly plants at General Motors, Ford, Chrysler, Honda and Toyota in the industrial heartland of Southern Ontario added about 1,000 jobs by the end of June from the same point a year ago but parts employment has lost 2,000 jobs instead of making big gains.
"Isn't each assembly job supposed to lead to many more parts jobs," veteran auto analyst Dennis DesRosiers wrote Friday in a note to clients about the startling change. "It isn't happening."
Jerry Dias, a senior official for the Canadian Auto Workers who is responsible for the parts sector, confirmed his assessment and added that auto makers here and in the U.S. are becoming far more aggressive in awarding contracts to low-cost suppliers in the American south and offshore countries.
"We have had some successes in picking up work but we are clearly not getting the jobs lost during the recession that we had expected to pick up in the recovery," Dias said.
Dias said suppliers such as PGW and Faurecia who survived the recession are making millions of dollars by delivering parts to Canadian assembly plants without creating any jobs here. In the case of PGW, it consolidated operations and employment in the U.S. at the expense of satellite parts plants and jobs in Canada, he noted
"That won't be continuing that for a lot longer," warned Dias about union pressure to change the practices of automakers and suppliers. "We are having some serious interaction between the (union's) auto parts leadership and the automakers."
Steve Rodgers, president of the Automotive Parts Manufacturers' Association, could not be reached for comment on the decline but DesRosiers said more auto assembly production and employment doesn't guarantee additional jobs in the parts sector.
DesRosiers, president of DesRosiers Automotive Consultants, and Dias said although Canada has an industrial auto policy, it needs a separate one for the key parts sector.
"We need a separate policy regime if we ever hope to grow our parts sector," DesRosiers said. "Assuming assembly sector growth will lead to parts sector growth is flawed thinking. The parts sector is a very different beast and needs policies independent of the assembly sector."
Among other actions, Dias said Canada needs to lower the value of the dollar against the U.S. greenback because the shift to parity in recent years has seriously weakened or driven many parts makers out of business.
Meanwhile the statistics indicated overall employment including assembly, parts, tooling, trailers and truck bodies continues to track below levels during the economic downturn last year.
Auto employment levels are still down 5.2 per cent or more than 6,000 jobs to 123,004 in the first half of this year from the same 2009 period. Industry employment peaked at almost 200,000 jobs in 2001.
"They are not pretty," said DesRosiers about the latest job levels.


Big pension plan pressed
to fix funding woes
Canadian Commercial Workers Industry Pension Plan under fire to find better solutions to underfunding of benefits
Sep 18 2010
Tony Van Alphen
Toronto Star
Business Reporter

Canada's biggest private sector, multi-employer pension plan hasn't fixed mounting underfunding problems or clearly informed members about possible reductions in benefits, government watchdogs reveal in internal correspondence.
The Financial Services Commission of Ontario will not comment publicly about persistent troubles with the Canadian Commercial Workers Industry Pension Plan (CCWIPP). But a recent letter obtained by the Star shows the regulator and other provincial agencies have pressed for more action to address concerns.
The commission's letter charged that the plan has not told more than 300,000 members that their pension benefits are "seriously underfunded" or what they would get if the plan had to be wound up.
The letter also suggests that, without more action, approval of a funding improvement plan to stabilize the CCWIPP may be in jeopardy.
But the pension plan, which has run afoul of the commission for mismanagement in recent years, said Thursday that implementation of the strategy will put it on a solid footing if markets meet performance expectations.
"I wouldn't say we're totally out of the woods yet but we're certainly on track towards greater financial stability," said Clare Pitcher, the plan's actuary.
"Ontario has been supportive of what we're doing but we question if some other provincial regulators are considering the best interests of the plan and its members."
CCWIPP has 350,000 active and deferred members and provides pensions to another 20,000 retirees and their spouses. A group of trustees representing the United Food and Commercial Workers union and more than 300 employers, including major grocery store, chains runs the plan.
The commission began pressing the plan for action last year after learning that it had a funding deficiency of $760 million on the basis of an actuarial value of $1.68 billion in assets and total liabilities of $2.44 billion at the end of 2008. CCWIPP will release its 2009 actuarial report by the end of September.
In a December 2009 letter, also obtained by the Star, the commission's deputy superintendent of pensions told CCWIPP that it had continuing "important concerns about the ongoing viability of the plan," the adequacy of proposals to address the deficiency and the fund's optimistic projections for investment returns.
"It is our considered view that the funding improvement plan is unlikely to satisfactorily resolve the contribution deficiency revealed by the valuation report," said deputy superintendent David Gordon.
Since then, the plan has proposed a combination of more annual contributions from employers, plus benefit cuts to members, to stabilize and reduce the funding deficiency.
In July, CCWIPP notified members that they could face cuts in future benefits ranging from 15 to 50 per cent. The moves do not affect existing retirees.
Active members will face a 40 per cent hit on future benefits if employers and the union cannot negotiate significant increases in contributions.
The two sides continue negotiations and the union has threatened strikes next month if employers don't adequately address the funding problems.
But in an Aug. 23 letter, the commission said provincial regulators still have concerns about the plan's funding shortfalls and explanations about the consequences to members.
"It is not clear that the funding improvement plan fully addresses CCWIPP's funding issues," said the letter from Larry Martello, a commission pension officer. "We urge CCWIPP's board of trustees to follow the plan with further action to resolve the plan's funding problem."
He added that notices to members did not make clear enough that if the plan's financial health continues to deterioriate and a windup proceeded, retirees and active members would receive "only" 43 per cent of their benefits or value of current credits.
Martello also said the notice to members indicated CCWIPP blamed funding problems "solely" on the crisis in worldwide financial markets in 2008.
"CCWIPP has had serious funding issues for a long period of time prior to 2008," he noted.
Pitcher of CCWIPP said the plan will soon send another notice to members to provide more information.

Ford will export Edge to China
Midsize crossover to debut by year's end, others may follow
Alisa Priddle / The Detroit News
September 17, 2010

Ford Motor Co. will sell the Canadian-made Ford Edge in China and is considering exporting more vehicles from North America to feed the growing Chinese market.
"They are on their way to dealers now," said Ford Motor China Vice President Nigel Harris. The 2011 Edge midsize crossovers, built in Oakville, Ontario, will be on sale in China by the end of the year.
"It underscores the importance of the Edge in Ford's global portfolio," said Michael Robinet, vice president for global vehicle forecasts for IHS Automotive in Northville.
The Edge is Ford's only export to China from North America: Key volume vehicles such as the Ford Fiesta, Focus Mondeo and S-Max are built in China for Chinese customers. But Harris said more imports to China are being considered.
"We have talked about the opportunity for other nameplates," Harris said in an interview from China. "We're looking at other niche vehicles we could bring here to supplement the lineup."
Automakers only export luxury vehicles to China because of import duties as high as 25 percent, said Tim Dunne, director with J.D. Power & Associates in Westlake Village, Calif.
"Chinese customers are accustomed to spending more for luxury vehicles," Dunne said. Automakers price vehicles as much as double to recoup import costs and maintain a healthy profit margin.
Pricing has not been set for the Edge, but Harris said it will not be double the U.S. price.
Among its competitors, the top-selling Honda CR-V starts about $28,000 and the Toyota Highlander goes as high as $63,000, Dunne said.
Ford expects modest Edge sales of 4,000 to 5,000 a year, Harris said, but SUV sales in China have been doubling every two years.
It is the fastest-growing segment in China, up 120 percent through July compared with 47 percent growth for total passenger-car sales, said Dunne. SUVs account for 14 percent of 886,000 passenger cars sold through July.
The Edge, with the latest generation of Sync technology, "should play well in China where consumers want the latest features," Robinet said.
Ford research also shows one-quarter of car owners in China would consider an SUV as their next purchase.
Harris said the Edge offers a nice progression. "It is important for our customers and dealers to have vehicles to be able to move up to," he said. Ford is adding 70 Chinese dealers this year, bringing the total to 310.
J.D. Power and Associates forecasts Ford will double its Chinese sales over the next seven years. The automaker has 2.6 percent share, which is strong for China. Ford sales of 170,200 through July are up 38 percent and the brand ranks 11th in the country.
CAW CONTACT
Volume 40, No. 31
September 17, 2010
Nortel Retirees Rally to Stop Wind up of Pension Plan

More than 1,000 retired Nortel workers, retired and active CAW members and supporters rallied on the lawn of Queen's Park, urging the Ontario government not to wind up the Nortel pension plan.
The Nortel Retirees and Former Employees Protection Canada (NRPC) and the CAW, joined by pensioner groups and the Canadian Labour Congress, are demanding that the Ontario government not wind up the Nortel pension plan by annuity when it takes over the plan on October 1.
CAW National Secretary-Treasurer Peter Kennedy said that the government is missing the point. "What seems to be lost here and what needs to be remembered is that the money in the fund belongs to the 20,000 Nortel retirees," said Kennedy in his speech to the September 15 rally.
After Nortel became insolvent in 2009, its retirees found out that Ontario regulators had allowed their pension plan to be seriously under-funded. Recent estimates indicate that many pensioners could permanently forfeit at least 35 per cent of their monthly cheques, a loss that might get much worse if the government doesn't quickly change its rules on winding up the plans.
"You deserve the chance to recoup the losses. Enough damage has already been done, there is no need for more. We are calling on the Ontario government to keep the plan going," said Kennedy, to loud cheers and chants of "Don't wind up the plan."
"Premier McGuinty, you do have choices – don't make the wrong one. Don't wind up the plan!"
The NRPC is proposing that the fund be transferred to a Canadian bank or a financial institution. This model would still include guarantees from the Pension Benefit Guarantee Fund (PBGF) for Ontario service, but at lower cost to the province.
NRPC President and court-appointed representative Don Sproule said that although the NRPC has proposed a number of solutions to the provincial government, the government doesn't seem interested in listening. "We need this government to get its head out of the sand," said Sproule.
"It's time the Ontario government realized that its 30 year old laws just don't work! The original intent was to protect pensioners but in today's environment they are being penalized," said Sproule.
Brian Rutherford, president of the General Motors Salaried Retirees Association said that government is taking the side of corporations when determining how to apply pension legislation. Rutherford also encouraged all participants to contact their Members of Parliament to urge them to support a NDP-led Private Members Bill C-501, which would amend the Bankruptcy and Insolvency Act, particularly around the protection of pensions.
CLC Secretary-Treasurer Hassan Yussuff called for a national pension strategy on the part of government, which would see the doubling of the Canada Pension Plan, the creation of pension insurance in the case of bankruptcy and an increase to the Guaranteed Income Supplement.
Yussuff said that our pension system is deeply flawed, leaving far too many seniors vulnerable and the government must urgently make improvements. "If they don't fix the system, we'll do it at the ballot box," said Yussuff.
***

CAW Commends NDP on Rallying to Keep Gun Registry

CAW President Ken Lewenza called the news that the NDP may now have enough votes to keep the long gun registry "encouraging."
"The decision by a number of NDP MPs to change their vote on the national gun registry is courageous and a recognition that public safety must be paramount," said Lewenza. "This important change certainly would not have come about without the leadership of federal NDP head Jack Layton who continued to pursue this issue among his party. I am hopeful that we can count on progressive MPs to defeat this potentially disastrous Bill."
Lewenza warned though not to be too hasty in celebrating. "The vote is next week and until Bill C-391 is defeated, we must continue to be vigilant in pressing our elected officials to vote against it," said Lewenza.
The Liberals have committed to ask all their MPs to vote against the Tory bill.
"It is now critical that Michael Ignatieff also ensures that all 75 Liberal MPs are in their seats for the vote," said CAW Director of Women's Programs Julie White. "Without every Liberal vote, the hard work of the past 10 months to get enough NDP members onside could be undone which would be devastating."
The CAW, in partnership with the Canadian Labour Congress, will be sending a delegation to observe the vote on September 22. Union leaders and activists will continue to lobby MPs right up until the vote.
***

Harper's EI Cutbacks Hurt Communities

The Harper government's decision to do away with the five-week extension on Employment Insurance only creates more hardship and uncertainty for working people, the Fish, Food and Allied Workers (FFAW/CAW) say.
The five-week extension affects workers across Canada and basically allows workers to receive benefits for an extra five weeks.
"This measure has put more than $1 billion into communities, many of them fishing communities throughout Newfoundland and Labrador where workers have been hard hit by market downturns and the recession," said FFAW President Earle McCurdy in a September 10 news release.
"It is unacceptable and incomprehensible that the federal government would even consider getting rid of this program at this time – in fact, this is something that should be made a permanent fixture of the EI program."
The FFAW, supported by the CAW and the Newfoundland and Labrador Federation of Labour, collected and sent thousands of letters and petitions from workers and employers across the province that calls for crucial EI measures to be maintained.
The FFAW and CAW has urged the Harper government to:
- maintain the five week extension;
- continue the pilot project that allows workers to use their best 14 weeks of employment on which to base their EI claim. This project provides crucial support for workers in 25 different regions where unemployment is eight per cent or higher – it's scheduled to end for new claims after October 23, 2010;
- extend the project that allows workers to earn 40 per cent of their rate while on an EI claim. This project is slated to end Dec. 4, 2010.
"These programs are of critical importance for workers, especially those in seasonal industries like construction, tourism and the fishery," McCurdy said.
***

EI Improvements Still Needed, CAW President Says

A relentlessly high national unemployment rate, erratic and inconsistent job growth and a massive jump in workers actively looking for jobs should give Prime Minister Harper enough reason to extend special EI stimulus measures, said CAW President Ken Lewenza.
"The Harper government is looking for any justification to shut down much-needed government stimulus, including EI enhancements for workers, when all signs suggest it's premature to do so," Lewenza said. Harper's government ended the EI stimulus measures September 11.
Responding to a release of monthly job market figures for August by Statistics Canada, Lewenza said that on the surface the jump in jobs by over 35,000 is positive news for the economy, but there's more to the job numbers that Canadians should be concerned about.
"The bulk of job creation in August was found in the educational services sector, a seasonal trend we've seen before in Canada and hardly a cause for celebration" Lewenza said.

At the same time, Canada's national unemployment rate remained frustratingly high (at 8.1 per cent), the manufacturing sector suffered another massive blow with a decline of nearly 26,000 jobs and part-time job growth continues to double the pace of full-time job growth over the past year.
"Many people are trying to scrape by, piecing together two or more part-time jobs, often arranged through temp agencies which now dominate large swaths of the job market," said Lewenza. "This is a deplorable and extremely exploitative situation for a growing number of Canadians."
***

Grid Iron Tickets for CAW Local 504 Members at Siemens

Three burly football players from the Hamilton Tiger-Cats football club opened their wallets to ensure CAW Local 504 members at Siemens in Hamilton could celebrate Labour Day in style.
Linebackers Otis Floyd, Jamall Johnson and Markeith Knowlton teamed up to buy 600 tickets for Seimens workers to attend Hamilton's Labour Day match with the Toronto Argonauts.
The Canadian Football League players visited CAW Local 504 hall to bring the tickets and talk with CAW members who work at the Siemens gas turbine plant in Hamilton, which the company has announced it plans to close down next April.
Floyd's father worked at a Ford plant in Detroit for more than 35 years, and Floyd told the Hamilton Spectator newspaper that he understands the devastating impact the decline in manufacturing jobs can have on communities and families.
"I came from Detroit, a town full of factory workers, and they made Detroit," Floyd said. "When they closed the factories, the city went straight down. The guys we gave the tickets to are the heart and soul of Hamilton."
CAW Local 504 represents more than 350 workers at Siemens. The CAW is urging the company to use its existing Hamilton facility as the home for its new wind turbine blade manufacturing plant.
"I am extremely thankful to these athletes who not only made an extremely large donation of tickets to the employees of the Siemens, but also took time out of their busy schedules to visit our hall," said Randy Smith, President of CAW Local 504. "This is a perfect example of how they respect our support, give back to the community and understand the difficult job of labour and the tragedy of job loss."
"On behalf of Local 504 and its members at Siemens, I would like to thank these three Hamilton Tiger Cat players for their very generous donation of 600 tickets to the annual Labour Day game," said Doug Brown, unit chair at Siemens. "For these players to give back to this community devastated by far too many layoffs is a strong indication of their character".
***

CAW National Workers' Compensation Conference

The CAW's 2010 national Workers' Compensation Conference will be held October 22 to 24 at the CAW Family Education Centre in Port Elgin, Ontario.
Titled "Workers' Compensation – Challenging the Impact of Workplace Stress" the conference will focus on the impact of workplace stress and the challenges in establishing workers compensation for stress and mental health issues. In addition, the problems that members face in various compensation systems across the country will be highlighted.
The deadline for registration is October 8. Contact the CAW Health and Safety Department for more information at cawhse@caw.ca
***

CAW Supports AfriGrand Caravan Cross Country Tour

A dedicated group of African grandmothers and granddaughters is travelling right across Canada, sharing their stories, their challenges and triumphs in dealing with the devastation wrought by AIDS.
The caravan, organized by the Stephen Lewis Foundation, will stop in more than 40 communities and kicked off in St. John's, Newfoundland on September 7. It will continue until November.
"The AfriGrand Caravan is an opportunity for Canadians to directly be part of a social justice movement in response to the terrible impact of AIDS," said Assistant to the CAW National President Peggy Nash. "It's a chance to meet the inspiring and courageous grassroots heroes who lead this struggle on the ground and hold together families and entire communities. Each one of us can be part of turning this tide."
The granddaughters on the trip have been orphaned by AIDS and in many cases, grandmothers take on the role of the primary care giver to their grandchildren after the death of their parents.
The CAW contributed to making this voyage possible, by negotiating the donation of the van from Chrysler and providing the two volunteer drivers, one retired and one active CAW member. CAW President Ken Lewenza is encouraging all local unions to get involved in events in their area. If there is not an event planned for the community, local unions can take the opportunity to organize one.
For more information on events or how to plan one in your area, please visit: http://www.stephenlewisfoundation.org/caravan.htm

***

Outstanding Retired Worker of the Year

This year's winner of the Outstanding Retired Worker of the Year Award winner Percy McKay, Local 199 retiree stands with CAW Local 199 President Wayne Gates and Barb Abrams, Chair of the CAW Local 199 Retired Workers' Chapter and Recording Secretary of the Retired Workers' Advisory Executive.

Percy received the award at the annual Retired Workers Conference, held in Port Elgin Sept. 5-10. Congratulations Percy!

***

CAW Welcomes New Members

► Sudbury Sexual Assault Crisis Centre, Sudbury, Ontario – 3 new members in CAW Local 598;
► Sterling Marine Fuels (Div. of McAshphalt Industries) Windsor, Ontario – 12 new members in CAW Local 444;
► Oneida Emergency Medical Services, Oneida, Ontario – 16 new members in CAW Local 302;
► Linc Logistics (Ontario) Brampton, Ontario – 17 new members in CAW Local 1285;

***

"WE, JUSTICE AND PEACE"
AS CAW AFRICAN DRUM BEATS,
CALLING ALL WORKERS
As the African Social Justice drum beats,
CAW stands on its feet.
Beyond borders we hear voices.
And out of Africa,
We honour Nelson Mandela and Sister Esther
our human rights story tellers.
As our sister travels over high mountains, and into deep valleys.
Out from the shadow of darkness her voice echoes.
We acknowledge her calling,
and on our anniversary we listen to Esther's story.
"In the Congo, some were crying and some were dying".
Her voice was so cold.
It awaked our bodies and sent a chill into our hearts and souls.
The state of suffering of mankind inherited from men of crimes,
at times it breaks our minds.
Her appealing words we understand, for CAW/TCA unite as one.
And as she continues fighting in the dark,
everyone pledges to play their part,
to fight those who have no heart.
Brothers and sisters, beyond borders we hear voices.
our world needs justice.
By Esther's side we will fight,
for human rights, our world needs peace.
Specially written for: CAW/TCA 25th Anniversary
1985-2010.
by: Bancroft L. Williams – Chair, Manitoba Human
Rights Council and member of CAW Local 3003


2011 Ford Edge stars on the road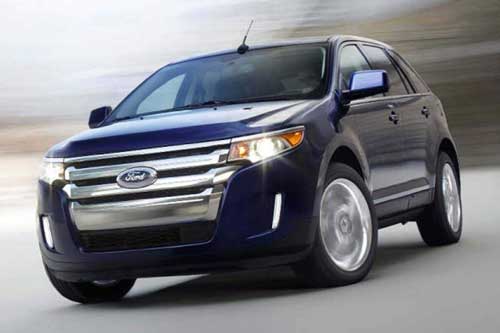 Scott Burgess
Detroit News
September 16, 2010

Most journeys have a destination; they don't have to, but they do.
Nobody jumps into a car anymore just to go. The days of just being on the road, sadly, have ended. No one dances down the street like dingledodies today, unless there are reality TV cameras in tow.
But as a people, we should take to our highways again, hop on the road and explore the vast backyard of our homeland. If we did, we'd find solace in the 2011 Ford Edge -- a crossover re-created to provide all of the amenities of home while making room for everything else.
From MyFord Touch, simply the best infotainment-voice-activated-driver-friendly system around, to a reworked interior and exterior, the new Edge has finally found its magic.
On a recent cross-country tour to Boston, I took the new Edge. Ford says the Edge was only refreshed, but there's been lot more work done here than just polishing the blue oval on the hurricane-ready louvered grille and providing a new car smell in the second row.
The trip, also known as the Obama Orange Barrel Tour 2010, inspired me. The highway through the flatlands of Ohio was strewn with stimulus dollars and traffic jams. But that figures; when the only Bean Town in the state is Lima, expectations should remain low.
The high-riding position of the Edge allowed me to look over the long lines of people clumsily attempting to merge. The comfortable seats also made the ride more bearable. Even after nearly 2,000 miles, I never experienced that long-haul creak in my spine.
If life is the road, then Ohio is simply a place to stop for gas -- though in the Edge I didn't do that nearly as much as I thought I might; it averaged 24 mpg through the trip in a loaded Limited. (According to the EPA, the front-wheel drive Edge gets 19 mpg in the city and 27 mpg on the highway and the all-wheel drive model gets 18 mpg in the city and 25 mpg on the highway.)
Much of that good gas mileage comes from changes engineers made to the 3.5-liter V-6. They included adding independent variable valve timing and aggressive fuel shut-off technology during deceleration, as well as other features, such as new engine hardware and a lower idle speed.
The engine, however, still belts out 285 horsepower and 253 pound-feet of torque, plenty of power for this big -- and heavy -- crossover. Perhaps the Edge's two-ton weight causes the six-speed automatic transmission to hesitate now and again. But once it reaches cruising speeds, it's smooth sailing. (There is also a super cool looking Edge Sport with a 3.7-liter V-6, which I have not tested yet.)
Features abound
In Western New York, somewhere near Allegany, the Edge found its groove.
I set the adaptive cruise control on 70ish and just let the Edge take care of the work. The radar-based cruise control monitors traffic and automatically adjusts the speed based on the vehicle in front.
The feel of this system is so natural that if a car in front of you slows down, you don't notice the Edge matching that speed. But it's frustrating to suddenly realize you've been going 60 mph for who knows how long.
But my favorite new feature, along with radar-based cruise control, is collision warning with brake support. At some point during the drive, perhaps while I was extolling why Sam Adams has had a much bigger impact on American beer than his do-nothing brother, John, I lost track that I was also driving. Suddenly, the stereo shut off, a harsh alarm sounded and a red bar flashed across the bottom of the windshield. All of these signals instantly make you slam the brake -- as well as have the passenger next to you slam an imaginary brake. The brakes, which were charged milliseconds earlier, work extremely well and vacation disaster -- the stopped car in front of me I should have hit -- was avoided.
All of those nifty features, such as blind spot detection and cross traffic alert -- which tells you when someone is cruising too close to the parking space you're backing out of -- still don't compare to the MyFord Touch.
The system, which features the voice-activated Sync technology, has become a must-have feature.
The first thing you'll notice are the two small color screens as part of the instrument panel. They're operated by small pads on the steering wheel and convey more information than a dictionary. They let the driver track mileage, navigation turns, radio stations, adjust the heat, and lots of other info nice to have at a quick glance.
But the improvements to Sync are also noticeable. The system is less regimented than before, so, for example, if you want to make a call you don't have to say "Phone, call, Sid Paradise." Just say "call" and it knows what you mean. You can also do the same with asking for radio stations or most other features in the car. Want ice cream, just ask, MyFord Touch will have an answer. Mind reading is still a few generations away.
The big touch screen at the top of the center stack is also easy to navigate. Instead of traditional click buttons, Ford has switches that you merely lay your finger across. All of these give the Edge an extremely clean look.
I have one major gripe, however. The location of the hazard signal at the base of the navigation screen is problematic. The switch is touch sensitive, so almost every time you lay your hand on the screen and rest it against the bottom lip, the hazards turn on. Then you bang your fist against the button for what feels like 10 minutes while the hazards taunt you, magically unable to shut off.
If Ford wanted to stop production right now and change this button's location, I would hold a parade.
Plenty of space
Throughout the cabin, there is lots of space. The previous Edge felt like it leaned toward the truck side of crossovers. This model feels more like a sedan than an SUV, but it provides all of the space a growing family could use. The second row is spacious and if you need even more, the 60/40 split rear seats fold down at the touch of a button. The optional liftgate is also a feature anyone with their hands loaded bags will appreciate.
Prior to this model, the Edge felt incomplete. There were better options available and none of them came from Dearborn.
But like the long road ahead of us, we can only find out what's there if we venture onto it. It doesn't matter which one, according to resident road expert Jack Kerouac, "... holyboy road, madman road, rainbow road, guppy road, any road. It's an anywhere road for anybody anyhow."
Kerouac rode on the edge, and I rode in one. Frankly, my ride was a lot more comfortable.
********************************************
2011 Ford Edge

Type: Five-passenger crossover with front- or all-wheel drive
Price: $27,995
Engine: 3.5-liter V-6
Power: 285 horsepower, 253 pound-feet of torque
Transmission: Six-speed automatic with optional paddle shifters
EPA gas mileage
FWD: 19 mpg city / 27 mpg highway
AWD: 18 mpg city / 25 mpg highway
Report Card
Overall: ★★★ 1/2
Exterior: Good. Smooth and fluid design with a nice curve. Still chunky in some places but improving.
Interior: Excellent. Top-notch
infotainment system. Comfortable with lots of space.
Performance: Good. Nice power and acceleration. Excellent highway feel and still nimble around town.
Pros: Lots of features make the Edge fun to drive and stress free. MyFord Touch is the best telematics system available.
Cons: Price can climb with lots of
features.
Grading scale
★★★★ Excellent ★★★ Good
★★ Fair ★ Poor
250-hp turbo Focus ST to debut
High-performance hatchback will be 1 of 3 models in U.S.
Scott Burgess / The Detroit News
September 15, 2010

The 2012 Ford Focus lineup will include a high-performance version of the automaker's first global vehicle.
The 2012 Focus ST will be unveiled Sept. 30 at the Paris Motor Show by Ford Motor Co. CEO Alan Mulally and Stephen Odell, chairman and CEO of Ford of Europe. All three versions of the Focus -- a sedan, hatchback and ST -- will be shown for the first time, Ford said in a news release.

"The launch of the complete new Focus range, plus the global debut of the high-performance ST model, makes this Paris show not only very exciting for Ford, but also highly significant," Odell said in a statement released by Ford today.
U.S. Focus enthusiasts have been waiting nearly a decade for the return of a European-based Focus. When the Focus originally came to the United States, it was based on the European model, but through the years, the American version was cheapened.
The news of an ST version was well-received.
The muscular Focus ST four-door hatchback, which will feature a special version of the 2-liter four-cylinder Ecoboost engine, will boast about 250 turbocharged horsepower. Few other details were released about the vehicle other than its 2012 arrival date.
"This is the mythical unicorn for us," said Ron Myer, publisher of the Focus enthusiast website Focaljet.com, which has more than 250,000 visitors each month. "Everyone drools over the cars they have in Europe, and it's great to see they're bringing them here."
Not only is the European Focus coming to America, but it's Ford's first foray into a truly global vehicle -- meaning it's the same vehicle built around the world.
In the past, carmakers have tailored their vehicles for different markets and to meet different regulations, such as safety and environmental requirements.
But as carmakers continue to streamline operations, more are developing global vehicles that meet worldwide standards instead of just one region's.
The next-generation Focus, unveiled at the North American International Auto Show in Detroit this year, is the first Ford to meet those global standards.
Ed Kim, a senior automotive analyst at AutoPacific, a marketing research and consulting firm in Tustin, Calif., said Ford's global approach with the Focus will pay dividends for American consumers.
"In the past, there was a disconnect for consumers because in the U.S., compact cars were considered the cheap entry-level vehicles. They were built to a price," Kim said. "In Europe, C segment cars are more in line with midsize cars here with higher grade of fit and finish."
By building the same car in America and Europe -- the Focus will be sold in 120 markets around the world -- Dearborn-based Ford should save money through economies of scale, Kim said. That should mean higher quality vehicles at moderate prices in the United States.
NHTSA probes F-150
fuel-tank straps
David Shepardson / Detroit News Washington Bureau
September 14, 2010
Washington -- The National Highway Traffic Safety Administration is investigating whether 1.4 million Ford F-150 vehicles should be recalled over concerns that fuel tank rust could pose a fire hazard.
NHTSA said in a statement posted on its website that it has opened a preliminary investigation into 1997-2001 F-150 models after receiving 32 complaints alleging corrosion of the straps supporting the fuel tank. In 28 of the complaints, either one or both straps broke, allowing the tank to drop from the frame and either drag along the ground or completely detach from the vehicle.
NHTSA said the issue could present "a fire hazard from leaking gasoline as well as an obstruction hazard to vehicles following the subject trucks."
Ford spokesman Wesley Sherwood said the automaker is "aware of the investigation and (is) fully cooperating."
No fires or injuries have been alleged in any of the complaints.
Ford didn't offer any immediate comment.
The investigation is the latest sign that NHTSA is moving much quicker to open investigations -- even for vehicles nearly a decade old, and when no injuries have been reported. The stepped-up posture comes in the wake of strong criticism of the agency over its handling of sudden acceleration complaints in Toyota Motor Corp. vehicles.
NHTSA Administrator David Strickland said last week that the agency has been "more aggressive" than it has been "in a very long time" in addressing safety issues.


CAW head decries
end of EI extension
The federal government's extra five
weeks of benefits ended Saturday
September 12, 2010
CBC News
Canadian Auto Workers Union president Ken Lewenza says the federal government's extension of employment insurance should not end Saturday. (CBC)The head of the Canadian Auto Workers Union says the federal government's decision to end stimulus measures on employment insurance is premature.
President Ken Lewenza said that employment insurance is meant to deal with crises and that the country's current economic condition qualifies.
"Until we resolve the job crisis, employment insurance should be a protected social benefit, an enhanced social benefit, versus being at the whim of the prime minister's office," he said.
The federal government had been providing an extra five weeks of benefits, and up to an extra 20 weeks for longer-serving employees.
Prime Minister Stephen Harper enhanced EI benefits for laid-off workers last year in response to massive job cuts during the economic downturn.
Lewenza said the unemployment rate is still too high, the manufacturing sector has not recovered from the economic downturn, and part-time job growth continues to outpace full-time jobs.
"People are forced to take one, two, sometimes three jobs to make up for the job they lost or just to maintain a reasonable standard of living," Lewenza said.
The federal employment insurance fund currently has a $57-billion surplus.
Ontario Premier Dalton McGuinty has also argued that the benefit should remain for now, citing the slow economic recovery.


Suit tries to recoup
Chrysler pensions
Former workers target Daimler, Cerberus for pay lost in bankruptcy
Alisa Priddle / The Detroit News
September 12, 2010
A class action suit was filed Friday against Daimler AG and Cerberus Capital Management LLP on behalf of former Chrysler and DaimlerChrysler employees who lost some of their pensions with the bankruptcy of the former Chrysler LLC.
The suit represents more than 450 former employees and managers who lost supplemental pensions during Chrysler's reorganization and bankruptcy last year.
The guaranteed pensions were set up by the company as a private benefit, and therefore not protected by the government's underwriter, the Pension Benefit Guaranty Corp.
They were not transferred to the new Chrysler Group LLC that was formed after bankruptcy, June 10, 2009, with partner Fiat SpA.
DaimlerChrysler was the owner of the automaker until it sold it to Cerberus in 2007; Cerberus ran the company until bankruptcy.
The suit was filed in Wayne County Circuit Court by attorneys Sheldon Miller of Farmington Hills and Mayer Morganroth of Birmingham in an attempt to recoup a percentage of earned retirement pensions for employees who were led to believe their pensions would be intact when they retired.
"The direct financial loss, in combination with the serious reduction in medical, health care and auto benefits resulting from the bankruptcy, is causing them to make drastic changes to their retirement plans at a time when they can't go out and find other jobs to supplement their incomes," Miller said in a statement.
"These are good, hard working people who are being severely punished through absolutely no fault of their own."
The attorneys say there are no plans to take any action against the new Chrysler.
"Everybody involved in this suit loves that company and like everybody else wants to see it succeed," Miller said.
"The plaintiffs in our case are trying to assure that there won't be similar hardships for Chrysler's current employees, many of whom worked for and with the people involved in this suit.
"Nobody wants to hurt them or the new company's chances for success," he said.
Cerberus spokesman Peter Duda said the company does not comment on pending litigation.


CAW CONTACT
Volume 40, No. 30
September 10, 2010
Joint CAWQuebec Council
Montreal, Quebec – August 27-29, 2010
25th Anniversary
CAW: Celebrating 25 Years of Progress
CAW President Ken Lewenza outlined the rich story of struggle, progress and determination on behalf of working people that mark the first 25 years of the union's history during his keynote speech to CAW/TCA Joint Council.
"Where would people be without the CAW – where would our nation be without the CAW?" Lewenza asked during his speech in Montreal August 27. The union celebrated its 25th anniversary at the Joint Council.
Lewenza looked back at the rank and file activism, leadership, the victories, campaigns, mergers with other unions, the growing diversity of the membership, organizing in almost every economic sector and in every province since the CAW split from the UAW in 1985.
The union was formed at a difficult time shortly before free trade with the United States would create so many additional challenges for workers. But Lewenza said the CAW tackled the issue head on, as well as so many other issues, such as tax cuts for the rich, privatization, and deregulation.
But more than simply opposing the right wing agenda of big business and their government backers, the union fought for a set of important values including progress, respect, peace, dignity, equality and hope, he said
At the same time Lewenza looked ahead, making predictions regarding the continuing growth and development of the CAW in the next 25 years.
"We are determined to strengthen our union," Lewenza said. "Our culture has unified us and motivated us."
In the context of that culture, the CAW will become more diverse over the next 25 years he predicted with more workers of colour, more women, younger workers, older workers, more workers from the office, technical and professional sectors.
It will also become more and more sophisticated in how it gets its message out using new technologies and new tools that connect with the members and will be at the cutting edge of involvement and influence in electoral politics. He stressed the importance of CAW locals building their Union in Politics Committees in mobilizing members.
Lewenza stressed that international solidarity will become increasingly important as CAW members take courage and inspiration from the struggles of workers from other countries. CAW members will support and learn from those workers around the globe, he predicted.
The union will face financial challenges in the coming years as it deals with the impact of a declining membership resulting from manufacturing job loss and the international financial meltdown of a few years ago.
But based on its well-defined culture of militancy, creativity and equality, the CAW will continue to fight back on behalf of workers over the next 25 years, Lewenza said.
He reflected on a quote from the late Victor Reuther, a UAW founder and strong friend of the CAW, who discussed the nature of trade unionism.
"It's not easy being a trade unionist and social activist…but there is indeed joy in dedicating yourself to fighting for members here and abroad," Lewenza said.
"Let's go and build the next quarter century of our union's history," Lewenza concluded.
Putting the Brakes on a Harper Majority in Quebec
Bloc Quebecois leader Gilles Duceppe blasted the hard right policy direction of the Stephen Harper Conservatives and stressed the important role his party has played in stopping Harper from gaining a majority.
Duceppe said Quebec and the Bloc Quebecois (BQ) has steadfastly refused to support Harper and his agenda of tax cuts, building prisons, opposing effective climate change solutions, and a foreign policy of confrontation and brutal force, among so many other right wing attacks his government is making on a progressive vision for society.
"Still Quebec must suffer the Jurassic type decisions of the Harper government," Duceppe said. The BQ captured 49 seats in the last election, effectively preventing Harper from gaining a majority of seats in Parliament.
Duceppe praised the CAW/TCA for its long-standing policy of autonomy for its Quebec wing and for an approach that allows its Canadian and Quebec wings to work closely together to make progress for working people.
Duceppe outlined the results of a recent survey however that show most Canadians oppose changes in federalism to accommodate the aspirations of many Quebecers for improved rights and status.
He stressed his party's backing for the federal government's recent financial support for the auto industry and asked why there hasn't been similar support for forestry and aerospace workers in Quebec.
Quebec has a long history of progressive legislation including anti-scab laws, which the BQ also wants implemented in the federal sector.
He said the BQ is the only party that can stop Harper from gaining a majority and enacting more and more right wing and reactionary decisions in the next election.
"This is a good thing for Quebec and a service for all of Canada."
Recognizing 25 Years of CAW in Quebec
In his welcoming address to CAW delegates attending the union's Canada-Quebec Joint Council and 25th anniversary celebrations, CAW/TCA Quebec Director Jean Pierre Fortin recognized the influential role the union has had on the social and political development of the province as well as the rights of working people.
Fortin reminded delegates of the historic fights that CAW members in Quebec have undertaken, including members at United Aircraft (later Pratt & Whitney) who won landmark union security legislation, members who struck General Motors and won major gains in bargaining, among many other examples.
"Our union has witnessed extraordinary growth over the past 25 years in Quebec and that's because many workers see us, and our legacy of social unionism, as a sign of hope that working people, together, can fight for justice and win," Fortin said.
Fortin, a long time union activist in Quebec, was a member of the CAW's first National Executive Board.
Making History:
A Visual Record of the CAW's First 25 Years
In celebration of the CAW's 25th anniversary, the union has published a book of historic photographs that highlight key moments in CAW history.
Making History: A Visual Record of the CAW's First 25 Years, features 166 pages of photos, interviews with CAW leadership, an introductory essay by CAW President Ken Lewenza and a foreword by Council of Canadians National Chairperson Maude Barlow.
The book was compiled and edited by photographer Vince Pietropaolo, who, along with former CAW Communications Director Jim Paré, searched the union's photo archives, visited local union offices and contacted individual photographers.
They culled through thousands of photos, selecting 200 taken by 50 photographers, many of them local union photographers, for use in the book.
"This collection of photos triggers a flood of memories. However unique the situations captured in the photos, there is also a shared sense about them. Even if we weren't there, we've been there - on picket lines, in marches, in standoffs with the police, in union halls, at bargaining tables and ratification meetings, at picnics and celebrations," Lewenza says in his essay.
Pietropaolo outlines how the photos depict key events and people in the union's first 25 years and also reflects the change and growth the union has experienced in that time. And just as the union has gone through tremendous change so has the world of photography.
"At the beginning of the union's history, most pictures in the archives were black and white prints, many of which showed the wear and tear of having been handled by many people over time. But in the intervening years, photography became digital and electronic, with far-reaching consequences," Pietropaolo says in the preface.
As the union enters a new era in its history, Pietropaolo reminds readers of the importance of photos in capturing the history of the labour movement. Because of the nature of digital photography it's increasingly important that photos are properly stored with written details about what the photo captures.
"I would therefore encourage all members to spend time to store them properly by archiving them in hard drives, by burning a copy on a CD or DVD, and further, by selecting key images of every project and making prints on paper with relevant information recorded on the back," Pietropaolo said.
To purchase a copy of the book contact the CAW communications department at cawcommm@caw.ca. Copies are $40.
White Congratulates Union on Anniversary
The decision to create a rank and file democratic structure governing the CAW set in place an important foundation for the union, said CAW Founding President Bob White. "We wanted a different structure for our union," White stressed in his address to the CAW/TCA Joint Council.
"We wanted to establish a rank and file board, filled with people who are doing the work of the union on a regular basis - this was a complete change in the structure from what we knew at the international union."
"It is fundamentally important to get voices from the workplace to shape the decisions of the union," said White.
White said that interference from the international union and a widening gap in bargaining priorities and militancy by the Canadians created the conditions where it was no longer beneficial for them to stay in the UAW.
White reflected on his own trajectory as a union leader, starting with his first union meeting at his job at Hay and Co. in Woodstock, Ontario - invited there by an older co-worker. He was asked to stand for a position and not knowing exactly what it was, he obliged and got involved in the union from then on. He later went on to become president of Local 636 until being appointed as a UAW organizer. In 1972, White was appointed assistant to the Canadian Director Dennis McDermott. White, with the tremendous support of local leadership and staff later led the then Canadian Region of the UAW out of the international union to form the CAW in 1985.
Ensuring Resource Sector Jobs for Canadians
CAW/TCA Joint Council delegates are demanding federal, provincial and municipal governments ensure resource sector companies in Canada provide job opportunities for Canadians.
More than 800 delegates to the CAW/TCA Joint Council in Montreal unanimously endorsed a resolution calling on employers that want to extract, process and make use of Canada's natural resources be required to demonstrate they are providing net benefit to Canadians and their communities.
With Canada having an abundance of natural resources, including oil, natural gas, forests, mineral deposits, hydro-electric generating capacity, water, fisheries and other resources, the problem is acute for many Canadians and their communities.
Canadian governments at all levels have clear responsibilities and the power to address the issues affecting these resource sector industries in substantive and significant ways. A resolution on the need to protect Canada's natural resources states it's clear that developing and supporting value-added industries would help lead the recovery of the economy.
Delegates learned about the growing power and super profits among mining and metals sector companies around the globe. In fact, mining and metal sector companies opposed to a tax on "super profits" in the mining sector in Australia helped orchestrate the demise of Australian Labour Prime Minister Kevin Rudd earlier this year.
Global mining giant Xstrata's decision to close its profitable smelter in Timmins, Ontario resulting in the loss of 670 good jobs within the community was raised as an example of the terrible impact these resource sector company decisions can have on workers, their families and the communities. CAW Local 599 and community partners fought back in Timmins using the slogan "Our Resources Stay Here" yet the closure has gone ahead.
Delegates were urged to bring back to their communities the message that the natural resources of Canada belong to the people of Canada. They heard about the need for job and other protections for Canadians if foreign companies buy Canadian resource firms.
"We have to put Canadians first, we have to put our communities first," said CAW Local 1075 President Paul Pugh.
A Sign of Hope from the Congo
Women and girls of the Democratic Republic of Congo will never be safe from sexual assault and rape until there is peace in the country, Esther Munyerenkana told the CAW/TCA Joint Council in her address upon receiving the CAW's Nelson Mandela award.
Munyerenkana is a social worker at the Panzi Hospital who works with women who have survived brutal sexual assaults and rape, to help rebuild their lives. Between five and 10 women enter the hospital each day, sometimes as many as 30.
The DRC is thought to have the highest incidence of rape in the world, according to Action Aid, an international anti-poverty organization. Rape is used as a weapon of war by armed gangs to destroy families and communities in the decades-long conflict which has ravaged the region.
In explaining the situation of women and girls in the DRC, Esther tried to put words to what are often indescribable cases of the most severe kinds of human cruelty – the murder of husbands in front of their wives and children, the mutilating and severing of limbs and other body parts and brutal sexual assaults forced upon women and children from tiny babies to the elderly.
The DRC is a largely agrarian society and women and girls are most at risk of rape or assault while working in the fields or travelling to work, making it impossible to provide for their families. Malnutrition is also rampant as a result.
Each year, more than 3,500 women are treated at the Panzi hospital. Formerly a maternity hospital, it was transformed into a rape treatment and rehabilitation centre in 2004.
"The way these women are suffering does not leave us indifferent," said Munyerenkana, her eyes welling up with tears. "Social workers and counsellors also absorb some of this pain."
Women are traumatized when they enter the Panzi hospital and could be suffering from injuries. Many have made a long journey to the hospital. The women are given a sanitation kit so they can clean up and are sent for medical and psychological exams. They also benefit from counseling during their stay as well as skills training, including functional literacy, sewing and weaving. From the attack, they may have also contracted HIV, for which they will need treatment.
Aissatou Diajhaté, director of programs for the Stephen Lewis Foundation said that the situation in the DRC can seem overwhelming, gloomy and painful, but she sees signs of hope and the work of Esther is one of them. "Esther helps repair their bodies, but also repairs their souls. She helps restore their dignity and tell their stories."
Munyerenkana was recommended to the CAW by former Ontario NDP leader, UN ambassador and UN special envoy for HIV/AIDS in Africa Stephen Lewis and playwright and activist Eve Ensler. The award is given every three years by CAW to an individual or organization for exceptional achievement in the promotion of human rights. It is named in honour of Nelson Mandela, former president of South Africa. It recognizes the struggle, courage and achievement of Mandela in fighting against apartheid and in advancing human rights and social justice.
PanziHospital: http://www.panzihospitalbukavu.org/
Stop Raping our Greatest Resource - Power to Women and Girls in the Democratic Republic of Congo: http://www.stoprapeindrc.org/
Members Commemorate Growth, Diversity of CAW
CAW's growth and diversity has been a hallmark of the union's development over its first 25 years. To commemorate this a select group of 25 rank-and-file leaders and activists representing major mergers, traditional sectors and equity-seeking groups were asked to reflect on their experiences in the CAW, the challenges they face in the workplace and in society, and what being a member of CAW has meant to them. These members delivered passionate speeches about workers' struggles and forging a sense of identity within the CAW's structure. Speeches lasted approximately five minutes and were delivered intermittently throughout the weekend. (Photo L-R – Heather Grant, CAW Council 4000 (Canadian Brotherhood of Railway, Transport and General Workers union merger); Jonathan Blais, TCA Local 510 (young workers); Kellie Scanlan, CAW Local 414 (LGBT members); Greg Burton, CAW Local 303 (human rights and workers of colour);
Fighting for Good Jobs
Delegates debated a new discussion paper called Fighting for Good Jobs that, among other recommendations, calls for the union to sponsor a national Jobs Summit to discuss the creation of good jobs in a post-recession economy.
The 17-page discussion paper, unanimously endorsed by Council delegates, examines the steady decline in job quality for Canadian workers over the past 30 years. The paper links this trend to the rise of labour market flexibility policies and programs promoted by an increasingly dominant neo-liberal political and economic ideology.
Neo-liberalism has largely been characterized by right wing policies aimed at deregulation, privatization, shrinking the size of government, promoting free trade and unmanaged global commerce as well as shifting major decision-making power over labour, environmental and social standards to the for-profit sector, to name a few.
In his introductory presentation on the paper David Robertson, Director of the CAW Work Organization and Training department, noted that along with the rise in neo-liberal policy making and the decline in job quality and security has come an overall drop in the standard of living for workers.
"There's no clearer sign of economic failure under this neo-liberal agenda than the fact that workers' wages have remained stagnant over the past 30 years," Robertson said.
The erosion of good jobs has clearly impacted workers in all sectors of the economy, including the auto industry which has shed over 55,000 high-paying jobs in recent years, Robertson said. Today, 1 in every 3 Canadian jobs can be identified as precarious (temporary, contract, part-time or self-employed), and there are currently 1 million part-time workers actively looking for, but who can't land, full-time jobs.
CAW Local 414 member Johanna Lehmer spoke about the challenges retail workers face, particularly those in the supermarket sector who have experienced a dramatic decline in wage and benefit rates over the last 15 years, deteriorating to a point where they now mostly offer low wages and part-time hours for workers.
"There are very few jobs in the retail sector that provide much more than the minimum wage,
particularly for newer workers," Lehmer said. "This is a major problem especially since more laid-off workers are looking for jobs in the retail trade, one of this country's few growing economic sectors."
Including the call for a national job summit, the paper commits the union to organize community-based 'Good Jobs' forums, host regional roundtables on winning back the right to organize workers (including through card-based certification), engage the National Union in Politics Committee in a special political mobilizing session and for the national office to develop a new Good Jobs in the Green Economy workshop.
CAW Local 2200 Recording Secretary and Youth Committee Chairperson Travis Harrison said the union must set the bar high for workers who are eager to win back good jobs in the wake of financial and economic collapse.
"There's a real appetite among workers around the world for a new sustainable economic model, one that supports the quality of life we all deserve," Harrison said. "It's become abundantly clear over the past years that the current system of global capitalism, guided by the policy framework of neo-liberalism, simply cannot deliver that."
To view or download the Fighting for Good Jobs discussion paper, go to: http://www.caw.ca/assets/images/376-Fighting_for_Jobs_ENG.pdf
CAW Maintains Focus on Social Unionism, says Hargrove
The creation of the CAW was characterized by new ideas, new opportunities and the emergence of the union into new sectors of the economy, said former CAW President Buzz Hargrove in his address to the CAW/TCA Joint Council. The CAW set up new structures and new councils so that leaders and members could be confident that the interests of all those in the union were being represented.
"Bob White led the challenge to diversify our union," said Hargrove, which included the merger with the Canadian Air Line Employees Association (CALEA) and the separation of the Fishermen, Food and Allied Workers Union (FFAW) from a U.S.-based union to merge with the CAW.
During Hargrove's and founding CAW President Bob White's tenure, changes also included staff responsibilities which saw staff representatives out in the field taking on more of a role in community building, that in turn built the union, said Hargrove.
He said all of these changes led to a much stronger union, one with an unwavering focus on social unionism which continues to this day.
He stressed that leadership is not about taking the easy way out. He spoke about a decision by then UAW Canadian Director Dennis McDermott to oppose the "War Measures Act," invoked by Prime Minister Pierre Trudeau during the Quebec October Crisis of 1970. At the time, the use of the Act was supported by 90 per cent of Canadians. The War Measures Act was also opposed by federal NDP leader Tommy Douglas who said that Canada does not have a gun culture, nor a gun society.
Hargrove urged NDP leader Jack Layton to share Douglas' courage and oppose the changes to the long gun registry - and - ensure his party defeats Bill C-391.
"There should be no free vote on this issue," said Hargrove.
The vote to dismantle the national long gun registry is scheduled for September 21 and 22 in the House of Commons.
Stephen Harper's 130 Million Chapter 11 Giveaway
The following is an excerpt from CAW economist Jim Stanford's Facts from the Fringe column on August 27:
Canada's federal government made an important announcement this week. It was kept deliberately quiet: with a news release issued at 4:45 p.m. on a calm Tuesday in the middle of the late-summer news "dead zone." But it should set alarm bells ringing for anyone concerned with the anti-democratic direction of global trade law.
Prime Minister Stephen Harper's Conservative government reached a $130 million out-of-court settlement with the bankruptcy trustees overseeing the restructuring of AbitibiBowater Inc., a failed forestry and paper giant. The settlement relates to a claim that Abitibi brought against Canada under NAFTA's notorious Chapter 11 process. This process is a bizarre kangaroo court in which investors from one NAFTA partner (and only investors – normal people aren't allowed in) can sue another NAFTA government for actions which are deemed to break NAFTA's broad investment rights provisions. If a Chapter 11 tribunal rules against the offending government, it can order damages be paid to the aggrieved investor.
In its 15 years in existence, the court has interpreted those investor rights clauses very expansively. Not just outright expropriation is prohibited and subject to penalty. Any measure which is seen to impose an unfair or unjustified burden on the profitability of a company (whether it has anything to do with the nationality of the investor or not) can be considered "tantamount to expropriation," and hence subject to penalty.
In the AbitibiBowater case, the provincial government of Newfoundland and Labrador (led by feisty Premier Danny Williams, a Conservative) took back Abitibi's timber and water rights in 2008 when that company abandoned its mill that processed wood from that tract. The company laid off 800 people and destroyed the isolated community of Grand Falls in the process. Williams' move was both morally and economically justified: he said if AbitibiBowater wasn't going to productively use those rights, someone else should have access to them. The Newfoundland …
To read the full column visit http://www.caw.ca/en/9363.htm
Nortel Workers Rally at Queen's Park: September 15
The CAW national union is calling on all retired workers, local unions and other allies to come to Queen's Park in Toronto on Wednesday, September 15 at 12 noon to support former Nortel workers.
The rally is part of the on-going CAW and CLC campaign to demand "Retirement Security for Everyone."
The Nortel Retirees and former employees Protection Canada (NRPC) have been lobbying the Ontario government to explore alternatives to a conventional pension plan wind-up.
The CAW is asking that all local unions, Retired Workers chapters and area councils organize buses in their respective areas. Jenny Ahn, director of the CAW retired workers department, said the rally highlights the importance of government action on the issue.
"We need to keep the pressure on all levels of government to fulfill their moral obligation to ensure our pensions are funded and fully protected," said Ahn.
For more information and bus locations contact CAW National Coordinator Dean Lindsay at 1-800-268-5763, ext. 3791 or (416) 497-4110, ext. 3791.
Labour Day –
Workers' Activism Can Deliver the Canada We Deserve
By CAW President Ken Lewenza
This Labour Day weekend marks the CAW's official 25th anniversary since its formation. An anniversary that is marked by mixed emotions.
The birth of our independent union in 1985 was an important moment for the labour movement. CAW members electing to break away from their U.S.-based international union was like rowing against the tide of greater continental integration. We created a space that fostered a new voice for the working class in Canada; fashioning a set of new demands, new ideals and a new vision for Canadian society.
Our successes since then have built on the significant achievements of the labour movement from years past, including the 40 hour work week, universal health care, unemployment insurance, maternity leave and many others. The outcomes, brought about through labour's struggle, benefitted all Canadians, whether a union member or not.
This fills me with a great sense of pride at the labour movement's accomplishments.
Today, fewer Canadians call themselves union members, yet the need for unions has never been greater. With a shrinking critical mass, we risk losing many of the gains working people made in the post-war years.
It's no coincidence that high labour standards and strong public services, including stringent health and safety legislation, hours of work, social security benefits, and even a living wage, go hand-in-hand with high rates of union density. We need only look to our neighbours south of the border to appreciate this crucial fact. In the U.S. today, union density has dropped to 12.3 per cent on average, pulled down by the 22 so-called 'Right to Work' states where governments are permitted by law to prohibit union membership as a condition of employment.

According to U.S. Department of Labor's own statistics, 'Right to Work' states have dramatically higher workplace fatalities (51 per cent higher, in fact, than states that allow free collective bargaining and unionized workplaces), lower wages (on average workers $5,333 less a year than non-Right to Work states) and do not benefit from the seniority/ long service clauses of a collective agreement.
In Canada, the situation is not so dire, but it is far from ideal. Here union density hovers just below 30 per cent and has been in a steady decline from its peak of nearly 40 per cent in the mid 1980s. If this decline in union density continues, we risk the gradual unraveling of previous gains as governments and employers grow confident that the check and balance system enforced by high unionization is starting to show signs of fraying.
Unions are the de facto voice of working people. As numbers shrink, this influence will also wane.
Right-wing pundits may rejoice to this news, but Canadians ought to worry - especially as the concerted attack against workers' wages and benefits remain front and centre in this period of economic calamity.
Barely recovered from the recession, the labour movement is busy warding off attacks on public services and public sector workers by government and private corporations. In Ontario for example, the provincial government has elected to freeze the wages of non-unionized workers and is attempting to curtail the collective bargaining rights of tens of thousands more unionized workers, in the name of protecting public services. All the while dolling out corporate tax cuts, a move not supported by a large majority of Ontarians, according to recent polling.
Hundreds of thousands of Canadians are still reeling from the recent recession and although signs of recovery exist in the markets, these cannot be easily seen in our communities. The labour movement is united in saying that curtailing public services is not a valid response to the deficit and hitting up the public sector to pay down the government deficit will not be accepted, especially while pandering to corporations.
This attack on the public service follows a prolonged period of severe hacks and slashes to workers in the private sector. In manufacturing, we have not even come close to replacing the 550,000 jobs lost since 2002. In metals and mining, multi-national corporations are scooping up our natural resources, reneging on their job commitments, and leaving workers and their communities high and dry.
Many of those who have been laid off or terminated have still been left without their full severance entitlement. And for those who have managed to find work, many are forced to take jobs that are inadequate and increasingly precarious.
Talking with workers about their day-to-day experiences can be gut-wrenching. And it gives way to yet another emotion: anger. This is not the Canada I, and other CAW members, …


It is with deep sadness that we
inform you of the passing of
George Grasby
September 8, 2010
Retired January 1, 2000
31.1 Years of Service

Our Condolences go out to his family.
CAW Local 584 Retirees
Visitations:
Friday, September 10, 2010
2-4 & 7-9 p.m.
J.S. Jones & Son Funeral Home
11582 Trafalgar Road
Georgetown On.

Funeral:
Funeral service will be held in the chapel on
Saturday, September 11, 2010 at 11:00 a.m.

Cremation to follow.
Published in The Toronto Star Sept 9, 2010
GRASBY, George - Suddenly on Wednesday, September 8, 2010 at the Georgetown Hospital. George, in his 75th year, beloved husband of Pat for the past 54 years. Loving father of Steve (Margie), Bob, Leanne (Dean) Reynolds and Carolyn (Marc) Bertrand. Cherished and proud grandfather of Krista, Shauna, Nic, Stephanie, Kyle, Brad, Dan, Brett and Eric. Dear brother of Jean (Charlie) Armstrong and Nancy (Don) Lewis and brother-in-law of Susan Grasby and Deb (Pius) Snook. Predeceased by his sisters Colleen and Shirley and by his brother Bob. Fondly remembered by his friend Dunc Robinson. Friends will be received at the J.S. Jones & Son Funeral Home, 11582 Trafalgar Road, north of Maple Ave., Georgetown, 905-877-3631, on Friday from 2-4 and 7-9 p.m. Funeral and committal service will be held in the chapel on Saturday, September 11, 2010 at 11 a.m. Cremation to follow. In lieu of flowers, donations may be made to the Juravinski Cancer Centre. To send expressions of sympathy, visit www.jsjonesandsonfuneralhome.com
Ford ends plan for
SUV in Kentucky
Falling euro means production of Kuga will stay in Germany
Keith Naughton and Jeff Green / Bloomberg News
September 10, 2010
Ford Motor Co. has canceled plans to move production of a small sport-utility vehicle from Europe to Kentucky because currency exchange rates no longer favor U.S. production, according to two people familiar with the decision.
Ford had planned to shift the Kuga model next year to Louisville from Saarlouis, Germany, to take advantage of lower labor costs and the weaker dollar, according to the people, who asked not to be identified because the plan is private. With the euro falling, Ford plans to continue producing the Kuga in Germany, the people said.
The reversal demonstrates the difficulty of lowering Ford's U.S. labor costs to globally competitive levels. The automaker intended to export as many as 80,000 Kugas a year to Europe, the people said. That plan was tied in part to exchange rates and labor concessions that the Dearborn-based automaker sought last year but were rejected by United Auto Workers members.
"This raises issues of how the 2011 contract negotiations will go," said Brian Johnson, an analyst at Barclays Capital in Chicago. He rates Ford equal weight. "If the UAW is going to try to extract givebacks, Ford is showing that with its global production footprint, it can build wherever it wants."
The euro has fallen 14 percent against the dollar since Ford reached a tentative deal with the UAW in October to build the Kuga in Louisville alongside its mechanical twin, the Escape. At the time, the dollar had declined against the euro, lowering the cost of U.S.-made goods. Since then, the euro has dropped amid concerns Europe's debt crisis may trigger another recession.
The promise of Kuga production in Louisville began to fall apart in November, when UAW members rejected Ford's request to match givebacks it gave General Motors Co. and Chrysler Group LLC. Ford's U.S. rivals, which each reorganized in bankruptcy last year, were granted a six-year freeze on wages for new hires and a ban on some strikes until 2015. The UAW agreed to a first round of concessions in March 2009 that Ford said cut its annual labor costs by $500 million.
Ford still will build the Escape in Louisville, which will replace Explorer production that the automaker is moving to Chicago, the people said. The Escape and Kuga models are code-named C520 and based on Ford's chassis for compact cars.
"We are on track to begin production next year of a new vehicle from our global C-car platform at the Louisville assembly plant," said Ford spokesman Mark Truby.
"Though we are not providing product details, we intend to fully utilize capacity at the transformed facility."
Michele Martin, a UAW spokeswoman, didn't immediately respond to a message seeking comment.
A year ago, Ford paid its German workers about $62 an hour to build the Kuga, more than $10 an hour over U.S. workers wages and benefits, Johnson estimates. Ford's hourly labor costs at Saarlouis now are $50 because of the weaker euro, about the same as in the U.S., Johnson said.
With U.S. and European labor costs converging and Mexico representing a lower-cost option, Ford has gained leverage in next year's labor talks with the UAW, Johnson said. Ford's four-year contract with the UAW expires in September 2011.
"This is a reminder to the UAW that Ford's U.S. cars don't have to be produced in the U.S.," Johnson said. "Ford's global architecture allows them to build anywhere. That's good news if the U.S. has competitive labor costs. It's bad news if they don't."
** Editors Note: Ford's direction here is also a threat to Ford Canadian manufacturing, as it is obvious they are willing to go wherever they have the best Labour costs.
Ford to roll back lineup revisions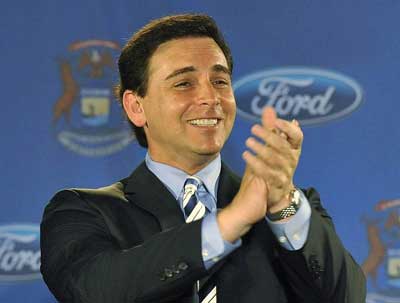 But automaker's still expected to make more changes than rivals
Alisa Priddle / The Detroit News
September 10, 2010
Ford Motor Co. will scale back slightly on vehicle updates next year as the automaker continues to cut costs and focus on reducing debt.
Ford is replacing 33 percent of its product line in 2010, but "it won't be as much" next year, Ford Americas President Mark Fields said Thursday.
Fields did not elaborate in his presentation at a New York investors conference sponsored by Credit Suisse, but he provided the first glimpse of the scope of Ford's 2011 model year changes as the company pursues a robust global product plan and aggressive debt reduction.
Ford is still expected to do more than its competitors, according to Car Wars, an annual report prepared by Bank of America Merrill Lynch that evaluates the strength of automakers' U.S. product pipelines. The study, released in May, forecasts that Ford will replace a third of its lineup in 2011 and continue to be more aggressive than the industry average replacement rate of 27 percent.
Ford's slight pullback comes as many automakers have been exercising prudence in launching new vehicles -- balancing the prevailing wisdom that a fresh showroom drives sales against the slow rebound of the economy and auto sales.
Ford's strategy is to have every new vehicle come from a global platform by 2013, part of its effort to reduce costs on everything from engineering to parts purchasing. But the automaker is also working to eliminate its $5.4 billion in debt so it is no longer at a disadvantage compared with General Motors Co. and Chrysler Group LLC, which shed debt in bankruptcy.
After billions in losses related to a series of recalls, Toyota Motor Corp. is stretching development periods for new products to ensure quality.
Honda Motor Co. Ltd. has extended the lifecycle of core products such as the Civic, which debuts next year but had been expected much sooner.
General Motors Co. is down to four brands.
Chrysler Group LLC is the most extreme example of how bare a cupboard can get when a company is in survival mode and resources dry up. But Chrysler plans to replenish 75 percent of its lineup this year, with the bulk coming late in the year.
Product activity for the industry as a whole should accelerate for the 2011-14 model years following the lull in the past two years, Car Wars concludes.
But don't expect companies to race out of the blocks, said Joe Phillippi of AutoTrends Consulting Inc. in Short Hills, N.J.
"We're obviously not out of the woods," Phillippi said of the auto industry's slow rebound. Even as conditions improve, "the last thing you want to do is rush something today. That is how you end up with a lot of recalls."
Globally, auto sales are projected to grow by 5 percent to 10 percent this year, Fields said.
"The global economy is improving but it is uneven," he said, noting that while Asia and other emerging markets continue to flourish; the United States will experience moderate growth; and Europe is "a little bit of a worry spot," coming off its version of a "cash for clunkers" incentives.
The U.S. market has been aided because the industry has pared capacity, inventory is relatively lean and automakers have been "fairly rational when it comes to incentives," Fields said.
Countering those gains are high prices for commodities, such as steel.


Consumer Reports chooses Mustang over the
Camaro in face-off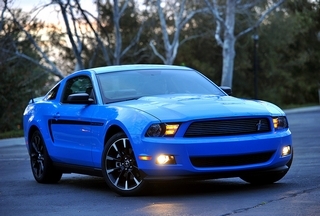 Scott Burgess / The Detroit News
September 8, 2010
True believers won't care about the Consumer Reports muscle car face-off. If they already are in the Mustang lot or Camaro corner, wild horsepower couldn't drag them away from their favorite.
But for everyone else, Consumer Reports picked the 2011 Ford Mustang V-6 over a 2011 Chevrolet Camaro V-6, the magazine announced Tuesday.
The Mustang earned a "Very Good" rating and is recommended by the magazine, which has become one of the leading automotive authorities for its 7 million print and online subscribers.
The Camaro earned a "Good" rating and is not recommend by the magazine because it is a new vehicle, and Consumer Reports doesn't have enough reliability information on it yet, said Jake Fisher, a senior engineer at Consumer Reports and a test driver.
"The Mustang was virtually better than the Camaro at nearly every level," he said. "It was quicker, more fuel efficient, and when you're in the Camaro, it's like you're in a cave."
In the news release announcing the comparison, David Champion, senior director of Consumer Reports' Auto Test Center in East Haddam, Conn., said: "The Mustang is the more agile and enjoyable car to drive of the two."
While both cars have some new improvements for the 2011 model year, the Mustang introduced its 305-horsepower, all-new 3.7-liter V-6 engine. The 2011 Camaro uses a direct-injection, 3.6-liter V-6 for its power, which was increased for this model year to 312 horsepower from 304.
However, Fisher said the Mustang, which is a naturally aspirated engine, offers a much better rumbling sound than the Camaro and a much more spirited ride.
"We even managed to get 24 miles per gallon in combined city and highway driving," Fisher said. "For an engine that powerful, that's incredible." The Camaro averaged 21 mpg.
While both vehicles were rated well for their interiors and exteriors, the difference seemed to be weight-related. The Mustang was just more nimble, in part, Fisher said, because it's nearly 300 pounds lighter than the Camaro.
Ford Motor Co. officials were, naturally, excited with the results of the comparison.
"Consumer Reports is highly respected by consumers," said Amy Marentic, Ford's car marketing manager.
"It's very important (to win the Consumer Reports recognition), not only to our consumers, but to us, too."
While the Ford may have grabbed the accolades this week, the Camaro continues to outperform the Mustang at dealerships.
Through August, Chevrolet had sold more than 60,000 Camaros, with sales up 93 percent for the year, according to Autodata Corp. Ford has sold 53,000 Mustangs through August, a 13.5 percent increase this year.
The entire face-off appears in the October issue of Consumer Reports, which hits newsstands this week.



Rossi, Thomson to crash
Labour Day parade
Sep 6, 2010
Liam Casey
Toronto Star

Organizers of today's Labour Day parade are bracing for a political free-for-all after at least two mayoral candidates said they planned to crash the event.
The Toronto and York Region Labour Council, which hosts the parade, says the only mayoral candidate welcome to walk with their members on Monday is the one they've endorsed — Deputy Mayor Joe Pantalone.
To some veteran political observers it may seem like high school all over again. Someone throws a party, invitations are sent to a select crowd, but word gets out. Some vow to crash the party while others resign themselves to alternate plans.
While Rocco Rossi and Sarah Thomson shouldn't waste time looking for official invites in the mail, both nevertheless plan to attend.
Rossi was invited by Local 793 of the International Union of Operating Engineers, and will be marching with them.
Thomson's team, however, doesn't have an invite from a participating organization, yet plans to shadow the parade — from the safety of the sidewalk.
The party crashers won't be welcome, Pantalone said.
"The fact that they would show up at an event without being invited is rude. It's like somebody coming to your house even though you're not inviting them," Pantalone said. "I would never do that."
While there won't be any bouncers to physically remove Thomson or Rossi from the parade, John Cartwright, president of the labour council — which organizes the march — plans to freeze them out.
"What you do with an unwanted guest is ignore them," Cartwright said.
But Rossi and Thomson don't understand the "closed-door" policy of the parade.
"We have to open up the doors of our city to the people, to all people that want to contribute. And this is just another example of the boys club thing that's going on," Thomson said.
"It's utterly undemocratic," Rossi agreed, "and quite frankly, it's the kind of attitude that gives labour a bad name that it doesn't deserve."
George Smitherman sought an invite earlier this week, but was told to stay away — and he will, said spokesman Stefan Baranski.
Smitherman picked up union backing this week, Baranski said, with the Toronto chapter of the Ontario Council for Painter's and Local 183 pledging their support in his bid for mayor.
Organizers don't expect Rob Ford to attend. The Ford camp didn't return the Star's calls.
Michael Gallagher, business manager of the engineers' union that invited Rossi, doesn't understand Cartwright's stance on the issue.
"My union has over 90 years experience in Toronto, and if we want to invite someone, we should be entitled to do so," Gallagher said of his union, which consists mostly of crane operators.
Cartwright is concerned that Rossi will privatize Toronto Hydro and Thomson will open up bidding to other services. And the parade has traditionally been the venue for announcing the labour movement's support for mayor, which this time around goes to Pantalone.
"He's our endorsed candidate and the one we invited … We're really concentrating on showing people that Joe Pantalone would make a great mayor," Cartwright told the Star in an interview Wednesday.
The Labour Day parade begins Monday morning at 9:30 a.m. at Queen St. and University Ave. — with or without an invitation.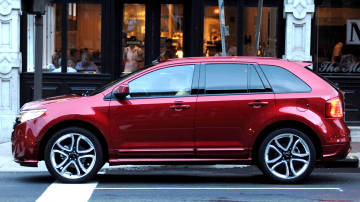 Retooled crossover gives auto maker an advantage over competition
Bob English
NASHVILLE, TENN. — Globe and Mail
September 5, 2010
Ford has rehoned its Edge for 2011, giving the successful mid-size crossover a more cut-through-the-clutter look outside with all-new front-end styling, more powerful and efficient powertrains, improved driving dynamics and a posh new interior.
The new Canadian-made Edge also serves as the launch platform for a – well, how else could you describe it but cutting edge – driver connectivity system called MyFord Touch, which fronts an increased array of electronics, including Sony branded audio.
A next-step link to Ford's Sync information, entertainment and communications system, MyFord Touch is designed to provide "safe, smart and simple" connectivity to system features through voice, touch and graphics that allow the driver to keep his or her "eyes on the road and hands on the wheel."
It has a centre-stack screen that replaces traditional knobs and switches with touchable graphics like those found on home appliances. And a pair of full-colour LCD screens flanking the analogue speedometer, each controlled by its own five-way controller – as you'd find on a cellphone or iPod – in the wheel spokes.
Vehicle information displays – a tachometer, fuel economy numbers for example – are displayed by the left screen, and "infotainment" features such as the not-immediately-available-in-Canada turn-by-turn navi system and multi-media interfaces, are in the right. The voice recognition system now ups the original's ability to understand 100 commands to 10,000, making it simpler to get it to do what you want it to. MyFord Touch does a lot of other stuff too, and is standard on Limited and Sport models.
The electronics advances may be impressive, but for what is basically a somewhat-overdue refresh – Edge was launched in 2006 – Ford has also made major efforts in other areas, reflecting a new fervour to get things right, which is being reflected in its market performance. Frank Davis, executive director of North American product, says Ford been on a journey over the past few years that has taken it from "competitive to true product excellence," which has a nice ring to it, but also a ring of truth.
When Ford introduced the Edge it claimed it was a "game changer" and it's largely lived up to that billing, rapidly becoming the leader in the segment with North American sales now topping 400,000. Some 44,000 have been sold in Canada and the segment here has grown by 30 per cent so far this year, in part driven by new entries. But with the "old" Edge's sales matching that, Canadian marketing director Paul Roy figures the revamped 2011 version is a shoo-in to remain a segment front-runner.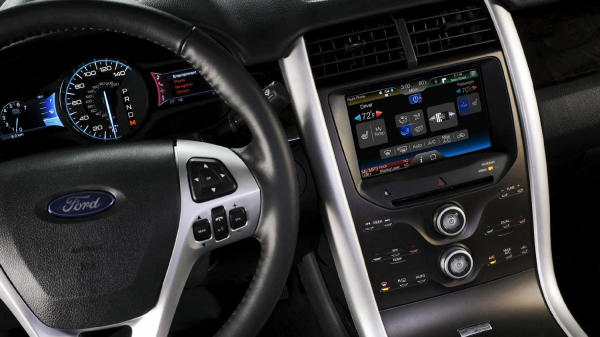 Helping that happen will be a dialled-up value equation. Roy says the base model comes to market $2,500 below the outgoing model, while the SEL, which accounts for about 45 per cent of the model mix, is priced the same, with about $1,300 worth of new equipment. The Limited, which makes up the other half of Edge volume, increases just a few hundred dollars with an additional $1,200 or so of equipment added, he says.
A front-drive SE now goes for $27,999, a front-drive SEL for $33,999 and an all-wheel-drive SEL for $35,999. The FWD Limited lists at $37,999 and the AWD model at $39,999, while the Sport (only available with AWD) is ticketed at $43,499.
The 3.5-litre Ti-VCT (variable cam timing) V-6 that powers all models but the Sport produces 285 hp at 6,500 rpm and 253 lb-ft of torque – 20 more hp and three more lb-ft of torque than the 2010 engine. A six-speed automatic remains the only transmission. The Edge Sport now gets a sideways version of the 3.7-litre Mustang engine making 305 hp and 280 lb-ft, and paddle shifters for the transmission. A 2.0-litre EcoBoost four-cylinder is in the works.
I spent an hour or so with a front-drive SEL and found drivability around town fine, and overall performance excellent. The torque increase is marginal, but more seems to be available when you need it. I also drove the Sport, and with more torque and power it's obviously quicker and more responsive, but transmission response to manual mode is rather slow.
More impressive than the power gains is the fuel economy improvement, with the front-drive SEL, for example, improving from 11.8 litres/100 km city and 8.1 highway to 11.2 city/7.4 highway – class-leading, according to Ford.
I never much liked the driving dynamics of the first-gen Edge, which felt reluctant and somewhat awkward in its responses, but this one is improved across the board.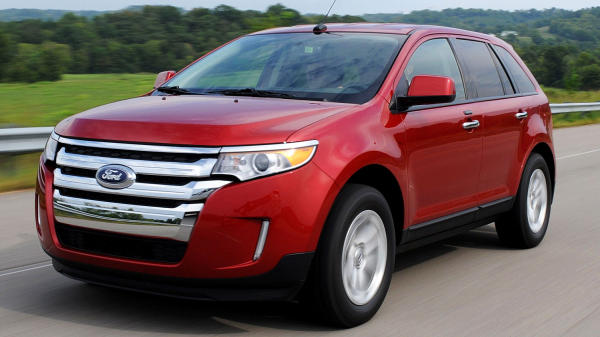 A new steering pump, reduced friction in the gearing, slightly wider wheels (18-inchers on the SEL, 22s on the Sport), subframe mounts and bushing and shock changes have resulted in much improved response to steering inputs and an overall more confident feel, particularly with the Sport.
Ride motions are more smoothly controlled, with the low-profile tires on the Sport responding a bit more noticeably to bumpy bits. NVH (noise, vibration, harshness) have also been improved, along with interior noise levels. The braking system's bigger rotors, new calipers and pads improve initial "bite" and feel and stopping distance.
The new interior, with its Volvo-like centre stack that you can tuck things behind, quality look and feel materials (although why it has a soft-touch dash top and hard plastic window caps is a mystery the chief engineer couldn't convincingly solve for me) has also raised the Edge's game.
Getting it right is all about attention to detail – things like the radius of the curves, locating the cup holders to avoid "chicken-winging" or forcing the user to point their elbows up – and Edge's designers have succeeded in most areas.
Ford obviously put a lot of effort into the Edge's rejuvenation.
************************************************************************
2011 Ford Edge SEL
Type: Mid-size crossover
Base Price: $33,999; as tested, $35,399
Engine: 3.5-litre, DOHC, V-6.
Horsepower/torque: 285 hp/253 lb-ft
Transmission: Six-speed automatic.
Drive: Front-wheel
Fuel economy (litres/100 km): 11.2 city/7.4 highway; regular gas
Alternatives: Toyota Venza, Nissan Murano, Honda Crosstour, BMW X3, GMC Terrain, Hyundai Veracruz, Mazda CX-7
****************************************************************************
Globe rating for the 2011 Ford Edge
8 Ride
Work on steering and suspension has created a much improved level of response and overall handling, combined with a ride that is truck-firm, but quite supple.

8.5 Looks
The new front end - hood, fenders and fascia - give the Edge a smoother more aero-look and the new grille (in piano black on the Sport) some added distinction.

8.5 Interior
The new instrument panel and centre stack design fit nicely with the advanced entertainment, communication and information features offered, and it all works well.

8 Safety
The Edge is equipped with front, side and side curtain systems, has good handling and improved brakes, plus a number of optional electronic safety aids.

6.5 Green
While the Edge is more powerful than it really needs to be, the advanced technologies in its powertrain mitigate this by producing reasonable fuel economy numbers.

8.5 Overall

King dismisses disparaging
UAW remarks in book

Union president calls White House official's comments 'baloney'
Louis Aguilar / The Detroit News
Sept 4, 2010
Revelations about how events unfolded that led to a federal bailout of the U.S. auto industry drew mixed reactions Friday from some of the players.
United Auto Workers President Bob King dismissed a derogatory comment about the union made by a high-ranking Obama administration official that was included in an upcoming book about the bailouts of General Motors and Chrysler.
The book quotes White House Chief of Staff Rahm Emanuel declaring "F--- the UAW" at one point during internal administration debates about whether the government should step in to help General Motors.
"It's a bunch of baloney," King said in an e-mail Friday when asked about Rattner's account. "I think it's a diversion."
The book, "Overhaul: An Insider's Account of the Obama Administration's Emergency Rescue of the Auto Industry," was written by Steven Rattner, a former top auto adviser to the White House. The Detroit News on Thursday published excerpts from a draft manuscript, which was provided by publisher Houghton Mifflin ahead of an Oct. 14 publication date.
"If it wasn't for Rahm Emanuel ... if it wasn't for President Obama and the Democratic leadership in the House and Senate, we wouldn't have an auto industry," King said during an interview Friday on CNBC, a financial news cable channel. "Millions of more people would be out of work today."
The White House also brushed off Emanuel's reported quip.
"Throughout the entire process that saved the auto industry, Rahm tirelessly defended and advocated on behalf of the autoworkers," a senior White House aide said. "Any suggestion to the contrary is simply ridiculous."
King was adamant in his defense of the Obama administration and Emanuel.
"Did they do good for the auto industry? Yes, they did," he said on CNBC. "Did Rahm Emanuel play a role in that? Yes, he did. I appreciate him."
By contrast, Warren Mayor James Fouts was "very disturbed" by Rattner's account that White House officials squelched then-GM CEO Fritz Henderson's idea to move the automaker's headquarters to its Tech Center in Warren. Emanuel vetoed the move "as a bridge too far," according to Rattner, who supported the move to Warren.
"While I am committed to helping the City of Detroit thrive, I cannot condone hurting cities like Warren financially by helping Detroit," Fouts wrote in a Friday letter to President Obama. Fouts lobbied for the transfer of GM's headquarters and said it would save money for the automaker.
"This was in effect a government takeover of sound business practice, rather than a bailout of GM," he wrote. "Only in the Soviet system could something like this have taken place."
At another point, the book reports that Fiat SpA CEO Sergio Marchionne clashed with then-UAW President Ron Gettelfinger while pushing for a quick merger of Fiat and Chrysler. Marchionne reportedly told Gettelfinger he needed to accept "a culture of poverty" instead of a "culture of entitlement" -- in particular, targeting retiree health care benefits.
"Why don't you come and sit with me and tell a 75-year-old widow that she can't have surgery and that you killed her husband?" Gettelfinger responded, according to Rattner.
The UAW Friday declined to seek comment from Gettelfinger.


Our Sincerest Condolences go out to
Norm Collins on the passing of his wife Betty.
CAW Local 584 Retirees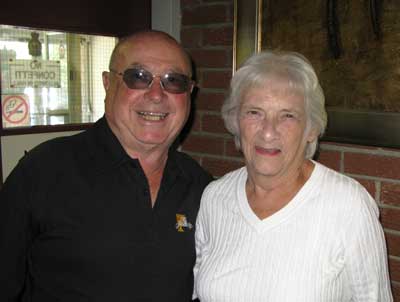 COLLINS, Elizabeth (Betty) - Passed away peacefully in her 77th year on Friday, September 3, 2010 at the Brampton Civic Hospital. Betty, beloved wife of Norm for 44 years. Loving mother of Gary and Shelagh. Dear grandmother of Brittnie and Katrina. Sadly missed by family and friends in Brampton, Toronto, Northern Ireland, England and Scotland. A private family service will be held. If desired, a donation to the William Osler Hospital Foundation would be appreciated. Special thanks to the Doctors and Nurses of the Oncology and Palliative Care Units of Brampton Civic Hospital. Visit the Book of Memories at www.wardfuneralhome.com


Ford updates F-150 Raptor with SuperCrew option, more power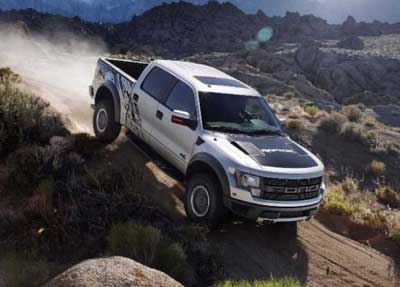 Alisa Priddle / The Detroit News
September 3, 2010
Ford Motor Co. wants to ensure it has the "baddest" pickup out there with the introduction of a SuperCrew option and more standard power for the already-extreme F-150 SVT Raptor for the 2011 model year.
The Raptor is a specialty performance version of the F-150 from Ford's Special Vehicle Team, built at the Dearborn Truck plant.
The pickup is directed at a niche: high-speed off-roading in a full-size pickup.
The Raptor was embraced by pickup enthusiasts when it debuted last summer and has sold about 6,000 to date. Ford spokesman Henry Platts said the automaker is selling them as fast as they can make them.
For the 2011 model year, the optional 6.2-liter V-8 engine is standard, providing 411 horsepower and 434 pound-feet of torque, creating the most powerful pickup on the market capable of towing 8,000 pounds, according to Ford. The 2010 model had a 5.4-liter V-8 as standard equipment but that engine has been phased out of the F-150 lineup for 2011.
The Raptor is seven inches wider than a base F-150 to accommodate the extra suspension components it needs to crawl over rocks and timber.
Customers were "blown away with the capability" of the Raptor when it launched, said Jost Capito, director of global performance vehicles.
"By adding the SuperCrew, we have expanded the versatility of Raptor and now even more enthusiasts will be able to experience the no-compromise off-road performance that only Raptor delivers," he said.
The new SuperCrew has a 5.5-foot box and rides on a wheelbase that is 12 inches longer.
Engineer Jamal Hameedi said the automaker worked to get the same ride and handling with the longer SuperCrew as the shorter SuperCab.
Another feature is the new 4.2-inch productivity screen with a menu that offers information relating to off-road and towing performance.
Dealers will start taking orders for the 2011 Raptor today for delivery late this year.
Pricing has not been announced. The 2010 model started at $38,995 for the 5.4 V-8 and $41,995 U.S. for the 6.2-liter.
Auto sales surge in Canada,
slump in U.S.
Richard Blackwell
Globe and Mail
September 2, 2010

Canadian auto sales surged at most of the big car companies in August, a sharp contrast to the scene south of the border where stubbornly high unemployment levels took a toll on automotive purchases.
Year-over-year sales comparisons in the United States were also affected by the "cash-for-clunkers" rebate program, which had boosted sales figures in August, 2009, just before the program ended.
In Canada, all of the big players, except Toyota Canada Inc., managed sales increases in August. Chrysler Canada Inc. led the way with a 12-per-cent boost, followed by Hyundai Auto Canada Corp. at 9 per cent, Ford Motor Co. of Canada Ltd. at 8 per cent, Honda Canada Inc. at 8 per cent and General Motors of Canada Ltd. at 2 per cent.
Ford said the 24,034 units it sold in August is the most sold that month since 1990, while Chrysler said five of its vehicles had their best August ever.
Toyota Canada, which has suffered from recalls and a dent to its reputation for quality, reported a 30-per-cent drop in sales in August.
In the United States, by contrast to the overall picture in Canada, the August-to-August numbers looked abysmal for most of the car companies, with sales falling by as much as one-third. Only Chrysler Group LLC managed to buck the trend with a 7-per-cent increase. Most of the car companies saw sales fall from July, 2010, levels as well.
The key reason for the difference on the two sides of the border, said Bank of Nova Scotia economist Carlos Gomes, is a "much stronger job market in Canada."
Employment is actually growing in Canada, he said, while "in the U.S., the job picture has turned a bit sour in the last few months."

The pace of employment growth is the key economic driver that prompts people to buy cars, Mr. Gomes said, so the different labour markets in the two countries will result in contrasting sales pictures.
Mr. Gomes said incentives are also higher in Canada at the moment, particularly for light trucks, and that is helping to boost Canadian vehicle sales significantly.
Analyst Bill Pochiluk, president of consulting firm AutomotiveCompass LLC, said the poor August showing in the United States, when compared with the previous August, can be blamed primarily on the cash-for-clunkers program, officially known as the Car Allowance Rebate System.
Under that federal incentive, U.S. car buyers got up to $4,500 (U.S.) for dumping their old cars in favour of more fuel-efficient new vehicles. It ran from July, 2009, almost until the end of August of that year, and generated a short but sharp spike in car sales.
At the time, analysts predicted that sales would slump after the deal ended, and that did happen, prompting last September's numbers in the United States to "crater badly," Mr. Pochiluk said. However, this September's year-over-year sales numbers there will probably look good by contrast, he added.
Still, Mr. Pochiluk agreed that the different economic conditions in the United States compared with Canada also contributed to the different sales pictures. "The uncertainty issues in the U.S. are worse," he said.
Looking at the sales more broadly, the winner on both sides of the border is Ford Motor Co., Mr. Pochiluk said. Its numbers were relatively strong in both countries and it has strong brands and new products in the pipeline.
Mr. Gomes, of Scotiabank, said he expects Canadian car sales to reach about 1.57 million vehicles for all of 2010, about 110,00 higher than the 2009 levels. In 2011, there should be a further modest gain to about 1.59 million, he said, roughly equal to the average annual Canadian sales over the past decade. "Essentially we'll be back to what was normal."
By contrast, sales in the United States will likely reach about 12.2 million next year, still sharply lower than the 15.8 million annual average for the period from 2000 to 2009.


2011 MY Shelby GT 500 Mustang
Eligible for the Ford of Canada
New Vehicle Purchase Plan Programs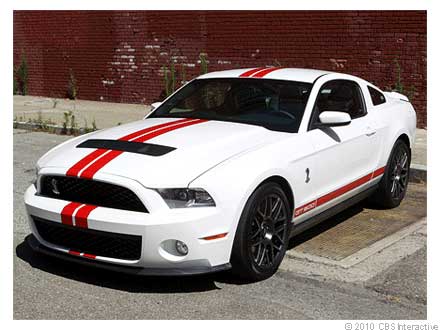 2011 MY Shelby GT 500 Mustang
Eligible for the Ford of Canada
A/Z New Vehicle Purchase Plan Programs
and X-Plan New Vehicle Purchase Plan Program
The 2011 MY Shelby GT 500 Mustang will be
eligible for the A/Z New Vehicle Purchase
Plan Programs effective Wednesday,
September 1, 2010.

The 2011 MY Shelby GT 500 Mustang will be
eligible for the X-Plan New Vehicle Purchase
Plan effective Wednesday, September 1, 2010.
o Supplier Partner X-Plan Recognition Program
o Ford Fleet Account Employee Appreciation X-Plan Program
o Ford Friends and Neighbours X-Plan Program
Ford Of Canada
Ford unveils police SUV; GM, Chrysler in pursuit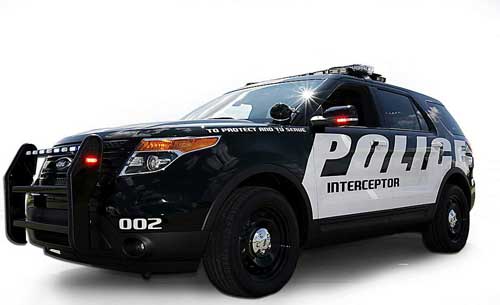 Alisa Priddle / The Detroit News
September 1, 2010
Bad guys beware: An unprecedented number of new and faster police cars are coming, including a new Police Interceptor utility vehicle whose details were released by Ford Motor Co. today.
The Ford Crown Victoria Police Interceptor has been the quintessential police car, leading the market for 15 years and holding a more than 70 percent share. But Ford is discontinuing production of its venerable rear-drive sedan next year, and General Motors Co. and Chrysler Group LLC -- as well as Ford -- are offering cars they hope will succeed it.
"This is a unique time because we're moving out of the Crown Vic," said Kevin Koswick, Ford's fleet director.
Ford will replace the Crown Vic with two offerings next year: the Interceptor sedan based on the Ford Taurus, and the Interceptor utility, based on its Explorer.
"For the first time ever, Ford will offer two vehicles for police use," said Mark Fields, Ford president of the Americas.
The two share underpinnings and parts. They'll be built at Ford's Chicago assembly plant, making it easy to adjust to shifts in demand.
"It reduces the engineering costs for both vehicles and gives us the scale to negotiate better terms with suppliers," Fields said. "It makes a good business case for Ford."
GM and Chrysler will beat the Fords to market with new cars that police agencies can order this fall.
They include the all-new 2011 Dodge Charger Pursuit and the Chevrolet Caprice Police Patrol Vehicle, returning after 15 years.
Both are rear-drive vehicles, the layout of choice for police officers who spent much of their careers in a Crown Vic.
The new Ford fleet is front drive, with available all-wheel drive. Engineers insist officers will embrace the increased comfort and roominess for their utility belts and equipment, plus a more responsive drive that doesn't toss occupants around while taking a corner fast.
And there is serious horsepower coming to chase bad guys.
The Crown Vic's V-8 pumps out 210 horsepower. The Interceptors offer a choice of a 280- or 365-horsepower V-6 and 20 percent better fuel economy.
The Fords go up against the 368-horsepower Hemi V-8 in the Dodge Charger and 365-horsepower V-8 in the Chevy Caprice.
"You're looking at three very strong contenders," said Lt. Keith Wilson of the Michigan State Police Precision Driving Unit, which tests police vehicles annually.
"It's hard to predict what people will do this year. A lot of decisions will be based on how our test goes this fall."
The testing runs Sept. 18-20 in Michigan. The Los Angeles County Sheriff's Department does separate testing. In addition to the four new vehicles, carryovers of current models for the 2011 model year include the Crown Vic, Chevrolet Tahoe and Chevrolet Impala.
"As people gain more confidence" in Chrysler and GM police cars, "there will be more competition for Ford," Wilson said. "They have to win over a new set of customers who have to be convinced the new cars are good. I don't think they will have a hard time doing that, but they have to prove themselves."
Ford is testing its new vehicles a year before they go on sale because most departments do their bidding in June, and Ford wants departments to have the data well in advance.
"It's important to us to make a statement," said Carl Widmann, Ford engineering manager. "It's bragging rights for the next 12 months."
Ford unveiled the Interceptor sedan in the spring.
This is the first look at the Explorer-based companion SUV, which has bulletproof doors, anti-stab plates on front seats, enhanced brakes, steel wheels, cooling system and a durable body to hold up under rough use.
Some officers may be disappointed initially with the lack of rear drive, but Louis Jamail, Interceptor vehicle dynamics engineer, thinks they will change their opinion once they experience the stability and comfort of the new Interceptors.
The vehicles are faster and safer because they are more stable, said Jamail, and are suited "for all manner of driving for good and bad drivers, not just the best drivers."
Visteon wins OK of
bankruptcy exit plan
David Shepardson / Detroit News Washington Bureau
September 1, 2010
Van Buren Township-based Visteon Corp. has been cleared to exit bankruptcy protection by Oct. 1.
After 15 months under bankruptcy protection, Visteon's revised reorganization plan was overwhelmingly supported by creditors and shareholders, and U.S. Bankruptcy Judge Christopher Sontchi, in Delaware, signed off on the plan Tuesday.
Sontchi also cleared the auto supplier, spun off by Ford Motor Co. in 1999, to borrow up to $700 million. Visteon has raised more than $1.3 billion by selling about 95 percent of the company to its bondholders, including Goldman Sachs, Oak Hill Advisors and Silver Point Capital.
"We are now positioned for a successful emergence," said chairman and CEO Donald J. Stebbins. "The difficult and necessary actions undertaken during this reorganization will allow Visteon to emerge as an extremely competitive automotive supplier."
Stebbins plans to remain as CEO once the company exits, according to the bankruptcy exit plan.
The bankruptcy allowed Visteon to shed about $2 billion in debt.
As part of its bankruptcy exit plan, Visteon reached a deal with its retirees over health care benefits. A federal appeals court had ordered the company's efforts to resume health care coverage for retirees after it cancelled it earlier this year.
Visteon has agreed to restore coverage during the bankruptcy stay, but plans to end coverage after it emerges from court protection.
Under the deal, the supplier agreed to pay $12 million to about 2,100 former Visteon workers represented by IUE-CWA retirees in exchange for terminating coverage, said Jim Fisher, a spokesman for Visteon. That deal must still be approved by the court.
The IUE-CWA retirees would have the opportunity to enroll in a Visteon-sponsored COBRA plan retroactive to April 1 and would get lump sum payments of up $13,000. Retirees over 65 would get $2,000 and younger retirees would get higher amounts based on age.
It's not clear if Visteon will offer similar payments to another 4,500 UAW and salaried retirees who lost health care coverage.
Visteon also resolved a number of last-minute objections, including tax issues raised by the states of Michigan, Missouri and Tennessee and the city of Dearborn.
Current Visteon shareholders will receive up to 5 percent of the new stock in the company.
"Upon consummation of the reorganization plan, we will have dramatically realigned our capital structure," Stebbins added. "Our substantially reduced debt level, in combination with the extensive operational restructuring we executed over the last several years, positions Visteon for long-term growth and profitability."
Joshua Gotbaum, the new head of the Pension Benefit Guaranty Corp., the government's pension insurer, praised Visteon's plan.
"Under the plan approved today, Visteon's 22,000 workers and retirees will continue to receive the full benefits they've earned. Everyone at the PBGC worked hard to preserve the plans and we're pleased that the company can reorganize while keeping its pension commitments," Gotbaum said in a statement.
Visteon initially planned to terminated three of its four pension plans, and shift the obligations to the PBGC.
That would have reduced benefits to the company's 22,000 workers and retirees by $100 million. The transfer also would have added more than $500 million to the PBGC's shortfall.
Under the plan of reorganization approved, Visteon won't cancel any plans.
Visteon has facilities in 25 countries and employs approximately 28,500 workers. It builds climate, interior, electronic and lighting products for vehicle manufacturers.
Public sector wage freeze could
lead to strikes: CAW
Toronto Star
Rob Ferguson
Queen's Park Bureau

August 31, 2010
KITCHENER—A top union leader warns Ontario could see an end to years of public sector labour peace if Premier Dalton McGuinty sticks with plans for a two-year wage freeze affecting more than 1 million workers.
"There could be more work stoppages," Canadian Auto Workers president Ken Lewenza said Monday after the premier insisted "there's no money" in tense talks that began secretly Aug. 9 and collapsed as unions, including the CAW, walked out.
"We're just going to bargain as we normally do," Lewenza added.
His union represents about 20,000 health care and 2,500 university workers, a portion of the 710,000 unionized employees in the public sector subject to the freeze that could last beyond 2014, depending on when contracts are signed. Another 350,000 managers and non-union workers are also subject to the freeze.
As a second round of talks began at a downtown Toronto hotel, the premier – just back from a week-long canoe trip – reiterated the cupboard is bare as the government faces a $19.3 billion deficit while Ontario digs out of the recession.
He urged unions to co-operate as part of a "shared responsibility" to ease the strain on taxpayers after the government spent billions over the last seven years beefing up health care, education and other public services after cuts made by the previous Progressive Conservative governments of Mike Harris and Ernie Eves.
"It's already been budgeted. There's no money. We've made it clear for the next two years there's no additional money available for compensation," McGuinty told reporters after touring a new Catholic school in a Kitchener suburb.
"It's in legislation . . . now what we're asking our partners to do is to recognize that."
Salaries for teachers, nurses, bureaucrats and other public service workers eat up 55 per cent of the provincial government's spending on programs.
As the Star first reported last week, the initial round of talks fell apart after the CAW stormed out on the second day, followed by the Canadian Association of University Teachers and the Service Employees International Union, on behalf of 46,000 workers in long-term care homes.
"It wasn't bargaining, it wasn't negotiations," Lewenza said of the government's freeze agenda.
Ignoring a gag order imposed on the talks, he said they were full of "discrepancies," such as the government's position it can protect public services while capping wages of workers who perform them.
"It's inconsistent," Lewenza added from a charity golf tournament in nearby Woodstock. He said the CAW is open to "sit down and talk" with the government and employers about finding ways to improve services.
The government was hoping phase two of the talks would go more smoothly with the Ontario Nurses' Association, Ontario Medical Association, Canadian Union of Public Employees and United Steel Workers, among others.
A third phase is set to take place Sept. 20 to Oct. 3 with teacher unions, the Power Workers Union, GO Transit workers in the Amalgamated Transit Union.
At the Monday session, CUPE leaders representing 230,000 workers challenged the government's assertion that wages are taking a rising share of spending, but said his members "do not have their heads in the sand" when it comes to the province's financial challenges.
It's too early to say whether the talks could result in strikes, said CUPE Ontario president Fred Hahn.
"I don't have a crystal ball," he told the Star. "We're interested in engaging the government in a real discussion. . . . We're not interested in walking away."
McGuinty said he hopes deals can be reached co-operatively as the government plays a facilitator between the many unions and public sector employers involved.
"One of the things I'm proud of over the course of the last five years is that we've had the lowest rate of strikes, work stoppages and labour strife since we've recorded data and I think that goes back 35 or 40 years," said McGuinty.
Lewenza credited McGuinty for "jumping through hoops" in a bid to get framework agreements with hundreds of unions and employers — in contrast to the cuts imposed by Harris — but predicted the effort will fail.
"I don't believe he's gonna get it done. . . . This is too big."
Lewenza noted the recession has already put a damper on private-sector contracts so the same is likely to happen in the public sector.
"Just let the bargaining process play itself out."
Ontario Premier Dalton McGuinty is taking another step towards shedding his stuffy image by joining Twitter.
By 4 p.m., McGuinty's account had racked up more than 900 followers.
Twitter will allow the premier to "speak directly with Ontarians about what he's up to, where he's travelling and talk about the government's latest initiatives," his spokeswoman, Jane Almeida, said in a email.
He'd considered joining Twitter for some time after hearing about it from his four children, she said.
McGuinty already has a Facebook account and regularly streams his question-and-answer sessions with reporters live on the Internet.
Ford US settles stock suit; will
offer financial advice to 150,000
retirees, employees
David Shepardson / Detroit News Washington Bureau
August 31, 2010
Washington -- Ford Motor Co. will provide free financial advice to more than 150,000 retirees and employees in agreeing to settle a 4-year-old shareholder lawsuit.
The current and former workers sued Ford because they said the Dearborn-based automaker shouldn't have allowed them to invest so much of their retirement funds in company stock through their 401(k) plans.
The proposed settlement, which must be approved by a federal judge, will provide participants with free financial advice for four years. Ford also will warn some employees and retirees with large amounts of company stock that they should consider diversifying their portfolios.
Under the proposed settlement, Ford agreed that if it restores a company match to retirement plans over the next three years, the contribution will come in cash -- not Ford stock.
But in what amounts to a significant win for Ford, the company will pay nothing to those who lost significant funds in retirement plans. Ford didn't admit wrongdoing in reaching the settlement.
It will, however, pay $1.5 million in legal fees to the attorneys representing the employee and retiree shareholders, and will cover the costs of notifying individuals of the settlement.
In April 2006, some employees and retirees filed suit after they lost more than $6 billion in company retirement plans because the company's stock dropped dramatically between 2000 and 2006.
Ford argued that employees and retirees had ample opportunity to manage their investments and that the drop in stock value -- from $30 a share to $6 a share -- mirrored the decline in the U.S. auto industry.
Ford spokeswoman Marcey Evans declined to comment on the settlement.
Under the settlement awaiting the approval of U.S. District Judge Stephen J. Murphy III in Detroit, Ford will pick the source of its online financial advice by the end of the year and offer it to retirees and employees soon after.
The free services may include: "online investment advice, an annual retirement evaluation, company stock allocation analysis, savings rate analysis, (and) specific investment advice," the settlement agreement says.
Ford will send notices to active participants whose Ford stock holdings exceed 20 percent of their total plan assets, warning them of the risks of holding too much company stock.
The notice will remind participants that "spreading assets among different types of investments can help achieve a favorable rate of return, while minimizing the overall risk of losing money," and "the Department of Labor suggests that an investment of more than 20 percent in any single company may result in a non-diversified portfolio."
In 2000, Ford employees held 196 million shares of company stock worth $10.5 billion. By Dec. 31, 2006, the amount of Ford stock in the plans had grown 57 percent, to 308 million shares, but had decreased in value by 78 percent to $2.3 billion.
But Ford employees have benefited from the recent run-up in Ford's stock, which had fallen under $2 a share, and is now worth $11.46 a share, as of early afternoon trading today on the New York Stock Exchange.
Salaried and hourly employees and retirees saw the value of company stock held in retirement plans rise from $722 million at the end of 2008 to $2.7 billion at the end of last year.
If Ford employees and retirees still held the 270 million shares they owned at the end of 2009, they would be now worth $3.1 billion -- up another $400 million this year.
Ford's turnaround is one reason lawyers for the retirees and employees are settling the case without collecting any money for retirees or shareholders.
"As the result of improved market conditions, Ford's fortunes have in large part turned around," Derek W. Loeser, a lawyer for the shareholders, wrote in a legal filing. Ford could argue that the claims "may be substantially reduced or eliminated in their entirety."
The settlement covers any employee or retiree who owned Ford stock in a plan at any time between April 15, 2000, and today, along with spouses and other beneficiaries.
Previously, Ford made matching contributions to retirement funds in Ford stock. Until 2004, company policy barred participants from transferring matching contributions to another investment.
In 2006, Ford amended its retirement plans to add an independent fiduciary, unrelated to Ford, to determine "from reliable public information that there is serious question concerning the company's short-term viability as a going concern." If so, it could direct the Ford stock be sold.
Several other companies have settled similar lawsuits in recent years, including then-General Motors Corp.
GM settled a similar case for $37.5 million in 2008 and offered employees heavily discounted financial advice. The GM payout is one of the largest dating back to 2005, when Kmart agreed to pay $11.75 million to about 150,000 employees and retirees.



Ford First With Assembly Line Wi-Fi Provisioning for Delivery of SYNC Software to 2011 Edge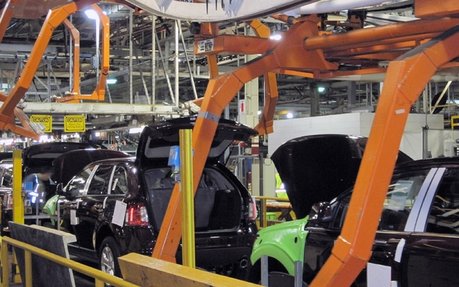 August 30, 2010
Ford is installing Wi-Fi® access points on its assembly lines to wirelessly deliver SYNC® software to new Wi-Fi-enabled MyFord Touch(TM)-equipped vehicles as they are being built -- On-the-line software downloads allow Ford to use a common SYNC hardware module for every vehicle, reducing complexity, improving quality and saving cost -- The Oakville, Ontario assembly plant, which produces the all-new 2011 Ford Edge and Lincoln MKX, will be first to have the on-the-assembly-line Wi-Fi capability, with Chicago Assembly, home of the new 2011 Ford Explorer, and other global Ford manufacturing sites soon to follow
Ford is the first automaker to use Wi-Fi provisioning on the assembly line to wirelessly deliver SYNC software to vehicles equipped with the new MyFord Touch driver connect technology as they are being built.

The new on-the-assembly-line Wi-Fi capability eliminates the need for building, stocking and storing multiple SYNC hardware modules, thus reducing manufacturing complexity and saving cost.

"Using wireless software installation via Wi-Fi, we can stock just one type of SYNC module powering MyFord Touch and loaded with a basic software package," explained Sukhwinder Wadhwa, SYNC global platform manager. "We eliminate around 90 unique part numbers, each of which would have to be updated every time a change is made - this system really boosts quality control."

Earlier in the year, Ford announced that the next-generation SYNC system that powers MyFord Touch would feature a built-in Wi-Fi receiver. Now, Ford is further capitalizing on the limitless possibilities of this in-car wireless connection, making communication between the vehicle and the assembly line a reality.

The Oakville, Ontario, assembly line that produces the all-new 2011 Ford Edge and Lincoln MKX will be the first to feature wireless access points for software installation. In turn, the Edge and MKX will become the first vehicles to get their infotainment software installed via Wi-Fi while moving down the line.

A global endeavor, Ford is also targeting Chicago Assembly Plant, which is building the all-new 2011 Ford Explorer, for Wi-Fi installation capabilities. Plant locations throughout the world that will support the 2012 Ford Focus launch will soon follow.

Through July, hundreds of pilot vehicles were successfully moving through the Wi-Fi access point at Oakville. "Employees at the Oakville assembly plant helped us tremendously in getting the Wi-Fi process to work, and work perfectly," said Wadhwa. "Turning an assembly plant - with steel beams everywhere and high-voltage cabling throughout; everything you could imagine that would interfere with a radio signal - into an access point that would achieve 100 percent success was a huge challenge.

"Oakville is our model for what we're doing next in Chicago, then into Europe for the new Ford Focus."

Wireless proposition

Going wireless for software delivery addresses a number of manufacturing complexity and potential quality issues for Ford as more and more features and services are added to SYNC across multiple vehicle lines and continents.

"As we began developing the different levels of MyFord driver connect technology, we grew increasingly concerned with the number of different hardware configurations we were going to have to keep on hand," said Wadhwa.

Where engineers initially proposed unique SYNC hardware modules for each possible vehicle configuration - resulting in more than 90 individual part numbers - Wi-Fi installation allows those different configurations to be stored as software on a computer server and wirelessly installed on a common, basic SYNC hardware module as the vehicles are built.

Through the Wi-Fi connection, SYNC software options totaling as much as 300 megabytes of data can be installed and configured wirelessly, including:

-- The addition of the SYNC app Traffic, Directions & Information in U.S.
markets
-- Market-appropriate languages for voice-activated commands and system
prompts
-- Option-specific graphics and icons for navigation, system information
and instrument panel screens
-- Unique system color schemes for MyFord Touch and MyLincoln Touch
-- Units of measurement settings for fuel economy, speed and distance

Global implementation
With the dual challenge of implementing a cutting-edge driver connect technology like MyFord Touch and rolling that technology out to a global marketplace, Wi-Fi has been a key to rapid globalization of the SYNC system, added Wadhwa.

"Ford is developing and implementing world-class manufacturing techniques that are just as advanced as the vehicles they're being used to build, and we're scaling these techniques for use around the globe," he said.

Ford Motor Co. (NYSE: F - News) plans to launch eight new models in India over the next five years, and export the locally assembled popular Indian small car, Figo, to about 50 countries. The company's strategy is backed by doubling of annual production capacity to 200,000 units per year during July at its plant in Chennai, located in southern India.
Joe Hinrichs, head of Ford's Asia-Pacific and Africa operations, has revealed that the new models will share the same chassis in line with the company's "One Ford strategy. He also stated that the company would export Figo to international markets including Mexico, North Africa and the Middle East. The company already began exporting the small car to South Africa in May.
Ford's car launches in India are a part of its major expansion plan in the emerging countries, including Argentina, Brazil, China, India and Thailand. Through the expansion plan, the company aims to tap the growing market potential in the emerging countries, especially those in Asia. The company expects Asia will account for 70% of its global growth in the next decade, mostly from China and India.
Since last year, Ford has also invested $510 million in China and $500 million in India as part of its expansion plan. Recently, Ford and Japan's Mazda Motor announced their plan to invest $350 million in their Auto Alliance joint venture plant in Rayong, Thailand. This comes on top of a $450 million investment for a new plant at the same location made in June.
In the second quarter of the year, Ford posted a profit of $2.7 billion or 68 cents per share (before special items that include sales of Volvo cars among other things), overshadowing the Zacks Consensus Estimate of 40 cents per share. The profit improved $3.34 billion from a loss of $638 million or 21 cents per share (before similar adjustments) in the second quarter of 2009.
Sales in the quarter appreciated 17% to $31.3 billion, higher than the Zacks Consensus Estimate of $29.5 billion. Excluding sales of Volvo cars in 2009, sales surged 31%. This company's strong results were attributable to better performance by its Automotive operations around the world, driven by strength of new products.
Based on the improved results and global expansion plan, Ford maintains a Zacks #1 Rank (Strong Buy) on its stock in the short term (1–3 months). Consequently, we reiterate our Outperform recommendation on the stock for long term (6+ months).


Ford recalls 1998-2003
Windstar minivans

Winter road salt may cause corrosion and cracks in rear axles
David Shepardson / Detroit News Washington Bureau
August 29, 2010
Washington -- Ford Motor Co. is recalling nearly 463,000 1998-2003 Ford Windstar minivans in the U.S. over concerns that rear axles could corrode and fail.
The recall covers vans sold or registered in 21 "Salt Belt" states -- including Michigan -- and Washington, D.C., over concerns that after years on the road, corrosion can weaken the rear axle and crack it, possibly resulting in a crash.
It's the second recall for the Windstar vehicles over the last year; in October, Ford recalled 1995-2003 Windstars to fix a speed control deactivation switch.
The new recall campaign for some Windstars is the ninth Ford has issued over the past decade.
Others were to repair or replace wiper motors, auxiliary air conditioning, power window wiring, windshield glass, floor mats, seat belt buckles and fuel line clips.
Ford spokesman Said Deep said Friday that the automaker is also calling back about 113,000 Windstars in Canada.
Ford dealers will inspect and install rear axle reinforcement brackets starting Sept. 27 "as parts become available."
In May, the National Highway Traffic Safety Administration opened an investigation into the Windstar after receiving 234 complaints alleging rear axle failure in 1999-2003 models, including two alleging that the failures resulted in minor crashes.
Ford's action came just weeks after it submitted records to NHTSA in its investigation and is the latest sign of a more aggressive posture by the agency to demand quick action.
Automakers are on pace to recall more than 20 million vehicles this year -- the most since 2004.
NHTSA was worried because most Windstar complaints involved serious incidents.
More than half of the complaints claimed a complete fracture of the axle. About a quarter said that the axle failed at speeds of 40 miles per hour or greater.
One crash occurred while the vehicle was traveling on a highway. The rear axle reportedly "snapped in half" after the vehicle struck a pothole, NHTSA said.
The driver told investigators that both rear tires "blew." NHTSA said axle fractures often cause tires to fail. The complaint said the Windstar struck a guard rail when the driver had difficulty controlling it while braking. NHTSA said 96 percent of the complaints were from Salt Belt states, where roadways are treated for snow and ice.
The recall states are Connecticut, Delaware, Illinois, Indiana, Iowa, Kentucky, Maine, Maryland, Massachusetts, Michigan, Minnesota, Missouri, New Hampshire, New Jersey, New York, Ohio, Pennsylvania, Rhode Island, Vermont, West Virginia and Wisconsin.
Calgary company develops
electric vehicle using hemp
Aug 28 2010
Tony Van Alphen
Business Reporter

Don't call it the cannabis car, but a Calgary transportation company and its partners including some Toronto firms have developed an electric vehicle with hemp body parts.
Calgary-based Motive Industries says it will unveil the design of the Kestrel compact car and its hemp composite components at an electric vehicle show in Vancouver next month.
The design and engineering of the four-seat car is part of Project Eve, a major Canadian initiative that is promoting the production of electric vehicles and parts.
A consortium of more than a dozen companies, including Toronto Electric and Archronix Corp. of Markham, and some technical schools plan to use impact- resistant, bio-composite material made from industrial hemp, other fibres and resins for outside body panels and some interior components.
Hemp does not contain tetrahydrocannabinol (THC), the active ingredient in marijuana and hashish.
"We have had a lot of public interest in what's we're doing but there have been some sensational headlines," Motive president Nathan Armstrong said Friday about the mistaken link to cannabis and marijuana.
The project is one of many consortiums that have surfaced to pursue the emerging world of electrical and hybrid vehicles that would gradually replace the century-old internal combustion engine.
Project officials say the combination of hemp, other fibres and resins can be stronger, lighter, less expensive and easier to manufacture than fiberglass, a major material in autos.
Armstrong also noted that energy costs are much lower for manufacturing hemp and it produces no toxins that undermine the health of workers.
Some farmers in Alberta and Ontario already grow hemp for industrial uses that could be used for the car. A government-funded study is determining whether more hemp production is commercially viable in view of its potential uses.
"The farmers are going to be helping us and we are going to be flying," said Project Eve leader Steve Dallas about prospects for hemp in cars.
Dallas, president of Toronto Electric, said the consortium will unveil five electric prototypes for production within the next few years. Member companies have already selected a Winnipeg manufacturer to build a few dozen vehicles for large corporate fleets, he added
In addition to releasing a design of the Kestrel at the EV 2010 VE Conference and Trade Show in Vancouver, the consortium will unveil Dallas' A2B two-seat electrical car which he has developed in recent years and drives around Toronto. It can reach speeds of up to 115 km per hour, he said.
The consortium will complete and roll out the first Kestrel hemp prototype by the end of the year, according to Armstrong. While project officials are using hemp extensively, the main frame will be made of a aluminum.
The idea of using hemp as a material in vehicles dates back to 1941 when auto pioneer Henry Ford produced a car using hemp, wheat straw and resins to make body parts such as trunk lids that could withstand eight times the force of steel before denting. However, the company never used hemp extensively.
Hemp also has numerous industrial uses ranging from the production of chemicals, to paints, the backing on carpets and even as an alternative fuel for cars.
Project officials also say Canada has an advantage in exploiting the use of hemp because of productions restrictions south of the border.
The U.S. Congress passed the Marijuana Tax Act in 1937 which effectively ended hemp production. Washington's Drug Enforcement Administration opposes any changes for domestic cultivation, hemp supporters say.
Ford recalls 575,000
older Windstar vans
The Associated Press
Friday Aug. 27, 2010
WASHINGTON — Ford is recalling 575,000 older model Windstar vans in the United States and Canada over concerns that the rear axles can corrode and potentially break.
The recall covers vehicles in the model years 1998 to 2003 sold or registered in states where the heavy use of road salt can cause more corrosion. That includes Canada, New England, the Mid-Atlantic states and the Great Lakes region.
The National Highway Traffic Safety Administration began an investigation in May after receiving 234 Windstar driver complaints of rear axle problems, which included two crashes. One driver reported the axle snapped in half after hitting a pothole, causing the tires to blow and the vehicle to strike a guard rail. However, no injuries were linked to the problem.
NHTSA said that the design of the axle, which forms an inverted "U", may cause an excess of salty road slurry to collect on the axle. The safety regulator reported that 96 per cent of all complaints were from the "Salt Belt" states where salt is heavily used to prevent freezing during winter months.
Ford Motor Co. said in documents filed Thursday with NHTSA that it plans to start notifying owners beginning Sept. 27. Repairs will be made at no cost to the owners.
The states covered by the recall are: Connecticut, Delaware, Illinois, Indiana, Iowa, Kentucky, Maine, Maryland, Massachusetts, Michigan, Minnesota, Missouri, New Hampshire, New Jersey, New York, Ohio, Pennsylvania, Rhode Island, Vermont, West Virginia, and Wisconsin. The District of Columbia is also included.
The Windstar was produced at Ford's plant in Oakville, Ont., between 1995 and 2004.
Ford shares rose 33 cents, or three per cent, at $11.50 in morning trading.


Toyota recalls another 1.3M
vehicles over engine issue
David Shepardson / Detroit News Washington Bureau
August 27, 2010
Washington --Toyota Motor Corp. is recalling 1.3 million 2005-08 vehicles -- Corollas and Matrix hatchbacks, plus Pontiac Vibes that it built for General Motors -- for an engine problem that could cause them to stall.
Toyota said it decided to recall the vehicles just one day after federal safety officials stepped up their probe into the engine complaints, but Toyota -- which has vowed quick action on safety issues -- said that played no role in its decision.
Toyota, which was fined $16.4 million in April for delaying a recall for sticky vehicle pedals, has come under sharp criticism for its handling of auto safety issues and faces several ongoing investigations, including one by a federal grand jury in New York.
This is the 15th recall for Toyota this year. It brings the 2010 recall total to more than 6 million vehicles, and more than 10 million over the past 12 months.
The latest recall represents a reversal for Toyota, which insisted in March that the engine problem wasn't a safety issue.
In the United States, Toyota is calling back 1.13 million Corolla and Matrix vehicles and 161,754 Pontiac Vibes, which it built at a joint venture with GM in California. Toyota also will recall 200,300 vehicles in Canada.
Toyota spokesman John Hanson said the recall was voluntary, and the company doesn't believe this to be a safety question.
"Times have changed. The environment has changed," he said.
The automaker upgraded the part in models beginning in 2008.
Despite Toyota's action, the U.S. Department of Transportation said the federal probe will continue, "in order to ensure we have identified all the potential causes of this safety defect in the affected vehicles."
"Toyota obviously has learned from previous mistakes and now is following a strict policy of openness and disclosure -- even to the point of describing the precise technical issue that prompted this action," said James Bell, executive market analyst, Kelley Blue Book's kbb.com.
"Such candor will go a long way toward mitigating long-term damage from this and future recalls," he said. "But today's news also further solidifies Toyota as the 'poster child' of this recall-infused year."
Automakers are on pace to recall the highest number of vehicles since 2004 as the National Highway Traffic Safety Administration steps up scrutiny of vehicles. This week, the agency took the unusual step of granting a petition from a safety group to investigate whether 3 million 1993-2004 Jeep Grand Cherokees pose a undue risk of fires because of the location of the gas tank. Chrysler Group LLC maintains that there is none.
No deaths reported

Toyota said it will recall vehicles with the 1ZZ-FE engine. The company said if the engine module produced by Troy-based Delphi fails, "the check engine may illuminate, harsh shifting could result, or the engine may not start."
This week's recall came after four of 32 modules Toyota tested malfunctioned.
In some cases, Toyota said, "the engine could stop while the vehicle is being driven."
Three accidents and one minor injury are alleged to have been caused by this condition, Toyota said; NHTSA said there were reports of six crashes and no deaths.
Toyota will reimburse owners who have paid for the repairs themselves, if their cars weren't under warranty. Beginning in mid-September, the automaker will mail an interim notification advising owners of this recall and the fact that they will receive a future notice when parts become available to complete the repairs.
NHTSA has reviewed more than 1,100 complaints and Toyota acknowledged 4,200 warranty claims.
In November, NHTSA opened a preliminary investigation into the 2006 Corolla and Matrix vehicles, expanding it to the other model years after Toyota told investigators that the possible cause was an engine control unit used in the three model years.
Toyota issued four bulletins to dealers over the issue between 2005 and 2007. The bulletins said dealers should replace the engine control computer, and said the company would cover the repair under warranty, if the vehicles had fewer than 80,000 miles.
Ford fixes Fiesta part issue,
resumes deliveries
Alisa Priddle / The Detroit News
August 26, 2010
A problem with a part that caused Ford Motor Co. to stop building and shipping the Ford Fiesta last week has been fixed and deliveries have resumed, said Mark Fields, Ford president of the Americas.
The automaker is inspecting about 6,000 subcompact cars, some of which were in transit, looking for ones with a seat lever that did not meet Ford's quality standard. Of almost 2,300 inspected, a dozen cars had the part in question.
Fields would not identify the supplier and said he did not think any cars made it into the hands of customers.
The loss of almost a week's production further delayed a vehicle that saw shipments slowed when a hurricane hit in late June, damaging rail lines from the assembly plant in Cuautitlan, Mexico.
Ford gave $50 gift cards to some customers who faced an inordinately long wait for their new car as a result of the weather delays.
Ford to launch 8 new
vehicles in India

By BRENT SNAVELY
FREE PRESS BUSINESS WRITER
August 26, 2010
Ford is planning to launch eight new vehicles in India by the middle of the decade as it tries to gain market share in the rapidly growing automotive market.
It also plans to export its recently launched Ford Figo from India to 50 countries.
Joe Hinrichs, Ford's president of Ford Asia Pacific and Africa, is expected to make the announcement today at the Society of Indian Automobile Manufacturers Conference in New Delhi.
Growth in India is critical for Ford. Industry sales in the region are expected to increase from 16 million units in 2009 to an estimated 35 million units by 2018, and Ford expects the region will account for nearly 70% of Ford's worldwide growth in the next decade.
But in 2009, Ford sold 29,574 vehicles in India or about 1% of industry sales, according to J.D. Power and Associates.
"By the middle of this decade, we will introduce eight new vehicles to India from our global platforms, in segments appropriate for this market," Hinrichs said in a statement.
Ford declined to identify the names or details of those eight vehicles. Ford currently sells five models of small cars and SUVs in India.
Ford launched its Figo subcompact car earlier this year and has sold more than 30,000. The automaker also began exporting the Figo to South Africa in May.
Ford plans to the Figo subcompact to 50 new markets including Mexico, North African countries and the United Arab Emirates.


CAW Local 584 Retirees Show Support for the Nortel Workers!
"Don't wind up our pension plan" / "Retirement Security for All"
Nortel pensioners and supporters rallied at Queen's Park in front of the Legislature to protest the handling of Nortel's pension funds by the Government of Ontario.
Over 2,000 people, including CAW leaders and members, were at Queens Park September 15, 2010 in an act of solidarity.
Speakers were:
CAW National Secretary-Treasurer Peter Kennedy
NRPC National Chair Don Sproule
New Democratic Party of Ontario leader Andrea Horwath
Canadian Federation of Pensioners Vice-President Jack Walsh
General Motors Retirees President Brian Rutherford
Canadian Labour Congress Vice-President Hassan Yussuff
NRPC Quebec Region Chair Mike Brault
"Nortel pensioners have been first wronged by the company through its utter mismanagement and could now be wronged by the provincial government," said CAW President Ken Lewenza. "All retirees deserve to live in dignity –that means they need an adequate pension to allow them to do so." Lewenza said that the union is urging all CAW members in the area to support the Nortel pensioners rally on September 15.
Below is an excerpt of the open letter sent this week to Premier Dalton McGuinty, on behalf of Nortel retirees.
An Open Letter to Ontario Premier Dalton McGuinty from Nortel's pensioners
Don't Wind Up our Pension Plans!
On September 30, Nortel's pension plans will be placed in the hands of your government.

Twenty thousand former employees across Canada, including a large number who are elderly and in poor health, will be affected by your decisions. We are reminding you that our pension plans represent our retirement savings. It is our money, not the Ontario government's and we intend to have a say in how it is managed. The time for some fresh thinking and action by your government on protection of pensions and pensioners is long overdue.
We discovered in 2009 that our pension plan is seriously under-funded. The latest information from Nortel indicates that we will lose at least 35% of our pensions. This estimate may prove highly optimistic for reasons described below. Given a choice in the matter, we would prefer that the assets in Nortel's estate were the main source for reducing our loss, not the public purse. The actions of the Federal government in favouring foreign claimants over Canadian workers in bankruptcy court make this unlikely, unless there is a sudden change of heart on the part of Federal Minister of Industry, Tony Clement. And now the Ontario government, having already allowed Nortel the opportunity to neglect its funding responsibilities, seems intent on making matters much worse for its retirees.
Over the past year we have purposefully and consistently asked your government NOT to wind up our $2.5 Billion Pension Fund and NOT to attempt to buy us annuities with the proceeds. The negative impact of Wind-up-by-Annuity is recognized in the 2008 report of the Ontario Expert Commission on Pensions when it recommended that your government "investigate strategies for reducing the cost of annuities and the influence of the annuities market". It is clear that Wind-up-by-Annuity will erode even more of our pension incomes. Experienced actuaries and academics tell us that liquidating a very large fund like ours could cause a systemic failure of the Canadian annuity market, which typically can only supply between $200 Million and $500 Million worth of contracts per year. At best winding up our plan will cause a steep rise in annuity prices, which might lead to the purchase of lower quality products. Furthermore, outrageous as it may seem, we will be forced to pay the costs of this destructive process from our pension fund!
For the complete letter, please visit: www.nortelpensioners.ca or http://www.caw.ca/en/9387.htm
************************************
We made our voices heard and that we will not sit back and allow the government to wind-up these pensions without looking for better solutions in order to give these Retirees the respect and security they need and deserve after their many years of service to this corporate giant.
We need to keep the pressure on all levels of government to fulfill their moral obligation to ensure our pensions are funded and fully protected.
None of us is immune to such a travesty, who would ever imagined that Nortel workers would be in this predicament today fighting for their financial existence.
Ford Retirees also worked for a corporate giant who barely escaped bankruptcy recently, we all could have easily been in the Nortel worker's shoes wondering how much they were going to shave off of our pensions and if we could survive. The harsh reality is that if Ford of Canada closes up all its manufacturing in Ontario, that we too could be facing a pension wind-up.


CAW Local 584 Retirees


CAW CONTACT
Volume 40, No. 29
August 27, 2010

CAW Urges Support for Pakistan Emergency Relief
The CAW will be donating $40,000 to the Pakistan relief effort and is urging local unions and individuals across the country to give generously to the growing need for assistance by 20 million citizens impacted by the flood.
CAW President Ken Lewenza expressed his condolences to those affected by this devastation and to Canadians with families suffering in Pakistan or who have lost loved ones. "In a region already facing so many challenges, this latest catastrophe is unimaginable," said Lewenza. He expressed concern at the slow pace of donations coming in from the international community.
Millions of people in Pakistan are struggling to survive the worst floods in 80 years that began July 21. The CAW Social Justice Fund will donate $25,000 and CAW Local 222 will donate $15,000 to Oxfam Canada with more money expected to pour in from across the country.
"The leadership and support of the Social Justice Fund and CAW locals are crucial at this time -- and very much appreciated," said Robert Fox, Oxfam Canada's Executive Director. "As millions scramble to save their families from the raging flood waters, the CAW's support will help us provide clean, safe water as we work to head off a second disaster -- the risk of a spike in deaths from water-borne diseases."
The need continues to be great in Pakistan. If you want to make a difference with an individual contribution* made to the CAW-SJF Pakistan Floods Relief Fund between August 2 and September 12, 2010 the Government of Canada will match dollar to dollar into a government relief fund.
Cheques should be made out to CAW Social Justice Fund – Pakistan Floods Relief, and sent to:
CAW Social Justice Fund
205 Placer Court
Toronto, Ontario M2H 3H9
*A tax receipt will be issued only for individual contributions of $20.00 or more and that provide a complete mailing address. If you have any questions, please email the CAW International Department: cawint@caw.ca
CAW Members Ratify Deal with Toronto Terminals Railway
CAW members at Toronto's Union Station have overwhelmingly ratified a new three-year agreement with Toronto Terminals Railway. CAW members voted 85 per cent in favour of the deal.
The new agreement includes wage increases of 2.4 per cent in year one, 2.6 per cent in year two and 3 per cent in year three, benefit improvements for dental and vision care, among others, as well as stronger union representation language and other gains.
"It was clear, from the strong strike mandate we received, that accepting the company's demands for major concessions was never an option," said CAW National Representative Bob Fitzgerald. "As a result, we've bargained a very good collective agreement that parties on both sides of the table can be proud of."
The union represents 125 members at TTR, who perform maintenance-of-way, track protection and cleaning duties and are members of CAW Council 4000.
Windsor-Built Engine Slated for Popular Ford F-150 Truck
News that the five-litre engine, built at the Essex Engine plant in Windsor, will be offered in Ford's F-150 pick up truck is great news for the membership, the community and CAW Local 200, CAW President Ken Lewenza said.
"Windsor has been devastated by manufacturing job loss so this announcement means greater job security for our members and is the result of a lot of hard work by the union, working along with Ford and the government" Lewenza said.
Ford announced August 11 that the workhorse engine for the F-150 truck will be the five-litre V8 engine produced at Windsor's Essex Engine Plant.
Production will increase in the fall so that the engine will be a feature of the 2011 model truck.

CAW Local 200 President Dan Cassady said the announcement helps solidify the future of the Essex Engine Plant, and maintain the manufacturing job base and associated spin off jobs, which in turn benefit the local community.
"CAW Local 200 will continue to search for creative solutions in order to fully utilize our Ford facilities in Windsor," Cassady said.
Ford plans to add 140 workers at the Essex Engine Plant in November to handle the ramping up of engine production. Across Ford's Windsor engine complex there are currently 832 people on layoff.

CAW Calls for Government Intervention on Navistar
The CAW is calling for the Ontario government to intervene in the more than year-long stand-off between the union and heavy truck manufacturer Navistar Corporation, after recent talks failed to make any progress.
The CAW called the meeting with Navistar in an attempt to resolve the temporary closure of the Chatham, Ontario plant and explore ways to maximize production at the facility. But the discussions failed to produce any resolutions.
The company did not provide any plans for the future of the facility but has pledged to provide a detailed and formal response.
"Navistar Corporation has to understand that to manage change in a workplace it must be done in conjunction with the workers. Those who are affected by these changes must be treated with respect and dignity," said CAW President Ken Lewenza, following the meeting.
"It is unconscionable that this corporation is allowed to send the historic production, supported by Ontario and Canadian tax dollars, to a foreign country like Mexico. The meeting today and all the meetings to this point have been extremely frustrating and now we will wait for the corporation's response within the next two weeks."
"This situation cannot be resolved through collective bargaining and requires significant intervention by the government," Lewenza said.
Navistar temporarily closed the facility in June 2009, laying off its entire workforce after a breakdown in negotiations between the two sides.
The company's latest proposal includes reducing the workforce to fewer than 100 people and with this assembly work historically performed at the plant, outsourced to Mexico. The collective agreement expired on June 30, 2009.
CAW Ratifies New Deal at Fairmont Empress Hotel
CAW members at Fairmont Empress Hotel in Victoria, British Columbia ratified a new collective agreement by 78 per cent August 19. Negotiations resumed only 24 hours before the strike deadline was to be set and the two sides successfully hashed out a deal.

"It was a tough day of negotiating," said CAW National Representative Stu Shields. "But both the union and the hotel knew what was at stake taking a strike vote at this time in the summer during tourist season."
At issue was language around scheduling, the application of seniority, the movement of staff around the hotel and wages. The new three-year agreement takes effect on September 1 and includes wage increases totaling six per cent over the life of the contract.
CAW hotel unit chairperson James Griffin said that the members at the Fairmont Empress know how valuable their work is in building and maintaining the thriving hotel. "They've worked hard to make the hotel a success and therefore they are entitled to a fair wage increase for their ongoing efforts," said Griffin.
Shields said the members were both pleased and surprised to learn the union successfully reached a deal and that they would be voting on it instead of voting on a possible strike. "It was without a doubt the solidarity and support of the workers that made this deal possible. When workers support one another and their union, a fair agreement almost always follows," said Shields.
CAW Local 4276 represents approximately 500 workers at the Fairmont Empress Hotel.

Turbine Blades Should be Built in Siemens Hamilton Plant
A coalition has formed in Hamilton supporting the CAW's campaign to have Siemens Canada use its existing Hamilton facility as the home for its new wind turbine blade manufacturing plant.
The coalition includes CAW members, other labour leaders, city staff and provincial and federal politicians, including MPP Paul Miller and MPs Wayne Marston and Chris Charlton of the NDP.
In addition the CAW has launched a media campaign including radio and newspaper ads urging Siemens to put the work into the Hamilton gas turbine plant it has announced it plans to close. The community will lose 550 good jobs if the facility closes with no replacement work.
"We're trying to get Siemens and the Ontario government to put those green jobs into the Hamilton plant," said Randy Smith, president of CAW Local 504. "We're saying it makes more sense to use a plant that's already here than to take up more green space with a new factory," he told The Hamilton Spectator newspaper.
Coalition members are urging the Ontario government to support the green economy by investing in the plan to put the wind turbine blades into the existing Hamilton facility.
To read CAW President Ken Lewenza's letter to Siemens Canada President Roland Aurich please see page 4 of Contact.
CAW Members Picket Extendicare Head Office
CAW members demonstrated August 19 outside long term care provider Extendicare's head office in Markham, Ontario, just north of Toronto, protesting the company's refusal to negotiate a fair settlement.
The company broke off talks with the union on April 26 and workers have been without a contract since March 31. The demonstration was just one in a series of pickets organized by the union since talks ground to a halt.
"Our members are frustrated that this multi-million dollar company, a for-profit long term care home provider, is now crying poor when it comes time to compensate its staff," said CAW President Ken Lewenza.
"This is another example of how for-profit firms are hiding behind the provincial Public Sector Compensation Restraint Act, instead of negotiating a fair contract. We will not tolerate it."
The CAW represents 1,200 Extendicare workers in10 long-term care facilities across Ontario, including London (CAW Local 302), Port Stanley (CAW Local 302), Kingston (CAW Local 830), Windsor (CAW Local 2458), Sault Ste Marie (CAW Local 1120), Oakville (CAW Local 504) and Ottawa (CAW Local 830).
Pension Reforms Positive but Further Improvements Still Needed, CAW President Says
The slate of provincial pension reforms released August 24 by Ontario Finance Minister Dwight Duncan is a positive step in securing retirement income for workers, but falls short of instituting the full package of reforms needed to sufficiently strengthen the province's pension system, said CAW President Ken Lewenza.
"These reforms are a clear acknowledgement that our pension framework is in desperate need of repair," Lewenza said.
The union welcomes most of Minister Duncan's proposals to enact stricter funding regulations and improve the funding structure of the provincial pension guarantee fund. As well, Lewenza said he is encouraged to hear the Minister reiterate support for expanding the Canada Pension Plan.
However, Lewenza expressed disappointment that the province failed to extend the level of benefit coverage under the Pension Benefit Guarantee Fund as recommended by the Expert Commission on Pensions headed by Harry Arthurs. The current monthly benefit maximum is set at $1,000, while the Arthurs Commission recommended it increase to $2,500.
"The events of recent years have shown everyone how important this guarantee fund is for Ontario's pensioners as a safety net. In tough economic times, it's clear that current benefit levels are simply inadequate."
Lewenza also expressed concern over the government's conditions under its proposal to provide solvency funding relief for certain public sector employers, particularly universities. The union is concerned that this proposal could be used as a pretext for some universities to attempt to avoid bargaining with their unionized employees over pension issues.
As part of the Retirement Security for Everyone campaign, the CAW continues to press for an expansion of the Canada Pension Plan, increases to Old Age Security and the Guaranteed Income Supplement as well as greater access for workers to pension insurance.
CAW President Ken Lewenza sent the following letter on August 17 to Roland Aurich, President and CEO of Siemens Canada:
"I write to you concerning a recent announcement by Samsung and Siemens on a major project on green energy which, according to the information, includes the construction of a new facility in south-western Ontario. You are well aware, of course, that Siemens Corporation devastated the workers, their families and the community of Hamilton earlier this year by announcing the closure of the Siemens Hamilton plant which is now scheduled for April, 2011. This facility has been in the community for over 100 years and the decision made by Siemens remains indefensible and results in your corporation throwing over 500 workers on the street.
It was just a short 20 months ago when I joined senior levels of your corporation and various government officials where we unveiled a turbine for Ontario use. By every measure, on that day, the workers were praised for their commitment to quality and productivity. The recent public announcement on the green energy project provides a significant opportunity for you and your corporation to provide the Hamilton facility and its workers with a future. This facility has all the necessary ingredients to provide the corporation with all the tools necessary to engineer, build and complete blades and components to satisfy the project.
We are fully prepared to engage Siemens, Samsung and the Ontario government into exploring any opportunity to put any necessary work in your current facility in Hamilton, Ontario.
On August 11th, 2010 Siemens posted a notice in the Hamilton facility. In this notice you announced the new initiative to manufacture blades in Ontario, indicating that there has been no location identified to supply the wind turbine blades to the Canadian market. The considerations in this notice include a readily available manufacturing space, sufficient storage and an available workforce, which includes a community infrastructure with proximity to appropriate transportation. It also clearly identifies that the selected location could include renovation of a current potential manufacturing site. It is estimated that over 300 manufacturing jobs could be created under this project. The notice also includes, to add insult to injury, the opportunity for the current workers to apply for any potential work. I want to be clear that there should be no debate concerning Siemens' obligation to these workers, their families, and their community.
The blade and any component work can and must be put in the current facility in Hamilton. Time, of course, is of the essence as a final decision for a location is as stated in the notice to be made in the next 30 to 60 days. The current workforce in the Hamilton facility has provided significant revenue, profit and market share for Siemens Corporation for its many years of existence. I am encouraging you in the strongest possible terms to ensure that this work goes where it belongs, in the Siemens Hamilton facility.
The CAW is prepared to do whatever is necessary to ensure that you and your corporation respect the long history and commitment of these workers. We are prepared to meet at any time and look forward to an immediate response. "


Ontario to shore up
pension guarantee fund
Robert Benzie
Queen's Park Bureau Chief
August 25, 2010
More than 1 million Ontarians will see changes to their private-sector pension plans under new proposals announced Tuesday by Finance Minister Dwight Duncan.
In the wake of debacles involving Nortel Networks Corp. and General Motors of Canada Ltd., Duncan is planning to bolster pension-funding rules with hopes of making the plans more sustainable in the future.
To that end, the Pension Benefits Guarantee Fund, which protects pensioners and plan members if their plans fail, will be revamped.
Employers who now pay $1 per plan member annually will have to pay $5 per member each year and the maximum fee per plan member in underfunded pension plans will jump from $100 to $300.
Duncan insisted contributors would not see any change on their paycheques.
While he also denied that the change was a de facto payroll tax for employers, he did note that it is "coming on the heels of $4 billion in corporate tax cuts" that the Liberals gave businesses.
"It is a very modest change which keeps it appropriately funded given its current obligations," the treasurer told reporters as he touted the government's second phase of pension reforms.
Had the reforms been in place last year, it would have meant an additional $30 million for the pension insurance fund.
Duncan is mindful of the precariousness of the fund.
The government had to lend money to GM Canada for its pension on the condition employees don't make a claim on the PBGF, and had to put $500 million into the fund to cover a claim by Nortel pensioners.
"I will never forget the look on pensioners' faces that I saw – whether the folks that I met with from Nortel or General Motors – who thought they had a secure pension," said Duncan.
"These rules will help reduce and hopefully eliminate the kind of moral hazard I would associate with companies and employees' groups agreeing to benefits without properly funding them," he said.
"To ensure Ontarians have a strong retirement income system, we need our pension system to be stable and sustainable," the minister said, adding the legislation formalizing the changes will be introduced in the fall session.
The changes affect employees and retirees with defined benefit pension plans, including current and former workers at companies like Ford and Chrysler and other large private-sector firms.
NDP MPP Paul Miller (Hamilton East-Stoney Creek) said aside from some administrative tinkering, Duncan's changes were "extremely disappointing" because the maximum benefit from the PBGF is still capped at $1,000 a month.
A provincial expert commission on pensions chaired by Harry Arthurs had recommended the $1,000 amount be increased to $2,500.
*********************************
Daw: Pension guarantee on shaky ground
Rise in levies less than recommended
James Daw - Toronto Star
August 25, 2010
Ontario is proposing to charge employers far less to maintain its Pension Benefits Guarantee Fund than its own consultants had recommended.
So there is still a risk more money could be required from taxpayers, or that a future government will decide to scrap what is the only such guarantee fund in Canada.
As with previous special cash injections, most of the money would come from taxpayers who have no pension, or who may have less generous pensions than today's retirees.
Once again, today's workers would carry an extra burden because of promises made in the past that cannot by law be changed — except through bankruptcy proceedings.
The fund promises to cover a shortfall on no more than $12,000 a year of eligible pension payments; for example $2,400 a year for a plan that was 80 per cent funded when the sponsoring company failed.
That's not a lot of money per person, but too much for a fund supported by a token level of premiums when a large employer goes under. Companies paid only $43 million in the past year.
So the province lent the fund $330 million interest-free in 2004 and this year granted $500 million, mostly to cover claims for Nortel Networks Corp. and possibly AbitibiBowater Inc.
Last year Ontario also supported the fund indirectly by supplying $3.5 billion to help save General Motors of Canada Ltd.
It required the automaker to pour $4 billion into its two sorely depleted pension plans, plus $1 billion over five years. It will also require GM to string together at least three years with fully funded pension plans, including two after 2014, before members would again be eligible to make a claim on Ontario's guarantee fund.
Yet a rather dismal outlook for the fund was provided to the government in June by two experts from the Eckler Ltd. Their study was released this week.
Even after an injection of money to cover claims anticipated this year, the authors wrote: "Current assessments would be insufficient for the (fund) to be sustainable over the long run due to the volatile nature of future catastrophic claims."
Despite heavy losses in 2008, Eckler estimates most of the biggest plans in the province are reasonably well funded, at an average of 90 per cent as of the start of the year.
But they noted that more than half of an estimated $134 billion in pension promises are supported by manufacturers, and they assumed the rate of bankruptcies in that sector will be twice the historic average.
So, after testing how the fund might fare in hundreds of possible economic scenarios, they estimated the fund would need cash up front to cover this years claims, plus a big increase in levies from private-sector employers.
Just to maintain current levels of benefits, the estimated levies would have to be 4.5 times higher. If benefits were increased to cover a shortfall on the first $30,000 of pensions, levies would have to increase by 6.5 times.
Instead, Finance Minister Dwight Duncan announced plans Tuesday to raise the cost per plan member by enough to increase revenues by about $30 million a year. That would less than double revenues.
The government hopes to stretch those additional revenues by gradually tightening the requirements for funding single-employer pension plans. But this could have undesirable consequences.
Clare Pitcher, an actuary with Buck Consultants, said Thursday "the news over all is anything but good (for single-employer pension plans); in fact, one step forward and three steps back."
He said the risk of the extra regulation, extra cost, and reduced flexibility built into Duncan's second round of pension reform is that it will "(kill) the private sector single-employer pension plan if it wasn't already dead."
The government will have to show more imagination and consideration for the younger generation if it intends to increase pension coverage, and future retirement income.
Chrysler chief says profit
will be 'difficult' this year
Alisa Priddle / The Detroit News
August 24, 2010

Toledo -- Chrysler Group LLC CEO Sergio Marchionne said today it will be "difficult" for the automaker to turn a net profit this year.
The automaker has had two consecutive quarters of operating profit, but it carries high interest on its loans and the liquidity it needs to update 75 percent of its vehicles by the end of the year.
"The cost of carrying that cash is very large," said Marchionne, who accompanied Vice President Joe Biden on a tour of the Toledo Jeep plant.
But I'm satisfied. We're ahead of plan."
Marchionne reiterated that the Auburn Hills automaker, which received a $12 billion federal bailout, will repay government loans by 2014.
Marchionne, who also is CEO of Fiat SpA, defended the growing number of brands he will oversee for sale in North America: Chrysler, Jeep, Dodge and Ram; the pending addition of Fiat in December; and the eventual return of Alfa Romeo.
Unlike General Motors Co., which pared its brands to four following bankruptcy, Marchionne insists those under the umbrella of Chrysler-Fiat umbrella will be distinct enough to avoid overlap.
The automaker has invited about 600 dealers from 119 cities, including Detroit, to a meeting Aug. 30 to learn the requirements to sell the Fiat brand in the United States.
The first Fiat for the North American market, the tiny 500 hatchback built in Mexico, will go on sale in December.
Interested dealers must invest in a separate, standalone facility to add the brand.
"We are getting a huge amount of interest," Marchionne said. "I think we will have more than enough."
Dealers attending the meeting will be briefed on the future product plans for both the Fiat and Alfa brands, he confirmed.
In a question-and-answer session with reporters, Marchionne:
• Wouldn't dispute a statement that the Toledo North plant will build a sport utility vehicle based on the Jeep Liberty.
• Said a decision must be made soon on whether to build a large luxury sedan for Alfa at the plant in Brampton, Ont.
• Said demand for the new Jeep Grand Cherokee and Dodge Durango will determine whether a third shift will be added to the Jefferson North plant in Detroit.
Jeremy Cato on the state
of the auto industry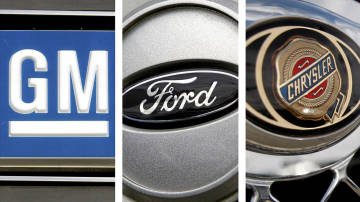 Globe and Mail
August 23, 2010

The death of the Detroit auto industry has been greatly exaggerated (Apologies to Mark Twain). Despite plant closures, bankruptcies and bailouts, the Detroit Three – Ford, General Motors and Chrysler – appear to be mounting a comeback.
After receiving more than $50-billion in bailout money last year – including $10.5-billion from Canada and Ontario, General Motors has announced a $1.33-billion second quarter profit and is planning an IPO in the U.S., and may once again list its shares on the TSX.
Restructuring also seems to be paying off for Chrysler. The company sold 22,319 vehicles in July, 40 per cent more than a year ago. Even more significant, retail sales were up 50 per cent year over year, indicating less reliance on fleet sales.
Detroit's mounting a comeback – believe it
The former 'Big Three' aren't out of the woods yet, but the fog of doom and gloom has lifted
Ford, considered to be the strongest of the three, is the No. 1 auto maker in Canada by sales. David Mondragon, President of Ford of Canada, says the company's focus is on "sustainable, profitable growth."
I'd say the turnaround in Detroit is at different stages with different companies.
Ford Motor is clearly farthest along and that's because Ford suffered its near-death experience in 2006. Give Bill Ford Jr. his due for realizing he was not CEO material, that he and the board needed to find a CEO with the skill set to turn around a global manufacturing company. That guy is Alan Mulally. Then Ford borrowed $23 billion and spent it reiventing the company and the products. So Ford has a four-year head start on Chrylser and GM.
Okay, GM. General Motors is a mixed bag. In some areas GM is a forward-looking, global company. In others it's not. As a metaphor, take a peek in a Chevrolet brand showroom. The Malibu family sedan is very, very good and it's a join venture between GM North America and GM Europe/Opel. The pickups are good, too -- the Silverado. Again, North American. Then we have the Chevy Aveo. This is a Korean (former Daewoo) developed and manufacturered product and it is clearly inferior to not only products like the Malibu and Silverado, but the competition, too -- Toyota Yaris and so on. Consistency in all areas of the business is what is sorely, sorely lacking at GM. And having four CEOs in 18 months is not helping.
Chrysler could prove to be the sleeper here. It's small and that makes the turnaround easier in many ways. The CEO, Fiat/Chrysler's Sergio Marchionne may not be a "car guy" but he is a workaholic with experience turning around Fiat before Chrysler. The Fiat-based products coming could sell in North America -- espeically if fuel prices go up. And I like Chrysler's marketing -- it's a mix of sex appeal and under-promsing and over-delivering. Of the three, however, Chrysler certainly is the biggest question mark.
So what does this mean in a competitive auto industry? Toyota, once the darling of Consumer Reports with an untouchable reputation of reliability and customer satisfaction, and has had a rough year. How will the esteemed Japanese auto maker fare in the face of a Detroit industry intent in reinventing itself after years of raking in profits from large, gas-guzzling vehicles?
Toyota cited throttle issues in '07
Officials boasted in e-mails of steering feds from costly fixes
David Shepardson / Detroit News Washington Bureau
August 22, 2010

Washington -- Toyota Motor Corp. officials bragged in late 2007 that they saved more than $100 million by deterring U.S. safety officials from ordering costly repairs to prevent runaway vehicles, e-mails obtained by The Detroit News show.
The communications suggest some executives knew of the situation nearly two years earlier than was acknowledged in a July 2009 internal company document that surfaced this year.
In that presentation, Toyota officials touted the $100 million they saved by agreeing in 2007 to recall just 55,000 floor mats that could have interfered with the gas pedal.
The revelation created a firestorm of outrage on Capitol Hill in the wake of Toyota's recalls of more than 6 million vehicles in the United States, mainly for problems tied to sudden acceleration. During a February Congressional hearing about the recalls, Toyota officials disavowed the 2009 document.
In addition to the financial savings, the newly released e-mails indicate for the first time that senior Toyota executives were worried they'd be forced to take additional action.
Toyota, through a spokeswoman, declined to comment on the e-mails, which were included in a recent court filing.
The automaker already has been fined $16.4 million -- the maximum amount by law -- for its four-month delay in recalling 2.3 million vehicles for sticky accelerator pedals. Manufacturers are required to report flaws within five days of its discovery.
Transportation Department spokeswoman Olivia Alair said the National Highway Traffic Safety Administration, an agency of that department, continues to investigate "whether Toyota violated the law leading up to its recent recalls.
"The agency has obtained and is reviewing more than 600,000 pages of documents from Toyota to determine what the automaker knew about the existence of safety defects and when," Alair said this week.
In the newly surfaced e-mails dated Sept. 14, 2007, Chris Tinto, Toyota's vice president for technical and regulatory safety, contacted Josephine Cooper, the automaker's vice president of public policy and government/industry affairs. NHTSA, Tinto wrote, "was beginning to look at vehicle design parameters as being a culprit, focusing on the accelerator pedal geometry coupled with the push button 'off' switch. We estimate that had the agency instead pushed hard for recall of the throttle assembly (for instance), we would be looking at upwards of $100M+ in unnecessary cost."
The following day, Cooper forwarded Tinto's e-mail to senior Toyota executives, including Jim Lentz, who is now president of Toyota Motor Sales USA, and Bob Carter, group vice president and general manager of Toyota Division.
"Thought you would be interested in the outcome -- and the avoidance of much bigger issues (and costs)," Cooper wrote, adding that the automaker's safety team did "a good job."
In March 2007, NHTSA opened a probe into the floor mat issue. Tinto told colleagues that Toyota couldn't head off the investigation. The automaker had offered to send letters to ES350 owners about the mats.
"NHTSA feels they have too many complaints on this one vehicle to drop the issue," Tinto wrote. "The results of a stuck throttle are 'catastrophic.' "
Tinto also downplayed the floor mat recall, saying it was the product of talks with NHTSA.
"We will 'recall' the '07 ES and Camry floor mat, however we will NOT declare that a 'safety defect' exists," Tinto wrote. "Of course the owner letter will say that a defect WAS found in the mat, to ensure that owners pay attention to the notice and secure the mats correctly."
It wasn't until late 2009, after the deaths of four California motorists, that Toyota agreed to a more comprehensive and expensive fix than the floor mat recall.
Toyota has recalled more than 8 million vehicles worldwide over the issue, and U.S. government investigators have received more than 3,000 complaints alleging 93 deaths since 2000.
Asked for comment this week about the recently surfaced e-mails, Toyota spokeswoman Martha Voss said: "Our core values have always been to put the customer first and to ensure the highest levels of safety and quality in our vehicles."
Bill Ford sees sunnier days after weathering '07 storms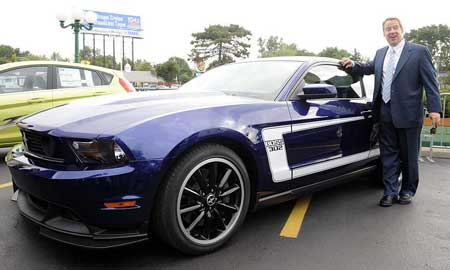 Payoff is quality, fuel efficiency are known, he says
Alisa Priddle / The Detroit News
August 21, 2010
Royal Oak -- Ford Motor Co. Executive Chairman Bill Ford Jr. said Friday he welcomes General Motors Co.'s plans to begin selling its stock and doesn't see it as a threat to his own company's stock price.
"To the extent that we have been the only one available in the sector, I am sure that some of the money will be rebalanced into GM," Bill Ford told reporters at an event hosted by radio station WWJ as part of the Woodward Dream Cruise.
Ford has been the only publicly traded U.S. automaker since GM emerged from bankruptcy in July 2009 as a private company. GM hopes to have its initial public offering of stock yet this year; Chrysler Group LLC is not likely to go public with its stock for at least another year.
Bill Ford said automakers' success will be based on their performance. "It doesn't make any difference to me where our shares are, or their shares are, on any given day," he said.
Paying down its debt, to return the automaker to investment grade, remains a Ford priority and the effort is ahead of schedule, he said.
The Dearborn-based automaker earned $4.7 billion in the first half of the year, and it hopes to negotiate a UAW contract next year that is on par with those of the other organized automakers.
"We're already talking," Bill Ford said. "You never stop talking."
The great-grandson of automotive pioneer Henry Ford said he called GM's incoming CEO, Daniel Akerson, last week to wish him luck and to invite him to lunch once Akerson has settled into his new duties.
In a wide-ranging discussion before a breakfast audience of 250, Bill Ford was frank about his company's trials and tribulations, and his own determination to not let employees get cocky or complacent, now that things are looking up.
He said the angst his family went through three years ago, and the company's decision not to follow GM and Chrysler in accepting a government bailout, are paying off today. Continued product development, Bill Ford said, helped the company weather dark days.
When Alan Mulally was brought in three years ago to steer the ship as Ford CEO, "I really believed we had the right plan," Bill Ford said. "The question was, did we have enough time," before the economy collapsed.
"We were burning cash pretty heavily."
Bill Ford relinquished CEO duties to Mulally, advising him that there was no point in reducing costs and borrowing massive amounts of money if Ford didn't have strong vehicles in the pipeline.
"Three years ago, there were a lot of sleepless nights," Ford said, but the family, which meets quarterly, was united. "There never was a point where anyone panicked and never a point where anyone started to waiver in their resolve."
The payoff, he said, is that consumers are recognizing Ford's quality and fuel efficiency.
Hybrids and electric vehicles "will become a core competency," he said. "We want as much knowledge in-house as we can."
With the Mercury line slated for extinction, Ford is concentrated on its Ford and Lincoln brands.
The automaker, Bill Ford said, continues to consider Lincoln's direction and whether it should be a global brand.
Despite the industry's challenges, he said, "I wouldn't change places with anybody in this industry today."

Ford execs defend
boxy Flex crossover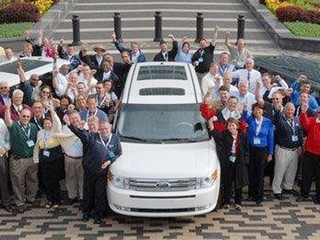 BY BRENT SNAVELY
FREE PRESS BUSINESS WRITER
August 20, 2010
Three years after Ford launched the boxy, polarizing Flex crossover during one of the worst auto markets in history, experts predict it might get one redesign to show it can prove itself -- or the Flex might be history.
Ford executives defend the Flex, saying it has carved out a strong following of buyers who purchase higher-priced versions of the vehicle that are loaded with options.
But some analysts wonder whether Ford will change its mind if sales of the 2011 Ford Explorer take off and the Flex doesn't improve its performance.
Both the Explorer and Flex offer seating for seven and are aimed squarely at families.
"If they start to see Explorer cannibalizing Flex sales even further, then I think its days will be numbered," said Aaron Bragman, automotive analyst with IHS Automotive.
Beau Smith, owner and vice president of Sill-Terhar Ford in Broomfield, Colo., said many customers don't know much about the Flex even though it's been on the market for more than two years.
"The customer who can come in and test-drive the car loves the car," Smith said. "There is still not a huge awareness, but our conversion rates are high."
Larry Taylor, owner of Beau Townsend Ford, said the Flex doesn't sell well in Dayton, Ohio.
"The Flex is so different-looking than anything out there," said Taylor, who has six on his lot and has sold one so far this month.
In July, Ford sold 3,129 Flex crossovers, a 13.8% decline from the same month last year.
When Ford introduced the Flex in 2008, it hoped to sell between 70,000 and 100,000 of the crossovers annually.
But Ford sold just 22,932 Flexes through July, putting it on track to sell a little more than the 38,717 sold in the U.S. last year.
Last year, by contrast, consumers bought more than 100,000 Honda Odysseys and nearly 91,000 Dodge Caravans.
Despite the low numbers, Ford President of the Americas Mark Fields said this month Ford remains committed to the Flex and MKT, which also has been a slow-seller. Introduced last September, the three-row Lincoln crossover is the slowest-selling vehicle in Lincoln's lineup with a total of 4,566 sold through July.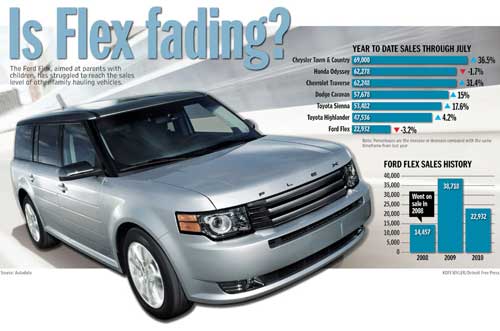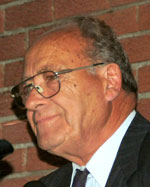 November 18, 1932 - August 19, 2010


It is with great sadness we
inform you of the passing of
CAW Local 584 Retiree
James (Jim) McAteer
on August 19, 2010

Retired from Ford Bramalea January 1, 1995
22.3 Years of Service

Our heartfelt condolences go out to his Wife Cora and Family.
He will be sadly missed by all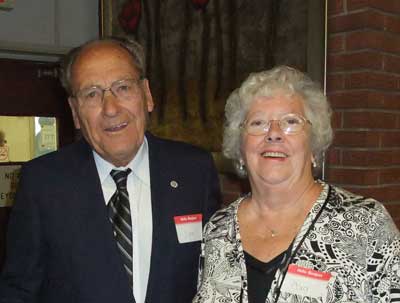 Jim McAteer and his wife Cora taken October 9, 2009
at our annual Retirees Thanksgiving Luncheon


MCATEER, James - Passed away peacefully at home on Thursday, August 19, 2010. James will be lovingly remembered by his wife Cora, his daughters Rosena Parker (Allen Parker), Brenda Ward, Hope-Elaine McAteer and his brother Edward (Vancouver). Devoted Papa to Jason and Lauren Parker and Douglas and Darrin Ward. Friends and family will be received at the Scott Funeral Home 'Brampton Chapel' (289 Main St. N., 905-451-1100) on Sunday at 2-4 and 7-9 p.m. A funeral service will take place on Monday, August 23rd at 11 a.m. at St. Andrew's Presbyterian Church (44 Church St. E., Brampton), interment to follow at Brampton Memorial Gardens. An online book of condolences can be signed at www.scottbrampton.ca
Published in the Toronto Star on August 21, 2010
Visitation:
Scott Funeral Home
289 Main St North
Brampton, Ontario

Date: Sunday August 22, 2010

Time: 2-4 and 7-9
Funeral:
St. Andrew's Presbyterian Church
44 Church St E.
Brampton, Ontario
Date: Monday August 23, 2010
Time: 11 AM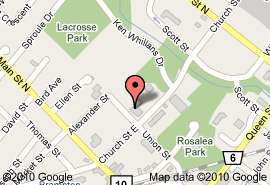 UAW's Bob King reiterates ban on foreign cars on union property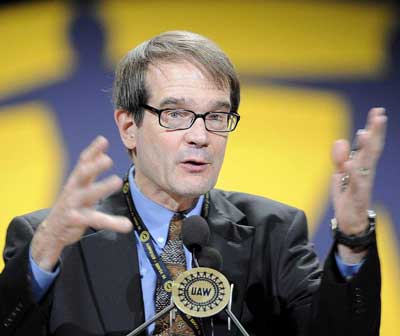 Louis Aguilar / The Detroit News
August 19, 2010
United Auto Workers President Bob King this month reiterated the union's longstanding policy to ban nonunion vehicles on UAW property, but did so in a more hands-on and publicly forceful fashion that separates him from his predecessors.
"Buying a U.S./UAW vehicle makes a difference," King wrote in a two-page rebuttal to a blog post written in July by a Kansas City Business Journal reporter who was recently ousted from the parking lot of UAW Local 249 for driving a Toyota Camry.
A UAW spokeswoman said the international union didn't have any further comment than what King said in the letter.
The reporter, James Dornbrook, wrote he was forced to move his car by a UAW local member who refused to identify himself. The local represents members of Ford Motor Co.'s Kansas City assembly plant.
Dornbrook also noted his Camry was assembled at Toyota's Georgetown, Ky., factory and had more American-made parts in it than the Ford F-150 built at the Kansas City plant, "which recently got knocked off the Cars.com American-made Index's top 10 list" by the Camry.
King decided to use the incident as a "teaching moment" and wrote the long impassioned letter, addressed directly to the reporter.
Many UAW locals, as well as the Solidarity House headquarters in Detroit, post signs that say they don't allow nonunion vehicles in their parking lots.
Five years ago, the policy resulted in a firestorm of public criticism when the UAW kicked out Marine Corps reservists with foreign cars or who displayed pro-President George W. Bush bumper stickers from the Solidarity House parking lot. The 1st Battalion, 24th Marines have an office near the UAW headquarters.
Within two days, UAW President Ron Gettelfinger dropped the union's policy for the Marines.
"I made the wrong call on the parking issue, and I have notified the Marine Corps that all reservists are welcome to park at Solidarity House as they have for the past 10 years," Gettelfinger said in a mid-March 2005 statement.
King, elected as UAW president in mid-June, has made it clear that he intends to keep the nonunion vehicle ban policy, including in the Kansas City area.
In the letter, he again charged that foreign automakers deny their U.S. workers the right to organize -- an accusation the automakers deny.
"Foreign automakers accept U.S taxpayer's dollars in incentives to build assembly plants in the United States, jeopardizing the future of middle-class workers in the domestic auto industry," King wrote.
The UAW's message may fare better this time around, said David Reynolds, a labor professor at Wayne State University.
"In these harsh economic times, it is important to note the real difference of UAW-made Big Three vehicles," Reynolds said. "There seems to be a better understanding of buying products and supporting companies that benefit local communities."
King wrote that U.S.-based automakers directly employ nearly 300,000 workers -- about two-thirds of all U.S. autoworkers. He also noted the vehicles made by the Detroit Big Three overall use a higher percentage of parts made by domestic workers.


UAW's King takes north
Michigan resort off market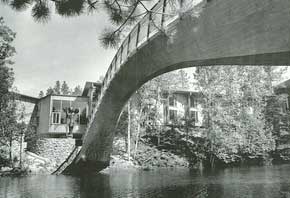 Louis Aguilar / The Detroit News
August 18, 2010
The United Auto Workers has put a hold on trying to sell its $33 million Black Lake retreat in northern Michigan.
The Walter and May Reuther Family Education Center was taken off the market at the request of UAW President Bob King and the union's new executive board, said John Karver, a senior vice president at CB Richard Ellis, the real estate firm handling the listing.
The request to take the property, on 1,000 heavily forested acres near Onaway, off the market came around the time of the mid-June election of King and the new board, Karver said.
"I understand it's simply a matter of the new board reviewing previous policy decisions," Karver said.
There has been interest by more than one potential buyer, he said. The property had no listing price, Karver said.
It's not clear when or what the new UAW leaders may decide about the property, Karver said. UAW officials did not return calls and e-mails for this report.
Several UAW local presidents and other leaders say the national board has not made an official statement about the property's fate.
"For a while there, we were hearing it was really going to go," said Stan Marshall, a former UAW national vice president who now oversees retiree issues for Region 1A in Michigan. "But that seems to be downplayed. Now there continue to be scheduled events up there" for UAW members.
Marshall said he is aware of a UAW retiree meeting scheduled for late September.
In January, the UAW cited the recession and shrinking membership as reasons it was seeking a buyer. The resort has long been a symbol of the union's success. But it lost an estimated $23 million in the past five years, and the UAW was forced to borrow to keep it afloat, according to filings with the U.S. Department of Labor.
The center, named for the union's iconic leader, is a jewel in which many UAW members take pride.
The property, bought in 1967, includes the top-notch Black Lake Golf Club and the ashes of former union President Walter Reuther and his wife, who died along with four others when their small plane crashed en route to the property in 1970.
In addition to golf and leisure, the center offers weeklong conferences on political action, civil rights and leadership.
The center, renovated in the 1990s, has a gym with two full-size basketball courts, an Olympic-size indoor pool, exercise facilities, table tennis and pool tables, a sauna, beaches, hiking and biking trails, sports fields, a boat launch ramp and rooms and condominiums.
In 2000, a $6.7 million golf course was added -- the vision of the late UAW President Stephen Yokich. Golf Digest that year ranked it as North America's second-best "New Upscale Public Course."
It now ranks 34th on Golf Digest's list of America's 100 Greatest Public Courses.
But the Reuther center has become a target of critics who grumble the UAW shouldn't keep such a luxury while hundreds of thousands of its members have lost their jobs or taken buyouts or early retirement as the domestic auto industry has restructured.
UAW membership fell last year to a post-World War II low, amid heavy losses in the auto industry. The number of UAW members in 2009 dropped nearly 76,000, to 355,191, according to the union's annual report.
The UAW's assets fell slightly last year, to $1.13 billion from $1.2 billion in 2008. As a result, the union cut costs.
It spent $9.7 million on lobbying and political activities in 2009, compared with $10.6 million in 2008. And it reduced union administration costs from $32.4 million to $26.9 million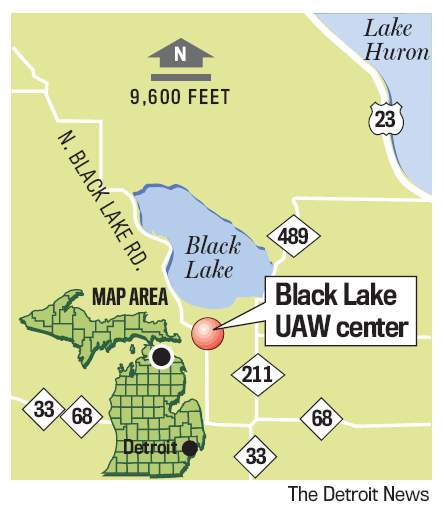 .


Ford gives Fiesta buyers $50 gift card for shipping delay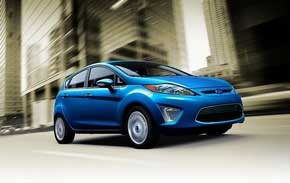 Alisa Priddle / The Detroit News
August 18, 2010
Ford Motor Co. has been issuing $50 gift cards as a thank you to buyers who had to wait more than a month for their new Fiesta because of shipping problems.
Ford started taking reservations for the new subcompact car in December after it was unveiled at the Los Angeles auto show.
In February, reservations were converted to orders from those who paid a deposit.
The automaker had just started shipping the first Fiestas from its Cuautitlan plant in Mexico in late June when a hurricane struck, damaging rail lines.
"Because of early transportation delays, there were anxious customers," Ford spokeswoman Angie Kozleski said.
The rail lines since have been fixed. Shipping times from the plant, which is near Mexico City, have returned to their normal length of about one month, Kozleski said.
Ford began sending Mastercards worth $50 to affected customers a few weeks ago, she said.
Ford has sold almost 4,400 Fiestas to date, including 3,300 in July. There are another 6,500 to 7,000 in transit, Kozleski said.
"The Fiesta is off to a good start and has high brand awareness with the Fiesta movement," Mark Fields, president of The Americas, said earlier this month.
The Fiesta movement is the marketing campaign.
In other news, Ford this past weekend began shipping the new 2011 Ford Edge crossover to dealers from the assembly plant in Oakville, Ont.
The new Edge starts at $27,995 including shipping, which is $200 less than the outgoing model.
The 2011 Edge has a new 3.5-liter V-6 engine that improves fuel economy to 19 miles per gallon in the city, 27 mpg on the highway.
Sales of the Edge through July were up 33 percent to more than 65,000 in the United States.
Since the crossover was introduced in late 2006, Ford has sold more than 400,000 Edges as of this past week, the company said.
The automaker claims that the Edge has the most sales of any midsize crossover during that timeframe.
Buyers give GM, Ford top marks
Mercury, Buick shine amid overall decline; Chrysler woes persist
Robert Snell / The Detroit News
August 17, 2010
Ford Motor Co. and General Motors Co. bucked an industry-wide decline in consumer satisfaction, and the automakers' Lincoln-Mercury and Buick brands were tops with buyers, according to a report released today.
Lincoln-Mercury and Buick received the highest customer-satisfaction scores and topped an annual list of automakers for the first time, gains that coincided with steep declines by Korean and Japanese automakers, notably Toyota Motor Corp.
Chrysler Group LLC, meantime, continued a history of poor scores; its Dodge and Jeep brands were at the bottom of the list, according to the American Customer Satisfaction Index, which was founded by the University of Michigan's Ross School of Business.

The report provides fresh evidence that American automakers are making progress shedding perceptions that their vehicles are inferior to imports, and the results likely will be used by the companies to try to boost sales and market share.
"It's important in that the scores provide (Ford and GM) with a very positive story to tell," said Rebecca Lindland, an analyst at IHS Automotive in Lexington, Mass. "This is the kind of thing that will be in ads and marketing campaigns. It's interesting that three of the top five are domestic brands. That's terrific."
Overall, customer satisfaction dropped 2.4 percent to 82, said the report, which measured automakers on a 0-to-100 scale.
Lincoln-Mercury topped the list with a score of 89, the brand's highest tally ever, followed by Buick at 88. Tied at 86, BMW AG, Mercedes-Benz Cars and Cadillac rounded out the top five.
"It's not a surprise to see customers responding positively to Buick and its modern family of vehicles, beginning with Enclave and continuing with LaCrosse and now the new Regal," said Buick spokeswoman Dayna Hart.
The high scores for Mercury come two months after Ford announced it would kill the 72-year-old brand at year's end.
"We've raised the stakes by redefining what it means to deliver a quality product by giving consumers more than just defect-free cars and trucks; we're exceeding their expectations," said Bennie Fowler, Ford's group vice president of Global Quality and New Model Launches.
While most domestic and foreign automakers have posted declines this year, U.S. brands suffered the least. U.S. brands climbed ahead of Japanese and Korean rivals for the first time since 2000, but still lagged European nameplates, according to the report.
"The near future looks good for Ford and General Motors," said Claes Fornell, founder of the index. "Satisfied customers tend to do more repeat business, generate good word-of-mouth and don't require greater price incentives to come back."
The report shows customer satisfaction nationwide is stalling. The 75.9 overall index score was unchanged from the first quarter. The report comes two months after Detroit's Big Three bested their foreign rivals for the first time in J.D. Power and Associates' annual study of initial vehicle quality.
Domestic brands averaged 108 problems per 100 vehicles, compared to an average 109 problems for foreign brands, according to the J.D. Power report. Ford came in fifth overall of the 33 brands, with 93 problems per 100 vehicles while Lincoln placed eighth with 106, the highest ranking of any American luxury brand.

Can Alan Mulally Keep
Ford in the Fast Lane?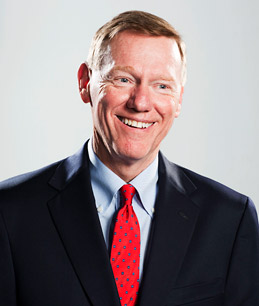 By Bill Saporito / Dearborn
Time Magazine
August 16, 2010
Listen to Ford Motor Co.'s excitable CEO, Alan Mulally, for five minutes and you are almost ready to march down to the assembly line, grab a torque wrench and start knocking bolts into Mustangs. "We are fighting for the soul of American manufacturing," he begins. "We are leading the way on, What does it take for America to compete in the global economy? That's what this is about. And it starts with making the best products in the world. That's why we can have this lifestyle — because you have to earn it."
Ford is certainly earning quite a bit of it. After the industrial Armageddon that left GM and Chrysler in bankruptcy and the car industry's 5,000 top suppliers hanging by a fraying fan belt, Ford is flying the flag of resurgence. The company earned $2.6 billion on sales of $31.3 billion in its second quarter. Its pretax operating profit — a measure of how well the core business is running — was $2.9 billion, vs. a loss of $424 million a year earlier. Ford's market share jumped 1.4 points, to 17.5%, at the expense of GM and Chrysler. In rankings compiled by Kelley Blue Book, an auto-marketing research firm, Ford recently claimed the top spot from troubled Toyota as the best-regarded auto brand in the U.S.
Pulling off the biggest business turnaround of the Great Recession has been a pretty good second act for Mulally, who turns 65 on Aug. 4. The CEO arrived at Ford in late 2006 after 37 years at Boeing, amid some sniping that he wasn't a "car guy" — as if the car guys in Detroit were doing a bang-up job. Yet if Ford is going to change gears from world-class survivor to world-class manufacturer, Mulally will have to show that he is indeed a car guy — just his own kind of one.
He's about to get the chance. This year the company is introducing new models that will reflect Ford's strategic direction and test its ability to create cars that Americans want to buy even without getting a discount. The Fiesta, which debuted in May, is evidence of Ford's commitment to producing profitable small cars. The Fiesta is a spiffy-enough $13,300 subcompact, available in four-door sedan and five-door hatchback models. The car was largely designed in Germany but meets the demands of American buyers: it's sporty, smart, thrifty, cool. "The old Fiesta was total crap," says Patrick Olsen, editor in chief of Cars.com "This one looks better and is more solidly built than any of their previous small cars" — even if the rear seat in the sedan version "is too small for most humans."
In late July, Mulally traveled to Manhattan to reveal the new Explorer, an SUV reborn as a more mom-friendly, stable, fuel-efficient vehicle built on a Taurus platform, as opposed to the gas-gulping truck frame it once inhabited. The company plans to export the Explorer to 90 countries from its Chicago plant, where it will create 1,200 assembly jobs and 600 supplier jobs, underlining Mulally's commitment to manufacturing on the global playing field.
Ford's most important new family member arrives later this year, when the company unwraps the latest version of the Focus, which will be the first global car built from the ground up based on Mulally's signature strategy, known as One Ford. In its broadest sense, One Ford means selling the same model, built the same way, in all markets. About 85% of the Focus' parts will be common to all regions. One Ford is possible because the world's consumers are becoming more alike: they value quality, safety, fuel efficiency and design. This allows Ford to meet global needs with fewer models and thus ratchet costs down, since the company can engineer a single Focus to sell everywhere.
If One Ford works, Ford can sell each model at a higher volume, with costs that are as much as 20% lower than for earlier versions. Although Ford will still be building such purely American cars as the Mustang and the highly profitable F-150 pickup series, One Ford means that the very definition of what a Ford is — steering, handling, the sound of a door slamming shut — may change as the company's global DNA evolves. One spin in a Fiesta will tell you as much: it's as much Milan as it is Milwaukee.
For a manufacturing enterprise, One Ford is radical simplification. Ford was a company with too much of everything: brands, models, engines, platforms, factories, people. Mulally has reduced it to a manageable core. He delights in presenting the company's entire strategy — its products, standards and operating plan — to a visitor on a single 11-by-17-in. piece of paper.
Yet you don't revamp a $118 billion, 107-year-old corporation saddled with contentious management and labor histories without a fight. Although the tanking economy gave Mulally and chairman Bill Ford Jr. cover to crush the fiefdoms within the company that had sabotaged previous restructuring efforts, even Ford himself, then CEO, wasn't sure he could knock enough heads together to do it. Mulally had barely arrived before execs began showing up at Bill Ford's door to complain about the new guy. Ford shut it on them. He says, "If I had even cracked the door open an inch to let anybody complain to me or to think that there was ever any separation between the two of us, I think the culture could have overwhelmed Alan and ultimately brought the company down."
Essentially, Mulally took the car keys from the reactionaries by demanding complete information that he then shared across a newly created management matrix composed of product teams (say, the Focus) and skill teams (say, stamping and body). Mulally instituted a weekly Thursday drill during which every shred of performance data would become unmistakably clear in some 300 charts presented to the executive corps in 2 hr. 15 min. In corporations, control of information provides a power base; Mulally neutralized the hoarders. "Alan's always saying that you can't manage a secret," says general counsel David Leitch. Mulally describes the breakthrough this way: "We finally got the data going. And I said, 'You know, you guys lost $14 billion last year. Is there anything not going well here?'"
The idea is that there's nowhere to hide and no reason to, either; if you need help, everyone who can help you is present with the necessary information at hand. "How did I know to do this?" Mulally asks himself. "That's what I've done for 37 years at Boeing." The process is known as large-scale systems integration, and you can't do it well unless everyone plays nice together. "A car has about 10,000 parts, and an airplane has about 4 million, but the technology is the same. The sophistication is the same. The parallels are incredible," he says.
Revved Up and Ready to Go
If enthusiasm is measurable in automotive terms, Mulally is 16 cylinders of it, pedal to the metal. Standing before the stamping-and-body group at a town-hall meeting at 8:30 a.m. at Ford's assembly hall near its headquarters in Dearborn, Mich., he seems a little disappointed that the group's members aren't as revved up as he is. After all, there's plenty of good news around, and Mulally can't wait to share it. "Are you people awake?" he shouts. Market share is up; four new vehicles are being introduced in an eight-month period; the stock is rising. "This is our year now. Everybody is looking at us," he says. "I wouldn't trade our position for anybody's."
The cheers he gets are genuine — Mulally is Ford's rock star — but there's still some understandable wariness, because brutal choices were made in the past three years. Upon Mulally's arrival, Ford had 300,000 employees and 108 plants around the world. Today the company has 178,000 employees and 80 plants worldwide, which has helped to push capacity utilization to a healthy 85%. Mulally made a deal with the United Auto Workers that got Ford's retiree health care liabilities off the books in exchange for stocks and cash. He sold Jaguar and Range Rover to India's Tata Motors and Aston Martin to a British-led consortium, reduced Ford's ownership of Mazda from 33% to 13% and this year unloaded Volvo on China's ambitious Geely. Mulally unsentimentally smothered the none-too-swift Mercury brand in June, a move that will cost $500 million.
One Ford is almost exactly the opposite of the way Ford used to build and sell cars. Ford not only offered different cars for different markets and assembled them according to local quirks, but also bought into the notion of mass customization — a Burger King for car buyers. Not long ago, a customer could choose from 128 different options for the center console of a Lincoln Navigator. But it's a tad easier to customize Whoppers than Lincolns. "We tell the customer that you could choose the options you want, and you believed us," Mulally explains. "And you picked four of them, and we took you out to the lot, and what do you think the chances are that we'd have that combination? It's zero. You know what a 128 factorial is?" (Let me guess: 3.85620482 × 10[superscript 215]?) Mulally says his 88-year-old mother called in tears one day because she was so overwhelmed by the options available on the van he was going to buy for her senior citizens' group.
Don't worry, Mrs. M., your boy has reduced Ford's chances of bringing customers to tears again. Ford now sells fewer than 60 nameplates worldwide under the Ford and Lincoln brands, down from 97, and on the way to 20, says Mulally. It is reducing the number of platforms on which it builds cars from 25 to a dozen. "The reason for doing it is that the customer is all right with it," says Derrick Kuzak, head of global product development.
Mulally hasn't turned the clock all the way back to the Model T, which for more than a decade came only in black. The Focus platform is a flexible one. "We are going to get 10 top hats off this baby," says Mulally, using industry jargon. In this case, he means you'll be able to get a two-door, four-door or hatchback Focus off what Ford calls its C platform. But the same platform can also be used for anything from a people mover to a delivery vehicle.
Even product development is getting downsized. The company used to make three regional variations of the Focus. "Keeping those products fresh in the marketplace required three different engineering programs," says CFO Lewis Booth. At one point, Ford had 35 to 40 product-development programs worldwide. And that meant each one had to have its own engineering team for the exhaust system alone. For the Focus relaunch, one engineering team can handle the job.
The changes in Ford's approach to creating cars run so deep that its engineers and designers had to answer the question, What is a Ford? Even if they produce cars specific to the American market, like the Mustang, says Kuzak, "they need to reflect a global Ford view in terms of how the vehicle drives, how it sounds, how it looks, how it feels. And so we developed a global Ford-brand DNA that encapsulates all of those elements — look, sound and feel — and that's a really, really big deal."
Take steering, for instance. Americans have traditionally preferred it loose. We're interstate cruisers, a finger on the wheel, beverage in hand, twiddling with the GPS. European drivers prefer tighter, more responsive steering, especially given Europe's narrow roads and its speed-limitless autobahns and autostradas. Ford's steering DNA is going to be more Stuttgart than Dearborn — just one sign of a more cosmopolitan car. Says Kuzak: "In North America, we were on a path to get there. This is our end point. It's an improved experience and reflects a true Ford-brand point of view."
Quality Is Job 1, Again
If one Ford works as planned, a series of benefits will rain down on the company and its suppliers. Perhaps the biggest of them is that quality improvement will become almost a mathematical certainty. "Since the orderable combinations will be reduced by more than 50%, that means that on half of the cars, it's significantly simpler for the manufacturing plant. The ability to make a mistake is reduced," says Ford manufacturing boss John Fleming. The results already show: in a J.D. Power survey of initial quality reported in June, Ford's 2010 models ranked No. 1 among car brands, excluding luxury makes. Higher quality means lower warranty costs and higher resale value, so consumers will accept lower discounts on Fords than they've been used to over the past two decades.

These compounding cost improvements could help Ford earn a ton more money. Soleil Securities says Ford has the potential to boost operating profit margins to about 13%, from the current 7%; that jump would create an additional $7 billion in operating profit on projected 2011 sales of $118 billion. Ford could use those extra profits to pay down its $27.3 billion debt or even restore a dividend, which was dropped in 2006 and has cost Ford family members tens of millions in annual payouts.
That's assuming the cars sell. The upcoming Focus is key. "That's where they can make their money," says Cars.com's Olsen. "But they have to prove the value of that car. You are not going to build your future on the Fiesta." Nor can Ford expect Toyota to be on the defensive forever.
To both Mulally and Bill Ford, the company's resurrection is an unmistakable sign that manufacturing has to have a central role in the American economy, even though making stuff accounts for 11% of the U.S. GDP. "You can't find any economy in the world, post–Industrial Revolution, that is a strong economy that has lost its manufacturing base," says Ford. He says this knowing that the bulk of Ford's sales are going to be in China, Europe and Latin America. Ford can't escape the pull of another economic downturn either. But the point is well taken. If you can't make cars in Detroit, where Henry Ford revolutionized the process, it's not likely you can compete with Toyota City or Wolfsburg either. "Our competition now is really Toyota and Volkswagen, because they are pursuing the same fundamental strategy — a full family of cars and best in class," says Mulally. It's a pretty astonishing statement, given Ford's historical game of bumper cars with GM and Chrysler. Then again, Mulally is looking at the world in a completely different way. He's not a car guy, you know.

This article originally appeared in the August 9, 2010 issue of TIME.


Planned UAW vote on concessions deal canceled
at up-for-sale GM stamping plant in Indianapolis
Associated Press
August 16, 2010
The United Auto Workers union has decided not to go ahead with a vote on a new wage-cutting contract for a General Motors Co. stamping plant in Indianapolis that is facing sale.
UAW Local 23 bargaining chairman Gregory Clark says members won't vote on the proposed contract, which would cut base wages from $29 per hour to $15.50.
Originally, the 650 workers were scheduled to vote Monday on the deal.
JD Norman Industries of Addison, Ill., had asked for pay cuts as a condition for buying the plant. Barring a sale, GM has said it will close the plant next year.
Local 23 members voted against bargaining with Norman earlier this summer. The Indianapolis Star says UAW international officials conducted talks with Norman despite the vote.


Profits Up at GM! And
You're Still Unemployed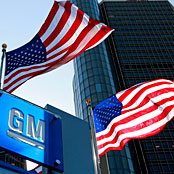 August 15, 2010
By Michael Moore

The auto giant is installing a new CEO after posting a $1.3 billion quarterly profit. But Michael Moore says most American CEOs don't want to improve the economy—and hiring isn't around the corner. So General Motors is back to making billions in profit. And if the past is any guide, we know what that means: time for some layoffs!
Or maybe not. Back in the '80s and '90s, when GM was consistently posting giant profits, they were simultaneously firing tens of thousands of workers in my hometown of Flint and across Michigan. Right now it looks like the only person being canned is CEO Edward Whitacre. (Only last week Whitacre was saying he wasn't planning to leave anytime soon—kind of ironic that the former president of the Boy Scouts of America failed to Be Prepared.)
But if they're not laying people off yet, they're also not hiring.
During the first half of 2010, GM made $2.2 billion in profit, yet according to The Wall Street Journal, they've only added 2,000 jobs in all of North America, taking their workforce from 113,000 to 115,000.
And what's true for GM is true for the country. The government stepped in with trillions of dollars in cash and guarantees to keep Corporate America from collapsing due to its own stupidity, short-sightedness and greed. And it worked—for Corporate America. You may not have noticed as you were being foreclosed on, but the profitability of the Fortune 500 is almost back to normal. It jumped to $391 billion in 2009, up 335 percent from 2008. And the 500 biggest non-financial corporations are now sitting on $1.8 trillion in cash, more than at any time in the past 50 years. (That's what the business press always says—that they're "sitting" on it—although as far as I know this is not literally true.)
That's what we should really focus on when talking about GM and other companies who've taken the free handout. It's not about the continuous reshuffling of the white-guys-in-suits deck of cards. What does it mean that the new CEO of GM is Daniel F. Akerson, a managing director at the Carlyle Group? Probably that GM is about to be run by some real ballbusters who have no problem flaunting the law or basic American decency.
To understand what's happening, we have to focus on the bottom line, just like they do. And what the bottom line says is that the entire business world has figured out how to make huge buckets of money without hiring us to work for them. I'm not sure how in the long run this benefits these companies. Maybe the same robots who make most things now are also programmed to buy them?
But the upshot is this: We have to face the fact that most of America's CEOs don't want the economy to get "better." Because for them, it couldn't get better—they've got profit coming out their ears, while with 9.5 percent unemployment their entire workforce is too scared to ask for a 25 cent-an-hour raise. They'd be happy to have things stay just like they are now. Forever.
But as bad as the bad news is, the good news is better. Millions more people now realize that we need a new New Deal. We have to re-engineer American civilization, and it's going to take a lot of people.
Did you know Portugal now gets 45 percent of its electricity from renewable sources—up from 17 percent just five years ago? Or that Scientific American found we could eliminate all fossil fuel usage by 2030? Or that high altitude wind could by itself provide 100 times the energy now used by the entire world? And best of all, we can afford to make the change—we're rich! Remember that $1.8 trillion in our corporate bank accounts? Yet while the rest of the world is heading off to the future, we're just sitting here. The only thing that will work to get us there is what's worked before: just like we did in the '30s and '60s, we have to stop being scared of the top 1 percent, and make them scared of us. That's the only way they'll relax the death grip they have on this country long enough to let us save ourselves and them.
One thing is certain: Obama won't do this for us. Congress? Forget it.
If we want a life worth living for ourselves and our kids, we have to go get it ourselves. We can't keep waiting for the cavalry to come. That's because we're the cavalry.
And from the top floor of the GM tower in downtown Detroit, they should hear our hoofprints a-comin'.
Michael Moore is an Academy Award-winning filmmaker and author. He directed and produced Roger & Me, Bowling for Columbine, Fahrenheit 9/11, and Sicko. He has also written seven books, most recently, Mike's Election Guide 2008.
Ford, Subaru, VW top insurance industry safety picks
Aug 15 2010
KEN THOMAS
The Associated Press WASHINGTON–Ford, Subaru and Volkswagen lead the insurance industry's annual list of the safest new vehicles, according to a closely watched assessment used by car companies to lure safety-conscious consumers to showrooms.
The Virginia-based Insurance Institute for Highway Safety awarded its "top safety pick" on Wednesday to 19 passenger cars and eight sport utility vehicles for the 2010 model year. The institute substantially reduced the number of awards compared with 2009, because of tougher requirements for roof strength.
Ford Motor Co. and its Volvo unit received the most awards with six, followed by five awards apiece for Japanese automaker Subaru and German automaker Volkswagen AG and its Audi unit.
Chrysler Group LLC received four awards followed by two each for Honda Motor Co. and General Motors Co.
Toyota Motor Corp., BMW AG, Mazda Motor Corp. and Mitsubishi Motors Corp. were shut out in the annual IIHS review.
Ford's recipients include the Ford Taurus and Lincoln MKS passenger cars and the Volvo S80 and C30 passenger cars and the XC60 and XC90 SUVs.
Ford said in a statement it is "committed to providing customers with safe vehicles for a broad range of real-world crash conditions."
Subaru recorded winners with the Subaru Legacy, Outback and Impreza cars and Tribeca and Forester SUVs. Subaru was the only automaker with an IIHS winner in all four vehicle classes in which it competes.
The automaker, which has bucked the brutal U.S. sales market with a 13 per cent increase during the first 10 months of 2009, attributed its safety success to a unique engine design that sits low in the vehicle chassis and moves down and under occupants in a frontal collision.
Tom Doll, executive vice president and COO of Subaru of America, said the awards were a "tribute to the engineering that goes into Subaru products."
Volkswagen scored with the 4-door versions of the Jetta, Passat and Golf, the Audi A3 and the Volkswagen Tiguan, a small SUV. Mark Barnes, Volkswagen of America's chief operating officer, said the "safety of our cars is of the utmost concern, from the initial design stages all the way through the maintenance procedures at dealerships."
Chrysler won the award for the Chrysler Sebring and Dodge Avenger sedans equipped with optional electronic stability control, the Dodge Journey midsize SUV and the Jeep Patriot with optional side thorax air bags.
Scott Kunselman, Chrysler's senior vice president-engineering, said the awards underscore the Auburn Hills, Mich., automaker's ``engineering capability and leadership in occupant protection."
General Motors Co. and Honda Motor Co. both received two awards. GM was recognized for the Buick LaCrosse and the Chevrolet Malibu while Honda won for 4-door versions of the Civic with optional electronic stability control and the Honda Element.
Other winners included the Nissan Cube, the Kia Soul and the Mercedes C Class.
The vehicles are selected for best protecting motorists in front, side and rear crash tests based on Institute evaluations during the year. The vehicles are required to have electronic stability control, or ESC, to qualify for the award. Earlier this year, the Institute said vehicles would need to receive its highest score in its roof strength evaluation to qualify the safety pick designation.
"With the addition of our roof strength evaluation, our crash test results now cover all four of the most common kinds of crashes," said Institute president Adrian Lund. "Consumers can use this list to zero in on the vehicles that are on the top rung for safety."
The Institute awarded its top prize to 94 vehicles in 2009 and attributed the decline in awards this year to the roof strength requirement. The Honda Accord and the Ford Fusion both dropped off the list because 2010 versions didn't earn high enough scores on the roof test.
The Toyota Camry would have made the list, the Institute said, if it had received the highest rating in rear crash protection. The Institute said the Camry's seats and head restraints were rated marginal for protection against whiplash injuries.


The Boss 302 gets a limited run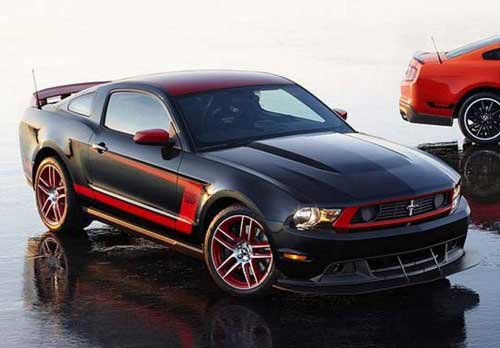 Ford offers two versions of a powerful but street-legal car
Scott Burgess / The Detroit News
August 14, 2010
The Boss is back as a production model.
Ford Motor Co. announced Friday that it will offer a limited number of the 2012 Mustang Boss 302, playing up the powerful reputation of the legendary engine.
There will also be a track-ready version, known as the Mustang 302 Laguna Seca, which eliminates the rear seat, and adds a racing suspension and additional aerodynamic treatments.
The regular Boss will also be upgraded inside and out.
"The new Boss 302 completely redefines Mustang capability," Mark Fields, Ford president of the Americas, said in a press release Friday.
Ford did not announce pricing and availability.
The new Boss 302 engine is derived from the new 5-liter V-8 in the 2011 Mustang GT. The original 302, which arrived in 1968, got its name as a high performance version of the 302 cubic-inch displacement V-8.
When Ford brought back the 5-liter V-8 this year for the 2011 Mustang GT, it already produced 412 horsepower. Then Ford engineers rebuilt it into a high performance version, which now pushes out 440 horsepower and 380 pound-feet of torque.
Ford adds that while the easiest way to add power would have been with a supercharger, the engineers chose not to do that.
"The core group of engineers on the Boss 302 engine understands and respects the heritage of the name and the history behind the original engine," Mike Harrison, Ford V-8 engine program manager, said.
"The first Boss 302 was a specially built, free-breathing, high-revving, small V-8 that gave it certain desirable characteristics on a race course -- and we capture that essence in the new engine," he said.
Changes were made to the engine, including adding forged aluminum pistons, connecting rods, a race spec crankshaft, lighter valvetrain components and high strength aluminum-alloy cylinder heads.
All of the strengthening was needed to handle the additional power and higher revs the engine must endure.
The original Boss 302 arrived in the 1969 Mustang Boss 302 and produced 290 horsepower. There was also a Mustang Boss 429 in 1969 and 1970, which created 375 horsepower. In 1971, Ford also offered the 330-horsepower Mustang Boss 351.
Now, it's back.
***********************************
THE BOSS IS BACK: 2012 FORD MUSTANG BOSS 302 BRINGS ROAD RACING LEGEND BACK TO THE STREETS

2012 Mustang Boss 302
Login to download images.
The Boss returns! Limited production 2012 Mustang Boss 302 set to become the quickest, best-handling straight-production Mustang ever offered by Ford, based on the world-class foundation provided by the 2011 Mustang GT

Boss upgraded in nearly every vehicle system; engine output, brakes, suspension, interior and exterior all examined to optimize weight, aerodynamics and track performance

Full Mustang team effort results in a comprehensive re-engineering available only through the factory; new Boss is not a package that can be purchased out of a catalog or achieved through tuning or aftermarket parts

Limited-production track-oriented Boss 302 Laguna Seca model expands on Boss racing aspirations, deleting rear seat and adding race-ready suspension and aerodynamic treatments
MONTEREY, Calif., Aug. 13, 2010 – Ford gave the green light only once before: In 1968, management approved a special Mustang – a car that sacrificed nothing in its quest to be the best all-around road-going performance machine ever created by Ford Motor Company. That car became the 1969 Mustang Boss 302, and it remains one of the world's most sought-after examples of American performance.
Forty-two years later, Ford has given the green light again.

The team of Ford engineers, designers and stylists – all Mustang enthusiasts to the core – that created the groundbreaking 2011 Mustang GT has distilled a new model to its purest form, strengthening, lightening and refining each system to create a race car with a license plate. Its name: the 2012 Mustang Boss 302.

"The decision to build a modern Boss was not entered into lightly," said Derrick Kuzak, group vice president, Global Product Development. "The entire team at Ford felt the time was right and with the right ingredients, the world-class 2011 Mustang could support a successful, race-bred, worthy successor to the original Boss 302. For us that meant a production Mustang that could top one of the world's best – the 2010 BMW M3 – in lap times at Laguna Seca. We met our expectations."

To celebrate the racing heritage of the new Mustang Boss 302, Ford will also offer a limited number ofBoss 302 Laguna Seca models, named for the track where Parnelli Jones won the 1970 Trans-Am season opener in a Boss 302. Aimed at racers more interested in on-track performance than creature comforts, the Boss 302 Laguna Seca has increased body stiffness, a firmer chassis set-up and an aerodynamics package carried over almost in its entirety from the Ford Racing Boss 302R.

Philosophy and powertrain

"The new Boss 302 completely redefines Mustang capability," said Mark Fields, Ford president of The Americas. "That the Mustang team was able to take the current Mustang GT – already a world-class performance car – and refine it further for peak track performance shows the commitment Ford has to this car and its legions of fans."

Driving the 2012 Mustang Boss 302 was intended from the outset to be a visceral experience, packed with raw, unbridled performance across the spectrum: Acceleration, handling, braking, and top speed are all equally matched for perfect balance on a car operating within the framework of legally defined safety, noise and emissions regulations.

"The team at Ford wanted to offer their fellow Mustang enthusiasts something really special – a beautifully balanced factory-built race car that they could drive on the street," explains Dave Pericak, Mustang chief engineer. "The Boss 302 isn't something a Mustang GT owner can buy all the parts for out of a catalog or that a tuner can get by adding a chip. This is a front-to-back re-engineered Mustang with every system designed to make a good driver great and a great driver even better."

Led by Mike Harrison, the V8 engine team approached Boss from the top down: With 412 horsepower from 5.0 liters, the 2011 GT engine was already an incredible performer. But to achieve the high-rpm horsepower that would make the engine competitive on the track, a new intake was essential. The resulting runners-in-the-box plenum/velocity stack combination the engine team developed was impressive enough that it got the green light after one short drive.

Helping the intake build power, revised camshafts using a more aggressive grind are actuated with the same twin independent variable camshaft timing (Ti-VCT) mechanism used on the Mustang GT. More aggressive control calibration yields 440 horsepower and 380 lb.-ft. of torque, while still offering a smooth idle and low-end torque for comfortable around-town driving.

A race-inspired clutch with upgraded friction materials transmits power, while a short-throw, close-ratio six-speed manual transmission handles gear change duties.
Power is delivered to a 3.73 ratio rear axle using carbon fiber plates in the limited-slip differential to improve torque handling and longevity. For those who want even more precise control over power delivery, a torque-sensing (Torsen) limited-slip differential is an available option coupled with Recaro front seats.

Sounds like the Boss

While the powertrain team defined output targets that would yield an ideal balance with the chassis, another team made sure the car made the kind of sounds owners and enthusiasts would expect from a Mustang Boss.

Up front, a Boss-specific intake system is tuned to feed the engine with minimum restrictions. A retuned induction sound tube provides concrete aural evidence of what's occurring under the hood. And, in the Boss exhaust system engineers really had some fun.

"With an exhaust system, we have to consider three constraints: legal noise restrictions; backpressure, which can rob power; and ground clearance," explains Shawn Carney, Mustang NVH engineer. "Since the 2011 Mustang GT exhaust is already so free-flowing – it came in way under our backpressure targets – we already had excellent performance; we were able to tune the exhaust system for a unique sound. Combined with the rush of the intake, the exhaust system really envelops the driver in V8 sound.

Every Boss features a unique quad exhaust system: Two outlets exit in the rear similar to a standard Mustang GT. The other two outlets exit to either side of the exhaust crossover, sending exhaust through a set of metal discs that act as tuning elements before the pipes terminate just ahead of the rear wheel opening. Visually subtle, the side pipes flow very little exhaust but a lot of exhaust sound, providing a sonic experience unlike any other Mustang – and giving home tuners an additional avenue for modification.

"We added the attenuation discs to meet legal regulations, but we knew buyers might operate these cars in situations where noise regulations weren't an issue," Carney said. "The disc is removable and includes a spacer plate sized to match aftermarket exhaust dump valves. If an owner wants to add a set of electric valves, they just undo two bolts on either side; the disc and spacer slide out and the valve will slide right in. And the side pipes are tuned so that drivers can run wide-open and the sound levels are comfortable – very aggressive but livable for an all-day track outing."

Carney further explains the thinking behind the unusual step of an OEM easing aftermarket component installation. "We're Ford engineers, but we're also enthusiasts," he says. "We understand owner mods are part of the Mustang experience, so we try to help where we can."

Suspension and steering

In keeping with the Boss mandate to provide the best-handling Mustang ever, the already strong Mustang GT suspension system has been further refined. Higher-rate coil springs on all four corners, stiffer suspension bushings and a larger-diameter rear stabilizer bar all contribute to the road racing mission, and Boss models are lowered by 11 millimeters at the front and 1 millimeter at the rear versus the Mustang GT. The real key to handling, though, is in the adjustable shocks and struts, standard on all Boss Mustang models.

"We've given drivers five settings for their shocks," says Brent Clark, supervisor of the Mustang vehicle dynamics team. "One is the softest, two is the factory setting and five is the firmest, and we've provided a wide range of adjustment. A customer can drive to the track on setting two, crank it up to five for improved response on the track, then dial down to one for a more relaxed ride home. What's unique is that drivers will find – thanks to the way the suspension works as a complete system – the softest setting isn't too loose and the firmest setting isn't too controlled; each step just provides additional levels of control."

Also unique is the method of shock adjustment. Ditching the weight and complexity of electronic wizardry, the Mustang team opted for traditional race-style hands-on adjustability – similar to the Gabriel shocks available on the original Boss 302.
"The shock adjustment is right at the top of the shock tower, built into the rod and easily accessible from under the hood or inside the trunk," says Clark. "You just take a small flat-head screwdriver, turn the adjustment screw between one and five, and head back out onto the track."

To complement the suspension, the speed-sensitive electronic steering system has been retuned to maximize feedback and road feel to the driver. The driver is also given the option of fine-tuning the steering feel to his liking by selecting one of three settings through the instrument cluster menu: Comfort, normal and sport modes help offer track-tuned steering when desired without sacrificing low-speed maneuverability in parking situations and everyday commuting.

Similarly, Boss receives unique traction control system (TCS) and electronic stability control (ESC) settings to help drivers achieve maximum performance whether on the street or at the track. Both systems can be completely disabled in controlled track situations where maximum driver skill is utilized, or fully engaged for maximum safety during normal driving or in less-than-ideal traction conditions. Intermediate sport mode allows drivers to push their cars hard at the track without completely disabling the safety systems, permitting more aggressive driving before the TCS and ESC systems intervene.

Brakes, wheels and tires

Working in concert with the suspension upgrades, Boss 302 receives unique, lightweight 19-inch black alloy racing wheels in staggered widths: 9 inches in front, 9.5 inches in the rear. The Pirelli PZero summer tires are sized specifically for each end of the vehicle, with the front wheels receiving 255/40ZR-19 tires while the rear stays planted thanks to 285/35ZR-19 rubber.

The combined suspension and tire package allows Boss to achieve a top speed of 155 mph and become the first non-SVT Mustang ever to achieve more than 1.0 g of lateral acceleration.

Boss braking is also up to the challenge, using Brembo four-piston front calipers acting on 14-inch vented rotors up front. In the back, standard Mustang GT brakes are upgraded with a Boss-specific high-performance pad compound. Combined with vented brake shields and unique Anti-Lock Brake System (ABS) tuning, Boss drivers get maximum control and rapid, repeatable fade-free stops in road and race situations alike.

The Mustang team spent considerable time ensuring the brake pedal feel met the expectations of performance drivers. Boss receives unique low-compressibility brake lines that expand up to 30 percent less than traditional flexible brake lines, allowing maximum fluid pressure to reach the calipers in the least amount of time, giving the driver a sensation of being connected directly to the brake pads.

"This car is wicked fast, so we put a lot of emphasis on giving it comparable stopping power," says Clark. "We started with a race-proven brake system and tuned it specifically for the characteristics of the Boss 302 and its mission. They're the best brakes ever installed on a Mustang, and they give consistent, repeatable braking performance on the street and the track."

As a result 60-0 stopping distances for the Boss are improved by approximately three feet versus the Mustang GT with available brake package; combined with suspension and engine improvements, Boss is expected to show approximately a two-second lap time improvement over the GT on a typical road race course. But the numbers tell only part of the story.

"We achieved measurable improvements over GT, which was already one of the best-braking cars we've ever designed," explains Clark, "but what's harder to quantify is how good these brakes feel to a driver in a race situation. Like everything on this car, the brakes are more than the sum of their parts: They're tuned from pad to pedal to work perfectly as a system, and the difference is dramatic."

Exterior and interior design

Changes to the Mustang Boss exterior are subtle but unmistakable. True to its race-bred heritage, every component that could potentially aid aerodynamics or engine/brake performance was examined to make the vehicle more competitive, while chief designer Darrell Behmer refined the styling to evoke the 1969 Boss in a contemporary way.

"We approached this as curators of a legend," explains Behmer. "We've taken design cues from the '69 Boss street car and the menacing Bud Moore/Parnelli Jones race cars and carefully updated them to give the 2012 the proper bad-boy attitude that is unmistakably a Boss Mustang."

To set Boss apart, each car will have either a black or white roof panel, coordinated to the color of the side C-stripe. Available exterior colors are Competition Orange, Performance White, Kona Blue Metallic, Yellow Blaze Tri-Coat Metallic and Race Red.

Up front, a unique fascia and grille are highlighted by the blocked-off fog lamp openings and aggressive lower splitter, a version of the design used – and proven – on the Boss 302R race car. The front splitter is designed to function at high speeds by efficiently managing the air under and around the car. It helps to reduce underbody drag and front end lift while more effectively forcing air through the Boss-specific cooling system. At the rear of the car, the spoiler was chosen to complement the front aero treatment and minimize overall drag.

"What we were after on Boss was reduced overall lift with improved balance," says Pericak. "We needed to keep the car glued to the street or the track at high speeds without increasing drag or affecting top speed and fuel usage. The end result is an aero package that uses front, rear and underbody treatments not for show, but for effect – the balance and stability of this car all the way to its 155-mph top speed is just outstanding."

Inside, a unique Boss steering wheel covered completely in Alcantara suede complements the standard seats, which are trimmed in cloth with a suede-like center insert to firmly hold occupants in place. Boss customers who want the ultimate seating experience can select a package that includes Recaro buckets, designed by Ford SVT in cooperation with Recaro for high performance Mustang models, and shared between the Boss and GT500.

A dark metallic instrument panel finish, gauge cluster and door panel trim also differentiate Boss from the standard Mustang, while a black pool-cue shifter ball and "Powered by Ford" door sill plates further remind customers they're in a special car.

The Boss interior gets an aural kick thanks to what's been removed. Eleven pounds of sound-deadening material have been eliminated to let occupants further enjoy the intake, engine and exhaust note.

"Boss is a hallowed word around here, and we couldn't put that name on a new Mustang until we were sure everything was in place to make this car a worthy successor," explains Pericak. "We were either going to do it right or not do it at all – no one on the team was going to let Boss become a sticker and wheel package."
Ford to utilize solar energy in
Wayne plant to produce Focus
Panels will cut cost, supply power at Michigan Assembly
Christina Rogers / The Detroit News
August 13, 2010
Ford Motor Co. is tapping the sun's energy to help power production of the next-generation Focus and hybrid-electric vehicles coming to market in the next two years.
The Dearborn automaker will install 500 kilowatts of solar panels later this year at its Michigan Assembly Plant in Wayne, along with a battery storage facility that can store 2 million watt-hours of energy, enough to power 100 homes for a year, the company said Thursday.
The project, a partnership with DTE Energy -- the state's largest utility -- and Xtreme Power, an Austin-based energy solutions firm, is being touted as one of the largest solar installations in Michigan.
The automaker has invested heavily to transform the former full-size SUV plant in Wayne into a site for manufacturing smaller, more fuel-efficient cars. It starts production of the new Focus later this year. Production of the Focus Electric starts in 2011 and future hybrid-electric vehicles in 2012.
"Our Michigan Assembly plant is going to be the next-generation vehicle center of the universe for next year or so," said Jeff White, electricity supply manager for Ford North America. "It just makes sense to bring this solar project to (the plant) so we can better understand how sustainable energy is developed."
Detroit Edison is contributing $3 million to the project through its Solar Currents program, which works with companies to outfit rooftops and other property with solar panels. The project is getting $2 million in grants from the Michigan Public Service Commission, and Ford will contribute $800,000.
The installation includes 10 charging stations to power battery-electric trucks used to transport parts to the assembly plant.
The solar panels, however, are unlikely to put a big dent in reducing Ford's energy costs, said Oliver Hazimeh, head of management consultant PRTM's global e-Mobility Practice in Southfield.
They can be useful in supplying power for lighting and other small devices, but won't generate enough electricity for heavy machinery, he added.
Rather, the project is a good way to enhance the company's green image, while helping it learn how their new generation of electric cars fits with the power grid, Hazimeh said.
Ford said its energy costs run about $9 million a year. It plans to store the renewable energy and use it to offset the high cost of electricity during peak demand periods when utilities typically charge more for power.
In Europe, Ford is using renewable energy to power plants in the United Kingdom and Germany, where it has installed wind turbines and solar panels.
About 3 percent of Ford's energy use worldwide is supplied by renewable sources.
The automaker also hopes to sell its shuttered Wixom plant to Xtreme Power and Clairvoyant Power of Santa Barbara, Calif. The two companies plan to redevelop the site into a factory for manufacturing solar and battery equipment.
The project could bring 4,300 jobs to Michigan. The companies are still trying to secure funding, said Jennifer Moore, a Ford spokeswoman. "The project is still viable," she added.
New Green Jobs Must Come to Hamilton, CAW Demands
Siemens' plan to build a new wind turbine blade facility in Southern Ontario, instead of moving these new "green jobs" into the company's soon-to-be-closed Hamilton facility, is outrageous, said CAW President Ken Lewenza.

The Hamilton community has been left reeling since Siemens announced plans earlier this year to shut down its gas turbine facility, slashing over 500 good jobs, and relocate work to a lower-cost jurisdiction in the United States.
"Our provincial government cannot subsidize a major green energy project knowing full-well that it will completely undercut Ontario workers," Lewenza said. "If this government wants to protect hard-hit manufacturing communities, create new green jobs, and tackle our environmental crisis, then why are they wasting this perfect opportunity?"
CAW Local 504 President Randy Smith called Siemens' decision a double slap in the face to its Hamilton workforce.
"There's no good excuse why this work can't come into Hamilton." said Smith. "With the proper retrofits and refurbishments, our members, who are the most highly skilled workers this company has, can maintain their jobs and contribute to the greening of Ontario's economy."
The company has shortlisted 16 possible locations for the new work with no guarantee it will be done in the Hamilton manufacturing facility.
The union is calling on the company and the Ontario government to show leadership and ensure that the new turbine blade work is brought into the existing Hamilton facility. Lewenza outlined the union's concerns in a letter that was sent to Ontario Premier Dalton McGuinty on August 10.
CAW Members at St. Marys Cement Ratify New Deal
CAW members at St. Marys Cement in Bowmanville, Ontario have ratified a new three-year agreement by 58 per cent, ending a bitter five month strike.
"This is a significant achievement for this group of workers to fight off the massive concessions demanded by this employer," said CAW Local 222 President Chris Buckley. "St. Marys Cement, now a Brazilian-owned company, was looking to eliminate the pension plan, slash wages, drastically reduce benefits and extend the current contract to five years, which would have set these workers back decades."
The new agreement includes a signing bonus in the first year, a lump sum payment in the second and a wage increase in the third, as well as improvements to training provisions. The CAW bargaining committee was also able to resist the outsourcing of major operations in the plant for the life of the agreement.
The agreement maintains the current defined benefit pension plan until September 2012 at which time it will change to a defined contribution plan.
"The situation we experienced at St. Marys Cement over the last number of months is just one example of how large foreign-owned corporations, in this case Votorantim Cimentos, have been allowed to buy up Canadian resource companies and wreak havoc on the workforce with few, if any, obligations to the country," said CAW President Ken Lewenza. "Congratulations to these workers for having the courage to stand up for their hard-earned past gains, including their pension, where our government has failed to do so."
"I want to extend my thanks, on behalf of St. Marys Cement workers, to all of the CAW members who offered their support during this difficult time." Buckley said.
Vancouver Pride Parade
Photo: On August 1st, CAW 111 participated in the Vancouver Pride Parade, where crowds this year were estimated at 500,000. Approximately 75 members along with their families enjoyed a great day in the West End of Vancouver walking the route.
For more Vancouver Pride photos, please visit: http://www.flickr.com/photos/cawmedia/sets/72157624564270835/
CAW Reaches Tentative Deal with Toronto Terminals Railway
The CAW reached a tentative collective agreement with Toronto Terminals Railway August 9, just hours before a strike deadline.
"This is a deal that our bargaining committee is comfortable bringing to the membership and believe they will accept," said CAW national representative Bob Fitzgerald. "We are very happy that a deal was reached in time to avert any possible disruption for rail transit commuters."
Details of the agreement will be released after the deal is ratified by union membership.
The union represents 125 members at Toronto Terminals Railway, who perform maintenance-of-way, track protection and cleaning duties and are members of CAW Council 4000.
Expansion of New Brunswick Plant Good News for Local 2001
With the Old Dutch Foods potato chip plant in Hartland, New Brunswick operating at capacity the company is moving ahead with a $25 million expansion of the plant.
The company announced in early August that it will expand based on existing sales and intends to increase spending in the province by roughly $10 million per year on potatoes and other supplies. The provincial government is providing $15 million toward the expansion.
A new packaging line, new equipment and additional warehouse space will add approximately 40 full-time jobs to the 128 already at the facility. In addition there are 35-50 seasonal positions.
CAW Local 2001 President Tony Budrow said that securing the loan and the decision to expand was the result of hard work by the membership, company ownership and the provincial government.
"This announcement not only bodes well for our members, but also the spin off effect it will have on other sectors of the local economy such as trucking, farming and an increase in business for local merchants will be very positive," said Budrow.
CAW Atlantic Area Director Les Holloway said the membership has worked hard to ensure the plant has a strong future and that the expansion is a strong step forward for the local economy.
"This is great news for our members who produce a quality union made product, which is very popular - Old Dutch potato chips."
CAW Calls for a Reversal on Callaway Plant Closure Decision
CAW President Ken Lewenza is calling on the top executives of Callaway Golf Company to revisit a recent decision to close its Concord, Ontario assembly and distribution facility in the coming months.
"The union is obviously disappointed in the decision and the effect it will have on the lives of more than one hundred workers at that facility," Lewenza said in a letter to Callaway CEO George Fellows and Senior Vice President David Laverty on August 3.
"There are 63 CAW members there with as much as 28 years seniority who will see a long term employment relationship severed."
The golf club equipment manufacturer announced plans to close the facility, suddenly, on July 27 less than one year after negotiating a new three-year agreement with CAW Local 462 members that focused largely on job security. The facility is expected to close at some point over the next six to 14 months.
"This announcement was a shock to us all," said plant chairperson Balkaran Judisthir. "We are going to explore every possible option to save these jobs and ensure our members are treated fairly."
Lewenza has requested that a meeting between CAW representatives and the company's top North American officials take place as soon as possible. Union representatives are scheduled to meet with plant managers to discuss the closure announcement on August 19.
CAW's Family Education Centre Wins EatSmart Award
Photo: Pictured are Dr. Hazel Lynn, medical officer of health, Grey-Bruce; CAW Family Education Centre's Paul Johnston, executive chef; centre kitchen staff members Michael Desborough, Reid Lyons, Matt Allen and Melanie Mitchell.
The cafeteria at the CAW's Family Education Centre in Port Elgin, Ontario has been recognized for providing healthier eating choices.
On August 10, Executive Chef Paul Johnston and the centre's Executive Director Dean Fowler were presented with the provincial EatSmart! Award of Excellence. The award acknowledges workplace cafeterias demonstrating excellence in nutrition, food safety and a smoke-free environment.
The special recognition comes as a result of the hard work of the centre's joint health and safety committee. The cafeteria offers lower fat, lower salt and higher fibre food choices along with the chef's commitment to using local foods whenever possible. Johnston said he's also very excited to be using the centre's new fresh organic herb garden.
"This is a great honour as this award is very difficult to achieve and working with the Grey Bruce Health Unit has been a great asset to the CAW Family Education Centre," Johnston said.
"Healthy eating is the first line of defense against chronic diseases like diabetes, heart disease and certain cancers," said Grey Bruce Public Health Dietitian Kathryn Forsyth. "We are pleased to see CAW make this commitment to creating a healthier eating environment," Forsyth said.
Building Hope One Home at a Time
The CAW Hammer of Hope is a week-long build of a Habitat for Humanity home in London, Ontario that will help one deserving family move into decent housing.
CAW locals, the CAW national union and others in the London area have pulled together to make the project a reality. The energy efficient two-bedroom bungalow will be constructed outside the John Labatt Centre and then moved to a vacant lot that was once a biker clubhouse.
"When we were approached on this project we were taken with the fact that the home was for a single mother and was being placed on a lot formerly occupied by a biker gang," said CAW Local 27 President Tim Carrie.
"Local 27 then approached locals 88, 1520, 302 and the National CAW and everyone was enthusiastic and supportive. We raised $40,000 in a week," said Carrie, also CAW Council president.
While the occupants of the new home are excited by the project's completion, so are local residents who told The London Free Press they are delighted by their new neighbours and the improvement in their community.
CAW Local 302 President Nancy McMurphy said her local is incredibly proud to be part of the project. "It's not only a new start for the family, but also revitalizes the community," said McMurphy, also a CAW National Executive Board member.
Habitat for Humanity builds affordable homes for those in need who meet certain criteria. The mortgage-geared-to-income program requires those buying the home to put at least 500 hours of sweat equity into the property, while helping a Habitat team of builders and volunteers.
CAW Protests Cuts to Personal Support Worker Hours
CAW members and supporters demonstrated outside the Village of Wentworth Heights long term care home in Hamilton, Ontario, August 5, protesting the cuts to Personal Support Worker (PSW) hours.
The home, owned by RBJ Schlegel Long Term Care, has cut PSW services by 28 hours a month despite the fact that there have been no cuts to overall funding.
This reduction in hours places an increased burden on staff already working to their maximum," said CAW Kitchener Area Director Bill Gibson.
"The issue, aside from the monetary impact to our members, is quality of care for residents, who rely heavily on staff to attend to their basic needs. With fewer staff on the floor, this care will inevitably suffer which is both unfair and unnecessary," said Gibson.
Workers at the Village of Wentworth Heights are represented by CAW Local 504.
On the Road to Help Homeless Women
Photo: (Photograph by Jim Kennedy) Riding to Help Sisters: Pictured above are Patty Marshall of Local 27; Susan McPhail, Director My Sisters Place; Jim Kennedy, Local 27 Recording Secretary; Liz Overduin, Local 27 member from General Dynamics; Dani Bartlett of Local 27 and Ross Collishaw, Chairman of the Board WOTCH Community Mental Health Services.
CAW Local 27 member Liz Overduin took to the road on a 14-hour bicycle trip recently to raise much needed funds for the My Sisters' Place women's shelter in London, Ontario.
On June 21, which is the longest day of the year, Overduin completed a 232 kilometre bike ride in southwestern Ontario and in the process raised $5,250 to help pay for air conditioning at My Sisters' Place new location in London, Ontario.
Overduin sent letters to each of the units that belong to Local 27 seeking donations for the fundraiser, based on the notion that for the homeless, every day must seem like the longest day of the year.
"On the day of the ride, I cycled and people made donations," Overduin told The Londoner newspaper. "Each unit did its own type of fundraising. Some of them were really fun. Others did 50-50 draws. Others were just straight donations. I think it was really inspiring. I was so moved by how supportive everyone was."
Susan McPhail, director of My Sisters' Place, said the fundraising effort and support from Local 27 members was tremendous.
McPhail said there is great appreciation for the women's committee's support, Liz's creation of this idea about the longest day of the year, and for CAW members coming together to fundraise.
"Our women were really excited by it. It really captured their imagination. It is very empowering for them to see one woman take on such a project on their behalf."
CAW President Calls for Moratorium on Online Gaming
CAW President Ken Lewenza is calling for a moratorium on government-sanctioned online gaming sites until the issue can be thoroughly studied, including the effect on gaming behaviour and addictions and the economic impact on existing gaming locations.
"Internet gaming facilitates serious gambling addictions where participants can spend thousands of dollars without ever leaving their homes or coming into contact with another human being," said Lewenza. "This is very worrisome and could prey on vulnerable populations who could easily fall victim to gambling addictions."
"This issue is important enough that the people of Ontario should decide, in the form of a referendum as part of the 2011 provincial election," said Lewenza.
Lewenza also said neither the Ontario government nor the Ontario Lottery and Gaming Corporation currently know to what extent the introduction of internet gaming will impact existing gaming facilities, some of which were set up in depressed areas to stimulate the local economy. "It could lead to a loss of jobs at a time when the province cannot afford it – this should also be taken into account."
The CAW is the largest gaming union in the country, representing more than 7,000 gaming workers, including nearly 1,000 members at OLG.
CAW Welcomes New Members
► American Airlines Inc., Calgary International Airport, Alberta – 16 new members in CAW Local 2002;
► Blomidon Court, Shannex Inc., Greenwich, Nova Scotia – 44 new members in CAW Local 2216;
► Ryan Hall, Shannex Inc., Bridgewater, Nova Scotia – 56 new members in CAW Local 1944;
► Vimy Court, Shannex Inc., Truro, Nova Scotia – 58 new members in CAW Local 4606;


Chrysler to spend $27-million
on Toronto plant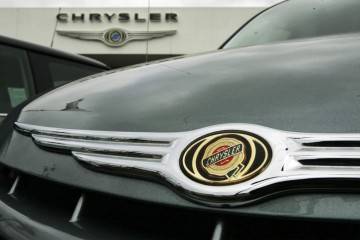 Toronto — The Canadian Press Published on Thursday, Aug. 12, 2010
Chrysler says it will spend $27.2-million on new technology for an auto parts casting plant in Toronto.
The U.S.-based auto maker says the move will preserve 280 jobs at the plant in Etobicoke.
Chrysler says the plant, which currently produces aluminum die castings and pistons, is being prepared to make vehicle suspension parts called crossmembers.
CAW union leader Ken Lewenza welcomed the investment, saying the move will help preserve and enhance jobs in the city.
Chrysler currently employs about 7,500 people at assembly plants in Brampton and Windsor, Ont. as well as the Etobicoke casting plant.
Ford offers V-6 engines
in F-150 pickup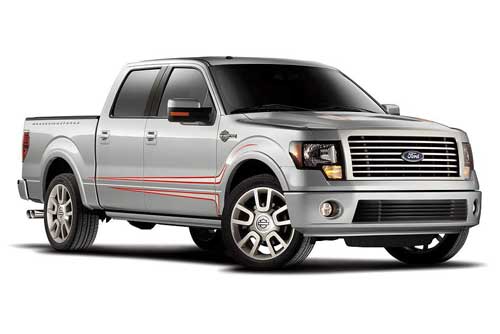 More fuel-efficient powerplants expected to be popular options
Alisa Priddle and Scott Burgess / The Detroit News
August 12, 2010
Dearborn -- Ford Motor Co. on Wednesday announced an overhaul of the engine lineup in the popular F-150, with four choices designed to improve fuel efficiency in pickups going on sale starting this fall.
The 2011 lineup of F-Series pickups will have a 20 percent improvement in fuel economy over the average of the 2010 models, said Doug Scott, truck group manufacturing manager.
In part, that's because Ford expects smaller, V-6 engines to be as powerful and popular as the V-8s that were the mainstay of the full-size truck segment. Ford has not offered a V-6 in the F-150 since the 2008 model year.

"It raises the question as to what is the top engine," said analyst Aaron Bragman of IHS Automotive in Troy. "Pickup buyers usually want the largest engine they can get."
Mileage figures will be released in September. Some F-150s could get 24 mpg.
When the current-generation F-150 was introduced for the 2009 model year, Ford said new engines were in the works.
The timing could be perfect to introduce smaller engines.
"Fuel economy is the one unmet need in the segment," Scott said, citing studies that show 32 percent of customers would switch brands for better fuel economy. That is significant given that pickup buyers are fiercely brand loyal.
The range of engines includes a new entry-level 3.7-liter V-6.
The workhorse is the new, 5-liter V-8 in the Ford Mustang. It has been modified for more torque at lower speeds for the truck. Prototypes are being built in Windsor, Ontario, which has capacity for 250,000 engines annually. Trucks with the V-8 go on sale this fall.
Launching in first-quarter 2011 is the twin-turbo EcoBoost 3.5-liter V-6 that will be a premium and cost-efficient alternative -- but could be the priciest option.
"It's interesting on the F-150 and the Explorer that the more premium engine is the smaller one," Bragman said.
The EcoBoost engine can tow 11,300 pounds -- equal to the powerful, 6.2-liter V-8 in the Super Duty and top-line and specialty F-150s that include the Raptor and a Harley-Davidson edition.
A six-speed automatic transmission is standard for 2011.
Ford's F-Series has been the best-selling truck in the United States for 33 years, accounting for 25 percent of total sales.


Honda to recall 384,000 vehicles
over roll-away issues
Automaker will repair faulty ignition interlock system
David Shepardson / Detroit News Washington Bureau
August 11, 2010

Washington -- Honda Motor Co. is recalling 384,000 vehicles over concerns that the ignition interlock could fail, allowing vehicles to roll away.
It's the Japanese automaker's third recall to address the issue in recent years.
Monday's recall of 2003 Honda Accord and Civic models and 2003-2004 Element vehicles follows a nearly two-year investigation by the National Highway Traffic Safety Administration. The recall includes 197,000 Accord and 117,000 Civic vehicles and about 69,000 Element vehicles.
Honda spokesman Chris Martin said a small number of crashes and one minor injury have been reported in connection with the recalled vehicles.
Although faulty ignition interlocks are common to all three recalls -- the others were in 2003 and 2005 -- different problems are to blame, he said.
"These are different parts. They are different issues that are causing this same sort of symptom," he said, noting that the 2003 Accord was a complete model change from the 2002 version.
NHTSA said in a statement that Honda was right that the "underlying defect differs from previous recalls," but the agency warned that "the potential safety risk is the same."
Honda will remove the original interlock pin and lever and replace them with redesigned components. Martin said the reshaped components will prevent the vehicle from being turned off without being in park.
Honda will begin notifying owners in late September.
In the latest recall, NHTSA opened the probe of Accord models in September 2008 after getting 15 complaints alleging 10 crashes.
One driver reported she was almost in her house when she saw her Honda rolling out of the garage and down the driveway. She was almost run over as she tried to stop it before it crashed into a cable box. Another said a Honda rolled away from a driveway, hitting a tree, NHTSA said.
In January 2009, NHTSA upgraded its probe into an engineering analysis after receiving 36 complaints alleging 17 crashes.
On July 7, Honda and NHTSA officials met and, on July 29, Honda agreed that a safety defect existed. Honda initially felt that the failure rate wasn't high enough to warrant a recall, but NHTSA said "it was a serious enough issue" to seek a recall, so the company agreed, Martin said.
In the prior recalls over ignition interlock defects:
• Honda recalled 563,000 vehicles in 2003, including 1999 Honda Odyssey, 1997-1999 Acura CL, 1999 Acura TL and 1999-2001 Honda Accord vehicles and some 2002 Accord vehicles. Most of those were inspected and needed no repairs, Honda said.
• Honda recalled another 483,000 vehicles in 2005 over the same issue -- including the remaining 2002 Accord models not covered by the first recall, along with other models. Honda said in 2005 it was redesigning its interlock system. The fault allowed some drivers to be able to remove the ignition key without shifting the vehicle into park. More than 200,000 of those have been fixed.
The move comes as NHTSA is stepping up efforts to push automakers to recall more vehicles in the wake of Toyota Motor Corp.'s series of recalls.
Honda's recalls this year are nearly three times its recalls last year.
The Japanese automaker has now recalled about 1.5 million vehicles in nine campaigns in 2010, compared with 454,000 vehicles in four campaigns in all of 2009.
Automakers are on pace to recall more than 20 million vehicles this year, the highest tally since 2004.
Separately, Honda said last week it is recalling 585 2010 Honda Element vehicles over concerns that the cable that connects the shift lever to the transmission was not set correctly. As a result, a driver may move the shift gear level, but it may not be placed in the right gear.
The problem could cause the key to get stuck in the ignition switch or prevent the driver from shifting out of park or into reverse.
Honda will begin notifying owners this week and will correctly set the cable.


Ford adds power to
Harley-Davidson F-150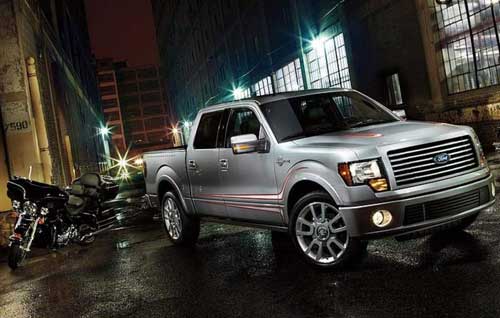 2011 version will have a 6.2-liter V-8 generating 411 HP
Scott Burgess / The Detroit News
August 10, 2010
Ford Motor Co. will unveil the 2011 Ford Harley-Davidson F-150 in Sturgis, N.D., today.
The new pickup will be the most powerful F-150 Harley-Davidson ever, featuring Ford's 6.2-liter V-8 that generates 411 horsepower and 434 pound-feet of torque. It's the same engine Ford put in the 2010 F-150 SVT Raptor. It will help the new Harley model tow up to 9,300 pounds.
"This engine has tons of torque and already has been proven in the field," said Mike Harrison, V-8 engine program manager, in a news release. "The exhaust for the Ford Harley-Davidson edition has been specially tuned to feature a throaty V-8 rumble customers will love."
The Tuxedo Black and Ingot Silver truck comes with standard 22-inch wheels and voice-activated navigation system. Ford has changed some of the truck's look by adding new graphics and machined aluminum trim. It only comes as a Super Crew Cab model and with a 5-foot-6 bed.
Additional standard features include power moon roof, rear view camera, second-row heated seats, ambient lighting and a remote start system.
The truck will be available later this year.
Ford has not announced pricing yet, though the automaker said the new edition will be more expensive than the 2010 model. The 2010 model had a starting price of $44,300, including shipping, and featured Ford's 5.4-liter V-8, which pushed out 310 horsepower.
Honda Canada recalls
44,000 vehicles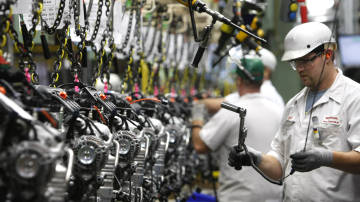 Globe & Mail
Aug 9, 2010
Honda Canada is recalling 44,000 vehicles to fix a reported malfunction of their ignition interlock.
Honda says it has received several complaints, and adds that it may be possible to pull the key from the ignition when the shift lever is not in "park" if the mechanism is damaged or worn.
The auto maker says that could lead to a vehicle rolling away if the parking brake is not on, since the transmission isn't locked when a car is not in "park."
Honda says it does not know of any accidents or injuries in Canada due to the potential problem.
The recall affects about 18,000 Honda Accords, 21,000 Honda Civics and 2,000 Acura 1.7ELs from the 2003 model year, and about 3,000 Honda Elements from the 2003 and 2004 model years.
Honda says it will notified owners next month and those concerned about the problem should contact a dealer or call the toll-free number 1-888-946-6329.


Growing sales help
Chrysler narrow loss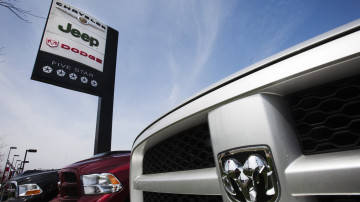 Detroit — The Associated Press Published on Monday, Aug. 09, 2010 7:23AM
Chrysler Group LLC says growing sales helped it narrow its second-quarter loss to $172-million, a year after emerging from bankruptcy protection.
The U.S. and Canada are Chrysler's primary markets, and both have seen more demand for cars and trucks since a recession-related slump last year. Chrysler says revenue rose 8.2 per cent to $10.5-billion compared with the first quarter, largely because of a 22-per-cent jump in sales.
Chrysler has been run by Fiat SpA since leaving bankruptcy protection in June, 2009. This was the first time since 2007 that the company has released second-quarter results. Chrysler lost $197-million in the first quarter.
Chrysler says it remains on track to break even or post an operating profit this year and may raise that forecast when it reports third-quarter results. Chrysler said it made an operating profit of $183-million in the second quarter.
Chrysler sales rise but
problems lurk behind gains
Tom Krisher / Associated Press
August 8, 2010
Detroit -- A year after getting billions of dollars in federal aid to stay in business, Chrysler now brags each month about growing sales, insisting it is rolling down the road to recovery.
But beneath the surface of those sales figures are troubling signs for Chrysler. The company has a long way to go before it is truly healthy again.
Most of Chrysler's gains this year came from sales to rental car companies, governments and other businesses, according to confidential data obtained by the Associated Press. Everyday drivers have shunned its dated lineup of cars and trucks.
A successful Chrysler is essential for the government because it is trying to get back the $15 billion in emergency loans it made to the company.
Chrysler lost $197 million in the first quarter, and it's expected to post a net loss when it releases second-quarter results on Monday.
Overall, Chrysler's U.S. sales rose 12 percent from January through June compared with 2009. But sales to individuals, known as retail, tumbled 21 percent, according to the industry data.
Retail sales are important because they generate bigger profits than sales to rental companies and other bulk buyers, known in the industry as fleet sales.
Chrysler CEO Sergio Marchionne said the company isn't overly reliant on fleet sales, but he knows that sales to individuals must rise.
He predicted retail sales would go up as new models hit showrooms.
"The fleet side will become less and less relevant. But it's an important piece of the business," he said when questioned by reporters last month.
Chrysler does not publicly break down sales for different groups of buyers. It says that its retail sales are slowly growing from month to month.
Lack of enthusiasm for Chrysler cars and trucks is putting stress on its dealers, who are trying to hold on while the automaker overhauls its lineup. Its only new offering this year is the redesigned Jeep Grand Cherokee, although 16 new or updated models are coming soon.
While many dealers are happy with the Jeep, they say they need new products faster. Until those arrive, the automaker has little choice but to rack up sales to bulk buyers, said Erich Merkle, president of consulting company Autoconomy.com.
"I think in Chrysler's position, you've got to take what you can get," he said.
The carmaker will need to turn around its results if it wants to repay the government's investment by selling shares to the public. A stock sale isn't expected until at least next year.
Once Chrysler shares go public, the company would be owned by thousands of shareholders, although Fiat Group SpA, which the U.S. government put in charge, could become the largest shareholder.
Chrysler has yet to post a net profit since leaving bankruptcy protection in June of 2009. But it made $143 million before interest and taxes in the first three months of this year. Marchionne said the only reason the company is not profitable is because it must pay interest on government loans.
But so far this year, Chrysler is the only major automaker to report a drop in retail sales, according to the confidential data. Retail sales for the industry are up 11 percent, and they rose only 1 percent at General Motors Co., the other Detroit automaker to get big government loans.
"I would expect at this point, if they're successful, they'd be up some number like 15 or 20 percent," said Gerald Meyers, a former chairman of American Motors Corp. who now teaches at the University of Michigan.
Both Chrysler and GM also lost sales to crosstown rival Ford Motor Co. Ford has posted strong retail sales by stealing customers from the other two.
All three Detroit automakers are struggling to lower their dependence on fleet sales. Roughly two in five Chrysler cars sold in the first half of this year went to fleet buyers. Fleet sales made up 36 percent of Ford and 32 percent of GM buyers.
Chrysler and GM dominate sales to rental car companies. GM's aging sedan, the Chevrolet Impala, led all models in rental sales during the first five months of this year, followed closely by the Chevrolet Cobalt, a compact that will be replaced in September.
Chrysler's Town and Country minivan ranked third in rental sales, while its Dodge Charger sedan was fifth.
GM has also struggled to keep customers from defecting after selling or ending its Pontiac, Hummer, Saturn and Saab brands. Only about one in four customers of those drivers is staying with GM's remaining brands, Chevrolet, Buick, GMC and Cadillac.
That's less than the 41 percent of buyers that GM kept when it scrapped Oldsmobile in 2004, but more than the 18 percent of Plymouth buyers that Chrysler retained after shedding the brand in 2001, according to J.D. Power and Associates.
GM argues that it is essentially a new company since its trip through bankruptcy protection last year and should be judged on its four current brands. Retail sales of those four rose 19 percent in the first half, GM's Henderson said. GM made money in the first quarter and is expected to post a second-quarter profit.
Most automakers report their fleet and retail sales figures to Bobit Business Media of Torrance, Calif. R.L. Polk & Co., also gathers fleet numbers from state registration data.
The Associated Press obtained its numbers from two people who have access to the Bobit and Polk data. The people asked not to be identified because the numbers aren't normally made public.
Healthy Ford pays
back its chairman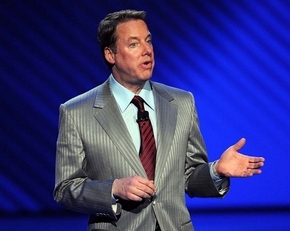 Bill Ford Jr. collects $16M in salary and
stock options earned over past two years
Alisa Priddle / The Detroit News
August 7, 2010
Ford Motor Co., in another sign of its financial comeback, is writing Executive Chairman Bill Ford Jr. a big paycheck to make up for some of the five years he declined to take a salary.
The automaker announced Friday that Bill Ford will get $4.2 million in salary and stock options of about $11.6 million. That's what he would have gotten, had he been paid from 2008 until now -- minus a 30 percent pay cut that the company's top executives agreed to swallow for 2009 and 2010.
"Executives are there to contribute and be rewarded in an appropriate manner," said auto industry researcher Rebecca Lindland of IHS Automotive in Lexington, Mass. "This shows Ford is back on track and being run the way a company should be in a capital market.
Despite the big payday for Bill Ford, it could still be some time before the automaker is convinced its financial footing is firm enough to resume paying dividends to its stockholders. Dividends were canceled in 2006.
Bill Ford sold $28 million of his shares Friday; some will go toward repaying loans he took out in the dark days of 2004 and 2005 to buy $14 million in Ford stock, as a show of faith in the company.
Since then, crosstown rivals General Motors and Chrysler declared bankruptcy, received government bailouts, shed debt and regrouped as new companies.
Ford, however, won public favor for declining government assistance. Buyers have embraced its vehicles, which continue to improve in quality.
"Even during the difficult times for our company and the industry, I never doubted that our efforts at Ford would be successful," Bill Ford said in a note to employees obtained by The Detroit News.
"I continued to invest in our company's future by purchasing Ford stock, at times, taking out personal loans to do so."
Ford's success, he said, "is my life's work, and I am fully confident we are on track for sustained profitable growth through our commitment to building great products, a strong business and a better world."
In his note, Bill Ford announced he is donating $1 million to a college scholarship fund for employees' children.
The great-grandson of founder Henry Ford announced in May 2005 that he would forgo compensation until the company showed sustained profits. The automaker was restructuring, and jobs and costs were being cut at all levels.
At that time, Bill Ford held the top three positions: chairman, president and chief executive officer. He felt an obligation to participate in the companywide sacrifices.
"It was a more prolonged downturn than anyone thought it would be when Bill made the pledge," Ford spokesman Mark Truby said Friday.
The company's compensation committee decided in 2008 that when the company met certain profitability conditions, Bill Ford's compensation would be paid retroactive to Jan. 1, 2008. He will not recoup the millions he could have earned from 2005 to 2008.
When the four-member compensation committee met this week, it decided that after four profitable quarters, it was time for Bill Ford to get some back pay, Truby said.
The details were released in a Securities and Exchange Commission filing.
"The company is clearly performing well enough that the board felt comfortable doing this," said analyst Joe Phillippi of AutoTrends Consulting Inc. in Short Hills, N.J.
Bill Ford and CEO Alan Mulally, who made $14 million in salary and $17.9 million total, could have their 30 percent pay cut restored when the committee meets at the end of this year to determine 2011 salaries.
Ford made $2.7 billion in 2009, its first annual profit in four years. It earned $2.6 billion in the second quarter of this year.
But the automaker has said it won't resume stock dividends until its credit rating climbs back to investment grade -- which will reduce its borrowing costs.
It's moving in the right direction: Fitch Ratings on Friday upgraded Ford and Ford Motor Credit Co. LLC to BB- from B.
But that's still three notches below investment grade, said Stephen Brown, Fitch's senior director of corporate finance in Chicago.
On Monday Standard & Poor's raised Ford's credit rating by two notches, to B-plus, the fourth-highest junk rating, and said the company could be upgraded again over the next year. Ford's S&P credit rating is at nearly a four-year high.
"It will take time to get up three more notches," said Brown.
Progress will come faster, he said, if the auto industry as a whole continues to improve, and Ford keeps prices up and costs down, enabling it to break even with lower sales.
Ratings agencies want to see Ford pay down more of its $27 billion in debt. At the company's annual meeting in May, Bill Ford confirmed the focus was on paring debt. The automaker repaid $7 billion in the second quarter.


Toyota exec doubts workers
want to organize
He doubts they want to organize, blasts pickets at dealers
Alisa Priddle / The Detroit News
August 6, 2010
Traverse City -- Three days after United Auto Workers President Bob King asked automakers to re-examine their resistance to unions, a top Toyota Motor Corp. executive said he doubts factory workers want to organize.
Union rallies have been held in the past near Toyota plants, and few workers showed up, Toyota's North American Chief Quality Officer Steve St. Angelo told reporters here at the Management Briefing Seminars.
Toyota has no-solicitation rules that prevent rallies and UAW lobbying of workers inside plants, something St. Angelo said he doubts will change.
When King addressed the same seminar Monday, he said the UAW would ask foreign automakers with nonunion U.S. factories to abide by a set of principles that would forbid companies from using derogatory, untruthful or threatening statements to dissuade workers from supporting unionization.
"We're interested in talking with Toyota about their willingness to sign on to our principles for fair union representation elections," King said in a statement Thursday. "We requested a meeting with Toyota several weeks ago and so far, they have not responded."
Unionizing Toyota plants will continue to be difficult because the automaker does not lay off workers even when a plant is down, said Anthony Pratt of PriceWaterhouseCoopers.
By contrast, thousands of unionized workers at other companies have lost their jobs, Pratt noted.
As part of its public campaign, the UAW has been picketing about 50 Toyota dealerships in California in recent weeks, a move that St. Angelo said puzzles him.
"I still don't understand why they are picketing our dealerships when the dealerships have nothing to do with the workers," St. Angelo said.
"When the UAW pickets our dealerships, our team members get angry because they want to build cars that are their livelihood," St. Angelo said.
The dealer pickets in California followed Toyota's decision to move production of the Toyota Corolla from a unionized California joint venture with General Motors Co., formerly known as New United Motor Manufacturing Inc., to a new nonunion plant in Mississippi.
St. Angelo noted Toyota gave the workers an additional seven months of work and $250 million in severance "after GM walked away."
"We treated them better than GM," he told reporters.
"With the money spent not laying off people during the recession, I could have built a plant," St. Angelo said.
While he would not give a figure, the estimated cost of a new U.S. plant is $1 billion.
Toyota also paid workers for a week when plants were idled to fix cars that were the subject of recalls at a cost of billions a day.
St. Angelo said he almost wishes someone could identify a problem with its electronic throttle control system for some closure to its high-profile recalls related to unintended acceleration.
"I can't find a technician who has found a sticking pedal," he said. "I still think our electronic throttle system is perfect."
But until all the independent investigations are concluded and everyone is satisfied, and in the absence of any evidence of a problem with its electronics, the issue will not die, St. Angelo said.
In other news, the Toyota Manufacturing and Engineering North America division said Thursday it is leasing 136,000 square feet in an empty Livonia building for prototype vehicle development. The company already has a prototype manufacturing facility in nearby Plymouth.
Toyota is leasing the additional space for three years, with an option for two additional years, because there is a need to build more prototype vehicles, said Bruce Brownlee, a Toyota spokesman.
The additional prototype development work will not result in any new jobs, Brownlee said.
Ford will get $250M
loan to boost exports
David Shepardson / Detroit News Washington Bureau
August 5, 2010
Ford Motor Co. will receive $250 million in government financing that will help it export more than 200,000 vehicles, the White House said today.
The announcement comes as President Barack Obama is to tour Ford's Chicago Assembly Plant today and speak to 1,700 workers. Obama also will tout his call to double U.S. exports over five years.
The Export-Import Bank of the United States will announce later today a new loan guarantee for Ford that will finance $3.1 billion of export sales for more than 200,000 vehicles to buyers in Canada and Mexico.
The bank makes loans to help boost exports, in part to level the playing field when other countries help industries with exports.
The Ford exports being financed represent 15 percent of the automaker's 2009 production. The vehicles will be manufactured in plants in Chicago, Dearborn and Wayne, Kansas City, Louisville and Avon Lake, Ohio.
The Private Export Funding Corp. will provide the funding for the revolving $250 million loan backed by Export-Import's guarantee. The loan, fees and interest will be paid off within one year.
Models to be exported using the Export-Import loan guarantee include the new 2011 Ford Explorer, F-150 pickup, Focus, Escape, Expedition, E-Series Van, Taurus, and Lincoln MKS and Navigator.
The White House said Wednesday that auto exports jumped 57 percent in the first four months of the year.
Obama, who owns a Ford Escape hybrid parked in the garage at his Chicago home, named Ford CEO Alan Mulally to his export council last month and will argue that exporting more U.S.-built vehicles will help create jobs.
"In Chicago, the president will focus on how the steps that the American auto companies are taking to build the new, fuel efficient cars of the future means that they are not only making the vehicles Americans want to buy, but they are increasing their exports as well," a White House official said. "The American auto industry's movement toward increasing its exports will help us meet the President's goal of doubling our exports over five years to support millions of new American jobs."

Ford: 635 new jobs to bring total
to 1,975 at U.S. plants by '12
Alisa Priddle / The Detroit News
August 4, 2010
Traverse City -- Ford Motor Co. Ford announced this morning that it will have added close to 2,000 jobs at its U.S. plants by 2012, including 635 still to come.
The 1,975 United Auto Workers jobs, dating back to 2008, will exceed Ford's commitment as spelled out in the 2007 Collective Bargaining Agreement by more than 25 percent.
The initial commitment with the UAW called for 1,559 jobs to be "in-sourced" to Ford hourly workers throughout the four-year term of the contract.
The moves are possible because of ongoing collaboration with the UAW and the jobs would otherwise have been done by suppliers outside the United States, said Mark Fields, president of the Americas.
So far, about 1,340 jobs have been brought into 24 Ford facilities in the United States since 2008, Fields said. The next 635 jobs are slated for nine plants by 2012
"The name of the game is competitiveness, and our UAW partners have found new ways of working together on labor agreements that allow us to bring jobs back to Ford plants and back to America," said Fields at the Management Briefing Seminars here.
The locations of the jobs:
• Sharonville (Ohio) Transmission Plant (automatic transmissions).
• Michigan Assembly Plant in Wayne to make moon roofs and instrument panels, and work on engines, doors and interior trim for the new Ford Focus coming later this year.
• Chicago Stamping Plant for a stamped parts for the Lincoln MKS, Ford Taurus and new Ford Explorer.
• Sterling Plant in Sterling Heights for rear-drive units.
• Van Dyke Transmission Plant in Sterling Heights for automatic transmissions -- work that had been done by a supplier in Japan.
• Rawsonville Plant in Ypsilanti for battery pack assembly for next-generation hybrid-electric vehicles. The work is currently performed by a supplier in Mexico.
"Bringing these jobs to Ford's U.S. facilities has proven to be a win-win proposition for the company and our salaried and hourly employees," said Jim Tetreault, Ford vice president, North America Manufacturing.
"Not only are these agreements enabling us to become more cost competitive, but bringing work to our UAW work force ensures that we apply world-class quality control and improved efficiency through the rigorous processes that are part of our production system," Tetreault said.
Fields added: "Ford's commitment to working with the UAW to maximize our in-sourcing opportunities sends another clear signal that we are investing in the future of American manufacturing. We will continue working with our UAW partners and others on competitive business plans designed to provide opportunities for long-term growth and profitable growth for all of our stakeholders."
*************************************
By Tom Krisher

THE ASSOCIATED PRESS

TRAVERSE CITY, Mich. _ Competitive contracts with the United Auto
Workers union are helping Ford Motor Co. bring nearly 2,000 jobs
back into its factories that would have gone to parts supply
companies _ some in other countries, the company said Wednesday.

The Dearborn, Mich., automaker (NYSE:F) said the 2007 union
master contract allows it to hire workers at $14 per hour, about
half the hourly rate of current workers. Factory-level contracts
have also changed work rules to make the plants more efficient.

Ford said it has already brought about 1,340 jobs into 24 of its
plants, assembling parts that otherwise would have been made by
outside companies. It plans to bring in another 635 jobs by 2012 for
a total of 1,975.

The UAW has worked with Ford ``closely on a more competitive
agreement that helped us create the business case for moving more
work back to Ford facilities, and back to America,'' Ford Americas
President Mark Fields said at an auto industry conference in
Traverse City, Mich., on Wednesday.

The company could not say exactly how many jobs came into its
plants from outside the U.S., but it said gas-electric hybrid
transmission components were brought in from Japan, battery pack
assembly will come from Mexico, steel forging will come from India
and transmission gear machining will come from Japan.

Most of the work is assembling parts such as moon roofs,
instrument panels, engine components and doors. Ford said by
bringing the work into its own plants, it can make sure its quality
standards are followed, continuing its drive for better quality and
reliability.

The company agreed in the 2007 union contract to bring 1,559 jobs
to its plants from outside. Wednesday's commitment exceeds the
company's promise to the union by more than 25 per cent, Ford said
in a statement.

Many of the jobs will go to factories in Chicago; Sharonville,
Ohio, near Cincinnati; and Wayne, Ypsilanti Township and Sterling
Heights, Mich., near Detroit, Ford said.


Ford: No negotiations on UAW contract until it expires
Alisa Priddle / The Detroit News
August 4, 2010
Traverse City -- Ford Motor Co. will continue to work with the United Auto Workers but has no intention of trying to reopen the contract before it expires in September 2011, said Mark Fields, the automaker's president of the Americas.
"Our approach is to sit down with them every week and month and share, open book, with them," Fields told reporters on the eve of his Wednesday speech at the Management Briefing Seminars here. That is how you build a relationship, he said.
Until the master agreement expires, Ford will focus on its business.
"We won't reopen before 2011," he said.
Ford's competitors General Motors Co. and Chrysler Group LLC got concessions from the UAW as part of their bankruptcy restructuring. Ford sought, but did not receive, similar concessions. But Fields said the automaker is concentrating on paying down its debt and will continue ongoing discussions with the union around competitiveness.
Ford is now hiring its first workers at the lower, $14-an-hour wage negotiated in the 2007 contract.
Its Chicago plant will add 1,200 jobs in November to build the new Ford Explorer and the automaker has begun canvassing the roughly 500 people on indefinite layoff. Some of the jobs will be filled with employees transferring from other plants as well, but an undetermined number will be new hires at the lower rate.
Ford plans to increase production about 16 percent in the third quarter after an increase of about 40 percent in the second quarter, Fields said.
But workers will build fewer cars overall in the second half because of seasonal shutdowns and because production will be impacted by the launch of the Explorer and the new Ford Focus.
The Wayne plant will be idled when the Focus starts assembly at the Michigan Assembly Plant in December

BY DAVID WELCH
BLOOMBERG NEWS
August 3, 2010
Ford's credit rating was raised two levels by Standard & Poor's because of expectations the company will remain profitable and signs that customers have a better impression of the automaker's vehicles.

The rating was raised to B+, the fourth level below investment grade, from B-, S&P said Monday in a statement. The outlook is positive.
Ford has substantial cash balances and likely will continue to generate free operating cash flow, the ratings firm said. The retail market has an "improved perception" of Ford's vehicles and its efforts to introduce more fuel-efficient models in the next few years, S&P said.
"It's a step in the right direction," said Kirk Ludtke, senior vice president of CRT Capital Group in Stamford, Conn.
Ford rose 39 cents, or 3%, to $13.16 Monday. The shares gained 28% this year before Monday.
Ford has more debt than its U.S. rivals because it borrowed $23 billion in late 2006, before credit markets froze, helping the company avoid the bankruptcies that befell General Motors and Chrysler. The borrowing left Ford with obligations that CEO Alan Mulally says now put it at a competitive disadvantage.
"Ford is making progress in stabilizing, and perhaps improving its U.S. market share," S&P said in the statement.
UAW chief charts new
course for auto union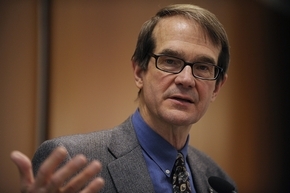 King concedes past strategies failed, vows new approaches going forward
David Shepardson / Detroit News Washington Bureau
August 3, 2010
Traverse City -- New United Auto Workers President Bob King promised Monday to set aside long-held union positions that have failed or "hindered" workers, in a bid to remain relevant in the new economy.
In a potential watershed speech here to auto industry insiders, King outlined his vision for the union's future. He also vowed to mount a tough, new effort to organize nonunion automakers.
"The 20th-century UAW tried to find ways to achieve job security, such as job banks, that in the end did not achieve the results we were seeking," King said during a speech at the annual Management Briefing Seminars, sponsored by the Center for Automotive Research in Ann Arbor. Job banks allowed UAW workers to receive nearly full wages even when they were laid off.
"The 21st-century UAW knows the only true path to job security is by producing the best quality product, the safest product and the longest lasting product at the best price."
King, 63, who became president in June, acknowledged the union's mistakes. The UAW shouldn't have fought clean air efforts, he said. It should have been more open to global trade. And some contract agreements didn't work, fostering bad relationships between the union and automakers, which were treated as adversaries.
"We signed on to ever more lengthy and complicated contracts with work rules and narrow job classifications that hindered flexibility, hindered the full use of the talents of our members and promoted a litigious and time-consuming grievance culture," said King.
Harley Shaiken, a labor professor at the University of California, Berkeley, called King's comments "striking in tone and a bold departure from the past."
"He's trying to seize the moment and acknowledging that the status quo isn't going to work," Shaiken said. "He's trying to adapt the core principles of the UAW to the 21st century."
Nevertheless, King said the union remains true to its roots.
"The vision and the core values have not changed," he said. "The strategies have to change with the times."
And that includes organizing foreign automakers, whose U.S. plants are not unionized.
'Can't wait' for Congress

The UAW, King said, "can't wait" for Congress to act on the proposed Employee Free Choice Act, a stalled bill that would make it easier for unions to organize new members.
"Just like the Flint sit-down strikers didn't wait on the law," he said, the UAW will adopt another strategy. King was referring to a 1936 strike when workers "sat down" in a General Motors factory in Flint and remained there for 44 days. The strike, the latest in a series of similar actions at other GM plants, ended in February 1937 with a historic agreement that gave the union the exclusive right to represent GM plant workers, and established the UAW as a powerful labor force.
The sit-down strikers "did what was necessary to get fairness and justice," King said, "and we will do the same."
The UAW will begin by asking foreign automakers with nonunion U.S. factories to agree to a set of principles that will bar companies from using derogatory, untruthful or threatening statements to dissuade workers from supporting unionization.
"Any company that does not agree to the UAW principles is essentially declaring war on freedom of speech and assembly," King said.
"If employers don't live up to the principles or don't sign the principles, and try to threaten or harass workers, then we are going to be very aggressive in exposing that to the American public."
Sean McAlinden, chief economist at the Center for Automotive Research, said King is taking a daring stand.
Critics are continually "pounding on the UAW for not organizing (foreign automakers), and he's come up with a novel approach -- much more than any previous UAW president since Walter Reuther," McAlinden said.
Norm Bafunno, head of Toyota Motor Corp's plant in Indiana, declined to say whether the Japanese automaker will agree to the UAW principles.
Toyota spokesman Mike Goss said the company treats employees fairly, and kept them on the payroll even when plants were shuttered by a production halt.
"Our job is to provide that employee with security," Goss said, adding that it is up to workers to decide whether to unionize.
'Radical change' embraced

While promising there is more to come, King said the UAW already "has embraced fundamental, radical change."
The shift began under King's predecessor, Ron Gettelfinger.
As part of talks aimed at saving the domestic auto industry through a federal bailout, the UAW was required to ease work rules and make pay and benefit concessions. Under a two-tier pay schedule, for example, new auto plant employees are paid about $14 an hour -- half the wages of most veteran line workers -- a concession first negotiated with Detroit automakers during national contract talks in 2007.
Under that 2007 deal, the UAW also assumed financial responsibility for hourly retirees' health care benefits, which had weighed heavily on the automakers' balance sheets.
A trust to pay for the expenses was funded by GM, Chrysler and Ford Motor Co. When GM and Chrysler filed for bankruptcy last year, the UAW agreed to swap most of the cash payments the two automakers owed to the fund for shares in the companies.
As a result, the UAW health care trust owns 67 percent of Chrysler Group LLC, although Italy's Fiat SpA has operational control, and 17.5 percent of General Motors Co.
The UAW, under pressure from the federal government, also agreed not to strike GM or Chrysler before 2015. The accommodations were an attempt not only to help save the industry, but to protect the UAW's remaining membership in the auto plants.
UAW membership has fallen from a high of 1.5 million in 1979 to 355,000 at the end of last year, a post-World War II low. The union has been unable to make up heavy losses in the auto sector -- 200,000 from Detroit's Big Three -- by organizing members in new fields such as casinos, health care and colleges.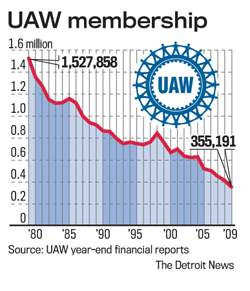 The maintenance of hope: Germany's secret to recovery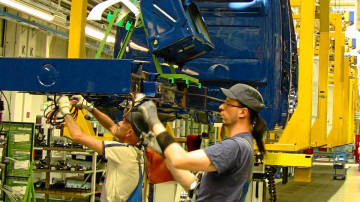 Unique scheme to bail out its work force has
made the country the envy of its neighbours
Doug Saunders
Ludwigsfelde, Germany
August 2, 2010
Globe and Mail
At 3 p.m. on Wednesday, Andreas Schieve puts one last fitting on a Mercedes truck, hangs up his tools on the assembly line and attends a brief meeting to hand the line over to the night-shift workers. Then he walks out of the factory gates and into town, ready for another four-day weekend.
Like most of the workers at the Ludwigsfelde Daimler-Mercedes plant, the 50-year-old man would rather not be forced to work three-day weeks about a third of the time.
"It's harder to make the rent payments and my wife and I don't have extra money to save for holidays and new appliances," he said while having a Chinese dinner at a shopping mall outside the plant, where he's worked more or less continuously since 1976. His wife works as a cleaner.
"But I do realize that it's better than being laid off. It's hard, but it's not as if I'm in danger. We're not living in Greece here."
While the rest of Europe is just beginning to crawl out of crisis and into the first tentative rays of growth and recovery, Germany is positively booming. Export sales are up dramatically, spurred especially by Chinese sales; consumer spending has returned sharply; banks and housing markets are unscathed – and, most significantly, while the rest of the continent and the United States experienced harsh job losses, Germany has actually seen unemployment fall this year to 7 per cent, below Spain's boom-time level
A big part of Germany's resilience can be found in factory towns like these and in the weekly pay statements of workers like Andreas Schieve.
In most other European countries, Mr. Schieve would have been laid off in late 2008, when the credit-driven economic downturn hit Europe hard and orders for this plant's commercial trucks dried up. Orders fell from 60,000 trucks a year to around 30,000, and the work force should have been slashed to match – more than 1,000 layoffs.
But Germany did something different. While its neighbouring countries spent hundreds of billions bailing out banks, financing infrastructure and stimulating the economy, Chancellor Angela Merkel's conservative-liberal coalition government also took a very large, unique gamble by spending huge sums of money bailing out its work force.
In a system known as kurzarbeit, or "short-time work," the German government pays up to two-thirds of the salary of employees who would otherwise be laid off, as long as they remain employed. The employer is expected to cover any hours actually worked and to keep up their pension and benefit payments.
Starting in 2009, this formerly marginal scheme became the core of Germany's recovery plan, and the number of Germans on kurzarbeit rose from tens of thousands to 1.5 million, costing the German government billions.
The workers say they find their tenuous employment inconvenient and complain that the money is neither as good nor as predictable. Some of Mr. Schieve's friends flew to Tuscany on long-weekend package vacations, only to be disciplined when the Friday shift was suddenly reactivated and they were nowhere to be found. But compared to other Europeans, they are extremely fortunate.
For Germany, it has been a huge gamble, for if the economic downturn lasts beyond 2010, the cost of having millions of private-sector employees effectively on the state payroll will become unaffordable and counterproductive, triggering an even worse crisis.
Yet it seems to have worked, to an amazing degree: Despite suffering an economic contraction of 5 per cent last year – during which unemployment doubled in the United States to 10.1 per cent and approached 20 per cent in Spain and Greece – Germany actually saw its unemployment rate fall to 7 per cent, its lowest point in 17 years.
The system has driven up government debt sharply and means the German recovery won't have the commensurate boost in consumer spending other countries will see. But German officials believe kurzarbeit has spared their country a far larger catastrophe and has allowed it to experience a boom in the midst of Europe's slump.
The logic works like this: If Mr. Schieve had been laid off, he and his wife would have been forced out of their three-bedroom rented house. The landlord, facing the depressed housing market of eastern Germany, would likely have defaulted on the mortgage. Meanwhile, the shops and services of Ludwigsfelde, a one-industry town, would have failed due to the layoffs and created their own defaults. Mr. Schieve and his fellow laid-off workers would have gone on welfare, costing the state large sums of money without generating any tax revenue.
The mortgage defaults generated by Mr. Schieve and a million people like him would have driven several banks into insolvency, forcing much more expensive state bailouts. And their mounting social-assistance bill and vanishing income-tax payments would have created a chronic government deficit.
This domino collapse is precisely what has happened in many other European countries, including Greece, Ireland, and Spain. It's also afflicted the United States. Germany's economy is hardly perfect, with record levels of debt, but it appears to have avoided the self-destructive vortex of unemployment, housing and banking shocks that have decimated other economies.
Ministers in France and Britain said in interviews earlier this year that they were watching the German experiment nervously – and with some skepticism – to see if it would work; a failure of economic recovery during 2010 would doom it. Both countries had used short-time work programs in limited situations in the past 20 years, but had rejected the idea of a work force bailout as unaffordable.
Ms. Merkel called the program crucial to the German recovery, which she termed a "minor miracle." Some economists are more skeptical, pointing out that Germany, as the world's second-largest exporter, was bound to have a stronger recovery when global trade revived; southern European countries are dependent on German exports and, therefore, on debt.
Inside the offices of the Daimler factory, though, another benefit of the kurzarbeit program becomes apparent: It prevented the loss of industrial knowledge that has hurt countries like Britain.
"For automobile producers, it's very important that you have experienced and highly trained people – especially for Mercedes. If you lay them off, you have lost them forever," said Bertram Caspari, head of the factory's personnel department, who was told in 2008 that production would drop by half and that at least a third of the work force would no longer be necessary.
"We did not fire a single person. Not one."
This, he admits, was a "lucky coincidence" – the work force did dwindle by 500, but they had just enough workers on two-year contracts and due for retirement that this could be done by attrition; another 200 were transferred to a Bavarian plant that is booming, because it produces Mercedes cars for the Chinese market (Ludwigsfelde's trucks are mainly sold in Europe).
Rather than simply putting half the work force on six-month kurzarbeit leaves (as some businesses have done), Daimler-Mercedes decided to go with rotating three-day weeks, in order to keep employees fresh and knowledgeable: Every day, there are 250 workers missing from the factory, but it is a different 250 each day.
"If you are six months at home doing nothing, it changes your personality," Mr. Caspari said. "You not only lose the ability to build this car, but even to get up in the morning and make it to work. There are good reasons to keep people active in the work system. You can bridge the time and keep hope."
This maintenance of hope seems to have been the secret of recovery in the European countries that have fared best in the wake of the crash.
There is a notable division between countries that gave people work security by having lifetime-job guarantees and rigid labour markets – like Spain and France – and those that did so with more expensive, but more flexible, government safety-net programs, like Germany and Scandinavia.
In the former countries, people excluded from full-time work contracts have suffered badly in the downturn, excluded from any form of employment, and an entire generation is finishing school who appear to be excluded from the work force entirely, or shifted into the part-time and informal labour markets for a decade.
But the countries that have guaranteed easy hiring and firing – and government support when the market falls apart – have experienced the least distress.
The Scandinavian countries have managed the crisis using a system known as "flexicurity," in which companies can lay off employees easily, but the state provides unemployment insurance equivalent to full-time salaries so that nobody loses their houses or livelihoods. That system was based on the assumption that work would be easy to find, but it has prevented a catastrophe in the downturn (though it has led to mounting debt).
In Britain, Prime Minister David Cameron is shifting the country's welfare and unemployment insurance system to one that allows you to keep receiving benefits, at a lower level, as you move from full unemployment to low-wage or part-time work. Drawn from places like Germany and Denmark, it's meant to turn the safety net into a work-support system rather than a poverty-maintenance system.
It shows what Europeans have learned in their struggle with economic collapse: To keep a recession from becoming a catastrophe, the solution is not just in the bank headquarters but on the office floor and the kitchen table.


Why a $30,500 Ford Mustang beats $150,000 European sports cars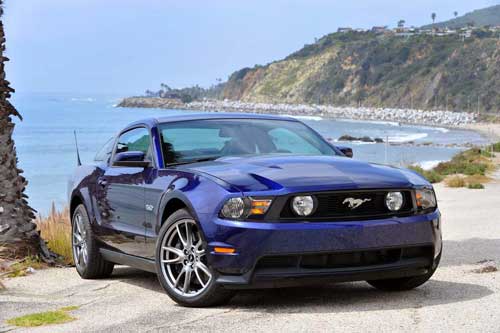 August 1, 2010
Jason H. Harper / Bloomberg News
I have a $150,000 sports car in my parking garage, a handcrafted machine produced overseas in limited numbers. Next to it, I have a U.S.-made Ford Mustang GT, armadas of which will be sold for as little as $30,500.
I tested both the day before, so which to take out today just for the thrill?
"The 'Stang, please," I tell Paul and Hector, my trusty garage guys.
Paul raises his eyebrow. Seriously?
Times have changed. Changed in a whopping, Big Bang kind of way. Once hopeless and bumbling, Ford Motor Co. is now really cranking out the good stuff. And its new Mustang is about as good as it gets.
I'm reminded why as I aim the sparkling blue hood (the deep, lustrous paint is called "Kona Blue Metallic") on my way out of town.
Normally I nurse high-dollar rides over the canyon-sized cracks and craters in New York's West Side Highway as if guiding a colicky baby in a carriage. With the Mustang's high clearance and sturdy shocks, I bound over the choppy asphalt. Bulletproof.
On today's just-for-fun itinerary: I'm prowling for open, winding lanes where the V-8 can have its torque-mad way with the world. Under full throttle, the brand-new 5.0-liter motor sounds like Zeus hurling thunderbolts, channeling 412 horsepower and 390 pound-feet of torque.
Years ago it was inconceivable to have so much power at such a bargain price. This base coupe has more kick than the original V-10-powered Dodge Viper or a Ferrari 360 Modena.
And boy does it pull. At a stop light it yanks you, inexorably, toward the next traffic stop like a leashed bull mastiff, a kind of torque overload that's nearly impossible not to childishly indulge in over and over again.
The sound is bright, raw, delicious.
As for gas mileage, the V-8 manages 17 city and 26 highway and can be run on regular gasoline rather than premium with a slight reduction in power.
As driven, my test car was $42,305. It included most of the convenience and sport options, including navigation, improved Brembo brakes, 19-inch wheels and an electronic stability control meant for spirited driving.
So equipped, the GT was as much or more fun than any European or Japanese car at that same price.
Hard to believe that the Mustang is having its salad days all over again. Its 50th anniversary will be the pony car's next milestone, and the last few generations have shown every long year. Liver spots have included a cranky chassis, worn-out engine and middling electronics.
It got a major refresh last year, which helped considerably, but the V-8 still produced a miserly 315 horses.
The 2011 model, also available with a V-6, is minty fresh. Nicer to look at, better to listen to and easier to live with. Most surprising, it handles competently on swoopy roads.
You see, there have always been those muscle-car motor-heads who soup up American steel just to drag race. It passes for a good time in certain towns -- I should know, I grew up in one.
What those guys would never do is take a Mustang against a European sports car on a windy road. Partly because dudes who listened to Motley Crue and Judas Priest didn't associate with those who dug Depeche Mode and the Smiths -- but also because they'd get their butts kicked.
This Mustang is different. It still has an old-school live rear axle, which is cheap to produce but brutish. Yet engineers have tuned it to the point of elegance. Steady at speed and yet nimble in turns, the Mustang shows a lot of poise even on switchback roads.
I easily sustain a super sprint up and down careening hills, the sound of the 5.0-liters blowing up around me. Even the Fourth of July wasn't so cacophonous and lively.
While available as a six-speed automatic, let me say this: If you don't know how to drive a stick but are thinking of buying the new Mustang, learn. The six-speed, cue-ball-tipped stick is wondrous.
Finally, the interior. Somebody has figured out that the Mustang is more than the sum of its engine and exterior. The seats are comfortable; the two rear seats are somewhat accommodating, and though the interior is mostly plastic, it looks good.
And when I get lost on my wanders, I quickly punch up my location on the optional touch-screen navigation system.
For a thriftier gas and budget point, there's the brand-new 3.7-liter V-6, which gets up to 31 mpg highway with an auto transmission. For a base of $23,000, you still manage a prodigious 305 horses and 280 pound-feet of torque.
I've still got several hours before I need to be home. I don't really have to keep driving -- I've gotten the point -- but, well, seeing as I'm already out here.
That European machine in the garage can wait.