February 1, 2016 to June 30, 2016
Special-edition Ford GT looks
like '66 Le Mans winner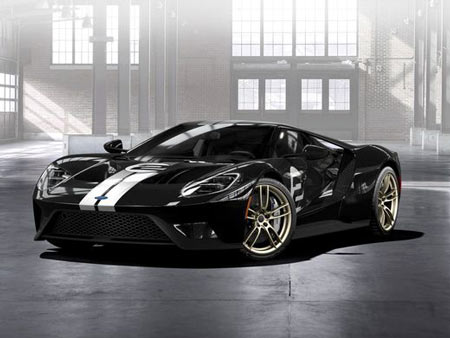 Michael Martinez,
The Detroit News
June 29, 2016
Ford Motor Co. is blending old-school tradition with new-school styling for a special-edition GT that honors its 1966 Le Mans-winning car.
The automaker on Monday unveiled a Heritage Edition supercar with the same colors and details found on the GT40 Mark II that Bruce McLaren and Chris Amon drove to victory at Le Mans 50 years ago.
It features a shadow-black exterior in either gloss or matte finish with silver stripes and exposed carbon-fiber package. It also has a white No. 2 on the hood and door. The 20-inch forged aluminum wheels come in a gold satin finish with black lugnuts.
"Celebrating the anniversary of Ford's historic victories at Le Mans has always been a part of the return of the Ford GT," Raj Nair, Ford executive vice president, product development, and chief technical officer, said in a statement. "The 2017 Ford GT '66 Heritage Edition is a stunning tribute to the car that kicked off Ford's string of Le Mans victories in 1966."
The interior of the car features ebony leather-wrapped carbon fiber seats. The instrument panel includes ebony leather and a gold applique. The steering wheel leather-wrapped, and the seat belts include a unique blue webbing.
The Heritage Edition GT will be available in limited quantities for the 2017 model year only, Ford said. More information can be found at www.fordgt.com.
Ford released the special-edition supercar a week after winning its class at Le Mans.
Lincoln to offer pickup,
delivery on all models
Michael Martinez,
The Detroit News
June 28, 2016
Lincoln Motor Co. on Tuesday said it will become the first luxury automaker to add a standard pickup and delivery service on all of its nameplates.
When a customer's vehicle needs dealer service, Lincoln Service Valet will pick up the vehicle at an agreed location, provide a loaner car, and take it in for service. Once the work is done, Lincoln will wash the car and return it to the customer wherever they want.
"Lincoln Pickup and Delivery service revolves around complementing our luxury vehicles with outstanding luxury experiences," Andrew Frick, Lincoln North American director of sales and services, said in a statement. "This kind of Quiet Luxury provides an exclusive and personally crafted service experience that enhances their lifestyle and saves them what is a true luxury item — their time."
The automaker has been offering the service with a limited amount of dealers since 2015.
The standard pickup and delivery service will launch this fall with Lincoln's flagship Continental sedan. Lincoln has said pricing on the new full-size sedan will start at $45,485.
Following the launch of the Continental, the service will expand to all other 2017 Lincoln nameplates.
"Our dealers view this as a way to differentiate the client experience for Lincoln owners," Frick said. "No matter what Lincoln vehicle clients have from our portfolio, they have the peace of mind of getting that vehicle to and from service at a location of their choice, with a complimentary Lincoln loaner in order to maintain their busy schedules."

Asbestos-related cancer
costs Canadians billions
TAVIA GRANT
The Globe and Mail
Jun. 27, 2016
A first-ever estimate of the toll of asbestos-related cancers on society pegs the cost of new cases at $1.7-billion per year in Canada, and notes that is likely an under-estimate.
The economic burden of lung cancer and mesothelioma from work-related asbestos exposure in Canada amounts to an average of $818,000 per case, according to a team led by health economist and senior scientist Dr. Emile Tompa at the Institute for Work & Health, a research organization,whose calculation includes costs related to health care and lost productivity and quality of life.
This is the first time a tally of these costs has been made public. Asbestos remains the top cause of occupational deaths in Canada: Workers' compensation boards have accepted more than 5,700 claims since 1996.About 150,000 Canadian workers are exposed to asbestos in their workplaces, the research project Carex Canada estimates, among them construction workers and contractors, mechanics, shipbuilders and engineers. This country continues to allow exports and imports of asbestos, which rose to a six-year high last year. Dozens of other countries, including Australia and Britain, have banned it.
Prime Minister Justin Trudeau said last month the federal government is"moving forward on a ban." It is the first time since taking office that he has publicly talked about a potential ban, although he gave no time line and it was not an official announcement.
"We are moving to ban asbestos," he told a conference of building trades unions on May 10. "Its impact on workers far outweighs any benefits that it might provide."
The economic burden numbers are based on newly diagnosed cases in2011 that were attributable to occupational exposure. The calculation is based on the number of new cases of mesothelioma, a cancer associated almost exclusively with asbestos exposure, for that year, along withes ti mates on the numbers of new lung cancer cases caused by workplace asbestos. These totalled 2,099 in 2011.
The study noted that new cases are likely to grow in the near future due to long latency periods of these diseases and continued exposure. The key question the analysis sought to answer is what the savings to society would be if no cases of cancer attributable to occupational asbestos exposures occurred in a particular year.
The study looked at direct and indirect costs. Direct health-care costs area just a fraction of the estimate. Health-care costs for mesothelioma are pegged at $46,000 per case, and for lung cancer at $28,000. "Often times,the health-care costs are very low because the fatality rates are extremely high following diagnosis. Most of these people don't survive a year," Dr. Tom pa said.
Health-related quality of life, which includes morbidity (loss of function due to poor health), lost years of life and human suffering, is the biggest component, comprising 80 per cent of the costs. This is calculated by using a measure called quality adjusted life years. It compares morbidities and life expectancies of people with asbestos-related cancer to Canadian age-and gender-specific averages.
The $1.7-billion total is a conservative estimate. "It's quite an underestimate and might not give people the full sense, even though then umber's quite big," he said, because it focuses only on newly diagnosed cases, not previously existing cases, in one single year. Nor does it include other types of diseases linked to asbestos exposure, such as cancer of the larynx or asbestosis. The numbers also do not encompass para-occupational exposure, such as when a family member breathes in dust from a worker's clothing or gear.
The costs are also to society at large, Dr. Tompa noted. "We all play different roles in society. Even if you're retired, you might have community roles, domestic roles, you might take care of your grandchildren."
The study, conducted with the Occupational Cancer Research Centre, was funded by the Canadian Cancer Society. The sponsor was not involved in designing the study, collecting and analyzing the data or writing there port. The funding application, which detailed the planned analysis, was peer reviewed, although the economic burden tally has not yet been reviewed. It is due to be submitted to the American Journal of Public Health for peer review.
Dr. Tompa is working on another estimate that will also include the cost of para-occupational exposures in Canada. "I think we're cutting new ground in terms of putting that economic measure to it, and just some methods development too, because there's not a lot of precedents about how to frame these issues in the economic lens."
For now, given that asbestos has not been banned, and that, "in the construction sector, they're still using products that are made with asbestos, we're adding to the problem in the future."
In an e-mail, the Prime Minister's Office said the federal government is"reviewing its strategy on asbestos, including a potential ban."
The cancer society, many health groups, and unions including the Canadian Labour Congress, are urging the federal government to announce a comprehensive ban on asbestos, something the Liberal Party had pledged to do last year if elected.
Urgent action is needed, said Fred Clare, Eastern Canadian vice-president at the International Association of Heat and Frost Insulators and Allied Workers. He was a journeyman insulator for three decades, and has watched more than a dozen co-workers and family members die of asbestos-related diseases. "People are getting mesothelioma – and they're gone before you even know about it."
Pressure is growing on the local level too. Mike Bradley, mayor of Sarnia,Ont., a city hard hit with the legacy of asbestos exposure, wrote to the Prime Minister in March, calling on the federal government to end asbestos use in Canada. The PM's recent comments were "most welcome, and wen ow can start to see the victory finish line to ban asbestos in Canada," them ay or said, adding that "sadly there are many Canadians who will not seethe victory line having died too soon."
Health Canada referred questions on asbestos policy to Innovation, Science and Economic Development Canada. ISED said in an e-mail that it is "not in a position to provide further commentary on this issue at the moment,adding that it hopes to have more to say "in a matter of time," but did not elaborate.
CLC president Hassan Yussuff said a comprehensive strategy is needed,and he hopes to see a plan proposed in the coming months. This should include a full ban on asbestos imports and exports, and an online inventory of federal buildings and workplaces that contain asbestos. He would also like to see a registry of workers who have asbestos-related diseases,licences required for abatement and re mediation companies, and stronger rules and enforcement on disposal of the materials.
"Nobody goes to work to die," he said in an interview. "The unfortunate part about this substance is that's what ends up happening to people without them having some ability to protect themselves."
David Boyd, adjunct professor at Simon Fraser University, said it is"fantastic" news that Mr. Trudeau said Canada is moving to ban asbestos."This will be a life-saving, health improving move, not just for Canadians,but for people in other nations. I hope that a comprehensive ban on imports, exports, and all products containing asbestos is put in place as rapidly as possible."!
Ford recalls 1.9m cars and crossovers for defective airbags
Yet another Takata recall, this time for passenger-side airbags.
June 26, 2016
Autoblog
Alex Kierstein
The Basics: Ford is recalling a total of 1,898,728 vehicles to replace defective Takata front passenger-side airbags. This includes the 2007-2010 Ford Edge, 2006-2011 Ford Fusion, 2005-2011 Ford Mustang, 2007-2011 Ford Ranger, 2007-2010 Lincoln MKX and 2006-2011 Lincoln MKZ, Zephyr and Mercury Milan vehicles built in North America.
The Problem: The defective airbags have been linked to ruptures that can send metal fragments at the passenger, due to deteriorating propellant.
Injuries/Deaths: Ford claims it's not aware of any injuries due to the problem, but rupturing Takata airbags have been linked to a series of serious injuries and deaths.
The Fix: Dealers will replace the passenger-side frontal airbag at no charge to the customer.
If you own one: Look out for a letter from the manufacturer to arrange service at your local dealer. If you'd like to check if your vehicle is affected, click on the safety recalls link on Ford.com and enter your VIN.


Auto stocks fall on news of Brexit
Melissa Burden, Michael Martinez and Michael Wayland,
The Detroit News
June 25, 2016
Automotive stocks took a bigger hit than the market as a whole Friday, after the surprise upset by British voters to leave the European Union. The development could cause carmakers and auto suppliers to potentially lose billions of dollars in profits and lead to cuts in jobs and production, analysts say.
Shares of Fiat Chrysler Automobiles NV, which runs many operations out of Italy, plunged 12.2 percent. Ford Motor Co. fell 6.6 percent and General Motors Co. closed down 4.9 percent. In comparison, the S&P 500 lost 3.6 percent, the Dow lost 3.4 percent and the Nasdaq lost 4.1 percent.
Industry forecaster LMC Automotive expects car sales in England will decline this year and next, culminating in a 15 percent fall in 2018. Adding to their woes, automakers face currency fluctuations as the pound fell to a 30-year-plus low vs. the U.S. dollar. And free-trade policies could change, adding costly tariffs on vehicles built in England and exported to other countries.
Automakers, including GM and Ford, that produce vehicles and parts in Britain are going to have to watch what happens over the next two years "very closely" and potentially create contingency plans, said Patrick Anderson, principal and CEO of East Lansing-based analyst group Anderson Economic Group LLC.
"You don't know what effect this will have on British labor policy, taxes in the EU, and if there will be a rocky exit that propitiate between Britain and other countries," he said.
Ford said Friday it expects the exit decision will have an "adverse impact" on its operations long-term and said it will take "whatever action is needed" to stay competitive. Anderson said United Kingdom-based Jaguar Land Rover could be among companies to see more significant impacts compared to those like Fiat Chrysler, which have their headquarters in London but operate heavily elsewhere.
Other companies in the auto industry took costly hits Friday: Delphi Automotive, which is headquartered in England but has a large presence in Troy, suffered a 12.2 percent drop. Southfield-based Lear Corp. fell 9.6 percent and Bloomfield Hills-based Penske Automotive was down 10.35 percent. Auburn Hills-based BorgWarner Inc. fell 9.5 percent and Detroit-based American Axle & Manufacturing Holdings Inc. was off 6.3 percent.

Automakers' plans
David Sowerby, portfolio manager for the Loomis, Sayles & Co. investment management firm in Bloomfield Hills, said the Brexit vote raises economic concerns for automakers.
"(It) naturally has a larger influence on a cyclical company such as the autos," he said. "It's a simple, but near-term challenging event for the autos."
GM's Opel Group, which runs the automaker's European operations, in a statement Friday said it seeks to have free trade continue in Britain. GM has a plant in Ellesmere Port that employs about 1,900. GM makes the Opel Astra in the plant and says 88 percent of what's built there is exported. It also has a plant in Luton that makes Vauxhall vans, more than 60 percent of which are exported. That plant employs more than 1,300.
GM has a goal to be profitable in Europe this year for the first time in more than 15 years. GM's European operations have shed billions of dollars in losses over the past several years.
Chief Financial Officer Chuck Stevens said in an April call with analysts that the currency environment was the biggest headwind it faced for GM's European business: "And what's driving that is the weaker pound sterling, which obviously isn't being helped by the Brexit situation. And I'd say that's the biggest risk that we have amongst many."
Ford, in a statement Friday, said keeping a stable trading environment is important. It has two engine plants and a transmission plant in the U.K. Ford said it plans to offer revised guidance on its European business during its second-quarter earnings on July 28; it returned to profitability there for the first time in years in 2015.

"Ford's priority has always been the need to maintain a stable trading environment so that we can continue building a strong and sustainably profitable business in the U.K. and Europe, and thereby provide a more secure future for our nearly 14,000 direct employees in the U.K.," the Dearborn automaker said. "While Ford will take whatever action is needed to ensure that our European business remains competitive and keeps to the path toward sustainable profitability, we have made no changes to our current investment plans and will not do so unless there is clear evidence that action is needed."
A Fiat Chrysler official said Friday the decision to leave the European Union "is not expected to have significant impact on FCA, either in industrial or other terms, although the result of the referendum raises questions about the future of Europe. Particularly the fact that FCA NV is a tax resident in the U.K. is not expected to have financial consequences or require changes in the group's governance, given the worldwide global distribution of FCA's operating activities and locations."
Delphi said it would continue to monitor developments.
"Delphi generates approximately 5 percent of its global revenues in the U.K.," the supplier said in a statement. "Given the volatility created by the Brexit vote, we will continue to monitor the potential impacts on our business, including the impact from foreign exchange movements."
Auto sales forecast
Forecaster IHS predicts auto sales in the U.K. next year will fall 7.5 percent to 8.5 percent, or 220,000 to 260,000 vehicles.
"Major economic and political uncertainty is expected to be a fact of life for some considerable time, likely weighing down markedly on business and household confidence and behavior, so dampening corporate investment, employment, and consumer spending," IHS principal analyst Ian Fletcher said in a statement.
LMC Automotive said its forecast for the U.K. light vehicle market is down 15 percent, or about 410,000 vehicles. The region imports almost 90 percent of its light vehicles, of which 80 percent are from the European Union.
"Uncertainty will likely hold back investment and hiring decisions, as businesses consider their options and wait for greater clarity, something which is unlikely to come quickly," the forecaster said.

Canada must create national
strategy for seniors' drugs
CAMILLE BAINS
The Canadian Press
Jun. 23, 2016
Canada urgently needs a national strategy to ensure seniors are prescribed appropriate medications because the cost of giving them the wrong drugs has reached nearly $2-billion a year, a new study says.
Dr. Steve Morgan, a professor at the University of British Columbia, said physiological changes associated with aging alter the effects of many medications, meaning older adults shouldn't be taking them.

The study is published in CMAJ Open, an open-access journal of the Canadian Medical Association, and includes prescription data from six provinces.
Dr. Morgan said the cost of seniors' drugs and hospitalization to deal with their effects amounts to about $420-million a year in British Columbia, Alberta, Saskatchewan, Manitoba, Ontario and Prince Edward Island. Dr. Morgan estimates the cost for the country at nearly $2-billion.
In Canada, older people who have taken drugs for years for conditions such as insomnia often aren't counselled by their doctors to try non-medicinal treatments, such as cognitive behavioural therapy and mindfulness, Dr. Morgan said.
"Doctors aren't necessarily paid for those longer consultations with patients, to counsel them through these decisions. Part of the fee-for-service system doesn't incentivize that activity."
Dr. Keith White, chairman of the Shared Care Polypharmacy Committee, a joint initiative of Doctors of BC and the province's Health Ministry, said older patients sometimes suffer from complications as a result of taking too many pills.
"You go into the emergency department and you get 10 blood tests and three X-rays, which you don't need. You're only there because of the adverse effects of the drugs," said Dr. White, a family doctor in Kelowna.
Health Canada notes the Canadian Institutes for Health Research established a council last year that aims to identify ways to reduce inappropriate prescribing to seniors by 50 per cent by 2018. The department said this year's budget provided $40-million to work with provinces and territories to develop an electronic prescribing system that would identify problematic patterns.
Dr. Morgan said a national campaign to create awareness of the problem could be similar to the "extraordinary job" that the Mental Health Commission of Canada has done to open discussion about depression.
He said Australia is dealing with the issue through its National Prescribing Service, a program started 16 years ago to destigmatize the conversation around medication and age.
"Health professionals are getting educated about medicines by an independent body, not as much by pharmaceutical companies, which is where the majority of our professional education comes from in Canada," Dr. Morgan said.
Seniors can be on multiple pills for a range of conditions, but their various specialists and family doctors have no way of accessing that information, Dr. White said.
"Often we don't know why a medication is started so we're reluctant to stop it," he said.
All provinces are working together to deal with the problem and have recently formed the Canadian Deprescribing Network, which aims to develop guidelines to help taper seniors off drugs, Dr. White said.
Dr. Gloria Gutman, a founding director of the Gerontology Research Centre at Simon Fraser University, said some doctors base prescribing on ageism.
"Part of it is the doctors themselves saying, 'Oh, well. These are just old people. We don't need to work that hard to find out what else is causing the problem.' "
Dr. Gutman said she's often surprised to learn that some doctors continue prescribing drugs that have been listed for years as inappropriate for older patients.
"Is it that old doctors aren't up to date on their reading and education, or is it that young docs aren't getting the information in their general training?"

Historic pension deal will
endure for generations
It is hard to overstate the pension miracle that
has unfolded so unexpectedly in recent weeks.
Martin Regg Cohn
Toronto Star
Wed., June 22, 2016
A historic national deal to bolster the Canada Pension Plan is the long-awaited payoff for two of Kathleen Wynne's biggest strategic investments since becoming premier:
Her made-in-Ontario pension. And her just-make-Justin-PM gambit.
After fighting and winning the 2014 provincial election on her Ontario Retirement Pension Plan, Wynne gained extra leverage with her fellow premiers. With a looming mid-July deadline to scale up the ORPP, Wynne threatened to go her own way if the other provinces didn't buy into a bigger CPP.
First, though, Wynne laid the groundwork by going on the campaign trail to appear with Justin Trudeau in the 2015 federal election. As a sitting premier, she invested major political capital by talking up the future prime minister in joint election rallies.
Her unprecedented intervention raised eyebrows. In the aftermath, many wondered how Wynne would be repaid for that campaign debt.
Now the results are in from the prime minister and his finance minister, Bill Morneau, for whom Wynne also campaigned relentlessly (he had previously served on Wynne's ORPP advisory panel). Working closely with Ontario, the federal government set the table for pan-Canadian pension improvements that many thought impossible.
Trudeau huddled with Wynne in a private meeting room at Women's College Hospital earlier this month, and Morneau held a three-hour working dinner with Ontario Finance Minister Charles Sousa at an Ottawa restaurant. With time running out, the two tag teams — Trudeau-Wynne and Morneau-Sousa — discussed who would call whom among the provincial outliers, and how far Ontario would go in diluting its own robust pension proposal.
Ottawa laid out its secret weapon — a willingness to enhance the Working Income Tax Benefit to offset any increase in premiums for low-income workers.
Sousa laid down his bottom line, firing off a letter warning the other provinces the ORPP would move forward in July, after which CPP reforms would be off the table. In his written proposal, Ontario offered to scale back its ORPP to 70 per cent of the original target, but it needed a firm commitment now — or never. Sousa compromised further at a meeting of finance ministers in Vancouver this week, settling for 66 per cent of his initial target.
While the final CPP deal doesn't go quite as far or as fast as Ontario's original plan — it will take a few more years to phase in — it will endure for decades.
It is an unexpected triumph for Trudeau and Morneau, a big win for Wynne and Sousa, and a shared victory for the provincial politicians from different parties who came round in the end. Above all, it is a winner for working Canadians who can now look forward to a more secure retirement — especially the two-thirds of Ontario workers who lack a private pension.
A half-century after the inception of the Canada Pension Plan, whose paltry payouts are exceeded by most other industrialized countries, it was overdue for an overhaul. Decades from now, when private pensions will have virtually disappeared from the workplace — displaced by glorified RRSP savings plans with high fees and unreliable returns — this week's improvements to the CPP will be seen as a turning point.
Until this week, reform faced four daunting obstacles: Ideological rigidity from former prime minister Stephen Harper, who scuttled CPP talks in 2013 and tried to sabotage the ORPP; a CPP amending formula more complicated than constitutional change (Ottawa plus seven provinces with two-thirds of the population); public indifference to pensions, especially the idea of paying premiums now for payouts far off in the future (always a political challenge); and open hostility from business interests that are phasing out workplace pensions while refusing to backstop their workers' retirements through a public plan.
Wynne's pension determination not only forced the other premiers to make up their minds on the CPP alternative (which was always Ontario's first choice), it also rattled and rankled the business community. In that sense, the ORPP was a stalking horse for the CPP, persuading many business leaders to embrace a pan-Canadian plan as an alternative.
"Had we not continued to put this issue on the table squarely with our colleagues across the country, I firmly believe that we would not be here today," Wynne said Tuesday, describing herself as a "thorn in the side" of her counterparts.
"The ORPP made it clear to the other provinces that if we don't act soon, Ontario will proceed," Sousa said in an interview.
Beyond the tangible benefits of CPP expansion — portability, sufficiency, efficiency, affordability and scalability — there may not be any big political payoff for Wynne. She can and will claim credit for driving the agenda, but the issue will have waned by the time of the next election. All the more reason to acknowledge the political risks she has taken to date on the ORPP, and the questions she will face about the costs of winding down its embryonic bureaucracy — a cost of doing business in the range of a few million dollars, but a price worth paying for a CPP that will yield billions of dollars for Canadian workers' retirements.
While Wynne can take credit for helping to midwife a new CPP, she can also breathe a sigh of relief that she is now off the hook for the ORPP — avoiding the execution risk of building a pension bureaucracy from scratch (more expensive than first thought) at a time when voters have little tolerance for more Liberal bungling or boondoggles. By offloading the ORPP onto the CPP, she has done a good political deed — and dodged a bullet.

Ottawa, provinces reach agreement
in principle for CPP reform,
premiums to increase in 2019
Only Quebec and Manitoba neglected to endorse the agreement, which
would see an increase in monthly premiums phased in starting at $7
a month in 2019 for a typical worker earning about $55,000
By Geordon Omand
The Canadian Press
June 21, 2016
VANCOUVER—Both Canadian workers and their employers will soon be on the hook for higher contributions to the Canada Pension Plan after the federal government reached an agreement with most of the provinces Monday to revamp the program for the first time in nearly two decades.
Federal Finance Minister Bill Morneau said the change means future generations of Canadians will be able to retire in dignity, no matter the state of their finances.
"We have come to a conclusion that we are going to improve the retirement security of Canadians," Morneau said. "We're going to improve the Canada Pension Plan that will make a real difference in future Canadians' situations."
By 2023, an extra $34 a month in pension premiums will mean up to $4,300 more in annual payouts come retirement time for the average Canadian wage earner.
The agreement-in-principle, which only Quebec and Manitoba neglected to endorse, will see an increase in monthly premiums phased in starting at $7 a month in 2019 for a typical worker earning about $55,000.
Once the plan is fully implemented, the maximum annual benefits will increase by about one-third to $17,478.
Mandatory matching contributions will also mean a jump in payroll expenses for employers.
A change to the CPP needs the consent of Ottawa and a minimum of seven provinces representing at least two-thirds of the country's population.
Morneau said Quebec — which has its own pension plan — and Manitoba continue to be part of the process, despite not signing on to the agreement.
"Quebec is in a different situation," he said. "The Quebec pension plan is a different vehicle. The costs are different than the Canadian Pension Plan. The idea that more analysis is required is something that we completely understood around the table."
For Manitoba, Morneau said the deal comes too soon for the province's new Tory government.
"Manitoba is a brand new government. They've been in power for four weeks, so they were a productive voice around the table, a voice of continued interest in working together, but of course this comes pretty fast and hard for them."
Ontario Finance Minister Charles Sousa said young Canadians will reap the benefits from Monday's decision.
"Today, this federal government has shown great leadership and great desire to do something of great benefit for our young people."
Sousa said the plan would replace the one his government had been working on.
British Columbia Finance Minister Mike de Jong, who had reservations about expanding the CPP, said he came on board because the plan is affordable.
"I think we have reached a balanced approach to setting the objectives that were set out."
Provinces will have until July 15 to officially sign on to the agreement before it becomes formalized.
Heading into Monday's federal-provincial meeting, it was still unclear whether Ottawa would piece together the minimum required provincial support for change. Saskatchewan, for example, did not originally support CPP enhancement.
Sources said Ottawa made a major 11th-hour push in hopes of securing enough countrywide support to boost the CPP and suggested Prime Minister Justin Trudeau was involved in the extra effort.
There hasn't been such a level of consensus on CPP reform at a national scale since the 1990s.
However, critics have warned that expanding the CPP would squeeze workers and employers for additional contributions, and hurt the still-fragile Canadian economy.
The federal government intensified its lobbying efforts over the final days and hours of ongoing meetings as it tried to attract support from enough provinces to ensure a CPP upgrade, said sources with knowledge of the talks.
High court rejects apartheid
victims' suit against Ford
Associated Press
June 21, 2016
Washington — The Supreme Court has rejected an appeal from victims of apartheid in South Africa who wanted to sue IBM Corp. and Ford Motor Co. in American courts.
The justices did not comment on their order Monday that left in place lower court rulings dismissing lawsuits filed 14 years ago against Armonk, New York-based IBM and Dearborn, Michigan-based Ford.
The high court had earlier limited circumstances in which foreigners could seek to hold companies accountable in U.S. courts for their participation in or complicity with human rights abuses abroad.
The federal appeals court in New York said IBM and Ford could not be held liable for the actions of their South African subsidiaries during the apartheid regime.
The case is Ntsebeza v. Ford Motor Co., 15-1020.

Ford GT wins at Le Mans,
first since 1980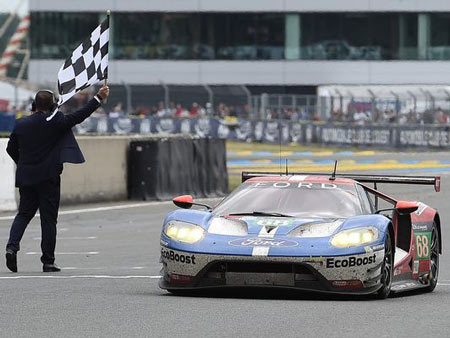 Michael Martinez,
The Detroit News
June 20, 2016
History repeated itself for Ford Motor Co. on the 50th anniversary of its podium sweep at Le Mans.
The Blue Oval's No. 68 GT won the GTE Pro class, beating long-time rival Ferrari in Ford's first victory at the French endurance race since 1980. The No. 69 Ford GT rounded out the podium in third place, and the No. 66 GT finished fourth.
Porsche finished first overall in the P1 class.
"This is an historic moment for the Ford Motor Company," Bill Ford, executive chairman of Ford, said in a statement. "We dared to dream that we could return to Le Mans, 50 years after the incredible 1966 win, and take on the toughest competition in the world. The pride we all felt when the Ford GT crossed the line at Le Mans is indescribable."
Dirk Muller, Joey Hand and Sebastien Bourdais piloted the No. 68 GT to victory. The group started the race in the pole position after posting the best qualifying time earlier in the week, and spent much of the 24-hour race at or near the top of the leaderboard.
Hand was in the driver's seat when the GT took first place in the 20th hour and never gave it up.
"We put it all on the line as drivers today…and the car just kept on trucking," Hand said after the race.
Chip Ganassi, owner of the Chip Ganassi Racing program that runs the GTs, called the victory "a crowning jewel" in the history of his program. This is his 175th victory as a team owner.
The race wasn't without controversy: with under a half-hour to go, the No. 82 Ferrari was given a black-and-orange flag, a signal to pit for a penalty for having a faulty leader light. The Ferrari team chose not to pit, which could have resulted in a disqualification, but the race officials did not enforce it. If they had, the Ferrari would have fallen out of second place and Ford would have swept the podium.
The victory is especially sweet for Bourdais, a Frenchman who has competed in Le Mans 10 times without a win — until Sunday.
"There was so much effort, so much emotion, and to be the one that wins the trophy to give to the Ford family and everyone involved is very special," Bourdais said. "Everything aligned for us today -- the history, the Ferrari/Ford battle, 50 years on and the Ford family being here. To come out on top of all that is an amazing feeling."
Ford executives invested heavily to create the new GT and resurrect its racing program in time for teh 50th anniversary, when Henry Ford II and Carroll Shelby created a team that beat vaunted rival Ferrari and finished 1-2-3. The Blue Oval also won in 1967, 1968 and 1969 before leaving the race.
The only blemish for Ford was the No. 67 GT, which started the race with gearbox problems and at one point crashed into a wall. It finished ninth out of 14 cars in the GTE Pro class.
Chevrolet's Corvettes finished seventh and 10th in the GTE Pro class.
Both of the podium-placing GTs had previously raced in the U.S. IMSA series. They will next compete at Watkins Glen on July 3

Trump win may change
North America production
Tommaso Ebhardt
Bloomberg
June 19, 2016
Venice — Fiat Chrysler Automobiles NV Chief Executive Officer Sergio Marchionne says if Donald Trump is elected U.S. president, the way he manages the North American Free Trade Agreement may affect the carmaker's production options in the region.
"It would change things, if there was a stronger protectionist view of U.S interests on American soil," Marchionne told Bloomberg TV in Venice, Italy, at the annual workshop of the Council for the United States and Italy, which he chairs.
Fiat Chrysler, which was formed in 2014 by the combination of the Italian carmaker with its Detroit unit, makes more than 80 percent of its profits in North America. The company, which also has plants in Canada and Mexico, posted 1.23 billion euros ($1.39 billion) of adjusted earnings before interest and taxes in North America in the first quarter out of a total of 1.38 billion euros.
"If globalization efforts that have been carried out by multinationals gets clipped or curtailed, I think it would have implications about how we manage our business going forward," said the Italian executive who grew up in Canada.
Trump has made a border wall with Mexico a cornerstone of his foreign policy, saying he would force his southern neighbors to pay for it by barring money transfers. He's also pledged to renegotiate or terminate NAFTA, arguing that it's been a disaster for the U.S.
Marchionne also said a decision by Britain to secede from the European Union would be "an enormous risk" for the region's economy. The U.K. votes on the issue June 23.

Ford chasing history at Le Mans
Michael Martinez,
The Detroit News
June 16, 2016
Dearborn — Edsel Ford II sat at the original wooden desk of his great-grandfather, Henry Ford, and delivered a simple message to Joey Hand and Ryan Briscoe, two of the drivers who will pilot the Ford GT in its historic return to Le Mans this weekend.
It's the same message his father, Hank the Deuce, once told Bruce McLaren, Chris Amon and other drivers before they competed at the 24-hour race a half-century ago:
"You better win."
The message was conveyed with a smile and laugh, but underscored the importance of the race. Ford invested heavily to resurrect its storied GT supercar in time for the 50th anniversary of its 1966 win over heavy favorites such as Ferrari and Porsche, and top executives have hinted that anything less than a podium finish would be a disappointment, even for a first-year program.
"Not only is Le Mans the biggest stage for endurance racing, this means a lot to the Ford family," said Dave Pericak, director of Ford Performance."You're talking about the best drivers, the best cars. ... We know that everybody is expecting us to do well. I don't know what's going to happen, but we're going to go give 'em hell."

Ford is sending four cars — Nos. 66-69 — and 12 drivers to the race, which begins at 9 a.m. eastern time on Saturday. They've been fine-tuning the GT since its disappointing debut at the Rolex 24 in Daytona and have recently gained momentum with a win at Laguna Seca and a second-place finish at Spa in Belgium.
Briscoe and Hand's recent trip to Dearborn was a nostalgia-filled celebration meant to give the racing duo a taste of history and a sense of belonging to the Ford family before their trip to France. They met with Executive Chairman Bill Ford, President and CEO Mark Fields and engineers of the original 1966 GT; were given the original French flag that flew over Ford's pit row during the historic race; signed autographs for Ford employees; and toured the secret design studio where a small group crafted the '17 supercar.
"At first, I hadn't grasped the importance of Le Mans as much," Hand said. "We've been driving race cars for 25 years. It's another race car, and our job is to drive it fast. But especially on a day like today, you can't ignore it."
Edsel Ford also gave Hand and Briscoe two oval pins, replicas of souvenirs Henry Ford II and other top executives received before the 1966 race. It says "Invite D'Honneur" (guest of honor) with the name of the race and the year. Edsel Ford added the initials "HFII" to the re-created pins he gave the drivers.
Henry Ford II was instrumental to the automaker's racing program in 1966 — when his son, Edsel, was 18 years old — and helped lead the effort that resulted in an improbable podium sweep. The GT won again in 1967, 1968 and 1969 — the last year it competed.
"You have to tip your hat," Edsel Ford said. "This year, I thought it would be very important to tip my hat to my father."
Program gains momentum
Ford officials and drivers characterized many of the GT racing troubles earlier this year as "teething pains," saying the cars recently have run well. Even the No. 66 car that was nearly demolished after a crash at Spa last month has been rebuilt and is race-ready.
"As a program as a whole, we've been gaining momentum and that's a good thing," Briscoe said. "We've been learning a lot and starting to see some of the results. It gives you a bit more confidence going into the race, but you have to treat Le Mans as its own deal."
The 8.5-mile road course is part of a grueling race that tests the drivers for up to five hours at a time. It's known for its sharp curves and high-speed Mulsanne Straight that includes a few chicanes — an artificial narrowing or turn in the course — that Hand said can be especially tricky.
Both Briscoe and Hand have experience at Le Mans for other teams. Hand finished on the podium in 2011 when he drove for BMW.
"When I was done, I was mentally exhausted, way more than I had ever been from a race," Hand said.
The team will have plenty of time to prepare. There was a test day on the track last week, an open practice is scheduled for Wednesday, and qualifying will take place Wednesday and Thursday.
Briscoe said he doesn't have any superstitions, but Hand is known for eating a McDonald's Sausage Egg McMuffin on race days. In between their driving stints, both say they'll eat, get a massage and attempt to sleep.
"It's a much different 24-hour race," Hand said. "It keeps you on your toes."
Writing a new book
Hand and Briscoe were treated like celebrities on their recent trip to Dearborn.
A handful of drivers stopped to take pictures of Hand as he cruised around the city in a white and blue Shelby GT 350. And dozens of Ford employees greeted the duo at the ground floor of the Glass House where they signed autographs for about an hour.
Some asked for signed pictures for their children, others brought model cars, and at least one brought a book about the history of the GT and the 1966 Le Mans race.
"When I signed my name, I wondered if 30 years from now this will be a historic thing we're doing," Hand said. "I'm just hoping we make more history. Thirty years down the road, when they do another one, the next book young drivers sign might be about us."
Could Thinking Positively About
Aging Be The Secret Of Health?
June 15, 2016
Ina Jaffe
The dictionary defines ageism as the "tendency to regard older persons as debilitated, unworthy of attention, or unsuitable for employment." But research indicates that ageism may not just be ill-informed or hurtful. It may also be a matter of life and death.
Not that it's literally killing people. Researcher Becca Levy, a professor of epidemiology and psychology at the Yale School of Public Health, says it depends on how much a given individual takes those negative ideas to heart.
In one study, Levy looked at people's attitudes about aging when they were in late middle age and then followed them over time. Some of these people thought of older people as weak or dependent. Others thought of them as experienced or wise. What she found was that the people who had a positive view of aging lived about 7 and half years longer than the people who saw aging in a negative light.
Now that doesn't mean that if you think positive thoughts about aging, it's OK to sit on the couch in front of the TV and eat a pound of bacon.
But according to Levy's other studies, this mind/body connection counts for a lot. For example, one showed that middle-aged people who had no cognitive impairment but did have negative views of aging were more likely to later develop the brain changes associated with Alzheimer's disease. And the more negative their views, the worse those brain changes were. On the other hand, another study found that people with positive views of older adults were much more likely to recover from major health setbacks.
A living, breathing example of how an older person can thrive if they're not weighed down by negative stereotypes is 95-year-old Jim Shute of Medford, Ore. (He's the father of SHOTS editor Nancy Shute, who's written about him here.)
His typical day? Up at 6:30 or 7, go out to get The Wall Street Journal or the local paper, read the papers over breakfast, check his rose beds and the irrigation system in the garden, trim the bushes. He also likes to fish, plays bridge once a week, hikes nearly every day, refinishes furniture and hunts for morel mushrooms in season.
Maybe it's not necessary to do all of those things, but having something that gives one's life a sense of purpose can pay amazing health dividends, according to researcher Patricia Boyle, a neuropsychologist and behavioral scientist at Rush Alzheimer's Disease Center in Chicago.
Purpose, says Boyle, doesn't have to be something complicated and lofty, just something that's goal oriented and gives you a sense of accomplishment.
"People who have the sense that their life is meaningful are much less likely to suffer early mortality, they're less like to develop disability, that is, trouble taking care of themselves," says Boyle.
What's more, "they're less likely to suffer strokes. They're also substantially less likely to develop Alzheimer's disease, and they have much less cognitive decline."
Boyle says having a purpose in life is a robust predictor of how well someone will live and thrive as they age.
It's not something a doctor can prescribe as easily as a change in diet. But whether it's doctor's orders or society at large, attitudes do change. And Levy's and Boyles' research suggests that if people don't assume that they'll be useless when they're older, the payoff could be huge.

Fiat Chrysler to receive $80-million in grants from Ontario government
June 14, 2016
The Globe and Mail
The Ontario government will contribute about $80-million to Fiat Chrysler Automobiles NV, restoring some harmony to a relationship that soured when the auto maker sought financial assistance for its minivan factory in 2014.
The auto maker will receive grants that will cover some of the costs of upgrading its assembly plant in Windsor, Ont., and help finance a project at the company's research and development facility in the city, sources familiar with the announcement said.
Ontario Premier Kathleen Wynne is scheduled to make the announcement Wednesday at the Fiat Chrysler (FCA) Automotive Research and Development Centre in Windsor, the sources said.
The bulk of the money will go toward helping the auto maker defray some of the $1-billion (U.S.) it spent upgrading the plant to produce a new generation of minivans. The first model of the new Pacifica, which includes a plug-in hybrid electric version that could help the province meet its climate-change goals, rolled off the assembly line on Feb. 29.
Every assembly plant that has been constructed or retooled for new vehicles in the past 15 years has included some form of government financing, said one source familiar with the company's plans.
Those plans include an FCA investment in the R&D project, sources familiar with the announcement said. The federal government is not expected to participate.
FCA Canada spokeswoman LouAnn Gosselin would not comment.
The financing announcement comes about a month after officials at Unifor, the union that represents FCA hourly paid workers, criticized the Ontario and federal governments because they did not initially provide funding for retooling the factory.
But the path to Windsor continuing as the production site of one of the most successful vehicles in the history of Chrysler Corp. and its successor companies was a rocky one.
The company originally asked the federal and Ontario governments for an estimated $700-million contribution to a $3.6-billion project that also included a retooling of FCA's other Canadian assembly plant in Brampton, Ont.
But the request turned into a political football during an election year in Ontario, with then-Progressive Conservative leader Tim Hudak slamming the idea as "corporate welfare."
That comment and the delay negotiating that amount of money with two levels of government would impose on getting the new minivan to market prompted FCA chief executive officer Sergio Marchionne to pull the company's request for funding and finance the retooling of the Windsor plant on its own. That raised questions about the future of the Brampton plant, which is the No. 1 issue for Unifor in this summer's negotiations with FCA on a new labour contract.
The frosty relationship between the government and the company appeared to begin thawing last summer, when Mr. Marchionne and Ms. Wynne sat together at a luncheon at the Global Forum conference in Toronto.
While Mr. Marchionne took Ontario to task at a news conference after that luncheon, saying its provincial pension plan and cap-and-trade system to reduce greenhouse gas emissions helped make the province "not what I would call the cheapest jurisdiction in which to produce," he also praised the Premier for being "incredibly responsive" to his concerns.
The company's Automotive Research and Development Centre opened in 1996 and employs about 180 people.
The announcement of a new research project will be the second significant boost to automotive R&D in Ontario in less than a week.
General Motors of Canada Ltd. said last week it will hire about 750 engineers over the next few years at existing locations in Ontario and open a new engineering software office in Markham, Ont., to help develop autonomous vehicles, battery-powered automobiles and the connection between vehicles and the Internet.

Welcome new GM jobs, but
keep the old ones: Editorial
Ontario needs high-tech new GM jobs but also continuation of
traditional auto assembly at the company's giant Oshawa plant.
June 13, 2016
Toronto Star
Ontario's badly dented auto sector delivered some welcome news on Friday with General Motors announcing a push to create hundreds of new high-tech jobs. This is precisely the sort of investment needed in the 21st century.
It's also necessary, however, to maintain auto assembly employment. But the future of that is not at all clear at GM's giant Oshawa works. Without a local plant actually building cars, the company's expansion of engineering and software operations would be akin to a head lacking a body. Obviously, a healthy system requires both.
That said, GM's planned creation of 700 new engineering jobs, dedicated largely to researching software and driverless cars, is a significant milestone in Ontario manufacturing.
Premier Kathleen Wynne, quite rightly, described it as "a vote of confidence in our province's highly skilled workers and strength as an innovation hub."
GM, along with other major automakers, is on a spending spree, driving hard to overtake Google Inc. in the field of autonomous cars and Tesla Motors Inc. in the realm of electric and alternative fuel vehicles.
The Wall Street Journal reports that the firm has spent more than $1 billion this year investing in Lyft Inc. a ride-sharing rival to Uber, and self-driving car developer Cruise Automation Inc. And GM is spending another $1 billion to bolster its technical centre in Warren, Mich.
It would have been discouraging, indeed, had Ontario been left behind in this effort. It surely helps that this is the first Canadian province to allow self-driving cars on its streets and highways for the purpose of testing.
There was good reason for Wynne, Prime Minister Justin Trudeau, and a host of local dignitaries to gather in Oshawa and welcome GM's announcement. Trudeau noted that, in choosing to make this investment, "GM is affirming the skills, the ingenuity and the immense potential of Canada's workers."
The company's new cadre of auto engineers is to be hired "over the next few years." Unfortunately, the firm has little to say about the more immediate future of about 2,600 workers currently employed at its Oshawa assembly operations.
The company dealt the plant a heavy blow last year when it moved production of its Chevy Camaro to Lansing, Mich., killing about 1,000 jobs. Other products, still turned out in Oshawa, are scheduled to go elsewhere or will stop being made.
Unifor, the union representing GM's Oshawa workers, is pushing to have a new product line installed at the plant but the firm has, so far, made no commitment in this regard. Municipal officials are worried, too. It doesn't help that the company's Oshawa tech centre is operating close to capacity, so the bulk of newly announced high-tech jobs will go to Markham, home of GM's Automotive Software Development Centre.
The impact of the firm's commendable engineering investment would be significantly diminished if GM failed to follow through with a commitment to keep assembling cars in Oshawa. And GM workers wouldn't be the only ones affected.
According to independent research sponsored by Unifor, about 10 jobs are created in the wider economy for every job at the GM plant. That includes workers at smaller auto parts factories, transportation firms, and in a wide cross-section of services and retail operations where GM employees spend their money.
In focusing on GM's praiseworthy high-tech investment, neither the company nor elected politicians should lose sight of the fact that this needs to be backed up by maintaining Oshawa's traditional work of building new cars.


Mulally among 2016 Automotive
Hall of Fame inductees
Michael Martinez,
The Detroit News
June 12, 2016
Alan Mulally, the former CEO of Ford Motor Co. credited with saving the Dearborn automaker, will be inducted next month into the Automotive Hall of Fame.
Mulally famously mortgaged everything — including the Blue Oval logo — to pay for a complete overhaul of the company's product portfolio and avoid a government bailout as bankruptcy loomed. General Motors and Chrysler went through bankruptcy.
As head of Boeing Co., Mulally was hired by Ford in the fall of 2006 and was tasked with transforming Ford's divisive corporate culture and rescuing the company from dire financial trouble.
"Ford was so close to the edge when Mulally came in," said Michelle Krebs, senior analyst with Autotrader.com. "Some of the recovery plan was in place, but he was the one who executed it. Were it not for him taking over, the Ford we have today … just wouldn't be the same company."
Mulally retired in 2014 and was succeeded by Mark Fields as president and CEO.
Mulally joins a 2016 class that includes Roy Lunn, engineer of the Ford GT40 that swept the podium at the 1966 Le Mans race; automotive safety advocate Ralph Nader; and Bertha Benz, wife and business partner to Karl Benz, founder of the German automaker Mercedes-Benz.
"We are pleased to induct four individuals whose entrepreneurial spirit helped create today's global automotive industry," William R. Chapin, president of the Automotive Hall of Fame, said in a statement. "Each made their unique vision a reality through tenacity, creativity and forward thinking, traits that still drive the auto industry evolution today."
The Automotive Hall of Fame is based in Dearborn and was founded in 1939. It has honored roughly 800 men and women who have helped shape the auto industry. The awards ceremony will be July 21 at Cobo Center in Detroit.
As part of Mulally's corporate culture overhaul, he introduced weekly business plan review meetings with top executives that held them accountable for issues with product launches. They included a color-coded grading system — "green" meant a project was on track, while "red" meant there were major issues — to pinpoint when problems occurred.
He also implemented the "One Ford" plan, which standardized certain aspects of the vehicle and created a global architecture for Blue Oval-badged cars around the world.
"He brought an accountability to Ford that I don't think existed before," Krebs said. "Much of that discipline remains today."
By 2009, Ford was able to post a full-year profit for the first time since 2005. It later paid off billions in loans early, returned to investment grade status, and regained full title to the Blue Oval and other trademarks and property it had put up as collateral.
In addition to its 2016 induction class, the Automotive Hall of Fame announced that Matthew Simoncini, president and CEO of Lear, has been named its industry leader of the year, and Mike Manley, Fiat Chrysler Automobiles chief operating officer of Asia Pacific and head of the Jeep and Ram brands, will receive its Distinguished Service Citation.

GM to add more than 700
engineers in Ontario
Melissa Burden,
The Detroit News
June 11, 2016
General Motors Co. on Friday said it will add more than 700 engineering jobs in Ontario, Canada, over the next few years as it expands engineering and software development work for connected, self-driving and alternative fuel vehicles.
GM said the new engineers would work in autonomous vehicle software and controls development, active safety and vehicle dynamics technology and infotainment and connected vehicle technology. GM said the areas are important for developing new "connected, autonomous and shared vehicles and mobility systems."
The automaker also plans to open an automotive software development center in Markham, Ontario, and said hiring has started. It also will invest $10 million Canadian at its cold-weather vehicle testing facility in Kapuskasing, Ontario. The carmaker did not provide a total investment for its engineering plans in Canada.
"We selected Canada for this expansion because of its clear capacity for innovation, proven talent and strong ecosystem of great universities, startups and innovative suppliers," Mark Reuss, GM's head of global product development, purchasing and supply chain, said in a statement.
Company executives, Ontario Premier Kathleen Wynne and Canadian Prime Minister Justin Trudeau were slated to announce the hiring plans at a news conference at GM's Oshawa Engineering Centre in Oshawa, Ontario. The center is home to about 250 engineers. A year ago, GM said it would hire more than 100 software and controls engineers at the site to create a hub for connected car and green technologies and it expected to have 300 engineers at the site this year.
Ontario allows testing of automated vehicles on public roadways.
"GM's decision to develop next-generation vehicle technologies in Ontario is a vote of confidence in our province's highly skilled workers and strength as an innovation hub," Wynne said in a statement. "Our government welcomes this investment, which will help Ontario play a leading role in building the auto industry of the future."
Trudeau said GM's engineering investments will provide good-paying jobs in Canada.
"Meeting with CEO Mary Barra at the World Economic Forum, I made the case for investing in Canada. I applaud GM for choosing Canada to be the home base for its global center for advanced vehicle software development," Trudeau said in a statement.
GM Canada earlier this year opened an innovation lab in Waterloo, Ontario, to focus on urban mobility and connected vehicles and in April announced it had bought property in Toronto to serve as the base for a new urban-mobility campus featuring offices, research and development facilities and vehicle sales and service.
There are more than 9,000 GM employees in Ontario including assembly plants in Oshawa and Ingersoll and an engine plant in St. Catharines.
Last year, GM cut 1,000 jobs and a shift at the Oshawa plant's flex line when it moved production of the Chevrolet Camaro to the Lansing Grand River plant. GM's labor contracts with the Unifor union for two of its plants expire in September. Unifor's President Jerry Dias told The Detroit News the union's biggest focus of upcoming talks is keeping plants open and with vehicle products and that it would strike if necessary.
On Friday, Dias called the investment announcement a positive step and good news for Canada.
"We're hopeful that today's announcement will help bolster the case for renewed investment in GM's Oshawa operations and that we'll be seeing new investment, and allocation of new vehicles, to secure the long-term future," he said in a statement.
In 2015, GM Canada said it spent about $190 million Canadian in research and development each year, including in partnerships with universities and suppliers. In 2012, GM said it would invest $850 million in research and development in Canada between 2009 and 2016, part of an agreement made with the Canadian governments for financial assistance during the downturn and GM's bankruptcy


Canadian auto workers
will strike if needed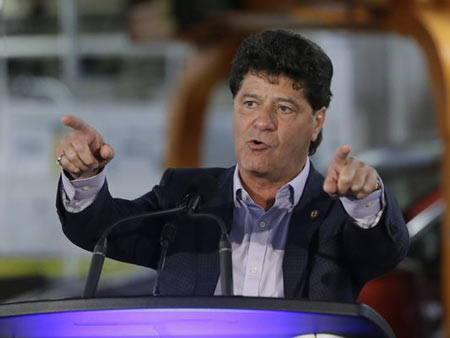 Michael Wayland,
The Detroit News
June 9, 2016
The fate of the Canadian auto industry and its tens of thousands of jobs is at stake this summer as Unifor enters contract negotiations with the Detroit automakers, according to union leader Jerry Dias.
Unlike its United Auto Workers counterpart in the United States, Unifor's main issue during the negotiations won't be increasing wages, it will be keeping plants open. Still, Dias said, the union will strike, if necessary.
"The reality is if we don't solidify the footprint, there's going to be strikes in Canada," Dias told The Detroit News during a recent phone interview. "There's no way around it. I don't have any choice. The way we look at it, we have nothing to lose."
General Motors Co.'s Oshawa Assembly and Fiat Chrysler Automobiles NV's Brampton Assembly are Dias' two largest concerns, as both have not been promised new products. He also has "major concerns" about Ford Motor Co.'s engine operations in Windsor.
Unifor, formerly the Canadian Auto Workers, faces an uphill battle when it enters talks in August for 23,000 members at Fiat Chrysler, GM and Ford.
Canada's auto industry has been on a decline in recent years due to automakers investing in places such as Mexico with lower labor costs and public officials refusing to offer incentives for investments by automakers.
"A lot is at stake in 2016," he said. "I will even make the argument that we really are talking about the future of the auto industry in Canada."
According to the Ontario Ministry of Training, Colleges and Universities, auto manufacturing jobs have declined 8.2 percent from 2008, to 104,500 last year.
Dias said he will not sign any contracts that don't cement Canada's production footprint, and bring new investments and jobs.
"The facts are, if you go through the last eight years, Mexico has opened eight assembly plants and Canada's lost two," Dias said. "It's clear to us that if the Detroit Three do not invest in Canada in this round, we will end up with more closures."
Oshawa, Dias said, is the top priority because without a new product, he believes the facility will be shuttered, leaving about 2,500 employees without work.
"I am absolutely convinced that if we do not have a product for Oshawa, we are going to have a plant closure," he said.
GM CEO Mary Barra told reporters Tuesday in Detroit ahead of the company's annual stockholders meeting that the automaker is having "very constructive conversations with Unifor."
"I don't have anything to change on the statements that we've already made about any of the facilities in Canada," Barra said. "And we're going to go into and continue to have productive dialogue throughout the summer there, understanding what Unifor and their requests are, also looking at again balancing our portfolio and our footprint."
AutoForecast Solutions LLC President and CEO Joe McCabe describes the facility as being on "life support" after GM moved Chevrolet Camaro production to Lansing in 2015.
McCabe said every vehicle GM builds in Canada could be built elsewhere in North America.
Oshawa's one-shift consolidated line builds the Equinox and Chevrolet Impala Limited, a fleet vehicle. It has been slated to close several times in the past but has been extended by demand for vehicles. A two-shift flex line at the facility builds the Buick Regal, Chevy Impala and Cadillac XTS.
One good sign for the plant is GM on Friday is expected to announce it will hire up to 1,000 engineers for its Canadian Engineering Centre in Oshawa, according to multiple media reports. The company last year announced it would hire more than 100 software and controls engineers as it created a hub at the center for "connected car" and green technologies.
Fiat Chrysler's assembly plant in Brampton is not on life support, but its future is in limbo.
CEO Sergio Marchionne raised eyebrows in Brampton by saying Windsor Assembly, which produces minivans, could produce the Chrysler 300. He gave no commitment to shift production.
Dias said he doesn't view "Marchionne's comments as somehow threatening our members in Brampton," saying all automakers are increasing the use of flexible assembly lines capable of building multiple vehicles.
Marchionne earlier this year announced a strategy to shift its North American production footprint from cars to utility vehicles such as pickups, SUVs and crossovers. He has addressed the changes to car production in the United States but not Canada.
Along with the 300, Brampton builds the Dodge Charger and Dodge Challenger. It employs about 3,450 on two shifts.
Fiat Chrysler invested an undisclosed amount when all three vehicles were redesigned for the 2015 model year. Prior to that, the facility's last public investment was $20 million in 2011.
An ally Unifor believes it has in this round of negotiations that it hasn't had since at least 2006 is the Canadian government.
Canadians elected a Liberal government in November, ousting the Conservatives that were not supportive of providing incentives for financial investments by automakers.
Dias said the union has had "unprecedented access" to new Prime Minister Justin Trudeau's office that has resulted in "meaningful discussions."
In the past four years, each of the Detroit automakers squabbled with the previous government.
"I believe that the federal Liberal government has a much better understanding of what needs to be done," he said.

Ford, FCA to shorten summer
shutdown at SUV plants
Michael Martinez,
The Detroit News
June 8, 2016
Two of Detroit's Big Three automakers are shortening summer shutdowns at key plants in North America that produce profit-generating SUVs, the automakers confirmed Tuesday.
Ford Motor Co. said it will reduce its traditional summer shutdowns — which begin the week of July 4th — from two weeks to one week at six assembly plants in the U.S. and Canada. Fiat Chrysler Automobiles said five of its plants in the U.S. and Mexico won't have any shutdowns this summer, while three others will reduce the downtime from two weeks to one, which will take place in mid-to-late July.
The moves come as consumers are increasingly buying crossovers and SUVs, in part because of cheap gas.
Ford said it will add five non-consecutive weeks of downtime to its Michigan Assembly Plant, which employs about 2,500 workers and produces the slow selling Focus and C-Max. A Ford spokeswoman said executives planned the move since the start of the year in response to industry-wide slow sales for small cars.
"We match production capacity with demand," Ford said in a statement. "The small car segment is down approximately 10-percent this year, including Focus. Our plan has not changed; we planned for a two-week summer shutdown and five down weeks through the remainder of the year."
Ford has not yet determined when those additional five weeks will occur.
General Motors Co. would not reveal its North American summer shutdown plans. Earlier this year, GM temporarily shuttered four plants for two weeks in response to a supplier issue connected to the deadly earthquakes in Japan.
GM's Lansing Delta Township Assembly Plant, which builds large SUVs, was shut down for five weeks in May and earlier this month as the plant retooled for new future vehicles.
Some GM facilities may take downtime during what was traditionally a two-week shutdown period around July 4. But the company no longer follows that two-week schedule as a rule. For example, the Lansing Delta Township plant won't stop production for either of the two weeks, while GM's Lansing Grand River Assembly Plant will take a week of downtime during the week of July 4. Workers at Lansing Grand River build the Chevrolet Camaro, Cadillac CTS, Cadillac ATS, ATS Coupe and performance variants of the CTS and ATS.
The six Ford plants that will shorten the summer shutdown are: Louisville Assembly, which builds the Escape and Lincoln MKC; Chicago Assembly, which builds the Explorer; Flat Rock Assembly, which builds the Mustang; Kentucky Truck, which builds the Super Duty, Expedition and Lincoln Navigator; Ohio Assembly, which builds medium-duty trucks; and Oakville Assembly in Canada, which builds the Ford Flex and Edge and the Lincoln MKX and MKT models.
The five FCA plants that won't have any summer shutdown are: Jefferson North, which makes the Jeep Grand Cherokee and Dodge Durango; Mack Engine; Trenton Engine; Saltillo Van and Toluca Engine in Mexico.
The three FCA plants that will shorten their downtime to one week are: Belvidere Assembly, which makes the Dodge Dart, Jeep Compass and Patriot; and Toledo Assembly Complex, which makes the Jeep Wrangler and Cherokee; which will be down the week of July 18; and Toledo Machining, which will be down the week of July 25.
Ford said in talks to build
Lincoln models in China
Bloomberg News
June 7, 2016
Ford Motor Co., aiming to make China the top market for its Lincoln luxury line, is in talks with partner Changan Automobile Group about producing the brand's vehicles in Chongqing, according to people with knowledge of the matter.
Ford is considering a major manufacturing presence in the southwestern Chinese city that would serve the domestic market and be an Asian export base, said one of the people, who asked not to be named revealing internal deliberations. Output could begin as soon as 2018 if Lincoln continues strong growth in China, where it got off to a fast start last year, the person said.
No agreement has been reached on key points such as profit sharing, and it may still take until 2020 or later for the first Lincolns to roll off the line in China, said another person, who said the discussions are preliminary.
"There's no detailed plan at the moment" on producing the Lincoln brand in China, said Zhu Huarong, president of Chongqing Changan Automobile Co., Ford's China partner, on the sidelines of a forum in the Chinese city Monday. In an emailed statement, Ford said that "Lincoln is selling imported vehicles in China and has nothing to announce regarding localized production."
Ford CEO Mark Fields has said China could replace the U.S. as Lincoln's largest market by the end of this decade. The company is investing $2.5 billion to overhaul the faded luxury line. Ford stopped making the Town Car, the long-lived business-travel stalwart that had become the symbol of Lincoln. Later this year, Lincoln will bring back the Continental nameplate on a broad-shouldered cruiser with an opulent back seat aimed at affluent Chinese customers who prefer to be chauffeured.
"It's different in the U.S. than in China," Kumar Galhotra, head of Lincoln, said of the brand's standing in a January interview. "In China, our heritage plays very strong. Our favorable opinion in China is actually ahead of Lexus and on the factor of prestige, we're actually ahead of Audi."
In its first year in China, Lincoln sold more than 11,000 vehicles, which Fields has called the fastest start for a luxury-auto brand there "in recent history."
Manufacturing in China would allow Ford to save on a 25 percent import tax, making its offerings more competitive in a premium market dominated by Germany's Audi, BMW and Mercedes-Benz. Lincoln would join General Motors Co.'s Cadillac and Nissan Motor Co.'s Infiniti among luxury nameplates that are made in China.
The possibility of building Lincolns in China is made easier by the fact that the luxury cars are built on the same mechanical underpinnings as Ford models already produced there, said one of the people.
It's not clear which Lincoln models Ford is considering building in China. The brand now sells four import models in China, according to its website. The MKZ sedan starts from the recommended price of 315,800 yuan ($48,000), or about the same as a China-produced Mercedes C-Class.
Lincoln's most expensive model in China, the Navigator sport utility vehicle, starts at 988,800 yuan, more than twice its U.S. price. A lavishly redesigned version of the Navigator, Lincoln's most recognized nameplate in China, is due to arrive in showrooms next year.
Ford wants to boost the number of Lincoln stores in China to 60 by the end of this year, from 40 in March, at the time of the New York auto show, according to the company.
Ford on Monday also announced changes in its executive leadership in China that elevate the unit's corporate-reporting structure. Dave Schoch, Ford Asia-Pacific chief, is taking over direct supervision of the automaker's Chinese operations, adding the title of chairman and CEO of Ford China. Marin Burela, president of Changan Ford, is retiring Oct. 1, the company said.
Last year, Ford's pretax profit in its Asia-Pacific region, where China is its largest market, rose 29 percent to $765 million. In this year's first quarter, the company's earnings in the region more than doubled to $220 million and its Chinese market share rose to 4.5 percent from 4.3 percent.
"As our growth plans in China have developed, this market is delivering an increasingly important portion of our revenue and profits globally," Fields said in a statement. "Elevating the reporting of this business right now reflects China's importance in our profitable growth plan going forward."

Investment top priority for
Canadian auto workers union
Michael Wayland,
The Detroit News
June 6, 2016
New investments in Canadian auto plants will be the top priority for Unifor when it enters into collective bargaining with Detroit automakers this summer.
The Canadian union Wednesday night said the 120 delegates of its Auto Council voted unanimously to make new investments, including new product allocations and specific investment mandates for assembly and powertrain operations, the highest priority of the upcoming talks with General Motors Co., Ford Motor Co. and Fiat Chrysler Automobiles NV. The current contracts expire in September.
"When we get into bargaining, the No. 1 priority will be maintaining and expanding the footprint of the industry in Canada," said Chris Taylor, chair of the Auto Council and President of Local 200 at the Ford engine plant in Windsor, in a statement.
Some Canadian auto plants have not received major investments from the Detroit Three automakers in years, raising concerns about the future of the plants.
Most recently, Fiat Chrysler CEO Sergio Marchionne raised eyebrows at the company's Brampton Assembly Plant by saying another Ontario facility in Windsor that produces minivans could produce the Chrysler 300. He gave no commitment to shift production.
The Brampton plant, which last publicly received a major investment in 2011, also builds the Dodge Charger and Dodge Challenger. It employs about 3,450 on two shifts.
"Brampton needs a considerable investment," said AutoForecast Solutions LLC President and CEO Joe McCabe. "If you look at Fiat Chrysler now, they're getting out of the car business."
Marchionne earlier this year announced a strategy to shift its North American production footprint away from cars to utility vehicles such as pickups, SUVs and crossovers. He has addressed the changes to car production in the United States but not Canada.
The Brampton facility, McCabe said, is expected to be one major bargaining chip during this year's negotiations. Another, he said, is GM's Oshawa Assembly, which remains on "life support" after losing production of the Chevrolet Camaro in 2015.
"We believe both Brampton and Windsor will be underutilized unless they put more products in those facilities," he said. "Oshawa is the one we see being on the bubble."
McCabe said every vehicle GM builds in Canada could be built elsewhere in North America. Oshawa's one-shift consolidated line builds the Equinox and Chevrolet Impala Limited, a fleet vehicle. It has been slated to close several times in the past but has been extended by demand for vehicles. A two-shift flex line at the facility builds the Buick Regal, Chevy Impala and Cadillac XTS.
Unifor National President Jerry Dias said other top priorities include "achieving improvements in other key areas such as wages, new hire provisions and more."
"The auto industry pays huge benefits to our communities, in terms of spinoff jobs, the wages our members spend in their local communities and the taxes they pay that support schools, hospitals and more," he said in a statement.
The priorities were set following workers from locals representing each of the Detroit Three companies meeting to discuss their main concerns.
Unifor's priorities for bargaining differ from those of its American counterpart. During 2015 contract negotiations with the Detroit automakers, the United Auto Workers' top priorities included closing pay gaps between entry-level and veteran workers as well as raising wages for all.
The UAW, following contentious contract talks and voting, gained across-the-board pay wages as well as $16 billion in new investments over the course of the four-year deals.
During the last round of contract talks, Canadian union officials agreed to extend a progressive two-tier pay system and gave up guaranteed annual wage increases, while the three automakers agreed to pay their Canadian hourly workers a $3,000 (Canadian) ratification bonus and provide a $2,000 (Canadian) "lump sum cost-of-living improvement" payments annually for the rest of the four-year contract. They also included a hybrid pension system for new hires in which both automakers and union members will make payments. There will be no change in pension plans for active members.
Unifor was formed by the Canadian Auto Workers merging with the Communications, Energy and Paperworkers union in 2013. It represents more than 310,000 members across the country.
The CAW was the Canadian arm of the UAW until 1985. The Canadian union broke from the American-based union following cross-border differences in priorities during collective bargaining and other issues.

Senior drivers confront
new car technology
Mary Chapman,
Chicago Tribune
June 2, 2016
Chicago — Before settling on a new 2014 Ford Edge SE, Cynthia Manson resisted sales pressure to move up to a trim level that had, along with a bigger price tag, more onboard technology and available options.
The lower-grade SE had suited her fine. Although the newly retired Manson could afford a more loaded vehicle, all she required was a CD player for road-trip music and her beloved audio books, plus a navigation system. And, remote start would come in handy on chilly Park Forest mornings. At her age, she said, simplicity is best.
"I think when you have too much stuff, like automatic braking and lane departure warning and all that, you begin to rely on it too much, and you lose your focus," said Manson, 70, a former bus driver for the Chicago Transit Authority.
It's hard to avoid too much technology. New vehicles feature an ever-growing array of gizmos, a lot of which are standard.
"The velocity of technological change is only going to continue and will accelerate," said Joseph Coughlin, director of the AgeLab at the Massachusetts Institute of Technology.
The proliferation of technology is confusing to anyone, not just seniors, which is why the National Safety Council recently launched the "My Car Does What?" website, which simplifies advanced safety features into an interactive guide. But seniors might stand to benefit the most from using such technology.
Organizations such as AAA and AARP offer ways to help older drivers understand technology related to safety, ergonomics and comfort.
For example, AAA has a list of recommendations including: active safety systems, which use cameras and sensors to alert drivers of looming danger; 360-degree camera systems, which are particularly good for parking; adaptive headlights, which swivel in the direction the steering wheel is turned; automatic crash notifications; automatic high beams; blind-spot warning; drowsy-driver alert systems; keyless entry; adjustable steering wheels and pedals; power seats; and motorized trunk lids.
While such technology often is considered a convenience by younger drivers, it can help senior drivers remain safe and comfortable. According to AAA, nearly 90 percent of motorists 65 and older have health issues that may affect driver safety. The number of licensed drivers ages 65 to 69 rose more than 15 percent from 1983 to 2014; for the 70-and-older set, it rose 43.6 percent, according to the University of Michigan Transportation Research Institute.
The Institute for Highway Safety projects that by 2030, the number of drivers who are at least 70 will climb from 30.1 million to 53.7 million.
Car manufacturers are keenly aware of this burgeoning demographic. General Motors, for example, recruits individuals 60 and older to test its infotainment systems. Across town, Ford Motor uses a so-called "Third Age" suit to help engineers and designers understand how physical limitations can affect driving. The Collaborative Safety Research Center at the Toyota Technical Center in Ann Arbor, Mich., meanwhile, has a variety of projects related to older drivers, partnering with universities and other institutions.
It's difficult to measure how much demand is driving the onslaught of available technology, experts said. The list of top-selling models last year among drivers 65 and older by percentage share of registrations, without regard to trim levels, included the Buick LaCrosse, Cadillac XTS, Lincoln MKS, Lexus LS and Lincoln MKT, respectively, according to Edmunds.com.
"There's no safety feature specific for older drivers, but there's no demographic that that doesn't help," said Carroll Lachnit, a consumer advice editor for Edmunds.com. "You may be a 45-year-old with early onset arthritis. So if you have trouble turning your head, blind-spot warning is helpful. So it's almost as though, what's the issue for the individual driver?"
But too much technology can overwhelm drivers.
That's partly why manufacturers such as BMW and Mercedes-Benz now have teams who can explain to car buyers how to use new-car features.
For her part, for instance, a frustrated Manson returned to her dealer after failing to figure out her vehicle's Bluetooth system. "I finally went and told the guy, show me how to use this, and he did. It was important for me to learn because I wanted to be able to be hands-free."
Coughlin warned against generalizations about older drivers, saying studies show a wide range of ability within that group. "Younger drivers who rely only on instruments are problematic too," he said. "I've found that people who have driven for a while have learned how to drive and learned how to drive well."
He said future vehicles are expected to feature an ageless, more personalized interface. For example, instead of audible warnings, drivers with impaired hearing may choose color signals or vibration instead. "Apple's iPad is a very sophisticated piece of technology, but profoundly ageless as well," he explained. "The future will deliver an experience that's about you."


CPP reform facing
roadblocks from provinces
By Jordan Press,
The Canadian Press
June 1, 2016
OTTAWA — Federal sources say Canada's most populous province has become Ottawa's main challenge in work to gain the required provincial support to expand the Canada Pension Plan.
Ontario's position in the ongoing talks is that it wants reforms to the Canada Pension Program to dovetail with the provincial pension program Ontario has vowed to create.
The province's finance minister says there needs to be "some degree of substantial benefit" from a revamped national pension plan through higher benefits for retirees.
But replacing more of a retiree's income through the CPP would require increases in premiums paid by employees and employers.
And if the premiums are too high, that reform would likely alienate the provincial governments in British Columbia and Saskatchewan, both of which don't want to see rates rise over concerns about potentially negative ripple effects on small businesses and low-wage earners — further complicating talks about expanding CPP.
Ontario Finance Minister Charles Sousa said he plans to use the Ontario program as the starting point for negotiations to push for timely amendments to the national program. But he added that the province isn't intractable in its position.
"I'm not suggesting that we're going to obstruct CPP enhancement because we're introducing (the Ontario Retirement Pension Plan). We're using ORPP now as a means to have something substantive on the table for other provinces to review and we recognize that other provinces won't go to that extent. So we will work to find a compromise," Sousa said in an interview.
Federal, provincial and territorial finance ministers will meet the third week of June in Vancouver where CPP reform will be a key part of the agenda.
Federal Finance Minister Bill Morneau has said he wants to see a deal for an expanded CPP completed by the end of the calendar year.
Sousa wants to see early action. He said the talks will be for naught if a majority of provinces don't signal their backing for immediate changes to the pension plan at the June meeting.
"Timing is critical and, frankly, it does put everybody on notice that Ontario will work with the federal government, we are working with the federal government, and other provinces to recognize that we have an opportunity to make a deal here. So Ontario's willing to play," he said.
"What we don't want is to go back and have this: 'We'll do CPP enhancement at some time in the future at some amount without real determination.' I want us to have details, I want us to discuss the parameters of what that enhancement will be. And we are prepared to move forward with CPP enhancement in a form that is close to what ORPP is."
Ontario has proposed to almost double the income replacement rate by supplementing CPP benefits that would lead to annual payments of about $25,000 — but which would also require a increase in premiums. The province also wants to see coverage to Ontarians higher up on the income scale by raising the year's maximum pensionable earnings amount, known as the YMPE.
"That's not going to palatable to all provinces. So Ontario is willing to discuss that and have a meeting of the minds as to what amount should be preferable," Sousa said.
Since December when the federal and provincial finance ministers last met, political and bureaucratic conversations have been intensifying behind the scenes to garner support for an expanded pension plan. But coming to a consensus has proven difficult.
Morneau spokesman Dan Lauzon said Ontario has always "acted in good faith" from the start of talks around CPP reforms.
"The fact that they argue passionately for the people of Ontario only adds to the discussions both behind the scenes and around the ministers' table," Lauzon said.
"We look forward to a collegial and lively discussion at the upcoming finance ministers' meeting in Vancouver, as we work together to advance retirement security of all Canadians. Ontario's voice is crucial to the success of that meeting."
The finance ministers are scheduled to meet again this coming December where Morneau expects a deal to be finalized.
Changes to the national pension plan require the support of at least seven provinces holding two-thirds the population of the country — a high bar that makes it mathematically difficult to make changes without buy-in from Ontario.
"Were that to happen, then we would not get a national CPP reform," said former Bank of Canada governor David Dodge.
It would be the first major CPP overhaul in almost 20 years after the provinces and federal government agreed to increase premiums in 1997.
Most provinces were ready to agree to an expansion of CPP in 2013. But the previous Conservative government balked at the move, which led the Ontario Liberals to head down the path of their own provincial pension plan. Quebec also has its own provincial pension plan.

Big 3 not benefiting from
troubles at foreign brands
Keith Laing,
Detroit News
May 30, 2016
Washington — Recalls and emissions problems at foreign-owned auto brands such as Volkswagen and Mitsubishi have roiled the nation's auto industry, but analysts say there is little evidence buyers are turning toward cars made by Detroit carmakers.
Cross-searches between Volkswagen and brands such as Ford and Chevrolet on the car-shopping website Edmunds.com changed little between August 2015 — the month before the German auto manufacturer admitted it had rigged its diesel cars to cheat on government emissions testing — and April, according to researchers at the company.
Twenty-six percent of the site's visitors who identified themselves as Volkswagen owners searched for information about Ford brands in August, compared to nearly 25 percent in April.
Similarly, about 15 percent of Edmunds.com visitors who own Volkswagens searched for Chevrolet products in August, while the website found that 17 percent made similar searches in April. "There wasn't much difference in cross-shopped brands before and after the scandal hit in September," said Aaron Lewis, senior communication manager for Edmunds.com.
The auto industry has been rocked in recent months by revelations that Volkswagen cheated federal pollution standards by rigging cars to activate pollution-reducing software only during testing, and Mitsubishi falsified data on gas mileage test results.
Additionally, a massive recall of defective air bag inflators that were made by Japanese supplier Takata has recently been doubled to include approximately 35 million to 40 million more of the faulty parts, which has impacted about 17 brands. Honda, Fiat Chrysler and Toyota have had the most air bags recalled.
Volkswagen's market share has dropped since the scandal hit. In the first four months of 2015, VW captured 3.1 percent of U.S. market, according to Autodata Corp. That had dropped to 2.8 percent in the same period of 2016. Mitsubishi's share of the market stayed steady at 0.6 percent.
Ford and Fiat Chrysler picked up market share in the first four months of 2016: Ford had 15.6 percent of the market, compared to 15 percent during the same period a year ago. And Fiat Chrysler increased its share to 13.4 percent from 12.8 percent. GM's share fell to 16.9 percent from 17.6 percent.
Analysts said the numbers paint a picture of relatively stable sales in the U.S. auto industry, despite the rash of recalls and emissions problems that have cropped up among multiple brands. And Brenna Robinson, a spokeswoman for car-shopping website Kelley Blue Book, said Volkswagen's market share was declining even before its diesel scandal, in part because it lineup skews heavily toward cars at a time when the market is demanding SUVs and crossovers.
Edmunds.com's Lewis said the impact of the Takata scandal is still being sorted out since it was expanded so recently. In fact, Toyota appears to be gaining customer interest. "The only brand that sort of stands out to us is Toyota, which closed in on Ford as the No. 2 cross-shopped brand," he said.
Lateral moves
Researchers at Kelley Blue Book said they have mostly seen lateral moves between similar automakers like Mitsubishi and Nissan, based on their analysis of brand searches on their website.
Joanna Pinkham of Kelley Blue Book said the website has seen a jump in cross-shopping from Volkswagen toward Subaru (increased 17 percent from September 2015 through April) and Nissan (increased 15 percent from September through April). Those looking at Mitsubishis increasingly cross-shopped Nissan (up 14 percent from September through April).
"Looking at cross-shopping, we don't see any significant jump toward domestic brands by Volkswagen or Mitsubishi shoppers," Pinkham said. "Ford continues to be in the top five most cross-shopped brands, and Chevrolet remains in the top 10," Pinkham said.
"This is not surprising, as these two OEMs (Nissan and Subaru) have not been associated with Takata recalls like Toyota and Honda have," she concluded. "So for Volkswagen and Mitsubishi owners who are trading in, again, no significant jump toward the domestics."
Jim Gillette, an independent auto analyst based in Grand Rapids, said it would take persistent delays in repairs for Takata air bags for a pronounced change in the buying habits of U.S. drivers to take shape. "The buying public, for the most part, identifies more with particular brands than with foreign vs. American," he said.
"I don't believe the issue is one of purchasing 'foreign' vs. 'Detroit Three' brands. After all, Chrysler is now owned by Fiat, the Italian maker."
Gillette added, "Takata's air bag issue is different only in its magnitude. Certainly the General Motors ignition switch fiasco killed far more people than exploding air bag canisters and we have not seen any evidence that any consumers moved to other brands specifically for that reason, although quality problems over a period of decades took their toll on GM's brand loyalty."
Automakers who are marketing imports to U.S. customers have denied that the Takata air bag issue will reflect poorly on them.
"The premise that Takata air bag inflator recalls affecting nearly every brand in the industry would uniquely affect the reputation of any particular brand is simply not true," Honda U.S. spokesman Chris Martin said in an email.
"With over 22 automotive brands' vehicles included in Takata air bag inflator recalls, including each of the 'Big 3' U.S. domestic automakers along with Asian and European nameplates, we believe that consumers understand that it is an industry issue rather than a 'foreign autos' issue."
U.S. automakers, meanwhile, are also wary of taking a victory lap because of the air bag and emissions problems that have plagued their competitors based in other countries.
'Smart products' credited
"The growth at GM/Chevrolet stretches back to last April," said Jim Cain, a business spokesman for Chevrolet. "It has more to do with smart products we've made in the hottest segments like trucks and SUVs."
Cain said the Chevrolet Malibu sedan has gained "pretty significant market share" in recent months in markets along the East and West coasts. But "any impact of distressed competitors is probably at the margins," he said.
U.S. automakers have also had problems with regulatory violations in recent months. GM reported to the Environmental Protection Agency earlier this month that it discovered about 170,000 model-year 2016 SUVs were shipped with window stickers that overstated estimated fuel economy by 1 to 2 miles per gallon. The company will compensate 130,000 retail customers.

Ford increases Fusion Energi
hybrid range to 610 miles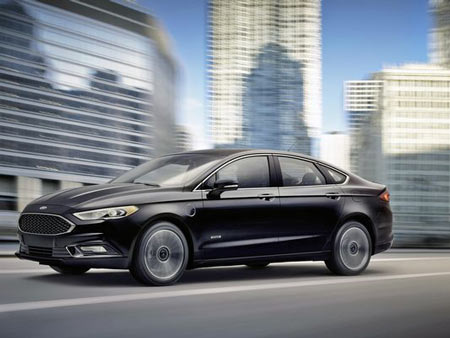 Michael Martinez,
The Detroit News
May 29, 2016
Ford Motor Co.'s updated Fusion Energi hybrid has a best-in-class range of 610 miles, a 60-mile improvement from the prior model, according to EPA estimates.
The plug-in sedan, on sale now, has an all-electric range of 21 miles, and gets an estimated 42 miles per gallon combined city and highway from its 14-gallon fuel tank.
While other plug-in hybrids have greater all-electric ranges, none top Fusion's combined range of 610 miles, Ford says.
"Fusion Energi — with a full battery and a full tank of gas — can go from San Diego, through Los Angeles and all the way up to San Francisco, and still have up to 110 miles of range remaining," Wade Jackson, marketing manager for Ford Fusion, said in a statement.
When driving with a full tank and full charge, the car starts out in all-electric mode for 21 miles. As the battery runs out, it will operate for about a mile using both battery and gas. After that, the gas engine kicks in for roughly 588 miles of range.
Ford engineers improved things like aerodynamics and brake drag, and added new engine oil all to help improve the efficiency.
The automaker cites a new study by Harris that shows a disconnect among plug-in hybrid owners. Only six people of 1,052 surveyed could guess the correct range of a plug-in hybrid, and 76 percent had "no idea at all" what the max range was.
Still, 40 percent said they were frustrated with their own vehicle's range and wanted more.
"Fusion Energi gives them both the freedom to go gas-free for shorter trips and the fuel efficiency of a gas engine for longer trips," Kevin Layden, Ford's director of electrified powertrain engineering, said in a statement.
The updated Fusion Energi plug-in starts at $31,120 and is one of six Ford electrified vehicles, including the Fusion hybrid, C-Max hybrid, C-Max Energi, Focus Electric and Lincoln MKZ hybrid. Ford is investing $4.5 billion to add 13 new electrified vehicles to its lineup by the end of the decade.

GM to move some truck
production to Flint from Mexico
Melissa Burden,
The Detroit News
May 27, 2016
General Motors Co. plans next year to move some light-duty pickup production to the Flint Assembly Plant from its plant in Silao, Mexico, according to a memo from UAW Local 598 to membership.
"Pulling this work out of Mexico satisfies our customers that want vehicles built in the United States and allows Silao, which is located on a shipping port, to increase volume of other models that are easily exported around the world," says a May 20 memo signed by UAW Local 598 shop chairman Eric Welter and UAW Local 598 President Ray Gorney.
The union said the additional work to meet customer demand will require Saturday schedules next year and could lead to adding part-time temporary workers for the plant.
The Flint truck plant employs about 2,800 workers on three shifts, including nearly 2,600 hourly workers.
A GM spokesman said the company is not confirming any production information or changes in the union memo. Officials from UAW Local 598 could not immediately be reached for comment.
The Flint plant builds heavy-duty versions of the Chevrolet Silverado and GMC Sierra and light-duty Silverado pickups.
With gas prices relatively low, demand for pickup trucks continues to grow. Through April, sales of the Chevrolet Silverado are up 3.6 percent this year, while GMC Sierra sales are up 13.3 percent.
In August, GM announced plans to invest $877 million for a new body shop and some general assembly area improvements at the Flint plant, GM's oldest North American assembly plant. The facility opened in 1947 and has produced more than 13 million vehicles. Construction on the 883,000-square-foot body shop started earlier this year and is expected to be finished in 2018. That work will retain jobs but creates no new jobs.
GM also builds Silverado and Sierra pickup trucks at the Fort Wayne Assembly Plant in Roanoke, Indiana.

Ford recalls 271K F-150s
to fix brake fluid leak
Associated Press
May 26, 2016
Detroit — Ford is recalling some of its top-selling vehicles in the U.S. to fix a fluid leak that can reduce braking power.
The recall covers about 271,000 F-150 pickups in North America from the 2013 and 2014 model years that have 3.5-liter V6 engines.
Ford says brake fluid can leak from the master cylinder. That could reduce the ability of the front brakes to stop the trucks.
The company reports nine alleged crashes with no injuries, but one person said they suffered a knee injury while applying the brakes.
Dealers will replace the brake master cylinder for free. They'll also replace the brake booster if they find leaks from the master cylinder. Ford says it's working with suppliers to get parts to dealers and will begin notifying customers the week of July 11.
Ford says the problem is not related to an investigation by federal safety regulators into power brake assist failures in F-150 pickups. That probe by the National Highway Traffic Safety Administration into electric vacuum pump failures was closed earlier this month after Ford extended warranties and the agency determined that the trucks could still be stopped by drivers.

Mustang, Camaro outpace
Challenger in crash tests
Michael Wayland,
The Detroit News
May 25, 2016
American muscle cars are known for style, handling and performance. But what about safety?
According to the Insurance Institute for Highway Safety, the Ford Mustang tops the list, a nose in front of the Chevrolet Camaro and a few lengths ahead of the Dodge Challenger.
Unlike more sedate sedans, none of the 2016 muscle icons earned scores needed to clinch a Top Safety Pick award from the U.S. nonprofit auto insurer organization.
The Mustang earned the highest rankings in four of the five tests on the muscle cars — one "good" rating away from earning the honor. The Camaro did well on the difficult small overlap test but had a lower rating for roof strength. The Challenger had lower ratings for roof strength, seat and headrest strength and the small overlap test.
"Given that sports cars have high crash rates, it's especially important that they offer the best occupant protection possible in a crash," said IIHS President Adrian Lund in a release announcing the results on Tuesday.
IIHS doesn't typically crash-test sports cars as they make up a small share of the consumer market. However, engineers decided to evaluate the models with optional V-8 engines because they are big sellers in their class, and consumers often ask how they would perform in crash tests.
The Camaro, Challenger and Mustang earn good ratings for occupant protection in a moderate overlap front crash, as well as a side impact but stall out in other categories.
In the newest and toughest IIHS crash-worthiness evaluation, the small overlap front test, the Camaro earns a good rating, the Mustang earns acceptable, and the Challenger is rated marginal.
"The Camaro's safety cage is built to resist intrusion in a small overlap crash, and that's good news for Camaro drivers," Lund said.
The small overlap test — added in 2012 — replicates what happens when a vehicle runs off the road and hits a tree or pole or clips another vehicle that has crossed the center line. In the test, 25 percent of the total width of the vehicle strikes the 5-foot-tall rigid barrier on the driver side at 40 miles per hour.
Fiat Chrysler Automobiles NV, in a statement, said no single test determines overall vehicle safety, and the Challenger meets or exceeds all government safety regulations.
"FCA US urges all motorists to follow all applicable traffic laws and maintain control of their vehicles accordingly," the company said.
The Challenger is the oldest car of the three models. It has been on the same platform since the car was resurrected for the 2008 model year. The Mustang was fully redesigned for the 2015 model year, followed by a new-generation Camaro for the 2016 model year.
Bill Ford defends carmaker
against Trump attacks
Michael Martinez,
The Detroit News
May 24, 2016
In a presidential campaign that's seen Ford Motor Co. singled out for moving some production to Mexico, Executive Chairman Bill Ford Jr. defended the automaker, saying it should be held up as an example of a company that's doing things right.
"In my mind, Ford ought to be the company that's being held up as a real success story," Ford told reporters after a speech Monday at an entrepreneurs' conference in Detroit. "We didn't take the bailout, we paid back our debts, we pulled ourselves up by our bootstraps. We're investing in America. We're exporting out of America. And so, I think we have a great story to tell."
Ford Motor Co. has been the target of repeated attacks by presumptive Republican presidential nominee Donald Trump. The New York businessman on April 5 called Ford's decision to build a $1.6 billion assembly plant in Mexico an "absolute disgrace" that would not happen if he becomes president.
Trump has said he would call the automaker on his first day in office and demand it build all vehicles in America or face a 35 percent import tariff on any Mexican-built cars it tries to sell stateside. Any proposed tariff penalty would need the approval of Congress.
The Trump attacks have drawn passionate reactions from Ford's top executives, who have reiterated how the company last year built 80 percent of its North American vehicles in the United States — and built more cars and trucks here than any other automaker.
Bill Ford's defense came the same day that Democratic presidential front-runner Hillary Clinton told the Service Employees International Union's convention in Detroit that Trump's economic policies would start "trade wars" and lead to a stock market crash. A Trump spokeswoman did not immediately respond to a request for reaction to Ford's comments.
During the last five years, Ford has invested $12 billion in the United States and has created 28,000 jobs. In its new contract with the United Auto Workers union, the automaker committed to investing an additional $9 billion in the country through 2019.
But the developments didn't stop Trump from singling out Ford for months on the campaign trail, after the automaker announced last year it would invest $2.5 billion in engine and transmission plants in Mexico.
In March 4 speeches in Warren and Cadillac, Trump hammered "stupid" trade policies that he said have led companies to ship jobs overseas. The country's best business people should be negotiating those deals, the real-estate mogul said, not "political hacks."
Bill Ford defended the North American Free Trade Agreement that covers the United States, Canada and Mexico, arguing it has allowed Ford to "build our business on both sides of the border."
"Our U.S. manufacturing business has grown, and our Mexican manufacturing business has grown," he said. "We think it has been a good deal."
Executives also have defended the Mexican plant and U.S. policies by saying it's about increasing the profitability of its small cars in a country with cheaper production costs than in the United States.
Ford's chairman, who said Monday the nation's political discourse has "reached a new low," said he doesn't think the negative attention has hurt his company's image.
"Look, we're about as American as you can get," he said. "And I think people know that."

Will your next pickup
have a unibody?
Henry Payne,
The Detroit News
May 23, 2016
Once upon a time, midsize sport utility vehicles like the Ford Explorer meant truck-like, body-on-rail construction. Not anymore. Today, there isn't a truck-based midsize ute to be found as SUVs dominate vehicle sales and consumers demand the same ride quality as the sedans they replaced.
Will midsize pickups follow suit?
The unibody 2017 Honda Ridgeline, now in its second generation, has reignited speculation among manufacturers and industry analysts that the next generation of midsize pickups won't be based on traditional truck platforms, but on car-like unibodies like their SUV siblings.
"It'll be a long trend, but it wouldn't surprise me to see competitors with unibodies," says James Jenkins, ex-Honda product planning manager and new Honda public relations chief. "Ten years ago, the Honda Pilot and Toyota Highlander were the only SUV unibodies, and now you can't find a body-on-frame in that segment. The benefits of unibody far exceed body-on-frame for midsize pickups, too."
Kelley Blue Book analyst Karl Brauer agrees.
"You once needed body-on-frame to get the stiffness you needed in a truck," he says. "You now have the engineering and CAD/CAM (computer) capability to create a very stiff unibody that's as capable as any body-on-frame. Yet it's lighter and has better ride quality."
The Ridgeline debuted to rave media tester reviews in San Antonio last week as it demonstrated best-in-class ride, cabin room, quietness and V-6 fuel efficiency while holding its own against class leaders Toyota Tacoma, Chevy Colorado and GMC Canyon in off-road ruggedness and towing capability.
But, industry insiders caution, it's too soon to write off the body-on-frame truck. Its inherent benefits mean the unibody won't be the slam dunk it was in SUVs.
Not coincidentally, Ridgeline is based on the Honda Pilot, which revolutionized three-row family SUVs in 2003. While the "original SUV" 1984 Jeep Cherokee wowed customers with its unibody chassis, most manufacturers used existing truck platforms as the backbone for popular SUVs like the Explorer, Ford Blazer and Toyota 4Runner.
"A unibody pickup was born out of necessity for Honda," says IHS Senior Analyst Stephanie Brinley, because Honda did not have a truck division. To meet growing sport ute demand, the Japanese company turned to the car-like technology it knew best.
By 2011 even the best-selling Explorer was forced to follow suit as customers flocked to the more spacious, smoother-riding unibody competitors.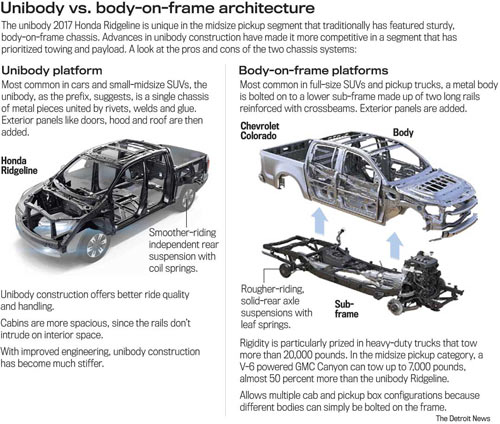 Toyota and Detroit's Big Three would not comment on whether they are developing unibody pickups, though GMC showed a Denali XT hybrid concept truck with unibody architecture at the Chicago auto show in 2008.
Brauer and other analysts say that the towing demands of the full-size truck market mean that Ford F-150s and Chevy Silverados will be body-on-frame for the foreseeable future. Yet, the capabilities of these rugged big trucks will make it hard to convince customers that smaller trucks can get the job done on a unibody chassis.
"Die-hard truck guys will say it isn't a truck unless it's body-on-frame," says Jason Gonderman, editor-in-chief of Truck Trend magazine. Indeed, the first Ridgeline, introduced in 2006, was met with lukewarm sales.
"You have to change consumer perception that a truck that rides as good (as the Ridgeline) on the road is as capable in other things," says Brauer. "Ninety-five percent of truck buyers will never come up with a situation that this truck can't handle better. And when you're not doing trucky stuff, this vehicle is far better."
Yet even as it shows unibody promise, the new Ridgeline shows its limitations. Unlike its competitors, which can adapt body-on-frame to different cab and pickup box configurations, the Ridgeline will be offered only in a crew cab with a 5-foot box beginning at $27,000. In so doing it concedes 30 percent of the midsize pickup to the smaller, cheaper, "extended cab" offerings from GM and Toyota that start at $20,000.
"The retooling for a unibody is just too expensive to offer different cab alternatives," says Honda's Jim Loftus, Ridgeline performance manager.
Nevertheless, Honda is bullish on a segment it sees as part of the broader U.S. market transformation to SUVs.
"The truck segment is up to 60 percent of sales — mostly driven by crossovers," says Honda's Jenkins. "Midsize pickup demand is up to 350,000 in unit sales, and I see it growing. People look in their garage and say, 'I don't need a big pickup truck.' "
Who will be next to go unibody?
Analysts agree that a midsize unibody truck makes the most economic sense for GM — once its generation of Colorados and Canyons cycles out — because the company already makes so many SUVs on its midsize, Lambda and C1XX unibody platform.
But KBB's Brauer thinks a Fiat Chrysler brand will be the first to jump, given its history of innovation — like Ram's first-in-class coil-spring 1500 pickup. "I think we might have a unibody Jeep Comanche," he says. "If you give (FCA's Sergio) Marchionne a good business case, he'll take it."
"Hyundai really wants to get into this segment," says IHS Automotive's Brinley of another Asian manufacturer that does only unibody construction. "The Hyundai Santa Cruz concept [a pickup] is out there. Hyundai may be next."
The answer is not whether, but when. "There is potential there. Trucks don't need to be body-on-frame," says Brinley. "You don't get as beat up with the unibody. There's space for both."
Al Varey passes away
on Friday May 20, 2016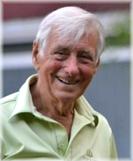 Retired Dec 1, 1993
We have just learned the sad news that one
of our Retirees, Al Varey has passed away.
Our Deepest condolences go out to
his wife Eileen and family.
Here are the Funeral details:
When : Wednesday, May 25th, 2016, 2:00pm - 4:00pm
Location: Carruthers & Davidson Funeral Home - Wasaga Beach Chapel
Address: 509 River Road West
Wasaga Beach, ON
L9Z 2X2
For Map click here
VAREY, R. Alan - Passed away peacefully on Friday May 20, 2016 with family by his side at Campbell House Hospice, Collingwood at the age of 87. Alan of Wasaga Beach.
Beloved husband of Eileen.
Loving father of Trevor Varey and his wife Julie and Shannon and her husband Chris Smith. Cherished grandfather of Brandon and Brittany and great-grandfather of Braxton.
Brother of George Varey and the late James Varey.
A Celebration of Alan's Life will be held at Carruthers & Davidson Funeral Home, Wasaga Beach on Wednesday May 25th from 2-4 p.m. with Words of Remembrance at 3 p.m.
If desired, in lieu of flowers, donations to Hospice Georgian Triangle for Campbell House Hospice would be appreciated by Alan's family.
Carruthers & Davidson Funeral Home, Wasaga Beach on Wednesday May 25th from 2-4 p.m. with Words of Remembrance at 3 p.m.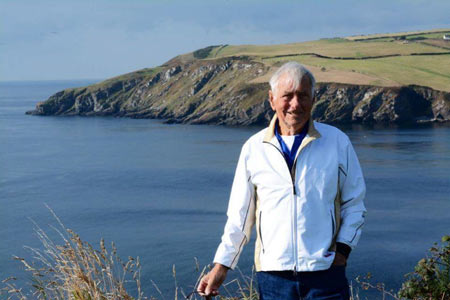 Inside Mexico's 'ghost' unions
It's one of the cheapest places in the world to make things. But Mexican factory workers labour for long hours and little pay — and have nowhere to turn for help — as they churn out billions of dollars in goods for Canadians.
By Sara Mojtehedzadeh
Work and Wealth reporter
Toronto Star
May 22, 2016
TIJUANA, MEXICO—Margarita Avalos wasn't even aware she had a union — until she and her fellow factory workers asked for the pay they were owed.
Suddenly, she says, a union appeared. And they proposed a solution: lock the troublemaking employees in a room without food or water until they agreed to take three months' unpaid leave.
Last year, men and women like Avalos churned out billions of dollars worth of goods shipped to Canada, with almost 80 per cent destined for Ontario — a trade relationship that has ballooned by more than 700 per cent since the North American Free Trade Agreement was implemented in 1994.
That agreement pledges to "enhance and enforce basic workers' rights." And on paper, Mexican workers are beneficiaries of some of the continent's strongest labour laws. In the gritty border city of Tijuana, most belong to a union.
They just don't know it.
These are Mexico's "ghost" unions, organizations that live in the shadows of Mexican industry. Their purpose, critics say, is not to fight for fair pay or enforce labour standards, but ensure they are ignored.
Like many, Avalos moved to Tijuana at 18 from central Mexico. The factories along the jagged, corrugated wall separating the city from its northern neighbour offered the promise of a better life for those with little education and few options.
Avalos says she often worked back-to-back eight-hour shifts to meet production quotas at a foreign-owned clothing factory. The wages, she says, barely made ends meet. The chemicals from the dyes, she says, made her skin peel and her nails turn black.
To stay awake and dull the pain of grinding manual labour, she says she and her colleagues mixed coffee grounds and aspirin into bottles of Coke.
"That was when I asked myself whether the factory was the beautiful place I thought it was," she said.
As Mexico's population has surged, so too has the country's poverty. There are an estimated 14.3 million more Mexicans living in poverty than when NAFTA was first signed. It is now the most unequal country in the OECD, a grouping of 34 relatively high-income democracies.
As Ontario's manufacturing sector struggles, Mexico's is booming. It has become one of the cheapest places on the planet to make things — even cheaper than China, according to a 2013 Bank of America study. The country's so-called maquiladora program, which thrives along the U.S.-Mexico border, lures foreign companies with the promise of duty-free manufacturing.
In many of those factories — producing everything from Barbies to big-screen TVs — the organizations meant to protect workers are little more than phantoms.
"The only time (the unions) appear is when the workers want to organize themselves," said Avalos, 34, who now leads the Tijuana-based independent workers' rights group Ollin Calli — a role she says has led to multiple threats, including being physically attacked by an unknown assailant.
Lynn DeWeese-Parkinson, a former lawyer for the American Indian Movement who now works with Ollin Calli, says the first thing foreign companies do when relocating to Mexico is find a union and "hire a lawyer to be the president."
Since unions are very difficult to displace under Mexican labour law, DeWeese-Parkinson says signing up a "ghost" union essentially serves as a protection contract for factories — ensuring that workers will never be able to independently organize.
Last month, Hassan Yussuff, head of the Canadian Labour Congress, penned a letter to the world's largest trade union confederation, the International Trade Union Confederation, expressing "deep concerns" about the practice and its devastating impact on ordinary workers in Mexico.
"(Foreign companies) are there because there's a competitive advantage," he added in an interview with the Star. "This is unfair for Canadian workers who saw the loss of jobs — only to realize that this advantage comes because the Mexican government is in collusion with employers and unions to ensure the practice of protective contracts."
From a sparse, dimly lit Tijuana office, the head of the Mexican Workers Federation of Industrial Unions, José de Jesus Pantoja, told the Star his organization is "invited" to represent factory workers by foreign companies' corporate executives.
"Mexican workers don't have the capacity to elect good leaders," he said.
"If we left (union organizing) open, it would attract people who aren't recommended, and who aren't trustworthy. It's a risk for the factory," he added.
Businessman Gabriel Merino describes this as a "very good relationship."
"I have never yet as a manager of a factory had any strike in my plant," he said. "We like the unions."
Tijuana's industrial district is perched on top of a scrubby hill, overlooking the city's working-class neighbourhoods. While some factories are immaculately neat, boasting manicured gardens, others are austere and drab. On lunch break, workers often slip out to the edge of the slope, where a vast concrete soccer pitch encases 21,000 tonnes of contaminated waste left behind by a now-defunct battery recycling facility.
This city alone is home to about 600 maquiladoras, or foreign-owned plants that are exempt from paying duties or tariffs on machinery, equipment and materials. If you have a TV, there is a good chance it was Tijuana-made, since companies like Samsung and Panasonic run major operations here.
Tijuana boasts of a "5:1" ratio: five Mexican workers for the price of every American one. Its business community says wages are fair and come with benefits, and that "friendly" labour relations are an attractive feature of setting up here.
"Low wages is compared to the U.S. only," said Luis M. Hernandez, president of Index Tijuana, which represents the maquiladora sector. "Because if you compare China and Mexico, pretty much that is the standard."
It is extremely difficult to independently verify working conditions inside Tijuana's maquiladoras, which are protected by private security companies and often sit behind high fences fringed with barbed wire.

After several attempts, the Star gained access to one maquiladora on the pretence of looking for a job, slipping in through an unmarked door that did not name the company. The warehouse, where workers were slicing plywood, was hot and airless even on a cool, wet day. Workers wore cheap earphones to protect against the grating rasp of electric saws. The wages on offer were between 1,000 to 1,200 pesos for a 48-hour week — less than $2 an hour.

In a country with a daily minimum wage of 73 pesos, or about $5, that rate is still far more lucrative than many alternatives. But even with a weekly salary of 1,250 pesos, Alejandra Bartolomé, 26, cannot afford more than the home she and her family illegally cobbled together on the side of a four-lane Tijuana highway — part of an informal settlement where old garage doors and factory refuse substitute for bricks and mortar.
Bartolomé, who puts together sprinklers for export, says her wages are mostly eaten up by food and transport.
"I've worked in maquilas that are unbearably hot, or get freezing cold. They really pressure you. This one is a lot better because, compared to the other ones, they don't treat you in an ugly way and scream at you."
Pantoja says 95 per cent of Tijuana's maquiladoras are unionized and that his organization supports workers while maintaining a "good image" with government and foreign companies. The Star interviewed five workers currently employed by maquiladoras. None of them, including Bartolomé, had ever heard of a union. One said she made as little as $1.25 an hour.
Without genuine union protection, critics say, workers are almost completely disenfranchised. In total, there have been 17 complaints of large-scale Mexican labour violations made under NAFTA; three are currently under review, but the body set up under the agreement to oversee labour standards has not issued a ruling for over 10 years.
"There has yet to be a single sanction imposed on Mexico," Yussuff said. "The new (Trudeau) government certainly has the ability to start raising some effort on Mexico to say, 'This is beyond the pale now.'"
In the meantime, the lack of basic workers' rights in maquiladoras is Mexico's yawning inequality, according to Marlene Solis, a professor at Tijuana's Colegio de la Frontera Norte.
"I think there is a lot of violence — economic violence. When you have to fight day to day to feed your family, there is very little space to learn how to fight for your rights," she said.
"It's a problem of exercising your human rights. Workers don't have that. The promise of progress is not working here in Mexico."
"The factories say if they go, we'll have nothing to eat, so we should be grateful," Avalos added. "I'm not against factories. I'm in favour of dignified conditions."


UAW presidential endorsement
'soon' – won't be Trump
Michael Wayland,
The Detroit News
May 20, 2016
United Auto Workers President Dennis Williams says the union will "soon" endorse a presidential candidate, and it will not be Republican candidate Donald Trump.
"I'm going to 'Make America Great,' what does that mean?" Williams told news media Thursday in Detroit, referring to Trump's campaign slogan. "He has avoided talking about the details. That concerns me."
Williams, citing an August 2015 article from The Detroit News, said Trump "called his own destiny with us" by suggesting one way to stop automakers' expansion to Mexico is by moving some production out of Michigan to lower-wage states.
The union, he said, has completed surveying its members regarding the presidential election, with union leadership "at the point now that decisions are being made" on to whether to endorse Democratic frontrunner Hillary Clinton or Bernie Sanders.
Although not as influential as it once was at its peak of 1.5 million in 1979, the UAW has membership and retirees of more than 1 million, including about 412,000 active workers. It's not unprecedented for the UAW and other to hold off on endorsements during the primary season.
Williams said about 28 percent of members who participated in the union's surveys voted for Trump, adding he doesn't believe that percentage has grown. He declined to disclose the percentages for other candidates.
UAW Vice President Cindy Estrada has openly supported Sanders. Williams said he is not concerned that leaders such as Estrada have supported a candidate, citing that in 2008 he was one of the only union supporters of Barack Obama.
The North American Free Trade Agreement, which was ushered in under Clinton's husband, former President Bill Clinton, is not a factor in Williams' endorsement decision.
"I don't blame Hillary Clinton for that," he said, adding she has a track record of voting against trade agreements. "Does it raise my eyebrows? Of course ... I don't want to tag her guilt by association, and I also don't want to minimize the economic return that Bill Clinton delivered at the time either. He made a bad mistake with NAFTA."
The union adamantly opposes the 1994 trade agreement, which the union is dealing with the repercussions of right now, as automakers and companies invest billions in Mexico for low-income labor.
Williams reiterated in opening remarks that union leaders "did not negotiate jobs going to Mexico" as part of contentious contract negotiations last year with General Motors Co., Ford Motor Co. and Fiat Chrysler Automobiles NV — all of which have announced significant investments recently south of the border and are "taking advantage" of "slave labor," he said.
"The fact is we spent a great deal of time talking about investment in the plants that we have — investments not only in current products but next-generation products," he said. "That's what we do: We look at job security in multiple factors."
Part of those future production plans include a sweeping change to Fiat Chrysler's manufacturing footprint, as it shuffles products to focus on producing pickups, sport utility vehicles and crossovers — and ditches production of its American-made Chrysler 200 and Dodge Dart sedans in coming years.
During contract negotiations, Williams said union leaders informed workers at the Warren Assembly Plant that the Ram 1500 pickup was expected to be moved up the road to Sterling Heights Assembly, which produces the 200 midsize sedan.
Williams said UAW Vice President Norwood Jewell, head of union's Chrysler Department, is in discussions with the company on how to avoid unemployment benefits running out for workers in Sterling Heights. The plant has been down nearly every week since January due to stalling sales, and faces a "less than two year" production changeover, according to Fiat Chrysler CEO Sergio Marchionne.
"The last conversation I had regarding anything like that, that we felt comfortable that wasn't going to happen," he said, adding he meets regularly with Jewell.
Jodi Tinson, a Fiat Chrysler spokeswoman, confirmed the company has "had some discussions with the UAW regarding SHAP employees." She declined to comment on the nature of those discussions.
Overall, Williams said the union has been growing consistently for five years, and it remains on track to meet financial and other targets outlined by leaders at its annual convention.
He said the UAW is "very interested" in Palo Alto, California-based electric car manufacturer Tesla Motors Inc., whose workforce is not unionized. "They're in a very large plant, we know that plant well," Williams said. "So they have very low volume with a lot of space, but we are watching that. That is still of interest to us.
"I think (Tesla CEO Elon) Musk is a very unique individual."
Williams, as treasurer of the union five years ago, said he and other union officials met with Musk twice in California. He said every time he has a discussion he talks about organizing but declined to give specifics of the conversations.
"We're not approaching any of this in an adversarial way," he said. "When looking at this from Tesla was a startup company, we had a great conversation with Elon Musk and a couple other people ... maybe we will revisit that."
Tesla's 5.3 million-square-foot facility in Fremont, California, is the only U.S. assembly plant owned by an American automaker to not be represented by a union. At the end of last year, Tesla employed more than 13,000 people globally. A breakout of production workers was not available.
Tesla on Thursday declined to comment on Williams' remarks.

Ford Escape gets major
makeover for 2017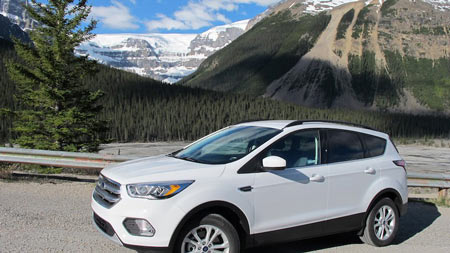 SUV/CUVs now make up one third of vehicle sales in Canada
and the U.S., which Ford expects to grow to 40 per cent by 2020
Wheels.ca
May 19, 2016
Jim Robinson
In the high stakes Canadian compact crossover arena, no detail can be overlooked and that certainly applies to the 2017 Ford Escape.
SUV/CUVs now make up one third of vehicle sales in Canada and the U.S., which Ford expects to grow to 40 per cent by 2020. Last year, sales in the U.S. topped five million, and in Canada, more than 700,000.
So for the 2017 model, Ford made sure not to change what makes Escape so popular, but to improve it inside and out.
There are three trim levels starting with the base S with a 2.5-litre inline four-cylinder producing 168 hp and 170 lb/ft of torque driving the front wheels through a six-speed automatic transmission. Fuel rating is 11.1/8.1L/100 km city/highway.
There are two new EcoBoost engines available for the mid-trim SE and toptrim Titanium. Standard on the SE and Titanium is stop/start technology, which Ford says improves fuel economy by 4-6 per cent in stop-and-go traffic.
The 1.5-litre EcoBoost direct injection engine produces 179 hp and 177 lb/ft of torque, while the 2.0-litre EcoBoost direct injection unit makes 245 hp and 275 lb/ft of torque both with a six-speed automatic transmission and paddle shifters.
Front-wheel-drive is standard on the SE and Titanium with all-wheel-drive available.
Fuel consumption on the 1.5-litre (FWD/AWD) is 10.2/7.9L/100 km and 10.7/8.3L/100 km respectively city/highway. With the 2.0-litre it is 10.6/8.0L/100 km and 11.5/8.7L/100 km respectively. When properly equipped, towing for the 2.5/1.5/2.0-litre engines is 1,500/2,000/3,500 lb respectively.
Cargo volume is 34.0 cu ft behind the second row seat and 68 cu ft behind the front seats.
Ford revamped the 2017 Escape's appearance inside and out with the focus on ergonomics, with the shifter moved back to improve access to the climate controls with an added storage bin with a lighted USB port for charging cellphones.
The centre console gets cupholders designed for all kinds of containers, bins in front and behind the cupholders, added storage, "swing-bin" glove box and an all-new steering wheel and easy-to-work buttons to control audio, adaptive cruise control and SYNC 3 voice command systems.
The exterior features a redesigned hood and raised trapezoidal grille with low-beam projector headlights.
New for 2017 is the Sport Appearance Package, available on the SE and Titanium with 19-inch Ebony Black painted aluminum wheels, liberal use of exterior black trim pieces on the outside and partial leather trimmed sports seats with contrasting stitching, leather shift knob and steering wheel.
The Escape now has Ford SYNC 3 that is a major improvement over the previous system and allows interaction by voice control or tapping on the upper centre stack screen.
Believe it or not, you can ask it for restaurant suggestions by simply saying, "I'm hungry."
It also offers music search and control, voice recognition and SIRI seamless integration.
An interesting feature when using a cellphone is a "Do Not Disturb" feature that blocks incoming calls, but still allows the driver to make voice-activated outgoing calls. Incoming calls are changed into text messages on the cellphone where they are stored to be read at a later date.
There were no 2.0-litre models available, but a mix of SE and Titaniums including some Sport models.
I drove a SE Sport up to Jasper with the 1.5-litre engine and found it a very tightly put together package that tracked exactly where pointed with spunky acceleration and seamless shifting.
During the drive, the Ford spokesman I was with explained SYNC in detail including pairing his cellphone, which we used as our navigation system on the centre screen.
On the way back, I had a base SE, which did not have the leather trim of the Sport Package, but was the same in every other way.
Gotta tell you we had a great time seeing at least two very large bears along the roadside and even two shaggy looking mountain goats just standing in the centre of the road being nonplussed as we crept by within an arm's length.
One of the features on the Escape is called Driver Alert that uses the available lane keeping system and senses when the vehicle is veering and provides a warning in the instrument cluster and vibrates the steering wheel.
Escape also offers Adaptive Cruise Control that uses sensors to spot a slow moving or stopped vehicle ahead and automatically starts braking.
The Escape has all the qualities that are attracting buyers to crossovers, compacts in particular.
And now with smaller, frugal but powerful new engines, the Escape has more to offer than ever.

Ford Escape 2017 at a glance
BODY STYLE: Compact five-seat crossover
DRIVE METHOD: Front-engine, front- or all-wheel-drive with six-speed automatic transmission. No manual available
ENGINE: 2.5-litre inline four cylinder (168 hp, 170 lb/ft); 1.5-litre direct injection twin-turbo four-cylinder (179 hp, 177 lb/ft); 2.0-litre direct injection twin turbo (245 hp, 275 lb/ft)
CARGO VOLUME: 34.0 cu ft behind the second row, 68 cu ft behind front seats
TOW RATING: (Properly equipped) 2.5-litre, 1,500 lb; 1.5-litre, 2,000 lb; 2.0-litre, 3,500 lb respectively
FUEL ECONOMY: (Regular) 2.5-litre, 11.1/8.1L/100 km city/highway; 1.5-litre (FWD/AWD) 10.2/7.9L/100 km and 10.7/8.3L/100 km respectively; 2.0-litre, 10.6/8.0L/100 km and 11.5/8.7L/100 km respectively.
PRICE: (Starting) S FWD, $25,099; SE FWD, $27,599; SE AWD, $29,799; Titanium FWD, 33,799; Titanium AWD $35,999; shipping fee, $1,690


Unifor's Wind Turbine:
Grandfathering Harmful Noise

Karen Hunter
The Blog
May 18, 2016
Unifor, Canada's largest private-sector union (formerly the CAW) owns and operates a wind turbine that generates revenue for the union through taxpayer subsidies. Plagued from its beginning by controversy and compliance issues, Unifor's turbine continues to operate in defiance of mandatory noise audits and despite hundreds of noise complaints from families forced to live near it.
Unifor's turbine is not only contentious, it should be illegal by today's standards due to legislation that came into effect May 1st. But, it's not the first time the turbine has had this problem. And, the union has always managed to solve it -- with a little help from its friends in the Ministry of the Environment (MOE).
Unifor's wind turbine is a square peg the union forced into a round hole. Located at their Family Education Centre (FEC) in the tourist community of Port Elgin on Lake Huron, the turbine sits in a sports field adjacent to the facility's parking lot. The 35-storey, 800kw turbine towers over a neighbourhood of about 200 homes with some as close as 210 m.
The union chose the FEC location over a remote plot of 128 acres of undeveloped land it owned about a mile away because, President Ken Lewenza said (in the Shoreline Beacon, Dec.20/11), the undeveloped land was "economically or environmentally unfeasible." No sooner was the turbine built, the union subdivided the undeveloped land into building lots and sold them for substantial profit.
The union's decision to locate its turbine in a densely populated neighbourhood posed many legislative hurdles. But, none the union hasn't been able to handle -- at least, so far.
In 2005, when Town Council objected to the turbine's location, the union took the case to the provincial municipal board (OMB) and got the rejection overturned.
When noise modeling analysis showed that the turbine's noise would exceed provincial standards for a rural community (making it illegal), the union and the MOE agreed to classify the rural neighbourhood as semi-urban to accommodate the increased noise. The turbine's noise problem was solved. But, not for long.
Soon after, the MOE issued new legislation focused on health and safety, requiring turbines of its height and power to be located a minimum of 550 m from homes. Again, the not-yet-built turbine would be illegal. However, the MOE agreed to grandfather the union's turbine approval certificate, exempting the turbine from the mandatory 550 m setback. The union had dodged another bullet. But, the turbine wasn't yet in the clear.
New noise assessments on the turbine (due to the union's decision to upgrade it to 800kw) showed it would again exceed provincial noise standards. Once more, it was illegal. This time, the union said it would run the turbine at less than full power to reduce noise despite a reduction in revenue. Under this special agreement with the MOE, the union was given full authority to manage both the turbine's operating power and its noise level policing. In return, the MOE required noise audits to be conducted by the union within the first two years of operation to ensure compliance with provincial standards.
What's more, under this unique "depowering" arrangement, the union now qualified for a "zero setback from homes" classification. And, as a bonus, the power reduction expedited the turbine's connection to the grid. Not only was the turbine legal again, it was a win-win-win for the union.
As construction began, a proud Ken Lewenza stated (in the Shoreline Beacon, Dec.20/11), the "turbine meets all provincial health and safety requirements...Our windmill project is in full compliance with provincial standards."
Fast-forward to 2016 and the turbine's fourth year of operation. Hundreds of community noise complaints have been filed. The turbine's mandatory noise audits have not been completed. An on-line petition calls for provincial government action. And, now legislation (eliminating zero setback and requiring 550m for turbines of this size and power) should make Unifor's turbine once again illegal by current provincial standards.
But, the union's been down this road before and knows how to solve these problems. The provincial government has been there too and knows how to help. Grandfathering Unifor's turbine may again be their solution. But, in doing so, Unifor and the MOE are also grandfathering harm on the families forced to live near it.


McConaughey silently pitches
'17 Lincoln MKZ in new ads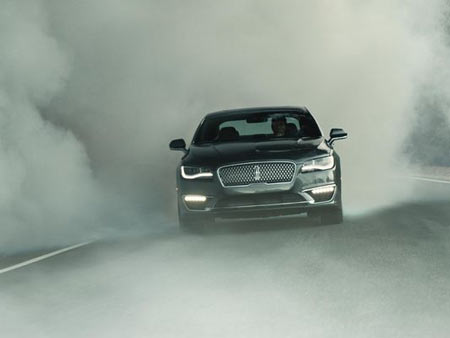 Michael Wayland,
The Detroit News
May 17, 2016
What's it like to drive a 2017 Lincoln MKZ?
According to actor and Lincoln brand rep Matthew McConaughey, it's like a hot shave from a barber with a straight razor; listening to a jazz ensemble; and jumping into a pool at midnight with your tailor-made suit on.
Those are the scenarios the Academy Award-winning actor finds himself in for Lincoln's new ad campaign for the luxury midsize sedan. The ads will begin airing Monday on prime-time hits such as "Dancing With the Stars," "Castle" and "The Voice."
The 30-second spots — "Shave," "Ensemble" and "Midnight" — debut the "It's like that" tagline as well as "The exhilarating new Lincoln MKZ." Both are featured at the end of each ad.
All three of the ads feature McConaughey spliced with shots of the vehicle, as each situation reminds him of driving the MKZ, which is arriving in dealerships. McConaughey appears in the ads but doesn't say a word — a tactic from ads last year for the Lincoln MKX crossover.
Jon Pearce, chief creative officer of Hudson Rouge, Lincoln's agency of record that created the ads, said each is meant to convey or express the " 'It's like that' moment" of exhilaration, precision and performance.
In "Shave," a barber ends the shave with a steaming hot towel before the screen cuts to an MKZ driving through the fog on a winding road. Every action is spliced with McConaughey driving the car.
The same style of ad is used in "Midnight," as McConaughey leaps backward into a pool. The moment he hits the water, we see the new 2017 Lincoln MKZ accelerating out of a dark tunnel and into a rainy night.
"Ensemble" strays from the feeling of the other two ads, as it starts with a jazz ensemble playing a cover of "Midnight Rider." The camera slowly zooms out and the viewers see the performance through the grille of the MKZ, before McConaughey driving the car as the music continues.
The newest spots mark the fifth series of Lincoln ads since 2014, when McConaughey signed a two-year deal with the Ford Motor Co. luxury brand to promote Lincoln. His quirky commercials have generated buzz and elicited parodies from late-night television shows.
Lincoln sales this year are up 17.1 percent through April to nearly 35,000 vehicles sold in the United States.
McConaughey also helped the brand unveil a concept of the Lincoln Navigator SUV Concept with gull-wing doors earlier this year at the New York International Auto Show.
The new Mustang is the ultimate muscle car – four decades too late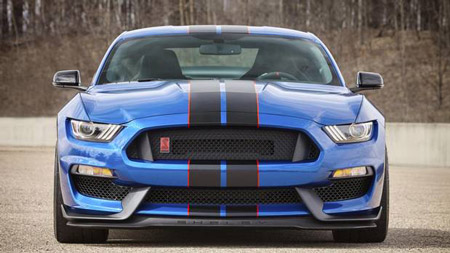 PETER CHENEY
The Globe and Mail
May 16, 2016
The Ford Shelby GT350 Mustang is not a subtle machine. It storms into your driveway like a V8-powered hallucination: carbon air splitters, racing stripes, and the most aggressive engine sound this side of an Indy 500 qualifying lap. Some cars occupy an indeterminate place on the great psycho-social scale. Not the Shelby. If it were a character on Game of Thrones, the Shelby would be Khal Drogo, the slab-chested, death-dealing horse lord who leads the Dothraki tribe into battle. Yes, the Shelby is the alpha male of the automotive world, an iron-pumping presence, throbbing with power.

As I studied the Shelby, I realized that it was an infinitely improved version of the cars I sketched in my math notebook back in 1969. In those days, the ultimate Mustangs were Shelby specials and the Boss 302, a machine that galloped through the imagination of young men like myself. One of my friends' older brothers quit high school so he could make the payments on a new Boss. He ruined his life, but when he rolled up in that electric-blue Ford and blipped the throttle, the rest of us were ready to quit school, too.
Although it impressed us at the time, the 1969 Boss loses out in any technical comparison with the 2016 Shelby GT350. The 1969 car had about 300 horsepower, a solid rear axle and an 8-track cassette player. The 2016 model has independent rear suspension, Bluetooth and 526 horsepower. The old Boss sounded great, but this new Shelby puts it to shame: No V-8 has ever sounded as ferocious as Ford's new 5.2-litre "Voodoo" motor. This is because it has a flat-plane crankshaft (if you're an engineer you'll know what this is; if not, you just need to know that Ferrari uses it too). Flat-plane V-8s generate a unique aural signature – if you tied down a Bengal tiger and gave it a proctological exam with a red-hot fireplace poker, it would probably sound much like the Shelby at redline.
Out on the road, the GT350 was amazing. The six-speed manual shifter clicked up through the gears with rifle-bolt precision, the oversized Brembo brakes were staggeringly powerful, and the howling exhaust made every commute feel like Le Mans. Fantastic. I decided to take my 24-year-old son for a ride.
He was unimpressed. So was my daughter. So were my son's friends. To them, the Shelby was just a small car that made a lot of noise. They didn't care about the artful aerodynamics, the beautifully sorted suspension or that Holy Grail V-8. If they were buying a car, they'd go for an SUV that can carry their friends and equipment for a weekend getaway. And their eyes glazed over when I told them about the Mustang's flat-plane crank. Their idea of cool machinery is an all-electric Tesla with an 18-inch touchscreen and silent acceleration.
Not long ago, I watched A Faster Horse, a film that documents the making of the sixth-generation Mustang. The Mustang has a history that reaches back to 1964, when it hit the market and became an instant sales sensation. This was a car that captured the spirit of America as it reached for the moon. There is no Detroit brand more sacred than the Mustang, and A Faster Horse does a good job of conveying the passion of the Ford engineers who designed the new one. It also shows the monumental weight of history and expectation that lay upon them. "If you screw this up, you're screwing an entire country," one designer said.
Once upon a time, that may have been true. The sixth-generation Mustang (especially the Shelby variant I tested) is an incredible machine, with engineering improvements that we couldn't have imagined back in the golden age of the muscle car. Although baby boomers recall the Mustangs, Barracudas and GTOs of the late 1960s and early 70s as ultimate cars, they were actually crude machines by today's standards, with leaf-spring suspension, cast-iron engine blocks and Holley carburetors that drank fuel by the barrel.
The 2016 Shelby GT350 is the ultimate muscle car, and yet its arrival isn't really the event you would expect. It's as if Ford made the ultimate wooden galleon, but delivered it 300 years after the Battle of Trafalgar. Yes, the black-powder cannons are great, and we love what you've done with the mizzenmast rigging, but what we're really interested in now is a nuclear-attack submarine.
Maybe there are towns in the Deep South where the Mustang matters just as much as it did back in the days of the Tet Offensive and Deep Purple albums, but in the big city, the kids seem to have moved on. The days when young men quit school to make the payments on a muscle car are over. And so we face an industrial conundrum. The newest Mustang is great. The engineers who made it did not let down the Ford team, or America itself. The 2016 model is a paragon. Its only problem is that it arrived 47 years too late.

Ford's Europe sales
rise 6.3% in April
Michael Martinez,
The Detroit News
May 15, 2016
Ford Motor Co. on Friday said its sales in Europe last month rose 6.3 percent for its best April since 2009.
The Dearborn automaker sold 113,400 vehicles last month in its 20 traditional European markets as its market share fell 0.3 of a percentage point to 7.6 percent.
"We are off to a fast start in 2016, especially with our new SUVs, commercial vehicles and incredible performance line-up," Roelant de Waard, vice president, Marketing, Sales and Service, Ford of Europe, said in a statement. "With Mustang becoming Germany's top-selling sports car among retail buyers, and Focus RS beating some of the German premium sports car brands in comparison tests, shows that Ford can compete and win against the premium brands when we play to our strengths."
Ford's commercial sales were up 18.9 percent and market share rose 12.3 percent thanks to increased demand for its Ranger midsize pickup and Transit vans.
Highlights included Kuga's best-ever April sales of 9,800, up almost 14 percent from the same month a year ago. Sales of Ford's performance vehicles were up 62 percent.
Ford made $259 million in Europe in 2015 for its first profit in the region since 2011.
Later this year, Ford will launch a new Kuga and Edge, as well as an all-new Fiesta ST200.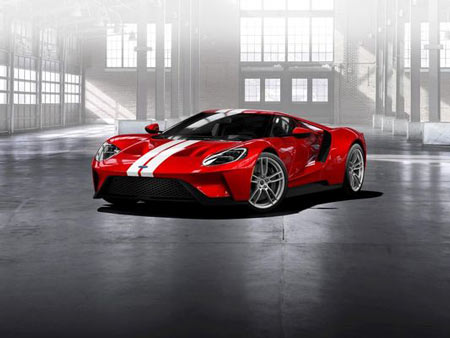 Michael Martinez,
The Detroit News
May 14, 2016
Ford Motor Co. received 6,506 applications for its 2017 Ford GT supercar in the one-month window the process was open.
The Dearborn automaker said it received about 10,800 total entries, but many were only partially completed. Ford sent reminders to those who had not fully completed the online form. While the application process is now closed in the U.S. and most other countries, it will remain open in China until May 24.
"We're excited by the amount of enthusiasm fans are showing for the new Ford GT," Dave Pericak, director, Global Ford Performance, said in a statement. "This initial application window is just one of many ways fans and potential owners will have to connect with our all-new supercar even before it hits the streets."
Over the next 90 days, executives at Ford will review the applications and award the $400,000 supercars to 500 enthusiasts. Ford said it will notify selected applicants via email around July, and if a selected applicant doesn't respond to five emails over a 120-hour period, they lose their spot.
The automaker said it also will contact an undetermined amount of applicants who will be placed on a wait-list in case the winners don't respond or accept.
Ford said nearly 200,000 people in the U.S. have visited the Ford GT website's virtual configurator, which lets anyone build a virtual model with one of the available eight exterior colors and seven racing stripe colors.
Ford will build the new supercar in Ontario and it will arrive in garages by the end of the year.

MPP French's motion to
protect pensioners passes
with unanimous support
May 13, 2016
Queen's Park – Oshawa MPP and NDP Pensions Critic Jennifer French's Private Member's Motion to prioritize pensioners during bankruptcy proceedings passed with unanimous support of the Legislature this afternoon.
The Motion calls on the Government of Canada to ensure that benefits owed to pensioners be given top priority in the event that a company files for bankruptcy.
"Today we took an important step towards protecting pensioners," said French, "and I am thrilled that this motion passed with unanimous support."
The motion mirrors a Private Member's Bill first introduced by Jack Layton in 2009 and calls for amendments to both the Bankruptcy and Insolvency Act and the Companies' Creditors Arrangement Act at the Federal level.
"No worker in Ontario should be forced to wonder whether or not their pension will be there when they retire," said French. "Today the provincial government made prioritizing pensioners their official position."
MPP French's motion is supported by USW Locals 1005 and 8782, GENMO Salaried Pension Organization, and Unifor Local 222 Retired Workers Chapter on behalf of General Motors retirees in Oshawa.
"Pensioners are not a bottom rung priority, and it is our responsibility to ensure that they are not treated like one," said French. "Today we called on the provincial legislature to take a stand and give pensioners the support they deserve, and we did just that."
Labour, community activist
Rick Reaume dies at age 71
Trevor Wilhelm,
Windsor Star
May 11, 2016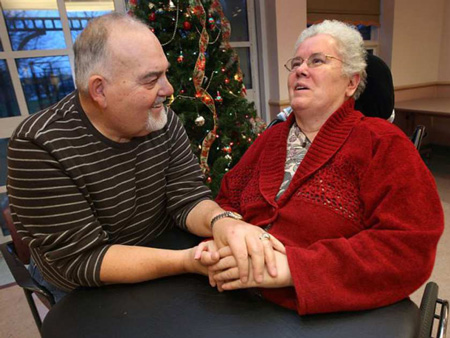 Rick Reaume, a relentless union and community activist even as his health failed him, died Monday night of heart failure from complications after the last of many surgeries. He was 71.
While Reaume will be forever known as a tireless local advocate, those closest to him are cherishing the memories of a caring and loyal spirit ready to make any sacrifice for the people he loved.
Jodi Nesbitt, Reaume's friend for 17 years, choked back tears Tuesday as she recalled the time he cut short a vacation to attend her wedding.
She was getting married in Mexico, but Reaume happened to be in Florida. He couldn't get a flight from the Sunshine State to Mexico.
"So he and his wife flew back to Detroit just to turn around and get right back onto a plane and fly four hours to get to Mexico," said Nesbitt. "Anything that you could do to be there for a friend, he would do. He judged no one, he loved all."
Reaume leaves behind his son Todd, 38, and daughter Sarah, 36, along with countless friends and admirers. His wife Sylvia died in 2012 at age 62 from complications caused by Alzheimer's.
"As soon as he went into retirement he was pretty quickly taking care of Sylvia," said Nesbitt. "Then when she did have to go into a long-term care facility, he would be up there every day to make sure he was there to feed her. He was solid. Just a solid husband, a solid father and a solid friend."
Reaume's own health woes escalated in January 2014 after he went into the hospital for what was supposed to be day surgery on one finger. He wasn't released until July 2015, after losing five fingers and both legs to complications from diabetes.
"The last 15 years in his life were an inspiration to all of us," said former CAW Local 444 president Ken Lewenza, who worked with Reaume for 40 years and calls him a friend.
"The last decade quite frankly was one surgery after another. His courage and his inspiration and his never-complain attitude was amazing, including the two years that he spent in the hospital. For all of us his personal life was courageous, it was an inspiration."
Despite his failing health, Reaume remained a passionate community advocate after retiring from his role as Local 444 vice-president and his job at Windsor Assembly Plant, where he spent more than 40 years.
In 2013 he received the Charles E. Brooks Service award, presented annually to a member of the labour community in recognition for outstanding volunteer contributions. Nesbitt nominated him for the honour.
"As long as I've know him he's exemplified giving back to the community and doing for others," she said.
When his career was finished, Reaume became the retiree representative on the union's national council.
"He as an elected representative for 38 years and never faced an election," said Lewenza. "He was acclaimed each and every time, whether he was running for steward, whether he was running for vice-president or whether he was running for national council. That's the kind of respect that he garnered."
But his dedication wasn't reserved only for the labour movement.
He was a champion in the local fight against Alzheimer's disease. He sat on the board of Hotel-Dieu Grace Hospital and Community Living Essex, among many other organizations, and was a long-time United Way supporter.
"He just made so many sacrifices for the betterment of everybody," said Nesbitt.
Sports and recreation was another of Reaume's passions, said Lewenza, and should be remembered as one of his greatest legacies.
"He was the lead horse, he was the chairperson of the Unifor retiree recreation council," said Lewenza. "Almost every weekend if he wasn't in an arena putting on hockey tournaments, he was on a baseball diamond. If he wasn't on a baseball diamond, he was in another sporting event. All of our family picnics we've had for the last 45 years, Rick was the lead guy. He has literally touched thousands and thousands of people through his activism."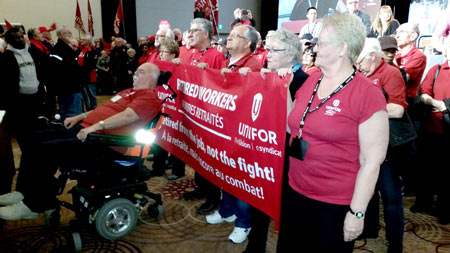 The funeral arrangements for Rick Reaume will be at

Families First Funeral Home located
at 3260 Dougall Ave,
Windsor, ON
N9E 1S6 (519) 969-5841

Visitation will be on Thursday, May 12th
from 3-5 p.m. and 7-9 p.m.
Service will be on Friday,
May 13th at 11:30 a.m.

After the service at the Funeral Home
there be a procession to follow at
Heavenly Rest Cemetery
5005 Howard Avenue,
Windsor, ON N9H 1Z5

Share memories, photos or make
a donation at www.familiesfirst.ca
Ford patents drone that acts
as autonomous car lookout
Michael Martinez,
The Detroit News
May 11, 2016
Ford Motor Co. thinks the driverless cars of tomorrow could come with their own drones.
The United States Patent and Trademark Office published a Ford patent application for a drone deployment system that would work with autonomous vehicles to serve as the car's "eyes" by flying ahead and mapping its surroundings. Passengers would use the car's infotainment or navigation systems to control the drone as an aerial sensor.
"The drone device is introduced to the vehicle system in order to extend the range at which the vehicle is about to obtain information on its surroundings beyond the range of any one or more sensors, visual systems and/or communications interfaces that may be onboard the vehicle," the patent says.
The patent also allows for the drone to accomplish delivery of items to and from the vehicle. In addition to a quad-copter or other flying device, the drone could be "a terrestrial model capable of land travel or a marine model capable of traveling on top or under water."
Just because Ford has the patent for the technology doesn't mean the system will ever be produced.
"As a technology leader, we submit patents on innovative ideas as a normal course of business," a Ford spokesman said in a statement. "Patent applications are intended to protect new ideas but aren't necessarily an indication of new business or product plans."
This isn't the first case of Ford dabbling with drones.
At January's CES technology trade show in Las Vegas, the automaker issued a developer challenge with drone-maker DJI. The hope is that developers will use Ford's Sync infotainment system to come up with a system for the United Nations Development Program to inspect emergency zones inaccessible to regular vehicles.
The drones, which would be docked in the bed of F-150 pickups, would be deployed during a disaster like an earthquake or tsunami to survey and map the affected areas.
"There is an opportunity to make a big difference with vehicles and drones working together for a common good," Ken Washington, Ford vice president of Research and Advanced Engineering, said in January.
On July 16, the field of developers will be whittled down to 10 finalists from 25 teams. Winners will be announced in August in California, with the winning team receiving $100,000.
Other groups are exploring drone applications, too. Wayne State University students, in partnership with developer Skypersonic LLC, are working on a drone-car prototype that could communicate with each other to show camera images from the drone on an infotainment screen or continuously follow around a vehicle for a bird's-eye view of vehicle's surroundings.

Seniors involved in 30%
of fatal collisions so far
this year, Toronto police say
by Faiza Amin
May 10, 2016

When Paul Lea made the decision to stop driving, he knew it was the safest thing for him to do.
"I didn't want to hurt anybody or myself," the 63-year-old told CityNews.
After suffering a stroke in 2008, Lea was left with cognitive issues and Vascular Dementia. He never imagined his medical condition would have an impact on his ability to drive, until a year later, when he realized it was no longer safe for him to be on the road.
"I drove maybe 100 feet and backing up was very traumatic," he explains. "It scared me, just that little bit."
In January 2009 he permanently gave up driving.
Looking back, he says he wished there was a process in place that could have helped him come to that realization earlier.
"The number of elderly people that are having medical moments while they're driving, they could all be preventable if only someone had said okay you've got to stop driving," he said.
That's a growing problem in Toronto, as the city is seeing an increase in seniors involved in fatal collisions.
According to the Toronto Police Traffic Services, 30 per cent of fatal collisions this year alone involved individuals 65 years of age and older.
"Unfortunately, with the aging demographics, it's becoming more and more dangerous as our abilities to operate motor vehicles are no longer as safe as maybe when we were in our 20s," said Constable Clint Stibbe.
"The older you are, the slower you move, but also the more vulnerable you are should you be involved in a collision, your body can't take that kind of impact."
The city of Toronto estimates that seniors will make up 17 per cent of the population by 2031, and as this demographic continues to grow over the years, Constable Stibbe expects the problem will persist.
He's encouraging families to start a dialogue and ensure their loved ones in this age group are safe on the roads.
But he knows it's not an easy conversation to have.
"If they're not able to drive, especially being elderly, it's a loss of independence, and it's devastating."
Lea knows firsthand that giving up driving can be a tough, but regardless, he says it's the responsibility of the individual and family members to take action.
"The family has to learn to recognize certain behaviours and then take a firm step and say listen, it may not be safe for you," he explains. "You might hurt somebody, you might hurt yourself, and so do you want to live with that?"
Although he made the decision to stop driving himself, Lea says the Ministry could be doing more to ensure seniors are safe on the roads.
Currently, Ontario only requires seniors over the age of 80 to go through the Senior Driver's Licence Renewal Program.
"Ministry data clearly indicates that senior drivers pose an elevated at-fault fatal collision risk compared to other age groups," the Ministry of Transportation said in a statement to CityNews.
"I think we have a strong system in place currently to make sure that we're on top of this situation," Minister of Transportation Steven Del Duca said.
The system also includes the Ministry requiring individuals over the age of 70 to undergo license testing if they're involved in an at-fault collision. Doctors can also intervene and report to the Ministry if they feel their patients' medical conditions put them at risk on the roads.
But Lea doesn't fall in any of these age categories. He says the Ministry should be requiring more people to take part in the Driver's Renewal Program.
"I think first of all, drop the age down to 60, and if there's any kind of medical episode, the province has to tell the doctors to be more firm and also to report it," Lea said.
By sharing his story, Lea also hopes more people will take it upon themselves to self-assess their safety on the road and make a decision that's right for them and others.
"I don't even think about where I would be today if I didn't stop driving," he said.
Marchionne says FCA isn't
just bashing metal for Google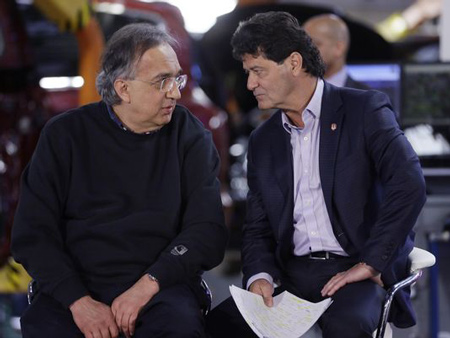 Jamie Butters
Detroit News
May 8, 2016
Fiat Chrysler Automobiles NV is an active partner with Alphabet Inc.'s Google to marry self-driving car technology with the automaker's plug-in hybrid minivan, FCA Chief Executive Officer Sergio Marchionne said.
The carmaker plans to develop about 100 self-driving prototypes based on the Chrysler Pacifica hybrid-powered minivanthat will be used by Google to test its self-driving technology, the companies said Tuesday. It's too soon to answer questions such as who will own the data collected by the cars or how to divide the spoils, he said.
Fiat Chrysler employees aren't serving just as "metal bashers," he said at the minivan factory in Windsor, Ontario. Engineers from the two companies are working together to incorporate Google's autonomous-car technology into the minivan, he said Friday. But where the partnership — and the auto industry — go from here remains to be seen, Marchionne said.
"We know what we do well: We know how to build cars and we know how to introduce relevant technology in these vehicles," he said. "But we're also open-minded."
The factory, which produces a minivan about every 45 seconds, will start making the plug-in hybrids in the second half of the year. It could make Google's vans sooner, but Marchionne said that will be decided by the relevant teams.
The accord marks Google's first agreement to work directly with an automaker to integrate its self-driving system since the technology giant began developing autonomously operated cars on its own in 2014. Fiat Chrysler Chairman John Elkann said last month that the auto industryshould work with "new industry participants"like Google and Apple Inc. rather than trying to compete with them. Marchionne said on Friday that cooperating with tech giants is the best way to navigate the potentially profound changes in the auto industry.
It's Coming'
Marchionne, who rode in Google-controlled cars near its California headquarters, said the robot driver's skills have improved over the last several months so the experience no longer is unsettling. Long-distance trucking has more immediate commercial benefits for the technology, he said, but the capabilities will soon be sufficient for consumers — assuming regulators allow it.
"I see this having tremendous use in real life," he said. "It's not pie in the sky, it's coming. "
Fiat Chrysler "is now potentially in front" of competitors following investors' criticism that it was lagging behind the industry in autonomous driving, said Massimo Vecchio, an analyst at Mediobanca SpA in Milan.
Marchionne, who mentioned a possible partnership with Google in December, has been directly involved in talks with the U.S. company, people familiar with the matter have said. The two companies will remain free to cooperate in driverless technology with other partners, people familiar with the matter said.
Other Partners
Google, which has run more than 1.4 million miles of tests on its own driverless prototypes, has been in discussions with various auto manufacturers about working together. A deal with General Motors Co. couldn't be concluded because of disagreements over ownership of technology and data, a person familiar with the matter said in April.
Setting up a partnership with Google is in line with Marchionne's approach to development. He contends that carmakers waste capital developing multiple versions of the same technology and that the industry should consolidate to become more profitable. He intends to put Fiat Chrysler in a better position for a merger by the time he steps down as the manufacturer's CEO in 2018.
Google needs more cars to develop and test its autonomous technology, but doesn't want to invest in factories to build them. The joint project meanwhile offers Fiat Chrysler a window into new technology and helps the company prepare for a time when self-driving cars may be a big part of the transportation business, said Maryann Keller, an independent auto-industry consultant in Stamford, Connecticut.
Ford to invest $182M in
software company Pivotal
Michael Martinez,
The Detroit News
May 6, 2016
Ford Motor Co. is investing $182.2 million in Palo Alto-based software company Pivotal, marking the latest collaboration between Detroit's automakers and Silicon Valley.
The move will lead to quicker updates for cloud-based software like the recently created FordPass customer experience app and Dearborn shuttle service. The Dearborn automaker is increasingly experimenting with new technologies and services beyond selling cars, and is turning to a company with more experience building software and lines of code. In addition to the investment, Ford's Chief Information Officer Marcy Klevorn will join Pivotal's board of directors.
"The reason for doing this is very strategic," Ford President and CEO Mark Fields told The Detroit News. "The ability to develop software and the capabilities necessary to do that is going to be very important as we deliver these products and services going forward."
Ford and Pivotal have been working together for years. Recently, the tech company helped the Dearborn automaker create FordPass, a smartphone app that lets users do things like pay for downtown parking or share their vehicle.
But Fields said Ford's Thursday investment was "like going from dating to getting married."
"It really solidifies our learning, but more importantly our access to a lot of these cutting-edge development methods and tools that Pivotal has at a speed we wouldn't have been able to do otherwise," Fields said.
As part of the partnership, Ford and Pivotal will open three software labs. The companies offered no other details, except to say the labs will be in the U.S. and Europe.
"It really puts them in a unique position in terms of how we work with them, how they influence us and how we share development and technology," Rob Mee, Pivotal's CEO, told The News. "Pivotal has a way of working with its customers where we really embed with them... so they can be enabled to build software in the same way the very fastest and best developers in Silicon Valley do."
In addition to Ford, Pivotal received an additional $71 million of funding from investors including Microsoft and General Electric.
Pivotal has been working with Ford's IT team in Dearborn, but the automaker's presence in Silicon Valley — an office and testing facility in Palo Alto — allowed the collaboration to happen. Fields got to know Mee and his team during one of his many visits to Silicon Valley about two years ago.
"Without us having our lab set up out there — or our intent to do it at that time — it wouldn't have happened," Fields said of their relationship. "Having our presence in Silicon Valley has helped not only strengthen our relationship with Pivotal, but is strengthening a lot of relationships as we're being viewed more and more in the Valley as part of the community as opposed to some transactional partner that comes in and out."
Fields and Ford Executive Chairman Bill Ford Jr. have repeatedly said partnerships are key in an era of rapidly developing connected and autonomous cars.
"With the skill sets we're learning ... we're trying to come at this not with a talk-to-the-hand approach," Fields said. "We really have to open ourselves up to a lot of these new skills that will allow us to go faster and to we think be ahead of the market in many cases."
Mee said Ford has been a "learning organization."
"They're focused on absorbing what they can from everyone and not saying, 'Hey, it's only the Ford way to do 'X,' 'Y,' or 'Z,' " Mee said.
The Pivotal partnership is the latest in a string of collaborations between automakers and tech companies.
Earlier this year, General Motors Co. announced significant investments in ride-hailing service Lyft, and the acquisition of Silicon Valley startup Cruise Automation. On Tuesday, Fiat Chrysler Automobiles announced a partnership with Google's driverless car program to build 100 autonomous Pacifica minivans.
Ford and Google were rumored to be near a partnership in January, but nothing ever materialized.
Fields said that Ford is "absolutely not" at a disadvantage after the Google-FCA tie-up, and that he feels "very comfortable" where the Dearborn automaker is at developing its own autonomous cars.

GM down 3.5%; FCA, Ford
report modest gains in sales
Michael Wayland
Detroit News
May 5, 2016
Fiat Chrysler Automobiles NV and Ford Motor Co. on Tuesday reported their best April sales in a decade or more, while General Motors Co. reported a slight decline as it cuts back on its daily rental business.
GM reported a 3.5 percent loss in sales last month compared to April 2015, with daily rentals down 39 percent; Fiat Chrysler gained 5.6 percent; and Ford was up 4 percent.
As expected, sales from Honda Motor Co. and Nissan Motor Co. are leading the industry, up leading all major automakers, with sales up 14.4 percent 12.8 percent. respectively. Others include: Toyota Motor Corp. up 3.8 percent and Volkswagen of America down 9.7 percent, excluding luxury brand Audi, which increased 5.8 percent.
The sales being reported Tuesday by automakers are in line with analyst expectations, putting last month on track to be the best April for U.S. vehicle sales ever. Analysts anticipate the industry to have sold more than 1.51 million car and trucks last month, a roughly 4 percent increase from a year ago that would top the April sales record of just over 1.5 million in 2005.
"We saw strong consumer demand in April, especially for pickups," said Mark LaNeve, Ford vice president, U.S. Marketing, Sales and Service. "F-Series has moved past the quarter million sales mark year to date — the strongest start for F-Series in a decade, while Ford brand SUVs are having their best year ever."
Ford's truck sales rose 14.8 percent while its SUV sales rose 7.7 percent. Car sales, which have struggled, fell 12 percent.
The Dearborn automaker sold 231,316 vehicles last month, thanks in large part to continued strong demand for its venerable F-Series trucks, which rose 12.6 percent. Its larger SUVs, like the Expedition (up 46.7 percent) and Explorer (up 22.3 percent) also fared well.
GM reported sales of 259,557 cars and trucks, with its retail sales up about 3 percent last month over April 2015. Its daily rental sales were down nearly 18,000 vehicles.
"GM's retail growth over the last 12 months has outpaced the industry by a wide margin because our redesigned large pickups and SUVs are hits, we made smart investments in new segments like small crossovers and mid-size pickups, and our momentum in the car business is accelerating with each new model introduction," said Kurt McNeil, GM U.S. vice president of sales operations.
GM has grown retail deliveries year-over-year every month since April 2015 and retail sales during the last 12 months were up 9 percent, more than double the industry's 4 percent increase during that time frame.
Buick, Chevrolet and GMC all experienced a 3.5 percent or smaller decline in sales last month compared to a year ago, while Cadillac's sales dropped 28.9 percent.
Fiat Chrysler reported sales of 199,631 cars and trucks last month, a 5.6 percent increase compared with sales in April 2015 of 189,027 units — in line with analyst expectations.
The Jeep and Ram brands led the automaker with double-digit sales gains of 17.5 percent and 12.1 percent, respectively. Dodge declined 3 percent, while Chrysler and Fiat both declined 17.5 percent and 18.7 percent, respectively, compared to a year ago.
"Consumer preference for SUVs and pickup trucks continued unabated in April and helped to propel us to our strongest April sales in 11 years," said Reid Bigland, FCA-North America senior vice president of sales. "Both our Jeep and Ram Truck brands recorded strong year-over-year sales gains last month."
Seven vehicles set records in the month of April, including the Jeep Renegade and Jeep Compass, each posting their best monthly sales ever.
Through the first four months of the year, Fiat Chrysler's U.S. sales are up about 18 percent compared to the same time period a year ago.
The sales make April Fiat Chrysler's 73rd consecutive month of year-over-year monthly sales gains.
Helping increase Fiat Chrysler's April sales were some of the highest incentives in the industry of nearly $4,000 on average per vehicle sold, up 25.1 percent from a year ago, according to TrueCar.
That compares to a 14 percent increase at GM, with $3,909 in incentives, and a 24 percent increase at Ford to $3,423. The industry on average was up 13.3 percent to $3,021 in incentives per vehicle sold, TrueCar reports.
"This is a metric we monitor closely as the longest auto sales expansion in the modern era continues," said TrueCar Vice President of Industry Insights Eric Lyman. "The bottom line is that economic conditions remain favorable and there are still many consumers who need to replace aging cars and trucks."
Both Edmunds.com and Kelley Blue Book expected GM and Volkswagen Group to be the only major automakers to lose sales compared to a year ago, with single-digit losses.
"Even though Q1 ended with a relatively lackluster March, the industry still as strong as ever, and this month's sales will only reinforce that strength," said Jessica Caldwell, Edmunds.com director of industry analysis. "Considering that April is typically the calm before the storm of summer sales, there's every reason to believe that 2016 will be a year for the history books."
Led by sales of pickups, sport utility vehicles and crossovers, automakers sold 17.47 million vehicles last year — besting the previous record of 17.41 million set in 2000 and posting a 5.7 percent gain from 2014, according to Autodata Corp.

10-year pay grid may become
key issue in Unifor-Detroit
Three contract talks
Grace Macaluso,
Windsor Star
May 4, 2016
Detroit Three autoworkers in Canada are pressing their union to renegotiate the 10-year pay progression for new hires in upcoming contract negotiations, said Dino Chiodo, president of Unifor Local 444.
"We have a lot of requests to revisit that," said Chiodo, chair of the Fiat Chrysler master bargaining committee. "We will try to make the best progressive changes for our workers."
In preparation for negotiations expected to gear up in late summer, the union is currently holding pre-bargaining sessions aimed at devising strategies and prioritizing contract demands.
The current, four-year contract covering 25,000 Unifor members at Fiat Chrysler, Ford and General Motors expires in September. Like their UAW counterparts, Canadian autoworkers have been without an annual pay hike for almost a decade.
Across the border, the wage hike drought ended last year as the UAW not only won modest increases for all its members, but eliminated the unpopular two-tier wage system, which kept new hires on a lower pay scale. Instead, the new, four-year contract guarantees entry-level employees wage parity with top-tier workers after eight years.
In Canada, new hires start at 60 per cent of the regular hourly rate of about $34, and reach parity after 10 years.
The 10-year salary grid was a key concession won by the car companies in 2012 bargaining. Previously, it took new hires only six years to reach full wage parity.
But the recent string of healthy Detroit Three quarterly profits strengthens the union's bargaining position, said Tony Faria, professor emeritus of business at the University of Windsor.
"Right now the companies are showing record profits, and that indicates they do have more money to work with and reward their workers."
Ford last week reported a record $2.5 billion in net income for the first three months of the year, an increase of 113 per cent and more profit than in any other quarter in its 112-year history. In North America, Ford's operating profit doubled to $3.1 billion.
Ford, the last of the Detroit Three automakers to unveil financial results, continued the red-hot streak set by General Motors which more than doubled its Q1 profit to US$1.9 billion and Fiat Chrysler Automobiles whose profit soared to $539 million from just $30.05 million.
"Wow, for one quarter, that sounds like a bank's profits," said Chiodo. "That gives us some power at the bargaining table, but it gives us an opportunity to reflect on what we did to do be as successful as we are."
Unifor will have to weight demands for higher wages, pensions and benefits with the need for new investment in a number of Detroit Three plants, said Faria.
"These will be tough negotiations," he said. "If we look across all three companies, there are plants that are in dire need of new product. We've been very concerned, for example, about what's happening to Ford's engine plants in Windsor. Are they going to get new investment or are they going to shut down?"
"Those are real concerns," Chiodo admitted. "Unifor has to strongly look at not just are these companies making record profits, but what's their situation in Canada, and how do we hold onto jobs in Canada.
"At the same time, our members are looking for improvements."
Auto sales expected to
break April record
Michael Wayland,
The Detroit News
May 3, 2016
Automakers on Tuesday are expected to report the best-ever April for vehicle sales in the United States, adding fuel to the fire for another record-breaking year.
Analysts anticipate the industry to have sold more than 1.51 million car and trucks last month, a roughly 4 percent increase from a year ago that would top the April sales record of just over 1.5 million in 2005.
"Even though Q1 ended with a relatively lackluster March, the industry still as strong as ever, and this month's sales will only reinforce that strength," said Jessica Caldwell, Edmunds.com director of industry analysis. "Considering that April is typically the calm before the storm of summer sales, there's every reason to believe that 2016 will be a year for the history books."
Led by sales of pickups, sport utility vehicles and crossovers, automakers sold 17.47 million vehicles last year — besting the previous record of 17.41 million set in 2000 and posting a 5.7 percent gain from 2014, according to Autodata Corp.
Kelley Blue Book expects Nissan Motor Co. to be the big winner in April. Following a month above 10 percent market share, Nissan North America is poised to maintain momentum with an 11.1 percent increase last month from April 2015. Edmunds.com also expects Honda to report double-digit gains from a year ago.
Both Edmunds.com and KBB expect General Motors Co. and Volkswagen Group to be the only major automakers to lose sales compared to a year ago, with single-digit losses. Ford Motor Co. and Fiat Chrysler Automobiles NV are both expected to report sales increases of between 4.5 percent and 6.5 percent compared to a year ago.
"Increased fleet sales and rising incentive spending among automakers remain the factors to watch, but retail demand appears to be holding steady, signaling the industry's strong run isn't over quite yet," said KBB analyst Tim Fleming.
Retail sales are expected to account for 80.3 percent of volume in April 2016, down from 80.9 percent in April 2015, according to KBB.
Mike Riser, general manager of Telegraph Chrysler Dodge Jeep Ram in Taylor, last week said sales in April started slow but really picked up at the end of the month.
"I'm really picking up steam right now," he said Wednesday. "I think we're going to have a really strong finish."

Private member's bill aims to
ban some door-to-door sales
May 2, 2016
A private member's bill is being introduced at Queen's Park, taking aim at some of the salespeople who bother you at home.
Etobicoke-Centre MPP Yvan Baker will be unveiling details of the bill Monday, and will be joined by the Consumers Council of Canada and the Public Interest Advocacy Centre for the announcement.
The bill seeks to protect Ontarians from "aggressive sales tactics and intimidation related to the sale of certain products at consumers homes," the statement said.
Mississauga city councill approved a motion last week that asks the province to ban door-to-door sales in the home service sector, such as furnaces and water filtration systems. Markham has also put forward a similar motion.
Last month, Mississauga Coun. Karen Ras and Markham Coun. Colin Campbell launched a campaign urging the province to put a halt to such sales.
The councillors also want other municipalities to join their cause and also encourages residents to sign a petition.
Recently, the province banned door-to-door sales for electricity and natural gas contracts via the Strengthening Consumer Protection and Electricity System Oversight Act, 2015. But the councillors want better legislation to protect homeowners from door-to-door sellers.


Production problem idles
Ford F-150 plant in Kansas
Keith Naughton and
John Lippert,
Bloomberg News
May 1, 2016
Ford Motor Co., which posted record quarterly earnings Thursday, said it's idling its F-150 pickup factory near Kansas City for a week next month to fix a problem that's preventing the plant from reaching production targets.
The shutdown will start May 9, temporarily furloughing 4,626 workers who build the aluminum-bodied pickup that helped drive net income of $2.5 billion in the first quarter. Ford initially said in an emailed statement Thursday that the move was to "align our capacity with consumer demand." In a subsequent interview, Joe Hinrichs, Ford's president of the Americas, said that "consumer demand for the F-150 is outstanding."
Ford needs to adjust the Missouri factory's body shop and paint operations, which have prevented the plant from achieving its daily production targets for the pickup, Hinrichs said. So the company pulled ahead a down week that had been scheduled for the fall to fix those problems, he said.
"We can work on the equipment sooner and get Kansas City's daily production up to the level it needs to be," Hinrichs said. "We want to work on both the body and paint shop in Kansas City to work out a few bugs."
Ford spent much of the previous two years converting the Kansas City factory and a plant in Michigan to build the F-150 with an aluminum body, the highest-volume vehicle ever to be built with the lightweight material. With the F-150 finally going at full tilt in the first quarter, Ford booked record North American pretax profit of $3.1 billion. U.S. sales of the F-Series truck line, which includes the F-150, rose 5 percent in the quarter to 186,121, as Ford total light-vehicle deliveries climbed 8.4 percent.
"We're getting the full benefit of the F-150, which is why we had a great quarter, among other things," Chief Financial Officer Bob Shanks said in an interview Thursday.
Extra inventory
Ford had built up an inventory of 288,000 F-Series trucks as of April 1, according to Automotive News Data Center. That represents a 105-day supply in an industry where a 60-day supply is considered ideal.
Most of that extra inventory is of the larger Super Duty version of the F-Series that Ford is redesigning and re-introducing this fall. The automaker is "very comfortable with where we are" on F-150 supply, Hinrichs said.
Ford sold 780,354 F-Series pickups in the U.S. last year, making it the nation's top-selling vehicle line for the 34th straight year. Analysts have said each of the trucks generates a pretax profit of more than $10,000, accounting for the majority of Ford's North American earnings.
Any lost production of the F-150 is costly for Ford, which is why the automaker decided to resolve the production problems at the Kansas City plant next month rather than waiting for the scheduled down week in the fall, Hinrichs said.
"We chose to pull this week ahead so we could fix the problem sooner rather than later," Hinrichs said.
Ford making long-range
EV to rival GM, Tesla
Michael Martinez,
The Detroit News
April 29, 2016
Ford Motor Co. is working on a long-range electric vehicle to rival the 200-mile Tesla Model 3 and General Motors Co. Bolt EV, President and CEO Mark Fields confirmed Thursday.
Earlier in the month, Ford's head of electric vehicles told Automotive News the company was content with its 100-mile range upcoming 2017 Focus Electric, but when asked directly about a 200-mile EV, Fields said Ford wants to be at the top of the segments in which it competes regarding cost, quality and range.
"Our EVs come down to making sure we're the best or among the leaders in those areas," Fields said on a conference call. "When you look at some of the competition, clearly that's something we're developing for."
Tesla made waves last month when it unveiled its much-hyped Model 3, which will start at $35,000 before federal and state incentives. Tesla says the car will have a range of 215 miles per charge and accelerate from 0 to 60 mph in less than six seconds. Tesla wants to bring it to market by the end of 2017, but the automaker has faced many product delays.
Ford's crosstown rival, General Motors Co., plans to launch its 200-mile range Bolt EV this year. It will cost about $30,000 after federal incentives.
"It's ironic that we're seeing a new rush to pure EVs with a realistic driving range, even as fuel prices in the U.S. are at record lows," Kelley Blue Book senior analyst Karl Brauer said. "It will be a true test of the technology, and the concept of 200 miles being a sufficient range, if consumers embrace these models in a world of sub-$3-a-gallon gasoline. Ford's commitment to an all-new, pure EV will also spur competition in this area. I fully expect similar announcements from Honda, Hyundai, Toyota and VW in the coming months."
Ford said in December it will invest $4.5 billion in electric vehicle research and add 13 new EVs or hybrids by 2020 to give buyers more choices and to conform to strict federal fuel-efficiency standards. It's Ford's biggest investment in the technology to date, to be spread over five-years.
Ford's current portfolio includes six hybrid or all-electric vehicles across its Ford and Lincoln brands. By 2020, Ford said 40 percent of its nameplates worldwide will be electrified, up from about 13 percent today.
Ford's long-range electric car could be called the Model E. Tesla owner Elon Musk wanted to name the recently announced Model 3 the Model E, but was unable to secure the naming rights from Ford, which has owned the patent for that name for some time.


Ford Delivers Best Quarter Ever with First Quarter Pre-Tax Profit of $3.8B

DEARBORN -- Today, Ford Motor Company reported its first quarter 2016 financial results. For the first quarter 2016, the company reported a record quarterly pre-tax profit of $3.8 billion, up $2.1 billion from 2015 results.
To read the full article, click here
***********************************
Ford Delivers Best Quarter Ever
Today, we are reporting our first-quarter financial results. It was an all-time record quarter with very strong performance across the business, thanks to the hard work and results by our team around the world.
We set a record quarterly pre-tax profit of $3.8 billion. In North America, we achieved a record quarterly profit and an operating margin of 12.9 percent. We delivered our best quarterly profit in Europe since 2008, earning $434 million in the first quarter. Revenue in Asia Pacific climbed 18 percent to $2.7 billion, and pre-tax profit more than doubled. Ford Credit grew pre-tax profit, as well.

Importantly, we continued to deliver strong top-line growth, generating higher volumes, revenues and global market share. Our automotive operating margin of 9.8 percent was a quarterly record, and the $2.7 billion we generated in automotive operating-related cash flow was a first-quarter record.

Looking ahead, we remain confident in our plan to deliver another strong year in 2016 -- with performance equal to or better than the record pre-tax profit last year. To achieve that, the entire Ford team will need to remain focused on our three priorities:
Accelerate the pace of progress on our One Ford plan;
Deliver product excellence with passion, and
Drive innovation in every part of our business.
You can view our news release here with details on our performance and outlook for the year.

Congratulations to the entire Ford team on an absolutely terrific start to 2016. Thank you for all you are doing to help Ford Go Further and become both an automotive and a mobility company.
Mark Fields
Ford recalls 202K pickups,
SUVs, cars to fix transmissions
The Associated Press
April 28, 2016 |

DETROIT - Ford is recalling nearly 202,000 pickup trucks, SUVs and cars in North America because the automatic transmissions can suddenly downshift to first gear.
The company also said Wednesday that it's recalling more than 81,000 Explorer SUVs to fix a rear suspension problem.
The transmission recall covers the 2011 and 2012 F-150 and the 2012 Expedition, Mustang and Lincoln Navigator. Ford says a software problem in a speed sensor can force the vehicles into a downshift. The problem has caused three crashes but no injuries.
Dealers will inspect the sensors. If they find no trouble codes, they'll update software. If trouble codes are present they'll replace the part that houses the speed sensor.
The Explorer recall covers SUVs and Police Interceptor models in the U.S., Canada and Mexico from 2014 and 2015. Ford says the suspension links could fracture due to poor welds.
The company says in a statement that the problem has caused one crash and an injury.
Dealers will replace the left and right rear suspension toe links and align the rear suspension at no cost to owners.
FCA retirees demand
return of COLA in
upcoming contract talks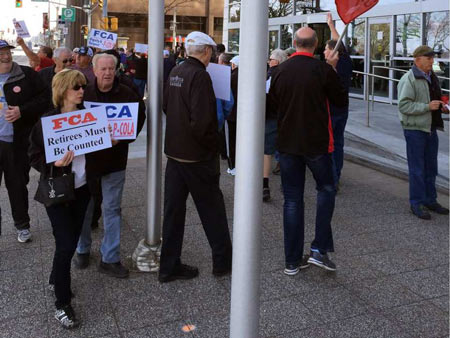 Grace Macaluso,
Windsor Star
April 27, 2016
Detroit Three-Unifor contract talks aren't expected to gear up until late summer, but Local 444 retirees want to make sure their concerns aren't forgotten at the bargaining table.
"Retirees made sacrifices to help save Chrysler during the 2009 financial crisis," Gary Parent, Unifor Local 444 retiree's chapter recording secretary, said Tuesday. "The retirees continue to make sacrifices today, and what we need is recognition in 2016 bargaining of those sacrifices by asking for the reinstatement of P-Cola (pension cost-of-living allowance)."
Parent was among a group of Local 444 retirees who staged a rally Monday outside of FCA Canada headquarters on Riverside Drive.
LouAnn Gosselin, spokeswoman for FCA Canada, said the automaker hopes to negotiate a contract that will be "mutually beneficial to all involved."
"There are many issues that will be addressed during the upcoming negotiations," Gosselin said. "Our goal, working with our Unifor partners, is to negotiate a contract that will be mutually beneficial for all involved."
James Stewart, first vice-president at Local 444, said the union supports the retirees right to air their concerns, but bargaining priorities won't be set until negotiations get underway. Active workers, who've been without an annual pay hikes for almost a decade, also accepted concessions to help keep the car companies financially afloat, Stewart noted.
"Until we're sitting across from the company, then we will prioritize all of our demands," he said. "Everything is about balance — making sure you're getting fair increases for all our members, and making sure you're here long term."
The current four-year deal expires in September 2016. Local 444 represents more than 6,000 retirees and surviving spouses, said Parent.
Retirees are planning more rallies to coincide with the contract talks, he said.
"They built the company from the ground up," Parent said. "They deserve recognition in 2016 bargaining."
Fiat Chrysler Q1 profits
soar to $540 million
Michael Wayland,
The Detroit News
April 27, 2016
Fiat Chrysler Automobiles NV reported a net profit of 478 million euros ($539.4 million) for the first quarter of this year.
The automaker's profits were up 451 million euros ($508.9 million) from the the first three months of 2015 thanks to a strong performance in North America and Europe. All of its regions were profitable, although Asia-Pacific and its luxury Maserati operations were down from the first quarter of 2015.
"We see nothing negative on the horizon," said Fiat Chrysler CEO Sergio Marchionne during a conference call Tuesday with news media and financial analysts. "The outlook for the year continues to be strong."
Fiat Chrysler's earnings before interest and taxes increased 88 percent to 1.3 billion euros ($1.5 billion) for the first quarter, up from 696 million euros ($785.1 million).
The company's North American operations more than doubled from a year ago to more than 1.2 billion euros ($1.4 billion).
Marchionne called the company's North American operations "encouraging."
Europe followed North America with 96 million ($108.3 million). Other operations included components earning 86 million euros ($97.1 million); Asia-Pacific reporting earnings of 12 million euros ($13.5 million), down from 65 million euros in 2015; Latin America at 11 million euros ($12.4 million), up from a loss of 65 million euros a year ago; and its luxury Maserati brand at 16 million euros ($18.1 million).
Fiat Chrysler's earnings of 33 cents per share significantly beat Wall Street expectations, which, on average, expected the company to earn 21 cents per share, according to estimates from Yahoo Finance.
Global shipments through March were in line with 2015 at 1.09 million vehicles.
Net revenue increased 3 percent compared to a year ago to nearly 26.6 billion euros ($30 billion).
The automaker's shares on the New York Stock Exchange closed Monday at $8.18 per share, up 2.1 percent.
Fiat Chrysler's first quarter earnings follow General Motors Co. last week reporting first-quarter net income of $1.95 billion — more than double from a year ago and strongly exceeded Wall Street expectations.

Ford: Regulatory automaker
scrutiny is rising globally
Bloomberg News
April 26, 2016
Regulators around the world are getting tougher on automakers after a series of cheating scandals on fuel economy and emissions, with China set to become the strictest, according to Ford Motor Co. Chief Executive Officer Mark Fields.
"The regulatory environment around the world is becoming more and more strict, particularly on things like greenhouse gases and fuel economy," Fields told reporters Saturday in Beijing, ahead of China's biggest auto show that opens next week. Going by the rules that are being proposed, China will be the toughest regulatory regime over the next five years "given some of the societal factors around air pollution," he said.
The second-largest U.S. carmaker joins its global peers in facing rising scrutiny of their vehicles' fuel economy and exhaust emissions in the wake of wrongdoing by Volkswagen AG and Mitsubishi Motors Corp. in the past seven months. Ford had a brush with regulators of its own in 2013 and 2014, when it twice lowered the mileage ratings of several hybrid models.
Volkswagen on Friday more than doubled charges related toits rigging of 11 million car engines to 16.2 billion euros ($18.2 billion), as the German automaker repairs vehicles installed with software that circumvented emissions rules. Two days earlier, Mitsubishi Motors said it exaggerated the fuel economy of several minicar models in Japan and that its testing methods have been out of compliance with Japanese standards since 2002.
Car-pollution levels are now likely to be watched more closely around the world including in China, where Dearborn, Michigan-based Ford is building on its record 1.1 million vehicles sold last year. The company's deliveries climbed 14 percent in the first three months of 2016 to 314,454 units.
Fields said that Ford meets emissions requirements "wherever it does business." The company is supportive of Europe considering on-road testing for emissions and would comply if China follows suit, he said. The automaker will produce the Mondeo hybrid in China by the end of this year and import the C-Max Energi plug-in early 2017.
Stricter rules in China will come amid a decline in industrywide pricing, which has dropped over the past six to seven years, according to Fields.
Bob Shanks, the automaker's chief financial officer, told analysts last month that Ford sees industrywide prices of new vehicles in China declining by about 6 percent this year, in line with the drop in 2015.
On the sales tax cut on 1.6-liter engines and smaller that's scheduled to expire at the end of 2016, the government may consider the health of the economy and stability of markets when it decides whether to extend the reduction, Fields said.

GM CEO Barra's compensation
jumps 77% in 2015 to $28.6M
Melissa Burden,
The Detroit News
April 25, 2016
General Motors Co. Chairman and CEO Mary Barra's total compensation package in 2015 put her in the middle of the leaders of the Detroit automakers. She earned more than the top executive at Ford Motor Co., but was well short of Fiat Chrysler Automobiles NV's CEO.
Barra earned total compensation of $28.59 million in 2015, jumping nearly 77 percent from the year before, mostly due to a one-time stock option grant aimed at retaining senior executives. The details were revealed Friday in its proxy filing to federal regulators.
Barra's 2015 compensation tops Ford President and CEO Mark Fields, who earned $18.57 million. His compensation was down slightly from the $18.9 million he made in 2014 due to a change in pension value.
Her compensation, though, was less than the total that Fiat Chrysler CEO Sergio Marchionne earned. His compensation package in 2015 included salary and cash bonuses worth $10.9 million, plus stock awards totaling a possible $90.5 million that push total compensation to more than $101 million. But the figure would be lower now after the spinoff of Ferrari stock.
Barra, 54, has been CEO of the GM since mid-January 2014, and in January of this year added the chairman title. Last year she earned:
■$1.75 million in base salary, up from $1.57 million in 2014
■$12 million in stock awards.
■$11.17 million in a one-time stock option award
■$3.06 million in short-term cash compensation tied to company results
■$12,012 change in pension value
■$597,118 in other compensation, including contributions to savings plans, life insurance, use of chartered planes for personal travel, security and other perks. Barra received $7.3 million in compensation (including salary, a short-term incentive plan payout and stock equity awards that vested) in 2015, up from $4.5 million in 2014 and $3.6 million in 2013 when she was head of global product development, purchasing and supply chain.
The automaker in 2014 set an executive pay system that compensates based on their and the automaker's performance. GM earned a record $9.7 billion last year, more than double what it made in 2014, as shareholders earned $5.02 a share. The company in 2015 posted $152.4 million in revenue and the automaker returned $5.7 billion to shareholders.
Barra, the auto industry's first female CEO, made $16.16 million in total compensation in 2014. Her 2014 compensation exceeded a target set for her but was short of amounts she could have earned if business performance objectives had been fully realized. The company was rocked in 2014 by the ignition switch recall that ultimately was tied to 124 deaths and hundreds of injuries.
Other GM named executive officers also had their total compensation grow during the past year. GM President Dan Ammann earned a total of $11.8 million in compensation, up from $8.5 million. Mark Reuss, head of global product development, purchasing and the supply chain, earned $10.2 million, up from $9.48 million in 2014. Chief Financial Officer Chuck Stevens earned $8.1 million, up from $4.9 million. And GM General Counsel Craig Glidden, who joined GM in March 2015, earned a total of $8.44 million.
Glidden was the only named executive to receive a bonus last year. He got $500,000 as a cash signing bonus.
Barra's 2015 compensation target set by the GM board was $16.81 million, while Stevens was targeted to earn $5.1 million; Ammann, $7.2 million; Reuss, $6.3 million; and Glidden, $3.5 million.
In July, GM in a regulatory filing, announced the one-time Driving Stockholder Value Option grant of stock options, the first such options granted by GM since it emerged from bankruptcy as a new company in 2009. The special stock option grant to 300 senior leaders was offered to maintain leadership. Those who accepted it had to sign non-compete and non-solicitation agreements.
Barra was granted 2.6 million in the special stock options and what she actually will realize from them will vary.
Executives awarded the options can exercise them after they vest and pursuant to terms of the award and incentive plan. The options require executives meet certain performance measures and GM's stock price to be higher than $31.32 a share. Forty percent of the options vest in February 2017. The rest vest in three amounts starting in February 2018 through February 2020 that are dependent on GM achieving performance targets that meet or exceed total shareholder returns of an automotive peer group.
GM stock closed Thursday at $32.66 a share.
The automaker Friday also announced its annual shareholders meeting is slated for 9:30 a.m. June 7 at the company's Renaissance Center headquarters in Detroit. At the meeting, shareholders will vote to elect 12 directors to the board, an advisory vote on executive compensation, selection of Deloitte & Touche LLP as GM's accounting firm for 2016 and vote on a shareholder proposal.

Hamilton-area doctor gets green
light to sue WSIB, employer
Dr. Brenda Steinnagel alleges she was fired after refusing WSIB's
demands to revise her medical opinion on a hospital security guard's claim.
Jacques Gallant
Toronto Star
Apr 24 2016
A Hamilton-area physician suing the Workplace Safety and Insurance Board and her former employer for $3.2 million — claiming she was fired when she wouldn't deliver a medical opinion that suited the WSIB — can proceed with the lawsuit, a Toronto judge ruled last week.
Superior Court Justice Elizabeth Stewart threw out the WSIB's request to dismiss the lawsuit or to at least strike portions of Dr. Brenda Steinnagel's statement of claim. Steinnagel's former employer, Workplace Health & Cost Solutions, also lost its bid to strike portions of the statement.
"Dr. Steinnagel is pleased with the decision and that her claim can proceed as filed, and we will continue to vigorously pursue compensation for her," said her lawyer, Mark Polley.
None of the allegations in the statement of claim has been proven in court.
"Obviously, WHCS is disappointed with the ruling and continues to regard Dr. Steinnagel's case as having no merit," WHCS lawyer Greg McGinnis told the Star.
A WSIB spokeswoman said: "We maintain that there is no truth to Dr. Steinnagel's allegations, we deny acting wrongfully in any way and we will continue to defend the lawsuit."
Steinnagel is alleging that she was terminated last year after the WSIB repeatedly demanded that her employer, Vaughan-based WHCS, change the medical opinion she wrote on hospital security guard Shawn McCabe, who was claiming benefits after suffering head injuries while trying to restrain a patient at Rouge Valley Centenary in Scarborough.
McCabe told the Star last year he didn't recognize himself after he was injured. He would cry for no reason and became increasingly irritable, while still trying to do his job on a modified work plan. "I was suffering from this profound sense of sadness," he said.
Steinnagel had concluded in late 2014 that McCabe's emotional issues could be related to his workplace accident, according to the statement of claim. Within two weeks of delivering her opinion, she alleges the WSIB requested clarification.
After further review, which included speaking with McCabe's family doctor, Steinnagel says she reached the same result in her medical opinion, but "the WSIB continued to resist her conclusion," according to the statement, filed in Toronto Superior Court in July.
"The defendants WSIB and WHCS tried to force Dr. Steinnagel to participate in a fraud upon the public," the statement alleges.
She alleged she was fired after her employer provided a different opinion to the WSIB, "thereby providing WSIB with the false and fraudulent opinion it needed to deny the hospital worker his benefits," according to her statement of claim.
The defendants argued in court that the allegations of fraud upon the public "are incapable of being proven, are scandalous and ought to be struck," and further argued that Steinnagel's statement lacks the necessary elements to prove fraud and conspiracy.
The judge disagreed.
"It is not plain and obvious that the causes of action pleaded have no chance of success such that they should be struck," Stewart wrote.
Ontario health minister
says doctors billing of
province is out of whack
The Canadian Press
April 23, 2106
More than 500 Ontario doctors billed the province over $1 million last year, with one ophthalmologist billing what the government calls "a staggering" $6.6 million.
Health Minister Eric Hoskins said the top billers represent less than two per cent of Ontario doctors but account for nearly 10 per cent of billings, or $677 million.
The province spends $11 billion a year on physician compensation, but has been locked in a fight with the OMA after it imposed a series of fee cuts last year.
"It's important that we have an honest conversation about the facts," Hoskins said during a Friday news conference at Queen's Park in Toronto.
He noted that an independent third party sided with the province during negotiations with the Ontario Medical Association, which broke off in January 2015. Warren Winkler, a former provincial chief justice, provided recommendations, which Hoskins said were rejected by the OMA.
"We took this issue to an umpire and the umpire ruled in the government's favour," he said, adding the province is seeking "fairness and sustainability" in their agreements with physicians.
Hoskins said the current system involving some doctors includes an "inappropriate level of compensation" for the way some bill the province for certain tests. For example, some physicians were charging taxpayers $35 for a simple urine test that only costs $10 to do at some labs, according to the health minister.
There are no caps on billings by Ontario doctors, who are paid an average of $368,000 a year, and Hoskins said the specialists who earn several times the average are taking money away from other physicians and health-care services.
Of the province's top five billers, two are ophthalmologists, two are radiologists and one is an anaesthesiologist, but their names and where they work are not being released.
There are 154 diagnostic radiologists, 85 ophthalmologists and 57 cardiologists in the million dollar club.
The OMA, which represents 34,000 doctors and medical students, has said the best way to get a new fee agreement with physicians is for the government to agree to binding arbitration.
Hoskins reiterated calls for the OMA to return to the bargaining table, adding he's brought 80 proposals and 7,000 new fee codes to the OMA, which have been rejected.
"Right now, there's only one chair at the negotiating table," he said. "Ontario doctors being the best paid in the country is a reasonable level and that's where they stand."
"The current structure allows certain high-billing physicians to generate income many times the average doctor's salary, which is due, in part, to the fact that the fee structure has not kept pace with medical and technological advances," he said in a release.

GM profits more than double
on North America earnings
Melissa Burden,
The Detroit News
April 22, 2016
General Motors Co.'s first-quarter net income of $1.95 billion more than doubled from a year ago and strongly exceeded expectations, as the automaker Thursday reported it broke even in Europe and had improved results in all its regions.
"(It's) a great quarter, great start to the year and a year when we expect to deliver another record from a profitability perspective," GM Chief Financial Officer Chuck Stevens told reporters in Detroit.
The automaker's earnings of $1.24 per share in the quarter, or a first-quarter record $1.26 a share when adjusted for special items related to ignition switch litigation expenses, eclipsed predictions that GM would earn $1 a share on flat revenue in the January-March period.
J.P. Morgan analyst Ryan Brinkman, in a note to investors Thursday called the results "solid," with better-than-expected losses in South America and an "impressively" breakeven performance in Europe.
GM reported record first-quarter adjusted earnings of $2.7 billion before interest and taxes, including $300 million in restructuring charges (mostly related to an early retirement incentive for some UAW workers). It revenue grew by $1.6 billion to $37.3 billion.
It was GM's third straight quarterly earnings record and analysts predicted the stock price would trade higher on the news. GM stock was trading about 1.2 percent higher to $32.60 a share around 1:50 p.m. Thursday.
"We're growing where it counts, gaining retail share in the U.S., outpacing the industry in Europe and capitalizing on robust growth in SUV and luxury segments in China," Chairman and CEO Mary Barra said in a statement. "This strong quarter also reflects the excellent progress we're making to improve results in our more challenged global markets."

The company earned $945 million in net income in first quarter 2015, or 56 cents a share (86 cents a share when factoring in special items that cost $547 million, or 30 cents a share).
The carmaker's profit center remained in North America, where adjusted pre-tax income totaled $2.3 billion, up from nearly $2.2 billion a year ago. The company's results were aided by a higher sales mix of more profitable SUVs and trucks and improved pricing.
The company's U.S. sales for the first quarter were flat, partly because GM has pulled back on sales to rental companies as it focuses on more profitable sales to consumers. The company, for example, said its average transaction prices after incentives to retail customers was $35,800 last month in the U.S., about $5,000 higher than the industry average.
Results also were strong in China, where the company reported pre-tax earnings of $518 million.
GM reported a $6 million pre-tax loss in Europe, a region GM has said would break even this year after losing billions of dollars in the region over more than a decade. The carmaker lost $239 million before interest and taxes in the region a year ago. The automaker has been restructuring for years in Europe, and its sales there rose 6.4 percent in the first quarter.
The carmaker said it earned $379 million pre-tax for its International Operations and lost $67 million pre-tax in ailing South America where it has faced a challenging economic environment and a sharp sales drop in Brazil. That was better than the $214 million pre-tax loss reported a year ago. GM Financial also earned $225 million before interest and taxes in the quarter.
Earlier this year, GM raised its profit estimates for 2016, including earnings per share of between $5.25 and $5.75.
Despite continued strong financial results, GM's stock has been stuck in neutral as of late, near its 2010 initial public offering price of $33 a share. Stevens said the auto industry, not specifically GM, is experiencing "negative sentiment" from investors.
"The best thing we can do is continue to execute our short-term and long-term strategy, put the results on the board like we have for the last couple of years, continue to focus on the future through our investments in Lyft and Cruise Automation and innovation and technology, and the share price will reflect that over time," Stevens told reporters.
GM has been focusing more on personal mobility and autonomous driving development. This year, GM has announced a $500 million investment into Lyft Inc., purchased the assets of ride-hailing company Sidecar Technologies Inc. and acquired California-based Cruise Automation to help it develop autonomous vehicle software and test driverless vehicles. The investment in Cruise Automation, expected to close in the second quarter, has been pegged at an estimated $1 billion.
The company also rolled out Maven, its personal mobility brand that includes a citywide car-sharing program in Ann Arbor. Maven is expanding to other cities this year.
"We're going to continue with the disciplined and detailed focus on strengthening the core business and the adjacencies, but also taking advantage of growth opportunities and our ability to lead as personal mobility is transformed and redefined," Barra said in a call with analysts.
GM is the first of the Detroit Three to release earnings. Fiat Chrysler Automobiles NV is expected to report its first-quarter results Tuesday and Ford Motor Co. on April 28.
VW to pay $1B to
U.S. diesel owners
Keith Laing,
The Detroit News and
Tom Krisher, Associated Press
April 21, 2016
Washington — Volkswagen plans to pay $1 billion to owners of its diesel cars that were rigged to cheat federal emission standards as the automaker tries to move past a scandal that has badly damaged its image in the United States.
A person briefed on the matter told the Associated Press that Volkswagen reached agreement with the U.S. government to spend just over $1 billion to compensate owners of the 550,000-plus U.S. diesel vehicles on which the automaker installed software to skirt federal emission rules.
The person said it's an agreement in principle that does not include final details of how much each owner will get. Some owners would have the option of getting their cars repaired or having Volkswagen buy them back.
The agreement likely will be revealed Thursday during a court hearing in San Francisco. The person says it will not include plans to fix the cars, which apparently are still under negotiation.
The person didn't want to be identified because terms of the deal are not public.
Compensation of $1 billion works out to about $1,700 per car. But owners of newer cars that require just a software patch may see little compensation. Those with older cars requiring more complicated repairs probably would be paid more because fuel mileage and performance would suffer.
Volkswagen, the U.S. Environmental Protection Agency and Justice Department all declined requests from The Detroit News for comment on the reported agreement before Thursday's hearing.
A federal judge had ordered Volkswagen to submit a plan for repairs or compensation for the owners of the diesels by Thursday. That deadline was a one-month extension of a previous mandate that was missed. A previous plan by Volkswagen plan to fix 8.5 million diesels in Europe did not meet California's more stringent standards.
The beleaguered German auto company also is facing angry U.S. drivers and car dealers who are upset about the impact of the emissions scandal on the value of their cars and businesses. They are impatient for answers seven months after revelations about the cheating became public.
Sales lagging
U.S. sales of the Volkswagen brand were down 12.5 percent in the first three months of 2016 compared to the same period a year ago. And lawyers representing thousands of Volkswagen diesel owners want the judge to order compensation and repairs if the company doesn't offer a satisfactory fix by Thursday.
The German automaker was accused by the EPA in September of selling diesels for years with software that activated required air pollution equipment only during emissions tests. They had been marketed as "clean diesels" for the company's Volkswagen, Audi and Porsche brands between 2008 and 2015.
Volkswagen has admitted to programming its diesel cars to trick emissions testers into believing the engines released far less pollution into the air than they actually do, in violation of the federal Clean Air Act. Regulators have said that in normal driving they emitted up to 40 times more nitrogen oxide than the legal limit.
Sebisban Merca, 32, of Ann Arbor, believes it is taking him longer to sell his diesel-powered 2012 Jetta than it would have before the emissions scandal.
"Last year, if you (tried to) sell a TDI, when you put it on Craigslist it would sell in one week. But now it's hard," Merca said. His car has been listed for sale since March 29.
Cristian Filip, 38, of Taylor, was less concerned about the agency's standoff with the EPA. Filip, who is selling a diesel 2014 Passat, dismissed complaints from federal regulators against the German automaker as "all politics."
"If you ride in the back of a school bus, that's 100 times worse than riding in the back of my Passat," he said of the environmental impact of the higher-than-advertised amount of pollution that is emitted by his car.
Volkswagen is counting on drivers like Filip remaining loyal as it looks to rebound. Alex Thayer, general manager of Ralph Thayer Volkswagen in Livonia, said Volkswagen's diesel cars accounted for 20 percent of his dealership's sales before their sale was forbidden by the EPA last fall.
Thayer said the emissions scandal is "pretty new territory" for dealers. "You have to have a healthy business when a problem like this occurs so you can sustain yourself," he said.
He said he's been able to sustain the dealership by pushing gasoline models. He added that he is still able to sell used diesels, but can no longer market them as "certified" clean diesel cars.
'It ... hasn't gotten better'
Alan Brown is president of Volkswagen's U.S. Dealer Advisory Council and general manager of Lewisville Volkswagen in Texas. He said many of the 652 U.S. dealers were hit hard by the loss of Volkwagen's turbocharged direct-injection diesels — marketed as TDI.
"I talked to some California dealers where TDI is 40 percent of their business, so it's a big loss for them," he said. "There are a lot of great dealers that have taken steps to deal with this. It definitely hasn't gotten better with time."
Brown said he pushed Volkswagen's German leadership to meet with U.S. dealers at the recent National Automobile Dealers Association convention in Las Vegas. "A lot of dialogue needed to be had related to brand imaging (and) how do we resolve TDI," he said.
He said Volkswagen had a larger turnout for its company meeting than any other brand because dealers are hungry for a resolution. He said Volkswagen leaders have expressed confidence to U.S. dealers that the fix it is working on will satisfy the EPA.
"I think for the most part everybody walked away with an understanding of the short-term plan," Brown said. "We all walked out of the meeting feeling like we were better together than we are apart."
Kelly Blue Book said the average auction value of used diesel Volkswagens decreased from $14,153 in June 2015 to $10,402 in March of this year. By comparison, the average value of gasoline Volkswagens only fell from $10,946 to $9,815 in the same period.
Matt DeLorenzo, managing editor for Kelley Blue Book's KBB.com, predicted it would be a while before Volkswagen can fully escape the cross-hairs of federal regulators, even if the company satisfies the EPA's demands with the reported agreement.
"While the money will go a long way to keep customers happy, meeting emission standards is still a major problem," he said.
"Whatever Volkswagen has to do to the cars themselves will cost more money, and the question remains of how to get the owners to bring back in all the cars for a fix," DeLorenzo continued. "Plus, I believe the government agencies are not only looking for compliance, but also punitive measures because of the deliberate nature of the scam."

2017 Lincoln MKC to include
more standard features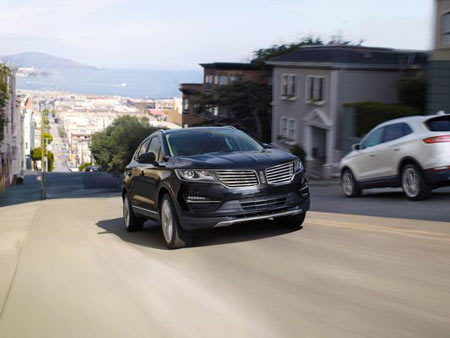 Michael Martinez,
The Detroit News
April 20, 2016
Lincoln Motor Co. is updating its MKC small crossover for the 2017 model year with a few new standard features, the brand said Tuesday.
Pricing details have not been announced, but ordering for the 2017 MKC opens next month, a Lincoln spokesman said. The 2016 model year crossover started at $34,890.
The new 2017 model-year features include:
■Standard power liftgate
■Standard start-stop on the front-wheel-drive 2.0-liter EcoBoost; optional stop-start on the all-wheel-drive model
■Standard "auto hold," a feature that relieves the driver from having to press the brake pedal continuously to keep the vehicle stationary
■Sync 3 with AppleCar Play and Android Auto
The crossover, which is made at Ford Motor Co.'s Louisville Assembly Plant, comes with either a 2-liter EcoBoost engine that gets up to 240 horsepower or a 2.3-liter EcoBoost that gets up to 285 horsepower.
Lincoln sold about 25,000 MKCs last year.


Detroit craves Silicon
Valley speed, innovation
Daniel Howes,
The Detroit News
February 19, 2016
If General Motors Co. and Ford Motor Co. get their way, the road they're traveling more frequently to Silicon Valley will become a two-way street.
"We're looking for that innovative mindset through the total business," says Raj Nair, Ford's executive vice president of product development. "It's just as critical to the core business as it is to these emerging opportunities. I wouldn't say there is a sense of panic, but there is a sense of urgency and speed."
There they are, the three words signifying what today's Detroit industry is craving most from Silicon Valley's entrepreneurial culture — innovation, urgency and speed. Why? Two reasons: first, because the necessary restructurings of GM and Ford amid the global financial meltdown are insufficient as new competitors encroach on a business long controlled by legacy automakers.
And, second, because the horsepower and speed Detroit can produce in its design studios and assembly plants do not necessarily represent the pace these companies and the people inside them move. Traditional risk-averse bureaucracies allergic to failure, the prototypical Detroit way, are antithetical to Silicon Valley's speed and higher tolerance for risk.
That needs to change faster than it is. As much as this town's heavyweights want competitive advantage in the emerging buckets of transportation services, connectivity and autonomous cars, their leaders should push to embed aspects of that techy culture in the more prosaic, cash-generating pieces of the traditional car and truck business.
They know it. And they know that doing it, imbuing a culture fashioned over nearly a century with the alien values of speed and change, is far harder than talking about it in the abstract. It takes more than wearing jeans to the office or renovating mid-century office buildings into a 21st-century campus; it takes blunt leadership, realistic veterans and fresh blood untainted by the past.
The axis connecting Detroit with Silicon Valley is not just a business opportunity for the auto industry. It's a potentially symbiotic relationship that Detroit, especially, could use to infuse its traditional business culture with some of the entrepreneurial attributes epitomized by the epicenter of high tech.
That's partly why Ford, in roughly a year, expanded its center in Palo Alto to 120 from a dozen, a move Nair says is intended to make the Blue Oval "part of the" Silicon Valley "ecosystem as opposed to being a visitor in it." Since that expansion, Ford has talked with 200 startups and has active projects underway with about a third of them.
That's partly why GM CEO Mary Barra took her 14-member executive leadership team to Silicon Valley last summer to see how (and how fast) its top players operate. It's partly why GM is separating its Cadillac brand from Detroit and planning to eventually report its own financials.
It's certainly why GM took a $500 million stake in Lyft Inc., the ride-sharing company; invested a reported $1 billion in Cruise Automation to speed development of GM's own autonomous cars; created Maven, a car-sharing service — and in each case pledged not to smother the entrepreneurial cultures with what's known as the GM "bear hug."
Scoff at your peril, folks. The business is changing, and it will change because American society is changing. Government regulators and their rules dictate product development decisions in increasingly expensive and draconian ways that the public appears willing to accept, if it bothers to think about them at all.
Environmental awareness, re-urbanization, connected technologies and the quest to field a workable self-driving vehicle are driving reappraisals of what personal transportation is likely to be. That will impact traditional automakers in ways it is so far difficult to quantify.
"Autonomous will change the industry," says Mike Ableson, GM's vice president of portfolio planning and strategy. "We can argue when and how quickly. You can't win by just using traditional auto industry skills. After you've been through bankruptcy, you can't go into denial about how the industry may change and put you out of business."
He's exactly right. Detroit, and the people who depend on its success for their pay, their pensions or both, ignore (or ridicule) these unmistakable trends at their peril. An industry built on selling cars and trucks to private owners for private use is not likely to flip overnight, or even in the next 10 years, but assuming the future will track the past is the triumph of hope over experience.
You'd think this town, with its epic record of hubris and arrogance, would have learned two things by now: one, that competition born of changing market demand and technology should not be ignored and, second, that the cornerstones of Detroit are never too big to fail.

Ford: No interest in
merger with Fiat Chrysler
Michael Wayland,
The Detroit News
April 17. 2016
Ford Motor Co. reiterated that it has no interest in merging with Fiat Chrysler Automobiles NV, after CEO Sergio Marchionne said Friday that Ford was one of three potential partners for a tie-up.
"As we consistently have said, Ford has no plan or interest other than to continue to accelerate our One Ford plan, deliver product excellence and drive innovation in every part of our business," the company said in an emailed statement Friday to The Detroit News.
Ford's statement follows comments made by Marchionne earlier in the day on the sidelines of the company's shareholders' meeting in Amsterdam. He said Ford, Volkswagen AG and Toyota Motor Corp. were the potential automakers left for a "big" auto industry merger after General Motor Co. rebuffed the company in 2015.
Spokespeople with Toyota and Volkswagen declined to comment on the matter.
Marchionne, according to Bloomberg, admitted that what he was "interested to do is not doable now," but said "the door has never been closed" on a deal with a major competitor.
South Korean automakers such as Hyundai Motor Co. don't appear to be on the table. Reuters reported that Marchionne said South Korean carmakers were among the big players in the industry and there would be sufficient synergies to justify a merger, but "the Koreans don't get married."
Marchionne's comments came after Fiat Chrysler Chairman John Elkann said Thursday that the company still had merger aspirations in a letter to shareholders for Exor SpA, an influential investment company through which his family holds 44 percent voting rights of Fiat Chrysler.
Elkann reiterated that the automaker could save $10 billion a year by "doing something with the 'Big Guys.' "
"If you value that in perpetuity it starts to become very interesting," he wrote in the 16-page letter prior to the automaker's annual meeting. "But you need two to tango and most of our competitors are busy with the great opportunities that technological disruption has to offer."
Marchionne originally pitched industry consolidation through a presentation called "Confessions of a Capital Junkie" with financial analysts and news media in April 2015.
Following Marchionne's presentation, the automaker courted GM as a partner but was rebuffed several times, which reportedly led to plans to possibly launch a hostile takeover. That did not occur.
Eight months after the consolidation pitch, Marchionne told reporters at the Detroit auto show in January that he "abandoned," for now, his efforts for industry consolidation to focus on achieving the automaker's ambitious 2018 goals.
"The achievement of the plan in '18 will create a car company that is fundamentally different than the one we are looking at today, and it will put it in position to have a different type of dialogue with people who may have been otherwise not interested," he said on Jan. 11. "It will give us the credibility, I think, which is highly important, in being able to reopen the discussions."
Marchionne in January said he believes consolidation remains "unavoidable." However, he will not be leading those discussions or the company's post-2018 plan. He said he has committed "to the achievement of the 2018 plan" but "come '19 and later, the discussion will have to be handled by my successor."
Fiat Chrysler shares on the New York Stock Exchange at 3:30 p.m. Friday were trading down about 1 percent to $7.50 per share.

Ford's first-quarter Europe
sales rise 8.4 percent
Michael Martinez,
The Detroit News
April 15, 2016
Ford Motor Co. on Thursday said its sales in Europe grew 8.4 percent in the first quarter of 2016, outpacing the industry, thanks to strong demand for SUVs and performance cars.
The Dearborn automaker sold 401,200 vehicles through the first three months of the year in all 50 of the European markets it operates in. Its market share during that time period rose 0.3 percent as it remained the No. 2 best-selling brand.
Industry wide, sales volumes rose 5.4 percent in the first quarter.
Ford's March sales rose 4.3 percent.
"There's a growing sense of excitement about Ford in Europe, from the new Mustang and Focus RS, to our growing SUV lineup, to our best-selling commercial vehicles," Roelant de Waard, vice president, Marketing, Sales and Service, Ford of Europe, said in a statement. "We're reaching more customers, and importantly, we're winning over even more retail and business fleet customers who are increasingly choosing highly-equipped Ford vehicles."
De Waard said in a conference call with media that the industry has operated at a 17 million selling pace so far this year, and he expects that will continue. In 2015, de Waard said the industry sold about 16 million vehicles in Europe; Ford's sales in its 20 traditional European markets were up 11 percent to 1.3 million.
Much like in the U.S., sales in Europe are driven by a strong demand for SUVs. Ford expects its SUV sales to grow by about 30 percent in 2016 compared with last year, and to break the 200,000 sales mark for the first time in Europe.
Sales of Ford's mid-size Kuga rose 23 percent in the first quarter to 30,700 for its best first quarter ever. Compact EcoSport sales were up 50 percent to 14,600. Ford will introduce a new Kuga and Edge in the second half of the year.
"The SUV segment has grown, and we expect that to continue," de Waard said.
Performance cars are also a large part of Ford's sales. As the automaker expands its performance lineup with cars like the Focus RS and Fiesta ST200, it has forecast it will sell more than 40,000 performance cars this year, a 50 percent increase over 2015.
Mustang, which Ford began selling in Europe in the third quarter of 2015, became the best-selling sports car in Germany in March, and Ford has taken more than 16,000 orders since the pony car's launch.
Ford was the No. 1 commercial vehicle seller in Europe in the first quarter as sales rose 14.4 percent to 80,900 vehicles, led by Transit vans and the Ranger mid-size pickup.
De Waard said 60 percent of sales of all of Ford's passenger cars in the first quarter were of the higher, more profitable models. It will expand its upscale Vignale line with S-MAX, Edge and Kuga Vignale this year.
The automaker turned a profit in Europe last year for the first time since 2011, and is currently in the midst of job cutbacks to improve profitability even more.

Ford Motor Co. will begin
accepting applications
to buy its GT supercar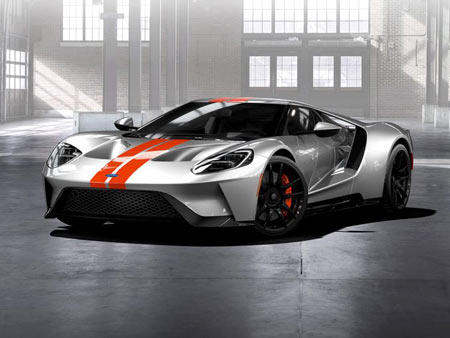 Michael Martinez,
The Detroit News
April 14, 2016
The application process — available at www.fordgt.com — will favor current GT owners and help ensure the cars will be driven on the road and not stored in a museum or re-sold at high markups.
Ford says the supercar will be priced "in the mid-$400,000s." Initial ordering will be limited to the first two production years, or 500 cars total, with a minimum of 300 cars. The automaker will accept applications in the U.S. and most regions through May 12, although it will accept applications in China, Macau and the Philippines through May 24.
The application asks about previous Ford GT ownership, including the time owned, miles driven, VIN number and how the car was used. It asks what other Fords or Lincolns the applicant has used for personal and business use.
It also wants to know about any vehicle-related charitable activities or contributions; if the applicant is a car collector, and if so, how many Fords and Lincolns are in their collection; and if the applicant is a public figure such as a professional athlete, TV personality or a member of the motorsports community.
There's also space for applicants to share unique qualifications that make them an ideal GT owner.
Applicants will have an opportunity to identify their preferred Ford dealership. If approved, they will complete their purchase with the help of their dealer and the new Ford GT Concierge Service.
Winners will be hand-selected by a group of Ford executives. Officials have previously said that the small group will likely include Executive Chairman Bill Ford and President and CEO Mark Fields. Ford said it will notify selected applicants via email around July, and if a selected applicant doesn't respond to five emails over a 120-hour period, they lose their spot.
The automaker said it will also contact an undetermined amount of applicants who will be placed on a wait-list in case the winners don't respond or accept.
"The purchase process for the Ford GT is as unique as our all-new supercar," Henry Ford III, global marketing manager, Ford Performance, said in a statement. "We understand GT customers are strong ambassadors for Ford Motor Company, and we look forward to providing them a service as distinct as the car itself."
Ford also announced that, for production, eight exterior colors can be paired with one of seven different stripe colors. Ford has previously showed the supercar at various auto shows in blue, red, yellow, white and gray.
The supercar has garnered lots of attention since its introduction at the 2015 North American International Auto Show, including from celebrities like Jay Leno and Detroit Tigers pitcher Justin Verlander.
The car will be powered by a 3.5-liter V-6 EcoBoost engine. It's the same engine that debuted on Ford's Taurus SHO and is on the 2015 F-150 pickup, but the GT engine includes custom pistons, rods, turbos and cams that will help it get more than 600 horsepower. The vehicle will include a number of lightweighting options, including a carbon-fiber tub and a gorilla-glass windshield that is 12 pounds lighter than a traditional windshield.
The racing version, which is very similar to the street version that customers can buy, made a return to the track earlier this year at the Rolex 24 at Daytona, where braking issues, blown tires and transmission problems led to disappointing results.

Ford unveils 10-year plan to
transform Dearborn campus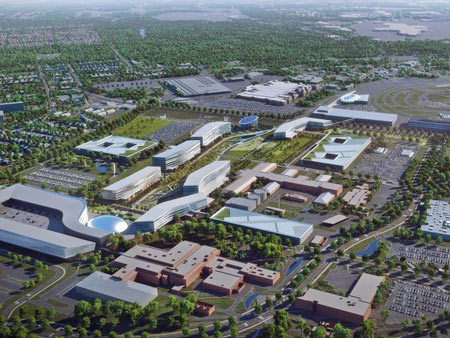 Michael Martinez,
The Detroit News
April 13, 2016
Ford Motor Co. will drastically redevelop its outdated Dearborn properties into a walkable, aesthetically pleasing work environment reminiscent of a college campus or Silicon Valley startup.
Over the next 10 years, the automaker plans to relocate 30,000 employees currently spread throughout 70 Dearborn buildings into two main campuses — a product campus across the street from Oakwood Boulevard and The Henry Ford Museum, and a World Headquarters campus near the Glass House.
The long-term project will include demolishing certain facilities and updating existing ones. Ford will build a new design center and new zero-waste sustainability showcase building, and completely renovate the interior of the Glass House. Early renderings call for basketball courts, softball fields, walkable paths with lakes, flowers and trees, and the ability for employees to move around the campuses using e-bikes, autonomous cars and shuttles.
"As we transition to an auto and a mobility company, we're investing in our people and the tools they use to deliver our vision," Ford President and CEO Mark Fields said in a statement. "Bringing our teams together in an open, collaborative environment will make our employees' lives better, speed decision-making and deliver results for both our core and emerging businesses."
Fields made the announcement to employees and the news media in separate webcasts Tuesday.
Construction will begin later this month on a number of new parking structures, Fields said. Raj Nair, Ford's product chief, said the renovations won't affect product development in Dearborn.
Ford tapped SmithGroupJJR for the project, the same architecture and engineering firm that designed offices for Google, Microsoft, Tesla, GM Tech Center and campuses at the University of Michigan and Indiana University.
"The overarching theme is to make the lives of employees better," Donna Inch, chairman and CEO of Ford Motor Land Development Corporation, said in an interview. "Bringing people together within 10-minute walking diameters of each other… the productivity gains are pretty significant."
Ford's new product campus will double the number of employees who work in the area now, from 12,000 to 24,000. Currently known as the research and development campus, it was dedicated by President Dwight Eisenhower in 1953.
Renovations will include "connected facilities" that feature the latest wired and wireless hardware; a central green area that links buildings; and energy-saving features like geothermal heating and cooling. The centerpiece will be a new 700,000 square-foot Design Center that will include studios and an outdoor design courtyard. Ford will demolish the old space, except for the 14,000-square-foot design showroom.
The World Headquarters campus will include more than 1.3 million square feet of reworked space, including a new building for Ford Credit next to the Glass House.
A rendering shows an atrium at the front of the Glass House that Inch says could be used as a welcome lobby for visitors.
The interior of all the new buildings will be designed with more collaborative work spaces, adjustable-height desks, natural lighting, indoor and outdoor cafes with Wi-Fi, on-site fitness centers and healthy eating options. The new buildings will deliver about 50 percent annual energy use reduction, and a significant water and storm water reduction.
Executive Chairman Bill Ford, who has long touted the automaker's sustainability efforts, said in a statement that the project "incorporates thoughtful ways to improve the environmental footprint of our facilities, while creating a vibrant workplace that inspires our employees."
Inch declined to reveal a price for the massive undertaking. "It's a long-term project and there's a lot of moving pieces," she said.
She said Ford will not need to purchase additional property and the renovations will take place within the 7.5-million square feet it already owns.
The announcement comes nearly a year after General Motors Co. announced a $1 billion investment to expand and renovate its Warren Technical Center. That automaker also plans to offer employees the ability to move around campus on autonomous vehicles.
Ford's construction will start this month at its Research and Engineering Center. Work on Ford's World Headquarters will begin in 2021 and be complete in 2026.
"It's really exciting for our team," Inch said. "It's about moving into the next century."
F-150 only truck to earn top
rating in IIHS safety test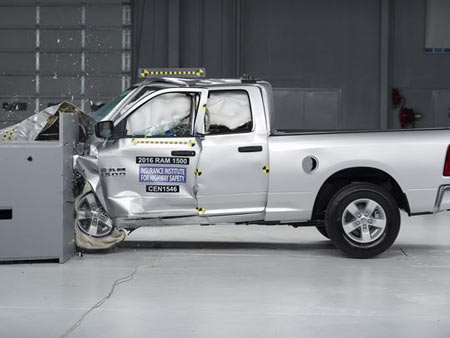 Michael Martinez,
The Detroit News
March 12, 2016
An independent crash test found the aluminum-body Ford F-150 SuperCab is the only crew cab or extended-cab pickup worthy of a top safety award, and other trucks are likely to result in leg, ankle and foot injuries during certain types of front-end collisions.
The Insurance Institute for Highway Safety on Tuesday published its annual small-overlap front crash test ratings, and the F-150 SuperCab was the only model to earn a "good" rating — the highest distinction awarded. By contrast, Fiat Chrysler Automobiles' Ram 1500 Quad Cab and Crew Cab earned the worst marks, including the worst possible rating for its structure and lower leg and foot injury measures.
Crew cabs have four full-size doors and two full rows of seating. Extended cabs have two full front doors, two smaller rear doors and compact second-row seats.
The top score is an improvement for Ford's extended-cab F-150 SuperCab, which earned a second-to-worst "marginal" score last year because that particular cab configuration didn't include the same safety measures in its top-selling SuperCrew configuration, which did earn a top mark. Typically, IIHS has tested only the best-selling version, but last year decided to rate two versions because it learned the SuperCab lacked the safety measurements found in the configuration that normally was tested.
Ford said it didn't have enough time to outfit the SuperCab for last year's tests, but since then has added wheelblockers, nylon hinge pillar reinforcements and rocker cab reinforcements that help in this particular crash scenario.
An IIHS spokesman said the test "replicates a crash that almost doesn't happen," where a truck runs off the road and hits a tree or pole on the driver's side, or clips another vehicle that has crossed the center line. The spokesman said small overlap crashes account for about 25 percent of the serious injuries and deaths that occur in frontal impacts.
"Ford is leading the way among large pickup manufacturers when it comes to protecting people in a range of crashes and offering technology to warn drivers of imminent frontal crashes," Raul Arbelaez, vice president of the IIHS's Vehicle Research Center, said in a statement. "We commend Ford for taking last year's test results to heart and upgrading protection for SuperCab occupants in small overlap crashes."
Automakers routinely upgrade vehicles to meet specific IIHS tests and many consumers consult the ratings before buying vehicles. Automakers are quick to tout the institute's "Top Safety Picks" in advertising.
"From the moment our team set out to design and build the new F-150, we knew it had to be best-in-class," Raj Nair, Ford executive vice president, Global Product Development, and chief technical officer, said in a statement. "This Insurance Institute for Highway Safety Top Safety Pick is another example of Ford's commitment to building the toughest, smartest, most capable and safest F-150 ever."
Most of the nine truck cab configurations tested scored top marks when measuring head and neck, chest and hip and thigh injuries. But all trucks besides the F-150 earned the worst possible rating for lower body injuries.
"Drivers in these pickups would need help freeing their legs from the wreckage following a small overlap crash," Arbelaez said in a statement. "We encourage manufacturers to redesign their pickups to resist intrusion in the lower occupant compartment to safeguard people from serious leg and foot injuries that might require months of rehabilitation."
IIHS noted that the Chevrolet Silverado 1500, GMC Sierra 1500 and Toyota Tundra extended-cab models each earned "acceptable" ratings, but problems emerged with the larger crew cabs from those makers. The crew-cab versions of those trucks only managed "marginal" ratings.
IIHS said that in both Ram 1500 cab configurations, the force of the frontal crash pushed the door-hinge pillar, instrument panel and steering column back toward the driver. In the crew cab version, the dummy's head hit the front air bag and rolled around to the left side, approaching the windshield pillar as the steering column moved to the right.
Fiat Chrysler in a statement Tuesday downplayed the results.
"Our vehicles are designed for real-world performance, and no single test determines overall, real-world vehicle safety," the automaker said. "Every FCA US vehicle meets or exceeds all applicable motor-vehicle safety standards."
The Ram 1500 was last redesigned in 2012, the same year IIHS introduced its small-overlap test. Its competitors' models have been updated since the test, so they have had more opportunities to adapt and include safety improvements.
IIHS said the large trucks all earn good ratings in the moderate-overlap front test, side test and head restraint evaluations. The institute plans to test the redesigned 2016 Nissan Titan and Honda Ridgeline later this year.
NDP seeks new direction as party
moves to replace Tom Mulcair
LAURA STONE and
JUSTIN GIOVANNETTI
The Globe and Mail
April 11, 2016
The federal NDP's rank and file turned on Tom Mulcair Sunday as deep ideological divisions beset the party in the wake of last fall's crushing electoral defeat.
After an unprecedented rejection of a political leader, the struggling third party must now decide what it stands for as it moves to replace him.
Mr. Mulcair received only 48 per cent support in a leadership review held in Alberta's capital city, a number that stunned to silence the 1,768 delegates assembled for the convention.
"Don't let this very divided vote divide us," Mr. Mulcair appealed to his members after the loss.
The weekend was marked by increasing tension between climate-change activists and a vocal Alberta delegation that included NDP Premier Rachel Notley.
After fumbling an opportunity to distance himself from comments supporting a pipeline ban, Mr. Mulcair found himself in a furious debate over the Leap Manifesto, a proposal to wean Canada off fossil fuels and reject new energy projects. Alberta delegates resoundingly rejected the document.
The party has given itself up to two years to select a new leader, and Mr. Mulcair vowed to stay on until his successor is named.
"The disappointment from the election obviously is something that we're now going to leave behind us with a change at the helm," Mr. Mulcair said.
NDP MP Peter Julian said the mood was grim backstage as the results were announced.
"We were surprised and saddened, there's no doubt. There were tears," he said.
In a speech before the vote, the NDP Leader tried to pitch himself as the scrappy fighter New Democrats need to remain united against the Liberal government.
"If you keep standing with me then together we will never stop fighting," Mr. Mulcair said during a half-hour speech where he vowed to protect universal health care and fight growing income inequality.
But his final, at times emotional, plea wasn't enough to hold on to his party's support. Many delegates who had said they were waiting to hear the speech before making up their minds said afterward that Mr. Mulcair did not deliver a new vision for his leadership.
Jerry Toews, a delegate from Edmonton, said he was undecided until the final moments.
"To be quite honest, I don't think he had as great a speech as [Notley]," he said of the Alberta Premier, who spoke at the convention on Saturday afternoon.
"I think that was a big part of the problem. What was his speech really saying today?"
While the NDP has a long tradition of patience with leaders who lose, it wore thin with Mr. Mulcair, whose performance in last fall's federal election campaign left many members disappointed and angry. No federal party leader has failed to secure a majority when their leadership is in question.
Mr. Mulcair was brought in to lead the party in 2012, after the NDP won official opposition status under Jack Layton, who passed away shortly after the 2011 election.
The party hoped the NDP could build on Mr. Layton's success by selling Mr. Mulcair's moderate vision to Canadians. But the 2015 campaign proved a disaster after Mr. Mulcair ran on an uninspired platform that proposed balanced budgets and held off on tax hikes for the rich. Part of the party's current identity crisis stems from that campaign and the Liberal government's embrace of deficits and higher social spending. As a result, the NDP lost more than half its seats and fell back to third place.
Many attending the convention said they felt their views were ignored during the campaign, and didn't trust Mr. Mulcair to listen the second time around. "He ignored us," said John Hutton, a youth delegate from Halifax.
The leadership issue wasn't the only one at play. The Leap Manifesto, supported by nearly two dozen riding associations, dominated the discussion in hallways and on the convention floor.
In a divided vote on Sunday morning, delegates agreed to study the manifesto over the next two years in local riding associations before bringing it back to the 2018 convention.
"Don't let this debate be the end. Let it be the beginning," filmmaker Avi Lewis, one of the document's originators, said before the vote.
But the manifesto was the cause of much consternation in the convention's home province.
With Alberta's NDP Premier enjoying an enthusiastic reception among delegates, the Edmonton convention was proof of how much has changed in the federal party since Ms. Notley's historic victory nearly a year ago.
Stephen Lewis, a former Ontario NDP leader and party elder, said he was speechless after Mr. Mulcair's loss. "I think the very large Alberta delegation here probably voted significantly against Tom Mulcair," he said. He cited Mr. Mulcair's comment that he was open to a pipeline ban as well as the Leap Manifesto's adoption for turning the Alberta delegation against the leader.
A day earlier Ms. Notley had called on the party to shun the manifesto and embrace pipelines, a pitch that was repeated by members of her party on the convention floor. "From the Premier, through cabinet and MLAs, we are all supporting what's in the best interest of Alberta," said MLA Jessica Littlewood after Mr. Mulcair's defeat.
Candidates who decide to enter the leadership race to replace Mr. Mulcair will first have to face the critiques that dogged him for the past six months: that his policies were too right wing for the NDP.
Many in the NDP are now looking for a new direction, one that couldn't be provided by Mr. Mulcair, said Ontario MP Charlie Angus. "What's the vision for 2019?" he asked. "Tom just didn't deliver that."
Wisconsin Court Tosses
Out Gov. Scott Walker's
"Right-to-Work" Law
Tom McKay
April 10, 2016
On Friday, a state judge threw out Wisconsin Gov. Scott Walker's right-to-work law, reversing a major loss for labor activists and dealing a heavy blow to the Republican's administration.
Judge C. William Foust ruled in favor of union activists, who claimed provisions in the law preventing unions from collecting dues from non-members violated the state constitution's protections against the "taking" of private property, Politico reported.
Plaintiffs alleged the law undercut unions by allowing non-union employees to enjoy the benefits of collective bargaining without paying in. Supporters of the law say it simply gives employees the right to work without being compelled to pay union dues, though the laws have been cast as an attempt to undermine the political power of U.S. labor.
In his decision, Foust said unions must bargain on behalf of non-members because they "cannot decline exclusive representative status unless it declines to be voted in at a workplace to begin with," according to Think Progress. He added that the law's impact "over time is threatening to the unions' very economic viability."
Walker's lawyers told Politico that appeals will overturn Foust's decision, as the state Supreme Court did when it overturned a lower court's decision to throw out Act 10, which restricted public employees' collective bargaining rights.
"Once again, a liberal Dane County judge is trying to legislate from the bench," Republican Assembly Speaker Robin Vos told the Associated Press. "No one should be forced to join a union or pay union dues as a condition of employment."
The governor touted his record taking on Wisconsin unions during an ill-fated presidential bid in 2015. Walker became the second casualty of the brutal Republican slugging match, suspending his bid in September amid some polls showing him tied for 12th place.
As Politico noted, right-to-work laws in other states have withstood multiple court challenges, meaning Foust's decision may not be the end of the line.
Ford invests $170M, creates
1,200 jobs in South Africa
Michael Martinez,
The Detroit News
April 9, 2016
Ford Motor Co. on Tuesday said it will invest about $170 million and create 1,200 new jobs to build its new midsize Everest SUV and Ranger midsize pickup in South Africa.
The Dearborn automaker also makes the Everest in Thailand, India (where it's known as the Endeavor) and China. It said production in Silverton, South Africa, will begin in the third quarter, and the vehicles will arrive in South African showrooms in the fourth quarter. There are no plans to sell it in the United States.
Ford said the South African plant will be able to make 10,000 Everest SUVs a year.
"Our customers love the capability and utility offered by the all-new Ford Everest," said Jim Farley, Ford executive vice president and president of Europe, Middle East and Africa. "By producing the Everest in South Africa, we will be able to make it more readily available, and in a greater variety of models, for customers throughout Sub-Saharan Africa."
Part of the investment will be for the Ranger truck, which is already made at the South African plant. The Ranger is exported to 148 countries in Africa, Middle East and Europe, while engines and machined components are supplied to Argentina, Thailand, North America, India and China.
Currently, Ford's South African market imports Everests from Thailand, and they're only available with a 3.2-liter five-cylinder Duratorq TDCi engine in an XLT or Limited trim. Ford said the local production will include a 2.2-litre Duratorq TDCi four-cylinder diesel engine.
Ford sold 78,471 passenger cars and light commercial vehicles in South Africa last year.
"As we continue to grow our business here in South Africa we are committed to improving the skills of our employees and creating new opportunities within the company and the broader supply chain," said Jeff Nemeth, president and CEO of Ford Motor Company Sub-Saharan Africa region. "It is only through the dedication and commitment of our work force, suppliers, dealers, union and government partners that we have been able to secure this investment and expand our operations, broadening our footprint in Africa even further."

Ford Investing $2.5 Billion
in two new Plants in Mexico
Auto Blog
April 8, 2016
Automobile production keeps ramping up in Mexico. Last week alone, Toyota announced a new plant it's building south of the border, and news broke that Hyundai is looking into the same. Now Ford has announced a multi-billion-dollar initiative that will see it building two new facilities in Mexico, as well.
Though neither will be a final assembly plant, both promise to break new ground for the automotive industry in Mexico – at least as far as Ford is concerned.
The first is a new engine facility to be built at Ford's existing plant in Chihuahua. The fruit of a $1.1-billion investment will see the Blue Oval produce new gasoline engines for use in North America, South America and Asia-Pacific, creating 1,300 new jobs in the process.
Ford will also be investing another $200 million to expand its inline-four and diesel engine production lines at the same plant. The move will create another 500 new jobs and make Ford's Chihuahua engine plant the largest in Mexico, according to the company's press release.
Ford has also announced the building of its first transmission facility in Mexico, to be constructed within Getrag's plant in Irapuato in the state of Guanajuato. The $1.2-billion investment will create 2,000 new jobs and be charged with exporting two new automatic transmissions to markets around the world.
The announcement comes on the 90th anniversary of Ford's presence in Mexico, dating back to 1925. Currently the company produces the Fiesta, Fusion and Lincoln MKZ in Mexico, as well as numerous Duratec and diesel engines.
Ford's Mexico gambit stirs
mostly faux outrage
Daniel Howes,
The Detroit News
April 7, 2016
Donald Trump and the UAW's Dennis Williams apparently are shocked that Ford Motor Co. is building a $1.6 billion plant in Mexico.
Where have they been? More precisely, what don't they understand about the financial and market realities driving the Blue Oval's move, a step the automaker and its Detroit rivals signaled clearly during last fall's contract talks? Answer: they understand everything.
The United Auto Workers president and the mogul masquerading as a Republican presidential candidate know full well the rationale behind Ford's move — Williams because his negotiators exchanged new investment in Michigan for investment in Mexico long before last fall's contract ratification, and Trump because more than a few of his branded products are built outside the United States, lest they become as pricey as one of his condos.
Ford knows the politics, too. Antipathy to free trade is animating the candidacies of Trump and Vermont Sen. Bernie Sanders, and anything that smacks of "sending jobs to Mexico" is a deadly headline easily distorted. This case is no different, but it's not enough to reverse a Ford choice that is neither Mexico nor Michigan. It's both.
The only surprises here are, first, how long it took Ford's official communications to catch up to the narrative confirming that it would no longer build compact cars, including slow-selling hybrid models, at Michigan Assembly in Wayne. And, second, that anyone doubted Ford would actually follow through on an investment designed to maximize profits by building lower-margin cars in lower-cost Mexico.
Looked at its stock price lately? Despite seven consecutive years of expanding sales and record North American profits, shares in Ford remain mired in a narrow band that signals investors are not yet persuaded an icon of Old Detroit (much less its rivals across town) can navigate successfully an inevitable slowdown or the potentially existential disruption posed by Silicon Valley's automotive-industrial complex.
Get used to it: disruption is becoming the new normal in an industry historically slow to recognize it. Opportunities for new investments and new technology won't change market perception of Old Detroit — vital to financing its future — if leaders base decisions more on popular sentiments against trade and less on the numbers.
Since the bailout and bankruptcies of 2009, the numbers generally have favored the UAW, Michigan and U.S. plants. Detroit's automakers, lured by aggressive state-level incentives, especially in Michigan, reinvested heavily in existing American plants even as they joined the global industry's deeper push into Mexico.
Detroit's chunk of the global auto industry still faces tough choices. It can wilt under the ravings of Trump — "these ridiculous, job-crushing transactions will not happen when I am president" — and the anti-trade tirades of the UAW, pretty much confirming investor suspicion. Or it can hedge its bets by producing pricier, high-margin vehicles in unionized U.S. plants and lower-margin vehicles outside the country.

Trump: New Ford
Mexican plant 'disgrace'
Michael Martinez,
The Detroit News
April 6, 2016
Republican presidential candidate Donald Trump on Tuesday slammed Ford Motor Co.'s decision to build a $1.6 billion assembly plant in Mexico as an "absolute disgrace" that would not happen if he becomes president.
"Our dishonest politicians and the special interests that control them are laughing in the face of all American citizens," Trump said in a statement on the day of the presidential primary in Wisconsin — a rust-belt state that, like Michigan, has lost manufacturing jobs. "These ridiculous, job-crushing transactions will not happen when I am president."
Trump reacted hours after the Dearborn automaker confirmed plans to build small cars at a new plant in the Mexican state of San Luis Potosi. The announcement prompted a similar scathing reaction from the leader of the United Auto Workers union.
The billionaire businessman has singled out the automaker for months on the campaign trail for its investments in Mexico, after Ford announced last year it would invest $2.5 billion in engine and transmission plants there. Shortly after declaring his candidacy in June, Trump vowed he would impose a 35 percent import tariff on any cars built in Mexico that Ford tries to sell in the U.S.
Ford did not respond directly to Trump's attack on Tuesday, or to criticism by the UAW.
The latest investment announcement comes during a heated presidential primary in which trade deals and the loss of American jobs have become the center of campaign rhetoric for Trump and Democratic presidential candidate Bernie Sanders. Automakers including Ford, Toyota and General Motors Co. have invested heavily in Mexico to build less-profitable small cars because of Mexico's low labor costs and favorable trade deals for exporting vehicles made there.
Public perception about moves by Ford and others to Mexico have been largely unfavorable. Many believe automakers are abandoning jobs and production opportunities stateside. By contrast, little is made of investments in other parts of the world, such as Ford's $170 million investment in South Africa that also was announced Tuesday and largely went unnoticed.
"Mexico's a raw nerve for political leaders and certain segments of the voting population," said Kristin Dziczek, director of the Industry & Labor Group for the Center for Automotive Research. "I don't think Ford Motor Co. makes their announcements according to a political calendar. All of the automakers are growing their presence in Mexico. It's not just cheap labor, it's trade access to the rest of the world."
Ford said it will start construction on the Mexico plant this summer. It says it will produce vehicles in 2018 and create 2,800 direct jobs by 2020. Most vehicles built at the plant will be for the North American market, with the majority exported to the U.S., according to Ford.
Joe Hinrichs, Ford's President of the Americas, said the move was about increasing profitability of its small cars. He would not comment on how many or what cars the plant would produce, or how many the plant could make per year. Reuters has reported the plant will produce up to 350,000 vehicles annually.
Ford last year said it would stop building its Focus and C-Max cars at its Michigan Assembly Plant and move production elsewhere. UAW officials said at the time that at least the Focus would move to Mexico. Ford executives have said they're looking for a cheaper option to build lower-profit vehicles like the Focus and C-Max. Mexico would represent such an opportunity, but Hinrichs on Tuesday would not confirm those vehicles would be built at the new plant.
Ford executives have said the departure of the Focus and C-Max from Michigan Assembly would not result in a loss of jobs, and the new UAW contract stipulates two new vehicles will come to the plant by 2020. Ford entered negotiations with plans to resurrect its Ranger pickup at the plant, and reports have said Ford plans to bring back its Bronco SUV there.
Tuesday's announcement drew the ire of UAW President Dennis Williams, who has berated U.S. trade policies for taking work outside the country. It comes months after Williams negotiated with Detroit's three automakers for raises and job commitments to the union's autoworkers as part of a four-year contract.
"Today's announcement that Ford is investing in Mexico is a disappointment and very troubling," Williams said in a statement. "For every investment in Mexico, it means jobs that could have and should have been available right here in the USA. This is another example of what's wrong with NAFTA and why the TPP would be a disaster for the citizens of the United States. Companies continue to run to low-wage countries and import back into the United States. This is a broken system that needs to be fixed."
Hinrichs on Tuesday noted that Ford last year built 80 percent of its North American vehicles in the U.S., and last year it built more cars and trucks here than any other automaker. During the last five years, Ford has invested $10.2 billion in the U.S. and has created 25,000 jobs, Hinrichs said. In its new contract with the UAW, Ford committed to investing an additional $9 billion in the U.S. through 2019.
In 2015, Ford moved production of its medium-duty trucks from Mexico to its Ohio Assembly Plant in Avon Lake, a deal worked out during the previous contract with the UAW.
"The facts bear out that our investment in the U.S. continues to be substantial," Hinrichs said. "The investments in Mexico are not having an offsetting effect in the U.S.; we're not losing any jobs at Michigan Assembly Plant or southeast Michigan."
Last year, Ford announced it will invest $2.5 billion for two new engine and transmission plants in Mexico and an expansion of a diesel engine line that will create about 3,800 jobs.
Ford says Mexico is its fourth-largest manufacturing site, behind the U.S., China and Germany. It employs about 8,800 in Mexico — roughly one-tenth its number of U.S. workers, Ford said.
GM last year announced a $5 billion investment there over six years and Toyota said it will invest $1 billion in a Mexican plant. Fiat Chrysler Automobiles NV, BMW AG, Volkswagen AG and its Audi unit, Nissan Motor Co. and Kia Motors also have built or announced new plants or plant expansions there.
Automotive research firm IHS says Mexican production has more than doubled in the past decade, and expects it to top 5 million vehicles annually by 2020. During that same period, production in the United States is expected to hit 12.3 million, up from 11.8 million in 2015.
Mike Jackson, a forecaster for IHS Automotive, said he believes Ford is prioritizing its resources and production.
"Ford wants to ensure that it's competitive for the long haul," he said. "Clearly, labor has one point of view. But what we're looking at here is Ford recognizing, in light of all the investments it has made previously, that even under a wholesale price environment, it has to maintain a competitive investment to continue to maintain momentum and its position in that small car space."
Canadian Labour
Congress head says
NDP needs new leader
ROBERT FIFE &
LAURA STONE
The Globe and Mail
April 5, 2016

Canadian Labour Congress president Hassan Yussuff says Tom Mulcair does not deserve another term as NDP Leader and predicts he will win less than 60 per cent in Sunday's leadership review vote.
"I have told Tom that. I met Tom and had dinner with him, and I basically told him I don't have an argument as to why you should remain as leader of the party, much less leading the party in terms of the 2019 election," Mr. Yussuff told The Globe and Mail.
The CLC leader, whose organization represents 3.3 million workers, said Mr. Mulcair must be held responsible for allowing the Liberals to outflank the New Democrats with more progressive policies in last year's election. He said he does not believe Mr. Mulcair has the personality or ideological makeup to challenge the much younger and left-leaning Prime Minister Justin Trudeau.
"Some union leaders, of course, have said they would like him to stay. Some want to see a review in 2018. The fact is the party is at 11 per cent in the polls, we lost the largest number of seats under Tom's leadership and we lost the opportunity to form government," he said. "This was the best moment we had to form a national government and we lost it."
Mr. Yussuff said he has had wide-ranging discussions with NDP grassroots activists across the country and he is hearing a lot of ridings are divided, with many members disillusioned about the NDP Leader. Even among Mr. Mulcair's supporters, there is little enthusiasm, he said.
"Maybe he'll get 50 per cent, but the bigger question is how much more than 50 per cent does he get," Mr. Yussuff said. "I think he has to get 60-per-cent-plus to hold on to his leadership."
Mr. Yussuff acknowledges five union leaders representing Unifor, the United Steelworkers, the International Association of Machinists and Aerospace Workers, United Food and Commercial Workers and the Canadian Union of Public Employees believe the NDP Leader should have another chance to prove himself – until at least the next leadership review in 2018.
The Globe called riding associations across the country and found many members are divided and unsure about giving Mr. Mulcair another chance.
"I think it's 50-50 when I talk to people," said Ed Stecewicz, the riding president for Timmins-James Bay, which is held by NDP Charlie Angus. "Some people are saying Tom doesn't seem to be the builder that we need. Some people are saying there is another leadership review in two years, so let's put him on probation."
James Kosowan, chief executive officer of the Edmonton Strathcona riding association, says the 33 delegates attending the convention are split. The riding is the home to Alberta's only NDP MP, Linda Duncan, and many in Alberta expected more New Democrats to win.
"There's people on both sides. I'm hearing some that are very supportive, some that don't want a leadership race right now and so on. And others that think it's time for a renewal, and there were mistakes that were made during the election and these need to be addressed, and maybe that means new leadership," he said.
Mr. Kosowan said he will make up his mind when he hears from Mr. Mulcair at the convention.
"I'm kind of on the fence," he said.
All three delegates in Toronto's York South-Weston riding, which was held by the NDP's Mike Sullivan until he was defeated in the election, are voting against Mr. Mulcair. "There is still a lot of anger and a lot of concern. I would say all of our delegates will not be voting to support Mr. Mulcair," said a riding official who asked not to be named.
Gord Landriault, financial agent of the Churchill-Keewatinook Aski riding association in Manitoba, is undecided and waiting to hear Mr. Mulcair's plans for rebuilding the party. Mr. Landriault, who also works for MP Niki Ashton, said he would support his boss if she ran for the leadership.
"If there is a challenge and she decides to run, she's got my support. That's up to the convention to decide," he said.
Gilles Demers of the Rimouski-Neigette-Témiscouata-Les Basques riding association, home to Quebec MP Guy Caron, says he and another delegate are supporting Mr. Mulcair.
"The feeling in Quebec, more or less, is that if we want to change the leader, we have to find [a] candidate," he said. "And up to now, it's not clear from the Quebec side we'll have another candidate who can challenge Thomas Mulcair."
Nicholas Stein, the riding president in Windsor West, which is represented by veteran NDP MP Brian Masse, said there is "no groundswell of opposition" to Mr. Mulcair in his area and he is confident all the delegates will support the leader.
The convention is much more popular than anticipated: Party officials expected about 800 people to sign up. Now, 1,500 delegates are going.
National director Karl Bélanger says it is a sign that people are interested in the future of the NDP.
"It's very good news for the party that people are engaged and looking forward to debate the path forward," he said. "It is beyond our expectations and so we're quite happy about that."
Ontario backtracks on
drug plan deductibles
hike for seniors above
low-income threshold
Public backlash forces province to
reverse controversial scheme to raise
public drug plan deductibles for
seniors by 70 per cent to $170 for
those above new low-income threshold.
Rob Ferguson
Queen's Park Bureau,
Mon Apr 04 2016
Ontario is backing down on a controversial scheme to raise public drug plan deductibles for seniors by 70 per cent to $170 for those above new low-income thresholds, Health Minister Eric Hoskins said Monday.
That increase, first announced in the late February budget, caused an immediate backlash and quickly sent Premier Kathleen Wynne's government back to the drawing board.
"We will not be increasing the contribution from seniors who do not qualify for the low-income program," Hoskins told reporters at a pharmacy near the Dupont subway station.
"That status quo will remain."
The minister announced another new measure: indexing the income qualification thresholds to inflation, which he said will bring another 30,000 seniors a year under the protection of the low-income program.
Those thresholds were raised in the February budget to $19,300 for single seniors, up from $16,018, and to $32,300 for couples, an increase from $24,175.
CARP, an organization that advocates for older Canadians, had raised concerns that those thresholds were still "very low" and that the deductible increase from $100 would "have a significant negative impact on many seniors whose income is just above the income threshold."
Many of them rely on multiple prescriptions to manage chronic conditions, warned Wanda Morris of CARP.
Hoskins said he did not have a dollar figure on how much it will cost the government in revenue to forego the higher deductibles and finance the indexing as it reconsiders all public drug programs in a wide-ranging review.
Opposition parties and seniors' groups complained the new thresholds, which take effect Aug. 1, are too high and leave seniors vulnerable to higher out-of-pocket drug costs.
The increased deductibles had been intended to help subsidize the cost of bringing about 173,000 more seniors under the low-income threshold, saving them an average of $130 a year on out-of-pocket drug costs.

March auto sales:
Ford, Fiat Chrysler
up 8%; GM up 0.9%
Michael Martinez,
The Detroit News
April 3, 2016
A quarter of the way through 2016, the automotive industry remains on track for a potential second-consecutive record-setting sales year.
The industry sold 1.59 million new cars and trucks last month, a 3.2 percent increase from a year ago, according to Autodata Corp., thanks to two extra selling days and a continued strong customer appetite for trucks and SUVs. Ford Motor Co. and Fiat Chrysler Automobiles each posted an eight percent sales gain for their best results in a decade. Crosstown rival General Motors Co. said its sales rose 0.9 percent.
The annualized selling rate for March was 16.57 million vehicles, down from 17.14 million vehicles a year ago.
Despite the strong numbers, some red flags have started to emerge: J.D. Power this week warned that automakers are juicing numbers by discounting vehicles at a higher rate; some automakers like Ford and Hyundai are increasing their lower-profit fleet sales; and leasing numbers remain high, which could impact on how long the industry can sustain its torrid selling pace.
But some analysts don't think there's cause for concern.
"I think we're still in a very good place from an industry health perspective," said Alec Gutierrez, senior analyst for Kelley Blue Book. "From an overall fleet share perspective, the numbers aren't really drastically higher than we saw last year, and I don't think we're at point that we're all that concerned with the incentive spending."
KBB estimates that automakers are offering roughly $3,000 in incentives on each vehicle, up only slightly from a year ago.
It also estimates that fleet sales are at healthy levels for the industry as a whole, but Ford and GM are likely at opposite ends of the fleet sales spectrum.
Ford said 37 percent of its 253,064 sales last month were to rental companies, government agencies and commercial businesses. That's up drastically from 29 percent at this time last year, although Ford executives have said this year's numbers are front-loaded and should "smooth out" by the end of the year.
GM, meanwhile, saw a 3.6 percent reduction in its fleet sales to 23.3 percent. The intentional sell-down of its less-profitable fleet business led to lower overall sales, and bigger drops for unpopular cars that typically do well on rental lots for companies like Hertz and Avis. Case-in-point: the Chevy Cruze, a popular rental car, saw a 58 percent sales drop last month, although it is in the midst of a changeover to a new model.
GM's 252,128 sales included a 6.9 percent jump for its retail sales. Its 0.9 percent overall sales increase can be attributed to an intentional decline in fleet sales.
"The strong retail and commercial sales GM has been delivering are the result of a multi-year strategy to strengthen our brands, attract new customers and grow profitably," said Kurt McNeil, U.S. vice president of Sales Operations. "We are growing retail sales faster than the industry, and we are doing it with disciplined incentives and inventories, and lower rental deliveries. Our business is very healthy, and we are going to manage it with conviction to keep it that way."
GMC sales jumped 6.9 percent and Chevy sales increased 1.4 percent. Cadillac sales fell 5.1 percent and Buick sales tumbled 11.3 percent.
Ford, meanwhile, was led by its SUV sales, which were up 15.8 percent for the first three months of the year; the segment's best start ever.
"Customers continue buying high-end SUVs and trucks, helping the Ford brand increase its average transaction prices by more than $1,600 per vehicle in March — nearly double the industry average," said Mark LaNeve, Ford vice president, U.S. Marketing, Sales and Service. "We have been seeing solid sales momentum in the first quarter across our entire portfolio, with car, SUV and truck sales up across the board."
Ford sold 73,884 F-Series trucks last month, the first time its broken the 70,000 mark this early in the year since 2007.
Lincoln's sales were up 11.4 percent, driven mostly by its MKX, which saw an 87.9 percent sales bump.
FCA's March numbers were its best since 2006. It sold 213,187 vehicles last month, up from 197,261 the year before.
As has been the case in recent months, Fiat Chrysler's sales were driven by its Jeep and Ram brands. Jeep sales rose 15 percent for its best March ever, while Ram sales rose 11 percent. Dodge sales were also up 11 percent, while Fiat sales tumbled 24 percent and Chrysler brand sales fell 13 percent.
"As consumers continue to shift their buying preference towards utility vehicles and trucks, they are walking directly into the FCA wheelhouse," said Reid Bigland, Senior Vice President- Sales, FCA - North America.
Eight FCA vehicles set monthly sales records, including the Jeep Compass, Dodge Journey, Ram pickup, Ram ProMaster , ProMaster City, Jeep Wrangler, Cherokee and Renegade.
"March auto sales show another month of positive year-over-year growth, rounding out a consistently strong first quarter for the industry," Jessica Caldwell, Director of Industry Analysis for Edmunds.com, said in a statement. "The sales we saw in these three months sets us up for another potentially record-breaking year, especially as we began to approach the popular summer selling season."


Ford issues three recalls
for 48,300 vehicles
Michael Martinez,
The Detroit News
April 2, 2106
Ford Motor Co. on Thursday issued three separate recalls for about 48,300 vehicles.
The largest recall was for 37,905 2015-16 low-roof Ford Transit vans for an issue with the side-curtain air bags. Ford said that in some of the vans, the air bags could be positioned incorrectly, which could lessen their performance in a crash.
About 37,066 vehicles are in the United States and 839 are in Canada.
Ford is not aware of any injuries related to this issue.
The second recall is for 5,536 2015-16 model-year Lincoln MKC and 2016 Ford Explorer SUVs due to an issue with the heaters. Ford said the engine block design, coupled with the particular block heater installed in the SUVs, causes the unit to overheat and possibly cause a fire when the vehicle is parked and the block heater is plugged in. Ford said it's aware of two reports of underhood fires in Canada, but is not aware of any accidents or injuries related to this issue.
About 1,543 of the affected vehicles are in the United States and 3,993 are in Canada.
The smallest recall is for about 4,800 F-650 and F-750 heavy-duty trucks to replace the parking brake cable connector clips. Ford said in some cases the clip could break, resulting in the truck moving.
Ford is not aware of any accidents or injuries related to this condition.
Of the 4,764 vehicles affected, 4,654 are in the United States and 110 are in Canada.
In all cases, dealers will replace the affected parts for free.

Labour Minister claims
Conservatives buried
'significant' union
report in last
Parliament, releases it
RACHEL AIELLO
March 31, 2016

Employment, Workforce Development and Labour Minister MaryAnn Mihychuk is alleging the previous Conservative government buried its own government report in the last Parliament about union certification regimes because it went against the anti-union private member's bill it pushed through into law.
The report found that mandatory voting systems had a negative effect on union certification rates, which was central to a private member's bill the Conservatives passed in the last Parliament.
"We found that the use of an MV regime has been an important factor in the decline in union density in the Canadian business sector. It was estimated that had all Canadian jurisdictions not used an MV regime for union certification starting in 1997, business-sector union density would have been substantially higher by 2012," stated the report.
But at the time Bill C-525 was moving through Parliament, the Conservatives claimed their legislation would not affect union membership, despite this report having been at their disposal and showing otherwise.
Ms. Mihychuk (Kildonan-St. Paul, Man.) brought forward the report before the House Human Resources, Skills and Social Development and the Status of Persons with Disabilities Committee as part of the committee's first day of study on Bill C-4 last week.
"I think the significance is it's another example of the previous government burying data and a report that didn't meet the needs of their political agenda," Ms. Mihychuk told The Hill Times.
The bill is formally called An Act to amend the Canada Labour Code, the Parliamentary Employment and Staff Relations Act, the Public Service Labour Relations Act and the Income Tax Act. It repeals Bill C-377 an Act to Amend the Income Tax Act (requirements for labour organizations), and Bill C-525 the Employees' Voting Rights Act. Both are Conservative private members' bills that passed in the last Parliament.
Ms. Mihychuk said the report was commissioned by Conservative MP Lisa Raitt (Milton, Ont.) during her time as labour minister, and by the time it was completed and provided to the department, Conservative MP Kellie Leitch (Simcoe-Grey, Ont.) was the minister overseeing the department and would have been the one to make the decision to "shelf" it.
Ms. Mihychuk said she learned of the report's existence from a long-term MP staffer who had heard of the study being commissioned and she asked the department for it. Once she saw what, she argues, is a validation that the Conservative measures passed were unnecessary, she said she felt the right thing was to make it part of the public record, through the committee's study.
"We found something in the back room in the filing cabinet that they were hoping would never see the light of day, and I'm glad we did. And we'll continue to check those back closets," she said in an interview.
The report is dated November 2013 and its findings relate directly to the measures in Bill C-525.
Bill C-525 amended the Canada Labour Code, the Parliamentary Employment and Staff Relations Act and the Public Service Labour Relations Act to require a secret ballot vote-based majority needed to certify federally regulated workers to join a union and to decertify unions, a departure from the commonplace card-check initiative. It was sponsored by Conservative MP Blaine Calkins (Red Deer-Lacombe, Alta.) and passed in December 2014.
Bill C-377 was sponsored by former Conservative MP Russ Hiebert and passed late last June by the Senate. The bill would have required unions and employee organizations to publicly disclose spending details through the Canada Revenue Agency and to disclose spending details for public expenses over $5,000 and salaries of employees earning more than $100,000. It also would require spending on political activities like lobbying to be reported and posted publicly. At the end of last year, the new Liberal government announced it would be waiving the reporting requirements under Bill C-377 as a stopgap measure in the meantime.
The report examined the links between the adoption of a mandatory-vote regime for founding unions and the decline in Canadian business-sector union density between 1997 and 2012. The report found a decrease in unionization over the last few decades and the use of a mandatory-vote regime has been an important factor in the decline in union density in the sector. It went on to say that had the sector not used the mandatory-vote system, union density could have been substantially higher.
As stated in the report, a card-check system allows for union certification when a certain minimum proportion of the proposed bargaining unit signs a card in favour of forming a union instead of forcing a vote.
It is not clear if this report was ever discussed outside of the ministry or with Mr. Calkins, or if the decision to not release it was attached to Bill C-525 at all.
Ms. Leitch did not respond to The Hill Times request for comment before deadline and Mr. Calkins was not available.
"Clearly, it's related to the topic, the information was available, they were sitting around the same boardroom, so that's all I know. Other than that it's speculation," said Ms. Mihychuk, adding that it would be "unlikely that they are unrelated," because the timing was sequential.
This was all spawned by a question from Liberal committee member MP Filomena Tassi (Hamilton West-Ancaster-Dundas, Ont.) to Ms. Mihychuk whether the department had done any research on the card-check system versus the mandatory vote.
"I'm just wondering why the report was dated November 2013 and the bill [C-525] was passed 2014, whether the department research was made publicly available to people?" Ms. Tassi asked, followed up by a question about why an "evidence-based report" would be kept hidden or silent from the public when this was the very issue being discussed.
To this, during committee Ms. Mihychuk replied that it was a purely political attack on organized labour.
"This is a bit of speculation and I'd like to say I wasn't in the Conservative caucus. … The overall trend, as the report shows, that Canadians were choosing not to become unionized, this isn't a serious threat to businesses, and in fact the report indicates that it wasn't warranted, so one would have to conclude that it was a political agenda," she told the committee.
Ms. Mihychuk said she doesn't expect the passing of the newer Liberal bill to automatically create union harmony, or will it spur rapid unionization.
The Conservatives on the committee didn't have much to say in direct response to the report brought forward, instead focusing their questioning of the minister around transparency and accountability.
Conservative MP and member of the committee Mark Warawa (Langley-Aldergrove, B.C.) highlighted the "hard work" of the Conservative MPs to get their private members' bills passed, and the time it took to consult and debate them, and questioned how much time the Liberals have spent doing so before bringing this bill in.
"This has all happened? Russ Hiebert spent four years [on Bill C-377]. This has been one of the pilot pieces of legislation, C-4, from the Liberal government. … What did the consultations look like? Did you consult with more than unions?" he asked the minister.
The NDP supports the bill and are on side with seeing it passed quickly. NDP MP Niki Ashton (Churchill-Keewatinook Aski, Man.), and critic for jobs, employment and workforce development, described what she was seeing from her Conservative colleagues as "generals fighting the last war."
She said that, during the election, Canadians spoke up against these measures and that the Conservative criticism that this bill was disrespectful to private members' bills is "absurd."
"I was here and I saw the way in which the government touted this," she said, adding that despite the bills coming from backbench MPs, they were "core to their governing agenda."
The committee has planned to study Bill C-4 for a total of four meetings, with three remaining now that the minister has appeared. The next two will be comprised of two panels with three witnesses each, and the final day will be dedicated to clause-by-clause. MPs on the committee had until last Friday to submit witness lists. It's anticipated the committee will resume its study shortly after Parliament resumes the week of April 11.
Ms. Mihychuk said she feels the four meetings are sufficient because the content has already been through the legislative process twice, once for each private member's bill, and many Parliamentarians are familiar with the measures.
She said she's heard from several people in the Senate that "see this as an opportunity," and she is optimistic it'll pass. She said having it be one of the government's first bills "sends a strong message."
Once the laws are set back to how they were before these private members' bills passed, she has plans to study the Labour Code and is considering "major changes" to it in the future.

Whatever floats your boat:
New Lincoln Navigator is a
gullwinged land yacht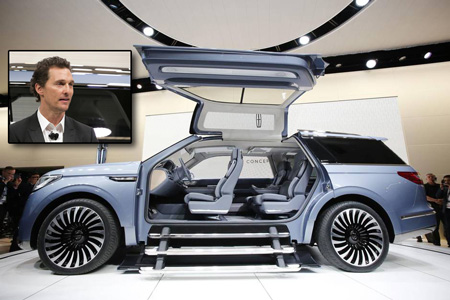 TOM MALONEY
NEW YORK
The Globe and Mail
March 28, 2016
If it were any bigger, it would be pushing into the RV segment.
The new Lincoln Navigator features gullwing doors, a three-step fold-out aluminum stairway, up to 30 seat configurations, a twin-turbo V-6 offering 400 horsepower and, in the words of Lincoln president Kumar Galhotra, "shifter buttons that resemble piano keys."
How big is it? Designers took their cues from yachts.
The concept vehicle presented at the New York International Auto Show on Wednesday is painted in a sea-and-sky effect "storm blue." Inside there are teak finishes with aluminum trim and a "wardrobe management system" to contain gear for "a day on the water" or at the ski hill.
Ford Motor Company CEO Mark Fields said the Navigator, which would be more spacious than any of its vehicles, represents the brand's "commitment to quiet luxury." He says the premium full-size segment has only a few competitors (read: Cadillac Escalade) feeding a hungry market.
He introduced the Navigator as a concept vehicle, with evident intention to produce it for the 2018 model year.
When can we buy it, and at what cost?
Presuming it goes ahead, sales would begin midway through 2017.
Fields brought Lincoln spokesman Matthew McConaughey on stage at the Javits Convention Centre. The actor announced that he will continue as spokesman for a few more years. "It's working for me, and it's working for them," he said. McConaughey personifies the cool class Lincoln is selling, but does anyone really need this gargantuan vehicle?


Home care money still to
come, Health Minister
Jane Philpott promises
Money for Liberal campaign promise conspicuously
absent from Tuesday's budget, NDP says
By Susan Lunn,
CBC News
Mar 27, 2016
The federal health minister says she's working on keeping a campaign promise to improve home care, but needs to work out the details with the provinces first.
This week's federal budget made no mention of the Liberal pledge to put $3 billion into home care.
But Jane Philpott said changes to home care are part of larger negotiations around a new health accord she's conducting with provincial and territorial health ministers. Those talks began in January, and part of the discussion is how to give the provinces the money.
"The decision as to whether [home care] will be part of the [Canada health] transfer or not has not been made. There's certainly been some good discussions around the possibility of having it as a separate package," Philpott said.
But that's not all that has to be decided, Philpott said.
"We feel a responsibility as a government to make sure [with] those additional investments in home care, that there are some agreements as to how those investments will be used — and what we should expect to see as a result, and what Canadians should expect to see as a result.
"And so it's premature at this point to make a commitment on that investment until I've been able to come to an agreement with the provincial and territorial counterparts," she said.
Annual increase set to drop next year
The current health care accord was reached by the last Liberal prime minister, Paul Martin. It gave provinces an increase in funding of 6 per cent a year for a decade.
Before the 10-year deal expired, the Conservatives extended the so-called 6 per cent escalator until 2016-17, but said after that funding increases would be based on nominal GDP growth or 3 per cent, whichever was higher.
In this week's budget, there was no mention of any change to that formula.
New Democrat health critic Don Davies said the budget should have earmarked money for both a new health accord and home care, if not for this year, then for 2017.
"The minister can't fabricate money out of thin air. If it's not budgeted for then, that money is not there," Davies told reporters this week.
Davies said the health-care section of the budget over all was thin.
"I didn't see any significant increases in mental health [funding]. I didn't see any significant increases in home care and community care, nothing in pharmacare," Davies said.
"There is simply very, very little in this budget in terms of expanding the health care system in Canada. It's black and white."


New Ford truck option
makes reversing a trailer
as easy as turning a knob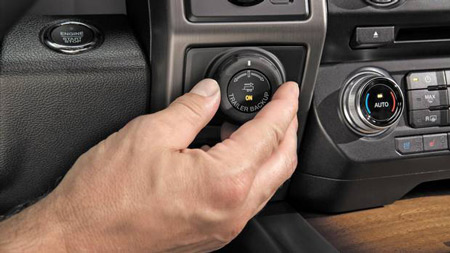 JOANNE ELVES
Globe and Mail
March 26, 2016
Backing up the truck while hitched to a trailer befuddles many of us. The counterintuitive thinking used to turn the steering wheel left to turn the trailer right is too much for some drivers. How many have jack-knifed and dented the bumper or had vacation-ending arguments? I won't lie. I've dented the bumper, left the trailer on the lawn and refused to drive in campgrounds.

But now, Ford has raced to your rescue. Introduced in the 2016 Ford F-150 Special Edition Appearance Packages on the XLT and Lariat, the Pro Trailer Backup Assist makes backing up a trailer as easy as turning a knob.
Activate the inconspicuous dial on the dash, put the truck in reverse, let go of the steering wheel and be amazed. Using the side-view mirrors, the gas and the brake, you ease the trailer back. Turning the knob left turns the trailer left. It controls the steering wheel, turning the truck wheels while limiting your speed. I backed up a utility trailer on a zig-zag course and didn't hit one pylon. The truck made me look like a pro on the first attempt. Summer vacation, here we come.

Technology takes center
stage at NY auto show
Michael Wayland,
The Detroit News
March 25, 2016
New York — The Motor City and Silicon Valley are colliding this week at the New York auto show.
The show is a testament to the automotive industry's convergence with the technology sector. So-called disruptors such as Google Inc. and Apple Inc. weren't at the show's press days Wednesday and Thursday, but they were a topic of discussion as automakers unveiled their latest advancements.
"There has been a lot of talks about disruption, about these competitors who promise a new approach to what a car can be," Renault Group and Nissan Motor Co. CEO Carlos Ghosn said at an opening address for the show. "Much of this unease over potential disruption has resulted from the rapid emergence of new technologies and so-called mobility service."
Ghosn spent a majority of his speech discussing the future of the industry — including self-driving cars, for which the groundwork is being laid in advanced safety and connectivity systems. He said advances are developing at a speed unfamiliar to the auto industry.
"Rather than fear the disruption, I believe our industry really has no choice but to embrace it and participate," he said. He added that Renault-Nissan plans to release 10 models with "significant autonomous drive functionality" by 2020.
"I expect the global auto industry to see more changes in the next five years than it has in the last 20," he said.
Ghosn's comments are similar to those made by General Motors Co. CEO Mary Barra and Ford Motor Co. CEO Mark Fields.
Following the debut of the Lincoln Navigator Concept this week, Fields said customers are demanding new technologies. "As a carmaker that's focused on a very consumer-centric view of the world, we want to be there for them and offering those," he said.
Fields declined to directly comment on reports earlier this year that the automaker might team with Google: "We've always said in Silicon Valley, it's a community in which we want to participate in and collaborate with."
Audi of America President Scott Keogh told The Detroit News he believes the industry is driving on roads to two different worlds: an autonomous world in the next five or so years with small, urban vehicles driving in "well-mapped and defined city areas" — and the rest in a more traditional driving world
"It's not going to be a light switch that says, 'Click, I'm in piloted full-world; click, I'm not,' " he said. "It's going to be in increments, as we've seen in the automotive industry."
Keogh estimates 60 percent of a customer's "daily driving world" eventually will be handled by sensors, radars and other technologies to control, steering, braking, acceleration and nearly all other aspects of driving.
The technologies are expected to continue to become more standard on vehicles. Safety features in particular will take a front seat: Federal officials and automakers recently announced a pledge for all vehicles to have automatic emergency braking by 2022.
During the unveiling of the 2017 Acura MDX, the Honda Motor Co. luxury brand announced all models of the mid-size SUV will come standard with Acura's suite of advanced safety and driver-assistance technology that it calls "AcuraWatch."
"These are technologies that many in the industry refer to as 'semi-autonomous,' " said John Mendel, executive vice president of Honda's U.S. operation.
Those features include automatic emergency braking, lane-departure warning, forward-collision warning, lane-keeping assist and adaptive cruise control.
But it's not all about autonomy. There are new convenience features, electric powertrains and Internet-connected interiors.
The Navigator Concept featured large high-definition screens throughout the full-size SUV, including ones in the headrests for passengers in the back that can stream from a smartphone or let passengers play games against one another.
Tim Kuniskis, Fiat Chrysler Automobiles' head of passenger car brands for North America, said games and entertainment features are a centerpiece of the all-new 2017 Chrysler Pacifica minivan that arrives in dealerships in April.
"It was critical," he told The Detroit News this week. "You buy a minivan for the interior, and you've got to make sure you get the front seat and second and third row right… We spent a lot of time on that."
Toyota Motor Corp. turned heads in New York with the debut of its all-new 2017 Prius Prime plug-in hybrid that has an 11.6-inch touchscreen for navigation, apps and interior controls.
Kelley Blue Book senior analyst Rebecca Lindland said people have become accustomed to "having everything in one place" because of the proliferation of smartphones, which improve at a rapid pace. Those expectations are pushing automakers to become more proactive.
"People are certainly demanding more and more from their mobility and that comes in the form of technology," she said. "You have to do these things to keep your vehicle relevant."


Ford says it could stay
profitable if auto sales plunge
Michael Martinez,
The Detroit News
March 24, 2016
Ford Motor Co. Chief Financial Officer Bob Shanks said Tuesday the Dearborn automaker would remain profitable if the auto industry entered a severe recession and U.S. sales plummeted 30 percent in a single year.
In such a scenario, Shanks said Ford would cut costs by about $3 billion by eliminating shifts and overtime at its manufacturing plants, lowering its profit sharing and slashing sales, advertising and other costs. He said the automaker would continue to invest in engineering and would continue to roll out new products.
He said Ford would be able to break even if automakers sold just 11 million vehicles in one year — a 37 percent plunge from last year's record 17.5 million new cars and trucks sold in the U.S. The industry is expected to set another record again this year, although the increase is expected to slow and investors have expressed concerns that this cycle has reached its peak.
Shanks said Ford would continue to offer a dividend and believes credit agencies would keep its rating at investment grade in a downturn.
"We think we're in very good shape for a downturn," he told investors in New York.
Ford's scenario presumes the worst; even in the midst of the last recession in 2008-2009, sales only tumbled about 20 percent.
Wall Street has expressed concerns whether traditional automakers like Ford or General Motors Co. could survive another recession. It appeared unmoved by Ford's announcement; its stock price closed Tuesday down half a percent to $13.59 a share.
Elsewhere in the world, Shanks said the Dearborn automaker expects its momentum in Europe to continue. Last year, it posted a $259 million profit for the first time there since 2011. It still foresees trouble in South America, where Brazil's economy is expected to shrink between 2-3 percent.
Ford predicts sales in China will jump from the 23.5 million last year to as much as 25.5 million this year.
Shanks said Ford remains on track to reach its 2016 guidance of having a better financial year than 2015, when it reported a record pretax profit of $10.8 billion.

Lincoln debuts Navigator
Concept with gull-wing doors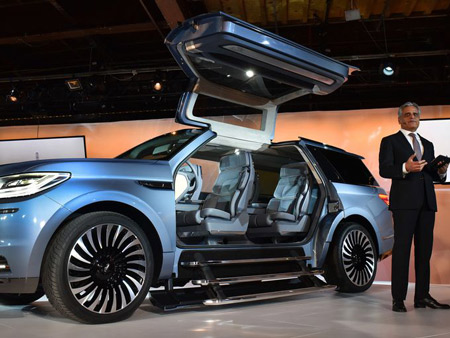 Michael Wayland,
The Detroit News
March 23, 2016
New York — Lincoln will make a bold statement Wednesday at the New York International Auto Show with the debut of a lavish Navigator Concept that previews the all-new, fourth-generation vehicle coming in late 2017.
The full-size luxury SUV concept makes a striking statement with two upward-opening gull-wing doors with concertina steps. With a prominent grille and sweeping exterior lines along the sides, it puts forward the "new face of Lincoln" design language that debuted a year ago on the Continental Concept.
"The Navigator is an incredibly important vehicle for us on multiple levels," Lincoln President Kumar Galhotra told The Detroit News. He said the Ford Motor Co. luxury brand has no intentions of keeping the gull-wing doors on the production version of the SUV but thought it was a "fun yet very practical" way to draw attention and showcase the six-passenger concept SUV's interior.
Galhotra said the concept vehicle, which was shown to select members of the news media Monday prior to its official debut, strongly symbolizes what Lincoln hopes to accomplish when it releases the production Navigator next year. It will be the fifth new vehicle from Lincoln since the "rebirth" of its lineup started in 2012.
He said the Navigator will follow the lead of the Lincoln Continental. A lavish concept of the flagship sedan was shown a year ago at the New York auto show, followed by a production model that debuted at the 2016 Detroit auto show. The production car left intact the design language and many of the technological features of the concept car.
"We have different levels of change of different concepts for different purposes," said Lincoln Design Director David Woodhouse. "I would say the level of change here is consistent with Continental."
The Navigator Concept, Woodhouse said, was designed with families in mind, and its interior is meant to encourage interaction.
Large high-definition screens can connect with one another on the headrest. An intercom system allows occupants in the front to talk to passengers in the second and third rows.
"Navigator, we know, that the customers are all about family and protection, so these are things that we've embodied in this concept," Woodhouse said. "The other really significant aspect is to embody elegance and beauty on a full-size SUV of this kind of grand scale is a great challenge."
Lincoln's design team, Woodhouse said, drew inspiration from luxury sailboats and yachts when designing the concept, "taking the Navigator name literally to navigation. It is a very optimistic, light interior."
One of the unique aspects of the SUV was enabled by technology: It's a customizable storage wall or "wardrobe management" system with room to hang shirts and other items at the back of the cabin. It runs the cabin's full height. It was made possible by a large high-definition rearview mirror that transmits images with a camera, so it doesn't matter if the view to the rear is blocked.
The Navigator Concept is powered by a new 3.5-liter twin-turbo V-6 engine that delivers more than 400 horsepower. Galhotra would not say what engines will be available in the production model. He also declined to discuss other expectations such as fuel economy, pricing and if it will feature the architecture or aluminum body of the Ford F-150.
The current Navigator is built alongside the Ford Expedition and Super Duty at Ford's Kentucky Truck Plant. The recently negotiated contract between Ford and the United Auto Workers stipulates that all three vehicles will continue to be built there. The plant will get a $600 million investment over the course of the four-year deal.
Lincoln attributes itself with inventing the large luxury SUV with the introduction of the original Navigator in 1997. The brand led the segment but eventually lost its edge due to its near-bankruptcy and new competitors including the Cadillac Escalade.
Lincoln was selling more than 30,000 Navigators a year at the beginning of the 2000s, peaking at nearly 39,000 in 2003, according to Kelley Blue Book. Sales bottomed out to below 110,000 from 2009-13, as the company focused on staying out of bankruptcy and customer preference shifted away from large SUVs due to high gas prices.
A refresh of the third-generation SUV in 2014 helped boost sales above 10,000 the past two years but remain far from their sales heyday.
"With the all-new Navigator Concept, we are once again helping people re-imagine how luxury can be viewed," Galhotra said during the media event previewing the concept.
Kelley Blue Book senior analyst Karl Brauer believes the elaborate concept is exactly what Lincoln needed to draw attention to the Navigator and Lincoln. The brand has continually struggled for the better part of the past decade.
"The fact that they would even show something like this shows that Ford is ready to aggressively invest in growing the Lincoln brand," Brauer said, attributing the concept's "over-the-top" design to China, a market Lincoln entered in 2014 with high hopes of increasing sales.
Brauer said he believes Lincoln could charge an elaborate amount of money for the gull-wing doors in a production model — particularly for China: "There would be a few in the U.S. and a whole bunch in China that would just write the check because of that dual-door system."
Michelle Krebs, Autotrader.com senior analyst, said while the vehicle is "clearly" a concept, it shows Lincoln is ready to once again be competitive in the luxury SUV segment that it helped mold 20 years ago.
"Large luxury sport utilities are selling well and we're seeing people want them loaded with features," she said. "In that regard, they are headed in the right direction. The design certainly looks fresh and contemporary."



Ford to shift EcoSport
production to Romania in 2017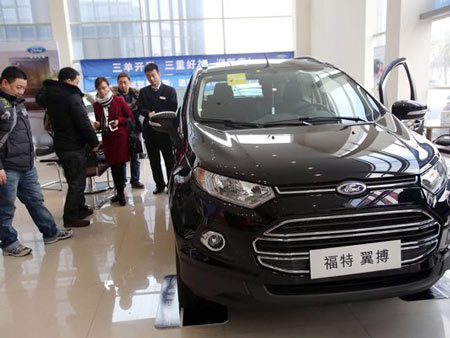 Michael Martinez,
The Detroit News
March 22, 2016
Ford Motor Co. on Tuesday will announce it will spend roughly $224 million (200 million euros) to move production of its EcoSport small SUV from India to its assembly plant in Craiova, Romania.
The Dearborn automaker will move the EcoSport from its Chennai Vehicle Assembly Plant to Romania in the fall of 2017. The India plant will continue to make EcoSports for the local market and for exports, Ford said, but a majority of the SUVs in Europe will now be built in Romania.
"EcoSport sales are up nearly 30 percent this year and given the continued outlook for sales growth in the small SUV segment, it's the right time to move EcoSport production to Europe and take advantage of the excellent workforce and operations we have in Craiova," Jim Farley, president and CEO, Ford of Europe, said in a statement.
Ford took over the Craiova facility in 2008 and currently builds the B-Max multipurpose vehicle. The plant also makes Ford's 1.0-liter EcoBoost engine.
Ford has said it will launch five new SUV and crossover vehicles in Europe in the next three years, starting with the Edge in the second quarter of 2016. The automaker expects to sell more than 200,000 SUVs in Europe for the first time this year — which would represent a growth of more than 30 percent compared with last year.
Ford says the small SUV segment that EcoSport competes in will grow to about 1.5 million vehicles a year by 2017, which would be an increase of 35 percent compared to 2015.
Ford CEO Mark Fields
earned $18.57M in 2015
Michael Martinez,
The Detroit News
March 21, 2016
The change in total compensation can be explained by a change in pension value, which dropped to $858,157 last year from $3,647,336 in 2014. Pension values vary from year to year due to changes in discount rates and government-issued mortality tables and is something Ford has no control over. It is a value; not direct compensation made by the executives.
Excluding the change in pension values and other perks and benefits, Fields' compensation increased 16.8 percent.
Fields, who took over as president and CEO in July 2014, earned a base salary last year of $1,750,000, up from $1,662,500 in 2014. His total compensation includes a $3,185,000 bonus, long-term stock options and other performance-based equity awards.
Ford spent $240,726 on the personal use of an aircraft for Fields.
■ Bill Ford Jr., executive chairman, made $12,860,840 in total compensation in 2015, down from the $15,583,194 he earned in 2014. His base salary of $2 million was unchanged from prior years. Ford spent $291,151 on personal use of an aircraft, and $928,150 for security.
■ Joe Hinrichs, executive vice president and president of the Americas, made $6,418,180 last year, an increase from $6,308,630 he earned in 2014. His base pay grew to $1,018,750 from $936,250 in 2014.
■ Jim Farley, president of Europe, the Middle East and Africa, made $5,804,965 last year, up from $4,690,513 in 2014. His base salary of $893,750 last year was an increase over the base salary of $868,750 he made in 2014. Ford spent $47,382 to relocate Farley from the U.S. to Germany.
■ Bob Shanks, chief financial officer, made $5,557,846 last year, down from $6,536,646. His base pay of $831,250 was an increase from the $798,750 he earned in 2014.


Ford recorded a 2015 pre-tax profit of $10.8 billion. It will hold its annual shareholders meeting on May 12 in Wilmington, Delaware.
Ford and General Motors Co. report their executive salaries differently than crosstown rival Fiat Chrysler Automobiles NV, which does not include some stock and potential performance-based equity awards.
Fiat Chrysler CEO Sergio Marchionne was paid more than 10 million euros ($10.9 million), including a 3.6 million euro base salary ($4 million), 6.3 million euro (nearly $6.9 million) incentive related to the company's performance.
However the 63-year-old executive's compensation does not include 3.95 million shares of company stock Marchionne earned became vested in 2015. Based on Wednesday's closing price on the New York Stock Exchange of $7.83, the shares are valued at $30.9 million, which would bump Marchionne's 2015 earnings to roughly $42 million in 2015.
Marchionne, like Fields, also could earn 4.32 million more shares through 2019 if certain goals are met. Those shares as of Wednesday's closing would be worth $33.8 million.
Federal budget to restore Old
Age Security eligibility to 65
LAURA STONE
The Globe and Mail
March 19, 2016
Prime Minister Justin Trudeau says next week's federal budget will return eligibility for Canada's Old Age Security pension to 65 years old.
Speaking to a business crowd at Bloomberg headquarters in New York on Thursday, Mr. Trudeau announced that he will make good on his election promise to overturn an increase in the age to 67, brought in by the former Conservative government.

"How we care for our most vulnerable in society is really important," he told moderator John Micklethwait, the editor-in-chief of Bloomberg News. He said his predecessor, Stephen Harper, was wrong to move the OAS eligibility age to 67. "We think that was a mistake," Mr. Trudeau said.
Mr. Harper raised the age in the 2012 budget, making it effective for 2023 – a measure that federal officials at the time estimated would save $10.8-billion a year once the plan was fully implemented in 2030.
Even though other countries are looking to increase the pension age, Mr. Trudeau said "that is a very simplistic solution that won't work to [solve] a very complex problem," which also includes encouraging people to stay healthy.
"There needs to be a little bit of sophistication when we look at it," he said, noting that in some professions, such as law or investment banking, working for longer might not be an issue.
"But anyone who has worked with their hands as a labourer or assembly line worker, or has worked in the resource industries and has been in a much more physical job, once you start reaching 65 – regardless of all the advances in Canada's extraordinary medical system – there are real challenges around how much longer someone can keep working in those jobs."
Mr. Trudeau's announcement was immediately met with skepticism from the opposition parties.
The Conservatives said the demographics in Canada have changed – and pension benefits must change, too.
"Canadians are living longer and healthier lives, and the OAS program needs to reflect this new reality and provide the option for individuals to work longer and receive higher retirement benefits," Conservative MP Karen Vecchio said in a statement.
The New Democrats called Mr. Trudeau "a bit arrogant" for making the announcement after he snapped at Leader Tom Mulcair in Question Period two months ago for asking when the reversal would be implemented.
The announcement capped off a whirlwind two days for Mr. Trudeau in New York, during which he announced Canada's bid for a United Nations Security Council seat in 2021 and was honoured for his work on gender equality. But he was forced to defend his government's $15-billion deal to sell military vehicles to Saudi Arabia in the face of human-rights abuse allegations.
On Thursday, Mr. Trudeau met with business leaders, including Bloomberg LP chief executive Michael Bloomberg, who praised Mr. Trudeau in a recent column as "an energetic and pragmatic Prime Minister" who is right to tackle climate change and invest in infrastructure.
At the Bloomberg town hall, Mr. Trudeau was also asked about Canadian aerospace manufacturer Bombardier, which wants a $1-billion lifeline from the federal government. He praised the company's C Series aircraft as "an extraordinary airplane … more fabulous in all ways than just about any other plane on the market."
While Mr. Trudeau said the government wants to ensure a strong aerospace industry in Canada for the next several decades, he would not immediately commit to any funding – although advisers are now analyzing the feasibility of such an aid package.
"This will be answered when we have the right answer to give," Mr. Trudeau said. "We're taking our time and acting in a deliberate and thoughtful way to make sure that we're doing the right thing in the interests of both the Canadian industry and high-quality jobs, but also our responsibilities towards taxpayers."
Mr. Trudeau also pitched his government's plan to spend $60-billion on infrastructure over the next decade. The Liberals have said they would run $10-billion deficits over the next three years, but that number is now expected to be higher.
The Prime Minister said the plan will start with "unsexy things that governments hate to announce," such as maintenance and upgrades. "A lot of people are on the austerity side, thinking that, you know, we have to control government spending. Canada is positioning itself on the investment side," he said.
With unstable oil prices, Mr. Trudeau added that the government views climate change as "an incredible opportunity" to invest in green technology and renewable energy projects.
The wide-ranging town hall also included questions from the audience, made up primarily of business people. When asked whether he would be able to work with U.S. Republican front-runner Donald Trump, Mr. Trudeau said there are always issues of common ground between Canadians and Americans, including a desire to see Americans do well.
"I think we're going to see what Americans are made of in this upcoming election," he said.
The Prime Minister also shared insight into his massive electoral win last fall, telling the audience that the turning point occurred when the NDP announced it was going to balance the budget, and the Liberals vowed to run a deficit and increase spending.
"I went home to my wife and I said, 'I'm pretty sure we just won the election.'"

Carmakers agree to
automatic braking by 2022
Michael Martinez,
The Detroit News
March 18, 2016
Twenty major automakers on Thursday will commit to make automatic emergency braking a standard safety feature by 2022, according to several sources familiar with the plan. The commitment marks a major step toward a future when all cars have the ability to pilot themselves.
Automatic braking, already offered on a number of current models, uses cameras, radar and other sensors to determine if a crash is imminent and automatically apply the brakes if the driver doesn't respond quickly enough. An industry-wide implementation of the collision-avoiding feature would save thousands of lives per year and prevent millions of crashes while only slightly increasing vehicle cost, according to an auto insurance industry group.
The U.S. Department of Transportation and Insurance Institute for Highway Safety will make the announcement Thursday in Virginia. They will be joined by officials from the National Highway Traffic Safety Administration, Consumer Reports and others.
Most major automakers — including Ford Motor Co., Fiat Chrysler Automobiles, General Motors Co., Hyundai Motor Co. and Toyota Motor Corp. — will make the commitment, according to the sources, who wished to remain anonymous because the plan had not been made official. The agreement will cover nearly all light-duty cars and trucks, although automakers will have a slightly longer timetable to add the capability to certain vehicles with manual transmissions.
"Automatic emergency braking systems already have already been proliferating and are an essential element to the autonomous vehicles that are coming in the future," said Michelle Krebs, senior analyst at Autotrader.
NHTSA Administrator Mark Rosekind, speaking Wednesday evening at the Autonomous Car Detroit conference in Dearborn, wouldn't comment directly on Thursday's announcement. But he cited the agency's goal to work with automakers to implement safety features to reduce traffic deaths.
"We need a higher bar if we're going to get to zero," Rosekind said. "Safety technology offers us that opportunity."
Roughly 32,675 people died in auto accidents in 2014, Rosekind said. That number will likely jump when statistics are compiled for 2015.
IIHS has estimated as many as 1.9 million total crashes could be prevented or be made less severe each year if all vehicles in the U.S. were equipped with forward-collision braking systems. The National Transportation Safety Board has said that almost half of all two-vehicle crashes involved one running into the rear of another; about 1,700 are killed and 500,000 injured every year as a result.
"This agreement is great news from a safety standpoint, but the reality is cars will need automatic braking, along with a host of other autonomous-oriented features, by 2022 just to be competitive," said Karl Brauer, senior analyst with Kelley Blue Book. "The incremental cost of adding these high-tech driver aids is dropping every year, which is good for automakers because consumers are quickly coming to expect them, even on lower-priced models."
Consumer Reports, which has been fighting to make the technology standard, has estimated the price-per-car for a frontal-collision warning system is $250 to $400.
"We have been calling on automakers to make automatic emergency braking standard in all new vehicles, and today is an important step toward reaching that goal," Jake Fisher, Consumer Reports director of automotive testing, said Wednesday. "This proven technology is the among the most promising safety advances we've seen since electronic stability control almost two decades ago."
Consumer Reports last year called for automatic emergency braking to become standard on all cars.
Fisher said earlier this year in Detroit that vehicles equipped with safety features like forward collision prevention systems and automatic emergency braking are rated better by the influential magazine: "For the first time ever, we're taking into account those particular active safety features ... if they are standard equipment, will have an impact on the overall score."
Automatic emergency braking is now available on a number of models for all automakers. Ford, for example, calls the technology "forward collision warning" and first introduced it on a few 2010 model-year vehicles. It's currently available on a dozen cars.
Thursday's announcement will be a follow-up to a January agreement between automakers and government officials to collaboratively enhance safety efforts.
Last September, 10 automakers promised to add automatic emergency braking, but no timetable was set.

Ford's next-gen mobility
play targets disruption
Daniel Howes,
The Detroit News
March 17, 2106
Ford Motor Co. CEO Mark Fields says the automaker isn't in any war with Silicon Valley.
The Blue Oval instead is in a battle with itself to leverage new business opportunities lest the likes of Apple and Google, or ride-sharers like Uber and Lyft, outmaneuver their Detroit rivals in competing bids to more successfully marry technology with the nuts-and-bolts car and truck industry.
How 'bout both?
"There's lots of talk on how tech companies are going to disrupt the auto industry," Fields told me Monday on NewsTalk 760-WJR, where I guest-hosted the Frank Beckmann Show. "We're going to disrupt ourselves. We don't view it as a race with Silicon Valley. We've set up a big operation out there.
"Our approach is to collaborate with and participate in that community, but clearly we want to be a leader in this area. The prognosticators who say this is the end of the auto industry, I don't agree with one iota. This is a natural extension of our business."
In theory, anyway. Last week the Dearborn automaker said Jim Hackett — a longtime Ford director and former athletic director at the University of Michigan who served nearly a generation as CEO of office-furniture maker Steelcase Inc. — would leave the Ford's board of directors to head Ford Smart Mobility LLC.
Not so far-fetched, that. Forming a new unit with headquarters in Dearborn and Palo Alto, Calif., to "design, build, grow and invest" in what the company calls "emerging mobility services" is a strategic play for part of a larger transportation services sector that books an estimated $5.4 trillion in annual revenue.
Who wouldn't want a piece of that, more than twice the annual revenue of the global auto industry? Answer: any automaker who sees longer societal trends turning slightly away from owning and driving to riding and sharing — but not abandoning them completely.
The bet looks like this, as Fields sees it: most of the world outside the densest, dirtiest urban areas will continue to buy and drive cars and trucks, while the rest increasingly seek alternatives that meld personalized technology with metal produced by the world's automakers.
Ford's mobility play is not a wager that customers will either continue to own and drive or seek access to share, ride and leave the owning to others. It's a bet on both trends, and an explicit decision to turn Detroit's reputation for missing trends into an industry that anticipates them.
How else to interpret Ford's mobility moves? Or rival General Motors Co.'s stake in Lyft Inc., announced in January? Or the automaker's decision last week to acquire Cruise Automation and operate it as a unit of GM's Autonomous Vehicle Development Team?
These companies are, and will continue to be, on the muscle for movement and competitive advantage. The biggest reason: investors remain unpersuaded the industry that claimed the largest government bailout in American history is sufficiently restructured — and sufficiently reinvigorated — to parry aggressive moves by Silicon Valley players.
So far this year, GM has invested $500 million in Lyft and secured a board seat to be occupied by President Dan Ammann; formed an autonomous vehicle team and launched Maven, a personal mobility brand; touted its Chevrolet Bolt electric car, expected to be a backbone of ride-sharing companies; and acquired Cruise Automation to help with autonomous car development.
Long before Hackett wooed Jim Harbaugh back to Ann Arbor to become head football coach, the guy helped old-line furniture-maker Steelcase change the way people work. Can he begin to do the same for an old-line automaker's global gambit to change the way people move?
He'd better. The industry that put America on wheels, almost lost it all, and now is delivering the kind of profitability it could only dream about a few years ago faces an inflection point. Its competitors aren't just in Japan and Germany, South Korea and China.
They're in Silicon Valley. They're millennials more than happy to exchange their car keys for smartphone apps, a trend that can drain sales revenue unless the likes of Ford and GM, to name two, move to become parts of techy solutions.
Old stereotypes die hard. For years, smart money hammered Detroit for its inability to anticipate trends when quick money could be made selling trucks and SUVs into a hungry market greased by cheap gas. Now that Detroit is placing strategic bets on the future even as it makes quick money selling trucks and SUVs into a hungry market greased by cheap gas, it gets hammered, too.
Smart money can't have it both ways. That's why betting on the "core," as Fields calls the traditional car and truck business, and the future of mobility are the ways to play the present.

Ontario budget 2016:
More seniors to qualify
for low-income
drug program
Some seniors will see annual deductible increase by 70%
By Andrea Janus, CBC News
March 16, 2016
Drug costs will go up for middle- and high-income seniors, while more seniors will qualify for a low-income drug program under new changes unveiled Thursday in the provincial government's 2016 budget.
This change would expand the pool of seniors who are eligible for the Ontario Drug Benefit program.
The proposals include raising the income threshold to qualify for it to $19,300 from $16,018 for single seniors, and to $32,300 from $24,175 for senior couples.
Low-income seniors who receive the benefit will continue to pay a $2 co-payment per prescription with no annual deductible.
Meanwhile, seniors who are at or above the updated income thresholds will see their costs go up.
The annual deductible under the benefit for these seniors will increase from $100 to $170, while the co-payment ­­-- or the fee paid per prescription -- will increase by $1 to $7.11.
Changes are part of larger proposed overhaul
Health department officials could not say what the cost, or savings, will be under the changes before they roll out on August 1.
However, the budget document notes that none of the province's six public drug programs, which have various eligibility and co-payment rules, have been updated in two decades, and the changes are the first step in a planned overhaul of all of them.
Asked Thursday why the government is raising drug costs for middle-income seniors, Health Minister Charles Sousa said the province's drug benefits program has to be sustainable.
"We are supporting seniors right across the board to access more medicine," Sousa told reporters. "We are the most generous in Canada for that and it hasn't changed in 20 years."
NDP Leader Andrea Horwath blasted the changes, saying the increase in drug costs will be especially hard on seniors living on fixed incomes.
"I think seniors are going to be shocked. They're going to be worried," Horwath told reporters. "The vast majority of seniors in the province are living in fixed incomes, and their fixed incomes are not going up."
The government plans to introduce a "redesigned public drug program by 2019," the budget states, to ensure "long-term sustainability while ensuring access to prescription drugs for people who need them."
The Liberals are planning to launch public consultations on the drug-program overhaul this spring.
Another health care change for seniors is a move to help prevent shingles in Ontarians aged 65 to 70. Ontario will now cover the cost of the shingles vaccine, about $170, for all residents in this age group.
Manufacturing fuels
Windsor's 7.7% jobless rate
Grace Macaluso,
Windsor Star
March 15, 2016
Jeff Holmes has been an employee at Windsor Assembly since September but he already has between 700 and 800 people below him on the seniority list.
Among 1,200 new hires at FCA Canada's minivan plant, Holmes, 26, feels secure enough in his job to move out of his parents' house and buy a new car, preferably a Jeep model.
"The future is exciting," said Holmes. "I've been looking to buy a new home for two years, and now that I have seniority I feel safe and secure."
He can also count himself among the workers who are contributing to a significant drop in the Windsor-area's unemployment rate.
The local jobless rate fell from 9.3 per cent in January to 7.7 per cent last month, according to Statistics Canada. The national jobless rate rose to 7.3 per cent in February as Canada lost 2,300 jobs, while Ontario's rate edged up to 6.8 from 6.7.
The 1.6 per cent drop in the local jobless rate means Windsor is no longer the unemployment capital of Canada, transferring that title to Montreal, which posted a jobless rate last month of 8.7 per cent.
Other municipalities with jobless rates higher than Windsor include: Saguenay, Que., and St. Catharines-Niagara at 8.5 per cent, Calgary at 8.4 per cent, St. John, N.B., Greater Sudbury at 8.3 per cent and Kelowna, B.C. at 8.1 per cent.
The number of people employed locally increased to 156,600 last month from 154,600 in January — a monthly gain of 2,000, said Vincent Ferrao, analyst at Statistics Canada.
Manufacturing can take the credit for lowering the local jobless rate by increasing the number people employed in that sector from 29,100 in February of 2015 to 40,700 last month, said Ferrao.

FCA Canada, for example, has added 1,200 new jobs to the Windsor Assembly Plant over the last nine months as part of a $3.7-billion investment in the facility and new minivan program. The plant is building the current generation of the Dodge Grand Caravan as well as the 2017 Pacifica minivan, which replaces the outgoing Town and Country. FCA's hiring spree has also spurred job growth at its suppliers.
Ontario, B.C. and Quebec also saw year-over-year manufacturing gains, Ferrao added.
Mike Moffatt, economist at Western University in London, said it's too early to tell whether Windsor's lower rate is part of a long-term trend or a fluke.
"There are overall reasons for optimism as employment number have been steadily improving over time," said Moffatt. "I would be cautious of big changes in a one-month survey because history shows nine times out of 10 that ends up being a statistical fluke.
"We should have a clear picture by June or July."
The jobless statistics come on the heels of a report from the Conference Board of Canada, which forecast a two per cent growth for Windsor's GDP in 2016.
The report cited a " healthy U.S. economy and weaker Canadian dollar have breathed some life into the manufacturing sector, especially Ontario's auto sector."
It also predicted employment growth for Windsor, but at a much more modest 0.4 per cent — down from a more "vigorous" increase of 2.8 per cent in 2015.
Holmes said he applied at FCA Canada after unsuccessful efforts to find employment in his field of study — law enforcement.
"It was hard to get into anything," he said.
Getting hired at Windsor Assembly is "a complete honour," said Holmes, who works on a line that installs liftgates onto both the Caravan and Pacifica.
"The new Pacifica is just a beautiful vehicle," he said. "It makes us feel confident about the future, knowing that people will want to buy it."

Ford, GM make moves
for self-driving vehicles
Michael Martinez,
The Detroit News
March 14, 2016
Ford Motor Co. and General Motors Co. are investing in Silicon Valley-area ventures as they try to stay in front of the fast-changing automotive industry.
Ford tapped former University of Michigan interim athletic director Jim Hackett to lead a new subsidiary, Ford Smart Mobility LLC. That wing of the company will develop alternative transportation strategies and self-driving technologies in Dearborn and Palo Alto, California, Ford said Friday.
Also Friday, GM announced it will acquire Cruise Automation, a three-year-old San Francisco startup that will help GM test and develop driverless cars in city environments.
The moves — the latest in a series of similar announcements by both automakers in recent years — are part of an effort to transform into tech-savvy mobility companies to compete with newcomers like Uber, Apple and Google. They are intended to show Wall Street they are no longer the hidebound companies that nearly went out of business during the last economic downturn.
"They're covering their bases," said Jack Nerad, executive editorial director and executive market analyst with Kelley Blue Book. "Tomorrow might be a very different landscape, and they want to be ready."
For the past 14 months, Ford has been working on a number of smart mobility experiments that test everything from car-sharing services to alternative forms of transportation like electric bicycles and drones.
Recently, Ford started an Uber-like shuttle service for its Dearborn employees, and partnered with Bridj, a shuttle service in Kansas City. It also launched a new app, called FordPass, that collects information such as parking space availability. Some of its mobility research includes development of autonomous vehicle technology.
Michelle Krebs, senior analyst at AutoTrader, said it's a strategic business move.
"In addition to tapping into new revenue sources, Ford is establishing a framework for all work related to future mobility that allows the rest of the company to focus intently on the day-to-day core business of vehicle manufacturing," she said. "Past efforts by Ford to transform to a mobility company failed because the company took its eye off its core business. Yet, the work that goes on within the new mobility subsidiary can feed back into the core business when appropriate if Ford does this right."
Hackett — the former Steelcase vice chairman and CEO and recent UM athletic director — is leaving his position on the Ford board of directors to become chairman of the new subsidiary. He will report to Ford President and CEO Mark Fields.
During his time at Steelcase, Hackett helped transform the company from a traditional furniture-maker to one that understood the rise in popularity of open-office spaces and other trends.
"I'm so excited by it because it's the wheelhouse of me, which is working on abstract, hard problems with great, smart people," Hackett told The Detroit News on Friday. "This stint at UM is like the sorbet course of the meal, it cleansed my palate of one industry to do something different."
Other automakers are creating separate business units as well. GM announced earlier this year it had created the Autonomous and Technology Vehicle Development Team, led by Doug Parks, its former vice president of global product programs.
GM's acquisition of Cruise Automation will help it further develop driverless cars. The three-year-old technology company will act as an independent unit within the Autonomous Vehicle Development Team. Cruise Automation will continue to be based in San Francisco. The deal is expected to close in the second quarter; terms were not disclosed.
Since the start of the year, GM has announced it was investing $500 million in the ride-sharing service Lyft; launched its own Zipcar-like car-sharing service in Ann Arbor called Maven; and established a separate unit for autonomous vehicle development.
"The Cruise acquisition shows that GM is serious about autonomous driving, as is almost every other auto manufacturer," said Akshay Anand, analyst at Kelley Blue Book. "Like it or not, autonomous cars are coming, and coming fast."


Clinton to Target Automaker
'Rules of Origin'
Jennifer Epstein,
Bloomberg News
March 13, 2016
Democrat Hillary Clinton will propose making it harder for foreign automakers to claim that their cars are made in the U.S. as she tries to recruit Rust Belt voters following a surprise defeat in Michigan.
At a campaign stop in Youngstown, Ohio, on Saturday, Clinton will call for tougher "rules of origin," the policies used to determine whether a product can be labeled "made in America" and thereby eligible for preferential treatment, an aide said, previewing the announcement on the condition of anonymity.
Clinton believes that automakers from Japan and other countries which sourcecheaperparts made in China shouldn't be able to benefit from trade deals if their cars are assembled made from parts manufactured abroad, the aide said. She will also highlight the importance of raising those standards to the American steel industry, which is facing pressure from Chinese competition. The Vallourec Star steel plant in Youngstown conducted three rounds of layoffs in 2015. Clinton, the Democratic presidential front-runner, is trying to better articulateher views on trade ahead of primary elections on March 15 in manufacturing-heavy states Ohio, Illinois, Missouri and North Carolina. Her campaign assessesthat detailed and nuanced positions will appeal to voters in those states.
In Michigan's March 8 Democratic primary,60 percent of voters said they saw free trade as detrimental to American jobs. Clinton lost those voters to Vermont Senator Bernie Sandersby 10 percentage points.
"Voters that have lived in the industrial Midwest states that have had a lot of economic turmoil in the last few decades have a more sophisticated ear and eye towards economic issues than you might expect," Clinton communications director Jennifer Palmieri said. "People are really focused on how are you going to make this new world work and create new jobs and opportunity.''
Clinton has said she will only support trade deals that are beneficial to American workers, and has a mixed record on past agreements. She was supportive of the Obama administration's efforts to negotiate the Trans-Pacific Partnership, but ultimately said that she couldn't support it because it didn't do enough to help workers or prevent currency manipulation. She voted against the Central American Free Trade Agreementwhile in the Senate. That dealwas an extension of the North American Free Trade Agreement. Clinton has said she would like torenegotiate certain pieces of NAFTA if elected.
In Youngstown, Clinton will be joined by Ohio Senator Sherrod Brown,who also supports raising rule of origin standards.

Ford's police car doors to
stop armor-piercing bullets
Associated Press
March 12, 2016
Detroit — Ford will soon be offering the doors on its Police Interceptor sedans and SUVs. They'll be the first in the U.S. to meet the Justice Department's highest standard for body armor, the equivalent of a bulky SWAT team vest.
The doors are designed to stop a .30-caliber bullet shot from a high-powered rifle like an AK-47. That's more powerful ammunition than many soldiers carry.
Ford has offered factory-installed ballistic panels on its police car doors since 2008. But previous versions protected against handgun fire and non-armor piercing bullets. Between 5 percent and 10 percent of police vehicles Ford sells have the optional ballistic protection, which costs around $1,500 per door.
But Randy Freiburger, a Ford engineer who works with police customers, said the company was getting frequent requests for better protection, particularly from police in the Middle East and Eastern Europe. So engineers starting working on upgraded panels.
"In some places outside the U.S., they face the armor-piercing threat on a daily basis," Freiburger said. "This is the price of entry for those markets."
Ford was also facing pressure from its rivals. Dodge began offering non-armor piercing protection on police versions of the Charger in 2012. Ford controlled 60 percent of the U.S. police vehicle market in 2015.
Other automakers, including Land Rover and Audi, make vehicles from high-strength steel that can protect against armor-piercing bullets. But the cost would likely be out of reach for most police departments. The armored Range Rover Sentinel, which isn't sold in the U.S., starts at $569,000. A Ford Police Interceptor SUV — which is based on an Explorer — starts around $30,000.
Ford's ballistic panels — which cover most of the door — have two layers. The outside is made from ballistic-grade ceramic tile. When a bullet hits the tile, it disperses the energy and starts to break the bullet into pieces. The inner layer is made from aramid fiber, which is the same material used for Kevlar. The fiber catches the shrapnel from the bullet.
If bullets strike twice in the same spot, which is rare, the panels will still offer some protection, Ford says.
Freiburger said increasing the ballistic protection was an engineering challenge. The composition of the ceramic tile and the interior fiber had to be changed. The doors also weigh more, so engineers had to make sure that the hinges would hold them.
Ford will continue offering both non-armor piercing and armor-piercing doors for departments with different needs. Pricing for the upgraded protection hasn't been announced.
The doors aren't available to the public. In fact, they're destroyed when police cars are scrapped so they can't get into criminals' hands.
Freiburger said the car windows do not have ballistic protection because it significantly increases the weight of the glass. Bulletproof glass could also make it more difficult to get injured people out of a patrol car.
Bill Johnson, executive director of the National Association of Police Organizations, said police are frequently targeted when they're in their cars, so they will likely welcome the more advanced protection.
"Any kind of protection that can be added into the vehicles that officers are driving in is a great idea," Johnson said."

Canada's unemployment rate
creeps up to 7.3% in February
The Canadian Press
March 11, 2016

OTTAWA – Canada's unemployment rate crept up to 7.3 per cent last month for the first time in three years amid flat overall job growth.
Statistics Canada's latest labour force survey says the national jobless rate increased by 0.1 per cent for the third month in a row.
The report says the country lost 2,300 net jobs in February compared to the previous month, though the agency deemed that figure statistically insignificant.
The data says the number of net full-time positions fell by 51,800, while less-desirable part-time jobs increased by 49,500.
The report found that Saskatchewan and New Brunswick saw two of the largest monthly net declines in jobs, while British Columbia was the only province to register a significant increase in employment.
A consensus of economists had been predicting the country to add 9,000 net jobs and for the unemployment rate to stay at 7.2 per cent, according to Thomson Reuters.


Leftist party members escalate
calls to replace Tom Mulcair
as NDP leader
GLORIA GALLOWAY
OTTAWA
Globe and Mail
March 10, 2016
A move to depose NDP Leader Tom Mulcair by leftist elements in the party is escalating ahead of a leadership vote at a party convention next month.
Sid Ryan, a former president of the Ontario Federation of Labour, and the NDP's socialist caucus are pushing party members for a review of Mr. Mulcair's leadership after a federal election that saw the NDP drop from 95 seats in the House to 44. The party is also smarting from the loss of Official Opposition status that had been won by former leader Jack Layton in 2011.

Mr. Ryan, a candidate for the New Democratic Party in three provincial and two federal campaigns, told The Globe and Mail on Tuesday that he feels Mr. Mulcair is not the person the party needs as leader "because he's got such an overbearing personality and the party is desperately in need of renewal."
"Is there a tremendous amount of angst out there about the result of the election and how the election was run? No question about it, there is," he said.
Party members meet in Edmonton in the first week of April to begin preparations for the next federal election in 2019. They will be asked whether they believe they should hold a new contest for leader.
Barry Weisleder, the chair of the NDP socialist caucus, said he and some of his colleagues will be in Ottawa next week to talk about their campaign for a leadership review.
"The election campaign waged by Thomas Mulcair and his brain trust last summer and early fall was an unmitigated disaster," Mr. Weisleder said. "It portrayed the NDP as fiscally conservative and it was not mandated by any decision of an NDP convention or federal council to wage such a campaign."
The popularity of Bernie Sanders, who is running for the Democratic nomination in the United States, and Jeremy Corbyn, the Leader of the Labour party in Britain, has proved that left-wing platforms are not "the kiss of death," Mr. Ryan said.
But Mr. Mulcair and Mr. Layton both weeded socialist messaging from their campaigns in an effort to broaden the party's appeal.Mr. Mulcair, a former provincial Liberal in Quebec, promised to balance the budget despite a weakened economy, a move criticized by many long-time New Democrats as being at odds with the party's core values. The NDP Leader said often during the election campaign that keeping the books in the black is central to his own nature.
"I don't think Tom can go from where he is now to being a Bernie Sanders in the next election," Mr. Ryan said. "Tom should bite the bullet on this one, step aside and allow some other person to come in that's going to bring the kind of zest and zeal that we need in this party."
Party president Rebecca Blaikie has conducted a postelection analysis that, according to her interim report, blames the NDP loss on lapses in campaign preparation and execution as well as the decision to promise the balanced budget.
But Mr. Ryan said Ms. Blaikie's findings left many New Democrats dissatisfied.
"Something is wrong with the messaging of the NDP," Mr. Ryan said. "Something is seriously wrong with the policies that we're putting before people. They're not buying in to what we are offering. So I don't know if this kind of renewal can take place with Tom at the helm."
Mr. Mulcair's caucus members have, so far, stood by their Leader despite watching some prominent and well-liked colleagues go down to defeat in October – mostly to the Liberals.
But Mr. Ryan's criticism of Mr. Mulcair comes after Cheri DiNovo, a Toronto member of Ontario's provincial legislature, said Mr. Mulcair has "got to go," and after Alain Charbonneau, the president of the Lasalle-Ville-Émard-Verdun riding association, said Mr. Mulcair's one mission was to win the election and "he failed."
Mr. Mulcair has said he takes responsibility for the shortcomings of the campaign and that he is determined not to repeat the mistakes.
When asked Tuesday about the criticism being levelled by his detractors, the NDP Leader said he is actually heartened by what he is hearing from his members as he travels the country in advance of the April meeting.
"I am not going to take anything for granted," he said. "I am going to continue to work tirelessly as I have always done. But people are showing more and more confidence in the way things are going, even though they had a lot of disappointment with the results of the election."
The interim report of Ms. Blaikie's election postmortem does not indicate any solutions for the problems that have been identified, said Mr. Weisleder.
"There are many many shortcomings with respect to foreign and domestic policies," he said. "That's why we are seeking a leadership review. Let's put all of the issues on the table and let the members decide."

Worker says UAW harassed
him over right-to-work beliefs
Michael Martinez,
The Detroit News
March 9, 2016
A worker at Ford Motor Co.'s Sterling Axle Plant has filed a complaint against the United Auto Workers Local 228, alleging the local leadership has repeatedly harassed and singled him out over his political beliefs.
Brian Pannebecker, a 56-year-old hi-lo driver who has been an outspoken proponent of Michigan's right-to-work law, alleges union leaders at Local 228 have targeted him by "incessantly monitoring, following behind and hounding (him); and by writing him up for multiple minor safety violations," according to a complaint filed recently with the National Labor Relations Board.
Pannebecker, a spokesman for Michigan Freedom to Work, has written op-eds in local publications and has hosted informational meetings to teach other autoworkers how to opt out of the union if they wish.
"When I speak out publicly, they've tried everything they can to silence me," he said. "I'm not the kind of person that will keep my mouth shut if I feel I'm being treated unfairly."
The NLRB received his complaint earlier this week and will now gather evidence in the case in the coming weeks. If regional director Terry Morgan finds the case has merit, it will go before a judge. It could be among the first cases involving harassment over right-to-work since Michigan passed the law in 2012.
Pannebecker says the harassment started about a year ago when Local 228 appointed a new safety rep. He claims the rep constantly shadows him at the plant and writes him up for minor safety violations, like not wearing his ear plugs or not coming to a complete stop while driving his hi-lo.
He also claims someone at the plant has posted fliers calling him "a****** of the month" for not paying union dues.
"These are the kinds of harassing tactics the union is supposed to protect workers from," he said. "Local 228 is doing the exact same thing we elected them to keep management from doing to us."
Paul Torrente, president of Local 228, did not return requests for comment. The international UAW typically leaves comment on these matters to the locals.
Other local union halls have singled out members who have left via their state's right-to-work law.
UAW Local 412 in Warren prints in a newsletter the names of about 43 members "who choose not to pay their fair share."
Last year, UAW Local 1853 in Tennessee reportedly published a "Scab Report," listing the names and work stations of more than 40 workers at GM's Spring Hill Assembly Plant who were non dues-paying workers.
"Any membership organization has a right to post a list of their members or non-members and to appeal to people to maintain or join up," said Kristin Dziczek, director of the industry and labor group at the Center for Automotive Research in Ann Arbor.
The law allows union members to opt out of belonging to the union and paying dues, but still allows them the same benefits as union members. They are prohibited from doing certain things like voting in union elections or attending certain meetings.
Dziczek said in other right-to-work states, the impact on union membership has been minimal, but that "it does put some pressure on the union to show value in membership."

Retiree Merv Davis
Passes away March 8, 2016
It is with deep regret that we inform you of the
passing of Retiree Merv Davis in his 85th year
on March 8, 2016.
Our Condolences go out to his family and Friends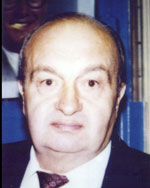 MERV DAVIS
Oct 10, 1930 - Mar 8, 2016
Retired
October 1, 1994
30.7 Years Service
Funeral Service
Brian E. Wood
Funeral Home
Date: Saturday March 12, 2016
Visitation: 10am - 11 am
250 14th Street West
Owen Sound, Ontario

Map and Directions
http://www.woodfuneralhome.ca/Location
OBITUARY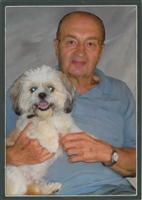 Suddenly at Central Place in Owen Sound, on Tuesday, March 8th, 2016. Mervyn Myers Davis, of Owen Sound, at the age of 85 years. Loving brother of Joan McCosh (Ken), and Dorla Price, both of Hamilton, Carl Davis (Eleanor), of Meaford, Donna Barber (Bruce), of Huntsville, Wayne Davis (Sandra) and Linda Smith (Avery), both of Shelburne and brother-in-law of Eldred Besley, of Buckhorne and Ruth Davis, of Eugenia. Mervyn will be sadly missed by his many nieces and nephews. Predeceased by his parents, Russel and Bernice Davis; his sister, Lois Besley; his brother, Ray Davis; his partner, Yvette Andrews.

A Memorial Service for Mervyn Davis will be held in the Chapel of the BRIAN E. WOOD FUNERAL HOME, 250 – 14th Street West, Owen Sound, Ontario N4K 3X8 (519-376-7492) on Saturday, March 12th, 2016 at 11:00 a.m. with Rev. David Campbell officiating. Visitation one hour prior to service. Interment in Greenwood Cemetery. If so desired, the family would appreciate donations to the Heart and Stroke Foundation as an expression of sympathy. Messages of condolence may be sent to the family on-line at www.woodfuneralhome.ca


UAW, Teamsters, AFL-CIO
quiet on endorsements
Michael Wayland,
March 8, 2016
The Detroit News
When Michigan workers vote for presidential candidates in the state's primary election Tuesday, they will do so without relying on endorsements from the United Auto Workers, Teamsters and AFL-CIO.
None of the three unions have announced endorsements, even as Democratic and Republican presidential candidates toured the union-heavy state this week. Representatives from each told The Detroit News they are either not commenting on their endorsement process or are not ready to announce support.
"The UAW is conducting a survey of its members; we have some returns already in but not all," UAW President Dennis Williams said in a statement to The Detroit News. "UAW regions and locals have different processes they use. It's totally voluntary. At this time we do not anticipate endorsing before the Michigan primary."
By this time in the 2008 primary — the last time Democrats were in contention for a presidential nomination — the Teamsters had endorsed Barack Obama. The UAW and AFL-CIO didn't throw their support to Obama until June because union leaders were divided between Obama and Hillary Clinton.
So it's not unprecedented for the unions to hold off endorsements during the primary season. But it does raise questions about disagreement among leaders and rank-and-file on which candidate — or party — to support this year.
Republican candidate Donald Trump has the backing of many blue-collar workers that labor unions have prided themselves on representing. In a Detroit News/WDIV-TV statewide poll conducted in mid-February, Trump led the pack in Michigan with the support of 25 percent of 600 likely GOP primary voters surveyed. Republican men without college degrees chose Trump by a 2-1 margin over Ted Cruz.
That doesn't necessarily mean Trump is ushering in a new generation of "Reagan Democrats."
"The thing is, though, that many of the working-class whites who used to vote Democratic — the 'Reagan Democrats' — have been functionally Republican for decades," said Kyle Kondik, managing editor of political website Sabato's Crystal Ball at the University of Virginia Center for Politics.
"Trump may be activating some of these voters for the first time as primary voters, but the vast majority of them probably were already Republican at the presidential general-election level."
On the Democratic side, former U.S. Secretary of State Clinton has her union loyalists, while Vermont Sen. Bernie Sanders says a growing grassroots movement of organized labor rank-and-file members support him.
Through the end of February, none of the candidates had received major financial backing from the AFL-CIO, Teamsters or UAW, according to the Federal Election Commission.
Political consultant T.J. Bucholz, president and CEO of Lansing-based Vanguard Public Affairs, contends their silence isn't necessarily about internal turmoil. It's about saving money and energy.
"Labor is trying to keep its powder dry because they think the money is going to be better spent in the general than it is in the primary," he said. "If you're unions with declining enrollment in some cases, an aging membership, with fewer resources ... you only have so many bullets in the gun."
Major unions rallied around Obama to help elect him for two terms. While unions historically lean toward Democrats, the Teamsters in the 1980s endorsed Republican Ronald Reagan twice, as well as George H.W. Bush. An official with the AFL-CIO, which traditionally endorses the same candidate as the UAW, said she doesn't believe the organization has ever endorsed a Republican for president. The UAW hasn't endorsed a Republican in recent decades; a spokesman couldn't be sure if it had never done so.
Back in September, Teamsters General President James P. Hoffa kept open the possibility of again backing a Republican. "It's long past time for Republicans and Democrats to put aside their differences and work together for the good of our country," he said.
Teamsters spokesman Galen Munroe said this week there was no update, and the union is not commenting on the endorsement process.
The AFL-CIO, composed of 56 unions, does not necessarily talk to rank-and-file members before backing a candidate. It polls leaders from those unions. Local chapters such as the Michigan AFL-CIO, which includes more than 1 million active members, do not typically endorse a presidential candidate without the blessing of the national organization.
Sanders backed
Sanders made an appeal to labor Thursday in Lansing when he condemned the Trans Pacific Partnership and North American Free Trade Agreement. He said it's ultimately up to unions on when and whom to endorse.
"They need to make their own decisions, but I think if you look at my record on issues of importance to the trade union movement (compared to) Secretary Clinton's record over the years, I think it's very clear that my views are the views that reflect the needs of millions of American workers," he said.
Although the UAW, Teamsters and AFL-CIO have not backed a candidate, Sanders has picked up key endorsements from National Nurses United, Communication Workers of America and American Postal Workers Union.
Clinton's endorsements include Service Employees International Union; American Federation of State, County and Municipal Employees; American Teachers Federation, National Education Association; Laborers International Union of North America; and International Association of Machinists.
Clinton on Friday appeared at a Detroit manufacturing plant to lay out a "new bargain" plan that included strengthening organized labor and raising the minimum wage.
"The unions that helped build our country and the middle class are under concerted attack," she said at auto supplier Detroit Manufacturing Systems. "And it's no surprise Americans are angry, is it?" She added, "Companies have to start treating workers like assets to be invested in, not costs to be cut."
Trump has not received any major union endorsements. However he made his case for UAW support during a rally Friday in Warren. He spent much of the event discussing Ford Motor Co.'s plans to build a $2.5 billion plant in Mexico. He also said he isn't "controlled" by unions because he's largely funding his own campaign.
"I don't want your money, but I do want your vote," he said.
There was little reaction at Trump's rally when he asked how many union members were there. One UAW member of 30 years in attendance was Michael HuZar. He said he supports Trump because he's fed up with traditional politics and believes Trump is "a fair businessman" who would "give people what they deserve for a living."
Kim Ward, a former UAW member of nearly 14 years at American Axle & Manufacturing, was at the Sanders event Thursday. She said she doesn't understand how anyone "in their right mind" could support Trump. "How could we have a president who is offensive to everybody? Everything that comes out of his mouth offends somebody."
'Great candidates'
UAW chief Williams in February said both Clinton and Sanders would "be great candidates to be president." When asked this week, he said the union is "watching with great interest both parties," but went on to say "Republicans have decided to throw stones on who's more conservative rather to discuss issues."
That has not stopped UAW Vice President Cindy Estrada, a member of the AFL-CIO Executive Council, from coming out for Sanders. "I'm angry that some would imply that Women who support Bernie don't support women," she tweeted in February. "Not productive not true!"
The UAW could be experiencing flashbacks from 1992, when Bill Clinton was making his first run for the White House. The union was an early supporter of Democrat Tom Harkin until he dropped out of the race in early March. The UAW eventually endorsed Clinton over incumbent President Bush, even though Clinton supported NAFTA.
"There was debate," Owen Bieber, UAW president from 1983-1995, told The News in a Thursday phone interview. "NAFTA was a big concern."
Bieber said he isn't concerned about UAW members turning out for Trump: "I think when the time comes, they will do the right thing," he said. "And I don't think the right thing would be a President Trump or, for that matter, a Republican president."
Why not a national drug plan
for seniors similar to CPP?
JEFFREY SIMPSON
The Globe and Mail
Mar. 07, 2016
About 15 per cent of Canadians are now senior citizens, that is, over 65 years old. In a decade, seniors will make up one-fifth of the population. The shift to an older population is gradual, but profound.
It will show up in many aspects of life, and Canadian society has not yet fully come to terms with what the changes will mean or cost, in part because it is easier to punt future expenses down the road.
An aging population will put stress on government budgets – for example, with more expensive seniors' prescription-drug programs. All provinces have such plans, though they vary from place to place in what they cover and the deductible amount, the amount a senior must pay. (The federal government also has a plan for its former employees.)
More seniors mean more drug consumption, since 85 per cent of seniors take at least one prescription drug and those over 80, on average, take five.
More drugs mean more costs for government. Those higher costs have to be paid, because the amount of money seniors pay for their prescription drugs represents a fraction of the cost to government.
Currently, these drugs are being paid for (that is, subsidized) by people under 65, a group that will shrink as a share of total population in years ahead. Put crudely: The working children of seniors will be paying a disproportionate share of their parents' drug costs. As now structured, the prescription drug plans represent an intergenerational shifting of costs from older to younger.
What's a government to do? The options are unpleasant, but higher costs cannot be avoided if seniors' drug plans keep being financed in the traditional way – money in, money out.
A government could: a) reduce the drugs on the formulary; b) cut government spending elsewhere and shift resources to seniors' drugs; c) use gambling revenues (except that in Ontario, for example, hospitals already take $1.6-billion of the $2.2-billion raised from gambling); d) raise overall taxes; e) make better-off seniors pay more.
Ontario, among others, is already on this path; its recent budget jacked up the annual deductible for people with incomes of more than $19,000 a year, and raised the co-payments per prescription. More changes are coming because, as the budget said, "to help ensure that Ontario's public drug program benefits are sustainable over the long term, it will be important to target benefits to those most in need." That word – "sustainable" – was used repeatedly. It means, in plain English, we can't afford what we have if we keep doing things the same way. Something will have to give.
What will give in Ontario will become clearer in 2019 (after the next provincial election), when the government has promised a "redesigned" program. It will, according to the budget, "improve long-term sustainability while ensuring access to prescription drugs for people who need them." It will "increase fairness and equity among beneficiaries."
These code words mean: This program can't be maintained at existing levels of benefits. Therefore, middle- and upper-income seniors will pay more. (The same shift will happen, by the way, with university fees that will rise for students of middle- and upper-income families but disappear for those below a certain income threshold.)
What the Ontario government will find is that even by increasing deductibles and co-payments, seniors' drug plans will still cost the treasury a packet of money that will keep increasing, albeit perhaps less slowly than before.
That's what happens when a government has to pay costs from tax revenues and individual payments every year rather than using a social insurance model, such as a pension plan, into which it and future beneficiaries pay.
Prescription drugs are almost a universal need for seniors. If we had a social insurance scheme for drugs, people would pay into a program, similar to the Canada Pension Plan, throughout their working lives. In exchange, they would receive drugs at a given age, say 65 or 67, with a deductible that is geared to income.
That way, we wouldn't be asking the children of seniors to essentially finance the bulk of their parents' prescription drug costs. Without prepayment – or social insurance, if you like – we'll be chipping and snipping programs to help make them "sustainable," as Ontario will do, and as will other provinces.
It would be so much better to have a national insurance scheme for seniors' drugs attached to the CPP. But we dream, one supposes.

Thomas Mulcair fights for his
job at heart of biggest failure
The NDP leader goes behind closed doors to plead for another
chance in downtown Toronto where the party was wiped out.

Tim Harper
Toronto Star
March 06 2016
Thomas Mulcair went behind closed doors Saturday to plead for his job.
And he did it at the epicentre of last autumn's NDP carnage, downtown Toronto, speaking to party activists in the heart of the city where his New Democrats were wiped out in last autumn's federal election.
Mulcair has pivoted from a series of mea culpa meetings with party members and began an active campaign to win a leadership review next month with his address to about 100 members of the Ontario NDP provincial council at a downtown hotel.
Mulcair faces a mandatory review of his leadership at a party convention in Edmonton in a month.
With his party seemingly swallowed whole by Justin Trudeau's Liberals in recent polling data, coming off a defeat that personally stung the leader and his spouse, Catherine Pinhas, and left party loyalists deeply discouraged, Mulcair is campaigning against phantoms.
No one has stepped forward to challenge his leadership and the NDP has never dumped a leader.
But beyond discontent in the party, he is also battling apathy – the energy has been sucked out of a party that saw its hard work last summer only lead them deep into the political wilderness after leading in pre-election polls.
"You know I'm a fighter," Mulcair said. "You know that I will always stand with you. If you keep standing with me, then I will never stop fighting."

Mulcair worked hard to build party support in Toronto in the last election, then watched as the party lost every seat it held, with popular incumbents such as Peggy Nash, Craig Scott and Andrew Cash being washed away by the red tide. Former party stalwart Olivia Chow could not regain her seat against Liberal Adam Vaughan. The hopes of Andrew Thomson, Jennifer Hollett and Linda McQuaig, all billed as star candidates, crashed.

The NDP has only two elected representatives under 50 — city councillors Joe Cressy and Mike Layton — across three levels of government in Toronto.
The rebuild in Canada's largest city is daunting.
"I share your deep disappointment in the election results," Mulcair told party members.
"I know that we made mistakes that cost us a victory in October, and for that I take personal responsibility.
"We lost too many brilliant, hardworking MPs and staff — most notably here in Toronto.
"Now it is my job, and my duty to you, to learn from those mistakes and apply those lessons going forward."
Sitting on the sidelines, he said, has "never been an option for me."
The session was closed to the media but The Star obtained a copy of Mulcair's speech.
Party sources say more than 1,300 New Democrats have so far registered for the Edmonton convention. That may bode well for a party trying to shake post-election apathy, but it is unclear what it means for Mulcair's future as leader.
There have been only two public calls for him to step down, one from Ontario MPP Cheri DiNovo and another from Montreal riding association president Alain Charbonneau. That's hardly an internal uprising.
"People were sucked dry from the campaign and they just didn't want to have to deal with this," one party source said.
There is another factor: The Trudeau government enjoys deep support from those who identify as New Democrats and the Liberals have taken the progressive mantle from Mulcair's party.
That attitude adds uncertainty to the Edmonton vote.
In the wake of the October defeat, Mulcair became "defensive Tom," according to party sources.
But in a recent letter to party members Mulcair did what many had urged him to do. He took personal blame for the campaign wreck.
Saturday, he made his case, saying the Liberals have been all talk and no action on the environment, have expanded our combat role in the U.S.-led coalition fighting Daesh (also known as ISIS or ISIL) by placing more boots on the ground, are reneging on promises to kill the F-35 fighter jet option and restore home mail delivery and delivered tax cuts that did nothing for low-income Canadians.
He told them the story of his father losing his job, the family home being sold and his mother returning to work with eight children at home. He fights for those who have lost their jobs because he knows what they are going through, Mulcair said.
The battle against the phantoms will last another month, but Mulcair can take inspiration from the woman who introduced him Saturday.
After a disastrous 2014 provincial campaign, Ontario NDP leader Andrea Horwath also faced a leadership review. About 77 per cent of delegates voted to give her another chance.

U.S. investigates 420K Ford
F-150s for brake failure
Keith Laing,
Detroit News
Washington Bureau
March 5, 2016
Washington — The U.S. government is investigating complaints about brake failures on Ford Motor Co.'s F-150 pickup, the best-selling vehicle in the nation.
About 420,000 pickups with 3.5-liter, six-cylinder engines from the 2013 and 2014 model years could be prone to brake failures, according to documents posted Friday on the National Highway Traffic Safety Administration's website.
The agency says it has 33 complaints about the alleged problem, including some from drivers who reported experiencing "complete" brake failures, even with pedals floored. Four drivers attributed crashes to the brake problem, although NHTSA said there were no injuries.
"The complaints allege symptoms of brake pedal going to the floor with complete loss of brake effectiveness, brake warning lamp illumination, and/or low or empty master cylinder reservoir fluid level with no visible leakage," the agency said in a notice of its investigation.
"Several complaints allege repair facilities diagnosed the problem as brake fluid leaking from the master cylinder to the brake booster."
The highway safety agency said Friday it is launching the investigation because the pace of complaints has accelerated in recent months. The agency reported that it received 31 complaints from F-150 drivers came in the past year, with 20 of them coming in the past seven months.
One driver in Brentwood, California, complained of brakes failing "without warning" while they were driving at about 5 miles per hour.
"The contact depressed the brake pedal all the way to the floor and had to place the vehicle in park to stop," the complaint said. "The vehicle was towed to the dealer where it was diagnosed that the master cylinder and booster pump needed to be replaced."
Ford's F-Series pickup is the top-selling vehicle in the U.S, and the F-150 accounts for a majority of those sales. Ford sold 780,354 of the F-series trucks last year and the company has already moved 112,487 additional pickups in the first two months of this year, according to sales figures that have been released by the company.
The highway safety agency said the vehicles that are included in the investigation represent 36 percent of the total number of F-150s sold between 2013 and 2014.
Ford faces fines up to $35 million if it fails to comply with NHTSA's request for documents on the brake problems by April 20.
"The Vehicle Safety Act… provides for civil penalties of up to $7,000 per violation per day, with a maximum of $35,000,000 for a related series of daily violations," said Jeffery Quandt, NHTSA chief of vehicle control and defects investigation, in a letter to Ford.
"This includes failing to respond completely, accurately, and in a timely manner to ODI information requests," he continued.
Ford said Friday it would work with federal regulators to get to the bottom of the F-150 brake concerns.
"We take the safety of our customers very seriously, and we will cooperate with NHTSA on this investigation, as we always do," the company said in a statement.
The investigation comes at time when federal regulators have been under pressure from Congress to step up their oversight of the U.S. auto industry after a series of recalls have raised questions about car safety.
NHTSA has been under fire recently for failing to call for a total recall of vehicles that have air bags made by Japanese parts manufacturer Takata, which been used in Fords as well as 13 other automakers; 24 million cars have been recalled in the U.S. Ten deaths have been linked to to defective bags.
NHSTA Administrator Mark Rosekind has declared the recent string of high-profile auto problems "the era of Big Recall," which he has said is a problem for both federal regulators and the auto industry.
"Record civil penalties are not a metric of success," he said in a speech at this year's Automotive News World Congress in Detroit. "Folks, if we're levying a big fine, it means there has been a safety crisis.
"Americans have been put at risk. Too often, it means American lives have been lost. And NHTSA's job is to save those lives, every one of them. NHTSA is truly successful not when we catch safety violations and wrongdoing and hand down penalties, but when we work together with industry to prevent that kind of crisis from ever occurring."

Ford, FCA February sales
soar; GM down slightly
Michael Martinez,
The Detroit News
March 2, 2016
Automakers were feeling the love in February as customers continued to scoop up SUVs, trucks and other new vehicles at a historic pace.
The industry sold 1.34 million new cars and trucks last month, a 6.9 percent increase from a year ago, according to Autodata Corp.
An extra selling day, as well as the Super Bowl and Presidents Day holiday, coupled with long-term favorable factors like low interest rates, available credit and low gas prices to boost numbers.
"The automotive industry continues to demonstrate a resiliency even after a record sales year, with top OEMs demonstrating a disciplined, long-term approach to both retail and fleet sales," Rebecca Lindland, senior analyst for Kelley Blue Book, said in a statement. "The consumer is out in force, discovering sophisticated vehicles at nearly any price point with the latest in safety, technology and reliability they could only dream about in the eleven years since many bought a new car."

As has been the trend in recent years, sales were driven by SUVs and trucks. Sales of SUVs and crossovers rose 12.4 percent last month to 490,091, according to Autodata, while pickup sales rose 7.1 percent to 197,790.
The Detroit automakers posted mixed results. Ford Motor Co. led the way with a 20.2 percent sales gain due to an uptick in its fleet business, while sales at Fiat Chrysler Automobiles rose 11.8 percent. General Motors Co.'s sales fell 1.5 percent due to a decrease in daily rental sales.
Ford's retail sales rose 11 percent, but its strong numbers can be explained by a 36 percent increase in fleet sales. Executives said Tuesday that Ford's fleet numbers are front-loaded this year (up 35 percent through the first two months of the year), compared to 2015 when its daily rental, government and commercial orders were low.
For the full year, Ford expects fleet sales will be slightly higher than 2015.
"We like this business," said Mark LaNeve, Ford vice president, U.S. Marketing, Sales and Service. "It's a profitable business and we manage it very well."
GM, meanwhile, reduced daily rentals by 39 percent last month as part of a planned decline. Its retail sales rose 7 percent.
"Our strategy is simple: grow profitable retail share while maintaining discipline with inventory levels and incentive spending, while reducing rental deliveries," said Kurt McNeil, GM's U.S. vice president of sales operations.

The Detroit automaker was led by its Buick brand, which saw a 2.3 percent sales increase. Cadillac sales rose 0.9 percent. GMC sales fell 6.8 percent, while Chevrolet sales fell 0.7 percent.
Ford's numbers were strong across the board as the automaker sold 216,045 vehicles last month, compared to 179,673 during the same month last year. SUV sales rose 29.2 percent, while truck sales rose 14.8 percent and car sales rose 18.8 percent, according to Ford.
"We saw a solid industry last month and a stronger month for Ford, as customer demand for our newest vehicles — including new high-end series on Explorer and Edge — helped Ford increase its average transaction prices at almost double the industry average," LaNeve said. "Offering more high-end options for truck and SUV customers and having the capability fleet buyers value as they are reinvesting in their fleets are strengthening our business."
Ford-brand vehicle sales rose 19.9 percent, while Lincoln sales were up 30.4 percent.
Every Lincoln vehicle posted sales gains last month, led by the MKX's 109.3 percent increase.
FCA sold 182,879 vehicles last month, compared to 163,586 vehicles sold in February 2012. The company's sales were once again driven by Ram trucks and Jeep SUVs, which saw a 27 and 23 percent sales gain, respectively.
The Dodge brand posted a 12 percent gain, while the Alfa Rome brand posted a 4 percent sales increases. Sales fell 26 percent for the Chrysler brand and 9 percent for the Fiat brand.
A number of vehicles, including the Jeep Cherokee, Wrangler, Patriot, Compass, Ram pickup, ProMaster, ProMaster City, Dodge Journey and Challenger each recorded their best February sales ever.
The strong numbers come in spite of poor winter weather in parts of the country and the end of many holiday and year-end sales events.
"Typically January and February are relatively slow months in terms of car sales; if that's true for 2016, and we only go up from here, we are looking at a remarkable year," Edmunds.com Senior Analyst Jessica Caldwell said.
LMC Automotive's forecast for 2016 remains 17.8 million vehicles, which would again set an all-time record following last year's record-setting sales of 17.47 million vehicles.

FCA CEO Marchionne
earned $10.9 million in 2015
Michael Wayland,
The Detroit News
March 1, 2016
Fiat Chrysler Automobiles NV CEO Sergio Marchionne was paid more than 10 million euros ($10.9 million) for leading the automaker in 2015.
The 63-year-old executive's compensation included a 3.6 million euro base salary ($4 million), 6.3 million euro (nearly $6.9 million) incentive related to the company's performance during the year and 126,610 euros ($137,796) in "other compensation," according to the company's annual report filed with the U.S. Securities and Exchange Commission on Monday.
Those 2015 earnings do not include millions of dollars Marchionne earned or could earn in the form of performance-based, long-term compensation awards and grants: 4.32 million shares of the company's stock if the company hits certain performance targets, and 1.62 million shares that he can access at any time, which was first reported as part in the company's annual filing a year ago.
The company, according to the filing, places significant importance on long-term incentives as a retention and motivation tool.
Marchionne's 2015 earnings are sharply down from 2014, when the automaker paid him 31.3 million euros ($38 million), including a 24.7 million euro ($30 million) cash reward from non-executive directors as recognition for being "instrumental in major strategic and financial accomplishments for the group."
FCA Chairman John Elkann followed Marchionne based strictly on salary, bonuses and other compensation in 2015. He received 1.8 million euros ($2 million) in annual salary and 128,309 euros (about $139,500) in other compensation related to "the use of transport."
Marchionne, as of Friday, owned 14.62 million common shares, or 1.13 percent, of the company — by far the most of any FCA executive. The second closest was Elkann at 133,000 shares.
Bloomberg News last week reported Marchionne, who also serves as chairman of CNH Industrial and Ferrari, which spun off Fiat Chrysler in 2015, publicly disclosed holdings are worth $232 million as of Thursday's closing prices, making him more invested in his employers than fellow auto bosses.
Carlos Ghosn, CEO of Nissan Motor Co. and Renault SA, has shares in the automakers worth about $49 million, according to data compiled by Bloomberg. Mark Fields, CEO of Ford Motor Corp, has company stock worth about $12 million, while General Motor's Mary Barra owns about $3.2 million in the Detroit carmaker.

RETIREE DON WHITE
PASSES AWAY!
I am sorry to inform you that Retiree Don White
has passed away on February 29, 2016
Our Sincerest Condolences go out to his Family!
He will be truly missed by all.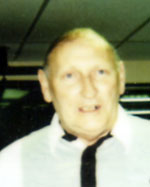 DON WHITE
Retired July 1, 1998
32 Years Service
1934 -2016
Details of the service are as follows:
Saturday March 12, 2016 @ 10-11 am - visitation
11 am – celebration of life
Reception to follow
J.S. Jones & Son Funeral Home
11582 Trafalgar Rd.
Georgetown, ON

http://jsjonesandsonfuneralhome.com/21/Map---Directions.html
For more details as they are posted click here:
http://jsjonesandsonfuneralhome.com/
Obituary of Donald White
WHITE, DONALD LEONARD:
It is with heavy hearts that we announce the passing of Don on February 29, 2016 at Waterside Retirement Lodge, Wasaga Beach with his family by his side.
Born in Milton in 1934, Don was the son of the late Francis Leonard and Mary Rebecca (Fry) White. In 1954 Don married the love of his life Shirley (Paul) and they enjoyed 59 wonderful years until Shirley's passing in 2013. They resided in Georgetown for many years where they raised their family before moving to Brampton and upon retirement to Gravenhurst. After Shirley's passing, Don relocated to Wasaga Beach. Don was an avid golfer and was actively involved in hockey and baseball both as a player and a coach, especially the Halton Hills Huff n' Puffers. Don worked for Smith & Stone for 15 years and then Ford Motor Company, Bramalea for 33+ years.
Don was a very loving husband, father, grandfather, brother and uncle. Don always put family and friends before all else but he was most proud of his grandsons and their accomplishments.
Don is by survived by his daughters Susan and husband Stephen Graham of Belwood and Shelley and husband Paul Uren of Wasaga Beach. He was a loving Poppa to Scott Graham of Victoria, BC and Sean Graham of Boston MA. Dear brother-in-law of Ted Stigger of Burlington and sister-in-law Sheila and husband Phil Klassen of Dartmouth NS. Don will be fondly remembered by nephews/nieces Gail Robinson (Norm), George Stigger (Janet), Bettysue Handyside (Gord), Beverly Hall (Terry), Ellen Norton (Larry, deceased), Paul Klassen (Trudi), Wendy Klassen as well as many great nephews and nieces. He is fondly remembered by Carole Beard-Earles and her husband the Rev. Jerry Earles and family in Peterborough. Don was predeceased by his sisters Eileen and her husband Fred Johnson and Marjorie Stigger. Remembered by special friend Joy St. Eve. A special thanks to the management, staff and residents of Waterside Retirement Lodge for their support during Don's final weeks.
Visitation for family and friends will be held at the J.S. Jones and Son Funeral Home, 11582 Trafalgar Road, north of Maple Ave., Georgetown (905-877-3631) on Saturday, March 12, 2016, from 10 to 11 AM to be followed at 11 AM by a Celebration of Life service in the chapel. A reception will follow after the service.
Cremation has taken place. In memory, donations to the Heart & Stroke Foundation of Ontario, St. George's Anglican Church, Georgetown or a charity of choice would be appreciated.


GM to pay down pension debt
with senior unsecured notes
Michael Martinez,
The Detroit News
Feb 28, 2016
General Motors Co. will attempt to pay down its $10.4 billion in unfunded pension debt for U.S. hourly workers by offering 20- and 30-year senior unsecured notes, the automaker said Thursday.
The notes include $1.25 billion of 6.60 percent notes due in 2036 and $750,000 million of 6.75 percent notes due in 2046, GM said. The transactions would close and GM would receive the net proceeds Feb. 23.
GM said it hopes to raise about $2 billion in capital by selling the notes to help pay down the debt. In the event GM does not use all of the net proceeds for this contribution, it said it would use the money for "general corporate uses."
The automaker's U.S. pension obligation decreased approximately $5 billion to $71 billion in 2015 and is 85 percent funded, the company said in its 2015 earnings report last month.
"We intend for the U.S. hourly plan to be fully funded over time," GM spokesman Tom Henderson said.
Moody's Investor Services on Thursday assigned a "Ba1" rating to the offering, giving it a positive outlook.
"GM's long-term ratings and positive outlook reflect Moody's expectation that the company will continue to strengthen its performance in North America and Europe, and that it will maintain a strong position in China," it said in a note. "In addition, we expect that the company will continue to make progress in building an operating structure that can contend with the risk inherent in the global automotive sector."
GM last year made a $9.7 billion net income.

Ford invests $145M, creates
150 jobs in Cleveland
Michael Martinez,
The Detroit News
February 27, 2016
Ford Motor Co. said it's investing $145 million and creating 150 jobs at its Cleveland Engine Plant for the next generation of its 3.5-liter EcoBoost engine.
The Dearborn automaker uses the current 3.5-liter engine in its F-150, Explorer, Expedition, Transit, Flex and Taurus. The second-generation engine will at least power the F-150 and the 2017 Raptor; Ford declined to confirm if it will be used again for the vehicles outside the F-150 family.
The automaker promised the United Auto Workers it would invest $150 million at the Cleveland plant over the course of its four-year pact with the union. In addition to the next-generation 3.5-liter, Ford will also update its 3.7-liter TiVCT and 2.0- and 2.3-liter GTDI engines, its UAW contract says.
Cleveland Engine employs about 1,500 workers and has produced more than 1 million EcoBoost engines since 2009.
"This is very exciting news for the hardworking men and women of Cleveland Engine Plant and the Ohio community as a whole," Jimmy Settles, UAW vice president, National Ford Department, said in a statement. "The team at Cleveland Engine is thrilled to begin building one of the most technologically advanced engines ever designed for the all-new F-150 Raptor."
The Raptor-unique 3.5-liter engine will get more than the 411 horsepower and 434 pound-feet of torque achieved by the current 6.2-liter V-8 engine, Ford has said. The Raptor will come with a 10-speed transmission and will go on sale this fall.
Ford introduced its well-marketed turbocharged engine as a 3.5-liter V-6 on the 2009 Taurus SHO. Since then, its EcoBoost lineup has grown to include nine different engine sizes that can be found on every Ford light-duty passenger vehicle except for the C-Max hybrid.
The automaker sold more than 1 million EcoBoost engines in a single year for the first time in 2015.


Ford issues 2 safety recalls
for about 55,000 vehicles
Michael Martinez,
Detroit News
February 26, 2016
Ford Motor Co. on Wednesday issued two separate safety recalls for about 55,000 total vehicles in North America.
The largest recall was for 51,500 2015-2016 Ford Transit wagons for a potential issue with rear seat belt buckles. The rear seat belt buckles are being damaged when heavy objects are placed on top of them, which could cause the buckle not to latch completely, increasing the risk of injury in a crash, Ford said.
The affected vehicles were built at Kansas City Assembly Plant from Feb. 13, 2014 through Jan. 13, 2016. They include 48,990 in the United States and federalized territories, 1,781 in Canada and 699 in Mexico.
The automaker is unaware of any injuries related to the issue.
Ford issued a separate recall for approximately 3,700 2016 Ford F-150 trucks equipped with multi-contour seats. If the multi-contour front passenger seat massage function is turned on and an adult is in that seat, the occupant classification system may incorrectly classify the adult as a child — suppressing the front passenger airbag and increasing the risk of injury in a crash.
The trucks were built at Dearborn Truck Plant from April 27, 2015 through Nov. 22, 2015. They include 2,894 in the United States and federalized territories, 286 in Canada and 503 in Mexico.
In both cases, dealers will replace the affected parts for free.
Prices for consumer
goods set to go up
By Andrew Seale
Insight
25 Feb, 2016
Retail sales in December fell 2.2 per cent to $43.2 billion, the largest decline since April 2010 according to Statistics Canada stats released Friday. The drop chases a 1.7 per cent increase in November and fits earlier claims by retail analysts that 2015 was the worst year for the sector since the so-called Great Recession of 2009.
And it might catch up to consumers' wallets in the near future with low oil prices being offset by the weakened loonie and increased importation costs, says Ed Strapagiel, a Toronto-based retail analyst.
"Right now retailers are facing a challenge in how to pass on their price increases to consumers," he told Yahoo Canada Finance. "Sure, they're going to tighten their belts and all that good stuff but its hard to see how they could possibly lower prices anytime soon, they just can't afford to – they're already getting squeezed on margin."
He points to Canadian Tire, which announced this week it'd be "selectively" raising the price of some of its products. The move, which the Canadian brand has prided itself on avoiding, follows similar price bumps by grocery stores.
Consumer goods like vegetables, which are predominantly imported during the winter, saw an 18.2 per cent increase in January 2016 compared to last year at the same time with items like celery and onions leading the pack at 69.9 per cent and 19 per cent respectively. Ultimately, those prices get passed on to consumers regardless of whether they're dining out or cooking in.
"This also hurts some other lines," says Strapagiel adding that consumers could see a rise in certain types of clothing and footwear that come in from overseas making it an awkward time to refine your look.
In a sense, it becomes a balancing act for shoppers. Some of the merchandise working its way to big box store shelves right now was purchased at lower price points making it less urgent to up the prices. On the other hand, a turnover to those more expensive goods imported this year could come with higher price tags.
"If you don't need it right now… you could hold out for a month or two," says Strapagiel. "Sales and specials will always come along eventually by somebody, somewhere – consumers who pay close attention to these can do a little better."
All in, the year brought some silver lining for consumers says the retail analyst.
"One of the big reasons that 2015 looks so bad is the big drop in gas station sales due to low gas prices at the pump," he says. "We tend to overlook that a bit but certainly consumers have benefited greatly from that."
In other words, it might be wise to use some of that extra money you're saving on gas to shop around for those deals now while merchandise purchased by retailers at lower prices a year or more ago is still working its way through the pipelines.
"As time goes on, retailers might be less able to avoid price increases," adds Strapagiel.
It's also not an ideal time to buy imported electronics and other big-ticket items like home furnishings, which saw a 0.3 per cent price between December 2015 and January 2016.

Detroit automakers struggle in
Consumer Reports ratings
Michael Wayland,
The Detroit News
February 24, 2016
Detroit automakers continue to struggle in annual ratings of brands and new vehicles by Consumer Reports.
Buick — at seventh — was the only brand from the Detroit automakers to rate in the top 10 of the consumer magazine's 2016 Brand Report Card for a second-consecutive year.
All other brands from General Motors Co., Ford Motor Co. and Fiat Chrysler Automobiles NV were in the bottom half of the 30 brands rated. Four Fiat Chrysler brands were among the worst six ratings.
Consumer Reports Director of Automotive Testing Jake Fisher said Detroit automakers continue to be hurt by having older models in their lineups, and by reliability rankings that have been dragged down in recent years largely because of faulty infotainment systems.
The highest overall brand scores went to Audi (80) and Subaru (78), which the magazine recommends all of each brand's models that it has tested. Luxury brands Lexus (76), Porsche (76), and BMW (76) rounded out the top five in the rankings. Mazda (74), Buick (74), Toyota (72), Kia (72) and Honda (71) rounded out the top 10.
"It's very impressive to see Subaru and Mazda, for that matter, hold their own with many luxury brands," Fisher said. "That's a testament to them making very good performing vehicles as well as good reliability, as you'd expect."
Consumer Reports changed its rating system for 2016 to include an overall score that's based on road-test performance, reliability, safety performance and owner satisfaction data. Previously, the vehicle ratings in previous years were listed by the road test score, and then the magazine would "recommend" the vehicles based on crash-test, reliability and other metrics.
"We're combining all that to a brand-new overall score," Fisher said. "That new overall score is how we're rating the vehicles now, and that's also how we're determining who makes the best brands because we're simply averaging the vehicles of each one of those brands to come up with a brand score."
Fisher said vehicles that have active safety features such as forward collision prevention systems and automatic emergency braking are rated better: "For the first time ever, we're taking into account those particular active safety features ... if they are standard equipment, will have an impact on the overall score."
He said the technologies have "absolutely proven themselves," and Consumer Reports is recommending that every vehicle should have them. He called them the most promising safety breakthroughs in the automobile industry since the advent of electronic stability control almost two decades ago.
Among cars and trucks in specific segments, Ford and GM were each awarded one Top Pick each: The Ford F-150 was crowned best pickup, while the Chevrolet Impala was named best large sedan for a second-straight year. No other vehicle from the three Detroit automakers won any of the 10 vehicle categories.
Other top pickups include the Toyota Sienna, dethroning the Honda Odyssey for the first time since 2011, for minivans; Lexus RX for luxury SUVs; Kia Sorento for mid-sized SUVs; Subaru Forester for small SUVs; Mazda MX-5 for sports cars under $40,000; Toyota Camry, its fifth title in 20 years, for best midsize sedan; and Subaru Impreza an Honda Fit for best compact and subcompact cars, respectively.
"This year several automakers have really hit the mark with their redesigned vehicles," said Consumer Reports' Cars Content Development Team Leader Mark Rechtin in a statement. "This year's Top Picks include refreshed models, like the Lexus RX, that have vaulted back to the top of their respective categories after lengthy absences."
Consumer Reports did not name a best overall vehicle for 2016. The Tesla Model S luxury electric sedan took the top spot the past two years. The magazine actually pulled its recommendation on the car in October due to its reliability.
All of the top 15 brands besides Mercedes-Benz and Volvo had at least 50 percent of their vehicles recommended.
Consumer Reports did not recommend any vehicles from the bottom five brands — Chrysler, Land Rover, Mitsubishi, Jeep or Fiat.
"When you look at Jeep, they sell image; they sell style; they'll sell certain things that may not come out when you pragmatically evaluate the vehicle," Tews said. "People do buy Jeeps and they get what they pay for."
Matt Liddane, Fiat Chrysler North America vice president of quality, said although the company appreciates feedback from consumers and third like Consumer Reports, he encourages "customers to experience our vehicles for themselves."
"We continue to aggressively pursue both product and launch-quality improvements as they are top priorities for the Company and our internal measurements are showing progress," he said in a statement.

Top picks by category
Pickup truck: Ford F-150
Minivan: Toyota Sienna
Luxury SUV: Lexus RX


Retirees cash in big-city homes
to fund their golden years
JOSH O'KANE
Globe and Mail
Feb 23, 2016
Judith Hunter has lots of friends near Collingwood, Ont. She loves photographing nature, and the town certainly has more of that than Toronto, where she lives now. And there are plenty of trails to walk her nine-year-old Yorkie, Asti. So after nearly five years of retirement, Ms. Hunter is packing up and moving to the Georgian Bay burg.

Many people downsize when they retire. But because she's escaping the big-city real-estate market, Ms. Hunter is actually upsizing. She's trading her condo for a bungalow.
"I don't require that money to be part of my cash flow for living expenses," says Ms. Hunter, who is in her early 60s. But in a house of her own, she continues, "I get to do all the 'retirement activities' you hear about."
Whether it's to free up cash or to adopt a slower way of life, escaping expensive cities is a tempting opportunity in retirement. Ms. Hunter found her ideal landing spot in Collingwood, a town of about 20,000, where she'll be moving in May.
And she's not the only one considering fleeing Toronto.
"It's happening with a fairly frequent succession of people – my clients, and my friends, as well," says Barb Steele, a certified financial planner and registered retirement counsellor in Newmarket, Ont. "There's not the same degree of security in our retirement income" as there used to be, she says, especially thanks to the decline in defined-benefits pensions. "If you've got equity in real estate and gain access to it, it gives you a security blanket."
Even if, like Ms. Hunter, people don't necessarily need more liquidity, moving to a smaller centre after retirement has its benefits. "You get a solid community," Ms. Steele says. "You can become part of that community much faster, too, because of the nature of smaller communities."
Ms. Hunter grew up in small towns near Toronto, then spent her career in the city as an educator and retail training manager. She stayed in the city when she retired five years ago to take care of her aging parents. Both of them have since passed away. Now, she says, "I don't really have the same connections with family in the city."
Her neighbourhood near the intersection of Bayview and Moore avenues has changed significantly since she moved there 16 years ago, too – the area lost its small-town feel, she says, and many old stores she used to frequent are gone. "Even simple things like the theatres that used to be there don't exist any more," she says.
She mulled over a number of Ontario places to move in retirement – Port Hope, Picton, Niagara-on-the-Lake. In the end, Collingwood felt like the best fit. It is two hours from the city but close to nature, doesn't have too much snow, and, as it happens, brings her a little bit of nostalgia. "As a kid, we used to drive up to Craigleith Park to swim in Georgian Bay," Ms. Hunter says.
And then there's the home: In a bungalow, Ms. Hunter will be able to dedicate more space to hobbies such as quilting, and have friends and family over for extended visits without making them sleep on a couch. By taking her retirement to Collingwood, she will have all the space she needs.
It's not downsizing – it's escaping. Crystal Wong, senior manager for Toronto-Dominion Wealth financial planning in Victoria, says it is becoming more common for clients to head to the suburbs or smaller towns as they get older. "It's an opportunity to take the equity from your home in a larger centre or market and move to an outside suburb or even a smaller community that might only be an hour or two away," she says.
For clients in skyrocketing real-estate markets, including Vancouver, Calgary and Toronto, Ms. Wong says, "We have seen an uptick in terms of clients capitalizing on the equity that has fortunately grown substantially within the last 10 or 15 years. ... If they're living in a condo, and moving into cottage country, such as Collingwood, that gives them the opportunity to enjoy a beautiful larger space and yard and the amenities that that community would offer to them."
Some of Ms. Steele's clients move somewhere smaller in Canada as an opportunity to free up equity to go south for the winter. Others pass on their savings to children. She strongly recommends, if you have a sudden burst of cash from selling your home, to set up a non-registered account or tax-free savings account to access for future health emergencies. "TFSAs are becoming a good vehicle for retirees who are downsizing. Just about everyone I know has them filled to the limit," Ms. Steele says.
Ms. Hunter, meanwhile, is happy she will be about to hit the trails, walk her Yorkie, take photos, and explore.
"I'm a small-town girl who wants to live by the water, and I can't afford to do that in Toronto."

Ford's Fusion Sport
helps jump potholes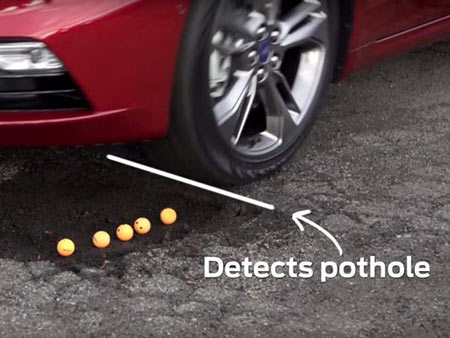 Michael Martinez,
The Detroit News
Feb 22, 2016
Ford Motor Co. hopes a new feature on its Fusion Sport midsize sedan will help ease the pain of potholes.
When the new model of the country's third-most popular midsize sedan goes on sale this summer, it will come standard with a system that looks ahead for craters and then prevents the wheel from dropping to the bottom.
Here's how it works: A dozen high-resolution sensors anticipate when the car is about to hit a pothole. They send that information to the onboard computer, which directs the shock absorbers to adjust to their stiffest hydraulic damping level. That prevents the suspension from sagging and lets the tire skip across the void without slamming into the base or opposite side of the hole as harshly.
Ford demonstrated the technology in a test video with the assistance of ping pong balls: The wheels of the Fusion Sport don't harm the balls placed at the bottom of a pothole, but the tires of a rival vehicle touch and crush them.
"It reduces the (impact) greatly," Jason Michener, an engineer who designed the technology, said in an interview. "But there's always one pothole that no amount of technology will protect you from."
Ford said the pothole mitigation technology will be a first in the midsize sedan category. The automaker is attempting to differentiate itself from segment-leaders Toyota Camry and Honda Accord.
High-end Lincolns, including the MKS and MKZ, have the system. It also is debuting in Europe on Ford's Mondeo, Galaxy and S-MAX.
The automaker says it could implement the feature throughout its global lineup.
"We saw a need," Michener said. "One of the biggest things our customers appreciate are nice-looking wheels. The bigger the wheel, the easier it is to damage when you go through potholes."
On Wednesday, the American Automobile Association released a study claiming pothole damage cost U.S. drivers $15 billion in vehicle repairs over the last five years, or about $3 billion annually.
"On average, American drivers report paying $300 to repair pothole-related vehicle damage," John Nielsen, AAA's managing director of automotive engineering and repair, said. "Adding to the financial frustration, those whose vehicles incurred this type of damage had it happen frequently, with an average of three times in the last five years."
Washington, D.C.-based national transportation research group TRIP estimates pothole damage costs urban motorists an average of $516 a year.
Ford developed the Fusion's pothole mitigation technology after thousands of passes over potholes at its Michigan Proving Grounds in Romeo.
In later stages of development, the team tested it on real-world roads throughout Metro Detroit, and would even complain when road crews patched certain holes.
"There are some people who like an unresponsive city department," Michener joked.
Potholes are a problem in other countries, too. Last year in the United Kingdom, the Royal Automobile Club responded to more than 25,000 pothole-related breakdowns – a nearly 25 percent increase since 2014, Ford said.
Beyond Michigan, Ford has developed a 1.2-mile road course in Lommel, Belgium, that creates precise replicas of some of the worst potholes and road hazards from countries like Austria, France, Germany, Italy, Russia, Spain and Switzerland.
The test track isn't limited to potholes; it contains tricky road surfaces like granite blocks from Belgium, cobbles from Paris and speed bumps from Brazil.
Engineers race over the road hazards at speeds up to 45 miles per hour. Sensors record the loads and strains to the suspension and components.
"By incorporating these real-world challenges into our test facilities we can develop future vehicles to better cope with challenging conditions," said Eric-Jan Scharlee, a durability technical specialist at Ford's Lommel Proving Ground.
Matthew McConaughey talks
to dogs in latest Lincoln ad
Michael Martinez,
The Detroit News
Feb 21, 2016
Lincoln Motor Co.'s Matthew McConaughey ad campaign has gone to the dogs.
Ford Motor Co.'s luxury brand released a new commercial featuring the quirky actor during Monday night's Grammy awards. During the 30-second spot titled "Time to Eat," McConaughey has a conversation with two dogs who are sitting in the back seat while he drives a 2016 Lincoln Navigator.
It's the first commercial where McConaughey is joined by a passenger. In previous ads for the MKZ, MKC and MKX, McConaughey talks to himself.
"Lincoln and I wanted the new ad to be more lighthearted and fun, so when they pitched the "driving with dogs" idea I was in," McConaughey said in a statement. "People love their dogs, I've got three myself, and yes, I, like most of you, even talk to them."
The actor spends most of the new spot asking his dogs what they want to eat. When a Weimaraner barks, McConaughey responds by saying "No, we're not having barbecue again."
A German shorthair pointer whines, and McConaughey responds: "Why? Because you're on four legs and I'm on two — and I'm driving."
The luxury brand says the commercial is meant to show the Navigator as a protector, with a "warm and inviting" interior featuring lots of room.
"Navigator is a luxurious, capable vehicle," John Emmert, Lincoln group marketing manager, said in a statement. "So we wanted to show its abundant space — more room for the things that matter. The dogs add an element of fun."
McConaughey in August 2014 signed two-year deal with Ford to promote its Lincoln luxury vehicles. The commercials have generated buzz and elicited numerous parodies from late night television shows. Lincoln President Kumar Galhotra and Ford President and CEO Mark Fields have said the ads have done their job in attracting attention to the brand and bringing in a younger crowd.
Continued climb of fresh fruit, vegetable prices push
Canadian inflation to 2%
Andy Blatchford,
The Canadian Press
Feb 19, 2016
OTTAWA – Canada's annual inflation rate hit two per cent last month as prices for fresh fruits and vegetables continued their surge, the federal statistics agency said Friday.
Statistics Canada's January year-over-year inflation number was up from 1.6 per cent in December.
The agency's latest consumer price index found the overall cost of food was up four per cent last month compared to a year earlier — with fresh vegetable prices up 18.2 per cent and fruits up 12.9 per cent.
A closer look at the data shows that lettuce prices last month were 17.9 per cent higher than the year before, apples were up 16.6 per cent and tomatoes up 11.9 per cent.
The annual inflation rate climbed in every province last month at a time when the weaker Canadian dollar was contributing to higher costs for imported goods. The effects of the steep decline in oil prices have played a big part in pushing down the exchange rate.
Year-over-year prices moved upwards in every category of the index except for clothing and footwear, which saw a decrease of 0.3 per cent compared to January 2015.
Lower prices in January for items such as natural gas, fuel oil and telephone services kept downward pressure on the inflation reading, the agency said. Natural gas was down 18.6 per cent, fuel oil down 15 per cent and telephone services 2.5 per cent.
The overall January inflation rate also hit the Bank of Canada's ideal target of 2.0 per cent.
The central bank watches the inflation rate very closely whenever it makes decisions on whether to move its benchmark interest rate. Its next policy meeting is scheduled for early next month.
The core inflation rate, which excludes some volatile items such as gasoline, had been 1.9 per cent in December.
Statistics Canada also released its most-recent retail sales data, which showed a drop of 2.2 per cent to $43.2 billion in December compared to the previous month.
The last time retail sales saw a month-over-month drop of that size was April 2010 when it fell by 2.3 per cent, the agency said.
Retail sales fell in almost every sub sector, with motor vehicle and parts dealers seeing the biggest decrease in dollar terms, the report said. Retail sales decreased in every province except for Prince Edward Island, where they ticked up 0.1 per cent.
By comparison, retail sales increased 1.7 per cent in November and 0.1 per cent in October.
Why the TPP trade
deal may disrupt but
not shrink the auto sector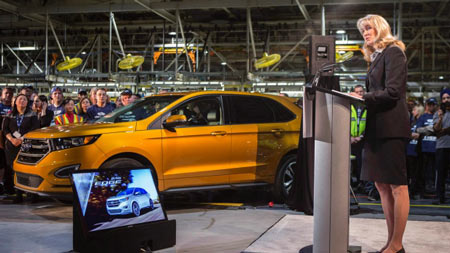 Canadian auto companies set for 'wrenchingly difficult
restructurings,' but opportunities could expand
By Janyce McGregor,
CBC News
Feb 19, 2016
The CEO of Ford Motor Company's Canadian operations didn't mince words in summing up the Pacific Rim trade deal Canada signed two weeks ago.
"Right now, as the TPP stands, there will be no positive outcome for Canadian manufacturing," Dianne Craig said at the Canadian International Auto Show in Toronto last Thursday.
When negotiations concluded for the 12-country Trans-Pacific Partnership last October, labour leaders warned of up to 20,000 lost jobs.
Why? Several reasons, but chief among them: the United States had negotiated a longer tariff phase-out for finished vehicle imports — 30 years, compared with a five-year period for Canada.
Automotive industry analyst Dennis DesRosiers finds the imbalance "unconscionable," and contrary to North American integration.
"I have no concept why Canada didn't fight like hell.… It makes no sense," he said.
And so, the TPP adds to a long list of competitive challenges making Canada's 11 automotive assembly plants vulnerable to closure — including some of the highest energy costs in the world and uncertain labour negotiations on the horizon.
"Will it have a devastating impact? You could build that case," DesRosiers said.
But also, "You could build the opposite."
A closer analysis across the entire sector has DesRosiers seeing "more smoke than fire" rising from this trade agreement.
■Chrystia Freeland signs Trans-Pacific Partnership, consults as 2-year ratification phase begins
■32% of Canadians support TPP trade deal but many uncertain, poll suggests
■Ratify TPP or Canada will be 'shut out' of foreign trade, Christy Clark says
Disruptive? Yes. Totally destructive? No.
'Likely a wash'
The threat from the TPP deal is being "overplayed," DesRosiers said, particularly for the parts sector.
Canada has allowed duty-free entry of auto parts from any country since 1998 as part of deals reached in the last two decades to land new Honda and Toyota plants in Ontario.
A complicated mix of opportunities and threats makes TPP "likely a wash" for parts suppliers, DesRosiers estimated.
But it won't be easy.
"These are wrenchingly difficult restructurings that have to happen in order for our industry to compete," he said.
"TPP may force it quicker on to a lot of companies who may not be able to adjust … so from that perspective, it's negative. The ones that embrace it potentially end up with a bigger win."
Remember that the Auto Pact in the '60s cost jobs initially, he said. But more jobs were created later.
Two leading companies, Magna International and Linamar, were founded by entrepreneurs in its wake.
New Japanese investment?
Flavio Volpe, the president of the Automotive Parts Manufacturers' Association, said the companies he represents fall into two camps, each employing about the same number of workers.
Larger companies headquartered in Canada see chances to expand abroad. They're open to the deal.
Smaller businesses focused only on North America face more competition from lower-cost Asian countries. They're wary.
Then there are the surprises, including something counterintuitive: new investment coming into Canada, as Japan hedges against its own vulnerability to Chinese competition.
The Japanese supply chain model "looks at Ontario and says, 'Is this an opportunity now to put some capital into play?'" Volpe said.
The ownership of some small and medium-sized businesses may change, but if the Japanese boost efficiency and keep the doors open, "that's a good thing."
Then there's the low loonie.
It doesn't do much for existing suppliers who already have contracts in U.S. dollars, he said.
"But if you're setting up new capacity — you're buying land, you're setting up a plant and you're equipping that plant, and you're purchasing that new equipment … it's a great time to consider a new capital investment here, assuming you have the orders."
Shifting focus
Jonathan Azzopardi remembers his father thinking Canada would lose all its automotive jobs to Mexico when the North American Free Trade Agreement came in.
Instead, his family business in Tecumseh, Ont., pivoted: where once it sold just in Canada, today only about 10 per cent of LAVAL International's compression mould-making business is domestic, with roughly half in Mexico and the rest in the U.S.
"We figured out how to take what we thought was a threat and turn it into a positive," he said.
What Ford's CEO fears will only come to pass if the industry doesn't change, Azzopardi said. "They're forgetting about the resilience of the entrepreneurship of Canadians."
Although he identifies as a Conservative, he was frustrated by the previous government's lack of focus on his industry.
It's better now, he said Friday, after consulting with government officials at Toronto's auto show.
"It's not as complicated as they think," he said.
His suggestion? Land a new plant. The rest will come.
Whether he has a supply contract for it or not, any large new assembly or top-tier parts facility would reinforce Ontario as a high-value manufacturing hub.
Businesses like Azzopardi's rely on the technical, engineering expertise that creates.
"There have been five [plants] that have come to Mexico and none to Canada. And we need to start to analyze why," he said.
'Roll out the red carpet'
Renewing the automotive innovation fund, or other tax incentives like Ford is lobbying for, help too, Azzopardi said. But ultimately these are just a "drop in the bucket."
"You need to roll out the red carpet and throw everything you can at the next [auto maker] that you know will be setting up a factory, because that changes the tides," he said.
Yes, the government is "buying jobs," he said. "But those jobs make you money" — and if you don't buy them, "everybody else will."
Even though China's not part of the TPP (yet), both Volpe and Azzopardi think Canada should pursue a strategic resources-for-auto investment deal with China's state-owned industry.
"We don't care what flag the Chinese fly as long as they're employing Canadians and using Canadian parts," Azzopardi said.
"[The Chinese] are going to have to put a plant in North America," Volpe said. "If they want your petroleum and potash, then make the deal now."
"Imagine what a plant in St. Thomas [Ont.] looks like: it's like a phoenix rising from the ashes."

How your DNA can help
perfect your medication
Adriana Barton
The Globe and Mail
February 18, 2016
Catherine McLeod suffered one of her worst drug reactions – a minor stroke – while behind the wheel. She drove through a red light, and an oncoming vehicle totalled her car.
No one was seriously injured. But after the accident in 2005, she experienced two more minor strokes and kidney damage because of the litany of medications she was taking for bipolar disorder, diabetes and other conditions, she said. "I was overmedicated."
McLeod, now 62, is working with a different psychiatrist to adjust her medications, which add up to at least 10 pills a day.
In the past year, she has endured side effects ranging from blood-pressure fluctuations to Parkinson's-like symptoms. Finding the right medications in dosages she can tolerate is "still hit-and-miss," she said.
McLeod is hoping to find answers in her DNA. A team of researchers at the University of British Columbia are testing patients' saliva for genetic variations that affect how individuals respond to medications. She said she "jumped at the chance" to participate.
The study is the largest in North America to look at whether community pharmacists can gain the skills required to collect DNA samples from patients, walk them through the consent process and explain how specific drugs may interact with the patient's genetic makeup. So far, 200 patients in 33 pharmacies throughout British Columbia have participated in the study. The next phase, expected to start in 2016, will involve 1,000 patients in pharmacies across Canada.
The goal, researchers say, is to bring personalized medicine to a pharmacy near you.
"I see genetic information as a way to prescribe less medication – and more accurately," said the study's principal investigator, Dr. Corey Nislow, an associate professor at the UBC Faculty of Pharmaceutical Sciences.
Specialists in pharmacogenomics – the study of gene-drug interactions – have linked more than 150 medications to genetic variations that affect how a patient reacts to specific drugs. The growing list does not cover every drug on the market, which number in the thousands, but it includes some of the most widely prescribed medications, such as antidepressants, cholesterol-lowering statins and blood thinners.
No one disputes the data. But medical experts disagree on how health-care professionals should put this knowledge into practice – and whether routine genetic testing will result in better medication choices for patients.
The UBC test is not the same as 23andMe, the $199 "personal genome service" kit sold online with the slogan "knowledge is power." The California company has come under fire for mining genetic data from unwitting clients and violating the U.S. Food and Drug Administration's restrictions against selling an unapproved diagnostic test.
Unlike 23andMe, the UBC test does not screen for genetic variations that might reveal a patient's ancestry or the chances of developing cancer and other diseases. Using saliva samples identified only by numeric code, the researchers look solely at genetic variations involved in functions such as drug metabolism.
In theory, patients with variants linked to slower metabolism of a given drug would need a lower dose, since their bodies do not clear the drug as quickly. High metabolizers would need a higher dose. And in some cases, genetic testing may suggest that the person should avoid the drug entirely.
But in practice, the human body is more complex. Other factors besides genes can affect how a patient metabolizes medications, including age, diet, multiple drug interactions and overall health. Specialists warn that prescribing a dosage based on genetic testing alone could put a patient at risk for undertreatment or dangerous side effects.
Pharmacists are ideally suited to weigh all these factors, according to Geraldine Vance, chief executive officer of the B.C. Pharmacy Association, which is co-funding the study along with investors Genome British Columbia. As experts in drug interactions, pharmacists are trained to advise physicians if they see any reason why a prescribed medication or dosage may be unsuitable. They already adjust medications based on liver and kidney function, and review a patient's medical and family history before filling a prescription. Genetic testing "is about adding another tool, a more precise tool," Vance said.
In the study, patients meet with a pharmacist in a counselling room at their local drugstore. After going over the consent forms, the pharmacist gives the patient a plastic test tube with a funnel attached and leaves the room while the patient spits into the vial. The test tube is sent by courier to UBC, where DNA is extracted from the sample and analyzed. About a week later, the pharmacist goes over the results with the patient using a report that includes a list of medications and their predicted impact on the patient. The results might indicate the patient has an increased risk of a specific side effect or a lower-than-normal chance of the treatment working.
The plan, Vance said, is for a stand-alone company to make this tool available through Canadian pharmacies as early as 2017. The one-time test would look at up to 150 medications at a yet-to-be determined cost.
She suggested that extended health benefits could help pick up the tab, and down the road, provincial governments could cover it. Vance added that BC Pharmacy Association members "have and will continue" to talk to private insurance companies, government and individual patients about how to divvy up the cost.
Pharmacists in the UBC study currently receive about five hours of training in handling saliva samples, addressing privacy concerns and going over test results with patients. Vance could not say whether the training duration would change for a commercial test, but she added that "the focus on ensuring each pharmacist has the same level of training to offer the same level of service will continue."
Genetic testing to predict medication response is already routine in cancer clinics and research centres such as the Mayo Clinic. But adjusting medications based on genetic testing is not as easy as it sounds, according to Dr. Richard Kim, a clinical pharmacologist at the University of Western Ontario. If it were, he said, "every hospital in North America would be doing it."
Kim opened Canada's first personalized medicine clinic in 2008, which offers genomics-guided dosing for medications including the blood-thinner warfarin, cholesterol-lowering statins and the breast-cancer drug tamoxifen. Since then, he and a co-ordinated team of physicians, pharmacists and other specialists at the London Health Sciences Centre have treated more than 3,000 patients with complex health conditions.
Kim and his team confirm that they are giving the right dosage by measuring patients' drug levels using mass spectrometry, a chemistry technique that identifies the amount and type of chemicals present in a patient's blood. Even among patients with a similar genetic makeup, he said, actual drug levels in the body "still vary a lot."
He emphasized that pharmacogenomic testing can be a useful tool. But accounting for genetic factors in treating patients with complex health problems requires specialist knowledge that pharmacists cannot acquire in a day-long training session or an introduction to pharmacogenomics in school, he said.
"This should not be something we jump at as a broad, big-hammer approach."
The reality, however, is that multiple research teams are looking at the feasibility of training community pharmacists in personalized medicine, including a study led by Dr. Lisa McCarthy at the University of Toronto, which aims to recruit 300 patients in the next few months.
Meanwhile, these tests are already available to anyone with access to a computer. Geneyouin, a Toronto-based company, offers an online "pill check" that looks at more than 60 medications for $500. The company stopped offering the test through primary-care clinics after learning that "physicians need a lot of education and support to be able to practise personalized prescribing," Geneyouin's founder, Dr. Ruslan Dorfman, said in an e-mail.
The company is now selling the test through private clinics and select pharmacies in Ontario, and is partway through a small study designed to measure the impact of its pill check service on pharmacy practice.
For patients who order Geneyouin's PillCheck online, test results come with a warning to seek medical advice before changing medications. But what is to stop a patient from splitting a pill in half without consulting a physician or pharmacist?
Now is the time to get pharmacists up to speed so they can advise patients, Nislow said. In the age of DNA testing at the click of a mouse, "we need experts who can handle this rush of information," he said.
McLeod, meanwhile, is reflecting on her own test results. When the researchers told her that the antidepressant she is trying is probably the best one for her, "I was thrilled," she said.
But she was not surprised when the results suggested that she would not respond well to an antipsychotic she was on previously: "I said, 'Yeah, it takes my brain away.'"
McLeod said the researchers were clear that she should not make medical decisions based on their report. But the consequences of paying attention to her DNA could not be worse than what she has already been through, she said.
----------------------------------------------------------------------------
The secrets in my own DNA
In a world of seven billion people, genetic testing tantalizes us with potential answers to existential questions: Who am I? What makes me unique? You could call it navel-gazing at the molecular level.
When University of British Columbia researchers offered to sequence my DNA for this article, I did not balk. I am not on any medication – unless you count my morning coffee – but I wondered what the test would reveal about how I might respond to drugs prescribed to me in the future.
I had no qualms about signing the rights to probe my DNA. In a counselling room at a Shoppers Drug Mart, a pharmacist explained that my saliva sample would be identified only by numeric code. Information linking me to my DNA sample would be stored in a separate computer hard drive accessible to only three researchers at UBC. My unidentified DNA sequence would be available for future research, but if I withdrew consent at any time, all data and samples collected from me would be destroyed. The researchers developed this system with help from a privacy lawyer and the office of the B.C. Privacy Commissioner.
After going over the consent process, the pharmacist handed me a plastic test tube with a funnel attached, and tactfully left the room. Generating enough saliva was tougher than it sounds – I had to massage my jaw and spit several times. But after that, I had my test results within a week.
As the pharmacist went over the two-page printout, I learned that I was unlikely to benefit from cholesterol-reducing statins. But the status of my genes involved in processing serotonin made me a good candidate for SSRI antidepressants, should I ever need them. Best of all, I discovered I had a genetic variant that reduced my risk of caffeine-induced anxiety. What a relief.
I asked whether my genetic variations were unusual. The researcher was blunt: "There was nothing remarkable about this genome."
I knew this was a good thing, since my responses to medications were likely to be normal. But any fantasy of being a rare snowflake was definitely crushed.
----------------------------------------------------------------------------
Genome 101
An organism's complete set of genetic instructions, or DNA, is called a genome. A gene is a small section of the DNA string that carries instructions involved in specific aspects of heredity.
Human DNA is a tightly coiled molecule that could stretch two metres long. DNA is made of two twisting strands connected by pairs of chemicals knows as A, G, C and T. In the spiral ladder of DNA, these base pairs are the steps.
Sequencing determines the exact order of these base pairs along the entire length of a person's DNA. Differences in this order, compared with most people, are genetic variations, or variants.
In rough numbers, there are:
3 billion base pairs in the human genome
3 million base pairs that differ among humans (this 0.1 per cent is what makes each of us unique)
158 positions along a patient's DNA that University of British Columbia researchers are checking for genetic variations that may affect his or her responses to medications

Ford Canada CEO raises concerns
about TPP with Ottawa
By Ken Hanly
Feb 17, 2016
Ottawa - Dianne Craig, the Chief Executive Officer of Ford Canada says that when she meets government officials later this month, she will raise the risks posed to the Canadian automotive sector by the Trans-Pacific Partnership (TPP).
Craig said she will also discuss the need to increase subsidies in order to attract more investment in the Canadian auto sector. Ontario has been losing jobs in the sector to Mexico and the southern United States where labor costs are lower.

Ray Tanguay, an automotive adviser to both the federal and Ontario government said that the federal innovation fund should be restructured. While the fund is intended to offer incentives for investment in the sector, Tanguay would like the money to be given out in the form of grants. He did not call for more money to be in the fund, saying that it was up to federal and Ontario officials to determine the economic benefits to be gained from providing more incentives.

Speaking at the Canadian International AutoShow in Toronto, Craig said: "Right now, the way the loans are treated by the Canadian government, they're not competitive, because in other jurisdictions, they're not taxable." Craig also said that although she supports free trade, the TPP was structured in an unfair way. The deal will hurt Canadian manufacturing and in particular the auto sector.

Last October, Unifor, the union representing Canadian workers at the largest three auto makers, claimed the deal will lose us an estimated 20,000 jobs due to the elimination of tariffs and the reduction of content rules for both vehicles and auto parts.Over the next five years the 6.1 percent tariff on imported passenger vehicles will be eliminated, a move that will lower the cost of Japanese vehicles for Canadian consumers. The deal requires that 45 percent of imported vehicles must have content from TPP countries while 40 to 45 percent is required for auto parts. Under NAFTA rules the content requirement are much higher at 62.5 percent on vehicles and 60 percent on parts. Jim Stanford, an economist for Unifor, said that Canadian parts makers would be encouraged to move their facilities to TPP member states where labor is cheaper. Stanford said:
"There's no possible way to paint this deal as benefitting the auto industry. There's no possible way to say that new exports to Japan and Malaysia and Vietnam will somehow offset both the inflow of imports from those places, and more importantly, the potential relocation of a big chunk of our supply chain."
Not everyone was so negative about the implications of the deal.
Flavio Volpe, president of the Automotive Parts Manufacturers Associatiion said that his area that employs about 81,000 people is about evenly split between companies that benefit from the deal and those that must struggle to adapt. Volpe said:
" On one hand, prospects to supply vehicle assembly in foreign markets will open for large Canadian suppliers with multinational footprints and access to mobile capital.On the other hand, small and medium-sized suppliers to Canada's vehicle assembly supply chain will face new competitive pressure from large, multinational firms from TPP countries and further abroad."
The text of the TPP was finally released just a day after Trudeau took over as prime minister. Harper refused to release the text before the election. Mark Nantais, president of the Canadian Vehicle Manufacturer's Association, which employs more than 20,000 Canadians, said that he was unhappy that the United States will agree to eliminate the tariff on Japanese vehicles over a period of up to 30 years while Canada does the same thing in just five years. While the deal gives Canada access to more foreign markets including Japan, it also benefits low-wage suppliers of auto parts in many Asian countries. The content terms were even skimpier than Harper had said. Engine parts and truck frames and metal roof panels require only TPP content of 35 percent. Volpe noted that 26 Canadian parts companies make stamped metal components and another 18 make engine parts. They were flagged by his group to be protected but were obviously not.
The new Liberal government is making no promises about renegotiating the TPP. Eleven other countries are involved in the deal. Instead, the International Trade Minister Chrystia Freeland suggests that Canadians should review the accord and send their feedback. The TPP is 6,000 pages long.
Many Canadians entering
retirement with inadequate
savings, study says

Shawn McCarthy
The Globe and Mail
Feb. 16, 2016
A large percentage of older, working Canadians are heading into retirement without adequate savings to keep them out of poverty, a new study suggests.

Half of Canadian couples between 55 and 64 have no employer pension between them, and of those, less than 20 per cent of middle-income families have saved enough to adequately supplement government benefits and the Canada/Quebec Pension Plan, says the report, to be released Tuesday by the Broadbent Institute.

"The vast majority of these Canadians retiring without an employer pension plan have totally inadequate retirement savings," said the report, which was authored by pension consultant Richard Shillington. Among all Canadians ages 55 to 64 without pensions, half have only enough savings to last for one year.

Income trends suggest the percentage of Canadian seniors living in poverty will increase in the coming years, especially for single women who already face a higher than average rate, the report said. The poverty rate for seniors will climb at the same time as a sharply rising number of Canadians hit retirement age in the next two decades; more than 20 per cent of the population will be older than 65 within 10 years.

"This new data on retirement savings and gaps in support makes one thing perfectly clear – we have a retirement-income crisis on our hands that requires urgent government action now," said Rick Smith, executive director of the Broadbent Institute, an Ottawa-based, left-leaning think tank.

Ontario's Liberal government is proceeding with its promised Ontario Retirement Pension Plan, while Ottawa has deferred a decision for a year on whether to bolster the CPP/QPP in order to consult with the provinces and territories.

The ORPP would supplement the Canada Pension Plan and apply to people who do not already have a comparable workplace plan. It will be funded by contributions from workers, matched by their employers. For someone earning $45,000 annually, the ORPP would return $6,410 a year in retirement if paid into for an entire working life; for someone earning $90,000 or more, that figure would be $12,815.

But Mr. Smith said a national response is required. "Our new study shows now isn't the time for Ottawa and the provinces to punt on expanding the CPP," he said. "In fact, we need federal leadership to make this happen."

However, critics – including Conservative MPs and Saskatchewan Premier Brad Wall – oppose any major increase in CPP premiums, arguing higher payroll levies would act as a tax on jobs.

The Canada Pension Plan pays out a maximum $12,780 a year. But many retirees don't qualify for the maximum – the average CPP payment for men last year was $7,626 while the average for women was $5,922. Seniors also collect Old Age Security payments to a maximum of $6,839, while the poorest seniors can collect the Guaranteed Annual Income. Mr. Shillington said the combined plans fall below $20,000 for an individual.

"It's not what you would want for your mother," he said in an interview.

Mr. Shillington's study noted that the existing retirement system has succeeded in keeping Canada's poverty rate among seniors well below the average for industrialized countries. But the public system's income replacement for Canadians with average earnings ranks near the bottom of industrialized countries, with mandatory contributions by employees and employers also falling below the international average for rich countries.

Ottawa's pledge to increase by 10 per cent the guaranteed income supplement – paid out to the poorest seniors – would cost $700-million and remove 85,000 single people – mostly women – from the poverty rolls.

But that would still leave 634,000 seniors living below the poverty line. And that number will grow dramatically in the coming years.
Ford's Europe sales
rise 10% in January
Michael Martinez,
The Detroit News
Feb 15, 2016
Ford Motor Co. said Friday that its sales in Europe rose about 10 percent in January for its best January in four years.
The Dearborn automaker sold 96,900 vehicles in its 20 traditional European markets last month, outpacing the industry's growth by 3 percent. Ford market share increased by 0.2 percentage points to 7.9 percent.
"The European auto industry is off to a very strong start and Ford was able to outpace this growth thanks largely to demand for our SUVs, commercial vehicles and performance vehicles," Roelant de Waard, vice president, marketing, sales and service, Ford of Europe, said in a statement. "Importantly, we gained share by selling to retail customers while many others in industry are using self-registration and rentals sales extensively."
SUV sales continued to drive Ford's performance in Europe. Sales of the Ecosport compact utility rose 50 percent and Kuga midsize SUV sales rose 19 percent, Ford said. The company expects its SUV sales to grow by about 30 percent in 2016 compared with 2015, and to break the 200,000 vehicles sold mark for the first time in Europe.
Sales of Ford Performance vehicles – including the Fiesta ST, Focus ST and Focus ST diesel, and Mustang – almost tripled from a year ago. As Ford adds new models, it expects about 40,000 Ford performance cars are likely to be sold this year.
Ford's commercial vehicle sales rose 7 percent for its best January since 2008 thanks to vehicles like the Transit vans and Ranger pickup.
The company said it plans to launch seven new and refreshed vehicles in Europe during 2016, including the new Kuga and Edge SUVs, Focus RS performance car, new powertrain and technologies for Transit Custom and Transit 2-ton, and a freshened Ranger pickup.
Ford made $259 million in Europe in 2015 for its first profit in the region since 2011. It announced earlier this month that it's planning additional restructuring there, including hundreds of buyout offers for salaried employees, and said it would phase out less profitable vehicles over time.

Windsor Assembly
Plant to hire 1,200
new workers, FCA
CEO says
Estimated 1,200 jobs double
the 600 originally projected
CBC News
Feb 13, 2016
Windsor Assembly Plant will hire 1,200 new workers, instead of 600 as originally projected, said Reid Bigland, president and CEO at Fiat Chrysler Automobiles.
Bigland made the announcement as part of a press event at the Canadian International Auto Show in Toronto Thursday. The company first posted online job postings for assembly line workers in October.
Approximately 4,500 workers assemble the Dodge Grand Caravan and the Chrysler Town and Country at the facility in Windsor, Ont.
This year, the company is introducing a brand new minivan called the Pacifica, which will replace both models, though the company plans to keep producing the current model of the Grand Caravan as long as there is buyer demand.
The 2017 Chrysler Pacifica is expected to hit dealerships sometime in the spring with full production ramping up in May, Bigland said.
The Pacifica will also be built in Windsor. At the North American International Auto Show in January, FCA officials said the Pacifica would guarantee work at that facility for at least six or seven years.
"We just made a substantial investment in Canada, I think probably one of the largest ever," Bigland said in Toronto. "We're excited about our new minivan and we're focusing on the things we can control."
Bigland also spoke about FCA's plans to focus in on minivans, trucks and SUVs at the show. He said the company would continue producing smaller cars, but would be looking "where the puck is going" in terms of the auto-buyers market.
New employees to build Pacifica
The 1,200 new workers will make up jobs lost through attrition as well as new employees to build the Pacifica, Dino Chiodo told CBC News in a phone interview.
Chiodo is the president of Unifor Local 444, which represents assembly workers at Windsor Assembly Plant. He is in Toronto for the Canadian International Auto Show.
"This shows Canada can compete," Chiodo said. "Canada has the ability to have some of the best productivity levels, the best training opportunities, the best launches," he said. "We've got educated people, skilled people that can build an award-winning vehicle."
'It's great news'
Windsor Mayor Drew Dilkens said the city knew the job numbers would be higher than initial figures suggested, but he did not know the final number until it was announced.
"It's great news," he said. "We have high unemployment in Windsor so that helps lower that, but it's also great news because we know there is a nine to one spin-off [for each job]."


New smartphone app
improves Ford vehicle
quality checks
Detroit News
Feb 11, 2016
Ford Motor Co. has implemented an Android smartphone app that has reduced human error by 7 percent and cut vehicle quality checks by 7 seconds at its plant in Valencia, Spain.
The "Portable Quality Assurance Device," which was proposed by a Ford employee and developed in partnership with software company Visia Solutions S.L, lets line workers check vehicle specifications and approve production steps digitally instead of using a paper system that made them walk a half a mile per day. The work-issued Android smartphones are attached to the workers' wrists with a Velcro strap.
Ford said it tested the app for about a year and now will likely be implement it at plants around the globe.
"We have varied options and features across our vehicle range and digital innovation in our plants helps to generate lean methods within the manufacturing process," Linda Cash, vice president, Manufacturing, Ford of Europe, said in a statement. "The ability to simply consult a smartphone screen to check any aspect of a vehicle's quality and specification helps to guarantee highest levels of product quality, and improves work processes and manufacturing efficiency."
Ford's Valencia plant churns out about 400,000 vehicles a year, including the Mondeo sedan, Mondeo Vignale, Kuga SUV, Transit Connect van, Tourneo Connect people-mover, S-MAX multi-activity vehicle and Galaxy seven-seat people-mover.
"The initial feedback from production line workers has been very positive and we are actively looking at other areas in the process where we could deploy digital innovation and further increase quality and efficiency," said production manager Ramón García, who proposed the app.
Ford isn't the only automaker to experiment with new technology in plants. General Motors Co. in 2014 said it was exploring the use of Google Glass at its Orion Assembly and Warren Technical Center.


Ford adds sport
package, wheelchair-
accessible Explorer
Michael Martinez,
The Detroit News
Feb 10, 2015
Ford Motor Co. on Tuesday unveiled a new sport appearance package and wheelchair-accessible version of its 2017 model-year Explorer SUV ahead of this week's Chicago Auto Show.
The Dearborn automaker added the sport appearance package to the SUV's XLT trimline as a way for customers to get the styling of the more expensive Sport trim without spending the extra money. Pricing has not been announced on the new Explorer, which goes on sale later this year, but the current model's XLT trim costs about $10,000 less than the Sport trim.
The new package comes with exterior cosmetic upgrades like 20-inch magnetic-gray wheels, a magnetic-gray grille, ebony body side-cladding and a black roof rack. The interior features "Dark Earth Gray" leather, gray upper seat backs, Umber stitching and Explorer logo floor mats.
The 2017 Ford Escape will also feature a Sport Appearance package on its SE and Titanium models when it launches in the coming months.
"Our Sport Appearance philosophy is rooted in the fact that we know exterior appearance is the No. 1 consideration in SUV purchase decisions," Omar Odeh, Explorer brand marketing manager, said in a statement. "The XLT Sport Appearance Package is a dramatic offering that gives customers another attractive option."
The new package comes equipped with standard XLT features including a 3.5-liter V-6 engine, push-button start, 10-way power driver's seat with lumbar support, Sync 3 infotainment system and LED fog lamps.
The Explorer comes in a base, XLT, Limited, Sport and the Platinum trim. Ford said the Sport and Platinum versions account for roughly 30 percent of U.S. sales. Ford sold 249,251 Explorers last year, an increase of 18.7 percent from a year ago, according to Autodata.
Ford refreshed the Explorer for the 2016 model year, celebrating the SUV's 25th anniversary with a new engine and new Platinum trim.
Ford on Tuesday also announced production has started on the BraunAbility MXV, a wheelchair-accessible Explorer made by partner BraunAbility at a 170,000-square-foot manufacturing facility in Winamac, Indiana. The company announced the product last year, but it's now being built, Ford said.
It's available with Explorer's base, XLT and Limited models and features patented sliding-door technology, removable driver and passenger seats, and a powered, lighted in-floor ramp.

Ford to build new
plant in Mexico
Michael Martinez,
The Detroit News
Feb 9, 2016
Ford Motor Co. plans to build a new assembly plant in the Mexican state of San Luis Potosi and significantly increase its production in that country, according to multiple reports.
The plant will represent a $1.5 billion investment and allow Ford to build 350,000 cars annually, reports say. Ford is expected to announce the plans sometime in the first quarter.
Reuters first reported the news last month, citing unnamed Mexican government officials. The Wall Street Journal on Monday said the new plant, and expansion of an existing plant, would double Ford's production in Mexico.
"We do not comment on speculation," Ford spokeswoman Kelli Felker said in a statement.
Ford last year said it would end production of its Focus and C-Max cars at its Michigan Assembly Plant and move production elsewhere. UAW officials said at the time that at least the Focus would move to Mexico. Ford executives have said they're looking for a cheaper option to build lower-profit vehicles like the Focus and C-Max, and Mexico would represent such an opportunity.
The automaker said in April it would invest $2.5 billion for two new engine and transmission plants and an expansion of a diesel engine line that will create about 3,800 jobs.
Ford will spend $1.1 billion to build an engine facility within its Chihuahua Engine Plant, where it will produce a new gasoline-powered engine, creating 1,300 jobs. Ford will export the engines to the U.S., Canada, South America and the Asia Pacific region.
In addition, Ford will spend $1.2 billion to build a transmission plant within the premises of a facility used by transmission supplier and partner Getrag, which is based in the city of Irapuato in the state of Guanajuato. The project will create 2,000 jobs. The new transmission plant — Ford's first transmission facility in Mexico — will produce two all-new automatic transmissions for key products primarily in South America, Europe and Asia Pacific as well as other North American markets.
The automaker will spend $200 million and create 500 more jobs to expand its current I-4 and diesel engines production in Chihuahua.
The investment has drawn the ire of Republican presidential candidate Donald Trump, who has consistently mentioned Ford in his speeches, prompting President and CEO Mark Fields to send him a letter explaining what they're doing there.
Ford has 11,300 employees in Mexico and builds the Ford Fiesta, Fusion and Lincoln MKZ there.
Executives have said they have no plans to build a new plant in the United States. Ford last opened a new U.S. plant — the Dearborn Truck Plant — in 2004.
Ford isn't the only automaker investing in Mexico. General Motors Co. last year announced a $5 billion investment there over six years and Toyota Motor Co. said it will invest $1 billion in a Mexican plant. BMW AG, Volkswagen AG and its Audi unit, Nissan Motor Co., Kia Motors and Fiat Chrysler Automobiles NV also have built or announced new plants or plant expansions there.
UAW chief condemns Flint
crisis, foreign car production
Michael Wayland,
The Detroit News
Feb 7, 2016
United Auto Workers President Dennis Williams on Friday condemned Michigan politicians for not acting more swiftly to help Flint residents amid the city's ongoing water crisis.
Public officials, Williams said, should immediately give the city the financial resources it needs for new piping and infrastructure in homes.
"What's going on in Flint is deplorable," Williams told members of the news media during a roundtable discussion at the union's Solidarity House headquarters in Detroit. "I still question why isn't the governor and the state Legislature acting quicker than what they did, and why have they continued not to act?"
Williams' remarks were part of a wide-ranging discussion with reporters that ranged from the 2016 presidential election and state of the union, to international trade agreements and production shifts to Mexico and China.
It was the first time he has addressed the news media since contentious contract discussions with the Detroit automakers and other companies in 2015.
Williams called the actions by public officials in Flint "criminal" but did not go as far as calling for Republican Gov. Rick Snyder to resign. He said he would "let the pundits … handle that."
"I think this legislation right here in the state of Michigan was part of the problem," he said.
"These legislators voted to do the manager. They cannot run from that decision, and they cannot run from the fact that they made a decision to switch the water, virtually on the whole idea of saving money at the cost of the residents in Flint."
Williams said the union and its membership have been sending support to Flint in the shape of water, donations and volunteering.
He also questioned if state officials have their heads in the right places, referring to politicians "attacking" Detroit teachers by advancing state legislation designed to crack down on mass sickouts in the Detroit Public Schools that could lead to union decertification, fines and suspensions.
The union, Williams said, is in the process of determining which Democratic presidential candidate the union will endorse. He said officials are surveying members in a variety of ways, including sample balloting on factory floors. Williams said both Hillary Clinton and Bernie Sanders would "be great candidates to be president of the United States."
Regarding Republican candidate Donald Trump, whom Williams has spoken out against previously, he said he doesn't feel the billionaire reality TV star "has articulated in any fashion about where he's been and where he's going, and that is of great concern to me."
'Buick En-vasion'
Williams made several comments about companies, including the Detroit automakers, that he believes are abusing trade laws and moving jobs out of the United States.
He said General Motors Co.'s plans to import the Buick Envision, which he called the "En-Vasion," from China is an example of non-effective trade agreements that allow "employers to go to low-paying nations and manipulate the process."
"That's unfair to the American taxpayer, and that's unfair to the American people, and that's unfair to UAW members," he said.
Williams spent a considerable amount of time discussing Detroit automakers investing and moving products to Mexico, saying the union "will be having discussions with them."
He said he sent a message to Fiat Chrysler CEO Sergio Marchionne requesting time to discuss the company's amended five-year plan, which includes ceasing production of U.S.-built sedans in the coming years to focus production on pickups, SUVs and crossovers.
"There's no reason why we can't manufacture cars here in the United States of America," he said.
"The biggest problem that we have in the United States and building cars successfully is not the worker, it's the engineering. It's about commonality of parts and maximizing the production within our supplier chains."
Numerous media outlets have said Ford plans to move production of the Focus compact and C-Max crossover to Mexico. Williams said the company has not informed him of that move.
Williams said the union never negotiated with the Detroit automakers about sending work to Mexico during contract negotiations last year.
2015 negotiations
Following a contentious year of contract negotiations with the Detroit automakers, Williams said the union learned a lot on how to approach collective bargaining in the future, including how to better explain tentative agreements, address questions and handle social media.
"We were not prepared for the outside forces that attacked us on social media," Williams said.
Social media website Facebook was particularly detrimental to the union's talks last year that included Fiat Chrysler workers overwhelmingly voting down one tentative agreement, GM skilled-trades members voting down their deal before the union pushing it through and a close ratification vote at Ford.
The UAW also reached agreements with several companies outside of the Detroit automakers in 2015, including John Deere, state of Michigan, Nexteer Automotive and Blue Cross Blue Shield of Michigan.
"As a union as a whole, I think we are stronger today than we were yesterday," he said, adding the union had to make tough decisions to better its membership in 2015, including a strike at Saginaw Township-based Nexteer. "Our job is to give them as much information and as much knowledge as we can give them to make the best decisions for their lives. But I think our union is stronger for that discussion, and stronger for that democratic process."

Ford to cut jobs, vehicles as
part of Europe turnaround

Michael Martinez,
The Detroit News
Feb 5, 2016
Ford Motor Co. will trim back hundreds of employees in Europe in the coming months and will discontinue certain slow-selling vehicles there as the automaker continues to transform its European business unit in an attempt at making consistent profits.
Starting Wednesday, Ford will offer its roughly 10,000 salaried employees in Europe a "voluntary separation program" as it looks to save $200 million a year in administrative and selling costs. Ford said it expects hundreds of employees to take the buyout in the coming months.
The automaker also plans to introduce seven new vehicles in Europe this year with a focus on SUVs, performance variants and more upscale trim levels that generate higher profits. Ford said it will eliminate less profitable vehicles over time, but executives would not say how many, what type or when.
"Our plan's about creating a vibrant and sustainable business," Jim Farley, head of Ford's Europe, Middle East and Africa regions, said in an interview. "Making $259 million in Europe last year was nice, but we're just getting started."
The automaker turned a profit in Europe last year for the first time since 2011 and grew sales 10 percent after spending recent years closing three plants, scaling back employees and updating many of its products. Farley said, long term, Ford envisions the European market will grow modestly and it can reach profit margins of between 6-8 percent.
Despite recent troubles in Russia, Farley reiterated Ford's commitment to remaining there. While competitors like General Motors Co. have pulled out of Russia, Ford envisions it as a 1.5 million vehicle market, and recently opened a new engine plant there.
"We think we're very well positioned," Farley said. "Yes, we're making a lot of adjustments on the ground, but we really feel this is critical for our European business."
Ford plans to introduce seven new or refreshed vehicles in Europe this year, including the Focus RS performance hatch and the new Kuga and Edge SUVs. It will launch five new vehicles to compete in the SUV and crossover space in the next three years, starting with the new Edge in the second quarter of 2016.
Ford also said it plans to expand its upscale Vignale line from one model today – the Mondeo Vignale – to at least five Vignale models by 2017.
"We're trying to compete in higher-priced parts of the market," Farley said.
Farley said Ford's performance lineup – vehicles like the Focus RS, Focus and Fiesta ST and Mustang – are a strength in Europe.
"This is exactly the type of product I think is typical of where Ford's at its best," Farley said. "We've had a long legacy, but we've never had the lineup we have today."
Sales of Ford's performance vehicles were up 60 percent in Europe last year and the automaker forescasts selling more than 40,000 performance vehicles in 2016.
"This is a big business for us," Farley said. Transaction prices are high and it's an area we can compete with the premium brands. It's a really healthy part of our lineup."

GM-UAW workers to receive
$11K profit-sharing checks
Michael Martinez,
The Detroit News
Feb 4, 2016
General Motors Co.'s 49,600 hourly United Auto Workers members will receive profit-sharing checks of up to $11,000, to be paid out to eligible employees Feb. 26.
The Detroit automaker on Wednesday reported a full-year North American pre-tax profit of $11 billion. Its profit-sharing formula, unchanged as part of a new four-year pact with the union, rewards workers with $1 for every million dollars of North American profits.
"UAW members will go home to their families today knowing that their hard work and innovative team work have paid off," GM-UAW vice president Cindy Estrada said in a statement. "Through collective bargaining those UAW members eligible will receive up to $11,000 in GM profit sharing. Together, UAW members are sharing in the quality products and record sales of GM cars and trucks."
About 52,900 Ford Motor Co. hourly UAW workers will receive record profit-sharing checks totaling $9,300 this March, although the Dearborn automaker has already paid out $1,500 of that.
About 40,000 UAW members with Fiat Chrysler Automobiles NV will receive profit-sharing payments of up to $4,000 for 2015. Those bonuses are the largest under the automaker's four-year contract with the UAW from 2011, up 45 percent from the previous high of $2,750 in 2014. Fiat Chrysler employees will receive the payment on Feb. 19.
FCA US, the company's North American-based operations, announced those payments last week after the automaker reported the overall company earned $410 million in 2015. Earnings in its North American region were up 60.7 percent from 2014.

2017 Ford F-150 Raptor
will compete in factory
stock off-road racing class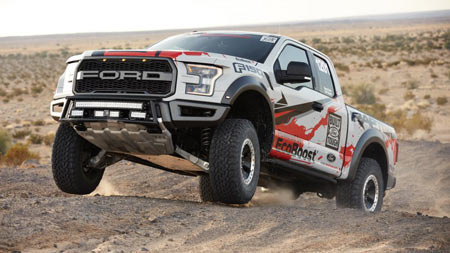 Feb 3, 2016
The new 2017 Ford F-150 Raptor is going to be one of those "the more things change" situations. It features a 3.5-liter V6 EcoBoost engine good for (probably) 450 hp instead of a V8, and a 10-speed automatic instead of a 6-speed, but it's still a brutish thing. Ford's eager to hitch it to a feat of daring and endurance, and so the new Raptor is going racing. Of course it is.
Awesome, sure. Predictable? Maybe, but that's not a bad thing. The part that's worth paying attention to is that the 2017 Raptor will compete in a factory stock racing class at events sanctioned by the Best in the Desert off-road racing sanctioning body. According to the 2016 rulebook, that class requires the Raptor to use its factory engine, unmodified down to the emissions control exhaust, and a transmission as provided by the factory. While Ford can't alter the suspension mounting and pivot points, they can swap out the stock dampers for similar but race-optimized units. Taller springs provide a bit of a lift. That's pretty much it on the dynamics side.
Other alterations include a full roll cage, aftermarket seats with safety harnesses, window nets, an LED light bar, and the navigational and data logging systems needed to navigate in the desert. There will also be a fuel cell, another nod to the realities of off-road racing.
What's good enough on the road-going Raptor to make it into the race truck? Ford's happy you asked, and eager to note that the fully-boxed frame and Torsen front diff are robust enough for the punishment. The Ford Performance dual exhaust and 17-inch beadlock wheels shod with BFGoodrich All-Terrain KO2 DOT-legal tires also make the grade. Likewise the Terrain Management system, which will probably be left in "Baja mode" for most of the competition. That preset is optimized for "high-speed desert running." Sounds like the right one to select.
The first race featuring the new Raptor, if you'd like to see it in action, takes place February 4th through 7th at the Parker 425 in Arizona. After that, it's the famous Mint 400 in Las Vegas in March.


Ford-UAW workers to get
$9,300 total in profit sharing
Michael Martinez,
The Detroit News
Feb 2, 2016
Ford Motor Co.'s 52,900 hourly UAW workers will receive record profit-sharing checks totaling $9,300 this March, although the Dearborn automaker has already paid out $1,500 of that.
The Dearborn automaker reported a full-year North American pre-tax profit of $9.3 billion. Its profit sharing formula, unchanged as part of a new four-year pact with the union, rewards workers with $1 for every million dollars of North American profits.
The previous Ford profit sharing record was $8,800, passed out two years ago.
About 40,000 United Auto Workers members with Fiat Chrysler Automobiles NV will receive profit sharing payments of up to $4,000 for 2015. Those bonuses are the largest under the automaker's four-year contract with the UAW from 2011, up 45 percent from the previous high of $2,750 in 2014. Fiat Chrysler employees will receive the payment on Feb. 19.
FCA US, the company's North American-based operations, announced those payments Wednesday after the automaker reported the overall company earned $410 million in 2015. Earnings in its North American region were up 60.7 percent from 2014.
GM-UAW will learn what their profit sharing checks will be this week when the Detroit automaker reports earnings.


Ford earns $7.4B in
2015, posts record profit
Michael Martinez,
Detroit News
February 1, 2016
Ford Motor Co. on Thursday said it earned $7.4 billion in 2015, including $1.9 billion in the fourth quarter.
The Dearborn automaker reported a record $10.8 billion pre-tax profit, before special items. In North America, Ford earned a full-year pre-tax profit of $9.3 billion, up $1.9 billion from a year ago. That will lead to a record $9,300 in profit sharing for the automaker's UAW members, although $1,500 of that amount has already been paid out.
Ford posted a full-year revenue of $149.6 billion and a full-year automotive operating margin of 6.8 percent. Ford posted a fourth-quarter earnings per share of 58 cents, and a full-year earnings per share of $1.88 per, with both numbers beating the consensus.
Ford's earnings were driven by North America, where it earned a full-year operating margin of 10.2 percent, but the automaker was profitable in all of its business units except South America. That includes a record profit in Asia Pacific and a return to profitability in Europe, where it hasn't turned a profit since 2011. Ford's global market share increased by two-tenths of a percentage point.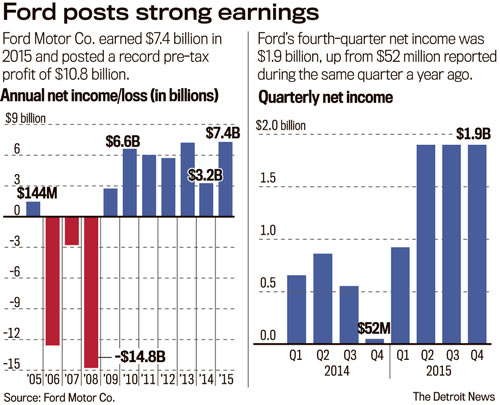 "The whole year came in better than we were expecting," Ford's Chief Financial Officer Bob Shanks said. "We really started to see the international operations come forward."
Despite that, Ford's stock fell sharply in early trading, down 4.8 percent to $11.28 a share shortly after 10 a.m.
Ford President and CEO Mark Fields said the automaker delivered on its promise for a breakthrough year, and it expects a strong 2016.
"In 2016, we will continue to build on our strengths and accelerate our pace of progress even further, while transforming Ford into both an auto and a mobility company and creating value for all of our stakeholders," Fields said in a statement.
Fields has said Ford expects an operating margin of 9.5 percent or higher for North America and profitability in all business units except South America, where it expects a greater loss than in 2015. Results for Europe and Asia Pacific are expected to improve over 2015 and results for the Middle East and Africa are expected to be about equal to or more than last year. Ford Credit's pre-tax profit is expected to be equal to or more than it was in 2015.
Ford's North America business unit included a record fourth quarter of $2.03 billion and an operating margin of 8.2 percent. Its full-year profit margin of 10.2 percent represented the third time in four years that Ford recorded margins over 10 percent. The fourth quarter included the loss of about $600 million in one-time charges related to the automaker's new contract with the UAW, Shanks said.
Shanks said he still expects a strong 2016 for North America, but the profit margin could be as low as 9.5 percent since it's coming off a very strong 2015 and will have downtime and added costs associated with the launch of its new Super Duty truck.
Ford struggled in South America, losing $832 million there for the full year due to a continued deterioration in the business environment. Shanks said Ford expects the economy will continue to contract, and that Brazil could be headed into a depression.
The carmaker returned to profitability for the first time in four years in Europe, where it made $259 million. Ford said volume was up 10 percent there, and Fields said he can foresee profit margins of between 6-8 percent. This year, the margin was 0.9 percent.
"We're pleased with our progress in Europe but not satisfied," Fields said. "Getting profitable is just the first step."
Ford made $31 million in the Middle East and Africa and a record $765 million in Asia Pacific, up 29 percent from a year ago, due in large part to a strong fourth quarter in China.
Ford announced in January that it's switching how it accounts for pensions, resulting in a $1.5 billion gain to its 2015 full-year earnings pre-tax profit. The switch will put at least another $709 into the pockets of each of Ford's 52,900 U.S. hourly workers as part of profit-sharing checks early this year. Salaried workers who receive bonuses, excluding corporate officers, also will benefit.
Ford said it had been studying the change to mark-to-market pension and other post-retirement employee benefits for five years. It gives the company greater transparency of its operating results, the automaker says. It also helps to better compare Ford with key automotive competitors and follows the practices of many international companies.
Fiat Chrysler Automobiles on Wednesday reported a profit of 377 million euros (about $410 million) for 2015, a substantial decrease from 632 million euros from the previous year due to recall and investment costs. General Motors Co. will release its earnings next week.
FCA also announced Wednesday that it's ending production of its Dodge Dart and Chrysler 200 passenger cars to focus on its Ram and Jeep brands. Fields said Ford has no plans to announce regarding its own car production, but said the automaker will continue to adjust capacity to meet demand and is open to "all opportunities" with car production.
"We're always looking to be as efficient as possible," Fields said. "We believe very strongly it's important to have a balanced portfolio. As we go forward, we're going to be very focused on this. We're always open to talking with others. We have to be very realistic around what is the revenue these vehicles can command."