Last Updated
February 25, 2017
Maxed out?
What to do
when retirement
funds run out
_______
Sam Gindin
Remembers
Bob White
Feb 24, 2017
_______
Ford Blue
Oval Connect
Feb 24, 2017
________
Ford wants
your new
car to pick
a song – or
tell a joke
_______
Former
Canadian
Union Leader
Bob White
Dies
_______
Dingell offers
NAFTA
replacement
'blueprint' for
Trump
_______
Beware the
bogeyman who
raids pension
plans
_______
UAW considering
'Buy American'
ad campaign
________
Uniforum
Vol 5 No 3
Feb 16, 2017
_______
Ford F-250
Super Duty
is huuuge
________
Ford to build
$200M testing
complex in
Allen Park
_______
When you
don't get the
CPP survivor
benefit you
expect
________
High Ontario
electricity
rates concern
car makers
________
Ford invests
$1B into Argo
AI for virtual
driver system
_________
Tesla workers
reportedly want
to form labor
union
_______
Retiree
Norm Collins
Passes Away
Feb 8, 2017
________
Ford debuts
aluminum-body
Expedition
_______
GM to pay
UAW members
$12K in record
profit sharing
_______
1st major
German
customer sues
VW over diesel
emissions
_______
Ford begins
exporting
Raptor
to China
________
Uniforum
Vol 5 No 2
Feb 4, 2017
________
Frail seniors
& their money
it's still
their money
_______
Congratulations
to Our Newest
Retirees
Feb 1, 2017
_______
Ford's
vehicles not
sole focus of
Super Bowl ad
________
Ford's top
executives
slam Trump
travel ban
_______
Ford to power
older cars with
Wi-Fi through
SmartLink
_______
Ford to pay
$9,000 in profit
sharing to
UAW workers
_______
Ford projects
good year
despite
2016 drop
________
GM axing up
to 600 jobs at
Ontario plant,
shifting some
production to
Mexico
_______
Ford Health
Care Benefit
Booklet
Nov 2016
__________
Ford to launch
Omnicraft parts
brand for all
vehicles
________
Trump tries
hitting 'reset'
with Detroit
automakers
_______
Retiree Jim
Thorhill Passes
Jan 12, 2017
_________
Government
Benefit Rates
2017
_________
Trump takes
wheel in
talks with
Detroit autos
_______
Ford Benefit
Update Letter
Sent Jan 2017
________
Obama's fraught
bet on Detroit
autos vindicated
_______
Ford takes
wraps off
2018 Mustang
convertible
_______
Ford expects
$2B net income
drop due to
pension assets
_______
News readers
name Ford GT
Best of Show
_______
Uniforum
Vol 5 No 1
Jan 19, 2017
_________
Retiree Armand
Laforet Passes
Jan 18, 2017
_______
Newfoundland
fishers consider
disaffiliating
from Unifor
_______
Ford premieres
refreshed
2018 Mustang
________
GM to invest
additional $1-
billion in U.S.,
move some
output from
Mexico
________
Takata to pay
$1B over faulty
air bags
________
Canada could
also face auto
border tax,
Trump
spokesman
suggests
________
EPA accuses
Fiat Chrysler
of emissions
cheating
_______
Ford reaffirms
target of $10.2B
2016 pre-tax
profit
_______
Trump tweets
won't change
Ford's Canadian
plans, company's
President of the
Americas says
________
Ford brings
back Ranger
Bronco
________
Ford takes
wraps off
updated
F-150
________
Mexican Ford
workers lament
Trump
_______
Play the Trump
cards right,
and Canada's
auto sector
will benefit
______
Auto sales
set record
in '16 at
17.55M
_______
Ford to scrap
Mexico plant,
invest in
Michigan; CEO
cites Trump
policies
_______
Trump
threatens
GM with 'big
border tax'
_______
Nimpha Ilagan
Passes Away
Dec 31, 2016
_______
Union
prepares for
legal battle
ahead of
pension cuts
_________
Nortel's
disabled
workers still
fighting
for better
deal after
bankruptcy
________
December 2016
Articles
________
Ford Health
Care Benefit
Booklet
Nov 2016
__________
2016
Government
Benefit Rates
_________
Unifor
Constitution
_______

Contact Us
retirees@uniforlocal584.org

PLEASE SUPPORT OUR SPONSOR!
In Memory Of
Harold Robert "Bob"
White
1935 - 2017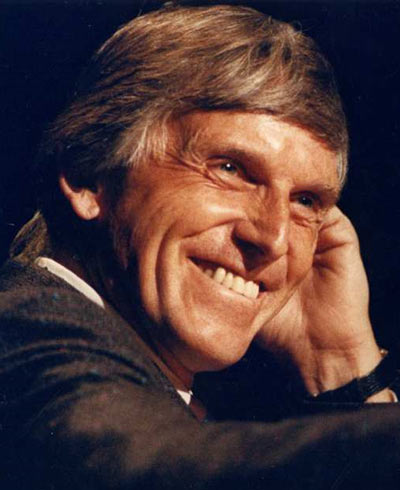 "Bob was a true maverick in the Canadian labour movement. He will be deeply missed and I extend my condolences to his family on behalf of all of Unifor," said Jerry Dias, Unifor National President. "The CAW was born as a result of his determination and leadership, it is thanks to Bob that we have grown into the strong national union that we are today."
In December 1984, White and the Canadian branch of the United Auto Workers made the historic decision to split from the American organization and establish a new union, renamed the Canadian Auto Workers. White was elected CAW President three times—at the CAW's founding convention in in 1985, and again in 1988 and 1991.
White's legacy includes groundbreaking negotiations with the Detroit Three, in addition to being a central leader in the fight against the North American Free Trade Agreement (NAFTA). During his tenure the CAW expanded in influence and size to include members outside of the auto sector. In 2013, the Canadian Auto Workers merged with the Communications, Energy and Paperworkers Union of Canada to create Unifor.
"Bob White's legacy is a stronger and more equitable Canada, and a labour movement that stands up for Canadian workers," said Dias. "Bob was a trailblazer, who fought not just for the union but also for social justice. He believed in using our collective strength to make both our workplaces and our world better places. His vision lives on and we will continue the fight in his honour."
More Information Here
Retiree Meetings
will be Suspended
for the Winter Months

Meetings are the First Wednesday of the month
Next meeting
Wednesday April 5, 2017

Canadian Legion
80 Mary Street
Brampton
1pm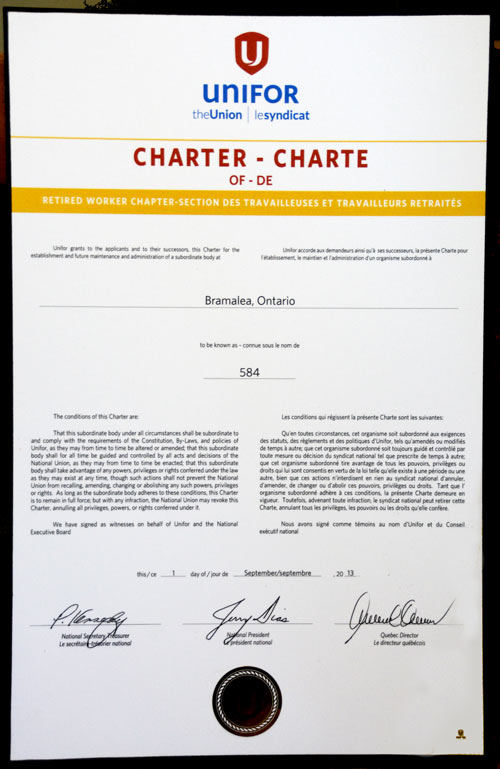 February 24, 2017
F-150 Dependability Award Underscores Built Ford Tough

American truck owners who value Built Ford Tough pickups are taking in some more great news today: Ford F-150 is J.D. Power's 2017 Vehicle Dependability Study award recipient for large light duty pickup.
Click here to read more.

The Salvation Army's 30th Annual Bed & Bread Club Radiothon Presented by Ford Fund

Tune in to News/Talk 760 WJR on Friday, Feb. 24 to hear Jim Vella, president, Ford Fund, serve as a special guest host for the Salvation Army of Metro Detroit's 30th Annual Bed & Bread Club Radiothon Presented by Ford Motor Company Fund from 1-10 p.m. EST. The fundraiser will broadcast live from Emagine Theatre in Royal Oak.
Click here to read more.
Ford News
WATCH: Ford Performance Video Series
@FordOnline recently spoke with Ford executives Raj Nair and Dave Pericak to discuss Ford Performance's racing programs as well as the success of production models such as the GT, F-150 Raptor and Focus RS.
To watch the videos, click here.
Ford GT Competition Series Offers More Weight-Saving Innovations for Hardcore Track Enthusiasts
Ford is showing the ultra-lightweight Ford GT Competition Series for North America in Daytona, the site of its win at the Rolex 24 in January.
To read the full article, click here.
Bees Inspire Lightweight, Strong Honeycomb Cargo Shelf in All-New Ford EcoSport SUV
Honeybees didn't actually create the four-way parcel shelf for the all-new EcoSport cargo area, but they did lend their design to the recycled paper honeycomb material that gives the shelf its unusual strength.
To read the full article, click here.

Global Notes
Ford Ranger Named Best Buy in Prestigious CAR Magazine Awards; Fiesta ST and Everest honored
PRETORIA, South Africa – Ford Motor Company of Southern Africa was recently honored at the annual CAR Top 12 Best Buy Awards with the Ford Ranger clinching the Best Double-Cab Bakkie category for the sixth year in a row.
To read the full article, click here.
Ford Business Update 2017: Investing in a Brighter Future in Asia Pacific
Innovation and technology have always been at the heart of everything we do, but now as we continue our transformation into a leading auto and mobility company of the future, investment in these areas is more vital than ever.
To read the full article, click here.
Next-Gen Ford Fiesta ST Debuts 200 PS, 3 Cylinder, 1.5-litre EcoBoost Engine and Drive Modes for Ultimate Fun-to-Drive
COLOGNE, Germany – Ford Performance today revealed the next generation Ford Fiesta ST, powered by an all-new three-cylinder, 1.5-litre EcoBoost engine.
To read the full article, click here.
Retiree Connect
Show Us Your Ford
Do you love Ford as much as we do? Show your love for Ford by participating in our Me and My Ford campaign.
How do you enter? It's simple. Send a pic of you and your Ford, with a caption, to blueoval@ford.com. Or post your photo on Twitter or Instagram and tag @AtFordOnline using #FordRetiree #MeandMyFord.
We'll spotlight a new photo each week in the Blue Oval Connect weekly briefing. Let's see those Fords!
Weekly Spotlight

Outside Voices
Autism in the Workplace: A Look Ford's Program to Employ Adults with Autism
(NBC News) A joint effort by Ford and the Autism Alliance of Michigan to employ adults with autism has proved to be a huge success.
To see the full report, click here.
Ford Wants Your New Car to Pick a Song – or Tell a Joke
(Detroit News) Ford wants the self-driving cars of the future to be better listeners and observers: It's aiming to build vehicles that pick up on the smallest changes in drivers' vocal inflections and facial expressions, and adapt the drive accordingly.
To read the full article, click here.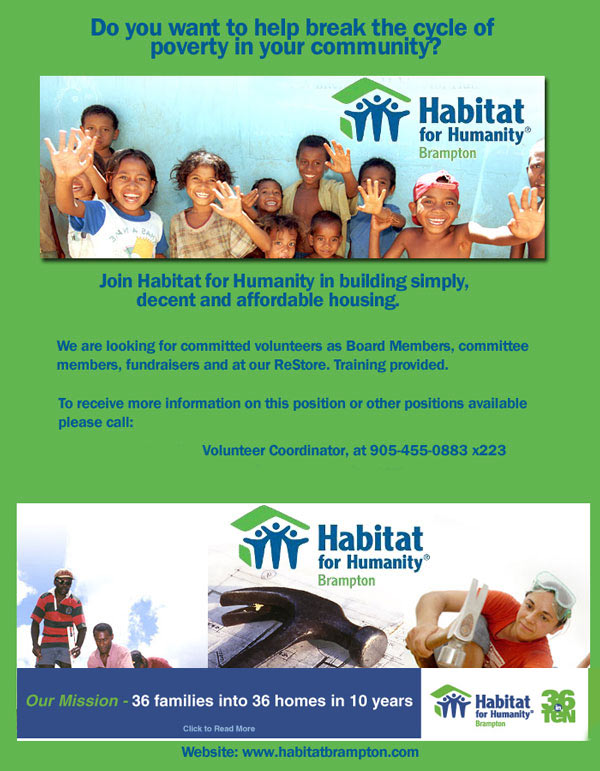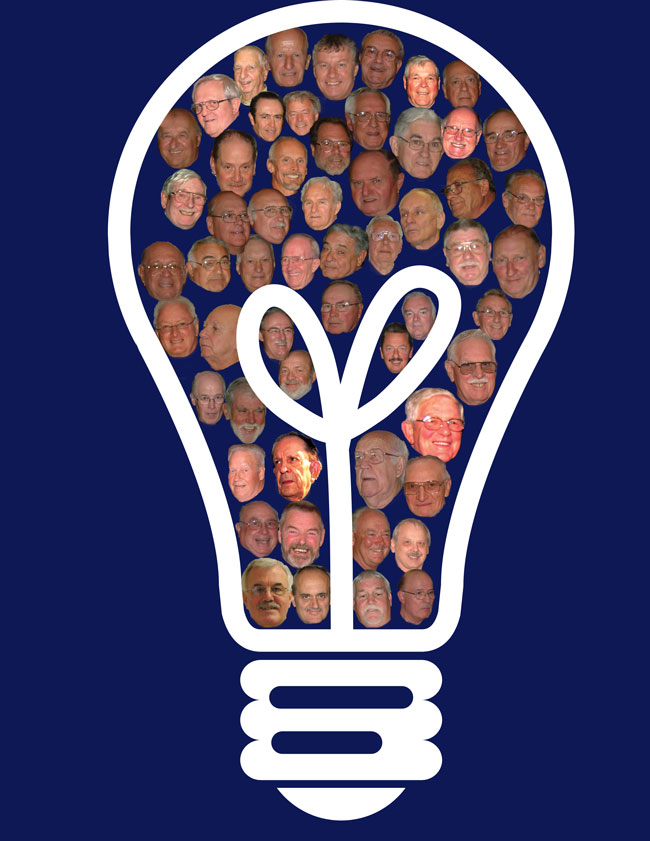 This Web Site is Dedicated to the past members who helped to forge a better way of life for all of us.