Last Updated
March 26, 2019
Retirees
Spring
Update
March 26
2019
_______
Retiree
Ron Heffell
Passes Away
on March
20, 2019
_____
GM to invest
$300M in Orion
add 400 jobs
for new EV
________
Ford
Blue Oval
Connect
March 24,
2019
_________
UNIFOR
Unilink
March 23,
2019
________
U.S. Feds
investigate
UAW 'flower
funds' in
corruption
probe
________
GM, Ford use
promise
of jobs to
battle for
Trump favour
_______
Unifor 'quite
optimistic' GM
Oshawa jobs
will be saved
_______
Trump turns
up heat on
GM Lordstown
plant ahead
of Ohio stop
______
Ford to cut
more than
5,000 jobs in
Germany
_______
Ford CEO
Hackett paid
$17.75 million
in 2018
______
We'll resist,
not desist
Jerry Dias
says union
still
onsidering
Oshawa
actions
despite
labour
board's
ruling
_______
Ford CEO
Hackett to
employees:
2019 will be
turning point
_______
Canadian Ford
dealers look to
new CEO Dean
Stoneley for
continuity
_______
UAW
convention
in Detroit
will set
stage for bargaining
________
So long,
Chevy Cruze,
you burned so
very brightly
_______
Freshened
2020 Ford
Transit gets
new engines,
awd option
________
Ford brings
back F-600 as
it overhauls
work truck,
van lineup
________
FCA's US$4.5-
billion Michigan
investment
'doesn't bode
well' for
Brampton
______
Romance scams
take top spot
of 2018's top
10 scams,
Better Business
Bureau says
______
Police find meth
smuggled into
Canada through
new Ford cars
built in Mexico
_______
Louise Mackay
Passes Away
Feb 24, 2019
_______
U.S. trade
chief courts
UAW to back
North American
trade pact
______
UAW sues GM
over plans to
'unallocate' 3
plants before
contract
expires
______
Ford
investigating
if mpg
ratings could
be skewed
_______
Fiat Chrysler's
Marchionne
paid $7.8M,
Manley
paid $708K
in 2018
______
GM's Detroit
Hamtramck
production
extended
to Jan 2020
_______
Canada seeks
Pelosi's
support
in push to
lift U.S.
metal tariffs
______
Ford to cut big
commercial-
trucks, Fiesta
in South
America
______
Carmakers
on edge as
Trump keeps
import-tariff
report secret
_______
Ford CFO
could retire
this year,
report says
______
Ford recalls
1.5M pickups
for downshift
without
warning
_______
Volkswagen
officials
expected in
Dearborn for
Ford talks
_______
Ford told
Britain's May
it is preparing
alternative
factory sites
_______
Ford set to
invest $1B
in Chicago
to build new
Explorer,
Aviator
______
After nine
year run,
UAW profit
sharing
routine
takes
a turn
______
Retiree
Vaughn
Geldart
Passes
Away
Feb 7,
2019
________
Unifor, UAW
to meet
as unions
ramp up PR
campaign
against GM
_______
2019 Lincoln
MKC Black
Label has
new look,
fancy perks
_______
GM to pay
US hourly
workers
$10,750 in
profit-sharing
________
Fiat Chrysler,
Ford sales
bright spots
in mixed Jan
_______
UNIFOR
GM VIDEO
_______
UAW GM
VIDEO
______
Ford folks
play catch-up
in bid for
respect,
higher
share price
_______
GM Canada
output down
33% while
company
becomes
top producer
in Mexico
_______
Ford hourly
US workers to
get $7,600 in
profit-sharing
_______
Pickups,
vans drive
Ford's plans
________
Ford CEO to
employees:
Bury 2018
'in a deep
grave'
_______
Pictures from
GM Rally
Jan 23, 2019
_______
Canada auto
workers seek
boycott of GM
vehicles from
Mexico
_______
Protests will
continue until
GM decides to
keep Oshawa
plant open
______
Lincoln
Aviator wins
top Readers'
Choice award
at auto show
_______
Canada's vast
pension fund
is sticking with
China even
as political
tensions
mount
_______
Ford sued for
sexual, racial
harassment
at Dearborn
Truck Plant
________
Ford rethinks
Level 3
autonomy
_______
UAW workers
rally downtown
to urge auto
execs to
'invest in us'
______
The 2020
Ford Mustang
Shelby GT500
is the most-
powerful
Ford ever
_______
Ford
expects
better
financial
results
in 2019
_______
Ford, VW
link-up
looms over
Detroit auto
show
_______
Ford sold
1.1 million
F-Series
pickups last
year
_______
Ford to cut
thousands
of jobs in
turnaround
plan
_______
Keep
GM Jobs
in Canada
Rally Pictures
Friday Jan 11
_______
FCA to pay
nearly $800M
in emissions
cheating case
________
Ford cancels
Mexico plant,
expands U.S.
factory and
adds 700 jobs
_______
Ford adds
149,652
vehicles in
Canada to
Takata
airbag recall ________
Auto sales beat
expectations
for 2018, but
2019 doesn't
look as good
______
2019
Government
Benefit Rates
_________
Ford Health
Care Benefit
Booklet
Nov 2016
______
Ford Collective
Agreement
Effective
Nov 7, 2016
_________
Ford Pension
Booklet
2016
_________
Life &
Disability
Booklet
2016
________
2016 Benefits Appendix R
__________
Unifor
Constitution
_________
Contact Us
________


PLEASE SUPPORT OUR SPONSOR!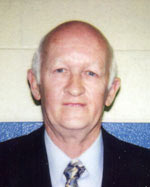 We regret to inform you that
Retiree Ron Heffell has passed
away on March 20, 2019
Ron retired on July 1, 2004 with 30.2 years.
No more details are known at this time.


Next Retiree Meeting*
Wednesday April 3, 2019
Canadian Legion
80 Mary Street
Brampton
1 PM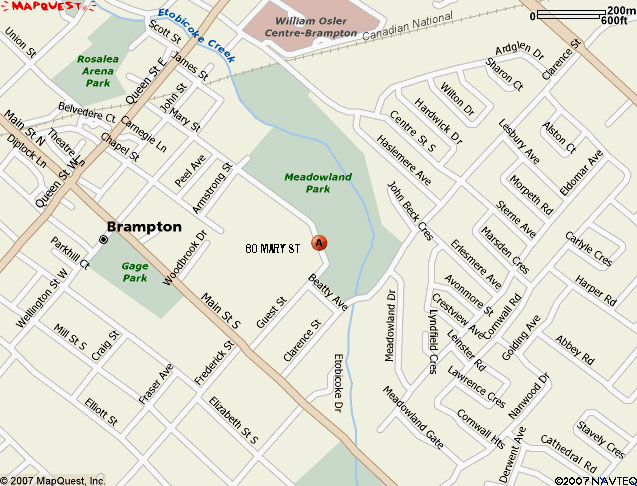 Meetings are the first Wednesday of the month at 1pm.
*May Meeting will be held 2nd Wednesday in May!
Wednesday May 8, 2019 at 1 pm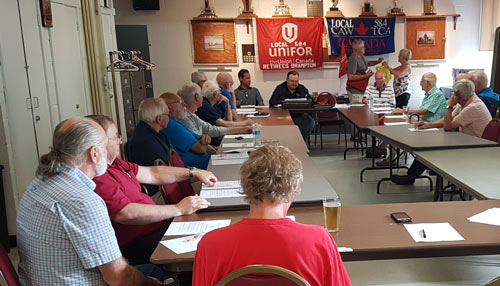 Congratulations to
Our Newest Retirees
March 1, 2019
Anna Black
30.7 years service
Ray Stoodley
30.4 years service
Mark Bignell
30.4 years service
Robert Opolnieks
19.8 years service


Congratulations to our newest Retirees Effective Feb 1, 2019
Shelley Sneider
Pam Lyon
Bernie Grenier
Ellen Ward
Mike Robertson

Pam Lyon Retirement
Get Together January 30, 2019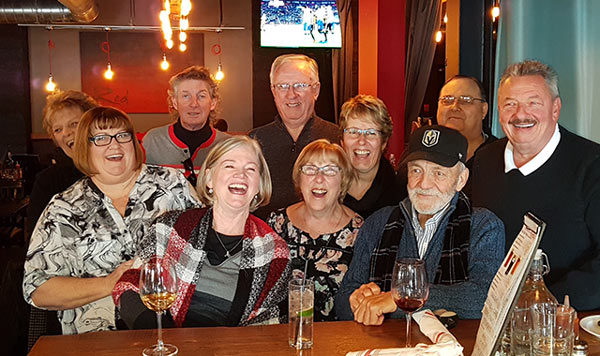 March 23, 2019

As the world reels from the deadly terrorist attack in New Zealand, the need to fight for human rights is greater than ever. Lay-offs in health care loom and Bell attacks workers' rights, while the campaign to #SaveOshawaGM takes a new turn and we make gains in gaming.
Talks with GM ongoing, exploring potential to transform operations to maintain a base level of employment.




March 24, 2019
Announcements

Ford Announces Key Changes to Global Leadership Team; Tim Stone to Succeed Bob Shanks as CFO
Ford Motor Company announced that Chief Financial Officer Bob Shanks plans to retire from the company at the end of 2019. He will be succeeded by Tim Stone, an accomplished finance executive who served 20 years at Amazon Inc., and as…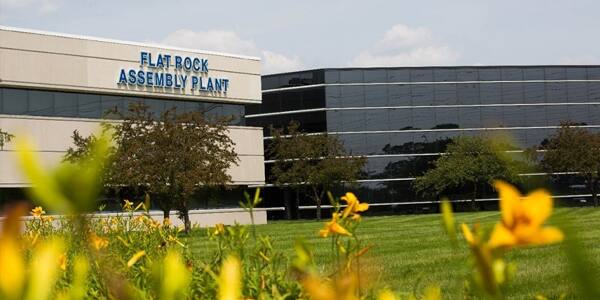 Ford Adds 2nd NA Site to Build BEVs; Michigan Workers to Make Its First AVs
Ford announced it is expanding its production capacity for the company's next-generation battery electric vehicles at a second North American plant. Tied to the company's $11.1 billion investment in global electric vehicles…


Ford News
Ford Boosts Production for Expedition, Adds 550 Jobs to Meet Demand
Ford Motor Company will again boost production of its hot-selling Ford Expedition and Lincoln Navigator this summer as both vehicles…



Ford F-150 Is Best Performing Pickup Truck in IIHS Passenger-Side Safety Testing
The Insurance Institute for Highway Safety has released test results showing that among all light-duty crew cab pickups measured in…


#RoadTripRewind: Employee Drives 5,000+ Miles With 1,500 Pounds in Car Parts
In 2002, Steve Johnson was living in Dearborn and working at Ford and always wanted a late '70s vintage Ford truck. A good friend of his…


Throwback: Ford Honors Rosies in 2004

Ford Motor Company unveiled a historic collection of World War II-era memorabilia related to Rosie the Riveter, the former Ford employee…



Global Notes
On World Sleep Day, Ford 'Sleep Suit' Delivers a Wake-Up Call

Most people know that a lack of sleep can make you grumpy, cause your skin to age more rapidly and affect your concentration…



Want to Cut Fuel Bills? Ford Smart Driving Coach Shows How
Many drivers know that they can save on fuel by laying off the accelerator pedal. Now, Ford is introducing commercial vehicle-first technology…



Snapshot of Ford's International Women's Day Celebration across Asia Pacific
Here's a quick look at how Ford's teams in Asia Pacific recently marked International Women's Day. Ford Philippines kicked the day off…

Retiree Connect
Send a pic of you with your Ford (.jpg format, please), with a caption including brief information about your career at Ford and your vehicle, to blueoval@ford.com. Or post your photo on Twitter or Instagram and tag @AtFordOnline using #FordRetiree #MeandMyFord. Let's see those Fords!
Weekly Spotlight
Retiree Carl Bihlmeyer stands with his Deep Impact Blue 2014 Ford Mustang Shelby GT500.
Outside Voices
Inside the Ford Division Making Good on its EV Plans
(Ad Age) Ford is building its electric vehicle future from an old garment factory in Detroit. The space, located in Motor City's historic Corktown neighborhood, is home to Team Edison, a 55-person unit the sole job of which is to make…
Read more »

What It's Like to Drive a Ford Model T
(Jalopnik) The Ford Model T is one of those cars that even people who know nothing about cars have likely heard of. Usually, they've heard wrong things about it, like it was the first car ever, or the first mass-produced car…
Read more »

Did You Know Lady Gaga Drives a 1993 Ford F-150 SVT Lightning?
(The Drive) Celebrity garages can be hit or miss. Not everyone's a car enthusiast, granted, but there's something about getting rich that compels people to fill their driveways with something. That's why you see so many celebs…
Read more »

Ford Expedition, Lincoln Navigator Drive Factory Changes in Kentucky
(Detroit Free Press) In an attempt to meet rapidly growing demand for the Ford Expedition that comfortably seats eight passengers, the carmaker announced Tuesday that it will overhaul the SUV's production, speeding up…
Read more »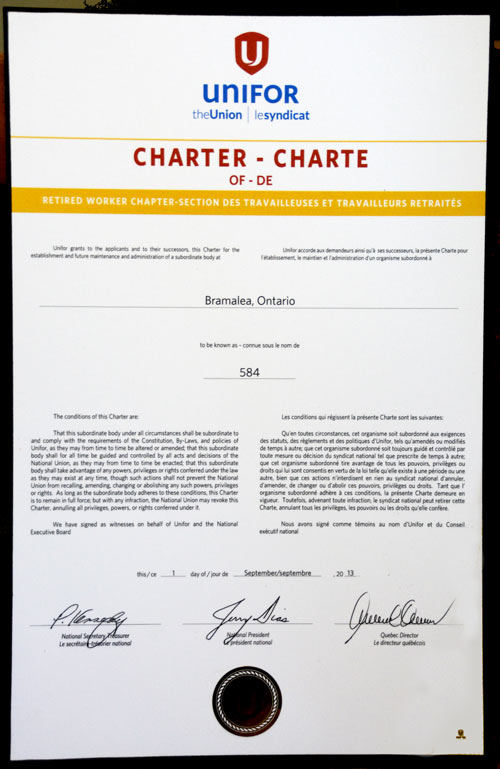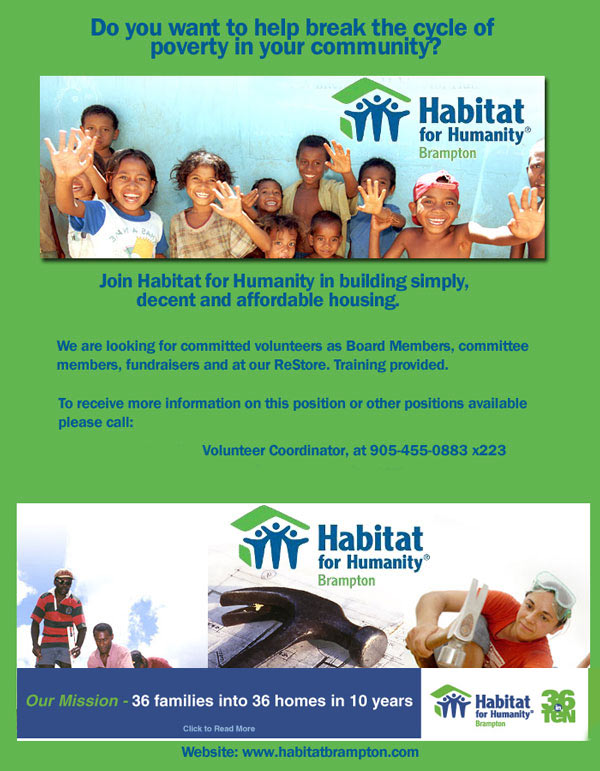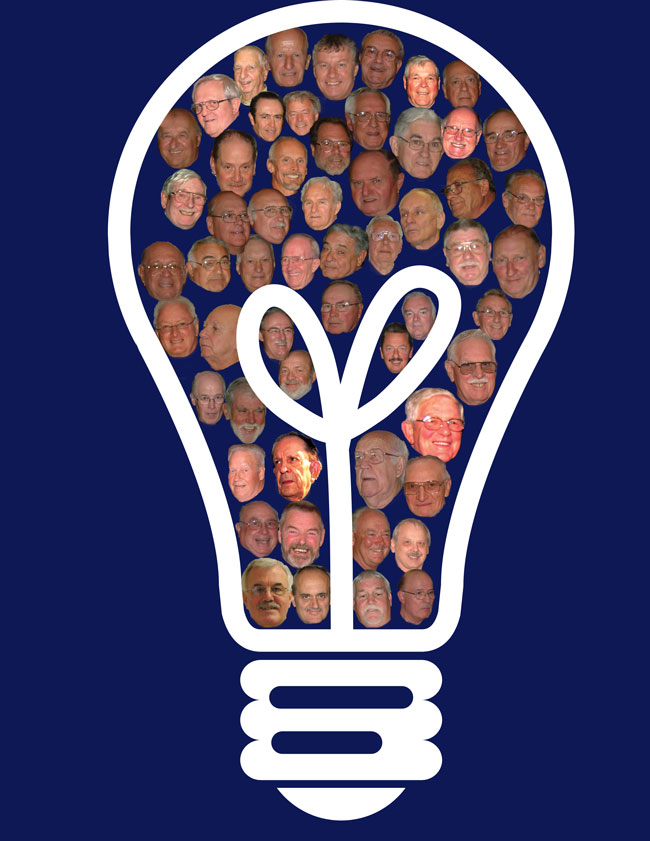 This Web Site is Dedicated to the past members who helped to forge a better way of life for all of us.