PLEASE SUPPORT OUR SPONSOR!
NEXT RETIREE MEETING

Wednesday March 1, 2023
Canadian Legion
80 Mary Street, Brampton
1:00 PM

All Retirees Welcome!

********************************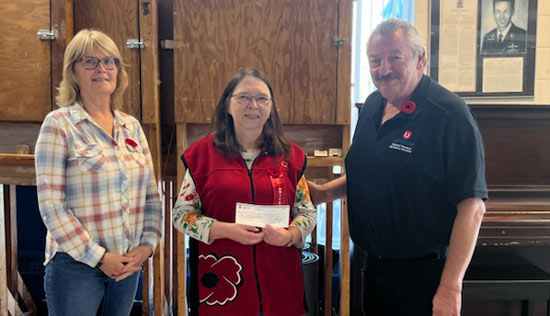 Donation to the Canadian Legion
Nov 2, 2022 Meeting
Unifor Local 584 Retirees Executive: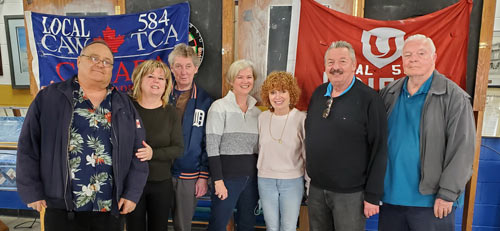 Chair - Chris Wilski
Vice-Chair - Barb Morrison
Recording Secretary - Doug Berry
Financial Secretary - Pat Riley
Sgt at Arms - Reg Galbraith
Guide - Steve Koloff
Member at Large - Roz Monchamp
Meetings are the first Wednesday
of the month at 1pm.
(Unless otherwise stated)
Local 584 Retirees
Support C.U.P.E.
Education Workers
Brampton City Hall
November 7, 2022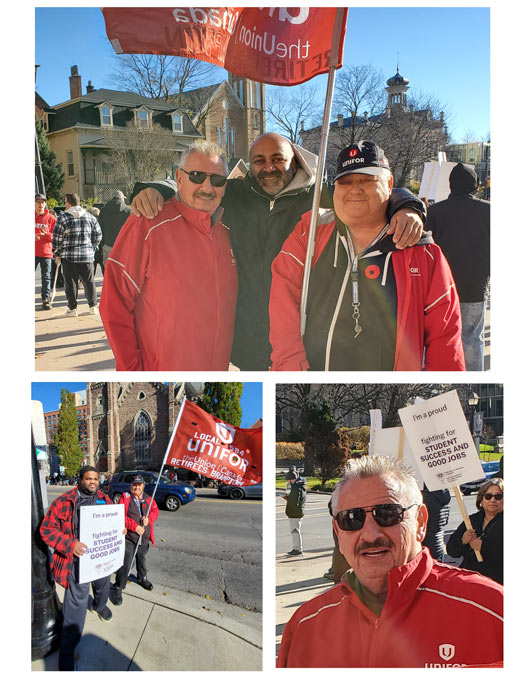 Congratulations to our
Newest Retirees
Jim Reid
Sept 1, 2022 - 24.8 yrs
Andrew Robertson
Aug 1, 2022 - 33.3 Yrs
Les Lewis
June 1, 2022 - 27.7 Yrs

Retirees March Thru Unifor's
4th National Convention
August 2022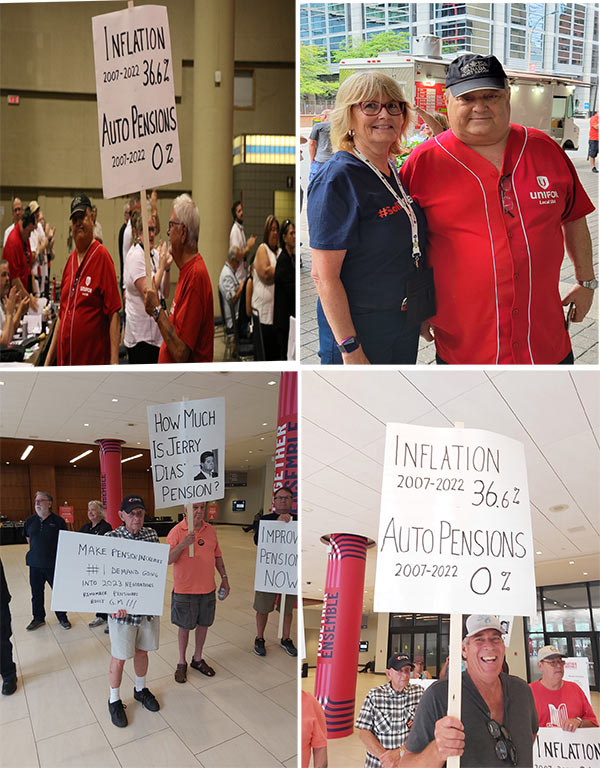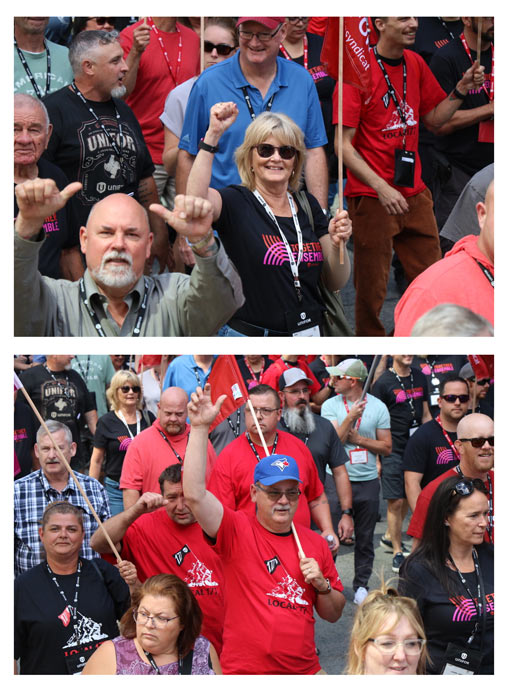 December 3, 2022


Ford government wage suppressing Bill 124 ruled unconstitutional by Ontario Superior Court. Delegates at B.C. Regional Council and Quebec Council called to mobilize to protect workers rights and build a better, more inclusive, economy. Take action to get ILO 190 ratified to protect all workers from third-party violence. The union rallies against the New Brunswick government's anti-worker reforms. Unifor opens a new Labour Action Centre in Windsor to support former Syncreon auto workers. Critical airline worker concerns addressed at federal aviation recovery summit. Plus: Aerospace sector op-ed in the Hill Times. Air Canada Jazz, Carpenter Canada Ltd. and Toronto Terminals Railway bargaining updates.
| | |
| --- | --- |
| Unifor Rosie Solidarity hooded sweatshirts are now available for Local Unions to purchase! Order yours before Dec. 2 at the Unifor Store. | Unifor stands with UNI Global Union. We must ratify ILO 190 for better and more comprehensive policies and collective agreements protecting all workers from third party violence. |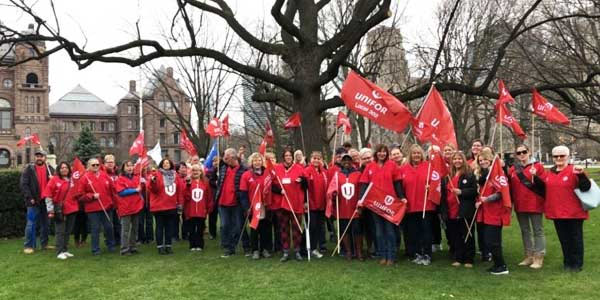 Ontario Premier Doug Ford's wage-restraint law, Bill 124, unconstitutionally removed workers' rights when the government imposed a 1% wage cap, even through the pandemic.


| | |
| --- | --- |
| At the B.C. Regional Council in Whistler, B.C., Unifor Western Regional Director Gavin McGarrigle gave his first in-person report to B.C. delegates in more than two years. He reviewed recent victories, including single-step certification, and called for an organizing summit in the new year to help members put a focus on growing the union. | At the B.C. Regional Council, National President Lana Payne discussed Unifor's key role in organizing for a general strike that forced the Government of Ontario to back down on extreme anti-union measures. She also reported on how Unifor is challenging the Bank of Canada's supposed anti-inflation policies. |
| | |
| --- | --- |
| The 17th Unifor Quebec Council was held in Montreal on the weekend of November 25 to 27, 2022. It was the first Quebec Council since the election of the new Quebec Director, Daniel Cloutier. | Unifor stands in firm solidarity with New Brunswick public sector workers and their unions amid the Higgs government's anti-worker, anti-labour legislation to amend the Public Service Labour Relations Act. |
| | |
| --- | --- |
| Unifor members at Strathcona Paperworks in Napanee, Ont., voted 94% in favour of strike action as negotiations with their employer stall. | National President Lana Payne and National Secretary Treasurer Len Poirier meet members as they toured four workplaces in Metro Vancouver on Nov. 28: Local 4275 (Hotel Vancouver), Local 111 and 2200 (Coast Mountain Bus Company/Translink), Local 2000 (Mitchell Press) and Local 456 (Kruger Tissue Products). Check out the Facebook photo album. |
| | |
| --- | --- |
| A new Labour Action Centre to support former Syncreon Automotive workers has officially opened in Windsor, Ontario. The Centre will assist the almost 300 Unifor Local 195 members who lost their jobs when Syncreon closed last month. | Unifor addressed key industry concerns including understaffing, a living wage at airports for all aviation workers, an end to contract flipping, introduction of successorship rights, and proper training and true protection for the harassment endured by workers on the job at the federal government's National Summit on the Recovery of the Air Sector. |
| | |
| --- | --- |
| Read Unifor National President Lana Payne's latest op-ed in the Hill Times on course-correcting Canada's aerospace industry. | Nov. 30 was the National Day of Action for Child Care and Unifor demanded better wages for Early Childhood Educators at rallies in Toronto and Halifax. See the video now. |
Members at Unifor Local 2002's Jazz Aviation's Customer and Aircraft Services group have ratified a new five-year collective agreement.
READ MORE

Unifor Local 252 has ratified a new three-year deal with Carpenter Canada Ltd. in Vaughan, Ont.
READ MORE

Unifor opened bargaining for a new collective agreement with Toronto Terminals Railway (TTR).
READ MORE
| | |
| --- | --- |
| Nov. 25 starts a global campaign of 16 Days of Activism for the Elimination of Violence Against Women. This year's theme is Unite: Activism to End Violence Against Women. In the spirit of unity, Unifor is raising awareness among the membership about the Signal for Help, which began in 2020 as a way for women to silently show they need help and want someone to safely check in with them. | Unifor representatives can access Service Canada Employment Insurance links online in one comprehensive resource. |


December 5, 2022
Sales of Ford electric vehicles climbed at twice the rate of the EV segment, while F-150 Lightning and E-Transit were the No. 1 electric truck and van, respectively.
Ford's Frick, Holycross and Toney Named 2022 Automotive News All-Stars
A trio of Ford executives have been recognized as 2022 Automotive News All-Stars by the publication.
Ford is working with JDRF to find a cure for diabetes. Donate for a chance to win an F-150 Lightning Lariat! Starting at only $10, your donation not only gives you an opportunity to win this vehicle, but also helps JDRF in its mission to improve lives today and tomorrow. The sweepstakes ends Dec. 12 and the winner will be announced on Dec. 20.
Do you know someone interested in a career opportunity at Kansas City Assembly Plant? Encourage them to join us at our career fair on Saturday, Dec. 3 from 9 a.m. to 1 p.m. CST. They can find out more about our benefits, talk to HR, apply, and possibly receive an offer on the spot.
It's a significant milestone as the company scales EV production to a rate of 600,000 annually by late 2023.

Mustang Vehicle Engineering Manager Living Out Childhood Dream

Eddie Khan knew he wanted to work at Ford – even as a kid growing up...
Ford wants to help F-150 Lightning customers as they begin their first winter with their new electric pickup.

Throwback: Fiesta Concept Pickup Turns Car into 'Fantasy' Vehicle

A Fiesta concept created to celebrate the company's 75th anniversary showed what could have been.
Ford Increases Halewood Investment to Scale Up Electric Vehicle Portfolio

The investment to transform Halewood into an EV component...

They welcomed new members and celebrated orders of the all-new Explorer exceeding...

Ford Pro revealed the ultra-high specification Ranger Platinum – the most luxurious Ranger yet.
Download the Blue Oval Now app Receive news alerts for vehicle reveals, breaking news, sales results and more.

You'll love the @BlueOvalNow app:
Easy access to Ford and industry news. Discover the channels and personalize the news for you. Channels include: North America Top Stories, Industry News, Ford Trucks, Alumni Connect and more! Receive news alerts for vehicle reveals, breaking news and more. Share news with your friends and family through your social media apps, or text and email.
Send a pic of you with your Ford (.jpg format, please), with a caption including brief information about your career at Ford and your vehicle, to blueoval@ford.com. Or post your photo on Twitter or Instagram and tag @AtFordOnline using #FordAlumni #MeandMyFord. Let's see those Fords!
Ford's Onboard Scales and Smart Hitch Win Autoblog Technology of the Year Award
(Autoblog) This new technology, as tested in the 2022 Ford F-150 Lightning, is a boon to pickup truck owners. Not only will it make observing your truck's maximum loads easier and more intuitive, but it will also ensure you're hauling and towing in the safest-possible manner.
Read more »
Ford Engineer Drives Super Duty in Thanksgiving Parade
(Detroit Free Press) Peter Bejin, 52, has been at Ford for 28 years now. He carpooled with Andrew Kernahan, chief engineer on the Super Duty project, as well as Aaron Bresky and David Rodgers to Detroit for the parade.
Read more »
Cleaning Up After a Maritime Hurricane with The Ford Maverick
(Driving) With (a 400-watt outlet) in the Maverick's cabin and one weather-sealed in the bed, it was easy to either recharge devices or run small electric items. It is fair to say the truck provided much more juice for our family during its stay than Nova Scotia Power was able to.
Read more »
4 Ford Models You Didn't Know Were Available as Hybrids
(Motor Biscuit) Ford is moving quickly to electrify its fleet. Buzz-worthy new Ford EVs include the F-150 Lightning and the Mustang Mach-E. But Ford didn't just take the plunge into EVs without first manufacturing hybrids.
Read more »
Ford May Be on To Something in Deferring Level 5 Autonomy
(Forbes) Automotive strategists once talked about the evolution of all-electric vehicles (EVs) and completely autonomous vehicles (AVs) as tied firmly to one another. But Jim Farley has decided Ford can proceed with its transformation to an EV company without also trying to make sure no human has to drive its new vehicles.
Read more »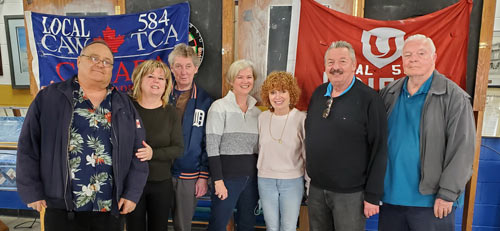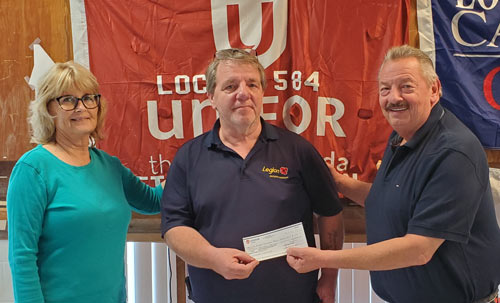 Presenting $200 donation to Legion from Local 584



Meeting Held Oct 6, 2021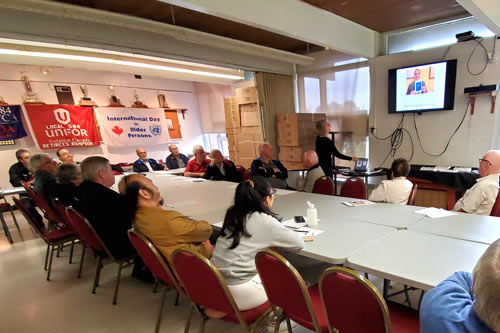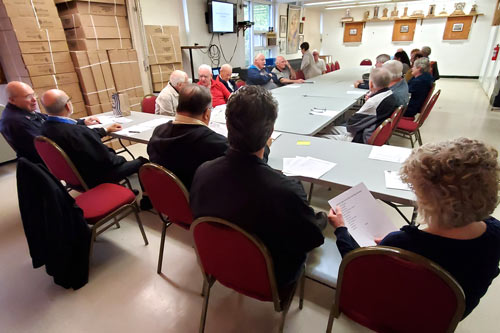 Meeting Held October 2, 2019 - Unifor Legal Services Presentation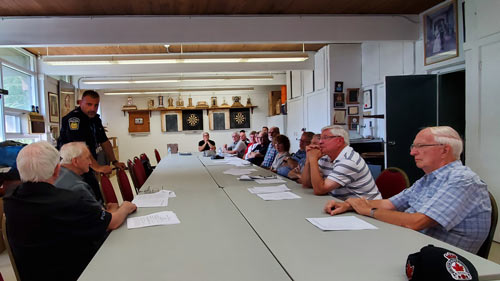 Meeting Held Sept 11, 2019 - Police Fraud Squad Presentation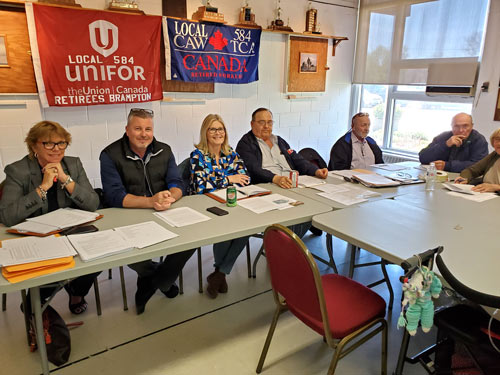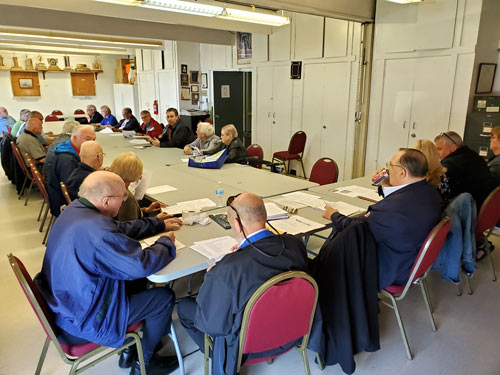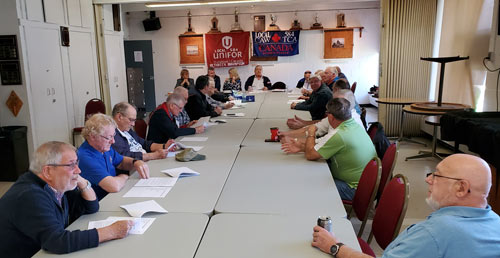 Retiree Meeting May 8, 2019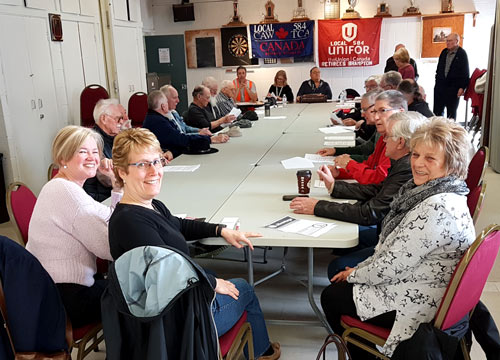 Retiree Meeting April 3, 2019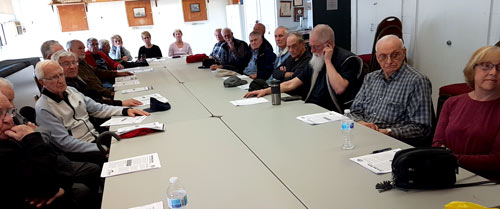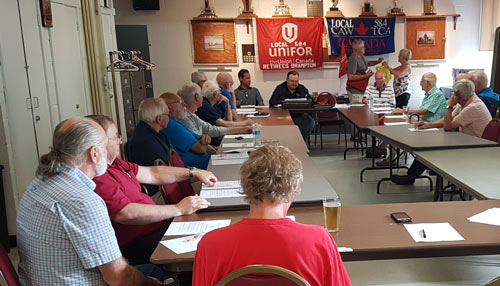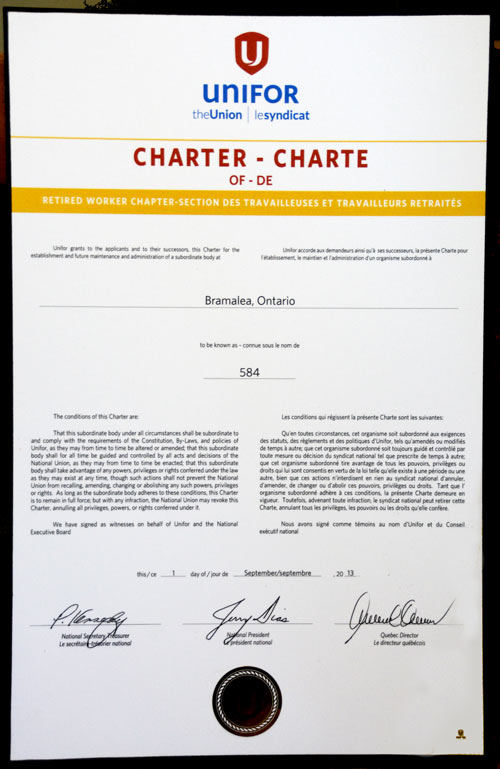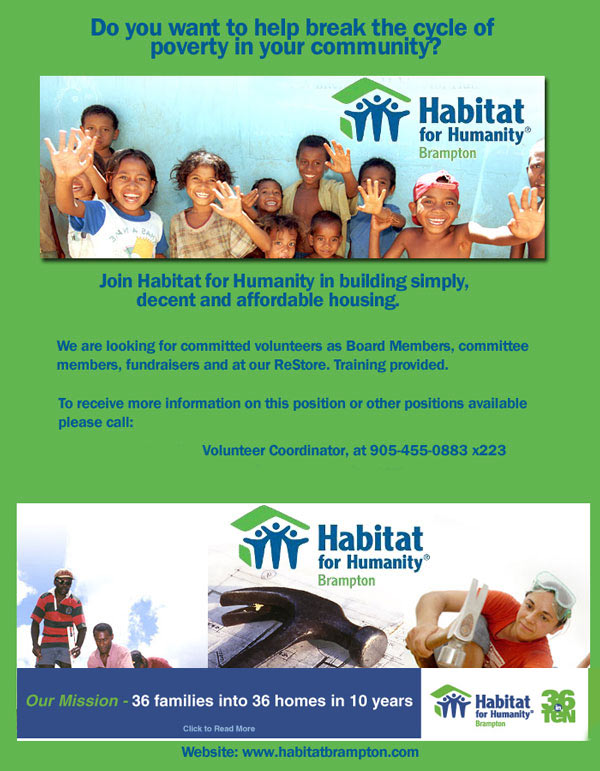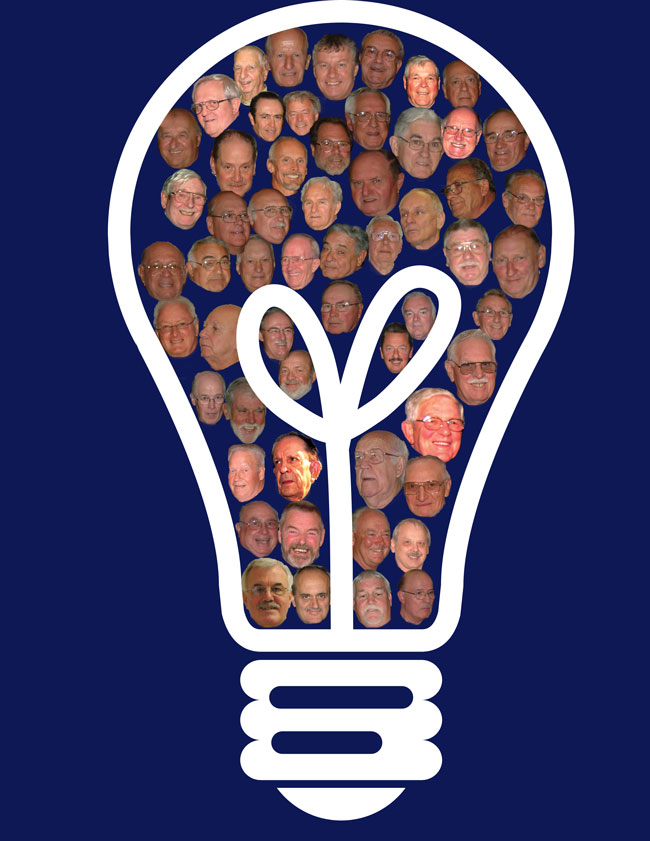 This Web Site is Dedicated to the past members who helped to forge a better way of life for all of us.