Last Updated
Sept 24, 2018
PLEASE SUPPORT OUR SPONSOR!
Labour Day Parade
Port Elgin
September 3, 2018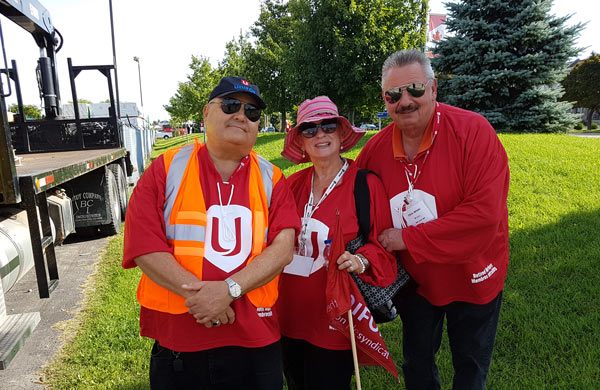 Click on Photo to enlage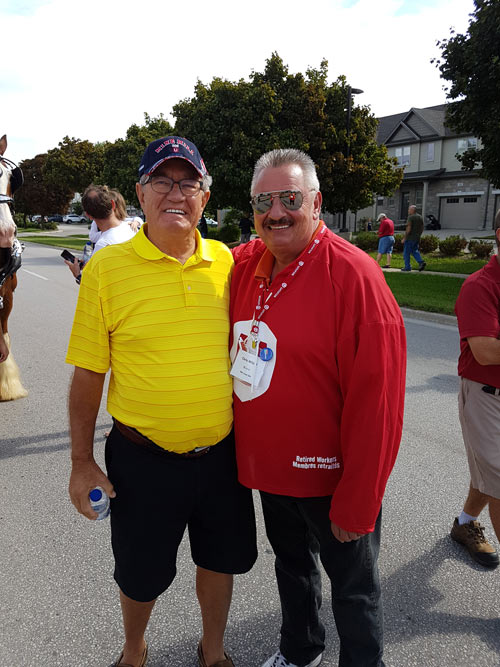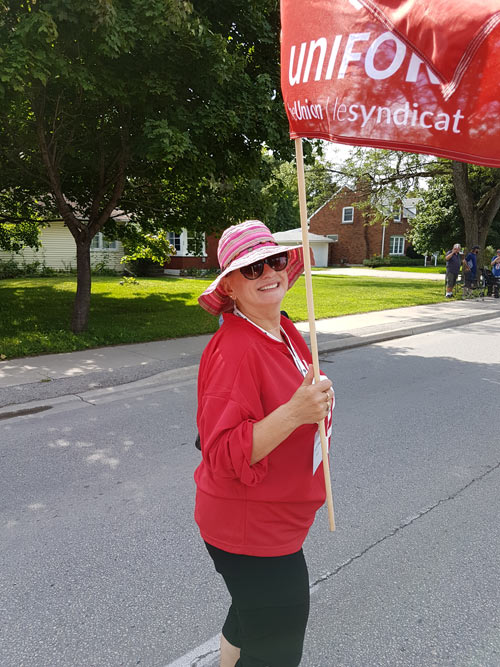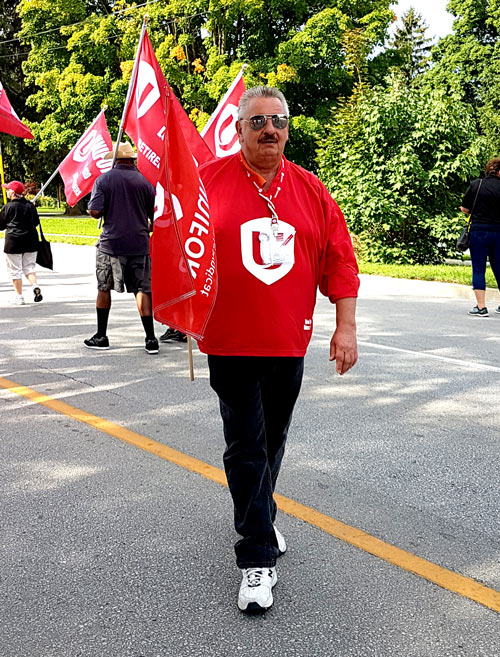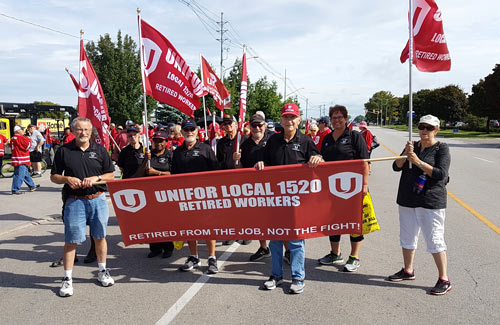 Click on photo to enlarge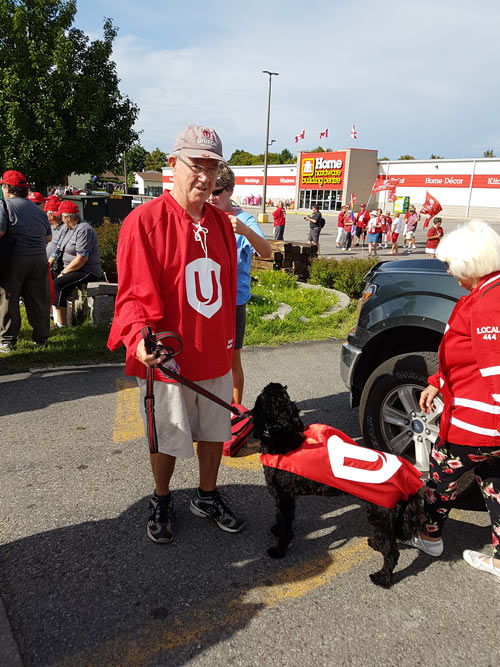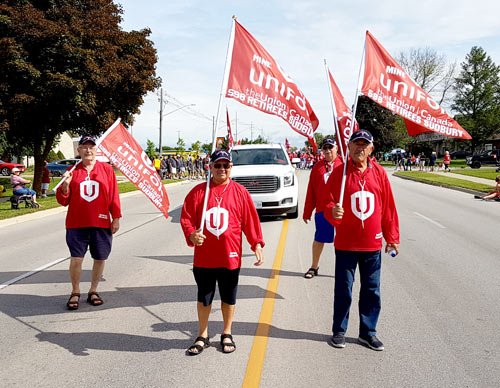 Click on Photo to enlage

Click on photo to enlage
Next Retiree Meeting
Wednesday October 3, 2018
Canadian Legion
80 Mary Street
Brampton
1 PM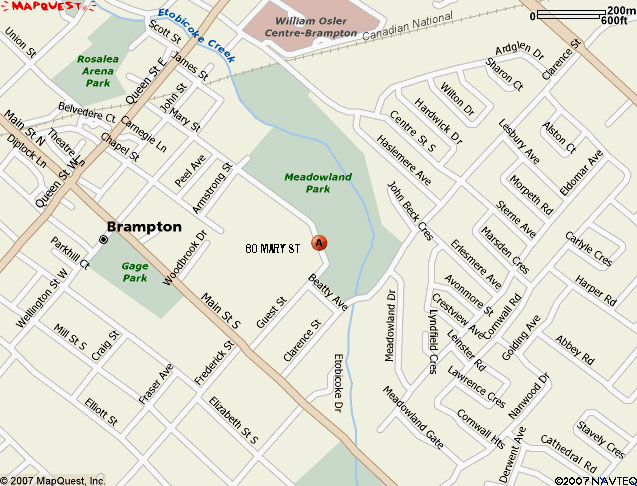 Meetings are the first Wednesday of the month at 1pm.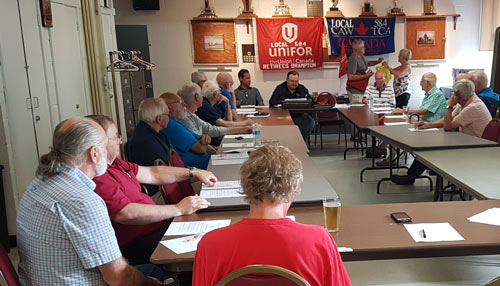 Retiree Meeting held September 12, 2018


September 23, 2018


Delegates gather for the Human Rights Conference, rail sector members strategize for the future and workers secure majors wins at Toronto Marriott Bloor Yorkville. Also learn about the latest on CPTPP and new videos from Gander and the health care sector.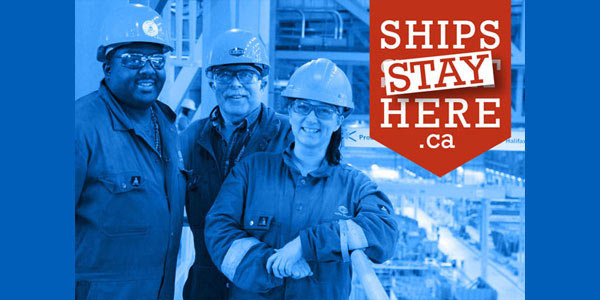 Rushed debate on the CPTPP legislation would hurt Canada's trade position at a crucial point in NAFTA negotiations.



Local 7575 members ratify a path-breaking collective agreement, with significant economic gains and breakthroughs.
READ MORE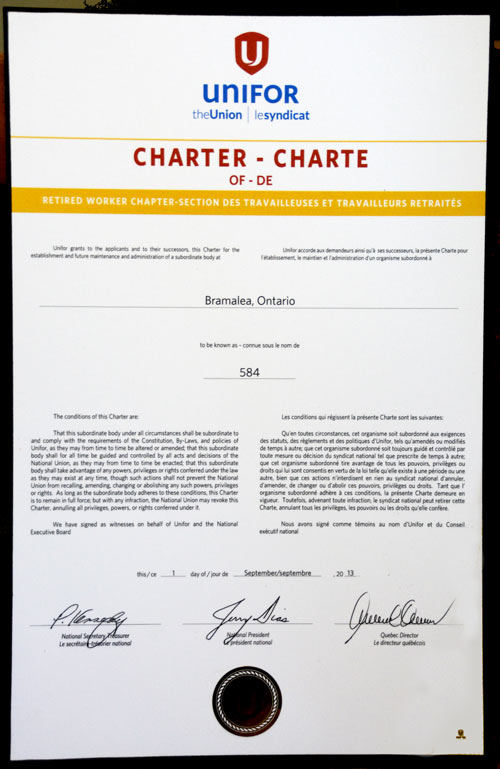 September 15, 2018
Announcements
Ford Fund Readies Disaster Response Plan for Hurricane Florence

Hurricane Florence slammed into the Atlantic coast of Virginia and the Carolinas with powerful 130 mph winds and an expected peak of 40 inches of rain. The extremely dangerous category 2 storm made landfall today. More than 1 million people have been forced to evacuate.

Click here to read the full article.
Lincoln Navigator, Continental Among Top Six Highest-Rated Vehicles for 2018

The Lincoln Navigator and Lincoln Continental are among the top six highest-rated vehicles for 2018, according to a report published this week by J.D. Power. Both vehicles outranked competitors such as the Lexus RX, BMW 7 Series, Cadillac Escalade and Porsche Cayenne.

Click here to read the full article.
Ford News
New Ford Edge, Edge ST Use AI to Help Improve Traction, Reduce Fuel Usage
The new 2019 Ford Edge with available all-wheel drive is smart enough to detect various driving conditions and automatically shift between two- and all-wheel drive with a feature called all-wheel-drive disconnect, a first-for-Ford technology that uses a form of artificial intelligence that can calculate quicker than the human brain. The feature provides all-wheel-drive traction when it is needed, and helps reduce fuel consumption when it's not.
To read the full article, click here.
Trail Control Brings Off-Road Cruise Control to 2019 F-150 Raptor
The upgraded 2019 Ford F-150 Raptor has picked up a new feature – Trail Control. It's like cruise control for off-road driving. This new innovation manages throttle and braking, allowing drivers to focus on steering through challenging off-road conditions. It makes taking Raptor through the rough stuff more fun than ever.
To read the full article, click here.
Throwback: Ford Begins Construction on Rouge Complex in 1918
Ford Motor Company's River Rouge complex was envisioned as a wholly independent, self-contained manufacturing unit where every part needed for an automobile could be produced, machined, finished and assembled into a completed car ready for the road.
To read the full article, click here.
Global Notes
Ford to Reveal New Generation of Transit Commercial Vehicles at Hannover Show
Ford will reinforce its leadership of the European commercial vehicle market by presenting its latest generation of connected and electrified Transit products at the IAA Commercial Vehicle Show in Hannover, Germany, Sept. 20-27.
To read the full article, click here.
Driving Fast Fords Fast at Lommel Proving Ground
Ford Performance recently staged a media event at Lommel proving ground in Belgium where journalists from 15 smaller European markets got the opportunity to put a range of fast Ford products through their paces. They got to drive the new Fiesta ST, Mustang GT and Ford GT supercar. And to make sure journalists got the most from the event, experienced Lommel instructors were on hand to give advice on how to tackle the thrilling high-speed oval and the venue's famous Track 7.
To read the full article, click here.
Retiree Connect
Show Us Your Ford
Do you love Ford as much as we do? Show your love for Ford by participating in our Me and My Ford campaign.
How do you enter? It's simple. Send a pic of you and your Ford, with a caption, to blueoval@ford.com. Or post your photo on Twitter or Instagram and tag @AtFordOnline using #FordRetiree #MeandMyFord.
We'll spotlight a new photo each week in the Blue Oval Connect weekly briefing. Let's see those Fords!
Weekly Spotlight

Outside Voices
Train Station a Necessary Risk, Bill Ford Says
(The Detroit News) The battle to lead the next generation of transportation involves risk. And Bill Ford Jr. said Wednesday that Ford Motor Company was taking a big one by buying Michigan Central Station. "We're in a war for talent," the automaker's executive chairman said at a fireside chat at the fifth annual Crain Communications Detroit Homecoming event inside Little Caesars Arena. Ford and other automakers are fighting tech companies with pristine campuses on the West Coast to attract technology-minded talent to drive the next generation of products.
To read the full article, click here.

Ford Says Despite Trump's Tweet, Focus Active Won't Be Produced in U.S.
(NPR) Ford does not intend to start producing the small crossover Focus Active in the United States – no matter what the president has tweeted on the topic. Ford announced more than a week ago that it is canceling plans to produce the car in China and sell it in the U.S., citing the financial toll of the Trump administration's tariffs on vehicles imported from China.
To read the full article, click here.

Ford Partners with Artists to Make Jewelry Out of Train Station Graffiti
(Detroit Free Press) For many, Michigan Central Station loomed over Corktown as a symbol of urban decay for 30 years, until Ford announced in June it had purchased the landmark. Others, however, saw the sprawling building as a playground. Dozens of Detroit street artists sneaked into the abandoned building over the years and left their personal mark. As Ford begins work on plans to redevelop the building, that legacy will be preserved with a new line of jewelry from Rebel Nell, a local company that makes jewelry out of graffiti.
To read the full article, click here.

Chevrolet Camaro Engineering Boss Says Mustang Has Been 'Eating Our Lunch'
(Motor Authority) Chevrolet Camaro chief engineer Al Oppenheiser knows the sixth-generation car hasn't been a runaway sales success. He offered up that truth to Automotive News on Sunday, saying Mustang has been "eating our lunch."
To read the full article, click here.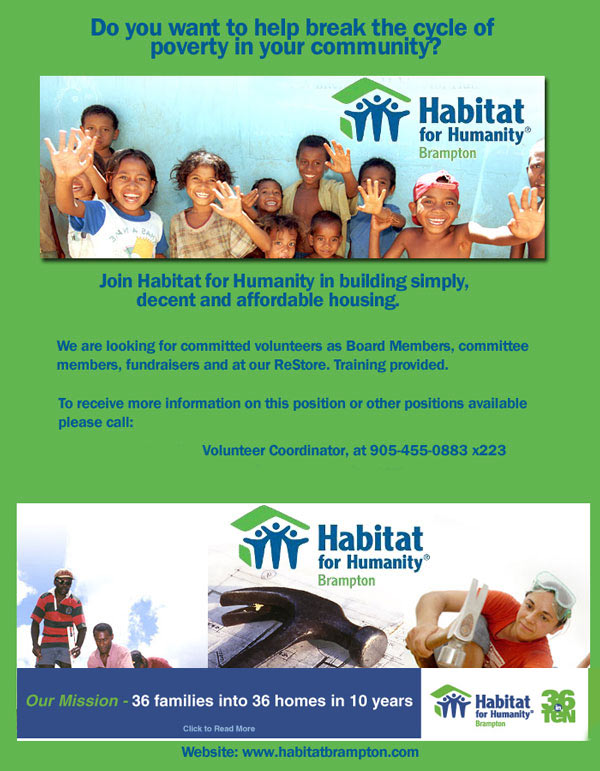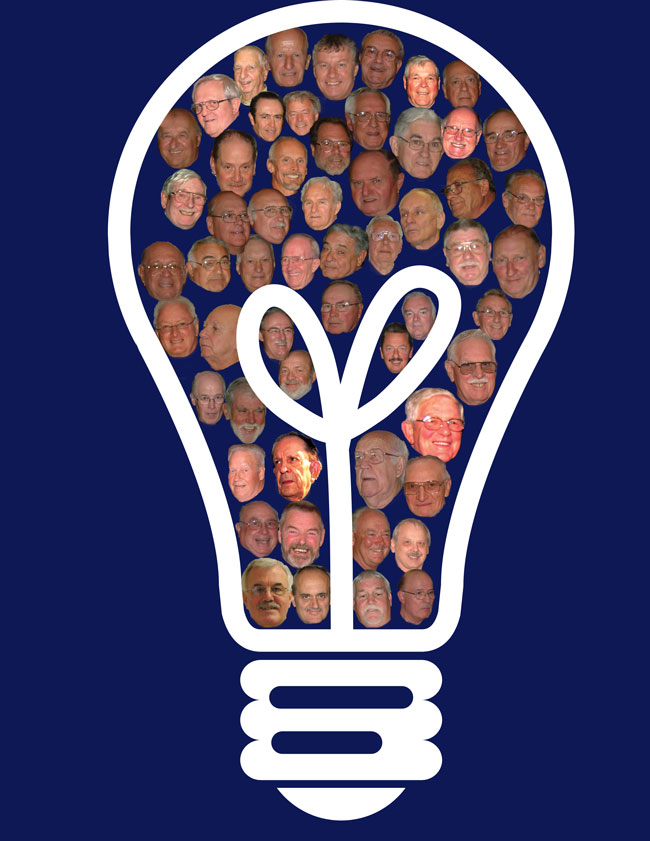 This Web Site is Dedicated to the past members who helped to forge a better way of life for all of us.