Last Updated
Oct 19, 2018
UNIFOR
Unilink
Oct 19,
2018
________
US probes
Ford pickup
tailgates
opening
unexpectedly
_______
New Ford
Territory SUV
signals moves
in China
_______
Ontario to
auto industry:
Prove why the
public should
fund you
_______
Material prices
hammer the
industry
______
Ford's workout
is not like the
others and
that's the point
________
Ford
Blue Oval
Connect
Oct 13, 2018
_________
Ford Edge ST,
the family
hot-hatch
______
Video Review
Of 2019
Ford Edge
_______
Ford stock
hits 6-year
low as
investors
look for long-
term plan
_______
Local 584
Retirees
Thanksgiving
Luncheon/Food
Drive - Oct 5,
2018
_______
Ford picks
BBDO as
lead ad
agency
_______
FCA outsells
Ford for first
time in
11 years
_______
Ford expects
to cut jobs in
restructuring
________
Local 584
Golf Day
Pictures
________
Auto industry
relieved by
NAFTA 2.0, but
results may
be mixed
_______
Premier Ford
vows to scrap
key Liberal
labour bill
______
How NAFTA
2.0 will shake
things up
_______
Canada, U.S.
reach new
NAFTA deal;
'It's a good
day for
Canada,' says
Trudeau
_______
Ontario
Government
Cancels Long
Standing Car
Emissions Test
_______
Ford F-150
hybrid
confirmed
for 2020
______
Ford CEO
says Trump
metals
tariffs took
$1B of profit
______
Ford FCA
Oppose
Trumps
proposal on
Gas Milage
______
Ford's
Hinrichs:
'Very
important'
for Canada
to be in
reworked
NAFTA
______
Ford told
to pay Thai
customers for
transmission
woes
_____
PM says
'movement'
needed in
NAFTA talks
______
Toronto
Unifor
Locals on
Actions
of the
TYRLC
______
Unifor video
that names,
shames
replacement
workers
sparks
debate
_______
Who has
the real
leverage
at the
NAFTA
table?
______
Ontario
Superior
Court that
the Sears
pension
proposal
should be
dismissed
______
How Ford is
tackling its
restructuring
_______
Despite Trump
tweet, Ford
says it won't
make Focus
hatchback
in US
_______
Trump warns
Canada of
'devastating'
auto tariffs
as NAFTA
talks resume
_______
Ford recalls
340K trucks
in Canada
over seat
belts that can
cause fires
_______
New Ford
watch costs
$461,500
...sort of
_______
Sales of
SUVs,
trucks
continued
domination
in August
______
Labour Day
Parade 2018
Port Elgin
______
'Game-
changer':
Labour
groups
claim clout
in NAFTA
talks
______
Is there
even such
a thing as
a 'Made in
America'
vehicle
anymore?
_______
Retiree Norm
Collville
Passes Away
Aug 26, 2018
_______
Moody's hands
Ford lowest
investment
rating
_______
Canada, U.S.
see common
ground on
autos as three way NAFTA
talks resume
_______
New Ford
management
teams to
focus on
customer
needs
_______
What may
be the world's
most expensive
Ford Pinto sold
for $33,000
________
The benefits
to raising
Ontario's
minimum
wage are
tangible
________
Ford recalls
electric car
power cables
due to
fire risk
_______
Ford
unbridles
50th-
anniversary
Mustang Cobra
Jet dragster
_______
Canadian
travellers
should
welcome
unionization
at WestJet
_______
Toolmakers
caught
in tariff
crossfire
______
Despite car
cuts, Ford
brand's
portfolio to
grow by 3
nameplates
by 2023
_______
Ford Plant
Employee's
Dodge Towed,
Allegedly
Damaged After
Parking in 'Fords
Only' Spot
________
Ottawa
preparing
response in
case Trump
follows
through on
auto tariff
threat
________
Marchionne
exposed in
FBI corruption
probe, sources
say
________
Flying cars
could be on
the horizon
________
FCA-UAW
conspiracy ran
deeper, longer
lawyer says
_______
US probes
F-150 fires
possibly
caused by
seat belts
________
Rejuvenated
Lincoln seeks
a place of
its own
_______
Mustang
swagger
pushes pony
cars past 10
million
________
Canada to
review auto
emissions rules
as U.S. moves
to roll back
requirements
_______
Blame FCA's
33% plunge
for July's
drop in
Canadian
vehicle sales
________
Ford loads
midsize
Ranger with
big tech
features
_______
'It's going
to be hard':
Sears pension
payments
cut by 30%
this week
_______
Lincoln
Navigator
tops J.D.
Power
satisfaction
survey
_______
Ex-UAW
boss Dennis
Williams OK'd
using training
center funds,
aide says
_______
Slumping
sedan sales
bring down
July results
_______
3,000 WestJet
cabin crew
employees
officially
unionized,
CUPE says
_______
Tariffs
already
being
felt by US
carmakers
_______
Ford, VW issue
separate
recalls for
different gear
shift problems
_______
Ford profits
down nearly
half due to
supplier
fire, China
______
Sergio
Marchionne,
who saved Fiat
and Chrysler,
has died
________
Inflation rate
rises to highest
level in 6 years
at 2.5%
________
Canada warns
of retaliatory
tariffs as U.S.
mulls 25%
levy on
imported cars
_______
US probes
complaints
that some
Ford Escapes
overheat
_______
Ford recalls
550K vehicles
for roll-away
issue
________
Carmakers
to Trump:
Pump brakes
on tariffs
_________
Ontario trade
minister heads
to Washington
to defend
auto industry
______
Ford to pay
$299M to
drivers with
faulty air bags
_______
Ford Fusion
to be name of future rival
of Subaru
Outback,
report says
________
Ontario's been
fighting to get
its automotive
groove back
_______
Goodbye
Fusion sedan,
hello Fusion
sport wagon
________
Appeals court
approves $10B
Volkswagen
emissions deal
_______
Transit van a
quiet giant in
Ford lineup
________
Auto tariffs
would be
'catastrophic'
to Canada and
cost 100,000
jobs, dealers
warn
________
Aging lineup
ails Ford
in China
_______
U.S. auto
tariffs could
cut Canada's
output by
nearly one
million cars,
CIBC says
_________
Advocacy
group seeks
Ford Explorer
recall due
to fumes
_______
FCA's Canadian
plants safe if
Chrysler, Dodge
die, Unifor says
_______
Trump tariffs
could add
$10K to vehicle
price, Global
Automakers of
Canada says
______
Province
Announces
Changes to
Prescription
Drug Coverage
in Ontario
________
Automakers
push back
against
Trump auto
tariff plans
________
Our Newest
Retirees
July 1, 2018
_______
June
2018
Articles
________
2018
Government
Benefit Rates
_________
Ford Health
Care Benefit
Booklet
Nov 2016
______
Ford Collective
Agreement
Effective
Nov 7, 2016
_________
Ford Pension
Booklet
2016
_________
Life &
Disability
Booklet
2016
________
2016 Benefits Appendix R
__________
Unifor
Constitution
_________
Contact Us
________


PLEASE SUPPORT OUR SPONSOR!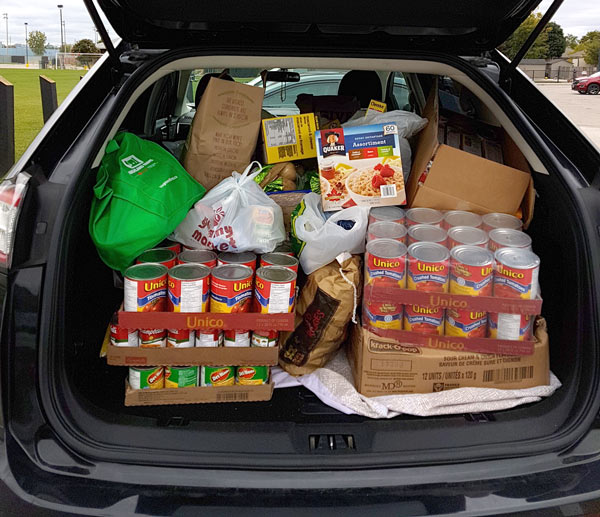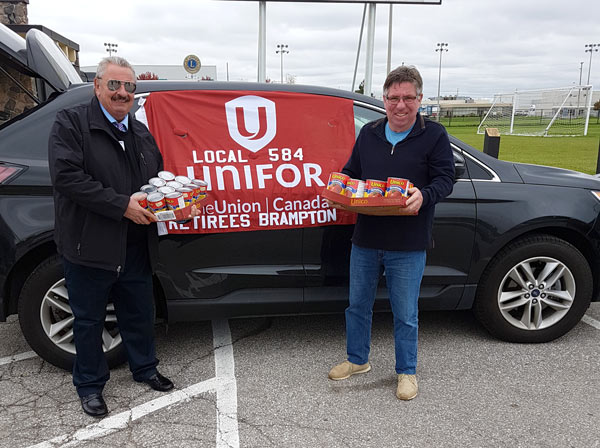 Councillor Doug Whillans Donating to the Food Drive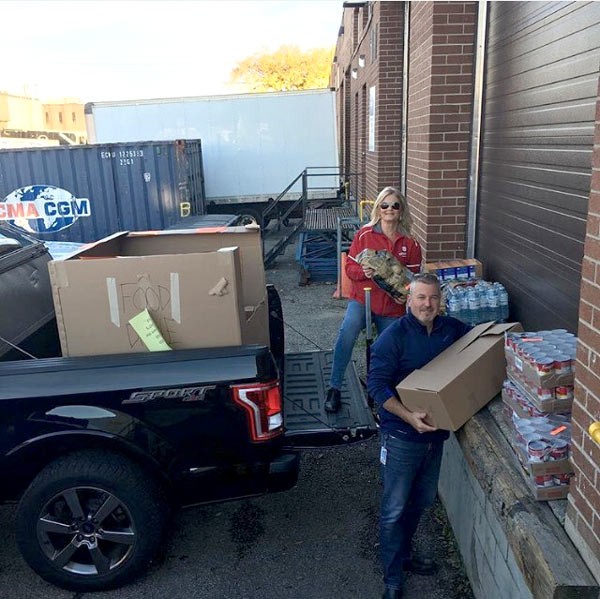 President Sandy Knight and Plant Chair Gary Rumboldt unload at Knights Table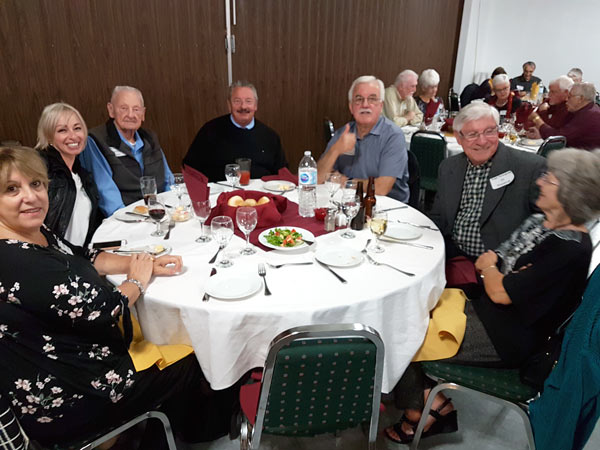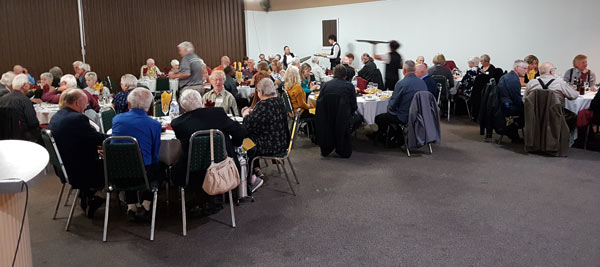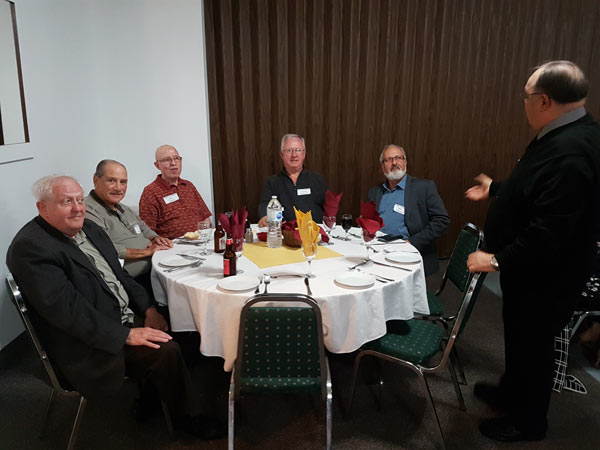 On behalf of Knights Table, we are indebted to Unifor Local 584 annual Food Drive to assist those impacted by hunger, poverty & homelessness in the community.

A week and half ago the food bank was basically empty without any food. We were challenged with limited food to give to our clients.

To date, we received 87, 863 pounds of food during our Thanksgiving Food Drive. Our Thanksgiving Food Drive ends on October 26, 2018 and it is our hope that we can continue to receive food donations to assist those in need in our community.
Please note the totals for Unifor Local 584 Thanksgiving Food Drive:
Unifor Local 584 Retirees – 800 lbs. Plus $150 in Cash Donations
Unifor Local 584 - 954 lbs.
Thank you for caring for those individuals and families who continue to rely on Knights Table for their daily food support.
Regards,
Annie Bynoe
Executive Director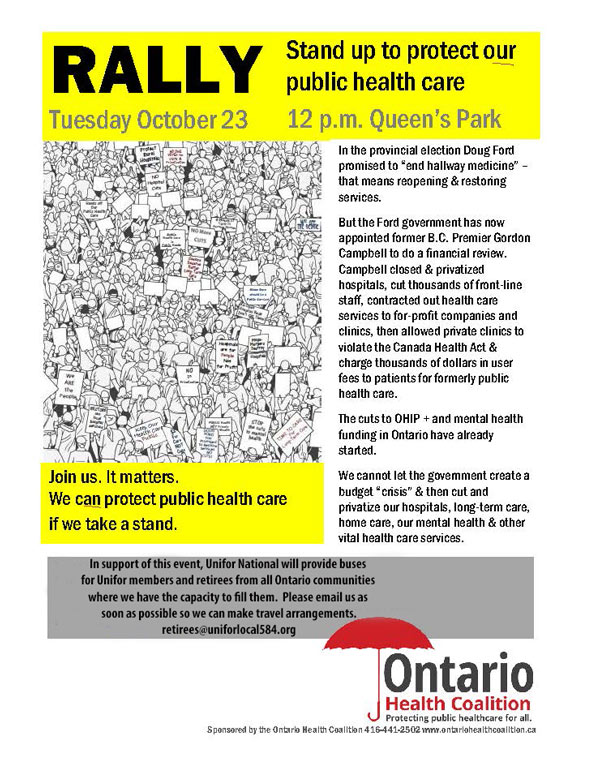 Next Retiree Meeting
Wednesday November 7, 2018
Canadian Legion
80 Mary Street
Brampton
1 PM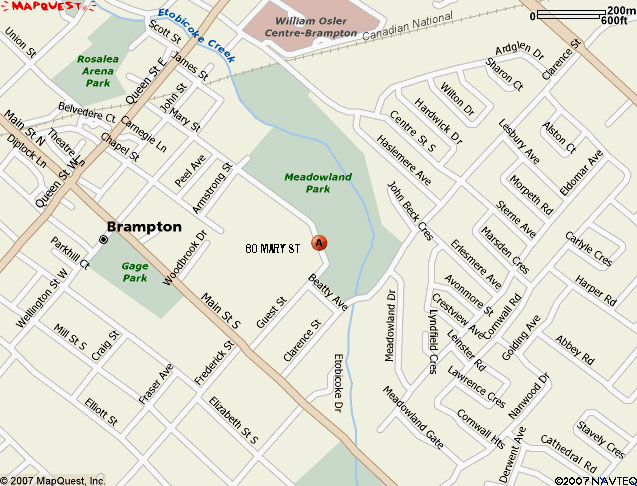 Meetings are the first Wednesday of the month at 1pm.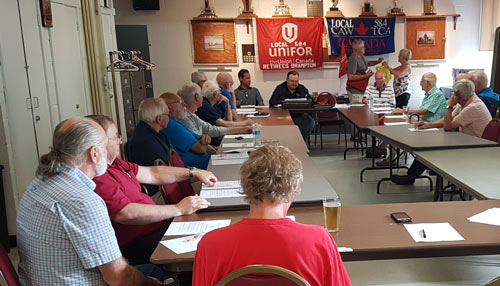 Retiree Meeting held September 12, 2018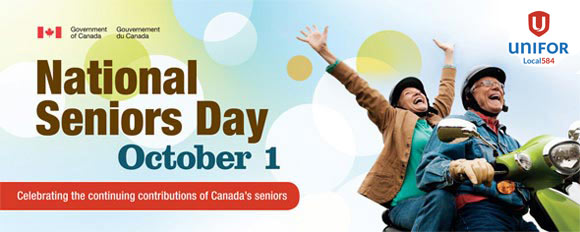 City of Brampton
Flag Raising Ceremony
October 1, 2018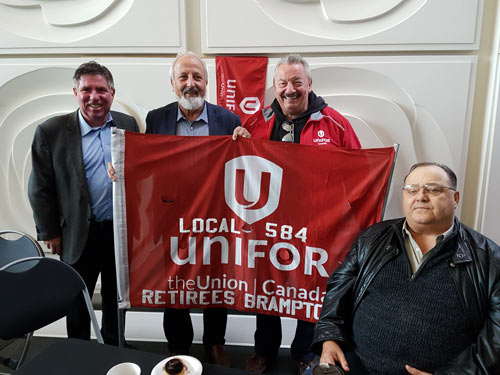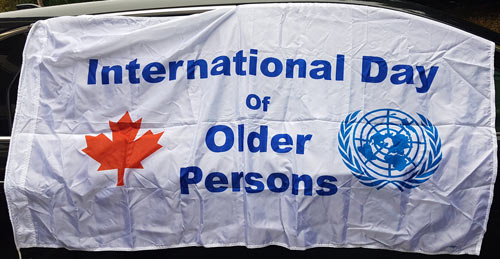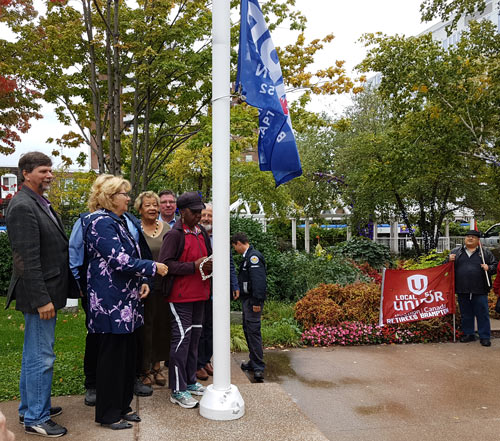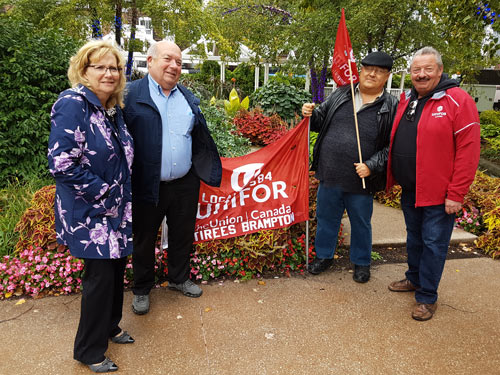 October 19, 2018

Shipyard workers march in Halifax to fight for their jobs, Saskatchewan members fight to keep our crowns, Ontario members get ready to protest health care privatization, negotiations resume with D-J Composites and activists head to Ottawa to lobby to #SaveLocalNews.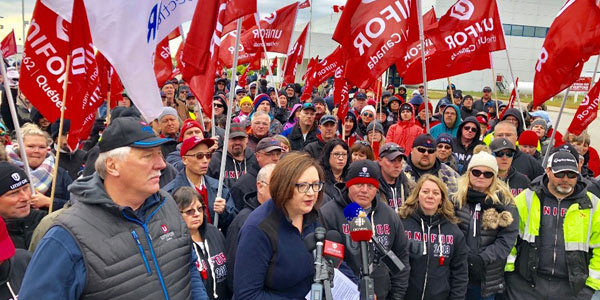 Negotiations underway with D-J Composites for at least one round of collective bargaining before binding arbitration.




October 13, 2018
Announcements
Ford Modernizes Its Global Marketing Operations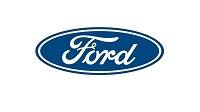 Ford Motor Company announced the next step in its plan to make its global marketing operations more creative, agile and efficient while delivering a more compelling brand story and differentiated customer experiences.

Click here to read the full article.
Ford News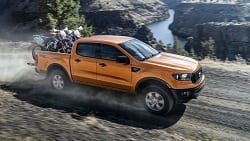 All-New Ford Ranger Is Adventure-Ready
It's almost here. As the 2019 Built Ford Tough Ranger nears production, Ford announces its all-new midsize pickup for North America will deliver best-in-class payload, gas torque and towing capability. Ranger's standard 2.3-liter EcoBoost® produces 270 horsepower and, more importantly, 310 lb.-ft. of torque – the most engine-turning power of any gas engine in the midsize pickup segment, including V6 engines from competitors.
To read the full article, click here.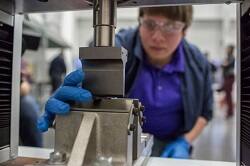 Ford Innovates with 'Miracle' Material, Powerful Graphene for Vehicle Parts
It's in cellphones and even some sporting goods – and soon, for the first time in automotive, it will be under the hood in Ford vehicles. Ford Motor Company is announcing the use of graphene – a two-dimensional nanomaterial – in vehicle parts, timely with National Nanotechnology Day. Graphene has generated enthusiasm and excitement in the automotive industry for its paint, polymer and battery applications.
To read the full article, click here.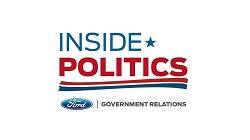 Inside Politics: What's New with NAFTA 2.0
On Sept. 30, the United States, Mexico and Canada announced a trilateral agreement to modernize the North American Free Trade Agreement. Renamed the United States-Mexico-Canada Agreement, it updates the 24-year-old trade deal and strengthens a range of policies, including those related to auto, labor and environmental standards, as well as intellectual property protections. Ford weighed in with key stakeholders throughout the negotiation process advocating for a strong agreement that supports free and fair trade.
To read the full article, click here.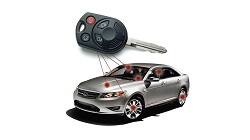 Throwback: Ford Introduces MyKey Feature in 2008
While parents have always told their teen drivers to be careful behind the wheel, there was really no way to know if their children were heeding the advice. Ford Motor Company began offering its assistance a decade ago with the introduction of its innovative MyKey feature.
To read the full article, click here.
Global Notes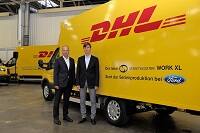 How Ford and StreetScooter Are Producing the Perfect E-Van for Metropolitan Deliveries
Ford is now fully up to speed producing Deutsche Post StreetScooter WORK XL electric delivery vans at Niehl Plant in Germany. Around 180 Ford employees now are working in two shifts building up to 16 WORK XL models per day, providing an annual production capacity of 3,500 units.
To read the full article, click here.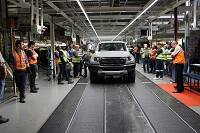 First Ford Ranger Raptor Trial Units Produced in South Africa
Production of the highly anticipated Ford Ranger Raptor has gotten one step closer with the kickoff of the first trial units emerging from Ford's Silverton Assembly Plant in Pretoria. As the first Ranger model to be introduced as part of the Ford Performance family, this high-speed off-road bakkie will set a new benchmark when it launches in South Africa in the first half of 2019.
To read the full article, click here.
Retiree Connect
Show Us Your Ford
Do you love Ford as much as we do? Show your love for Ford by participating in our Me and My Ford campaign.
How do you enter? It's simple. Send a pic of you with your Ford (.jpg format, please), with a caption including brief information about your career at Ford and your vehicle, to blueoval@ford.com. Or post your photo on Twitter or Instagram and tag @AtFordOnline using #FordRetiree #MeandMyFord.
We'll spotlight a new photo each week in the Blue Oval Connect weekly briefing. Let's see those Fords!
Weekly Spotlight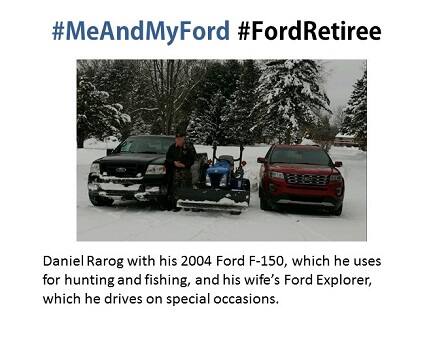 Outside Voices
Top Ford Performance Engineer on What Makes Edge ST Worthy of the Badge
(Motor Trend) As chief functional engineer for Ford Performance and chief program engineer for the Ford GT, Ed Krenz has years of experience bringing high-performance cars to market. But his latest project is a little different. Edge ST is the first performance crossover from the Ford Performance division. Recently, we sat down with Krenz to ask him a few questions.
To read the full article, click here.

Ford Invests in Microweather Company to Aid Development of Self-Driving Technology
(The Drive) Ford's Smart Mobility division is investing in ClimaCell, a company that specializes in microweather technology capable of tracking location-specific short-term weather patterns. Ford recently participated in a Series B funding round that raised $45 million for ClimaCell.
To read the full article, click here.

Michigan Central Station Construction Is Months Away
(The Detroit News) Ford Motor Company's construction on Corktown's Michigan Central Station is still several months away. This summer, the property management arm for the automaker, Ford Land, said it expected renovations on the 1913-built former train station that will anchor Ford's $740 million, 1.2-million-square-foot autonomous and electric vehicle campus to begin this fall. But the company still is finishing its design work.
To read the full article, click here.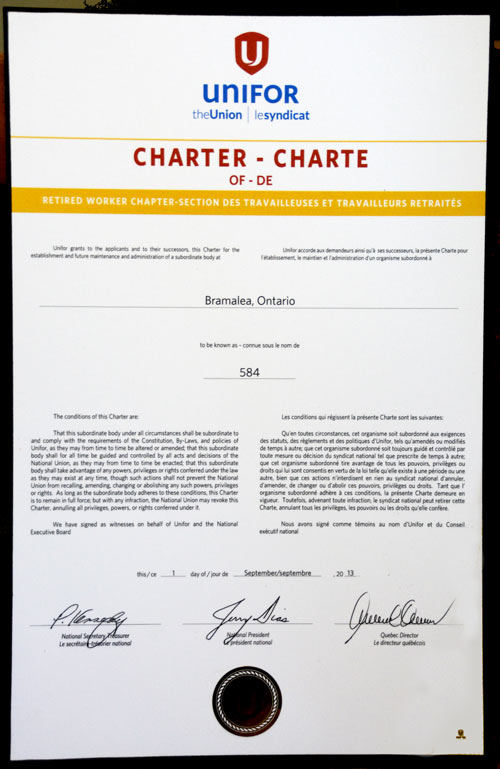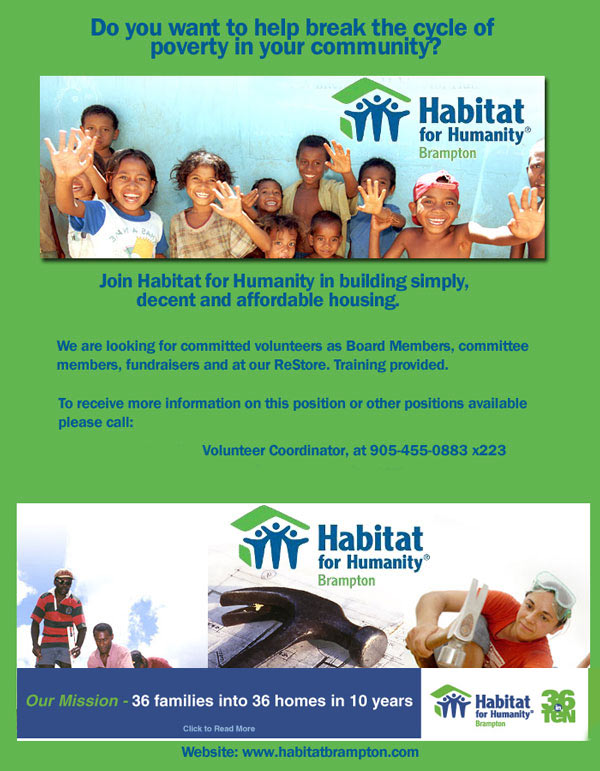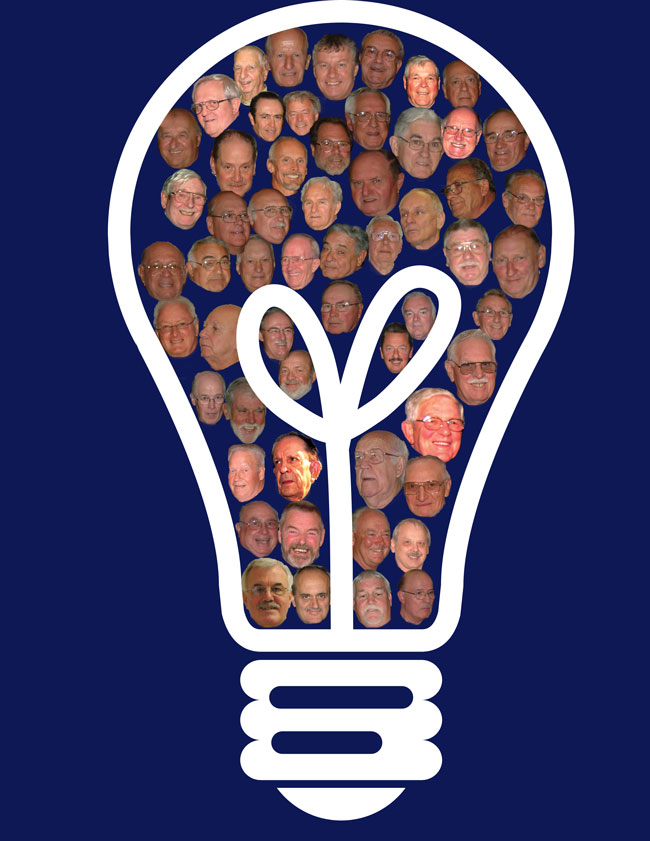 This Web Site is Dedicated to the past members who helped to forge a better way of life for all of us.