PLEASE SUPPORT OUR SPONSOR!
Congratulations to Retiree
Konrad Wilski on
his 99th Birthday
February 1, 2023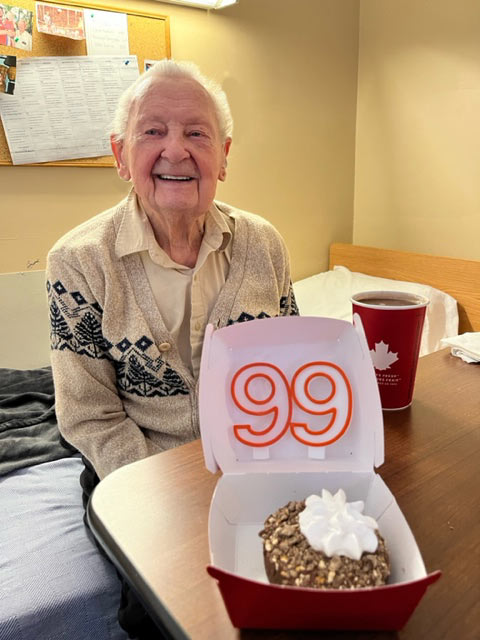 Retiree Pat Brown Passes Away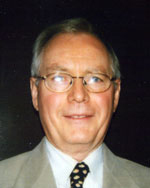 April 26, 1942

-

January 26, 2023
It is with great sadness that we inform you of the passing of
Retiree Pat Brown on January 26, 2023
Pat Retired from Ford Bramalea on October 1, 2002 with
30.4 Years of Service
Our deepest condolences go out to his family.
Pat was a regular supporter of our union and attended many of
our Retiree meetings. He will be sadly missed.
In Celebration of:
PATTERSON BROWN
April 26, 1942 - January 26, 2023
It is with great sadness that I announce the passing of my beloved father Patterson Carr Brown on Thursday, January 26, 2023 at Dorothy Ley Hospice, Etobicoke

Survived by his son Ben Brown. He is survived by his brother Bill Brown (Ginette) Ottawa, Sisters: Dorothy Gosselin (North Bay), Linda Thody (London), Ellen Scott [King] (London), Wilma Smith [Gordon] (Rockwood), Lanie (Elaine) Elliott [Bob] (Amaranth) and his many cherished and much loved nieces, nephews, great- nieces and great- nephews and cousins.

He is predeceased by his brother-in-law's Garry Thody and George Gosselin, father William Brown, mother Mary Brown Clowater and step-father Eugene (Chub) Clowater

Pat will forever be remembered as a loving, caring, and selfless man. His great wit and many stories will live on forever in our family lore. Pat touched countless lives and will be sorely missed by the many people he has left behind.

Pat was born on April 26, 1942 in Buffalo, NY and moved to Boiestown NB at the age of 2 following the sudden death of his dear father William Brown. Moving to Ontario at a young age, Pat lived the last many years of his life in Mississauga.

After retiring from The Ford Motor Company of Brampton my Dad and I were able to create wonderful memories going to ball diamonds all over North America and watching the many sports that he loved on TV especially his Toronto Blues Jays, Buffalo Sabres and of course Jeopardy. He also could be found quite often at the slots and Woodbine Horse races.

Visitation will take place on Thursday, February 2 , 2023 at the Turner & Porter "Peel" Chapel, 2180 Hurontario St., Mississauga (Hwy 10 N. of Q.E.W) from 1-3 & 6-8 p.m.

Many thanks to the health care team for the wonderful care my Dad received while in hospice and I ask that in lieu of flowers that donations be made to Dorothy Ley Hospice, 220 Sherway Dr., Etobicoke - dlhospice.org
Funeral arrangements Are as follows:
Visitation
Turner & Porter - Peel Chapel
Thursday, 2 Feb 2023 1:00 PM - 3:00 PM
Thursday, 2 Feb 2023 6:00 PM - 8:00 PM
NEXT RETIREE MEETING

Wednesday March 1, 2023
Canadian Legion
80 Mary Street, Brampton
1:00 PM

All Retirees Welcome!

********************************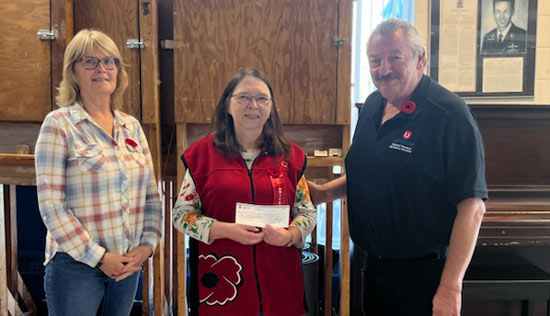 Donation to the Canadian Legion
Nov 2, 2022 Meeting
Unifor Local 584 Retirees Executive: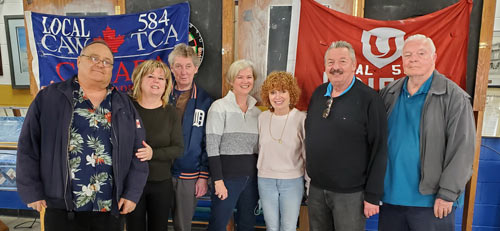 Chair - Chris Wilski
Vice-Chair - Barb Morrison
Recording Secretary - Doug Berry
Financial Secretary - Pat Riley
Sgt at Arms - Reg Galbraith
Guide - Steve Koloff
Member at Large - Roz Monchamp
Meetings are the first Wednesday
of the month at 1pm.
(Unless otherwise stated)

February 5, 2023


Windsor Star workers fight back after Postmedia plans to shutter printing plant. Members are encouraged to have their say before the Canadian government negotiates a deal on health care funding next week. This year's Black History Month statement focuses on empowering Black youth. Canada moves a step closer to end violence and harassment in the world of work. Unifor is among a coalition of unions pushing for a national Pharmacare plan. National President Lana Payne meets NABET 700-M Unifor members on set of Murdoch Mysteries.
Plus: Bargaining updates from Procor, PepsiCo, Westrock, ACL and EllisDon.
| | |
| --- | --- |
| As Unifor recognizes Black History Month, in 2023, our focus is empowering the next generation of Black youth. | On Feb. 7, Prime Minister Trudeau will meet with provincial leaders to negotiate a deal on health care funding. Sign the petition calling for politicians to put people over profits. |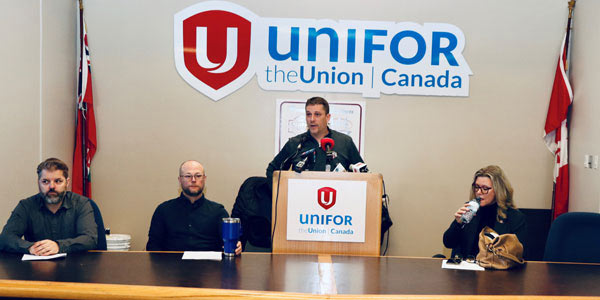 Postmedia's decision to close the Windsor Star's Starway Printing Plant brings an end to more than a century of daily print newspaper publishing in Windsor and comes at the cost of eliminating roughly 75 media jobs in the city.


| | |
| --- | --- |
| Unifor is disappointed and frustrated that Postmedia has largely kept the union and media workers hanging with a slow bleed of information that has left workers wondering which jobs are on the chopping block. | Costume design, props, sound and SP/FX – just some of the jobs that talented NABET 700-M Unifor members perform to bring Murdoch Mysteries to TV screens across the world. See Lana Payne's behind the scenes tour to meet the members who have made the show a hit for 16 seasons and counting. |
| | |
| --- | --- |
| A broad coalition of unions and progressive groups are demanding that the federal government keep its original promise and immediately institute national, universally accessible pharmacare program. | Ontario's largest health care unions, including Unifor, CUPE, OPSEU, Ontario Nurses' Association and SEIU Healthcare, warn Prime Minister Justin Trudeau and Deputy Prime Minister Chrystia Freeland about the risk of privatization. |
| | |
| --- | --- |
| Canada becomes the 25th nation to ratify the International Labour Organization (ILO) Convention 190, a global framework to end violence and harassment in the world of work. | Unifor Local 892 members at the Mosaic potash mine in Esterhazy, Sask. are bargaining down to the wire for improved sick leave benefits. |
Unifor Local 21-A bargaining committee and Procor Ltd. have reached a tentative collective agreement in Edmonton, Alta.
READ MORE

Wage increases and a night shift wage premium are highlights of a new collective agreement ratified by Unifor members working at the Association for Community Living in Winnipeg.
READ MORE

Workers at Westrock Guelph, a paper and packaging company in Ontario, have ratified a new four-year agreement that sees 11.25% wage increases and welcomes their first Women's Advocate and Racial Justice Advocate.
READ MORE

Unifor Local 1410 members in Calgary, Alta. were successful in winning unionization for the part-time merchandisers in a new four-year collective agreement.
READ MORE

EllisDon workers rally, demanding employer get back to the bargaining table.
READ MORE
| | |
| --- | --- |
| Unifor Quebec delegates and delegates braved the cold this week to protest on Parliament Hill for a federal anti-strike bill. Check out the photos on Facebook. | We need an Anti-Scab Law now! Read Unifor's submissions to the federal government's consultations on replacement workers and maintenance of activities agreements. |


January 30, 2023
Ford Announces Nationwide Expansion of Complimentary Pickup and Delivery, Mobile Service for All Ford Customers

Ford Advances $1 Billion Plan Improving Manufacturing Facilities

Ford is adding amenities for nursing mothers, refurbishing restrooms and repairing roofs and parking lots.
First All-New Ford Mustang GT to be Auctioned to Help Fight Diabetes

The all-new, seventh-generation 2024 Mustang GT will be auctioned off Saturday.

Throwback: Switch from Tractor to Engine Production Gives Plant New Life

Ford's Romeo, Michigan plant and its employees got a second chance...
Ford took 50 journalists and influencers to the Alps to put the electric pony car through...

Ford invited women from Mittelrhein Football Association to a special Develop Yourself Day.

New Rapid Hubs Provide Expert Support to Dealers and Customers

These are the next step in transforming the ownership experience...
Download the Blue Oval Now app Receive news alerts for vehicle reveals, breaking news, sales results and more.

You'll love the @BlueOvalNow app:
Easy access to Ford and industry news. Discover the channels and personalize the news for you. Channels include: North America Top Stories, Industry News, Ford Trucks, Alumni Connect and more! Receive news alerts for vehicle reveals, breaking news and more. Share news with your friends and family through your social media apps, or text and email.
Send a pic of you with your Ford (.jpg format, please), with a caption including brief information about your career at Ford and your vehicle, to blueoval@ford.com. Or post your photo on Twitter or Instagram and tag @AtFordOnline using #FordAlumni #MeandMyFord. Let's see those Fords!
Consumer Reports: Ford Makes the Best Hands-Free System; Tesla Slips to 7th
(Kelley Blue Book) Ford's BlueCruise is the best driver assistance system, according to Consumer Reports. General Motors' Super Cruise system – the winner in 2020, the last time CR performed these tests – came in second. Tesla's Autopilot slipped from second place to seventh.
Read more »
Ford Owners Remain Least Likely to Be 'One and Done' Buyers
(Ford Authority) Ford has long enjoyed strong brand loyalty from its customers, ranking first in that category among all mainstream automakers last year, while S&P Global's loyalty data found that Ford owners were the least likely to be "one and done" buyers than any other brand last fall – or in other words, customers that purchase a Blue Oval vehicle only to later sell or trade it for one from another brand.
Read more »
2023 Ford F-150 Wins Kelley Blue Book Full-Size Truck Best Buy Award
(Kelley Blue Book) Americans buy a lot of trucks, and we buy them for a lot of different reasons. Some haul tools around job sites. Some drop off kids at school during the week and pull a boat to a local lake on weekends. Some even serve as luxury vehicles with the option to leave paved roads behind.
Read more »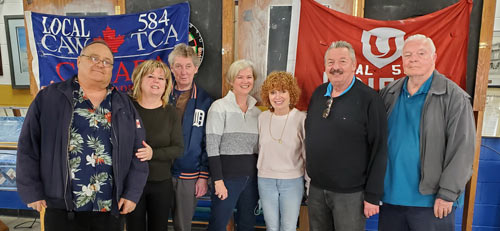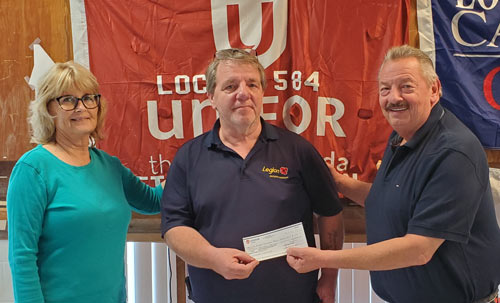 Presenting $200 donation to Legion from Local 584



Meeting Held Oct 6, 2021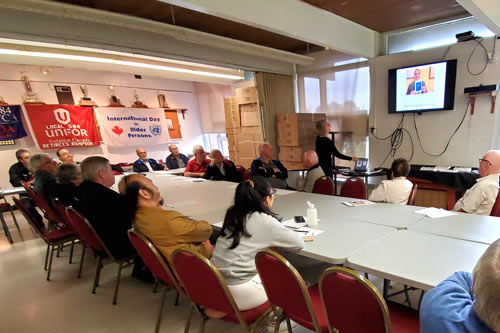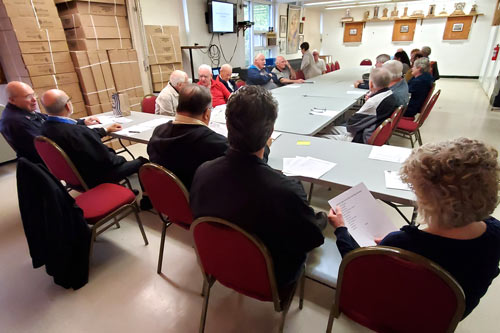 Meeting Held October 2, 2019 - Unifor Legal Services Presentation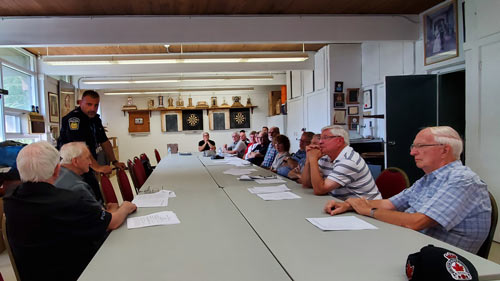 Meeting Held Sept 11, 2019 - Police Fraud Squad Presentation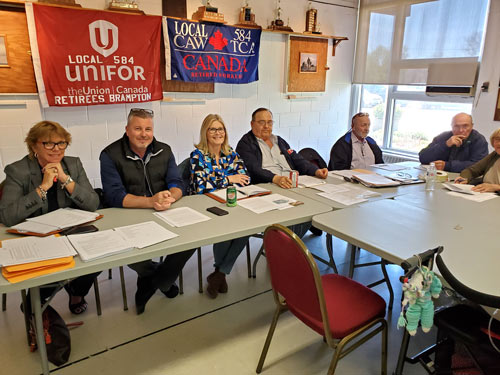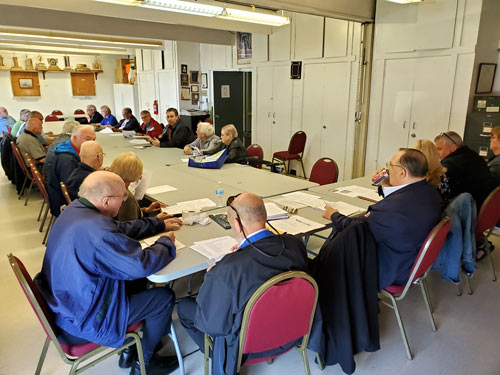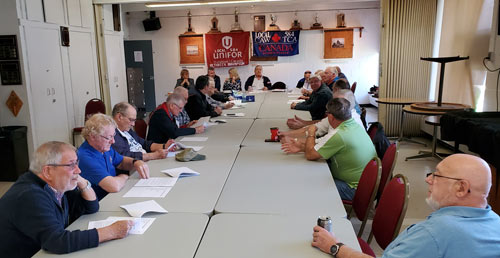 Retiree Meeting May 8, 2019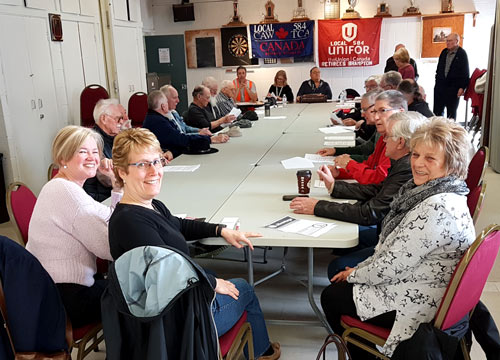 Retiree Meeting April 3, 2019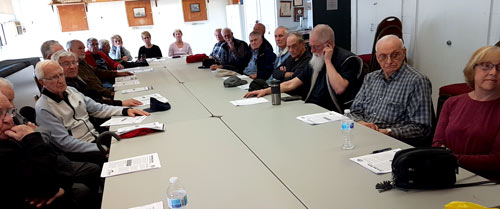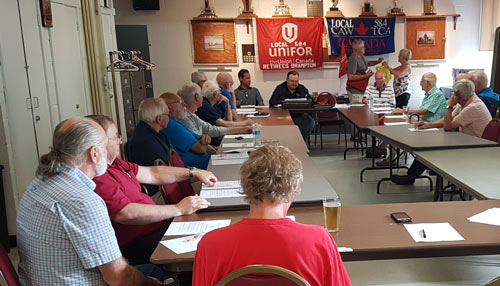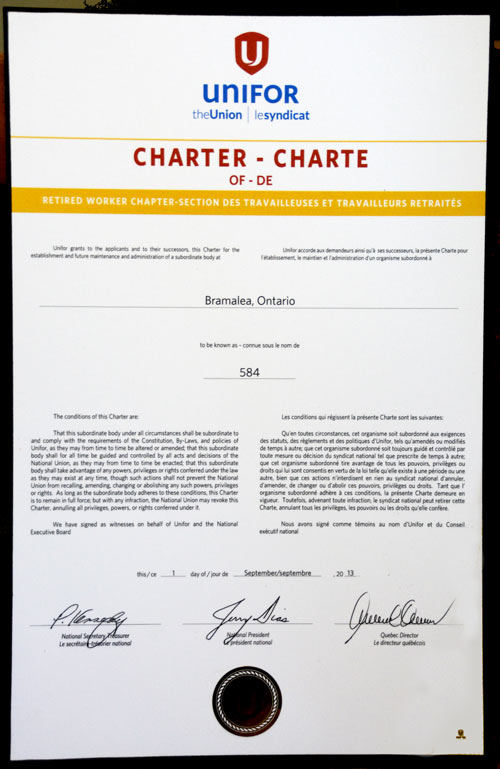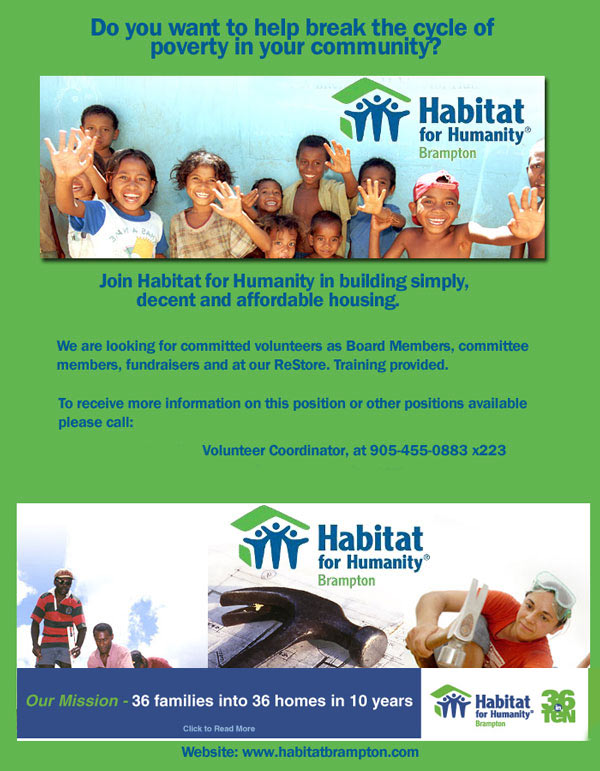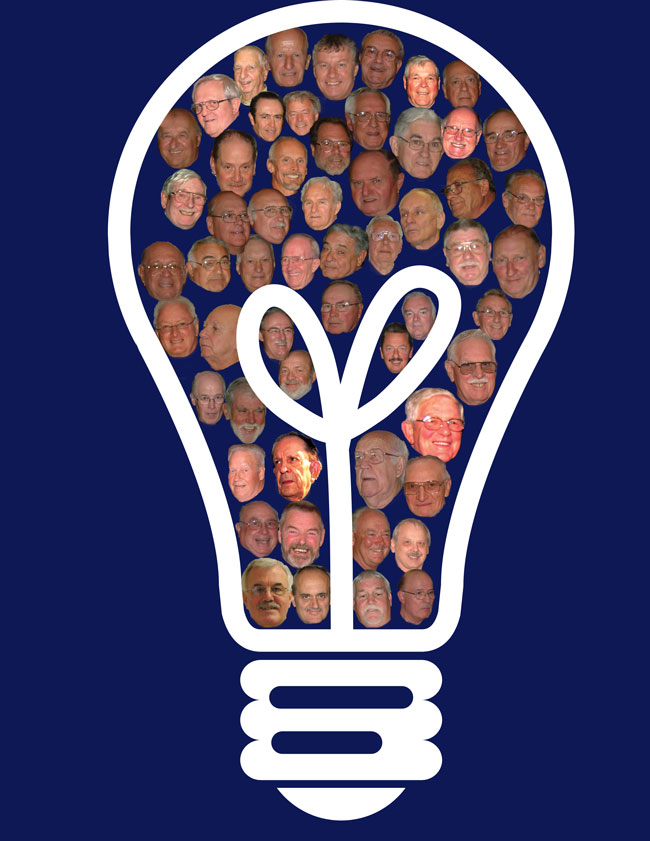 This Web Site is Dedicated to the past members who helped to forge a better way of life for all of us.