PLEASE SUPPORT OUR SPONSOR!
Retiree
Charlie Macleod
Passes away
May 13, 2022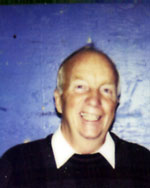 CHARLIE MacLEOD
Oct 1, 1997 - 25 yrs
Our Condolences go out to
the Macleod family
NEXT MEETING

Wednesday June 1, 2022
Canadian Legion
80 Mary Street
Brampton
1:00 PM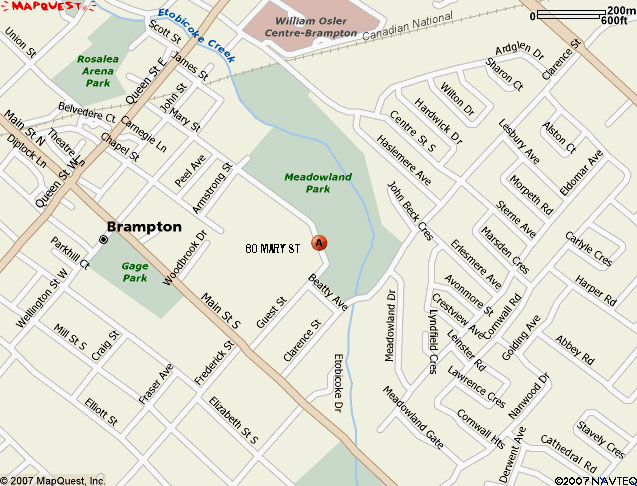 NEXT MEETING

Wednesday June 1, 2022
Canadian Legion
80 Mary Street
Brampton
1:00 PM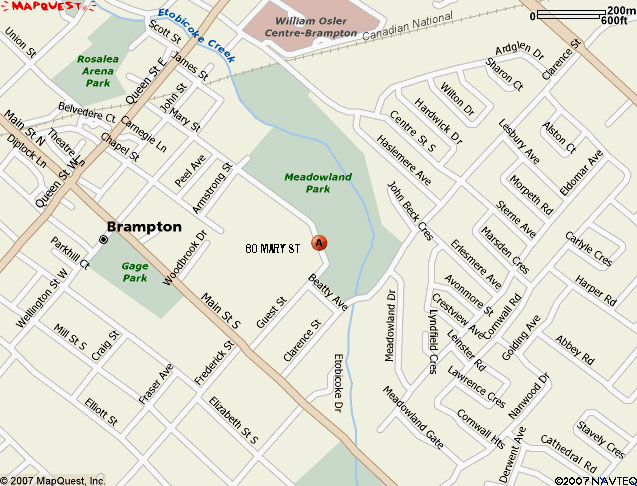 Congratulations to our newly elected Executive:
Chair - Chris Wilski
Vice-Chair - Barb Morrison
Recording Secretary - Doug Berry
Financial Secretary - Pat Riley
Sgt at Arms - Reg Galbraith
Guide - Steve Koloff
Member at Large - Roz Monchamp
Meetings are the first Wednesday
of the month at 1pm.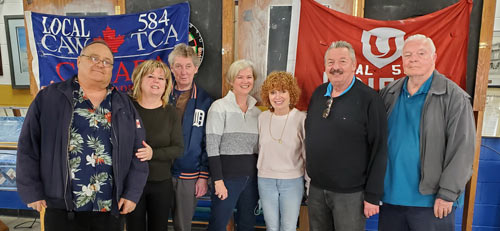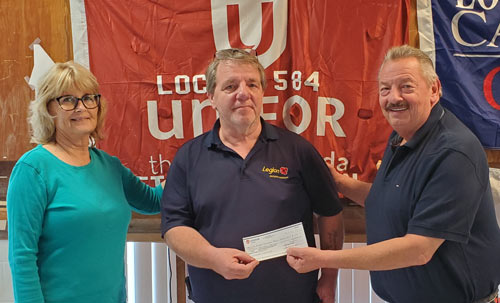 Presenting $200 donation to Legion from Local 584



Meeting Held Oct 6, 2021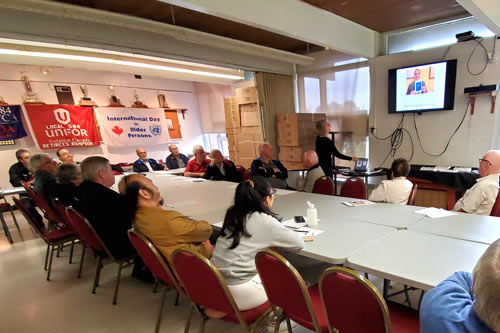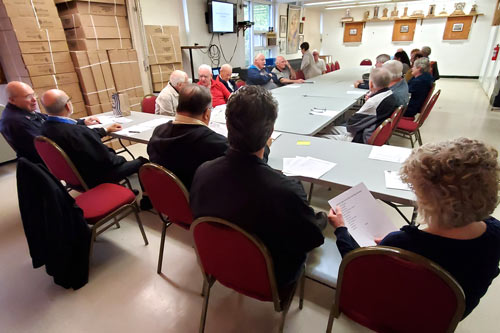 Meeting Held October 2, 2019 - Unifor Legal Services Presentation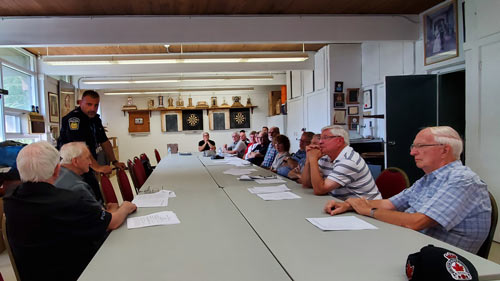 Meeting Held Sept 11, 2019 - Police Fraud Squad Presentation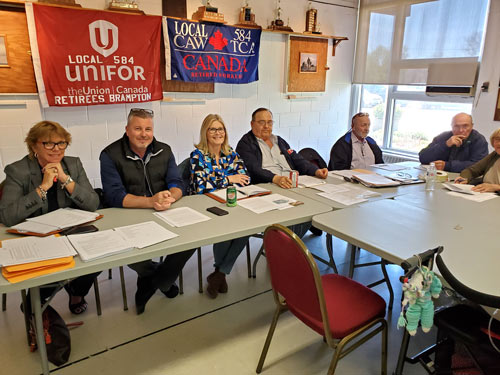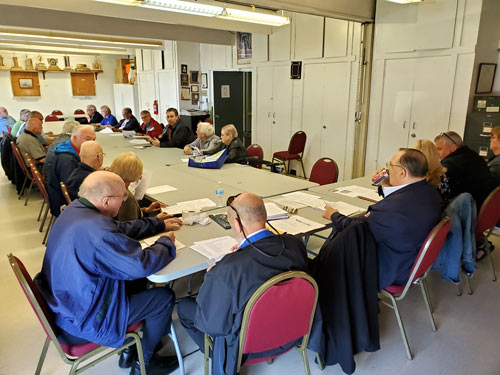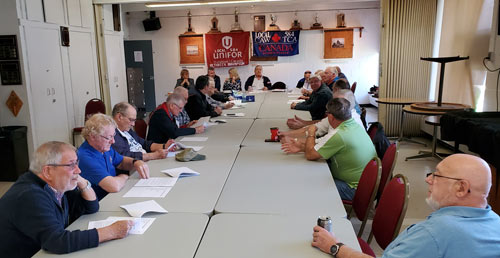 Retiree Meeting May 8, 2019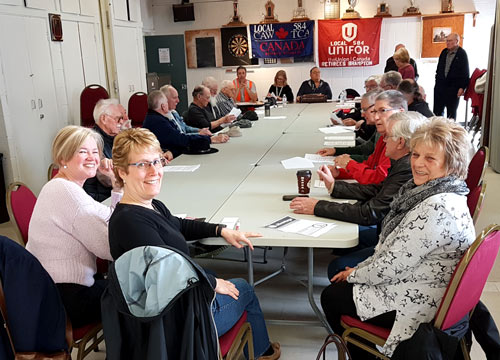 Retiree Meeting April 3, 2019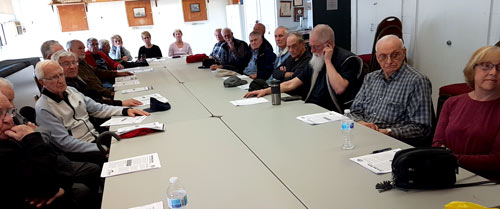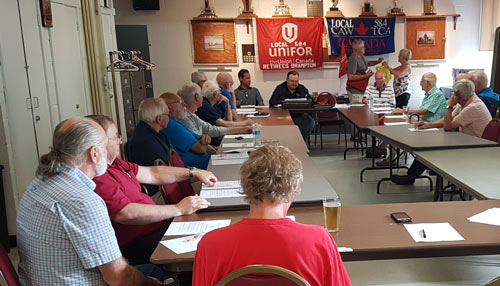 May 15, 2022


Unifor marks the thirtieth Westray anniversary, join a rally in your community for long term care workers, Metro Distribution Centre warehouse members discuss their contract, Unifor meets with USTR, shelter workers fired after strike, why we need COLA clauses, register for August convention, Labour Market Report, the need for a minimum wage hike, Nursing Week, school bus drivers ratify, Bell clerical update, watch the Stellantis announcement plus Unifor Group Home & Auto Insurance Program.
| | |
| --- | --- |
| Unifor Metro Distribution Centre warehouse members share how they negotiated an industry leading agreement in a feature video, now available with close caption translation for Punjabi, Spanish, Tagalog, Tamil or Urdu. Switch languages by selecting language options. | Long-term care rallies are set to make some noise during the month of May across Ontario, sending the message loud and clear to all political parties to respect health care workers, stop putting profit over people and to repeal the shameful Bill 124. |

Atlantic Regional Director Linda MacNeil attended the 30th Anniversary of the Westray Mine Disaster in Plymouth, Nova Scotia, repeating the call to fight for worker safety every day.


| | |
| --- | --- |
| Unifor calls for an end to unfair trade policies at Roundtable on Labour and Trade with Canadian federal Ministers and top Biden trade officials. | Unifor members returned to work following a nearly six-month-long strike at Napanee's Lennox and Addington Interval House, only to be wrongfully terminated. |
| | |
| --- | --- |
| To help workers fight rising costs, we need to empower them to add cost-of-living-adjustments, COLA clauses, to their union contracts, and make it easier for more workers to unionize, Lana Payne writes in the Toronto Star. | Register today for Unifor's fourth constitutional convention where we will gather and set a course for the future of our union, including electing new national officers. |
| | |
| --- | --- |
| Read this month's labour market insights: Unemployment rate hit a new historic low for April, decreasing slightly to 5.2%, with another 15,300 jobs added to the labour market. The national unemployment rate has now fallen for three consecutive months. | As Ontario heads towards a June 2nd election, there are increasing concerns regarding the growing lack of income security and affordability in the province. |
| | |
| --- | --- |
| Unifor continues to stand with workers across the country and around the globe in recognizing and celebrating the outstanding contributions of nurses during National Nursing Week. | |
| | |
| --- | --- |
| Watch Unifor react to the historic $3.6 billion investment in Stellantis Windsor and Brampton facilities, securing a bright future for autoworkers and accelerating the electric vehicle transition. | Did you know the Unifor Group Home & Auto Insurance Program, administered by Highcourt Breckles, offers Unifor members exclusive insurance benefits, discounts, and trusted advice from licensed insurance brokers who are also members of Unifor Local 1106? |


May 1, 2022

Announcements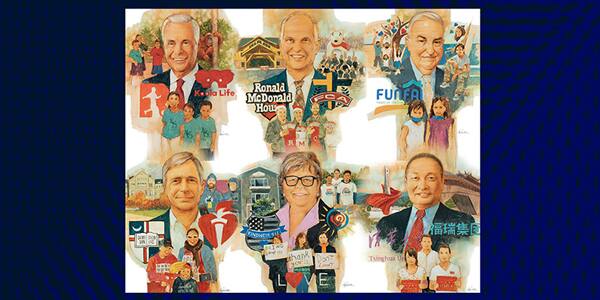 Ford Announces Salute To Dealers Award Winners Honoring Dealer Contributions to Their Communities
This year, 60 Dealers from around the globe were nominated for the 22nd annual Salute To Dealers award. From this group, a panel of judges selected the Honorees based on the Dealer's individual activities, length of participation and personal motivation. In recognition of the Honorees' service to their communities, Ford created a Salute To Dealers Video Tribute, highlighting each Dealer's extraordinary contributions.


F-150 Lightning Production Launch
America's Best-Selling Vehicle Now Electric: Production Begins for F-150 Lightning Trucks
F-150 Lightning trucks are now being built for customers across America.
F-150 Lightning is the fastest-accelerating F-150 yet and the only full-size electric pickup available now with a starting price less than $40,000. Built at the ultra-modern.…

VIDEO: Full F-150 Lightning Launch Presentation at the Rouge Electric Vehicle Center
Ford and UAW leaders hosted F-150 Lightning customers and Ford employees at the new Rouge Electric Vehicle Center in Dearborn, Michigan to celebrate "Job 1" and the start of production for the first-ever full-size all-electric pickup to go on .…
VIDEO: Ford Rings Opening Bell at New York Stock Exchange as F-150 Lightning Electric Pickup Production Begins
Ford is establishing itself as a leader in the electric vehicle revolution as the F-150 Lightning, the only full-size electric pickup available now with a starting price less than $40,000, will begin to ship to customers in the coming days. To mark this .…



VIDEO: Meet America's Manufacturing Revolution
The F-150 Lightning is a game-changing electric vehicle backed by the same UAW care, craftsmanship, quality assembly and legendary union-built performance our Ford customers have grown to expect. Hear from the team members building these iconic new trucks with pride at our innovative and ultra-modern…


Ford News
'Her Dedication to Ford Is Inspiring': Janet Wynn Celebrates 60th Anniversary with the Company, Reflects on Its Evolution
For six decades, executive administrative assistant Janet Wynn has been on top of it. Whatever it is, she makes sure it gets done. So to mark her 60th anniversary with the company earlier this month, Wynn's colleagues and friends organized…

Ford Donates Fifty Ranger Pickups to Aid Ukraine
Ford has donated a fleet of fifty Ford Rangers in support of the Ukrainian people. This week, the last of the trucks arrived in Ukraine where they are being put to work immediately. Ford CEO Jim Farley said he was very proud of the Ford team and the involved partner company Maersk for their hard work to make this happen.
Flat Rock Assembly Plant Does Donuts for Mustang Day
Flat Rock Assembly Plant, home of the Ford Mustang, celebrated the 58th birthday of the iconic sports car with a special team recognition event. Donuts, beverages, and a special Mustang Week 2022 sticker were provided for the approximately 1,200 team members who build the pony car as a way to continue the celebration of Mustang Day Sunday, April 17, and Mustang week.



Ford Funds Stream Restoration At University Of Tennessee's Lone Oaks Farm
At the 2022 Memphis International Auto Show, Ford Motor Company and the University of Tennessee Institute of Agriculture announced an historic agreement that will propel economic development, education, and conservation throughout the mid-south. The two have signed a stream mitigation and restoration agreement that will restore the stream waters…


Global Notes
Ford Pro Now Open for Business in Europe
Ford Pro signaled a step change for European commercial vehicle fleet productivity with the roll-out of its innovative, digital solutions designed to increase uptime and lower operating…



Not All Heroes Wear Capes: Meet the Security Team of CSAP
Meet the security team for the Cuautitlan Stamping and Assembly Plant in Mexico. Their mission? Taking care of us while we work and making sure we are all safe, but that job is…



Ford of Britain Celebrates Global Mustang Day in Style
These Ford Mustangs were among more than 30 lined up in the sun to celebrate the muscle car's 58th birthday. Ford of Britain organized the get-together at the Caffeine and Machine automotive hangout…


Alumni Connect
Send a pic of you with your Ford (.jpg format, please), with a caption including brief information about your career at Ford and your vehicle, to blueoval@ford.com. Or post your photo on Twitter or Instagram and tag @AtFordOnline using #FordAlumni #MeandMyFord. Let's see those Fords!
Weekly Spotlight
Clyde Atkinson is a retired PDC body engineer who stumbled across this 1996 Mustang at a Ford dealership in Arizona. With only one previous owner and low mileage, Clyde just had to have it. After having this Detroit iron pony shipped back to Michigan and souped up with a new top and wheels, it was ready for show. Ford only had 27 of the Tangerine Mustang GT convertibles with a white top and leather interior made. This is #27 .
Outside Voices
Power Outage Fails to Disrupt F-150 Lightning Launch; CEO Says More E-Trucks to Come
(Detroit Free Press) A crowd of hundreds that included Ford hourly workers and customers cheered throughout a 30-minute launch celebration of the 2022 F-150 Lightning electric pickup in Dearborn on Tuesday afternoon.
Read more »

The Evolution of the Ford F-Series Pickup Truck
(Detroit News) Click through this gallery and see how Ford's popular F-Series pickup trucks have evolved since 1948's Ford F-1 pickup truck to the plug-in electric Ford F-150 Lightning.
Read more »

Ford Beefs Up F-150 Lightning Production in a Forceful Bid to Dominate the Electric Pickup Market
(CNBC) Ford CEO Jim Farley said the company plans to scale production of its electric F-150 Lightning pickup faster than its competitors, with plans to increase production of the Lightning at a plant in Dearborn…
Read more »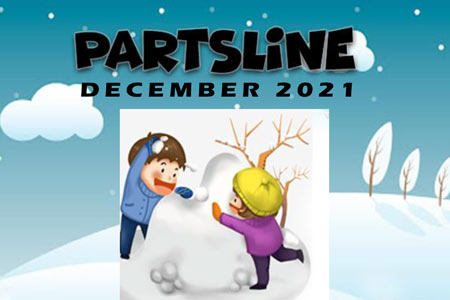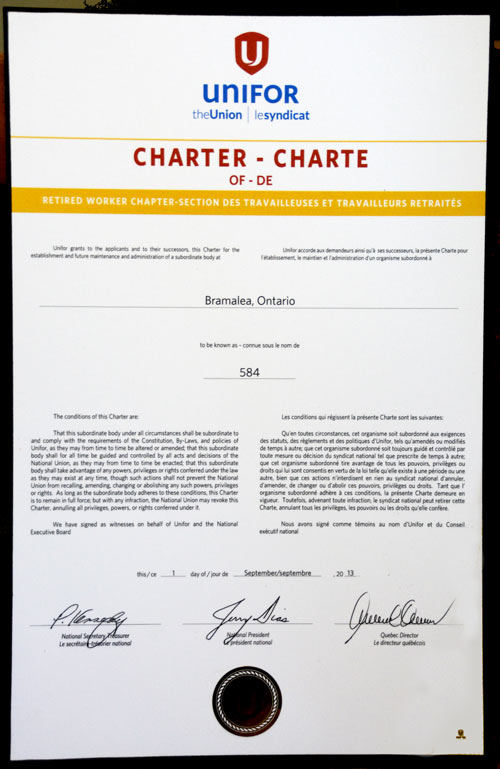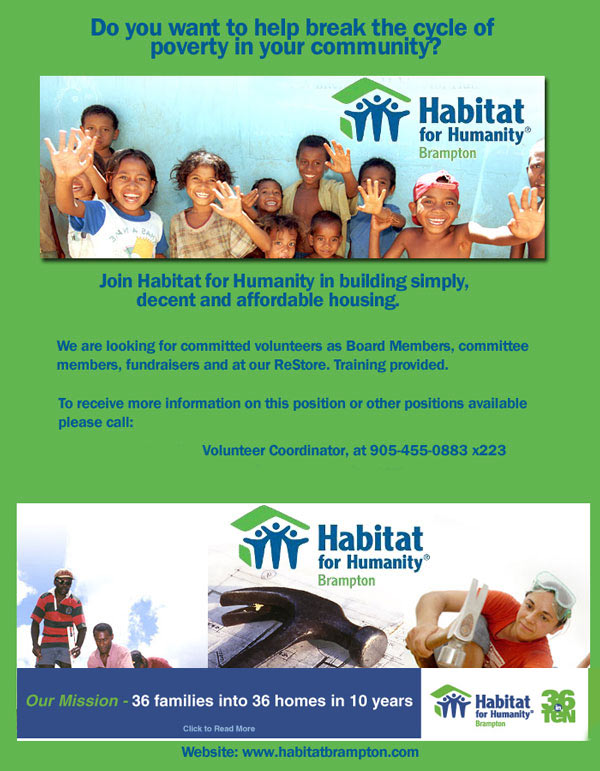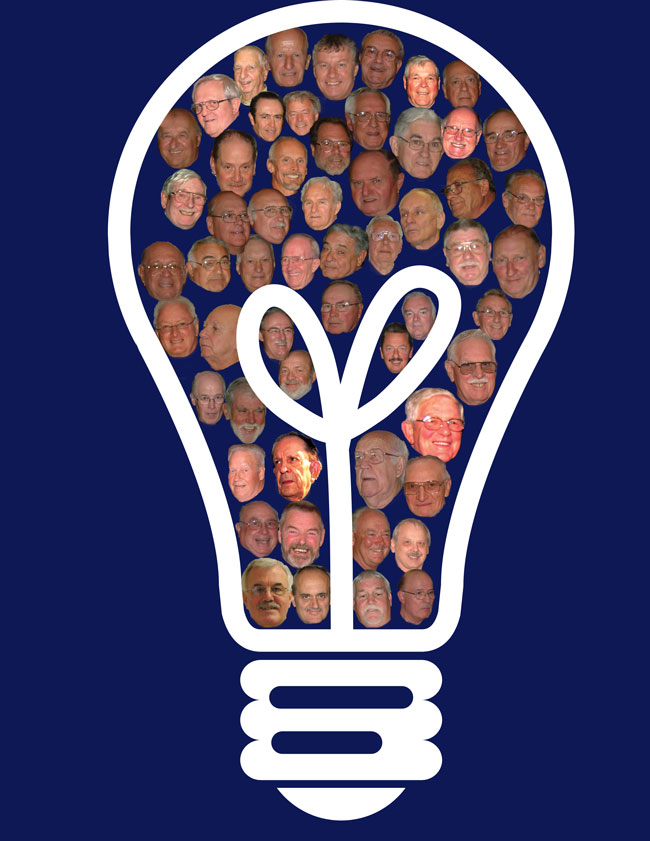 This Web Site is Dedicated to the past members who helped to forge a better way of life for all of us.