PLEASE SUPPORT OUR SPONSOR!
Retiree Joe Vugts
Passes Away
March 17, 2023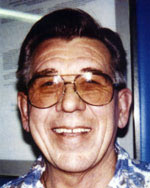 This is to inform you of the passing of Retiree
Joe Vugts who passed away March 17, 2023.

Joe Retired from Ford on June 1, 1994 with 30 years
of service. He was 88 years old.
Our Sincerest Condolences go out to his Family and Friends.
He will be sadly missed.
Funeral will be held at McCallum Funeral Home
11 Cambria Road N.
Goderich, Ontario
N7A 2N8
Map
Visitation
McCallum Funeral Home
Monday March 20, 2023
Link
Funeral Service
Tuesday March 21, 2023
St Peter's Catholic Church
156 North St, Goderich, ON
11am
Map
Adrian " Joe" Vugts born April 24/1935 in Oisterwijk Holland. Joe with his family migrated to Halifax Nova Scotia in March of 1953 where he met his bride to be Gail Day ( Vugts ).

Joe and Gail quickly became a family of 6 with 4 children and moving to Ontario. Over the course of his life, Joe worked as a farmer, many jobs in construction, drove Taxi and settled into a Job with Ford Motor Company driving transport truck for the next 30yrs.
Joe loved music, playing the harmonica, the accordion and singing in the church choir. He also loved to Dance ! Joe's loved sports, he was a diehard Maple Leafs and Blue Jay Fan and also played and coached soccer. To add to Joes list of favorites was a rarely missed episode of The Young and the Restless. Joe loved animals, especially his dogs and cats over the years. Joe and his wife Gail would have been married 60 years this coming May 5th of 2023, and Joe would have turned 88 on April 24th.

Visitation will be held at the funeral home on Monday March 20, 2023 from 3:00 pm - 6:00 pm with Funeral Mass on Tuesday March 21, 2023 at 11:00 am St. Peter's Roman Catholic Church, Goderich.


NEXT RETIREE MEETING

Wednesday April 5, 2023
Canadian Legion
80 Mary Street, Brampton
1:00 PM
All Retirees Welcome!

********************************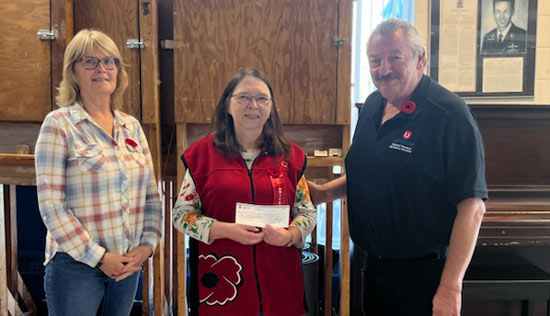 Donation to the Canadian Legion
Nov 2, 2022 Meeting
Unifor Local 584 Retirees Executive: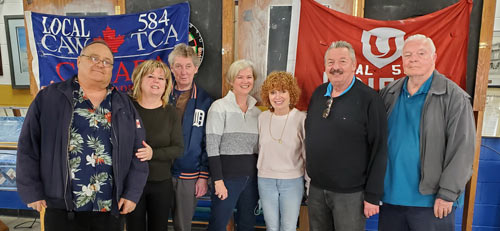 Chair - Chris Wilski
Vice-Chair - Barb Morrison
Recording Secretary - Doug Berry
Financial Secretary - Pat Riley
Sgt at Arms - Reg Galbraith
Guide - Steve Koloff
Member at Large - Roz Monchamp
Meetings are the first Wednesday
of the month at 1pm.
(Unless otherwise stated)

March 24, 2023


Unifor Local 100 and Council 4000 Bargaining Committees have reached tentative agreements with CN Rail. Locals 240 and 1959 resume negotiations with Windsor Salt after picketing since Feb. 17. Unifor Quebec protests to save wild caribou populations. Unifor's Retired Workers Executive Council learn strategies during human rights training. Plus: Read the union's statements on the International Day of La Francophonie and World Water Day.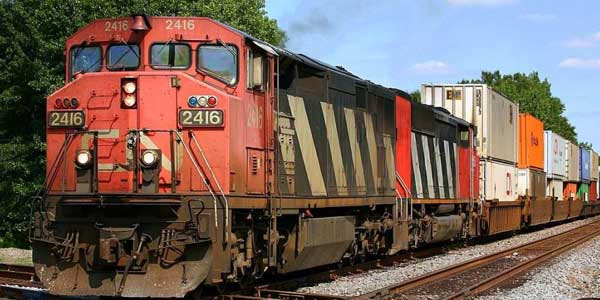 Unifor has reached tentative collective agreements with CN Rail, averting strike action.


| | |
| --- | --- |
| Unifor's Retired Workers Executive Council met in Etobicoke, Ont., for four days of human rights training. This is the first time this training has taken place since 2017 and truly significant as 2023 is the 75th anniversary of the U.N. Human Rights Declaration. | The International Day of La Francophonie is a unique opportunity to celebrate the French language and its invaluable contribution to the rich diversity of our world. Read Quebec Regional Director Daniel Cloutier's statement. |
| | |
| --- | --- |
| Unifor is using the annual United Nations World Water Day on March 22 to amplify calls for the federal government to accelerate action to ensure safe drinking water for everyone from coast-to-coast. | Union momentum is heating up in Canada's auto parts sector after Sodecia Automotive workers in London, Ont. became the second group of auto parts workers to join Unifor so far this year. |
| | |
| --- | --- |
| More than 1,000 people gathered on March 18 in Saint-Félicien, Que., for a rally organized by Unifor to raise questions on the provincial government's strategy to stop the decline of woodland and mountain caribou populations. | |
Local 333-BC in Victoria, B.C. has secured a Cost-of-Living Adjustment (COLA) in a contract ratified March 15, 2023.
READ MORE

Members of Unifor MWF Local 1 at Marine Fabricators in Dartmouth, N.S. ratify new collective agreement with wage increases, improvements to benefits, and more flexibility for vacation days.
READ MORE
| | |
| --- | --- |
| In recognition of March 21, the International Day for the Elimination of Racial Discrimination, the Atlantic Regional Black, Indigenous, and Workers of Colour Committee invited Unifor Locals to join them for a panel discussion around the ideas of resilience and resistance within racial justice activism. Check out the photos from the day. | The National Education Department offers one, two and three-day courses in communities across the country. These classes are designed specifically to bring education opportunities to members close to where they live and work, right in their communities. |


March 13, 2023
Ford Increasing Production of Popular Electric, Gas, Hybrid Vehicles in Response to Strong Customer Demand
Ford is increasing production at manufacturing plants across North America to meet strong customer demand for vehicles including Mustang Mach-E, F-150 Lightning, Bronco Sport and Maverick. The company is also preparing to launch all-new versions of four significant vehicles in 2023: Super Duty, Ranger, Mustang and Escape.
STEM volunteers are needed in-person to teach eighth-grade students in Detroit about autonomous vehicles. Volunteers will work for an hour and a half one to two times each week for five weeks beginning Thursday, March 16 as part of a pilot program called Computerized Driver Challenge. Email here to sign up, for more info, or to be notified when new opportunities are available.
Ford Shows U.S. Transportation Secretary How It Will Lead Electric Revolution

Throwback: Ford Helps Get Aviation off the Ground in the 1920s

Ford and its airport in Dearborn were instrumental in the early years of American aviation.
Ford has revealed the most powerful version of its multi-award-winning 1.0‑litre EcoBoost engine.

Ford Fund Brings First Rally to Read Program to Pretoria Schools

Ford Fund launched the three-year program in the areas surrounding its Silverton Assembly Plant.

How Ford is Providing Therapy for Hospital Patients in Spain

Team Fordzilla's racing simulator will help patients learn the skills they need to return to driving.
Send a pic of you with your Ford (.jpg format, please), with a caption including brief information about your career at Ford and your vehicle, to blueoval@ford.com. Or post your photo on Twitter or Instagram and tag @AtFordOnline using #FordAlumni #MeandMyFord. Let's see those Fords!
Ford Is Betting Big on EVs With Its All-Electric F-150 Lightning
(Fast Company) Since the first Ford F-150 rolled off the production line in 1974, customers have been relying on the rugged pickup truck for help in all manner of situations. But one thing it couldn't do until 2022 was power your home for up to 10 days during an electrical outage.
Read more »
Ford Ad Gives Women in the Car Industry the Credit They Deserve
(Jalopnik) The spoof ad puts together a "Men's Only" Explorer for International Women's Day. Surprise! It's missing just about everything that makes it a comfortable ride.
Read more »
How EV Car Makers Rank on Climate and Human Rights
(Time) Ford was the highest ranked American company on the list, coming in second, thanks to a high score in "human rights and responsible sourcing."
Read more »
Ford F-150 Lightning Owners Are Unlike Traditional Pickup Buyers
(autoevolution) There are preconceptions about what a pickup truck is good for, but it suffices to say that more and more people use it as an all-purpose family vehicle instead of a no-frills work truck. This became obvious to Ford after they did a study among the F-150 Lightning and ICE owners.
Read more »
Duggan Uses Michigan Central Station to Illustrate Detroit's Resurgence
(WJR-AM) The depot, once a symbol of Detroit decay and economic downturn, gave Duggan an ideal backdrop to illustrate his narrative of the path Detroit has taken from bankruptcy to what some are boasting as the next Silicon Valley.
Read more »
This LEGO Ford GT Gives the Supercar a Suitably Outrageous Send-Off
(Slash Gear) One of the latest additions to Danish toymaker LEGO's "Technic" lineup is a Ford GT, replicated in 1:12 scale. That translates to the approximate dimensions of 15 inches long, 7 inches wide, and 3.5 inches tall.
Read more »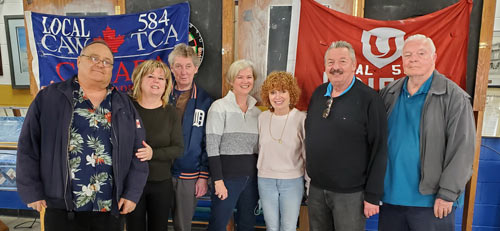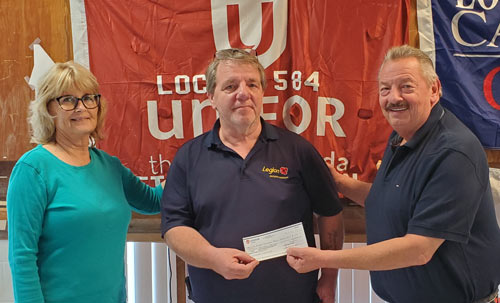 Presenting $200 donation to Legion from Local 584



Meeting Held Oct 6, 2021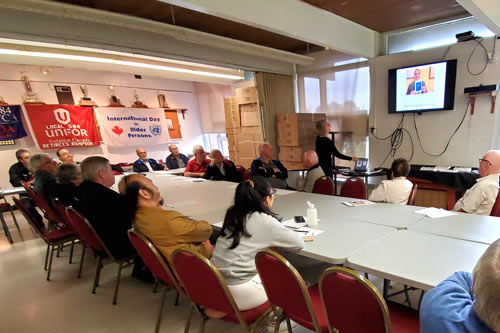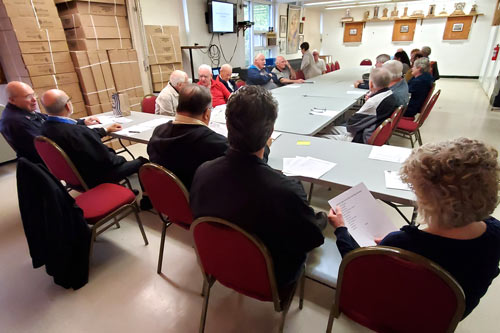 Meeting Held October 2, 2019 - Unifor Legal Services Presentation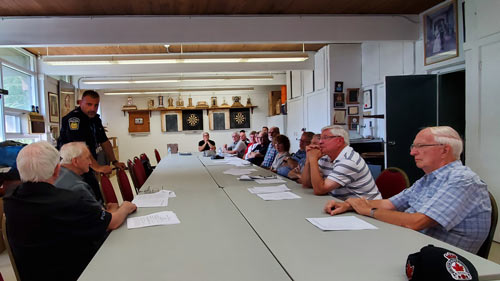 Meeting Held Sept 11, 2019 - Police Fraud Squad Presentation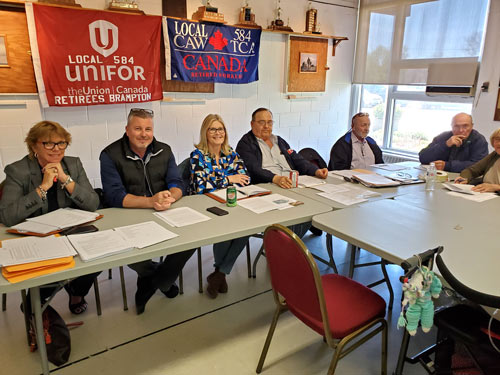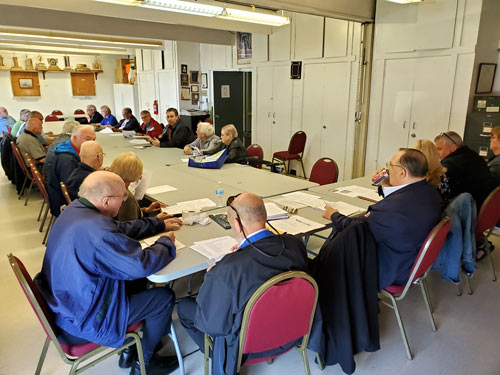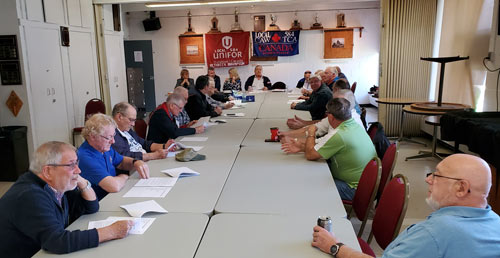 Retiree Meeting May 8, 2019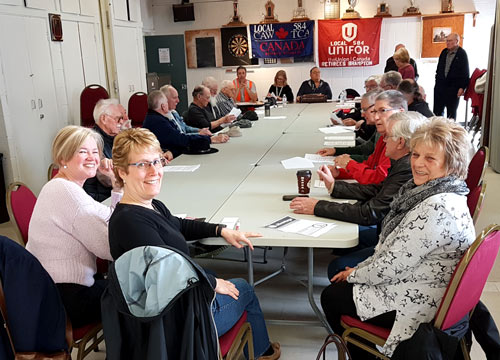 Retiree Meeting April 3, 2019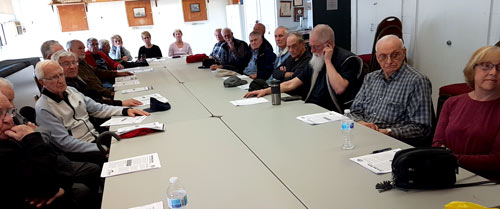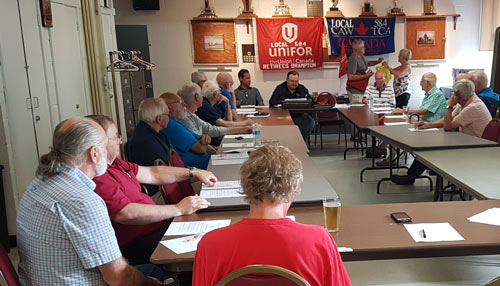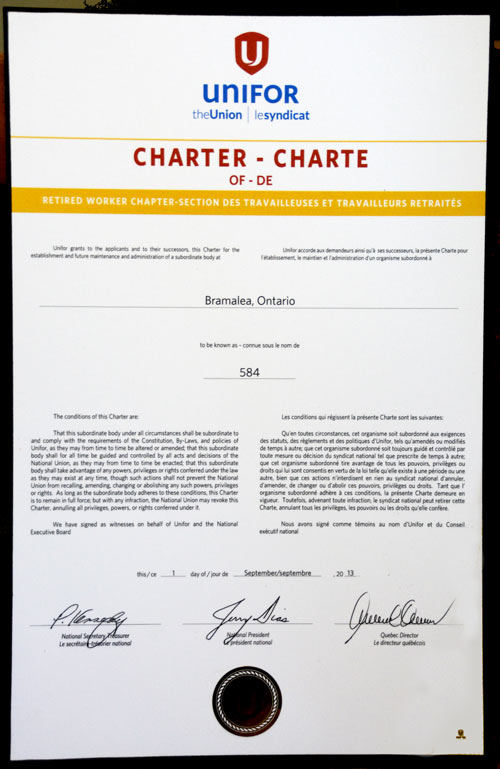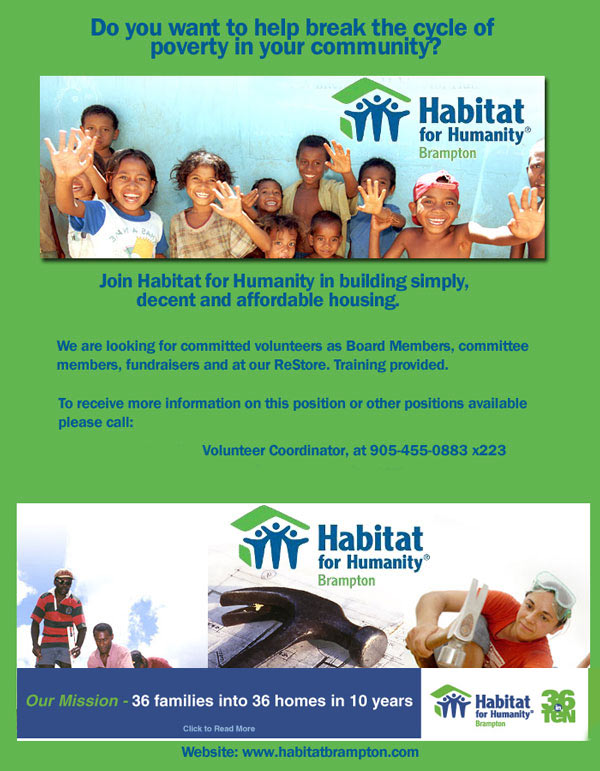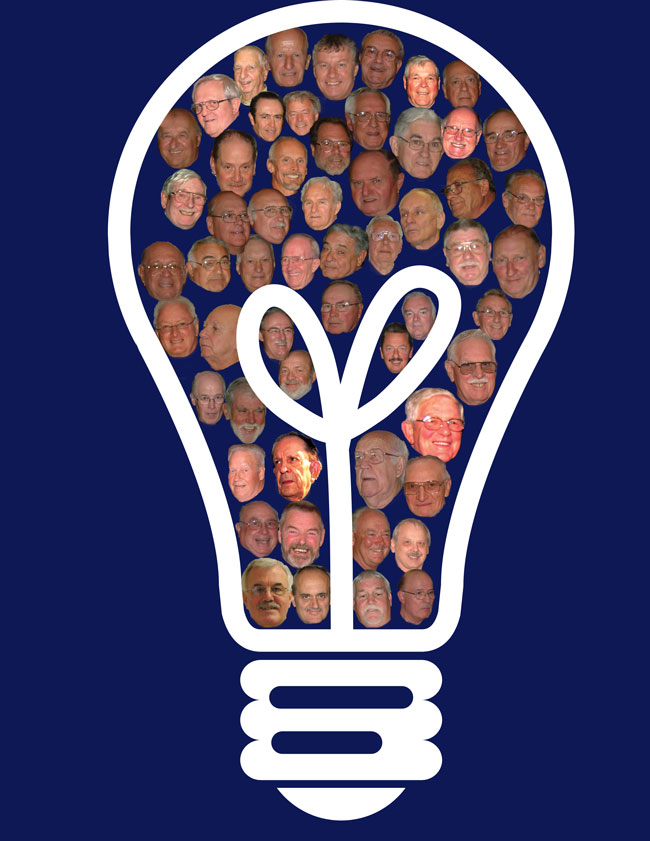 This Web Site is Dedicated to the past members who helped to forge a better way of life for all of us.