Last Updated
Jan 18, 2019

PLEASE SUPPORT OUR SPONSOR!
Large Turn Out
for the Keep GM
Jobs in Canada
Rally Jan 11, 2019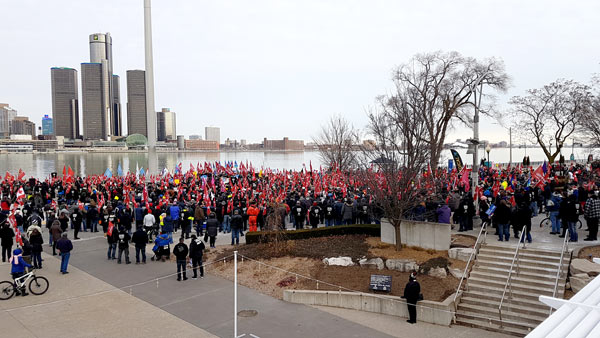 On Friday, January 11, GM was hosting an investor event to pitch its future corporate direction.
This direction includes their plan to shut down GM Oshawa, affecting thousands of Unifor members and workers in Canada. GM's big plan to line the pockets of investors also includes ramping up production in Mexico, exploiting low-paid workers there.
This is the wrong direction for the company. Unifor members need their communities behind them, to say that the Oshawa Assembly Plant must stay open.
Thousands showed up to tell GM that we are all united beside Canadian autoworkers.
If GM wants to sell in Canada, it needs to build here.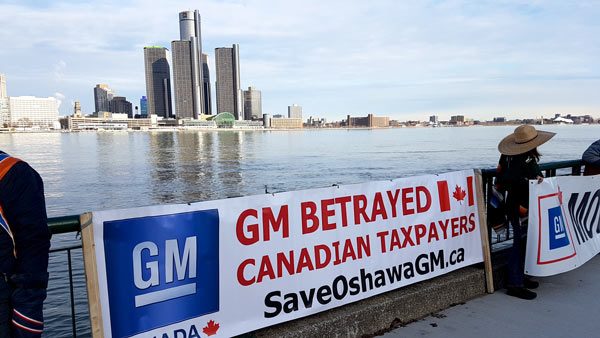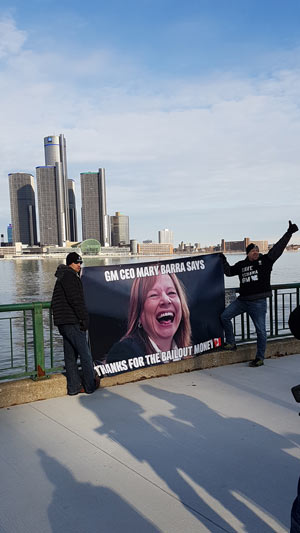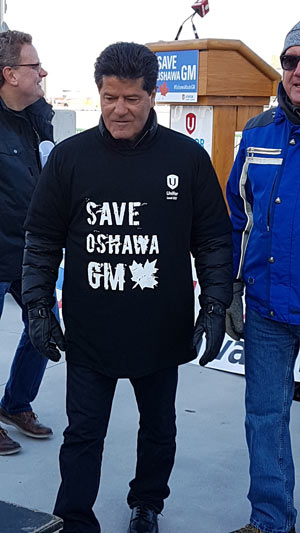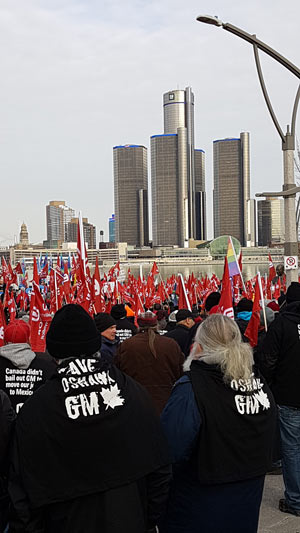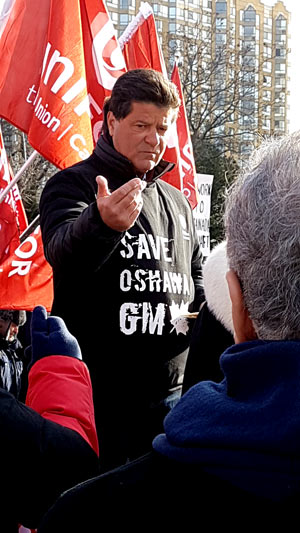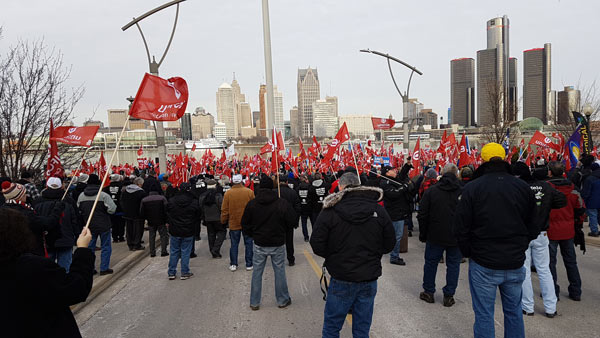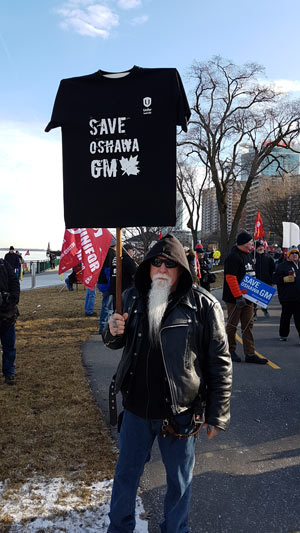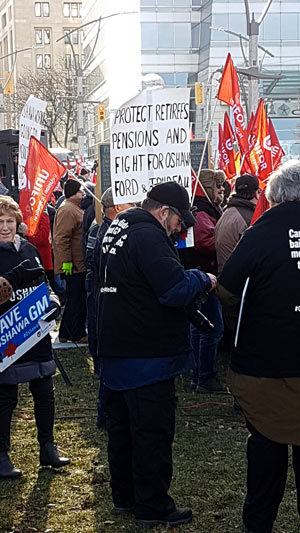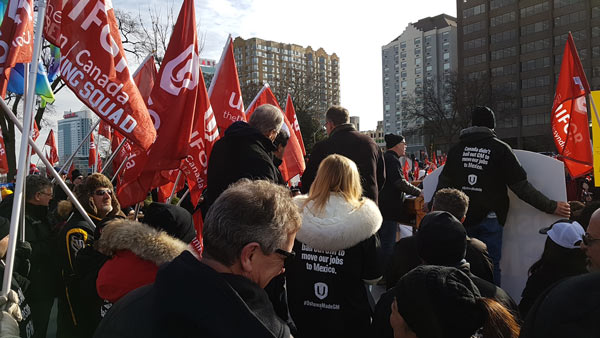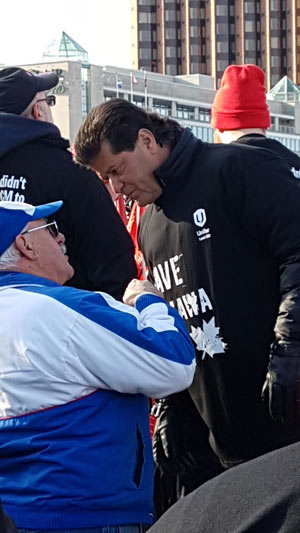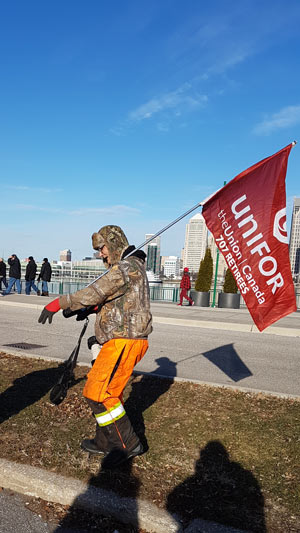 Photo's Taken at Rally by Chris Wilski
Next Retiree Meeting*
Wednesday April 3, 2019
Canadian Legion
80 Mary Street
Brampton
1 PM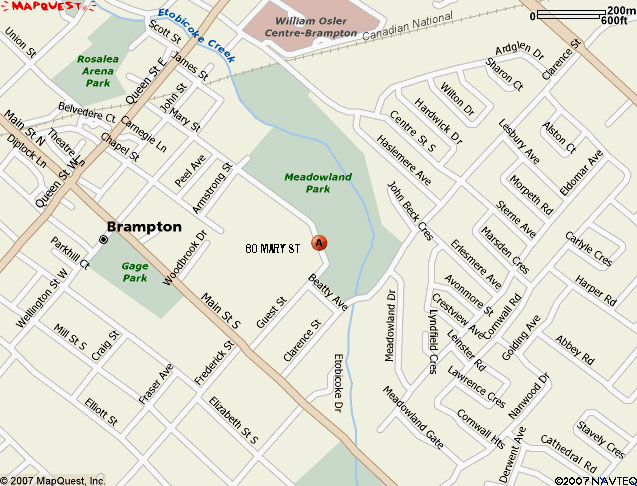 *Meeting are suspended for the months of
January, February and March 2019

Meetings are the first Wednesday of the month at 1pm.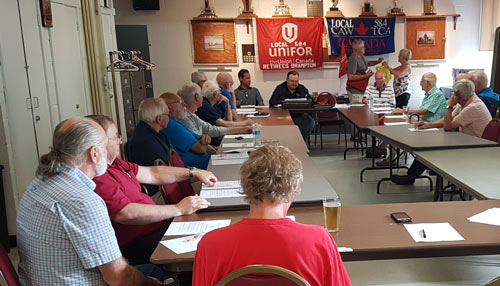 Retiree Meeting held September 12, 2018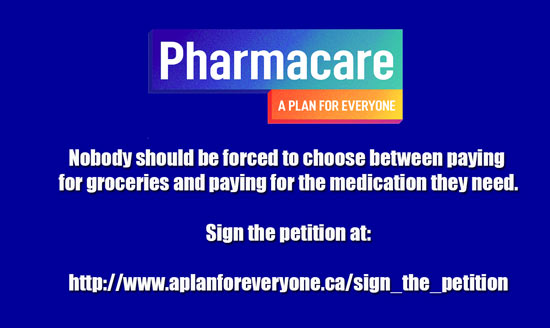 January 18, 2019

Women, activists and allies march on January 19 for women's rights on the heels of the rally to #SaveOshawaGM earlier this week. Acts of worker solidarity abound, whether through walk-offs or pizza for colleagues across the border, and experts weigh in on long-term care in NS.

Workers at Inteva Products in Whitby, Local 1090 members, walk off the job in protest of GM's plan to end production in Oshawa.



Local 7575 members at Anndore House win better wages, Women's Advocate position and improved pensions in new agreement.
READ MORE

Local 444 members at Windsor Machine and Stamping ratify collective agreement with wage increases, improved benefits.
READ MORE

Casino Rama workers vote to strike if necessary, to protest wages lower than the provincial standard.
READ MORE

Green for Life Environmental Services workers at Local 444 vote 95% in favor of first, three-year contract.
READ MORE


Jan 15, 2018
Announcements
Volkswagen AG and Ford Motor Company Launch Global Alliance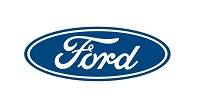 Volkswagen AG and Ford Motor Company today announced the first formal agreements in a broad alliance that positions the companies to boost competitiveness and better serve customers in an era of rapid change in the industry.
Volkswagen CEO Dr. Herbert Diess and Ford CEO Jim Hackett confirmed that the companies intend to develop commercial vans and medium-sized pickups for global markets beginning as early as 2022. The alliance will drive significant scale and efficiencies and enable both companies to share investments in vehicle architectures that deliver distinct capabilities and technologies.
The companies estimate the commercial van and pickup cooperation will yield improved annual pre-tax operating results, starting in 2023.
Click here to read the full article.
Most Powerful Street-Legal Ford in History: All-New Shelby GT500 Is the Most Advanced Mustang Ever for Street, Track or Drag Strip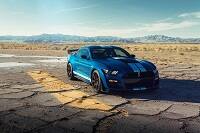 The all-new Shelby GT500 – the pinnacle of any pony car ever engineered by Ford Performance – delivers on its heritage with more than 700 horsepower for the quickest street-legal acceleration and most high-performance technology ever offered in a Ford Mustang.

Click here to read the full article.
All-New Ford Explorer Goes Faster and Further with Performance-Tuned ST and No-Compromise Hybrid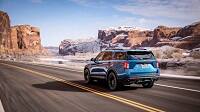 Completing its broadest-ever lineup of Explorer SUVs, Ford today revealed two all-new models that will take Explorer drivers faster and further than ever before. The all-new Explorer ST and the all-new Explorer Hybrid complete a lineup that includes a variety of driver and passenger comforts, an array of technologies that improve every drive, and new powertrain options that deliver power and efficiency.

Click here to read the full article.

RELATED:
All-New Ford Explorer Revealed
Throwback: Key Moments in Ford Explorer History
Ford News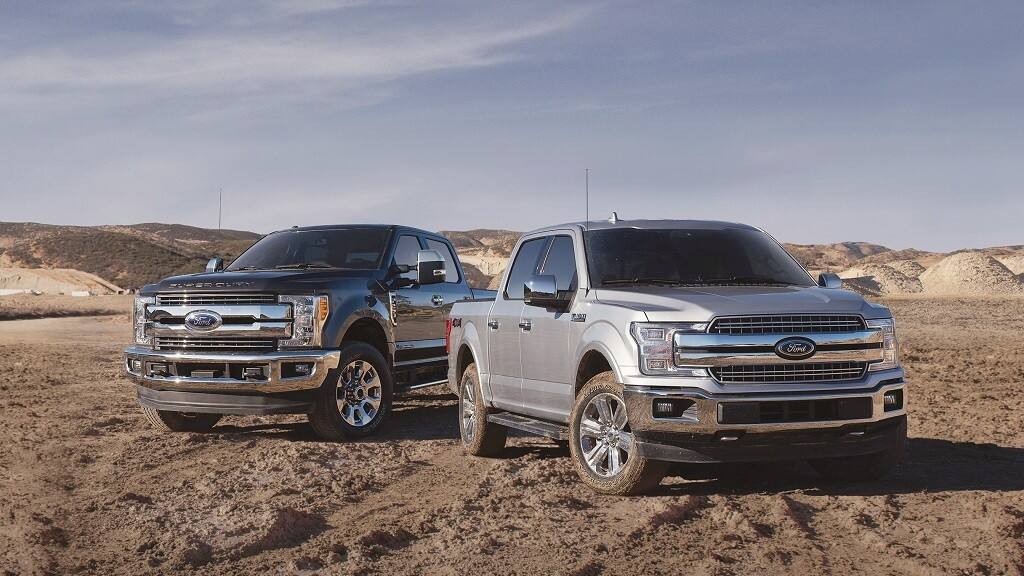 Ford Surpasses 1 Million Truck Sales in 2018
It would take more than eight hours in a commercial jet flying more than 500 mph to travel the full bumper-to-bumper length of all the F-Series trucks Ford sold globally in 2018 as the company marks 42 years as America's best-selling truck and 37 years as America's best-selling vehicle. During that flight, Ford would have sold nearly 1,000 more F-Series trucks.
To read the full article, click here.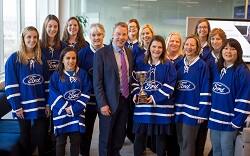 Ford Women's Hockey Team Looks to Repeat Against GM in Automotive Cup
A women's hockey team representing Ford is looking to repeat in its second-annual outdoor charity match against a team from cross-town rival General Motors. Team members recently joined Executive Chairman Bill Ford in his office atop World Headquarters to talk about the game as they look to keep the Automotive Cup trophy in the company's name.
To read the full article, click here.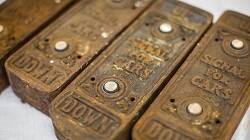 Return of More Artifacts Allows Ford to Create a New Michigan Central Station Exhibit
On a cold day in late December, Bryan J. Brincat dropped off several items to a construction trailer outside Michigan Central Station. Cast iron wall sconces, once positioned by the station's elevators, along with decorative cast iron pineapple railing toppers and cast iron elevator buttons had all made their way home.
To read the full article, click here.
Global Notes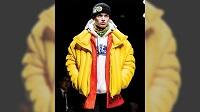 Versace Unveils Ford-Branded Fashions
Ford went from roadway to runway when Versace unveiled a collection of fashions that pay homage to one of America's most iconic automotive brands. The clothing designer reimagined Ford's Blue Oval logo in a series of ensembles and accessories as part of its fall and winter 2019 menswear line.
To read the full article, click here.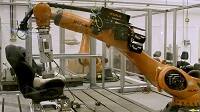 Ford's 'Robutt' Tester Ensures Seats Don't Suffer After Sweaty Workouts
Joining a gym, taking an exercise class or breaking out the running kit are high on many people's lists of New Year's resolutions. But not everyone will want to – or be able to – have a shower before jumping in the car to go home after.
To read the full article, click here.
Retiree Connect
Show Us Your Ford
Do you love Ford as much as we do? Show your love for Ford by participating in our Me and My Ford campaign.
How do you enter? It's simple. Send a pic of you with your Ford (.jpg format, please), with a caption including brief information about your career at Ford and your vehicle, to blueoval@ford.com. Or post your photo on Twitter or Instagram and tag @AtFordOnline using #FordRetiree #MeandMyFord.
We'll spotlight a new photo each week in the Blue Oval Connect weekly briefing. Let's see those Fords!
Weekly Spotlight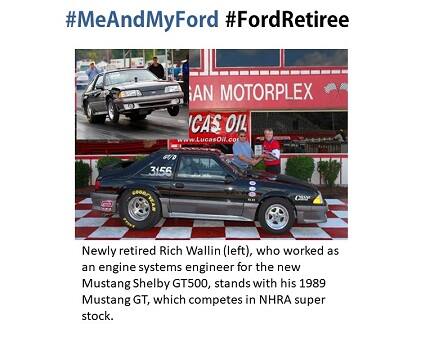 Outside Voices
Detroit Auto Show: Ford Shelby GT500 Mustang Debuts
(USA Today) If Ford Motor Company is serious about planning its future around electric vehicles, it's hard to imagine a better curtain call for its gasoline performance cars than the 700-plus-horsepower 2020 Mustang Shelby GT500. Exhaust pipes the size of paint cans -- literally, they are five inches across -- promise an engine note to wake the dead when the most powerful production car in Ford history goes on sale this fall.
To read the full article, click here.

Here's Why the 2020 Ford Mustang Shelby GT500 Doesn't Have a Manual Transmission
(Motor Authority) The snake has finally returned. On Monday, the 2020 Ford Mustang Shelby GT500 was unveiled at the 2019 North American International Auto Show with a surprise for enthusiasts -- no manual transmission. But why? Ford spokesman Jiyan Cadiz told Motor Authority the Shelby GT500 doesn't offer a manual transmission because Ford doesn't have one that can handle the power the new snake puts out.
To read the full article, click here.

How the 2020 Ford Explorer Gained Interior Space by Switching to Rear-Wheel Drive
(Motor Trend) Ever since Sir Alec Issigonis launched his miraculous Mini, popular wisdom holds that a sideways engine and front-drive is the surest-fire way to maximize interior volume in a given footprint. But Bill Gubing, chief engineer for the 2020 Ford Explorer, claims that switching away from transverse front-drive architecture to a longitudinal rear-drive setup allowed his team to unlock additional interior space in the new Explorer.
To read the full article, click here.

Ford CEO Says a 'Big Surprise' Coming Next Year with Electric Vehicles
(CNBC) Ford Motor Company is gearing up to launch new electric cars as soon as next year, CEO Jim Hackett told CNBC on Sunday. Ford previously announced it would invest $11 billion in electric vehicles by 2022 and produce 40 hybrid and fully electric cars in a plan to revive its slowing business. However, the company's chief told CNBC that drivers should be prepared for a "big surprise" from Ford.
He's a Big Deal at Ford, But Down-to-Earth Exec Hides in Plain Sight
(Detroit Free Press) The guy dressed in jeans and a pullover, sitting near the cafeteria window and holding a paper coffee cup, has a break between back-to-back meetings that run from 7 a.m. to 6 p.m. on the 11th floor. He decided to escape to his favorite spot and hide in plain sight, observing and listening to what's happening all around him. People stop to talk. About everything. Water in the bathroom isn't hot enough. Office space is too hot. A printer isn't working. Kumar Galhotra smiles, nods, makes a note, promises to follow up – and does. He could be any guy in any coffee shop. But he's not just any guy.
To read the full article, click here.

Full Visual History of Ford Explorer, from 1990 to Today
(Car and Driver) Place Ford Explorer up there with Jeep Grand Cherokee for helping to start the modern SUV craze in the early 1990s. Essentially station wagons but with four-wheel drive and far less of a stigma – remember, in the early '90s, wagons were about as cool as minivans are today – sport utility vehicles like the Explorer captured the American public's imagination and have refused to let go. With Ford having just unveiled its latest Explorer, it's the perfect opportunity to look back through the best-selling model's history, from 1990 to today.
To read the full article, click here.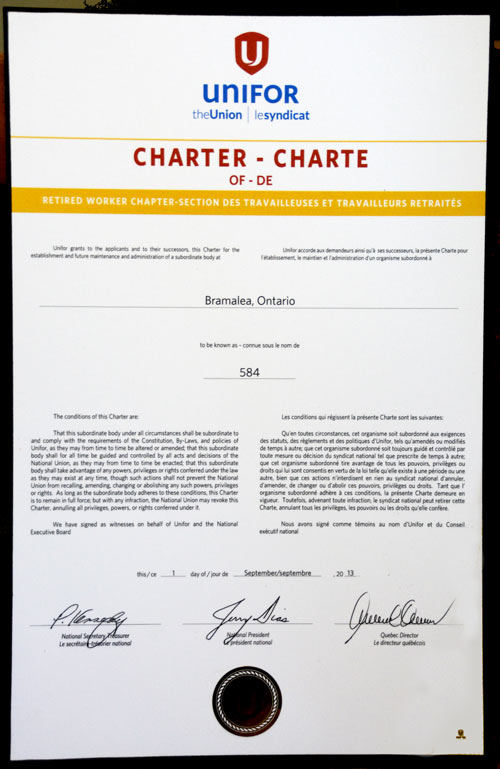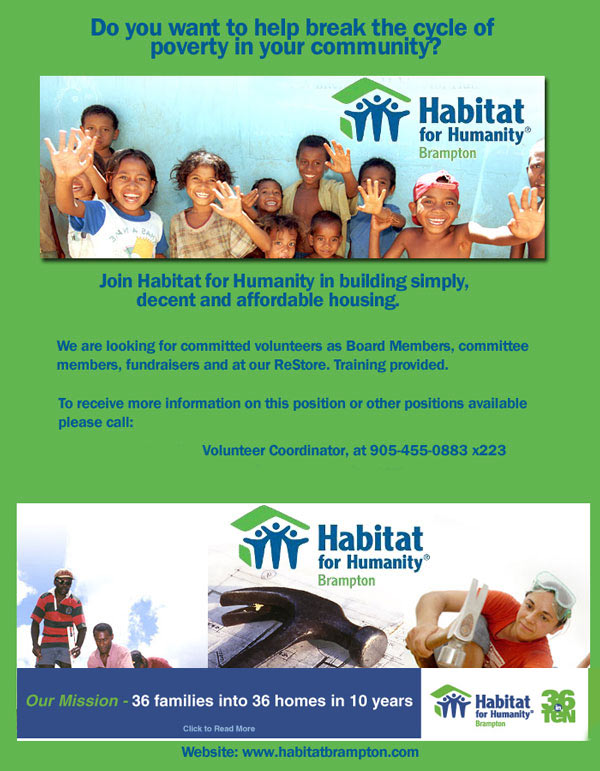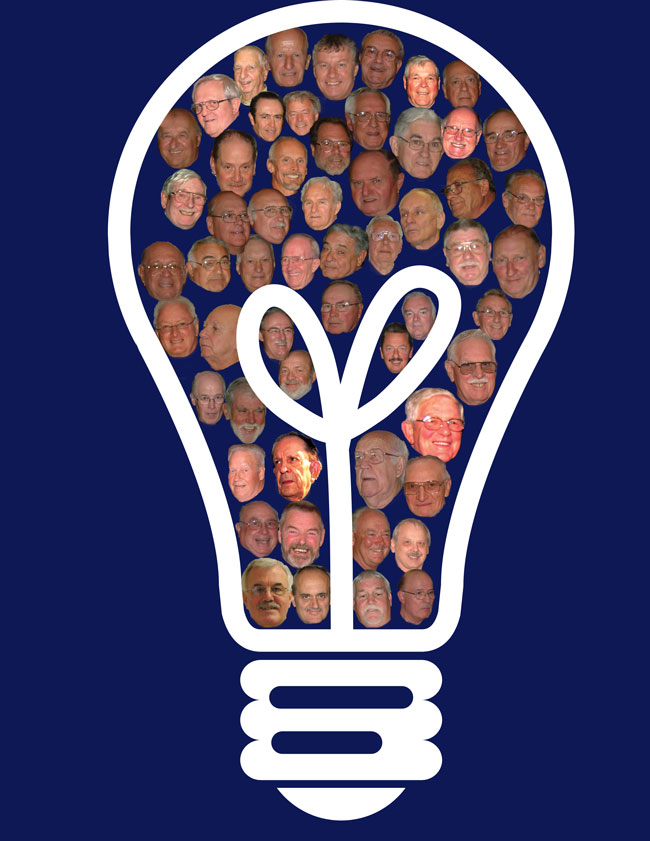 This Web Site is Dedicated to the past members who helped to forge a better way of life for all of us.