Last Updated
Feb 22, 2019
UNIFOR
Unilink
Feb 22
2019
________
Canada seeks
Pelosi's
support
in push to
lift U.S.
metal tariffs
______
Ford to cut big
commercial-
trucks, Fiesta
in South
America
______
Carmakers
on edge as
Trump keeps
import-tariff
report secret
_______
Ford CFO
could retire
this year,
report says
______
Ford
Blue Oval
Connect
Feb 17, 2019
_________
Ford recalls
1.5M pickups
for downshift
without
warning
_______
Volkswagen
officials
expected in
Dearborn for
Ford talks
_______
Ford told
Britain's May
it is preparing
alternative
factory sites
_______
Ford set to
invest $1B
in Chicago
to build new
Explorer,
Aviator
______
After nine
year run,
UAW profit
sharing
routine
takes
a turn
______
Retiree
Vaughn
Geldart
Passes
Away
Feb 7,
2019
________
Unifor, UAW
to meet
as unions
ramp up PR
campaign
against GM
_______
2019 Lincoln
MKC Black
Label has
new look,
fancy perks
_______
GM to pay
US hourly
workers
$10,750 in
profit-sharing
________
Fiat Chrysler,
Ford sales
bright spots
in mixed Jan
_______
UNIFOR
GM VIDEO
_______
UAW GM
VIDEO
______
Ford folks
play catch-up
in bid for
respect,
higher
share price
_______
GM Canada
output down
33% while
company
becomes
top producer
in Mexico
_______
Ford hourly
US workers to
get $7,600 in
profit-sharing
_______
Pickups,
vans drive
Ford's plans
________
Ford CEO to
employees:
Bury 2018
'in a deep
grave'
_______
Pictures from
GM Rally
Jan 23, 2019
_______
Canada auto
workers seek
boycott of GM
vehicles from
Mexico
_______
Protests will
continue until
GM decides to
keep Oshawa
plant open
______
Lincoln
Aviator wins
top Readers'
Choice award
at auto show
_______
Canada's vast
pension fund
is sticking with
China even
as political
tensions
mount
_______
Ford sued for
sexual, racial
harassment
at Dearborn
Truck Plant
________
Ford rethinks
Level 3
autonomy
_______
UAW workers
rally downtown
to urge auto
execs to
'invest in us'
______
The 2020
Ford Mustang
Shelby GT500
is the most-
powerful
Ford ever
_______
Ford
expects
better
financial
results
in 2019
_______
Ford, VW
link-up
looms over
Detroit auto
show
_______
Ford sold
1.1 million
F-Series
pickups last
year
_______
Ford to cut
thousands
of jobs in
turnaround
plan
_______
Keep
GM Jobs
in Canada
Rally Pictures
Friday Jan 11
_______
FCA to pay
nearly $800M
in emissions
cheating case
________
Ford cancels
Mexico plant,
expands U.S.
factory and
adds 700 jobs
_______
Ford adds
149,652
vehicles in
Canada to
Takata
airbag recall ________
Auto sales beat
expectations
for 2018, but
2019 doesn't
look as good
______
2019
Government
Benefit Rates
_________
Ford Health
Care Benefit
Booklet
Nov 2016
______
Ford Collective
Agreement
Effective
Nov 7, 2016
_________
Ford Pension
Booklet
2016
_________
Life &
Disability
Booklet
2016
________
2016 Benefits Appendix R
__________
Unifor
Constitution
_________
Contact Us
________


PLEASE SUPPORT OUR SPONSOR!
Next Retiree Meeting*
Wednesday April 3, 2019
Canadian Legion
80 Mary Street
Brampton
1 PM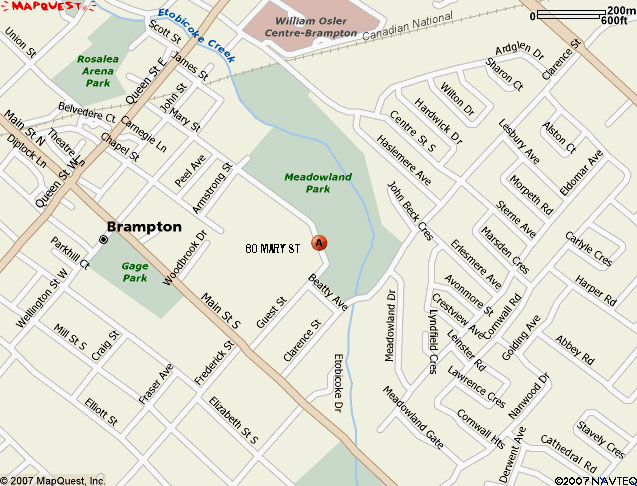 *Meeting are suspended for the months of
February and March 2019

Meetings are the first Wednesday of the month at 1pm.
*May Meeting will be held 2nd Wednesday in May!
Wednesday May 8, 2019 at 1 pm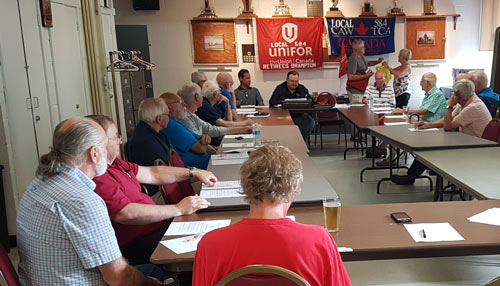 Retiree Meeting held September 12, 2018

Congratulations to our newest Retirees Effective Feb 1, 2019
Shelley Sneider
Pam Lyon
Bernie Grenier
Ellen Ward
Mike Robertson

Pam Lyon Retirement
Get Together January 30, 2019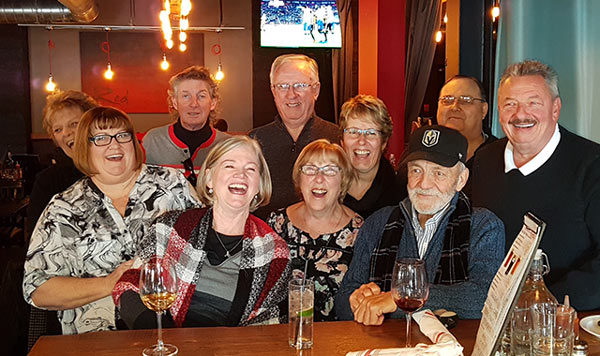 Large Turn Out for the Keep GM
Jobs in Canada Rally Jan 11, 2019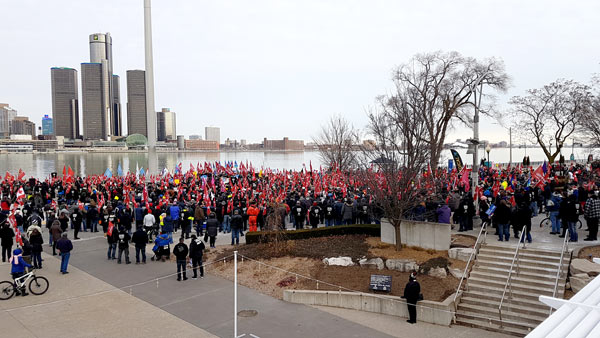 On Friday, January 11, GM was hosting an investor event to pitch its future corporate direction.
This direction includes their plan to shut down GM Oshawa, affecting thousands of Unifor members and workers in Canada. GM's big plan to line the pockets of investors also includes ramping up production in Mexico, exploiting low-paid workers there.
This is the wrong direction for the company. Unifor members need their communities behind them, to say that the Oshawa Assembly Plant must stay open.
Thousands showed up to tell GM that we are all united beside Canadian autoworkers.
If GM wants to sell in Canada, it needs to build here.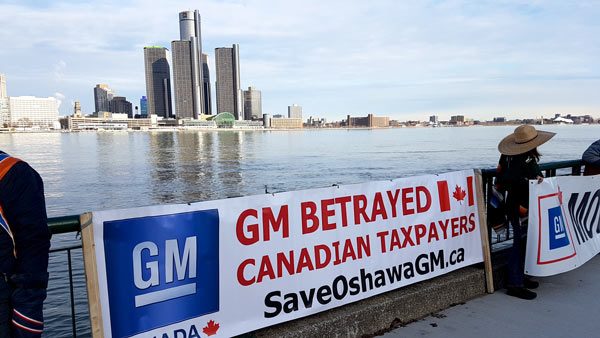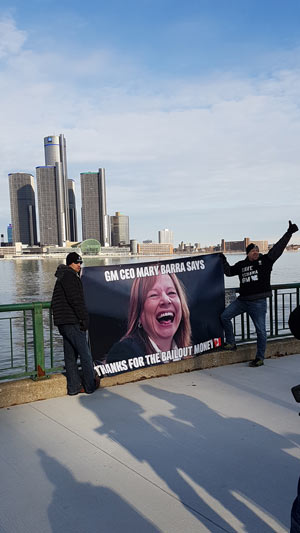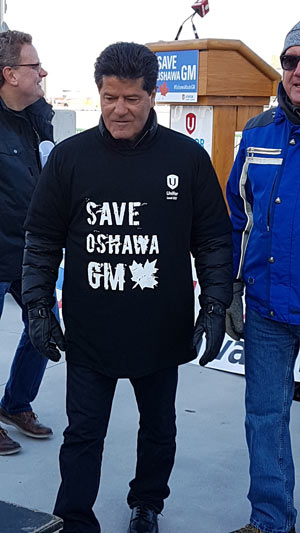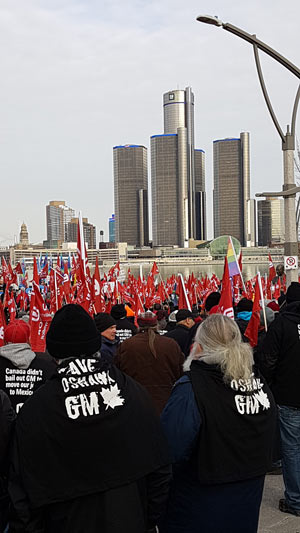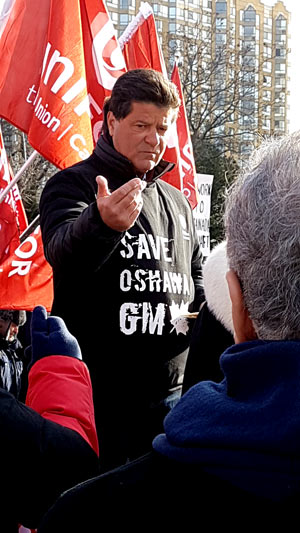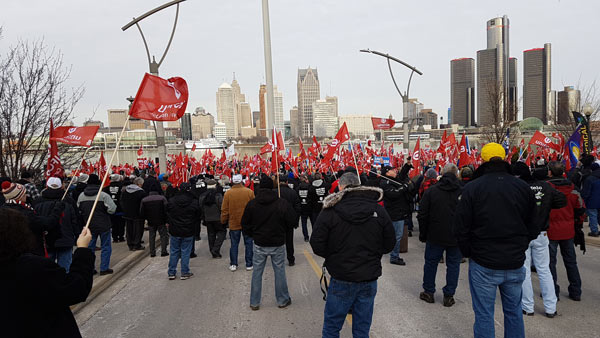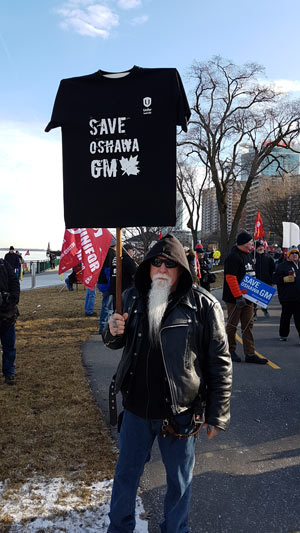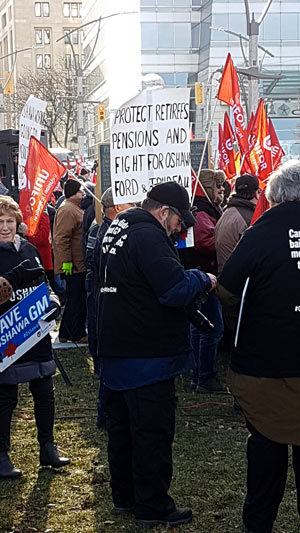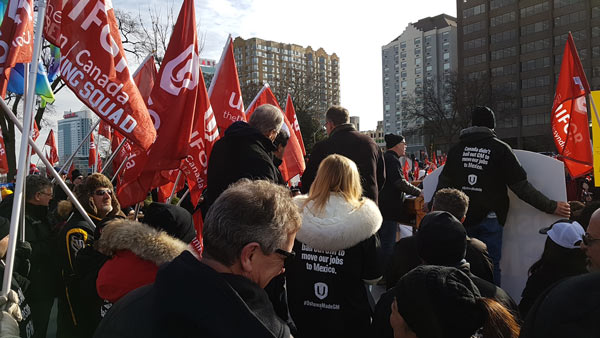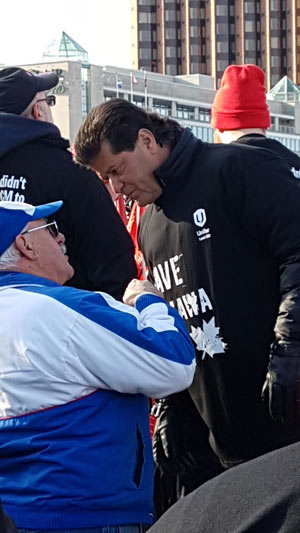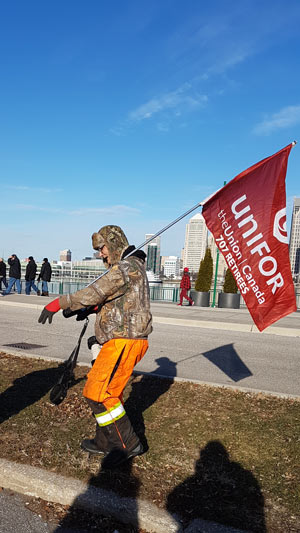 Above Photo's Taken at Rally by Chris Wilski
Below Pictures Taken by Arnie De Vaan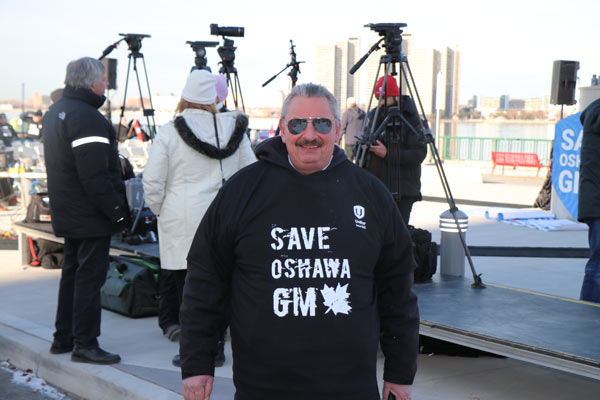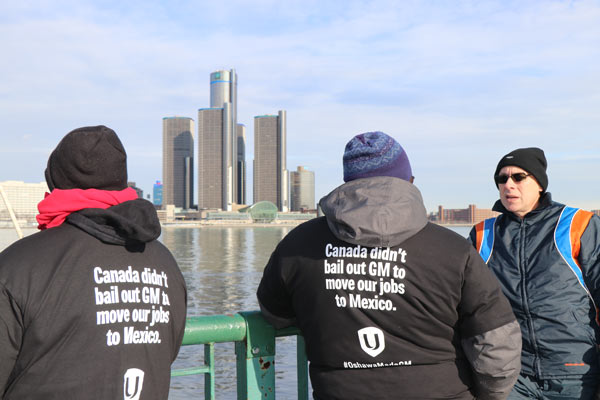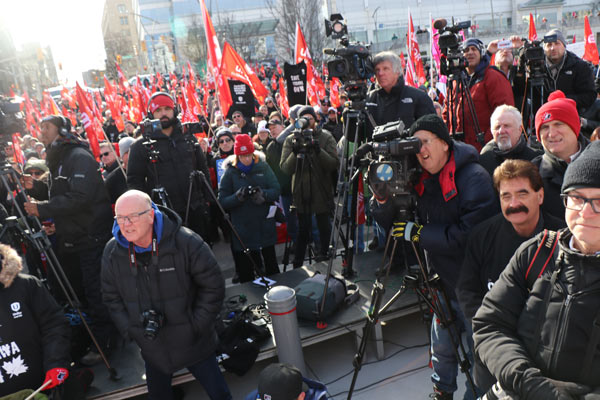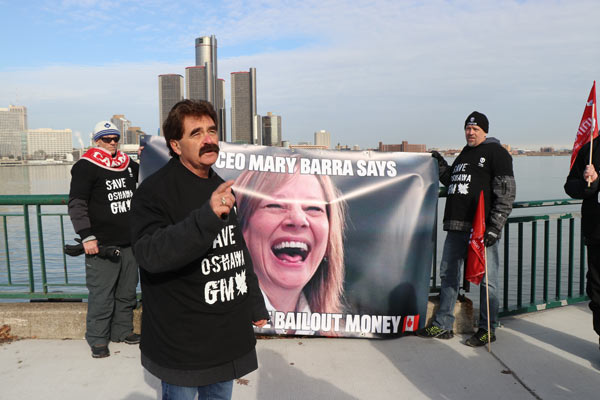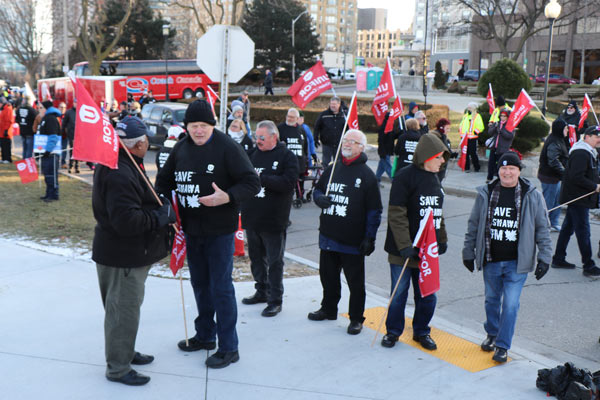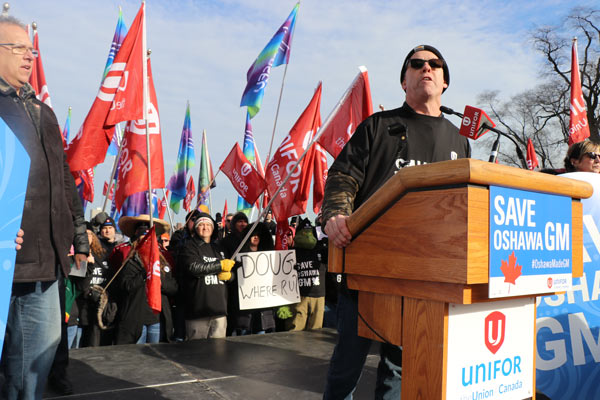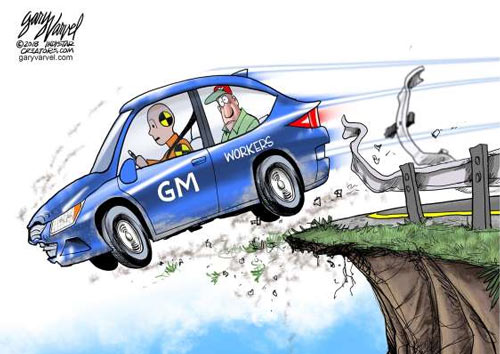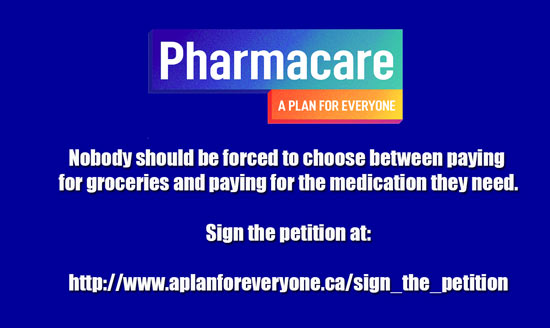 February 22, 2019

We wear Pink to stop bullies, recognize World Social Justice Day, lobby in collaboration with OPSEU and donate to an Indigenous energy collaboration project, and a summit that addresses violence against women. Share your experience with Repetitive Strain Injuries in an online survey.
February 20 marks World Day of Social Justice around the globe, with this year's focus being on peace and development.



Local 324 members at Domtar Woodlands gain $100,000 early retirement packages and up to $50,000 in moving allowances.
READ MORE

200+ school bus drivers, Local 4268 members, ratify agreement with health and safety provisions, improved pay language.
READ MORE

Local 195 members at Ventra Plastics ratify agreement that includes wage increases, better benefits, and more vacation days.
READ MORE

Local 103 and Ontario Northland Transportation Commission reach tentative agreement to renew all five Unifor agreements.
READ MORE


Feb 17, 2018
Announcements
Bill Ford Statement on the Passing of John Dingell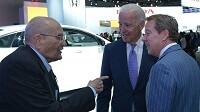 Former Congressman John D. Dingell, who was supportive of Ford Motor Company and the automotive industry, passed away Feb. 7. The following statement is attributable to Bill Ford, Executive Chairman.

"For my 20 years as chairman of Ford Motor Company, I considered John Dingell a friend and advisor. John was a larger-than-life legend whose presence will be deeply missed at Ford. Even on the most divisive issues at the most difficult of times, he was unwavering in his efforts to find common ground. He constantly reminded us as a company and as an industry that we either work together or we fail separately. John devoted his life to serving the people of Michigan, and his legacy continues today with his wife Debbie. His passing is a reminder that we need more leaders who are willing to find compromise and bring people together for the greater good."
Ford News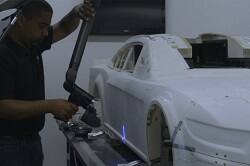 Making of Mustang: Watch Ford Performance Video Series on New NASCAR Mustang
Ford Performance has created a two-part video series documenting the process of bringing Ford's iconic pony car to the Monster Energy NASCAR Cup Series.
To read the full article click here.

RELATED:
Ford Performance Weekend Outlook
NASCAR Mustang Debuts as Joey Logano Takes Third in Clash at Daytona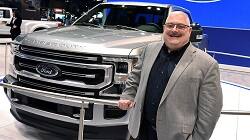 F-Series a Key Part of Life On and Off the Farm for Super Duty Chief Program Engineer
Long before he was heading up the 2020 F-Series Super Duty team, Michael Pruitt was putting truck capabilities to the test on the farm. Growing up in Eugene, Missouri in the 1970s, Pruitt – now chief program engineer for the new Ford F-Series Super Duty – and his two brothers worked on their father's farm. "F-Series has always been a big part of my life, both on and off the farm," said Pruitt. "It was the leader then and it still is today."
To read the full article click here.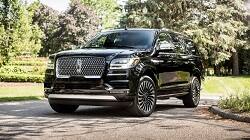 Lincoln Navigator Earns Edmunds Editors' Choice Award for Best Luxury SUV
Lincoln Navigator has earned the inaugural Edmunds Editors' Choice Award in the luxury large SUV category. The awards are based on tests involving 27 criteria, including performance, comfort, interior and technology attributes.
To read the full article, click here.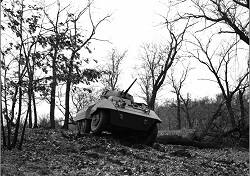 Throwback: Chicago Assembly Converts Production to Armored Vehicles for World War II
Chicago Assembly Plant – Ford's longest continually operating vehicle assembly plant – began producing the Model T in 1924. The plant converted to World War II production in 1942.
To read the full article, click here.
Global Notes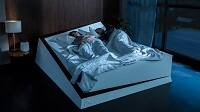 How Ford Is Putting Selfish Sleepers in Their Place
At the end of a hectic day, cozying up to the one you love should be a welcome relief. But for those who share their beds with a "space invader," precious hours can be lost simply trying to reclaim a fair share of the mattress. Ford's new "lane-keeping bed" concept applies car technology know-how to ensure that even the most selfish bedmates stay firmly in their lane throughout the night.
To read the full article, click here.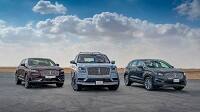 Strong Regional Performance Shows Luxury Lincoln Is a Brand on the Up
Lincoln continued its ascent up the market share ladder in 2018, with regional sales of its luxury vehicles climbing across the Gulf Cooperation Council – a political and economic alliance of six Middle Eastern nations. Buoyed by exceptional demand for the all-new Navigator – which saw sales triple over the previous year – the number of Lincoln vehicles sold last year throughout this council grew 6 percent, as discerning luxury customers rediscovered the quality and class of the full Lincoln lineup.
To read the full article, click here.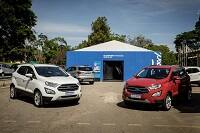 Brazil Launches 2020 EcoSport with New Run-Flat Tire Technology
Ford EcoSport established the compact SUV segment in Brazil in 2003, then went on to become a global model. Now, with the launch of the new 2020 Ford EcoSport Titanium, the vehicle becomes the first SUV in the country to use run-flat tire technology. This Michelin technology allows the new EcoSport to continue running up to almost 50 miles at approximately 50 mph, even with a punctured tire, affording drivers greater security. Using the repair kit that comes with the vehicle, this distance can be extended to nearly 125 miles.
To read the full article, click here.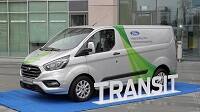 How Ford's Smart Mobility Team Is Building Trust in Transformation
As Ford continues on its journey to become the world's most trusted company, its mobility team has been exploring how to earn and build trust in the cities and communities we serve. To do this, the team convened three thought-provoking City of Tomorrow symposiums in Valencia, Cologne and London, working together with city leaders and content partner WIRED. The symposiums are part of Ford's global initiative to develop a City of Tomorrow platform in key markets.
To read the full article, click here.
Retiree Connect
Show Us Your Ford
Do you love Ford as much as we do? Show your love for Ford by participating in our Me and My Ford campaign.
How do you enter? It's simple. Send a pic of you with your Ford (.jpg format, please), with a caption including brief information about your career at Ford and your vehicle, to blueoval@ford.com. Or post your photo on Twitter or Instagram and tag @AtFordOnline using #FordRetiree #MeandMyFord.
We'll spotlight a new photo each week in the Blue Oval Connect weekly briefing. Let's see those Fords!
Outside Voices
Mustang Is the Future of Ford Performance
(The Detroit News) A pony shall lead them. Ford may be transitioning to an SUV and pickup truck brand, but the iconic Mustang is set to be its performance face – inspiring a new electric crossover in 2020 and dominating the company's global racing lineup starting this year.
To read the full article, click here.

Bonnie and Clyde Loved Ford
(Detroit Free Press) On April 13, 1934, Ford Motor Company received a notorious endorsement. "Dear Sir," read the handwritten letter addressed to Henry Ford. "While I still have got breath in my lungs I will tell you what a dandy car you make. I have drove Fords exclusively when I could get away with one." The operative words being "get away" – the letter was signed, "Yours truly Clyde Champion Barrow."
To read the full article, click here.

2020 Ford Explorer Police Vehicle Has Hidden Life-Saving Design
(Detroit Free Press) Michigan State Police First Lt. Mike Shaw has been nearly hit by speeding vehicles four times, twice while outside his car. Police say that officers being maimed or killed while investigating accidents or conducting traffic stops is a rising danger. Sometimes, drivers strike a parked police vehicle, pushing it toward officers working on the roadway. Other times, officers are still inside their cars when they are struck. Ford Motor Company, which supplies 65 percent of U.S. police vehicles, has responded to the growing concern by redesigning the body of its 2020 Explorer-based Police Interceptor Utility with 160 pounds of extra steel to create a protective new frame.
To read the full article, click here.

Ford Has High Hopes with Resurrected Ranger Pickup Truck
(The Detroit News) Bruce Plumb's 2019 Ford Ranger hadn't even been fully registered with the state of Michigan when he called Jan. 3 to put it on his insurance. The 69-year-old Brownstown resident is the first person in North America to own the reborn Ranger, the midsize truck Ford Motor Company officially revived in January. The automaker is pruning sedans and small cars from its lineup in favor of larger, more profitable trucks and SUVs so it can fund bets on electrification, autonomous vehicles and mobility ventures.
To read the full article, click here.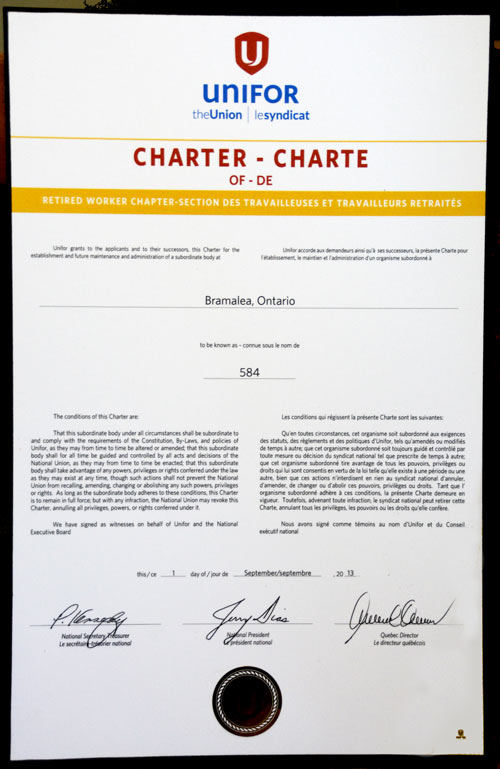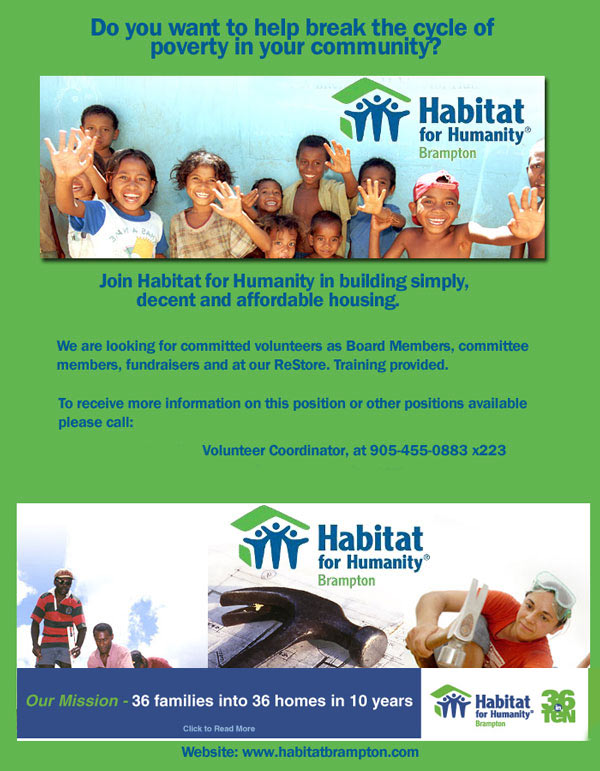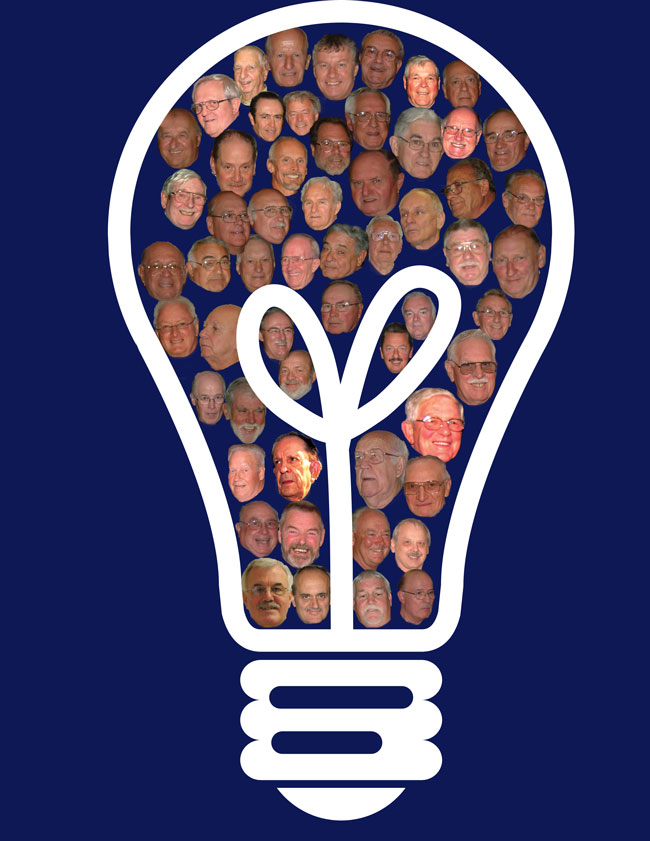 This Web Site is Dedicated to the past members who helped to forge a better way of life for all of us.